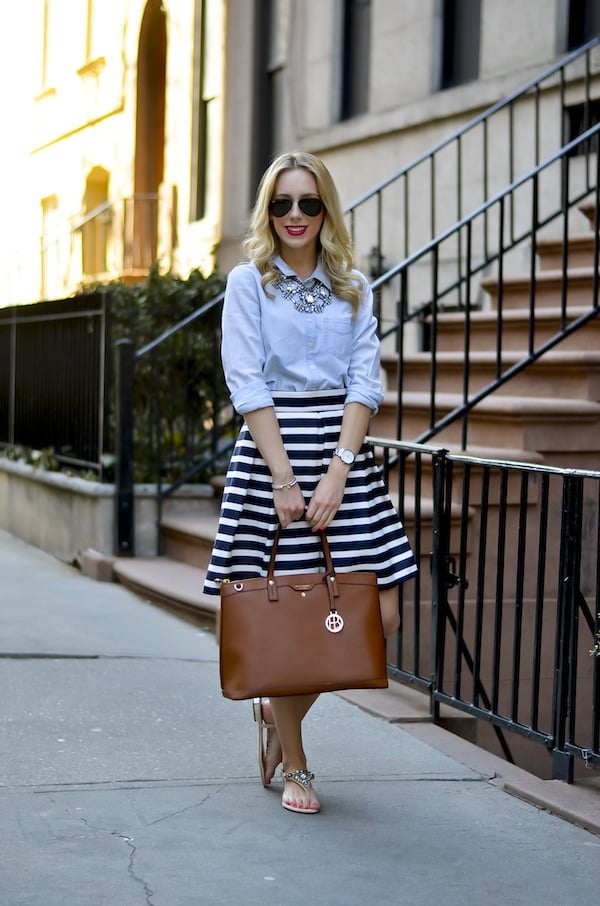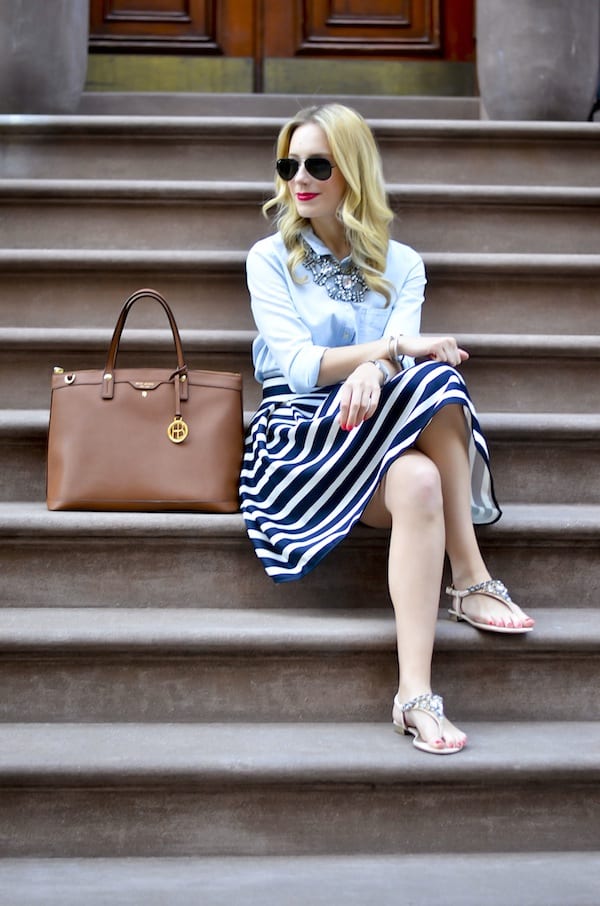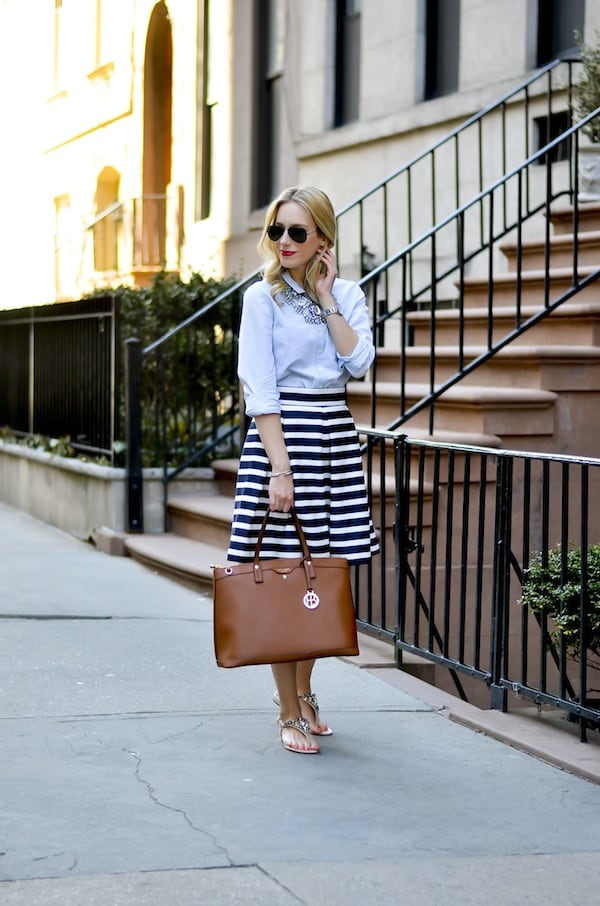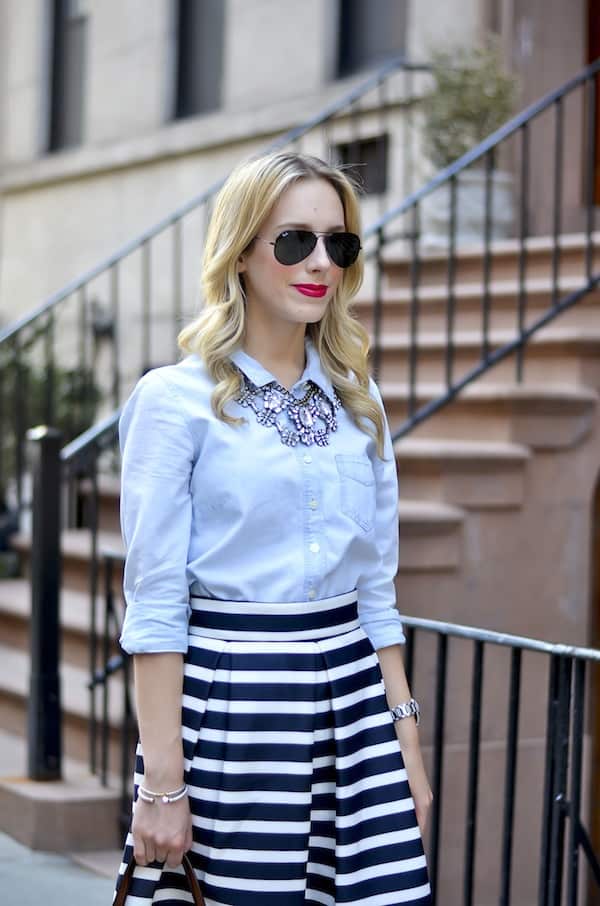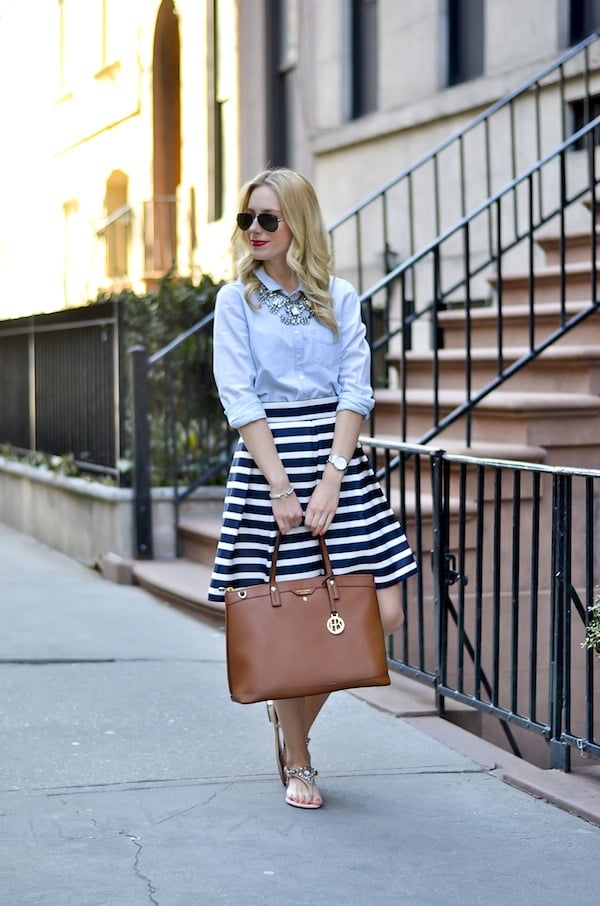 I was wearing…
Chic Wish skirt c/o | Chambray shirt | Henri Bendel satchel c/o | Statement necklace | Jeweled sandals | Aviators | Bracelets | Watch
This weekend was by far one of my favorites in months. Not to mention, it was the first weekend where it actually felt like spring and you could enjoy the outdoors without a coat! I had to celebrate the nice weather by wearing my new Chic Wish skirt. I love the versatility of it as well as the affordable price tag. This outfit is casual, but could totally be dressed up with heels and a blouse. I'm definitely going to be repeating this look for work in the coming months!
To recap the weekend… On Friday night, Nick and I had a great time attending the Barbour Fall/Winter press preview. I normally don't ask him to tag along with me to blogging events, but he really enjoyed it since he's such a fun of the brand. Following the preview, we had dinner at TAO. So so good and I definitely recommend it for a date night or large group dinner (it has a club-like atmosphere).
Saturday was busy too. In the morning we met Krista on the Upper East Side for some shopping at the Barbour store (Nick and I bought new coats) and then brunch at Sarabeths. Krista and I then did a little browsing at Bergdorfs followed by some more shopping in Meatpacking. I totally recommend you follow us both on Snapchat (my username is KatiesBliss) – we always have the best time together! Sunday was a chill day. I exercised, got a lot of blog work done and watched the premiere of Game of Thrones – what did you guys think??
Happy Monday everyone!

[thefeedproducts style='four']
Thank you to Chic Wish for sponsoring this post.
- Katie