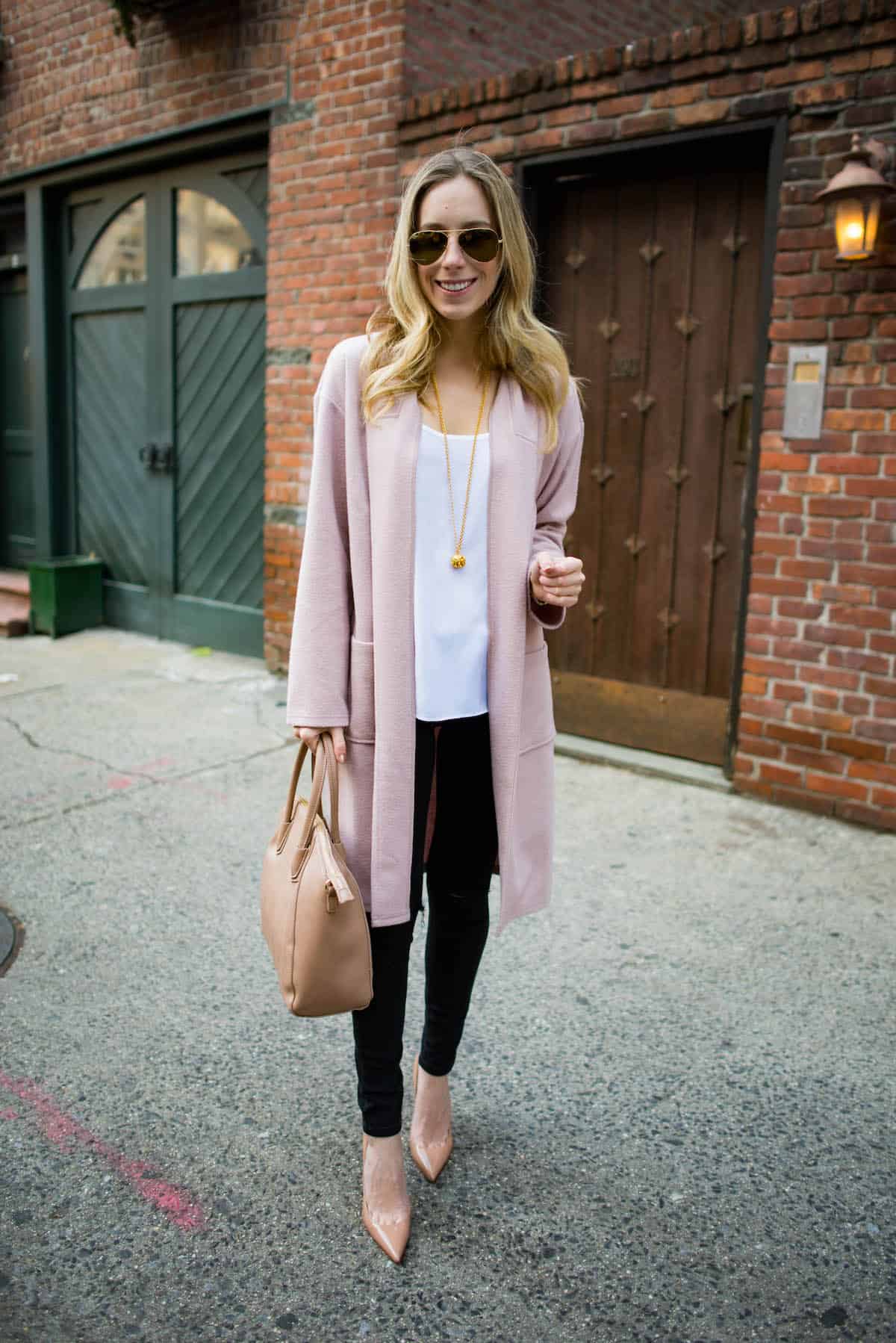 Since last week I spoke about styling my oversized parka on snow days, I figured it made sense to do the reverse and show you how I layer some of my more polished winter separates. We all know how hard it can be to find the motivation to dress up when it's cold, however with the right pieces it's not as difficult as you may think.
Shop The Post!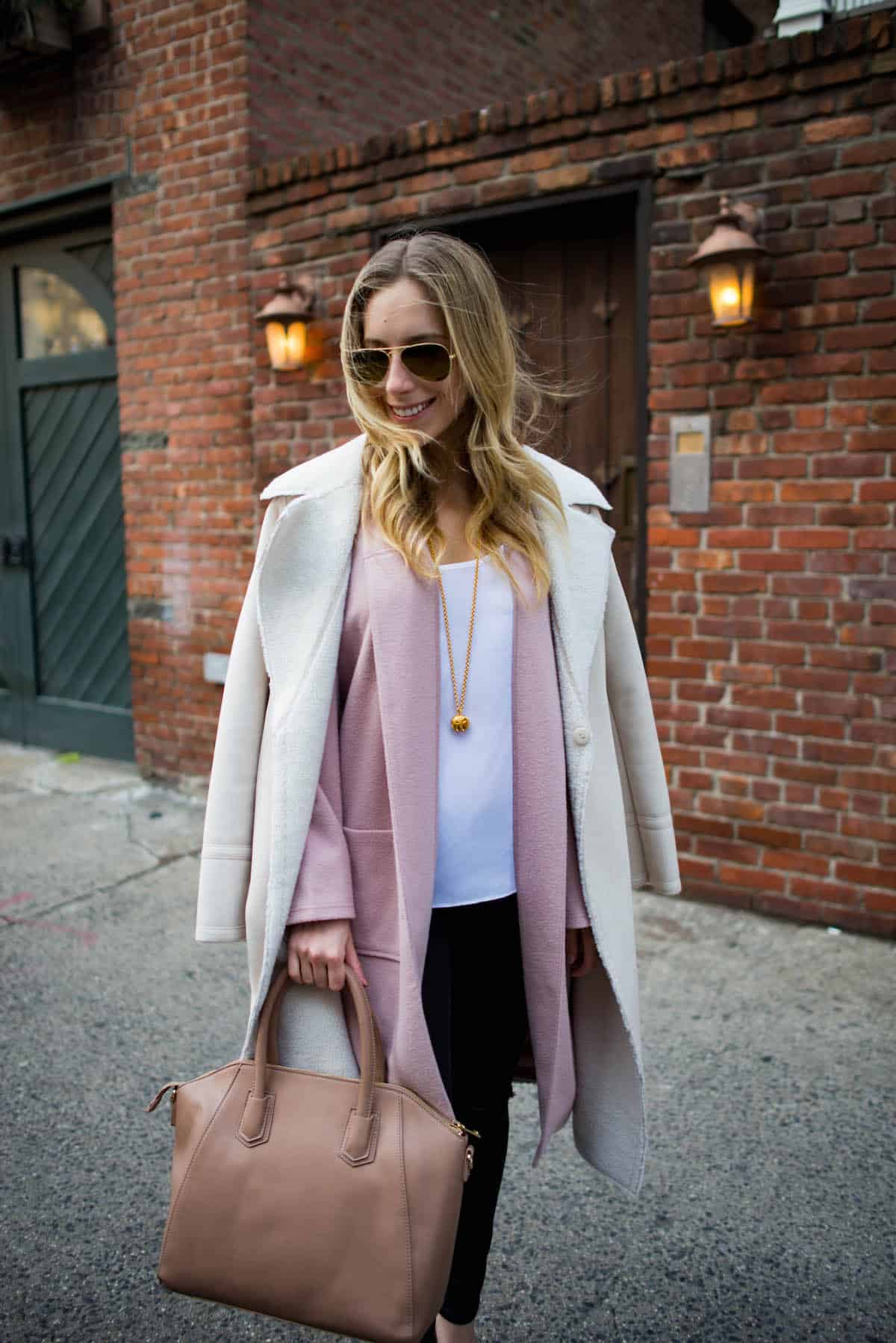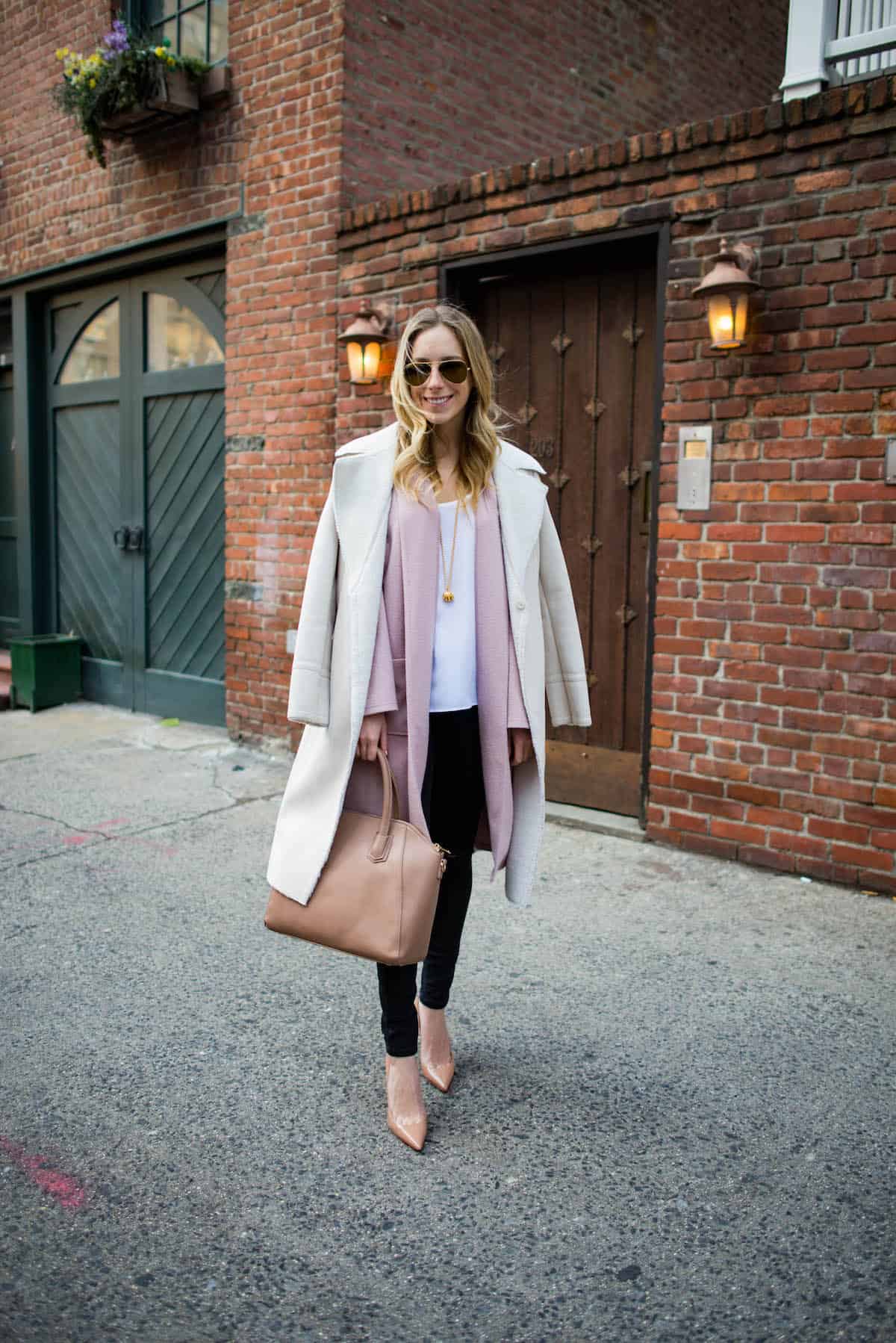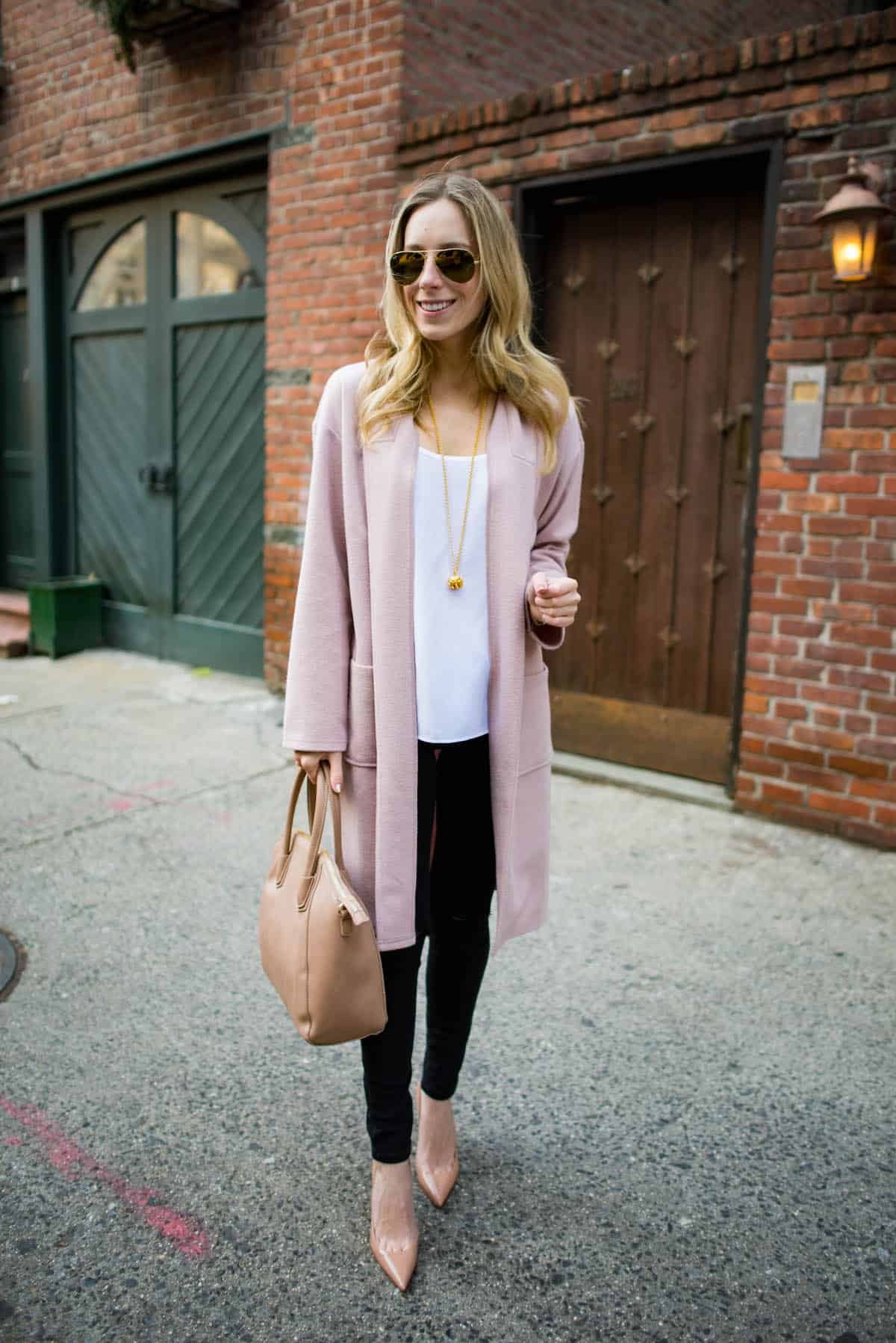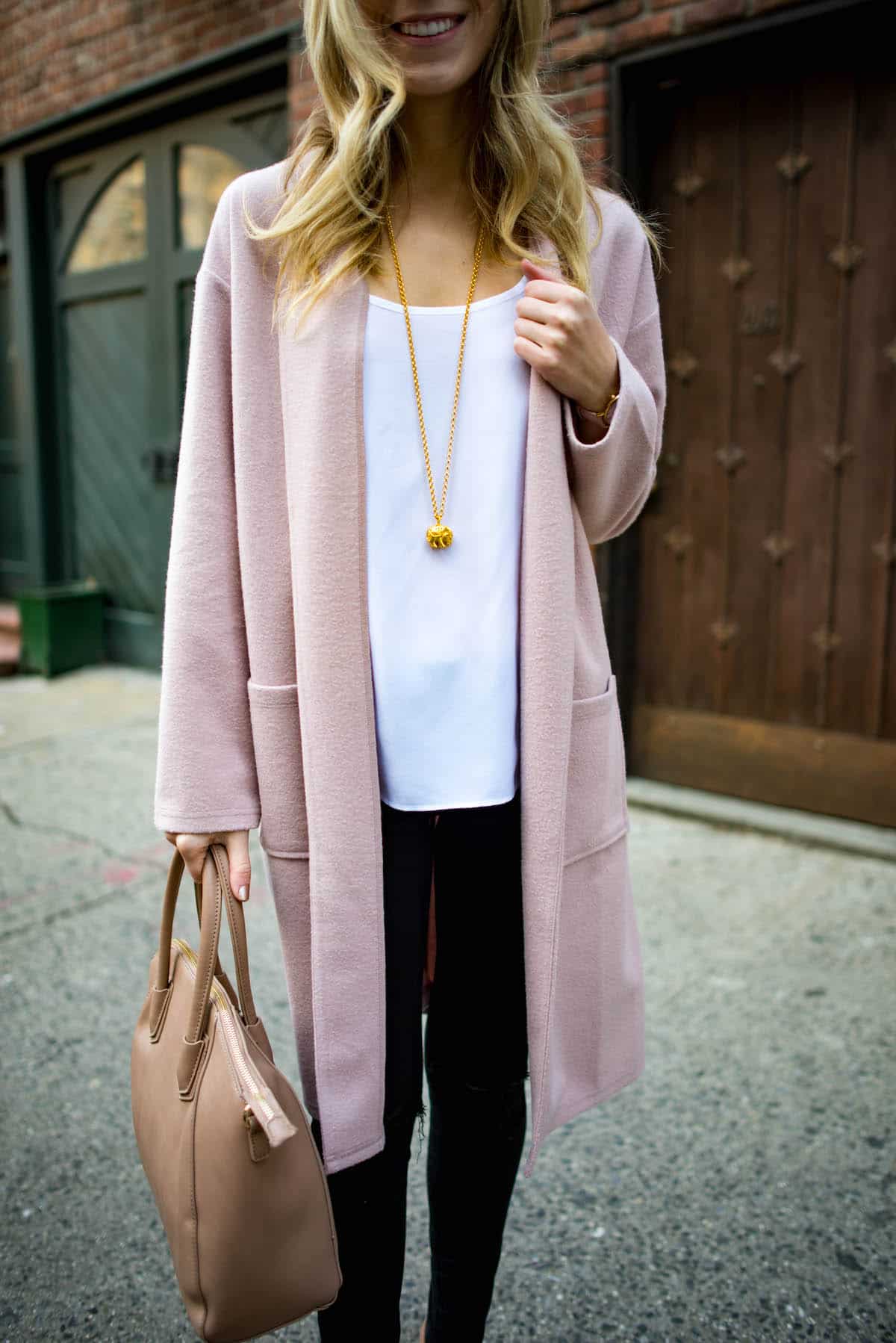 I Was Wearing…
Pink Cardigan Coat (under $100!) | Faux Shearling Trench Coat c/o | Black Denim Jeans | White Top | Affordable Satchel (last styled here) | Christian Louboutin Pumps (affordable style here) | Aviators | Elephant Pendant | Pink Watch
For a base I like to start with a top that's loose-fitting like this white tank. This way I have the option of tucking it in or wearing it out of my pants. Since I was going for an elevated look, I followed with a structured pink cardigan coat. I'm so glad I added this one to my closet because it's perfect for layering now or wearing it on it's own this spring. It's also looks much more polished than a knit cardigan— totally appropriate for the office too!
Finally I topped off my outfit with this Eliza J faux shearling trench. I love this coat because it's deceivingly warm and actually looks very chic draped over the shoulders. Nick always pokes fun at me when I wear jackets like this and I'll admit that it can look a little ridiculous or forced, however this time he said he actually liked my outfit. SUCCESS!
Before I let you all go back to your Monday, I wanted to leave you with a little motivation from one of our nation's heroes, Martin Luther King Jr. I was doing a bit of reading on him him last night and stumbled across a few quotes that really resonated with me. I have a sticky note on my computer and a Pinterest board where I keep inspiring sayings as little reminders for when I'm feeling down or need extra encouragement  I love these and hope that you are able to find some inspiration in them as I have 💗
"Faith is taking the first step even when you don't see the whole staircase."

"Darkness cannot drive out darkness; only light can do that. Hate cannot drive out hate; only love can do that."
"The time is always right to do what is right."
Shop The Post!


[thefeedproducts style='four']
- Katie