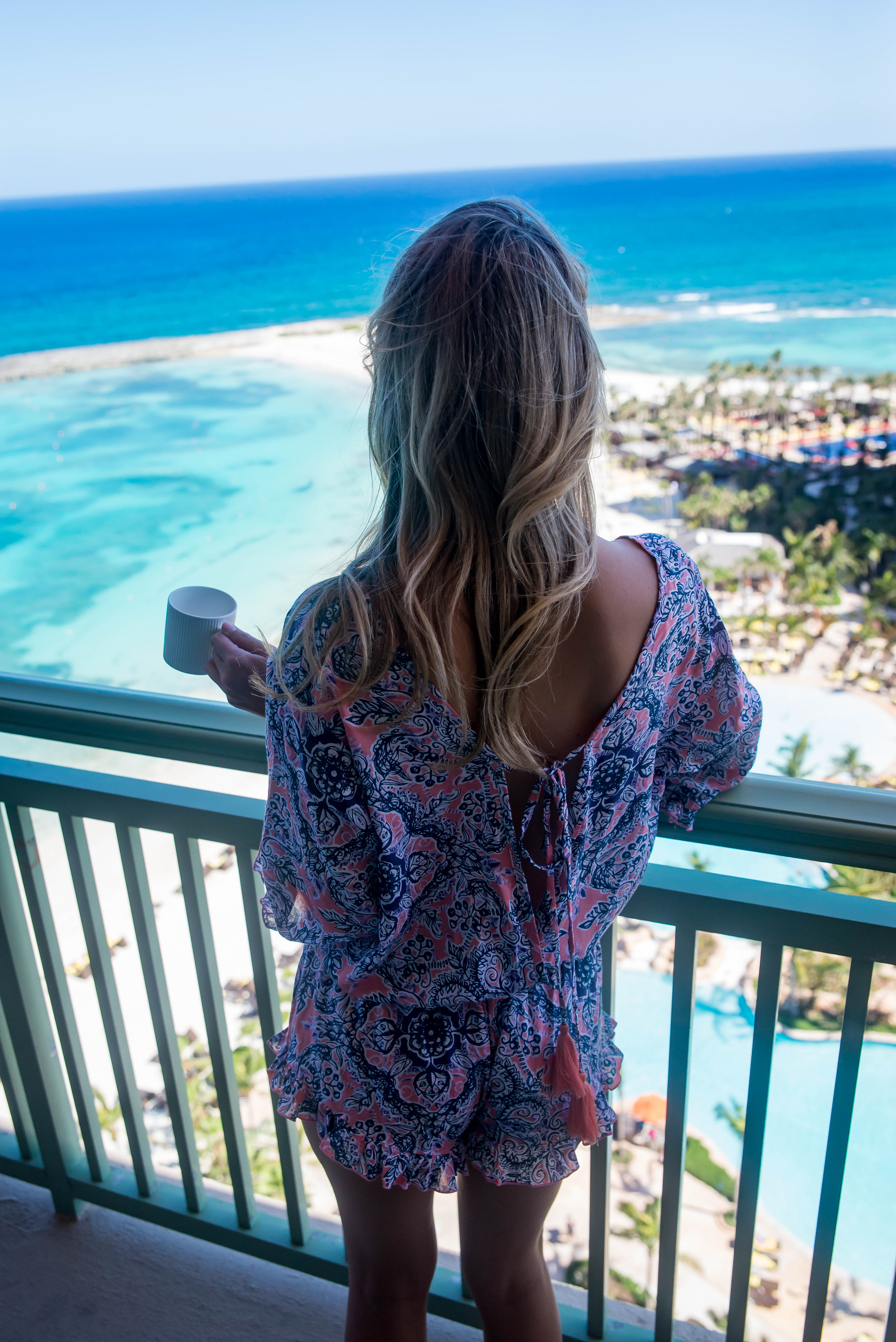 I know I've been teasing my trip to the Bahamas with all of the swimwear and Lilly looks I've been posting– sick of them yet? I hope not! Well, today I'm finally taking you along with me to a tropical paradise. As much as I love traveling with Nick, sometimes you just need a good girls' getaway and The Atlantis Paradise Island Resort offered the sweetest three night escape for me, Sydney, Grace and Danielle.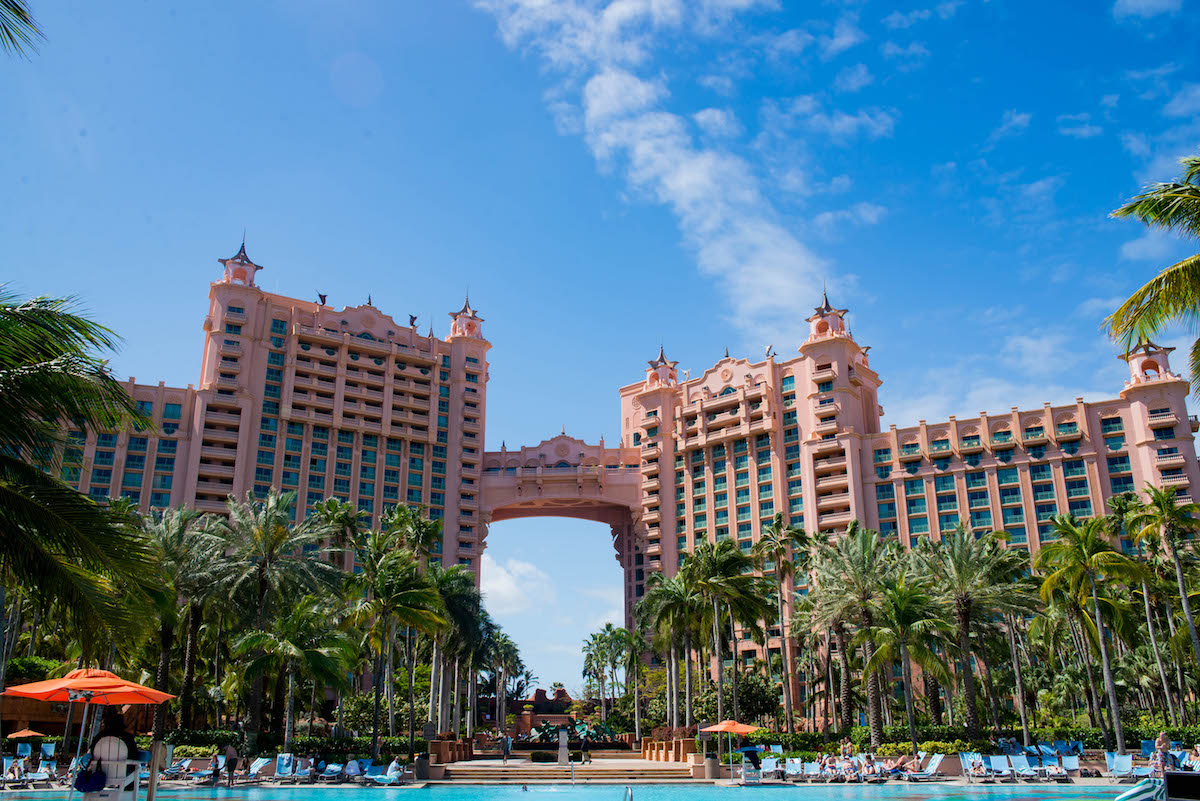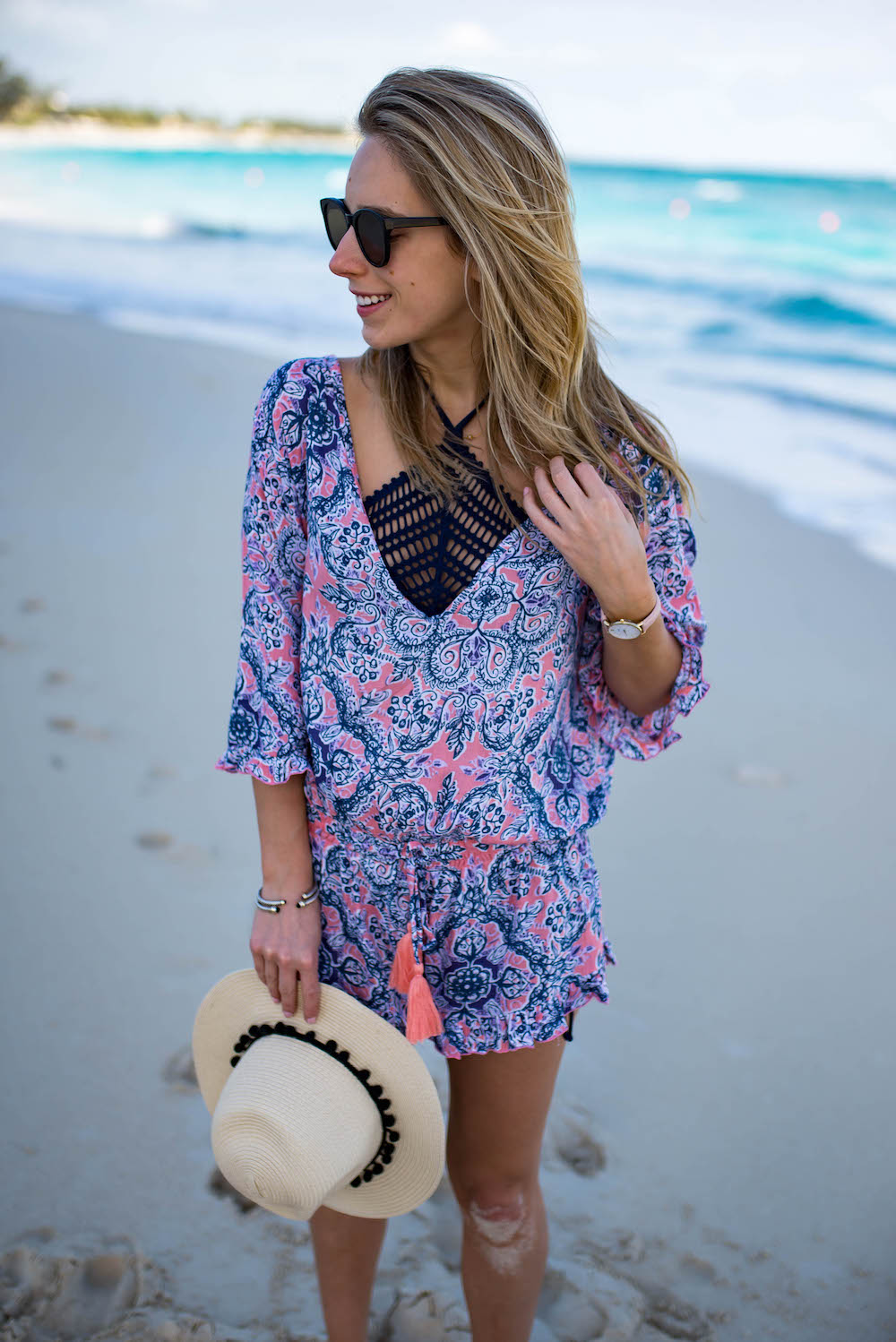 Printed Romper (full blog post here!) | Crochet Bikini Top & Bottom  | Panama Hat | Cat Eye Sunglasses | Watch | David Yurman Bracelets
This actually was my second time visiting The Atlantis! My grandparents took me here for my 10th birthday present, shortly after the grand opening of the resort. At the time only the Royal Towers portion of the hotel existed (pictured above) so it was shocking to see how much the property has expanded in the fifteen years since my first trip. There are now multiple accommodation options at varying price points ranging from the budget-friendly rooms in the Beach Tower to the jaw-dropping luxury suites found in The Cove.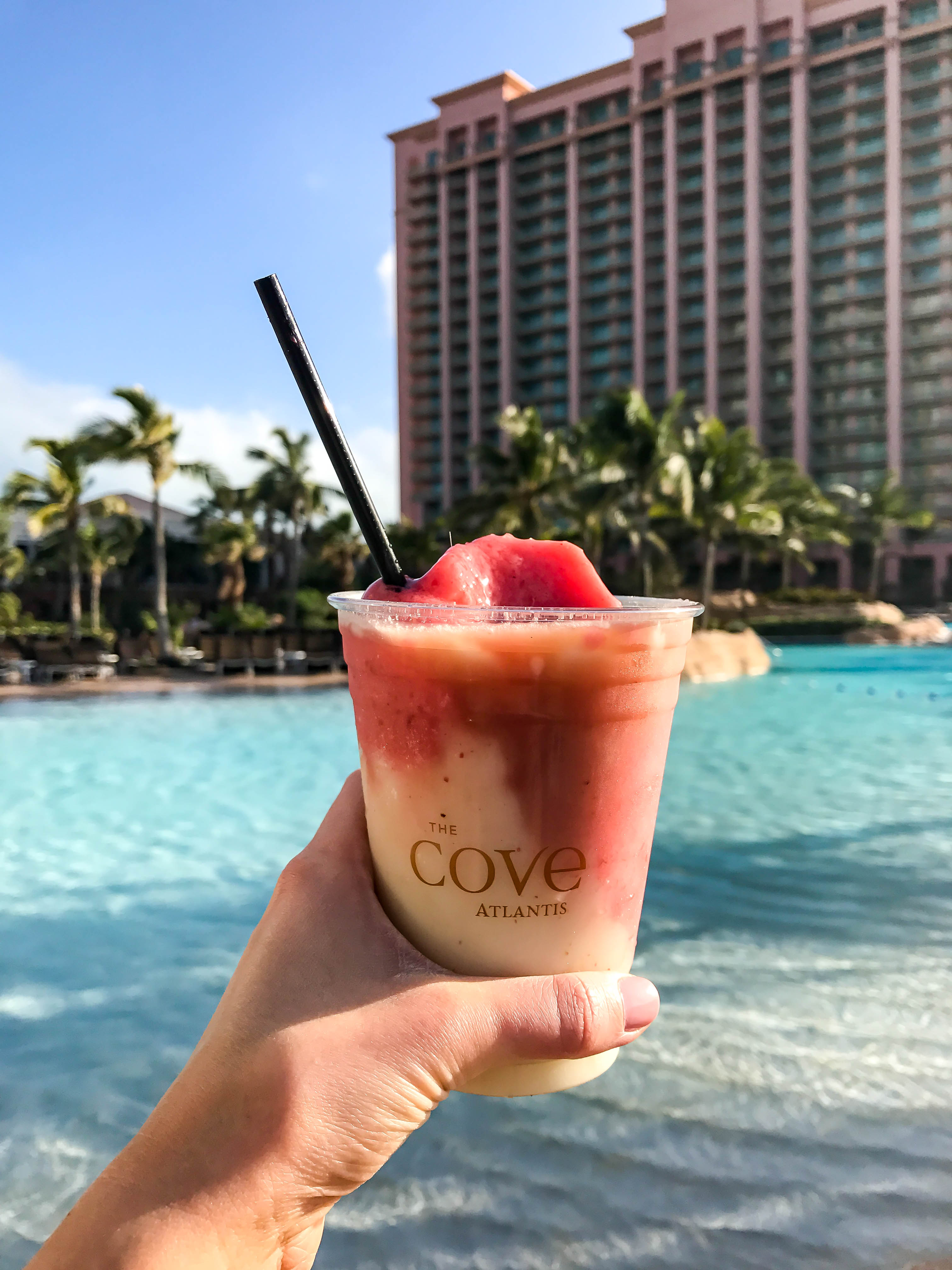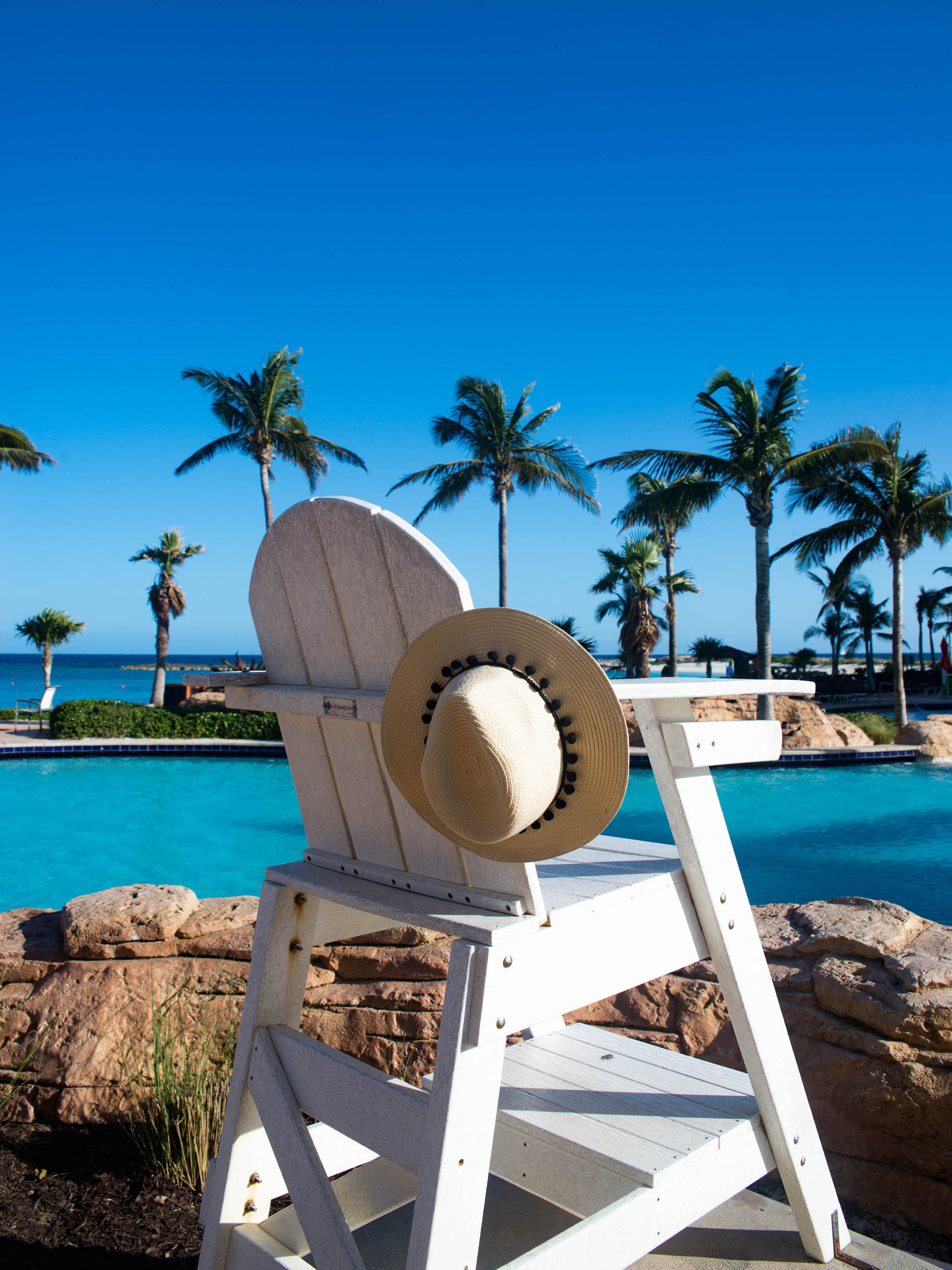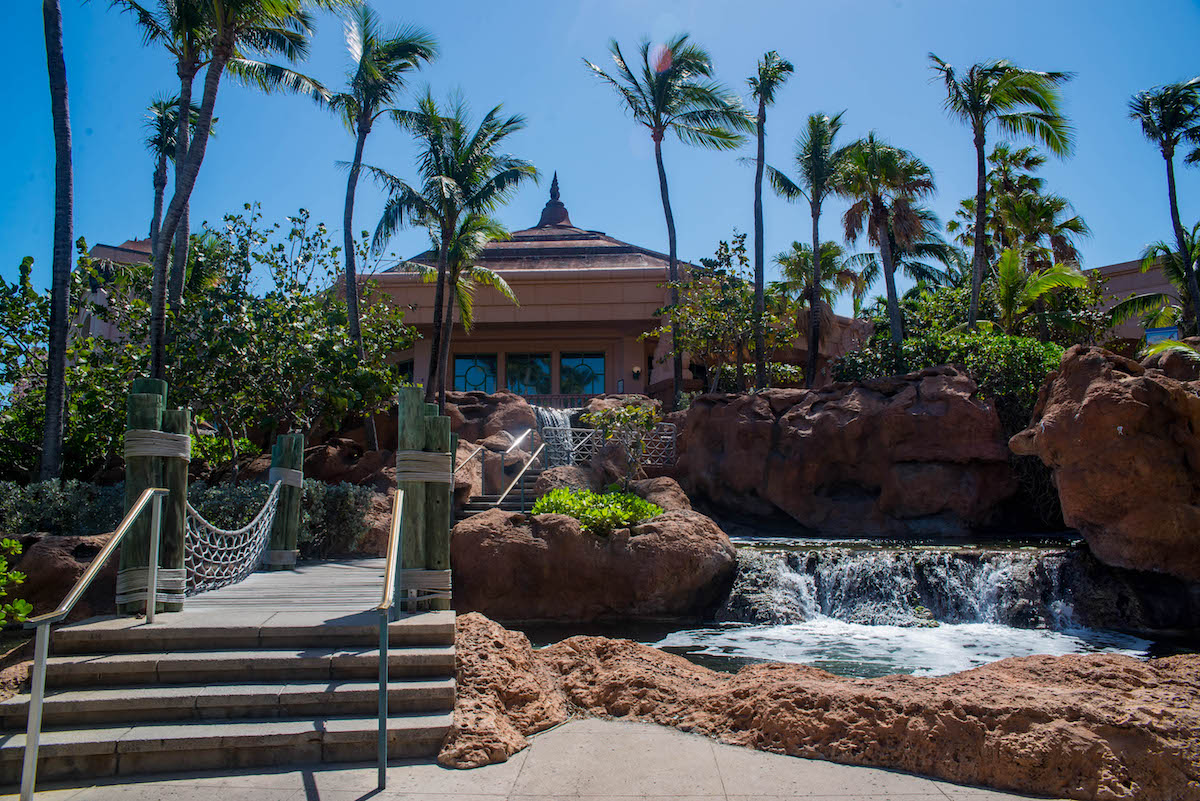 When I visited as a kid all I wanted to do was play in the water park and swim with the dolphins, this time I was all about the cocktails and posting up by the pool(s). Now The Atlantis isn't your standard resort– there's a reason they call it Paradise Island because it's like it's own city. The property is massive and while you are free to roam as you please, every section of the hotel has it's own easily-accessible pools and restaurants. We took a walking tour and I couldn't believe just how much there was to see and do– it took close to an hour to circle the entire thing!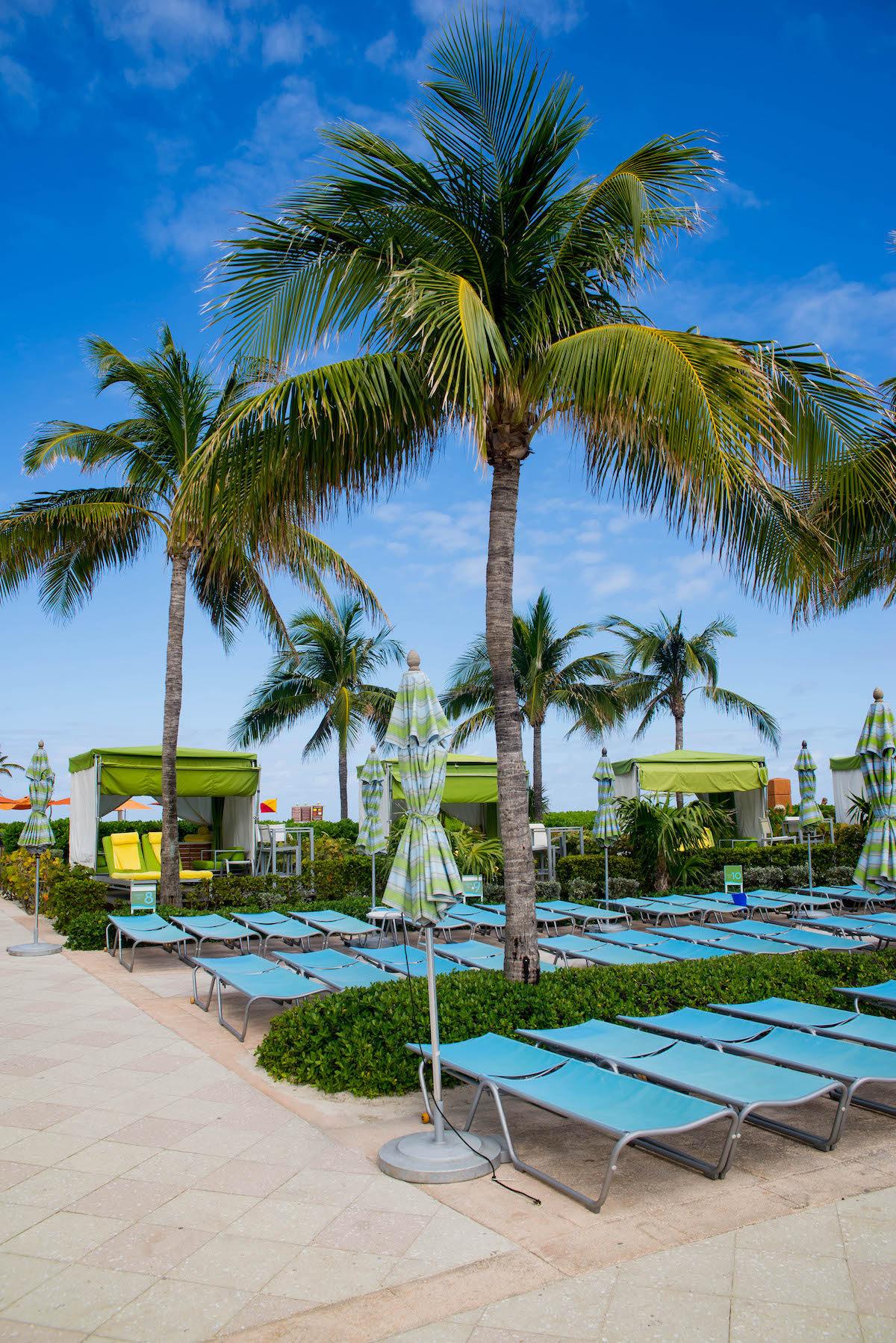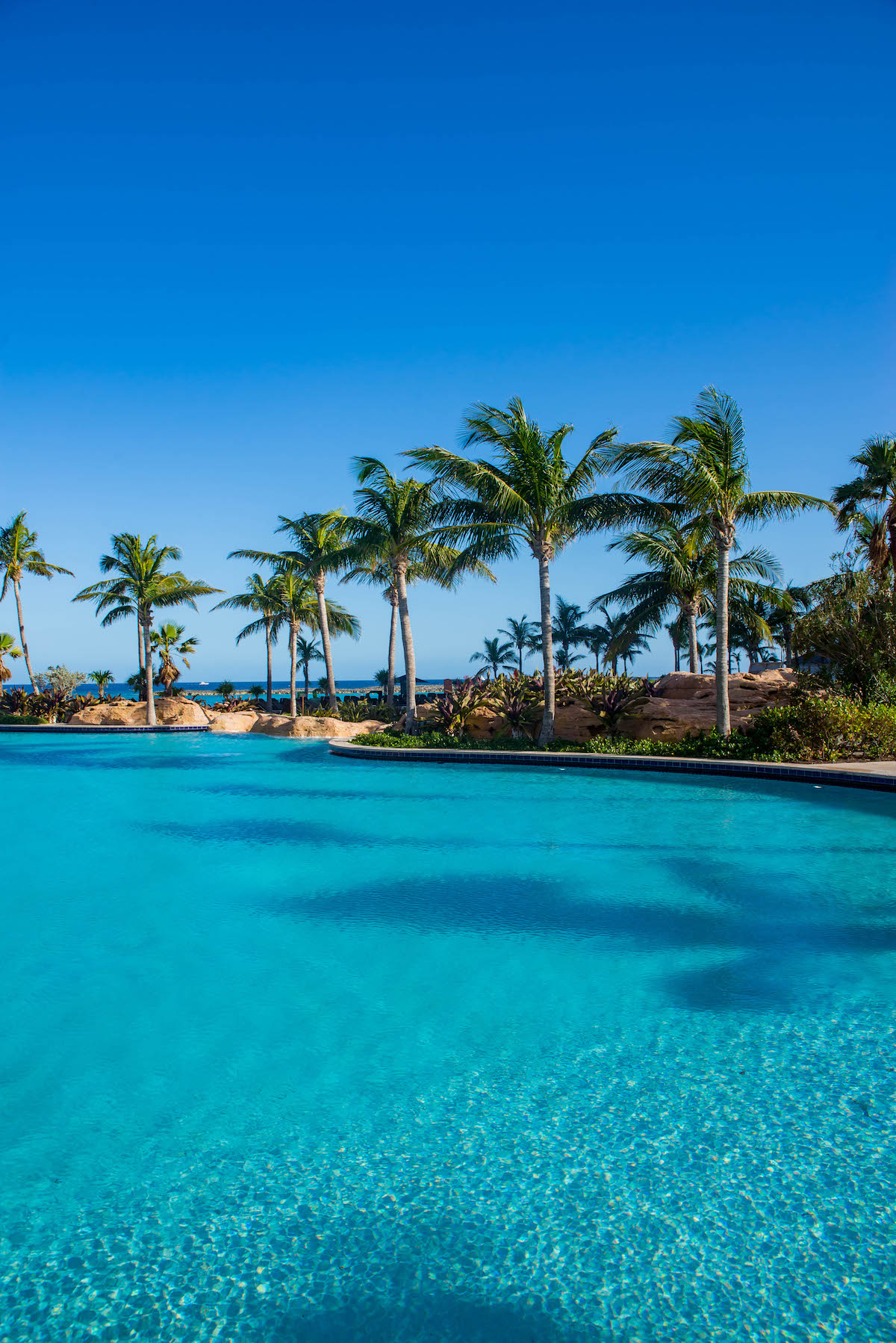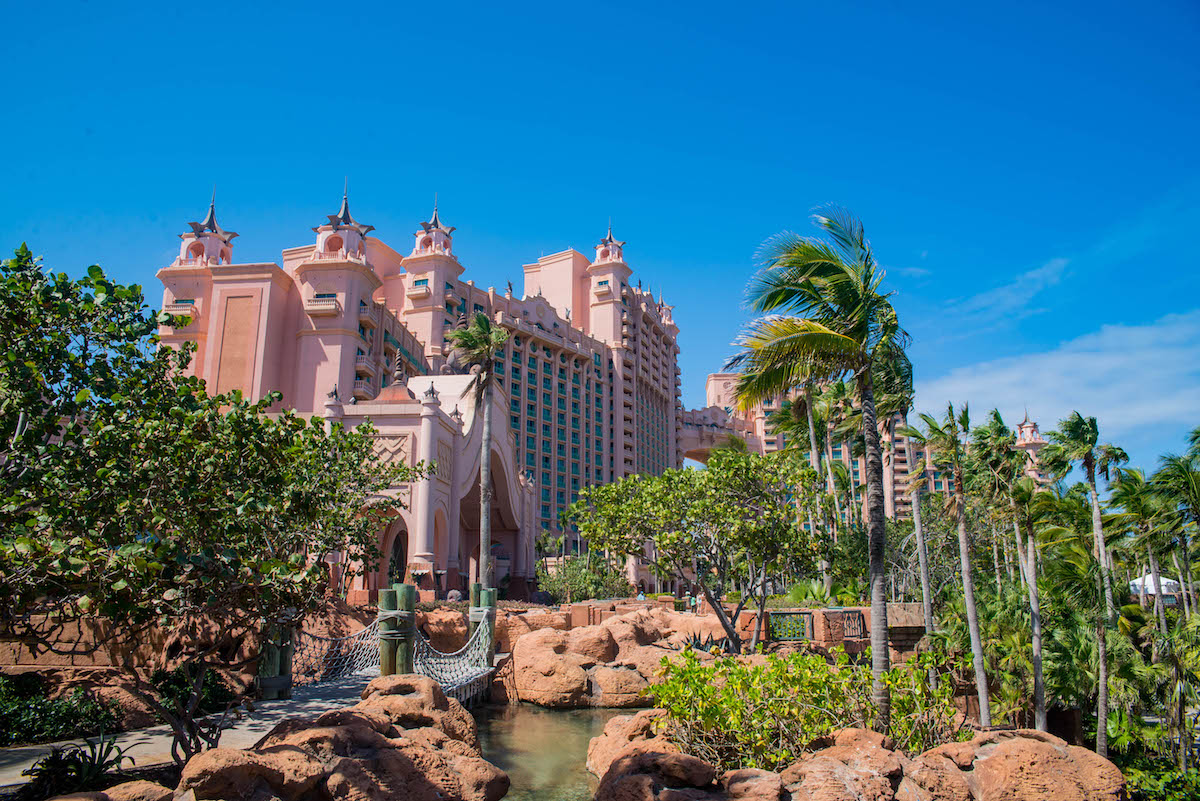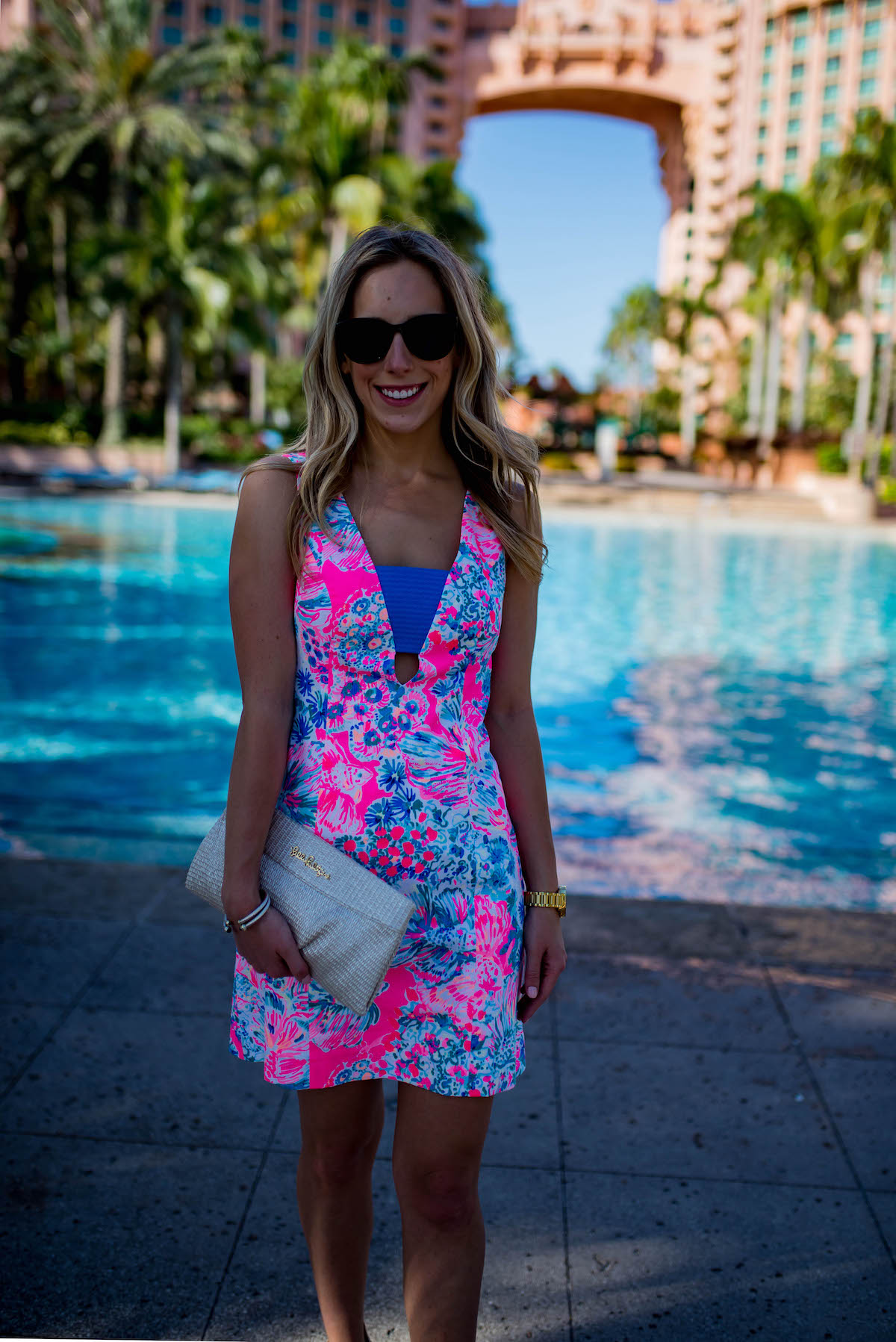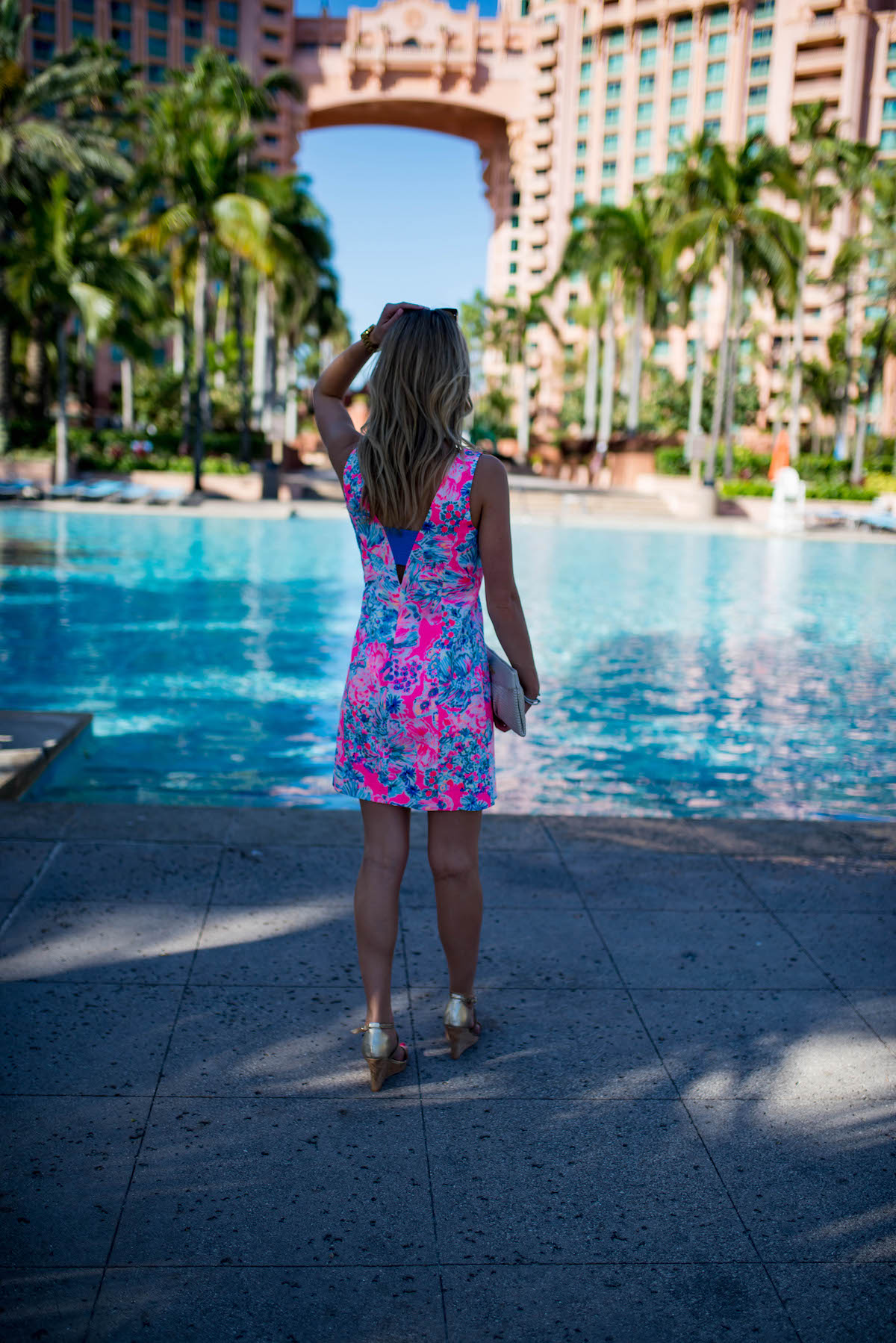 Lilly Pulitzer Cassa Shift Dress | Clutch | Cat Eye Sunglasses | Wedge Sandals | David Yurman Bracelets | Gold Watch
When we weren't visiting The One&Only Ocean Club or on that other-worldly private island, we got to try a number of the resort's restaurants. This Lilly Pulitzer Cassa Shift Dress was my outfit of choice for dinner at Seafire Steakhouse, a traditional steakhouse located within the marina. My other favorite meals were at Olives, a relaxed Mediterannean-style restaurant off of the casino and the very chic 77 West, where I'd describe the menu as South American cuisine fused with a taste of the Caribbean. All were delicious!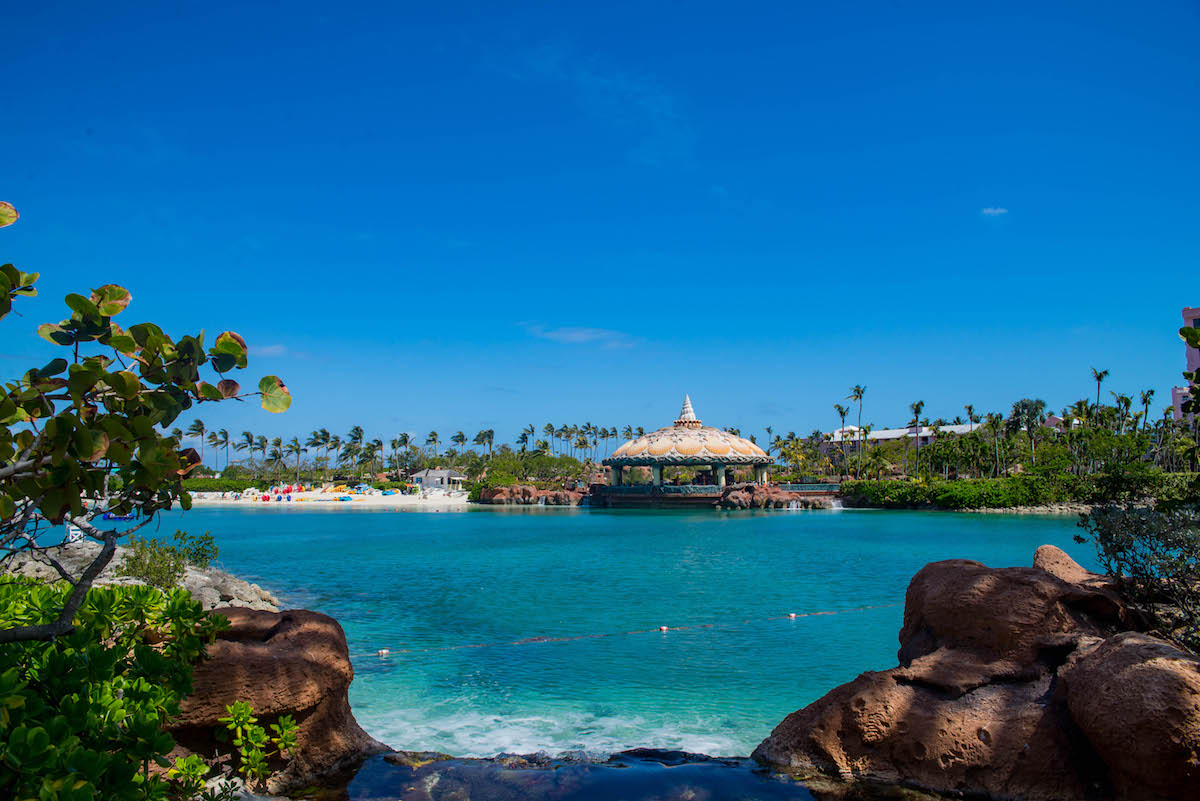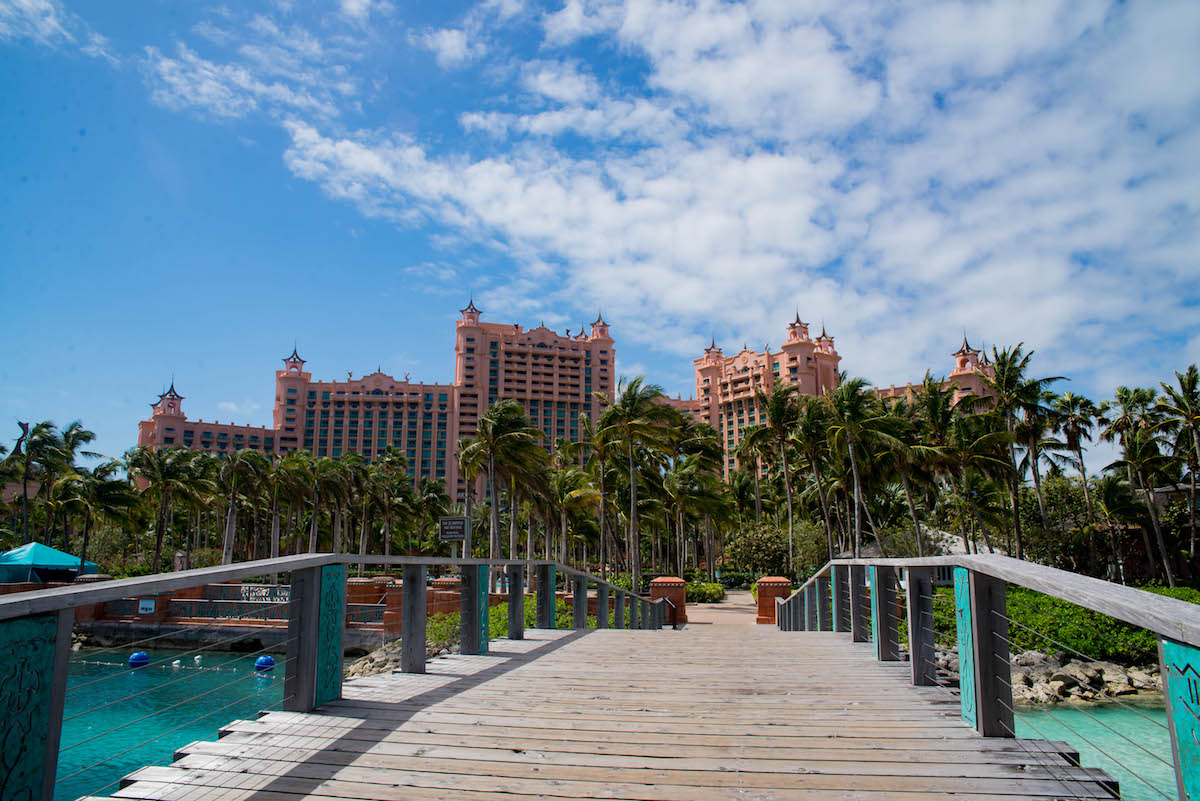 Our rooms were located in The Reef, one of the resort's luxury residential accommodations. We all had individual suites with a kitchenette, balcony and an incredibly large bathroom. My suite had way more space than I needed, but I definitely wasn't complaining. I would describe it as being perfect for those planning a longer stay, traveling with children or bunking up for a group trip. I also liked how The Reef was away from the main hustle and bustle of the resort. It was very quiet and close to the restaurants and bars in The Cove— the upscale portion of the resort.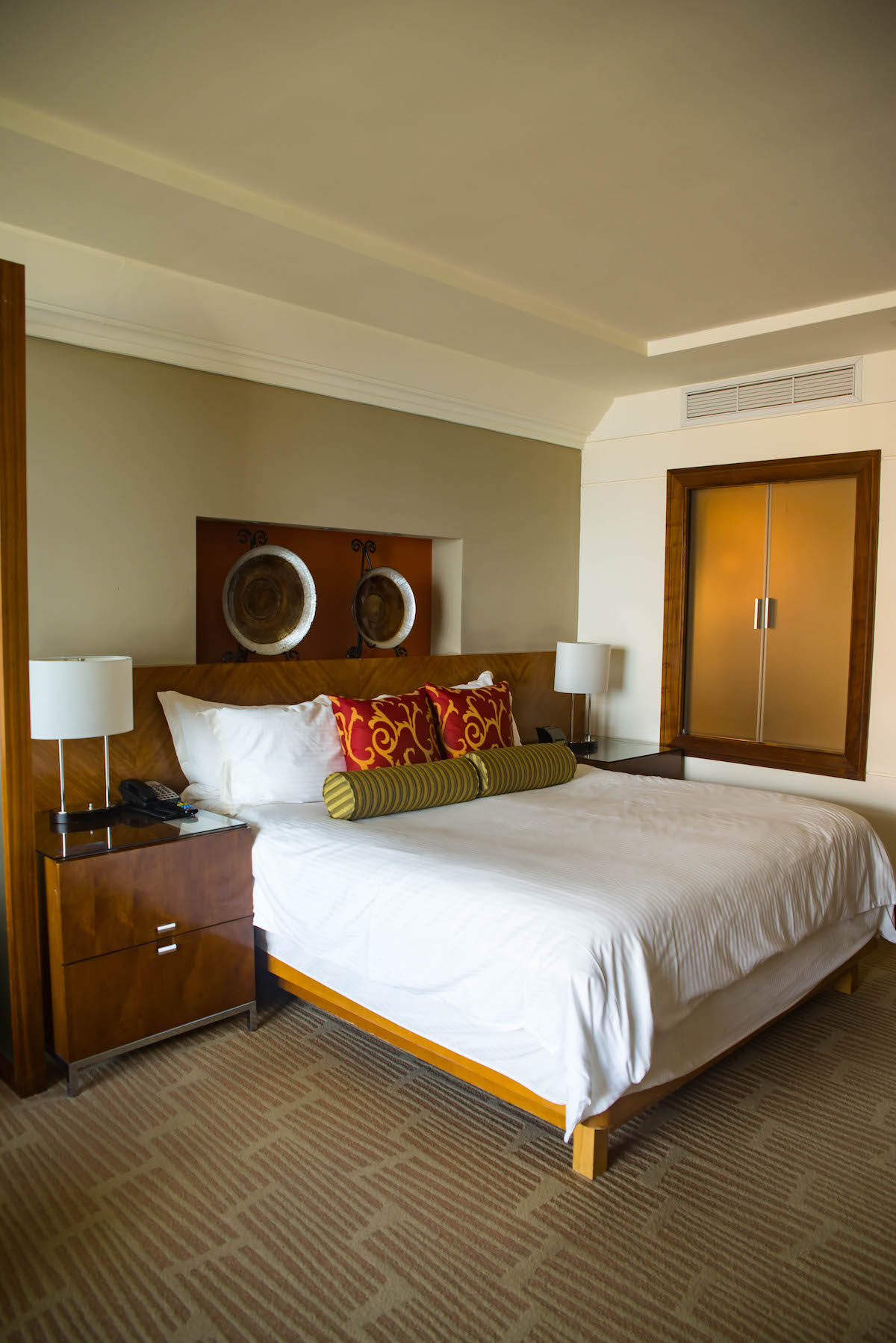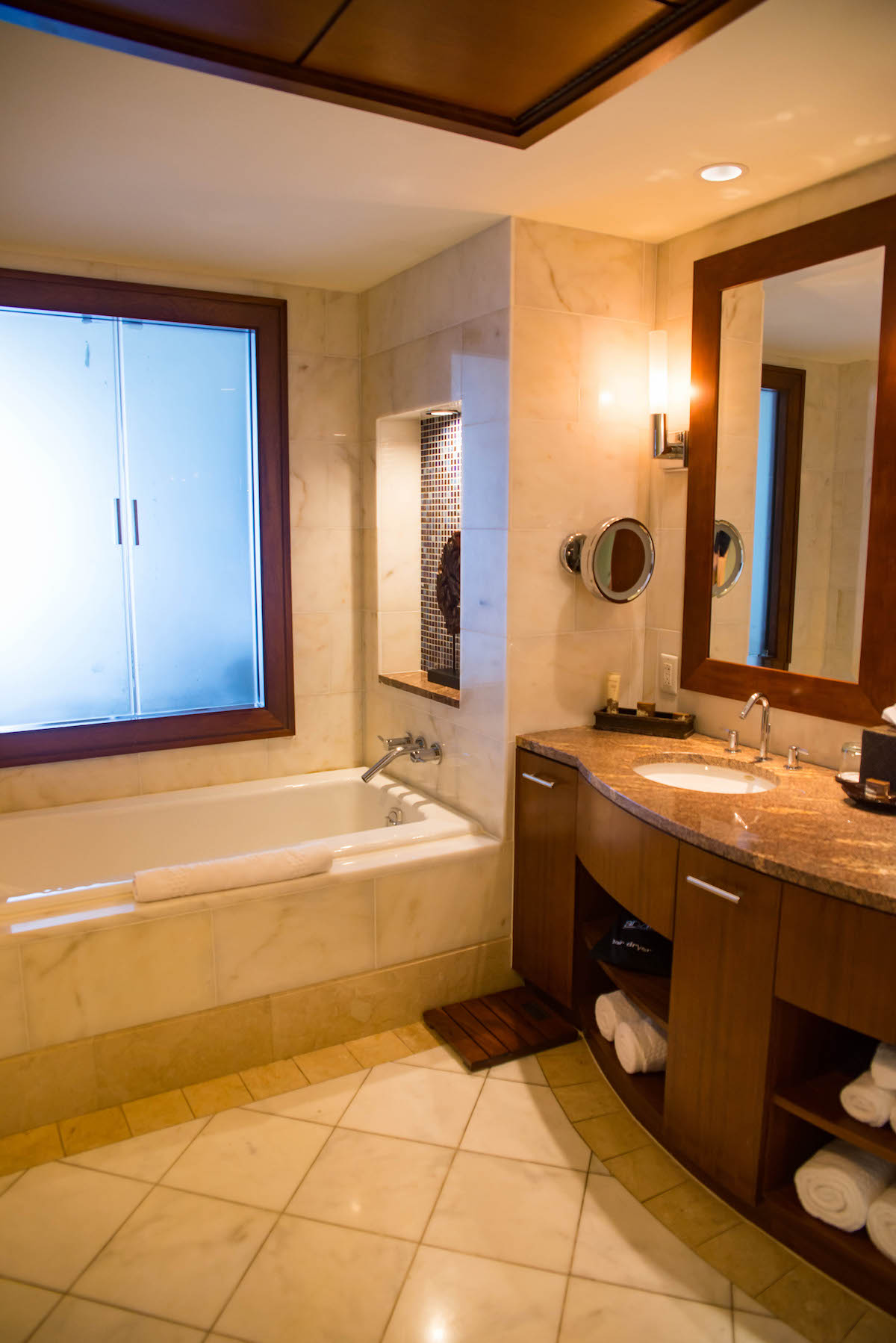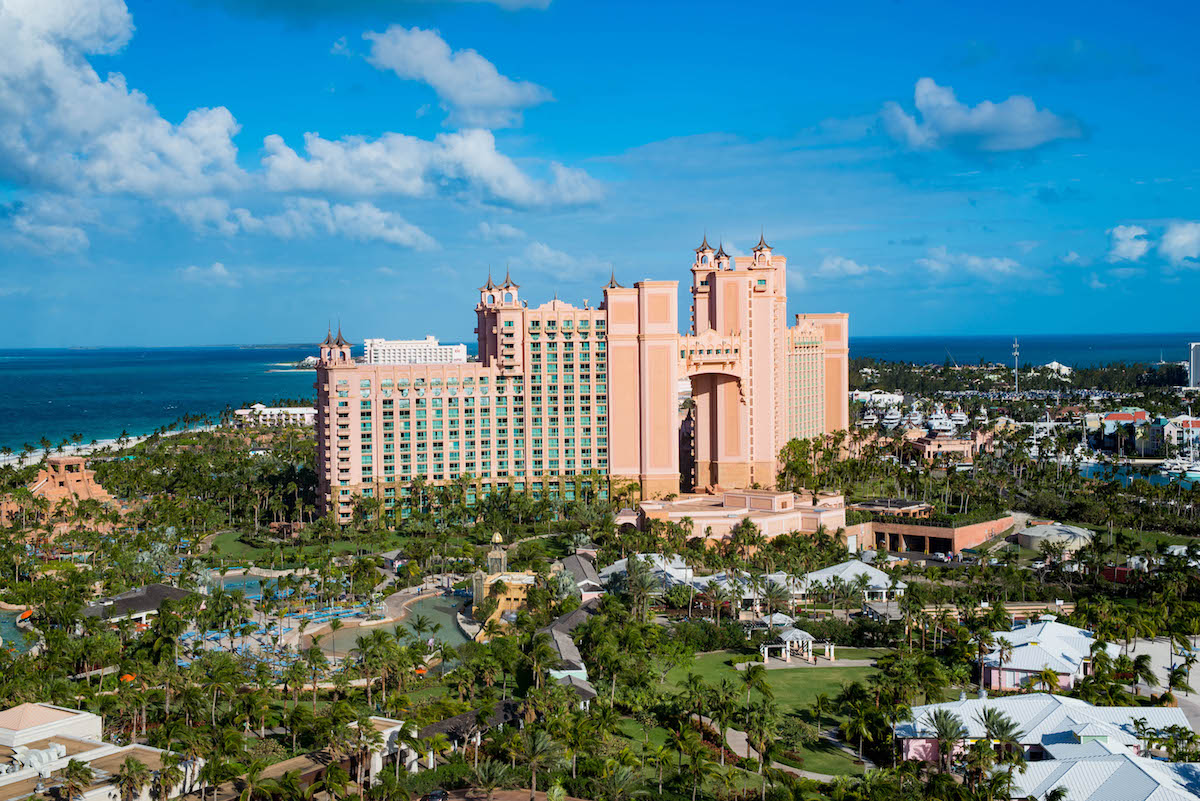 This was the view from my balcony! Insane right?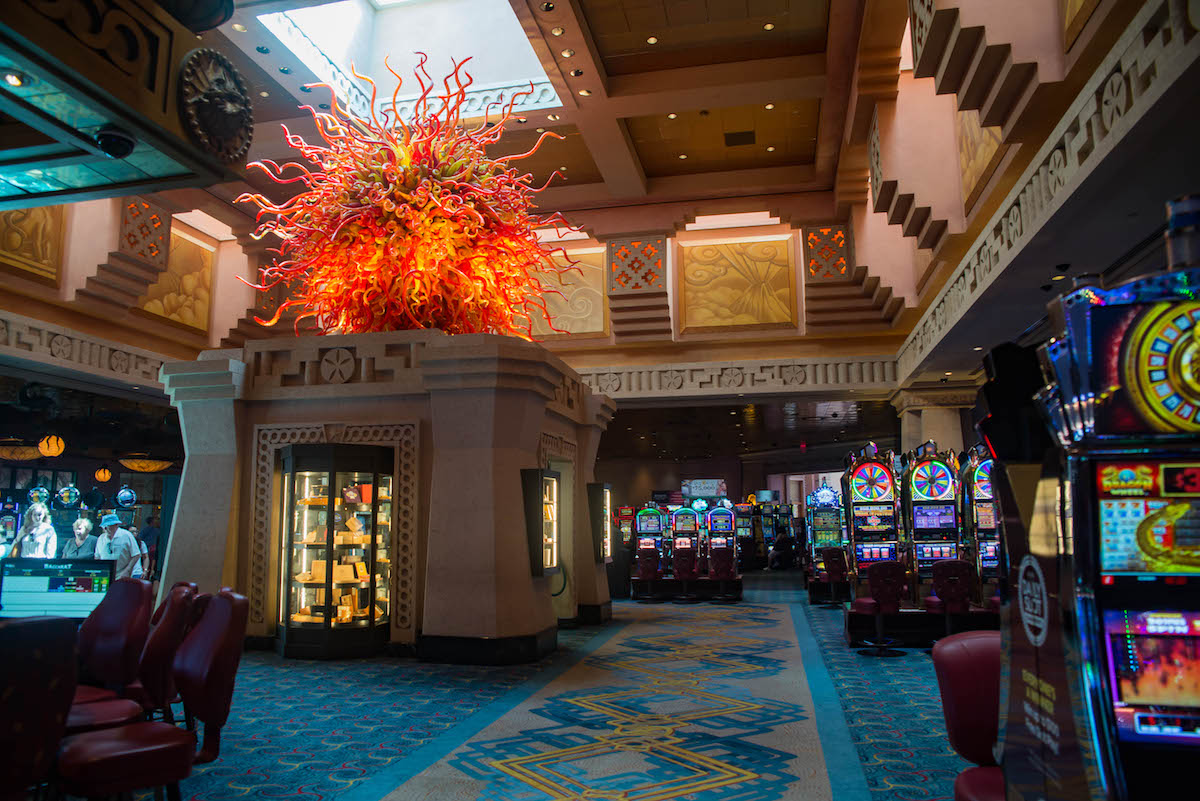 I'm not much of a gambler, however we couldn't miss out on a few rounds of roulette at the famed Atlantis Casino. Luck sadly wasn't on my side the night that we went, but it was still fun to experience the lively atmosphere and mingle with all of the spring breakers and old-timers.
One of the aspects I like about The Atlantis is that it's a destination for all ages. No matter if you're traveling with family and children, a large group of friends or if you're looking for a romantic getaway with your boo– the resort is so large that's there's a place and an activity for everyone.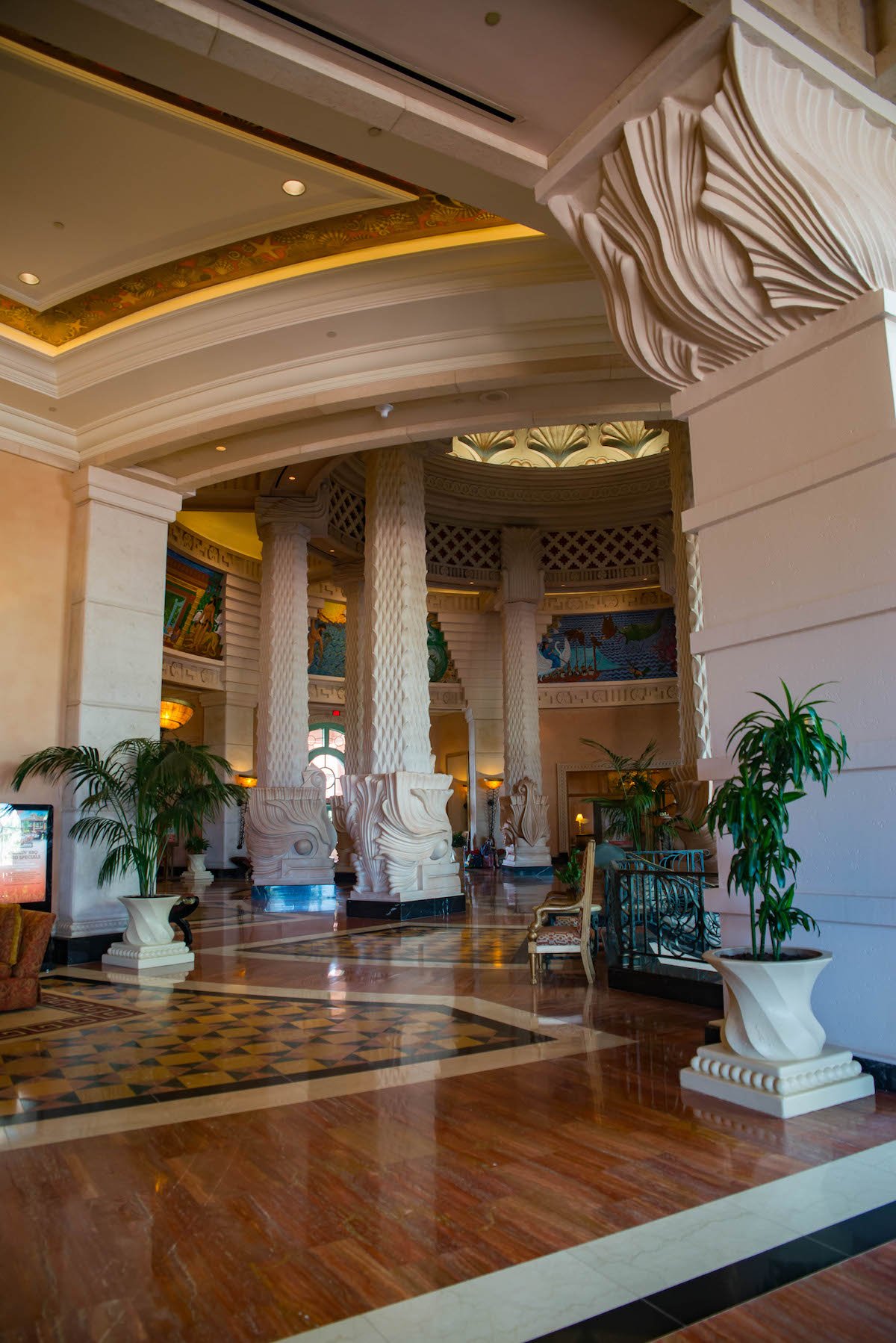 So I'll admit, I have two regrets from this trip. 1) It wasn't longer– our schedule was so full of excursions that we really only had time to have our meals and get in a few hours of sun at the pool and beach at The Atlantis. 2) We didn't take any group photos! When we were getting ready to leave for the airport it hit all of us that we hadn't taken any pictures together. You would think as bloggers that would be the first thing on our minds, but honestly we were just having too much fun catching up that no one really thought about it. While it's good to detach, I think we all made a mental note for our next girls' trip to be better about documenting our experience together. Whoops!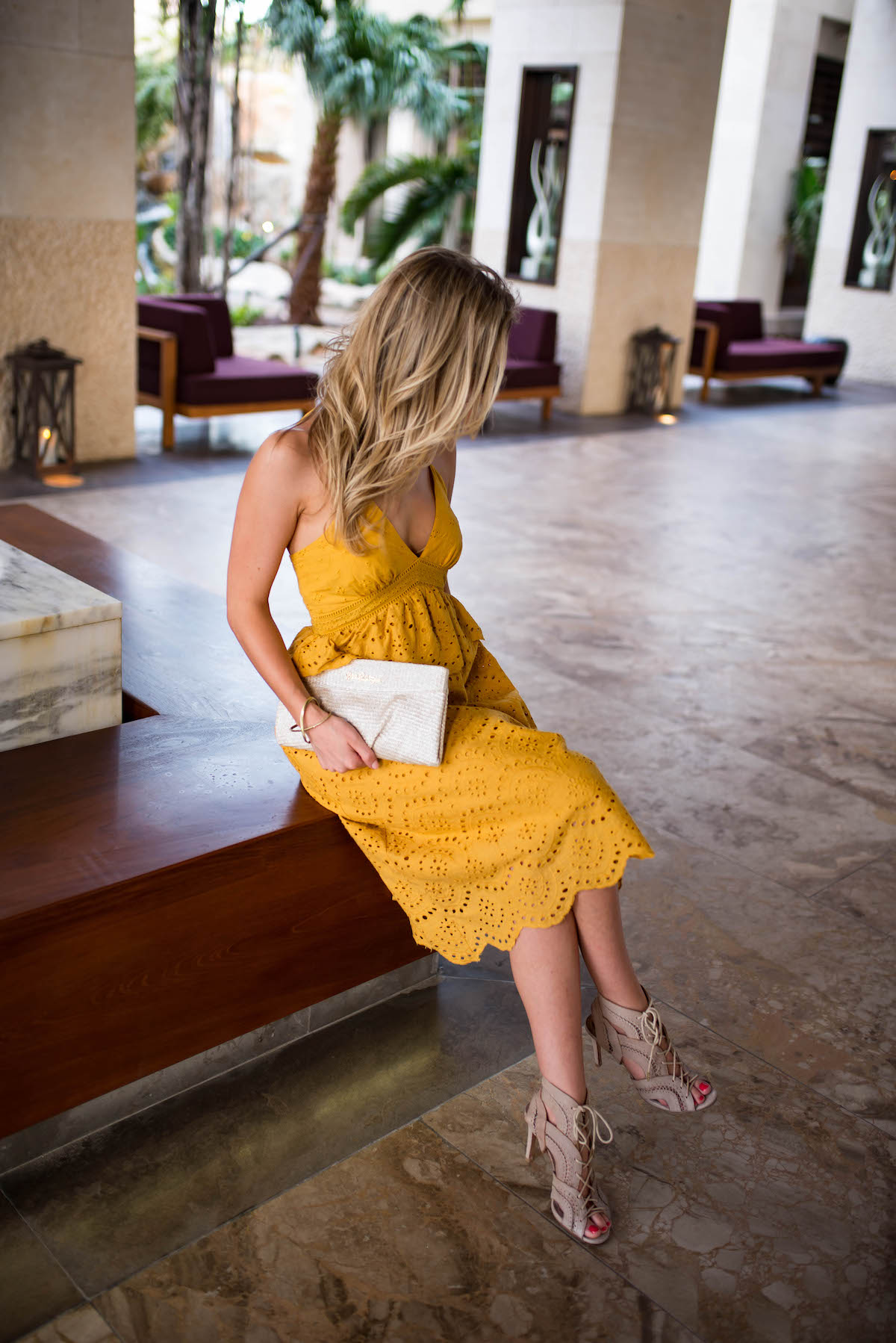 Yellow Cocktail Dress (full blog post here) | Clutch | Cuff Bracelet | Similar Sandals
To wrap things up, I think it's clear just how much fun I had in the Bahamas. Nassau, and specifically Paradise Island, is definitely a place you should add to your bucket list and I can't recommend The Atlantis enough if you're looking for a upbeat resort with endless activities. PS for those of you who live in the south or on the east coast in the U.S. it's an incredibly quick flight– just about three hours from New York. It's easy enough to even go for a long weekend! Not that I'm getting any ideas…
- Katie