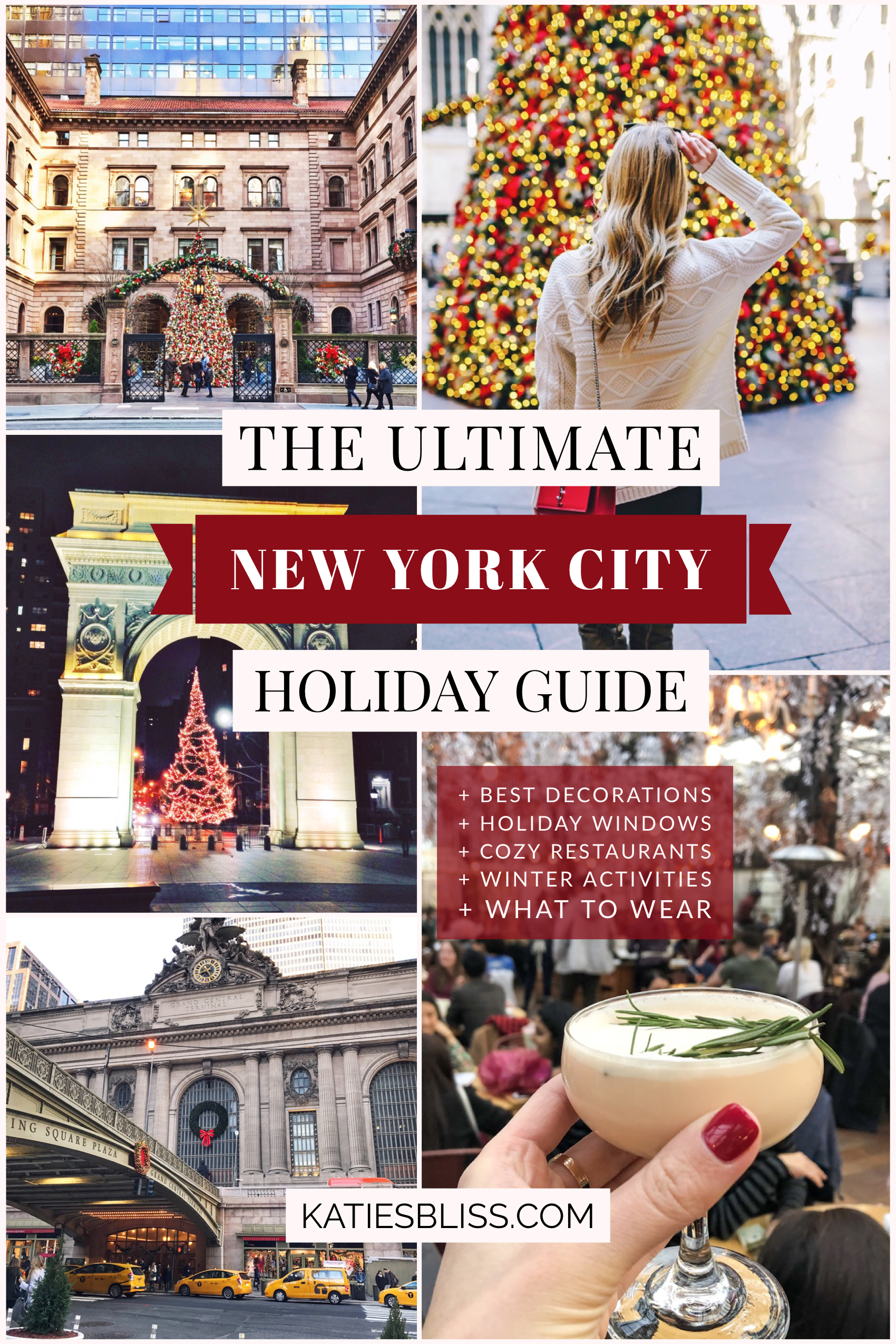 New York in December. There's really no place like it! Every year I fall more and more in love with the city in all its festive glory. I've been getting so many messages and requests asking for recommendations and tips for what to wear when visiting in December so here you have it: The Ultimate New York City Holiday Guide.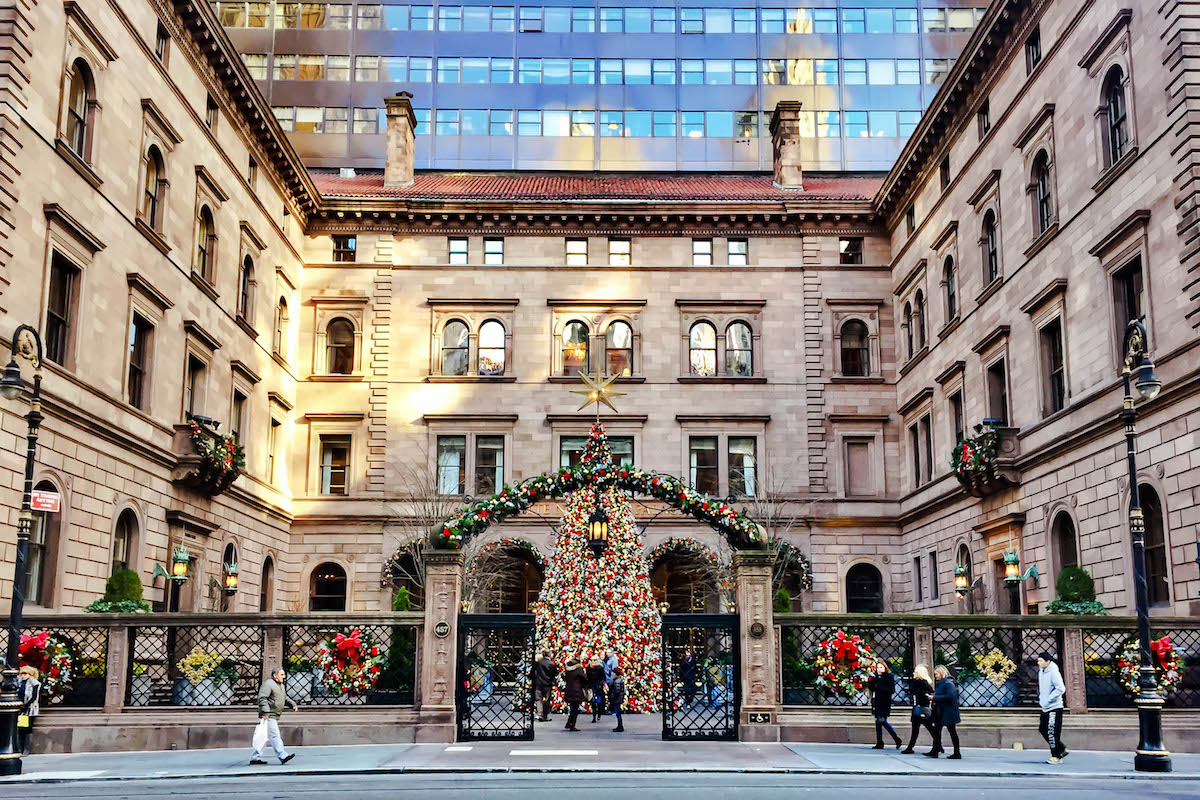 I tried to make this as comprehensive as possible including the quintessential tourist attractions (I honestly have nothing against these and shamelessly have indulged in them myself) along with the places and restaurants locals will frequent for their fill of Christmas cheer. Enjoy!
PS if you're interested in seeing my general New York recommendations make sure you peek at my NYC Guide, which can be found here.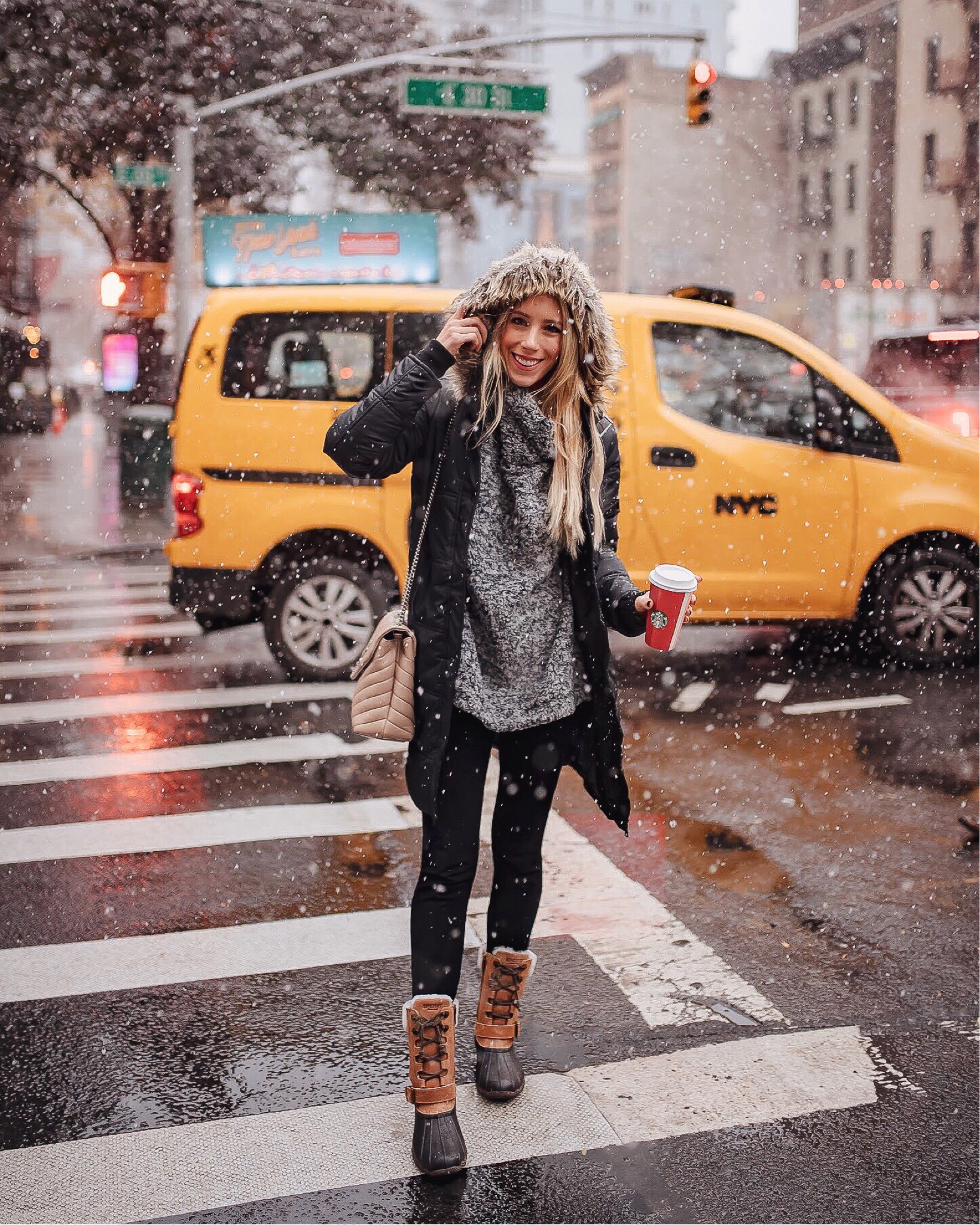 OUTFIT DETAILS // Similar Weather-Resistant Down Coat | Snow Boots | Similar Fleece Pullover

WHAT TO WEAR 
So you've figured out what you want to do in New York… Now what to wear? It normally doesn't snow in December (I can only remember once in the last five years) but it is cold. The temperature can range anywhere from the 30's to the 50's but if there's wind it can feel colder. If you aren't used to the climate, I'd make sure you bring a reliable and warm winter coat (like a down or puffer) and a hat, gloves, and scarf. Also comfortable shoes for walking is key. In the winter I live in short booties like these (on casual days) and then over the knee boots for when I'm trying to dress up.
COZY LAYERS


WINTER COATS


COLD WEATHER ACCESSORIES


STYLISH WINTER-APPROPRIATE BOOTS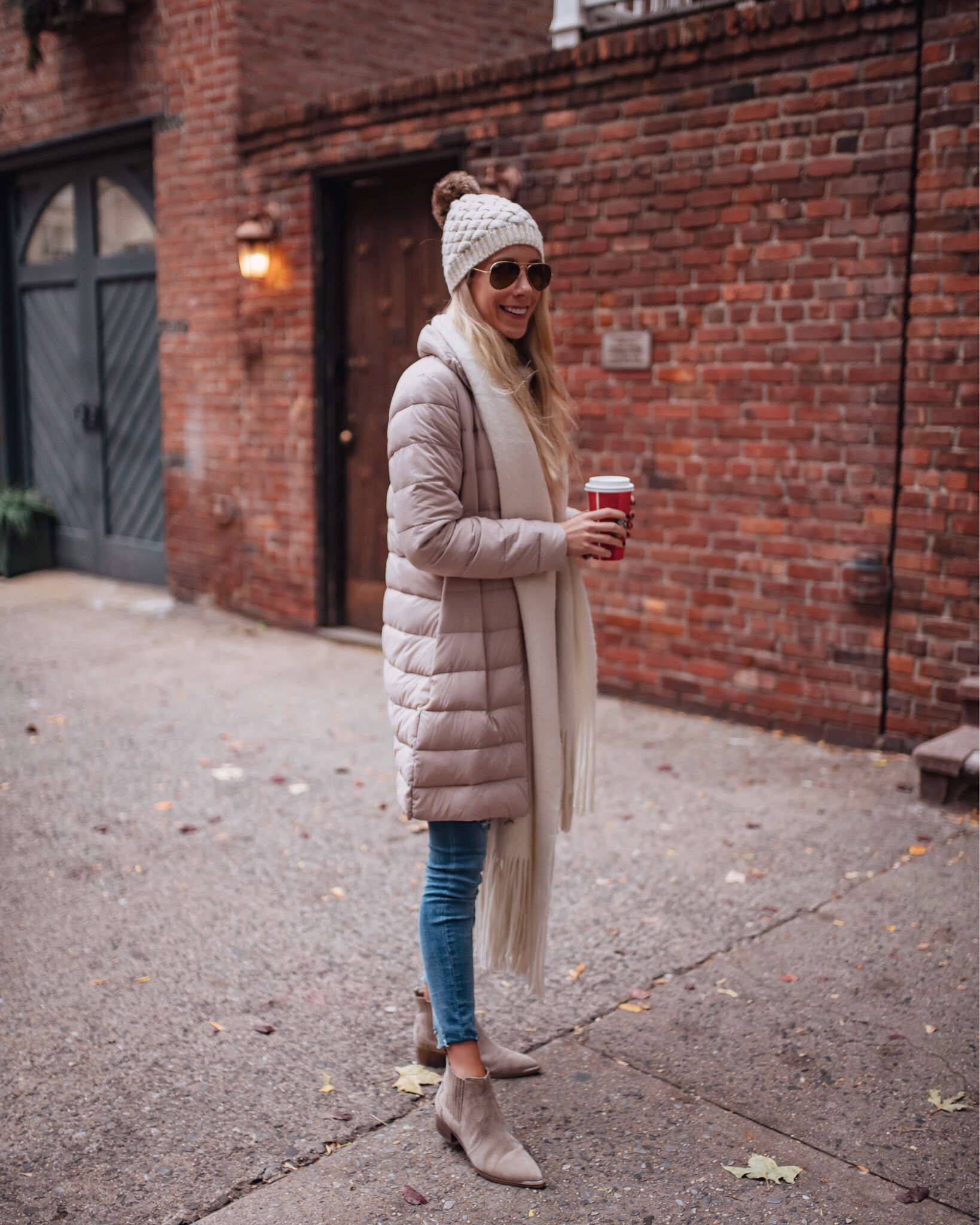 OUTFIT DETAILS // Similar Puffer Coat | Fringe Scarf | Similar Suede Booties | Skinny Jeans | Similar Pom Pom Beanie | Aviators
GO SEE A HOLIDAY SHOW
MY RECOMMENDATIONS…
The Nutcracker
Radio City Christmas Spectacular
Saks 5th Avenue Light Show
I've seen both The Nutcracker and the Radio City Christmas Spectacular and can guarantee you'll leave each performance feeling all the holiday vibes. I personally prefer The Nutcracker– I grew up taking dance classes and the New York City Ballet is one of the best companies in the world. The Radio City Christmas Spectacular is definitely something you should see at least once, but it's 100% catered to tourists. Radio City Music Hall is huge (bring your glasses if you wear them) and they allow guests to take photos during the show. This is a pro and con because yes, you can take pictures for the memories, but it's really annoying when you have someone in front with their phone or camera out. If you have kids, definitely opt for the Christmas Spectacular over The Nutcracker.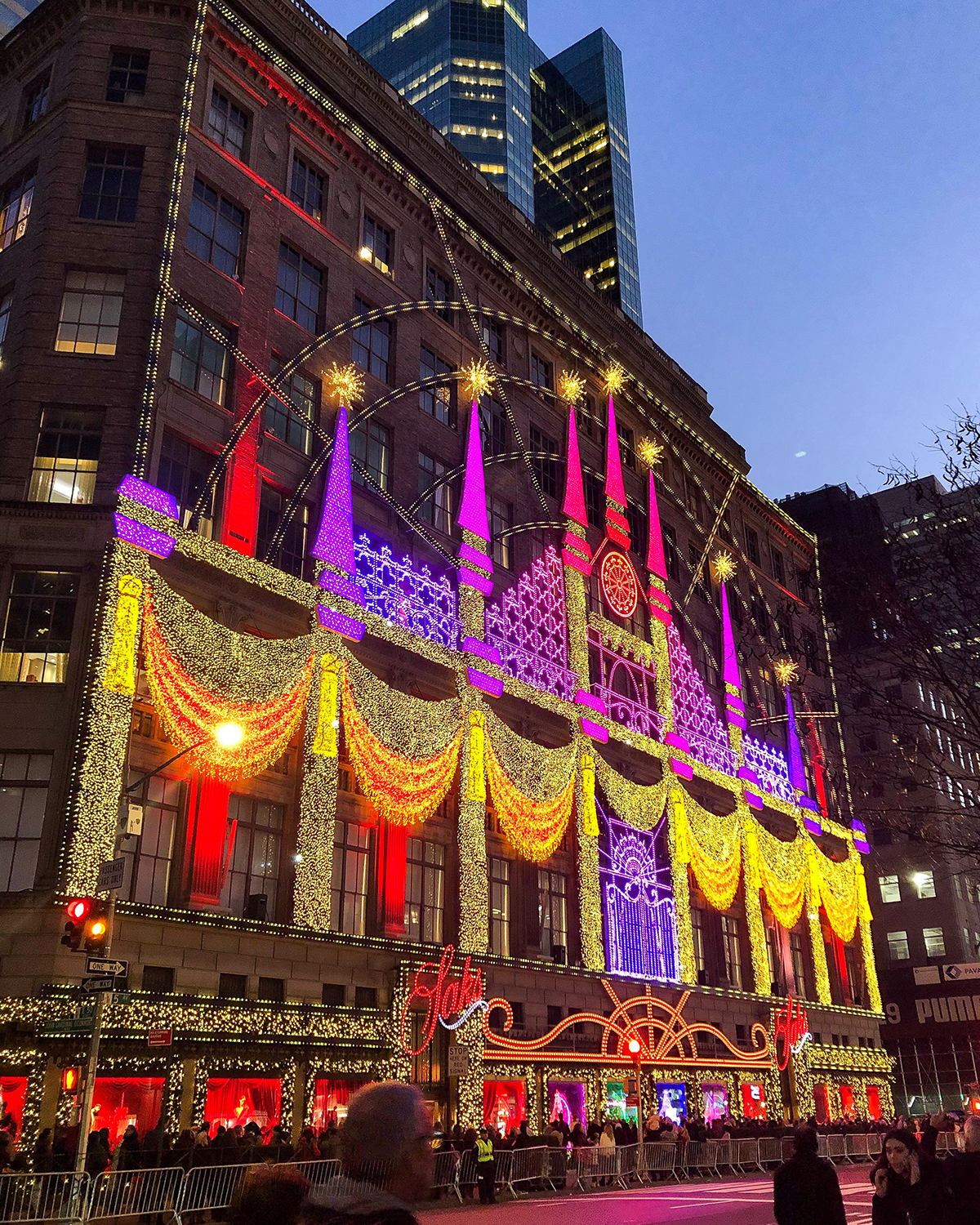 For some budget-friendly entertainment I'd highly recommend stopping by Saks 5th Avenue to watch the light show. This stunning (free!) light show plays on a loop to festive music every evening on the facade of the 5th Avenue store between 49th & 50th streets.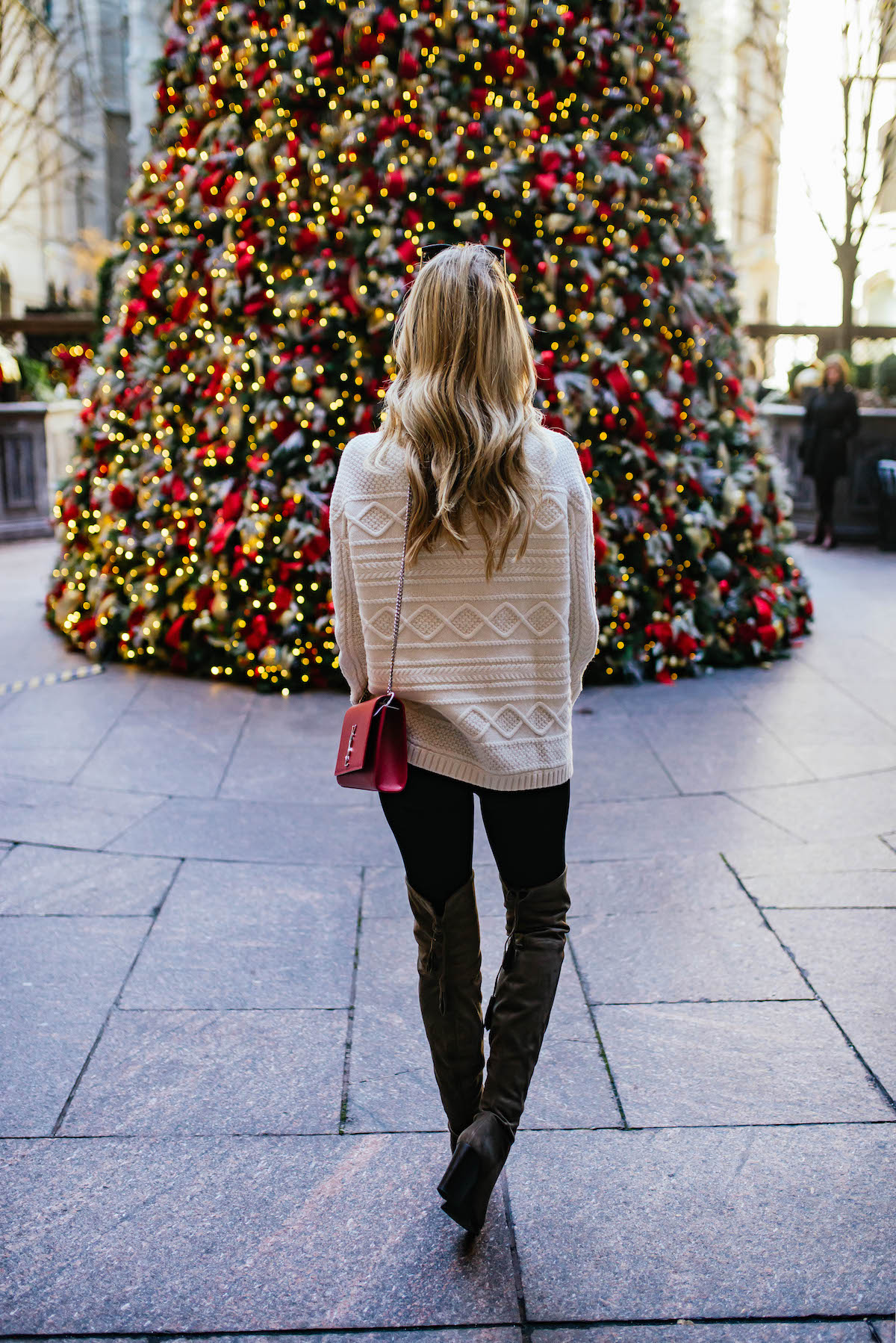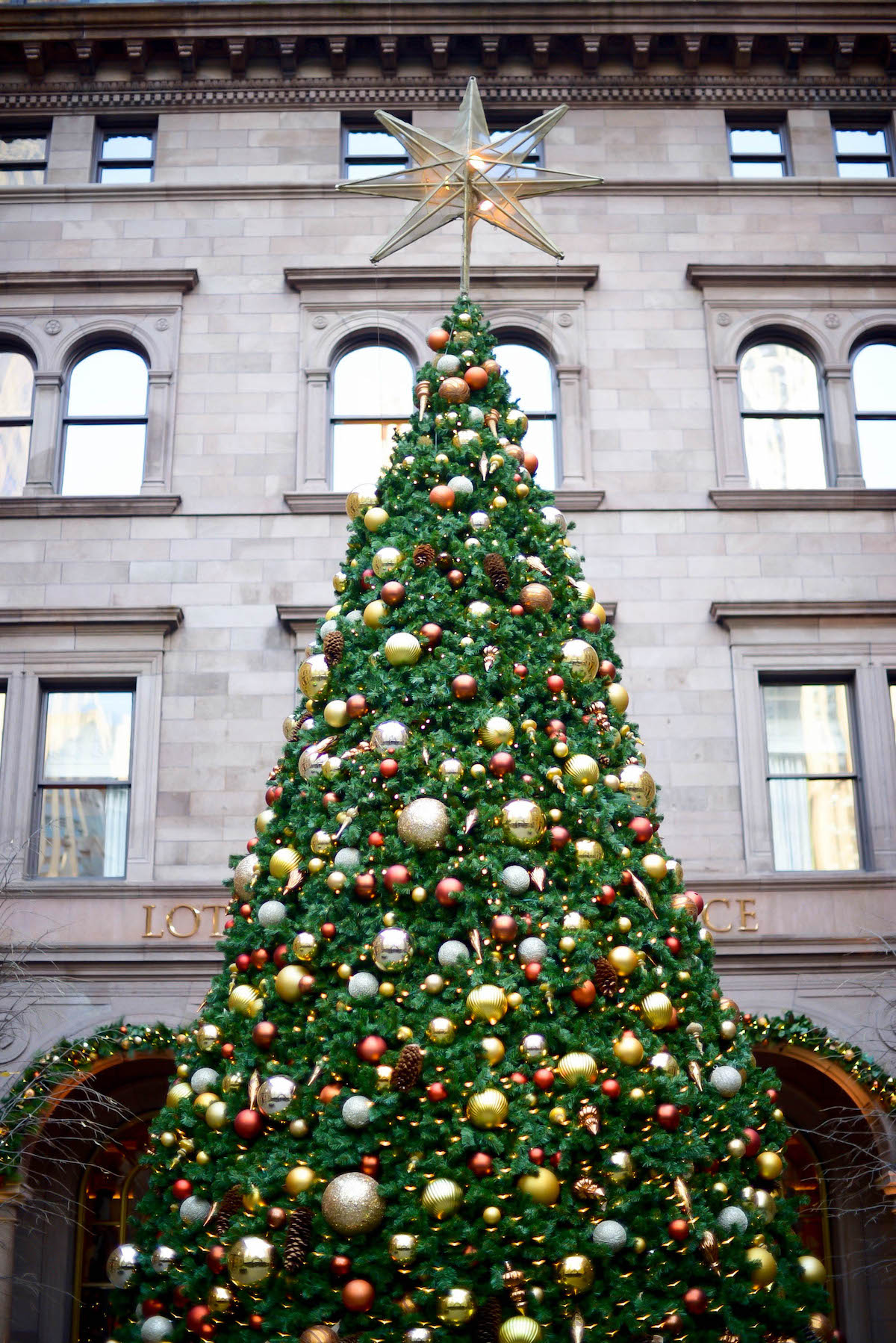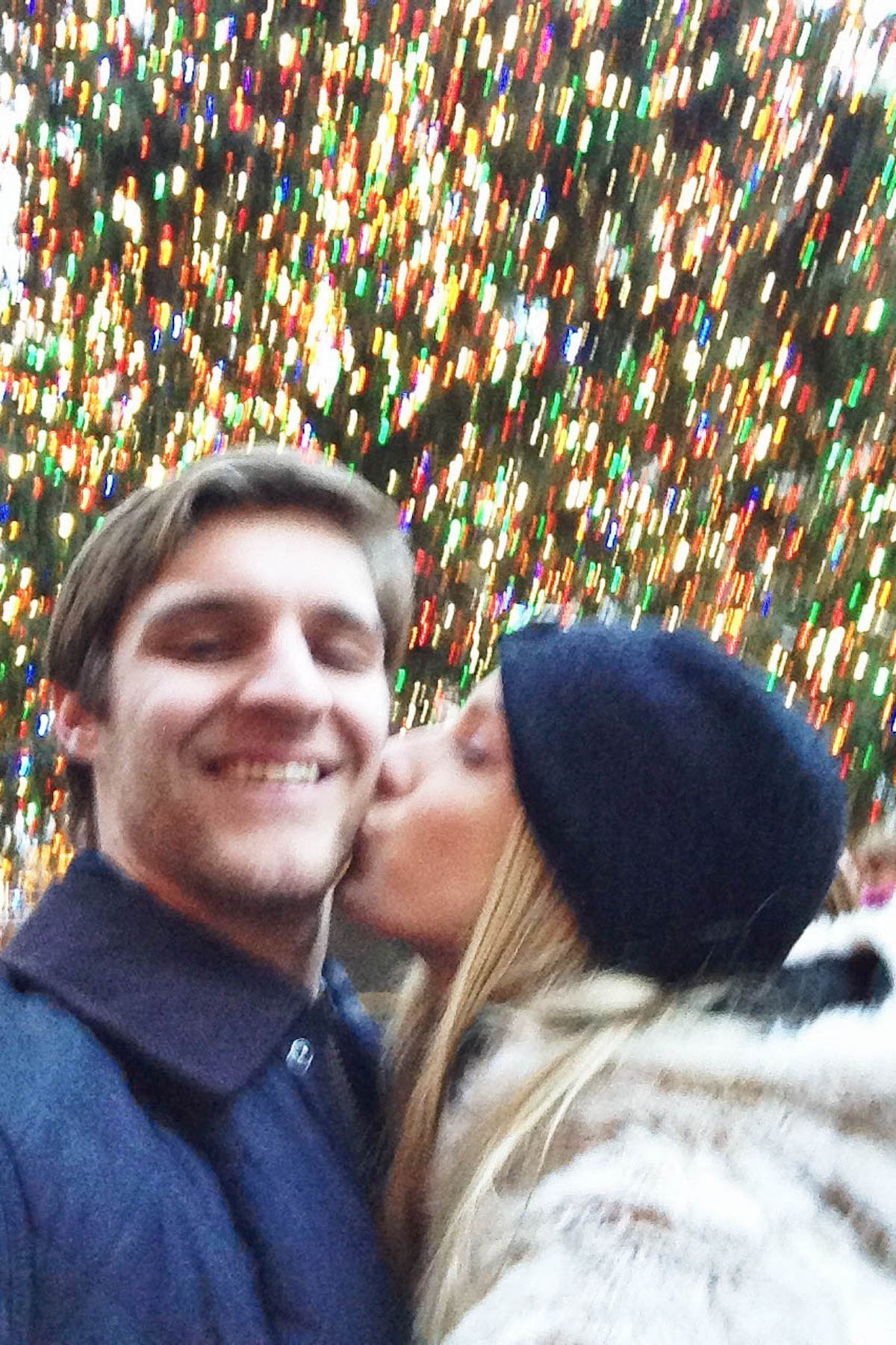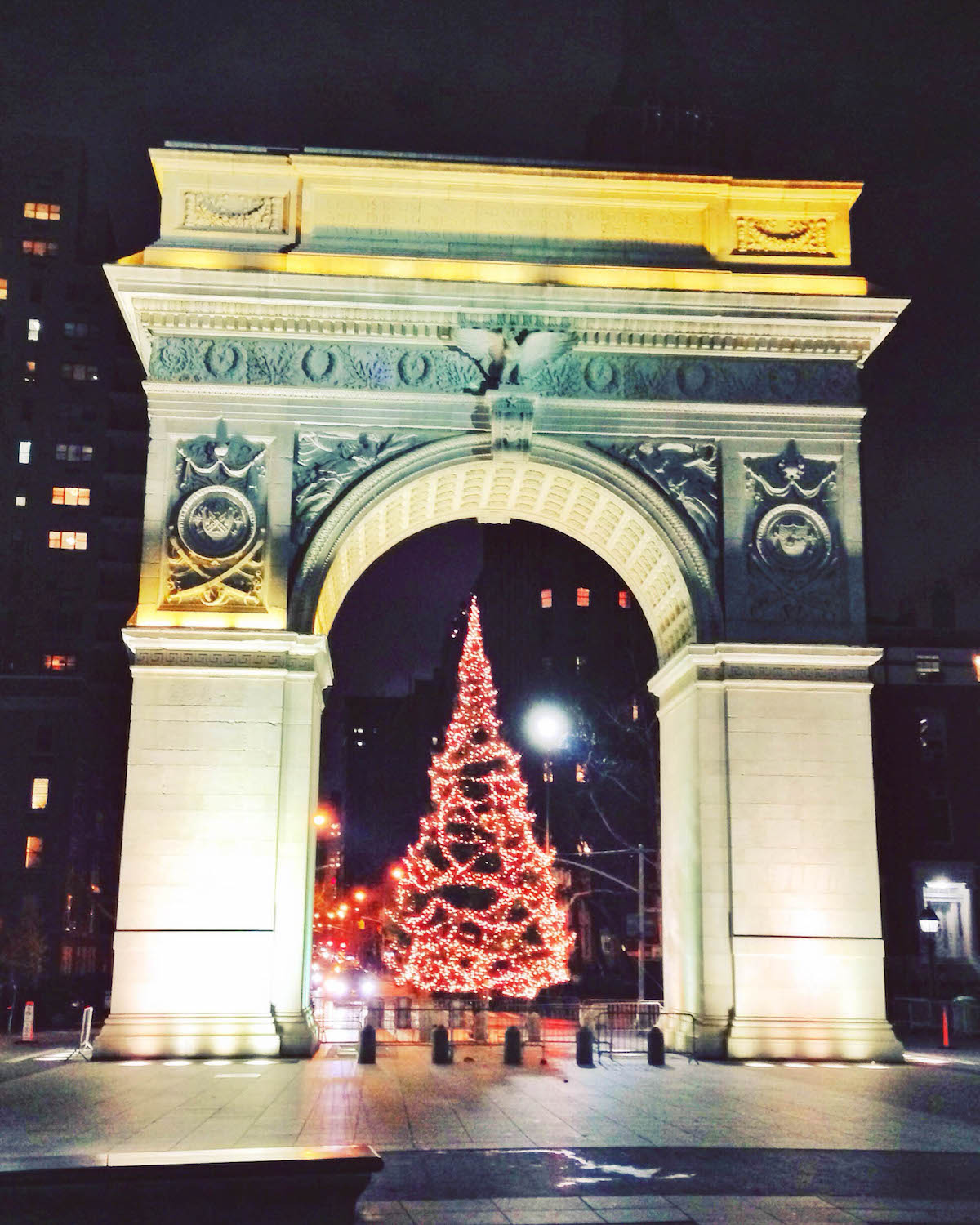 INDULGE IN A SHAMELESS HOLIDAY PHOTO OPP
MY FAVORITE CHRISTMAS SELFIE SPOTS…
Christmas Tree at the Lotte New York Palace (everyone Instagrams this– go early if you want a photo with no one else in background)
Rockefeller Center Christmas Tree (always packed with tourists but one of those things you just have to see– the ice skating rink is right there too!)
Top Of The Rock (one of the best views of New York where you can see the Empire State Building and the entire downtown skyline)
Central Park (so many spots for photos and deceptively large: my favorite places are Gapstow Bridge for a great view of The Plaza Hotel, The Mall for a walk underneath the towering elm trees, and the famous Bow Bridge or lesser known Oak Bridge for beautiful views of the lake.)
Grand Central Station (I find Grand Central so magical and it always takes my breath away especially at the holidays when they put up the Christmas wreaths. It's worth going just to get a picture from the second-level balcony, but if you have more time check out the Grand Central Market and other foodie spots and shops in the terminal.)
Christmas Tree at the Washington Square Park Arch (equally pretty during the day, but also at night when it's lit up!)
Cartier Store (you can't miss the gift wrapped-storefront on 5th Avenue– it's by far my favorite holiday photo opp)

I have no shame when it comes to indulging in cheesy photo opps and over the years have gathered lots of festive snaps at various decorated spots in the city. It's convenient that most of these photos opps are located all within walking distance in Midtown. If you're looking for the perfect shot, my best advice is to always start your day early in the morning before crowds arrive.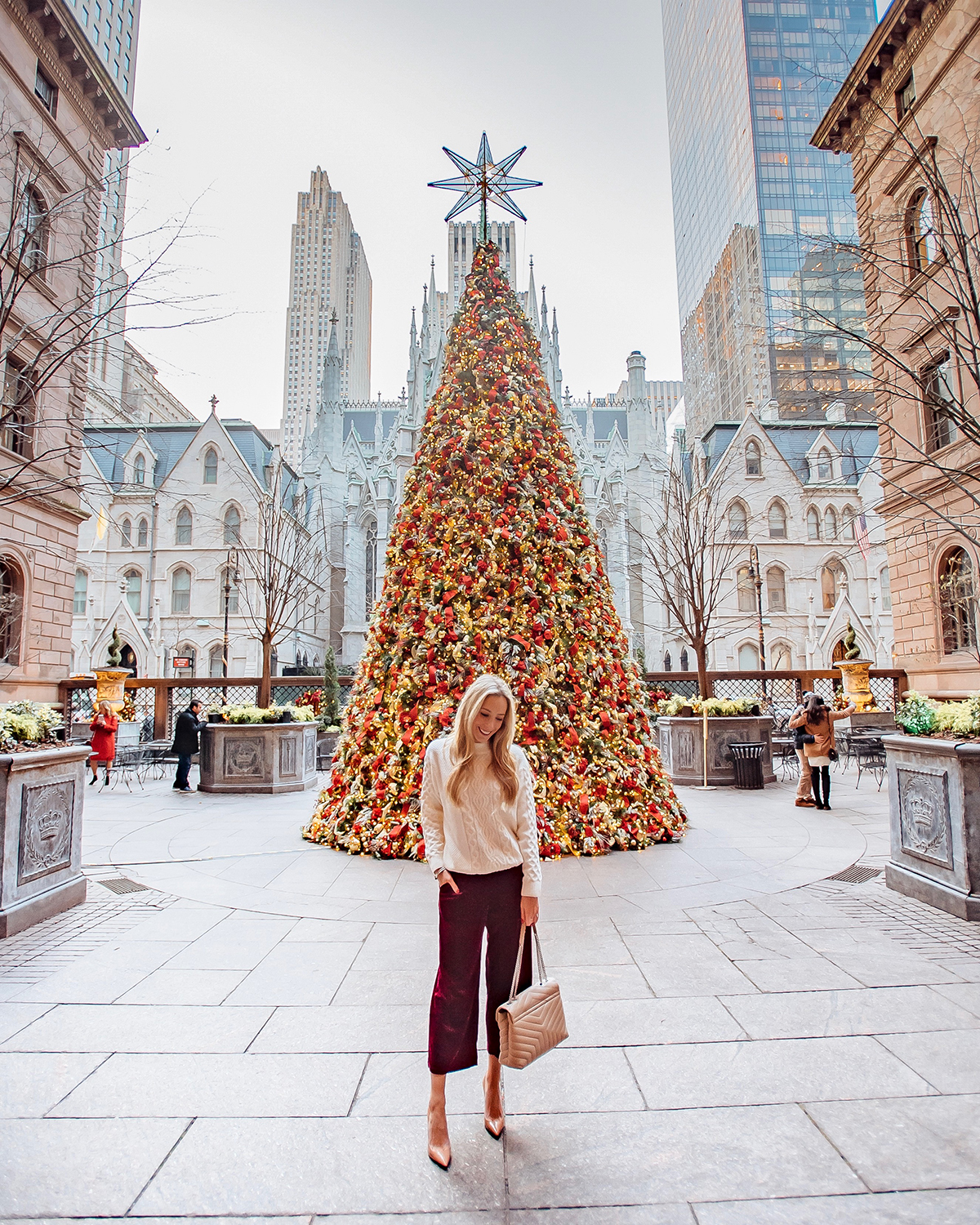 OUTFIT DETAILS // Knit Turtleneck Sweater | Wide Leg Pants | Louboutin Nude Pumps | Saint Laurent Tote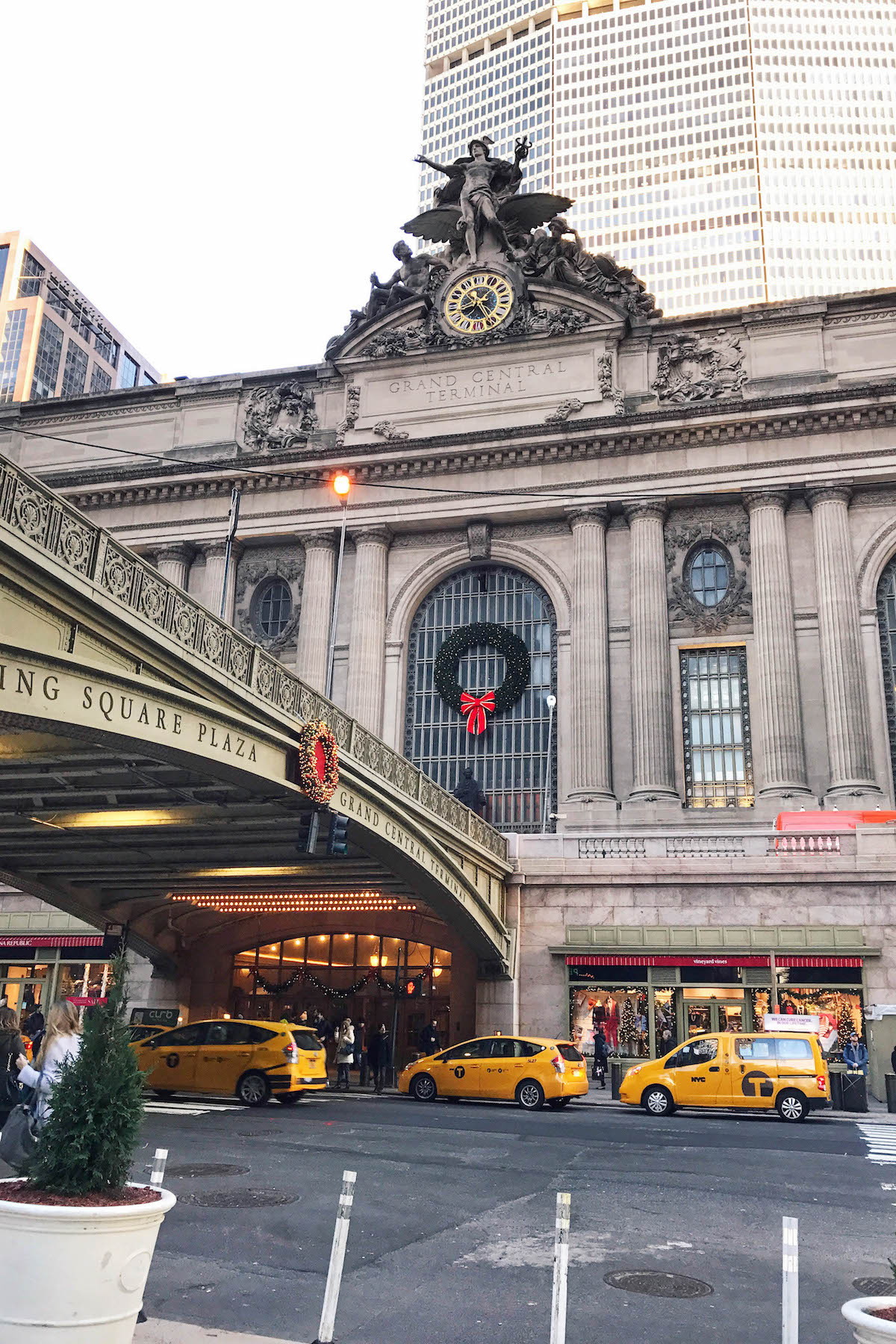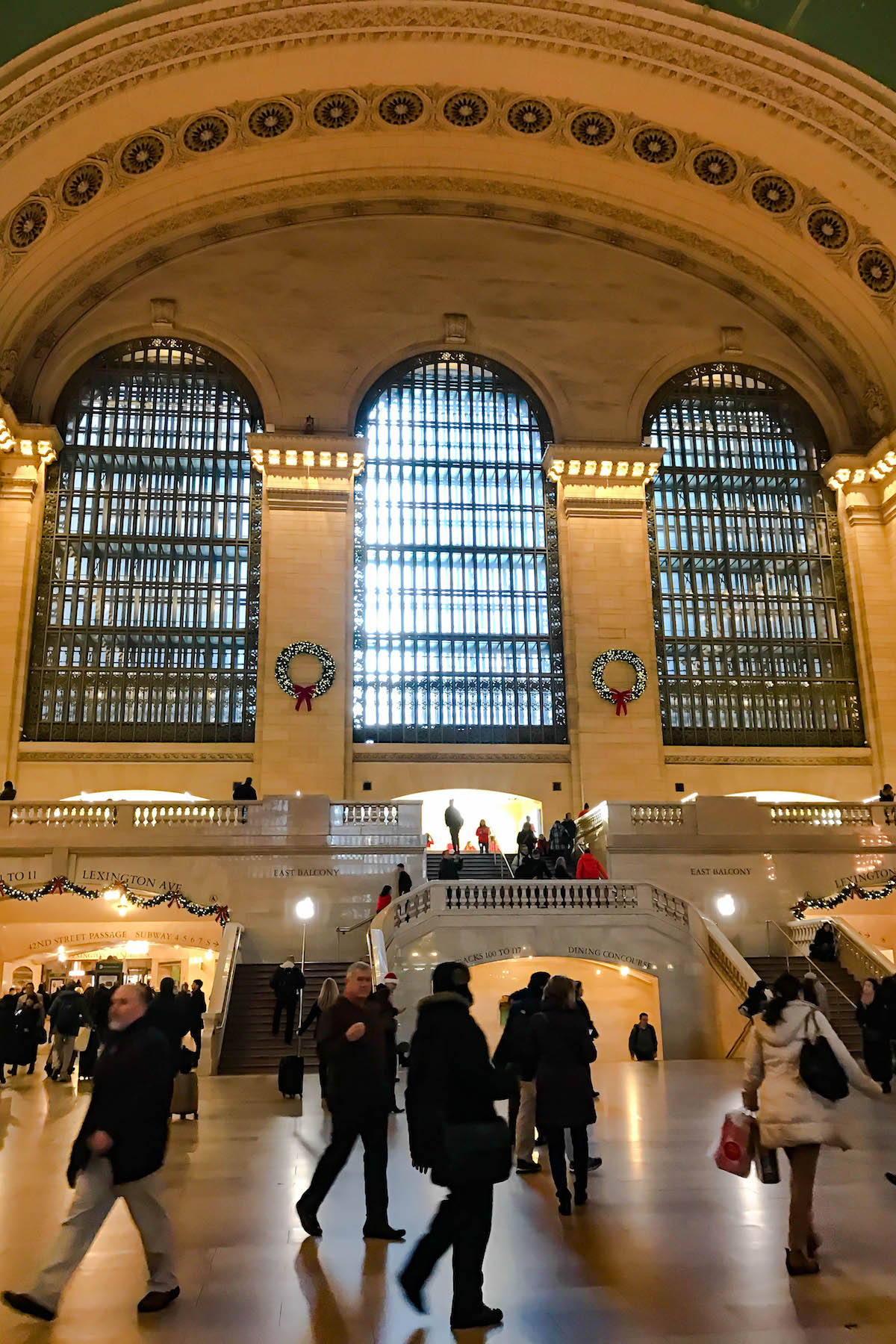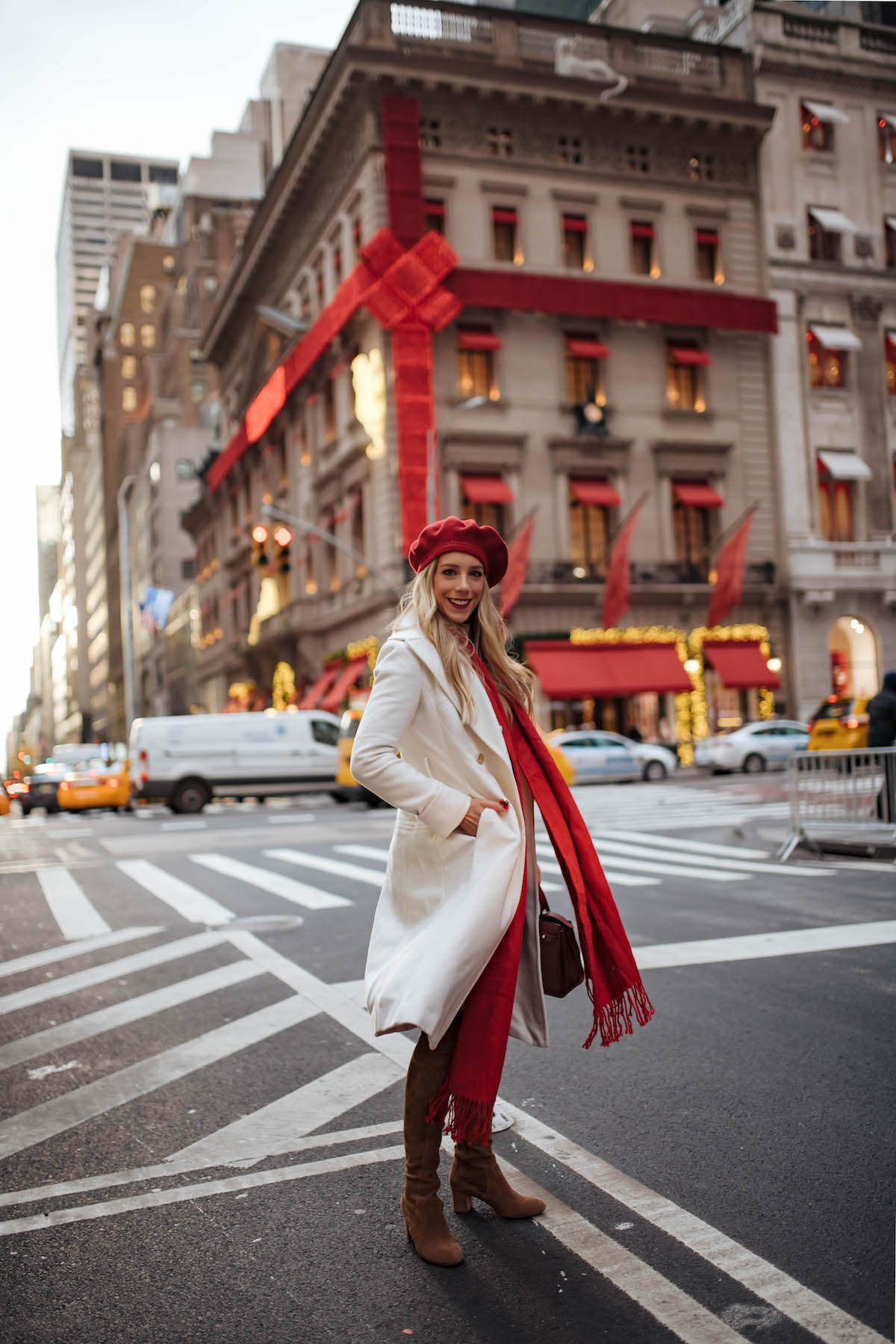 OUTFIT DETAILS // Similar Winter Jacket | Similar Fringe Scarf | Similar Beret | Suede Boots
EXPLORE DECORATED HOTEL LOBBIES
THE MOST FESTIVE HOTELS…
The Plaza Hotel
Lotte New York Palace
The Peninsula
The St. Regis
The Baccarat
Gramercy Park Hotel
New York hotels love to go all out with incredible decorations at the holidays. If you're looking to kill some time without spending money, it's a lot of fun just walking around exploring hotel lobbies in their festive splendor. The famed Christmas tree in the courtyard that everyone Instagrams can be found at the Lotte New York Palace. The Peninsula also always has amazing decorations adorning the exterior of the hotel which makes for a great shot. Hotels are always great pitstops for bathroom breaks or grabbing a cocktail or coffee too.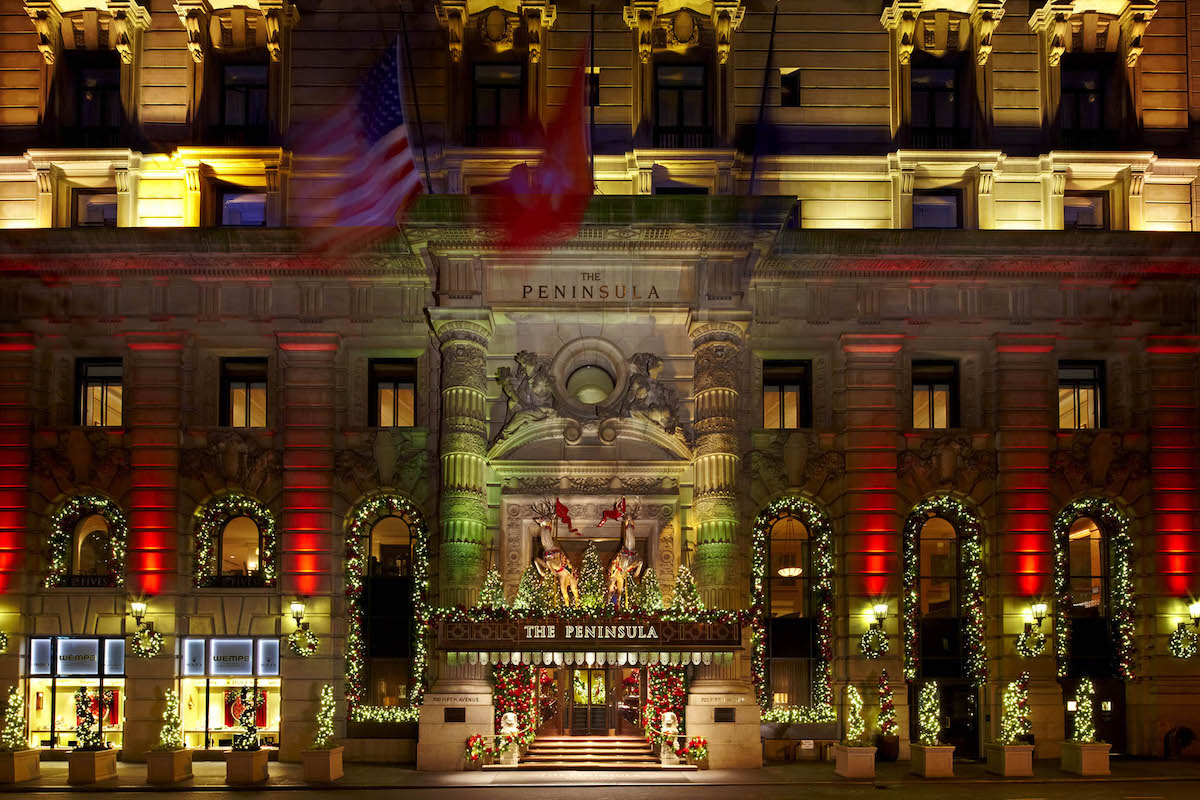 Images via Time Out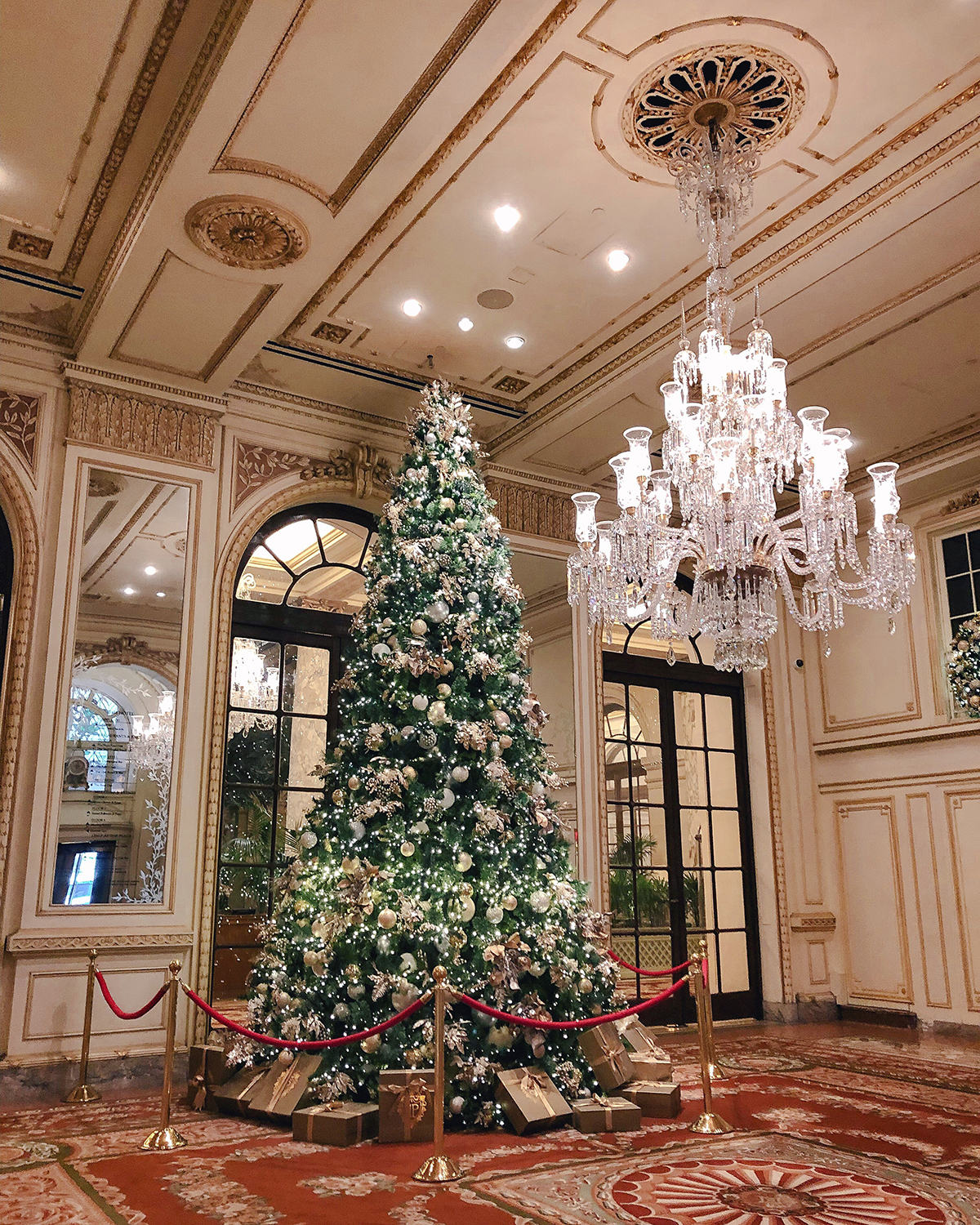 PEEP THE MIDTOWN DEPARTMENT STORE HOLIDAY WINDOWS
DEPARTMENT STORES WITH DISPLAYS…
Bergdorf Goodman
Saks Fifth Avenue
Barney's
Bloomingdales
Lord & Taylor
Macy's
Tiffany & Co.
You can't come to New York and not peek at the department store holiday window displays. Again, I'd recommend doing this early because the streets can become mobbed with tourists. You can also knock out some of your holiday shopping at the same time 🙂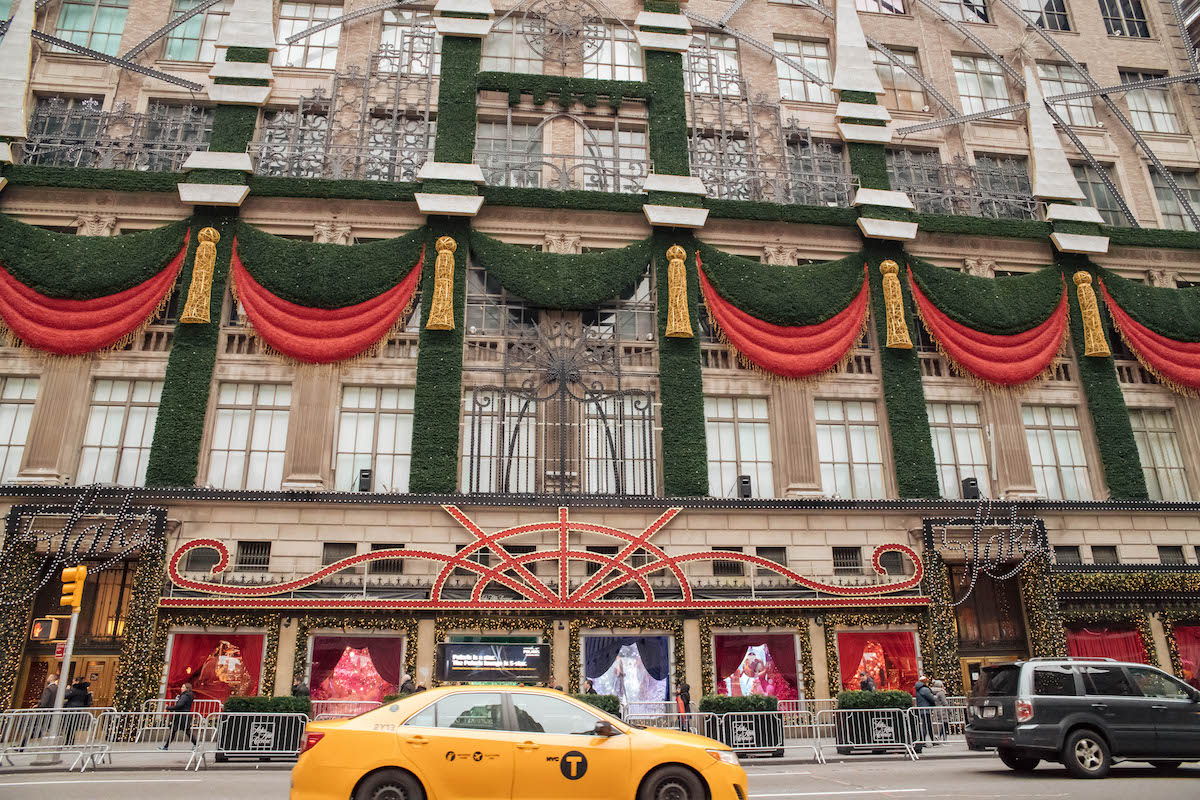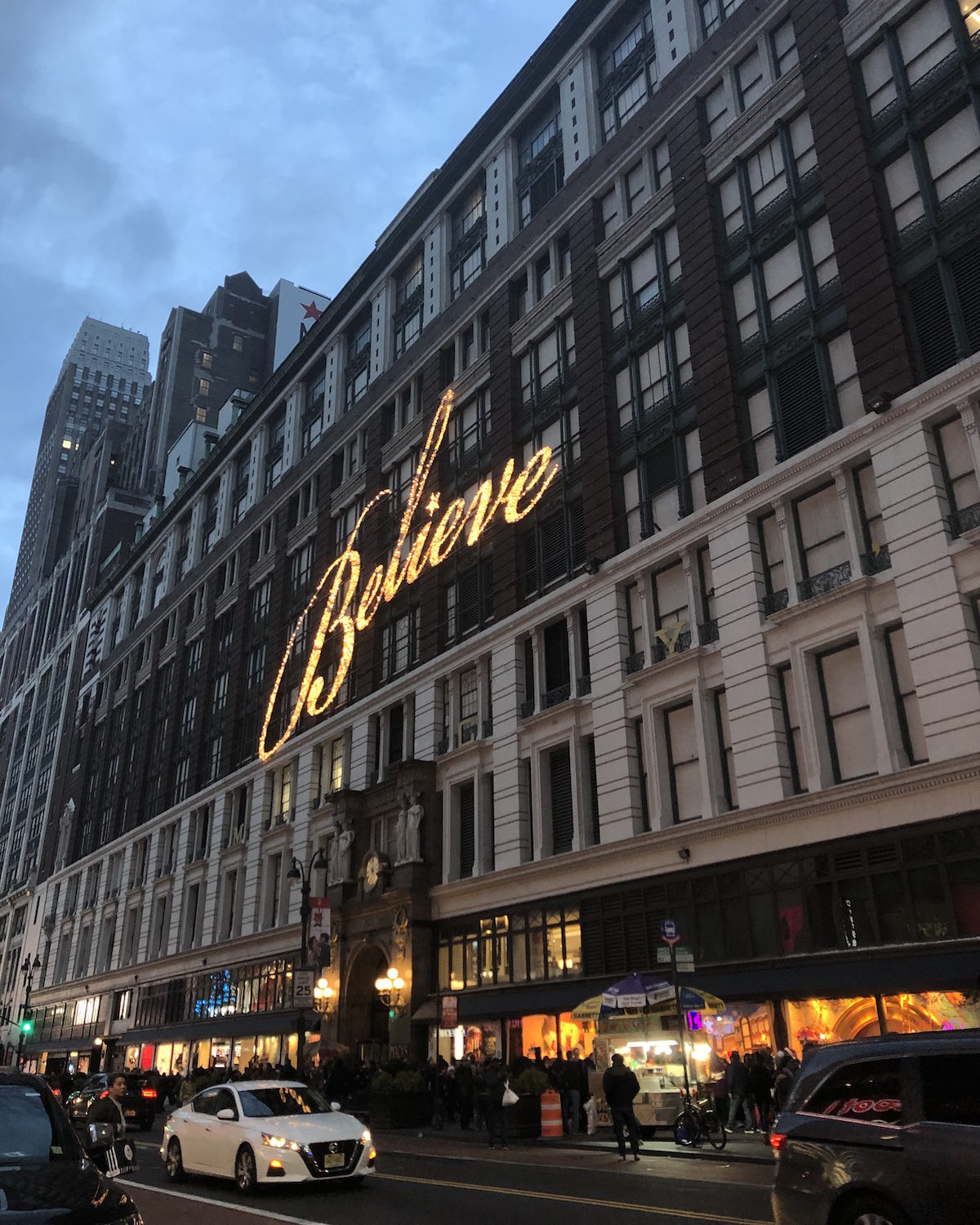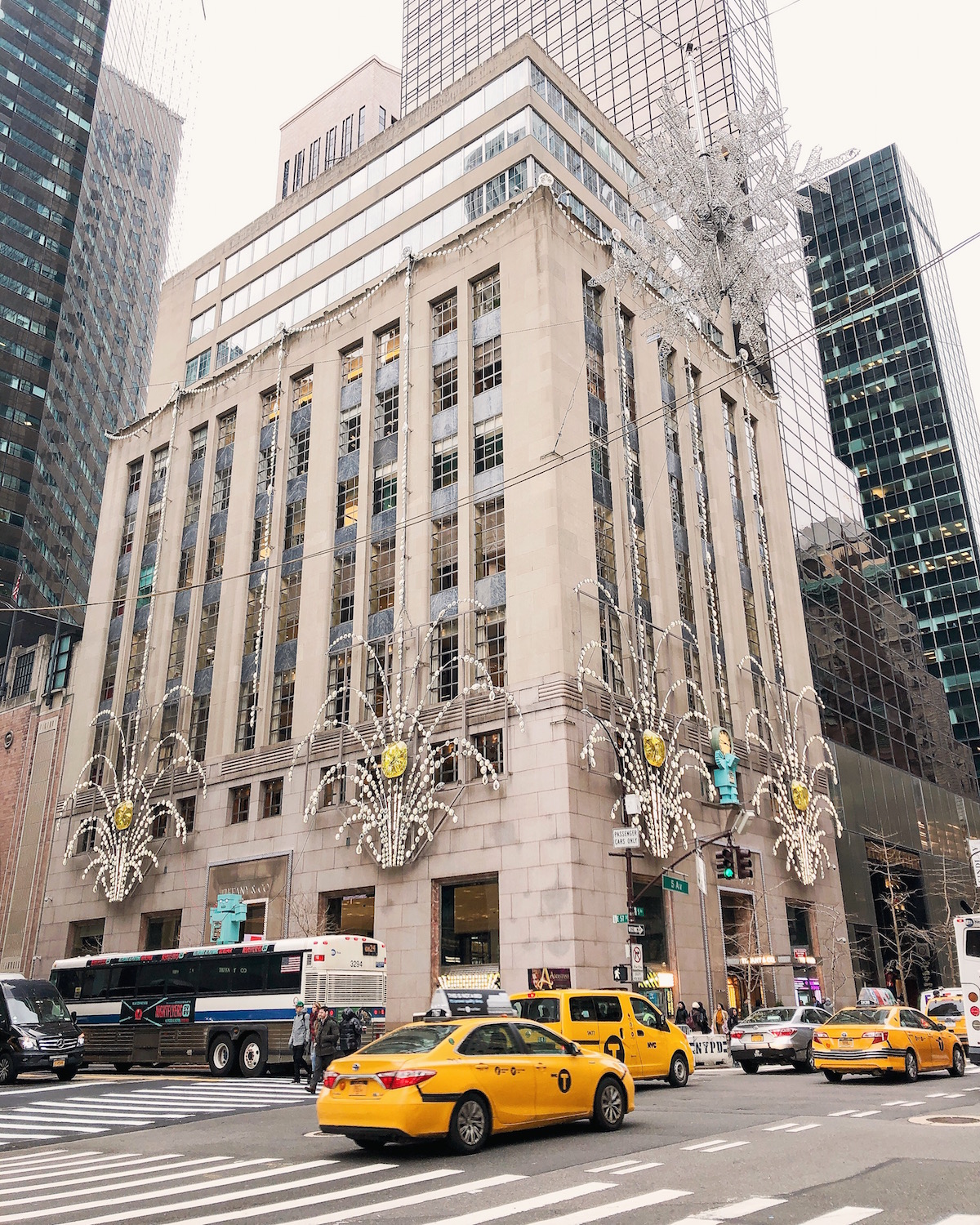 GRAB A FESTIVE DRINK
BARS & RESTAURANTS THAT EMBRACE ALL THE HOLIDAY CHEER…
Rolf's
It's a shameless tourist spot, but it's worth going once for a drink and to get a photo of the ornament-adorned ceiling. I'd try to make a reservation if you can (I attempted to last year but no one ever picked up the phone.) If you don't have a reservation, I'd recommend going on a weekday or as early as possible. Last year Nick and I went at 11AM on a Sunday and had to wait in line for over 30 minutes.
King Cole Bar at the St. Regis Hotel
Apparently this is where the bloody mary was invented! It's fancy and pricey, but the holiday decor is always on point and any meal will become a special memory.
The Bar at the Baccarat Hotel
Expensive, over-the-top and worth every penny. The quintessential fancy New York bar, but minus the snobby attitude. Here you'll find welcoming top notch service and the most amazing cocktails you'll ever taste. The location is right in central midtown and convenient to many of New York's festive spots.
The Lodge at Bryant Park Winter Village
Nick and I grabbed drinks and dessert here for the first time last year and were pleasantly surprised by the service and ambiance! It's a great place to go with friends and family if you're skating in Bryant Park or browsing the shops.
SERRA at Eataly Rooftop
Every winter Eataly transforms their rooftop into an alpine ski lodge with sheepskin rugs & throws, Christmas trees and festive decor. The vibe is really fun and upbeat so it's a great place for groups or to grab a drink with your boo. I'd HIGHLY recommend only going for drinks at the bar and to take a photo of the decorations. The food is incredibly subpar and not worth the money especially when there are so many other great options nearby!
The NoMad Hotel Bar
This is hands down my favorite upscale bar in the city year-round. Nick and I go all the time and have never been disappointed. The drinks are expensive ($20 a cocktail) but in our opinion completely worth it, especially if you can grab a spot next to the cozy fireplace. The bartenders (who all wear suspenders & bowties) are extremely knowledgable and every drink is meticulously crafted. It's definitely a place to go if you want to be impressed and feel super chic in a Great Gatsby-esque cocktail estabishment. There's a small food menu for bar patrons, but if you really want to go all out dine in the hotel restaurant. We celebrated Nick's birthday there two years in a row and had some of the best food we've ever eaten in New York.
The Rose Bar at the Gramercy Park Hotel
The Rose Bar is another one of my go-to fancy cocktail spots. The hotel itself is beautiful and has a roaring fireplace in the lobby perfect for warming up on a cold night. It is a bit of a celebrity/fashion crowd hotspot so there is a a door policy on busy nights and weekends. To avoid any snootiness or having to wait in line, I'd recommend going on a weeknight or in the evening before 10PM.
The Campbell
A classic cozy bar right in Grand Central station– who knew? The Campbell is a New York institution with a rich history dating back to the 1920s. It's the perfect place to hide from chilly weather while you're bopping around Midtown.
Dear Irving
I just discovered this speakeasy-type bar in Gramercy (right down the street from The Rose Bar) and I'm obsessed. It's tiny and a bit secretive, so you need to make a reservation in advance. The cocktails are amazing and the vibe is so cool– you literally will feel like you've stepped back in time! To order drinks you have to press a brass button on the wall next to your table to call a waitress. When I went we ordered a few small bites, which were also very yummy.
Tiny's
You have to stop in Tiny's if you're downtown in Tribeca. Located in a cute historic pink townhouse, Tiny's has two different bar areas so you can go and post up for a drink or sit down for a meal (they serve brunch too!) The menu and decor is very rustic and all-American. It works as a date spot or a great place to go with your girlfriends!

One If By Land, Two If By Sea
While it may be known for it's delicious dining and romantic ambiance, One If By Land, Two If By Sea has an equally impressive bar and drink menu. When we went for Nick's birthday a few weeks ago, I had an incredible mezcal, pear and egg white cocktail that I'm still thinking about. There's also a live classical pianist playing by the bar, so even if you aren't going to eat it's worth stopping in for a drink.
Dead Rabbit
If you're looking for somewhere with an old school, Irish pub vibe then come here. It's way downtown in the Financial District but within short walking distance of all major subway lines and the South street Seaport (an up-and-coming neighborhood with great food and shopping.) Apparently Dead Rabbit has the largest whiskey collection in America and Forbes even named it the "World's Best Bar" in 2016.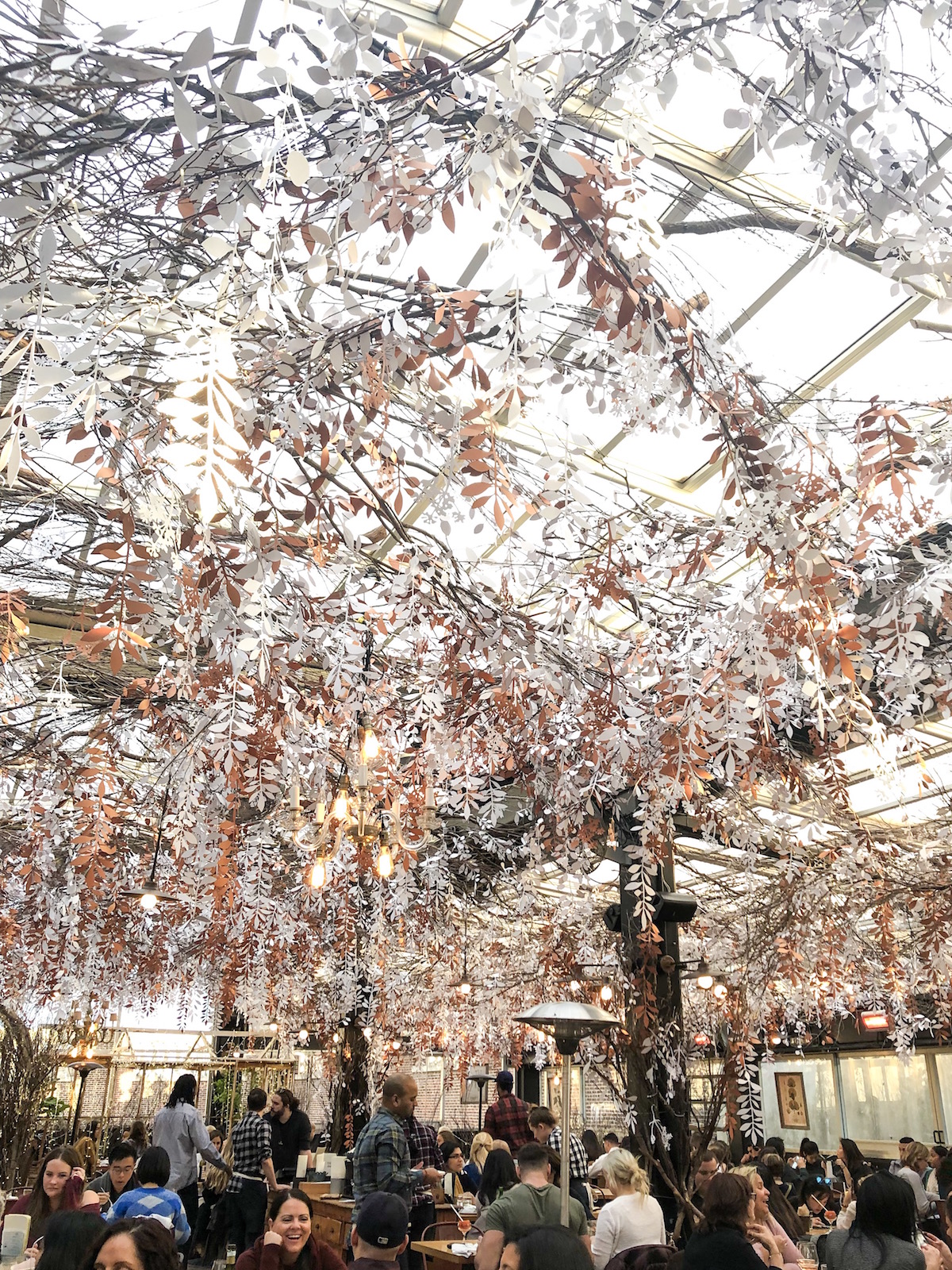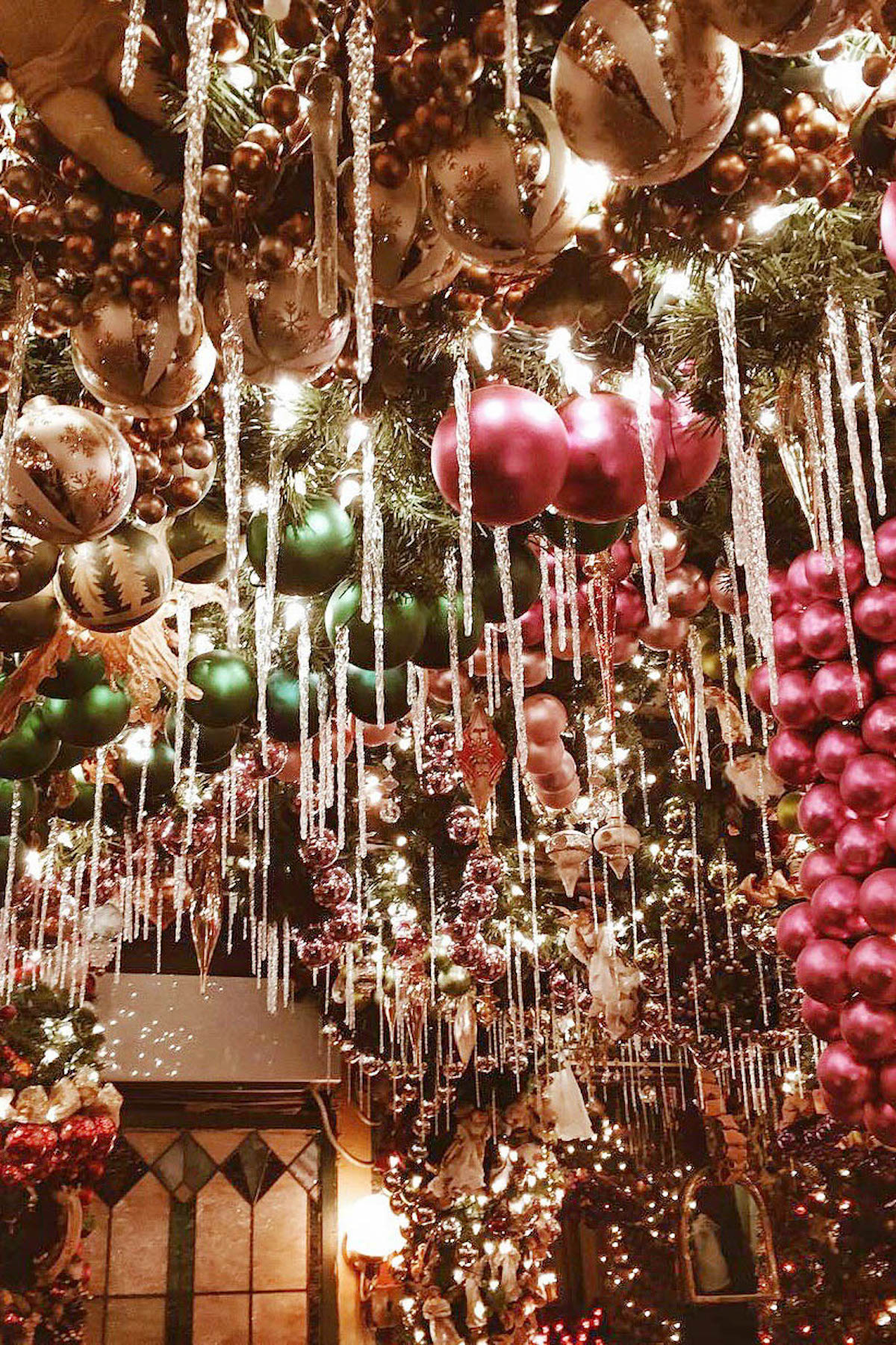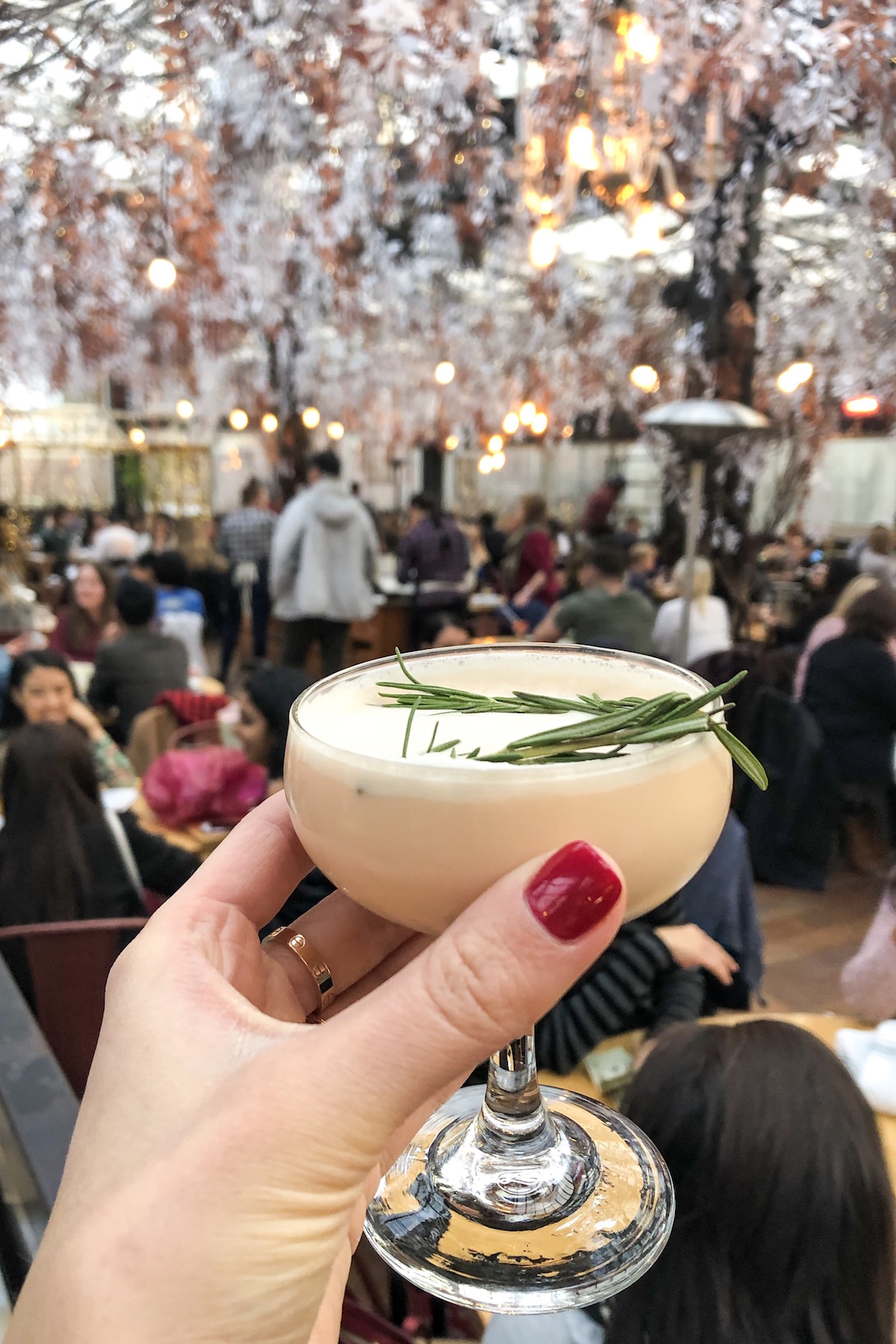 INDULGE IN A COZY MEAL
WHERE TO EAT…
Rosemary's
So so cute during the holidays! Just envision dangling Christmas lights and garland from the ceiling. This is a place to come if you're looking to cozy up over multiple plates of yummy Italian comfort food.
The Polo Bar
Delicious traditional American tavern fare in the heart of Midtown. To get a table you likely will have to make reservations at least 3-4 weeks in advance and TIP: order the burger!
The Smith
This is always one of my no-fail last minute spots for brunch, lunch or dinner. The food and service is always great and it's pretty easy to get a reservation since the restaurants are so large. I love how they add seasonal specials to the menu every few months– there's always something new to try along with the classic faves like the chicken pot pie and lobster roll. There are multiple locations throughout the city too.
The Smile
Love the cozy rustic feel of this restaurant! Think exposed stone walls and wood-paneled ceilings. Equally good for brunch and dinner or a pitstop for coffee (or glass of wine.)
Ruby's
Super laid back dining with an Australian twist and equally good for brunch or dinner. The menu is very wallet-friendly (by New York standards) and the decor is super cute. I always order the spicy Italian sausage pasta with a side of sweet potato fries 😛
Jack's Wife Freda
One of my favorite brunch spots in the city year-round. They don't take reservations so try and arrive early or expect to wait for up to an hour. It's totally worth it though!
Extra Virgin
Another romantic and magically rustic Italian spot in the West Village.
Waverly Inn
Quintessential West Village restaurant on a tree-lined street with stunning townhomes. It's more of a special occasion place, so I'd only recommend eating there if you're willing to spend, but trust me you won't be disappointed!
The Mermaid Inn
One of my favorite seafood restaurants! There are a few locations so take your pick. Definitely try and go during happy hour when there are $1 oysters and discounted drinks.
The Spotted Pig
Omg the burger and shoestring fries… SO GOOD. Casual laid-back pub with amazing drinks!
Lil Frankie's
One of the best Italian and pizza restaurants in the city. Super casual and great for groups!
Freeman's
Rustic hearty american fare with a colonial tavern feel. By far one of the coziest restaurants in the city! It's a bit hidden away in a small alley so many sure you Google map it.
Claudette
At Claudette you'll feel like you're dining in a French country cottage. This is a great spot for brunch or dinner with the girls, just steps away from Washington Square Park and all the best spots in Greenwich Village.
Gato
Super chic Bobby Flay Mediterranean-style restaurant and my favorite spot for tapas. It's a bit tough to get reservations if you don't make them far in advance, but if you go early enough there's a good chance you can get seating in the bar and lounge area where they also serve the full menu.
Boqueria
Really popular (and yummy!) casual spot for Spanish tapas and sangria. There are three locations in Soho, Flatiron and the Upper East Side. The interior is super cozy– just remember to make reservations because it gets packed!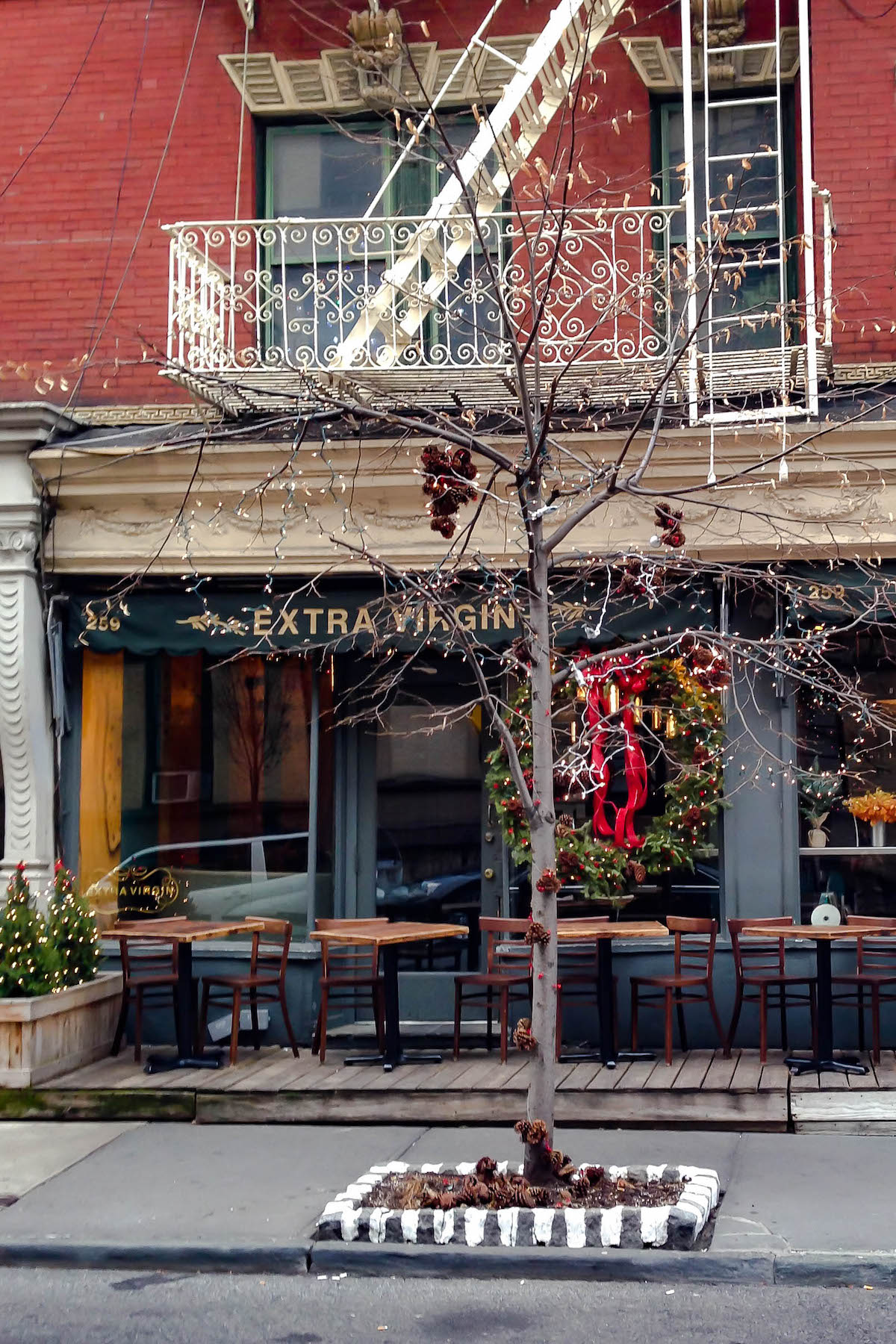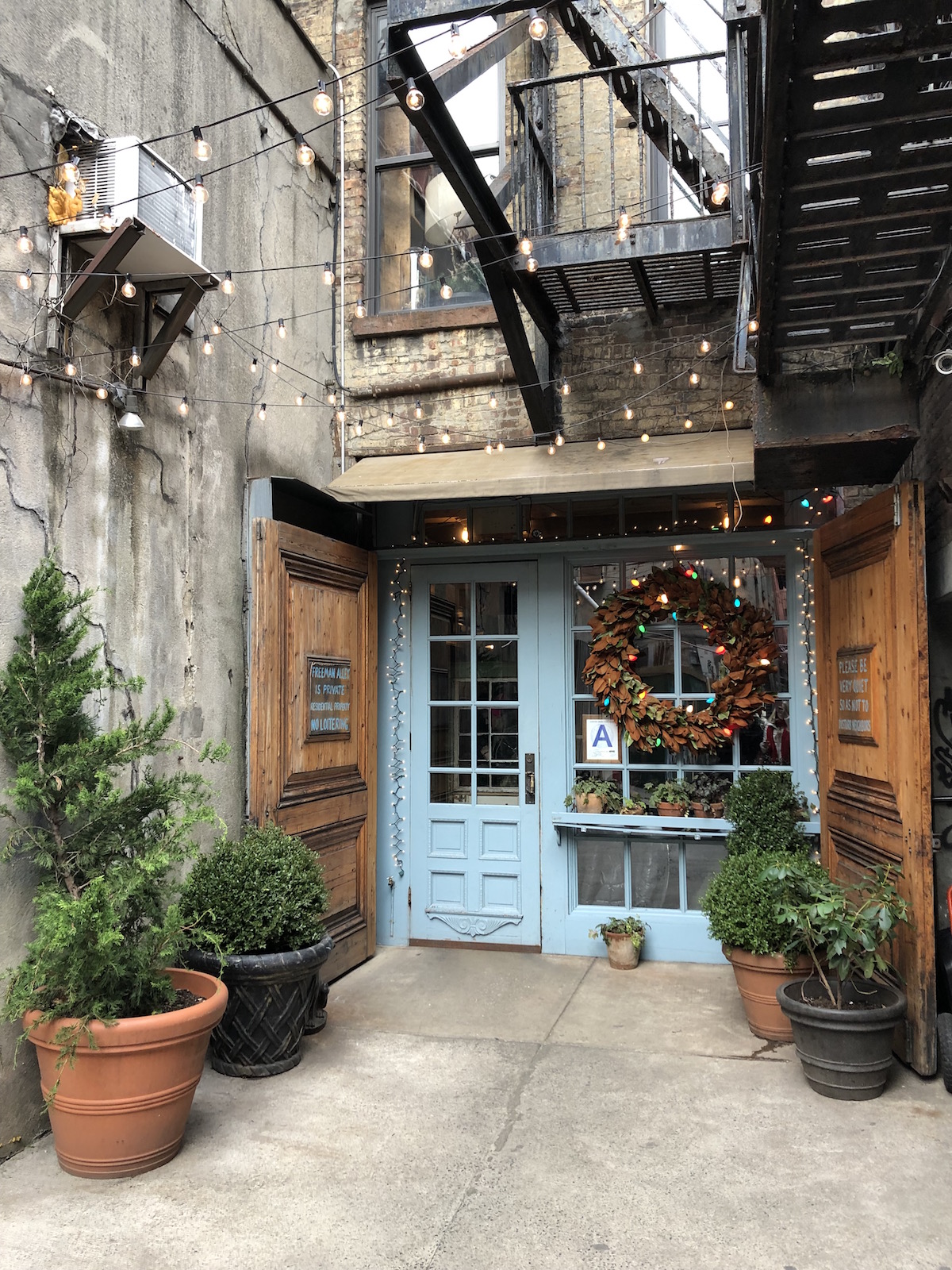 WANDER AROUND THE UPPER EAST SIDE
WHERE I LIKE TO ROAM…
70th Street between Lexington Avenue and Fifth Avenue (my favorite street for townhouse photos)
Madison Avenue between 60th Street & 86th Street (more pretty homes & architecture)
Ralph Lauren Store | 72nd Street & Madison Avenue (great decorations)
Laduree (cute photo opp & macarons)
Anywhere above 59th St between 2nd and Lexington Avenues (amazing townhouses)
Park Avenue (great for cab photos & seeing Christmas lights)
The area around the Metropolitan Museum of Art (tons of beautiful homes & storefronts + great spot to get a photo on the MET steps!)
Bryant Park Winter Village (pop up shops, ice skating rink and food hall)
Clearly I'm easily entertained because just walking around the Upper East Side and looking at townhouses is an adventure for me. There's no neighborhood in New York quite like the Upper East Side and it's one of my favorite places to frequent no matter the season. During the holidays everyone decorates their homes, the stores along Madison Avenue get festive and the trees of Park Avenue are adorned in lights– it's really something to see. If you're looking for a downtown neighborhood to explore the West Village is super cute, but I find it to be much busier and the streets aren't always the cleanest.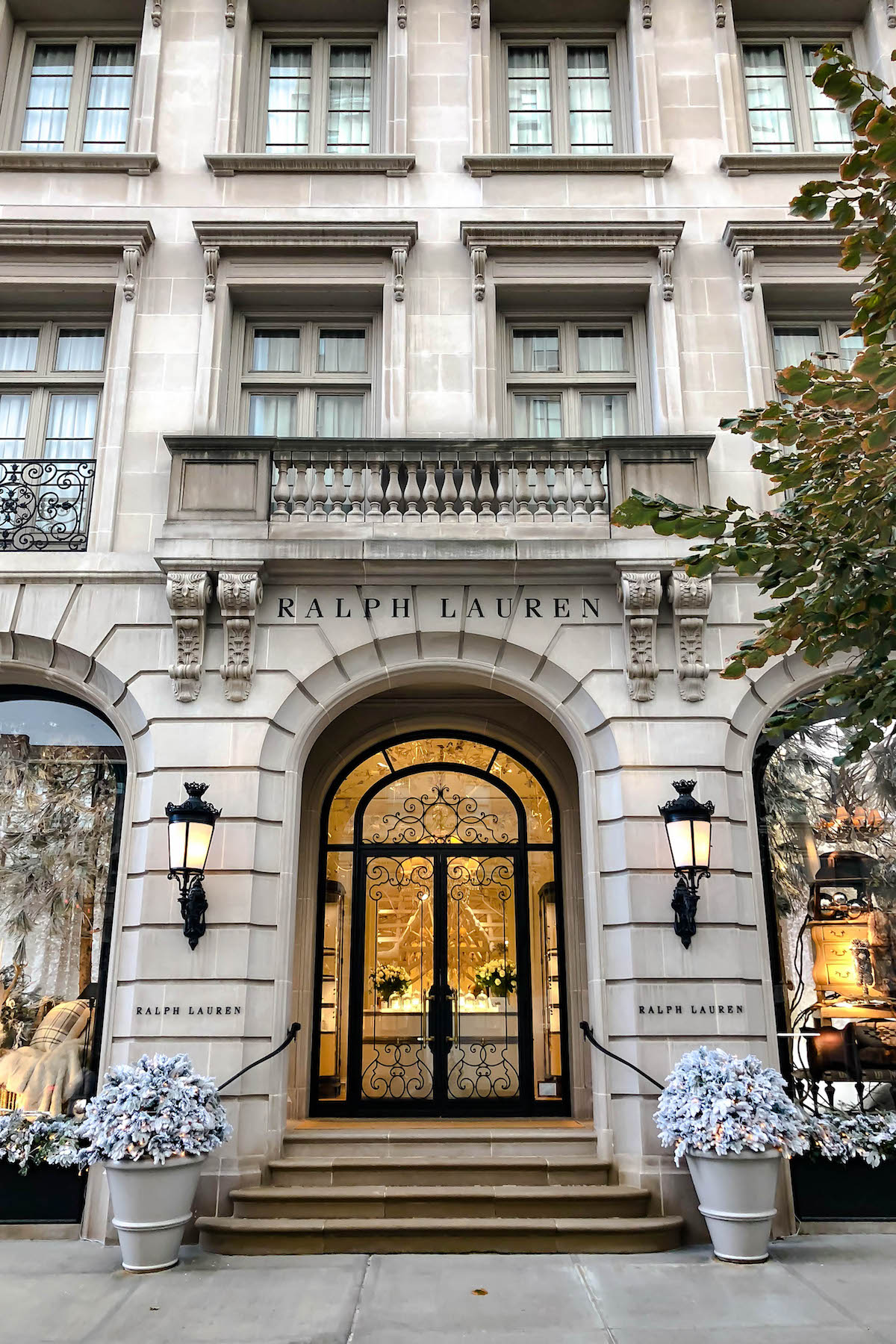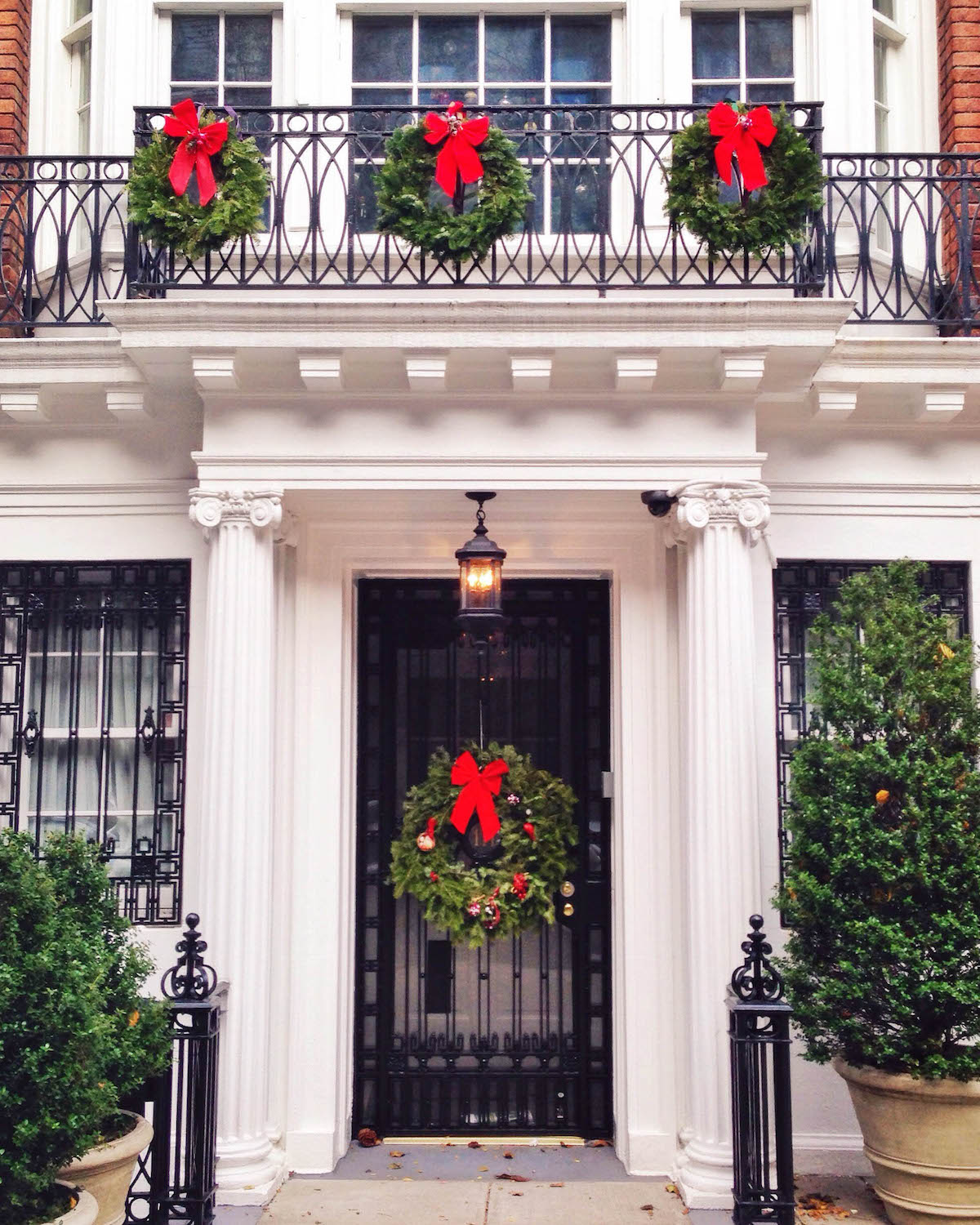 EAT ALL THE SWEETS
THE YUMMIEST BAKERIES & SWEET SPOTS…
Laduree (a New York staple– a bit touristy but the macarons are delicious. There is a location in the Upper East Side and downtown in Soho)
Levains (the best warm fat chocolate chip cookie– there is normally line but apparently the location on the Upper West Side has the shortest one)
Magnolia Bakery (can't go wrong with cupcakes or the banana pudding)
Balthazar (yummy french pastries and croissants)
Maison Kayser (another well-known New York bakery with multiple locations)
Dominique Ansel (famous for the cronut, but there are lots of other delicious pastries that won't disappoint)
Jacques Torres Chocolate (decadent hot chocolate)
The Plaza Food Hall (so many sweet options from cake at Lady M to macarons at FP Patisserie and donuts at Doughnuttery– just go with an empty belly!) 
Doughnuttery (the softest sugar-coated mini donuts– you pick your flavor sugar and they shake up the donuts in a brown bag!)
10 Below Ice Cream (if you aren't too cold go here for hand-rolled Thai-inspired ice cream)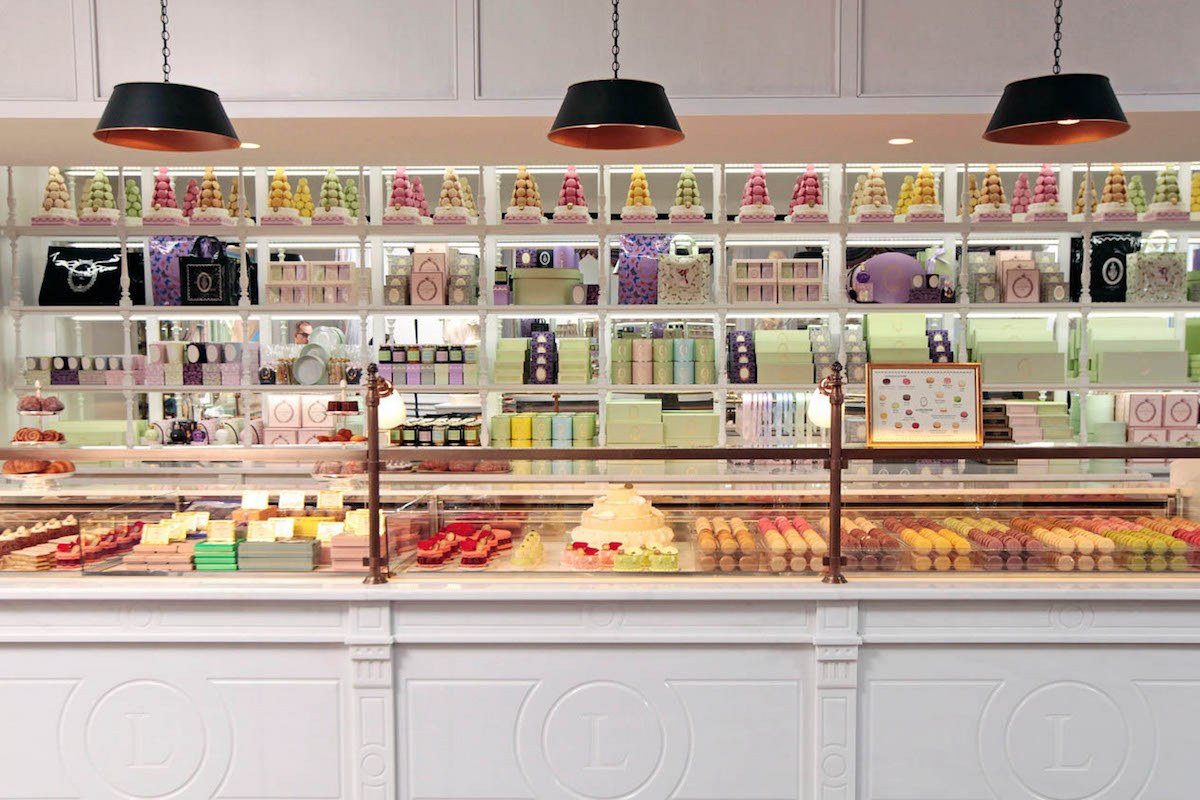 Image via Martha Stewart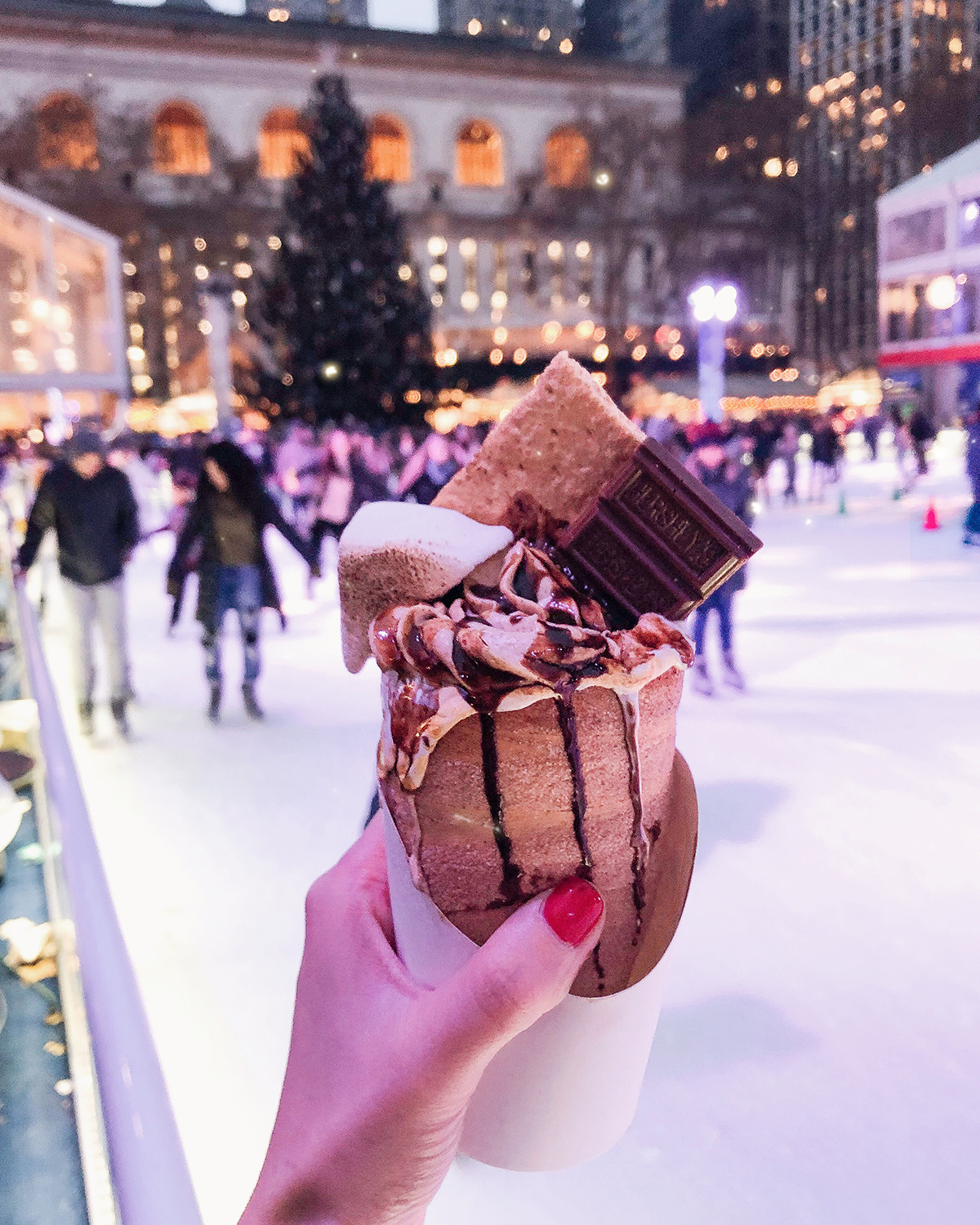 GO ICE SKATING
THE BEST RINKS…
Rockefeller Center
Central Park
The Standard Hotel
I'm personally not big on ice skating (bad balance) but it's one of those quintessential New York winter activities. There are a few different rinks in the city. The largest ones are located in Rockefeller Center and Central Park, but The Standard Hotel has a tiny one that they open as pop up during the colder months.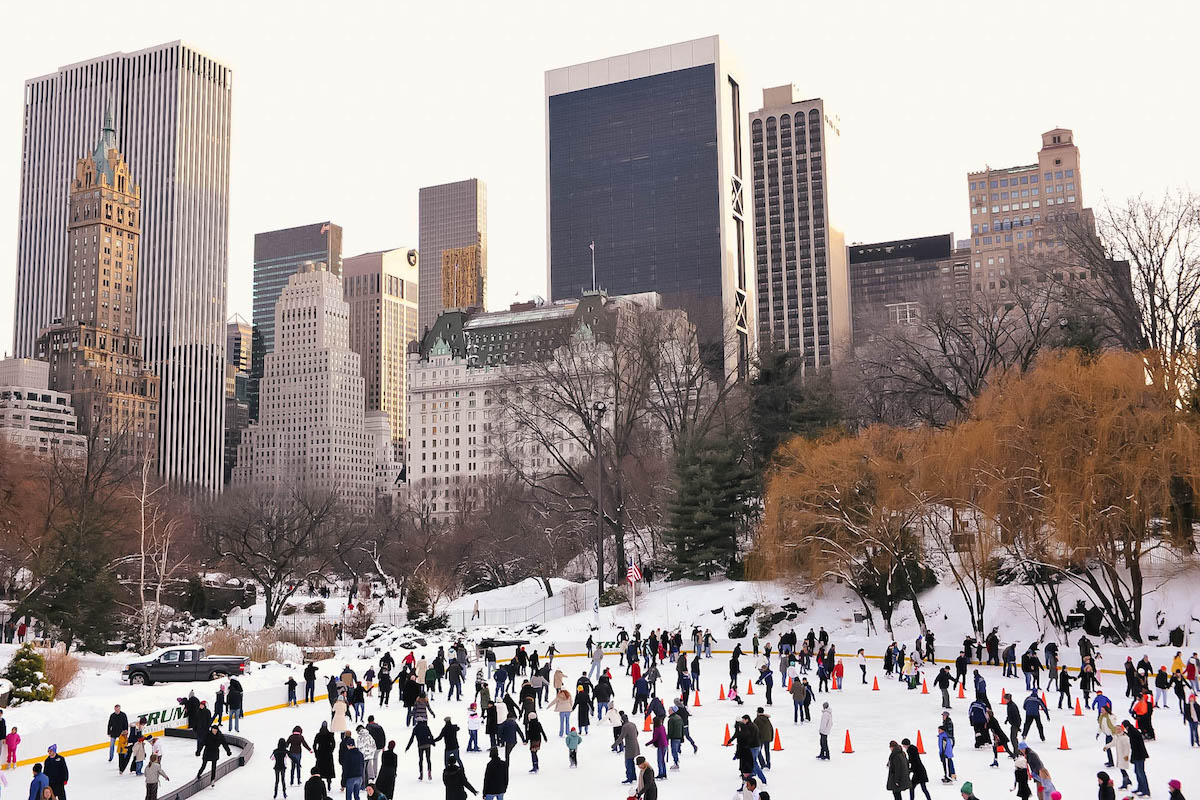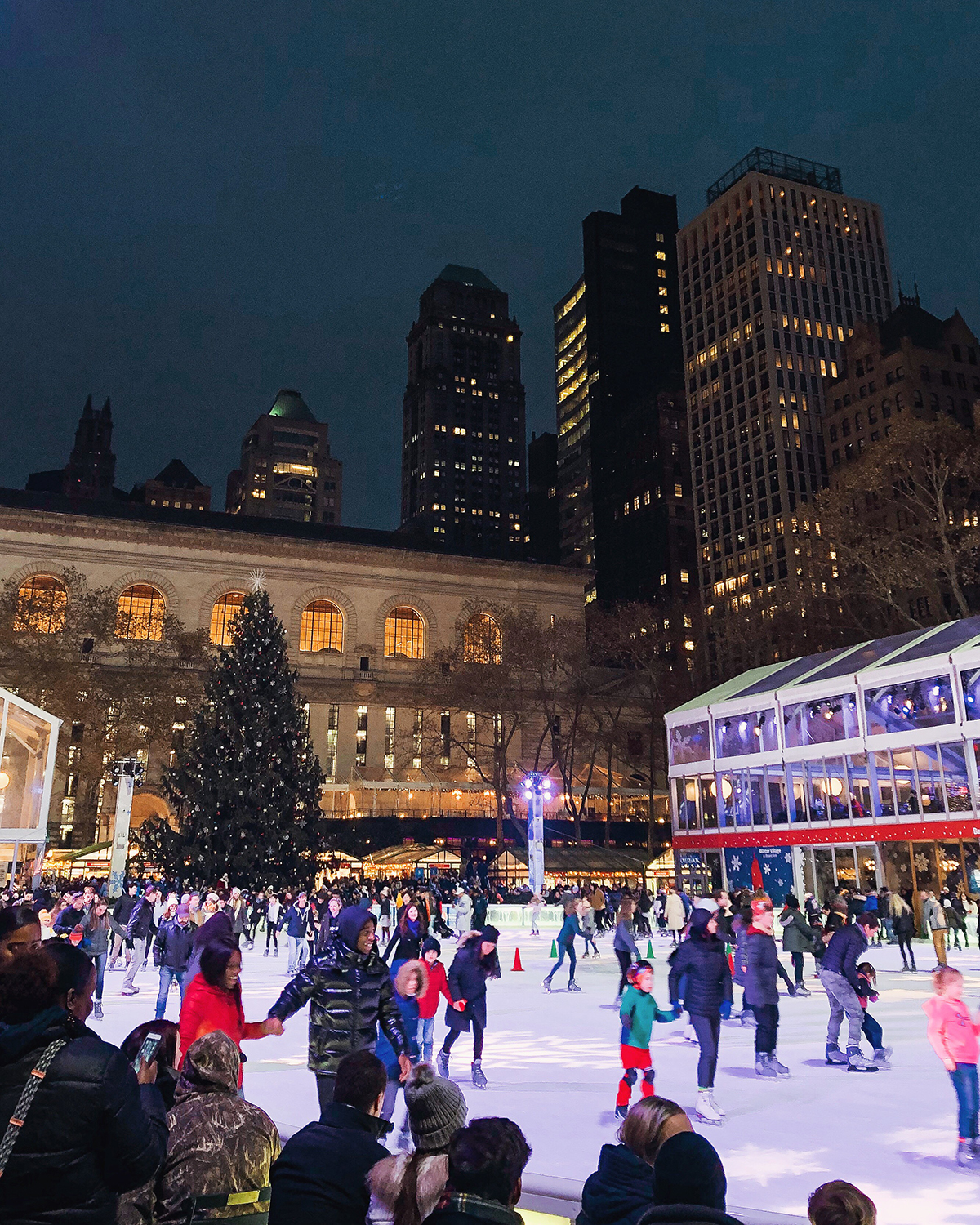 SHOP AT A CHRISTMAS MARKET
WHERE TO GET YOUR SHOP ON…
Winter Village at Bryant Park
Union Square Holiday Market
Columbus Circle Holiday Market
I'll be honest: I've never actually "shopped" at a Christmas market. The appeal for me is the different food stalls and all-around holiday vibes you get from exploring. New York has three markets I know of: one in Columbus Circle on the Upper West Side, the Bryant Park Winter Village in Midtown and another downtown in Union Square at 14th Street.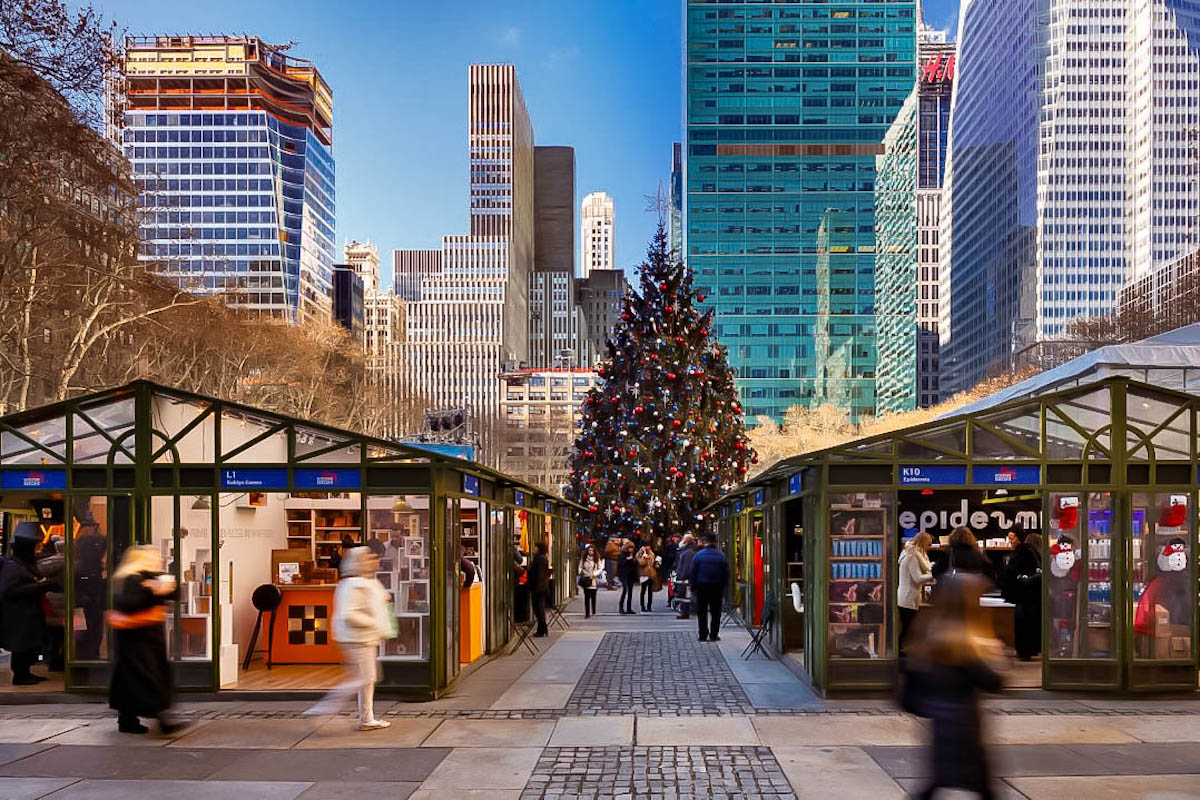 Image via Newsday
- Katie