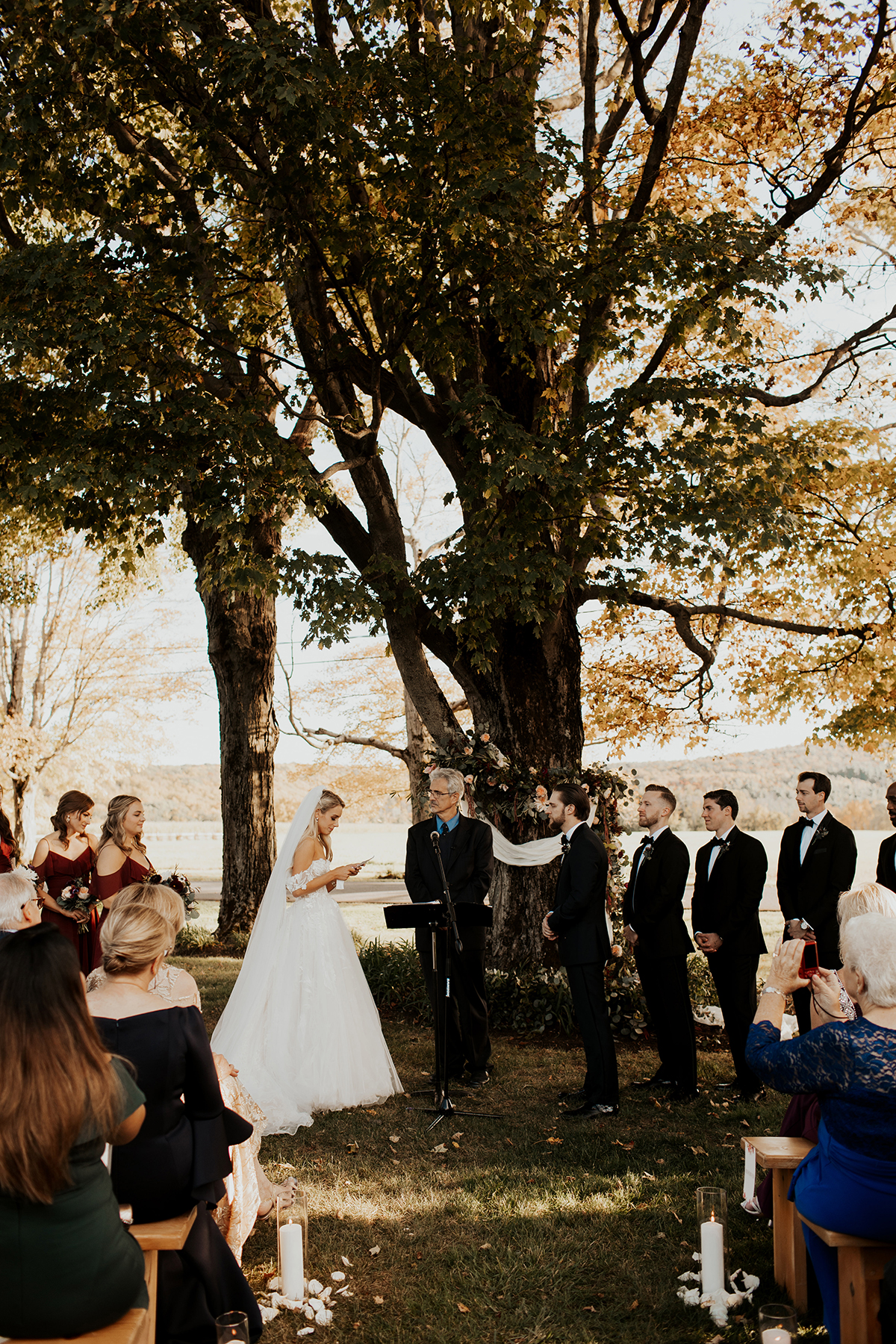 Ahhhh we've made it to the ceremony! You've already seen our rehearsal dinner, how we all got ready for the day and our first look— now we're officially man and wife! The 45 or so minutes from getting ready to talk down the aisle to finishing our vows went by so quickly. It was like a blur! A happy joyous blur 🙂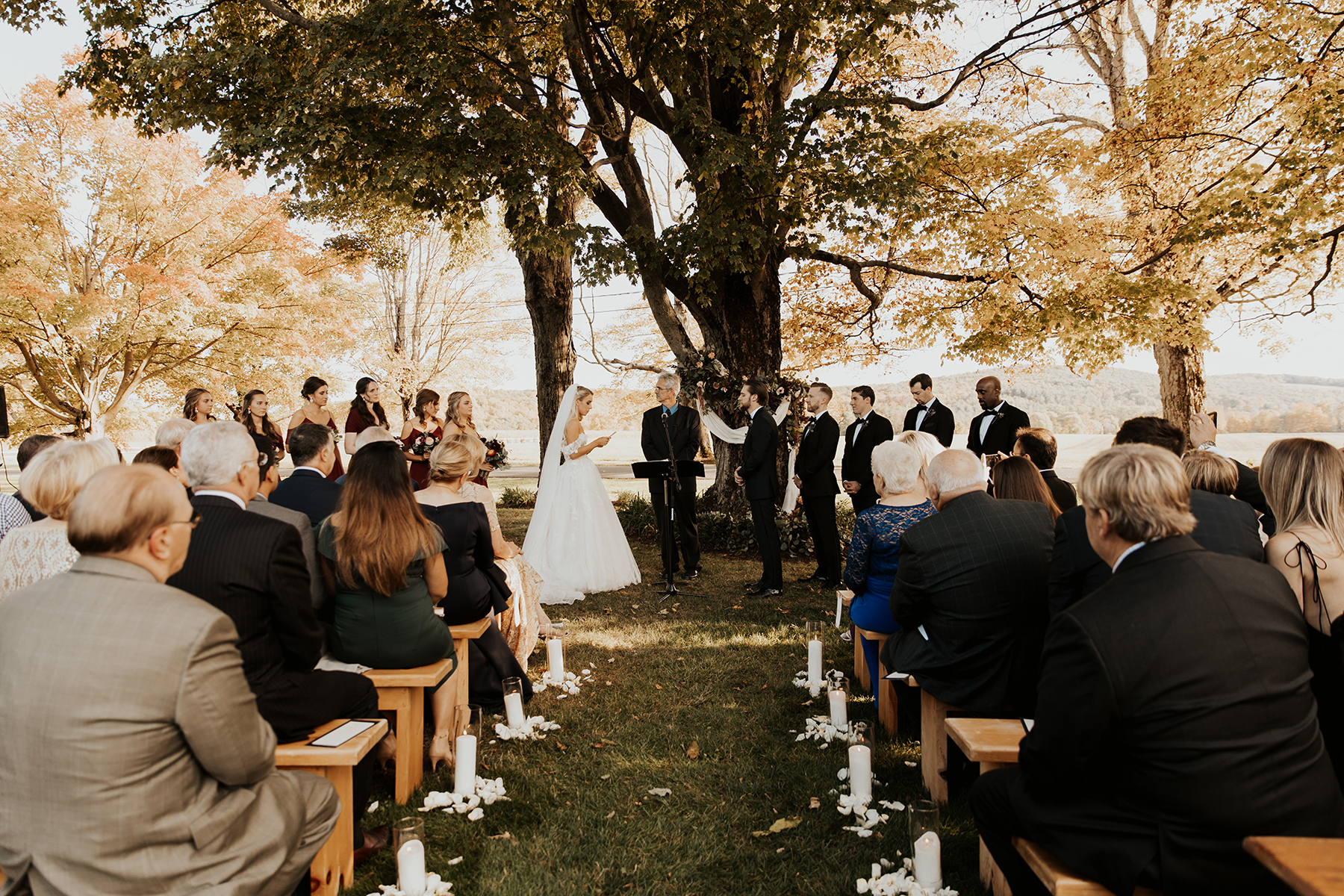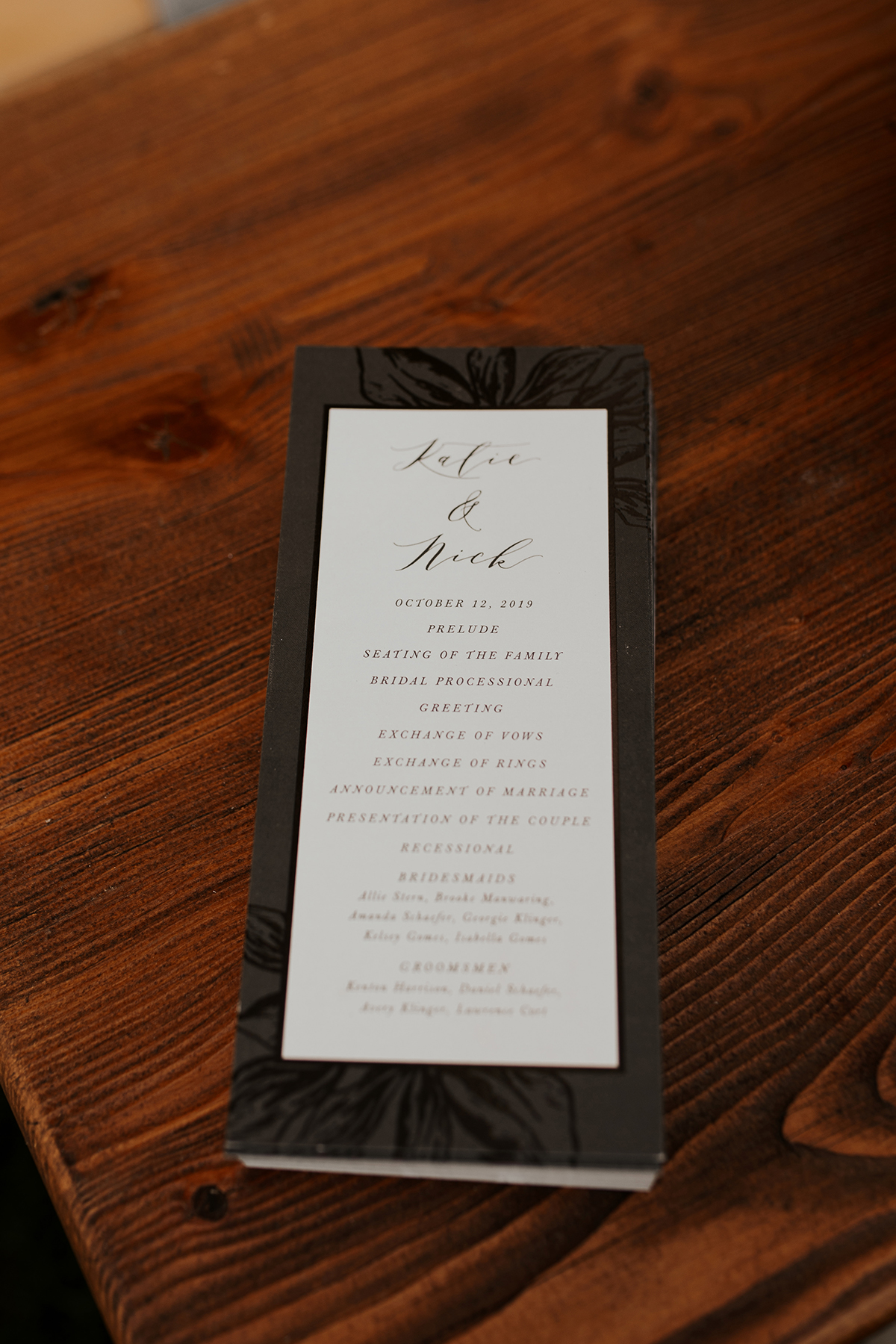 CEREMONY DETAILS // Wedding Welcome Sign via Etsy | Ceremony Schedule via Minted
The entire week leading up to our wedding I was SO stressed about the weather. It had called for rain and I was completely devastated over having to potentially move the outdoor ceremony I'd envisioned inside to the barn where we had our rehearsal dinner. Luckily Mother Nature decided to get her act together because by midday that Saturday every cloud had cleared and the sun was shining. We scheduled our ceremony for an hour before sunset– I think it was 4:30PM? The light coming through the trees was just gorgeous.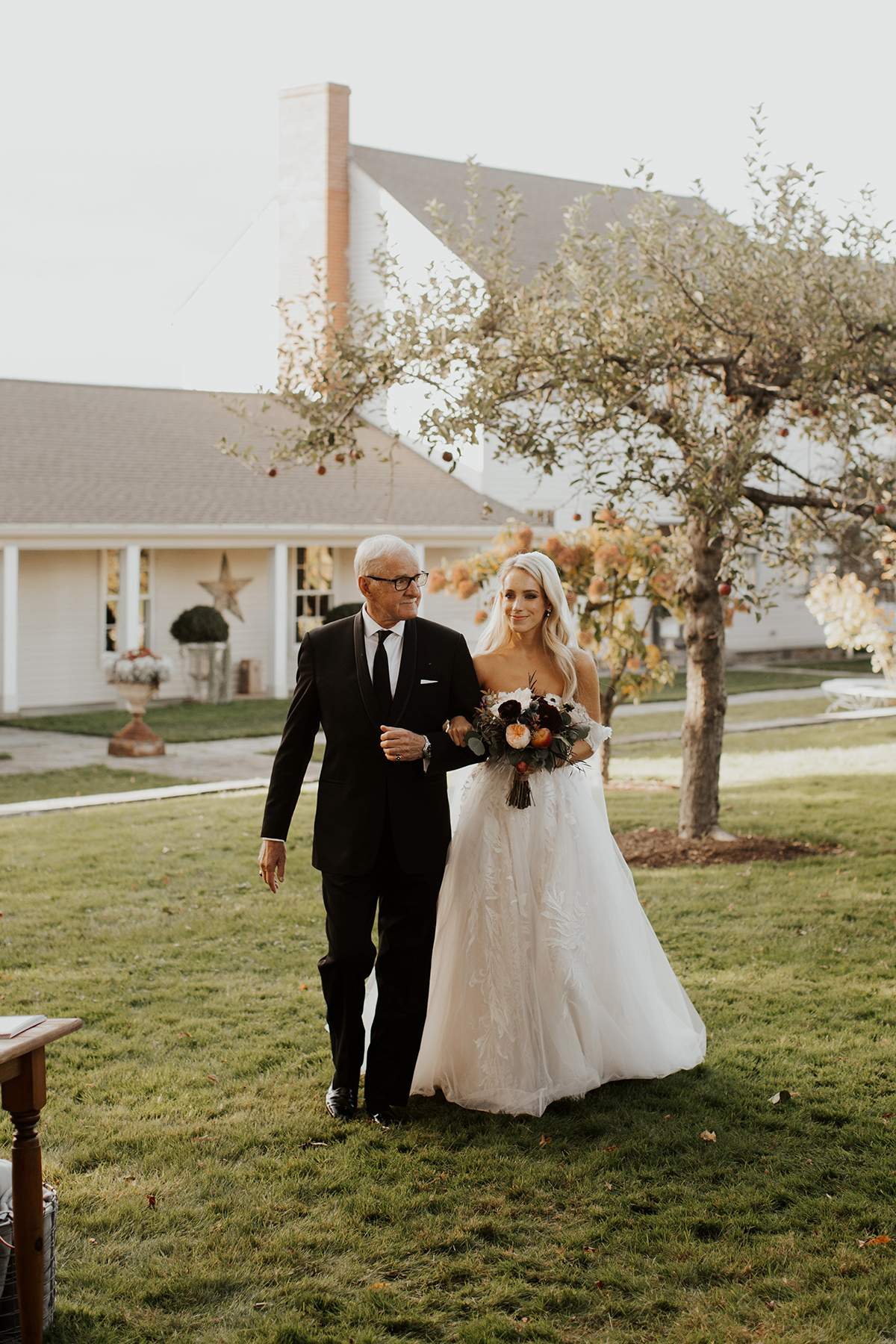 BRIDAL DETAILS // Riki Dalal Juliet Gown | Crystal Drop Earrings via BHLDN | Badgley Mischka Heels via BHLDN | Crystal Hair Clip via BHLDN
Once all our guests had arrived, my planner Stephanie got us in position to process down the aisle. I was sooooo nervous, but once I locked arms with my Pop Pop and we began walking, all my fears of having to be in front of so many people washed away. Isn't he so sweet???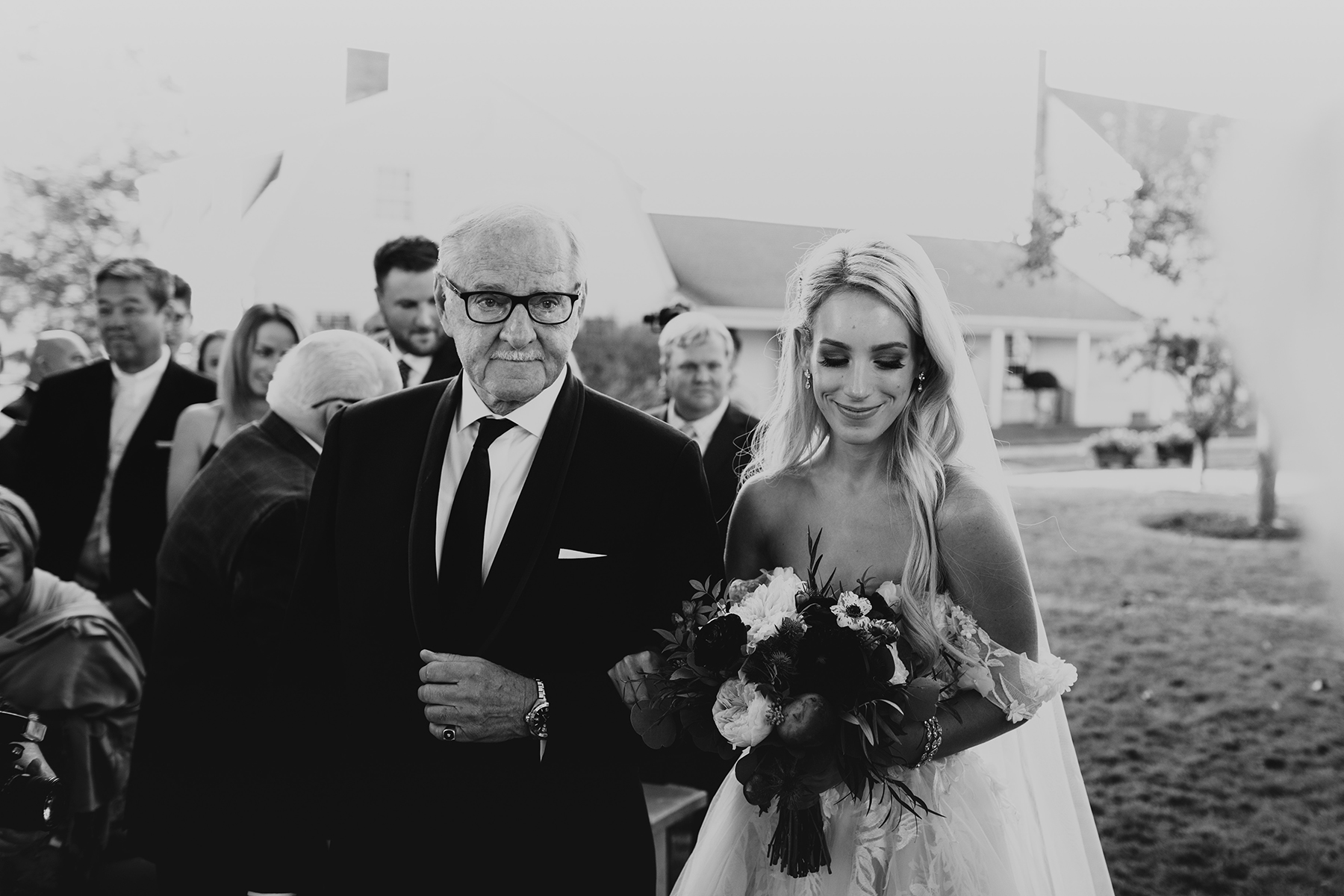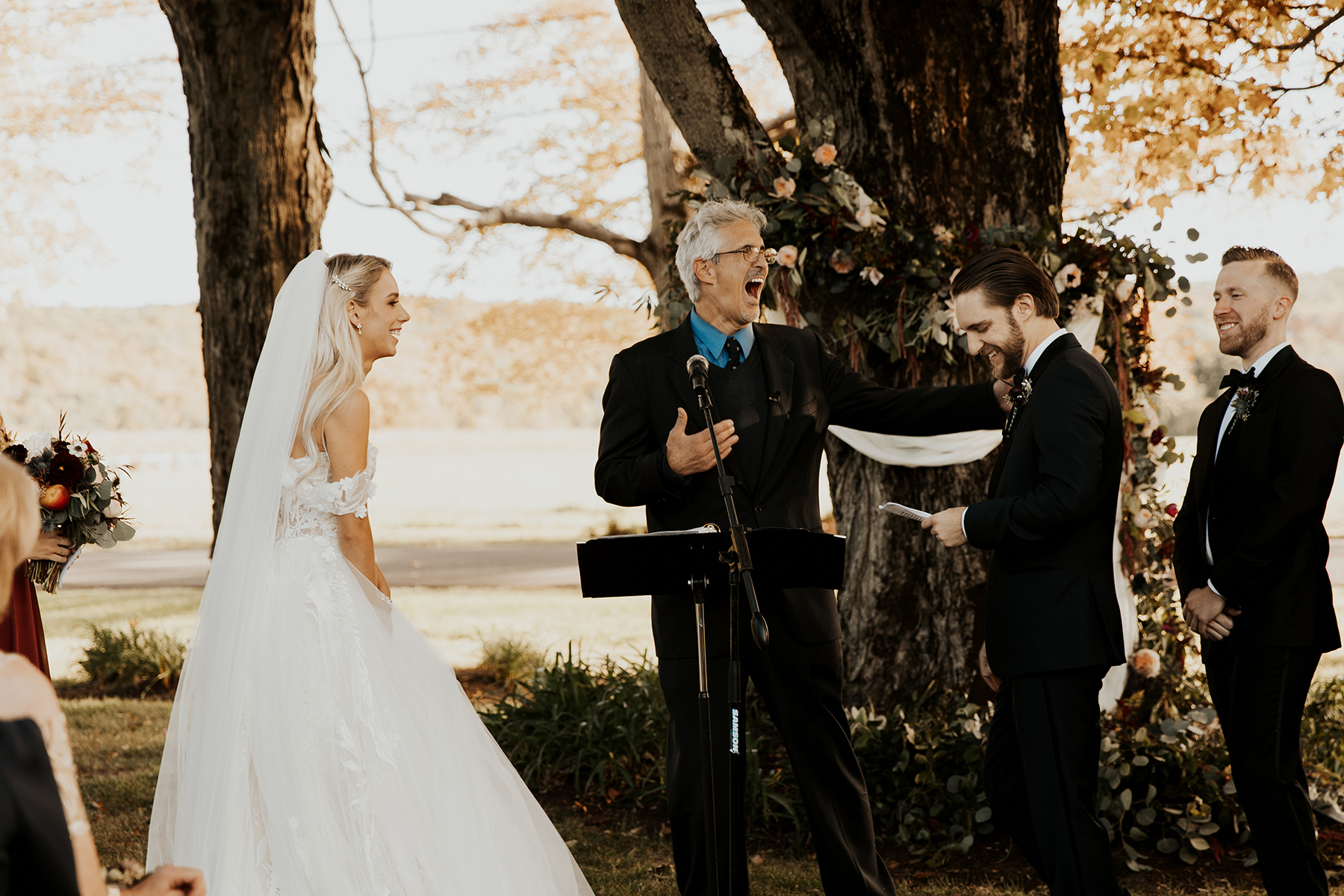 Can we also talk about the floral installation on our ceremony tree? I came up with the idea after a Pinterest binge and tasked our florist with creating a large garland that wrapped around the trunk. I love how it turned out and wish ya'll could've seen it person.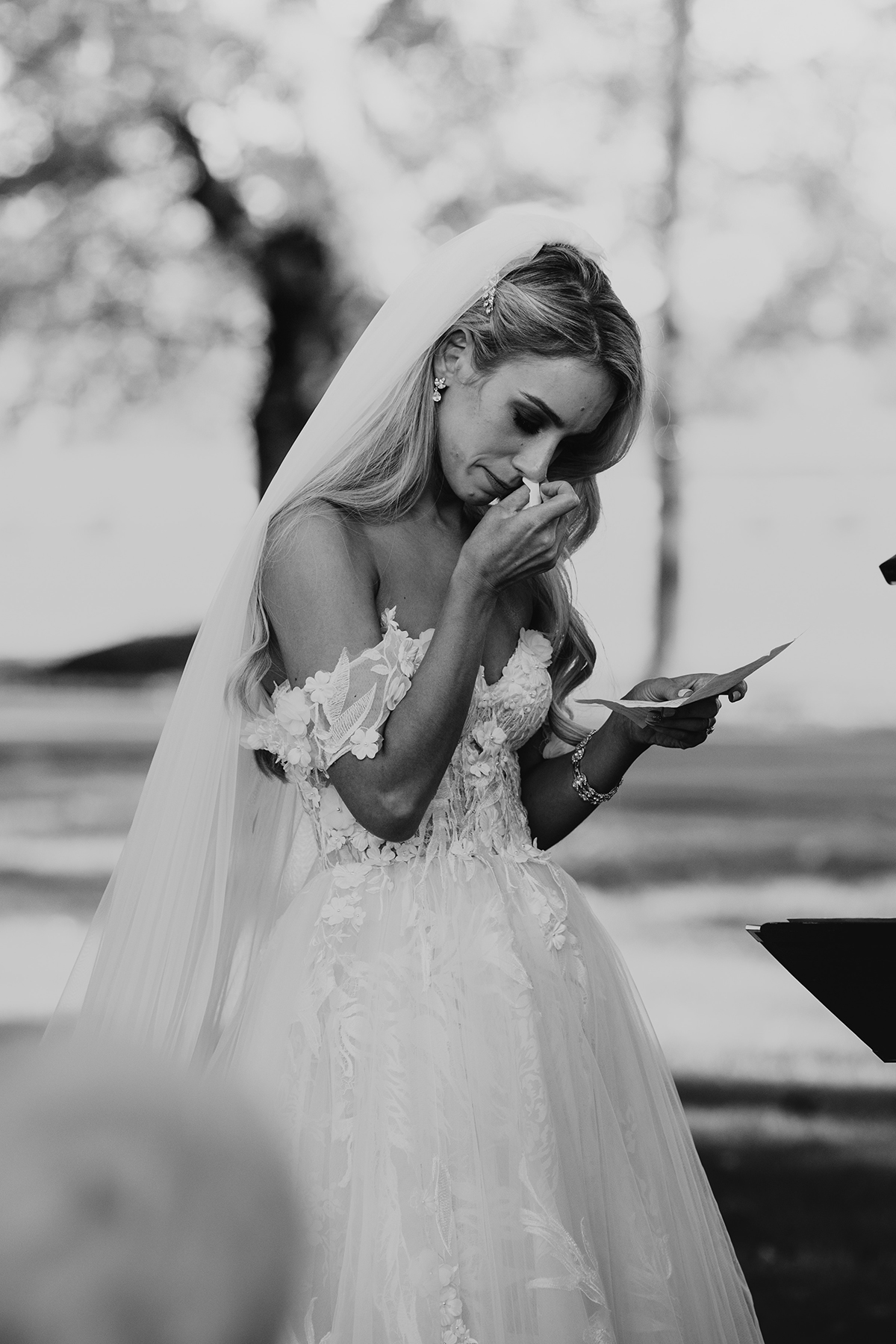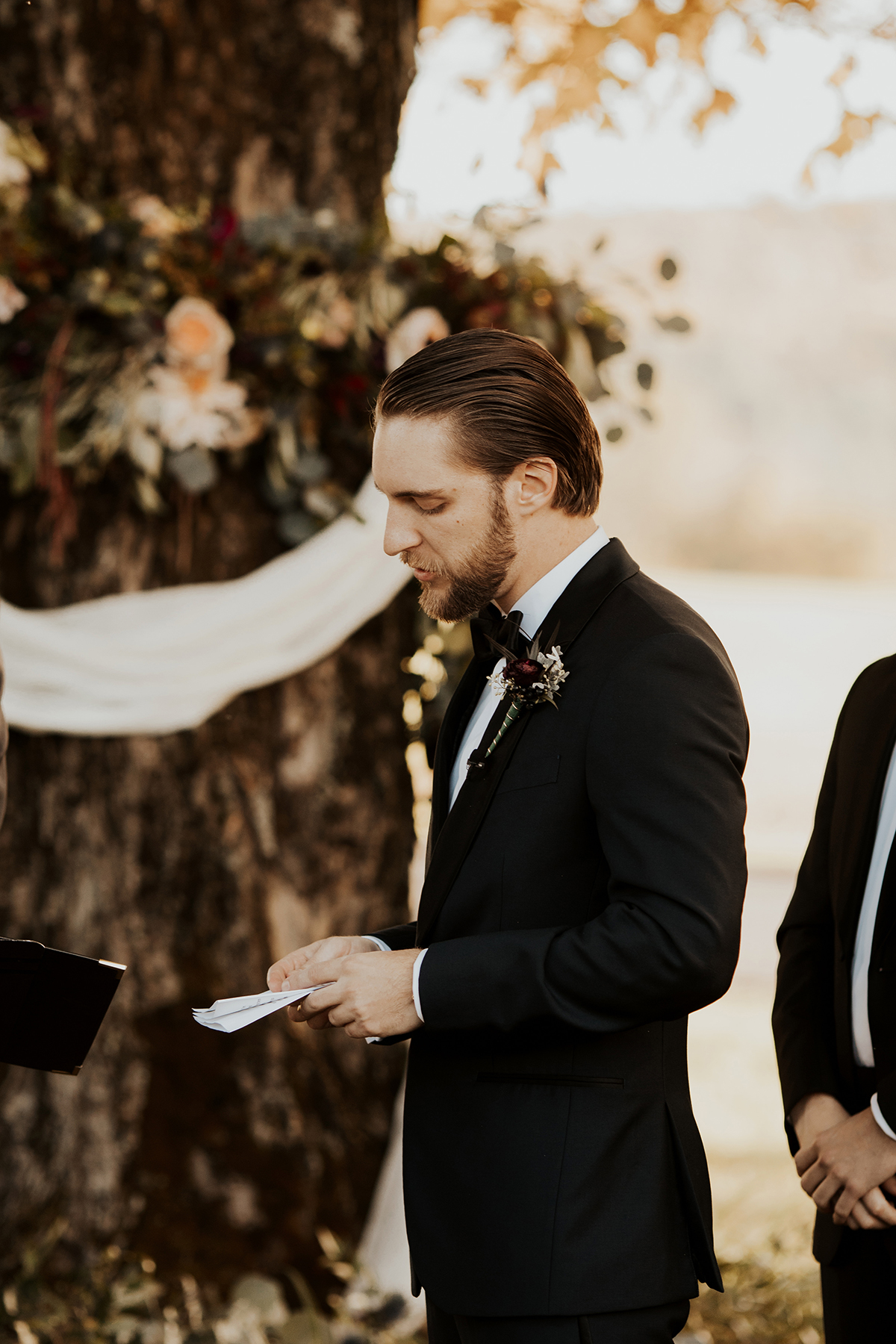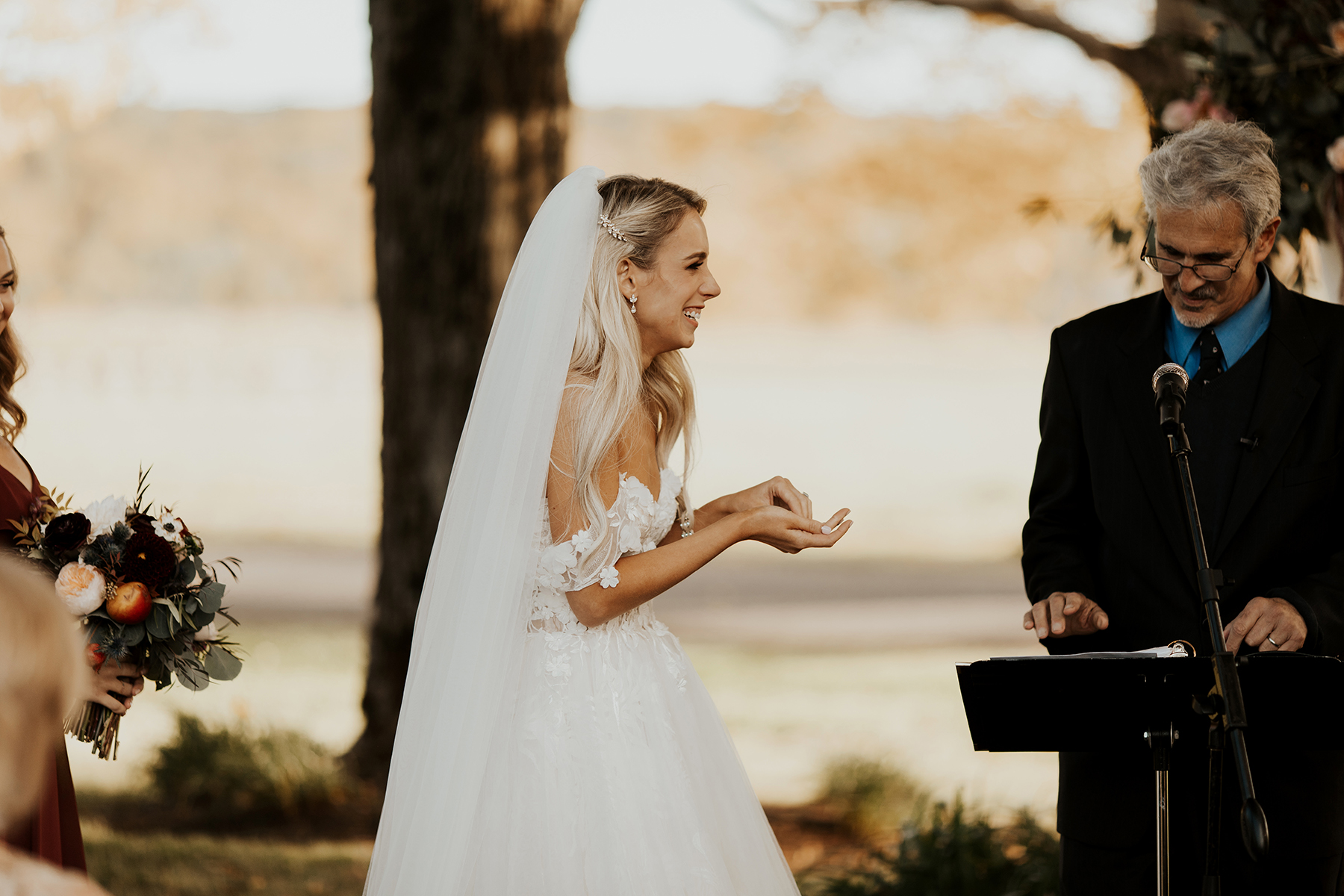 Nick and I decided to write our own vows and as you'll see in our upcoming wedding video there were more than a few tears. While we are both Christians, we didn't want our ceremony to be heavily religious. Instead we wanted to focus on our journey and the personal commitments we were making to one another after ten years as a couple.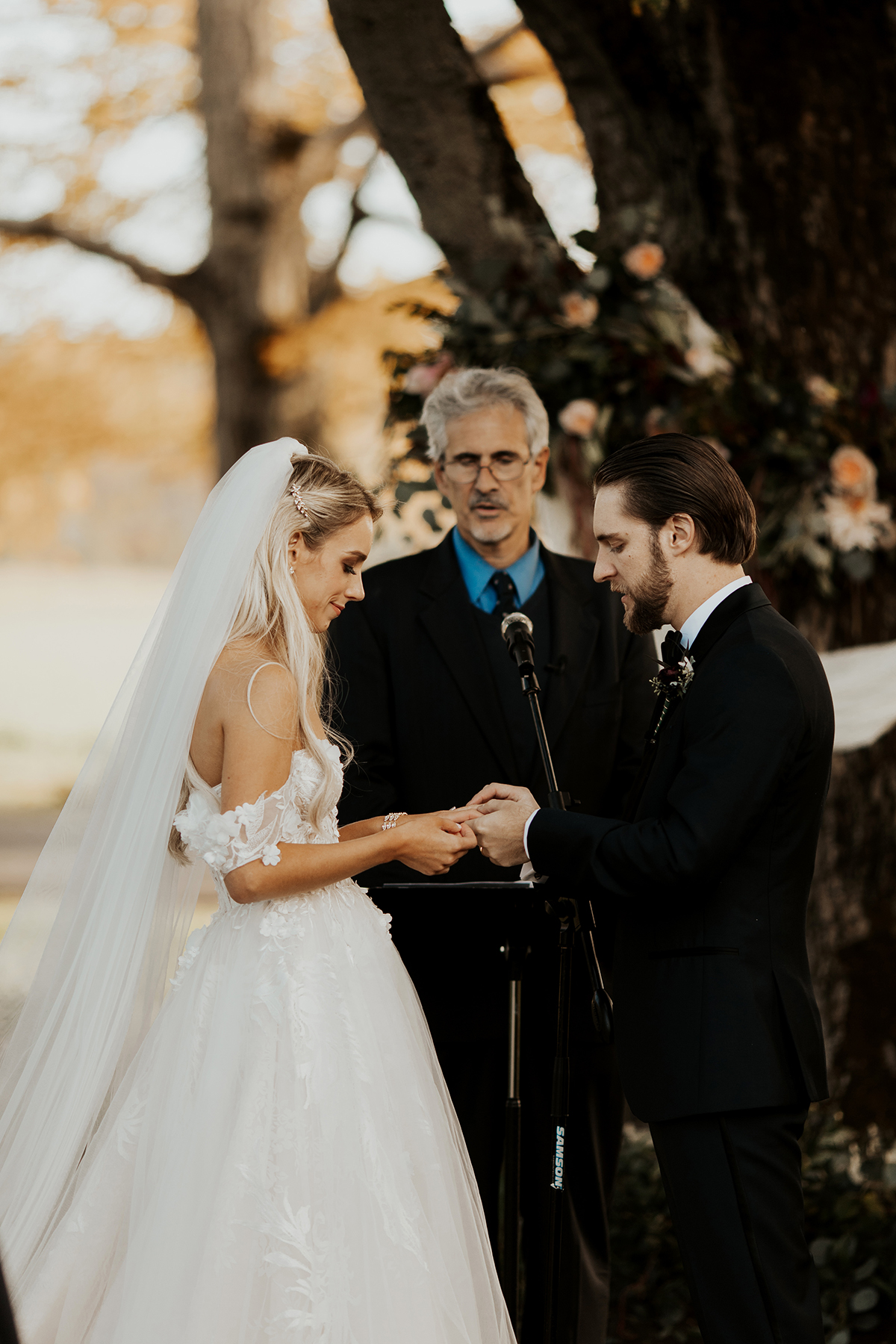 I don't want to bore you all too much with a lot of text so I'll leave you to browse the rest of our ceremony. Towards the end of the post you'll find our bridal party portraits where I included details on our bridesmaid and groomsmen looks.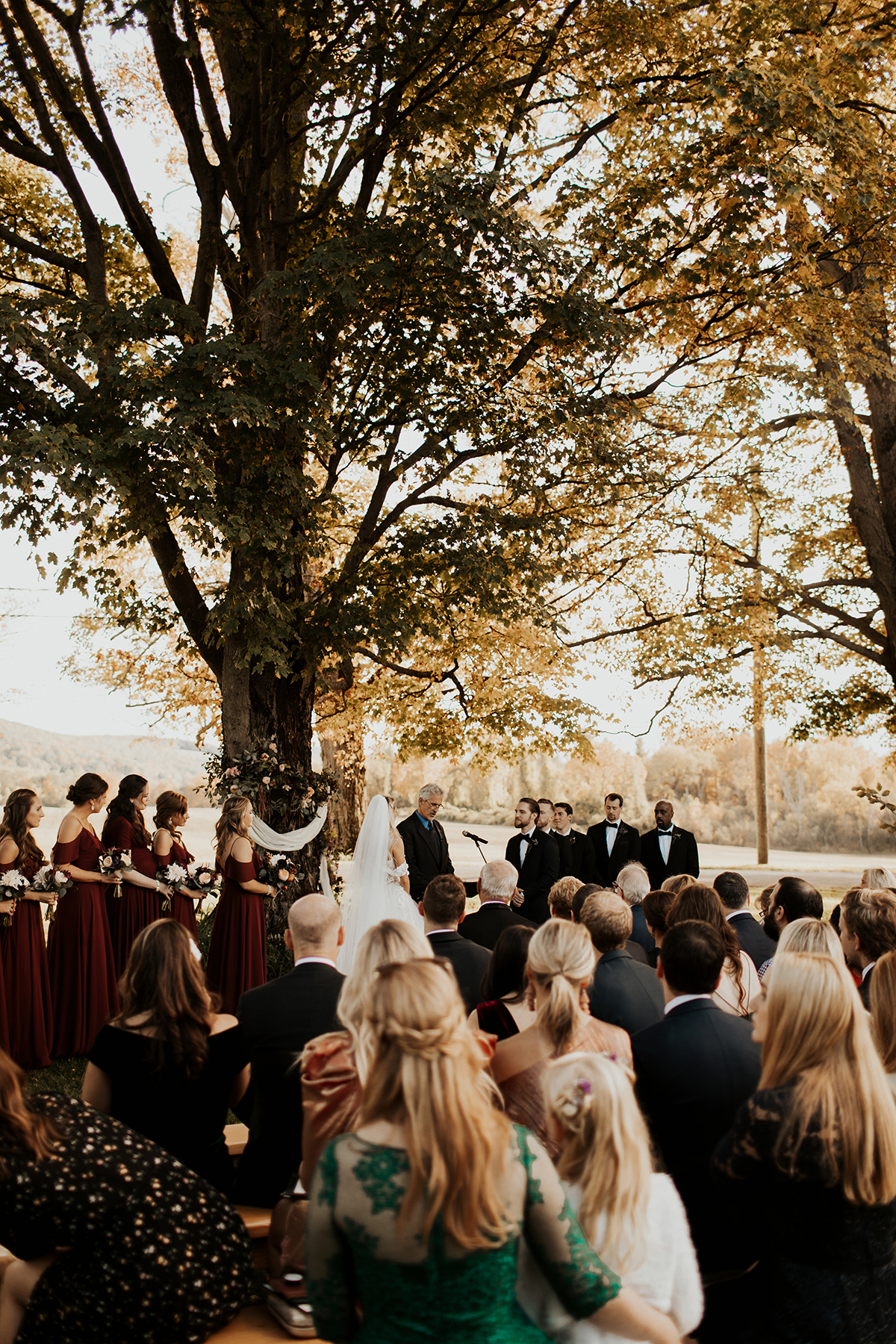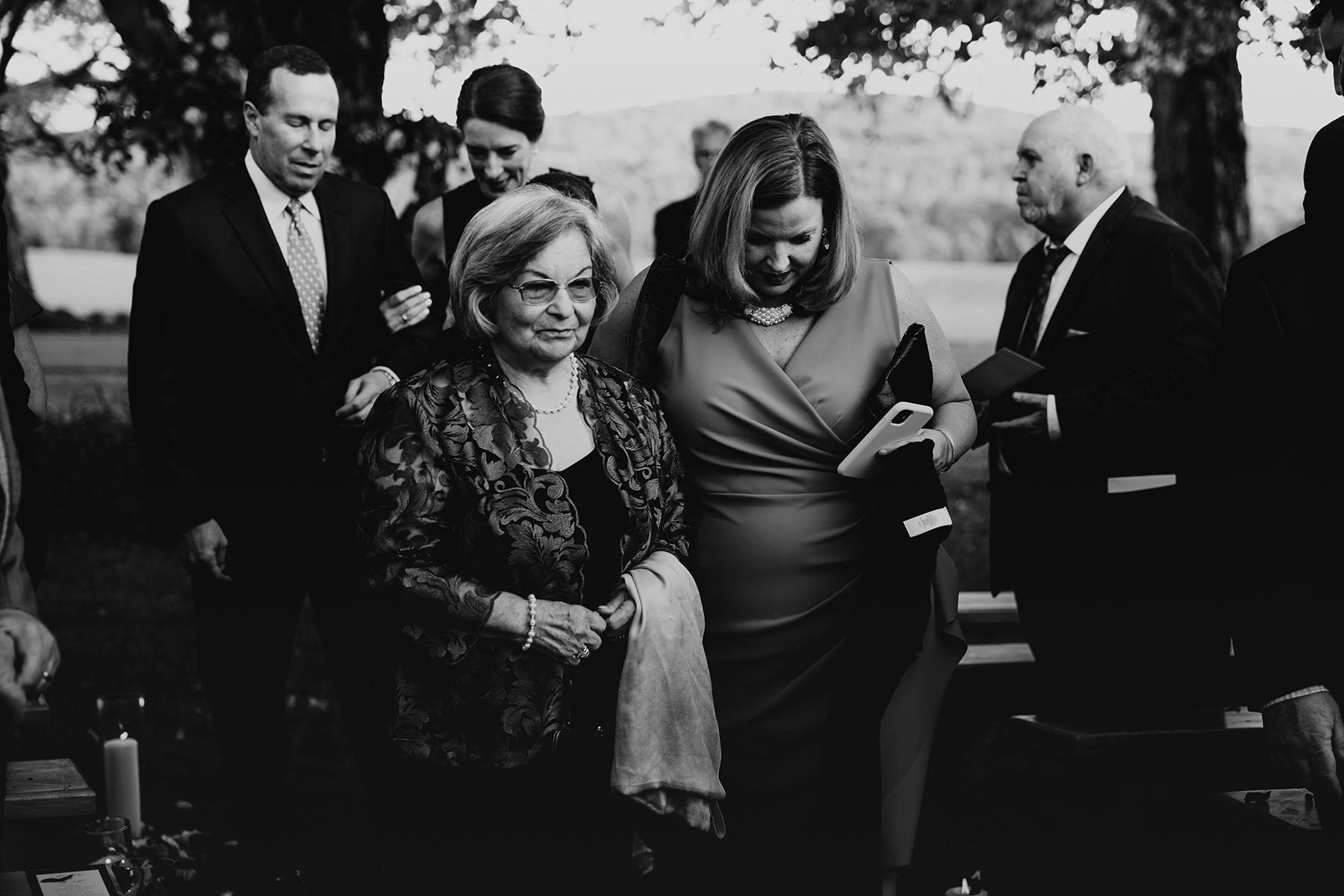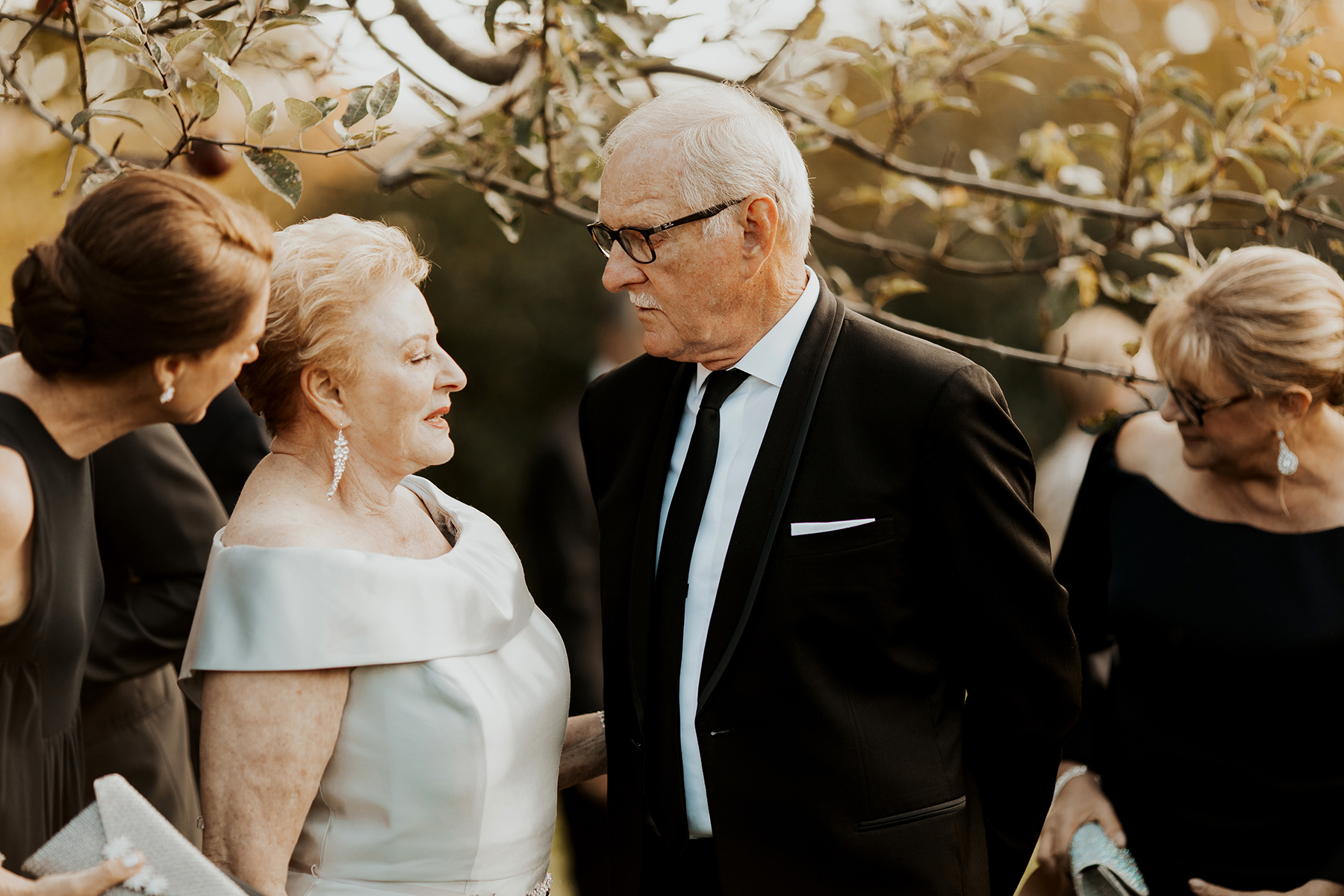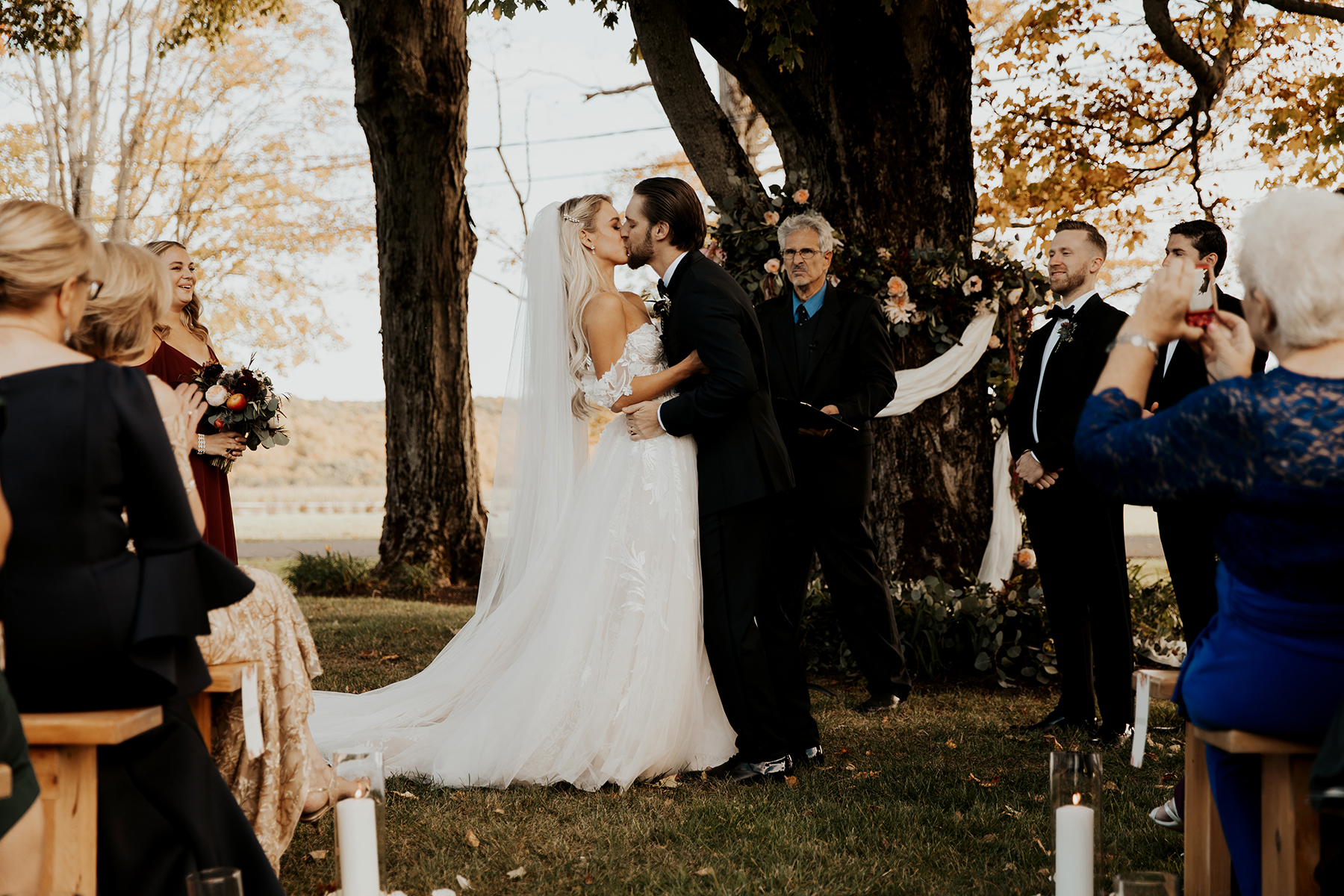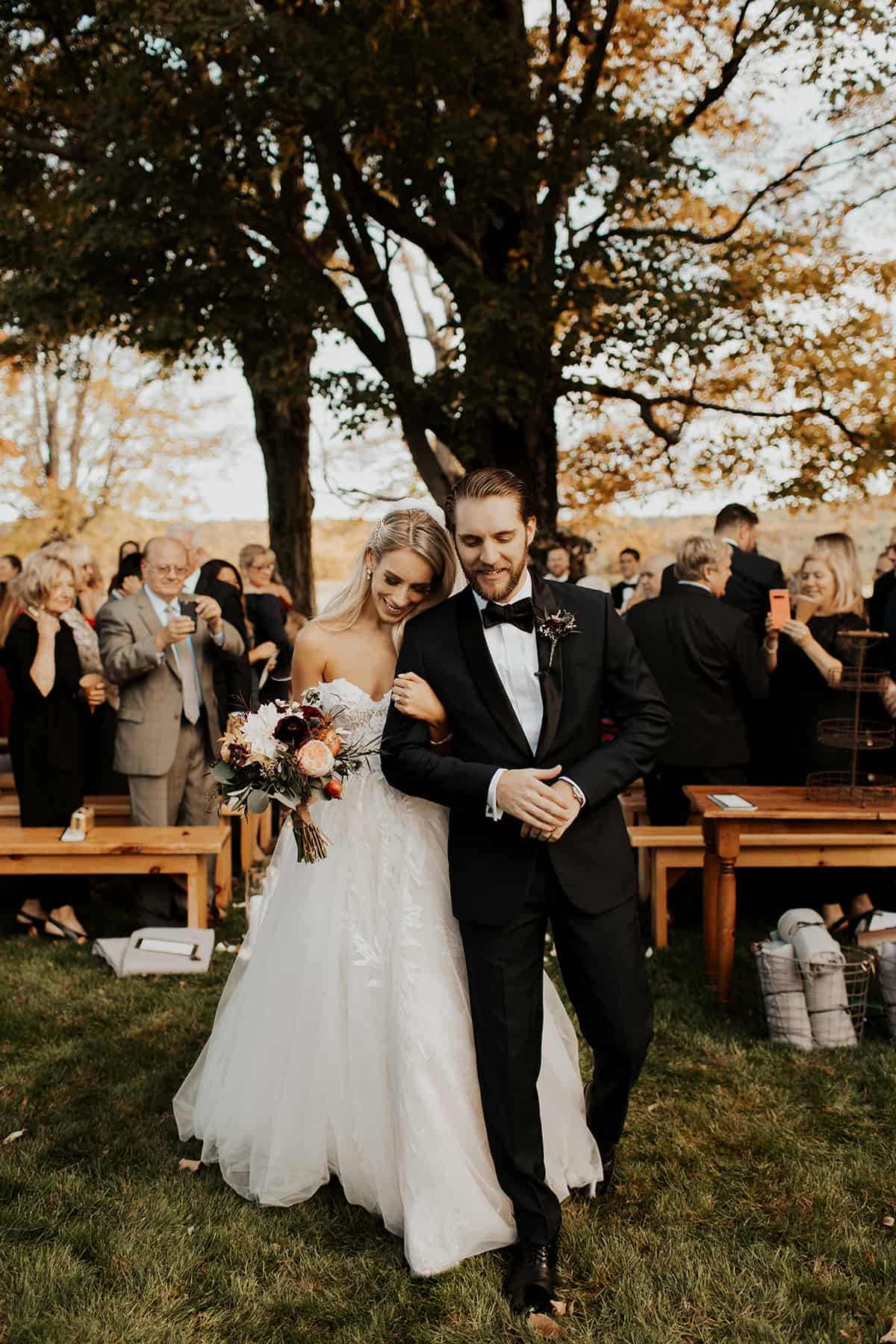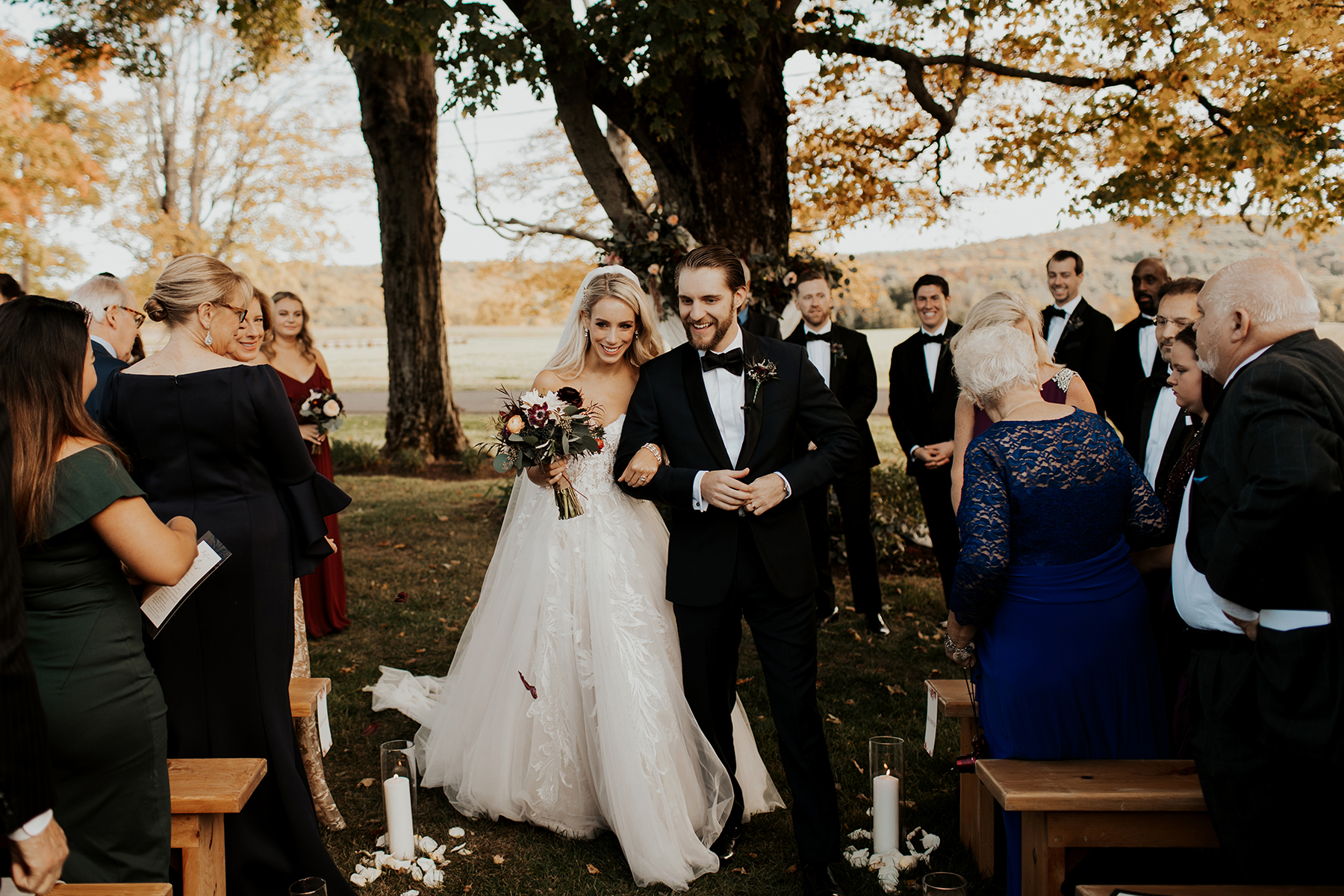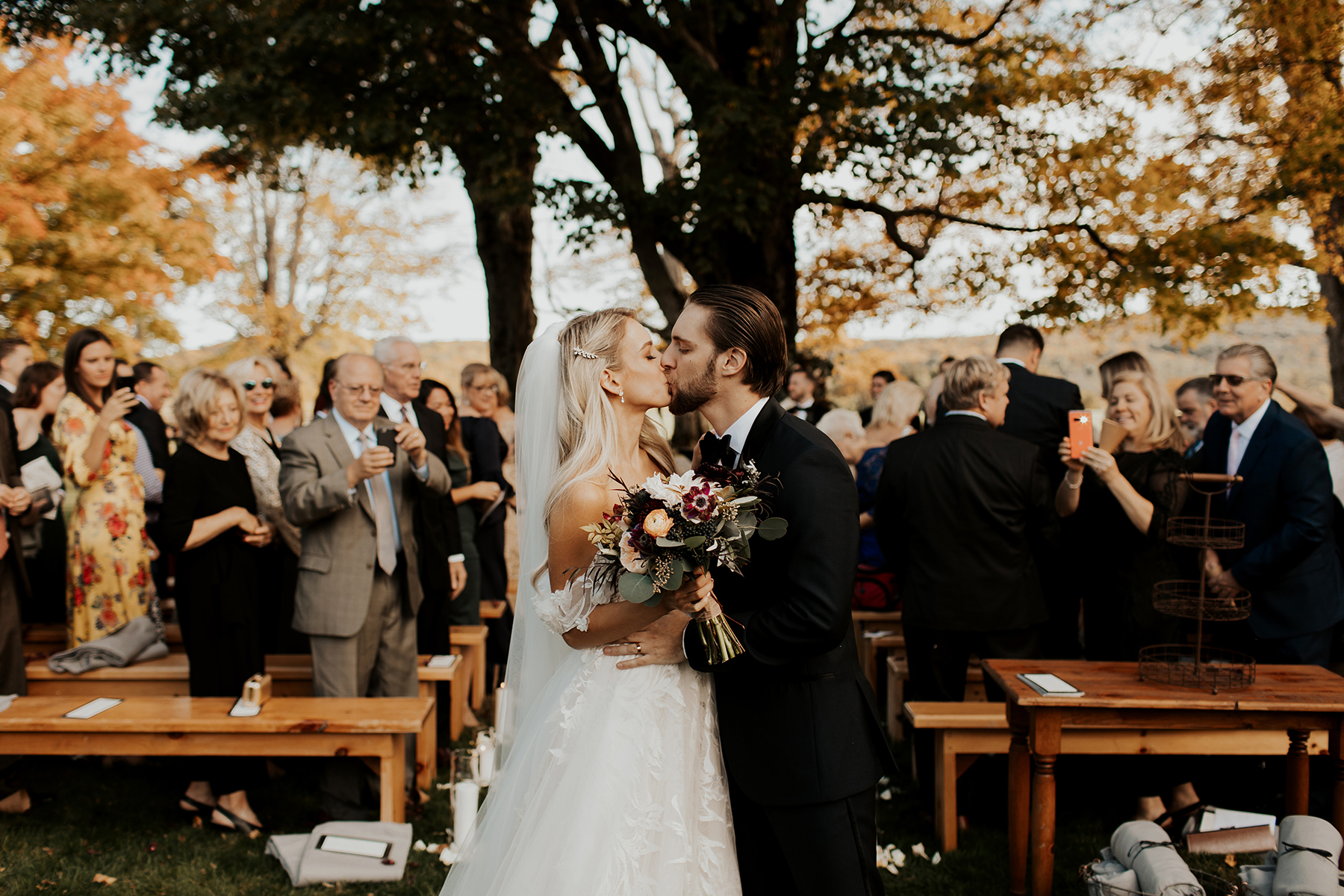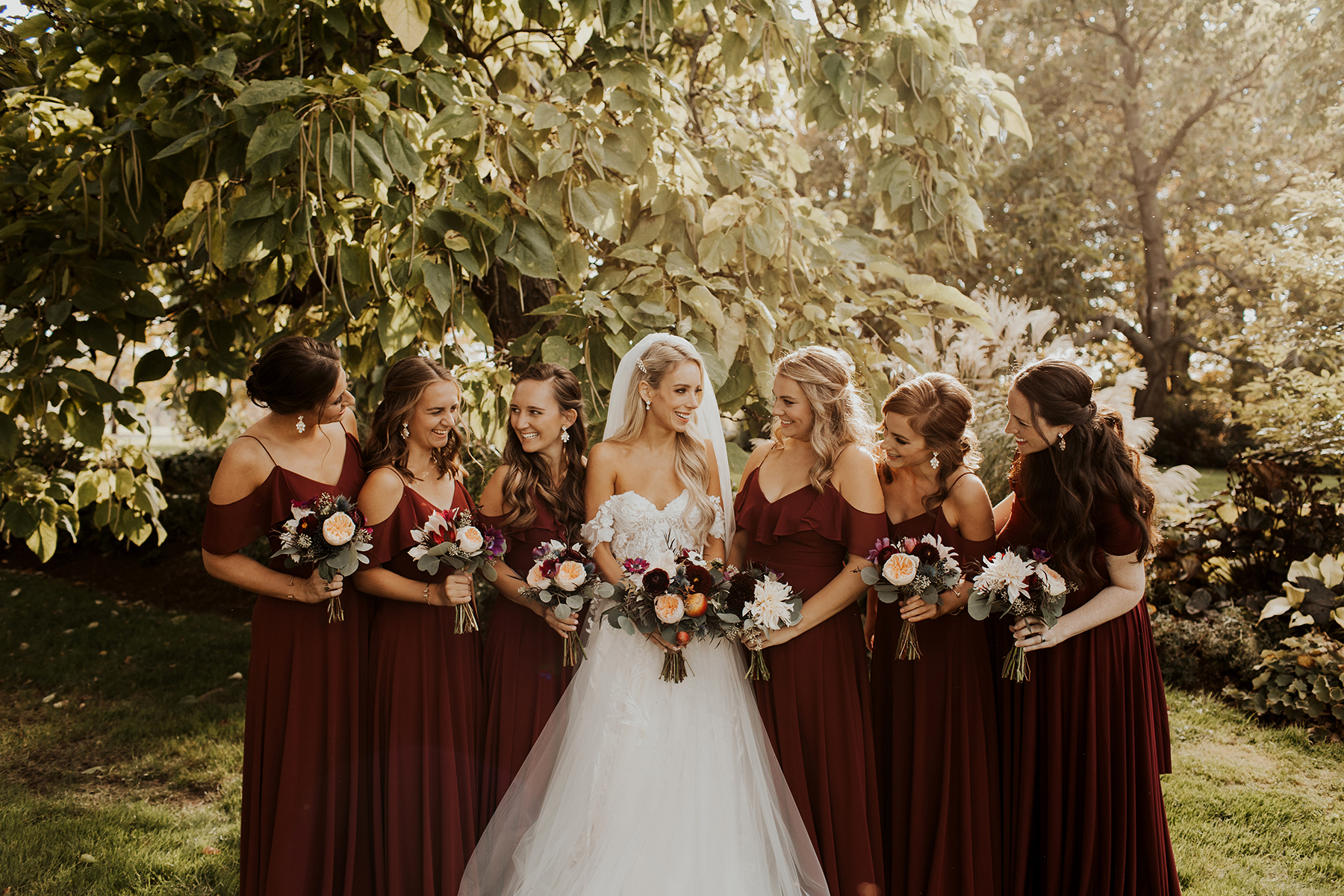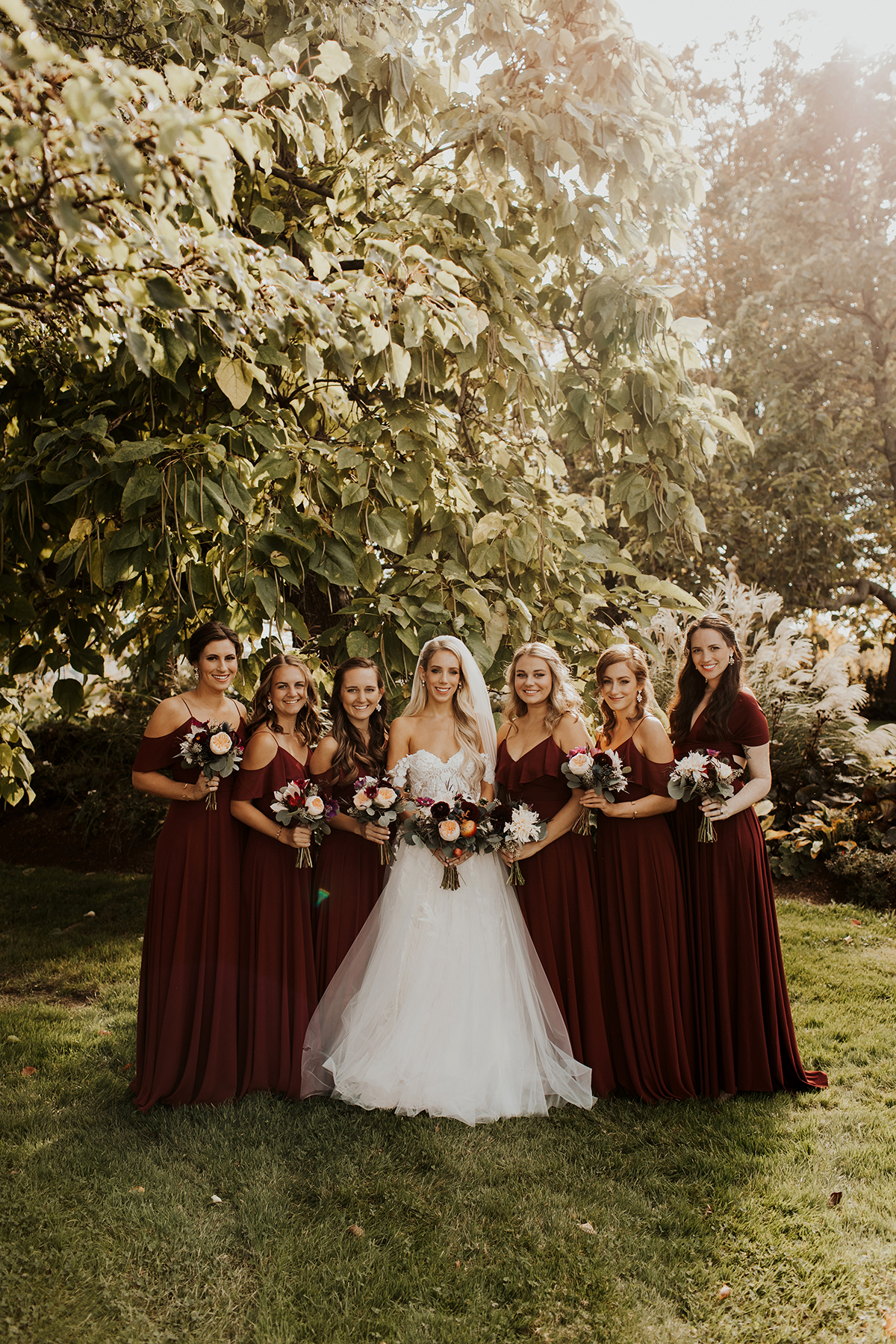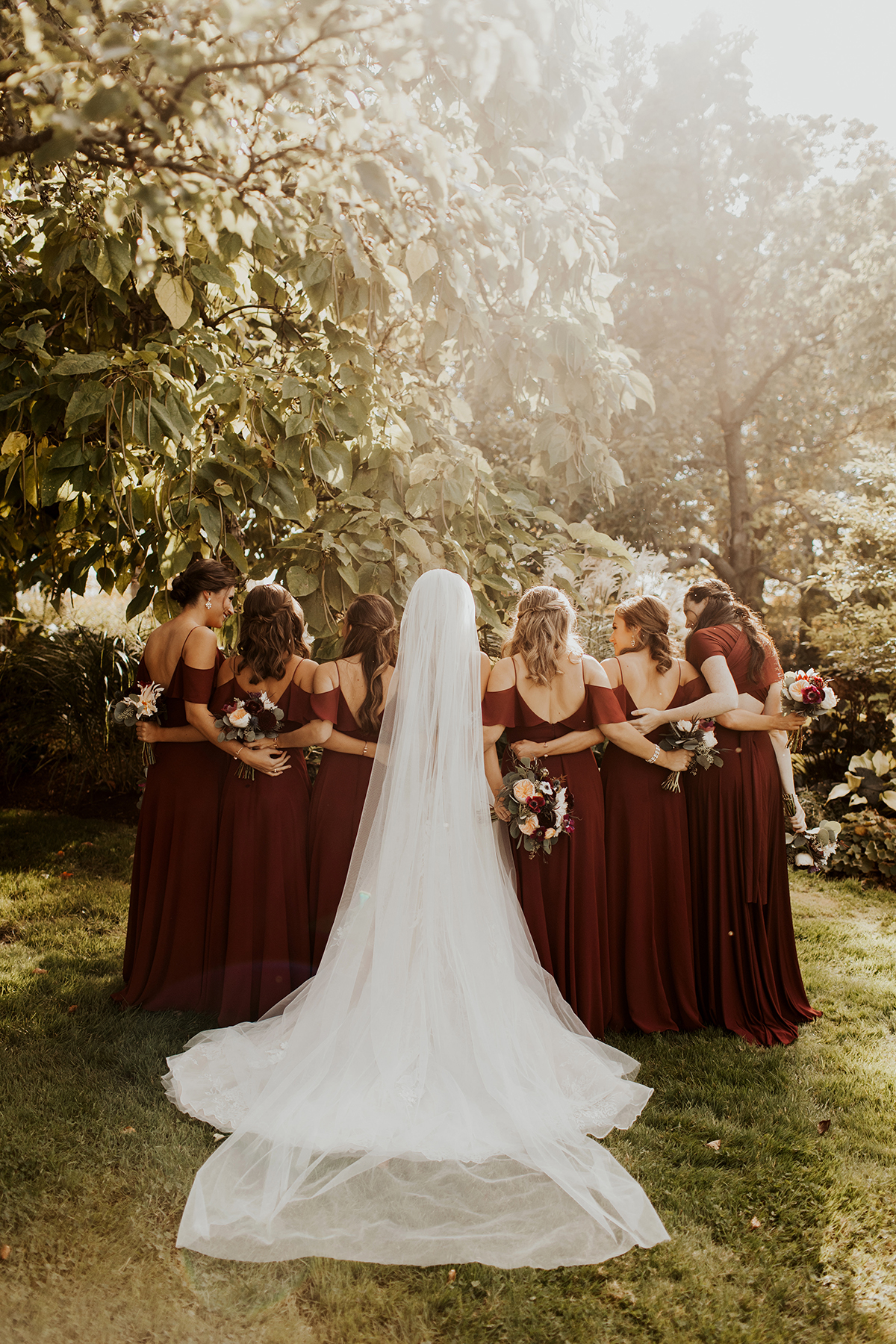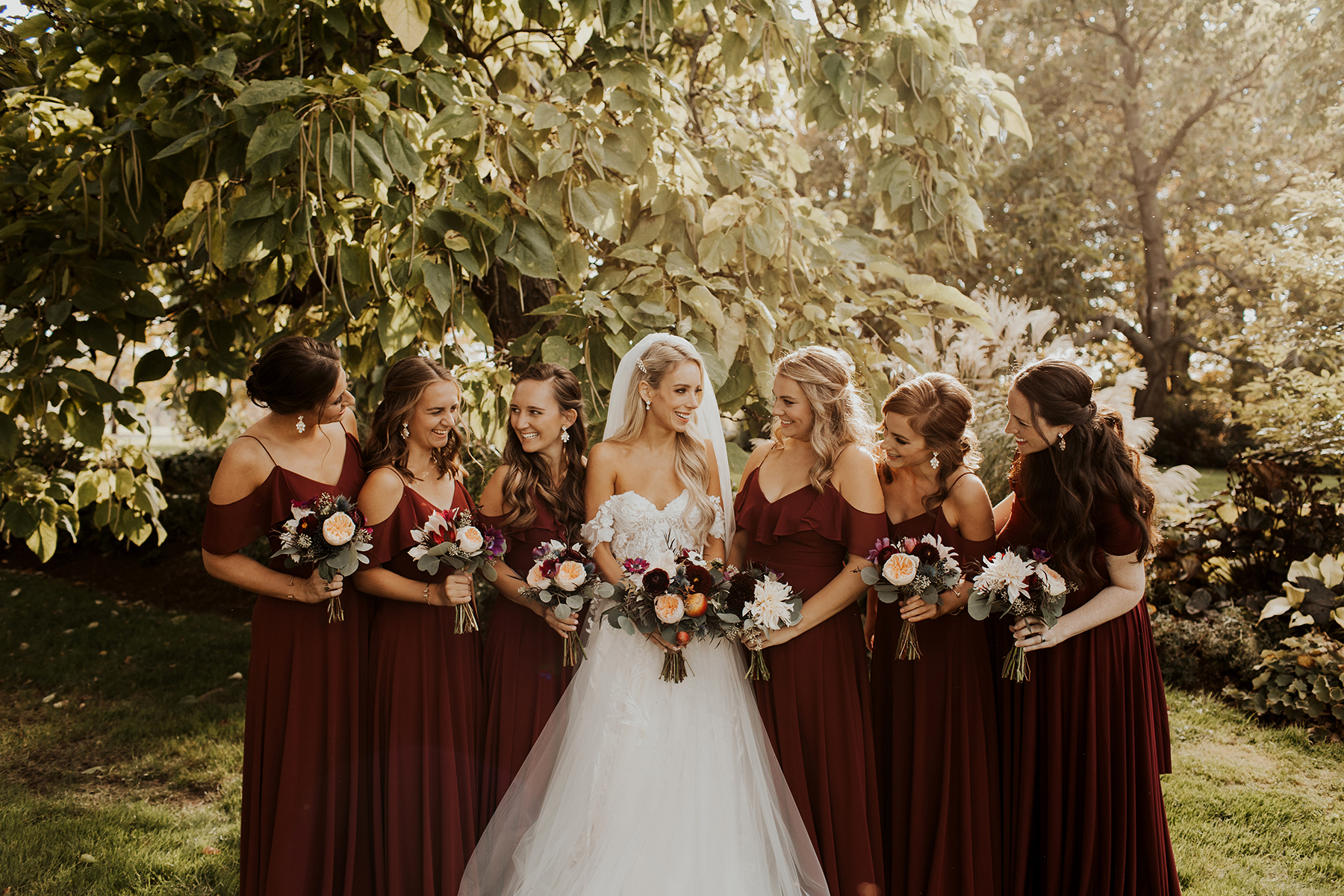 BRIDESMAIDS LOOKS // Jenny Yoo Mila Gown via BHLDN (shade Hibiscus) | Twobirds Ginger Convertible Maxi Dress (shade Bordeaux) | Kendra Scott Bracelet | Earrings via BHLDN | Ankle Strap Heels via BHLDN
From the start of our wedding planning journey, I always knew that I wanted my bridesmaids to wear a deep burgundy gown. In a perfect world this gown would be long with a flattering neckline, comfortable and a style they could potentially wear again to another formal event. I'm very against purchasing expensive items that will only be used once and I did not want that to be the case with my girls' dresses.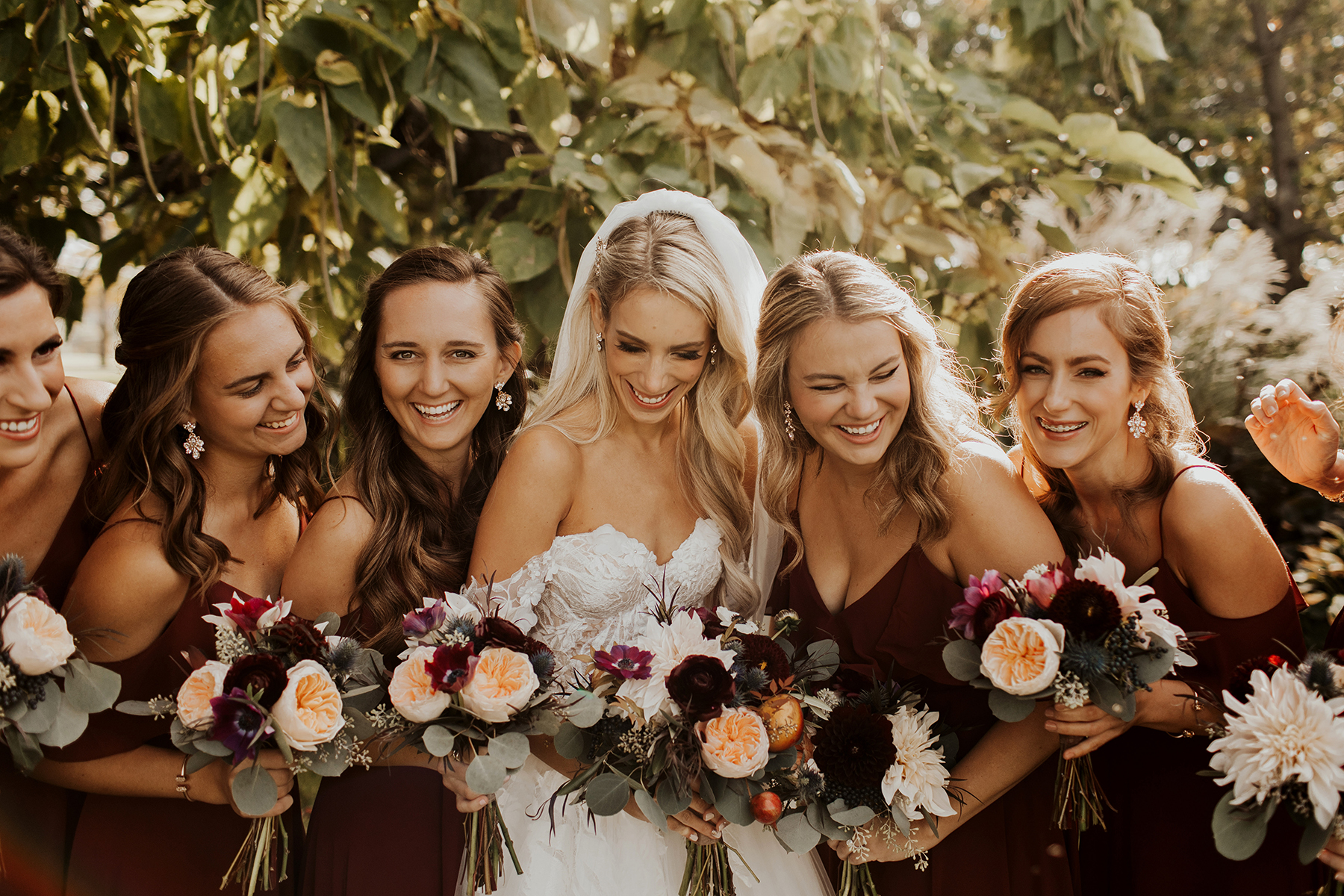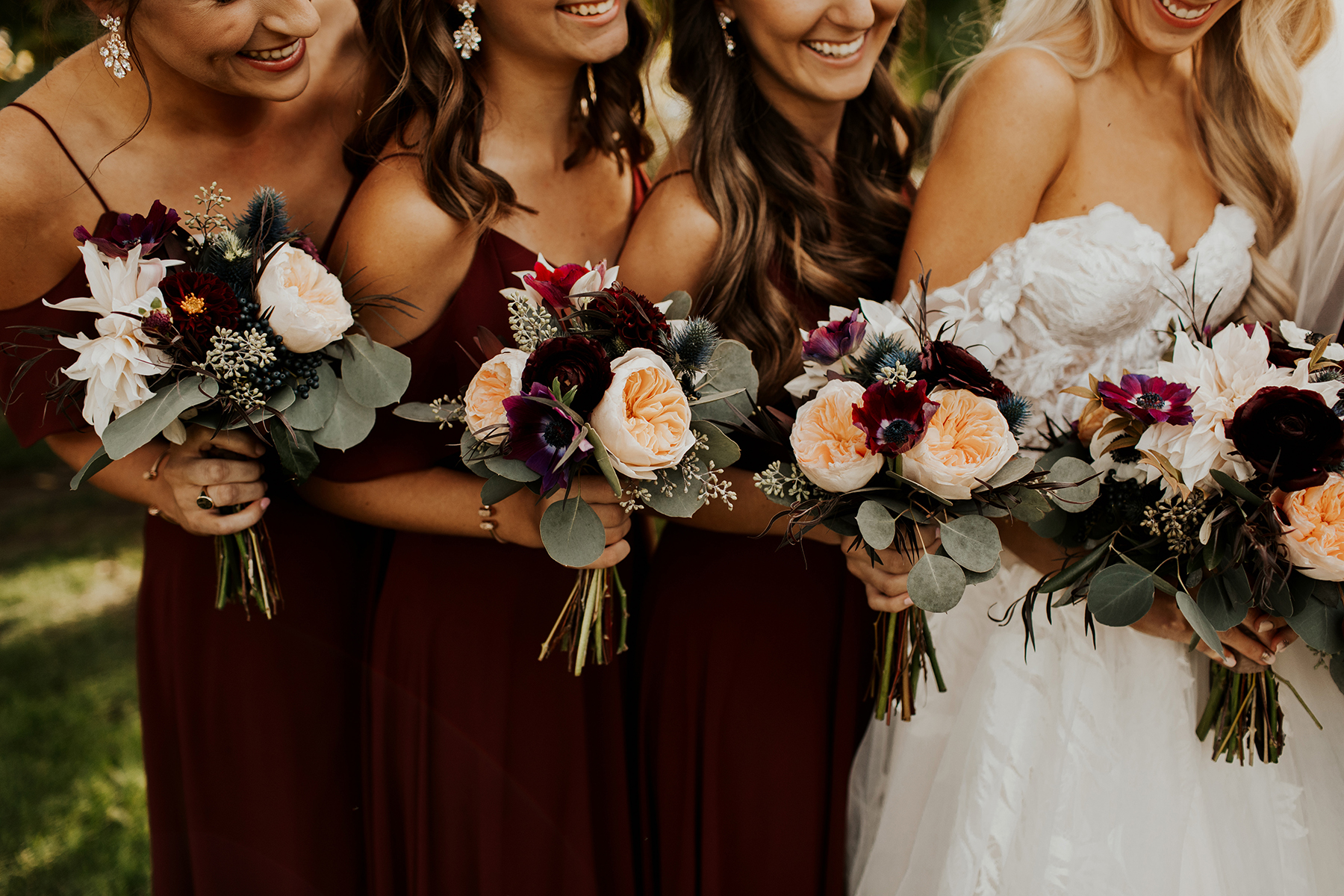 When I came across the Jenny Yoo Mila gown on BHLDN.com I knew it was the one! To make sure it was the perfect fit, my Maid of Honor Allie and I made an appointment at the BHLDN Upper East Side boutique so we could see it in person. It was just as pretty as I expected!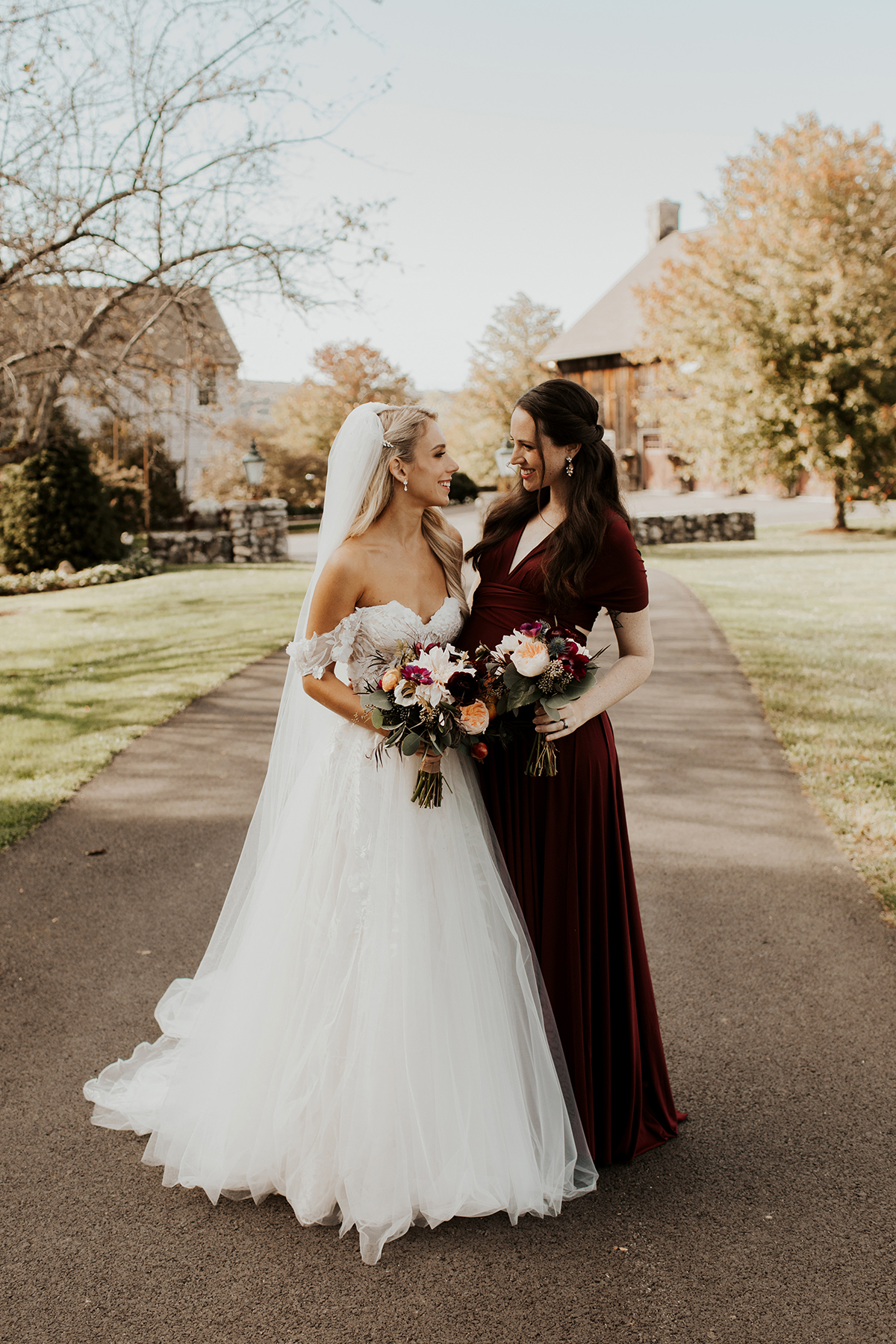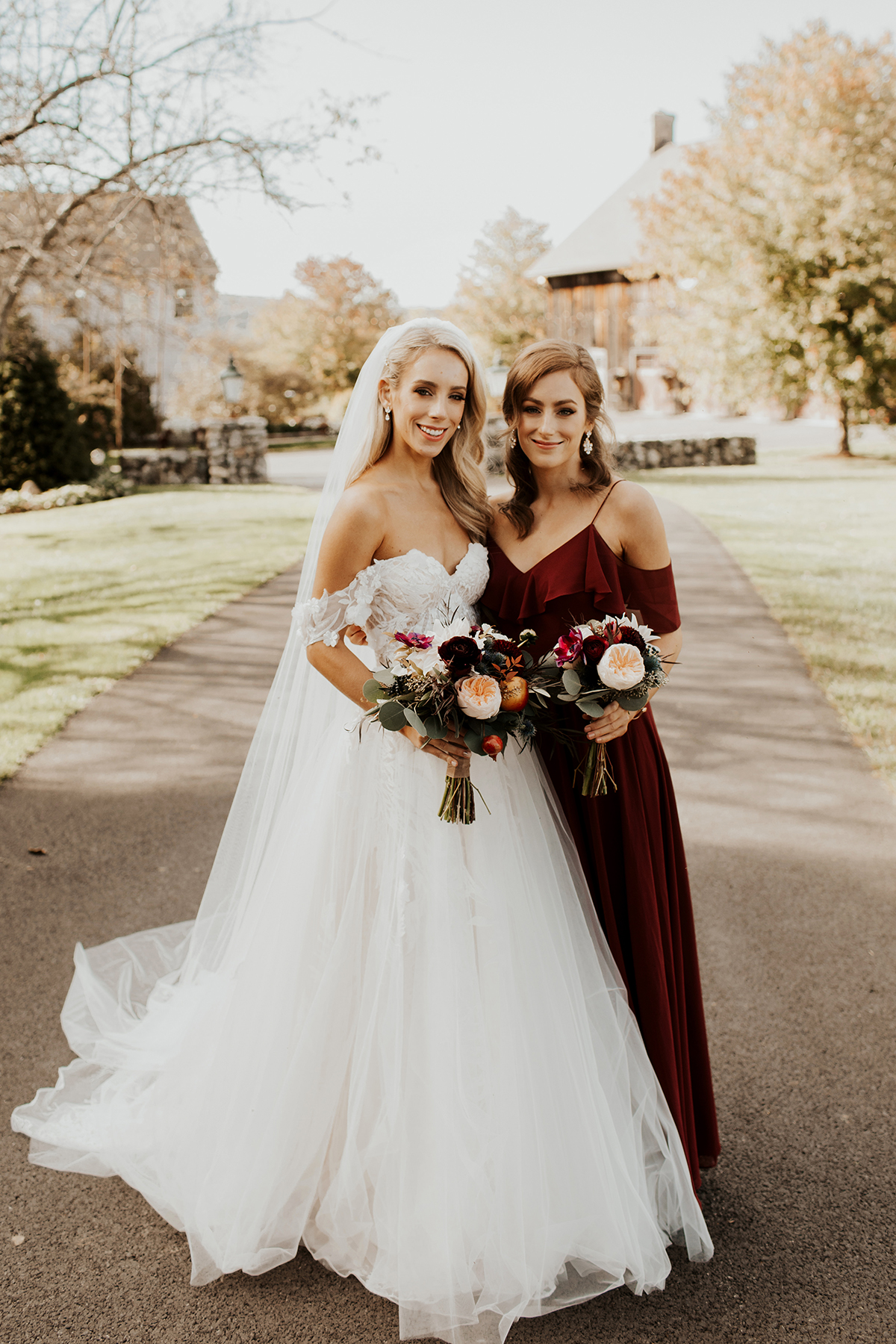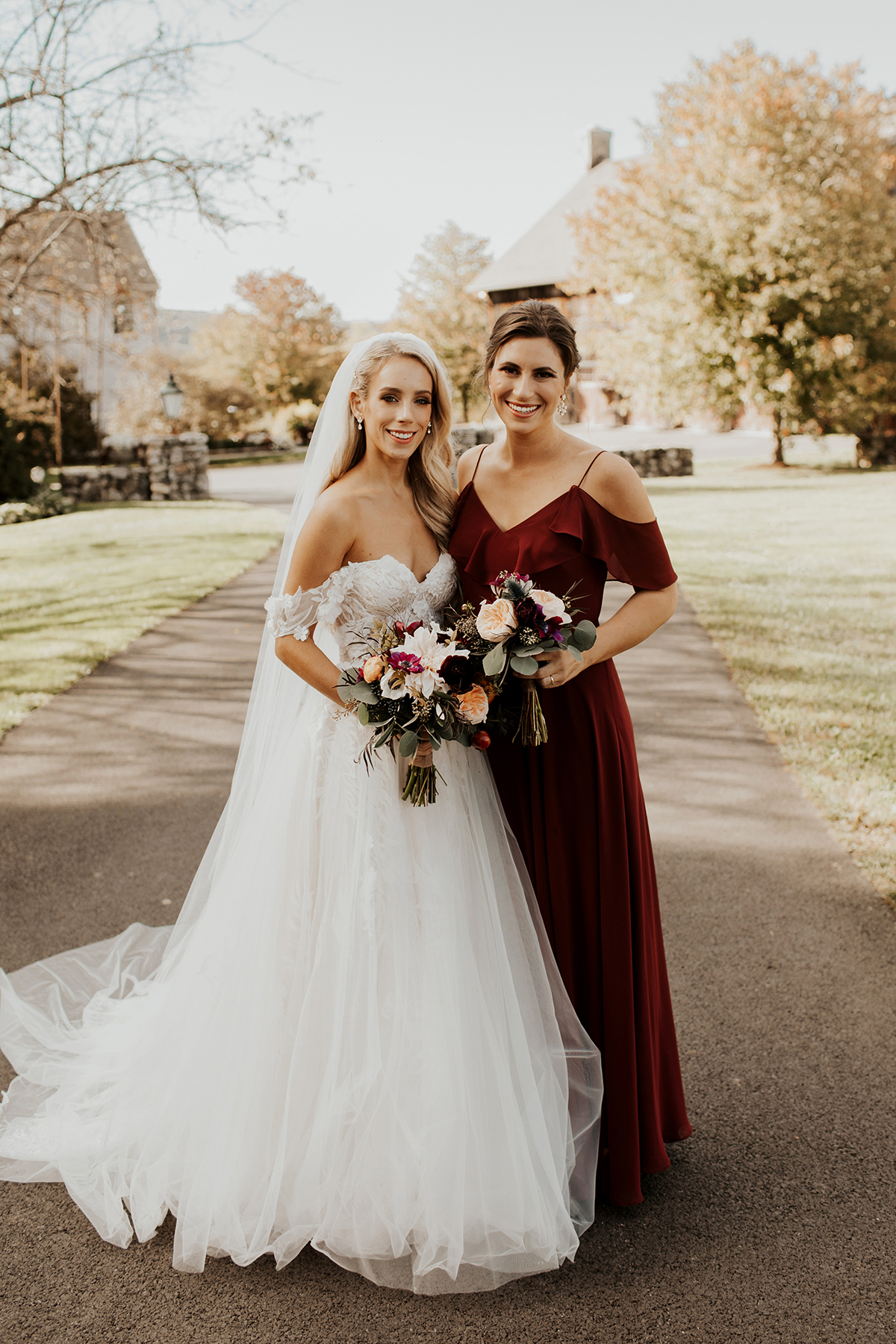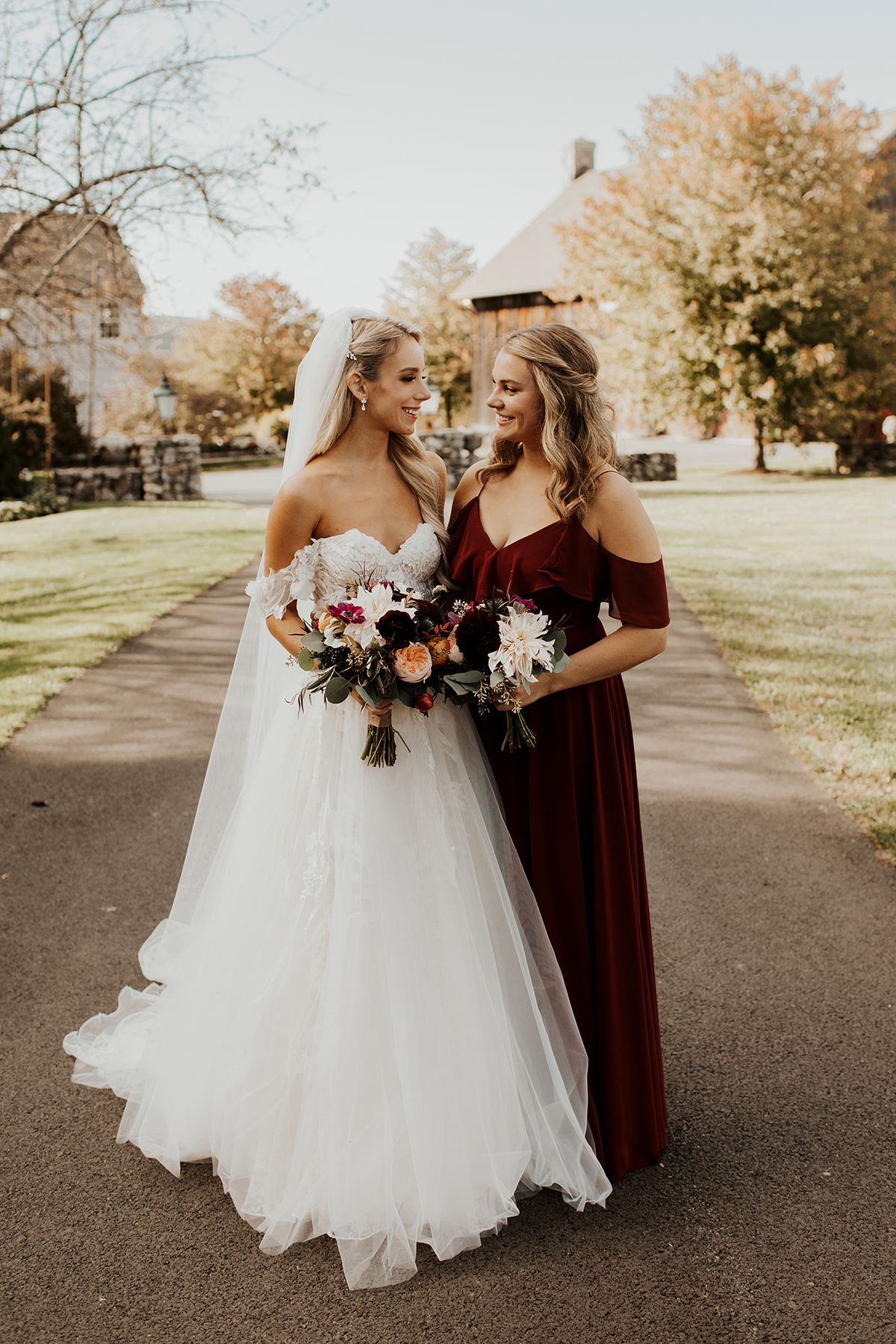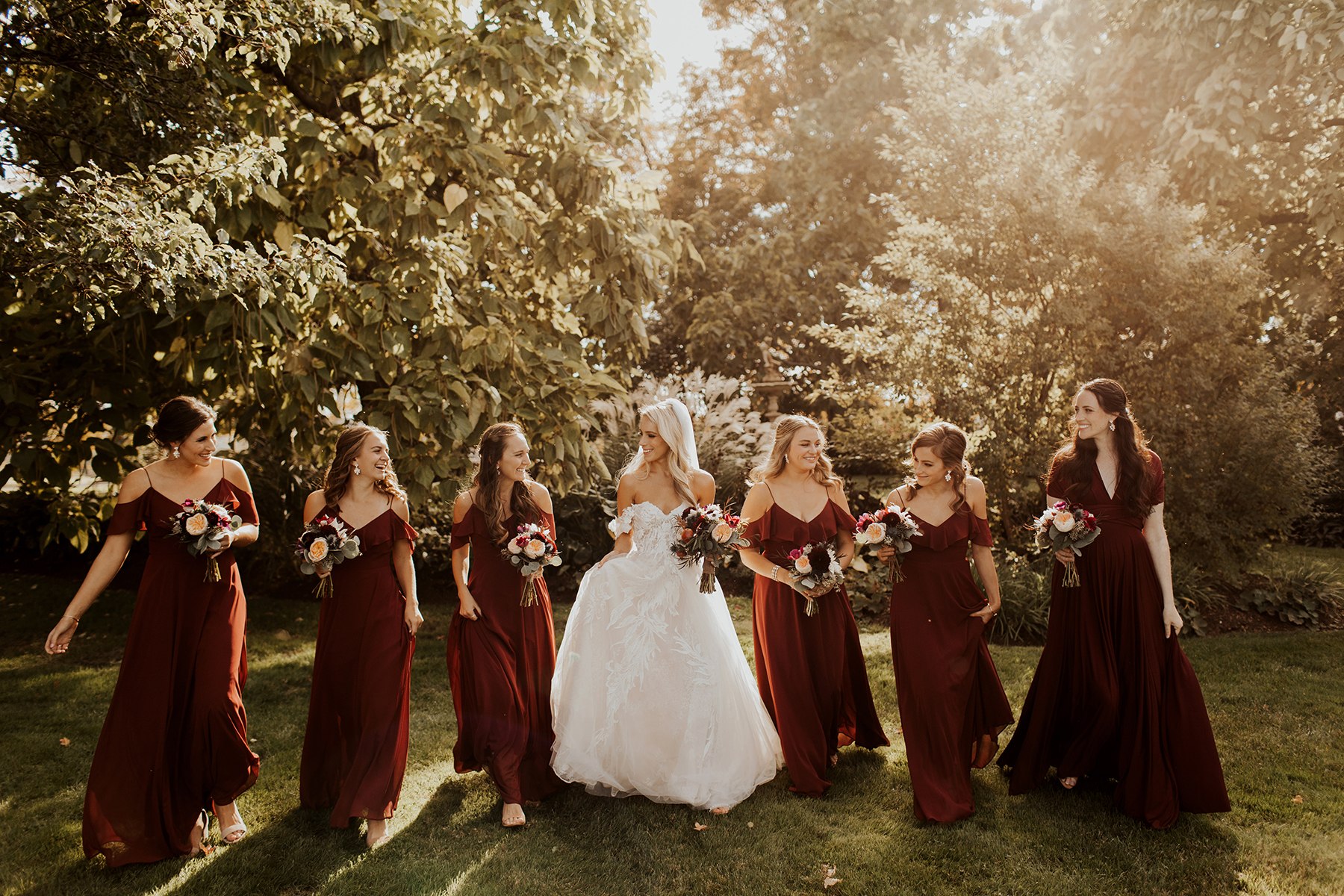 You may notice my friend Amanda (far right) is wearing a slightly different dress due to her upcoming new little addition in December 🙂 The BHLDN team was beyond helpful at finding me a bump-friendly dress for her that would complement the Mila Gown. She's wearing the Twobirds Ginger Convertible maxi dress— it's the perfect gown for mom's to-be because it can tied and worn so many different ways. Doesn't she look gorg??
MORE BRIDESMAIDS DRESSES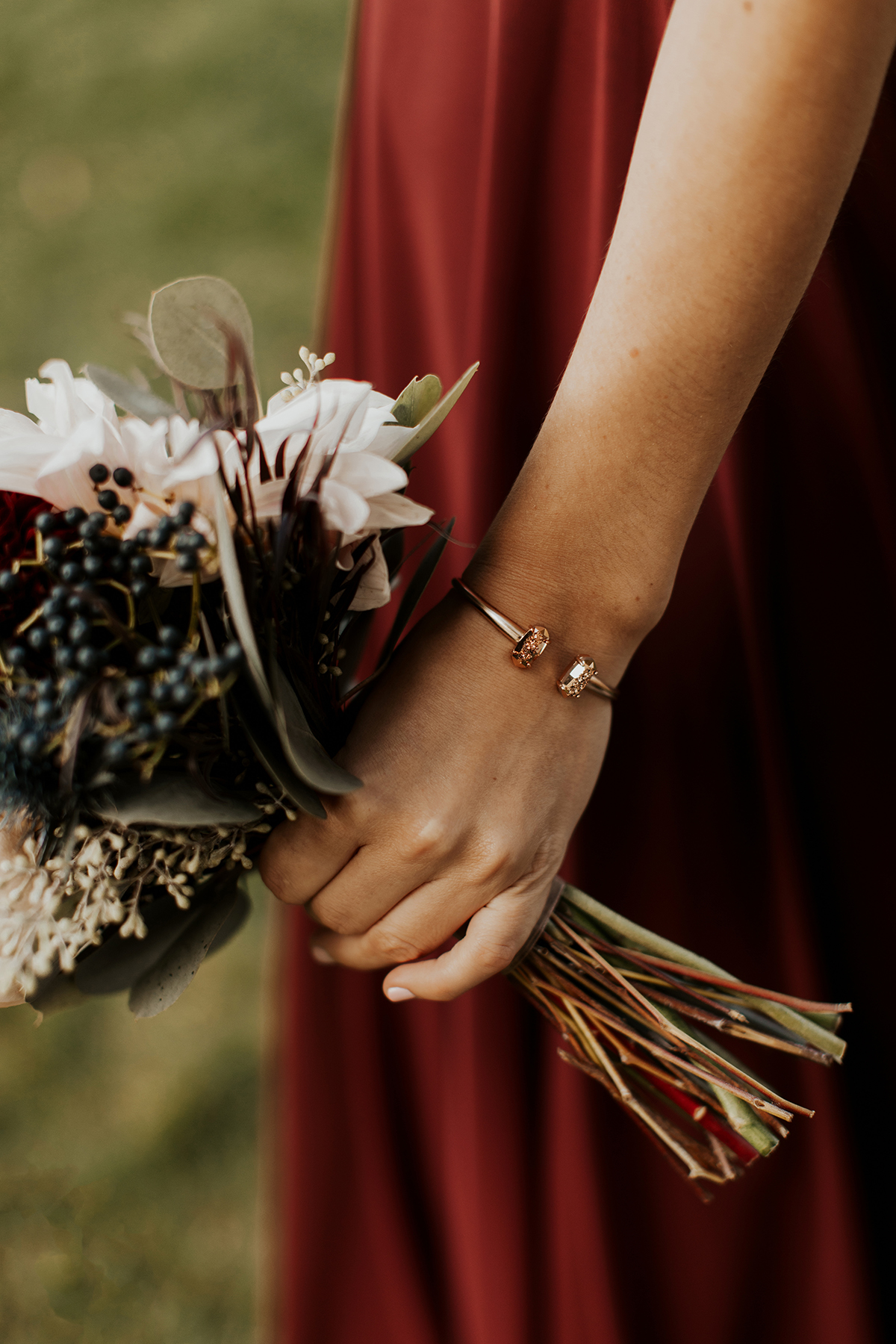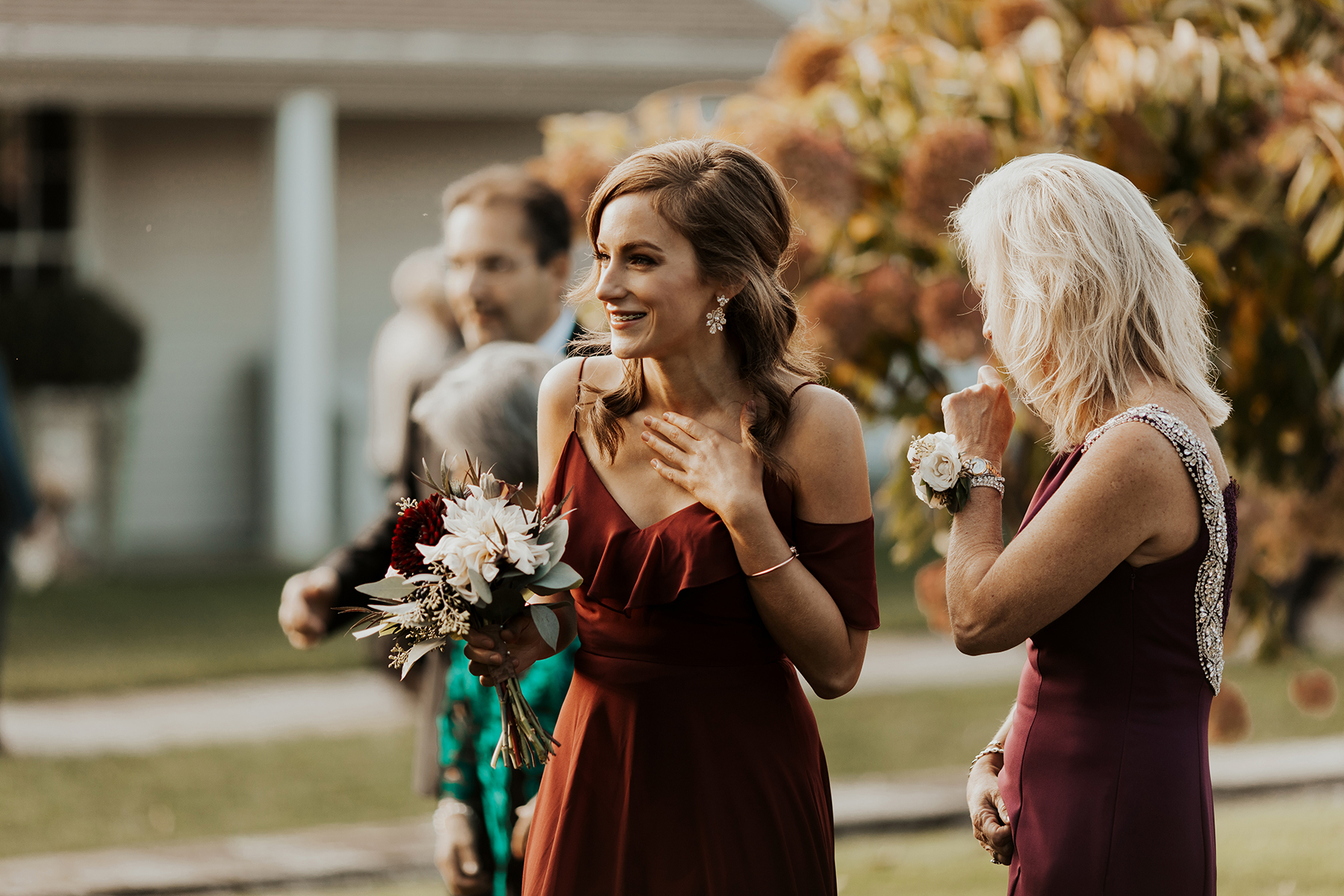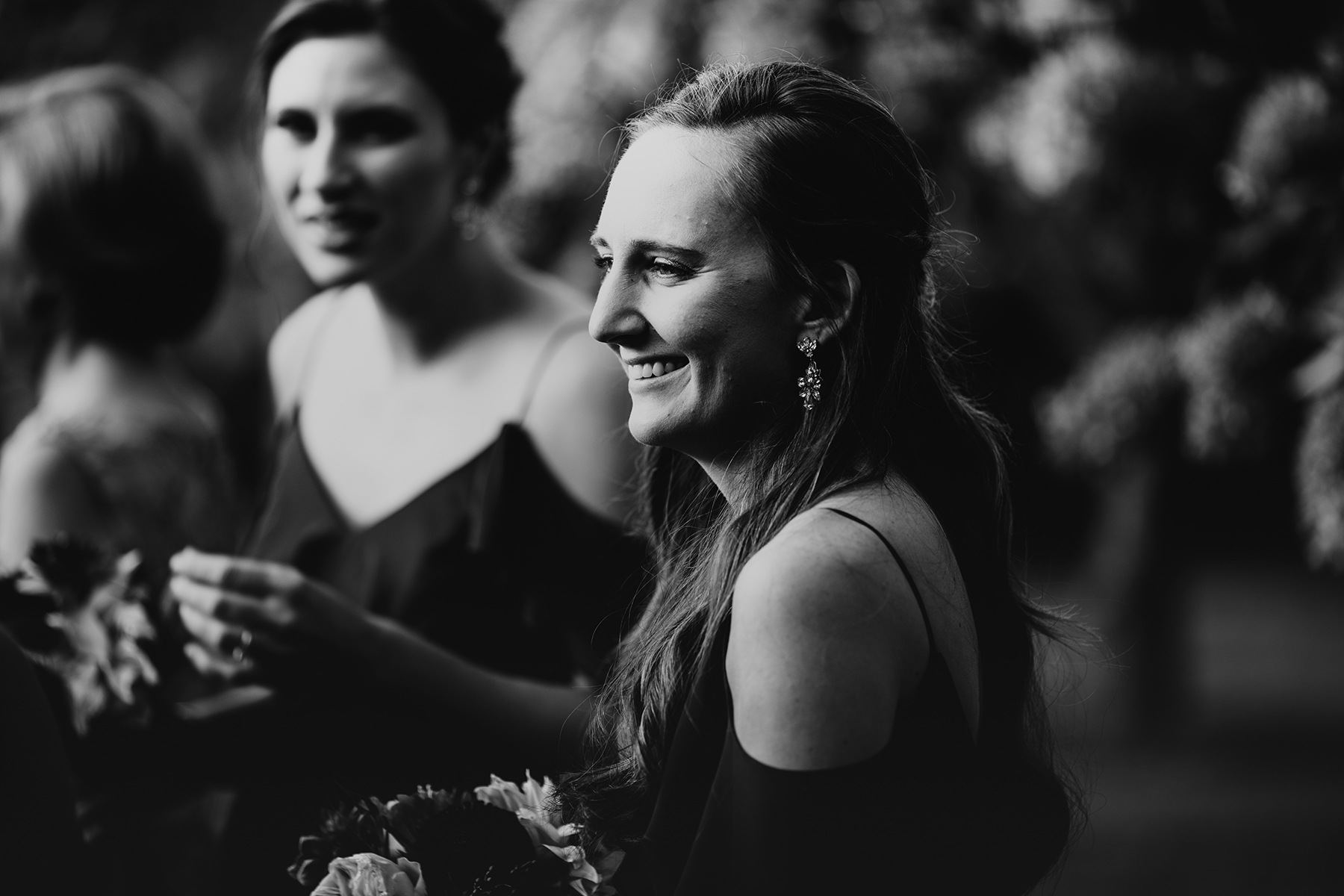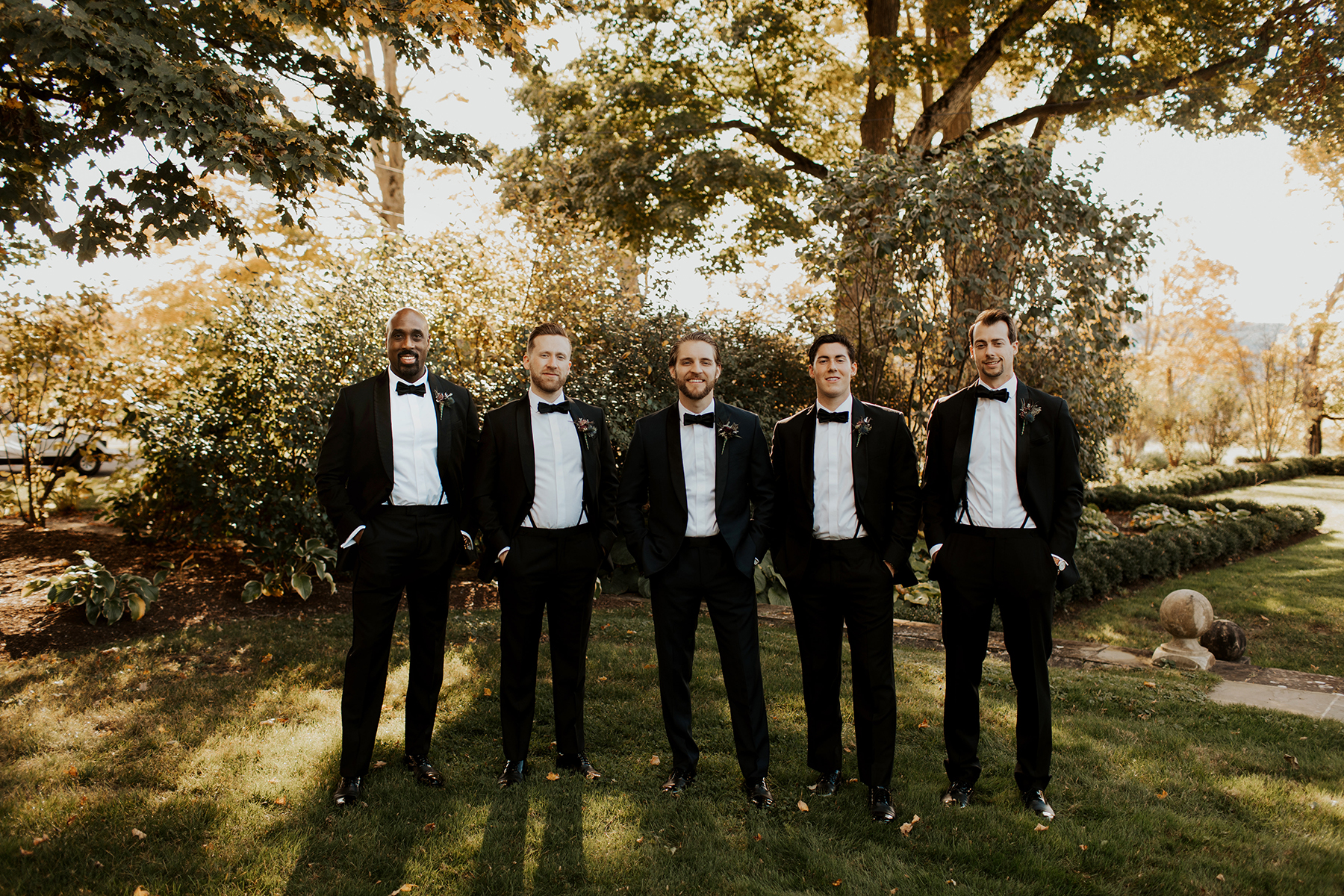 GROOMSMEN LOOKS (all via The Black Tux) // Shawl Collar Tuxedo | White Dress Shirt | Cap Toe Shoes | Suspenders | Bow Tie | Cufflinks
I mentioned in our First Look reveal that Nick's groomsmen all wore the same look as he did, except as you can see their tuxes were all black. Renting through The Black Tux made getting the guys their looks a complete breeze. Through The Black Tux website, Nick was able to send a complete breakdown to each guy that explained exactly what items they needed to order and by when.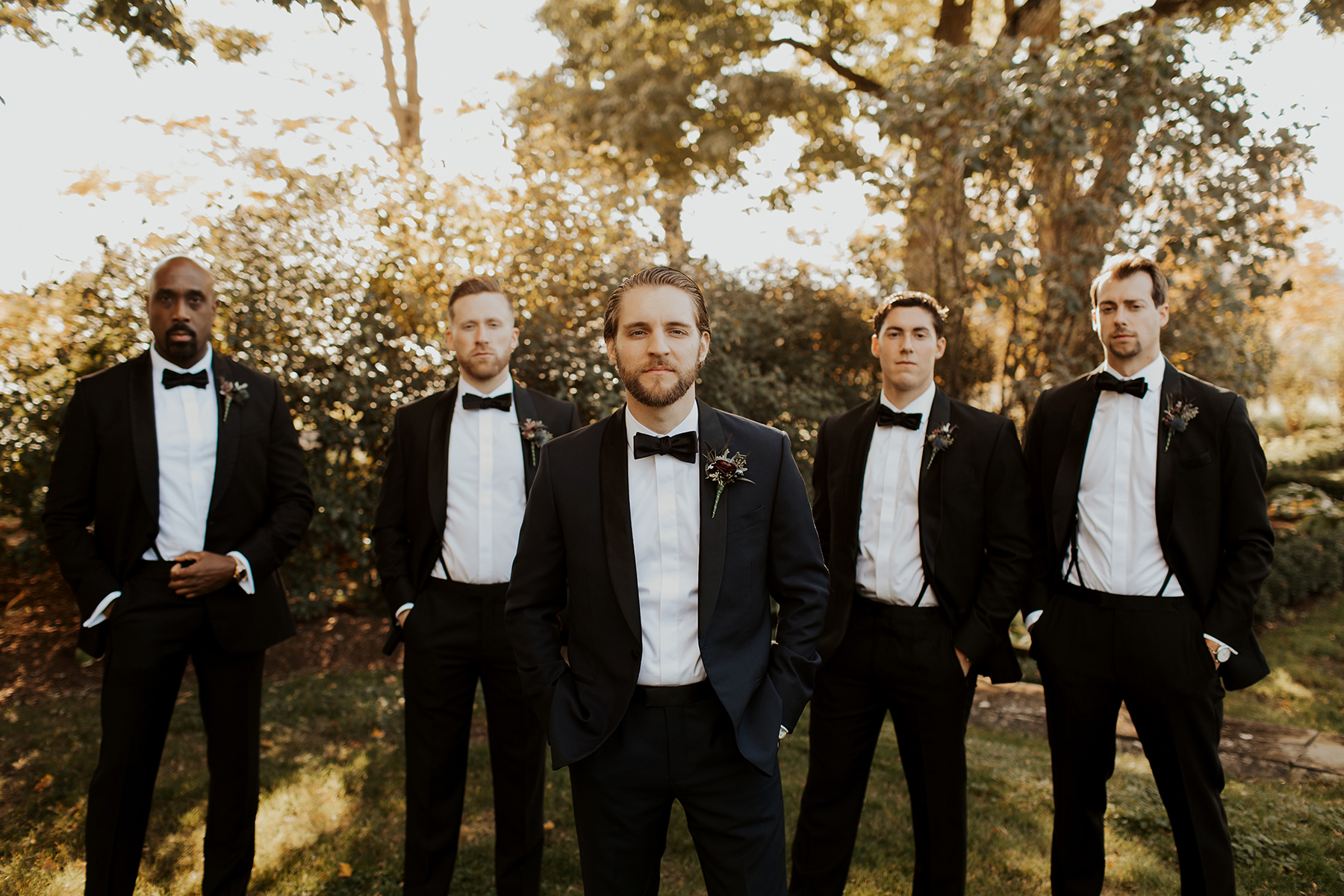 GROOM'S LOOK (all via The Black Tux) // Midnight Shawl Tuxedo | White Dress Shirt | Cap Toe Shoes | Suspenders | Bow Tie | Cufflinks
Following our wedding, The Black Tux provided instructions and a mailing label so they could return everything. Nick was really happy with how he and his guys' looks came together and their entire experience renting through The Black Tux — highly recommend!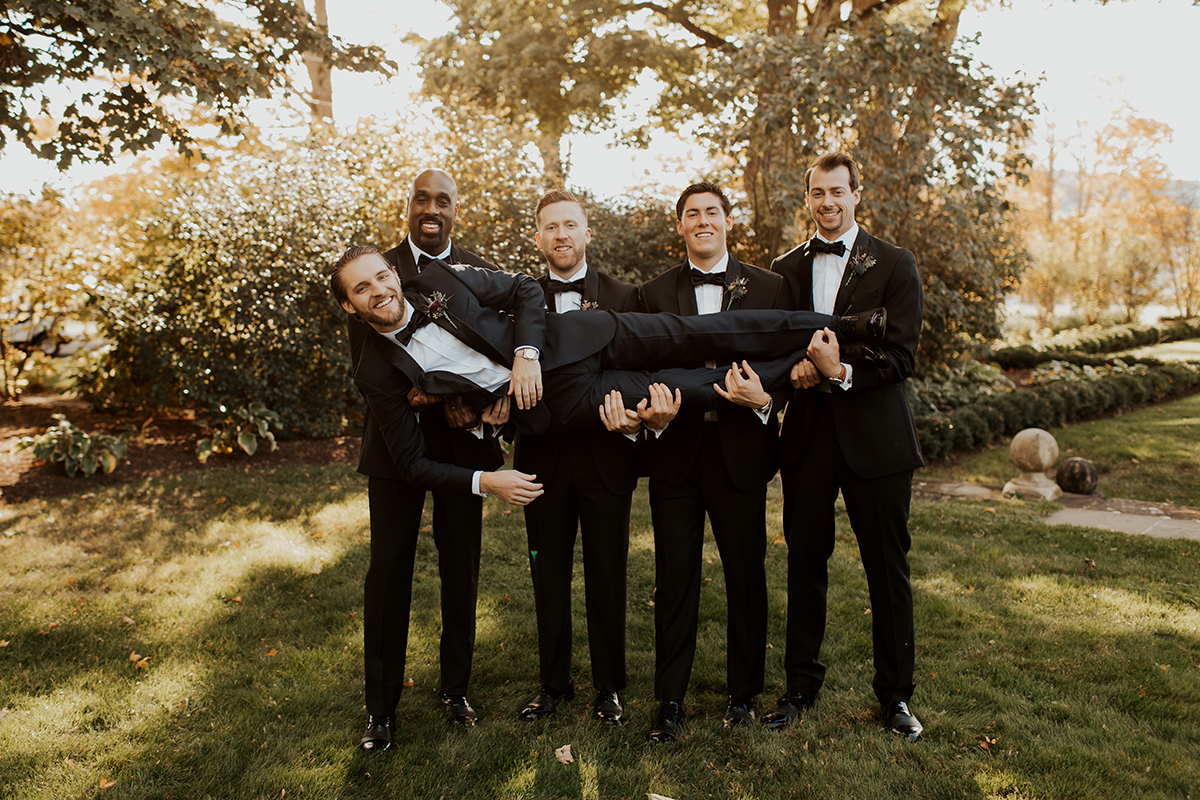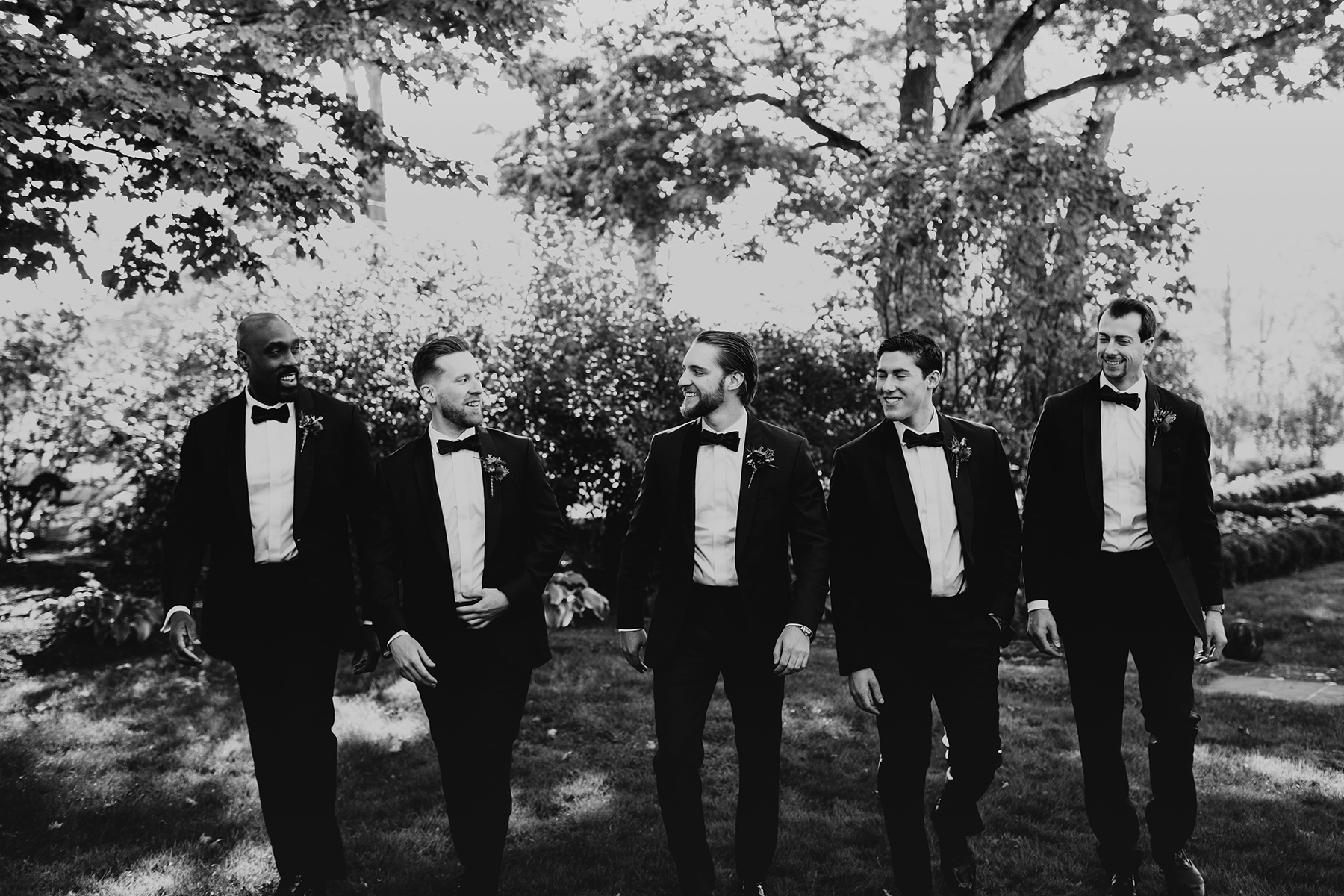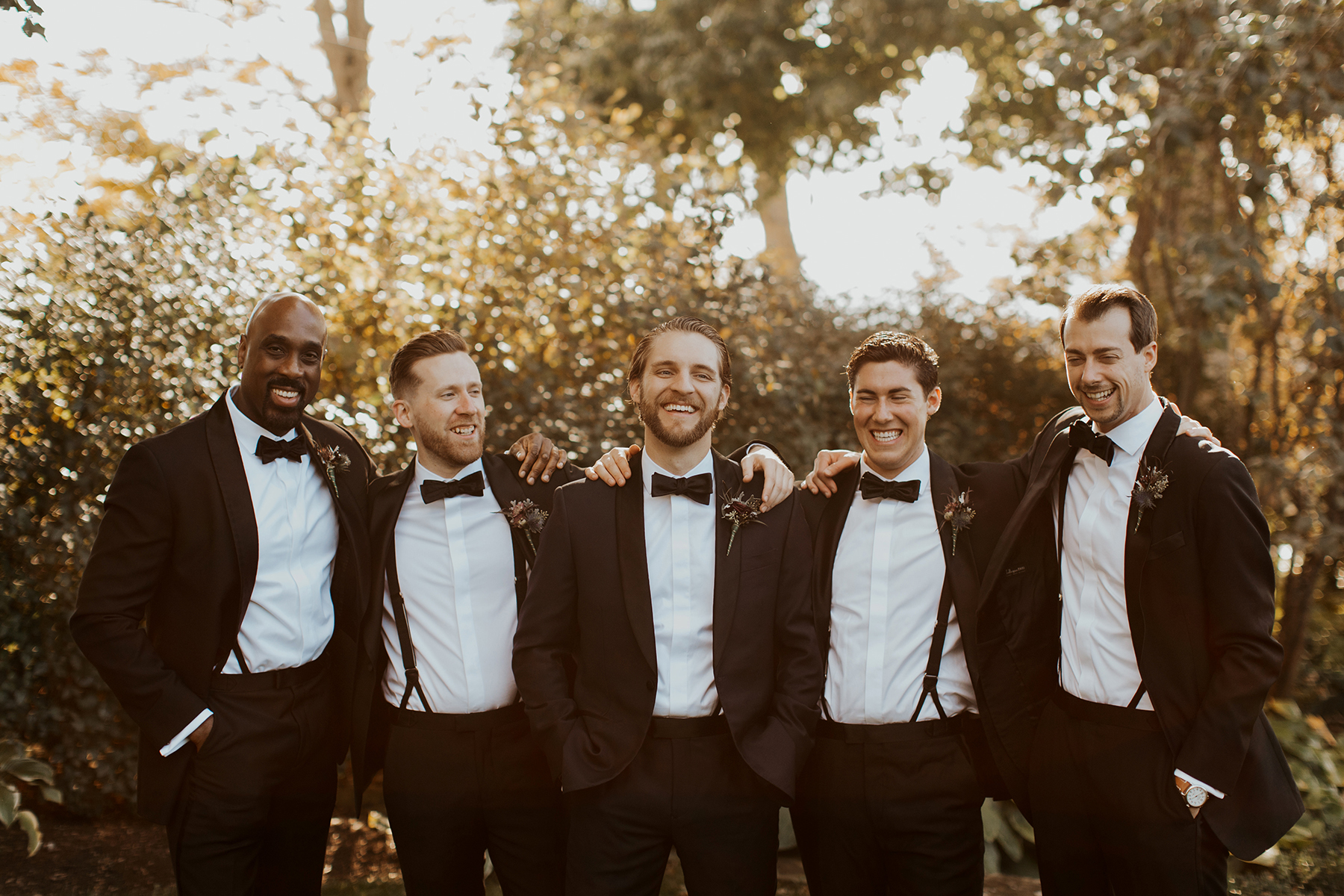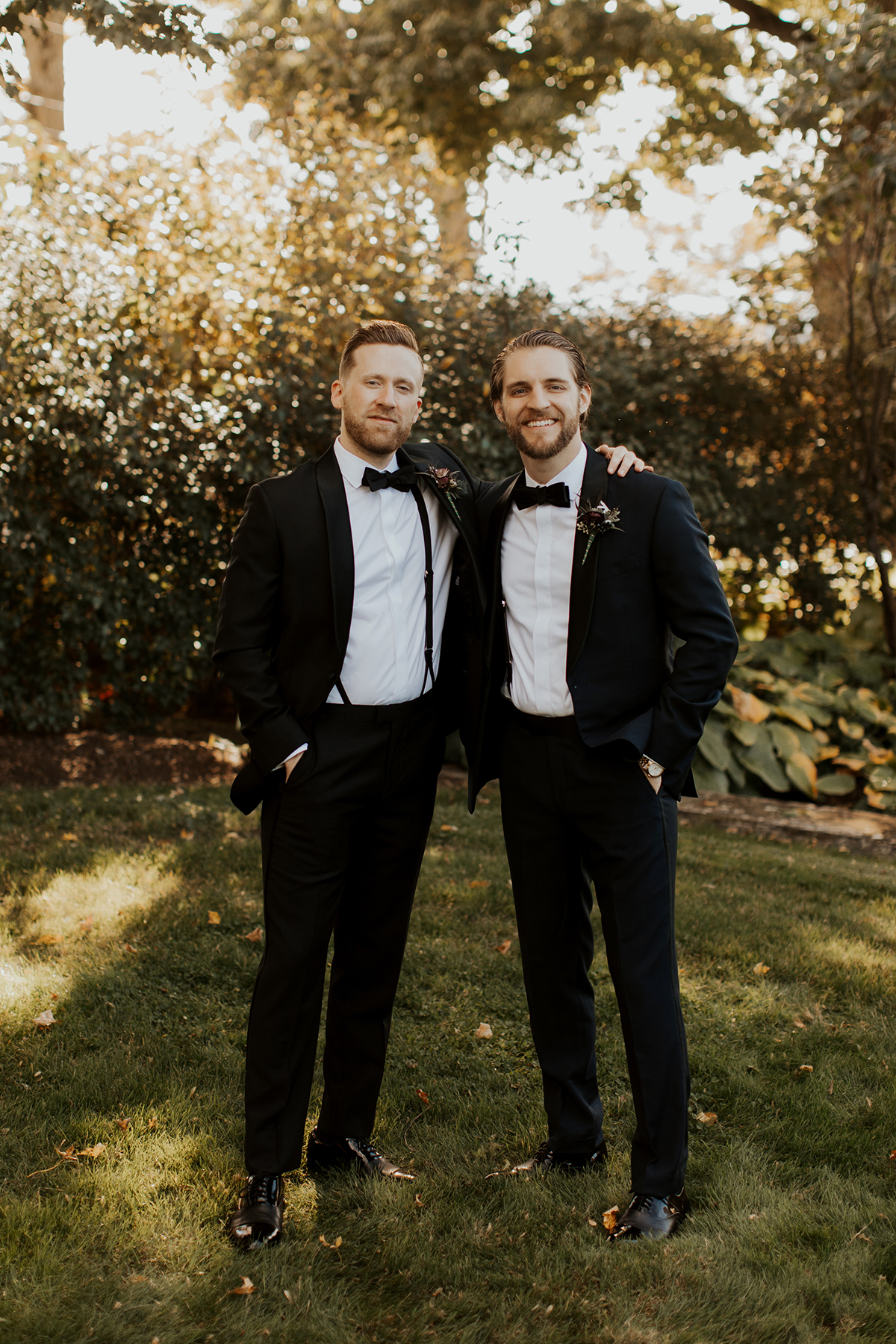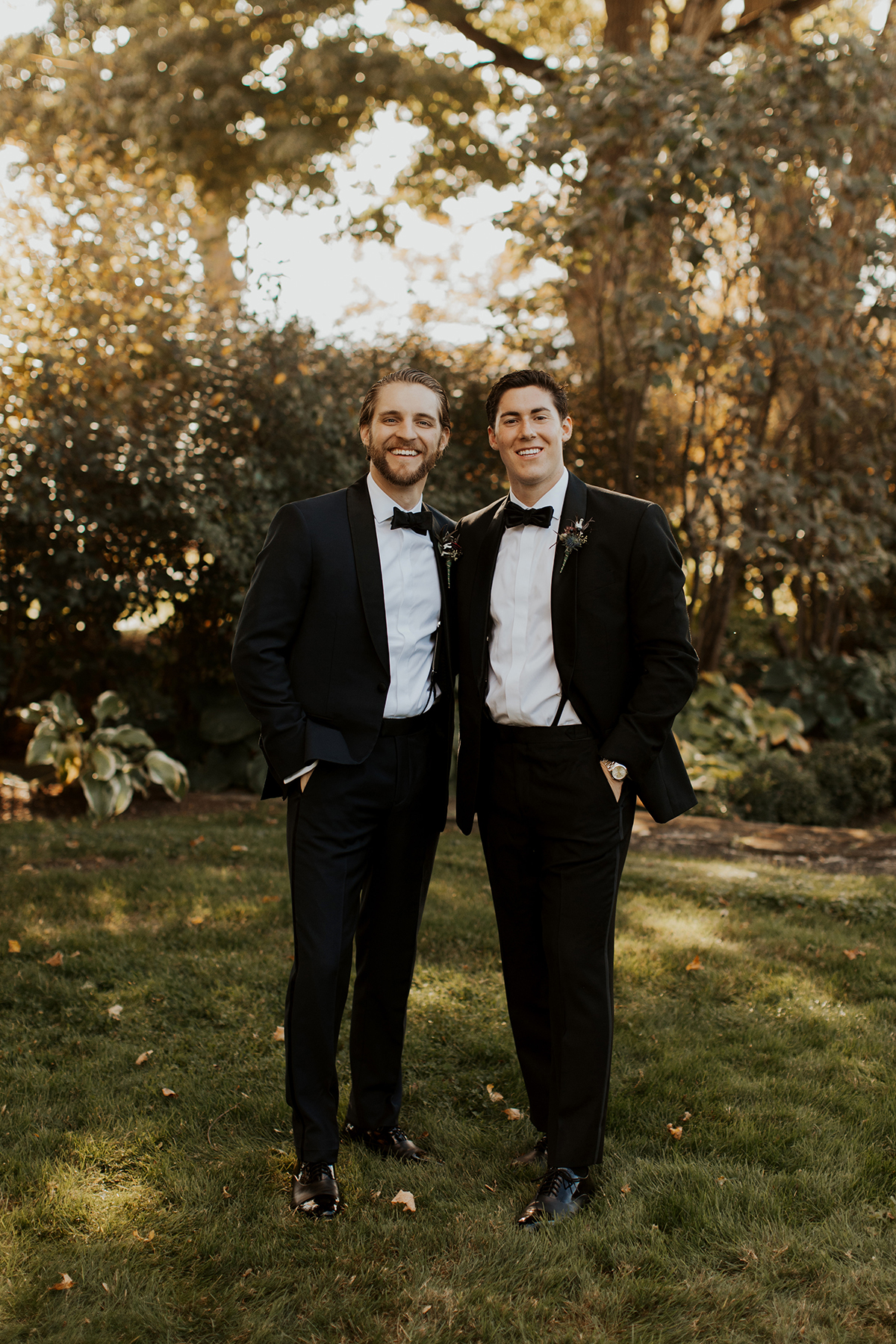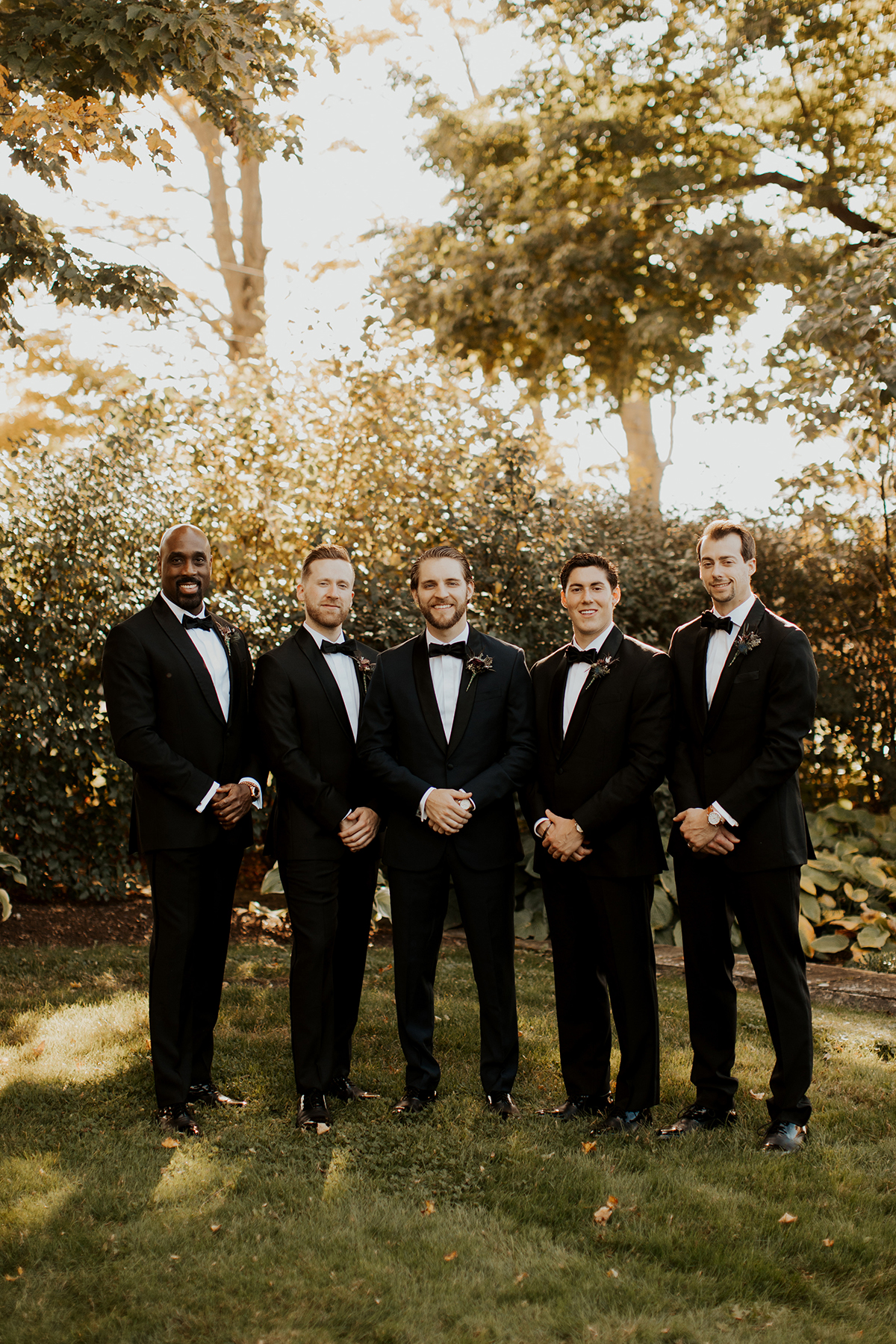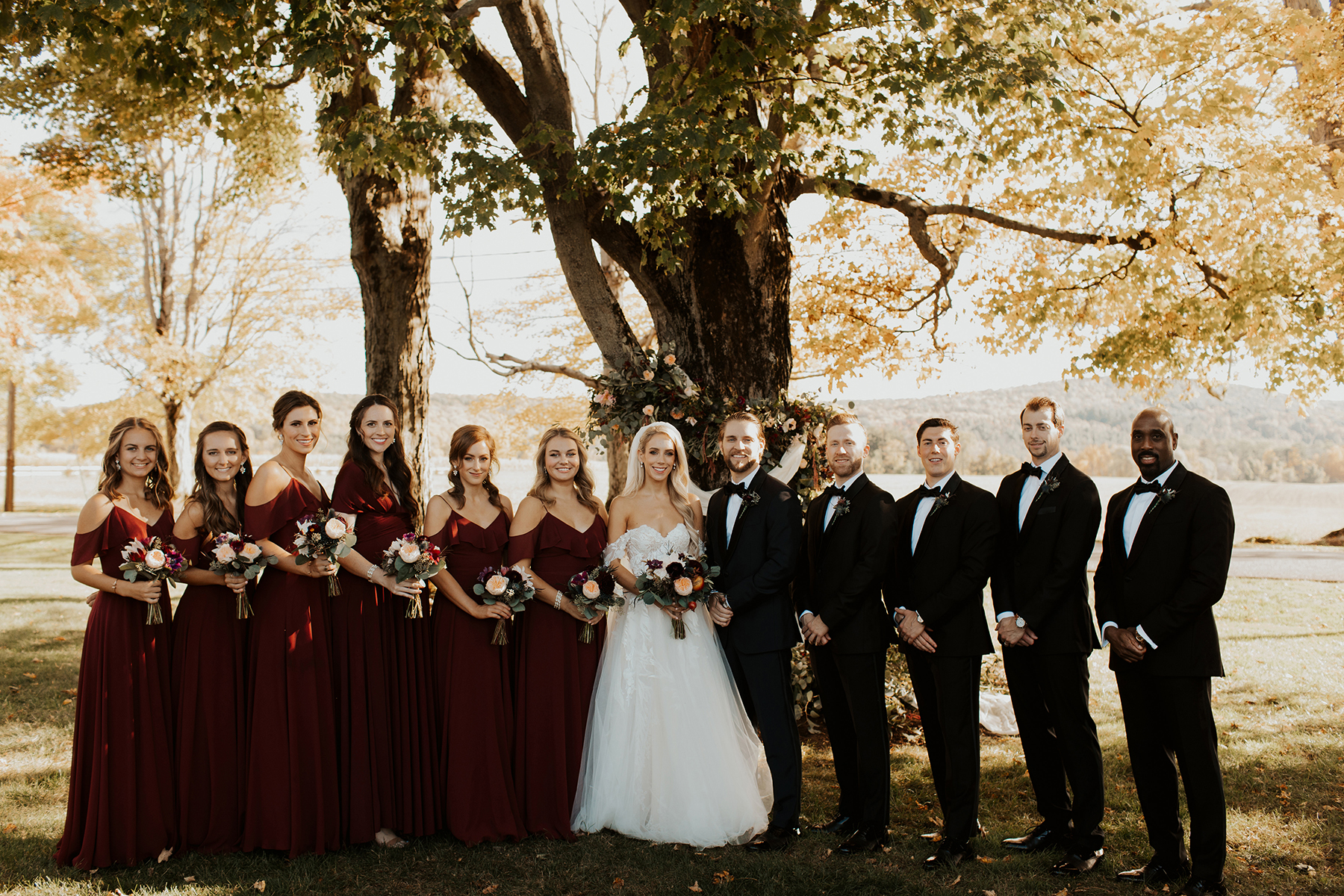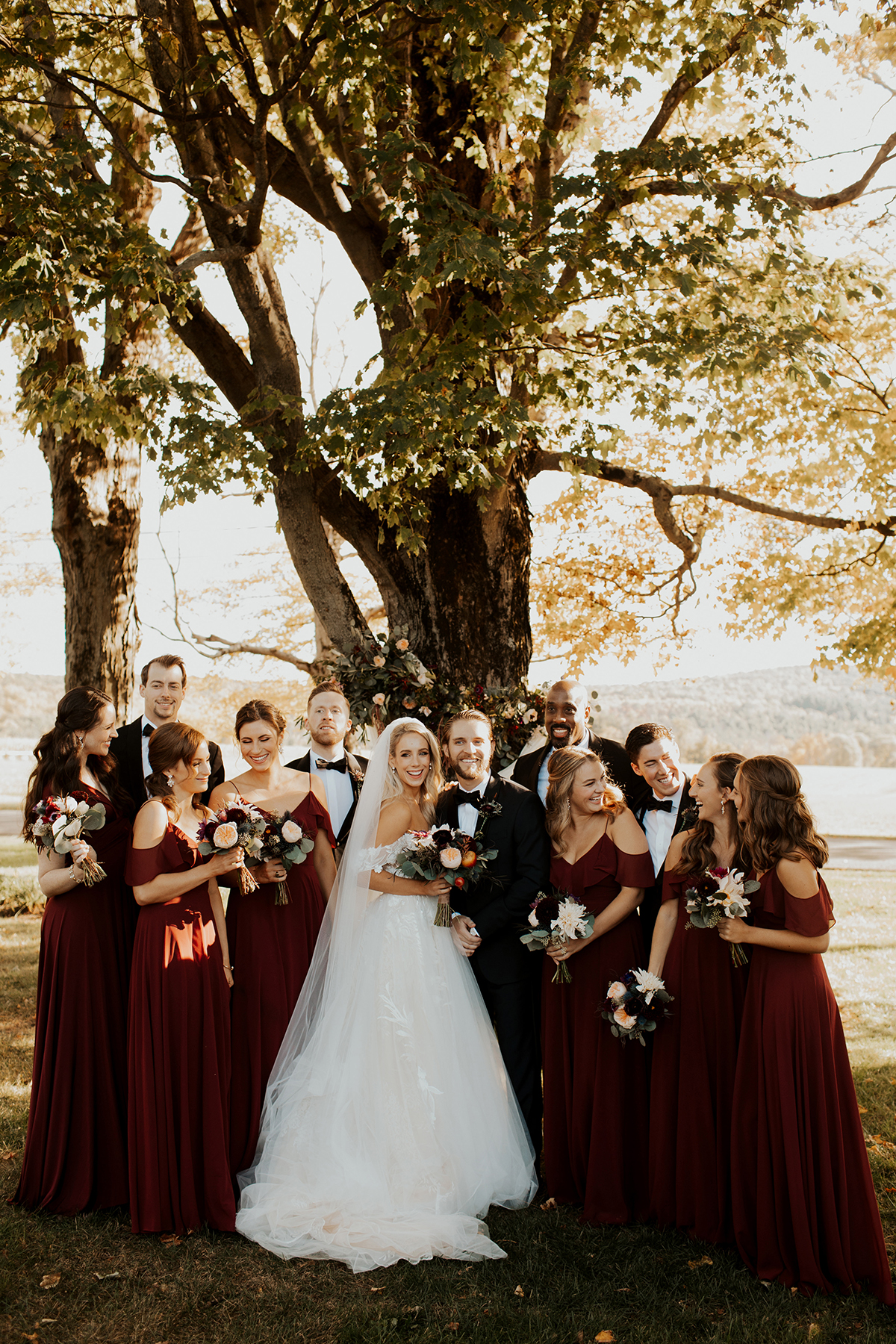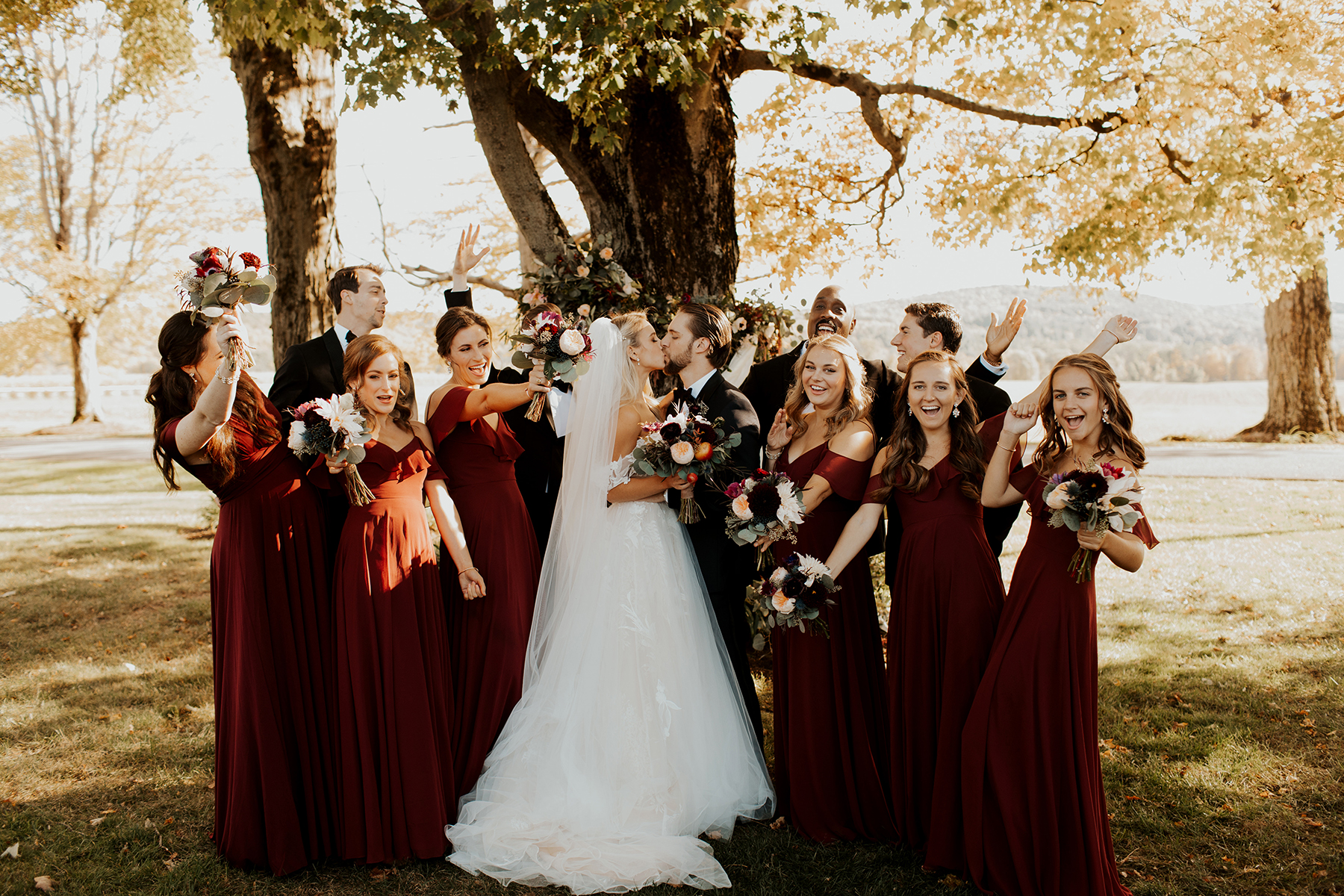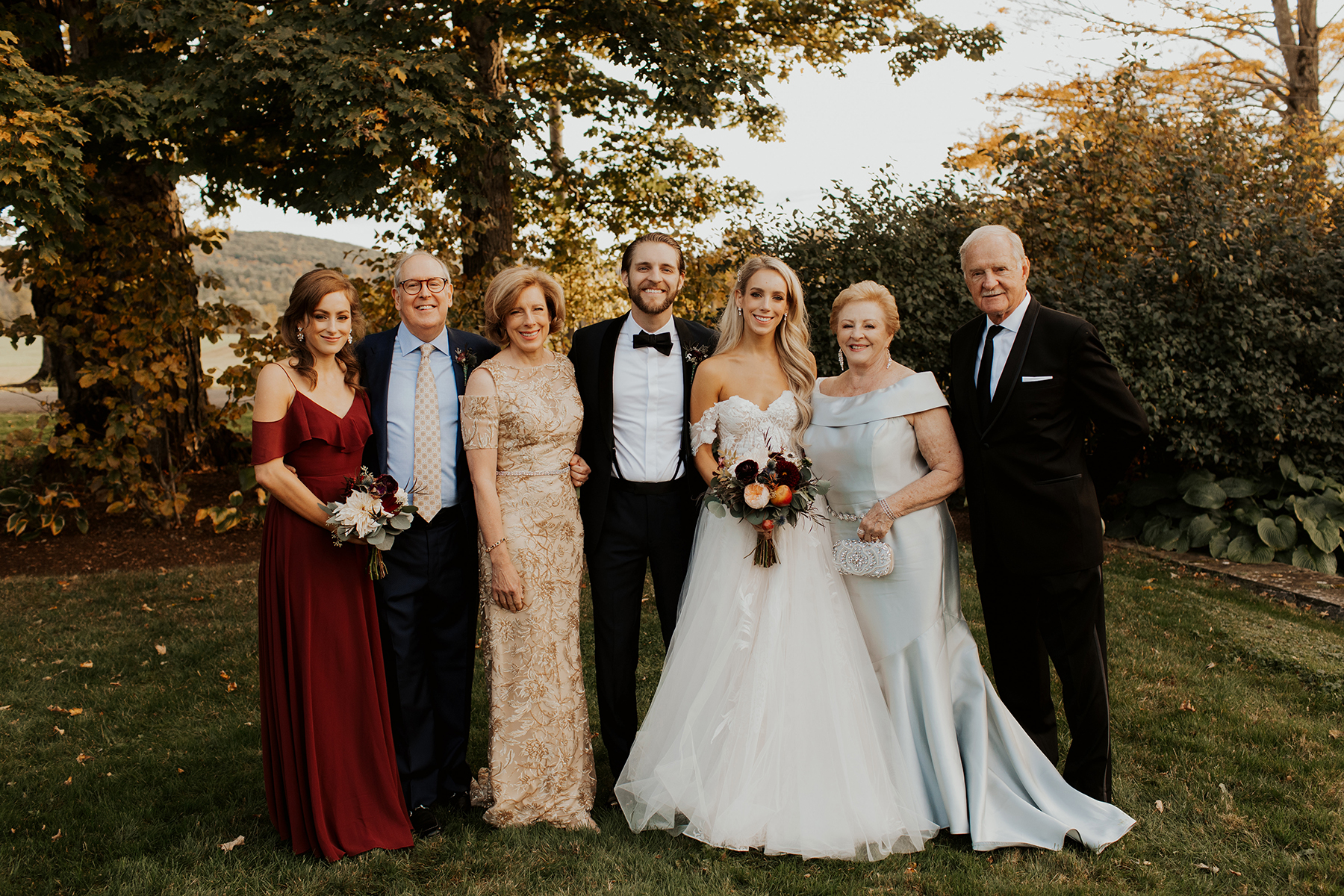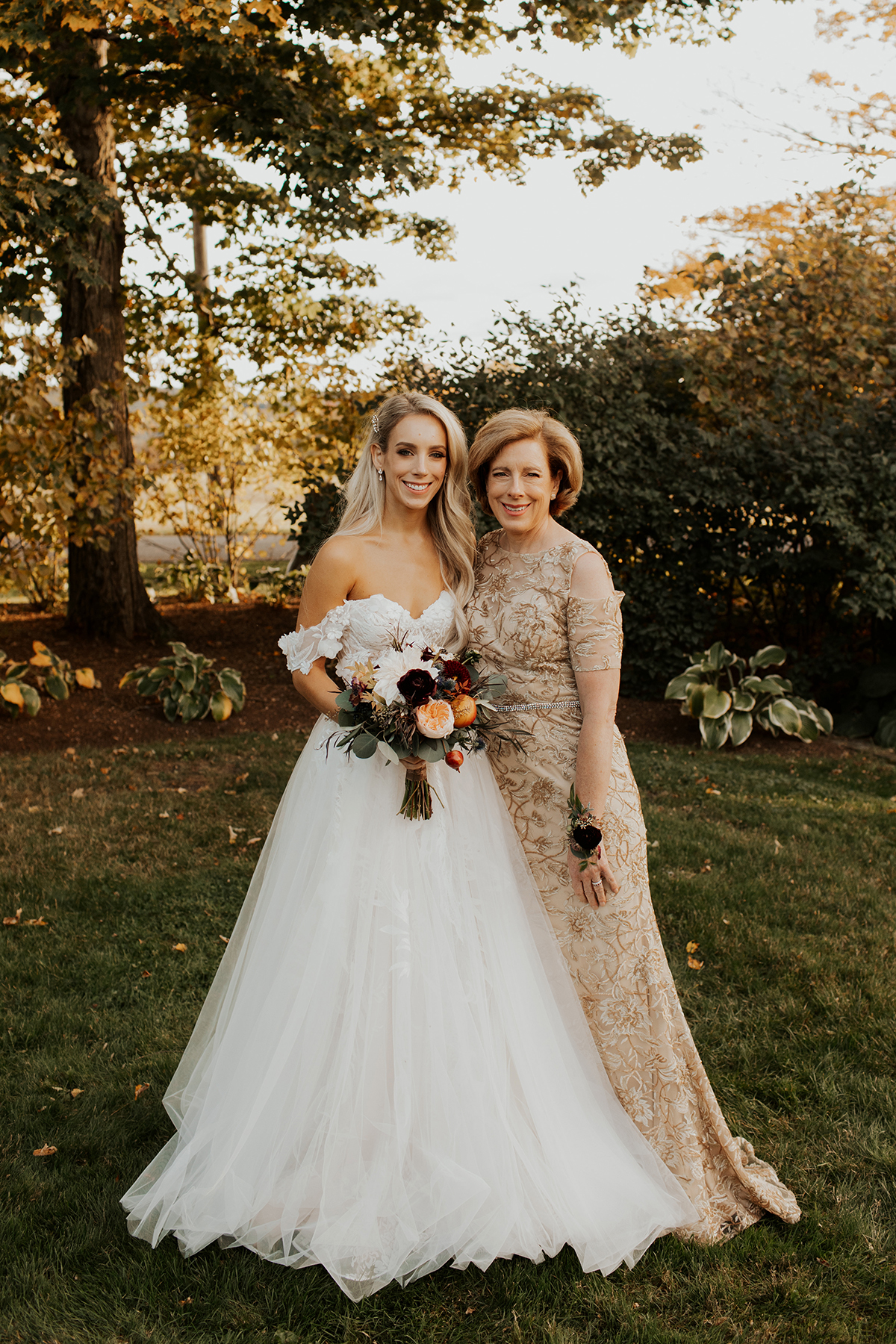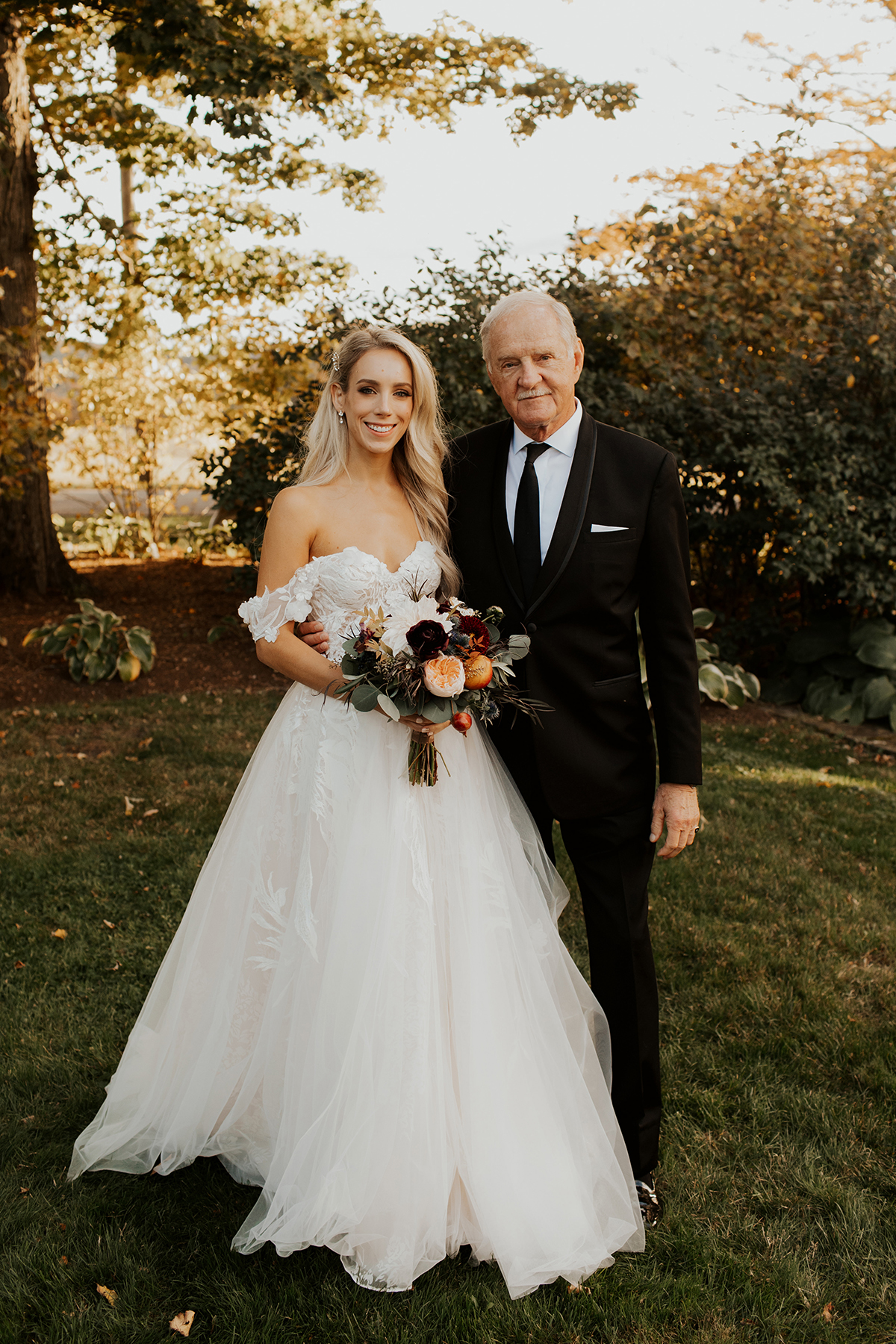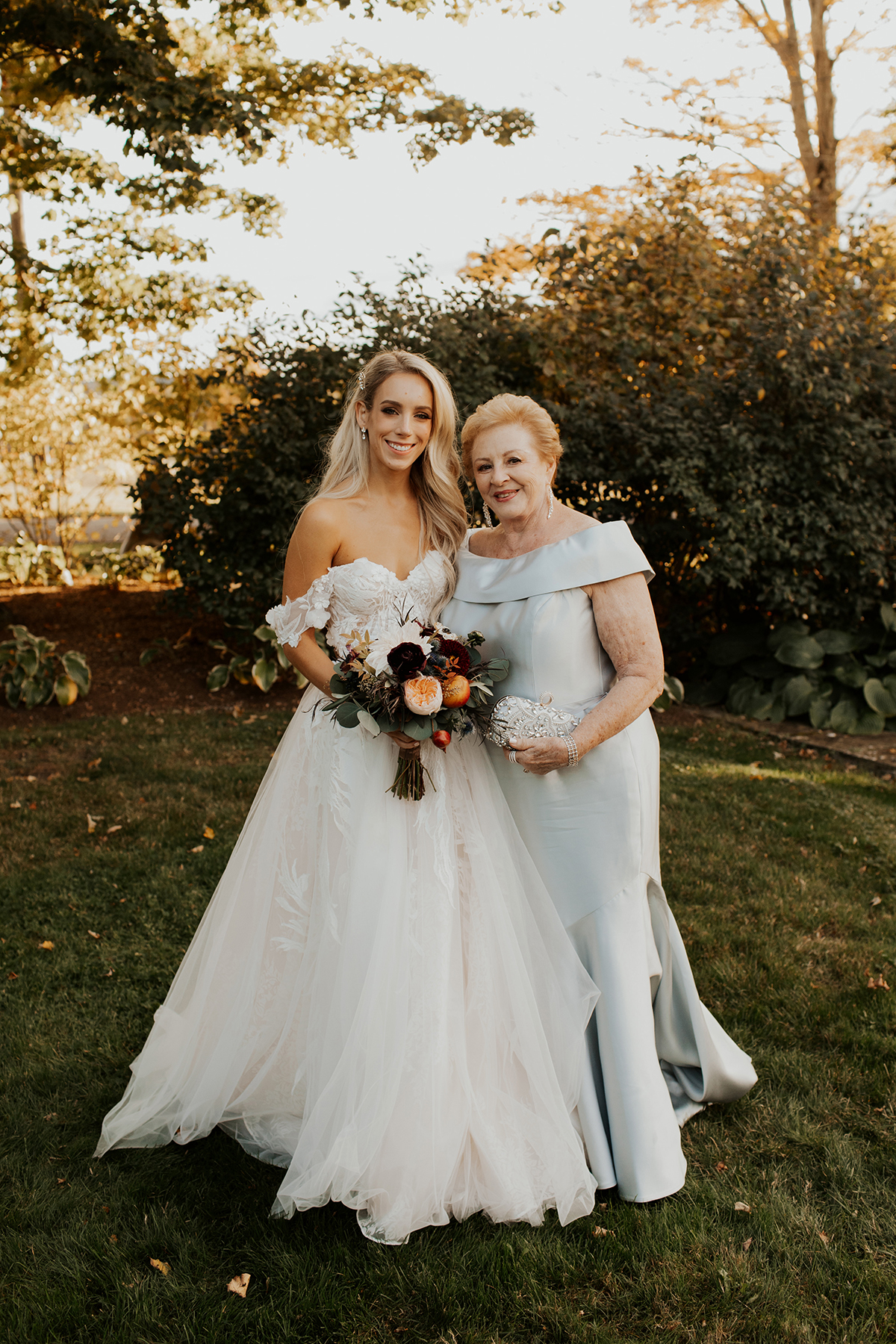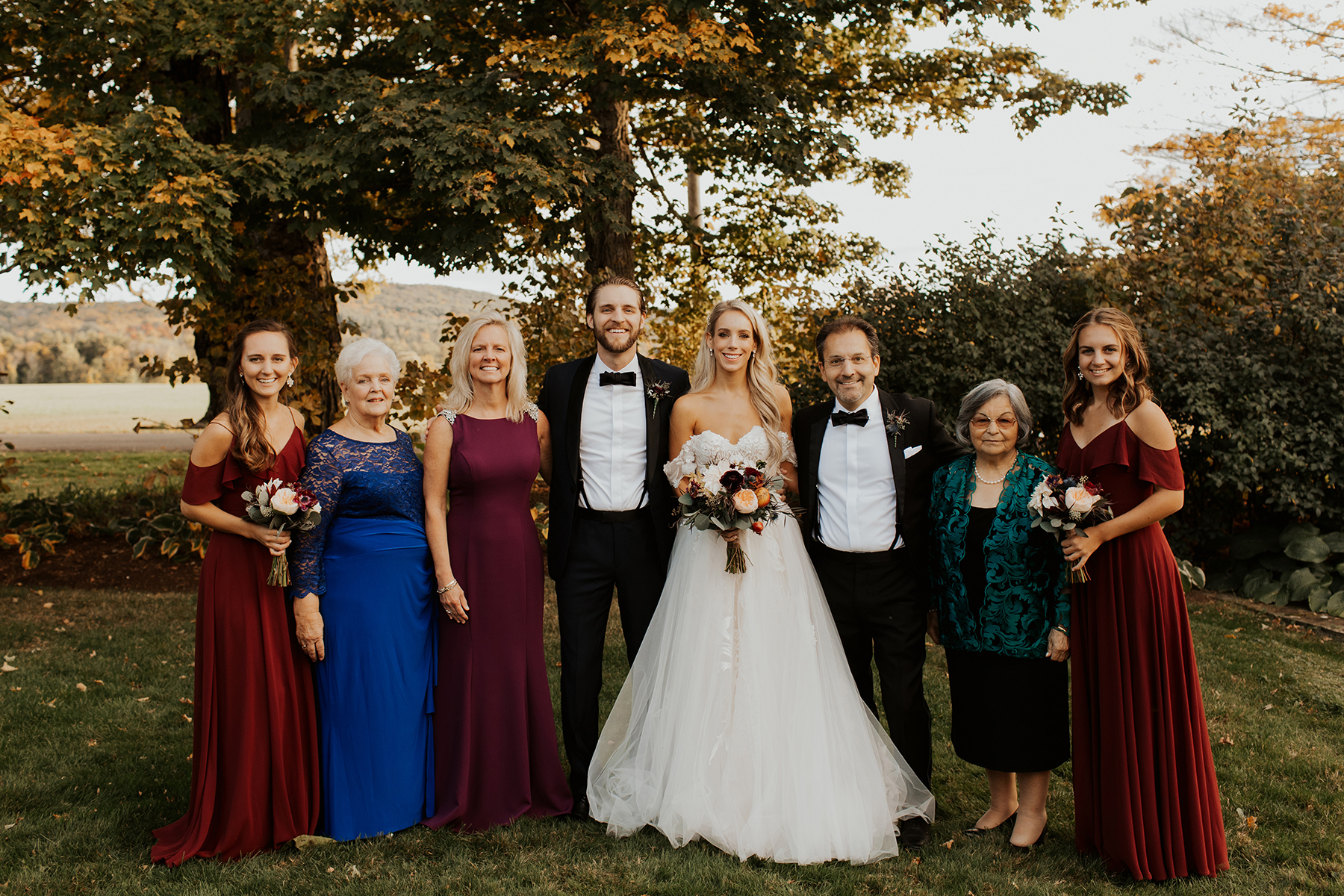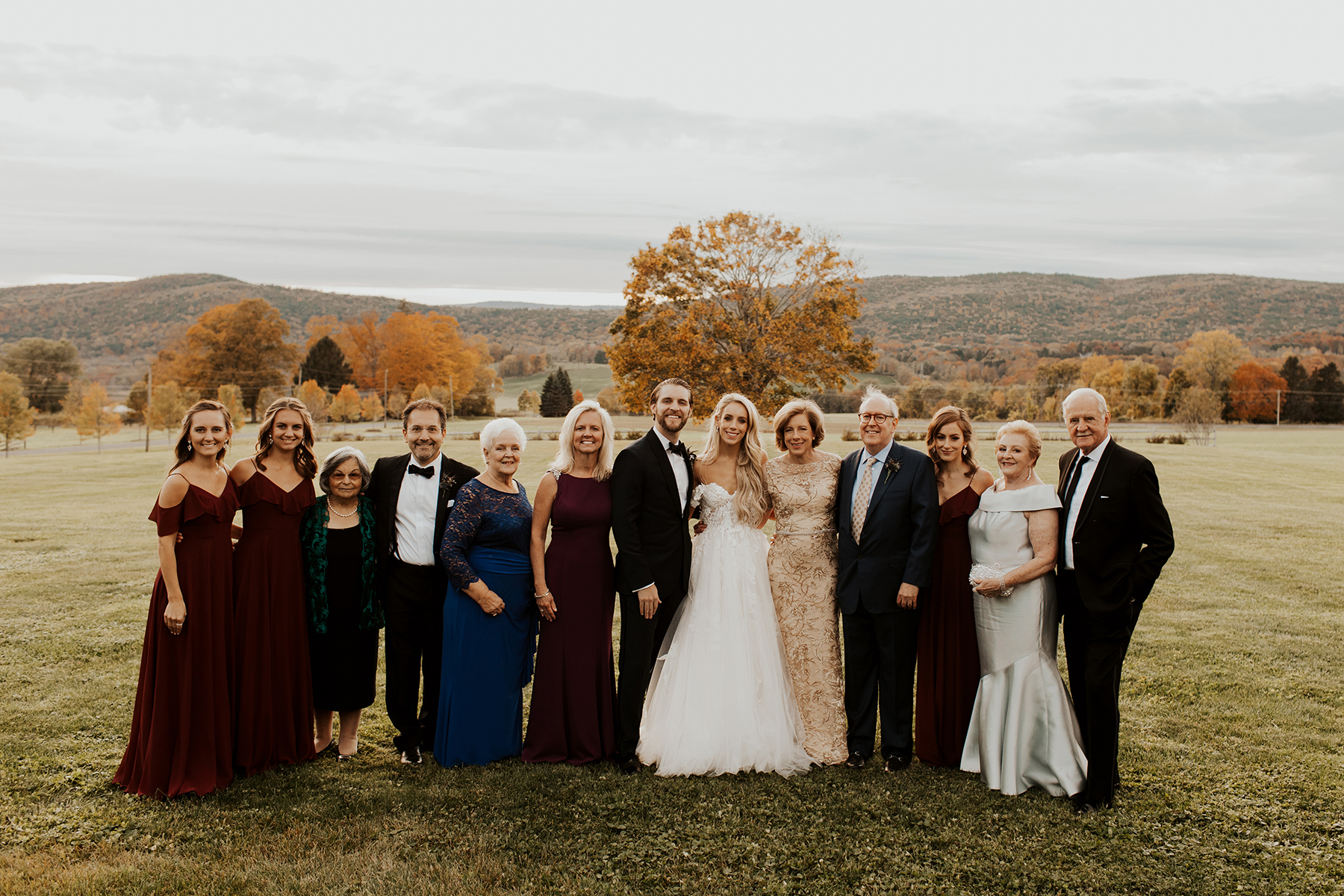 MORE WEDDING POSTS
Our Personalized Decor & Favors
Our Fall Rehearsal Dinner
Getting Ready Photos
My Wedding Gown + First Look Photos
Cocktail Hour + Wedding Reception
OUR WEDDING VENDORS
VENUE: Lion Rock Farm
PLANNING: SHG Event Planning
PHOTOGRAPHY: Sarah Joy Photography
VIDEOGRAPHY: Madison Grey Media
FLORALS & DECOR: Country Gardeners Florist
CATERING: Hunt & Harvest
CAKE: Blackberry River Baking Co.
RENTALS: Borrowed Blu (dinnerware/glassware)
RENTALS: Party Rentals (chairs, seat cushions, serving ware, heaters)
RENTALS: Events Unlimited (tent, dance floor, stage)
LIGHTING + PYROTECHNICS: Handyboys Entertainment
BAND: Silver Arrow Band (9 piece with 2 vocalists)
GLAM: Facetime Beauty Concierge
OFFICIANT: Joe Mustich
STATIONERY & SIGNAGE: Minted
BRIDE
Dress 1: Riki Dalal Juliet Gown & Veil
Dress 2: Riki Dalal Laura Gown
Crystal Drop Earrings via BHLDN
Badgley Mischka Heels via BHLDN
Crystal Hair Clip via BHLDN
Crystal Hair Pins via BHLDN
Rings: Stephanie Gottlieb Fine Jewelry 
BRIDESMAIDS
Jenny Yoo Mila Gown via BHLDN (shade Hibiscus)
Twobirds Ginger Convertible Maxi Dress (shade Bordeaux)
Kendra Scott Bracelet
Earrings via BHLDN
Ankle Strap Heels via BHLDN
GROOM (all via The Black Tux)
Midnight Shawl Tuxedo
White Dress Shirt
Cap Toe Shoes
Suspenders
Bow Tie
Cufflinks
RING: Cartier 
GROOMSMEN (all via The Black Tux)
Shawl Collar Tuxedo
White Dress Shirt
Cap Toe Shoes
Suspenders
Bow Tie
Cufflinks
- Katie