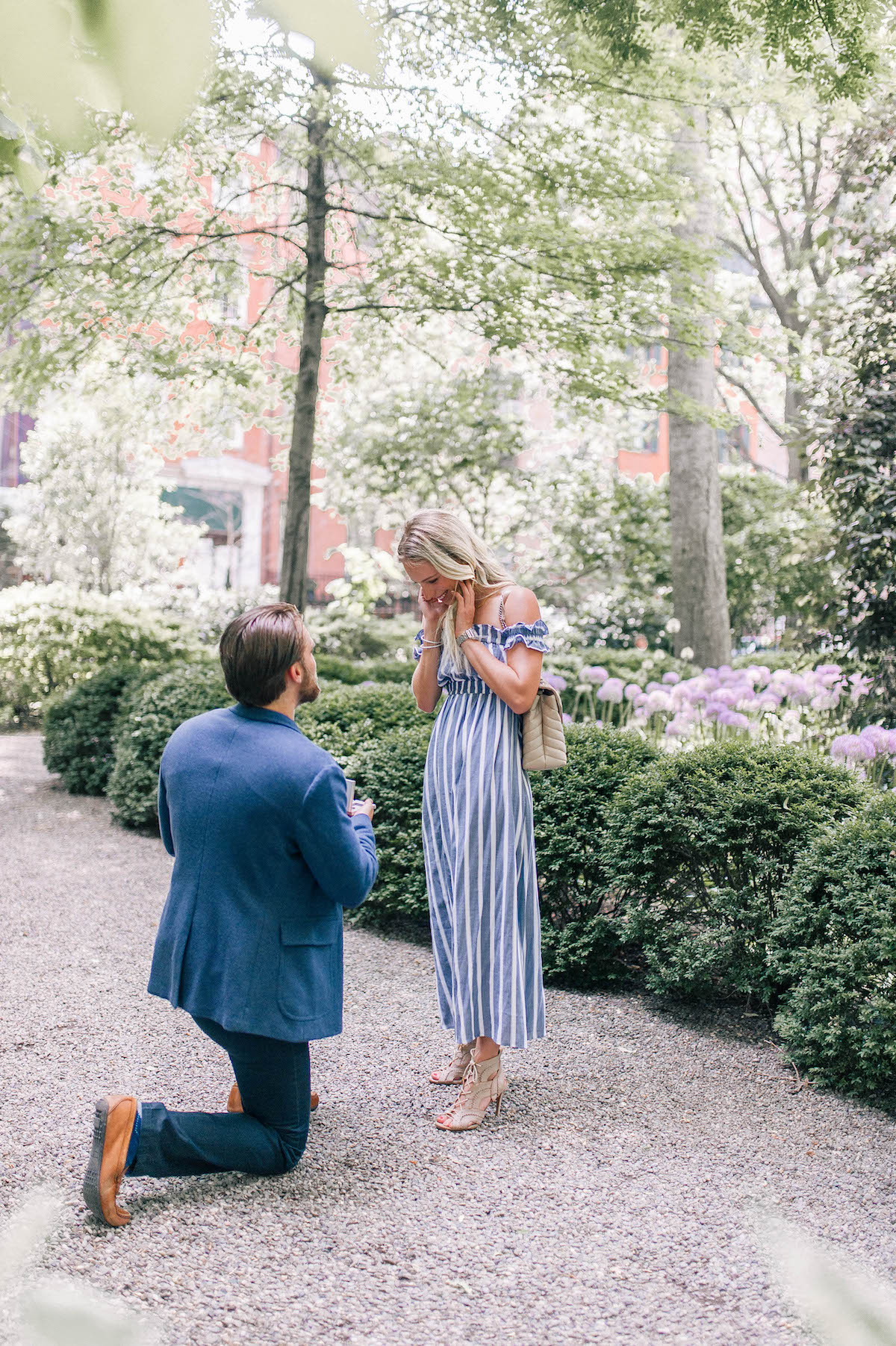 Surprise! We're engaged 🙂
The last 48 hours have been a whirlwind and I'm still a bit in shock as I write our engagement story. On Saturday afternoon Nick asked me to marry him in Gramercy Park and of course I said YES! We're both over the moon and spent all day yesterday celebrating with loved ones and sharing our news with all our friends and family. To everyone who has reached out thus far– thank you thank you for the well wishes!
I had a pretty good feeling we'd get engaged sometime this summer, but I never expected it would happen the first weekend after getting back from our trip to Italy. I'm the "planner" in our relationship and we've always joked about how something as simple as choosing a restaurant and making a dinner reservation leaves Nick frazzled and stressed. Maybe that was all just a charade so he could pull off a meticulously planned surprise proposal 😛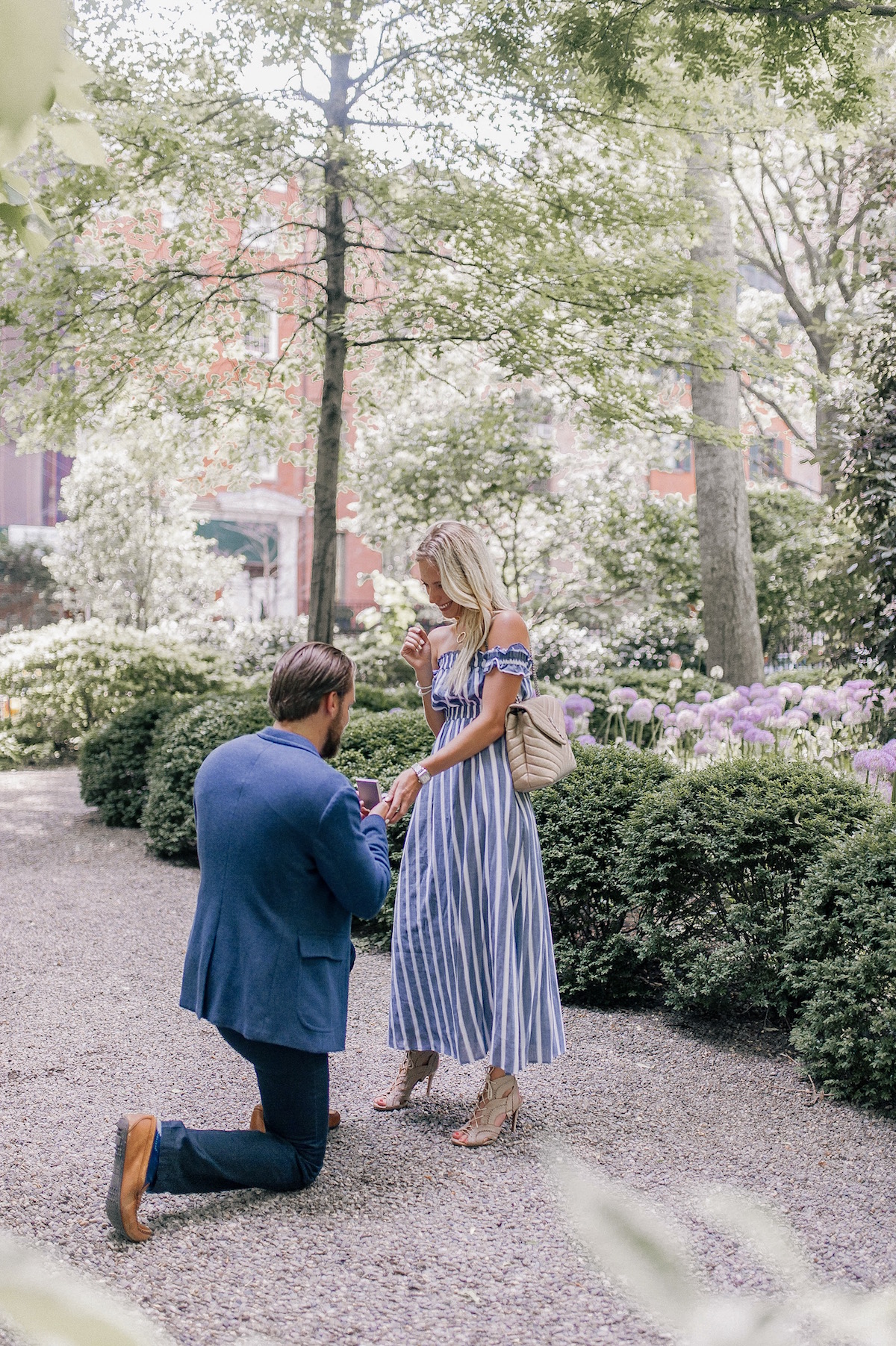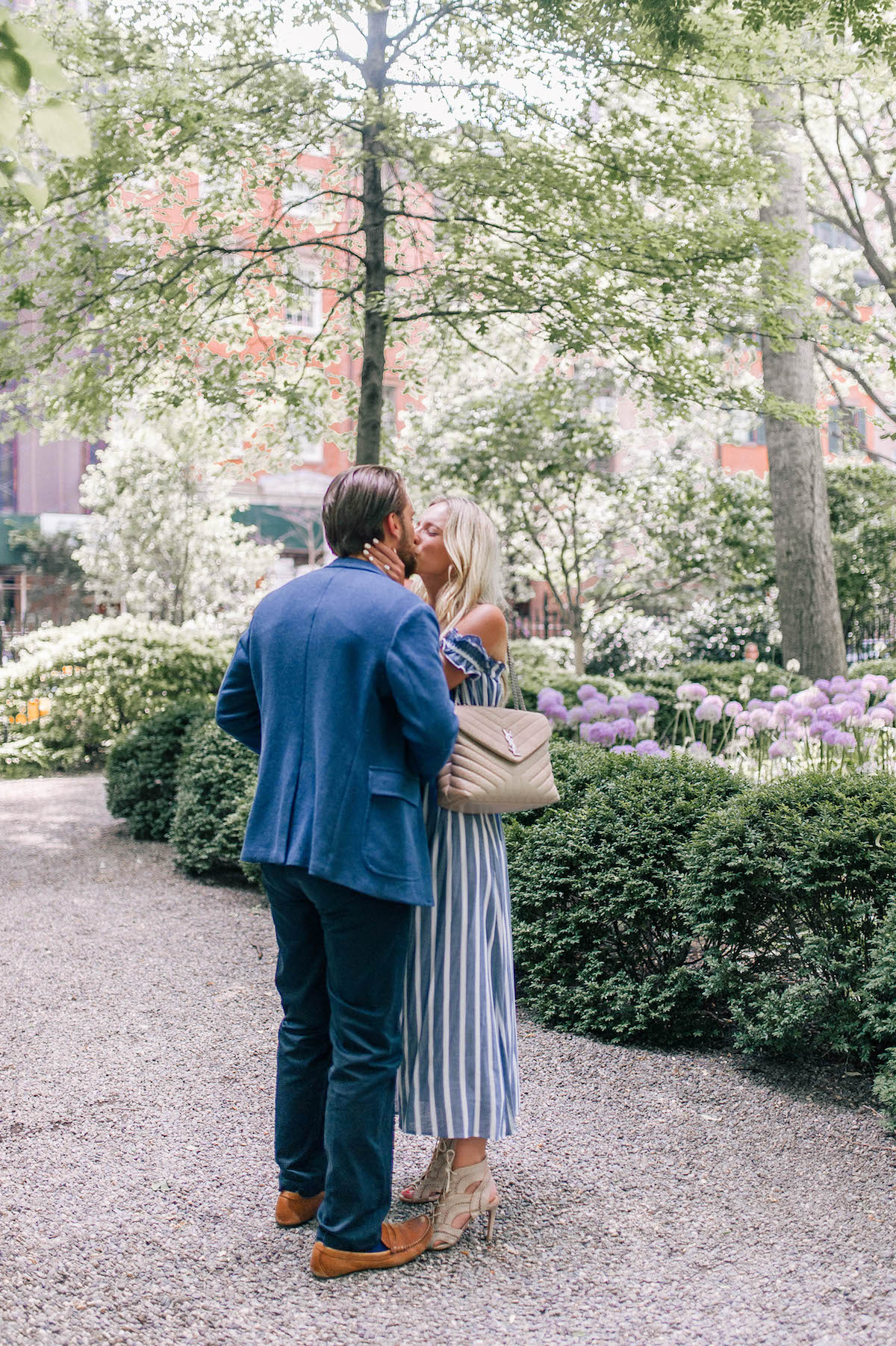 The only plans we had this weekend were dinner Saturday night with my cousin Avery and our grandparents. Avery is interning in the city this summer so dinner was supposed to be a celebration for him and an opportunity to catch up with my Gram and Pop since we haven't seen them in a few months. I should've known something was up since my grandparents don't like driving into the city (too stressful for them) but Nick pulling off a proposal a few days after getting back from Italy was such a far-fetched idea that I didn't even consider it could happen.
So here's how it went down! Around 2PM on Saturday I was in the middle of a Netflix binge when Nick told me he was going to drop off his dry cleaning. I was completely engrossed in season 2 of 13 Reasons Why and had completely forgot he'd even left the apartment until I got a text that filled my stomach with butterflies.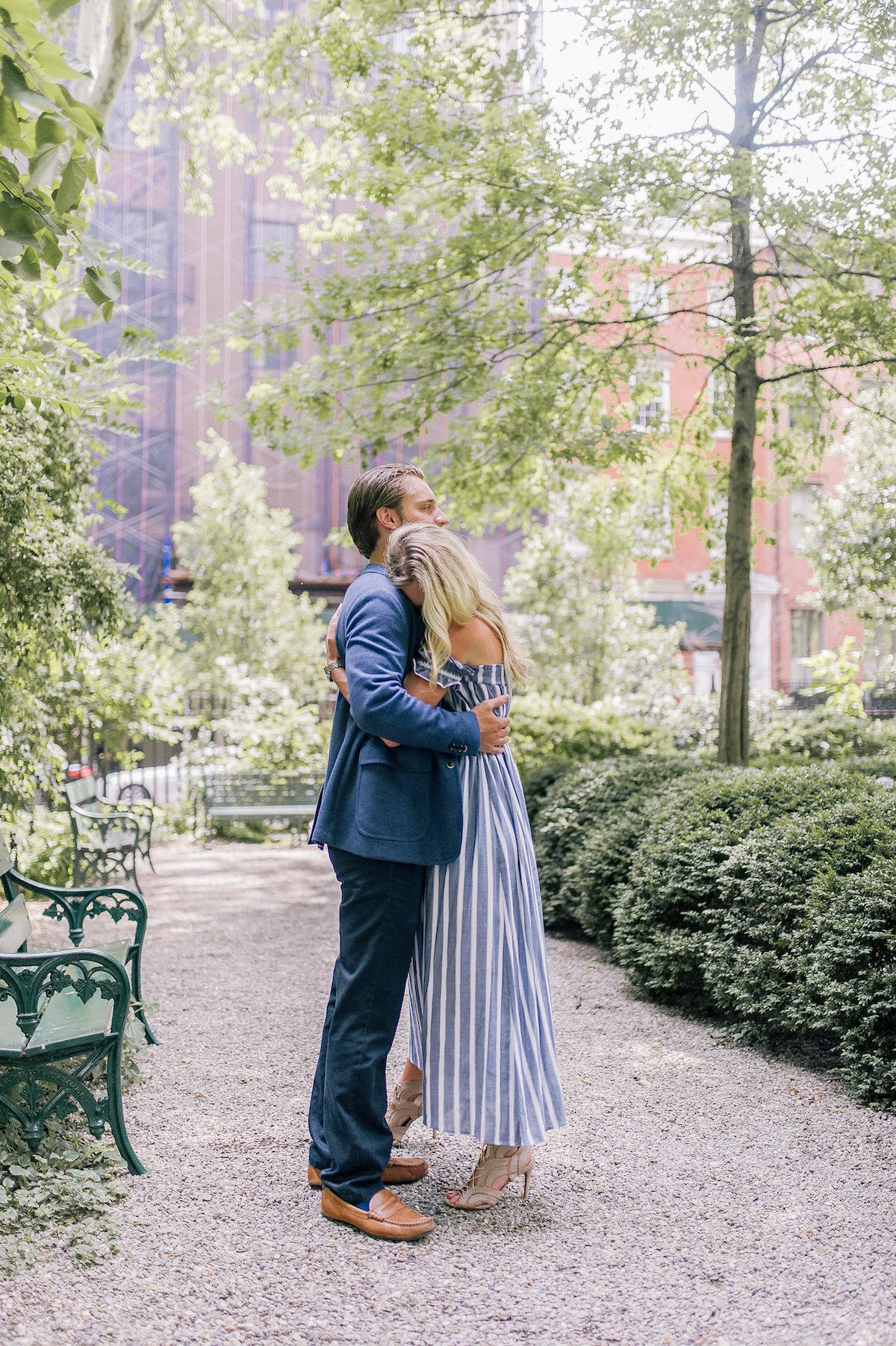 "You have one hour. Meet me at Gramercy Park Hotel front desk. Say your name. No questions."
I'll be honest with you guys. Once I read the text I was 99% sure that this was the moment. There was no other reason he'd send me a text like that. He was going to propose!!!! I felt a mix of so many emotions: excitement, happiness, shock, love and panic when I realized I was still in sweatpants, my hair was in a frizzy topknot and apparently I had less than an hour to get myself looking presentable and all the way down to the Gramercy Park Hotel.
Somehow I made it to the hotel lobby within 55 minutes. Omg I was sooooo nervous. My hands were even shaking!!! I didn't see Nick, so I just headed to the front desk and let them know my name and that I was supposed to be meeting my boyfriend. Right away one of the bellman took out a very ornate iron key and told me to the follow him. We proceeded out the revolving lobby door and turned towards the park. That's when I saw Nick. His hands in his suit pockets, pacing back and forth behind the gate. If I was feeling stressed, I can't imagine how he felt!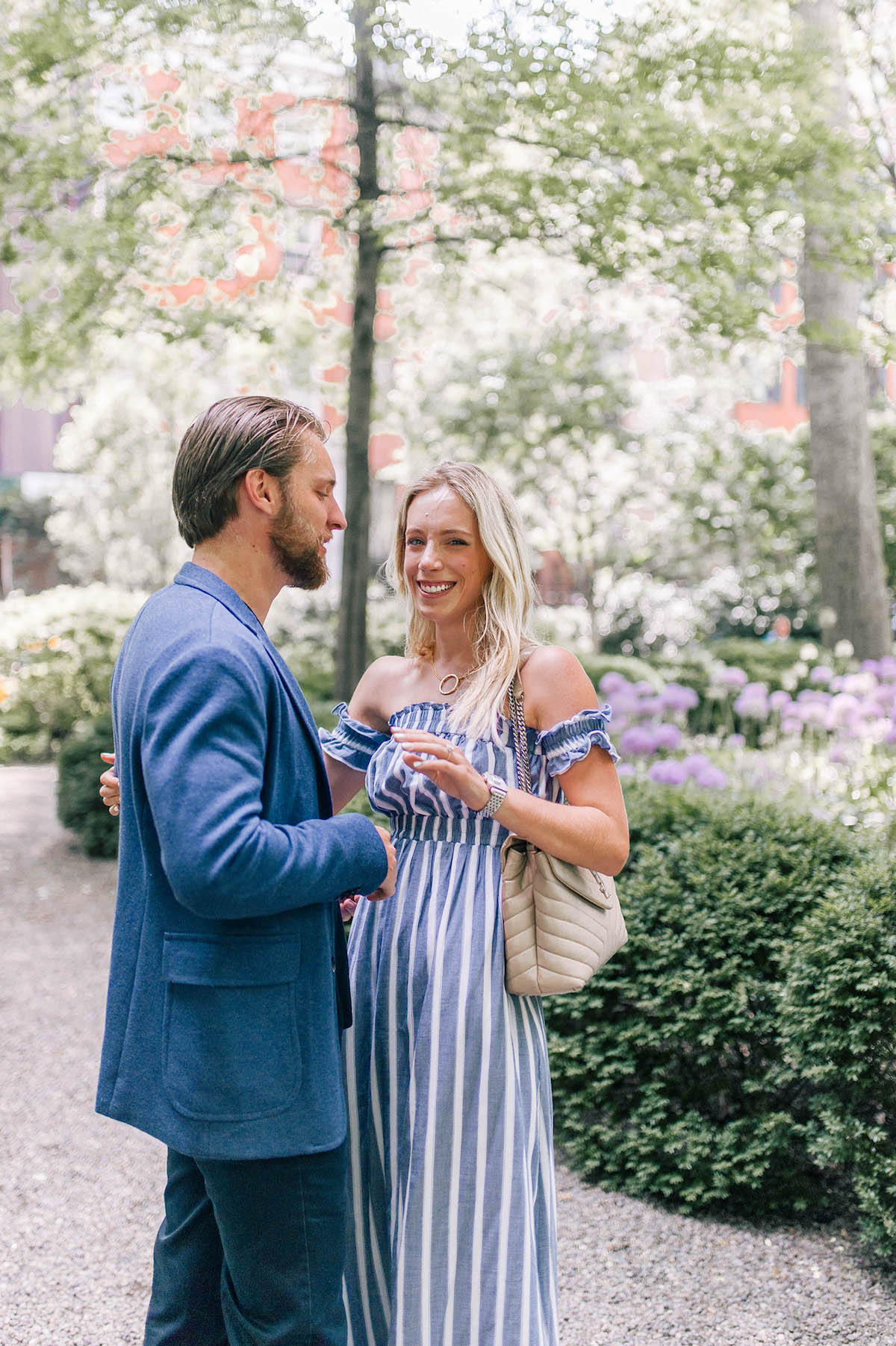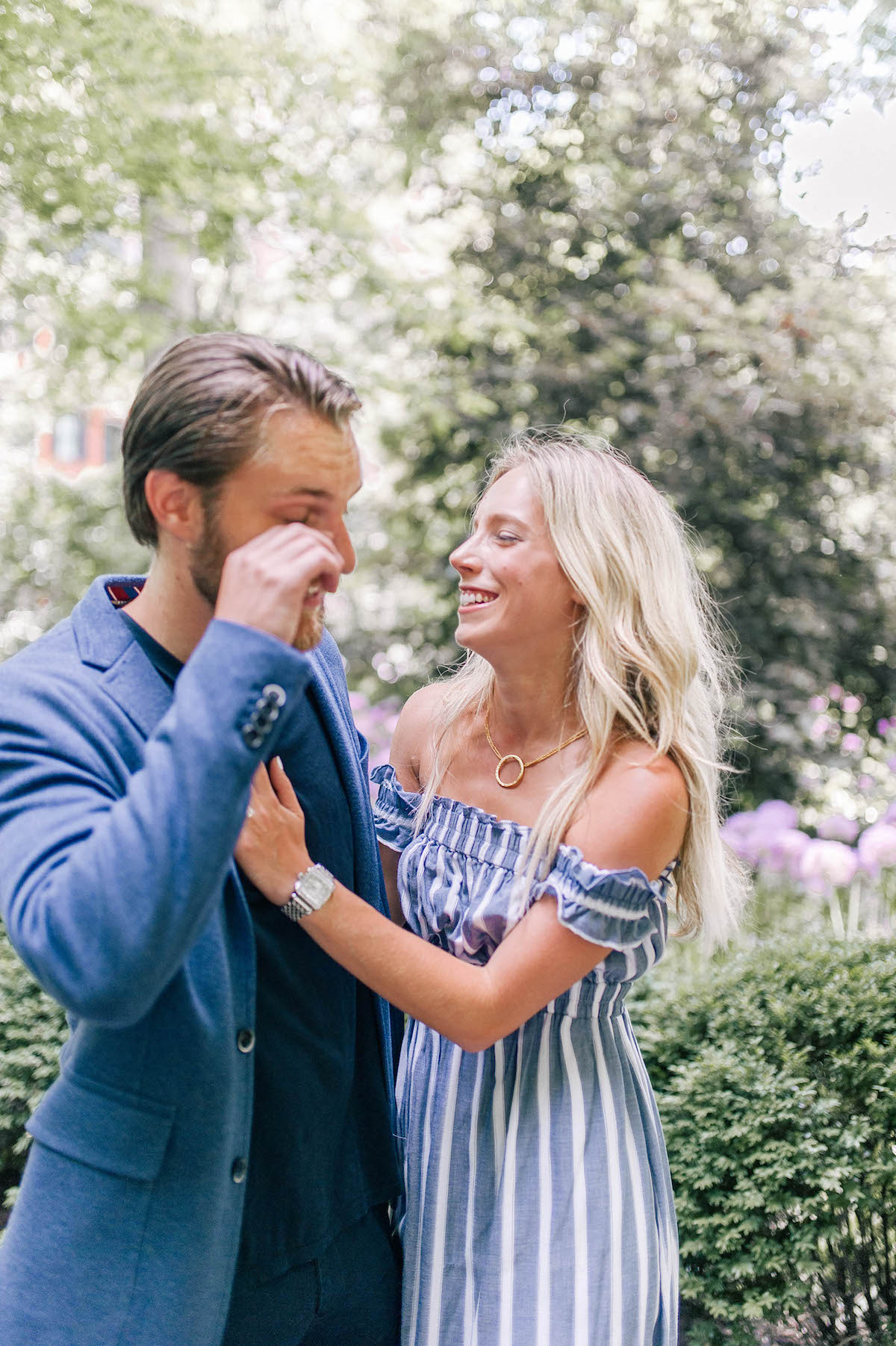 LOL we were both ugly crying by the time he had finished proposing!!!
For those of you not familiar with Gramercy Park here's a little history. Gramercy Park is the only private park in Manhattan and has to be accessed via key by a park homeowner. I walk by it on a weekly basis and am totally guilty of creeping through the tall iron fence at the manicured gardens. I never thought I'd ever get to go inside in the park, but leave it up to Nick to figure out a caveat: booking a room at the Gramercy Park Hotel.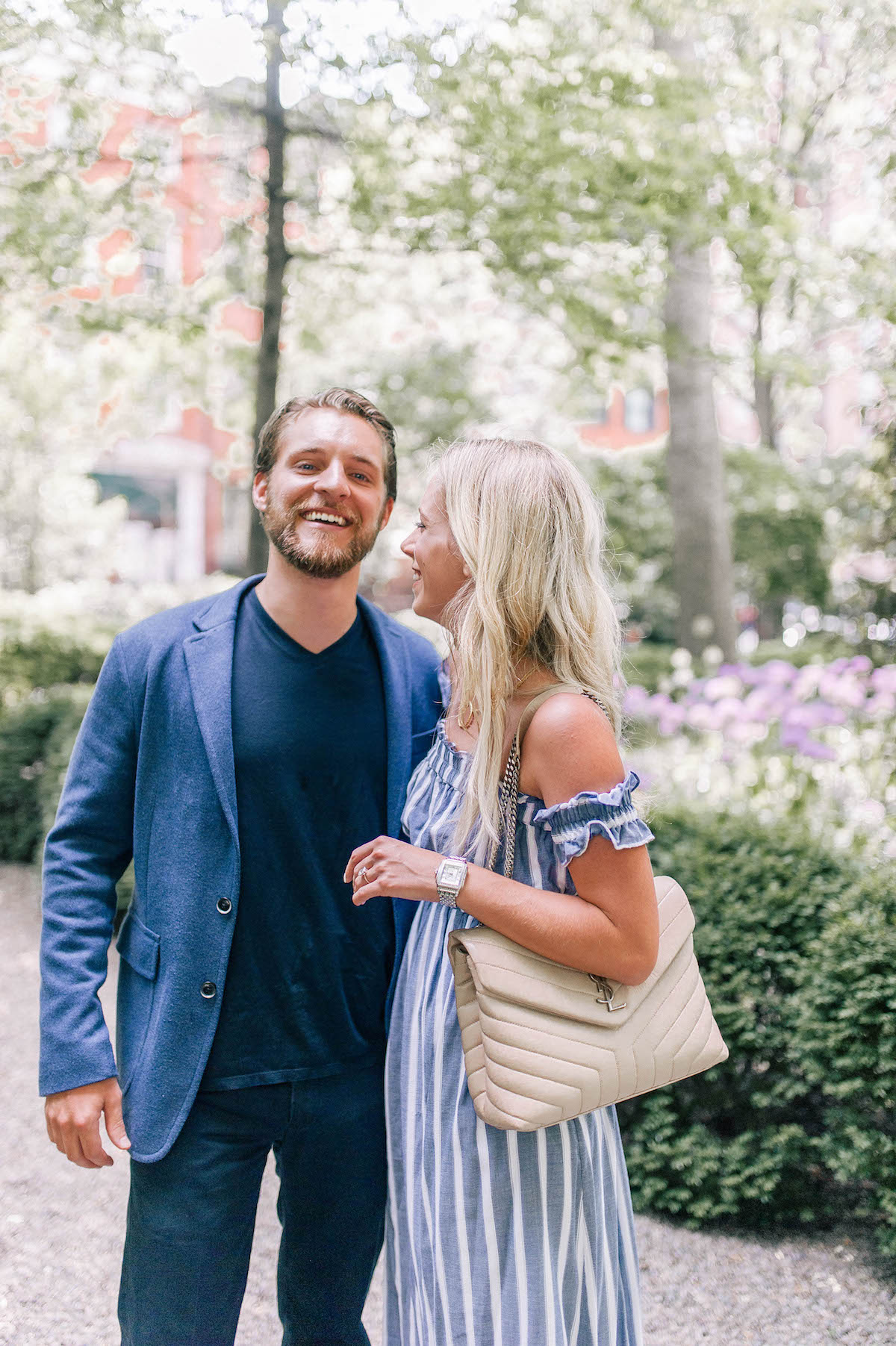 Once the hotel bellman opened the gate into the park, Nick took by the hand and led me down one of the winding walking paths before stopping at a large bed of gorgeous blooming purple flowers. I'd later learn that before I arrived Nick and Carter (who took these beautiful photos!) had scoped out the entire park looking for the perfect proposal spot.
It was there that Nick got down on one knee and asked me to marry him! He was so nervous and as you can see there were some tears and ugly cry faces on both sides. We've been together for so long (ten years this October!) and have basically been living like a married couple for close to six years. We knew this day would come, but I don't think either of us expected to get so emotional! It was a really special moment <3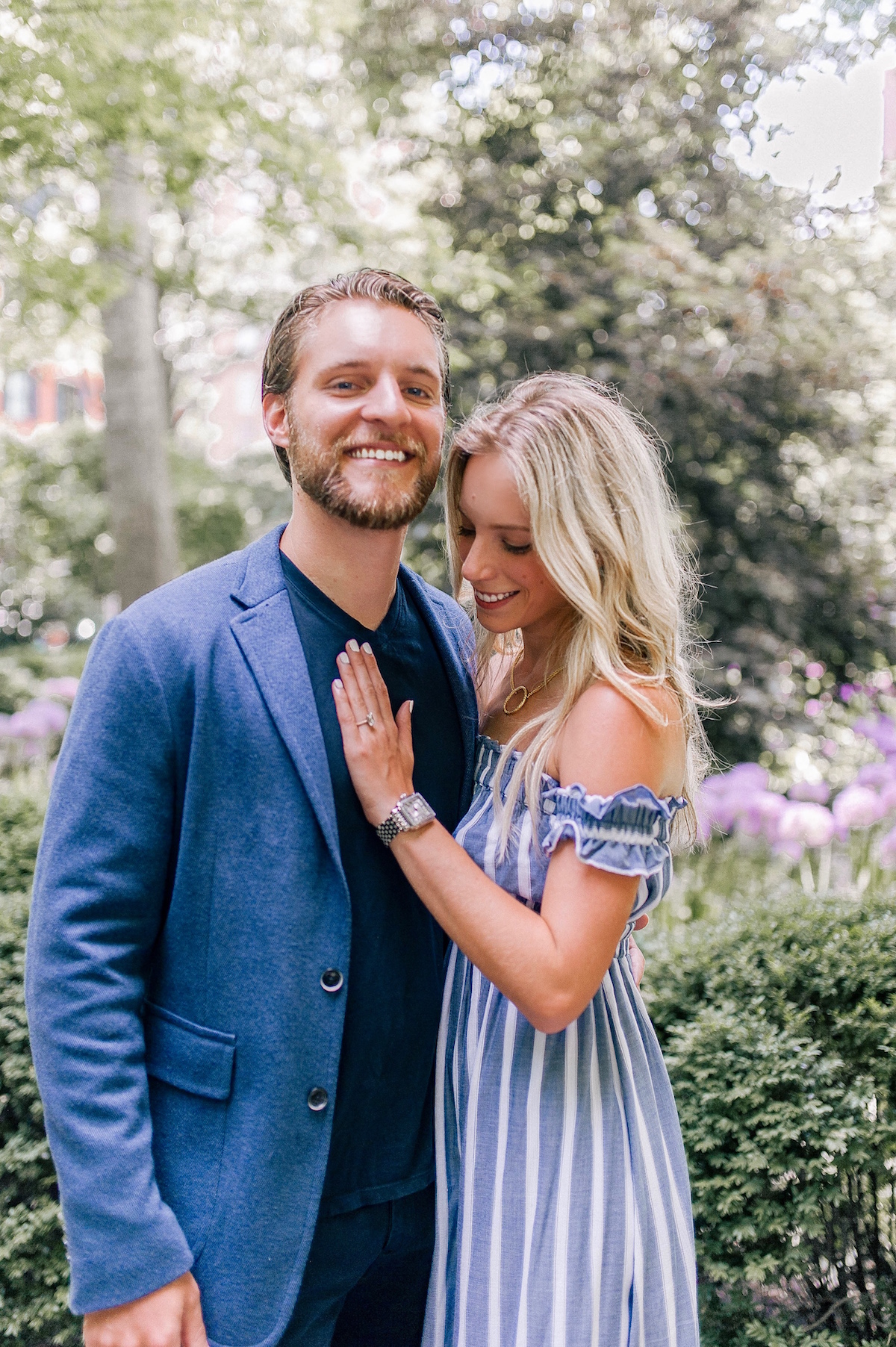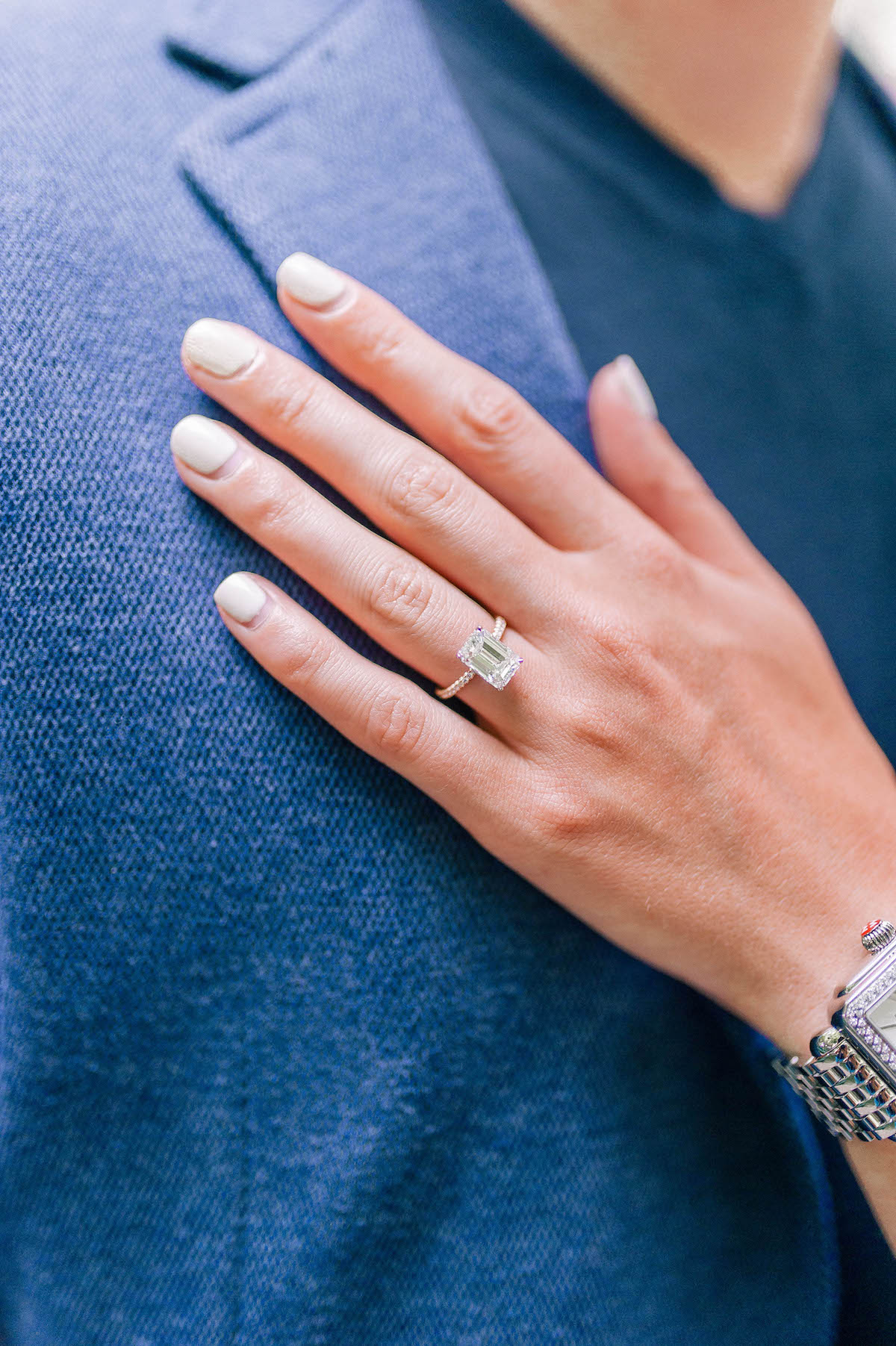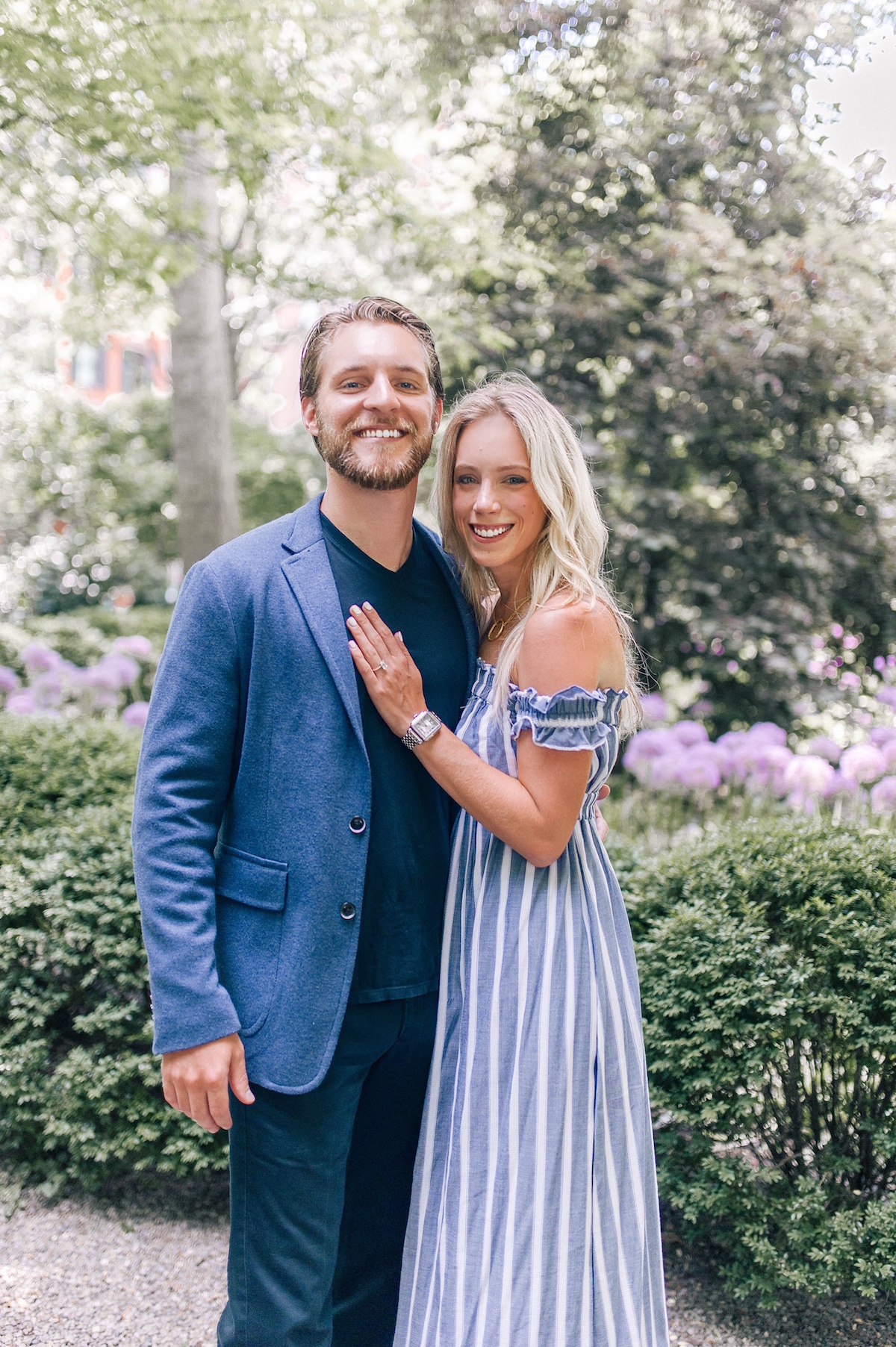 So what happened next? We snapped a few photos before walking back to the hotel. At that point I had started wondering– was dinner with my grandparents just a charade? Were they even here? Nick just told me we had about 15 minutes to take a moment for ourselves and cool off in the hotel (it was about 80+ degrees and we'd both been sweating bullets) before heading to our next destination. I was happy to find out that a bunch of our friends and a family members were waiting at a nearby pub with drinks to celebrate! 🙂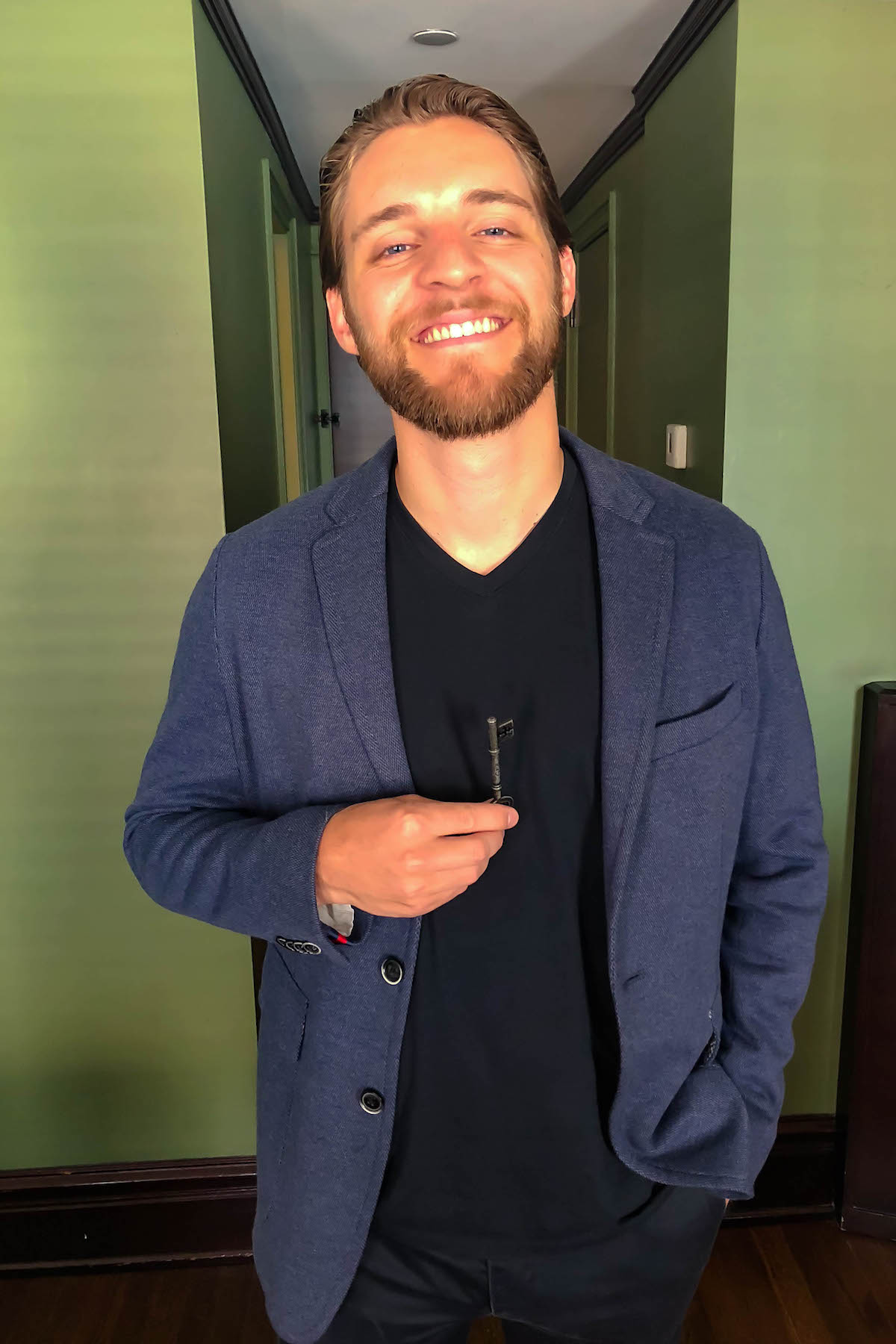 Nick and I have always had a very transparent relationship, so of course over the last nine years we've had conversations about how we'd get engaged. I'd always told him that I didn't want some over-the-top proposal with helicopters or fireworks or in some public place with strangers clapping, but I did hope it would be in a meaningful, intimate setting with some element of surprise.
I know that's soooo open-ended and not very helpful guidance especially when you live in a large city, but he truly did nail it! If there's anywhere that's peaceful and serene in the loudest and most-crowded place in the U.S. it's Gramercy Park. I asked him if he chose it because of the symbolism with having to get the special key to enter the park (aka his heart.) His response? Oh absolutelyyyyyyyy.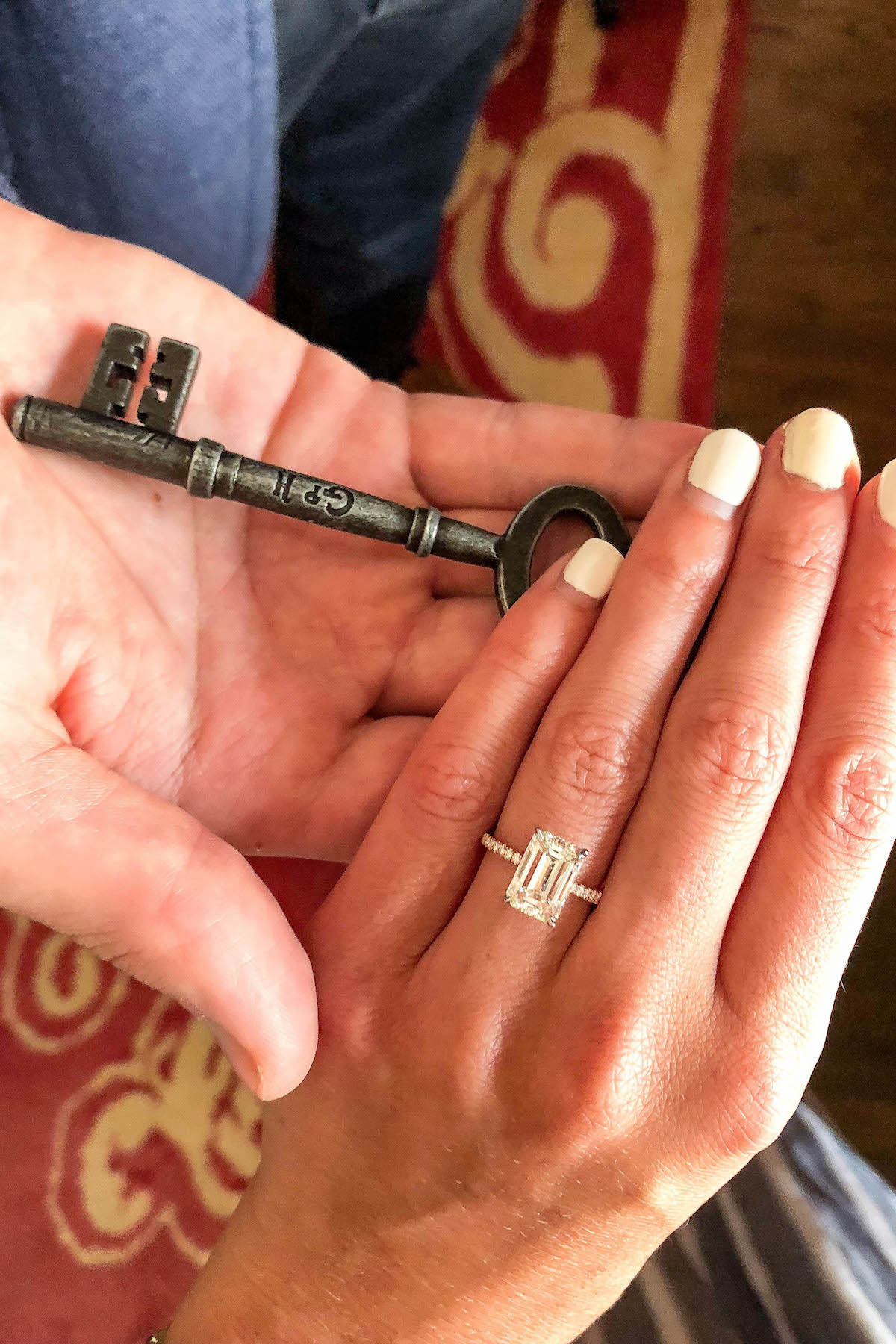 Of course the one time I decide to drag out my gel manicure an extra week, I get engaged. Ahhh! After announcing our news on Instagram yesterday I got a lot of messages asking for a ring close-up so here you go!
Nick worked with jeweler Stephanie Gottlieb to design my perfect dream ring: a classic emerald cut diamond on a ultra thin rose gold pave band. He did good, huh? I don't own a lot of jewelry and have never regularly worn a ring so this is definitely going to be an adjustment. I honestly can't stop staring at my hand it's so beautiful and sparkly!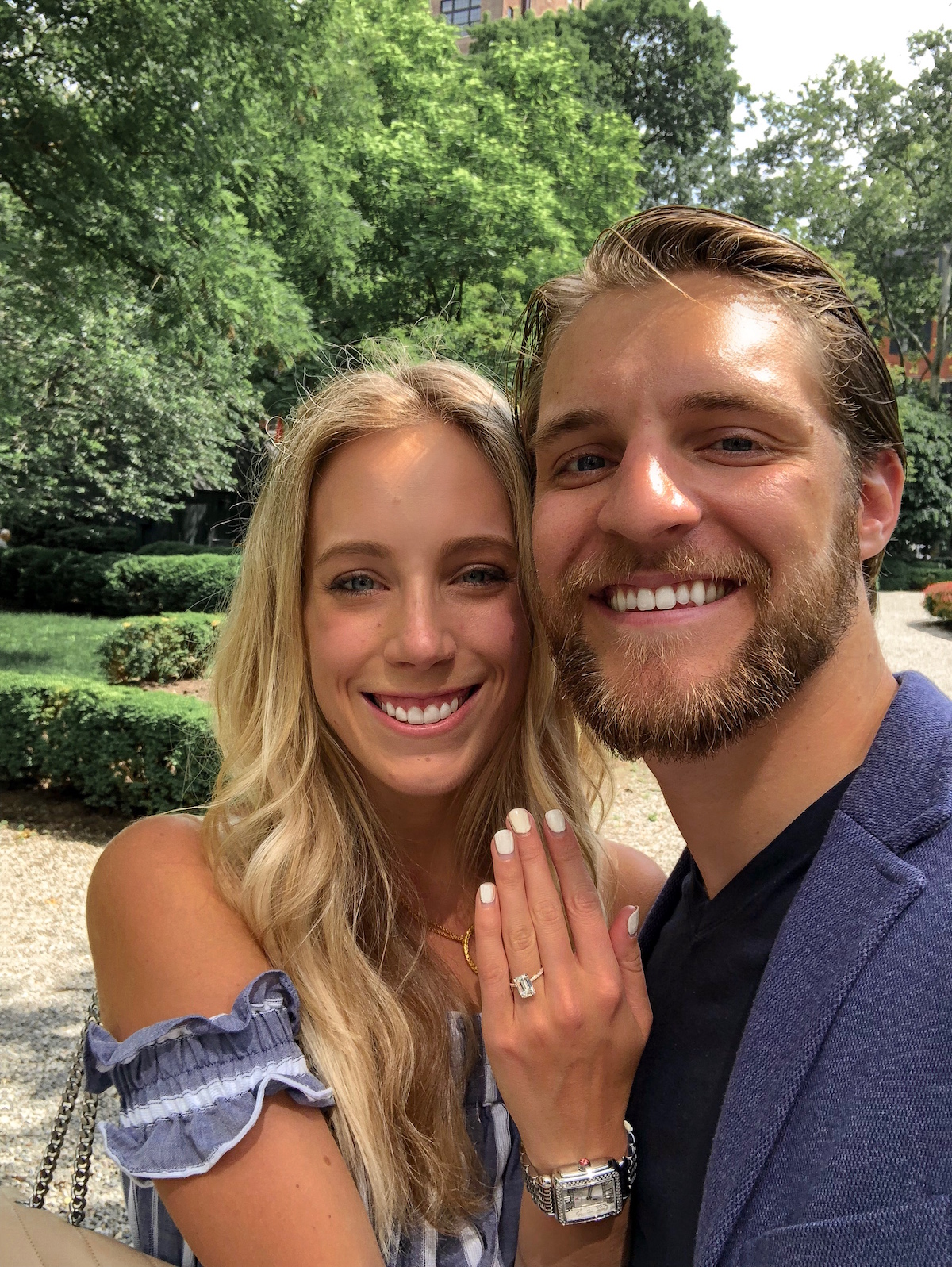 Well, that's our story! My brain still feels a bit like sappy mush from the weekend, but I wanted to clue you guys in on our special news. I still feel completely surprised and think I need a few days to actually wrap my head around the fact: WE'RE ENGAGED.
In terms of next steps with wedding planning, I honestly have no idea where to start or even how we want to make things "official." This week I'm going to try my best to live in the moment with Nick and take some time for ourselves before getting bogged down in any planning. I just love him, and what we have together so much and I'm so happy my blog has given me the privilege to share this moment with all of you too! Thank you again from the bottom of both our hearts for all the sweet messages!!! We've been on a few fun journeys, but I think this one could be the best yet <3
- Katie