Hello again, friends! Did you miss me? I wish I could tell you I'm writing this 2 days in Rome itinerary from beautiful Roma, but sadly our Roman holiday had to come to an end. As of yesterday Nick and I are officially back home in New York after a wonderful 10 days spent exploring Rome and the sunny Amalfi Coast of Italy, though I'm sure this isn't news to many of you as I of course have been sharing bits and pieces of our trip all over Instagram. I feel a little guilty for the weeklong hiatus here on the blog, however I hope my upcoming travel guides will make up for it!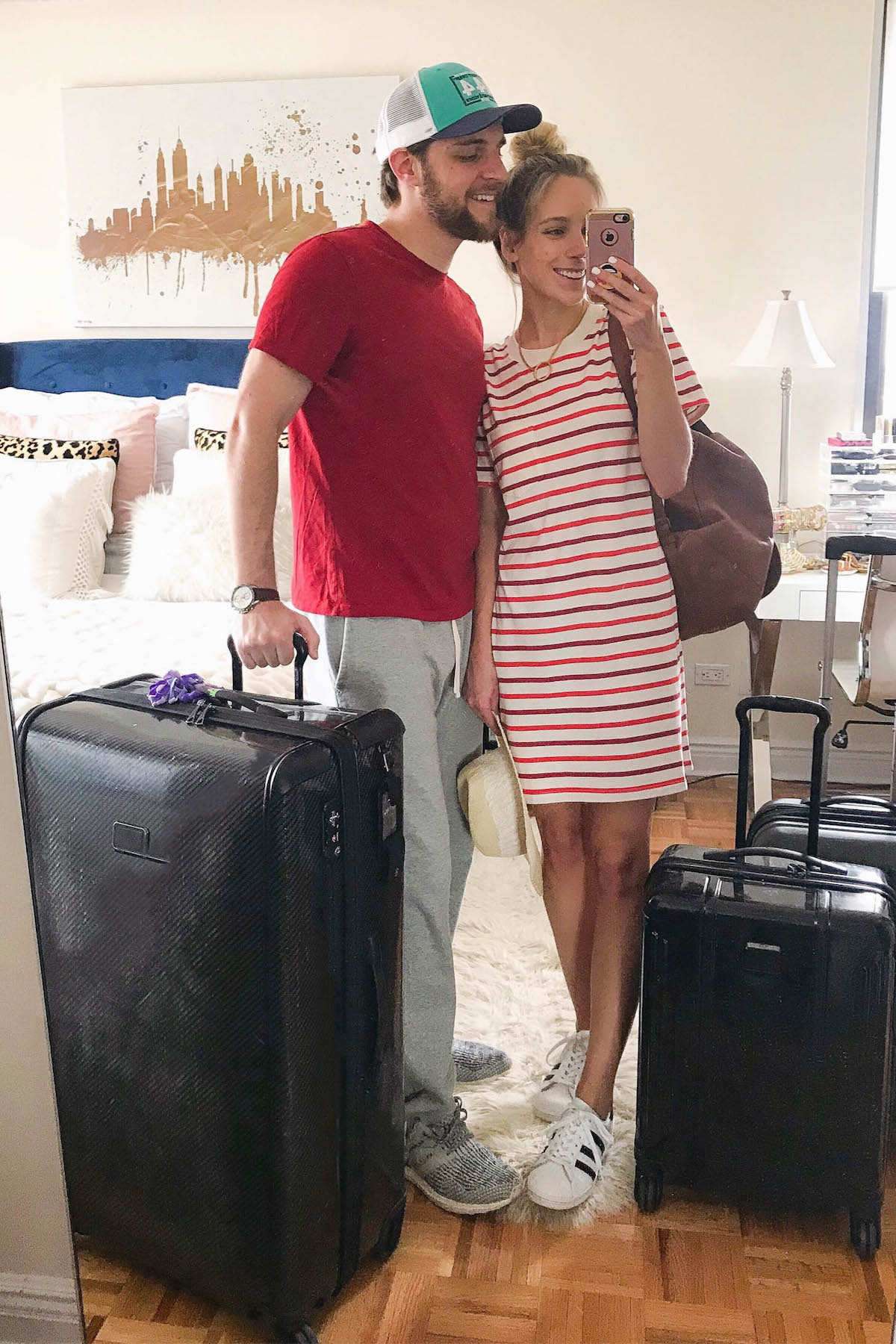 ITEMS PICTURED: Stripe T-Shirt Dress | Backpack | Sneakers | Necklace | Panama Hat | Luggage
So let's kick things off shall we? Roma Roma Roma!  We decided to spend the first two nights of our 10 day trip in Italy's capital getting on our tourist grind. Why? Well, Nick nor I have ever been to Rome and although the purpose of our trip was to explore the Amalfi Coast, we decided we'd rather be jetlagged and tired in Rome versus Positano. GOOD DECISION. Nick and I can never fall asleep on flights so we were exhausted by the time we landed in Rome at 1PM  on Saturday afternoon.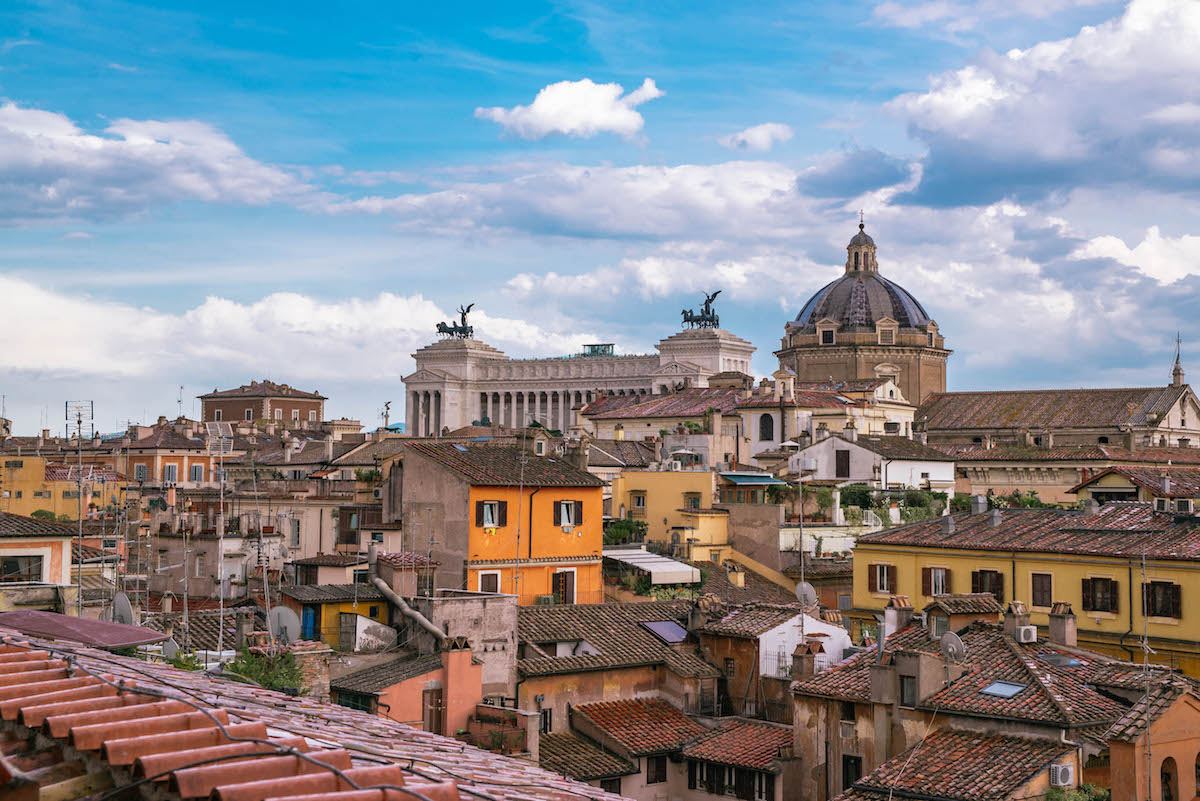 After deboarding and making our way through customs (surprisingly very easy & quick) we met our driver at arrivals to take us to our hotel. Nick booked our airport pickup using Rome Chauffer and they were promptly waiting for us with our name on a sign at arrivals. We were really pleased with our lovely English-speaking female driver and the clean Mercedes sedan we rode in during the leisurely 45 minute drive to Aleph Rome Hotel. FYI the one way price for our car was 50 Euros, however you can take a train direct from the airport to Roma Termini station (located in downtown Rome within walking distance to many hotels & landmarks) for about 12 Euro per person.
Tipping in Italy: It's not the custom! Don't feel pressured to ever tip taxi drivers, waiters, etc. Tips are never expected, however we did leave a few Euros in our hotel rooms for the housekeeping staff once we checked out.
Aleph Rome Hotel
After a long sleepless overnight flights, I can't tell you how good it felt to check in to Aleph Rome Hotel. The hotel is an amazing location on a quiet side street in the city center of Rome. You're within a 20 minute walk of major sites and attractions like the Trevi Fountain, Spanish Steps, Pantheon, Colosseum, Palatine Hill— you name it. We only had to take a cab twice— once to Vatican City and another to dinner in the charming neighborhood of Trastevere. More to come about this later!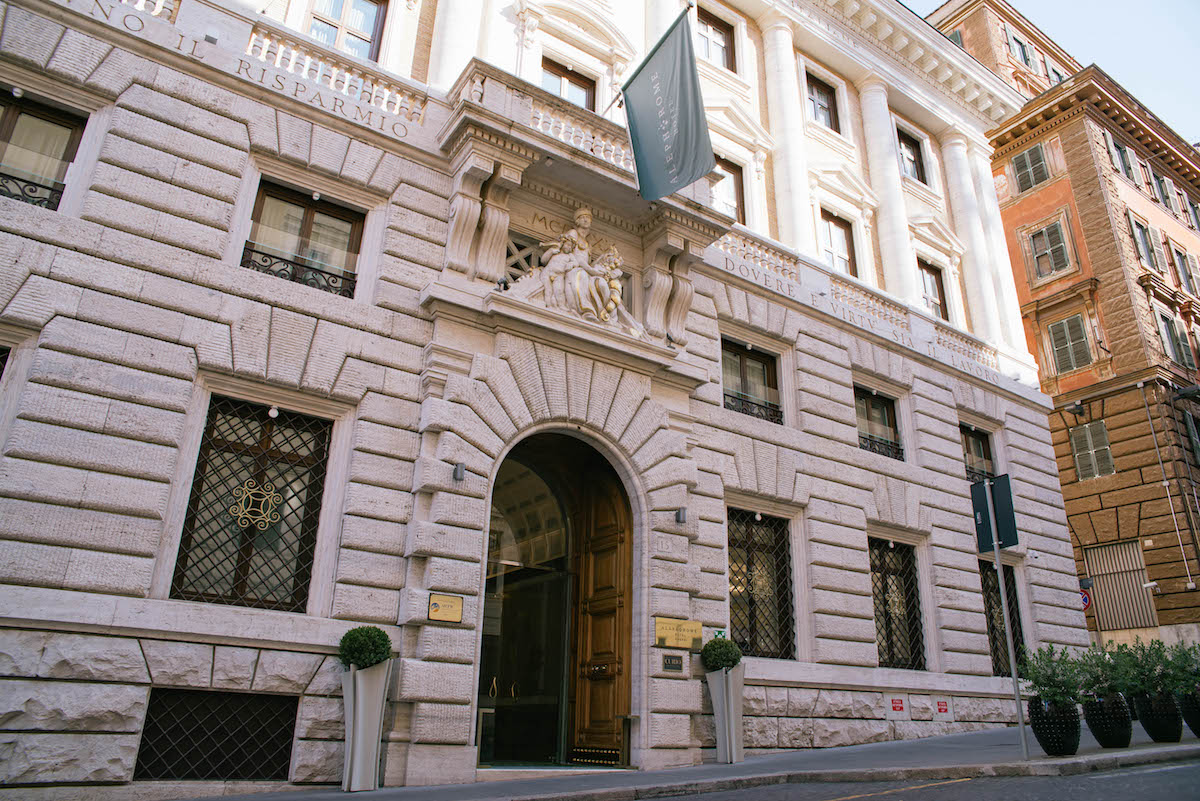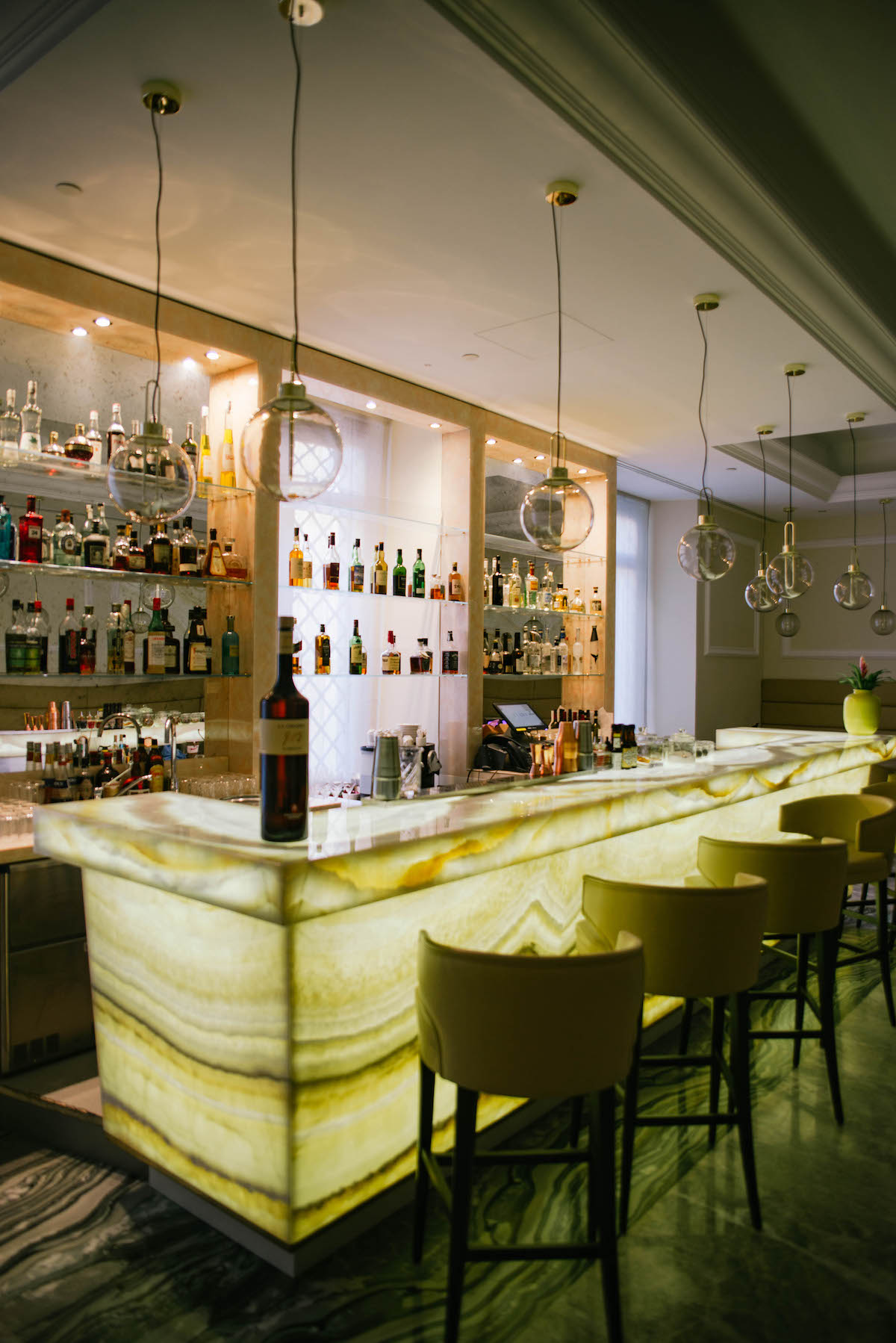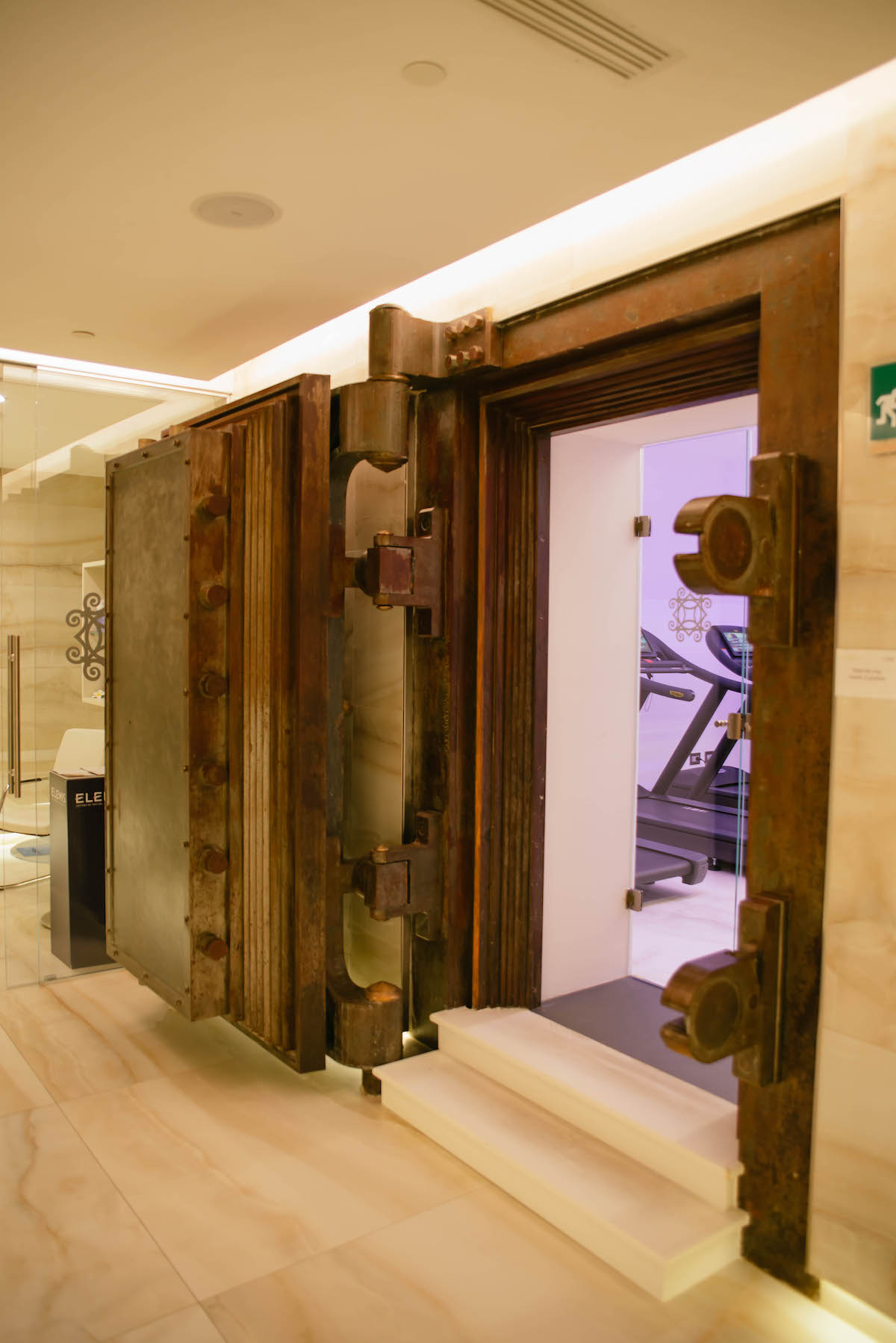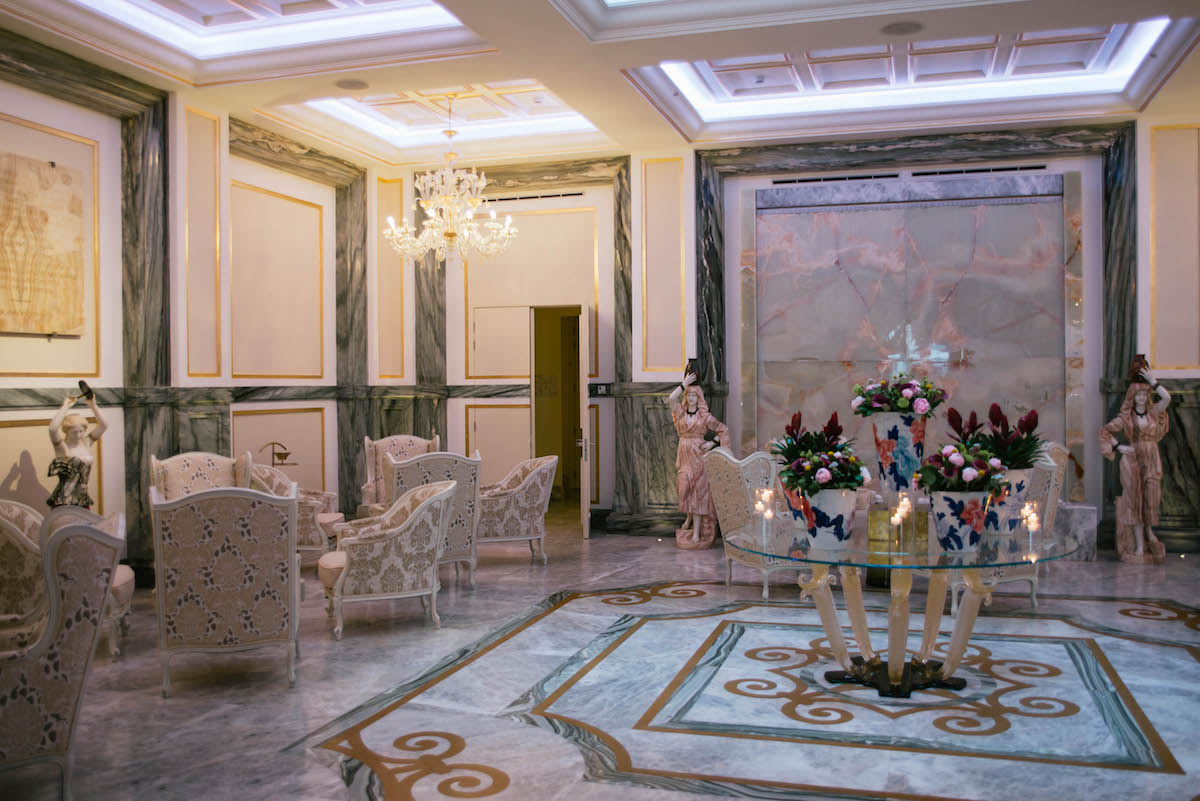 Aleph Rome Hotel is also a Hilton Curio Collection property, which means it is one of 30+ handpicked luxury hotels that have a unique character connecting them to their location. Which brings me to the history of the hotel! The building itself used to be home to a prestigious bank, thus the beautiful marble you see all over the lobby and ONYX bar. There's even an original vault door to enter the fitness center! While the outside of the hotel may look traditional, the guest rooms and amenities are anything but. Walking into our spacious junior suite we were greeted with chic contemporary decor, an incredibly comfortable King size bed (amazing soft linens!) and a spa-worthy bathroom with yes, TWO sinks and a separated bath tub and standing shower. I found the room quality and aesthetic to be similar to that of a Ritz-Carlton or Four Seasons. Needless to say we immediately felt at home!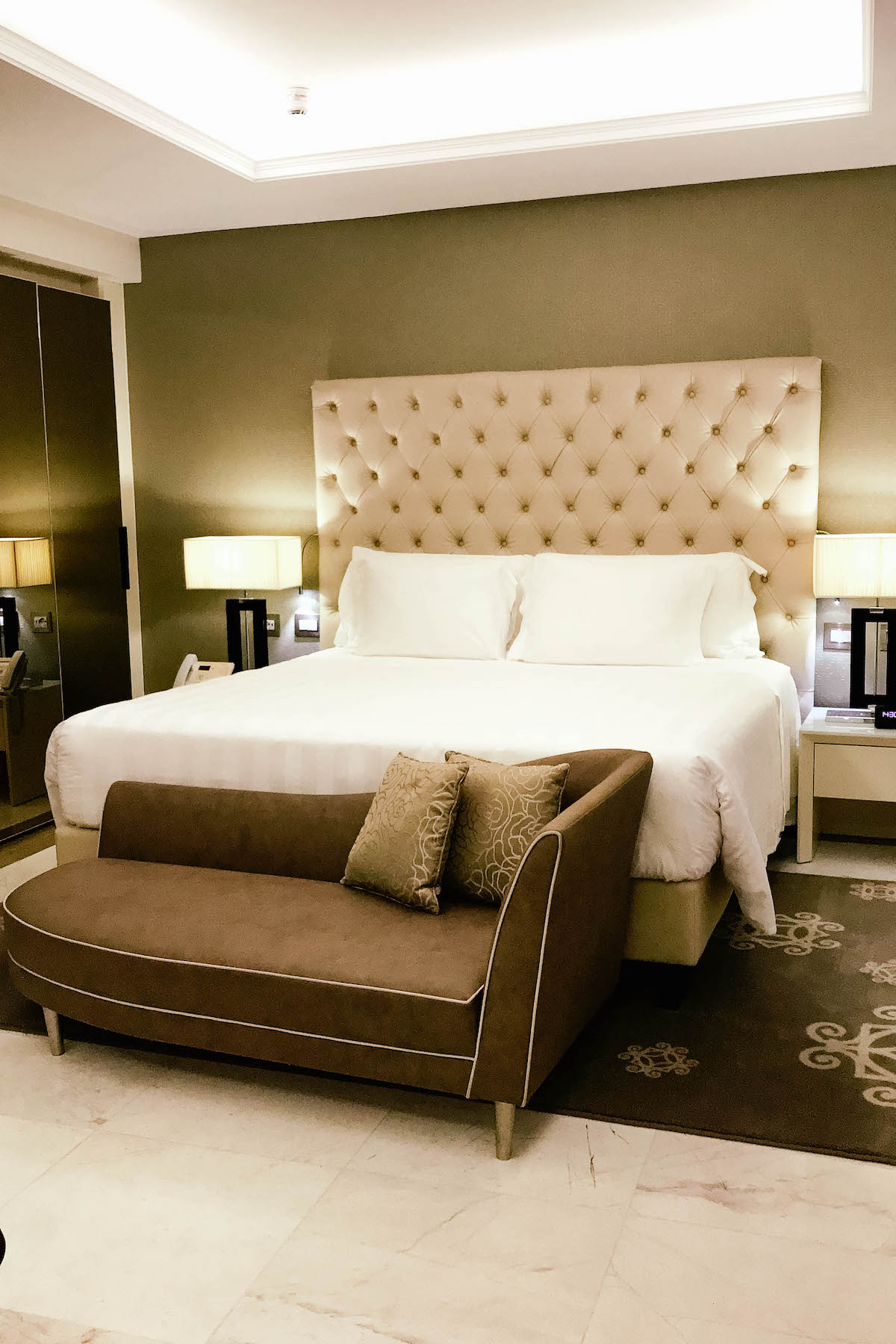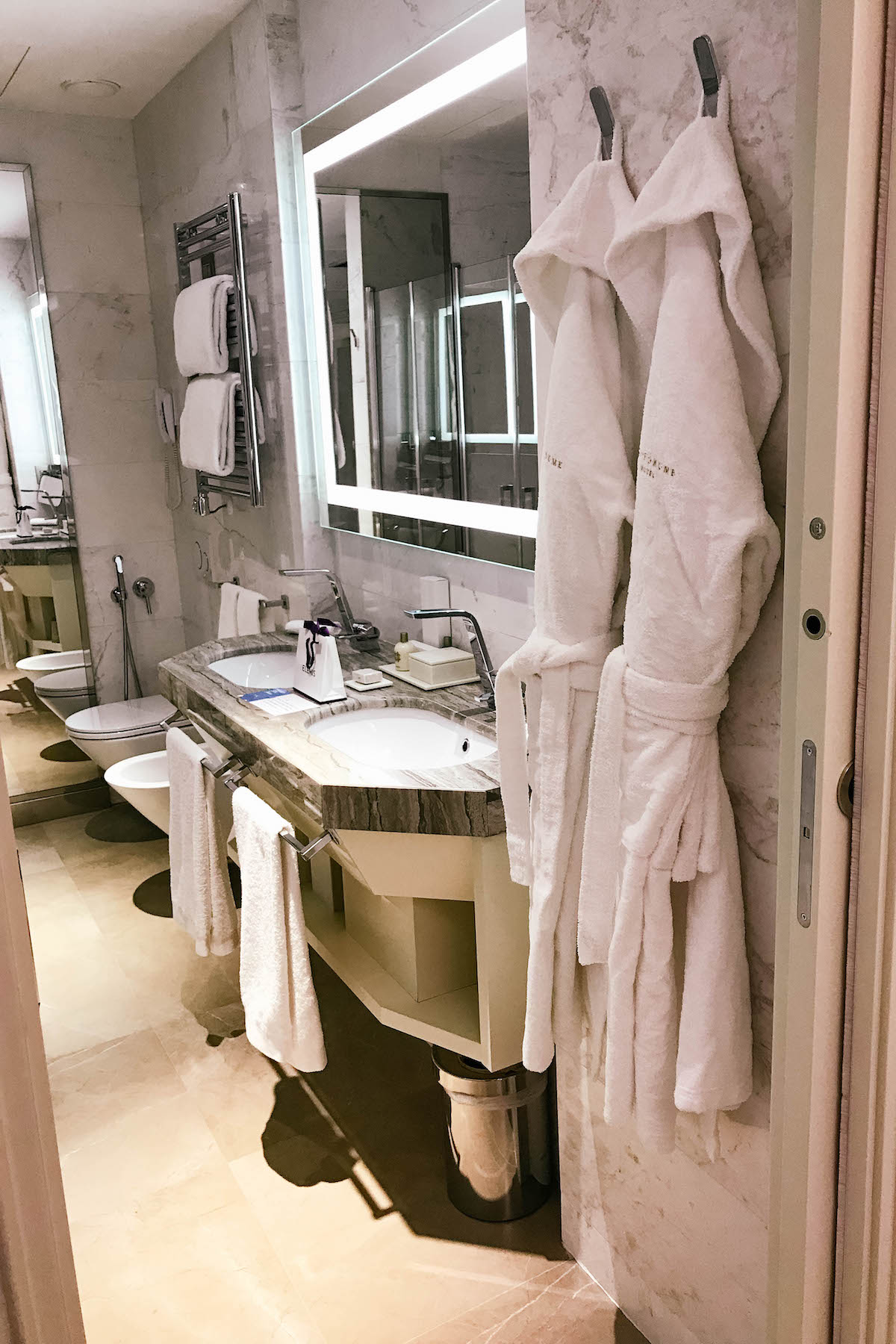 We loved our time at the Aleph Rome Hotel and I would highly recommend it if you're looking for an upscale hotel in the center of Rome. PS the front desk staff and concierge were all very warm and welcoming, plus they spoke fluent English! They helped us call all our taxi cabs and were able to give us directions and recommendations.
2 Days In Rome Itinerary & Travel Guide
Day 1
Although we were burnt out and running on fumes by the time we settled into our room, we resisted the urge to nap and made our way out to explore. It was the awkward time between lunch and dinner so we didn't want to sit down anywhere for a full meal since it seemed like the only nearby restaurants that were open catered to tourists. Definitely not trying to waste our first night appetites on a random tourist trap!
So what did we do? Get gelato of course and boy, did it hit the spot! We grabbed two cones from Come il Latte and spent about an hour exploring the area around our hotel on foot without any specific plan or destinations in mind. By then we felt we could get away with drinks and light bites so we headed back to the hotel to wash up (I'm a child & always drip all over myself) and grab pre-dinner drinks.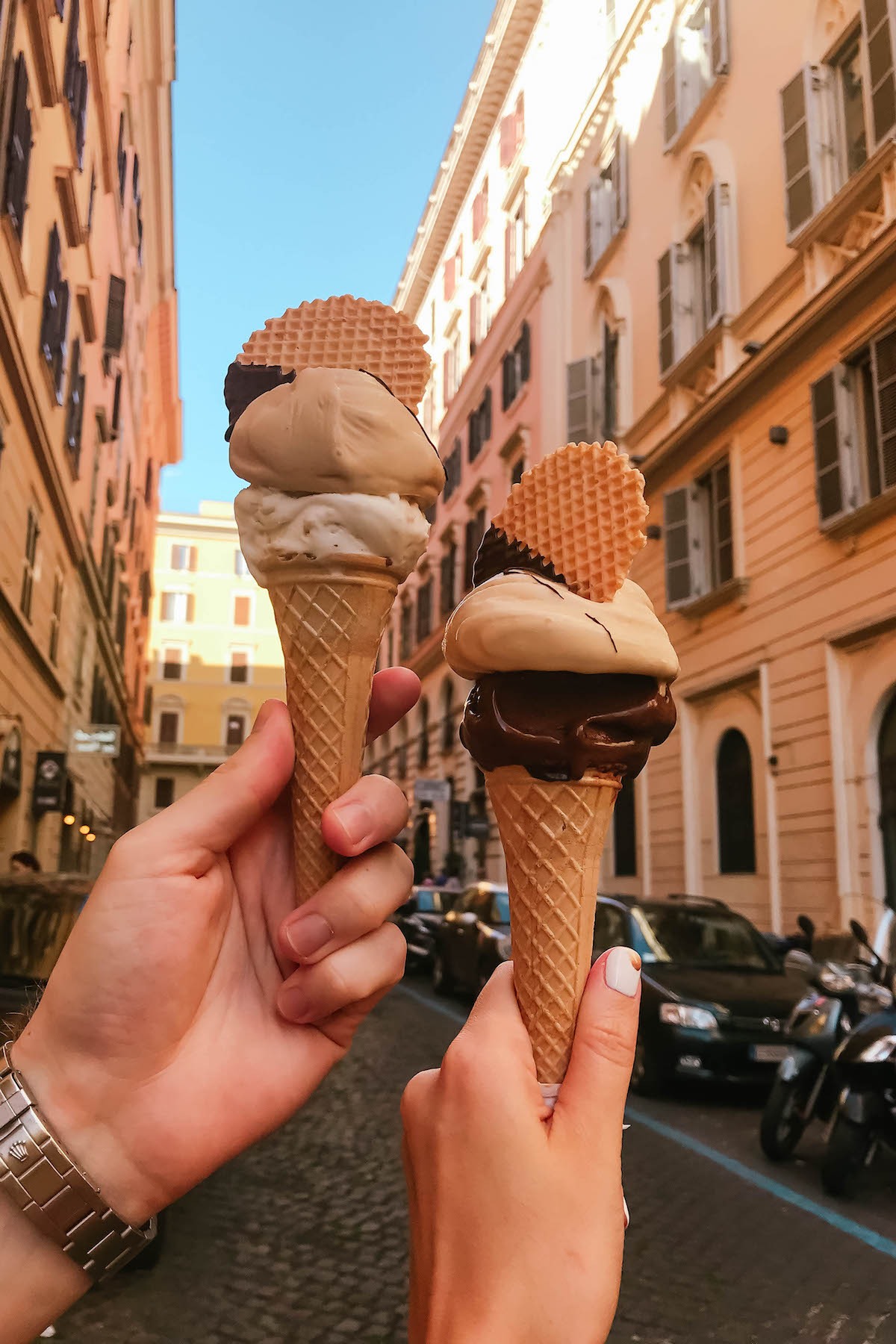 We didn't have to head far for our aperitifs thanks to the hotel's rooftop pool terrace and Sky Blu restaurant. We downed two refreshing Hugo Spritzs each and devoured a big plate of prosciutto and burrata on the pool deck as the sun set. You can't see any specific landmarks from the hotel roof, however the terra-cotta topped city views were nothing short of beautiful.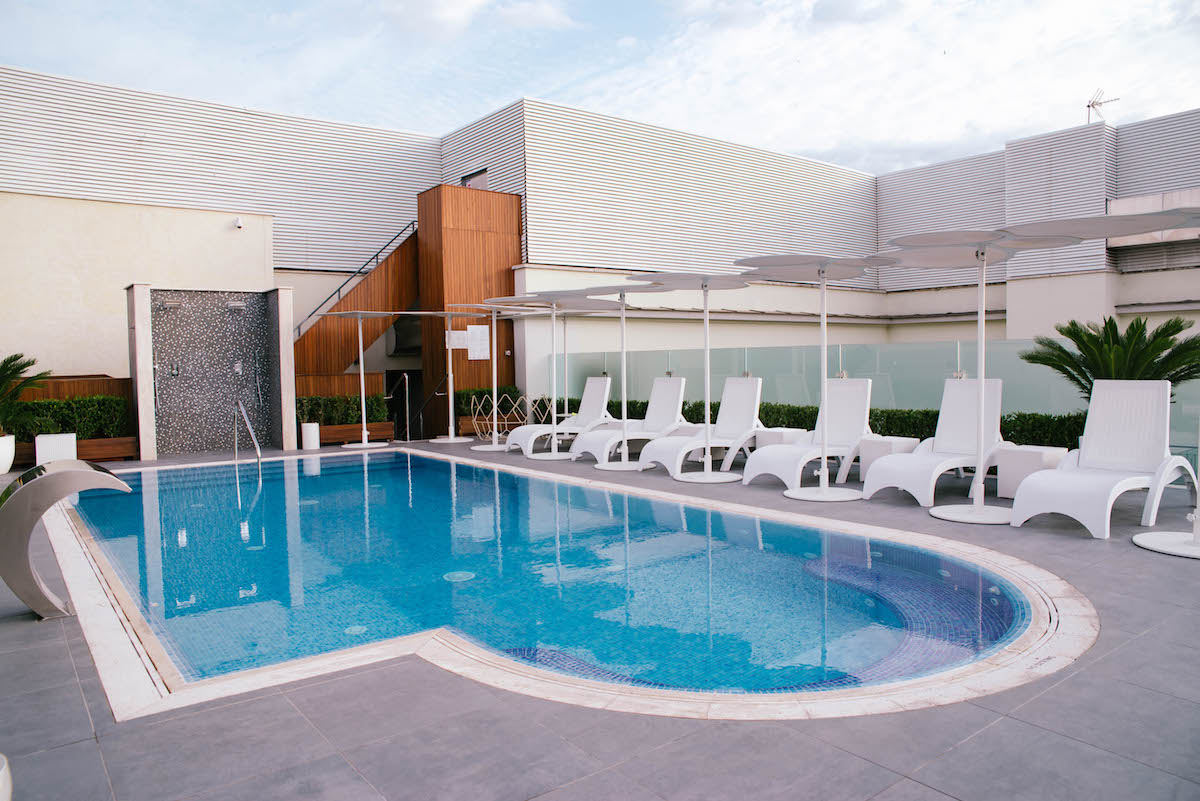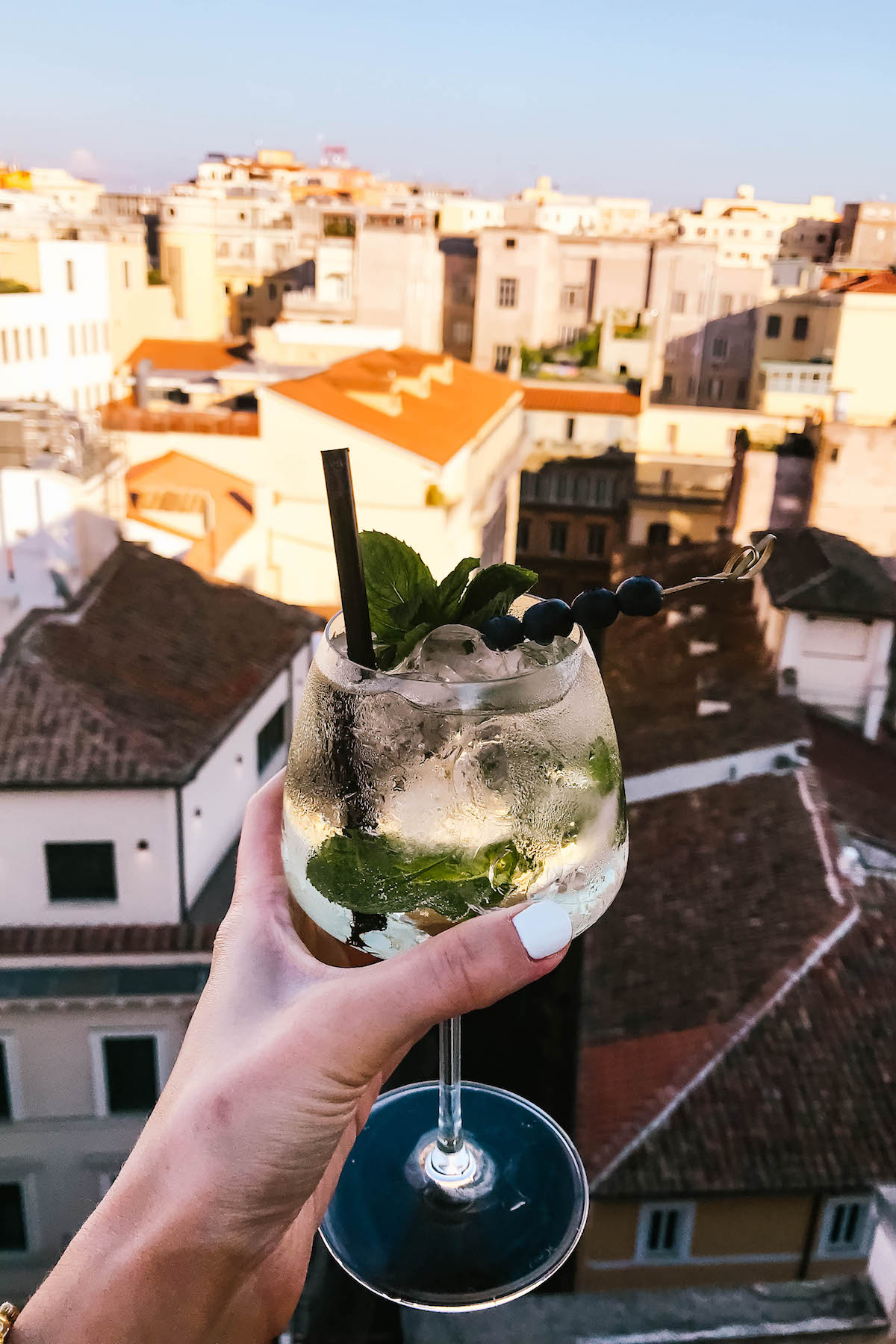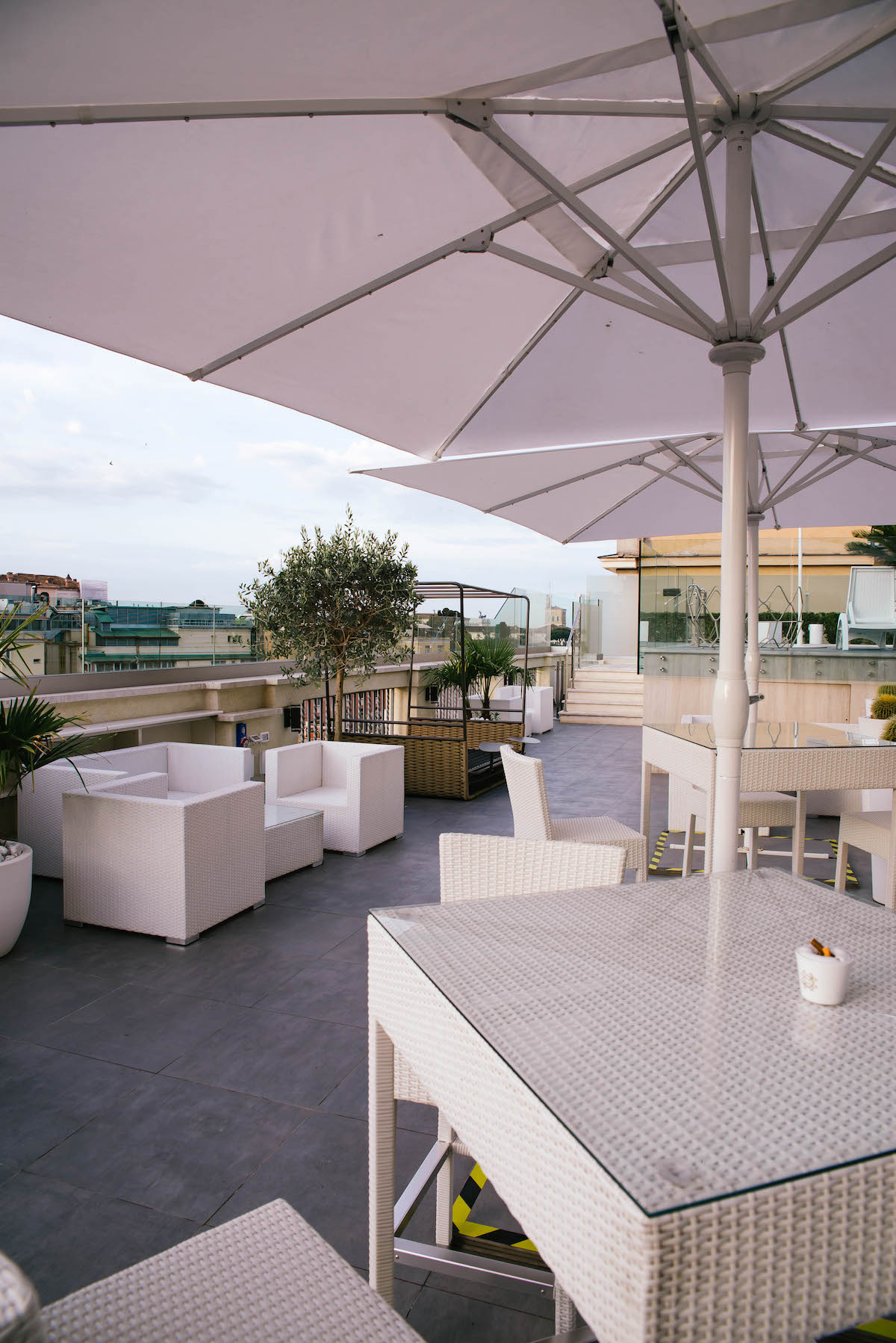 I didn't bother making a restaurant reservation our first night since I literally didn't know if we'd be awake. Surprisingly we still had some fumes left in us after rooftop drinks and bites, so we set out for some more exploring in the direction of the Trevi Fountain hoping we'd find a cute place along the way. Despite the MASSIVE nighttime crowds, seeing the Trevi Fountain all lit up at night was breathtaking. It's a stunning structure and I can totally understand the excitement to see it and get a picture. Well, we immediately knew that wasn't going to happen (literally I've never seen such packed crowds & I live in New York!!!) so we made a mental note to come back early in the morning for our photo opp.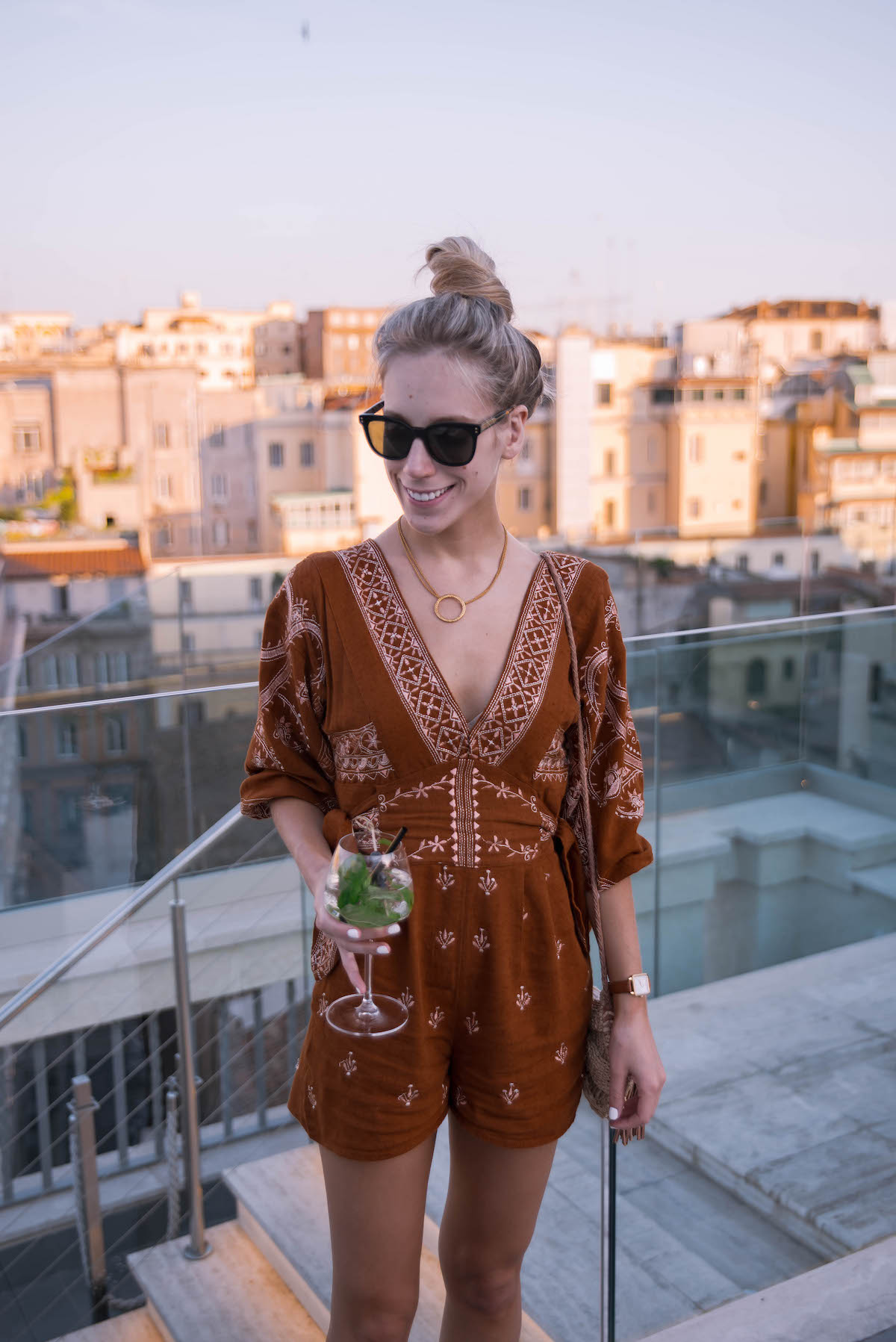 ITEMS PICTURED: Romper | Similar Sunglasses | Necklace | Watch
By then we'd been wandering for about 45 minutes and were starting to get a little worried we wouldn't be able to find a place to eat. There's no shortage of restaurants near the Trevi Fountain and surrounding neighborhood, but everything we passed either looked like a tourist trap or had subpar reviews (I'm that girl who always has the TripAdvisor app open.)
I was about to kick myself for not making a reservation somewhere, but then we stumbled upon the charming Ristorante Angelina a Trevi. It was very busy with a mix of obvious English-speaking tourists and Italians— we asked if they had room for us and we were lucky enough the get the last table for two. We skipped appetizers and each ordered a big bowl of pasta and a glass of red wine. Although I could barely keep my eyes open (I was literally doing a head bob at the table) I know the meal was tasty because both of our bowls were empty by the time we paid.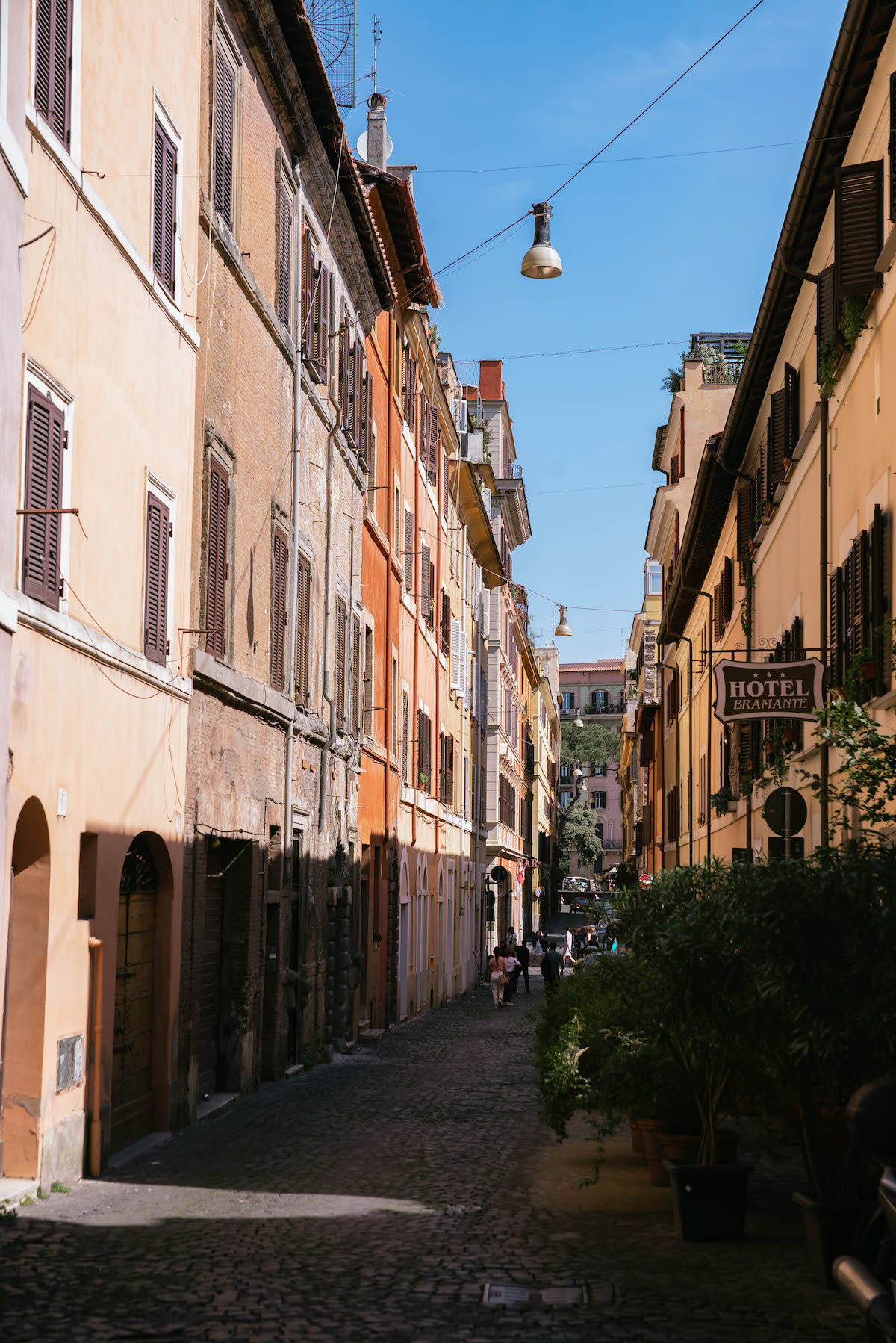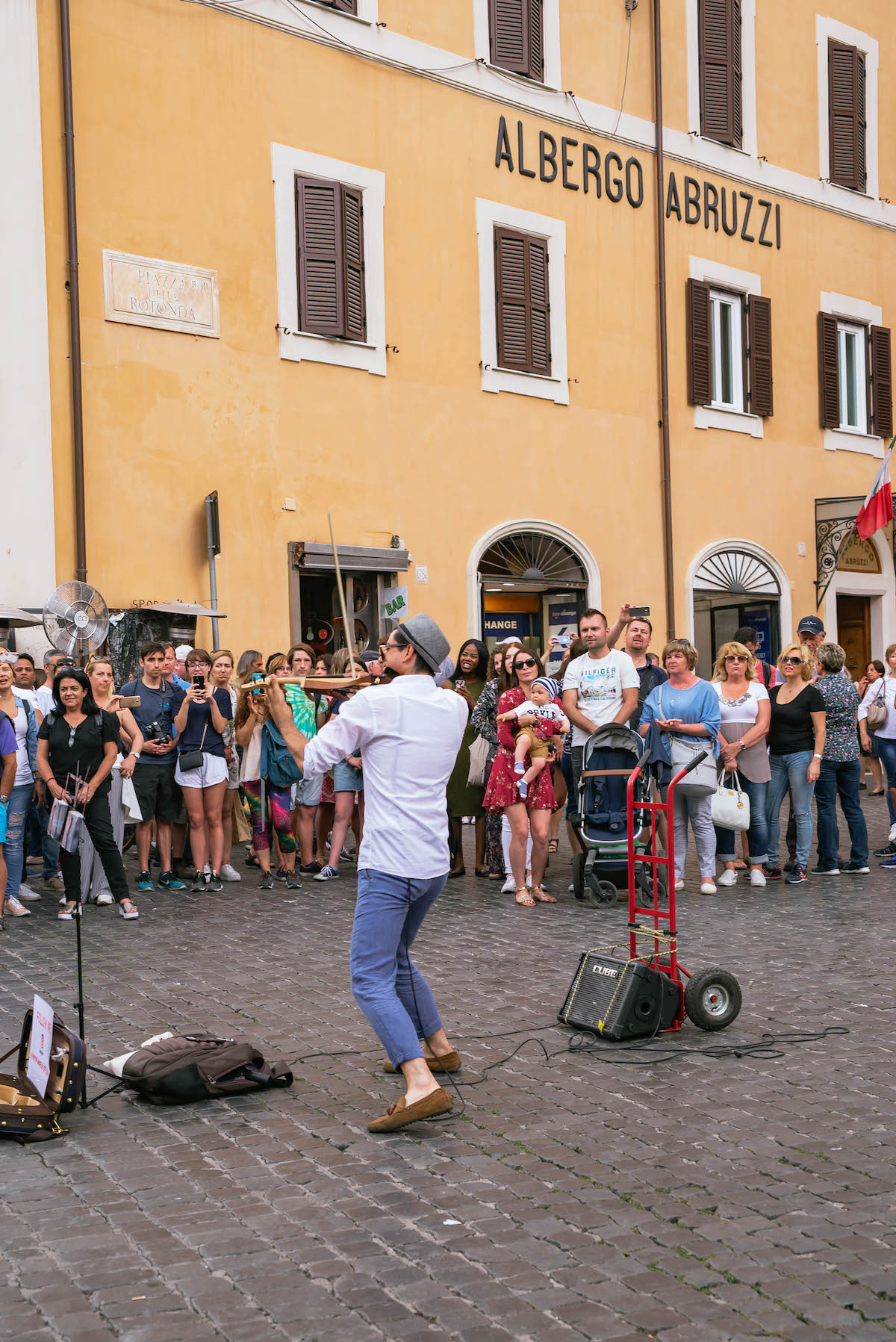 You're probably thinking that we finally called it a night after dinner, right? Nope. We're crazy and decided to continue exploring over to the Spanish Steps. Since the Trevi Fountain looked so pretty at night, I figured the steps would be similarly beautiful and sure enough they were! We got in a little people watching before finally crashing back at the hotel. What. A. Day.
Safety In Rome: I got a lot of messages and DMs asking if I felt safe in Rome and the answer is YES! Granted, we primarily stuck to busy areas where there were always other people around so I can't speak to the residential neighborhoods and places off the beaten path. I had heard a lot of stories about pickpockets and creepers (guys who will approach you asking if you need help only to try & sell you something or steal from you) however we didn't experience anything overly aggressive. Anyone who approached us we'd just ignore and wave away with a stern NO. I never felt uncomfortable anywhere we went in Rome, though if I was on my own I probably would've skipped the nighttime exploring. I would also just recommend using a crossbody bag or backpack that zips fully closed and wearing it in front of our body, especially if you plan to visit crowded attractions. PS I noticed police and military folks stationed at every single historical landmark and attraction.
Day 2
Okay so you have one full day in Rome! The possibilities and combination of activities are endless, but here's what we did! Please keep in mind we aren't guided tour or museum people— we visited all these sites on foot by ourselves. If we had more time maybe I would've looked into booking a half day tour or more in-depth Vatican City visit, but since I knew we'd be so tired that it was best if we just did our own leisurely thing and save our money for Positano and the Amalfi Coast 🙂
Morning
We kicked off the day with a delicious complimentary buffet breakfast of pastries, prosciutto and cheese at Aleph Rome Hotel. Gosh how I LOVE European breakfasts. #ALLTHECARBS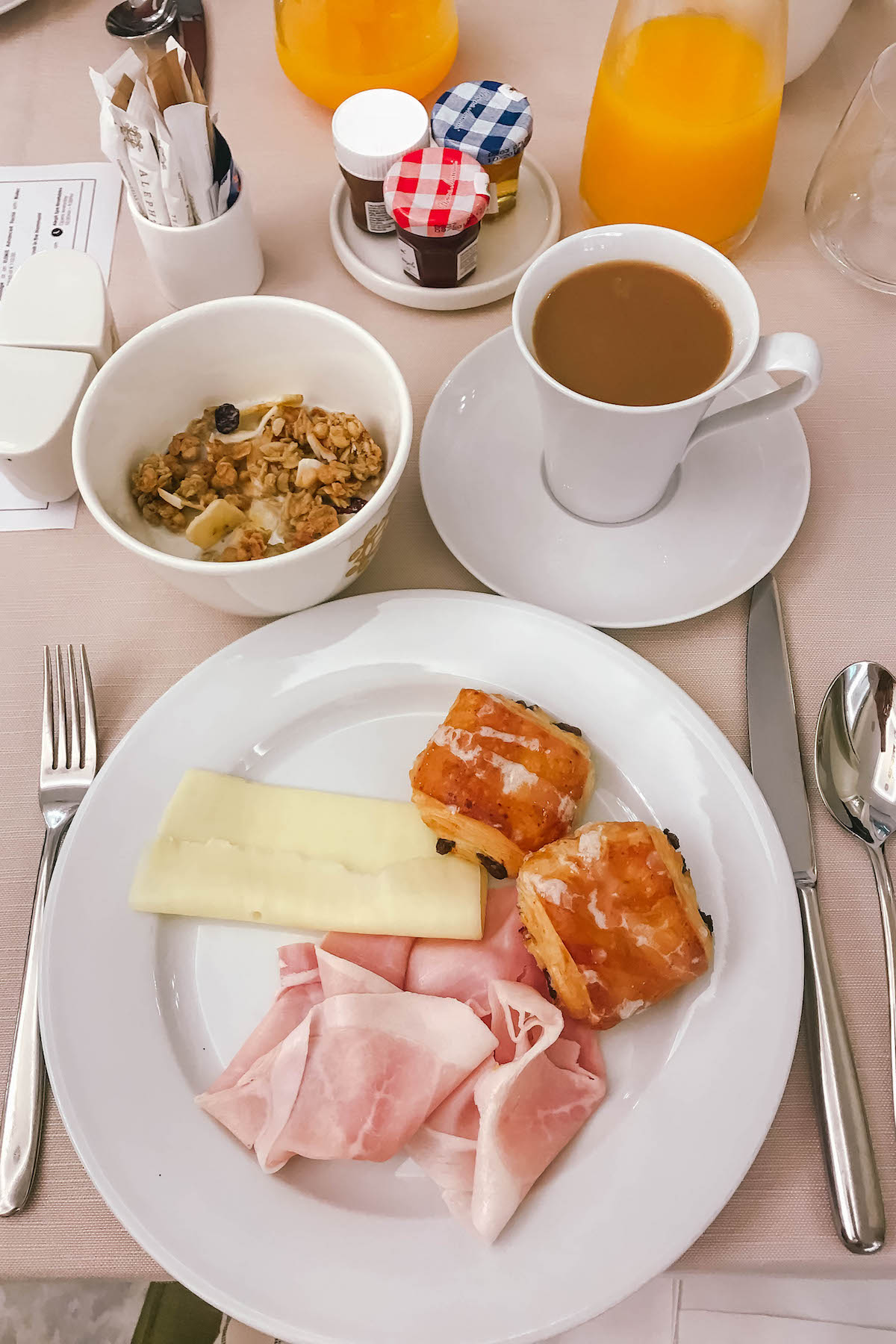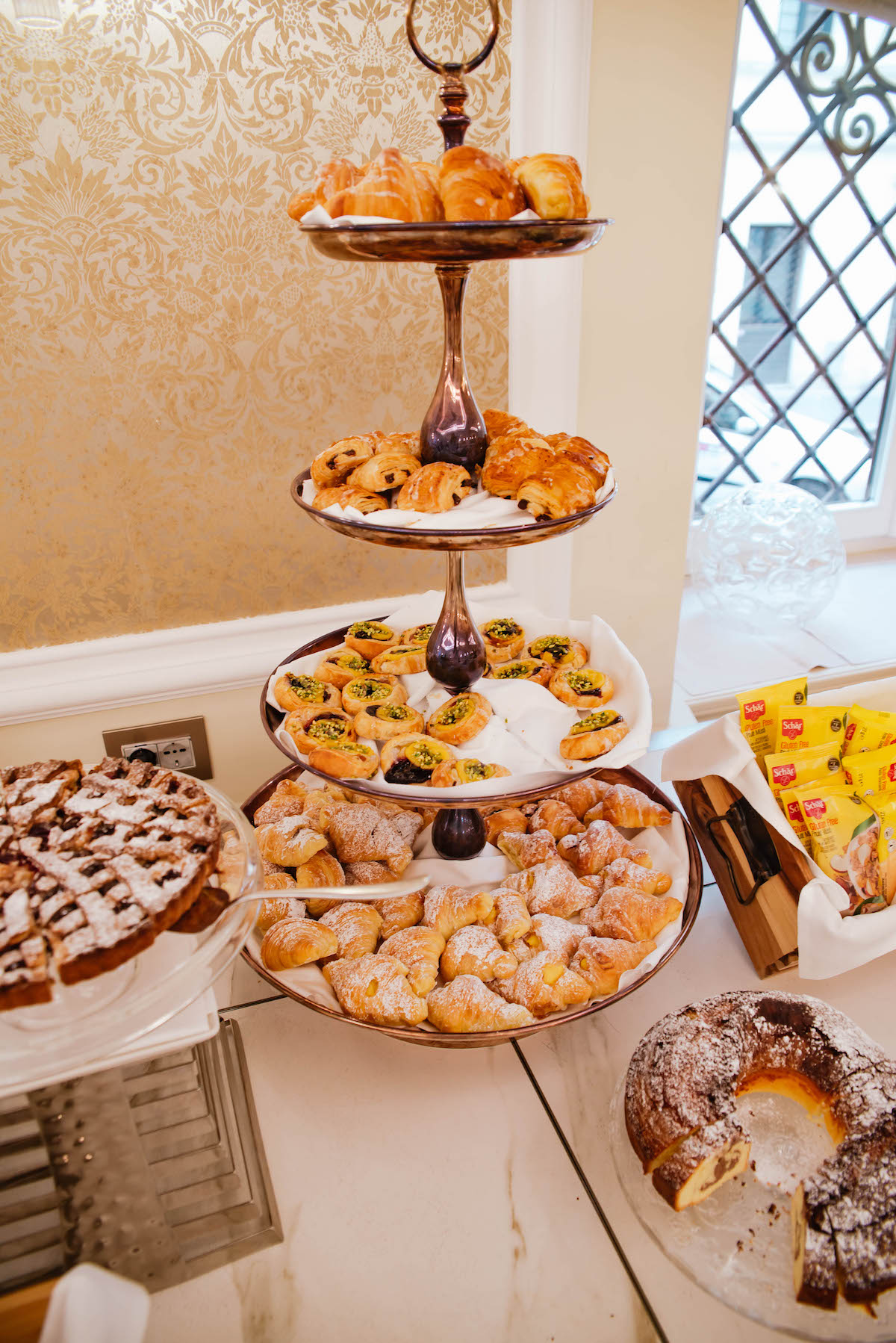 STOP 1: Trevi Fountain
We shamelessly wanted the good photo opp so we made sure to get out there before 7AM. Yes, you need to get there that early if you want a photo without other people in your picture. We arrived at 6:45AM to find about 30 or so people already there for the same reason. Big sigh of relief compared to the 1000+ from the night before— totally worth it!
ITEMS PICTURED: Stripe Pants | T-Shirt | Woven Bag | Hat | Sandals | Watch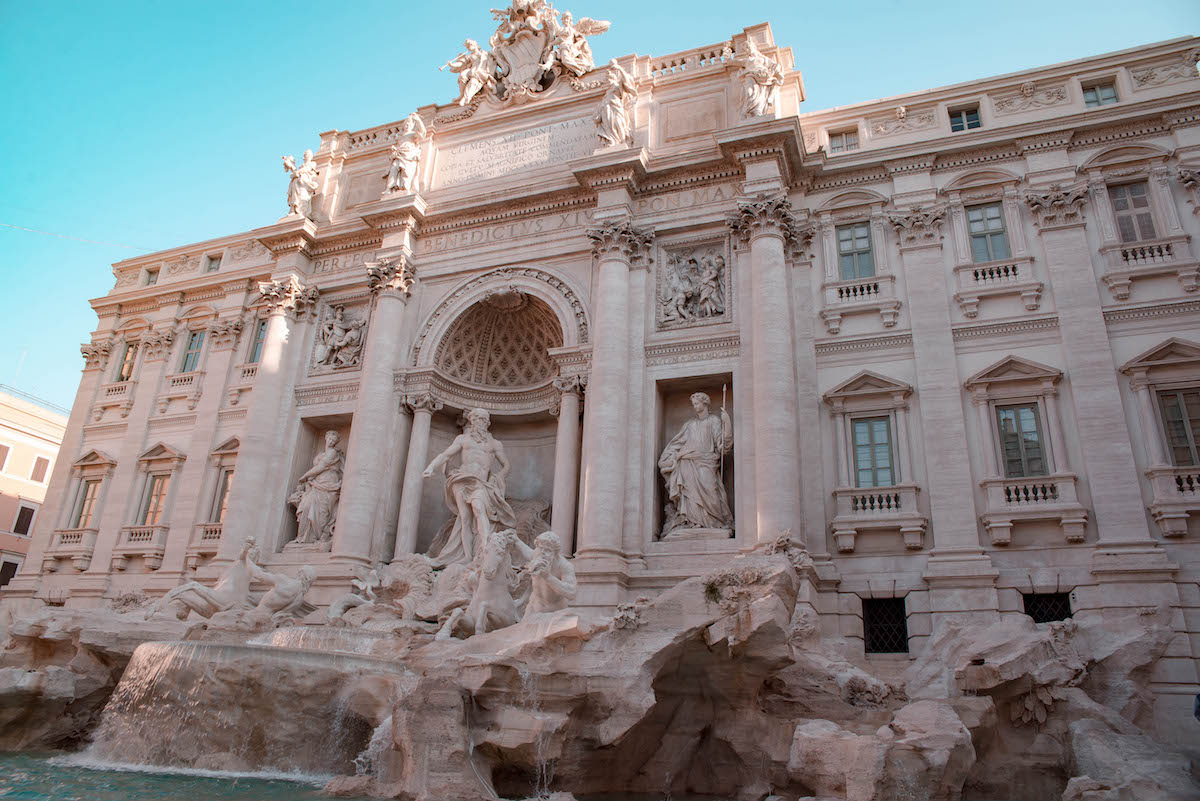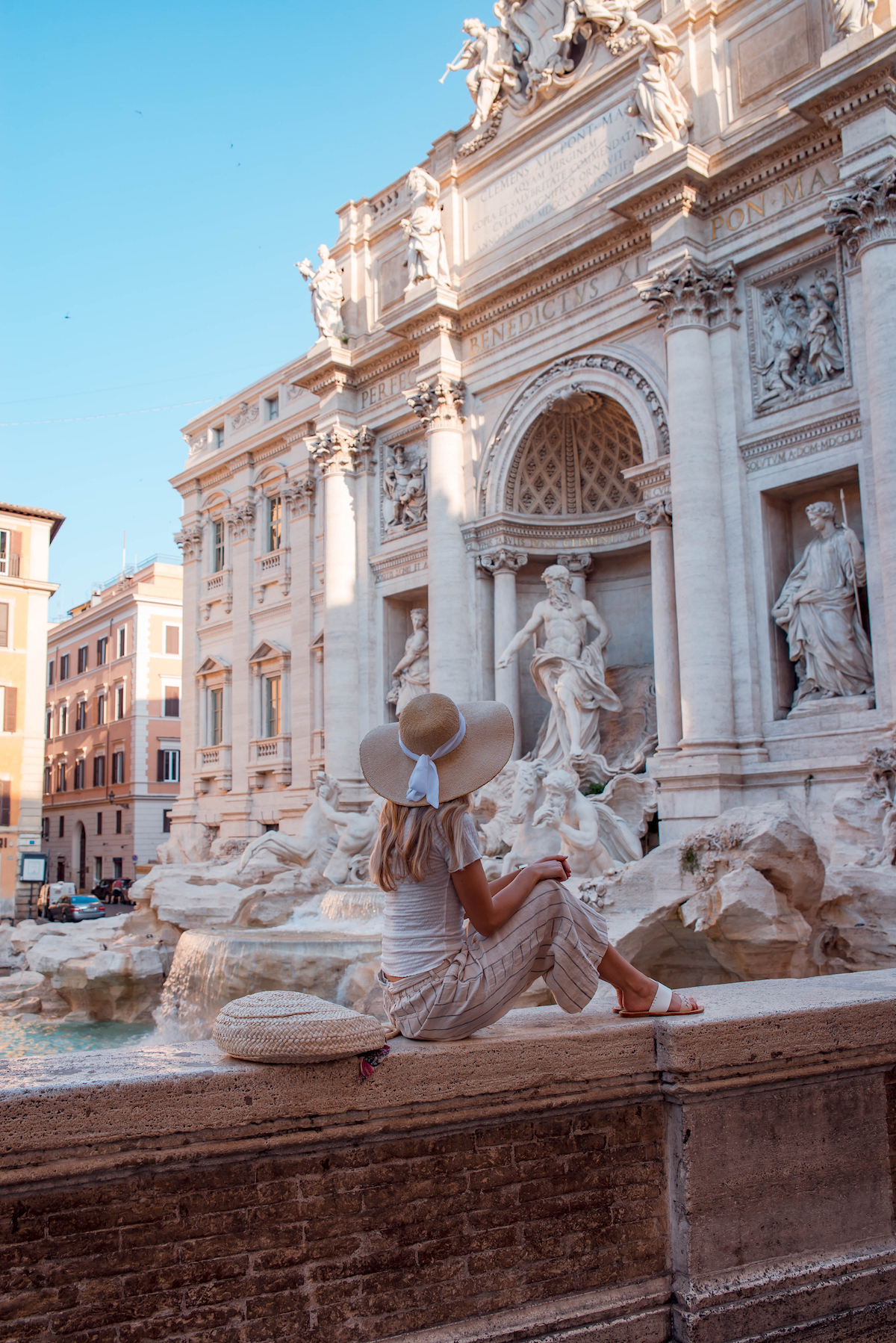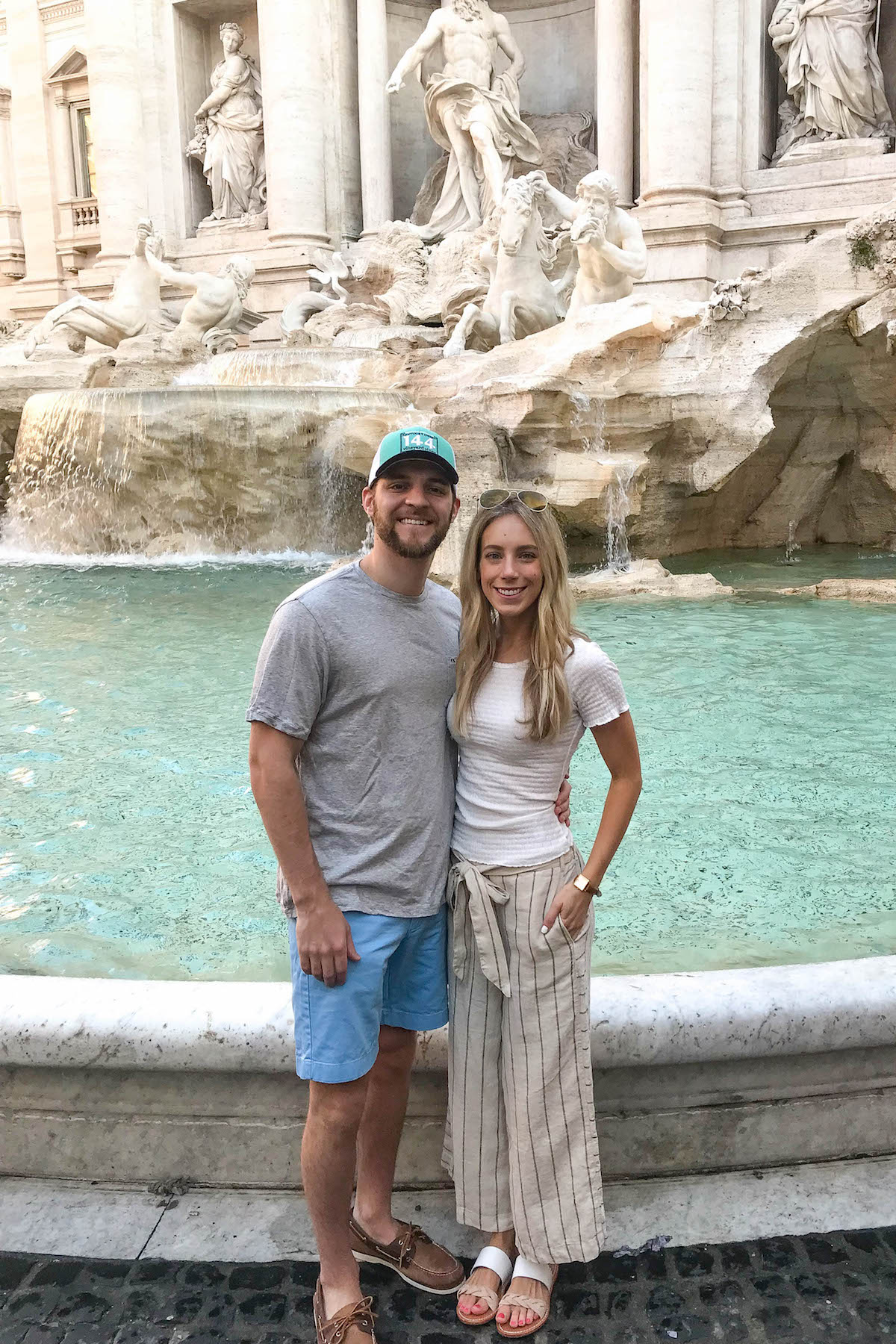 STOP 2: Spanish Steps
It was still so early so we decided to walk back to the Spanish Steps and were delighted to find them almost completely deserted. We took our time walking around and taking in the view at the top!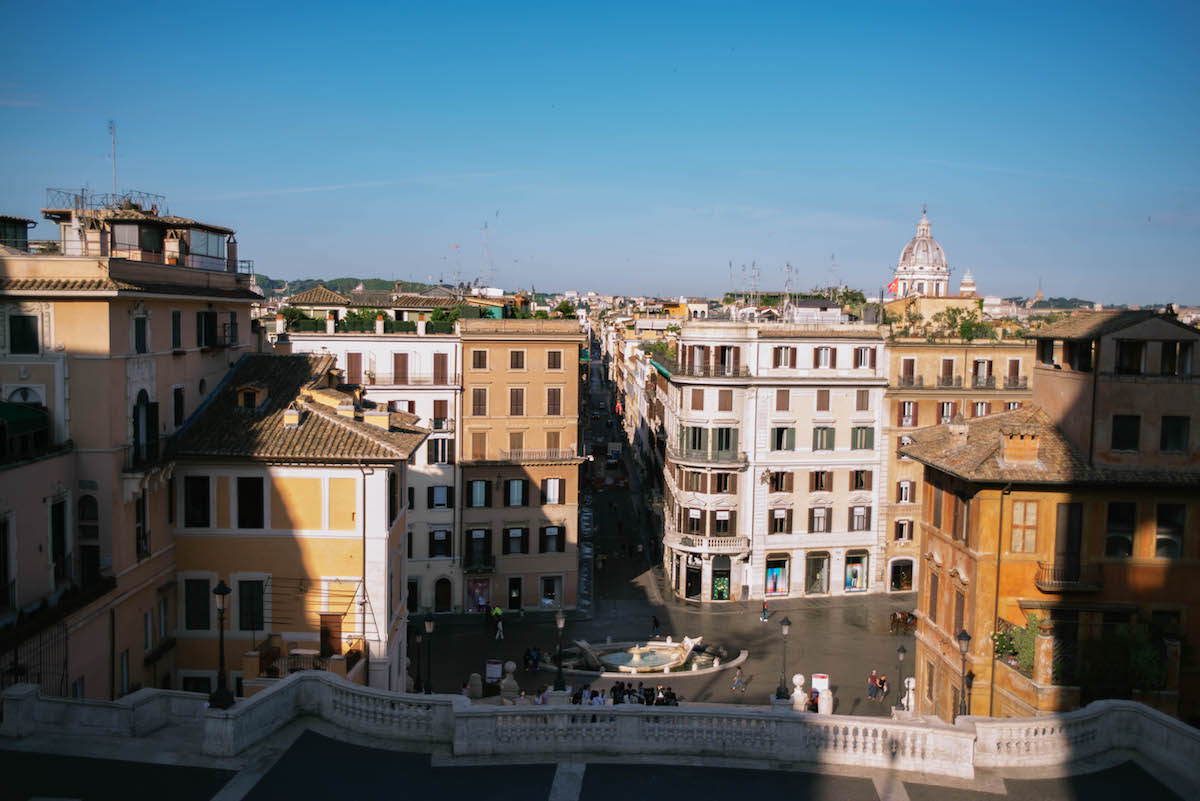 STOP 3: Coffee break at Caffè Castello outside Vatican City
Next we had our hotel call concierge call us a cab over to Vatican City where we were dropped off right at the entrance of Piazza San Pietro. Before entering the Vatican we impulsively walked over to nearby Caffè Castello because we were both feeling a caffeine craving.  The weather was beautiful so we sat at a bistro table outside. Nick ordered an espresso, while I made myself a DIY iced coffee. Aka I ordered an American coffee with a glass of ice on the side (you need to say "American coffee" because to Italians coffee means espresso.)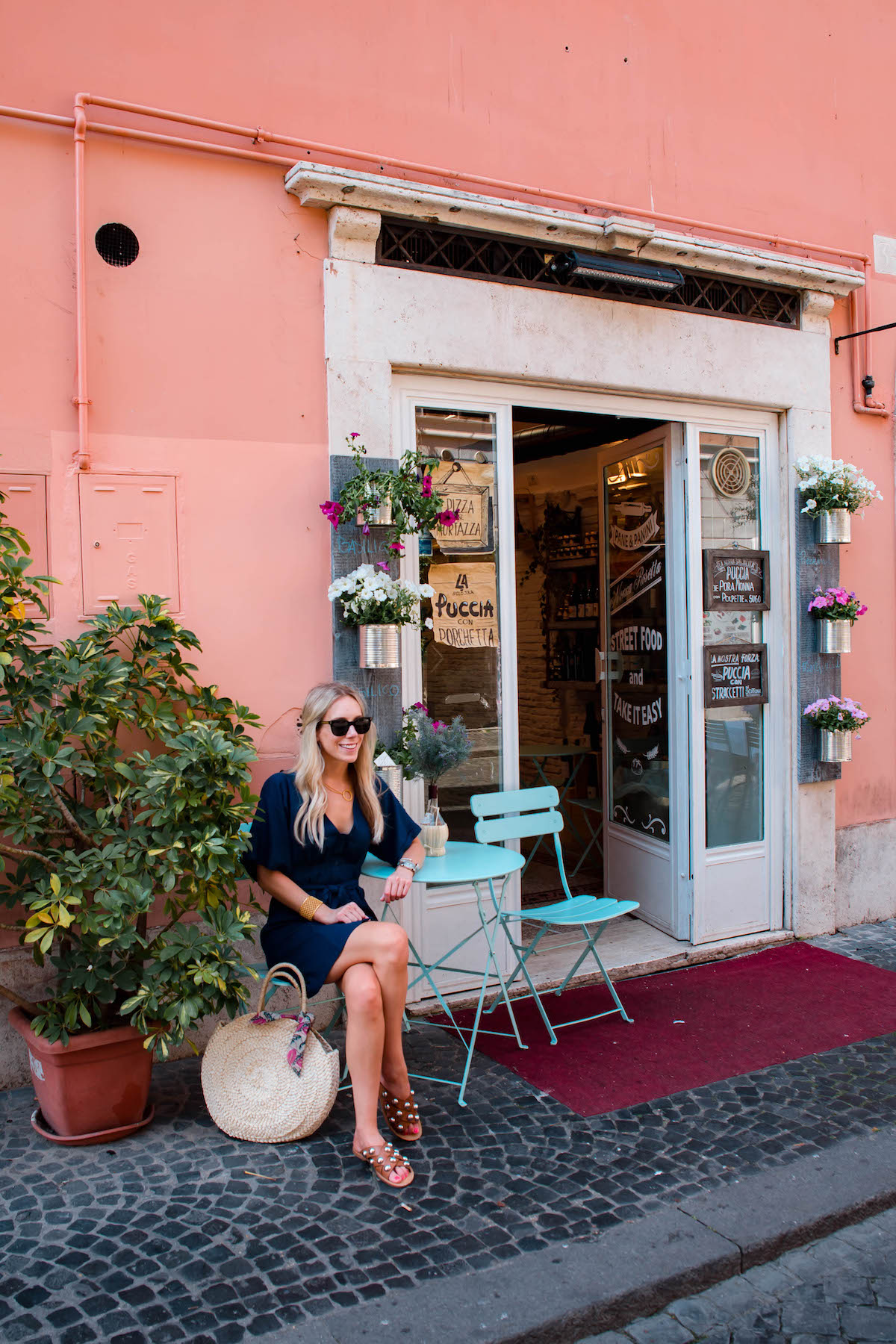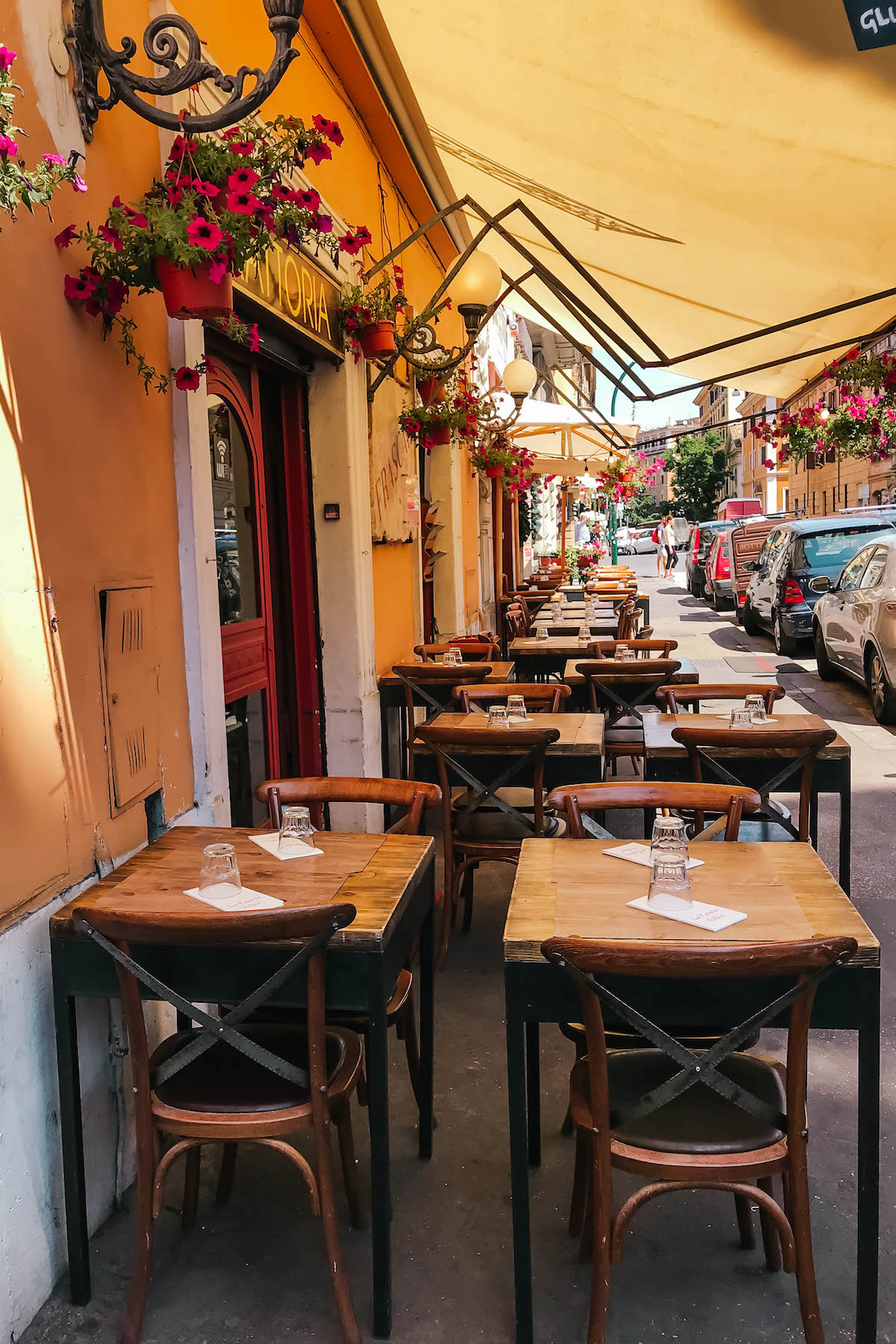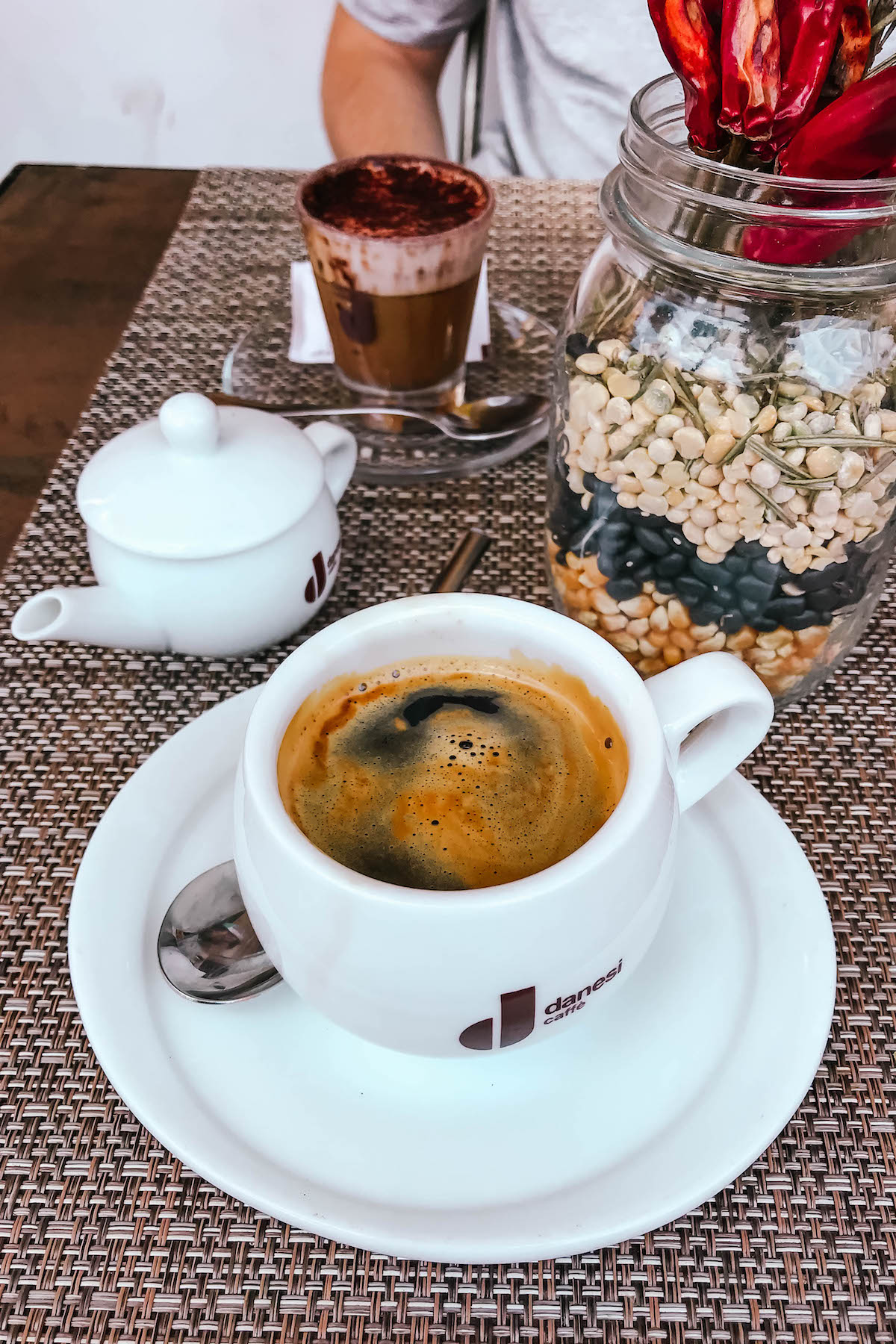 STOP 4: Vatican City, Sistine Chapel & St. Peter's Basilica
After our coffee break we did our own self-guided tour walking tour leisurely taking our time exploring cute cobblestone streets on our way towards the entrance of St. Peter's Basilica. It was a Sunday morning and a public Papal Mass was actually taking place! Due to the service we could only walk around the outer hallways inside the basilica, but it was actually incredible getting to see the Pope and Vatican clergy in person. We would've loved to check out the Vatican City Museum too, but unfortunately it's closed on Sundays.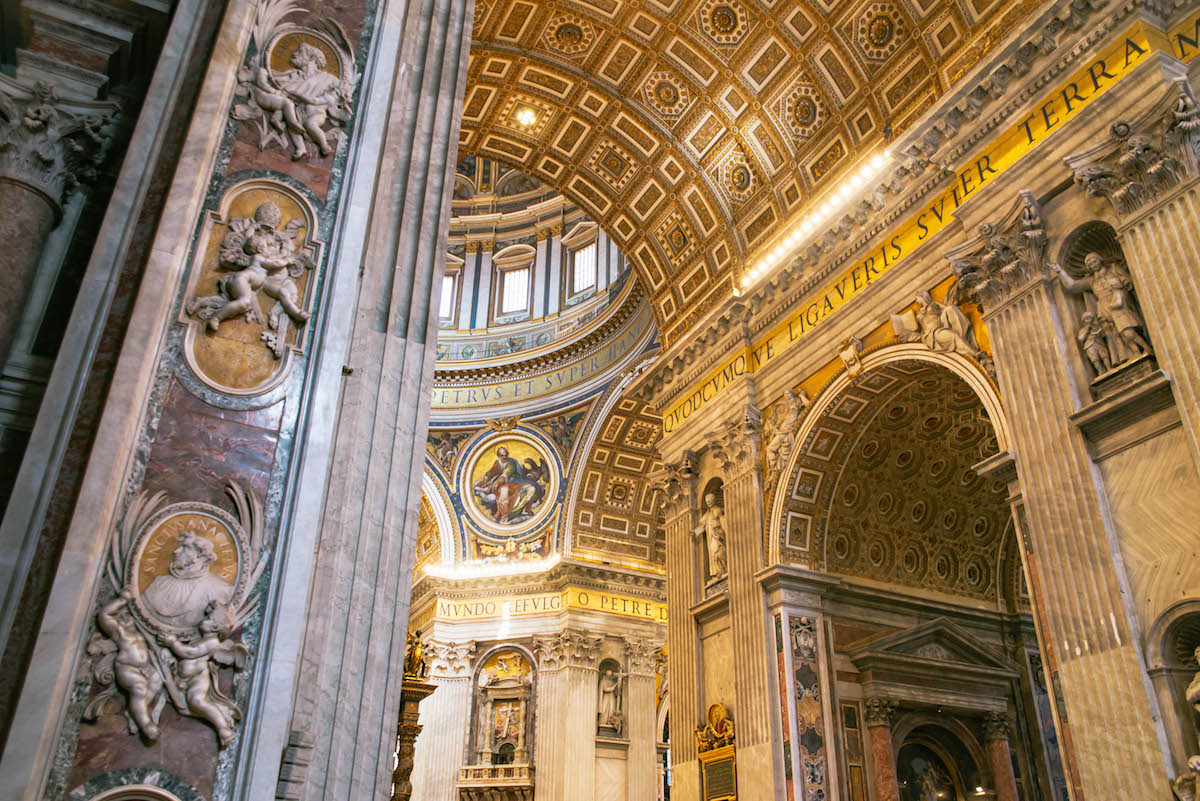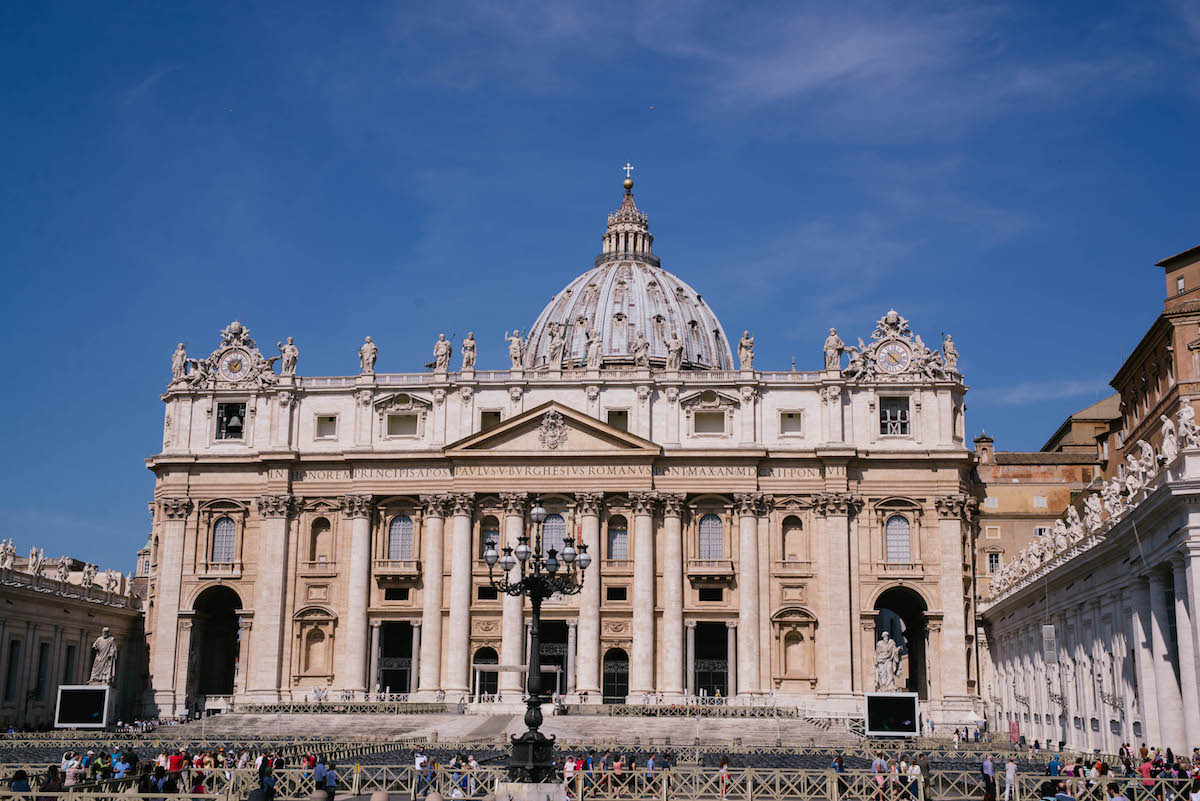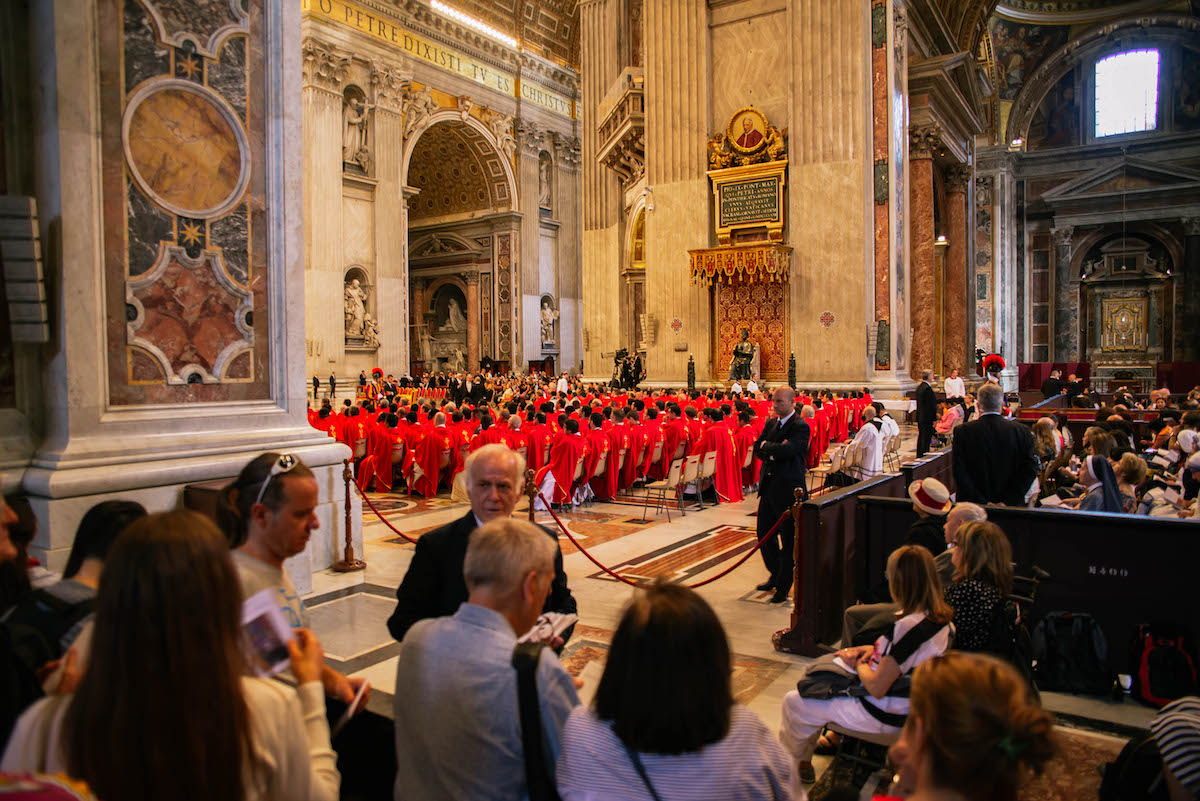 STOP 5: Grab Gelato + Cute Photo Opp at Hedera
Ya'll know I love my cute photo opps. I can't remember where I found out about Hedera, but I knew we had to stop there after seeing some gorgeous pictures of the ivy-covered gelato shop. It's located in the cutest square just a few blocks from Vatican City surrounded by adorable cafes and little shops– the gelato was delicious too! In a perfect world we would've had lunch first, but we knew it was our only opportunity so we grabbed cones before making our way back towards the city center for our lunch reservation.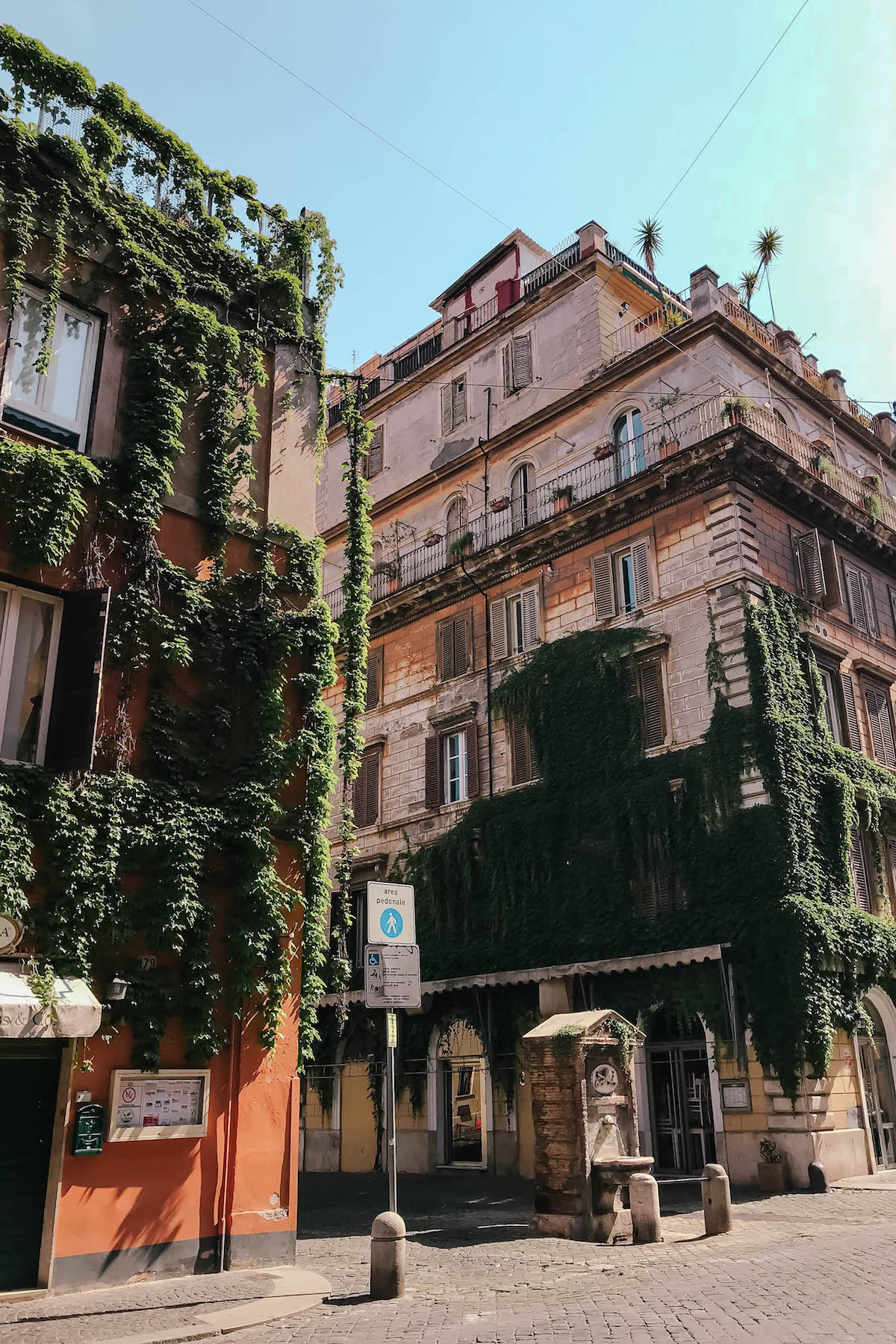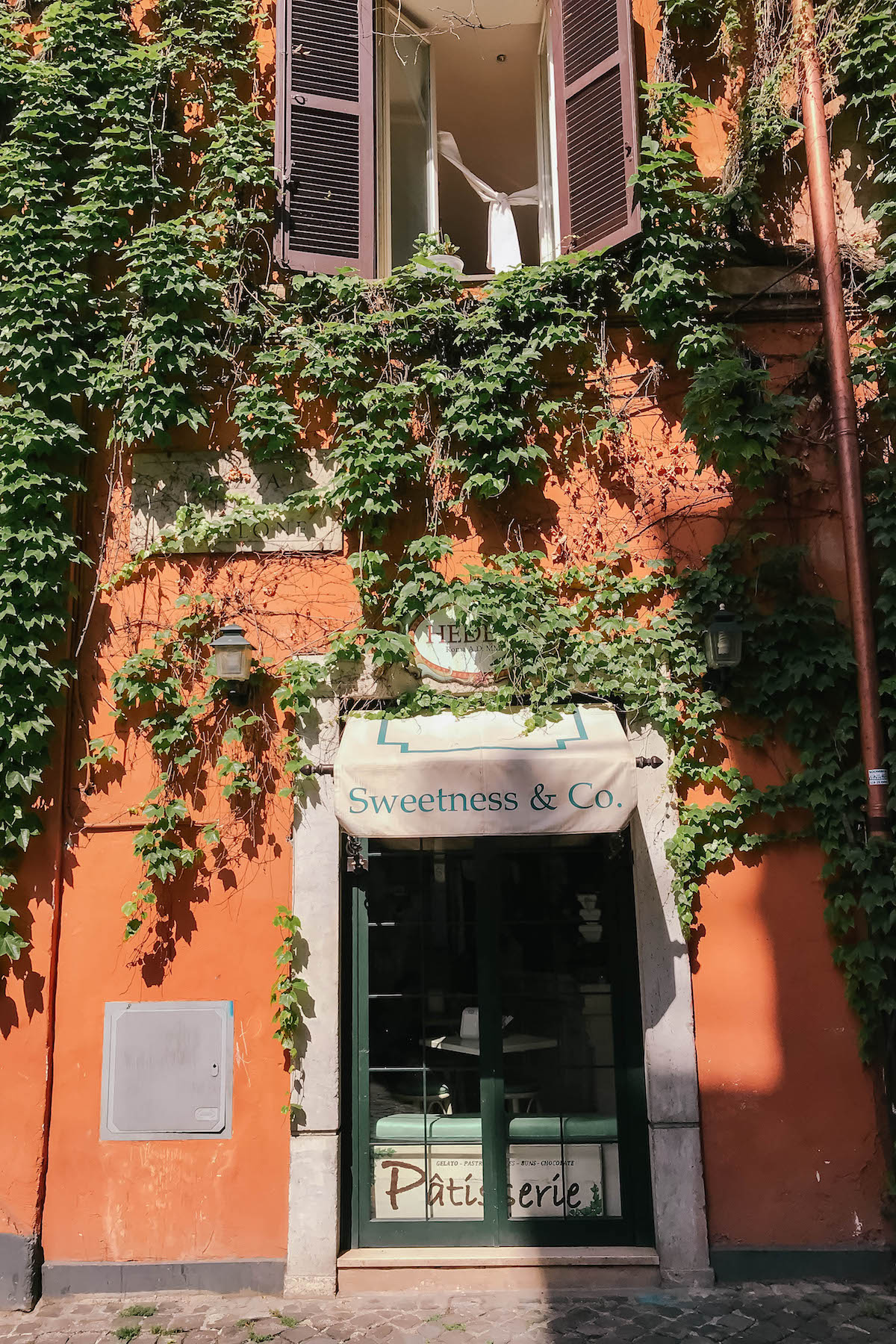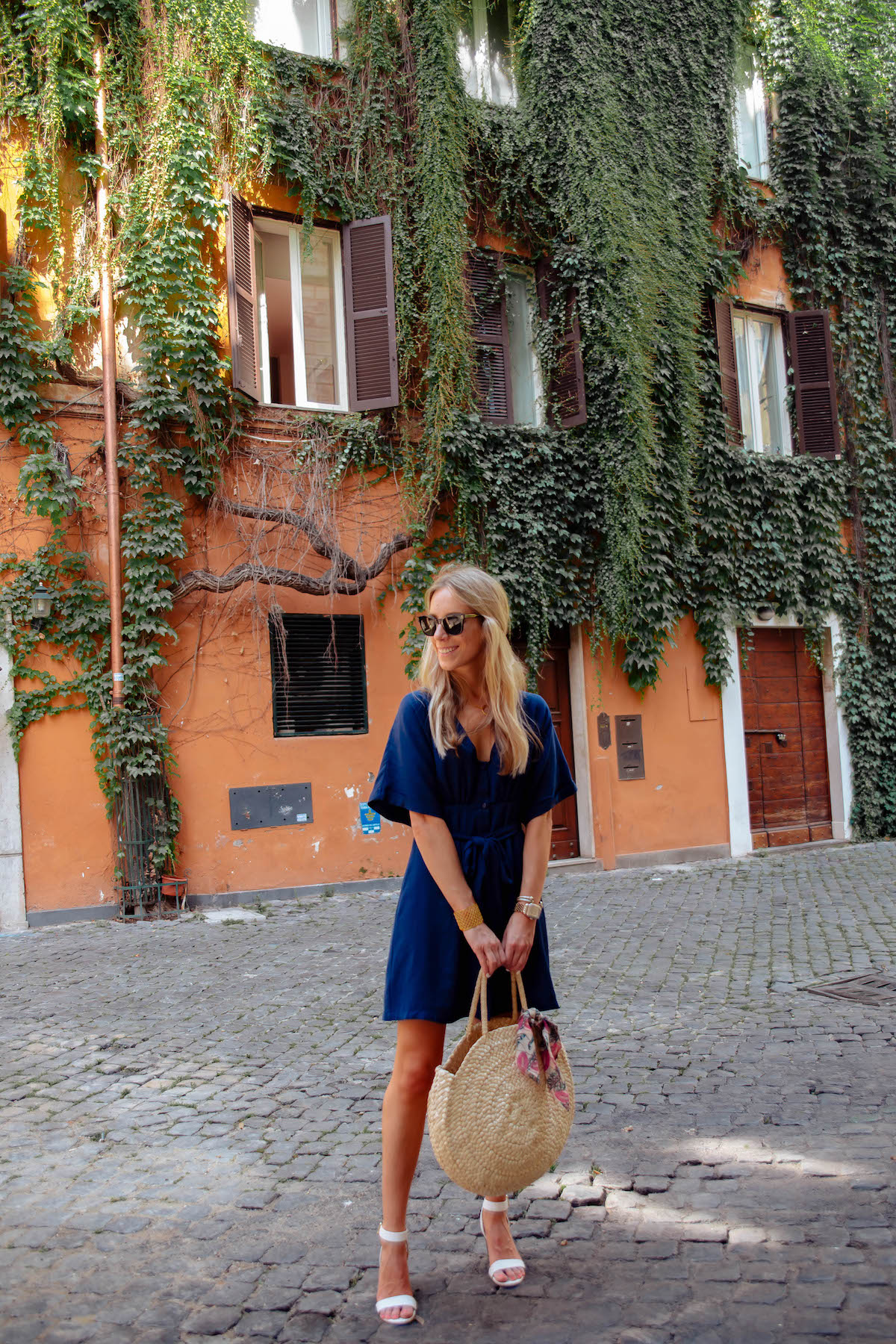 ITEMS PICTURED: Navy Dress | Woven Bag | Similar Sandals | Similar Sunglasses | Watch |
Necklace | Bracelets | Gold Cuff
STOP 6: Lunch at Hotel Russie  
My uncle travels often for business so he's always one of the first people I go to for recommendations when I travel internationally. He's a total foodie and always seems to know of amazing spots you won't see in typical tourist guides, so when he suggested we have lunch at Hotel Russie I knew it would be good. After a long morning on our feet, walking into the perfectly manicured garden bar and restaurant at the very chic Hotel Russie felt like entering paradise. It's very pricey, but completely worth it. The robust cocktail menu was mouth-watering, our food was delicious and the service was impeccable. Oh and the setting wasn't that bad either. PS make a reservation!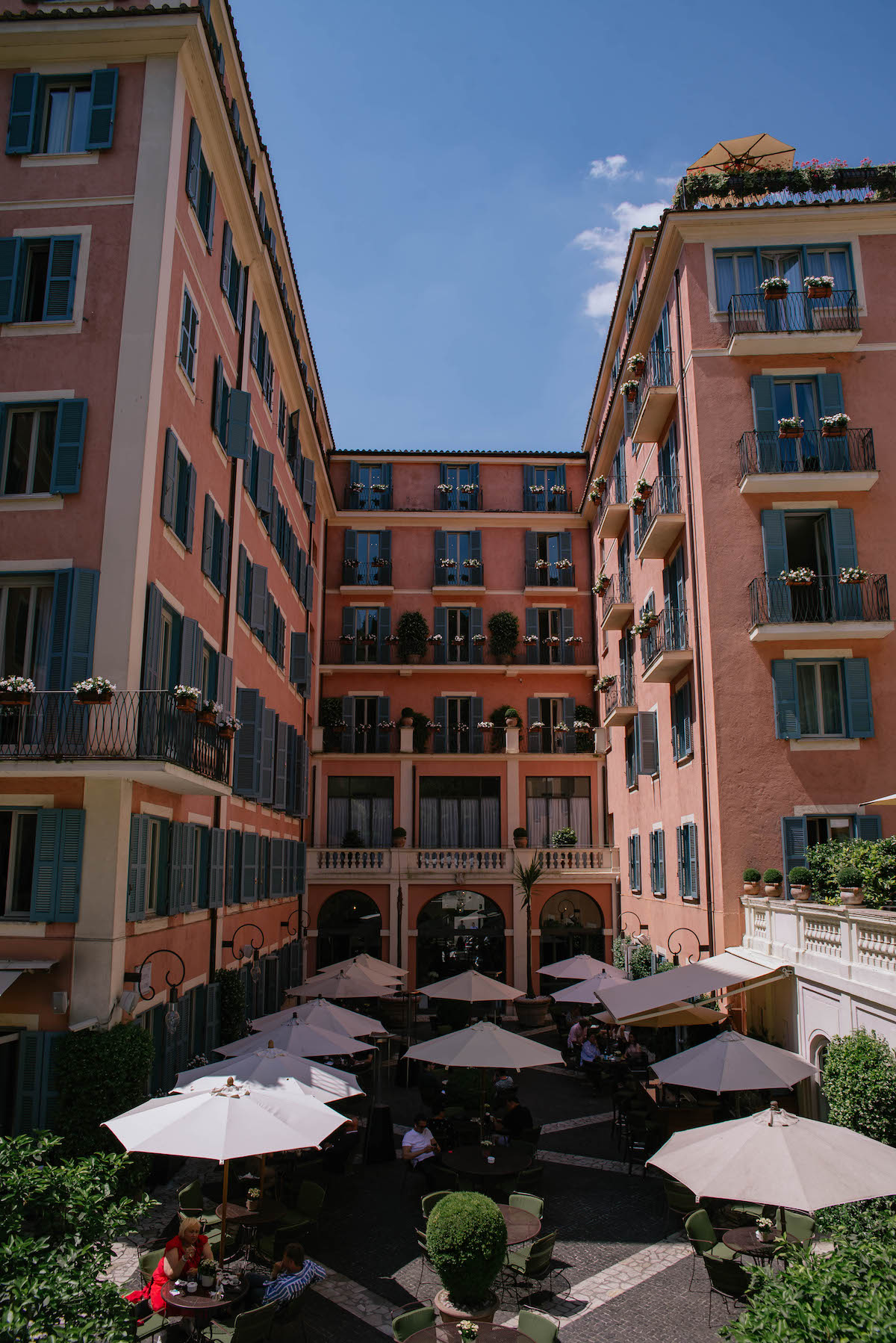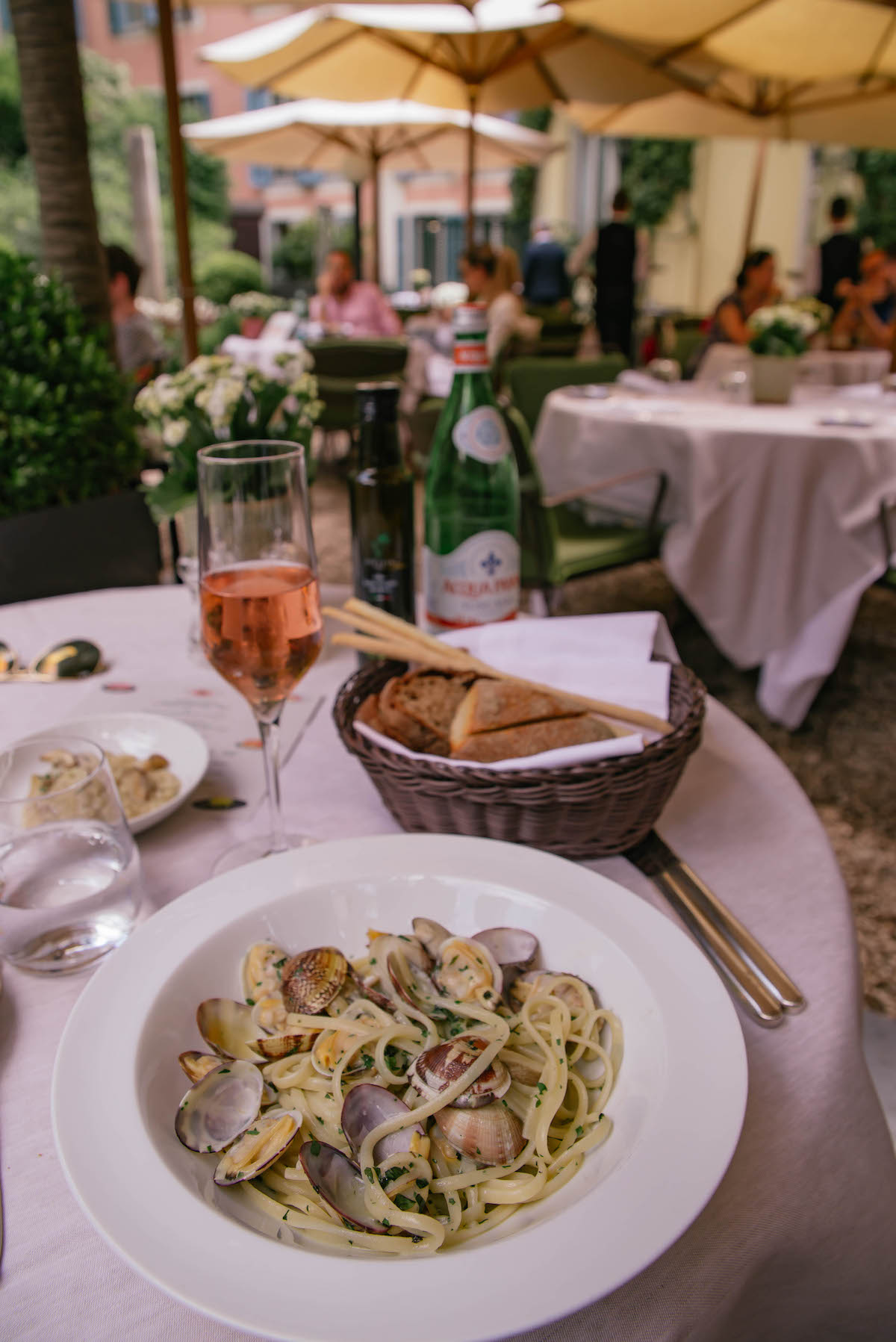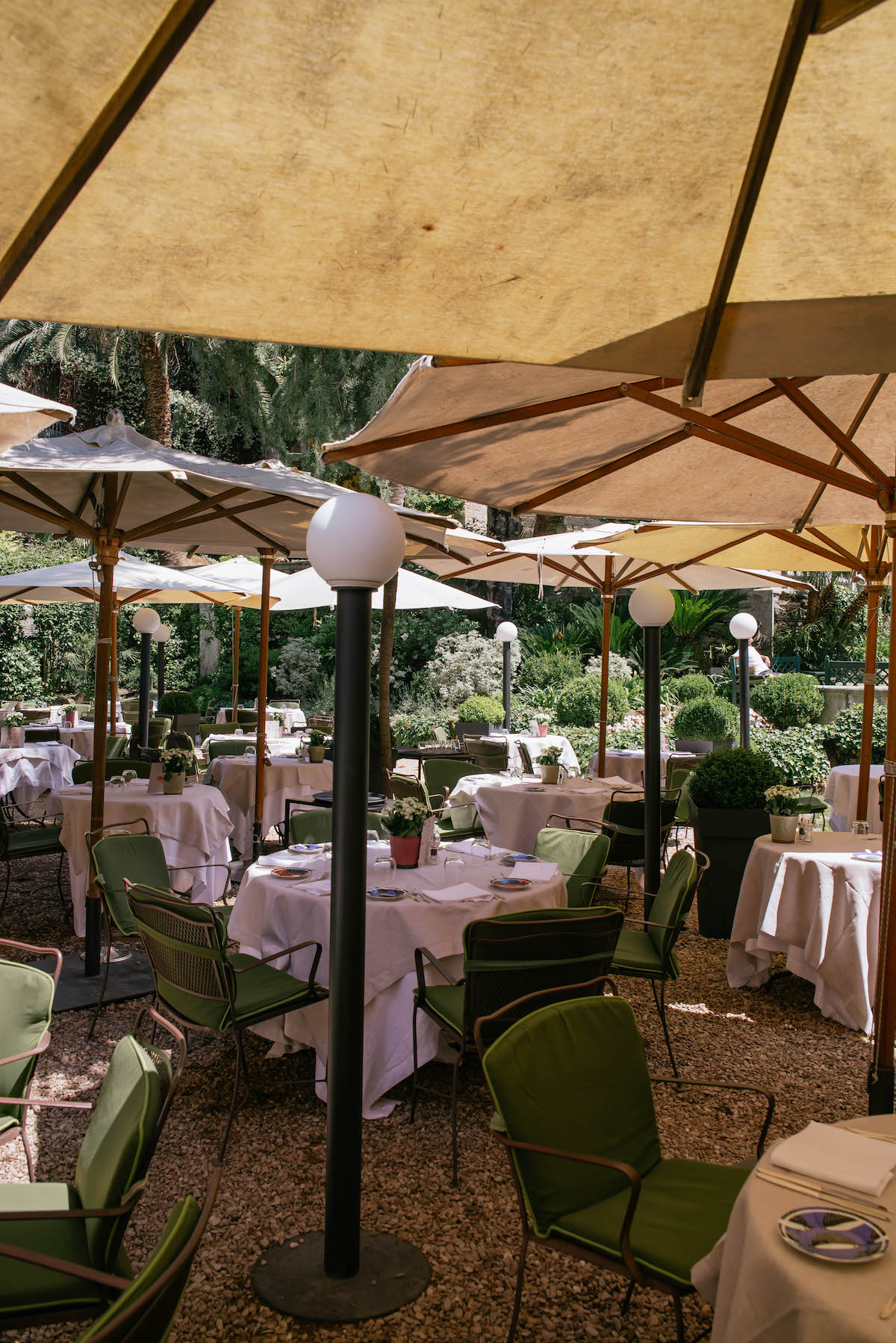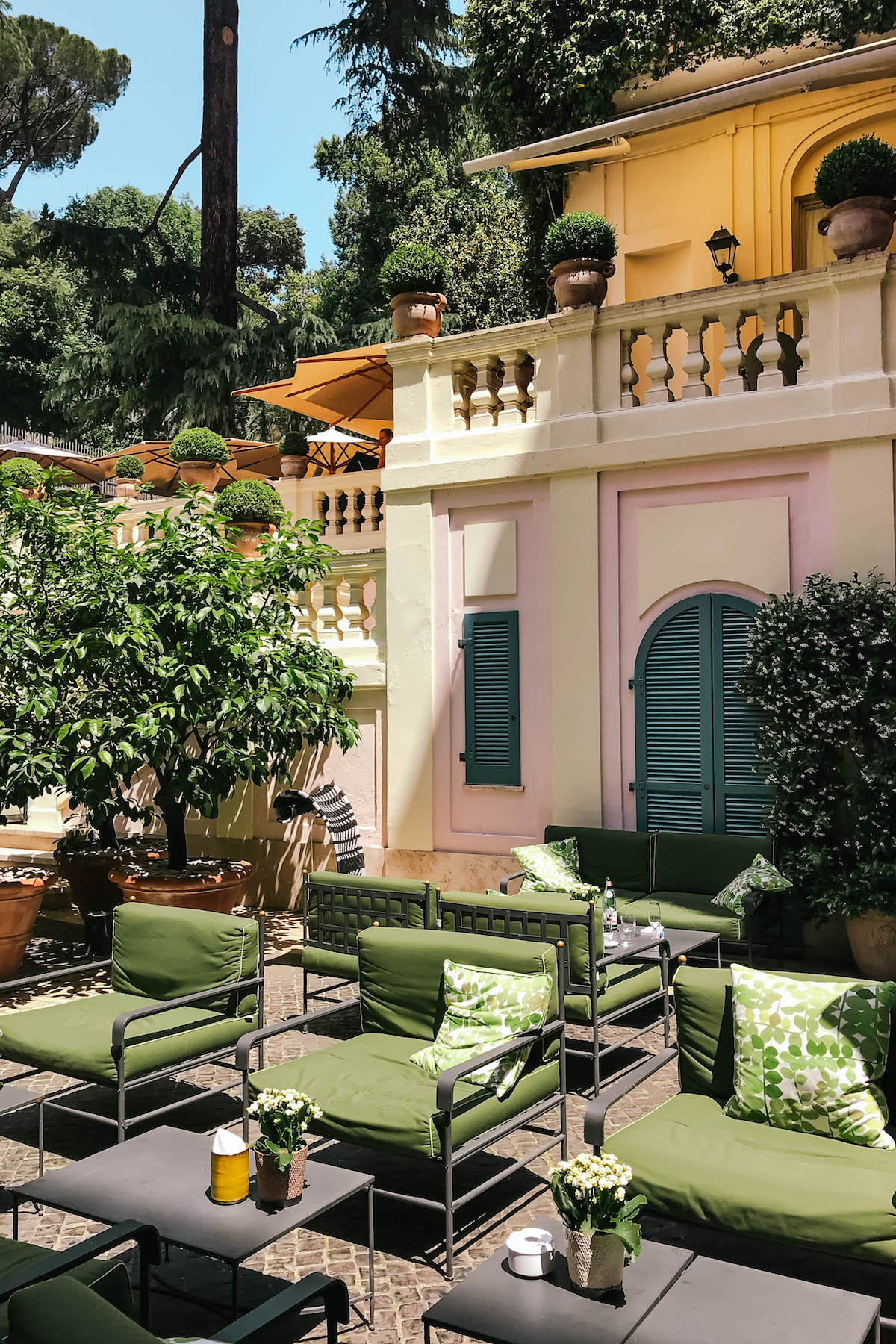 Afternoon
STOP 6: The Pantheon
After lunch we took a quick break to freshen up at the hotel before heading out again on foot to The Pantheon. The structure was originally a Roman temple, but now functions as a church. Admission is free and we only had to wait in a 5 minute line before entering!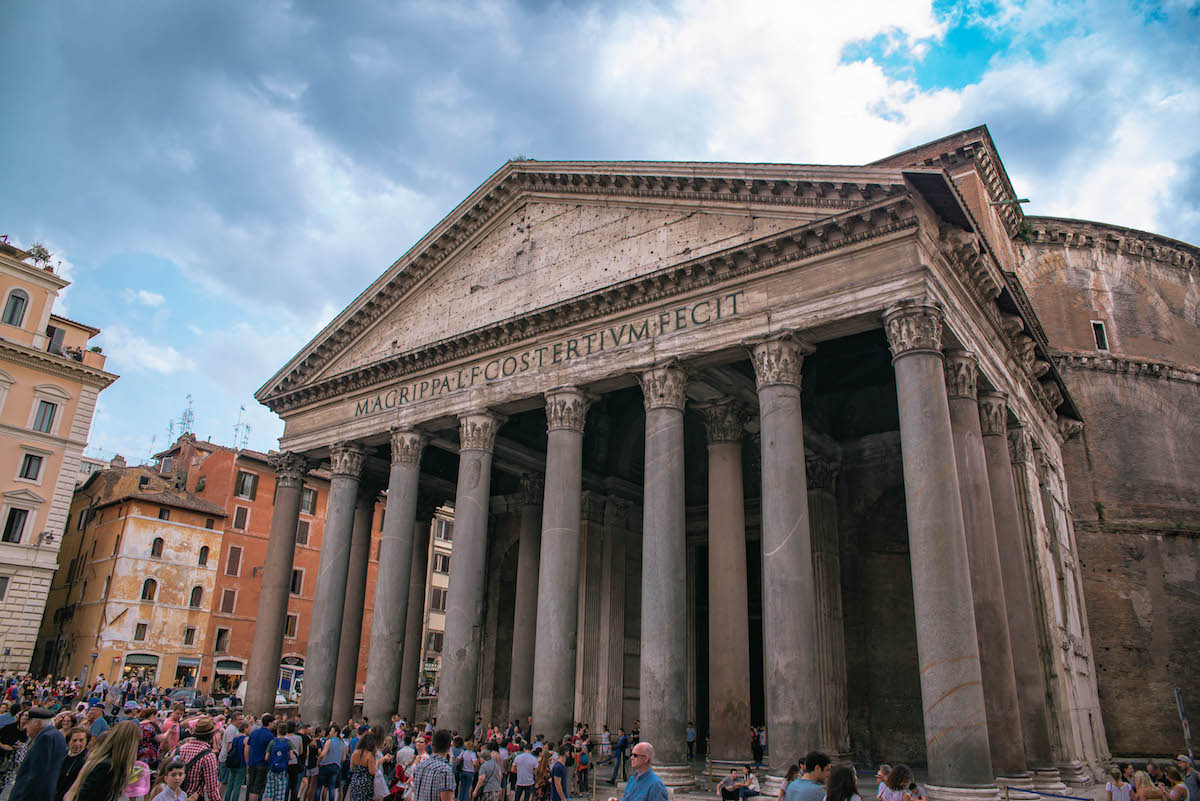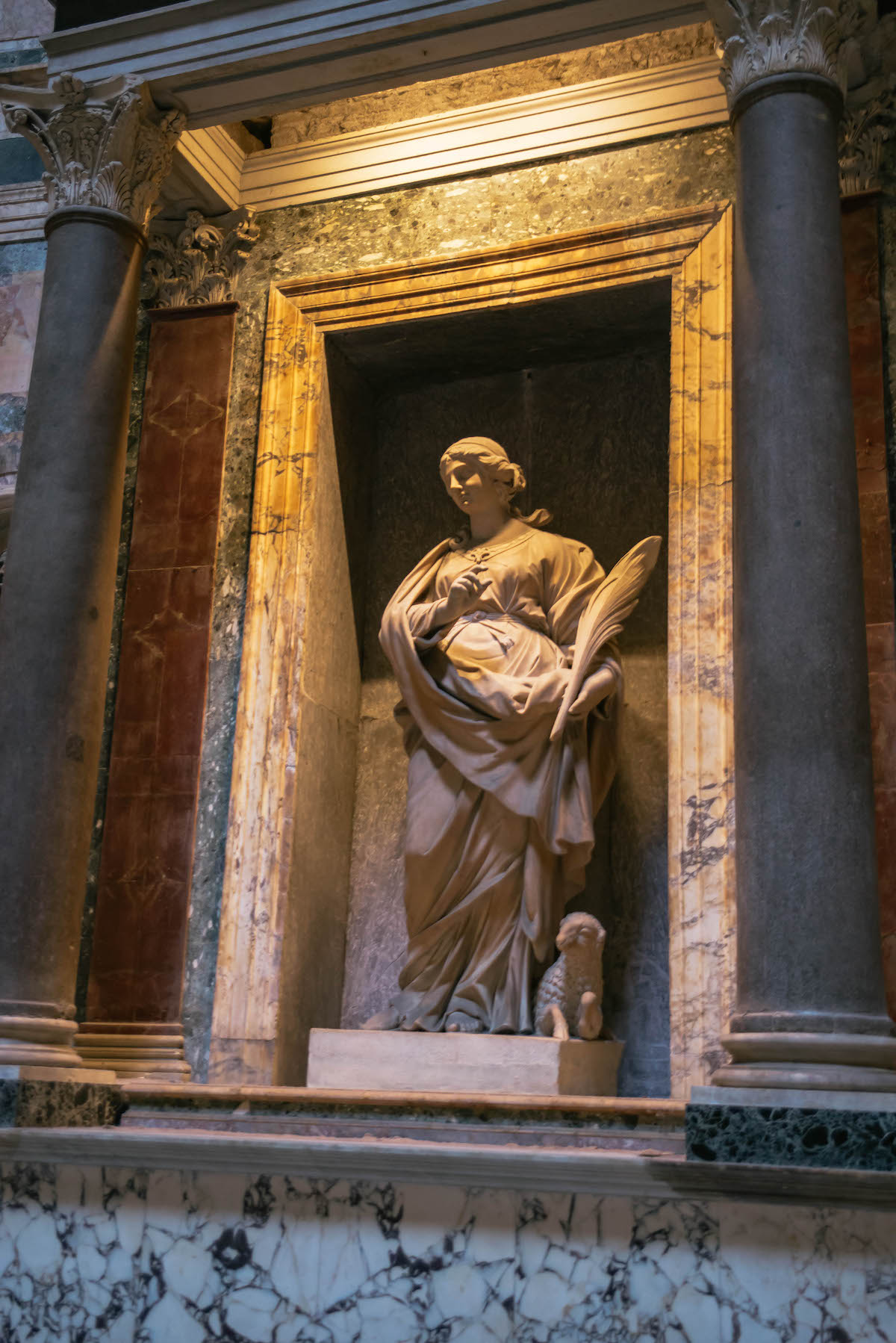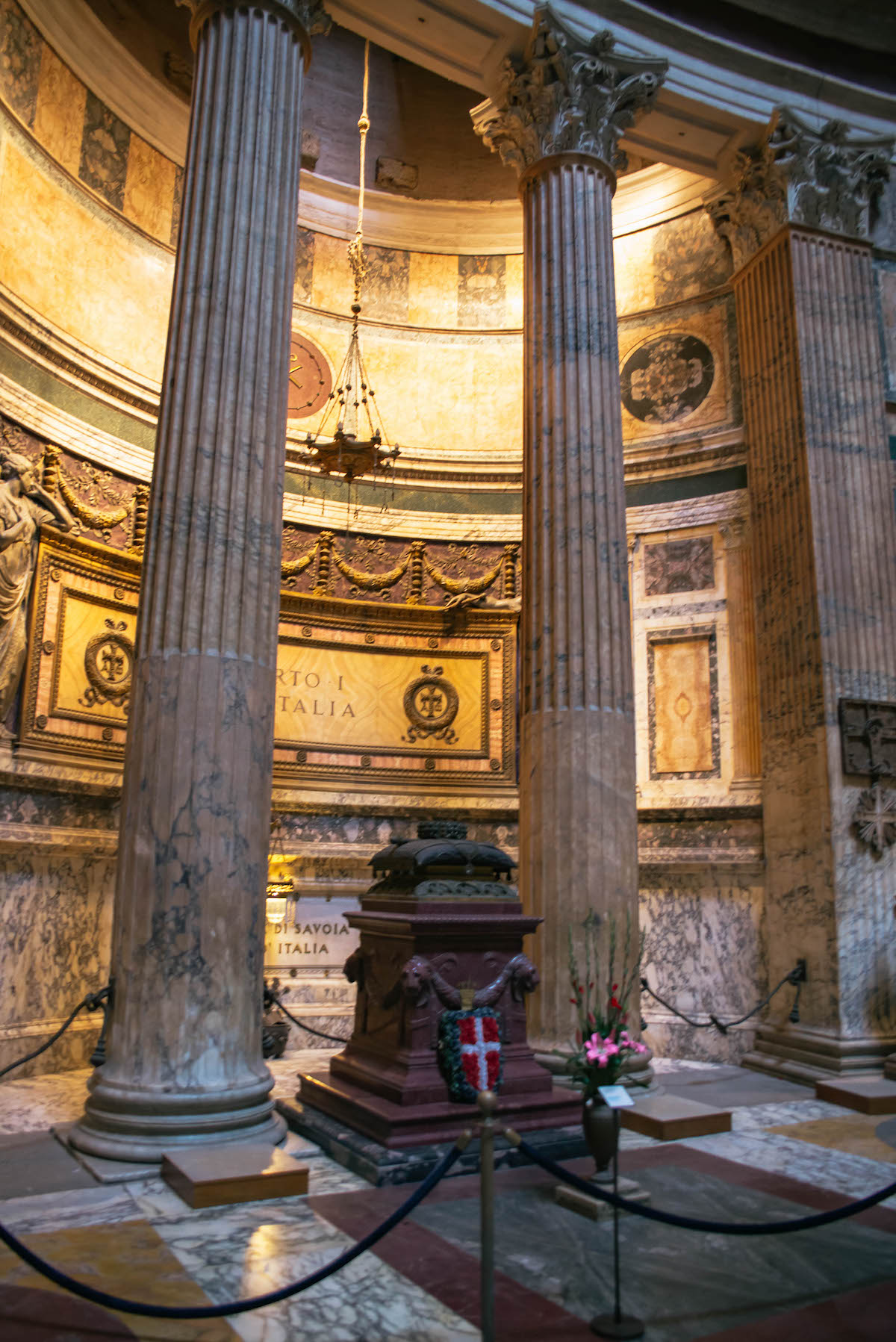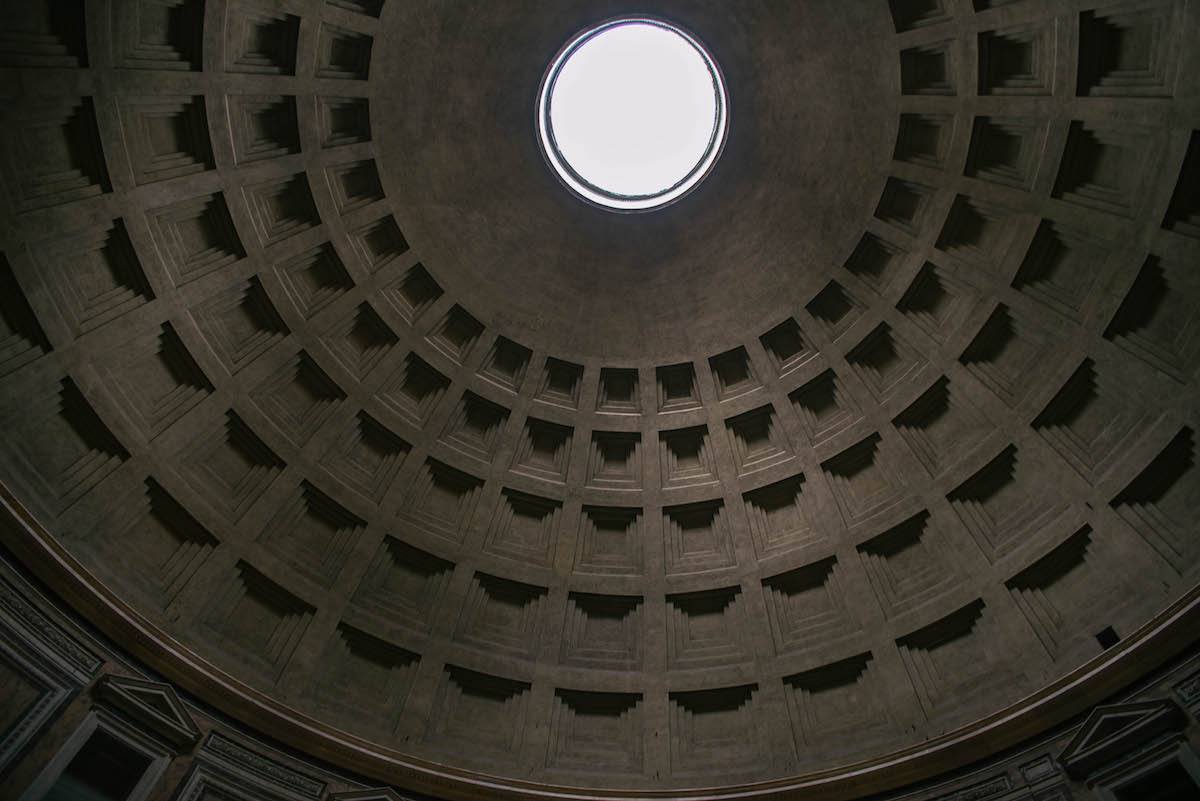 STOP 7: Altare della Patria
Next we started walking in the direction of the Colosseum. On the way we passed Altare della Patria, architecturally striking monument that was built in honor of Victor Emmanuel– the first king of a unified Italy. We didn't have time to go inside for a tour, but just getting the photo opp outside was a treat.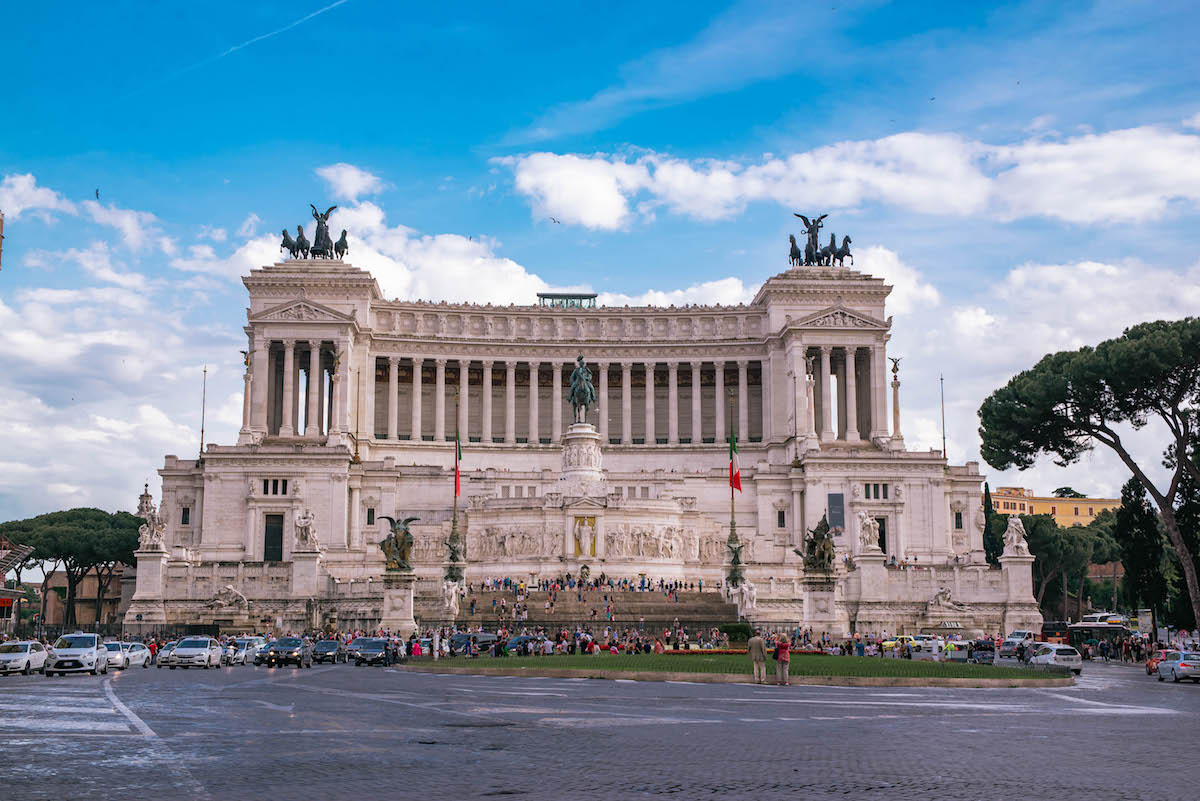 STOP 8: Colosseum, Palatine Hill & Roman Forum + Best Photo Opp
Next we walked down Via dei Fori Imperiali passing the ancient ruins on Palatine Hill and the Roman Forum before arriving at the Colosseum. I'm a little embarrassed to admit this, but we completely goofed on the Colosseum hours. I should've checked the timing because by the time we'd arrived around 5PM it had already closed to the public at 4:30PM. We were really bummed especially since we'd bought our entry tickets online ahead of time, but at least we were able to get some pictures outside. PS the best place to get a photo with the Colosseum in the background is from Via Nicola Salvi (a nearby street up the hill– really easy to find on Google maps!)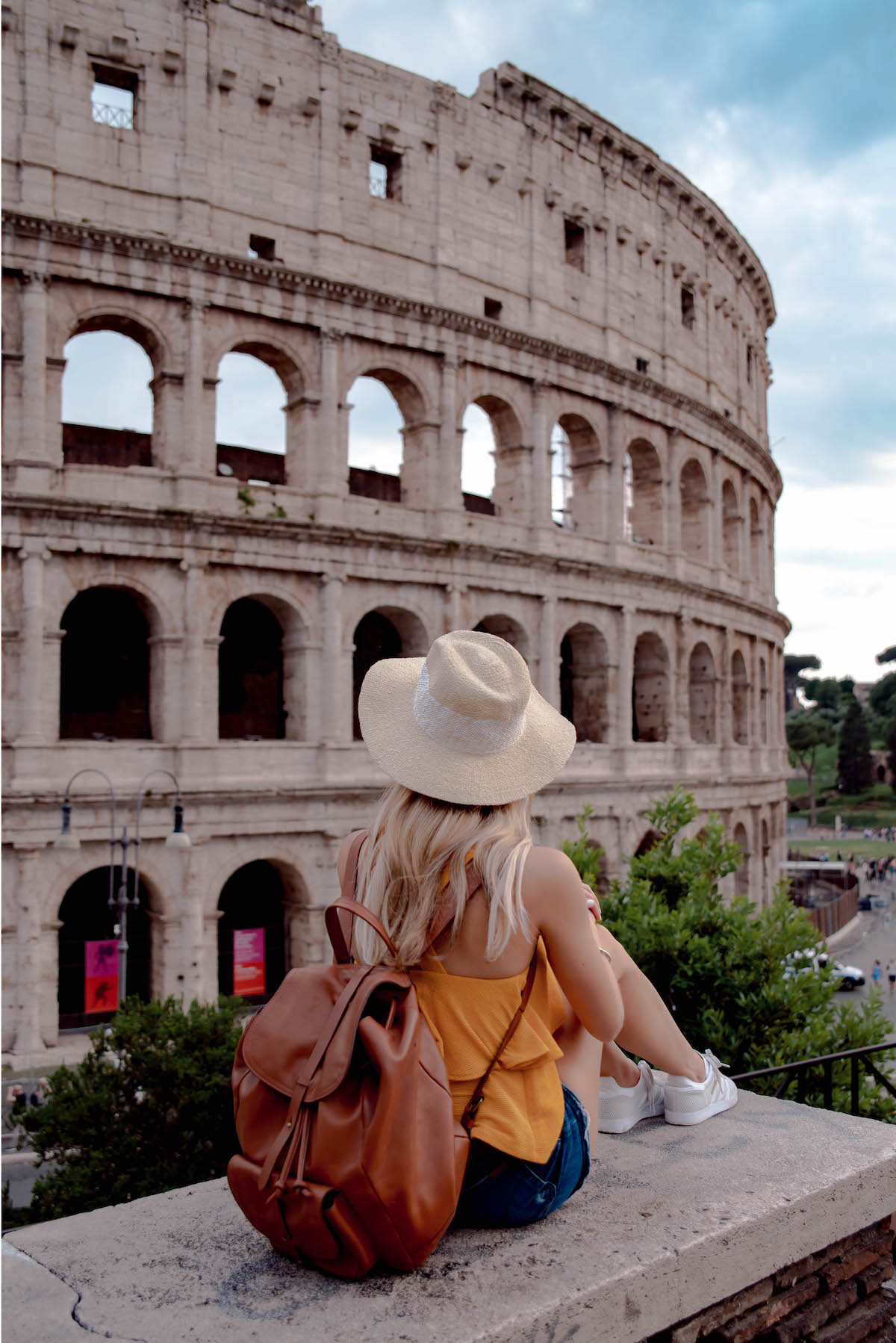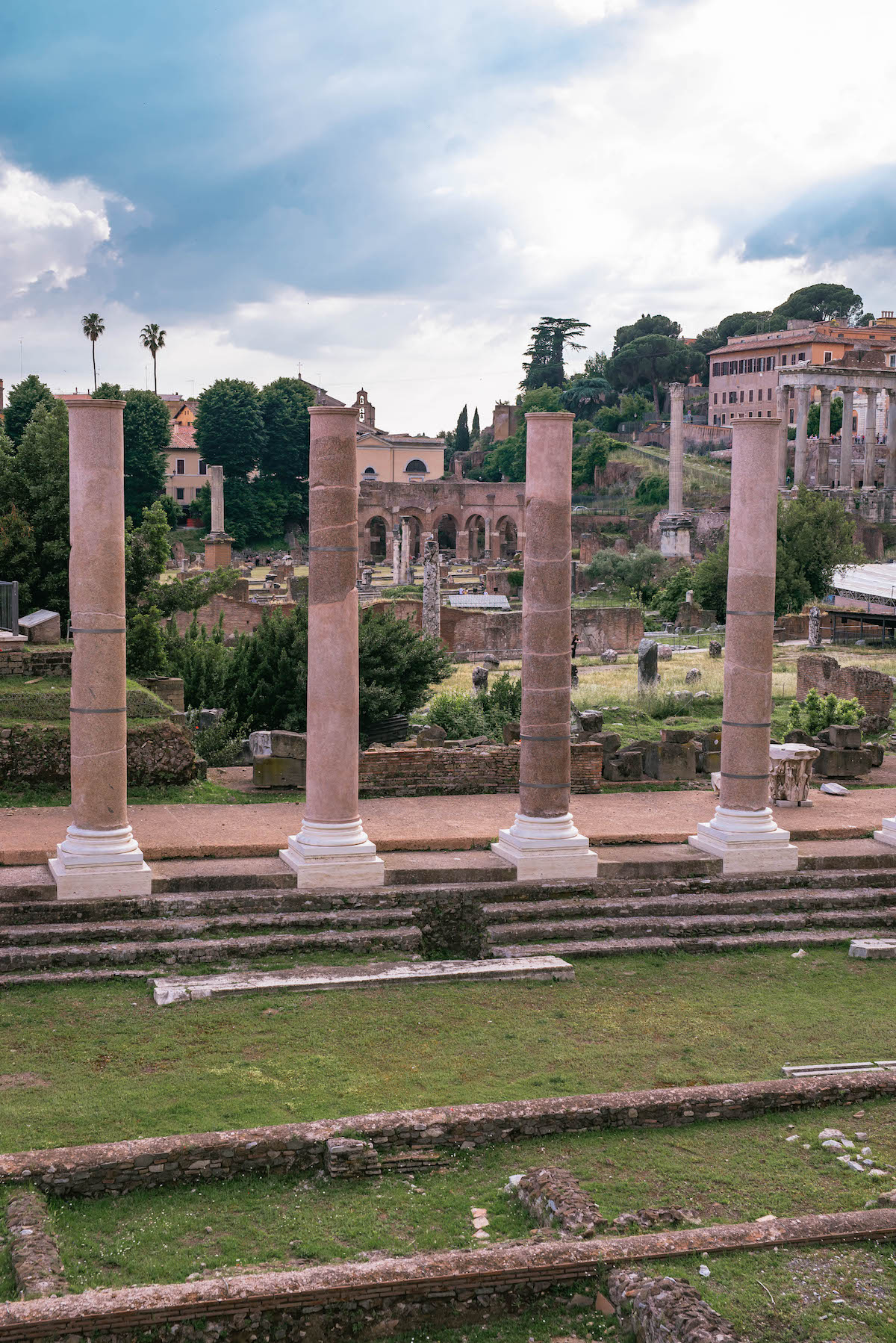 ITEMS PICTURED: Tank Top | Similar Denim Shorts | Sneakers | Leather Backpack | Hat | Sunglasses | Watch | Bracelets
Evening
Stop 9: Dinner at Grazia & Graziella
There were a bunch of taxis around the Colosseum so we easily hopped in one to take us to dinner at Grazia & Graziella in the charming neighborhood of Trastevere. We really wanted to see an area of the city that wasn't in the tourist center, which is why we chose to do dinner in this neighborhood. It took us about 20 minutes to drive there and we had the cab let us out a few blocks away so we would walk around the romantic cobblestone streets ourselves.
I had pinpointed a few highly rated restaurants in Trastevere, but the pizza pictures and outdoor seating at Grazia & Graziella is what convinced us to head there first. The restaurant was poppin' when we arrived, however we only had to wait about 15 minutes for a table. The staff spoke English well and served everyone waiting in line a complimentary glass of prosecco! Our food was delicious and affordable– highly recommend!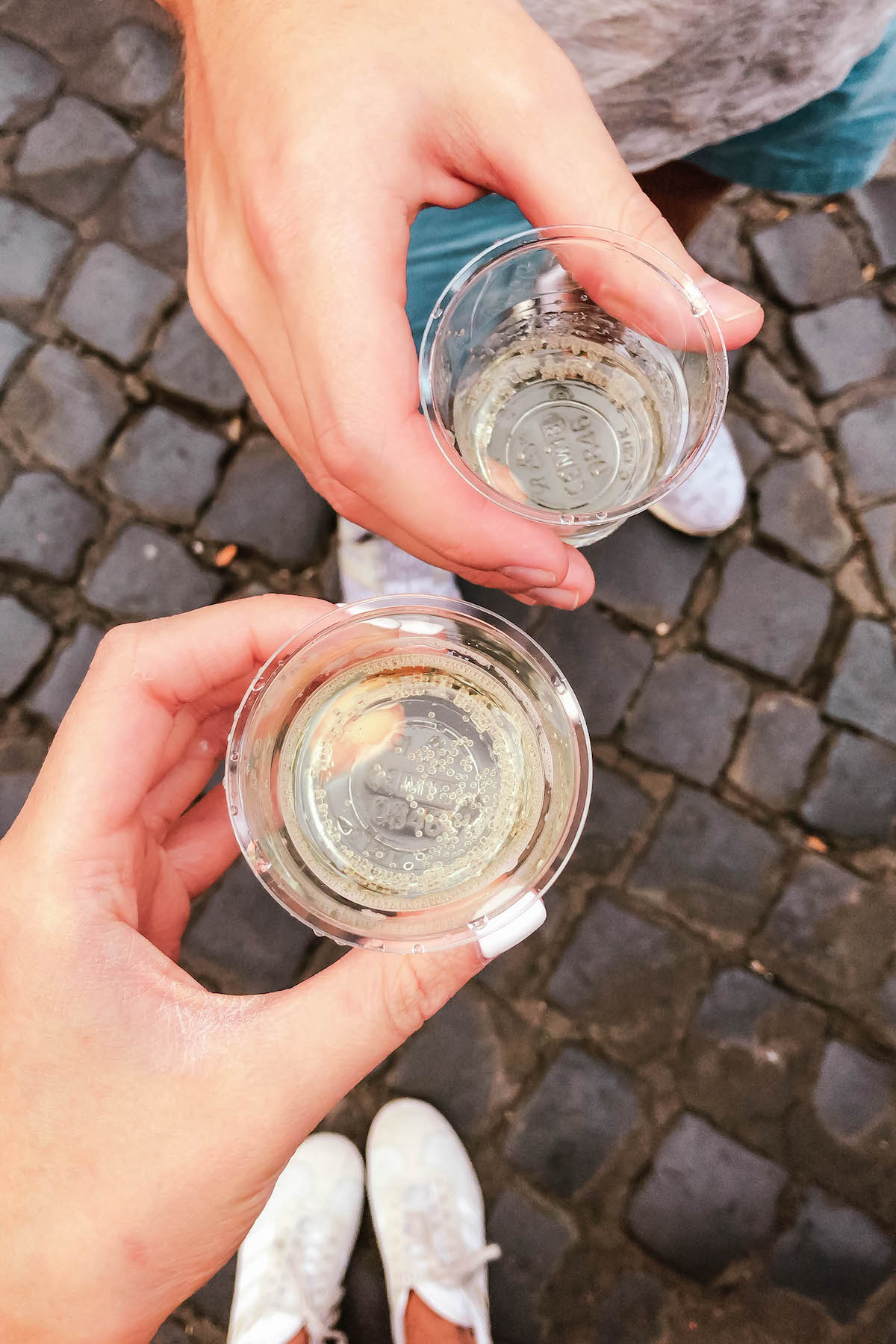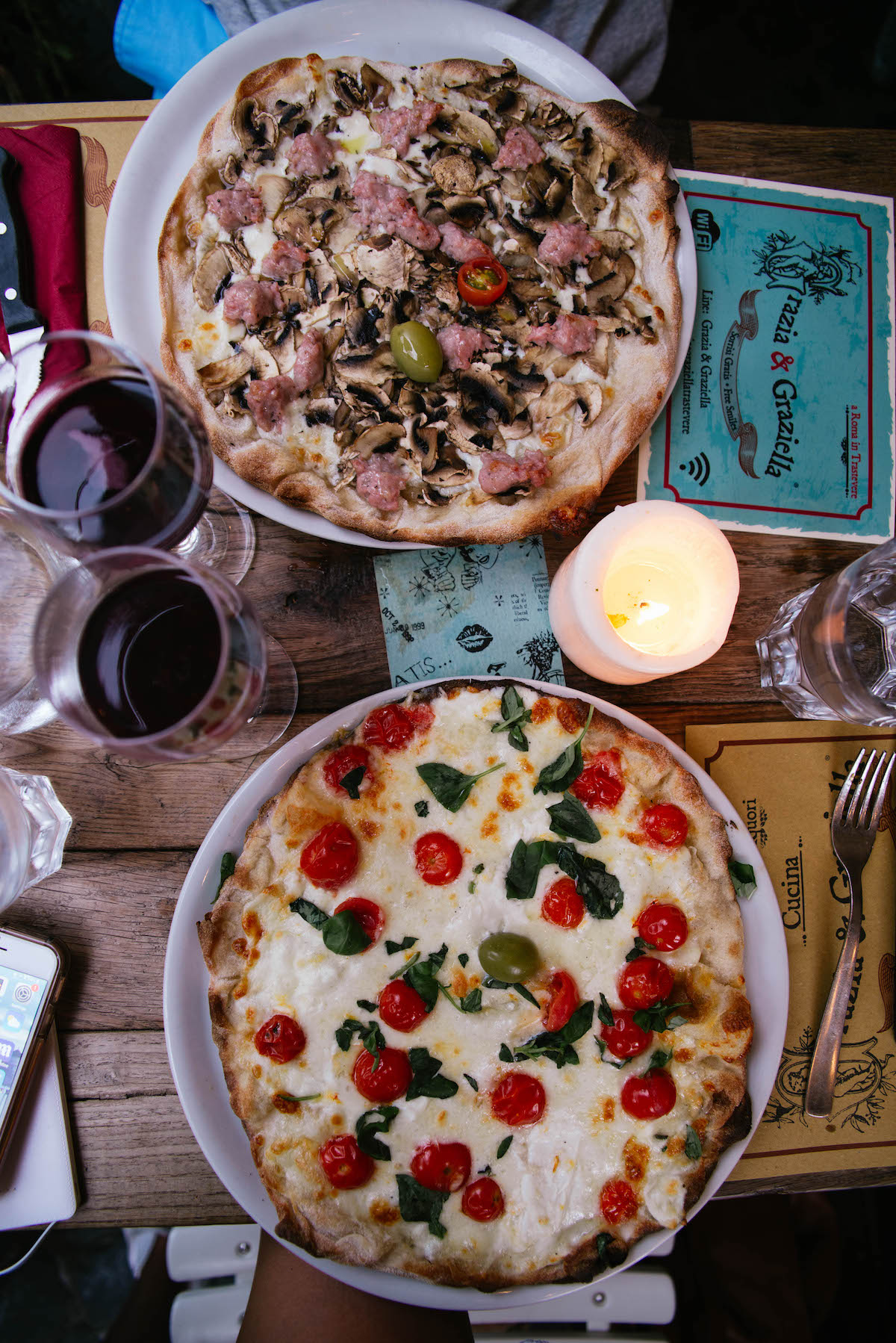 STOP 10: Walk around Trastevere 
Despite being very full and tired after dinner, we didn't want to call it a night just yet. As the sun set we explored the cobblestone streets of Trastevere before deciding to just walk back to the hotel. It took us over an hour, but was totally worth it because the weather was great and the city looked so pretty at night.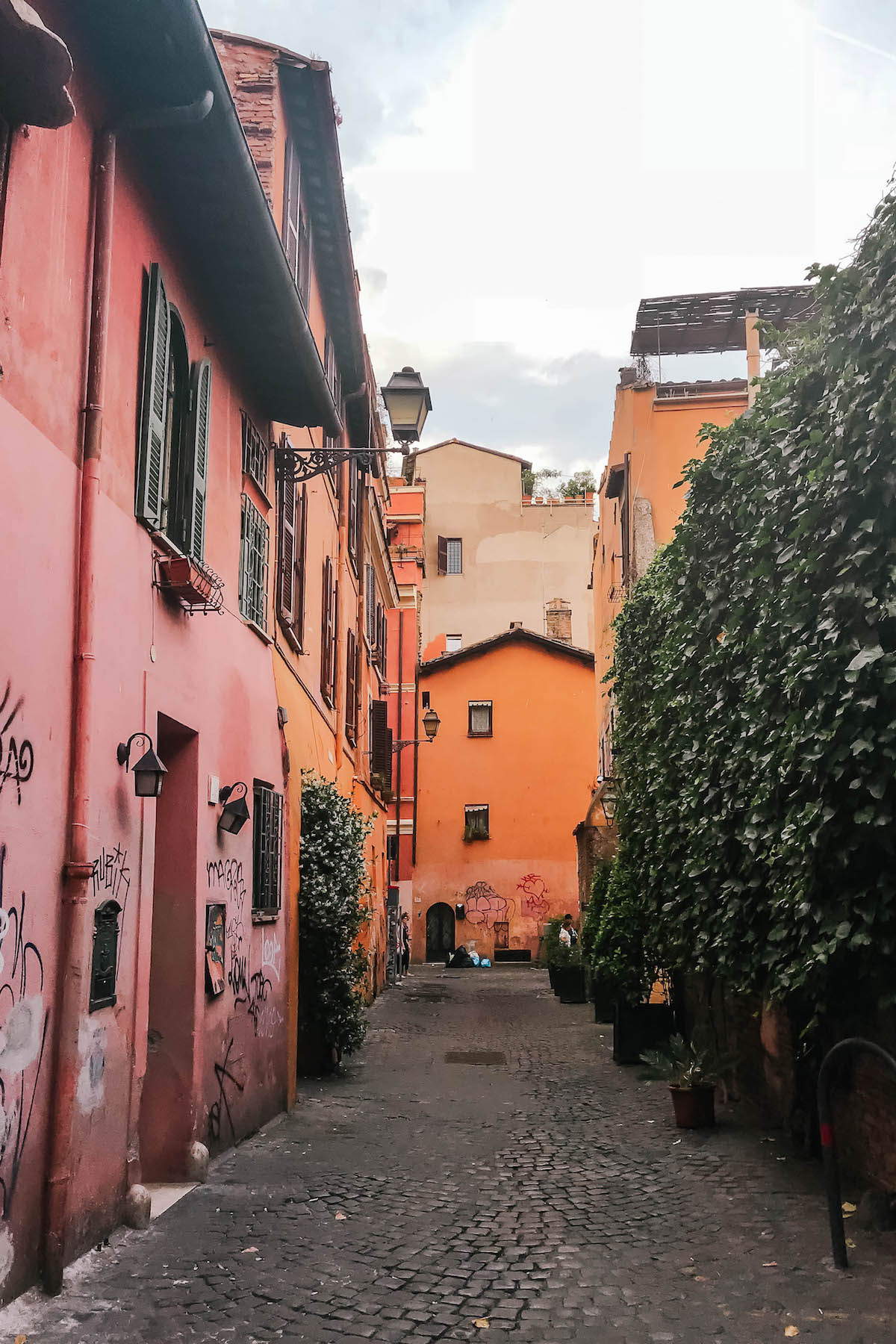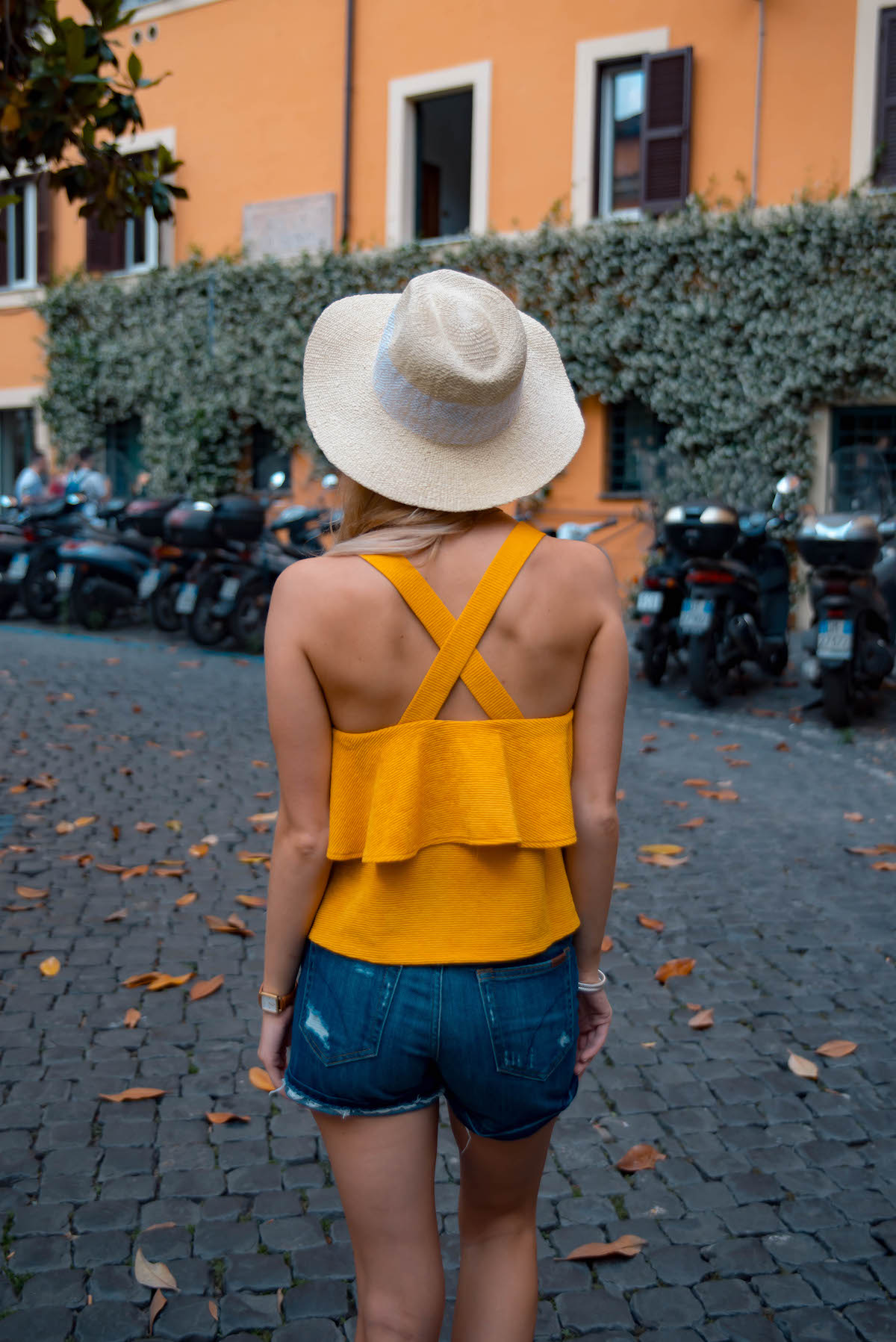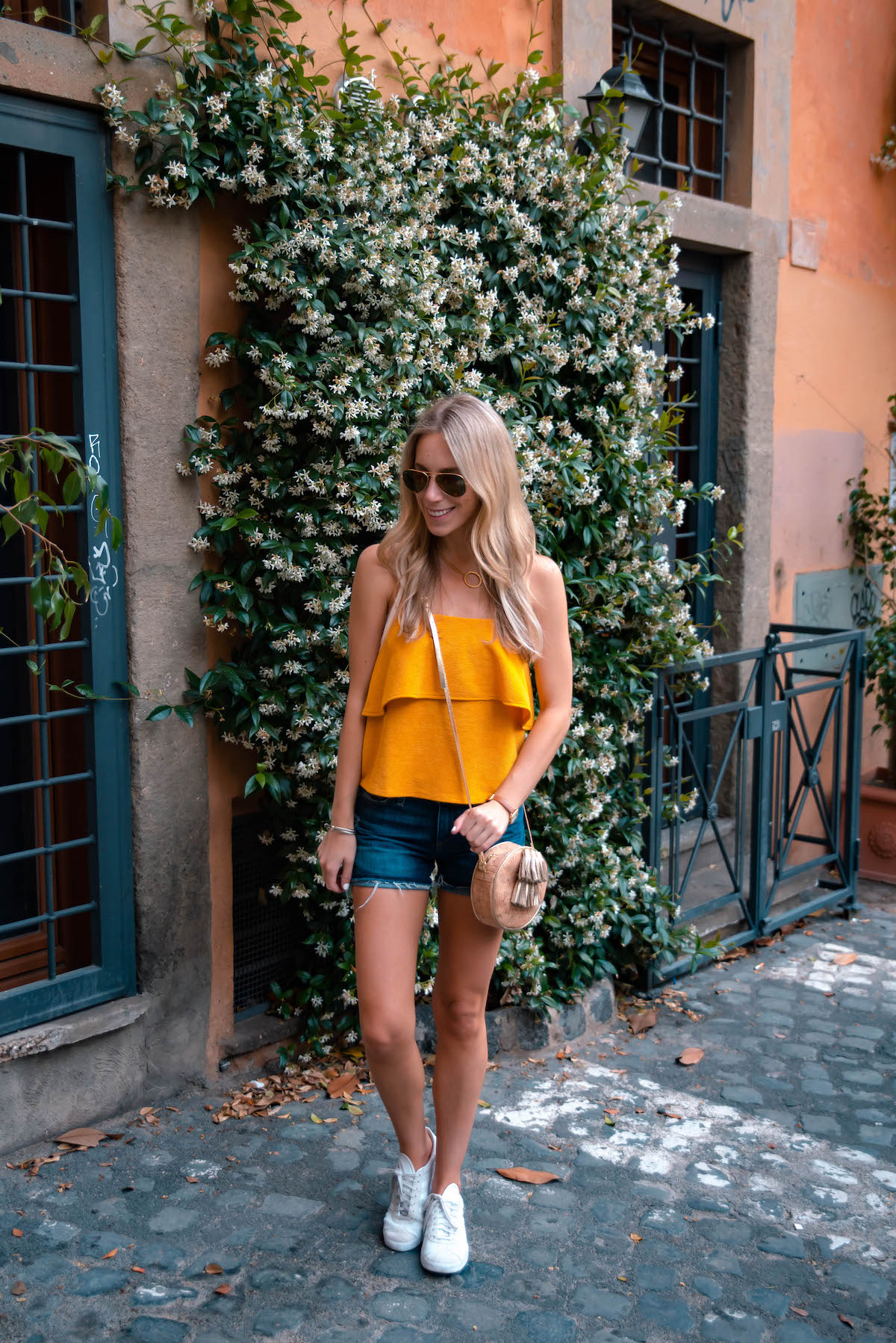 ITEMS PICTURED: Tank Top | Similar Denim Shorts | Sneakers | Crossbody Bag | Hat | Sunglasses | Watch | Bracelets
We had to say goodbye to Rome early the next morning to catch our train to the Amalfi Coast, however we left feeling really happy and pumped by what we accomplished in less than two days. We were able to hit many of the top historical landmarks, eat some delicious food, explore areas where we weren't surrounded by mobs of other tourists and of course, take some pretty pictures 🙂
Where to next? The Amalfi Coast! Get excited for my guide coming next week!
- Katie