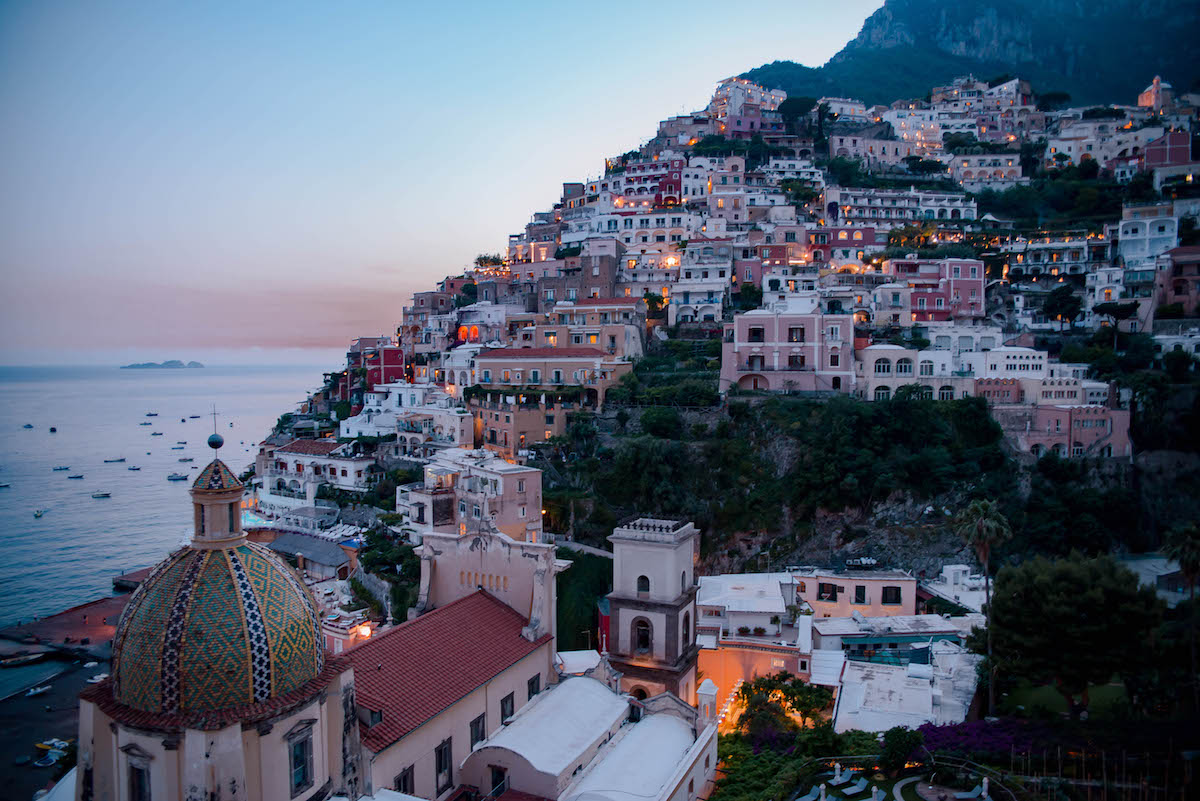 Nick and I had the best time eating and drinking our way through Positano! Even though our hotel was in nearby Praiano, we actually ended up having dinner in Positano every single night during our trip to the Amalfi Coast. Our daily routine pretty much consisted of exploring all day until 4PM, breaking in our room to wash up and then taking our hotel shuttle over to Positano for cocktails and dinner. It was kinda the best life!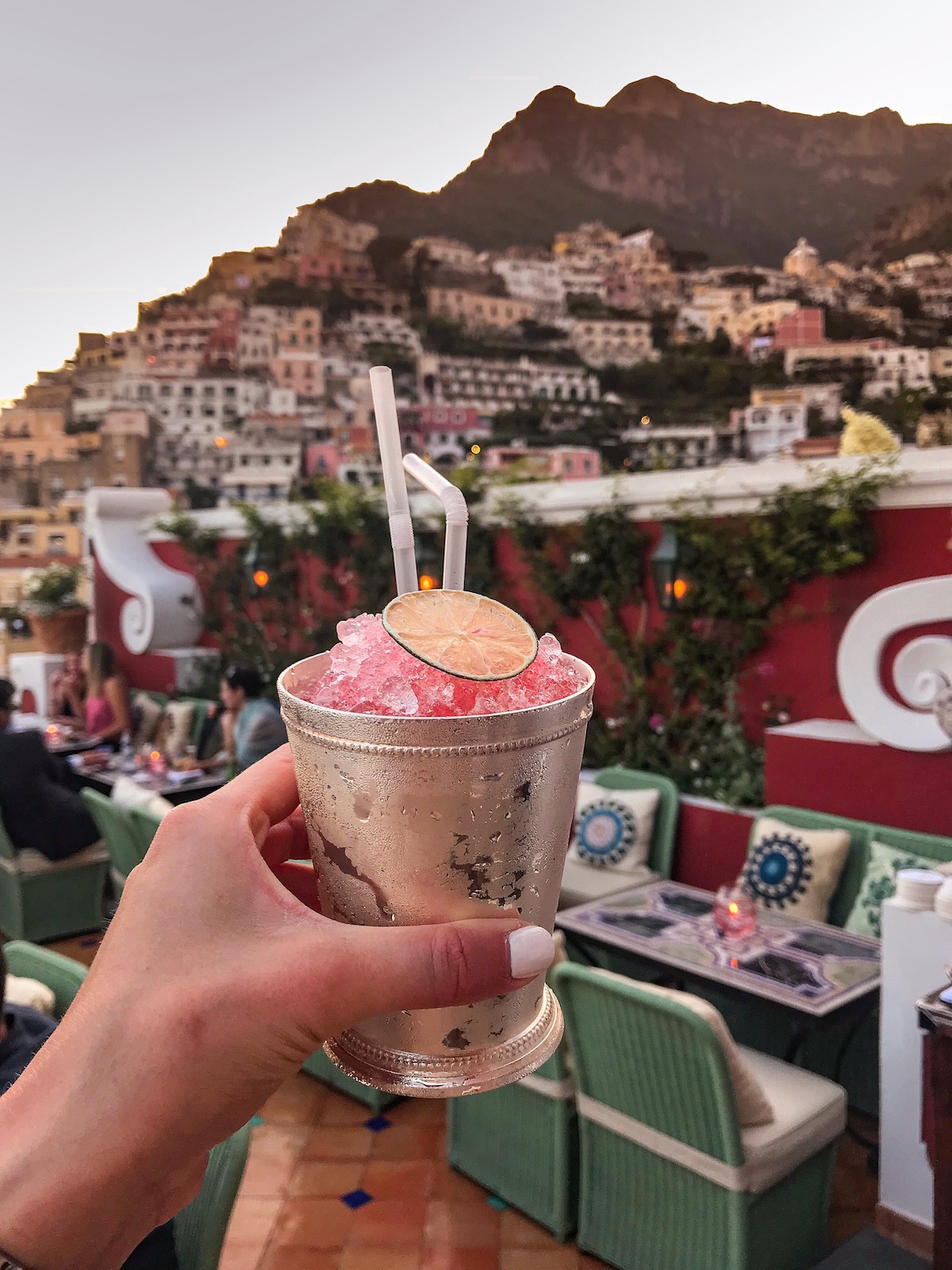 View from the Le Sirenuse Champagne Bar
Grabbing a drink in Positano is unlike anywhere else. Why? THE VIEWS. You guys know me. I'm allllll about the 'gram. There was no way I was going to waste a precious moment in Positano by ordering a glass of wine at a restaurant or bar without a view. We did a lot of research before our trip and these were the places we ended up going for drinks. Every spot we went had different viewpoints of the town, all of which were beautiful! There's pretty much no way you can go wrong 🙂
The Best Places To Get Drinks In Positano (Views Included!)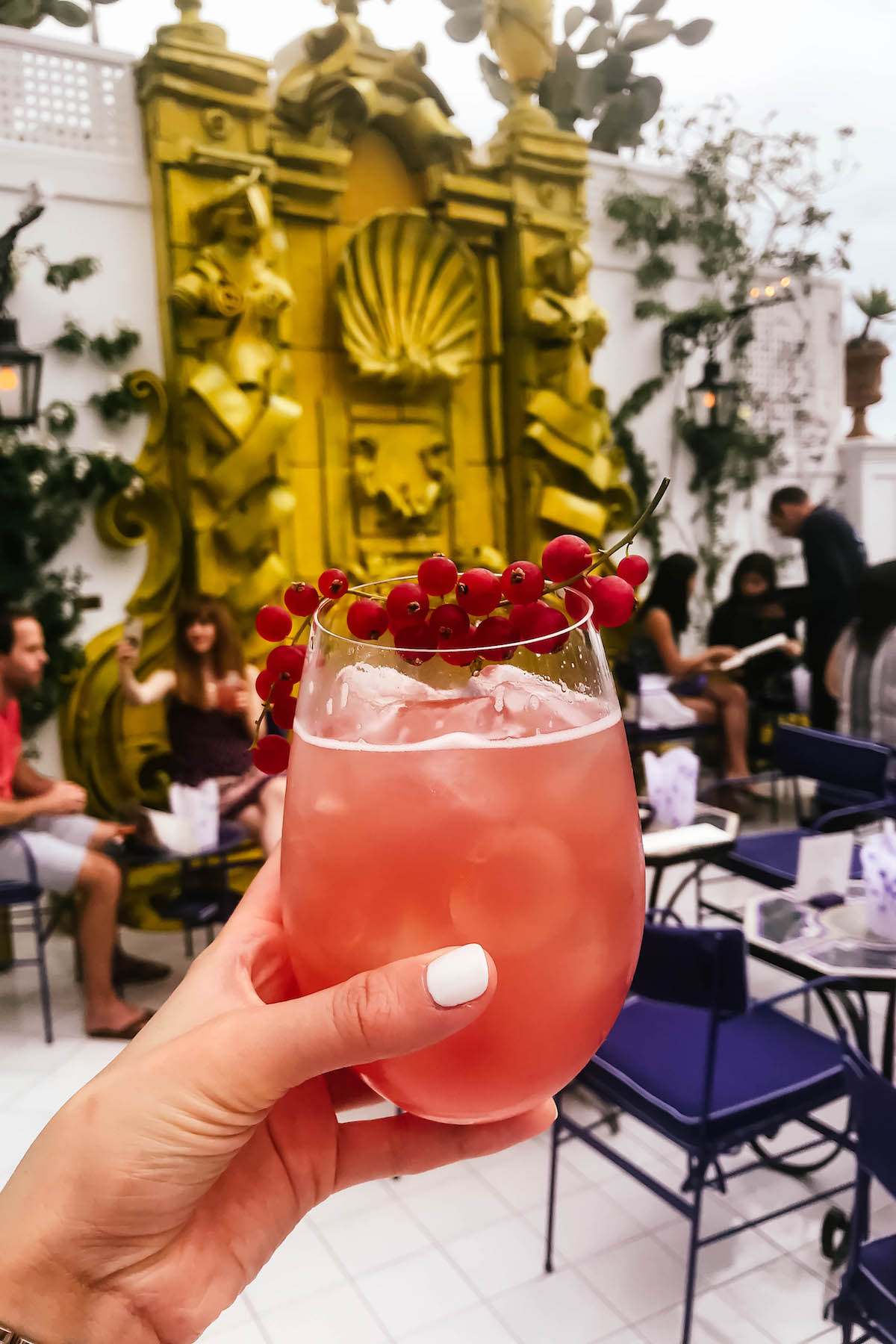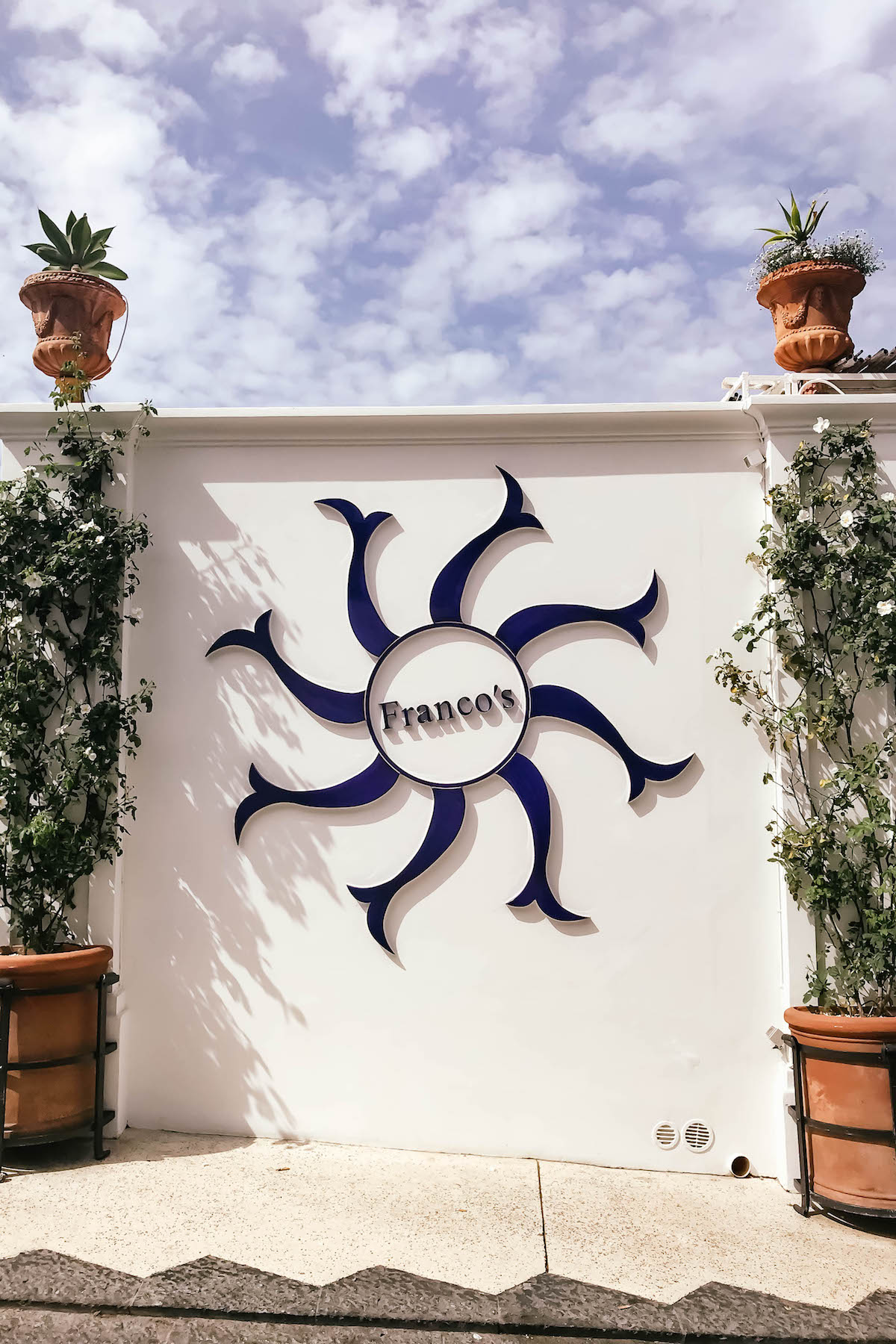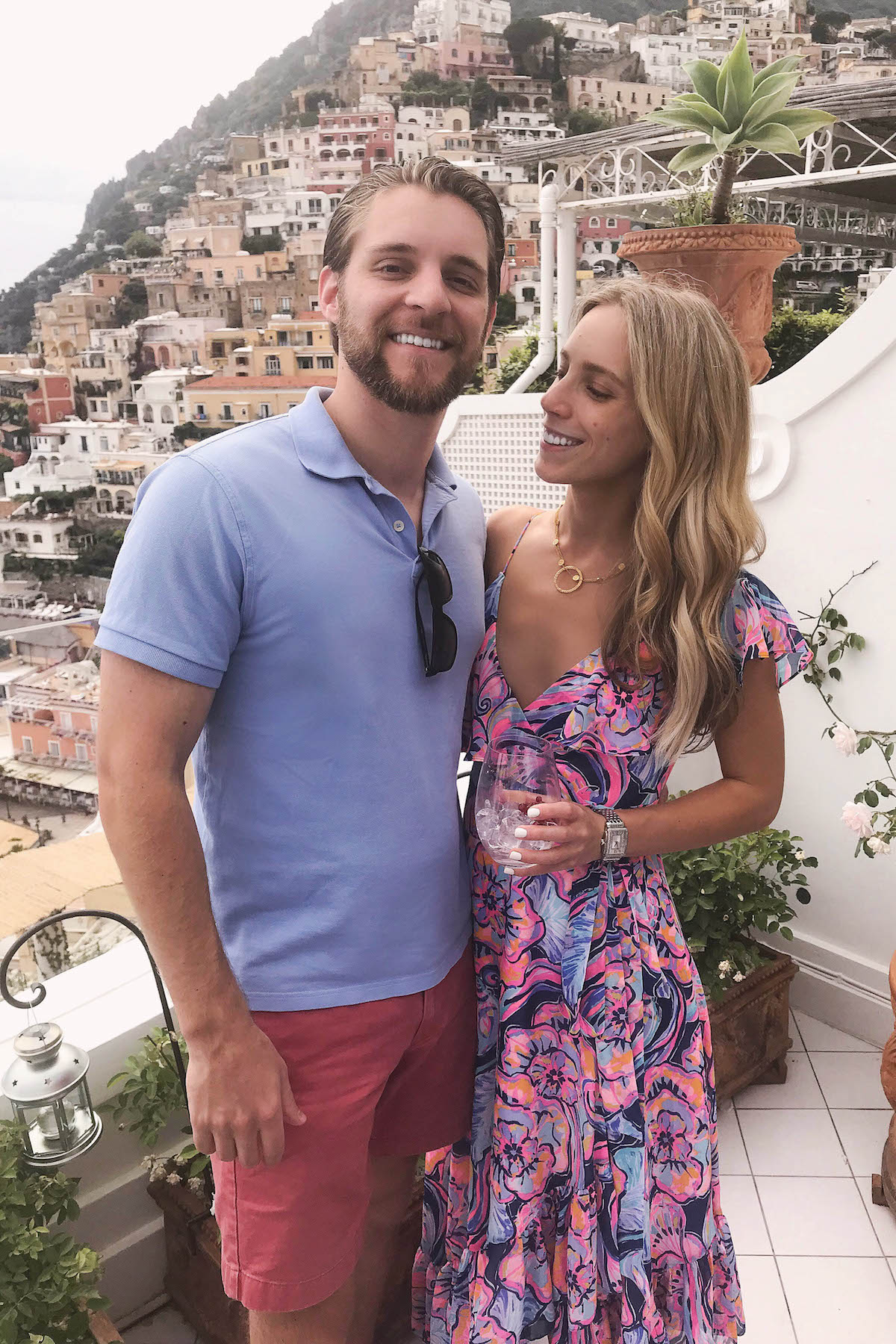 Franco's Bar
LOCATION: Via Cristoforo Colombo, 30, 84017 Positano SA, Italy
(just down the street from Le Sirenuse)
VIEW: High view overlooking Positano town from the west
VIBE: Trendy, very chic cocktail bar owned by Le Sirenuse hotel. While the drink menu is very old-fashioned and traditional (think: Aperol Spritz, Mojito, French 75, Pim's Cup, Cosmopolitan, etc.) the mood was very cool and trendy. There was upbeat current music playing and the crowd was mixed with younger couples and a few groups. Despite the expensive prices it was totally worth seeing the incredible view and just enjoying the atmosphere.
TIP: Arrive at 5PM when the bar opens to ensure you can snag one of the front tables with a view. It's a poppin' spot and looked full every night we walked by. Also be aware it's located on an outdoor terrace so if it rains the bar will close down until the weather passes. There's also no food menu– just drinks!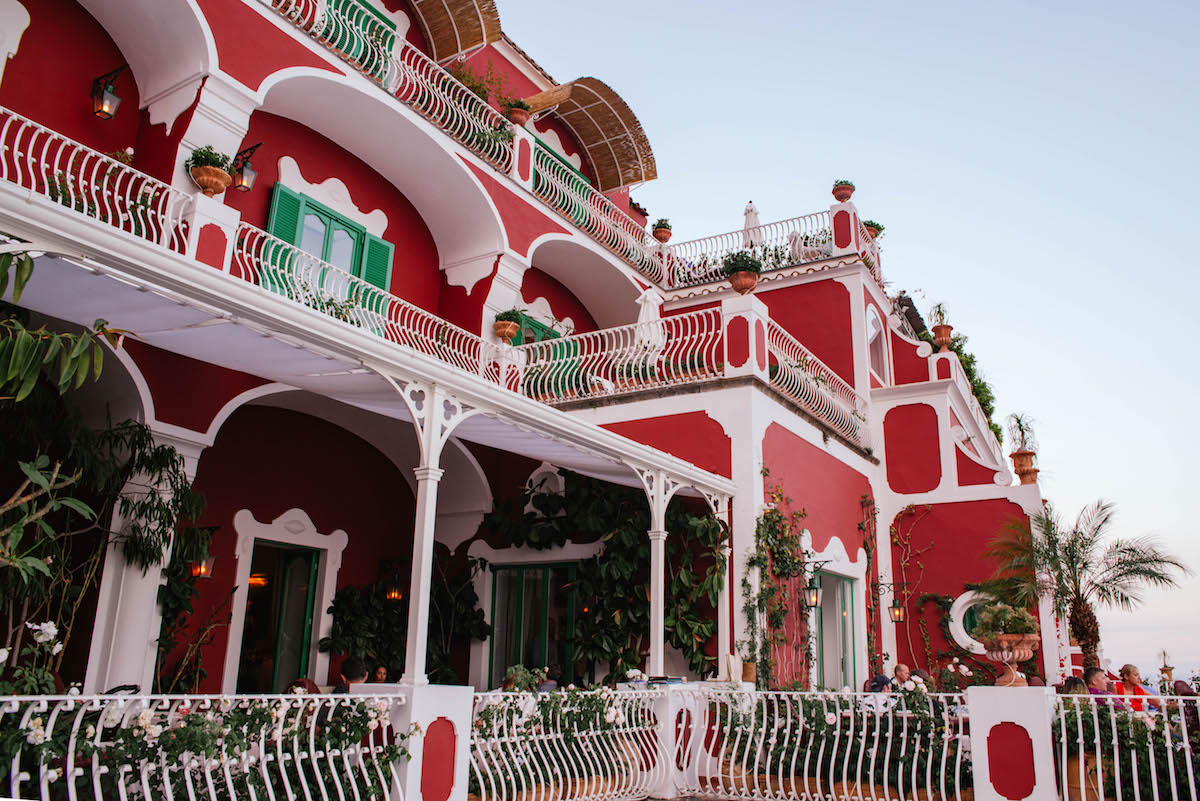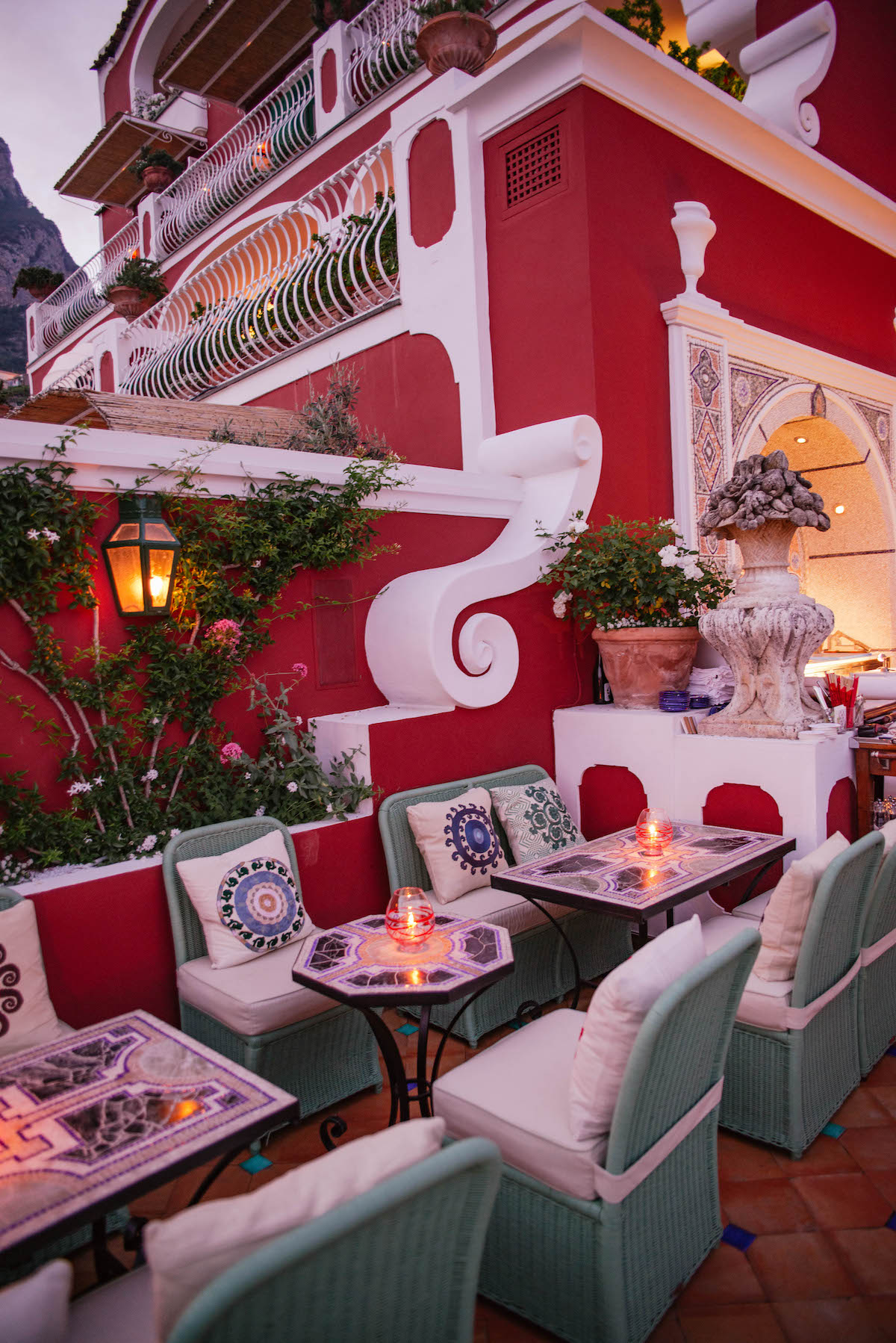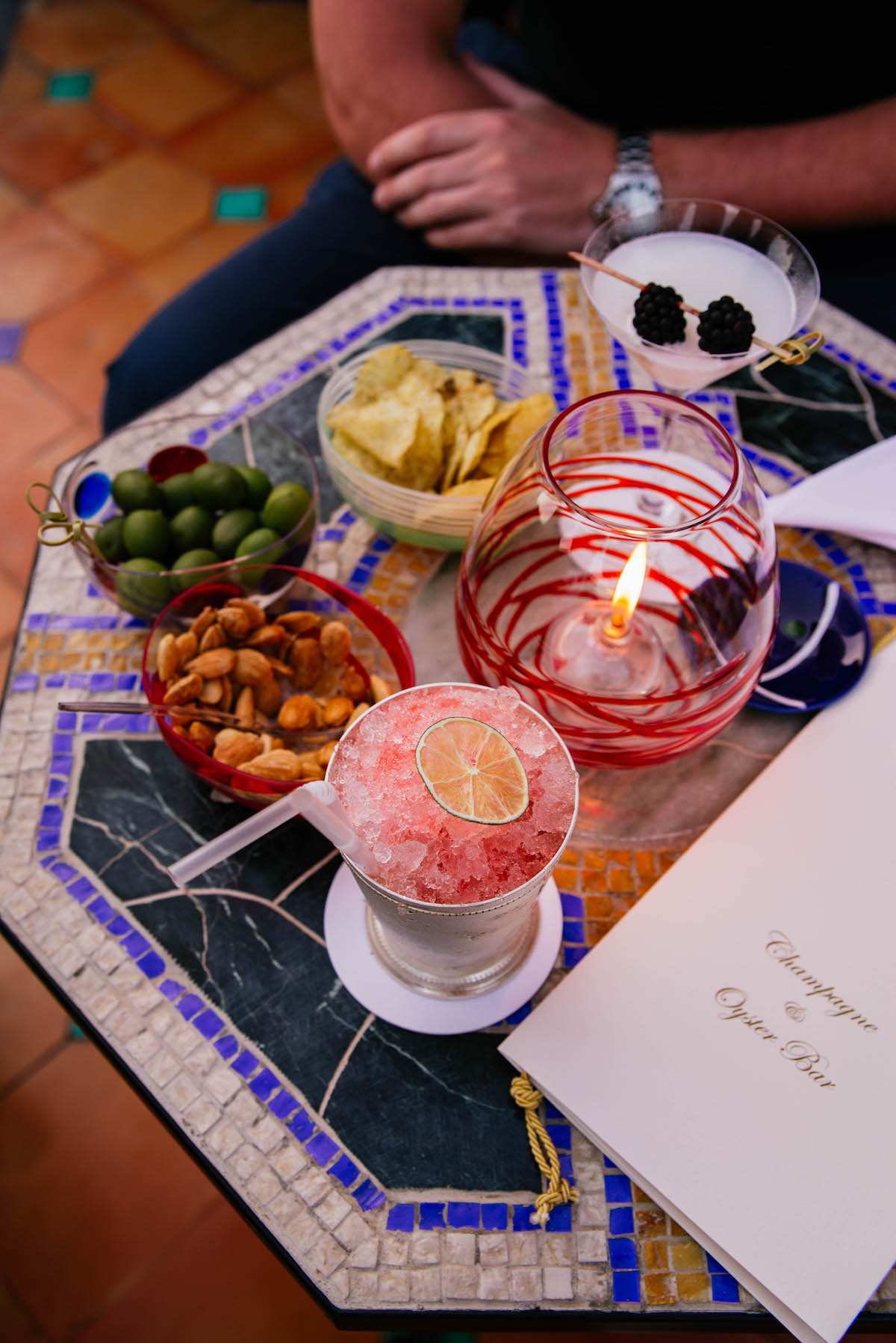 Champagne Bar at Le Sirenuse
LOCATION: Via Cristoforo Colombo, 30, 84017 Positano SA, Italy

VIEW: High view from the west overlooking Positano town
VIBE: This was our favorite out of all the places we grabbed drinks in Positano. You can find the Champagne Bar at Le Sirenuse by entering through the hotel lobby and heading down a staircase to an outdoor terrace. Compared to the upbeat youthful vibe of Franco's, this bar felt a little more relaxed and elevated. It was busy, but not packed or crowded when we went on a Thursday night. We also liked the drinks a lot better than Franco's. The cocktails were all really creative and I had the most delicious pink grapefruit Mezcal mule. If you're hungry you can dine there as well– there's a raw bar and also a full food menu (I think.)
TIP: If Franco's is too crowded at sunset or you can't get a dinner reservation at Le Sirenuse's famed La Sponda restaurant, definitely consider the Champagne Bar. The view is pretty much the same and you can order food as well!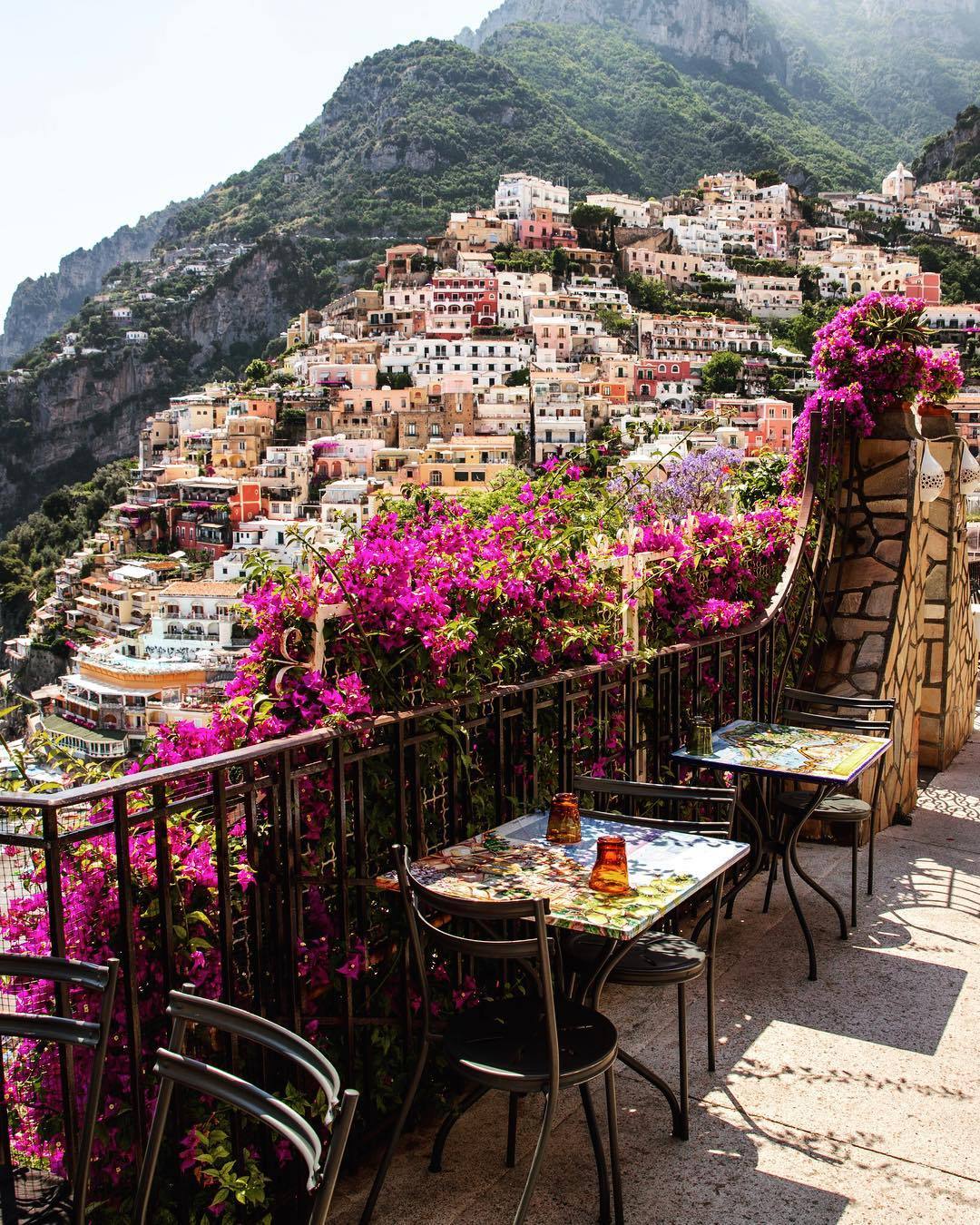 Image via Tumblr
Ristorante Bruno
LOCATION: Via Cristoforo Colombo, 157, 84017 Positano SA, Italy
VIEW: High street view from the west overlooking Positano town
VIBE: Super casual and moderately-priced small street side restaurant easily spotted as you enter Positano from the east.
TIP: Try and grab one of the hightop bistro tables along the sidewalk at sunset so can watch the sun go down over the town as you enjoy a for a cold Peroni or glass of wine.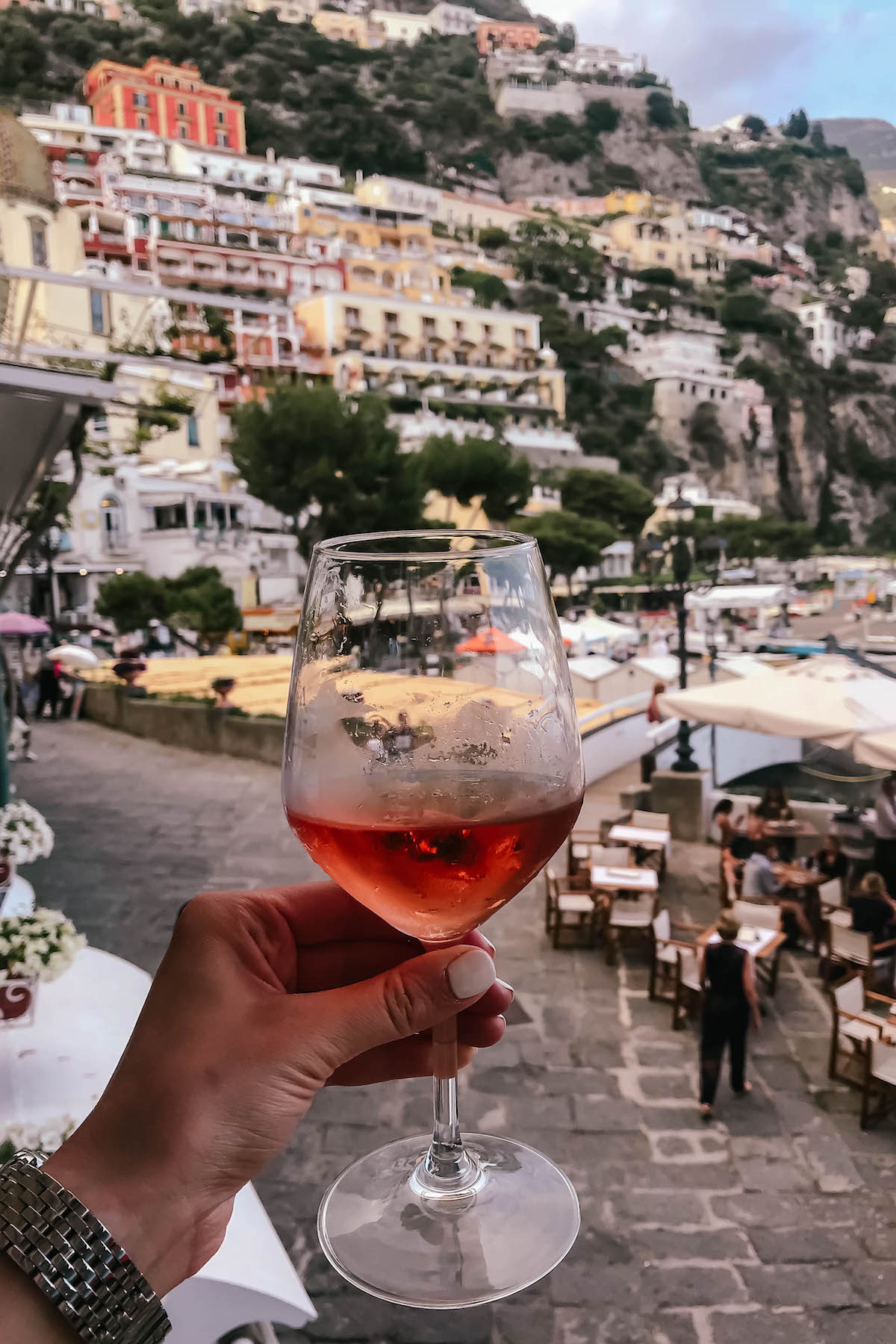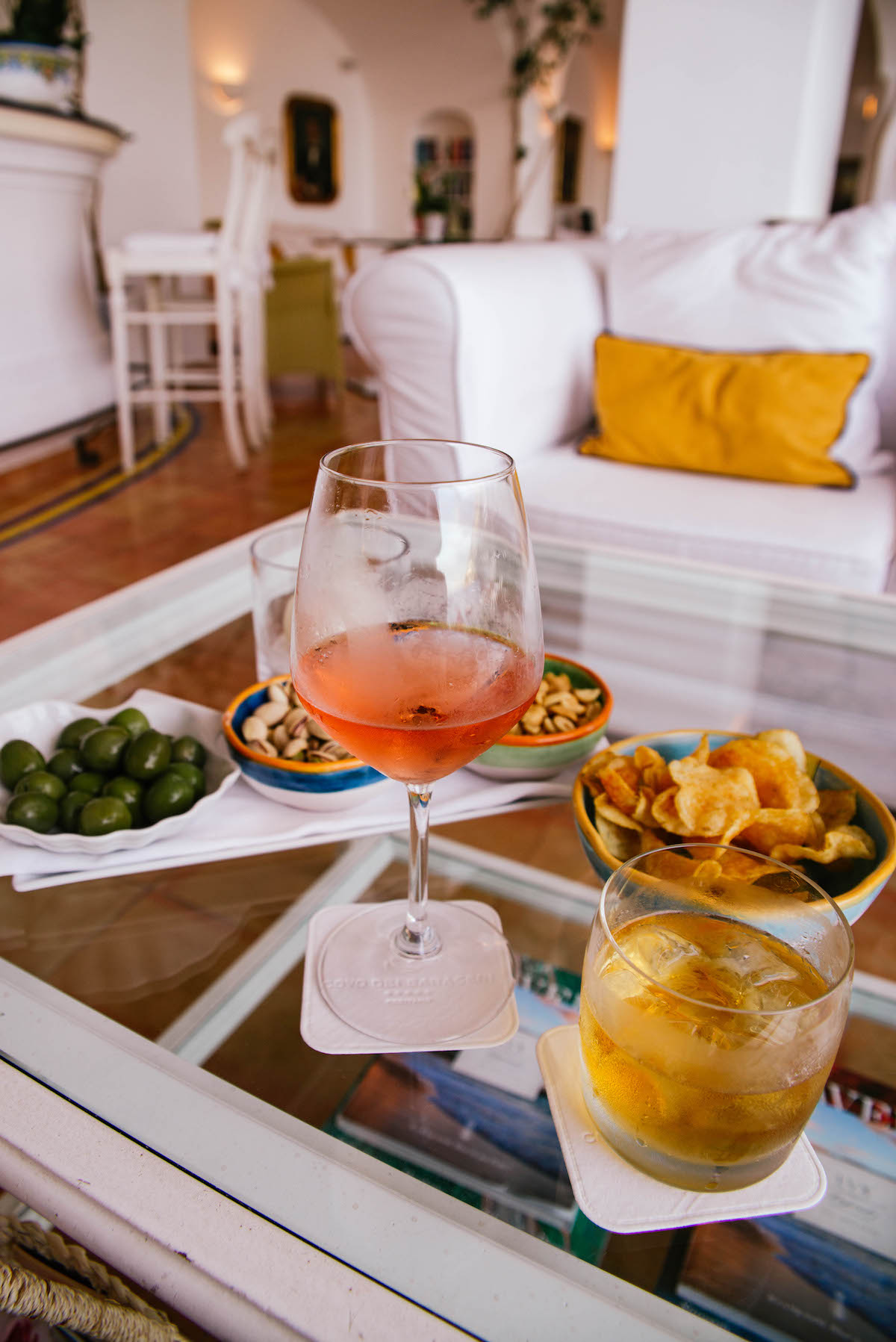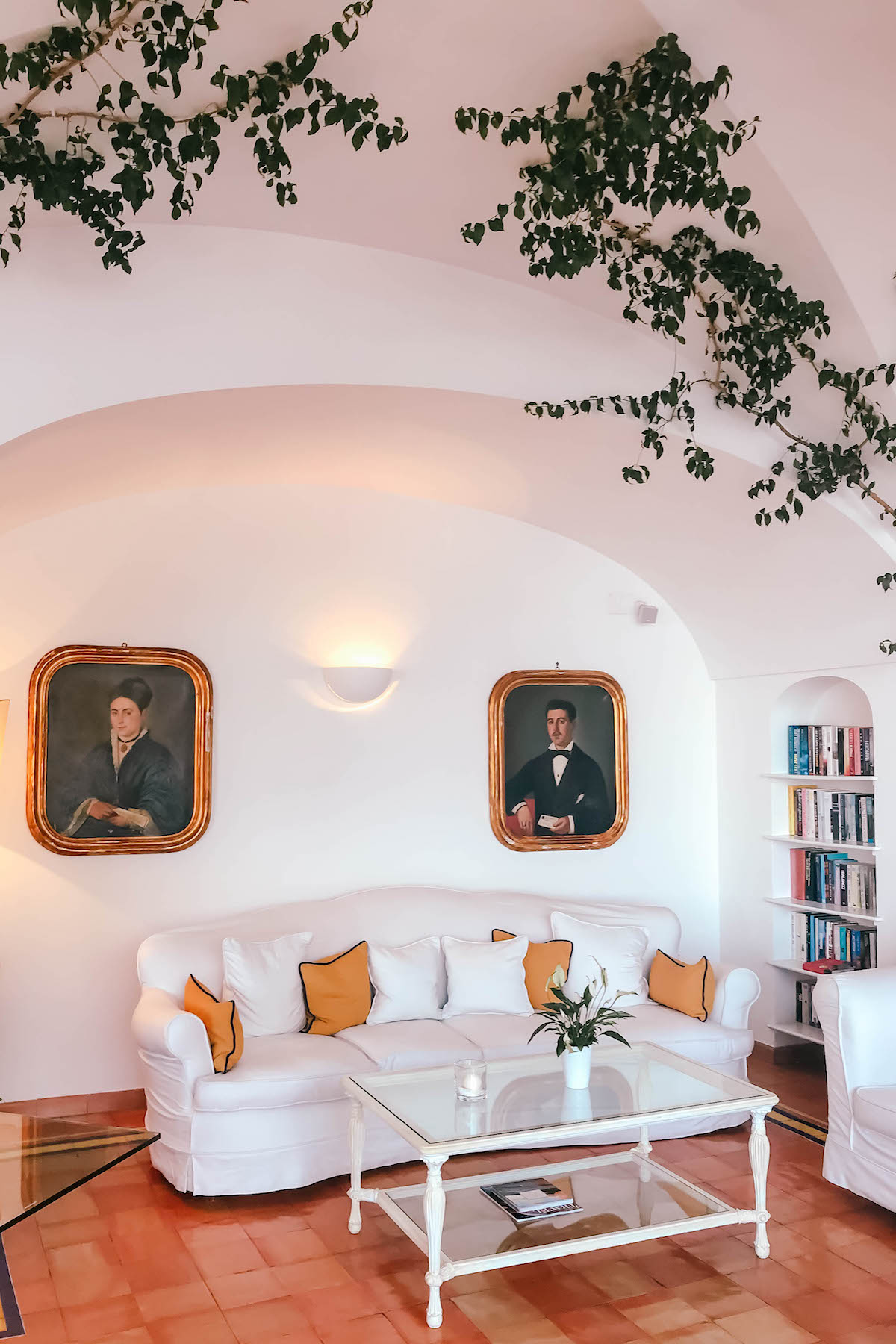 Hotel Covo Dei Saraceni
LOCATION: Via Regina Giovanna, 5, 84017 Positano SA, Italy
(to the left of Marina Grande Beach directly across from ferry drop off)
VIEW: Slightly elevated view overlooking Marina Grande Beach and Positano town from the east
VIBE: Before dinner one night we grabbed a glass of wine at the Hotel Covo Dei Saraceni lobby bar, which has a great view of Marina Grande beach and the east side of Positano town. The vibe felt much more traditional in terms of decor and atmosphere. We got there around 6PM and had the place to ourselves– the bartender even escorted over to the hotel restaurant so I could get a better picture of the view!
TIP: Go during the day so you can indulge in one of the hotel's famed iced lemon sorbet served in an actual frozen lemon. We went our last night in Positano and nearly cried when I was they told they'd sold out of them earlier in the day. Guess I need to plan another trip?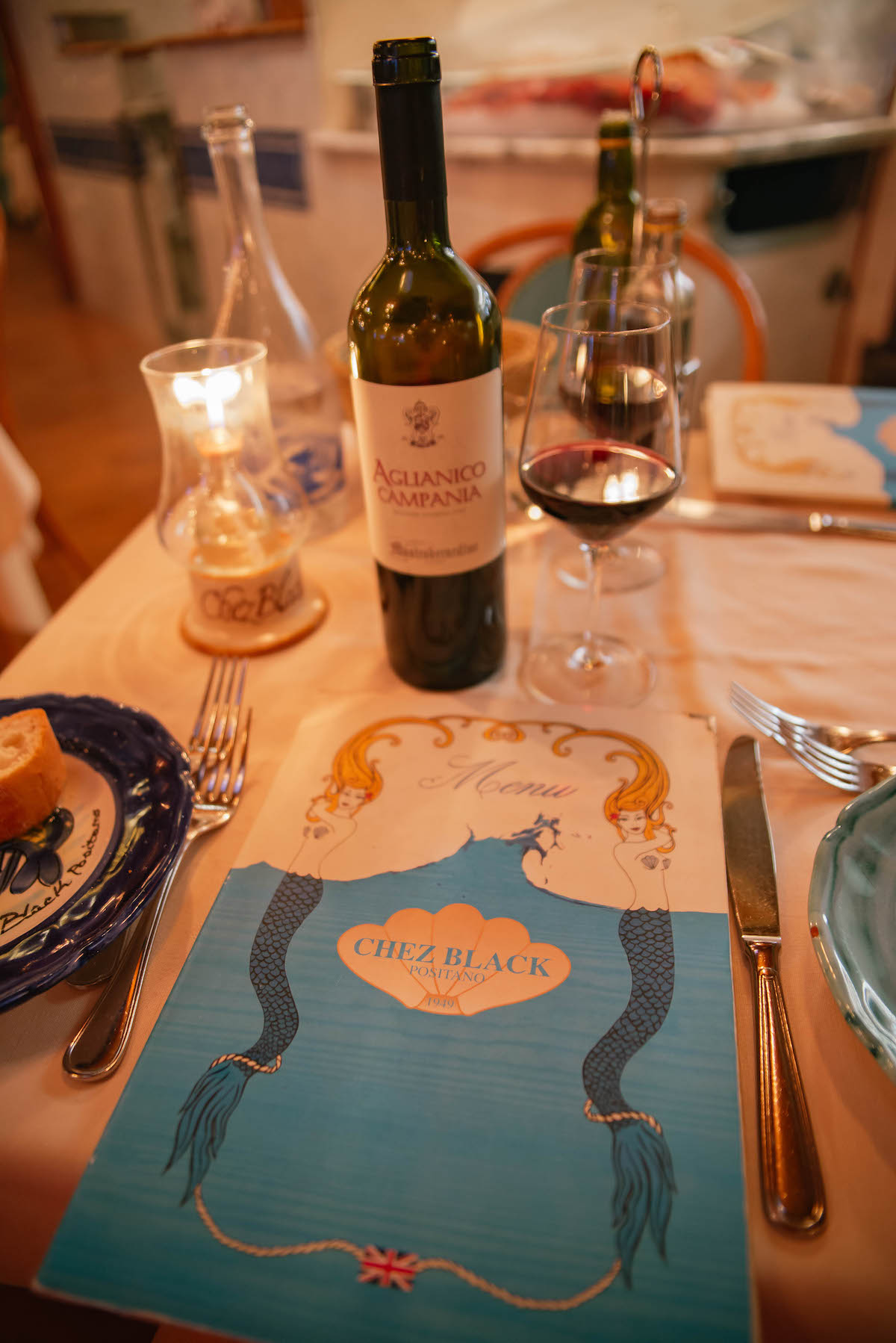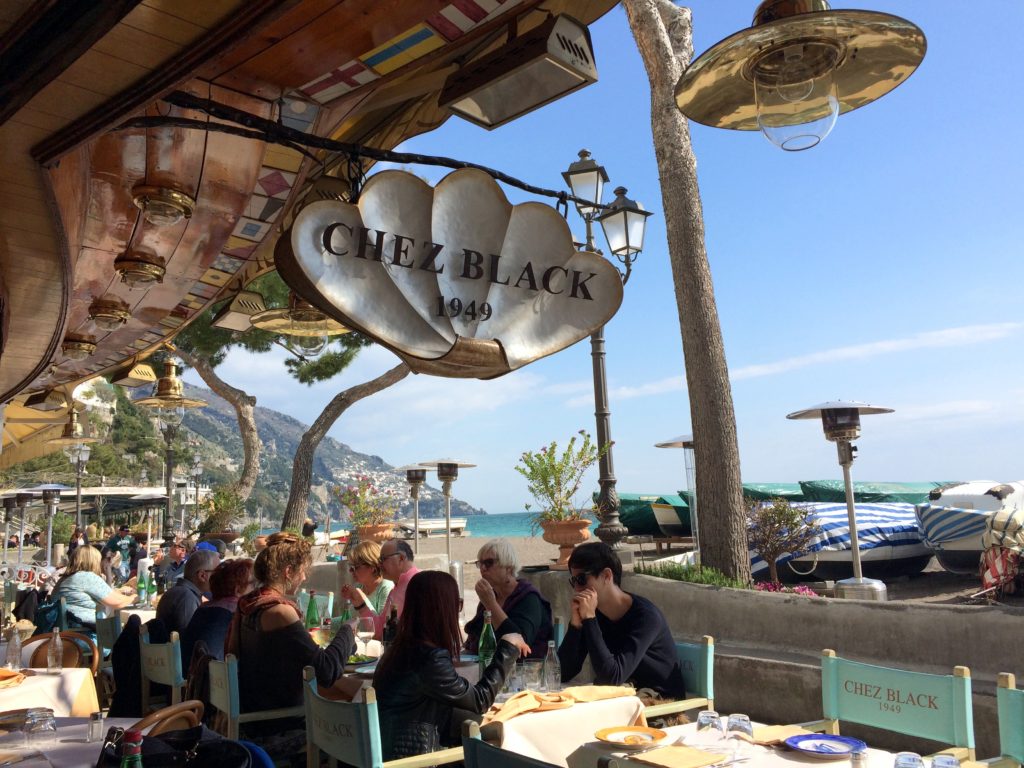 Image via Everyday Accounts
Chez Black
LOCATION: Via del Brigantino, 19, 84017 Positano NA, Italy
(directly off of Marina Grande Beach)
VIEW: Low view directly in front of Marina Grande Beach and seaport (prime for people-watching)
VIBE: Trendy and upbeat restaurant located directly on Marina Grande Beach. We actually had dinner there, but I totally would go back just to grab a glass of wine and sit at one of the tables along the sidewalk. Everyone needs to walk by Chez Black if they're exploring the beach so there is some prime people-watching. Apparently it's a celeb hotspot too, so I wouldn't be surprised if you see a famous face there.
TIP: Make a reservation. It's a really popular restaurant and we only got a table by luck the day-of because we arrived right after someone was a no-show for their table.
- Katie