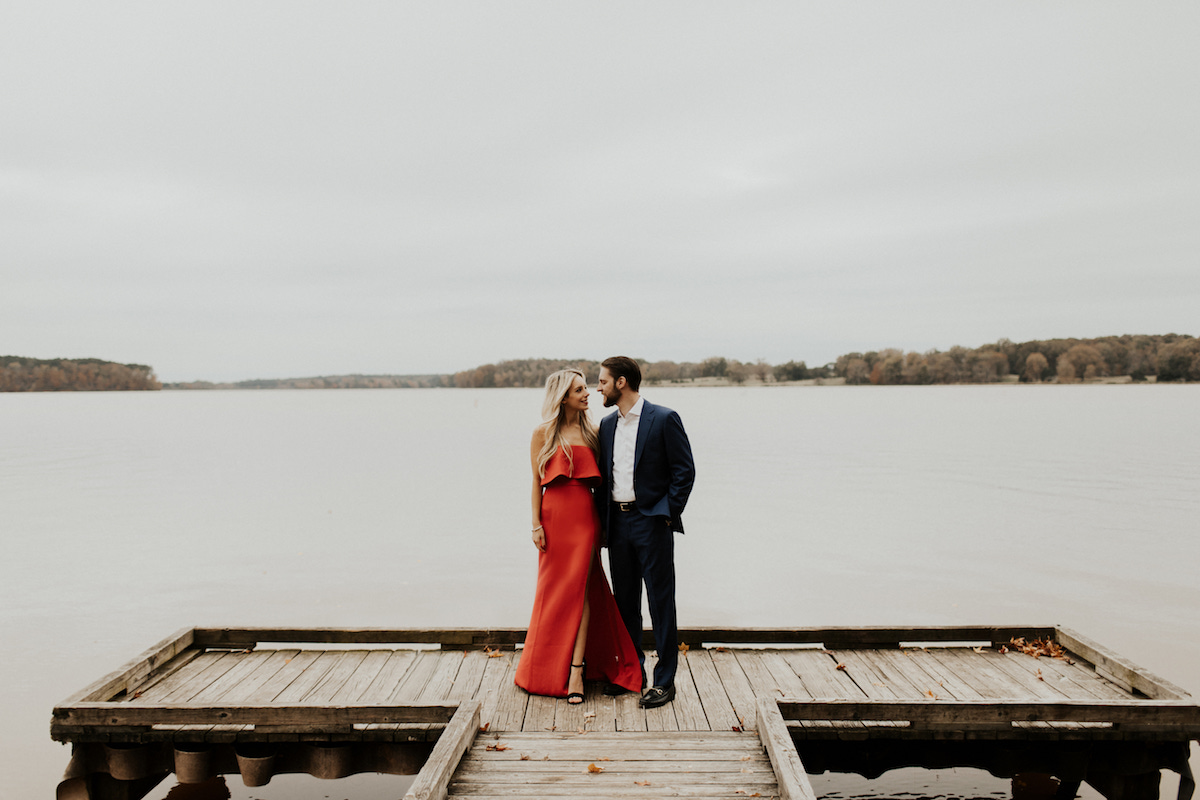 Ahh the big reveal! Nick and I are beyond excited to finally reveal our engagement photos! Until last week I'd only seen the small handful of photos that you all saw in my Wedding Planning Update #3 so getting the full gallery from our photographer Sarah seriously felt like Christmas morning. Well, at least to me! Hey I'd be lying if I said that Nick gets as giddy as I do about cheesy pictures, though I think he did a pretty convincing job of proving that otherwise during our engagement shoot– you guys can be the judge!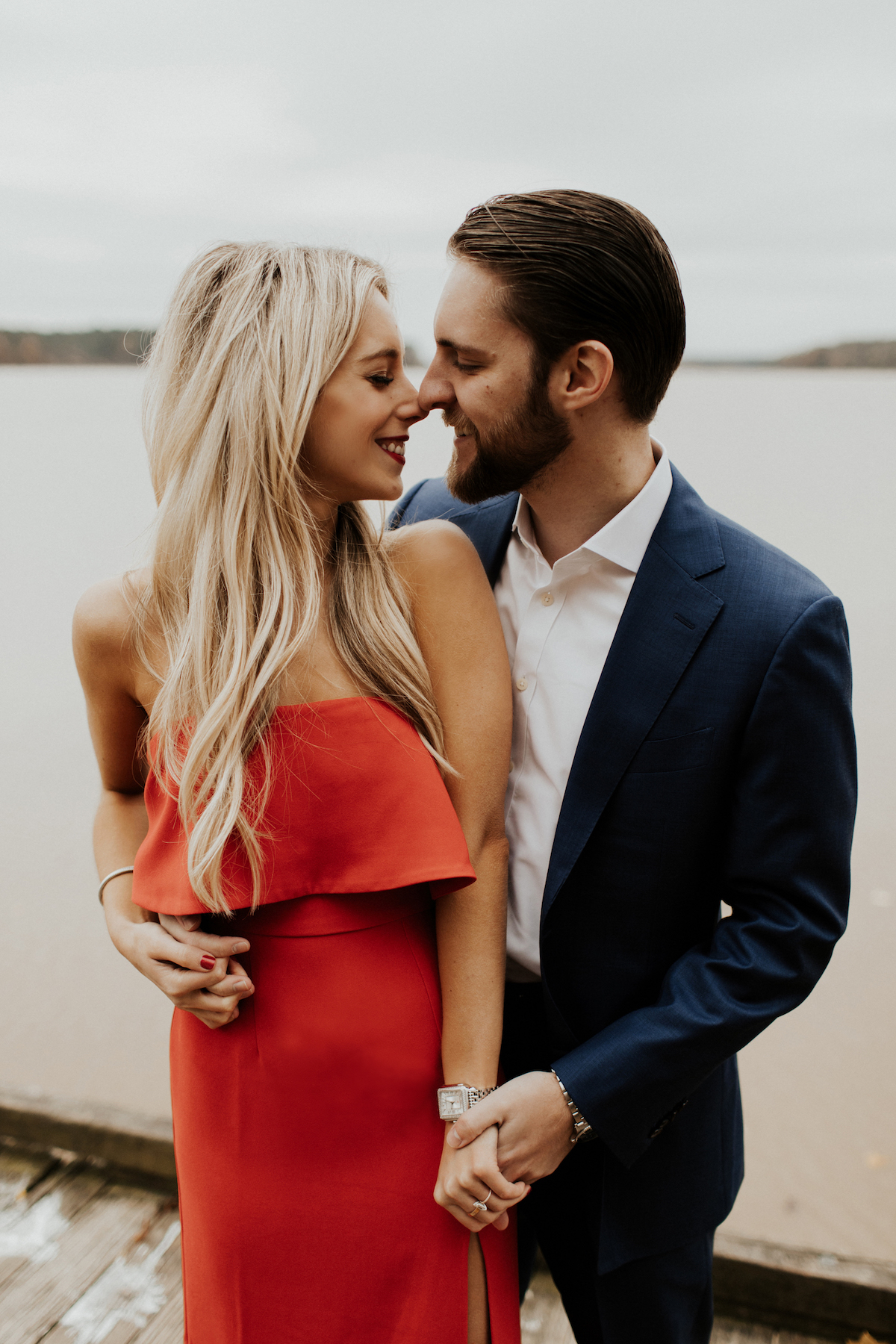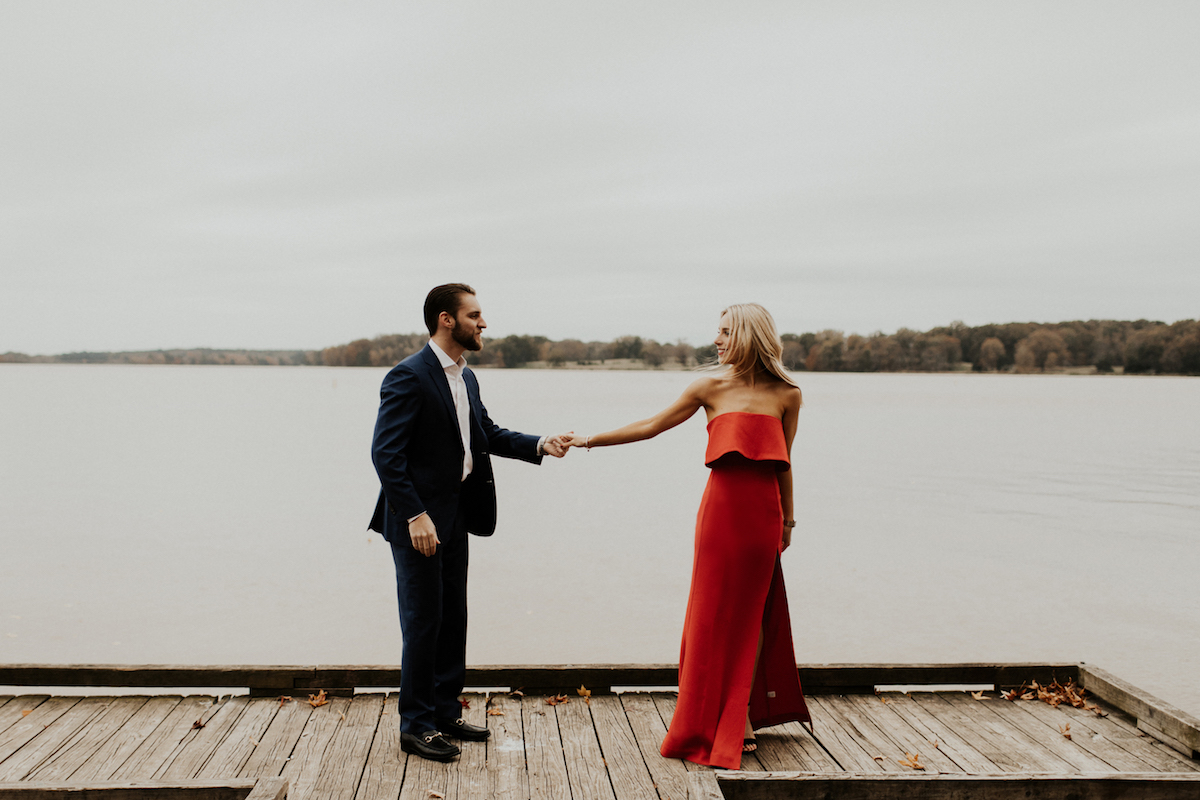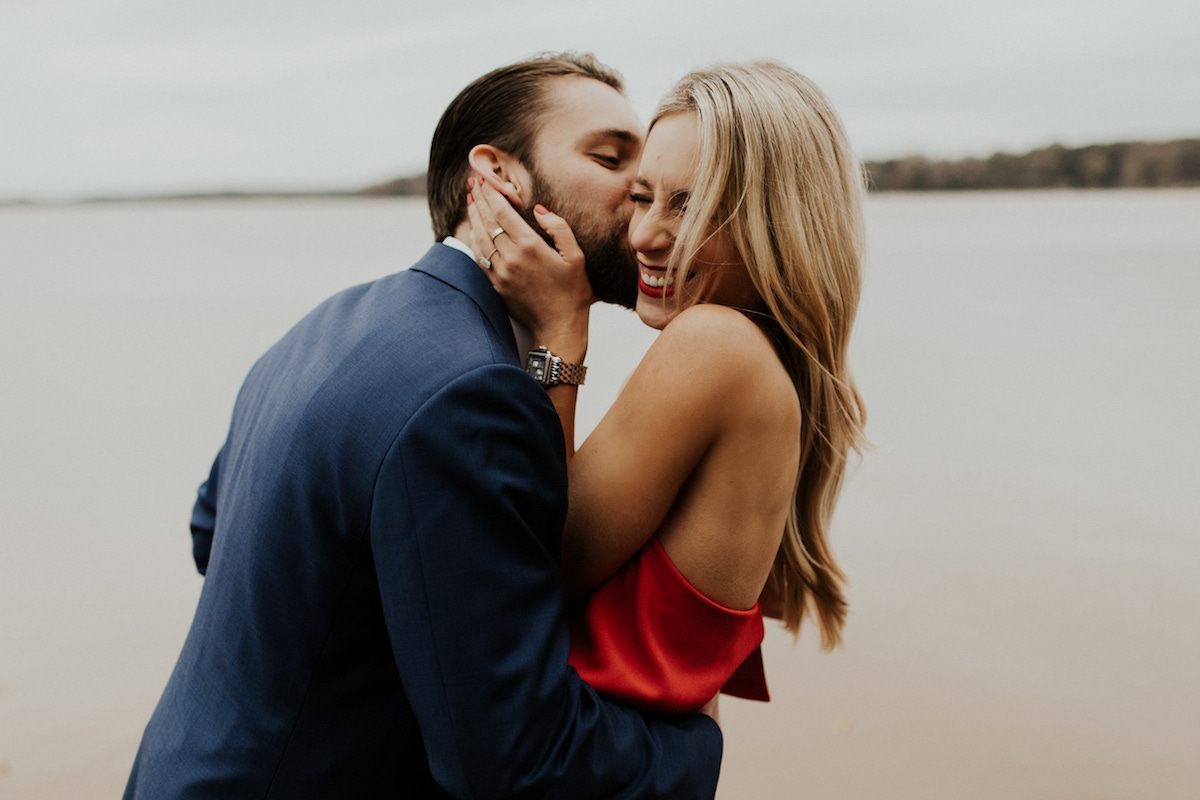 OUTFIT DETAILS // Red Strapless Gown | Heels | Watch | David Yurman Bracelet | Red Lipstick
(A note about this dress: it's gorgeous but it was incredibly hard to photograph. Looking back I would've worn something less form fitting because I had to suck in my breath SO HARD the entire time. No joke even the slightest exhale in this dress would make the skinniest person look like they had a baby bump.)
In my last wedding update I briefly explained the where and when of our engagement session, but for those who may have missed it here's a quick recap. Since our wedding photographer Sarah Smith is based in Atlanta, I proposed the idea of finding a time and place to meet over the Thanksgiving holiday as we were going to be (somewhat) nearby in Aiken, South Carolina, where my mom and stepdad just relocated for my mom's new job (congrats Mom!)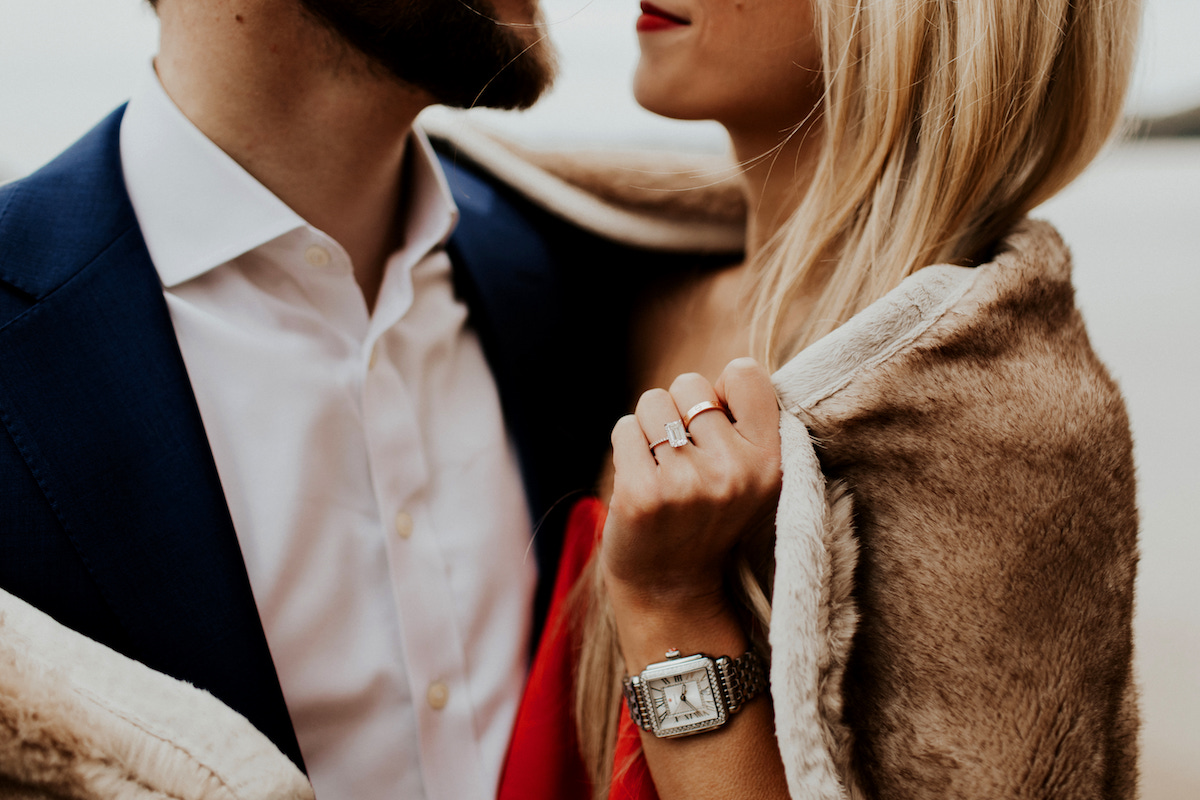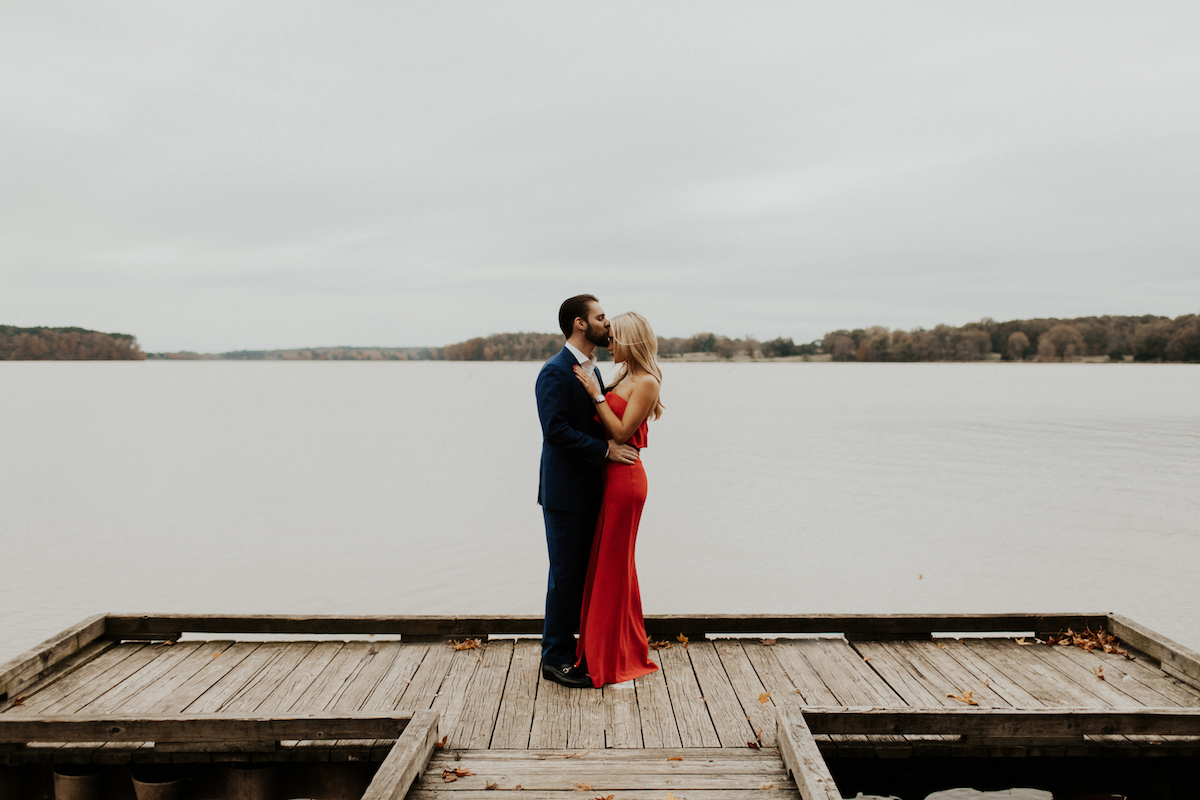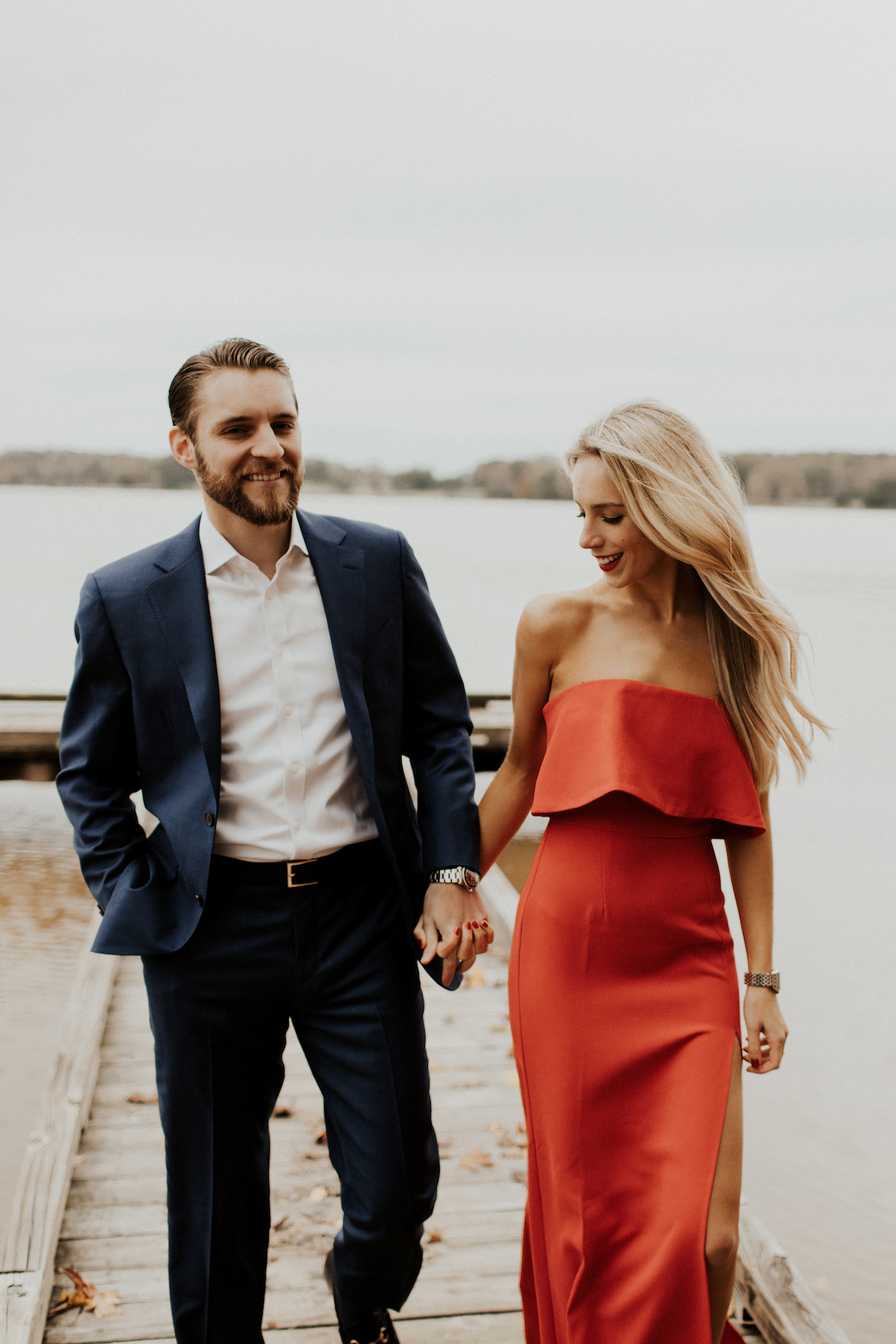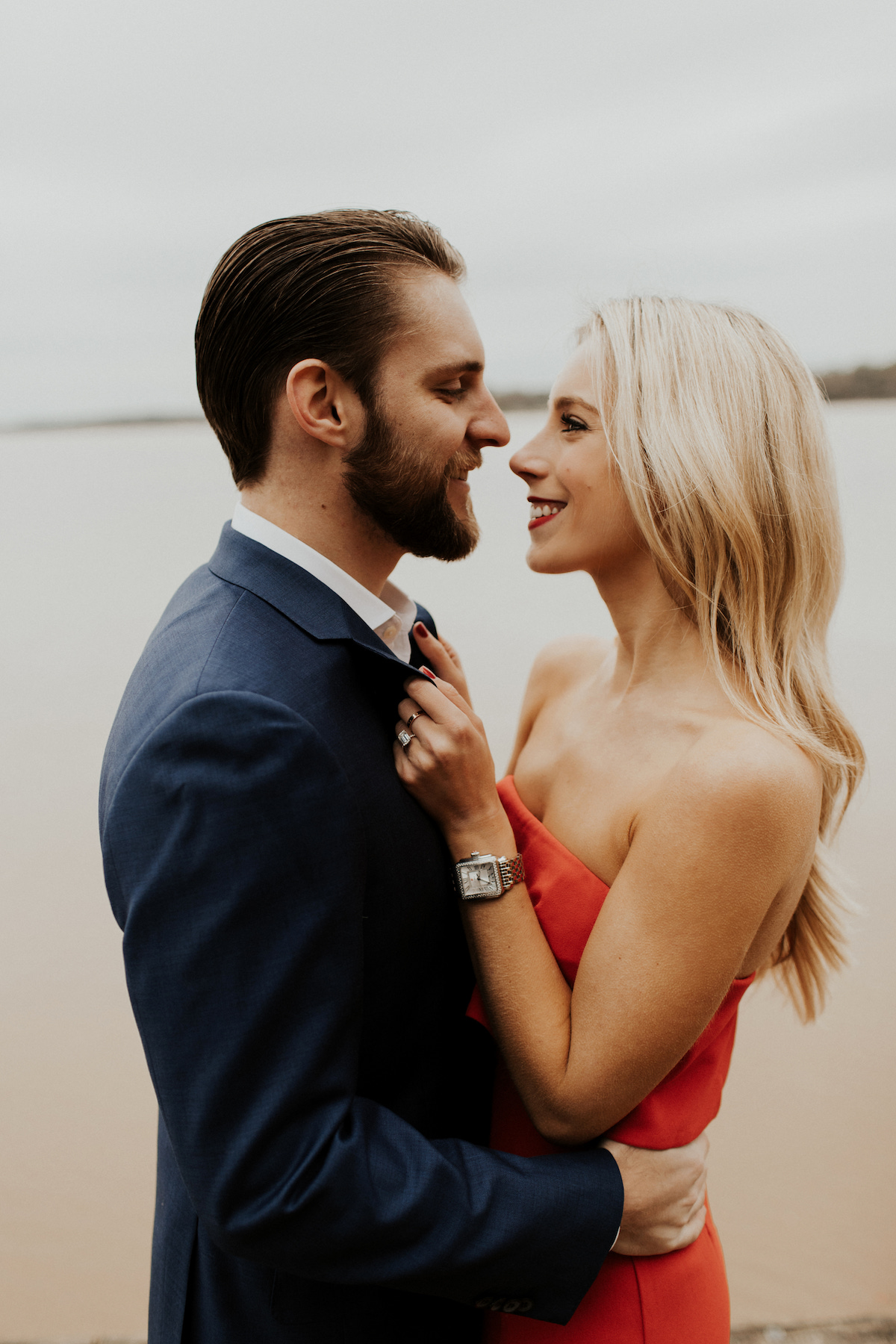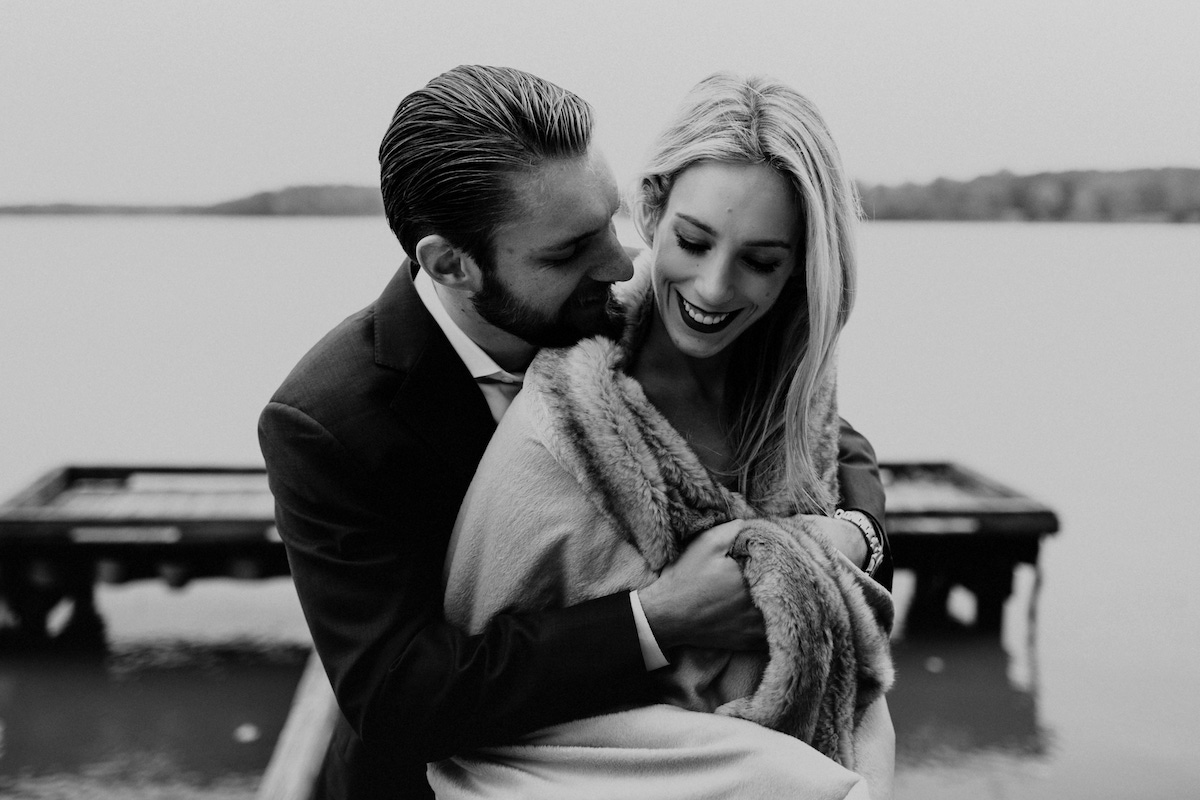 Luckily Sarah didn't have plans on Black Friday and was able to meet up with us to shoot in a location between Aiken and Atlanta. I have absolutely zero familiarity with the area where my parents now live in South Carolina or anywhere around Atlanta, so I have to give major props to Sarah because she went out of her way to scout all the beautiful scenic spots you see in these pictures. I wish I could tell you the exact locations but we literally just pulled off to the sides of roads (for the forest and field pictures) and then into a small state-owned park for the ones by the lake. I do know we were in Greensboro, Georgia though!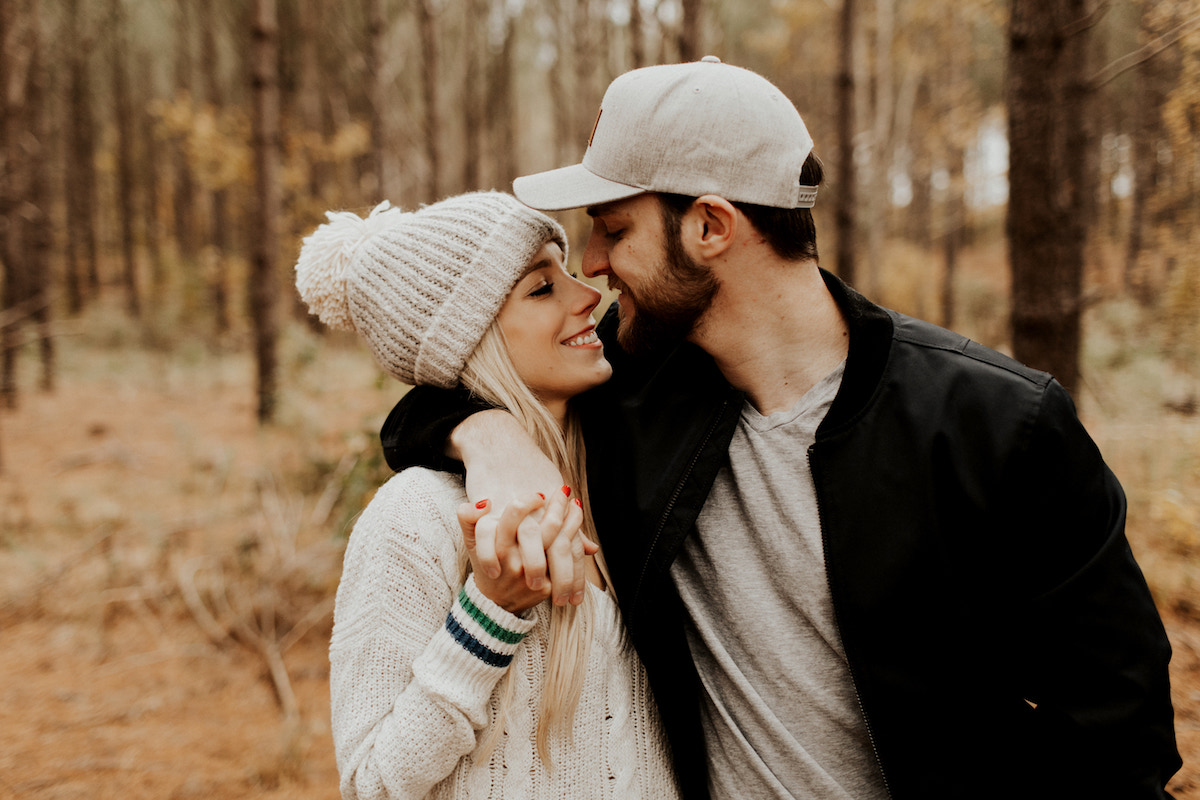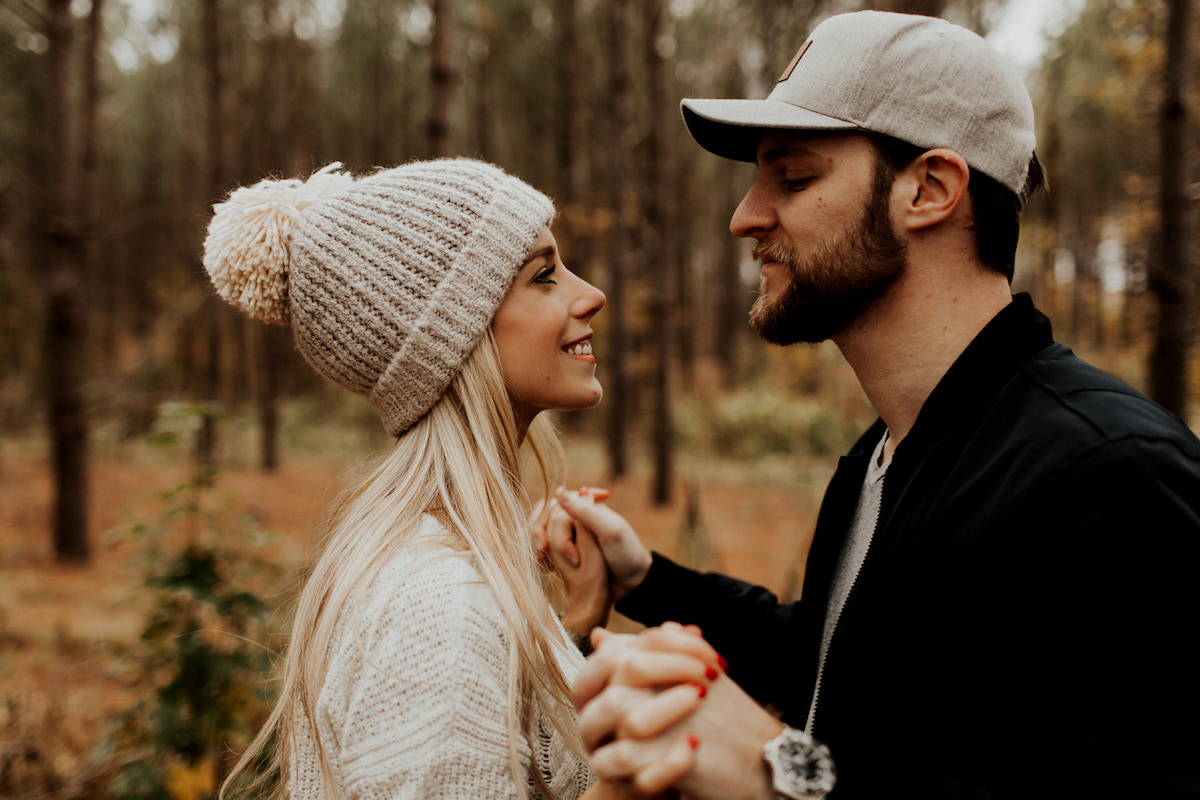 Since we're getting married in a rural area, Nick and I decided we wanted to steer clear of doing engagement photos in the city. We take pictures all the time together home in New York and we just thought it would be a nice change to do something different that fit the vibe we're going for with our wedding. Plus! We really wanted to meet Sarah and get the experience of doing a shoot with her before our wedding day.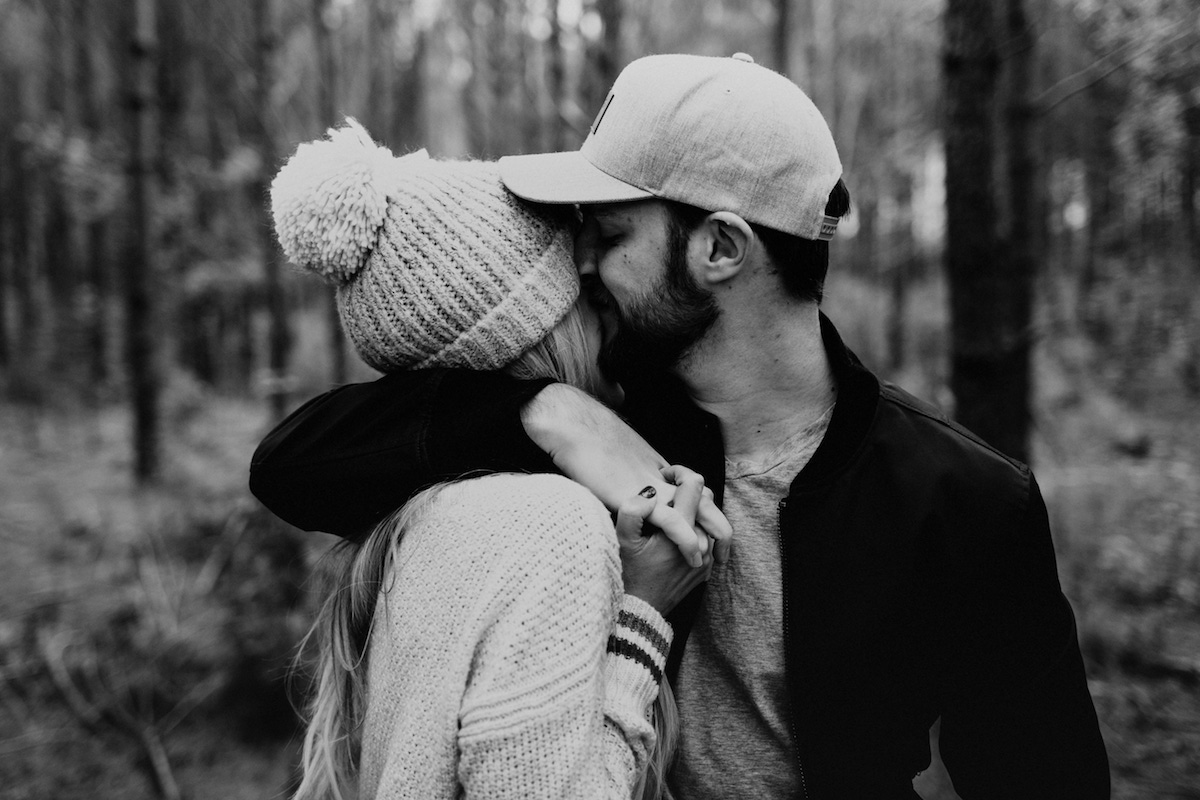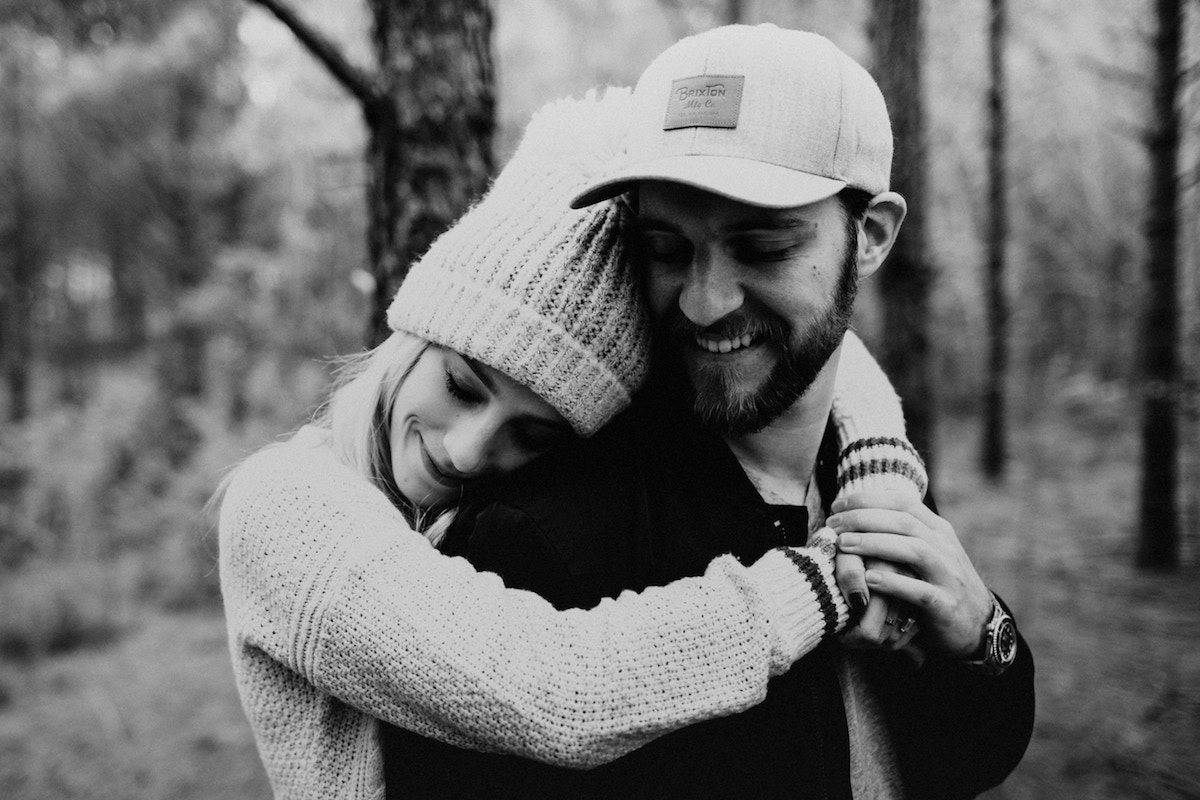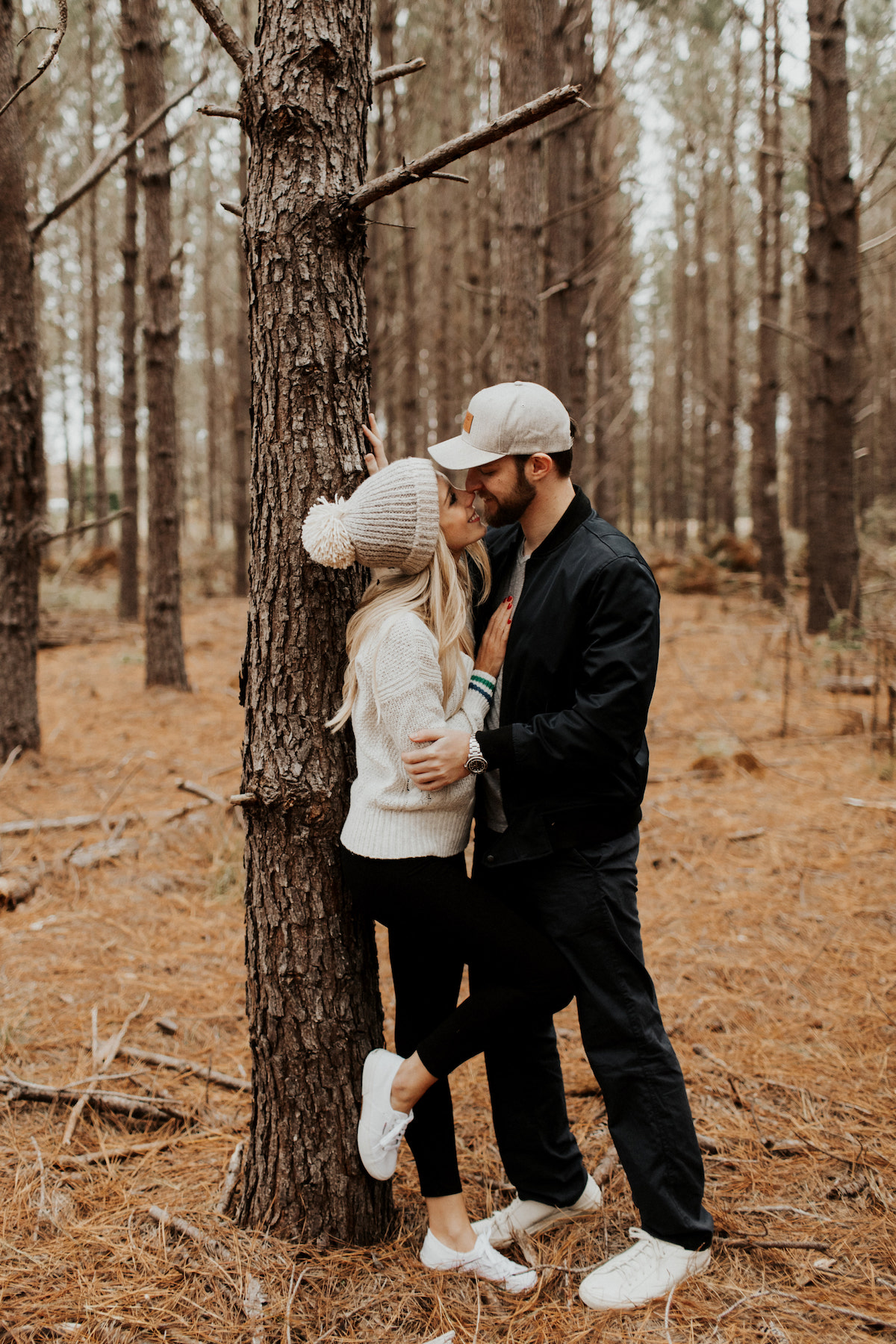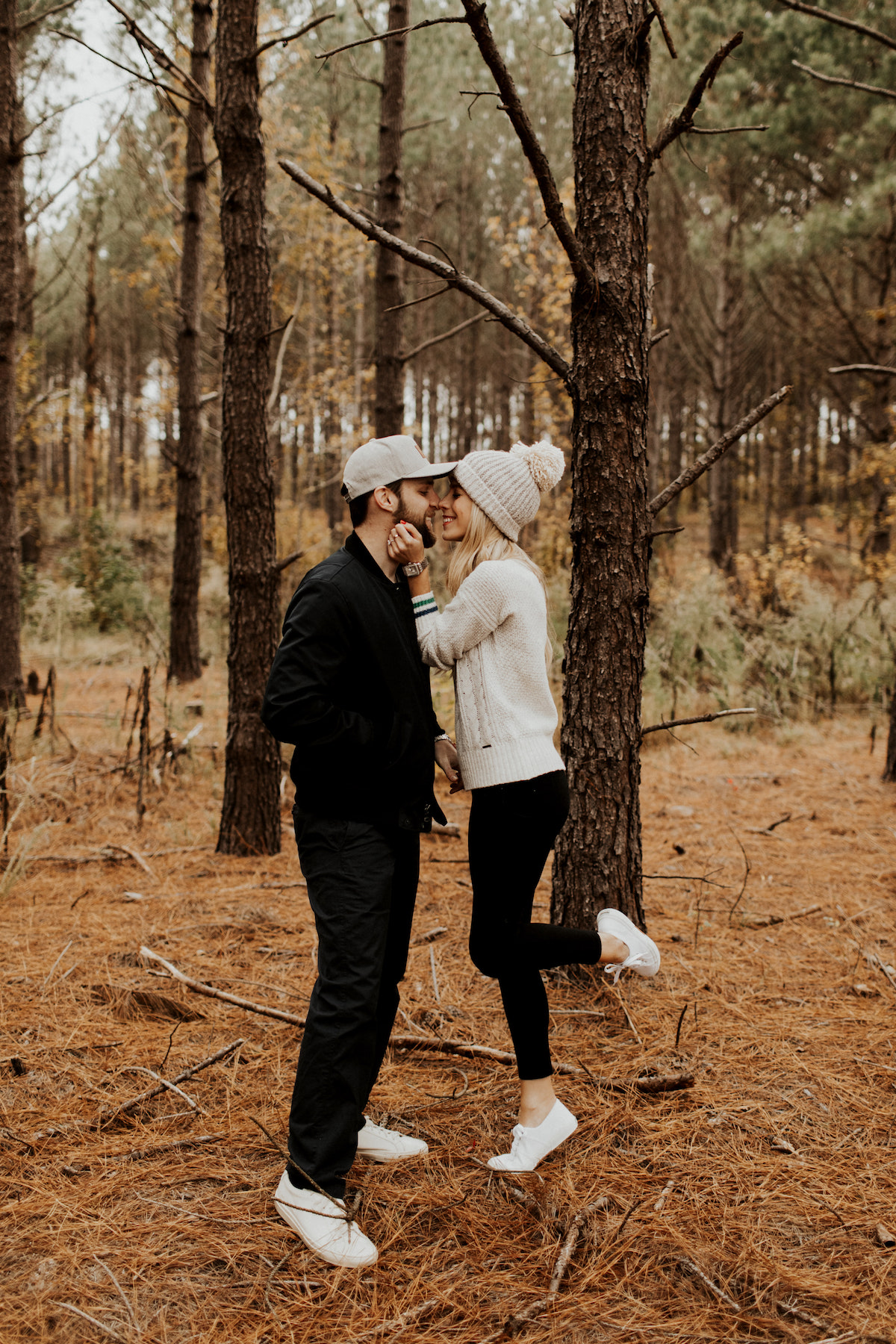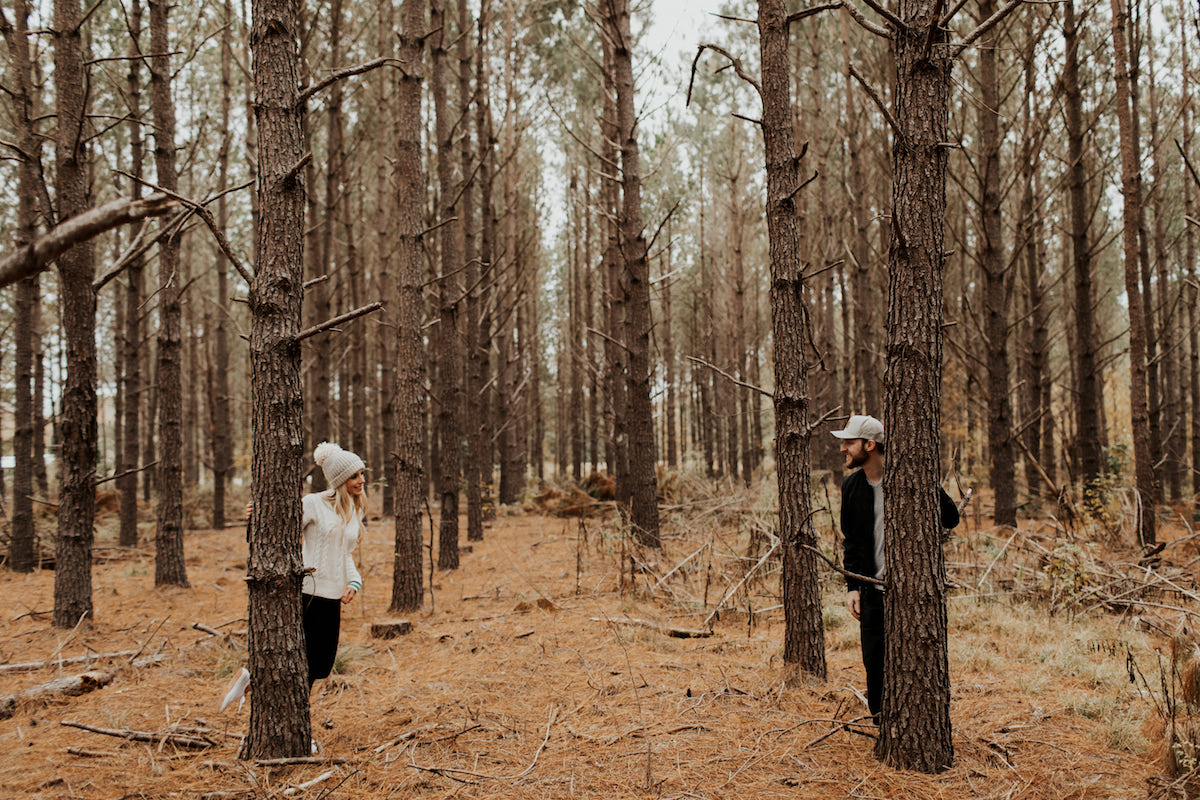 If you're in the midst of your own planning (or plan to be in the future!) I highly recommend doing your engagement photos with your actual wedding photographer so you can see their shooting style, give them feedback on editing and just get comfortable with them personally. I could clearly see from Sarah's portfolio that her work was beautiful and after talking over the phone and email I was pretty confident that we'd vibe, but nothing beats meeting in person and I know that if we hadn't done our engagement shoot with her I wouldn't feel nearly as comfortable as I do now going into our wedding.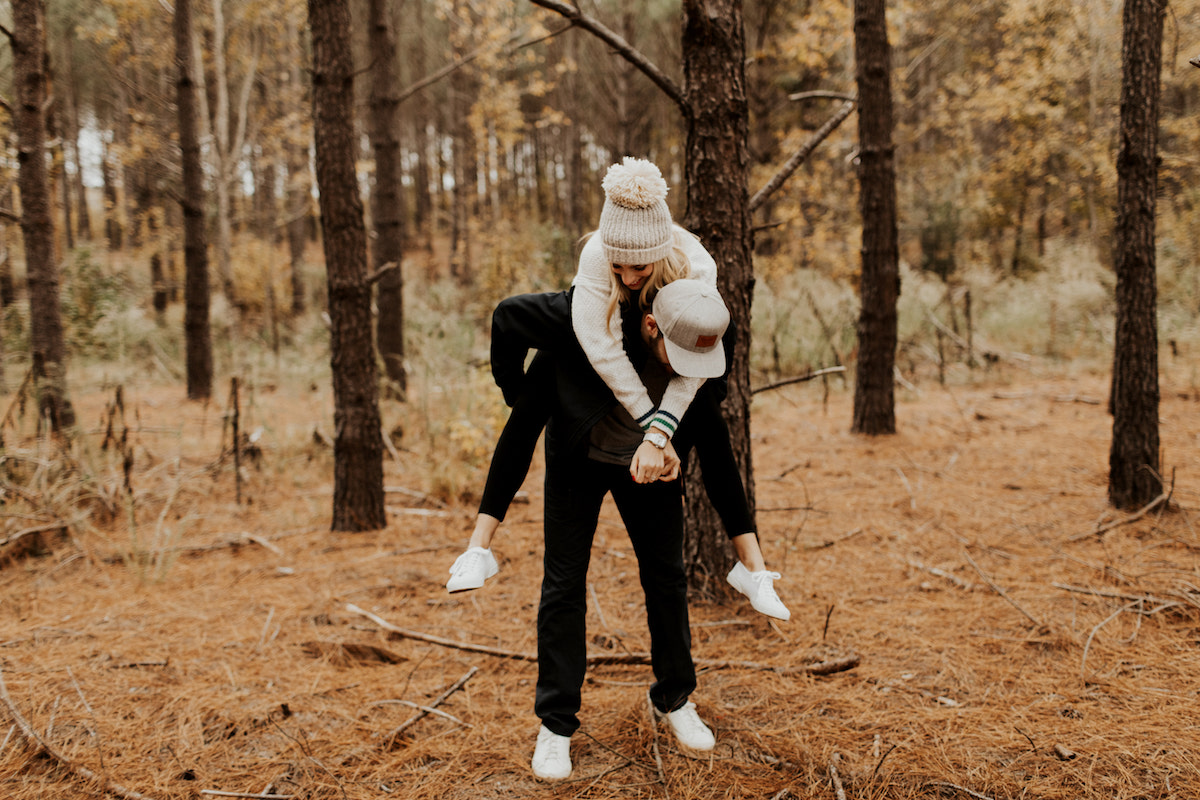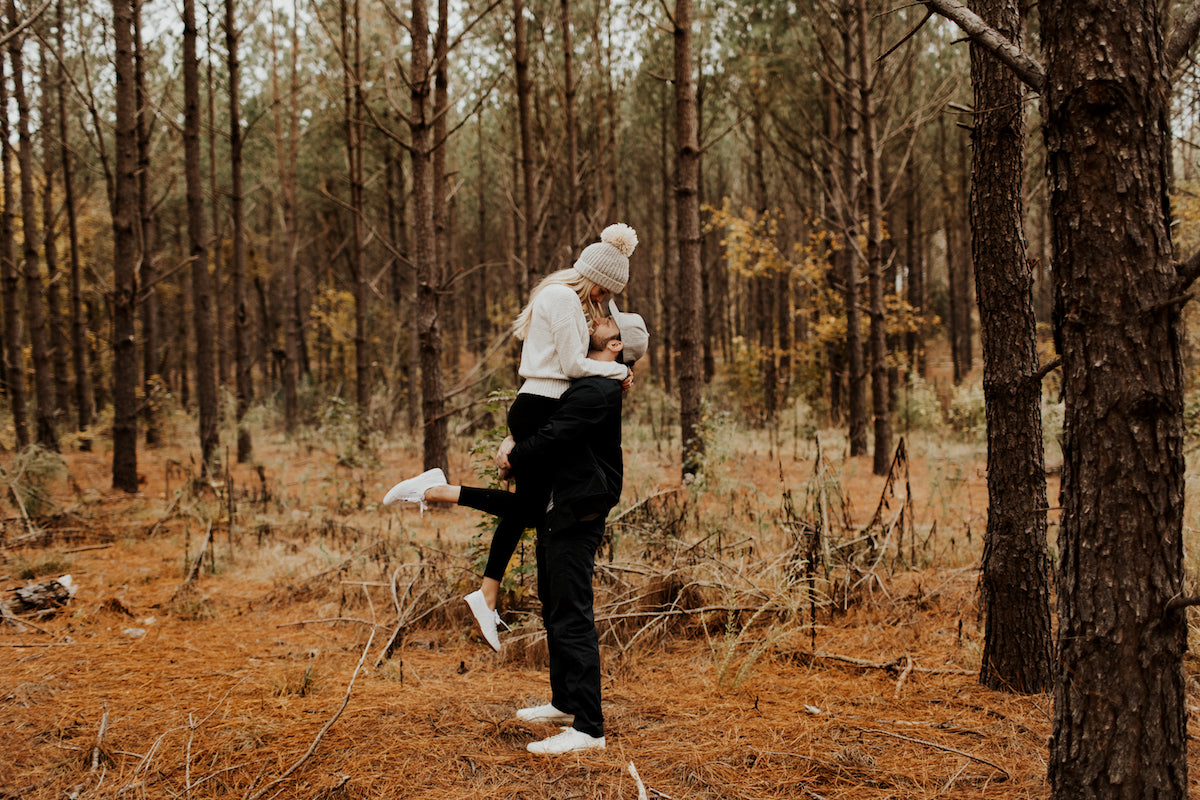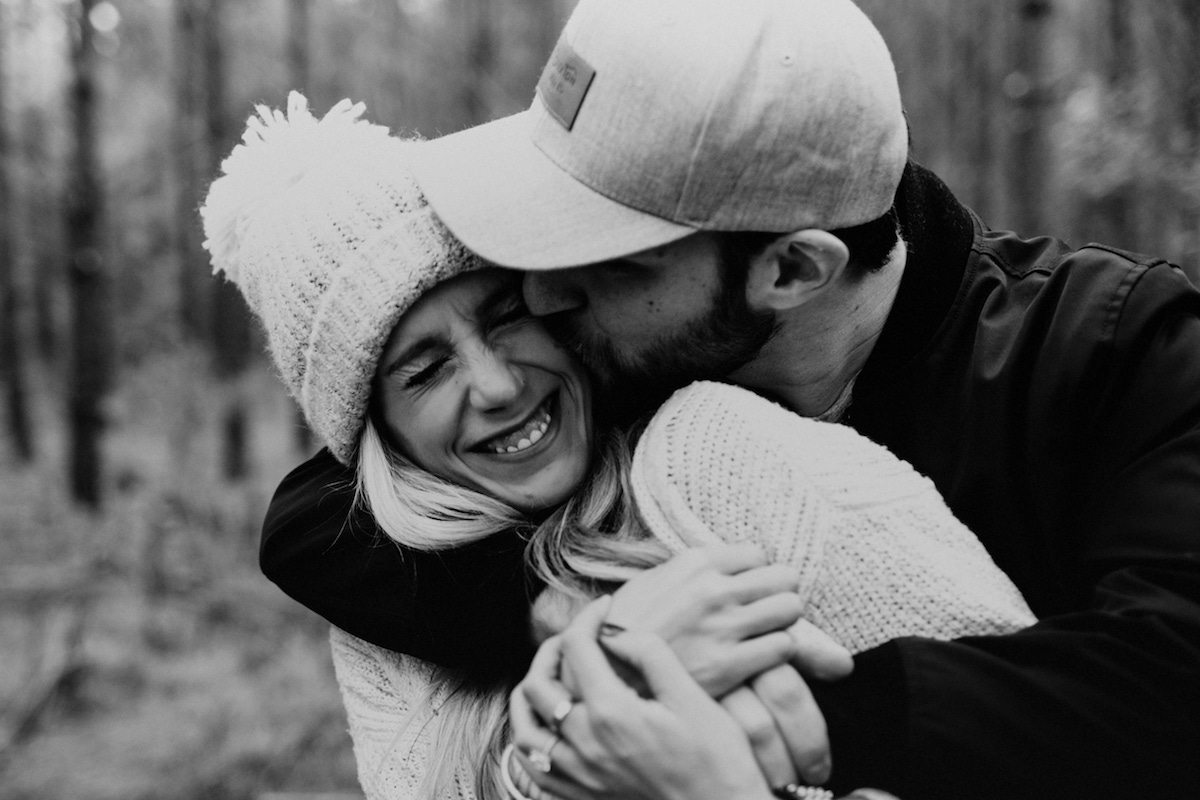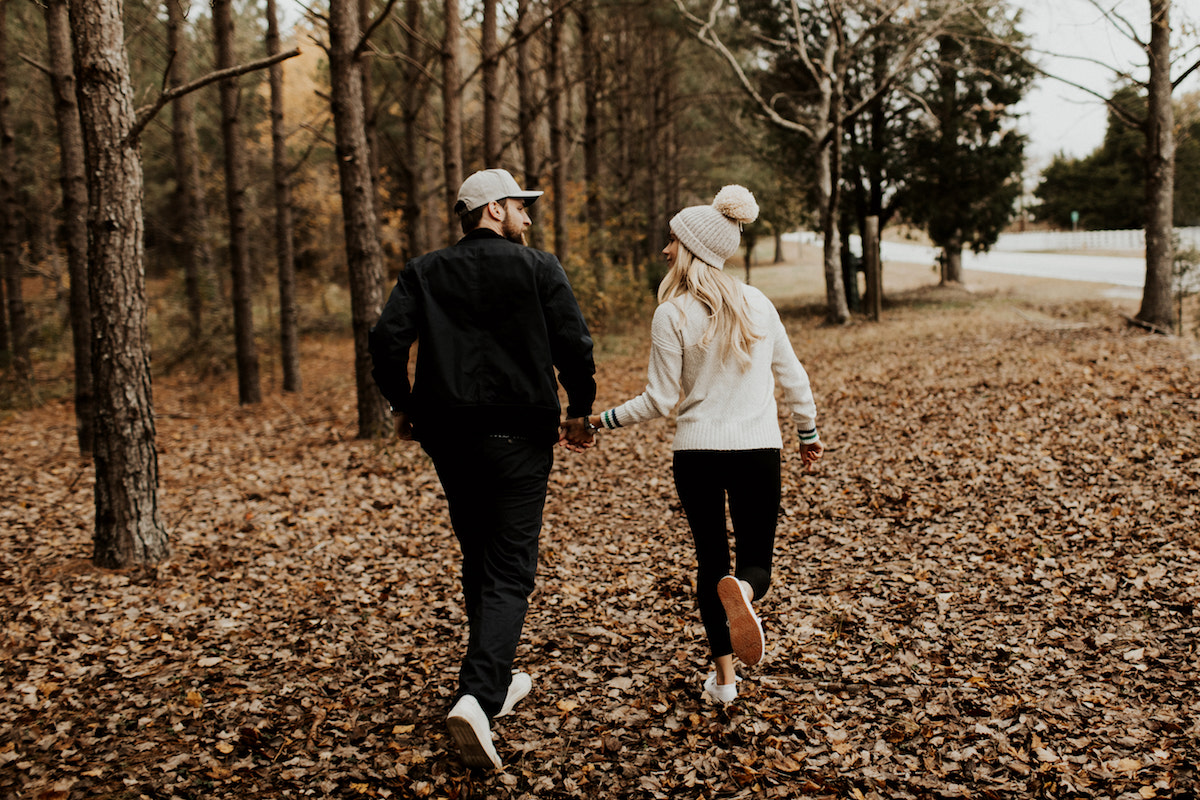 OUTFIT DETAILS // Varsity Sweater | Leggings | Pom Pom Beanie | Sneakers | Watch | David Yurman Bracelet
I know when I shared the sneak peek photos, I had mentioned that we did four different outfits for our engagement shoot. By NO MEANS is that necessary. We had originally planned to keep it simple and do just one formal look and another that was more casual, but literally in the week leading up to Thanksgiving we ended up brainstorming a bunch of different ideas (we may or may not have tipsy at a bar :P) and decided that as long as Sarah was cool with it, might as well just do them all! I sent her a mini outline explaining what we were thinking beforehand just to make sure she had the time and luckily she loved all our ideas and was down to indulge us 🙂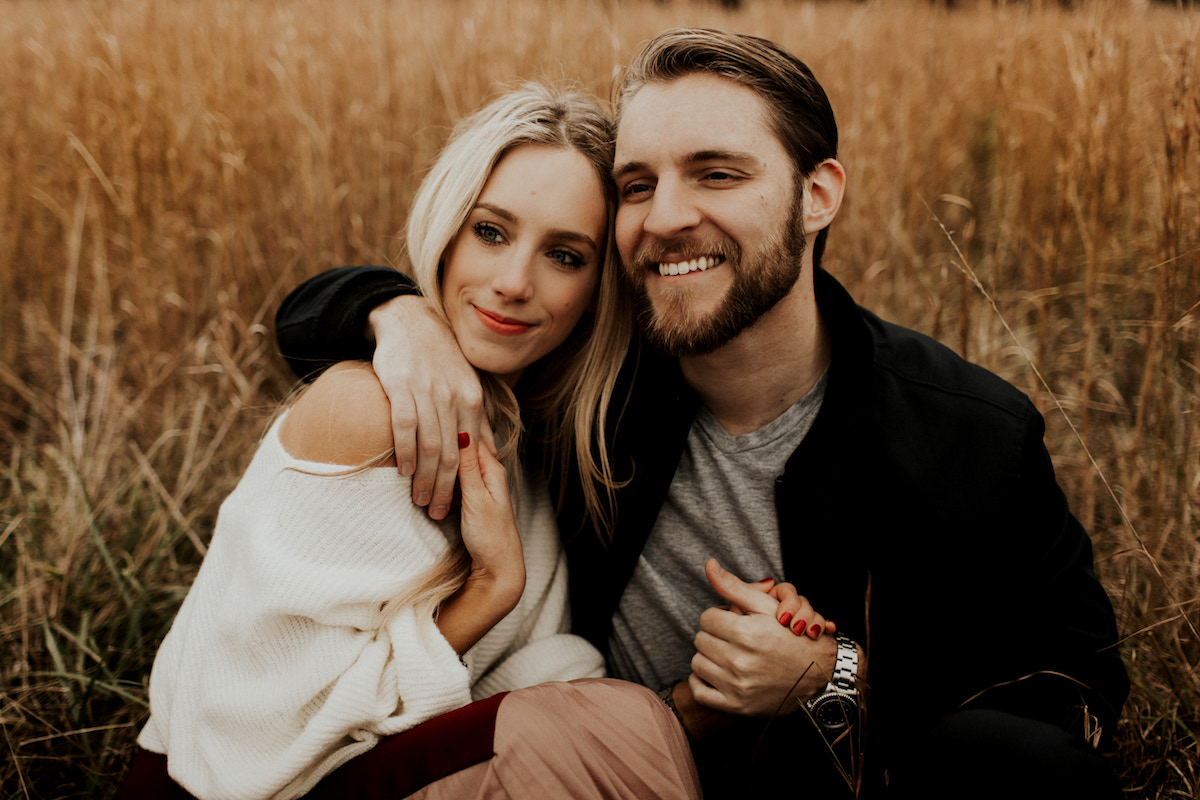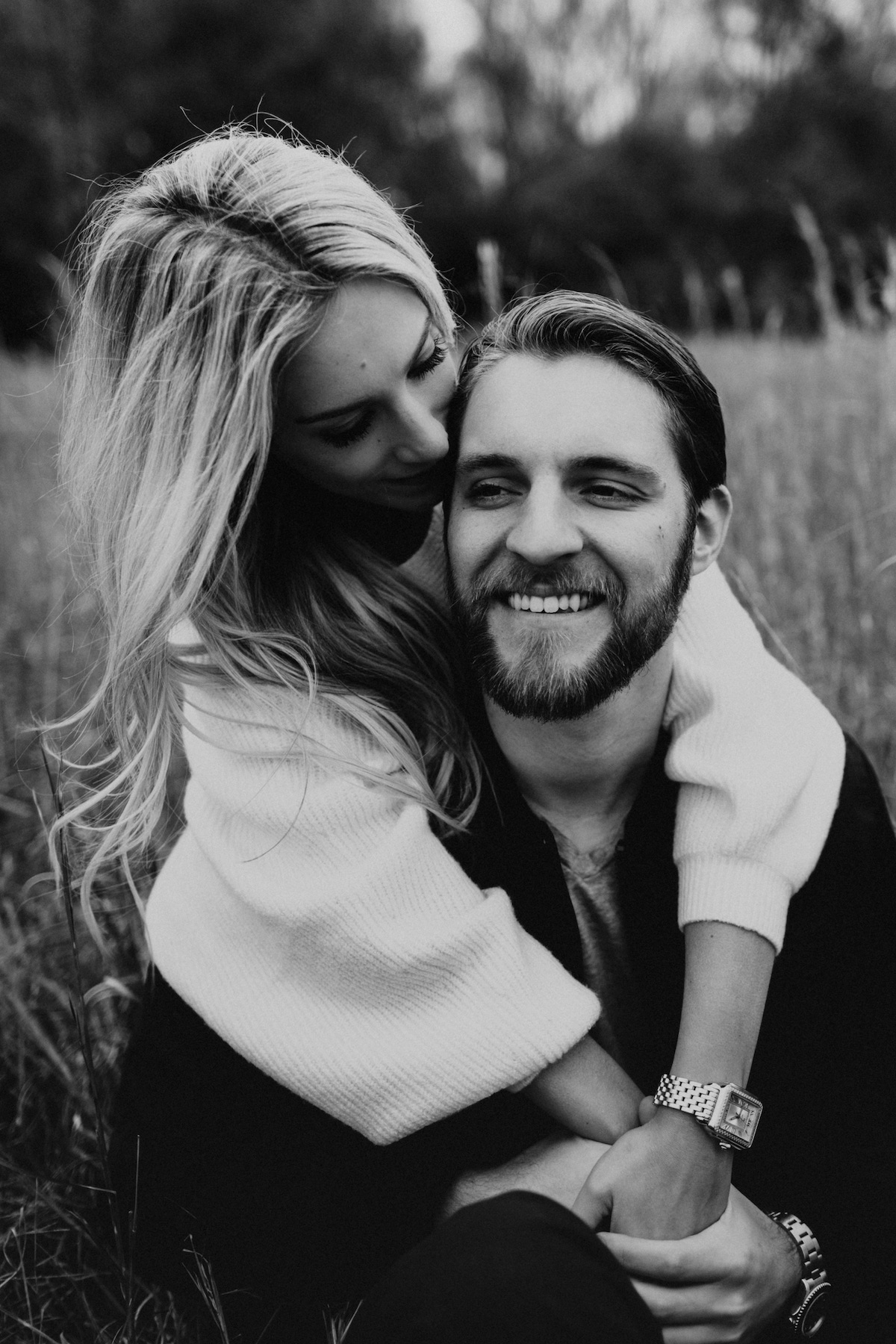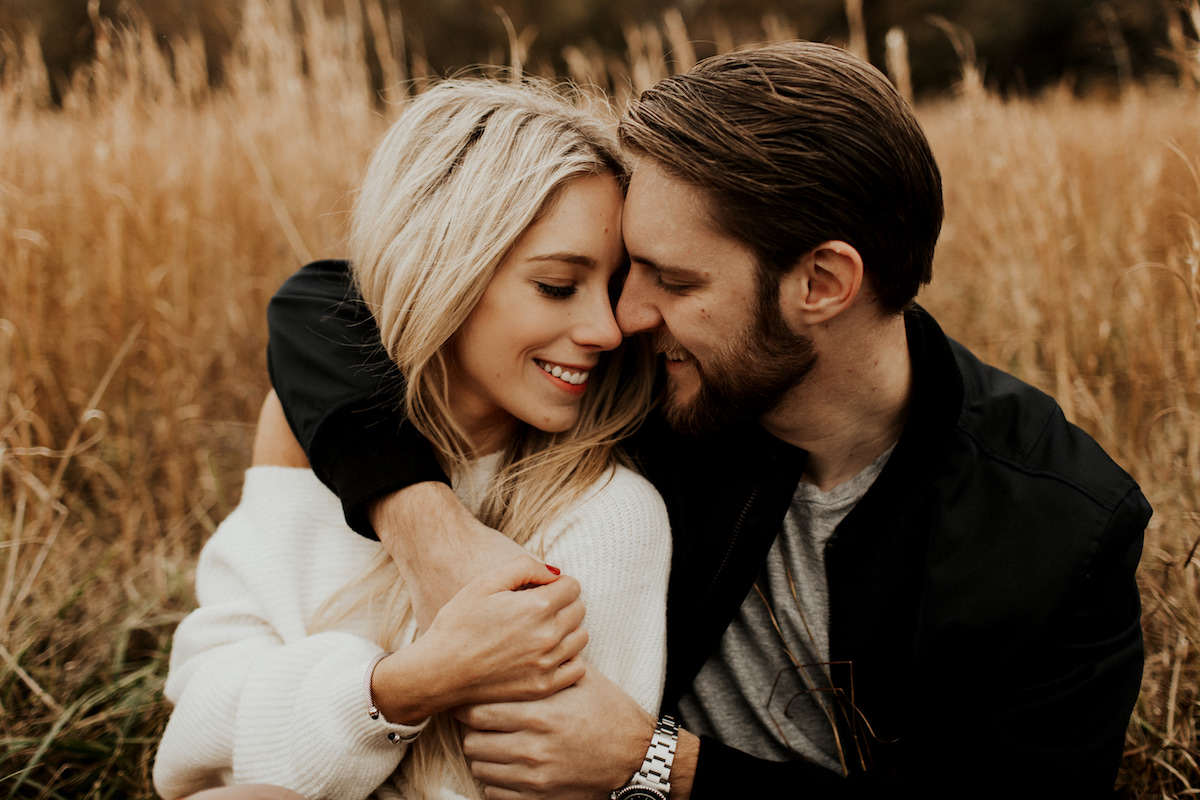 So we stuck to our original plan of doing a formal and casual look, but ended up adding on a sporty look (Nick's brilliant idea) and then a look with my two prop additions: colored smoke and twinkle lights. I know, it was so extra, but I mean it's not everyday you have a professional photographer at your disposal. Go big or go home right?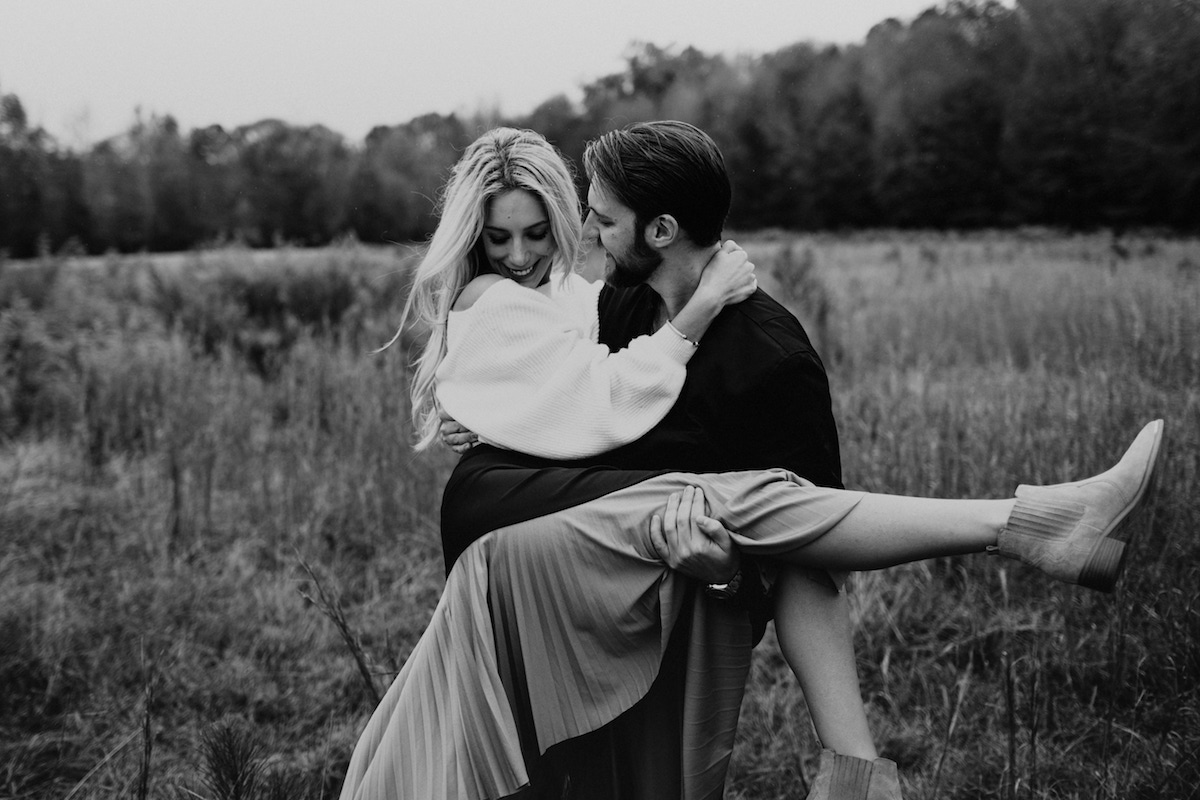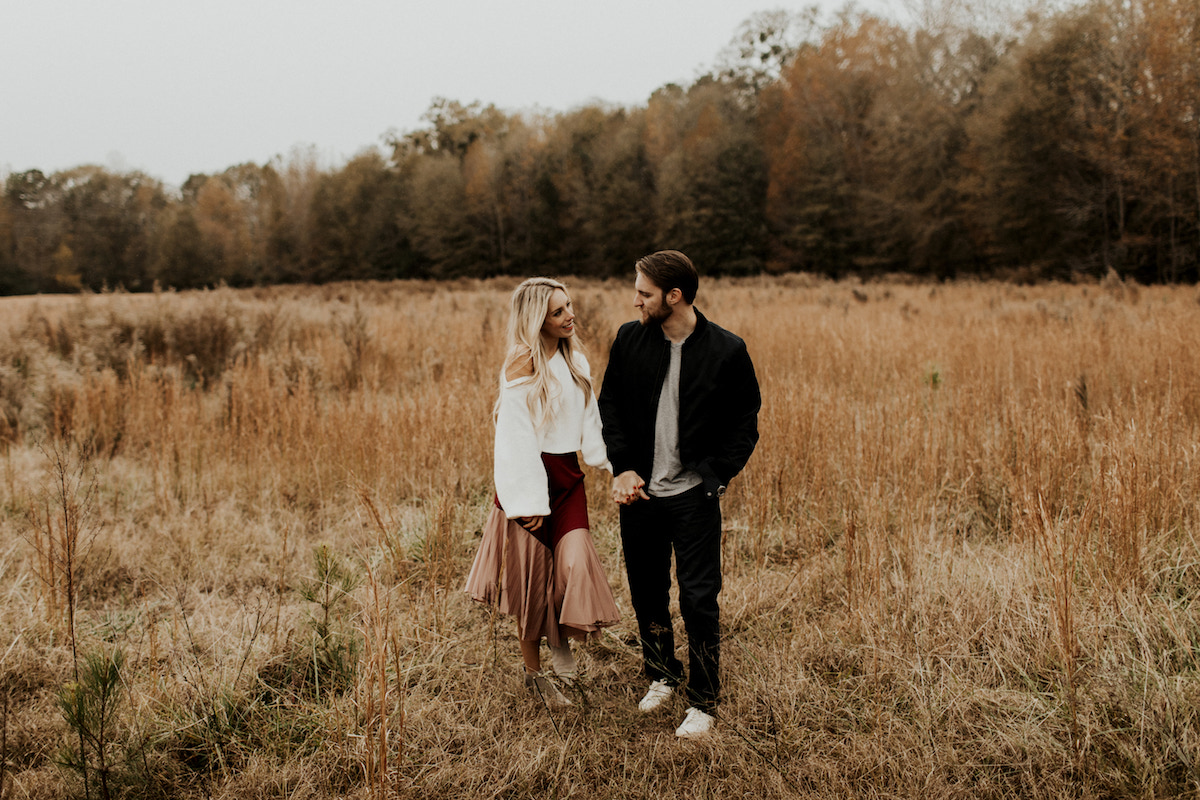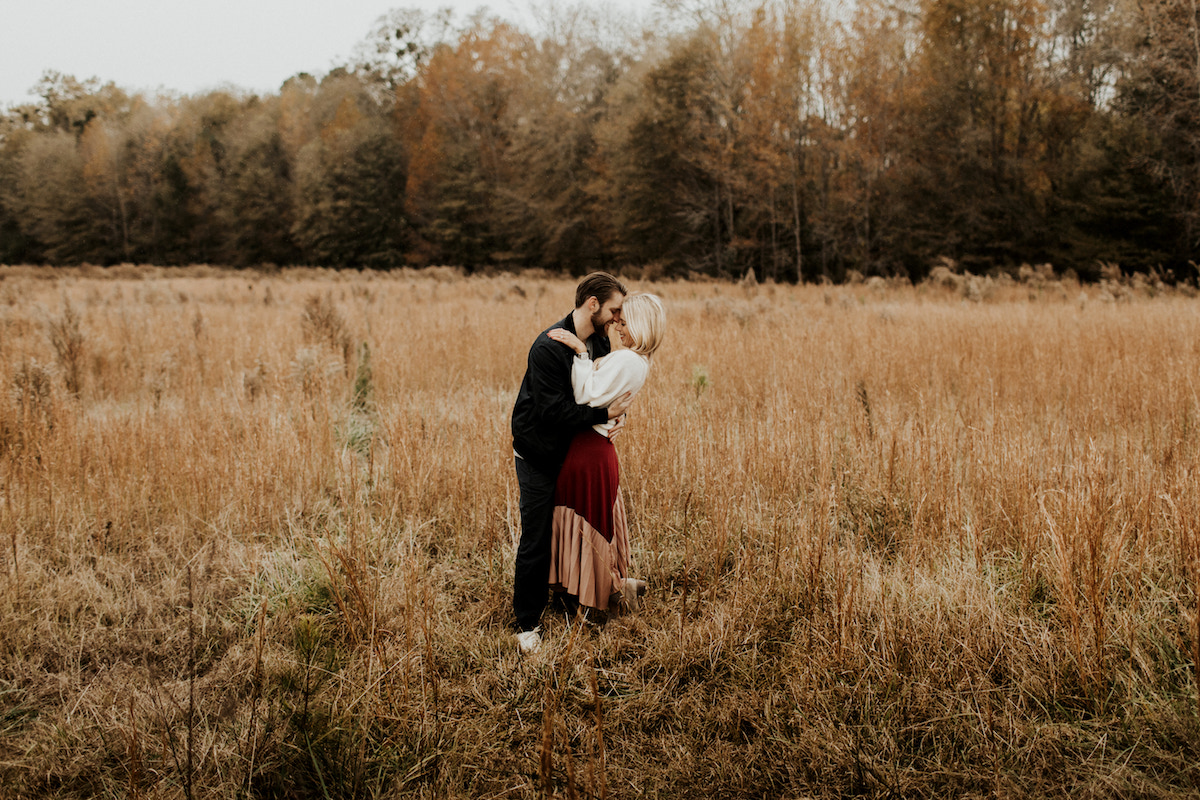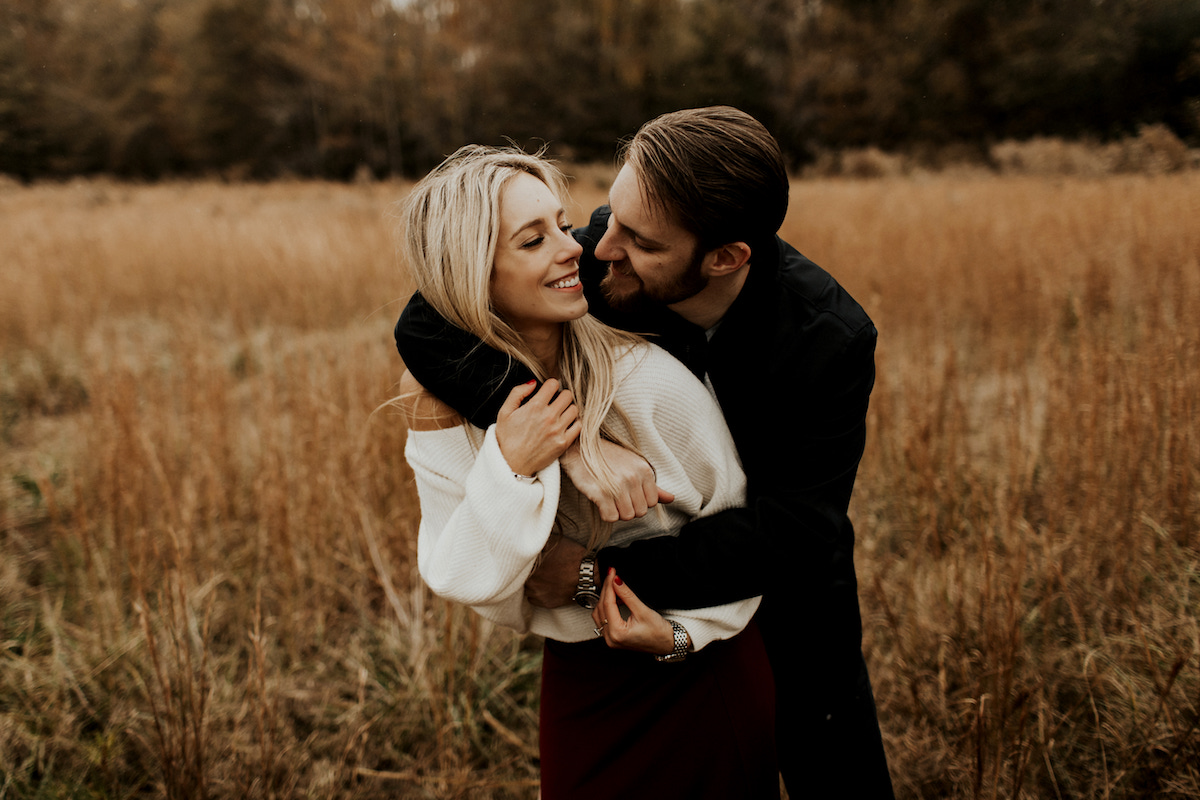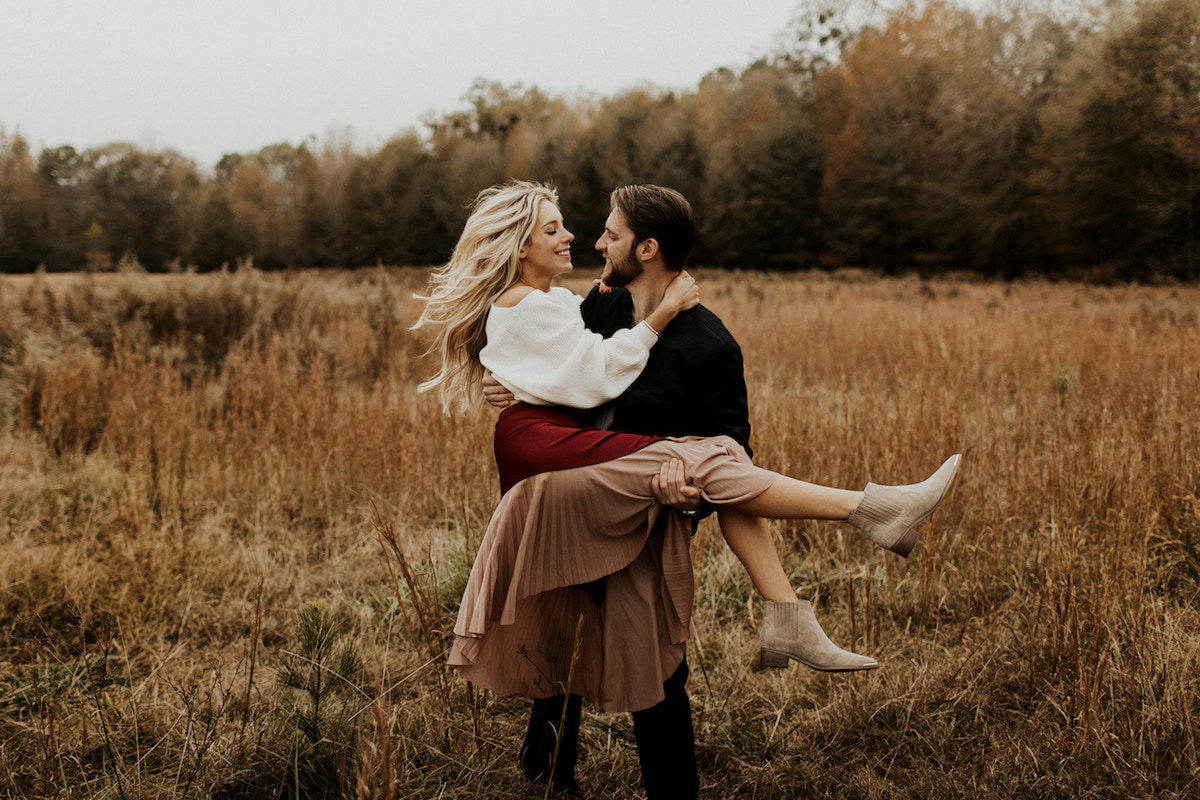 We're soooo happy with how all the photos turned out. Sarah did an amazing job and we're super pumped to see what she captures on our wedding day. Nick and I are decently comfortable together in front of the camera when it comes to taking outfit pictures for my blog, but couple-y stuff is newer to us and she really got us to come out of our shells in a way that felt natural and unforced.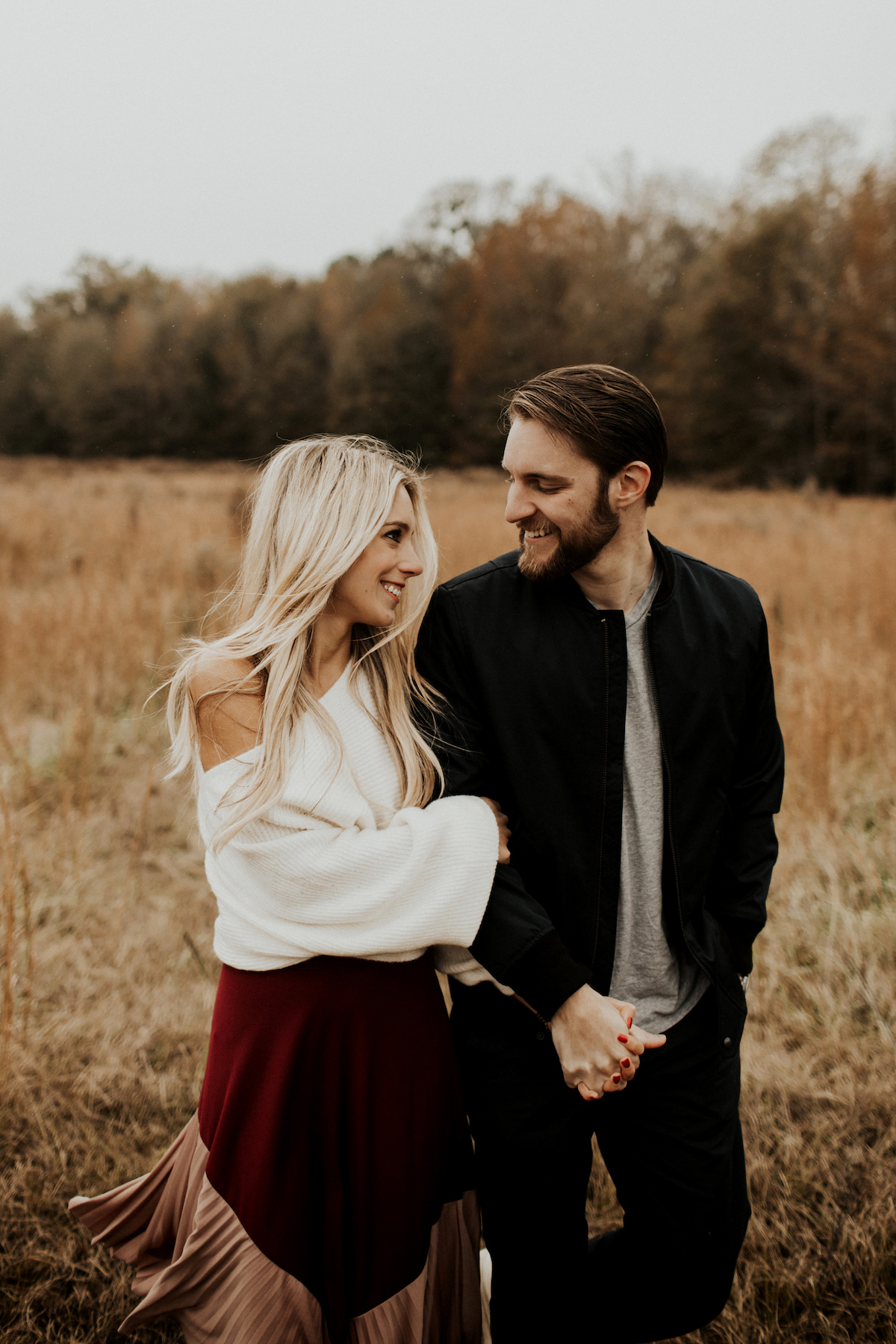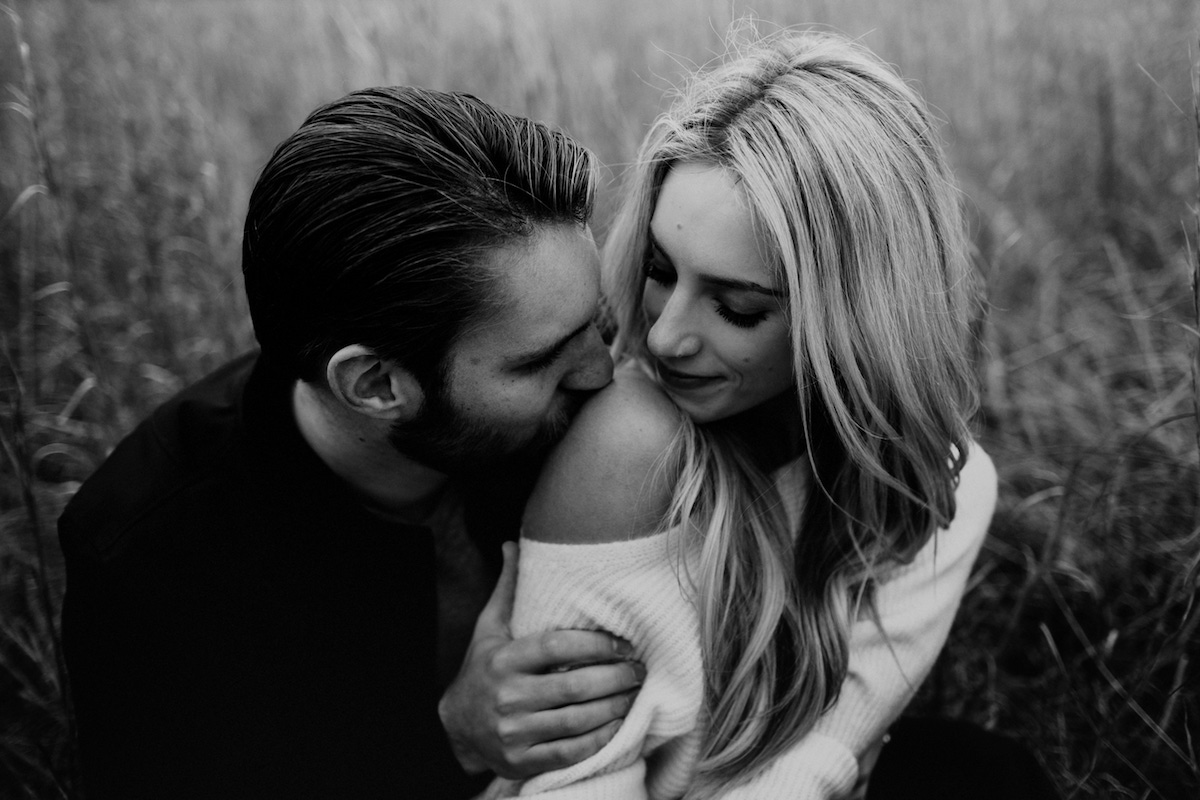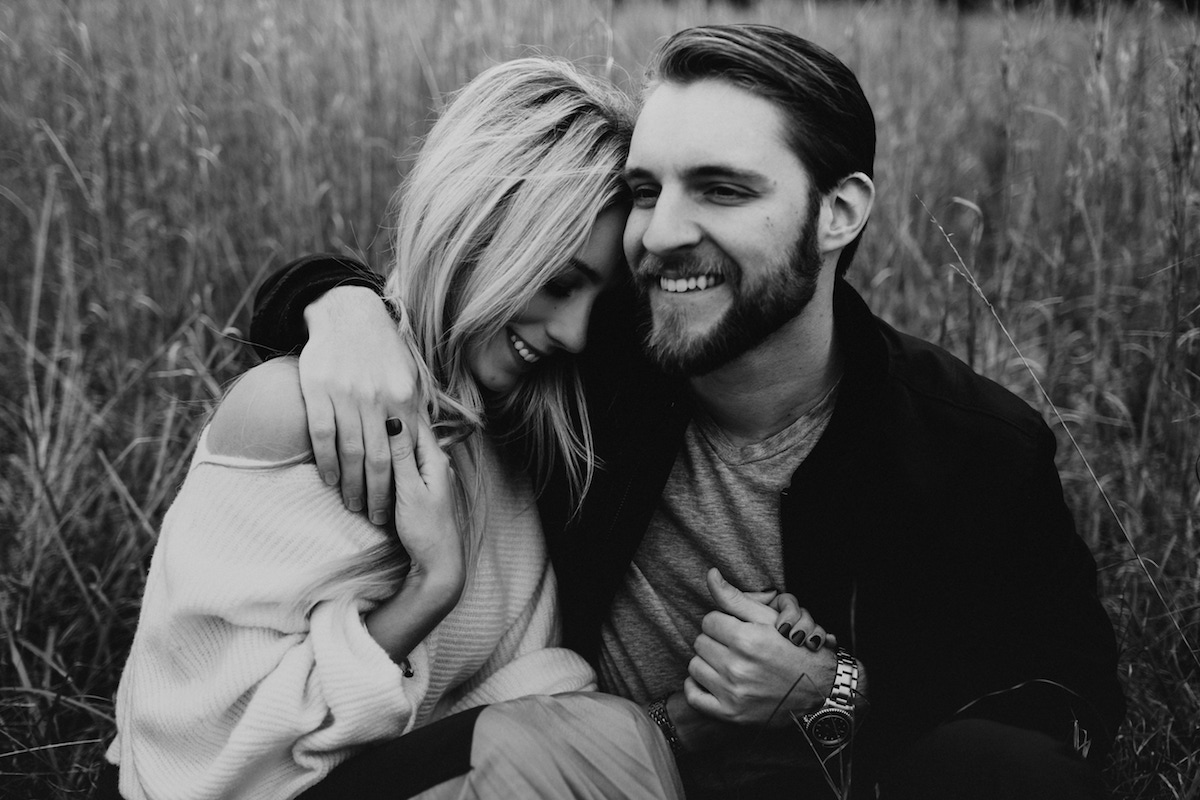 OUTFIT DETAILS // Midi Skirt | Off Shoulder Sweater | Booties | Watch | David Yurman Bracelet | Red Lipstick
I think the pictures speak for themselves, but I do wanna share some funny behind the scenes insight for the photos with the twinkle lights and smoke. These were the last one we took and it had started to rain! Notice my frizzy hair and how my braid is falling out? By the time we opened up our box of smoke grenades (I ordered these online and had them shipped to my mom's house in advance) we were starting to get really cold and after 3 hours of pictures poor Nick's patience was wearing thin.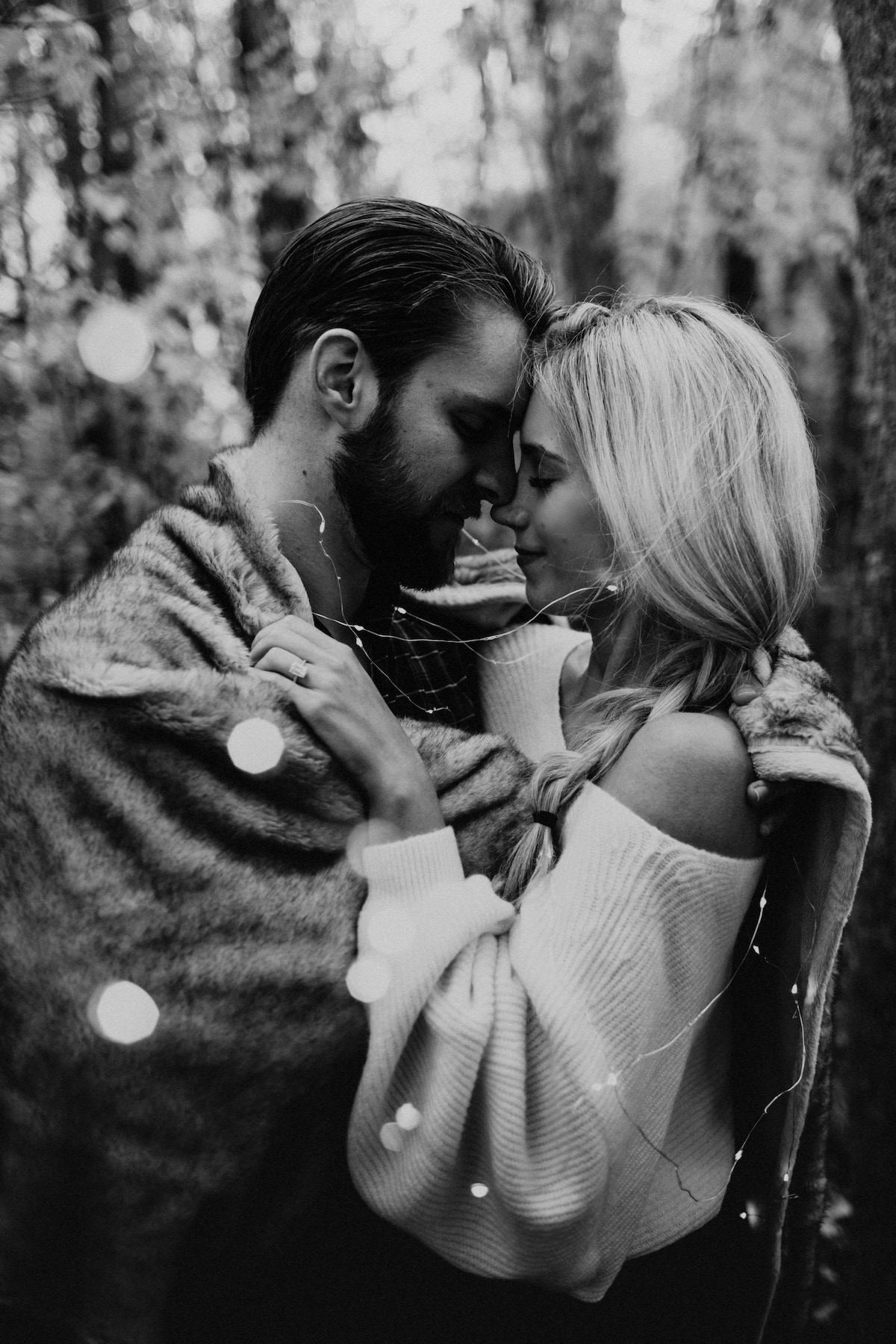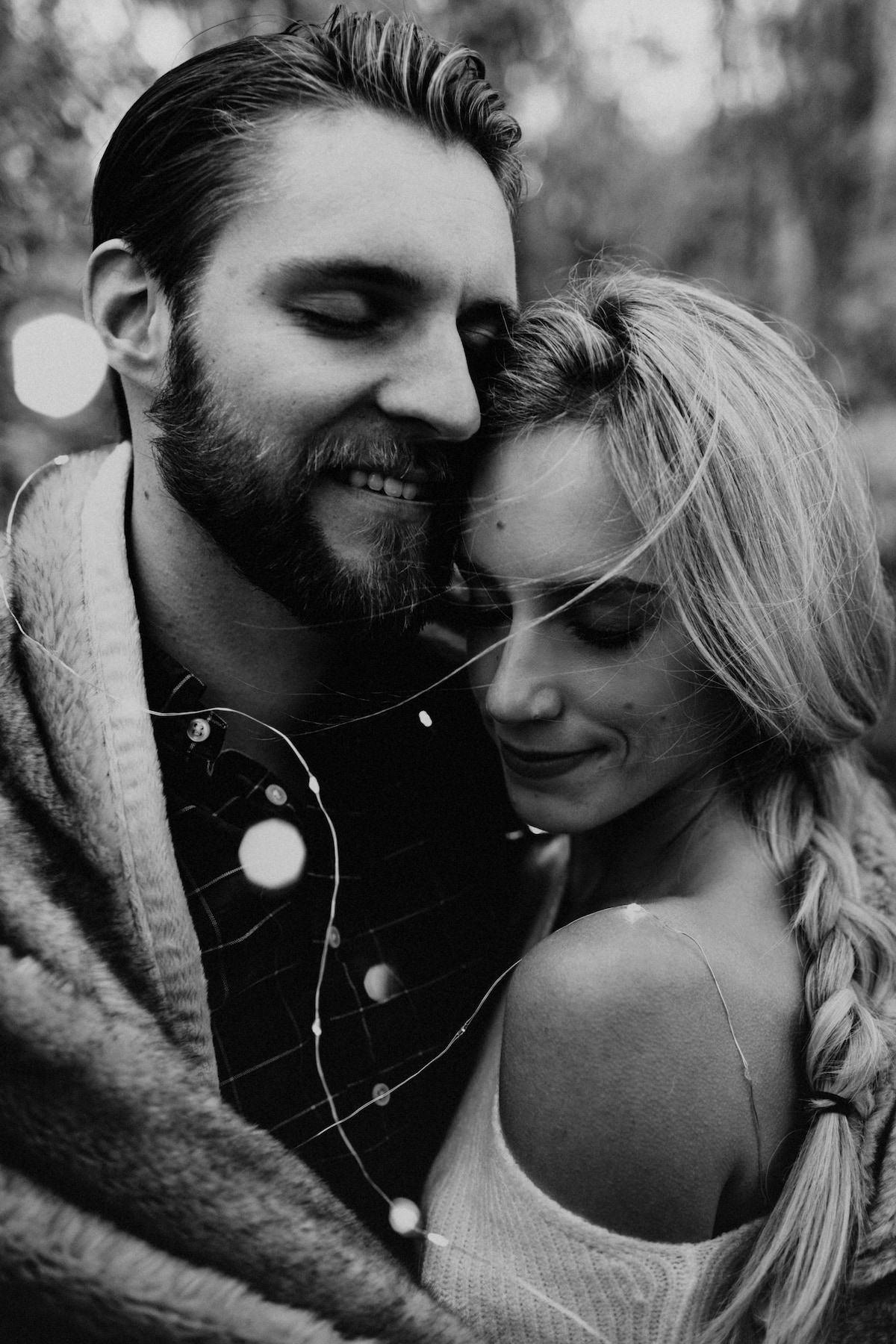 The way smoke grenades work is via a wire. Once pulled it sets of a small spark triggering the canister, which billows out colored smoke for about 60 seconds. This was the first time any of us had ever worked with colored smoke so we decided to test one of the grenades first and were happily relieved when it went off without a hitch.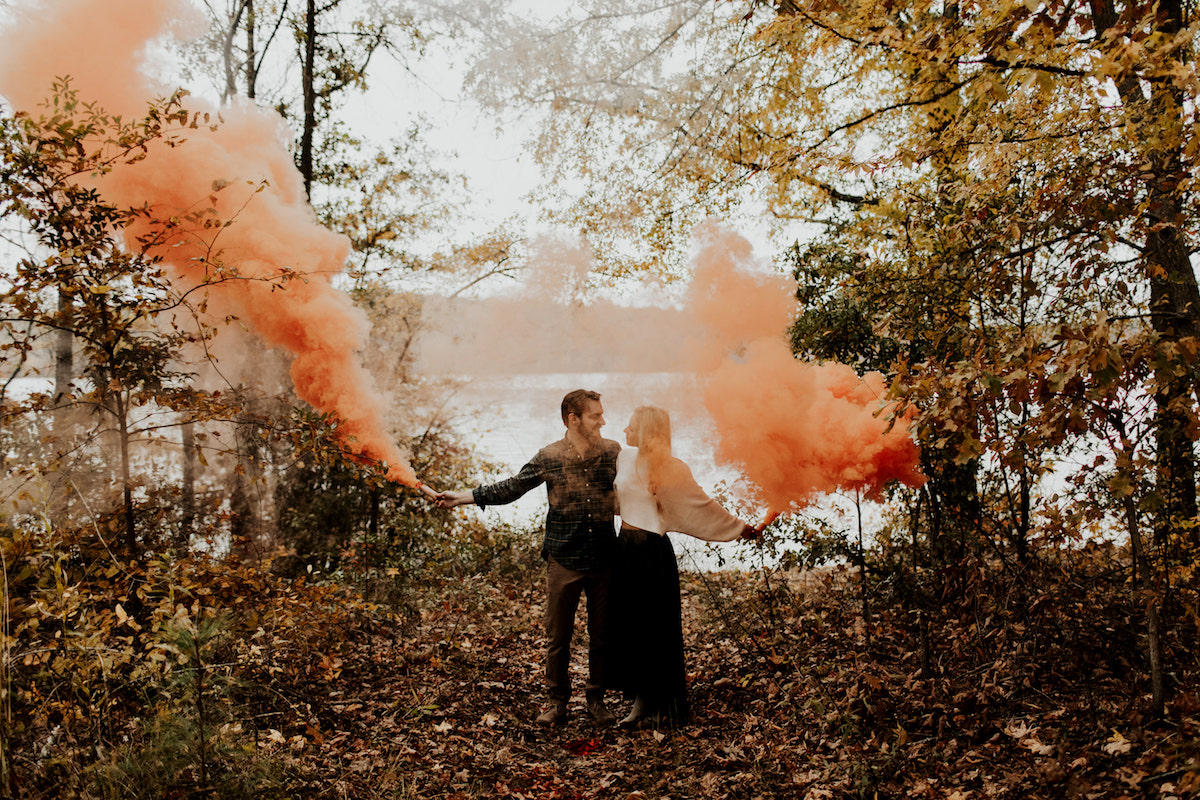 So Nick and I then each grab a canister of white smoke (I ordered a bunch of colors but had white in mind for the photos) and got in position for Sarah to capture the moment. Well we go to pull the wires and both canisters glitch. Nick's is a dud. Nothing happens. But mine lights ON FIRE. Instead of spewing out smoke, it turned into a fire torch. Thank THE LORD it was raining because I was terrified of starting a forest fire. It was really nerve wracking and we were totally prepared for a Georgia state trooper to pull up and arrest us. Can you imagine???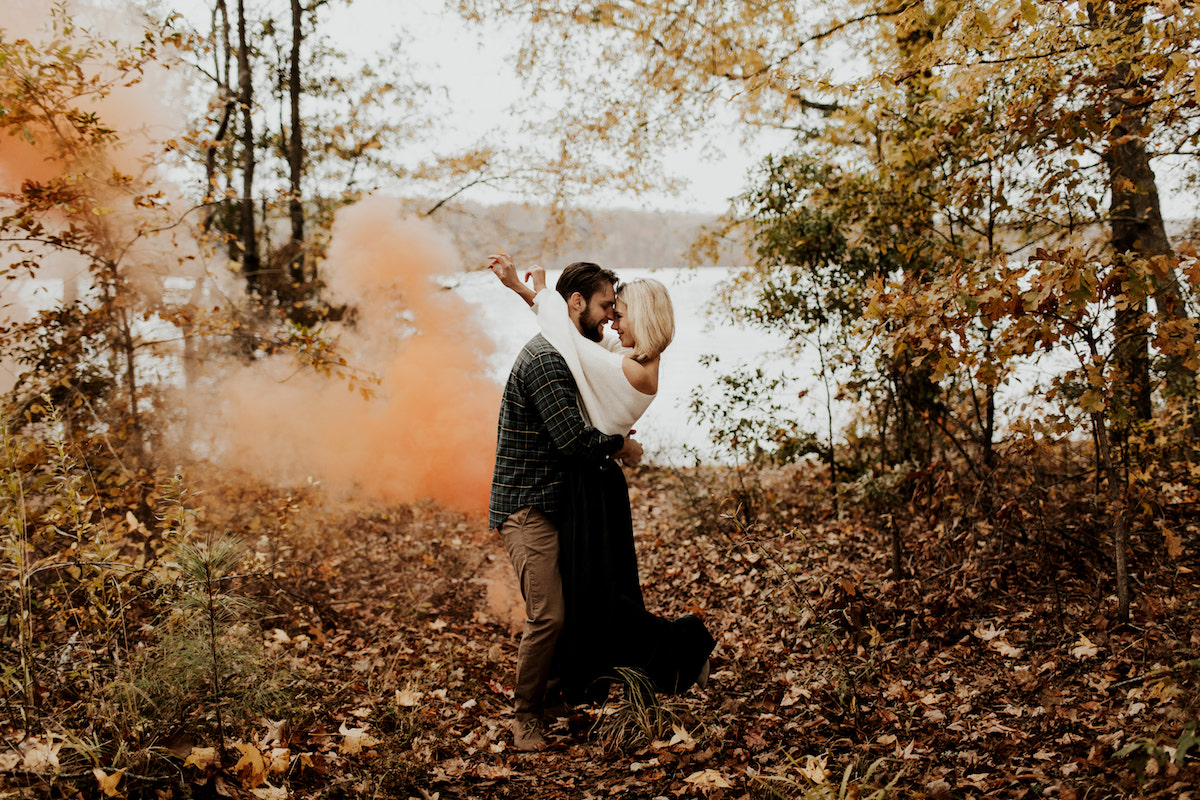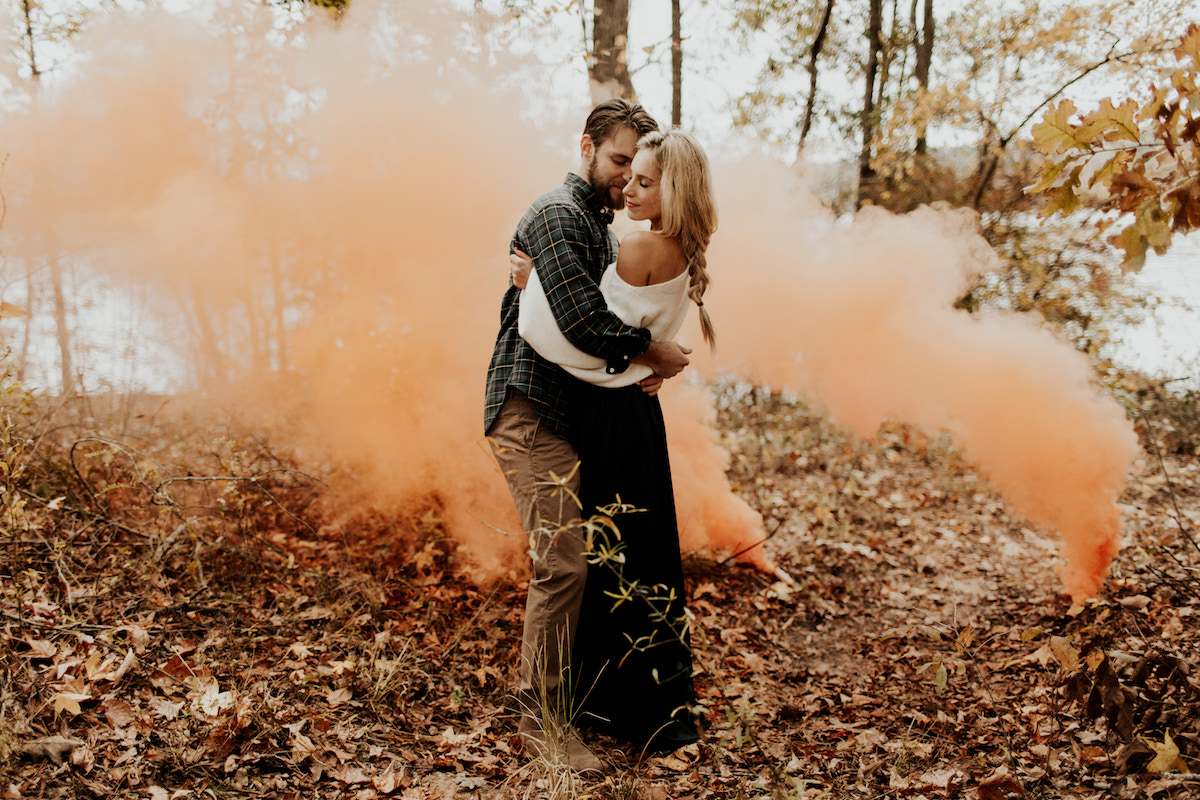 We thought maybe those two canisters were just randomly faulty, but it happened AGAIN with the next two white canisters we grabbed. FIRE TORCHES. We were so close to giving up (at that point it was really starting to rain) but decided to give it one more try with orange smoke and HALLELUJAH it worked. For having only 60 seconds to snap away in the rain, I think the photos turned out really cool! I can't say the experience went as smoothly as I'd hoped it would (you have to be CAREFUL with colored smoke) but now we have another funny story to add to our wedding journey memory bank 🙂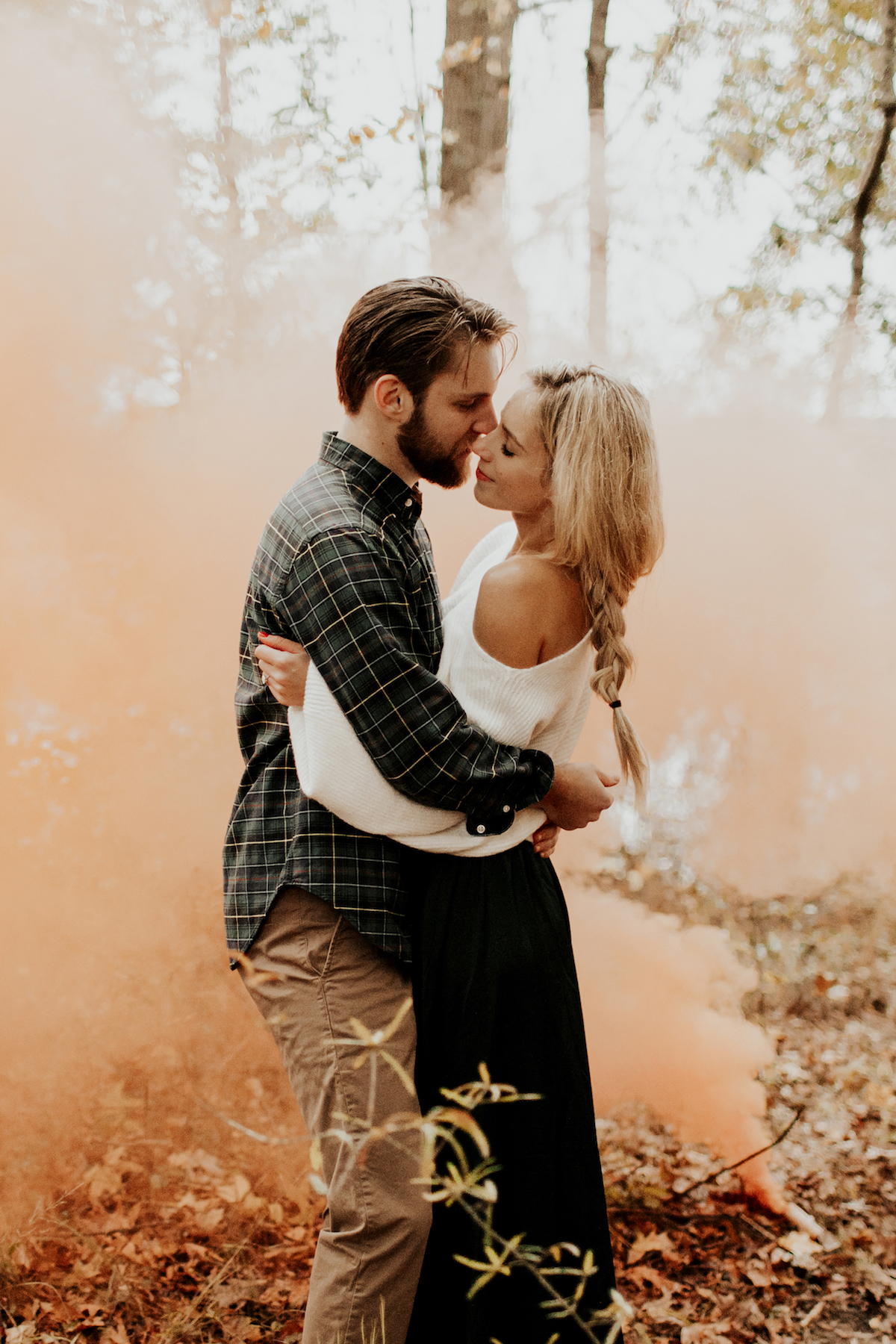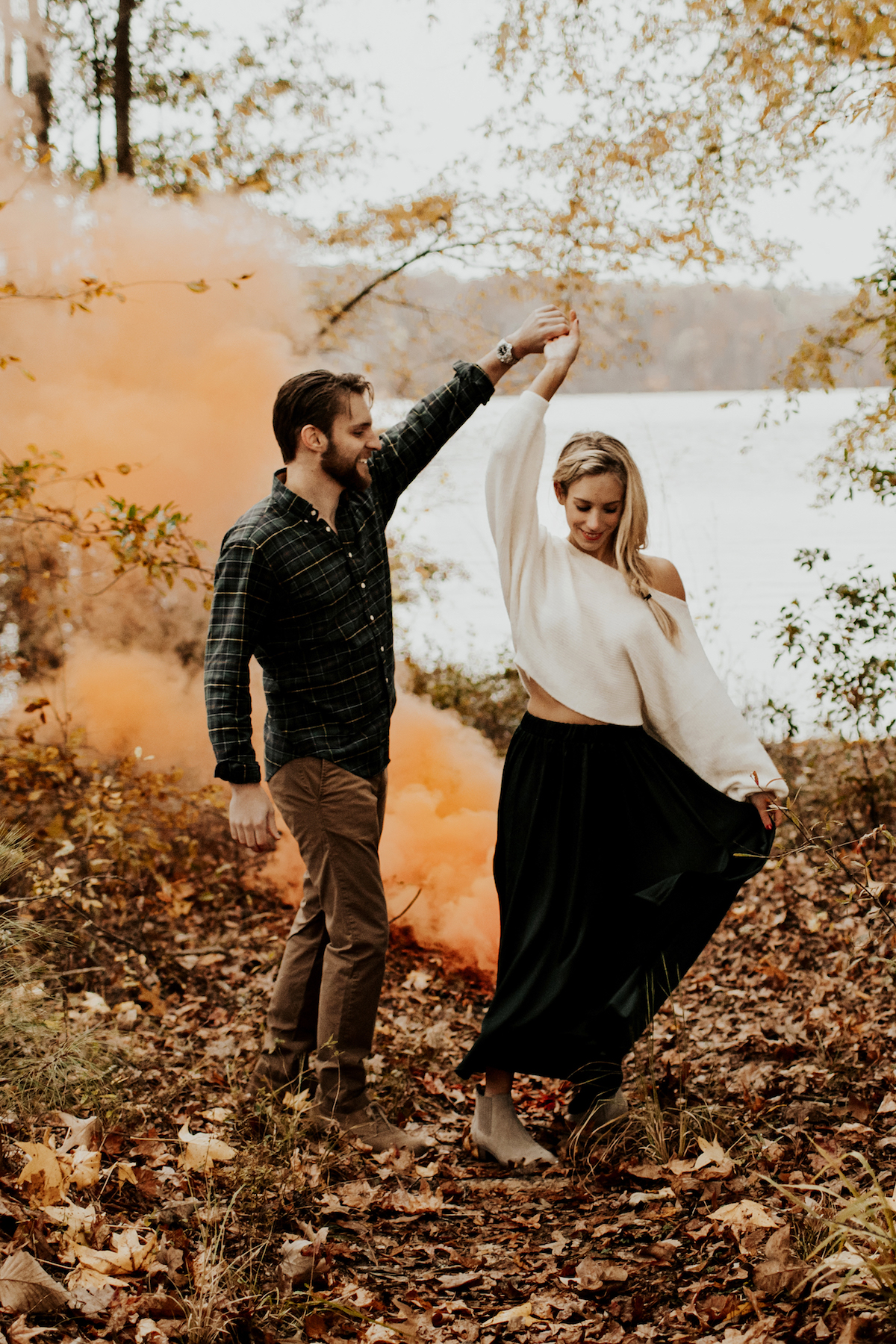 OUTFIT DETAILS // Maxi Skirt | Off Shoulder Sweater | Booties | Watch | David Yurman Bracelet | Red Lipstick
Well this post ended up being way longer than I intended– congrats if you made it to the end! Nick and I are actually heading off to Connecticut today for the holiday, but are first making a very important stop upstate to do our MENU TASTING. Other than the photos, food is the most important part of a wedding right? 😛
Are you up to date on all my wedding planning? Make sure to check out these posts!
WEDDING PLANNING UPDATE #3
WEDDING PLANNING UPDATE #2
WEDDING PLANNING UPDATE #1
WEDDING PLANNING Q&A
- Katie