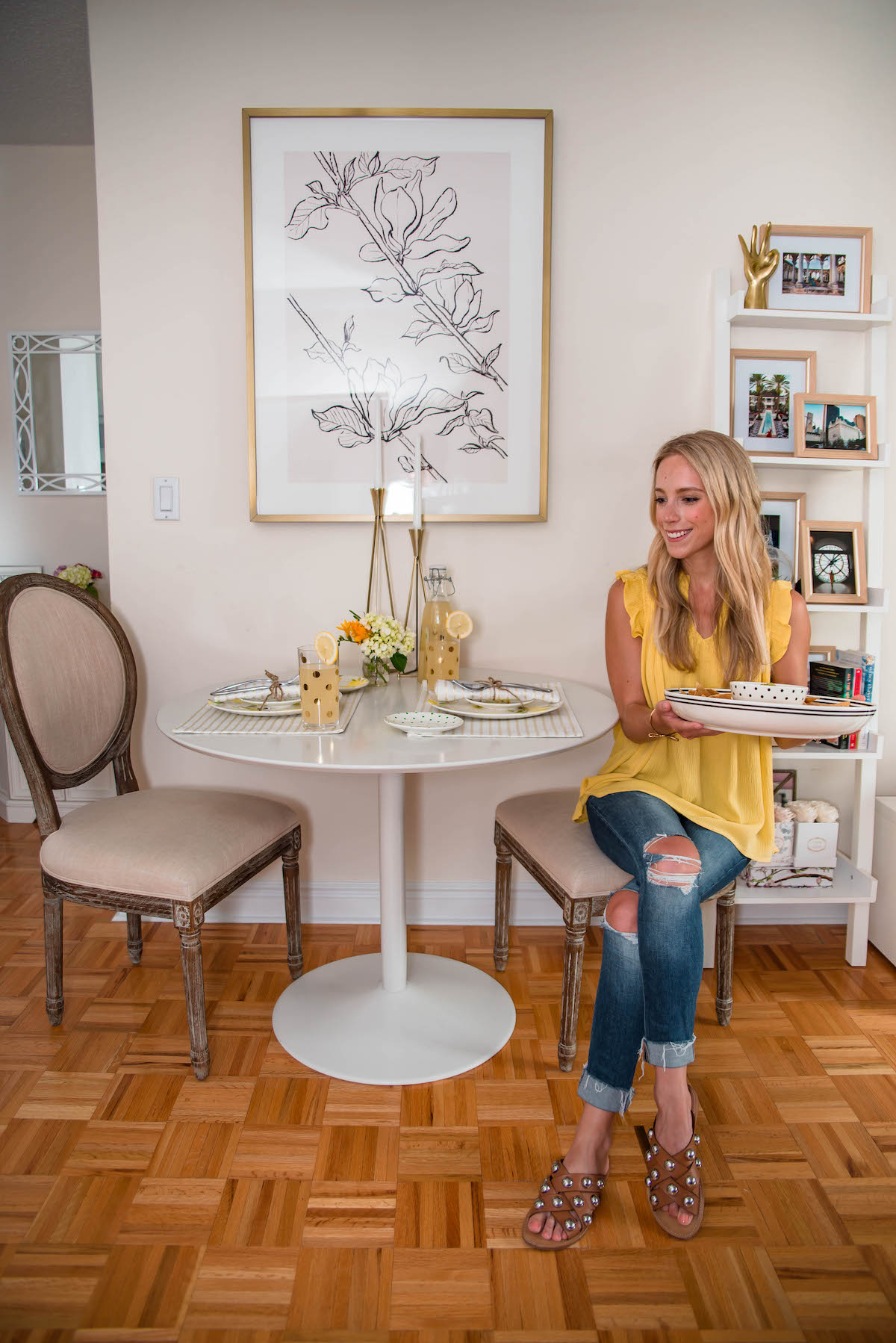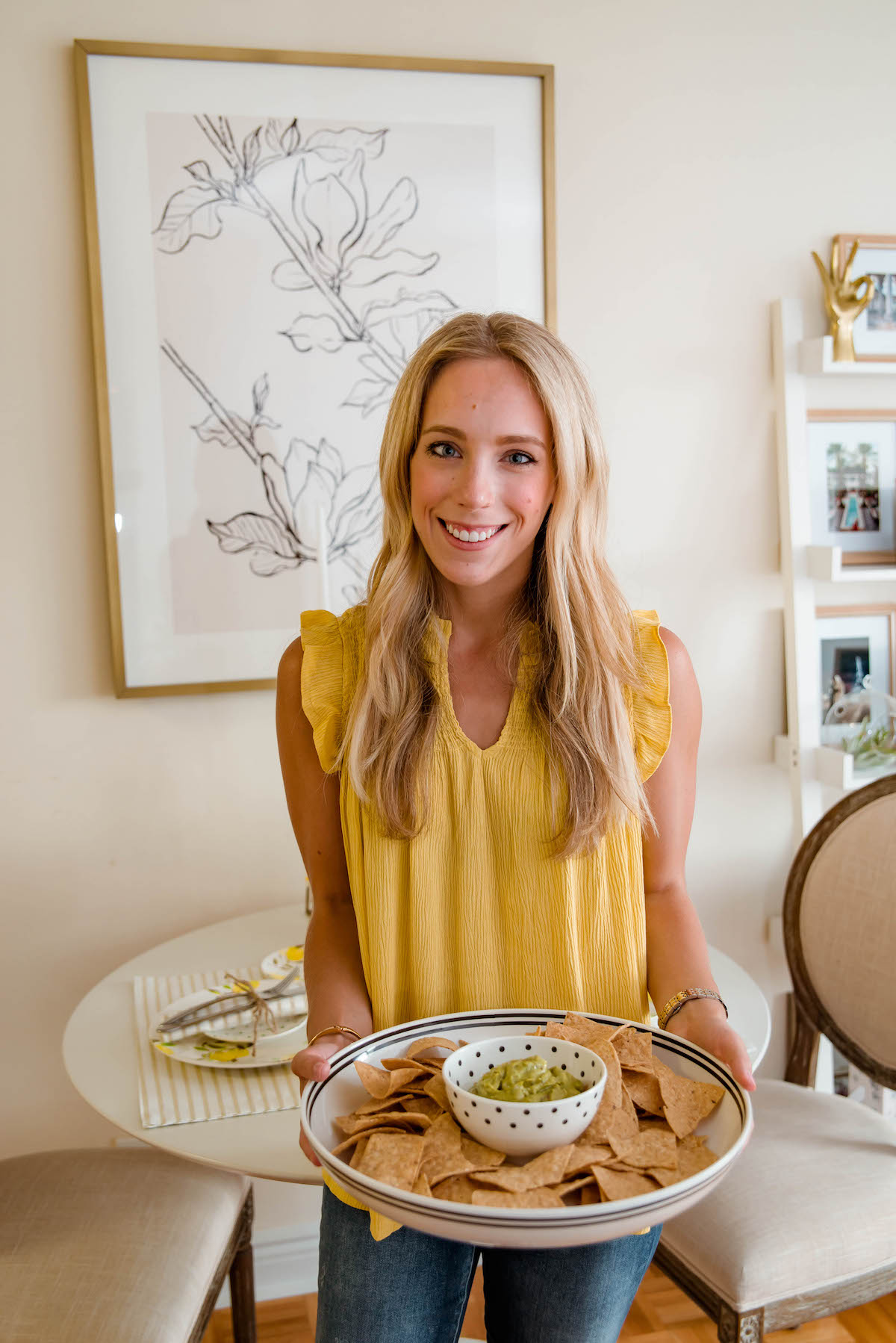 Almost immediately after we got engaged I started getting asked, "Where are you going to register?" I'll admit that I actually had to Google "what is a wedding registry?" and "when do you register for a wedding?" I told you guys I'm completely clueless about all things bridal!! I'll fill you all in on where we're at with wedding planning a little later in the post, but first let's chat about wedding registries.
Once I finally educated myself on what registering actually is, it got my wheels turning and I couldn't resist browsing the dining and entertaining offerings on Bloomingdales.com. Almost immediately I started envisioning ditching our mismatched flatware (that I've had since college) and hand-me-down dinnerware (also mostly from college) in favor of fine china and crystal glasses.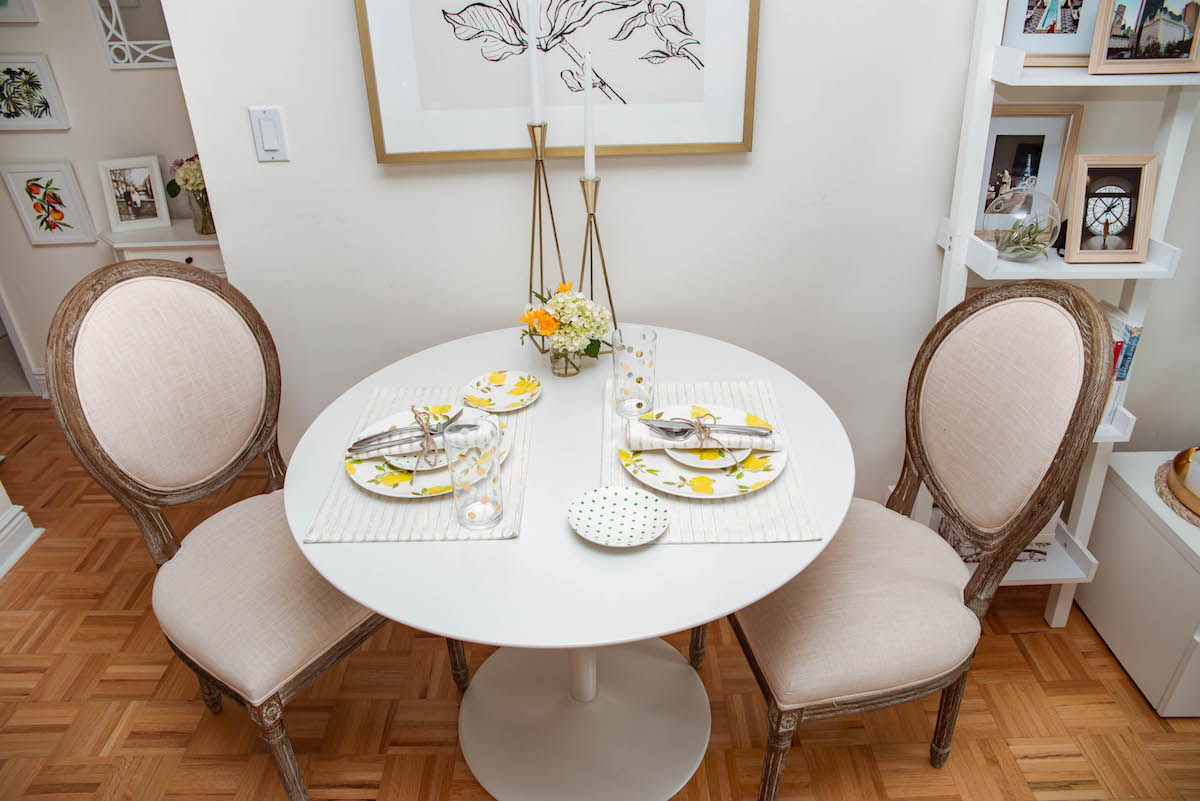 Over the last few years I've held off on replacing everything in our kitchen because I knew we'd eventually get engaged and our moment would come to register for all the porcelain things 😛 That said, of course the second I started clicking around Bloomingdales.com I spotted some tabletop goodies I resist to have in our home now.
SIMPLE & SUNNY SUMMER TABLESCAPE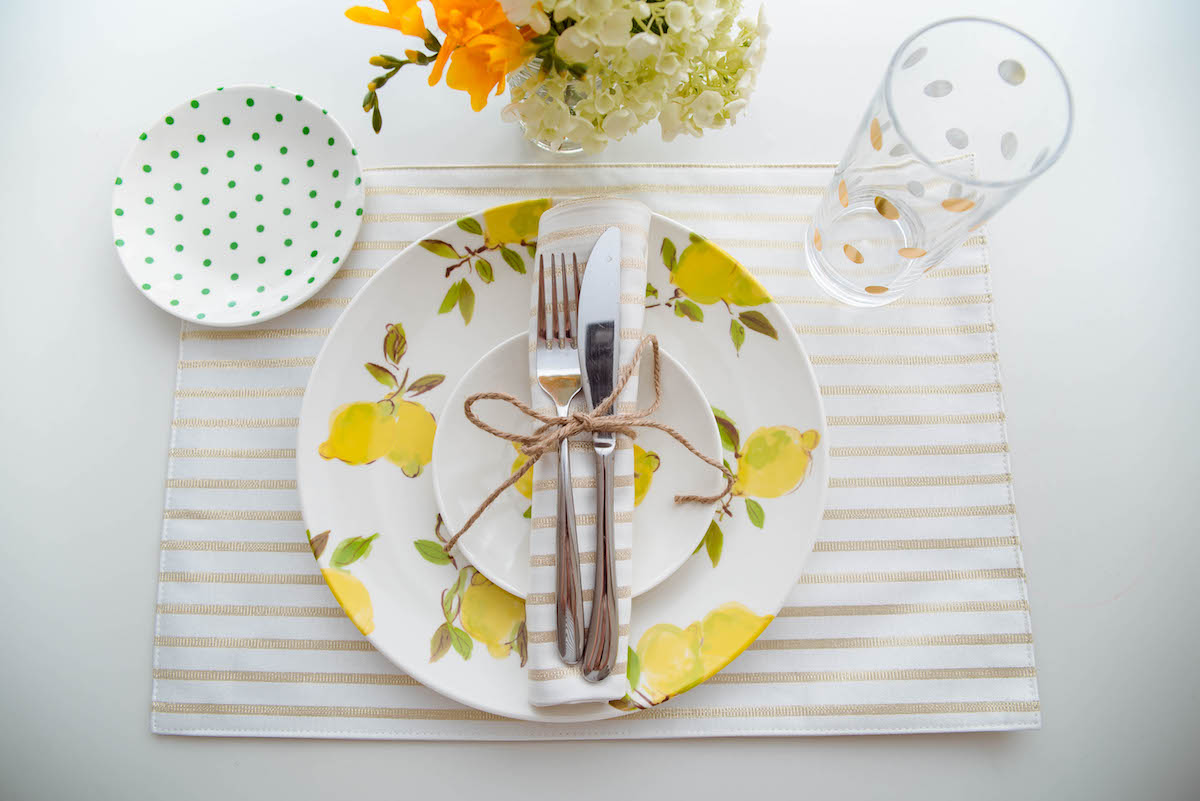 Lemon Dinner Plates | Lemon Accent Plates | Stripe Napkins | Polka Dot Highball Glasses | Stripe Placement | Similar Flatware
I dunno how I'm only just finding out that Bloomingdales has an amazing selection of kate spade new york tabletop products. I was so impressed! I'm talking everything from bar essentials, dining sets, silverware, bakeware, serving trays– you name it! I ended up picking out a few new dinner and accent plants from the Lemon Melamine collection, along with these stripe placemats and napkins. I already had the gold polka dot highball glasses so I was really excited when I realized everything matched! That's 1 big kitchen win for Katie 😛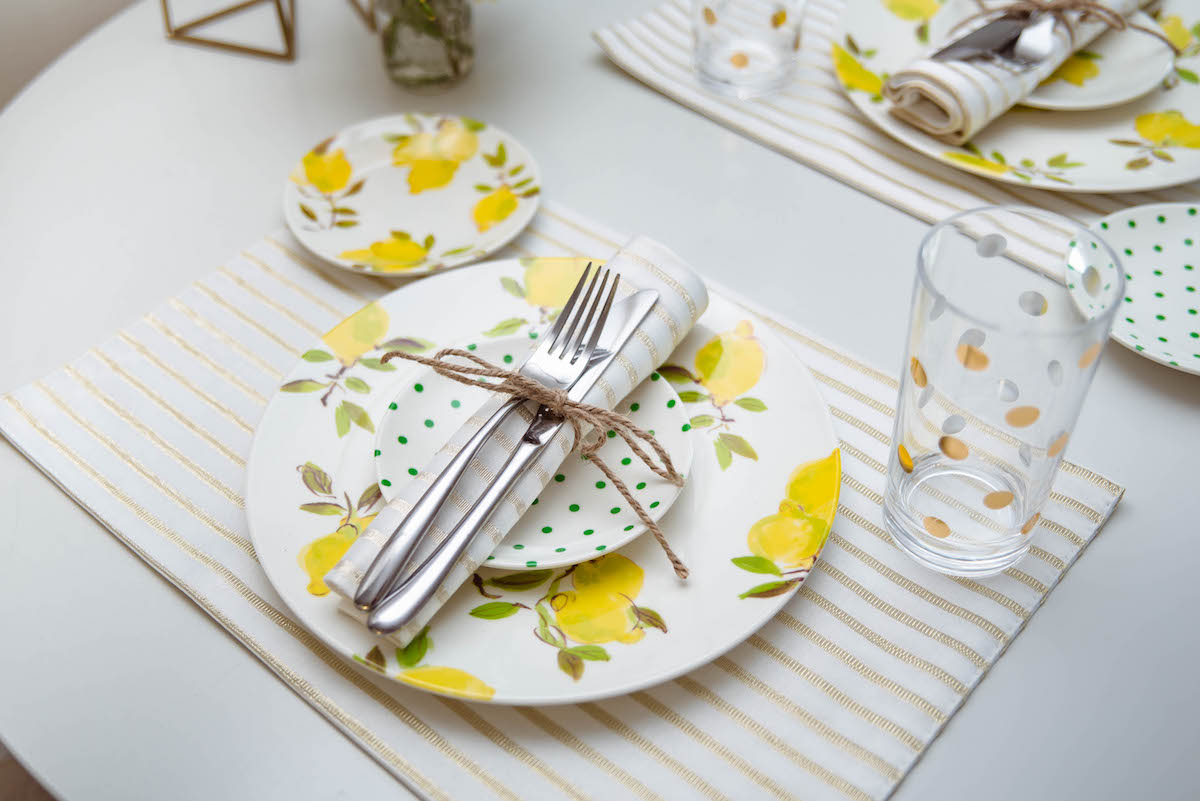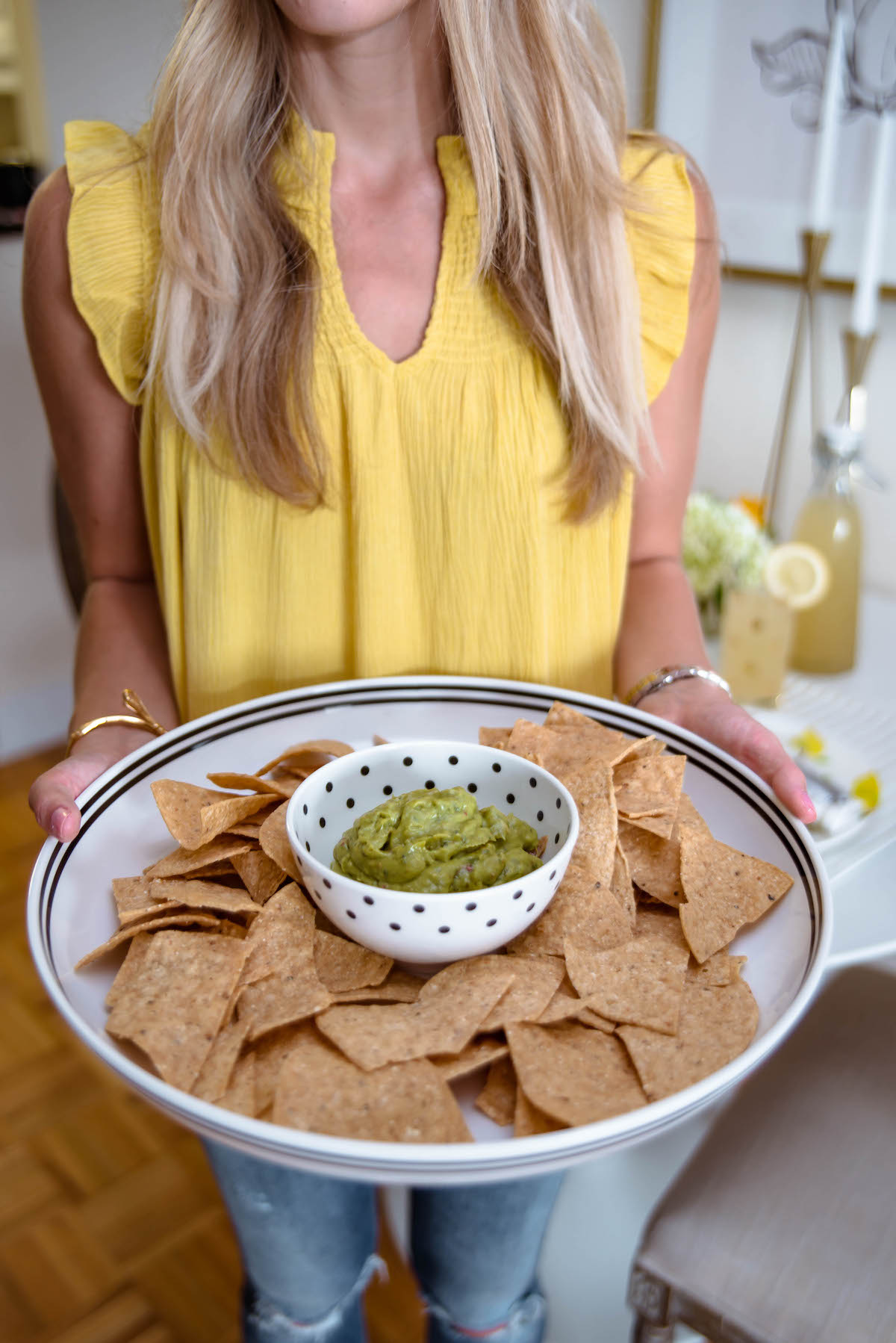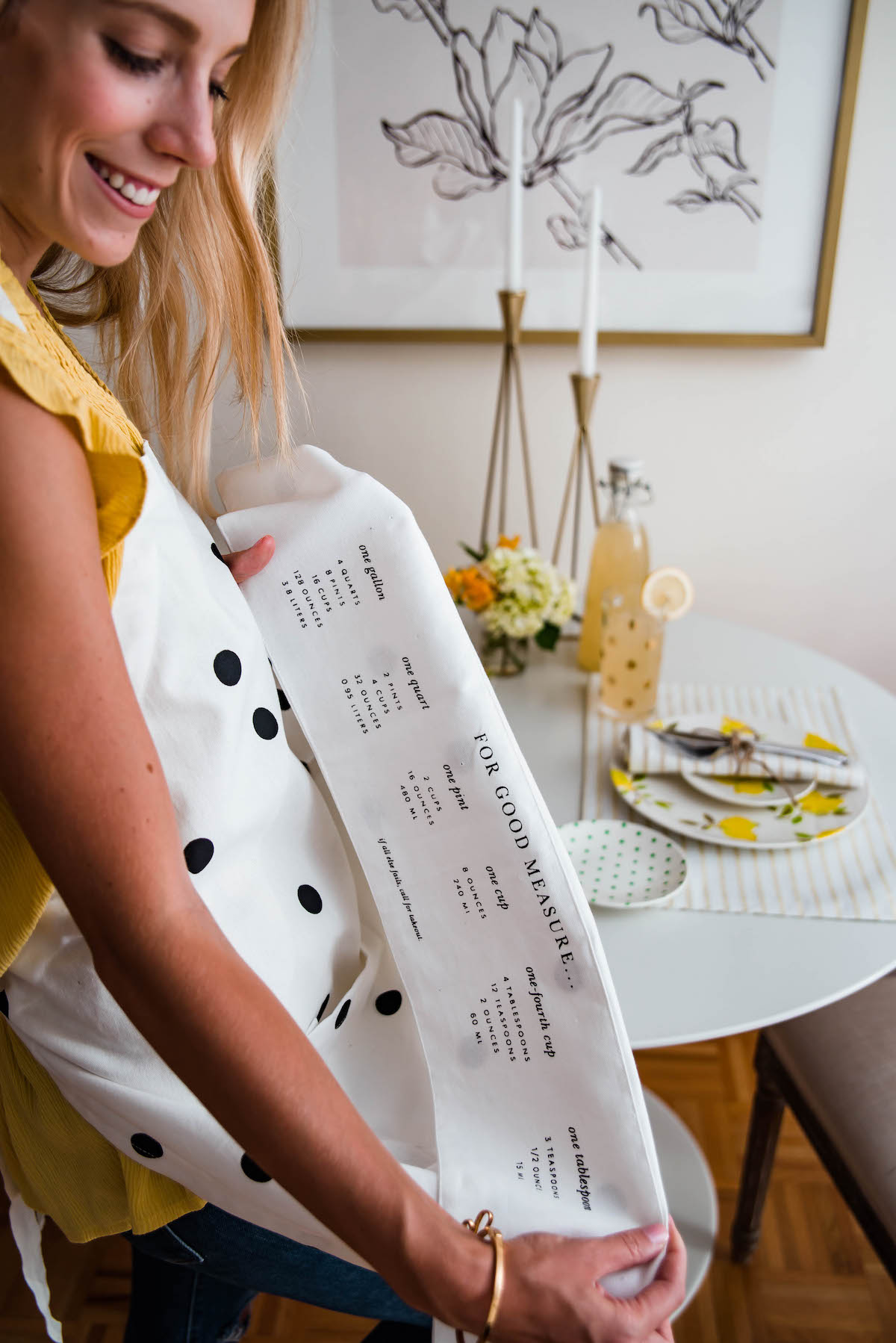 Chip & Dip Platter | Polka Dot Apron
Raise your hand if you love guac! Nick and I are all about our chip and dip snack nights so when I saw this platter I felt like it was made for us. The little bowl in the middle is removable, which makes placing in the dishwasher for cleanup super easy. Oh and can we talk about how there's a measurement guide printed on the inside of my apron? G-E-N-I-U-S. Everyone needs one of these in their kitchen! I'm obsessed!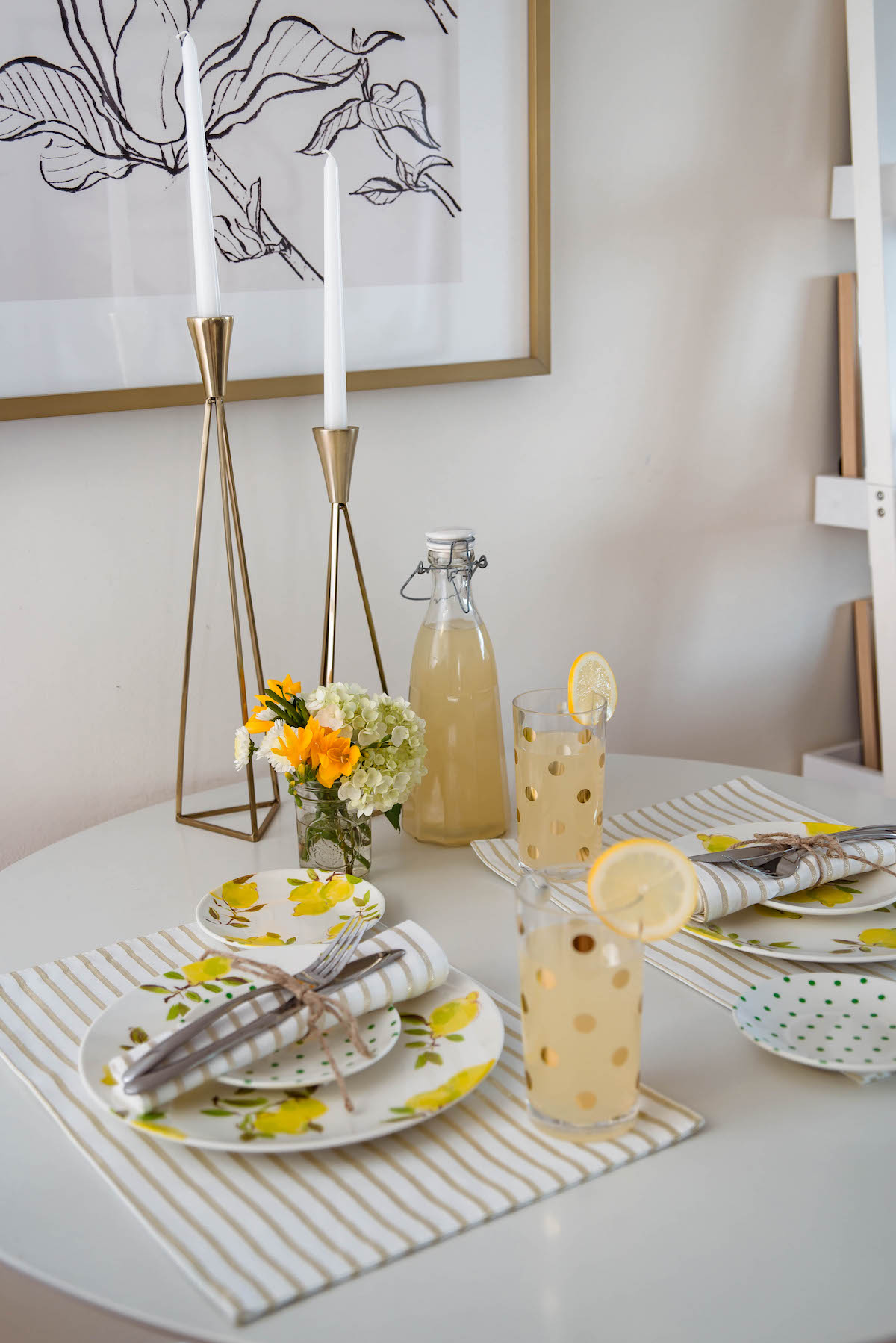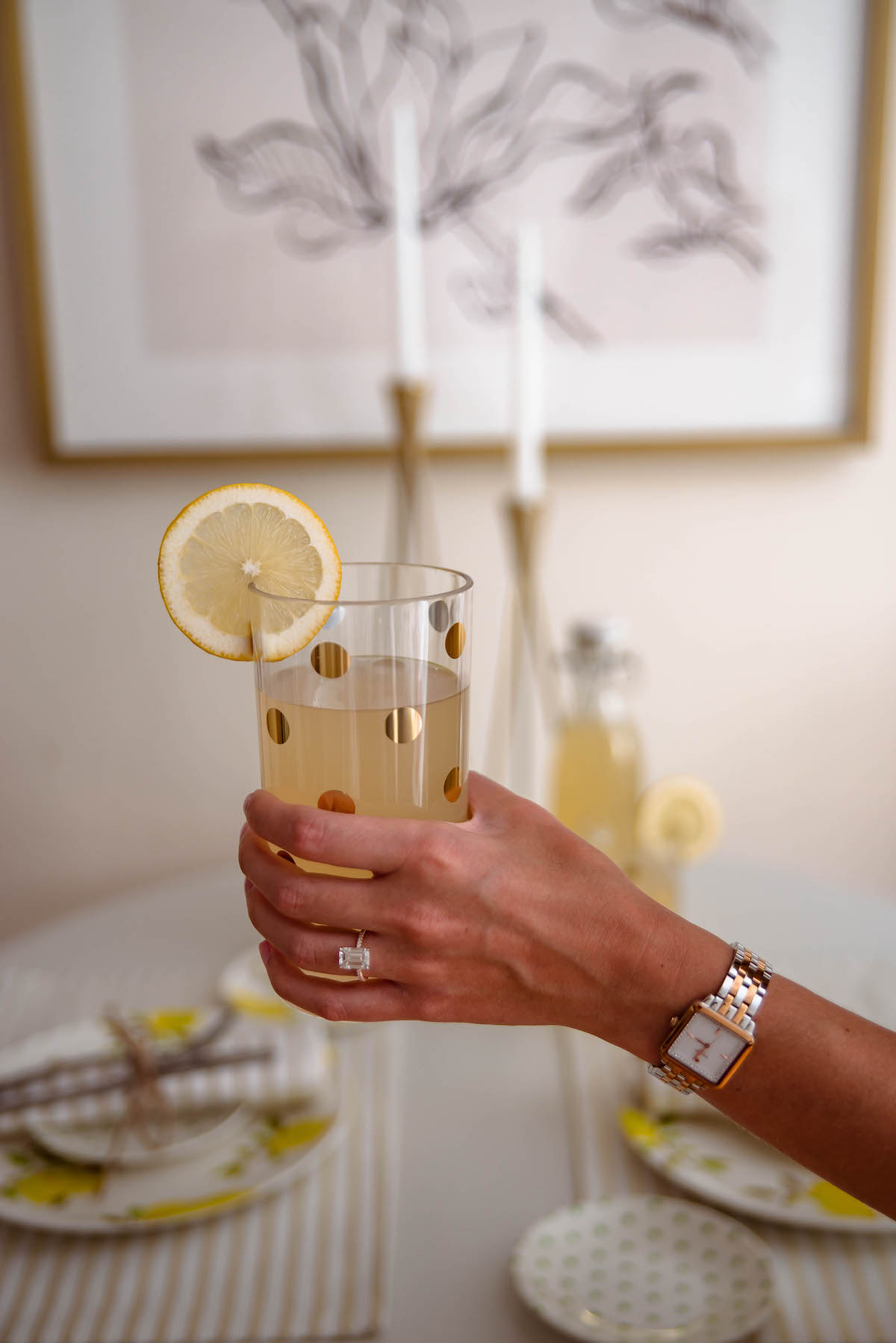 So what do you guys think of my summer tablescape?? While we may not be ready for delicate china just yet, I'm all for fun seasonal melamine dinnerware (hard dishwasher safe plastic) acrylic glasses and serveware that's easy to clean. But since a girl cannnn dream I did make a point to check out some porcelain goodness from Lenox. Not THIS SET is prob what I'll be adding to our registry and oh gosh this rose gold cutlery!!! Feel free to dream along with me peruse my mental wishlist below 🙂

I know I've talked a little bit about our wedding planning progress on Instagram, but now that's we've actually checked off a few big things on our to-do list I figured I should fill you guys in here on the blog. First of all… I can't believe we're been engaged over a month! I swear it felt like just yesterday!
Secondly! Surprisingly everything has been moving along really smoothly!! So far the only stressful moment was when I began researching venues and decided to set up tours at 9 different places over the course of one weekend. Now THAT was a doozy. Luckily our location scouting went really well and while we found three venues that we loved, there was one that was a clear standout and just felt so perfect. So YES, we found our venue and we have a date!!! Once we locked those two things down I felt like a huge weight had been lifted off our shoulders and since then lots of other things have been falling into place 🙂
Here's a lil list of what we've completed so far, what we're currently focusing on and the things we're aren't worrying yet!
WHAT WE'VE ACCOMPLISHED SO FAR
✓ Decided on a venue
✓ Confirmed the date (October 2019!!!)
✓ Created a budget spreadsheet
✓ Found our wedding planner (I quickly realized this was a necessity considering we have no idea what we're doing)
✓ Confirmed photographer (just sent in our deposit yesterday!)
✓ Confirmed videographer (Big thank you to everyone who encouraged me to get this– I can't believe I was considering cutting it from our budget!)
WHAT WE'RE FOCUSING ON NOW
Securing a band (hoping to have this locked down in the next week or so…)
Reserving room blocks at local hotels
Pulling together design inspo & trying to wrap our head around what we want our wedding to look like
WHAT WE'RE NOT WORRYING ABOUT (YET)
Exact guest list (we both are on same page about sticking to 100 guests!)
Our bridal parties
What we're going to wear (I honestly could care less about my dress… Is that weird??)
Catering or cake
Decor/Flowers/Rentals
Invites
A bunch of other things that I'm sure my wedding planner will remind me about LOL
Big thank you to Bloomingdales for sponsoring this post!
- Katie