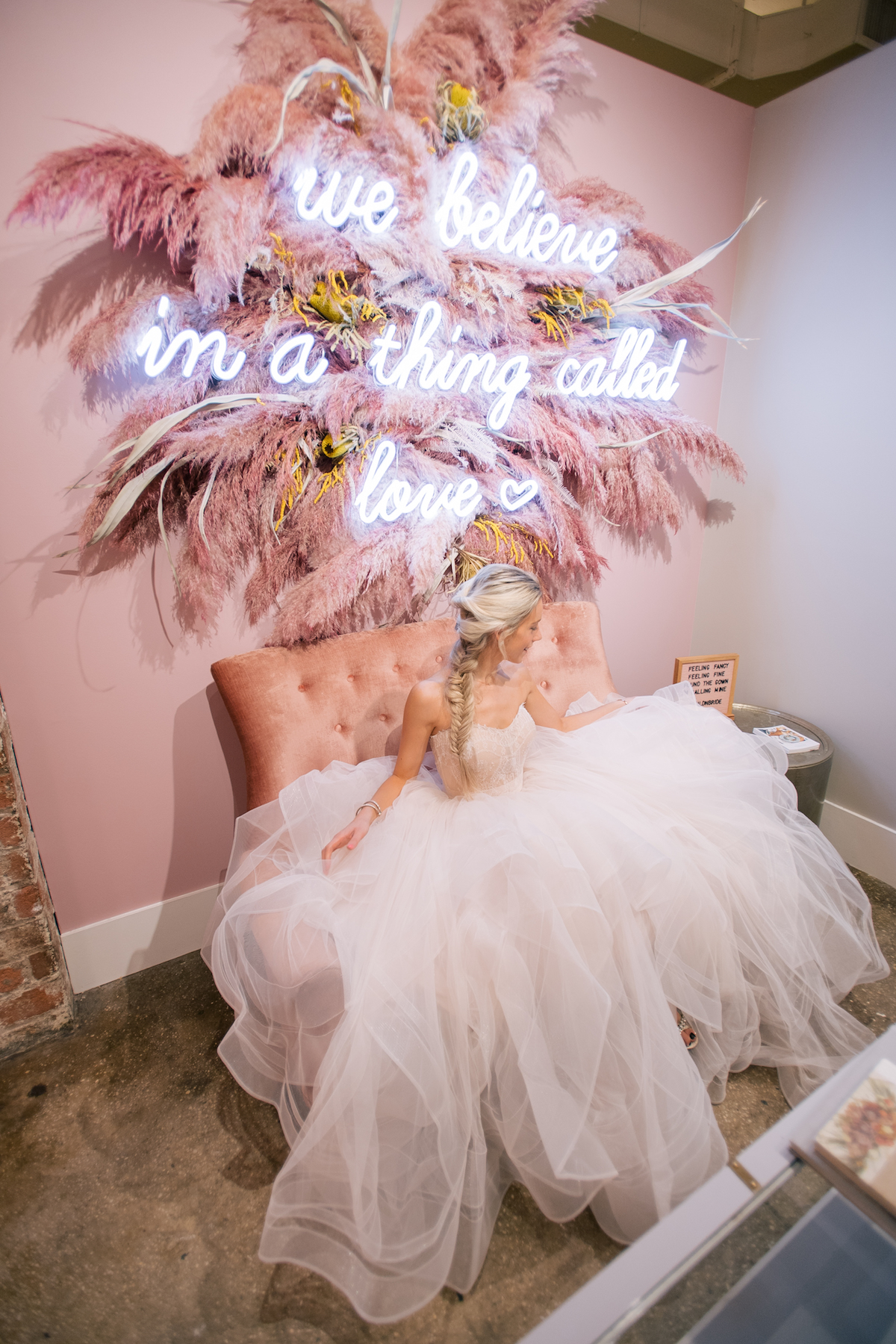 I know I've mentioned to y'all how the first few months of our engagement were a breeze in terms of wedding planning. Besides finding a venue and booking all of our vendors, we really hadn't done a lot of nitty gritty work. I remember thinking to myself… it can't be this easy, right? LOL. Well that mindset quickly changed after the holidays because now we're in DEEP planning mode.
The first half of January we spent finalizing our guest list and designing + sending out our save the dates (still so obsessed with how those turned out) and now our focus has switched to RENTALS.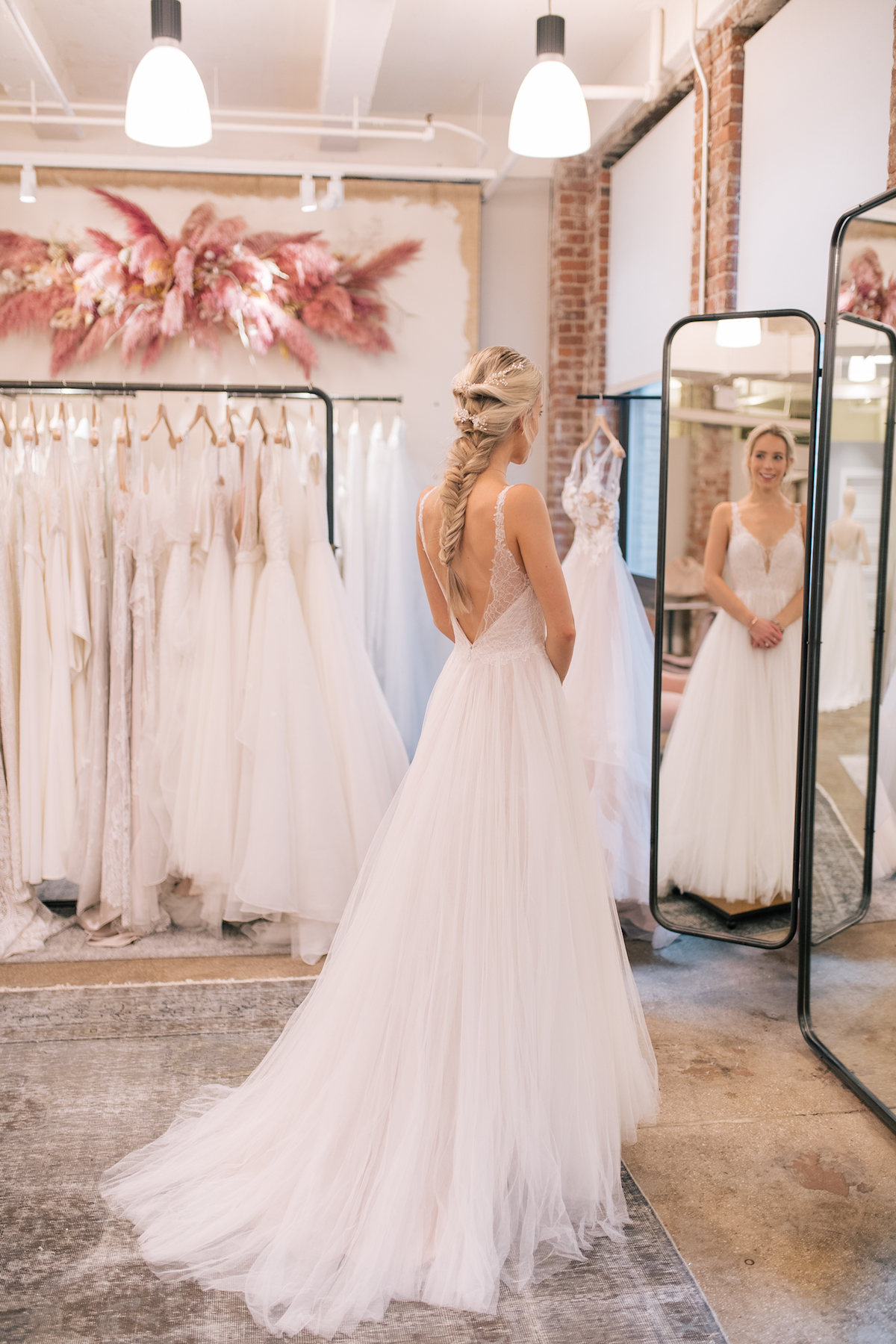 I'M WEARING // BHLDN Mercer Gown
All of these photos are from a recent just-for-fun shoot I did with BHLDN! I'm going to keep our wedding reception and rental plans under wraps until our big day… Don't want to spoil the surprise 😛
The first meeting I had with our planner Stephanie and a large well-known rental company here in the city was incredibly eye-opening for me. We knew going into the planning process that our venue was only going to have dinner tables and ceremony benches and that everything else was up to us to supply. We made sure to include the budget we needed for rentals for a 100 guest wedding, but for some reason I just never thought it would be as expensive as everyone told me it would me.
Well, rentals are indeed expensive my friends. Until that moment I'd been feeling really positive about our budget and everything finance-wise, but seeing just how much it could potentially cost to rent all the items we'd need for our reception left a big pit in my stomach. $1.80 to rent a single salad fork for 6 hours x multiple it by 100 guests = NOOOOOO THANK YOU.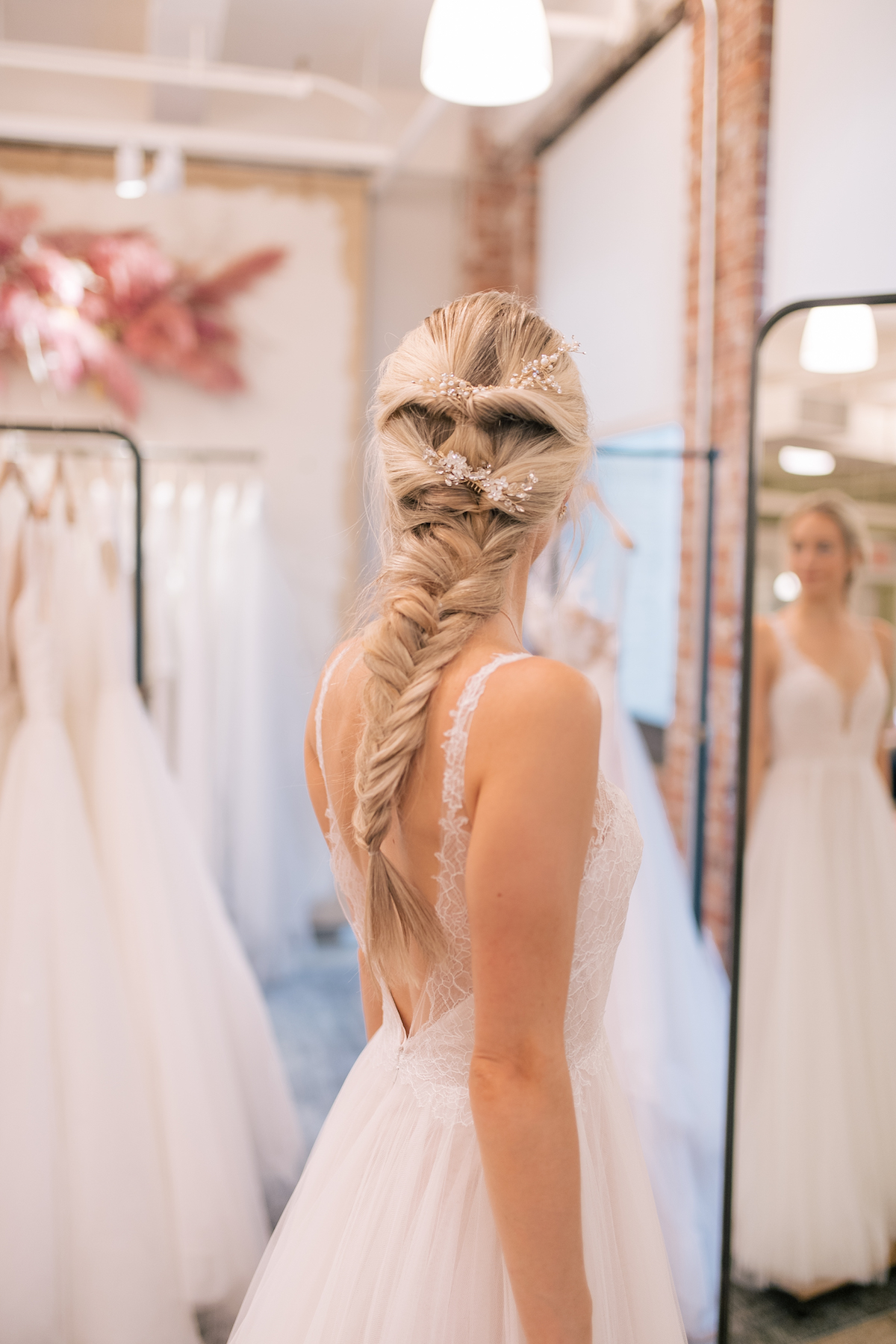 I'M WEARING // BHLDN Mercer Gown | BHLDN Hair Combs
I'd always assumed we would just rent everything for our big day, but that meeting left me feeling very motivated to seek out ways to save money. Could we just pay to rent everything? Sure. Do I want to spend an arm and leg on rentals? No ma'am.
Turns out there are plenty of ways to significantly bring down the costs of wedding reception rentals. As I always do when I'm stumped on something, I immediately turned to my Instagram fam' and put out a PSA asking for advice. Right away I was bombarded with message after message from gals telling me their hacks and where they were able to find deals of everything from linens to chargers to consigned flatware. Ugh I LOVE social media. I also found a lot of great tips stalking the WeddingWire discussion boards! 😛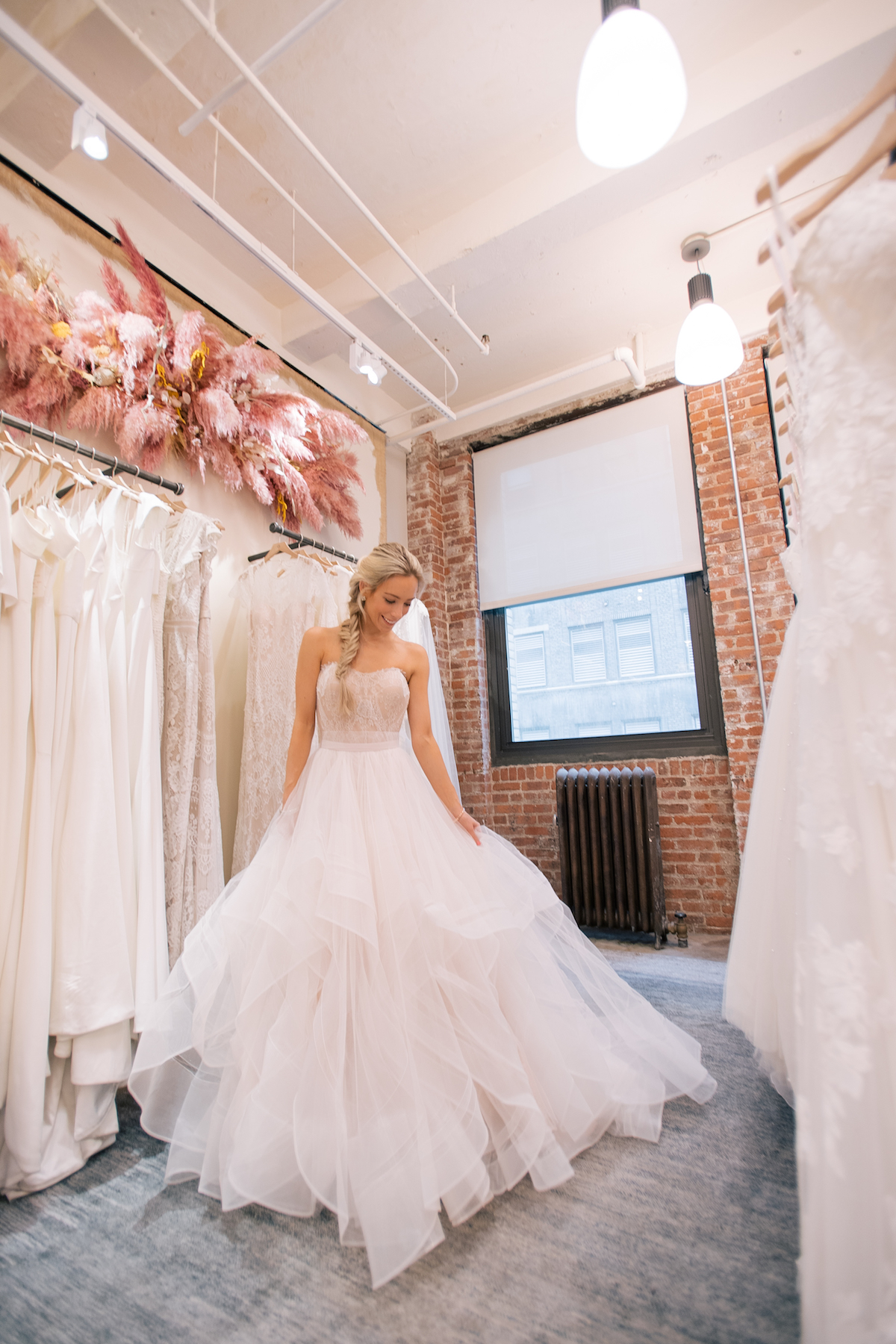 I'M WEARING // BHLDN Effie Skirt | BHDLN Girard Corset Top
Are you engaged and in the same boat as me? Well keep on reading for a roundup of the best tips for how to save money on wedding reception rentals.
How To Save Money On Wedding Reception Rentals
Keep it simple
Rental costs for traditional color palettes (i.e. white tablecloths) and simple dinnerware/glassware tend to be much less expensive. Try not to get caught up in the minutia of rentals and put your budget towards the the things your guests will actually remember like food, florals, your dress and the entertainment– not the $2.50 rented rose gold salad fork. Highly recommend browsing the 'Real Weddings' gallery on WeddingWire for inspo from other couples!
Buying can be much cheaper than renting
Overwhelmingly I've been told that buying the dinnerware, linens and decor can be much cheaper than renting. When you start breaking down the costs it makes sense. For example… Renting 100 4-piece flatware sets at $7.80 each comes out to a bill of $780. That's $780 JUST to use silverware for a few hours. All that money spent and you don't even get to keep it!!!
For contrast, after a quick search for wholesale flatware on Amazon I discovered similar 4-piece sets priced at half the amount it would cost to rent. It's SO crazy!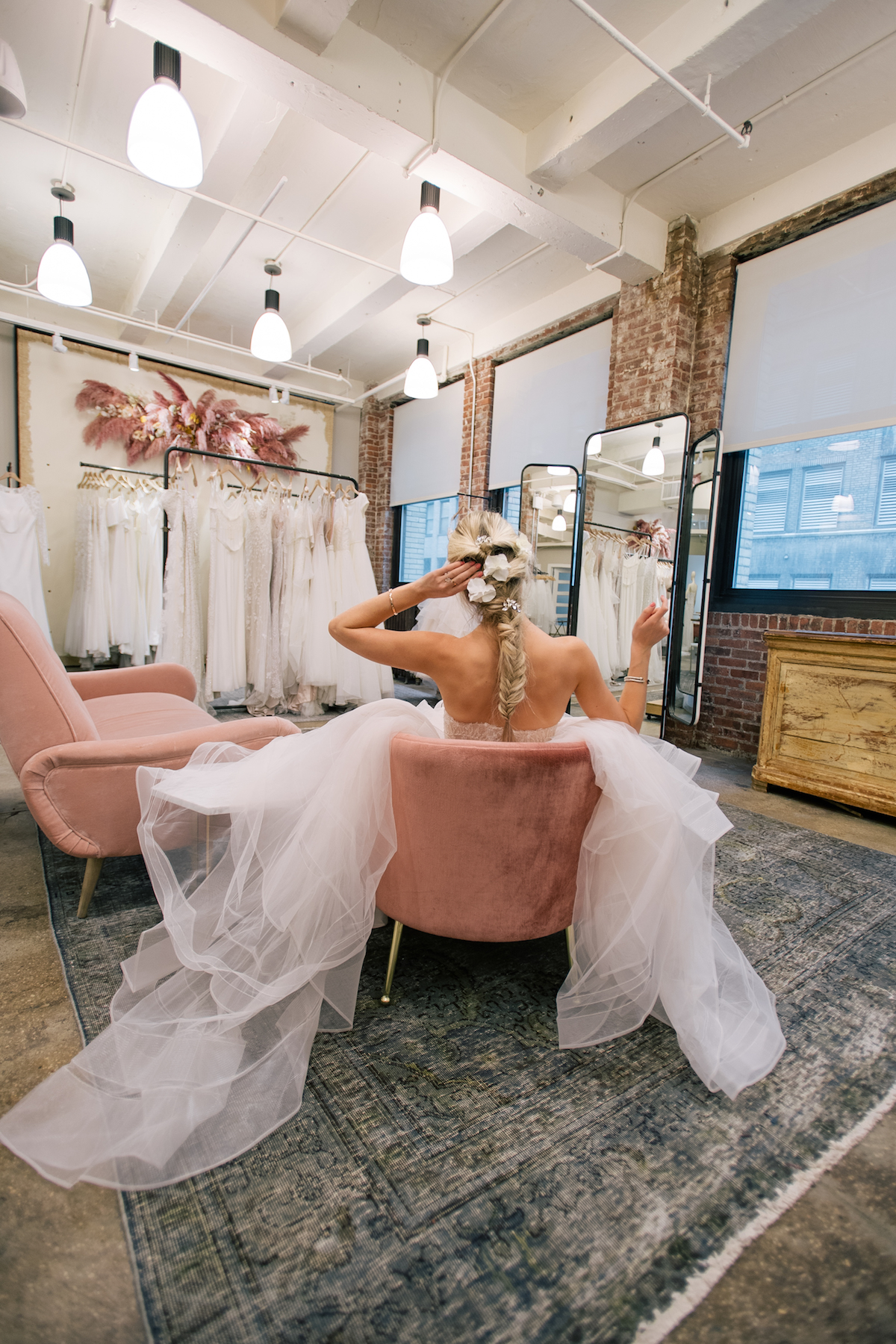 Okay so where are the best places to shop for these things in bulk? I compiled a list of all the shops that were recommended to me + a few more that I've found doing my own research.
Where To Buy Inexpensive Linens, Dinnerware, Chargers, Decor & More:

Dollar Tree
CV Linens
IKEA
Your Chair Covers Inc.
La Tavola
Etsy
Vintage Stores & Estate Sales

Amazon
The Christmas Tree Shop
Craft Stores (Michael's, Hobby Lobby)
Outlet Shops
Restaurant Supply Companies
DHGate.com
Facebook wedding pages
PS! After your wedding you can sell everything via Craigslist, eBay or Facebook. I had a bunch of gals even tell me they made a PROFIT selling the plates and napkins they'd purchased!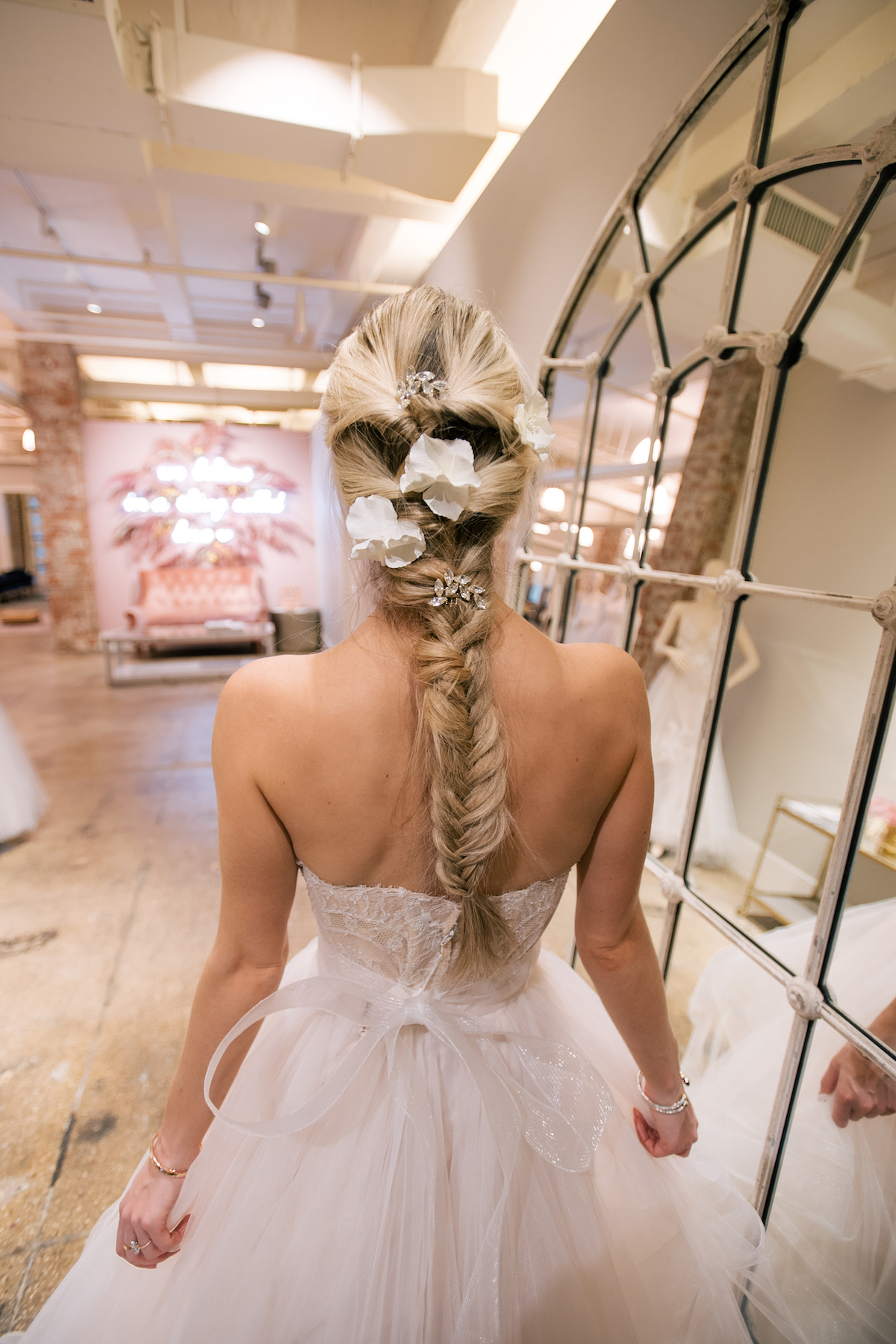 I'M WEARING // BHLDN Effie Skirt | BHDLN Girard Corset Top | BHLDN Hair Clips | BHLDN Hair Flowers
Find vendors that include rentals
Oftentimes wedding venues and caterers will offer packages that include reception must-haves like tables, chairs, linens, flatware, dinnerware, etc. so ask questions and read the fine print in your contracts! Finding a venue that's going to supply all these items can make the planning process much easier and significantly cut down on costs since you won't have to pay for separate rentals+delivery fees. Many caterers also have sets of dinnerware for rent that can be included in your food package. Feeling overwhelmed researching vendors? The WeddingWire Vendor Directory makes it easy and has a ton of parameters you can customize to find the venue and/or caterer of your dreams!
Reserve the fancy rentals for just your head table
If you're reallyyyy set on a specific vision for your reception tables, considering keeping the pricey rentals to just your head or sweetheart table and then go budget-friendly for the rest of your guests. This way you and your bridal party can experience (and get photos sitting at!) the Pinterest-worthy table, while not having to blow your budget on fancy rentals for all your extended family and plus ones. At the end of the day no one is going to notice they're eating off of plain white china, while the head table's plates have a gold rim.
Split expenses with family or another couple
I think this idea is genius! I received a bunch of messages from you gals telling me how you went in on purchasing a set of 100 linens or gold chargers with another engaged couple or family member to save money. Someone else told me how her dad thought it advance to buy one set of linens and tableware that she and her sisters then used at all of their weddings. SO smart.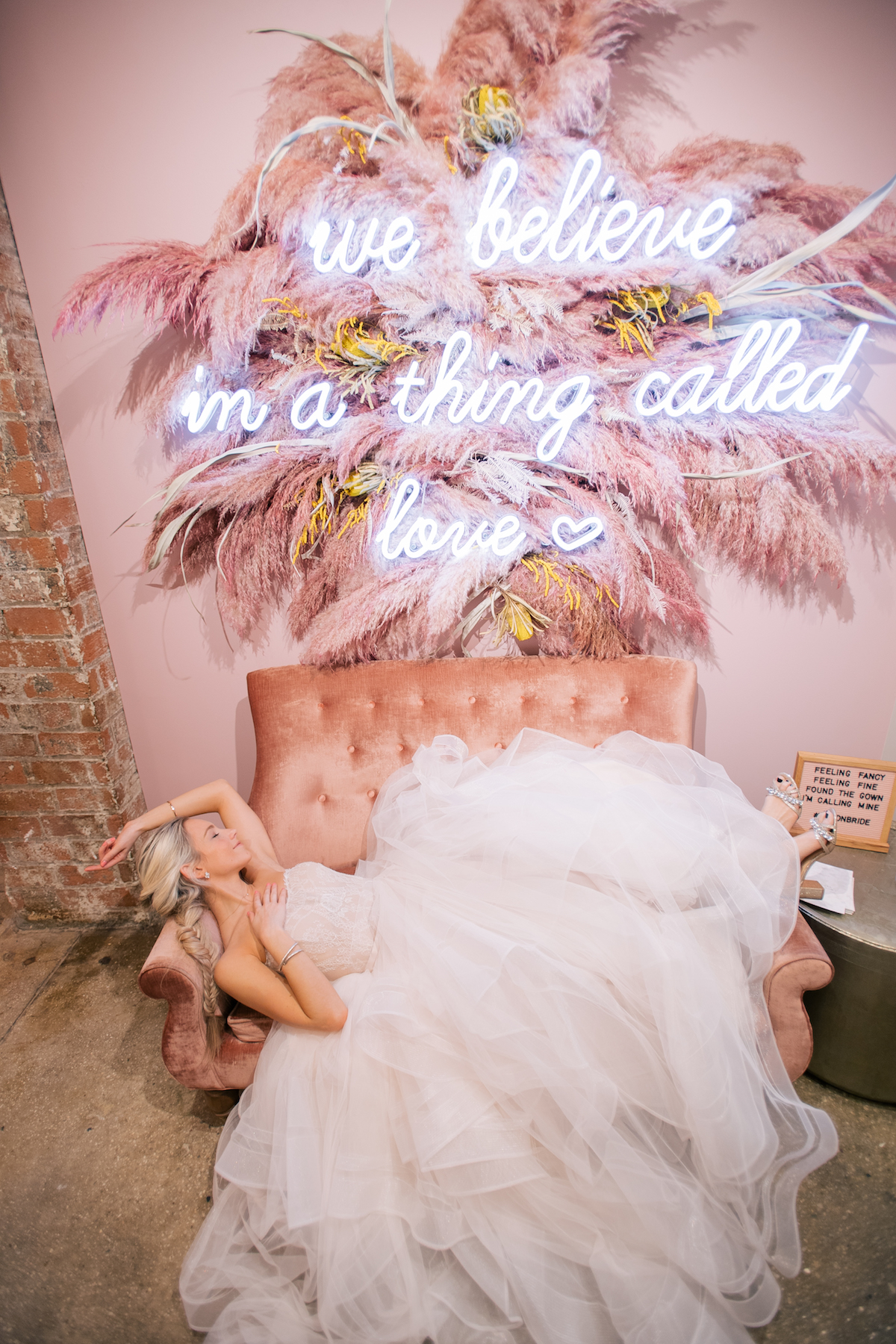 Do your research & negotiate!
Don't just go with the first rental company someone recommends to you. Put on your detective cap and make a list of all your options. WeddingWire has an awesome vendor search engine where you can see every single rental company, caterer, planner, venue, etc. in a city or region. Taking the time to reach out to individual companies and getting multiple quotes can you give you a lot of leverage to negotiate.
If there's one thing I've learned in the planning process so far it's that there's alwayssss wiggle room on rates. Don't feel like you have to agree to the first quote a rental company or vendor throws at you. Speak up for yourself and don't be afraid to tell a vendor your budget. A lot of times they'll be willing to work with you and figure out an agreement that's comfortable for both parties. I found this WeddingWire article on how to effectively and respectively negotiate with vendors incredibly helpful.
If you're working with a planner, they likely will have a lot of existing relationships with vendor and be able to negotiate discounts and reduced rates on your behalf. Our planner Stephanie has been awesome at doing this for us!
Well I think that's it for now! If you guys have any other money-saving tips for me I'd love to hear them 🙂 
PAST WEDDING UPDATES!
WEDDING PLANNING UPDATE #3
WEDDING PLANNING UPDATE #2
WEDDING PLANNING UPDATE #1 
WEDDING Q&A
OUR ENGAGEMENT PHOTOS
OUR PROPOSAL STORY
- Katie