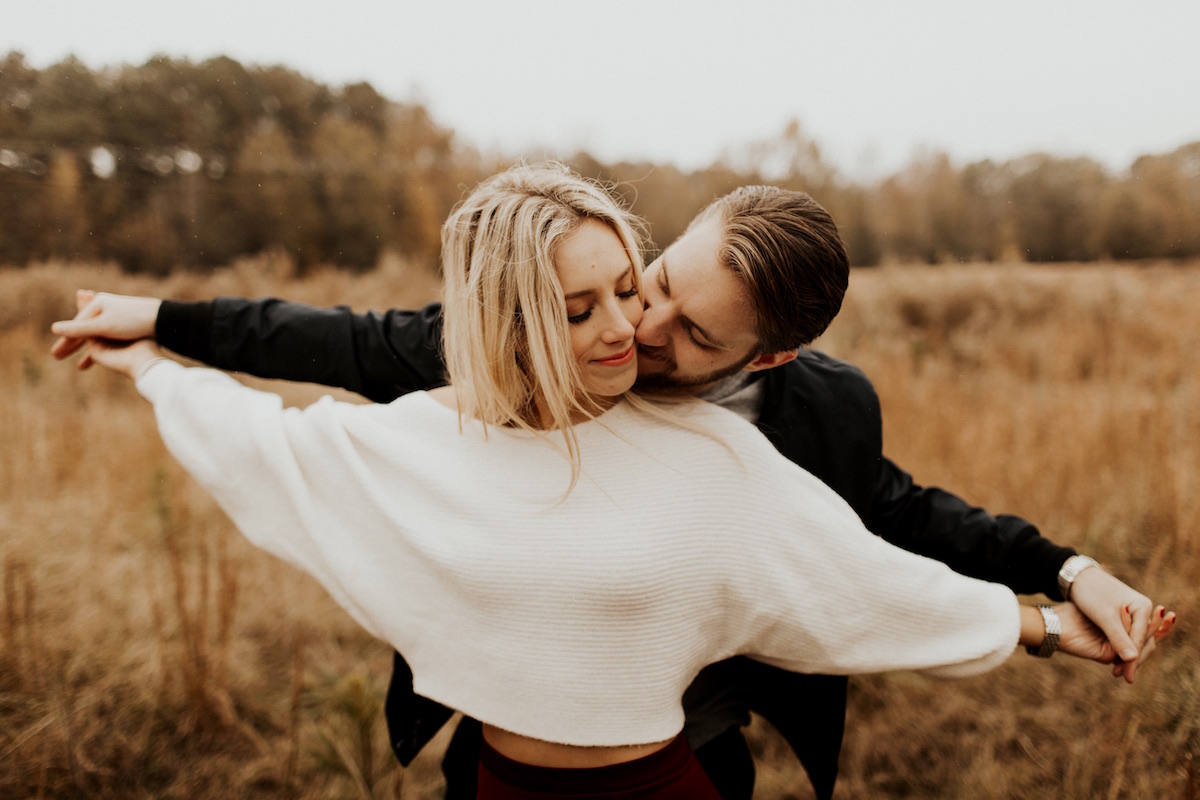 Wow, has it really been almost three months since my last wedding update? The last few weeks have flown by and as of October we are now less than a year from the big day! It still doesn't even feel real. Since we got so much planning work done almost immediately after getting engaged, we were in a bit of a holding period for most of the summer and early fall. I kept thinking to myself– is it really this easy?
Well, A LOT has happened planning-wise in the last month and we are officially in full steam ahead mode. I can't believe it! We kind of went from 0 to 100… Alrighty so since my last update here's what we've checked off our to-do list (everything bolded is new) and the things we're working on now:
WEDDING PLANNING CHECKLIST
✓ Decided on a venue
✓ Confirmed the date (October 2019!!!)
✓ Created a budget spreadsheet
✓ Found our wedding planner
✓ Confirmed photographer
✓ Confirmed videographer
✓ Confirmed band
✓ Confirmed caterer
✓ Booked room blocks at local hotels
✓ Got over my fear of trying on wedding dresses
✓ Created our wedding website on Wedding Wire
✓ Did a venue visit + walk through with planner to map out flow of the day
✓ Worked on our wedding moodboard with our planner
✓ Met with our caterer for a Q&A + scheduled December tasting
✓ Confirmed florist + did an in-person meeting to go over initial ideas
✓ Asked all my favorite gals to be my bridesmaids 🙂
✓ Shot our engagement photos
DECEMBER TO-DO LIST
✓ Finalize guest list
✓ Design and send out save the dates (we plan on using Minted)
✓ Do our menu tasting
✓ Confirm rehearsal dinner catering (we're thinking a food truck!)
✓ Continue working on moodboard/decor with our planner
✓ Confirm hair and makeup team for wedding day
✓ Stop being indecisive about my wedding dress
✓ Put together my bridal shower invite list for my aunt
✓ Start thinking about our registry
Phew! Just reading both lists makes me feel exhausted, though not enough to take away any of my excitement. Now that the planning process has transitioned to in-person meetings and actual visuals, it all feels soooo much more real.
I'm not going to go into details on everything we've done over the last few weeks (this post would be as long as a novel) but I thought it'd be fun to share a little more about two of the things I've been getting asked about most frequently: 1) Our engagement photos and 2) How I asked my bridesmaids!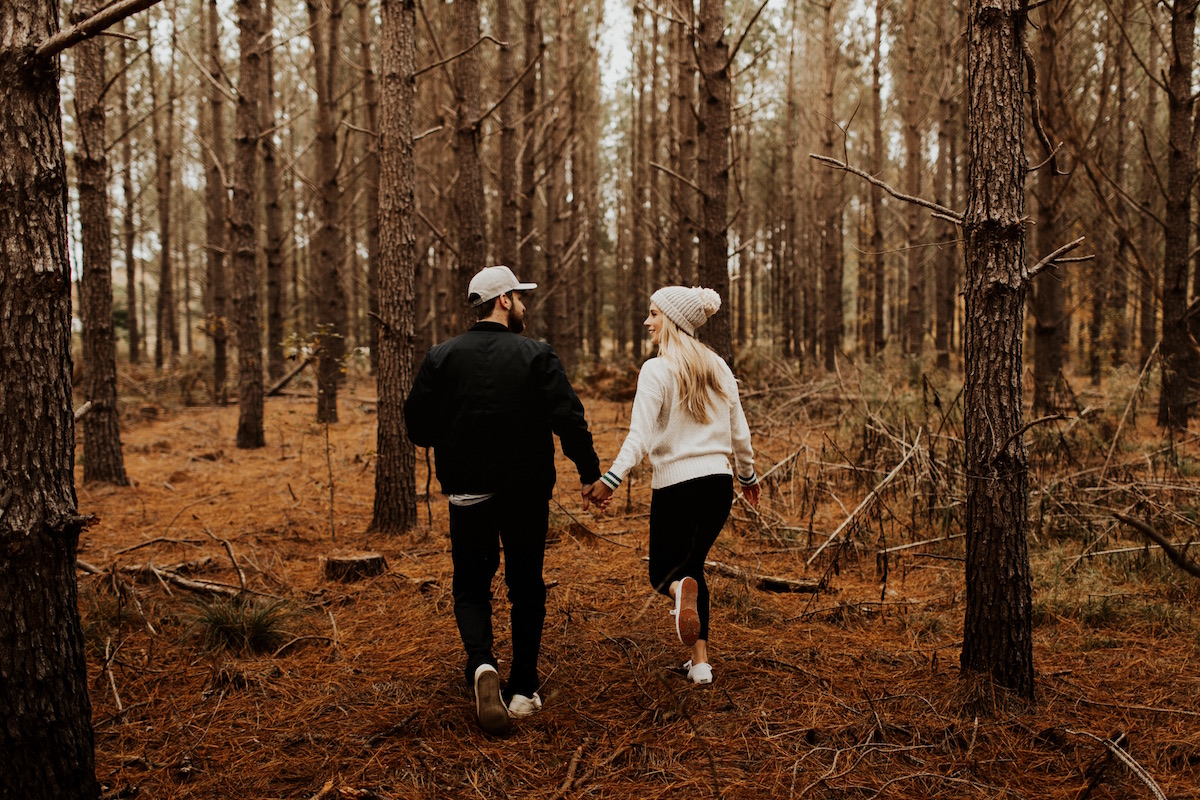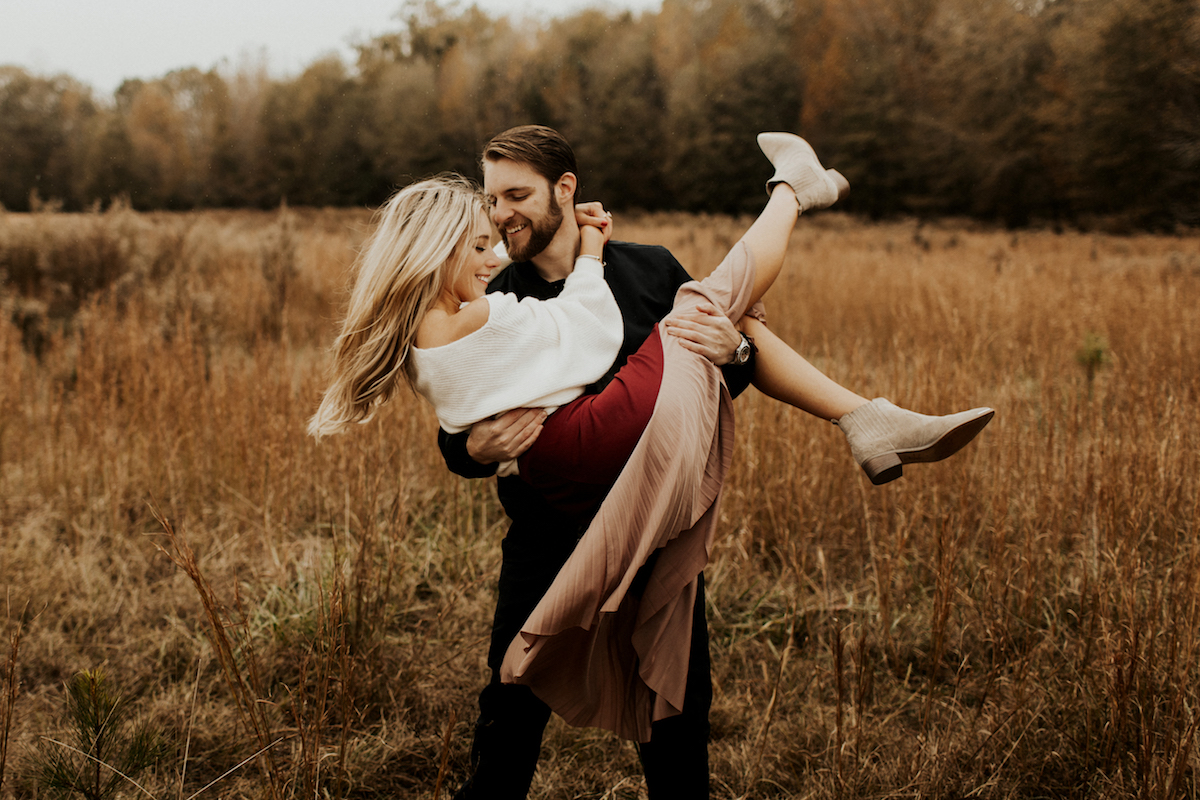 Over Thanksgiving we finally got to meet our photographer Sarah Smith! She's actually based in Atlanta, which conveniently isn't too terribly far (about 2.5 hours) from where my mom and stepdad just moved in Aiken, South Carolina. It was really important to us that we take photos with our photographer before our wedding (just to get comfortable and align on aesthetics/editing style) so I proposed finding a spot where we could meet in the middle and use the opportunity to do our engagement shoot.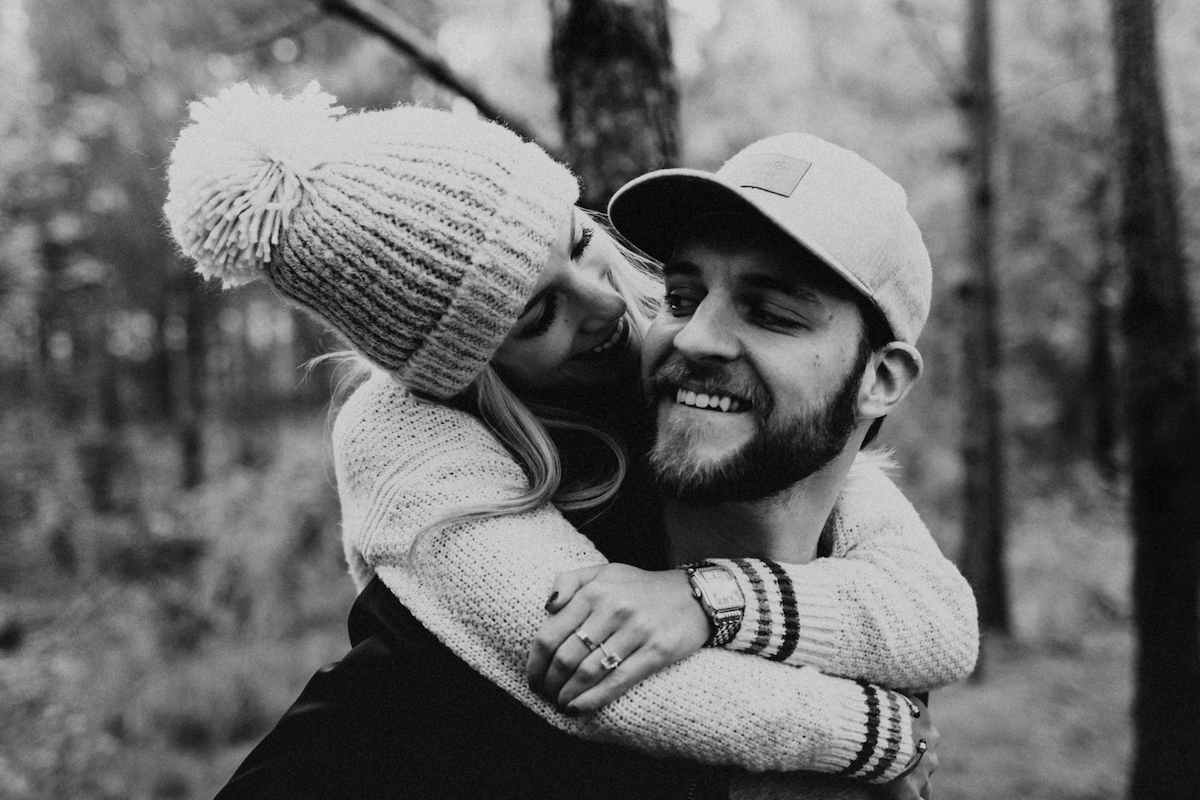 Luckily Sarah was available on Black Friday so instead of sitting at home and online shopping, Nick and I spent the day prancing through forests and laying in fields somewhere in rural Georgia. It was kinda awesome and Sarah was such a gem! I'm really really glad we made this work because now we're going to feel so much more comfortable shooting pictures on our actual wedding day.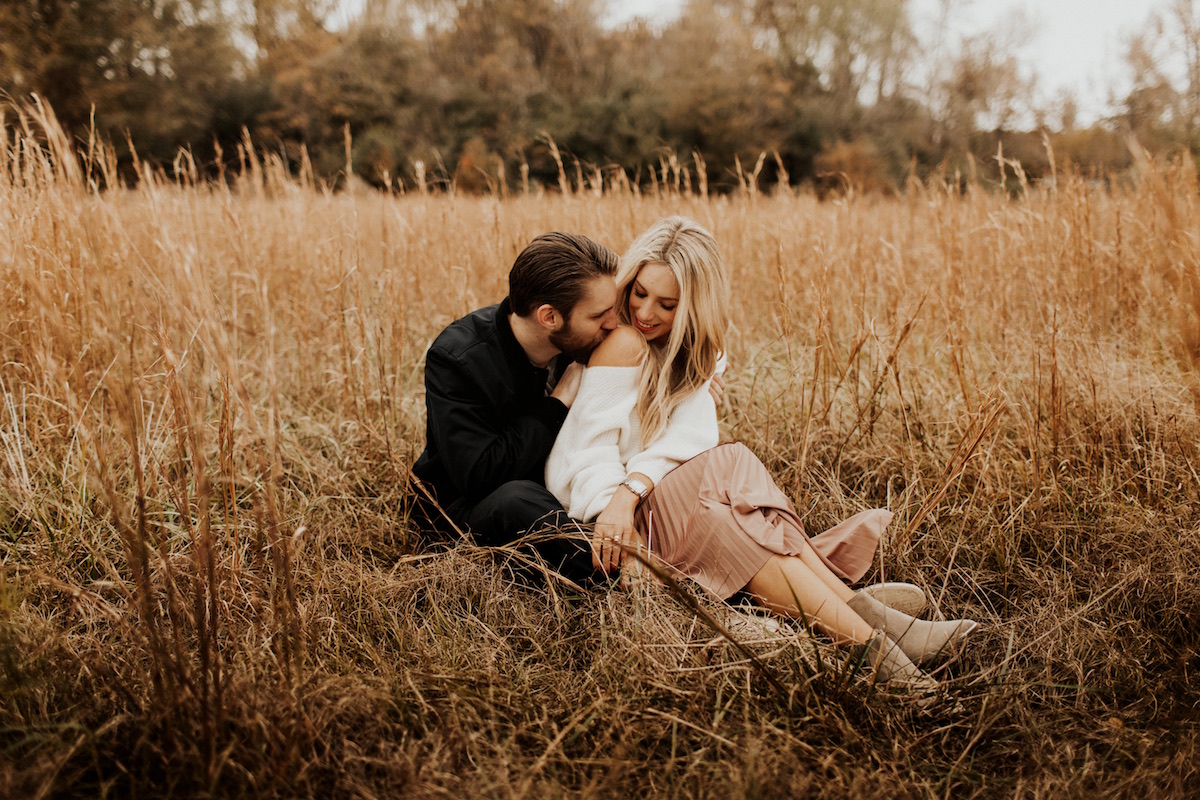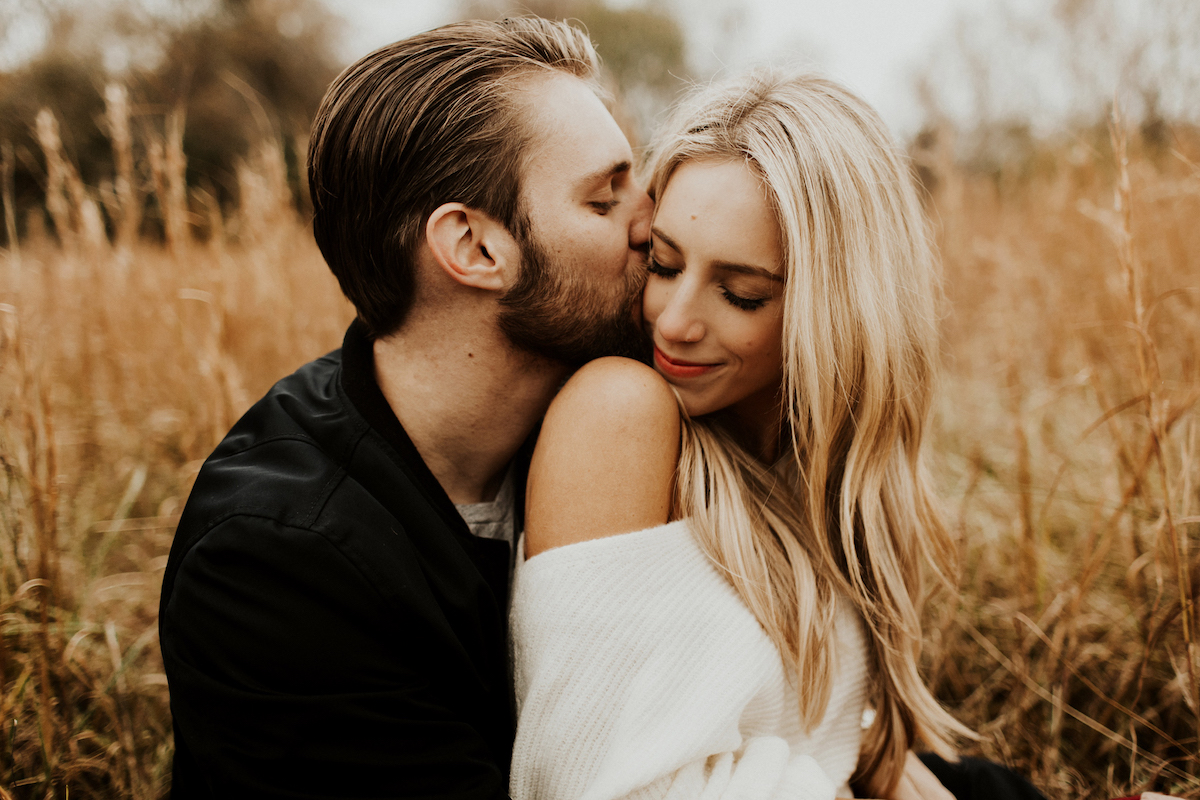 So I haven't received the full gallery of photos yet, but Sarah did send me a few initial sneak peeks which you can see here. Ugh so obsessed! We went a little crazy and ended up shooting four different outfits, some with props involved… Blame the blogger in me! I'll save the details and explain more once I share the rest of the photos, but in the meantime these are a few of my favorites 🙂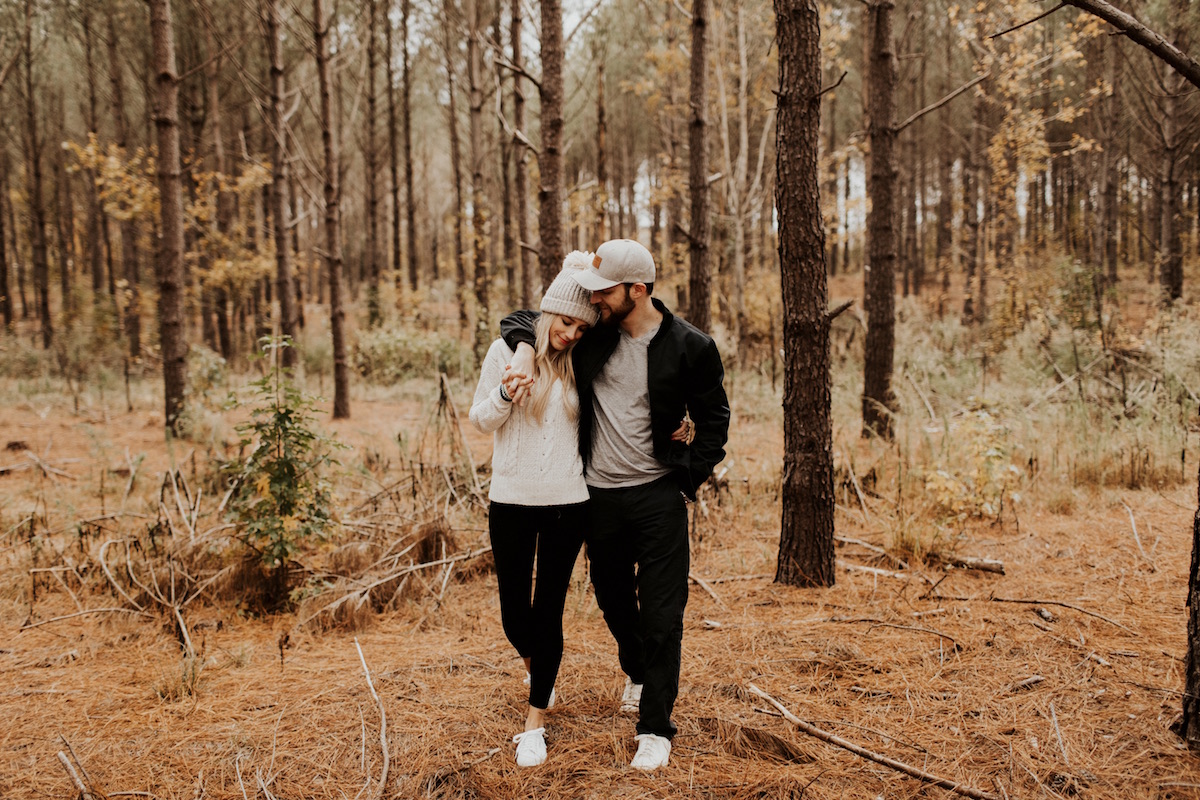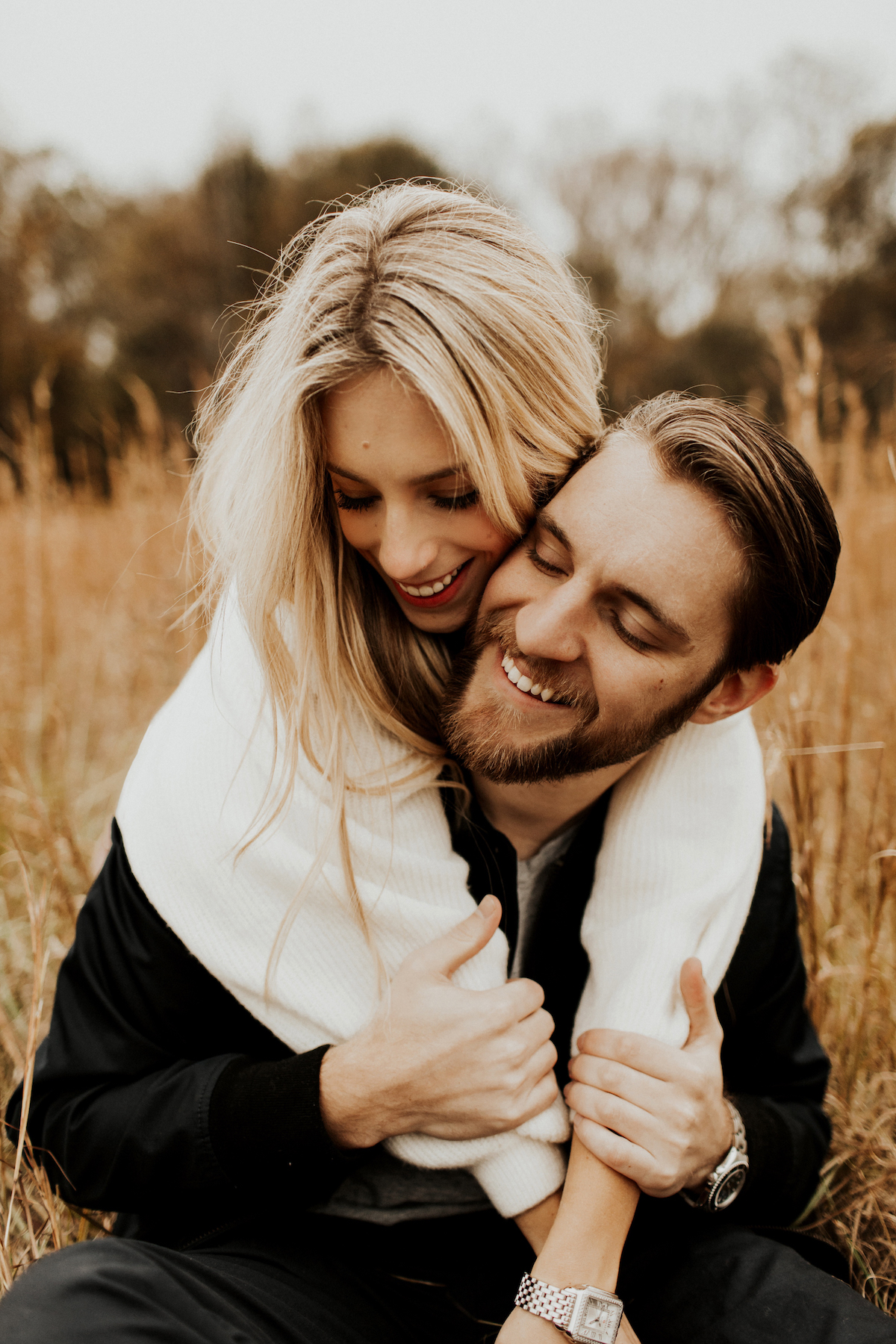 Another really exciting thing that happened recently is I ASKED MY BRIDESMAIDS! I'm having six bridesmaids, five of whom don't live local (story of my life) so sadly asking them in person wasn't going to be an option. Calling or texting felt really lame and impersonal and I was left struggling to figure out another way I could ask them that still felt special.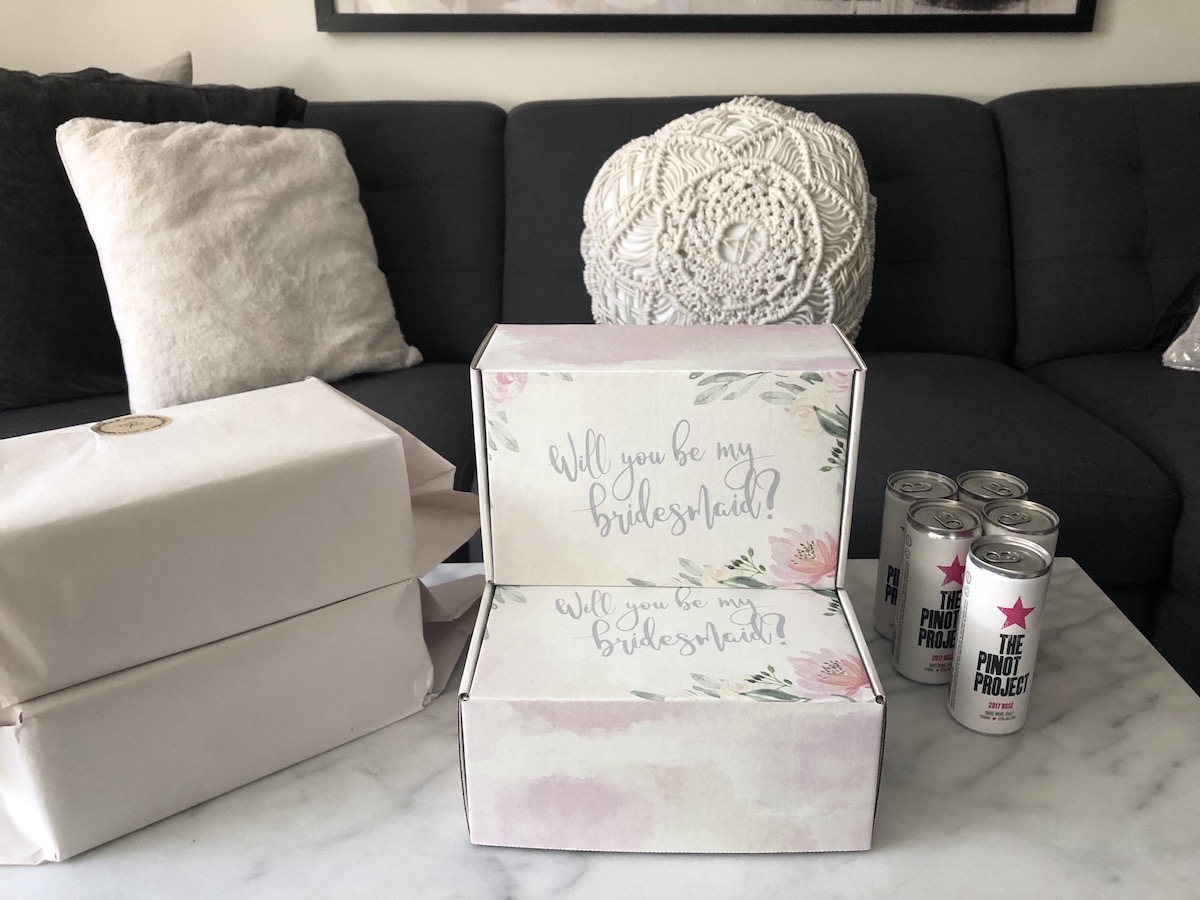 Solution? Bridesmaid Proposal Boxes! I was so pumped when the LaLa Confetti team reached out to me with info on their products for bridal parties, specifically the personalized bridesmaid boxes. They were kind enough to send me a box for each of my girls. I chose the Spa Edition Box which includes a bath bomb, candle, hair ties, champagne-flavored jelly beans, matching card (so you can write your own note) and a personalized tumblr (you get to choose the colors+font!)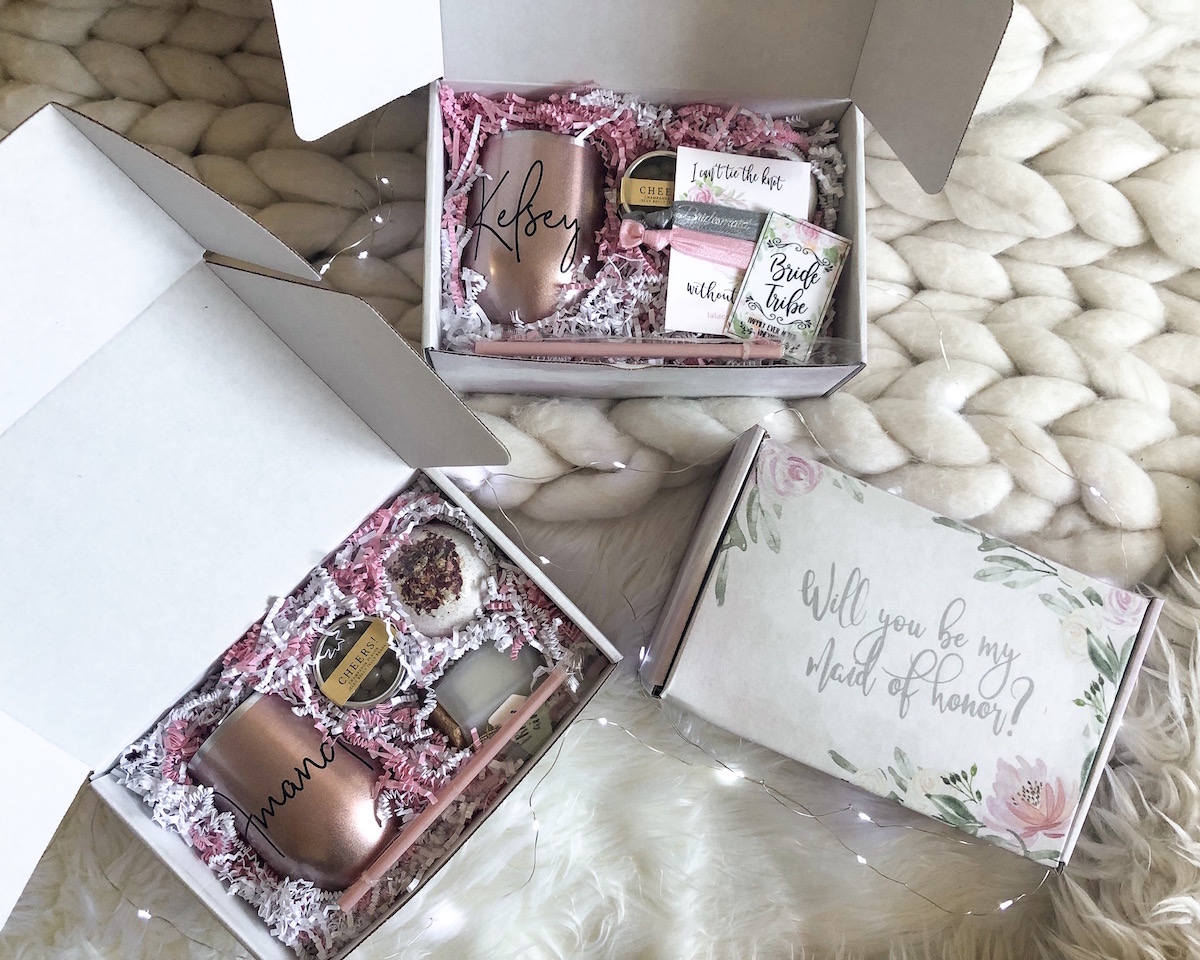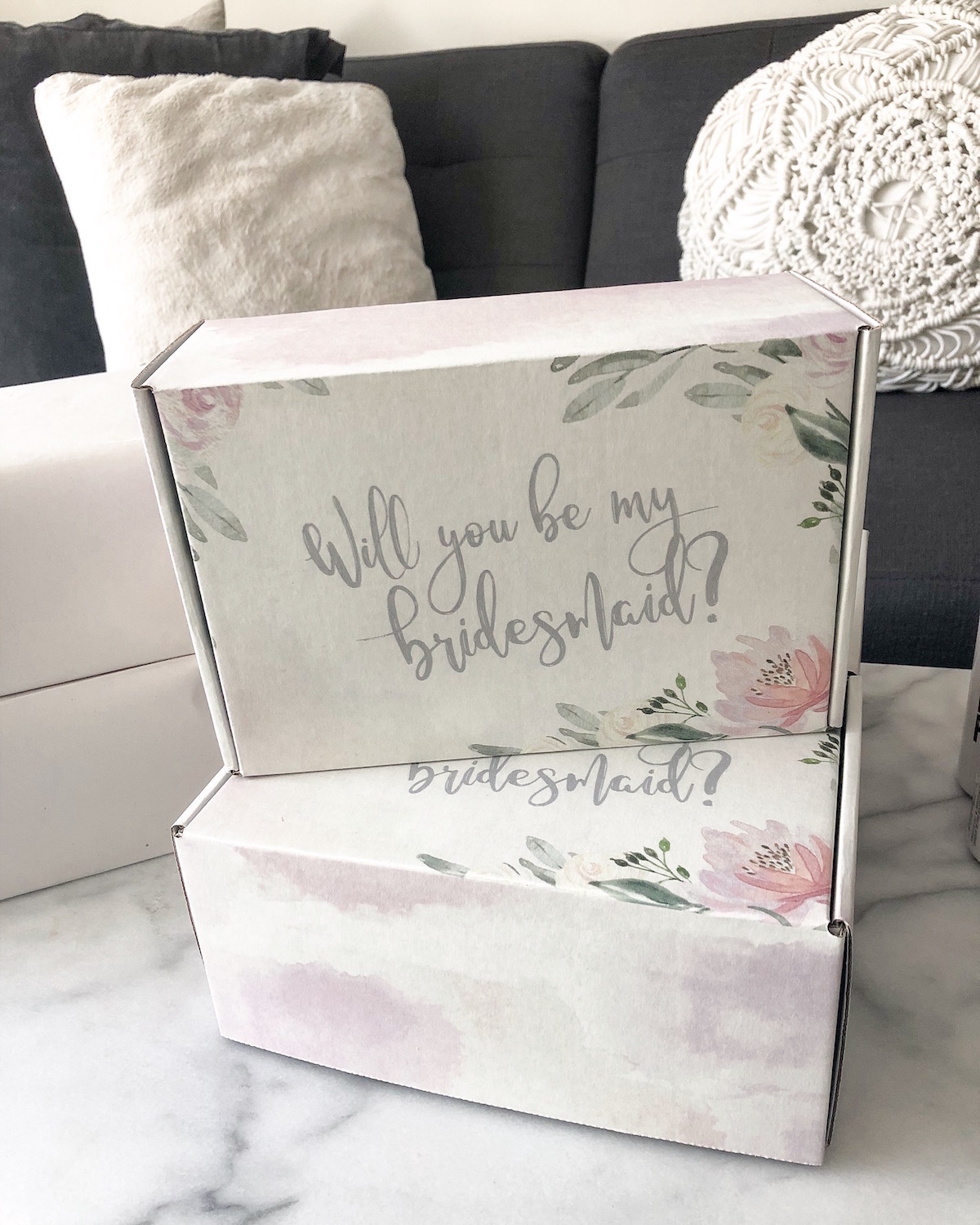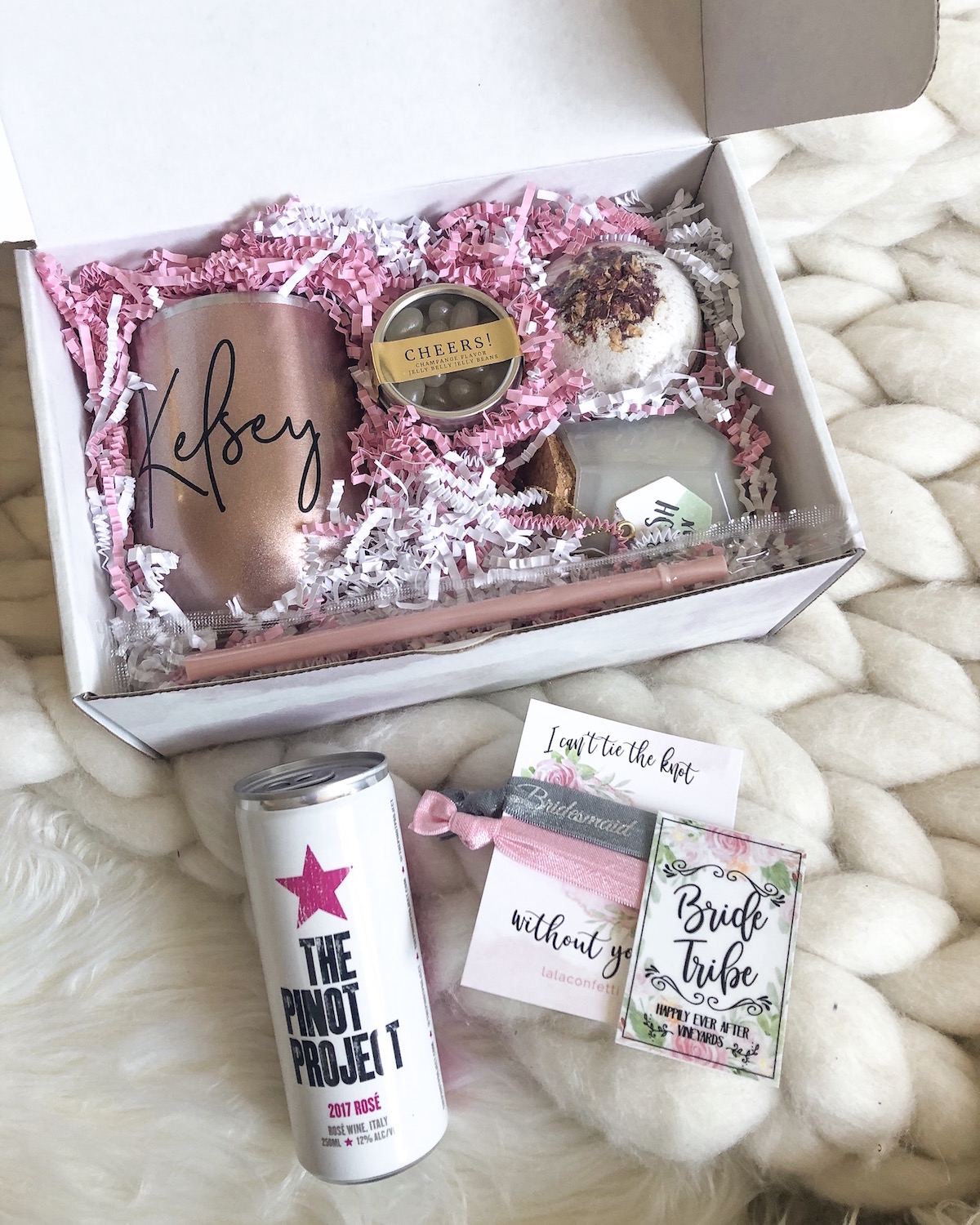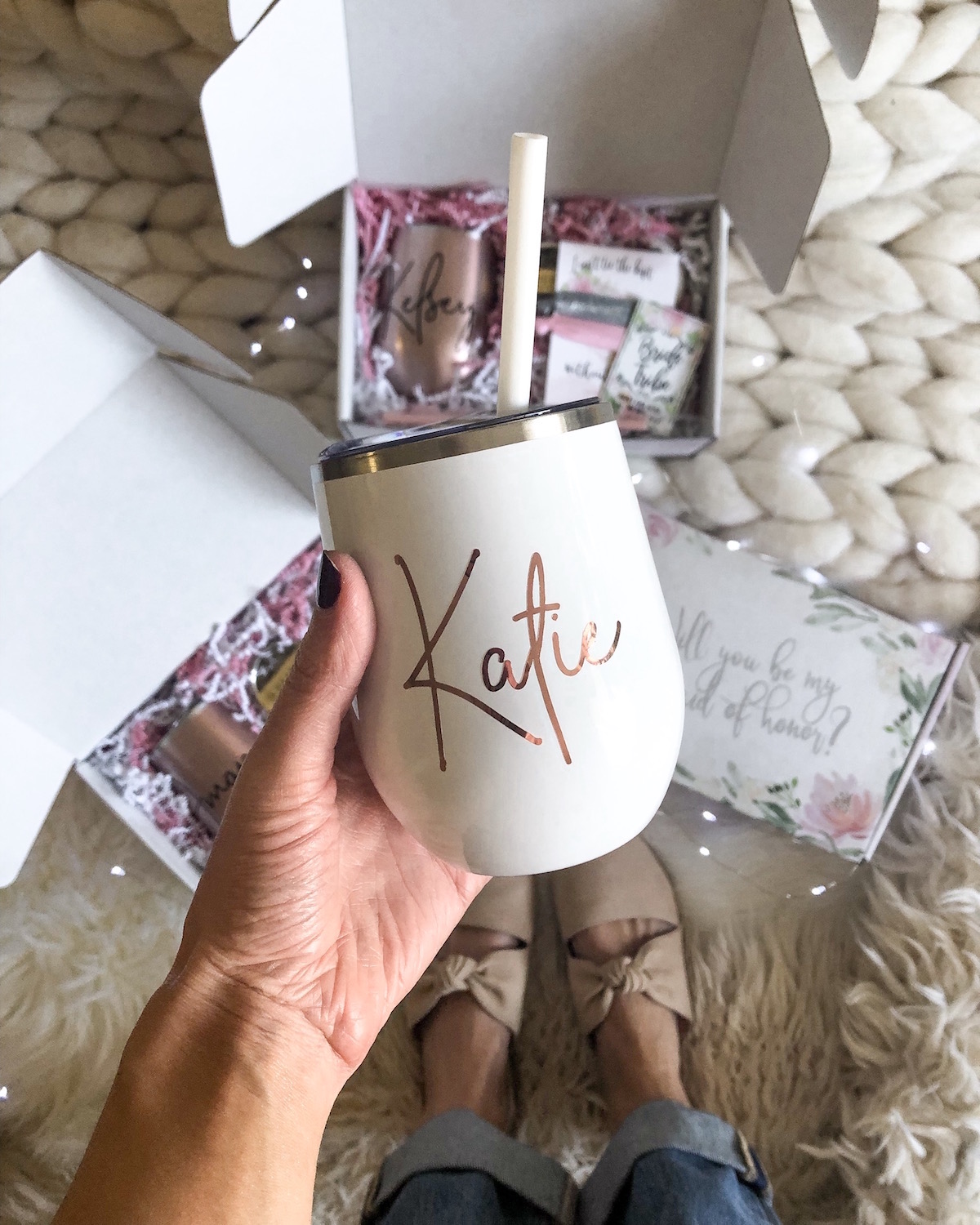 Aren't these so cute? PS I purchased the wine cans separately and added them to each box. The wedding may not be for a few months, but figured why not get the party started now? 😛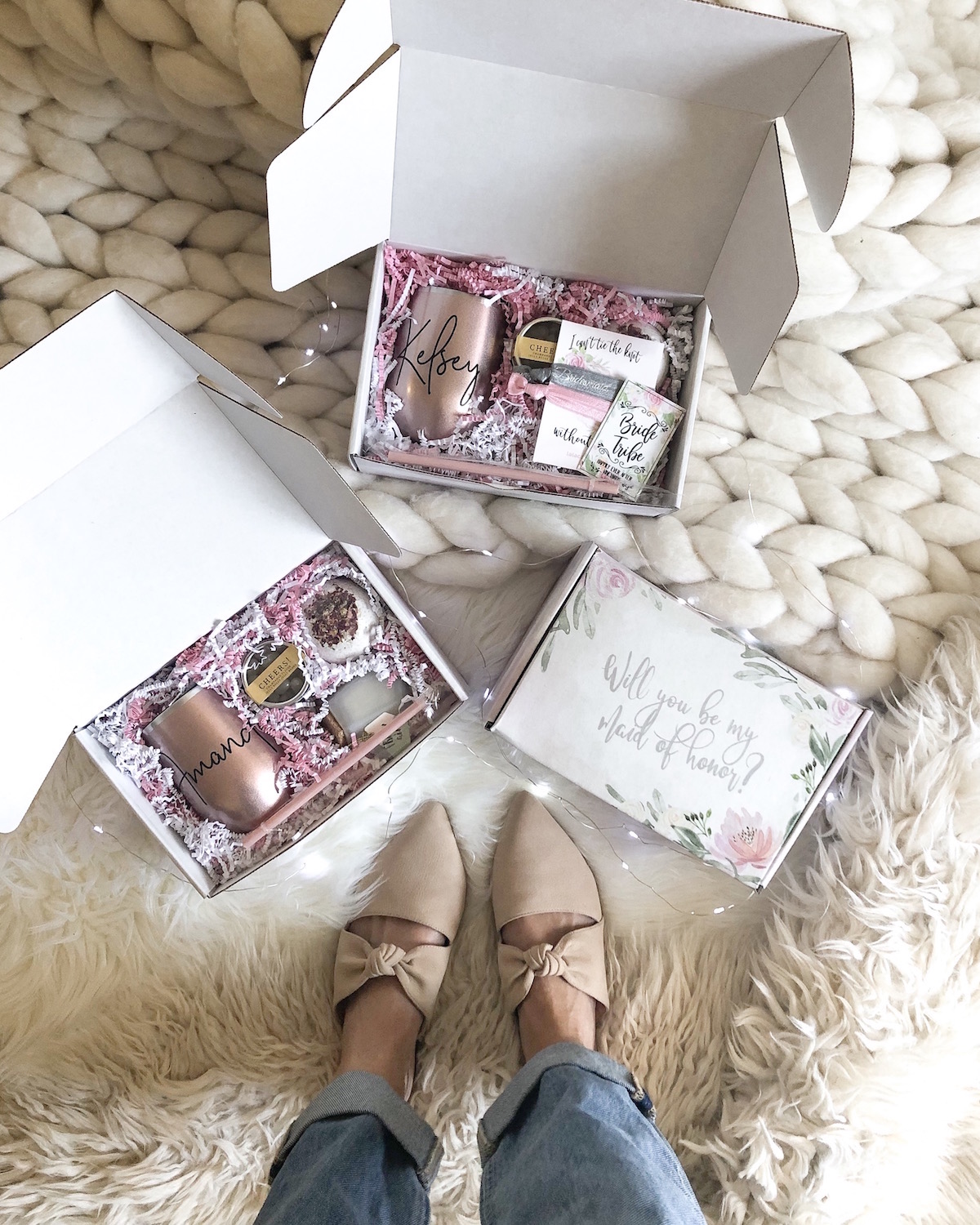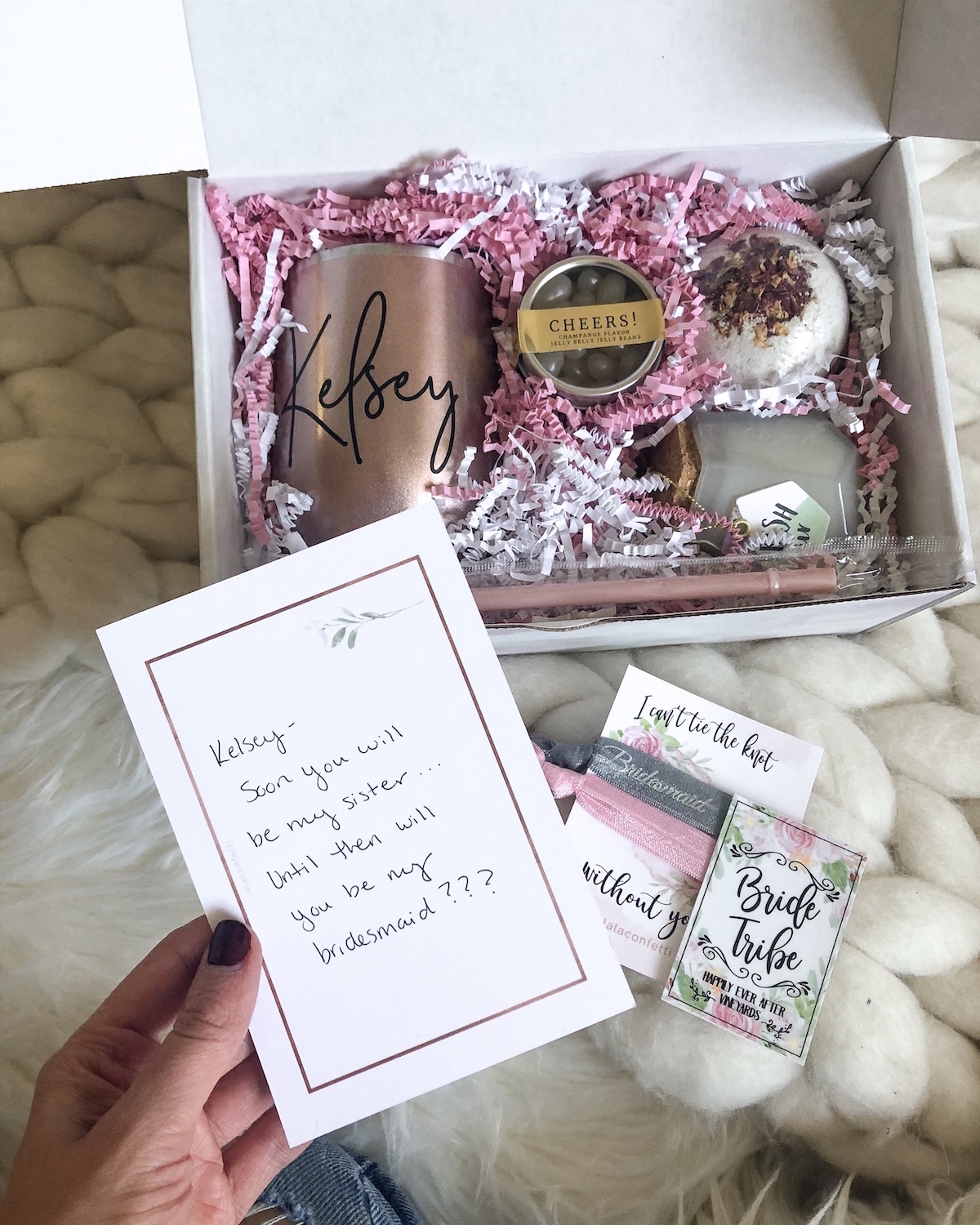 Alright I think I'll leave you guys here! I could go on and on now that we're really in the thick of planning, but I'll save the rest of our updates for a future post—- ahh! In the immediate definitely keep a lookout for a post on our engagement photos. That should be coming in the next week or two! 🙂
WEDDING Q&A
WEDDING PLANNING UPDATE #1 
WEDDING PLANNING UPDATE #2
OUR PROPOSAL STORY
- Katie