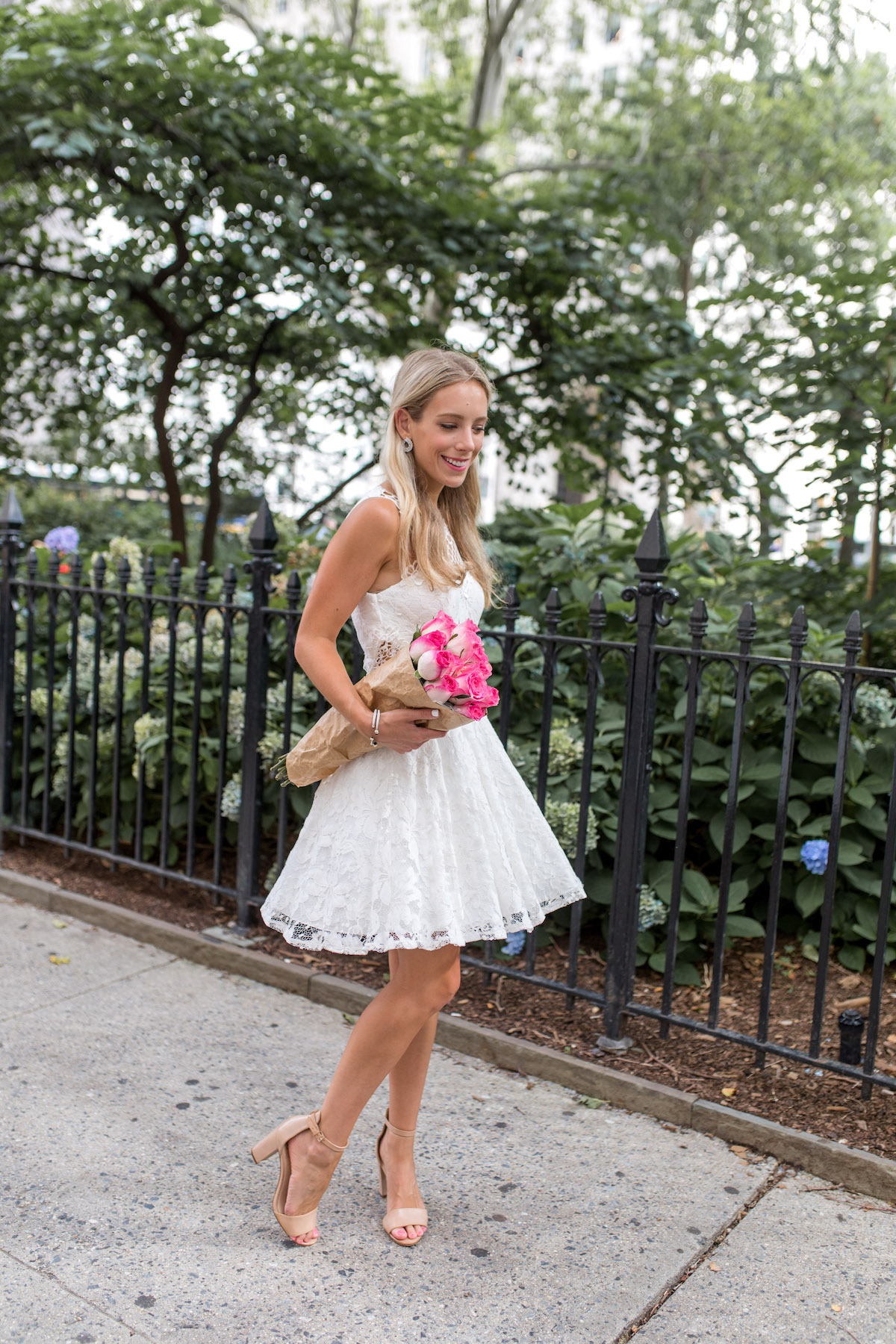 How has it been a month since I last updated you guys on our wedding planning progress? I swear this summer and the weeks since Nick first proposed have just been flying by. Before we know it October will be here and from there on out our wedding will be less than a year away. So crazy!
While we've accomplished so much already in regards to the actual wedding weekend, if there's one aspect I haven't thought about at all it's the events leading up to big event. Right away we made the decision not to have an engagement party. It felt pointless because we'd be inviting those same people to our wedding, plus it would've been so tough to plan because lots of our friends and family live spread out all over the east coast. Headache AVOIDED. That said I 100% want to have a bachelorette party and I'm assuming someone in my family will throw me a bridal shower… I don't plan that myself right? (See I told you guys I'm clueless.)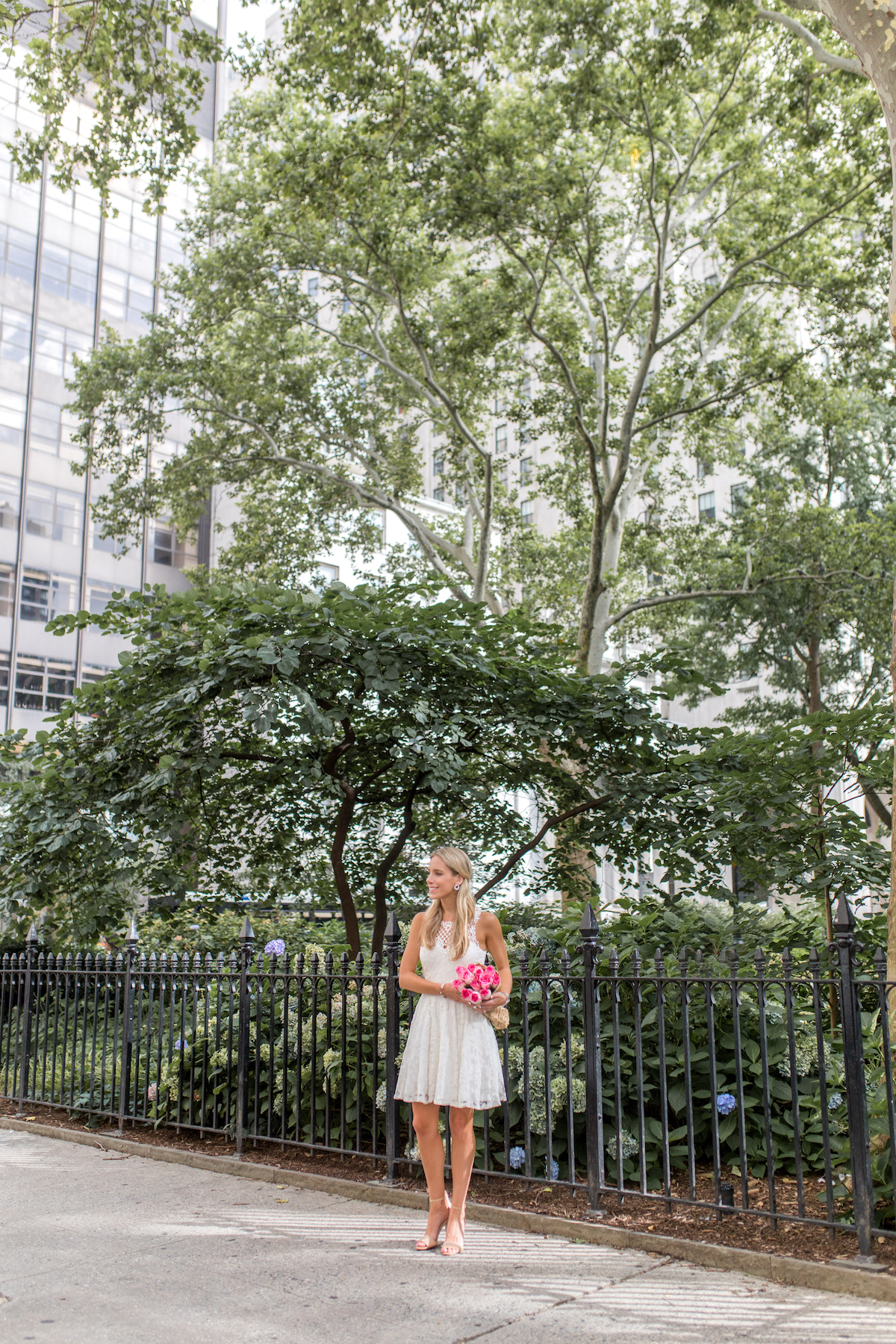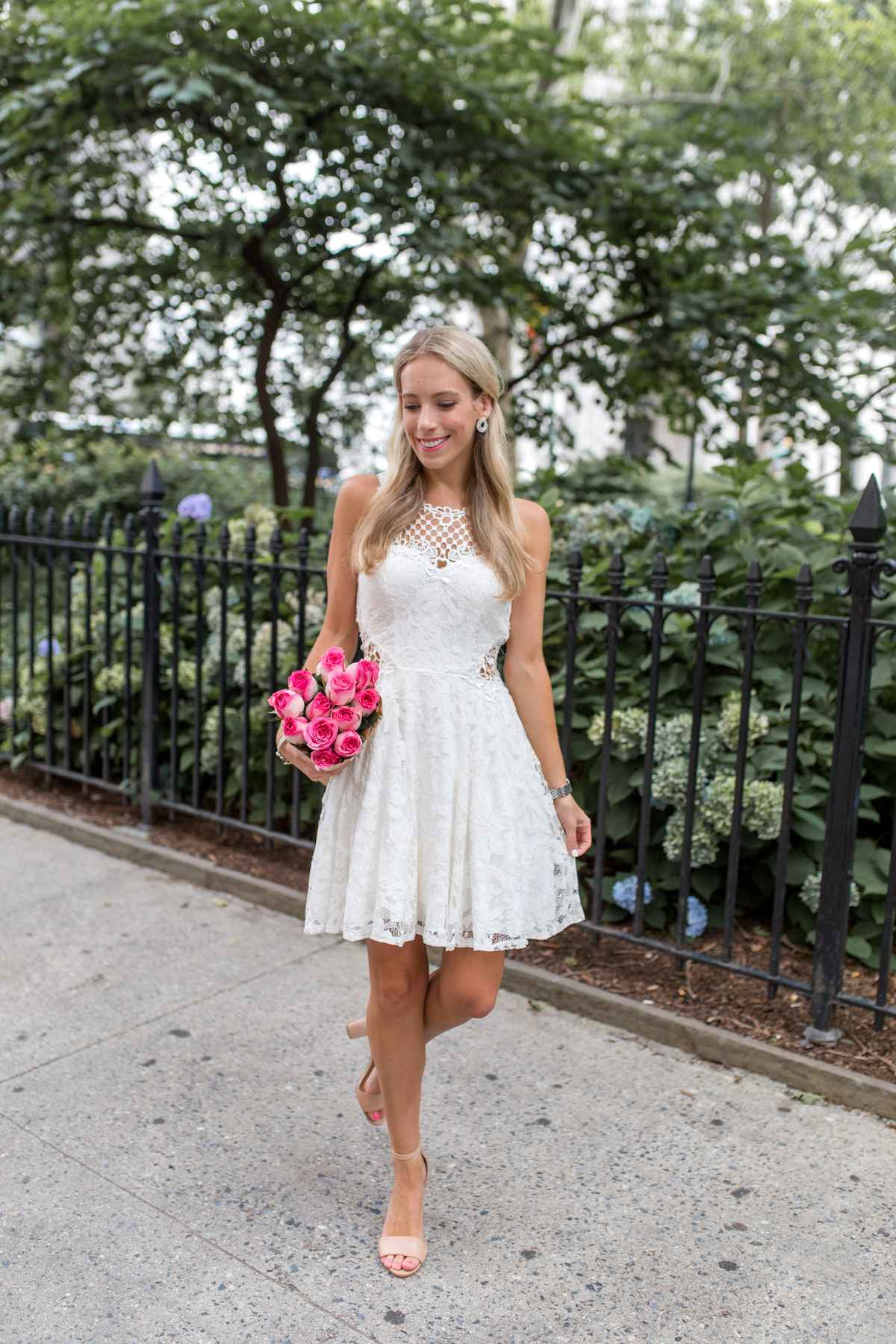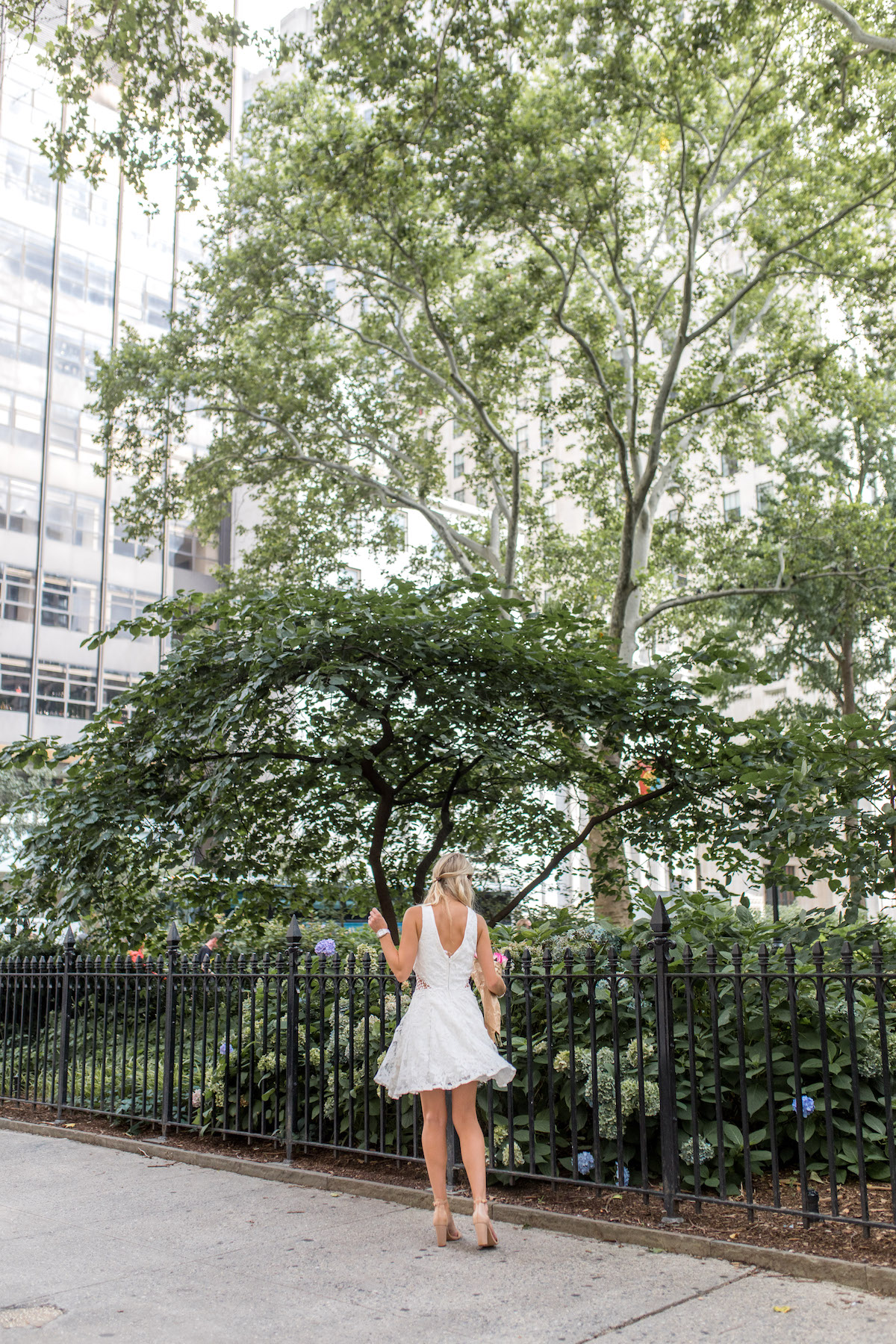 David's Bridal Lace Fit-and-Flare Dress
When David's Bridal first reached out to me asking if I wanted to style a dress I assumed they meant a wedding gown. David's Bridal = wedding gowns, right? So you can imagine that I was super surprised (& pleased!) to learn that David's Bridal has so much more than just dresses for the wedding day. I had so much fun browsing DavidsBridal.com looking at all kinds of pretty things. There's bridesmaid's gowns, jewelry, shoes, handbags and yes, lots of cocktail dresses and casual styles that would be appropriate for a variety of events surrounding the wedding.
You all know I love a good fit & flare dress so this style immediately caught my eye. I can't get enough of the gorgeous lace neckline! This dress is definitely one I could definitely see myself wearing to my bridal shower or even our rehearsal dinner!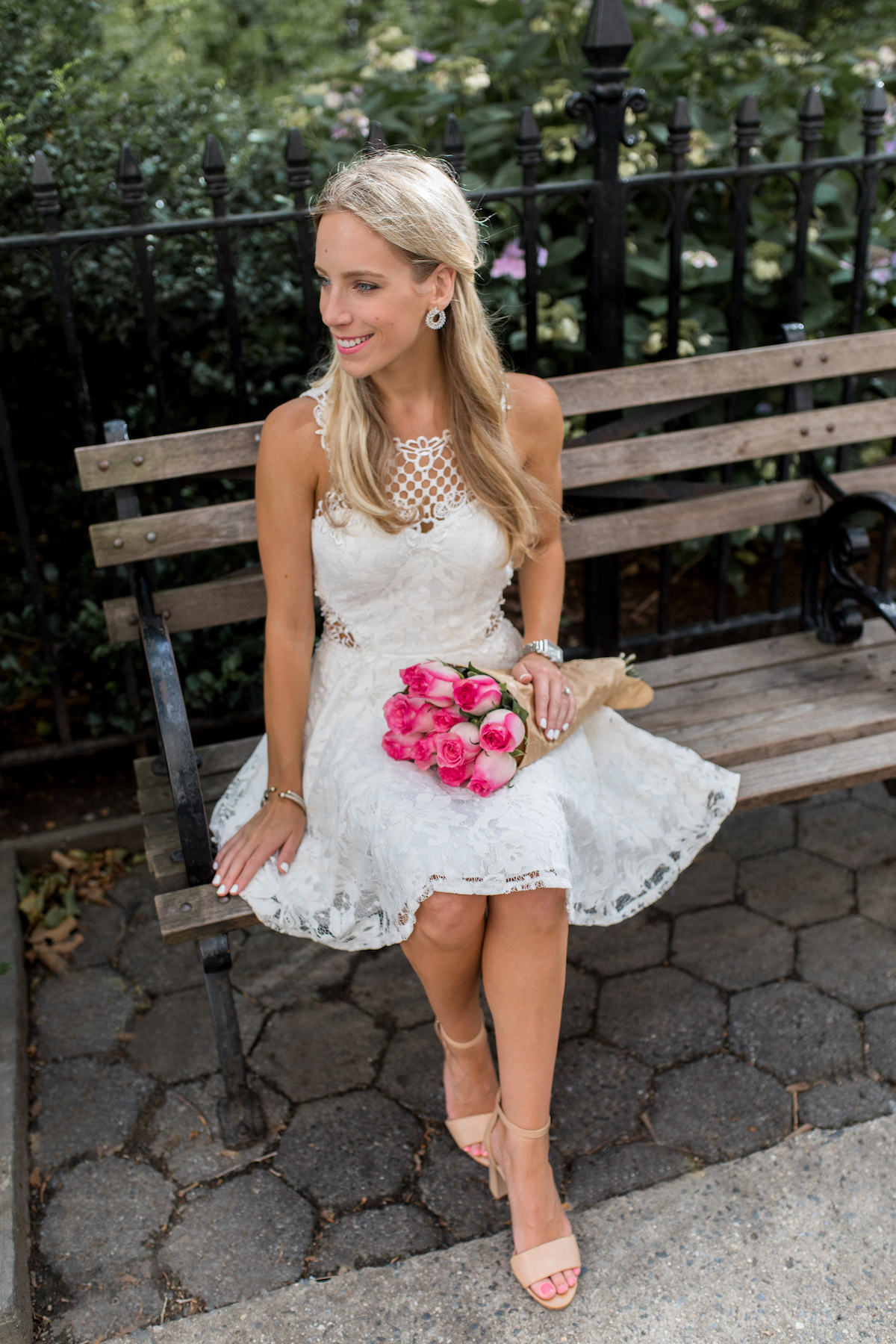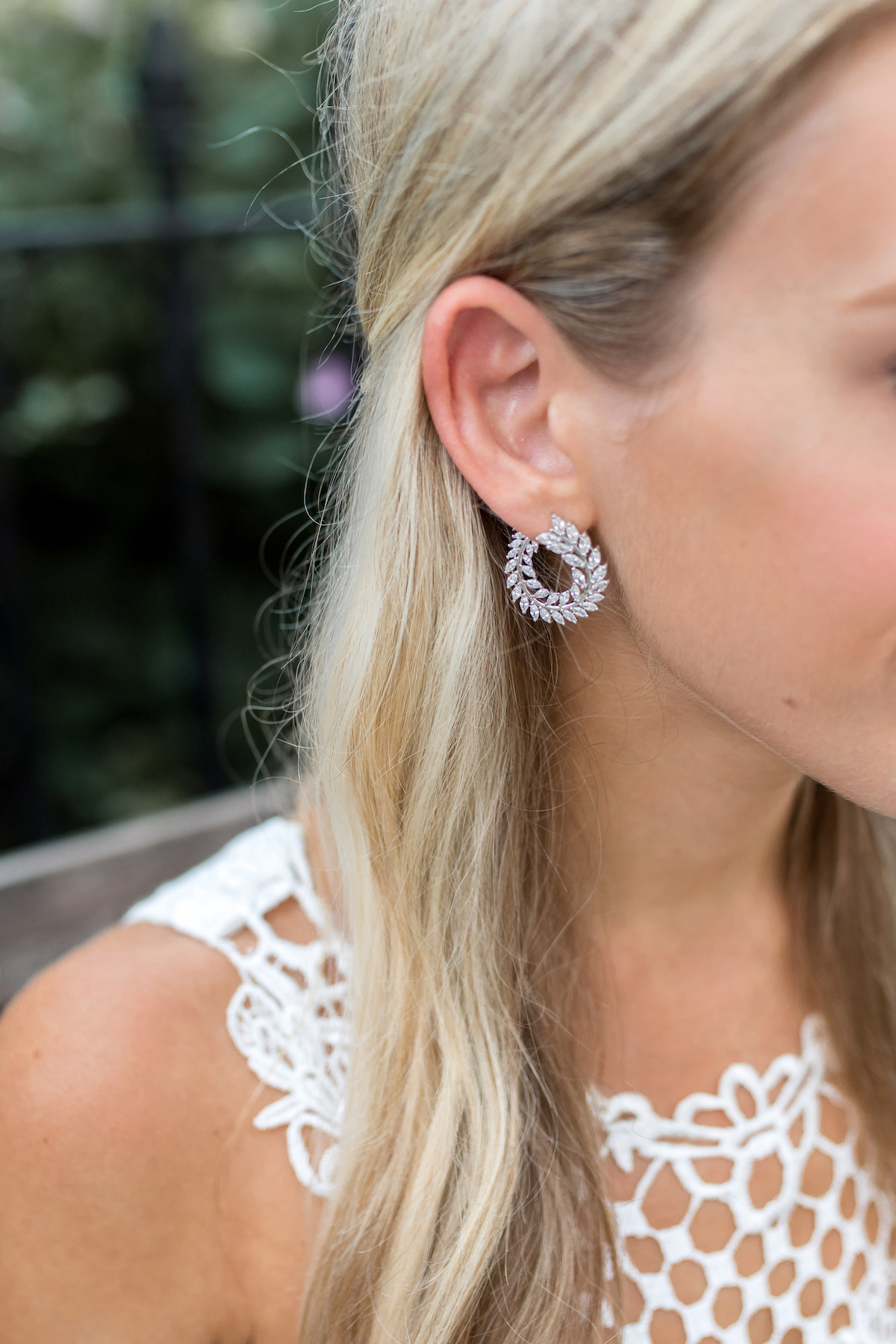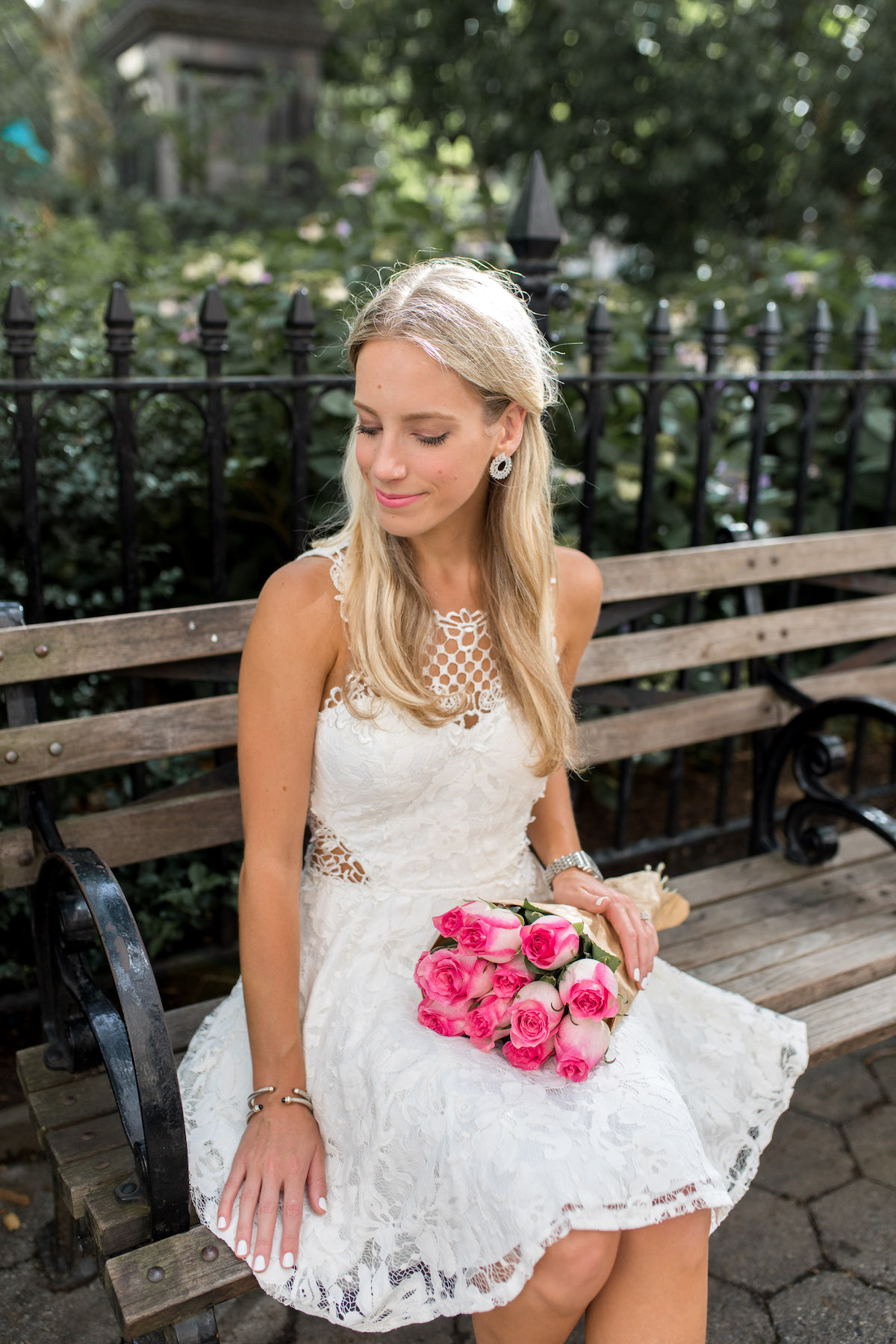 David's Bridal Curved Cubic Zirconia Laurel Leaf Hoops 
Of course with any pretty dress you need some jewelry. I'm trying to step up my game with the baubles, especially earrings because I always forget to wear them. How pretty are these crystal leaf hoops? I like how these aren't too big, yet still make a statement. Clearly I'm into floral-themed jewelry because I also had to have these sparkly hibiscus studs too. 🙂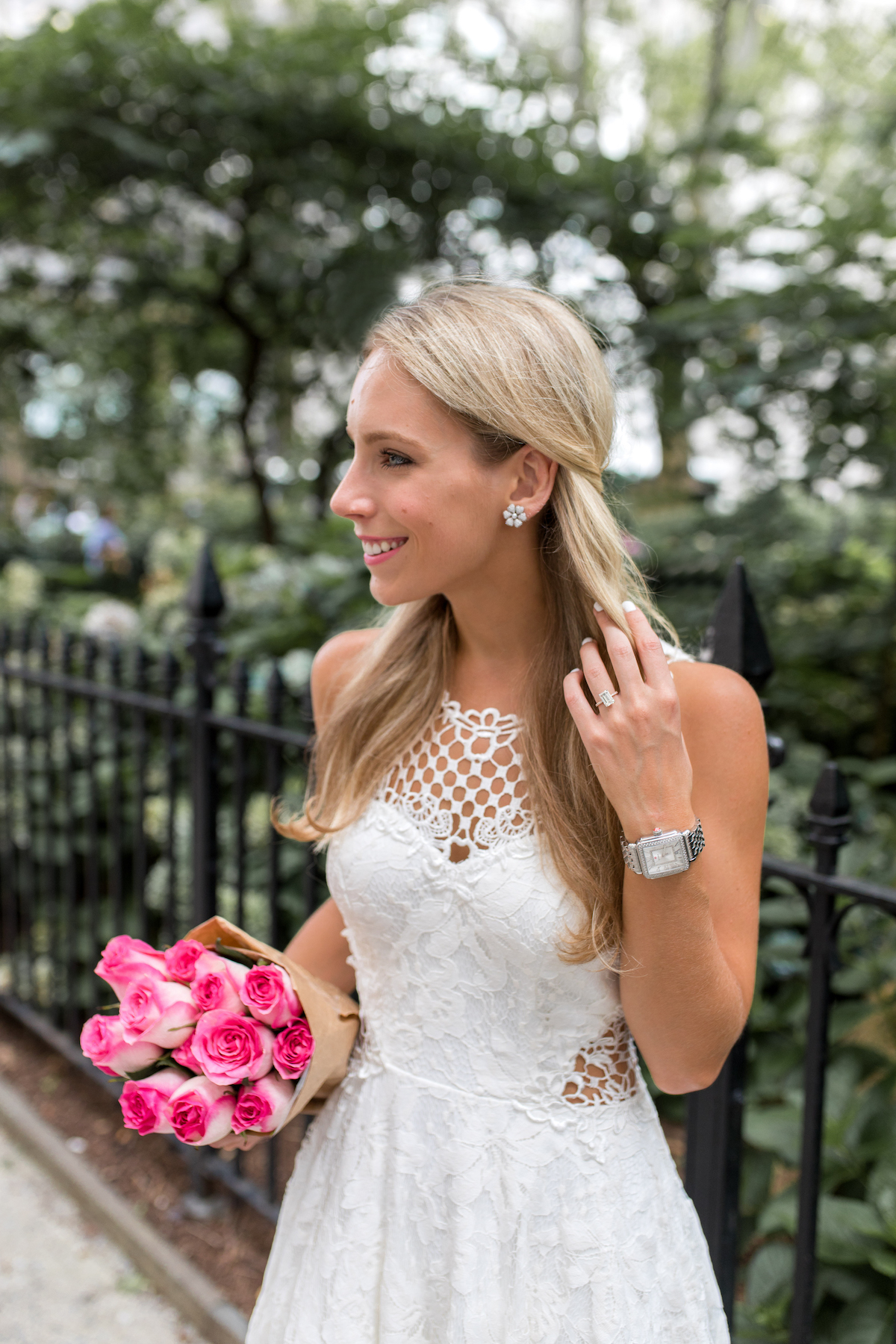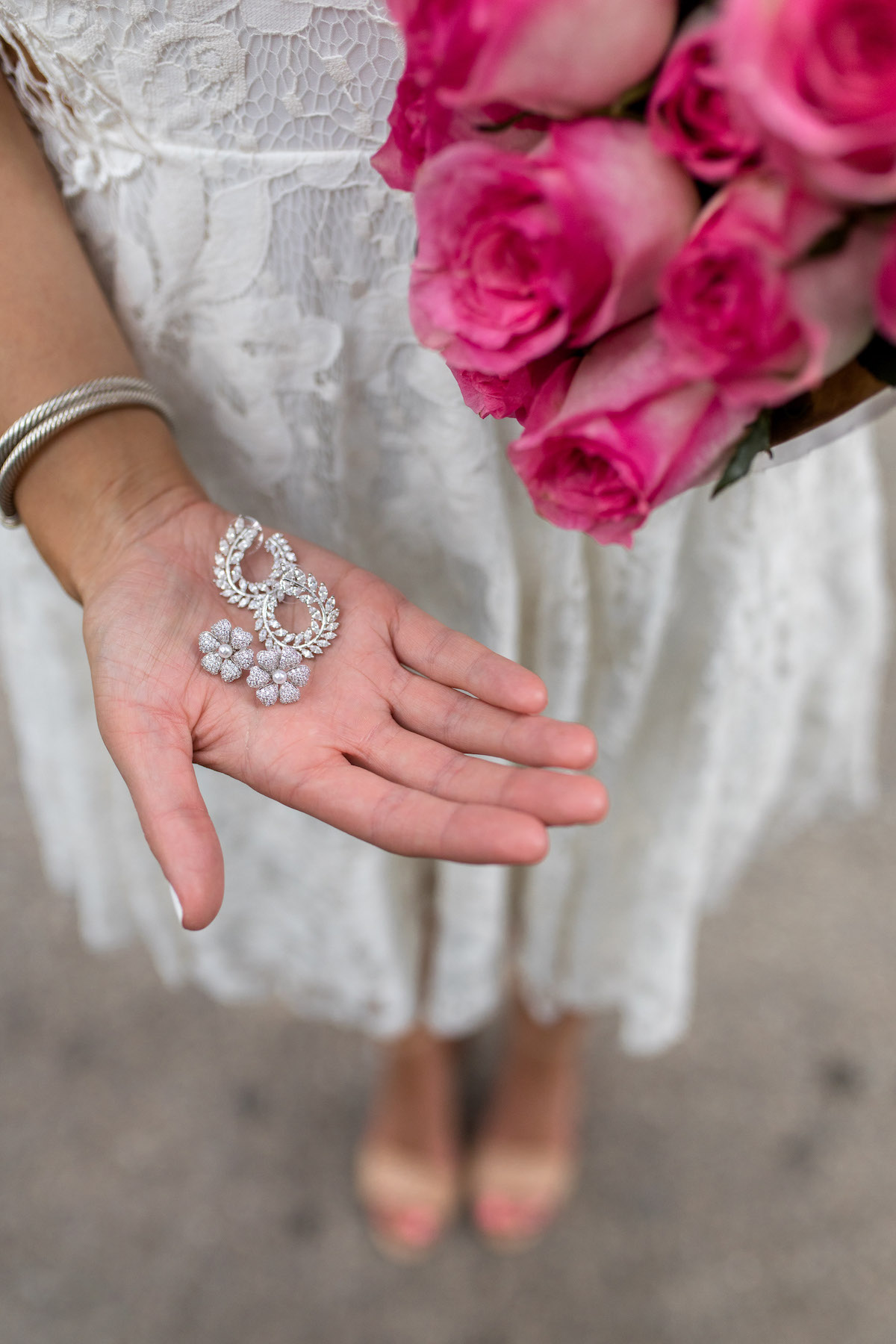 David's Bridal Curved Cubic Zirconia Laurel Leaf Hoops | David's Bridal Crystal-Dusted Hibiscus Earrings
Okay so back to planning progress! Since my last update we've checked two more of the big things off our list: band and caterer. Woohoo! It's nuts how far in advance these vendors get booked. A month ago I didn't think we'd worry about catering until the fall, but then I got an email from my planner that the caterer I had mentioned wanting to hire was already starting to get booked for weekends in October 2019– eek! So of course I went into full steam ahead mode and got on the phone with him that night and sent in a deposit to lock in our date. Crisis. Avoided.
WEDDING PLANNING CHECKLIST
✓ Decided on a venue
✓ Confirmed the date (October 2019!!!)
✓ Created a budget spreadsheet
✓ Found our wedding planner
✓ Confirmed photographer
✓ Confirmed videographer
✓ Confirmed band
✓ Confirmed caterer
I think things will start feeling much more real and exciting once we have in-person meetings and start planning the look and feel of our wedding. So far it's all just been boring contracts and deposits, but I'm glad we're getting the housekeeping stuff out of the way now so we can focus on the fun things this fall. We're hoping to plan a weekend in early November to go visit our venue in all its fall glory and meet with our vendors in-person.
So I know I've talked a lot about where we're at logistics-wise, but I think it's important to touch on how Nick and I personally have been handling the planning. I've heard so many horror stories about how stressful planning a wedding can be and the toll it can take on a couple, especially when there are so many family members and loved ones chirping in your ear. The benefit of being together for so long is knowing how the other person works and so far it's been really seamless for us. We've been able to agree on every decision and have been sharing responsibilities.
Obviously since I work from home and can make my own schedule it makes the most sense for me to do the front-facing work with our planner and vendors, while Nick's been behind the scenes updating our budget spreadsheet and reviewing all contracts. It probably won't be this simple once we have to start nailing down the specifics, but I'm hopeful we'll be able to keep everything in perspective and not let making a decision about linen colors trigger an argument 😛
I also think the best part about paying for our wedding ourselves is that no one can tell us what to do. We don't have anyone up in our grill trying to pressure us or feeling like they can give input because they're contributing financially. This is one of the main reasons I'm glad we waited as long as we did to get engaged. If we'd tied the knot in our early 20s there's no way we could've paid for a wedding without help from family. Now that our student debt is a thing of the past and we've had a few years to build our savings, we can easily do it all our own and it's such a good feeling. 🙂
Ah totally didn't mean for this post to turn into a novel, but there's just so much I've been wanting to share with you guys! Hopefully once fall hits I'll be able to share some more exciting updates and clue you in on more of the fun design details 🙂
Big thank you to David's Bridal for sponsoring this post!
- Katie