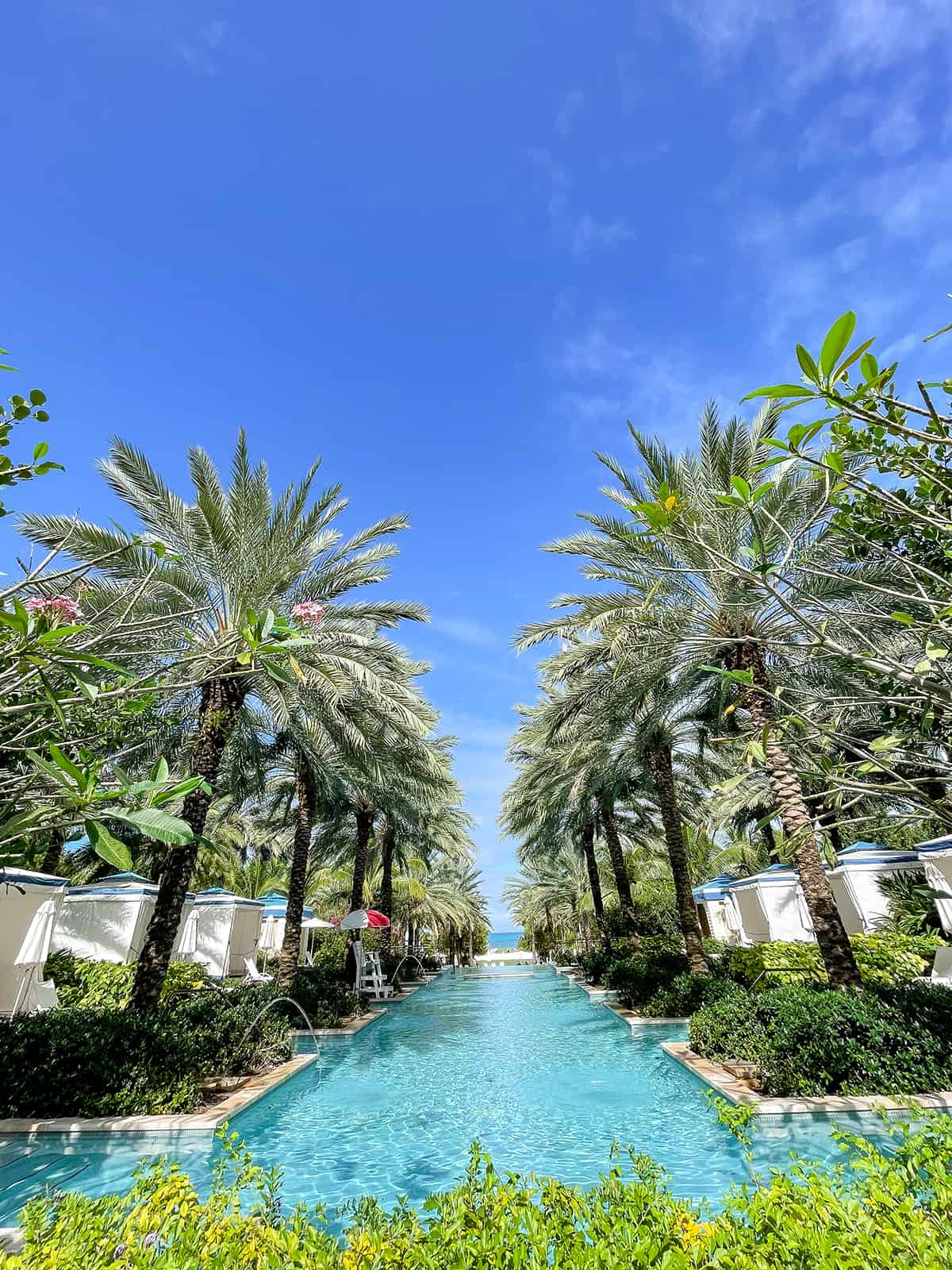 We had the BEST time on our recent trip to the Bahamas. Not only was it our first vacation as a family of three, but it was also the first trip Nick and I have taken since our HONEYMOON. Talk about a change of pace… For this trip we really wanted to find a resort that was family-friendly, yet also had the amenities and perks that we would look for in a hotel if we were planning a vacation without

kids.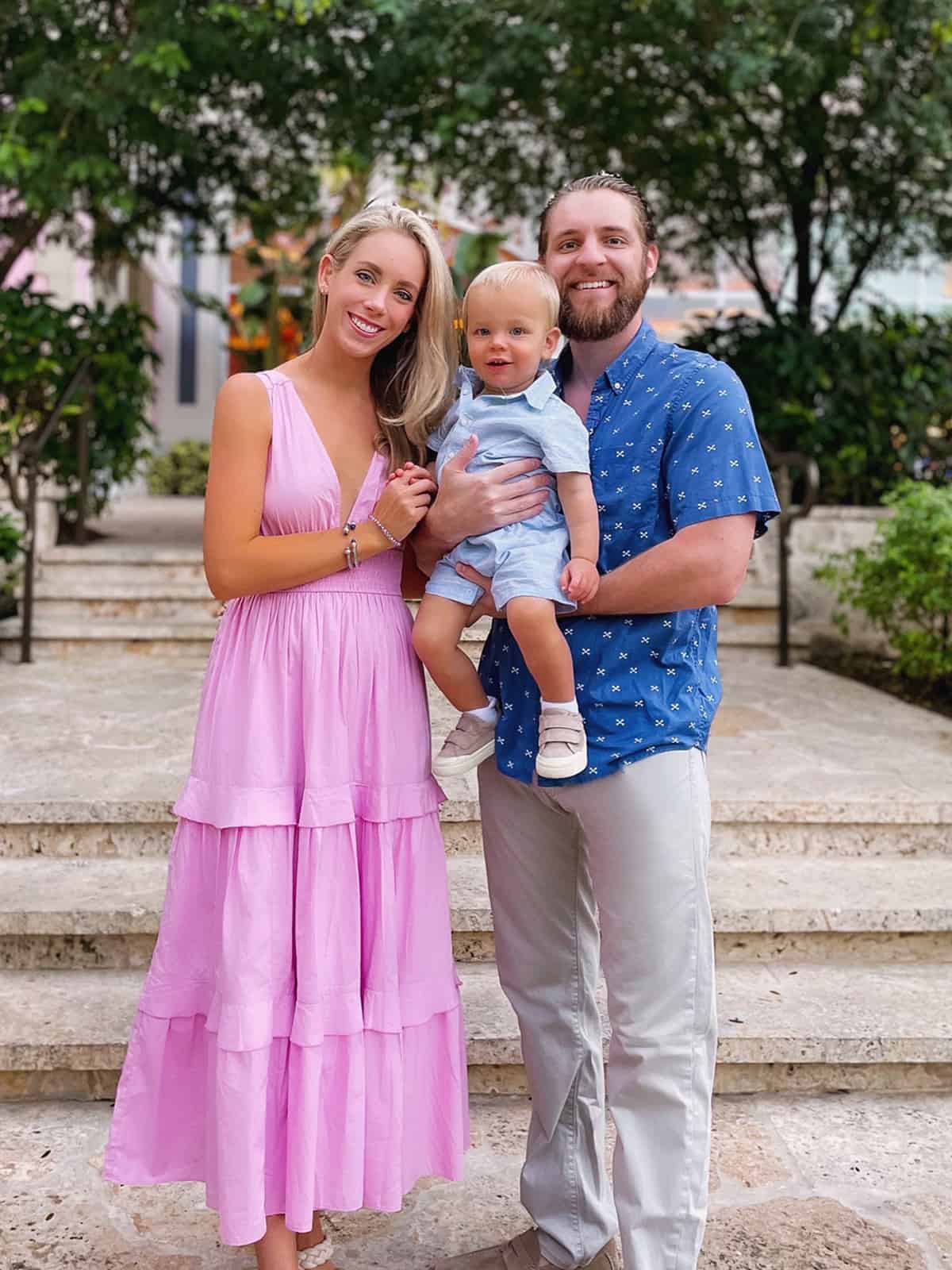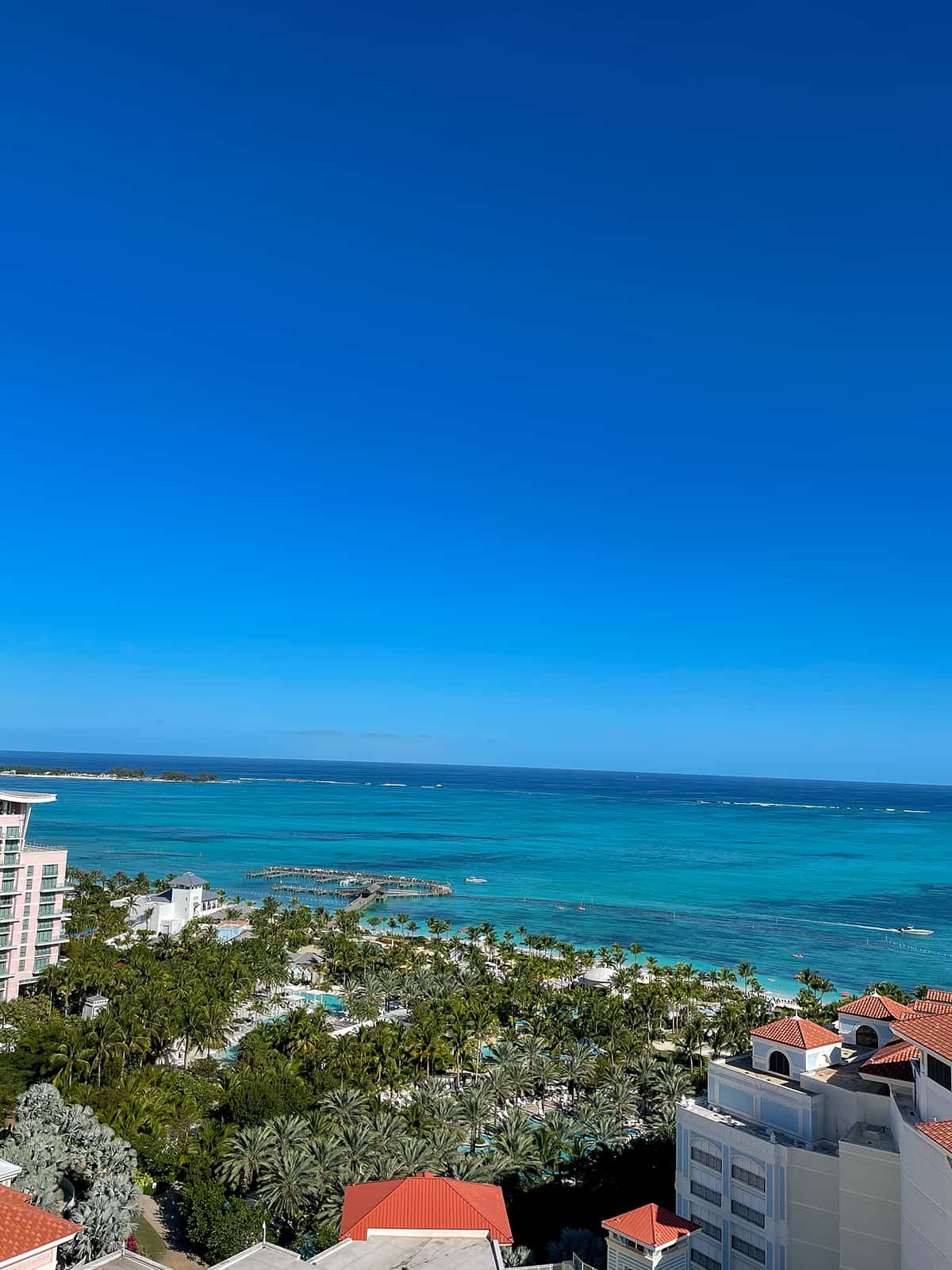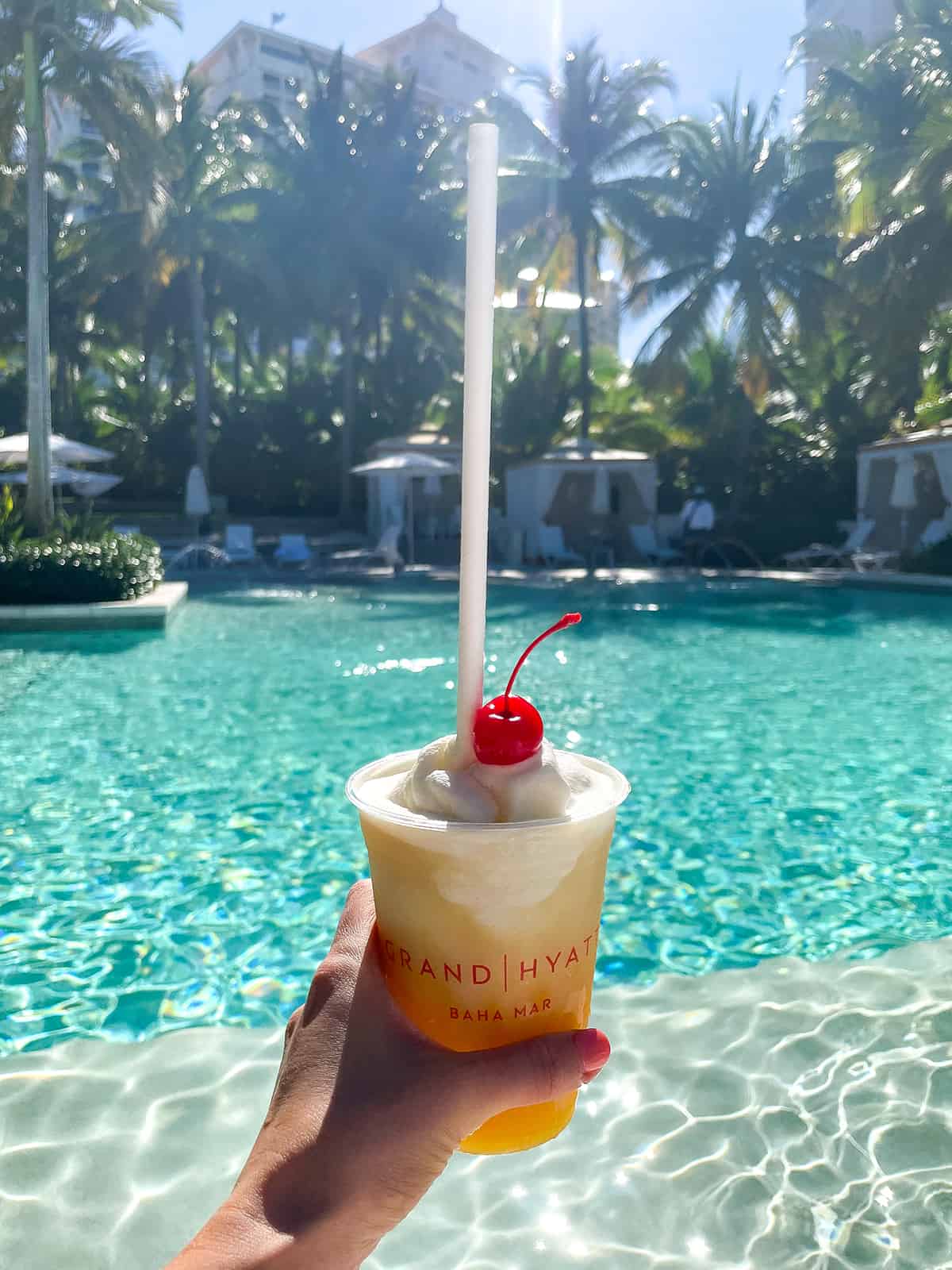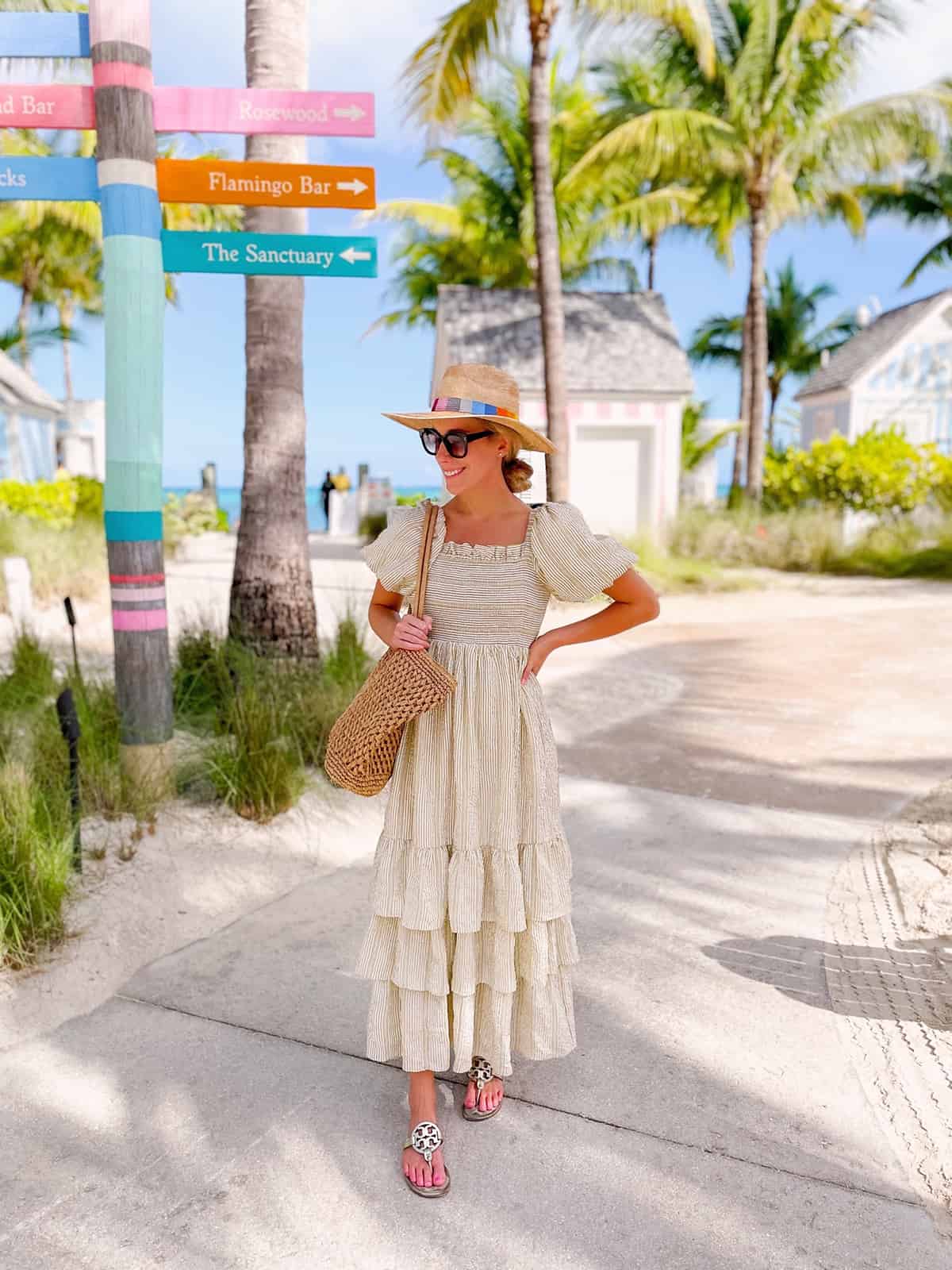 OUTFIT DETAILS // Purple Maxi Dress | Tiered Maxi Dress | Panama Hat | Woven Tote | Oversized Sunglasses | Tory Burch Sandals
While we've typically always planned all of our trips ourselves, traveling with a toddler is just a different ball game and the research process became too overwhelming. We realized we needed some help so we decided to use Beachbound to find the right destination and hotel. BeachBound is a travel company that specializes in planning all-inclusive getaways and curated beach vacations for groups and families. They work with over 70 different destinations and will assist you from start to finish with booking your perfect vacation. They handle everything– the hotel search process, booking your rooms/flights/car transfers, setting up excursions, making dinner reservations– the list goes on. Their services were a game changer for us and really helped take a lot of the stress that comes with planning a trip off of our backs.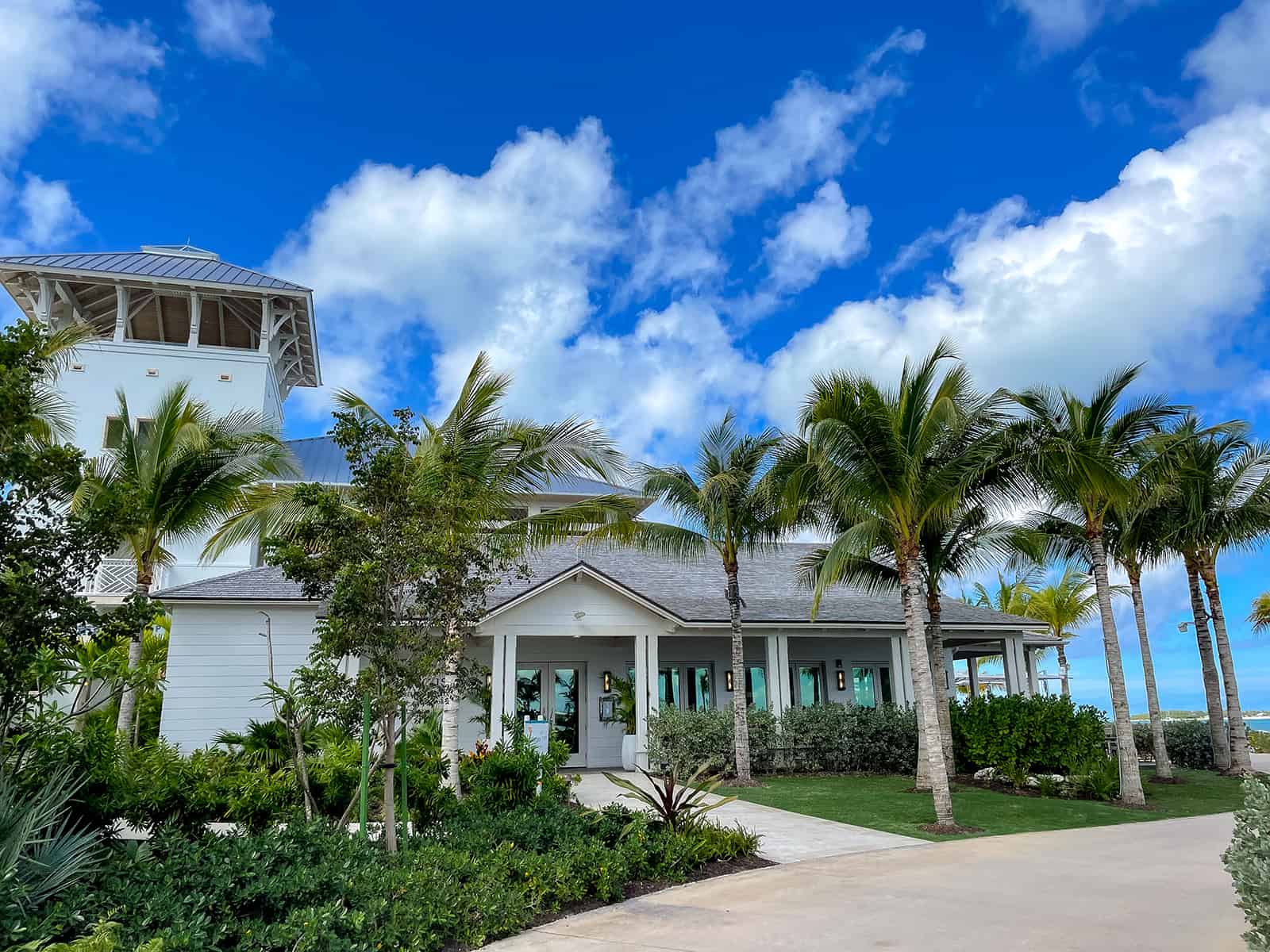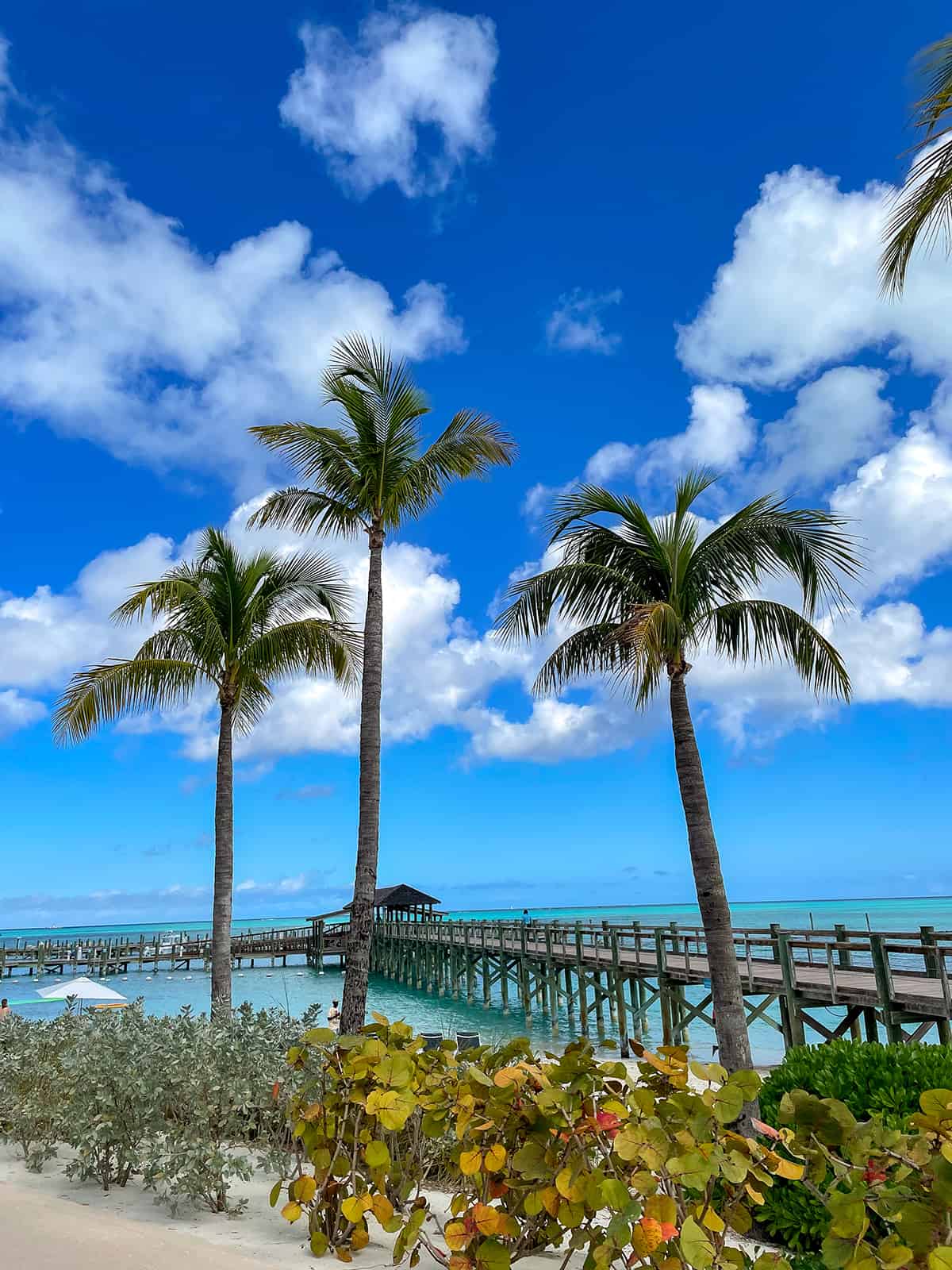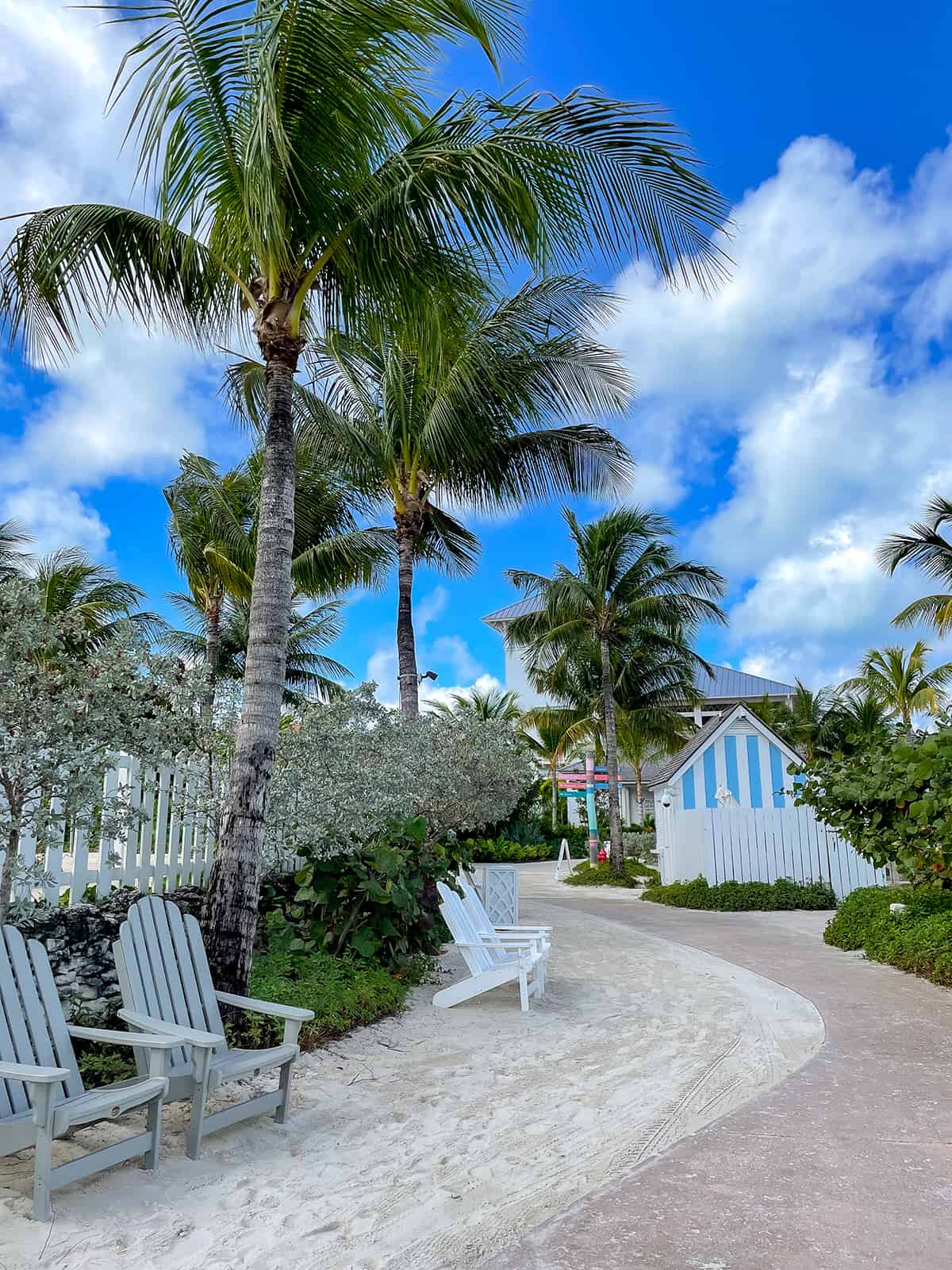 With the help of the Beachbound team, we ultimately decided to book a 5-night stay at the Grand Hyatt Baha Mar in Nassau, Bahamas. It checked all of our boxes: family-friendly, lots of activities for kiddos, wide variety of restaurants and bars, beautiful pools and beachfront. We really wanted to make this a relaxing vacation (well, as relaxing as it can be with a toddler lol) which meant choosing somewhere where we'd never have to leave the resort. And boy let me tell you, Baha Mar has it all. You could probably spend a month there and still find something new to do. The property is HUGE– almost like it's own little city.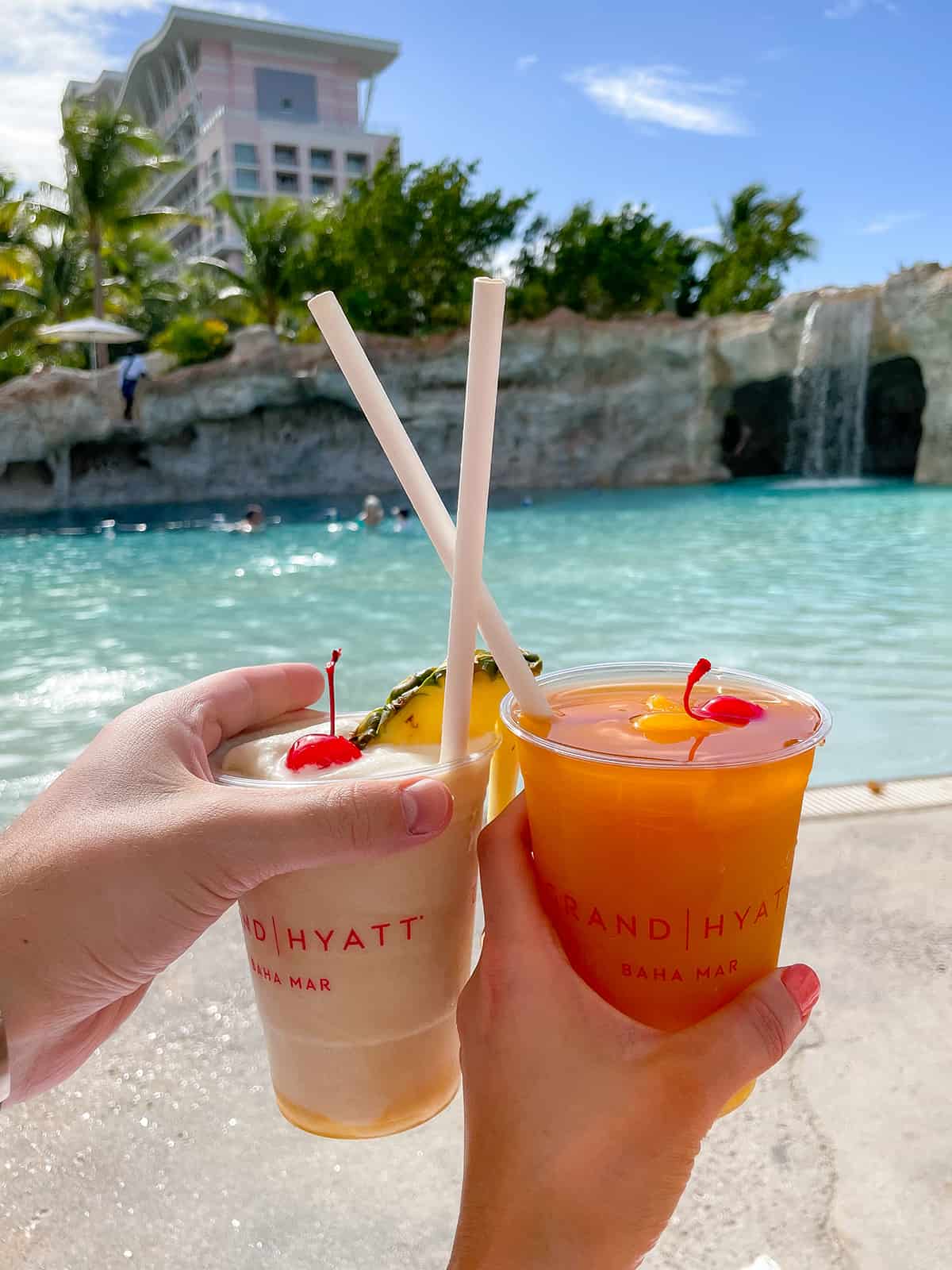 Before I get into more detail about the resort itself, I'll quickly explain how we traveled to The Bahamas as well as the pre-flight Covid-testing requirements.
The Bahamas is currently open to all US travelers who have the following: a negative Covid test completed prior to your flight and a Bahamas Health Pass. Once travelers have their negative test results, they can apply for the health pass on the Bahamas government website. This page explains all of the requirements in more detail.
I won't lie. It was a bit nerve-wracking completing the testing and applying for the pass in such a short timeframe prior to our flight. We ended up paying out of pocket for tests at a local clinic that would provide immediate results vs going to a pharmacy and possibly having to wait 24-48 hours. The most stressful part was not knowing when we would be approved for the health pass (which was required to board our flight) but thankfully the process was quick. I submitted our applications 2 days before our flight and was approved within three hours. Side note– children under 2 are completely exempt from any Covid requirements when traveling to the Bahamas. I still had to submit a health pass application for Nate but just with our general trip details and his age.
Before heading home, we also had to take another Covid test (just a rapid). Baha Mar actually has a testing clinic right in the hotel where we were able to get this done. We received our results within the hour and then we were able to upload them to check in for our flights and return to the US. It was a very easy and stress-free process.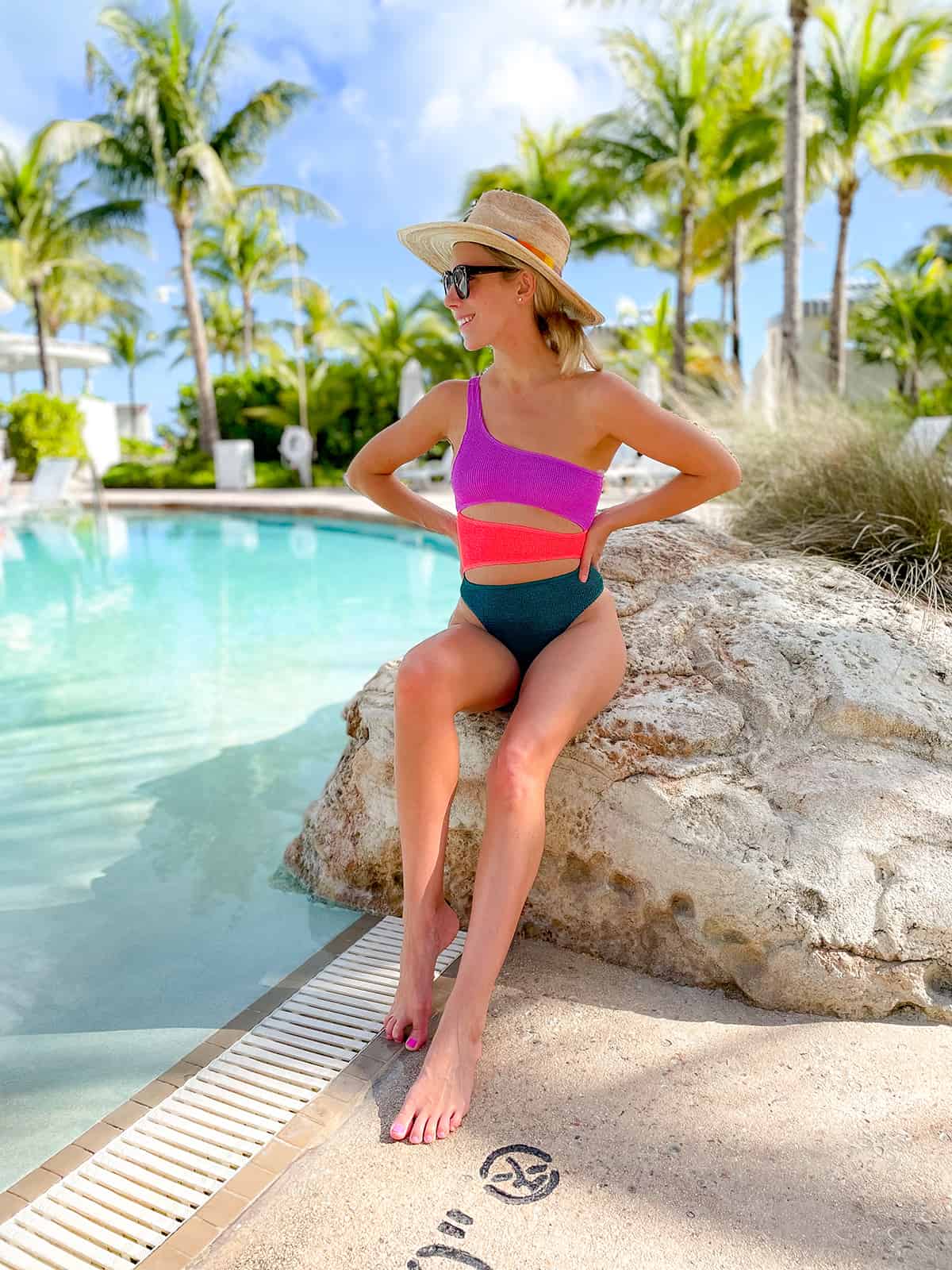 SWIMSUIT DETAILS //Asymmetrical One Piece Swimsuit | Panama Hat | Oversized Sunglasses
Our flight to the Bahamas went smoothly– other than Nate having a meltdown the final hour. Poor bub was due for his nap and just too over-excited to relax and fall asleep. I felt so bad 🙁 Other than that we had a seamless experience with boarding, security, customs in the Bahamas and our transfer to the Grand Hyatt Baha Mar. Thankfully our flight home went much better and Nate actually napped! PS this post has all of my toddler travel trips + must-have products.
Beachbound booked our transfers between the airport and Baha Mar using Majestic Tours. They were able to provide a car seat for Nate, which was amazing. The drive to Baha Mar took just 10 minutes and was incredibly easy.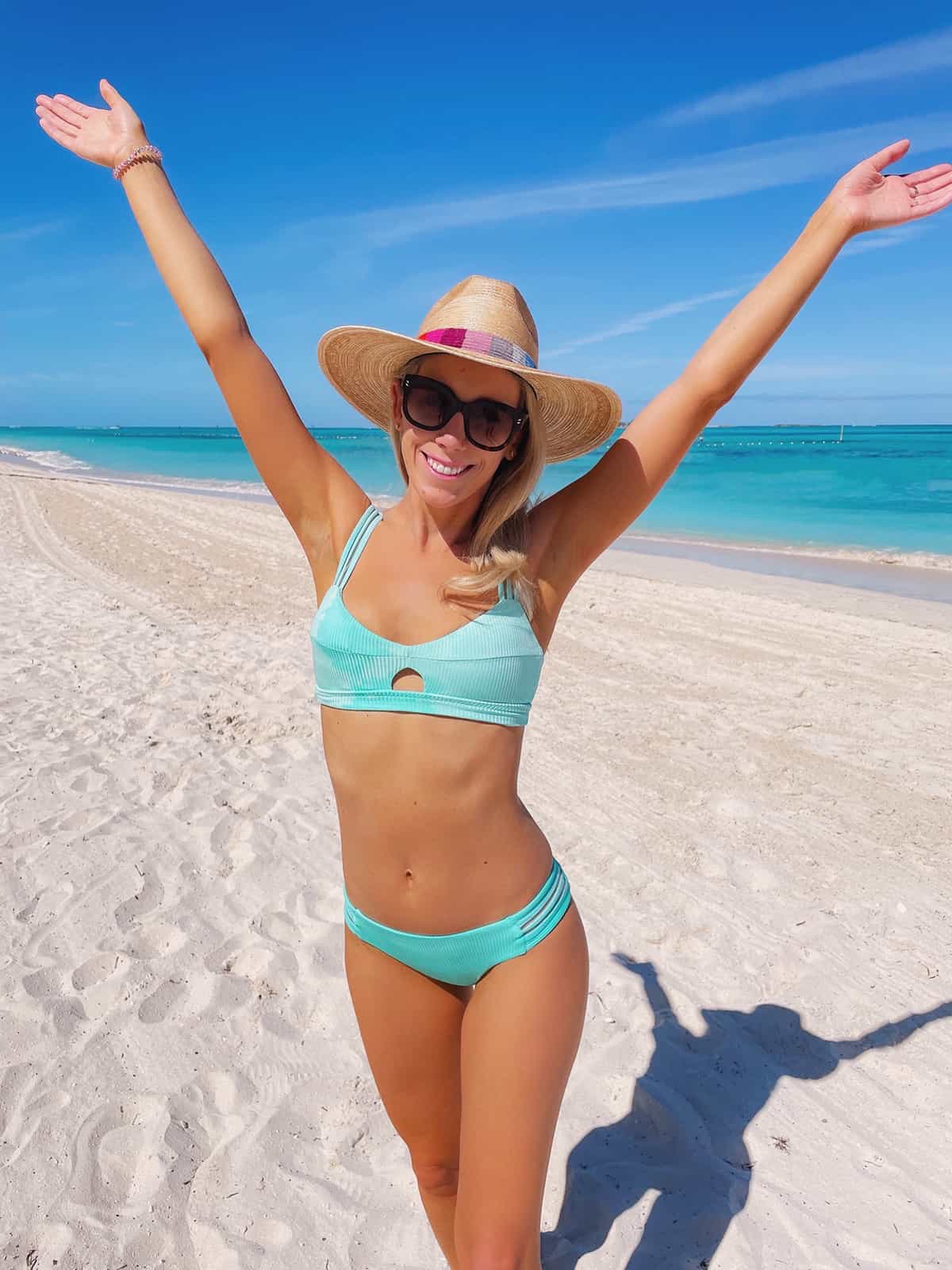 SWIMSUIT DETAILS // Ribbed Bralette Bikini Top | Ribbed Hipster Bikini Bottom | Panama Hat | Oversized Sunglasses
Grand Hyatt Baha Mar Review
Baha Mar has three hotels: the Grand Hyatt, SLS and Rosewood. We chose the Grand Hyatt as it seemed like the best fit for kids. We booked a 1-bedroom suite with a separate living area so Nate would have his own quiet space to sleep and we could still be in the room at the same time. The hotel also provided a crib for him. Nate slept great our entire trip (we brought his sound machine from home to replicate his sleep environment) and we were really pleased with our accommodations.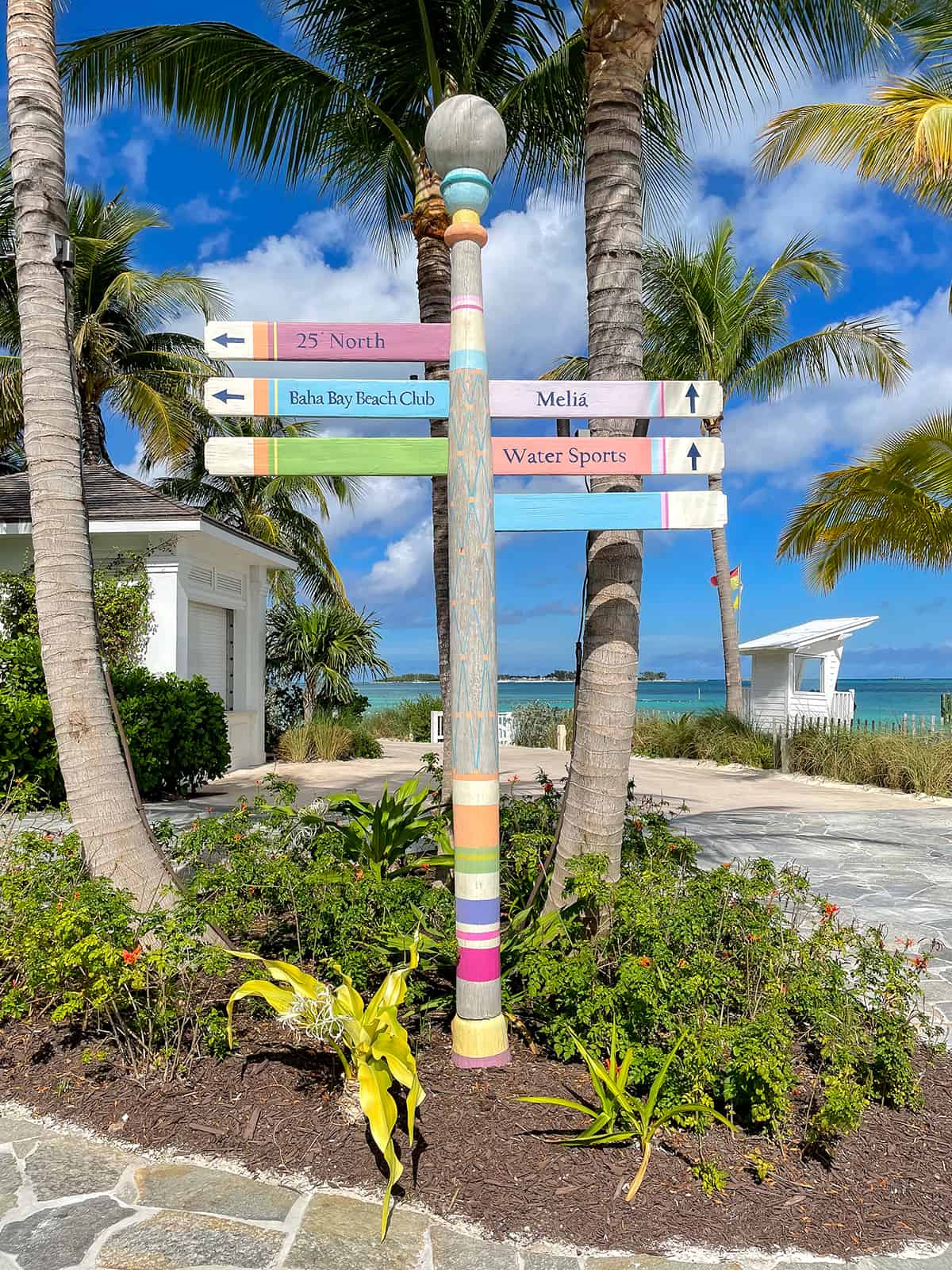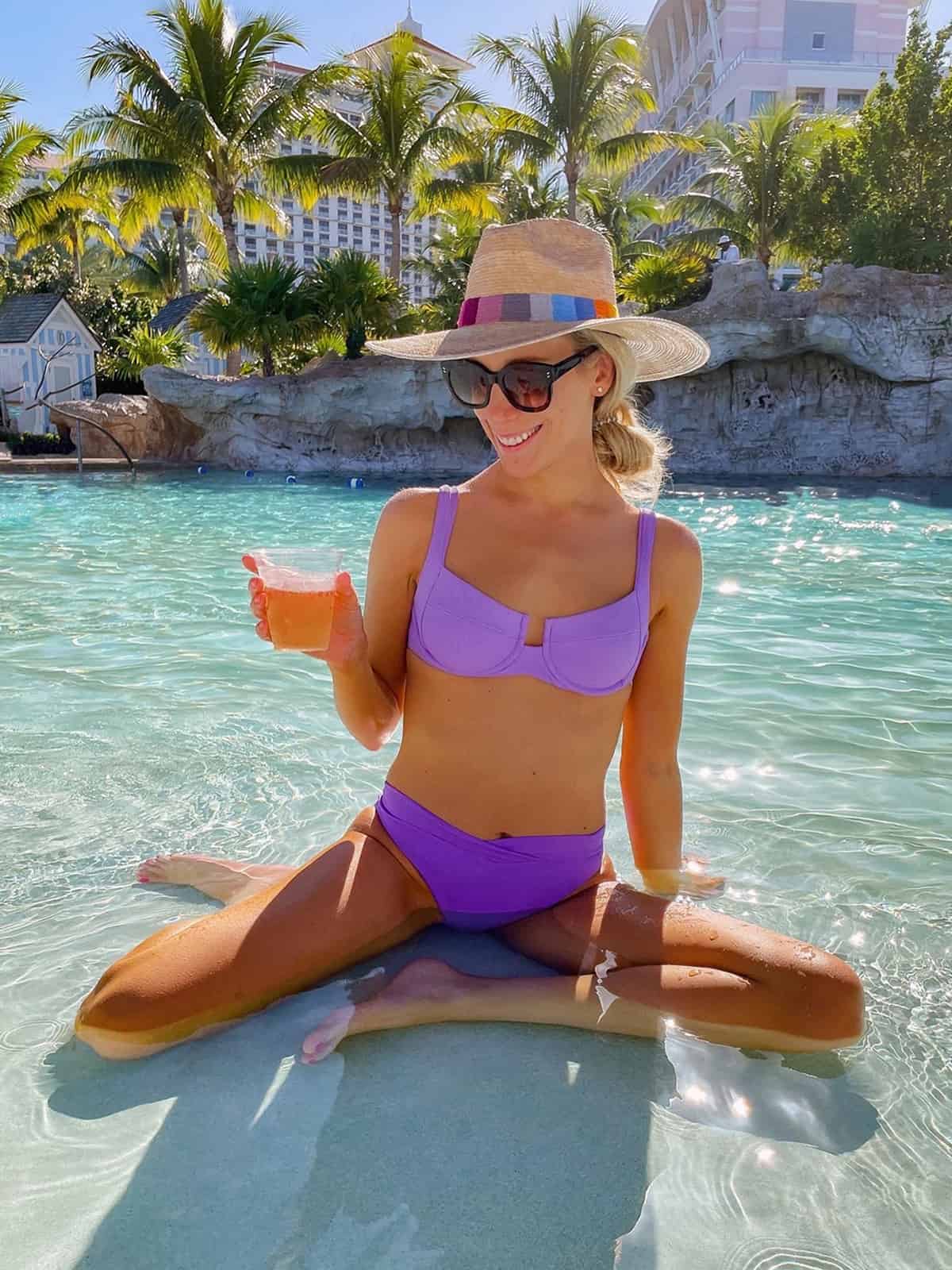 SWIMSUIT DETAILS // Underwire Adjustable Bikini Top | Banded High Waist Bikini Bottom | Panama Hat | Oversized Sunglasses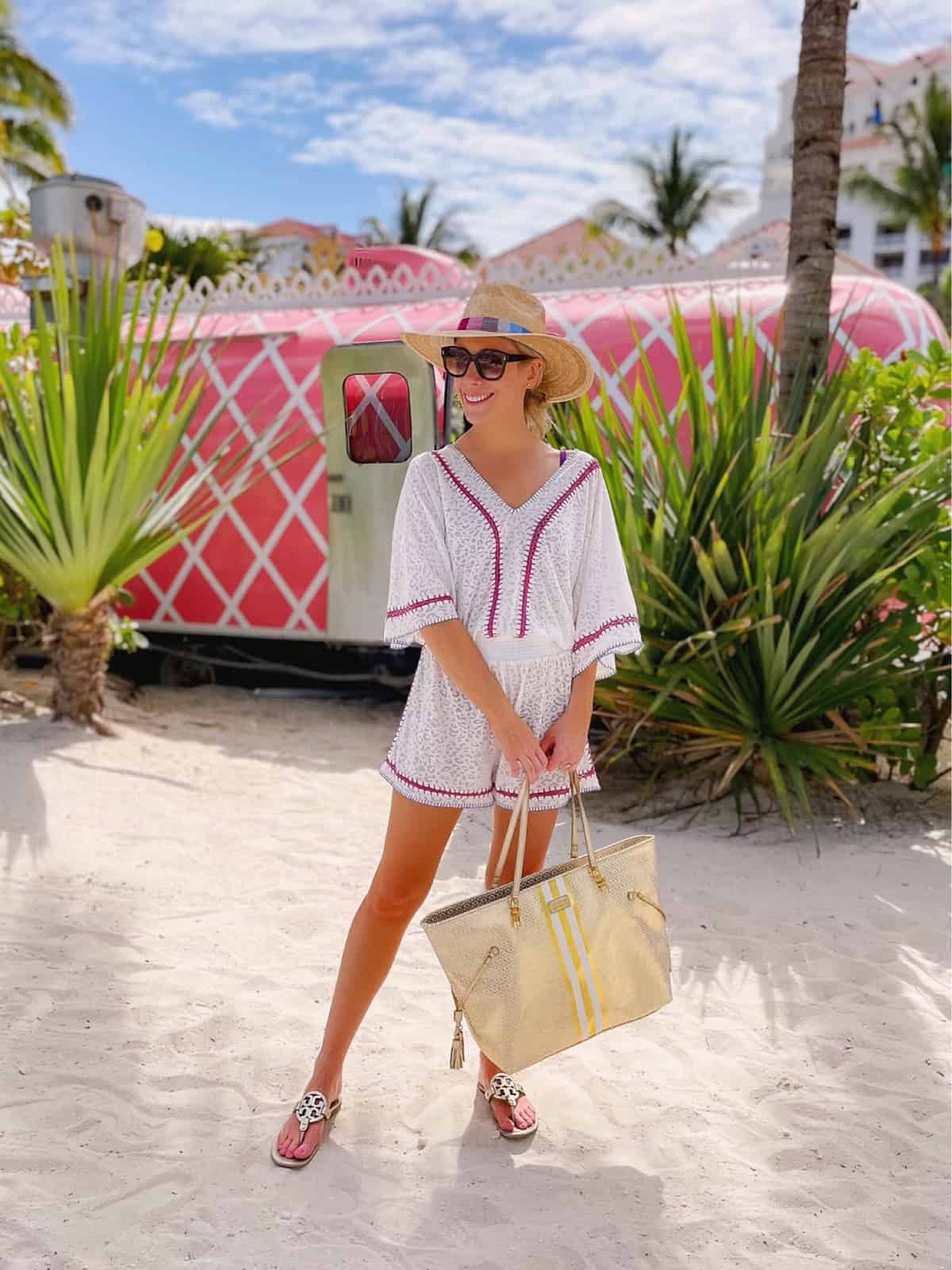 OUTFIT DETAILS // Spotted Cover-Up Romper | Panama Hat | Lilly Pulitzer Gold Tote | Oversized Sunglasses | Tory Burch Sandals
Baha Mar Restaurants & Bars
I feel like often at large resorts, the food can be just average. This wasn't the case at Baha Mar. We had some really incredible meals– way better than I was anticipating. The resort has a ton of dining options that range from traditional sit-down style to food trucks to casual grab-and-go. In total there are 26 restaurants and 16 bars throughout the Baha Mar complex. At many of the restaurants, kids under 5 eat free if you're ordering off the children's menu. Every restaurant we went to had highchairs and were very accommodating of our needs with Nate. I included a list below of all the spots we tried!
Costa— upscale Mexican restaurant in the Rosewood. The food and drinks were fantastic and the restaurant itself was absolutely gorgeous. Like eating in a jungle paradise!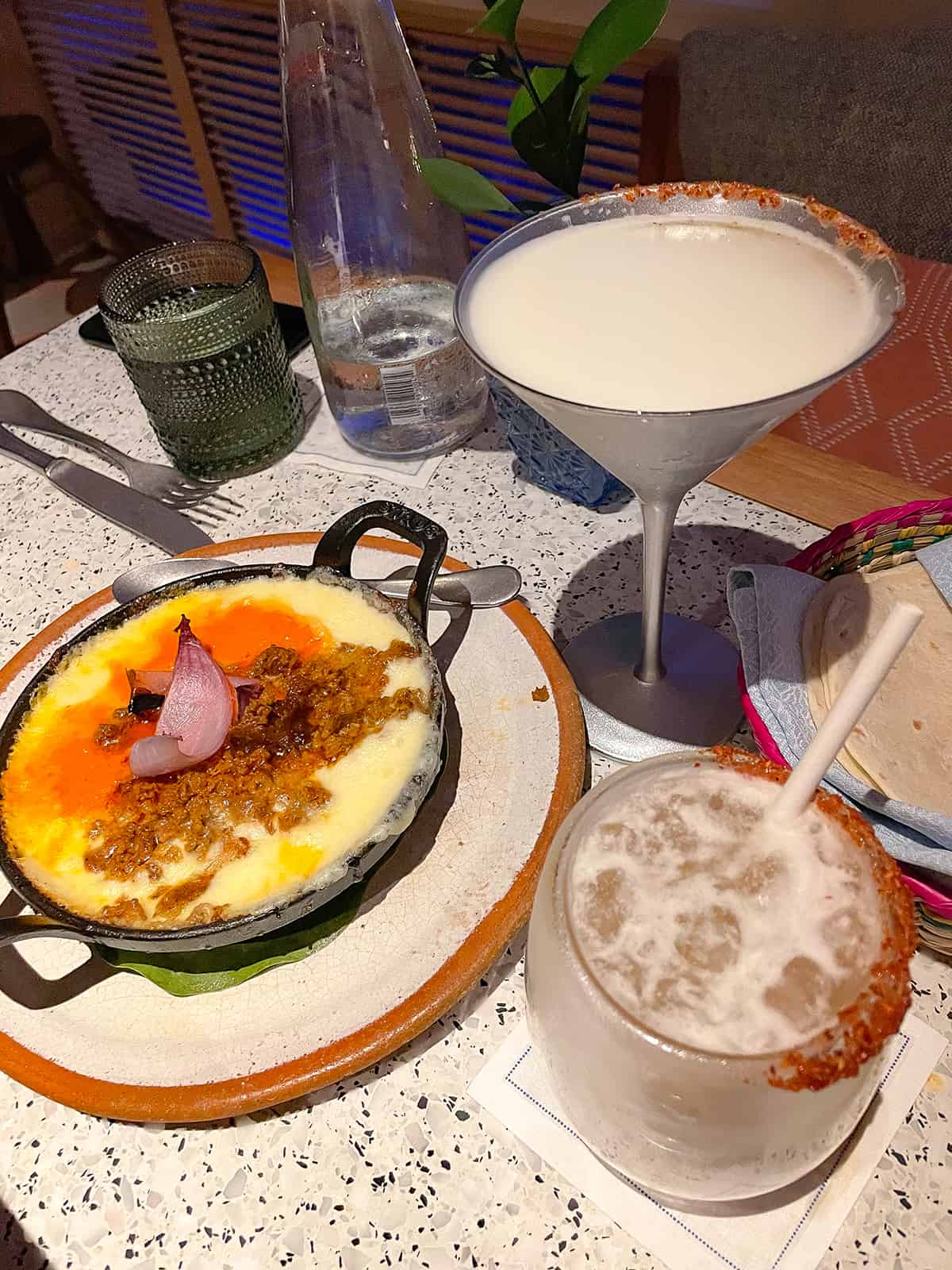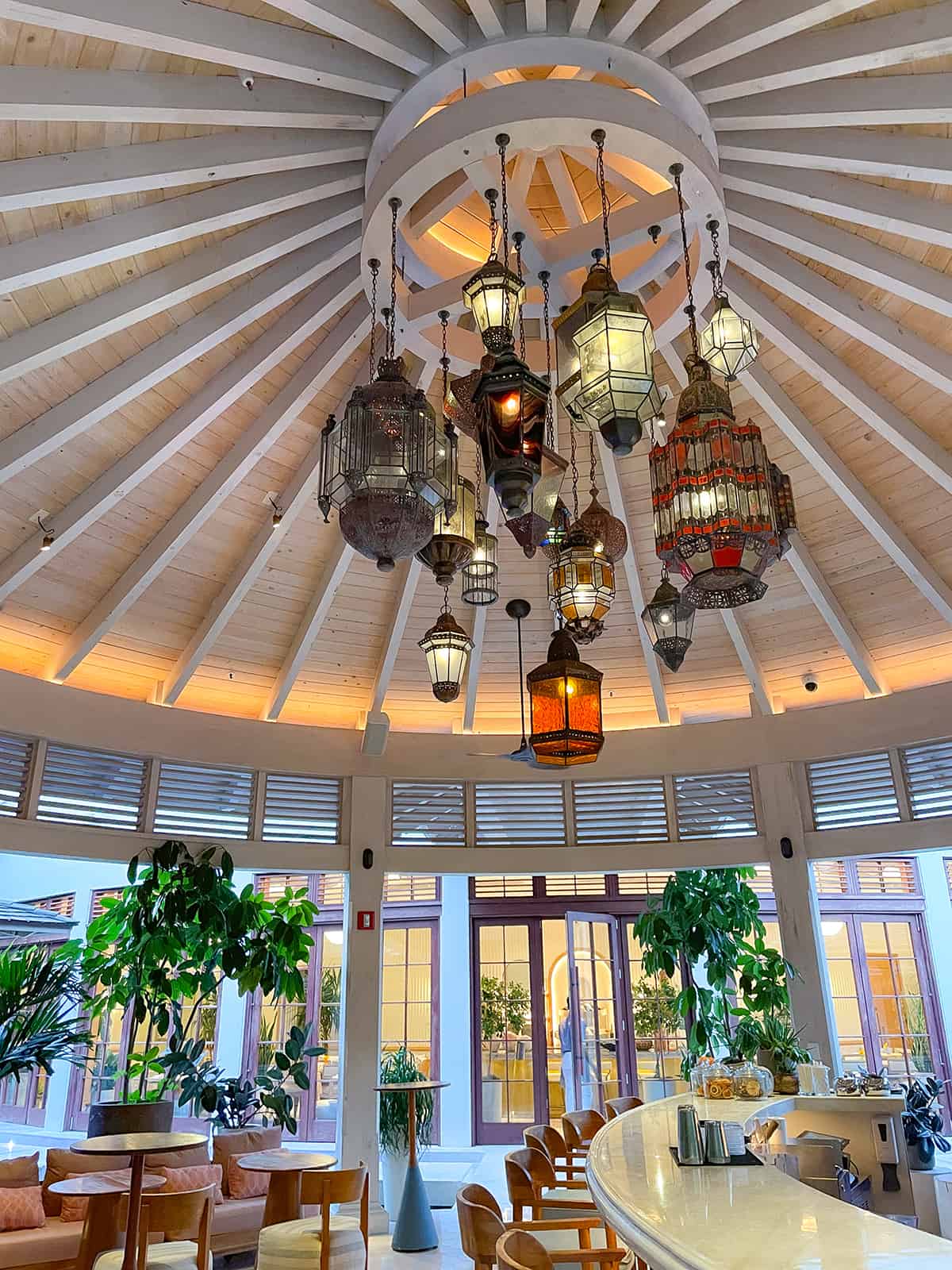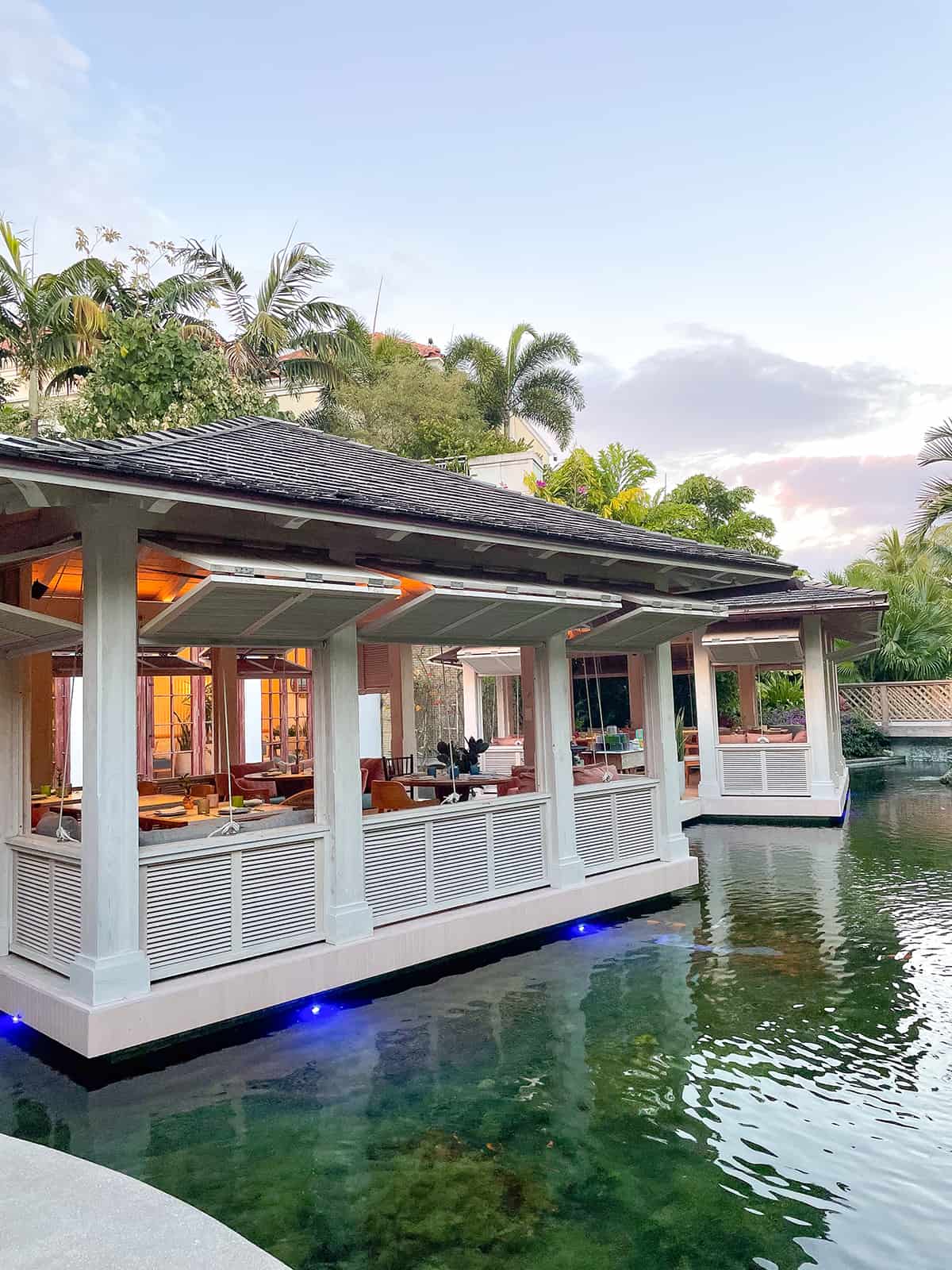 Katsuya— upscale Japanese restaurant in the Grand Hyatt. I would go back to Baha Mar just to eat here again. My mouth is watering just thinking about the yellowtail sashimi, spicy tuna on crispy rice and the miso-glazed black cod. I also had the most amazing spicy margarita.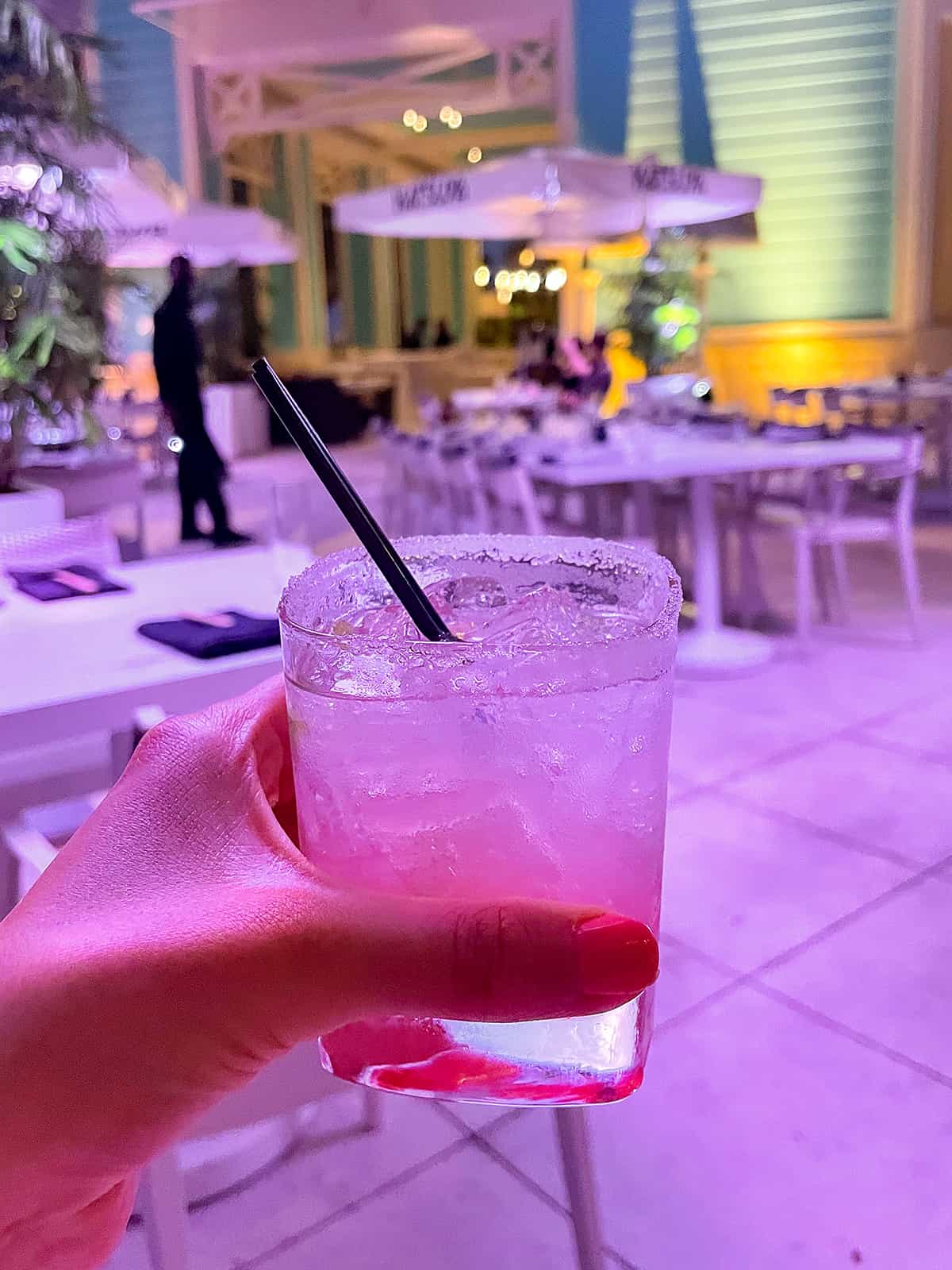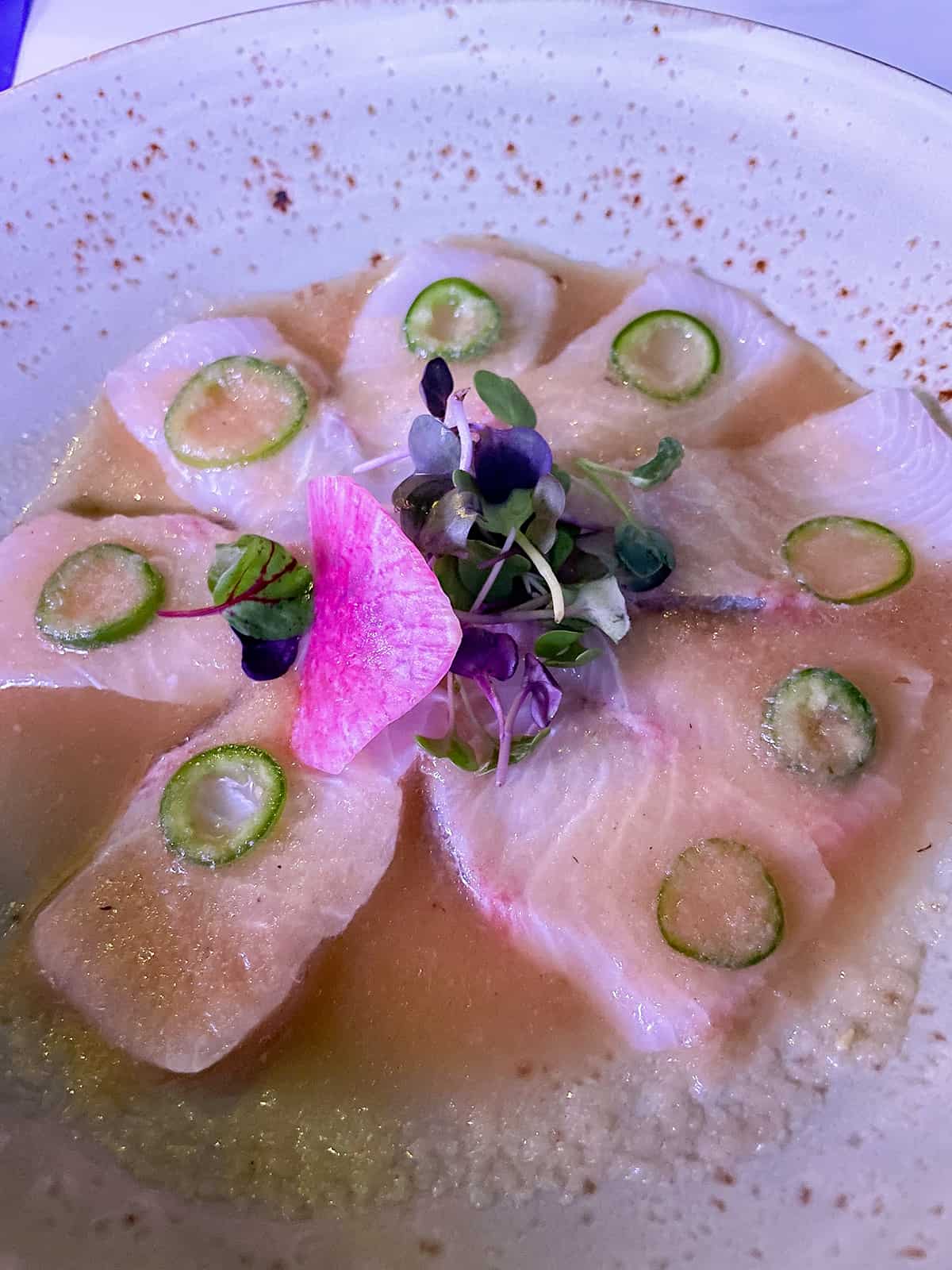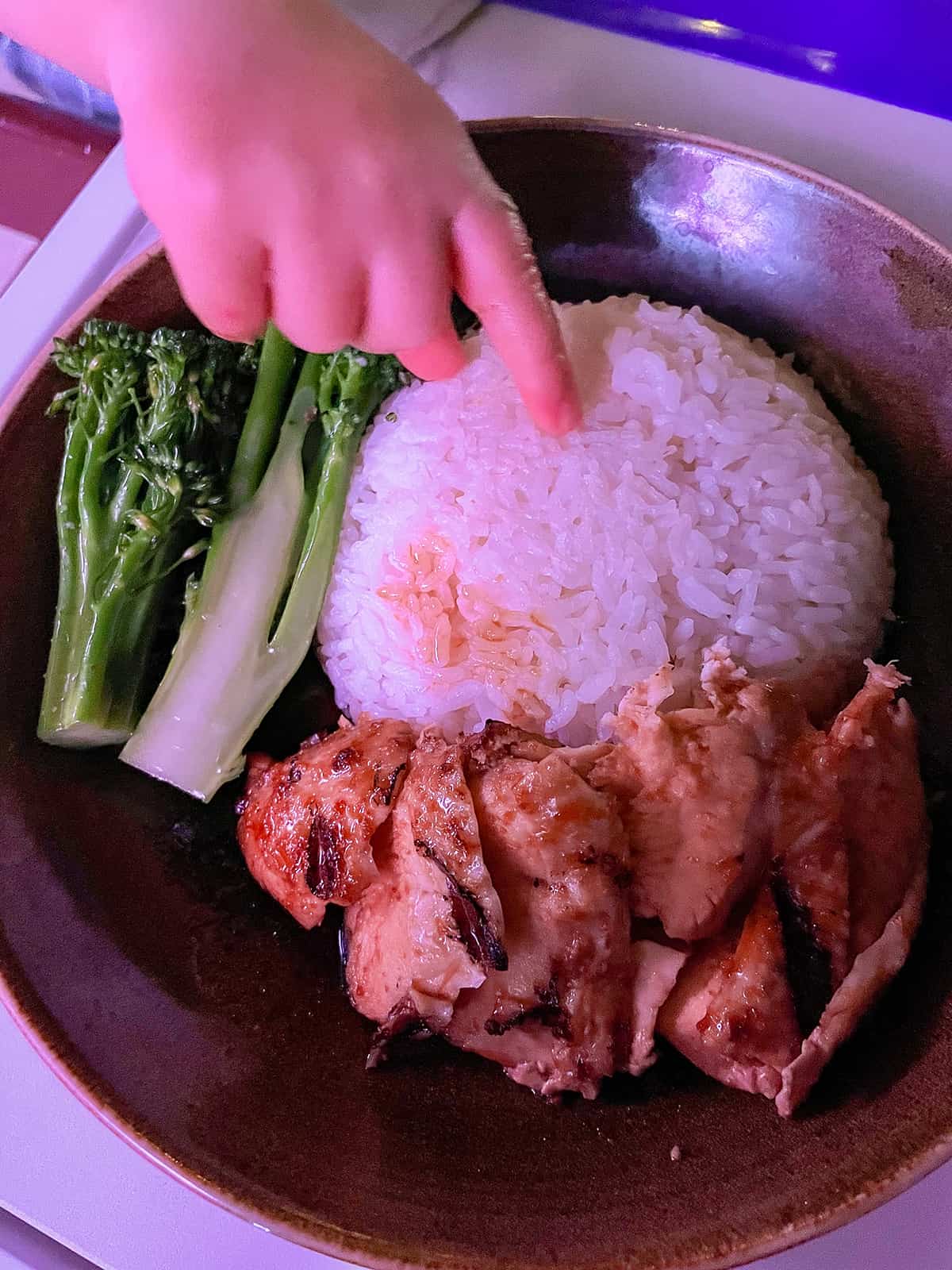 Marcus Fish + Chop House— upscale beachfront restaurant specializing in land and sea with a Bahamian twist. Everything we ordered kept getting better and better. The service was also so over-the-top in the best way. We truly felt catered to here!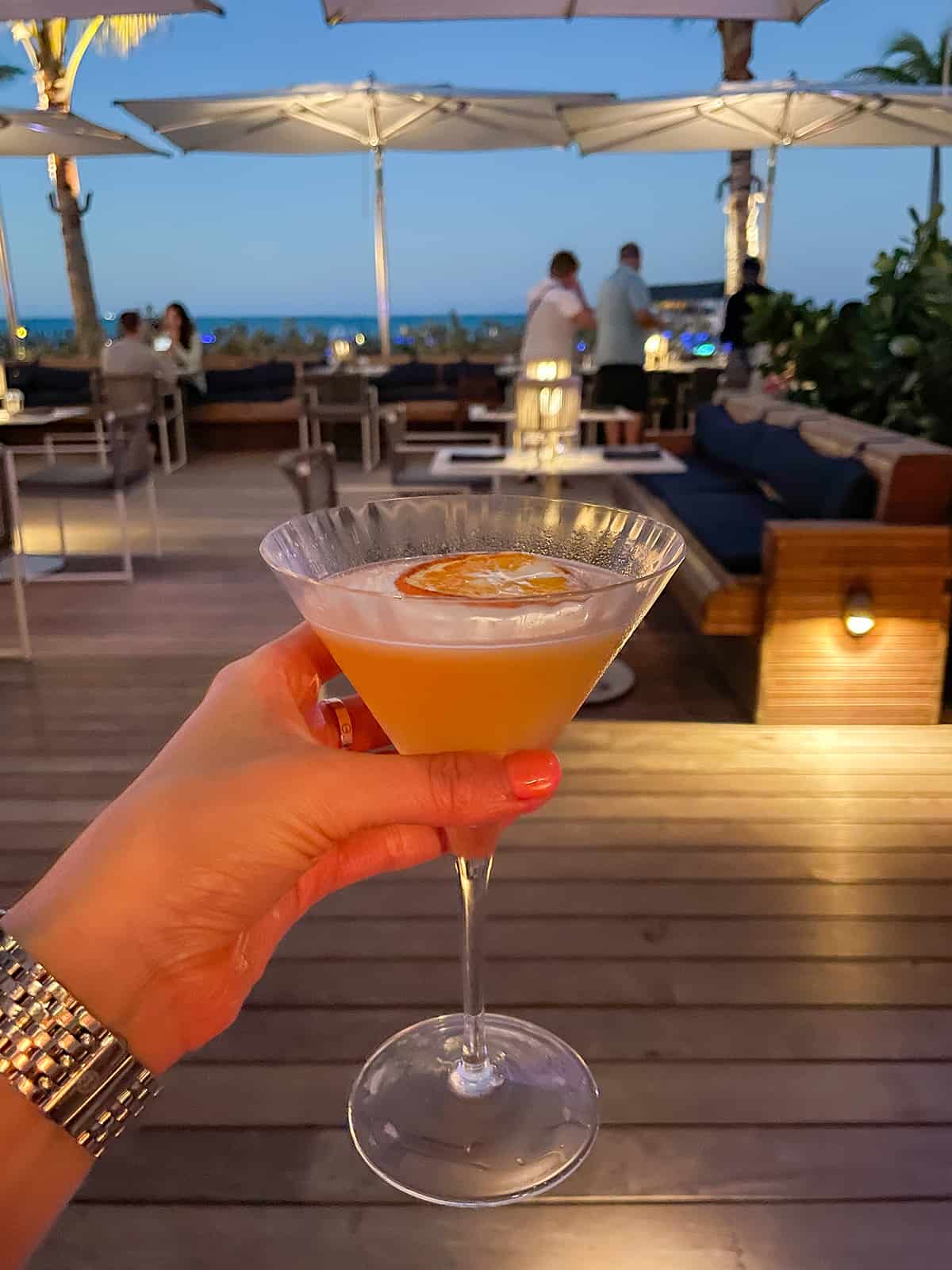 Swimming Pig— casual English pub great for burgers, sandwiches and beer. We had dinner here our first night!
Da Poke Bowl Shack— grab-and-go lunch spot located near the Grand Hyatt pool area and beach. I ordered lunch from here one day just to switch things up and have a healthy option. So good!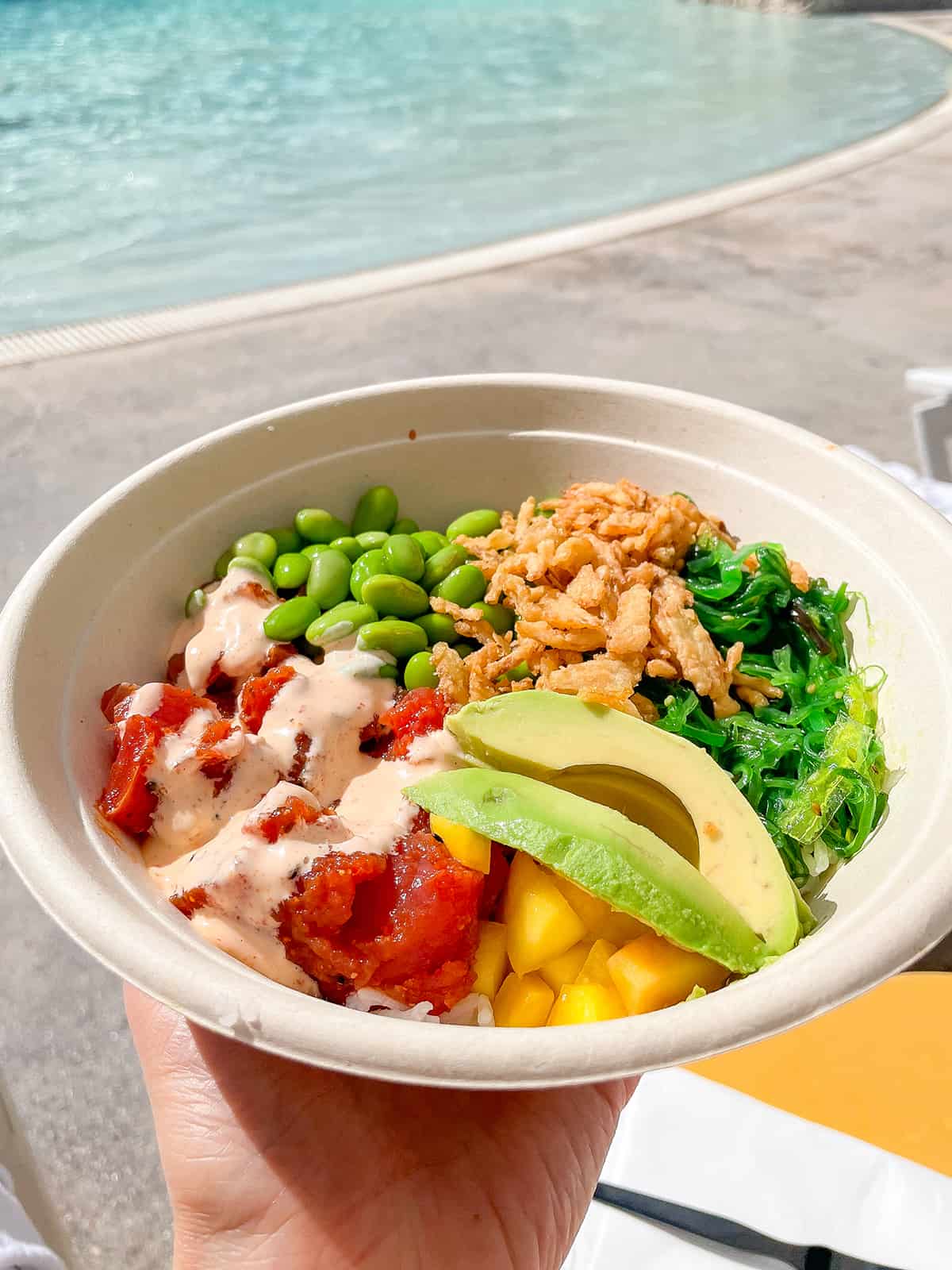 Drift Bar & Grill– casual food and drinks conveniently located by the Grand Hyatt pools. We had two really yummy lunches here!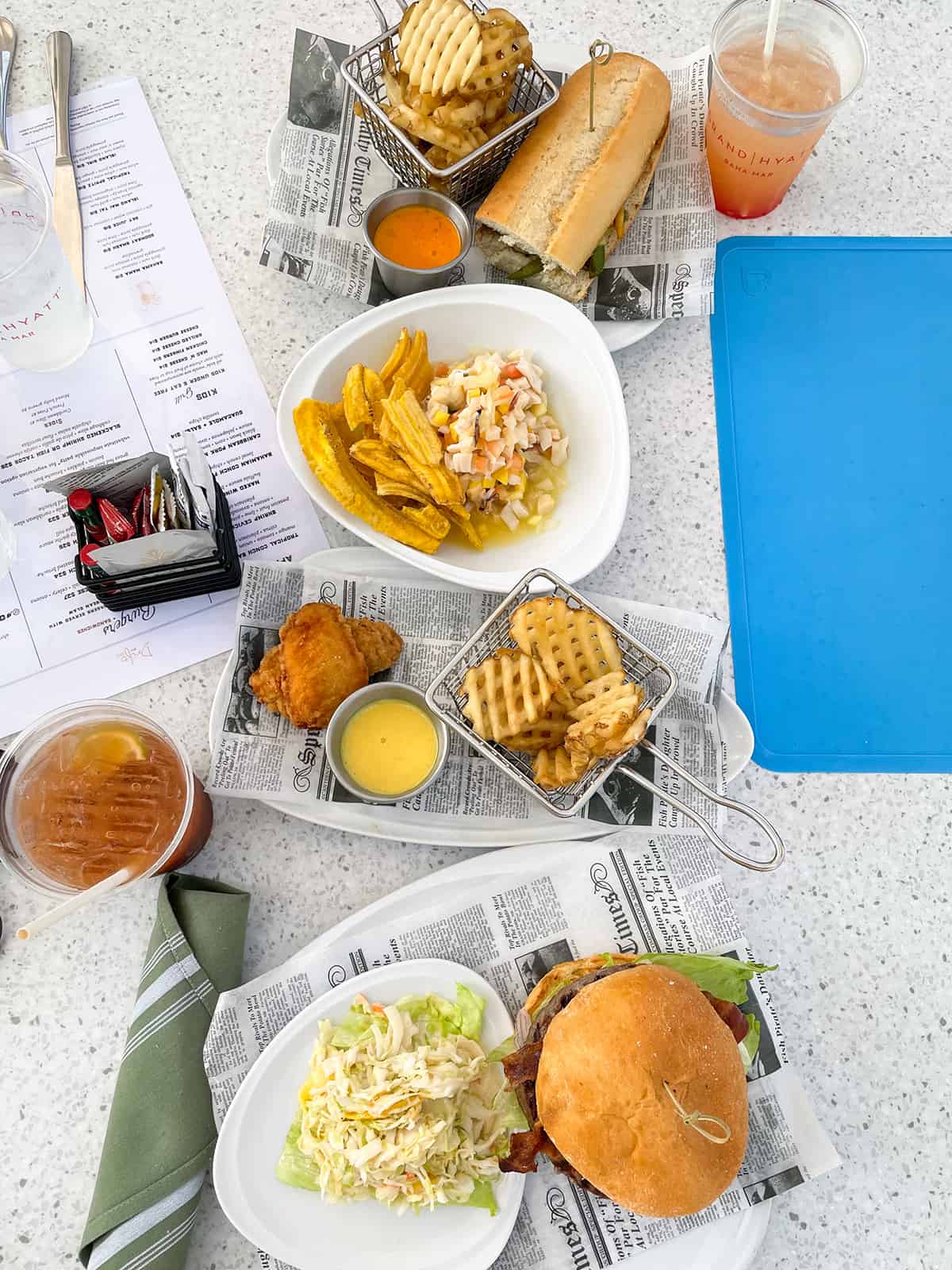 El Jefe— retro beachside taco truck just steps from most of the Grand Hyatt pools. We grabbed tacos from here for lunch one day that we ate poolside!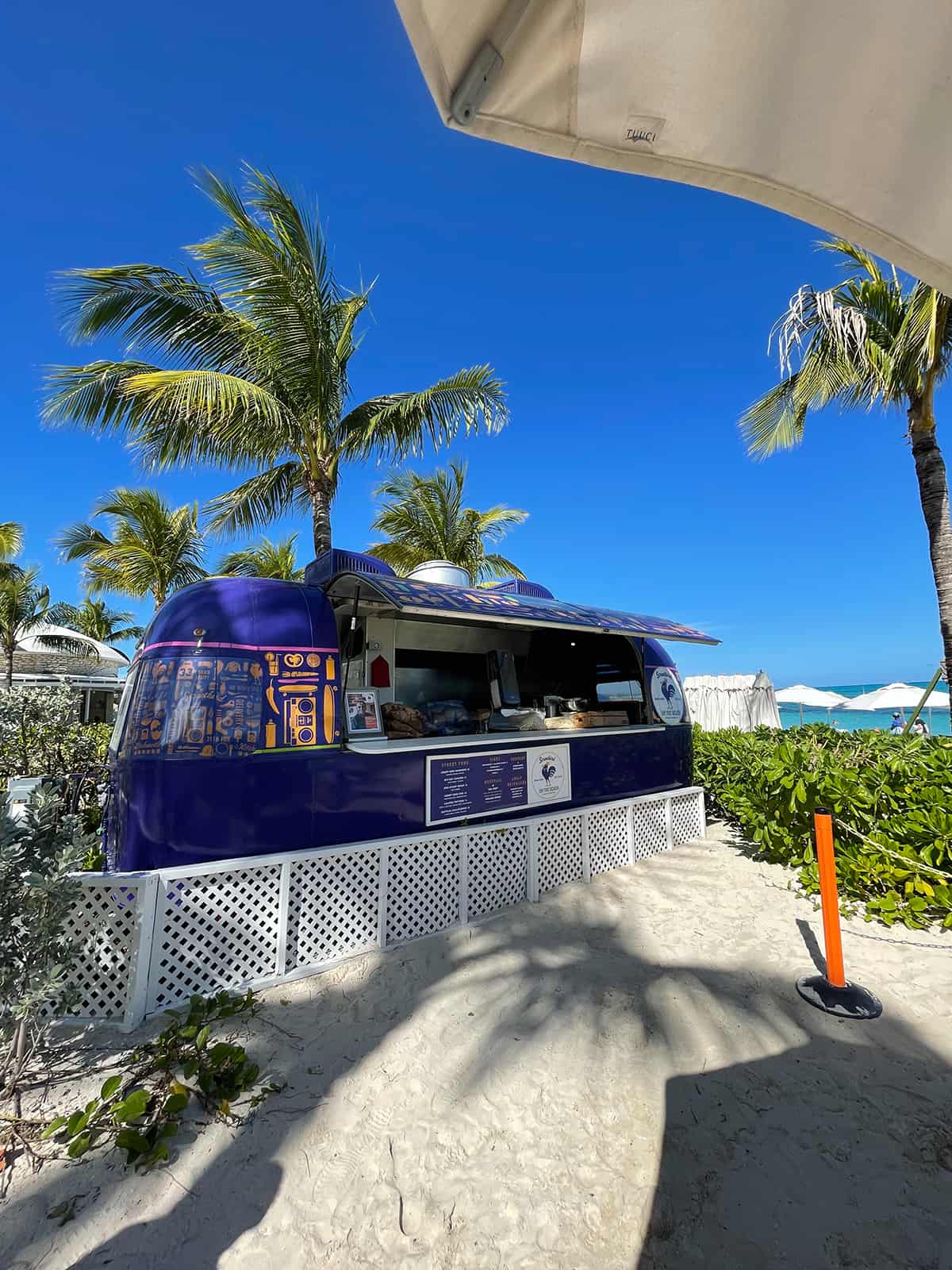 Pizza Lab— this is where we grabbed breakfast most mornings. We ordered food to-go and ate by the pool, but you can sit down as well. There was also a night that we indulged in some late night pizza that hit the spot!
Manor Bar— elegant Great-Gatsby inspired bar in the Rosewood. We're past our clubbing late night out days, so we opted for this quiet bar most nights after we put Nate down.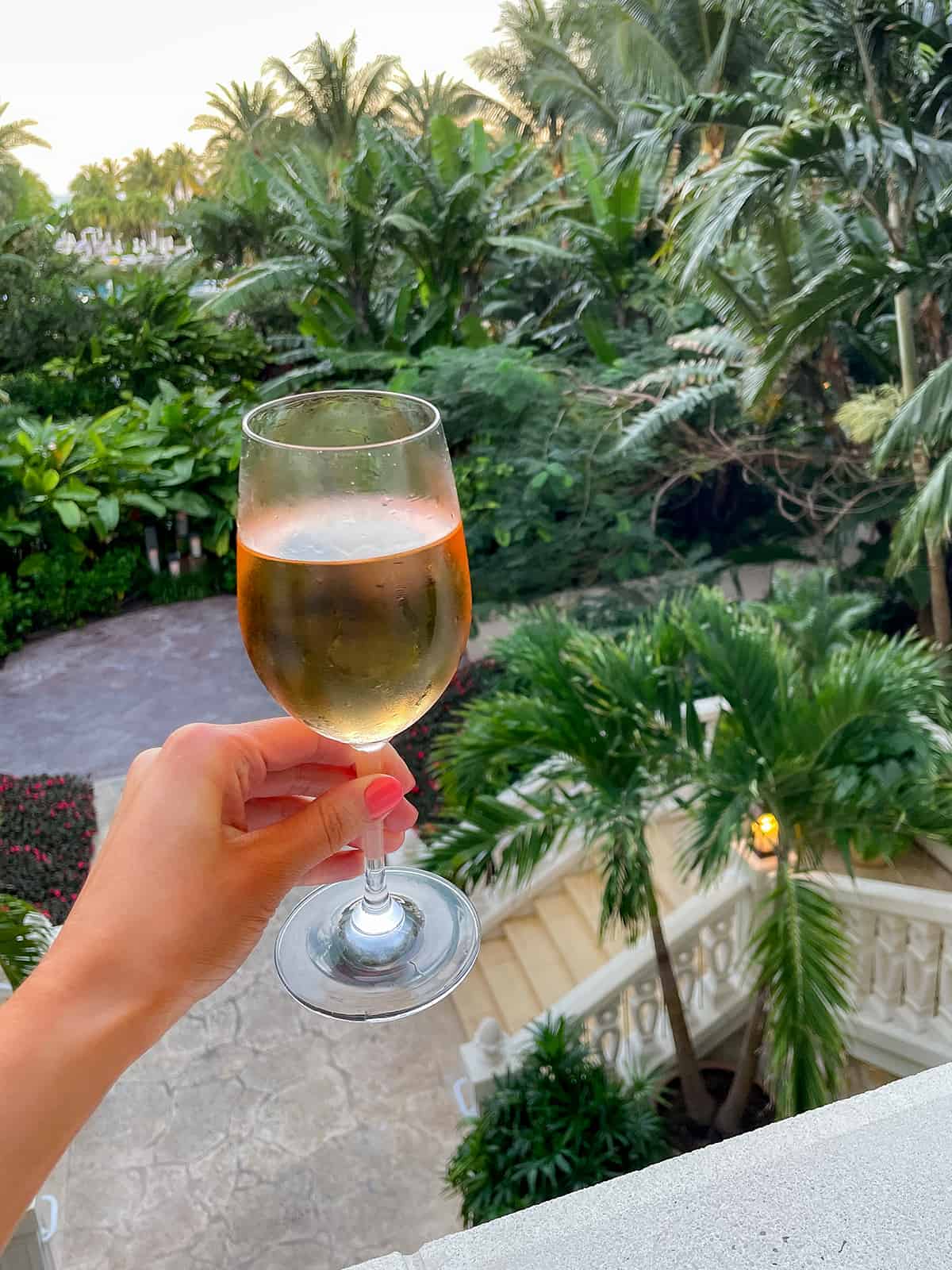 Baha Mar Activities + Experiences
There is no shortage of activities and experiences to partake in at Baha Mar. The resort has something to satisfy every interest: sports, a Jack Niklaus-designed golf course, a spa, an animal sanctuary, its own waterpark + water activities, 6 luxury pools, a casino, day and night life, retail– it's impossible to get bored. We really wanted to relax on this trip so we didn't do a ton of extra activities, but I included brief recaps of everything we did below!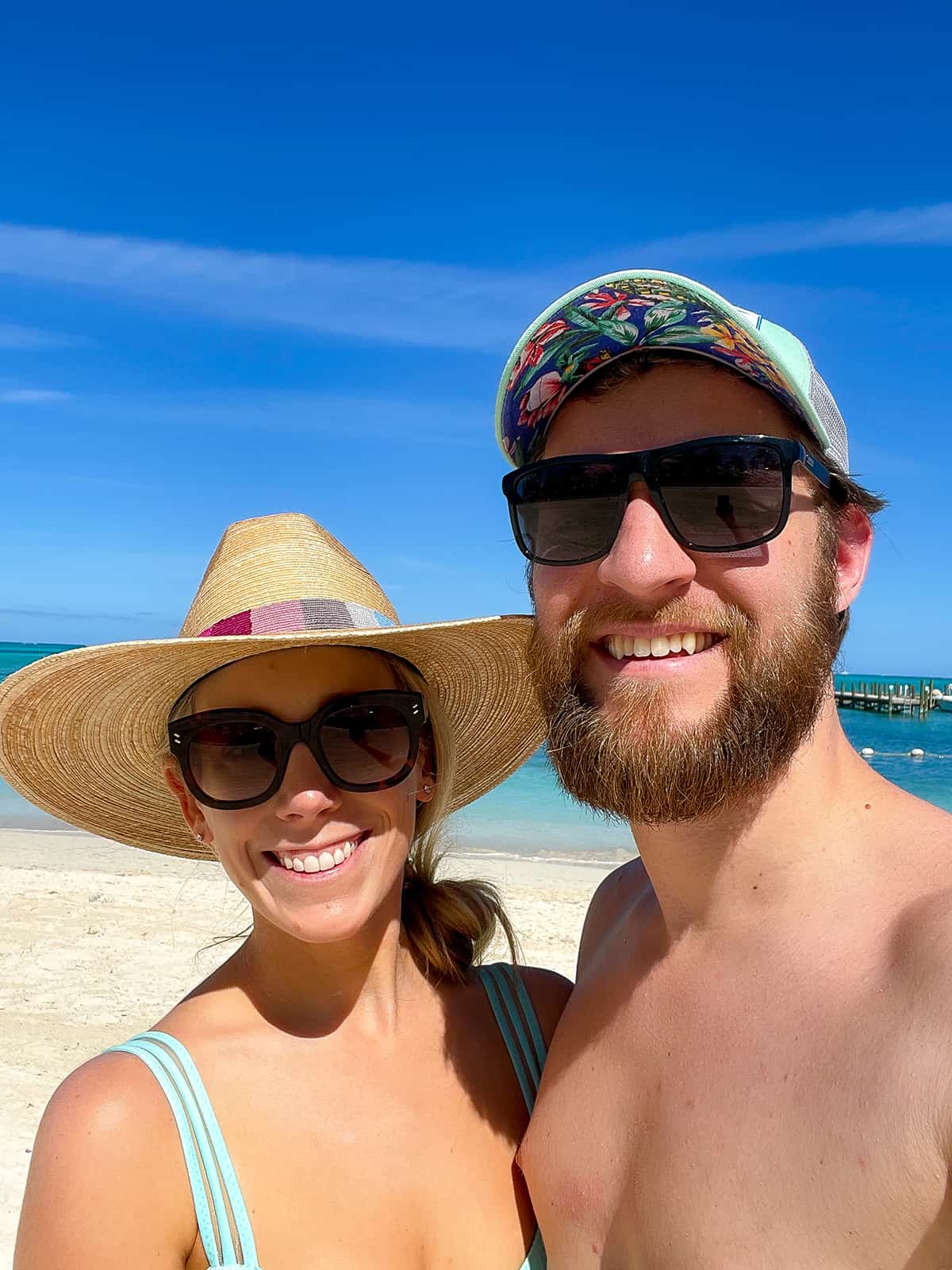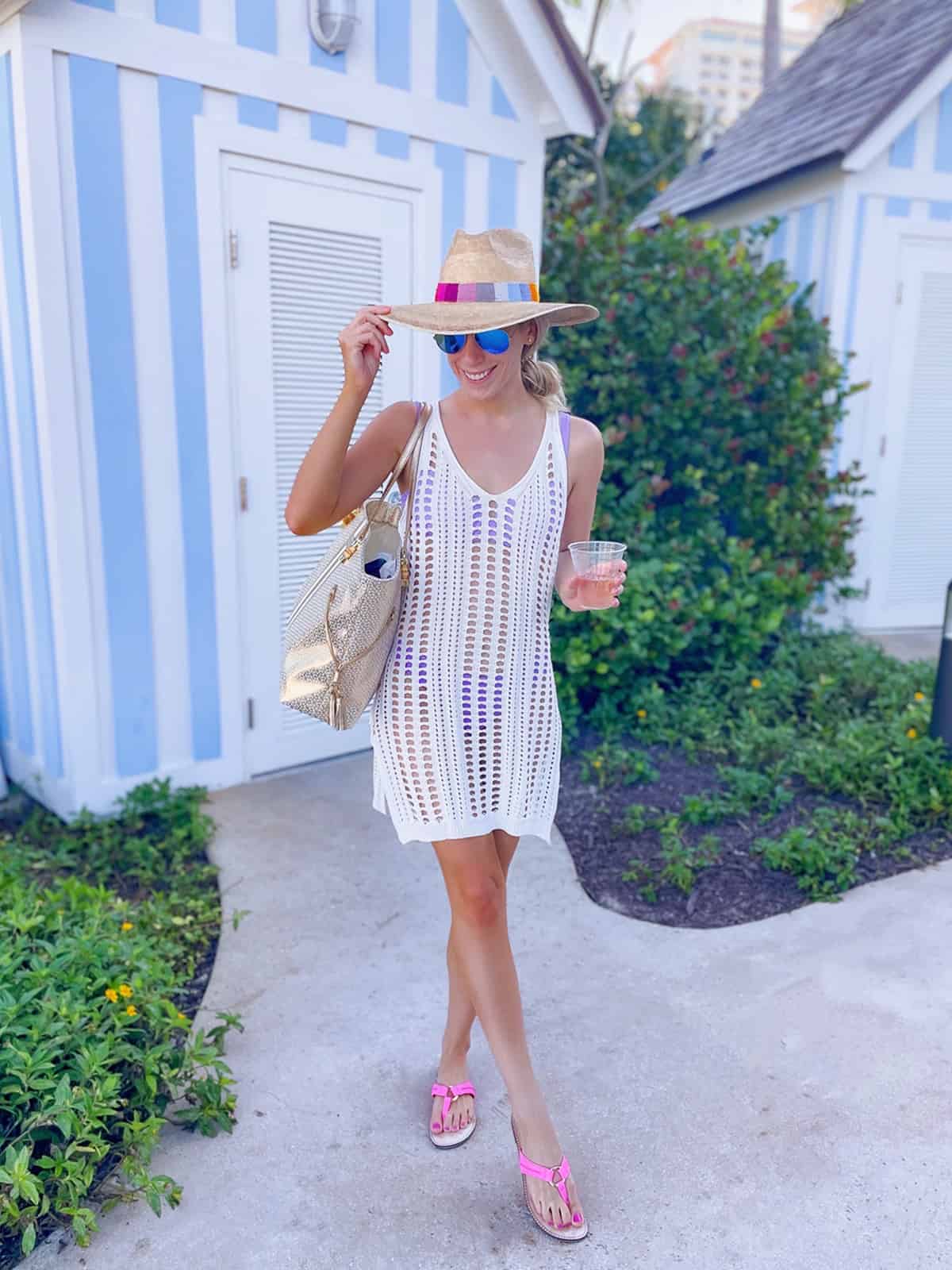 OUTFIT DETAILS // Amazon Crochet Cover-Up | Panama Hat | Lilly Pulitzer Gold Tote | Ray-Ban Sunglasses | Pink Lilly Pulitzer Sandals
Baha Bay— is Baha Mar's new luxury waterpark (opened July 2021) and omg, we spent two mornings here and had SO much fun. I've never been a fan of water or theme parks, but I LOVED this place and was really impressed with the facilities and layout. Baha Bay is located within a five minute walk of the Grand Hyatt pool area, near the SLS hotel. Nate had the time of his life at Turtle Beach– Baha Bay's small kiddo area complete with splash-pads and toddler-sized slides. There were lots of activities for big kids and adults too: a wave pool, surf-simulator, lazy river, group slides, straight-shot solo tube slides (I was too scared but Nick had a blast on these), there was even a water playground for big kids and teens. There were complimentary life jackets available in all sizes + access to Baha Bay is FREE to all Baha Mar hotel guests. Experiencing Baha Bay was definitely one of the highlights of our entire vacation!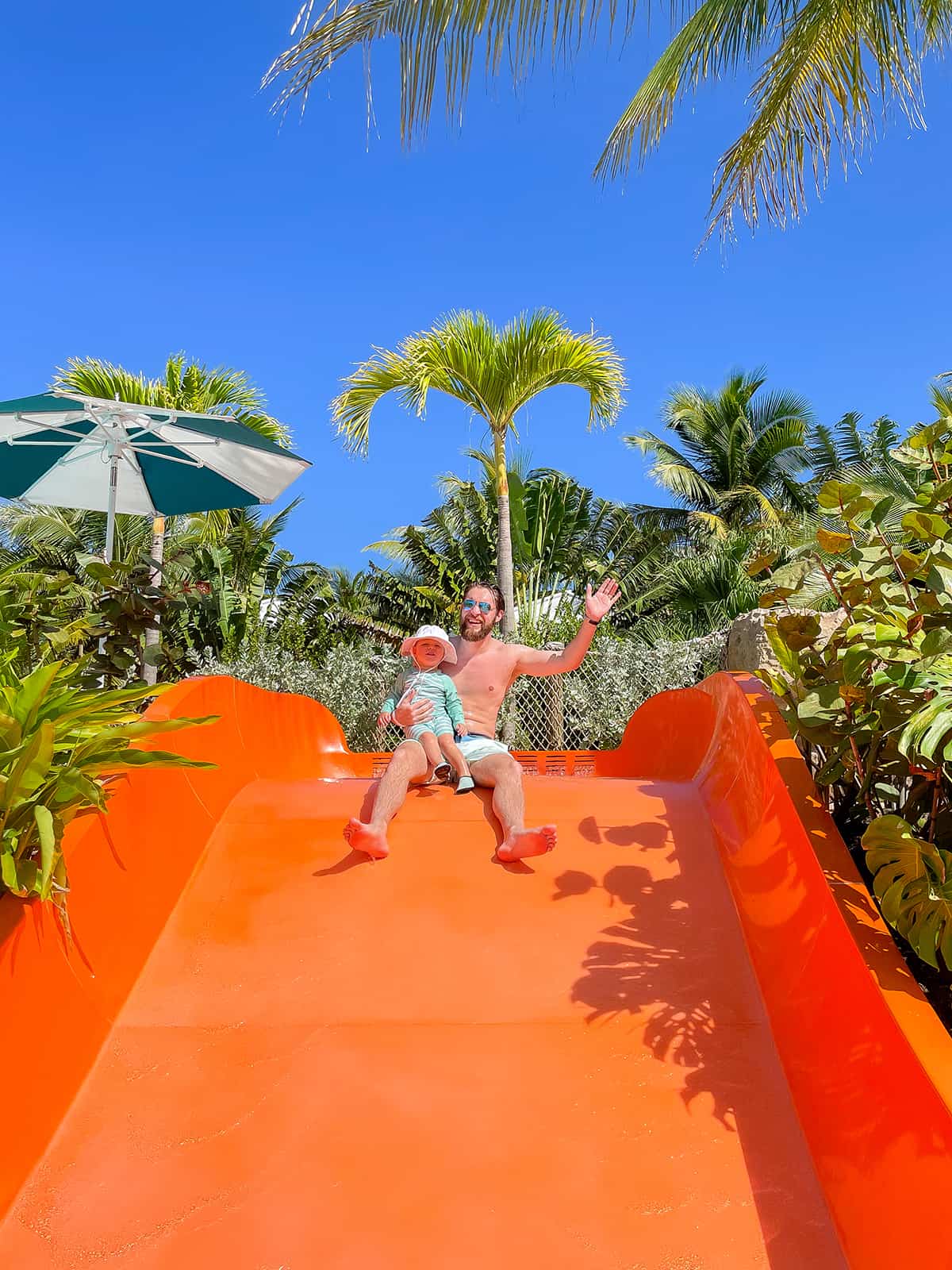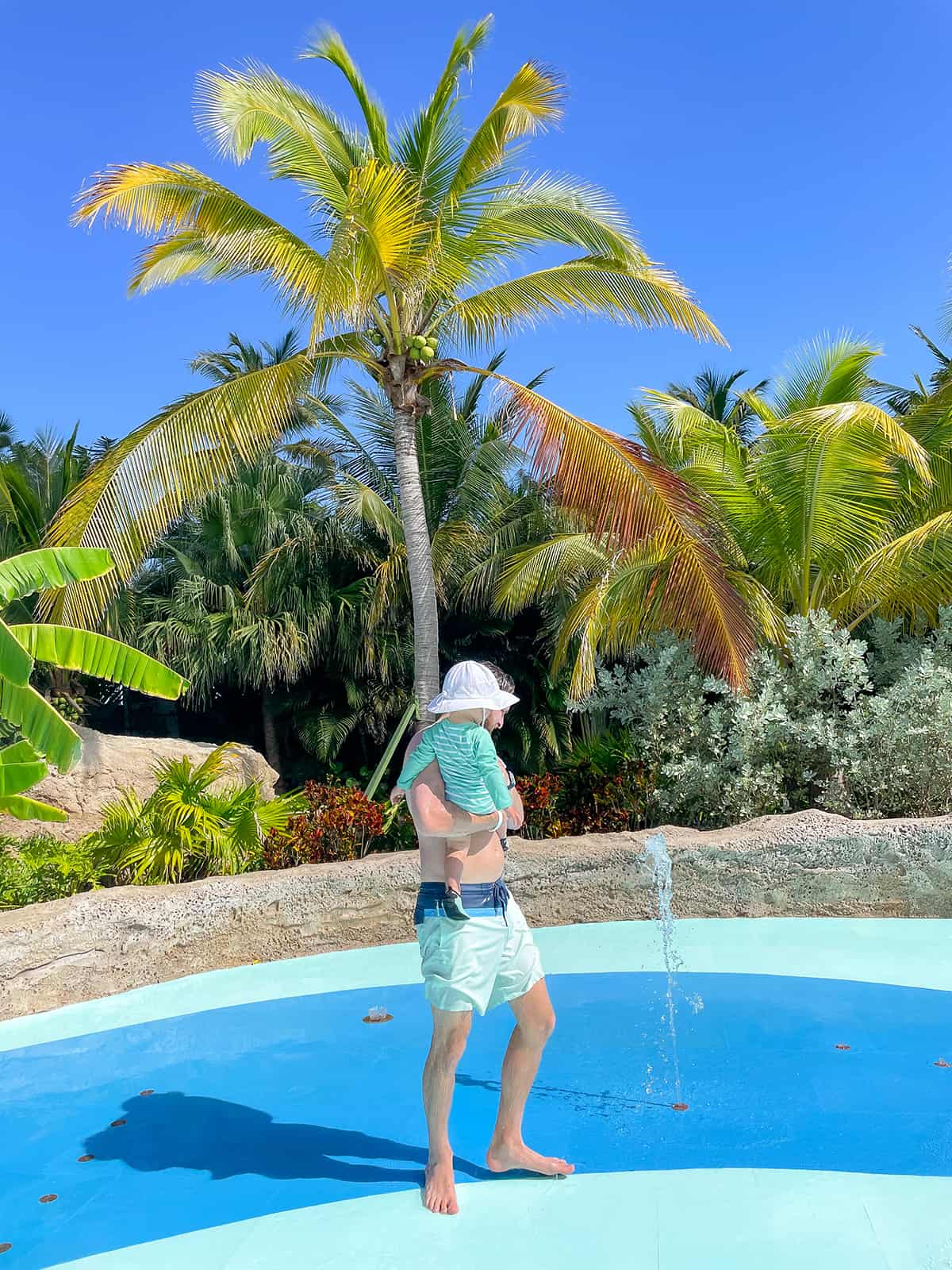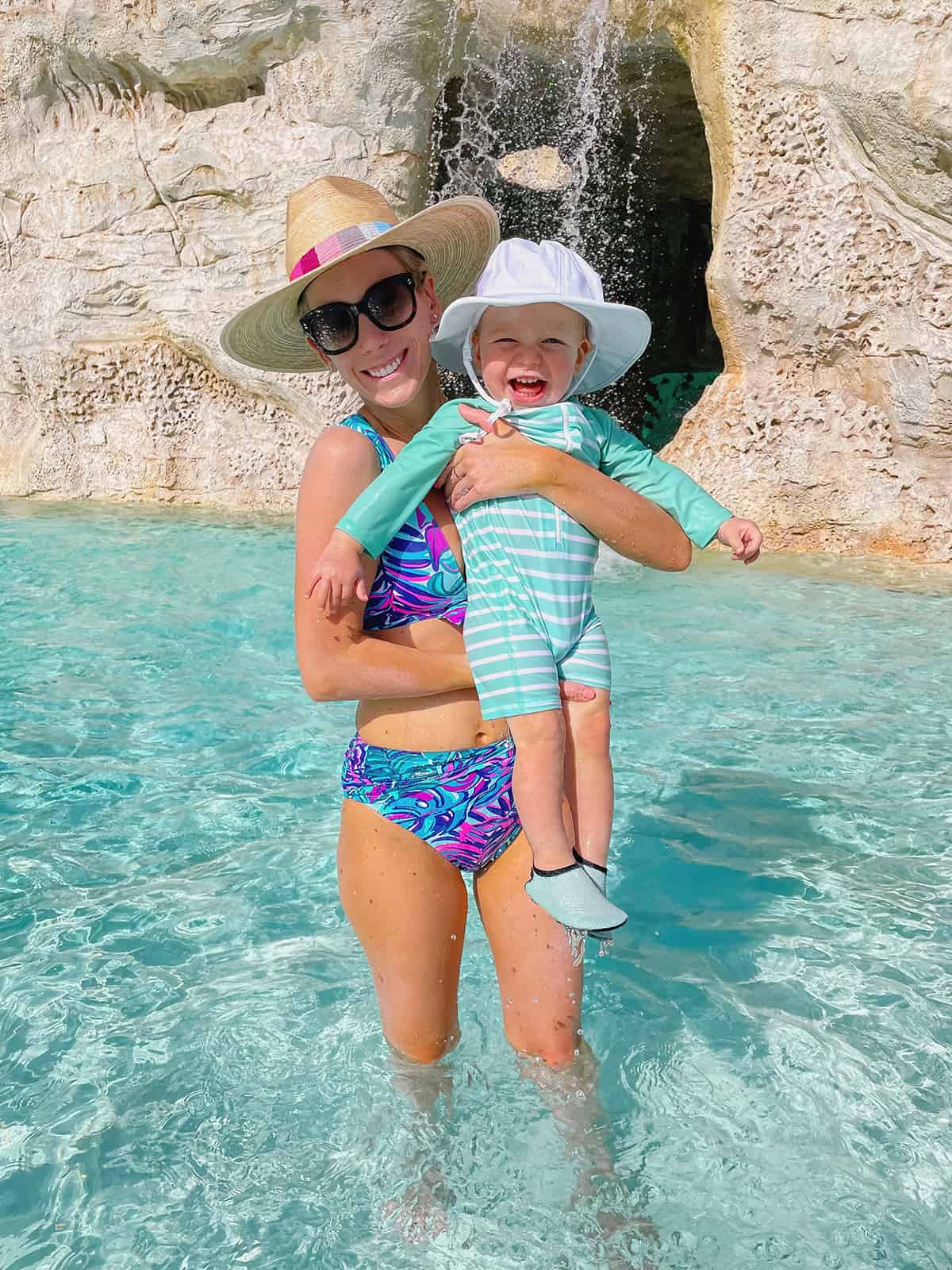 SWIMSUIT DETAILS // Lilly Pulitzer Cap Sleeve Bikini Top | Lilly Pulitzer High Waisted Bikini Bottoms | Panama Hat | Oversized Sunglasses
Pools— we spent a good portion of everyday by one of Grand Hyatt's beautiful pools. Our favorite pool was Dean's Blue Hole. It was the closest to the beach, only a few steps from the pool bar and very kid-friendly. It has rock walls you can jump off of, a waterfall and a really cool grotto where you could walk inside and look through glass windows at all the sea life in the wildlife sanctuary.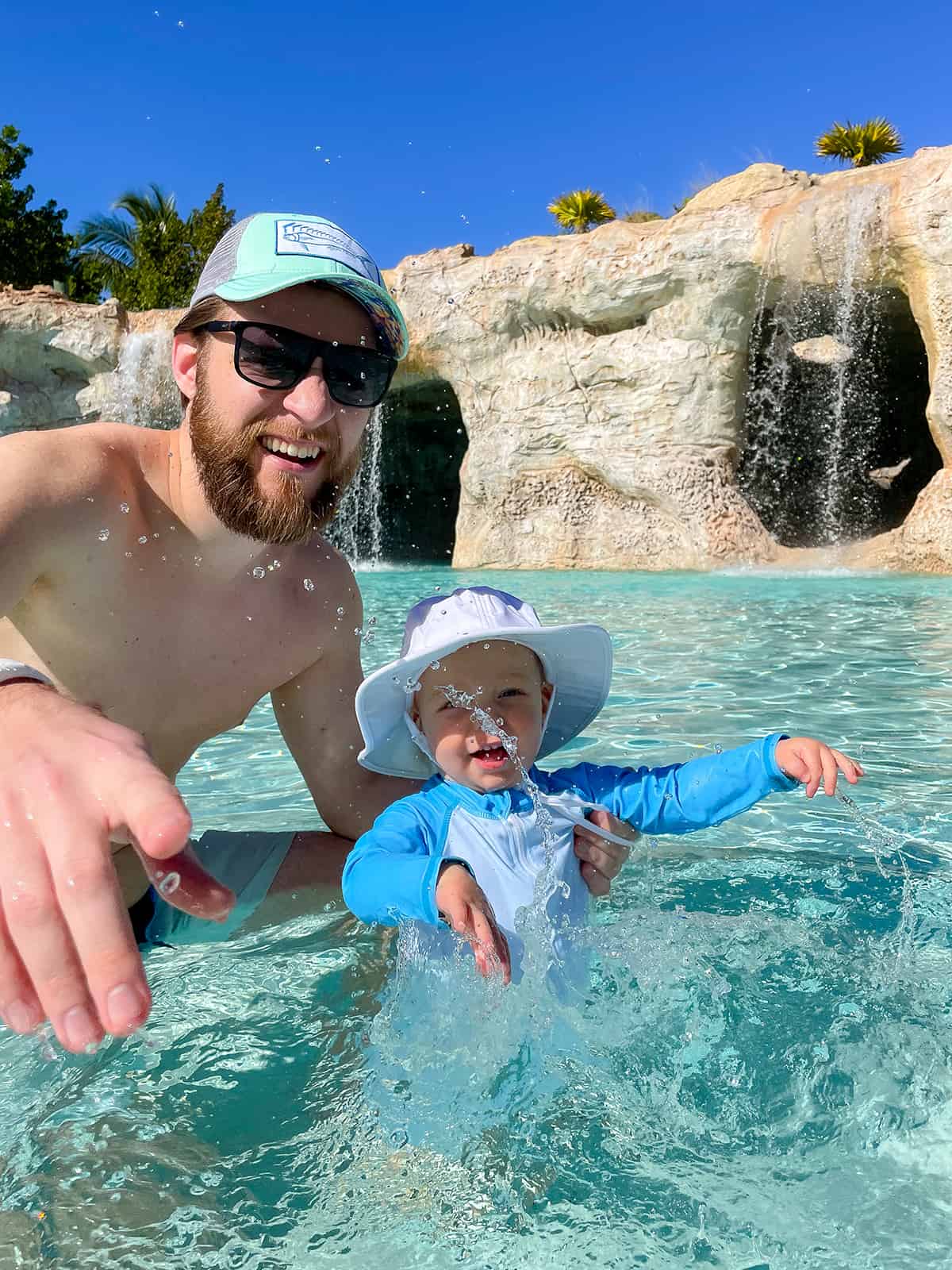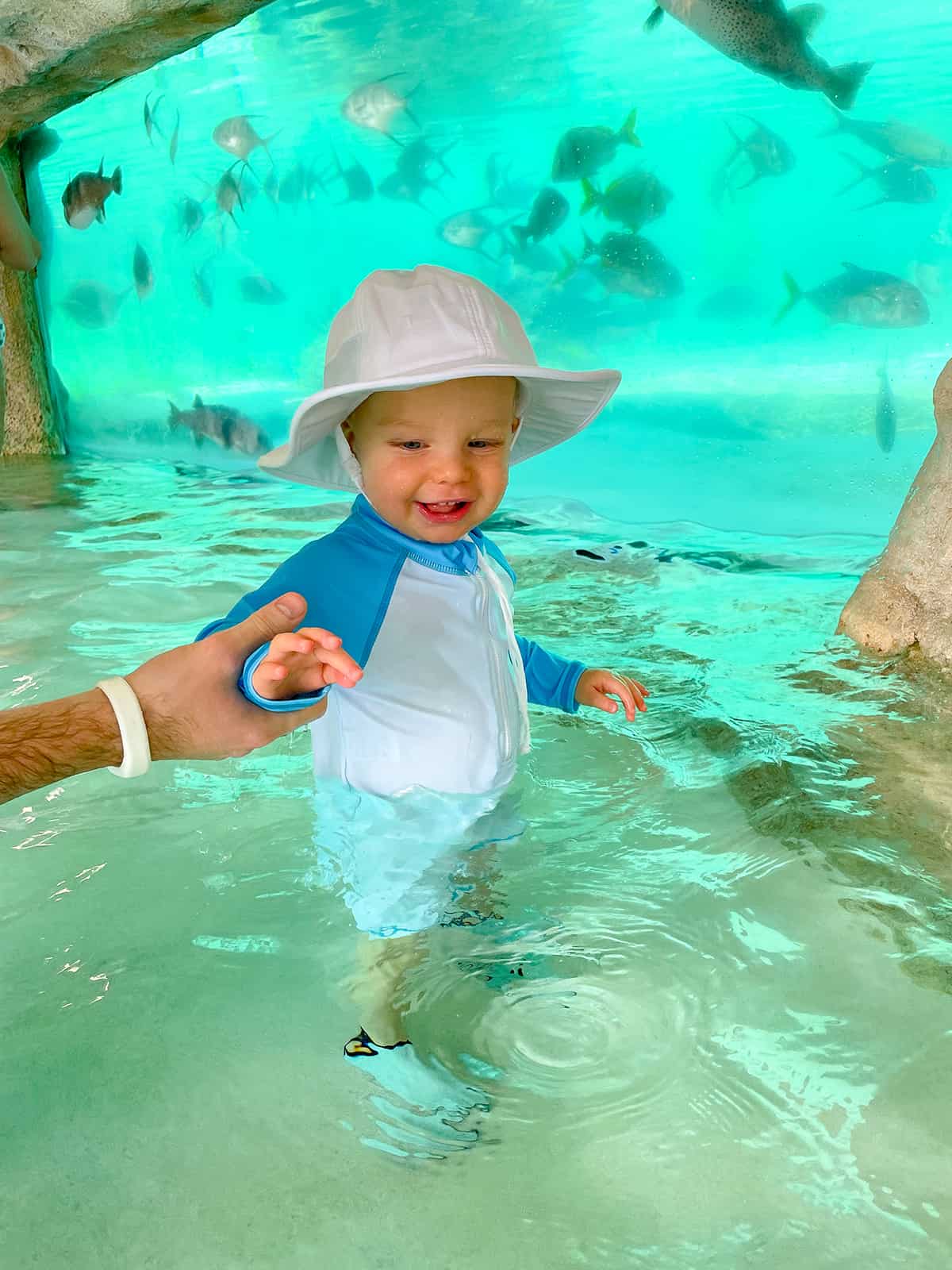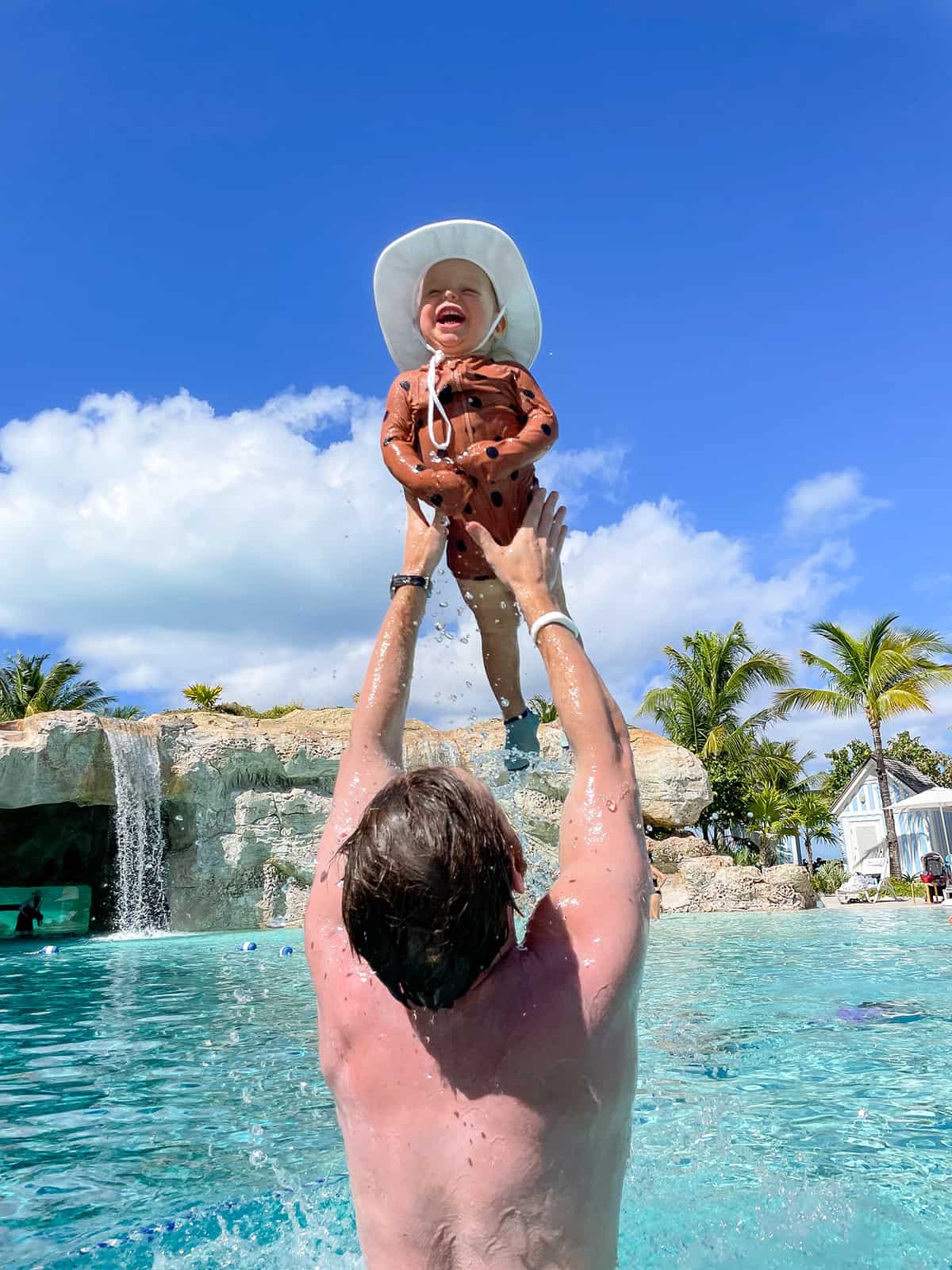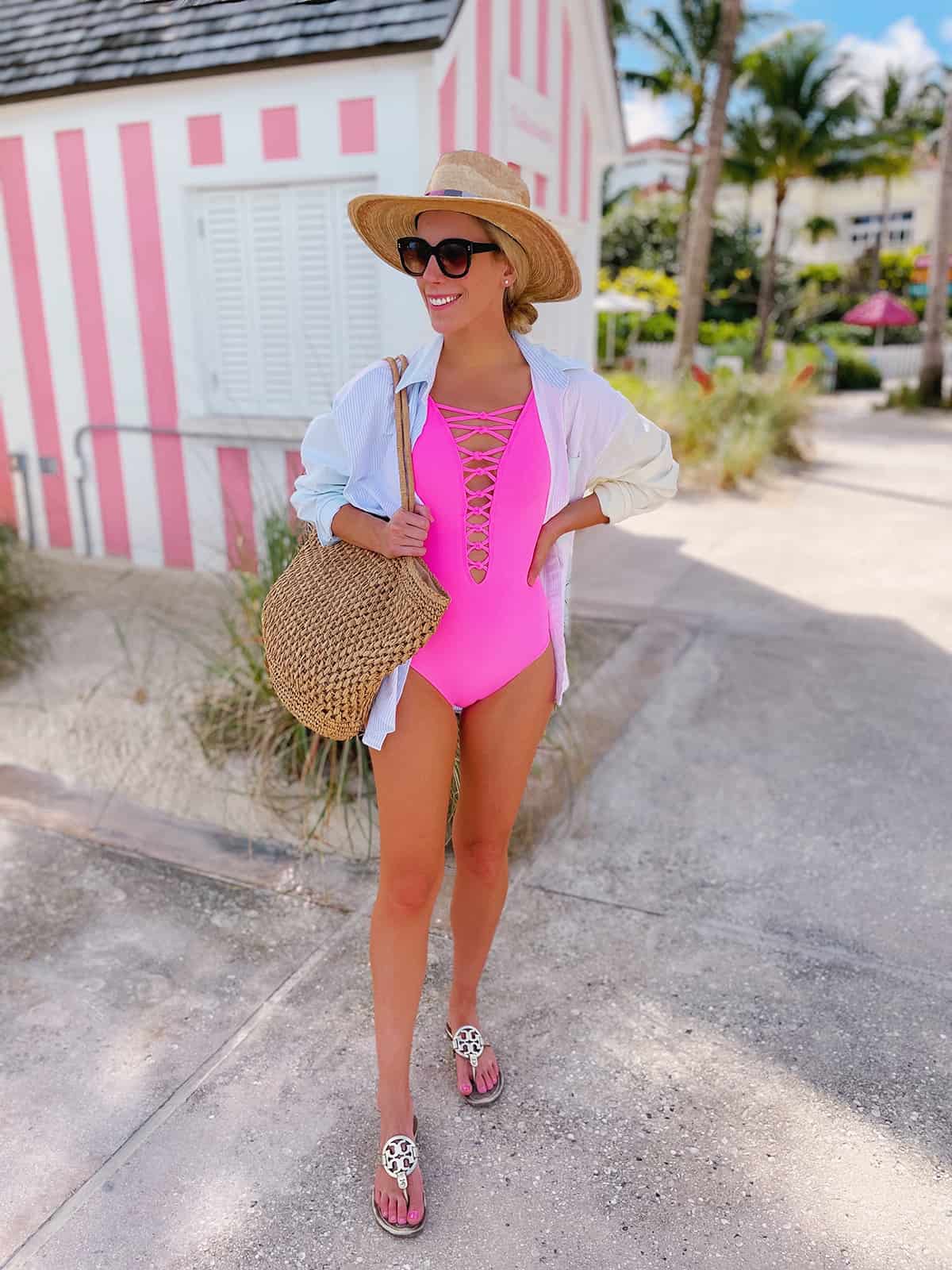 OUTFIT DETAILS // Lilly Pulitzer Isle Lattice One-Piece Swimsuit | Oversized Colorblock Oxford Button-Up Shirt | Panama Hat | Woven Tote | Oversized Sunglasses | Tory Burch Sandals 
We actually booked a private cabana at Dean's Blue Hole for one day and loved the experience. It was really nice having our own reserved chairs, a private space and extra attention from the serving staff. That said, you can absolutely have an amazing time at the pool without paying extra for a cabana. Just keep in mind that the pool chairs are first come first served. The days that we didn't have a cabana, Nick actually went down first thing in the morning to snag us chairs as we noticed seating could get competitive in the prime areas at certain pools.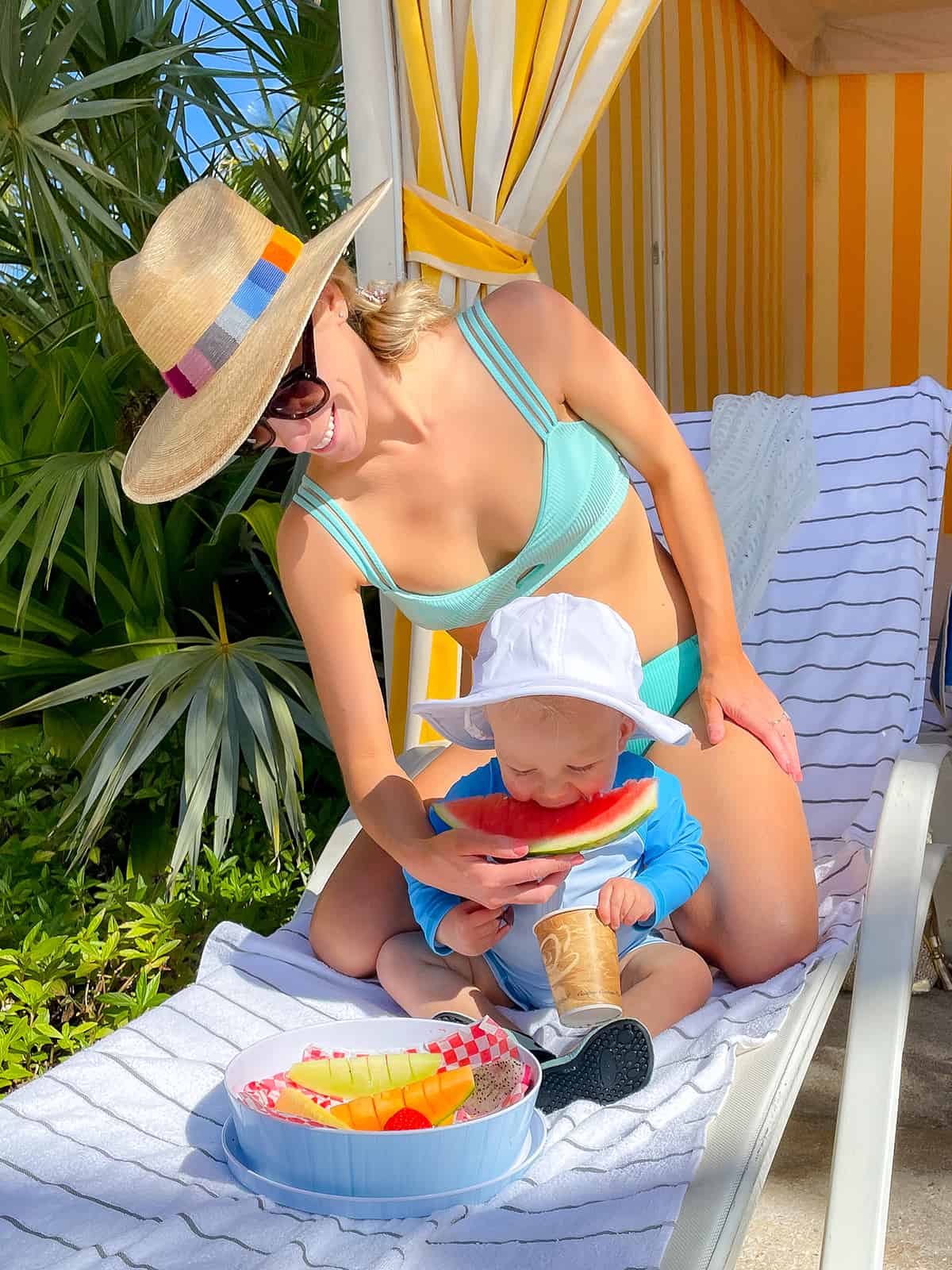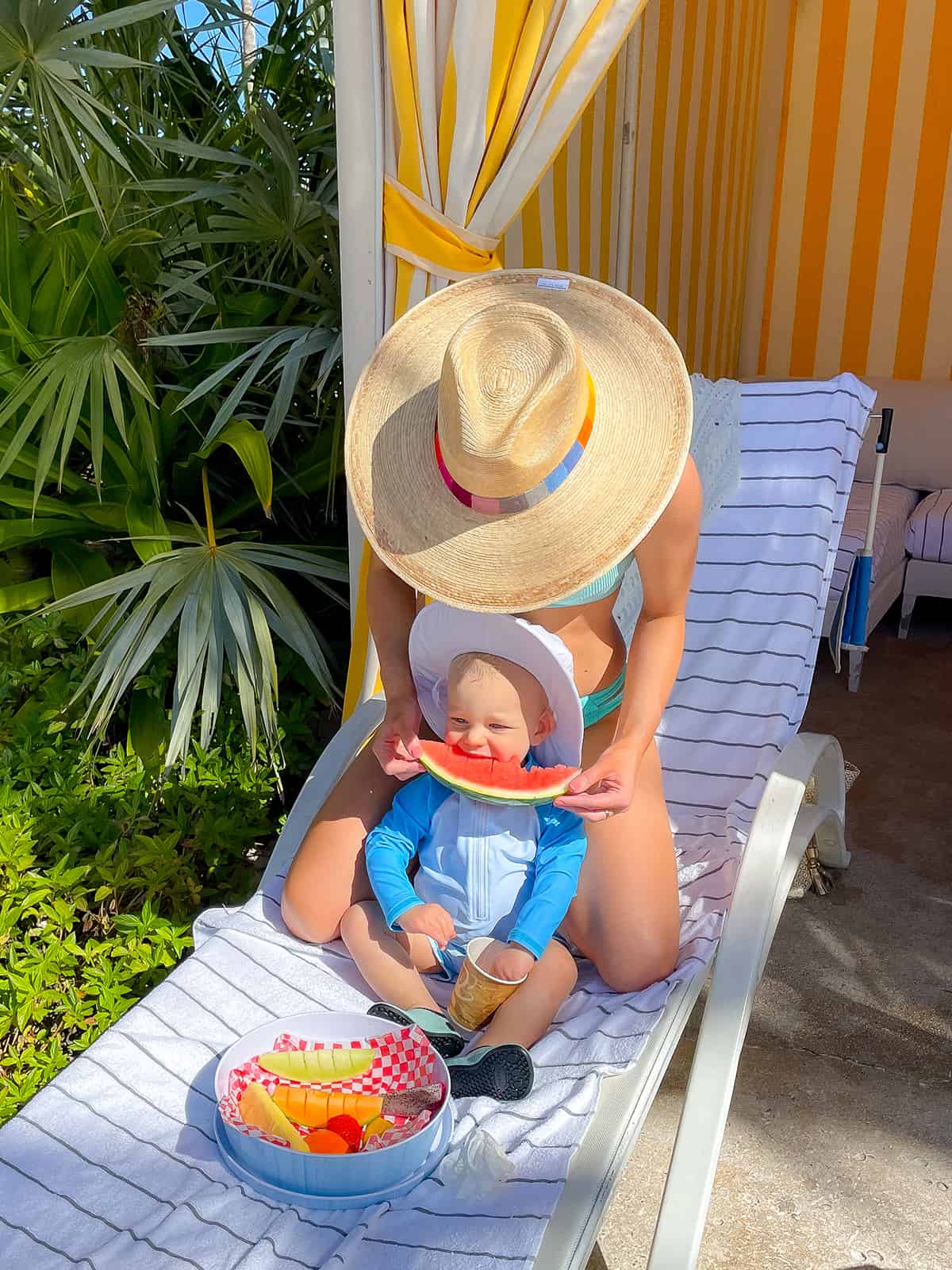 The other pool that we really liked was Drift, but you honestly can't go wrong. The property is so beautiful and all the pools are close together. You can easily move around and test out different spots.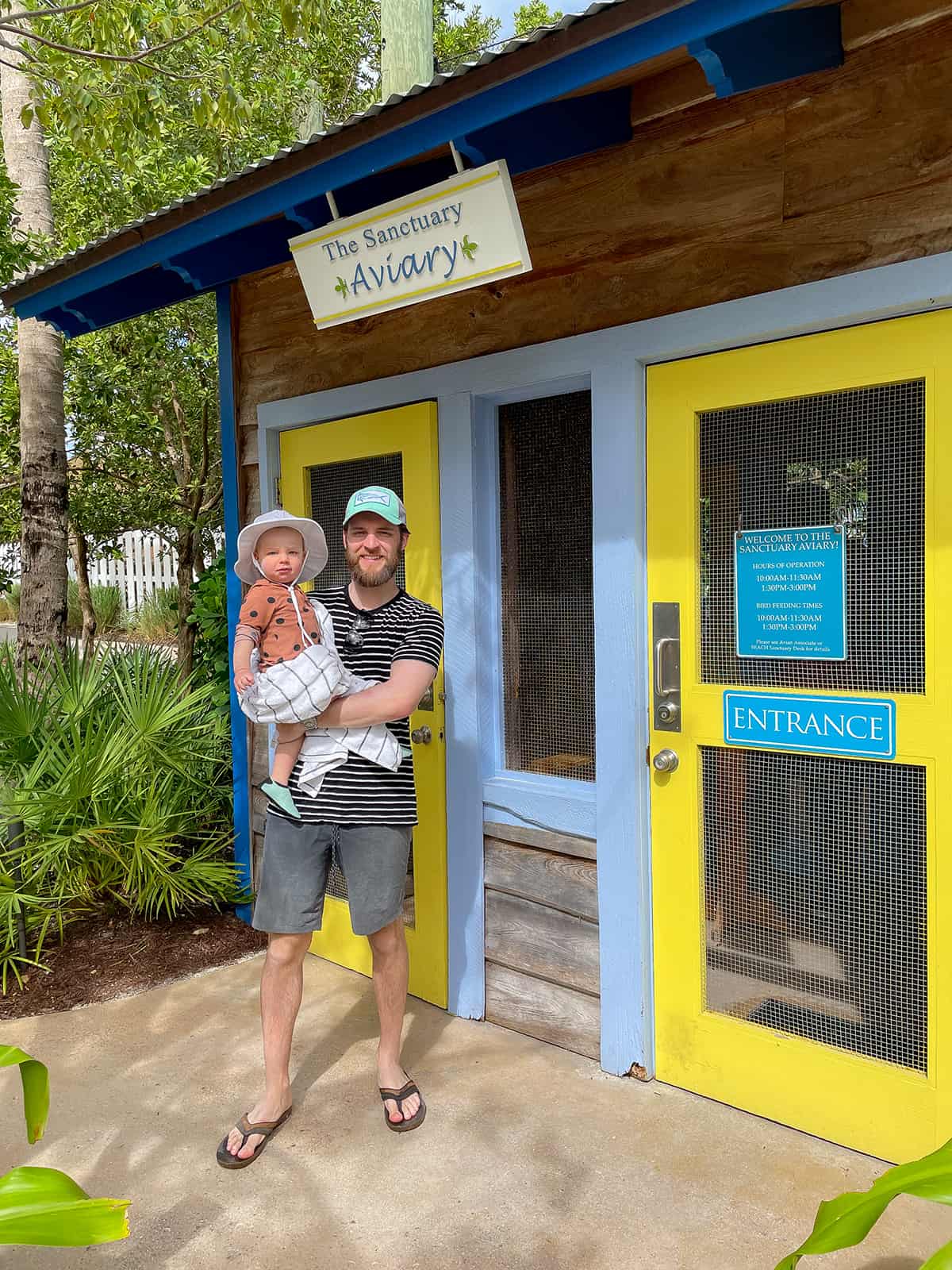 Wildlife Sanctuary— if you or your kiddos love animals then you're in for a treat at Baha Mar. At the  Sanctuary you can have an encounter with all types of marine life: stingrays, sharks, sea turtles and fish. I believe these experiences require signing up in advance + a separate fee.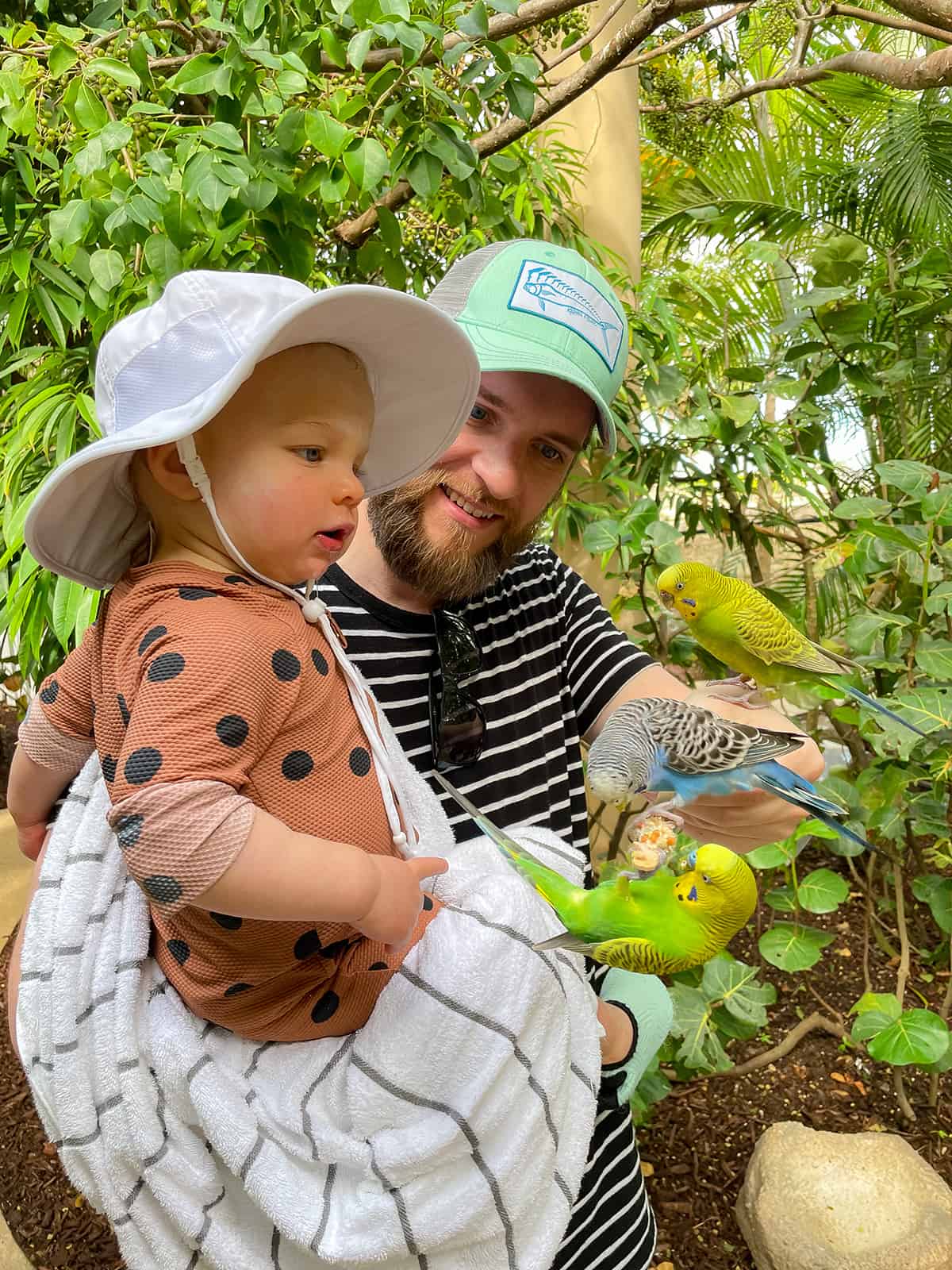 We felt Nate was a little too young for the marine life encounter, so we opted for feeding the birds at the Aviary instead. We didn't need a reservation for this– you can just drop in during the hours it's open. You can feed the birds and they'll even land on your arms (they were all tiny– nothing crazy or scary.) Nate got such a kick out of it!
Flamingo Cay— twice a day at 9:30AM and 3:30PM there is a FLAMINGO PARADE. Yes, you read that right. Baha Mar has it's own flock of flamingos that you can mingle with during their daily parades. They have a habitat right near the beach and pool area, where you can walk by and check them out over their fence. I believe the resort also offers Flamingo Yoga classes too.
childcare on vacation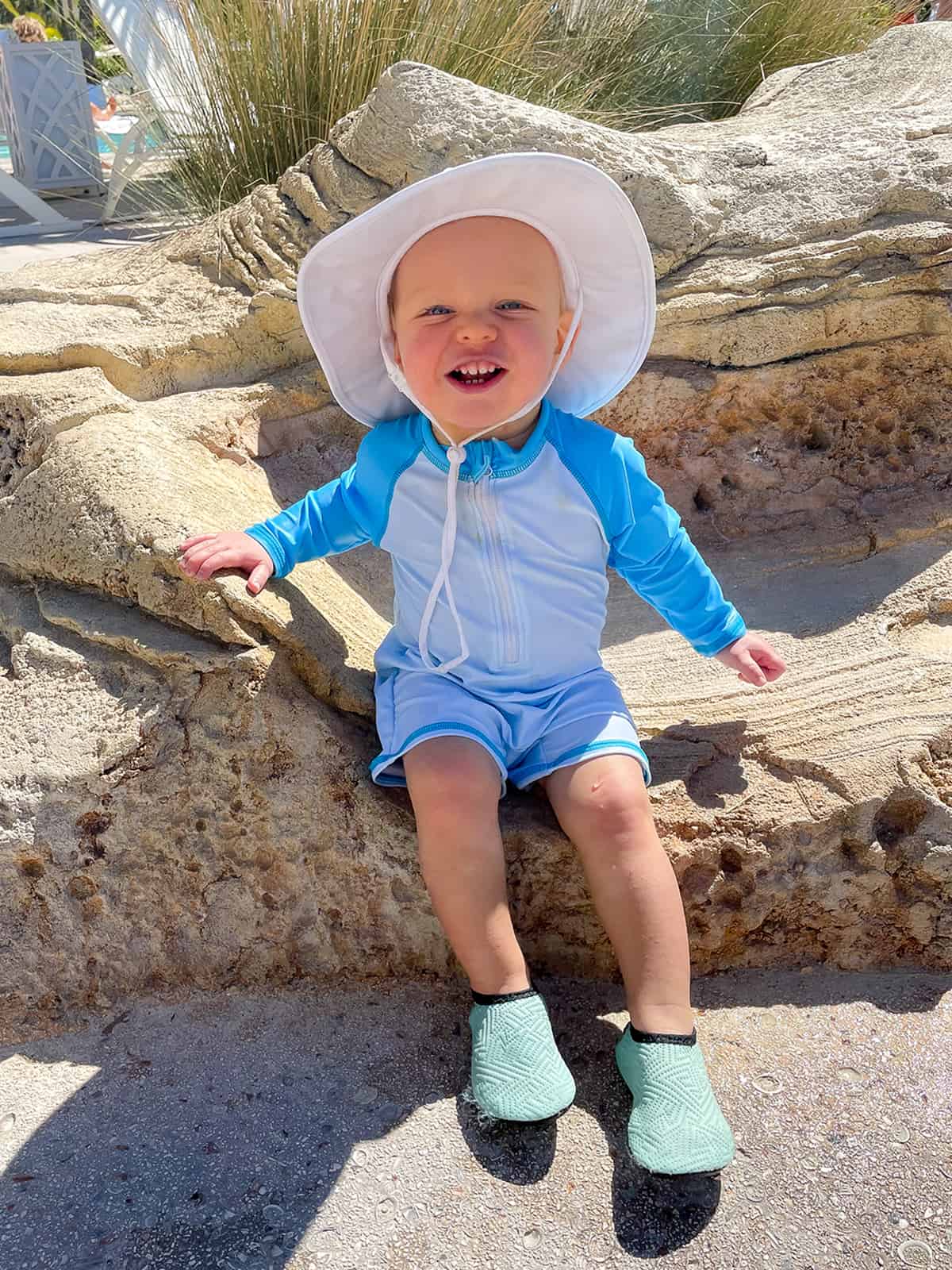 We decided to bring our nanny with us for a few reasons. 1) It was the first time Nate was ever going to be taken out of his routine and the environment he was used to at home. We had no idea how he would react, especially during naps. 2) She's the only person (besides us) who has ever watched him for an extended period of time and we felt more comfortable having her there vs using unfamiliar childcare at the resort. 3) Nick and I really wanted to be able to relax and have some time to ourselves. It would have been impossible to achieve that without an extra set of hands.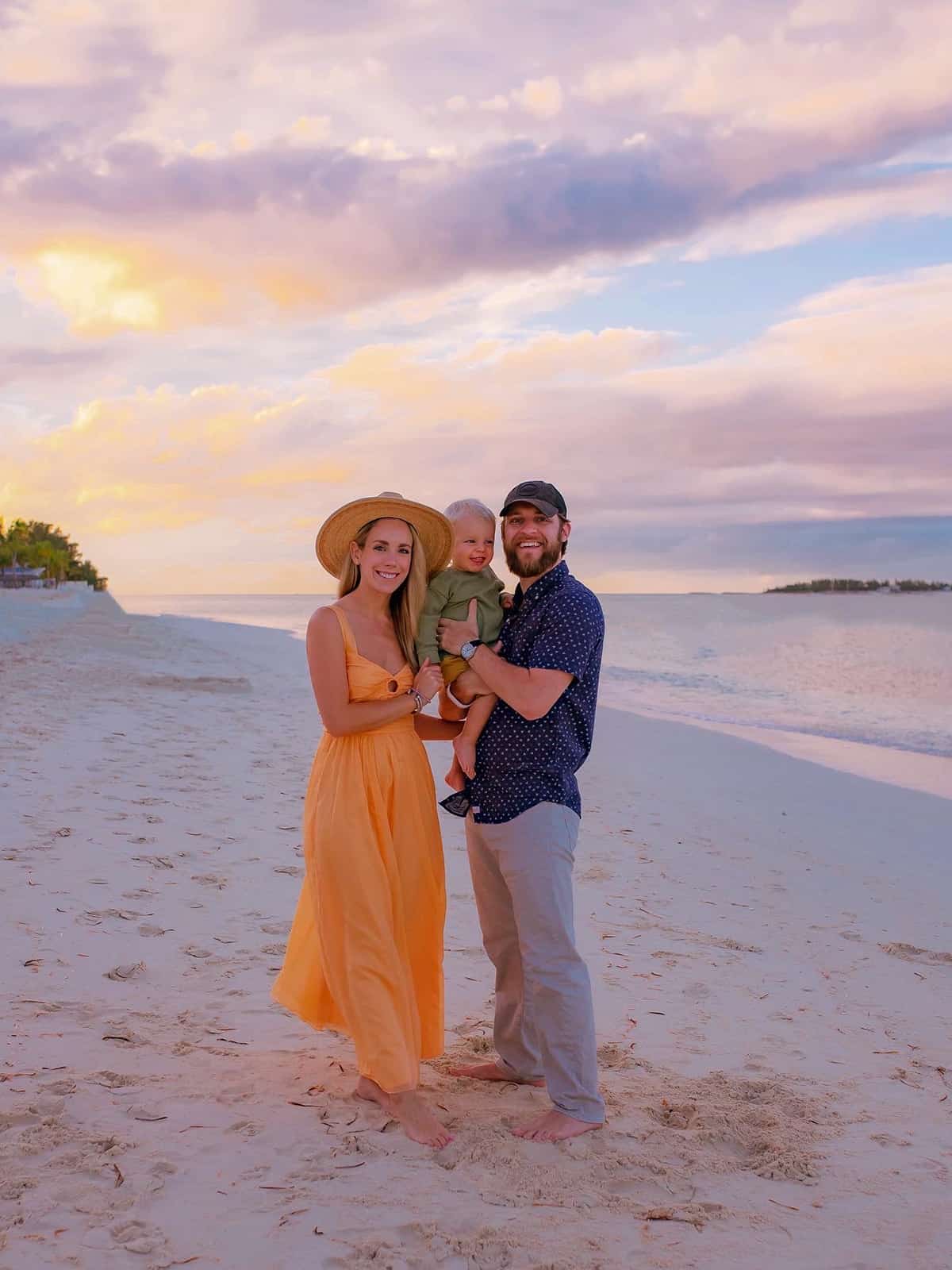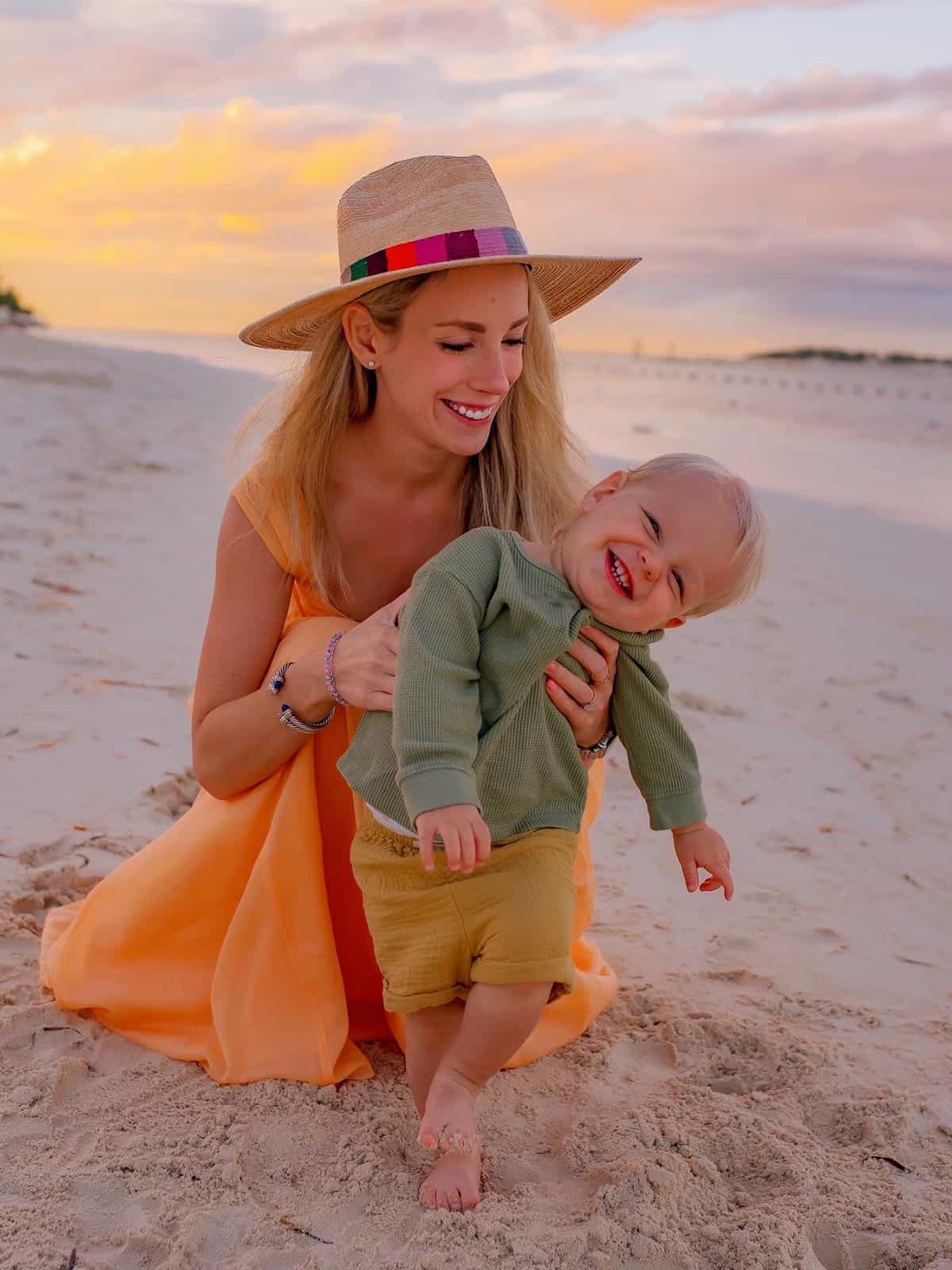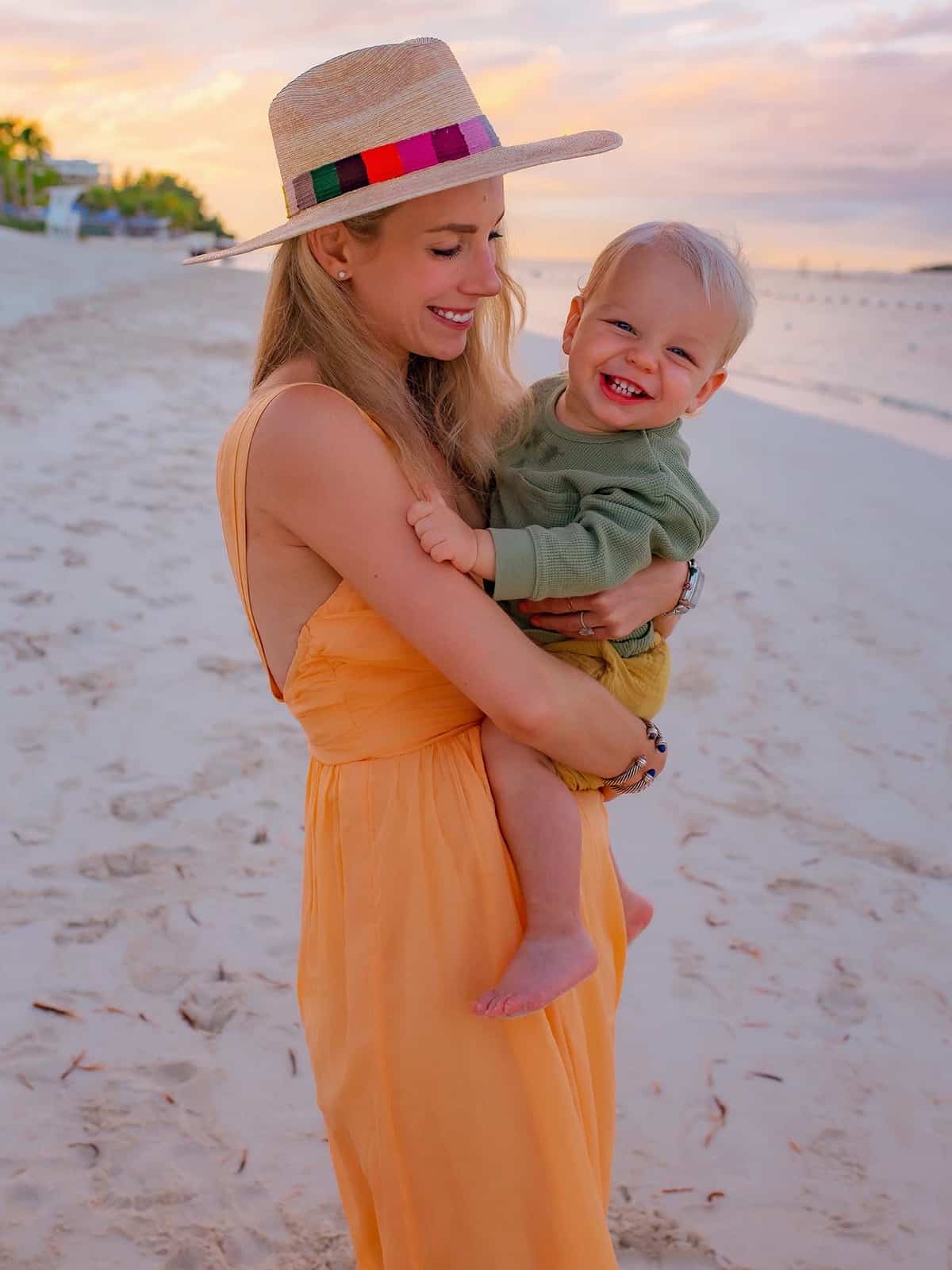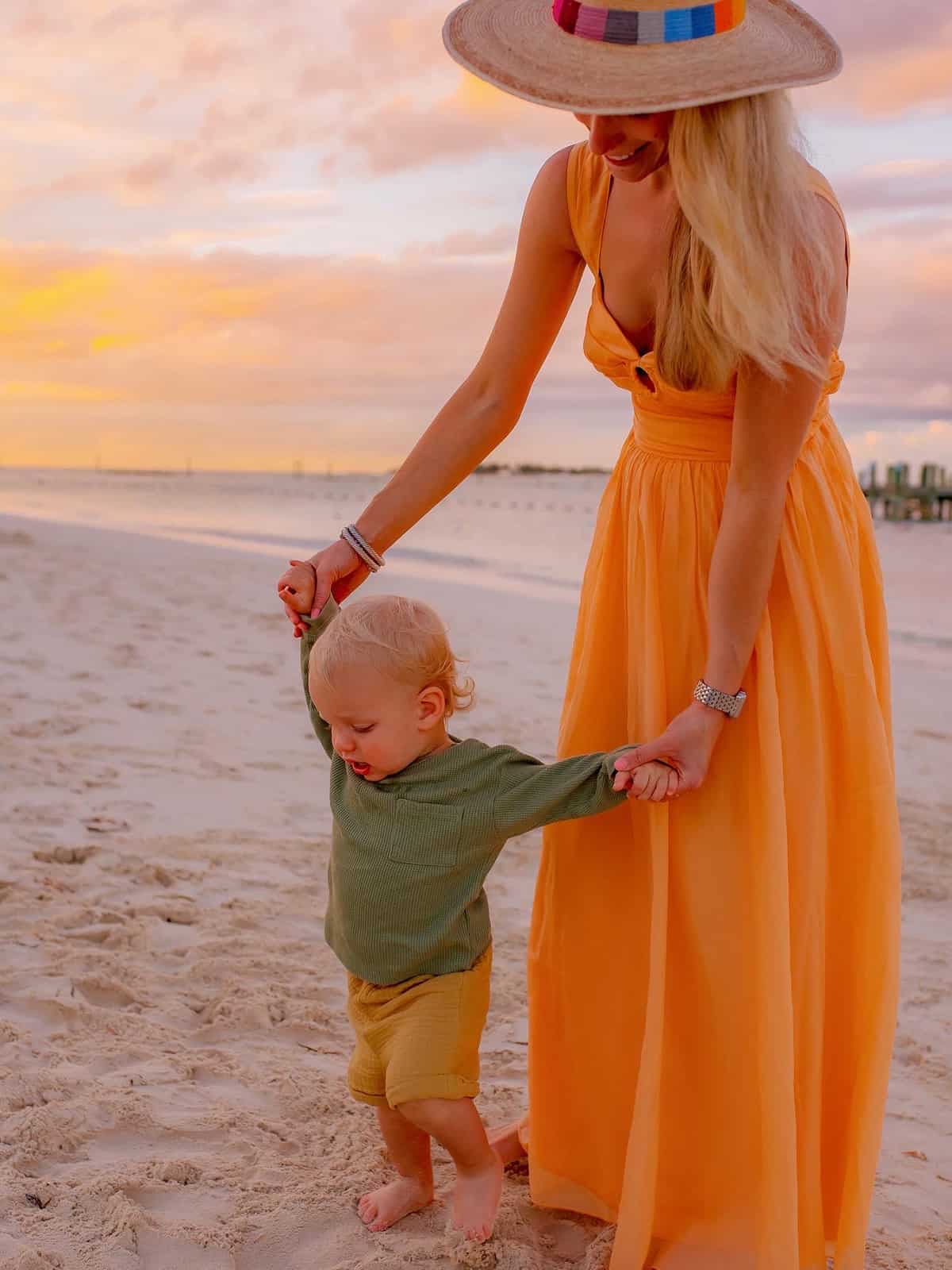 OUTFIT DETAILS // Orange Maxi Dress | Panama Hat
I got a lot of questions on Instagram asking how bringing our nanny worked, so here's the general gist.  We covered all of her expenses. This included her roundtrip flight, baggage fees, all of her meals, her own private room in the hotel, Covid test fee and her Bahamas health pass fee. She just charged her meals to her room and then at the end we covered the bill. Everything else we reimbursed her directly.
We also paid her normal hourly rate during the times she was watching Nate. We ended up giving her most mornings off to do her own thing and then let her take over to watch him while he napped until dinner. She also would come back to our room to watch him after we'd put him to sleep and would go out to grab a drink.
It ended up working out really well and I felt that by having her there we were able to get the best of both worlds on our vacation. We made so many great memories with Nate and were also able to unwind and relax.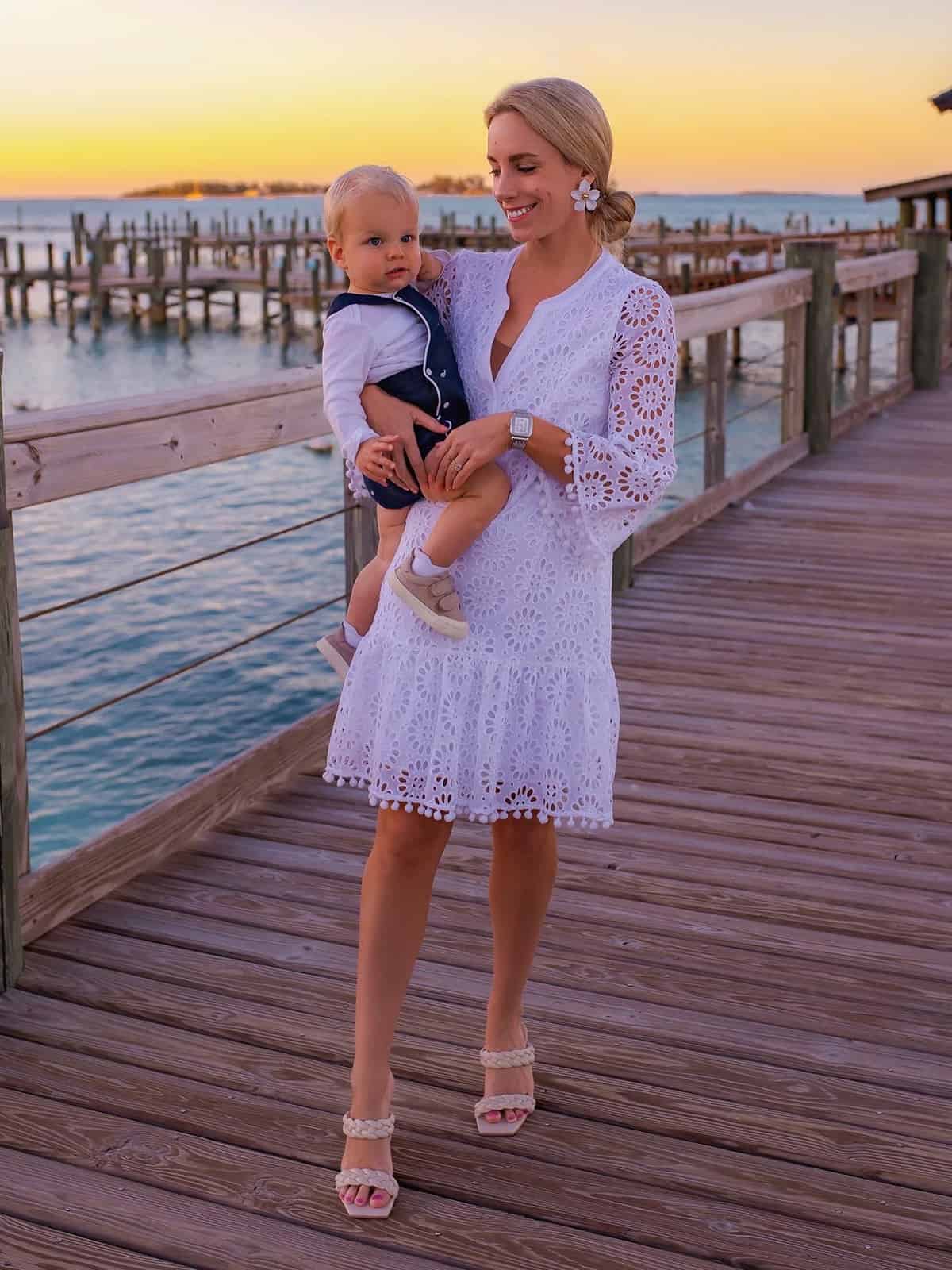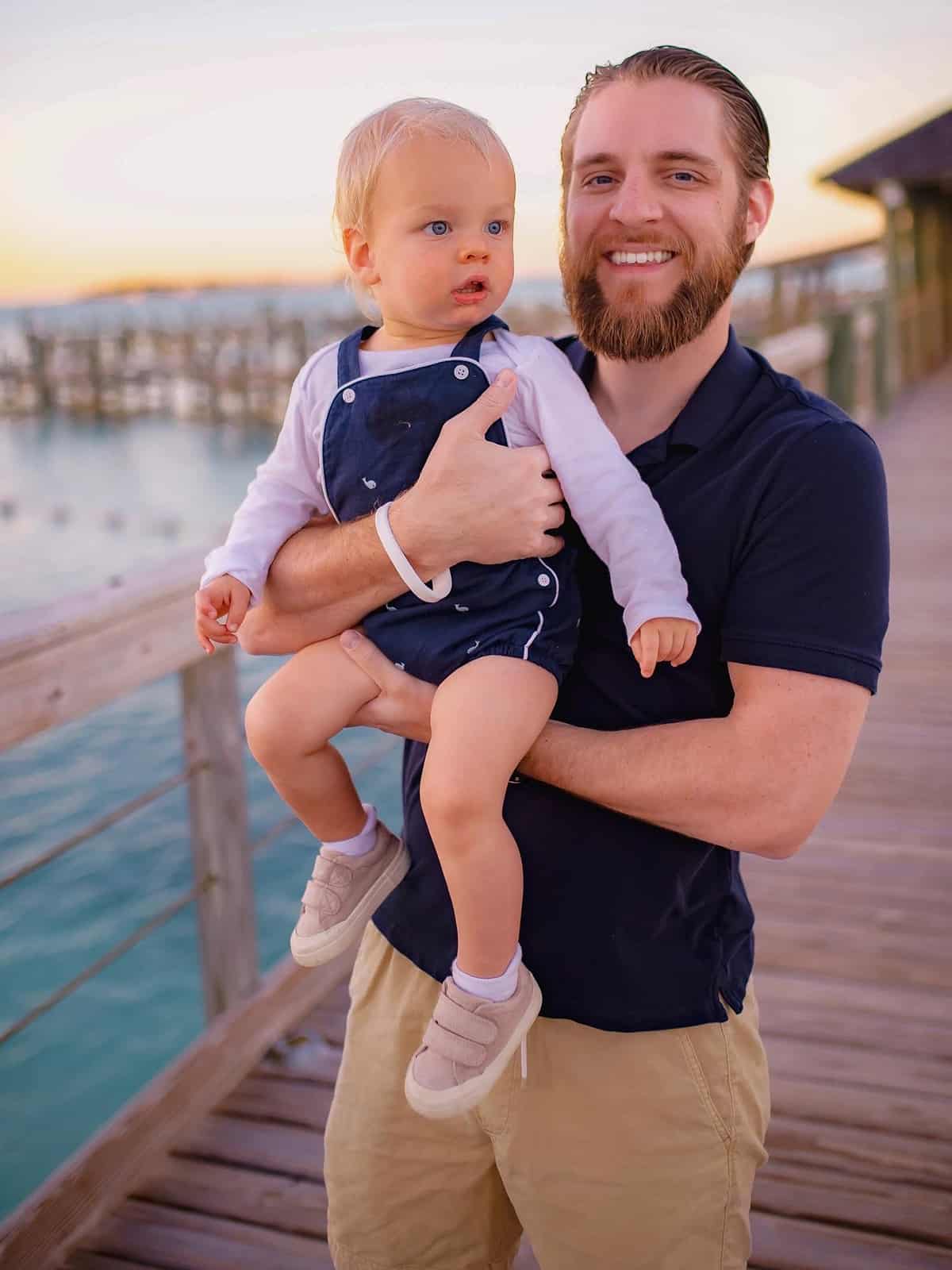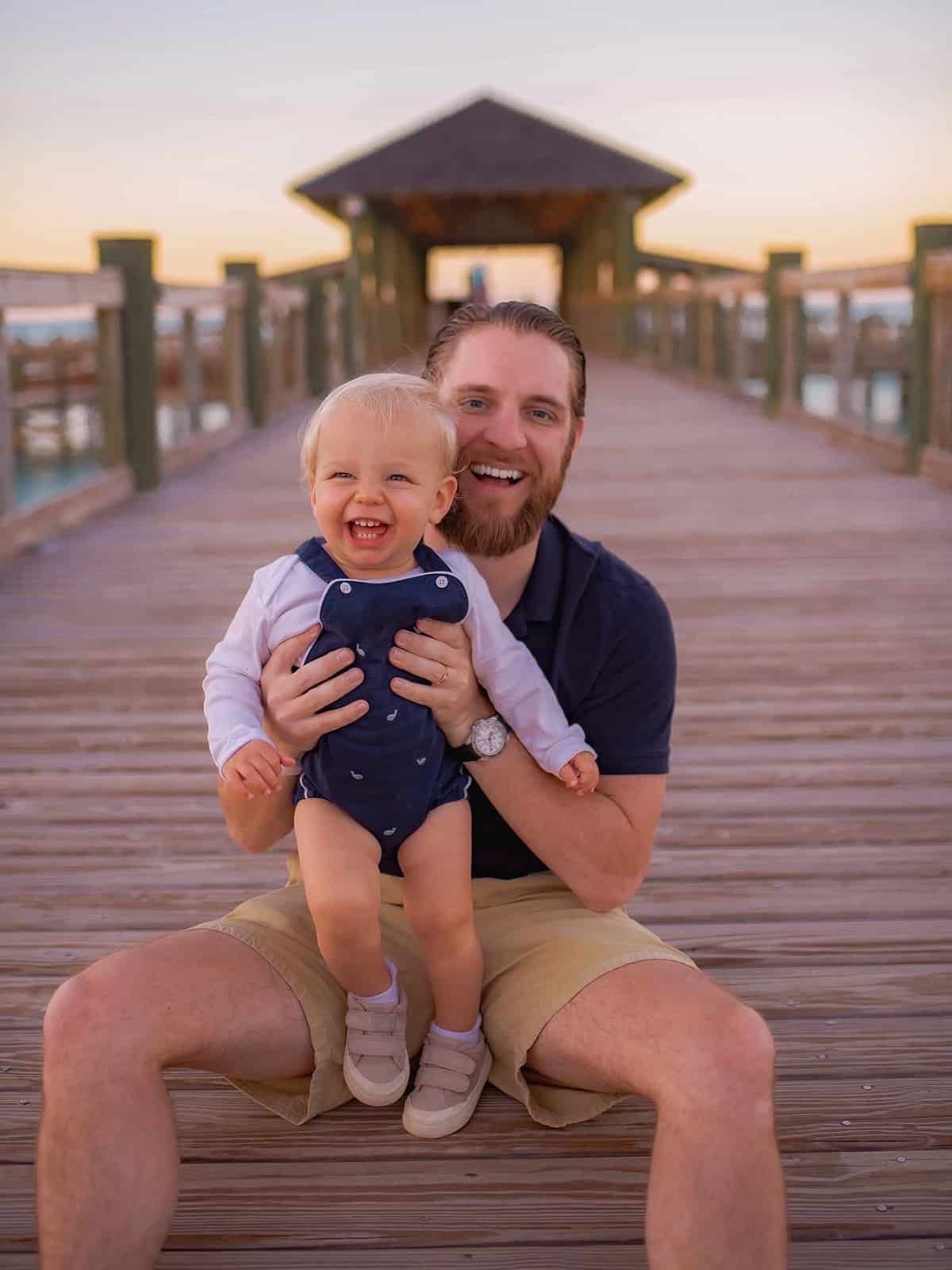 OUTFIT DETAILS // Lilly Pulitzer White Eyelet Dress | Lilly Pulitzer Flower Statement Earrings | Braided Heeled Sandals 
That said, you could absolutely have a great vacation at Baha Mar without bringing extra help. The resort offers a wide variety of childcare options: a kids club, activities everyday, in-room babysitting– even CPR-certified pool buddies that can play with your kids in the water. We were very nervous first time parents on this trip, but after seeing how well Nate handled everything, I think we would definitely consider using on-site childcare for future vacations.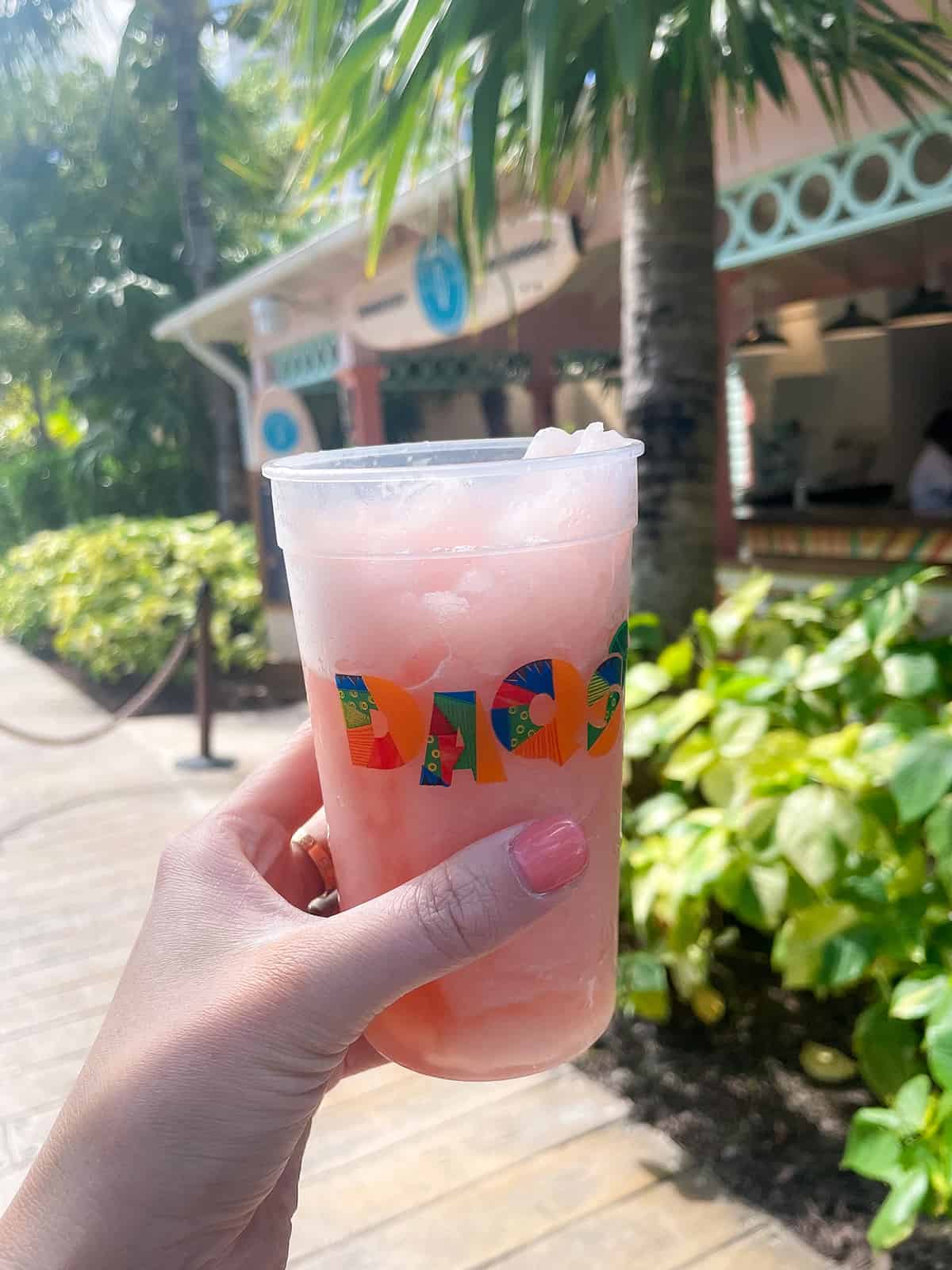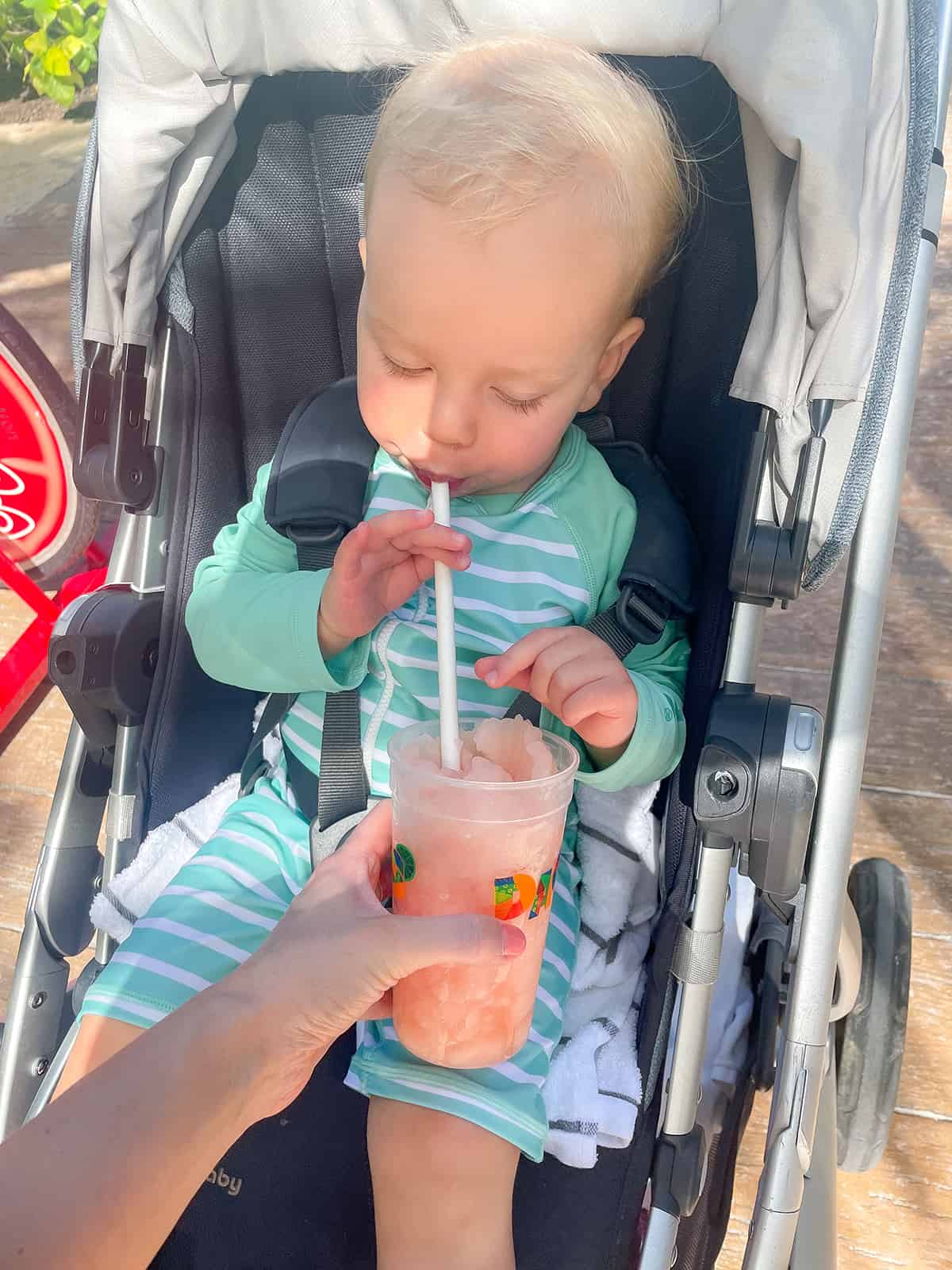 - Katie