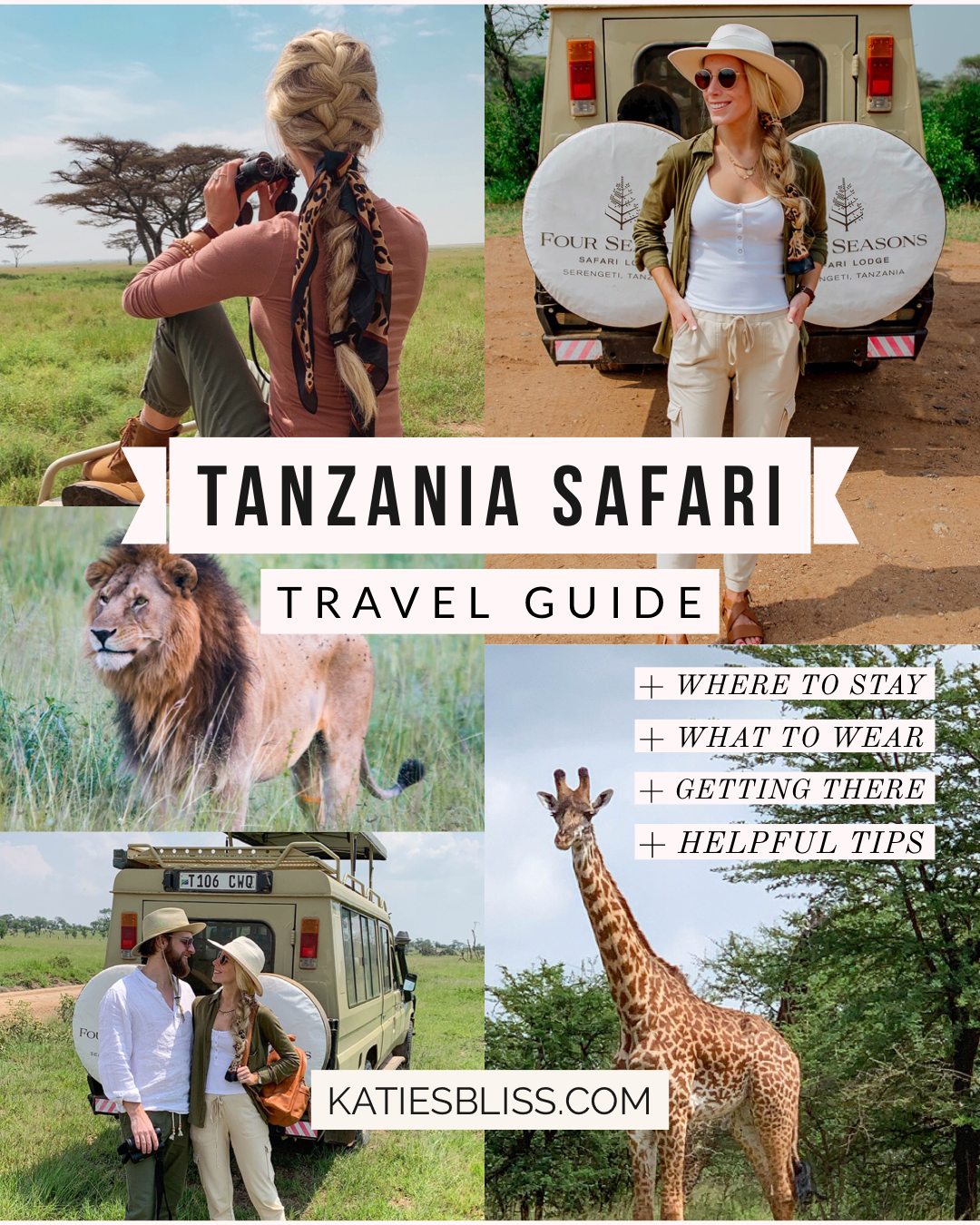 Miss me? In nearly 10 years of blogging, I don't think I've ever gone this long without posting! I hope you can forgive me for taking a break while I was on my honeymoon 🙂
A little over two weeks ago, Nick and I embarked on our biggest and longest adventure yet. First to Tanzania for a 5 day safari and then to United Arab Emirates where we spent 4 days at a desert resort and 2 days exploring Dubai.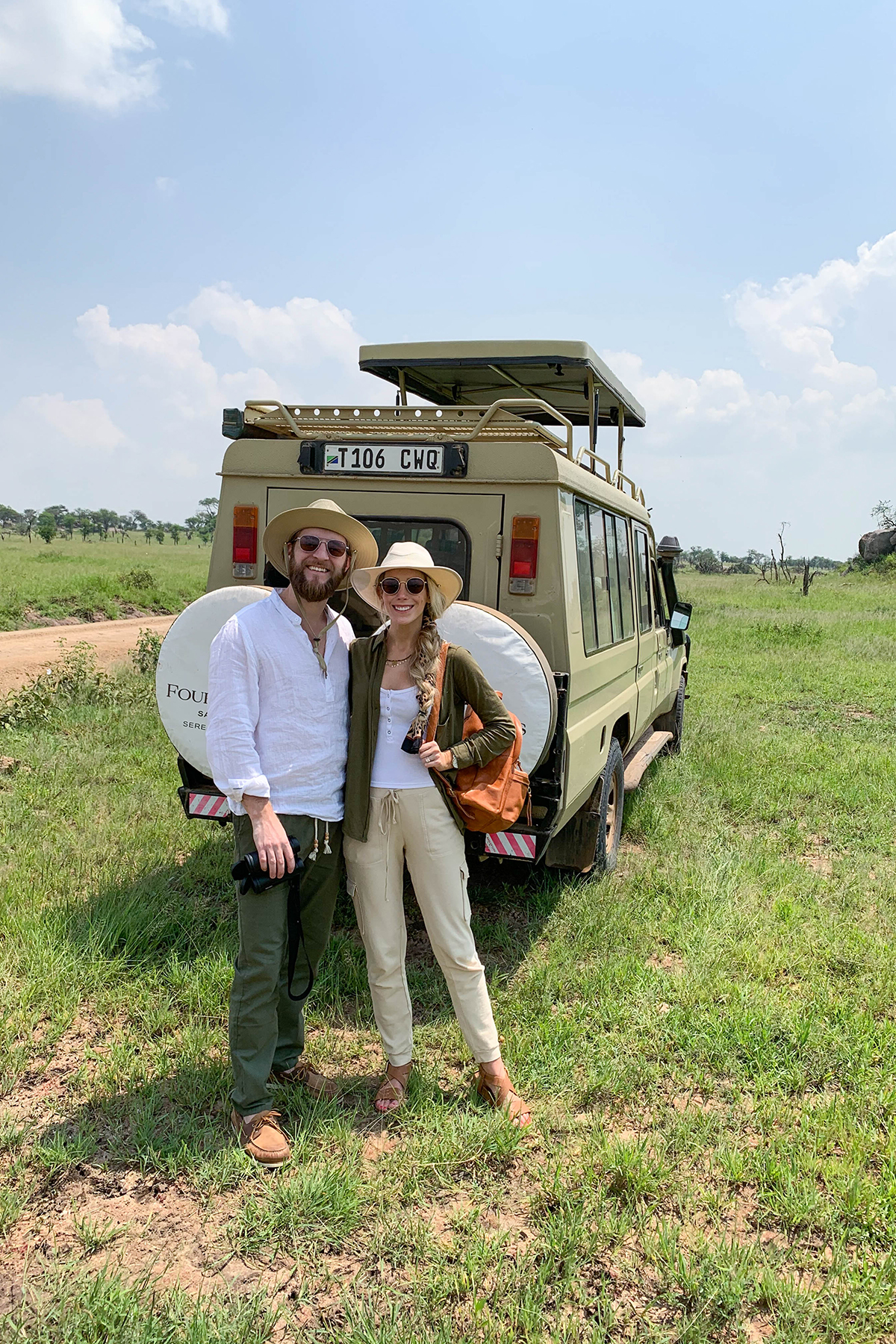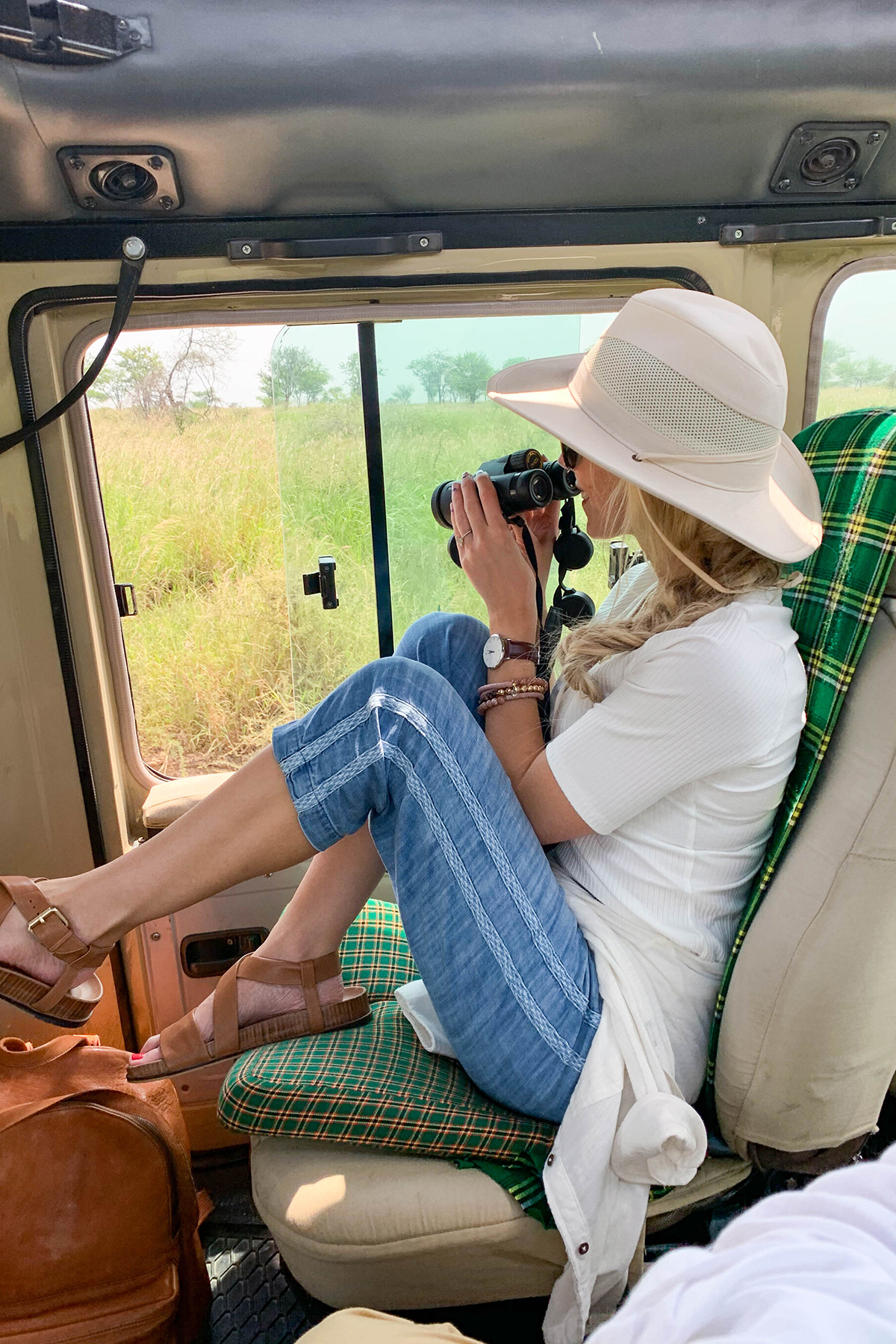 Why these destinations? I touched on this already in this post, but to sum it up briefly both an African safari and a visit to the Middle East has always been on both of our bucket lists.
Considering the distance and time required to really enjoy both locations, using the 2+ weeks we allocated for our honeymoon seemed like this perfect time to check them both off… and escape the cold in the north east!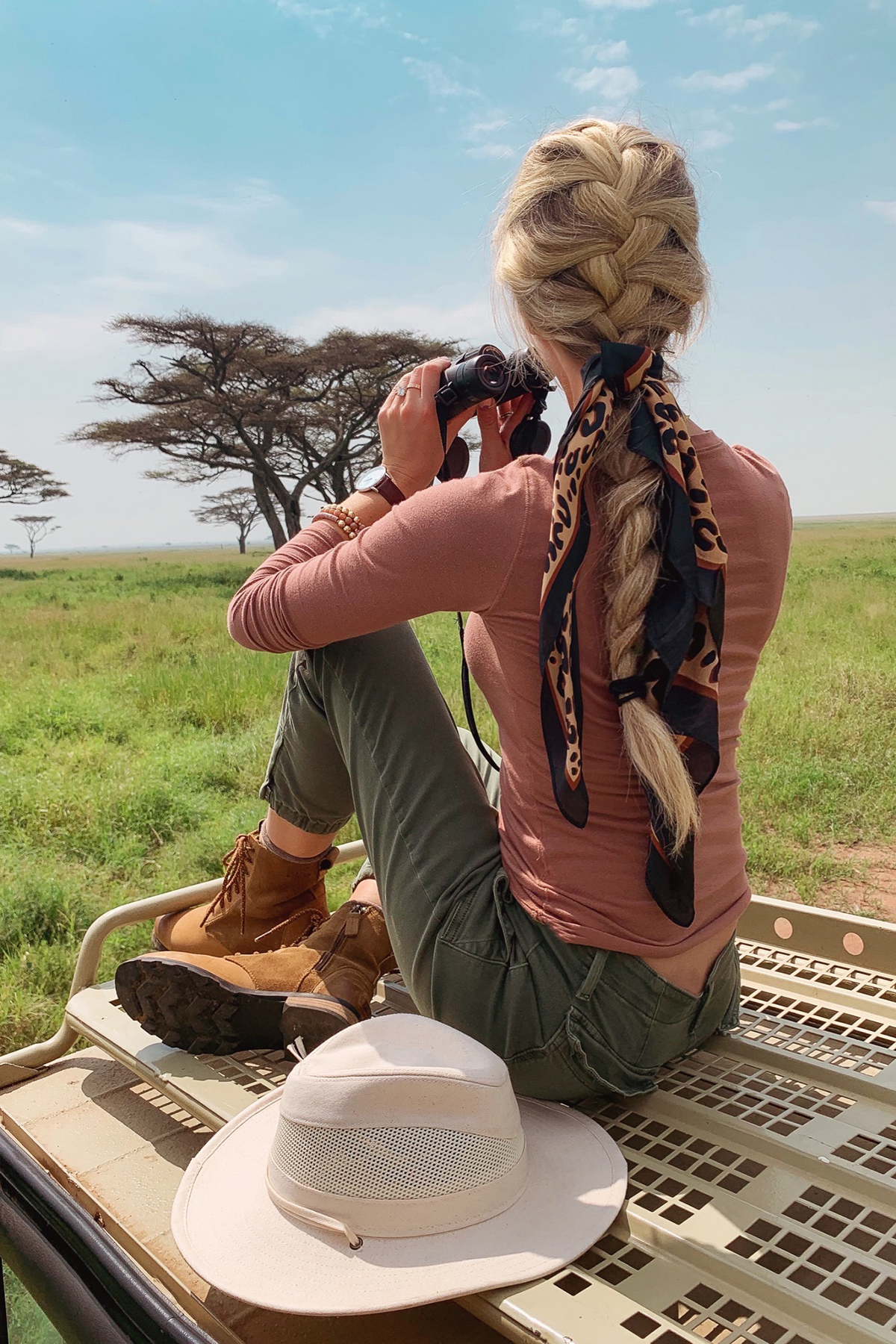 OUTFIT DETAILS // Brown Long Sleeve | Green Joggers | Safari Hat | Leopard Hair Scarf | Beaded Bracelet | Hiking Boots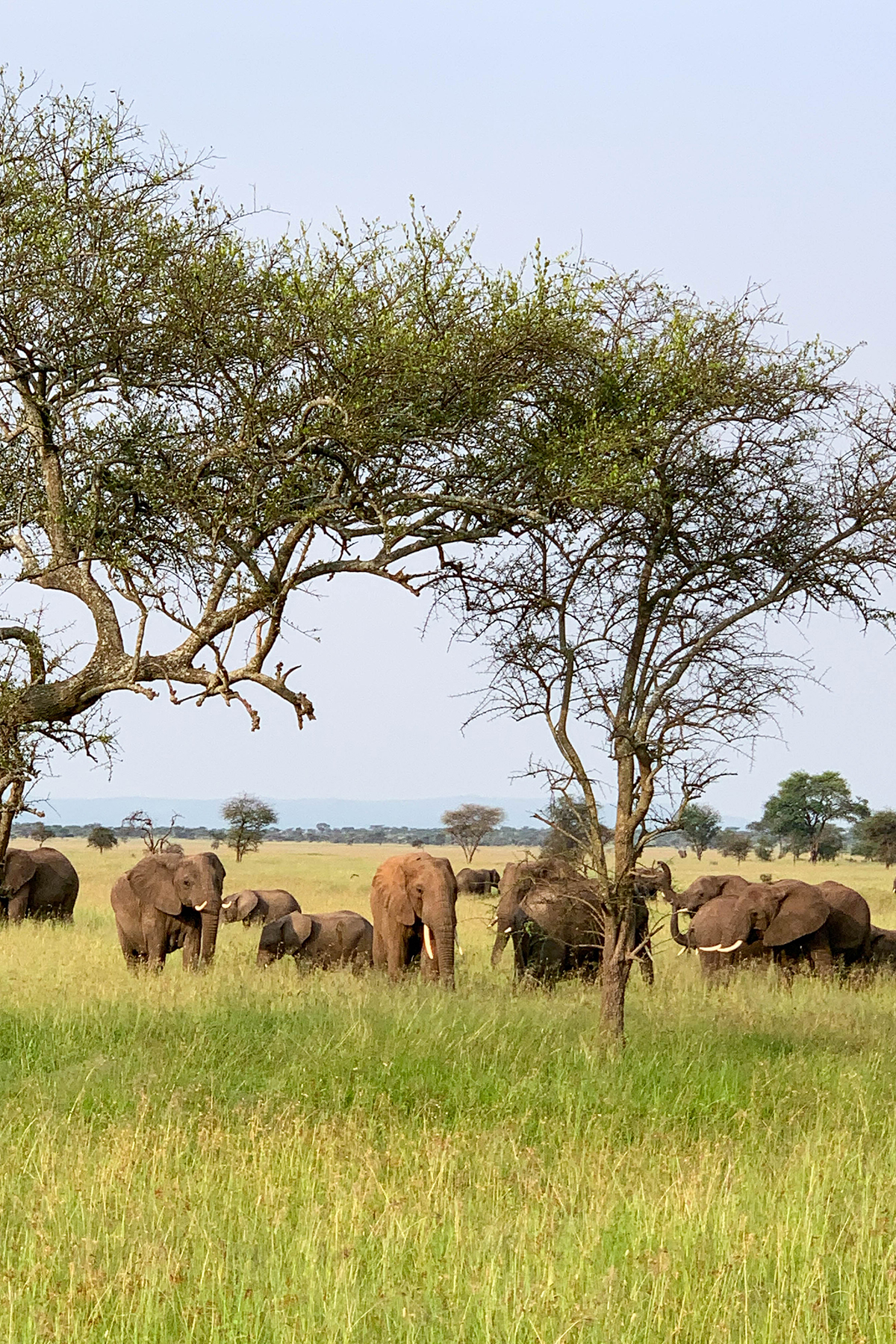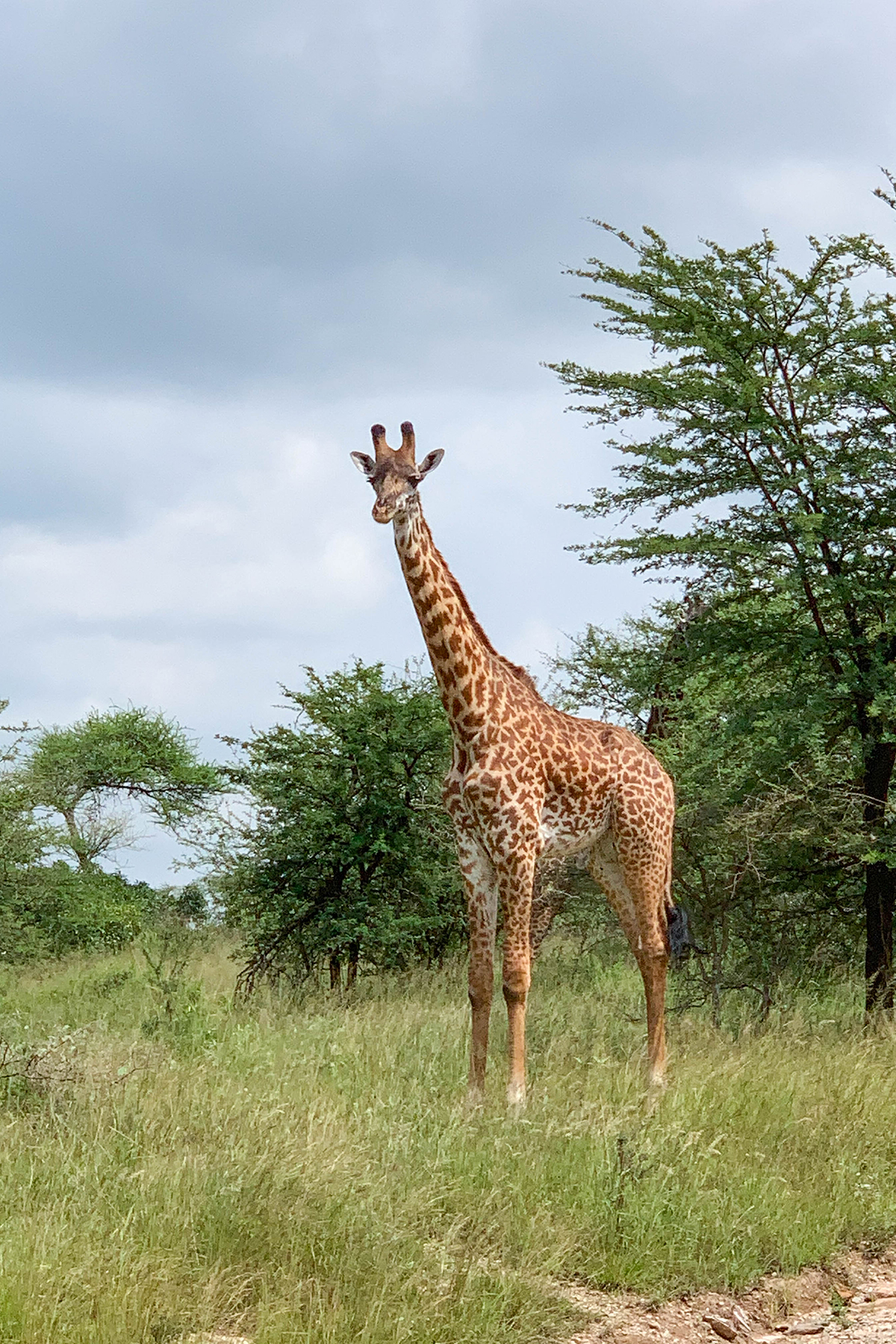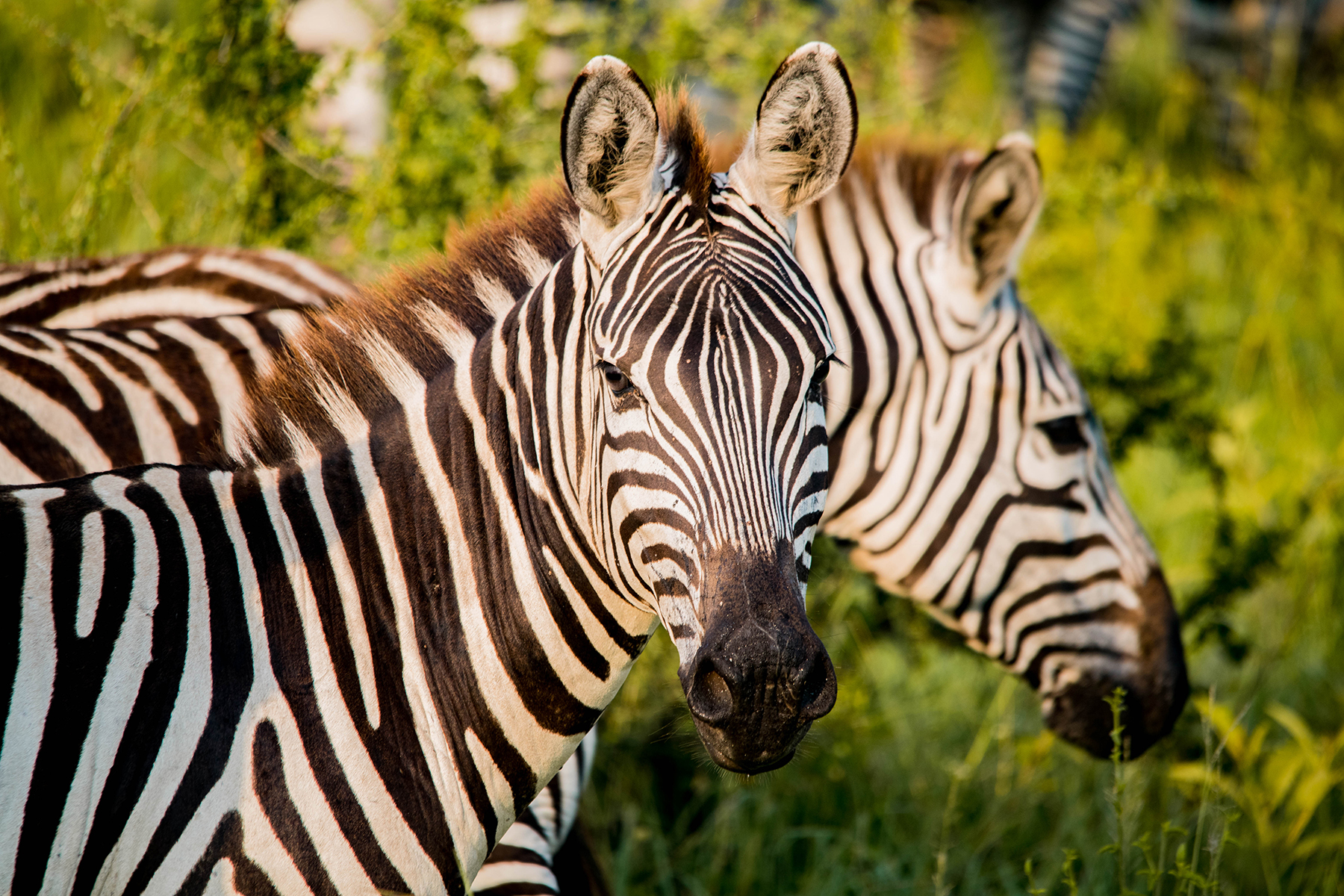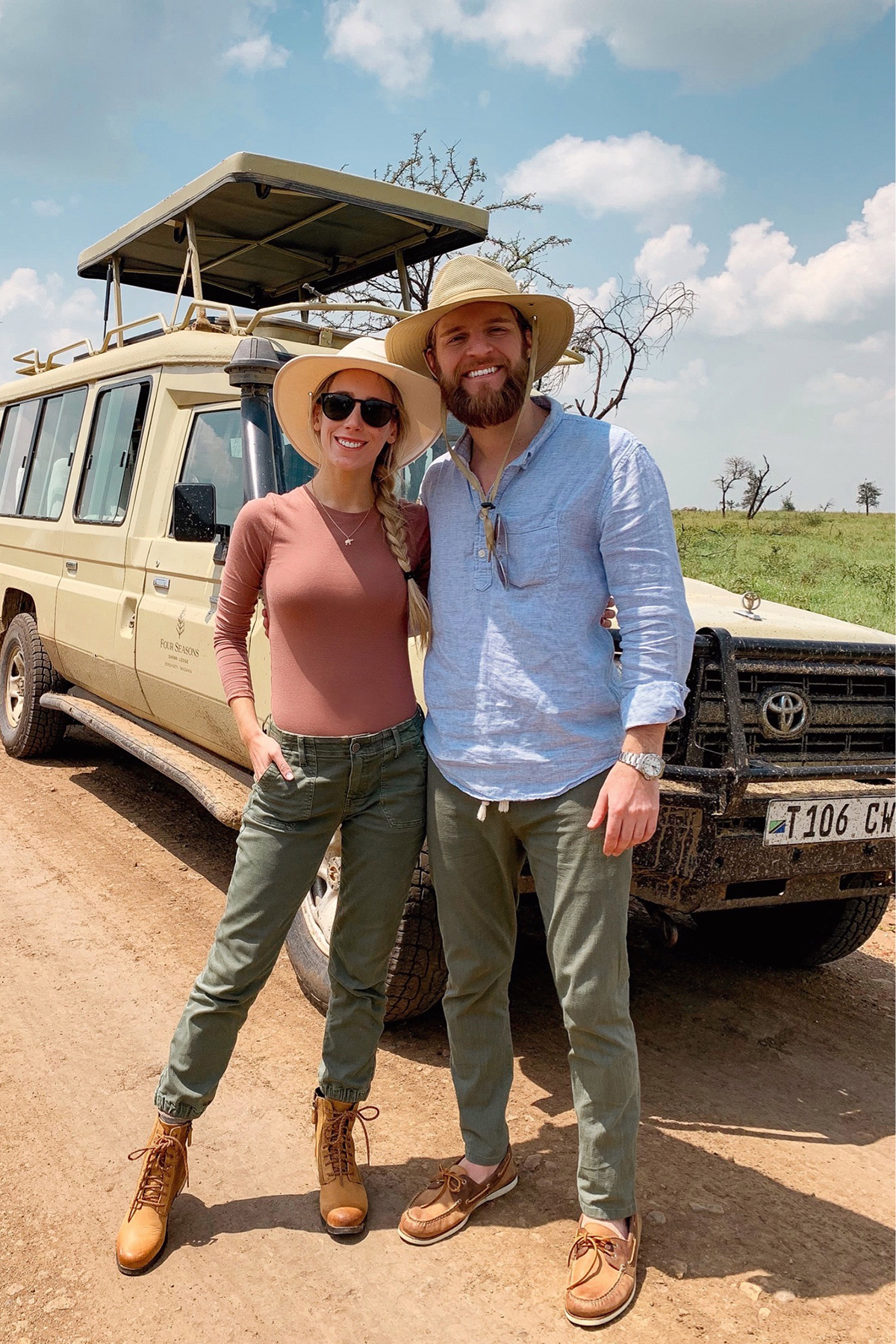 OUTFIT DETAILS // Brown Long Sleeve | Green Joggers | Safari Hat | Leopard Hair Scarf | Beaded Bracelet | Hiking Boots
NICK'S OUTFIT // Linen Shirt | Linen Pants (he ordered these in 3 colors) | Safari Hat | Boat Shoes
Tanzania Safari Itinerary + Four Seasons Serengeti Review
This travel guide is going to focus solely on our first destination: Tanzania. There are many countries in Africa where you can go on safari, however we decided on Tanzania mainly due to it being home to the Four Seasons Safari Lodge in the famed Serengeti National Park.
We've only ever had positive experiences staying at Four Seasons properties (see my reviews for Miami and Hawaii here) and trust the brand. Once we read the thousands of positive reviews online written by previous guests of the lodge, it was really a no-brainer.
We booked a 5-night stay in late January and felt it was the perfect amount of time to enjoy the gorgeous lodge and take advantage of the property's safari excursions.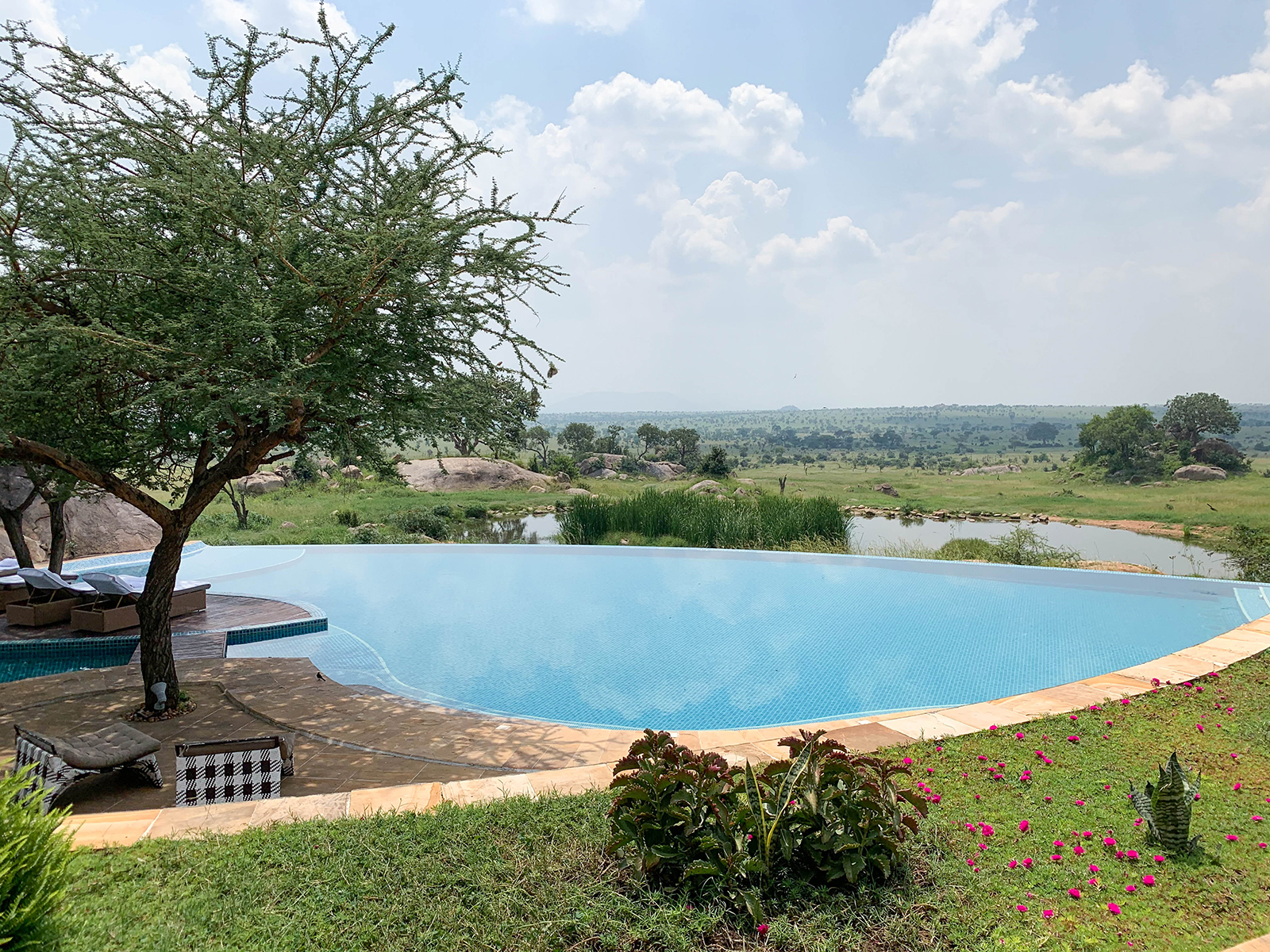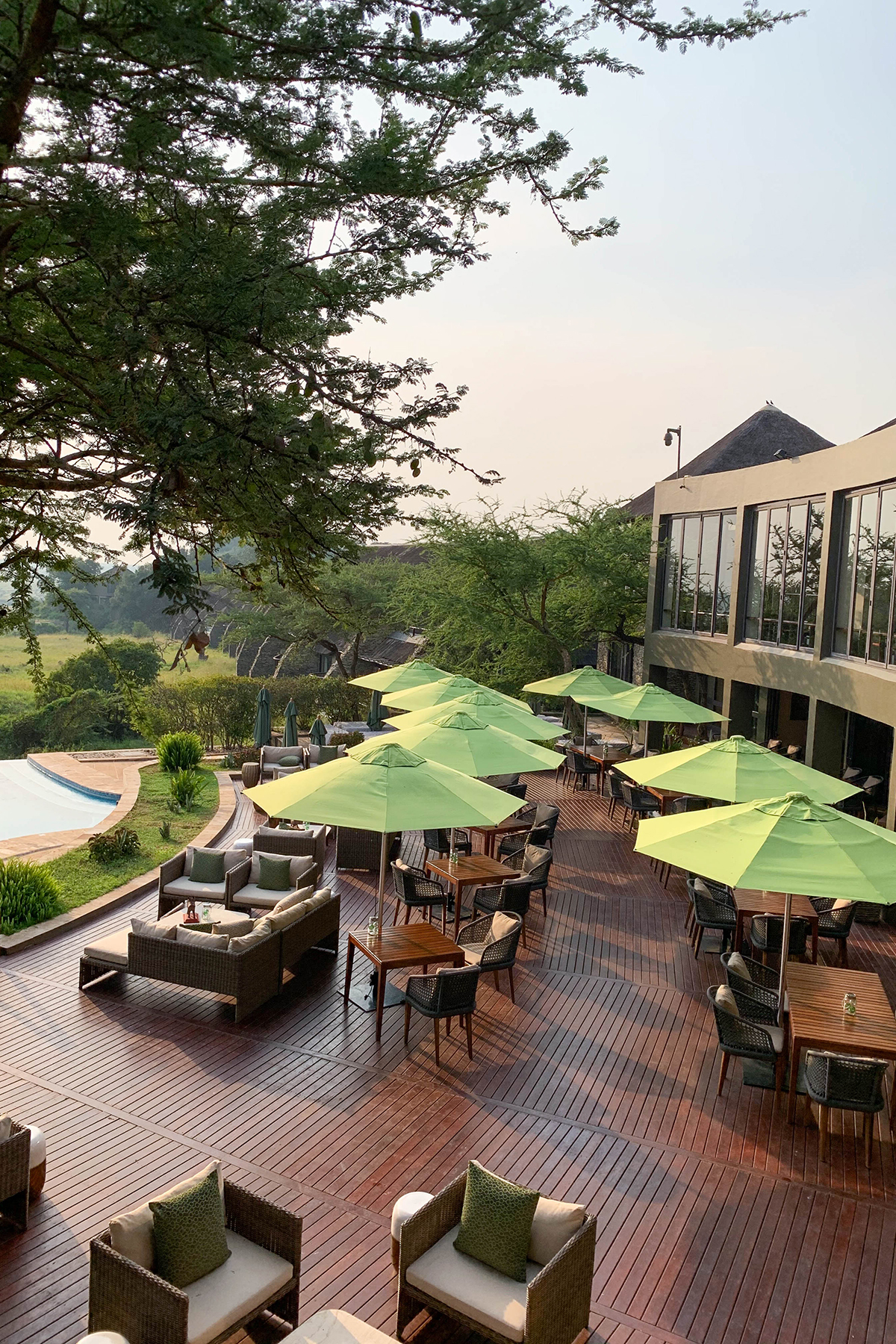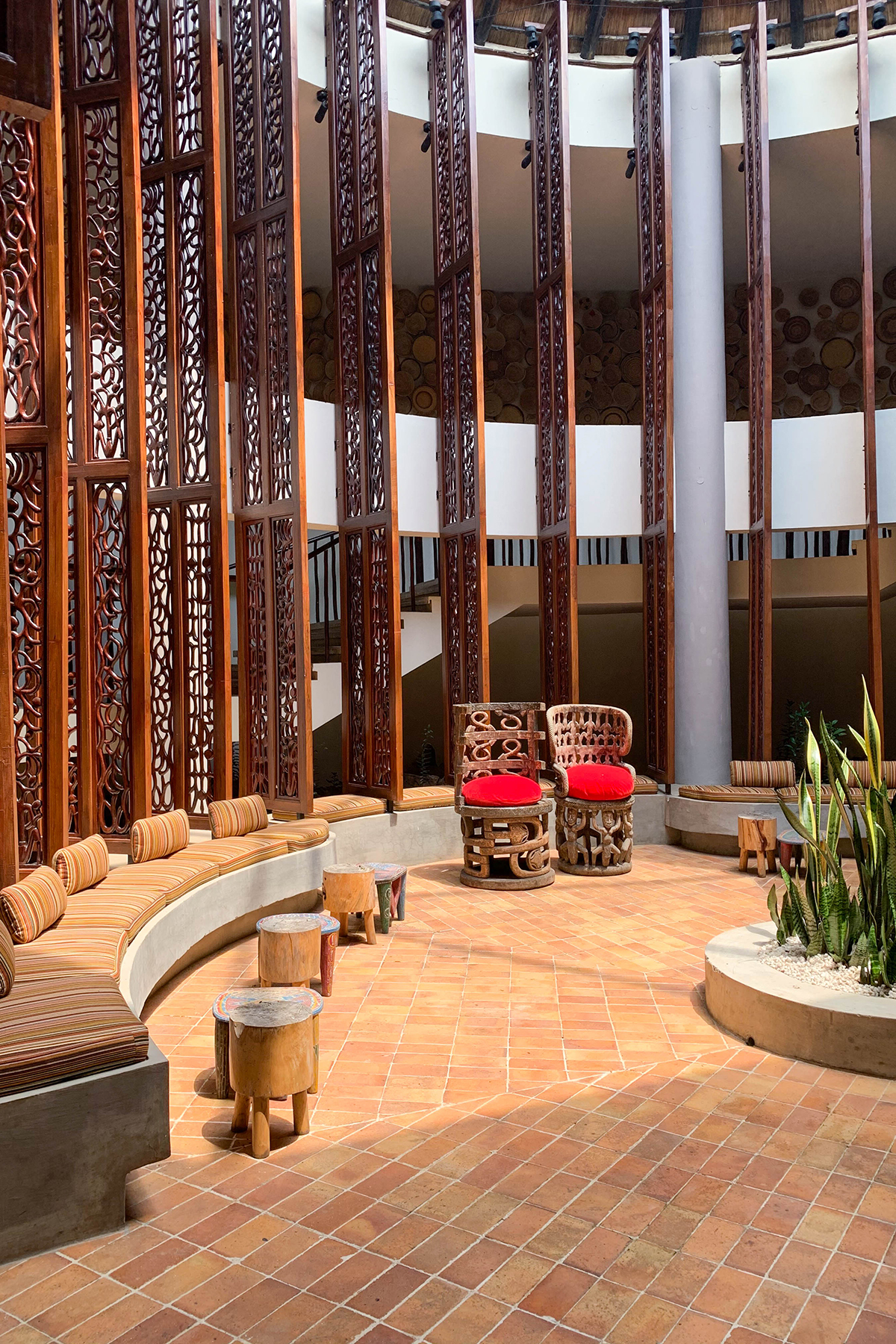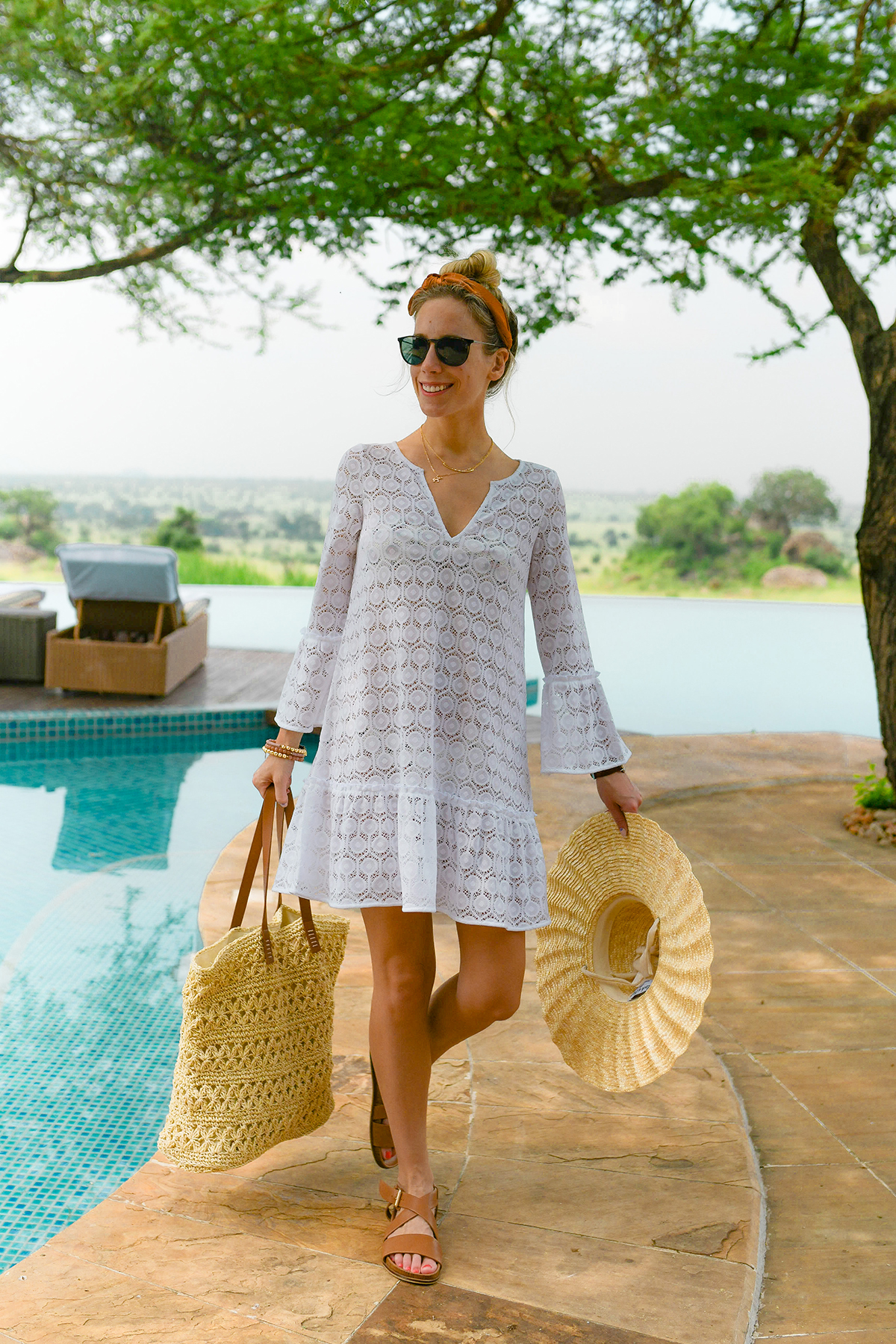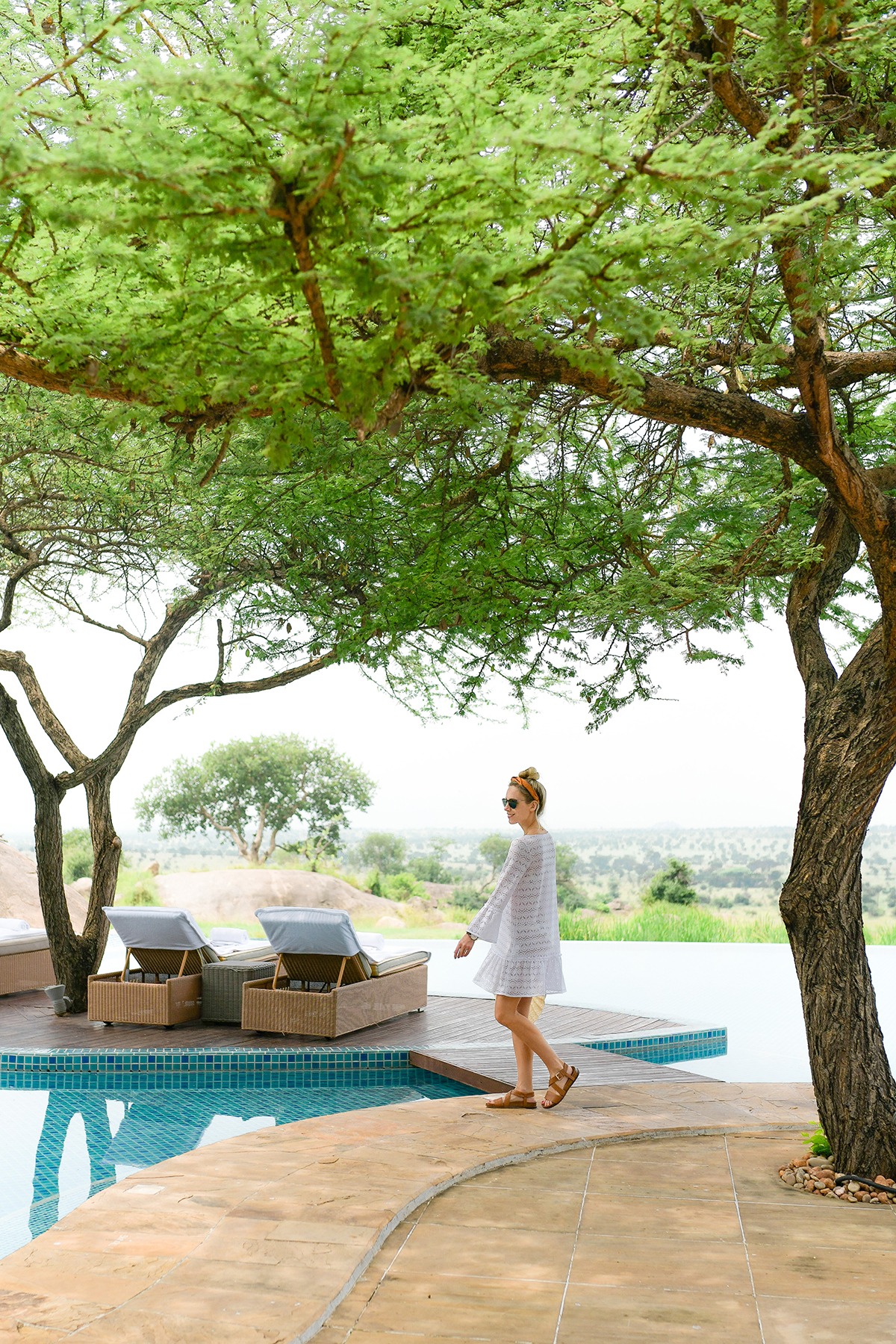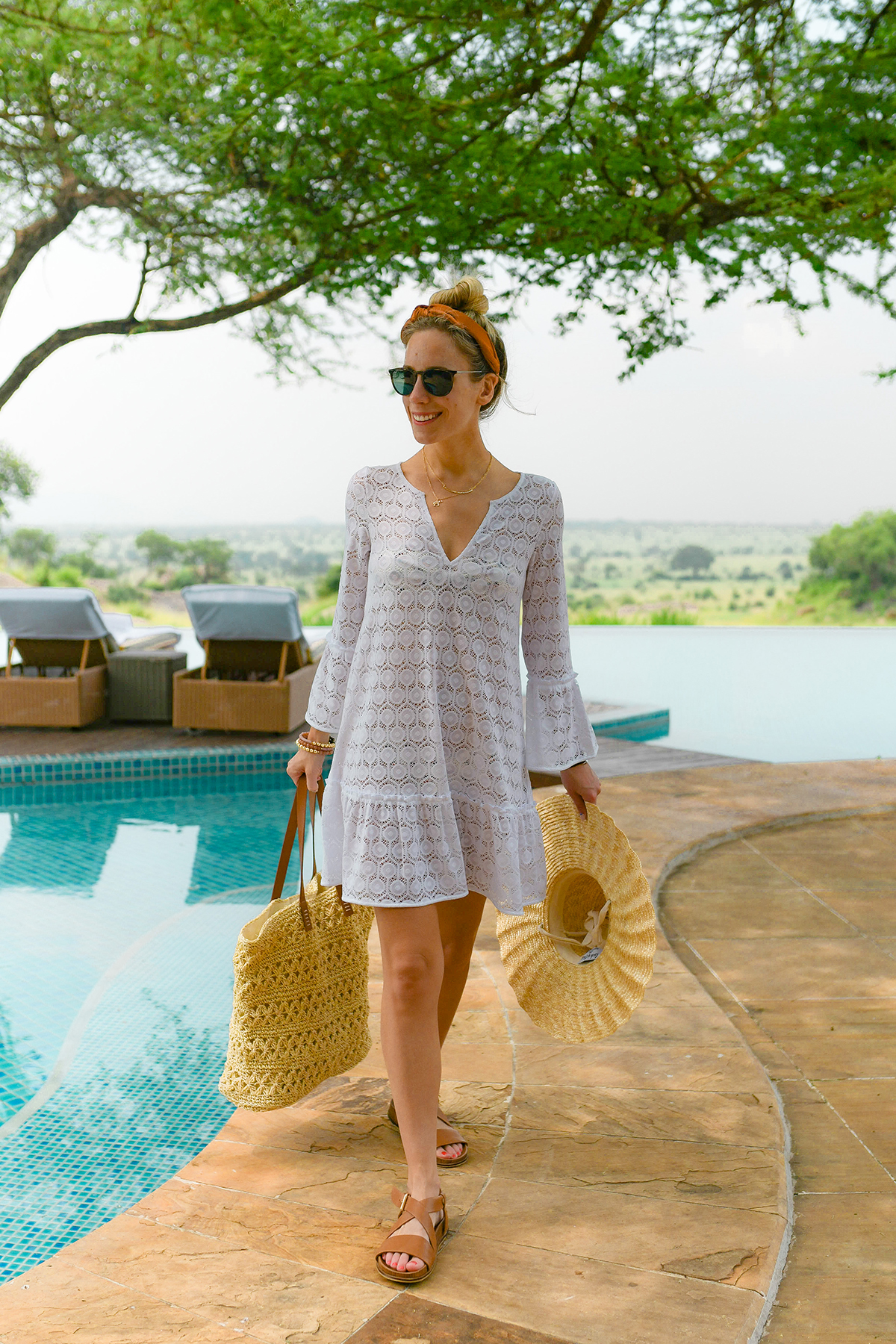 OUTFIT DETAILS // Lace Cover-Up | Sunglasses | Elephant Necklace | Gold Bar Necklace | Leather Watch | Woven Tote | Sun Hat | Sandals | Headband | Beaded Bracelet
Getting To Serengeti National Park
I won't sugarcoat it. Getting to Serengeti National Park from the United States is not simple. Nick and I book all of our trips ourselves— flights, hotels, excursions, etc. and this was our toughest adventure to plan yet. Primarily due to the number of flights, a few of which were only available on certain days of the week.
We found it was nearly impossible to fly to Tanzania in a single day. Honestly I'm glad this was the case, because I don't think I would've survived the back-to-back flights and multiple long layovers. The only airline offering a direct flight to the region was AirKenya (New York > Nairobi) but we quickly nixed that as an option after reading airline reviews.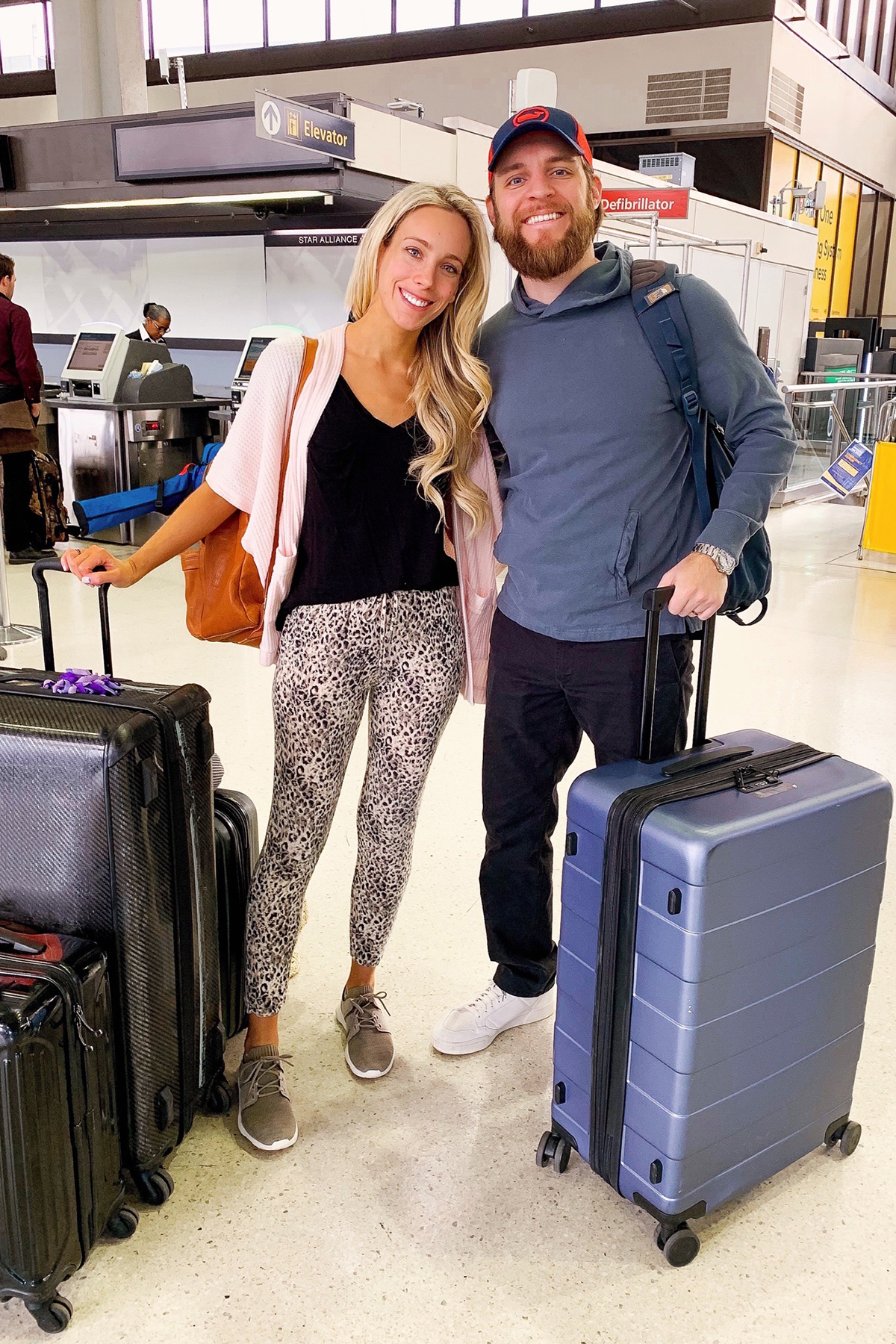 OUTFIT DETAILS // Black V-Neck Tee | Pink Waffle Knit Cardigan | Cheetah Print Joggers | Leather Backpack | Gray Sneakers
Our Flight Itinerary: New York to Tanzania
In the end we decided on United + AirCanada combo: Newark > Toronto > Dubai. The sole reason we did this was because I stubbornly wanted to maintain my United Gold Premier Status via the miles we'd gain from flying business class on AirCanada (a Star Alliance airline and United partner).
If you watched my Instagram stories on what was supposed to be our departure day, then you already know our planned flight itinerary turned into a complete dumpster fire.
Long story short: due to internal IT issues, United massively delayed (& ultimately cancelled) our flight to Toronto causing us to miss our connecting AirCanada flight to Dubai where we had planned a 1.5 day stopover before our final two flights to Tanzania.
TRAVEL FYI: After revealing our flight fiasco on Instagram, I was inundated with messages from followers recounting similar negative experiences flying United and connecting in Toronto for an international flight. If we'd known beforehand of the potential problems we could encounter, we would've never booked our flights this way. If you're considering flying internationally on United or one of their partner airlines I would be very wary of connecting in Toronto. Moving forward we are going to try to avoid flying United anytime we aren't flying somewhere direct.
The situation was a nightmare. After spending the entire day in Newark airport trying to figure out a solution (during which I had 2 panic attacks) we ended up having to completely cancel our United/AirCanada itinerary and re-book entirely new, significantly more expensive direct flights to Dubai on Emirates (what we should've booked in the first place.)
Doing this was the only way we could get to Dubai for our flights to Africa. We had strict visas that would only allow us to be in Tanzania over a specific block of days— re-booking via United and AirCanada would have meant re-booking every single one of our hotels and applying for new visas. If there wouldn't have been an Emirates flight first thing the next morning, I think we would've had to cancel our entire honeymoon.
BIG lesson learned. Always book a direct flight if it's available, even if that means cheating on your go-to airline. This experience personally taught me that loyalty doesn't mean anything to United or Star Alliance. As a consolation for nearly ruining our honeymoon, United offered me a pitiful $100 voucher and Nick $75… Talk about rubbing salt in the wound. PS yes we plan on getting in touch with customer service to fight for higher vouchers. Will share an update on Instagram if anything changes…
Glad that's out of the way! While our honeymoon got off the a rocky start, I'm happy to share it was smooth sailing once we boarded our new Emirates flight to Dubai. The service was exceptional!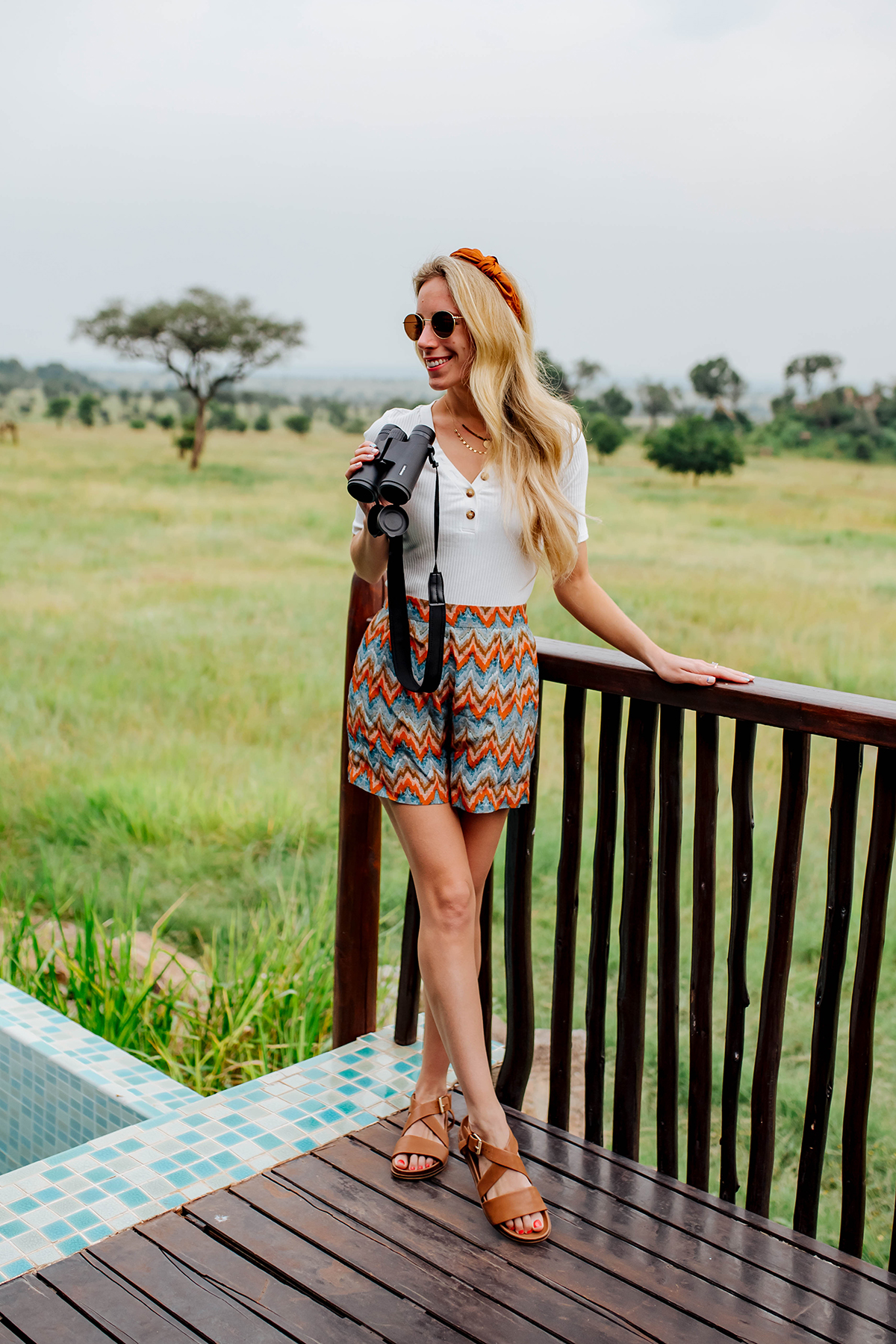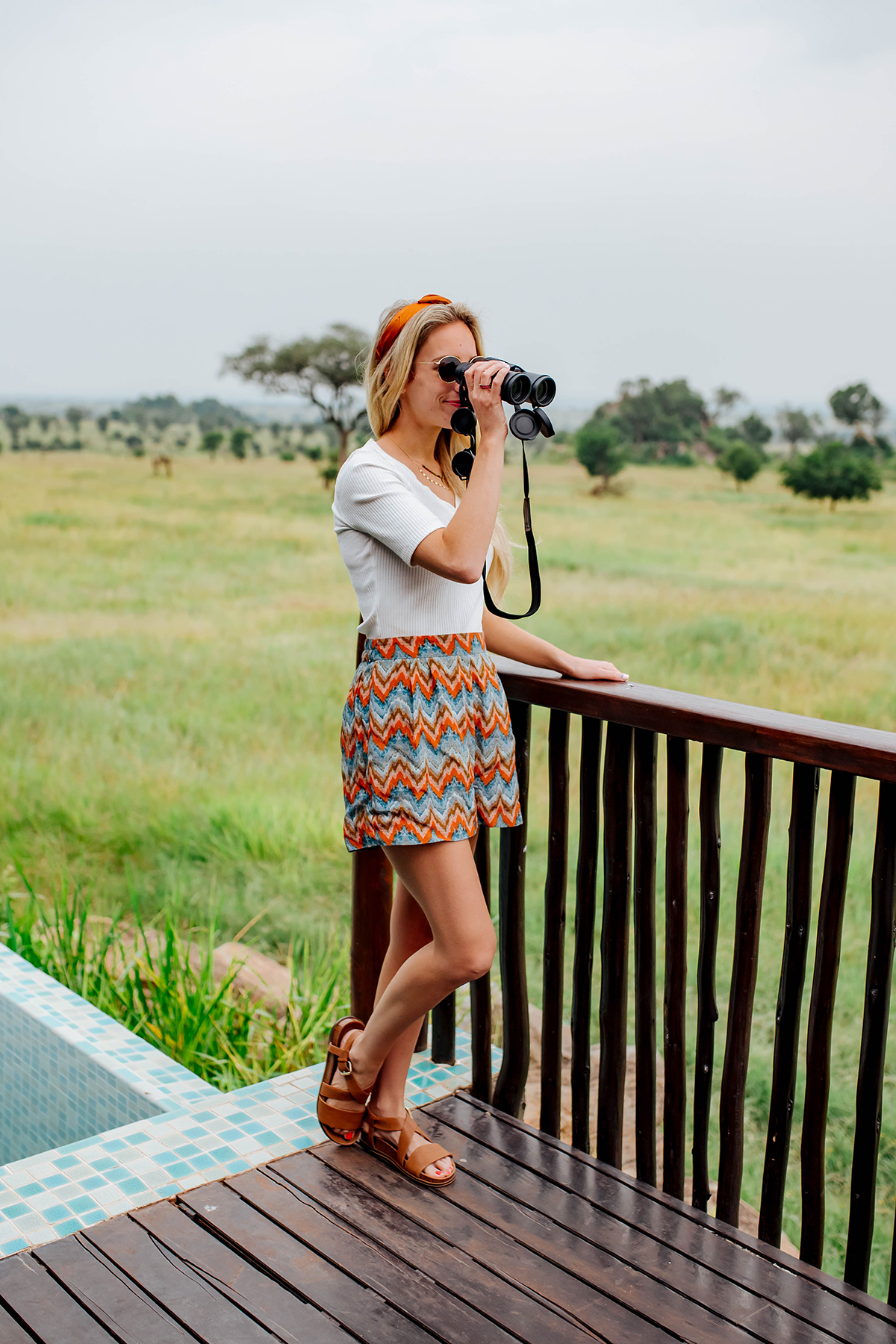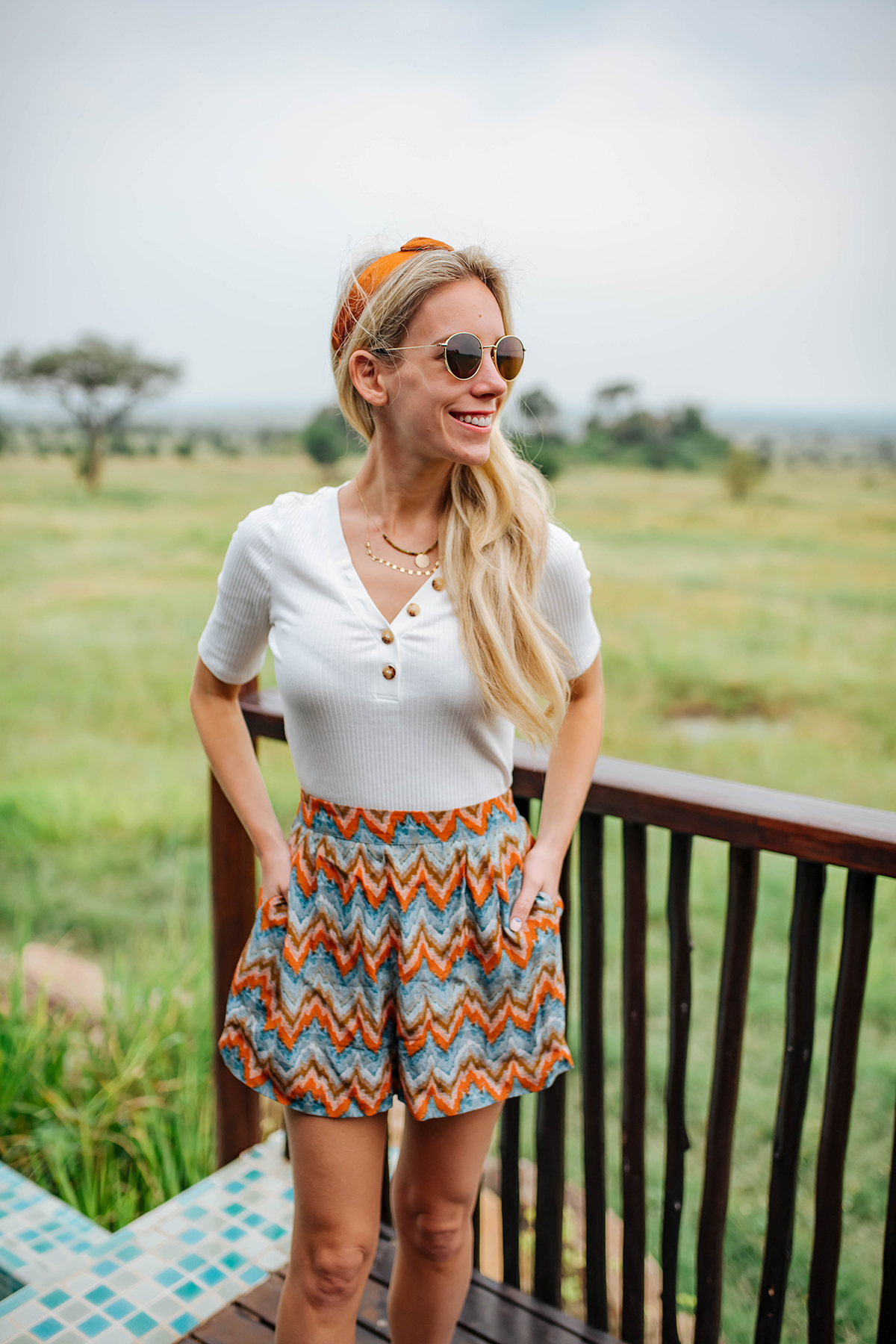 OUTFIT DETAILS // Ikat Shorts | Headband | White Henley | Sunglasses | Layered Necklace | Sandals
Dubai Stopover
We arrived in Dubai with 12 hours to spare before our next two flights. Since we'd originally planned to arrive in Dubai a day earlier, we already had a room booked at the Shangri-La Hotel Dubai. Even though we couldn't take advantage of the overnight, we still kept our reservation so we could wash up and nap over the long layover.
The Shangri-La Dubai is just 15 minutes from Dubai International Airport and the perfect place to stay if you're doing a stopover in Dubai. I'm so happy we planned our trip this way because that 1+ day long layover gave us the time we needed to figure out our flight fiasco. As much as we would've loved to get to our final destination as quickly as possible, this experience taught us that it's better to be safe than sorry especially when multiple expensive flights and strict visas are involved.
After a long nap, hot shower and a yummy lunch and dinner, we packed up our safari duffels and headed back to the airport for our next leg of travel.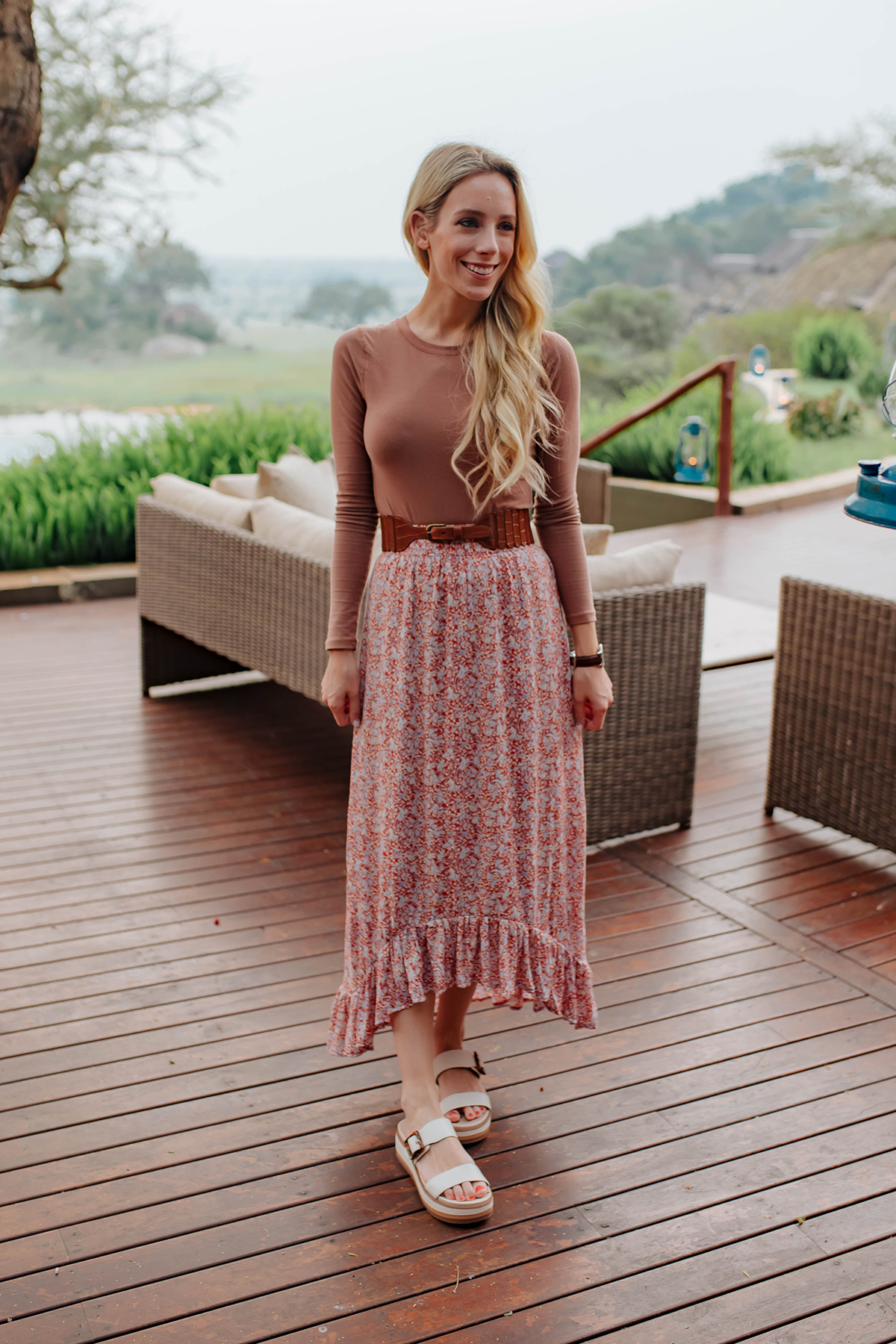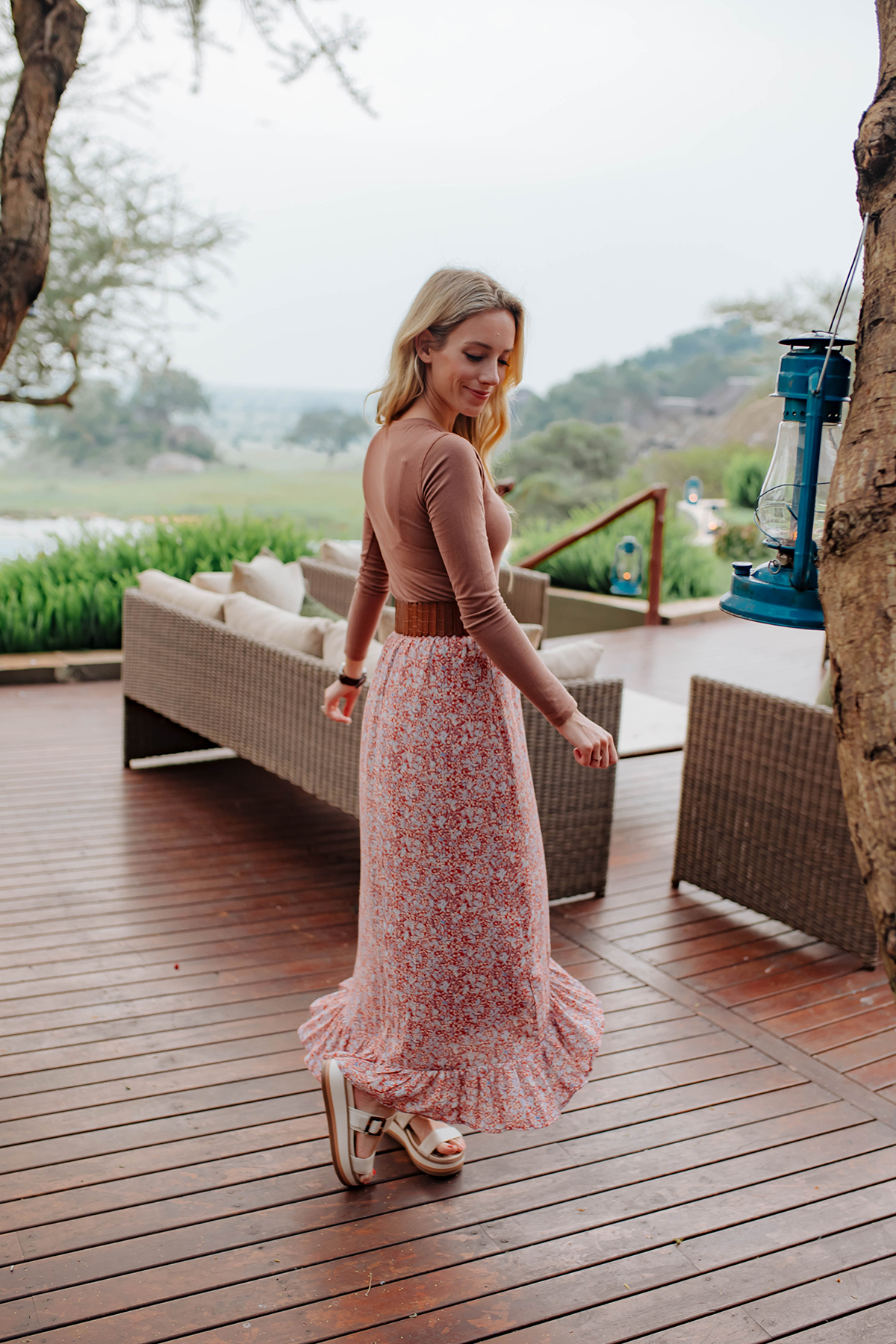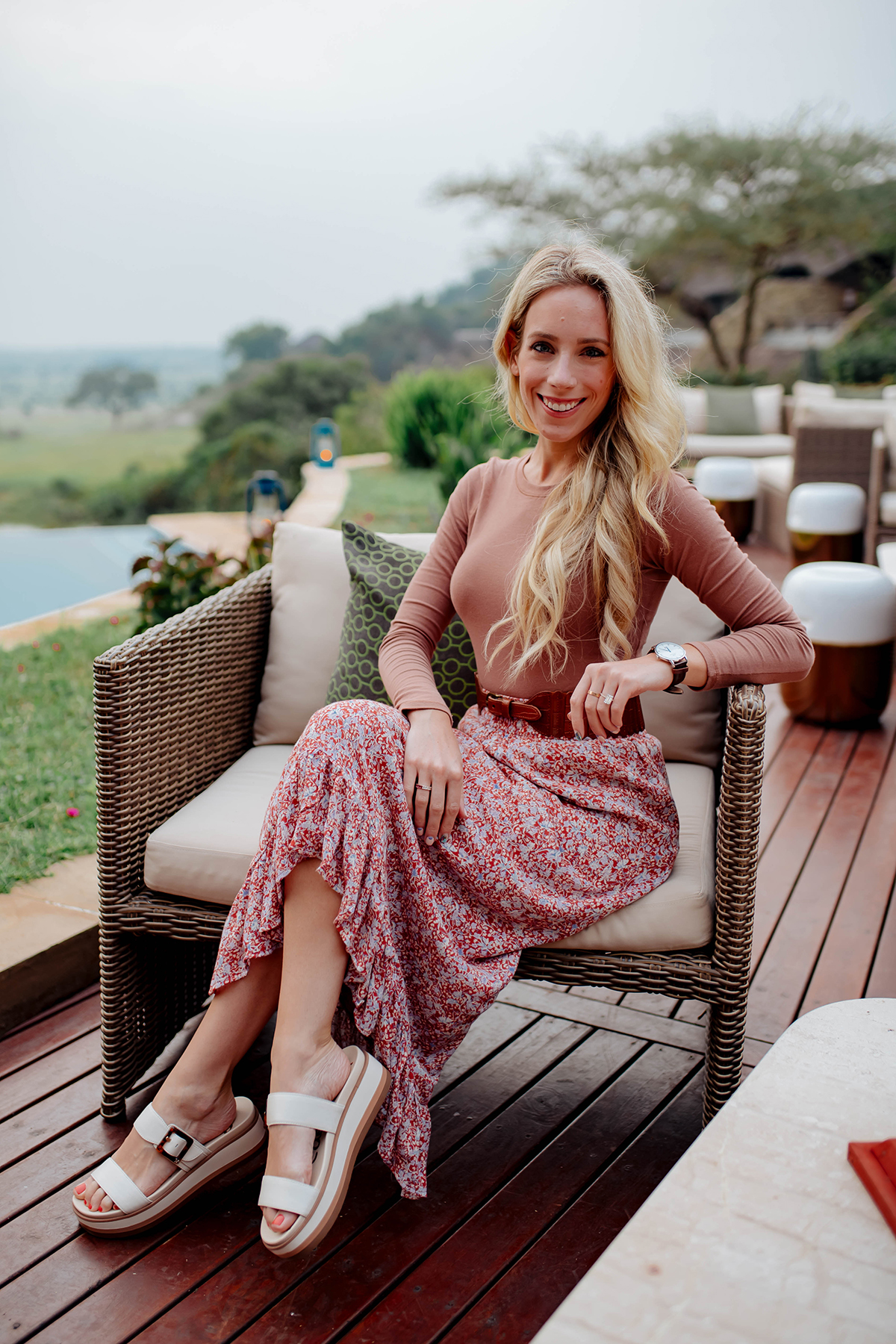 OUTFIT DETAILS // Brown Long Sleeve | Floral Maxi Skirt | Platform Sandals | High Waisted Belt | Leather Watch
Safari Luggage + Packing Tips
Let's talk safari luggage! Why one duffel bag? To fly to Serengeti National Park, you have to take a very tiny flight (aka a small propeller plane) and there are strict weight limits. Our flight only allowed 33lbs (15kg) total per person and each bag couldn't be larger than 14.5" x 27." Right away we knew bringing our hard luggage was out of the question, so we purchased these inexpensive duffel bags for the safari portion of our trip.
We kept these folded in our luggage for our first flight to Dubai with the intention of re-packing them during our layover. Prior to leaving for our trip, we both practiced filling our duffels at home so we knew exactly what items we were bringing to Tanzania and how much it all would weigh. Here's a link to the luggage scale we use. It made the re-packing process during our layover in Dubai a breeze!
So what did we do with our hard luggage? The concierge at the Shangri-La was kind enough to keep our bags locked in storage during the 5 days were in Tanzania. We would then pick up our bags once we returned to Dubai for the second portion of our trip.
FYI I reached out to the Shangri-La concierge in advance of our trip to ask if this was possible— I wouldn't assume all hotels would be willing to do the same so make sure to plan accordingly if you're considering a similar trip. I believe airports also offer luggage storage options as well, however I can't speak to experience using this method.
PS I plan on sharing more about our time at the Shangri-La in my Dubai recap (we spent the final two days of our honeymoon there!)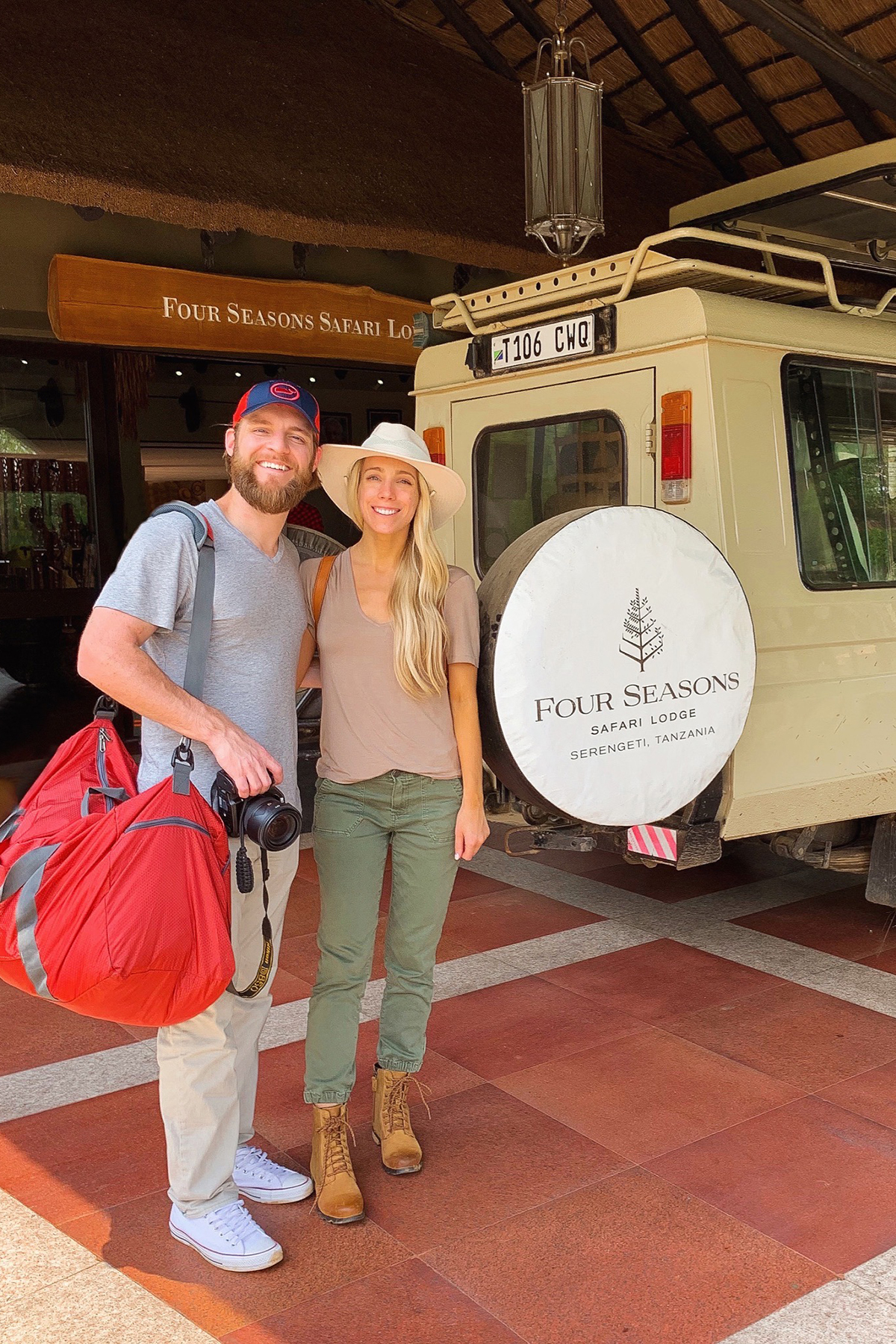 OUTFIT DETAILS // V-Neck Tee | Green Joggers | Safari Hat | Hiking Boots
What To Pack For A Safari
Going on safari? Here are some ideas for what to pack! We visited the Serengeti in January, which is summertime in Tanzania. Afternoon high temperatures averaged in the low 80s, while the mornings were cool in the high 60s. On average it rains 13 days out of the month in January, however we got lucky and only had sunshine on our trip. You can read more about the weather in the Serengeti by month here.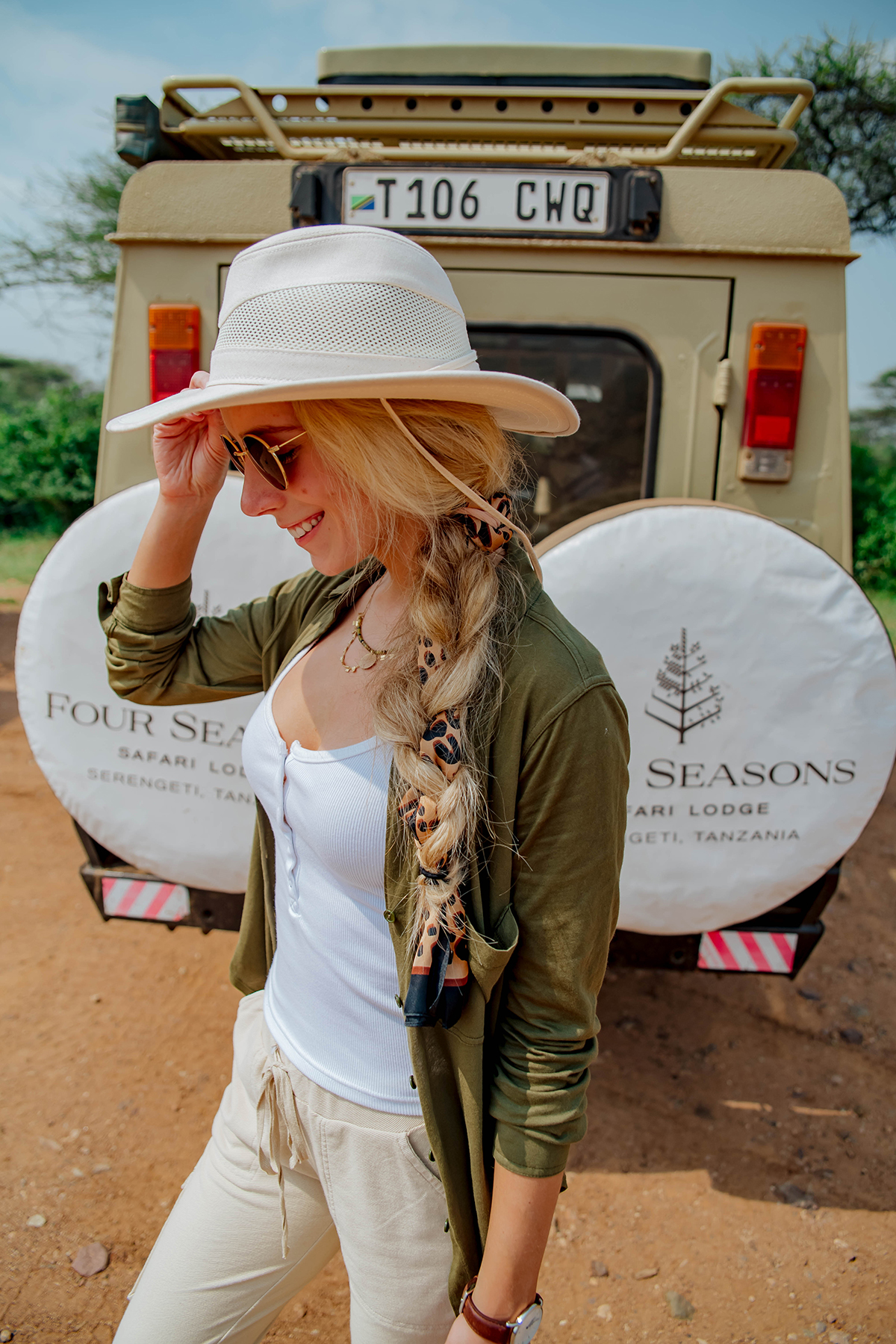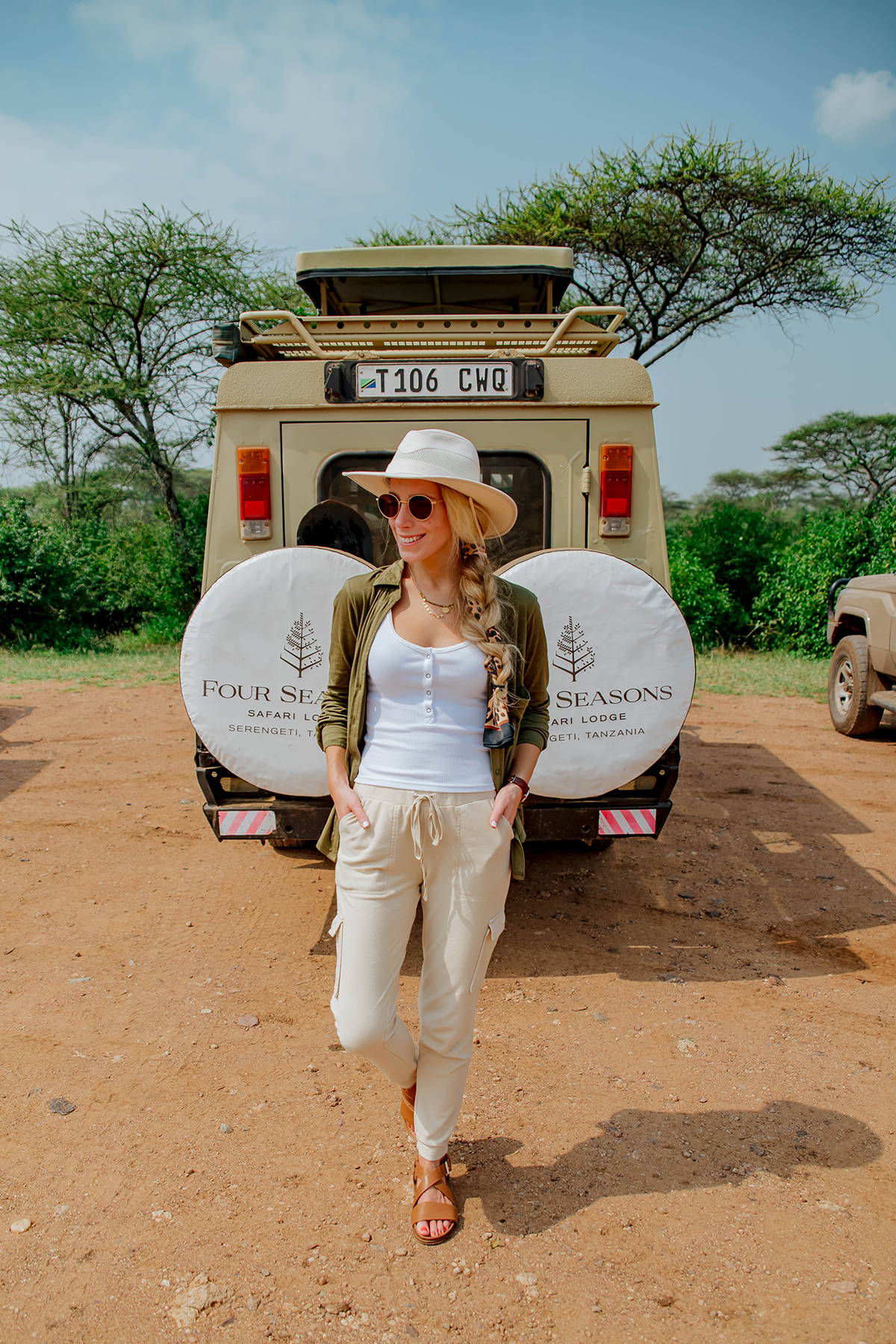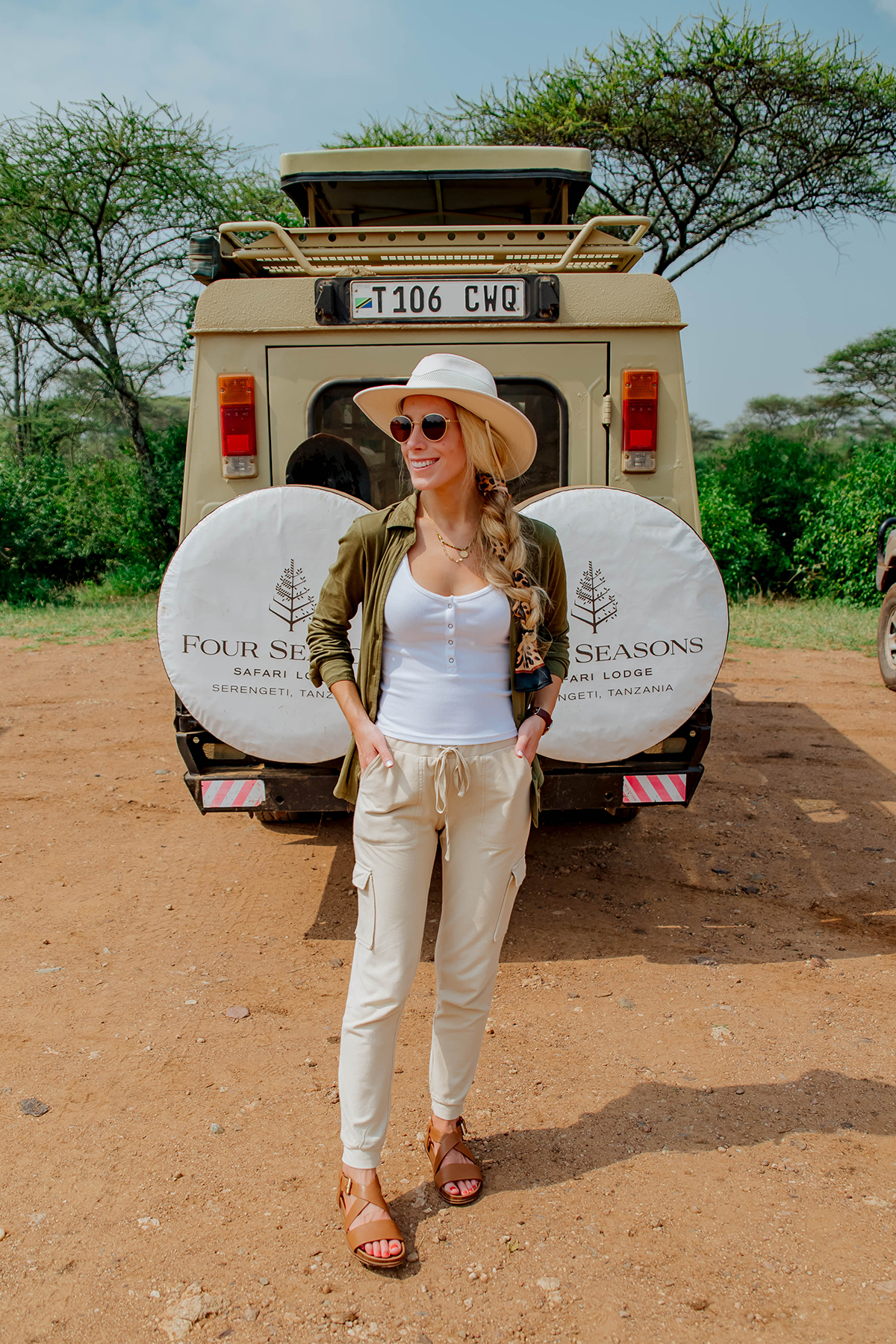 OUTFIT DETAILS // Button Down Shirt | Twill Joggers | Safari Hat | Leopard Hair Scarf | Ribbed Tank Top | Sunglasses | Layered Necklace | Sandals
Since we had such limited space in our luggage, we were very strategic about what we packed. For safari excursions I would recommend packing comfortable long sleeve cotton tops and lightweight pants that you can mix and match. Even if the weather is warm, you're going to want to be covered due to the flies and bugs (not a big deal as long as you wear repellant.) I would also make sure to bring a pullover or sweater because it can get chilly in the mornings and evenings even during the summer months.
PANTS & TOPS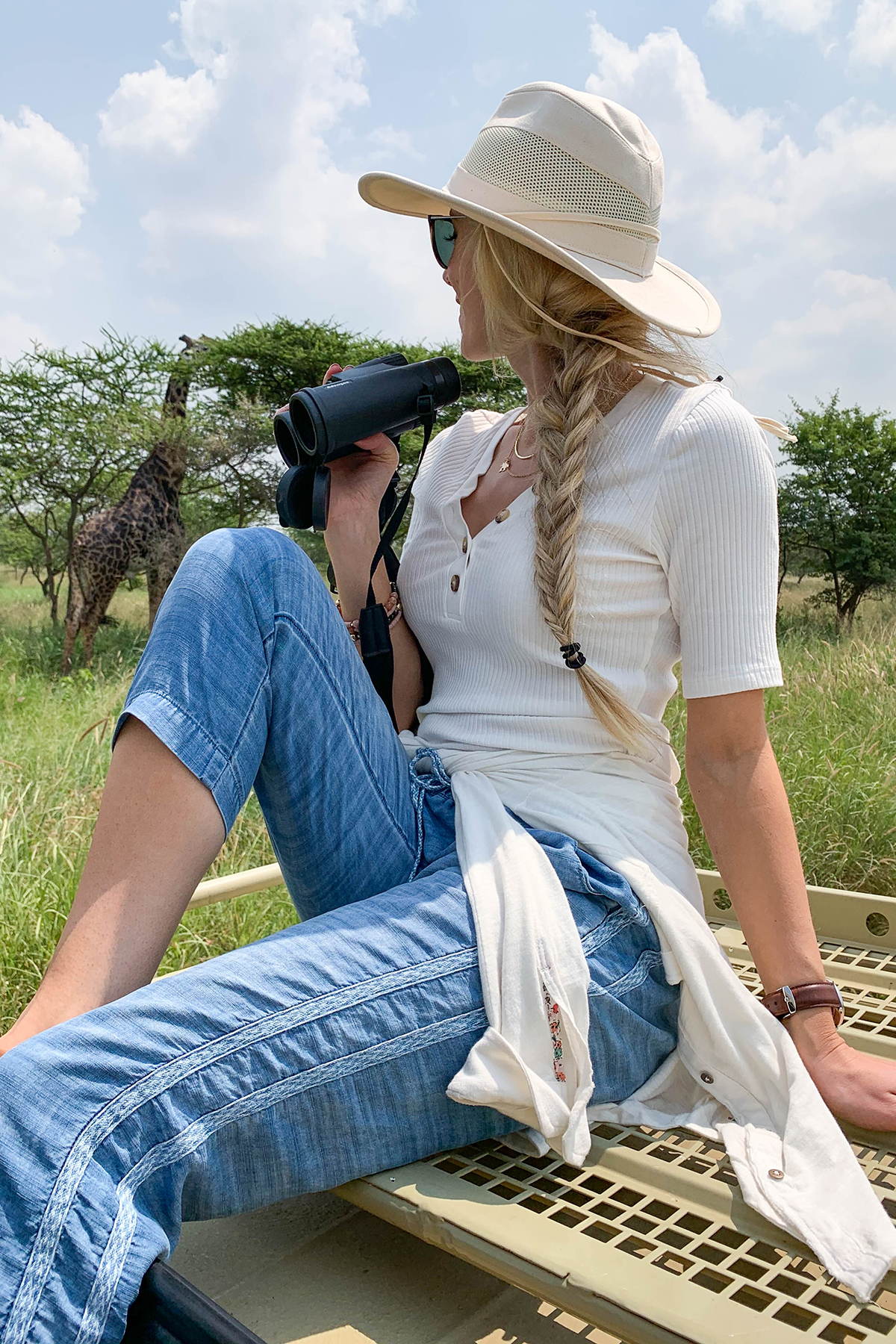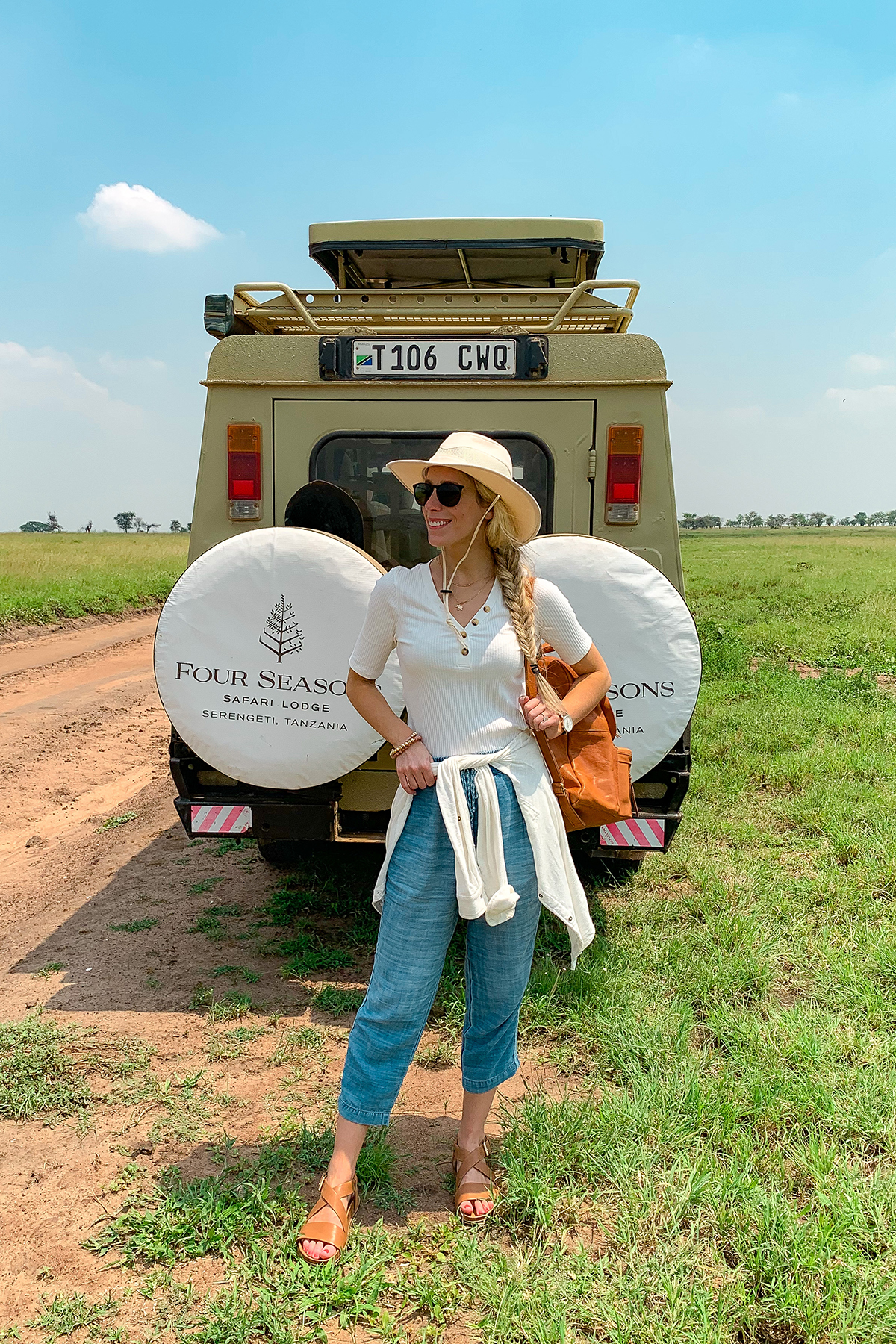 OUTFIT DETAILS // Ribbed Henley Shirt | Chambray Joggers | Button Down Shirt | Sandals | Sunglasses | Safari Hat | Elephant Necklace | Leather Watch | Beaded Bracelet
If you're staying a resort or camp with a pool definitely bring a swimsuit or two, along with comfy clothes for when you're not out on safari.
SWIMWEAR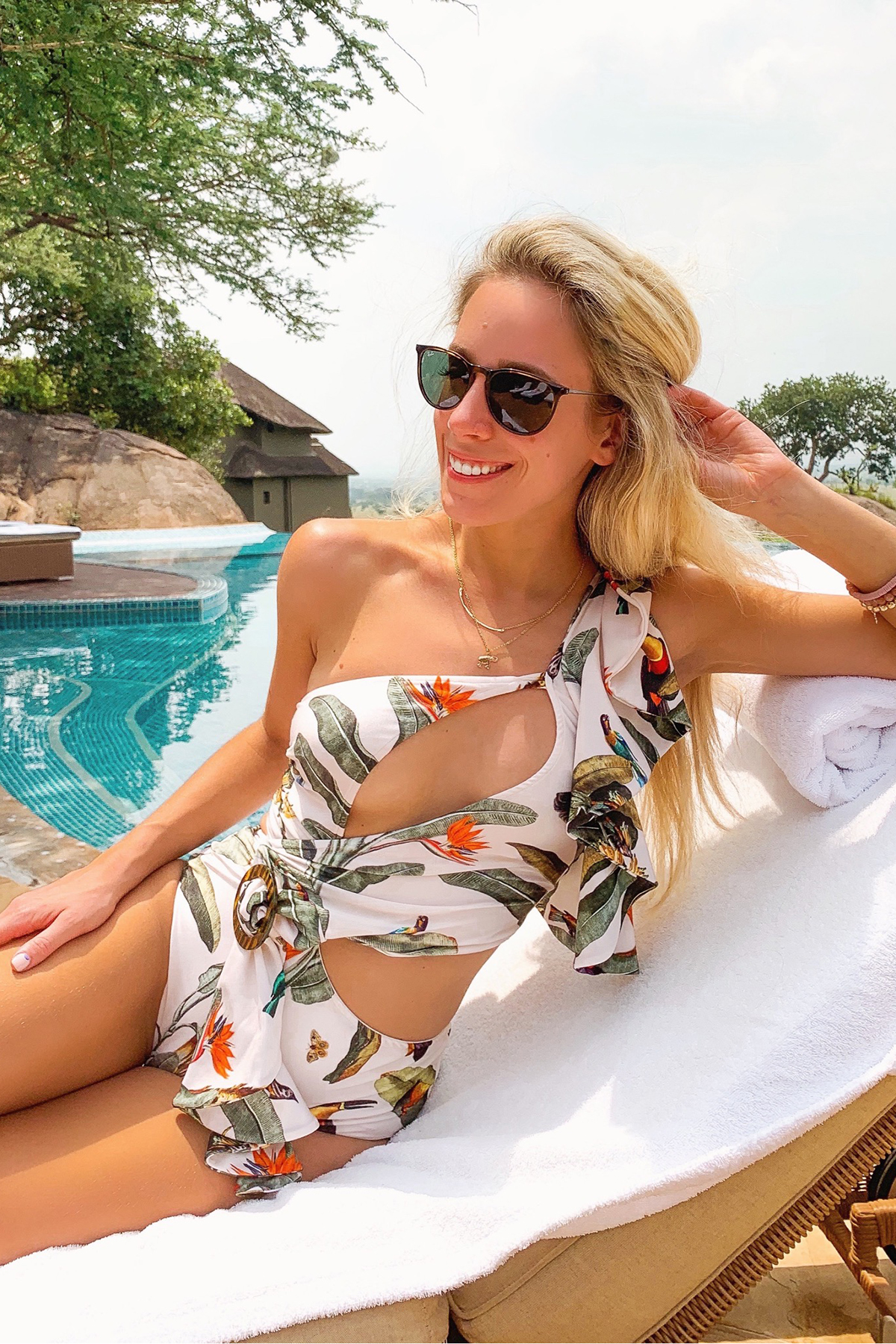 OUTFIT DETAILS // Asymmetrical Cutout One Piece | Sunglasses | Elephant Necklace | Gold Bar Necklace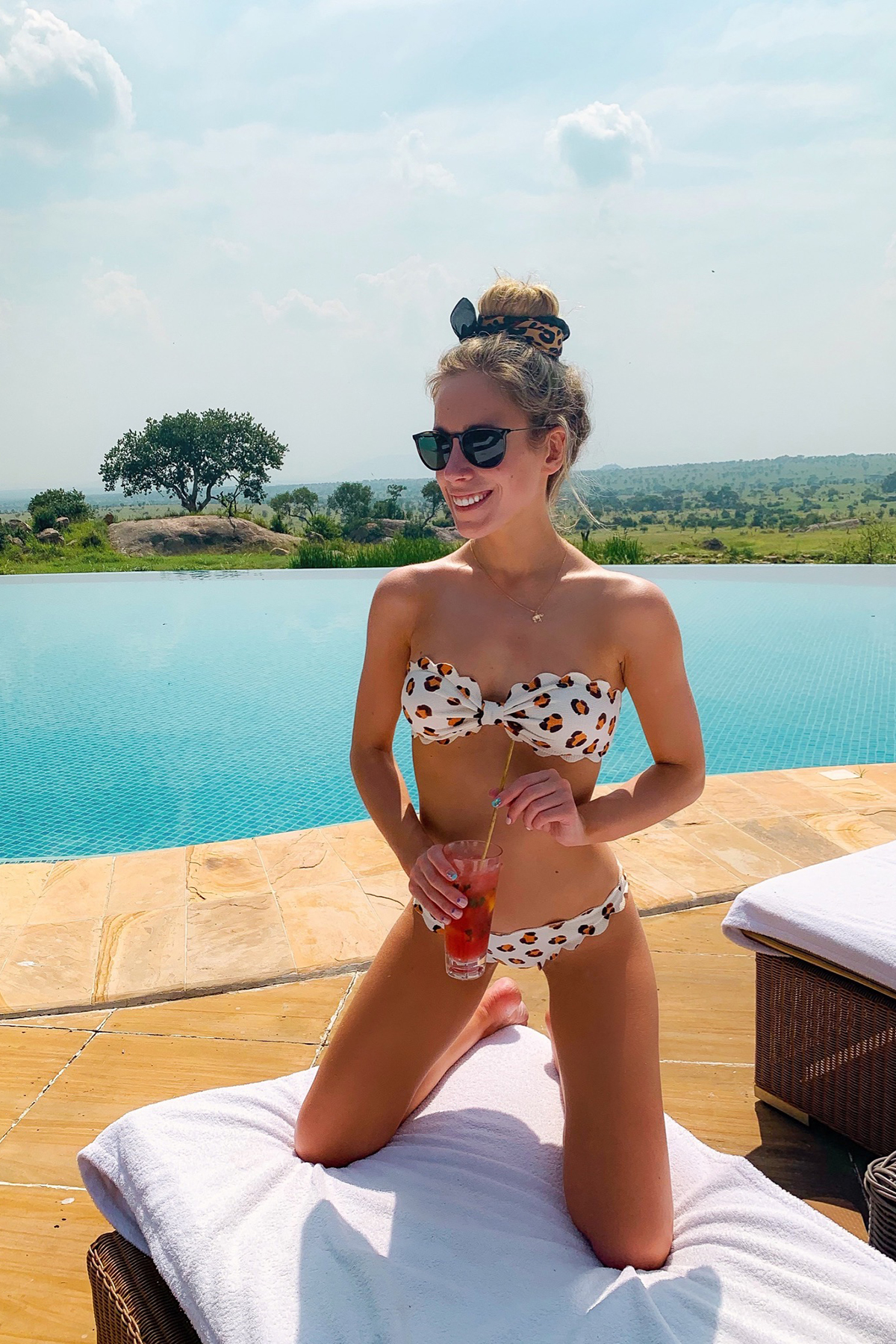 OUTFIT DETAILS // Leopard Print Bikini Top | Leopard Print Scalloped Bottoms | Leopard Hair Scarf | Sunglasses | Elephant Necklace
I brought four pairs of shoes: hiking boots, sneakers for travel days and two pairs of sandals for wearing around the resort. Sunglasses and a wide-brim hat are also must-haves to protect your face/eyes from sun exposure and bugs. I would 100% recommend getting a hat with chin strap so you don't have to worry about it flying off when you're driving in an open air safari jeep.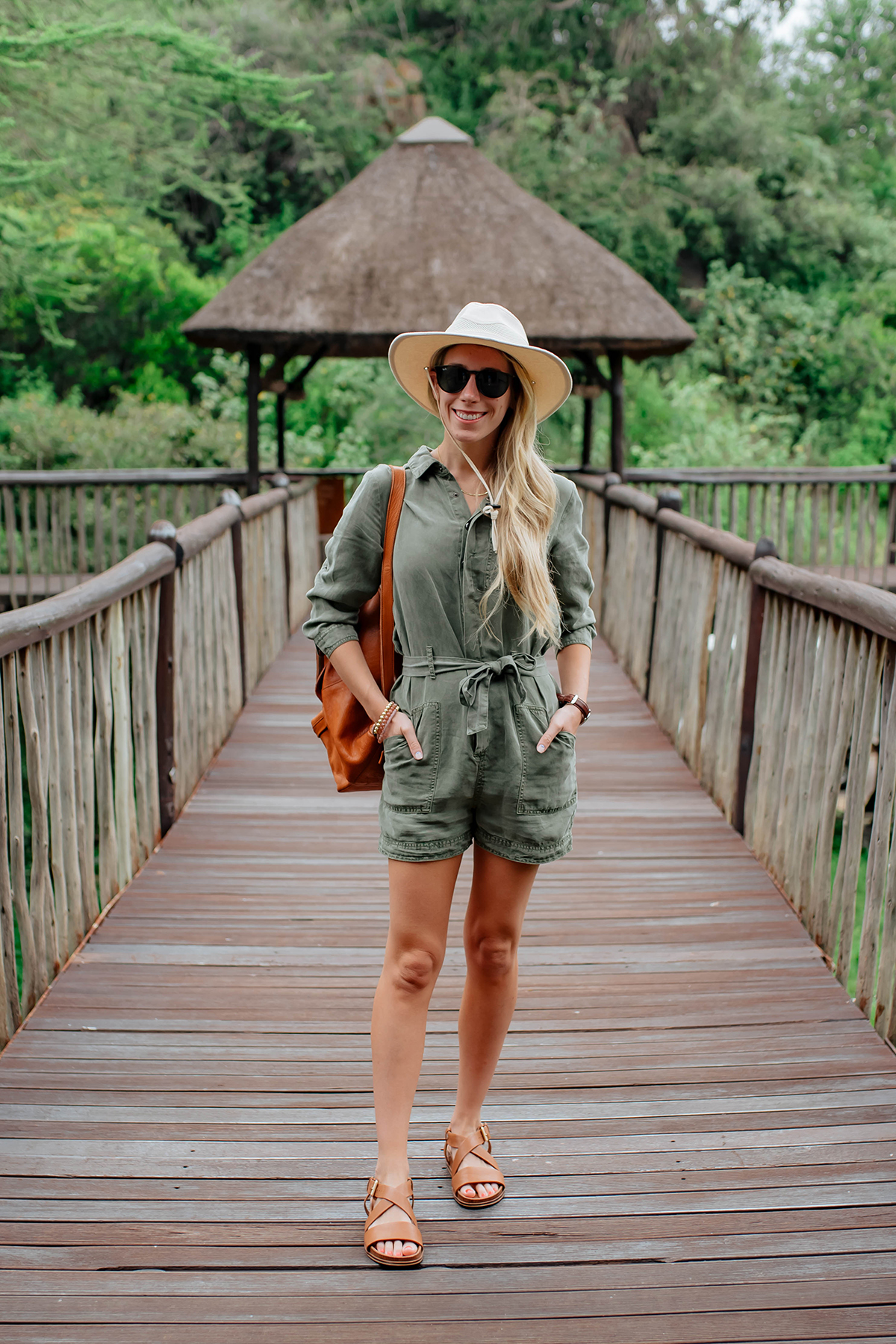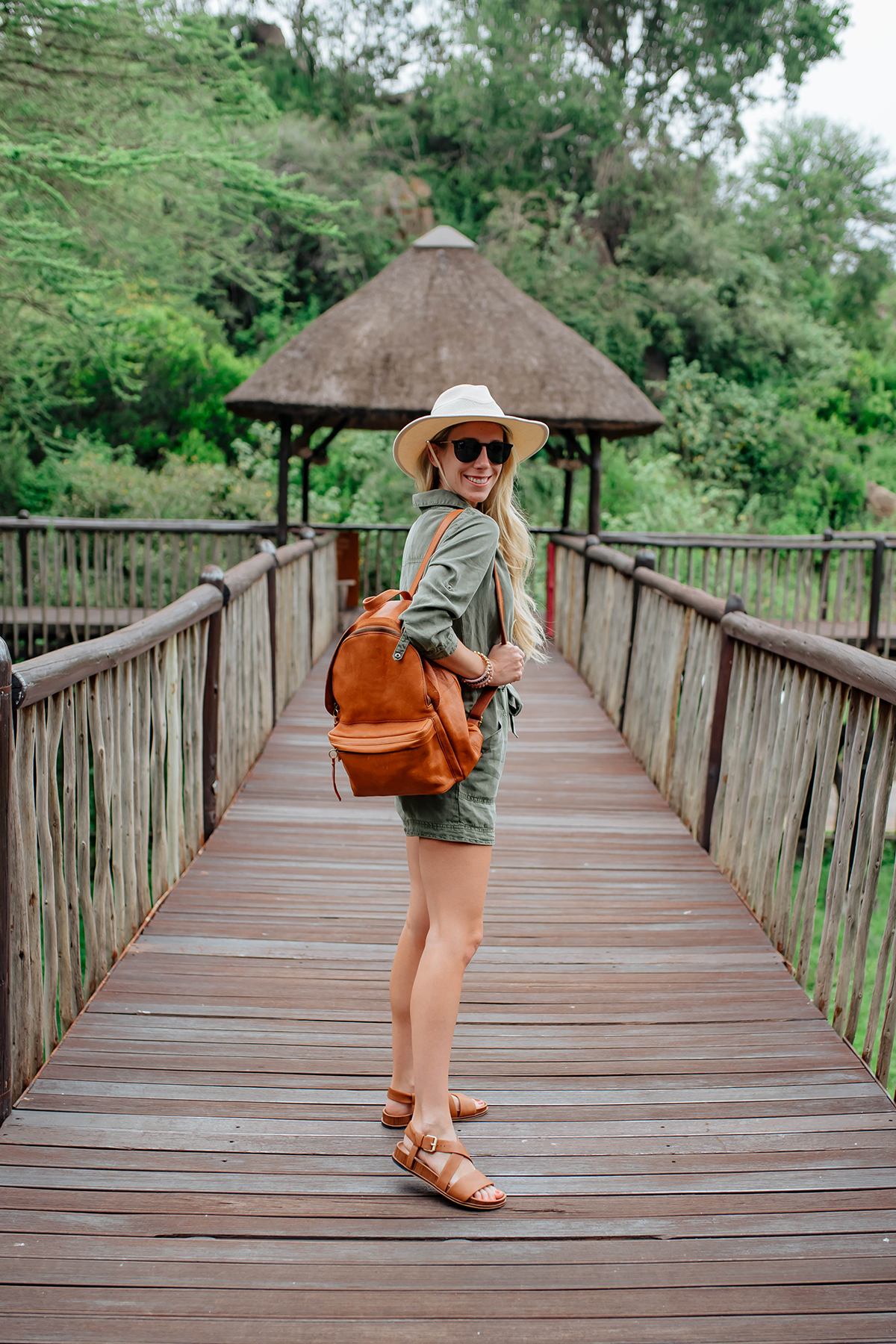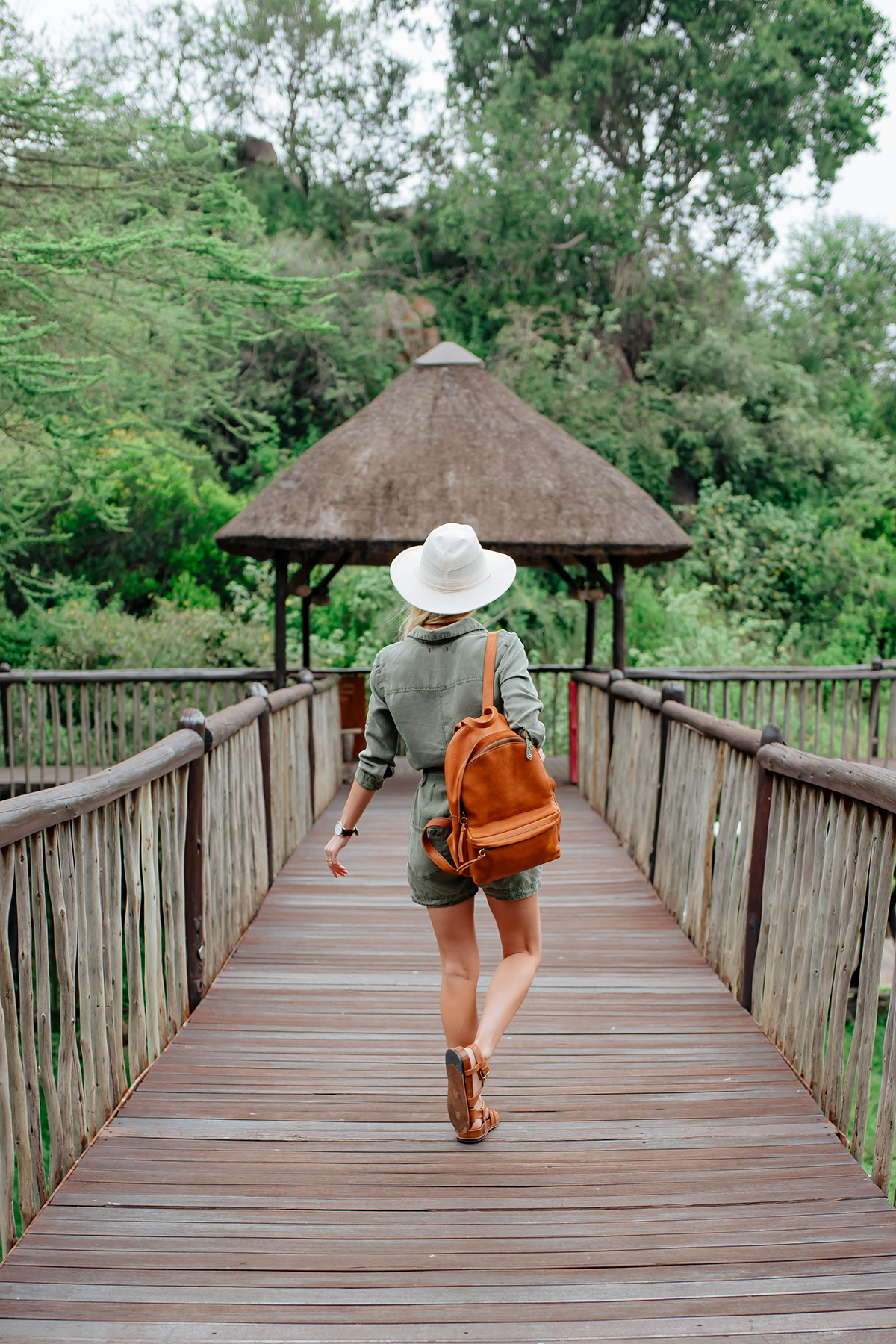 OUTFIT DETAILS // Green Utility Romper | Sandals | Sunglasses | Safari Hat | Leather Watch | Beaded Bracelet | Leather Backpack
SHOES & ACCESSORIES

I also want to touch on cameras and other tech gear! Since we knew I would be chronicling our trip on social media and here on my blog, we packed our Nikon D850 camera and 35mm lens (what we use to take my outfit photos.) I don't think it's necessary to bring professional equipment on a safari as many of the photos you see here were taken on my iPhone, however if getting close up shots of animals is important to you then you will need a telephoto zoom lens and DSLR camera.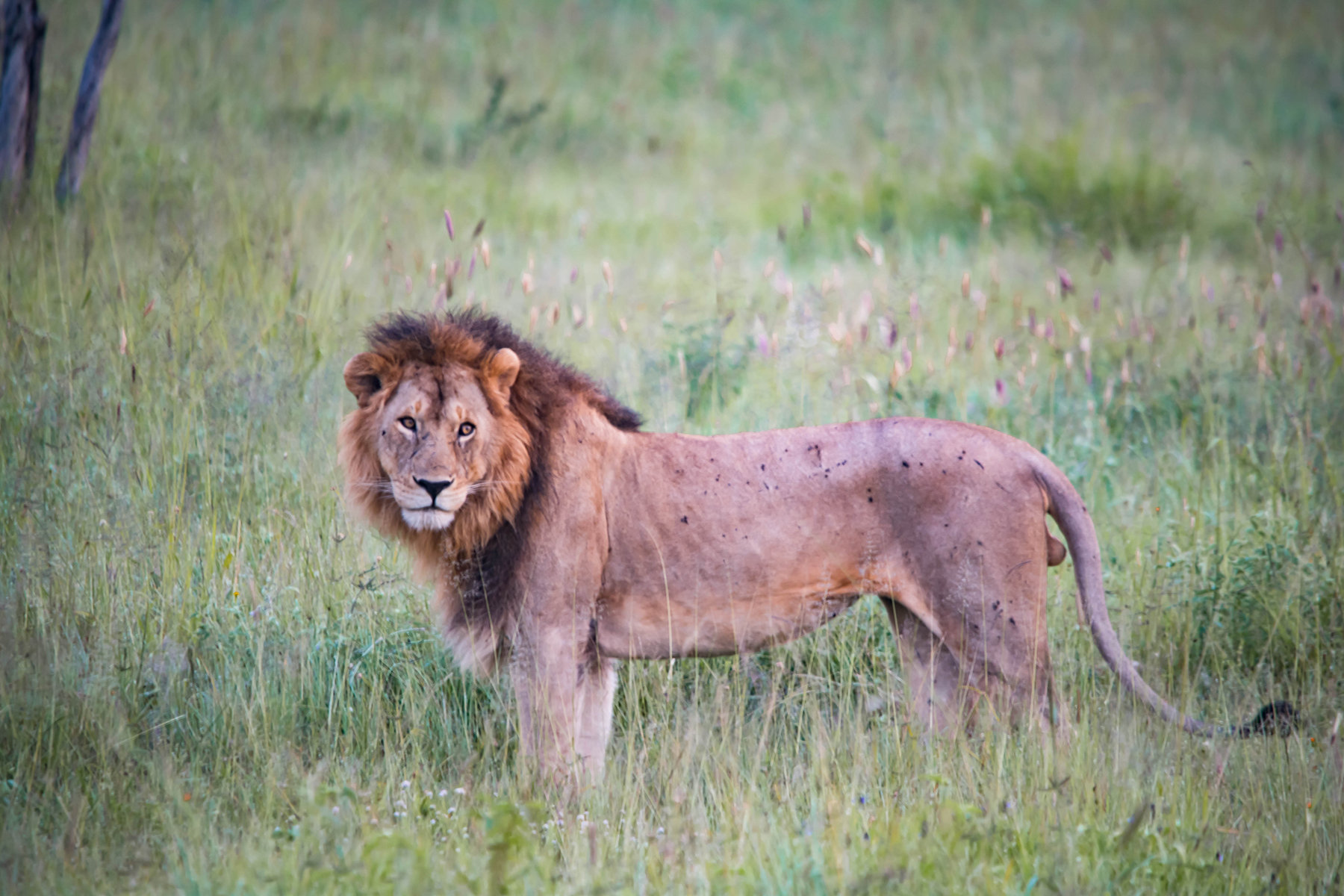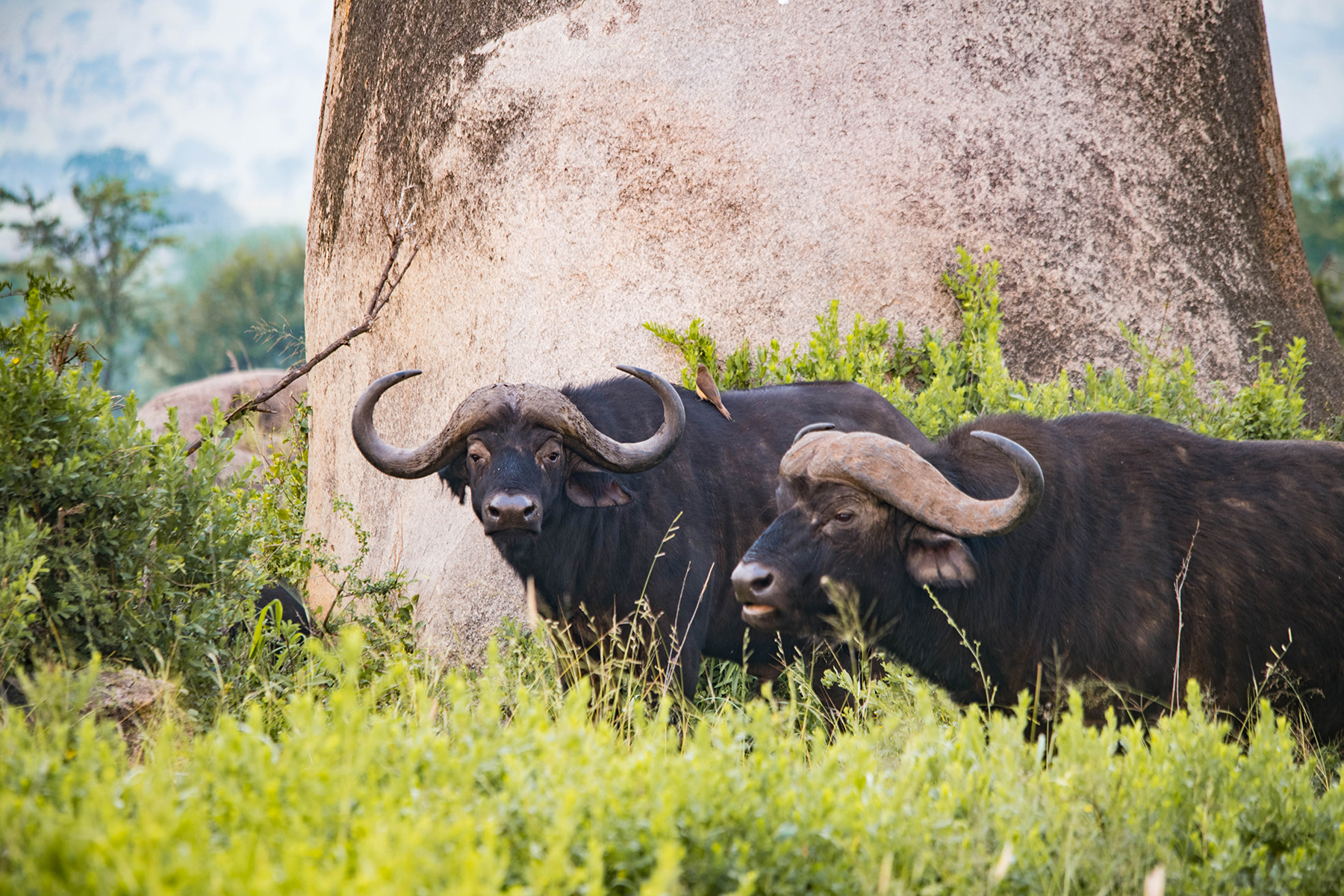 The Four Seasons Serengeti conveniently had camera equipment on site available for guests to rent so that's where we got the Sigma 150-500mm lens that Nick used while we were out on safari. All of the close up high resolution animal shots in this post were taken with this lens. I believe we paid $60 to use it during our stay.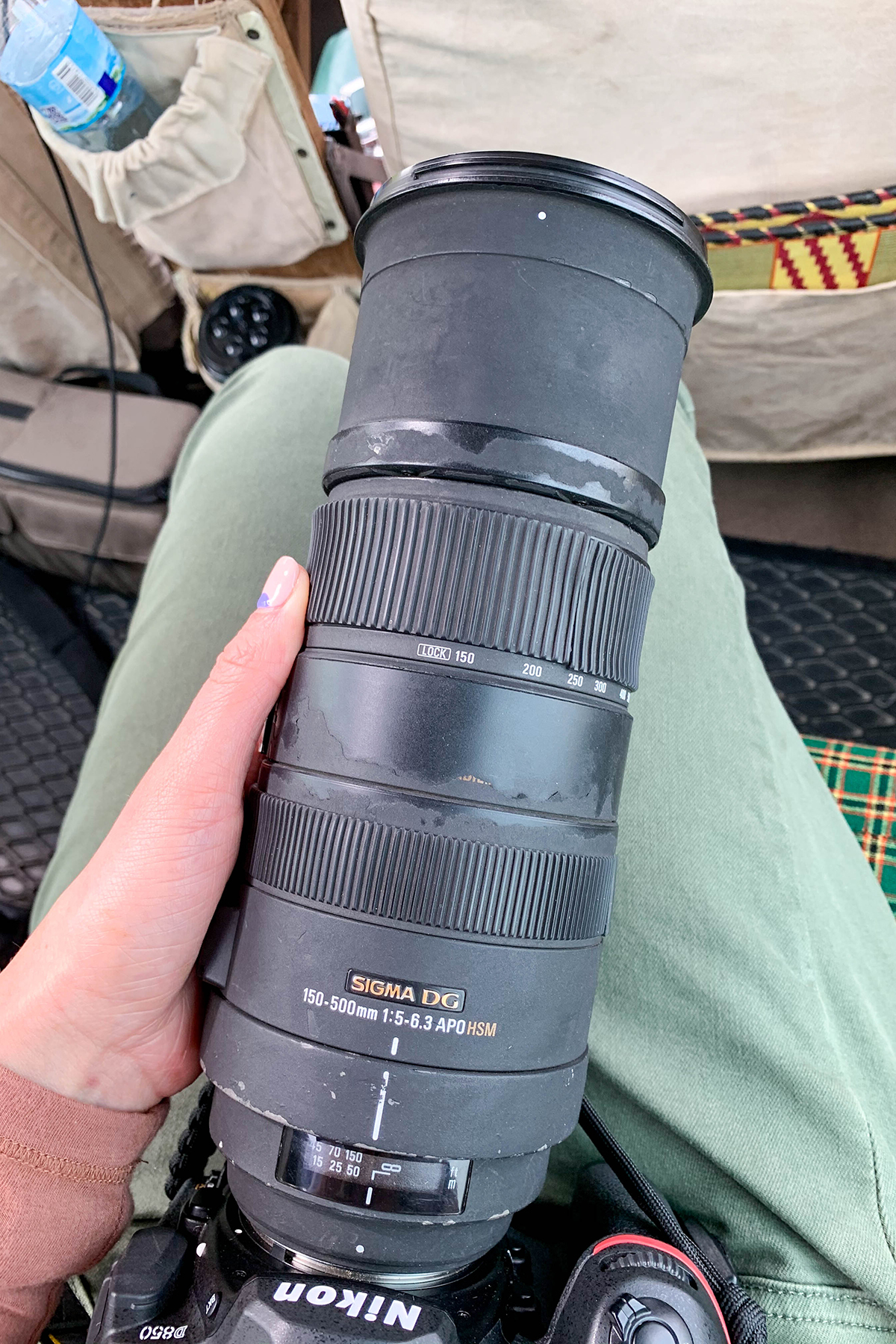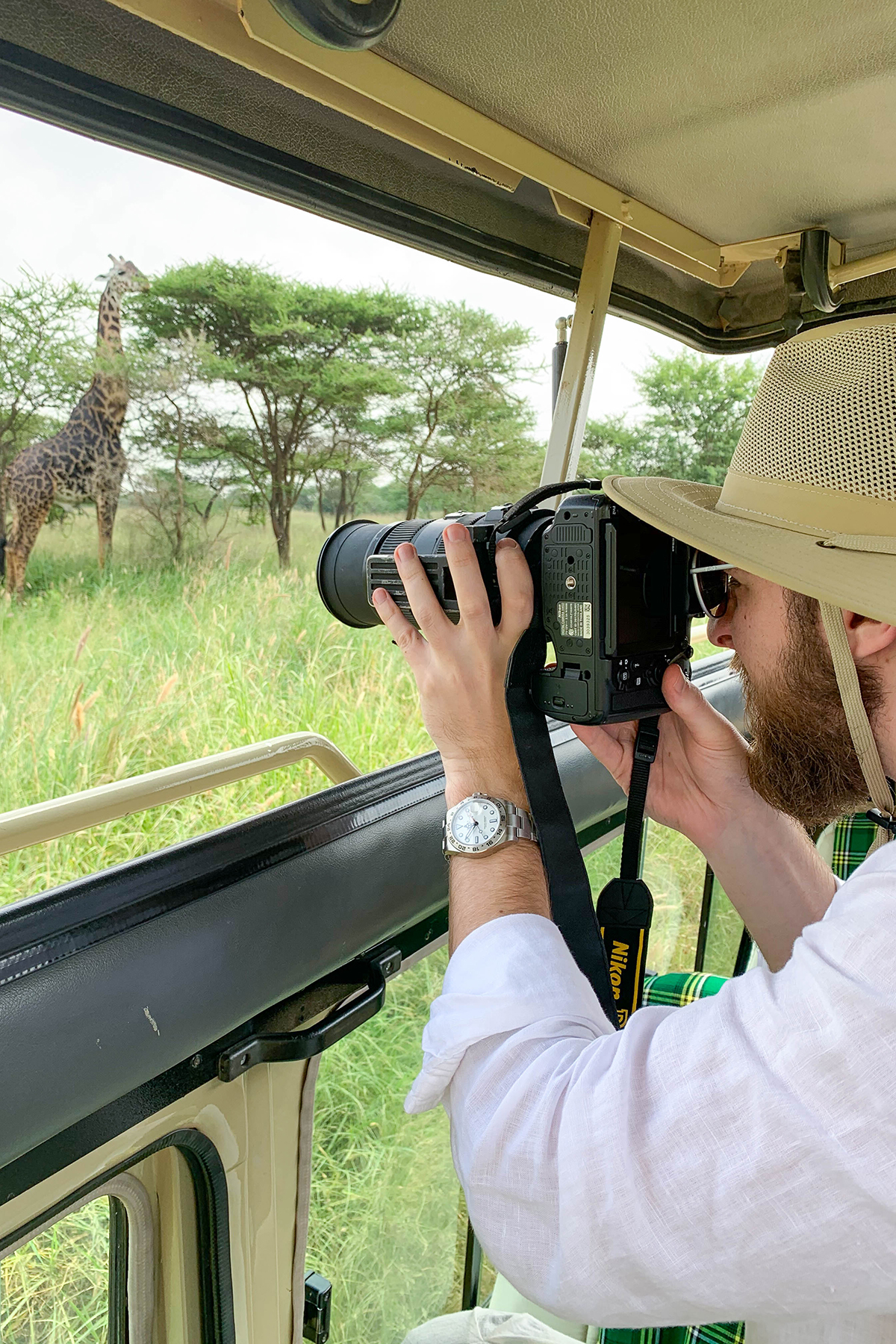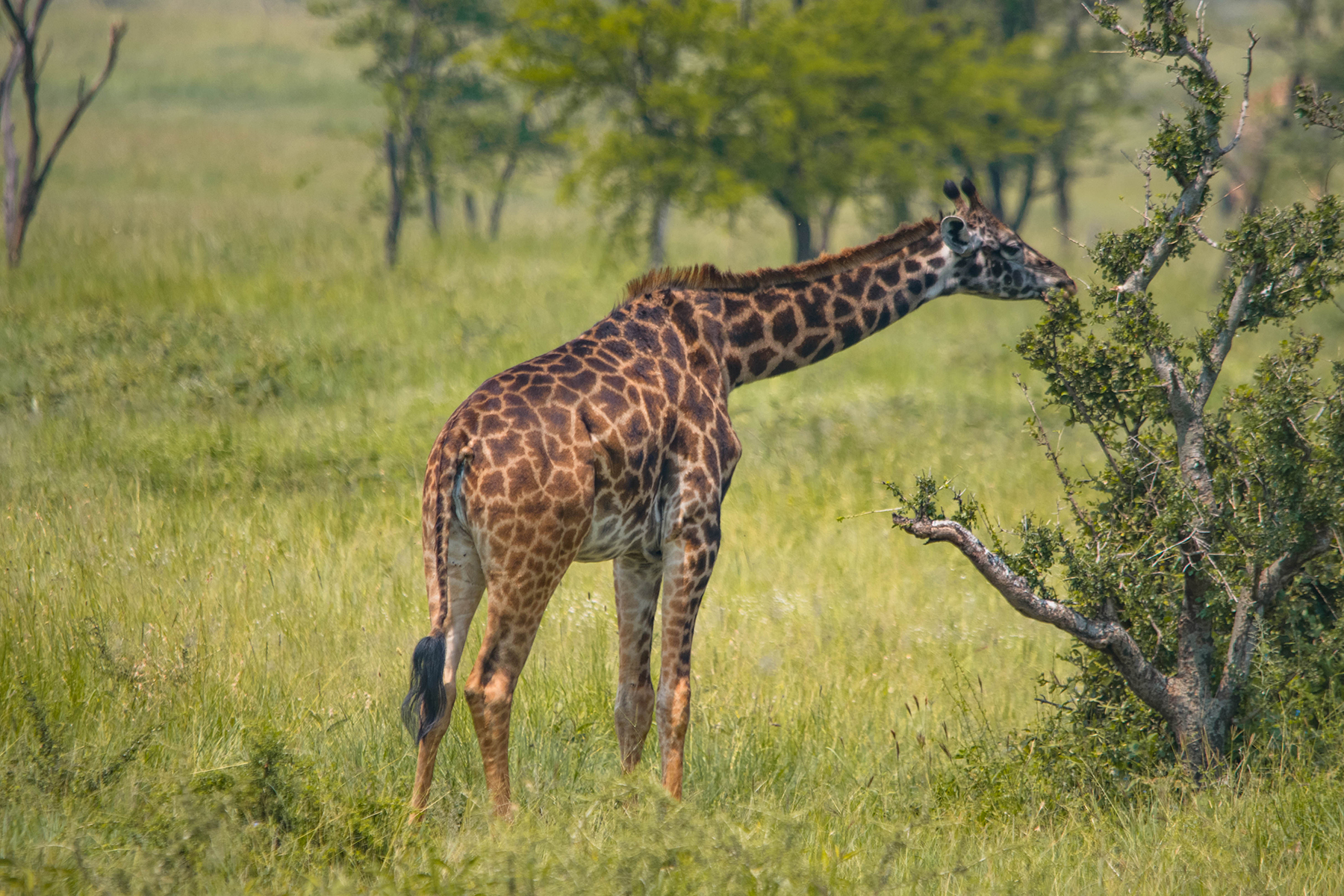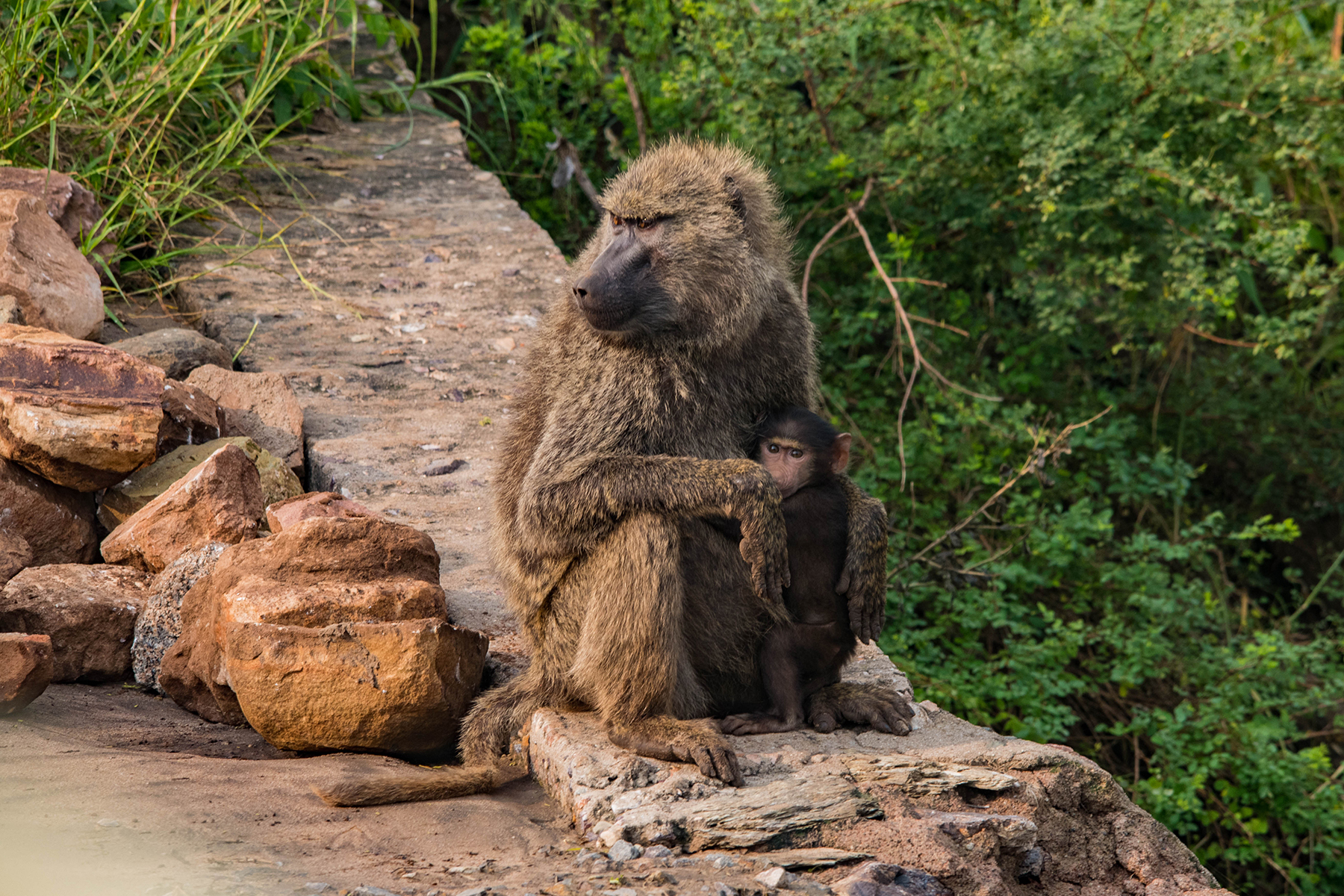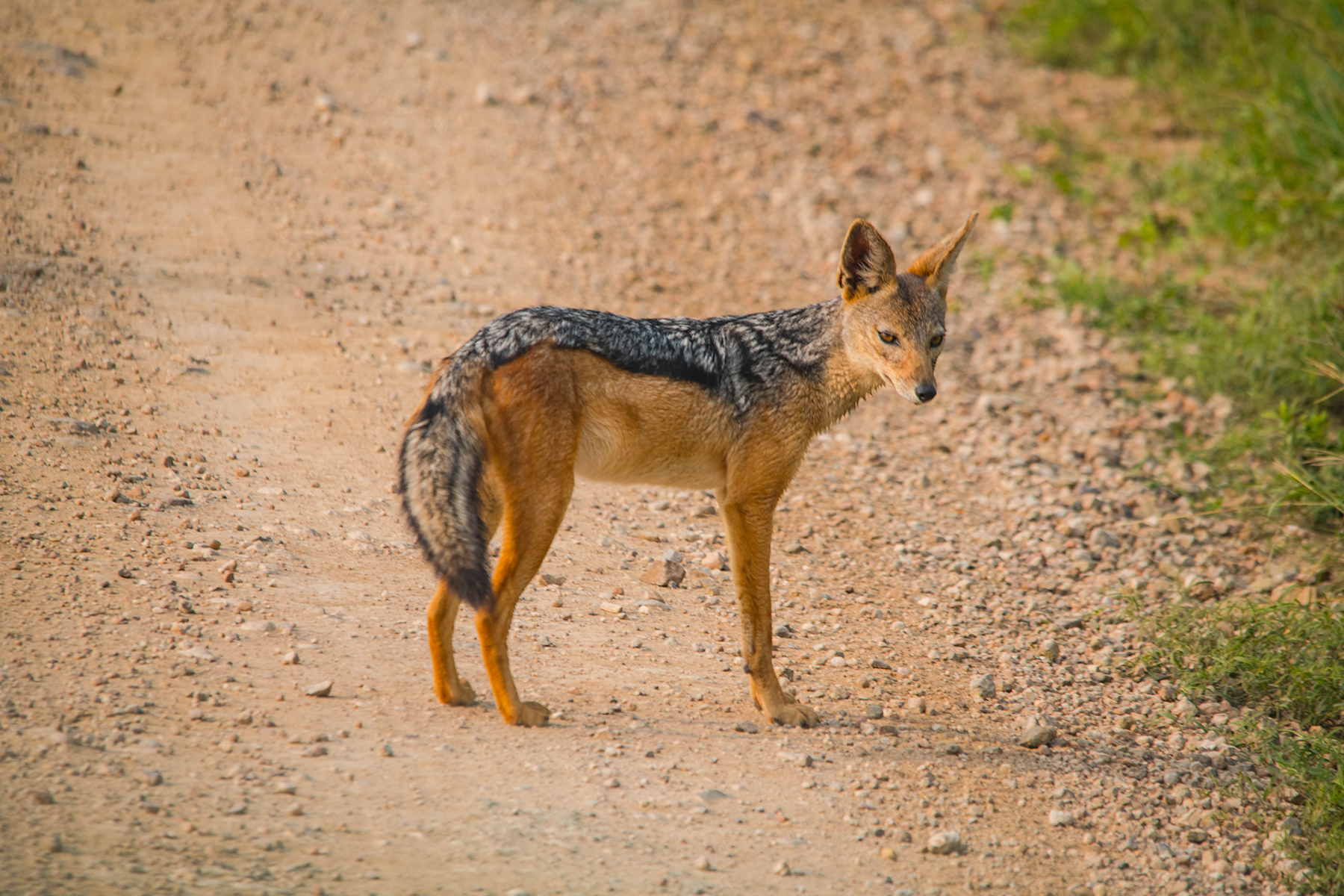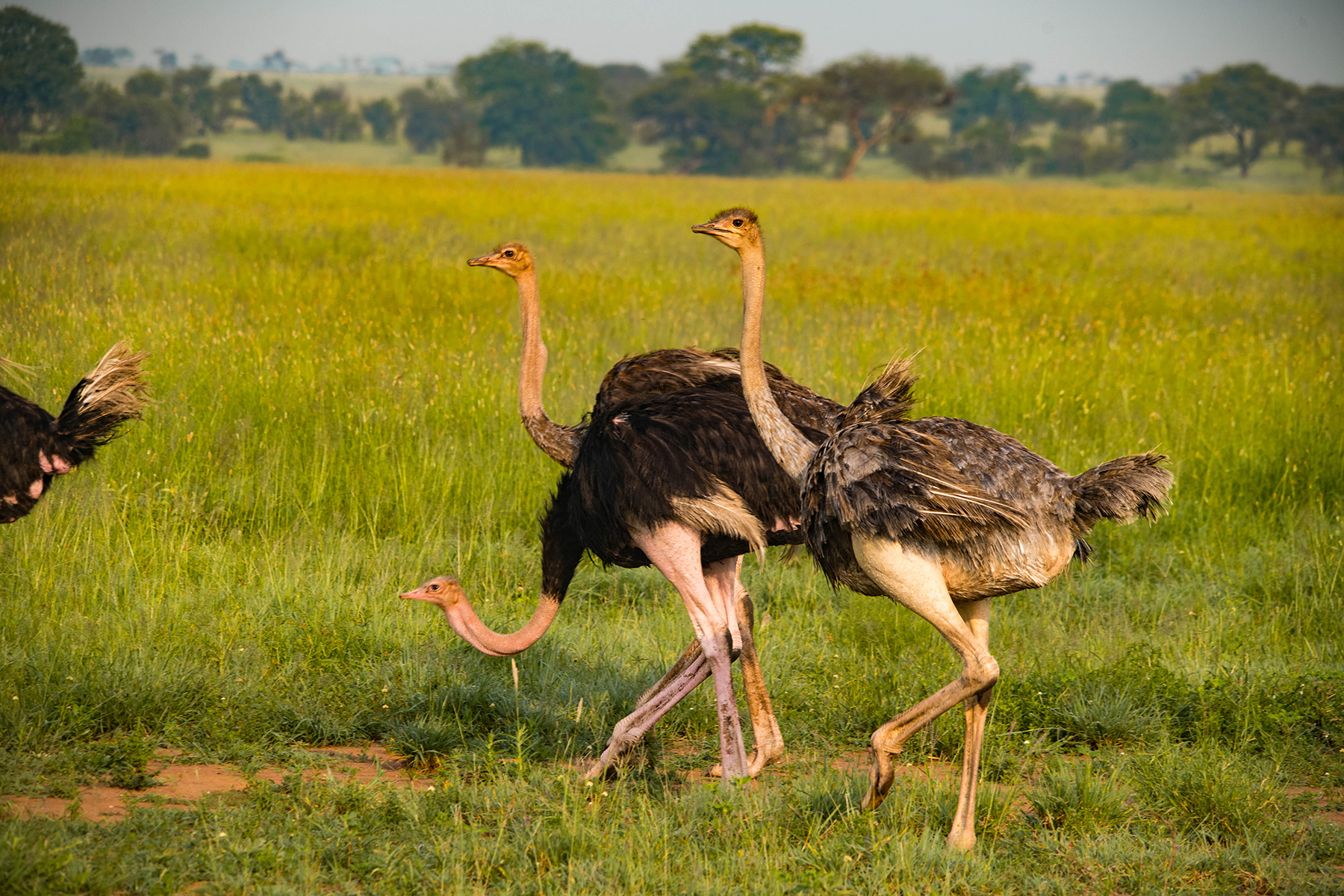 Our Flight Itinerary: Dubai to Tanzania
To get to Tanzania we took a 5 hour AirKenya flight from Dubai to Nairobi. From there we connected to our final flight to Serengeti National Park via small regional airline called Coastal Airways. We actually had the Four Seasons concierge book and set up the final Coastal Airways flight for us because the timing was just so confusing. You can read more about how to get Four Seasons Serengeti on this FAQ page here.
I got a lot of messages on Instagram asking me about the small propeller flight to the Serengeti. Was it scary? Could you feel turbulence? How long was it?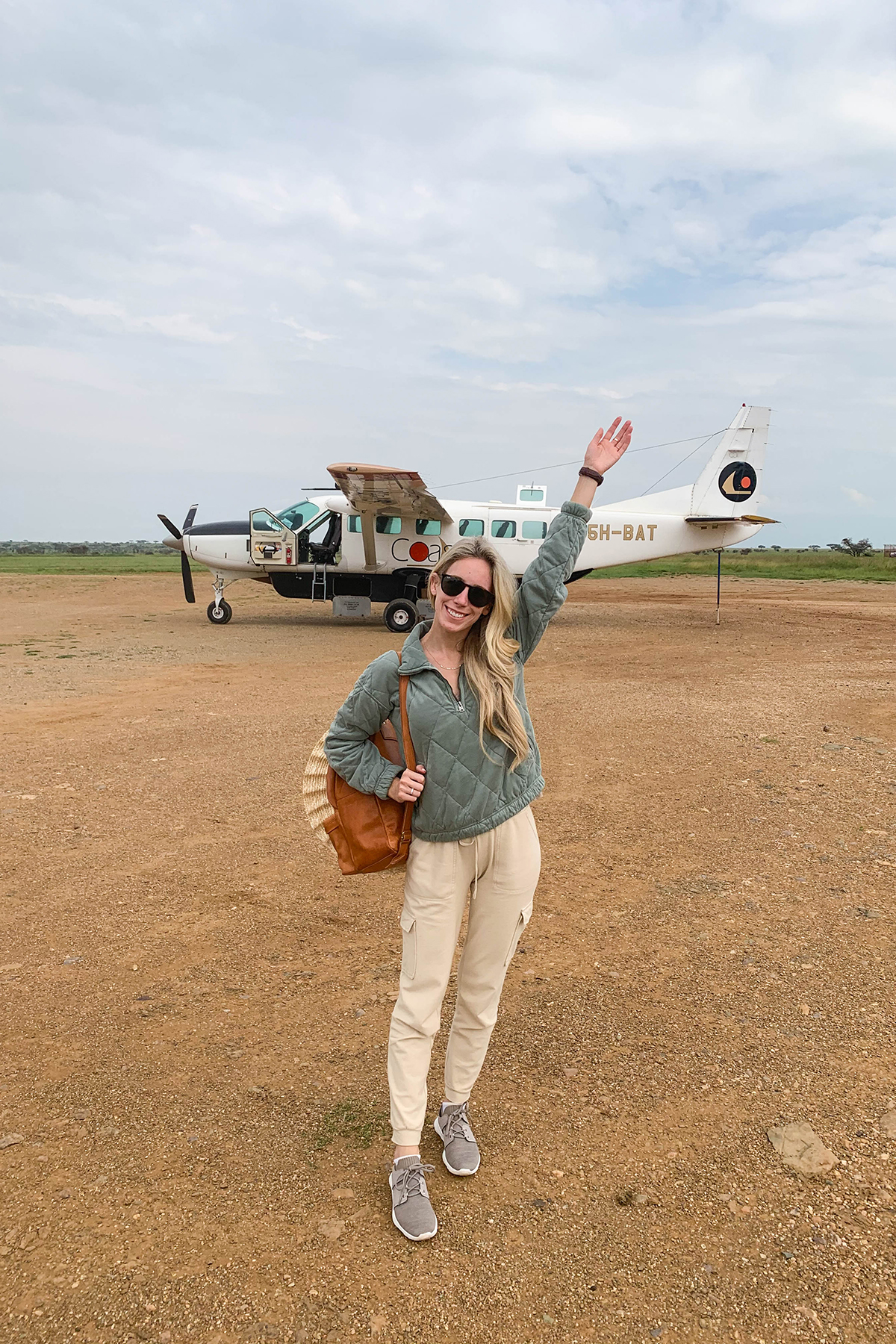 OUTFIT DETAILS // Quilted Pullover | Twill Joggers | Leather Backpack | Sunglasses | Gold Bar Necklace | Gray Sneakers
A few years ago I probably would've been freaked out by flying on such a small plane, but honestly I was just so happy to finally be in Tanzania and almost to our destination that the circumstances of how we were flying really didn't phase me. You have to remember just two days earlier we were facing possibly having to cancel our entire honeymoon, so I was thrilled to get on that little plane.
Not sure if this is a consolation for anyone nervous about flying in a plane like this, but I was pleased to find out that these small flights don't fly as high as typical planes. We were able to see the ground the entire time and the landscape was beautiful! Each time we landed there were wild animals on the runway— so surreal! PS I believe you can get to the Serengeti via car if you are flying into Kilimanjaro airport, so if you are very against the small propeller flight that could be an option too.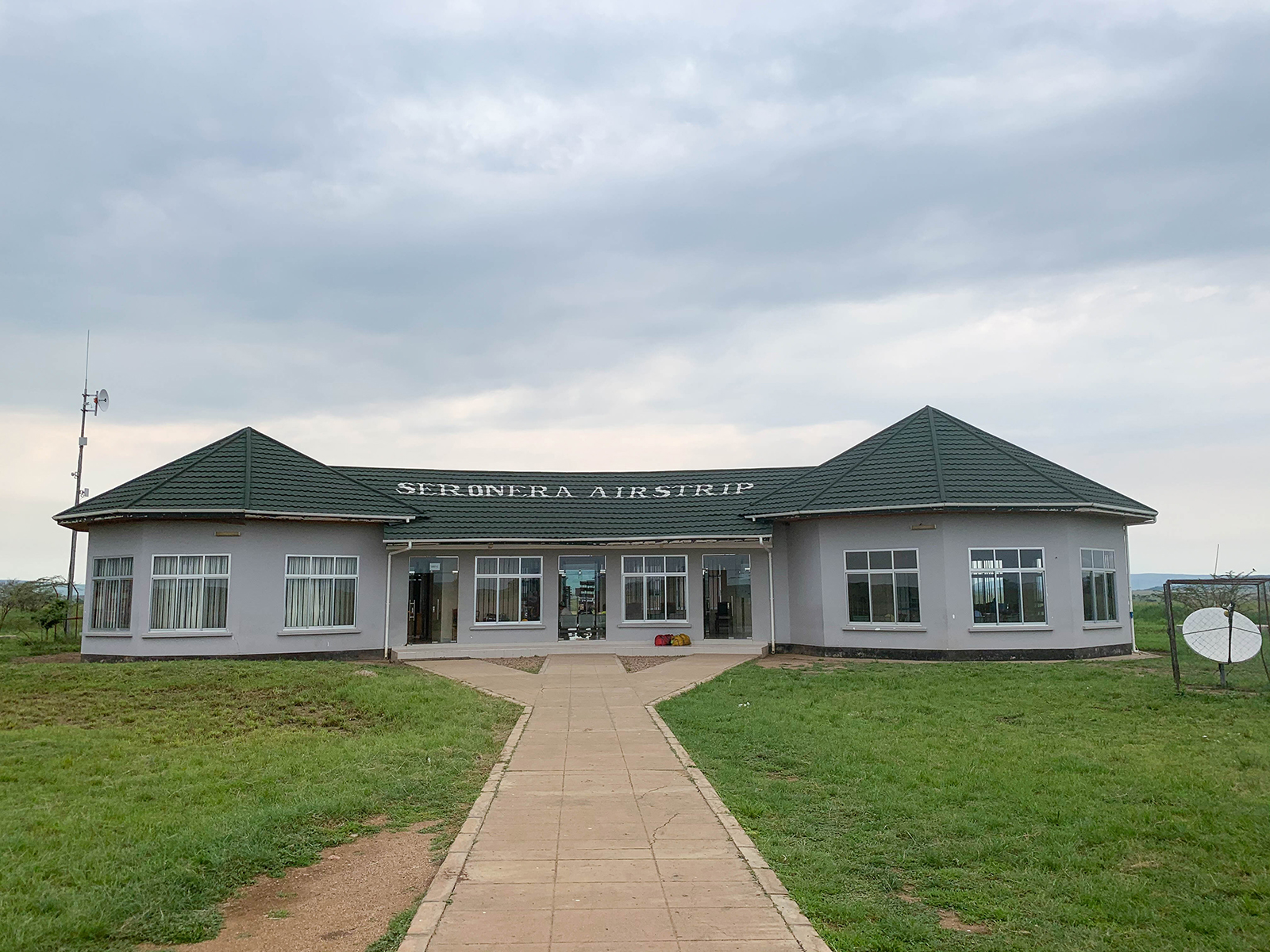 It took a little over three hours to get to Seronera Airstrip (our arrival point in the Serengeti) from Nairobi Airport, however it was only about 1.5 hours of flying time. The reason for this is because depending on what passengers are booked and where they are going, the plane will make multiple stops as there are numerous airstrips throughout Serengeti National Park. There was another couple who had connected in Nairobi that was going to a different camp in the Serengeti, and on our way the pilots dropped then off at another small landing strip close to where they'd be staying in the park. We also made a stop at the Tanzanian border to go through customs and get our visas checked and processed.
PS you can apply online here for a visa via your local Tanzanian embassy. I remember the application process was pretty easy (I believe it cost $100+ per person) and it took a little over a week for our visas to be emailed to us. Make sure you print these and bring them with you before you leave for your trip or else you won't be able to enter the country!
If I hadn't been so tired, I probably would've started singing Hallelujah when I stepped off that final flight. In total it took us 25+ hours to get to the Serengeti— it was a tough two days of travel, but as you'll see from the rest of my post it was completely worth it. We had the time of our lives in Tanzania!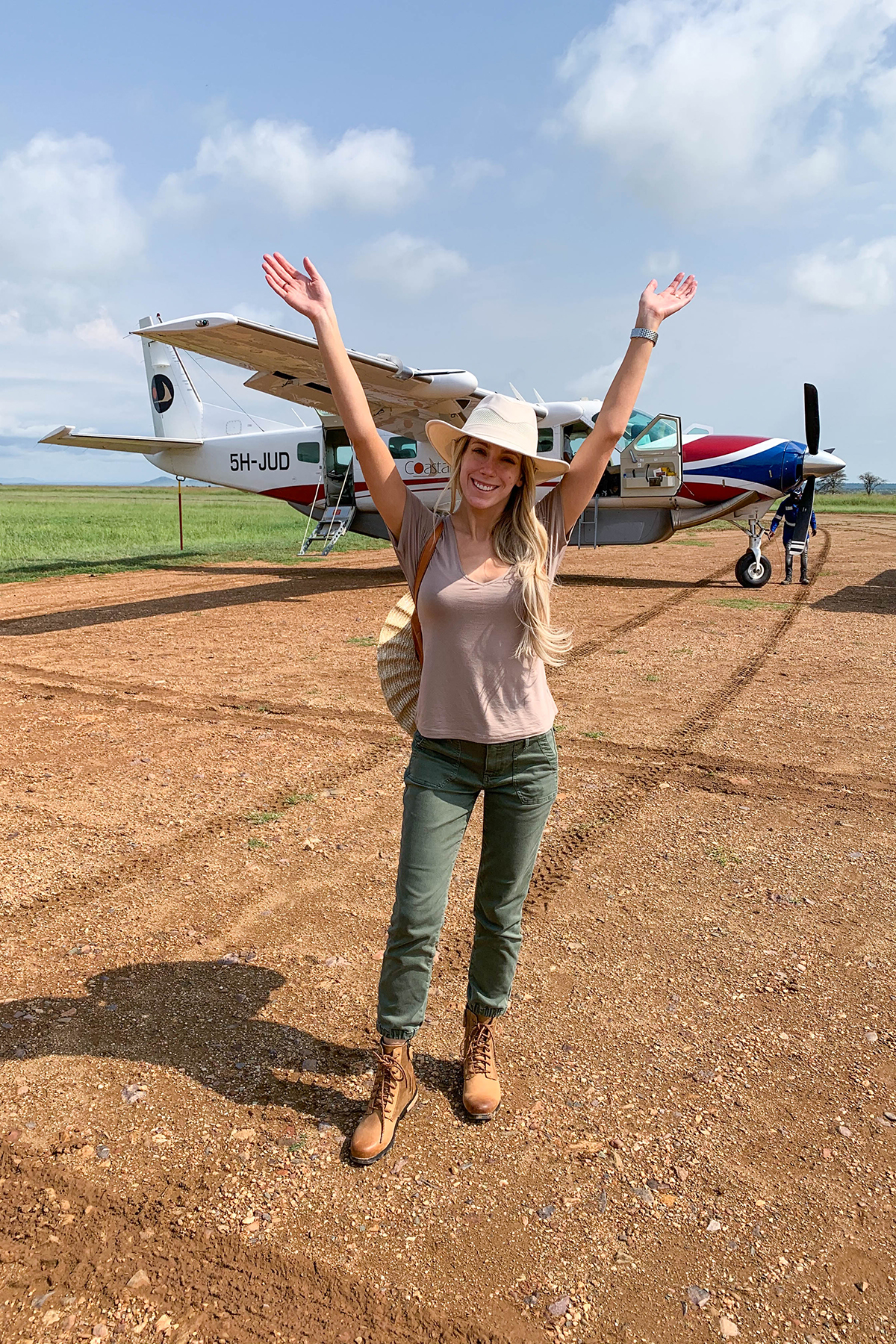 Getting To Four Seasons Safari Lodge, Serengeti
Our Four Seasons Serengeti guide for the week (Dickson or Dicky as he was called by the rest of the staff at the lodge) was already waiting for us at the airstrip when we arrived. He loaded our bags into our safari jeep, where inside we found cold water, champagne and some snacks waiting for us. From there we began the nearly 3 hour drive through the Serengeti to the Four Seasons lodge.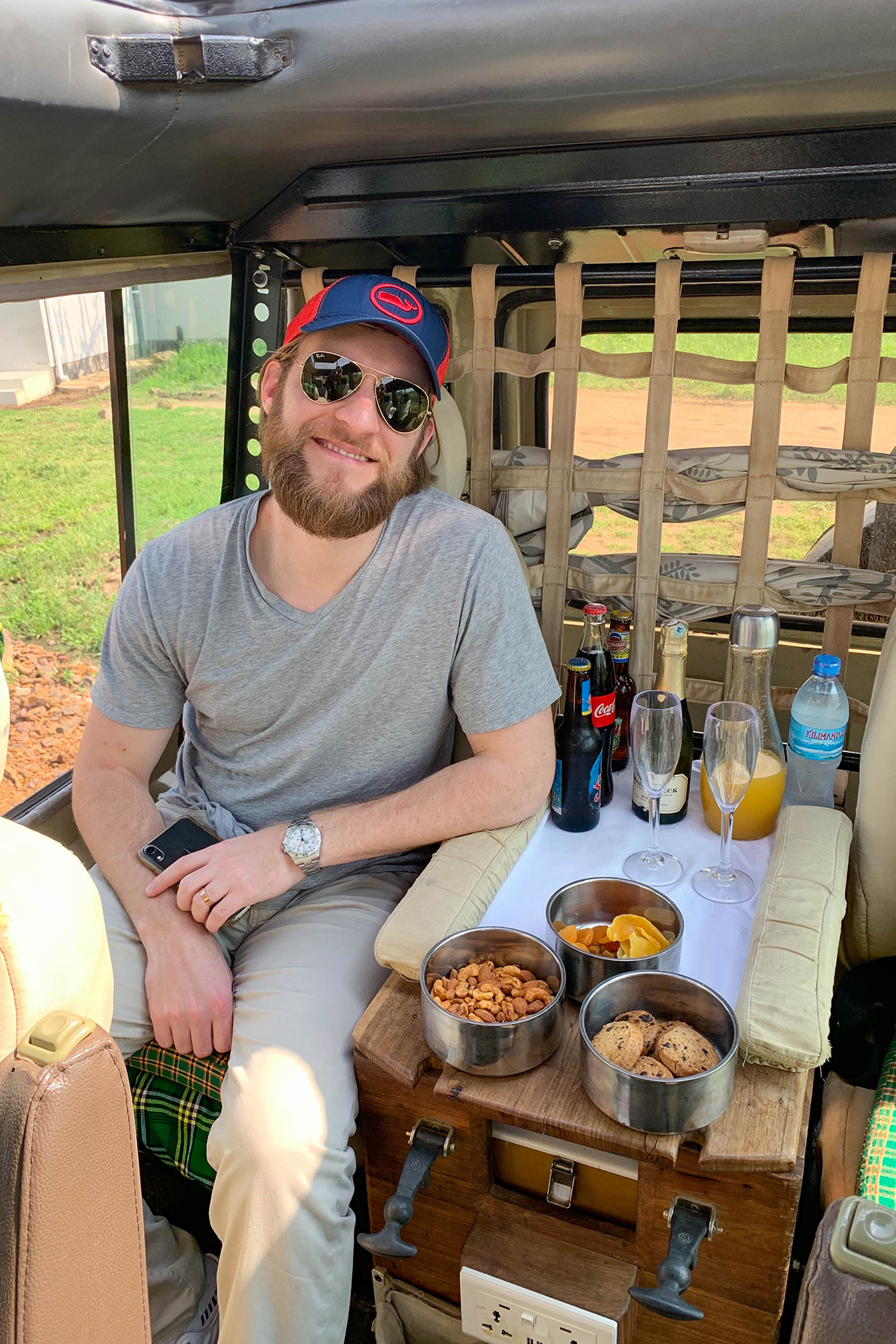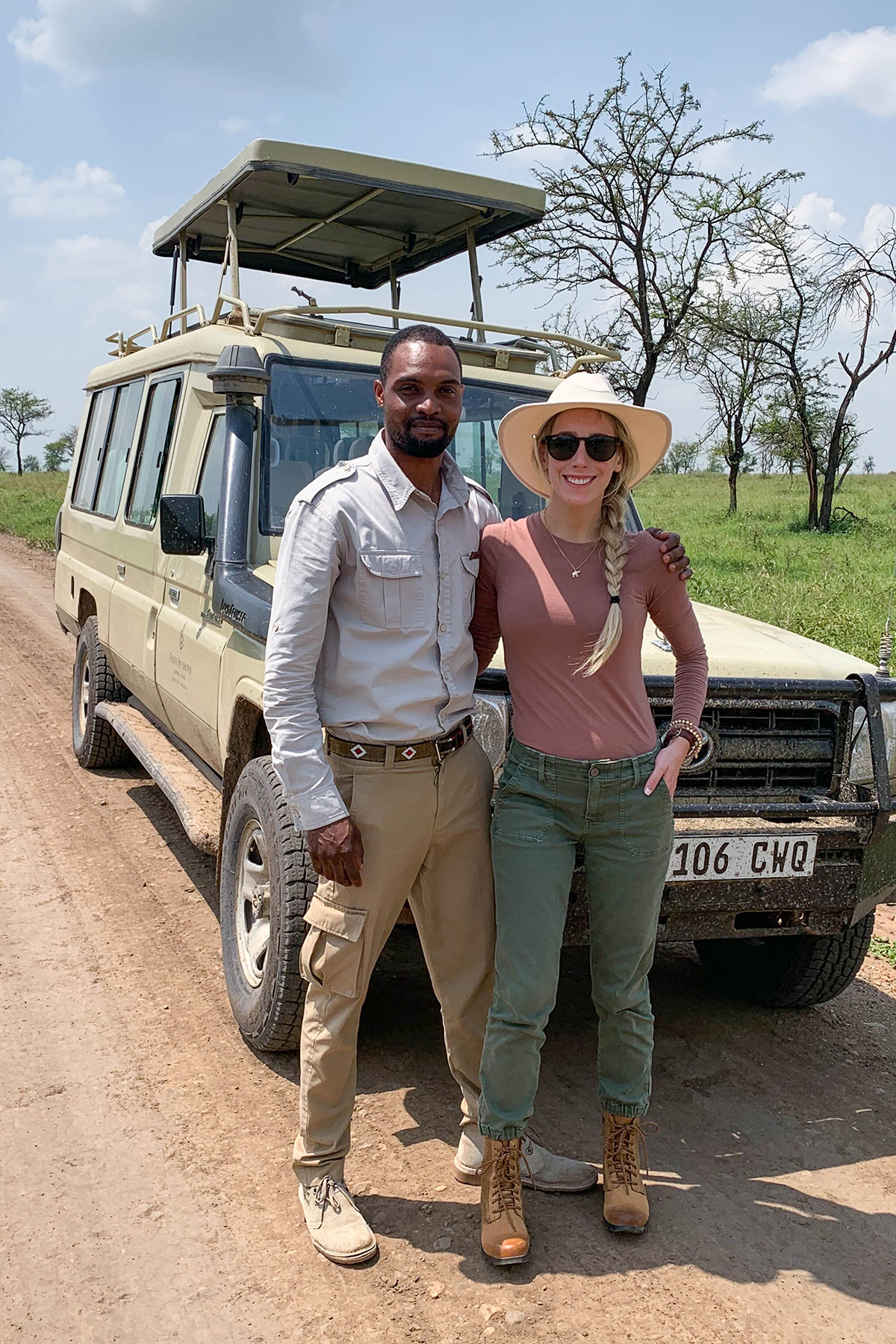 Side note: the lodge is only an hour from the airstrip, but since you will see so many animals along the drive it's common that guests will ask to stop for photos, thus why the drive can take much longer! 😛
If you couldn't already guess, we opted to stop for lots of photos along the way to the lodge. The drive there is an experience in itself— within minutes we were crossing paths with giraffes, elephants, cheetahs, baboons, warthogs and so many more wonderful creatures! It was like something out of a storybook or movie… Real life Lion King!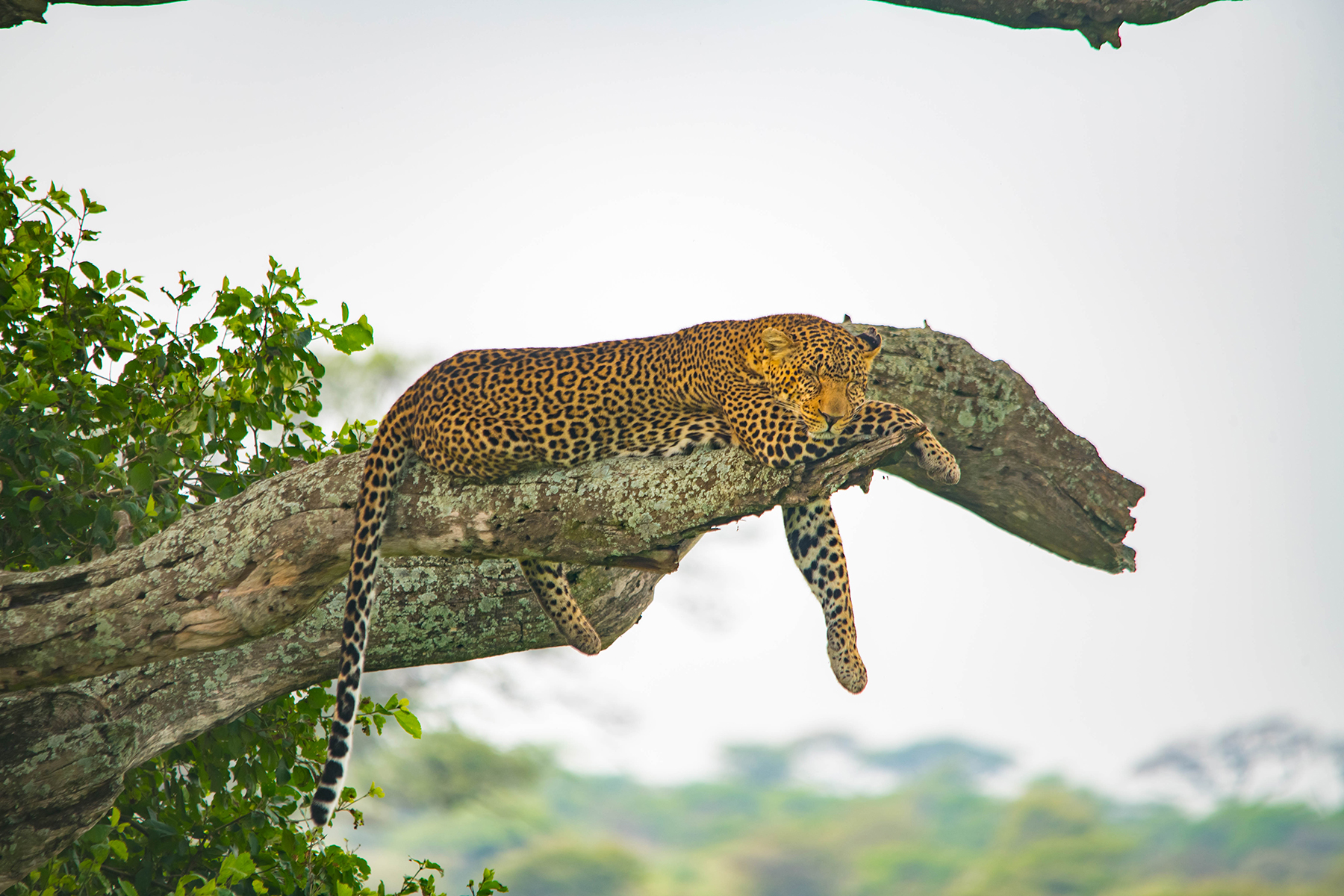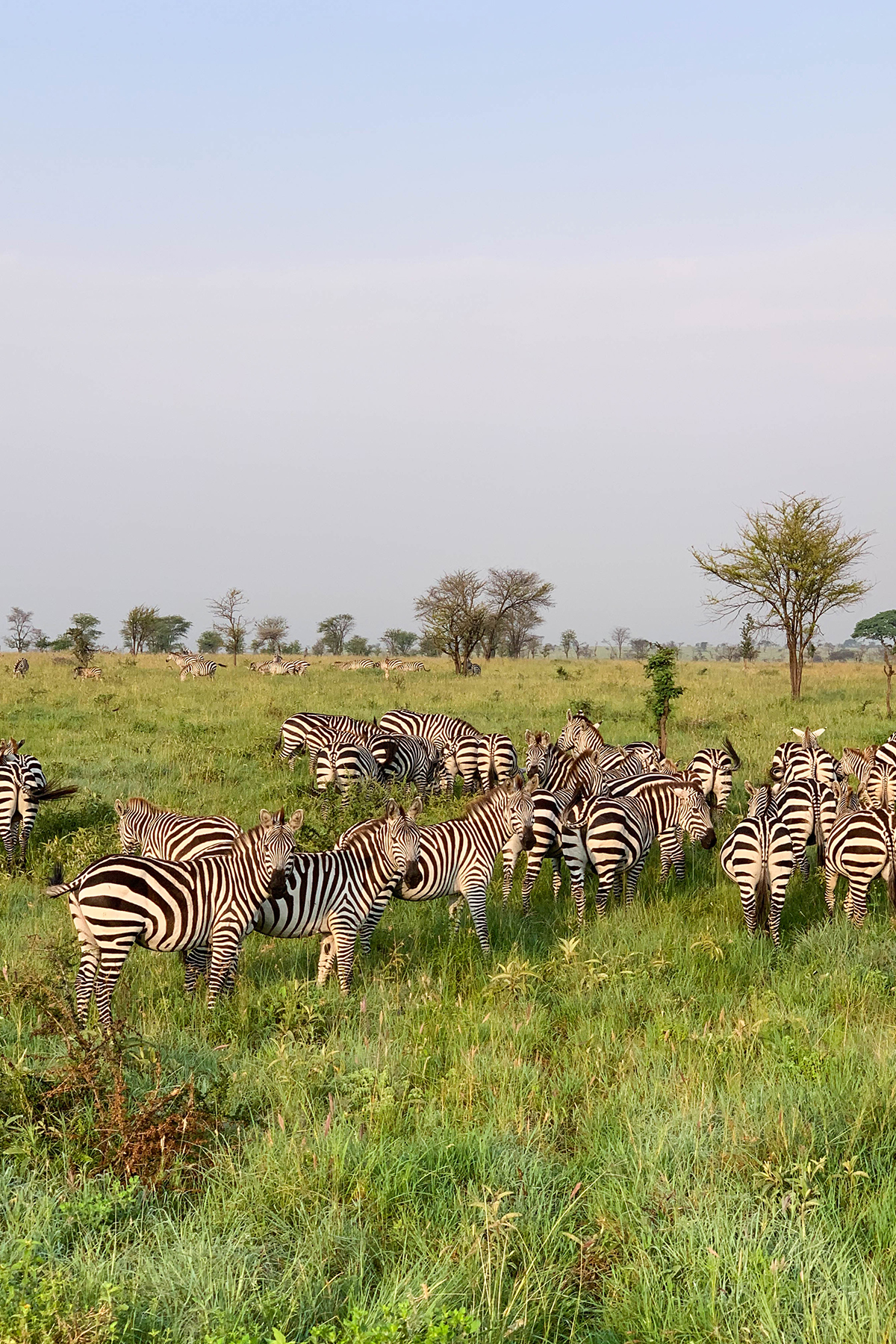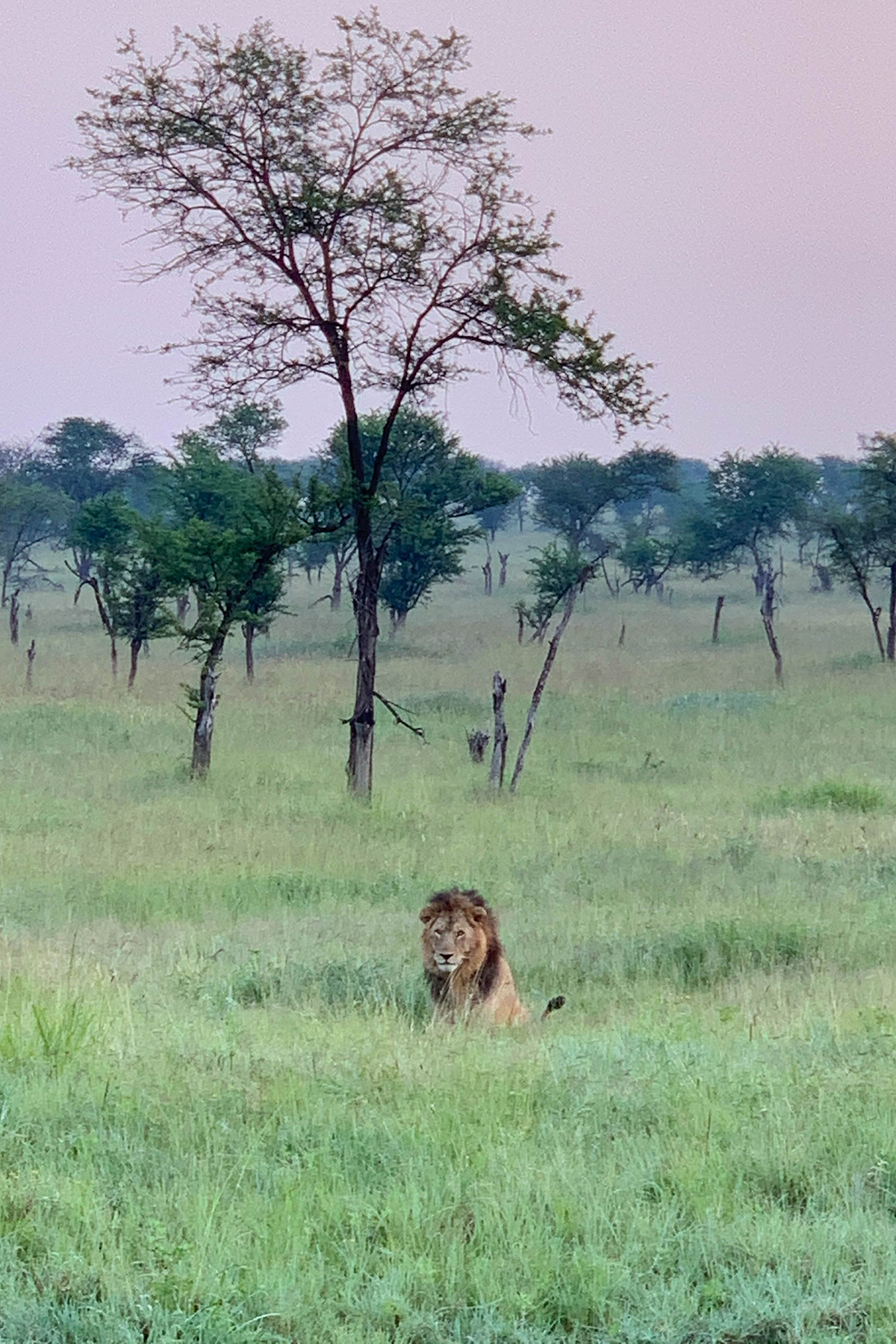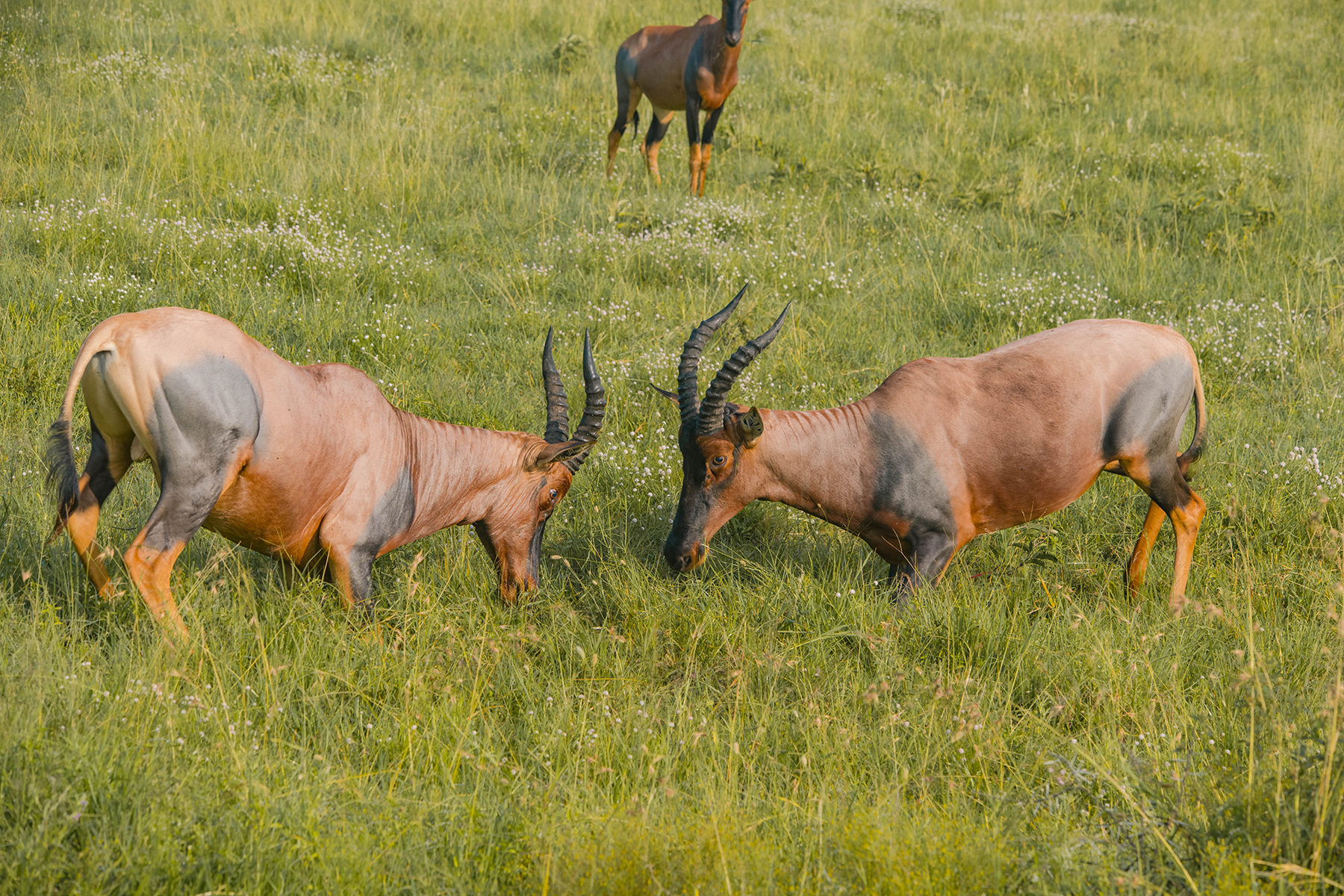 Four Seasons Safari Lodge Review
When we finally arrived at the Four Seasons Safari Lodge, Serengeti we were warmly greeted by the staff who would be taking care of us for the next 5 days. We were offered cool towels to wipe our hands and a welcome drink as we were checked in and whisked off to our suite.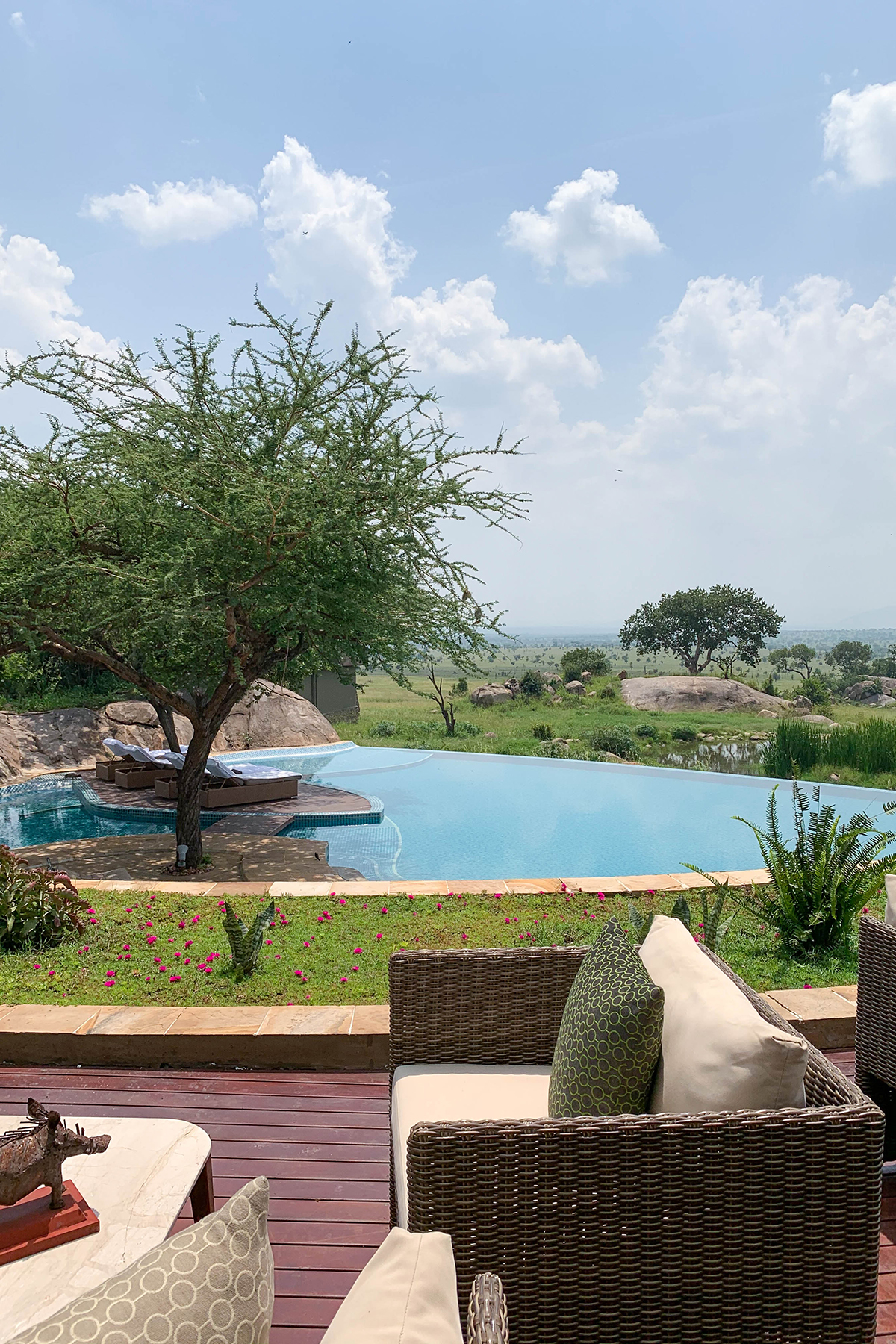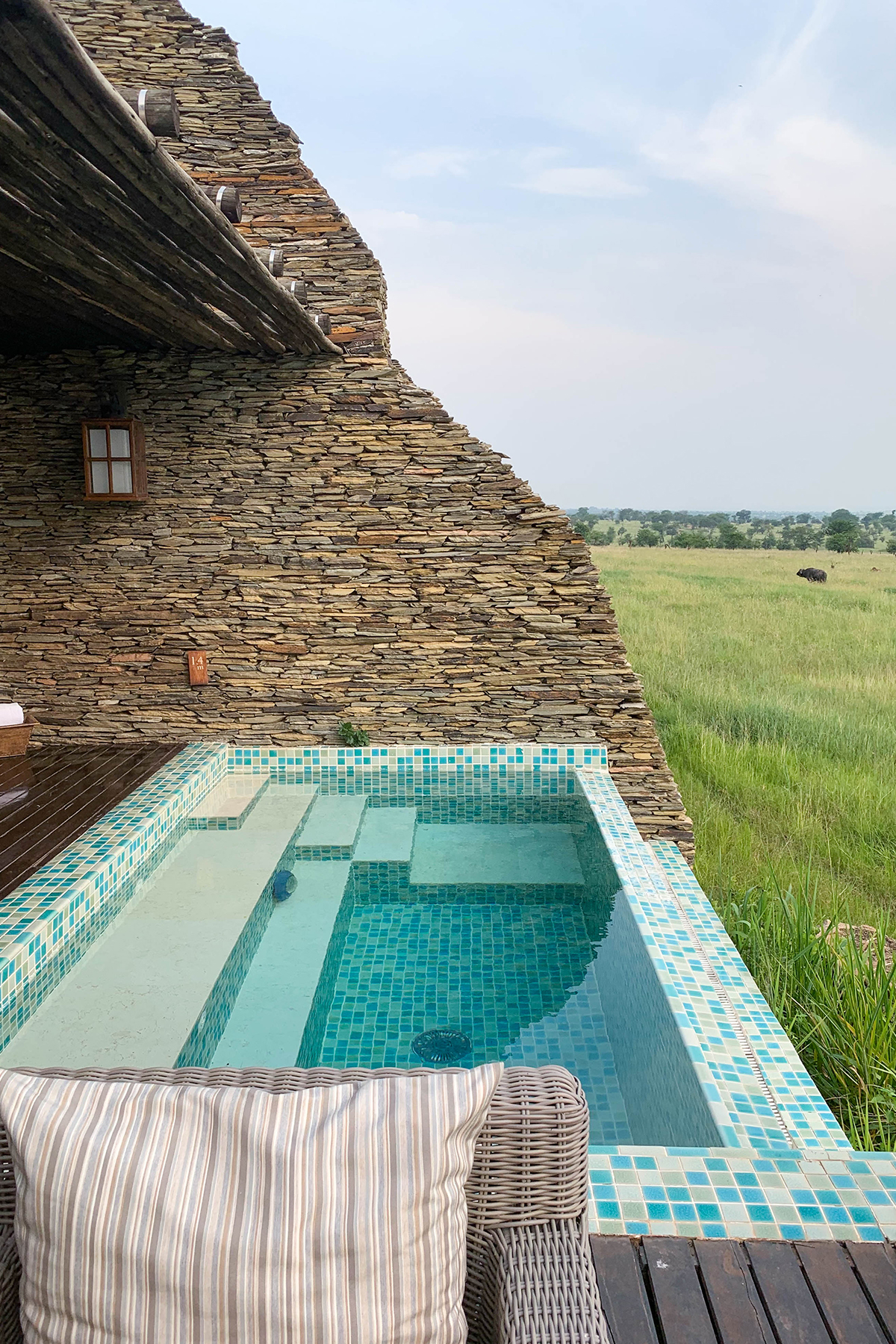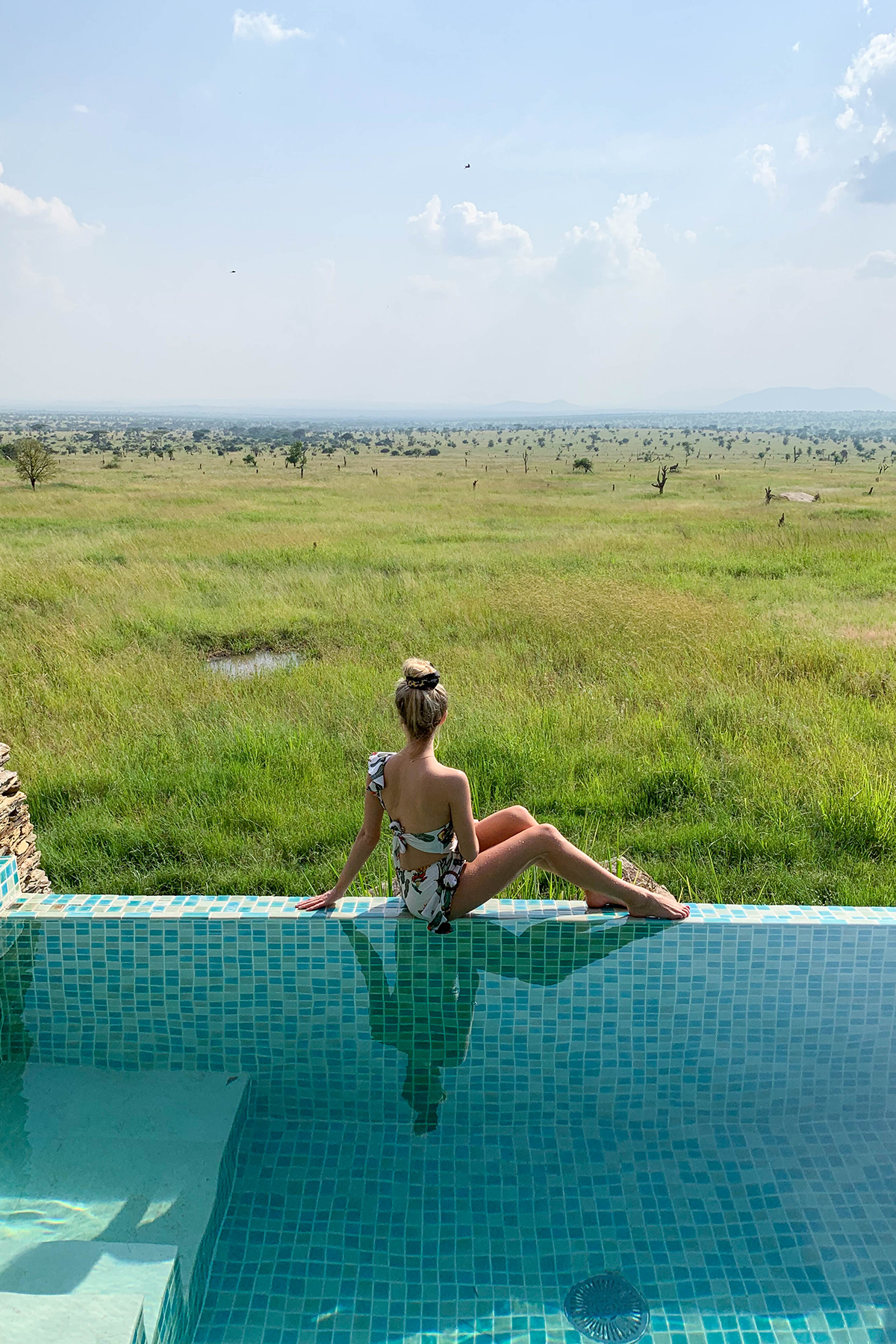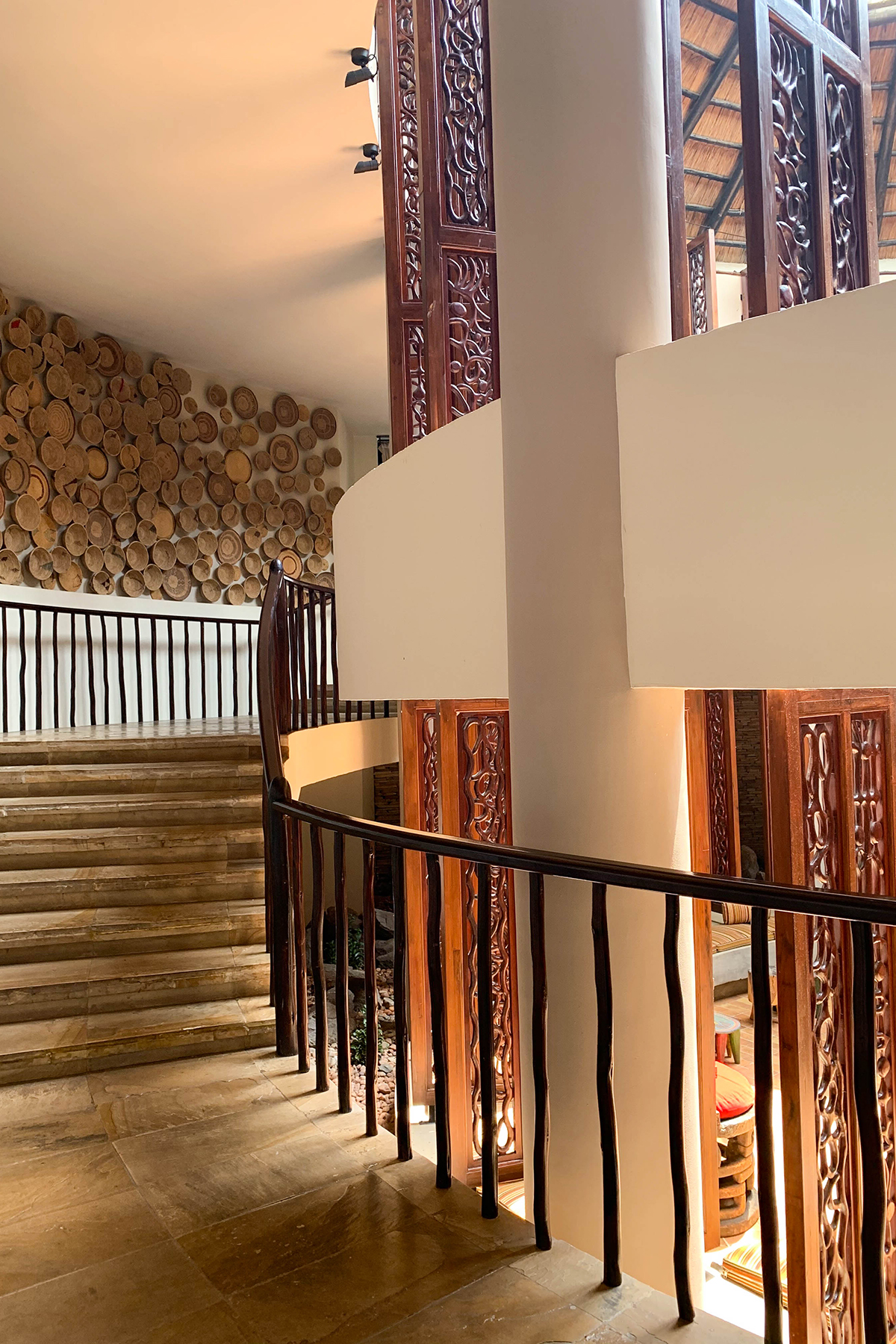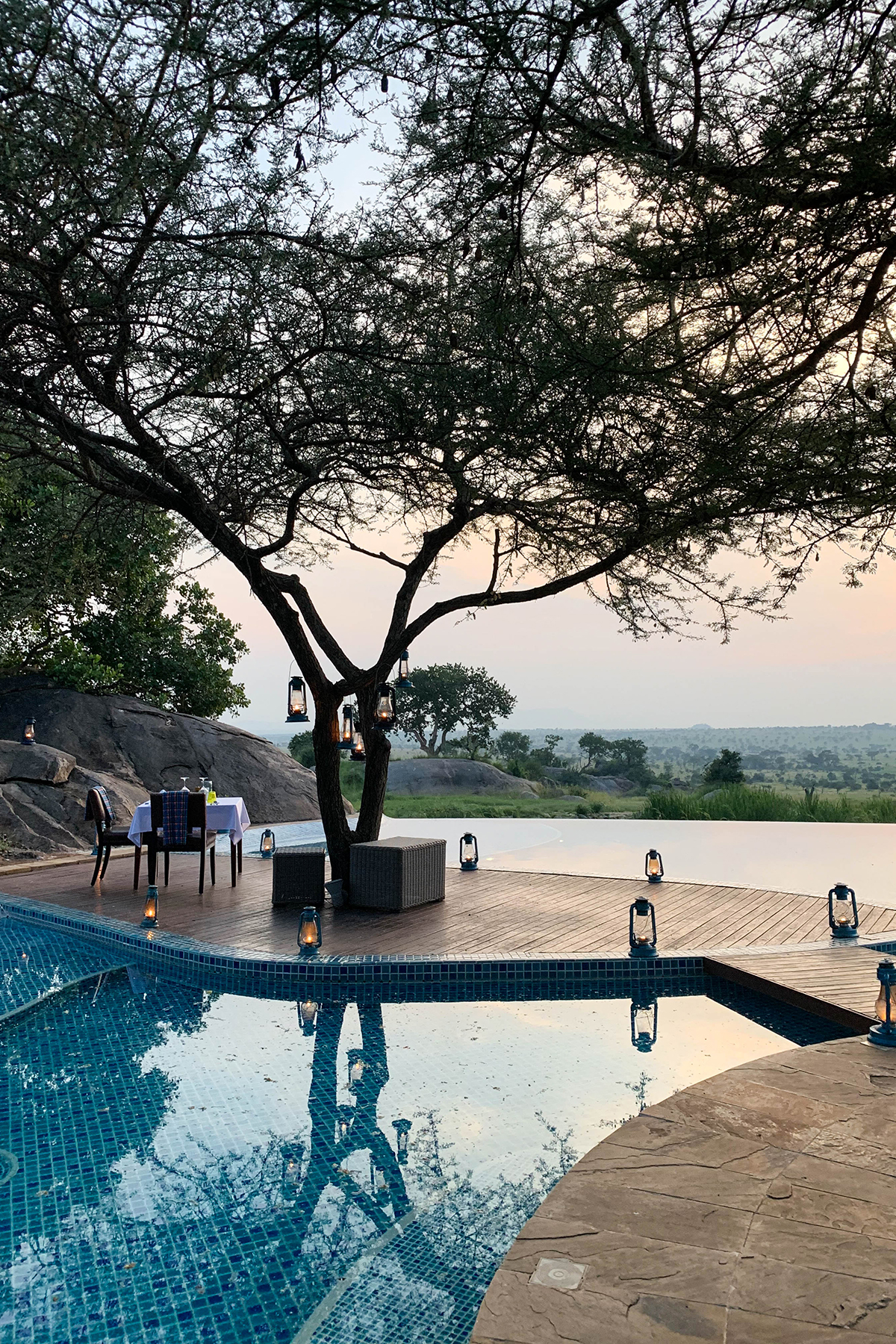 The lodge is gorgeous and as you can see so much care was put in to incorporating the property structures into the existing park landscape and bringing the outdoors inside. There's a main lodge where all the common areas, restaurants, gym and infinity pool are located, however the guest rooms and spa are located in outer wings that you access via outdoor elevated pathways. Getting to your room feels like you're walking through the jungle!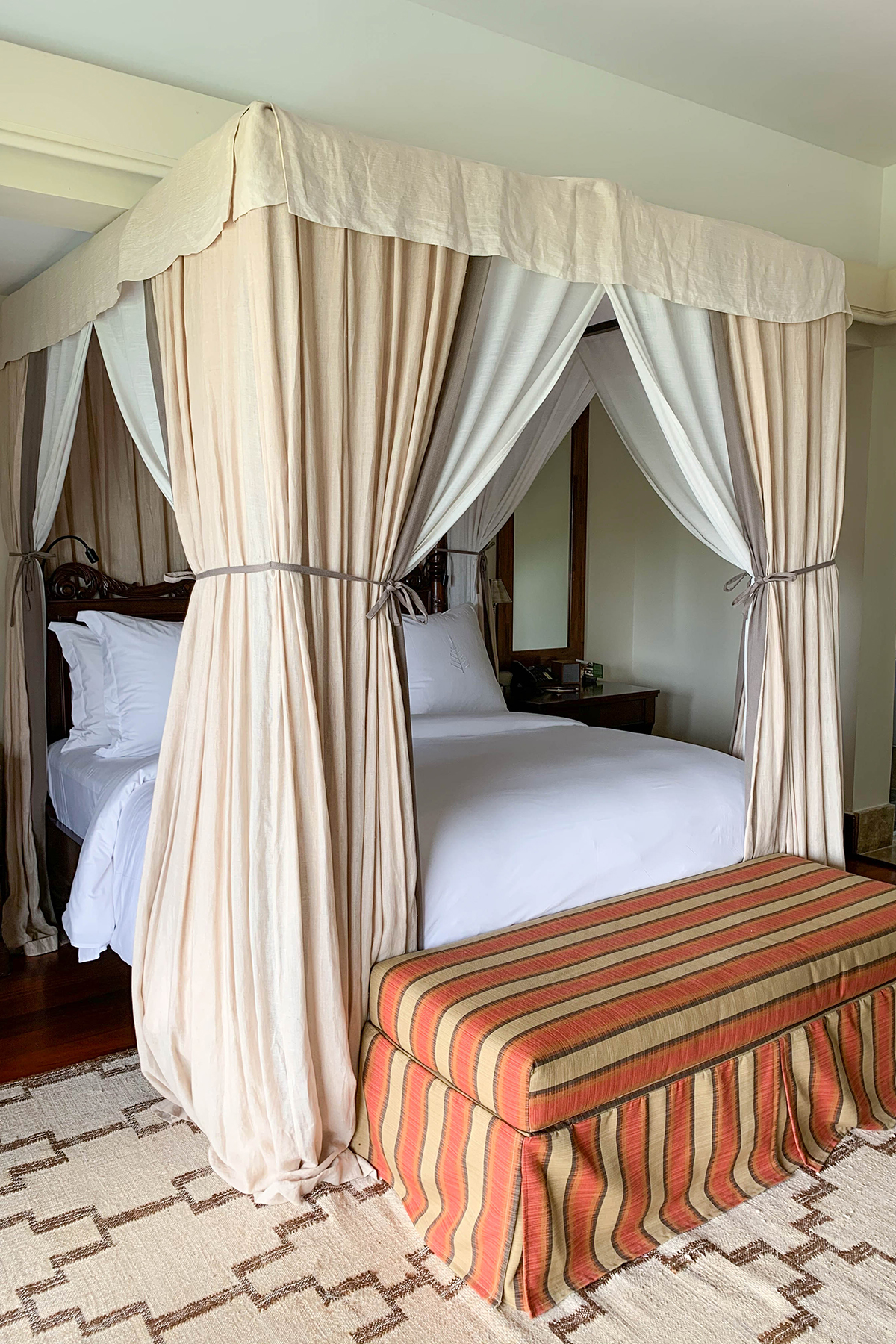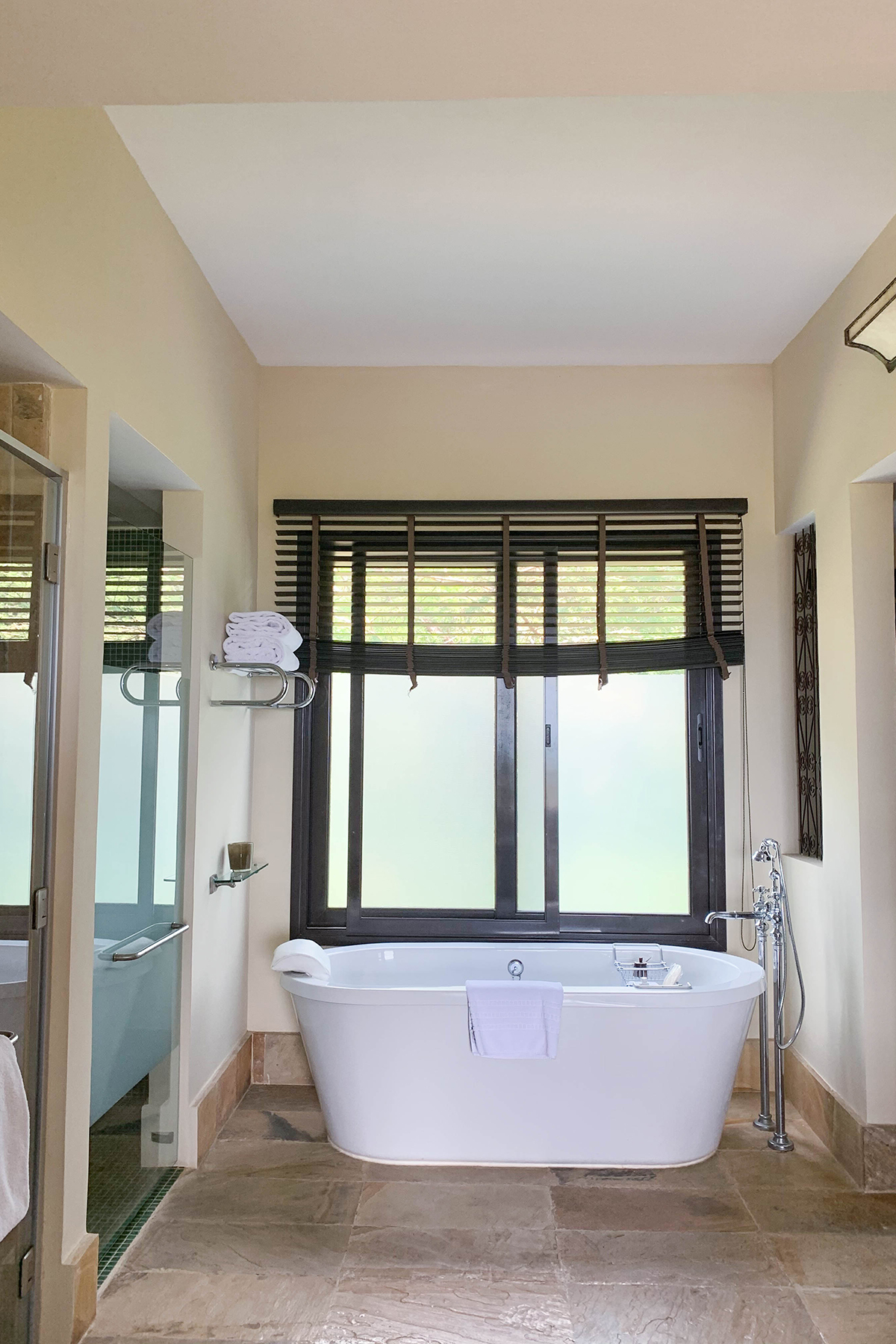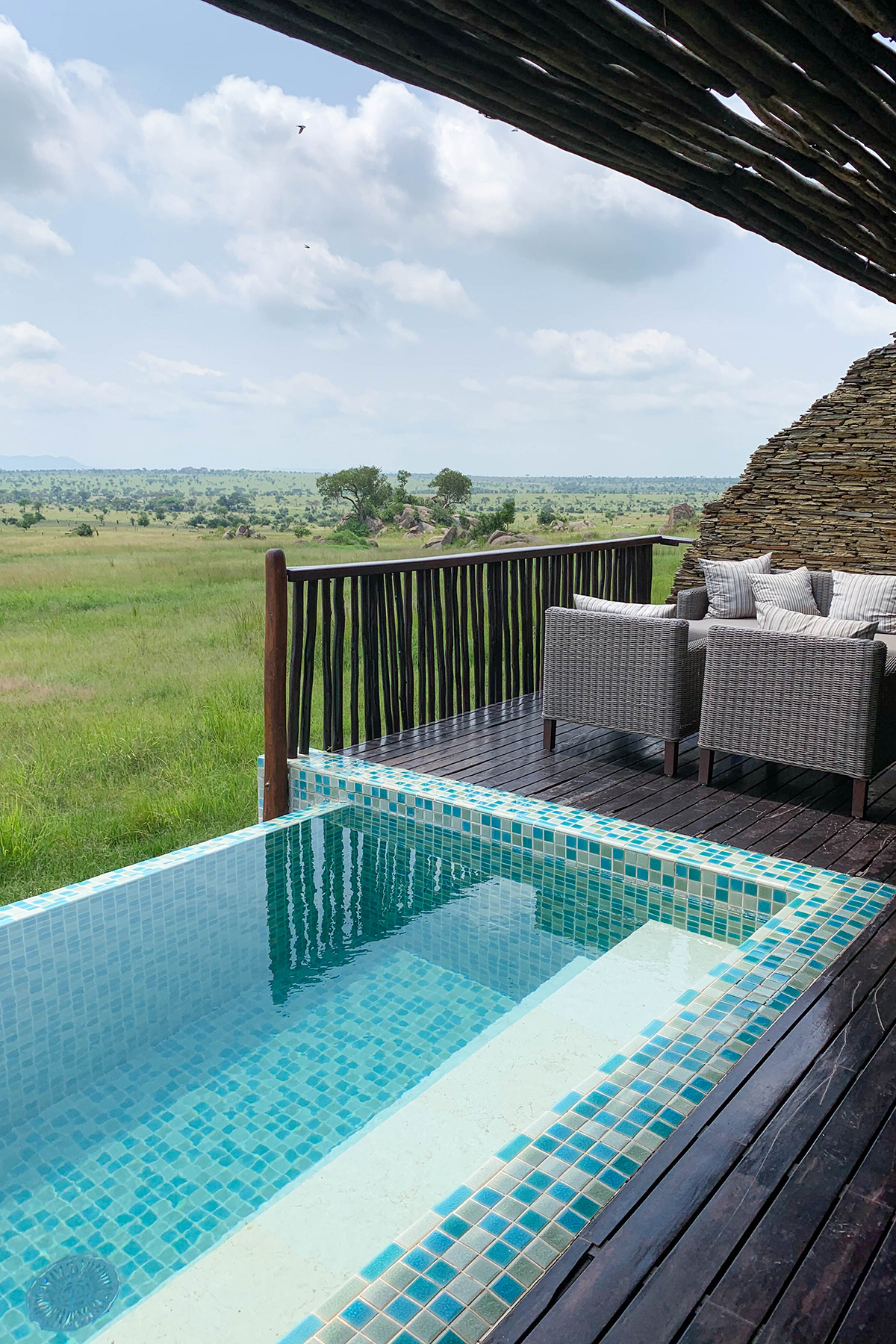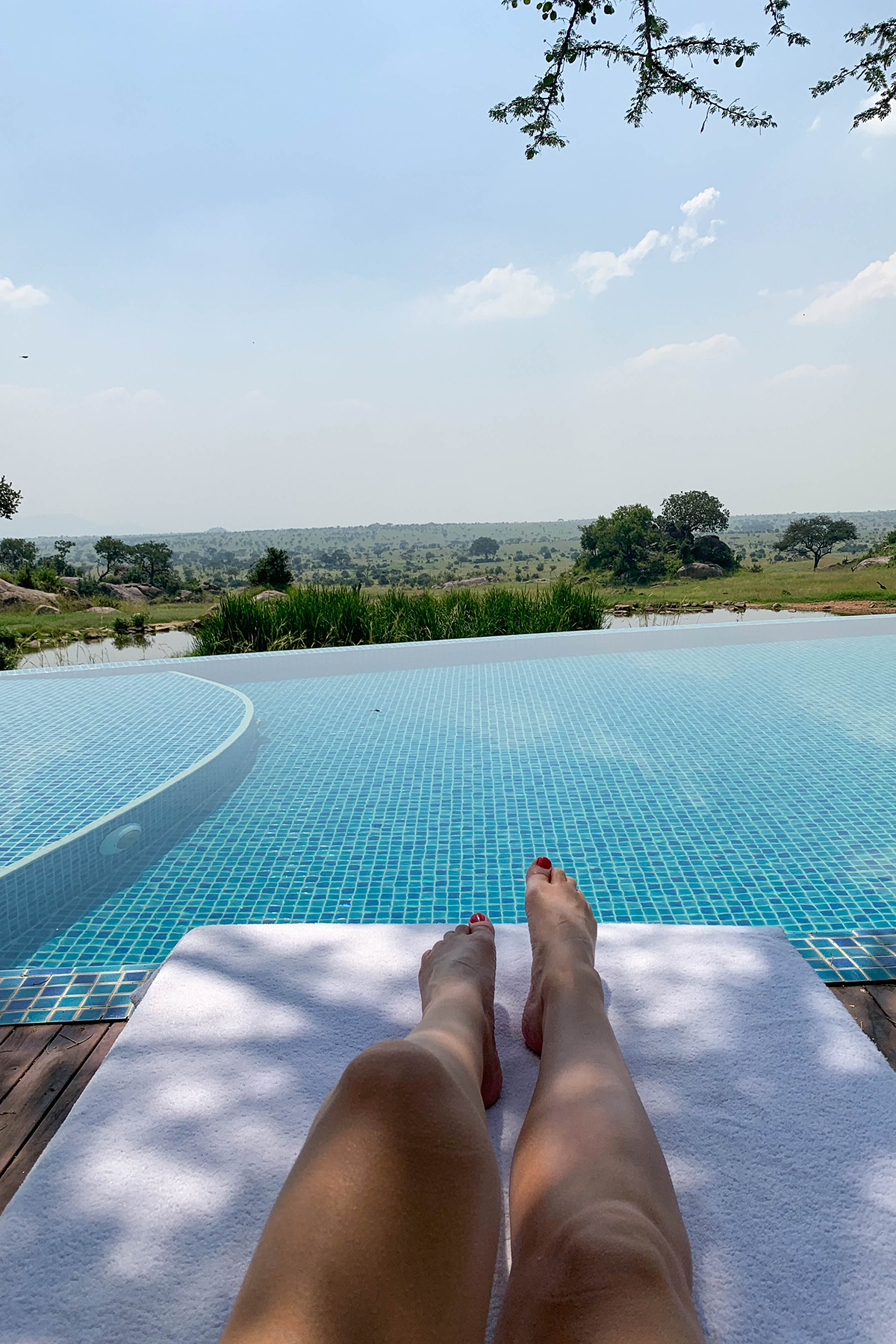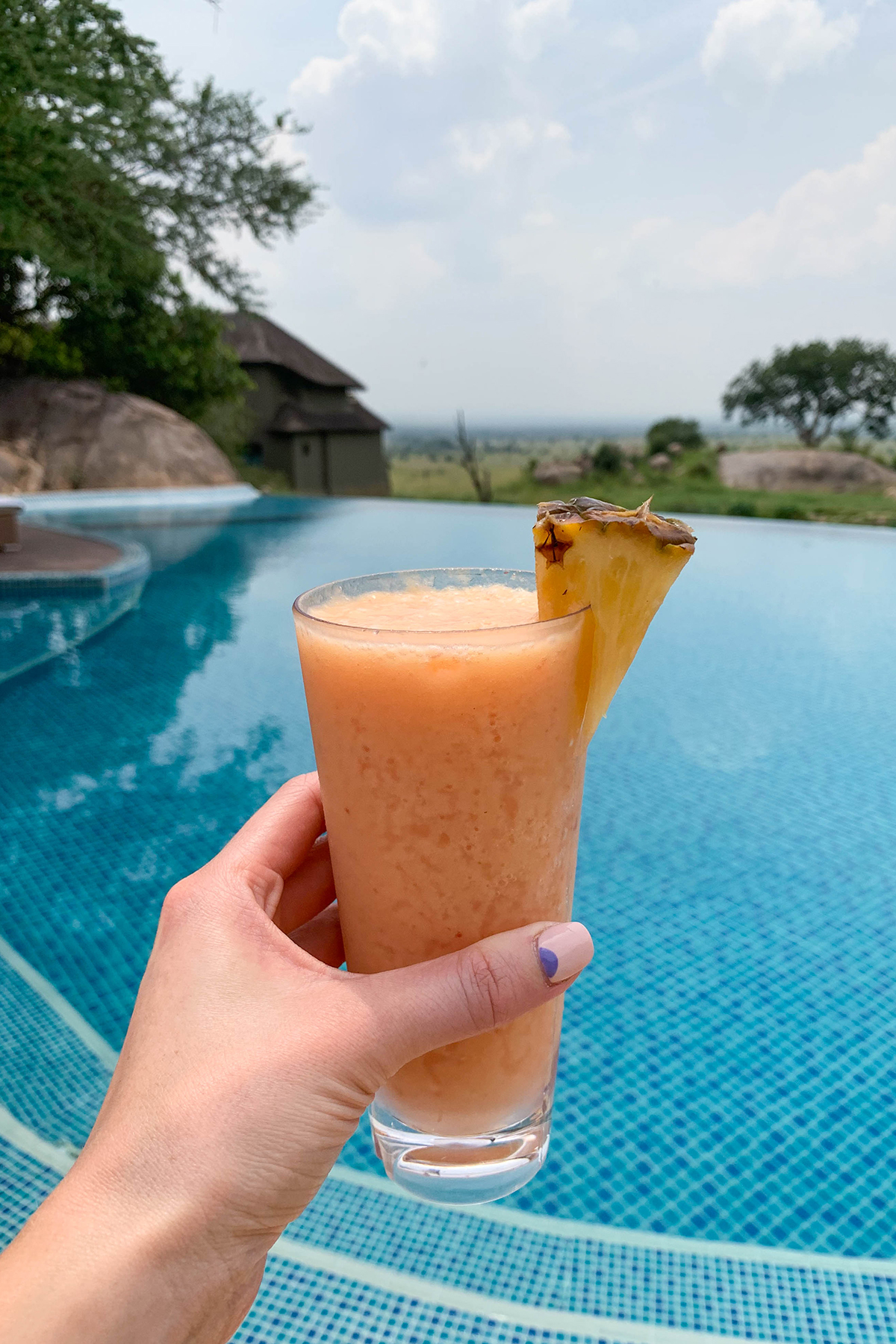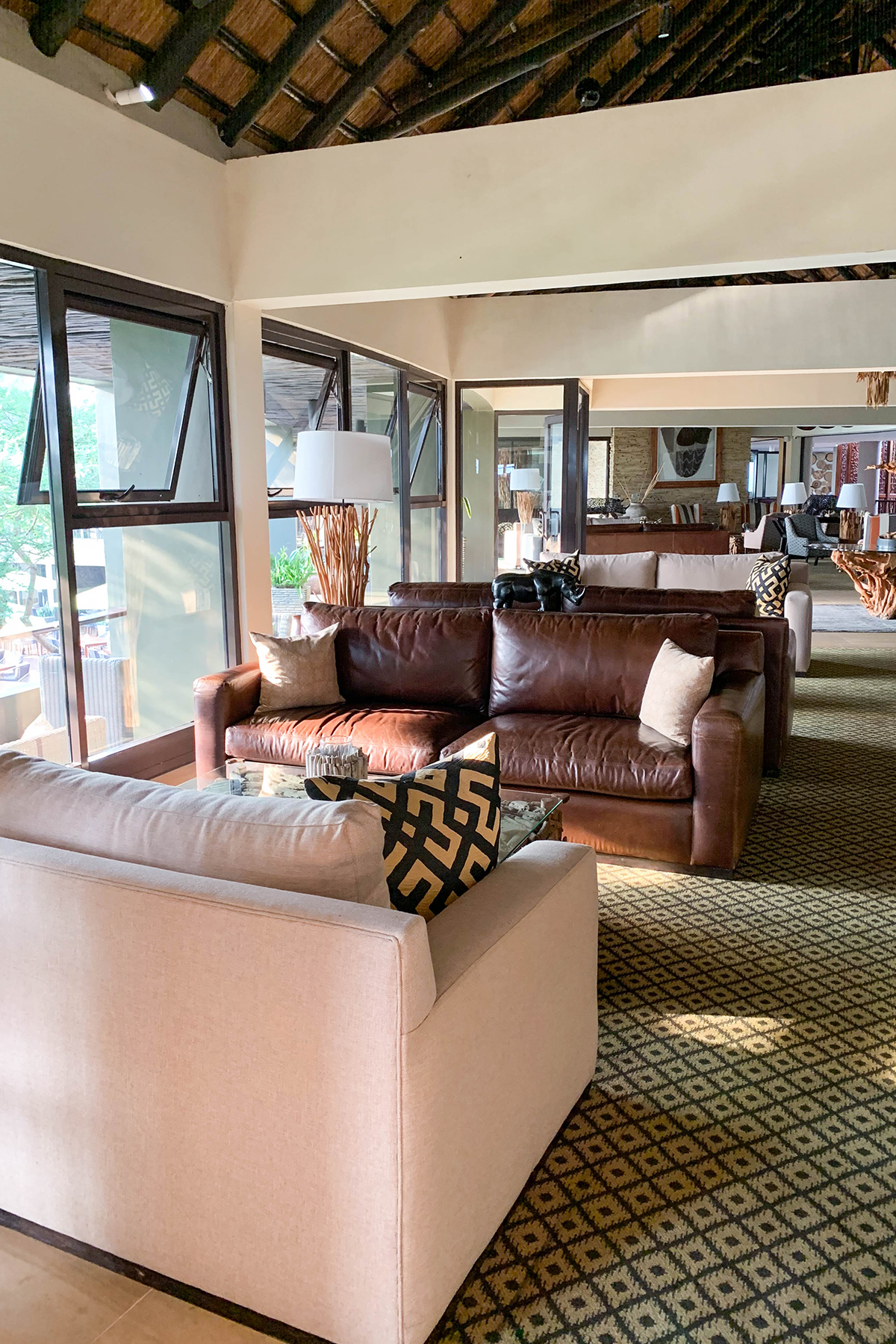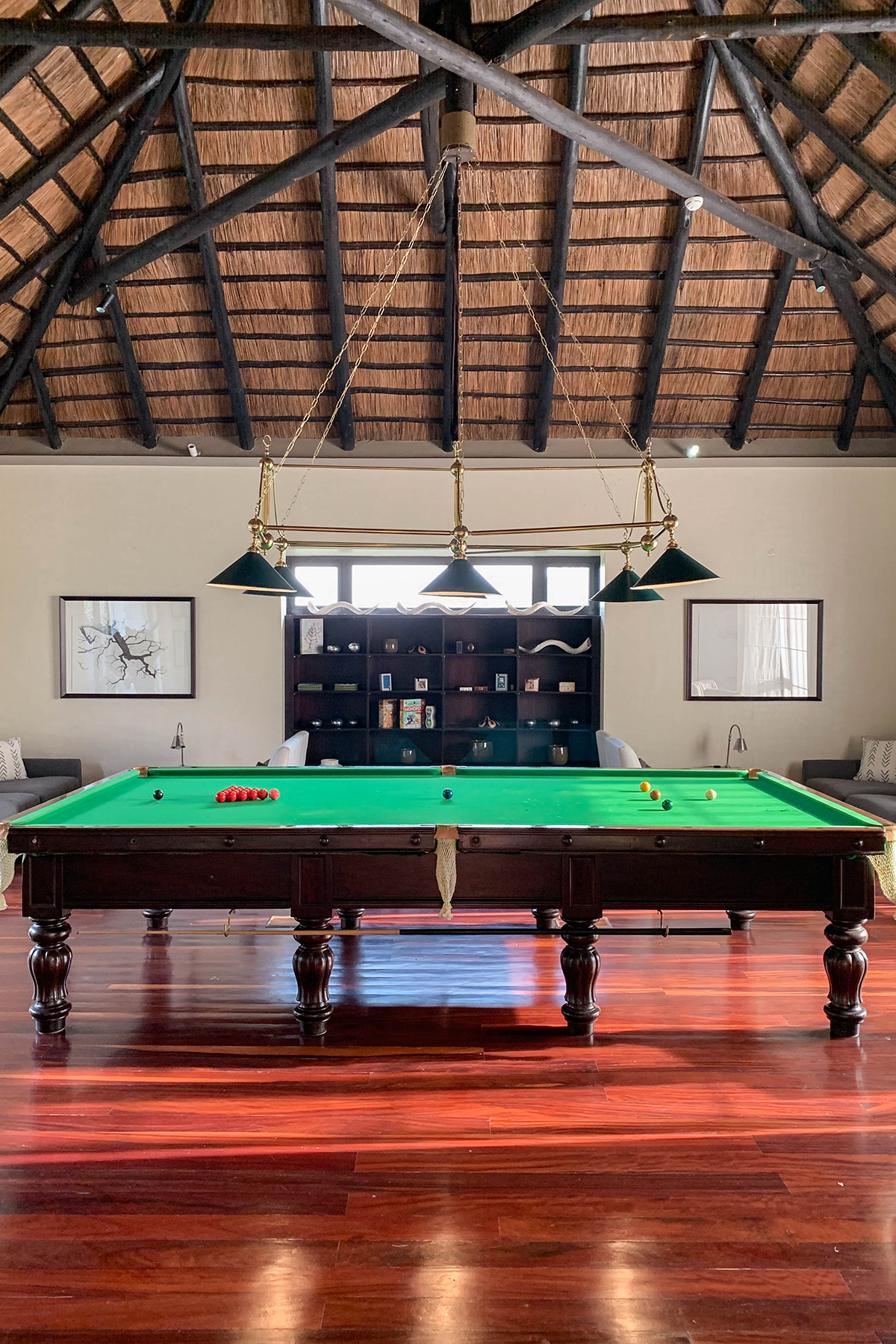 We booked an all-inclusive package for our stay at Four Seasons Serengeti. We had a Terrace Suite with a king size bed, double sink, outdoor and indoor showers, infinity pool and terrace. Our room was divine and the view was incredible!
All our meals, alcohol, a couples spa treatment, laundry credit (we both had our safari clothes washed daily!) and two half-day private game drives were included in our resort package. You can see the accommodation options + all-inclusive packages offered by the Four Seasons Serengeti on the lodge website here.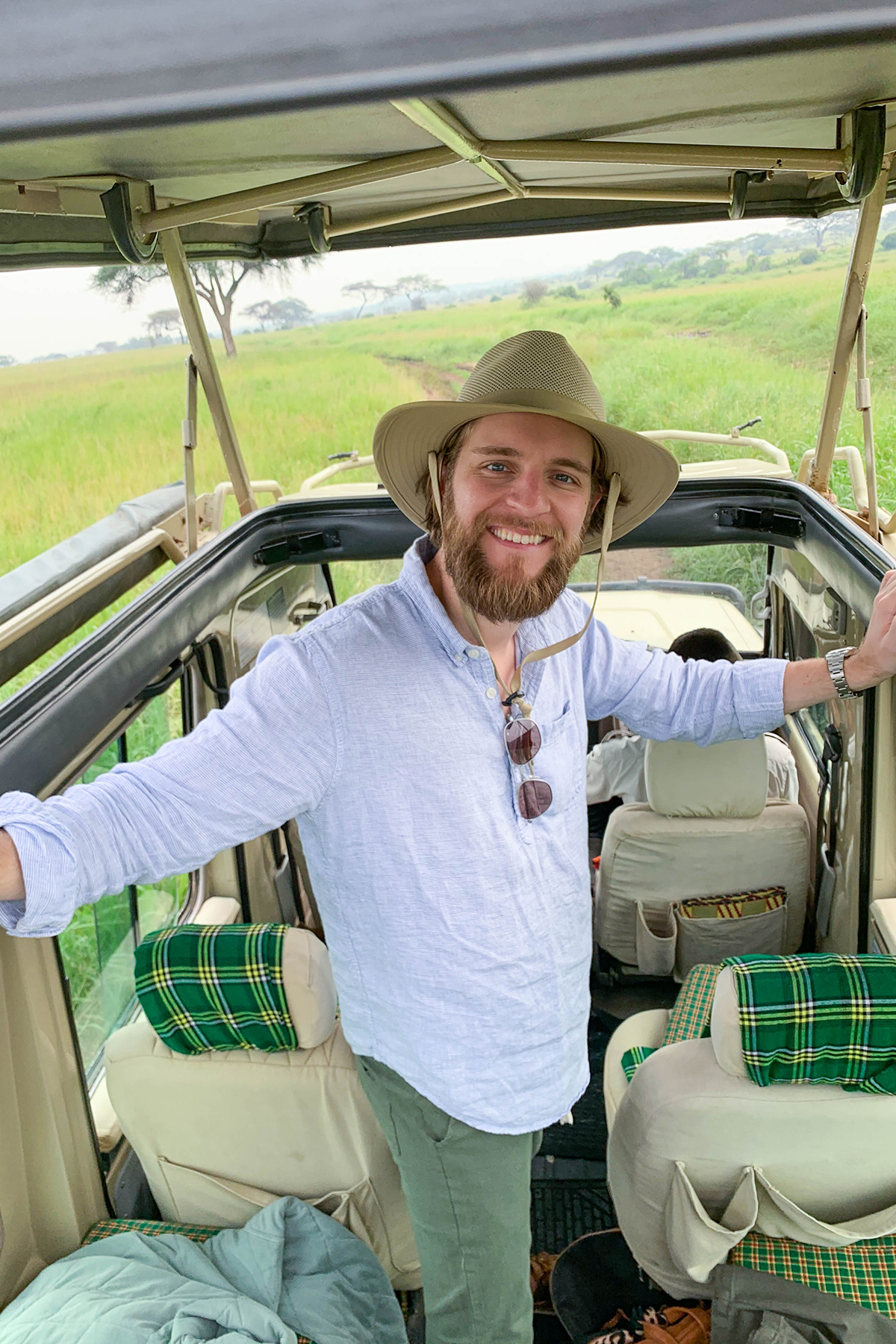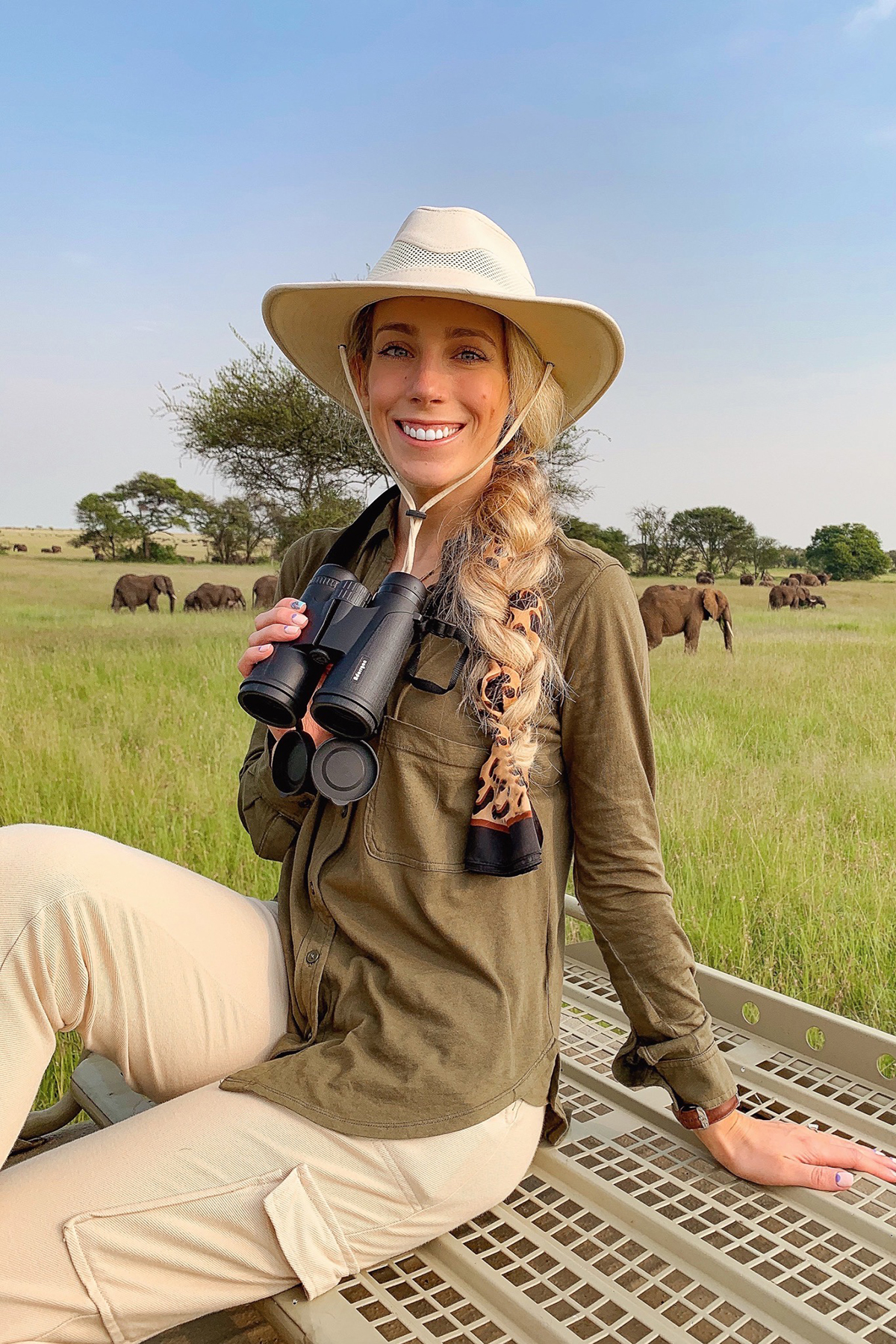 OUTFIT DETAILS // Button Down Shirt | Twill Joggers | Safari Hat | Leopard Hair Scarf | Ribbed Tank Top  | Layered Necklace | Sandals
So what's a game drive? Essentially it's an excursion via jeep where a guide takes you out into the park in hopes of seeing lions, elephants, giraffes, leopards, baboons, monkeys, hyenas and more!
On our first game drive we saw a herd of 100+ elephants, zebras, a lion and gazelles within the first 45 minutes of driving out into the park. Later that day we also saw many hippos, baboons and other wildlife. The next day we came across two lions and a hyena chilling right in the grass next to the road just five minutes outside of the Four Seasons entrance and a huge herd of giraffes shortly afterwards. We also saw many antelope, buffalo, giraffes and zebras again.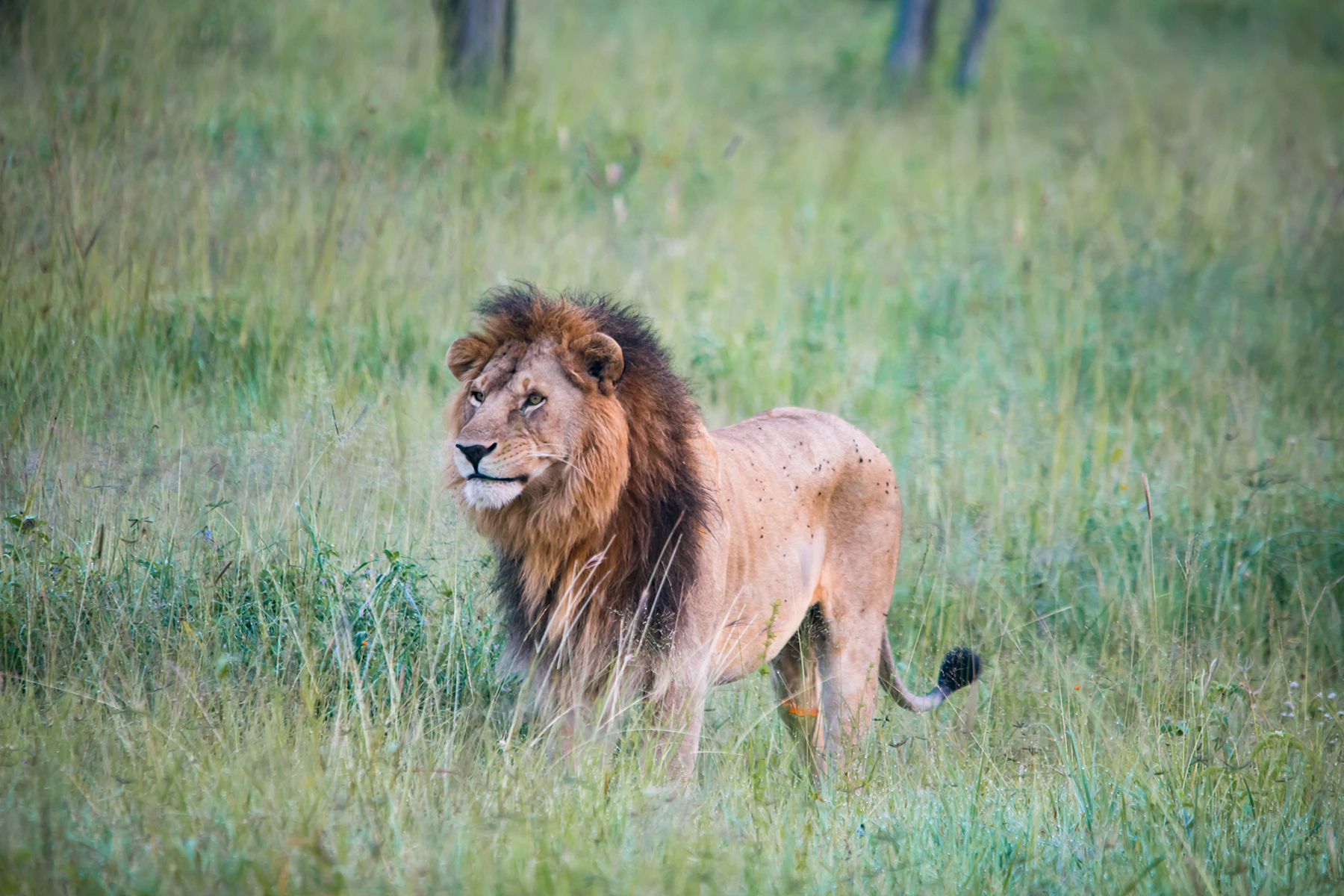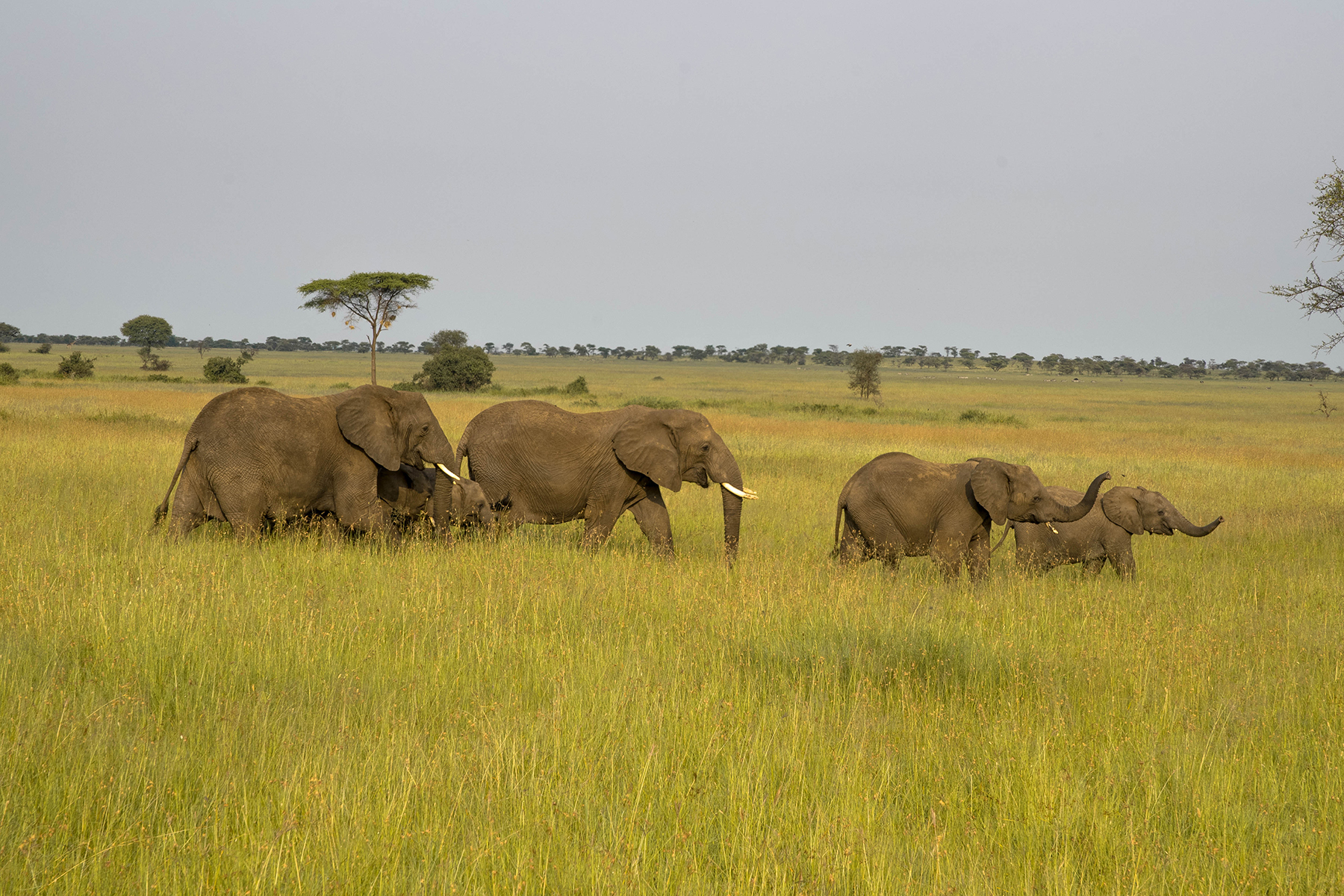 On our third came drive it took us about 2 hours of patient searching to finally find a gorgeous rare leopard, however we never saw any elephants that day and far fewer types of wildlife then we'd seen on our previous two drives. We learned that every drive will be different and there's no way to anticipate what you'll see or won't see. Some days you may easily spot every exotic creature on your bucket list, another day you might not see anything.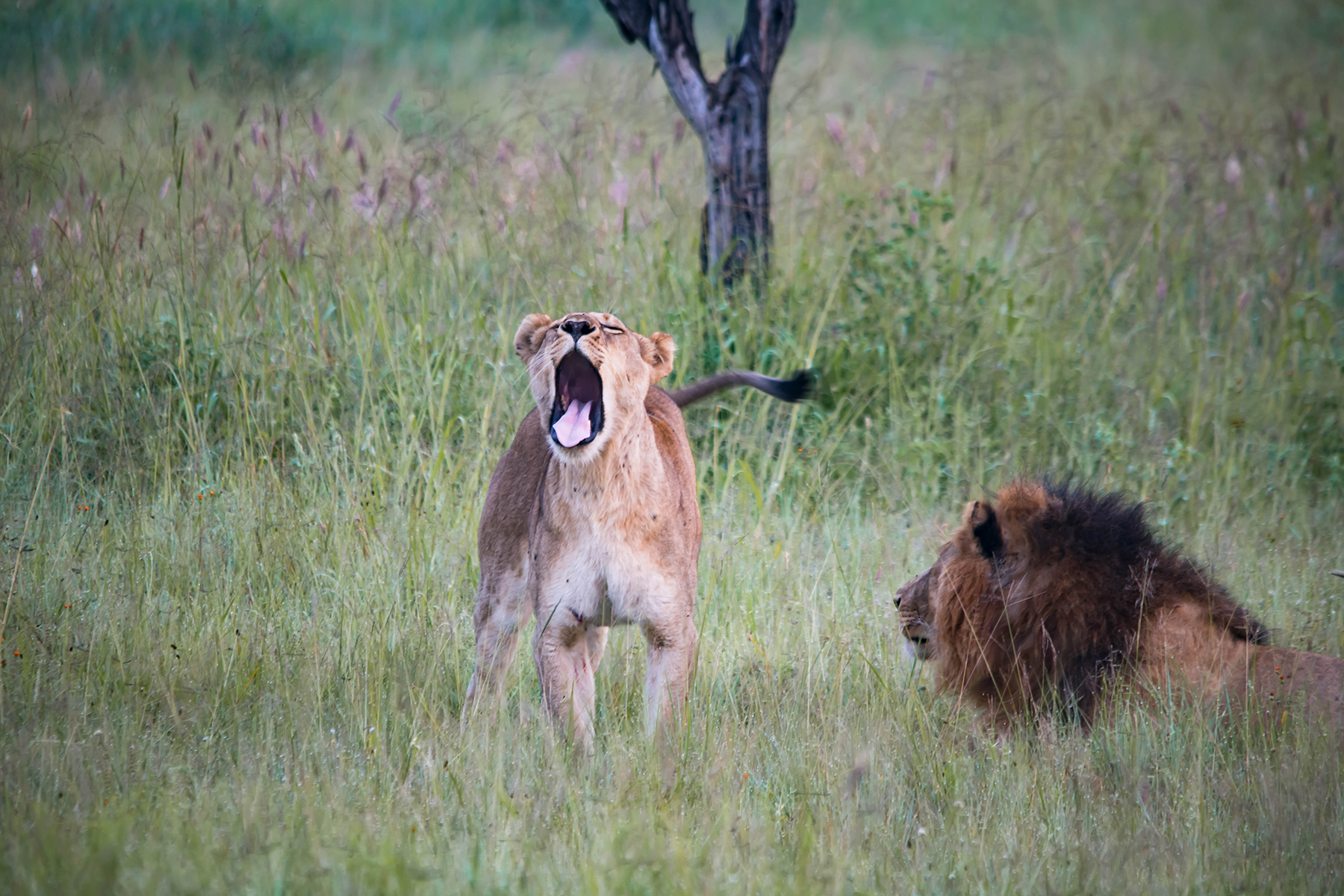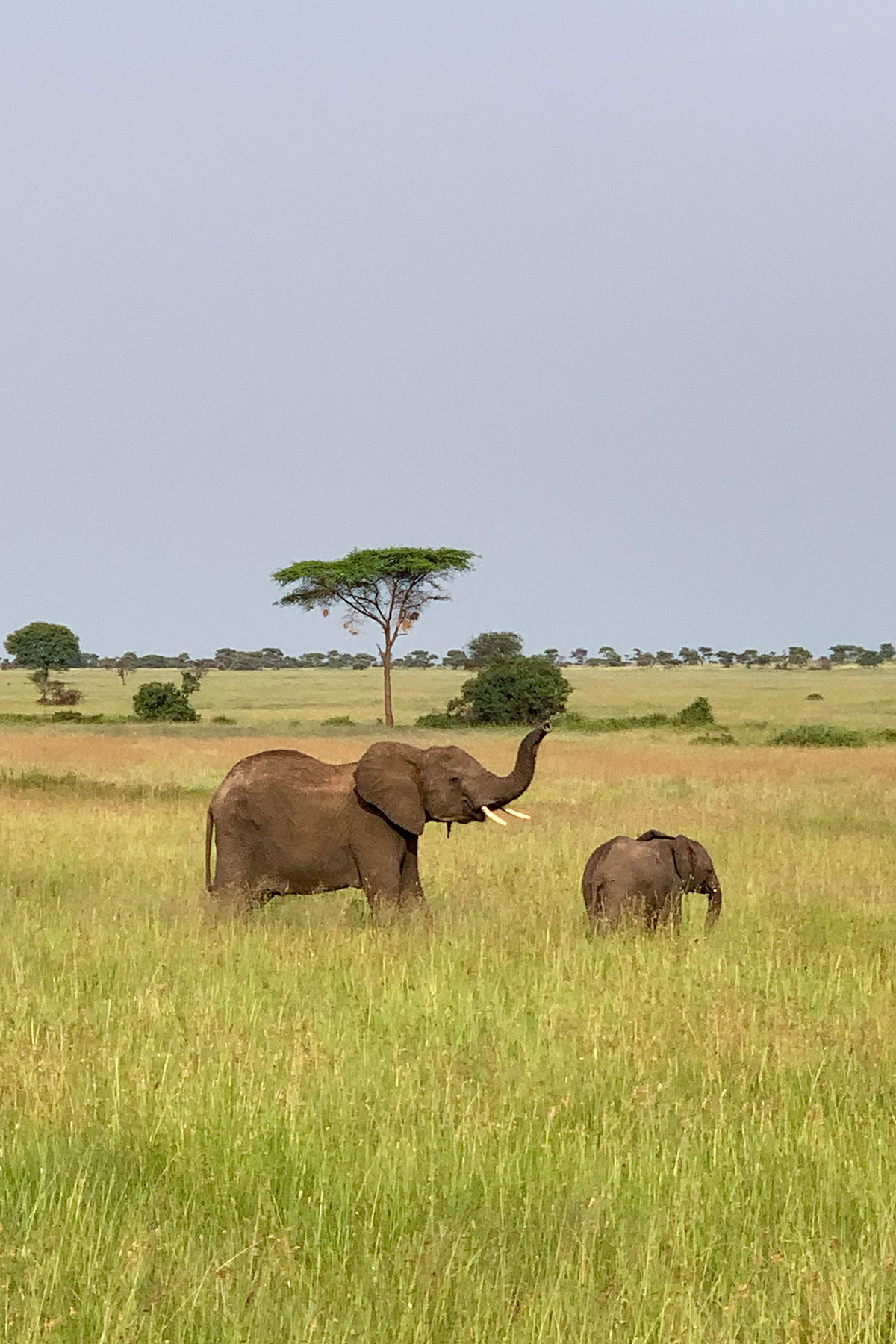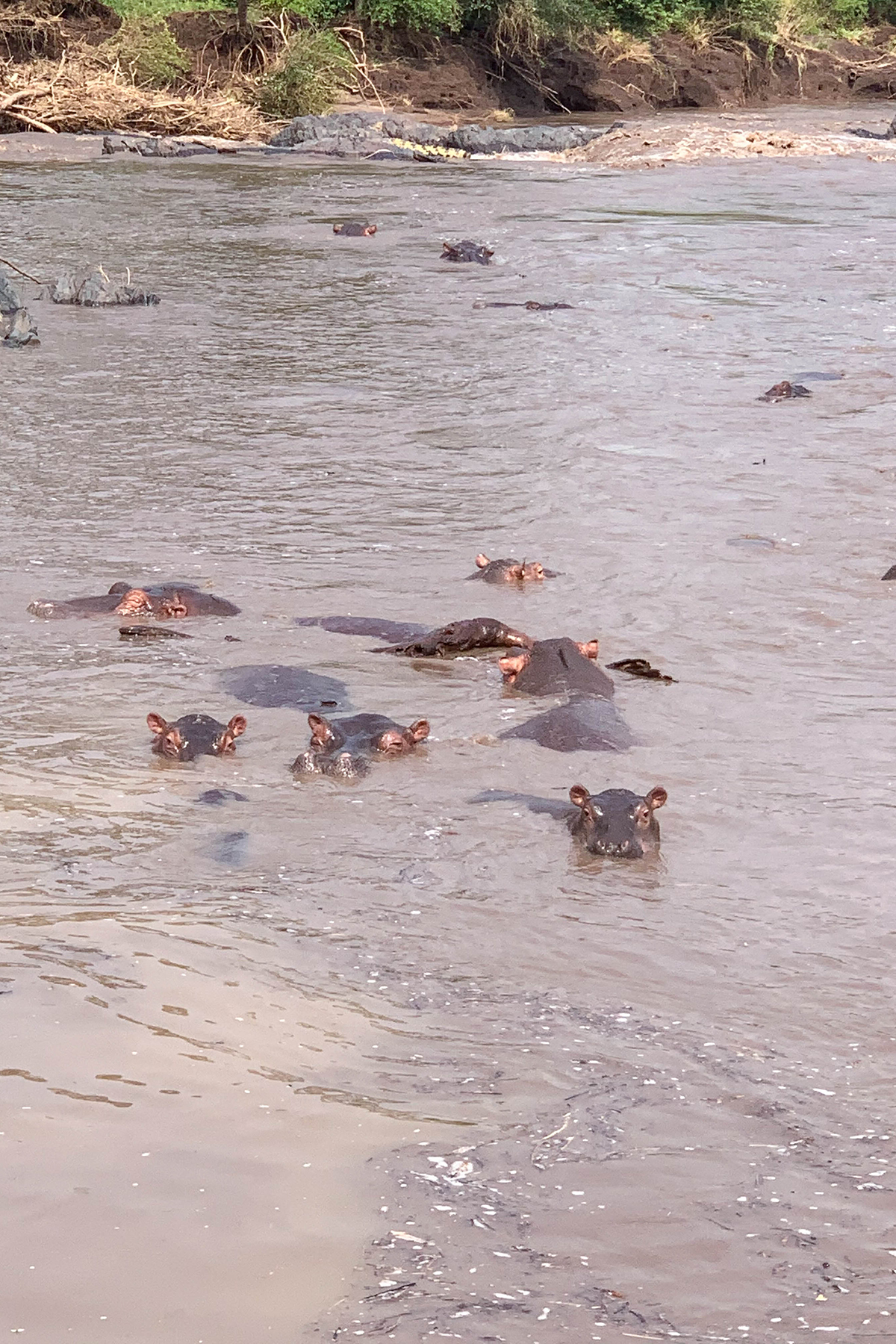 We did three half day private game drives and were very happy with each experience. These excursions are truly the highlight of visiting the Serengeti and why people will travel for days to get here. We saw so many beautiful animals on every drive and are glad that we opted to do three excursions versus our originally planned two. If we hadn't have paid separately for a third drive then we never would've spotted that leopard!
The safari drives were such surreal experiences and I find it tough to even put into words just how special it felt being there in the moment. You can read more about the excursions offered by the Four Seasons Serengeti here.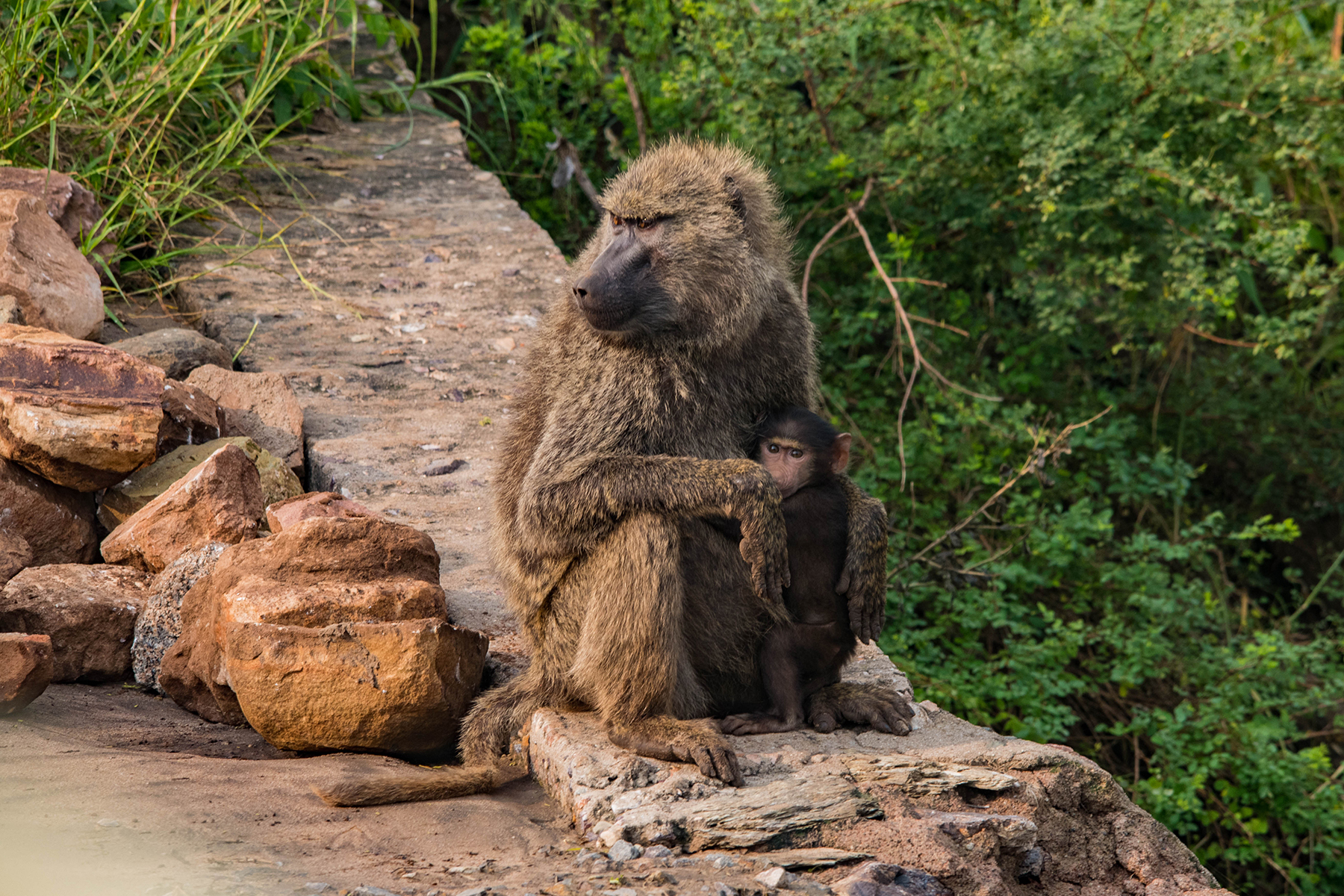 PS the Four Seasons Serengeti offers both private and shared tours (where you're paired in a car with other guests.) A shared tour is obviously priced lower, but I'm very glad we opted for private due to the fact that in order to use the restroom you have to literally pull over and do your business off of the road. I have the world's smallest bladder and had to make stops at least 4 times on each of our drives. If we had been with other guests I know I would've felt terribly guilty and embarrassed– just something to keep in mind when booking your excursions. Sorry for the TMI but just wanna keep it real!!!!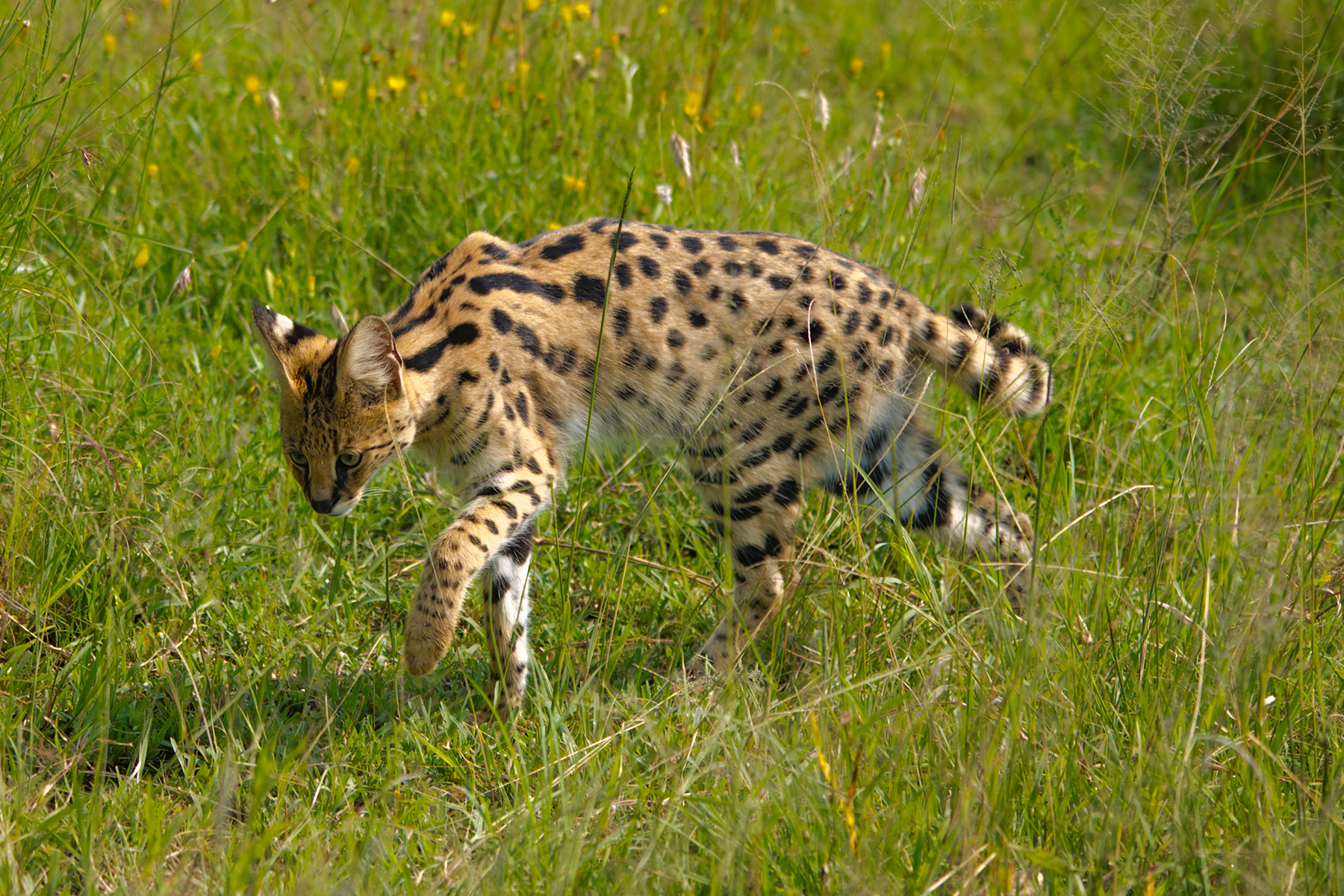 If you're planning a trip to the Serengeti, keep in mind that it's not a place where you'll find little towns and villages with restaurants or shops. Wherever you choose to stay is where you'll likely be eating all of your meals, sleeping and spending any downtime where you're not out exploring the park via jeep. This is another reason why we chose the Four Seasons Serengeti— the gorgeous pool was the perfect place to spend the afternoon following our morning game drives.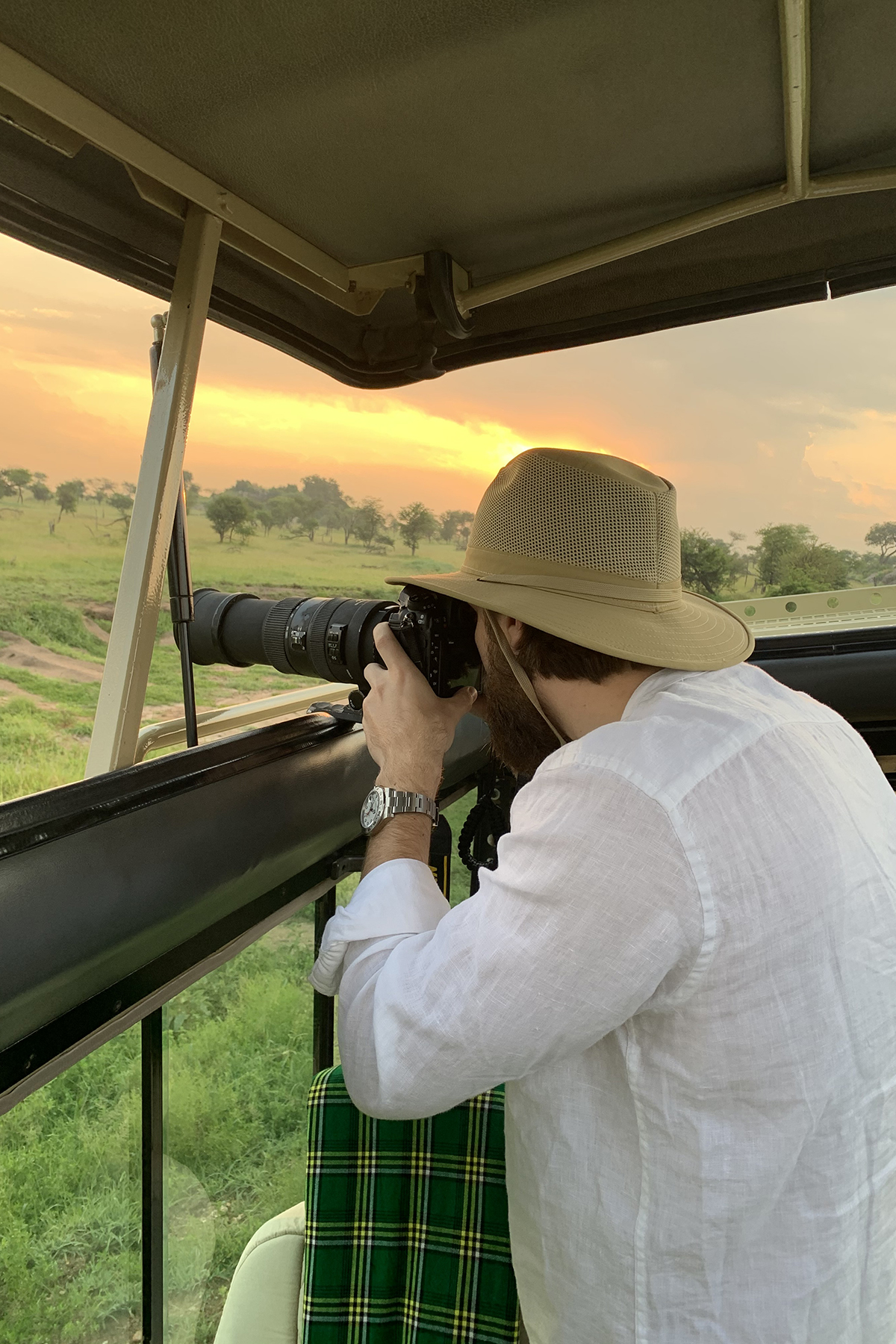 The lodge also has multiple restaurants and a full bar so there are different options available for every meal. Breakfast was probably my favorite meal! I loved the juicing station where you could pick any fruit and veggie and have it freshly squeezed.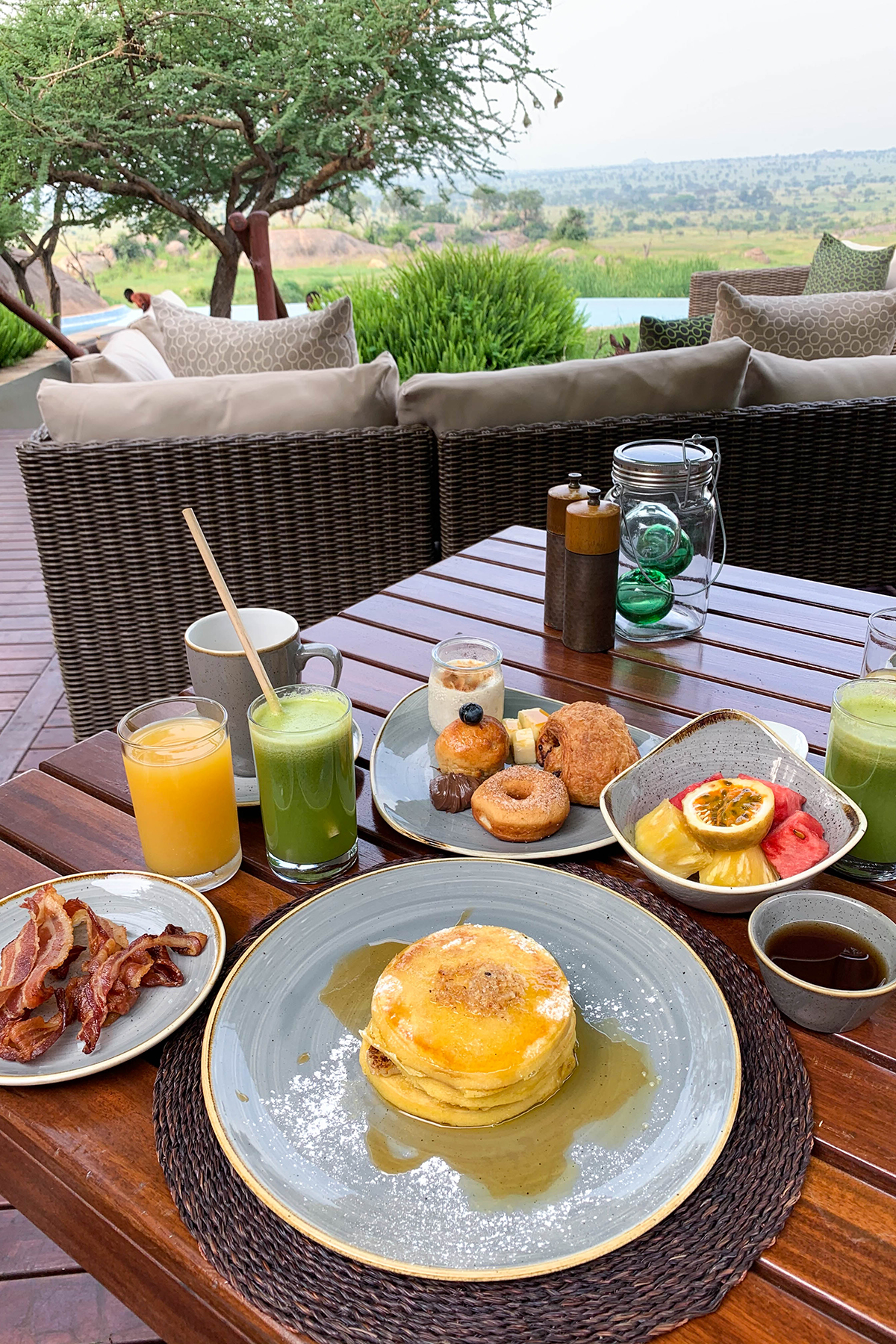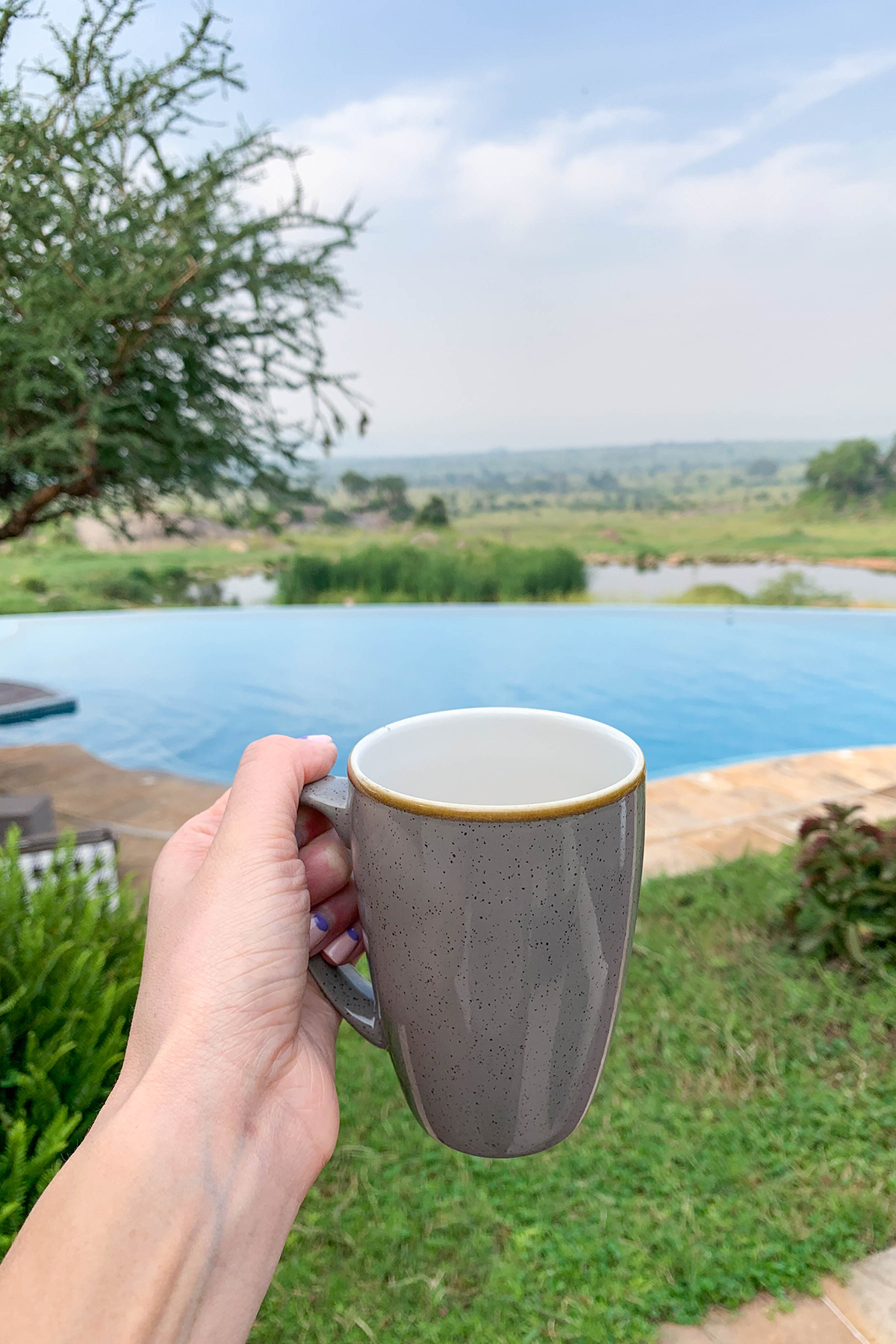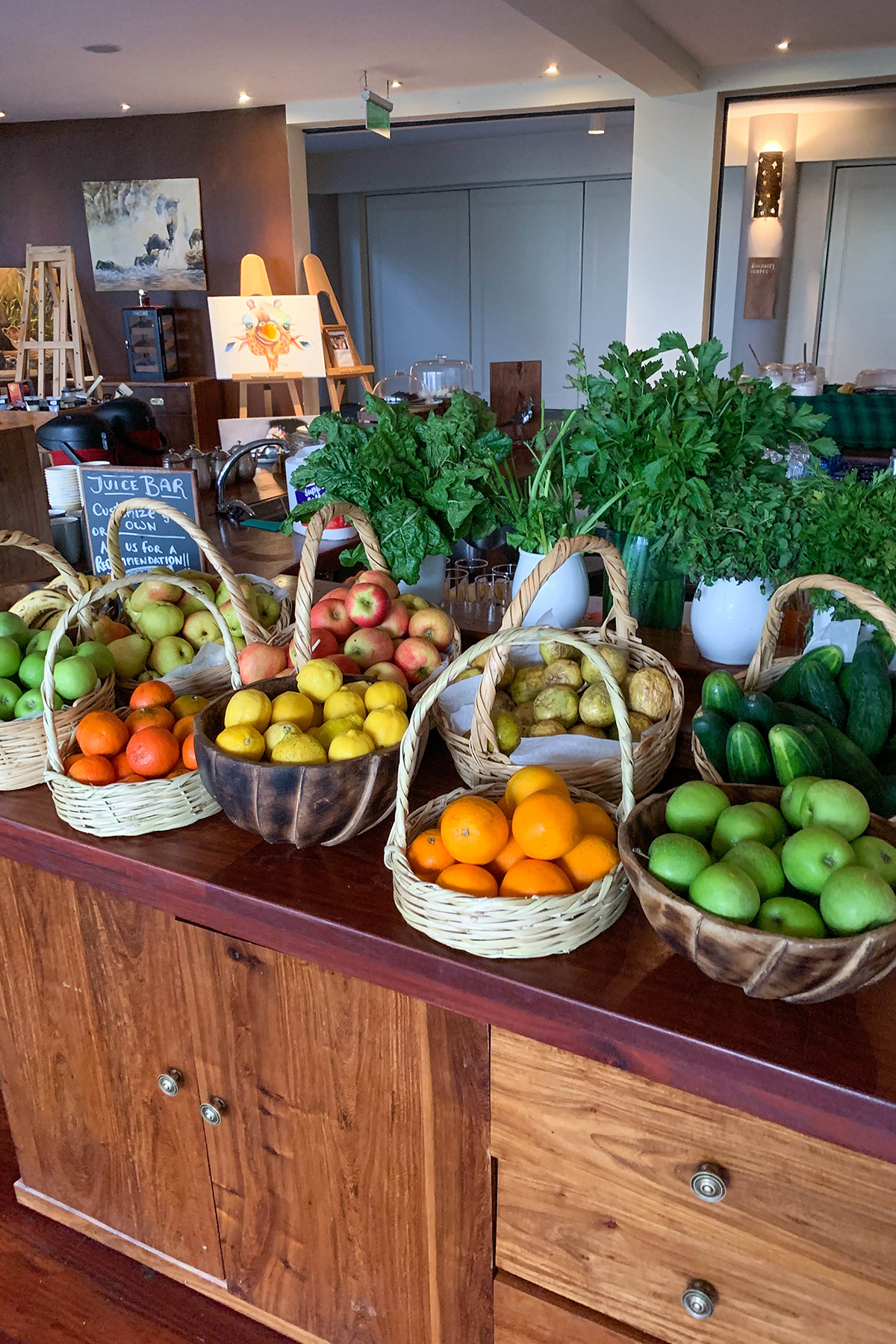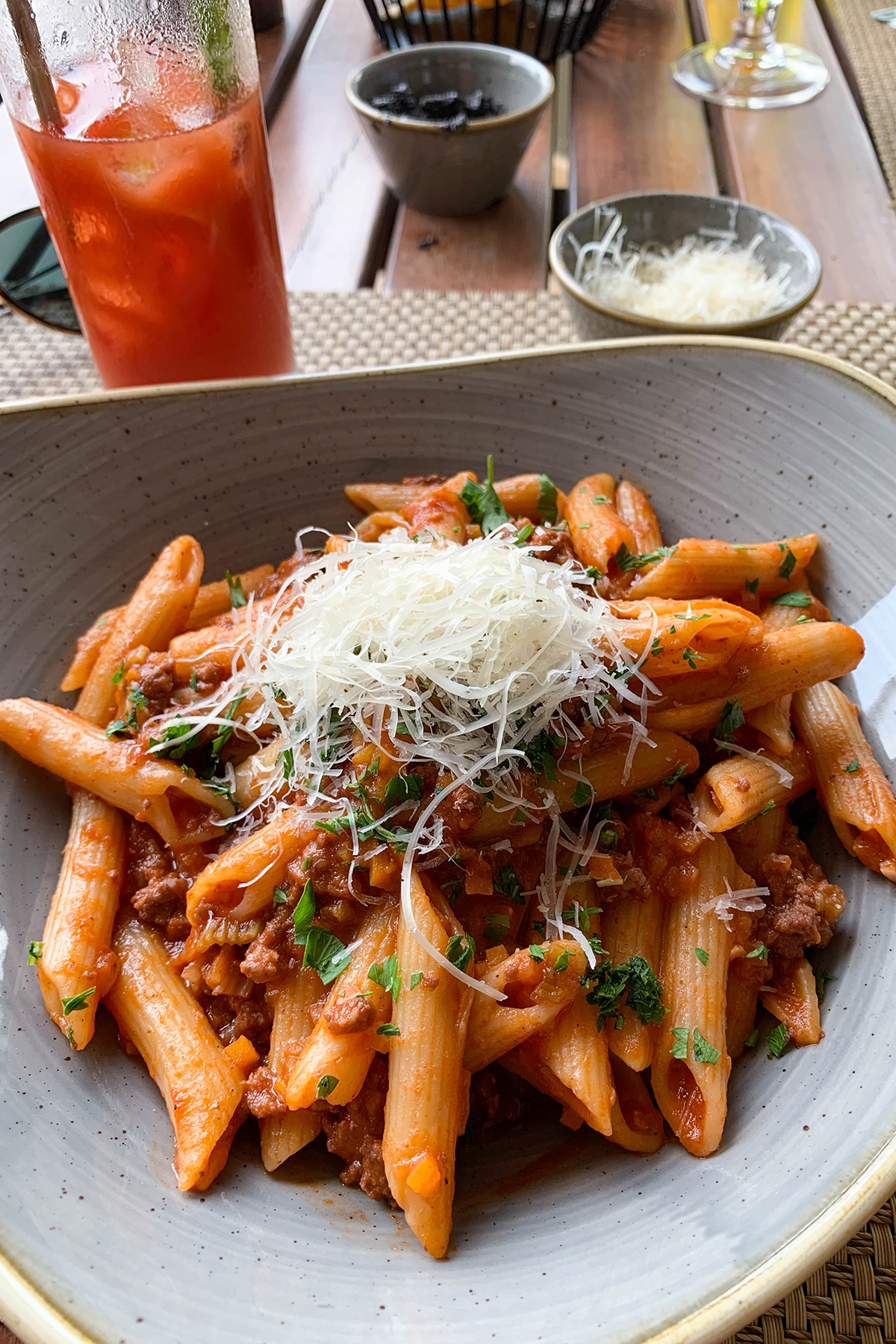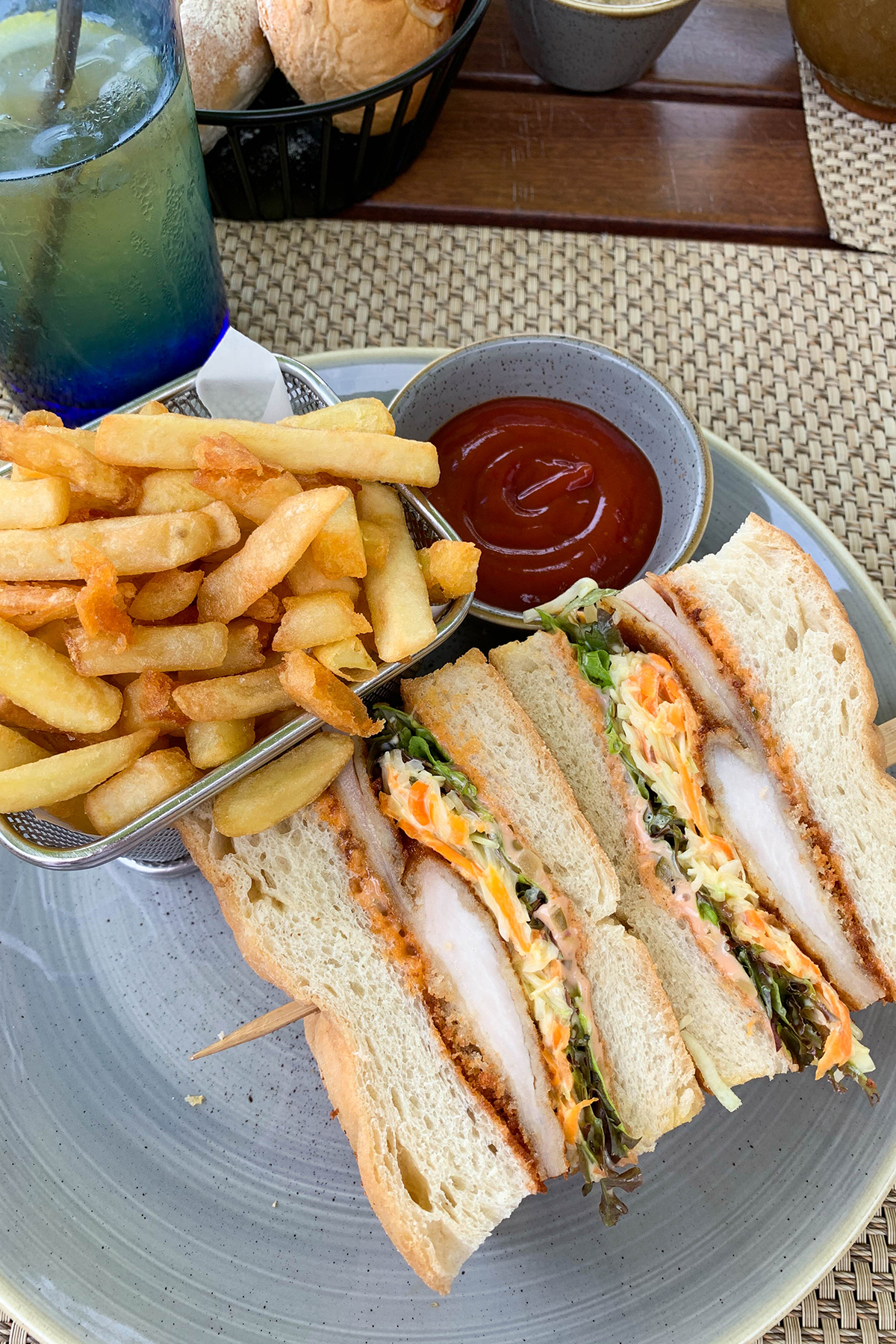 I think that five nights and four full days is the ideal amount of time to spend at the Four Seasons Serengeti. We really felt like we got the experience the perfect amount of adventure and relaxation. We essentially spent every morning out exploring and then afternoons and evenings chilling at the gorgeous lodge. We never felt rushed or like we were missing out on anything. It was honestly the most peaceful week and we loved our suite!
The staff was incredibly attentive as well. It's the type of lodge where are all the staff will learn your name and go out of their way to remember your preferences i.e. my love for spicy margaritas, that we like having extra water bottles sent to our room at night, etc.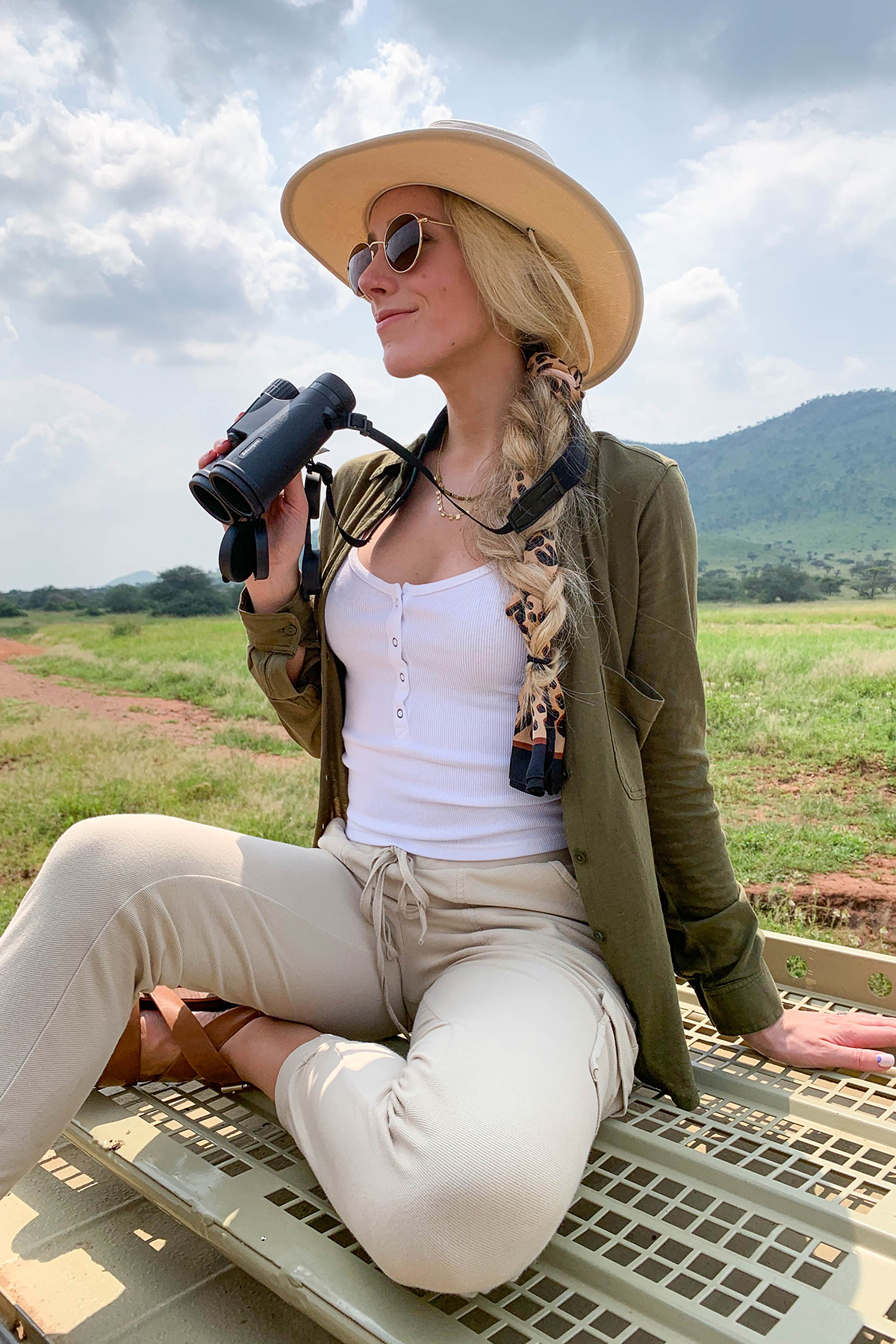 I would highly recommend the Four Seasons Serengeti to not only anyone interested in going on safari, but also those who are looking for a five star luxury lodge experience. The property's incredible location and excursions are truly what makes it so special and the reason people from all over the world will travel to stay there. I personally have always found safaris to be so romantic, so we felt it was the perfect way the begin our honeymoon. The five days we were there were incredibly calm and relaxing, but also exciting and eye-opening– if this sounds like qualities you look for in a trip then you may want to add this spot to your bucket list.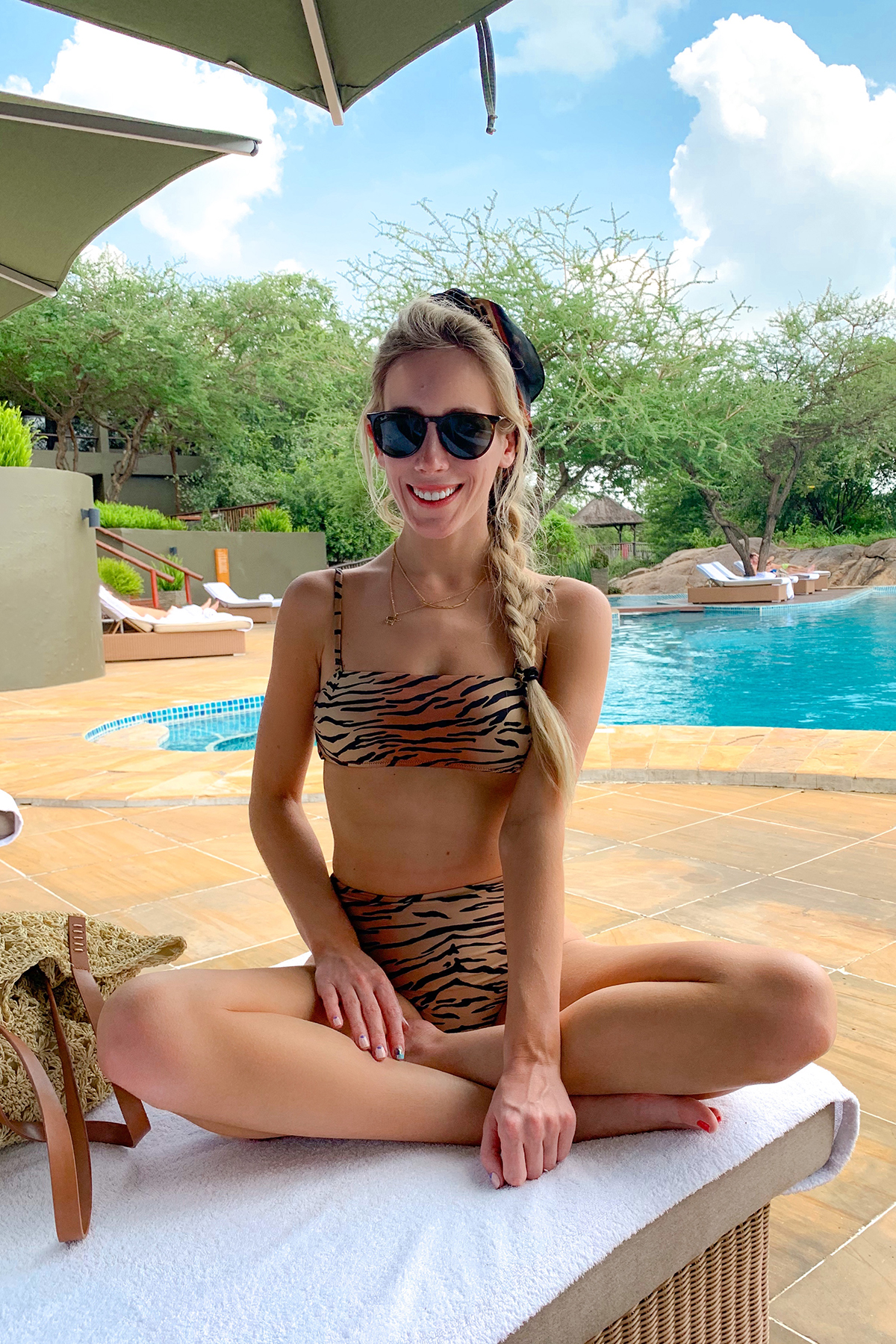 OUTFIT DETAILS // Tiger Stripe Bikini Top | Tiger Stripe Bikini Bottoms | Leopard Print Hair Scarf | Sunglasses | Elephant Necklace | Gold Bar Necklace
FAQ
I received a lot questions via Instagram DM during our trip– here are some of the ones that were most commonly asked.
Did you need to get any vaccinations? If you go to the Center For Disease Control website you can see what medical precautions and vaccinations are recommended before visiting any country. I conveniently got all of my necessary travel vaccinations last April prior to my trip to India so I didn't need to get anything additional in advance of this trip. Nick chose not to get any vaccinations– he's the type who won't even take tylenol or medication when he's sick, so that was his personal choice. I can only speak to our own experience and would always recommend talking to and running any exotic travel plans by your doctor first.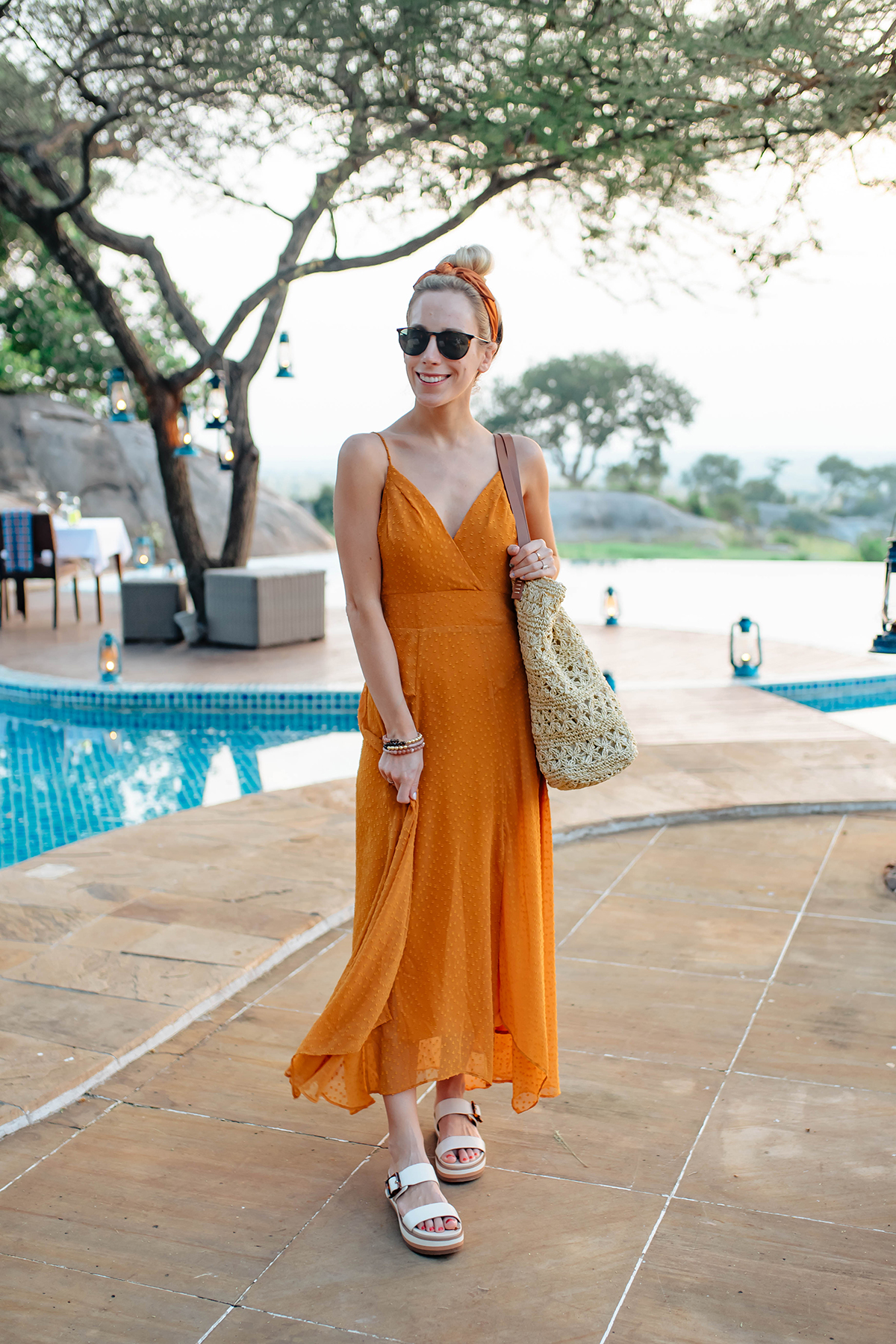 OUTFIT DETAILS // Orange Midi Dress | Sunglasses | Woven Tote | Sandals | Headband | Beaded Bracelet
Would you recommend this trip for anyone that's disabled or elderly? Based on the long travel time and rough terrain (all roads in the Serengeti are dirt) I personally would not recommend our itinerary for anyone with mobility issues. That said, I can only speak to my own observations and would encourage you to do your own research. For all I know there could be tour companies that offer disabled-friendly safari trips.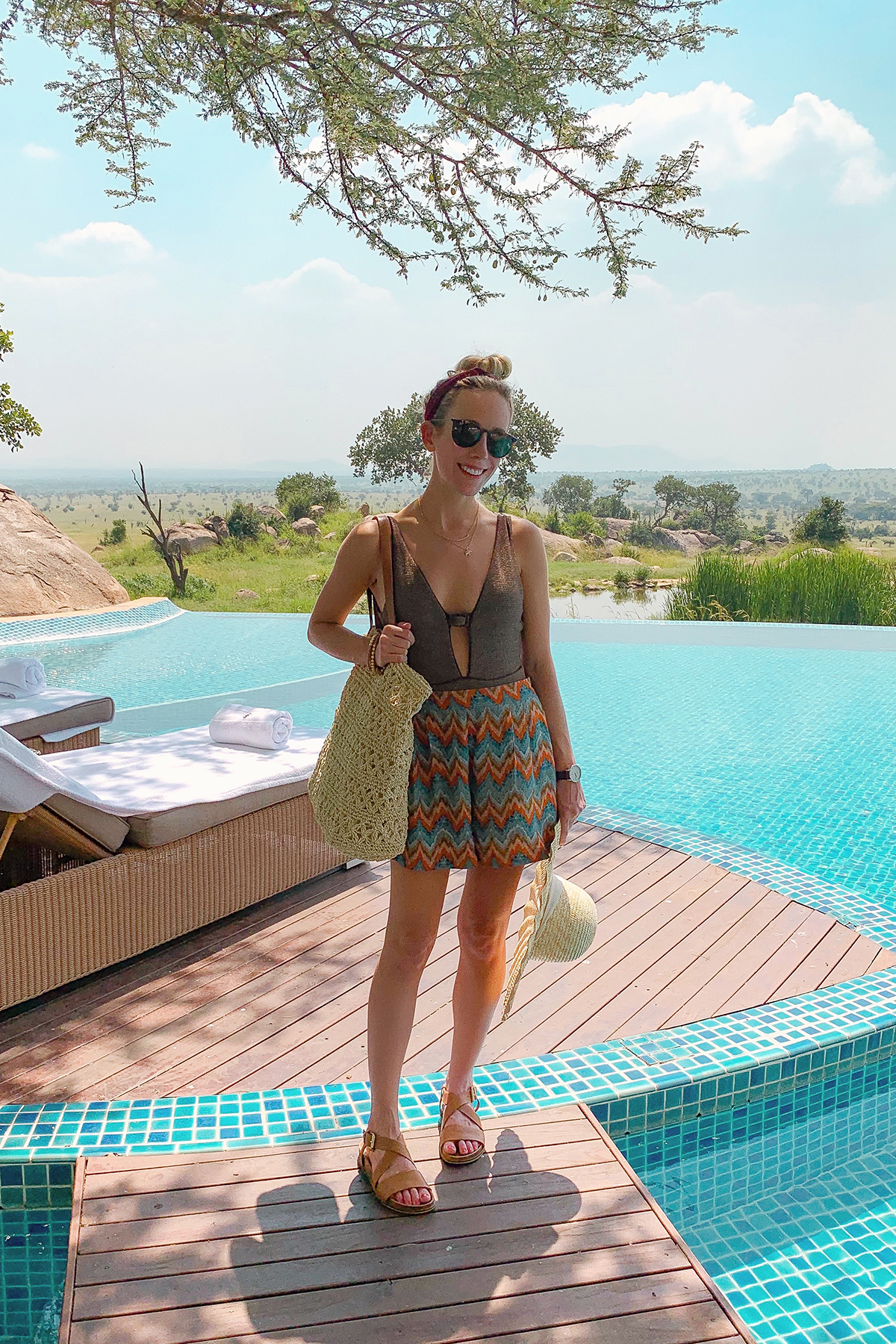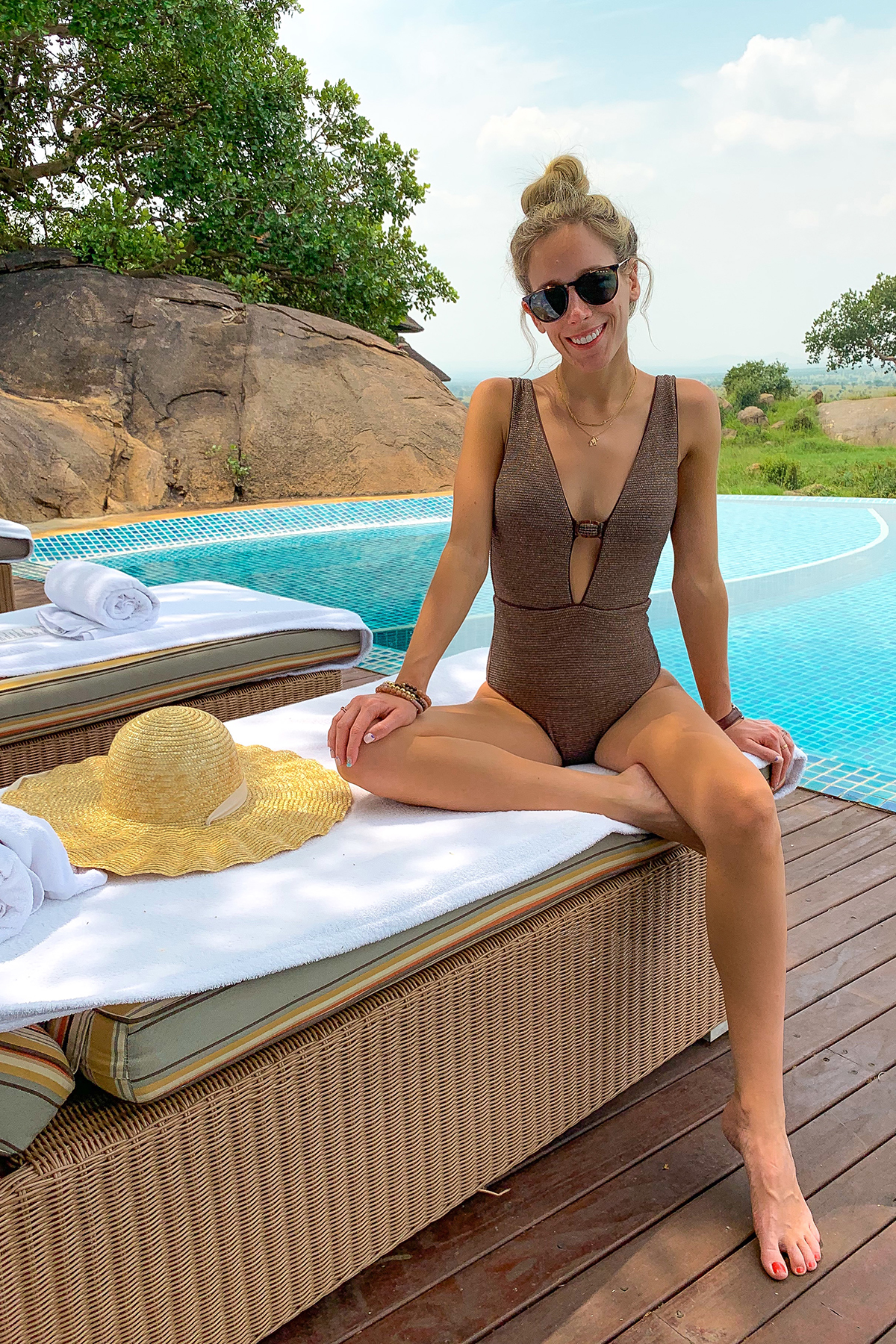 OUTFIT DETAILS // One Piece Swimsuit | Ikat Shorts  | Sunglasses | Elephant Necklace | Gold Bar Necklace | Leather Watch | Woven Tote | Sun Hat | Sandals | Headband | Beaded Bracelet
Would you recommend this trip for families and children? Since I don't have kids yet, I'm probably not the best authority for this question. I would say yes and no… Yes, if you have the budget and your kids would be genuinely interested and engaged in the experience. No, because getting to the Serengeti was not easy and the flights were incredibly expensive. That said, the Four Seasons Serengeti is actually free for children 10 and under aka all their food and beverages would be included when staying in the same suite as parents.
How many nights would you recommend? We did 5 nights and 4 full days and felt it was the perfect amount of time.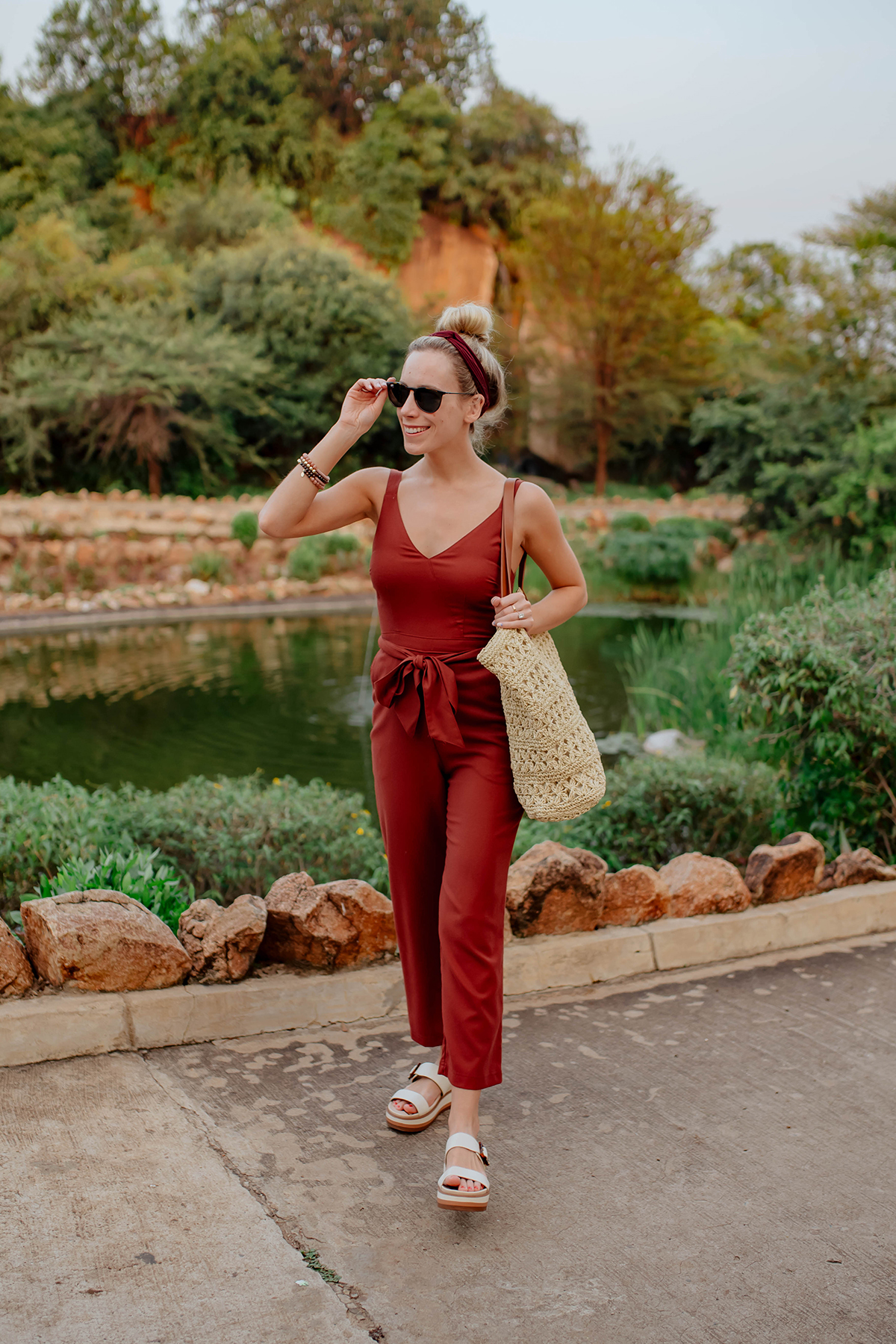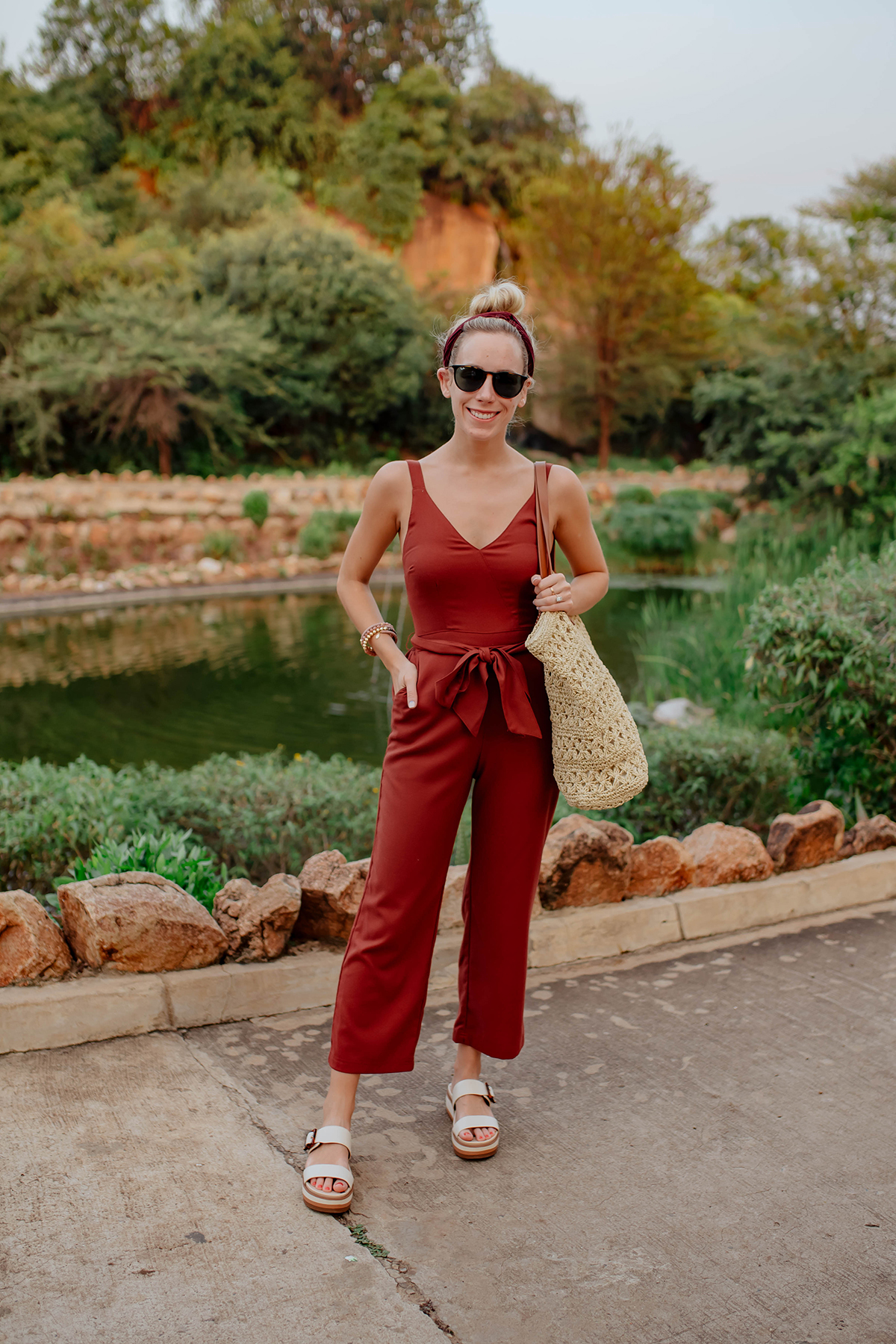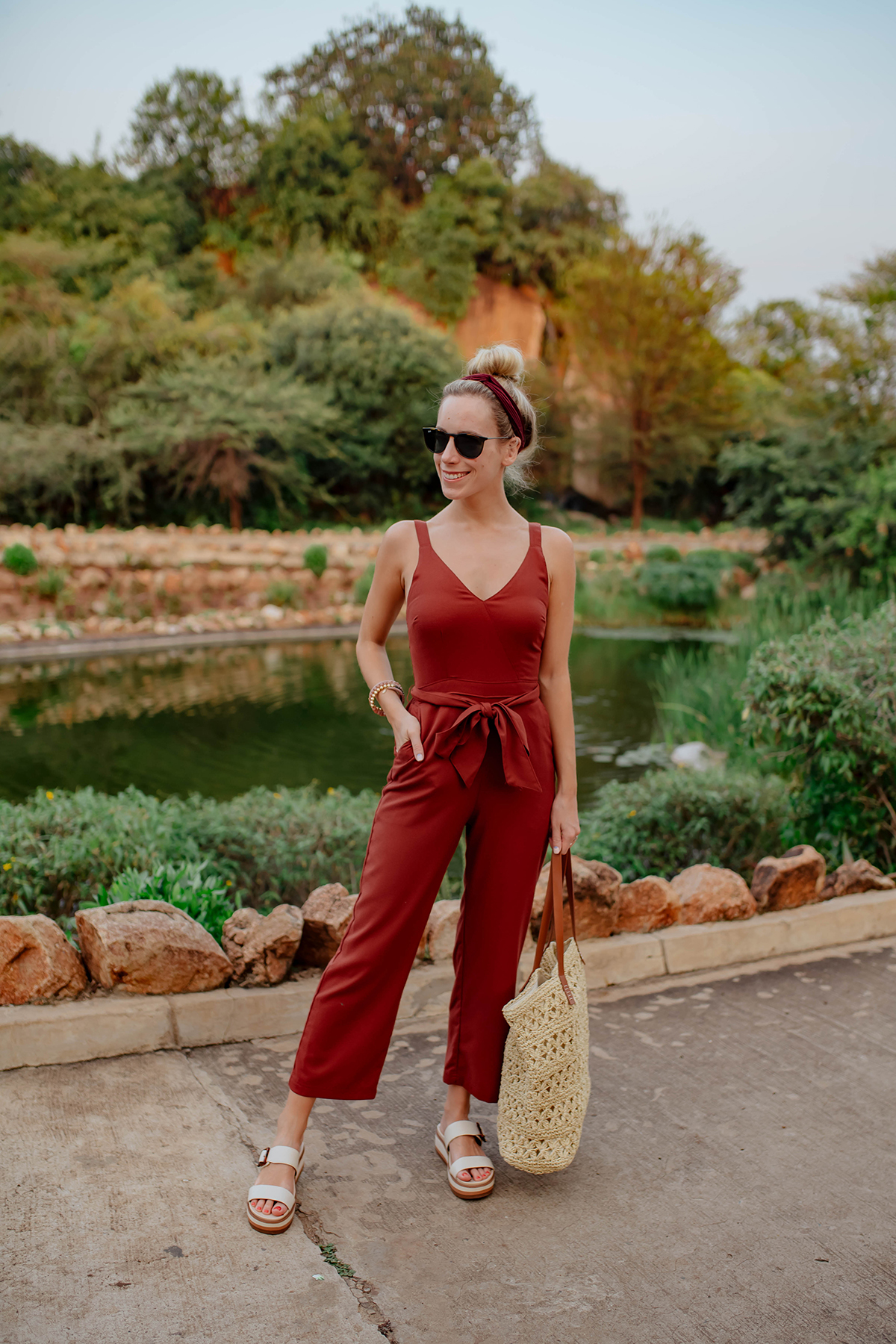 OUTFIT DETAILS // V-Neck Jumpsuit | Sunglasses | Woven Tote | Sandals | Headband | Beaded Bracelet
Did you feel safe? Do the animals ever approach or attack humans? The Serengeti is honestly one of the most peaceful places I've ever been. Not once did I feel concerned for my safety or nervous about being close to the animals. Our guide explained it very simply: humans and wildlife live in peace together in the Serengeti. Since the people do not harm or bother the animals, the animals pay no mind to the people. It truly was a very calm experience and not once did an animal ever approach our car or make any type of aggressive action towards us.
Was your trip expensive? Yes, it cost significantly more than our previous trips to Europe and elsewhere mainly due to the flights. This was our honeymoon so we gave ourselves a much larger budget to fly business class and stay at 5 star hotels. That said, a trip like this could definitely be done on a smaller financial scale if you opted to fly economy and stay at a moderately-priced hotel or camp– there are options at all budgets within Serengeti National Park!
- Katie