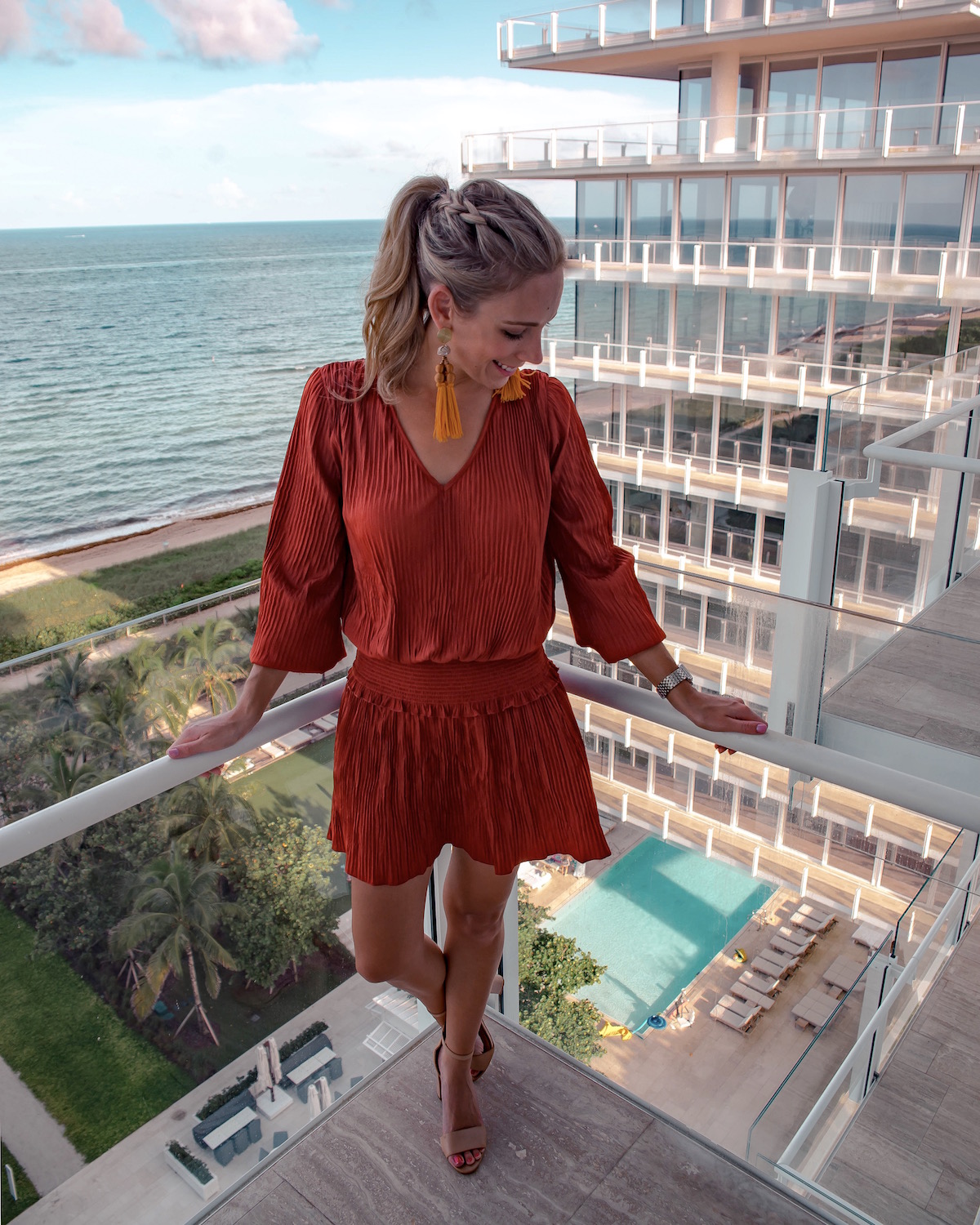 OUTFIT DETAILS // Dress (under $100!) | Sandals | Tassel Earrings | Watch
Welcome to Miami! Anyone else remember listening to the Will Smith song in elementary school? Well I do and now I feel reallllly old. Spending the last two days at home felt really lame compared to last week's getaway to south Florida. I'd only been to Miami once before when I was in college. One of my best girlfriend's mom took a group of us there for a weekend to celebrate my friend's 21st birthday and as you can probably imagine: things got a little crazy. Good times good times!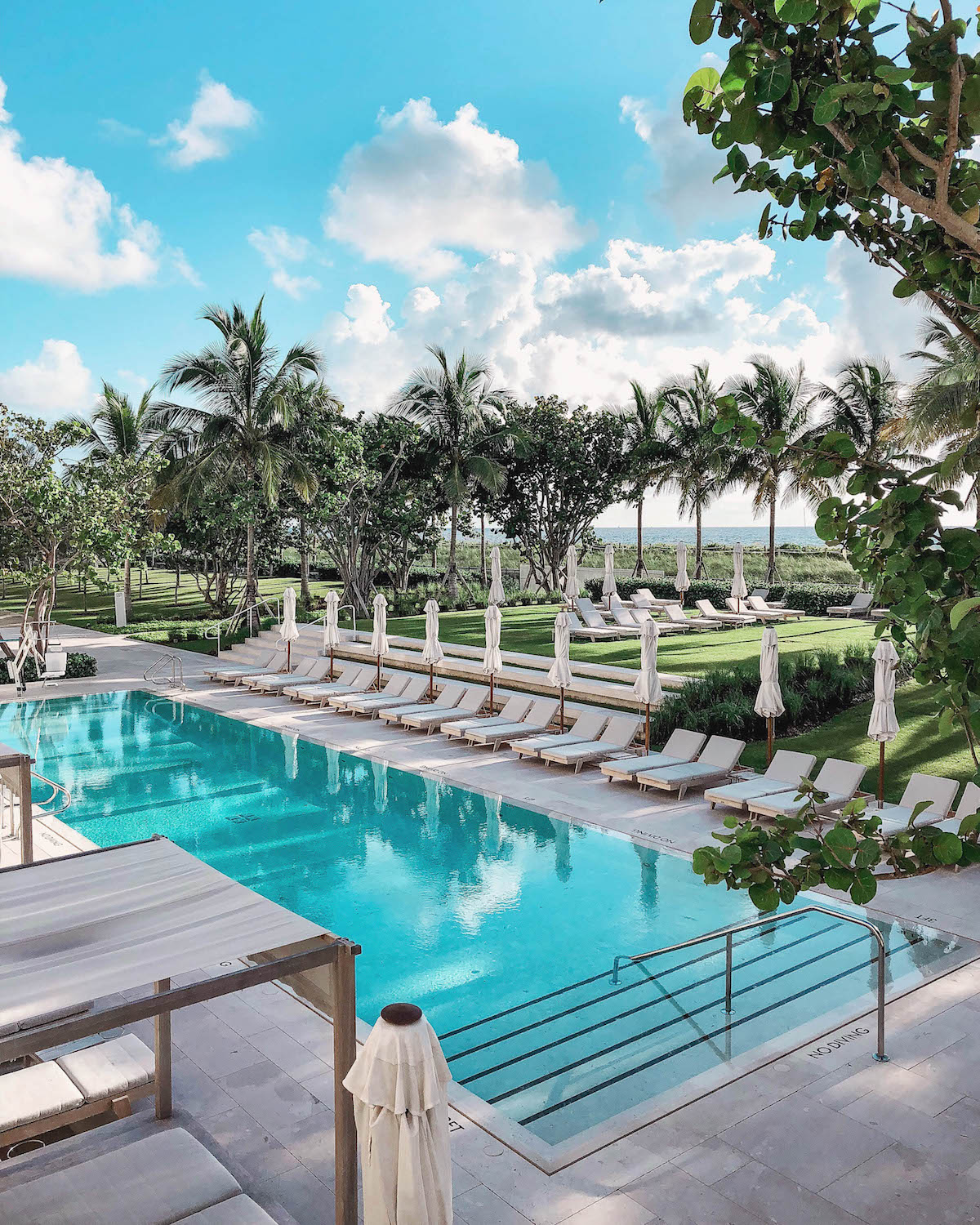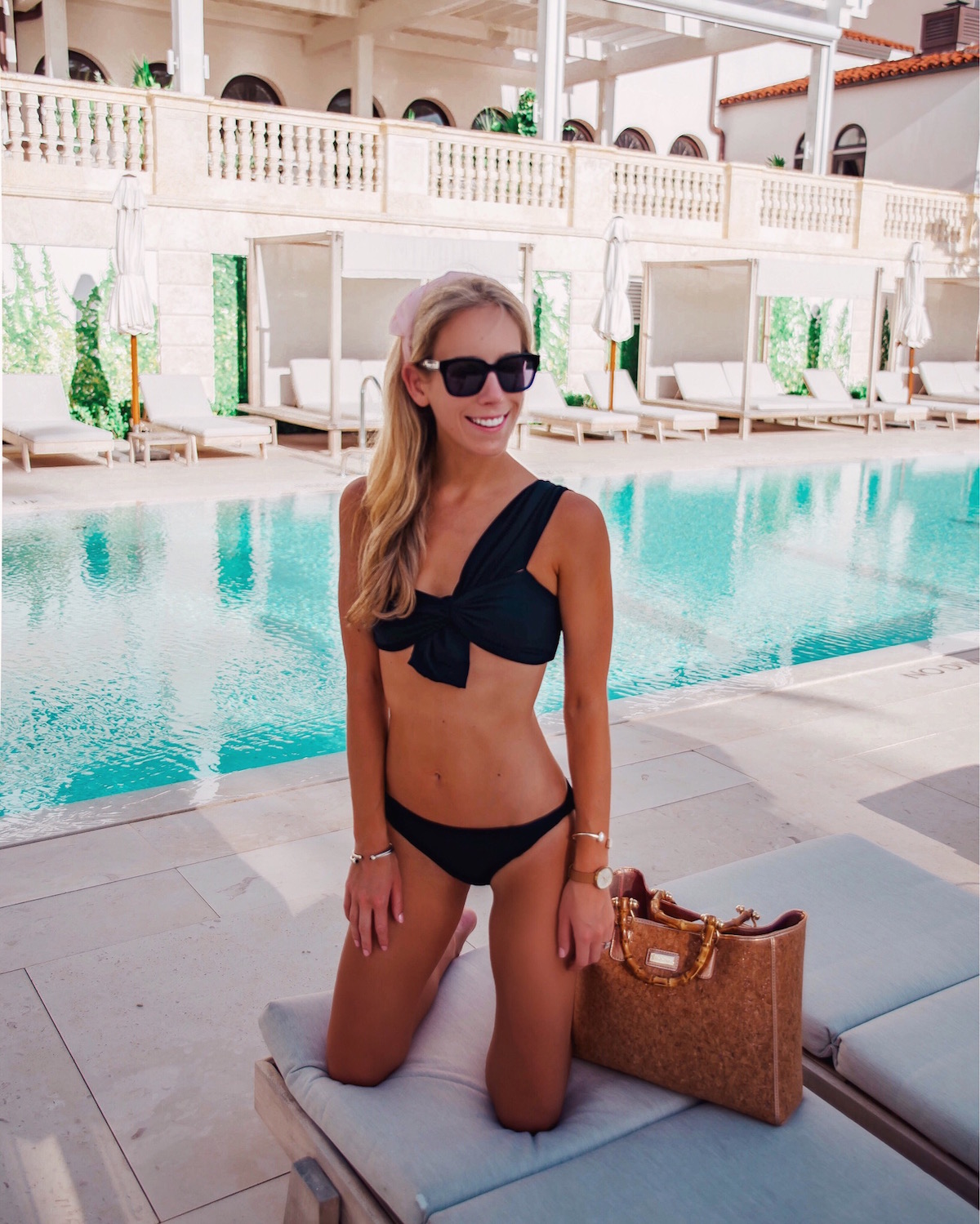 SWIM DETAILS // Marysia Swim Asymmetrical Bikini Top & Bottoms | Tote Bag | Sunglasses | Kendra Scott Bracelet | Headband
Four Seasons Surfside Hotel Review
While this trip didn't involve dancing at nightclubs or tequila shots, it certainly was just as fun and left me wondering why I hadn't returned to Miami sooner. We took a 7AM Friday morning flight and by 10:30AM we had found ourselves sitting by the pool at the Four Seasons Hotel at The Surf Club. You would never guess it based on the immaculate interiors and modern guest rooms, but The Surf Club has actually been around since 1930. It began as a private club for the rich and famous (think Winston Churchill and Elizabeth Taylor) before eventually ending up in the hands of the Four Seasons, who renovated and re-opened the property about one year ago.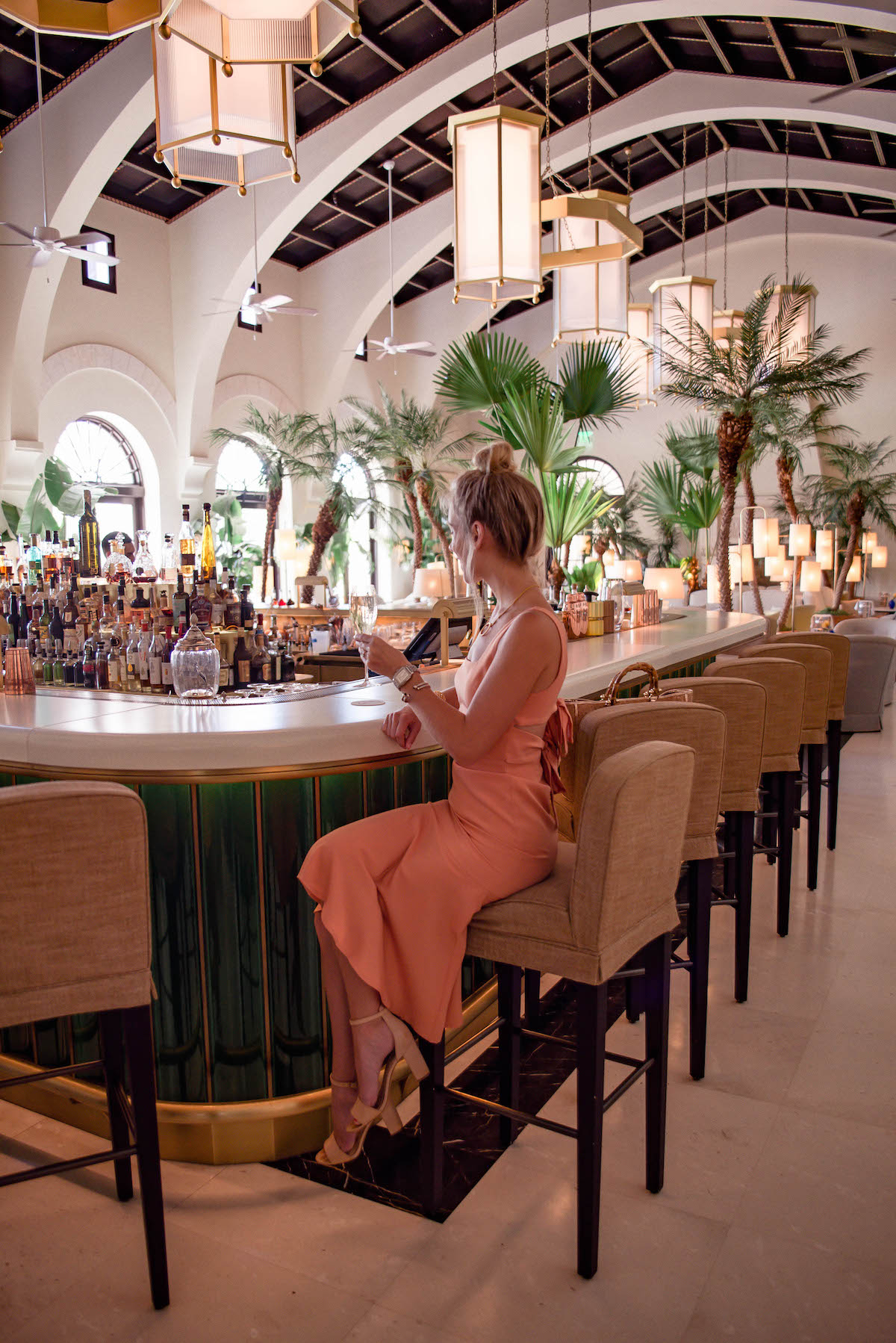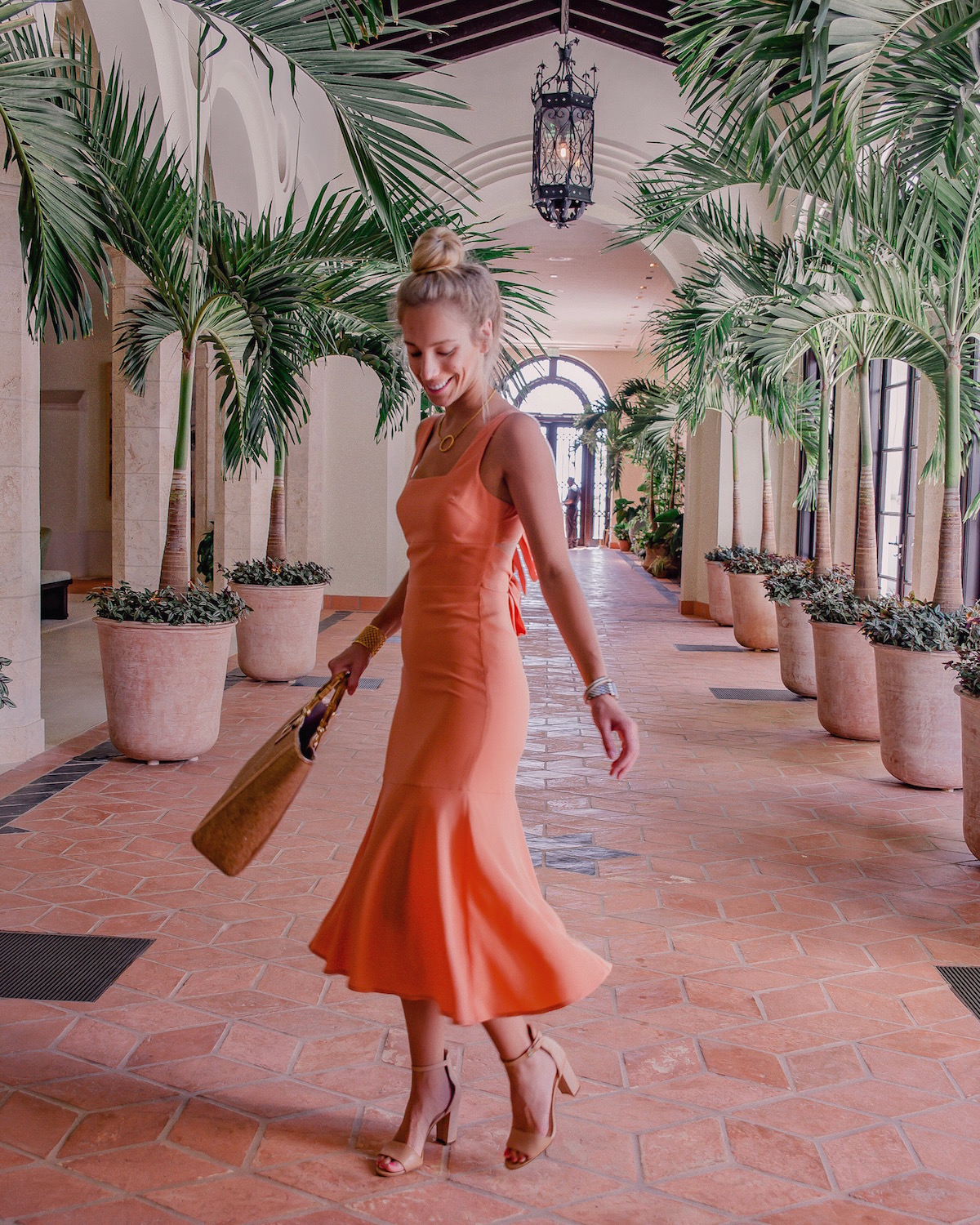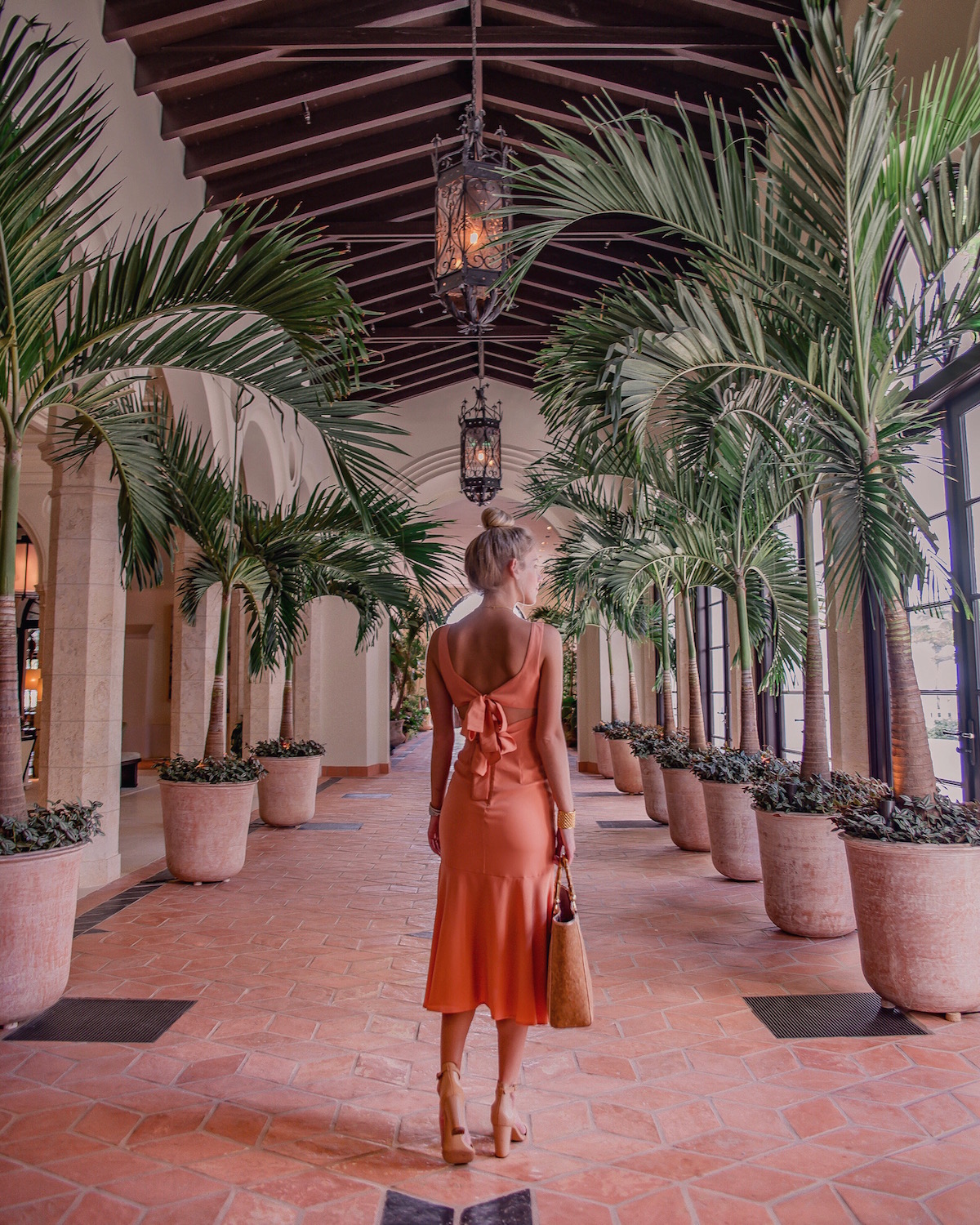 OUTFIT DETAILS // Peach Dress (under $70!) | Sandals | Tote Bag
While the guest rooms and exterior of the hotel look very modern, pulling up the cobblestone driveway and entering the lobby gave me major Mediterranean villa vibes. It honestly felt like being back in Italy seeing the floor tiles and stucco walls.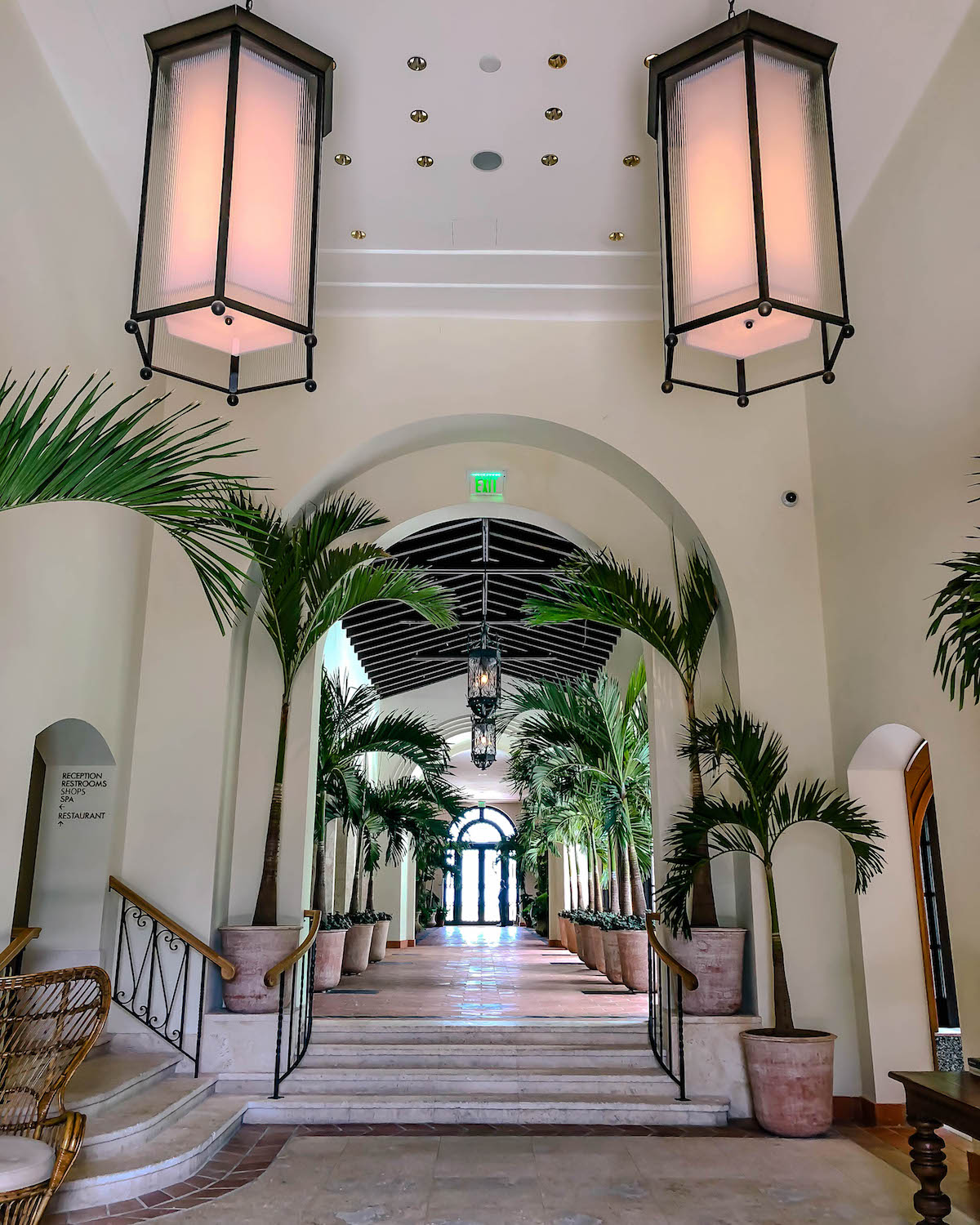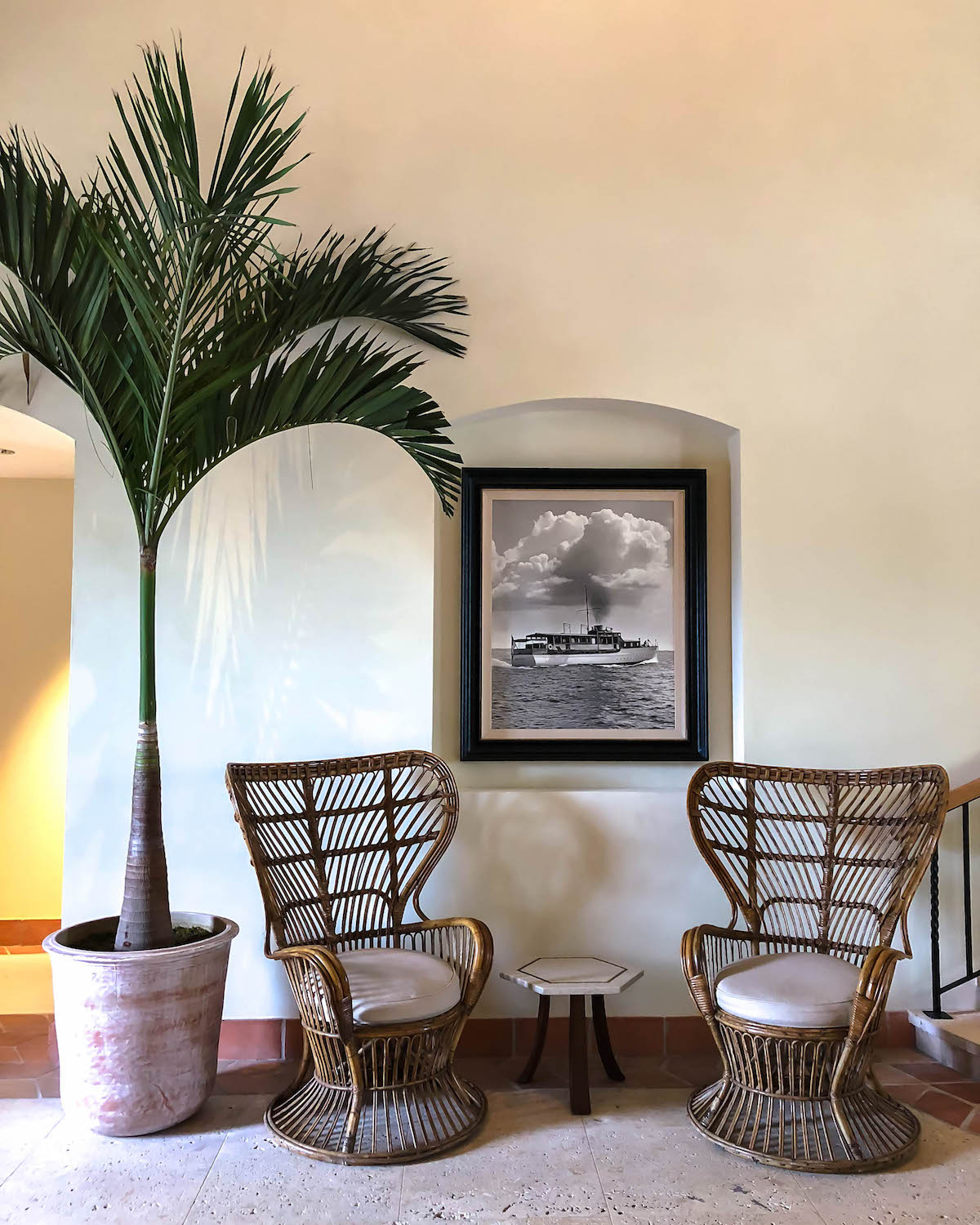 Speaking of Italy… Ever heard of a little hotel in Positano called Le Sirenuse? Yep, THAT ONE. Well believe it or not, The Surf Club is home to Le Sirenuse's debut stateside restaurant. Stepping inside you're immediately transported to the Amalfi Coast. In Positano we dined at both La Sponda (Le Sirenuses's famous restaurant) and had drinks at the hotel champagne bar, so we had very high expectations for our dinner reservation at the Miami location.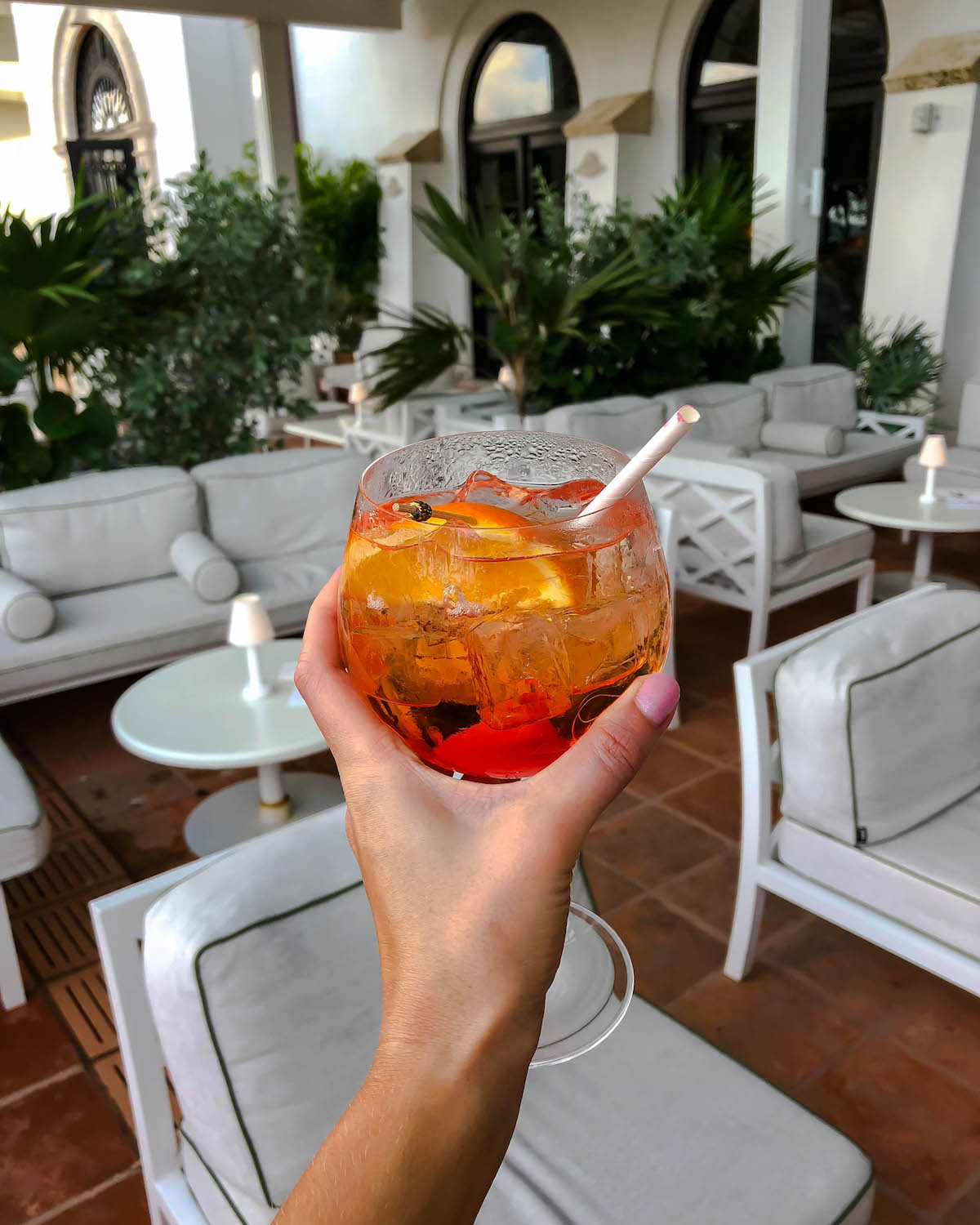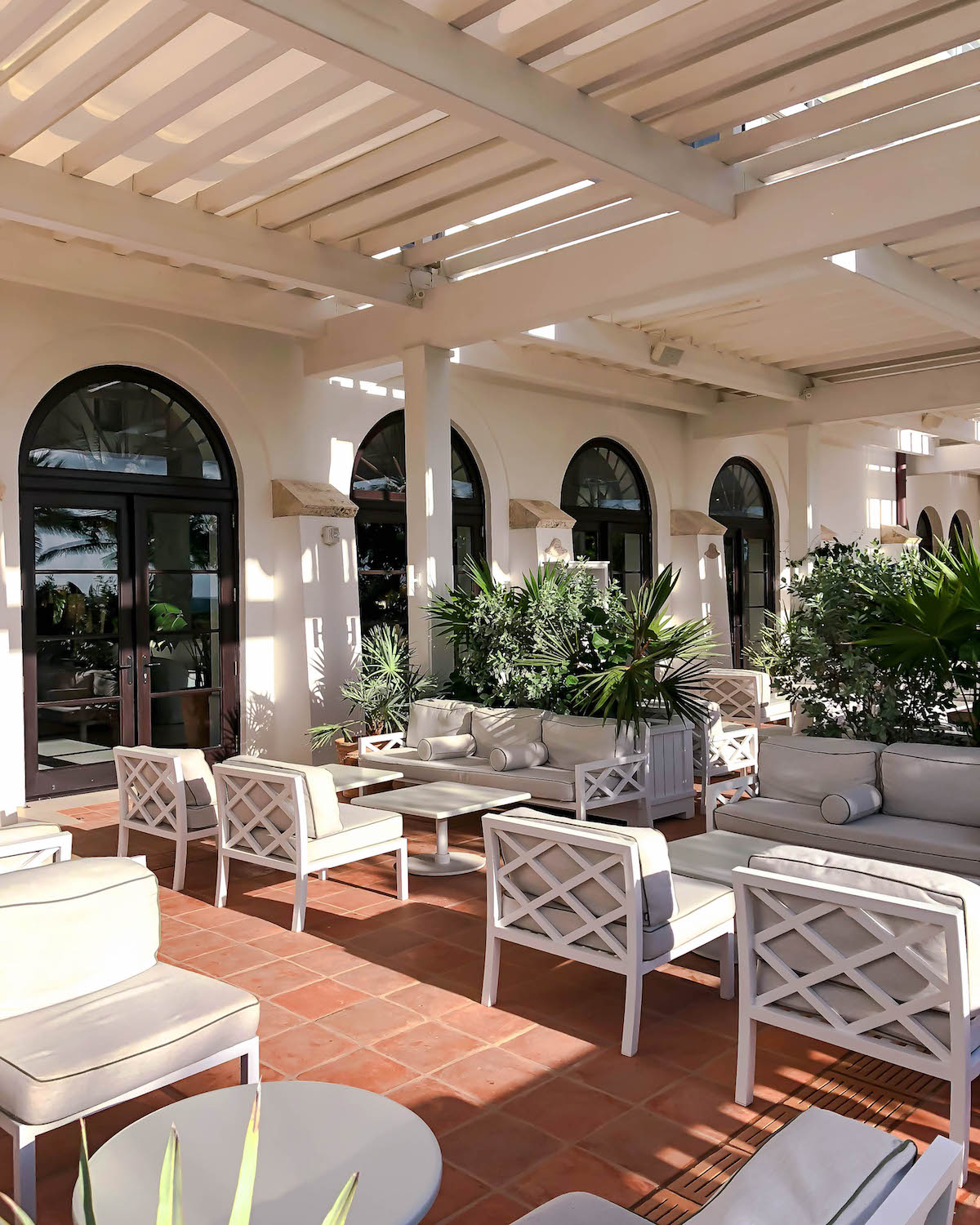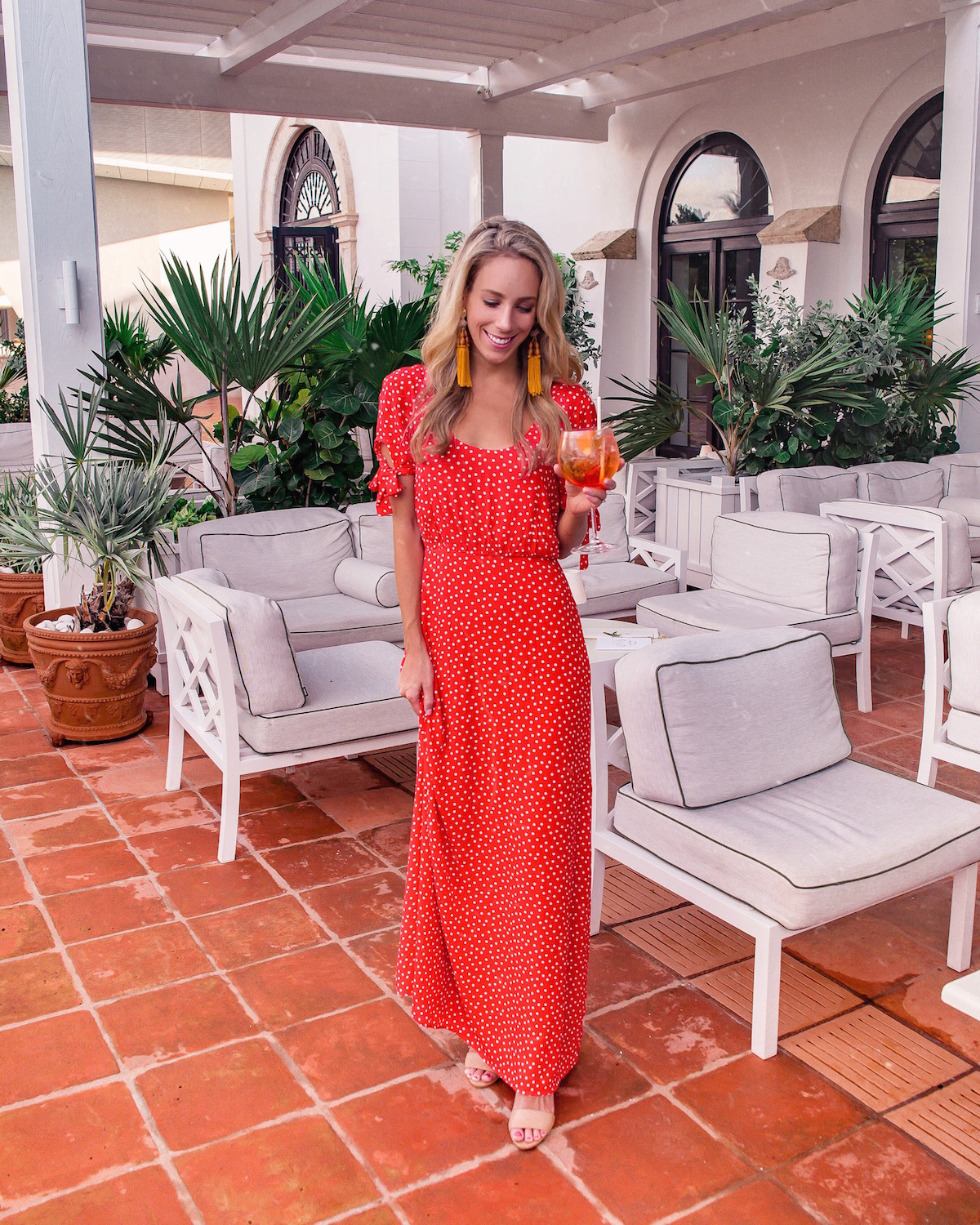 OUTFIT DETAILS // Maxi Dress (under $60!) | Sandals | Tassel Earrings
I can't believe I'm saying this… But I think we enjoyed our dinner even more at Le Sirenuse Miami then we did in Positano. It was perfection from the service to the food. By the time we finish eating at 10PM there was nothing we could do but drag ourselves up to our room and go to sleep– total food coma!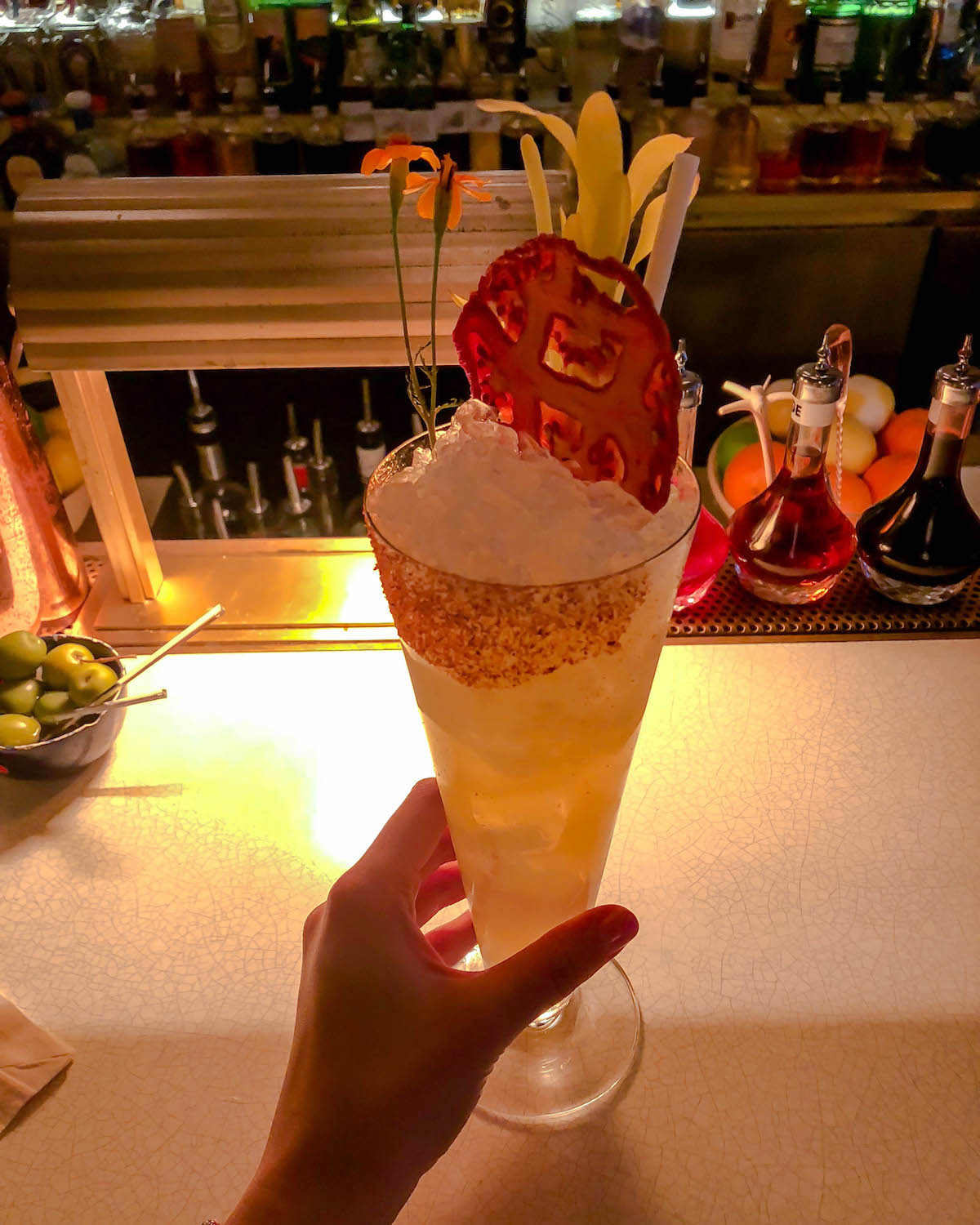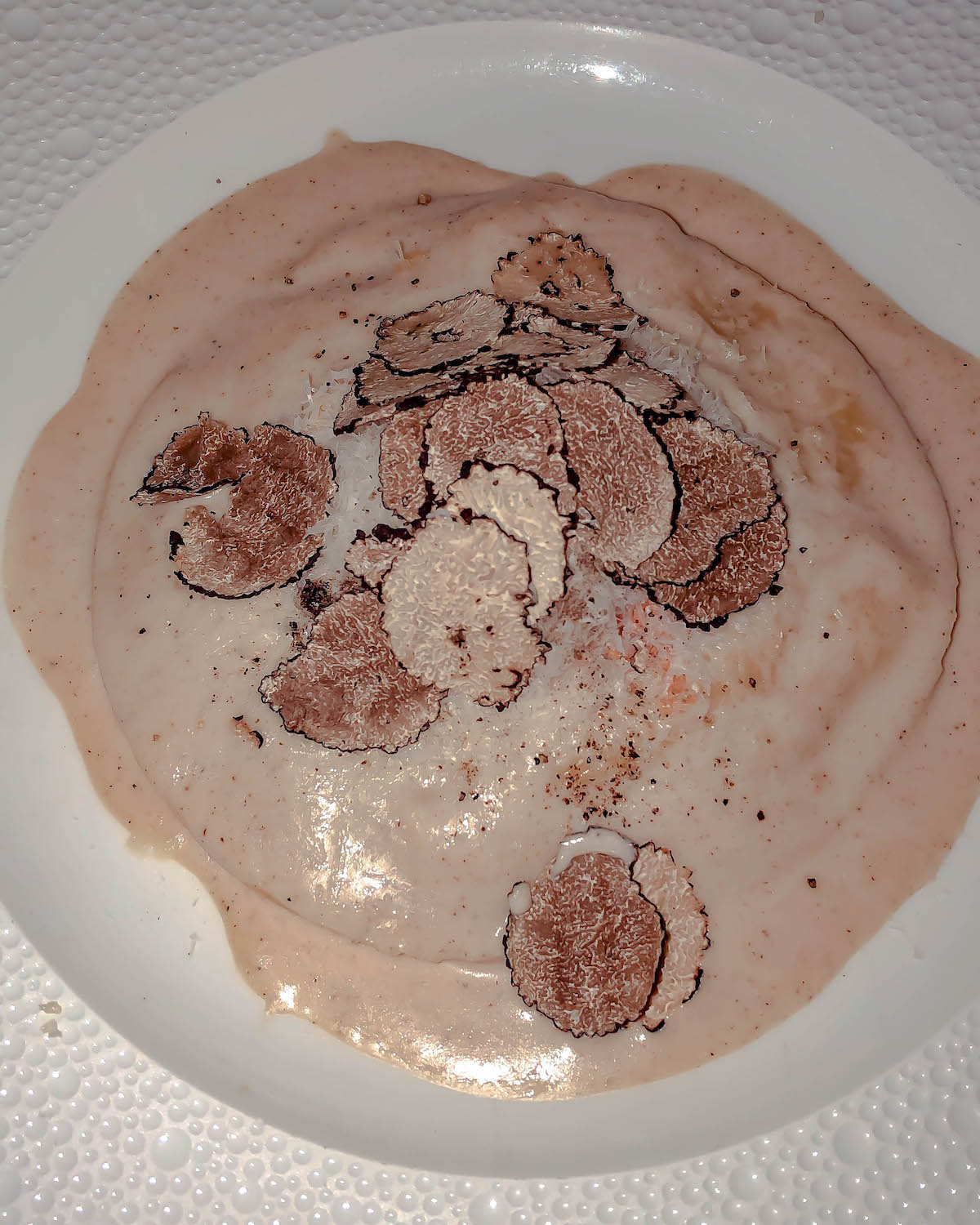 One of the aspects we loved the most about The Surf Club was how intimate and quiet the hotel felt. There are only 72 guest rooms so it's a place to come if you really want to relax. I'd never thought of Miami and South Beach as a destination I'd go to unwind, but that's honestly exactly what we did. Other than a lunch and dinner with a few of our friends that now live in Miami, we pretty much spent the entire weekend just enjoying ourselves by the pool.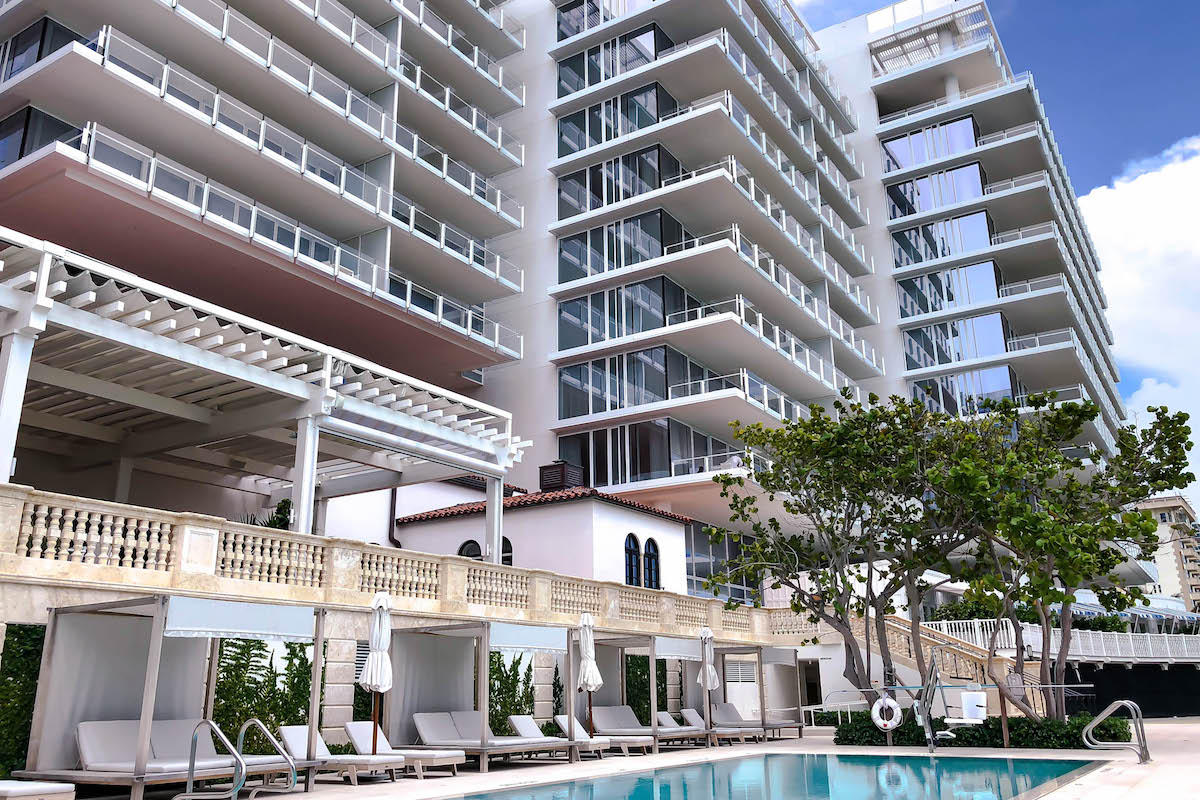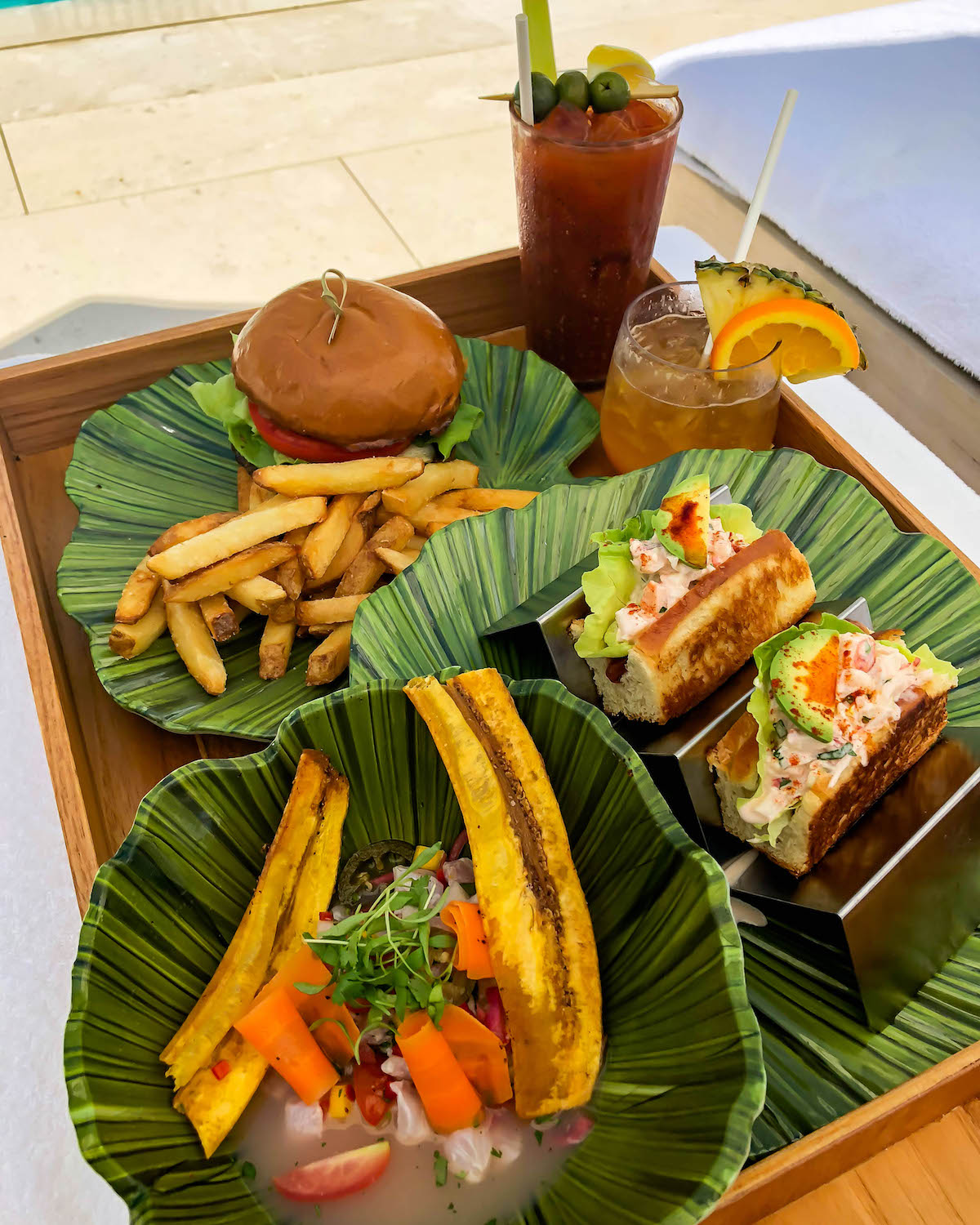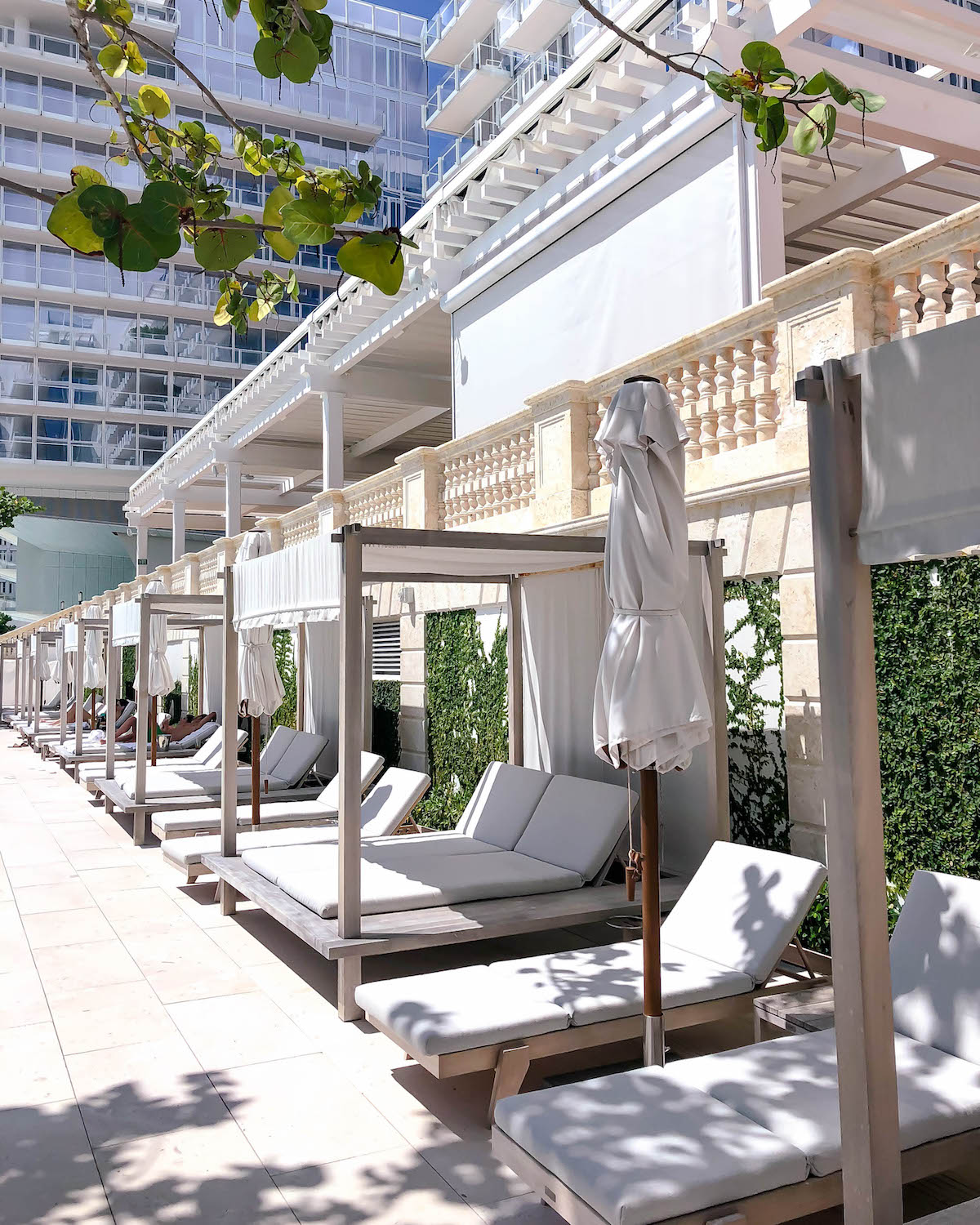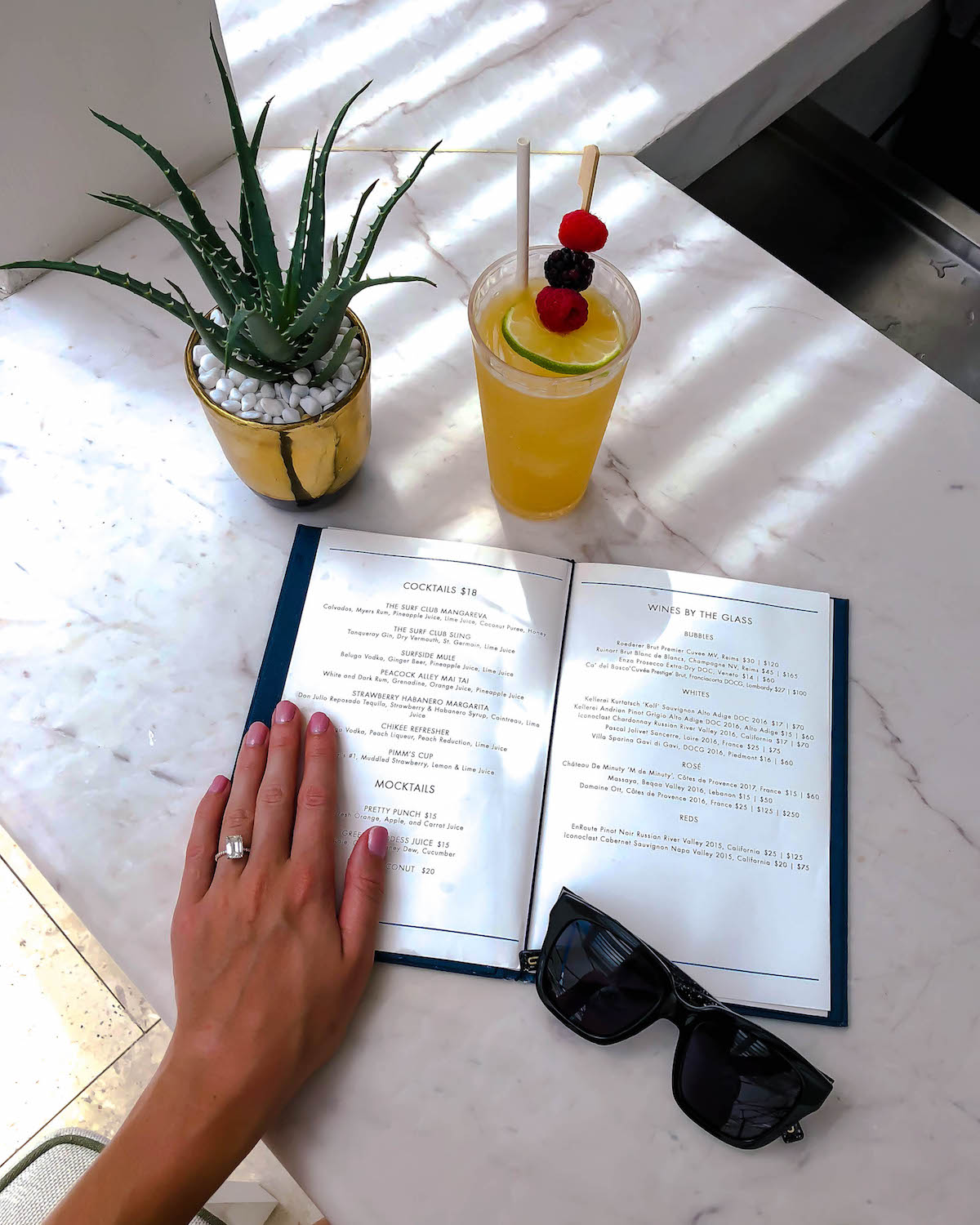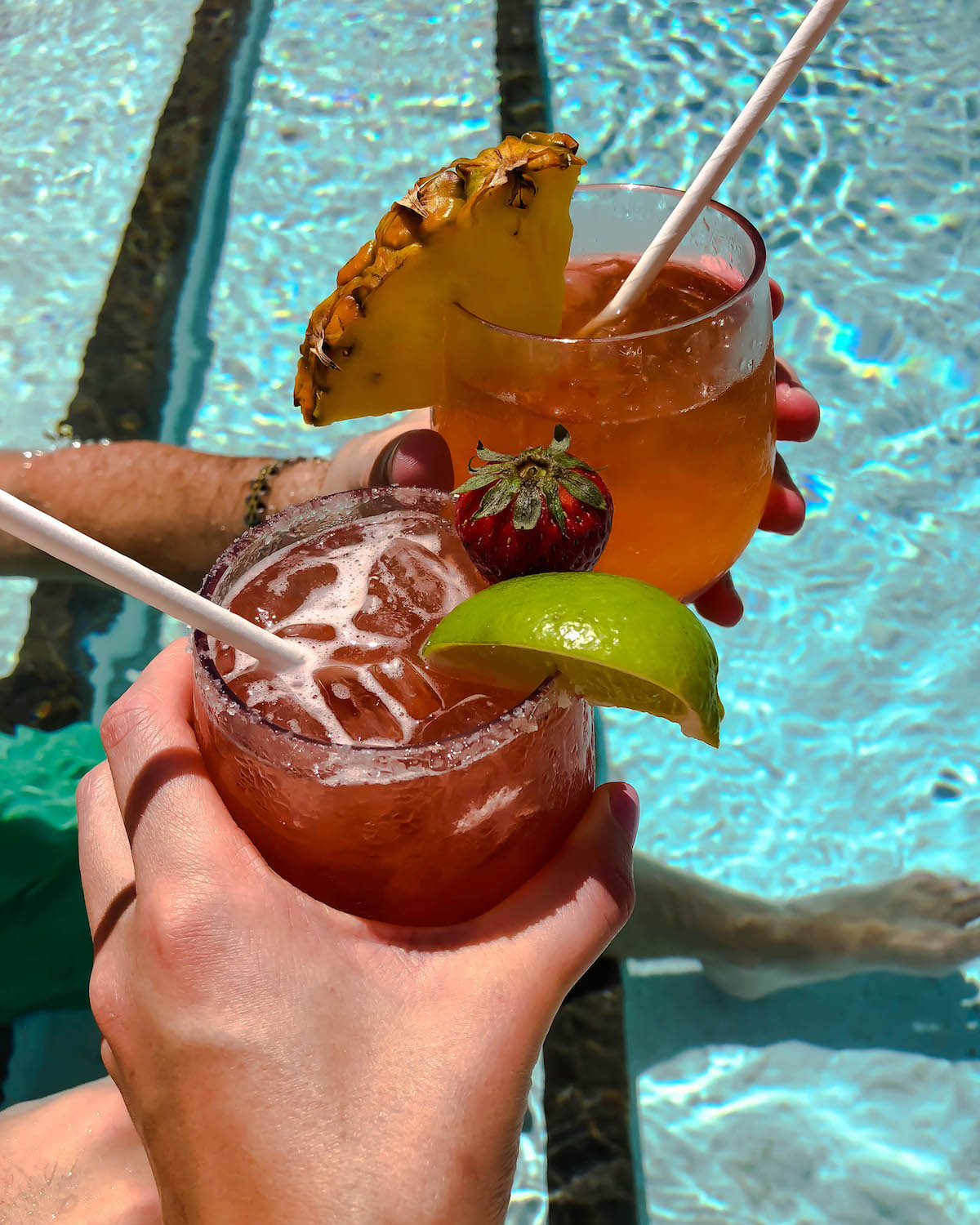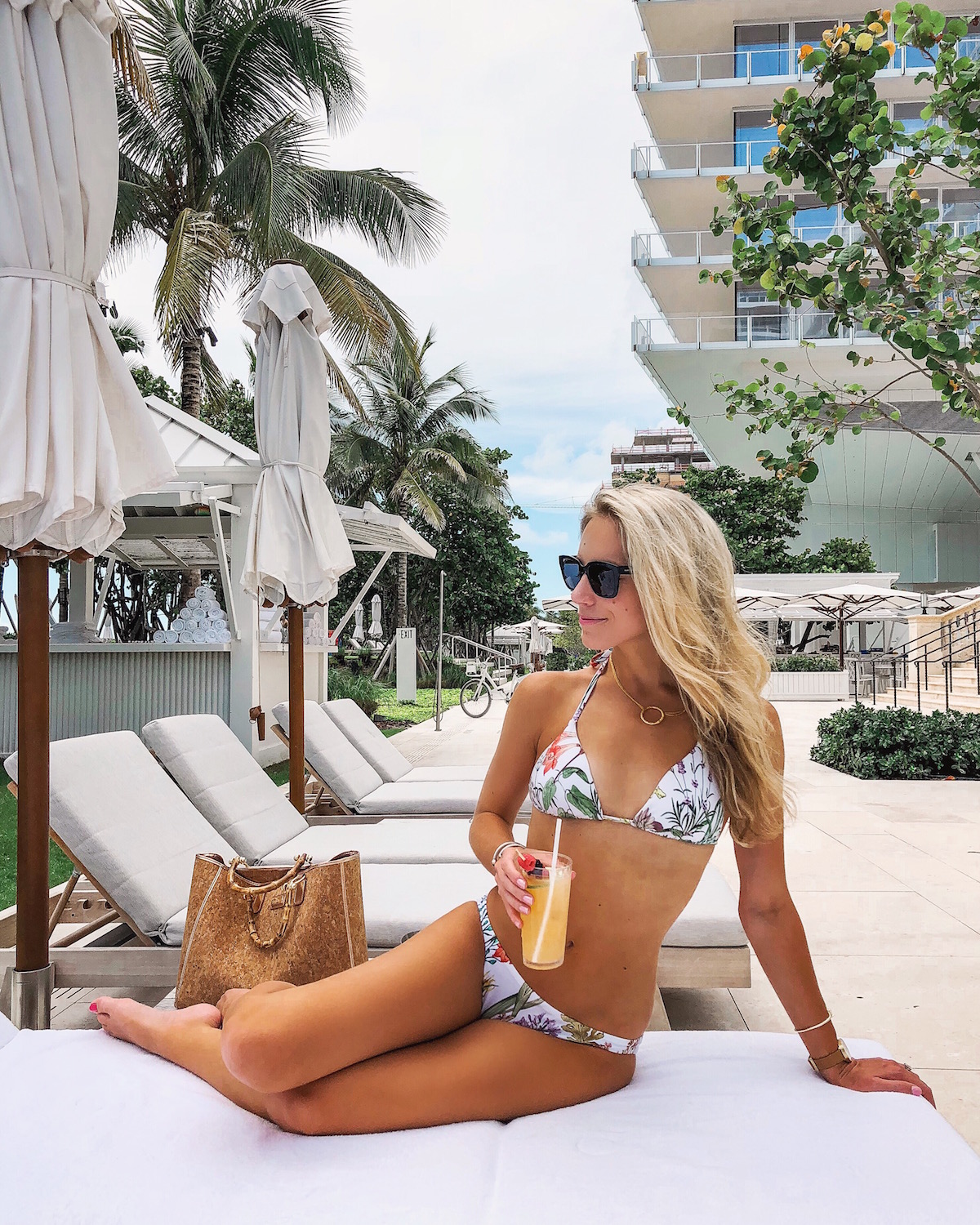 SWIM DETAILS // Bikini Top & Bottoms | Tote Bag | Sunglasses | Kendra Scott Bracelet
The Surf Club is located right on the beach so if that's your thing you could easily post-up on the sand too. There are even bikes available to guests that you can take for a spin right on a path that runs along the beach!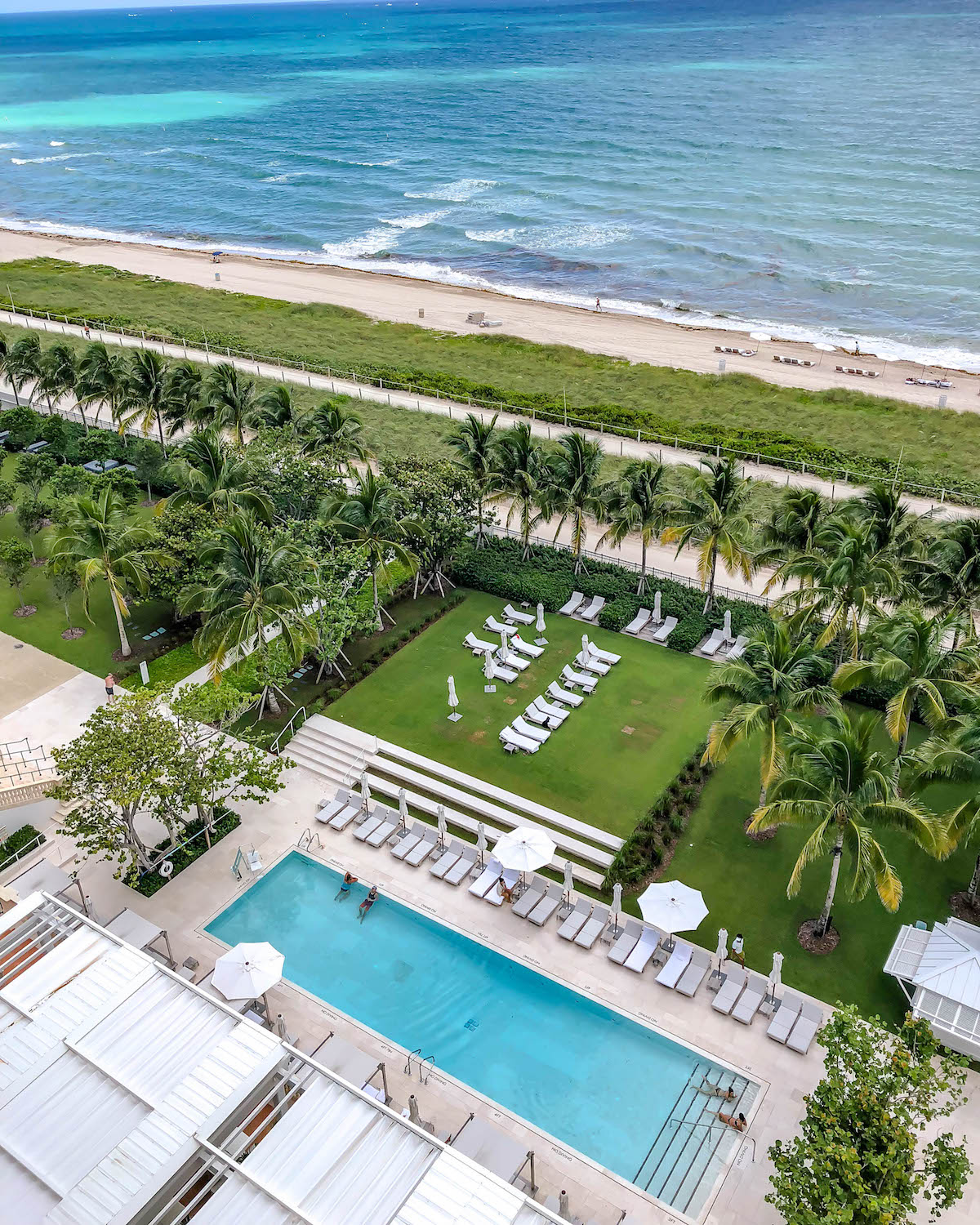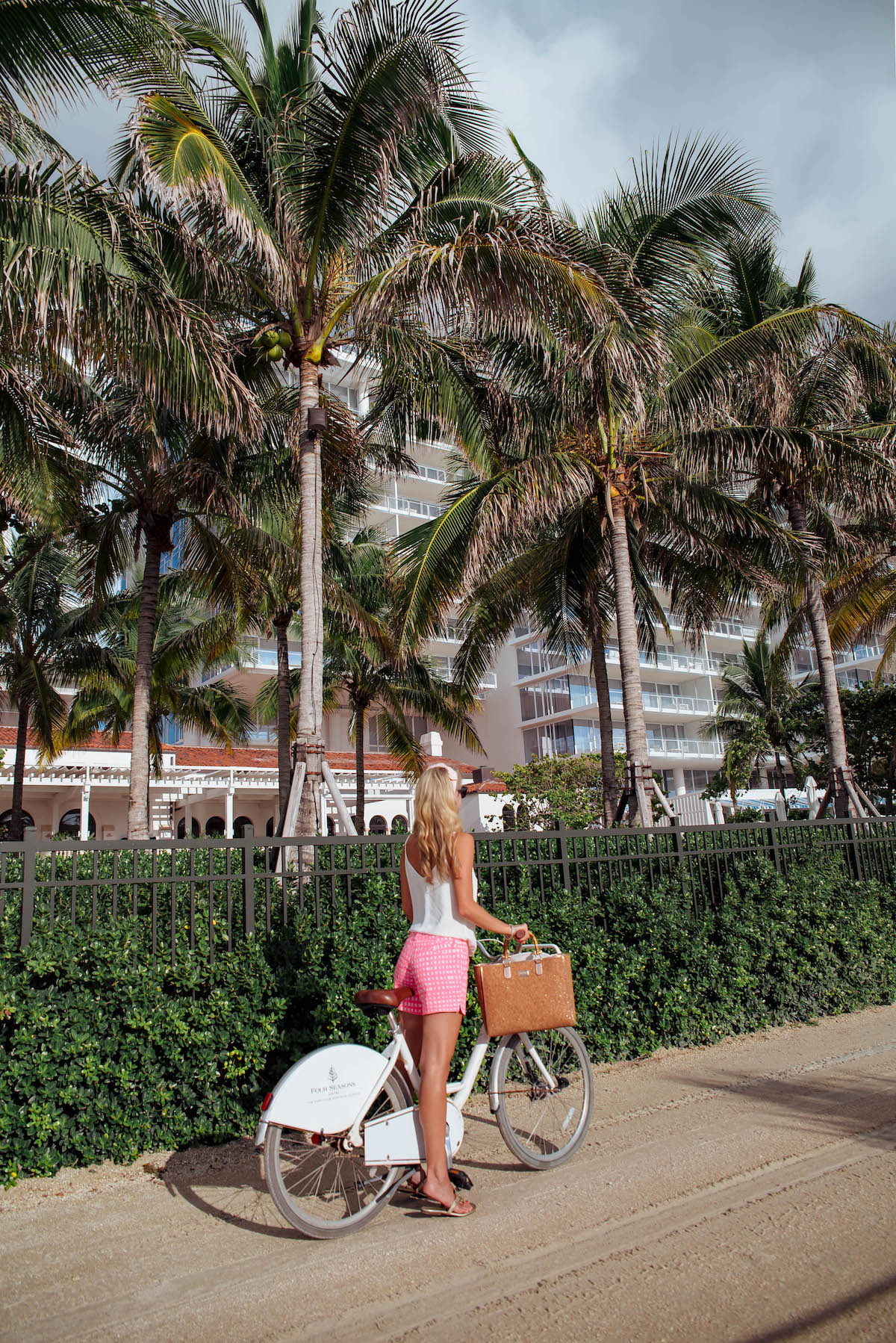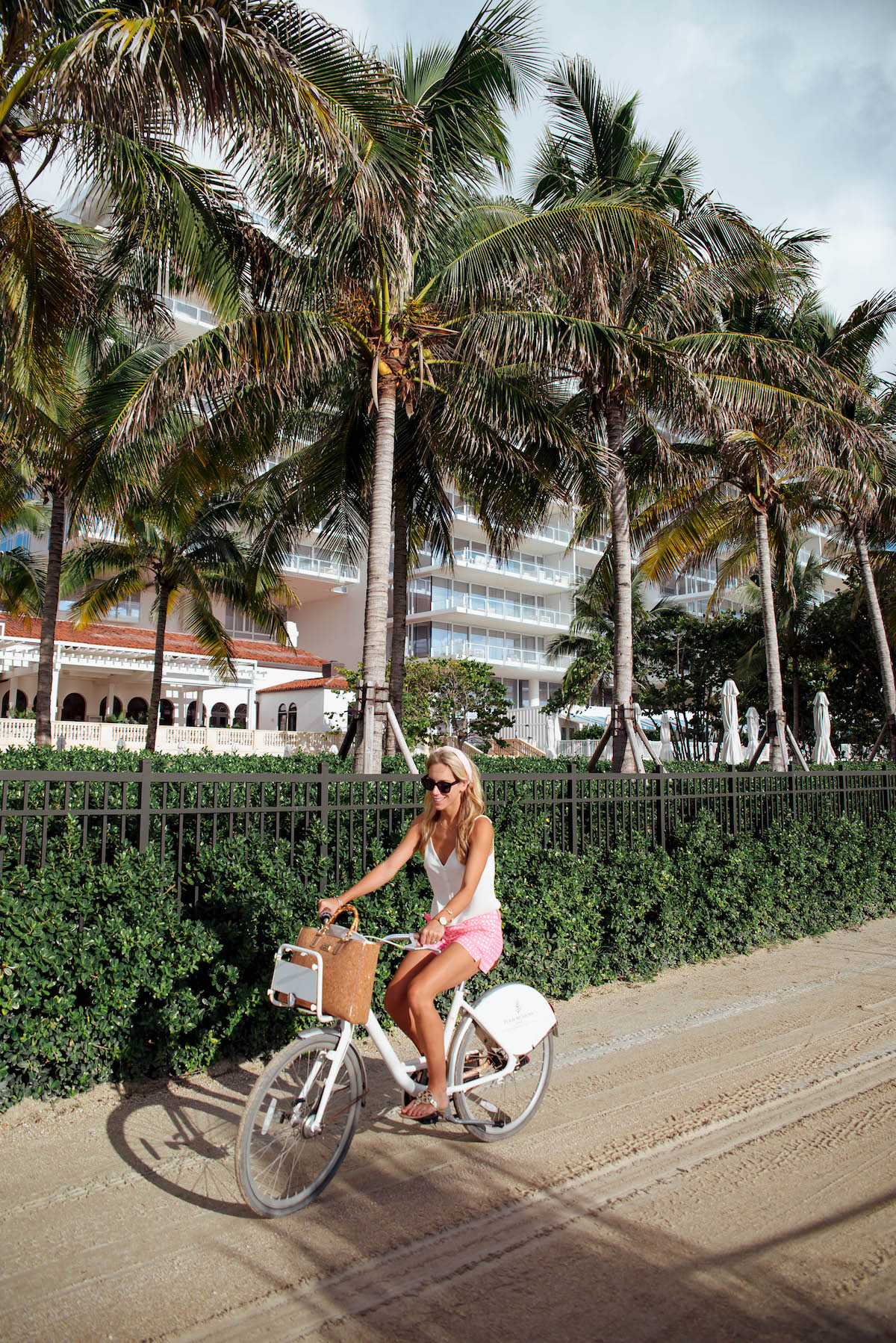 OUTFIT DETAILS // Pink Gingham Shorts | Tank Top | Sandals | Tote Bag | Sunglasses | Headband
Our room was out of this world. The pictures speak for themselves– the huge king size bed, marble bathroom and floor-to-ceiling windows. The coolest thing I noticed is that everything in the room can be controlled by an iPad. With just a quick tap you can close the drapes, adjust the temperature or order room service. It was so cool.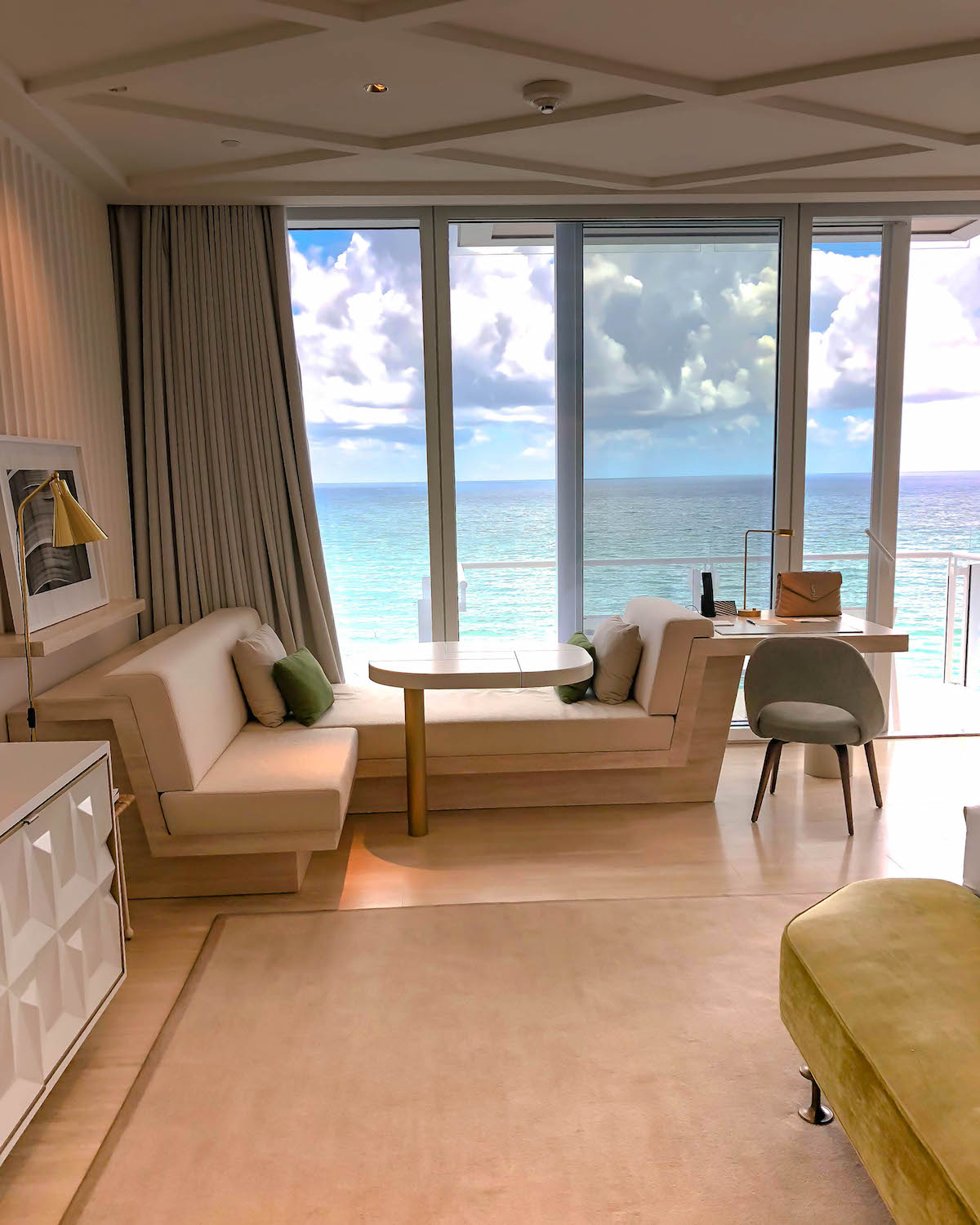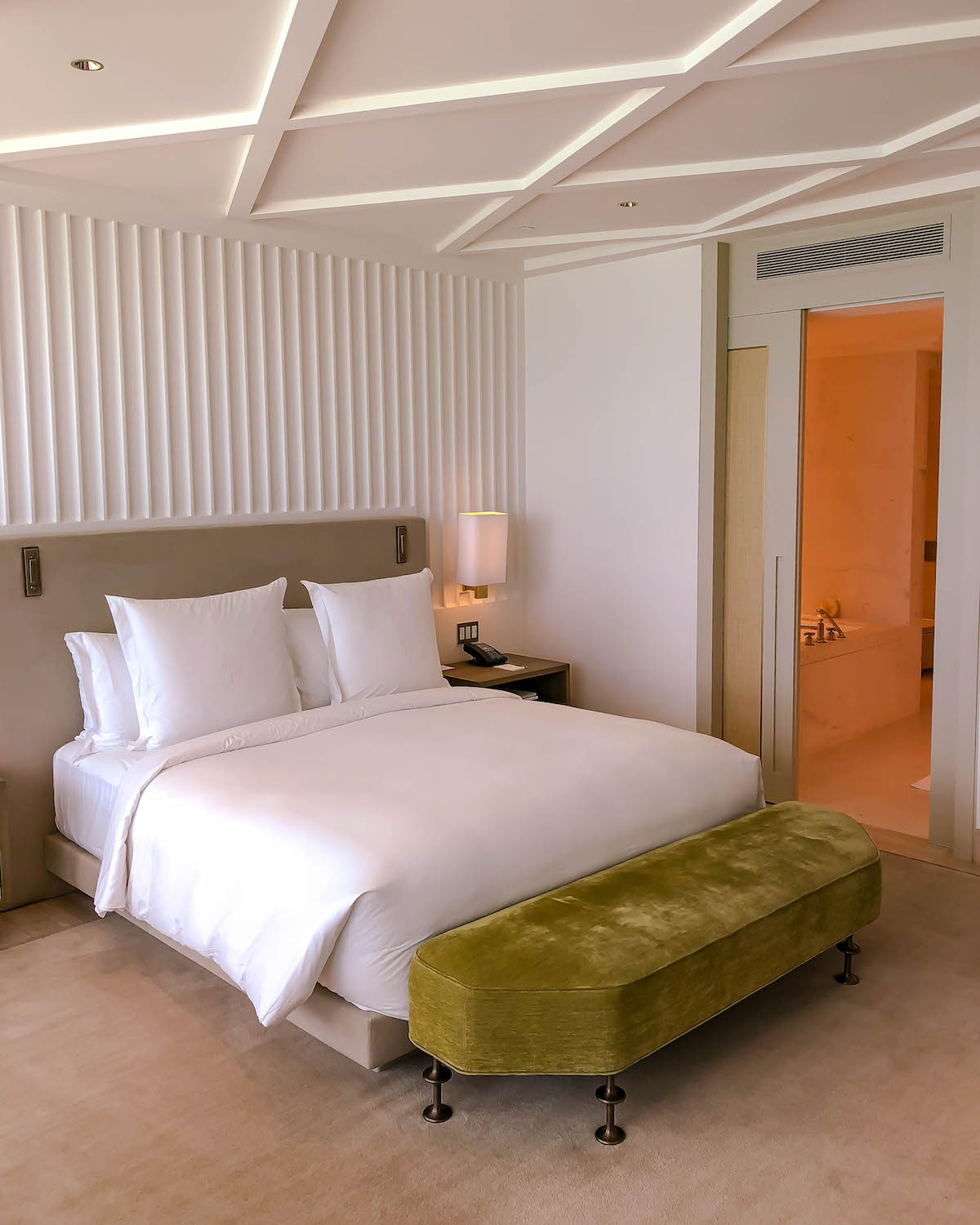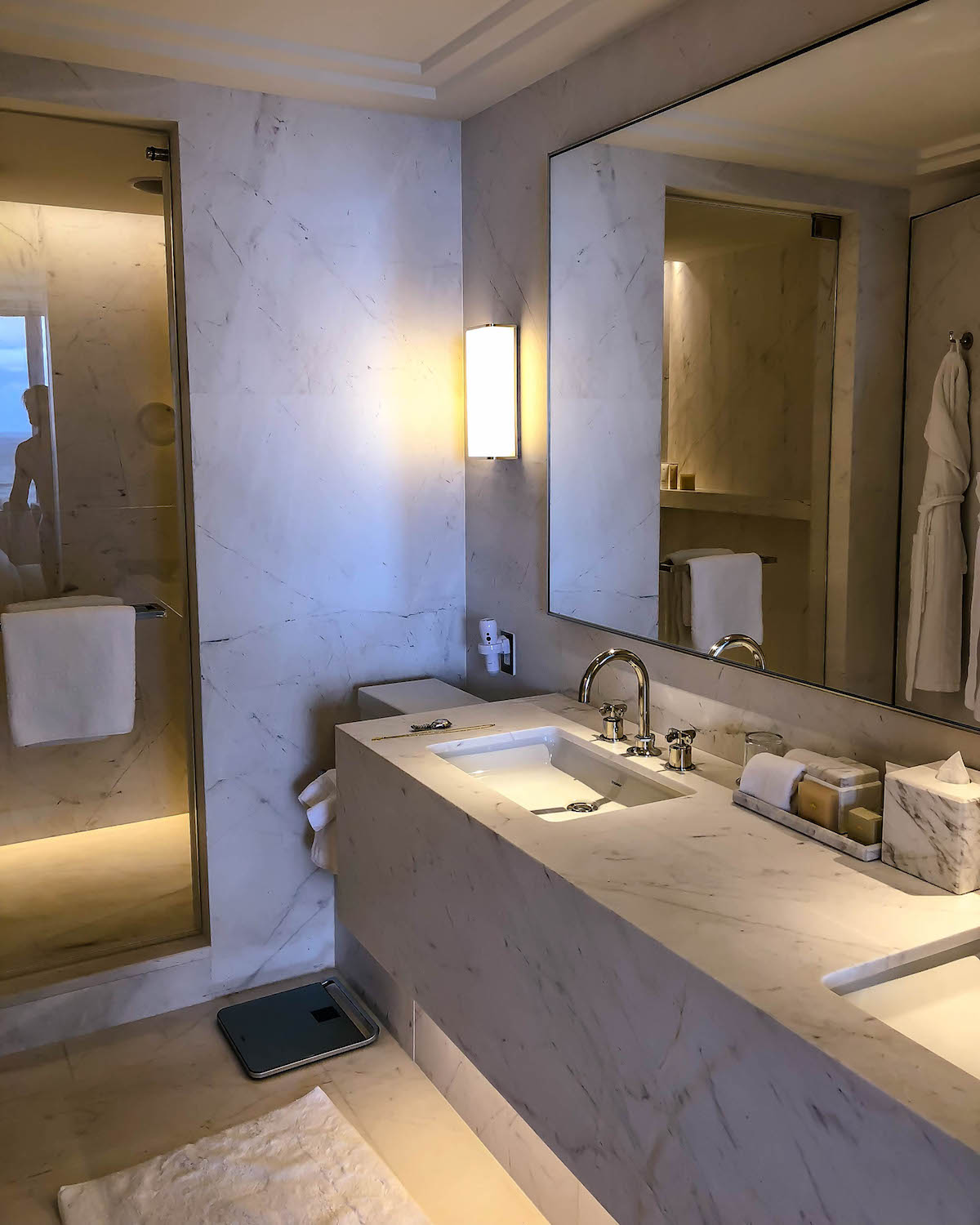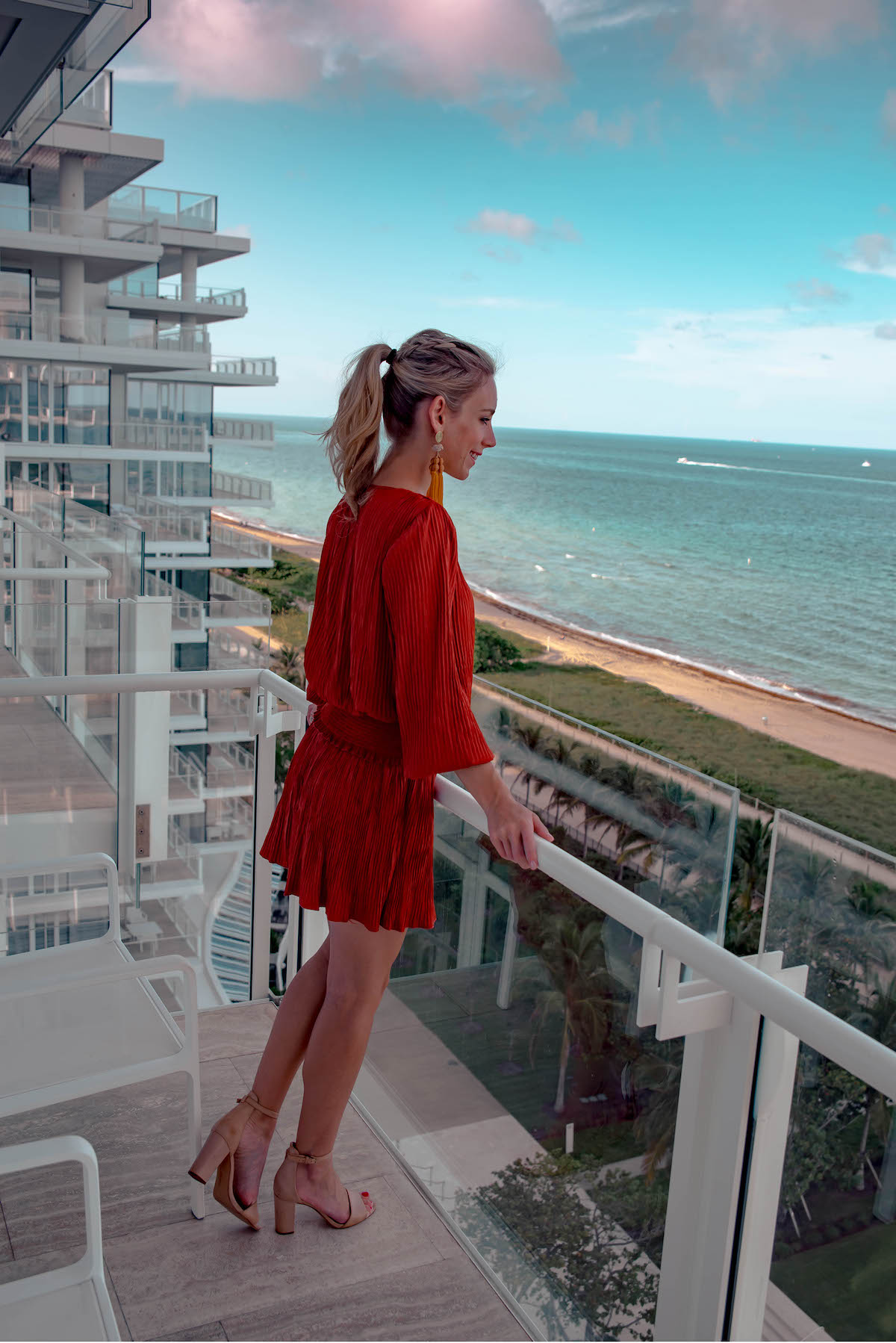 OUTFIT DETAILS // Dress (under $100!) | Sandals | Tassel Earrings | Watch
While we could've easily spent the entire weekend happily content at The Surf Club, I'm glad we got in a little bit of exploring. We had the best lunch at Tanuki where we ordered pineapple mezcal cocktails, spicy tuna + crispy rice and whole lot of sushi. I normally don't go for Asian-inspired food, but this was DELICIOUS. We also briefly walked around Wynwood where I got my fill of colorful murals and sweets from The Salty Donut. I would 100% come back to Miami just to spend a day walking around Wynwood. It looked like there was so many interesting shops and foodie spots!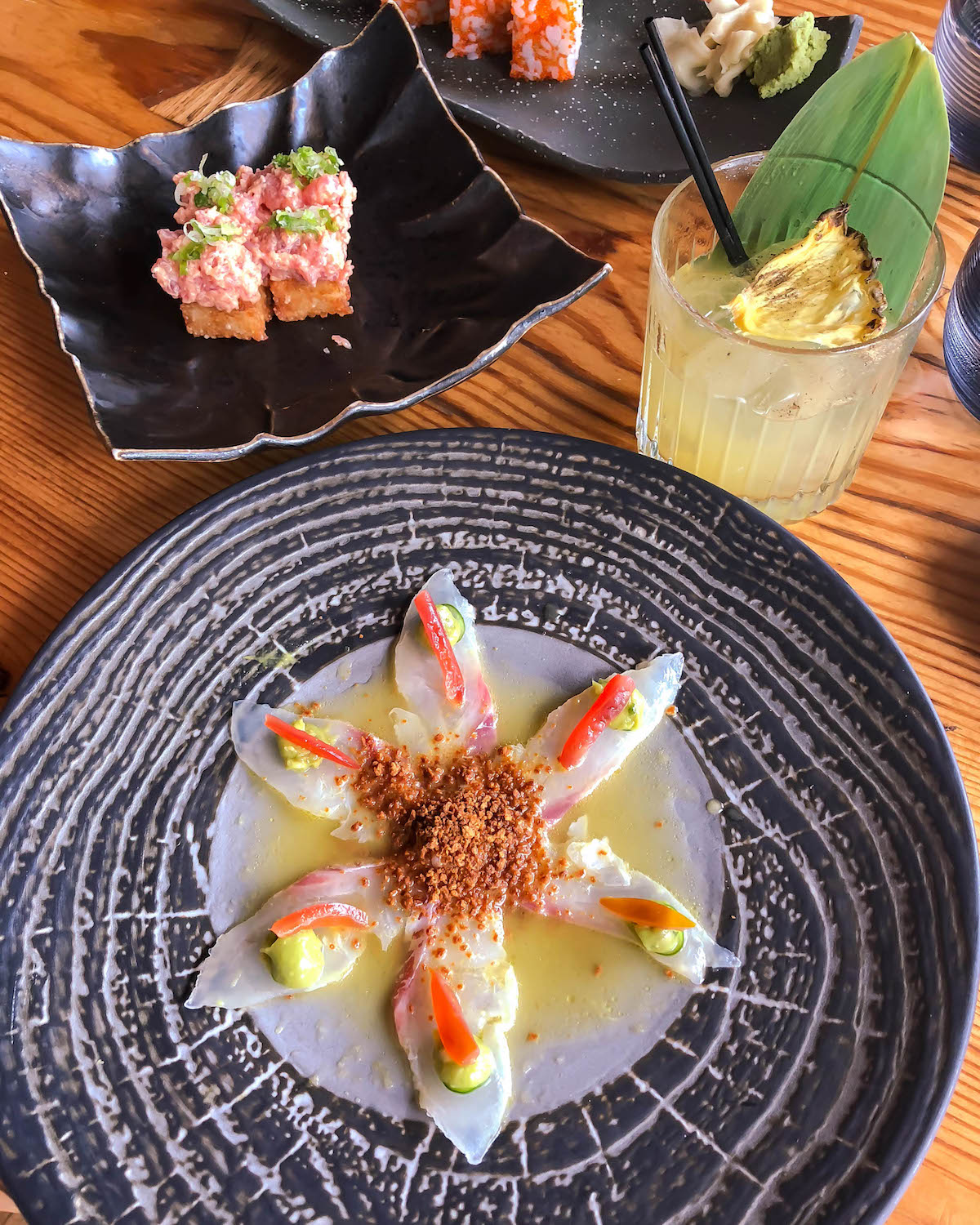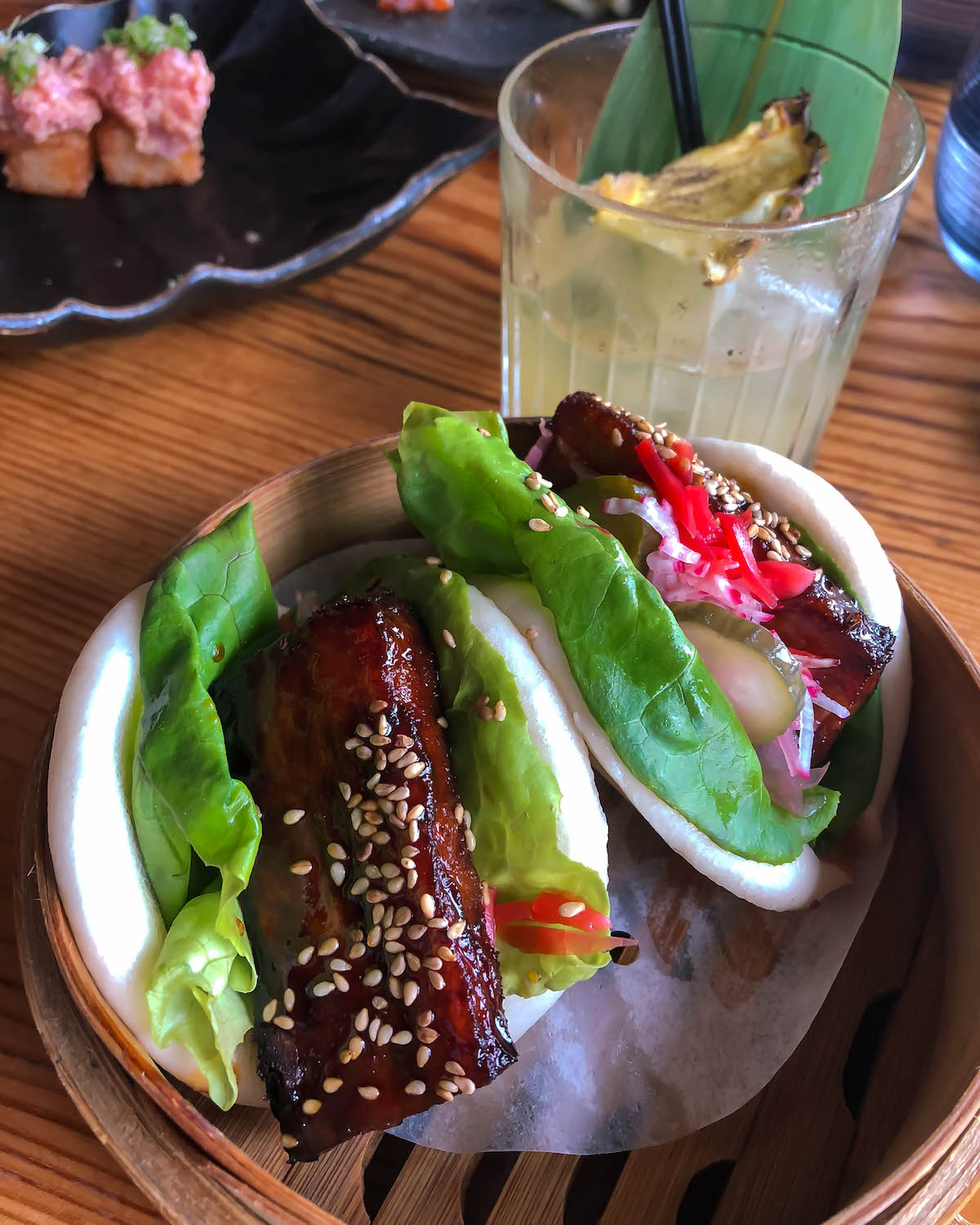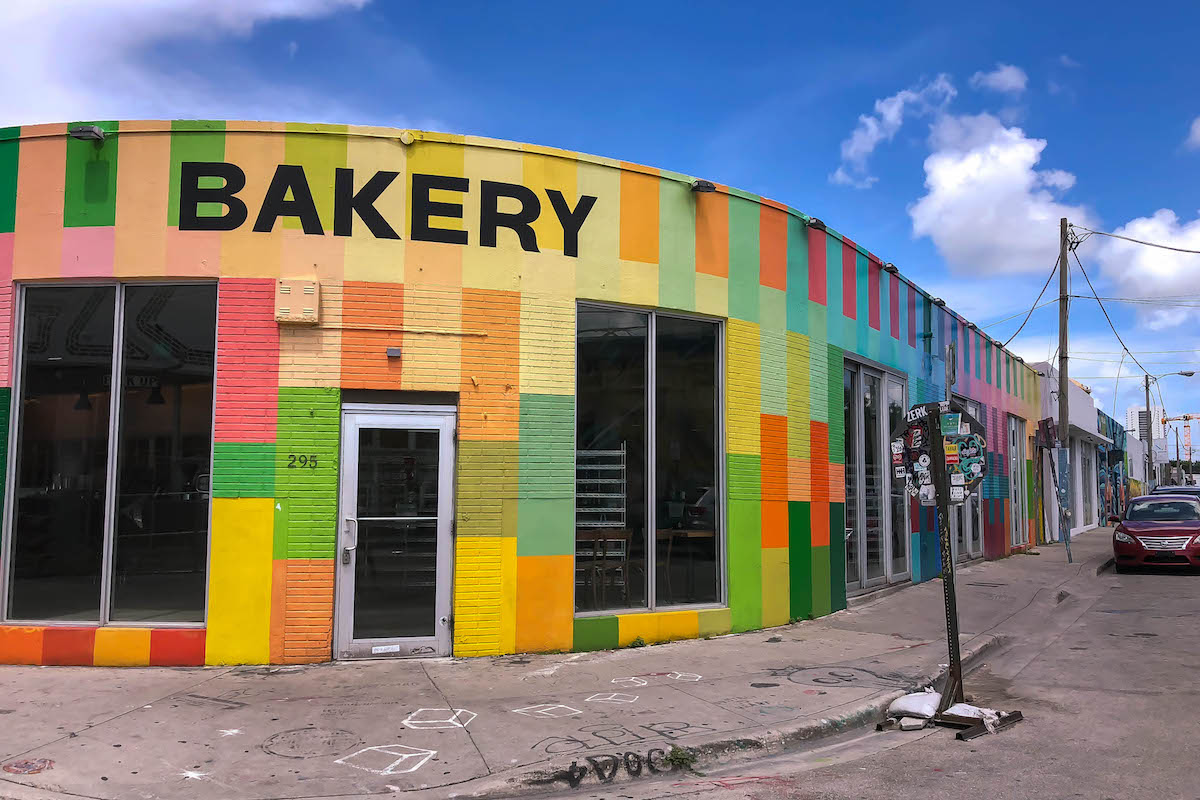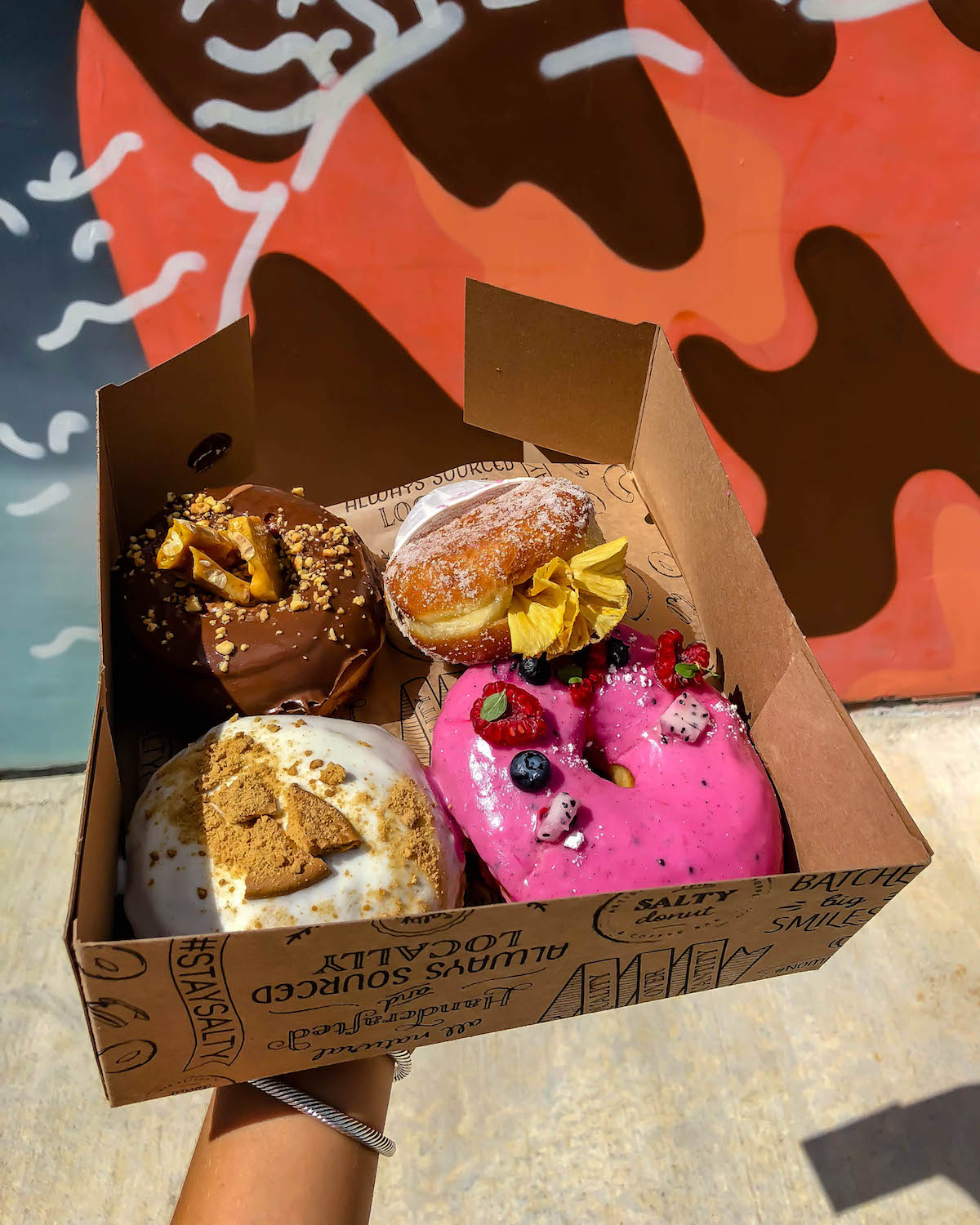 I'm so glad my friend Amanda from Fashionable Hostess was in town. On Saturday we met her and her husband for dinner and drinks at the Edge Hotel near the Brickell City Center. That area of the city reminded me so much of New York with the towering building and luxury shops. We had drinks first on the East Hotel rooftop before heading for dinner in the hotel's restaurant Quinto La Huella. Clearly we had a great time because I didn't take a single photo from that night 😛
- Katie