We had so much good food in Positano! As I mentioned in my Positano drink guide, we pretty much had dinner in town every night despite the fact that our hotel was in nearby Praiano. It was so much fun spending the day exploring and then breaking to get dressed up for the evening back in Positano. These restaurant recommendations below are primarily just for dinner, however we did get to try a few spots that I think would be perfect for lunch or grabbing a quick bite (aka lots of gelato.) I wish we'd had more time because there were so many more places I would've loved to try!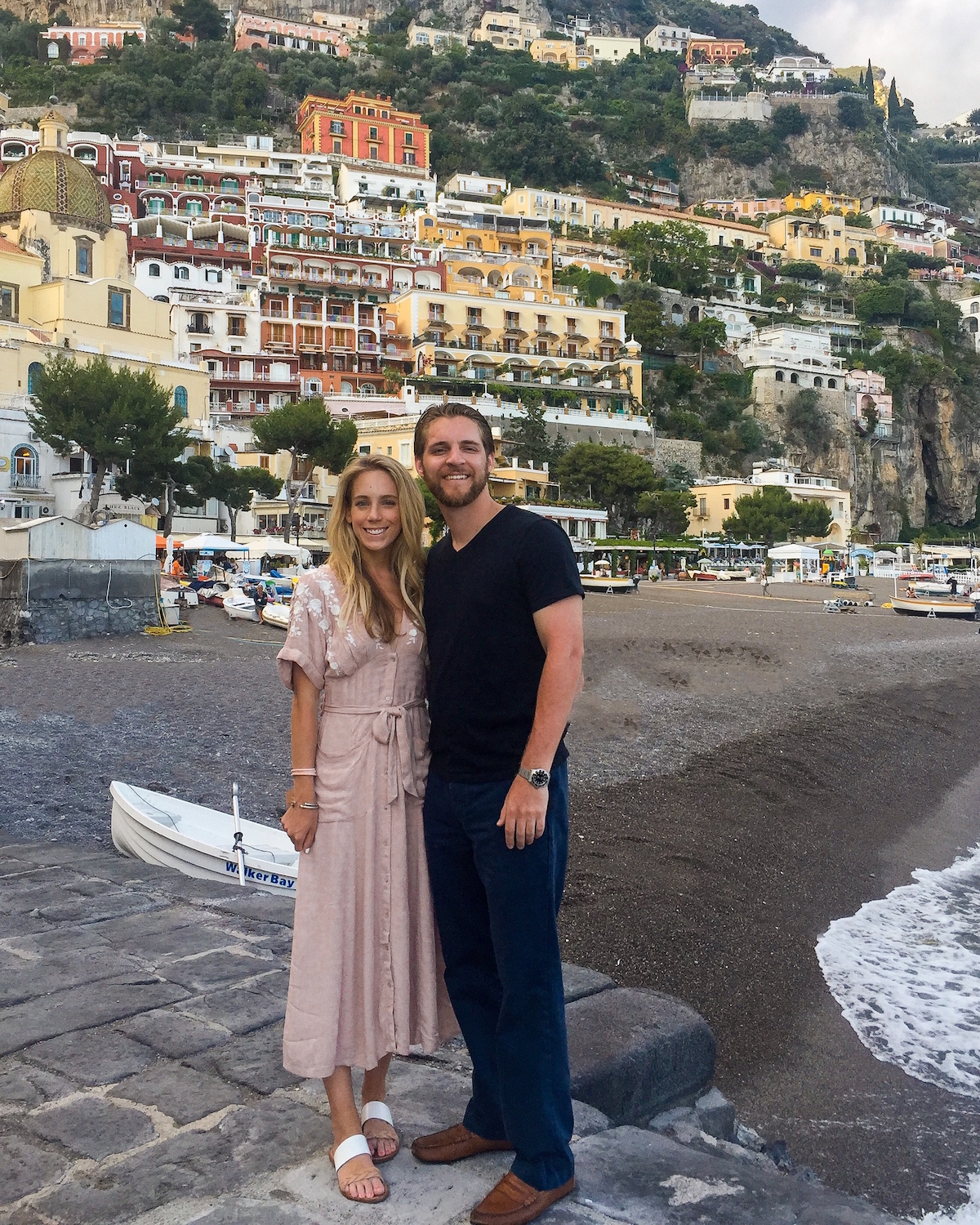 Positano Restaurant Recommendations
Where To Eat Dinner…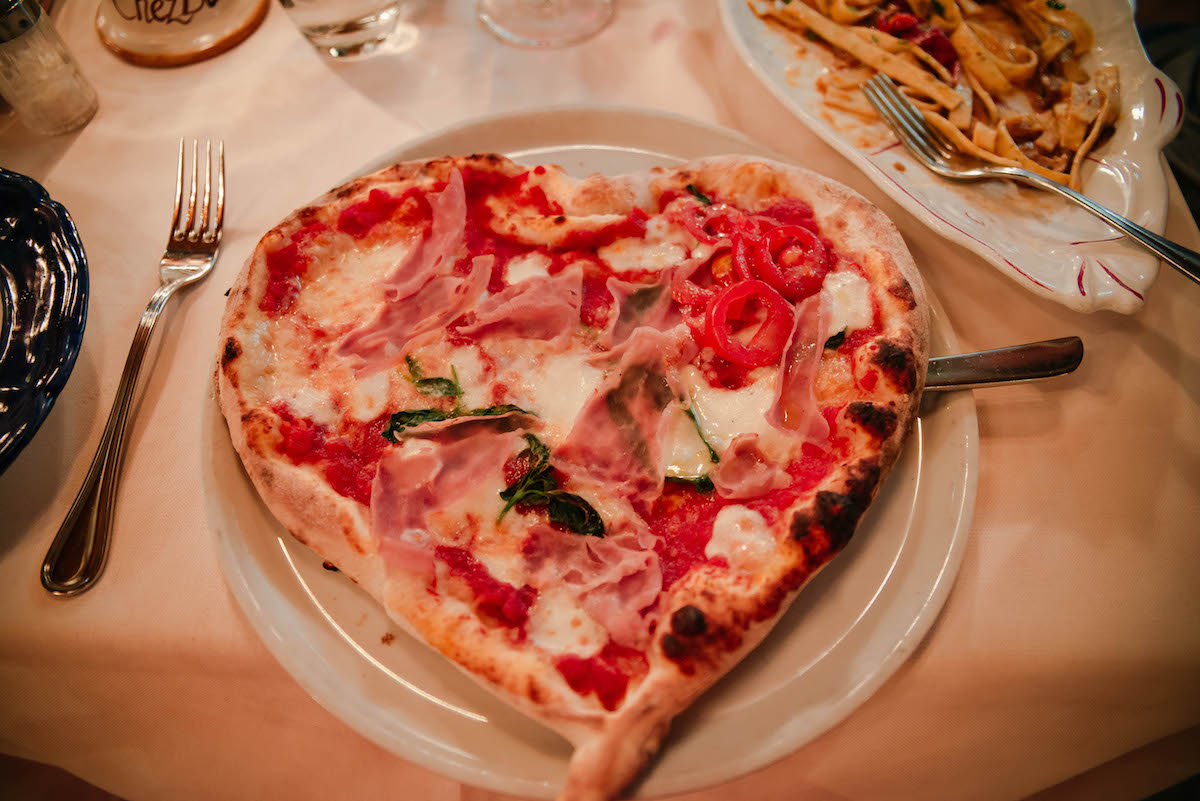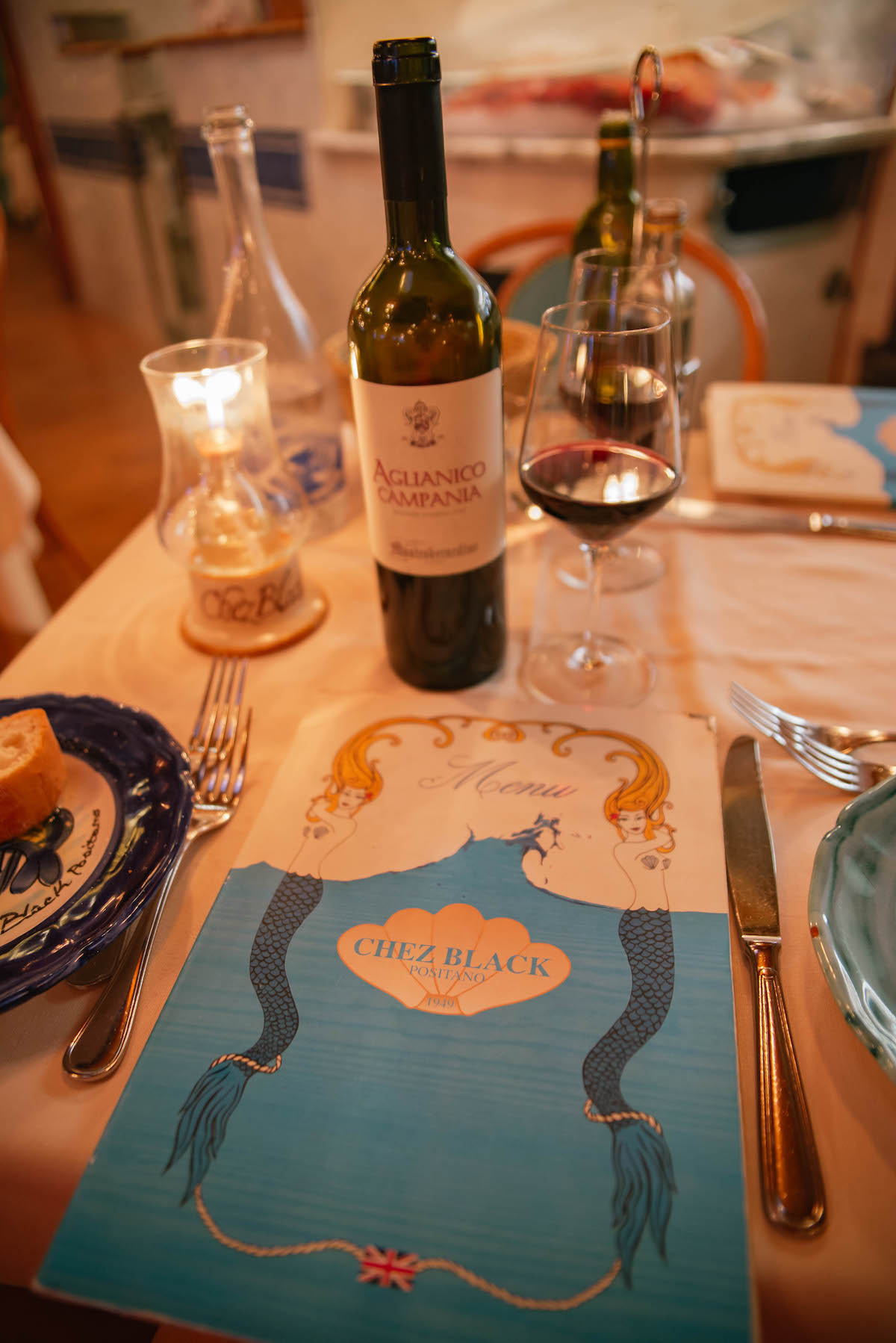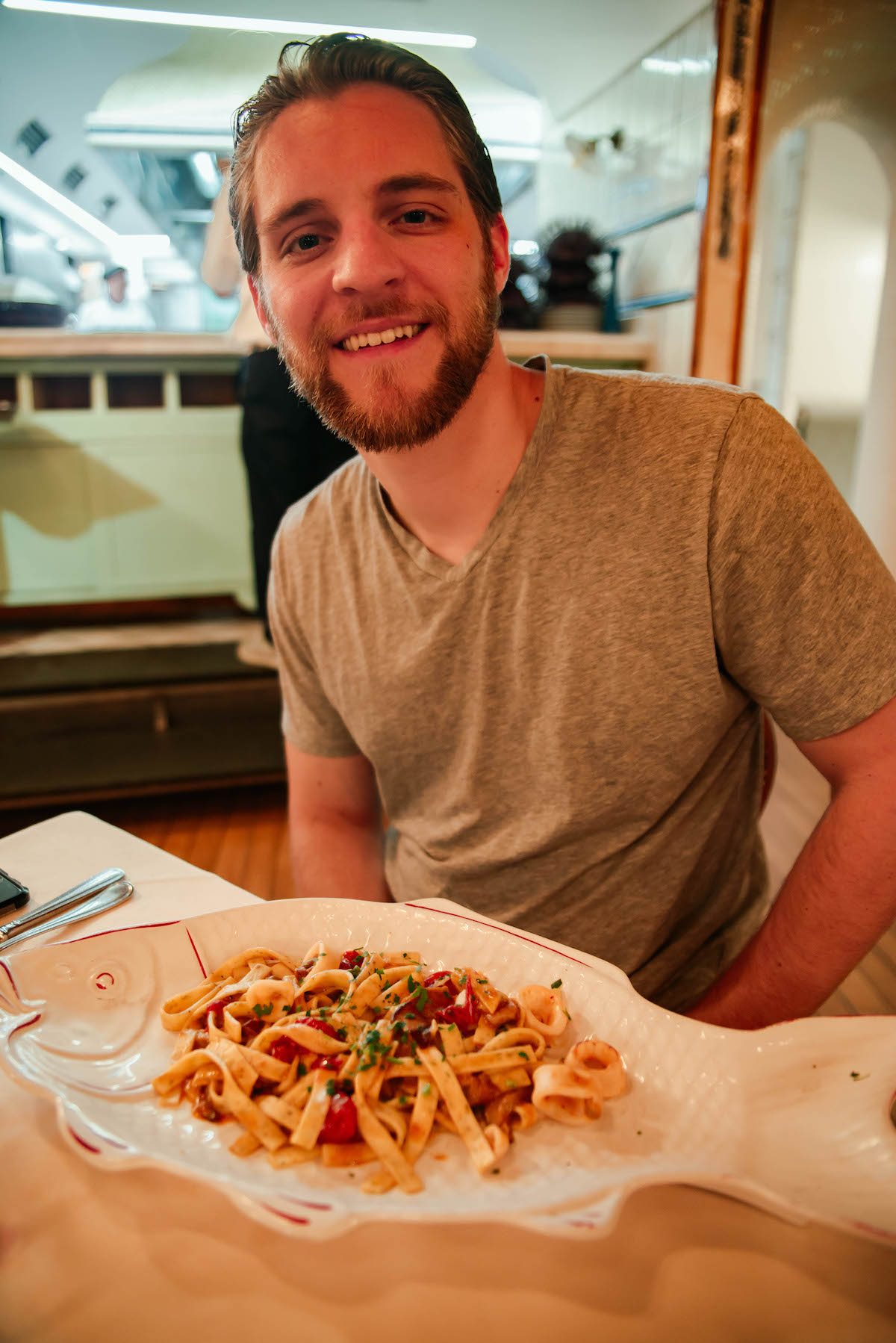 Chez Black
LOCATION: Via del Brigantino 19, 84017, Positano, Italy
GOOD FOR: Dinner, Lunch, Pizza, Pasta, Beachside Dining
THINGS TO KNOW: Chez Black appeared to be one of the more affordable restaurants in Positano. Also make a reservation because it's incredibly popular, especially for dinner!
MY THOUGHTS: The menu was your standard Italian: pasta, pizza and some seafood dishes. We loved the upbeat vibe and the open kitchen where you could see all the chefs working. There was great people watching as well, since the restaurant is located right on the main Positano beach!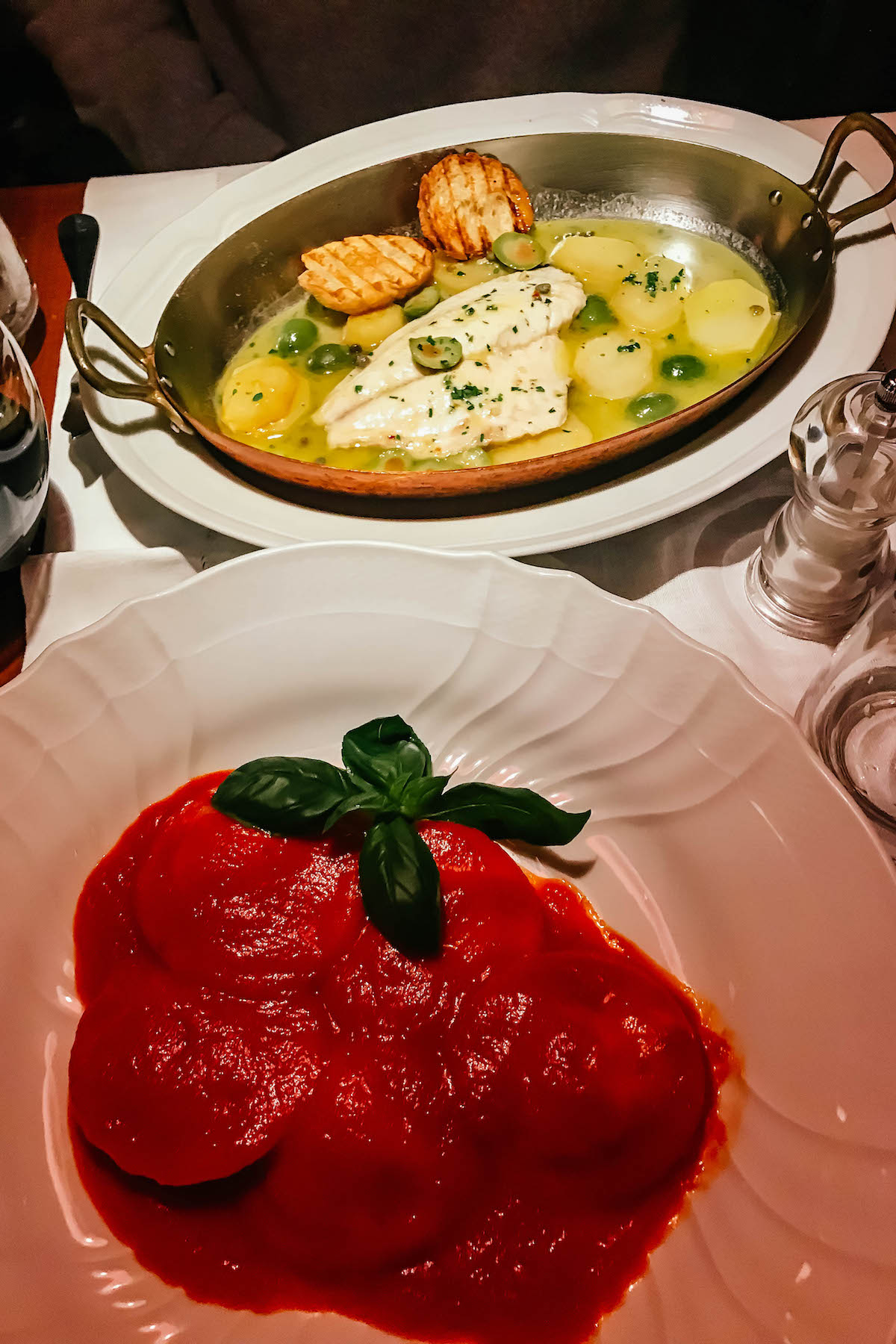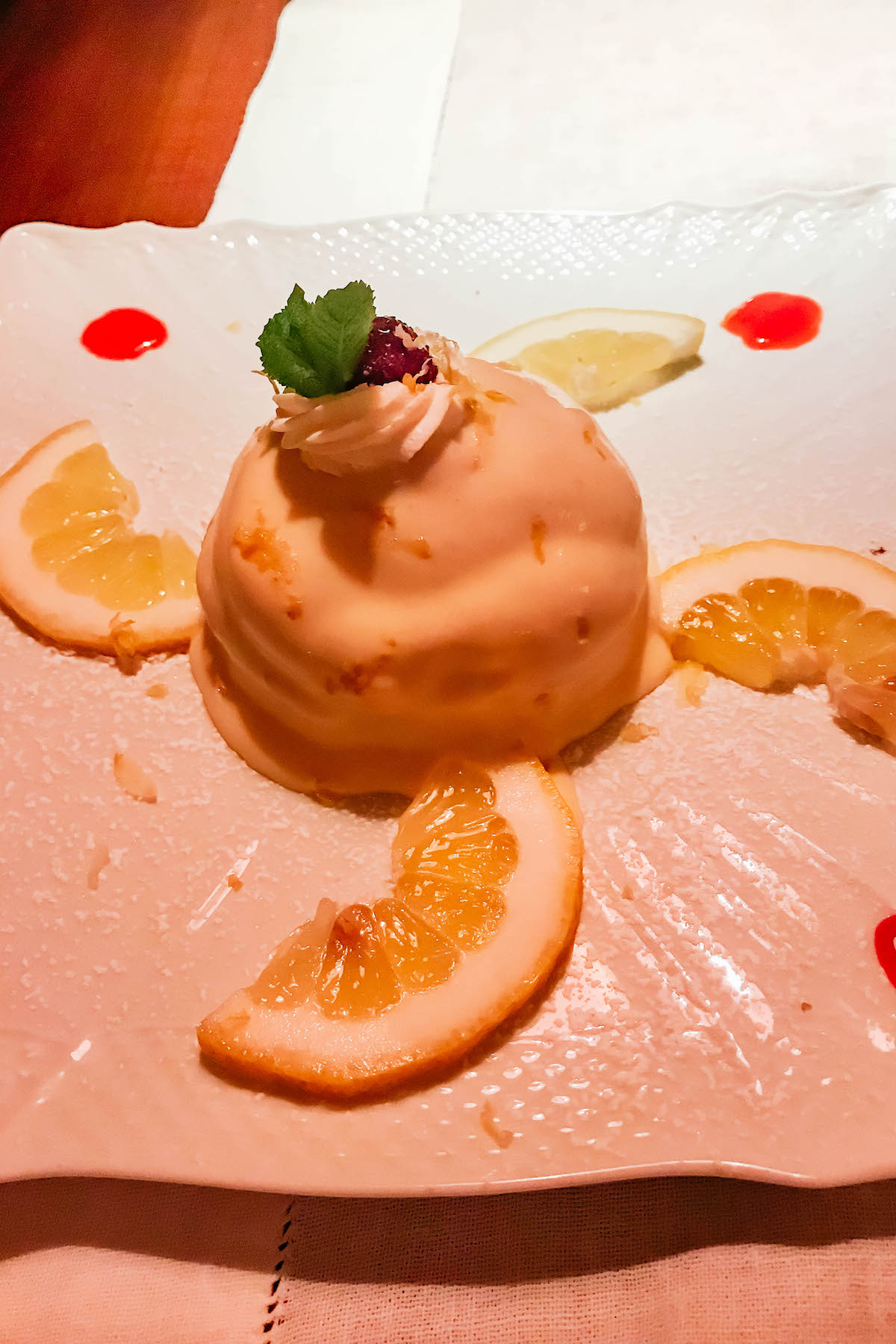 Ristorante Max
LOCATION: Piazza Dei Mulini 22, 84017, Positano, Italy
GOOD FOR: Dinner, Seafood, Pasta, Traditional Italian
THINGS TO KNOW: The restaurant is located in the middle of town and while there's no view, guests can be seated in a beautifully lit garden. It also seemed like most people dress up nice to have dinner here i.e. men in button downs and sport coats, ladies in dresses, etc.
MY THOUGHTS: We loved the traditional vibes at Ristorante Max. It seemed like one of the more group-friendly restaurants in town. Many Positano restaurants involve some type of trek either down to the beach or up a hill, so we appreciated how it was easy to get from where our hotel shuttle would drop us off on the main road. It was one of the few places were we weren't out of breath by the time we got there! PS yes, our meals were incredibly tasty, however I wouldn't have minded larger portions 😛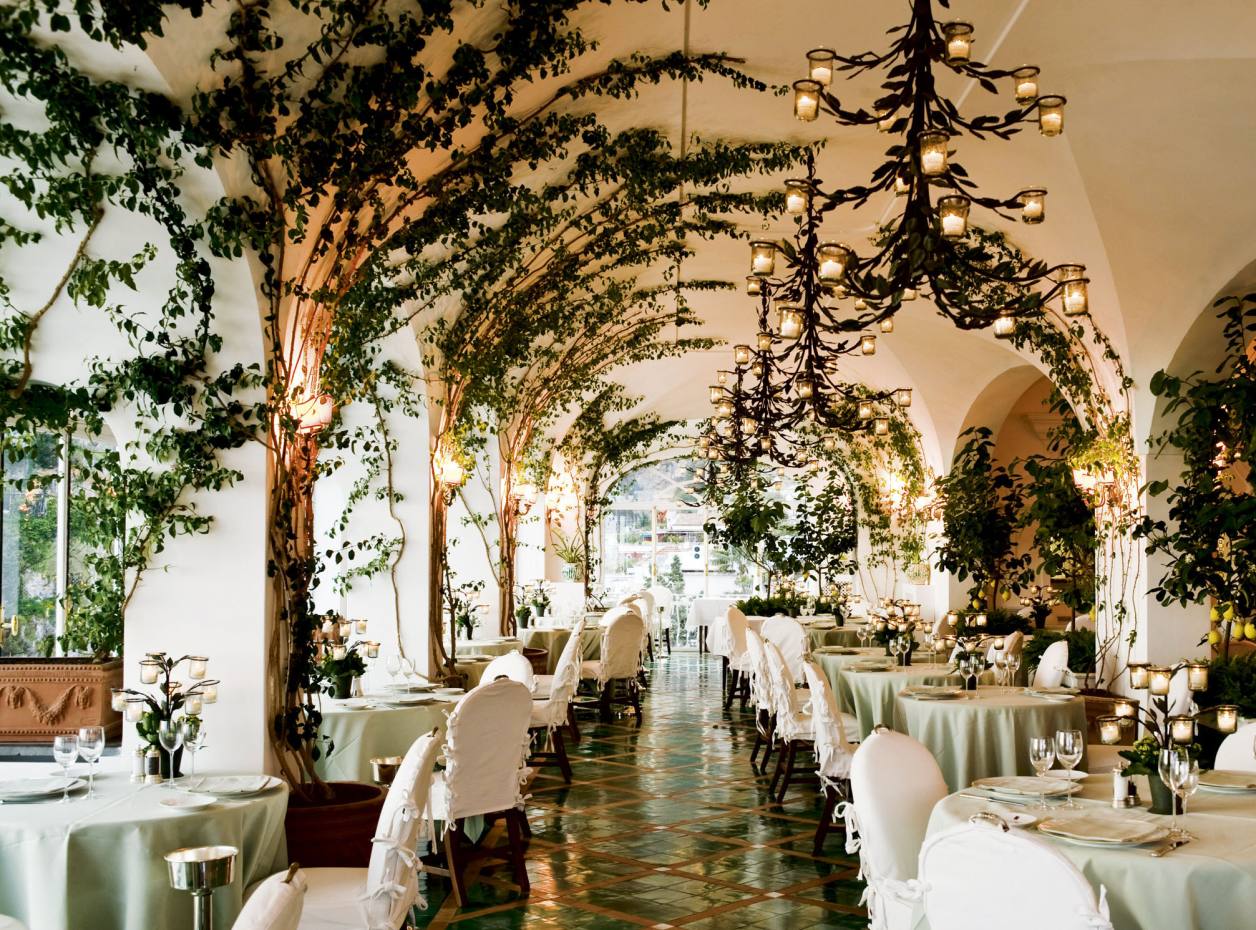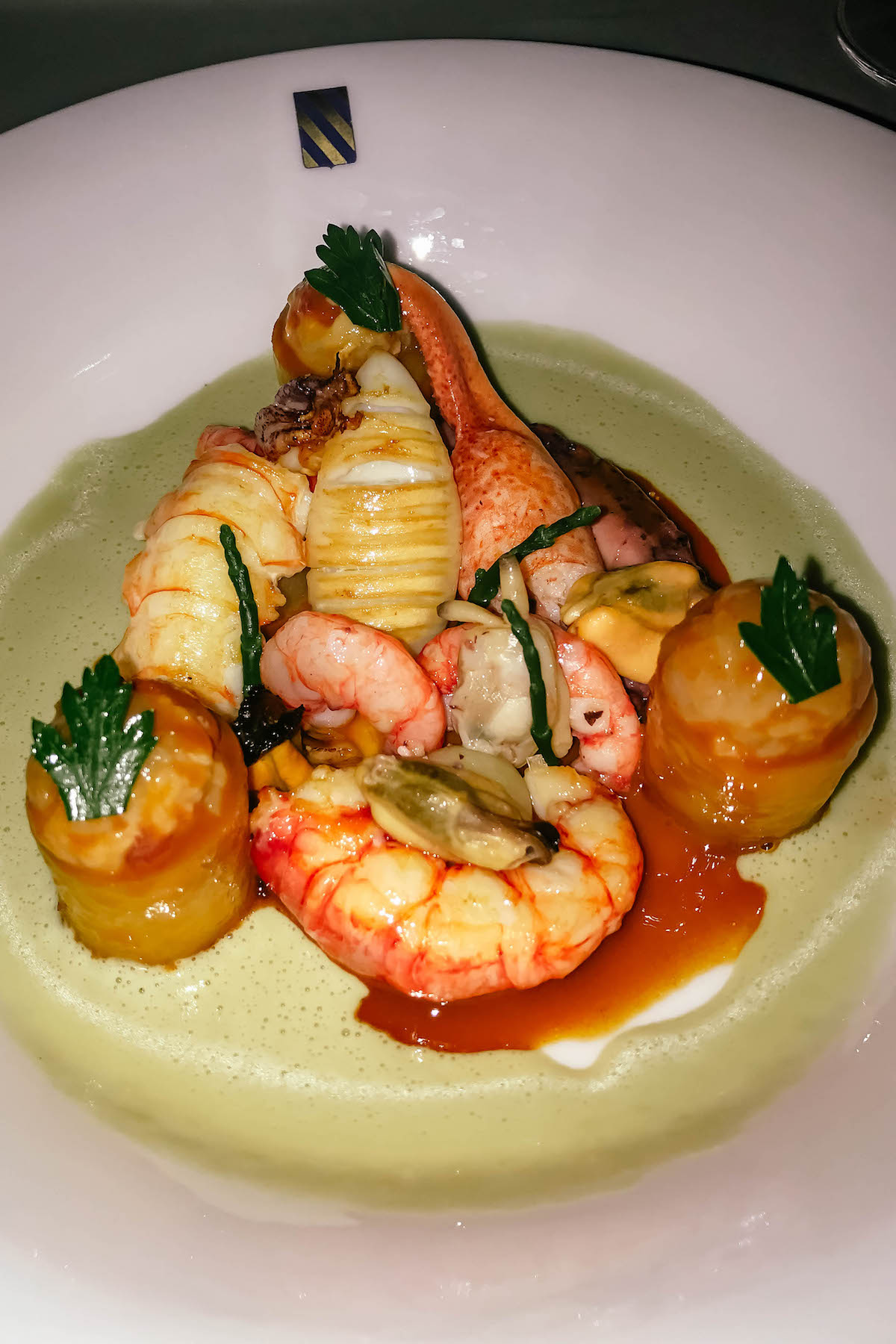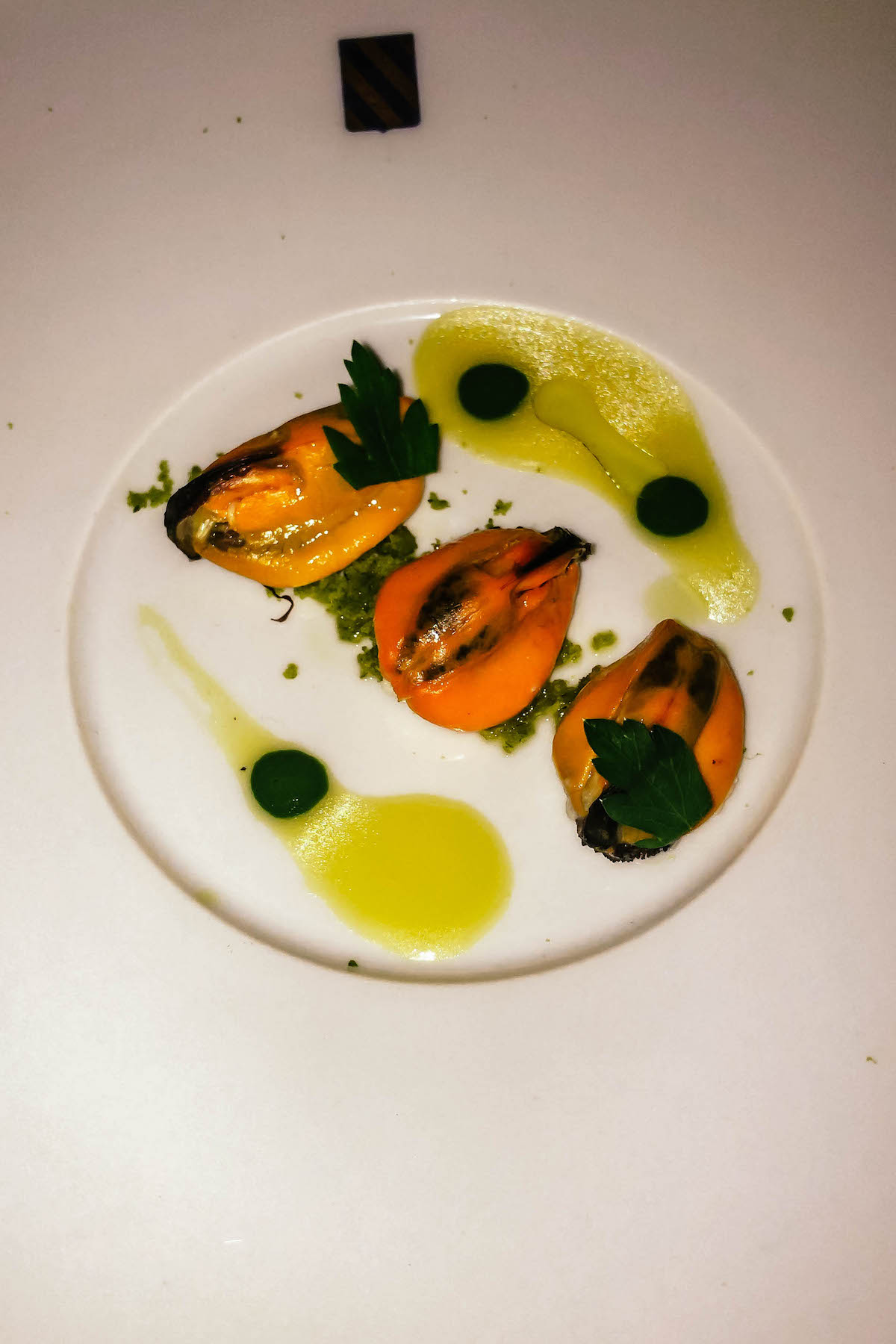 La Sponda
LOCATION: Via San Sebastiano 2, 84017, Positano, Italy (inside Le Sirenuse hotel)
GOOD FOR: Romantic Dinner, Special Occassion, Upscale
THINGS TO KNOW: Expensive and Views. These are the first two words that come to mind when I think about La Sponda. It's definitely a fancy special occasion restaurant (almost every table was a couple) where you knowing going into the meal it's going to be a splurge. I'd suggest making your reservation IMMEDIATELY. When I looked 3 months before our trip every time was full during the week we we're there. The only reason we got a table is because I impulsively asked the host one night when we were grabbing drinks upstairs at the Champagne Bar. Somehow they were able to get us in!
MY THOUGHTS: The dishes are definitely a work of art and so yummy. Amazing service and you can't beat the beautiful town views of Positano! A highlight of the meal is when the live musicians came around to each table and serenaded with you a song. It felt like a scene out of a movie!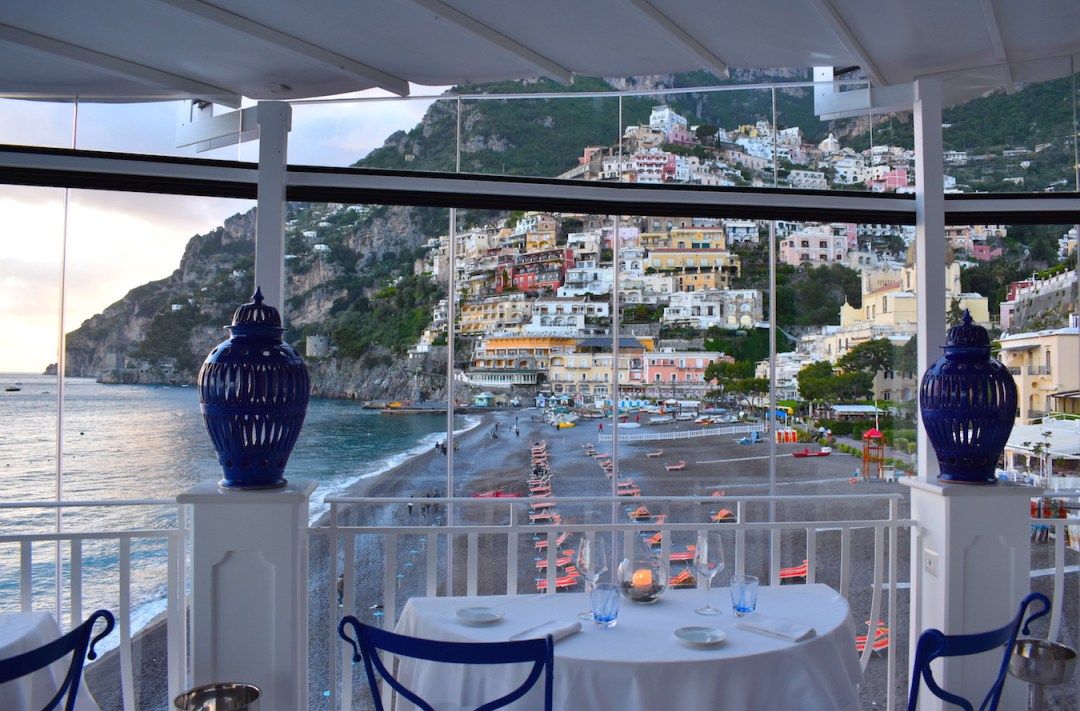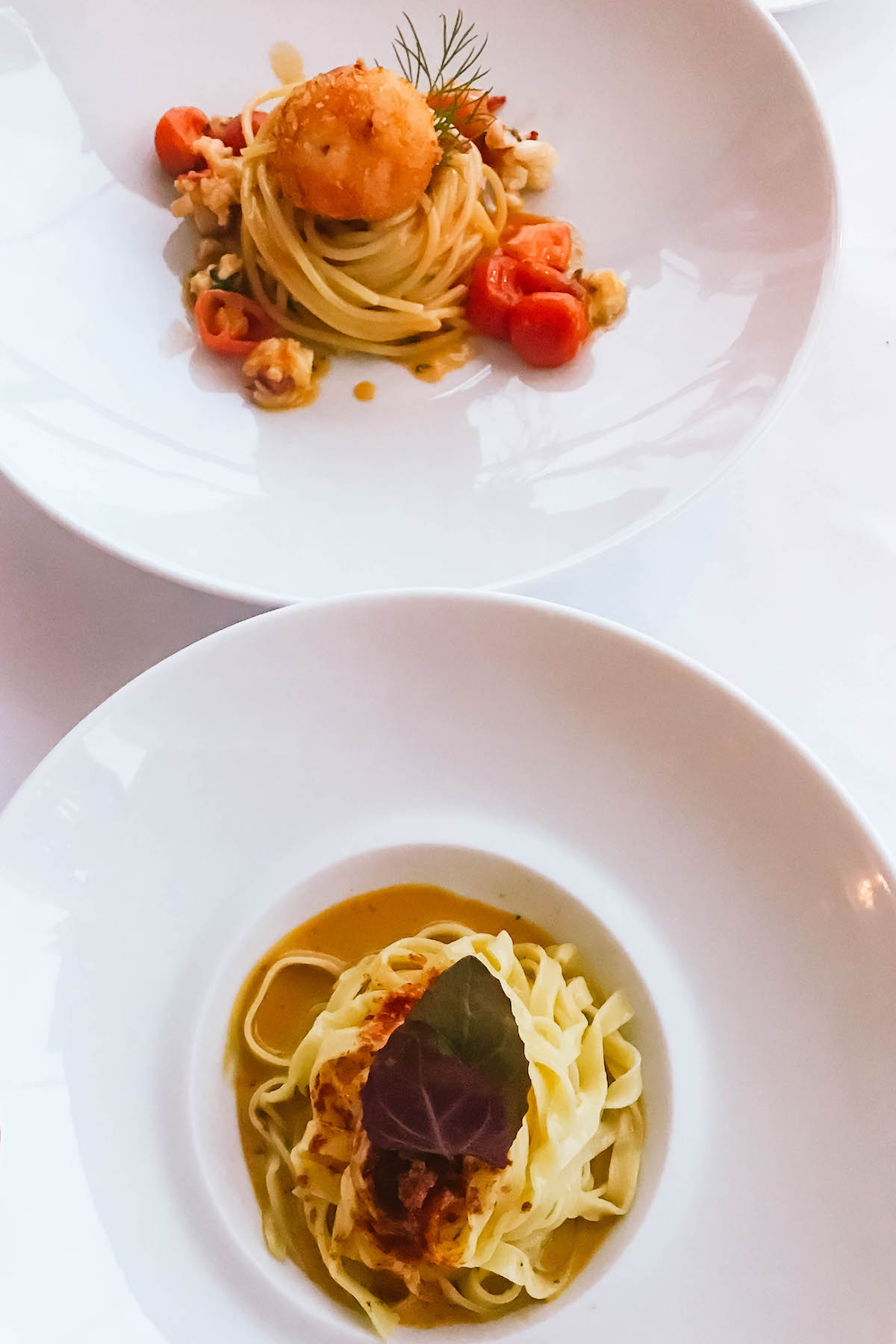 Rada
LOCATION: Via Grotte dell'Incanto 51, 84017, Positano, Italy
GOOD FOR: Romantic Dinner, Special Occasions, Great Views
THINGS TO KNOW: Rada can be found on the very far left side of the main beach. Essentially it's built into the rocks (the floor below is actually a nightclub!) It was a trek to get to, but we found it easily thanks to all the signs directing tourists to the various restaurants located on and around the beach. The views are incredible so definitely make some time to get in some pictures before or after your meal! If you're looking to get your drank and dance on, make sure to ask the restaurant staff because I think they can help with getting you in to the nightclub.
MY THOUGHTS: To be completely honest, if I could go back I would have chosen a more casual restaurant instead of Rada, Don't get me wrong. The food and service was incredible, but it was so elegant and expensive. Totally my fault for not doing enough research beforehand. I just saw the yummy menu and beautiful views when I looked online and was like, let's do it. It was very much a special occasion place and we just weren't in the mood for that the night we went.
Where To Eat Lunch…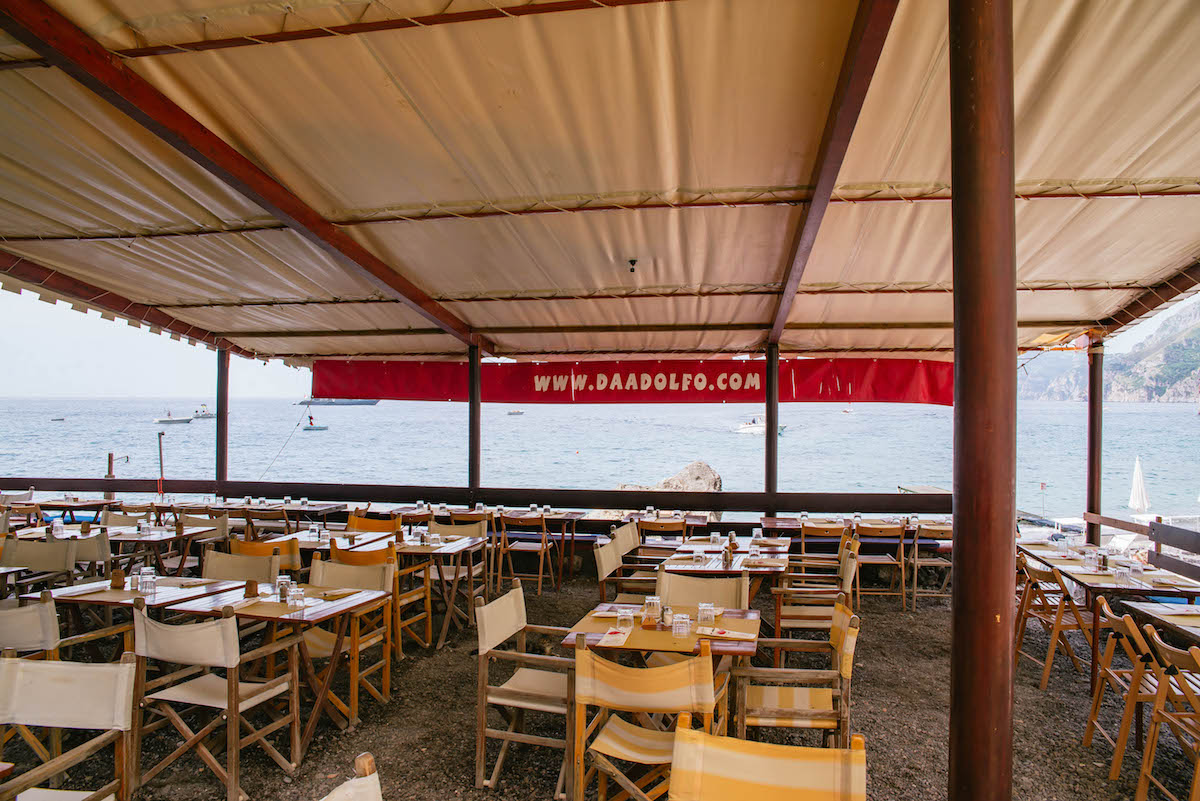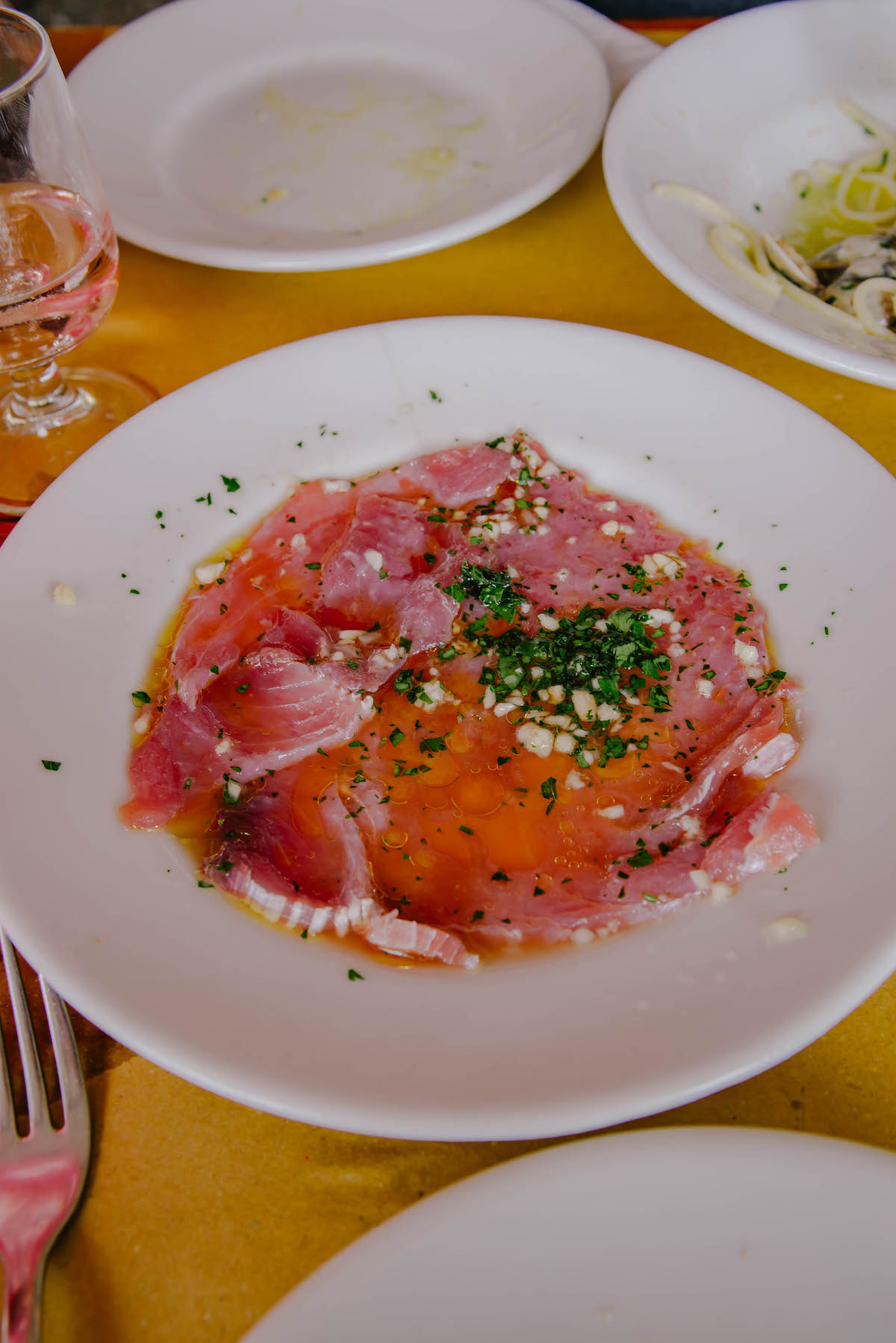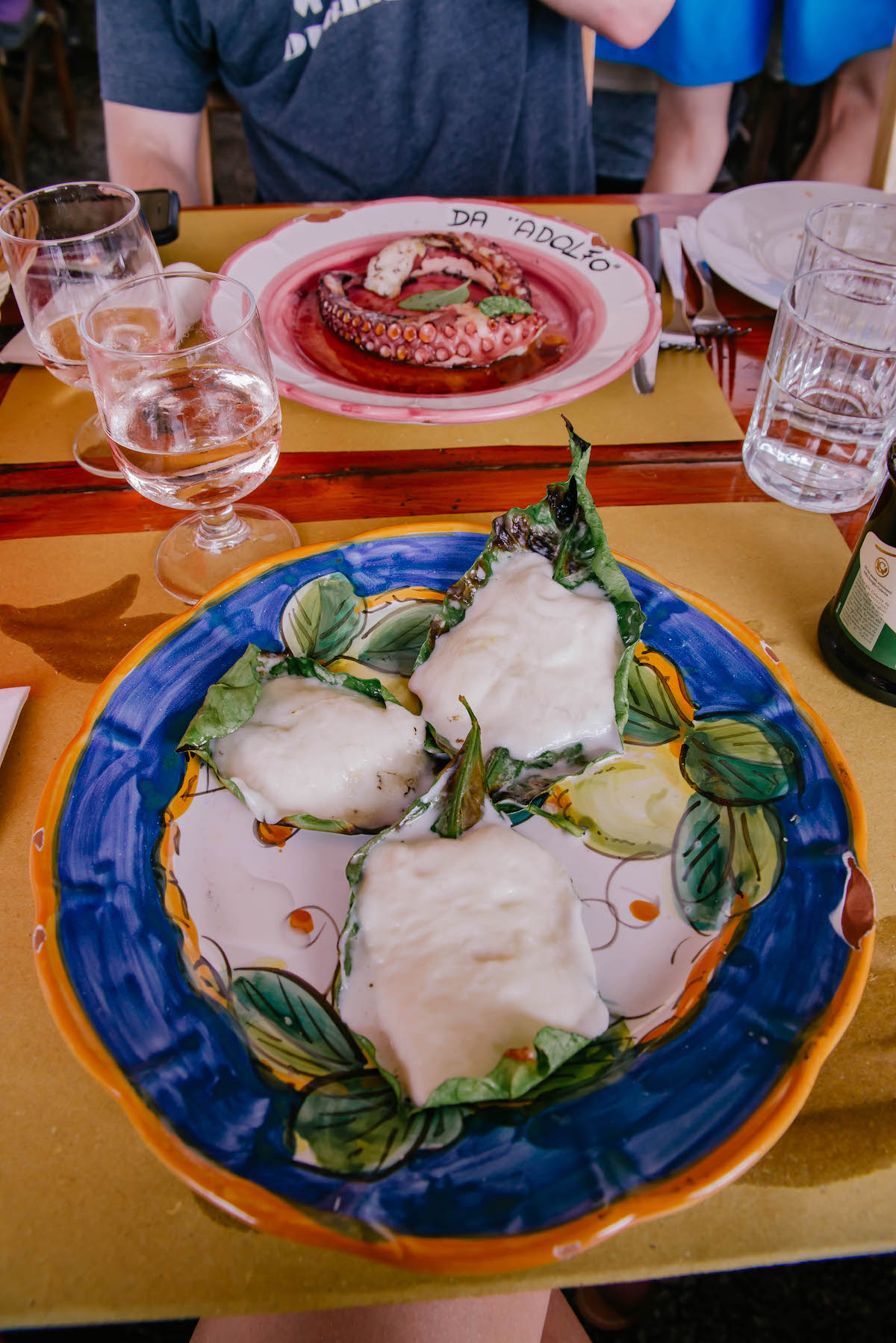 Da Adolfo Beach Club
LOCATION: Via Laurito 40, 84017, Positano, Italy
GOOD FOR: Seafood, Pasta, Casual Beachside Dining
THINGS TO KNOW: To get there you have to be picked up by the shuttle boat located on Positano beach (look for the boat with the red Da Adolfo fish sign.) Typically you need a reservation, but somehow we just hopped on the boat and they never even asked us. Once we got to the beach club we spoke with a server who was able to fit us for one of their last reservations– I wouldn't risk doing this again though, because from what I could tell they only do one lunch serving an afternoon and every table was full.
The restaurant itself is located on a covered platform directly on the beach. I'm not sure I would recommend it if you or someone you're with has limited mobility, or if you're traveling with kids. It's also super casual and the menu is very no-frills and simple. It's written in Italian too so we had to get one of the staff to explain it us before ordering.
MY THOUGHTS: Omg I'm still dreaming about that fresh tuna. It was the best we had our entire time in Italy! I'd suggest planning to come for an entire afternoon so you can spend some time at the beach before or after your lunch reservation!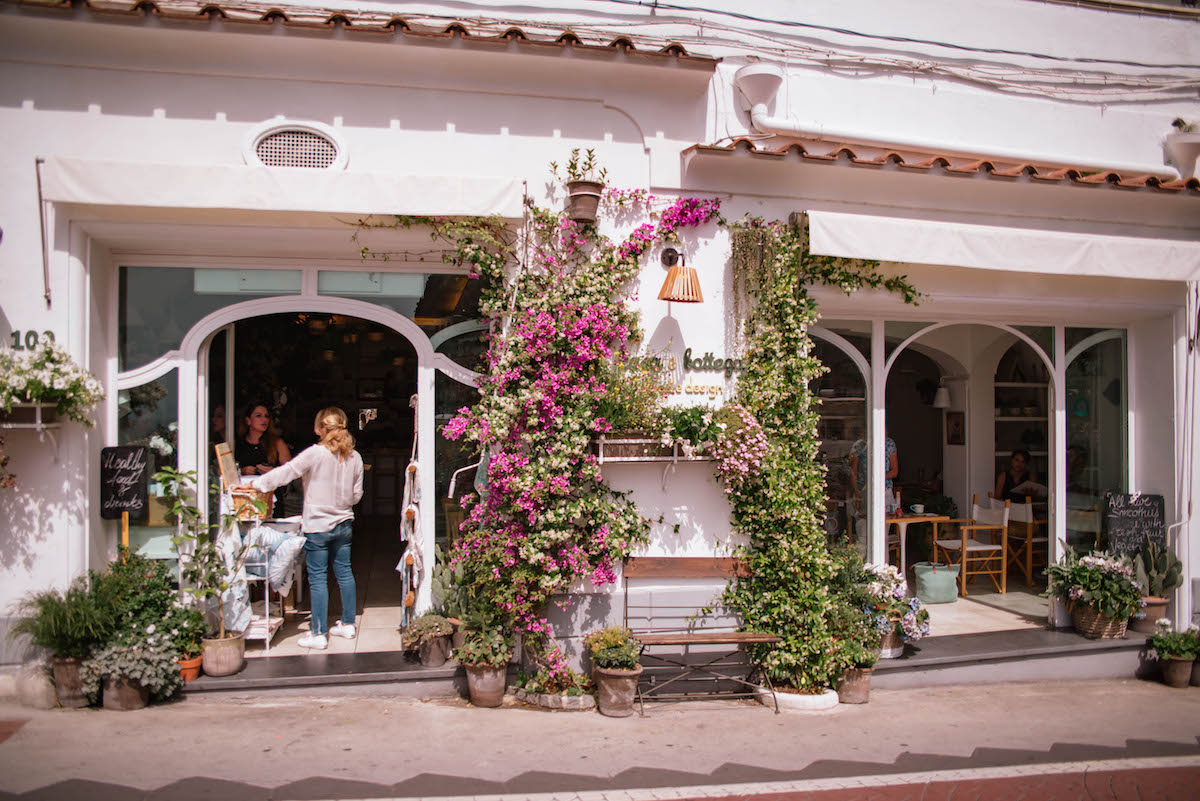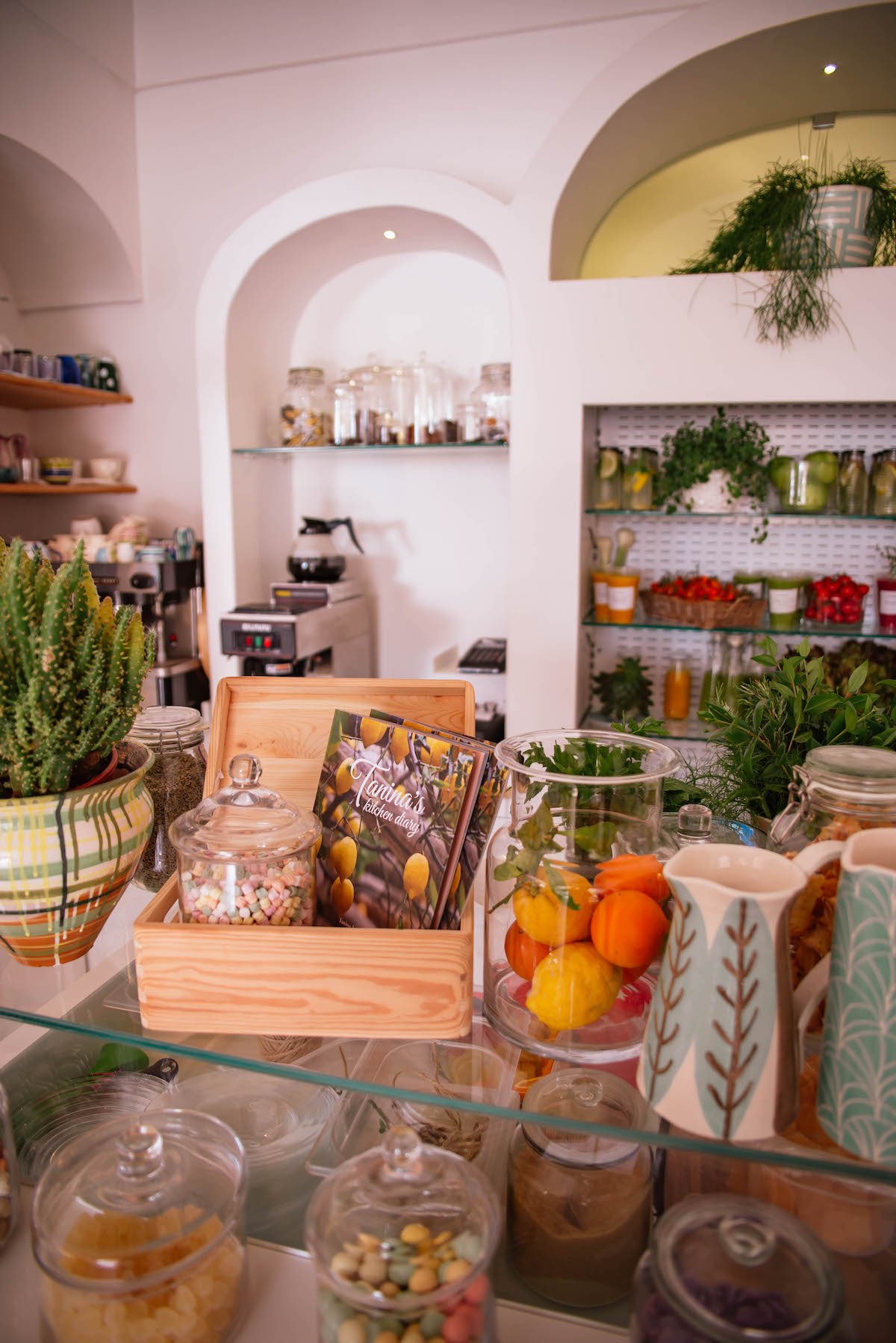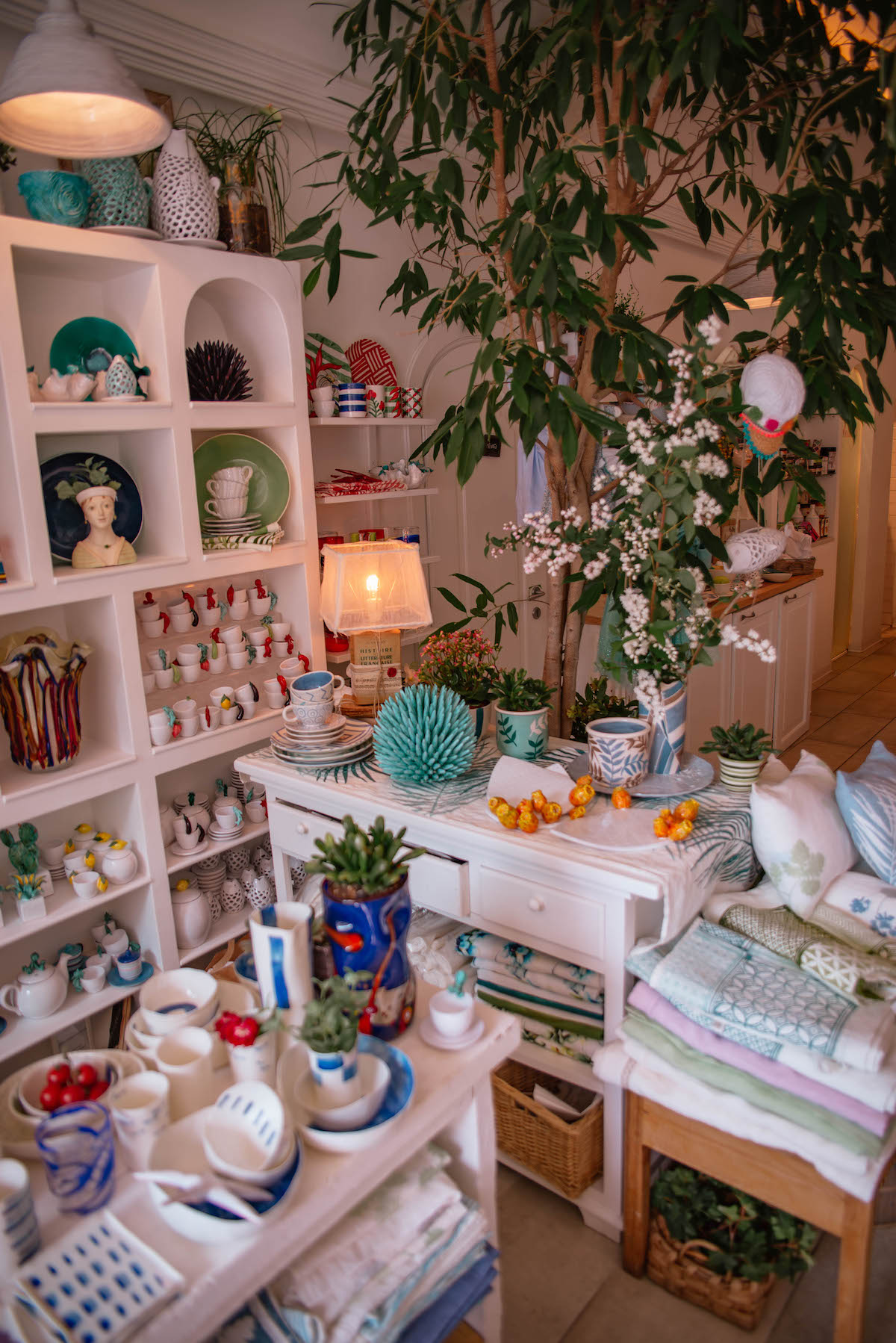 Casa e Bottega
LOCATION: Via Pasitea 100, 84017, Positano, Italy
GOOD FOR: Brunch, Lunch, Smoothies, Acai Bowls, Organic, Healthy Eats, Mediterranean
THINGS TO KNOW: You can order smoothies and other bites at the counter or sit down at a table to be served. It's a home decor shop as well, so make sure you can even get in a little retail therapy while waiting for your food
MY THOUGHTS: I wish we'd had more time to actually sit down and have lunch! The food menu looked delicious, healthy and refreshing. With the overload of rich pasta and pizza you'll find at almost every restaurant in Positano, a meal at Casa e Bottega would be a great way to break up the carbs.
Where To Grab Gelato Or A Quick Bite…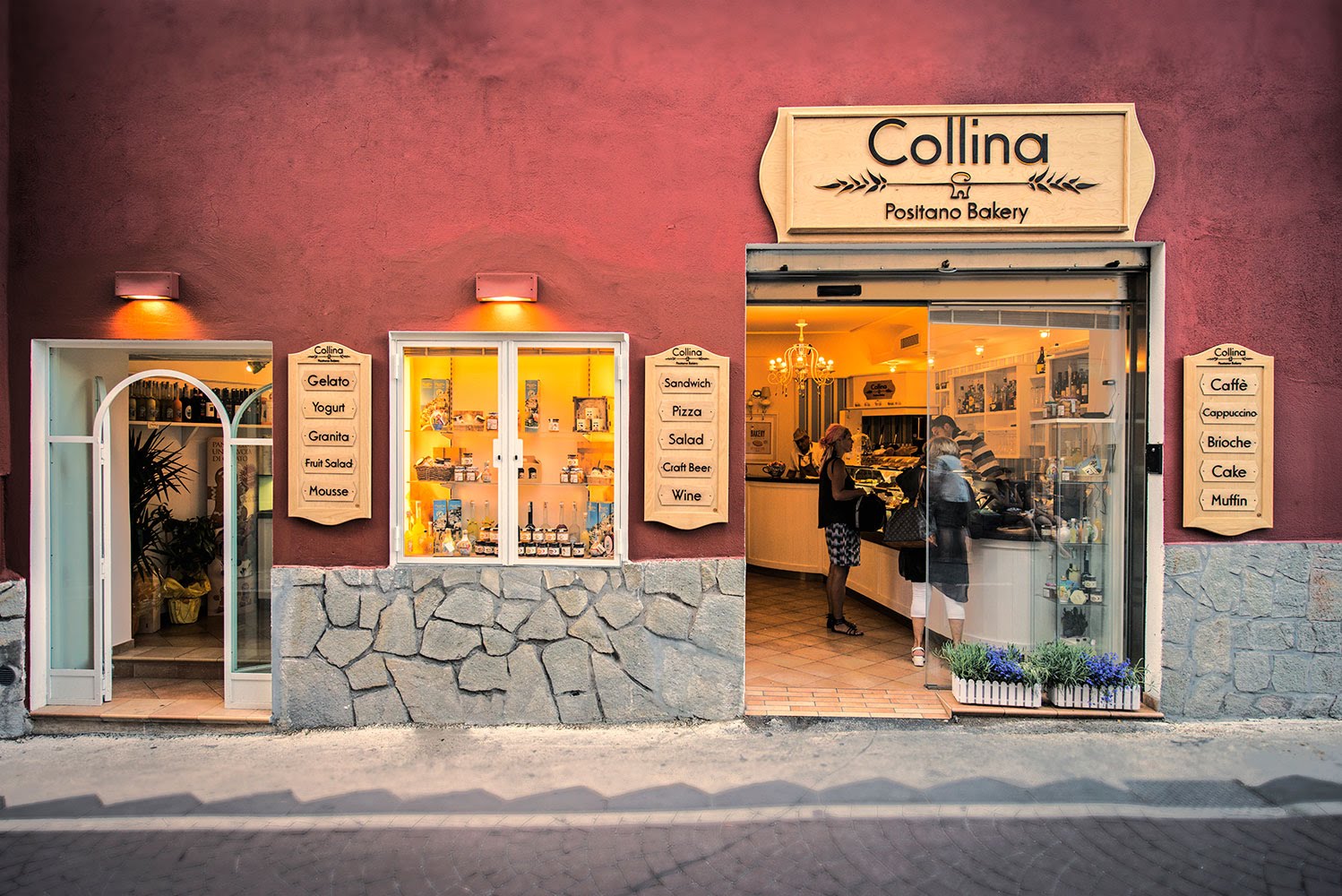 Collina Bakery
LOCATION: Via Cristoforo Colombo 1/3, 84017, Positano, Italy
GOOD FOR: Gelato, Pastries, Quick Bites, Lunch
THINGS TO KNOW: Convenient location right in the center of Positano near the bus stop. There's a lots of shops nearby as well. Totally easy to pop in and pick up food, coffee or a sweet!
MY THOUGHTS: We popped in to Collina for gelato after a long afternoon at Da Adolfo beach club– it totally hit the spot! I finished my gelato so quickly I forgot to even take a photo 😛
MORE AMALFI COAST & ITALY RECOMMENDATIONS:
Where To Grab Drinks With A View In Positano
Our Amalfi Coast + Rome Itinerary
- Katie