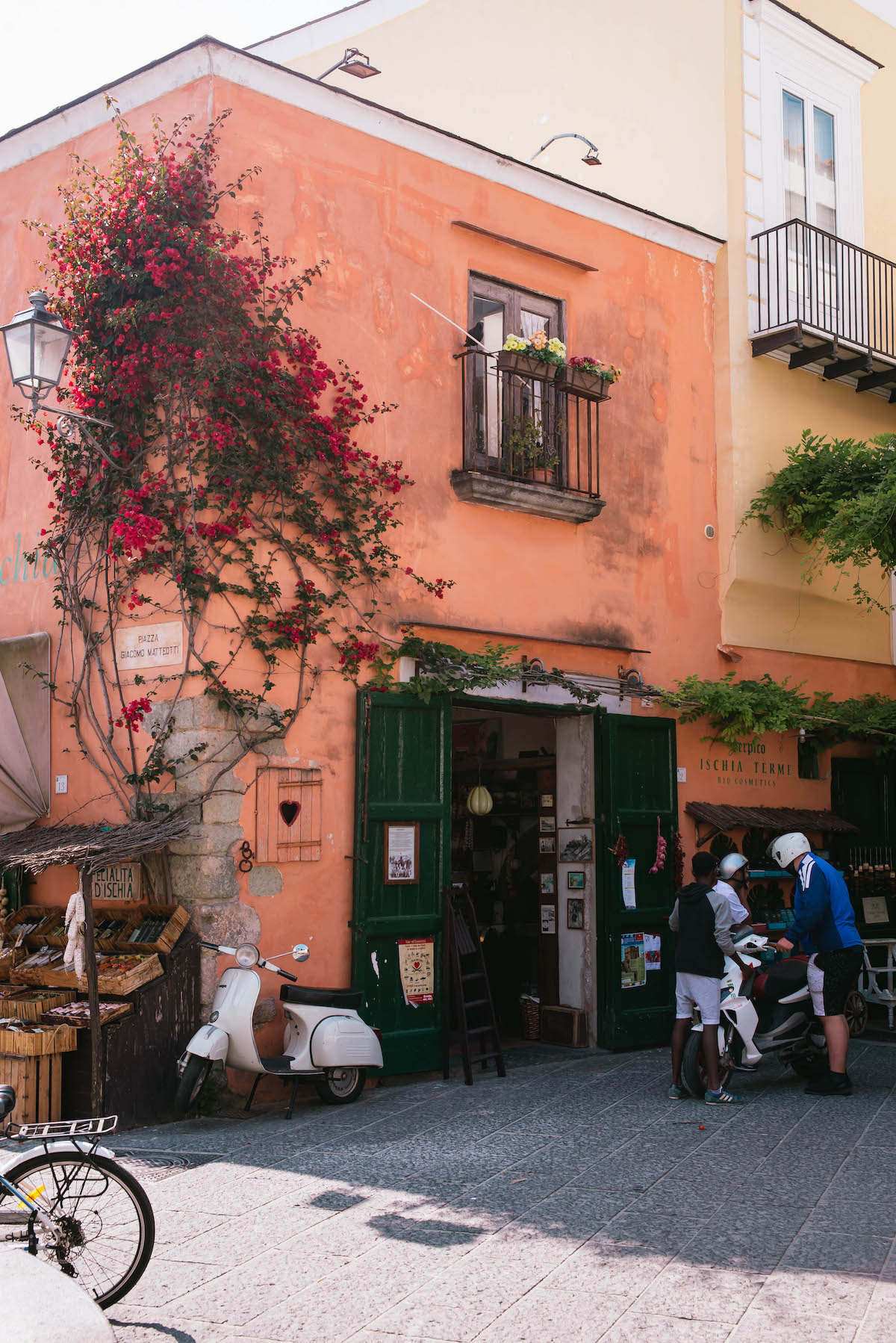 Hello beautiful island of Ischia! First time hearing of it? Well, that's because it's smaller nearby neighbor fancy Capri gets all the attention. We decided to make Ischia our third and final stop of our trip to Italy for a few reasons 1) we wanted to experience an island 2) it is just as easy to get to via ferry as Capri 3) it's much less expensive compared to the rest of the Amalfi Coast. We spent three magical days in Ischia and ended up making some of the best memories of our entire 10 day Italian adventure.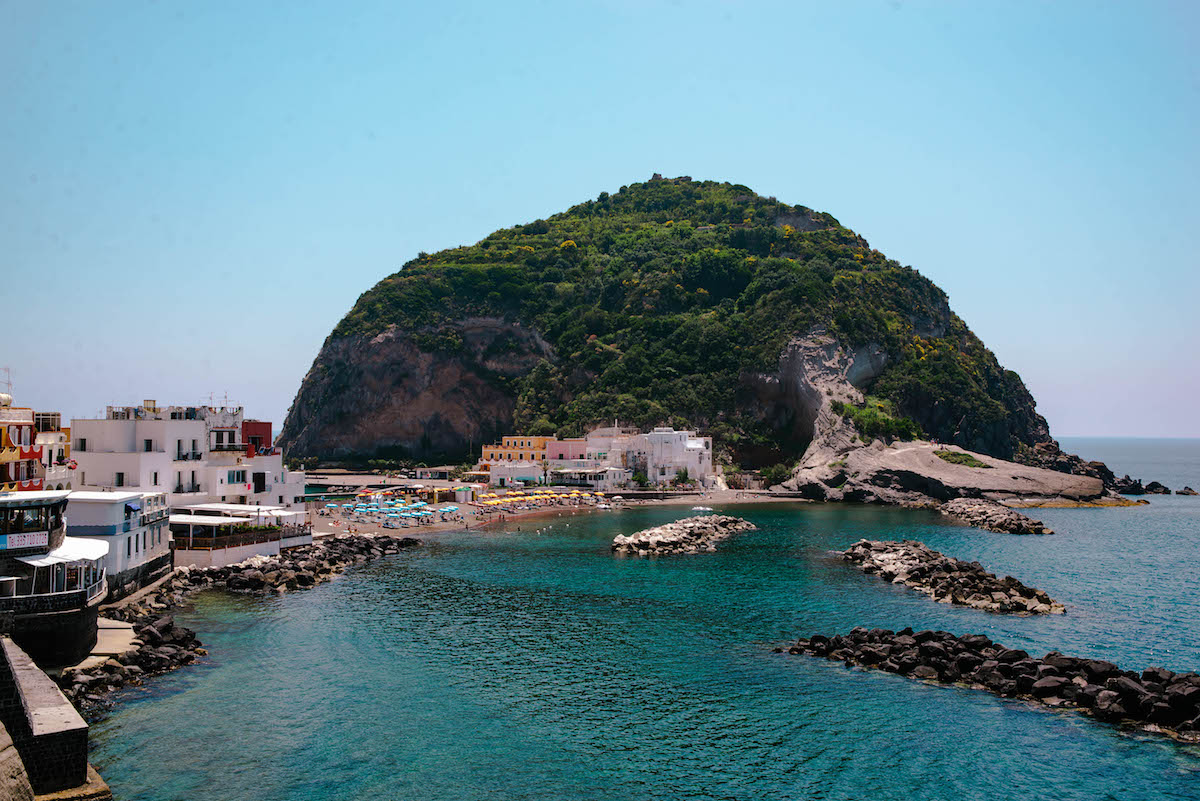 Since we planned this trip only two months in advance the hotel options were really limited in many Amalfi Coast hotspots. I briefly looked into Capri, but as soon as I saw rooms priced at $1k+ per night my reaction was a quick NOPE NOPE NOPE. That prompted me to dive a little deeper into lesser known Amalfi Coast and Gulf of Naples destinations and soon enough I stumbled on a few travel guides talking about the volcanic island of Ischia.
Right away I was drawn to descriptions of much smaller crowds, sleepy colorful towns and beach clubs, authentic food not tailored to the tastes of American tourists, mineral-rich thermal waters and the easy ability to explore on your own with a car or scooter rental. Oh and the prices! Everything from hotels to food to entertainment in Ischia are significantly less expensive than Capri or anywhere else on the Amalfi Coast. I'm talking half the price, if not more.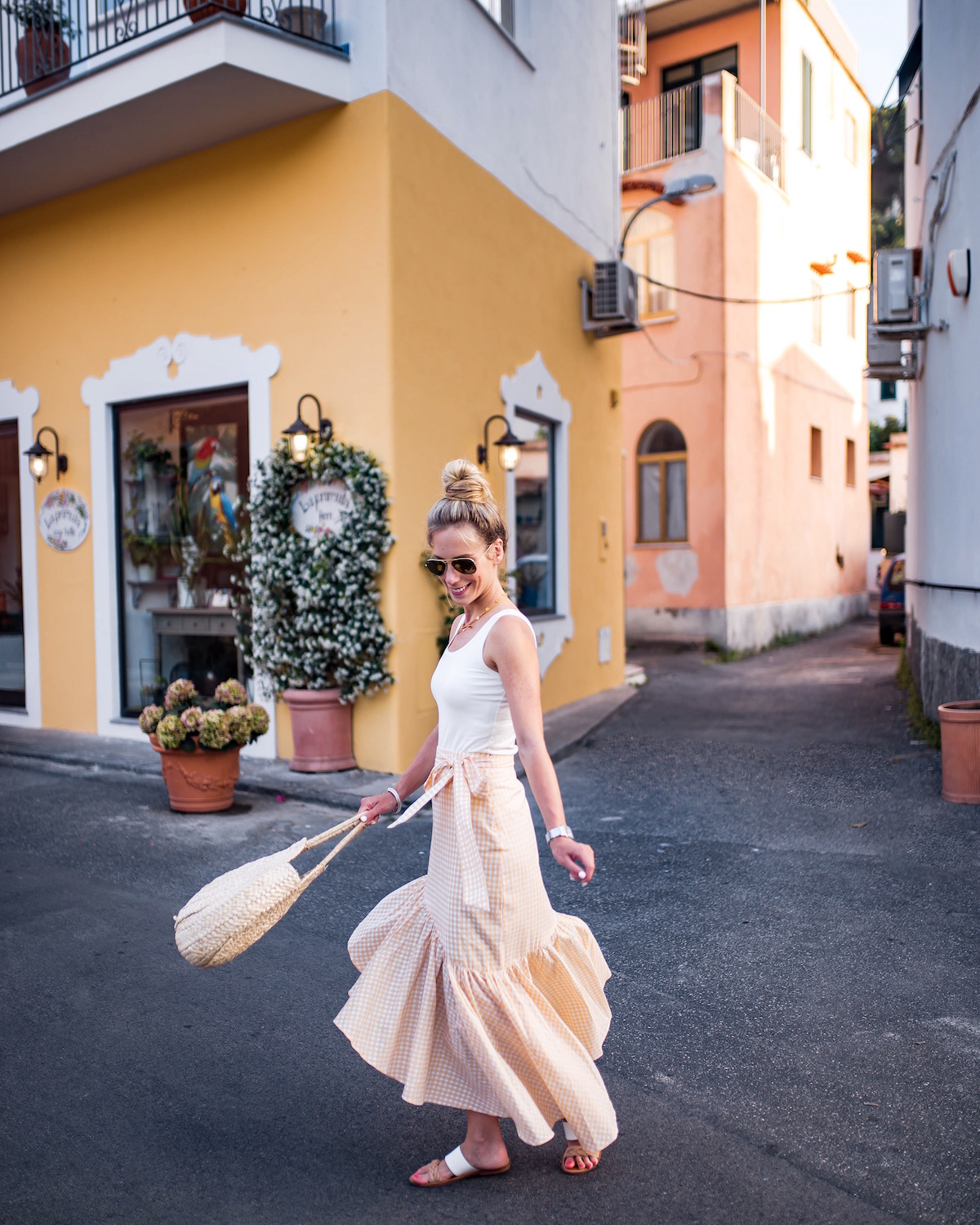 Gingham High-Low Skirt | Tank Top | Woven Circle Bag | Sandals | Sunglasses | Necklace | Watch 
ISCHIA ITALY TRAVEL GUIDE
Getting To Ischia
Getting to Ischia is pretty simple if you're already on the Amalfi Coast. The best way to do it is by hopping on a ferry. The tickets were cheap and the ride itself was under 1.5 hours. We had to book a ferry out of Naples due to the timing of when we had to check out of our hotel in Praiano, but you can also get a direct ferry from Sorrento as well.
FYI Sorrento is much better to leave from if you're already in Positano or another Amalfi Coast town– it's much closer and cleaner than larger Naples. We didn't have any issues taking the ferry from Naples, but I'd avoid it if you can. Based on what I observed from the drive to the port 1) lots of traffic and 2) tons of litter and rundown buildings, I was very grateful that we decided not to devote any time to exploring Naples.
Once we arrived in Ischia, our hotel was waiting to pick us up! I can't remember if there were any taxis at the port so I'd make sure you have your transportation figured out ahead of time if you aren't driving a rental car (yep, the ferries are big and can accommodate vehicles!)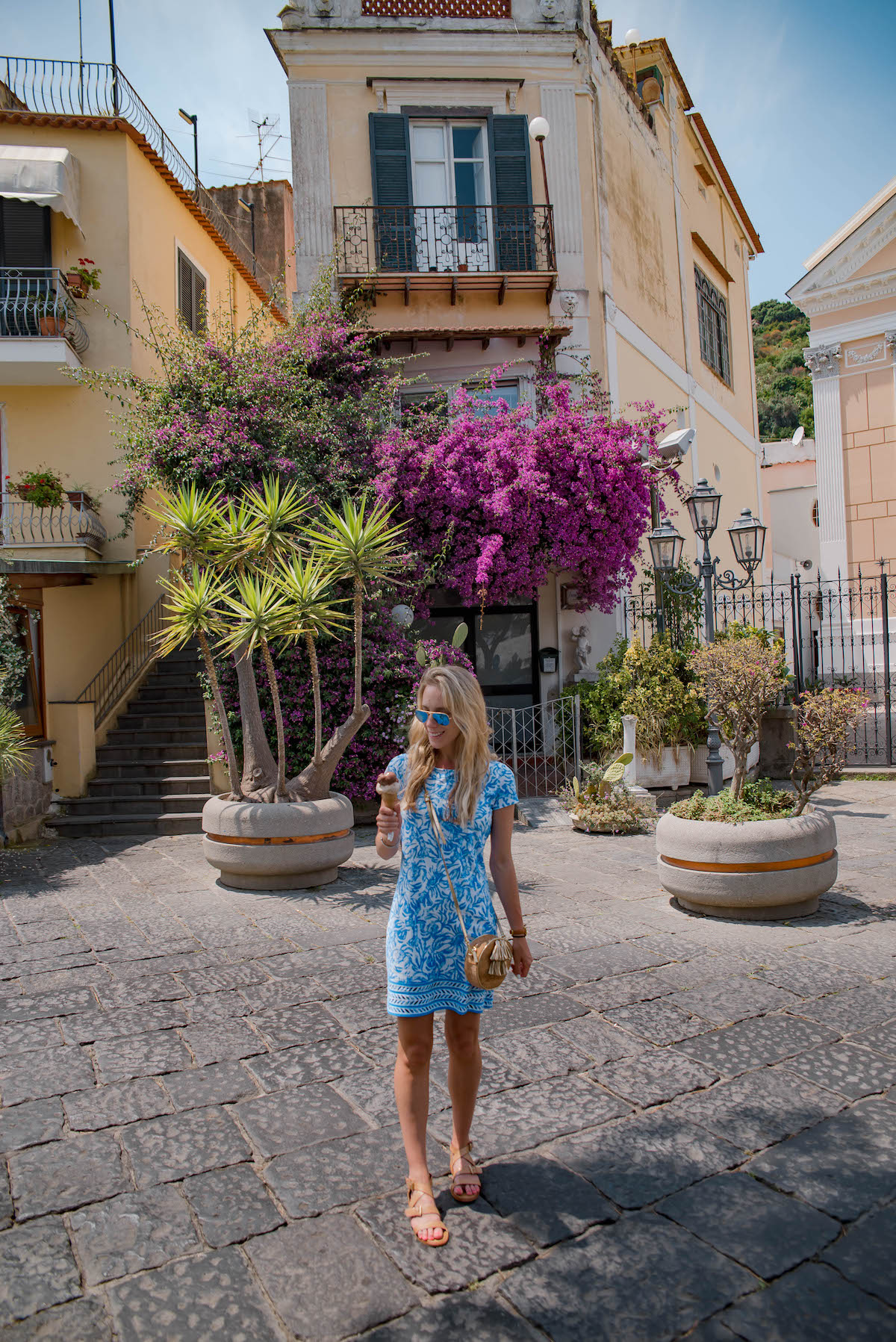 Lilly Pulitzer T-Shirt Dress | Lilly Pulitzer Crossbody Bag | Sandals | Sunglasses | Watch
Things To Know
Visiting Ischia for the first time! Here are a few things you should know.
It's a volcanic island known for it's mineral-rich waters. People come to Ischia from all over the world just to experience it's famous thermal water spas!
The island is about 18 square miles and has a population of nearly 60,000 residents. (For size reference Capri is only 4 square miles.)
There are six different towns in Ischia each with their own individual character and charm: Ischia Porto & Ischia Ponte, Forio, Casamicciola, Lacco Ameno, Serrara Fontana and Barano.
Ischia is home to the famous medieval Aragonese Castle.
The highest point of the island, Monte Epomeo is volcanic and the last eruption was in 1302!
Unlike popular American tourist destinations like Positano and Capri, English is not widely spoken in Ischia. In Ischia we had to do a lot of improvising with hand motions, pointing and lots of Google translate.
You won't see many American tourists in Ischia. From what we noticed the island very much caters to local Italians with a mix of British, German and Dutch travelers on holiday.
Expect to experience a much authentic, no-frills vibe in Ischia. For example, everywhere you look in Positano from the landscapes to the stores, food and people it seemslike it was made for a movie set or a postcard. While Ischia is no doubt beautiful, the island doesn't hide it's humble areas. Due to the less expensive pricing there was a plethora of budget-friendly hotels and stores, however upscale accommodations and fancy shops were few and far between. It's not somewhere you go if you're looking for designer brands or to see celebrities.
You'll want to rent a car or scooter to get around Ischia! There's a lot to explore on the island and unlike Positano, the roads were much less congested and really easy to navigate. I think we paid 35 Euros to rent a scooter for two days. It was SO MUCH FUN.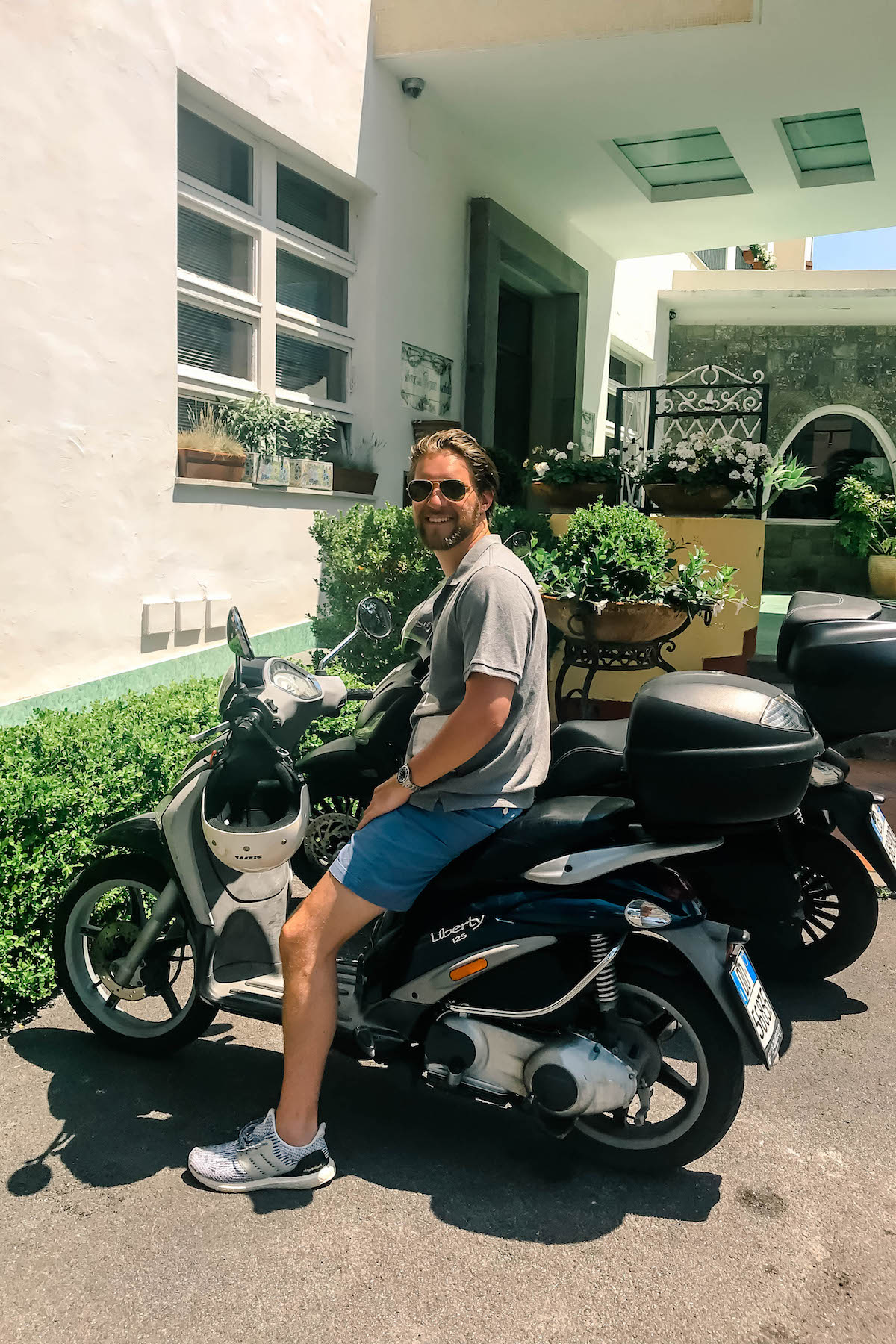 We love renting scooters when we travel and had a blast zipping around on one in Ischia!
What To Do
You could easily spend a week in Ischia and not get bored. In addition to the beautiful beaches and ocean, there is so much to see and do from visiting historic landmarks to spending a day at a thermal spa to hikes on Mount Epomeo. Here's a rundown of everything we did during our three days on the island!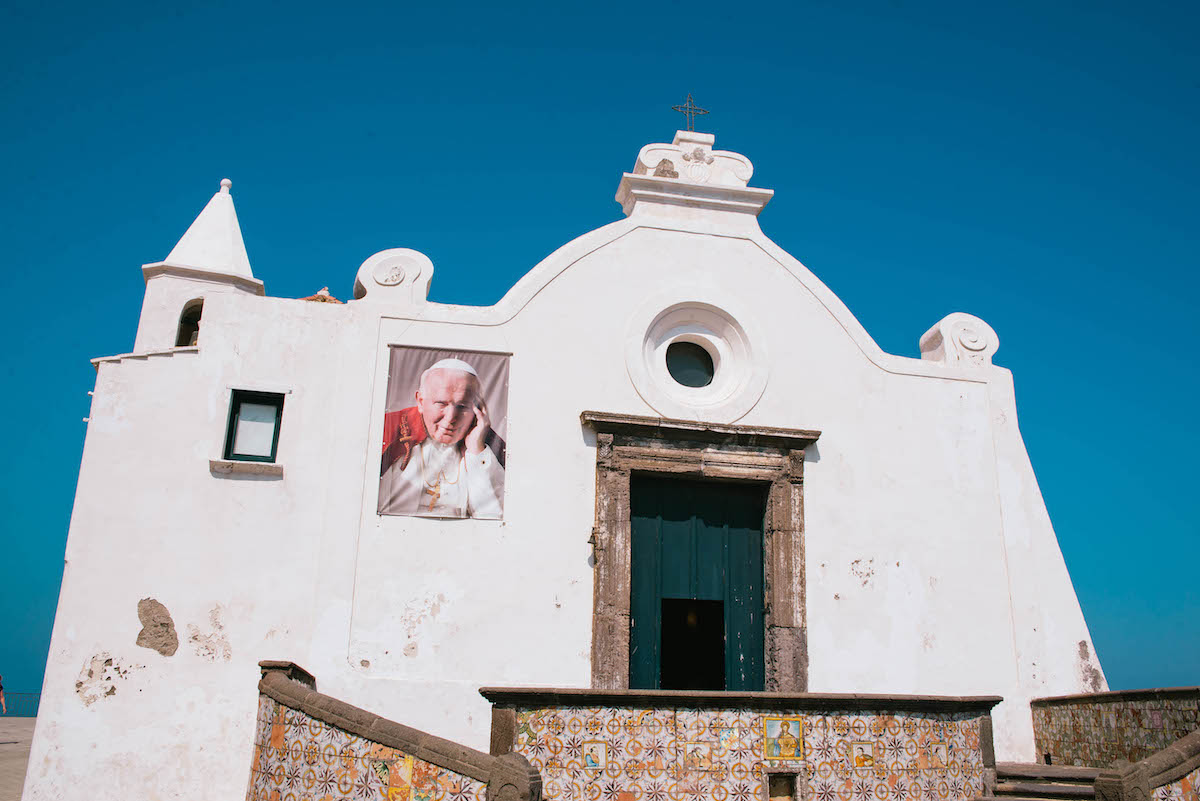 CHIESA DEL SOCCORSO
LOCATION: FORIO
One of the most notable landmarks in Forio town is Chiesa del Soccorso, an old antique church located on a hilltop overlooking the sea. We drove up to the church on our scooter and spent about ten minutes just taking in the views and looking in the church. It was cute to see, but not something you need to devote a lot of time to especially where there are so many cute shops and restaurants in Forio.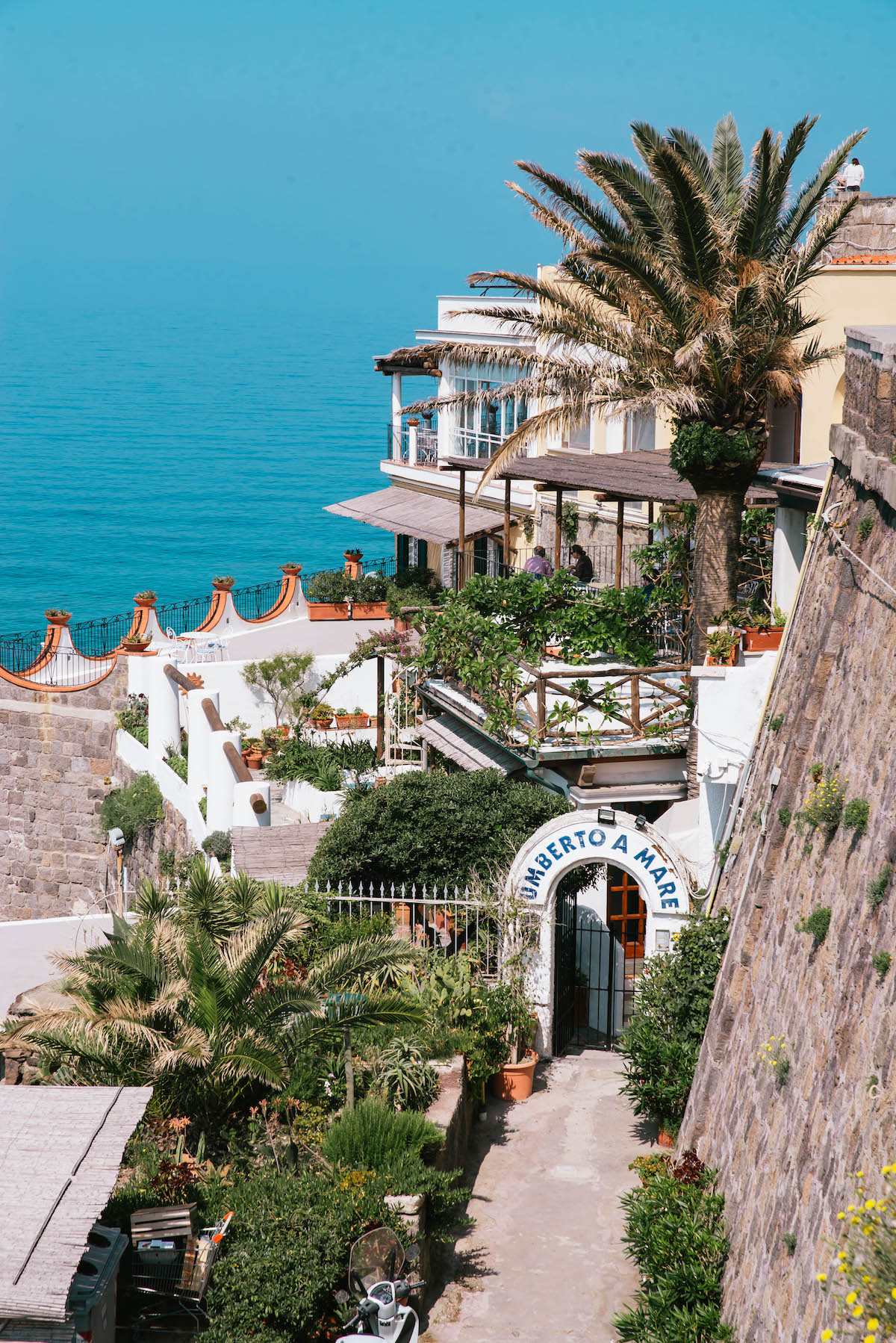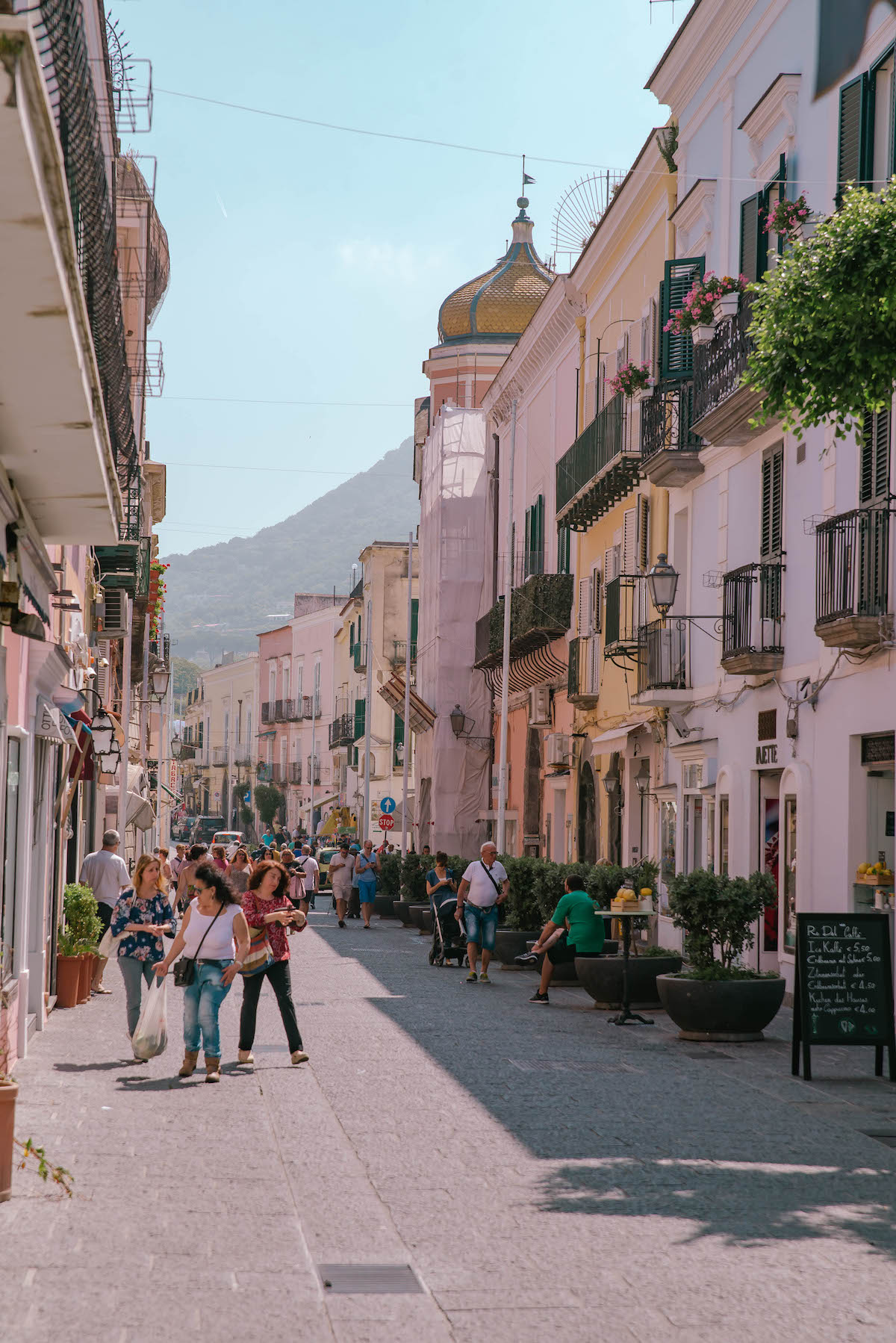 FORIO TOWN
Here are some glimpses of Forio. It's one of the larger towns in Ischia and a popular place to stay for tourists because of the abundance of hotels, lively downtown shopping district and of course the beautiful bay and beaches. Walking around the town you can expect to see many restaurants, bakeries, cafes, boutiques and souvenir shops. Forio is also the home of one of Ischia's most popular spas: Poseidon Thermal Gardens in the bay of Citara.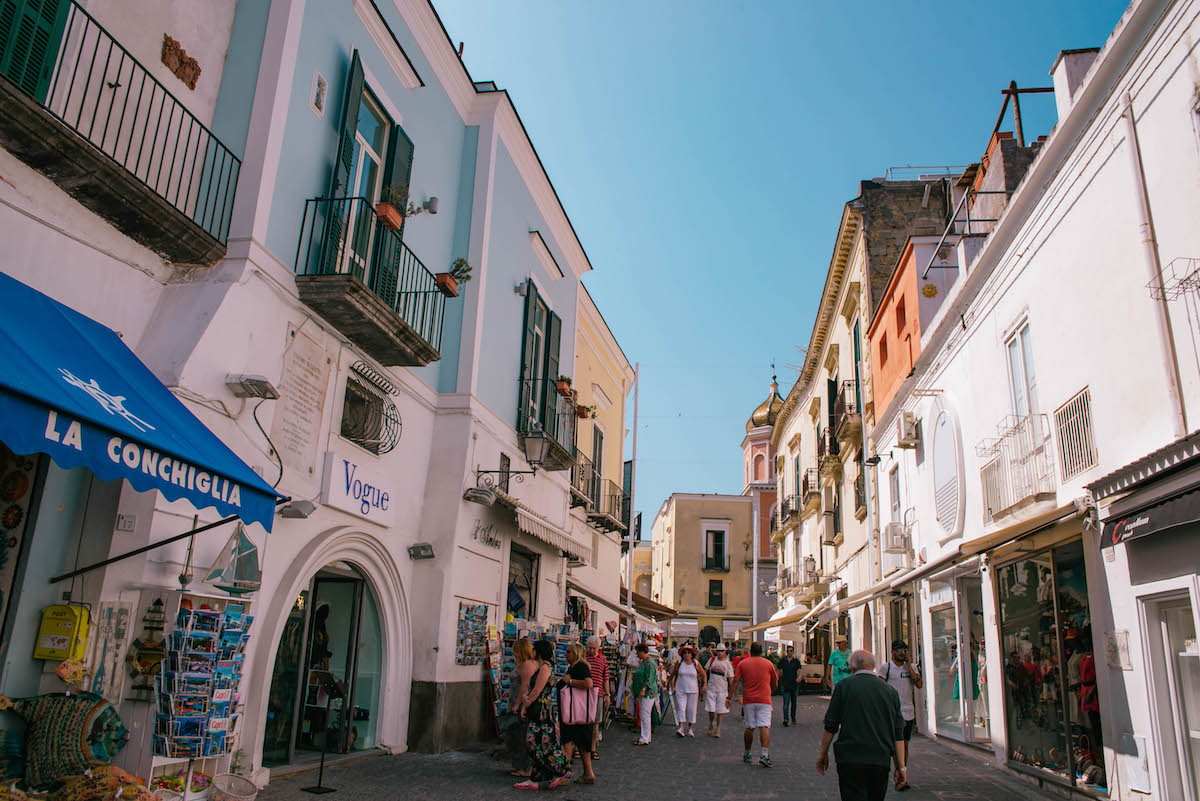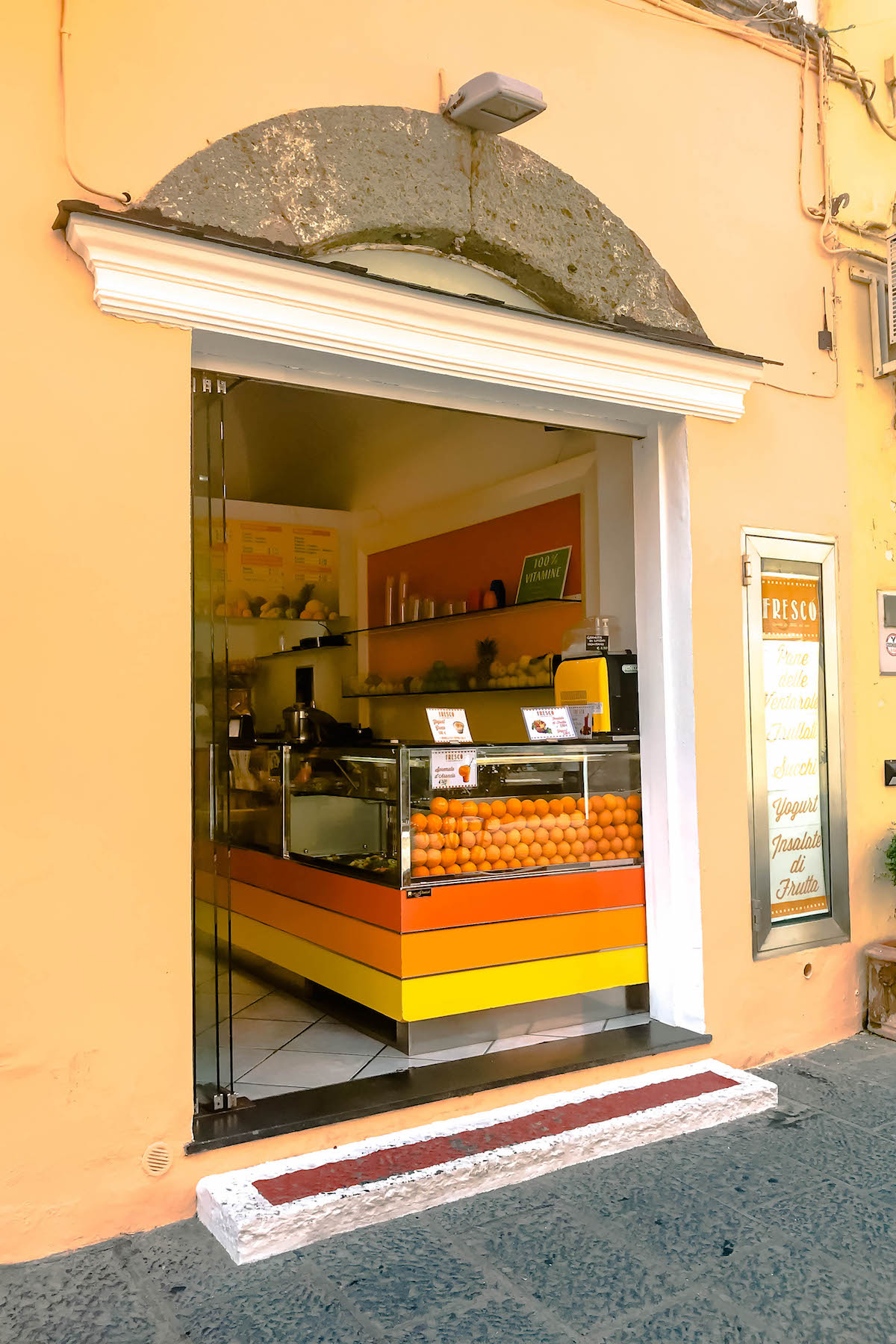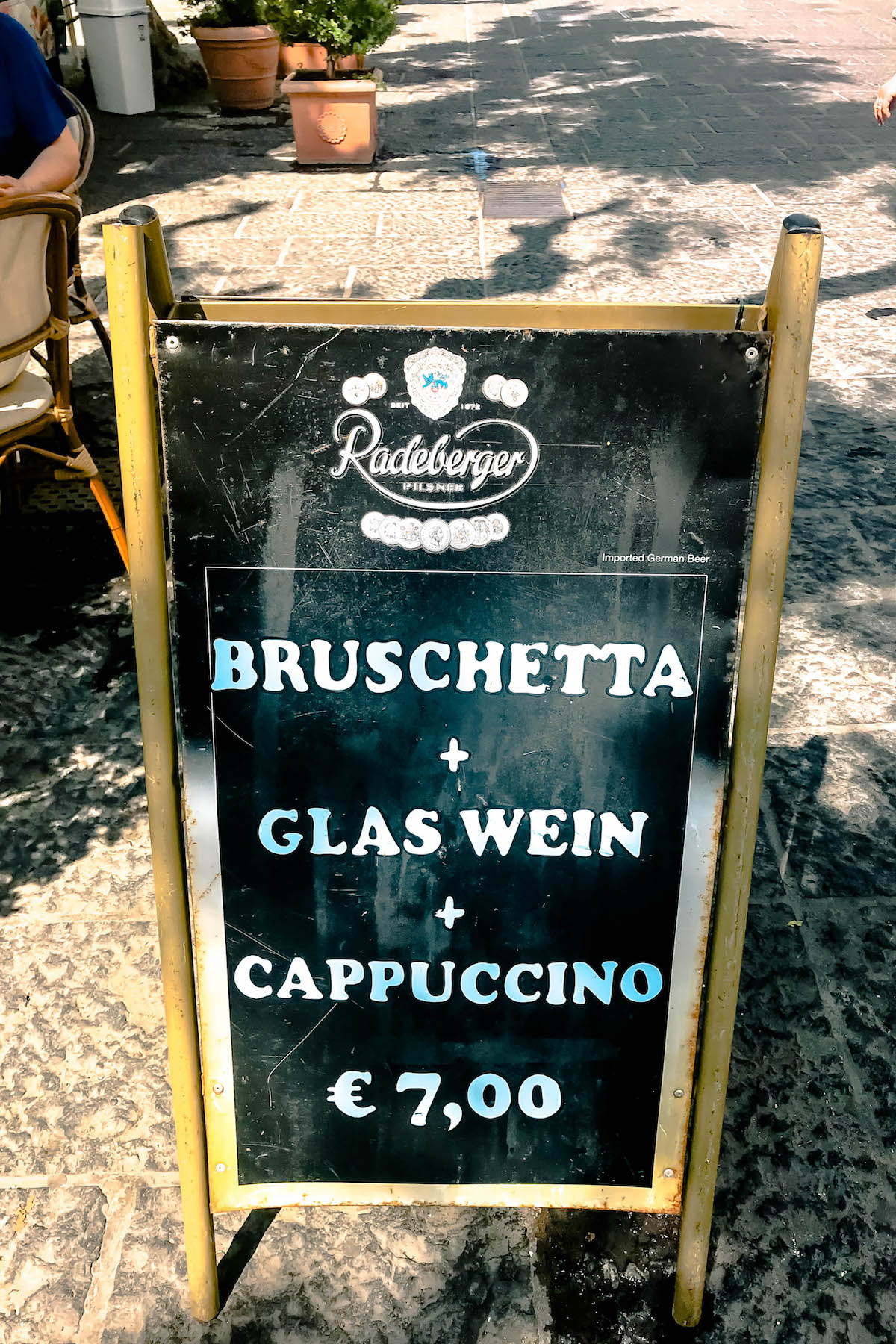 SANT'ANGELO
After spending the morning exploring Forio, we hopped on our scooter and took our time driving about 25 minutes to the nearby smaller village of Sant'Angelo. While Forio had more of bustling town vibe, Sant'Angelo felt much more quaint and reminded me of a smaller-scale Positano with it's colorful beach and hillside. The village is so small that they only allow residents and local traffic to drive through, so we paid 2 Euro to park our scooter in the lot outside of the town (this is where the bus stop/taxi stand is too) and continued into Sant'Angelo on foot.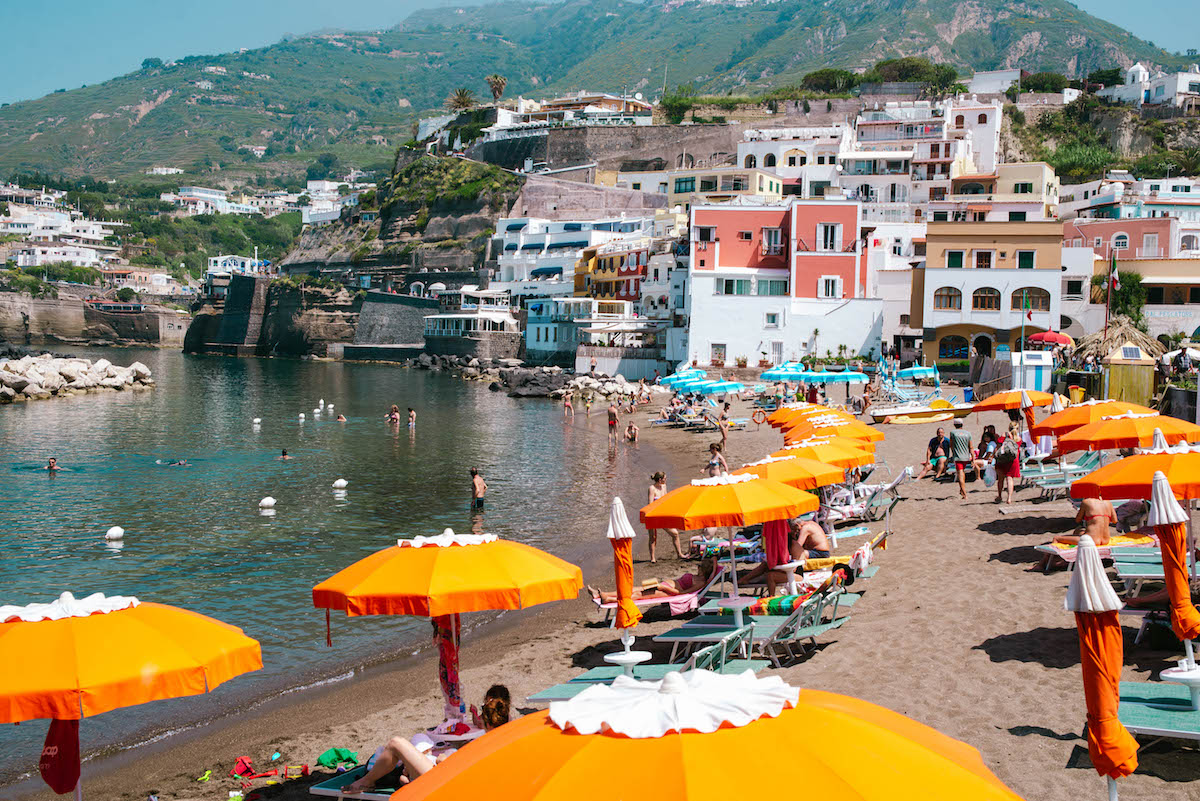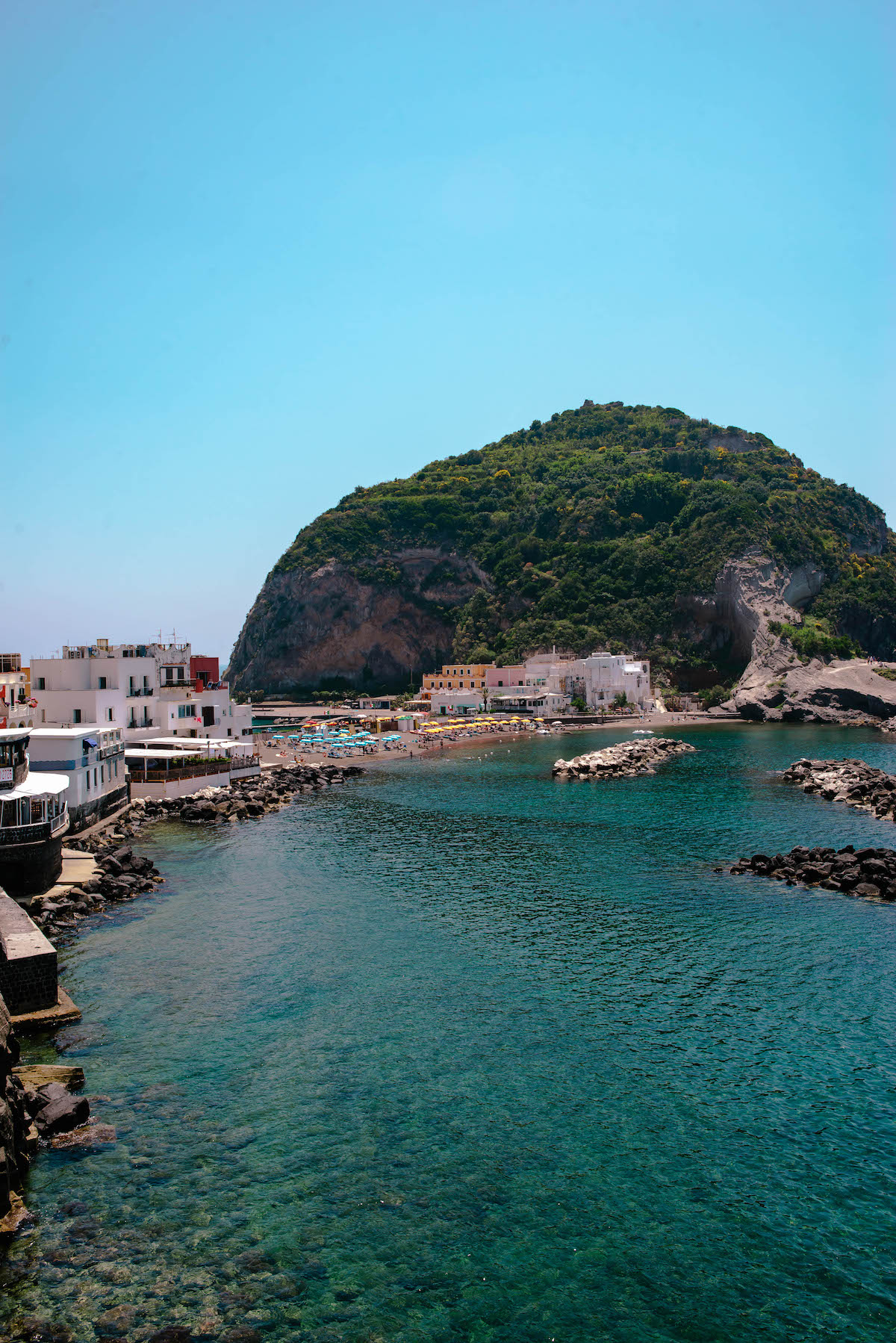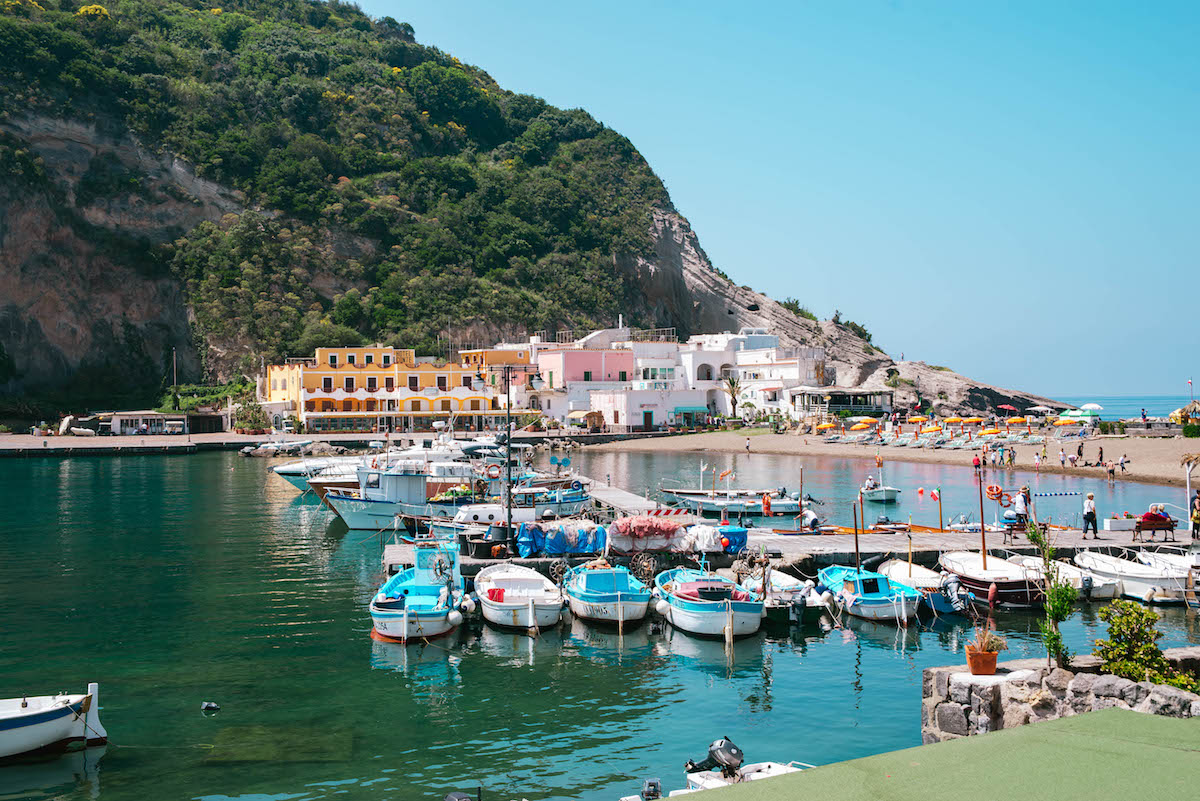 Pictured above // Chia di Rose Beach and the small marina
We could've spent an entire day in Sant'Angelo just chilling at one of the beaches! It seemed like the norm was to pay a small fee to reserve a chair and post up in the sun for a day. At this point in our trip we were getting a little bit crispy, so we spent a few hours just roaming around the winding little side streets taking in the views and then eventually sitting down for lunch at Ristorante Deus Neptunus (reviewed a little later on in this post.)
POINTS OF INTEREST IN SANT'ANGELO
Chia di Rose Beach (closest to the town centre located near the marina)
Cava Grado Beach
Le Fumarole Beach
Rock formations (the largest one looks like a big mushroom)
Panoramic views of the ocean and nearby Capri
Marina and fishing port (pretty sure you can grab water taxis here or book a boat tour/excursion)
Small shops and local restaurants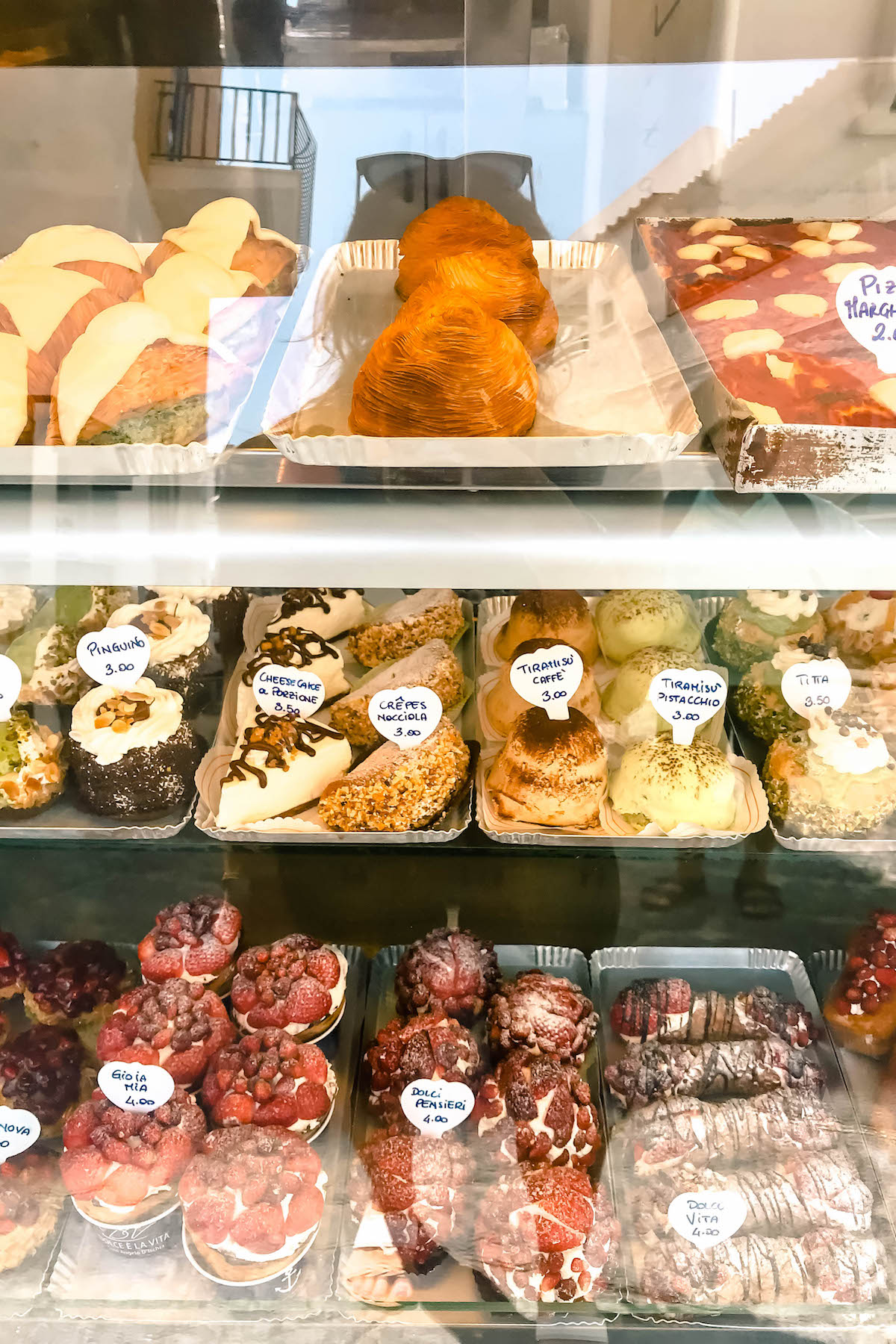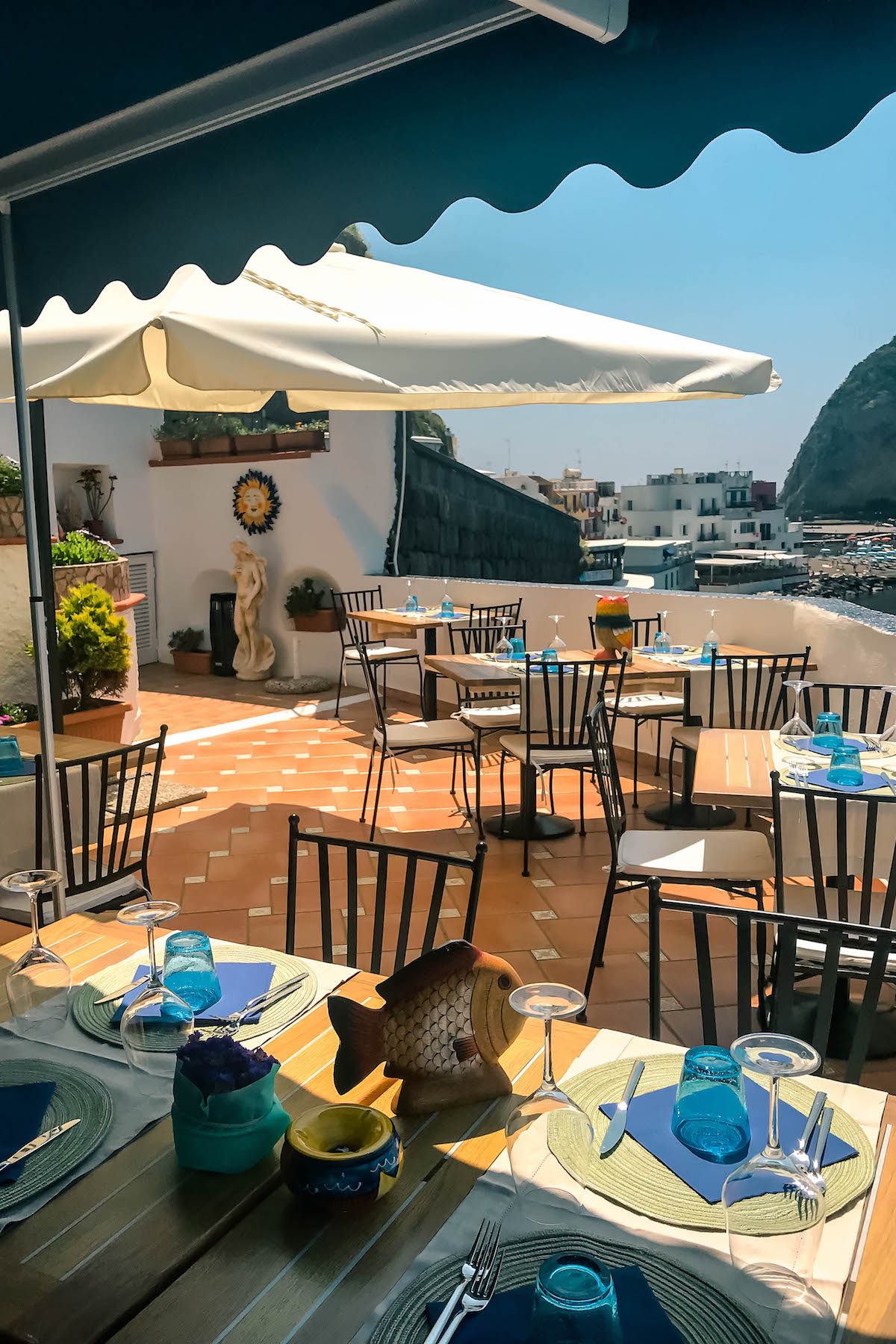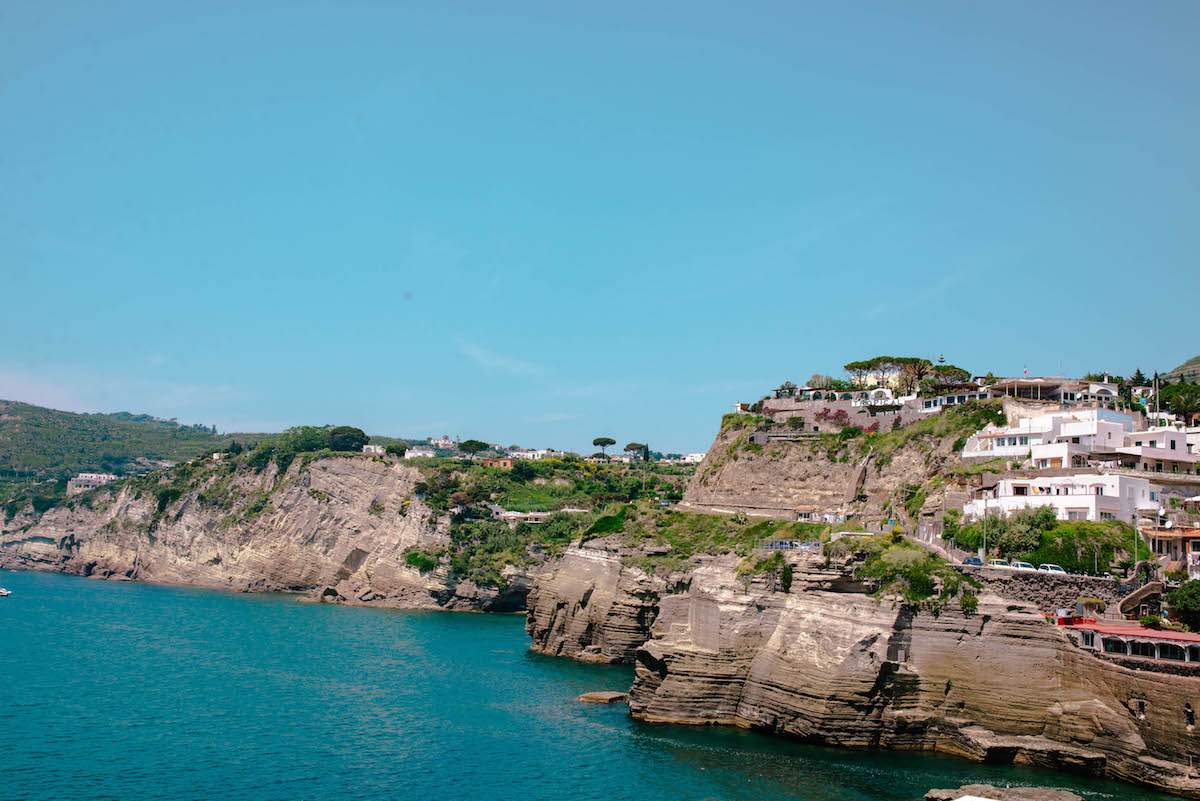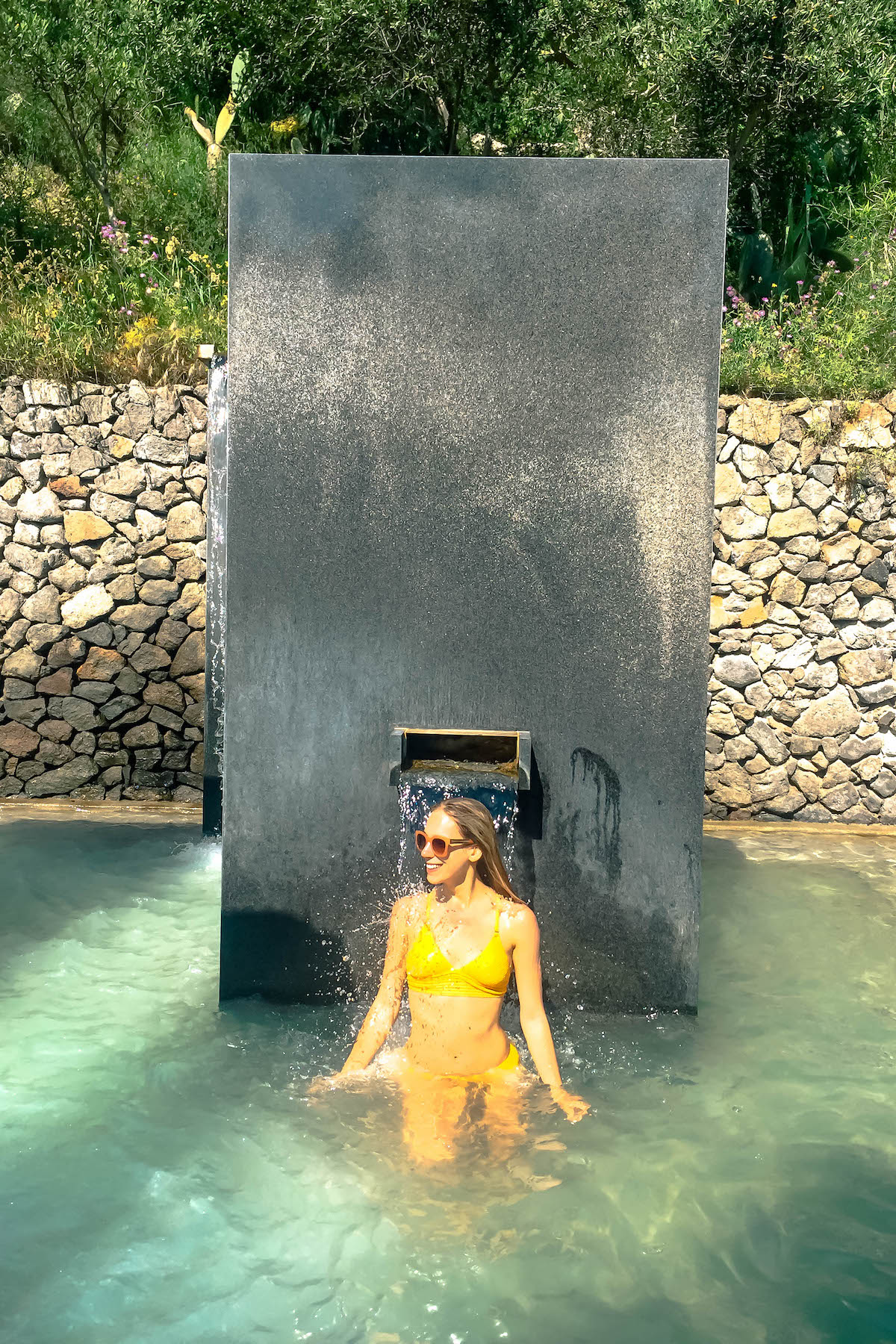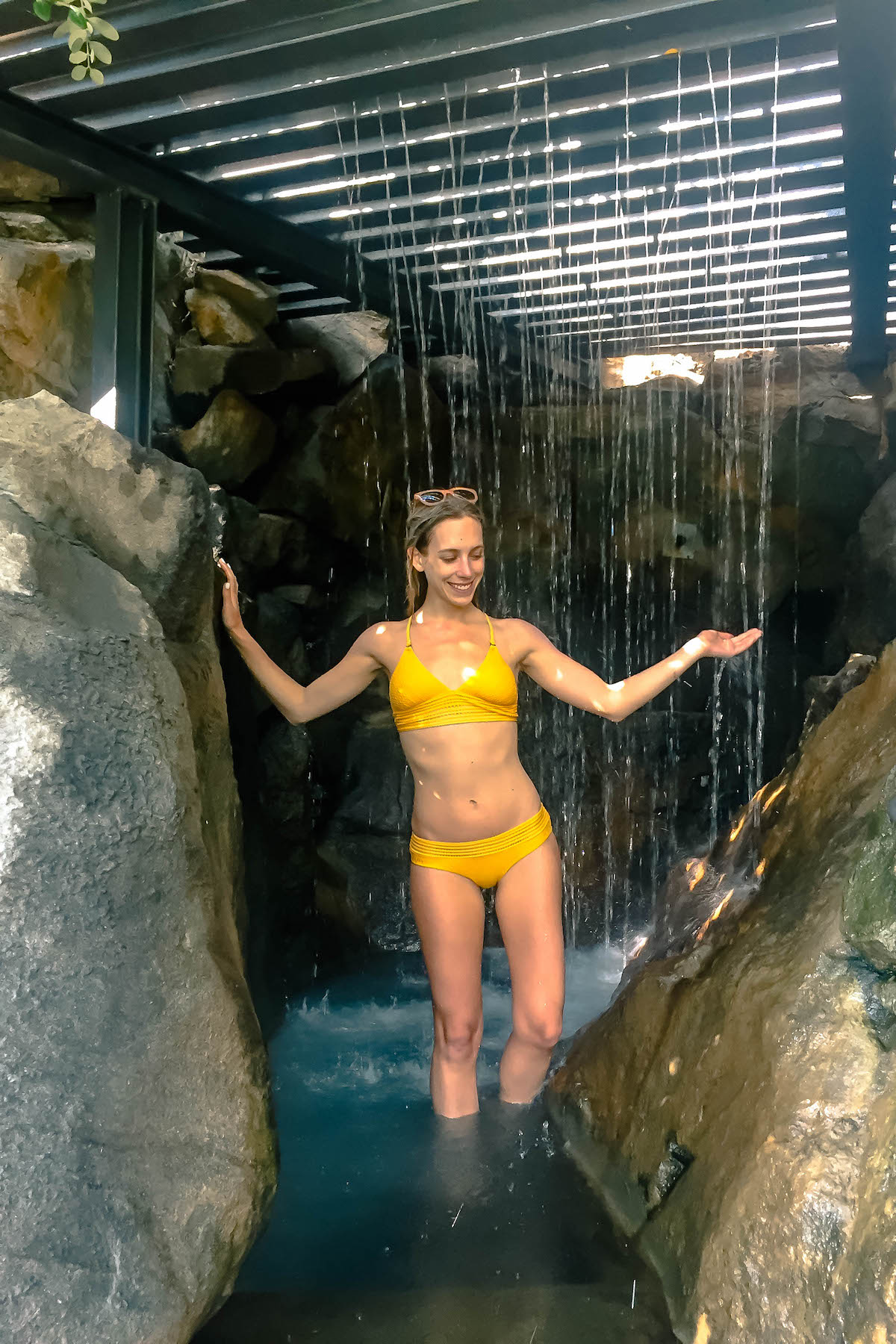 SWIMSUIT DETAILS // Yellow Knit Bikini Top & Bikini Bottoms
NEGOMBO THERMAL PARK & SPA 
Location: Lacco Ameno
You can't go to Ischia and not visit a thermal spa. It's what the island is famous for after all! There's no shortage of spas to choose from so we ended up just picking the one that had the best reviews and was in close proximity to our hotel in Lacco Ameno: Negombo Thermal Park.
Right away it's important to note that the spas in Ischia are very different from what we would consider a spa in the U.S. Think more outdoor water park with multiple pools, grottos, hot springs and areas dotted with lounge chairs and umbrellas. You can see why I have such a lack of pictures– it was kinda hard to take photos hopping from hot bath to cave shower to Turkish bath LOL. I believe you can reserve treatments at these spas, but it seemed like the primary purpose is to go for a full day and just relax while enjoying the thermal amenities and private beach. There was a restaurant, snack bar and locker room as well!
So Negombo Thermal Park is quite large. Since we had limited time we opted for the half day pass (I think we paid 20 Euros each) and followed the map which had a suggested order of what pools and areas to try first. It was definitely very zen. You could tell there were some people there truly for the "healing" properties of the waters. Nick thought the entire thing was hella goofy, but we still enjoyed ourselves because it was such a unique experience. The pools and park itself were very clean and well maintained, however MAKE SURE YOU BRING YOUR OWN TOWELS. We completely didn't even think of this and ended up just having to walk around soaking wet #whoops.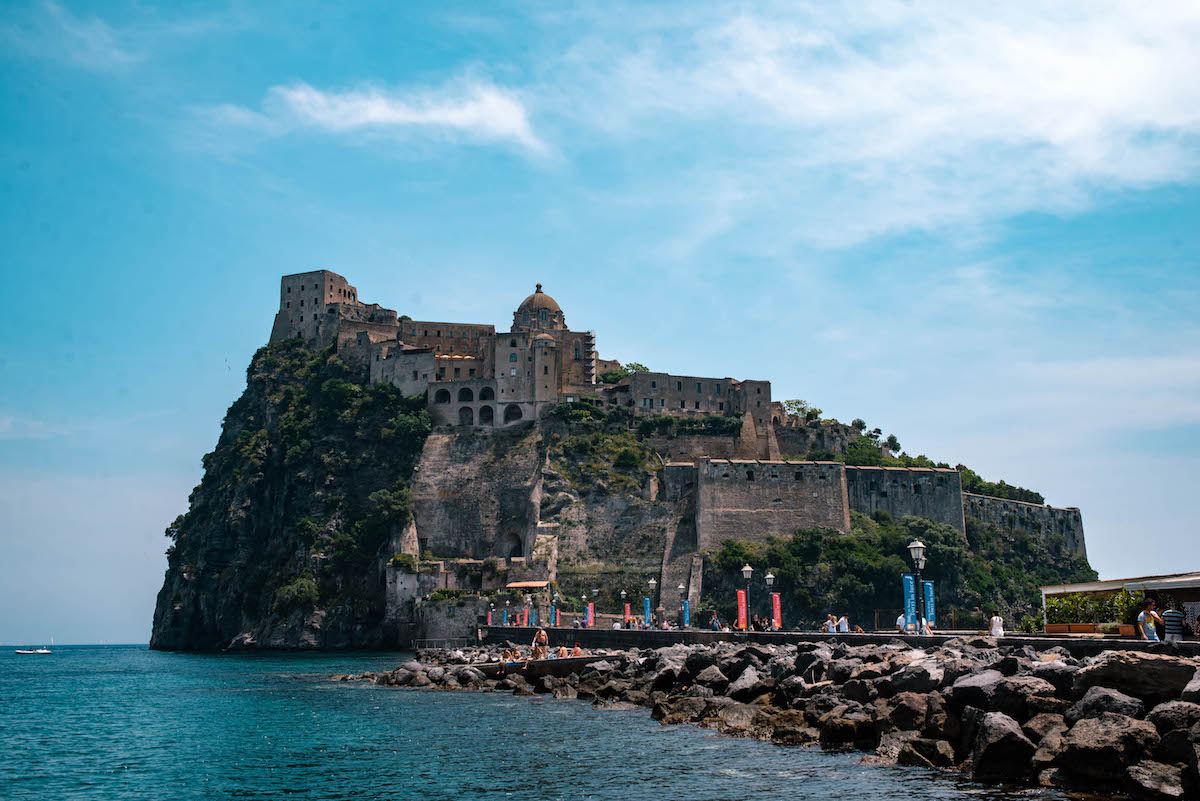 ARAGONESE CASTLE
Location: Ischia Ponte
The medieval Aragonese Castle is by far the most striking landmark in Ischia and a must-see! It's built on a small rocky island connected by a skinny causeway to Ischia town and dates back to 474 BC. I know I've mentioned in a few previous travel guides that Nick and I are not museum or tour people (short attention spans) but we really enjoyed our time exploring the castle. We went on our last day in Ischia first thing in the morning (I think maybe 10AM?) and paid a small entrance fee to enter the castle grounds on foot. We didn't do a guided tour– just our own thing following the map brochure we'd been given with our tickets. Luckily they had a version in English so we could actually read about the history!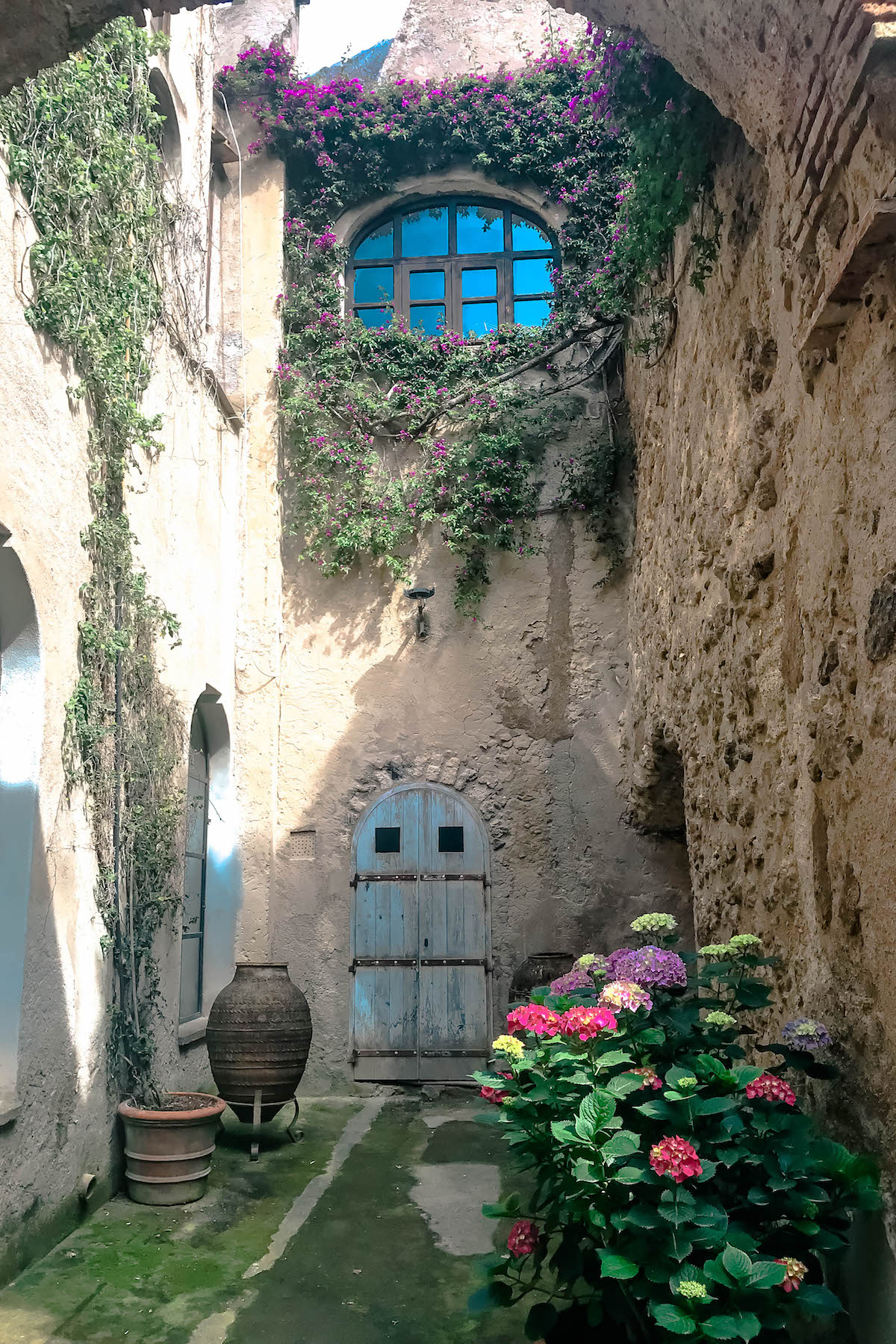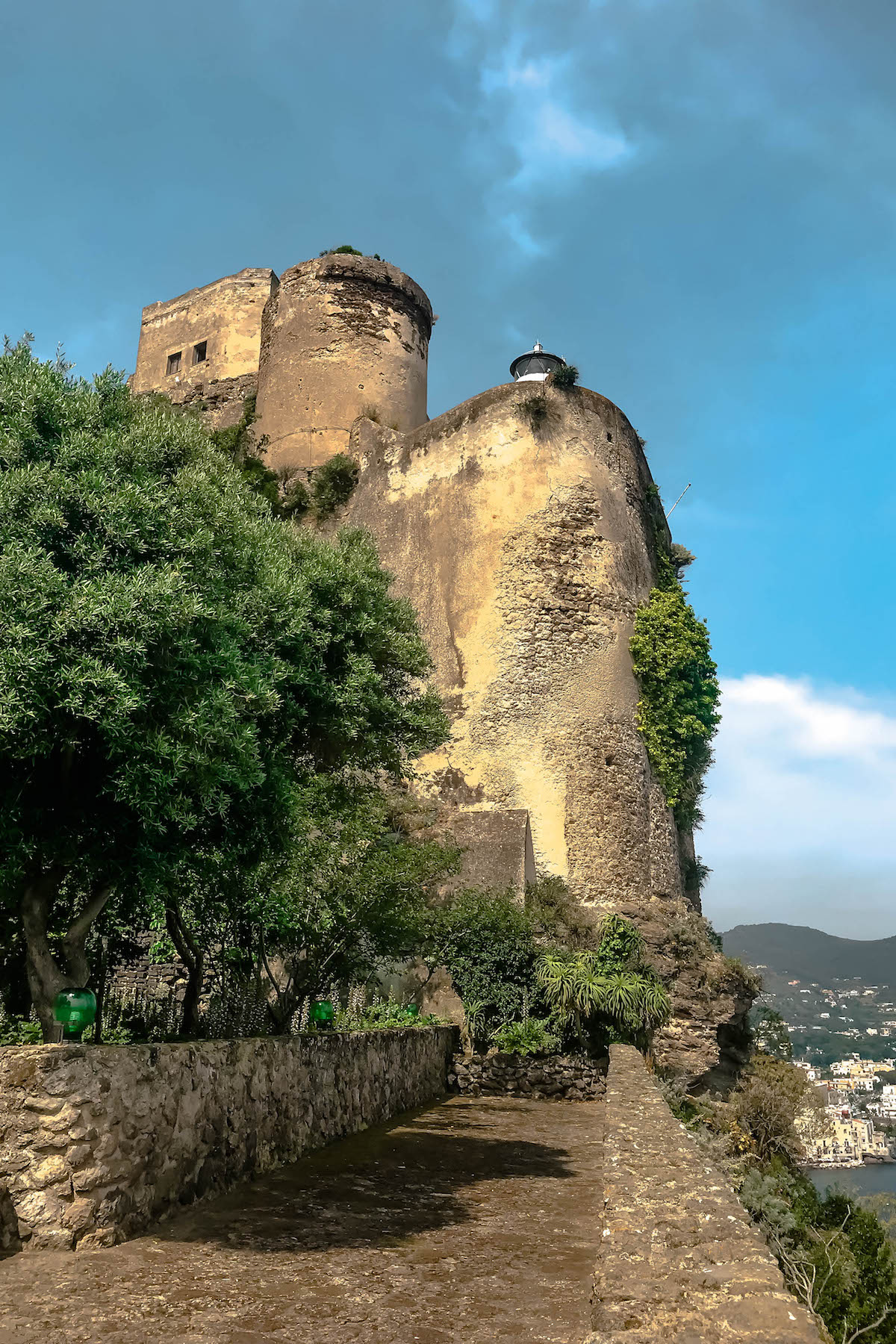 The castle has a really rich story. In it's lifetime it's ownership has changed hands so many times. At one point it was captured by the Romans, then by the King of Naples and Sicily and even fell under the control of the French and British in the 1800s. Today it is owned by a private citizen who keeps the castle open for visitors year round. The grounds and gardens are beautiful and the views are the best you'll find in all of Ischia!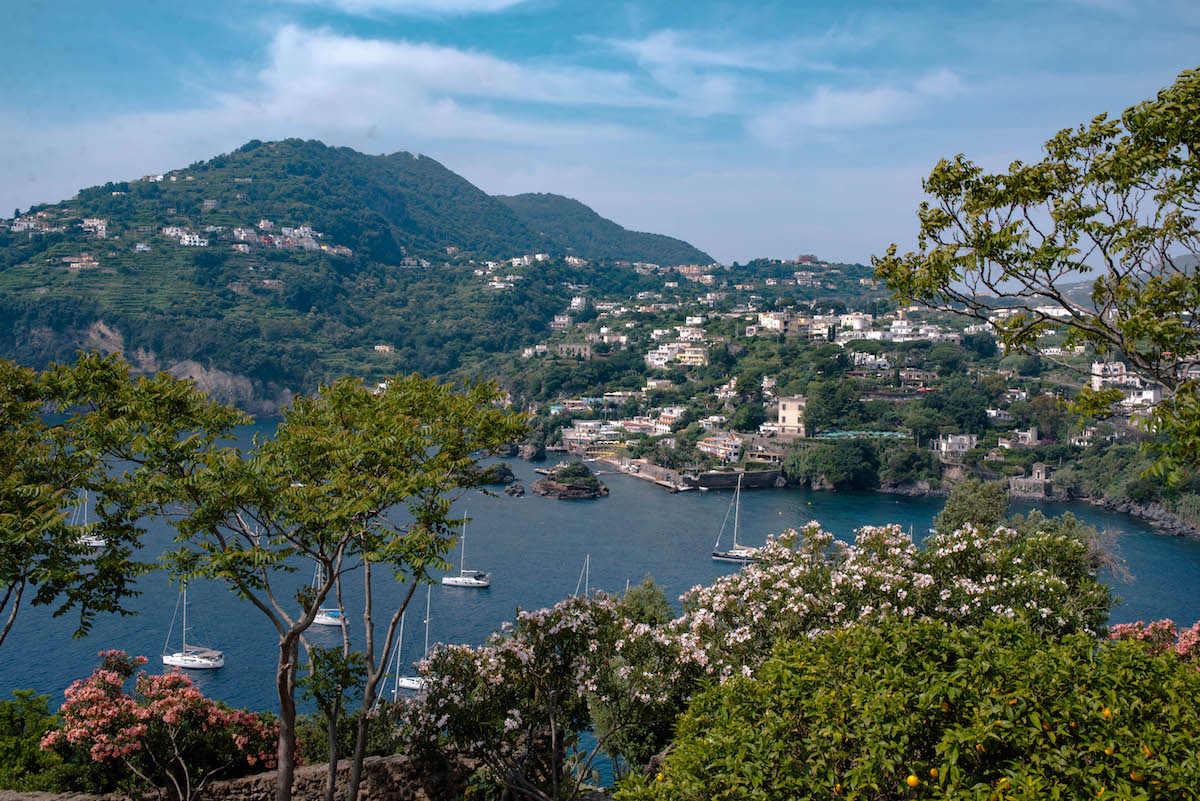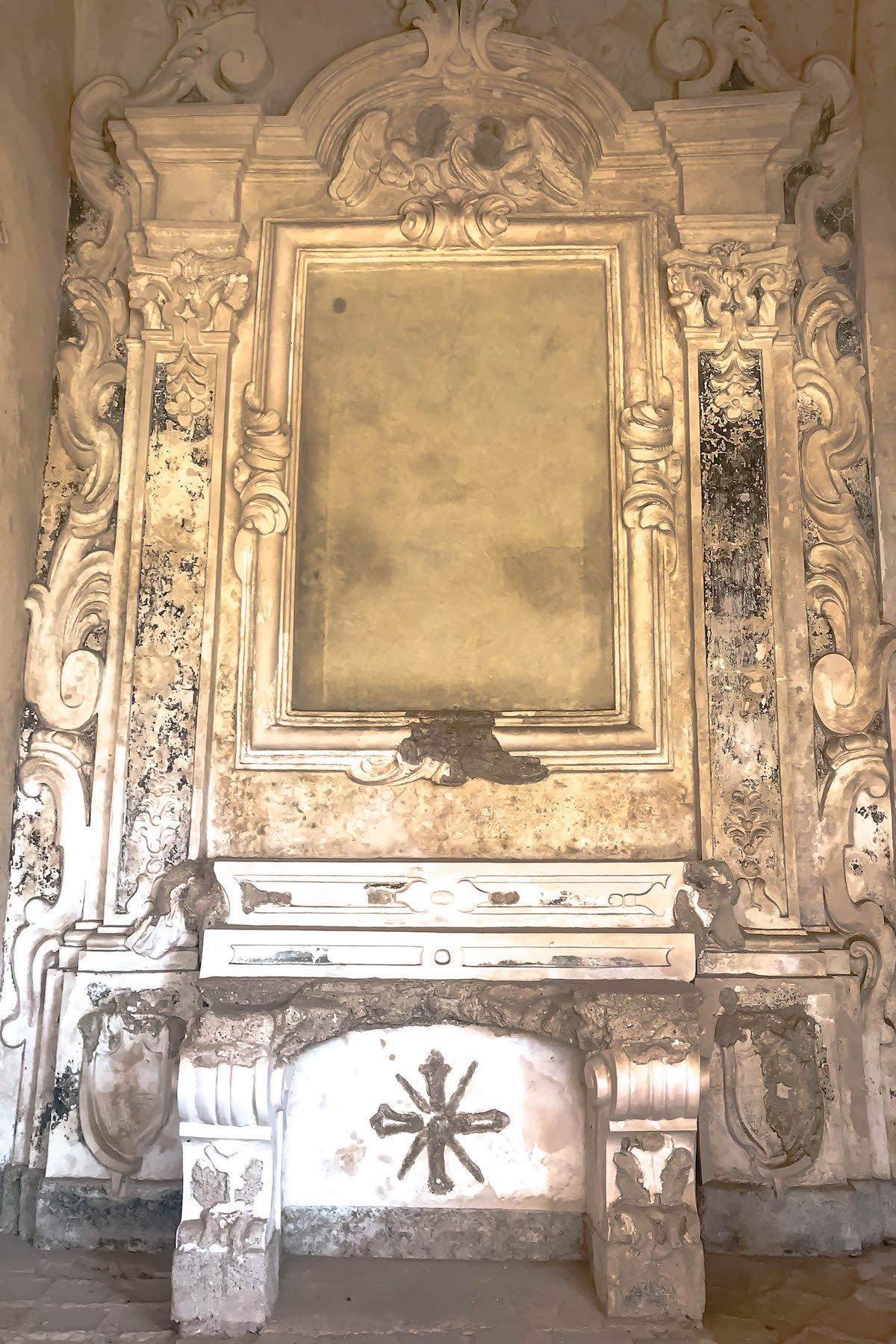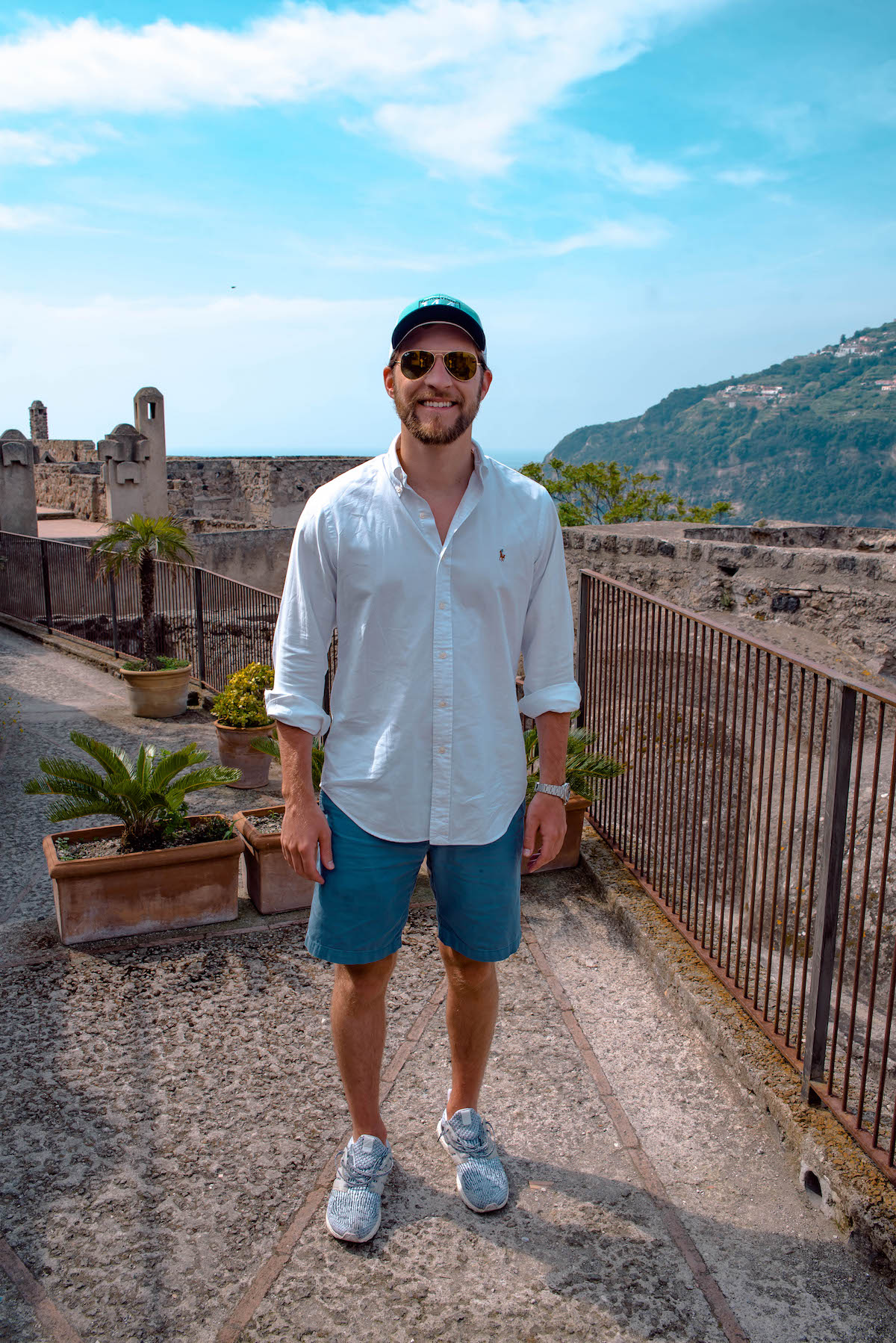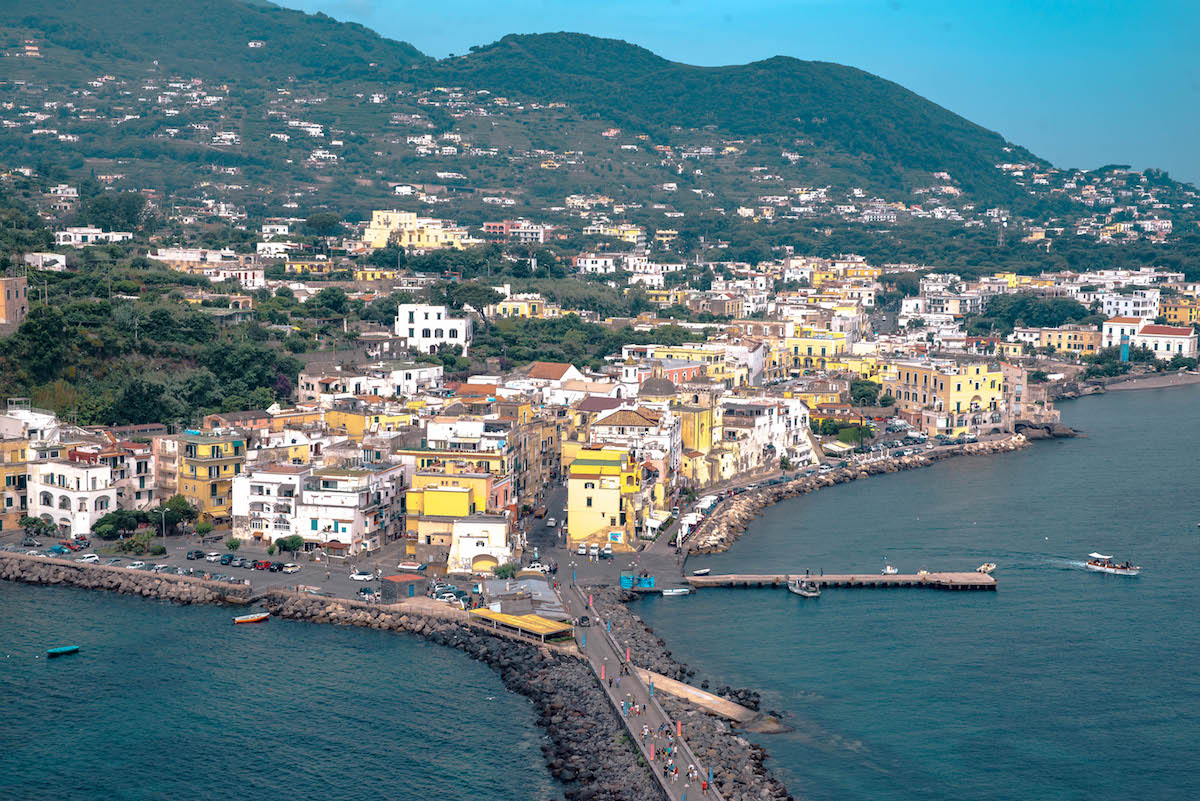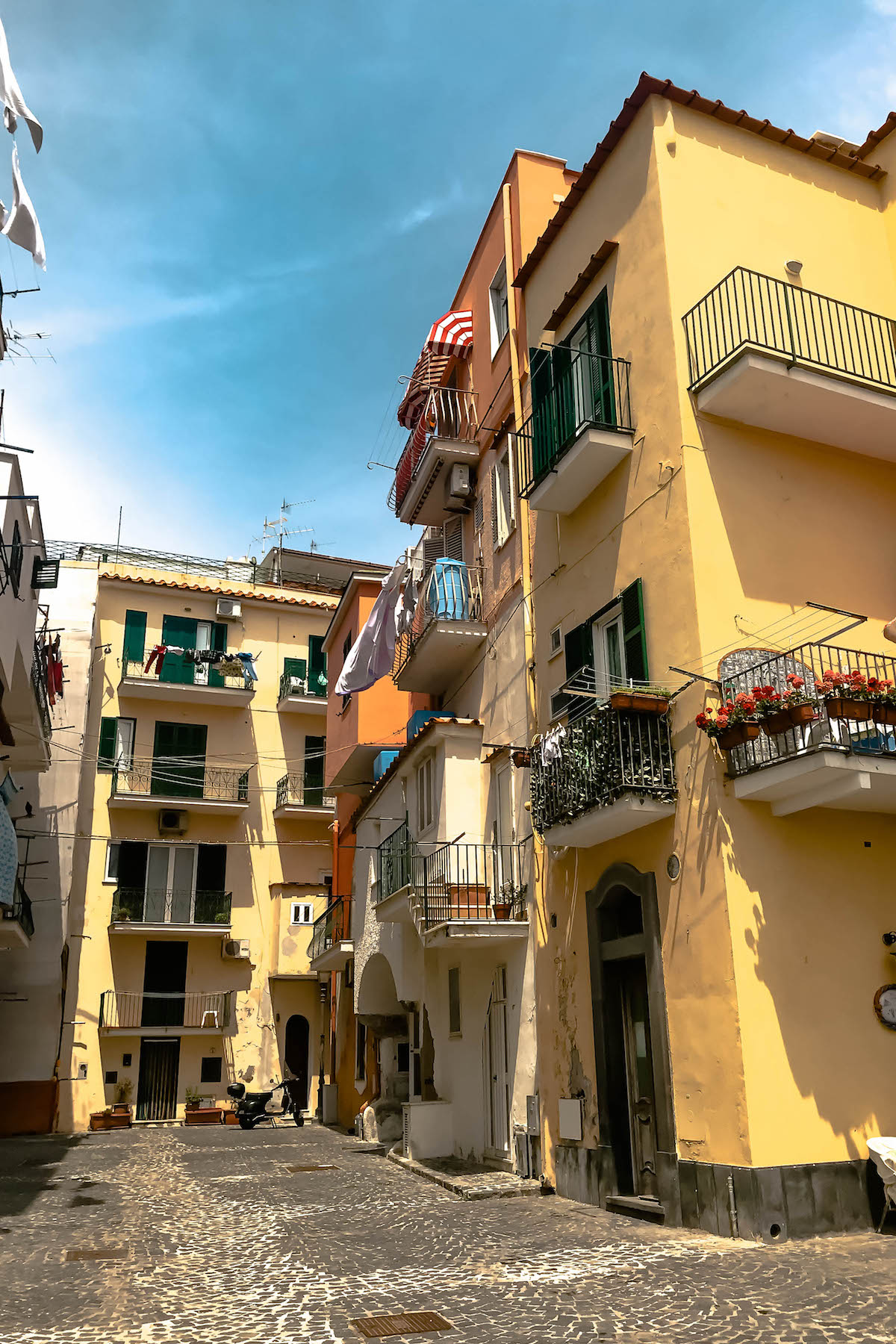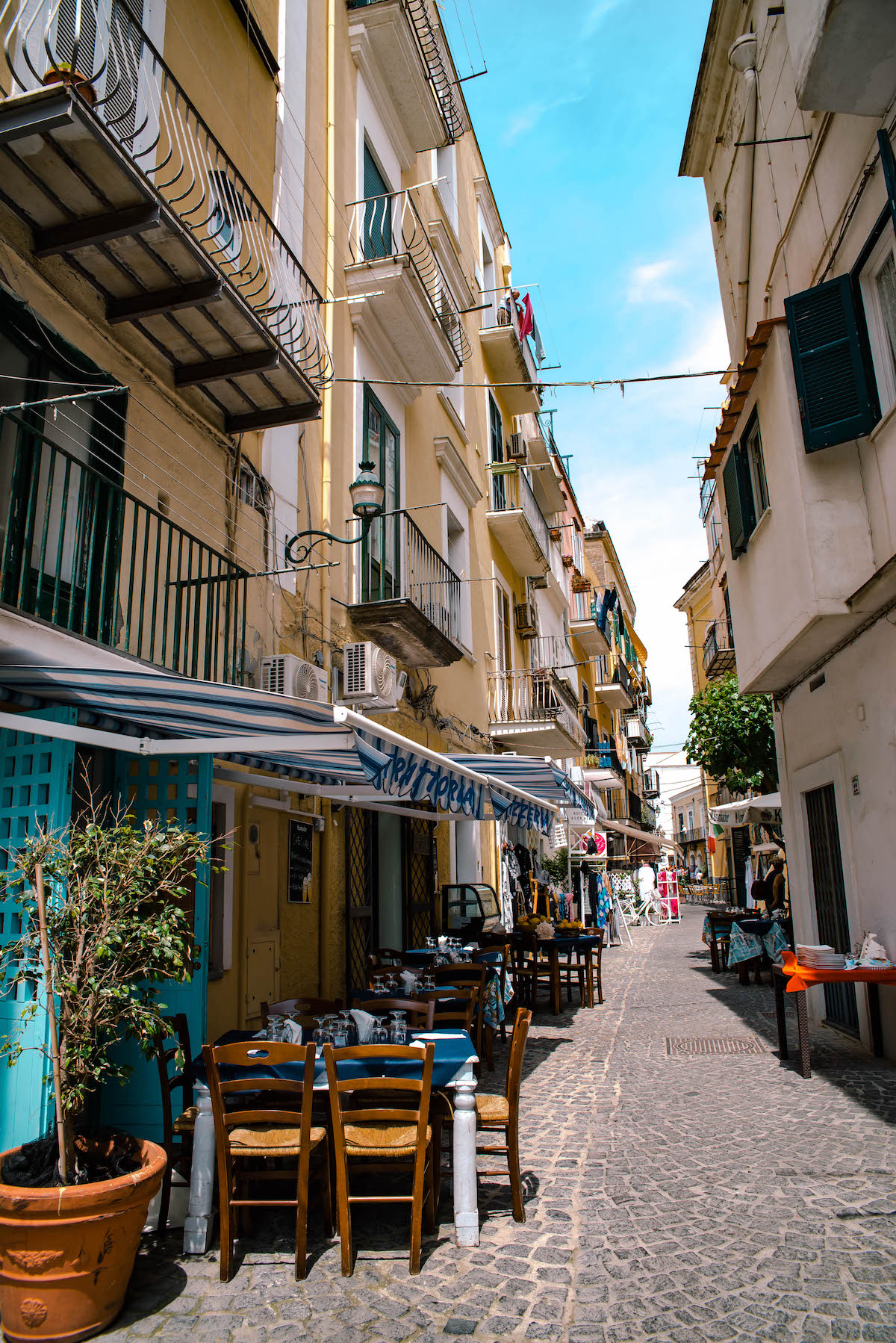 ISCHIA PONTE TOWN
After visiting the Aragonese Castle we spent some time walking around Ischia Ponte. We bought a bunch of ceramics to take home to family and friends here and were pleased to find the prices were a fraction of the cost of what was being charged for the same exact items in Positano. Pro Tip: try and buy your souvenirs at the tail end of your trip so you don't have to lug them around while you're traveling.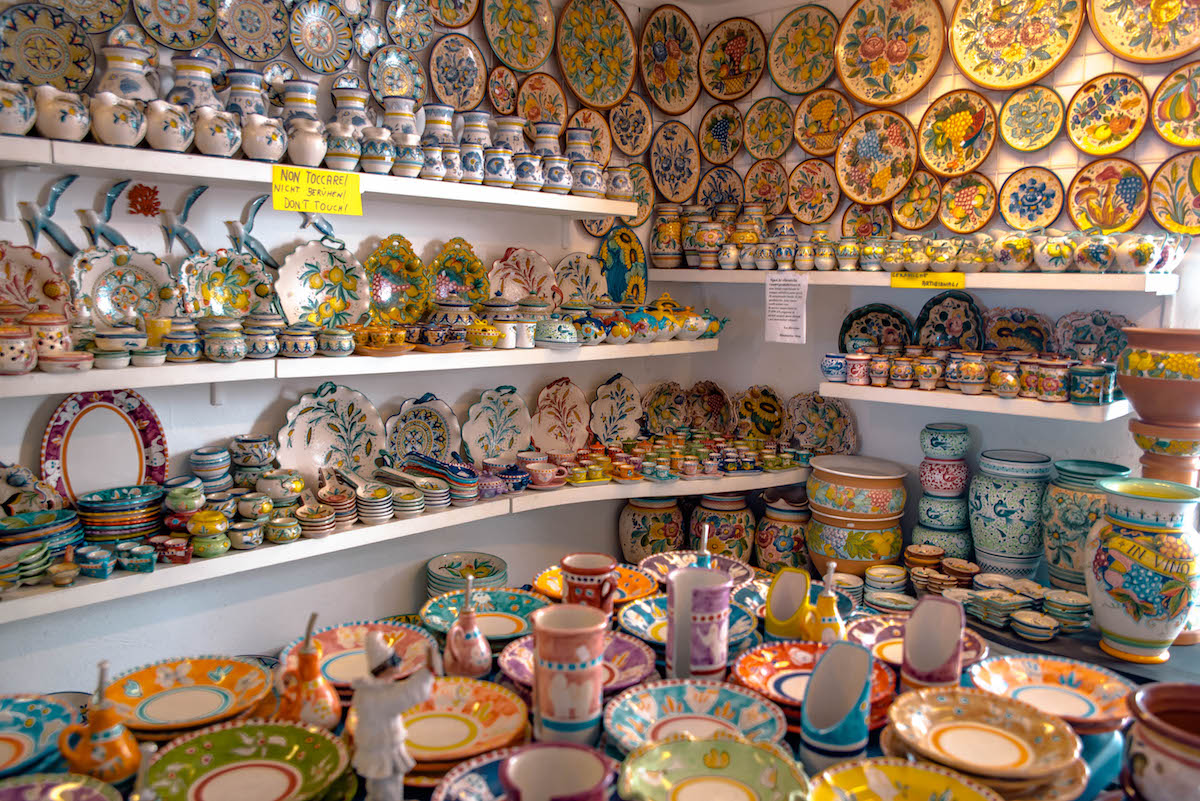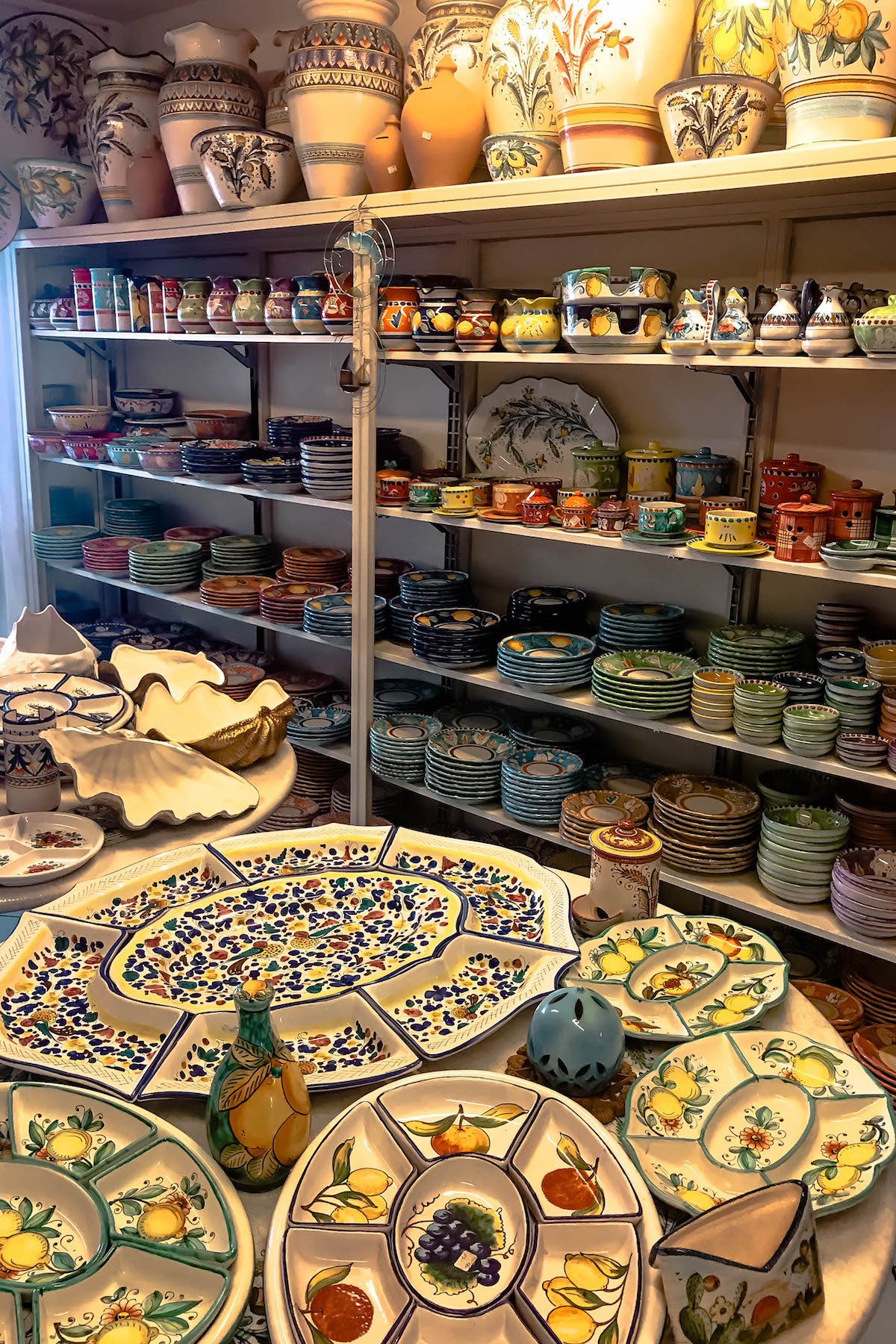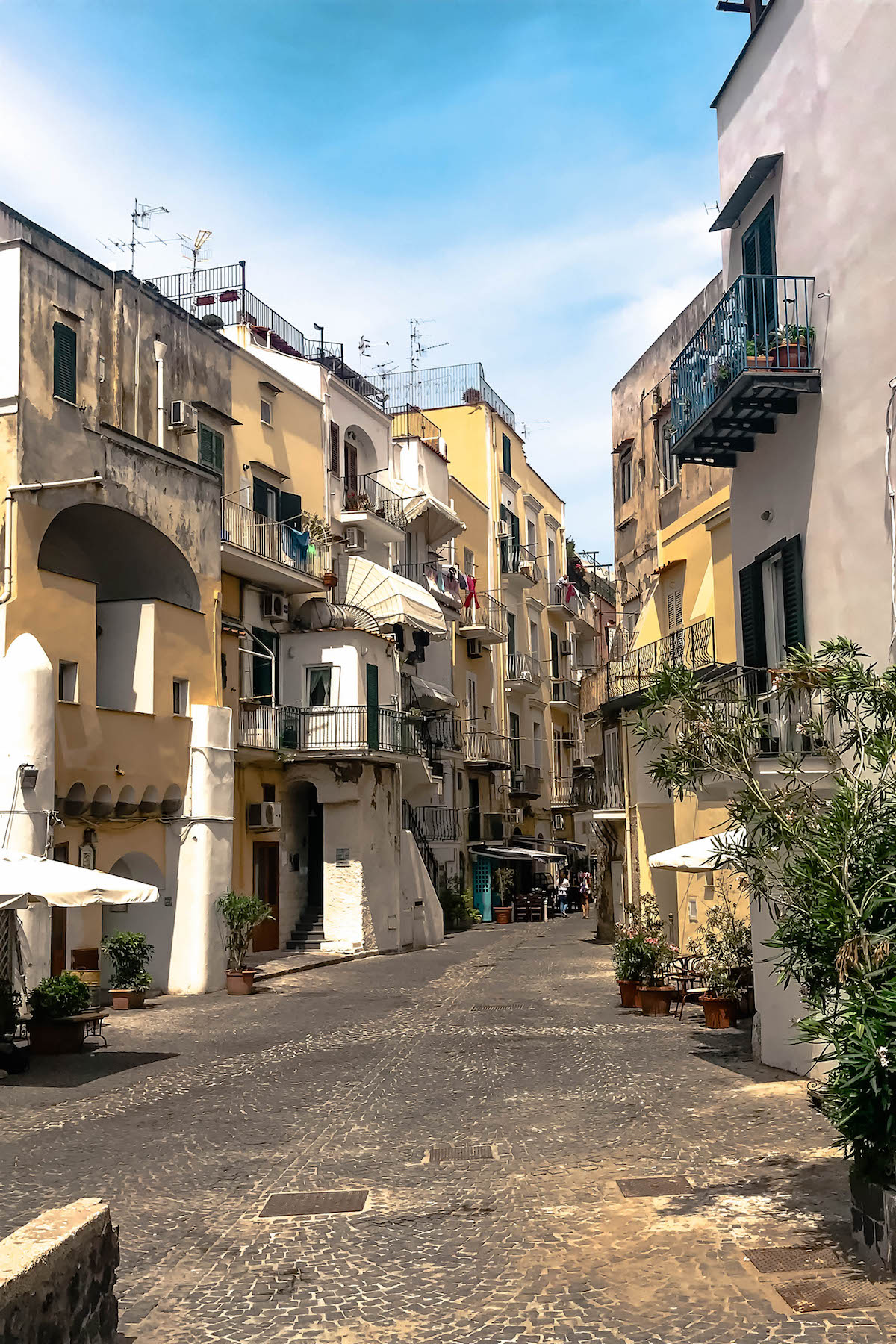 Where To Eat
We had some of our best meals during our entire time in Italy while we were in Ishchia! Here's everywhere we chowed down…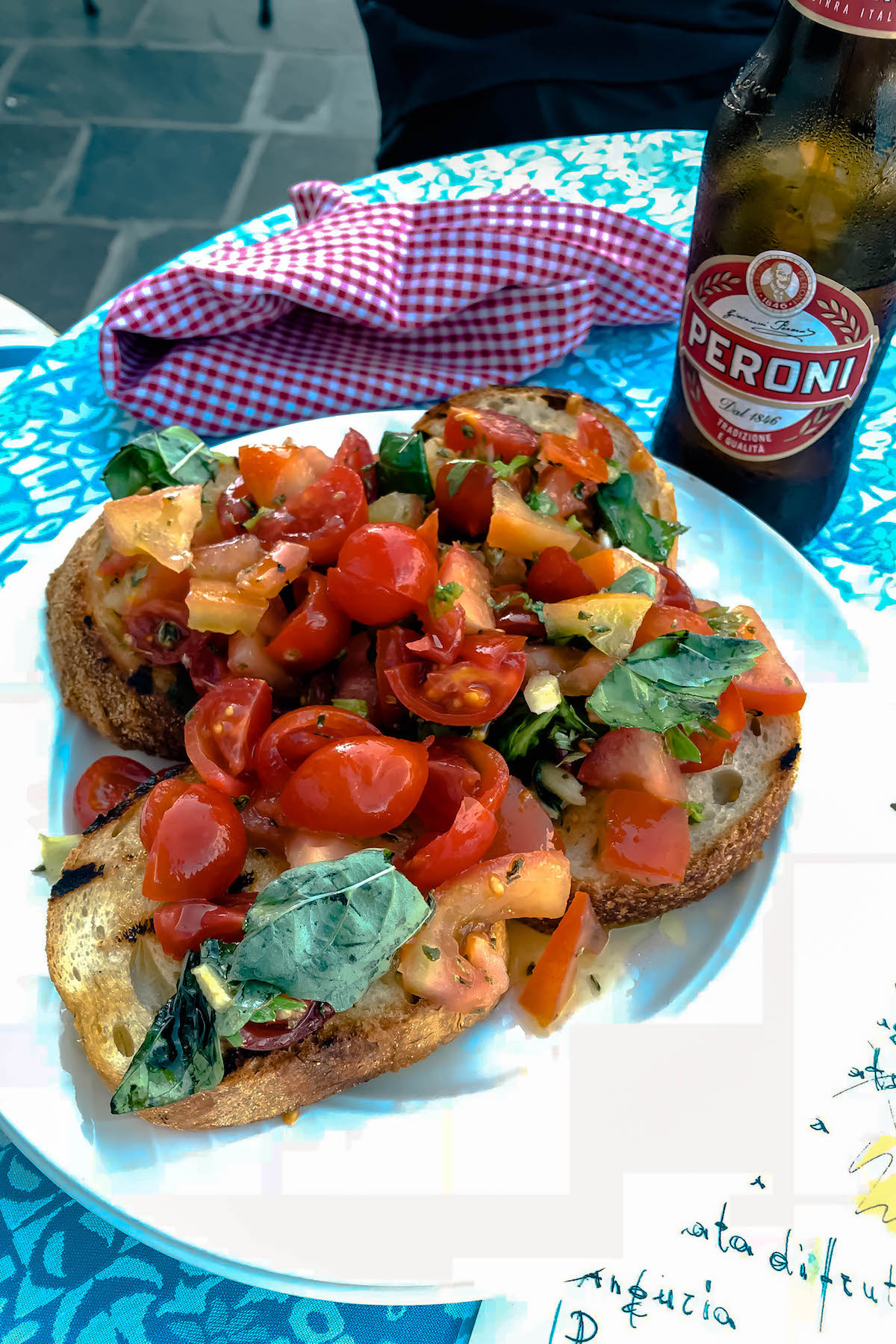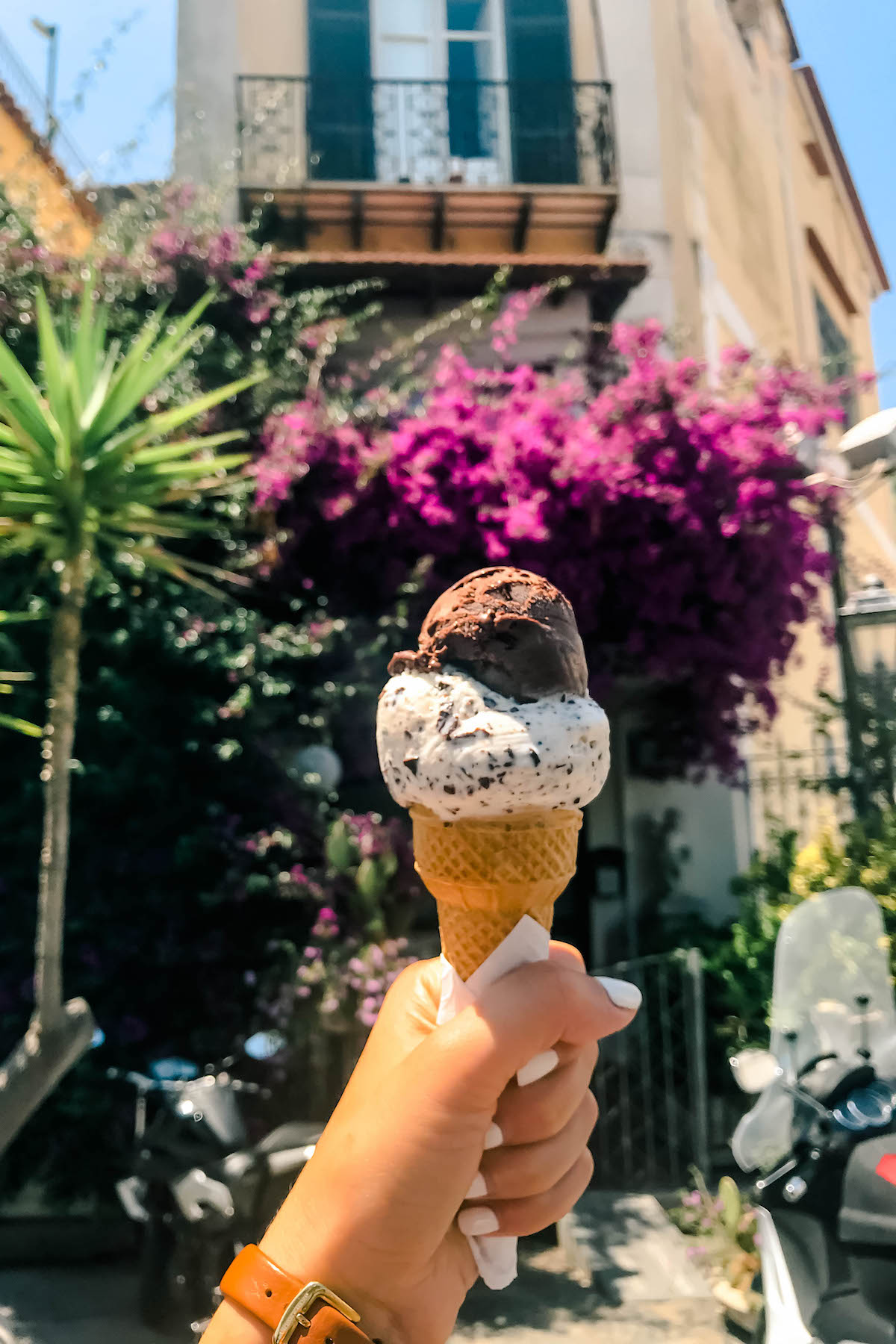 Our hotel was located in Lacco Ameno, one of Ischia's smaller towns that's great for walking with a number of cute restaurants and little shops. We were famished by the time we arrived our first afternoon so we went straight to the first place we could find bruschetta (sorry I honestly can't remember where– I think it was a little hotel cafe!) and then the gelato shop located off of the town square. We also had a lovely dinner our first night at Ristorante O' Pignattello.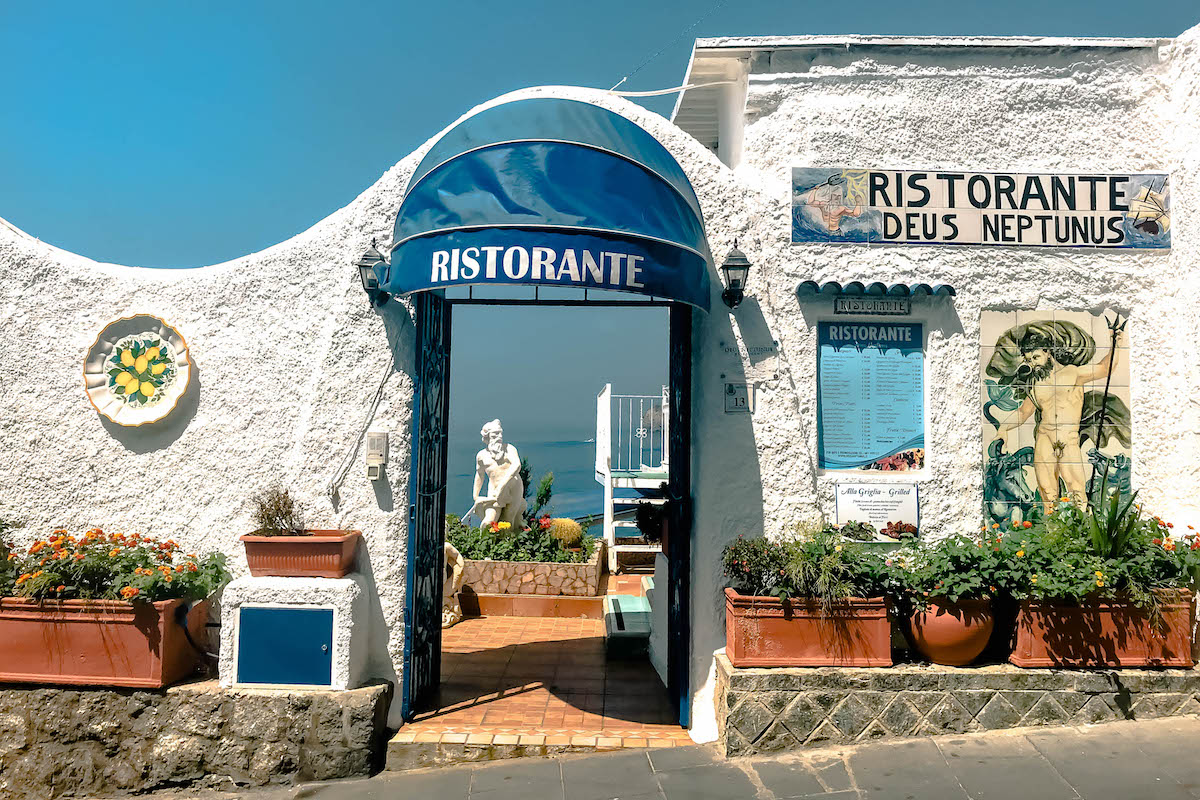 In Sant'Angelo was had an amazing lunch at Ristorante Deus Neptune. The restaurant itself is on the main hillside road and has the most incredible views with an equally wonderful menu full of fresh seafood (all local catches of the day) and of course pasta.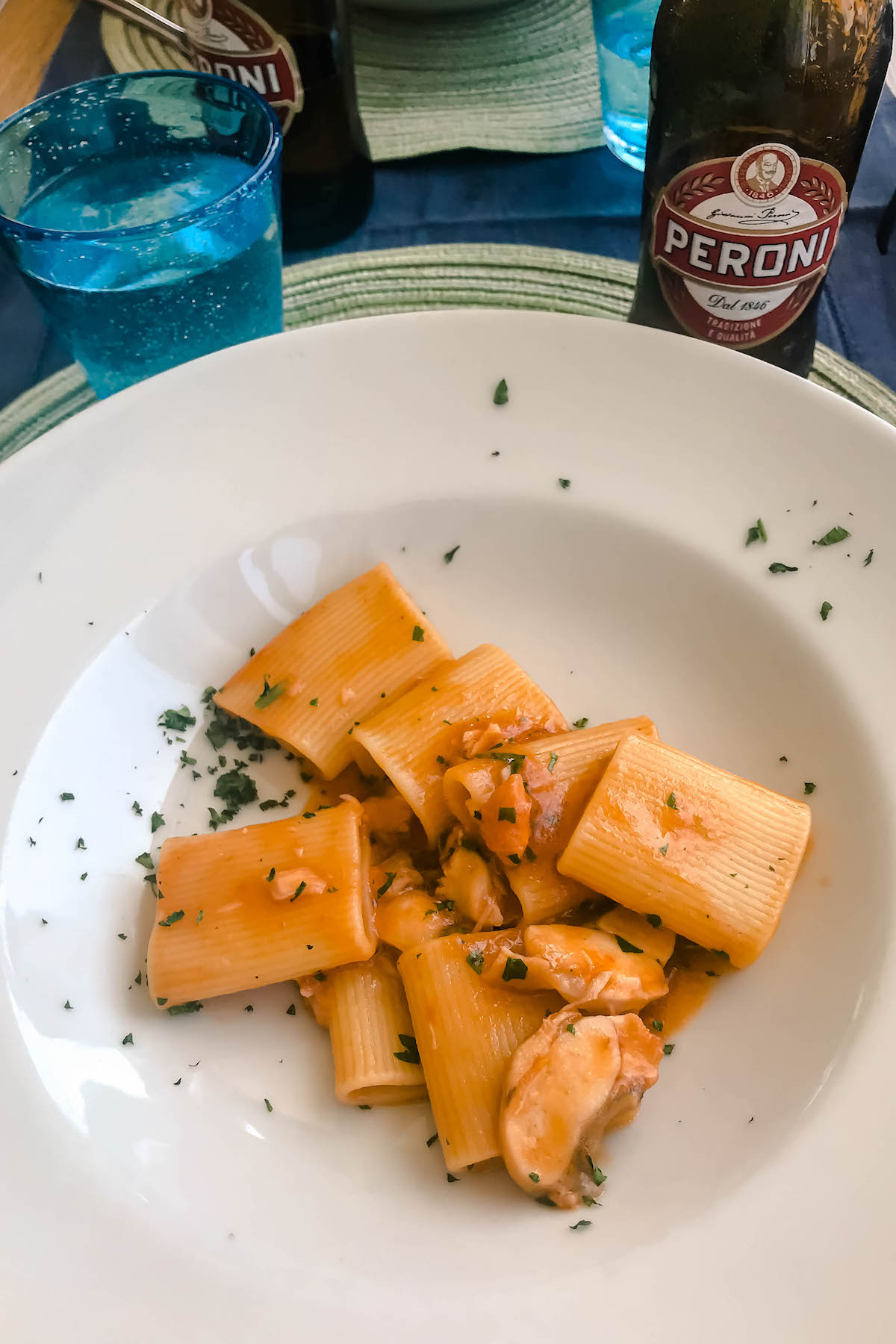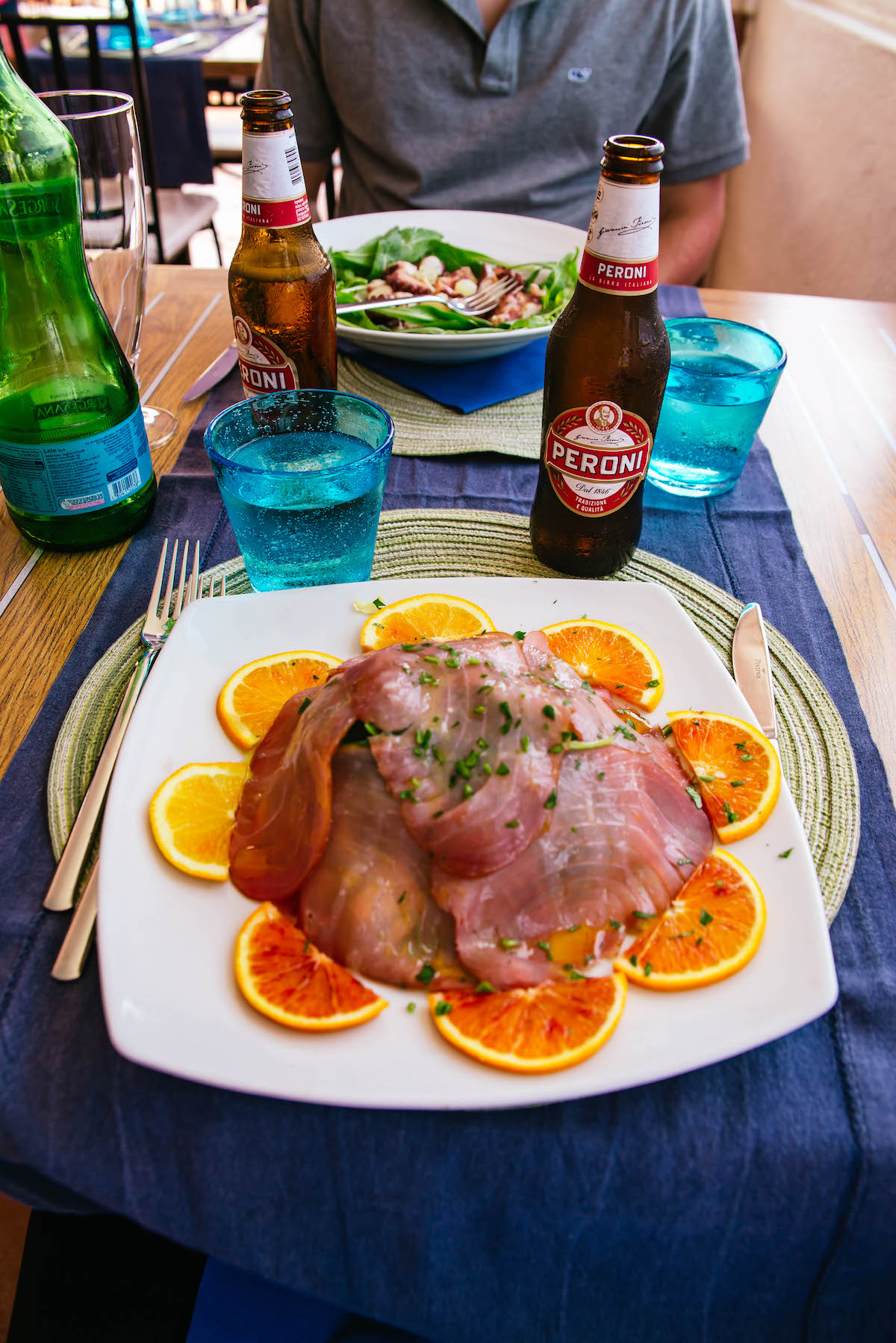 Our favorite dinner of our entire trip happened to be one of the least expensive. Nick randomly found Cantinando when we were searching for a place to eat and at first I was skeptical of the basement hole-in-the-wall location. My fears quickly subsided when we entered the cutest little brick restaurant with a handful of wooden tables covered in red checkered tablecloths. Cantinando is run by a husband and wife team– he's the chef and she serves. We shared a bottle of local red wine and feasted on tuna tartare, linguine with clams and Ischia's famous rabbit.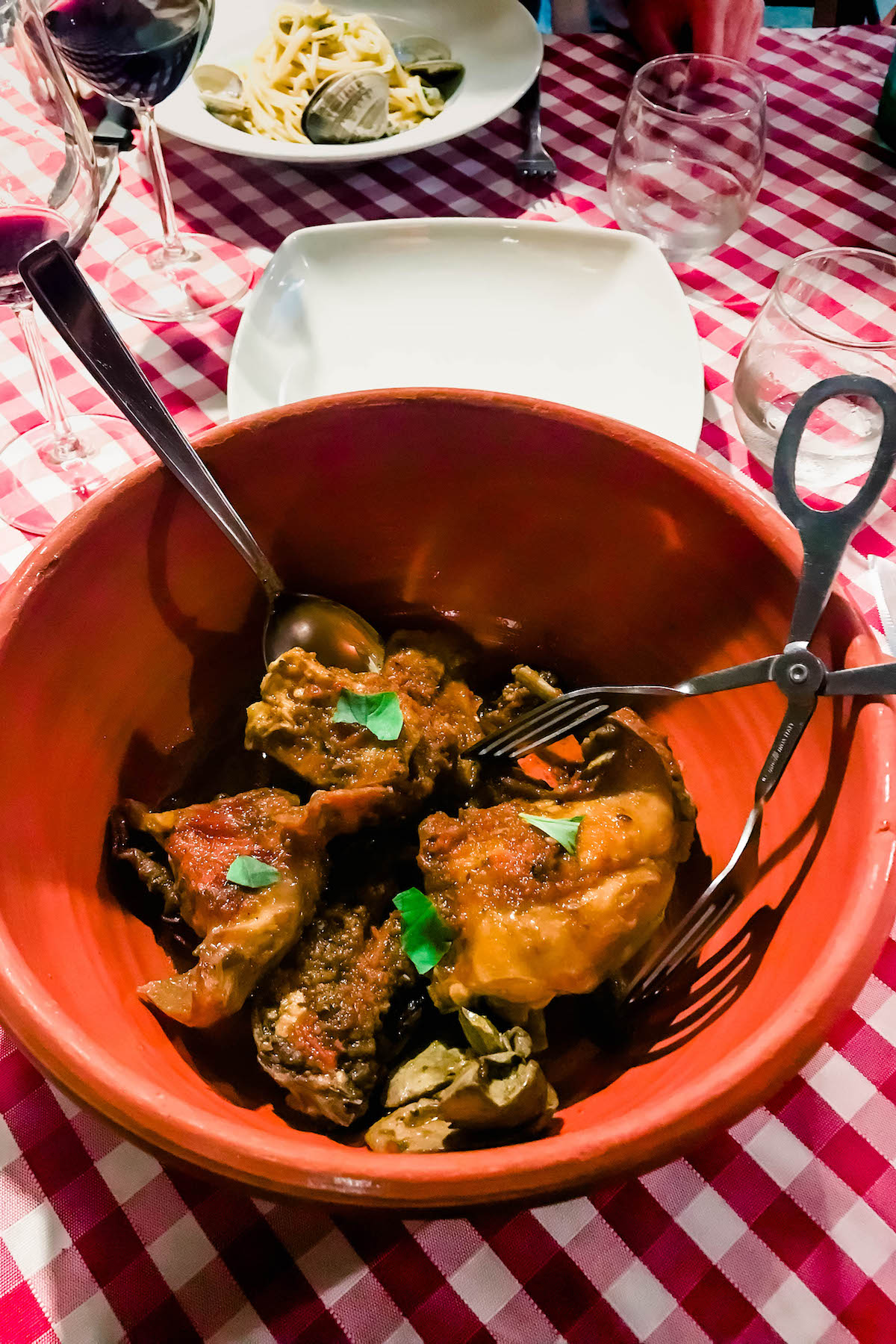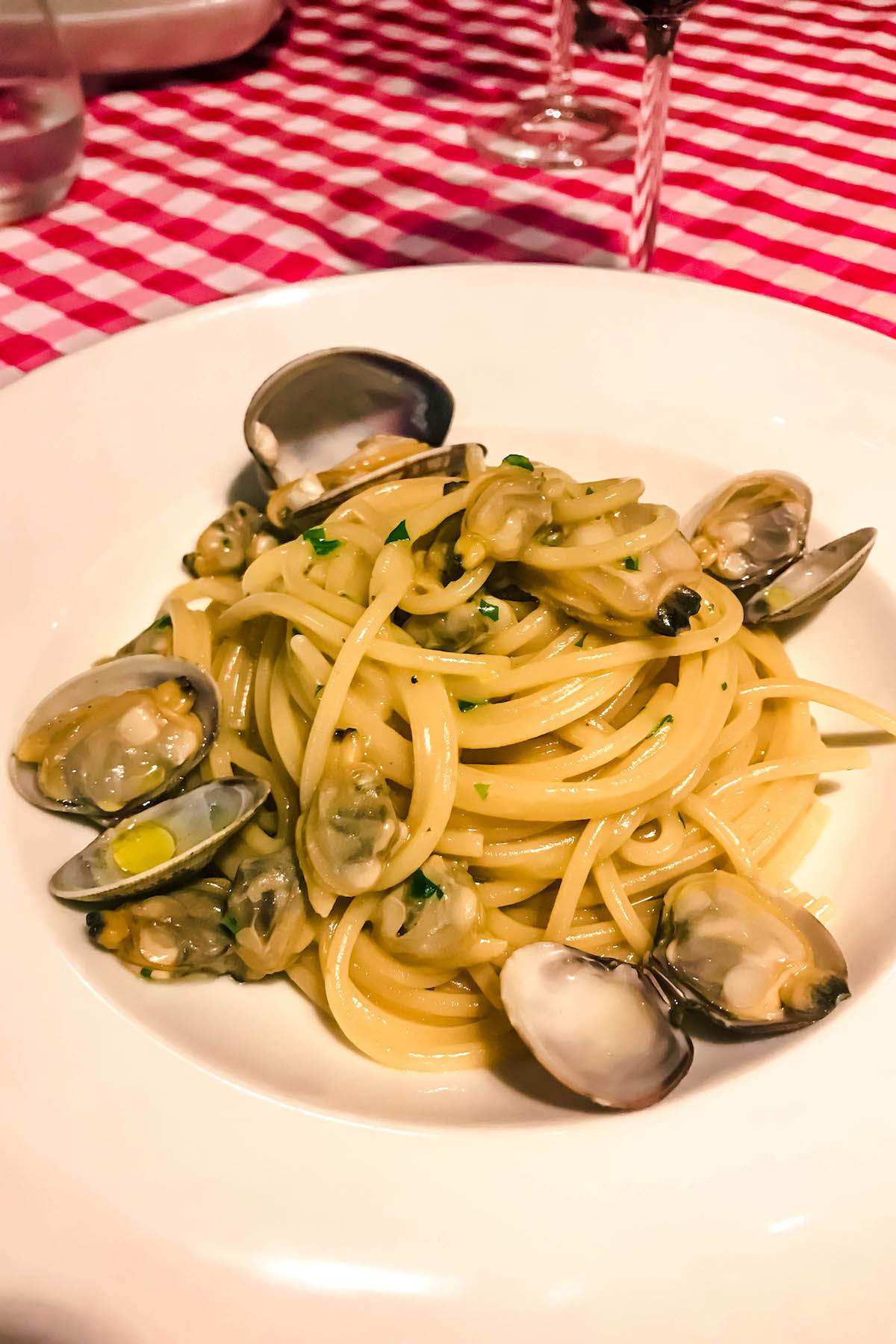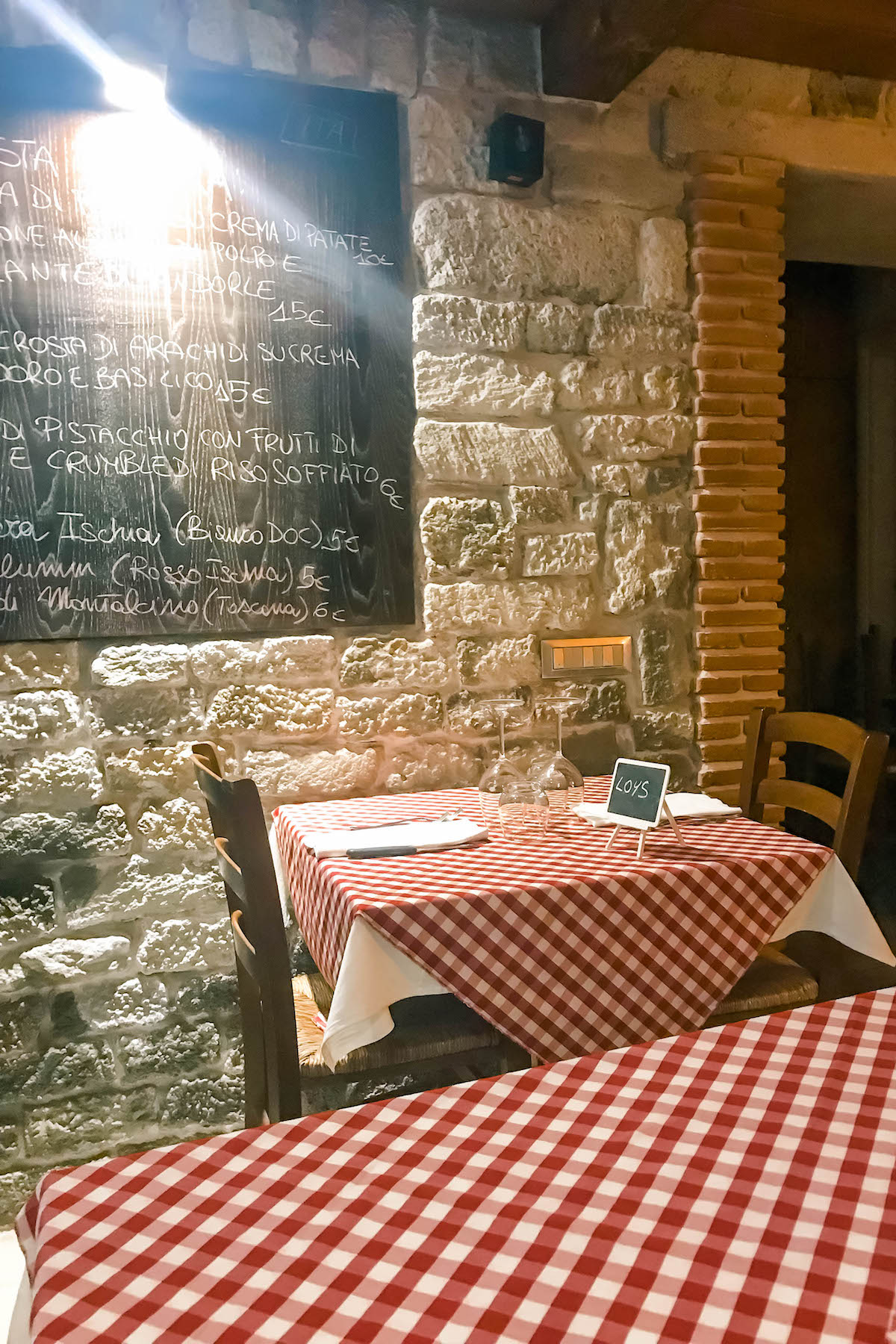 After touring Aragonese Castle we had a great lunch at Da Ciccio.It's in a perfect location right on the main street perfect for people watching and has a fantastic view of the castle. At this point in our trip we were starting to get tired of pasta (if that's possible LOL) so we were pumped to see some German influence on the menu. We even ordered beer!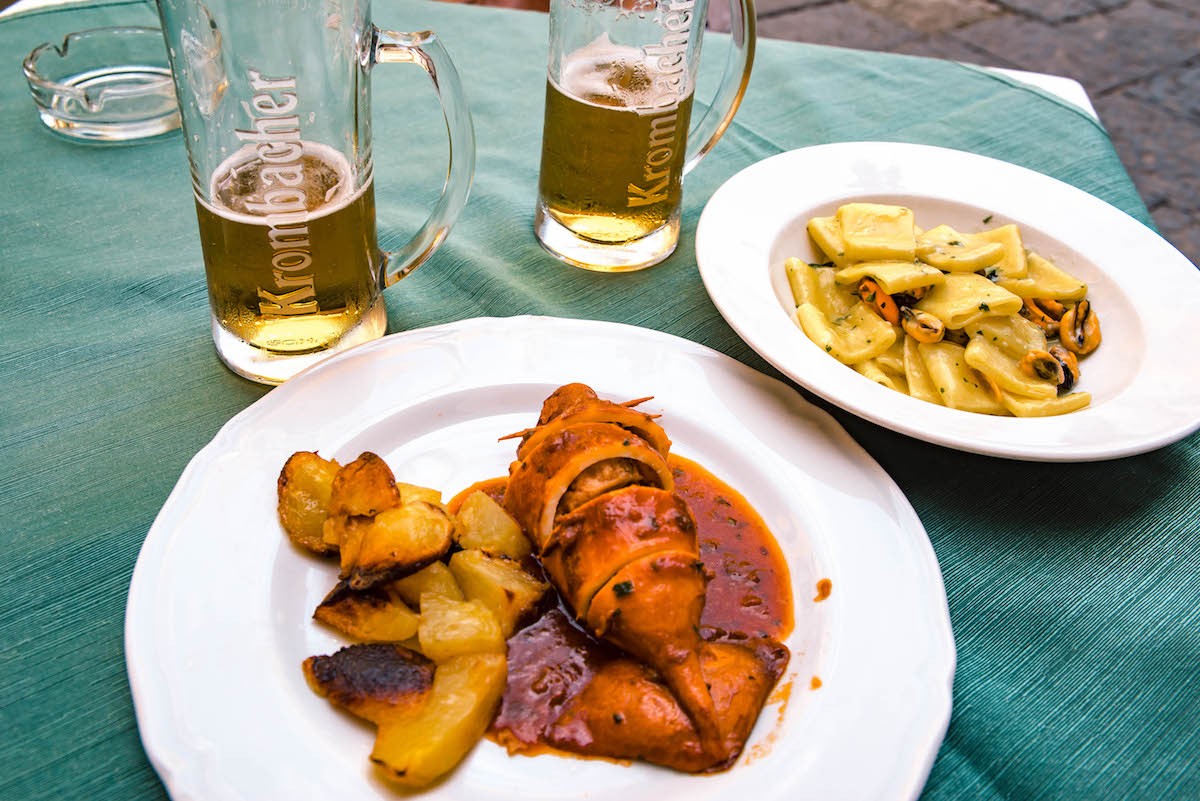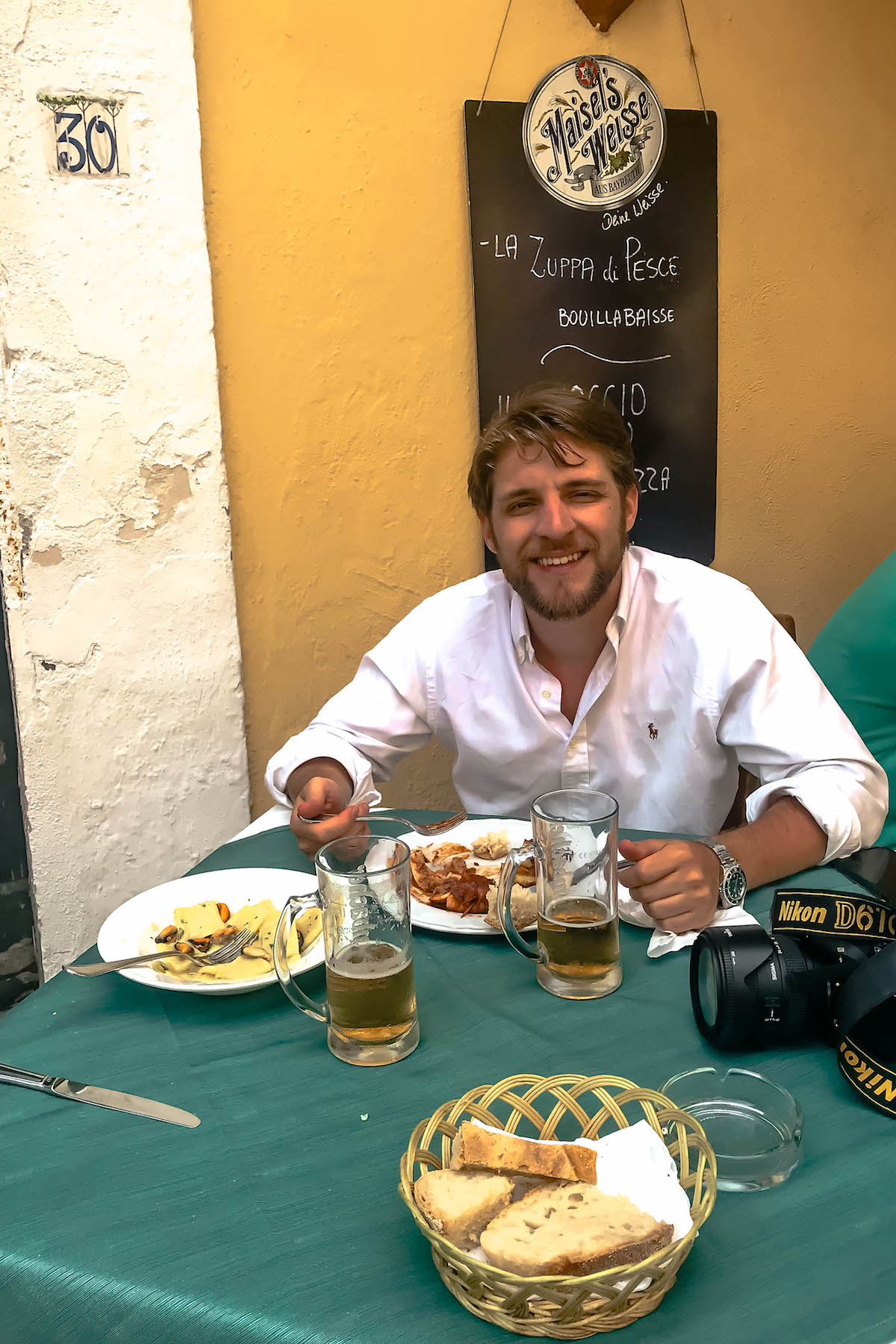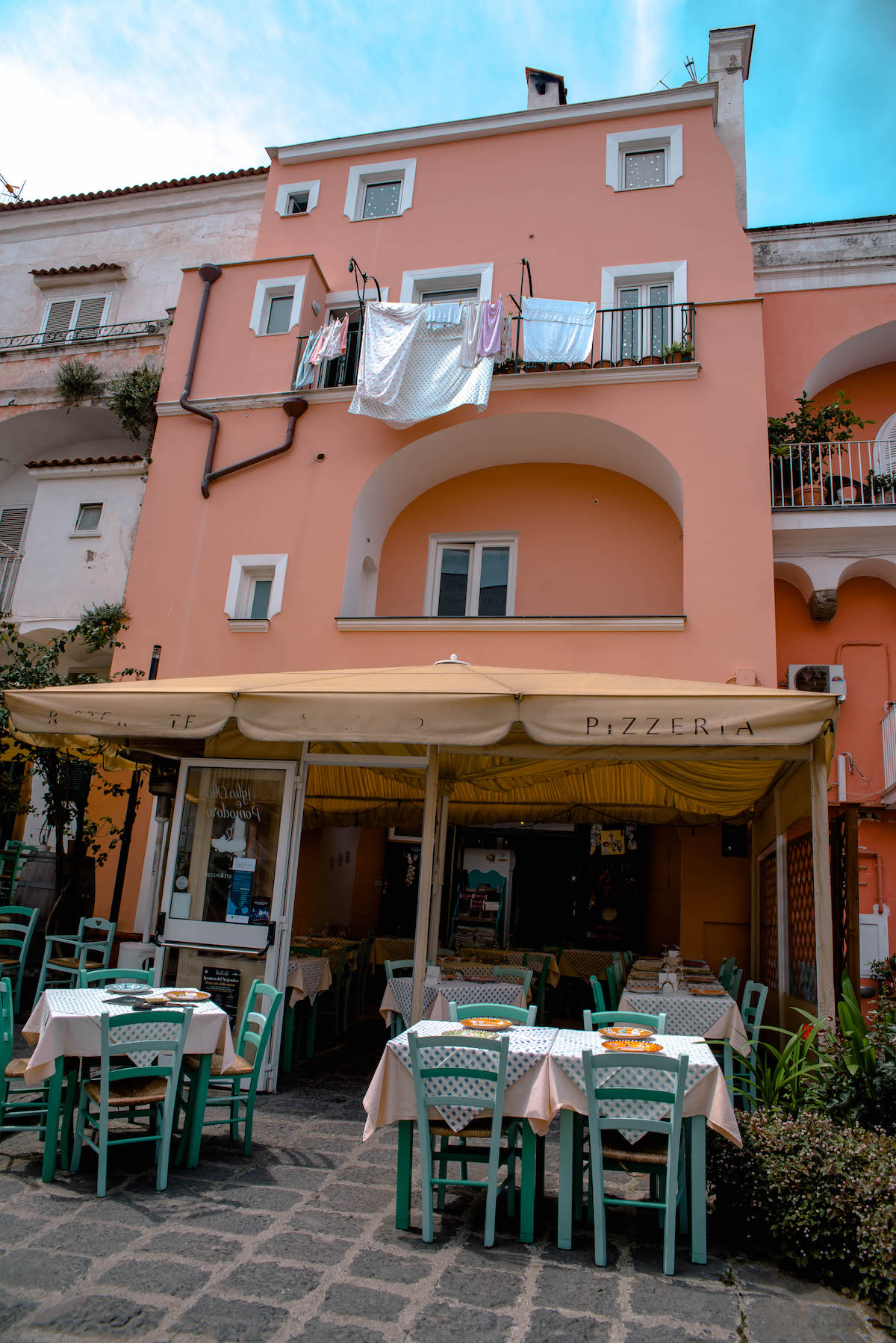 The last dinner we had in Ischia was incredible as well. We chose Le Stufe in Lacco Ameno because it was walking distance from our hotel and had been recommended by a few other guests. Great food, great wine and there was a beautiful view to boot!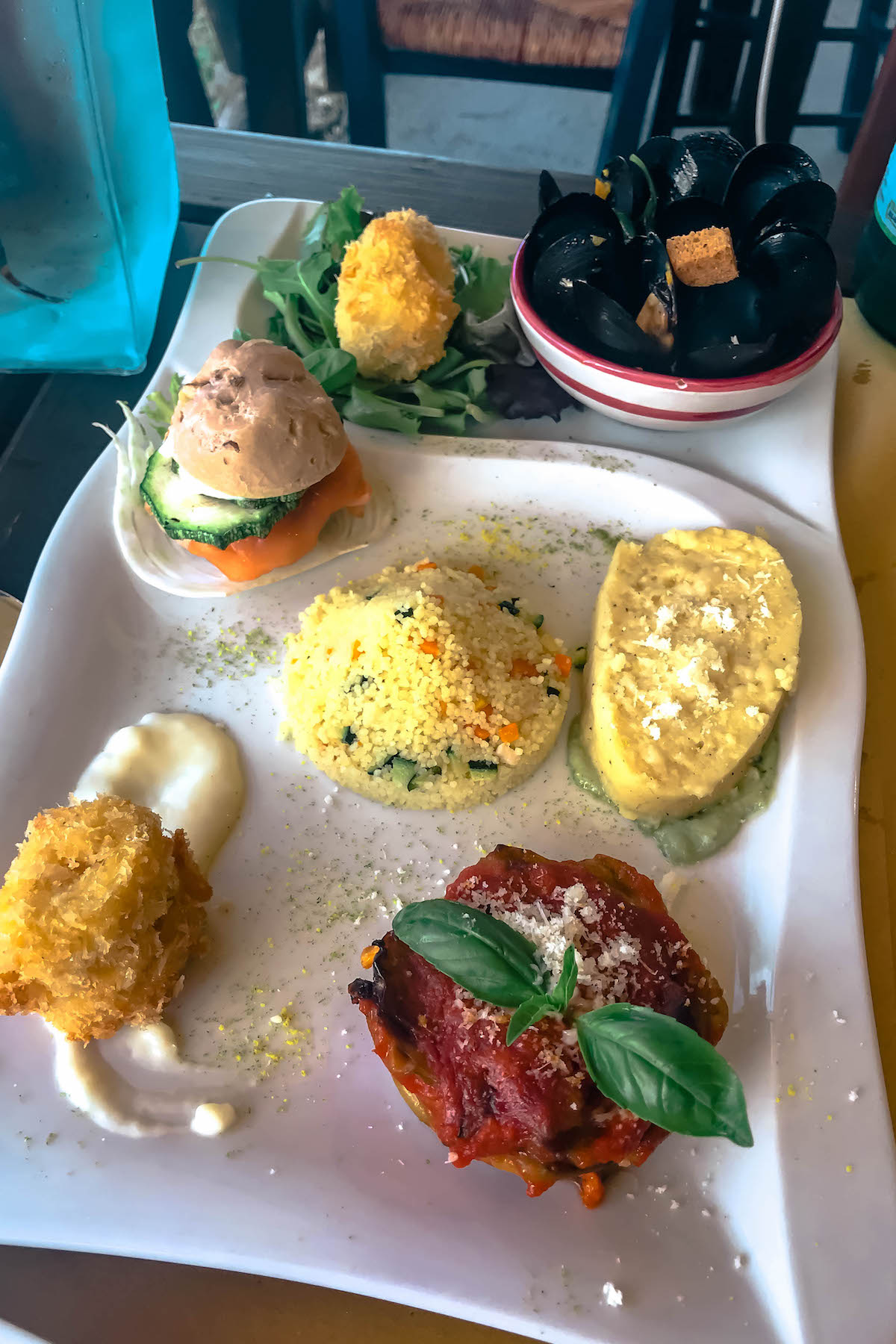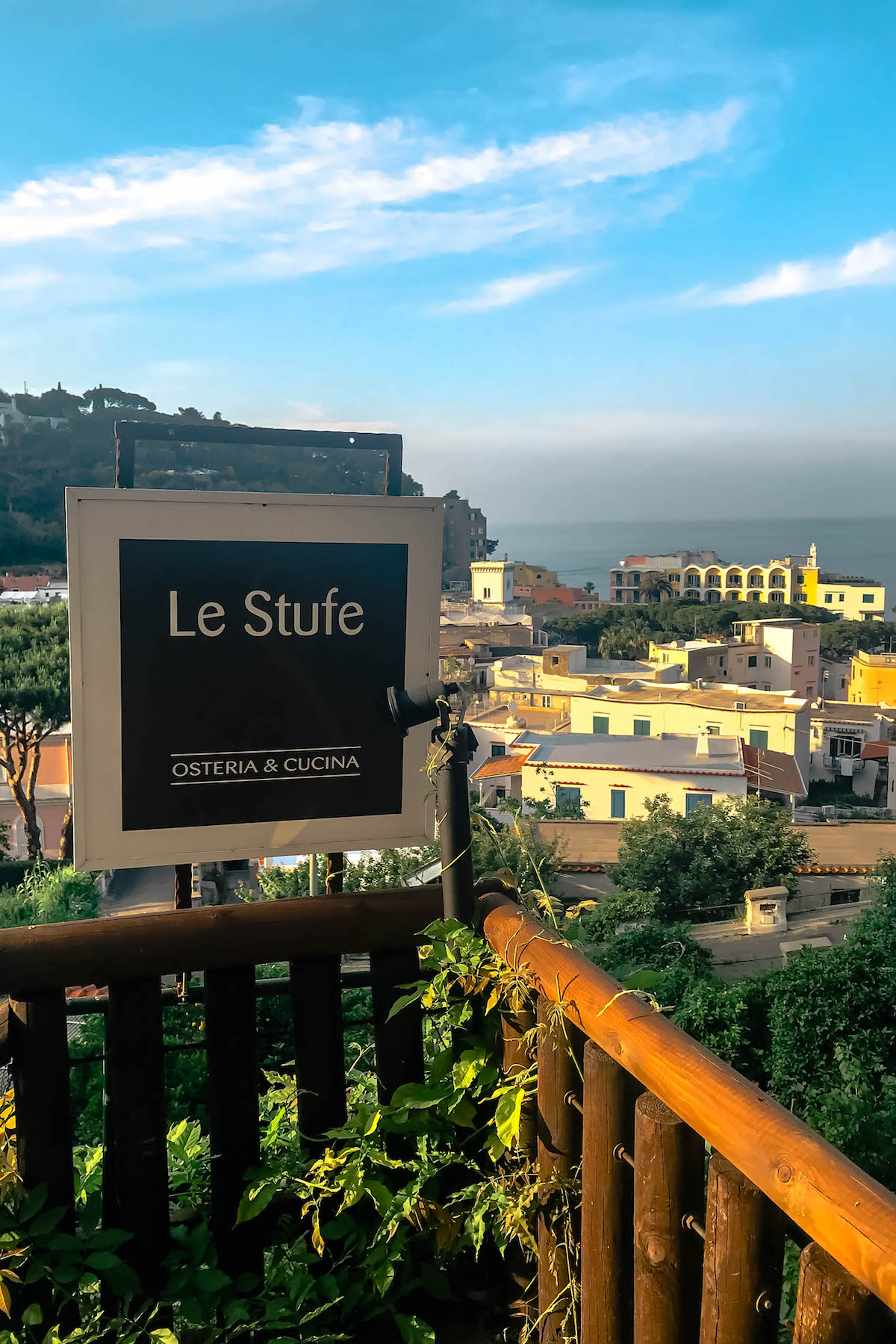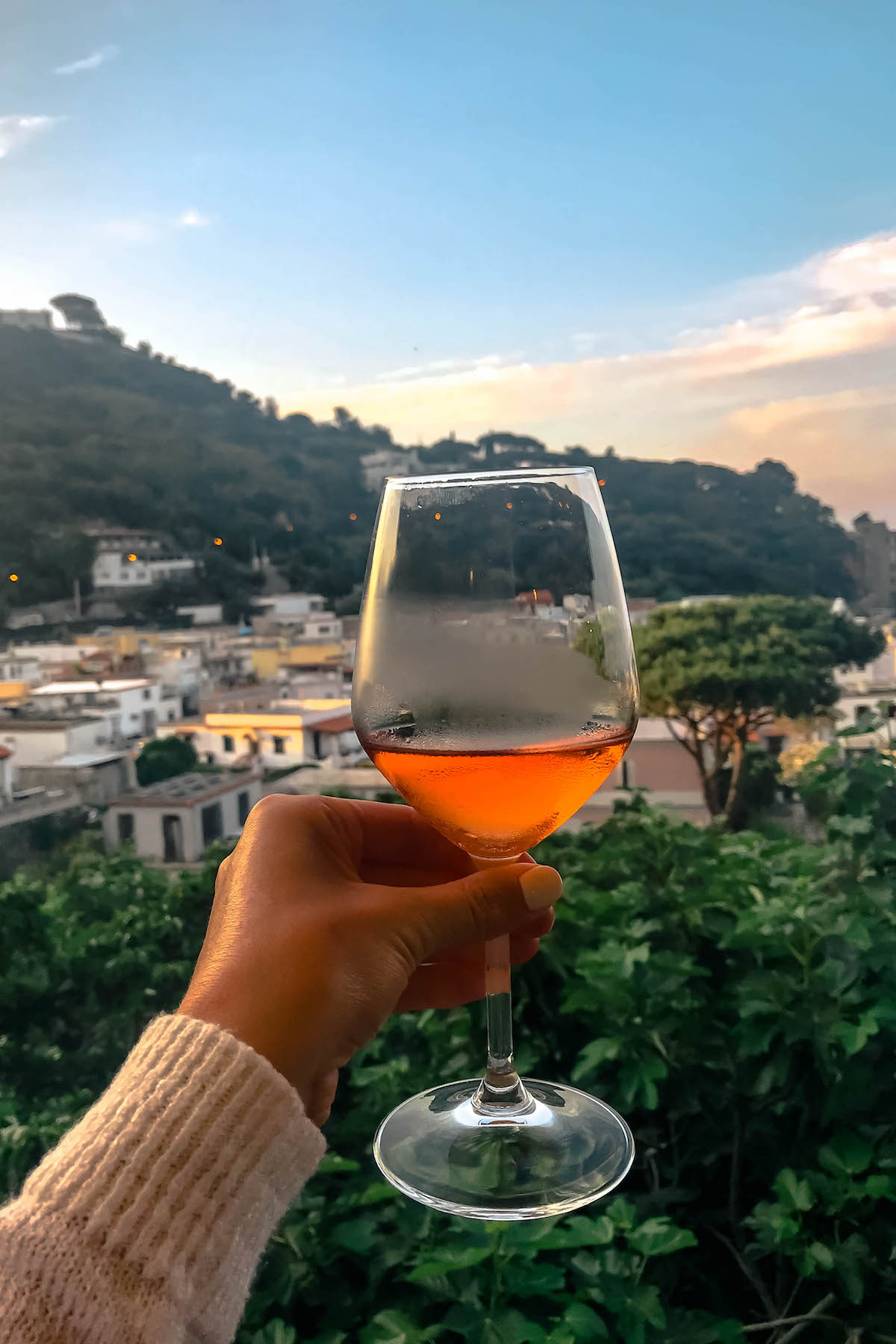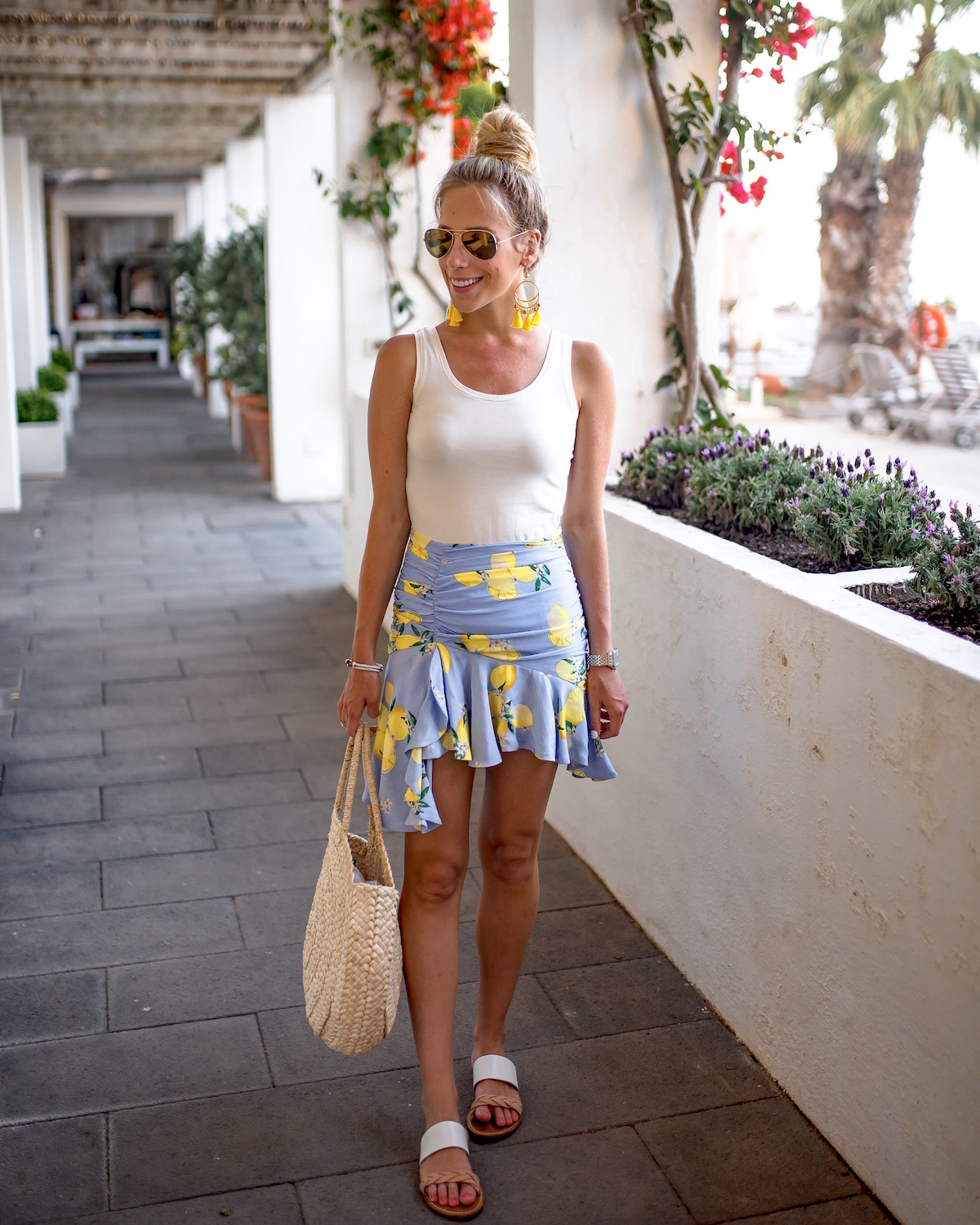 Lemon Print Skirt (now on sale!) | Tank Top | Woven Circle Bag | Sandals | Sunglasses | Watch | Tassel Earrings | David Yurman Bracelets
Hotel | Albergo Della Regina Isabella
We decided to book our stay at Allbergo Della Regina Isabella in Lacco Ameno. For a 5-star hotel the prices were quite reasonable the location was prime for getting around and exploring other areas of the island. The hotel is a historic property and loves the tout all the celebrities that have stayed there in the past like Richard Burton and Elizabeth Taylor. There's a beautiful heated pool, two hotel restaurants, a bar and a marina.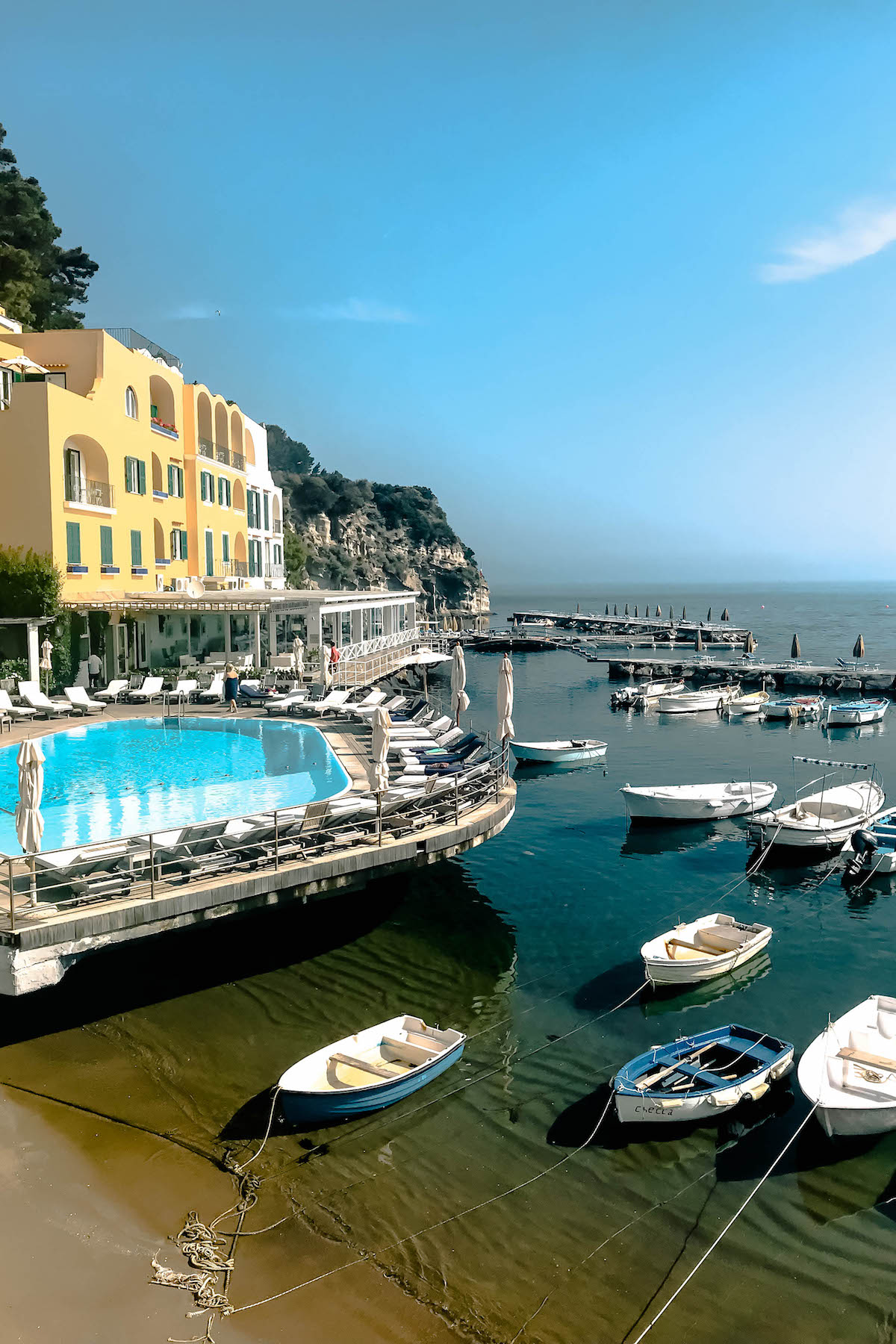 Overall we were pleased with our stay, but it was certainly hard to be impressed especially coming from the amazing hotel experience we had in Positano. I knew when I booked that it wasn't going to be the same caliber, which was fine especially because we were paying so much less than any of the other hotels on our trips. The property is definitely a bit dated with an old-school vibe. I appreciated the traditional decor and was impressed with the service at breakfast and at the bars and pool. We didn't dine in any of the restaurants so I can't speak to those, but buffet breakfast spread included with our room was so so good.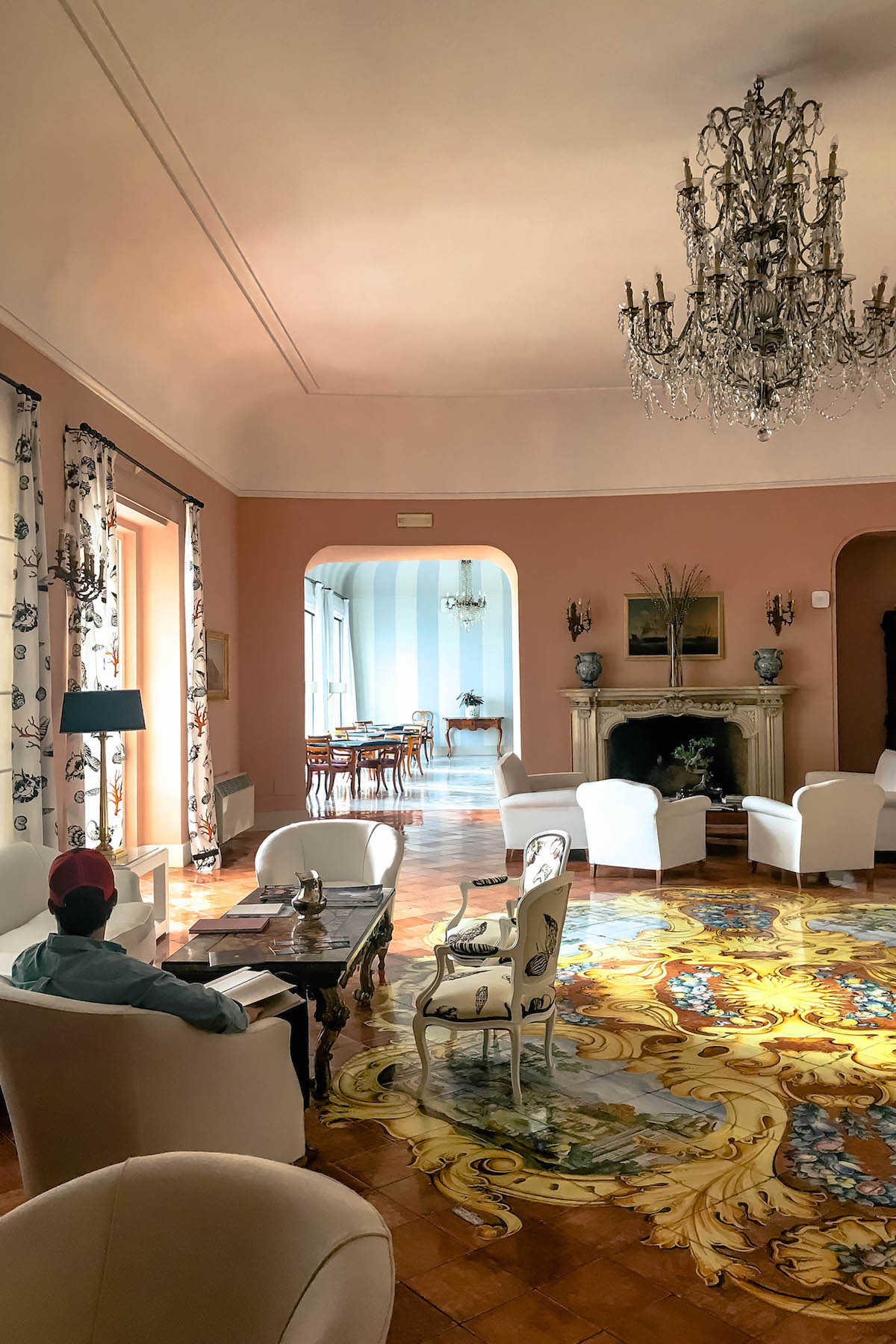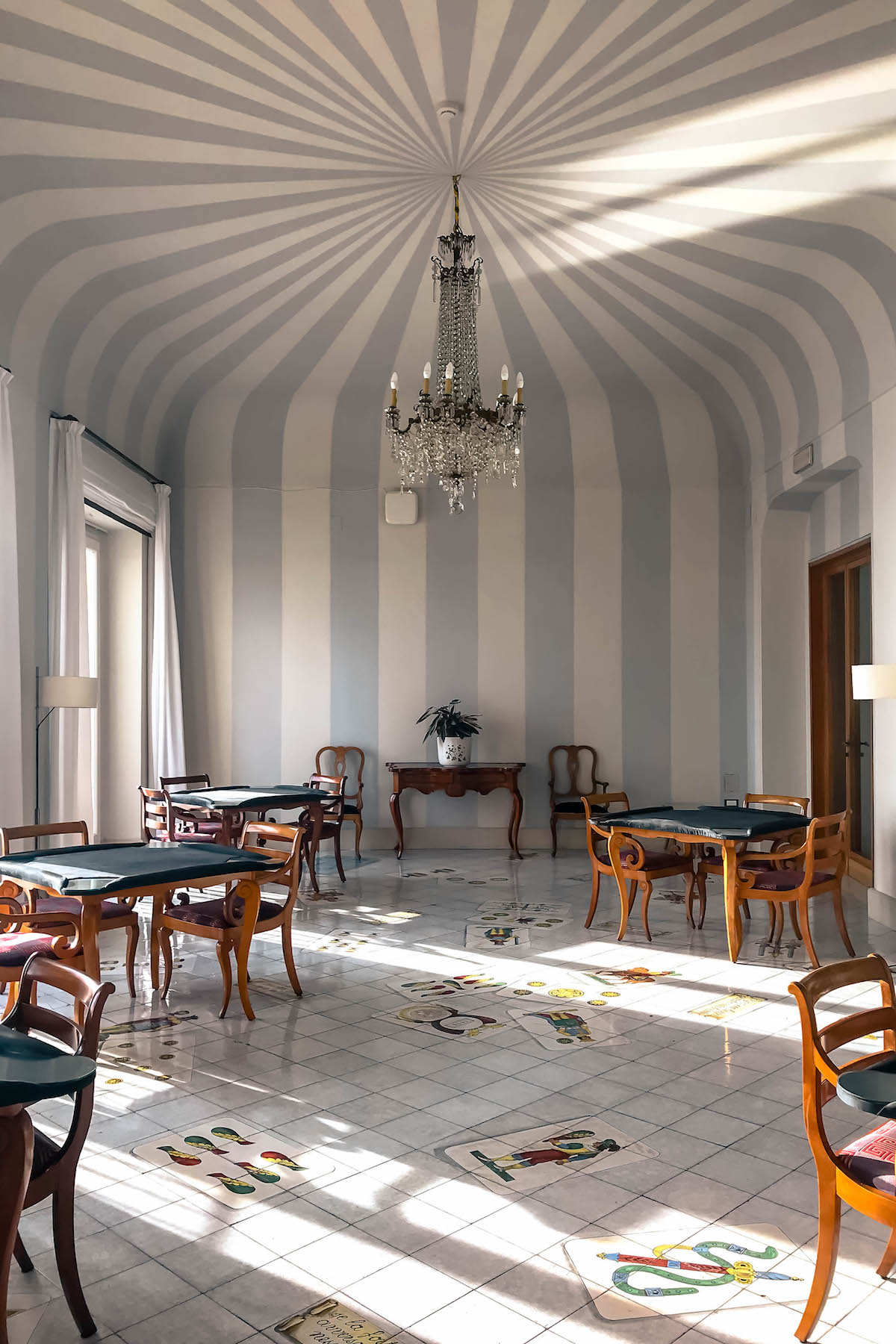 I hate to be negative in my guides, but there is one unfortunate thing that happened during our stay that I think is important to mention. When I went to use the restroom located right off of the pool area I accidentally left my favorite Victoria Beckham sunglasses on a bench inside a stall. Within 10 minutes I realized what I'd done, but when I returned to get them they'd vanished. We alerted the pool staff and even the hotel management, surely hoping there would be security camera footage of the pool area so we could see who went in and out of the bathroom during those 10 minutes. Sadly the hotel doesn't have security cameras and though the manager was very sympathetic, he pretty much just said they would keep an eye out for them and unfortunately "there are people who think it's okay to steal things."
I understand it was my fault for forgetting them in the bathroom and of course no matter where you go (even at a 5-star hotel) there could be crappy people who think it's okay to steal another person's belongings. If it had been a cheap pair of old sunglasses or something of low value, I would've just shrugged my shoulders and moved on, but given the cost of the glasses (I think I paid $450) I was disappointed the hotel couldn't do a little more.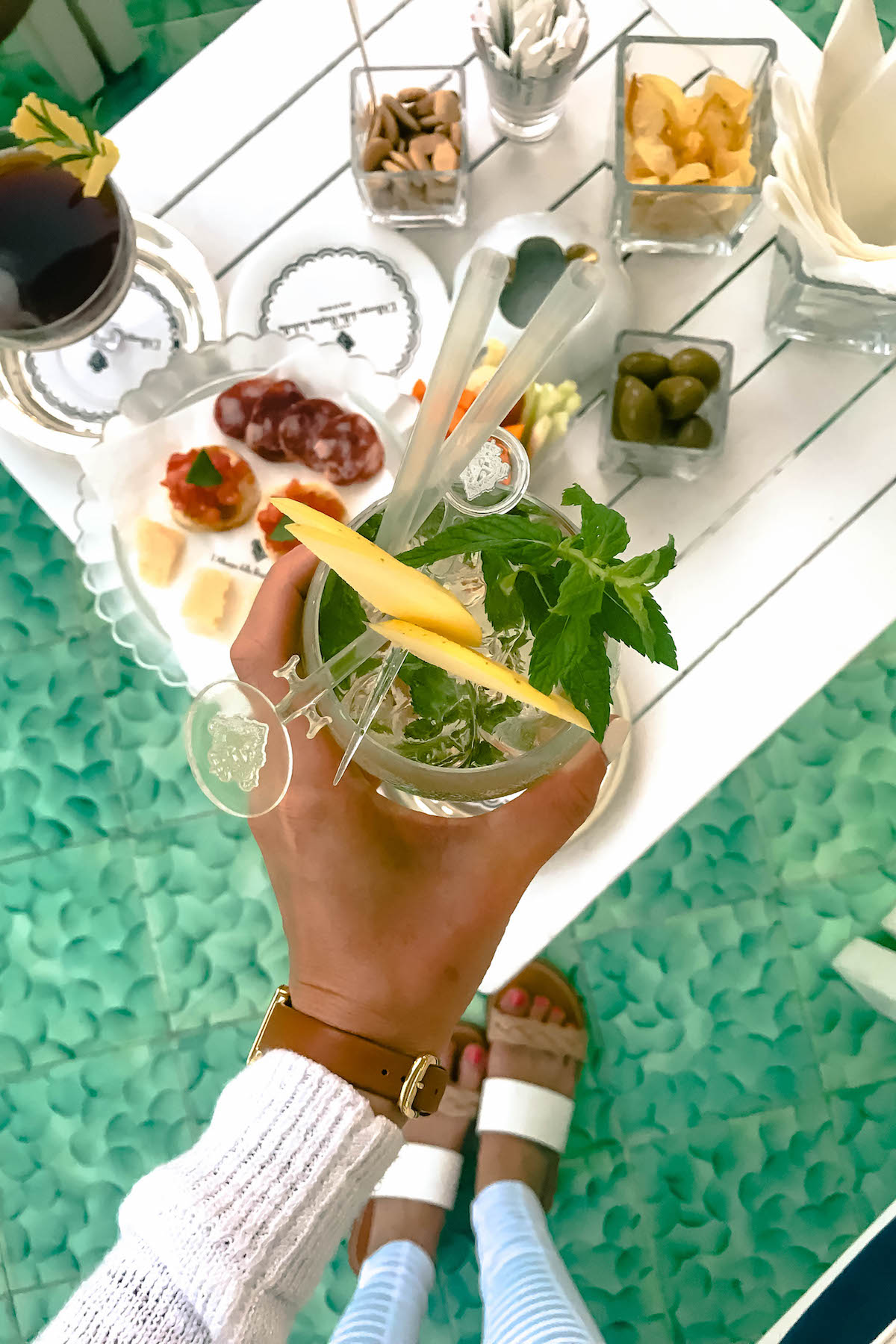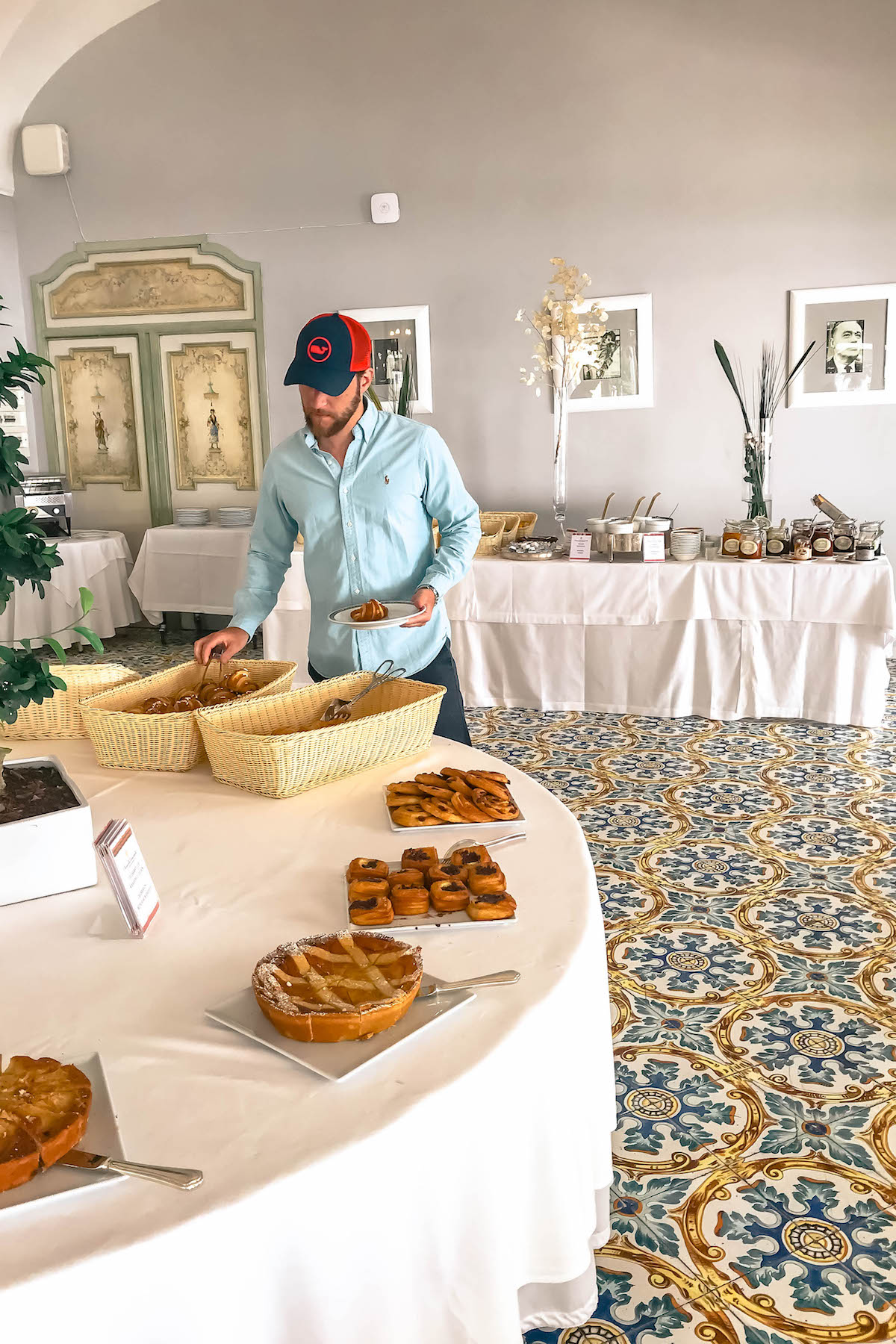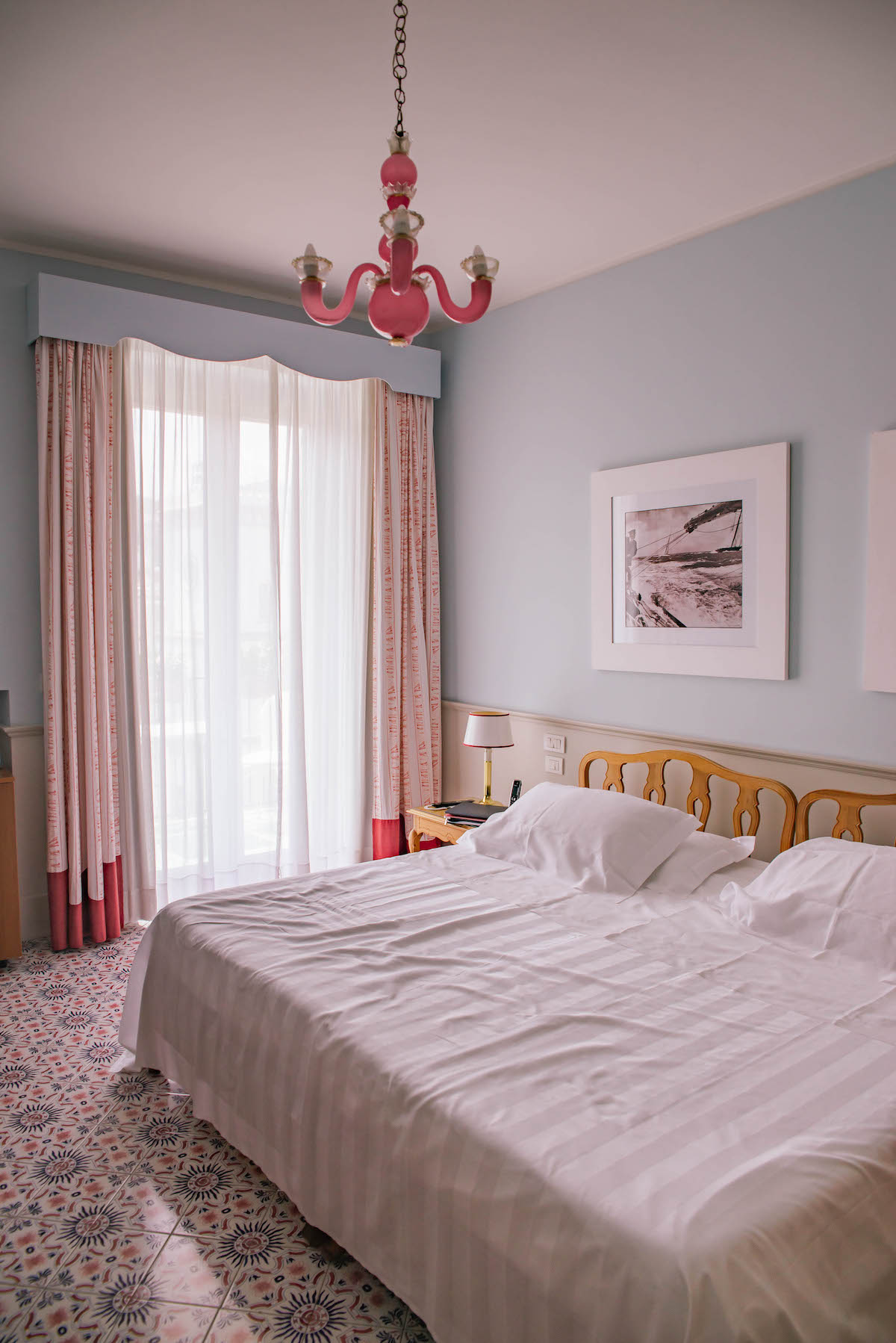 Our room was comfortable and clean, but nothing special or what I would consider 5-star quality. I found out from another guest on our last day that there's an entire section of the hotel where the rooms have been renovated to the level of what you'd find at a Ritz-Carlton or Four Seasons. If I'd known this sooner I probably would've asked the concierge if we could move rooms.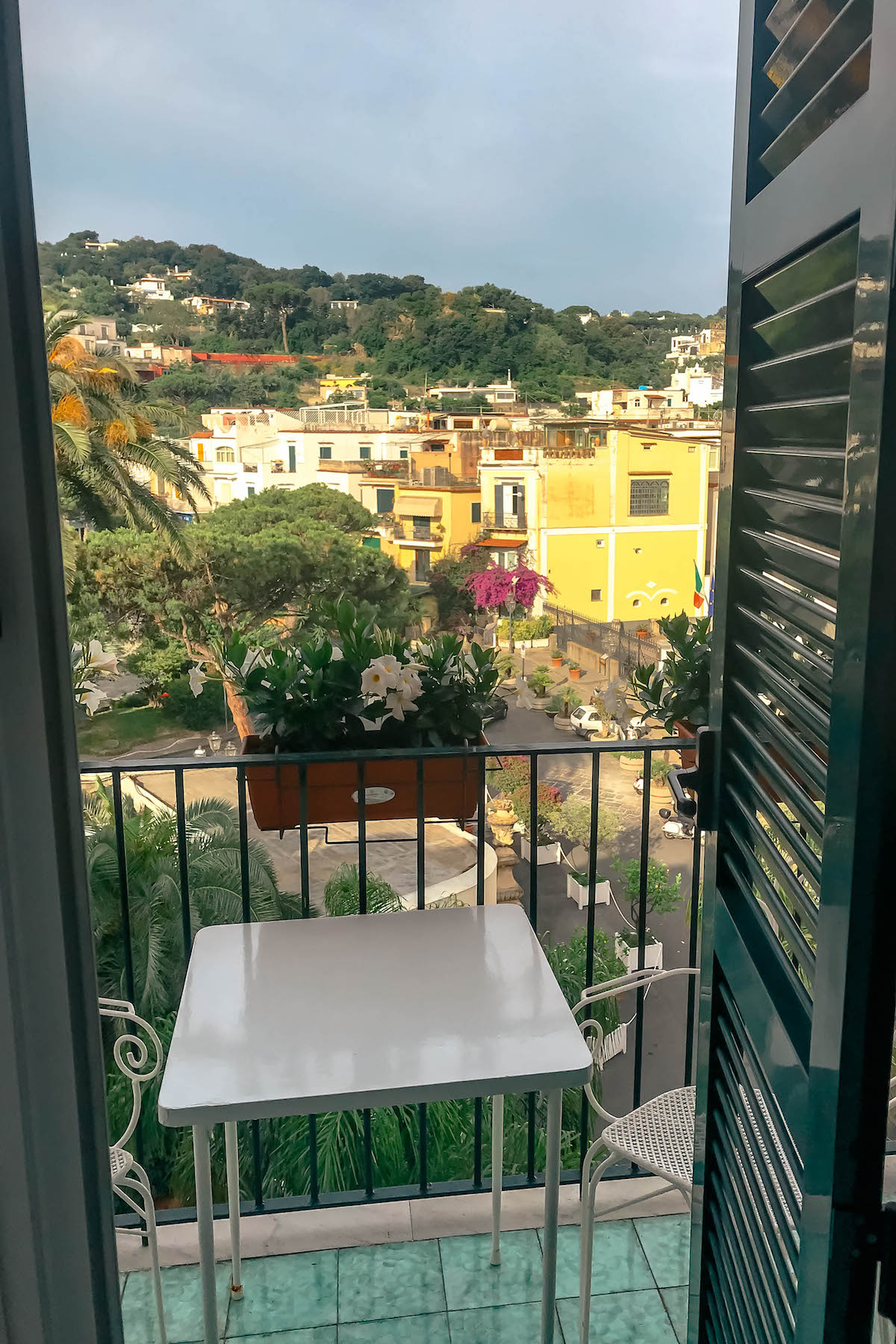 MORE AMALFI COAST & ITALY RECOMMENDATIONS:

Our Full Amalfi Coast + Rome Itinerary
Ravello & Amalfi Day Trip Itinerary
Positano Restaurant Recommendations
Where To Grab Drinks With A View In Positano
- Katie