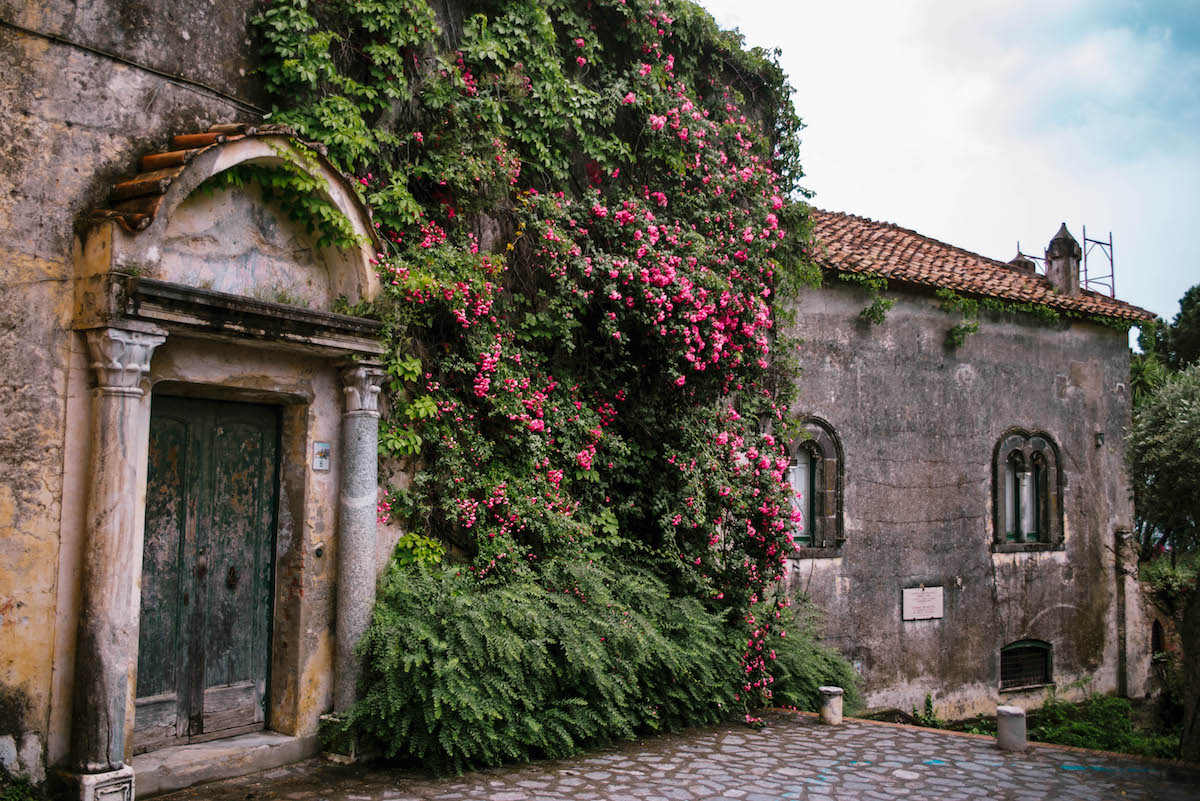 If you're visiting Positano or anywhere else along the Amalfi Coast please try your best to make it to the hillside town of Ravello! We did a day trip to Ravello with a quick stop in Amalfi town and had the best time. Everyone raves and raves about Positano (which is amazing!!) but there are so many other little towns along the coastline that are worth checking out. I'd heard so many good things about Ravello when I was doing my initial research for our trip– the amazing views, cobblestone streets, gardens, little shops. Even though the weather was cloudy the day we went everything we saw was still out of a dream!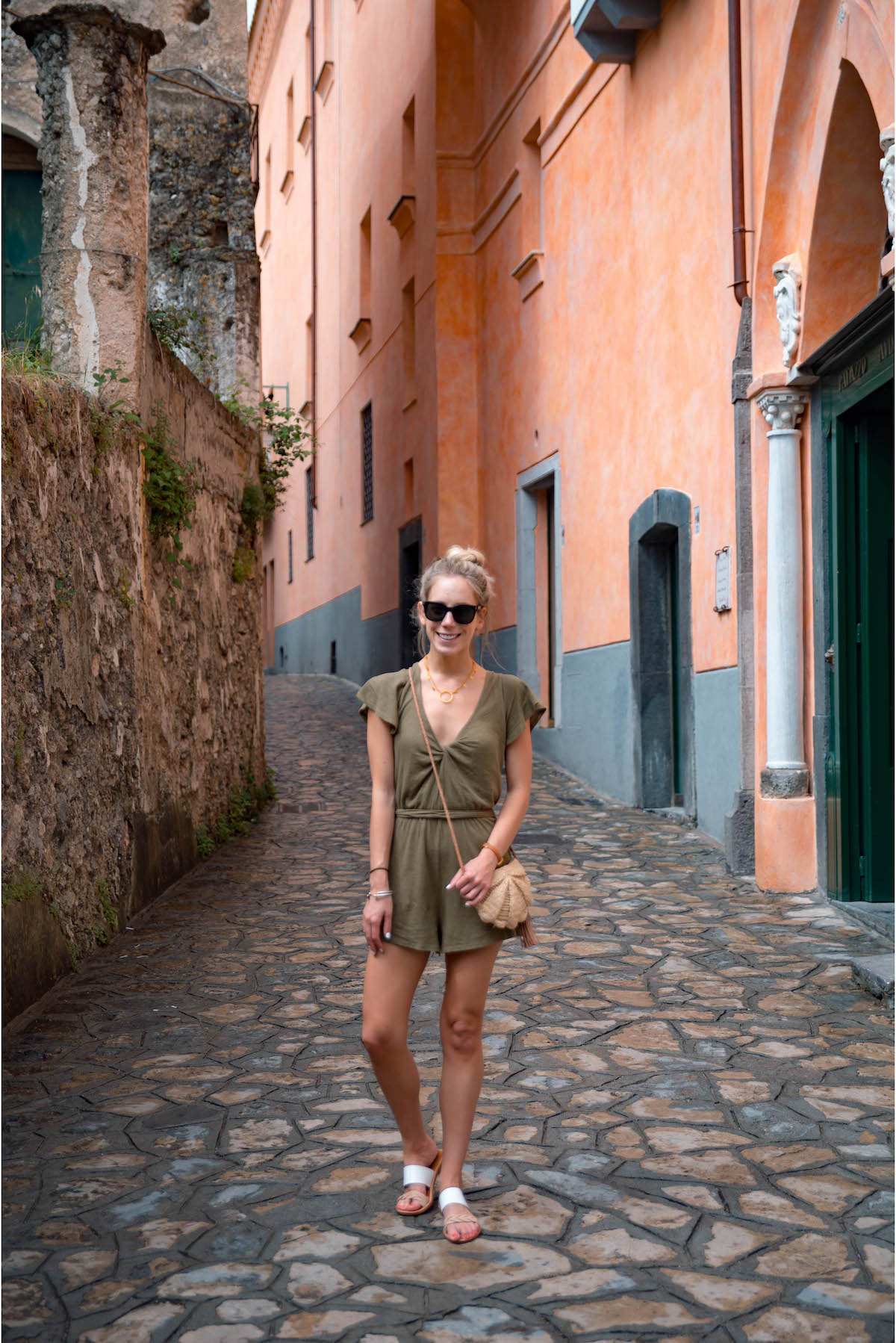 Romper (now 40% off!) | Sandals | Sunglasses | Crossbody Bag
We impulsively decided to hire a private tour guide and driver through our hotel concierge the day that we went. You could totally just hop on the public bus or take a taxi on your own to Ravello, but just for the sake of comfort and because of the rainy forecast we just decided to splurge. I'm really glad we did because our guide was an expert on the area and was able to point out so many things to us we would've never even known to look for had we attempted to explore on our own.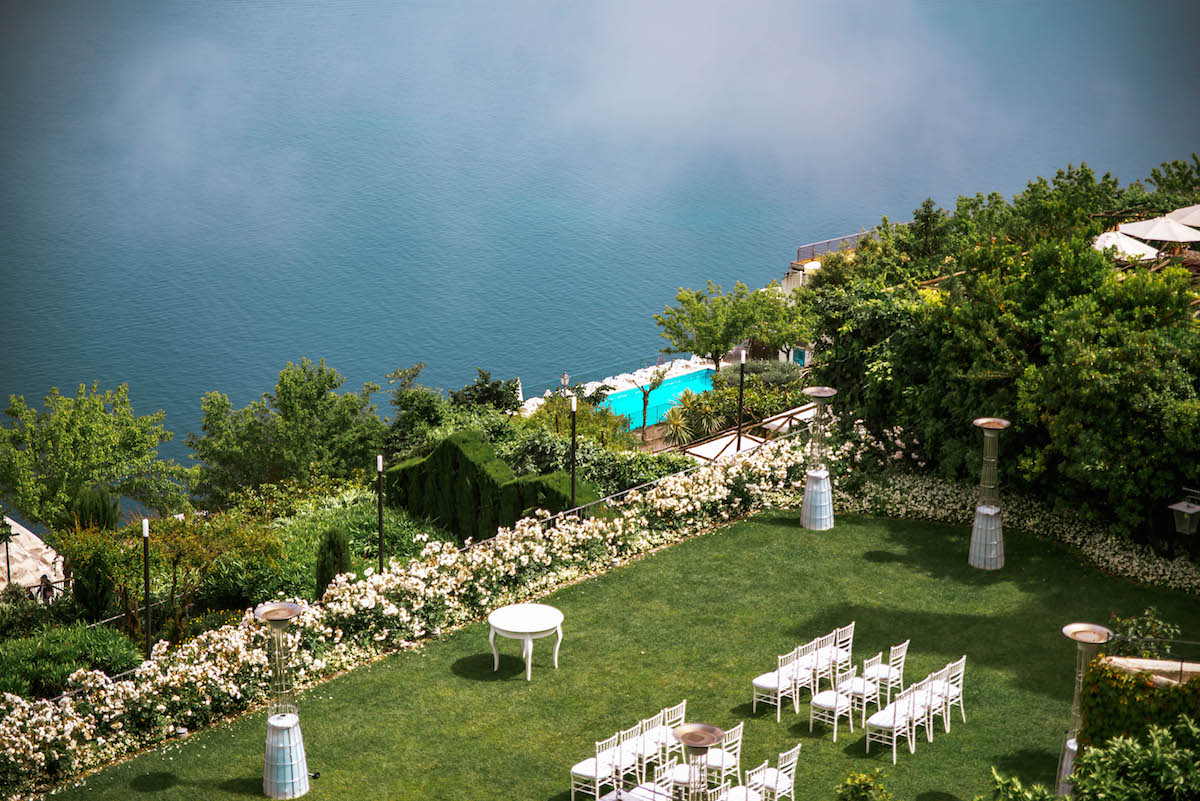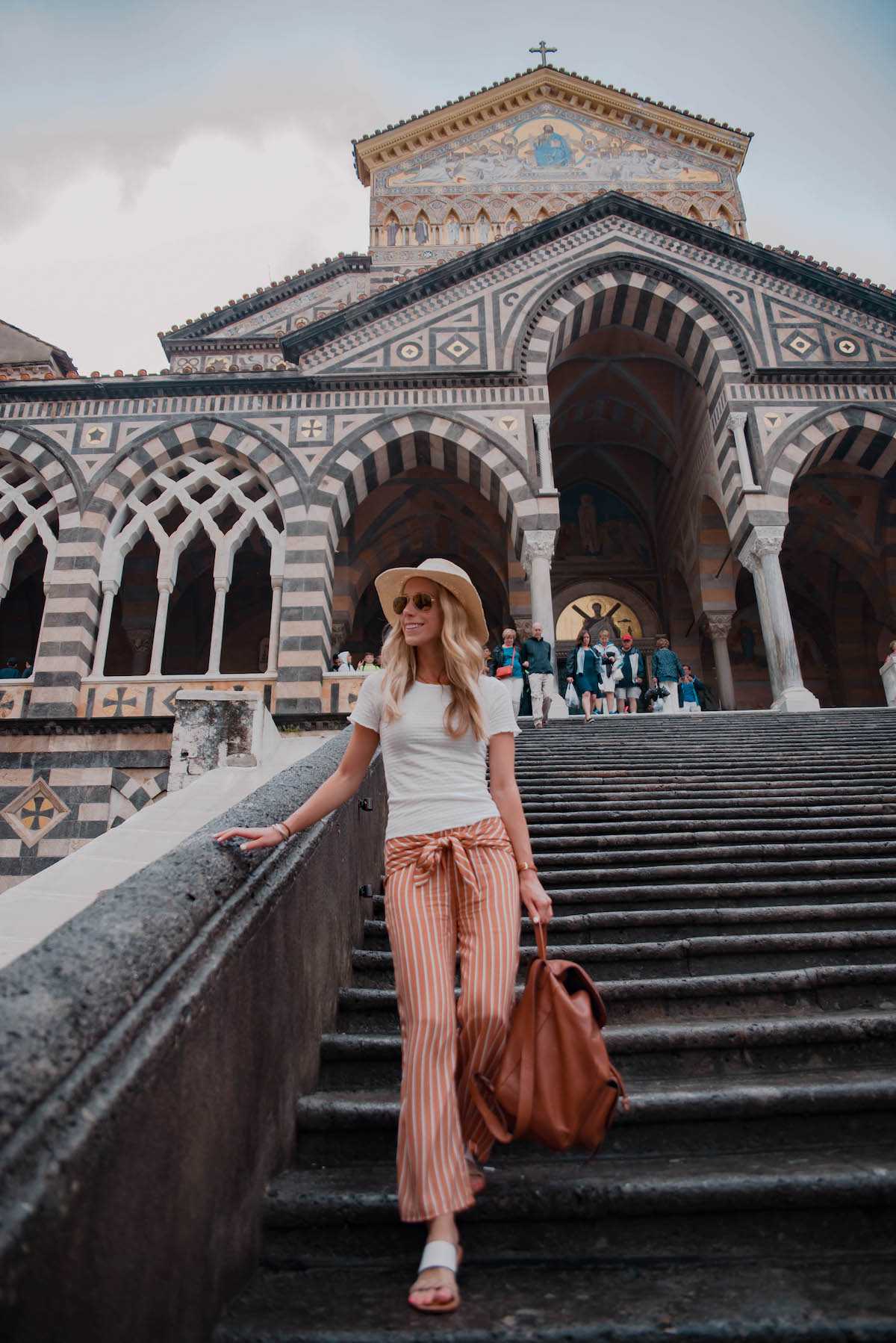 Stripe Pants | Backpack | T-Shirt | Sandals | Similar Hat | Sunglasses
If you're coming from Positano or any of the towns on the west-end of the coastline, you'll have to pass through the town of Amalfi to get to Ravello. Instead of continuing on straight to Ravello our tour guide stopped the car so we could walk around the main square and see the famous Amalfi Cathedral: Duomo di Sant'Andrea. It was beautiful, but right away I felt glad that we hadn't chosen a hotel in Amalfi because there was a lot of foot traffic. It definitely had a more touristy feel– even more so than Positano!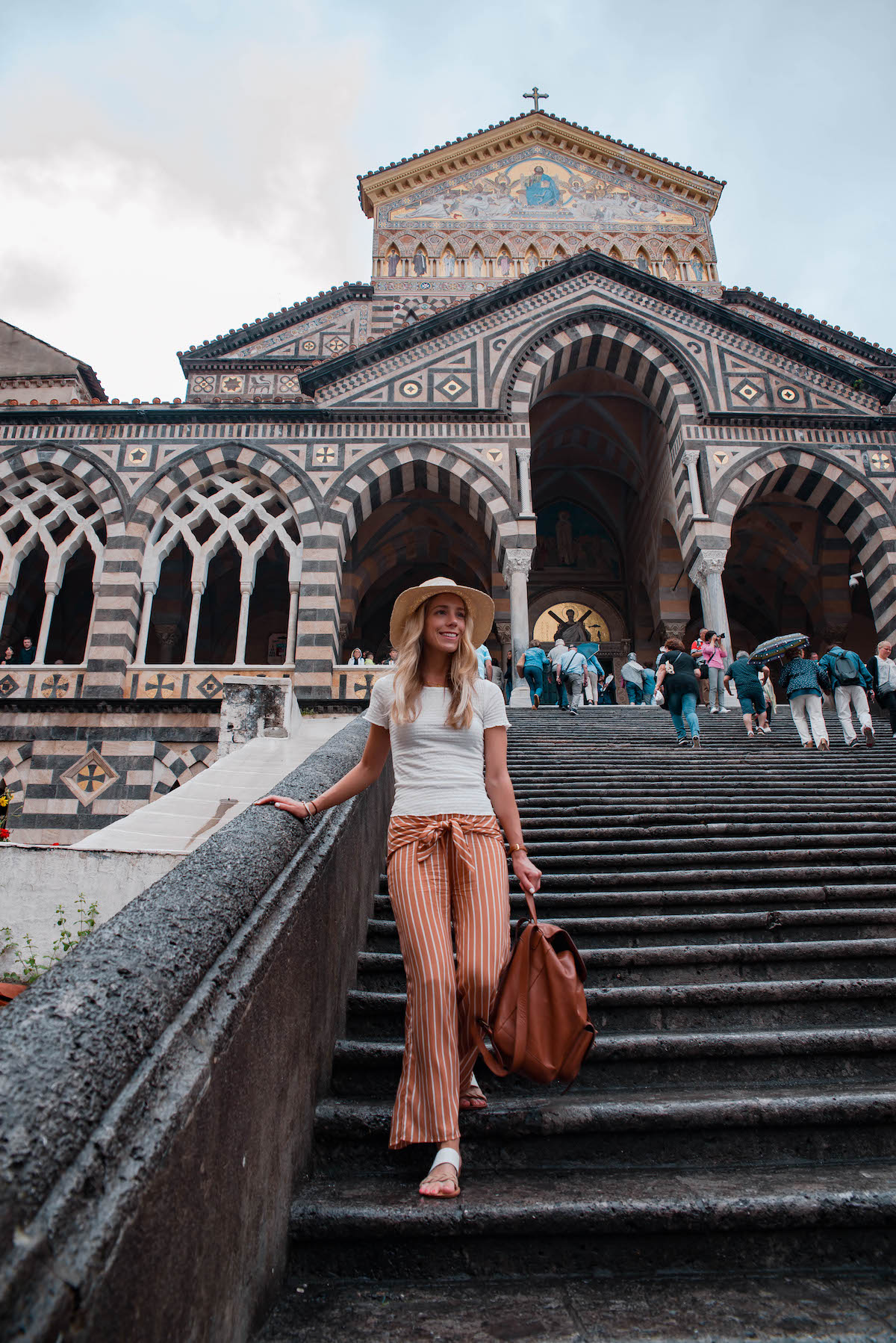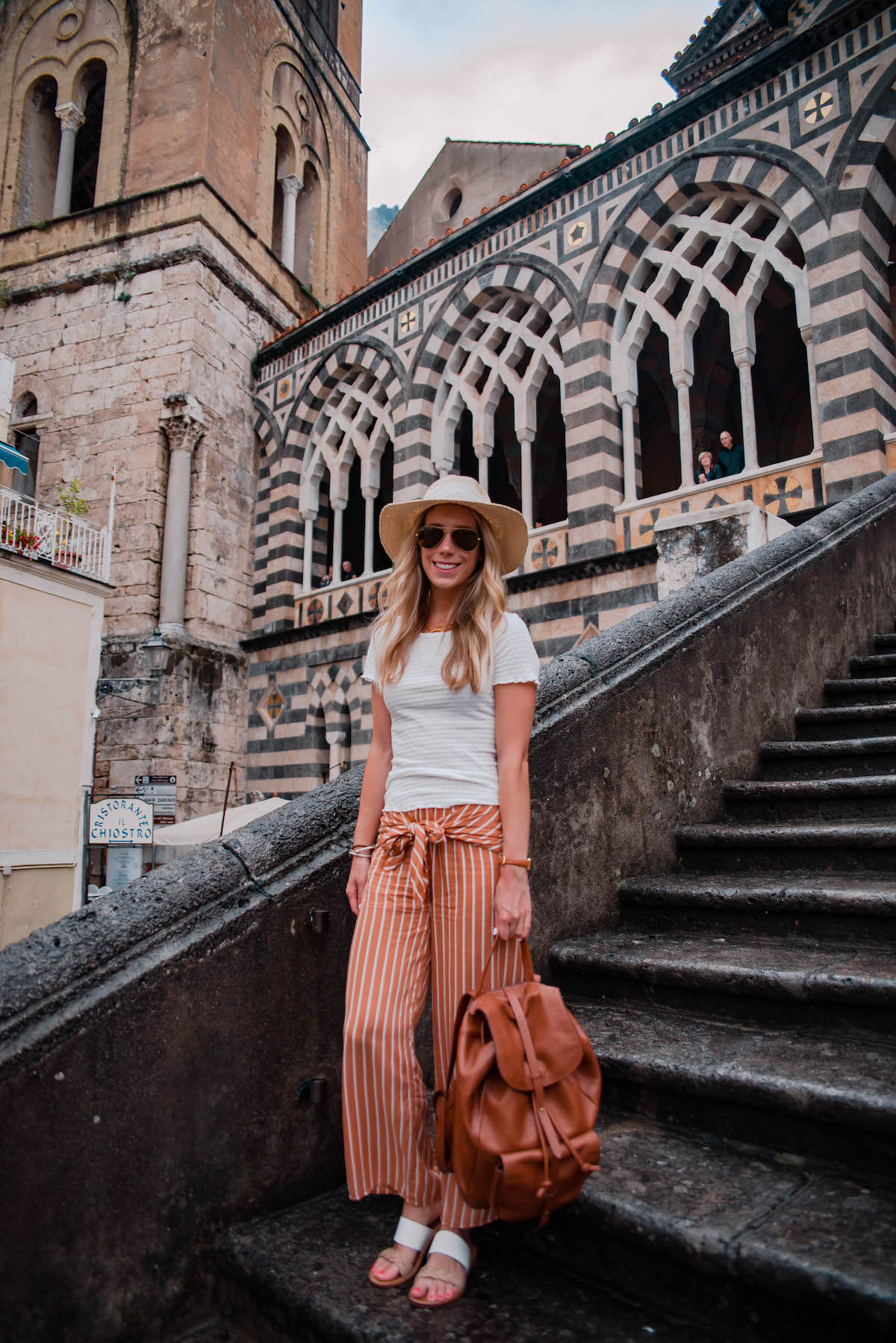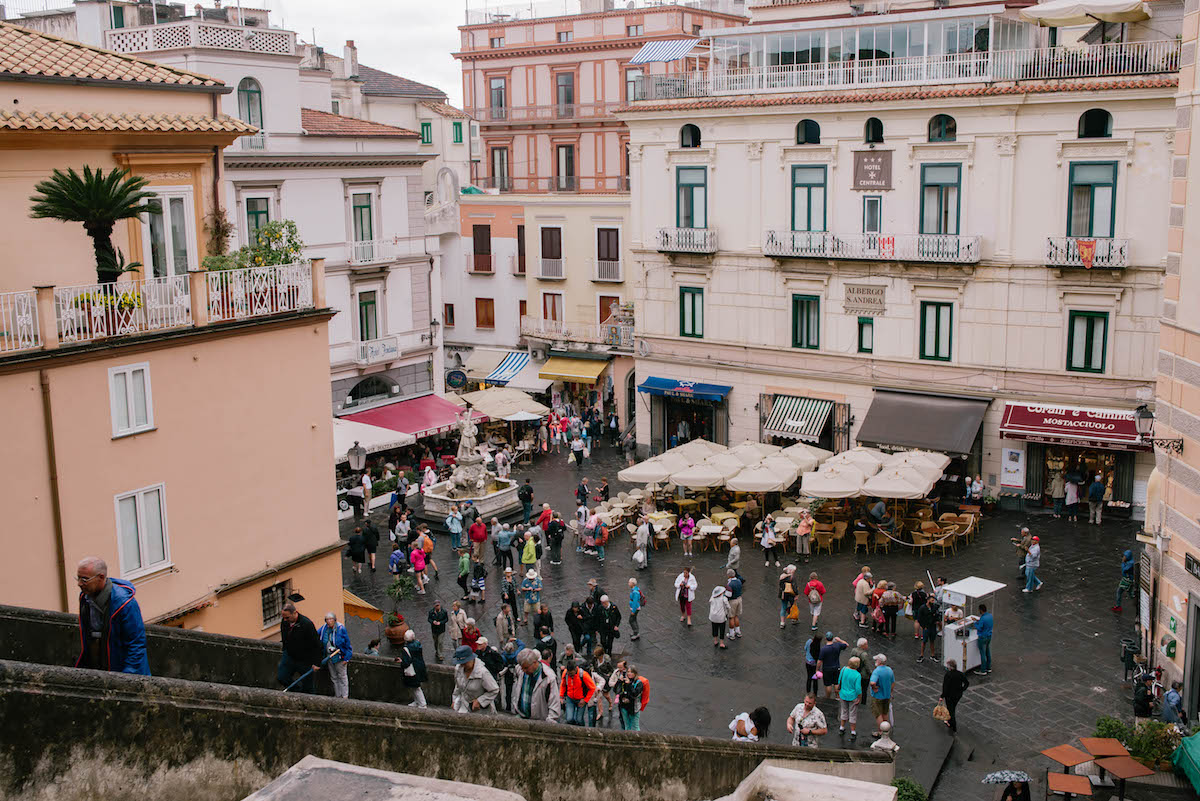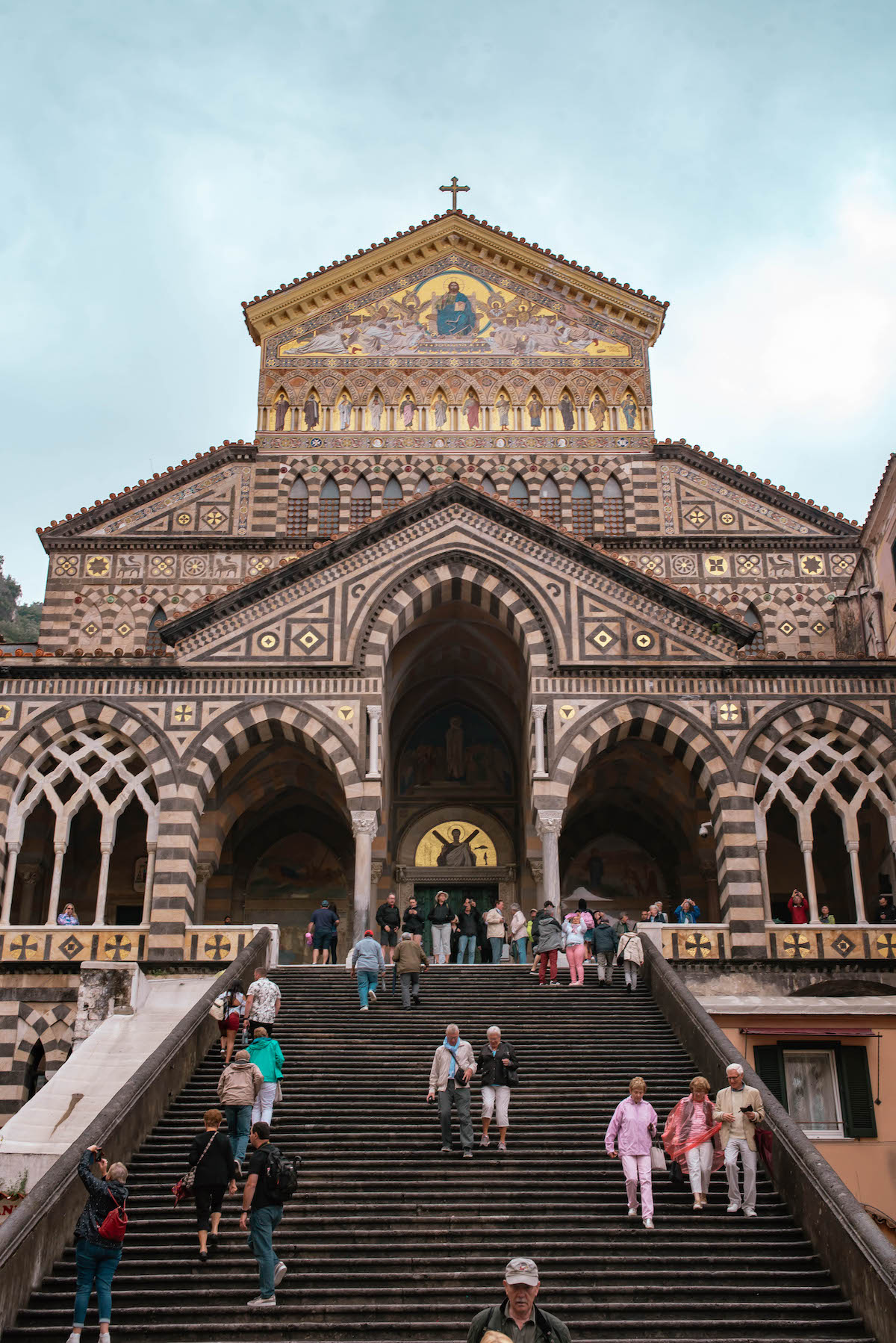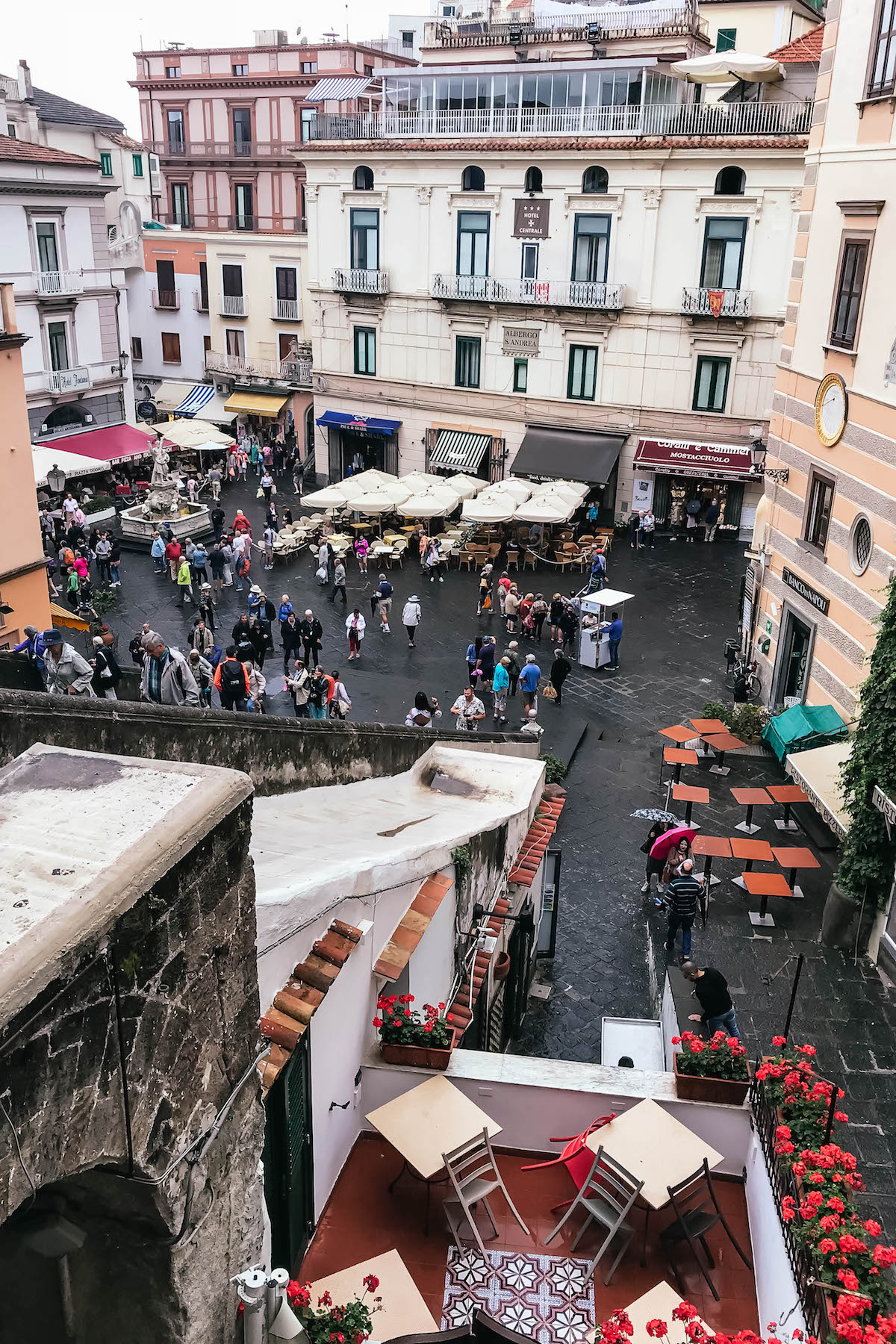 Ravello
After our stop in Amalfi, our guide drove us up the hillside about 10-15 minutes to Ravello. It's important to note that there's no waterfront in Ravello. It's located high in the mountain, so to get an oceanside experience you'd either need to stay in Amalfi or another coastal town.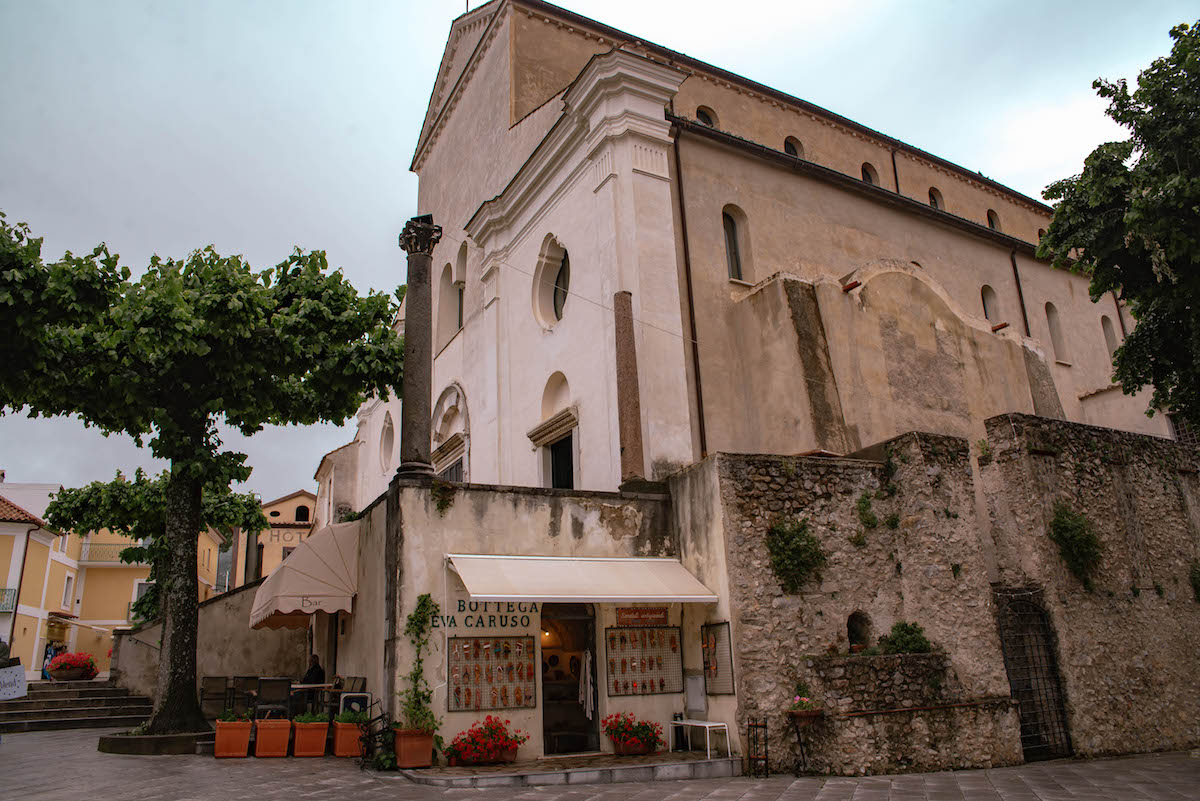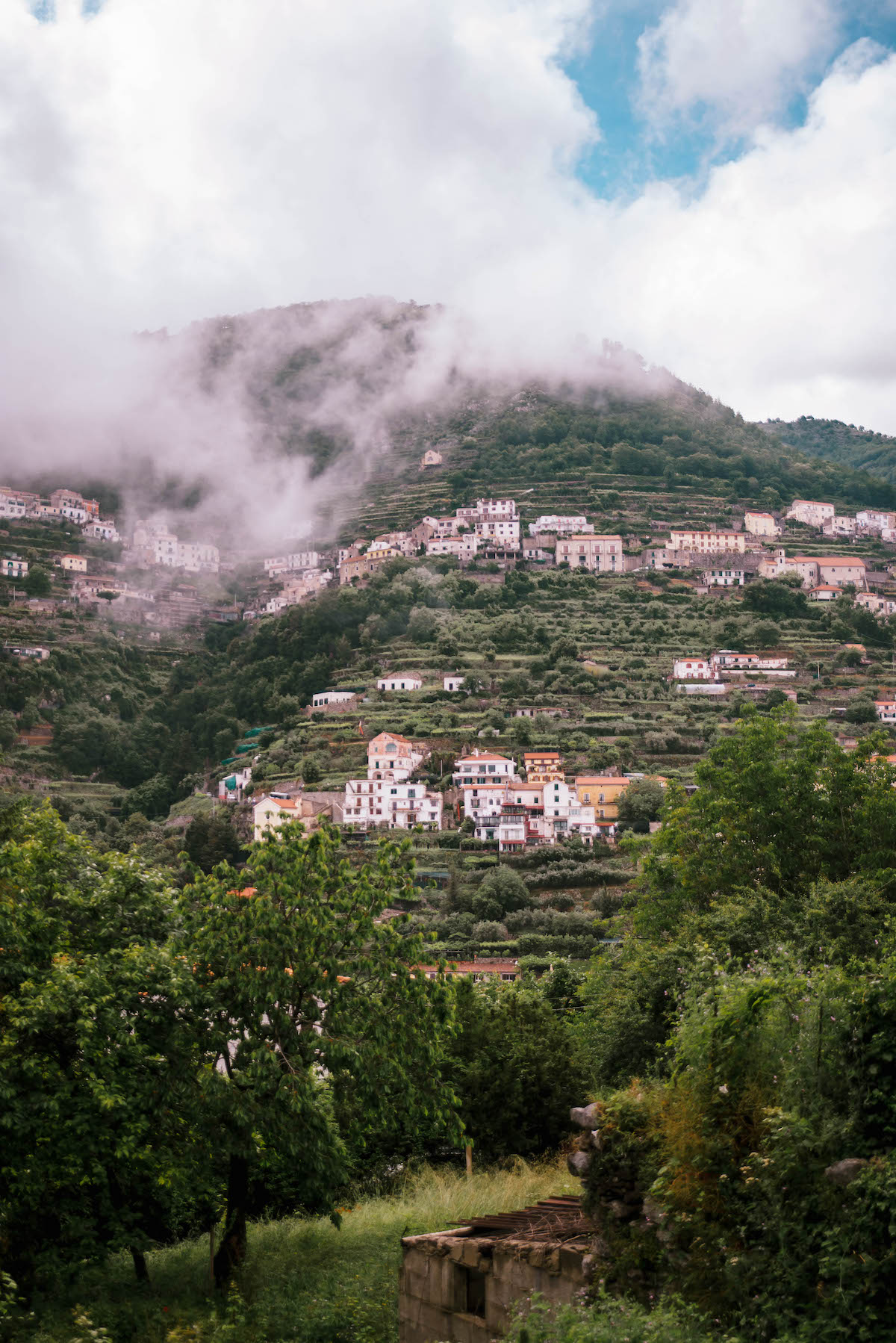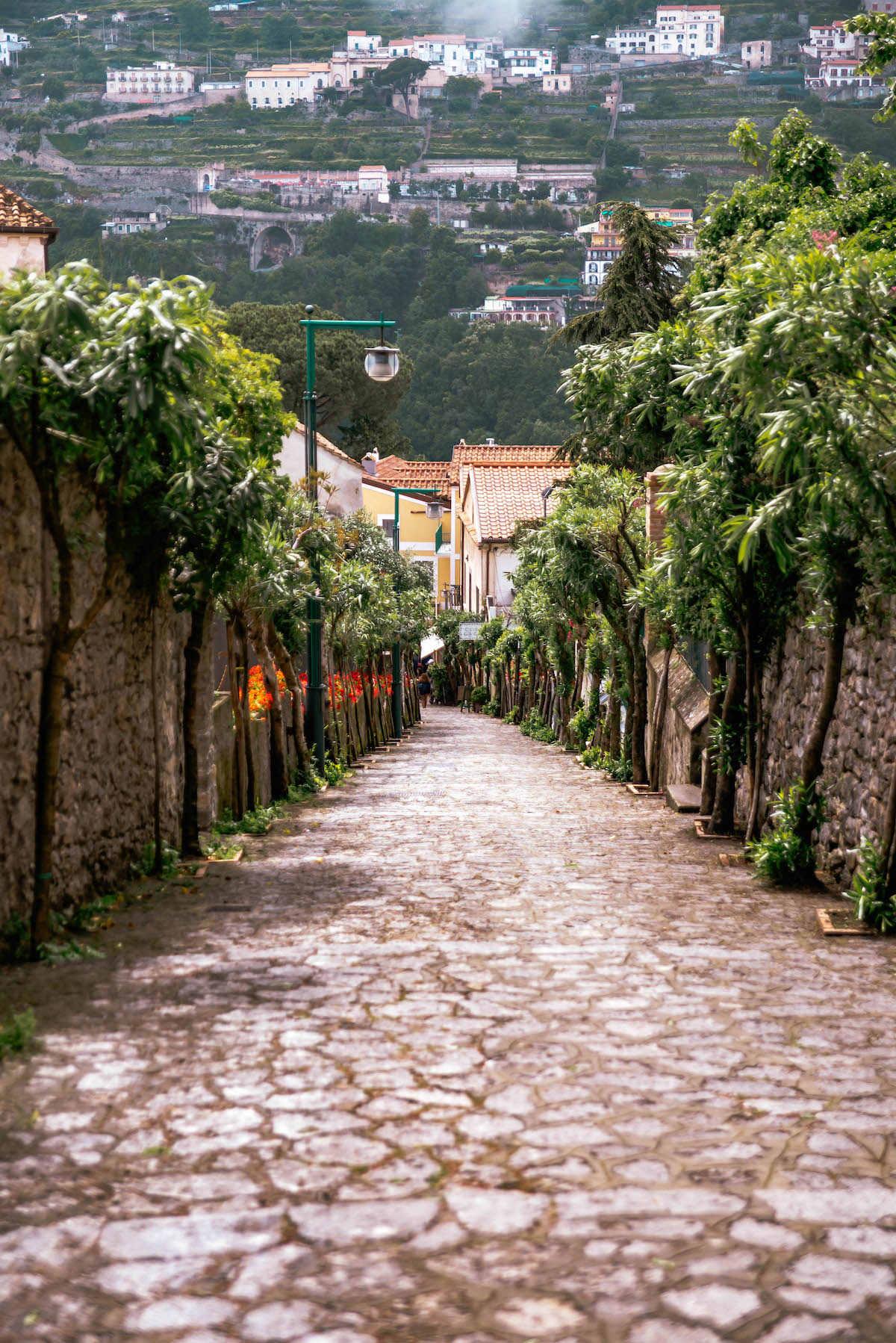 Where Ravello lacks in proximity to the water it certainly makes up for in views and charm. The winding cobblestone streets, little mom-and-pop shops, restaurants, historic stone structures, wineries, lemon trees and gardens gave the town a much more medieval village-like l feel, as opposed to the more crowded touristy vibe of Positano and Amalfi. We spent about two hours just walking around taking everything in!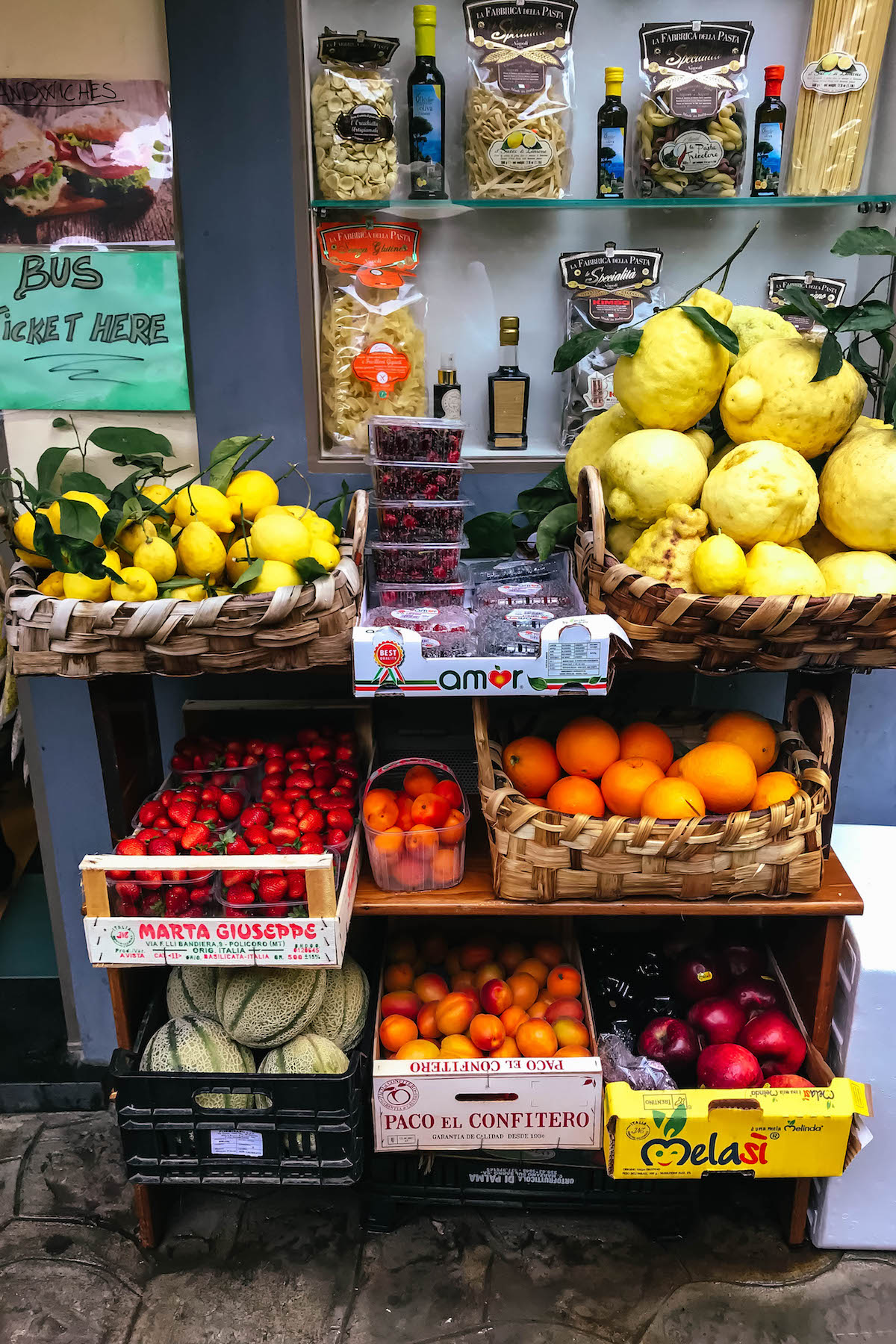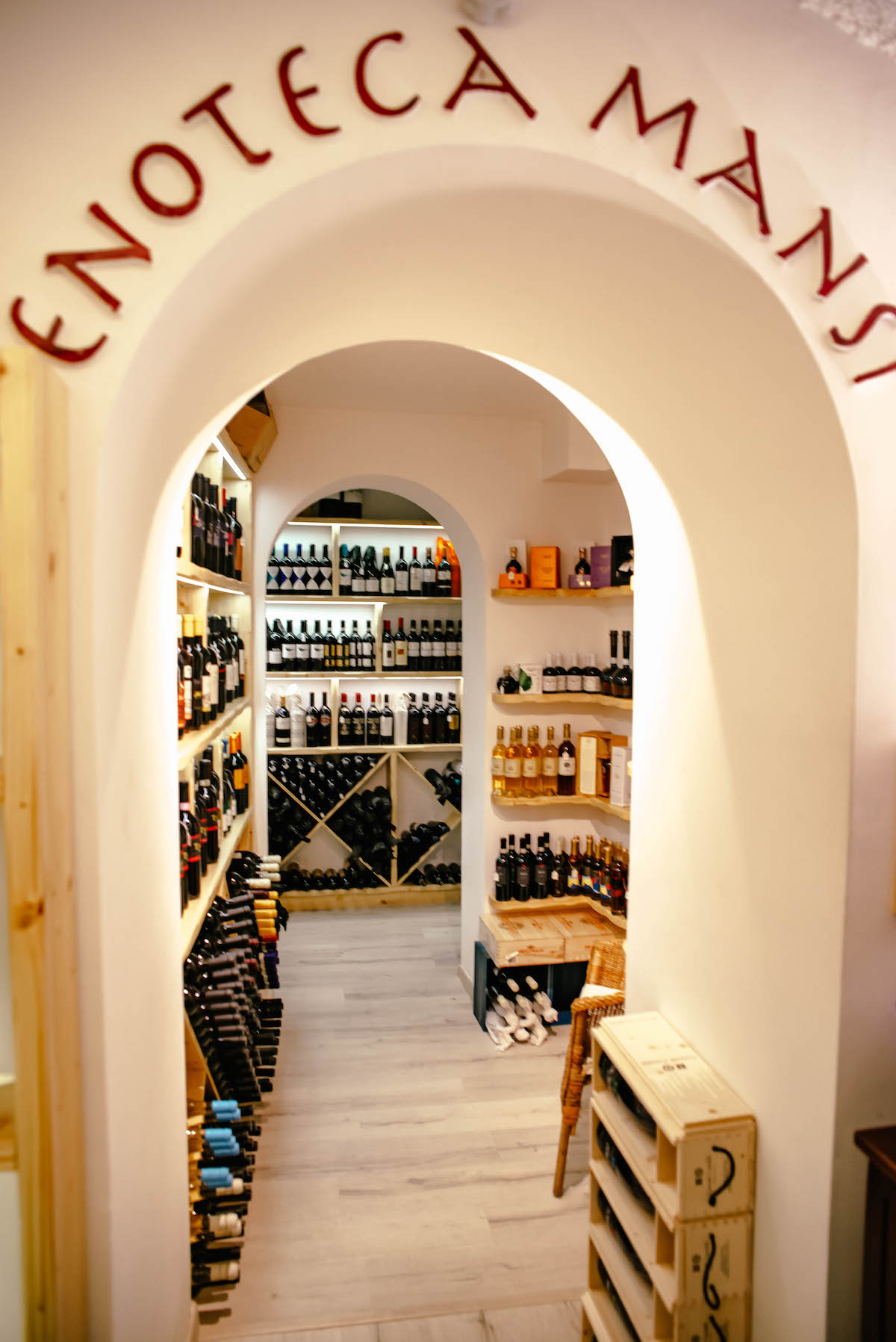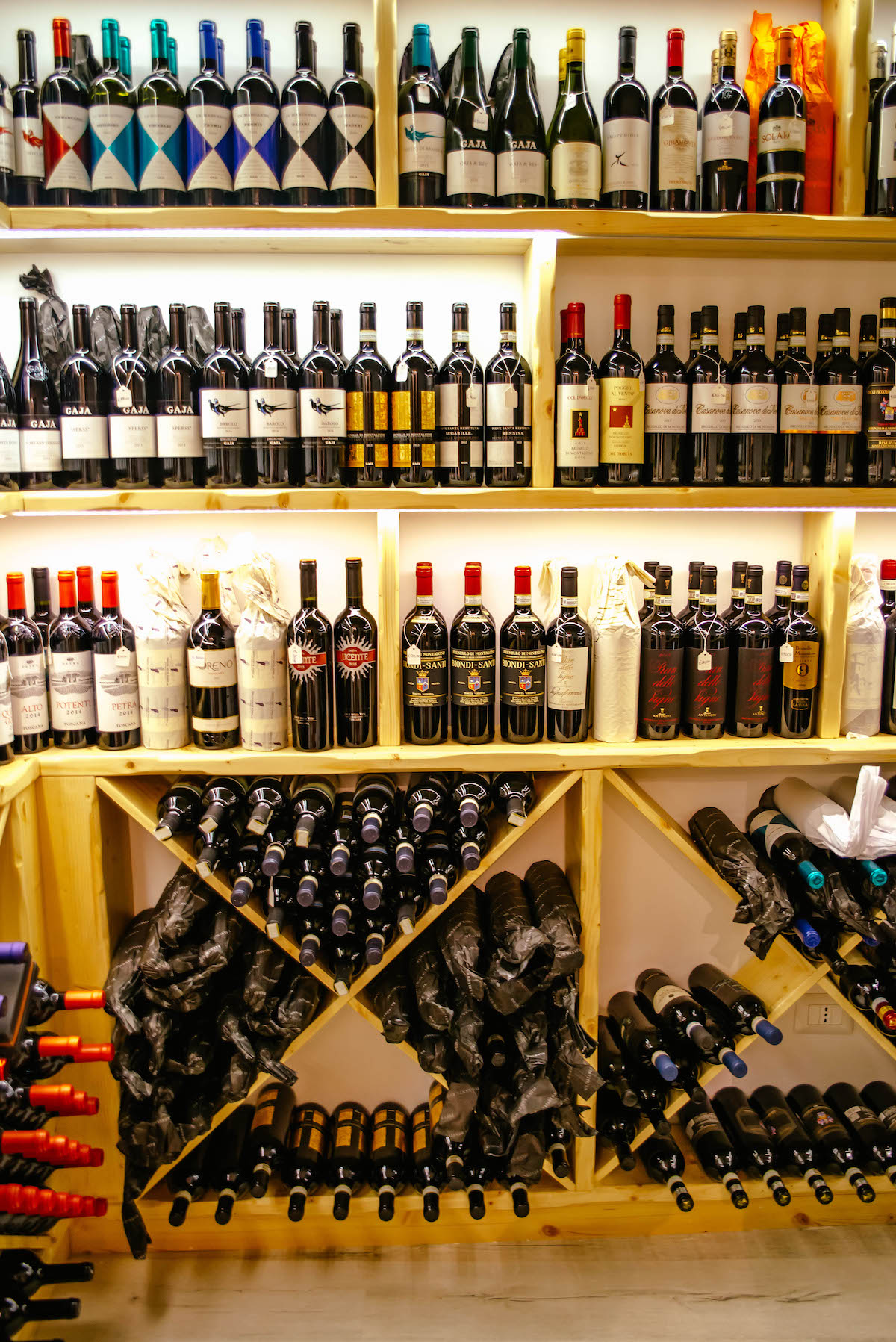 If you stop in Enoteca Mansi there's a small room in the back of the shop where you can get a free wine tasting! Not sure if that's the norm or something they do for anyone, but our tour guide told us about it and of course we couldn't resist. We even bought a bottle of wine to take home it was so good!
Trattoria Da Cumpa' Cosimo
By the time we made it to Ravello we were hungry, so our guide recommended we have lunch at Trattoria Da Cumpa' Cosimo. I'll be completely honest. As soon as I saw there was a "pasta sampler" on the menu we knew it was clearly a restaurant catered to American tourists. Between the old world decor, traditional menu, and the Italian nonna running around wearing an apron (she's the owner!) the overall vibe was super charming and we didn't mind that it was a tourist hot spot.
We ordered a bottle of red wine, the prosciutto and burrata and then obviously split the pasta samples. The wine and our appetizer was great, but sadly we felt like the pasta was nothing special. It was still a fun meal though due to the overall experience. By the time we finished we were both a lil wine drunk 😛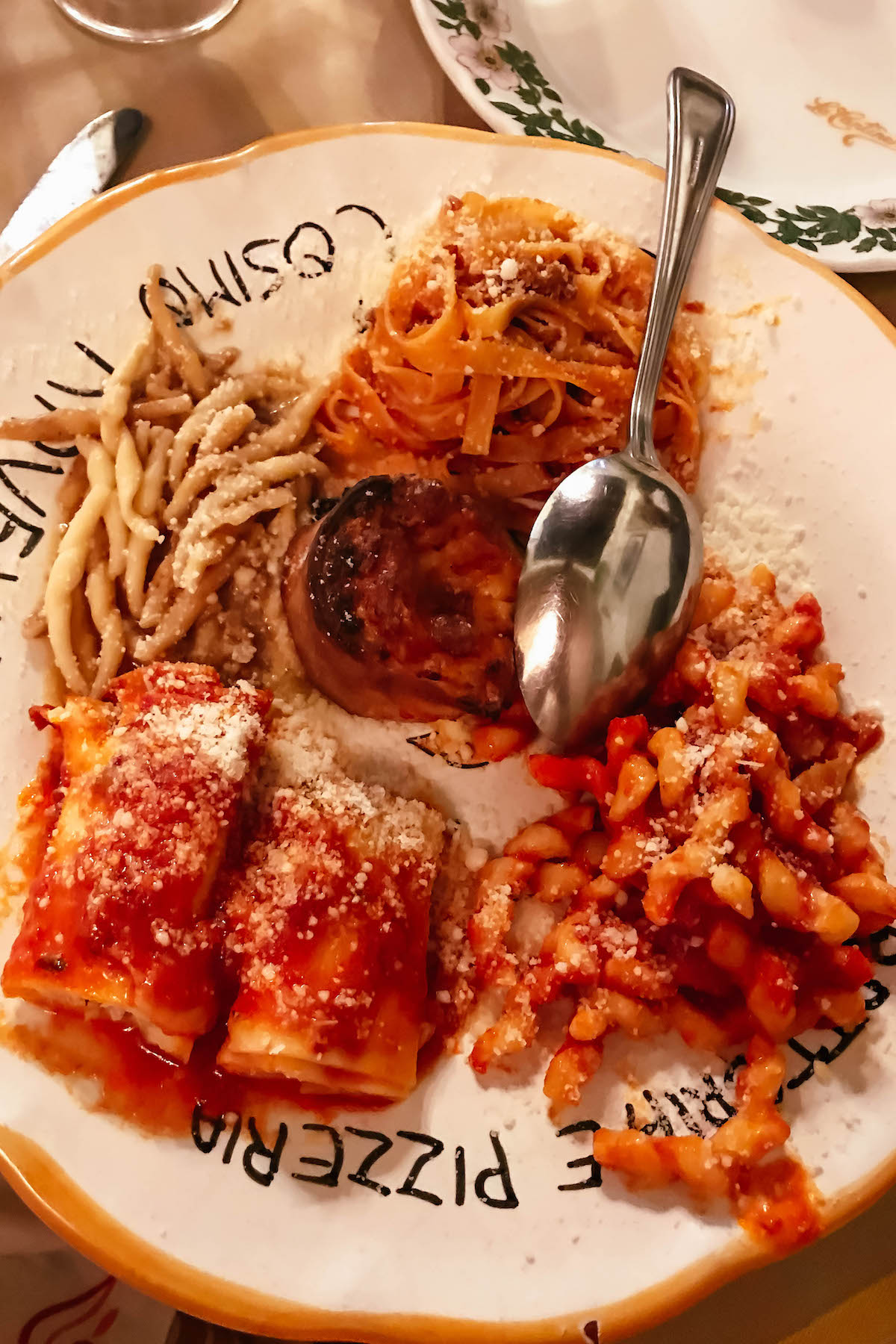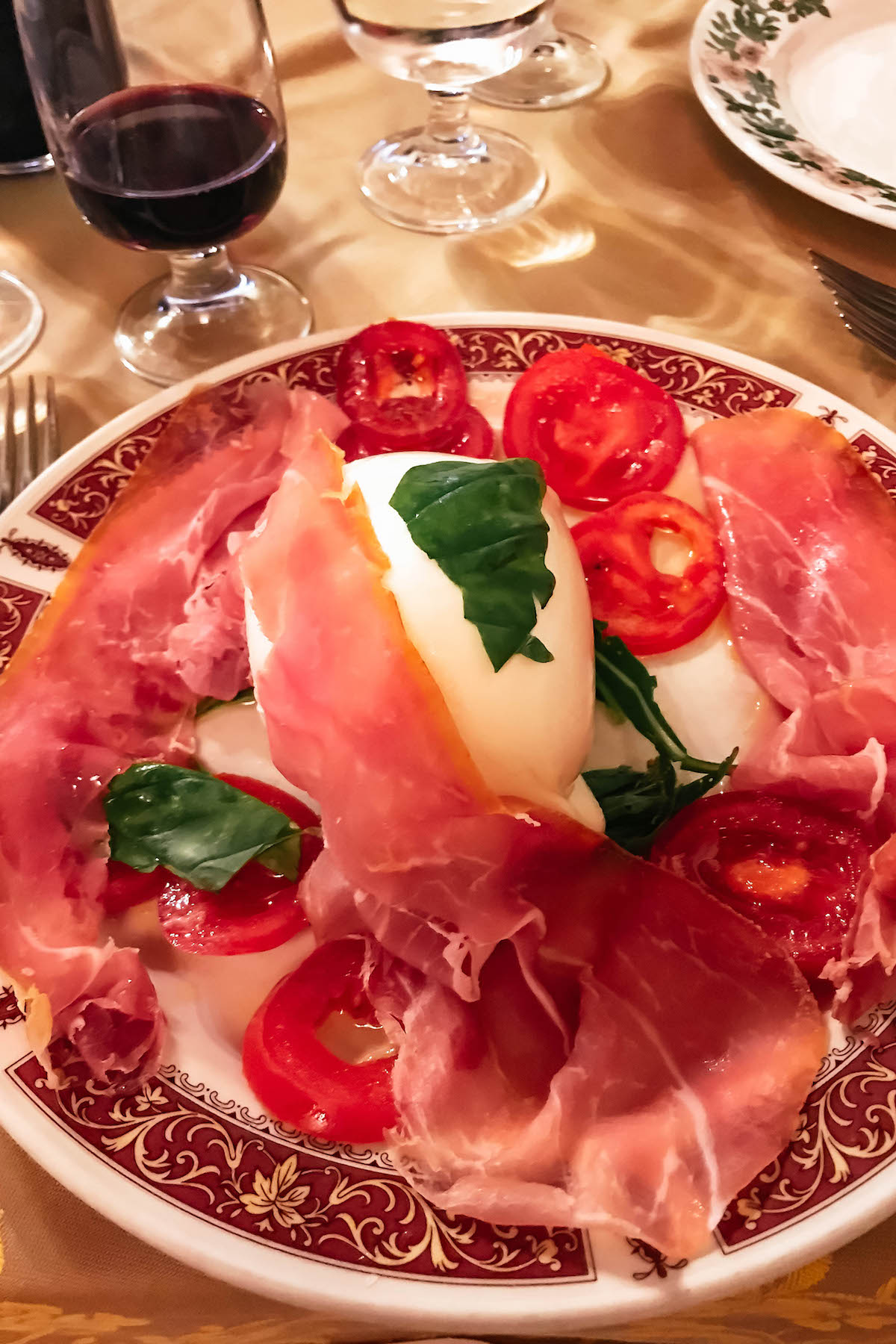 Villa Rufolo & Villa Cimbrone
Ravello is most famous for it's beautiful gardens. The two best places to see florals are Villa Rufolo and Villa Cimbrone. We only had a chance to visit the Villa Rufolo gardens (there's a small admission fee) because our lunch ended up going so long, but I'd love to have the chance to come back and explore Villa Cimbrone especially on a sunny day!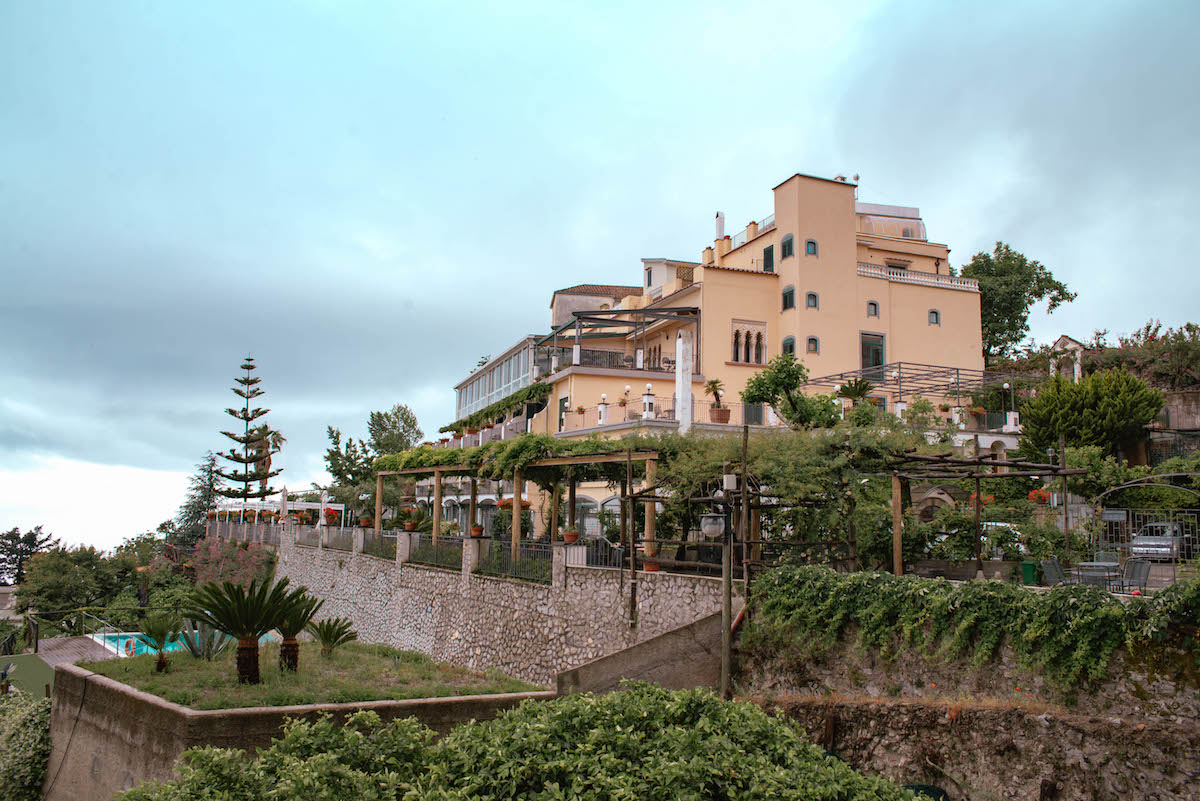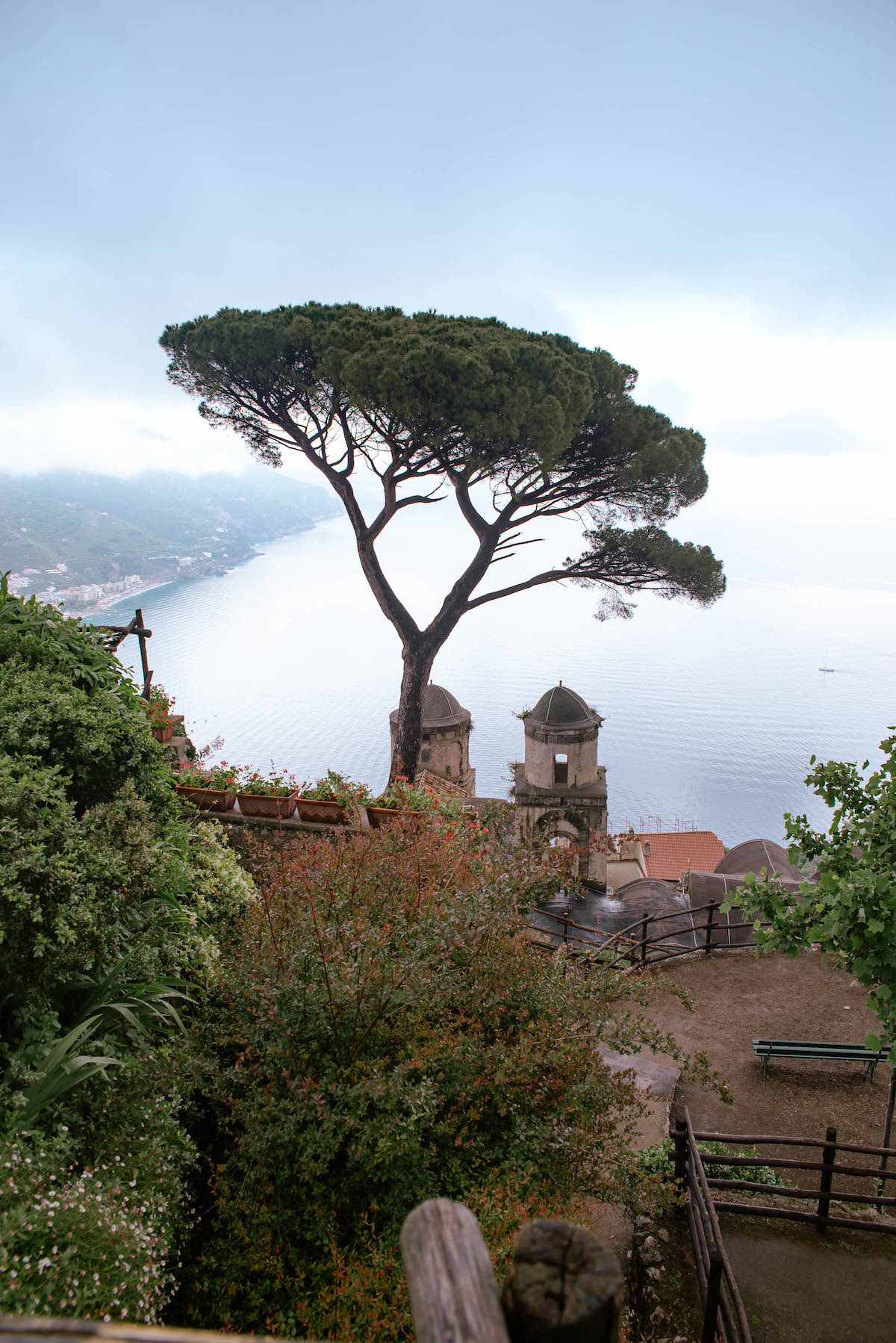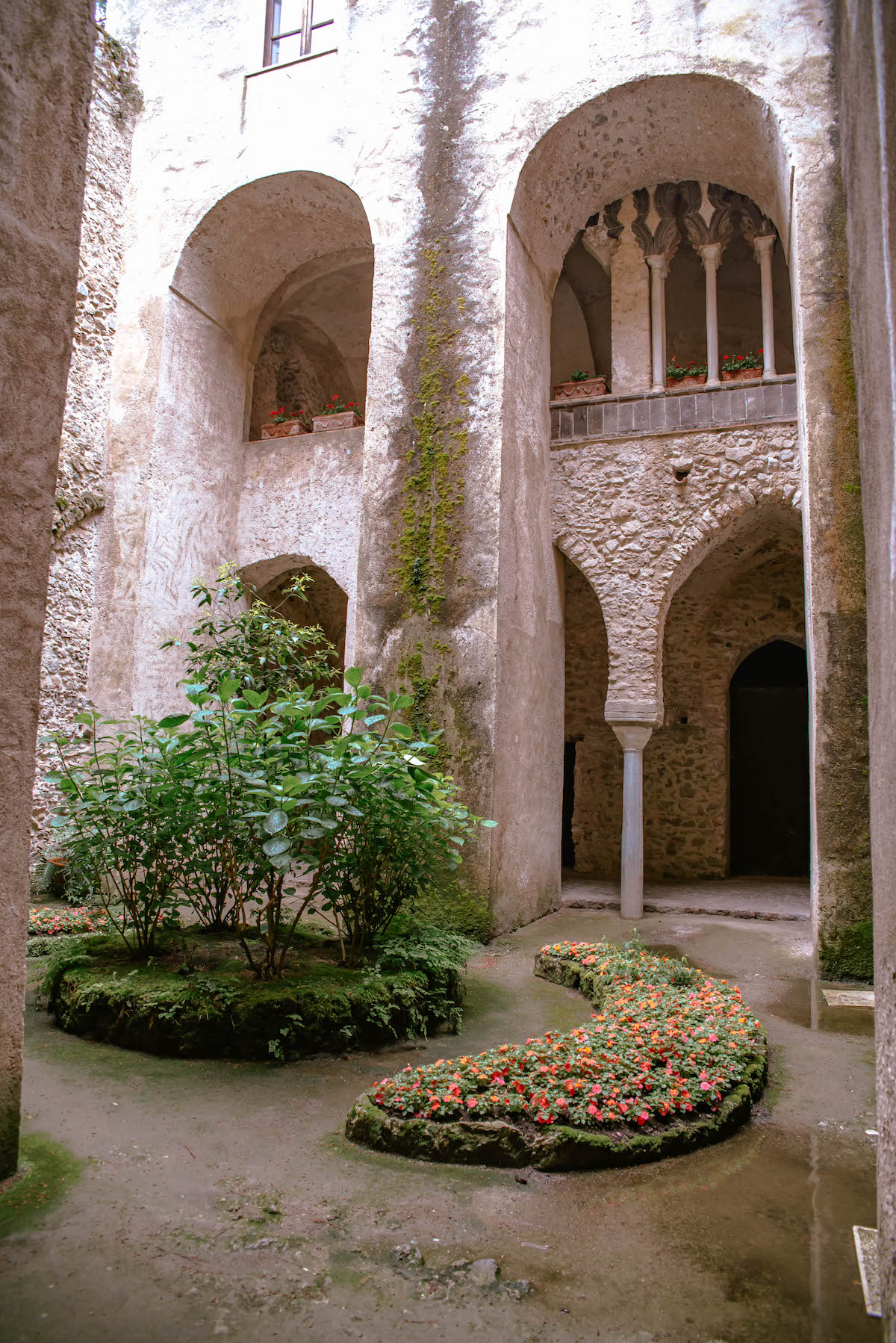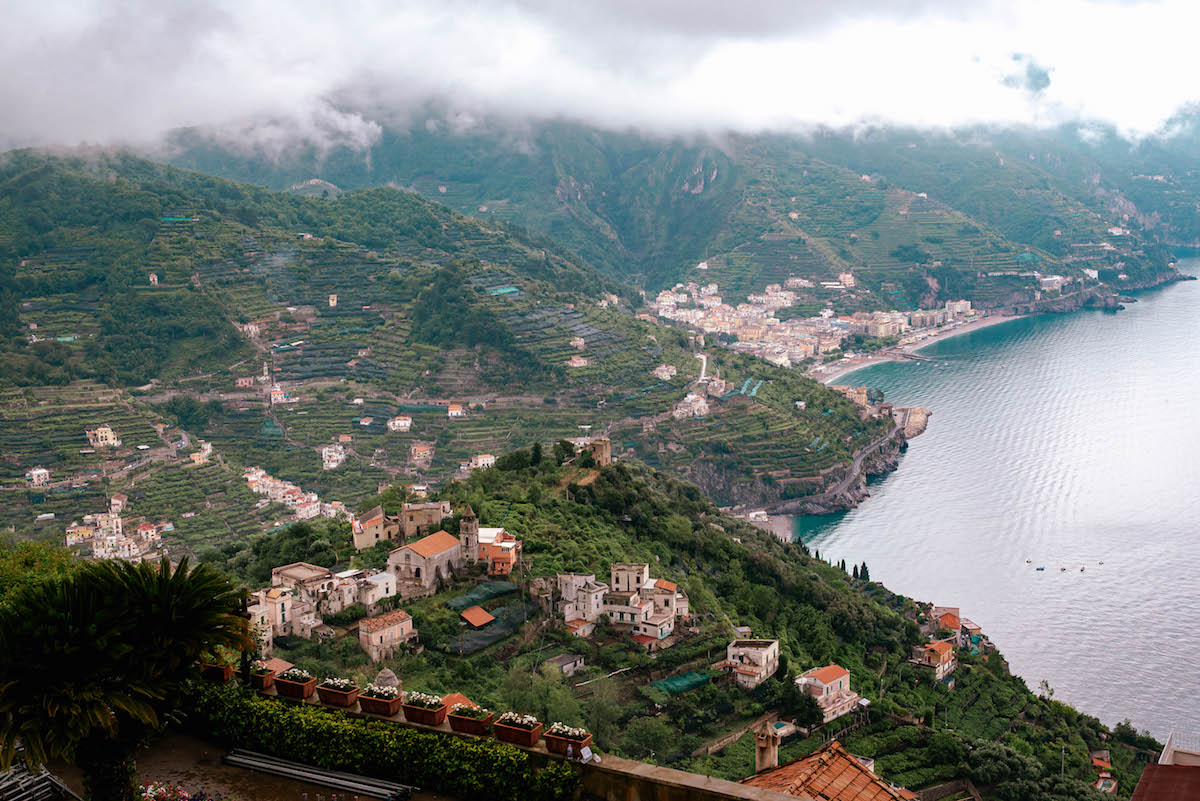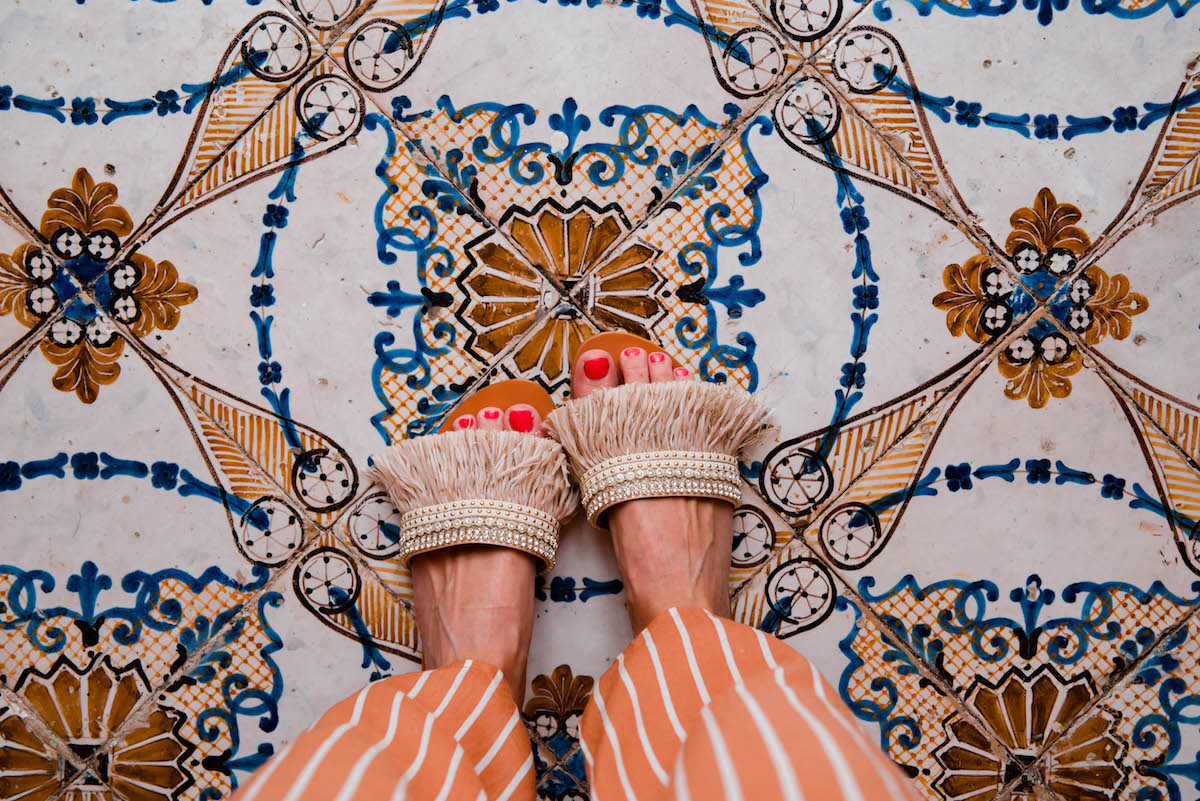 Grotta dello Smeraldo (Emerald Grotto)
On our drive back to Praiano, our guide asked us if we wanted to see a grotto so of course we said yes. A few miles before Amalfi town you'll find Grotta dello Smeraldo (aka the Emerald Grotto.) You pay an admission fee to hop on a small boat and get taken around the cave. It lasted about ten minutes and was a cute quick experience. The Italian men doing the tours were really funny and sang along to music while on the boat. I wouldn't go out of my way to do this, but if you're passing by and have some extra time to kill it's worth stopping in!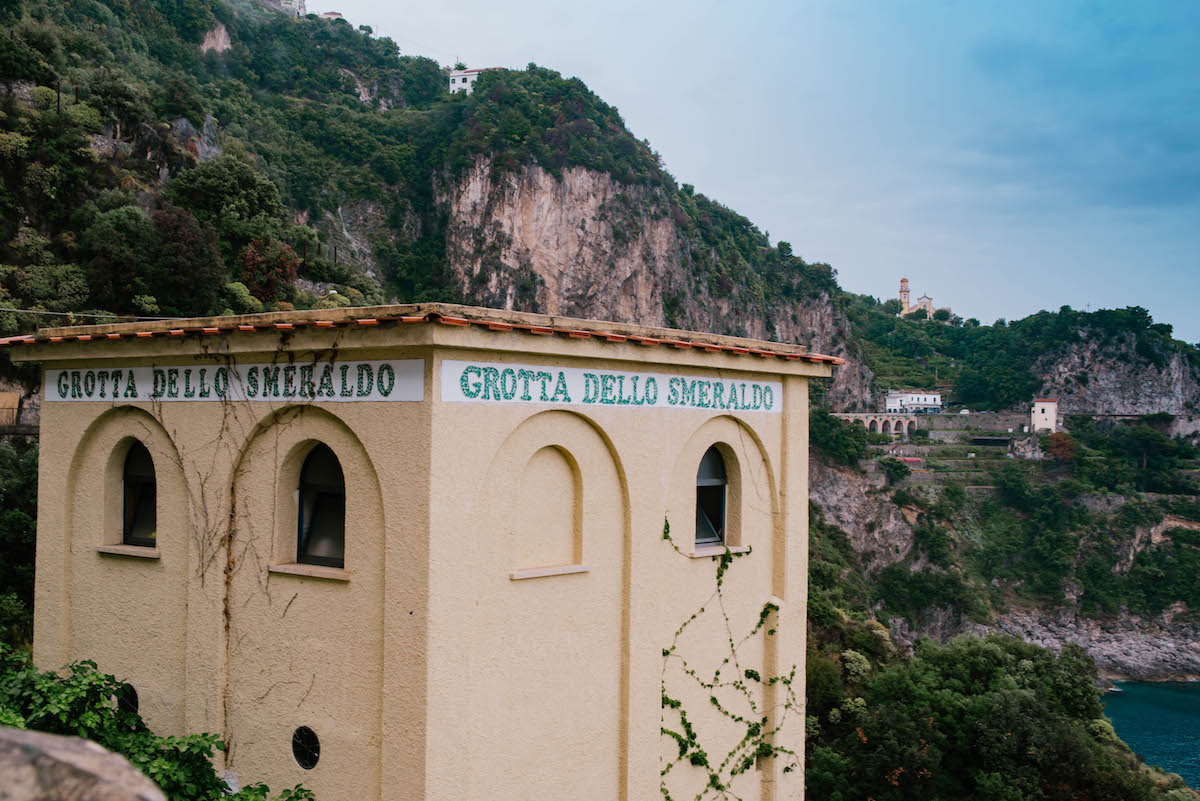 MORE AMALFI COAST & ITALY RECOMMENDATIONS:

Positano Restaurant Recommendations
Where To Grab Drinks With A View In Positano
Our Amalfi Coast + Rome Itinerary
- Katie