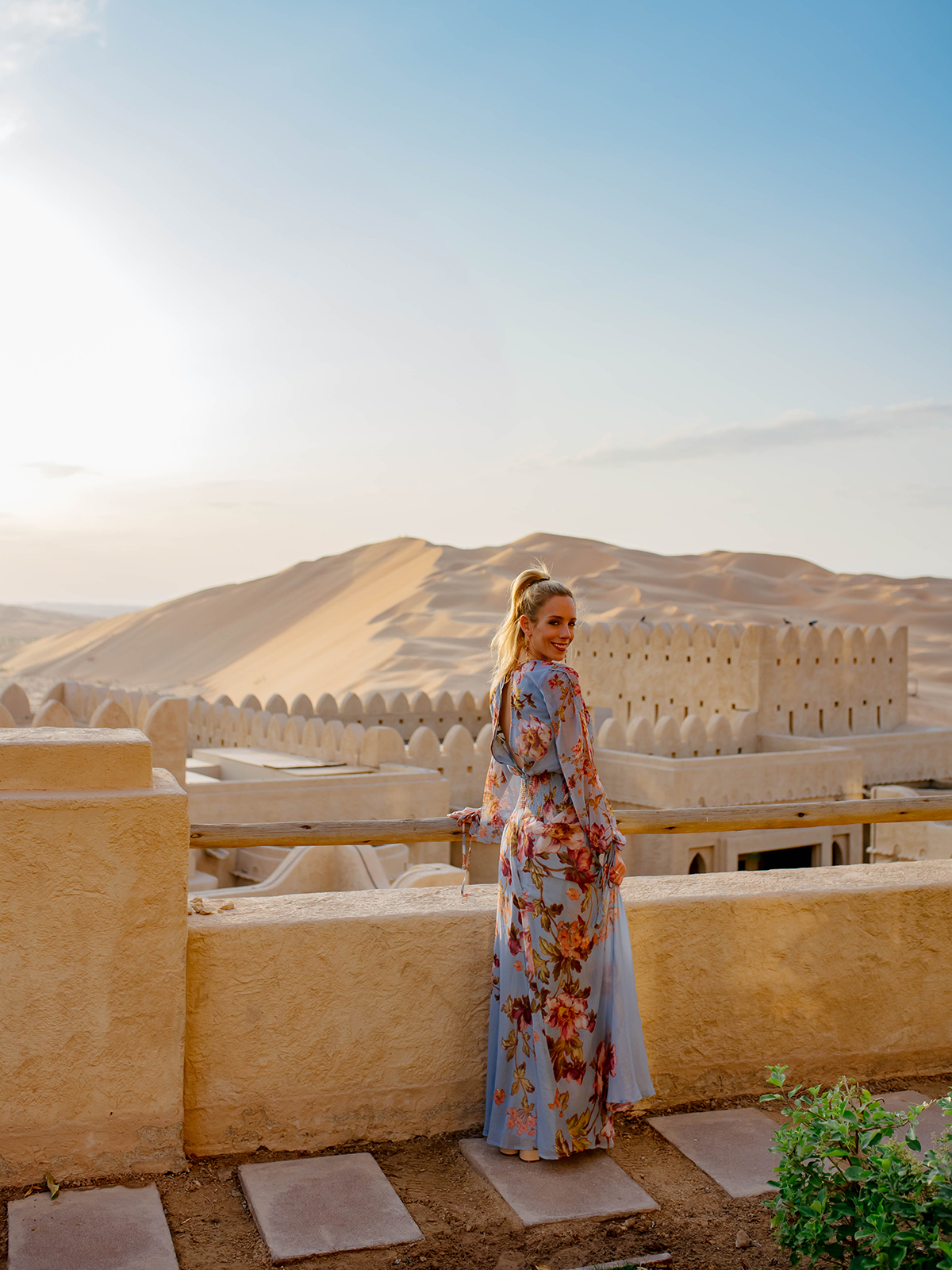 The second half of our honeymoon took us back to the sunny United Arab Emirates, where we spent five days in the desert at the dreamiest resort. While the first portion of our trip was very adventurous (as you'd expect from a safari) our time out in the desert was super low key and relaxing. It was a nice change!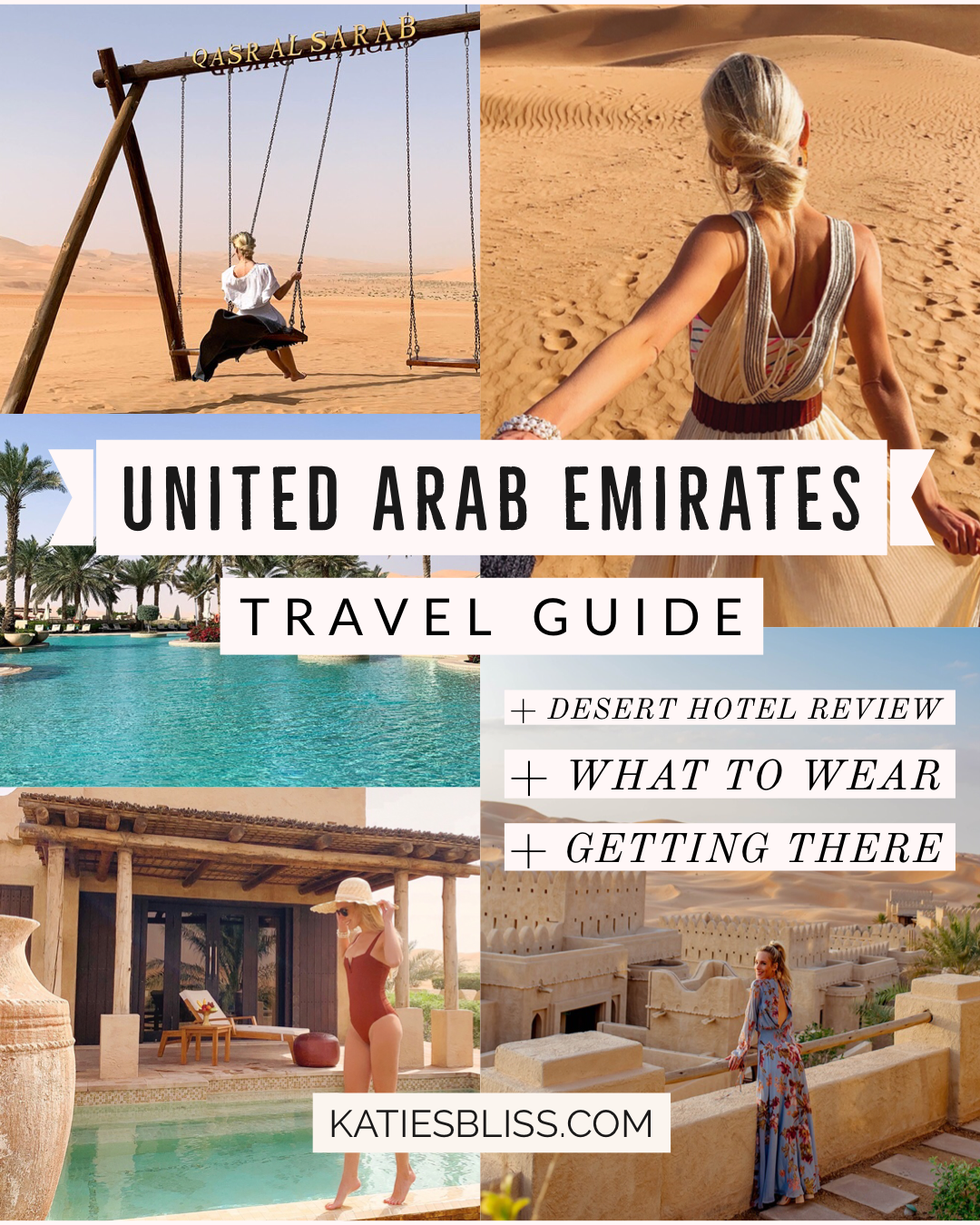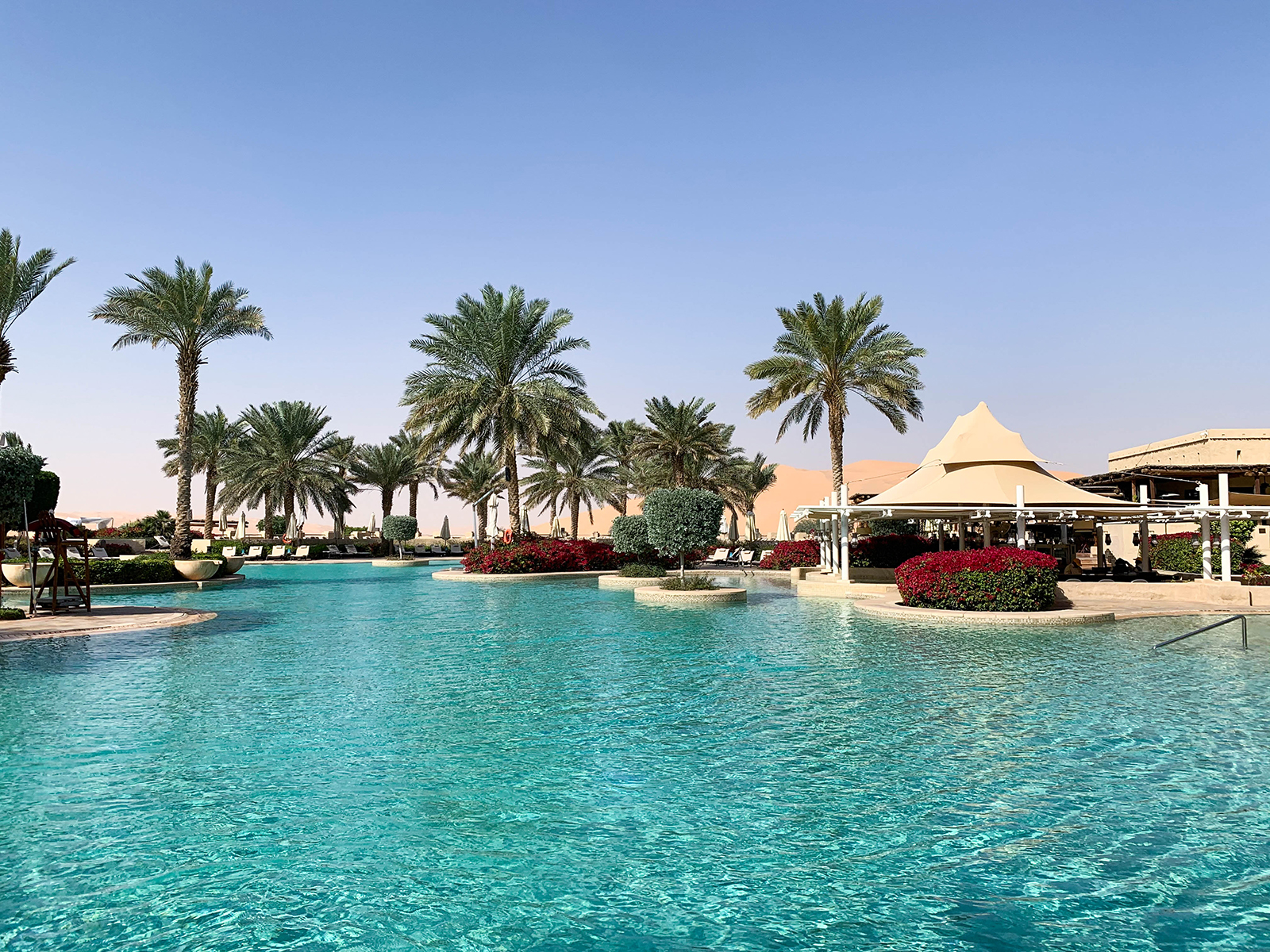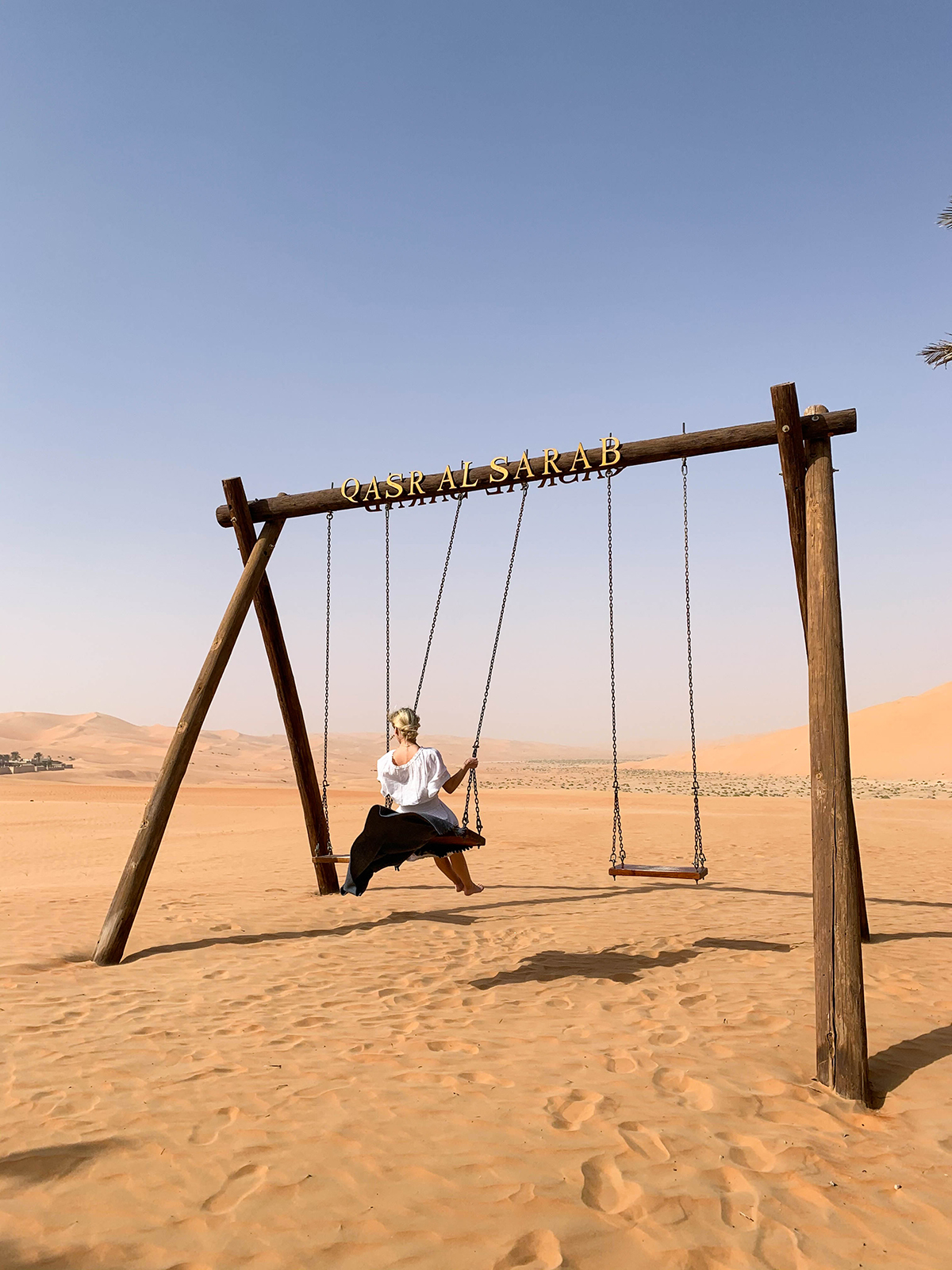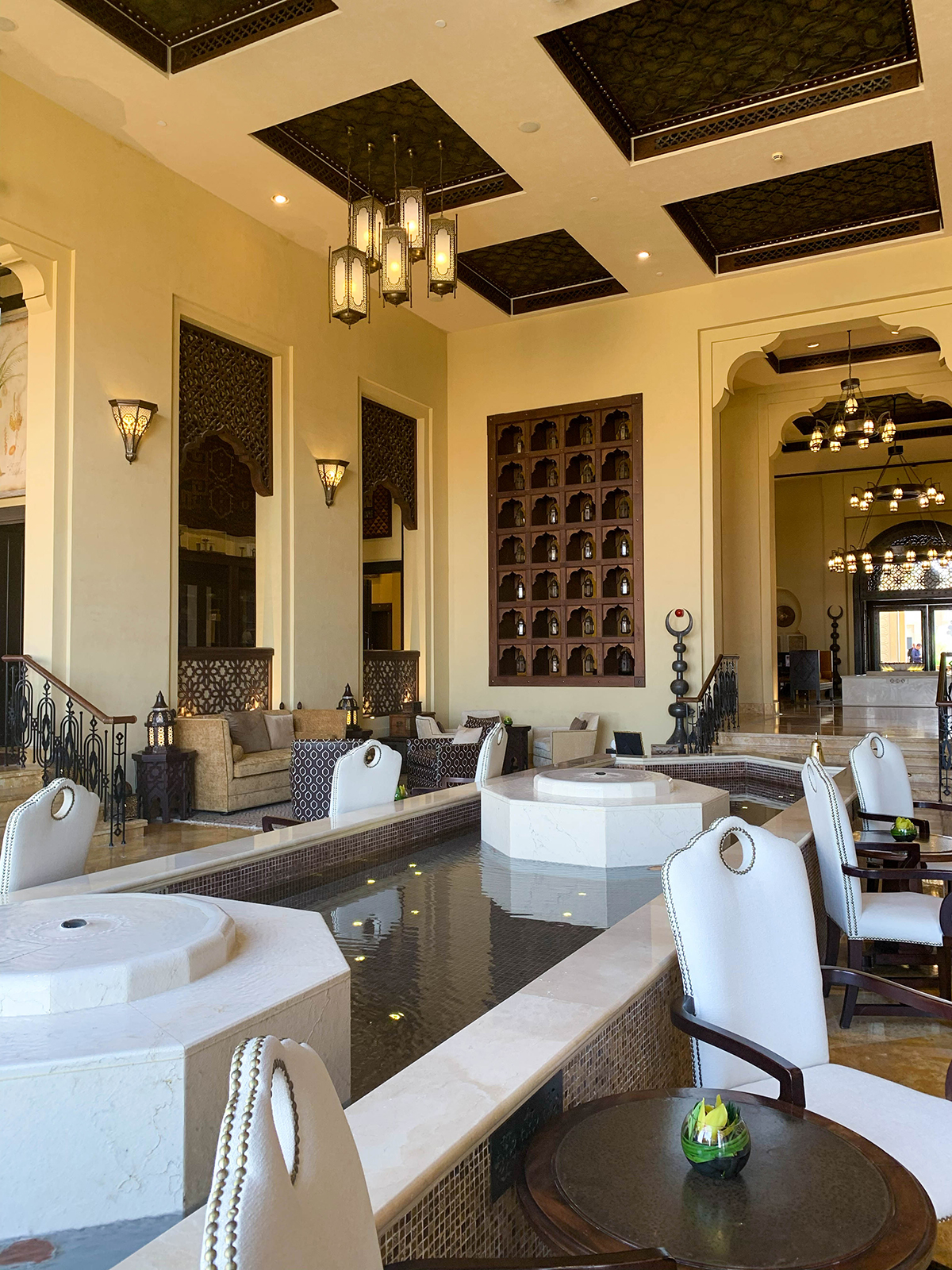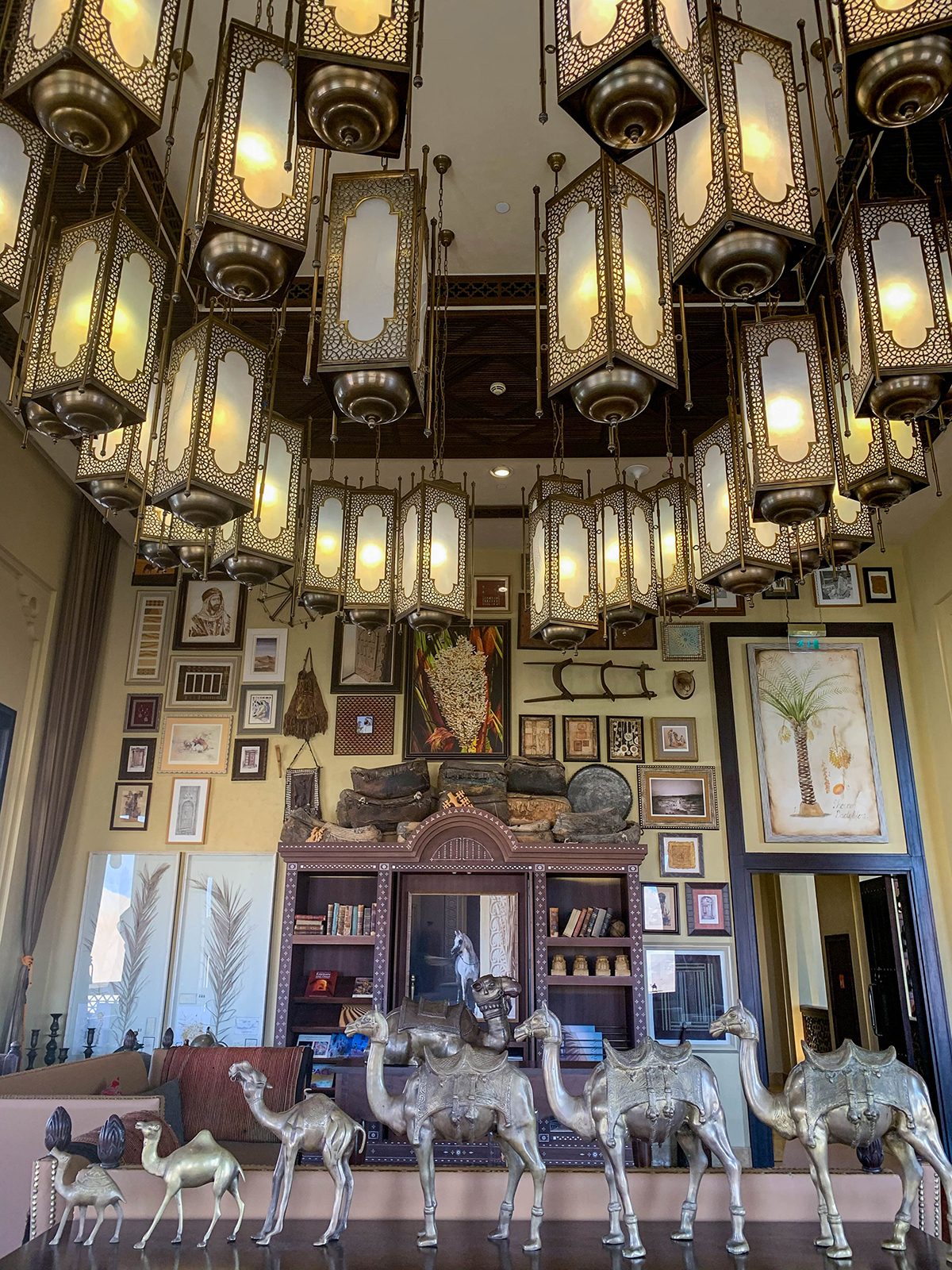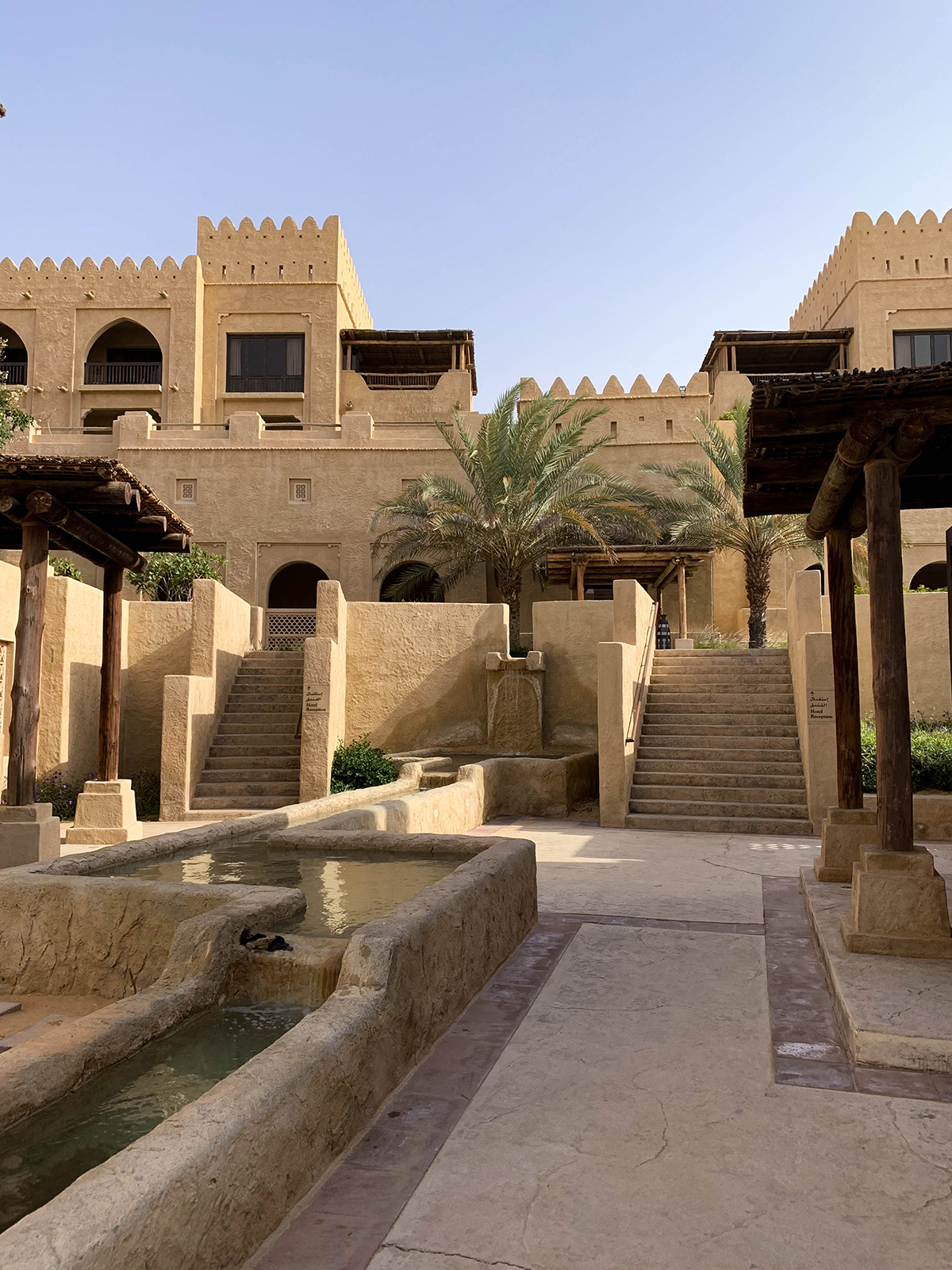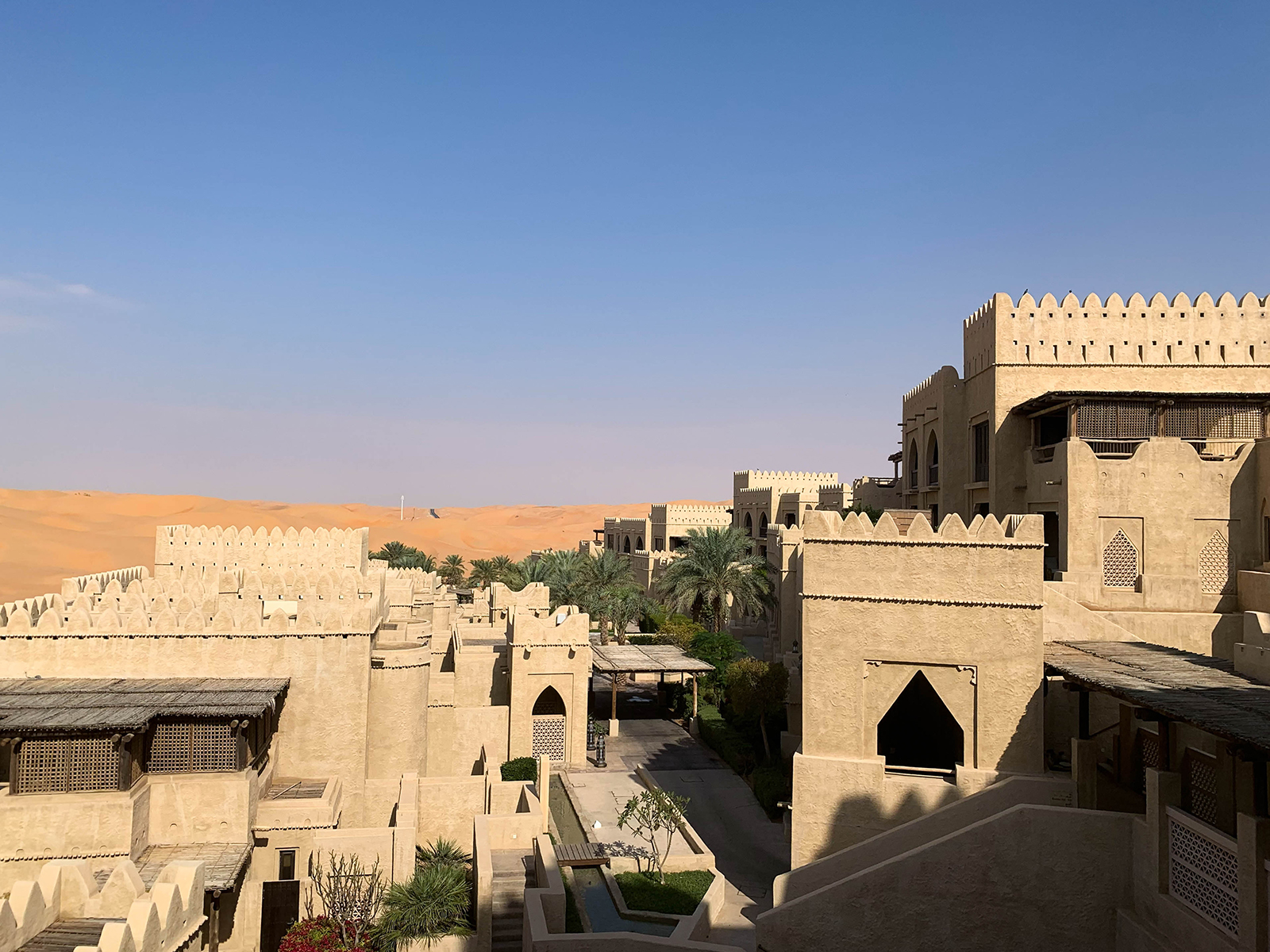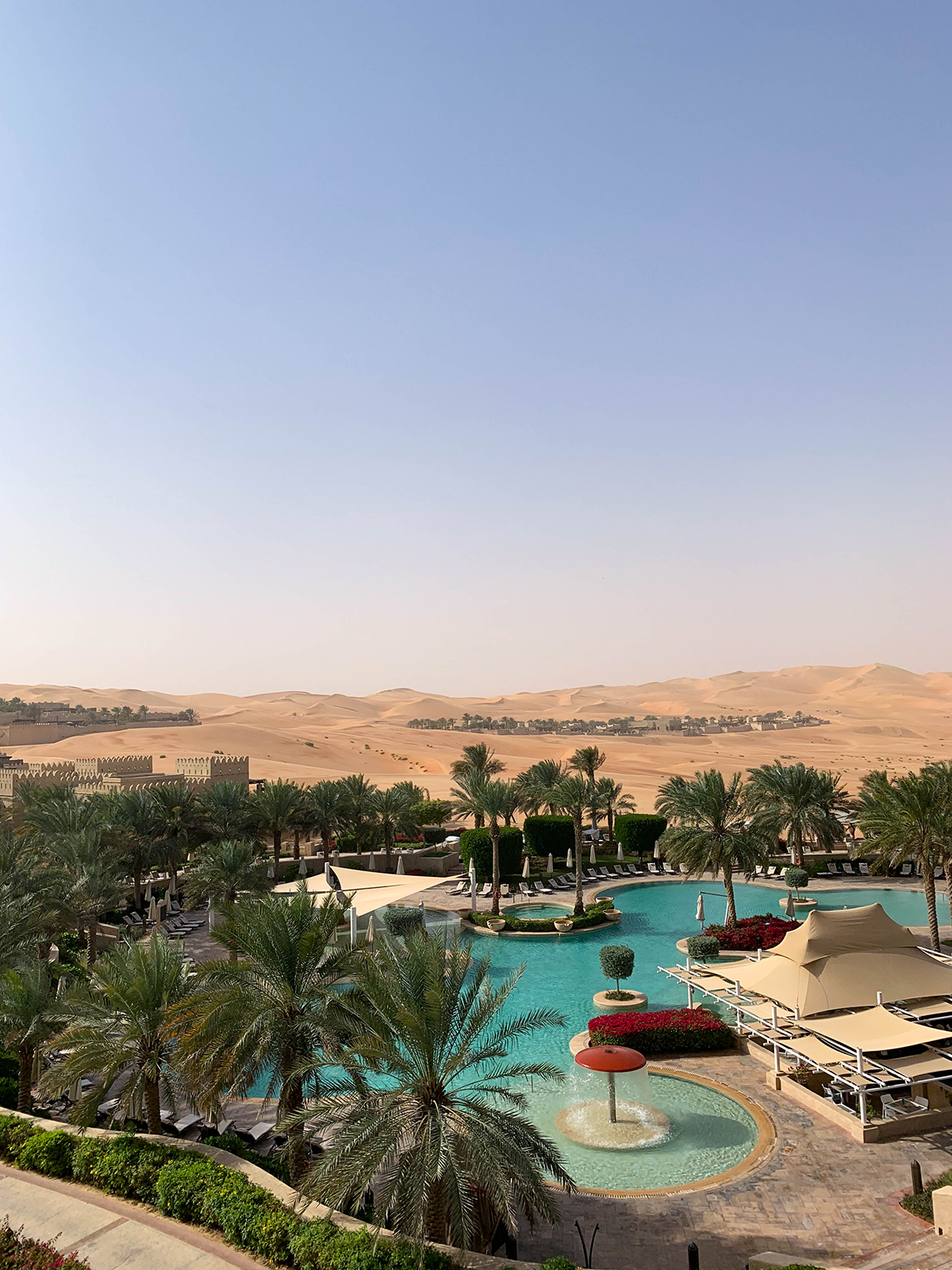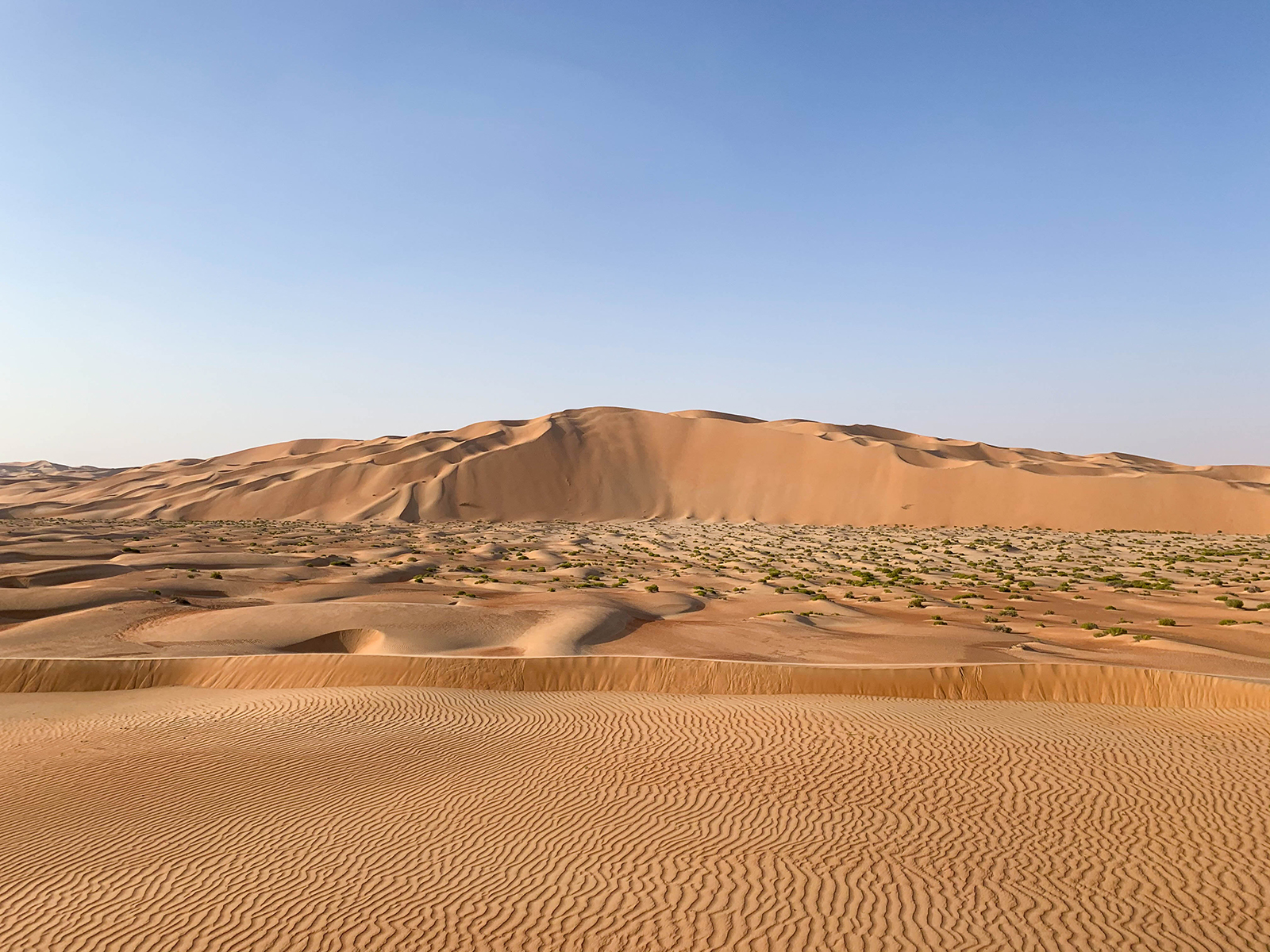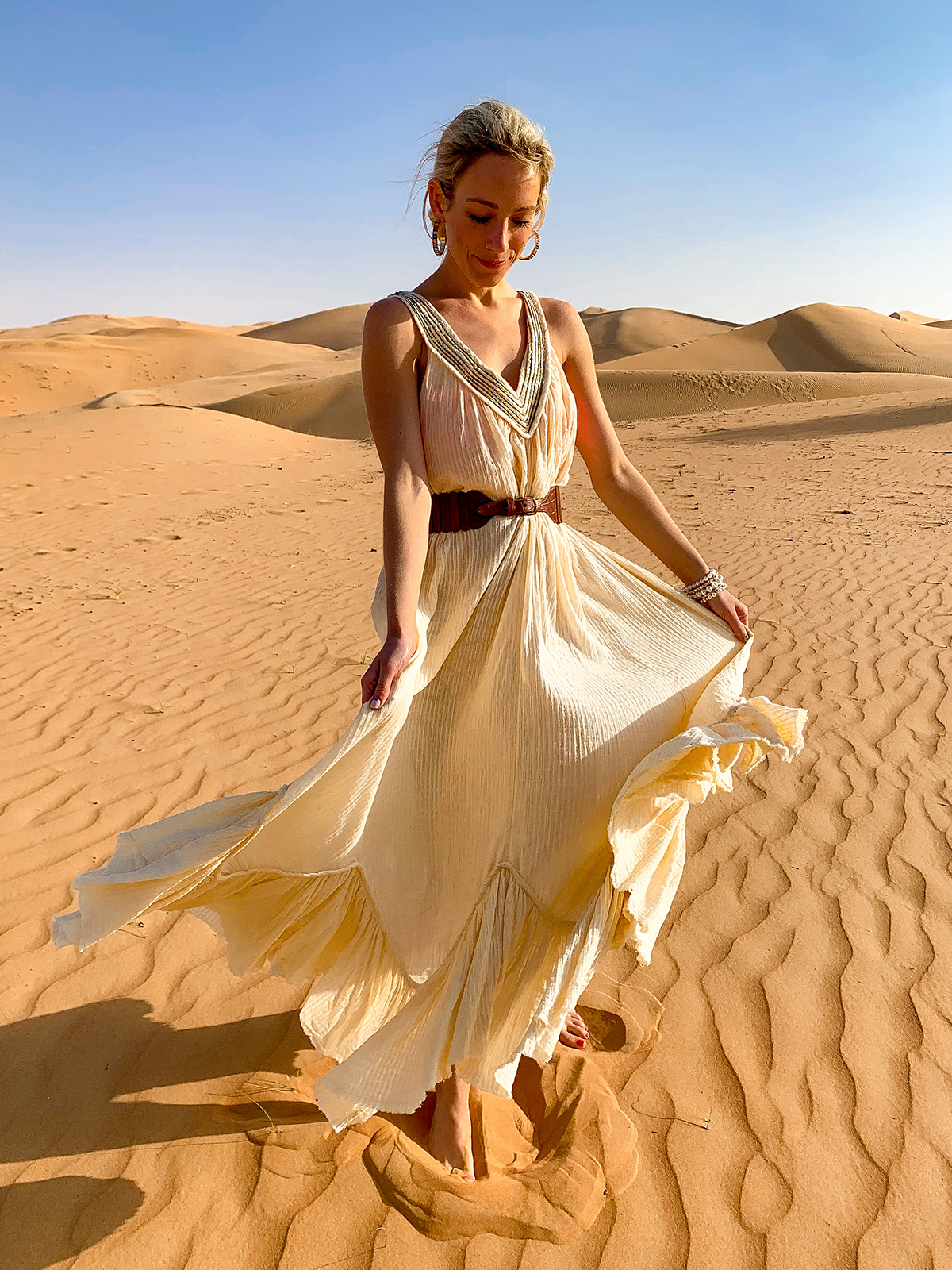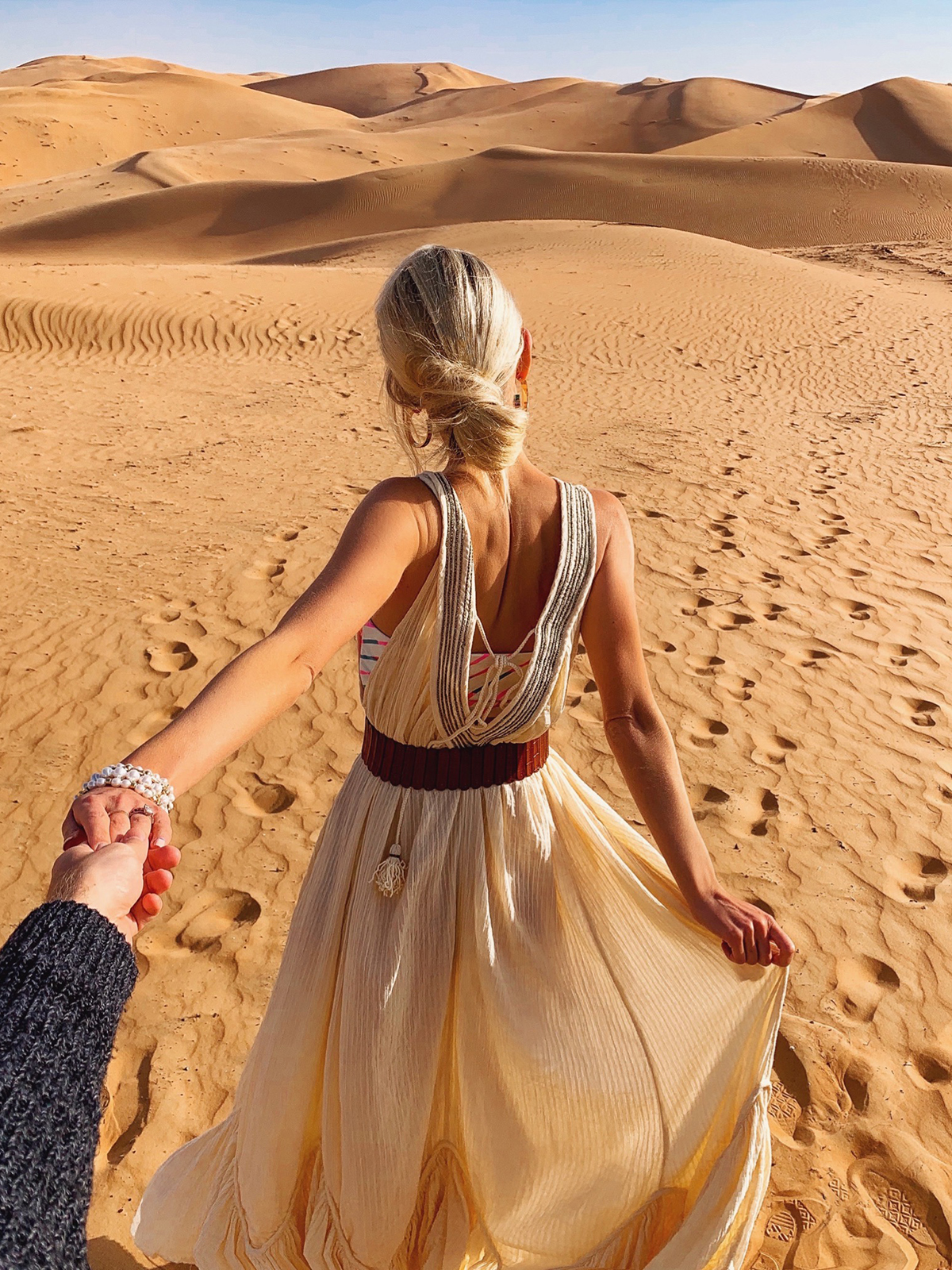 OUTFIT DETAILS // Ruffled Midi Dress | Statement Earrings | Beaded Bracelet | Waist Belt
Typically on trips Nick and I go fast and furious trying to cram in as many activities and sightseeing as possible. We love traveling that way, but we decided for our honeymoon that now was an opportunity to bring the speed down a notch and actually just chill.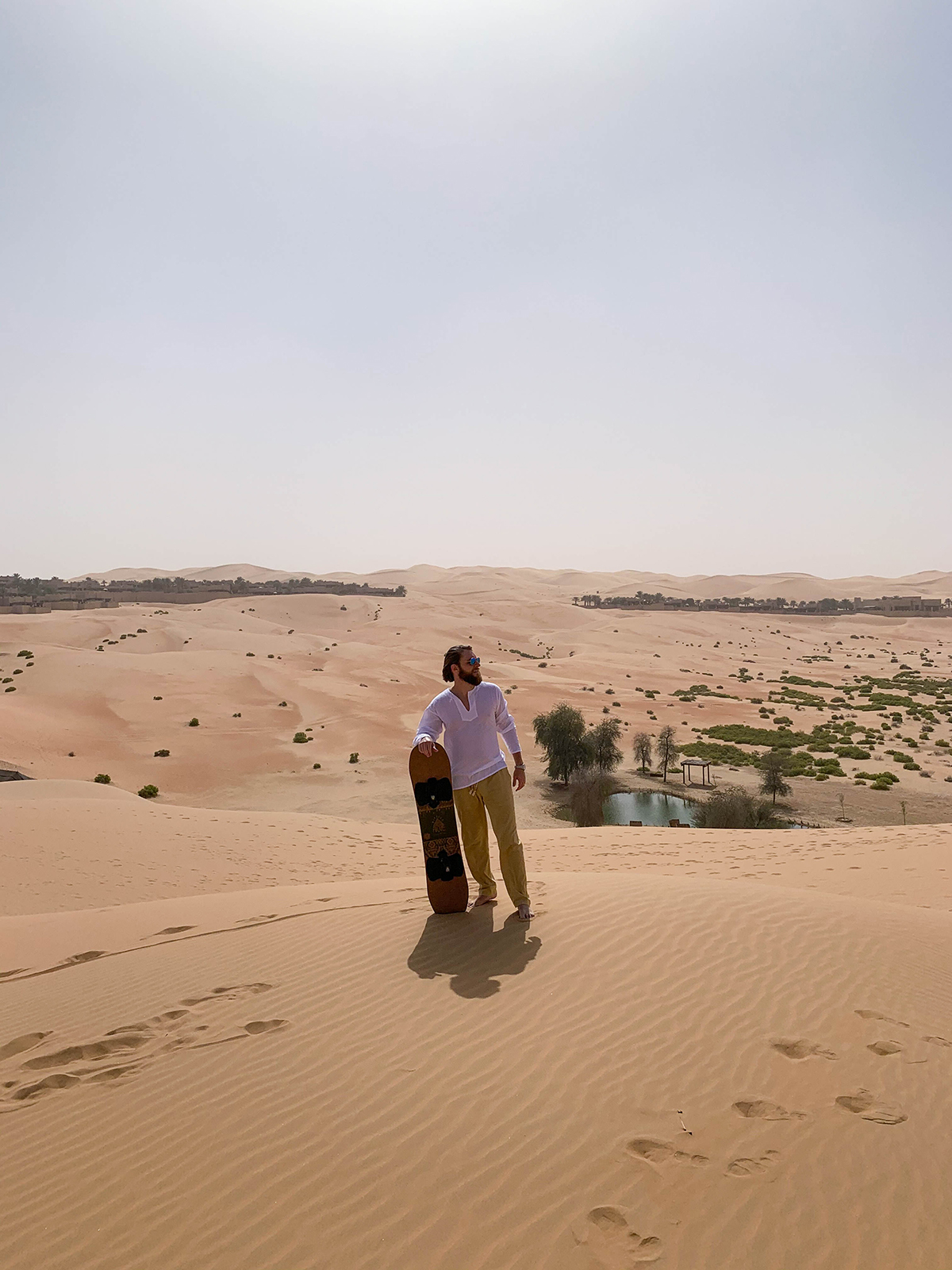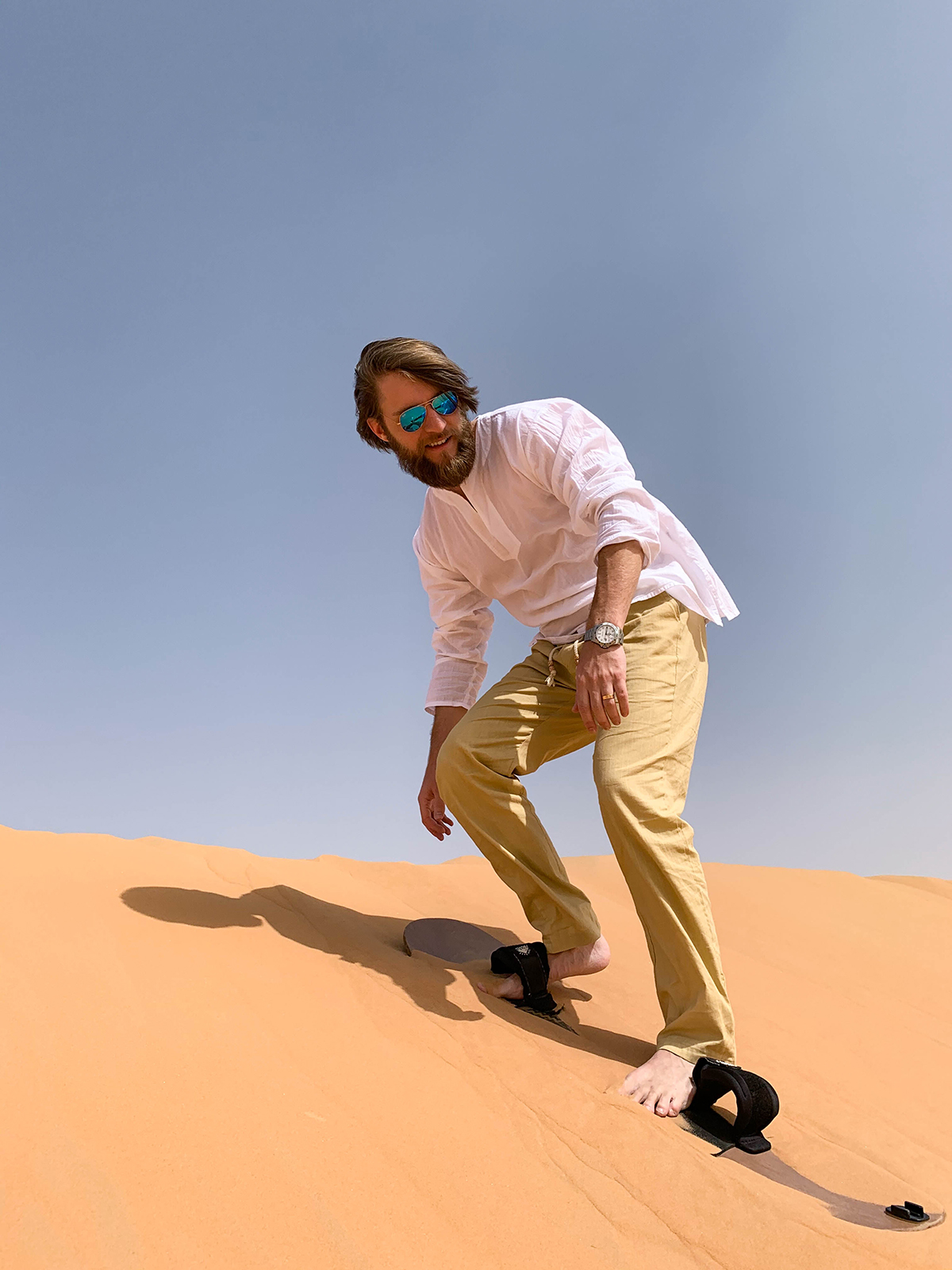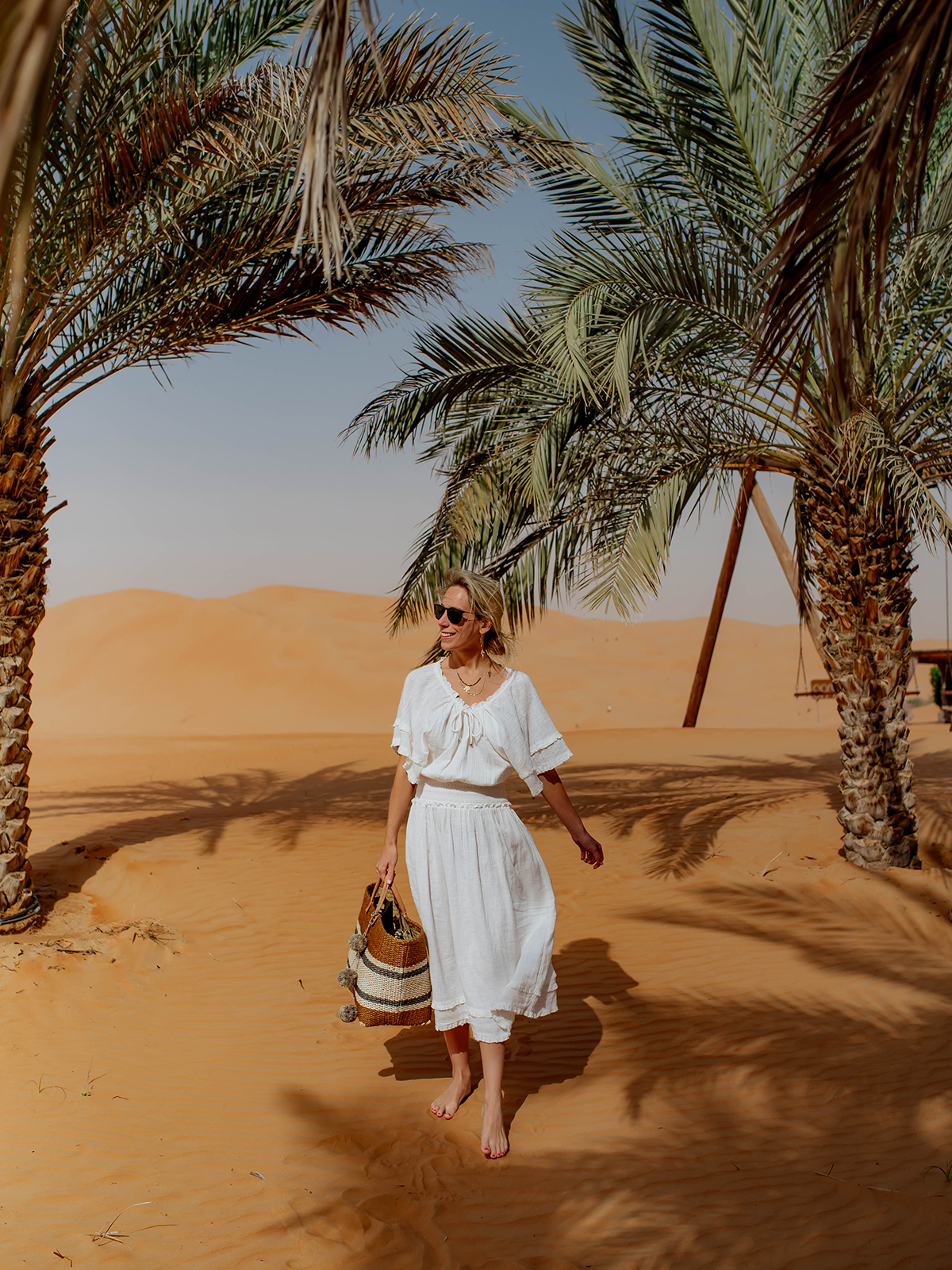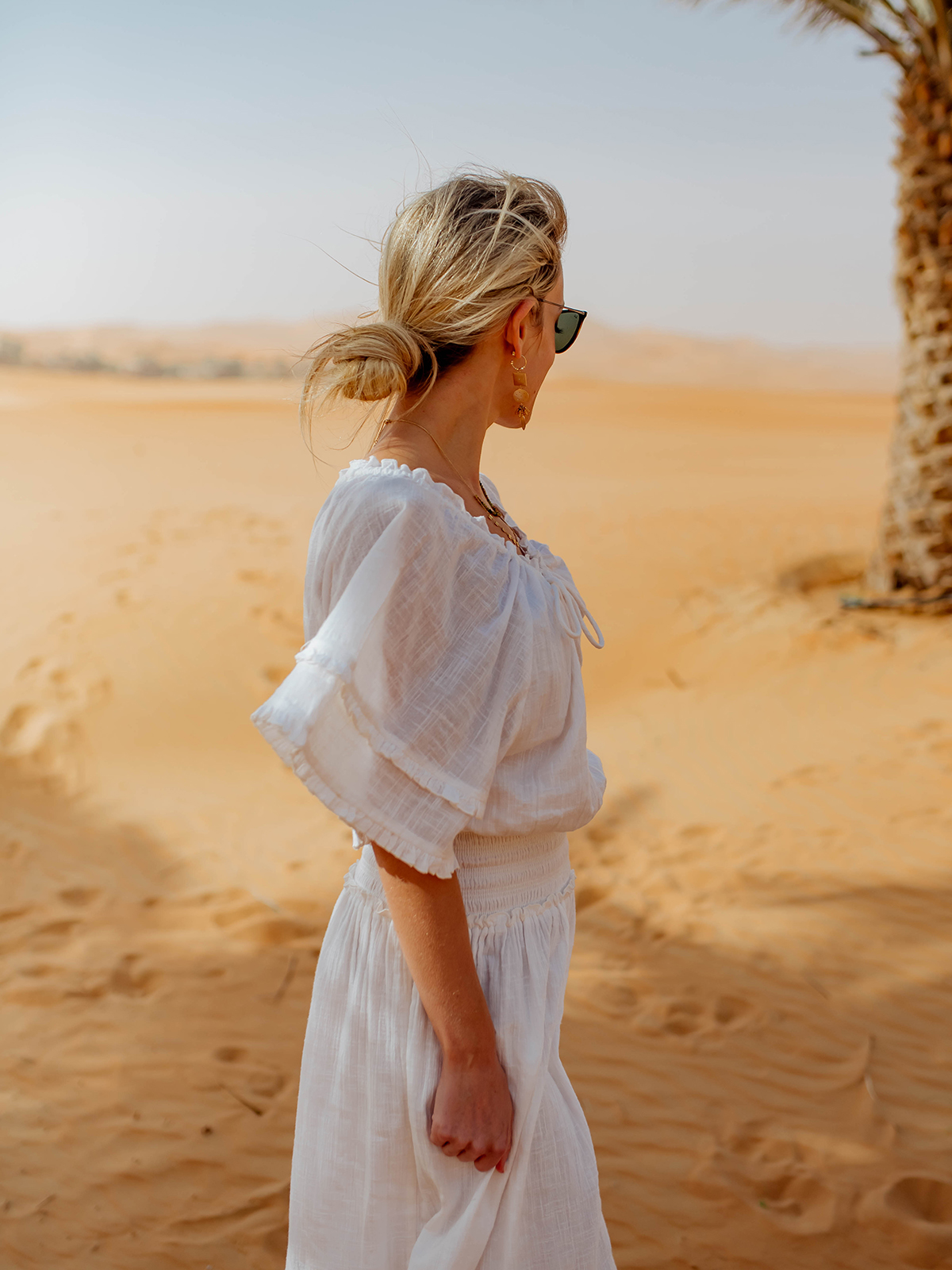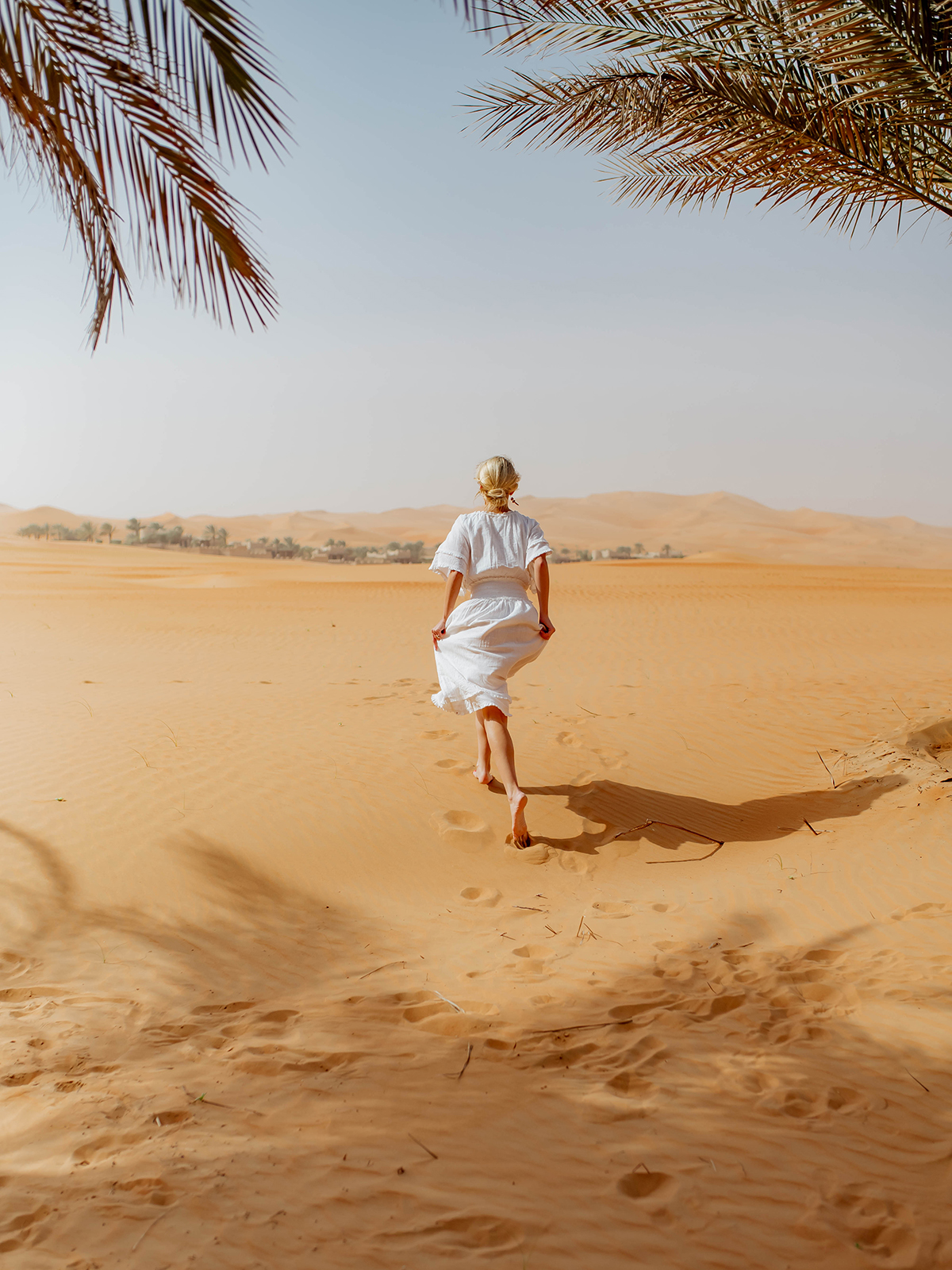 OUTFIT DETAILS // Anthropologie White Dress | Statement Earrings | Layered Necklace | Woven Tote | Sunglasses
United Arab Emirates Travel Guide | 5 Day Desert Itinerary
And that's exactly what we did! Nick actually planned this entire part of our honeymoon himself and did an excellent job. I was so impressed! We stayed at Qasr Al Sarab Desert Resort by Anantara and loved it. Truly one of the most beautiful hotel properties I've ever experienced. I felt like I was in a real life Aladdin!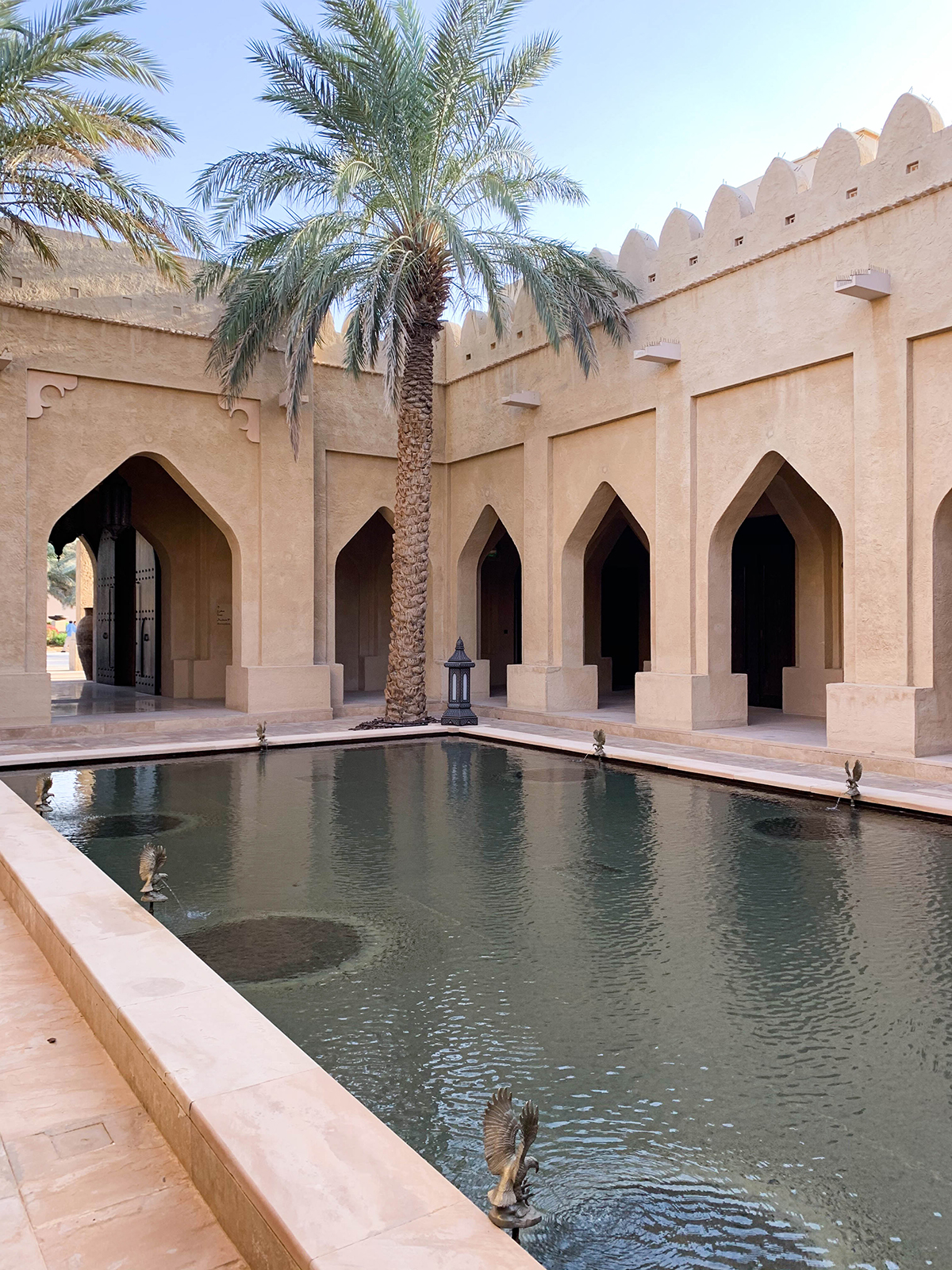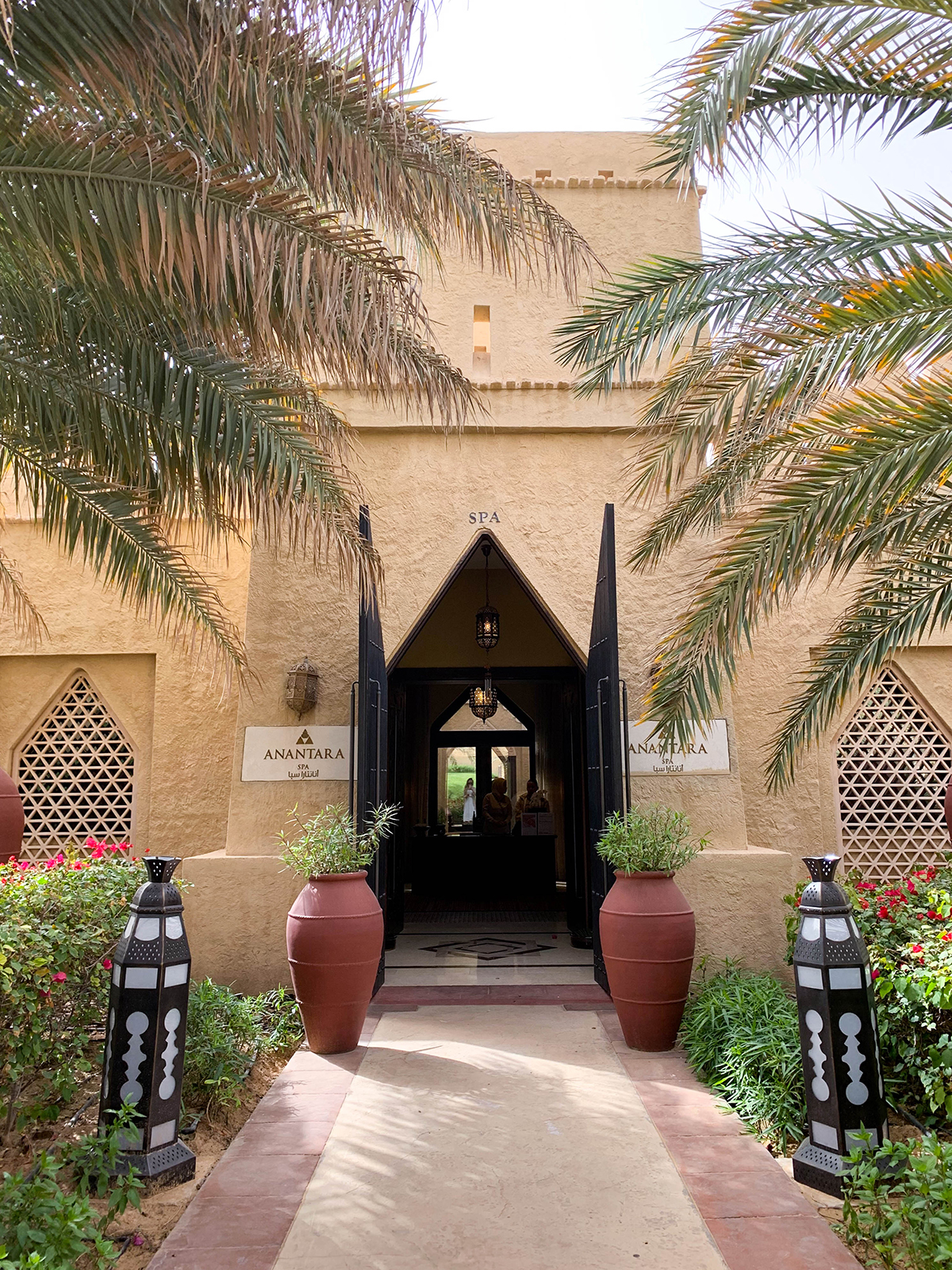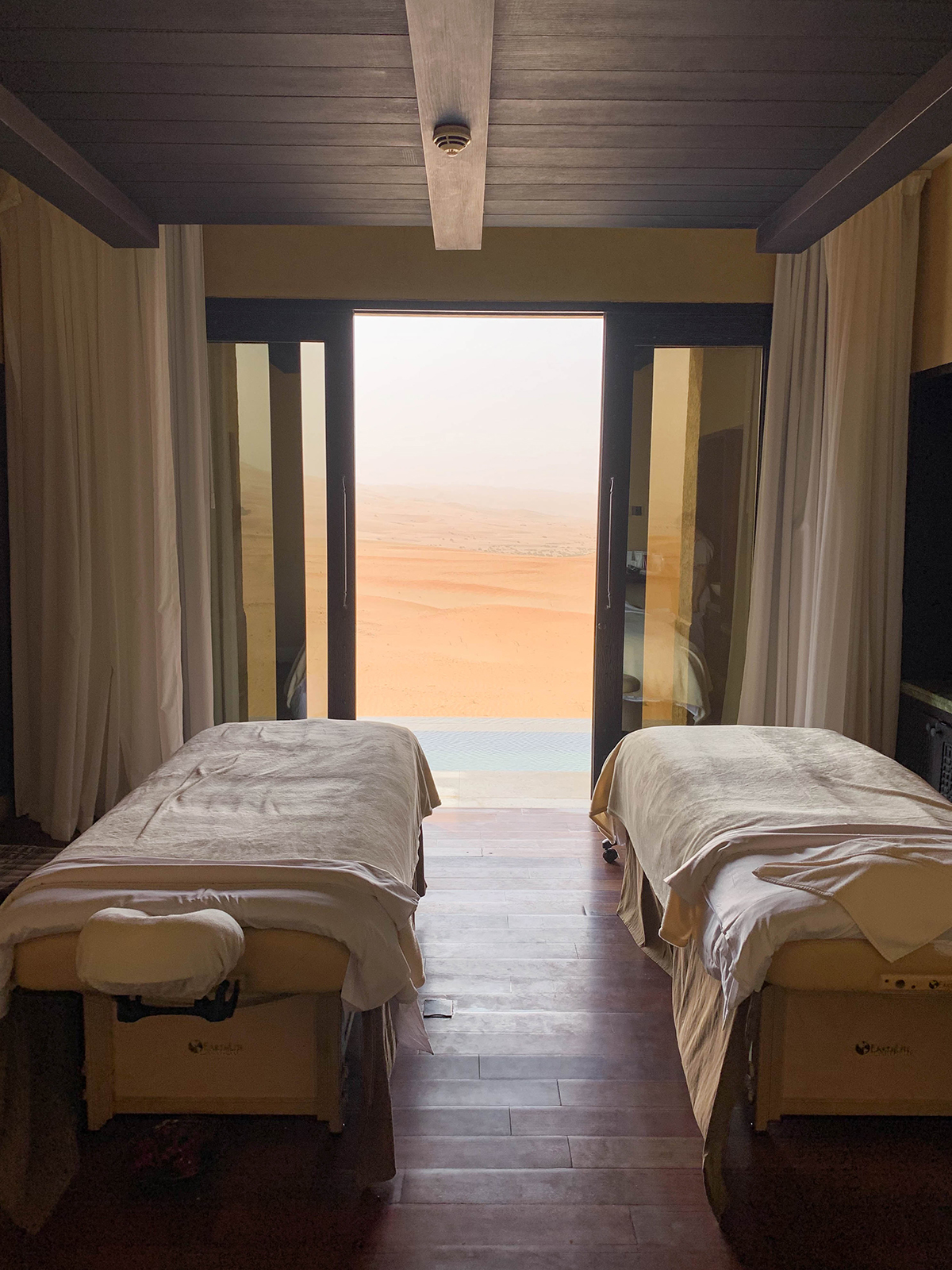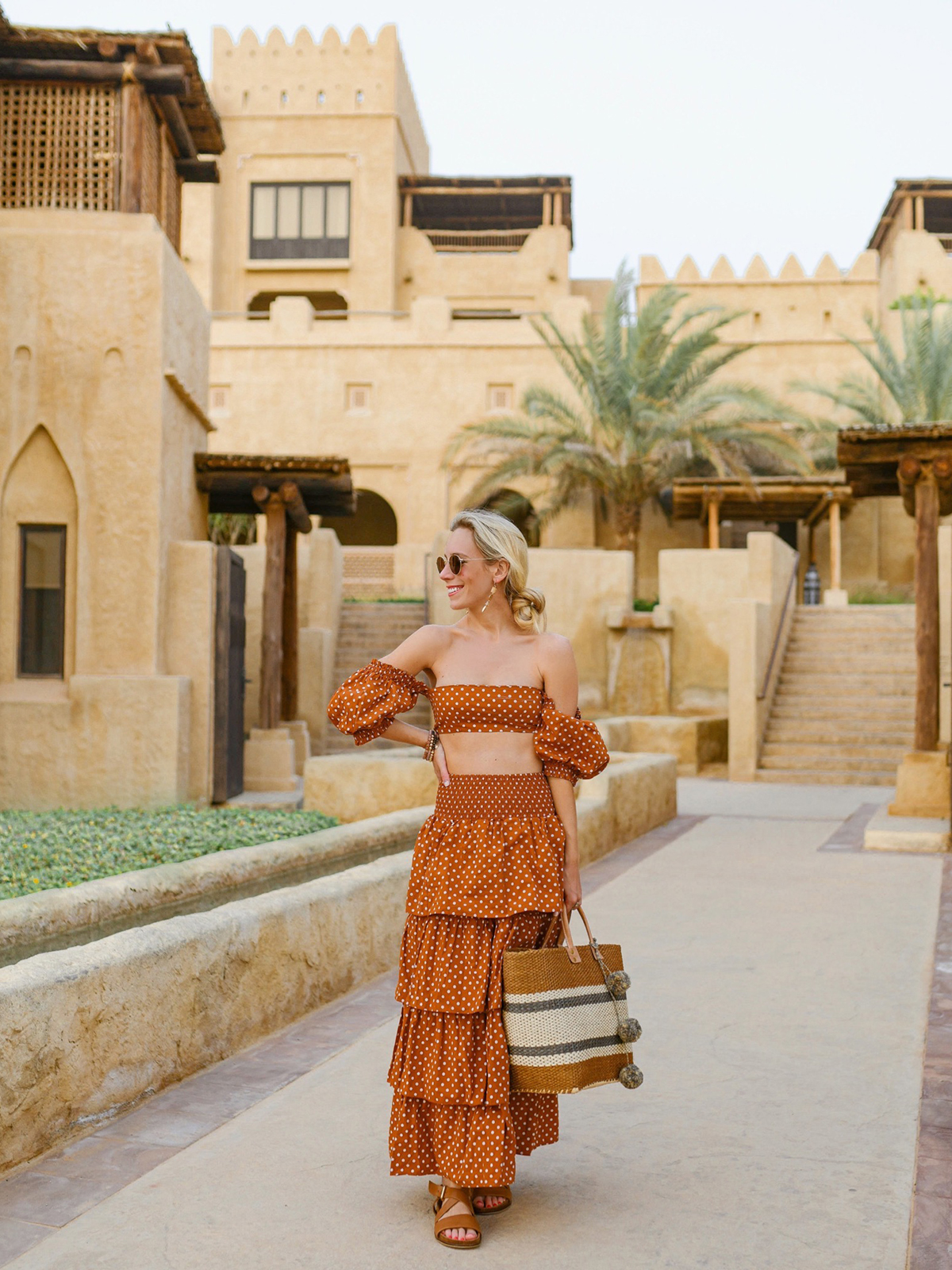 OUTFIT DETAILS // Polka Dot Crop Top | Maxi Skirt | Beaded Bracelet | Statement Earrings | Woven Tote | Sunglasses | Sandals
It takes about 3 hours to drive to Qasr Al Sarab from Dubai (1.5 if you're coming from Abu Dhabi.) We set up a private car shuttle through the hotel concierge that picked us up from the Dubai airport after we landed back from Tanzania. It was a really easy drive– Nick and I both slept nearly the entire way. The roads and highways in the United Arab Emirates are all brand new and so smooth. Once we reached the desert the views from the car window were incredible too! All rolling dunes of sand.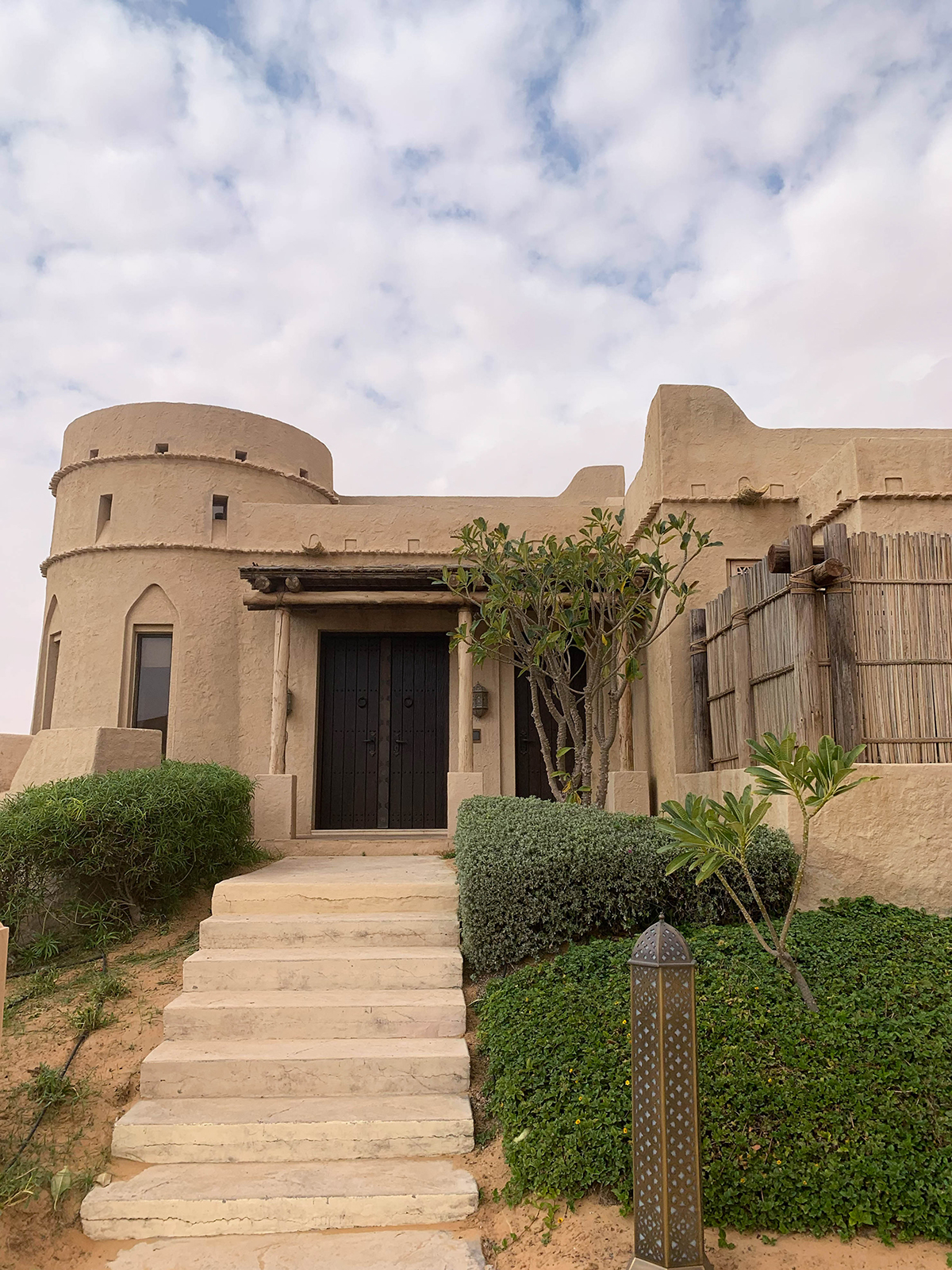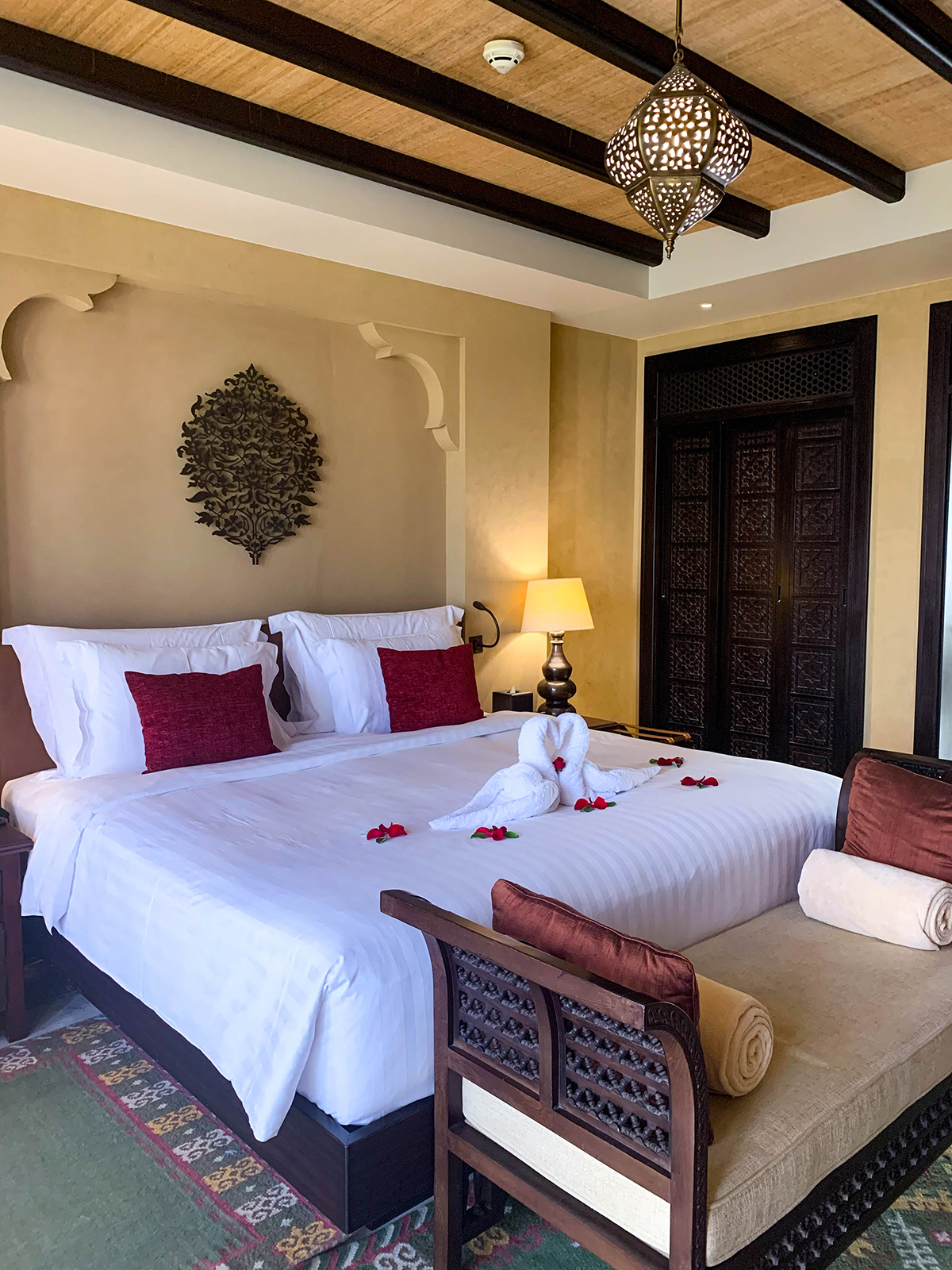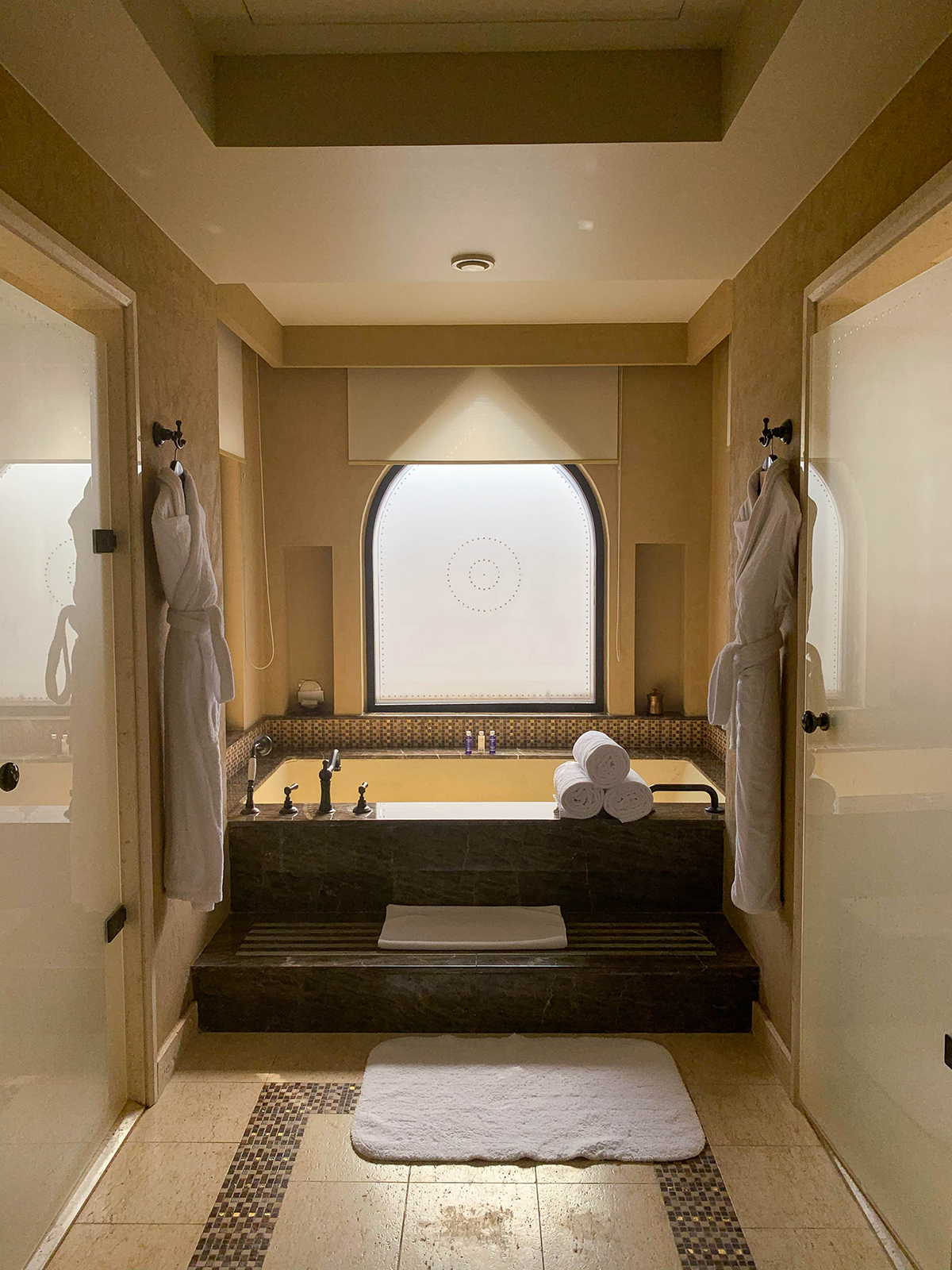 We splurged on a One Bedroom Pool Villa Room because we figured why not? It was gorgeous and felt like our own little luxury cottage out in the middle of the desert. The highlight was definitely the heated infinity pool right outside our bedroom door!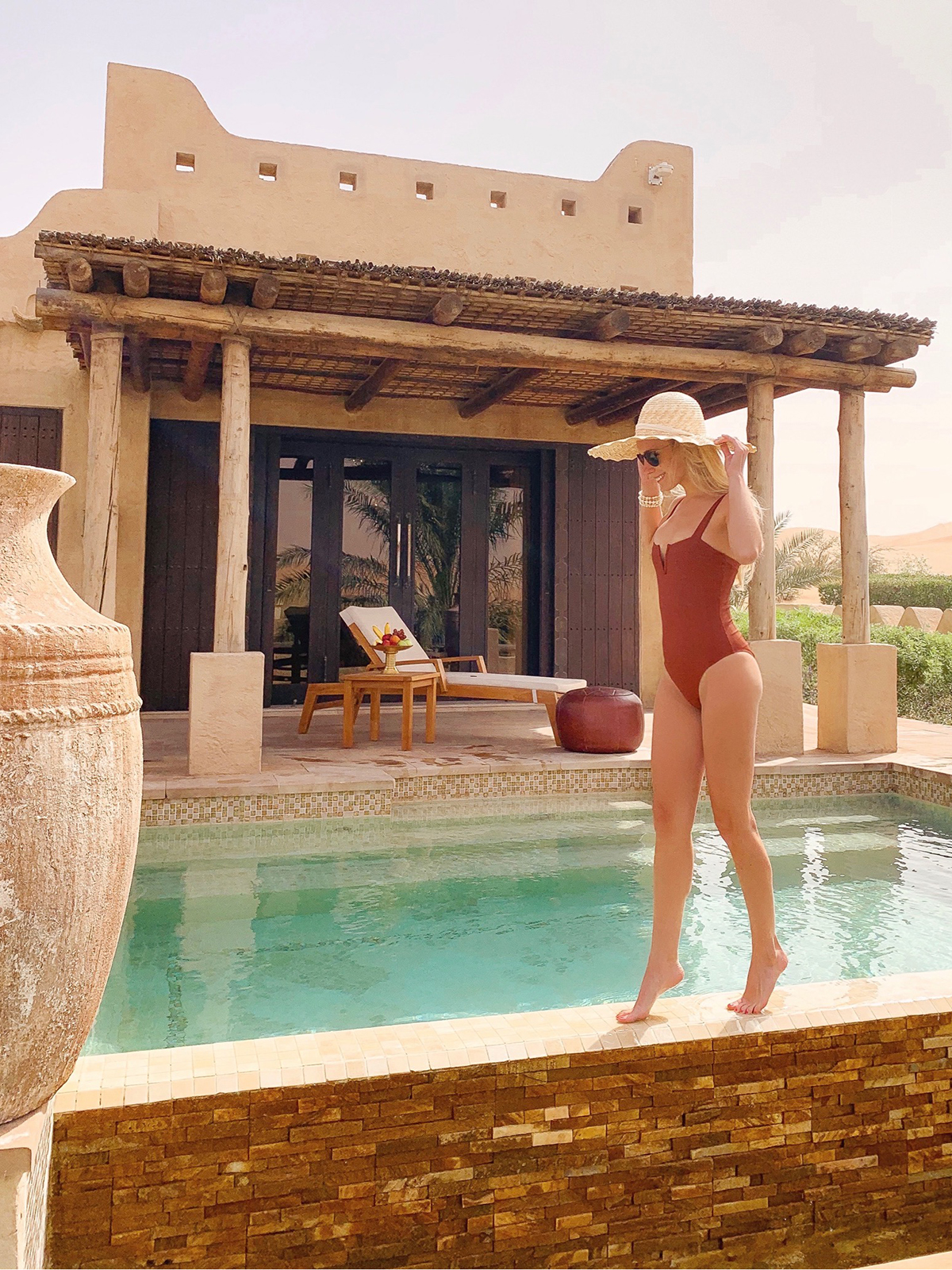 OUTFIT DETAILS // Ribbed Swimsuit | Sun Hat | Beaded Bracelet | Sunglasses
Qasr Al Sarab truly looks like an Arabian castle or a medieval fortress. The property is huge. It's the type of resort where you eat, sleep and do all your activities right on site. You're so far out in the middle of the desert that it's very much a private oasis feel. It's very much the type of destination to go to if you're looking to escape and relax.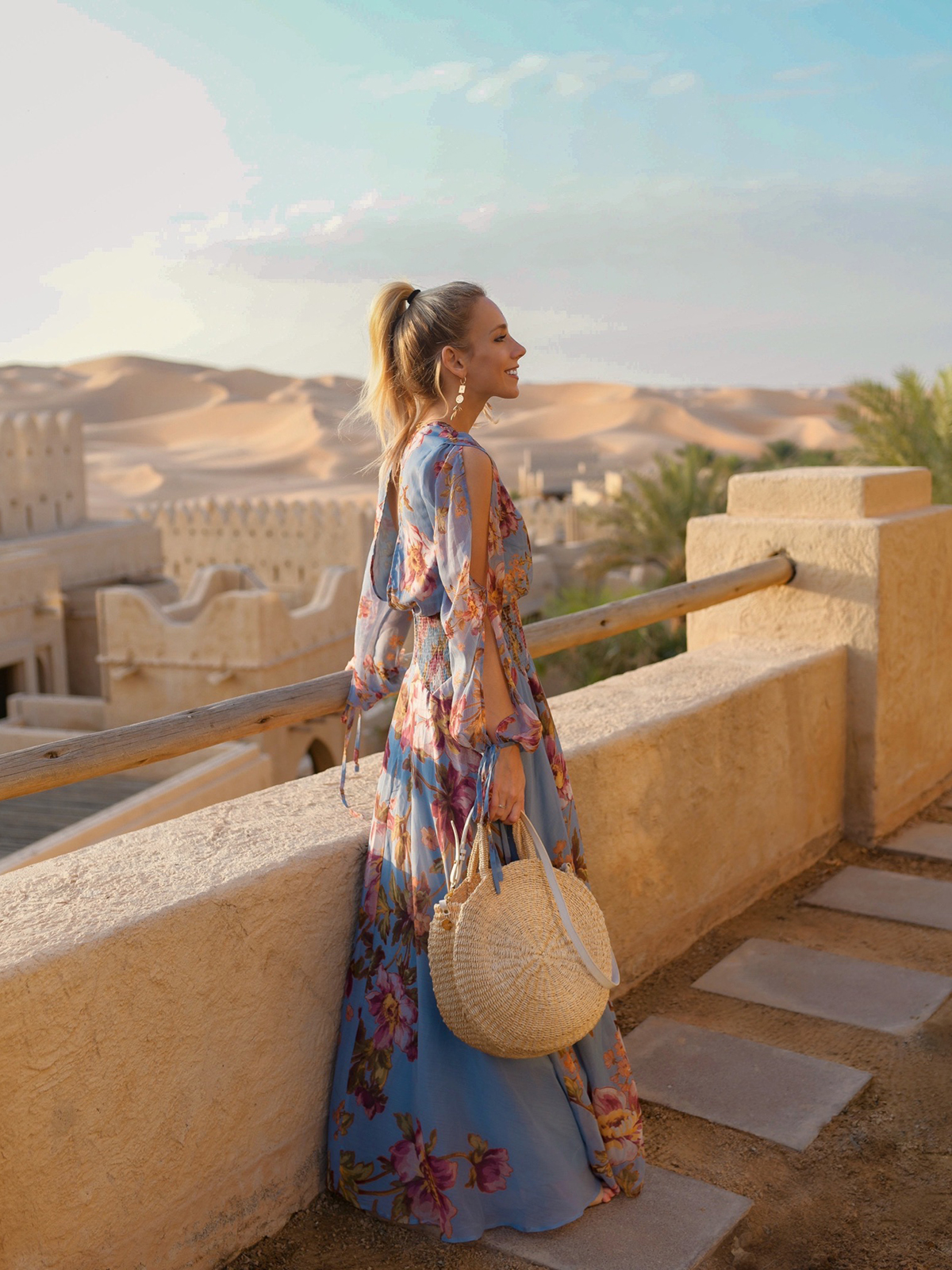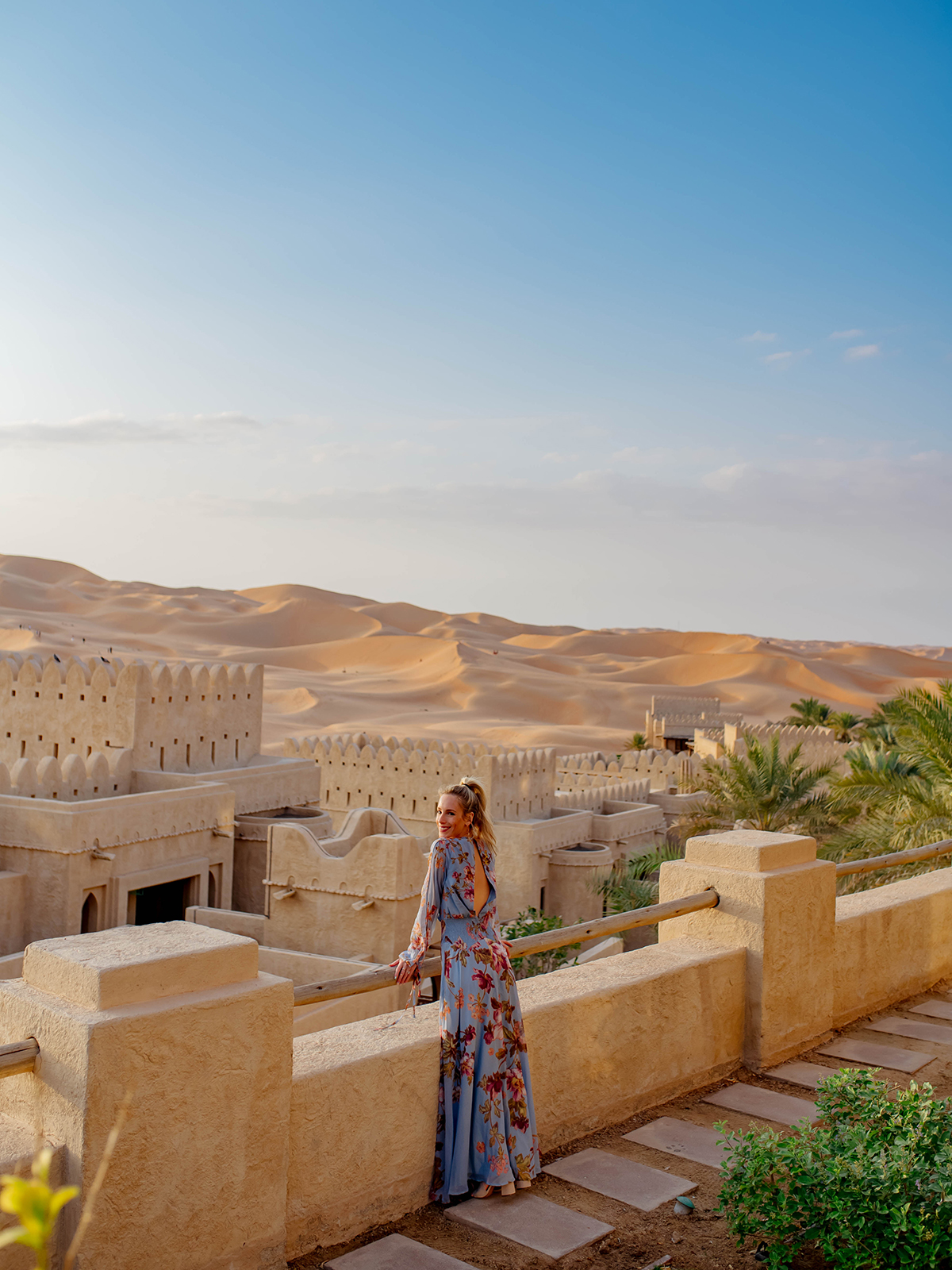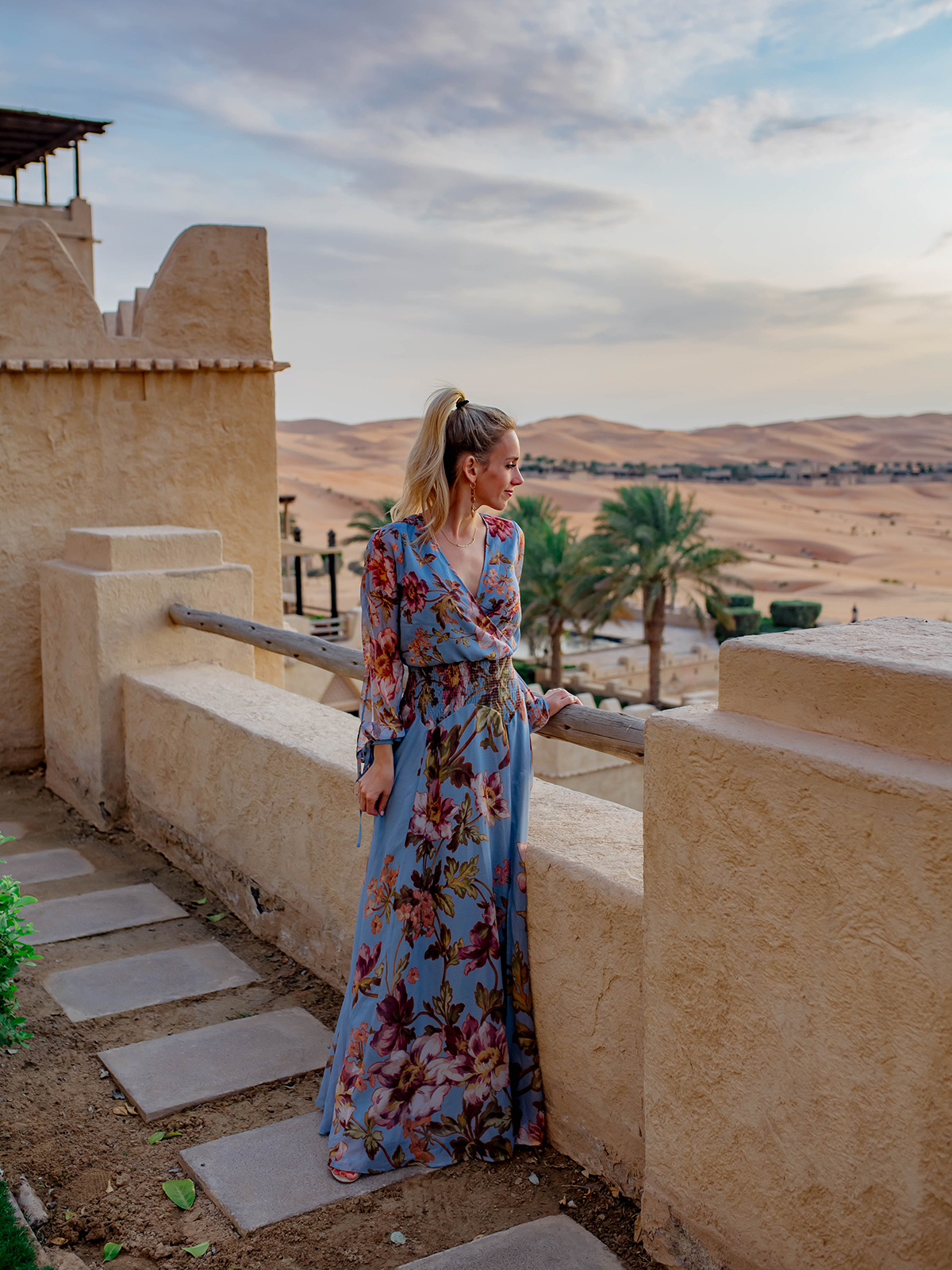 OUTFIT DETAILS // Floral Maxi Dress | Statement Earrings | Woven Tote | Gold Necklace
That said, it is a big resort with hundreds of rooms. If you prefer a hotel with a small private boutique vibe this isn't the place to go. The other guests were about an equal mix of couples and families. So yes this resort is kid-friendly! I was actually kinda jealous of all the cool activities and the club they have for kids on site.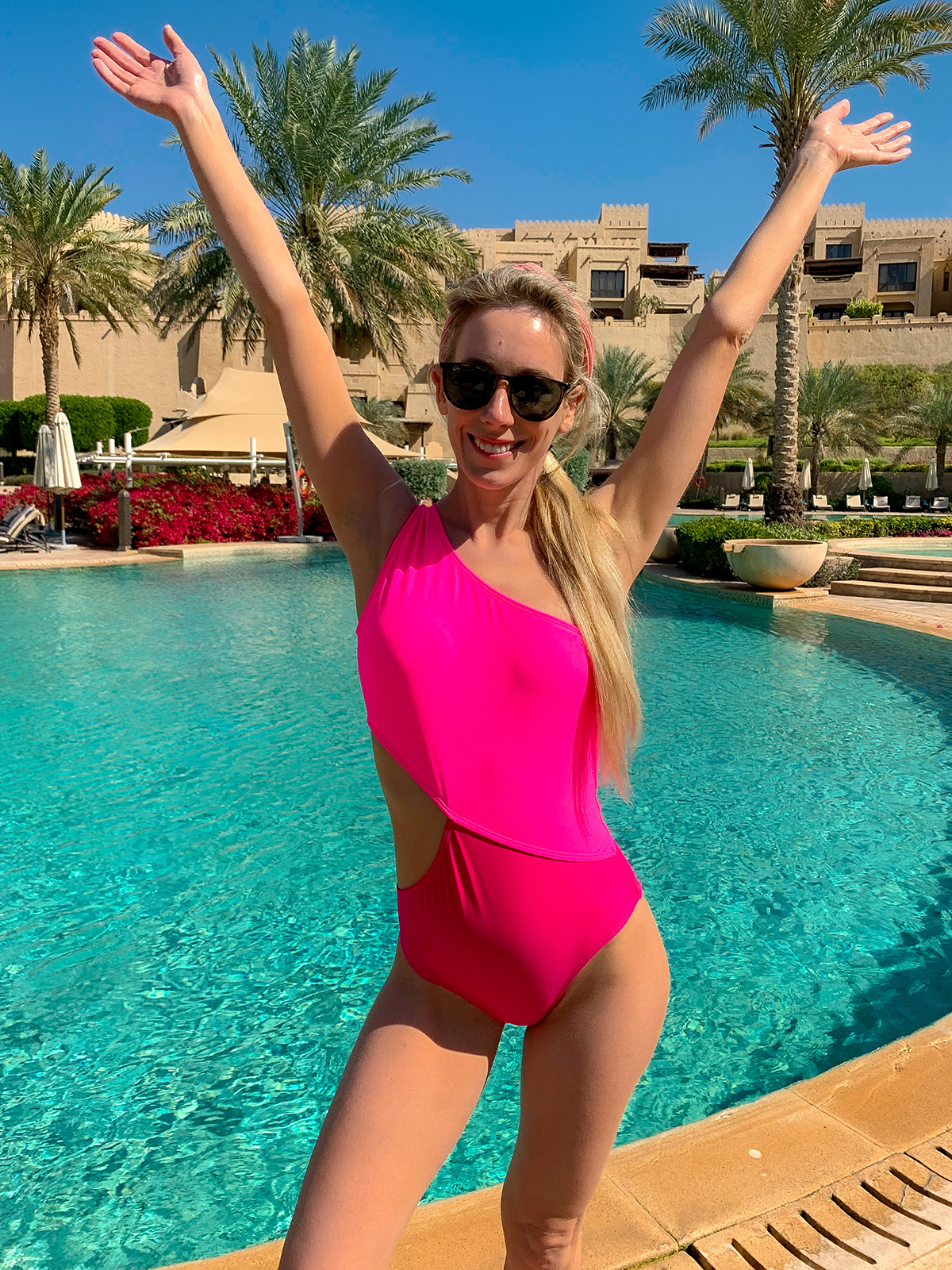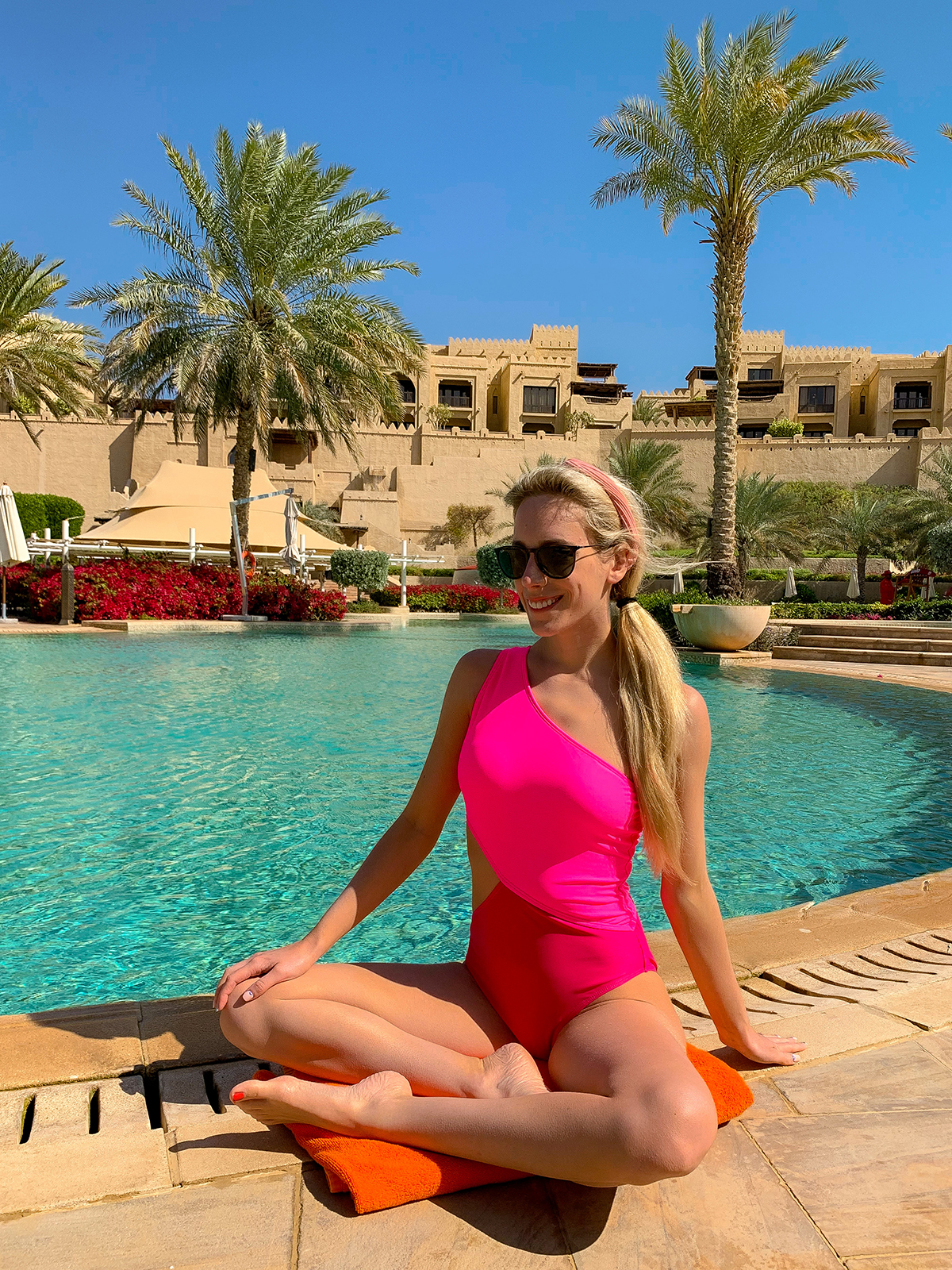 OUTFIT DETAILS // Pink One Shoulder Swimsuit (just $18!) | Headband | Sunglasses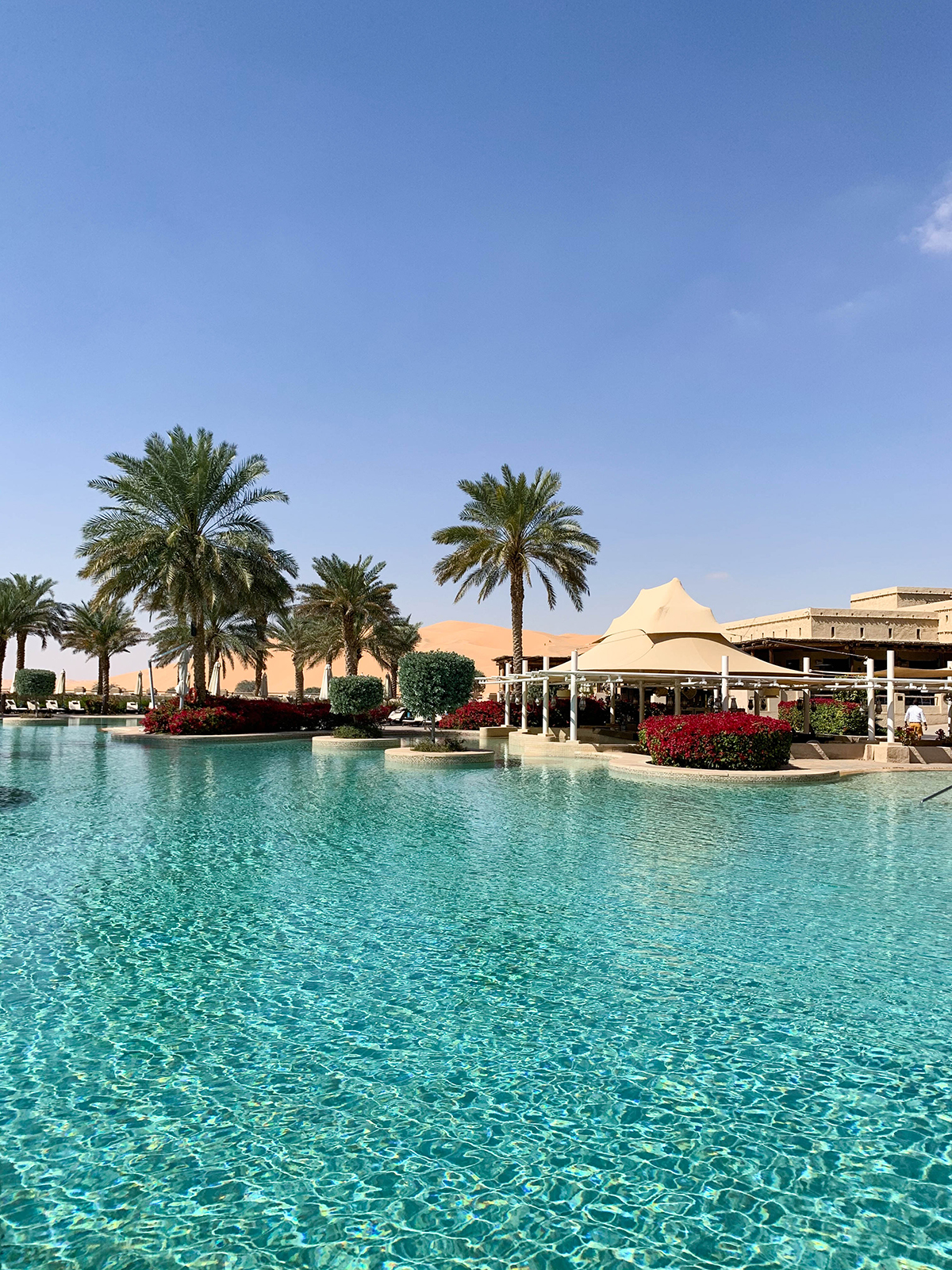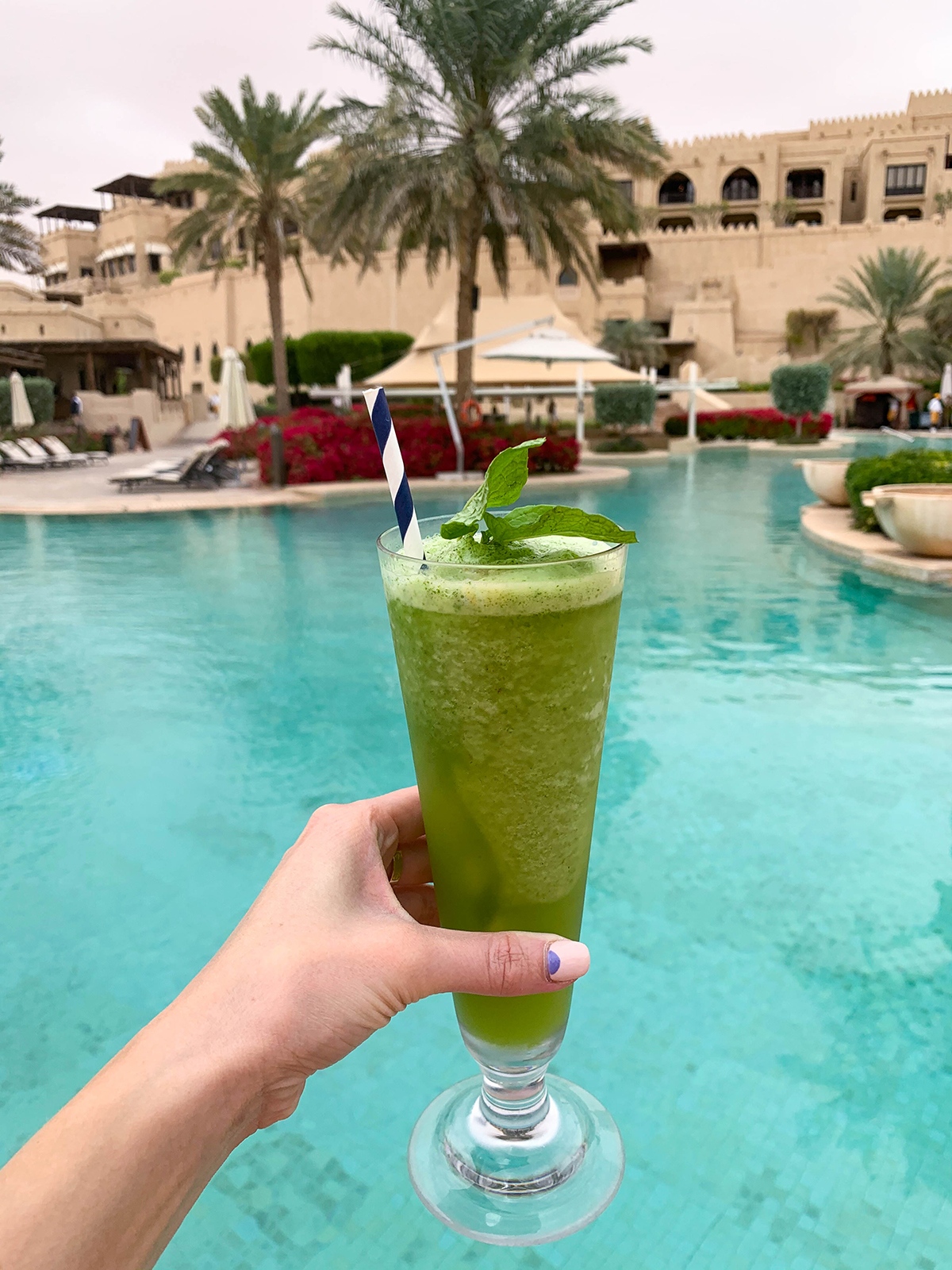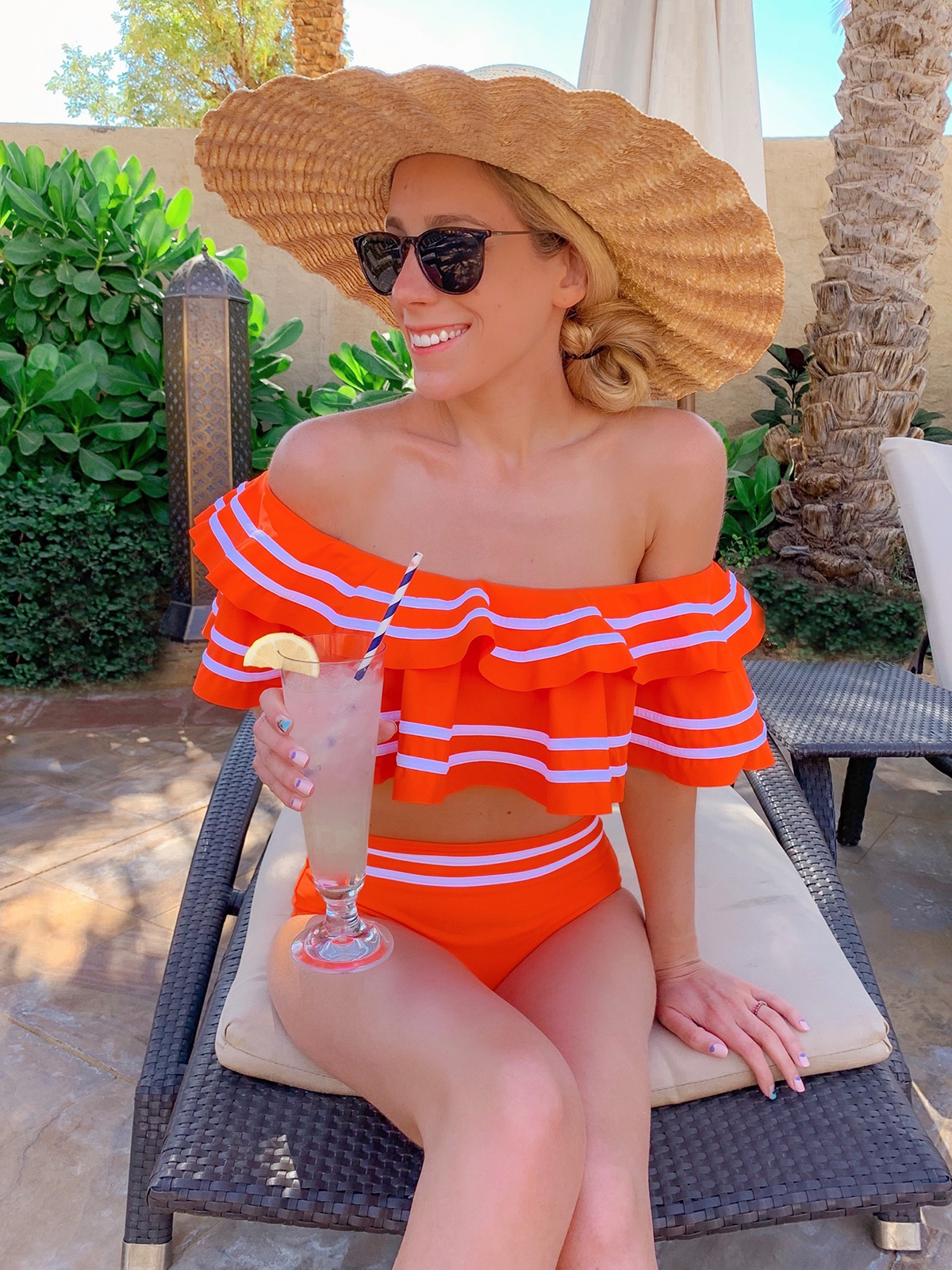 OUTFIT DETAILS // Orange Swimsuit | Sun Hat | Sunglasses
We spent the four days that we were there mainly posted up by the main resort pool or in our villa. One morning we did a sunrise dune excursion where we were driven out into the desert by a guide to enjoy Arabian coffee while watching the sun come up.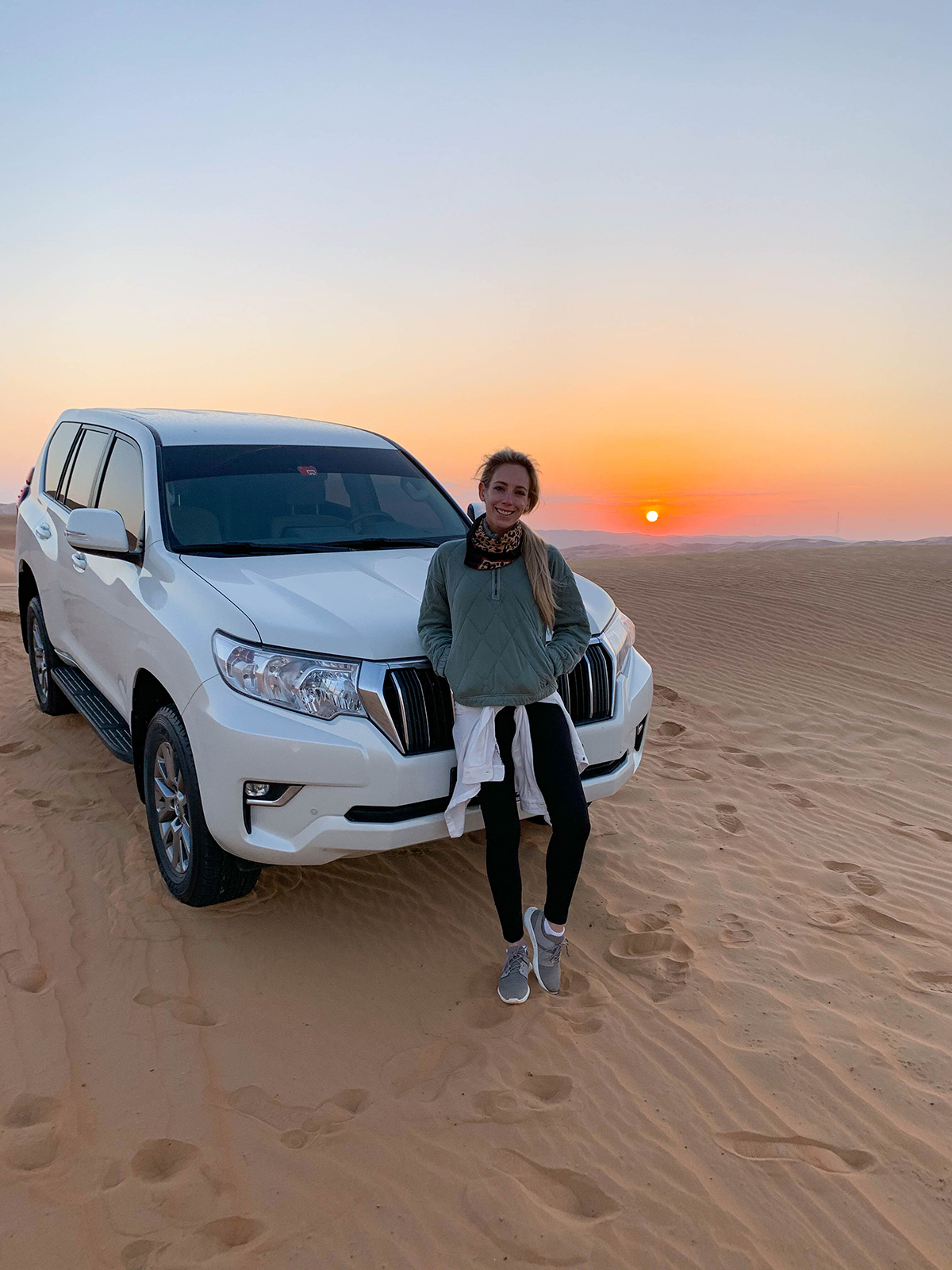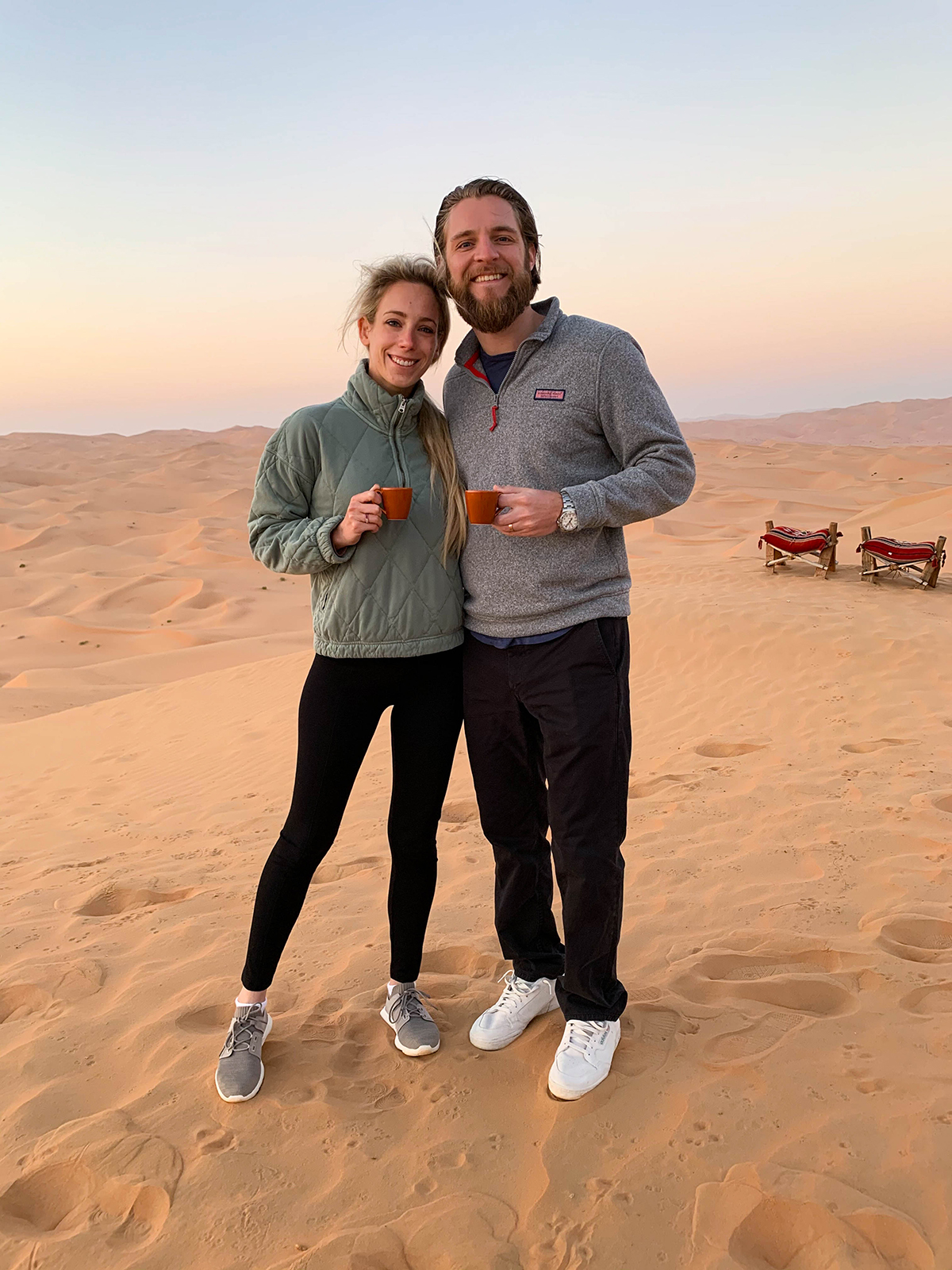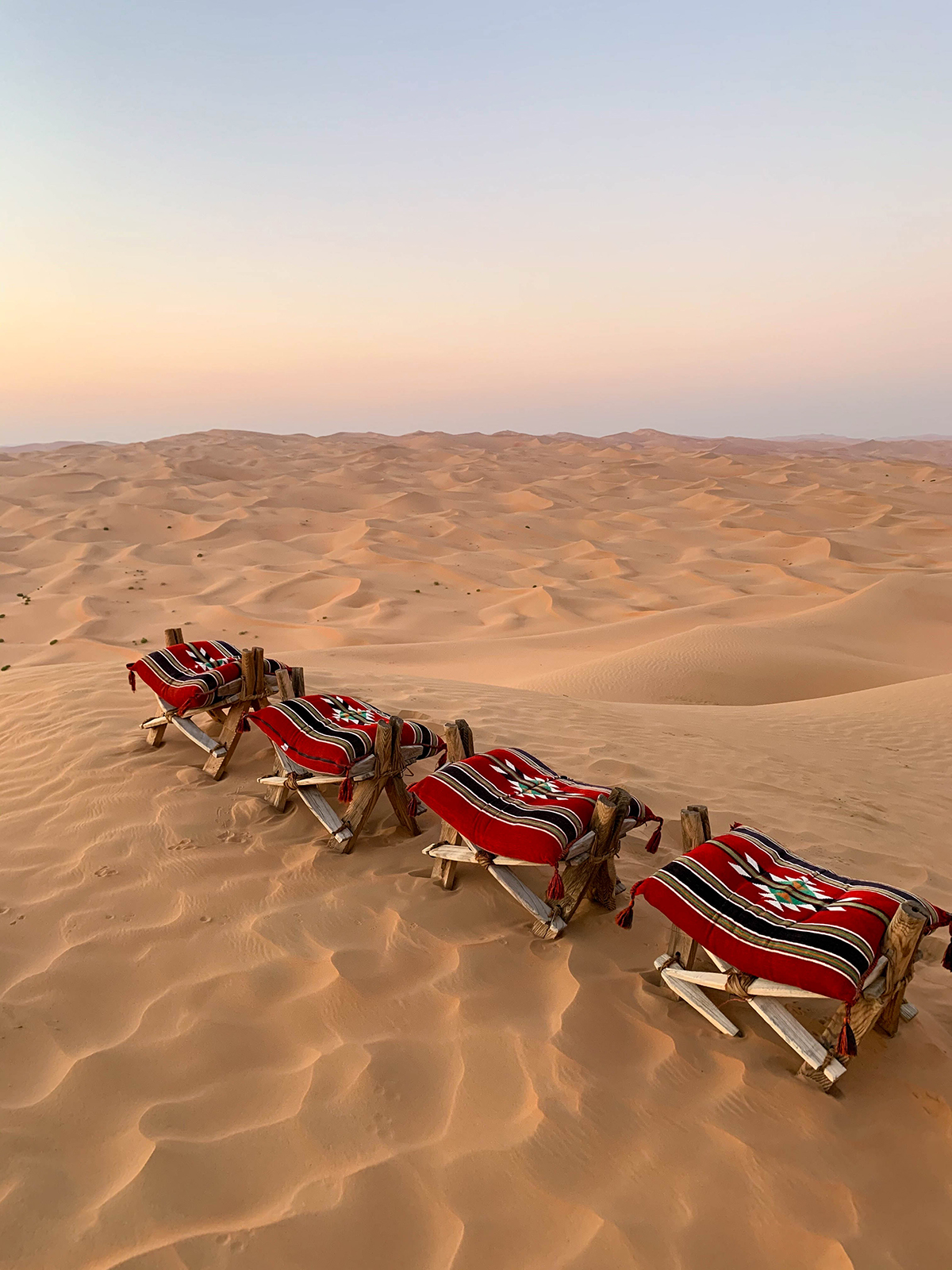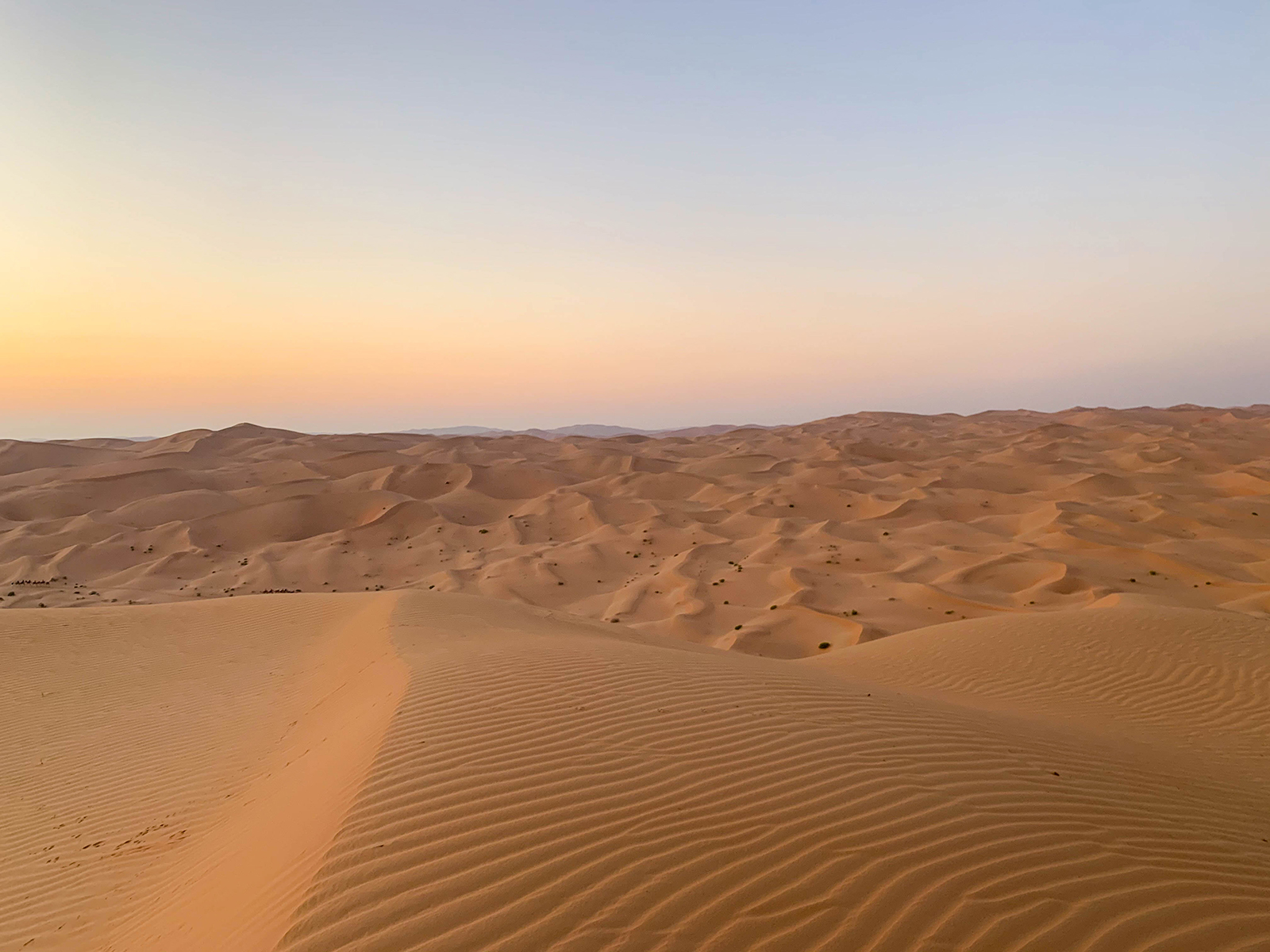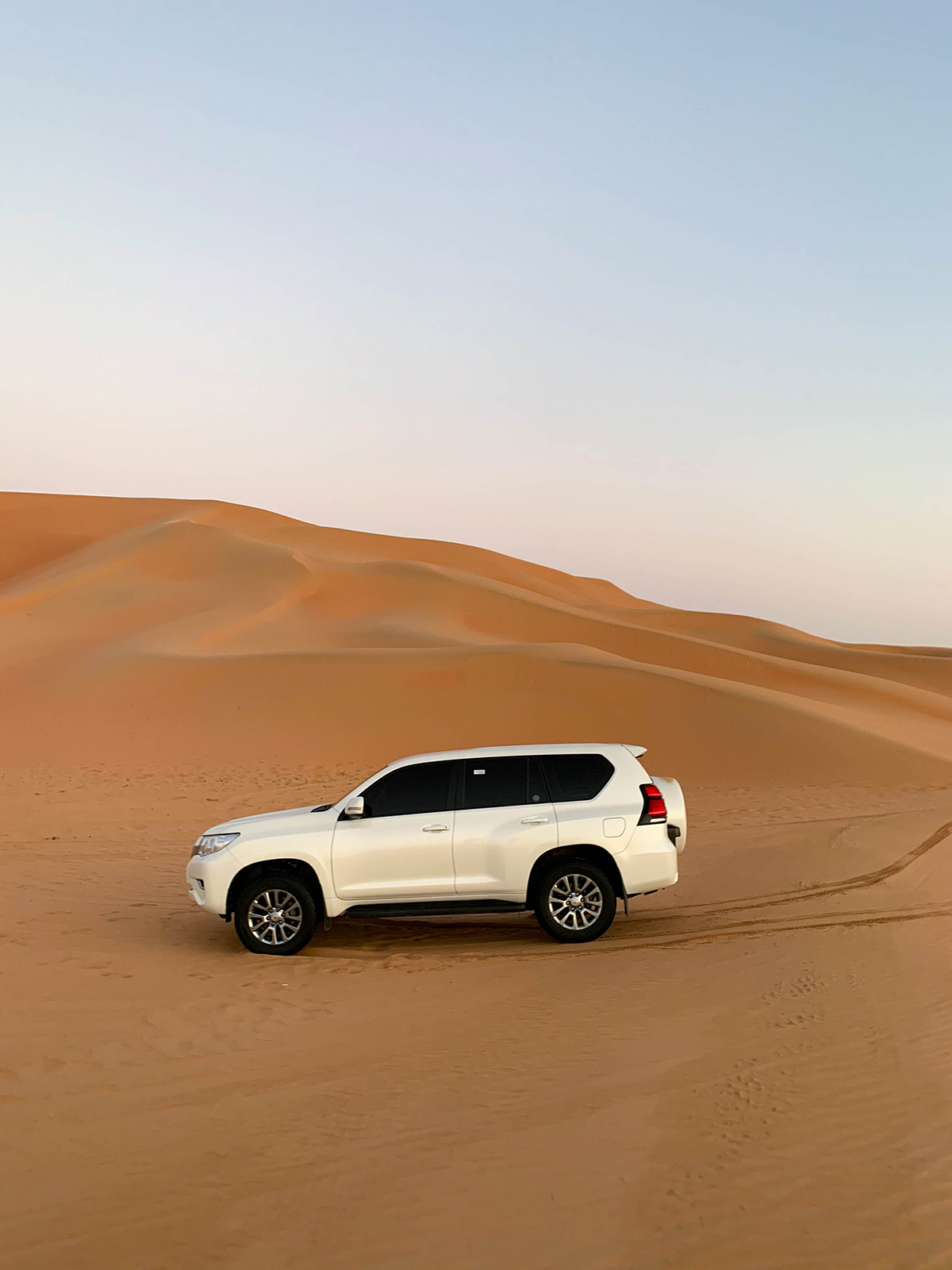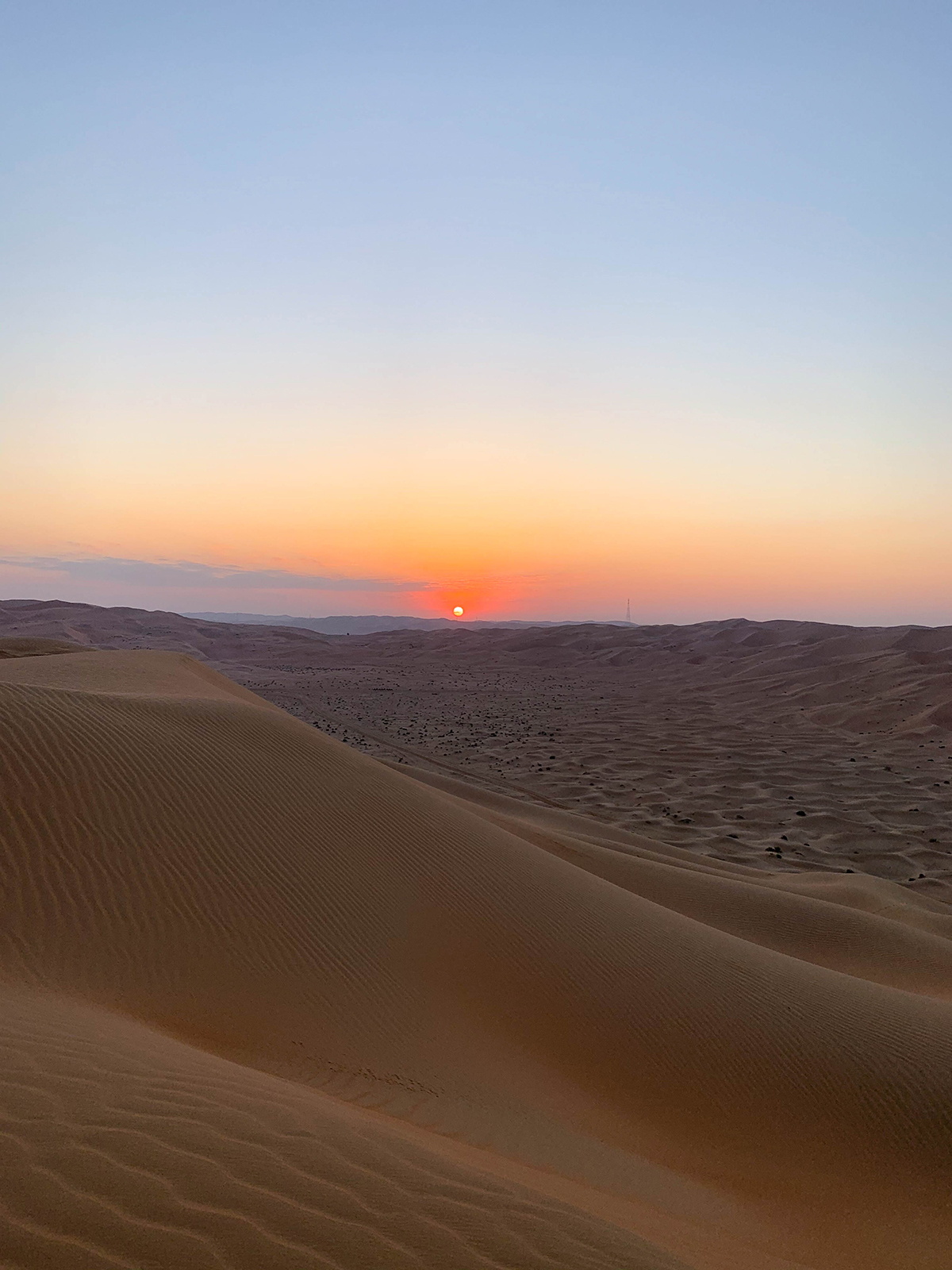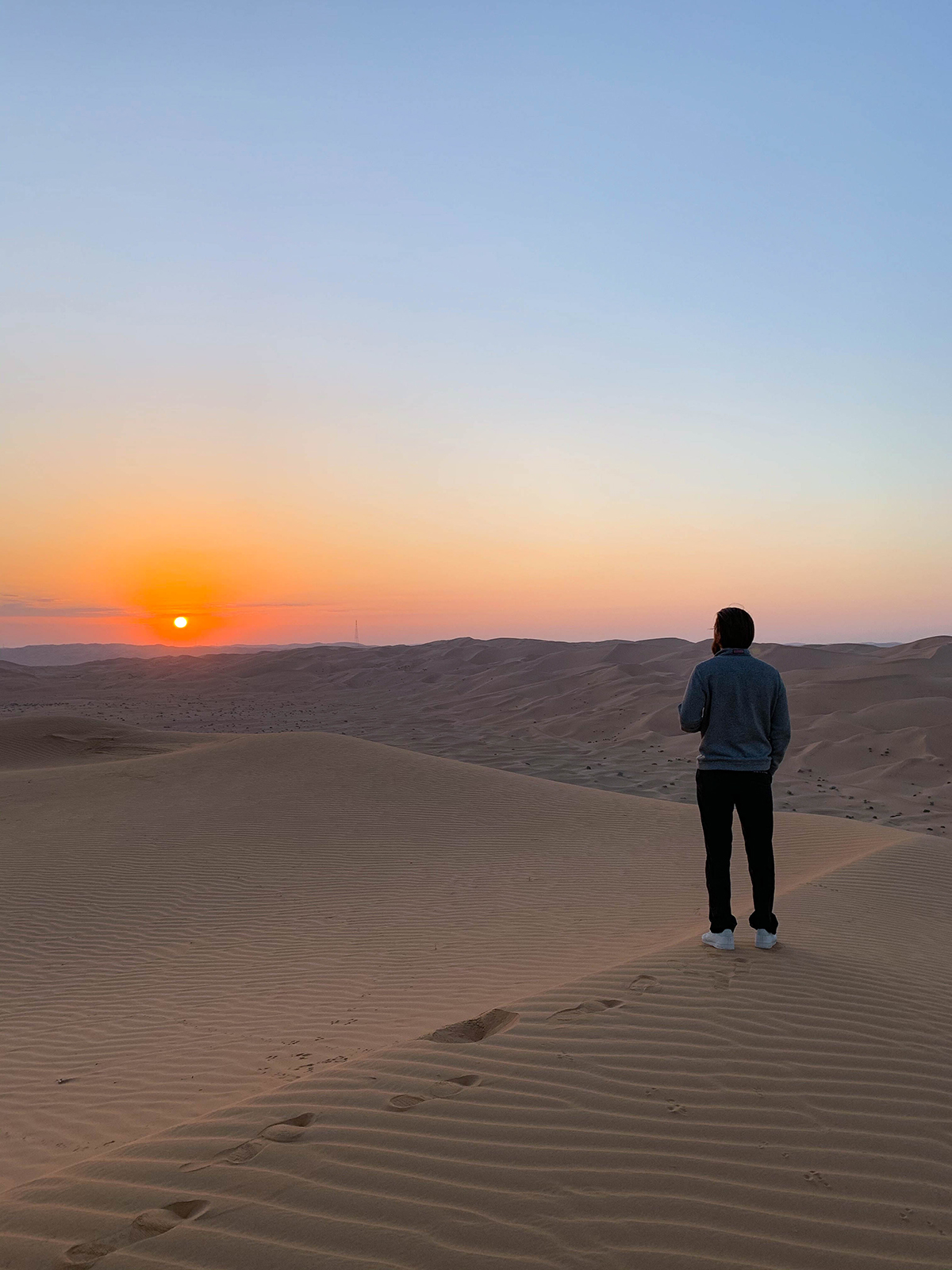 Every evening we would head to the main resort buildings where the property's 5 restaurants are located for cocktails and dinner. We tried somewhere new every night and overall were pleased with the food. I wouldn't say any of the meals were out-of-this-world memorable, but everything was very good. Breakfast was included in our room rate so we only paid extra for lunch and dinner.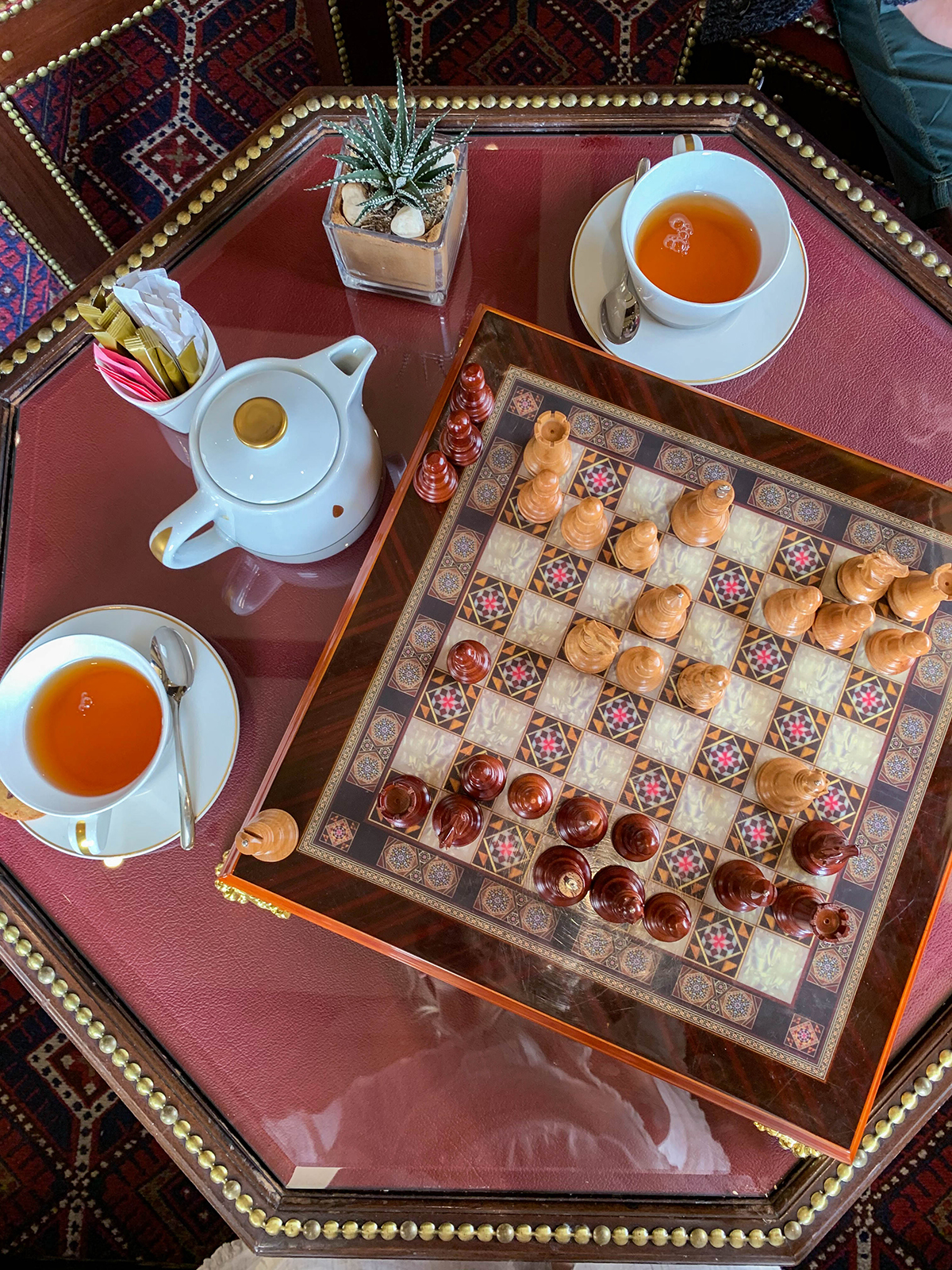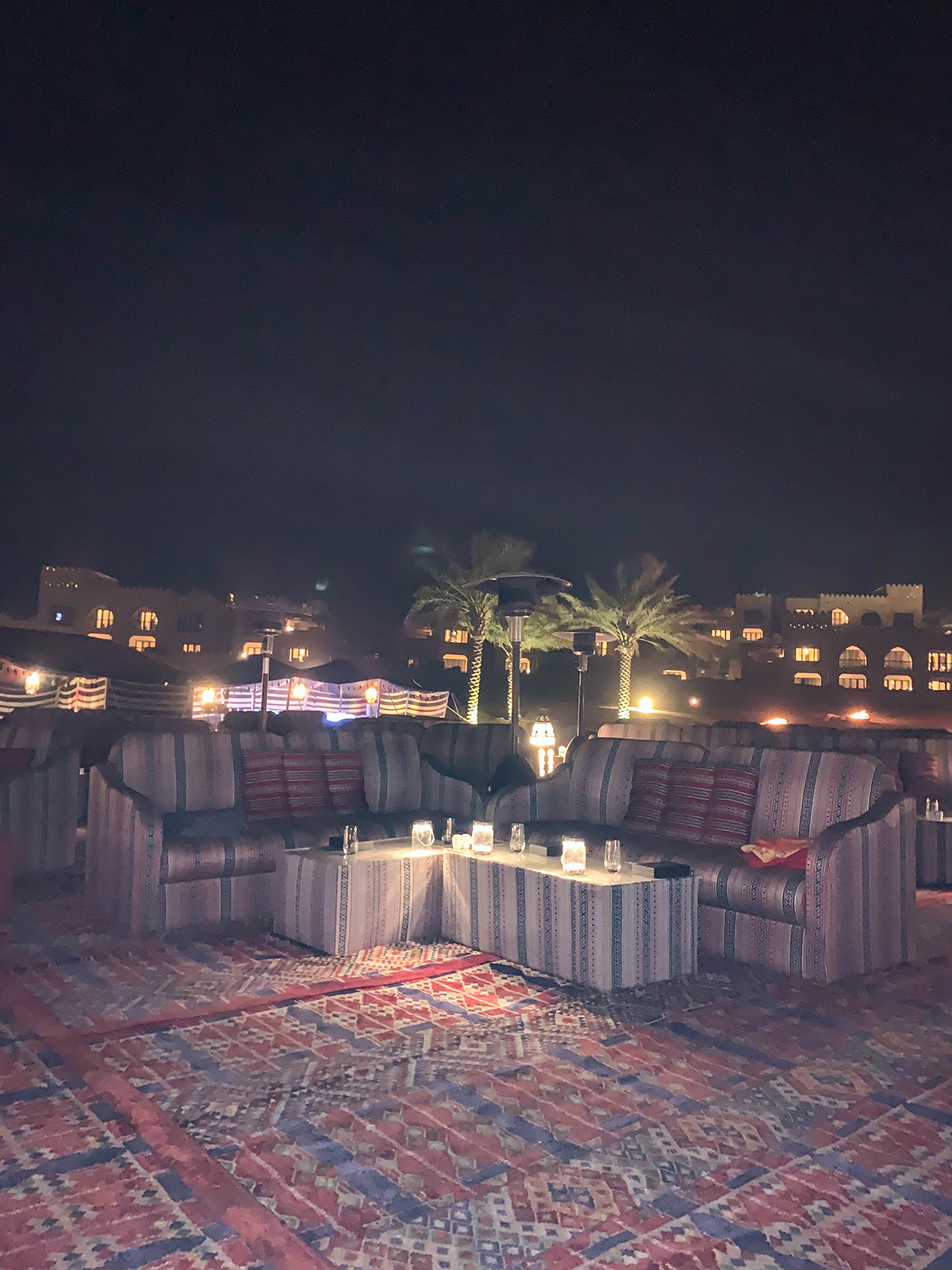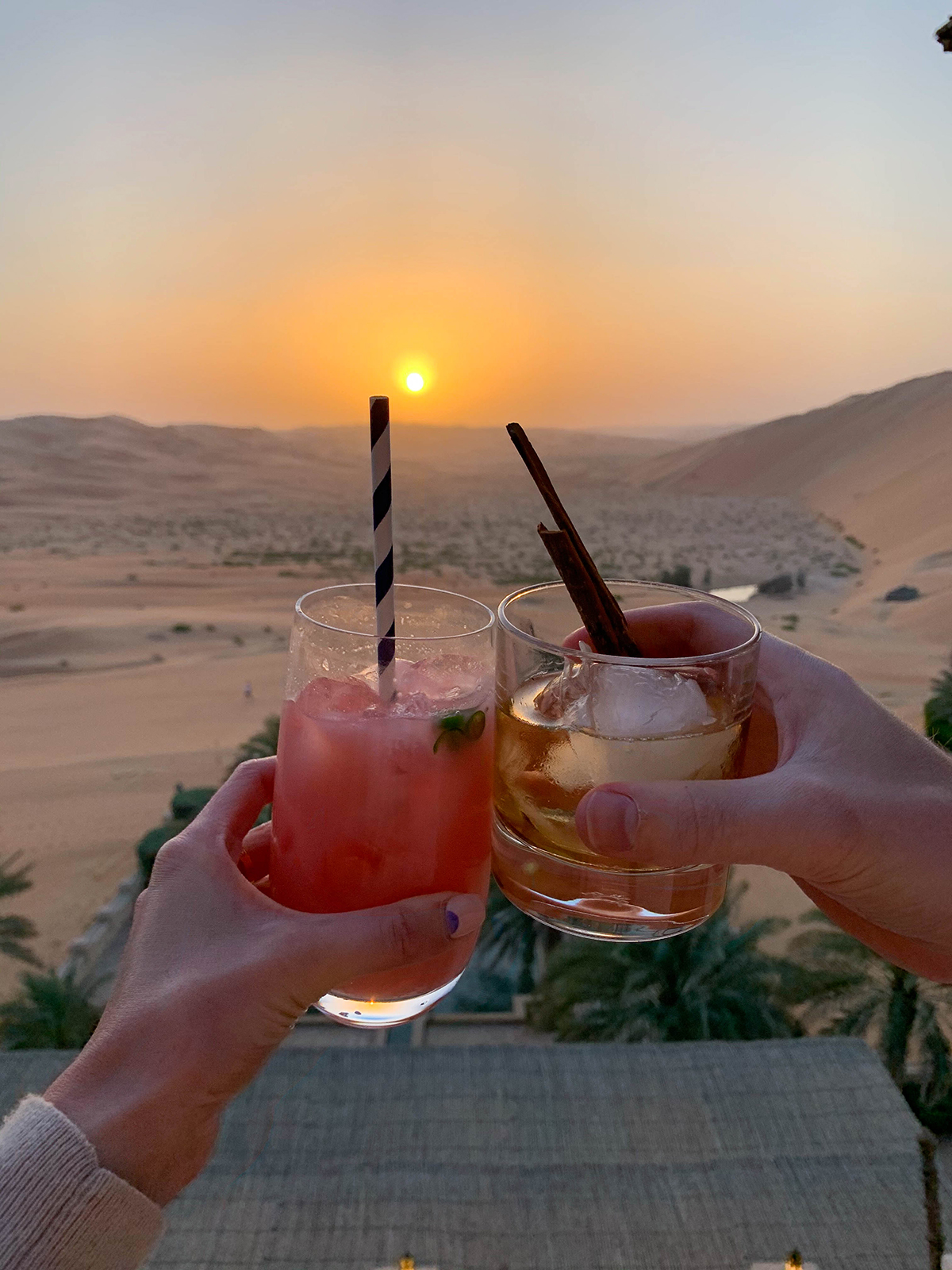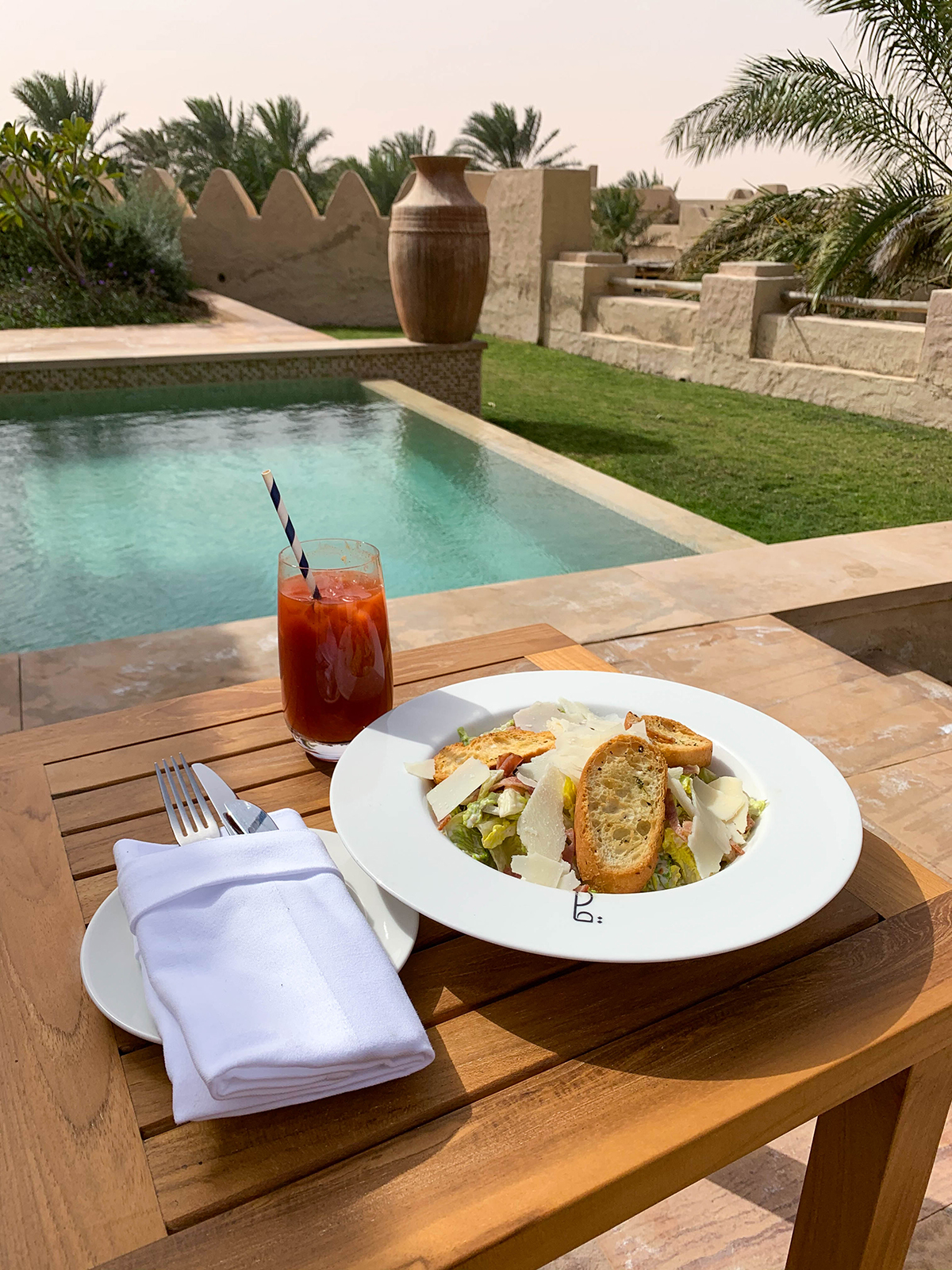 The service at Qasr Al Sarab was incredible too. All the staff was incredibly attentive as you'd expect from a 5 star resort.
So what was the weather like? January is winter in the United Arab Emirates, which means sunny skies and 75 degree temperatures. If you're planning a trip, here are a few more outfits ideas! I included one of Nick's go-to honeymoon looks as well 🙂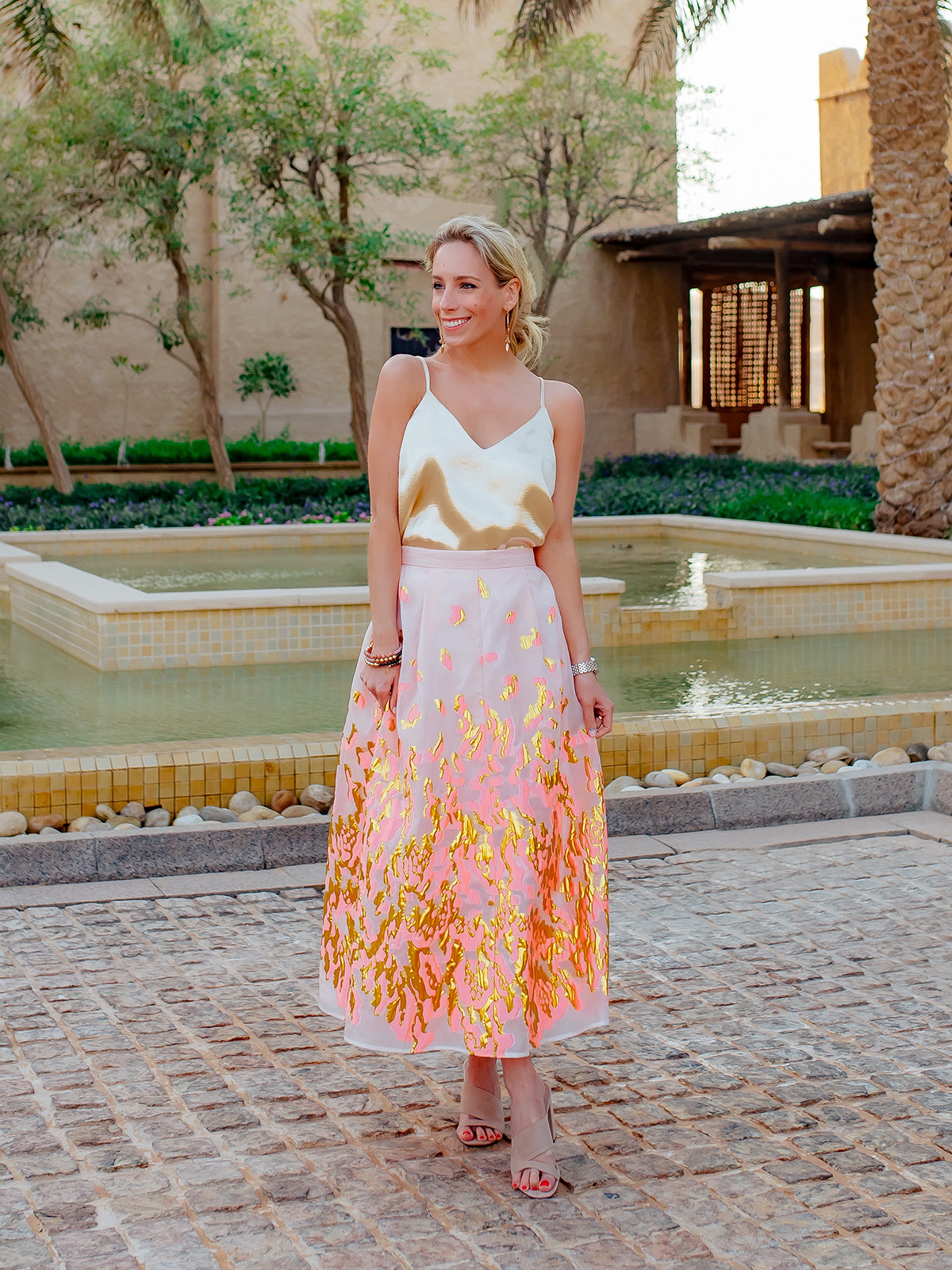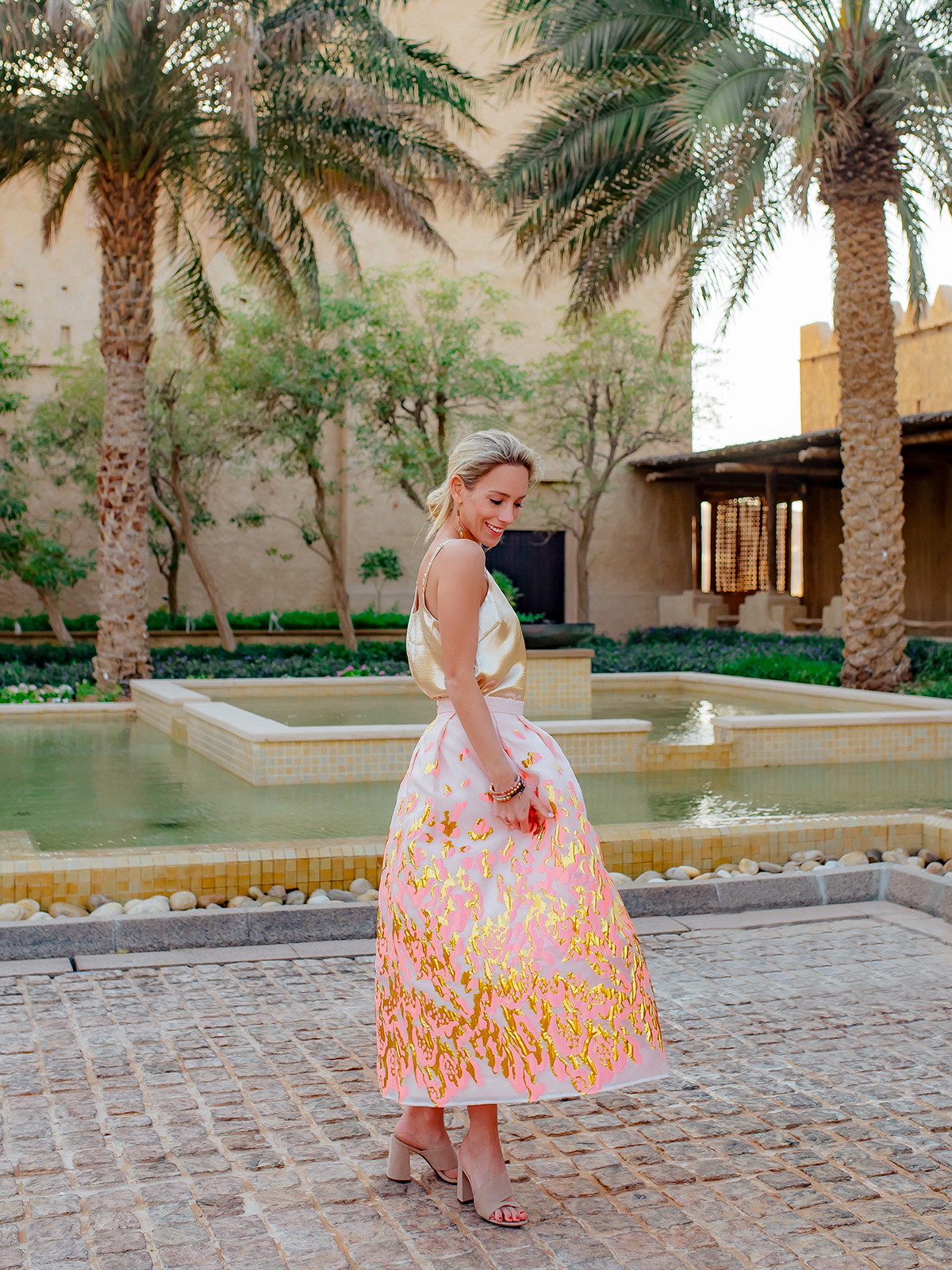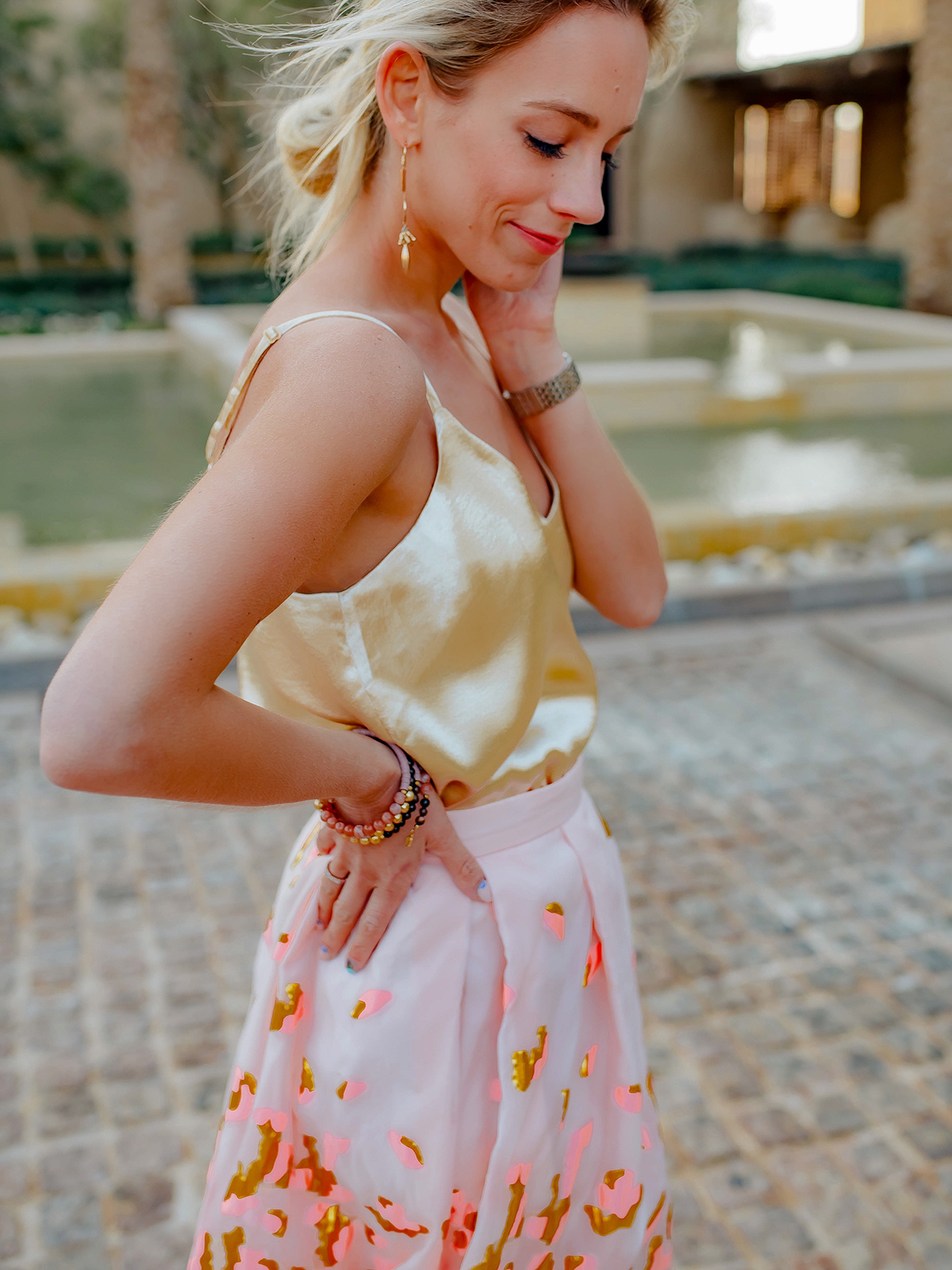 OUTFIT DETAILS // Anthropologie Maxi Skirt | V-Neck Metallic Cami | Heeled Sandals | Statement Earrings | Beaded Bracelet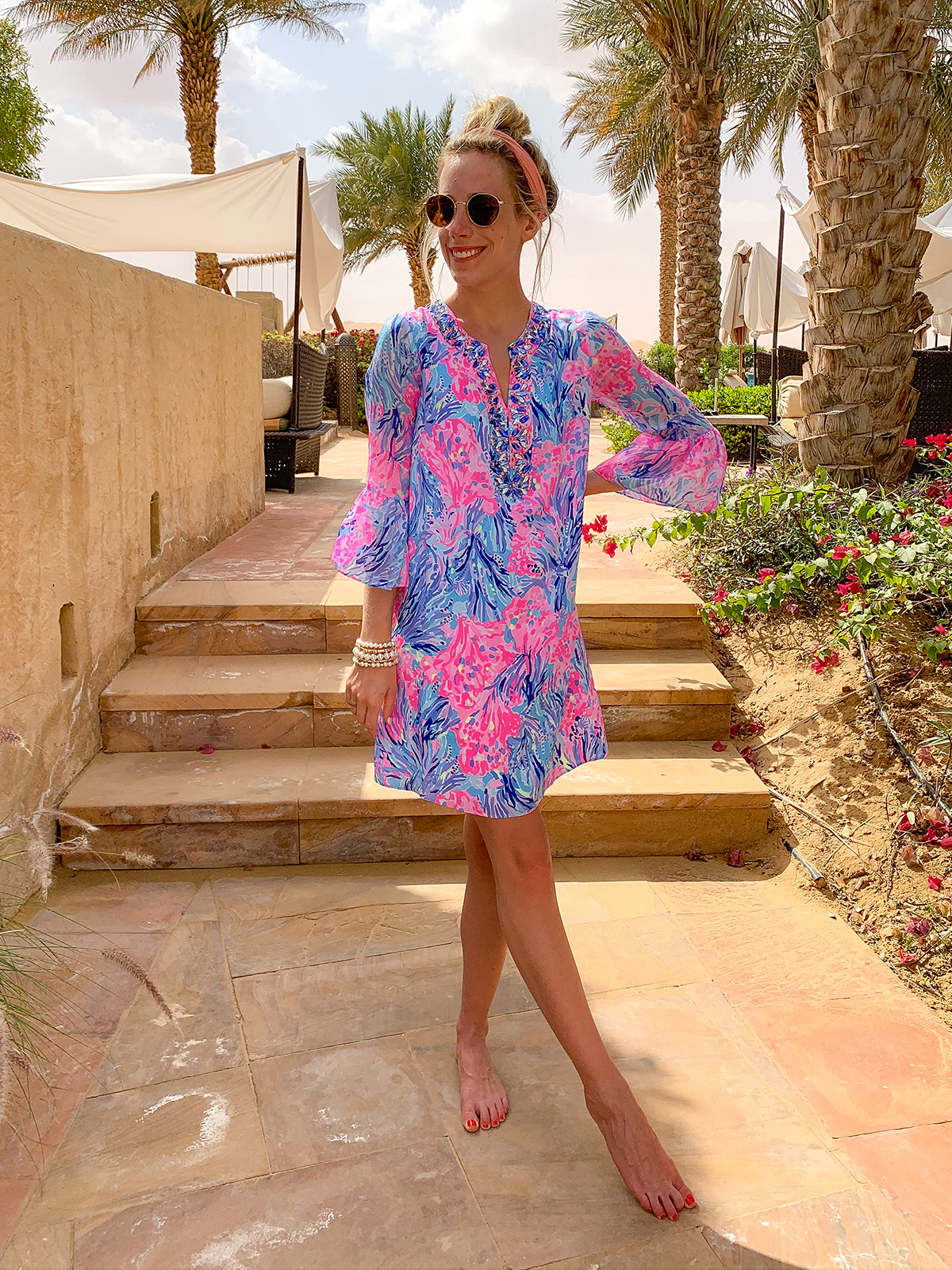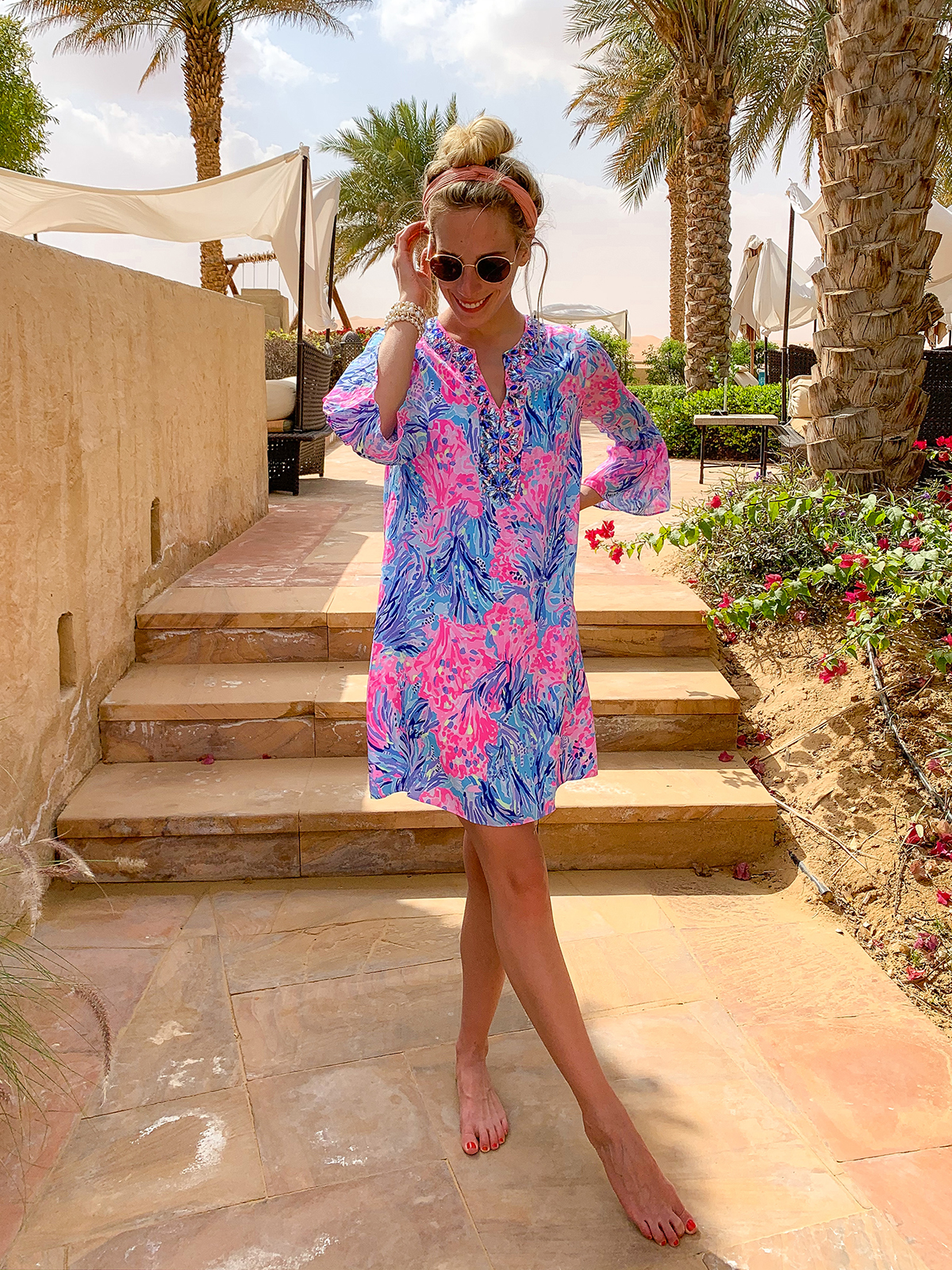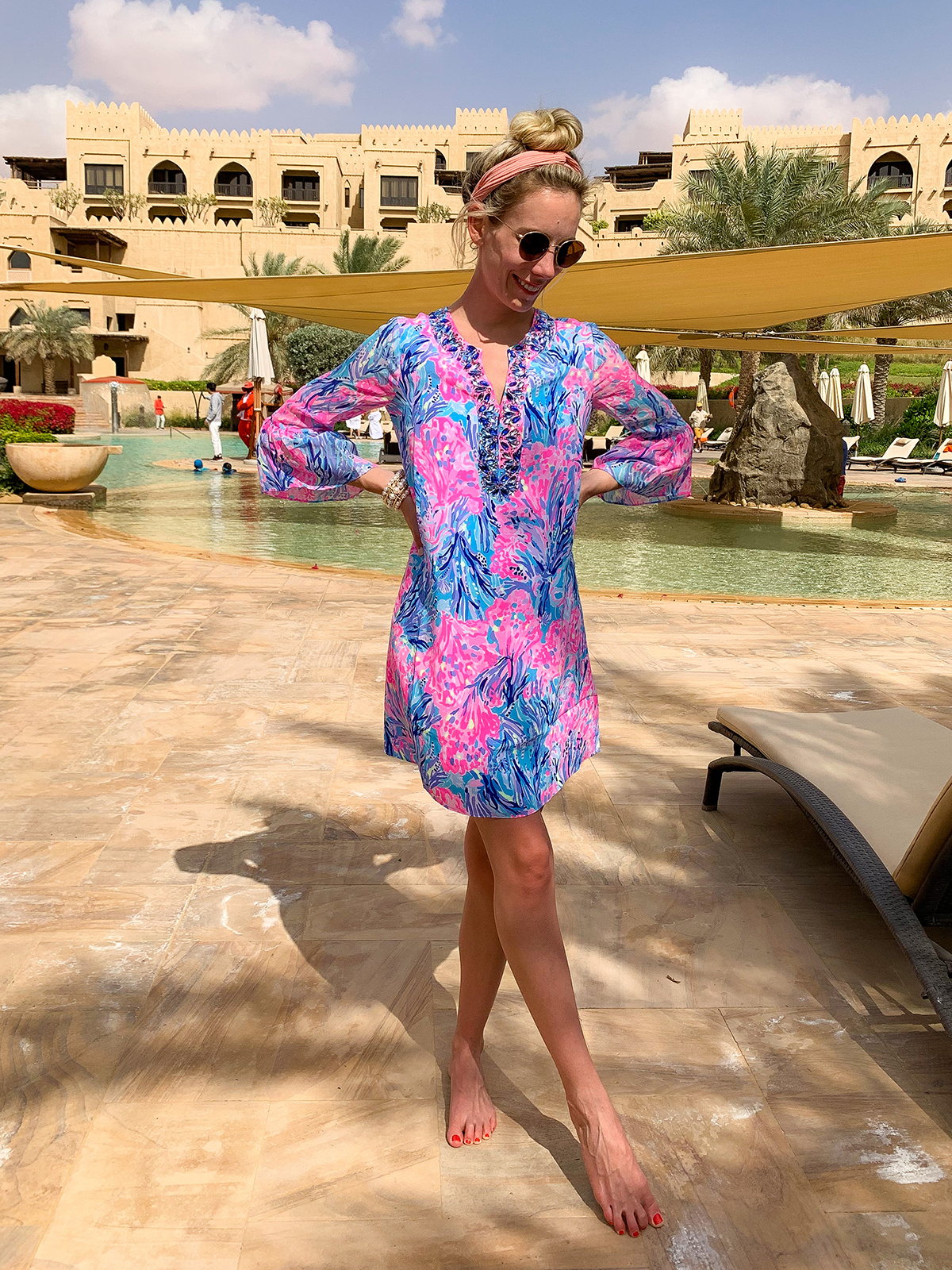 OUTFIT DETAILS // Lilly Pulitzer Silk Dress | Beaded Bracelet | Headband | Sunglasses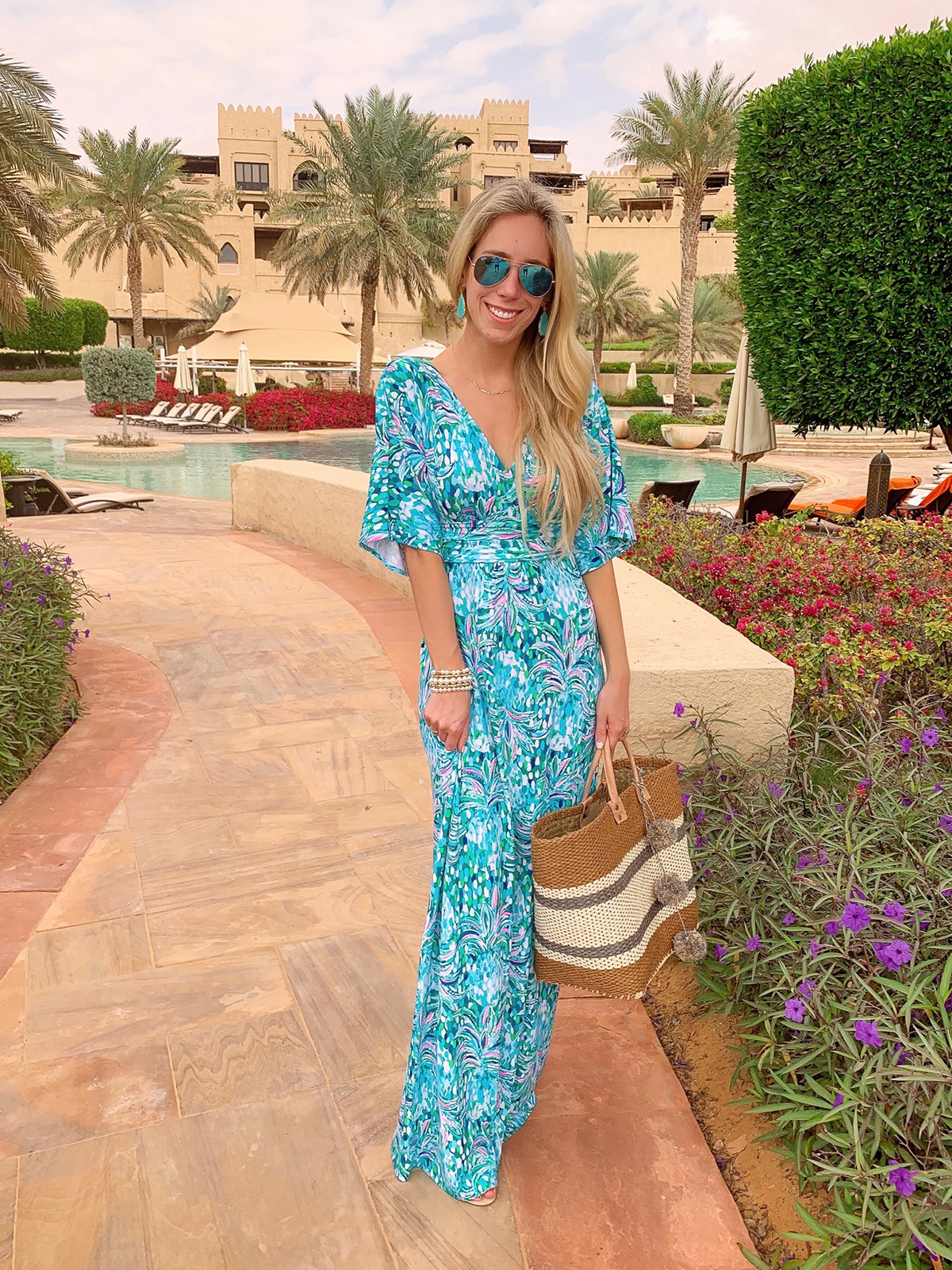 OUTFIT DETAILS // Lilly Pulitzer Maxi Dress | Statement Earrings | Beaded Bracelet | Necklace | Woven Tote | Sunglasses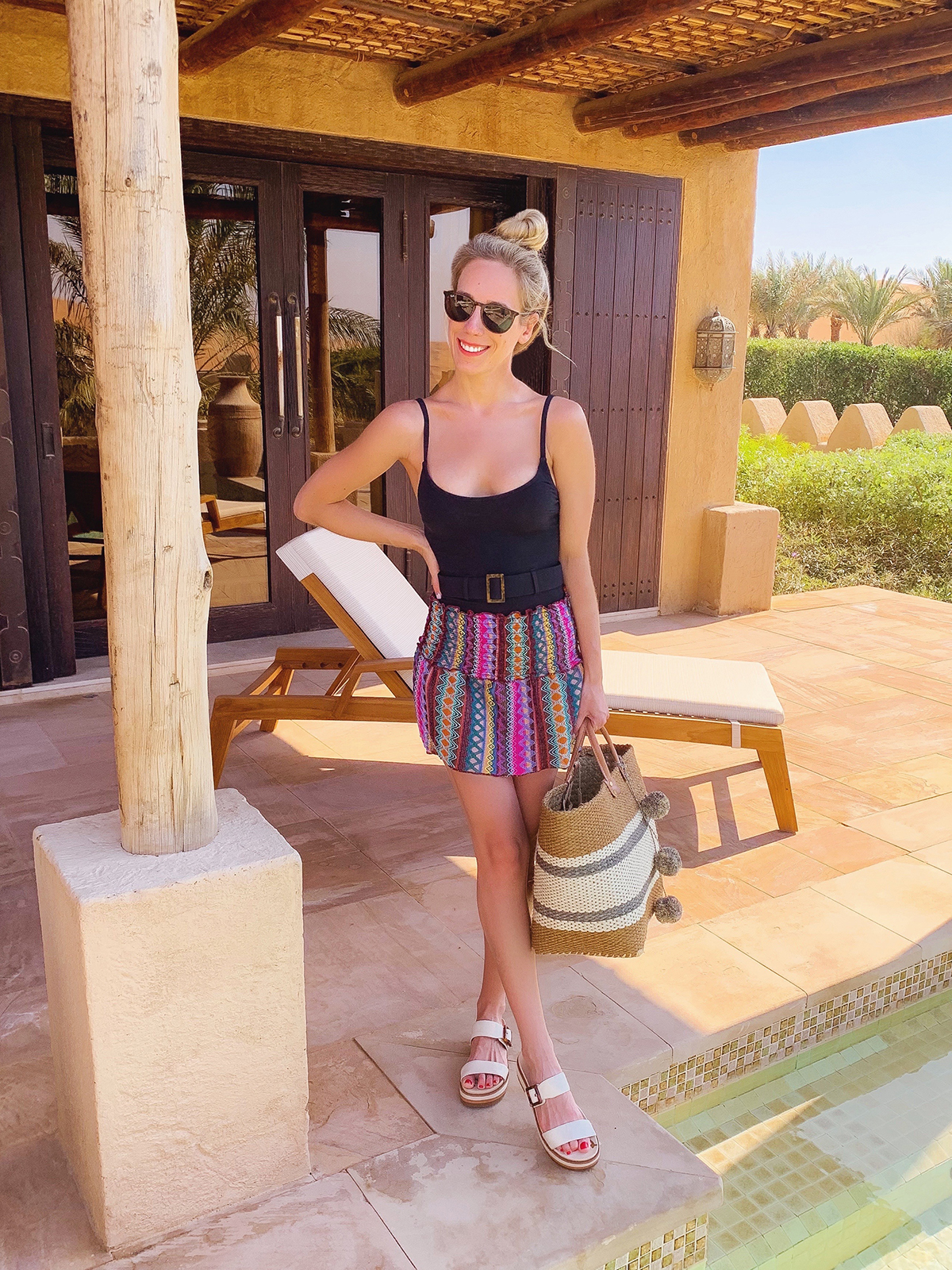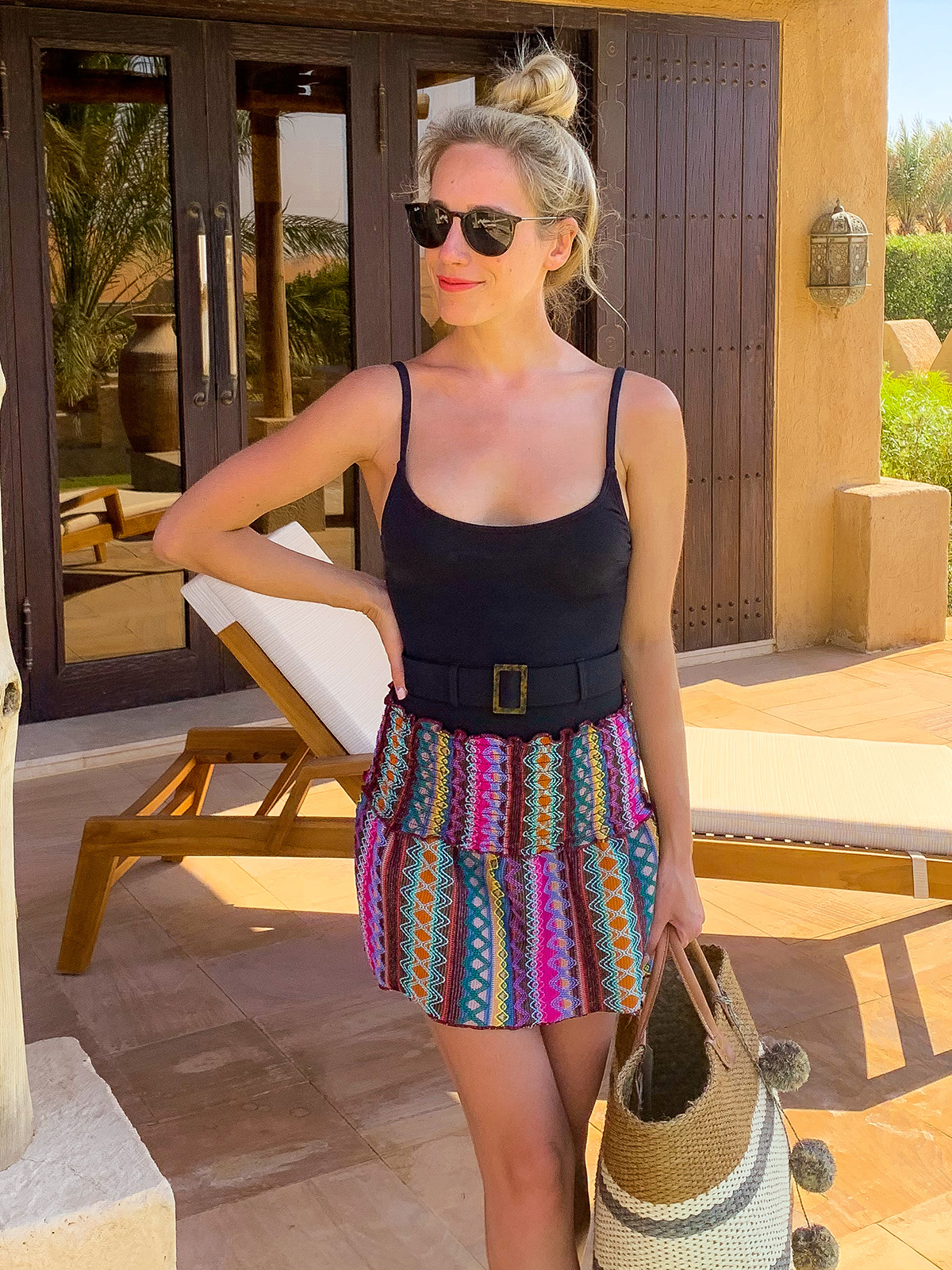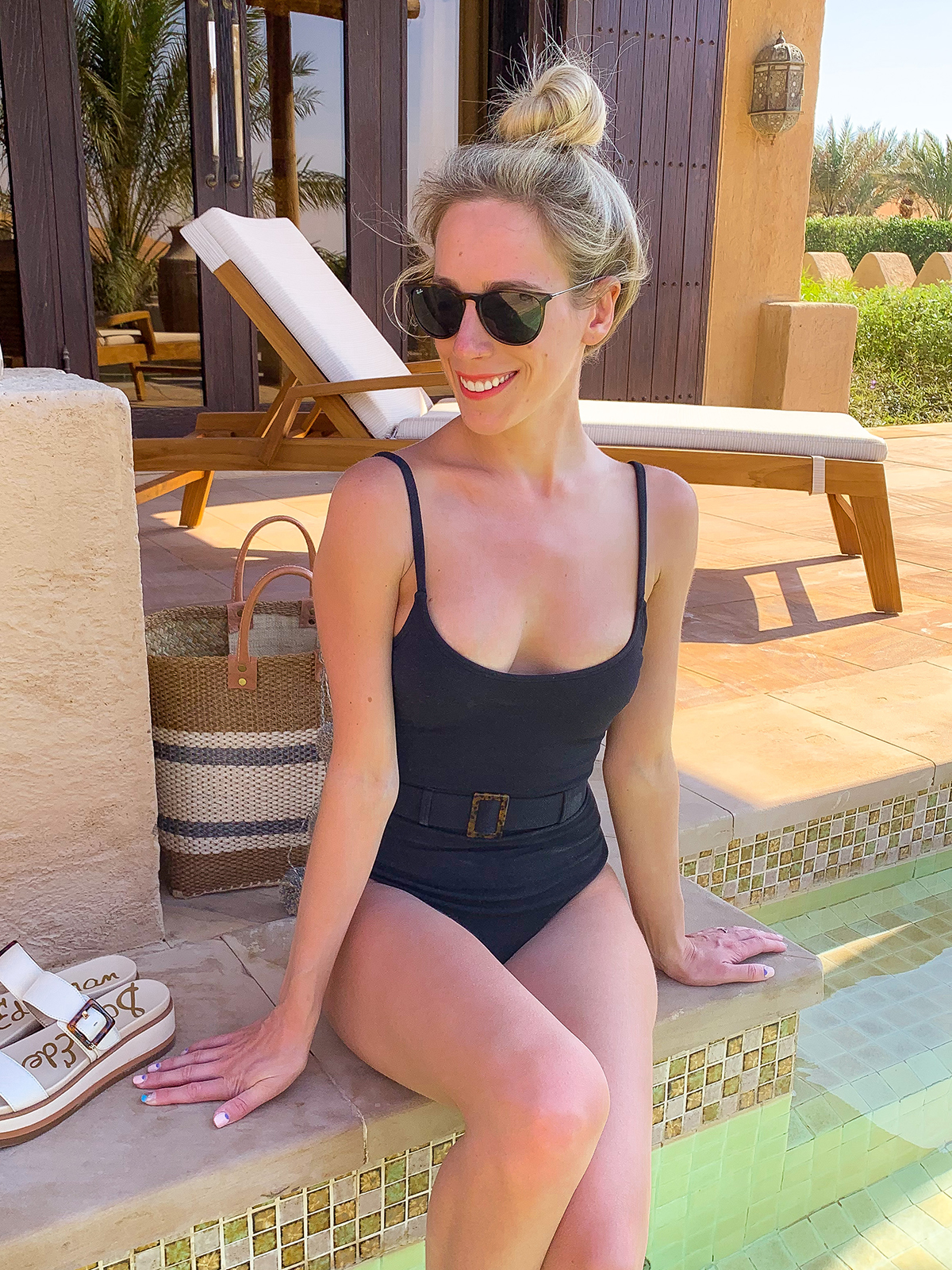 OUTFIT DETAILS // Belted Swimsuit | Patterned Skirt | Platform Sandals | Woven Tote | Sunglasses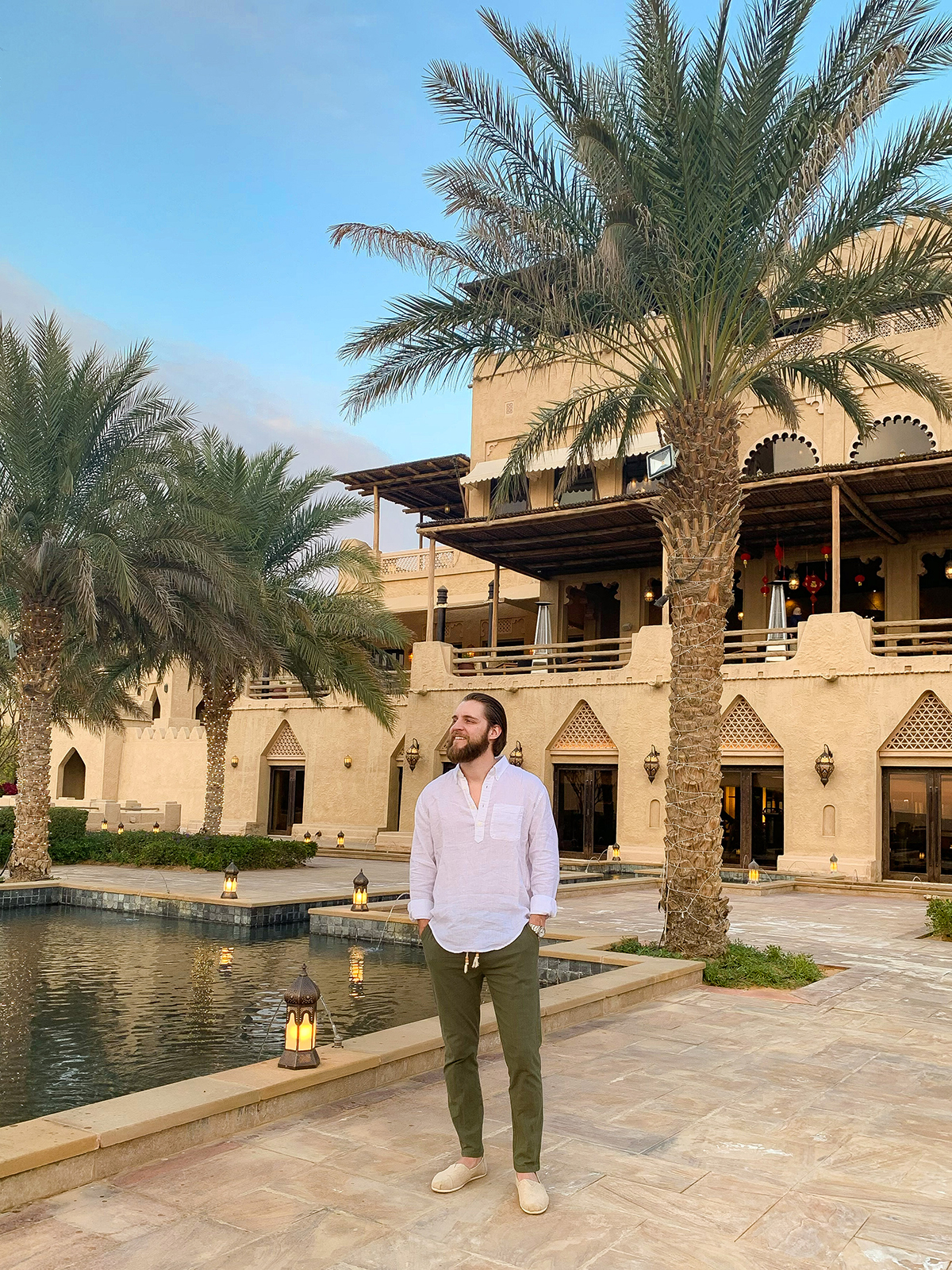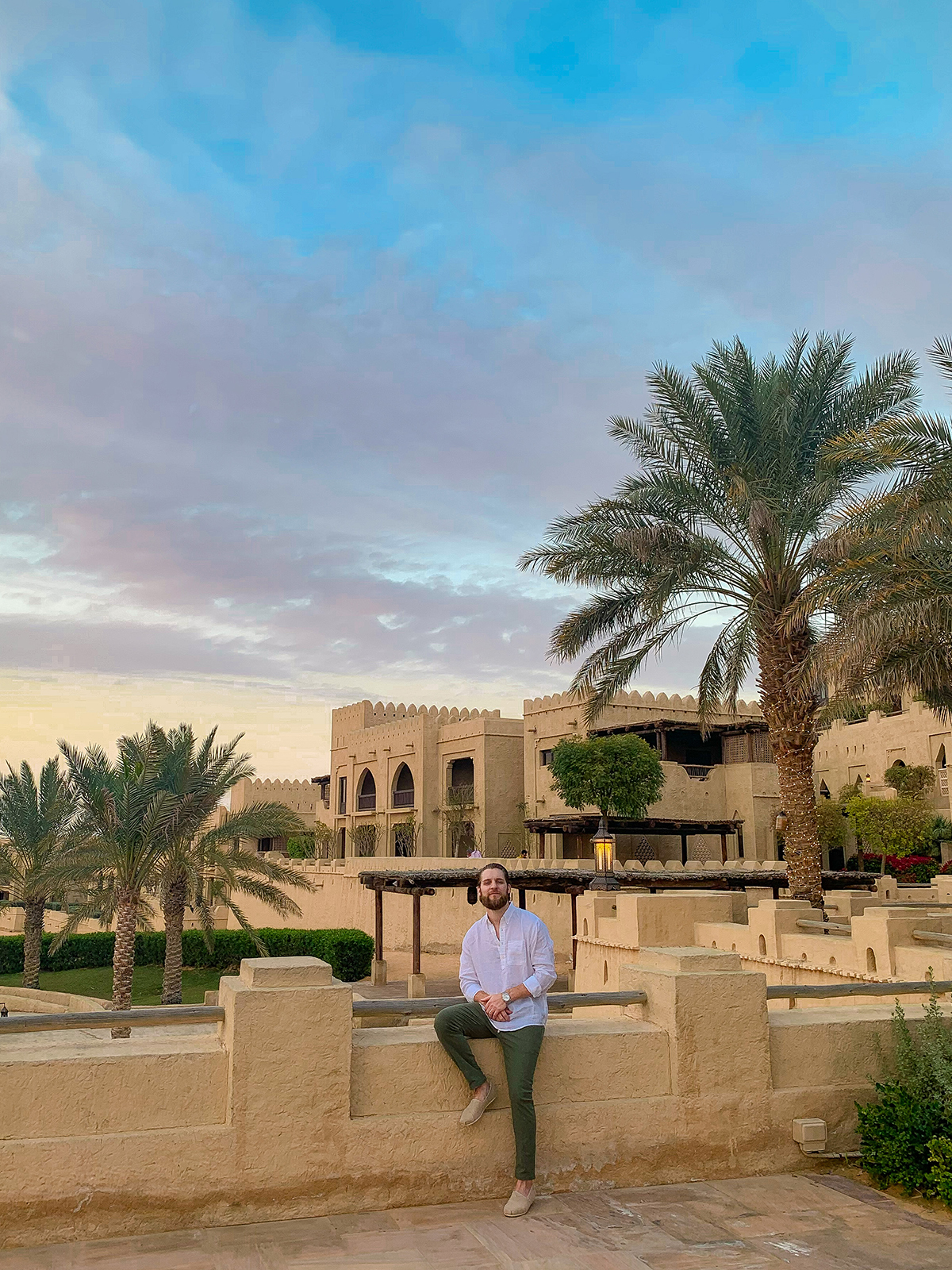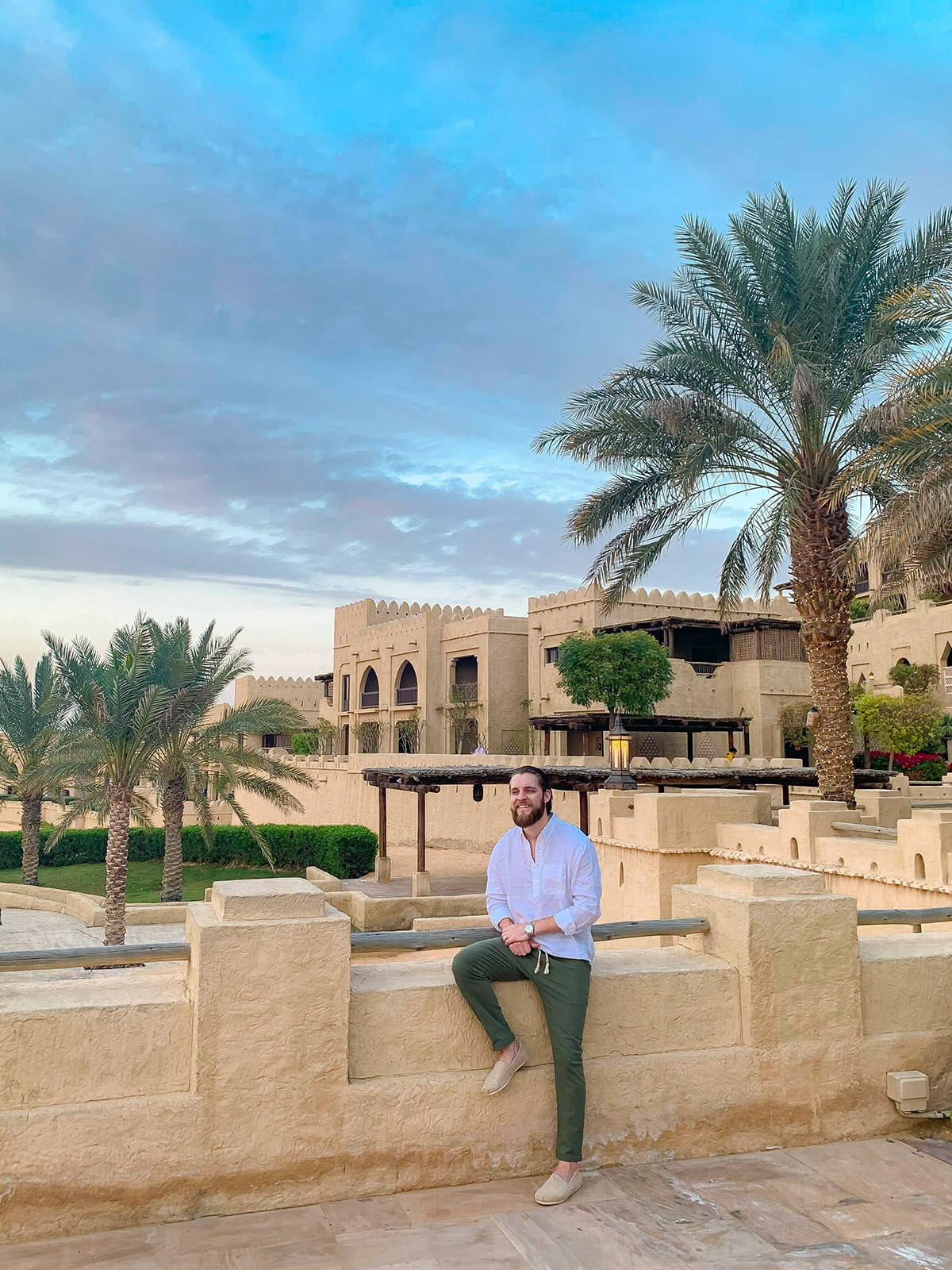 NICK'S OUTFIT // Linen Shirt | Linen Pants (he ordered these in 3 colors) | Espadrilles
- Katie