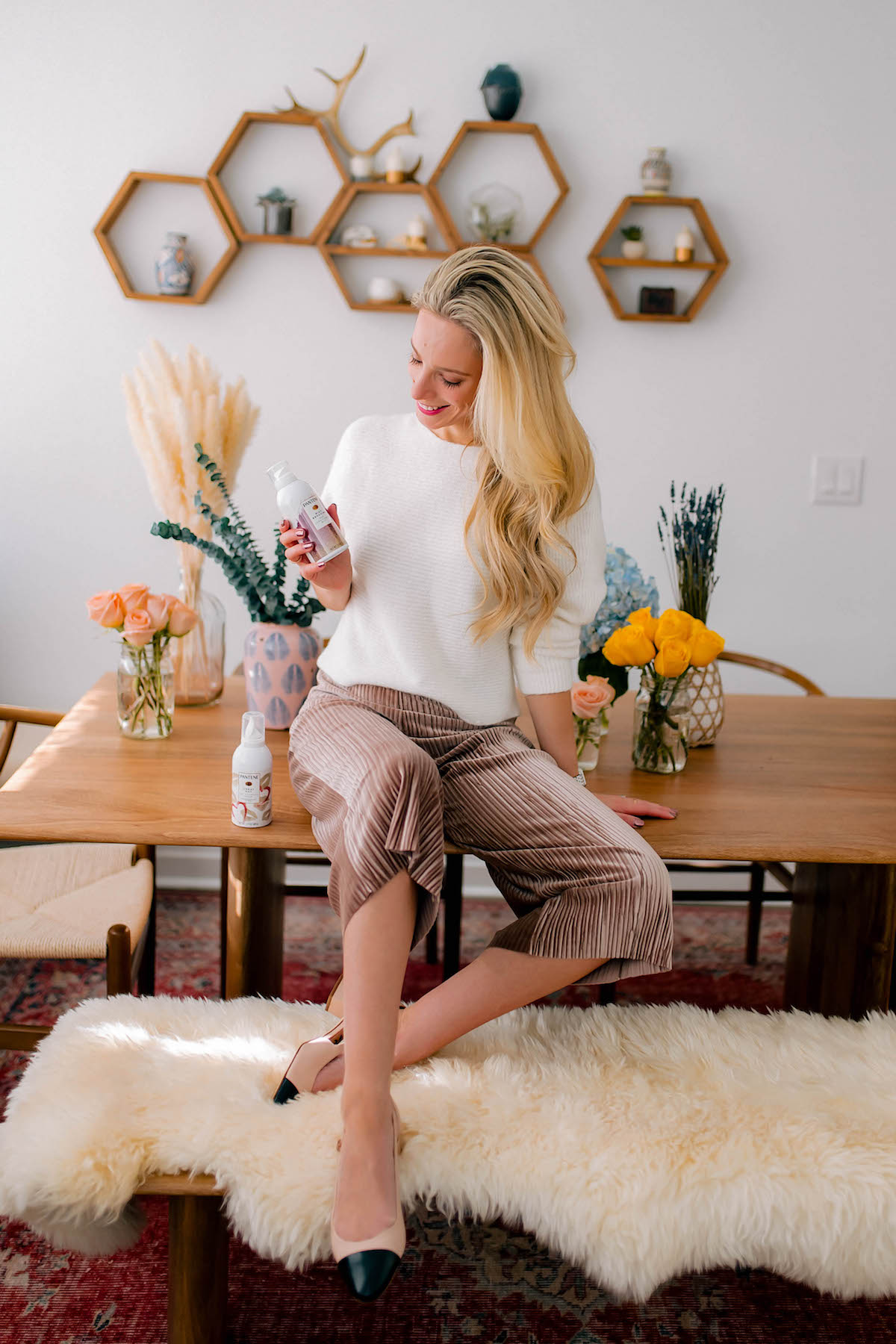 This is a sponsored post written by me on behalf of Pantene. All opinions are 100% mine.
It's that time of year… The weather is frigid. The only clothing I want to put on is loungewear. My motivation to get out and do fun things around the city is at a minimum. And the last thing I want to do is wash and heat style my hair. January #hibernationmode is a real thing!
I think most of y'all are pretty familiar with my hair history and maintenance routine, but here's a short refresher! I have my hair colored (just highlights) and trimmed on average every eight weeks. For the last year I've also been getting tape-in extensions, which I LOVE (you can read more about those here.)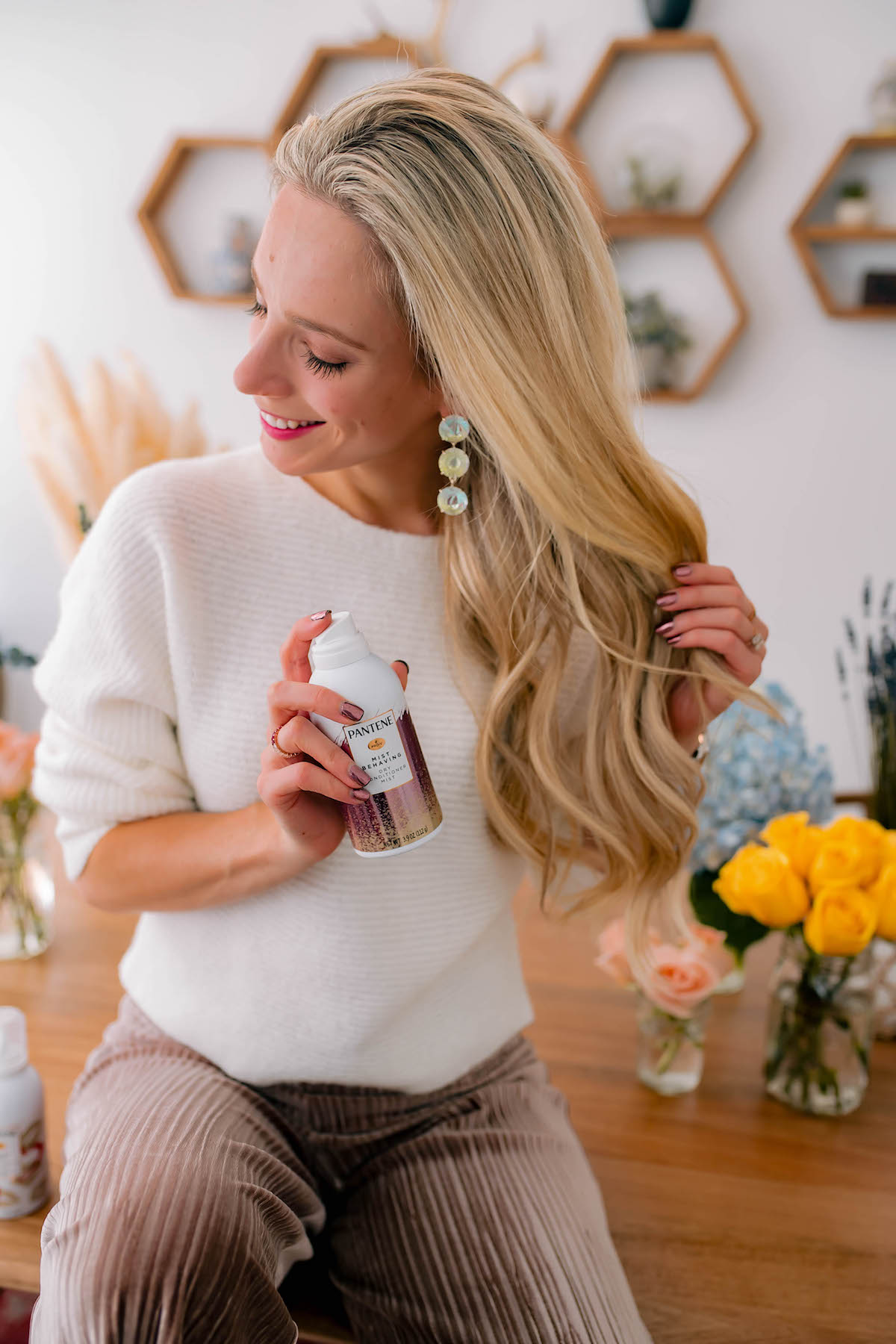 CLICK HERE for info on our dining room shelves
My natural hair type is thick, wavy and on the dry side. Some days it's a lot to handle, which is why I like to keep my at-home routine as minimal as possible. During a typical week I will wash my hair just twice… sometimes once if I can get away with it. When I tell people this, I usually get a mix of reactions that range from, "how is that even possible…" and "but your hair looks so clean?" and "no way, what products are you using???"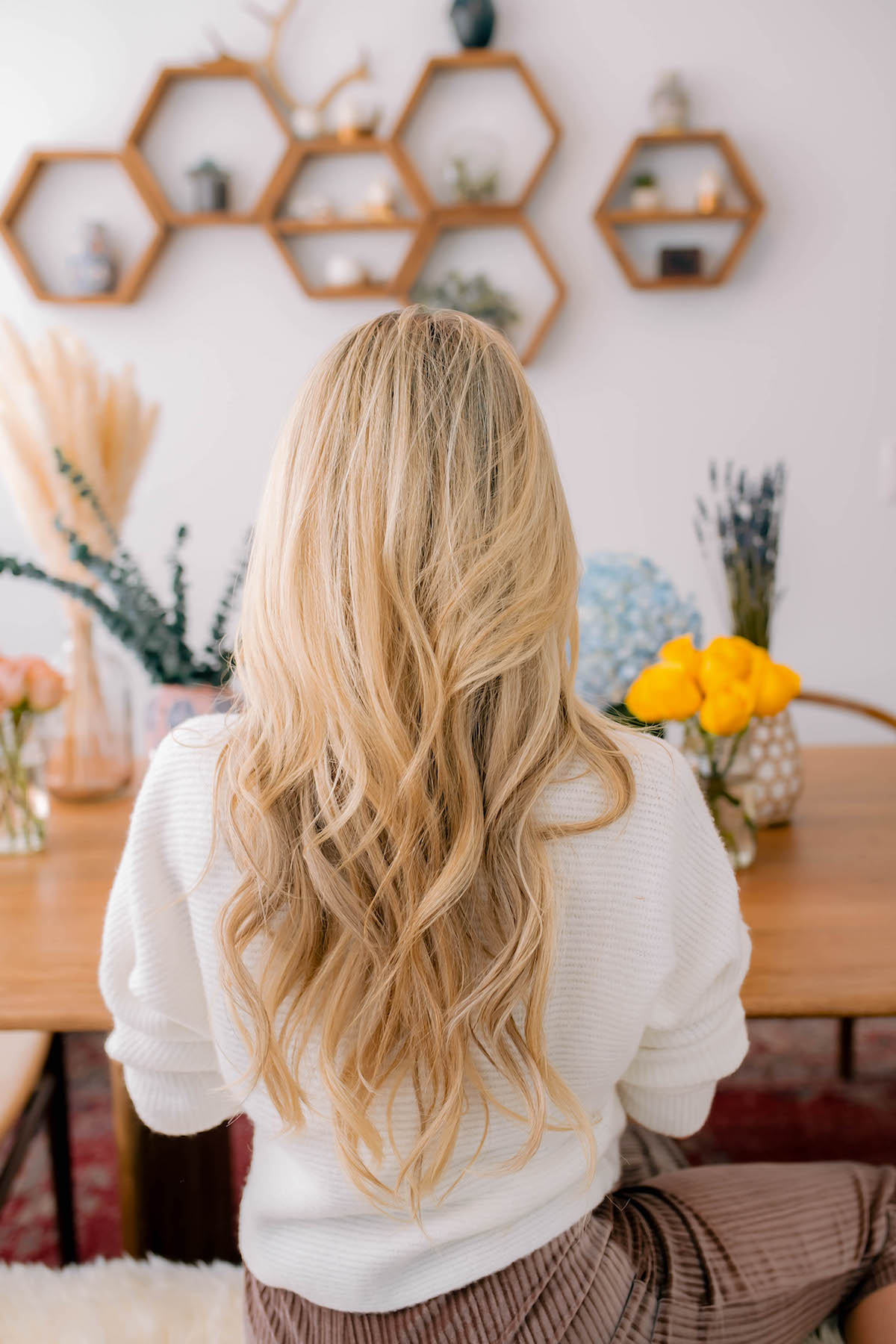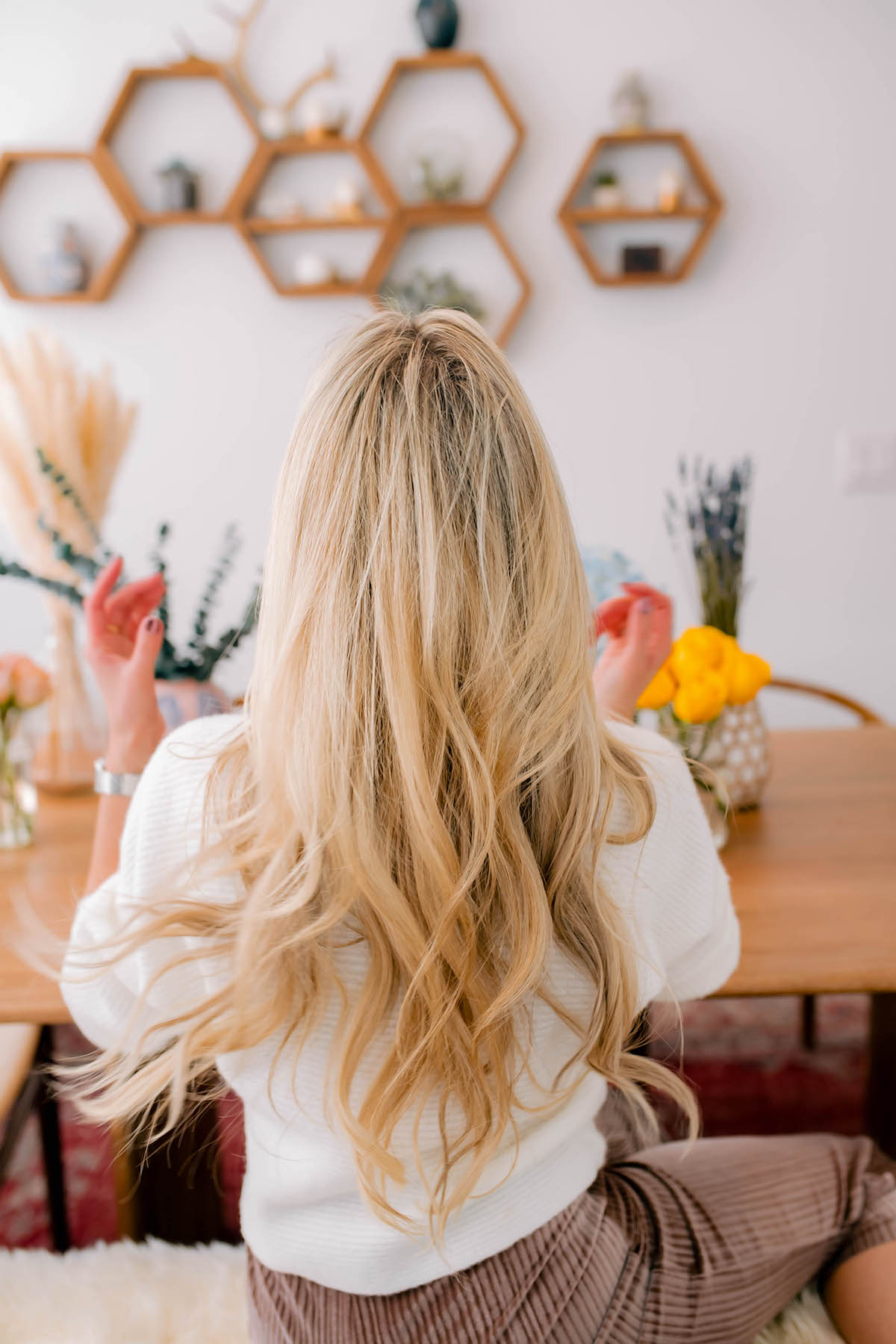 I credit two things for allowing me to become bffs with my shower cap: 1) my naturally dry wavy hair and 2) re-styling products that refresh my locks in between showers.
Ever heard of the Pantene Waterless Collection? This new line of products from Pantene was specifically created for reviving and styling second, third and even fourth day hair in between washes. With this line every hair day can look just as fab as it does freshly washed and styled.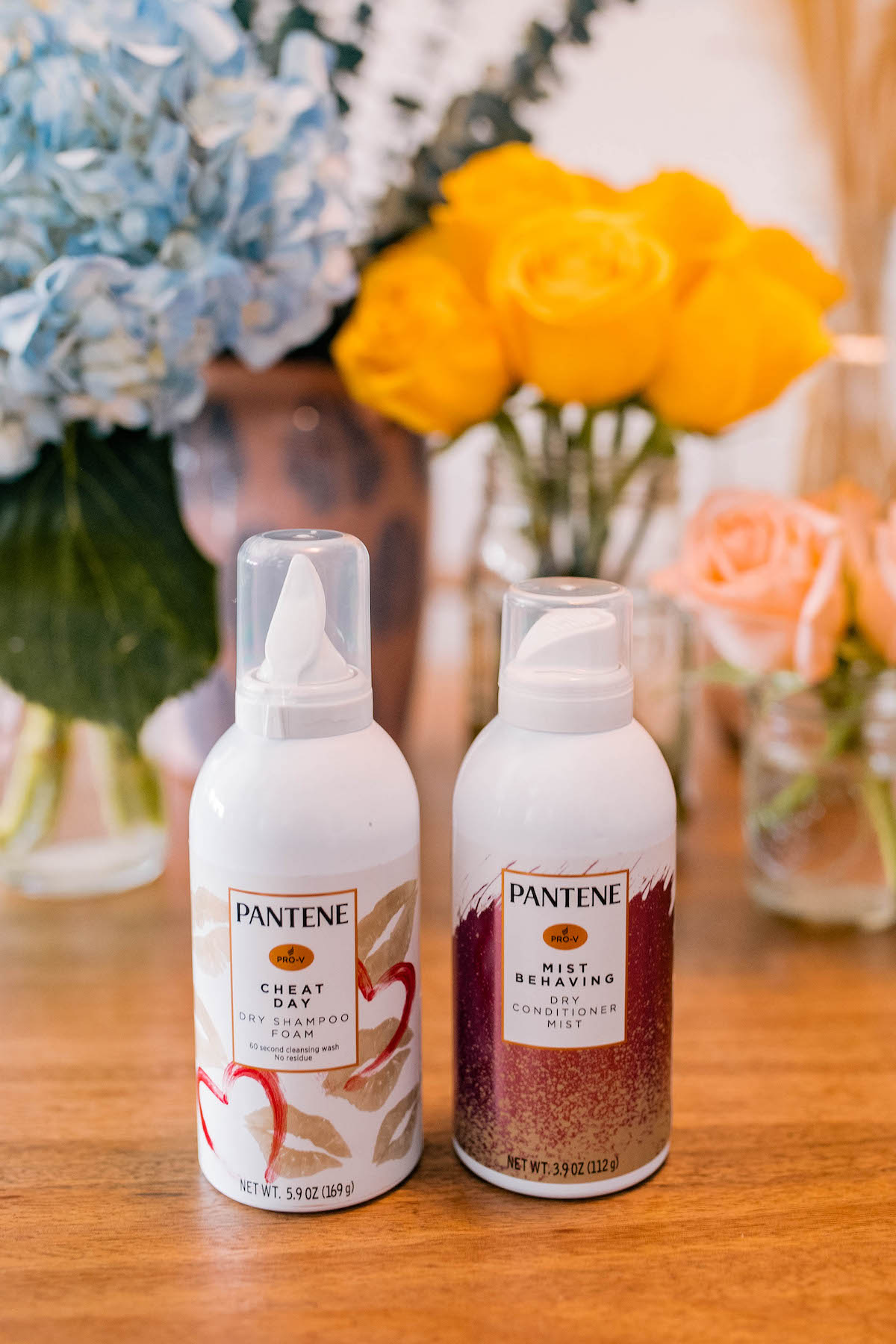 PANTENE WATERLESS COLLECTION
Pantene Cheat Day Dry Shampoo Foam | Pantene Mist Behaving Dry Conditioner Mist
Over the last few weeks I tested two different products from the collection on the days I didn't wash my hair: Pantene Cheat Day Dry Shampoo Foam and Pantene Mist Behaving Dry Conditioner Mist. Here's a little bit more info about each!
Pantene Cheat Day Dry Shampoo Foam– Gives hair a waterless wash and removes oil without leaving any residue. Can be used on all hair types and doesn't contain any sulfates or parabens. To use, you dispense a small amount on your fingertips, section hair, and run in at the roots. It is infused with Pro-Vitamin B5 and orchid flower.
Pantene Mist Behaving Dry Conditioner Mist– Moisturizing spray that tames flyaways and frizz and will detangle even the thickest locks. Formula nourishes hair thanks to Pro-Vitamin B5, Omega-9, aloe, and jojoba oil – also paraben and sulfate-free. Just spray at the ends of your hair for a quick refresh.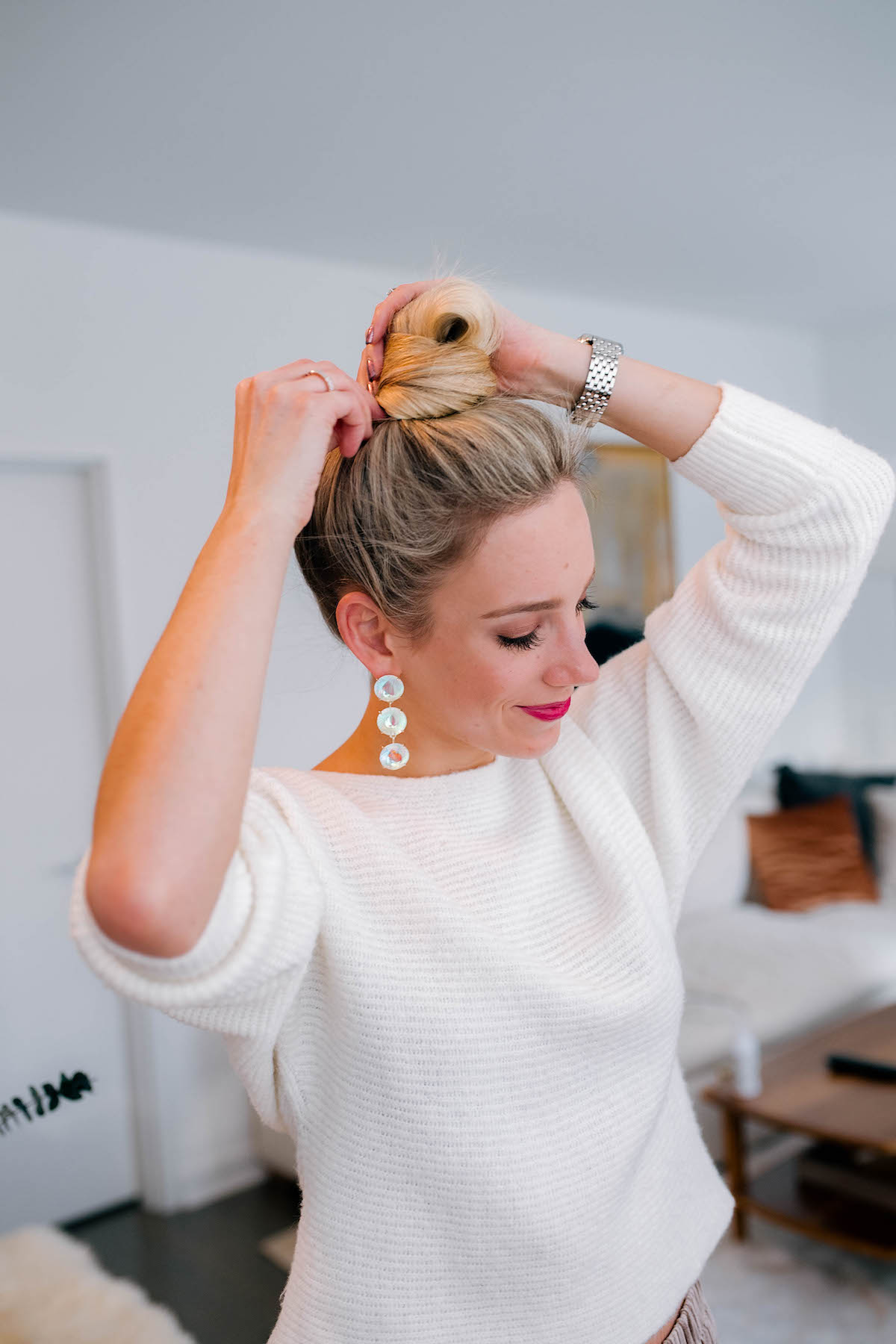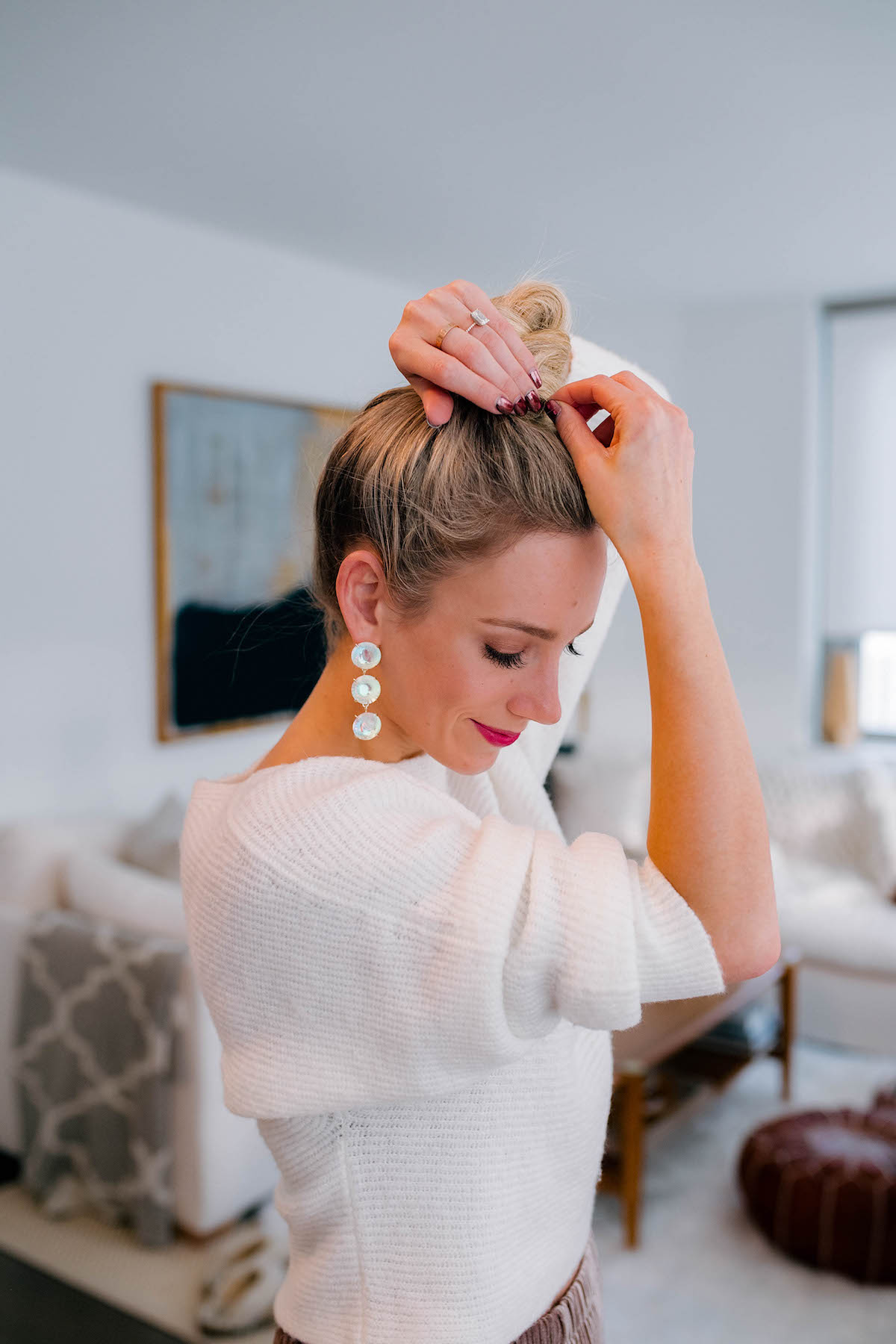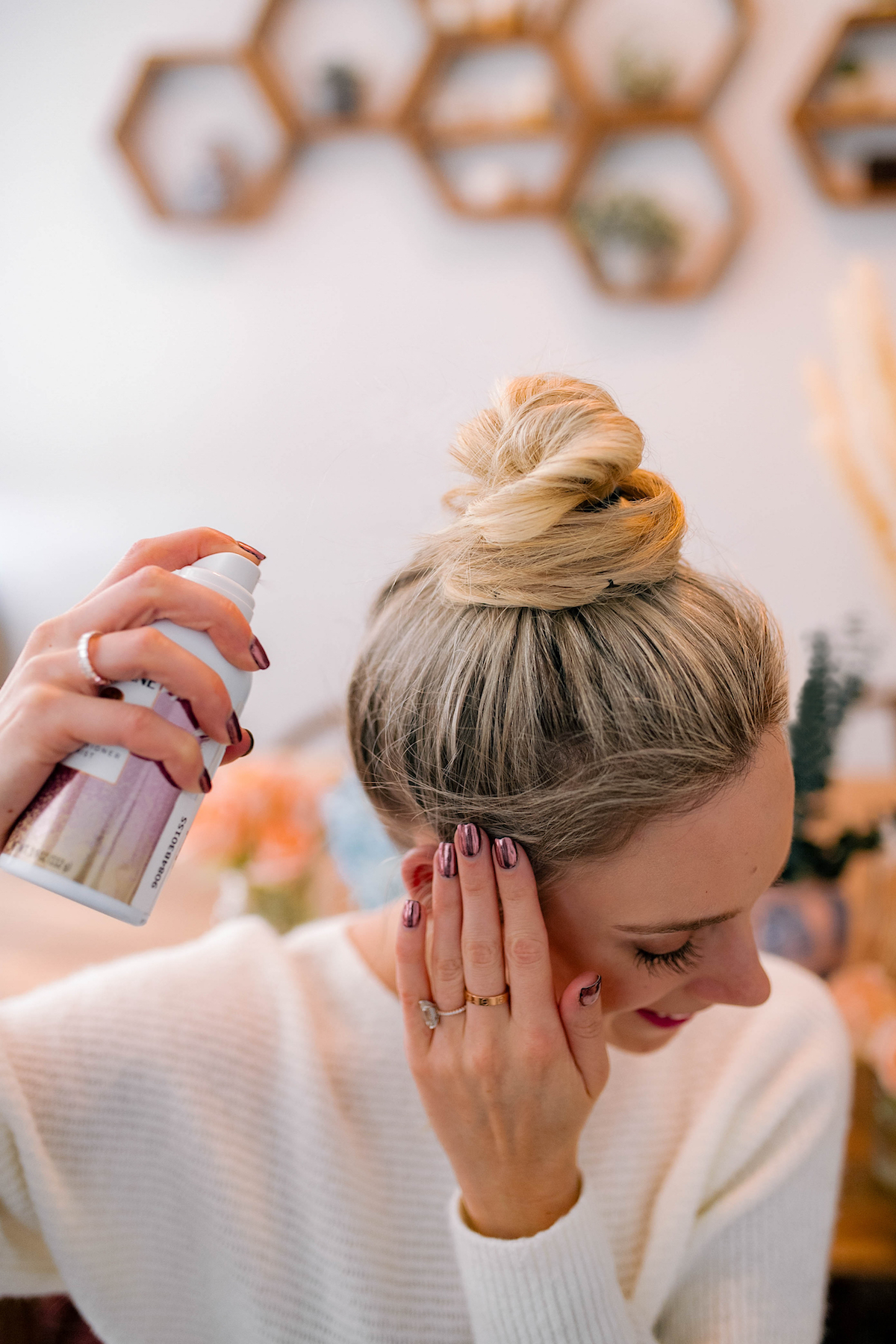 I found the dry conditioner mist most helpful on days when I wore my hair in a top knot. I'm a big fan of buns… when they're tamed. This mist was a game changer in keeping down my flyaways and baby hairs around the frame of my face. A light spritz (make sure to shake the can first and hold 6-8 inches away) was enough to tame any uncooperative hairs and I LOVED how it didn't leave my hair crunchy or feeling like it was coated in product.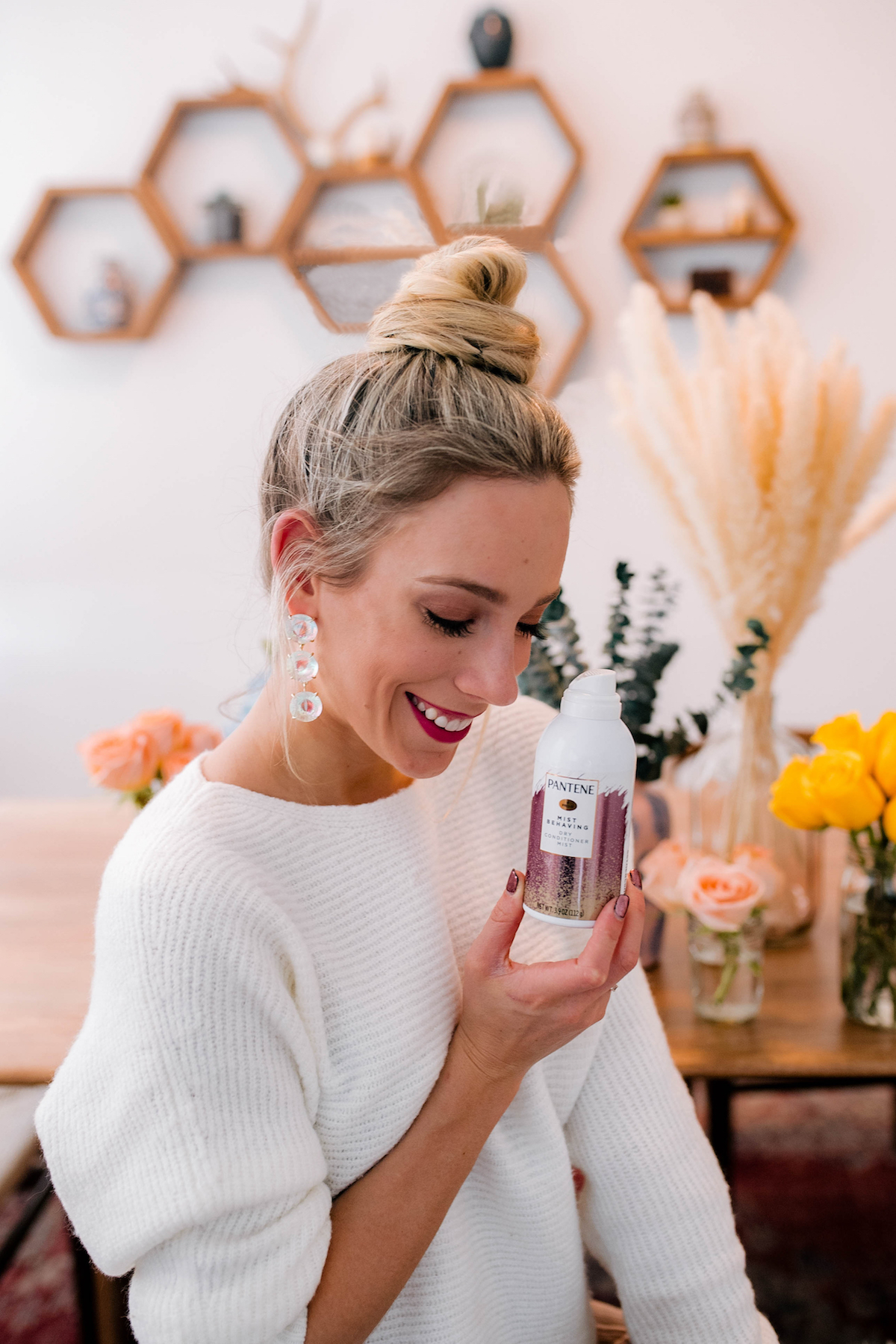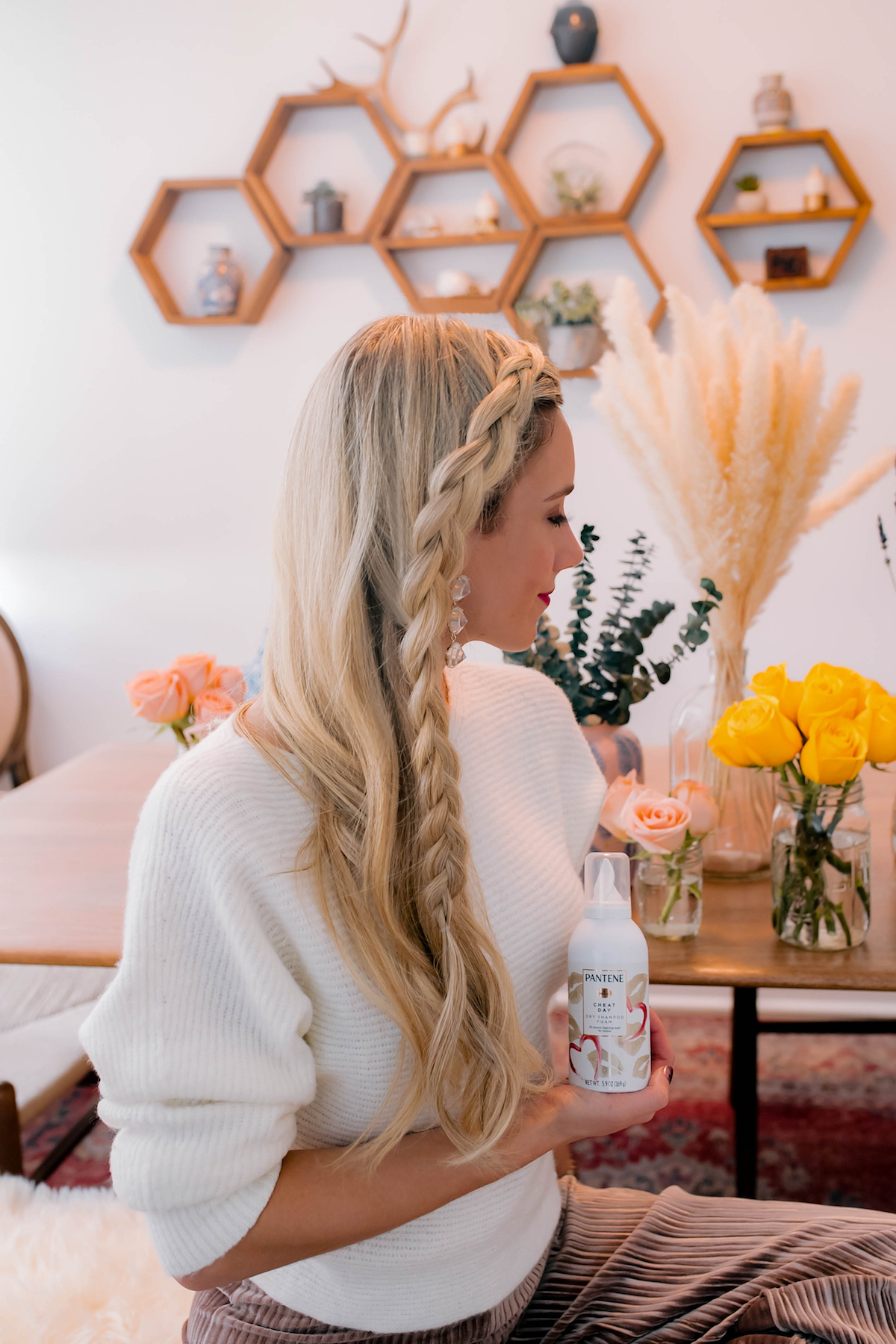 Roots feeling a little greasy? Noticing shine on your hair? Then you need this dry shampoo foam!
I found the dry shampoo foam most helpful on days when I was just starting to feel like my hair was getting dirty. I tend to notice grease and shine first on my front layers so to refresh these strands I'll dispense a small pump of the foam into my fingertips and massage at the roots. It absorbs and dries nearly instantly! Next I'll take a 3-inch section of the hair and dutch braid it down the side of my face.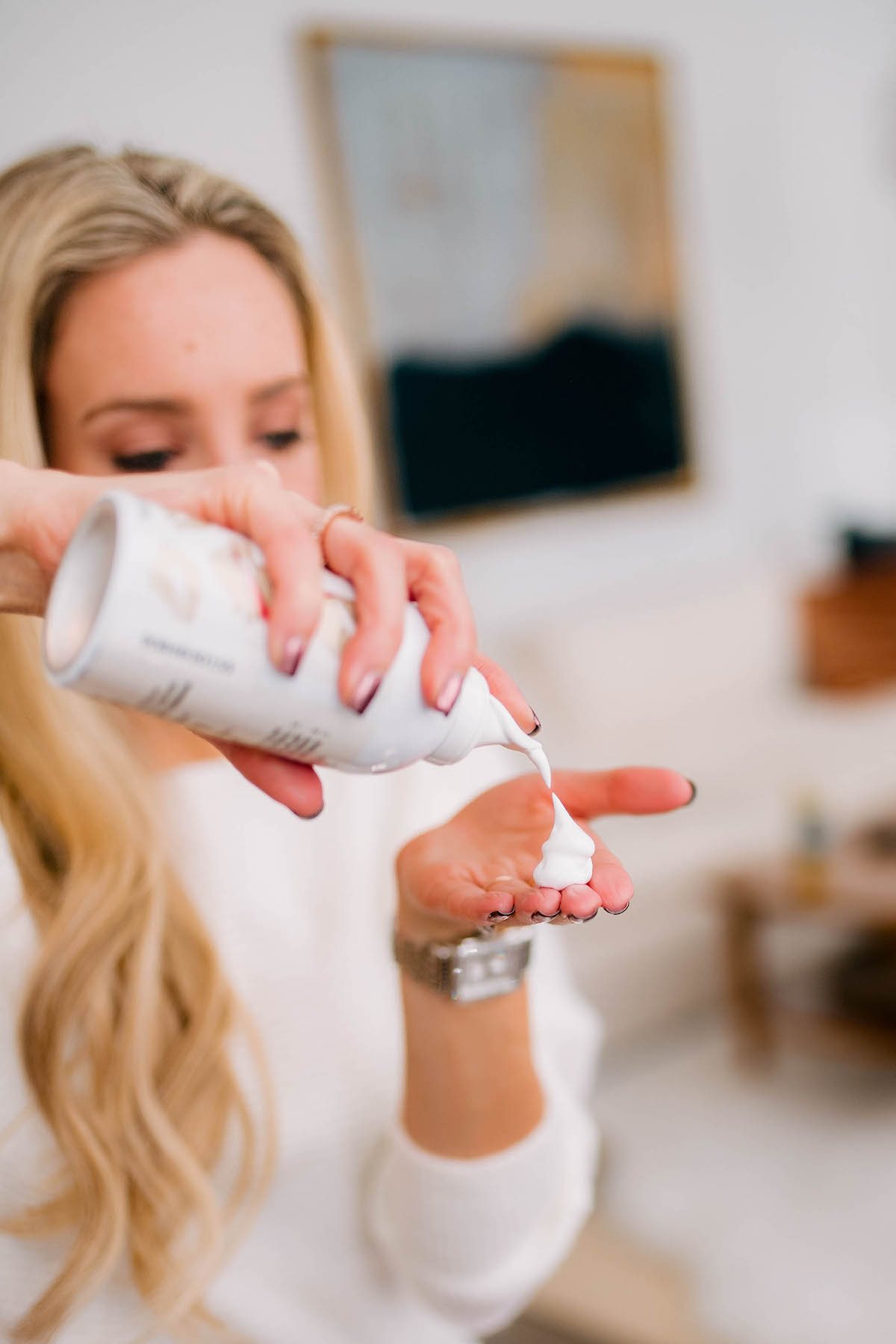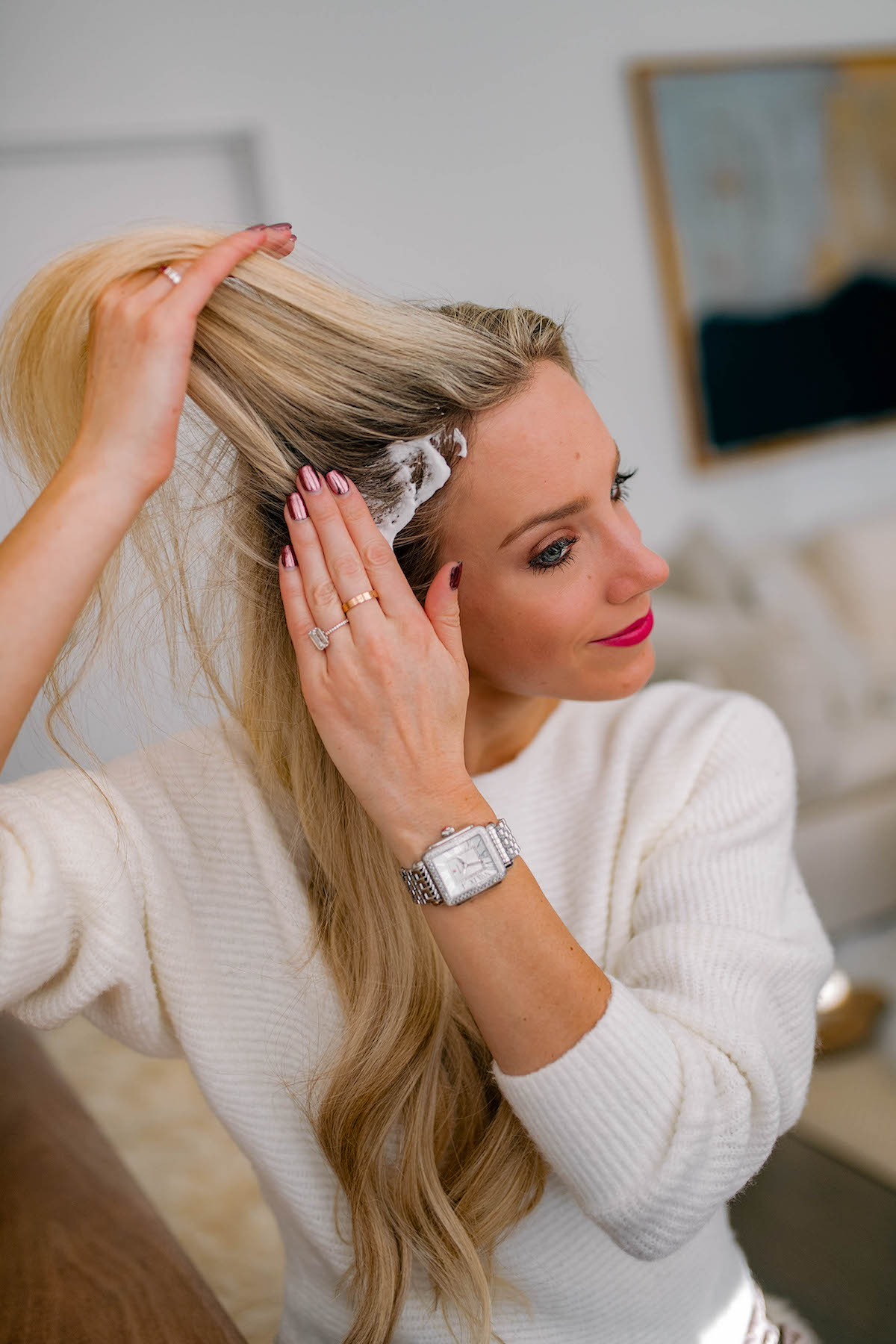 It's funny because I'll get so many compliments when I wear my hair like this, but little do people know the only reason I'm doing it is to hide the fact I haven't washed my hair LOL.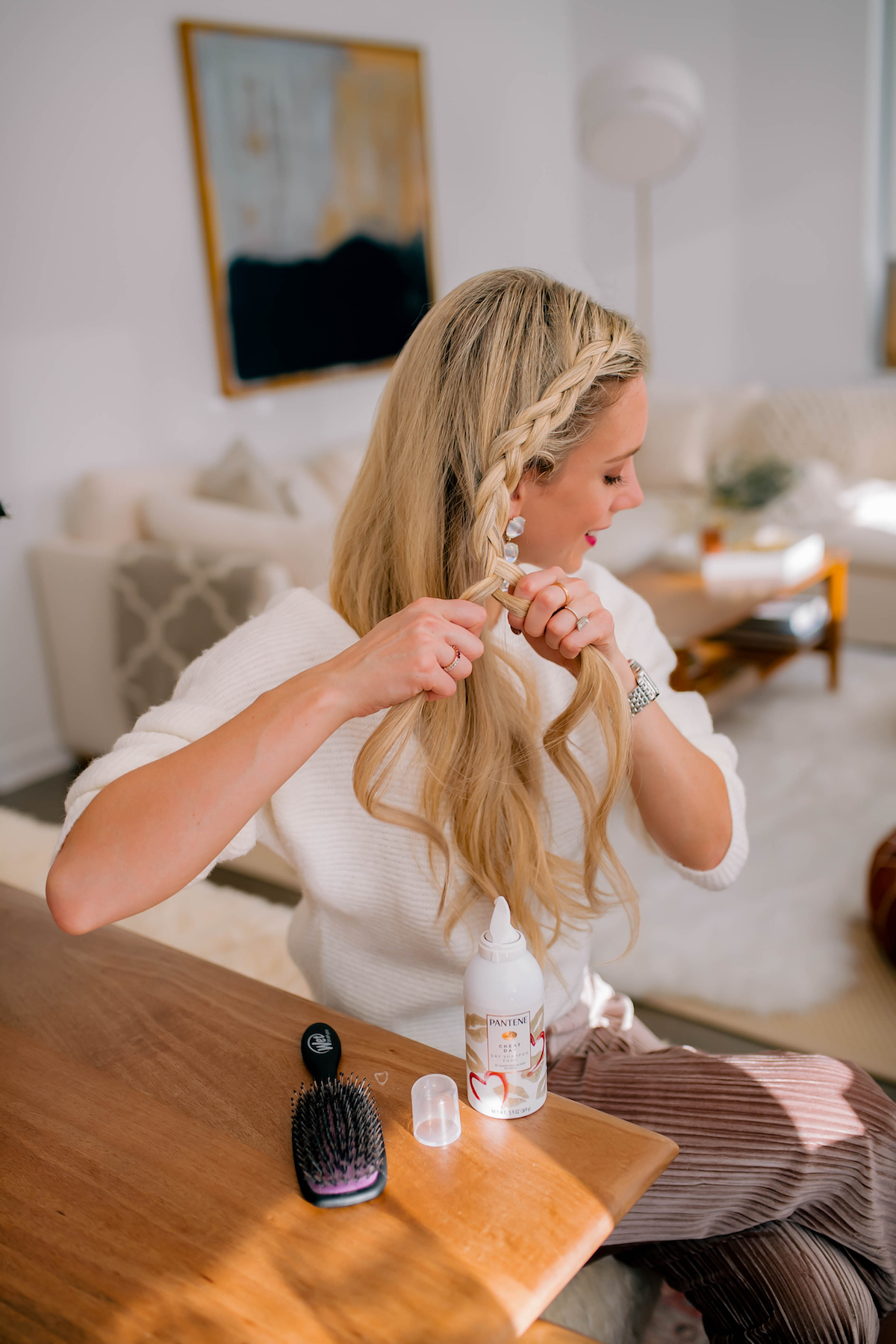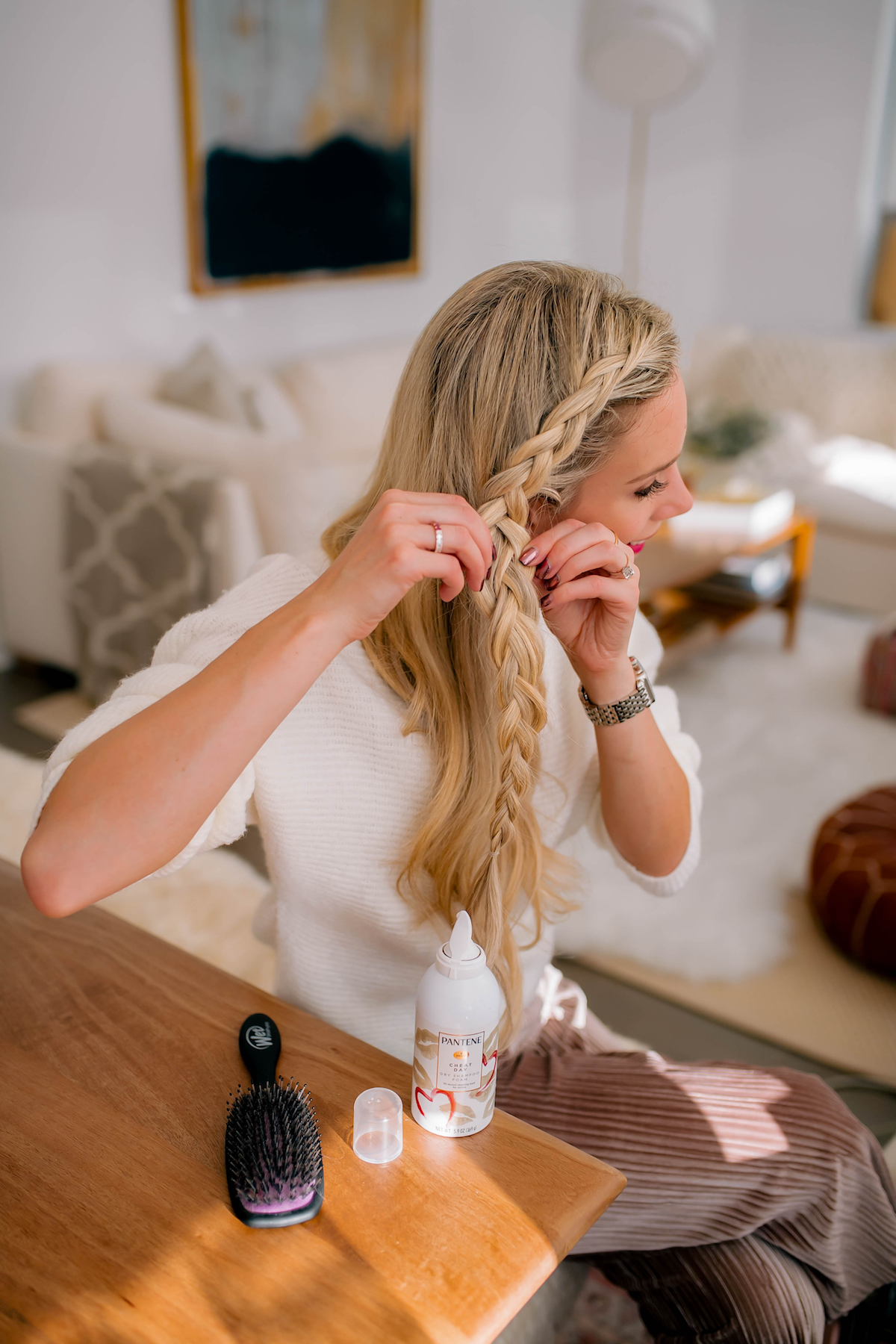 See? Not all non-wash days have to be "bad" hair days!
Frequent washes and excessive heat can be incredibly damaging to hair. I've personally found my own locks have become so much healthier now when I do it in a style that doesn't require heat or freshly cleaned hair. I've always been a fan of going multiple days between washes, so I'm really excited that Pantene has come out with a line that encourages women to do the same.
To learn more about the Pantene Waterless Collection and to shop the products click here!
- Katie