I spent two months following our move to our new apartment searching for some type of decorative solution for the wall behind our dining room table all to no avail. Right away we nixed hanging a large piece of art. We just couldn't find anything we loved enough to commit to making such a focal point of our living space. Doing a gallery wall crossed my mind too, but those are just sooo much work and if I'm being completely honest, I'm kinda over that home decor trend.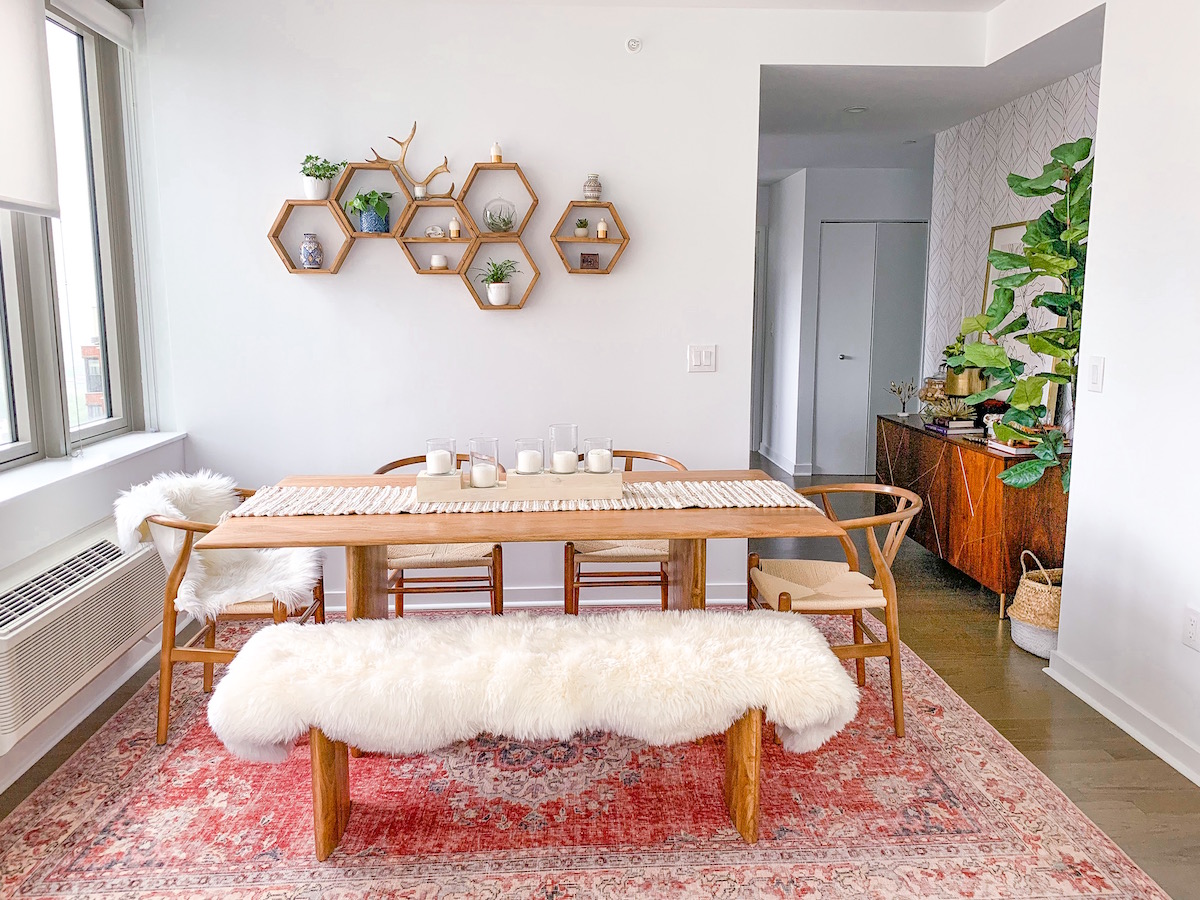 So with art out the window… what options were left? Framed photography. You'd think with all the pictures we take on trips that I'd be dying to print out our favorites. Maybe it's because I share photos of myself so often here and on Instagram, but I have absolutely no desire to hang large images of myself on the walls our home. Nick shares my sentiments, which isn't surprising considering he prefers staying behind the lens.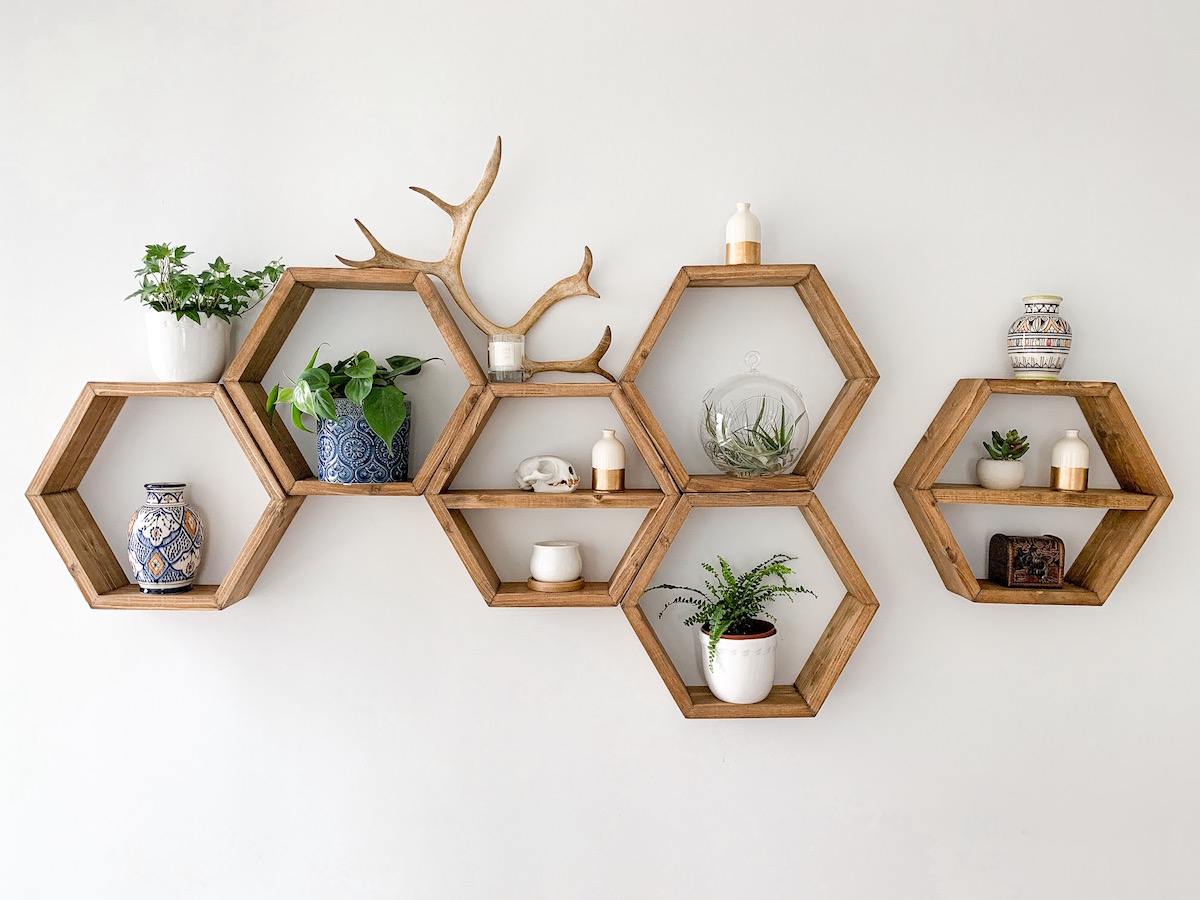 MY SHELVES // 14″ Honeycomb Shelves in shade 'Early American'
Talk about a road block. It wasn't until I fell down a crazy black hole of wall decor ideas on Pinterest that I finally discovered hexagon aka honeycomb shelves! The unique shape and easy ability to personalize and display decor is what immediately drew me to these shelves. Right away I knew these would be the perfect solution and a great way to display tchotkes, small ceramics and live plants.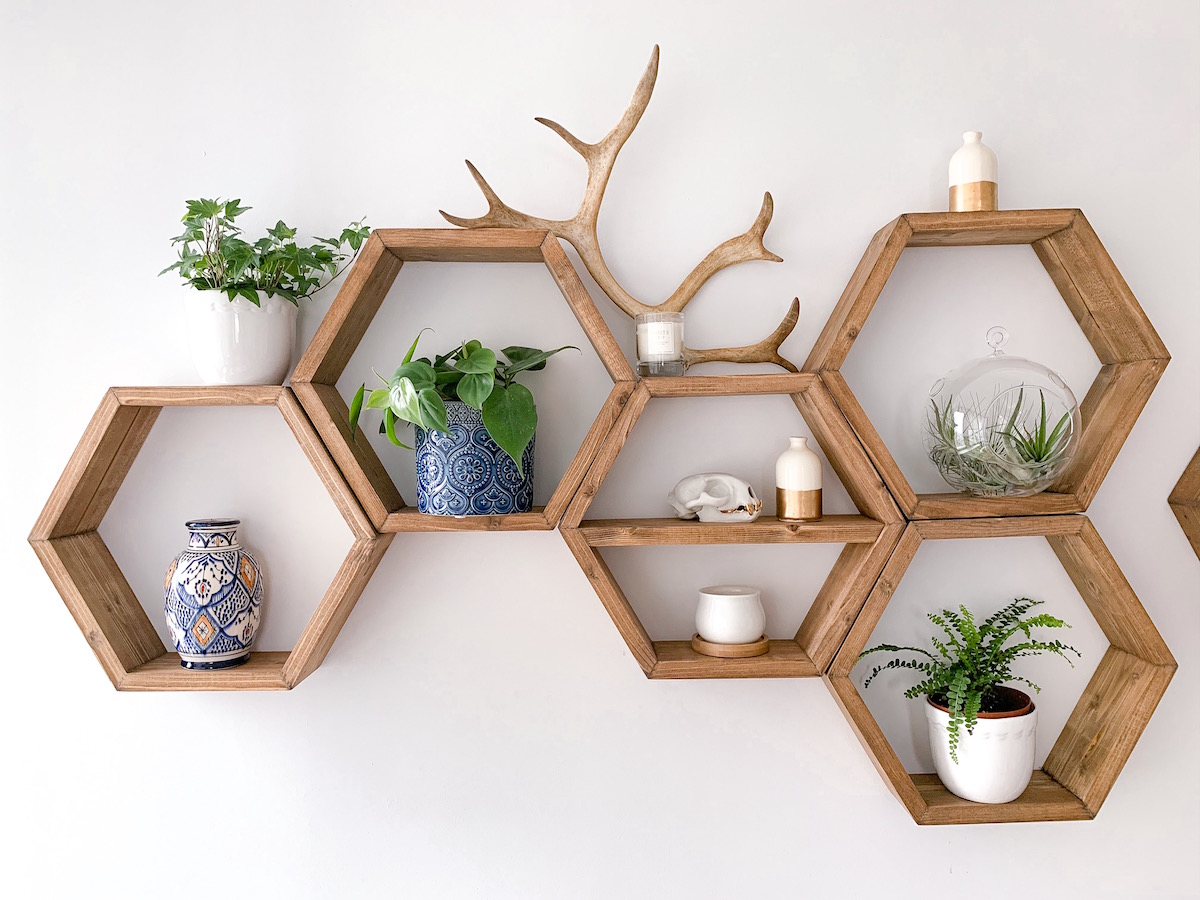 FROM LEFT TO RIGHT // White Scallop Planter (set of 2) + Ivy Plant | Blue Planter + Philodendron Plant | White & Gold Bud Vases | Similar Glass Terrarium + Air Plants | White Scallop Planter (set of 2) + Fern Plant
**any items not linked were purchased on international trips from local vendors

I purchased two sets of three 14″ inch honeycomb shelves from Northern Creek Wood on Etsy. These shelves are lightweight and come in a variety of sizes and colors. The shop owner was incredibly helpful too! I sent him a photo of our dining room and he got back to me right away with his thoughts on what color wash would match our table best.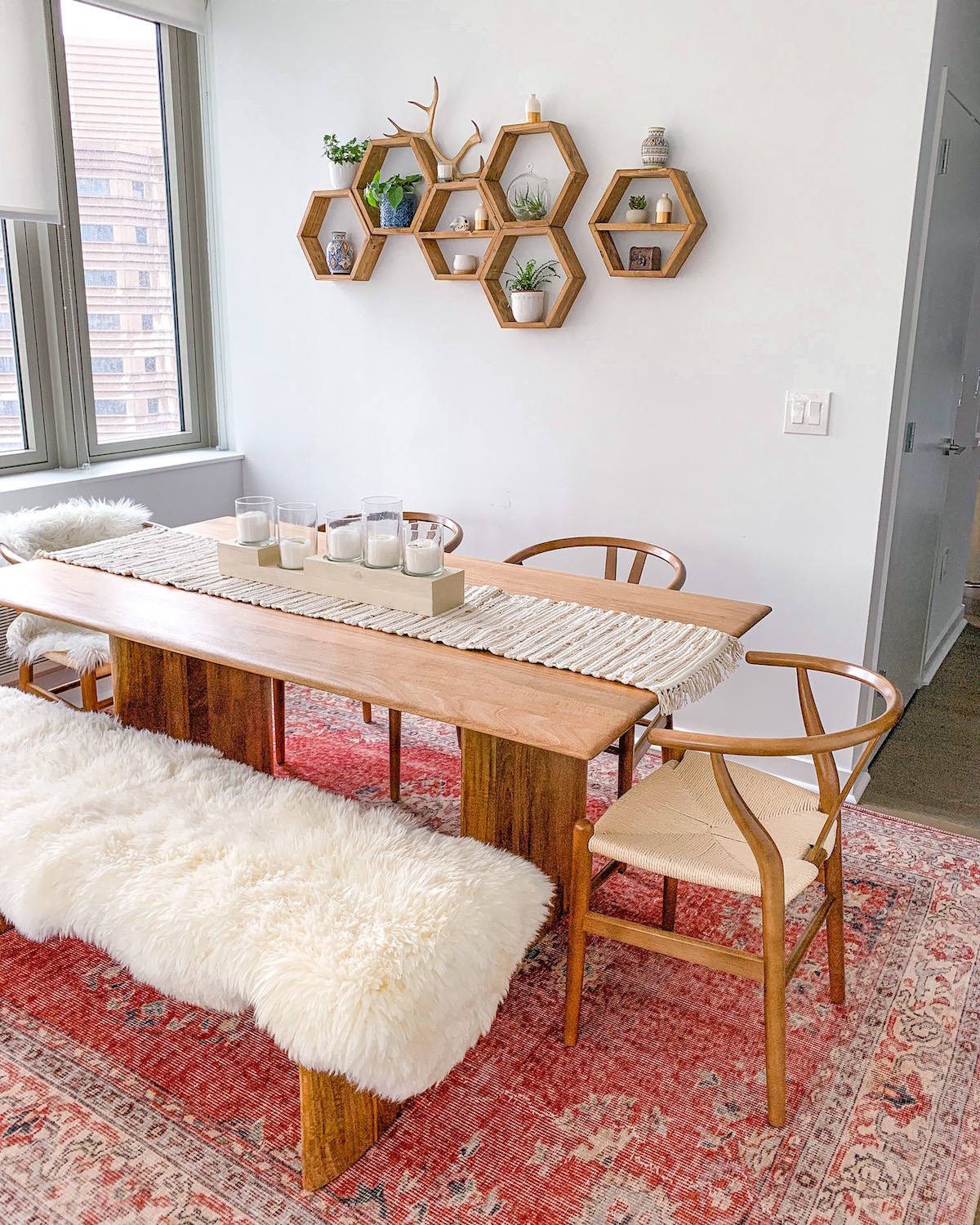 DINING ROOM DETAILS // Wood Dining Table | Dining Chairs | Dining Bench | Similar Carpet | Shearling Throw (draped on bench) | Wood Candle Holder Centerpiece | Table Runner
When I received the order, each shelf was already assembled and individually bubble wrapped. All I had to do was decide how I wanted to place them on our wall! I really like the look of having five nested together and one staggered out on it's own, but there are so many different ways you can display these shelves and create your own unique look.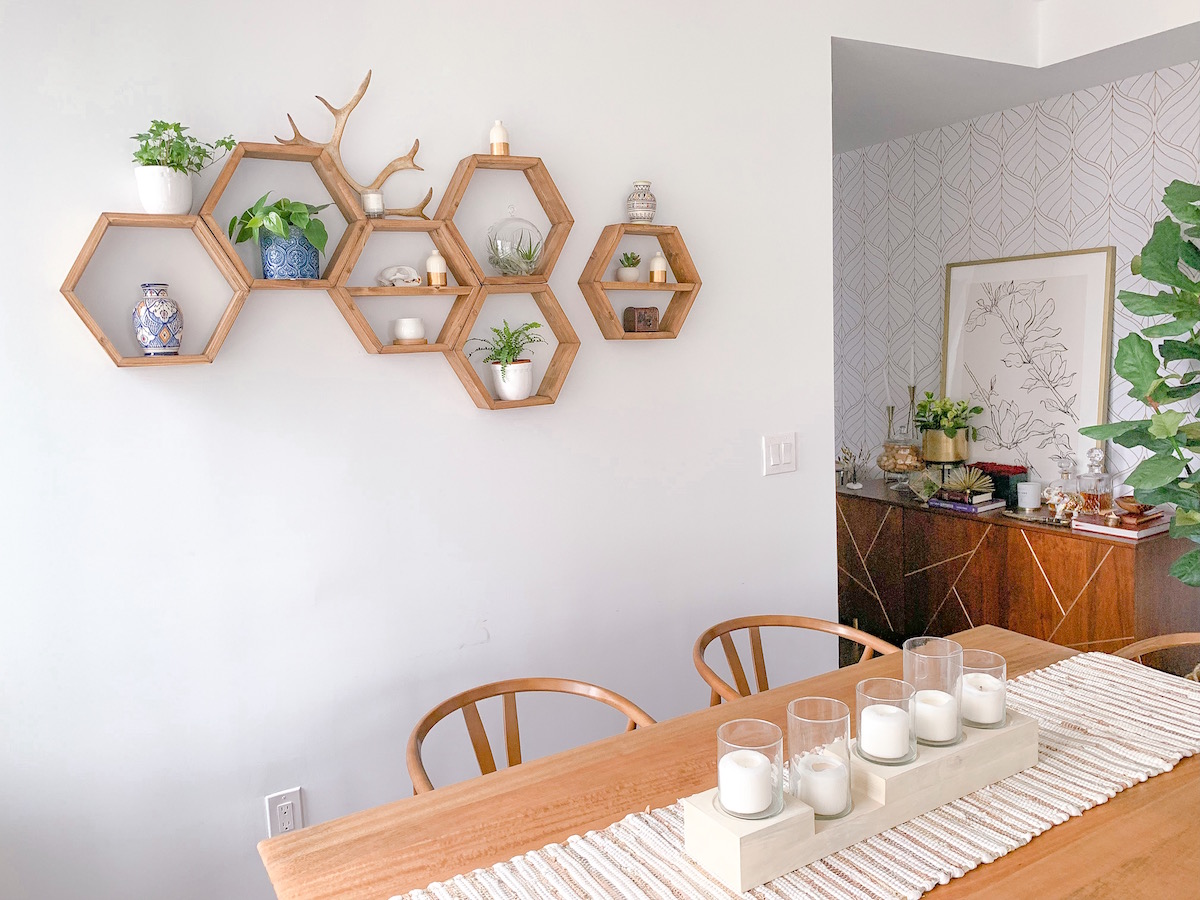 How To Hang & Decorate Honeycomb Shelves
Nick handled this portion obviously 😛
It was actually really easy though! Since the shelves were already so lightweight and not going to holding anything heavy, we were able to hang our shelves directly into the drywall using basic screws.
Since five of the six shelves would be nested together, we went one by one. After marking the spot where the top of the shelf would hang, Nick drilled a single screw into the wall leaving about 1/4″ inch out of the wall for the shelf to hang on. It was really that easy!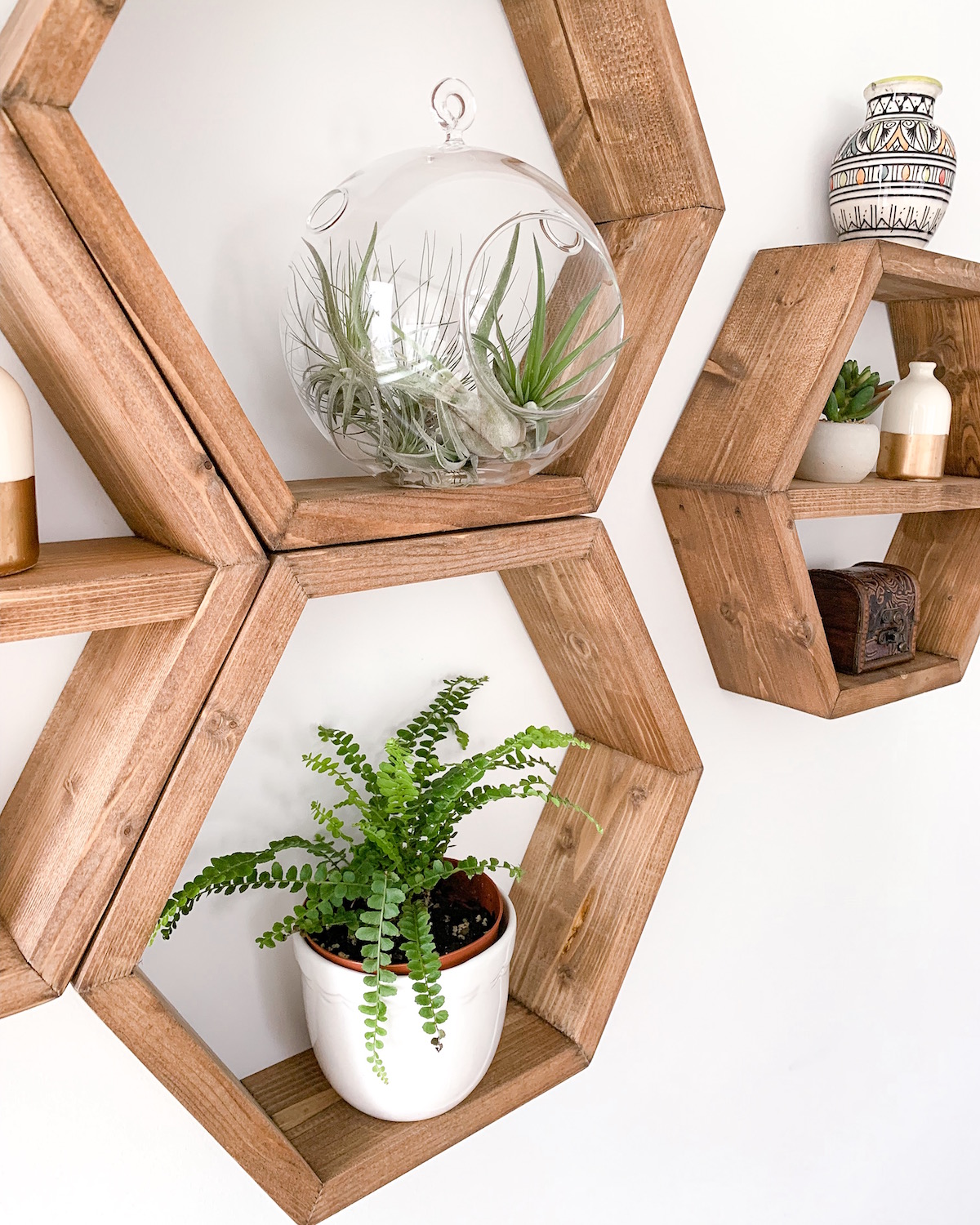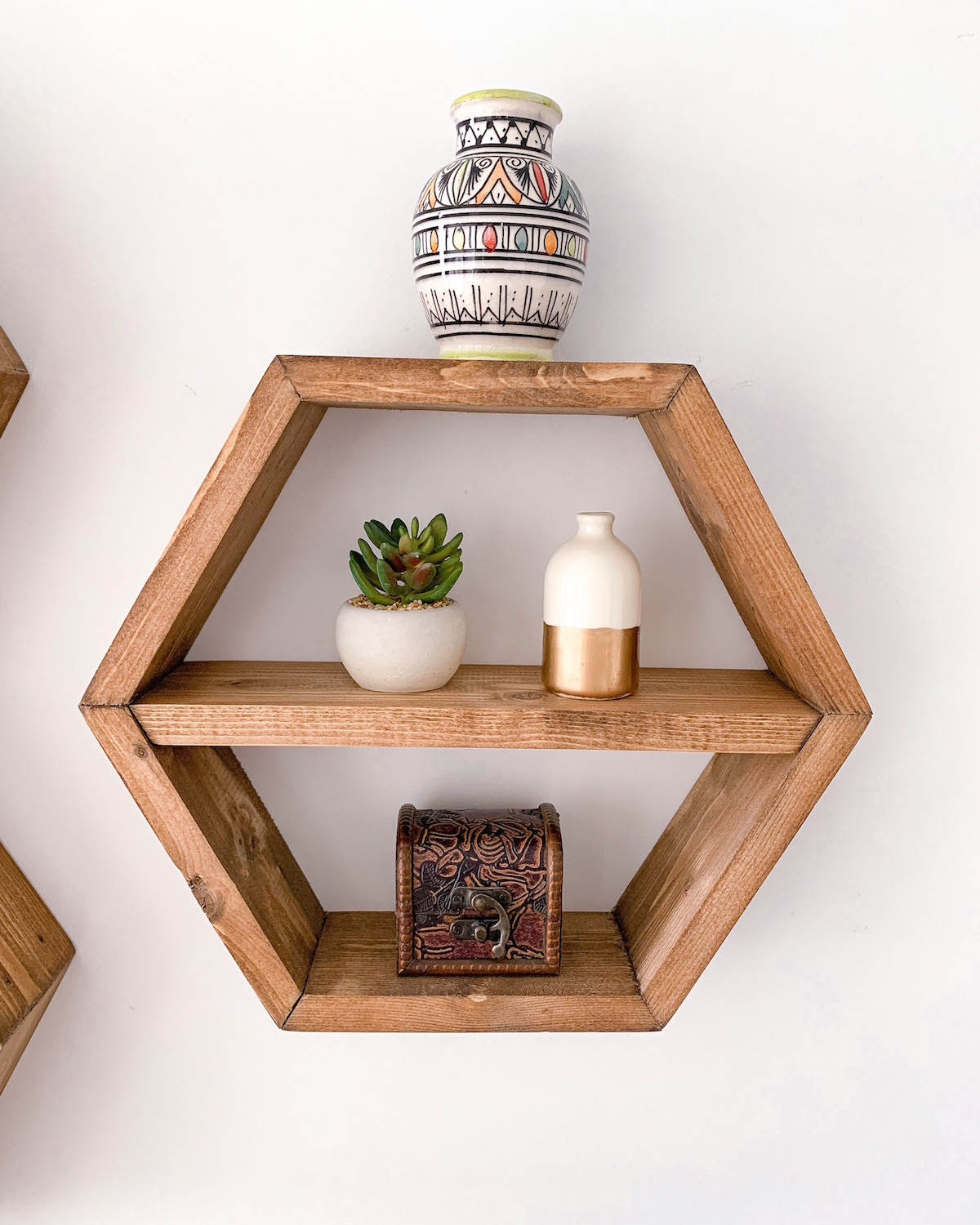 FROM LEFT TO RIGHT // Similar Glass Terrarium + Air Plants | White Scallop Planter (set of 2) + Fern Plant | Faux Succulent | White & Gold Bud Vases 
Obviously if you're ordering larger shelves or plan on displaying items of substantial weight, you may want to look into a more heavy duty options when handing these to your wall. I'd suggest checking with wherever you buy your shelves for advice!
I decided to decorate ours with personal mementos (mostly purchased on international trips) and small plants. Nick and I both LOVE how it all turned out! The shelves are a really unique focal point in our main living space, but I love how they don't overpower or detract from everything else going on in the room. The color of the wood perfectly compliments our dining room furniture too! Also really love having a little bit of greenery in our main living space now. 🙂
What do y'all think? How'd we do? 
- Katie