I can't believe that Nick and I have been living in our current apartment for three entire years! We absolutely love our sunny one bedroom apartment in Kips Bay. The time has completely flown by and some days it feels like just yesterday we were recent college grads moving into our first place in the West Village.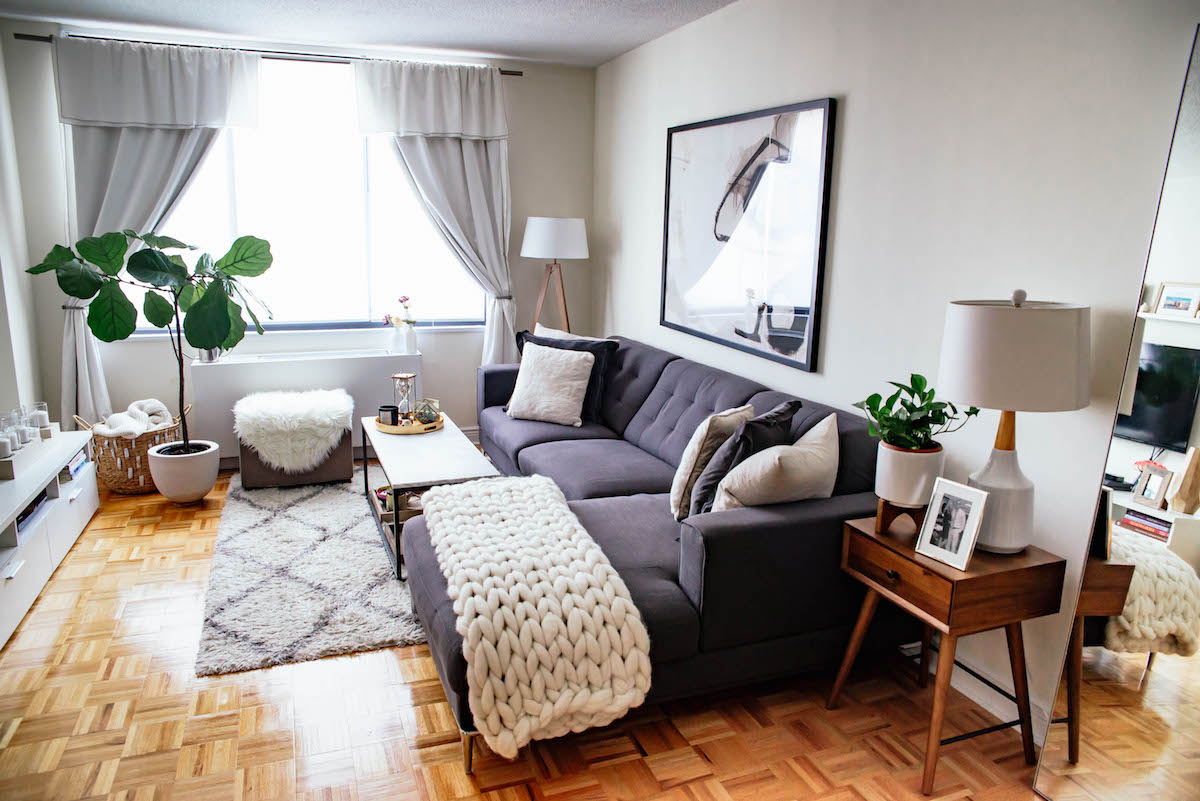 If you're unfamiliar with Manhattan, Kips Bay is a small neighborhood on the east side of the city– south of busy Midtown and just a few blocks north of quaint Gramercy Park. It's the perfect location for us because it's right in the middle of everything. Nick can easily hop on the 6 train to work uptown and I can walk to my favorite spots in Flatiron, Gramercy and Union Square. In just a ten minute cab or subway ride we can get to all the cool downtown neighborhoods like Soho, Nolita and the West Village.
It's been on my blog to-do list to share an apartment tour for literally two years now (SO overdue), but I just kept delaying because I wanted to wait until I was 100% happy with our decor. My interior style has evolved so much recently. While I used to be really into bright colors (a carry over from my college days…) I'd say that I now prefer neutrals and soft tones. We also just had some many little things like framed photos, throw pillows, knick knacks, lamps, etc. that just didn't make sense and that I was only holding on to because I'm a hoarder 😛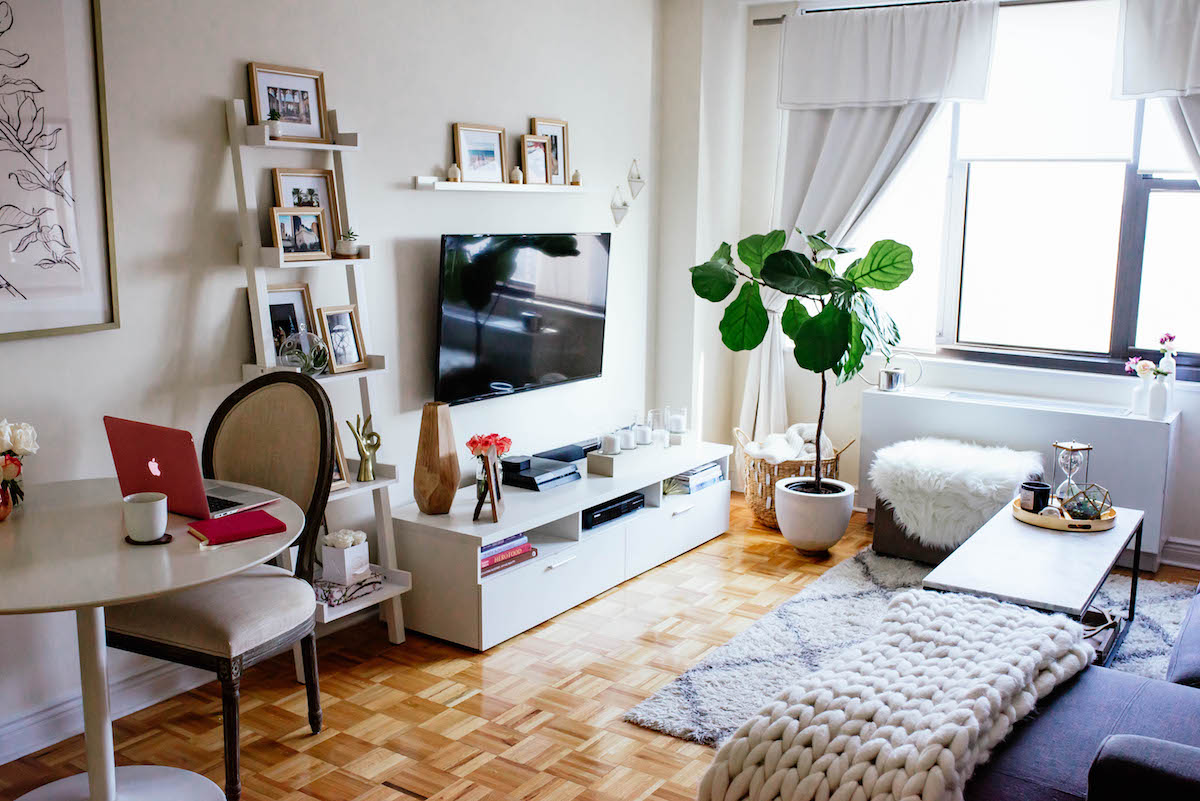 When I traveled to Finland last year I completely fell in love with Scandinavian design style. Just think: clean, light-filled spaces with functional furniture complemented by cozy and warm decorative elements. If you saw my last apartment update you'll notice that our large furniture has stayed the same, however I completely switched up the color palette and replaced some of the smaller accessories in our main living space. I could go on and on, but I don't want to bore you guys with text because yes– this post includes a VIDEO!
Gimme a drumroll please… Without further adieu I give you part 1 of my New York City Apartment Tour! Yep, there will be a part 2 featuring our bedroom and bathroom 🙂
Videography by Kylie Keene
Okay so let's talk details! I'm sure some of you may be interested in where  I found our furniture and decor so I've linked everything and included a little more info below. Definitely let me know if you have any questions!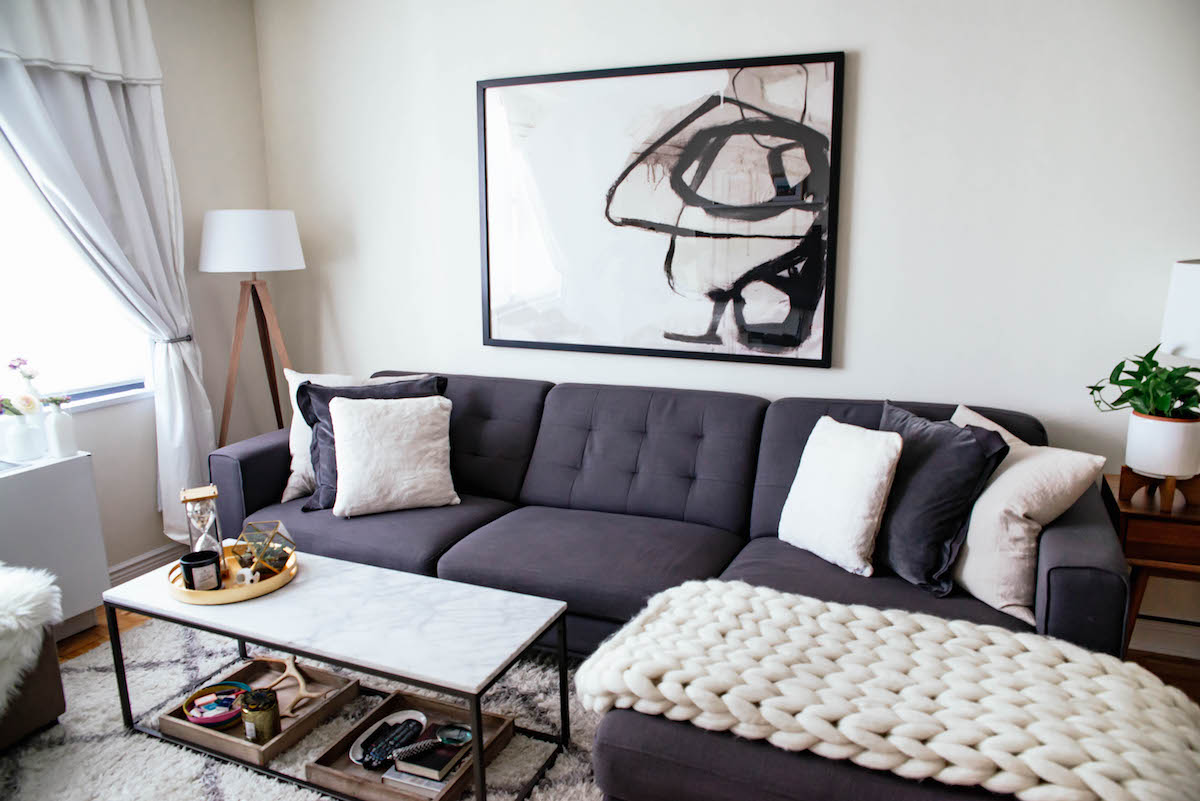 FURNITURE //Modani Sectional (similar style) | Coffee Table | Side Tablevia Joss & Main | Floor Lamp via Joss & Main | Similar Storage Ottoman | Shearling Throw (over ottoman)
DECOR & ACCESSORIES // Carpet | Curtains | Wall Art via Minted | Light Grey Throw Pillows | Dark Grey Throw Pillows | Giraffe at Home Faux Fur Pillows | Chunky Knit Throw Blanket via Joss & Main | Table Planter & Pothos Plant | Round Gold Tray | Glass Terrarium via Joss & Main | Succulents | Similar Hourglass | Wooden Trays (under coffee table)
In a perfect world we'd have a huge cushy couch, but opting for a sectional is the way to go if you live in a small space. Since these couches can be a little sterile, a really easy way to make your living room feel inviting is with oversized pillows and cozy throws. This chunky merino wool blanket from Joss & Main is one of my favorite things in our apartment. It's not only beautiful to admire, but super soft too! I get so many compliments on it.
I'm totally obsessed with the abstract art above our couch because it integrates seamlessly with our cool-toned color scheme. I did love our previous wall art, but it had started to feel a little too juvenile and the bright rainbow colors completely overpowered the neutral palette of the room. Hopefully I can find a place for it when we have a larger apartment or home one day!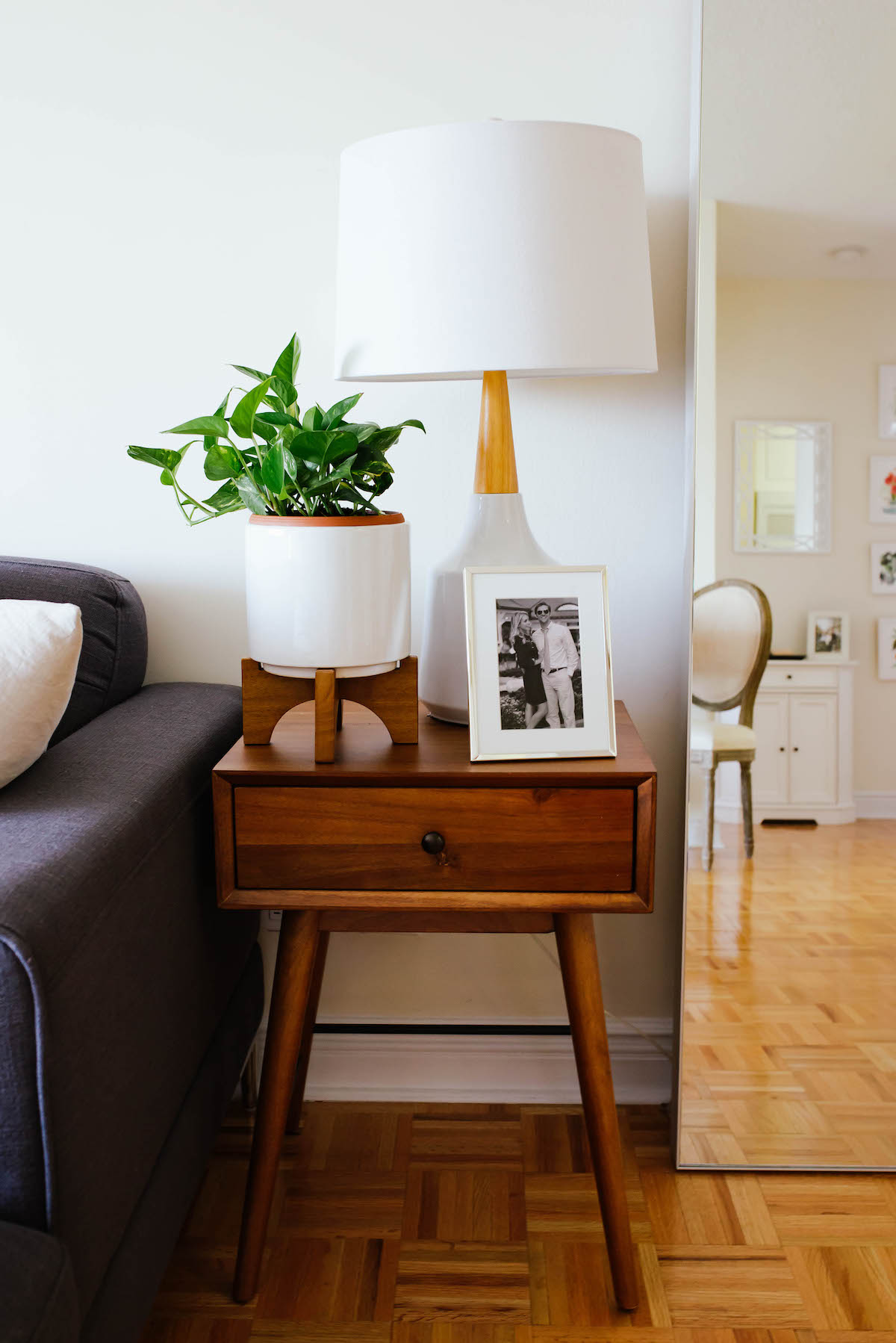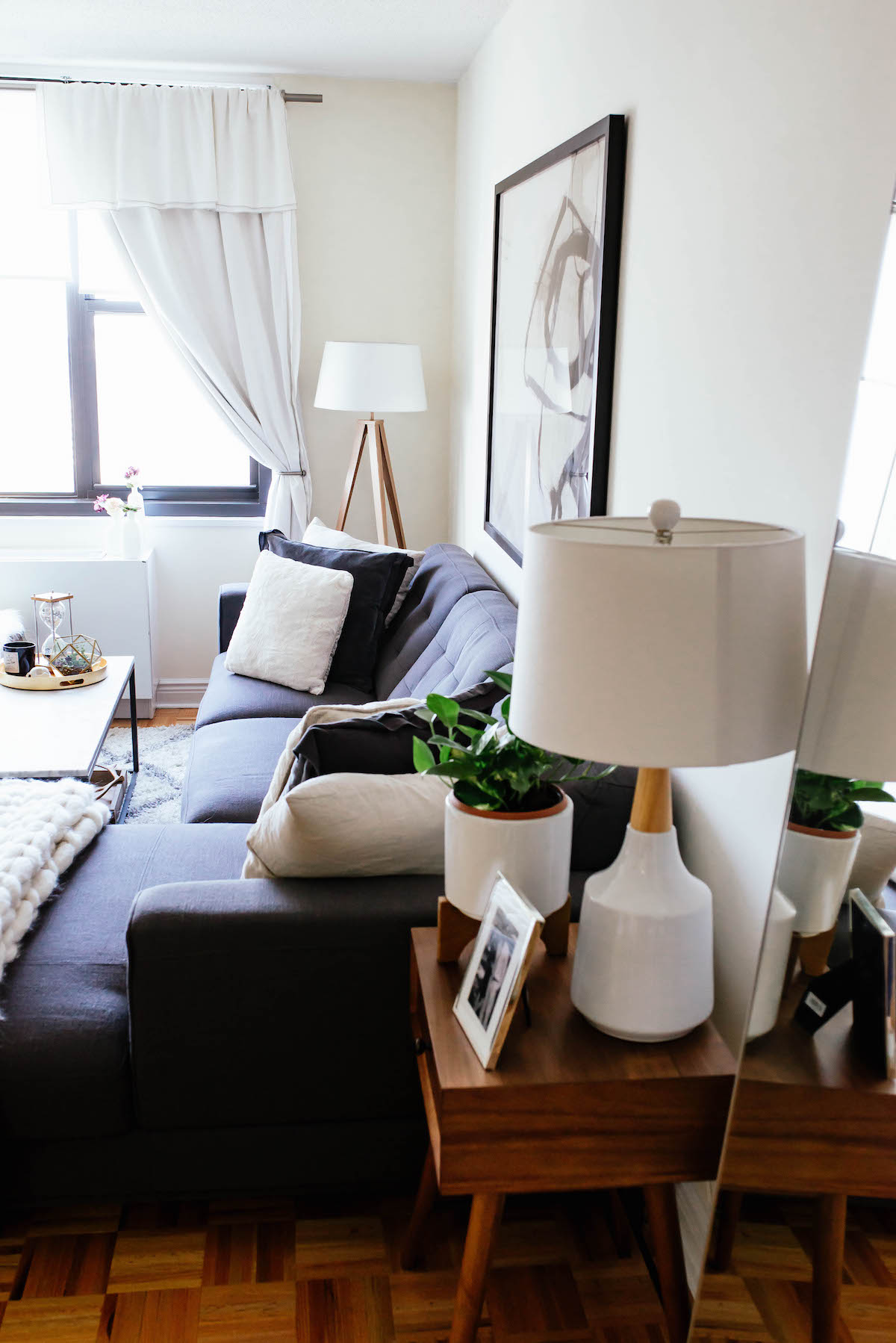 Side Table via Joss & Main | Table Lamp via Joss & Main | Table Planter & Pothos Plant | Picture Frame | Floor Lamp via Joss & Main
One of my favorite recent changes in our living room is this side table and then all of our lighting. I scored the table and both lamps from Joss & Main and couldn't be happier with the quality. I was really looking for elements that had a clean Scandinavian feel and was excited when I found these lamps with wood detailing.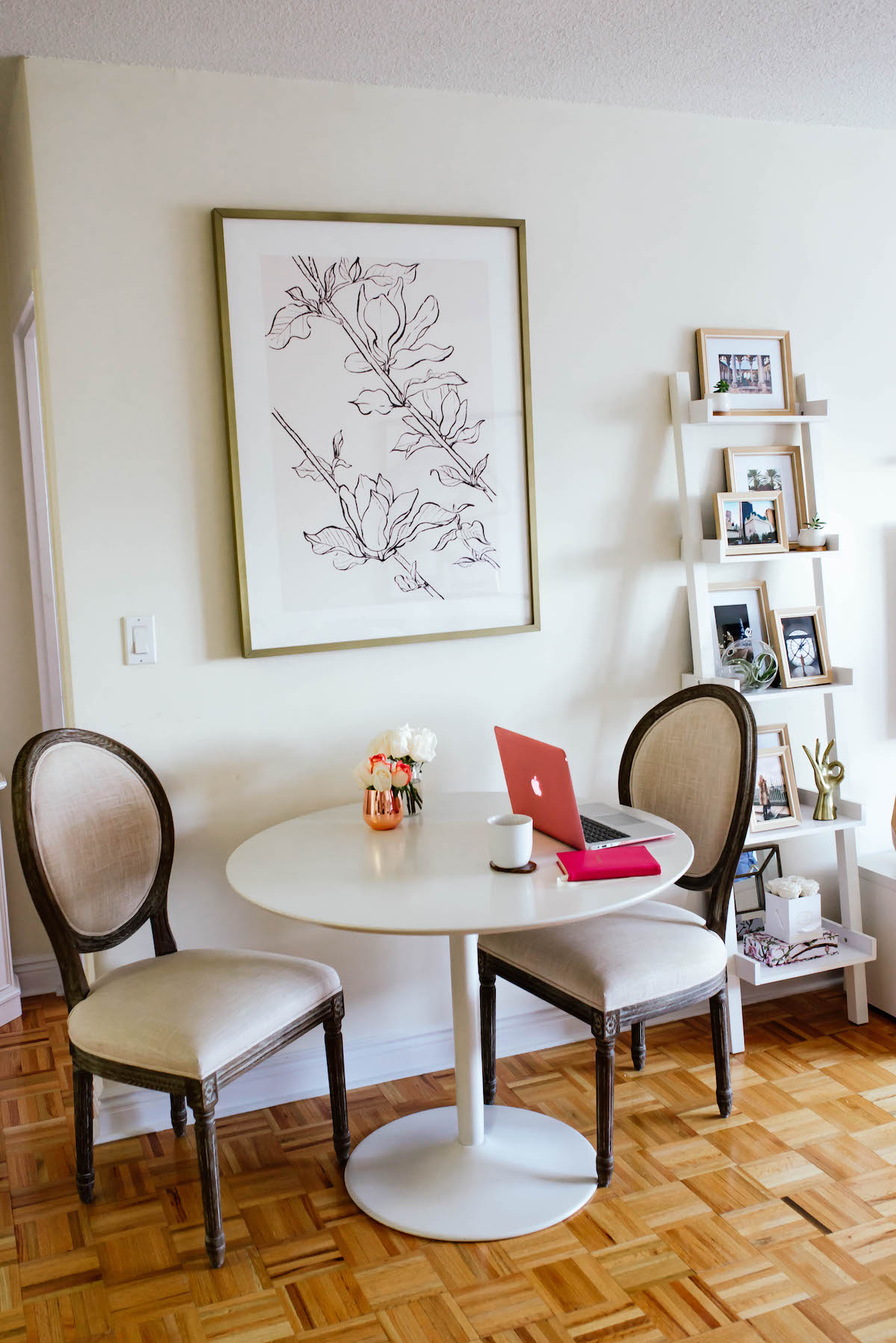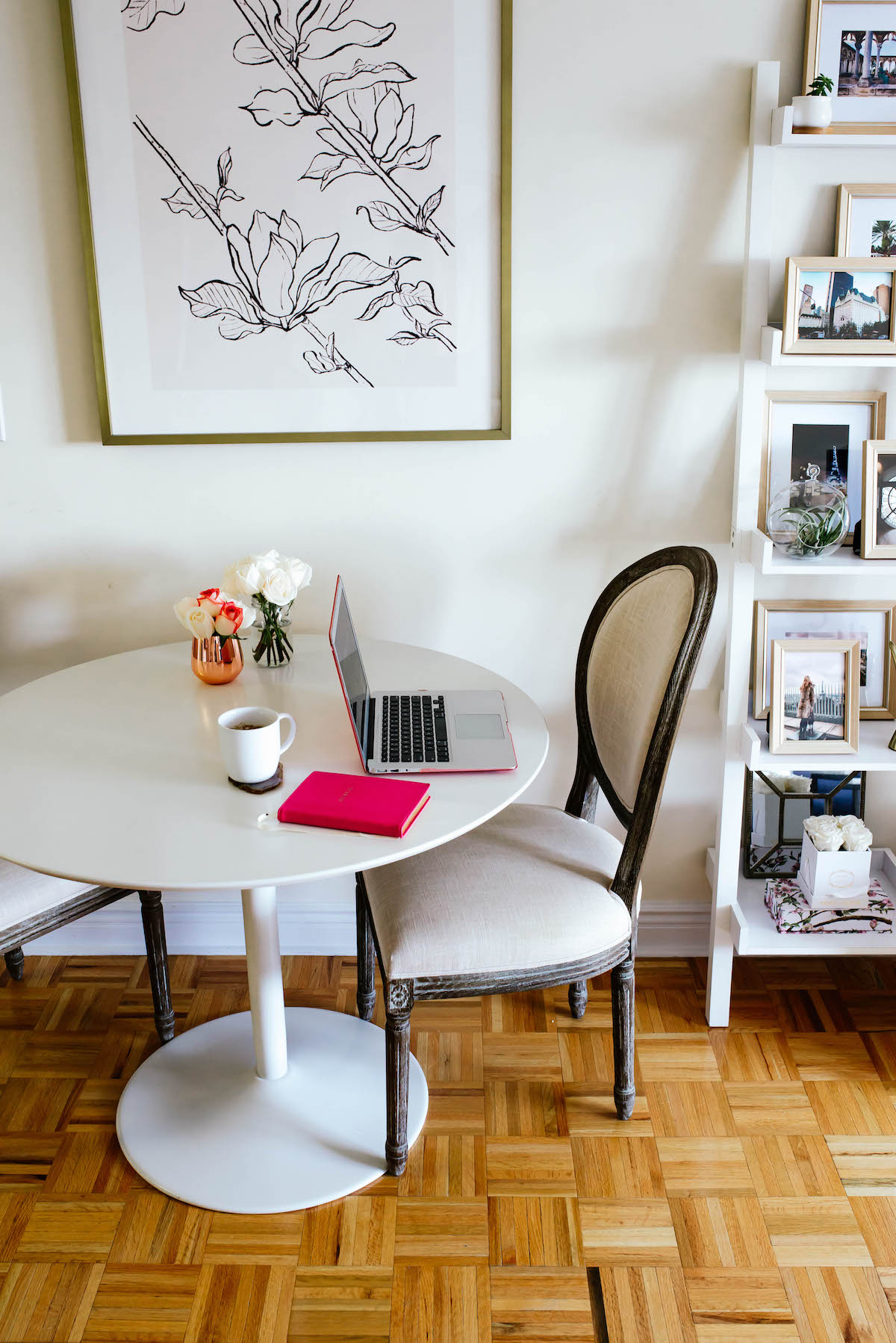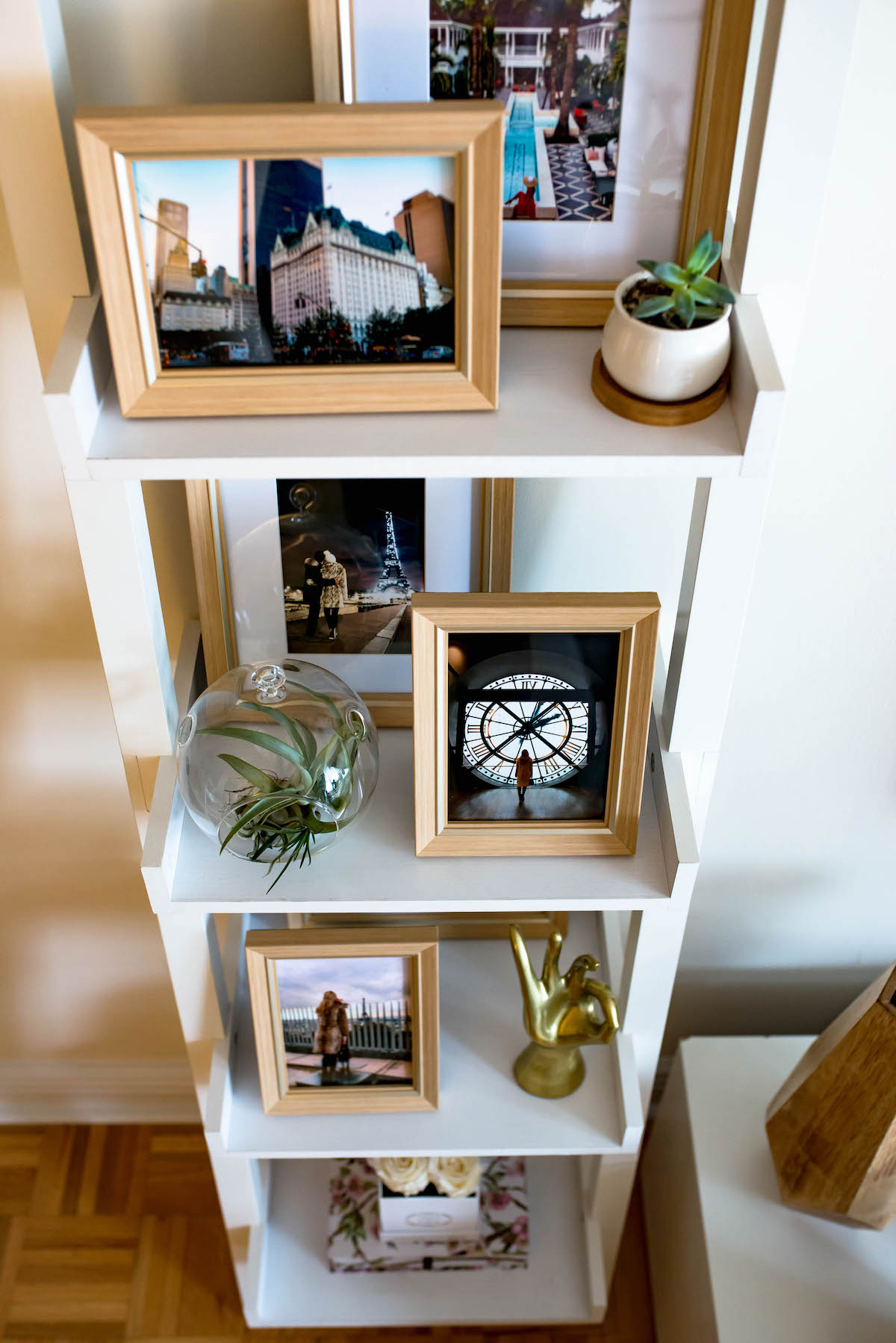 Dining Table | Dining Chairs | Wall Art Print via Minted | Copper Wine Glass (used as a vase) | Ladder Bookshelf (full post on how I styled it here)
I'll admit that we don't use our dining table often for actual eating, however it certainly looks pretty and is very functional for small apartment living. We actually purchased ours used from a Craigslist listing, but here's where you can buy it online! I actually did an entire post all about how I styled my ladder bookshelf so make sure you check out this post here.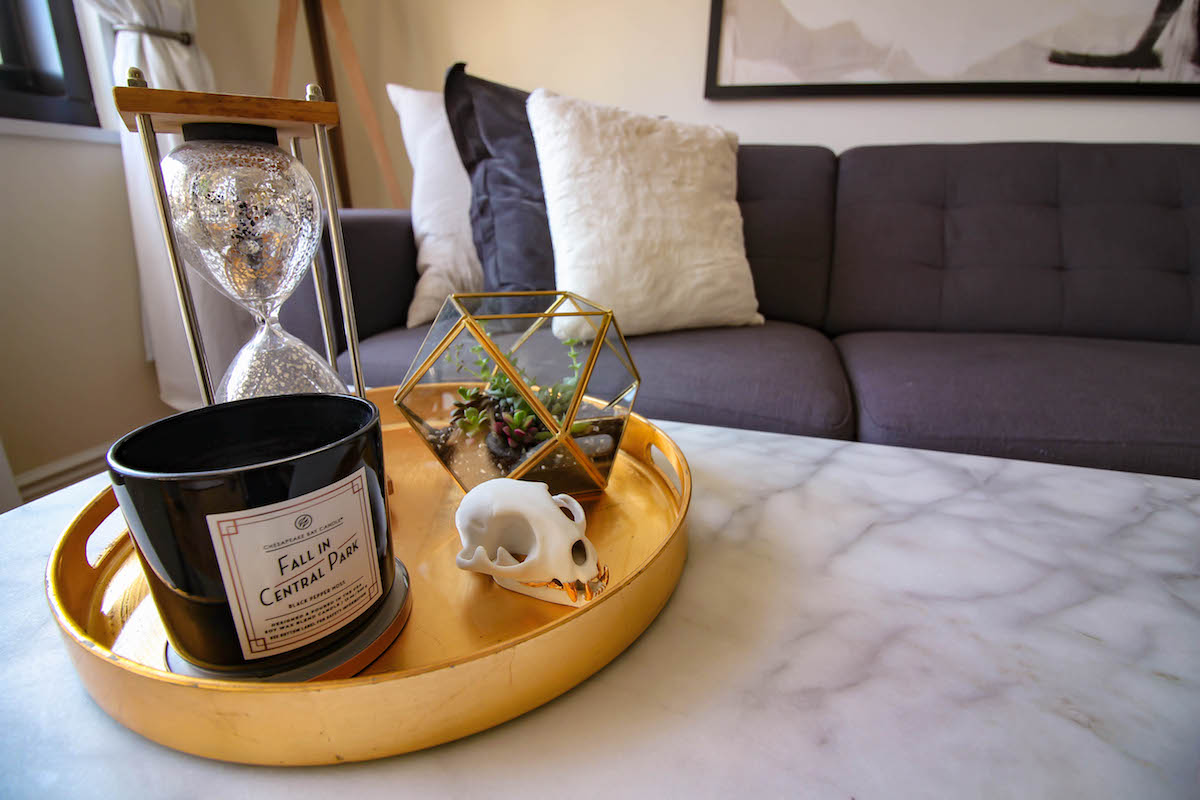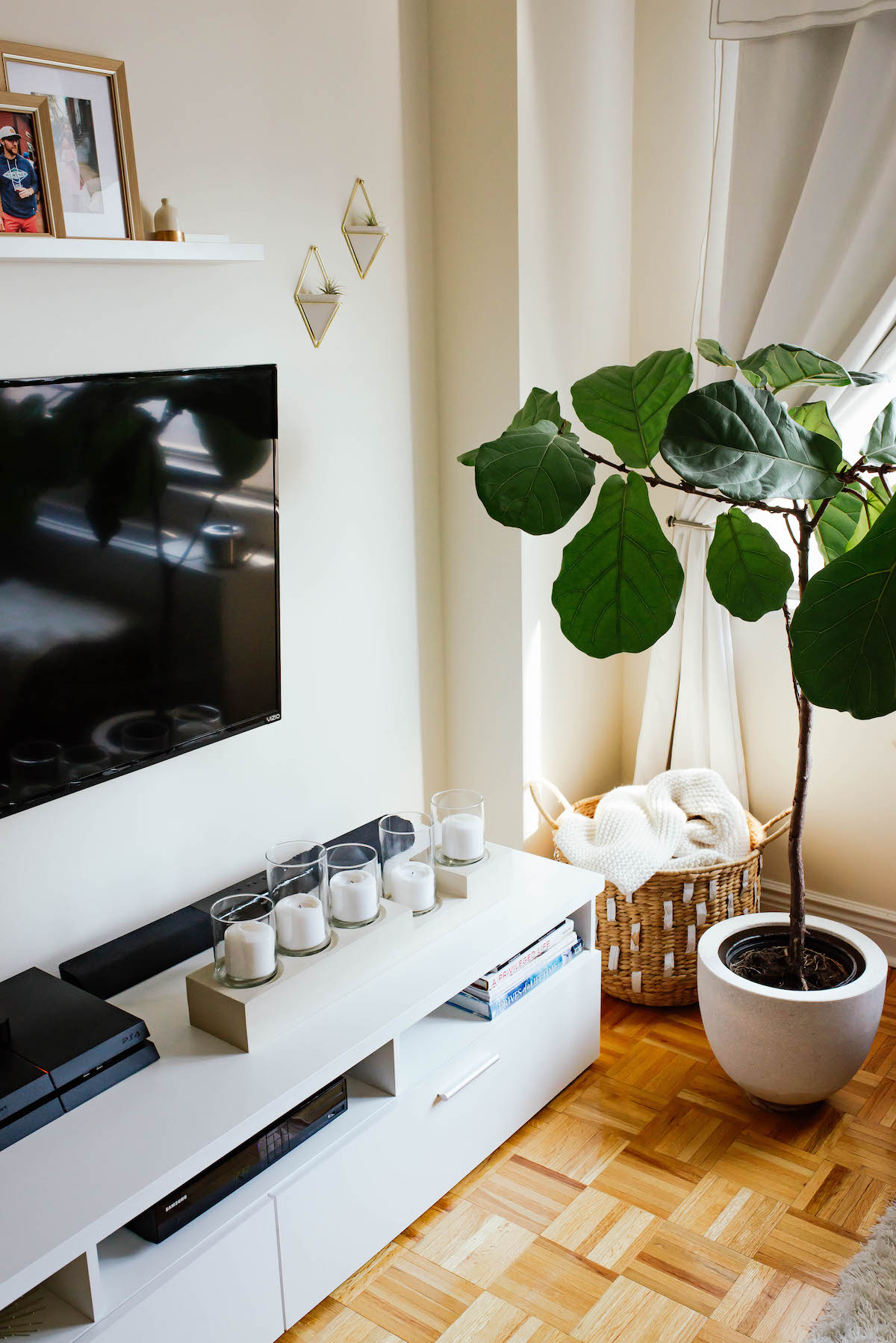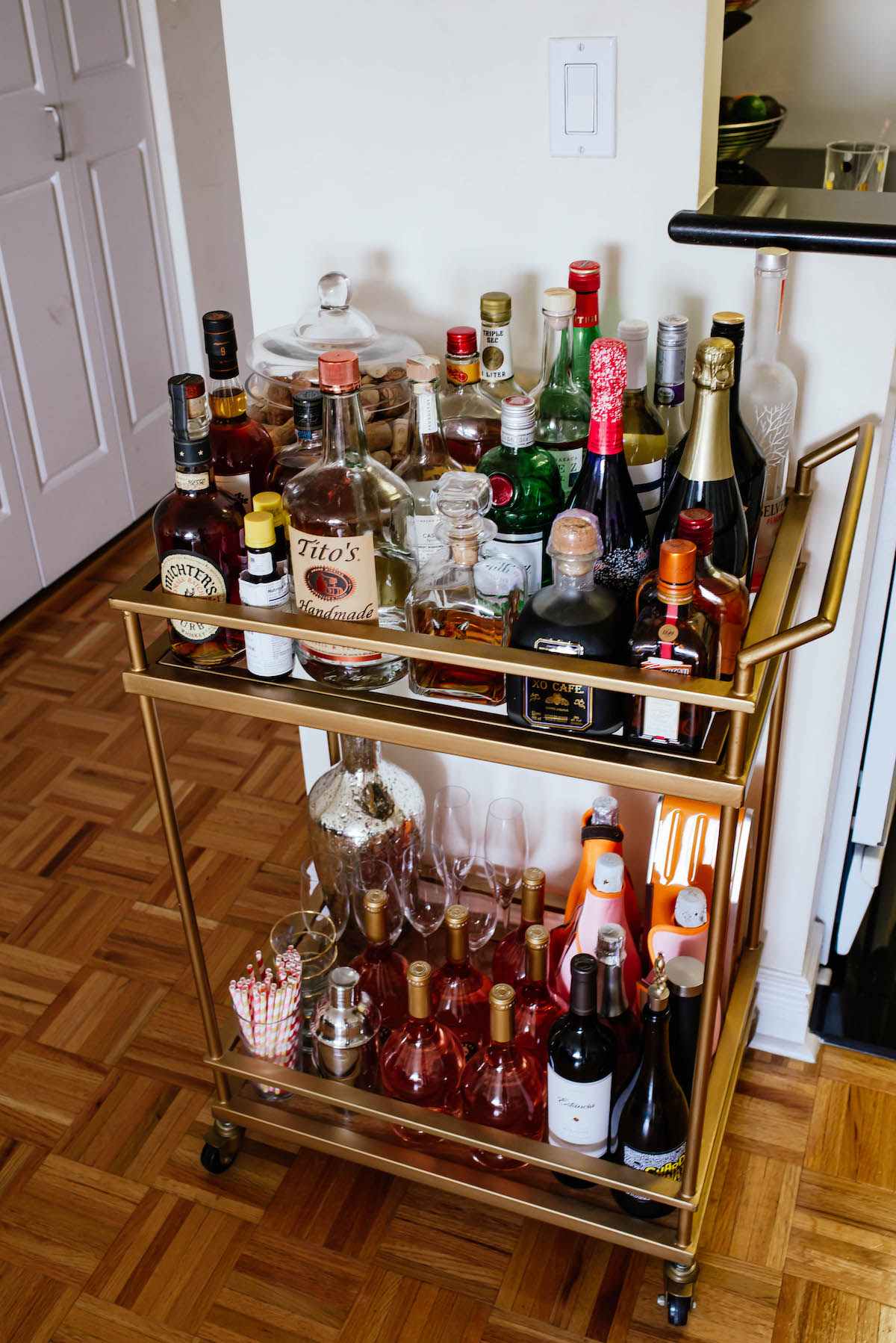 Coffee Table | Round Gold Tray | Glass Terrarium via Joss & Main | Succulents | Similar Hourglass | Porcelain Skull (we found this at the coolest store in Amsterdam!) | Media Console | Wood Candle Holder Centerpiece | Similar Basket | Wall Terrariums via Joss & Main | Fiddle Leaf Fig Tree (found mine at a store in the NYC Floral District) | Gold Bar Cart | Apothecary Jar (for storing corks!)
Some of my favorite elements of our living room include the decorative gold tray on our coffee table, this oversized wood pillar candle center piece that I display on our media console and of course our bar cart. Now who wants to help me drink all that rosé?
Keep a lookout for Part 2 featuring our bedroom and bathroom coming later this month! xo
- Katie