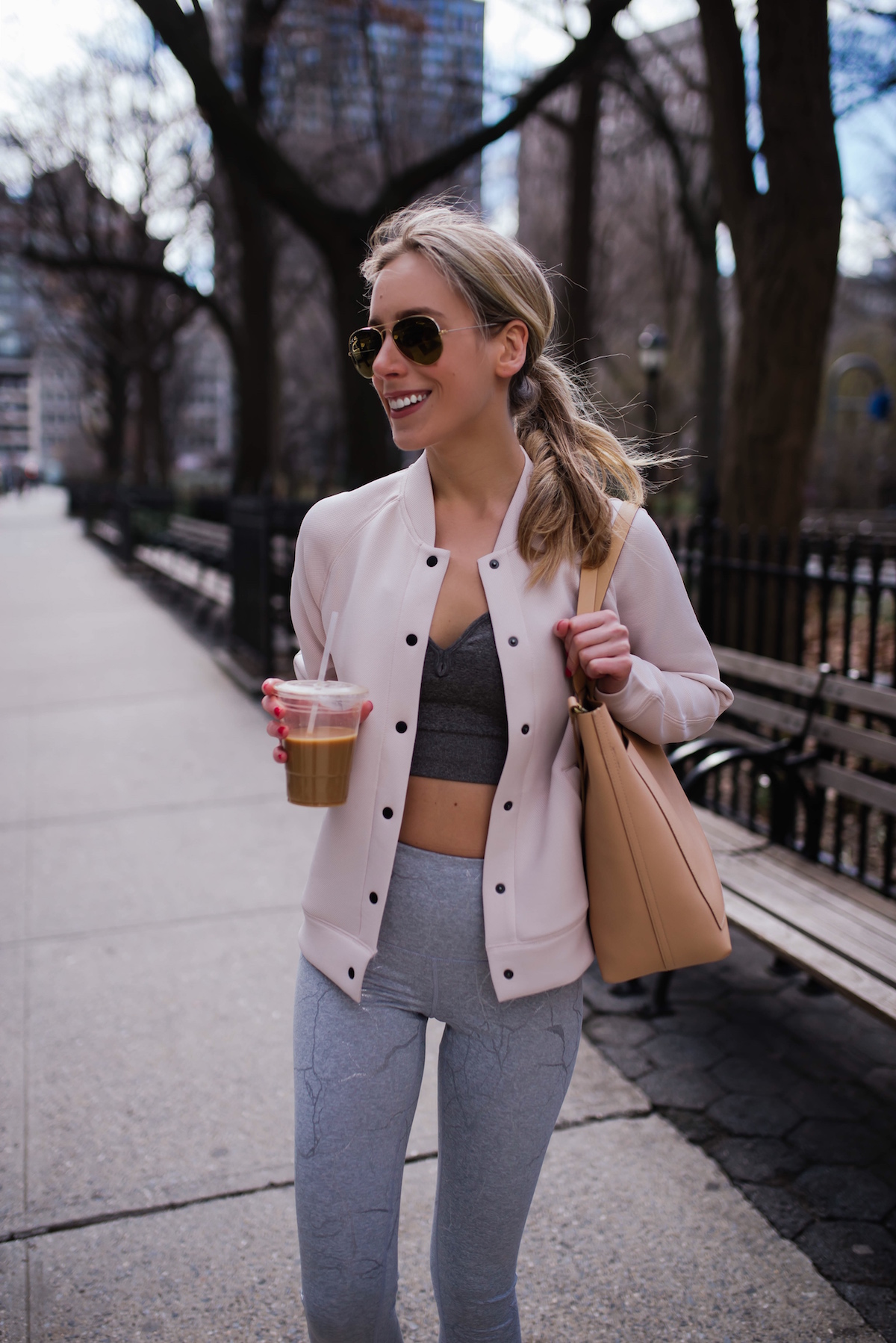 There's nothing like the wind tunnels of New York to knock you back to reality and remind you that you're no longer in Charleston. Note to self: wear a baseball cap next time you try to take cute gym look photos. I always say that I'm going to work out when I'm traveling, but honestly more often than not it never happens. I give major props to the people who make time to exercise on a vacation or work trip because I can never do it.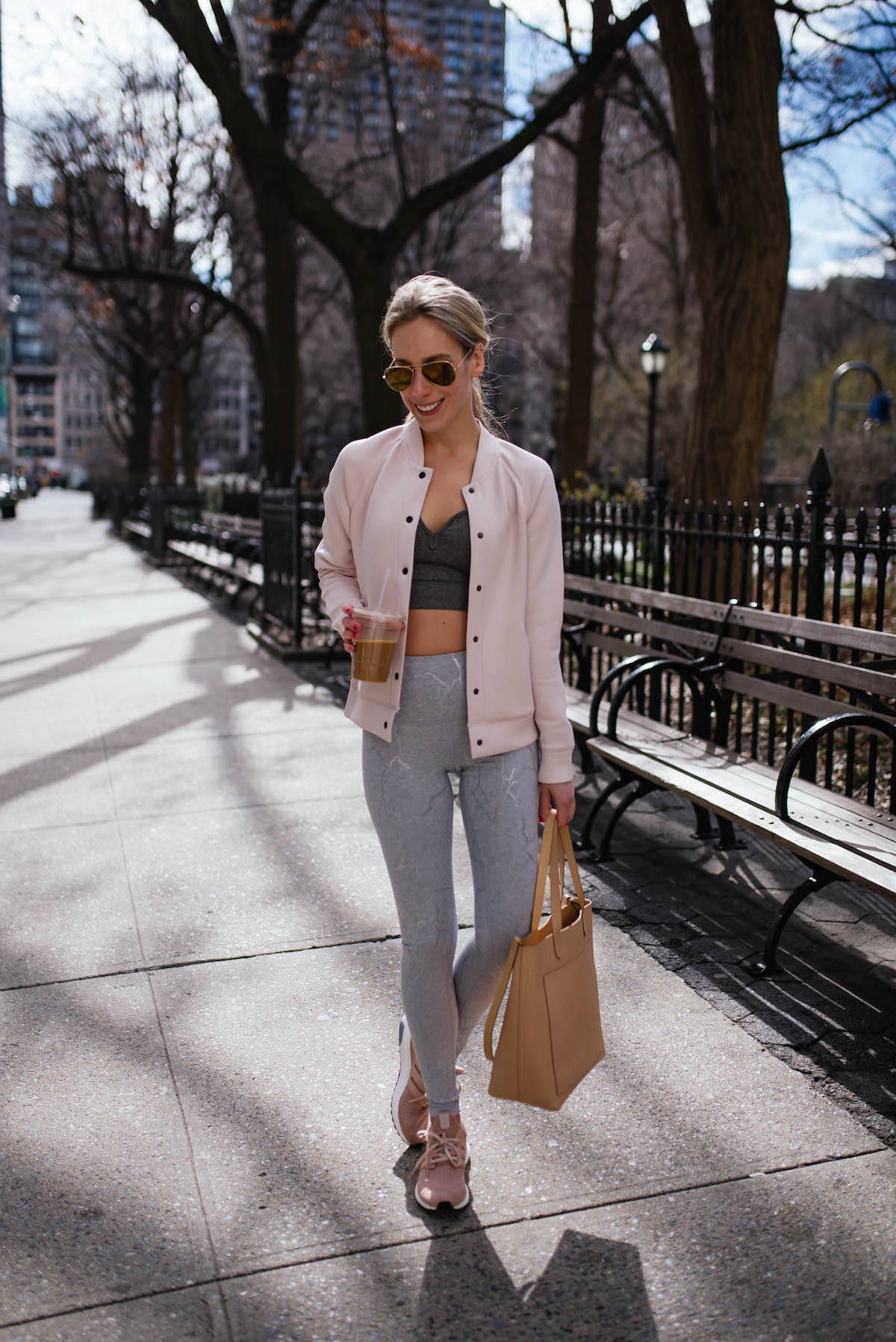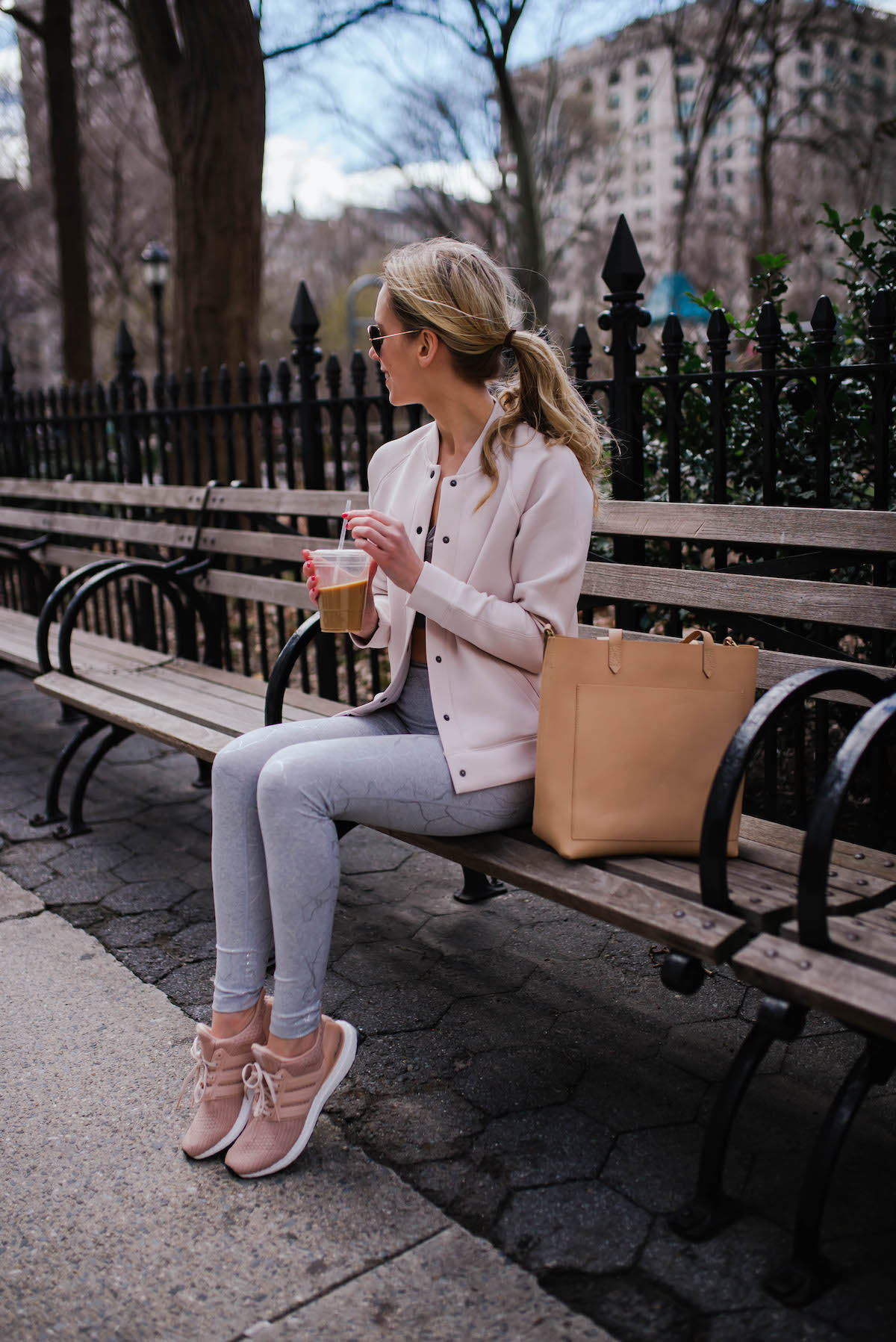 Zella High Waist Leggings | Zella Sports Bra | Zella Bomber Jacket | Adidas Ultra Boost Sneakers | Madewell Medium Transport Tote | Aviators
Other than when I've had to travel, I've consistently been getting my booty moving and grooving 3-4x a week for the last two months. I really hope I can keep the momentum going because I know firsthand how tough it can be to incorporate working out into your everyday routine. After the holiday break it took me more than a month to get over my fear of going back to the gym. As silly as it sounds shopping for a few cute pairs of leggings, tanks or sneakers can be a great incentive to kickstart a new fitness regimen. I'm not gonna lie. I've caught myself feelin' a litttttle fly  rocking a brand new look for the first time 😛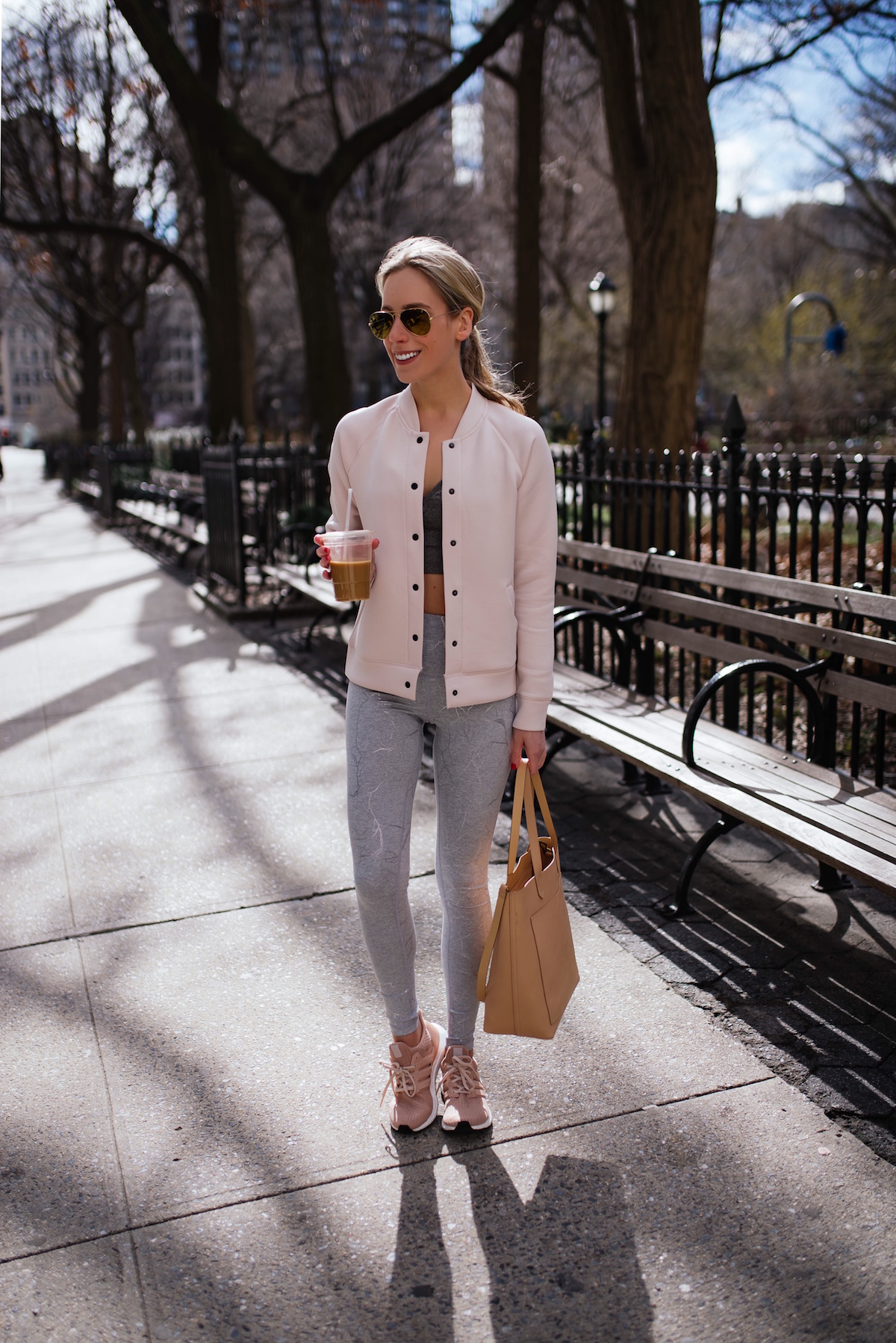 So since I'm clearly all for using exercise as an excuse to go shopping, I wanted to share some affordable spring activewear favorites you can snag now at Nordstrom. I mean, who wants to spend a lot of money on clothing you're just going to sweat in? Not me! When I'm looking for a new pair of leggings or sports bra I turn to brands like Zella, Onzie or Adidas. The price point is always under $100 and I don't have to fear my leggings being see-through when I bend over. YES! This happened to me once with a pair from a pricey activewear brand and of course I didn't realize it until after I finished my workout. No wonder I kept getting stares from the juiced up gym bros… #mortifying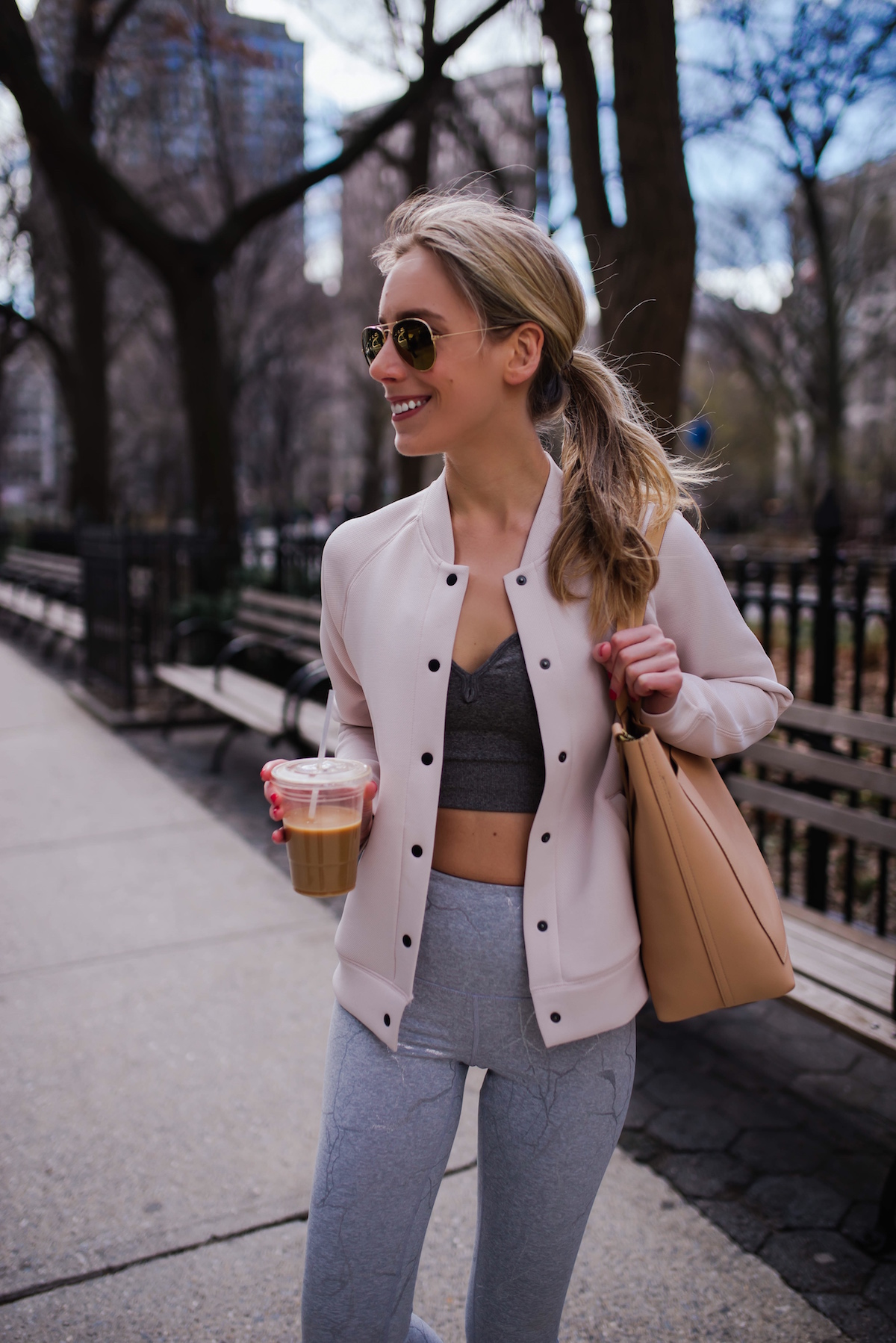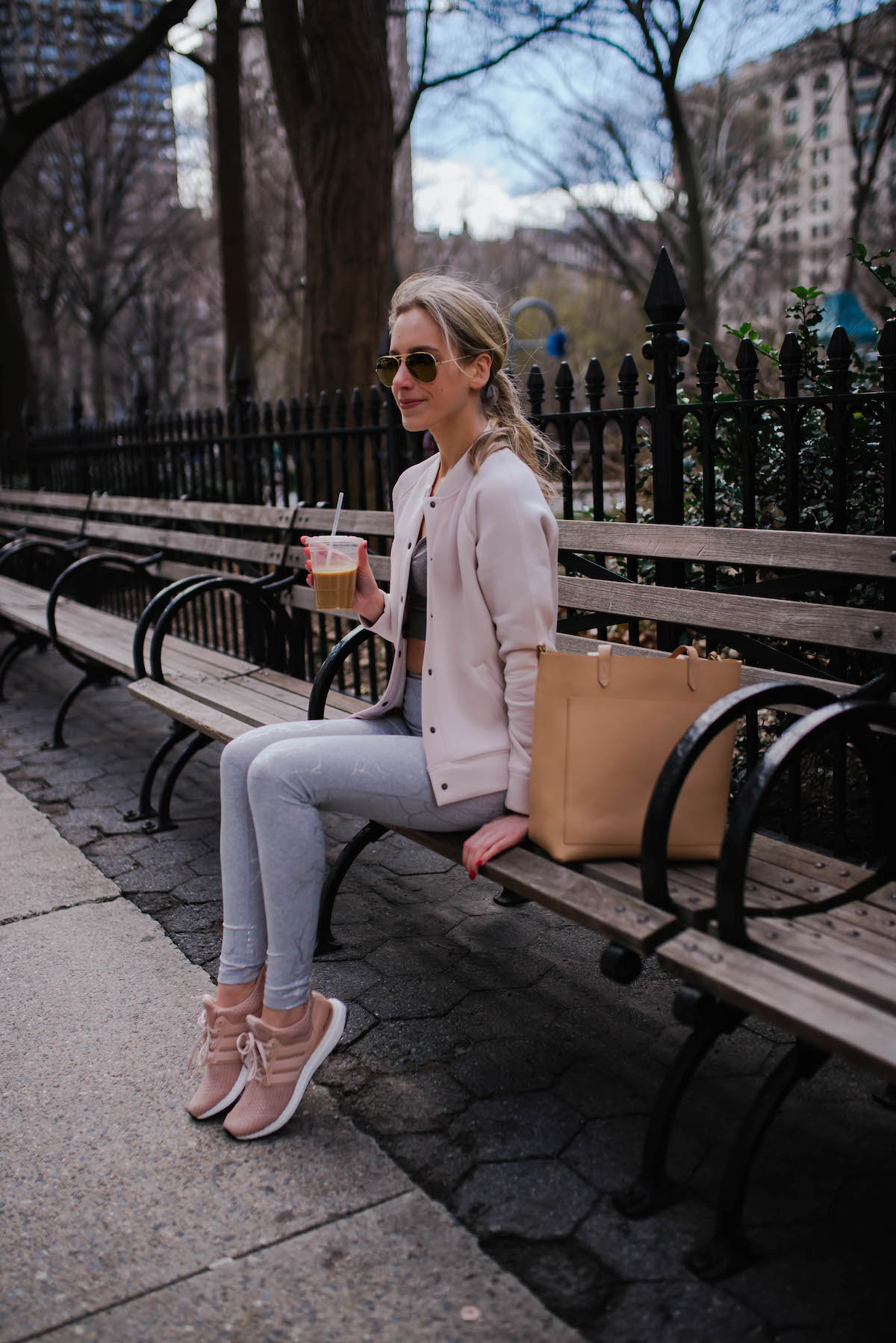 Zella High Waist Leggings | Zella Sports Bra | Zella Bomber Jacket | Adidas Ultra Boost Sneakers | Madewell Medium Transport Tote | Aviators
Now let's talk about footwear. I used to always just pick the least expensive option when I needed a new pair of sneakers, but then Nick completely rocked my world when he got me to try Adidas Ultra Boosts. I was skeptical, but these are worth every dollar because you feel like you're running on a cloud. This is the only pair of shoes I'll wear to the gym or when I travel! They were just restocked in a really pretty pink/grey combo on Nordstrom.com, but I highly doubt they will last long. It took me two months of waiting for my size to get stocked when I was trying to buy my first pair so if you're on the fence DO NOT wait.
So have I convinced you that you need to shop for some new gear? I love the look I'm wearing here, but there are so many more cute options at Nordstrom right now! I've included a bunch of things on my wishlist in the widget below. Just click on the product photos to get info on each item! Nothing like a little Monday retail therapy right? xo
Big thank you to Nordstrom for sponsoring this post!

- Katie