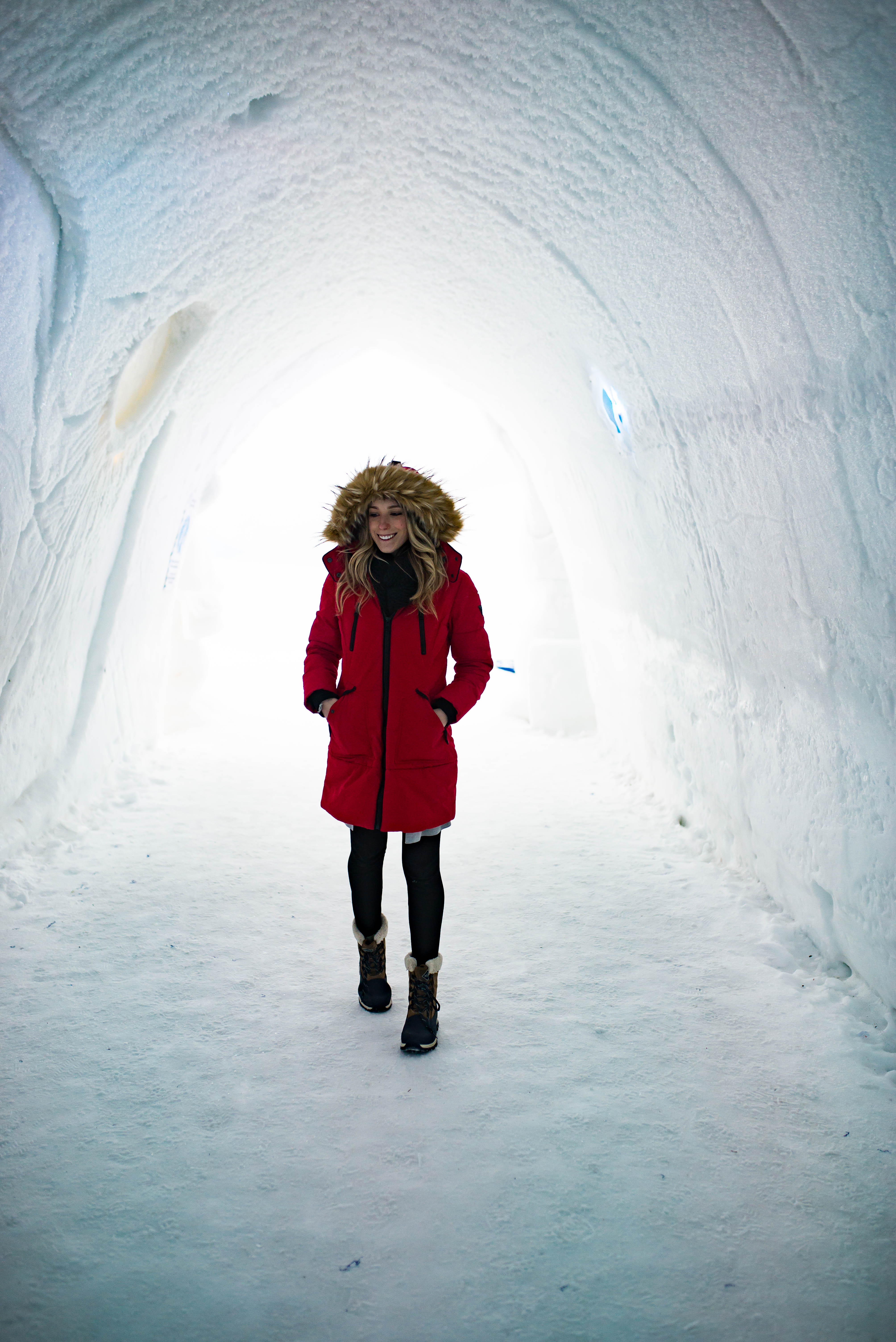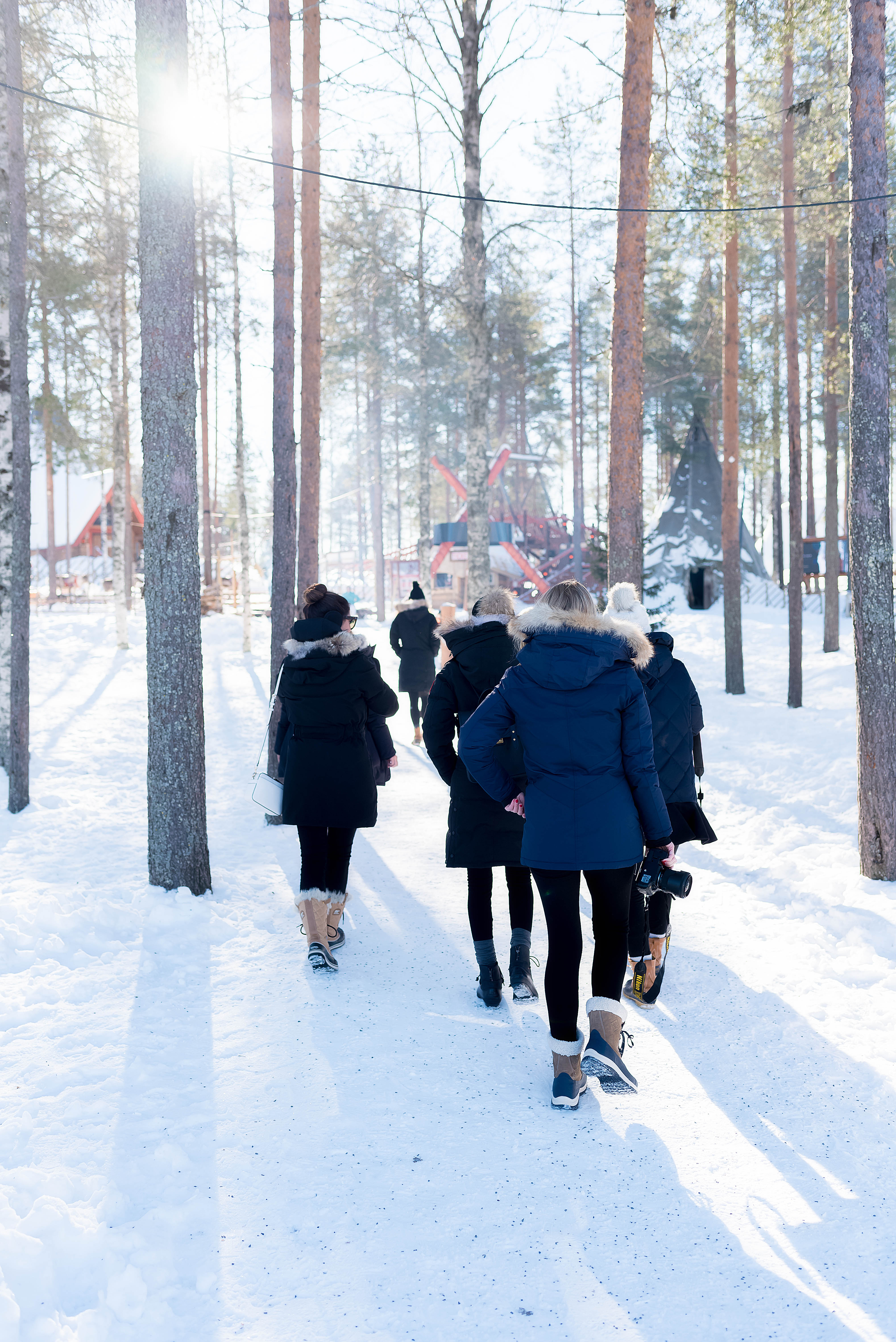 Leaving Saariselkä was bittersweet, though not for long because we next found ourselves three hours south in the capital city of Lapland: Rovaniemi. We spent the next three days getting our fill of more snow (and Finnish food!) while getting to stay at a different hotel each night. First np? Rovaniemi Hotel Ounasvaara Chalets. Here we all had our own alpine chalets complete with private saunas. I couldn't resist doing a little video tour on my Instagram Story because let me tell ya, these cabins were so cute! I felt like I should've been in The Sound Of Music.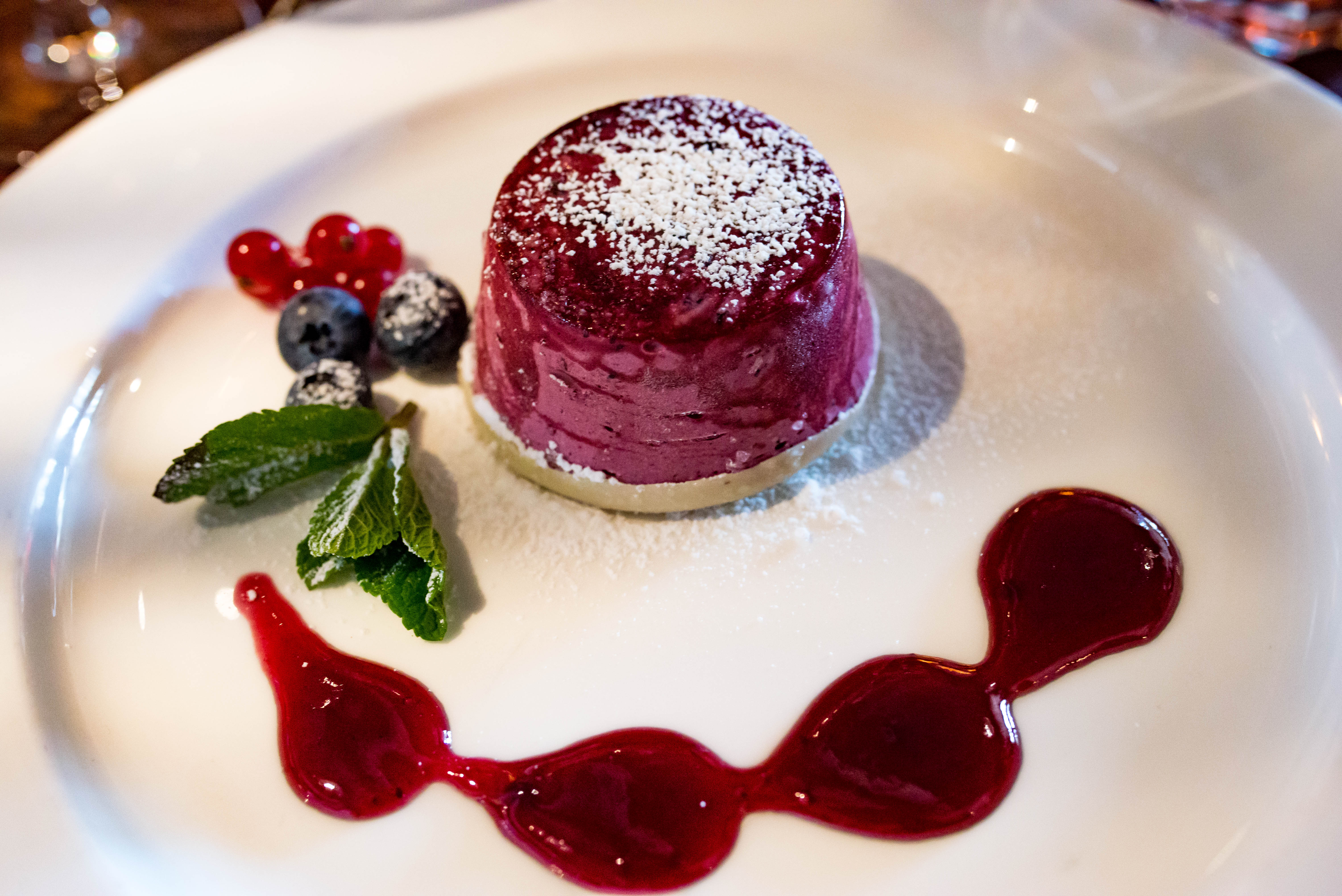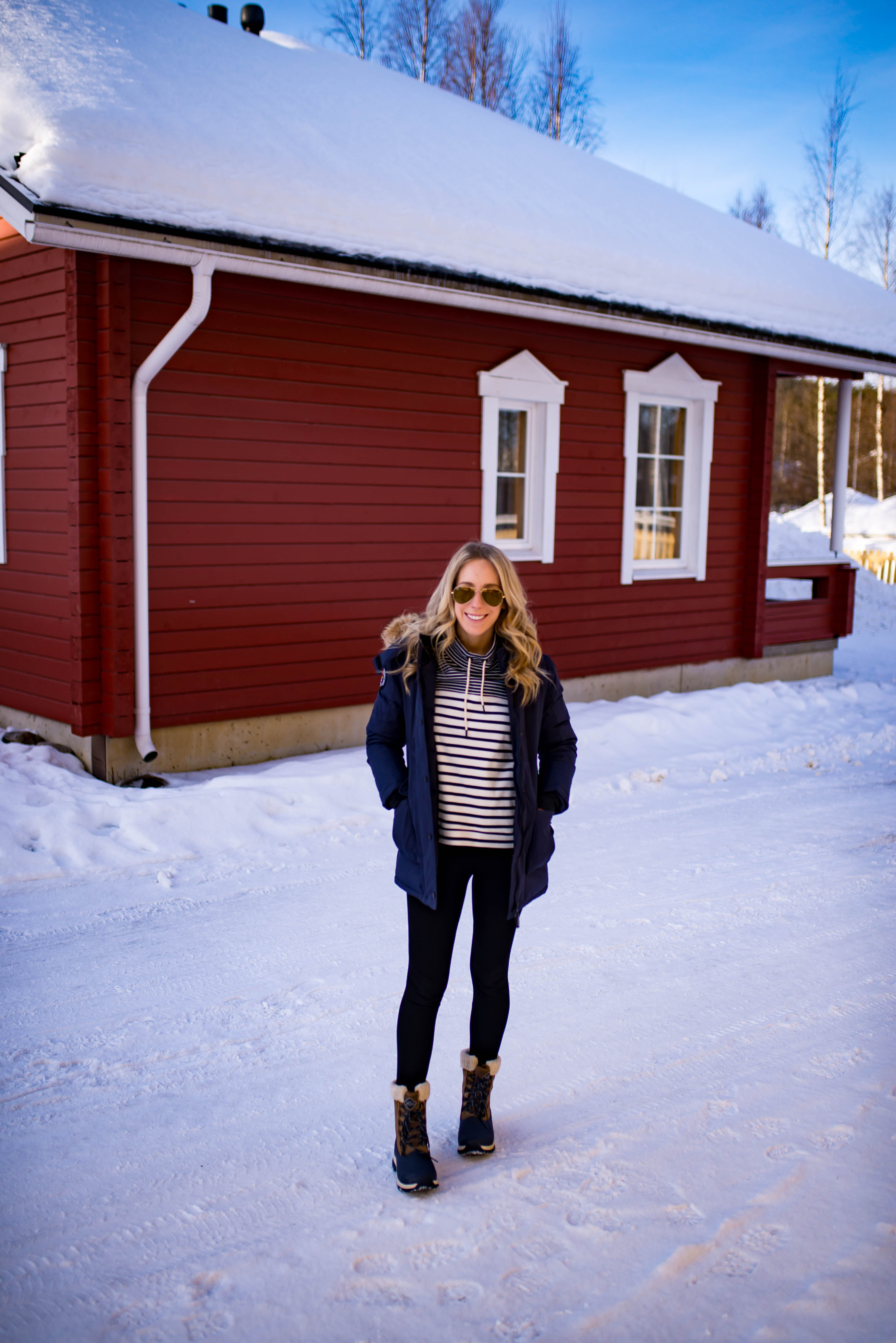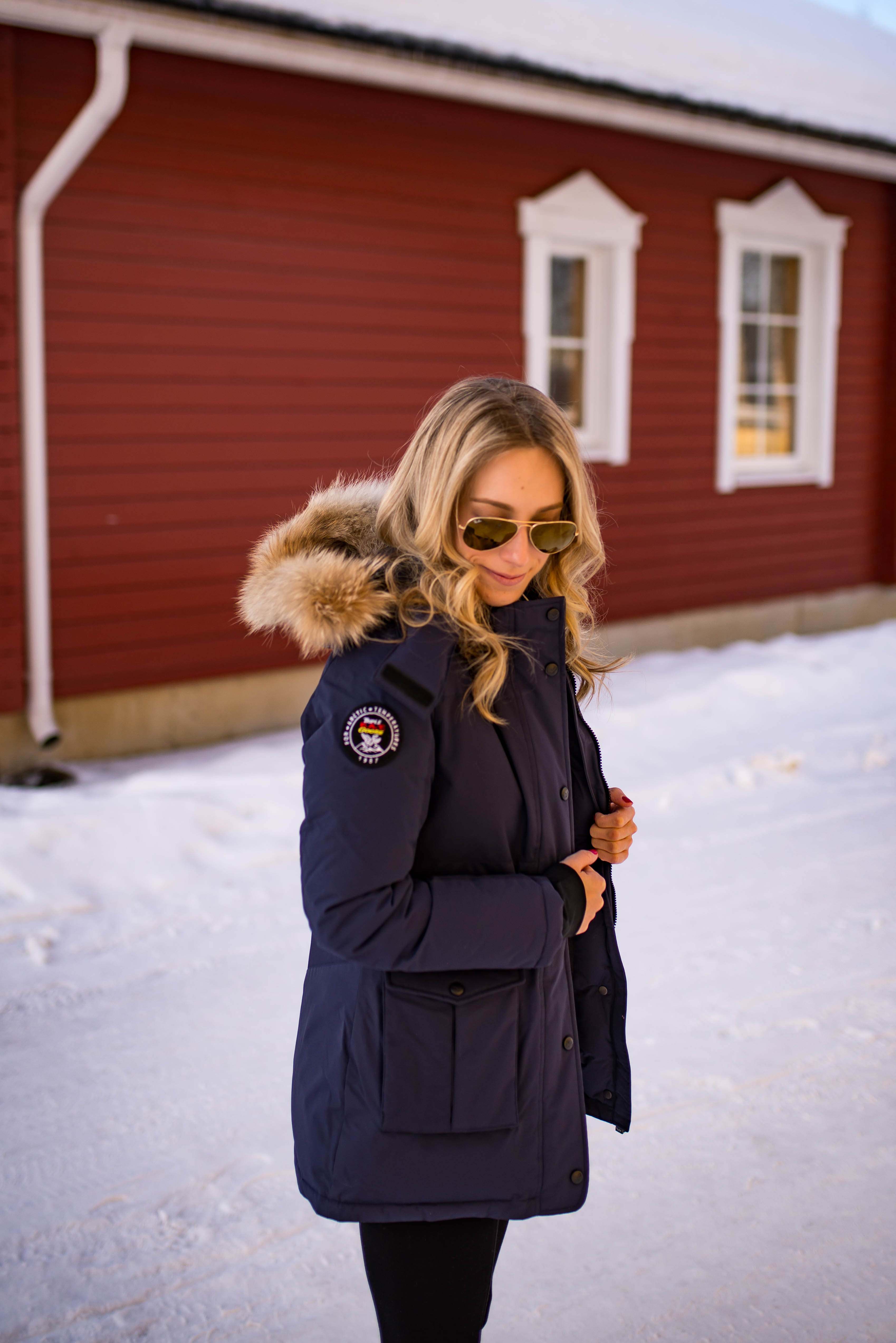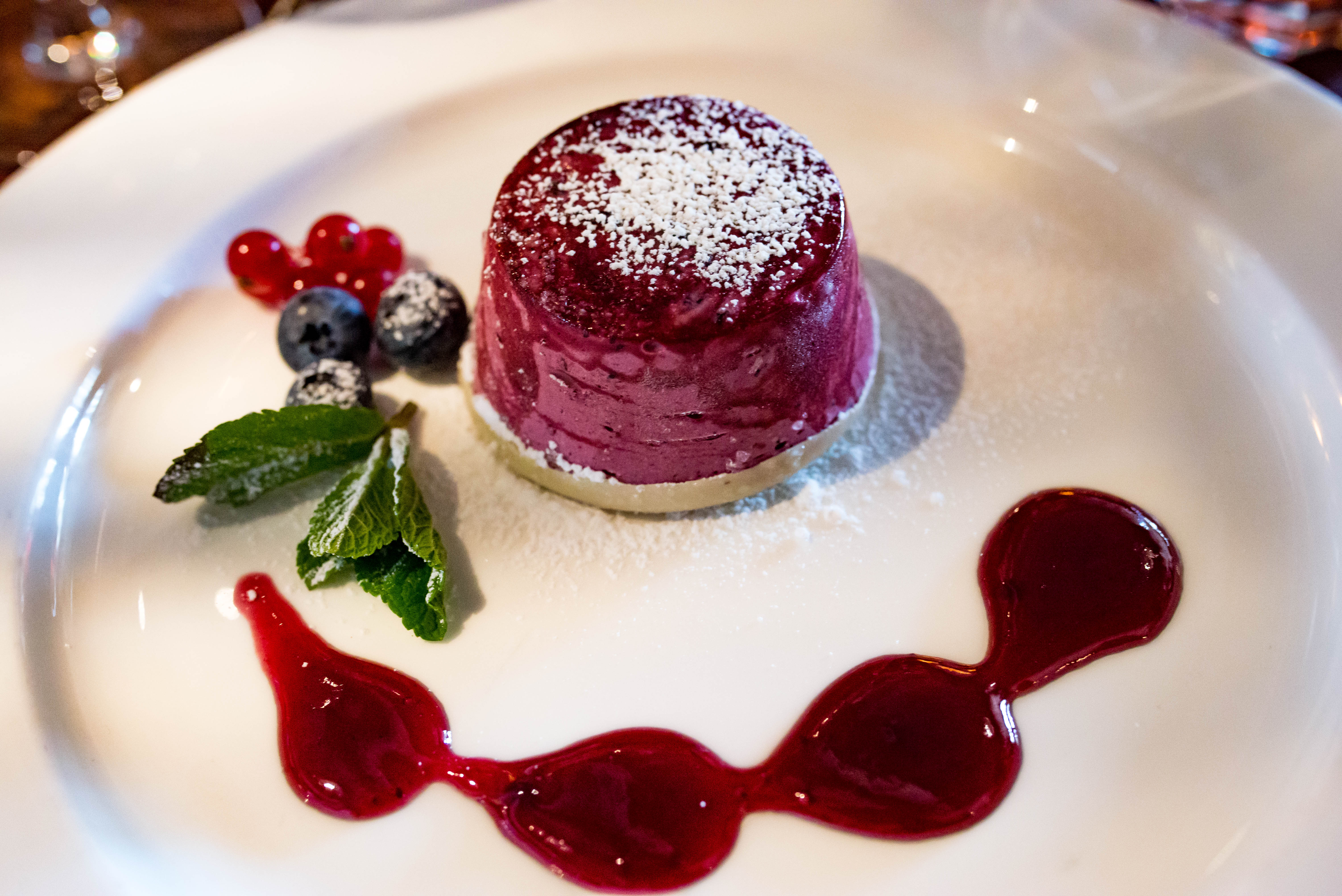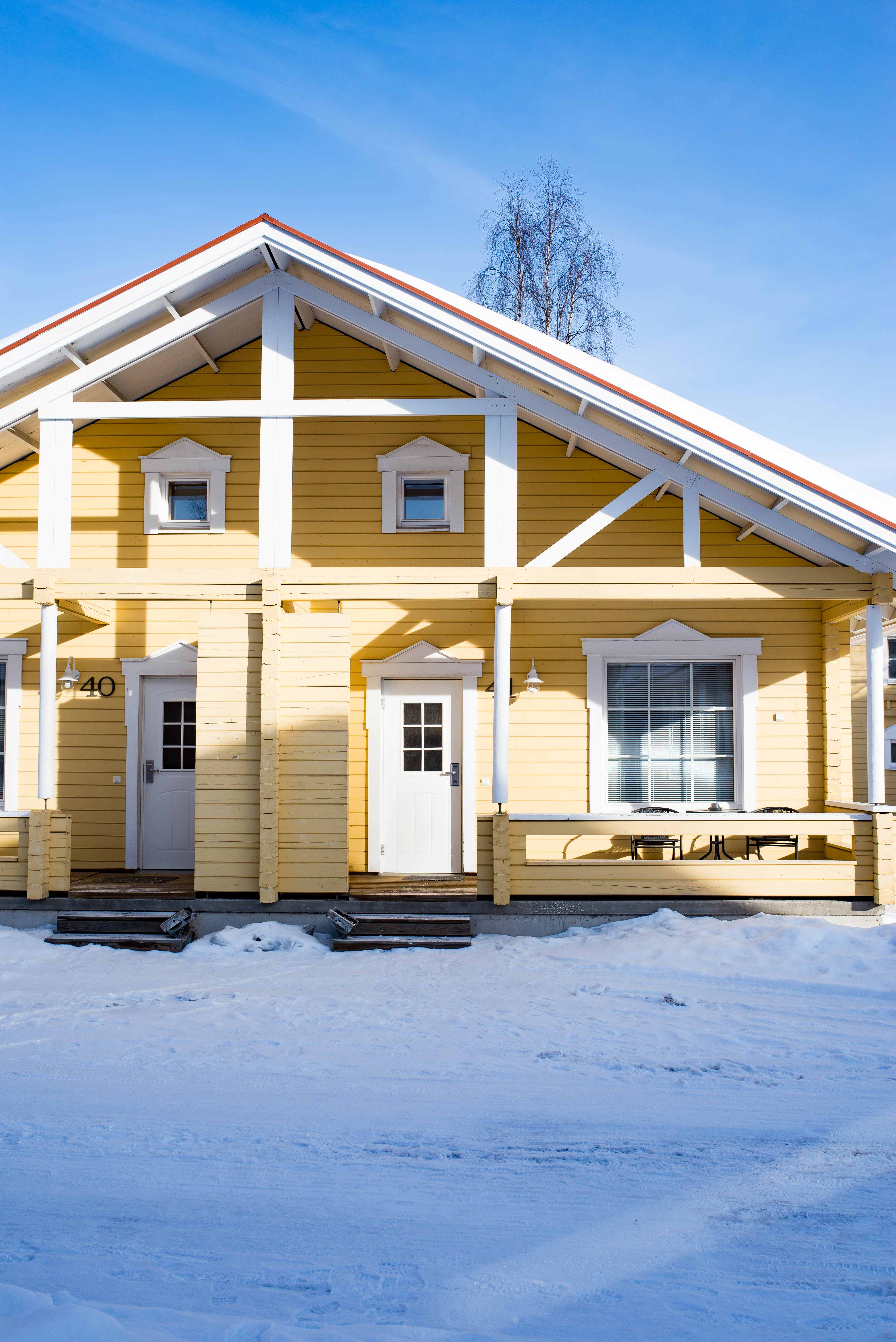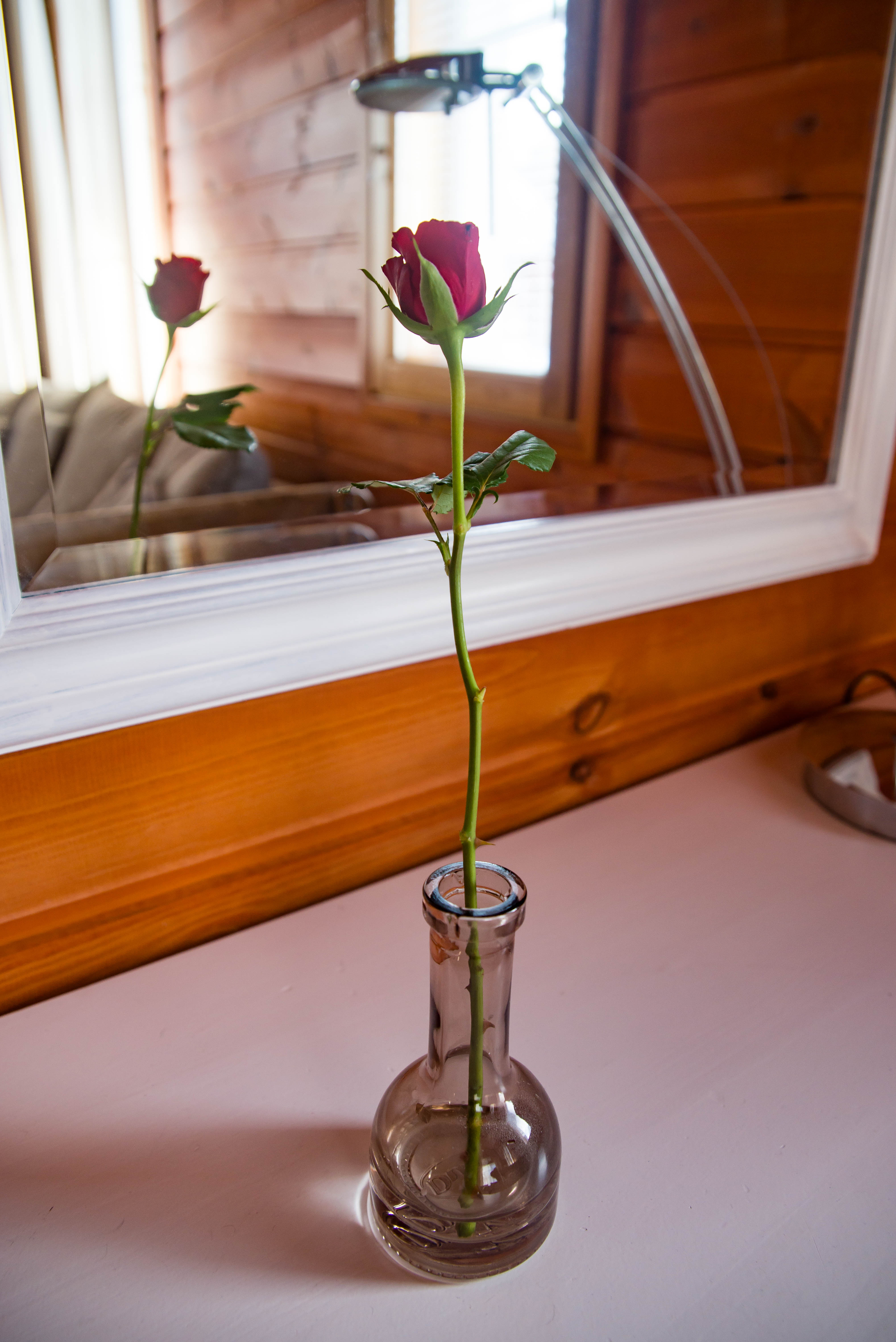 So I always knew saunas were popular in Europe, but Fins are obsessed with them and it's actually a big part of the culture. Yes, I'm talking about those hot steam rooms. I was so surprised that we had private saunas in every bathroom in each hotel we stayed.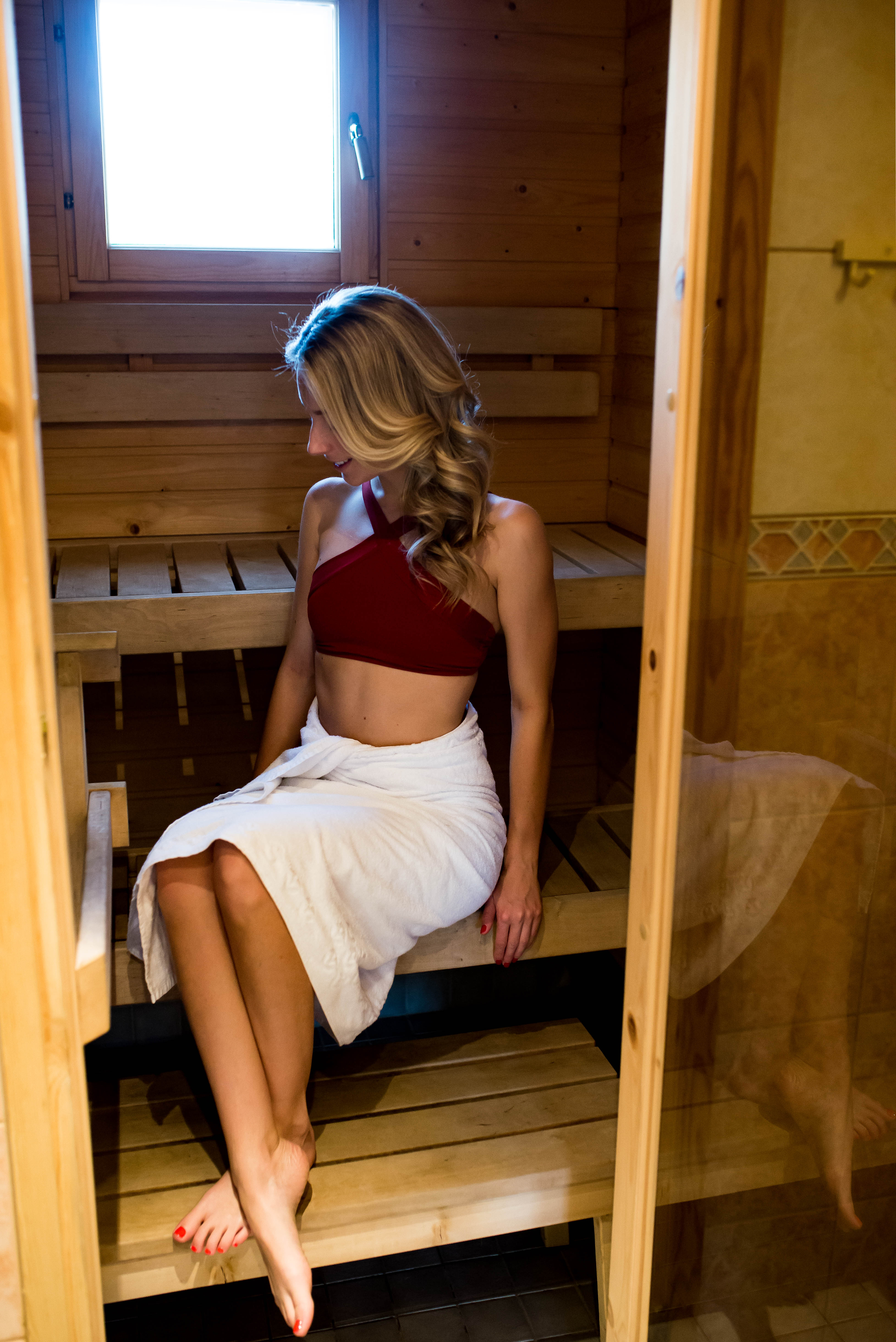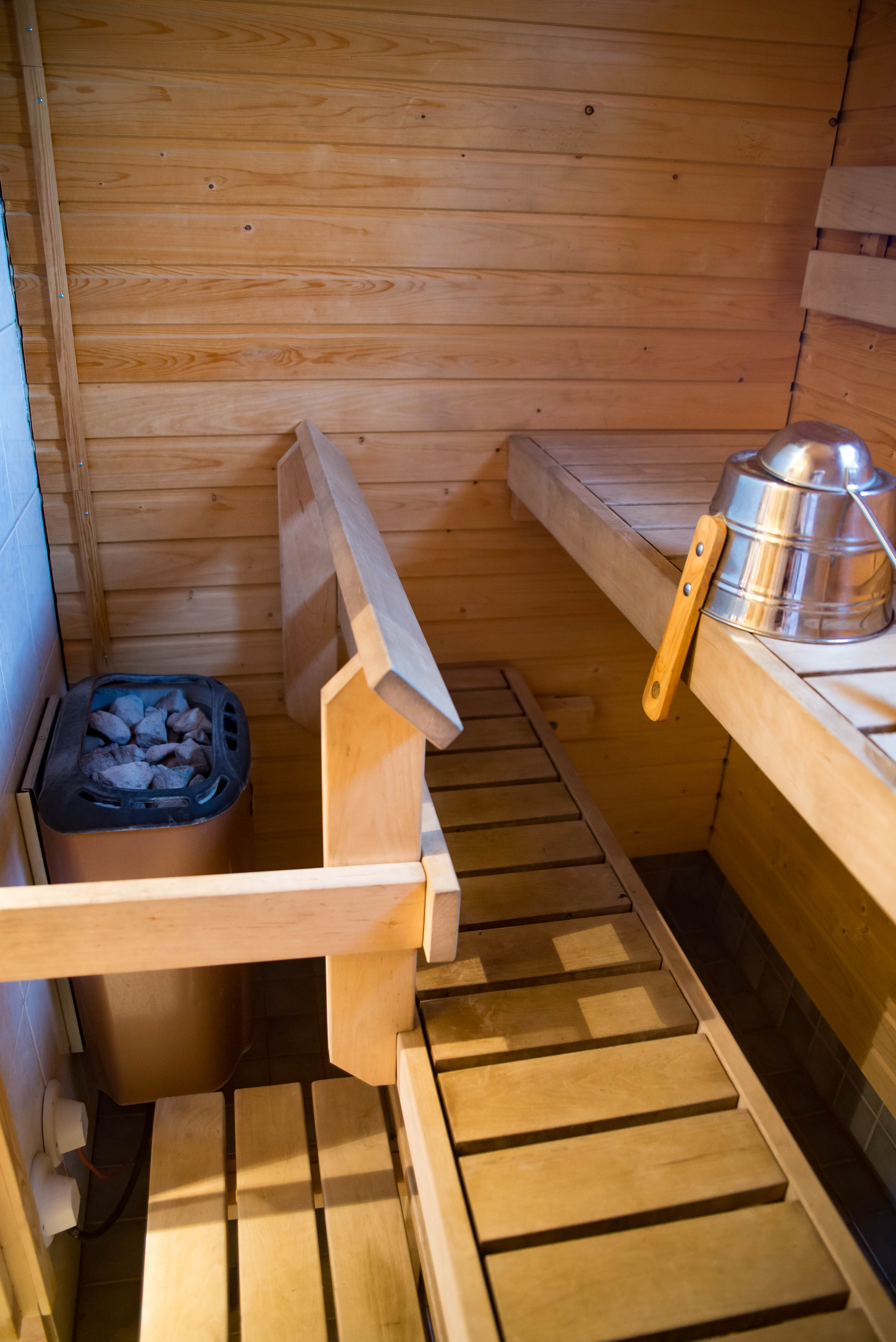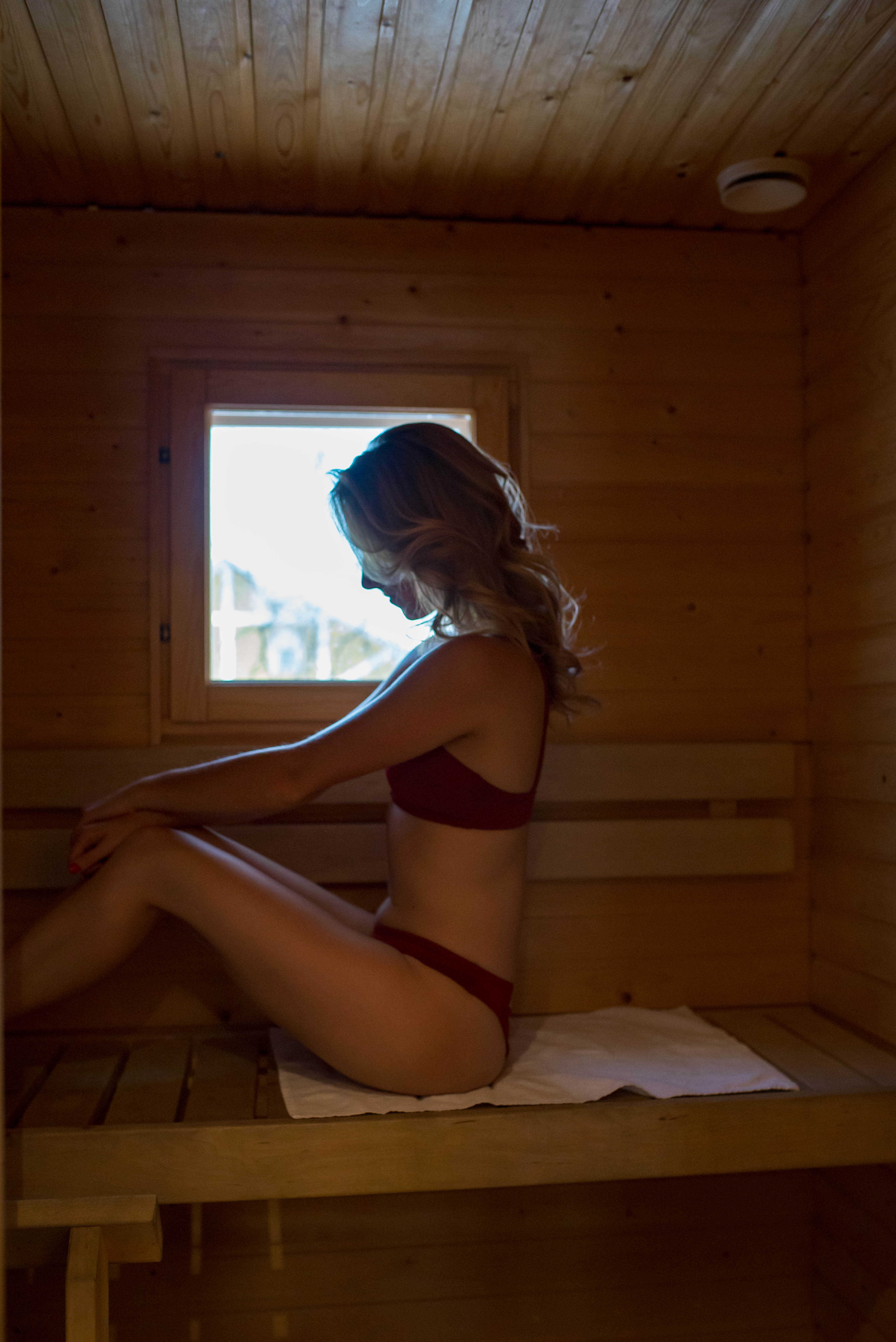 My favorite day of the trip was our first full day in Rovaniemi. After checking out of our chalets, we headed straight to Lapland Hotel Bear's Lodge for snowmobiling. This is something I've always wanted to do and wow, was it hard. After suiting up in full overall snowsuits, helmets and industrial boots, we took off in pairs of two to explore all of landscapes we saw n Rachel and Nick's episode. Remember when they went horseback riding though the snow and got to meet Santa? We visited all those spots! Driving around it was really obvious why the show's producers fell in love with Finland. The snow-covered hills and trees and lodge-inspired architecture was incredibly romantic.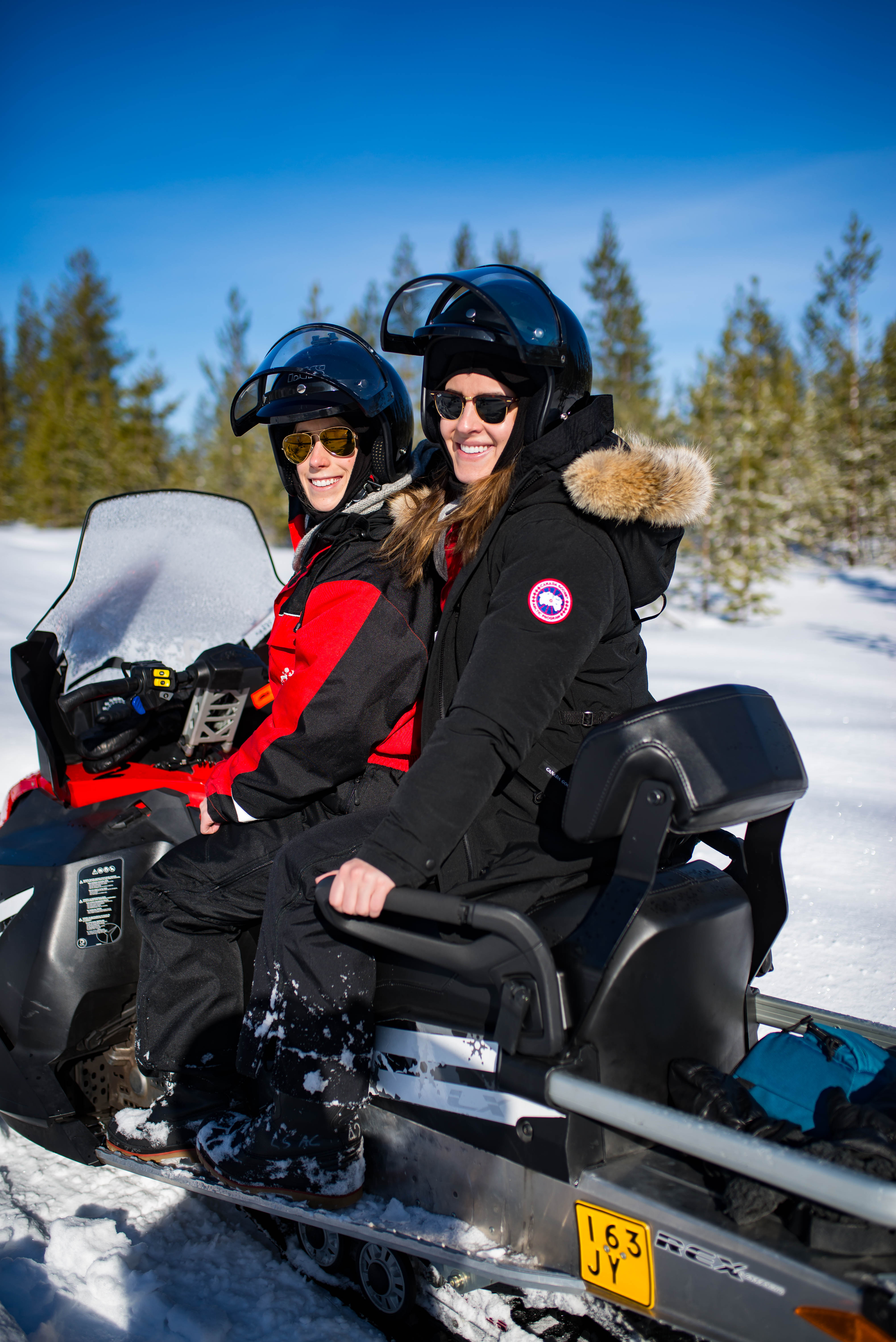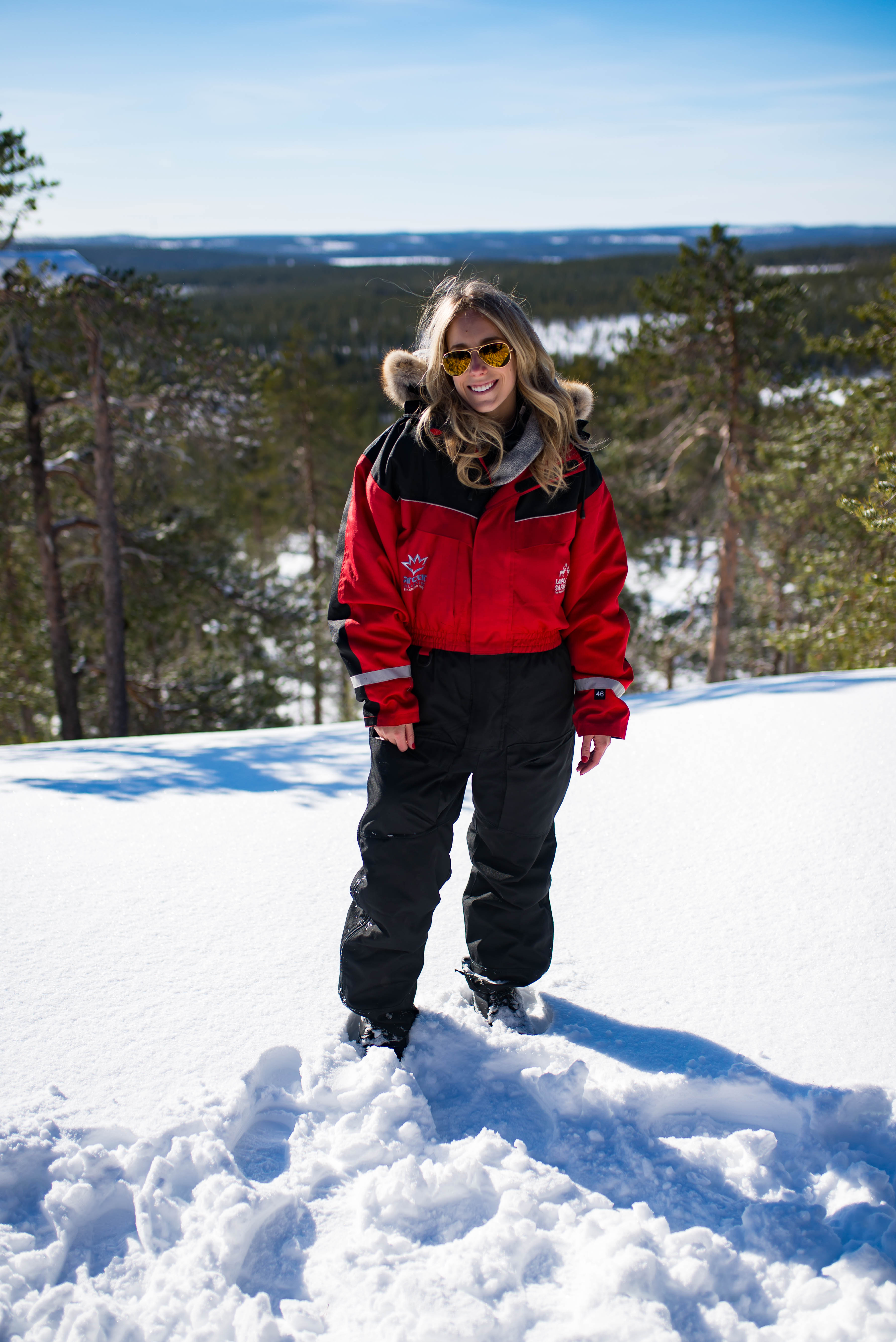 I was surprised at just how powerful these vehicles were– you had to use your entire body to steer! Carly and I partnered up and when it was my turn to drive I may or may not have almost crashed going around my first turn… When I thought I was going to be the one to have an accident, Dana and Mackenzie beat me to the bunch. I suggest reading Mackenzie and Dana's recaps for the full story  😛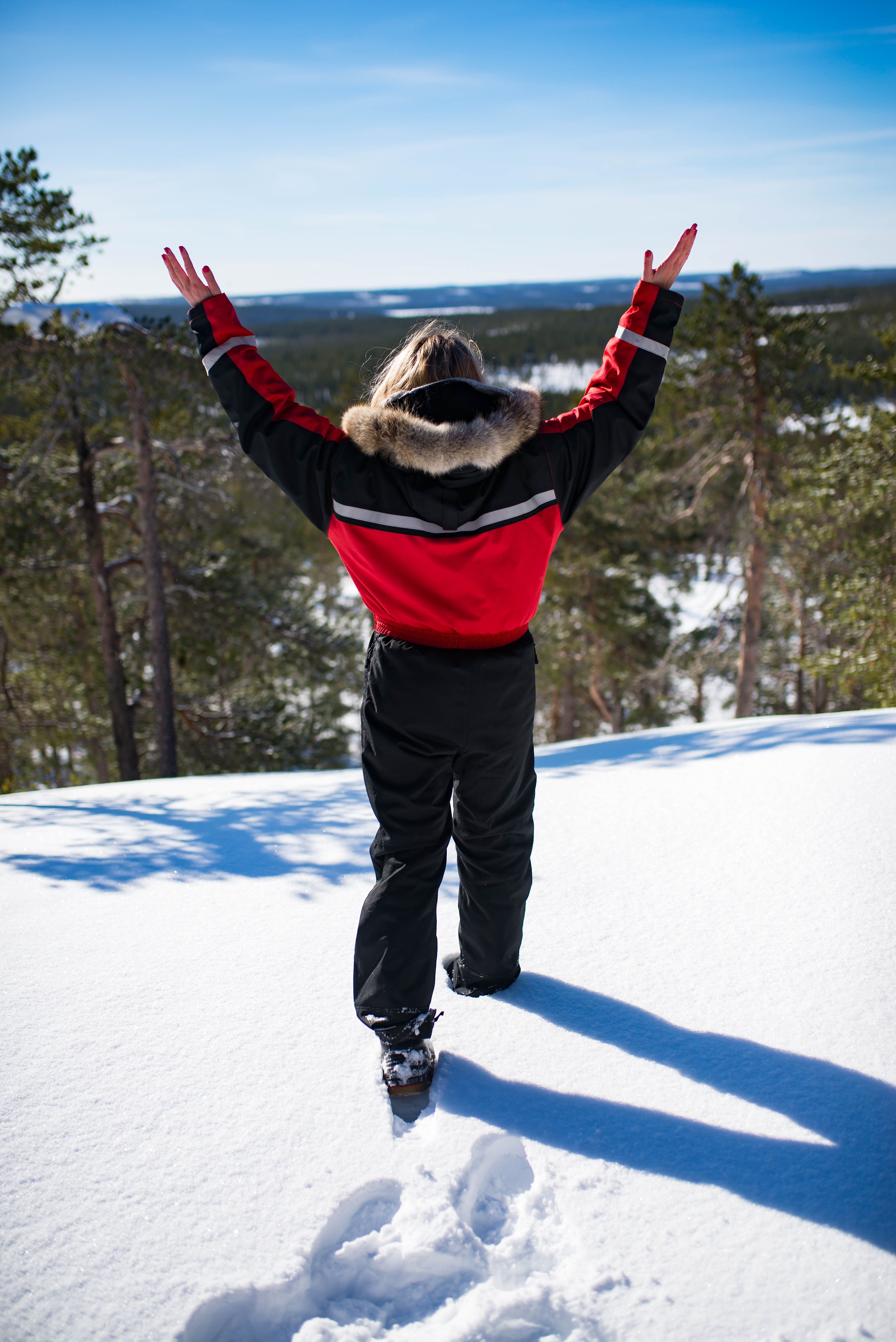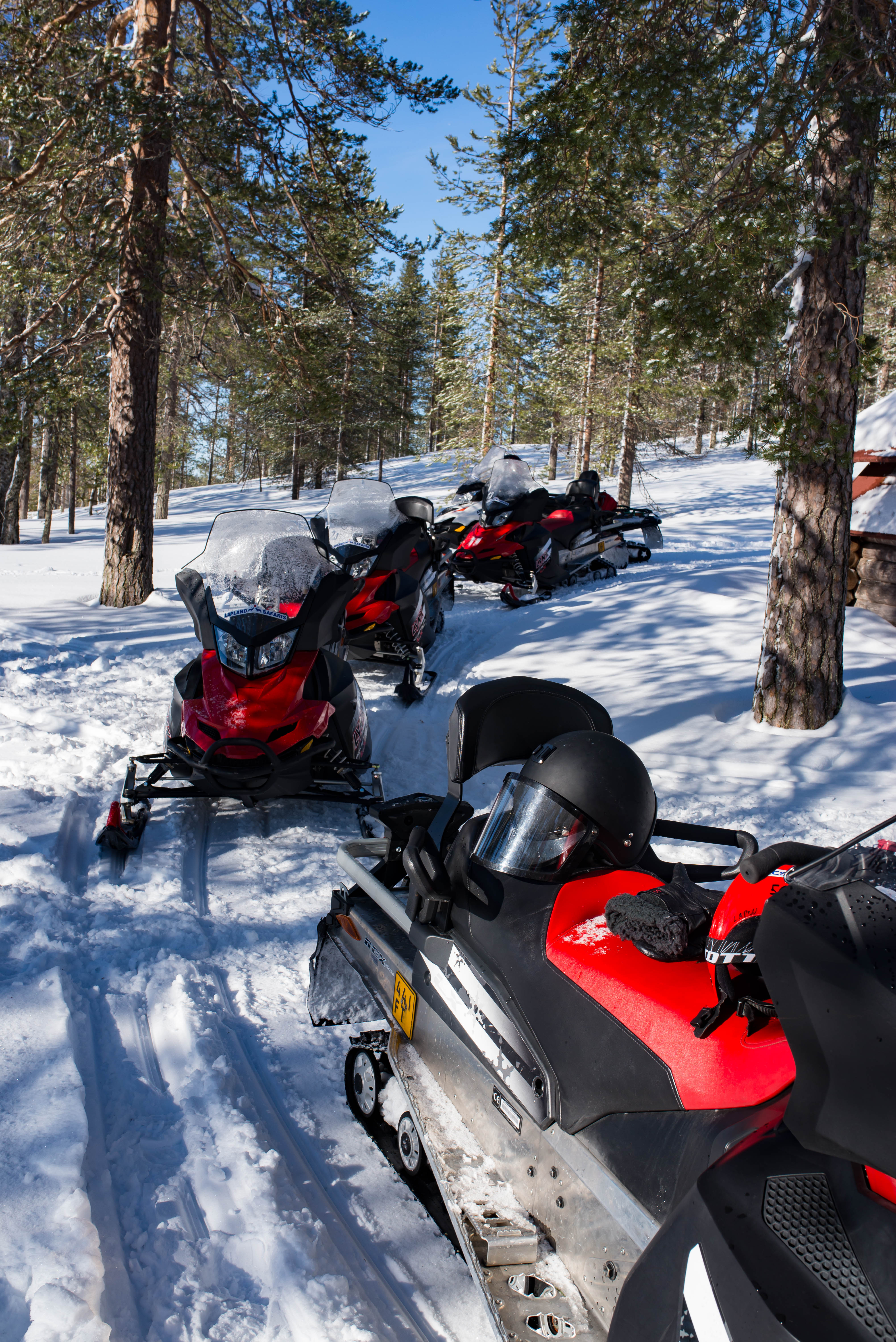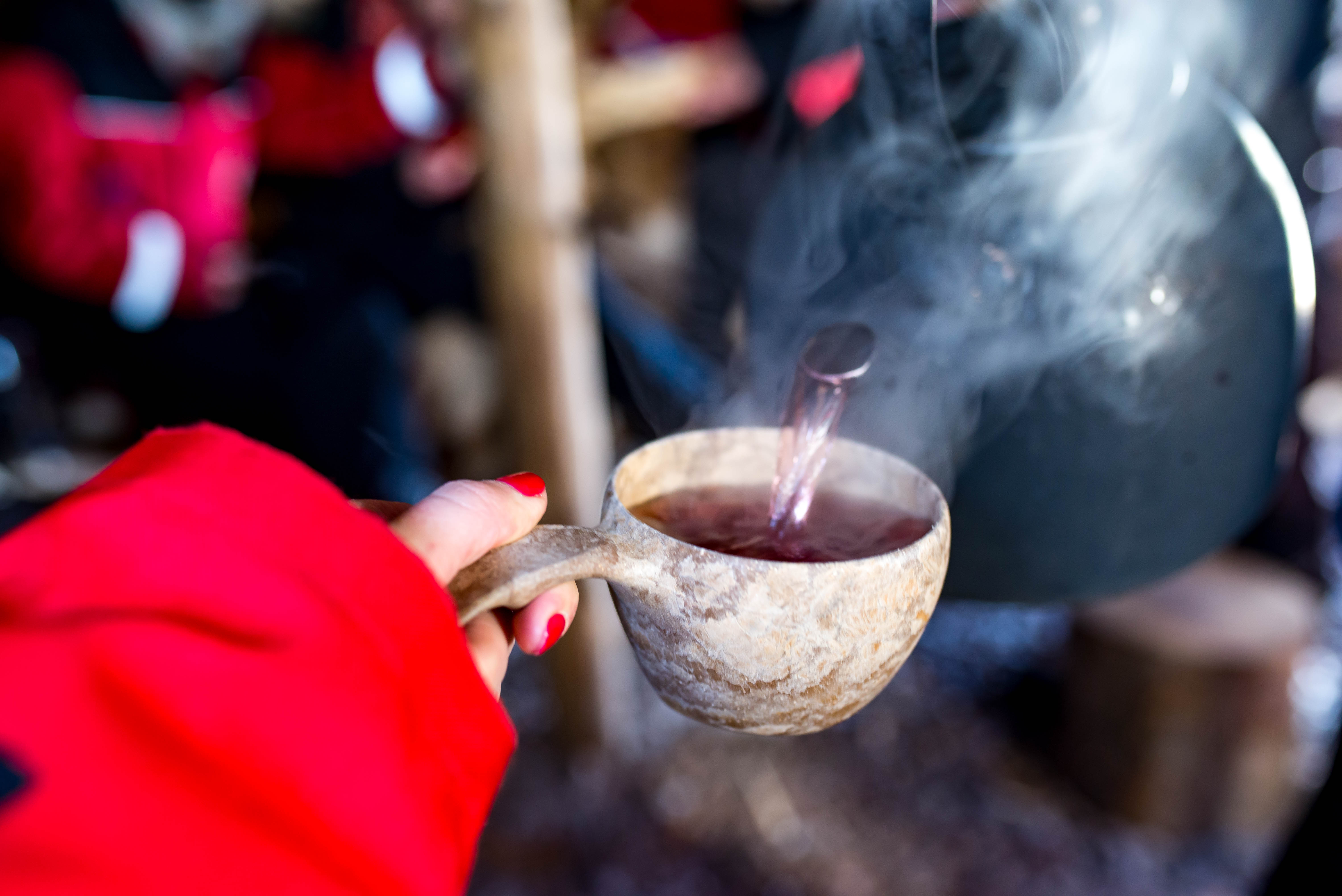 We had all worked up appetites by the time we finished snowmobiling and lucky for us, we were greeted to a 3-course lunch Finnish lunch at The Bear's Dinner. The menu included creamy root vegetable soup, arctic char and a sweet berry cake for dessert. But get this. The Bear's Den is where Nick stayed on the show! It's a small private cabin that's part of Lapland Hotel Bear's Lodge and it was pretty cool getting to imagine that this was the place where we had to make all of his decisions on the show.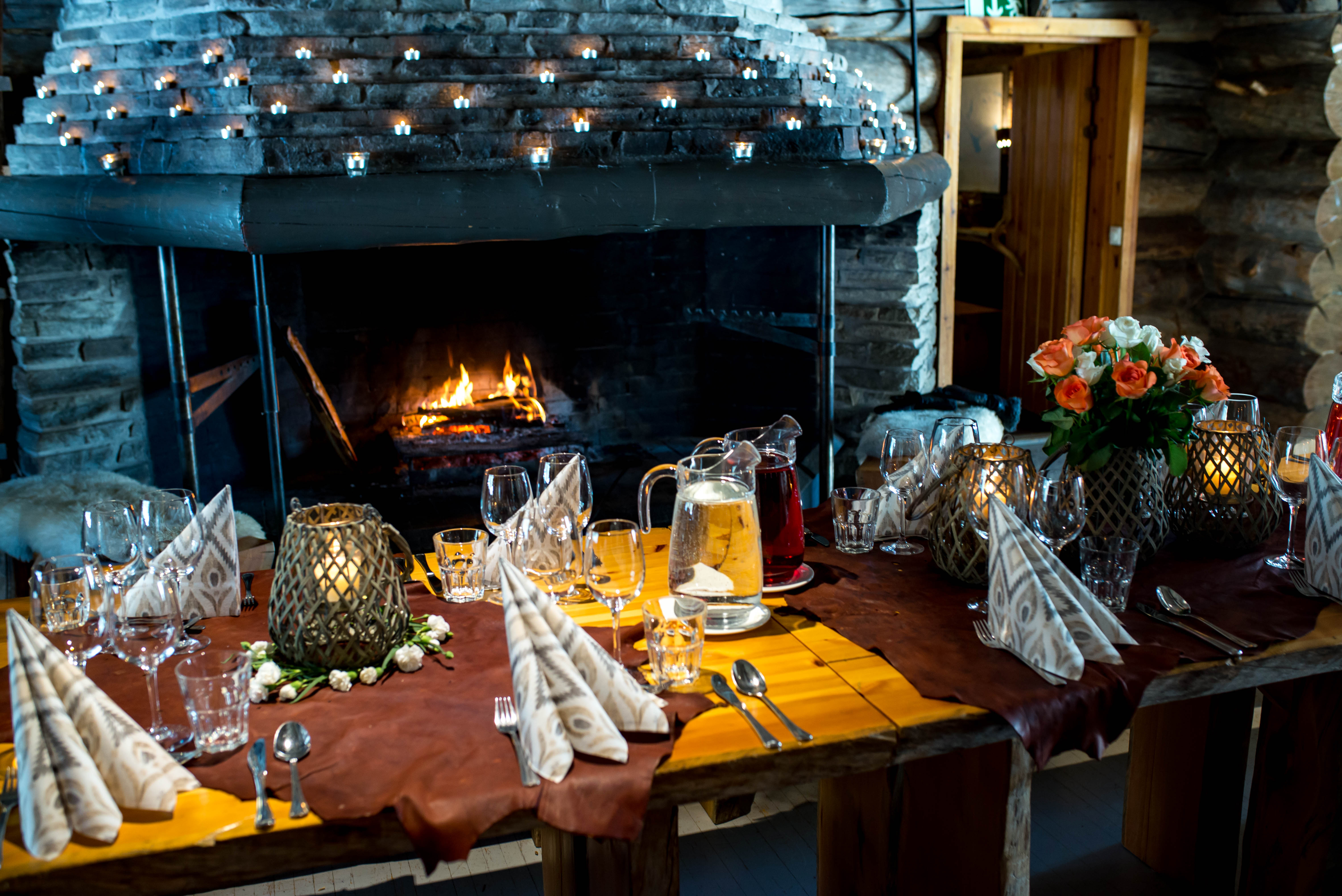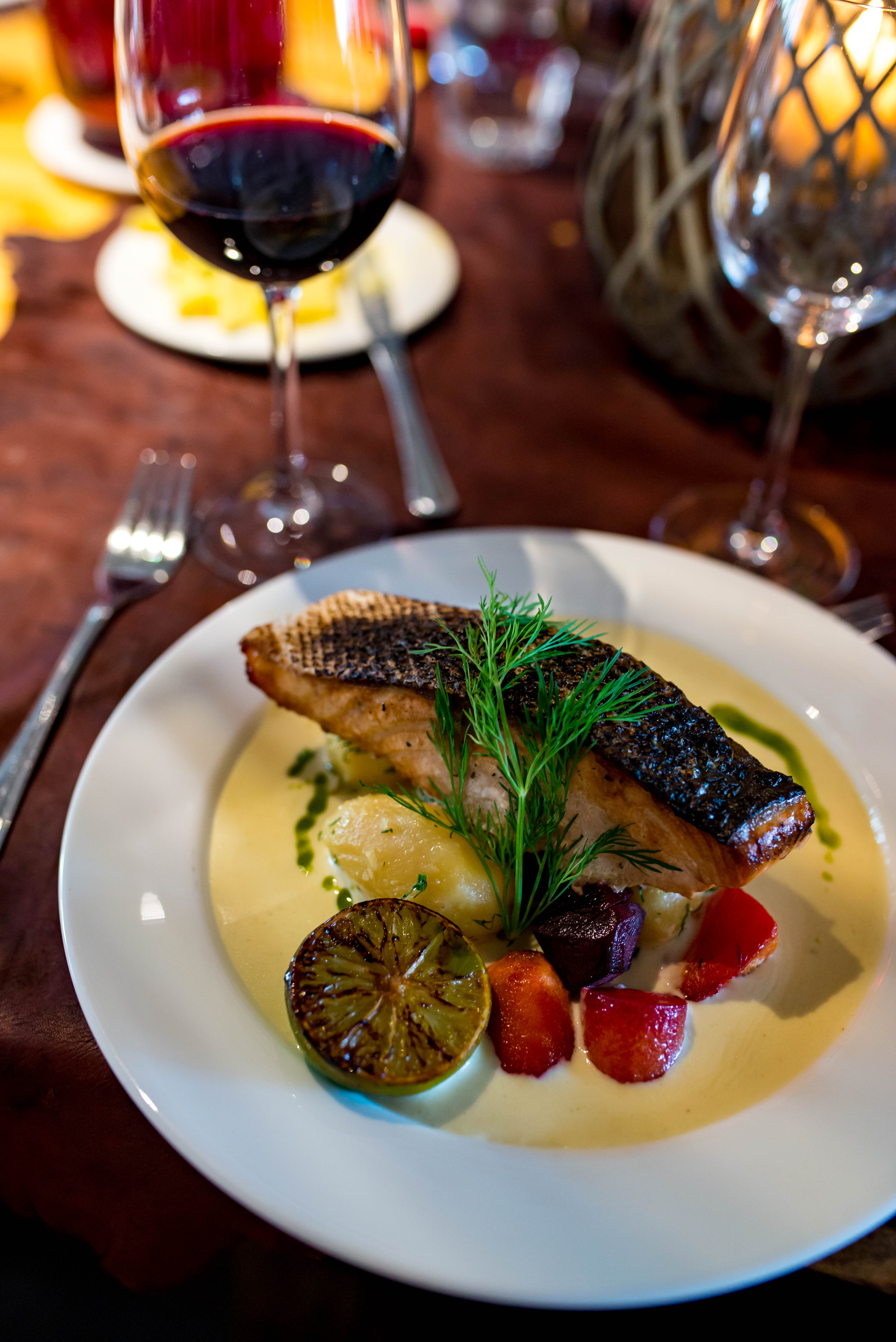 Not sure if this was planned in advance or not, but during our lunch at The Bear's Den we all conveniently got a little tipsy (let's be real, it was) and vodka shots may have been on-hand. Wanna know what came next? We did a polar plunge in the lake. Yes, through a hole cut in the ice. To give you an idea of Lapland's climate here's what we were dealing with on this trip. Just imagine at least a foot of snow on the ground, fresh powder every night and a temperature no warmer than 35 degrees. According to our guides it was actually unseasonably warm and it was surprising that everyday wasn't below freezing.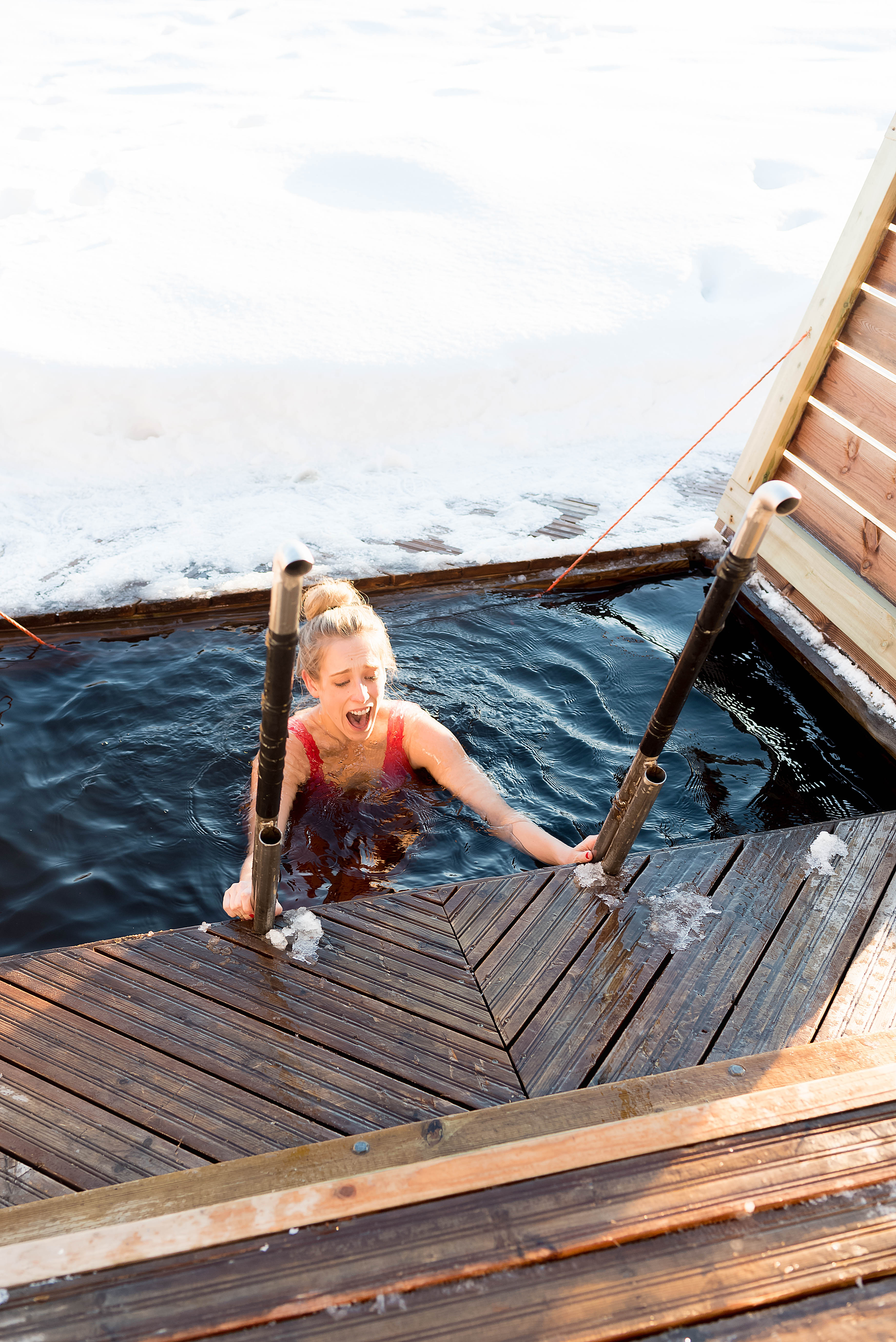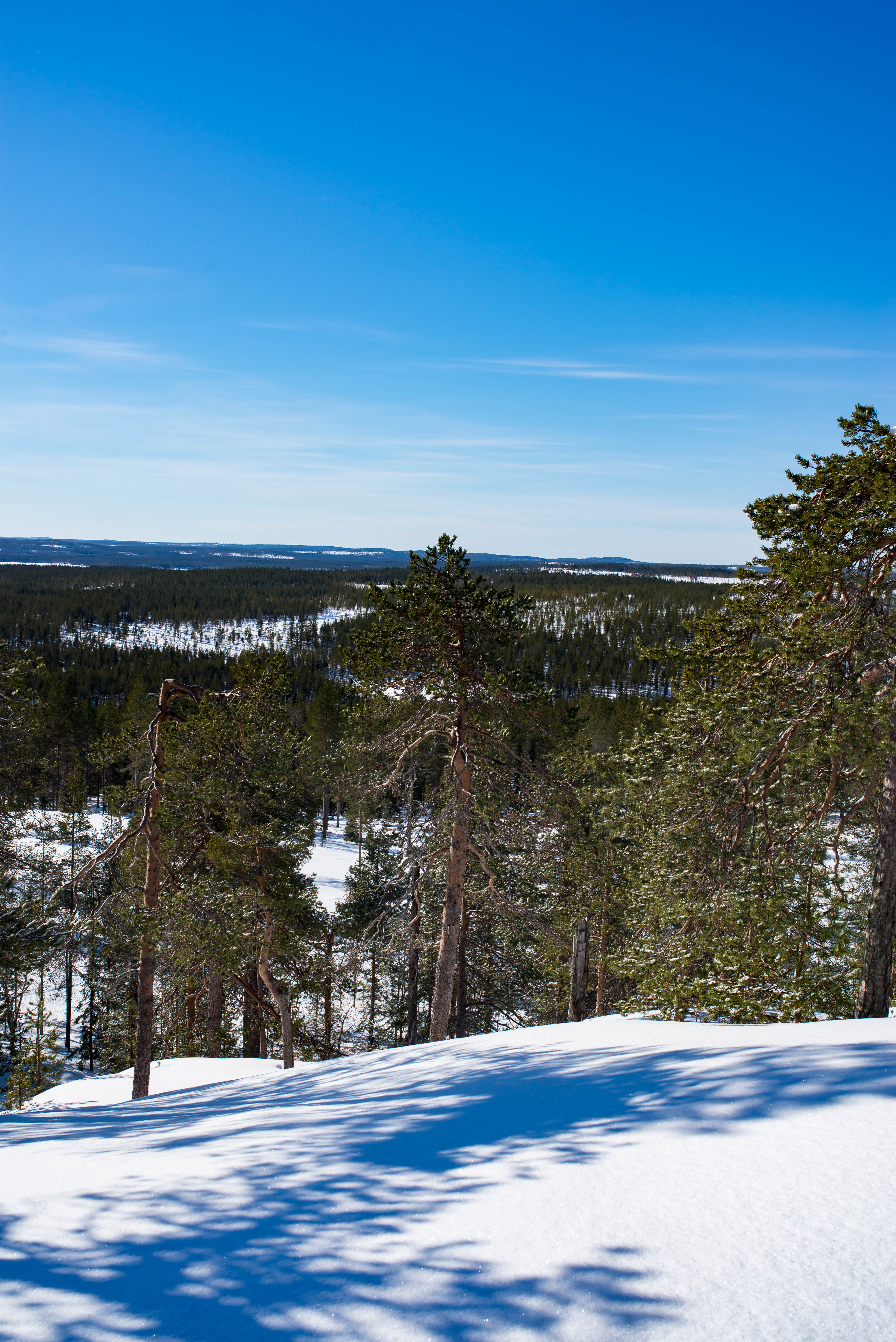 But back to the lake! I mean, just call me Vanessa because my face looked exactly like hers when she took her icy dip with Nick. We had to get the full #BachelorInFinland experience, right? Thank goodness for alcohol because I'm not sure I would've had the courage to do it sober. To be honest– it wasn't too painful. You literally just dip your body in and out (not getting your head or hair wet) and then book it into a nearby sauna. Then once you get too hot again, you head back out to cool off in the water. We learned that for most Fins it's routine to "take saunas" at least once a week and it's an activity that's done with friends and family to relax.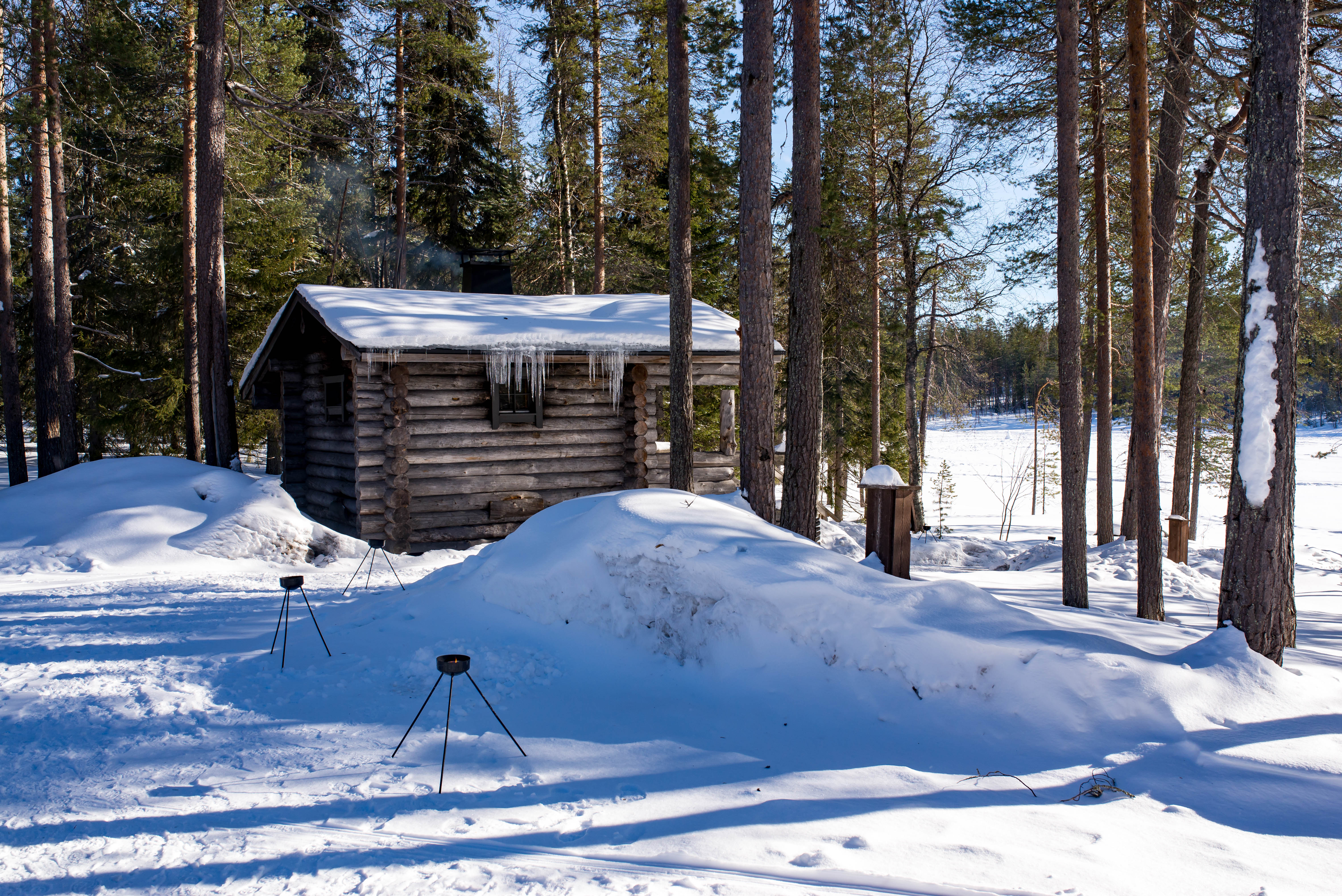 After cleaning up (and maybe chugging a lot of water back at Lapland Hotel Bear's Lodge) we headed to our most exciting dinner location yet: THE PROPOSAL SPOT. The grand finale took place at a restaurant in Rovaniemi called Poropirtti, and upon stepping inside I couldn't believe how much work must've gone in to the transforming the space. To us it looked like a restaurant, but on the show it was so impeccably styled with a Finnish flair. After dinner I re-watched the final rose scene and was able to recognize many traditional decor elements like the antler chandeliers, woven rugs, reindeer fur throws, and lodge-inspired pine furniture.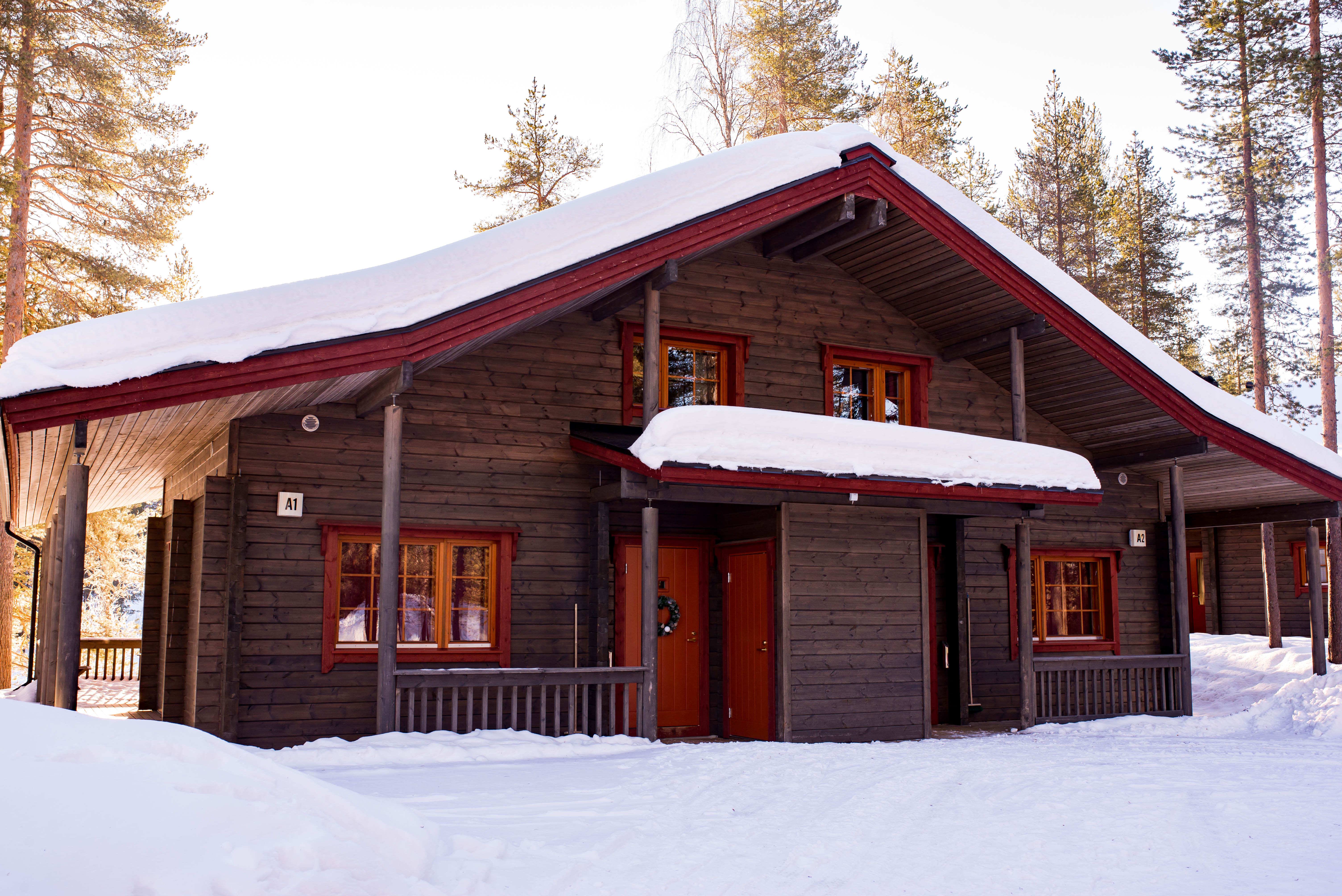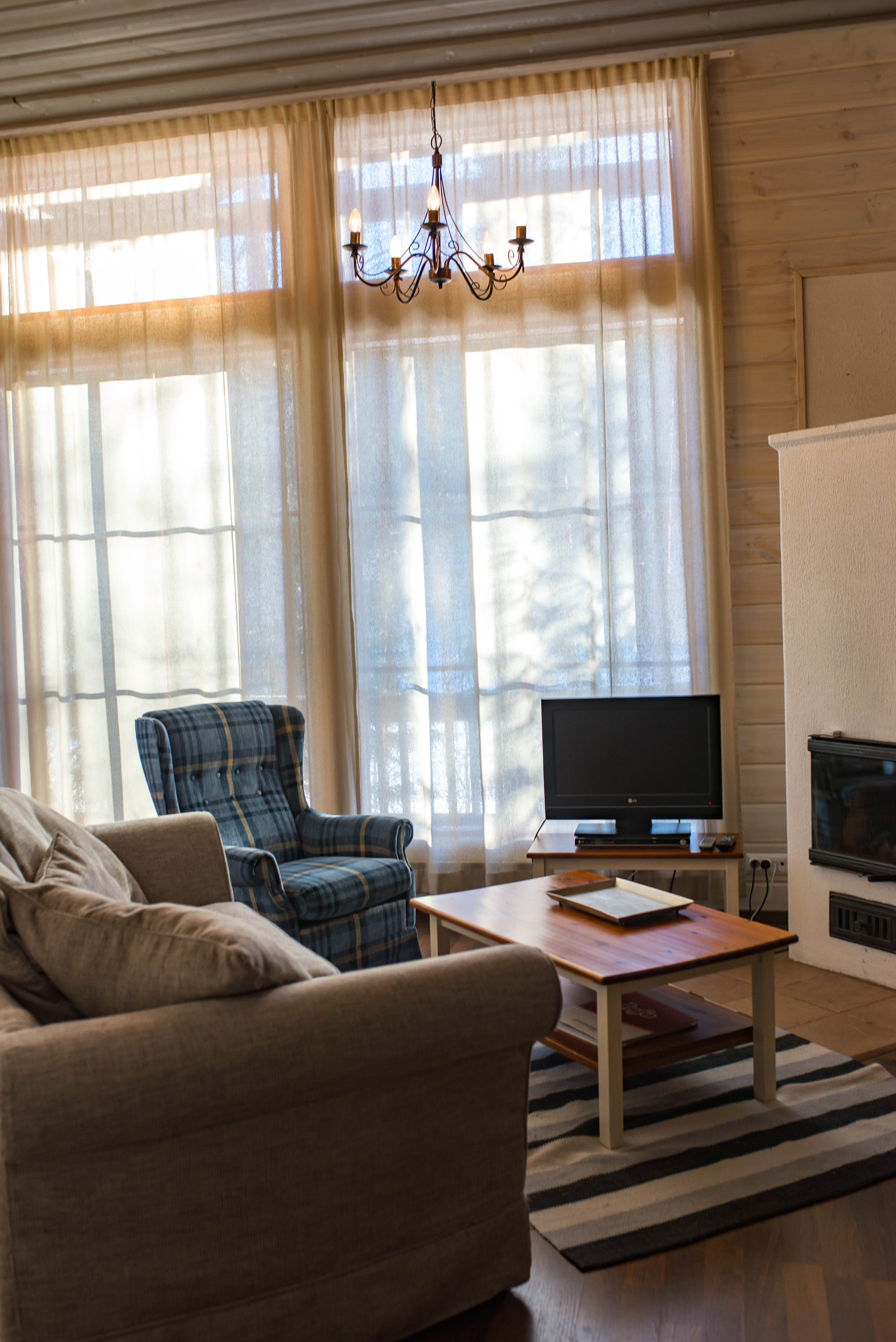 Did you know that Rovaniemi is the "official hometown" of Santa Claus? If you watched the show you may have been a little confused why on Rachel's episode she and Nick got to meet the guy in the big red suit. Well, he's a big deal in Finland. On our last morning we headed to the Santa Claus Village where it's Christmas year-round. Now if I had been 10 years old, THIS would've been my freak out moment of the trip. We got to meet Santa. Yep, the real deal. While we didn't get the same amount of one-on-one time as Nick and Rachel (he is a busy guy after all), it was still pretty cool getting to pretend to be a kid again. If you ever find yourself in Rovaniemi, the Santa Claus Village is very much worth checking out. It's a holiday wonderland that includes reindeer sleigh rides, a building-size igloo with an ice bar (Princess Elsa would've approved) and a deceptively steep hill that guests can snow tube. I left wishing Christmas wasn't so far away.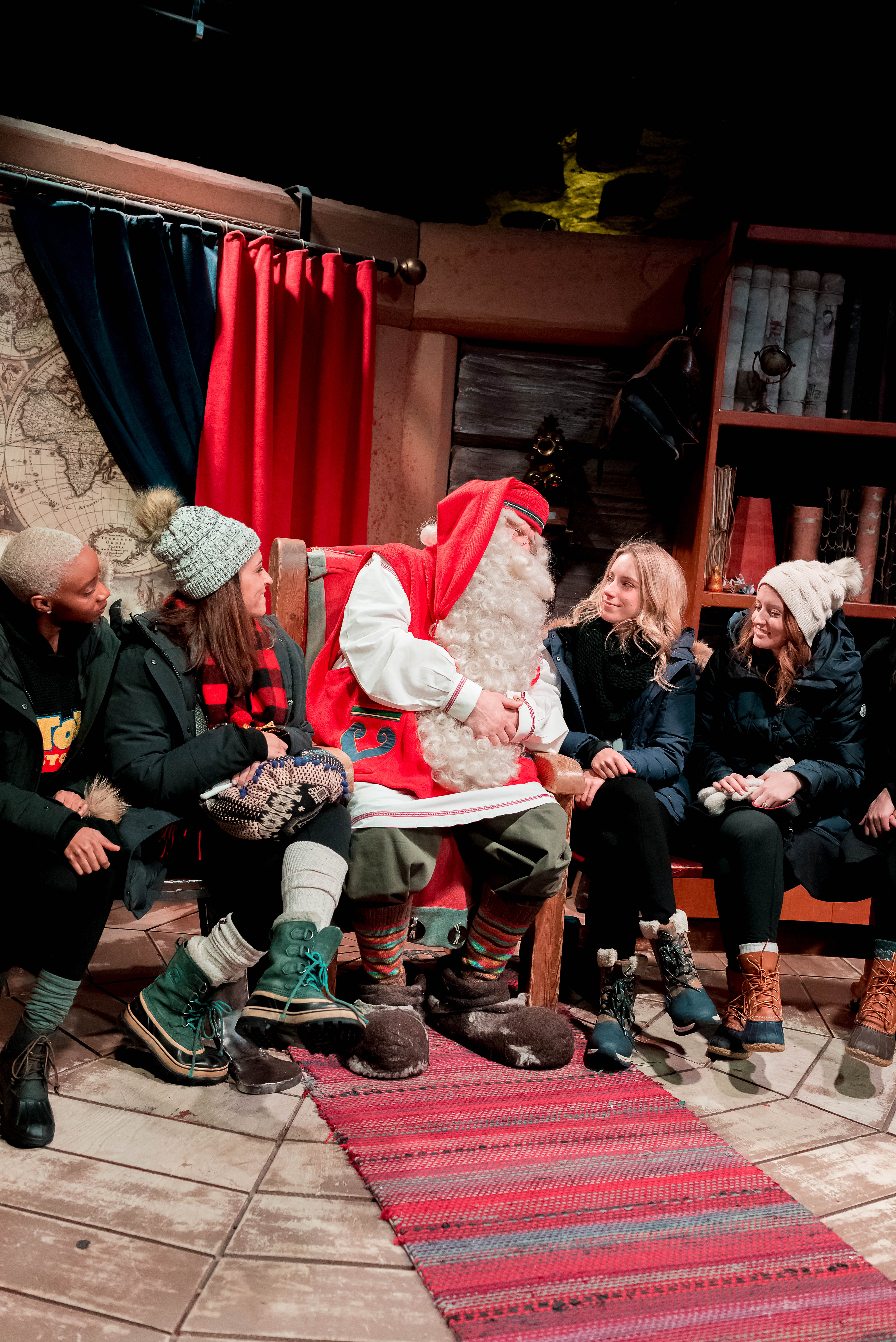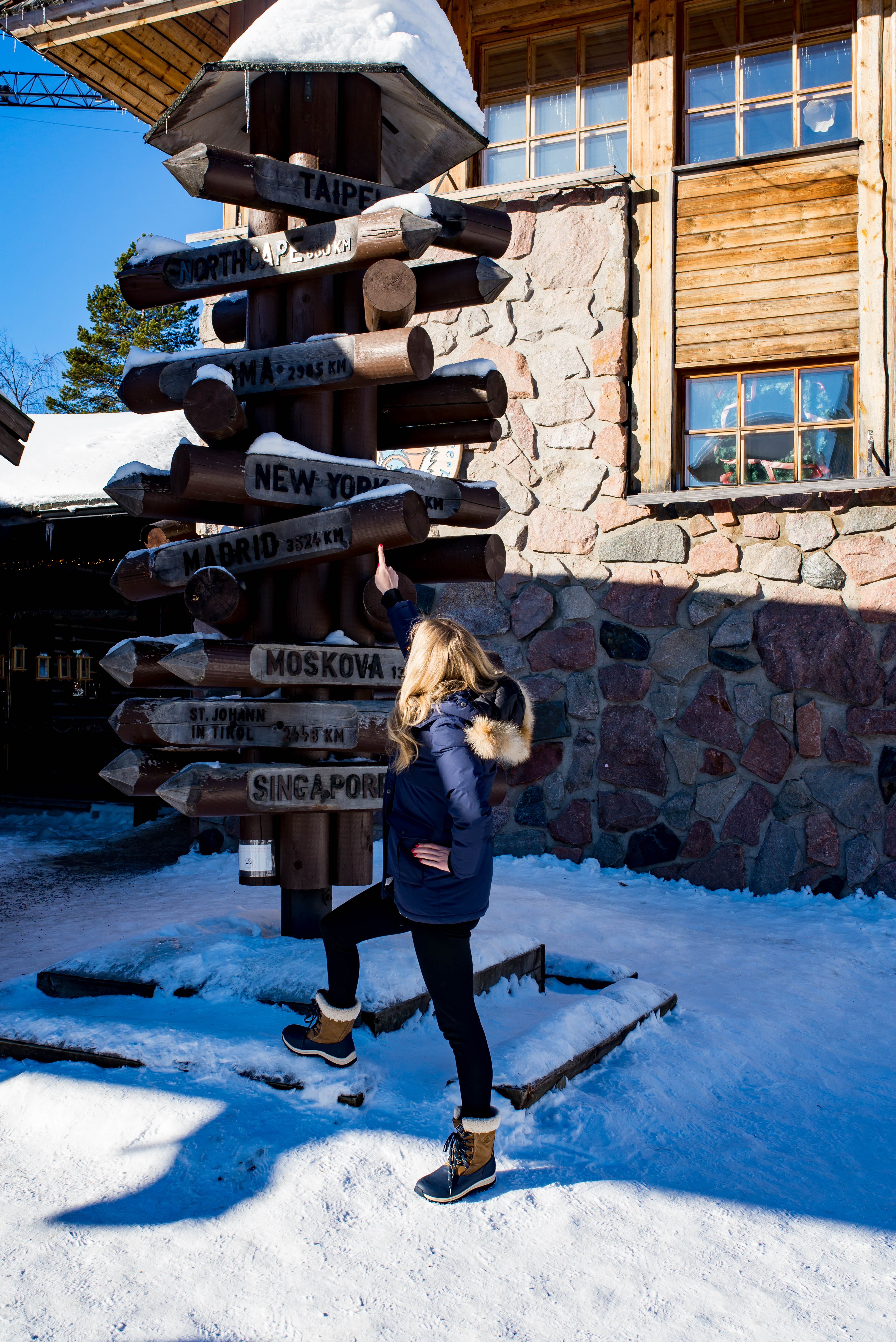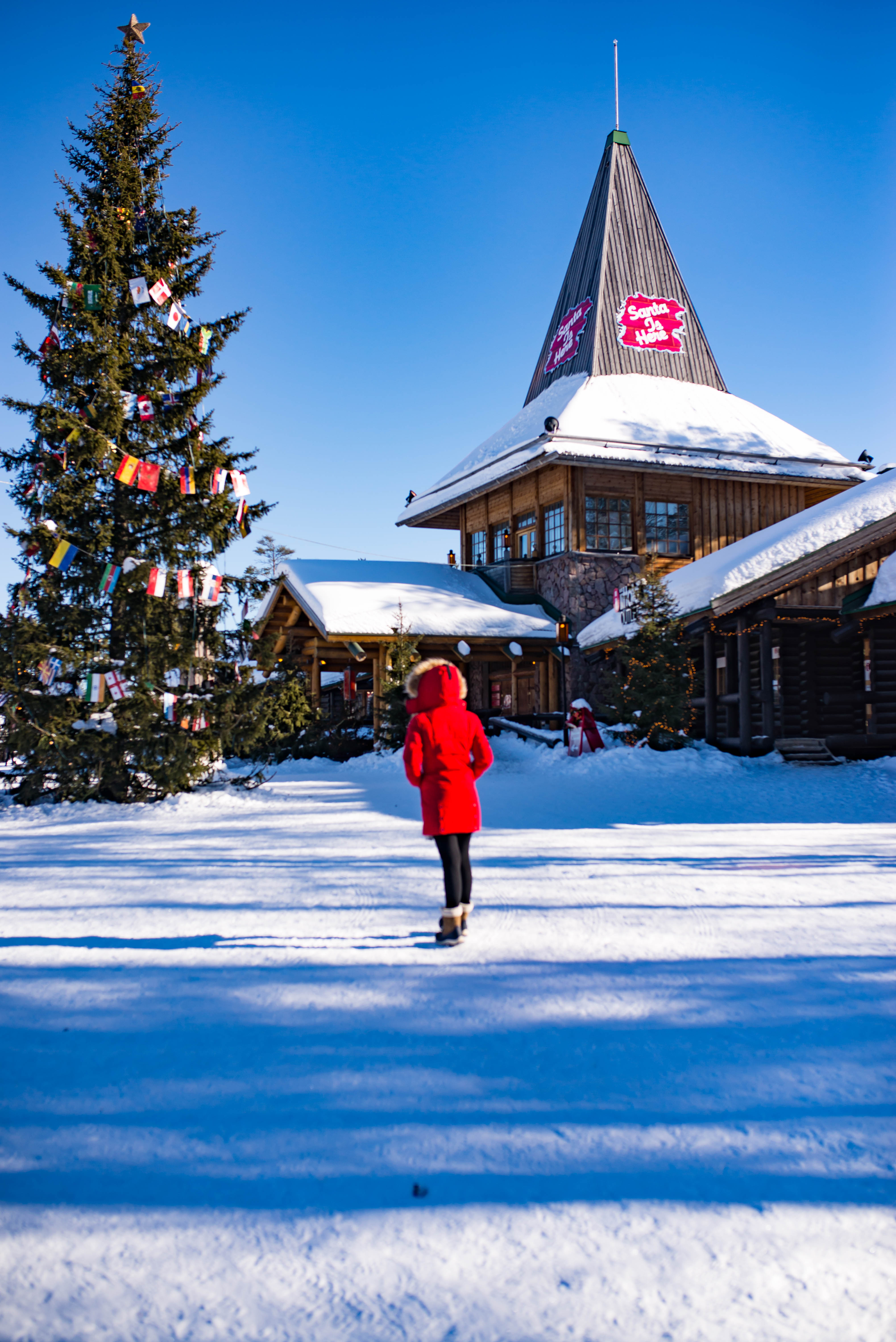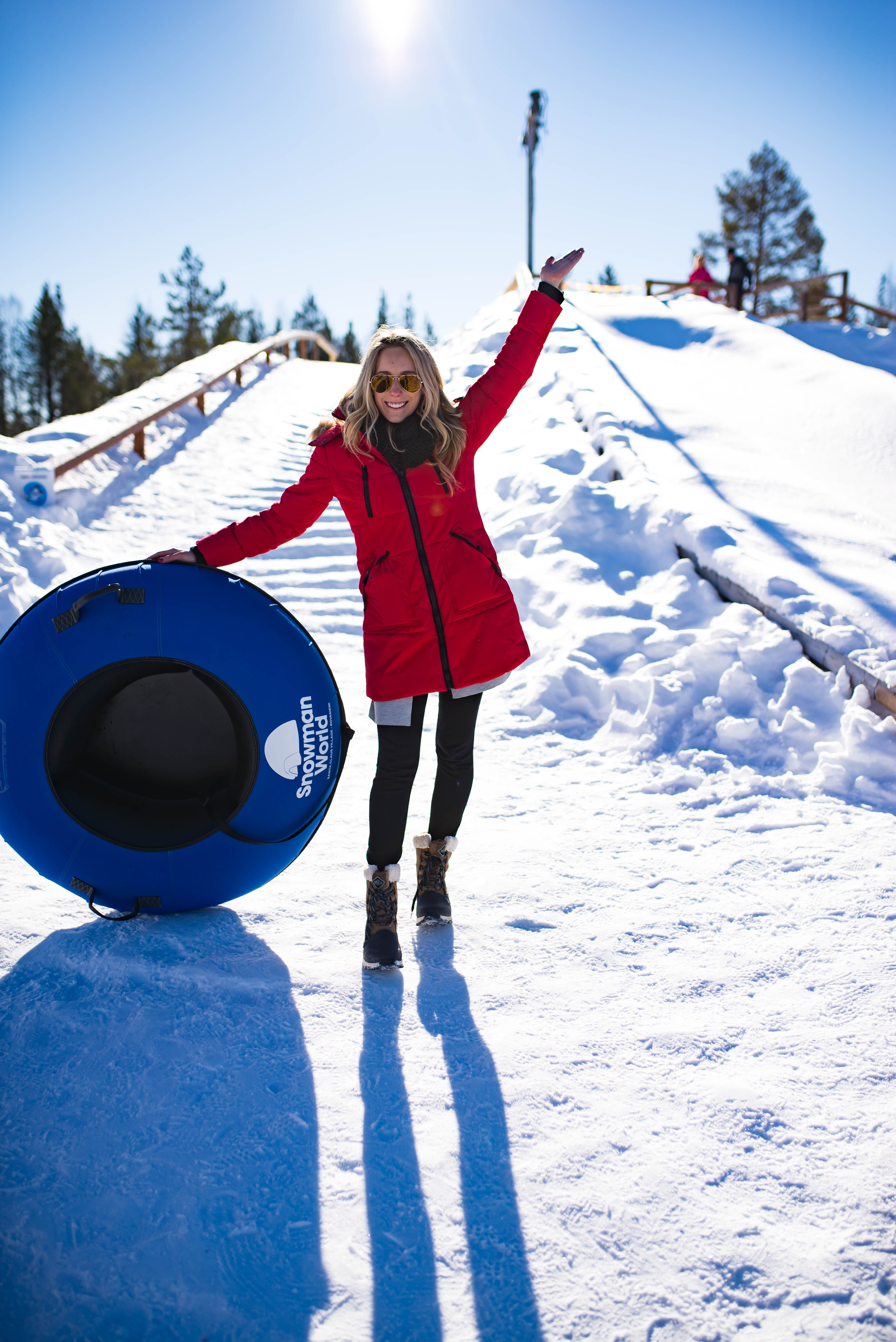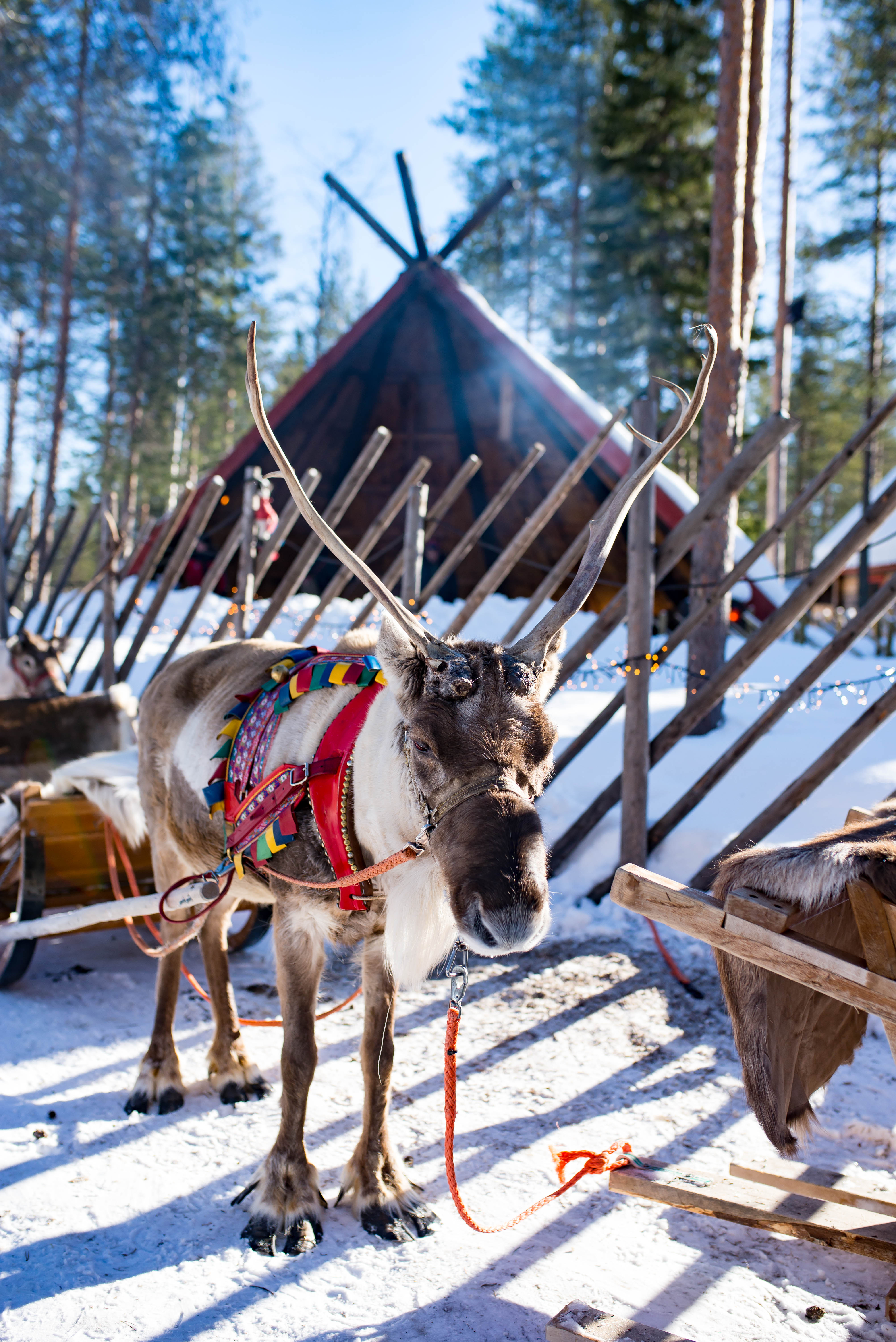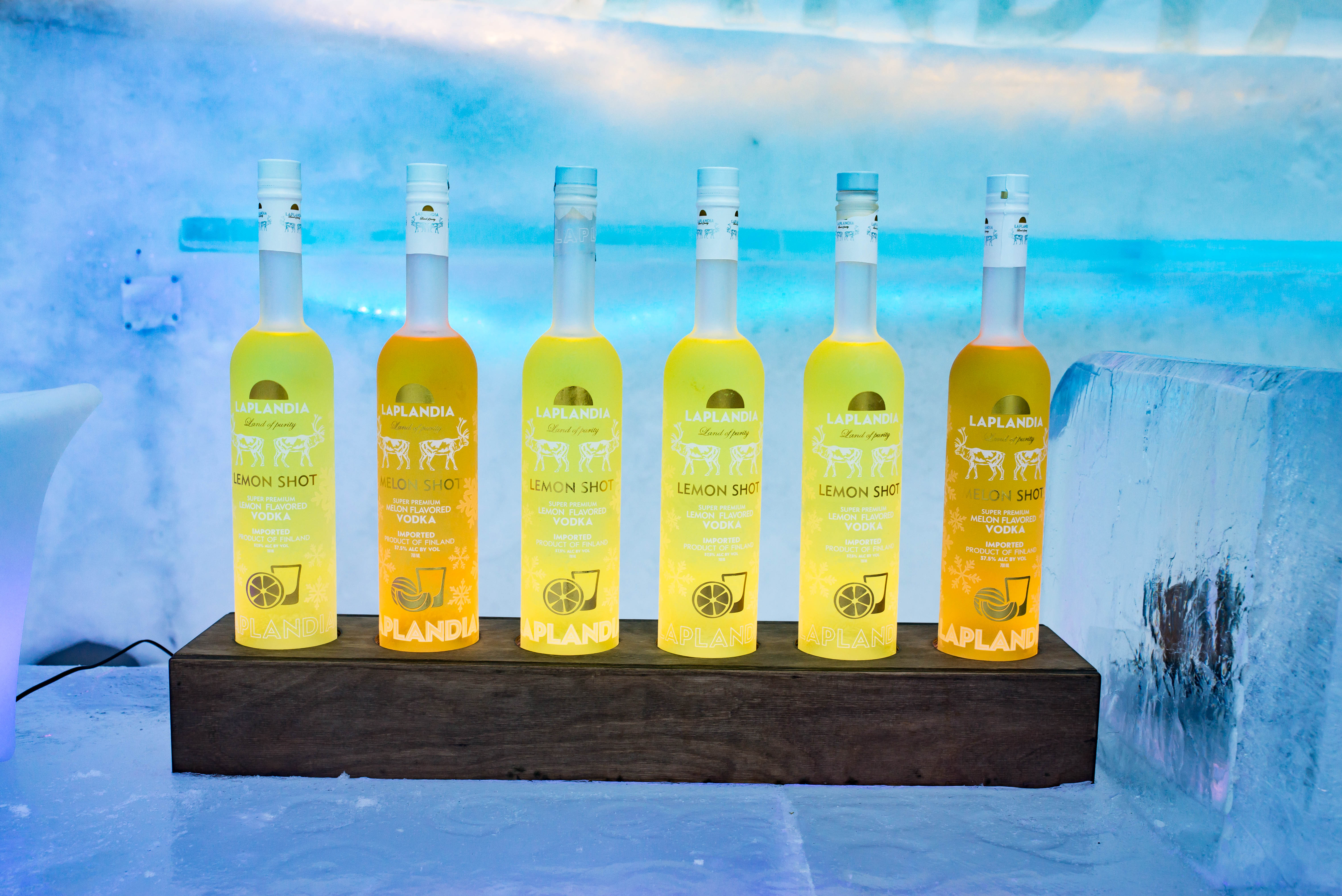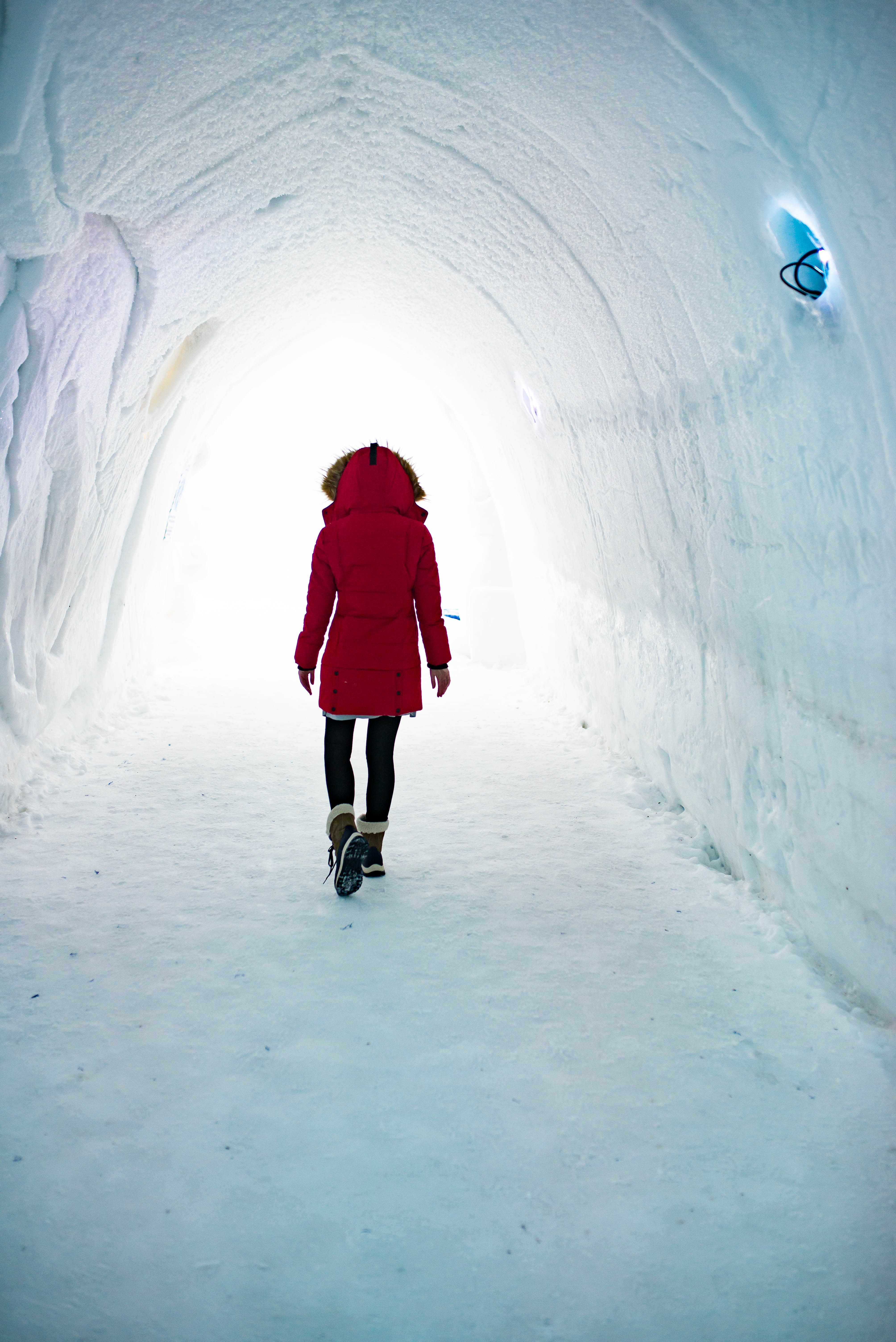 Earlier in the trip we had mentioned wanting to see an "igloo hotel" so that afternoon our guides showed us around a few other properties in Rovaniemi. My favorite was the newly-opened and eco-friendly Arctic Treehouse Hotel. Talk about a perfect place for a romantic wintery escape. The private treehouse-inspired cabins with floor-to-ceiling windows, faux fur throws and luxury saunas were beyond dreamy.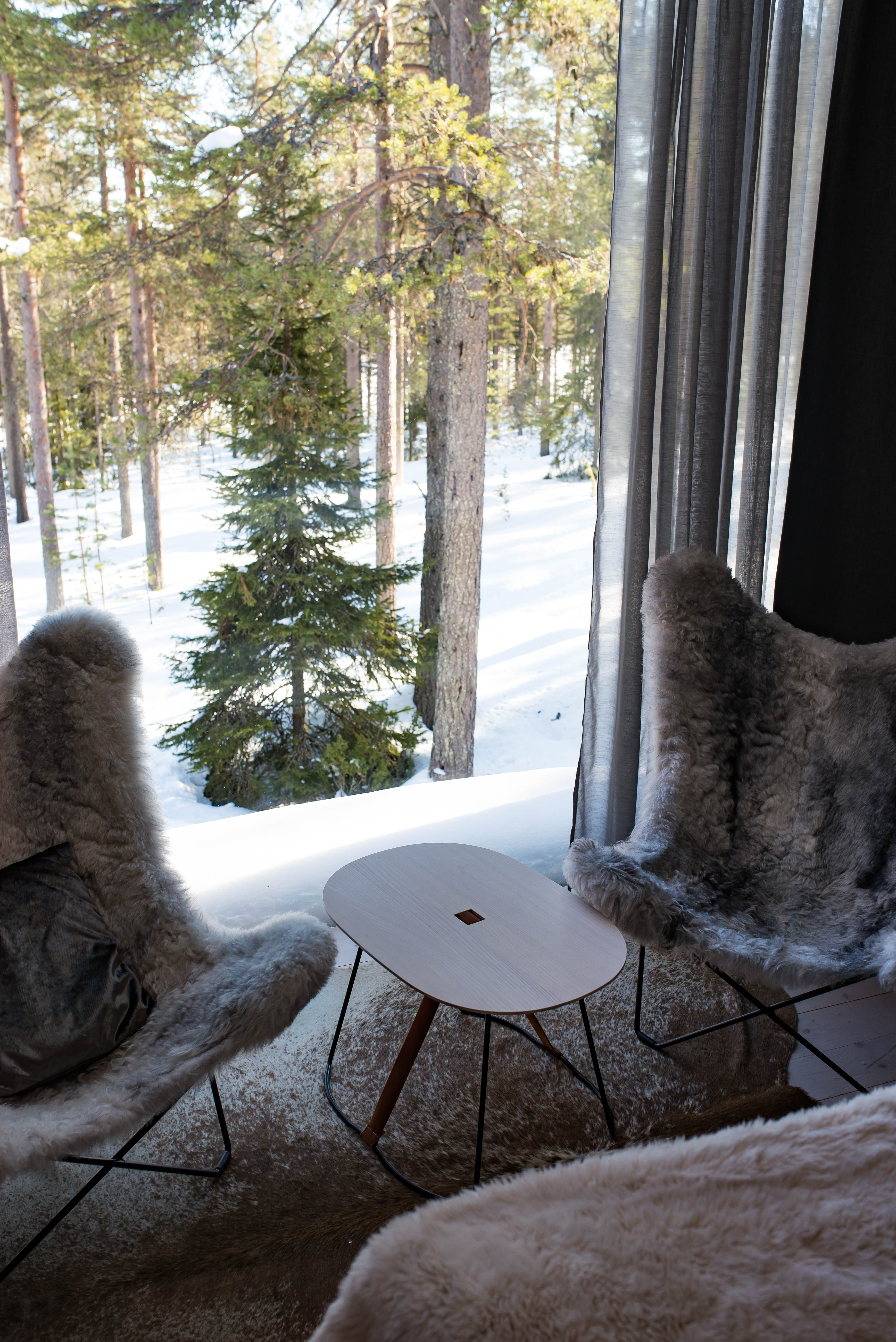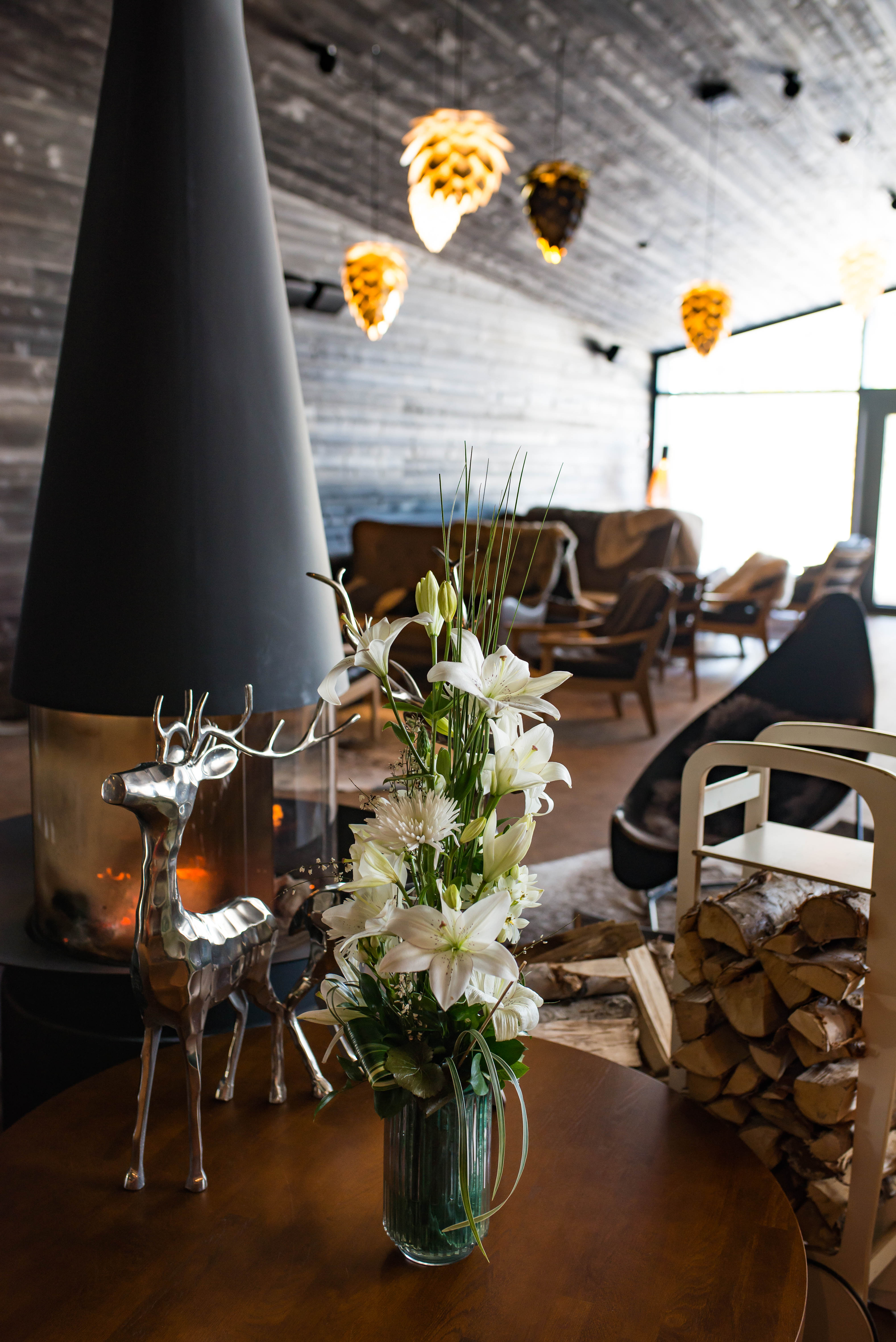 Okay so to recap our next activity I'd encourage you all the head to Mackenzie's post. She's the best person to explain just what we experienced during our time at the home of local Lapland artist, Irene Kangasniemi. While we thought we were just going to be making a simple craft (if you can even call a reindeer leather rose simple…) we got so much more from our hilarious conversations with Irene that left us all doubled-over in laughter and Mackenzie (literally) crying. As a big fan of the movie Frozen, I was thrilled to learn from Irene that forest trolls are actually real and hear about her "elf drama." You can't even make any of it up.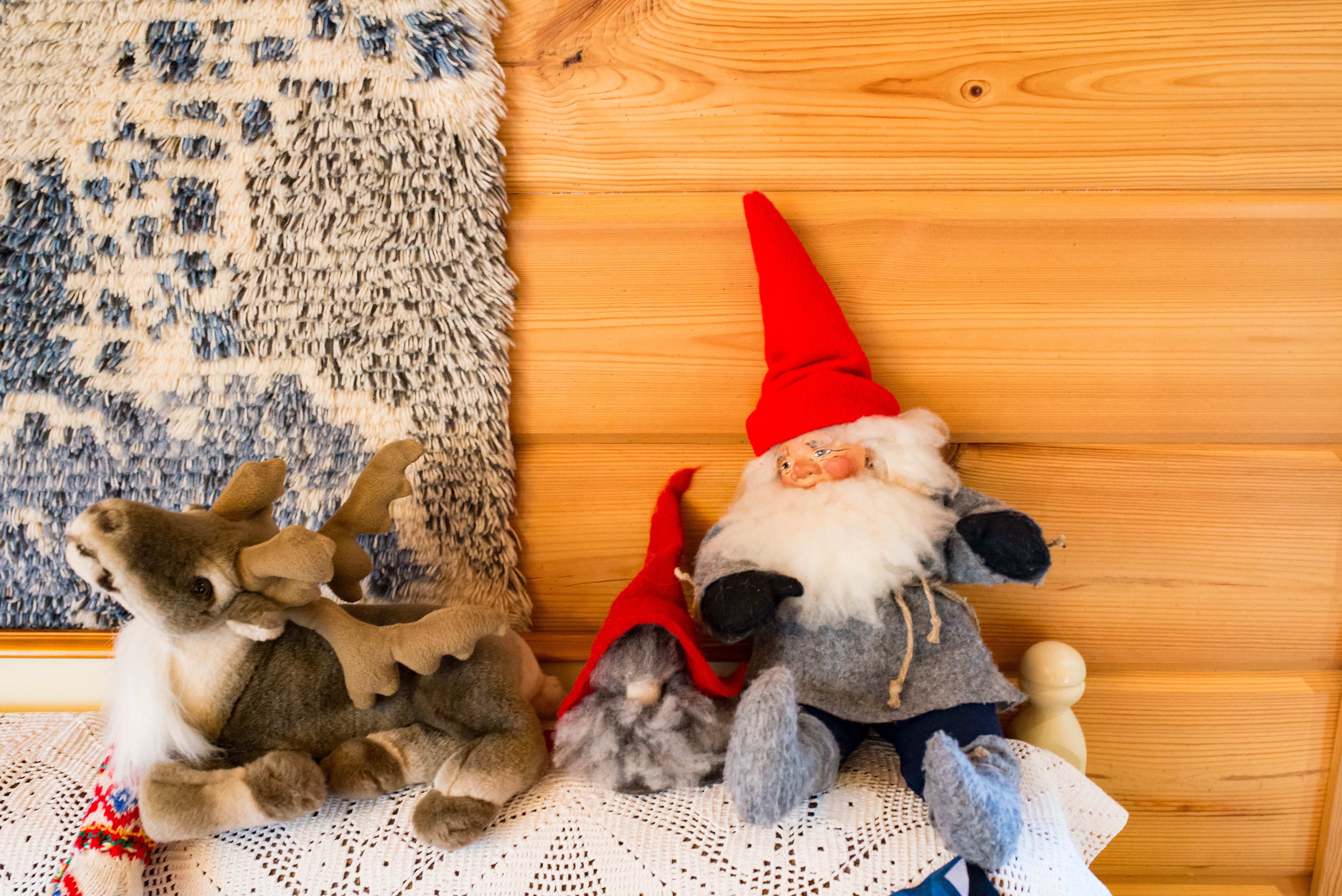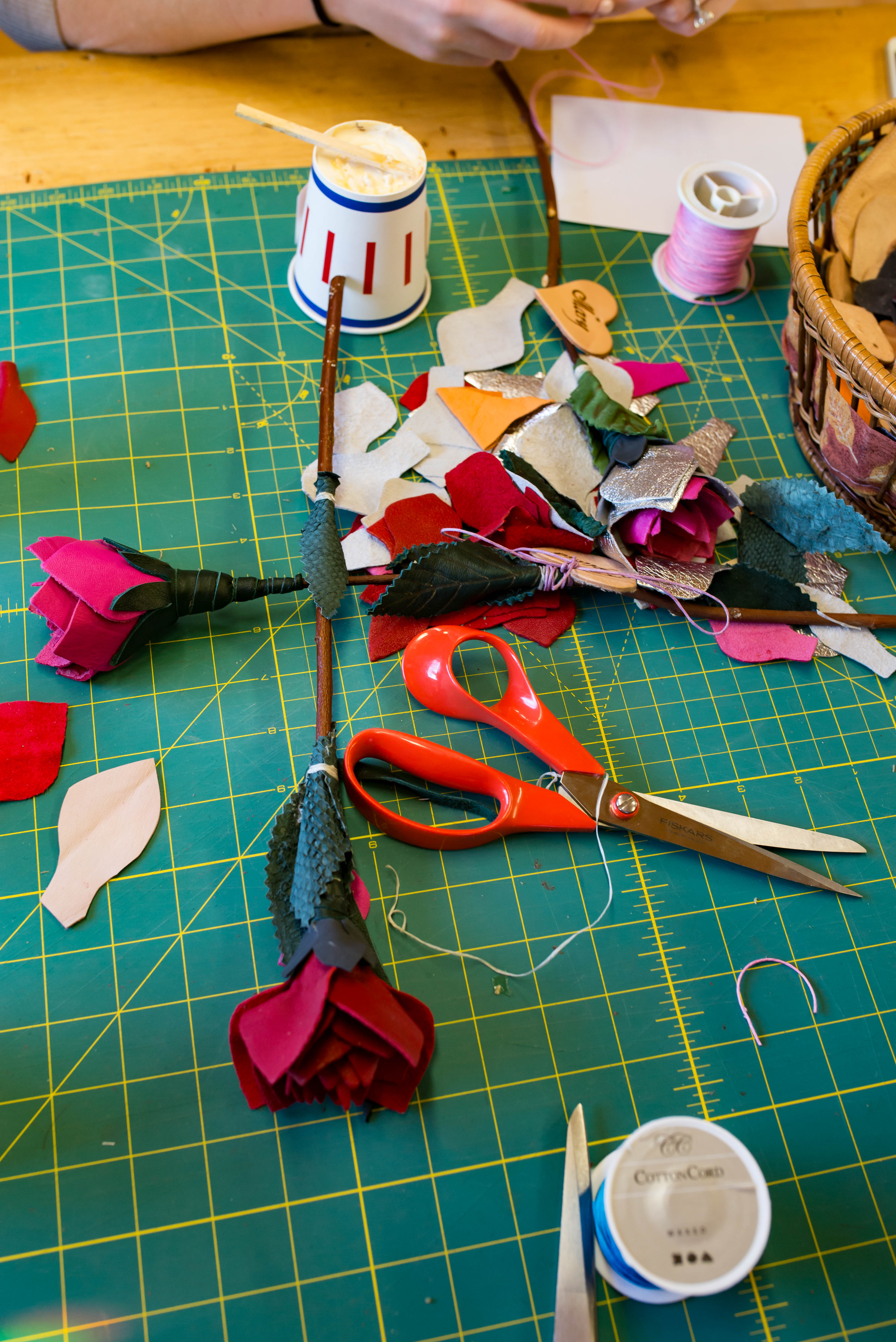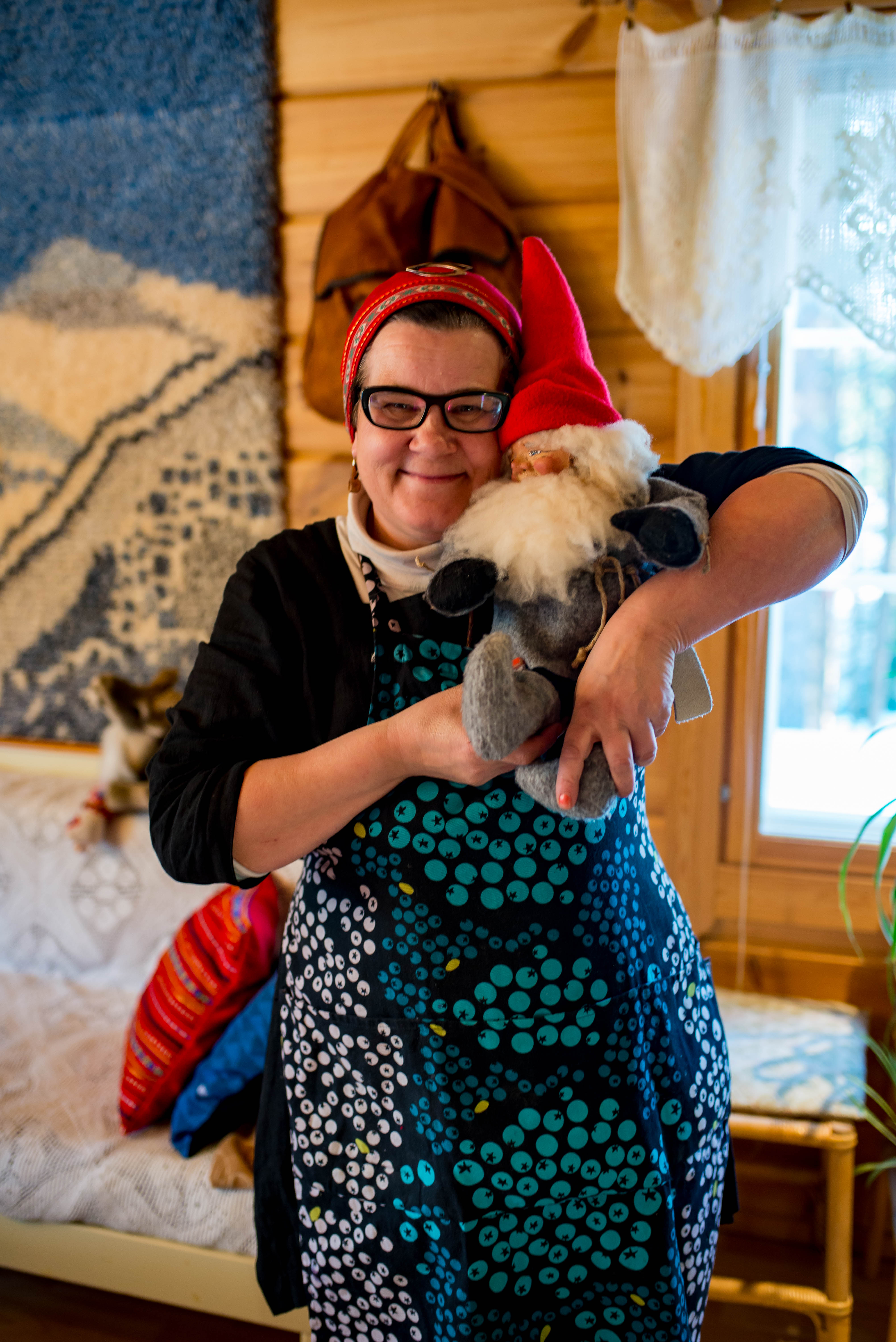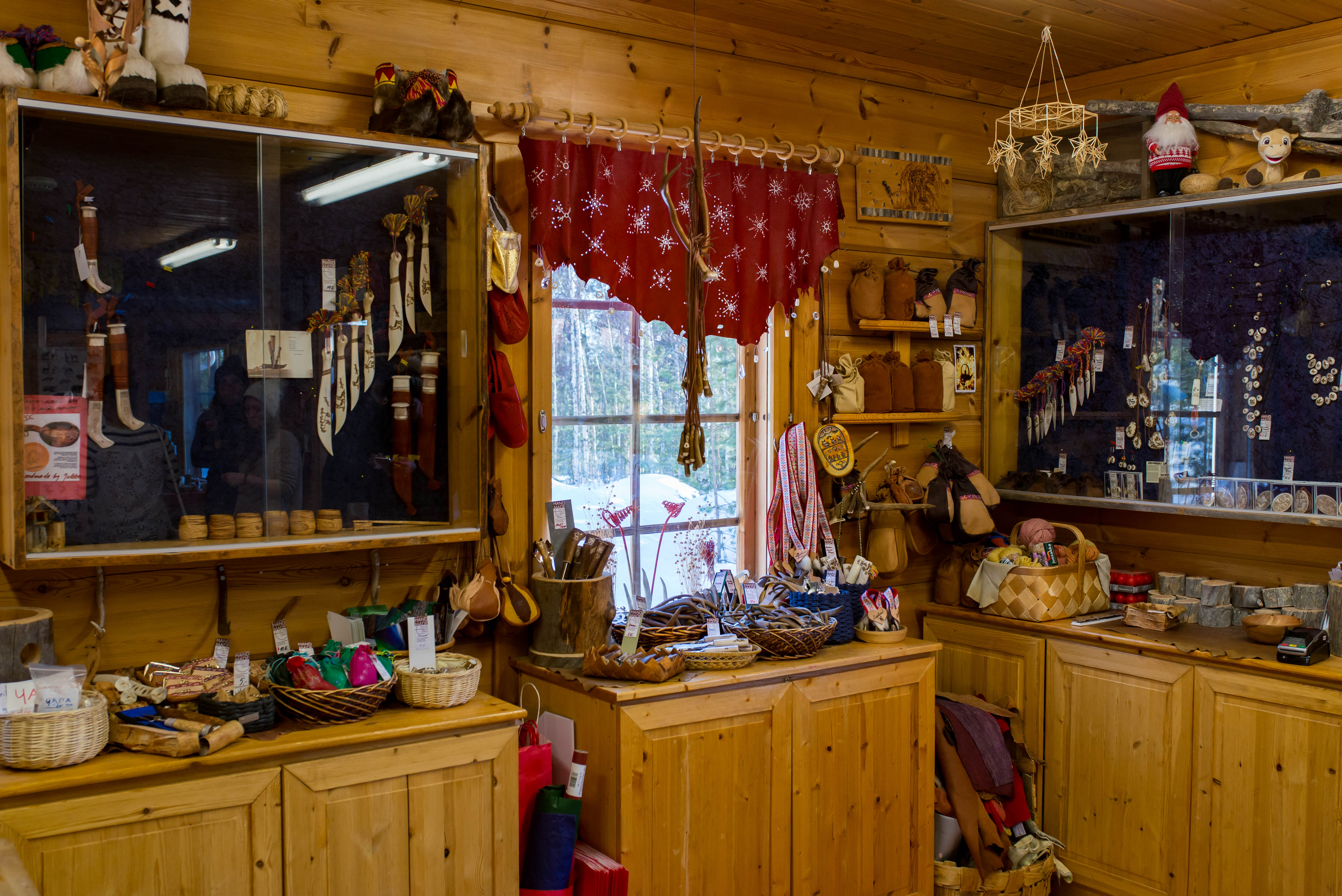 The culmination of our trip came at Hotel Vartiossari. Now if I was a VIP celebrity looking for privacy, this is where I'd come. This luxury retreat-style hotel is located on a private island in the middle of river with the only access being on foot over a suspended wooden bridge. Not even kidding they had to pull our suitcases across the bridge on plastic sleds… By this point of the trip were were all exhausted. At dinner that night everyone had given up on makeup and at least I was on my very last pair of clean clothes. While we could've all probably fallen asleep early, there was one final thing we hadn't yet been able to accomplish: seeing THE NORTHERN LIGHTS. So what did we do? We grabbed a few bottles of wine, made a bonfire and set up our photo outpost in hopes the lights would appear. Well someone up above must've been looking out for us, because soon enough we spotted a faint green glow over the horizon. Thankfully Ashley acted fast (and was smart to bring a tripod) and was able to capture a few incredible shots of the sky. It's amazing what a camera can capture, versus what you can see with the human eye. While we could only faintly see the stars and glow of the lights, what the camera picked up was beyond unbelievable. What a way to end a trip, right?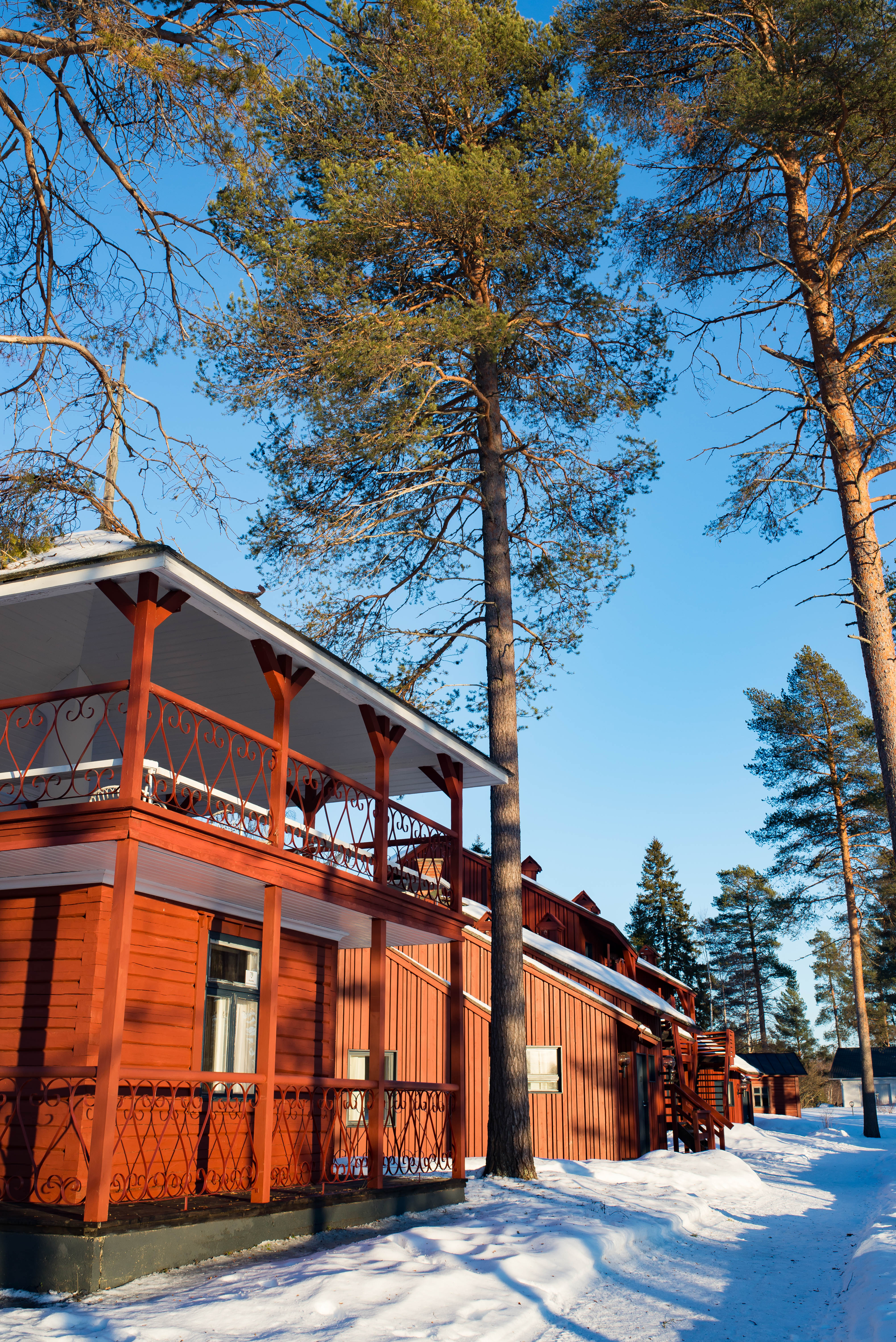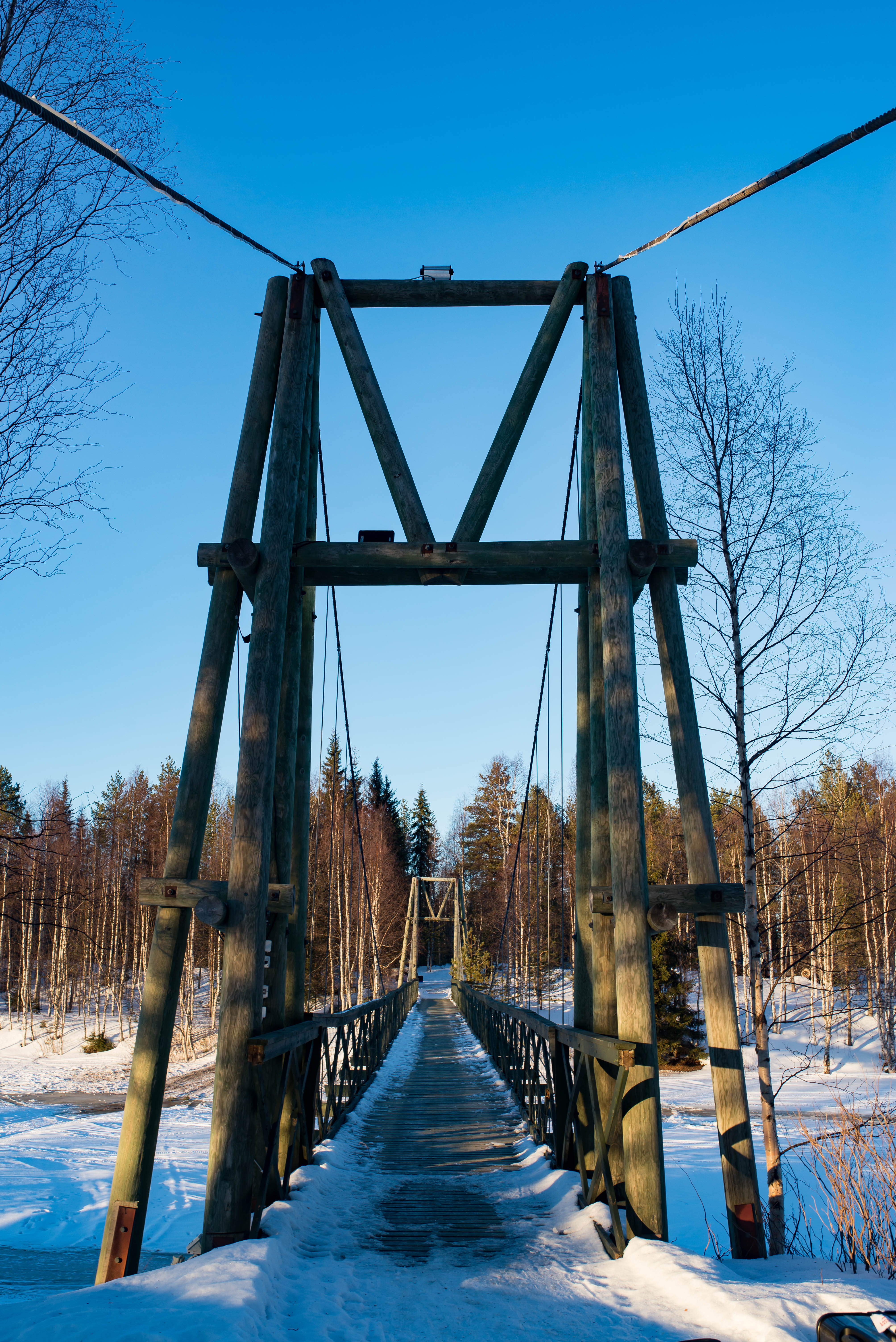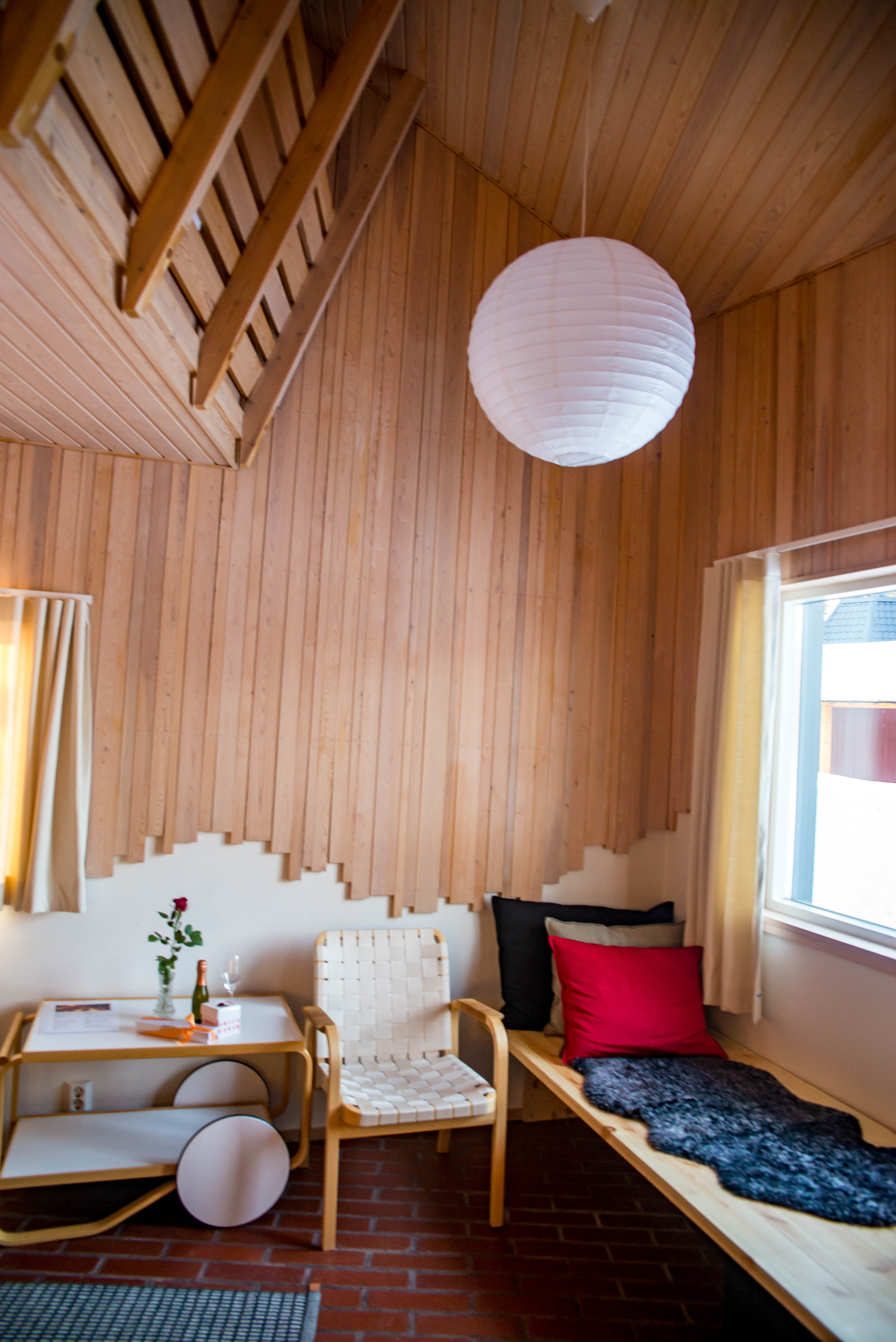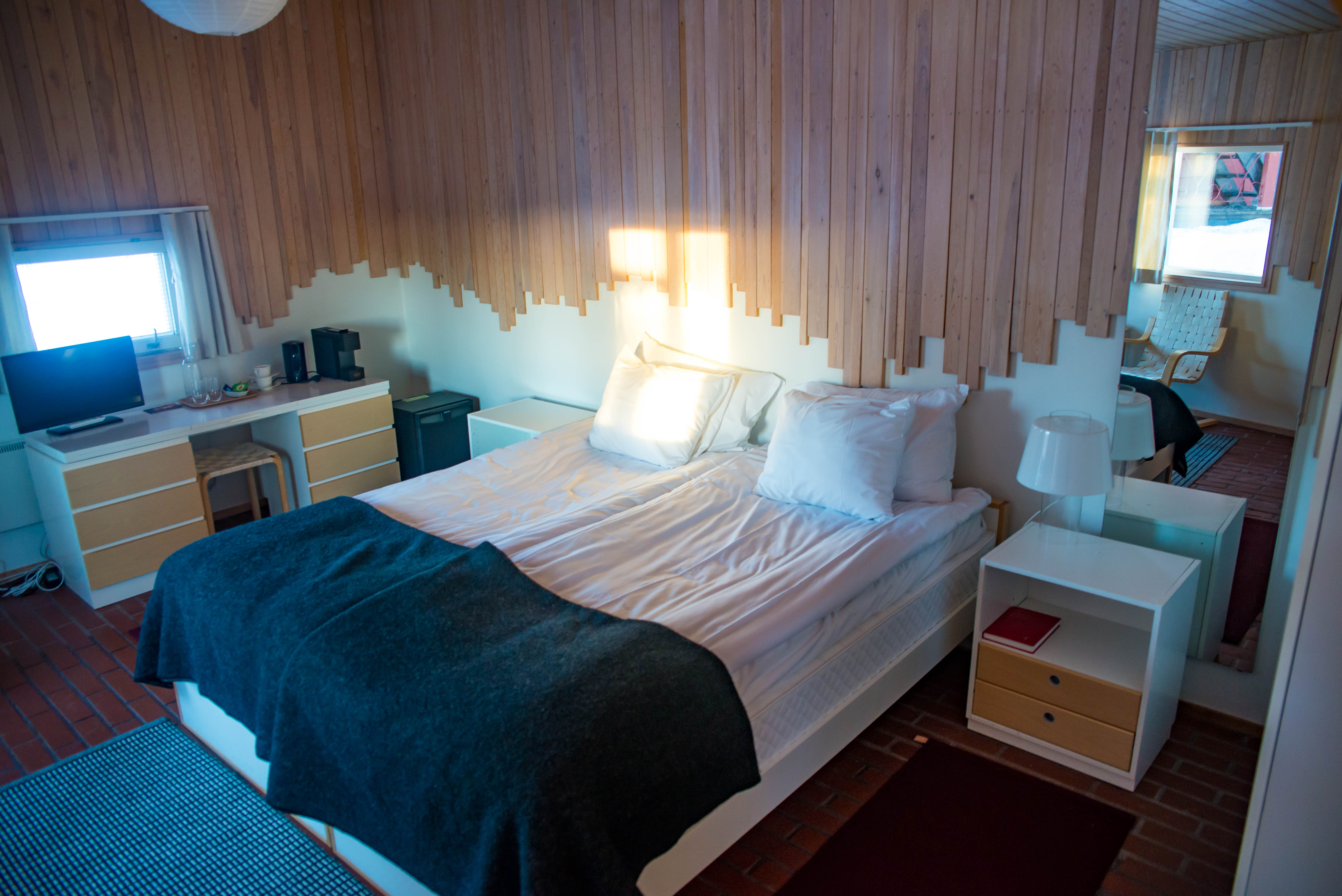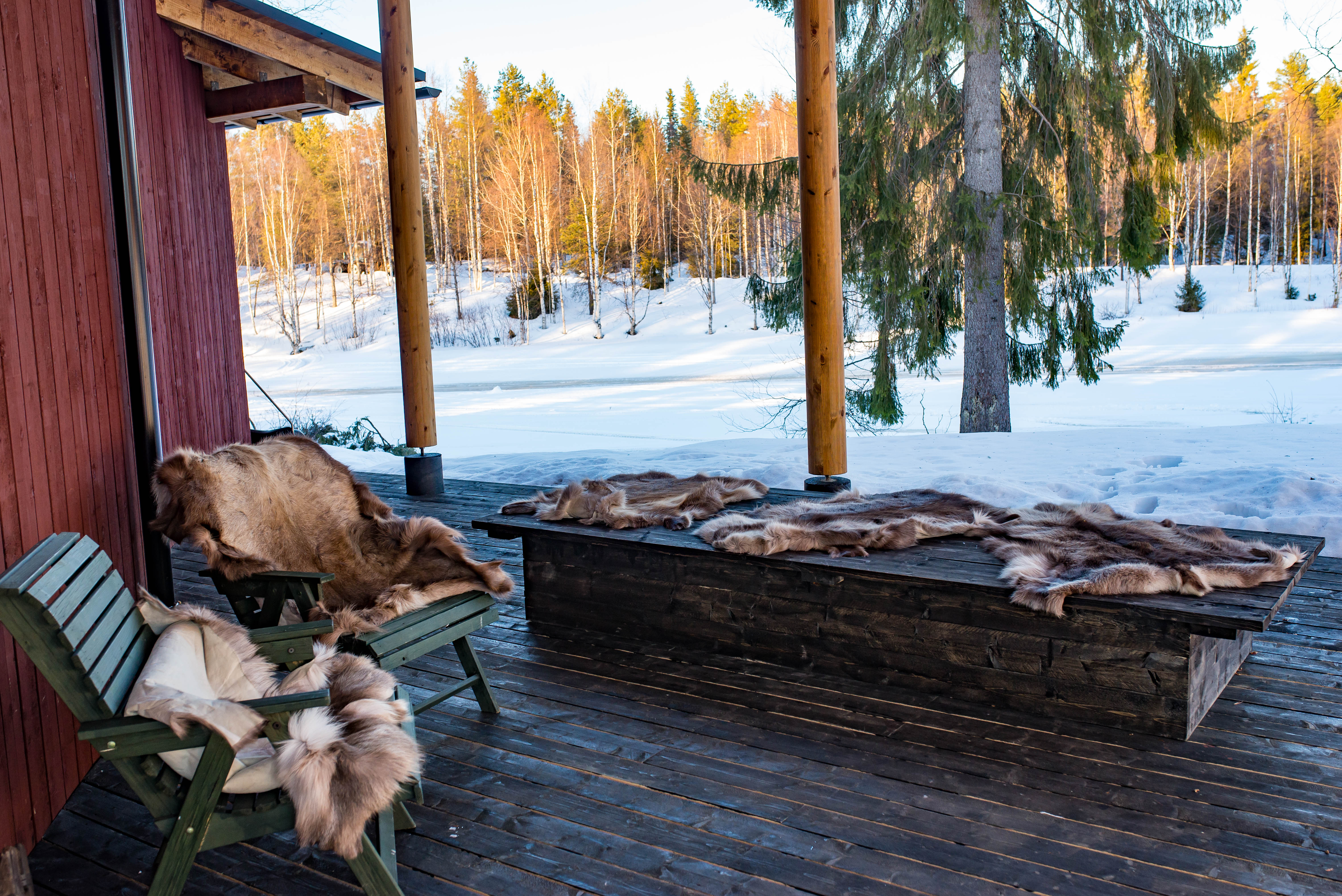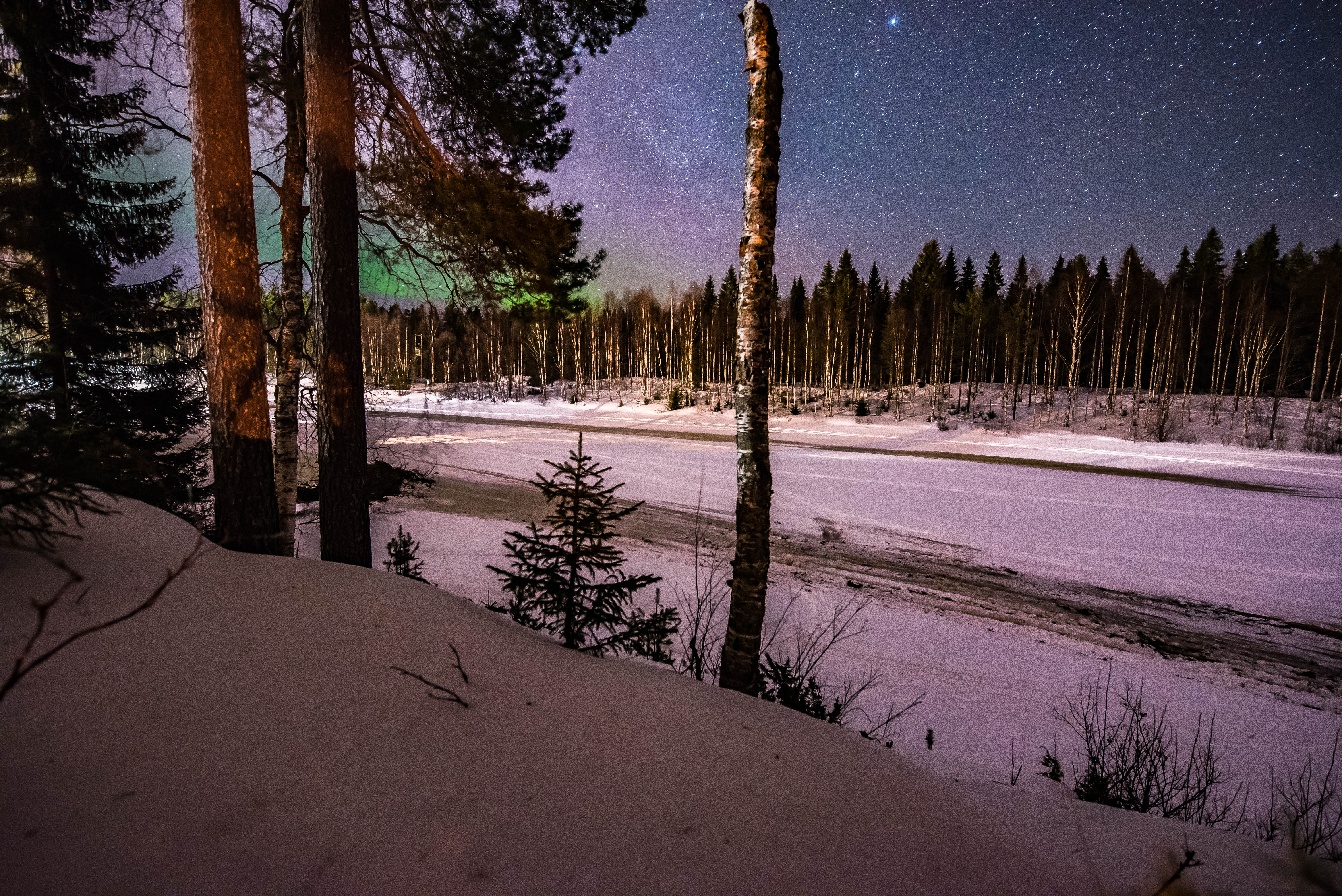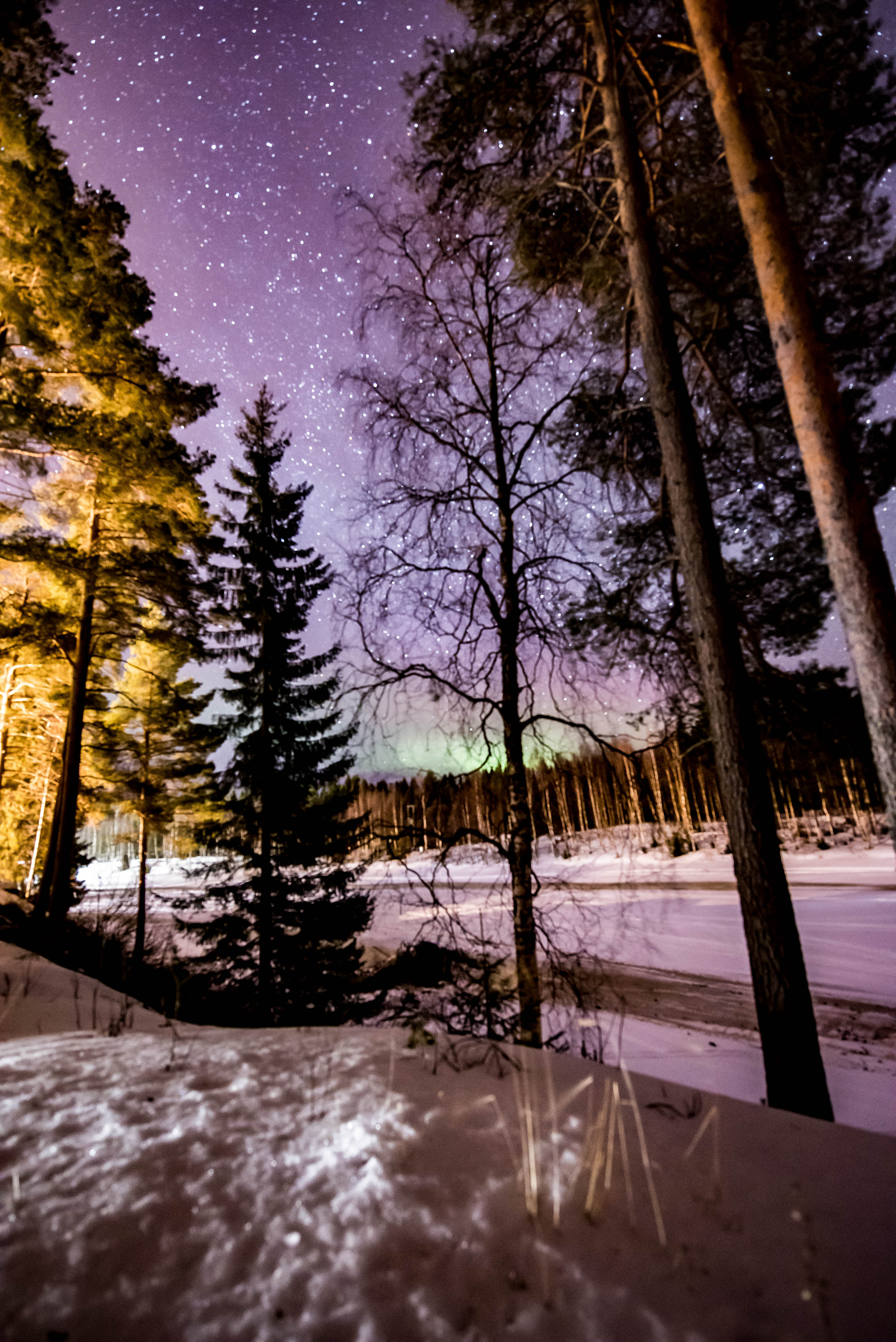 I can't thank our wonderful guides and the team at Visit Finland enough for such an incredible trip. I left Lapland with a few new friends and memories I'll look back on fondly for the rest of my life. With all that Europe has to offer, I would definitely add Finland to your travel bucket list. The beautiful snowy landscapes, fresh organic food, welcoming people and rich Scandinavian culture felt like something out of a real-life Frozen. If you're thinking about a trip of your own you, I'd encourage you check out these Bachelor-Inspired travel packages to Lapland. Warning: clicking may induce serious wanderlust.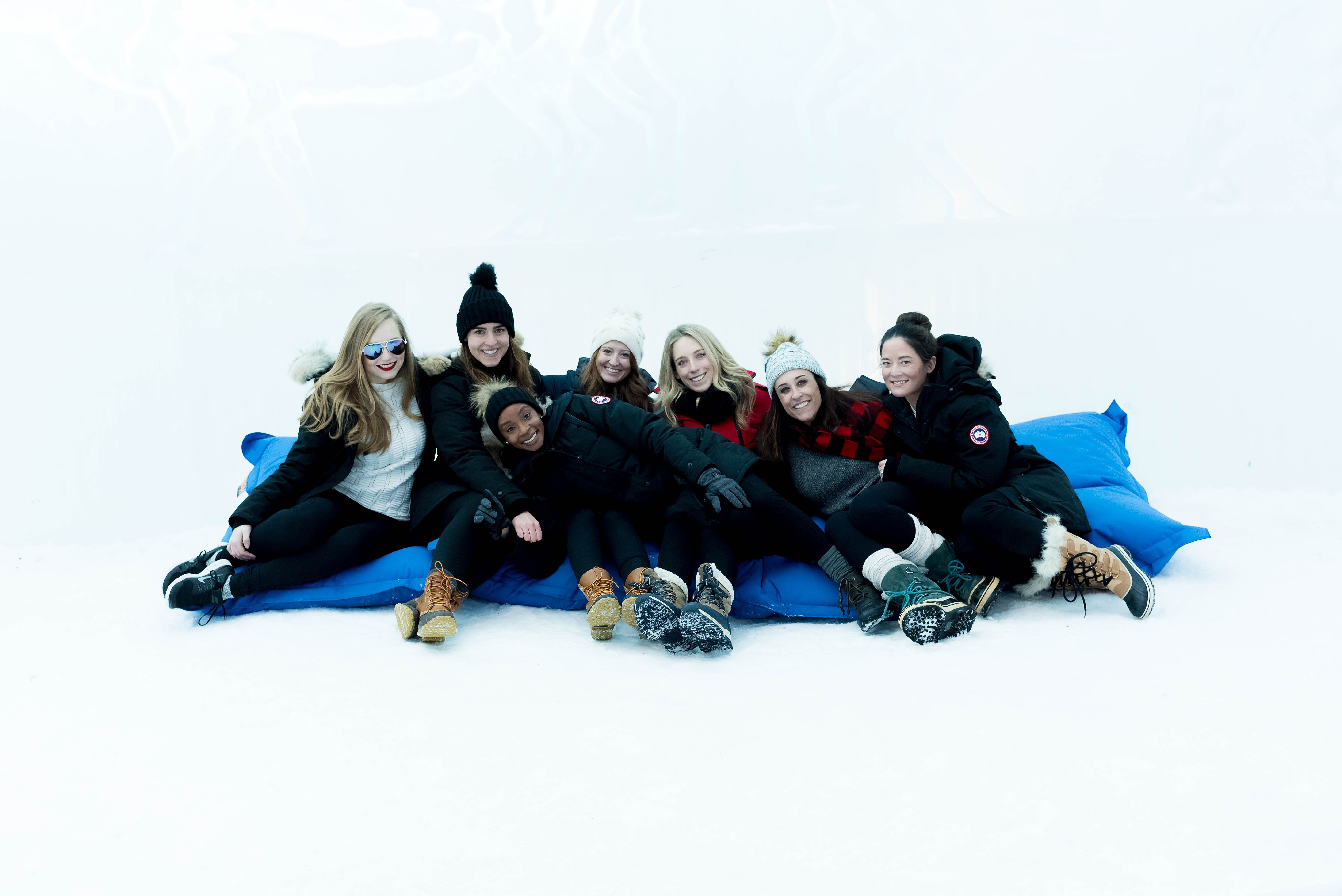 - Katie