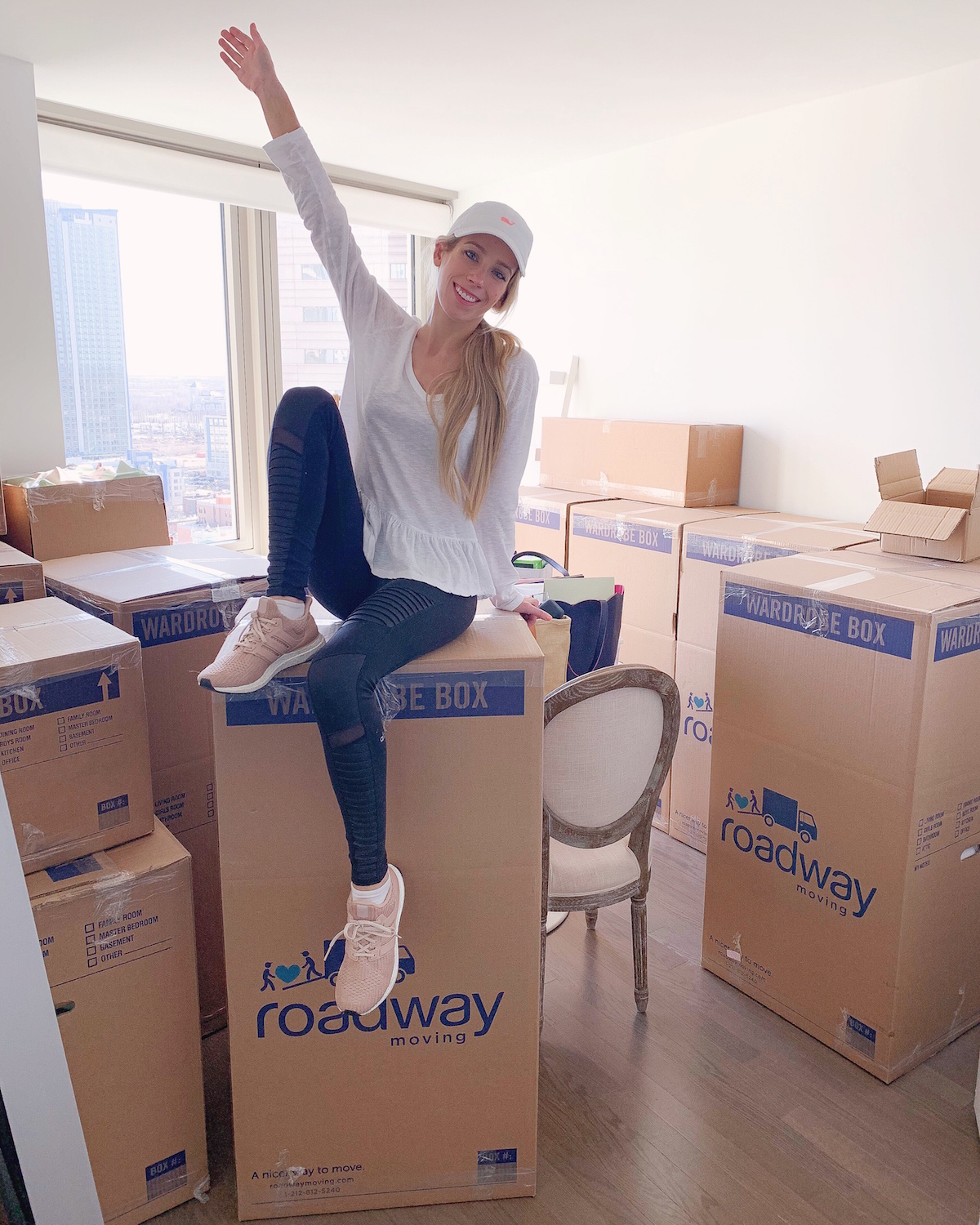 Guess what? We moved!
If you've been wondering why things have been a little quieter on my blog it's because last week we packed up our apartment and said goodbye to Manhattan. I know! The end of an era! For 7 long years we lived as New Yorkers and although we loved our time in the city Nick and both felt ready for a change of pace and scenery. So as of last Tuesday we officially became residents of Jersey City, New Jersey!
I don't think this move comes as a surprise to many of you. I mentioned in my What I'm Looking Forward To In 2019 post that this year would likely be our last in New York. There were a number of reasons why I wanted to move and now that we've actually done it, I could not be happier and more confident in our decision.
If you're curious about the full backstory behind why we decided to move, definitely give this post a read!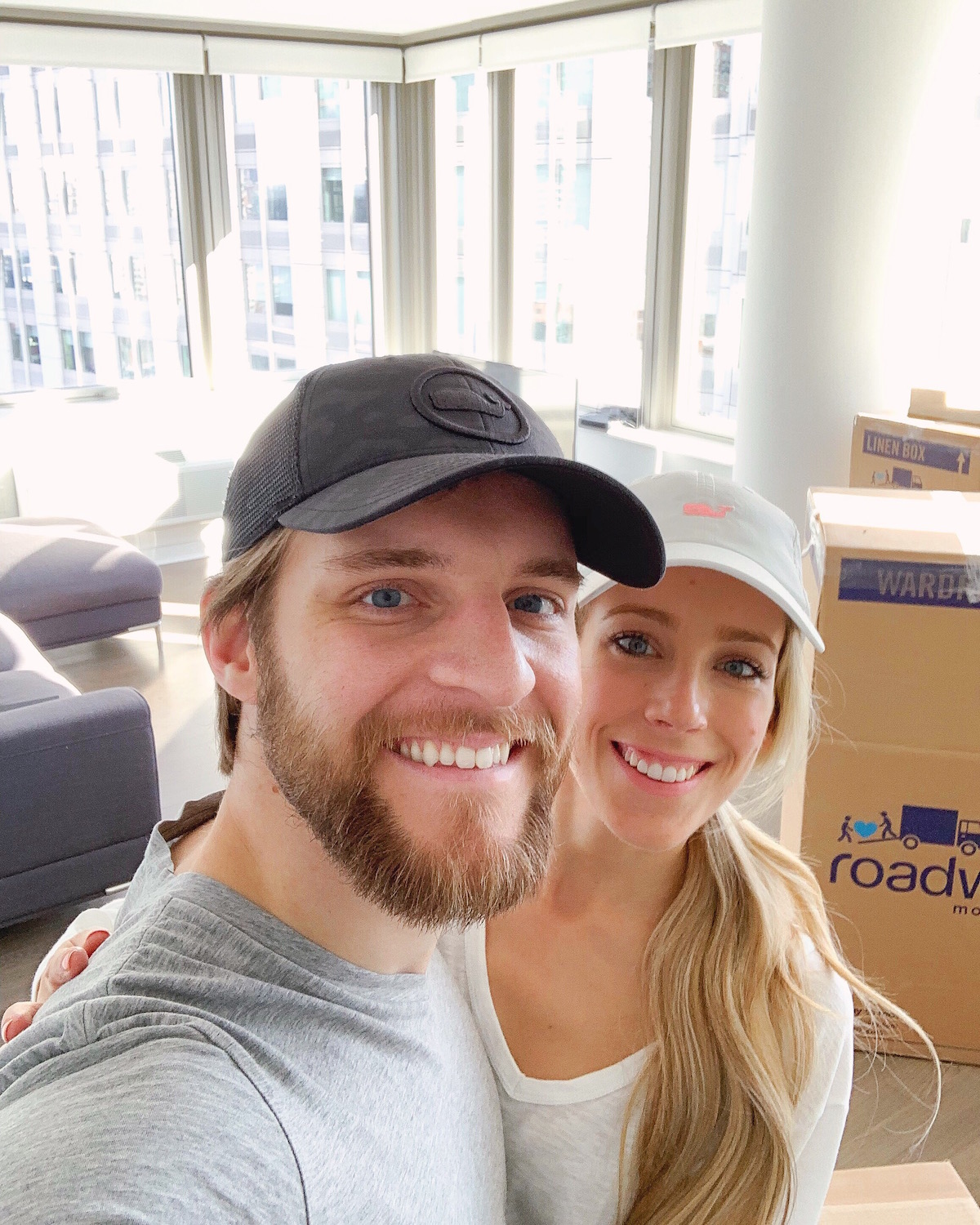 Over on Instagram I took you guys along with us as we packed up our old place with the amazing help of Roadway Moving and made the hop across the Hudson River to Jersey City. This was the first time we've ever used hired movers and we were so impressed with the Roadway team!
The guys took apart our furniture, packed up everything for us (including clothing!) and then moved it all to our new place. They then re-assembled all our furniture and placed each box in the appropriate room where it would be unpacked! It was a long day and it really didn't hit me until the morning of our move that we were actually doing it.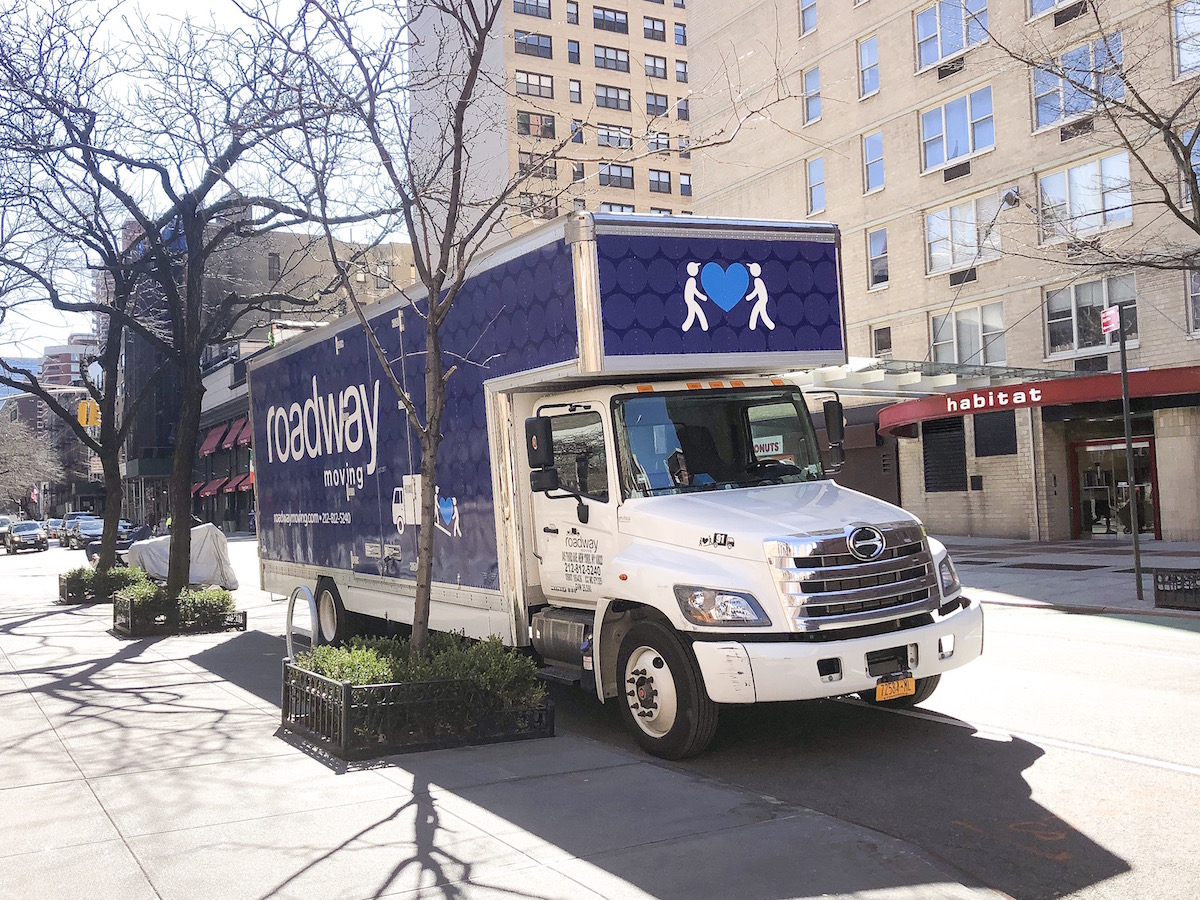 Moving soon? Make sure to use promo code KATIESBLISS10 for 10% off Roadway Moving services!
At first I felt a little sentimental about leaving our previous apartment. Watching the movers take apart our furniture and begin carrying our belongings down to the truck definitely pulled on my heartstrings a bit. We loved that place so much, but we simply outgrew it and were over the fast-paced New York lifestyle.
Any nerves I had about saying goodbye to our New York apartment completely washed away the moment I stepped inside our new place in Jersey City. It wasn't like I hadn't already seen it in person, but just walking in the front door and seeing all our things being brought inside just made it all feel so much more real.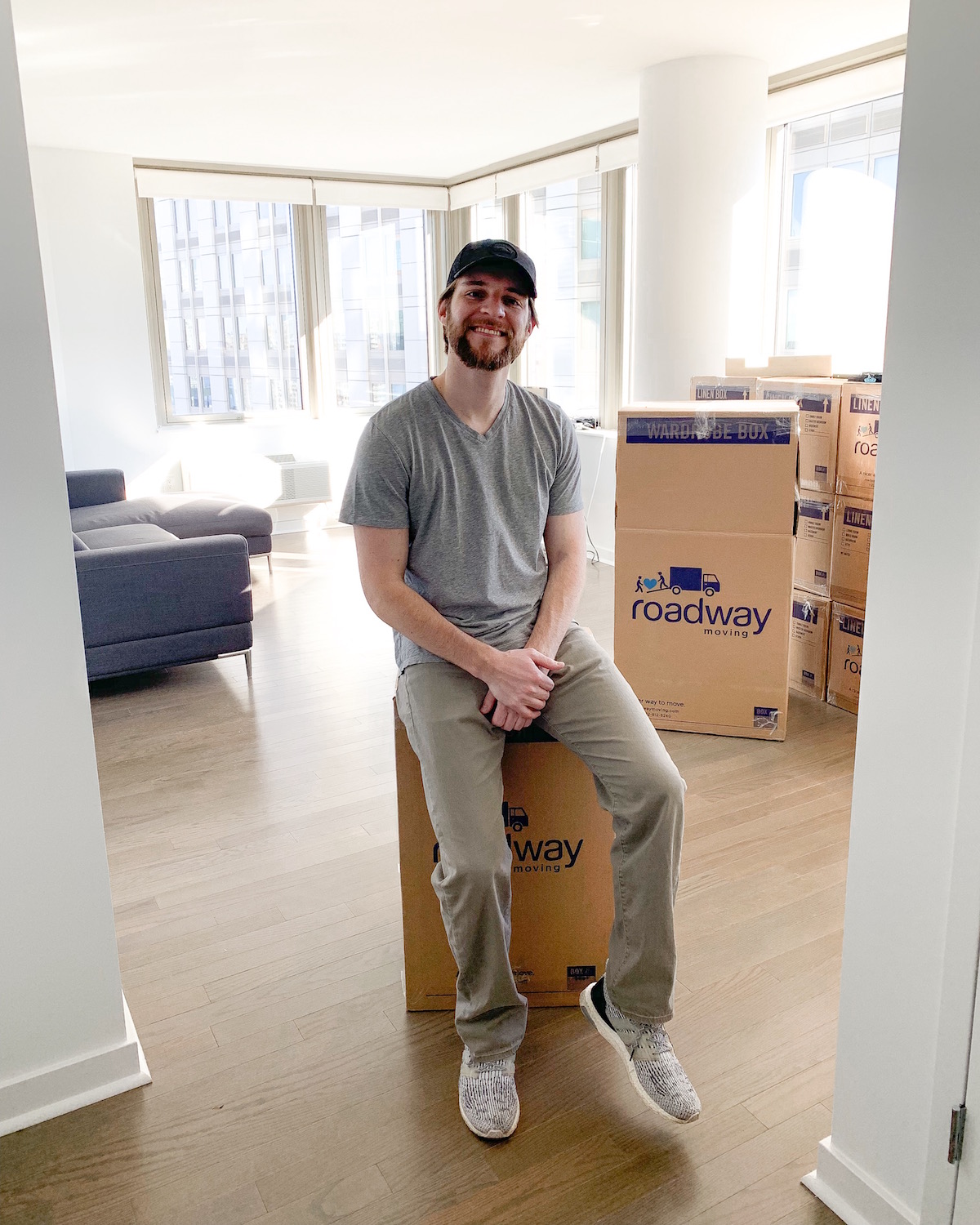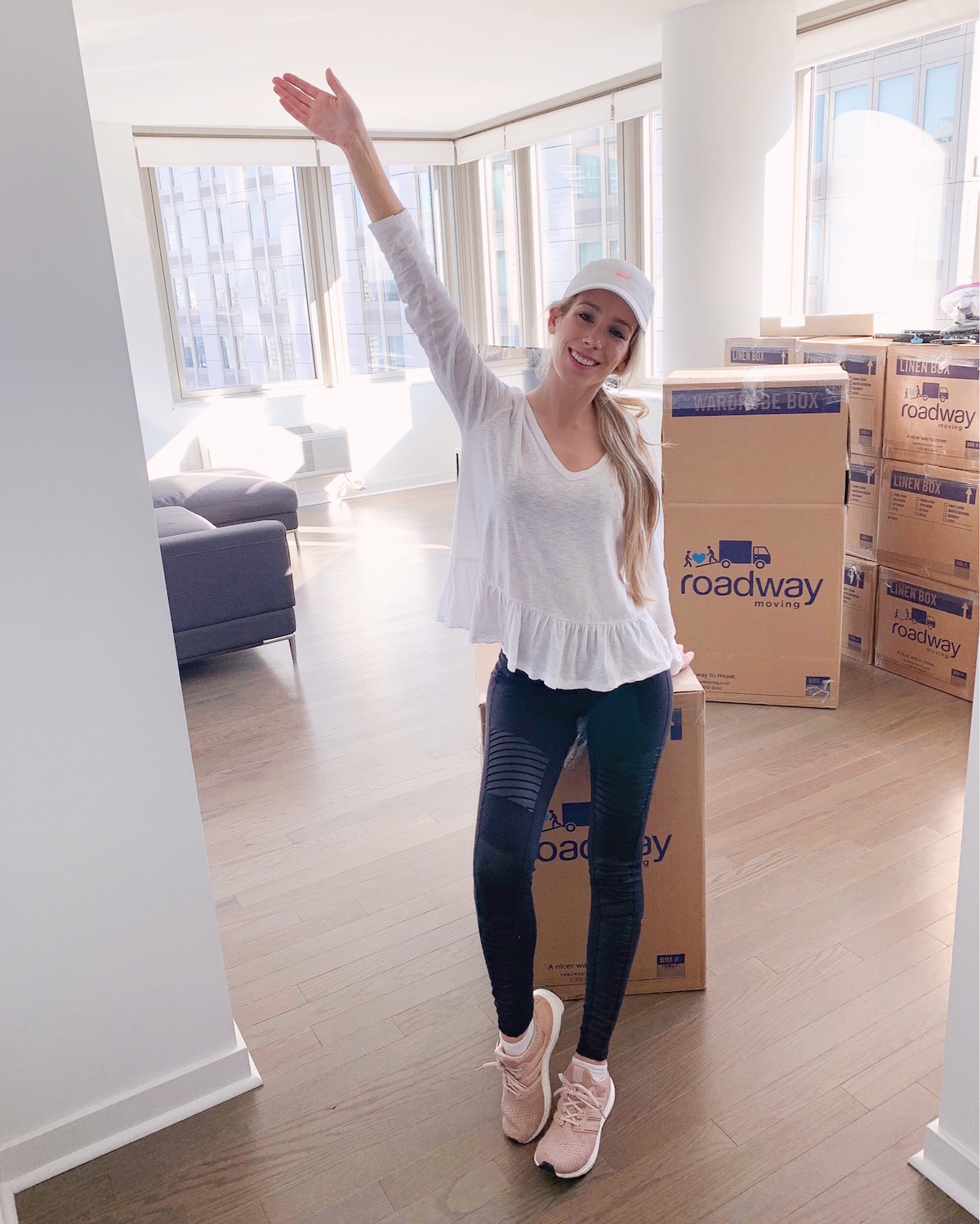 MY OUTFIT DETAILS // Black Moto Leggings | Peplum T-Shirt (on sale for $26) | Adidas UltraBoost Sneakers | Baseball Hat
Say hello to our new home! We signed the lease for a new 2-bedroom, 2 bathroom apartment back in December after spending about two months researching and touring buildings in both Hoboken and Jersey City. Our apartment must-have checklist was long. If we were going to undertake such a big move across state lines that would require Nick to commute, it had to be for the right place.
We really loved that our last apartment was in a full service building with an elevator, package room and 24 hour doorman. Knowing we wanted all of that again helped narrow down the options a lot during our search. One of the things that made us so excited about Jersey City is that it's become a mecca for a new residential development. It's home to a plethora of brand new buildings full of modern amenities and added square footage that you simply just can't find in Manhattan.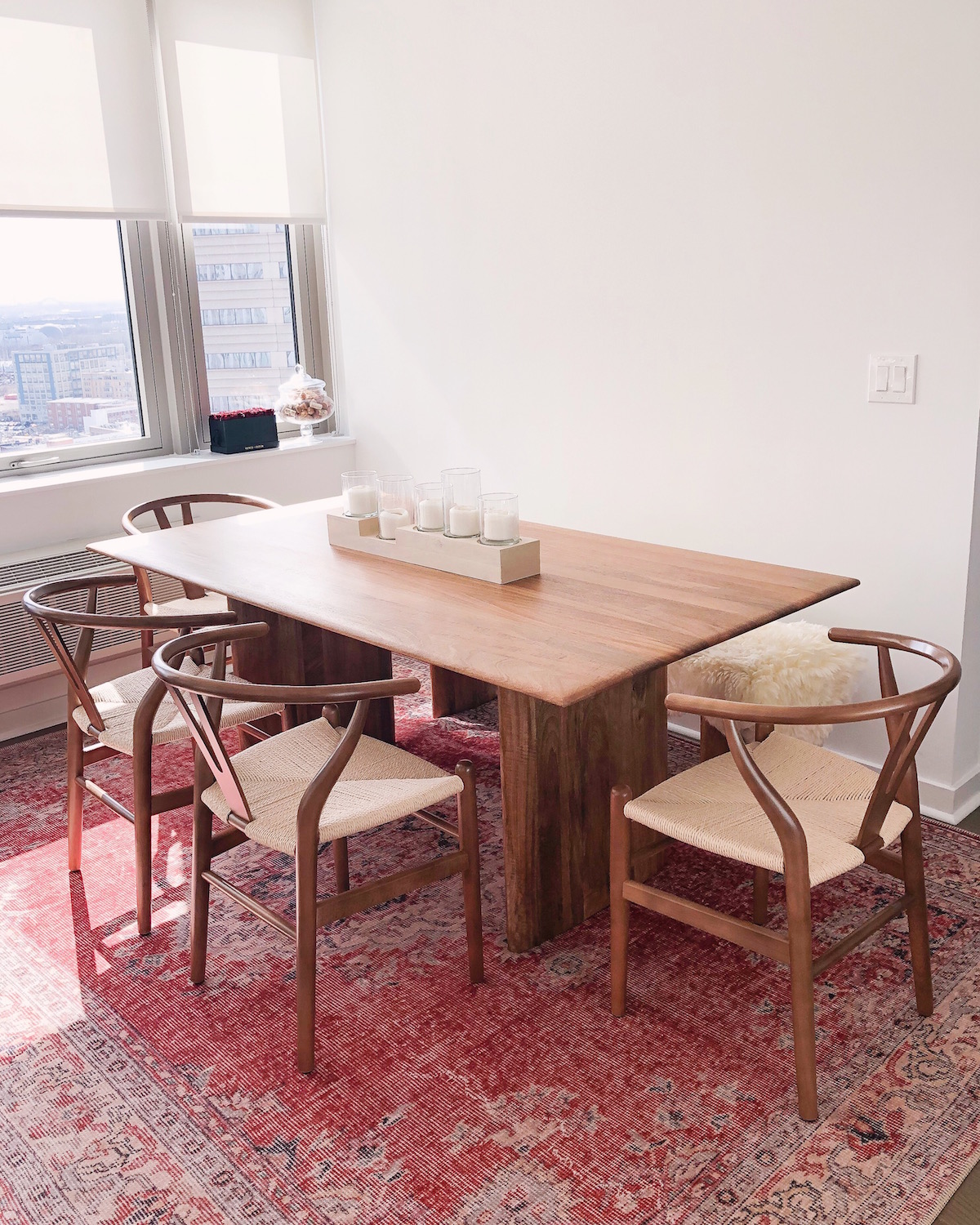 A glimpse at our new in-progress dining room!
ITEMS PICTURED // Wood Dining Table | Dining Chairs | Dining Bench | Similar Carpet (found ours via Rugsusa) | Wood Candle Holder Centerpiece
Other must-haves for us were a large functional 2 bed/2 bath layout, affordable parking garage (rates in our last building were $450+ per month,) modern appliances (aka an a/c unit with more than just an on & off switch,) an in-unit washer and dryer (in NYC you're lucky if your building has a community laundry room,) lots of natural light, close proximity to a PATH train stop (this is what Nick rides to work) and a separate kitchen that could fit two people at the same time. Needless to say we had our work cut out for us!
My office + closet is slowly coming together!
ITEMS PICTURED // Metal Garment Rack | Faux Fiddle Leaf Fig Plant | Sheepskin Carpet Runner | Similar Basket | Olive Green Wedges | Black & White Espadrilles | Brown Leather Sandals | White Sandals | Blush Pink Strap Slides | Stripe Slides | Pink Suede Sandals
It took us about two full months before we finally stumbled on the building in Jersey City we now call home. I hadn't felt excited about any of the spots we'd previously toured, but I knew right away I wanted to live here. Although it's a little disorganized and still in need of furniture, our new apartment checks all the boxes on our list and just feels right. Ahhh! So excited to decorate and show you guys more 🙂
PS I've received a lot of questions asking why we chose Jersey City over Hoboken and honestly for us it was more about the building and finding the right apartment. We would've been happy in either town, but simply fell in love with the place we found in Jersey City!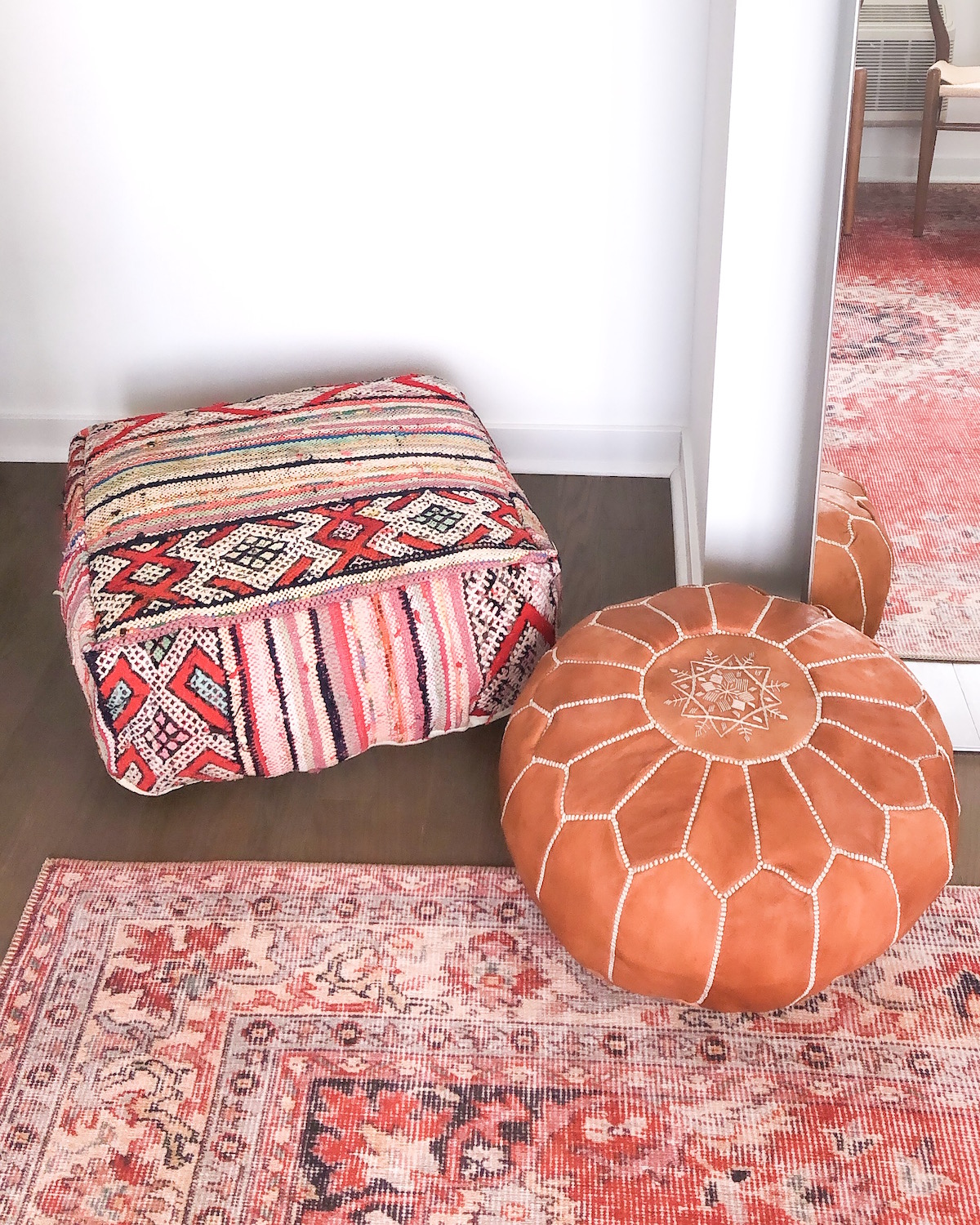 We finally stuffed the Moroccan poufs we bought in Marrakech! PS I found similar ones you can order online here for under $100 🙂
Since moving in last Tuesday my life has been a nonstop rotation of opening boxes, doing laundry, putting together furniture and organizing closets. Moves are no joke! I only changed out of sweatpants briefly over the weekend to celebrate our best friend's joint bachelor+bachelorette party in New Hampshire, however as of yesterday I was back to the unpacking grind. My to-do list is still a little overwhelming, but I am starting to see there's an end in sight. Oye!
Well that's the latest with me! Thanks again friends for all the love and advice you've been giving me over on Instagram. If you're interested in seeing more real-time progress of our apartment, definitely make sure you're following me there! So excited to share more about our new place and how we plan to furnish and decorate over the next few weeks 🙂
- Katie