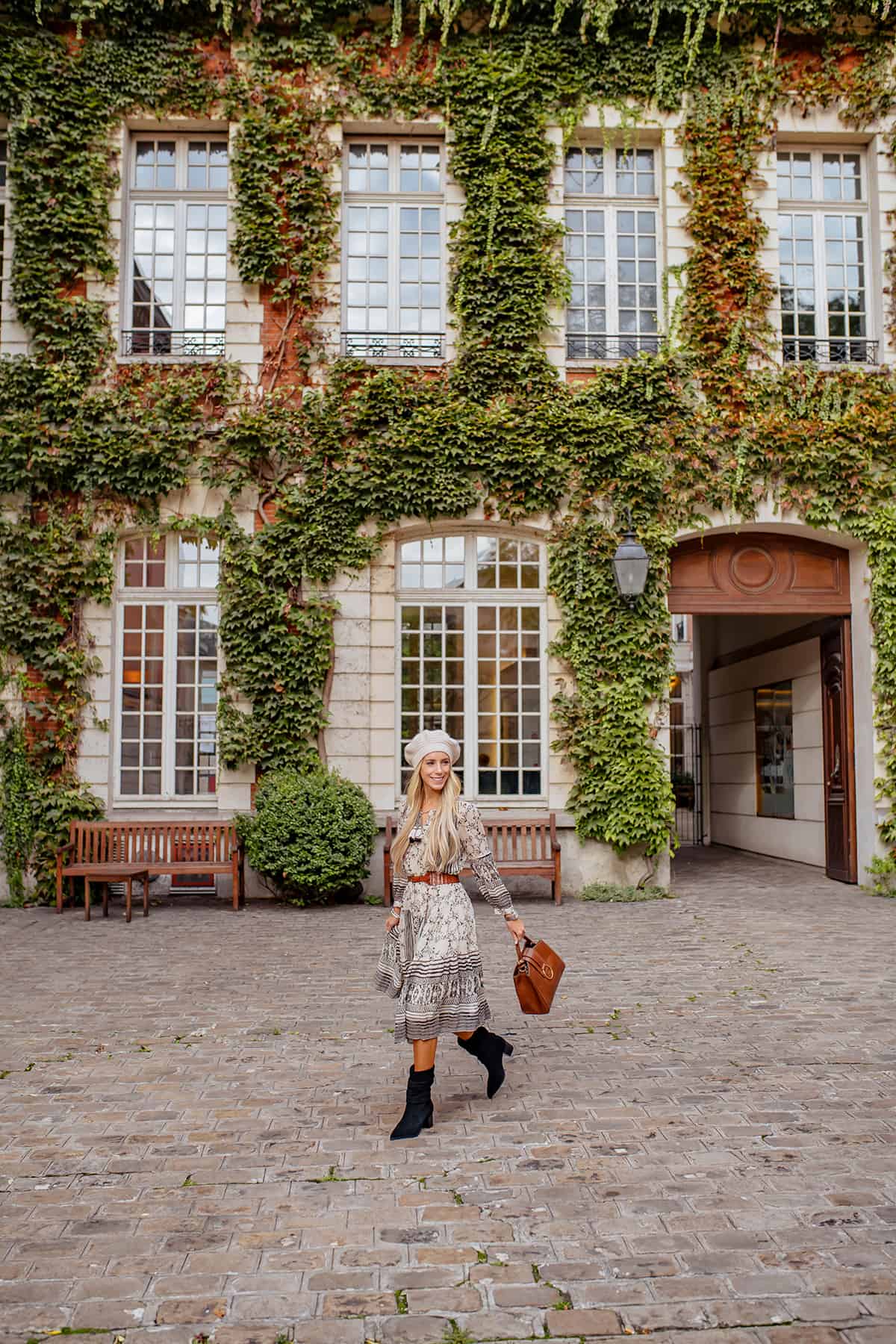 Paris has quickly become our favorite city. I mentioned in my last travel guide how Paris just has this magical energy that fills the soul. I know that probably sounds a little corny, but for us it rings true! Paris is a breath of fresh air compared to the bustle of New York. Being there almost feels like stepping back in time– it has a romance and nostalgia that no U.S. city could ever replicate, simply because of its history.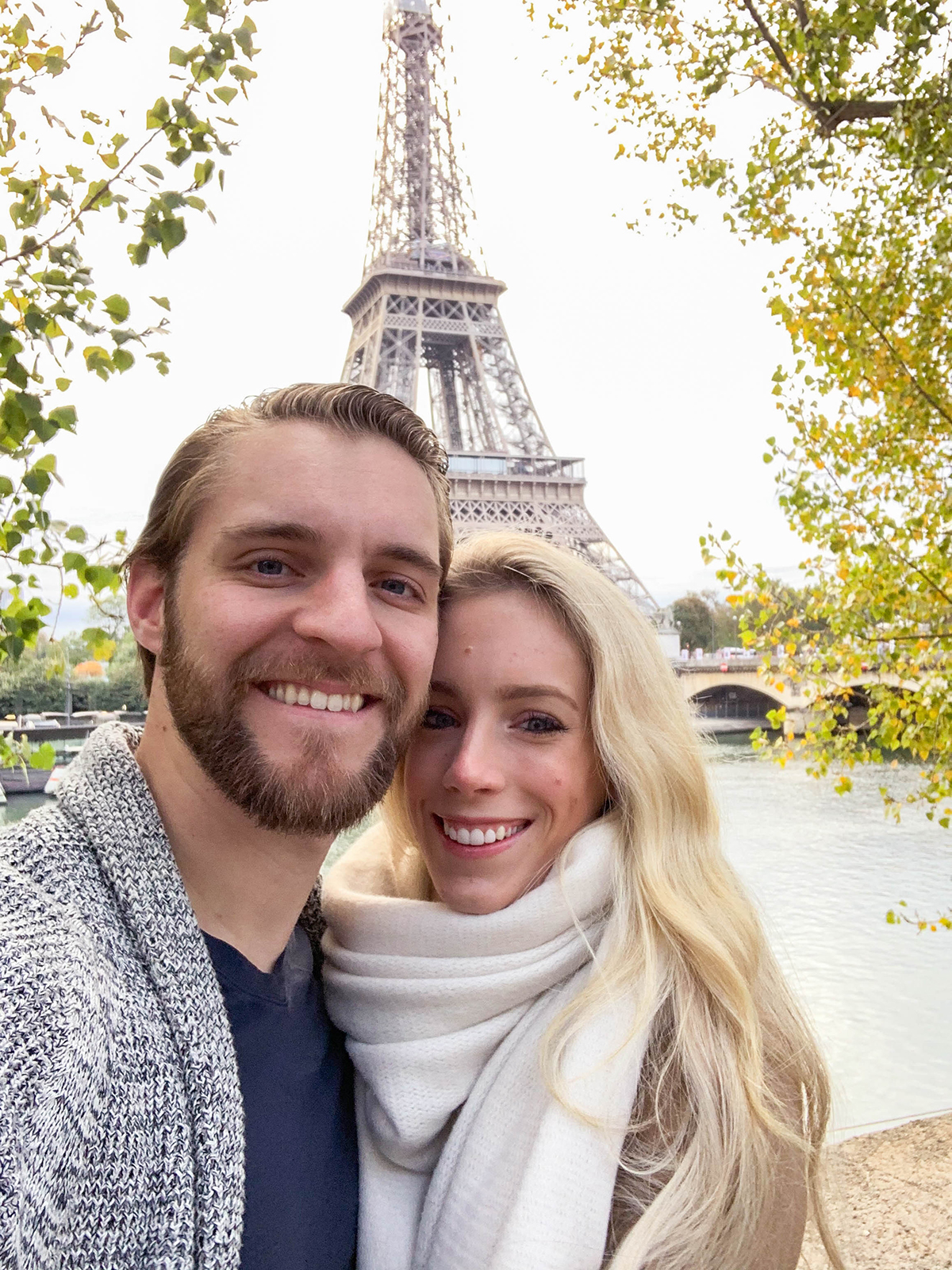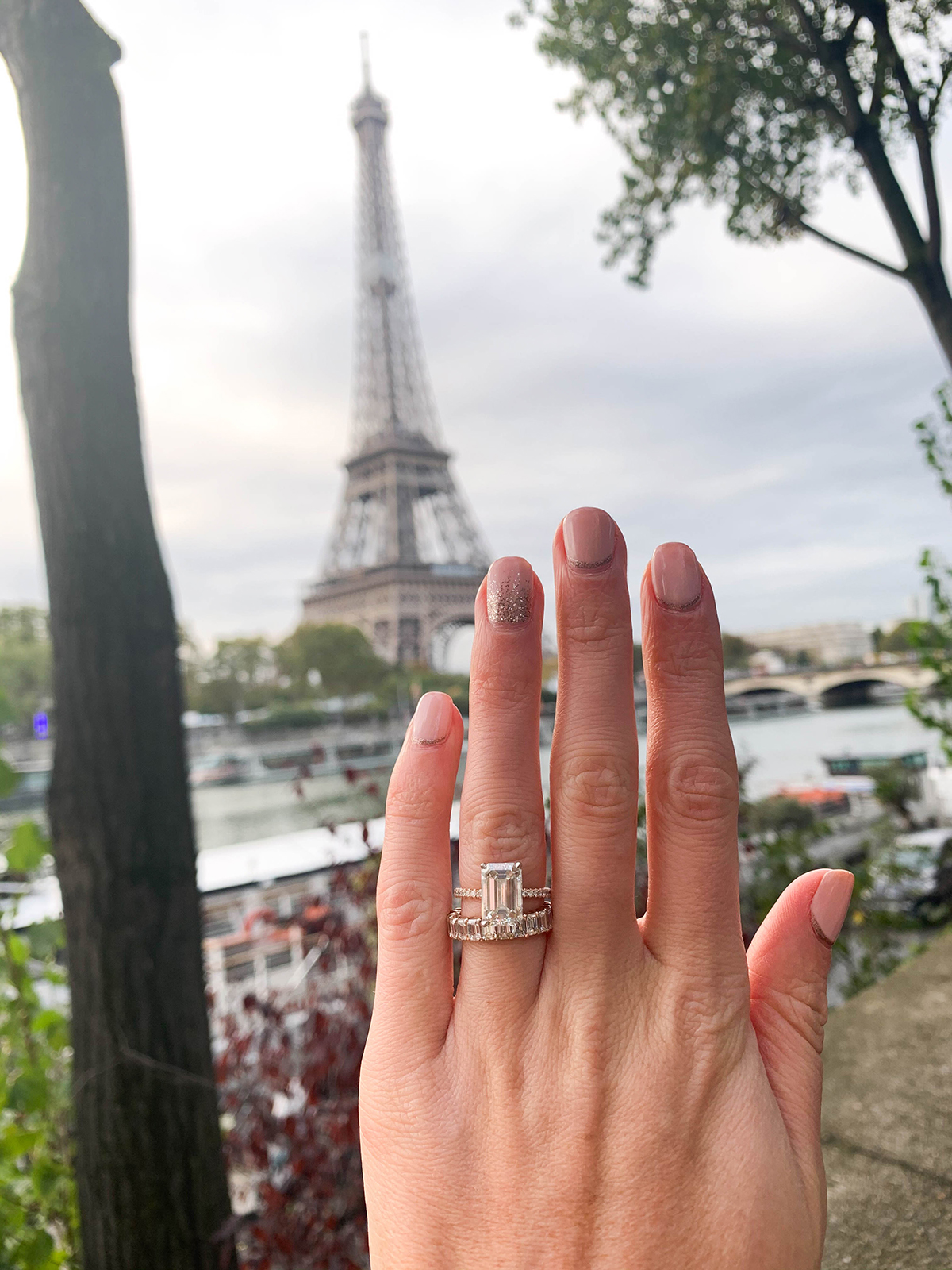 When we decided that we did indeed want to do some sort of trip right after our wedding, Paris was a no brainer. We've been there before and have visited most of the popular landmarks and museums, so it was the perfect place to go to unwind and just enjoy ourselves for a few days without the pressure of having to explore as a first time tourist.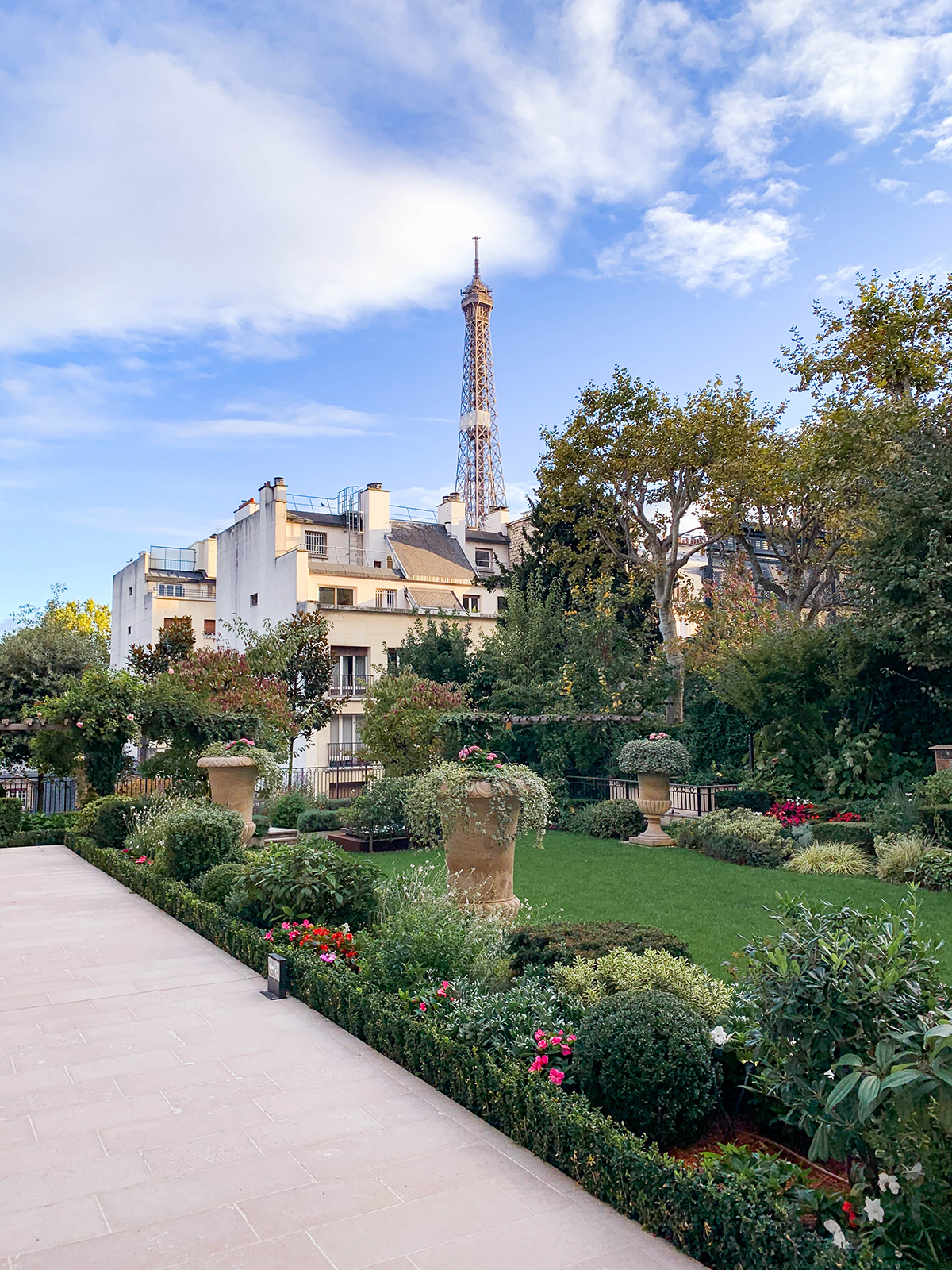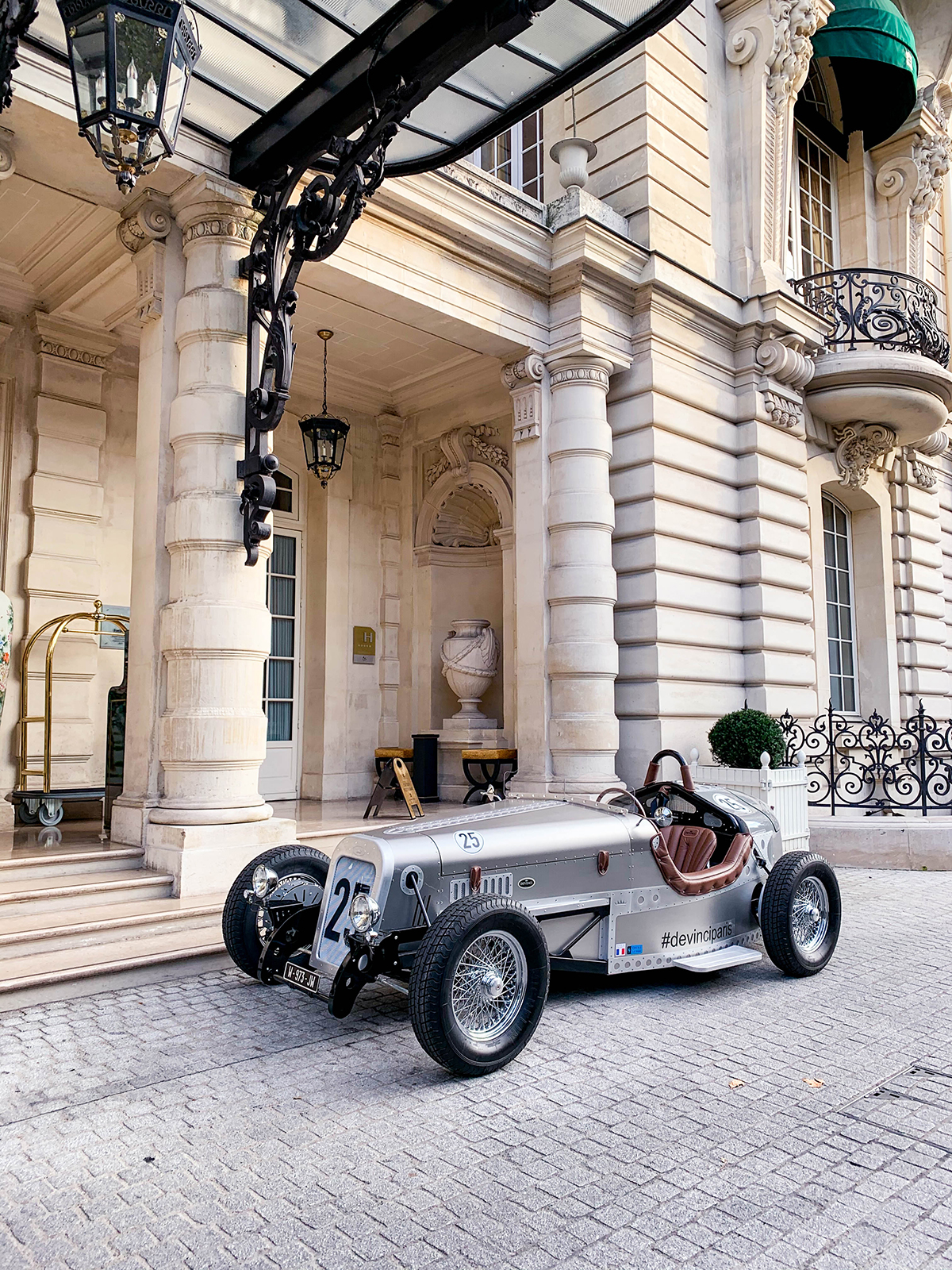 Similar to our last trip, we skipped making a strict itinerary and instead let our feet take us where we were feeling each day. Over the course of three days we indulged in all the yummy French cuisine and drinks, saw a cabaret show, got in some museum action and checked out a few areas of the city that were new to us on foot.

Paris Travel Guide Honeymoon Edition

What To Wear
Heading to Paris in the fall? Here are some outfit ideas!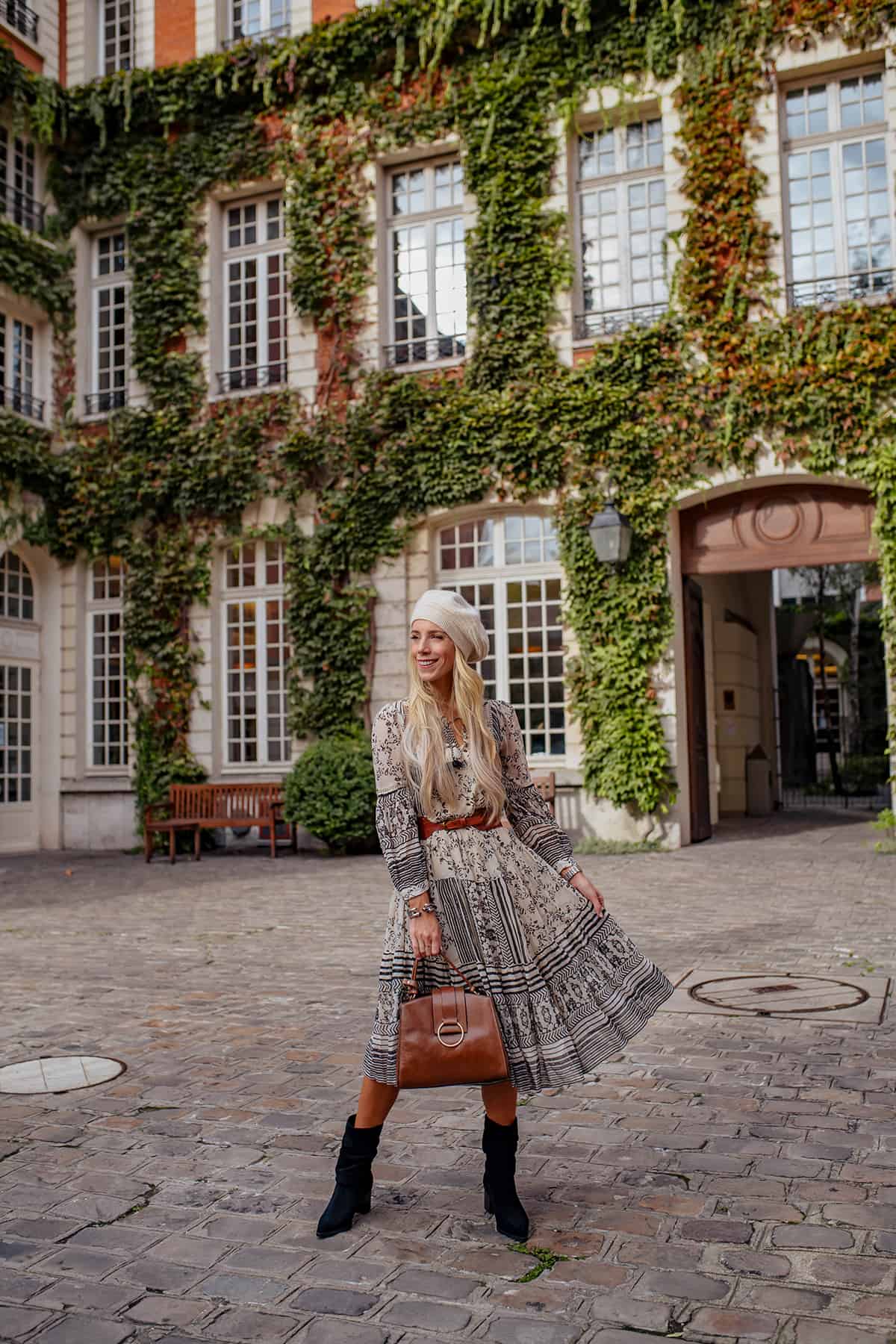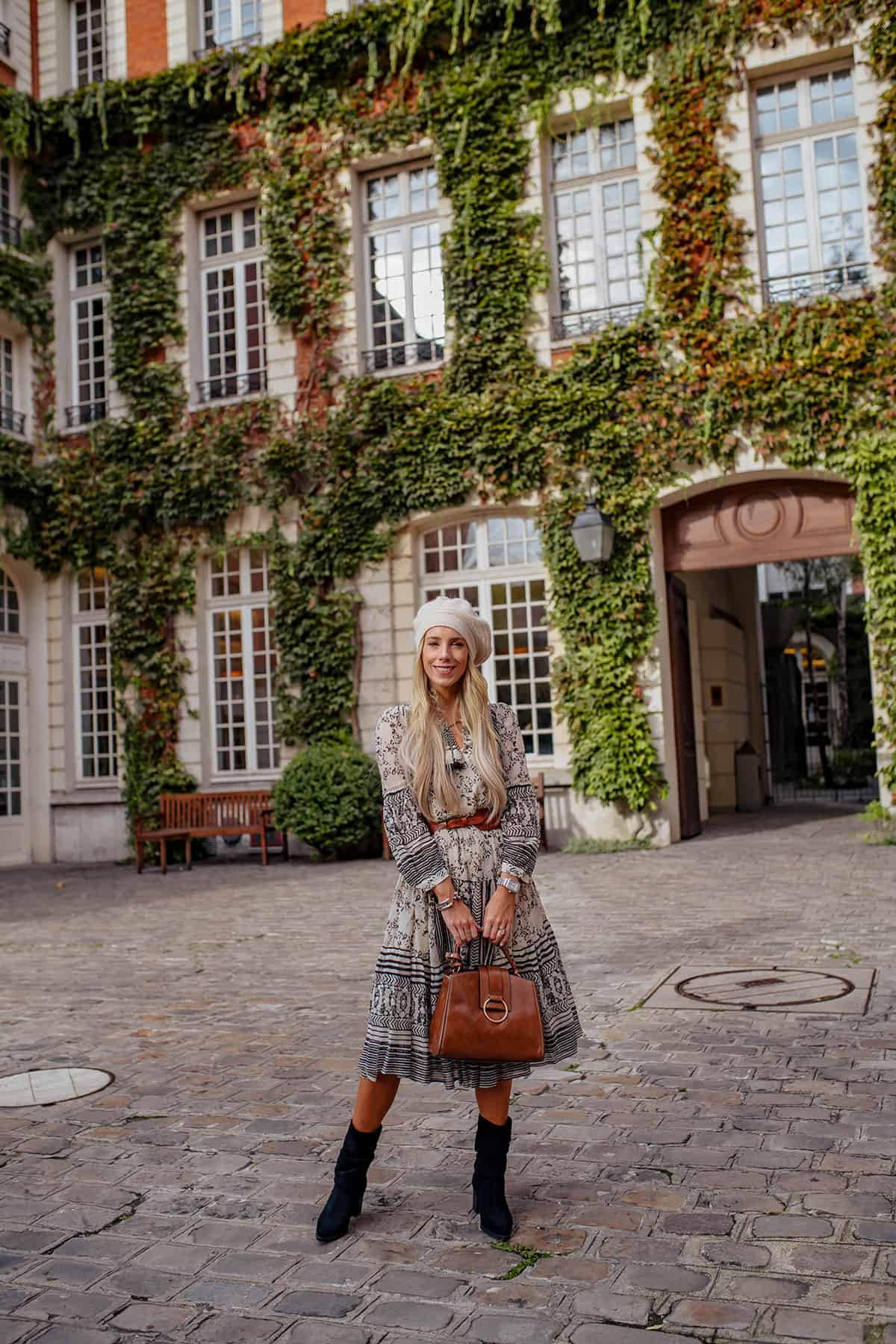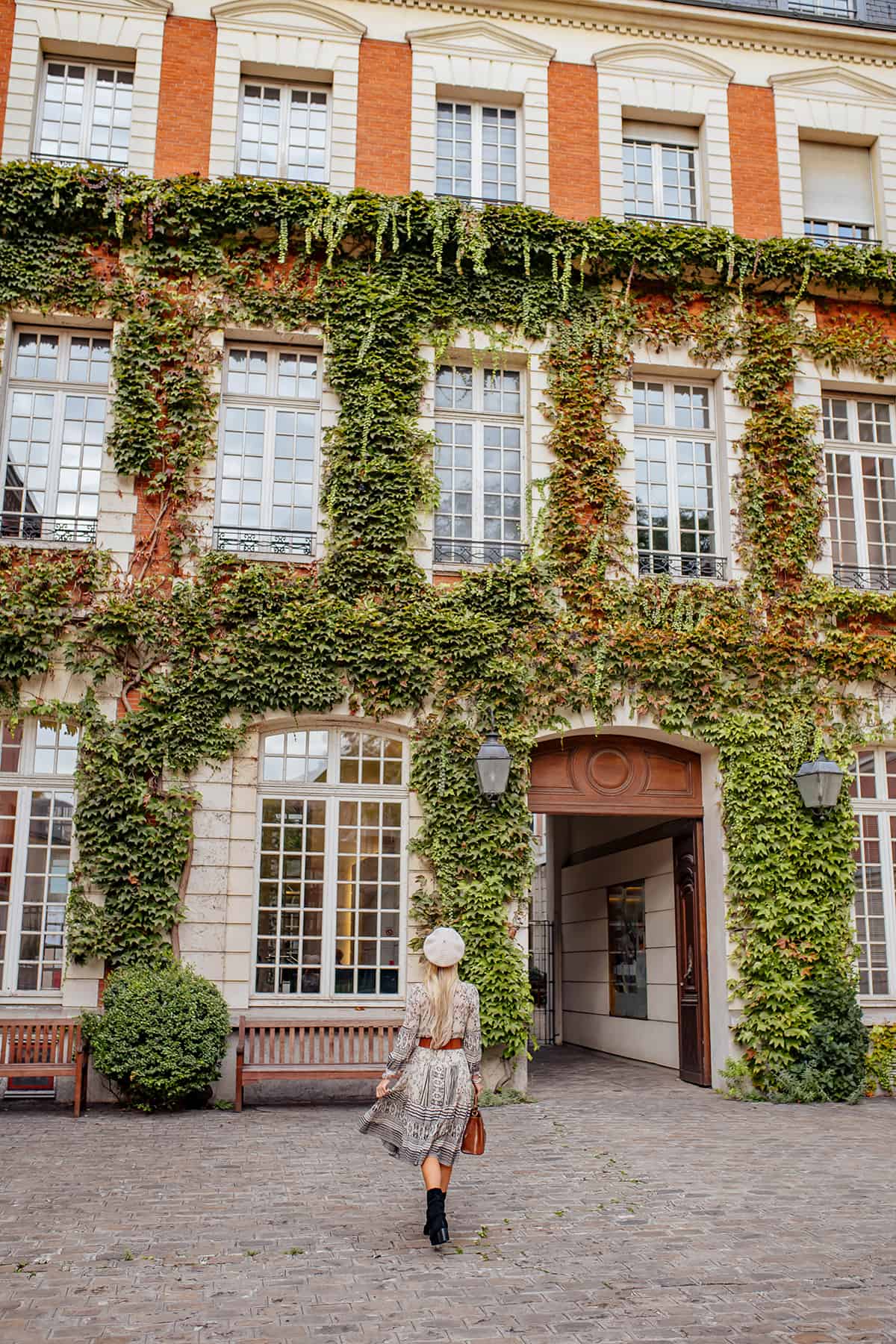 OUTFIT DETAILS // Patterned Midi Dress | Brown Waist Belt | Black Slouched Boots | Knit Beret | Leather Tote Bag | David Yurman Bracelets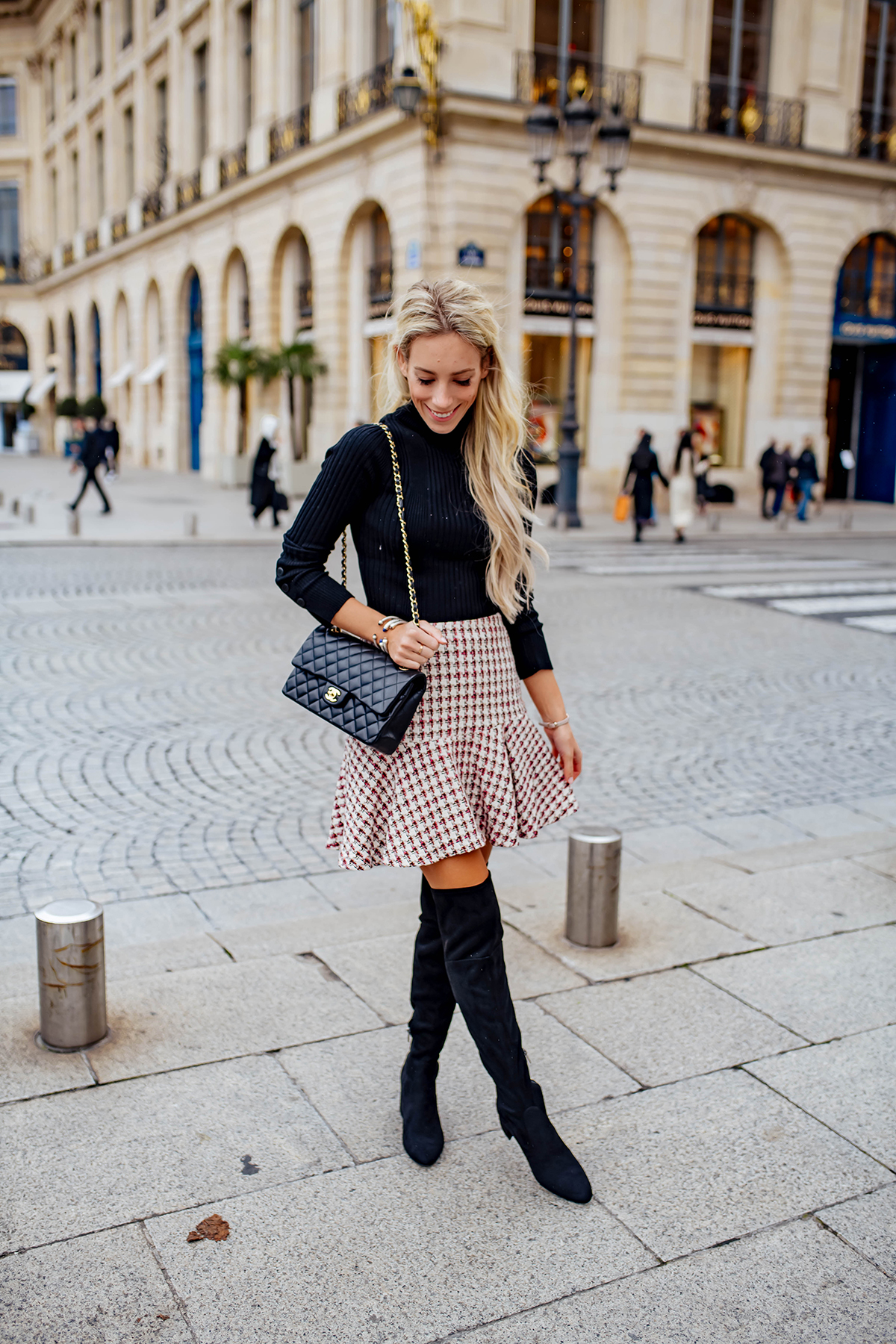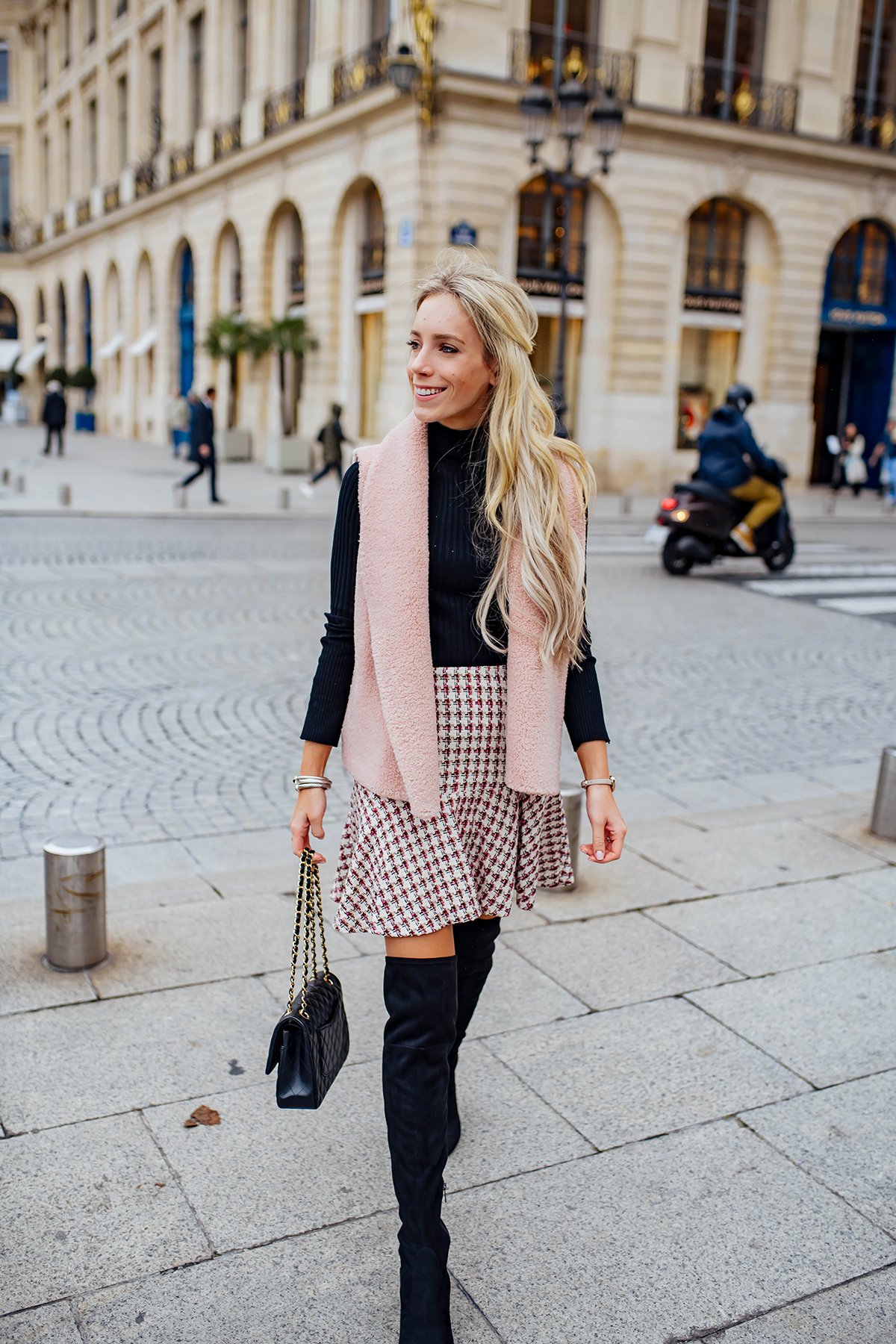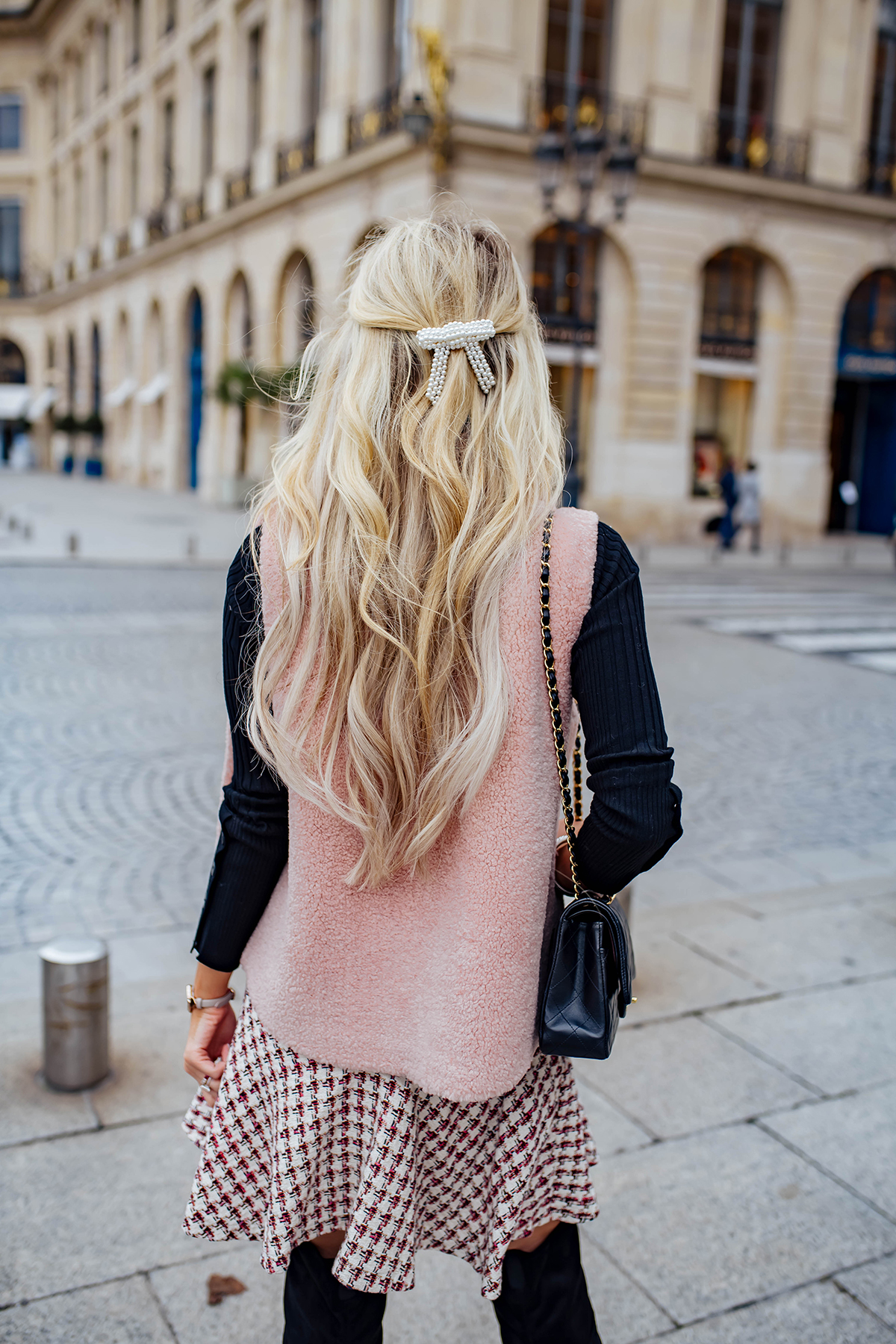 OUTFIT DETAILS // Black Turtleneck | Pink Sherpa Vest | Tweed Mini Skirt | Black Over the Knee Boots | Pearl Hair Bow | Black Channel Bag | Kate Spade Watch | David Yurman Bracelets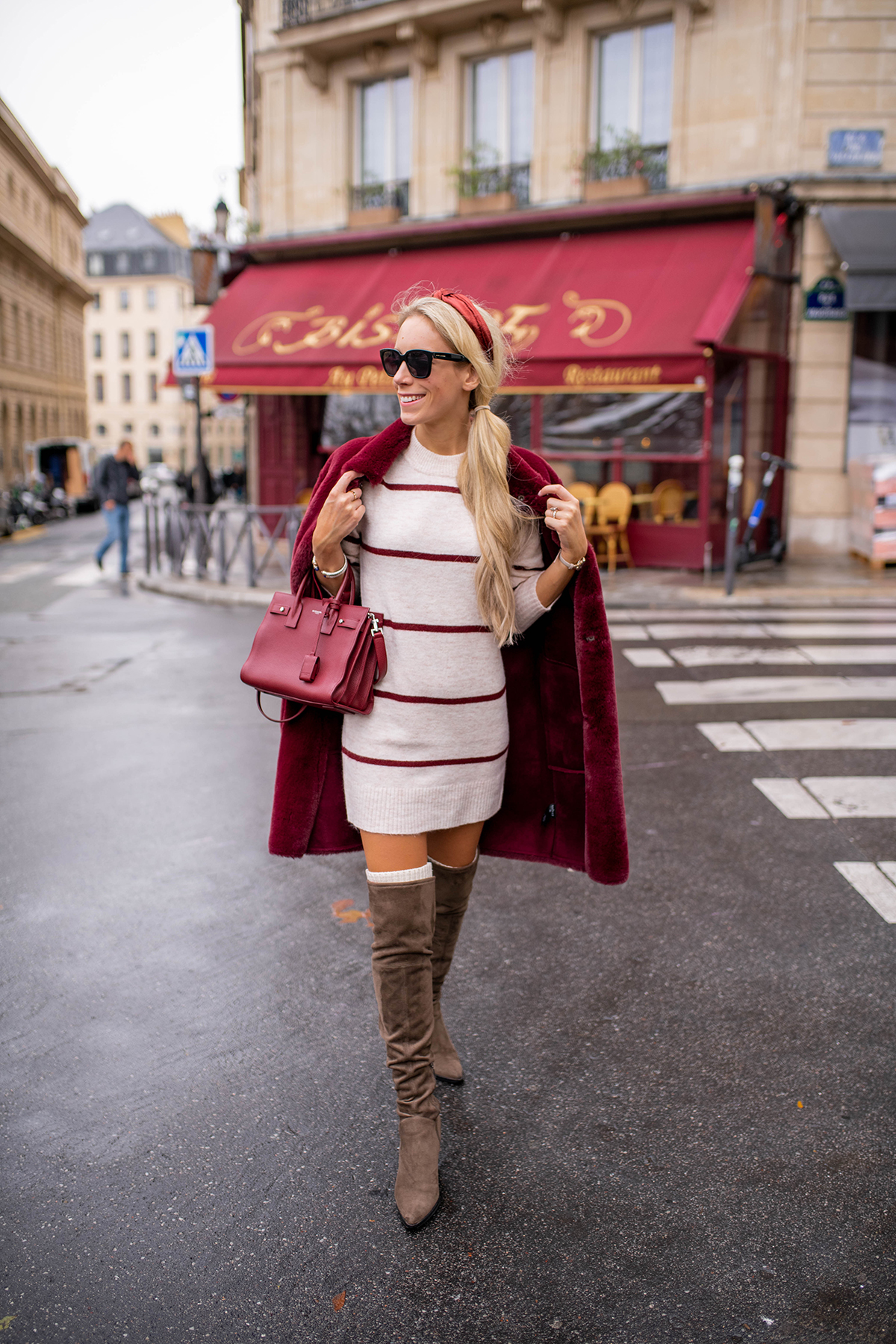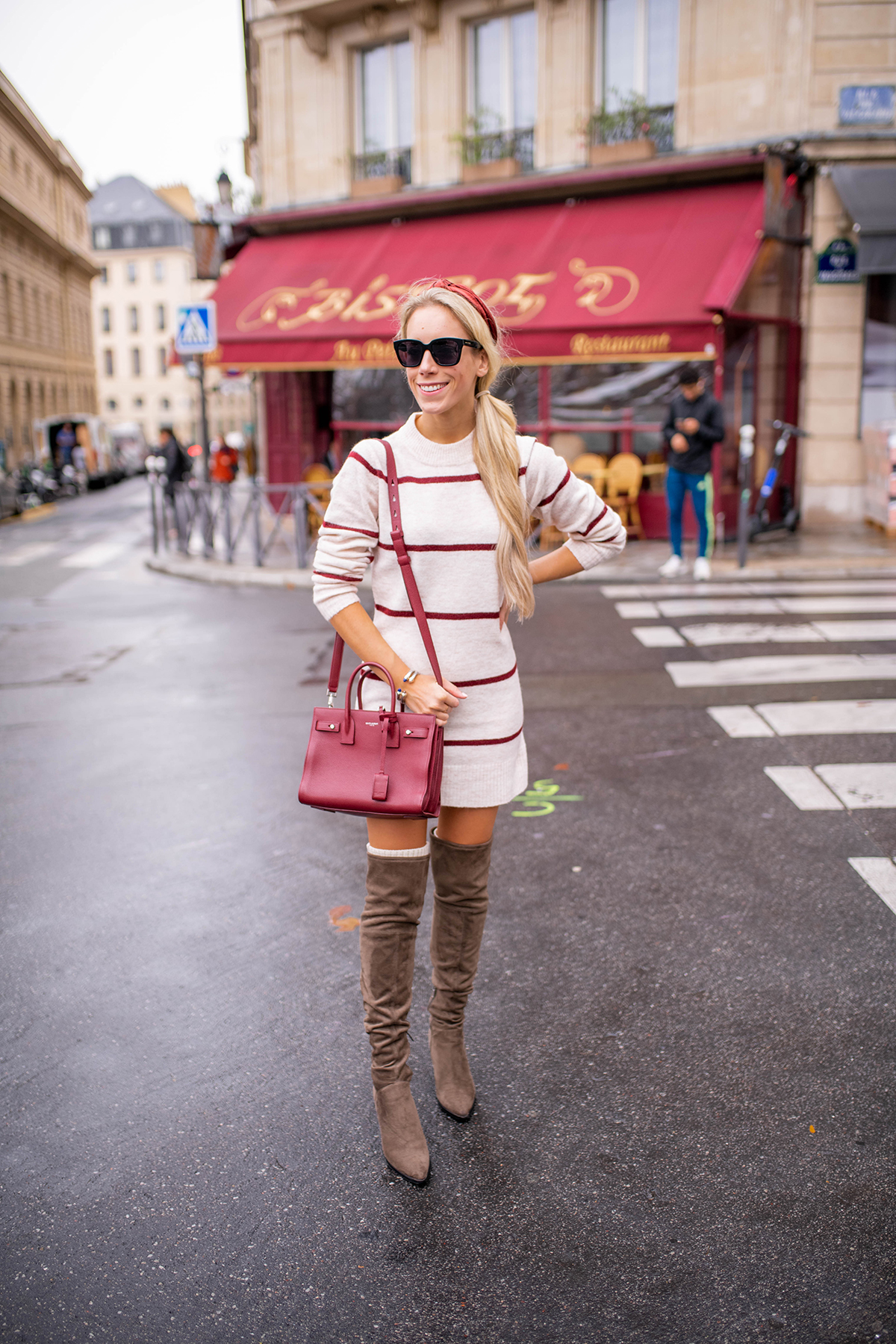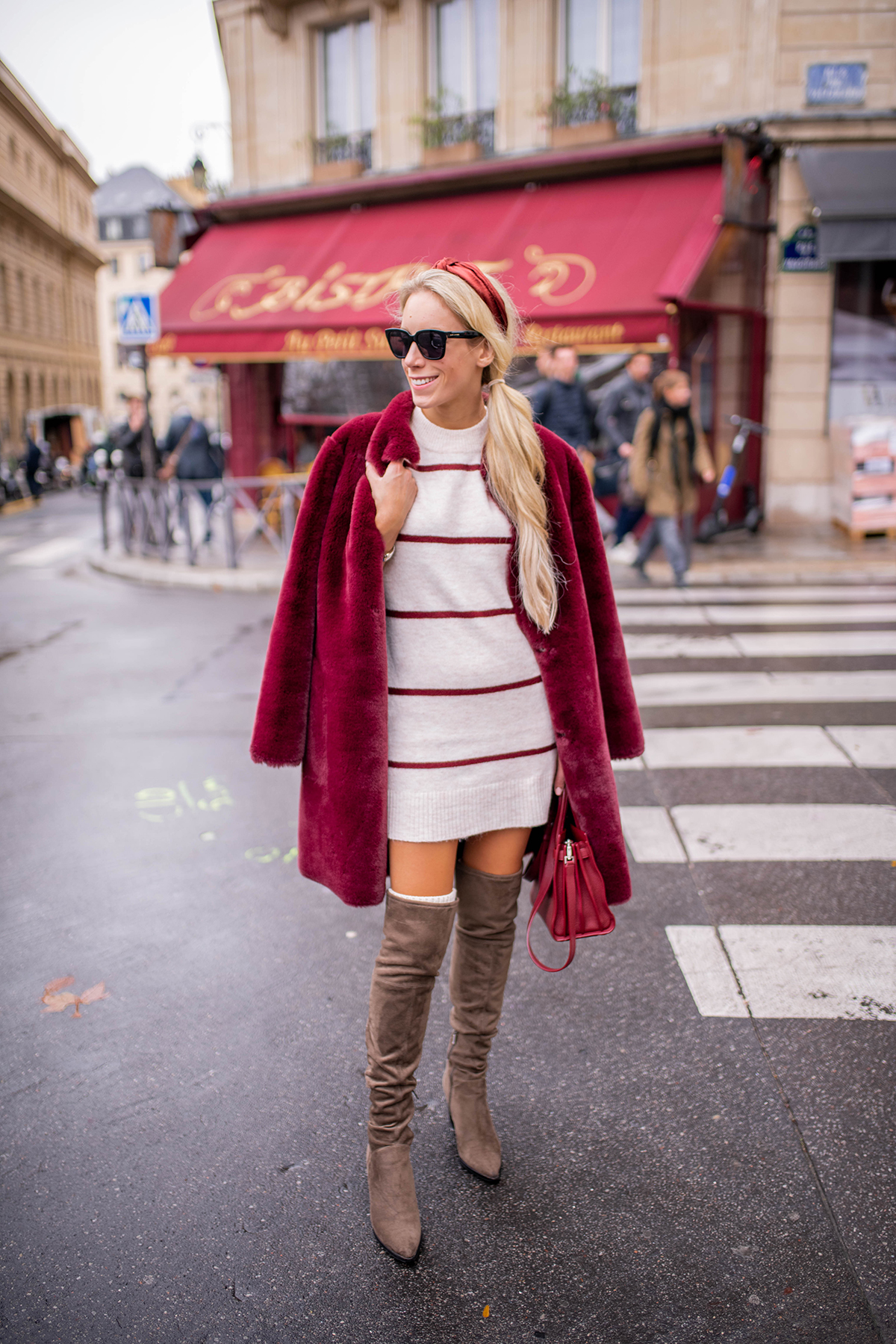 OUTFIT DETAILS // Striped Sweater Dress | Red Faux Fur Jacket | High Knit Socks | Over the Knee Boots | Red Headband | Red Saint Laurent Bag | Black Sunglasses | Kate Spade Watch | David Yurman Bracelets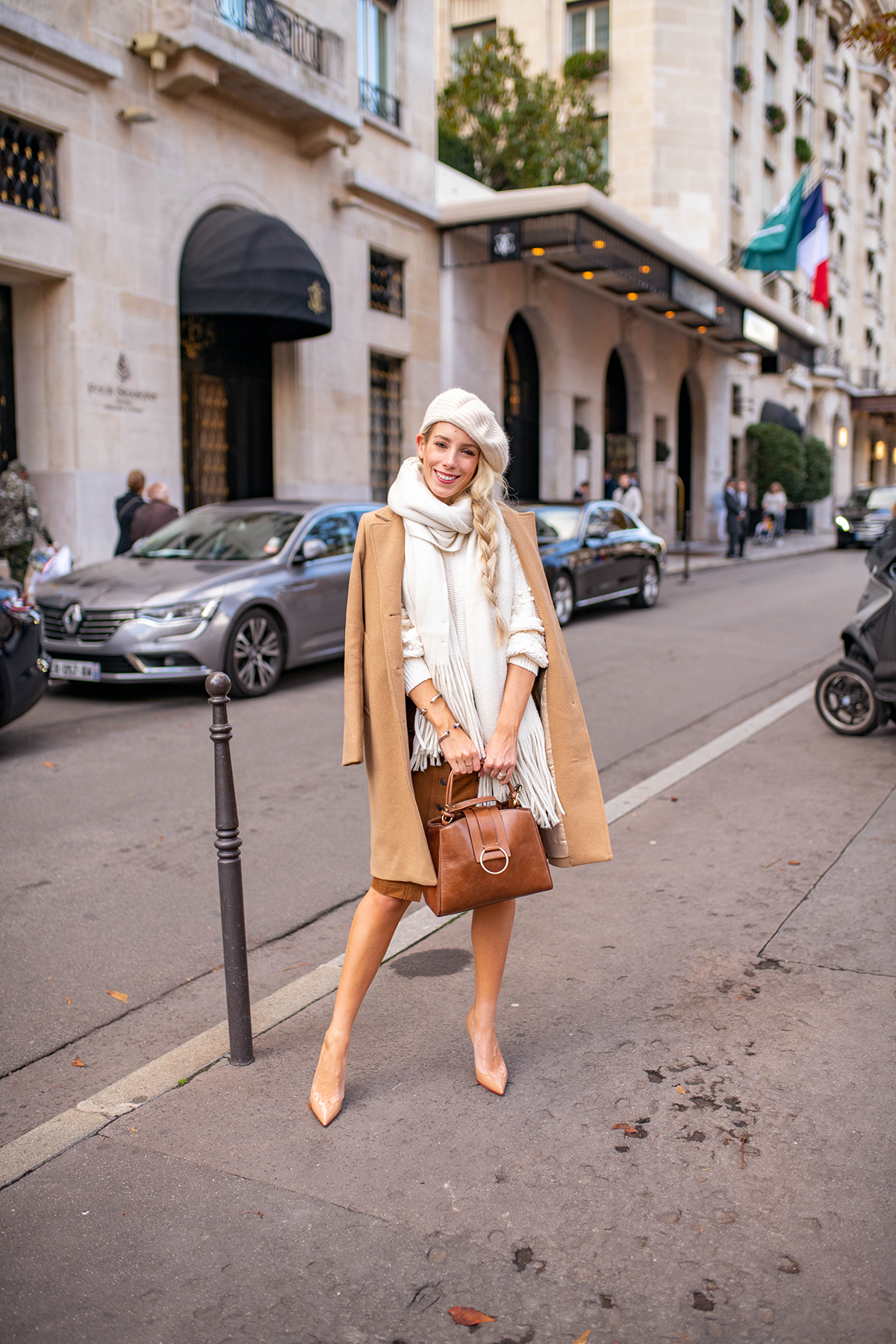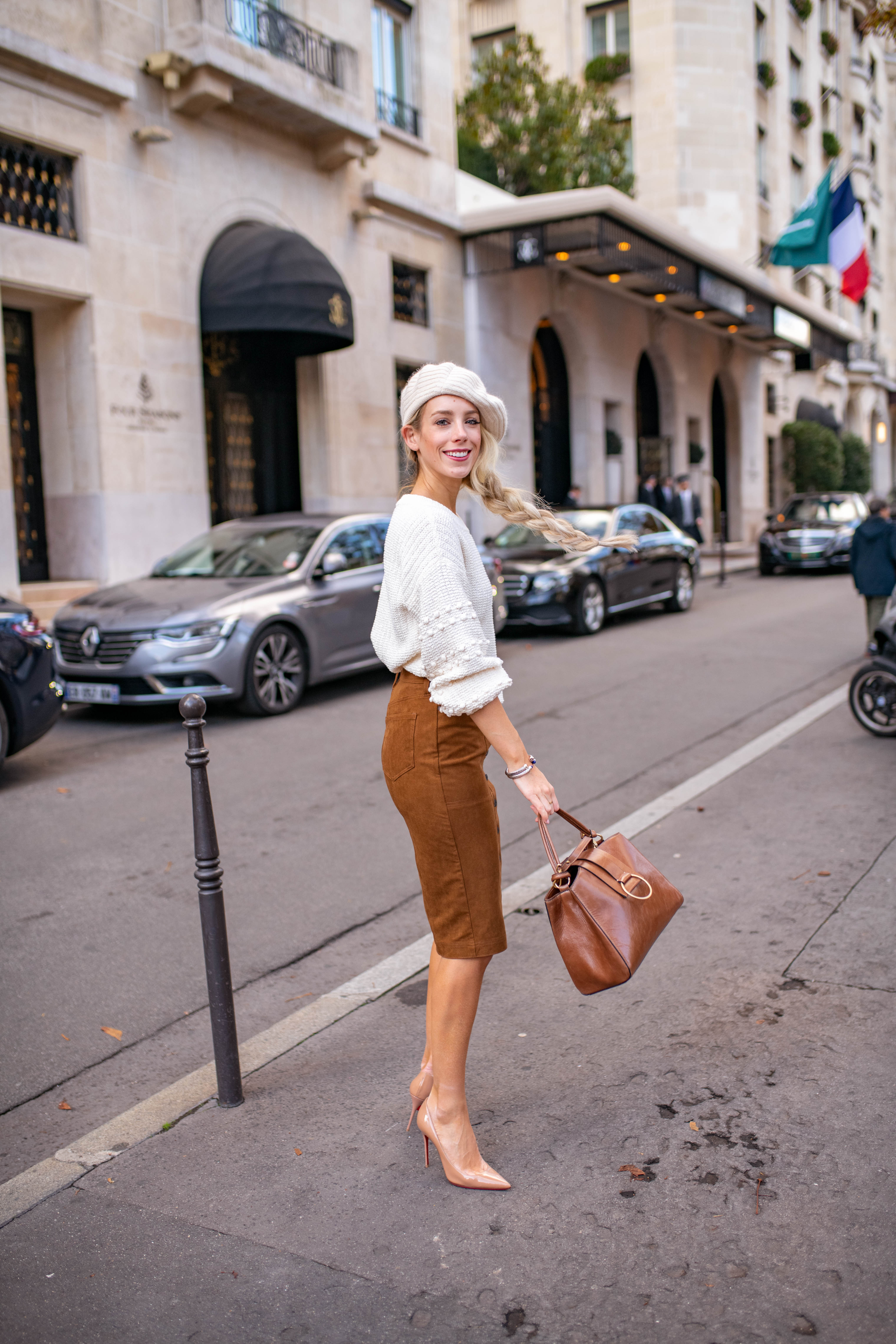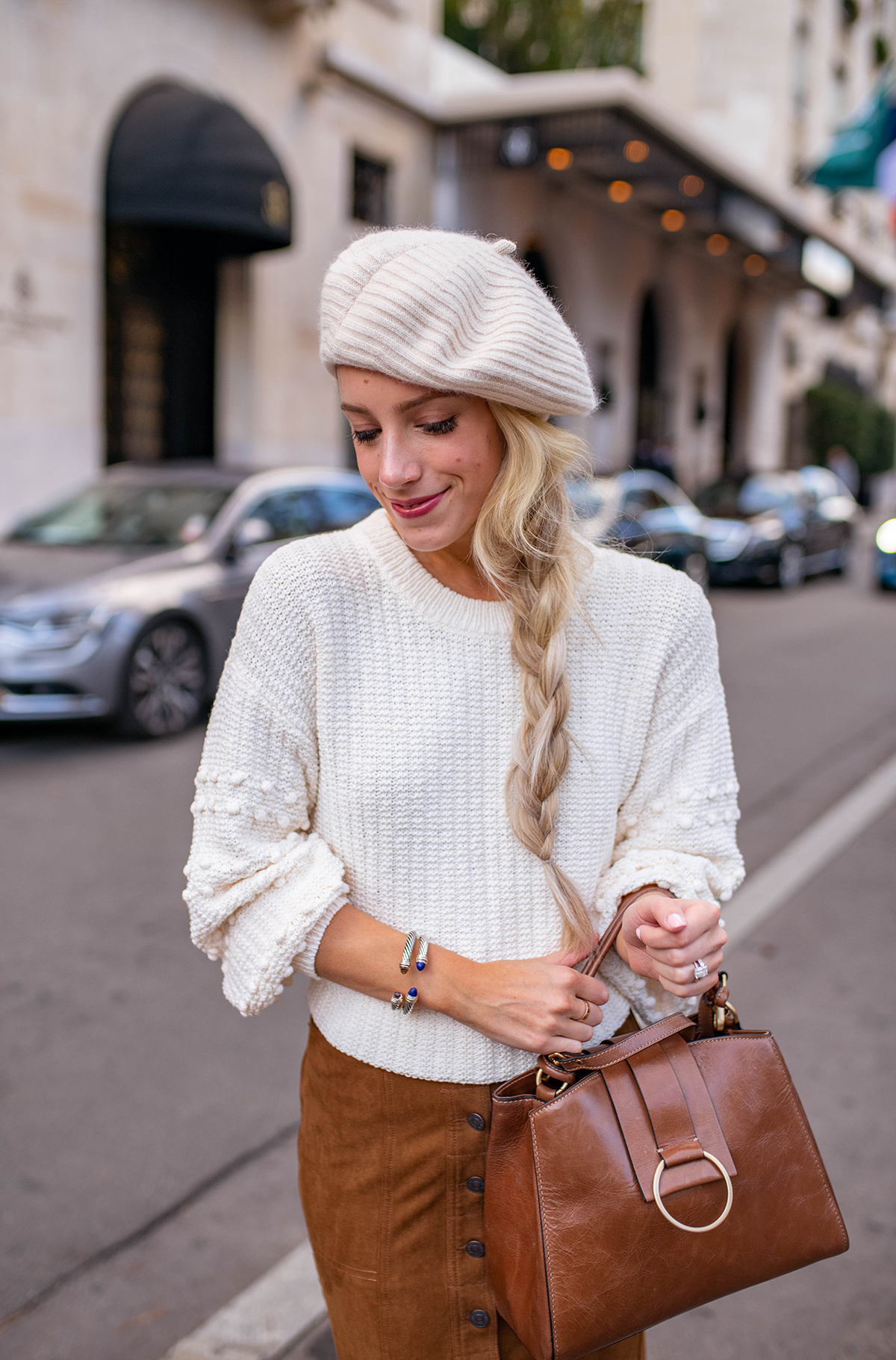 OUTFIT DETAILS // Wool Coat | Long Fringe Scarf | Bobble Sleeve Sweater | Suede Midi Skirt | Louboutin Nude Pumps | Knit Beret | Leather Tote Bag | David Yurman Bracelets
Hotel Review
I remember getting an email alert about Hotel Grand Powers grand opening earlier this year and thinking WOW I need to stay here. I held on to the information and when it came time to book a hotel for this trip it was the first place we looked. Right away I fell in love with the hotel's elegant interiors, luxury amenities and convenient location close to the Champs Elysees in the 8th arrondissement. The fact that some of the rooms have Eiffel Tower views may or may not have played a part in my desire to stay there as well 🙂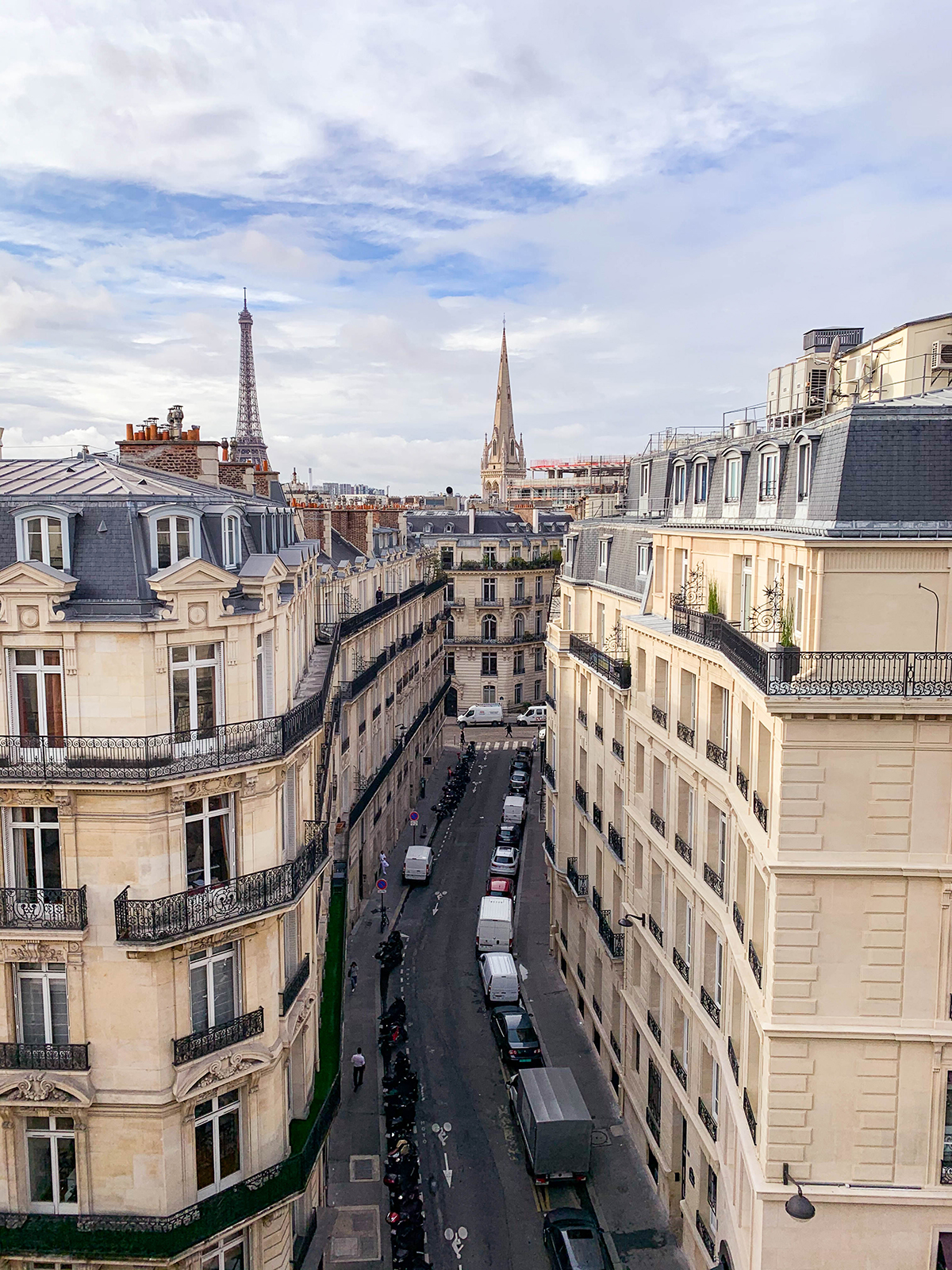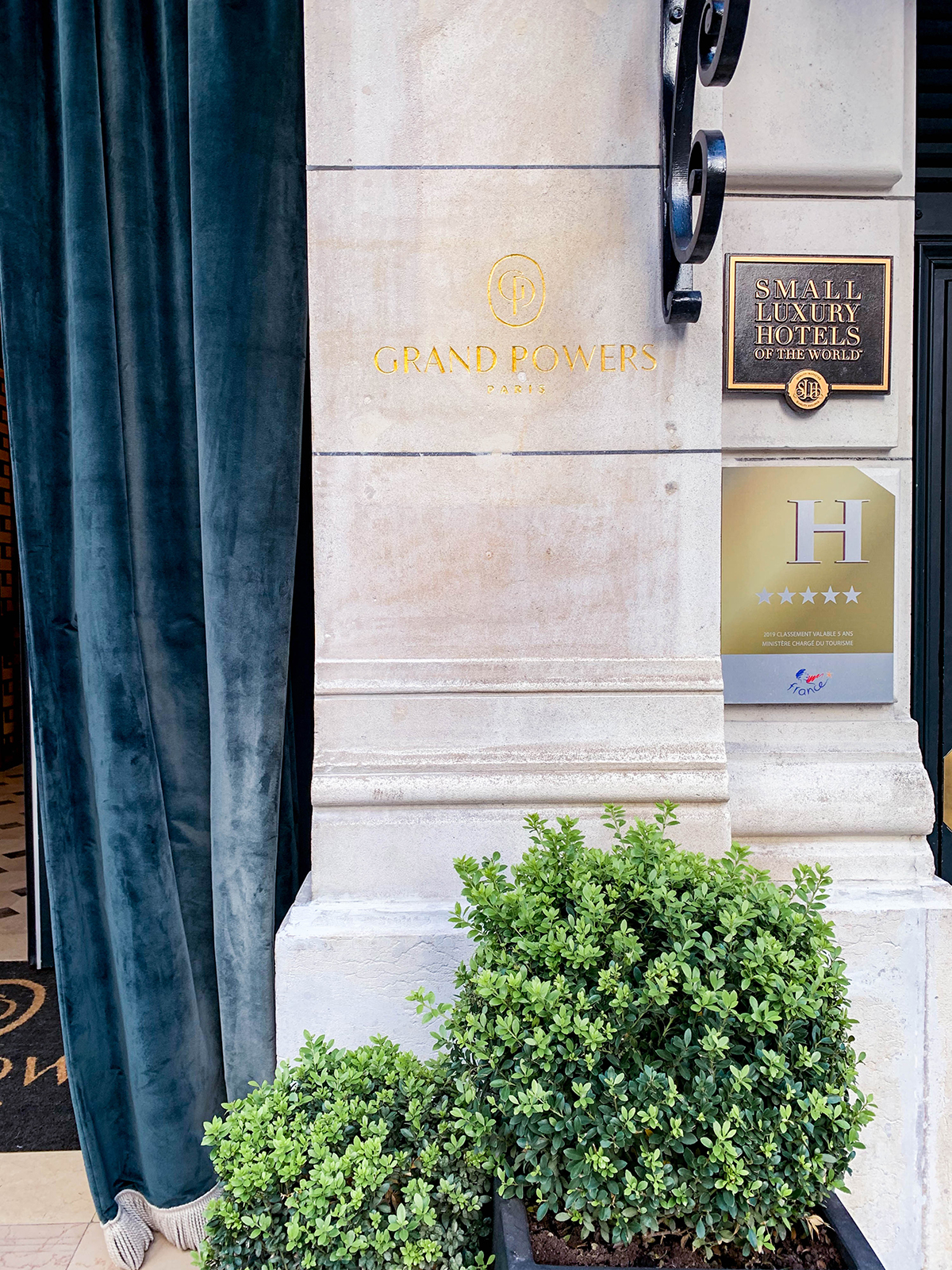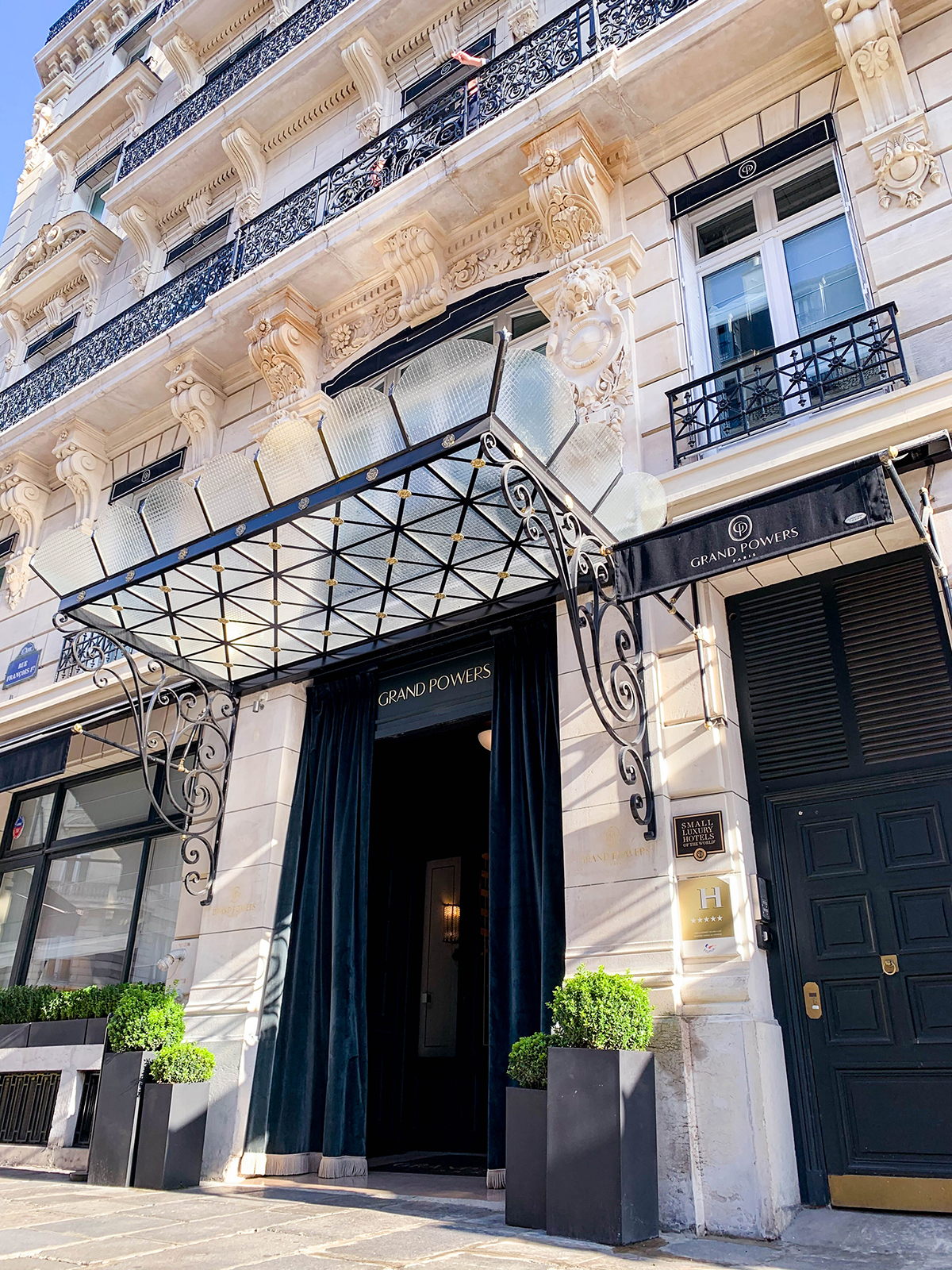 "European glamour with 1920s heritage in the very heart of the Paris's Golden Triangle, close to the Champs Elysees"
We booked a Deluxe Room with balcony for three nights and we loved our room. It was chic, super luxe and cozy and just looking out the double door balconies and seeing the city views gave me chills! We paid a pretty penny staying here, but we figured if there was one time we should splurge on a hotel room with an Eiffel Tower view it should be for our first trip as husband and wife 🙂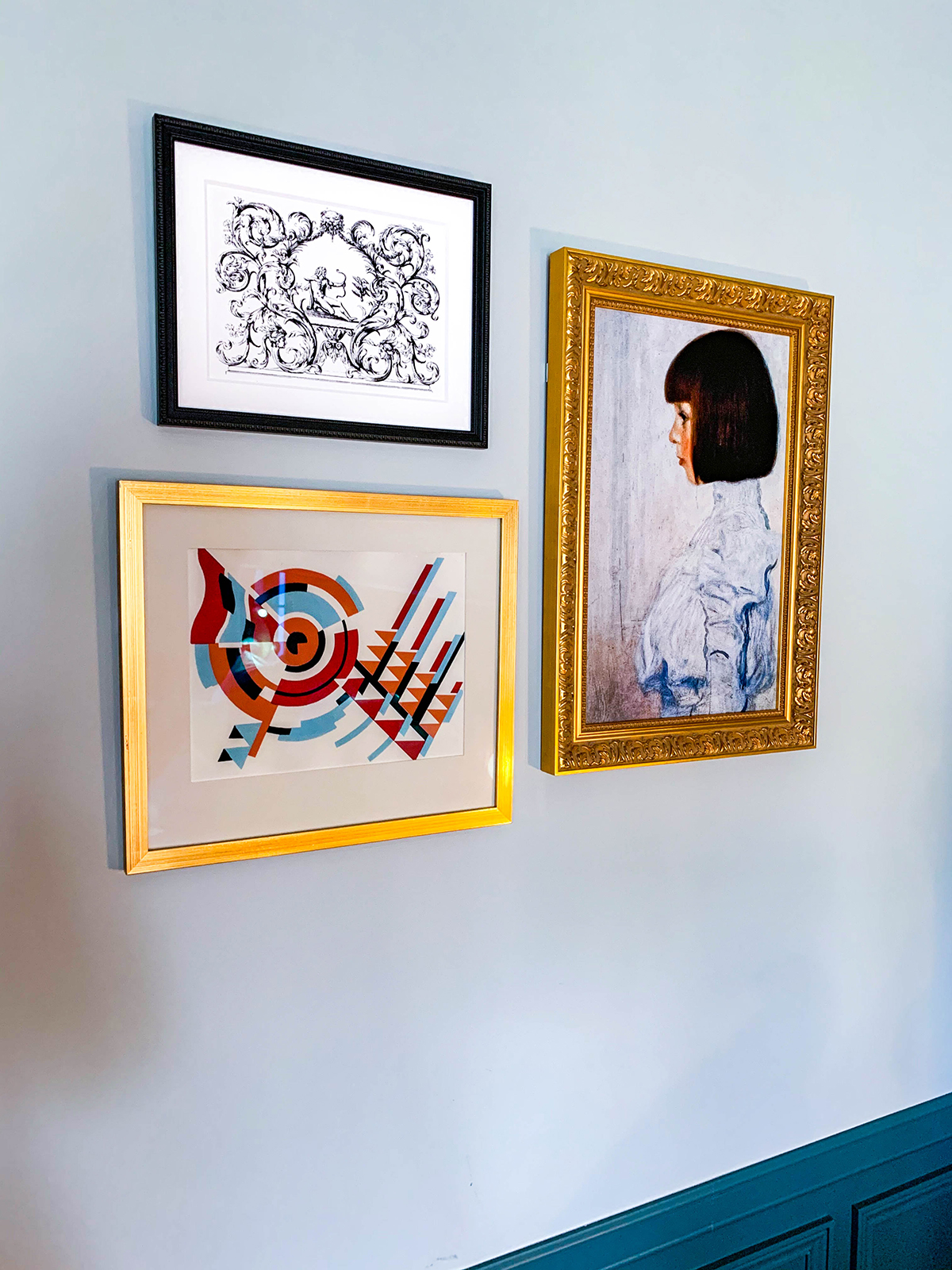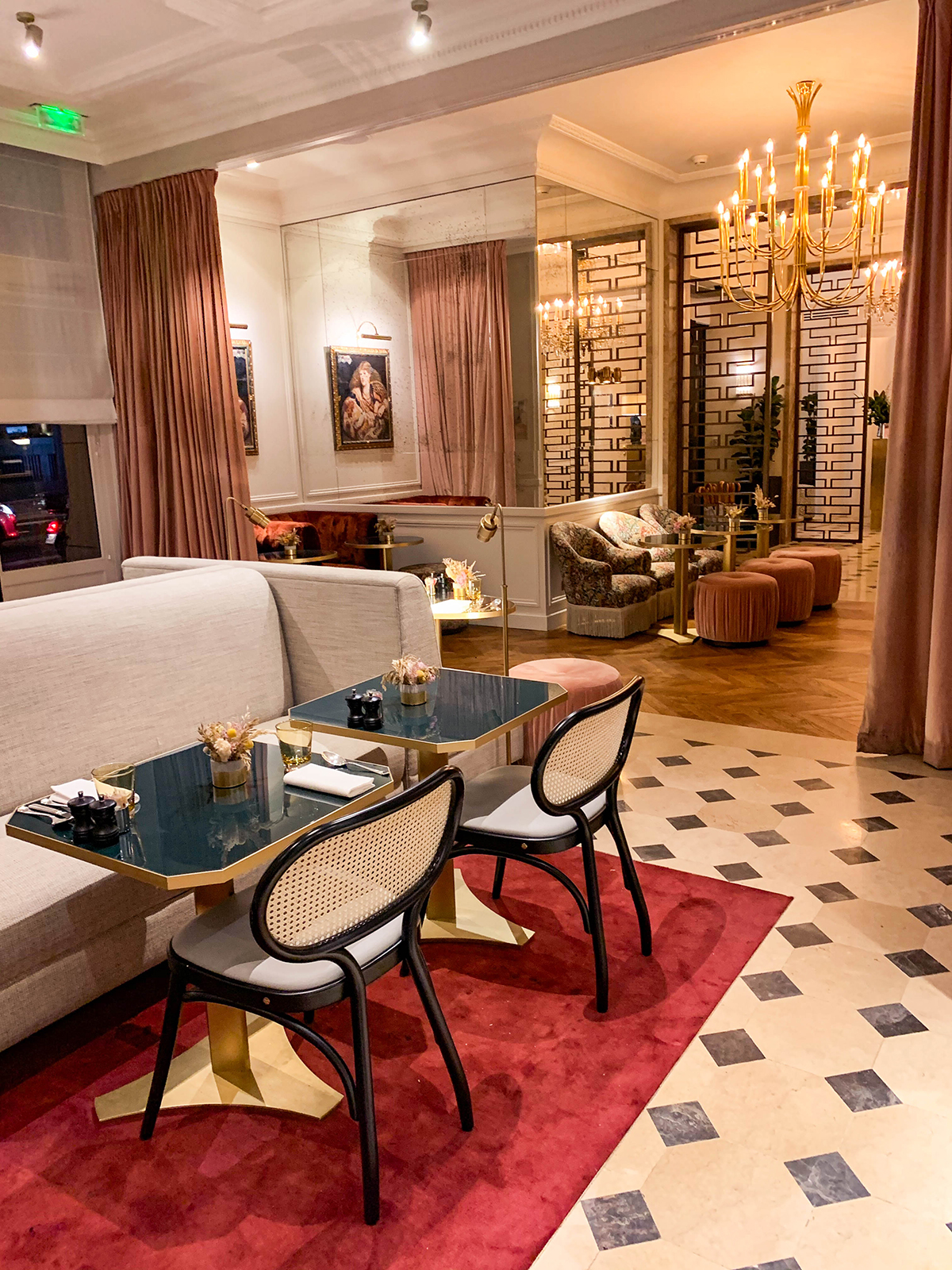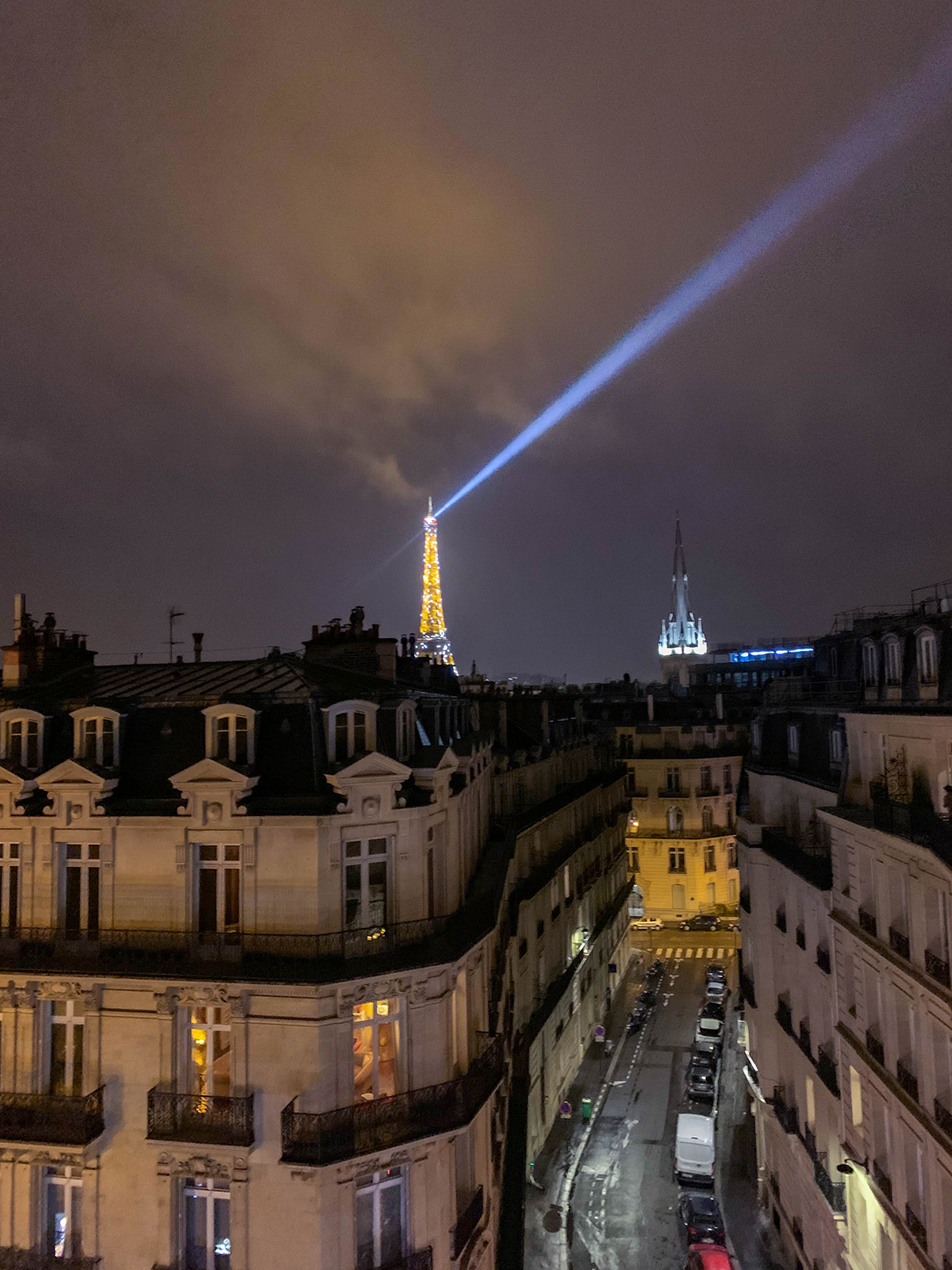 PS Hotel Grand Powers is a Small Luxury Hotels member property, which y'all know I'm such a big fan of! We stayed at an SLH hotel on our last trip too that we loved. I would say both are equally lovely and if you're going to choose one over the other, I'd do so based on which location is most convenient for getting to the activities and sightseeing you have planned.
Restaurants & Bars
You may recognize a few spots on this list! Now that we've been to Paris a few times, we've found a few restaurants and bars that we really love and will likely frequent again on future trips. Nick and I are the type of people where if we find a place that's really good– we're happy to return. We also love trying new spots and found some awesome gems on this recent trip.
Breizh Cafe – After a long flight with very little sleep nothing sounded better than hot crepes. Nick and I shared a savory crepe with cheese and mushrooms followed by an equally delicious one filled with chocolate sauce and bananas.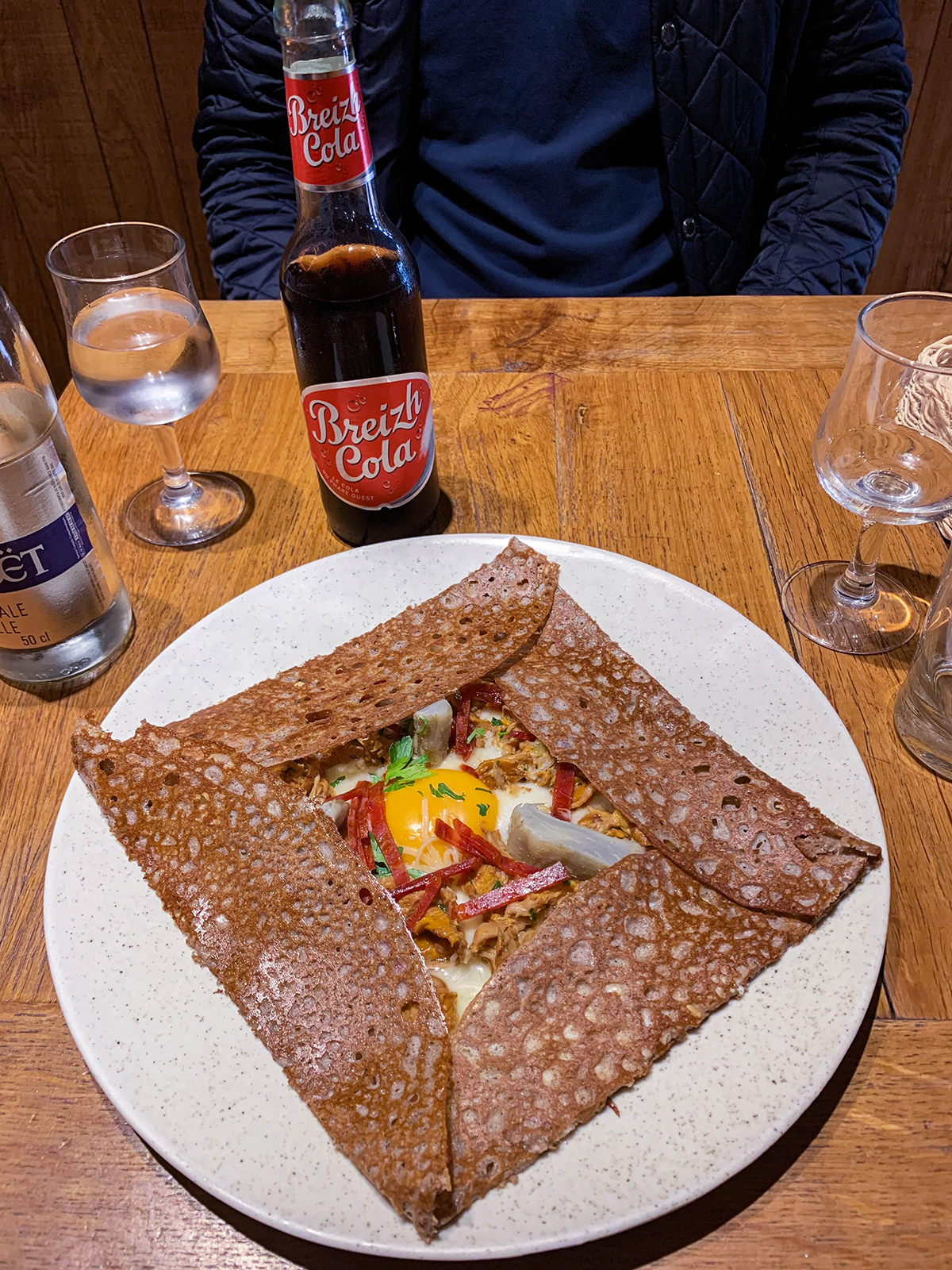 Cafe Charlot – Great cafe with outdoor seating (perfect for people watching) in Les Marais! We had some time to kill in between exploring the neighborhood and the opening time of Little Red Door, so we grabbed a drink here and posted up for a good hour just taking in our surroundings. I'm a big fan of any spot that gives a healthy heavy pour 😛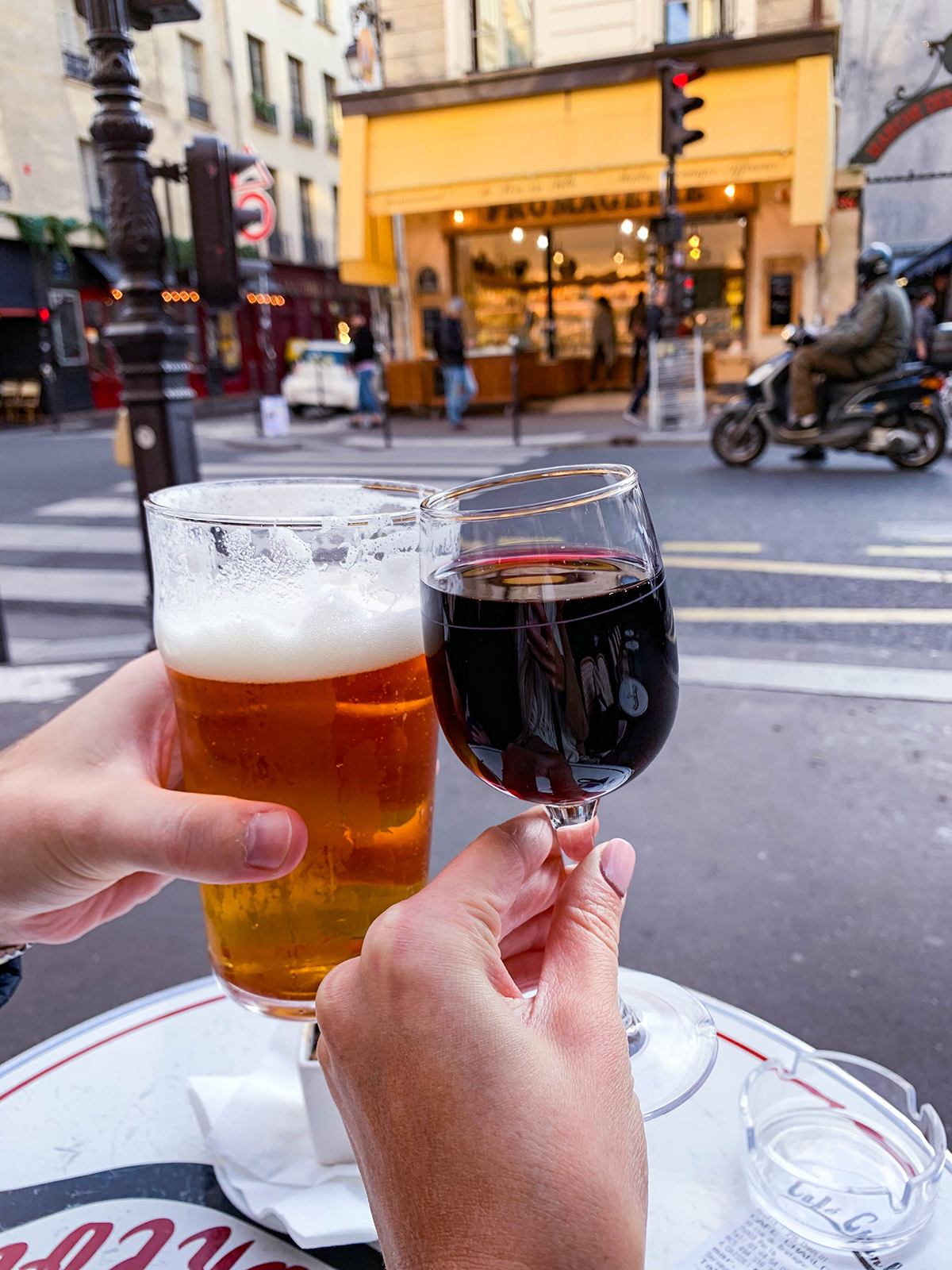 Little Red Door – This cocktail bar has been on Nick's Paris list since our first trip and I'm so happy we were able to finally try it. Major speakeasy vibes from the get-go– the door isn't even a real door. The left wall actually opens if you want to enter. We didn't know this and thoroughly embarrassed ourselves and spent five minutes trying to figure out how to get inside. We had similar difficulty trying to decipher the menu. Every drink was inspired by a different world language and had ingredients we'd never heard of. The waiter encouraged us to read the spiritual description listed next to each one and choose whichever "spoke the most" to us. Well we rolled along with it and I still have no idea what we drank, but I can tell you it was very tasty!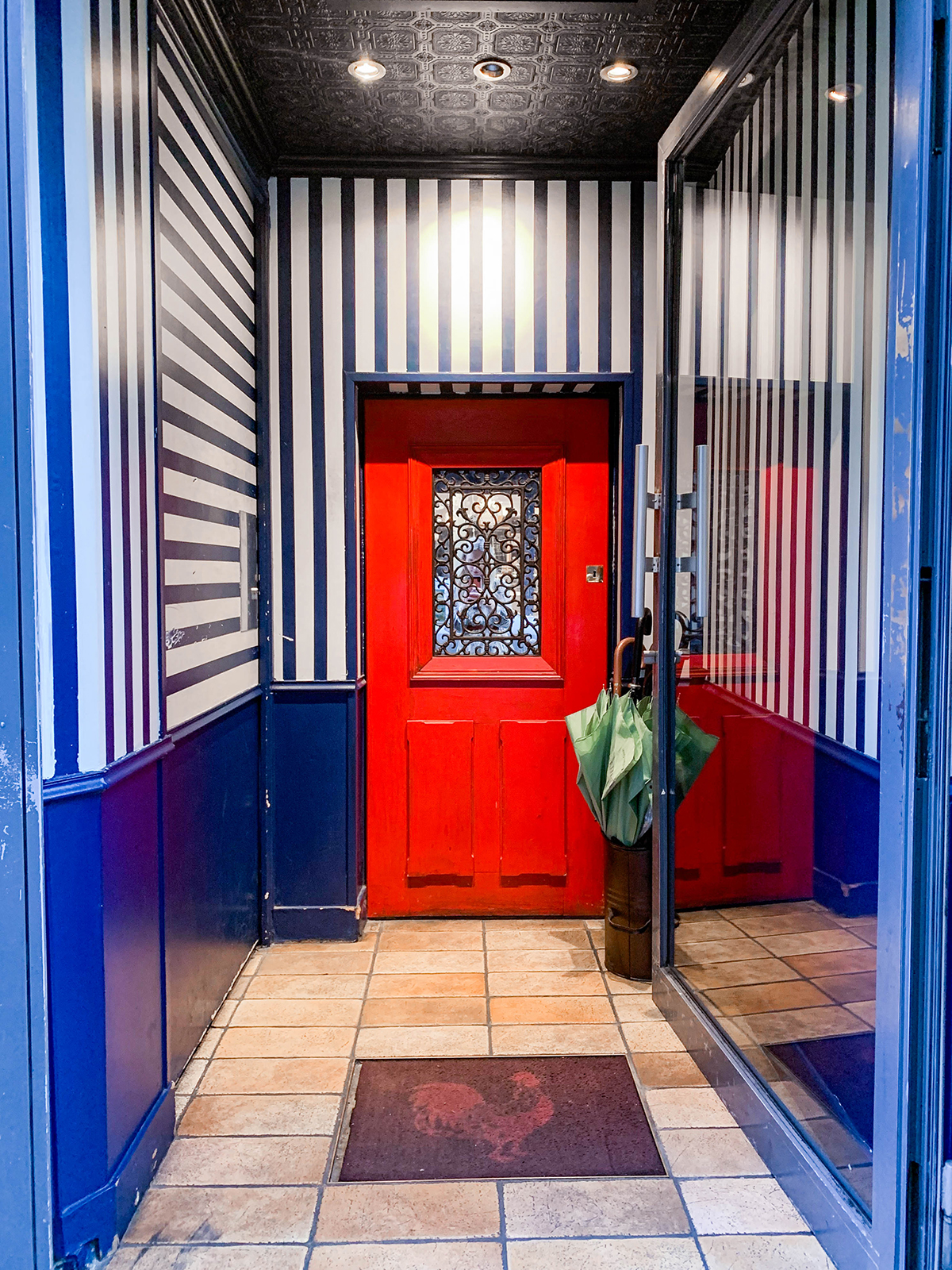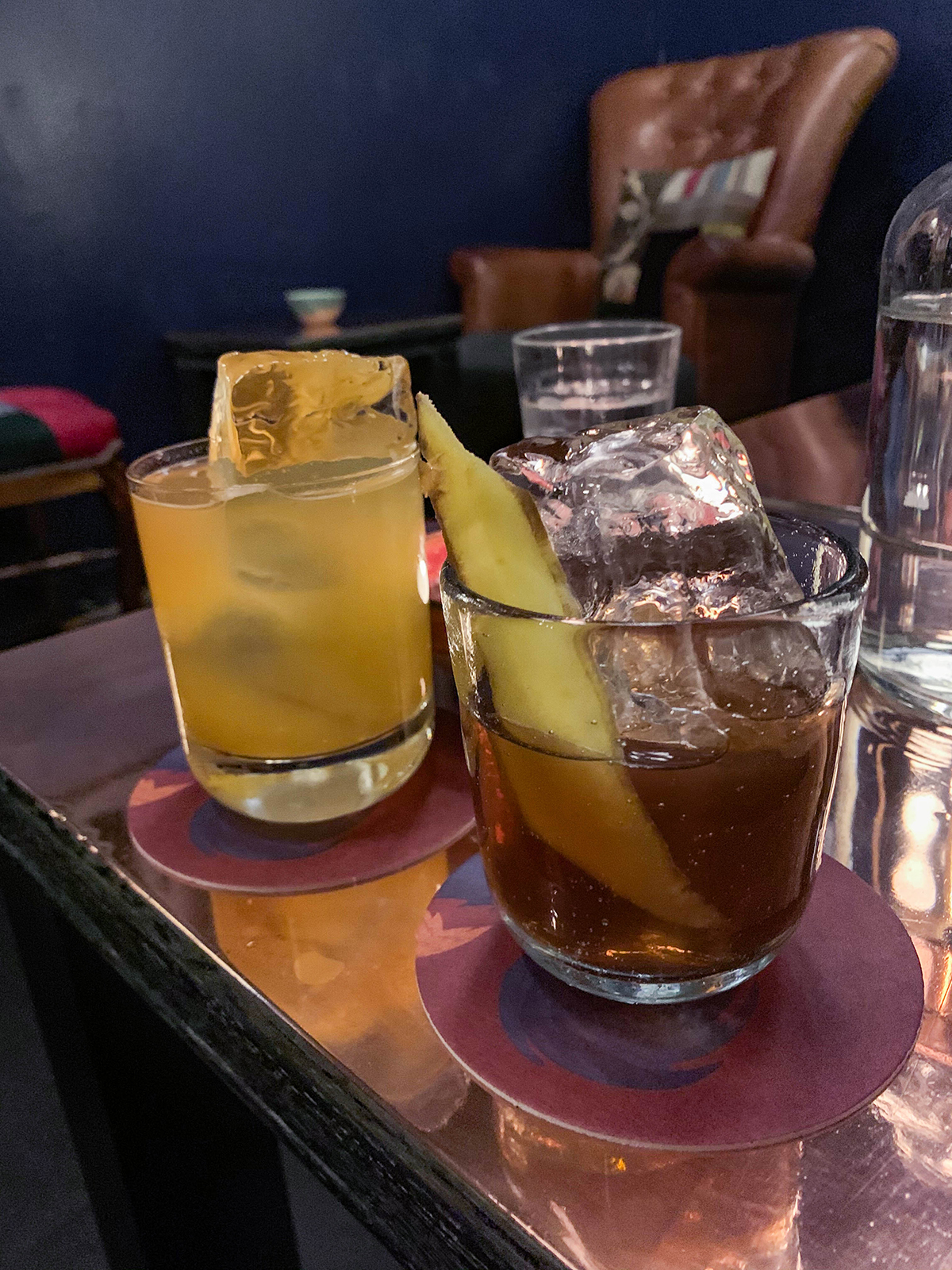 Bistro Les Papilles – I feel like a broken record raving about Les Papilles because we've had dinner here every time we've come to Paris. I talk all about it in my first Paris Travel Guide and again in my second, but these are the cliff notes! Each night the chef serves all diners the same four-course meal, which consists of a soup, entree, cheese and dessert. Whatever he is feelin'! The night that we went the menu consisted of potato leek soup, lamb stew, bleu cheese with a fig compote and chocolate panna cota for dessert. SO good and just a really authentic and unique experience.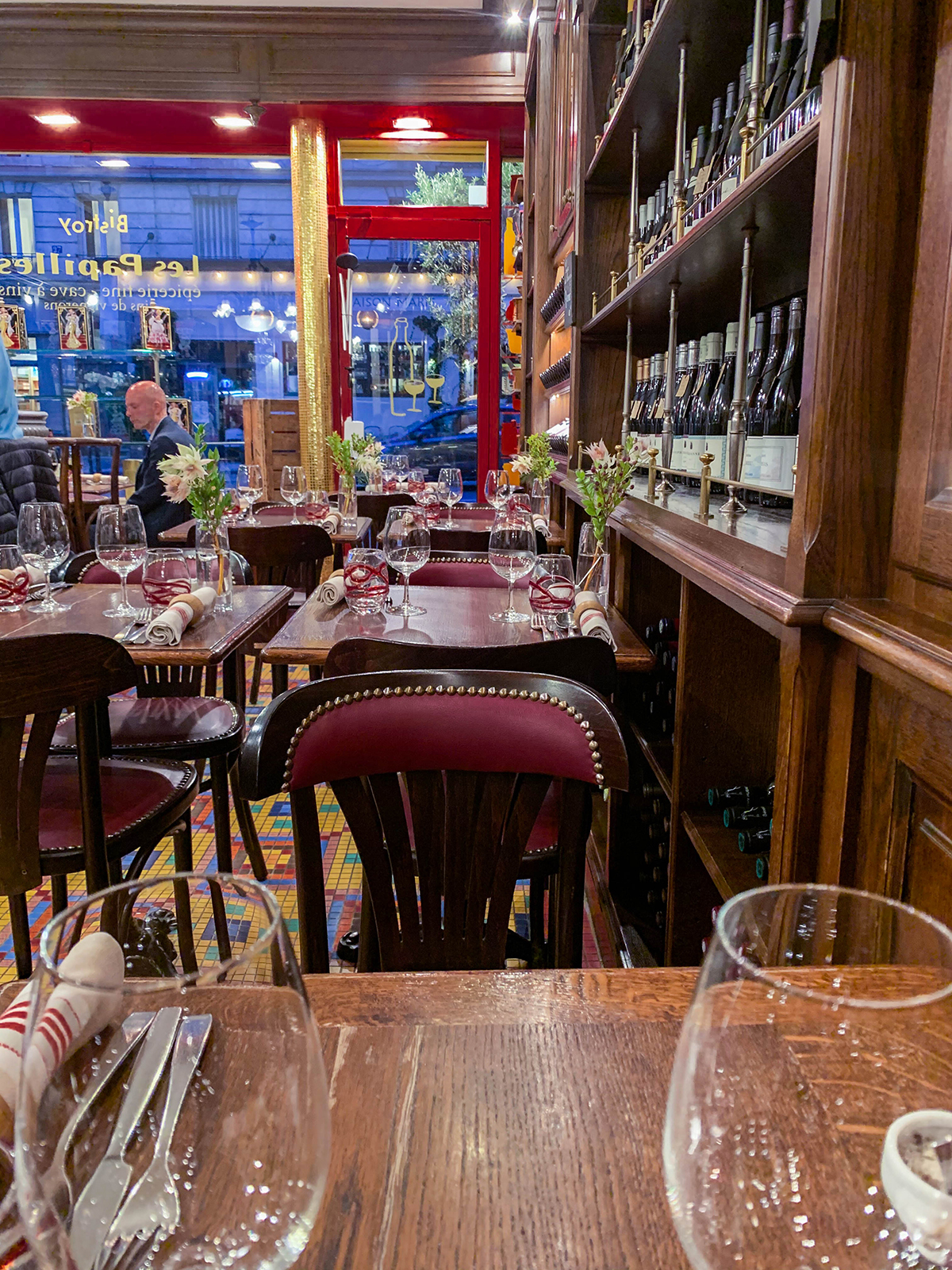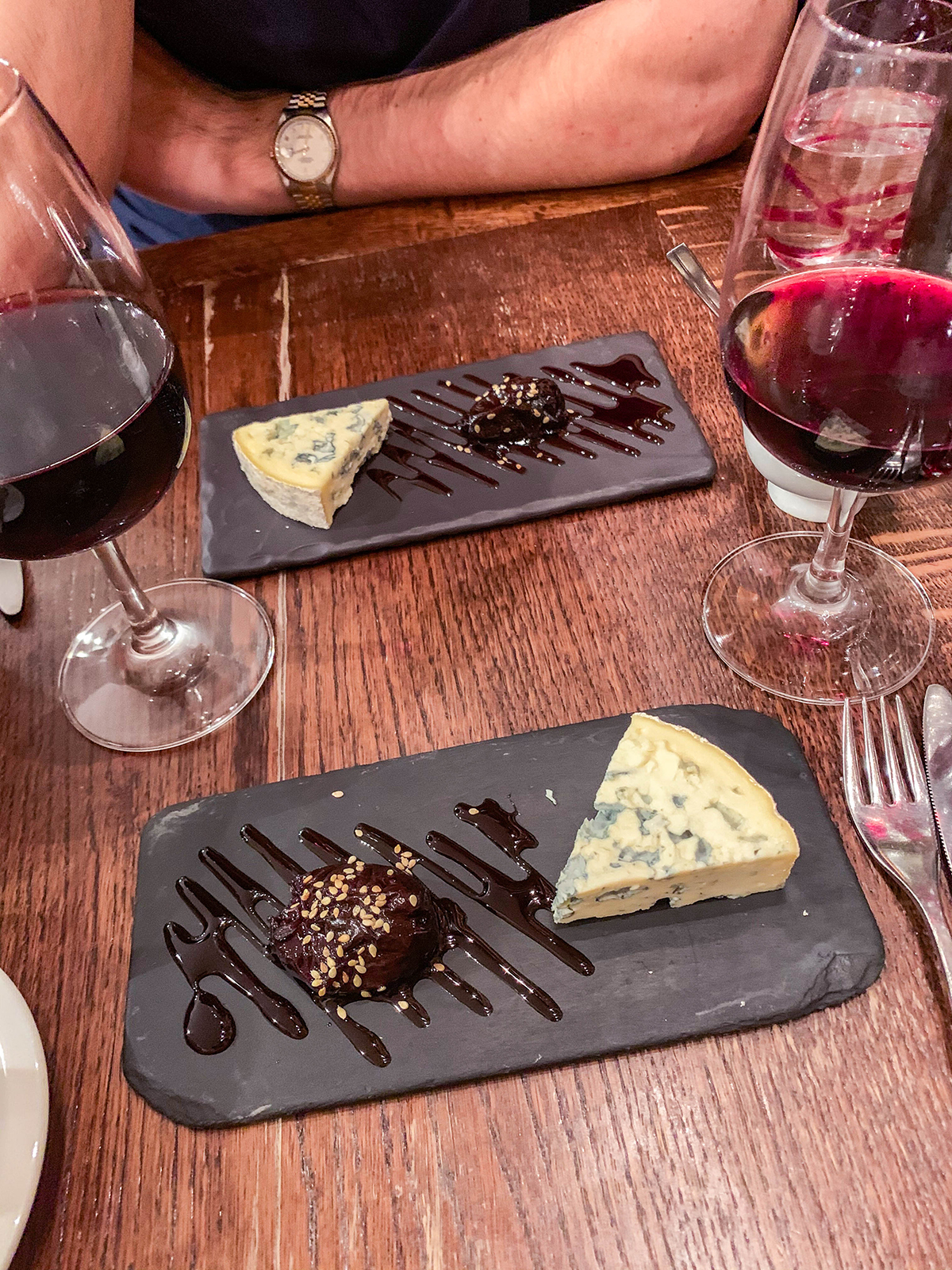 Hotel Costes – On our second day in Paris we had lunch at another discovery from a previous trip. I'm not lying when I say that Hotel Costes' creamy mushroom pasta is the best I've ever had. I haven't been able to stop thinking about it since our last trip so a repeat visit was a MUST. I ended up ordering the exact same things I got last time: a bloody mary, tuna crudo with jalapeno and the creamy mushroom pasta. The restaurant is expensive and a bit bougie, but the ambiance and experience is worth it in my opinion. Plus the location is perfect if you have plans to stop by the Louvre or explore the designer shops near Place Vendôme.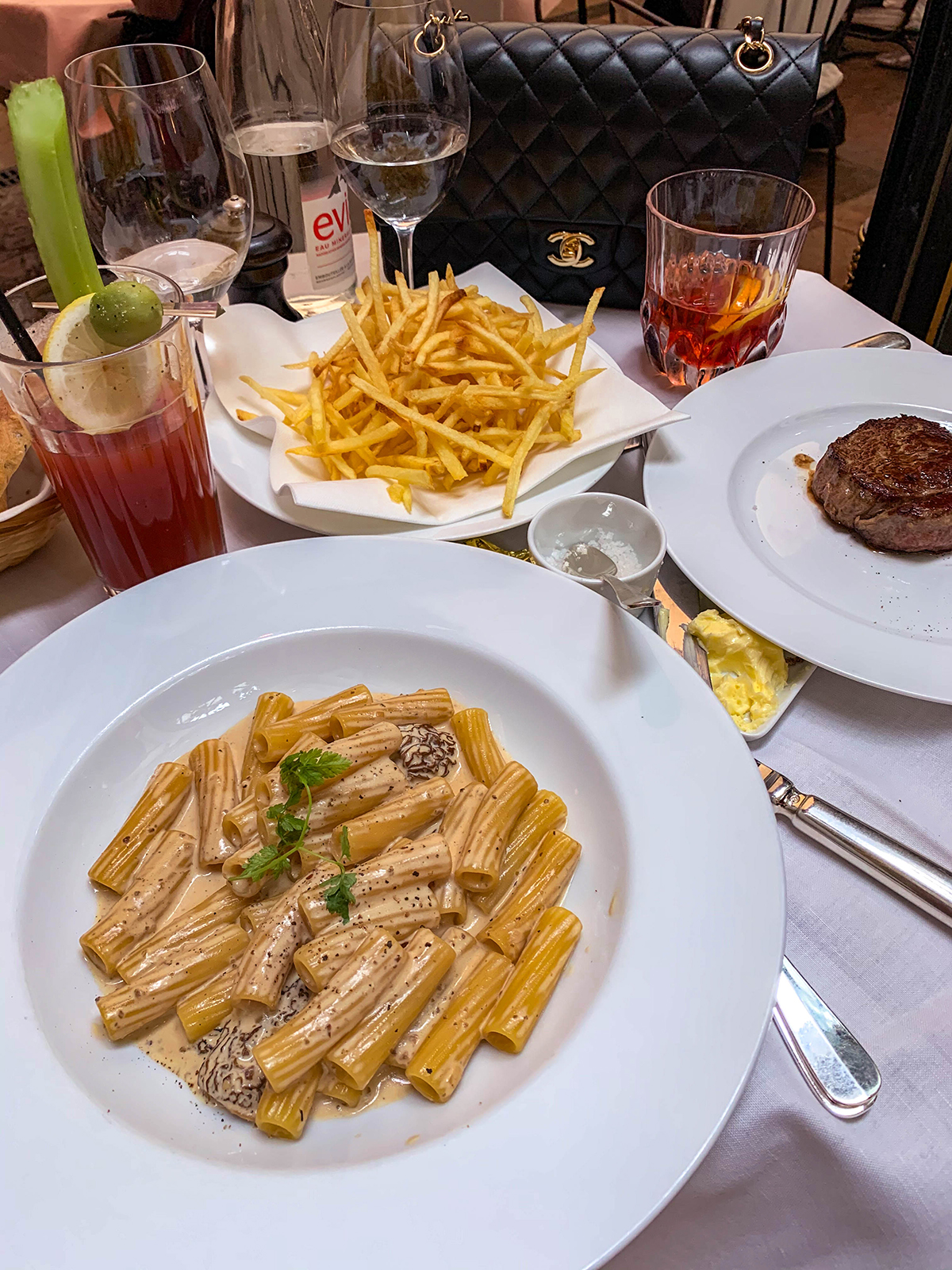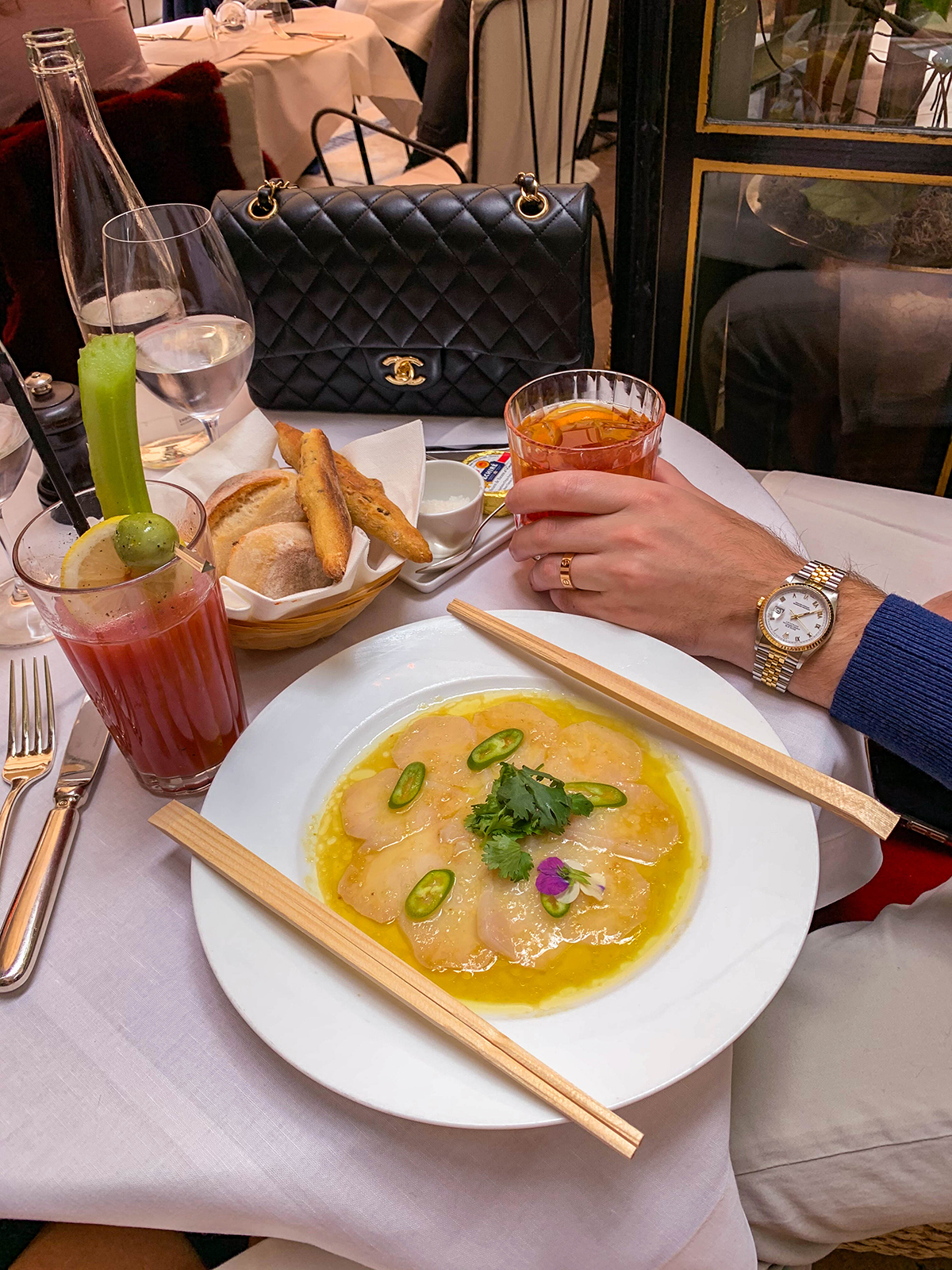 Le Petit Moulin – The most precious wine and cheese bar in Montmartre! We stopped in for a glass of wine before dinner and ended up wishing we'd had time to stay the whole night. There are only four tables and the owner serves you himself. We got there right at opening and he was kind enough to treat us to a wine flight explaining the background of each one as we sipped.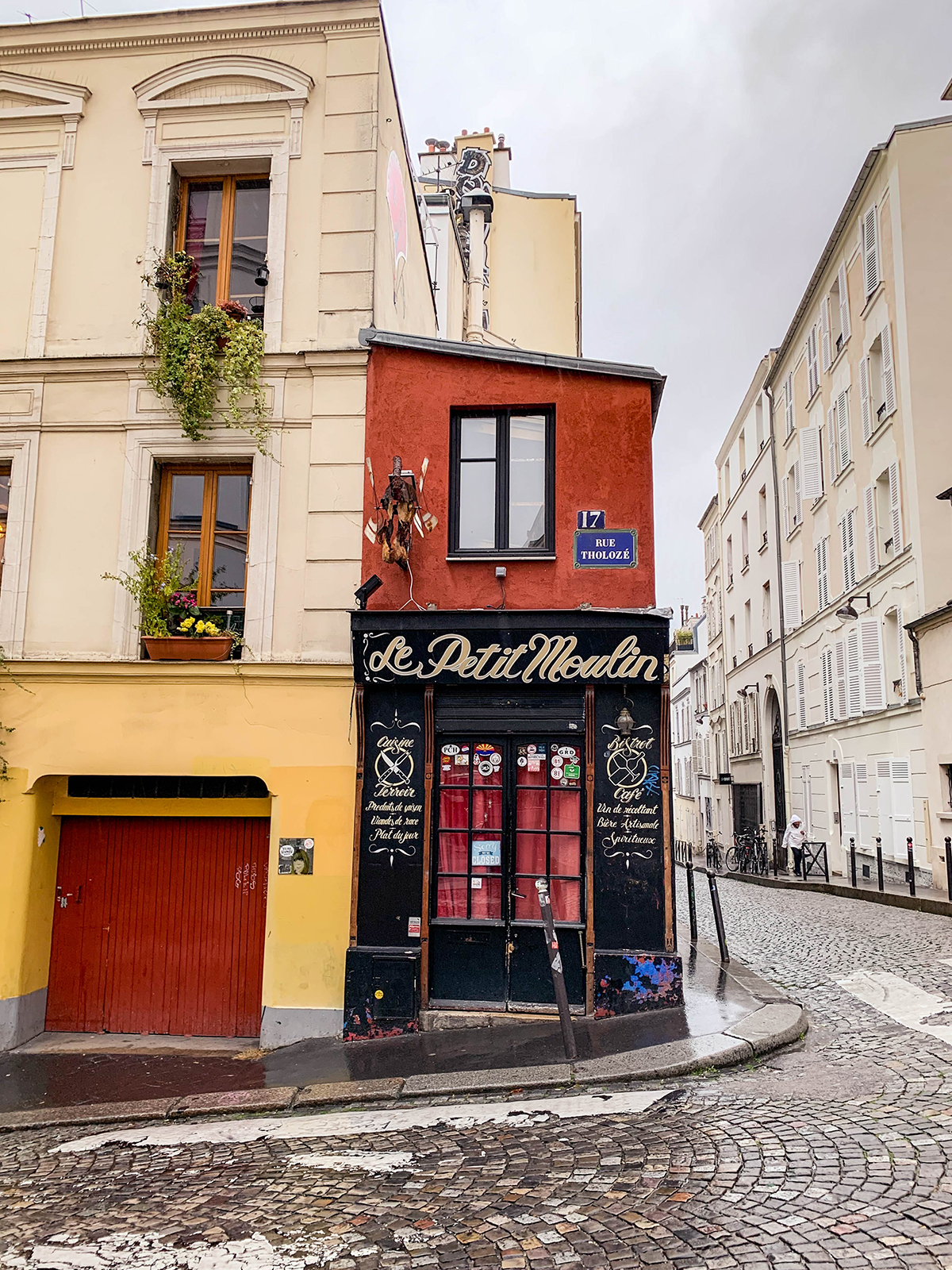 Le Refuge Des Fondus – FONDUE. Omg this restaurant was SO fun. There were no frills– you just tell them if you want cheese or meat fondue (both in our case!) and they bring you out steaming posts with all the accompaniments for dipping. If that doesn't sound exciting enough just you wait. Wine is served in BABY BOTTLES. They'll ask you if you want red or white and minutes later you're getting handed a bottle. It was hilarious and everything was so tasty!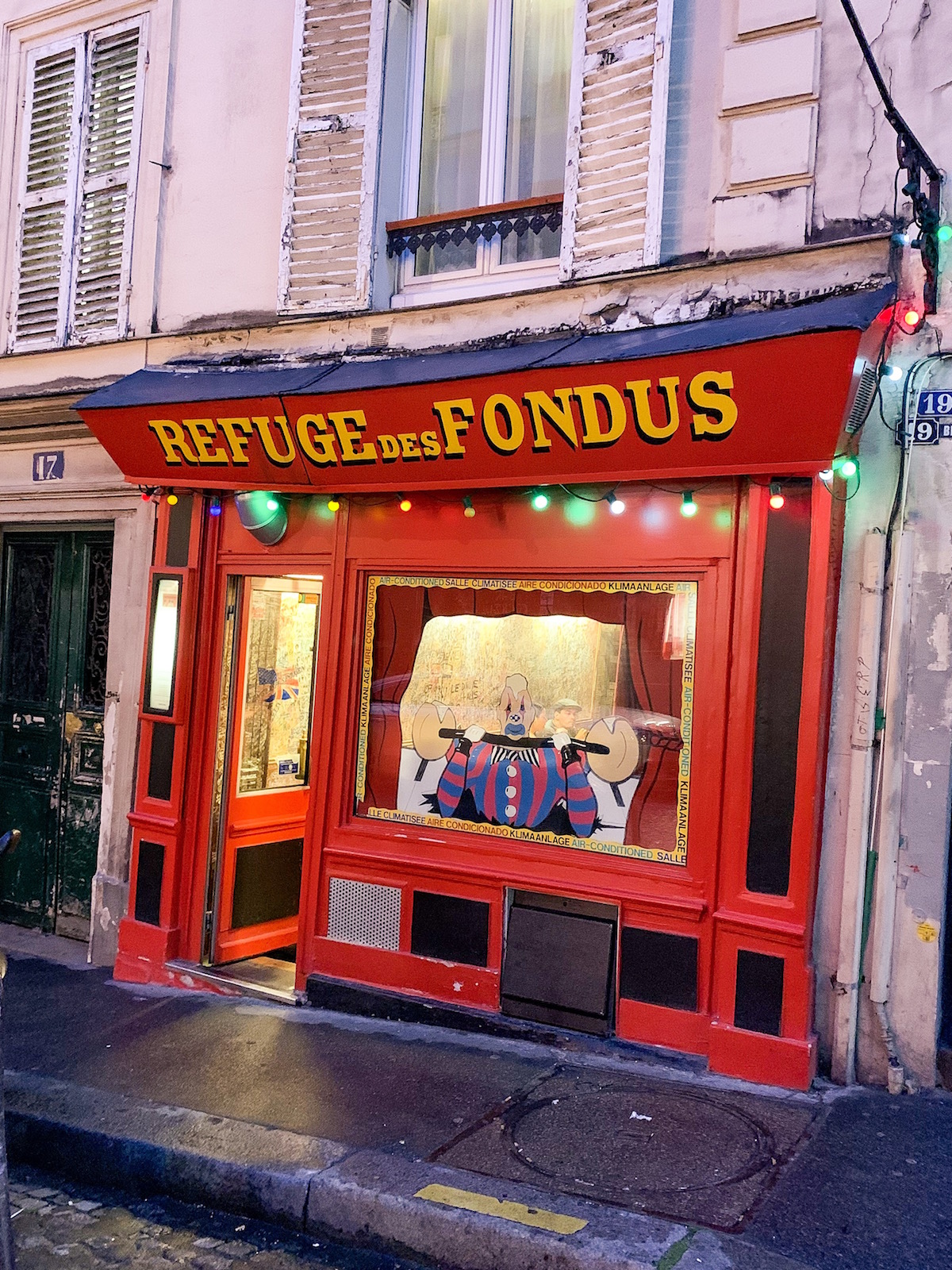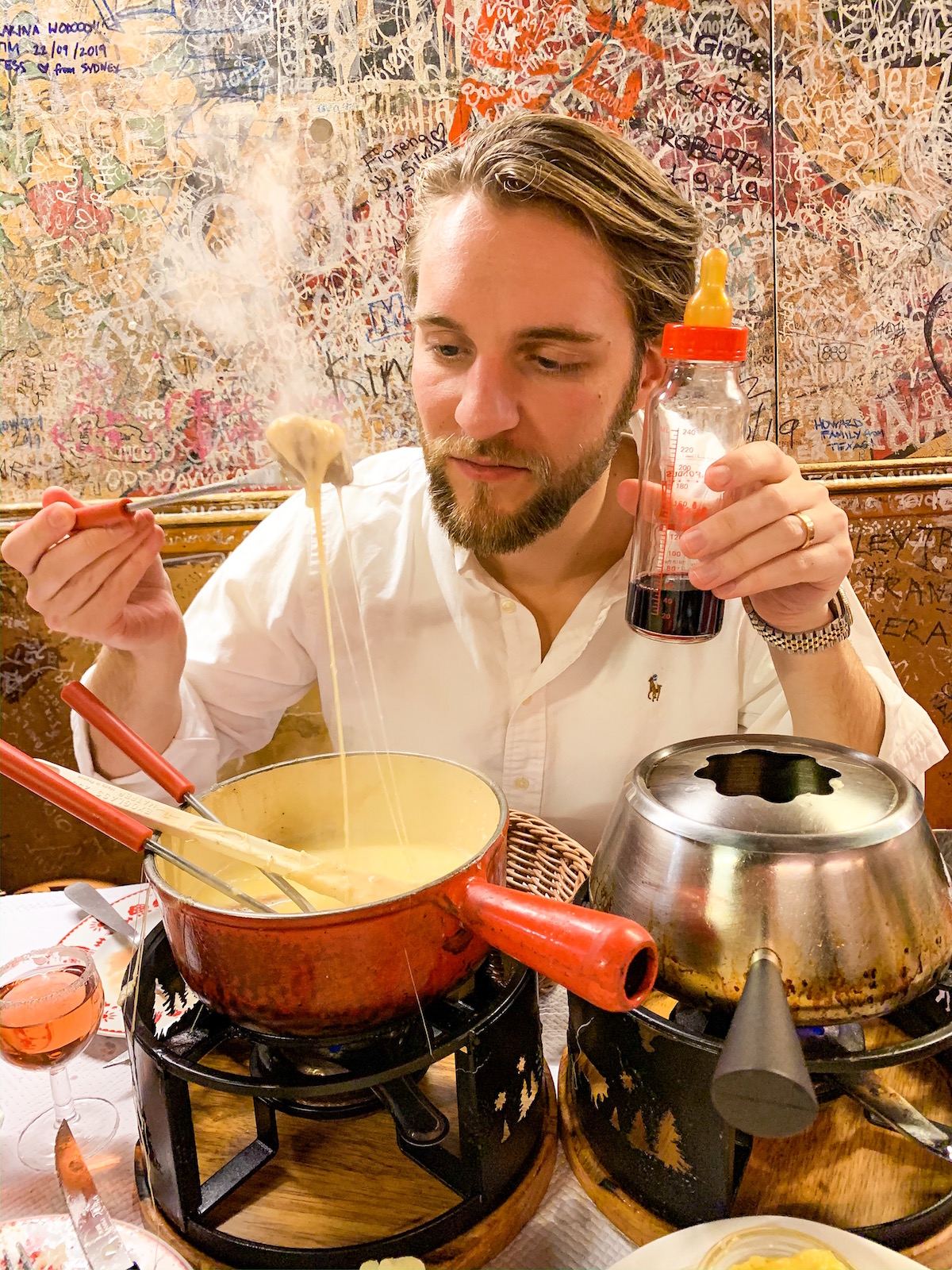 Au Petit Suisse – Traditional French bistro near Jardin Du Luxembourg. We had a very casual and extra cheesy (order the croque croque monsieur!) lunch here before exploring the gardens.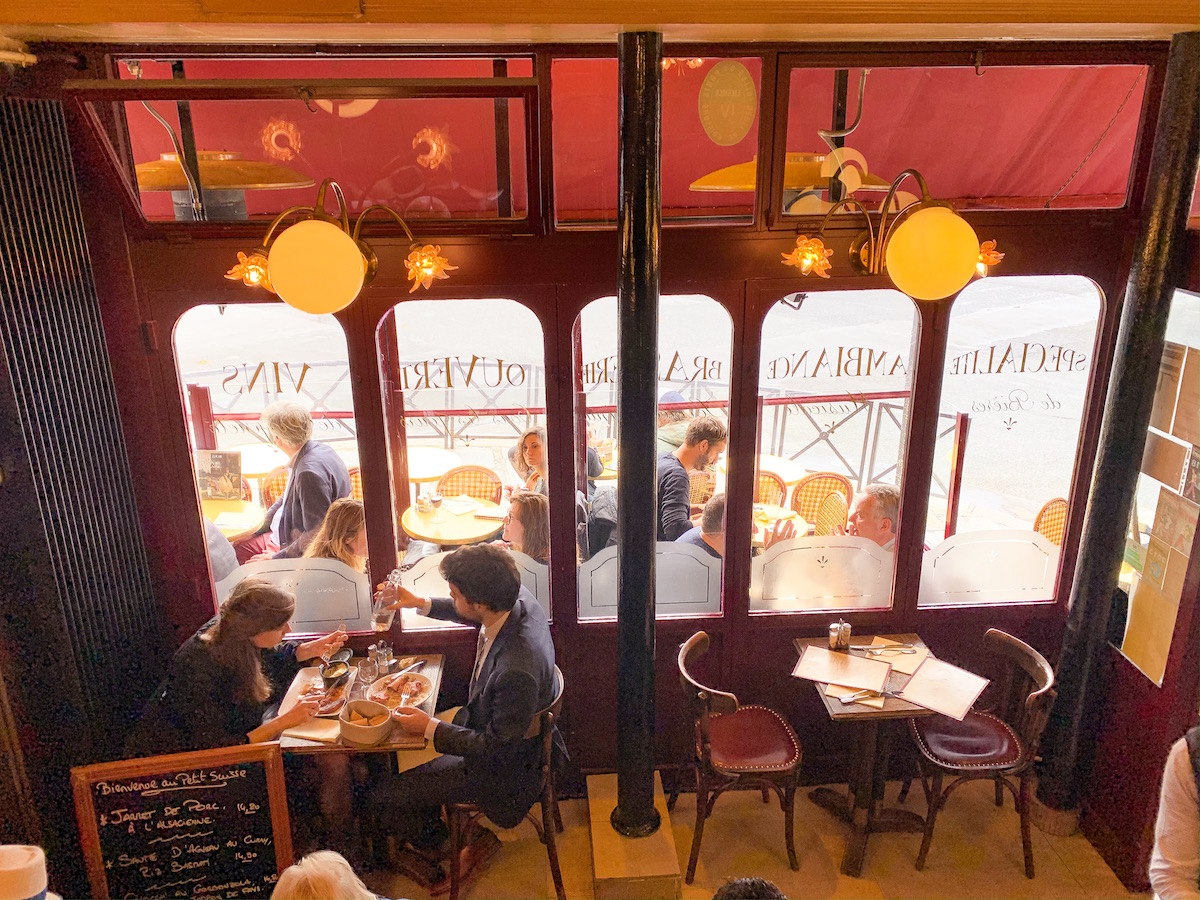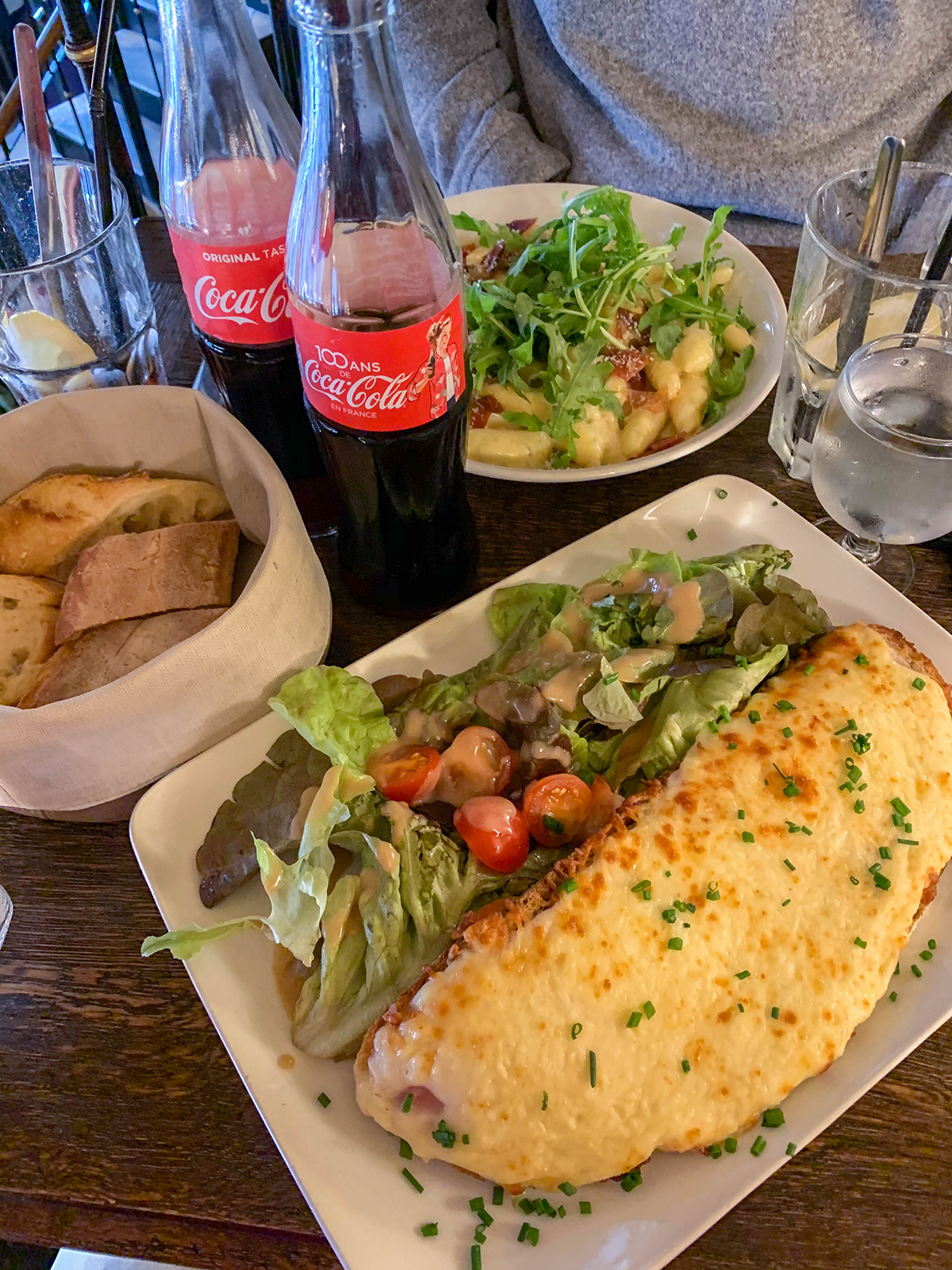 Botaniste – We had such a lovely experience having drinks at the Shangri-La Hotel on our last trip that we couldn't resist visiting again. Fancy and expensive, but oh so worth it for vibe and experience!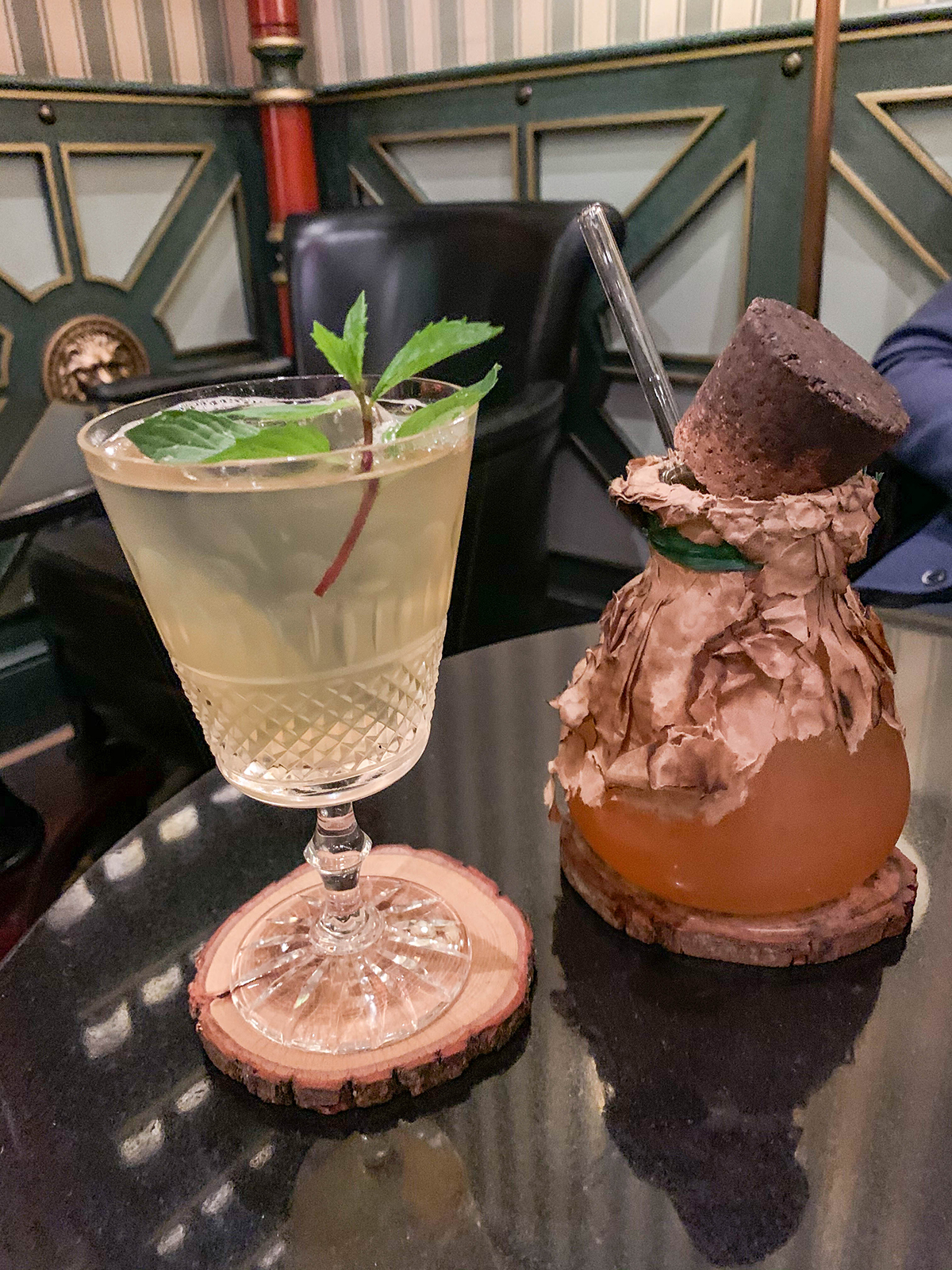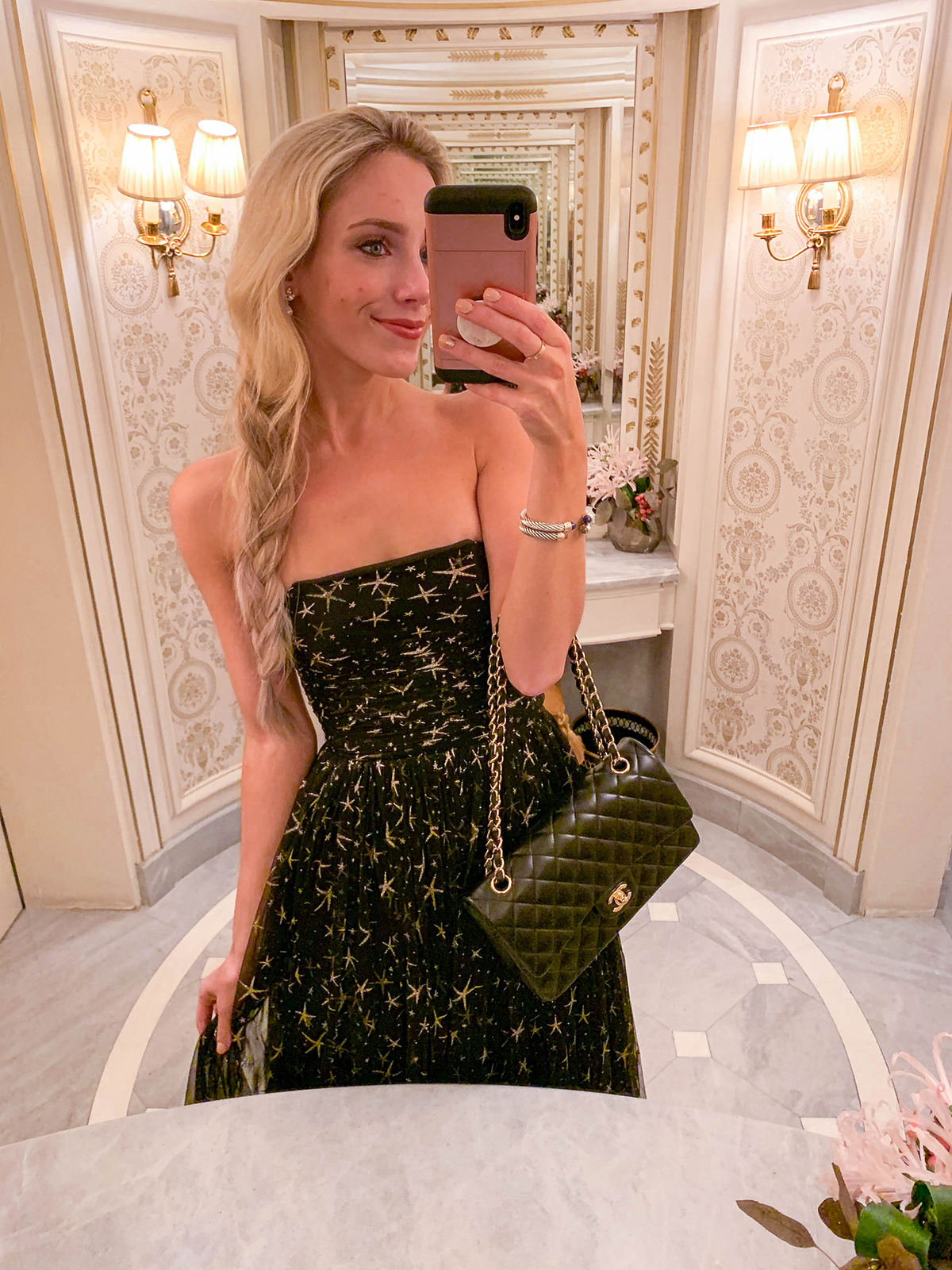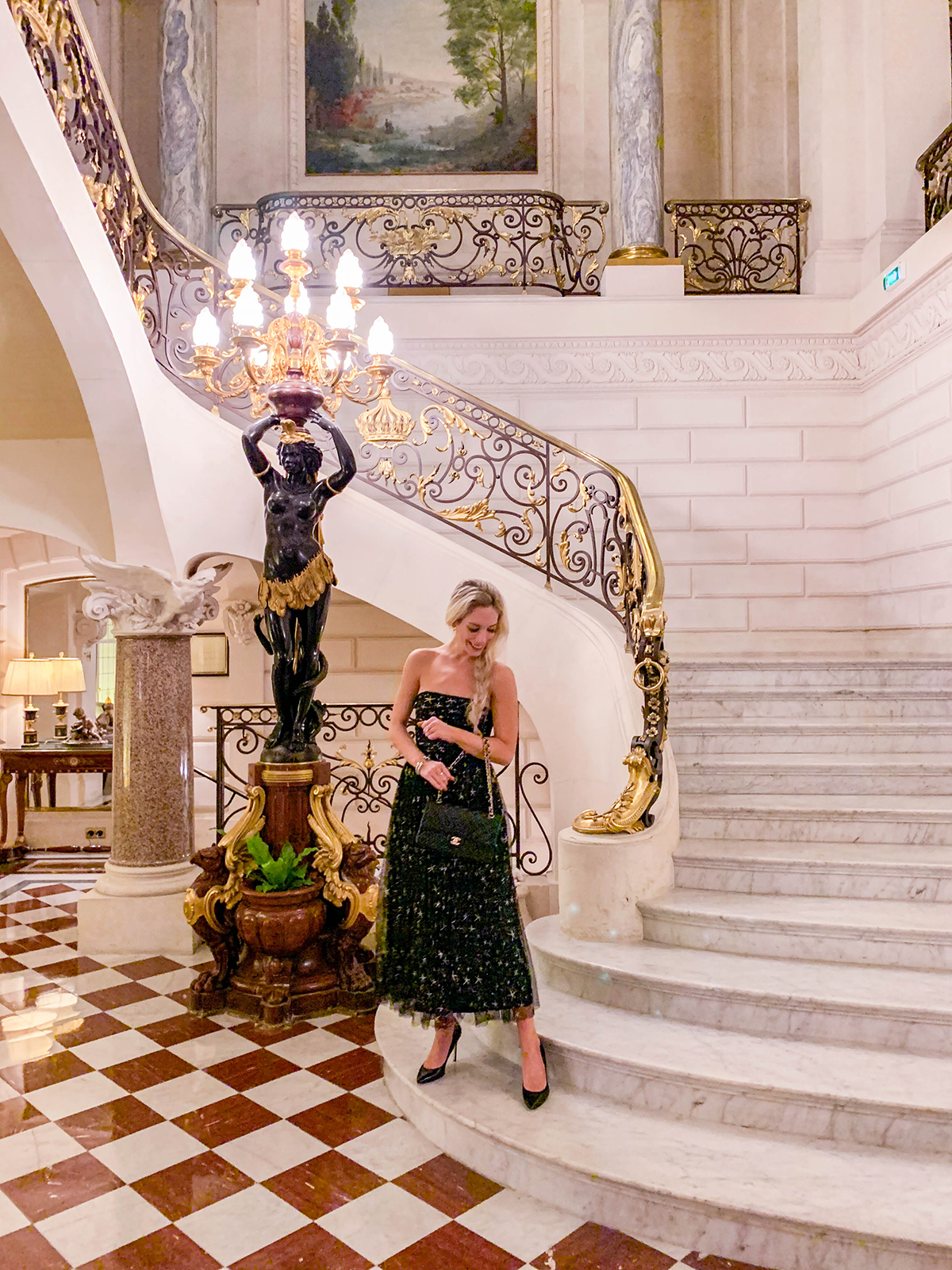 OUTFIT DETAILS // Black and Gold Formal Dress | Black Channel Bag | Black Pumps | David Yurman Bracelets
Jazz Club Chez Papa – This French restaurant with nightly live jazz has been on my Paris list since our first trip! So so happy we were able to eat here this time. The food was great (traditional French cuisine) but the draw is really the ambiance and music. Something we'll remember forever is when they played our wedding song 'Cheek To Cheek!'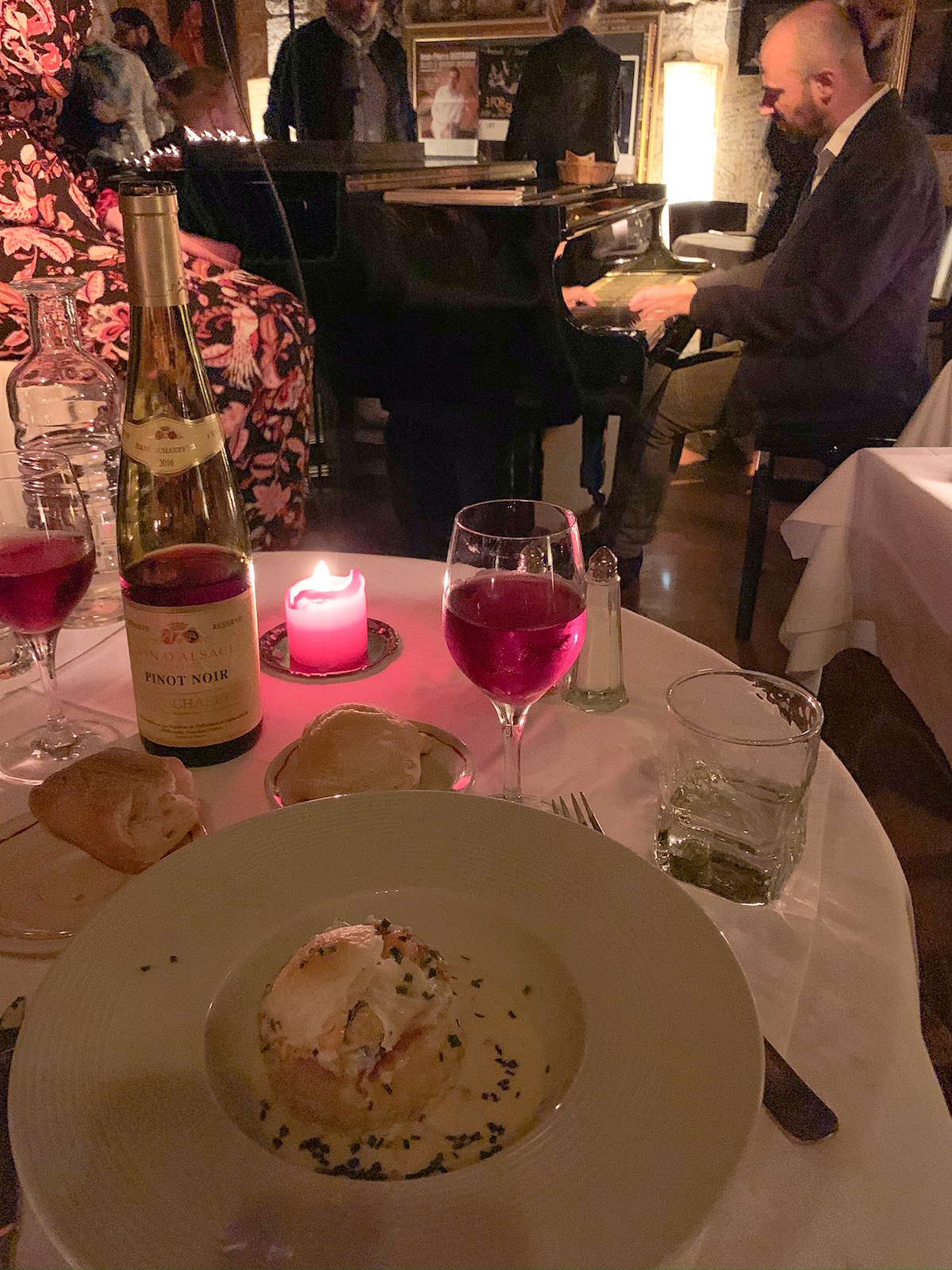 What To Do
We did a mix of sightseeing and leisurely exploring on this trip! If you've never visited Paris before and want first time recommendations definitely check out my previous travel guides: First Time Visiting Paris Travel Guide & 2019 Paris Travel Guide.
Explore Le Marais – This is a neighborhood where you'll find many small boutiques, top foodie spots and cocktail bars. It's charming, residential and feels more like "real Paris" since it's removed from the touristy bustle in the city center. We spent our first afternoon just walking around without any specific destination in mind. Le Marais is also where you'll find the famous Parisian square Place des Vosges, the Paris history museum– Musée Carnavalet and the Musée National Picasso- an art gallery dedicated to the works of famed Spanish artist Pablo Picasso.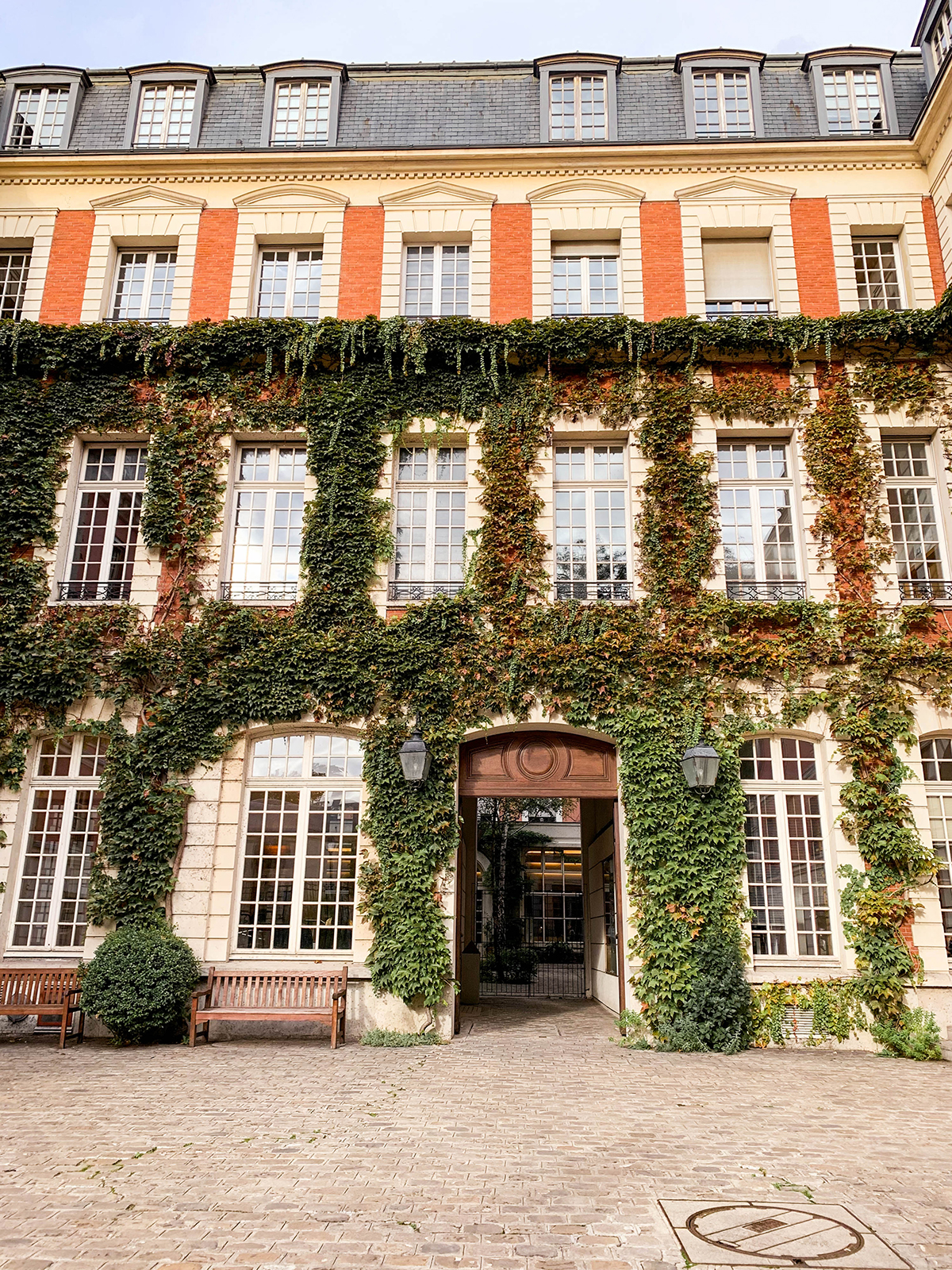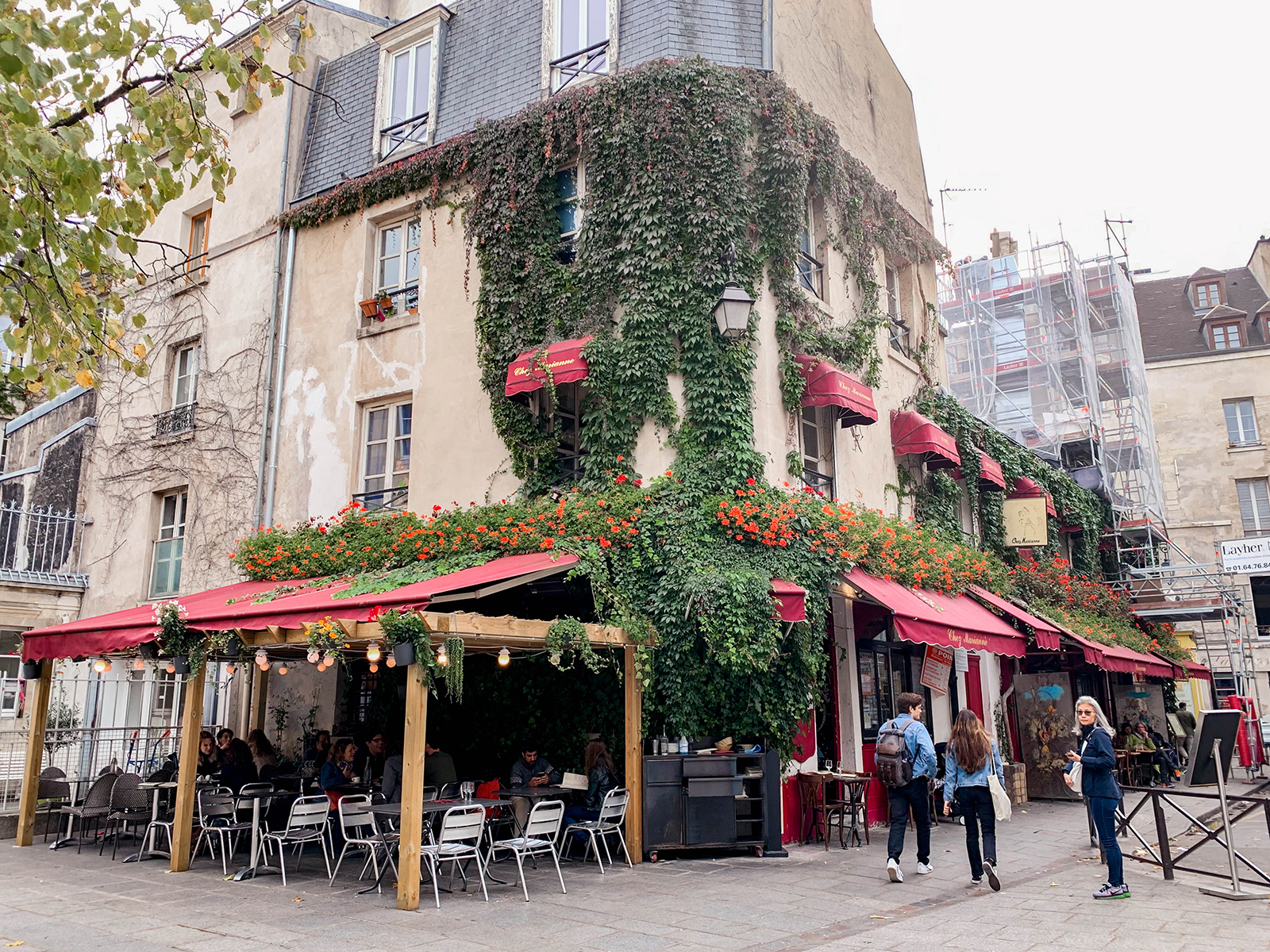 Place Des Vosges – I highly recommend walking around Place Des Vosges if you're in Le Marais. It's a great place to sit and people watch and just enjoy Paris. The surrounding red brick town homes are SO photogenic!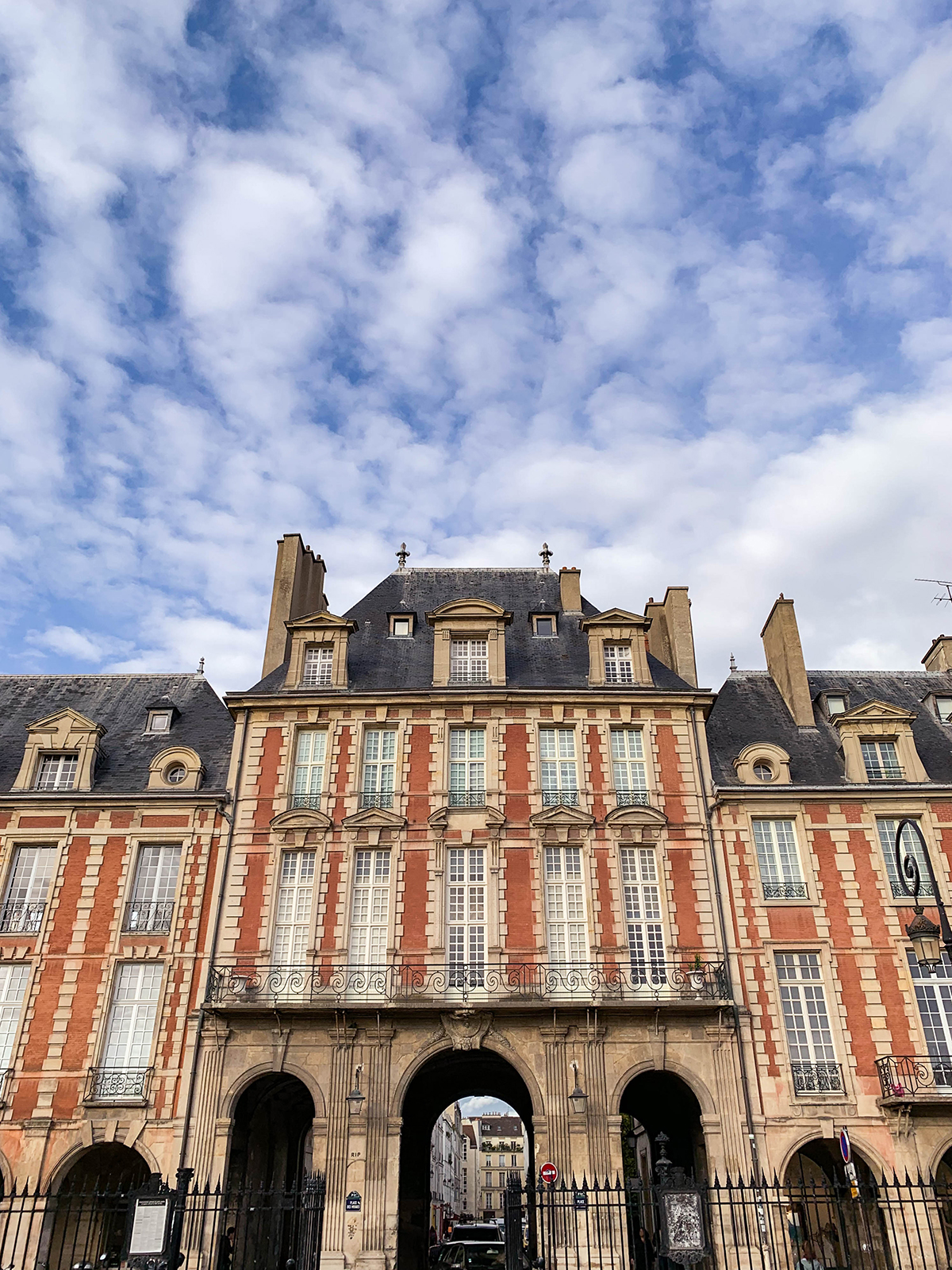 Musée Jacquemart-André – We aren't big museum people, but Paris has so many great ones that we try to hit up one on every trip. This time we chose to tour Musée Jacquemart-André, a small privately-owned museum featuring the art collection of wealthy 19th century banker Édouard André and his wife Nélie Jacquemart. The museum itself was once their private mansion, but today it's been converted into galleries that can be visited by all. We went on a weekday morning and perused the galleries for nearly two hours on our own (they do offer an audio tour in all languages.) It was lovely and very relaxing compared to the crowds of the Louvre!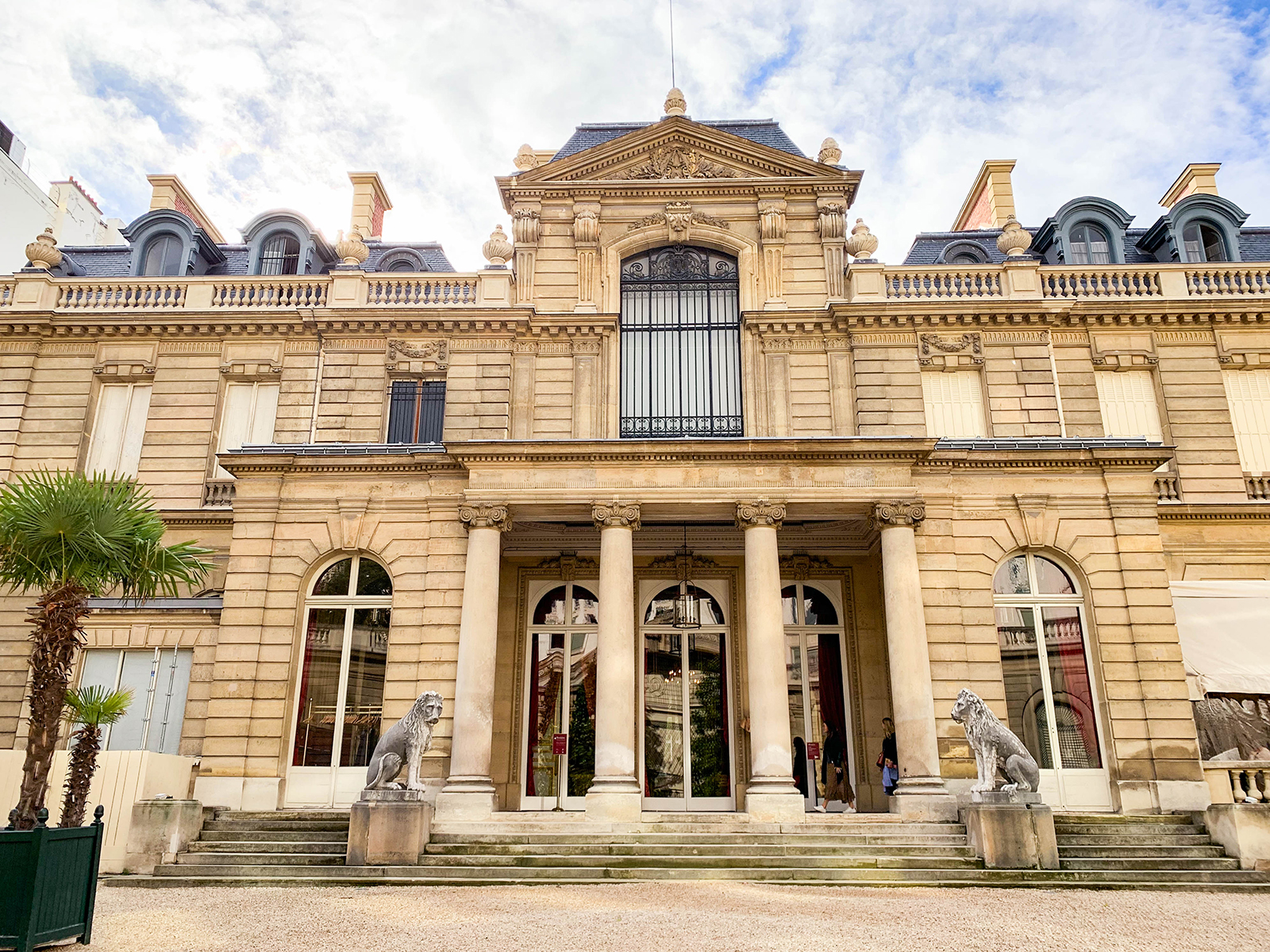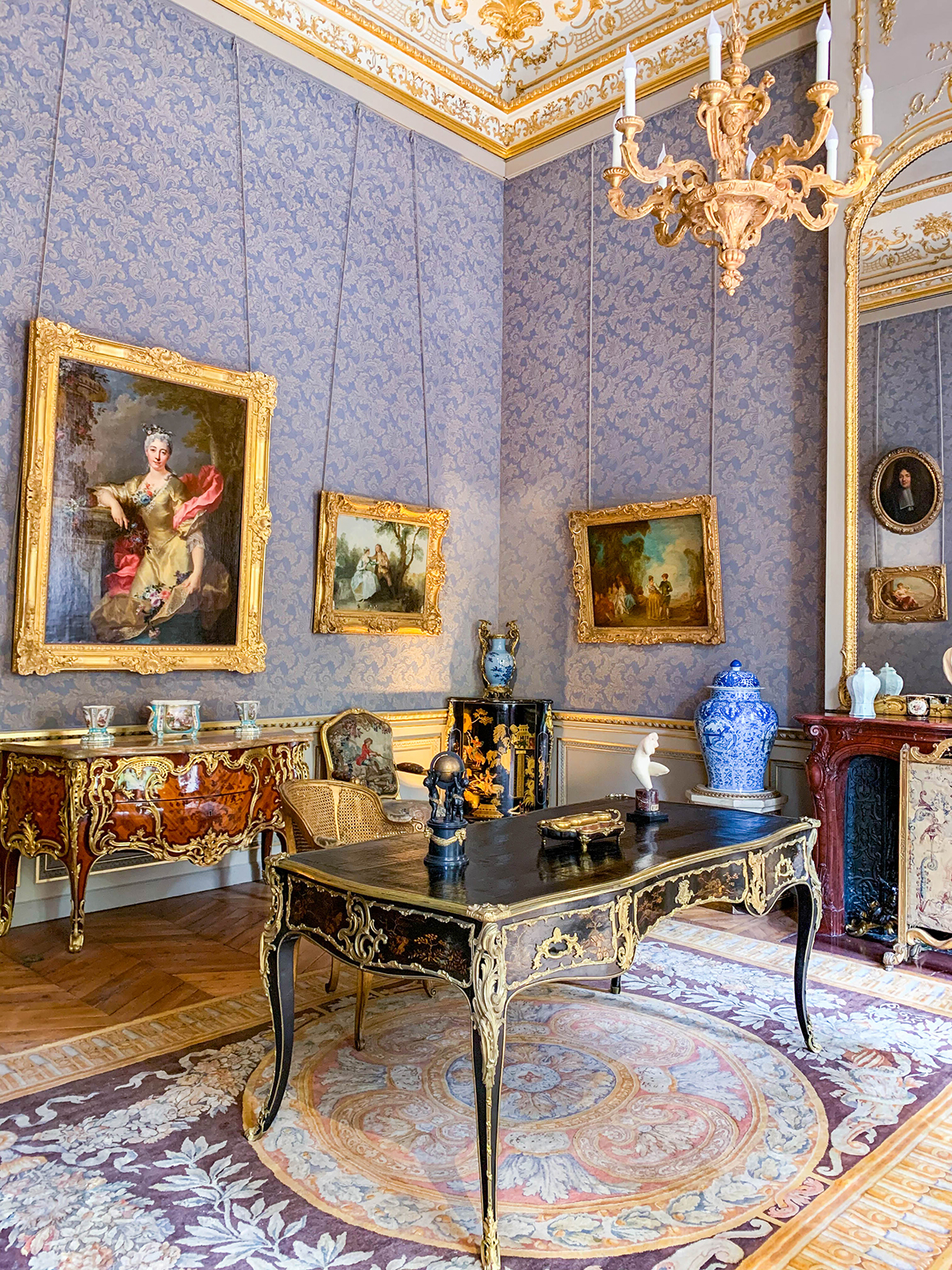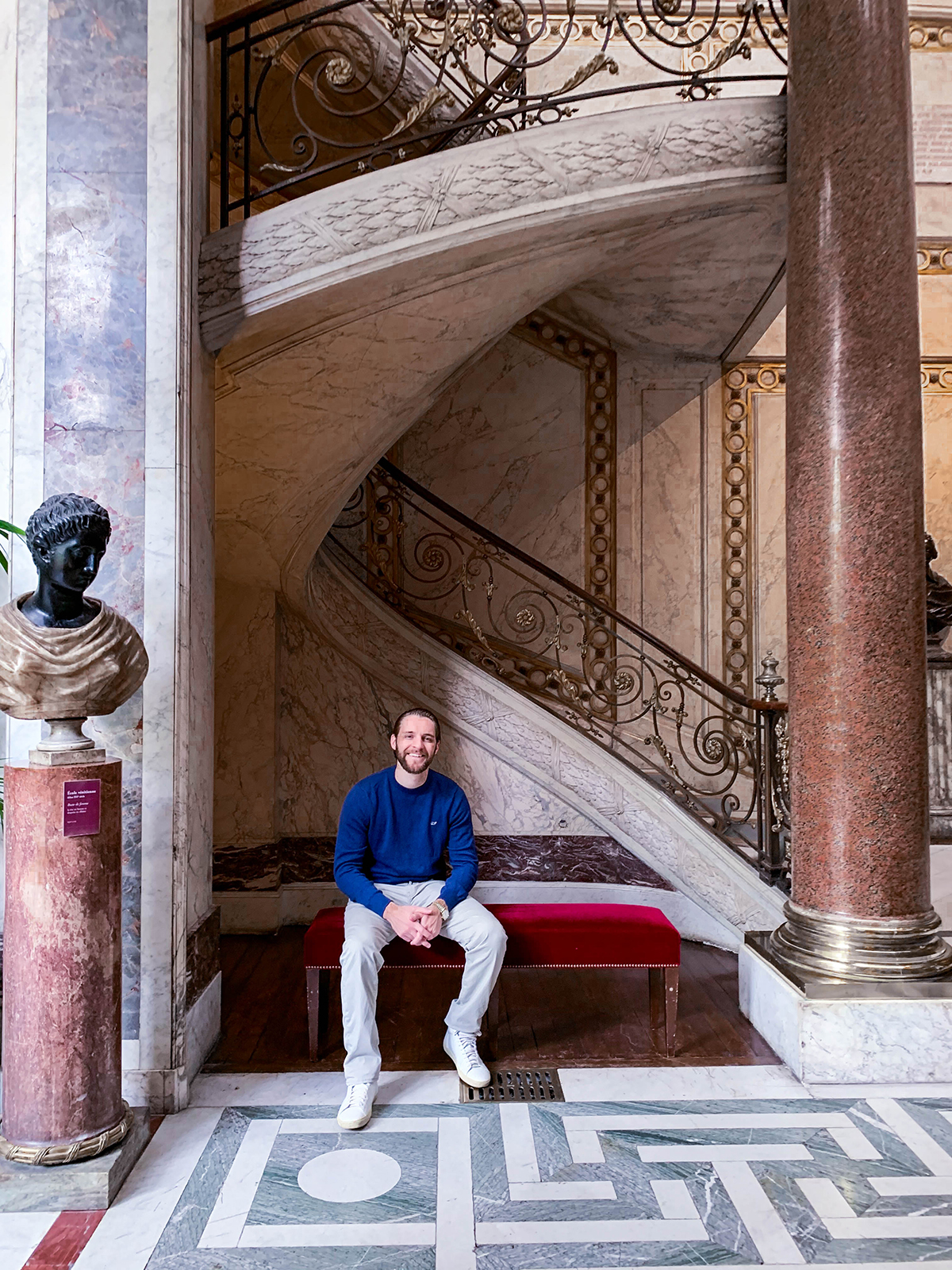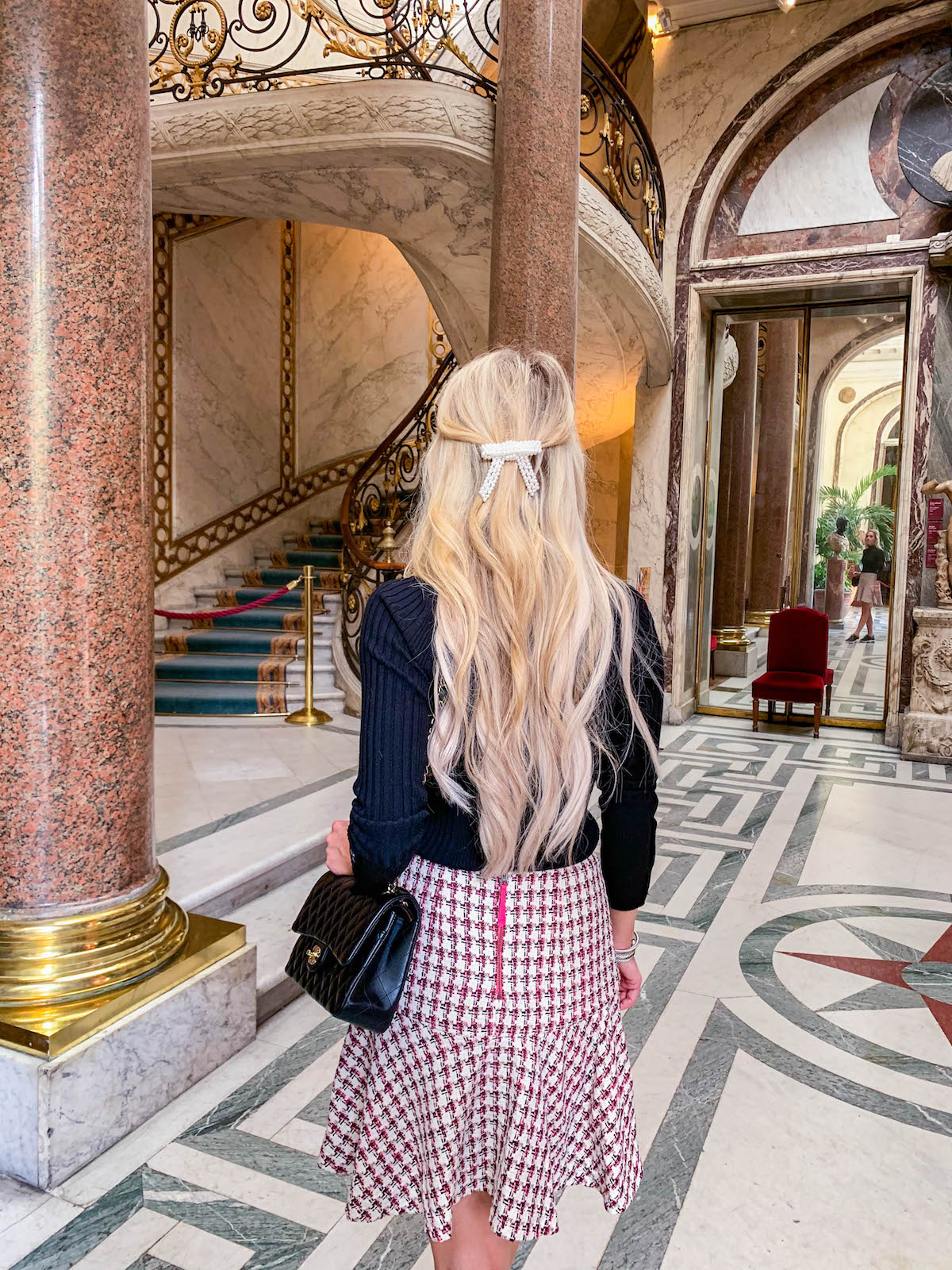 OUTFIT DETAILS // Black Turtleneck | Tweed Mini Skirt | Pearl Hair Bow | Black Channel Bag | David Yurman Bracelets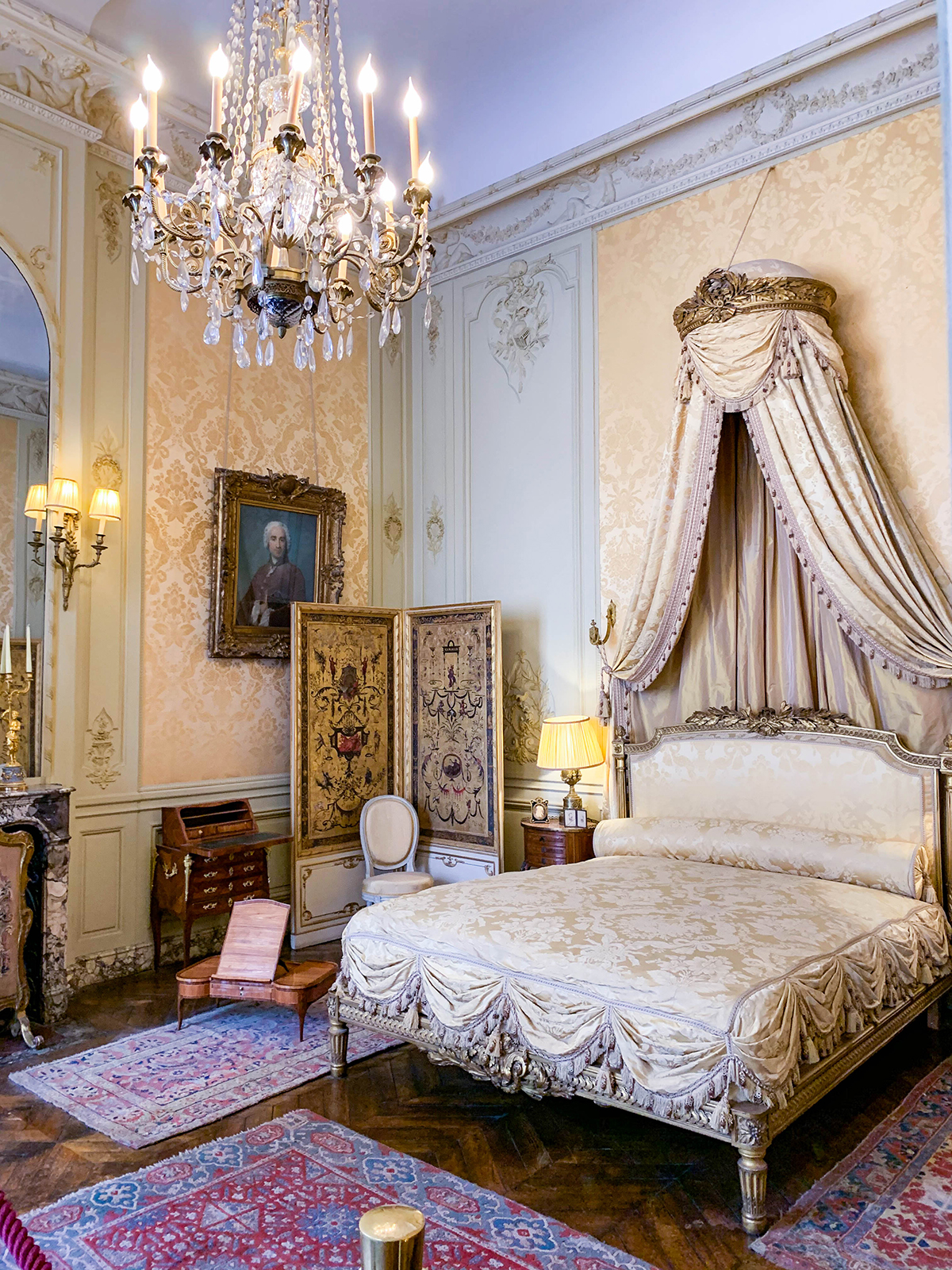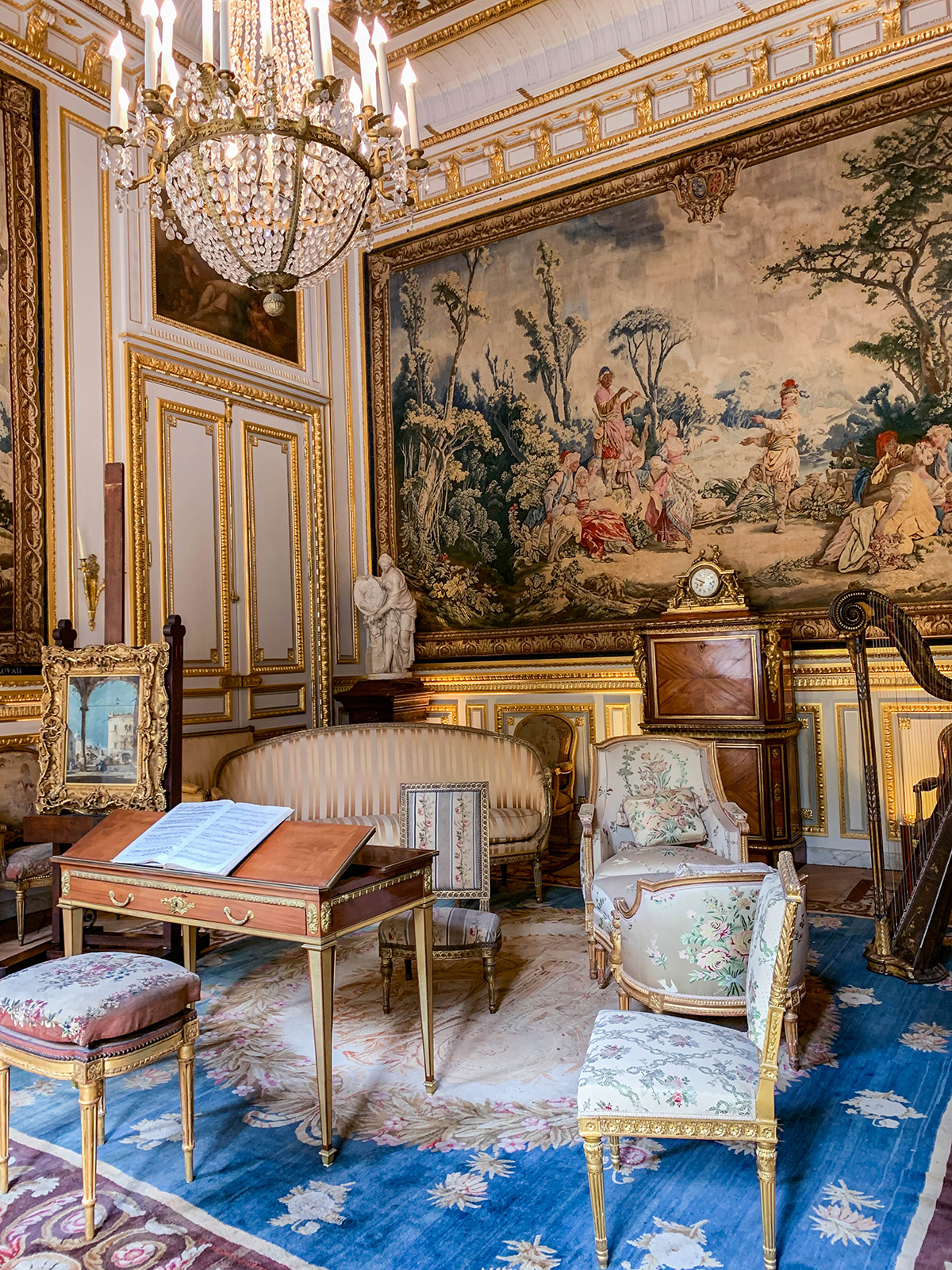 Place Vendôme + Palais-Royal – Walking around Place Vendôme and the nearby Palais-Royal gardens is a must! We strolled around both after having lunch at Hotel Costes. Place Vendôme is home to many designer stores (Louis Vuitton, Chanel, Dior, etc.) and the Ritz Paris Hotel (highly recommend Bar Hemingway for a cocktail!) then just a ten minute walk away you'll find Palais-Royal– a former palace with the most spectacular gardens and courtyard. These are open to the public and there's no entrance fee.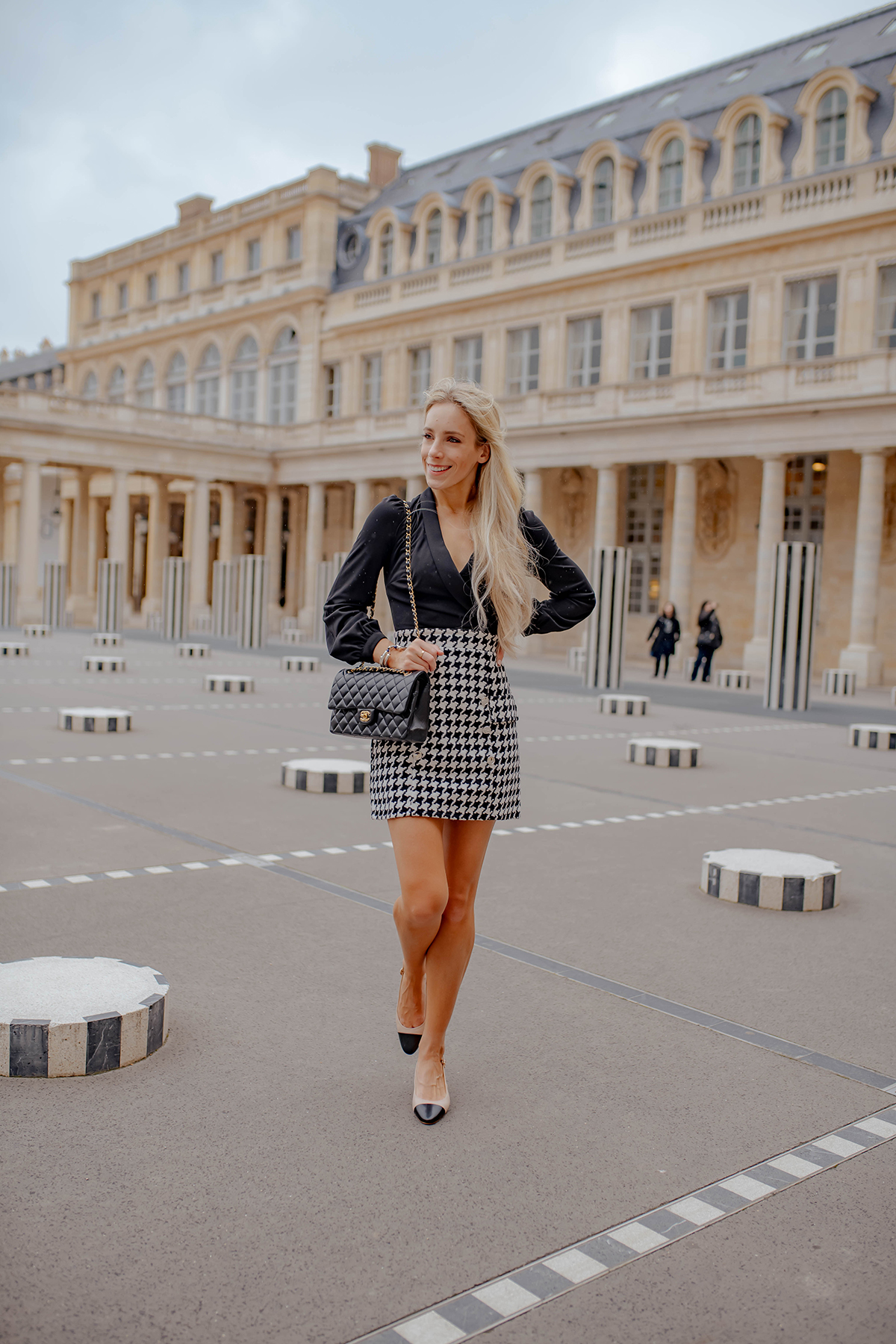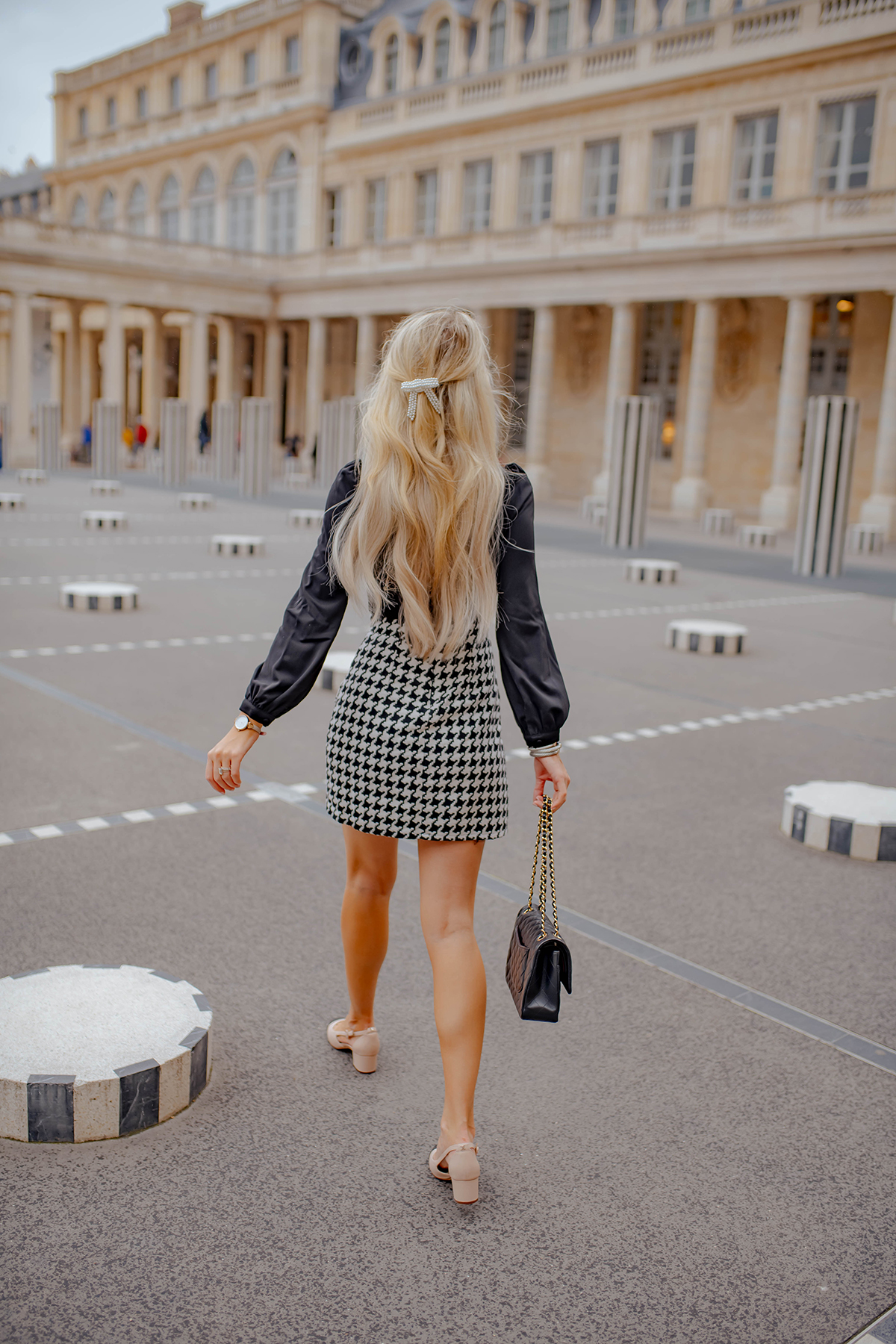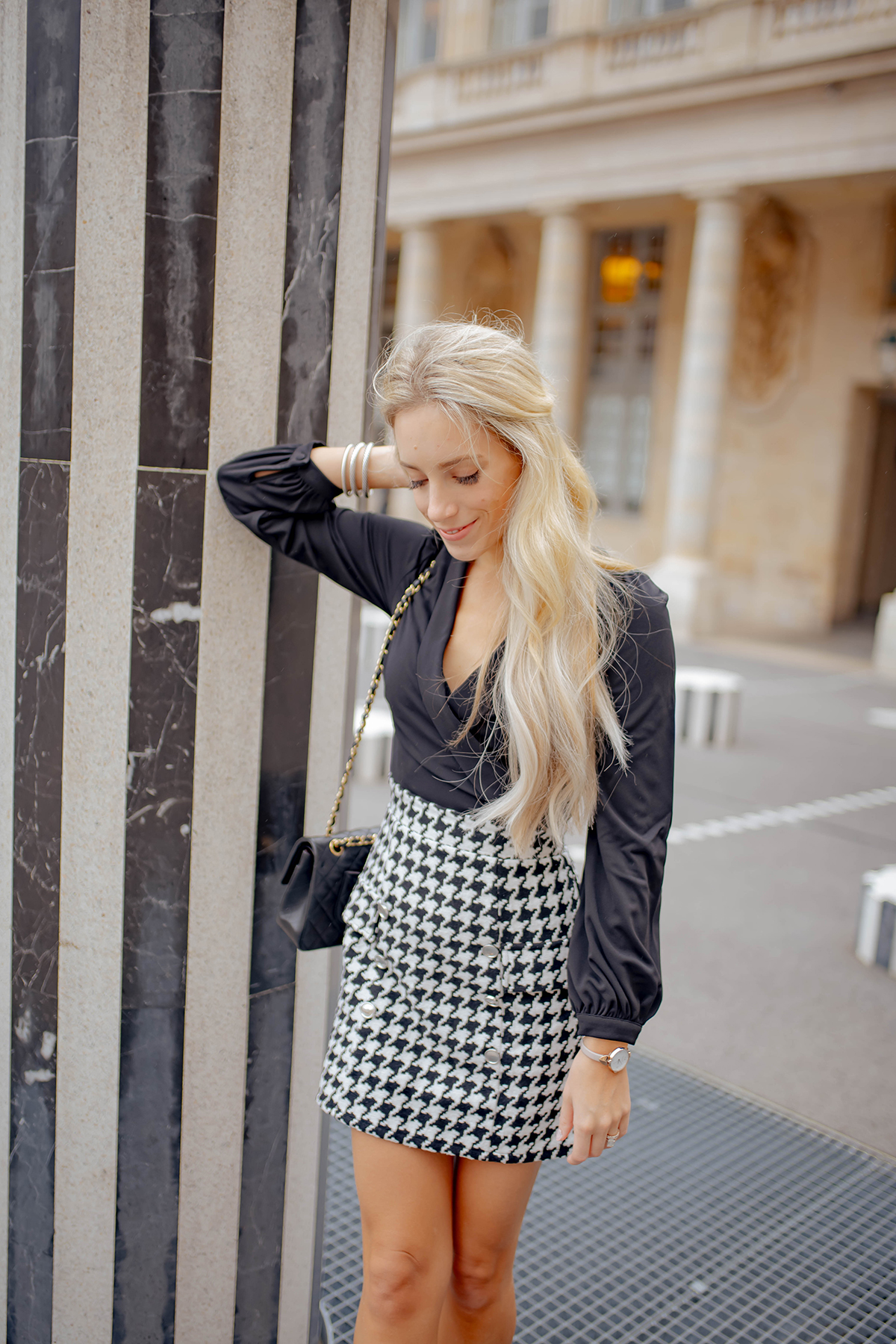 OUTFIT DETAILS // Black Houndstooth Dress | Pink Cap Toe Pumps | Pearl Hair Bow | Black Channel Bag | Kate Spade Watch | David Yurman Bracelets
Montmartre – If you're looking to get off the beaten path in Paris and away from the tourist hustle then I highly recommend Montmartre. It's a bohemian neighborhood located on a large hill in Paris's 18th arrondissement known for being a haven for local artists and home to some of the city's best nightlife and cabaret shows. Walking around the narrow cobblestone streets you can almost forget you're in Paris because it feels (& looks!) like a small village. The most recognizable landmark in Monmartre is the Sacré-Cœur Basilica, however the biggest draw for us was just seeing the charming Parisian cafes, carousels, idyllic cottages and street art. There are so many local boutiques, restaurants and bars here too!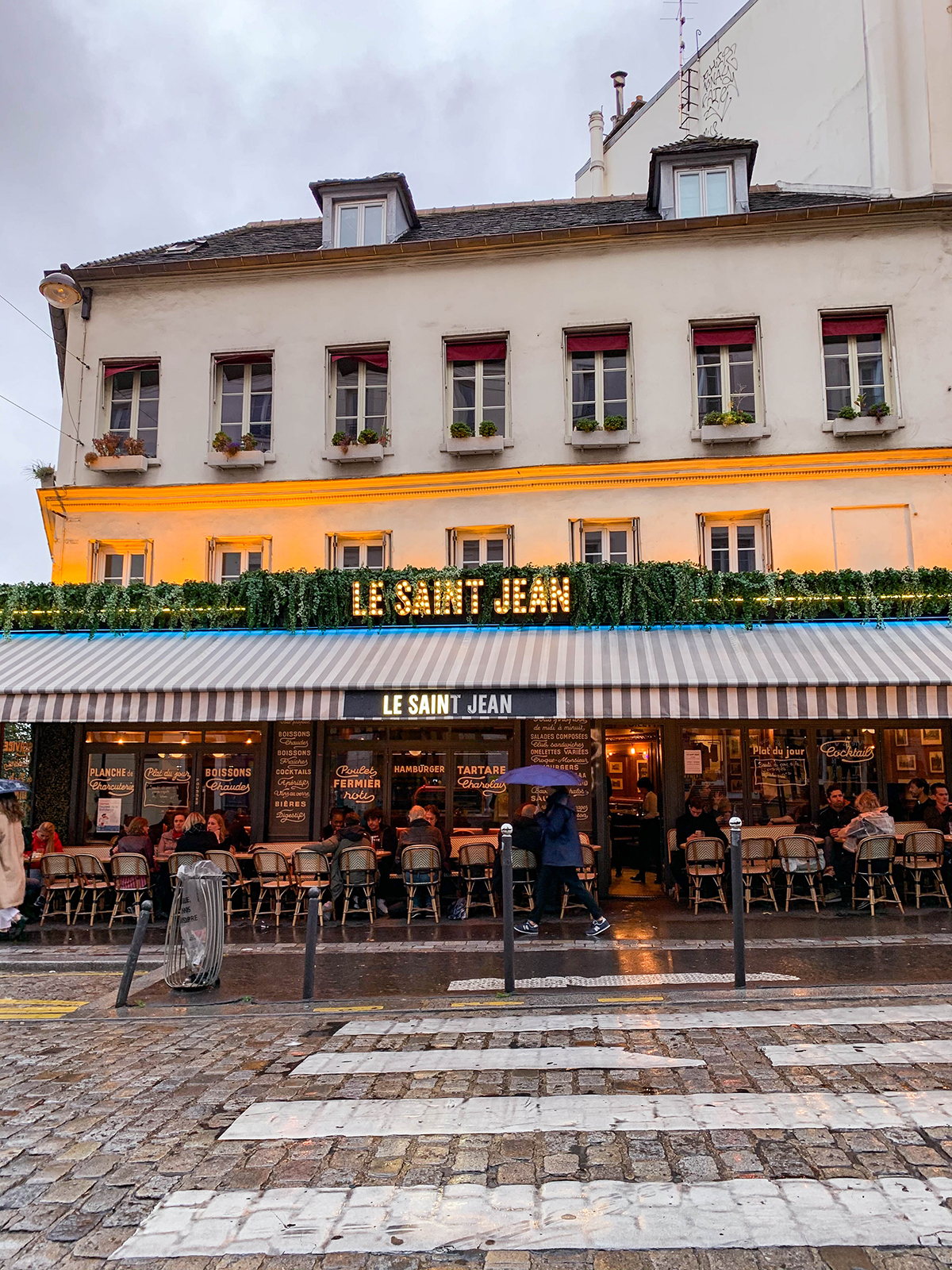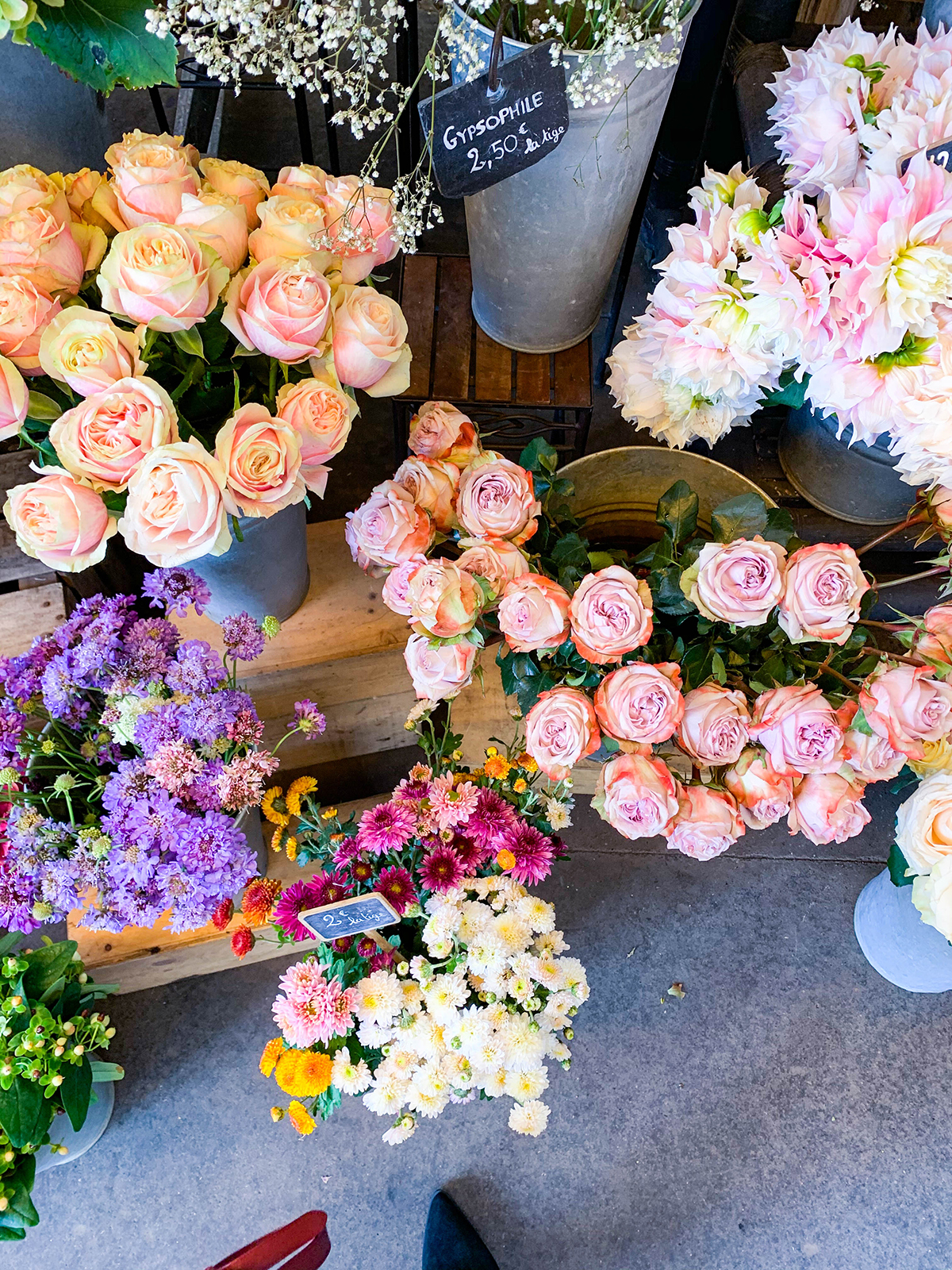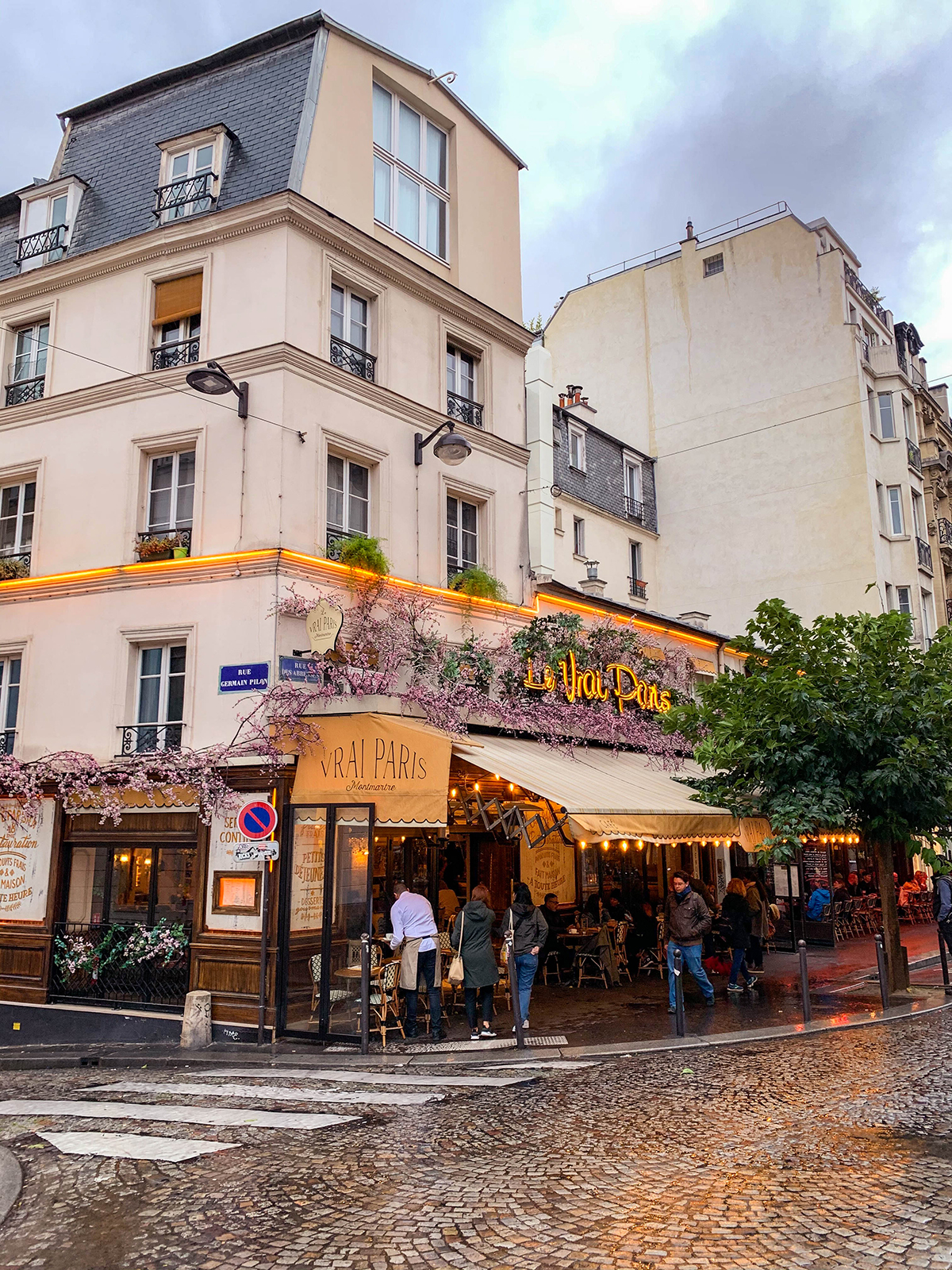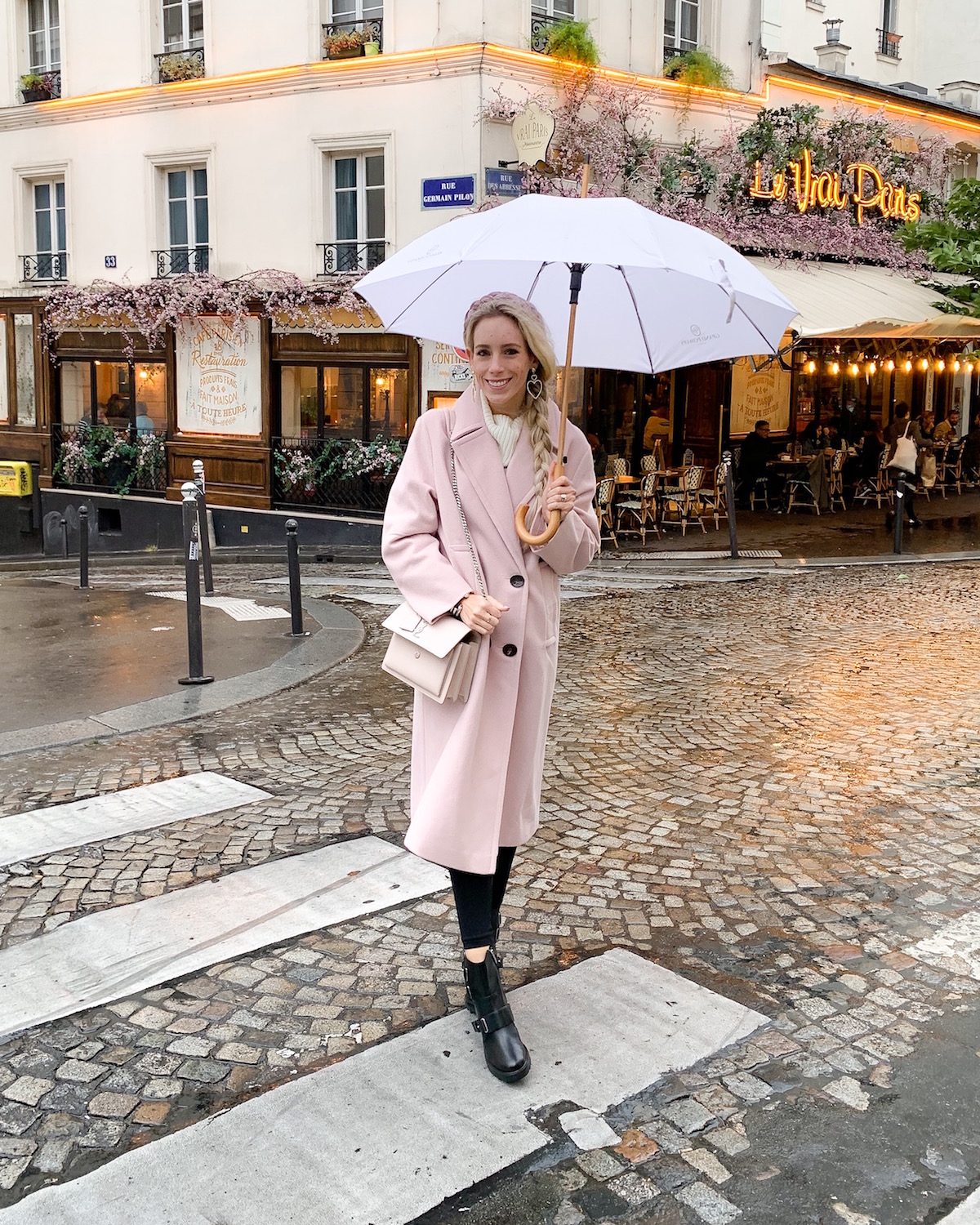 OUTFIT DETAILS // Pink Classic Coat | Turtleneck Sweater | Black Leggings | Black Marc Fischer Boots | Heart Earrings | Saint Laurent Bag | Braided Headband | David Yurman Bracelets
Moulin Rouge – Montmartre is home to Paris' famous Moulin Rouge cabaret. We bought tickets in advance and loved the show! I was worried it was going to be a bit cheesy or too raunchy, but the show itself was very tastefully done despite having some nudity. When watching the show you're seated at a table with other patrons (specific seats can't be reserved– the staff chooses when you arrive) and served beverages of your choice!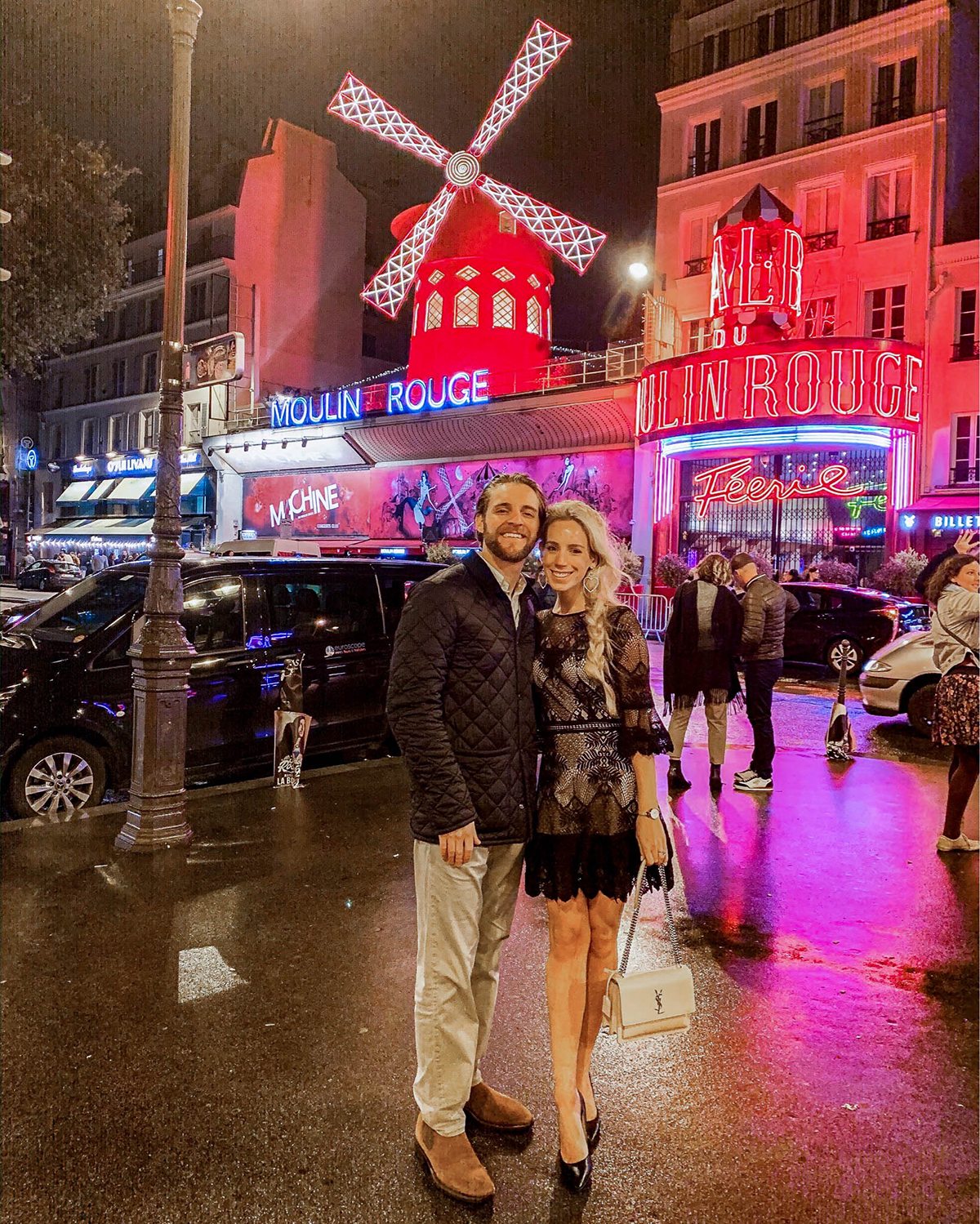 OUTFIT DETAILS // Black Lace Dress | Kate Spade Watch | Black Pumps | Heart Earrings | Saint Laurent Bag
Couples Shoot at the Eiffel Tower – Can you name a more beautiful backdrop for pictures? I did a separate blog post all about our fun photo session at the Eiffel Tower. I highly recommend booking a photographer to get some cute shots while you're visiting– it was so easy and a great way to get pictures together as a couple.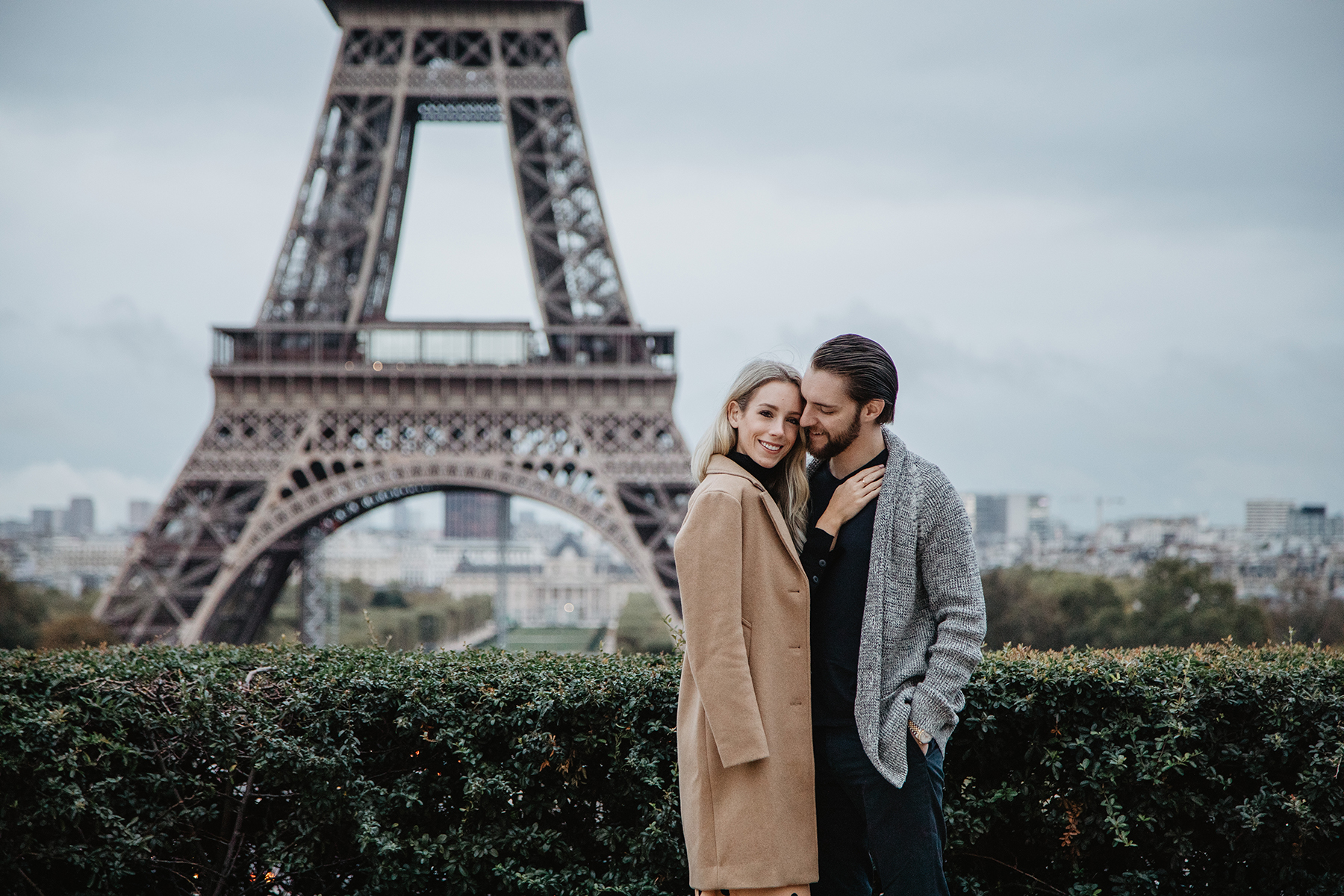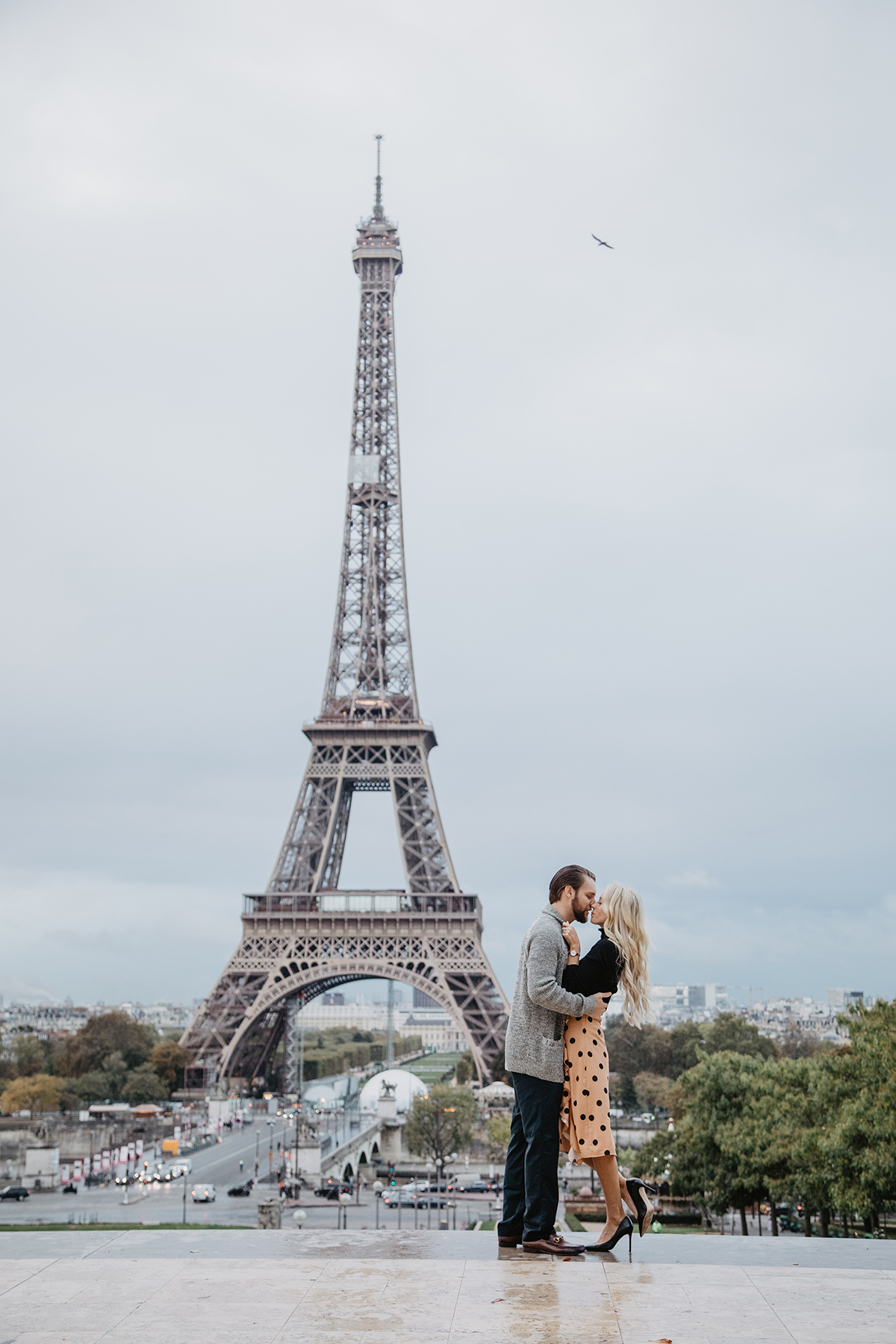 OUTFIT DETAILS // Black Turtleneck | Polka Dot Midi Skirt | Wool Coat | Black Heels | David Yurman Bracelets
Jardin Du Luxembourg – Walking around the Luxembourg gardens is another thing that had been on my Paris bucket list that we finally were able to check off. We strolled through here after lunch one afternoon and were pleased to find so many beautiful flowers and fall colors!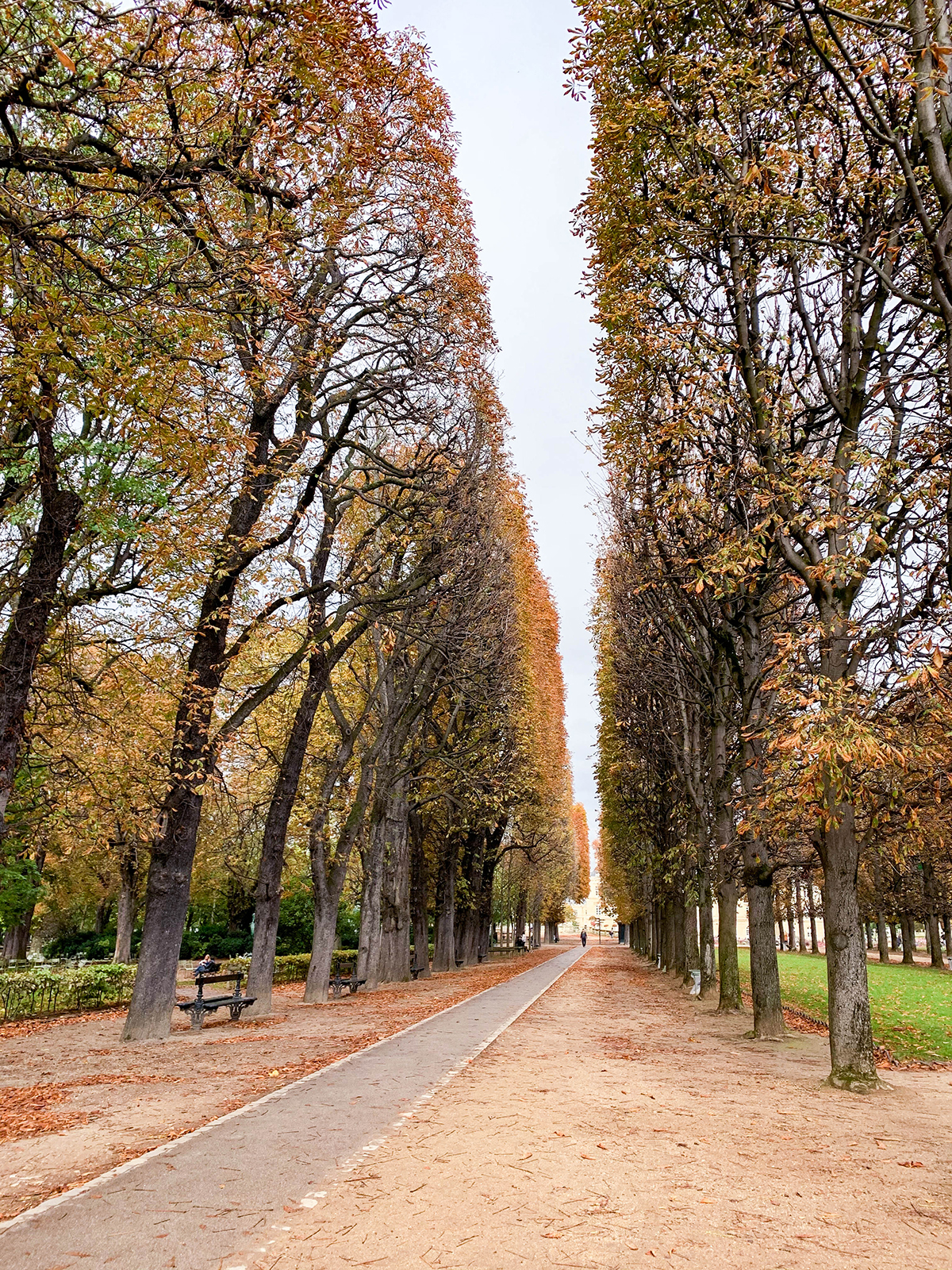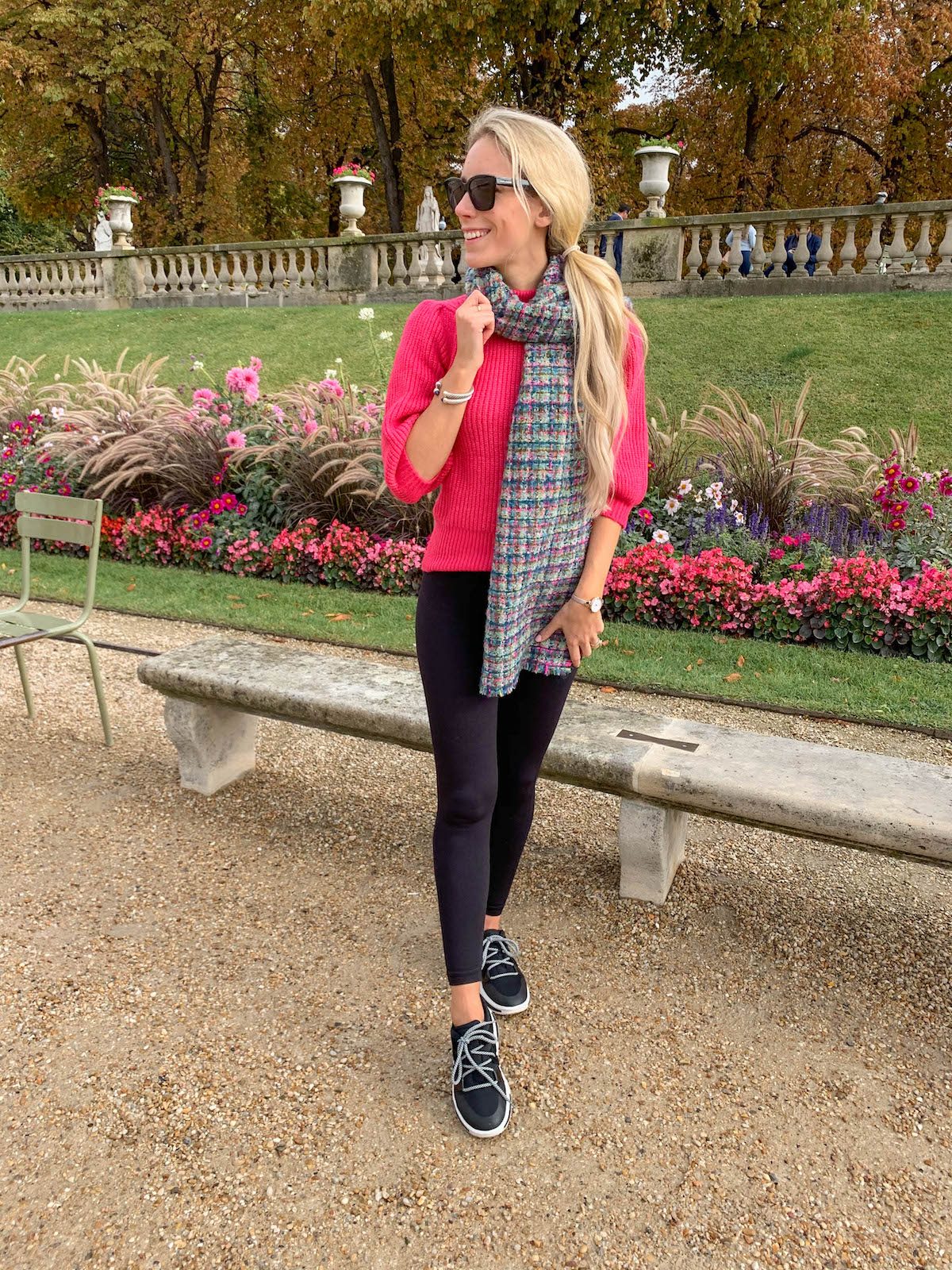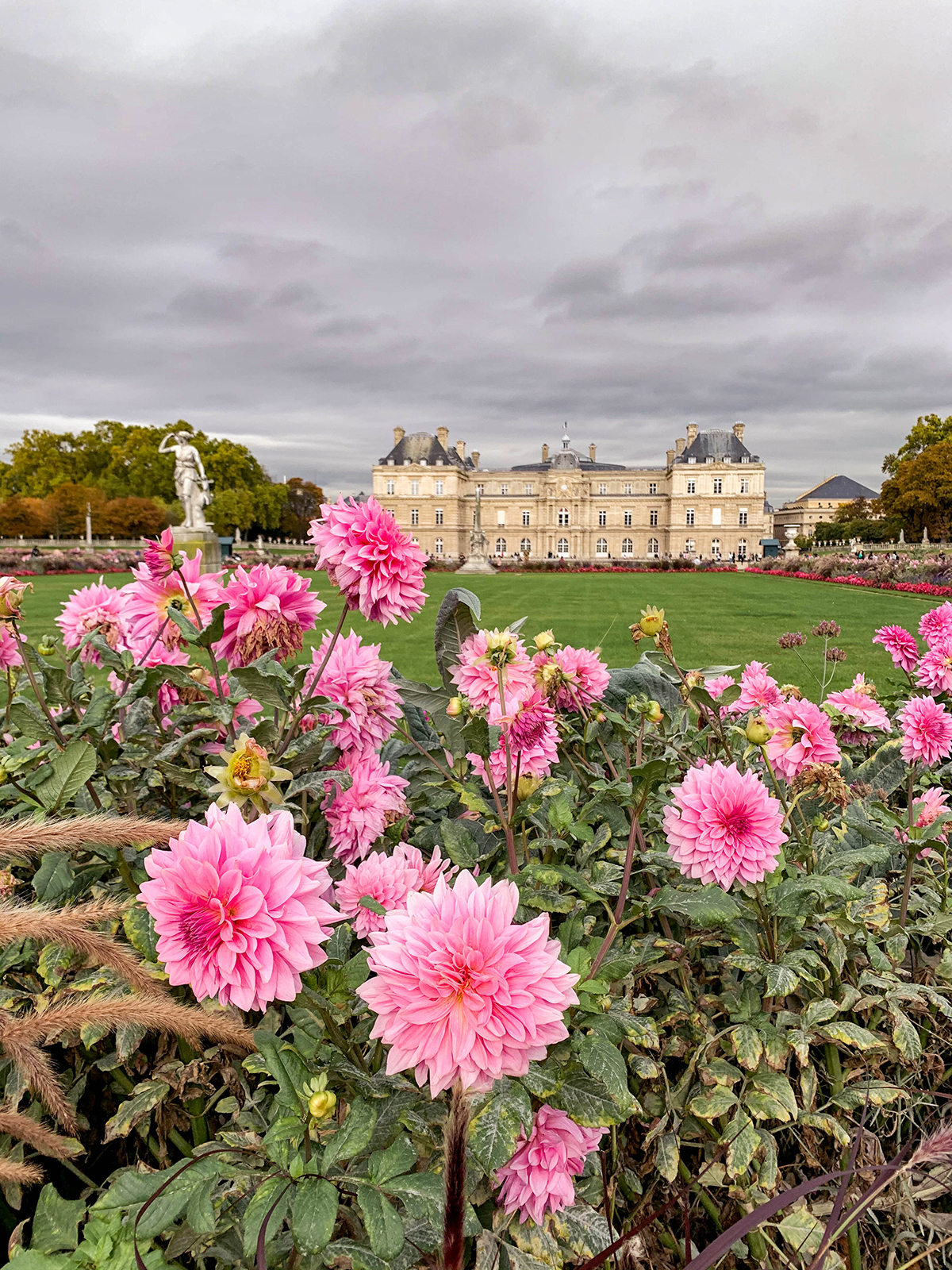 OUTFIT DETAILS // Pink Sweater | Tweed Scarf | Sunglasses | Black Leggings | Black Sneakers | Kate Spade Watch | David Yurman Bracelets
Champs-Élysées – You have to walk down this famous avenue in the 8th arrondissement that runs from Place de la Concorde near the Louvre museum all the way to the iconic Arc de Triomphe. It's also home to many of the city's best shops and restaurants. Conveniently for us it was located just steps from our hotel so we got to enjoy it multiple times when heading from place to place.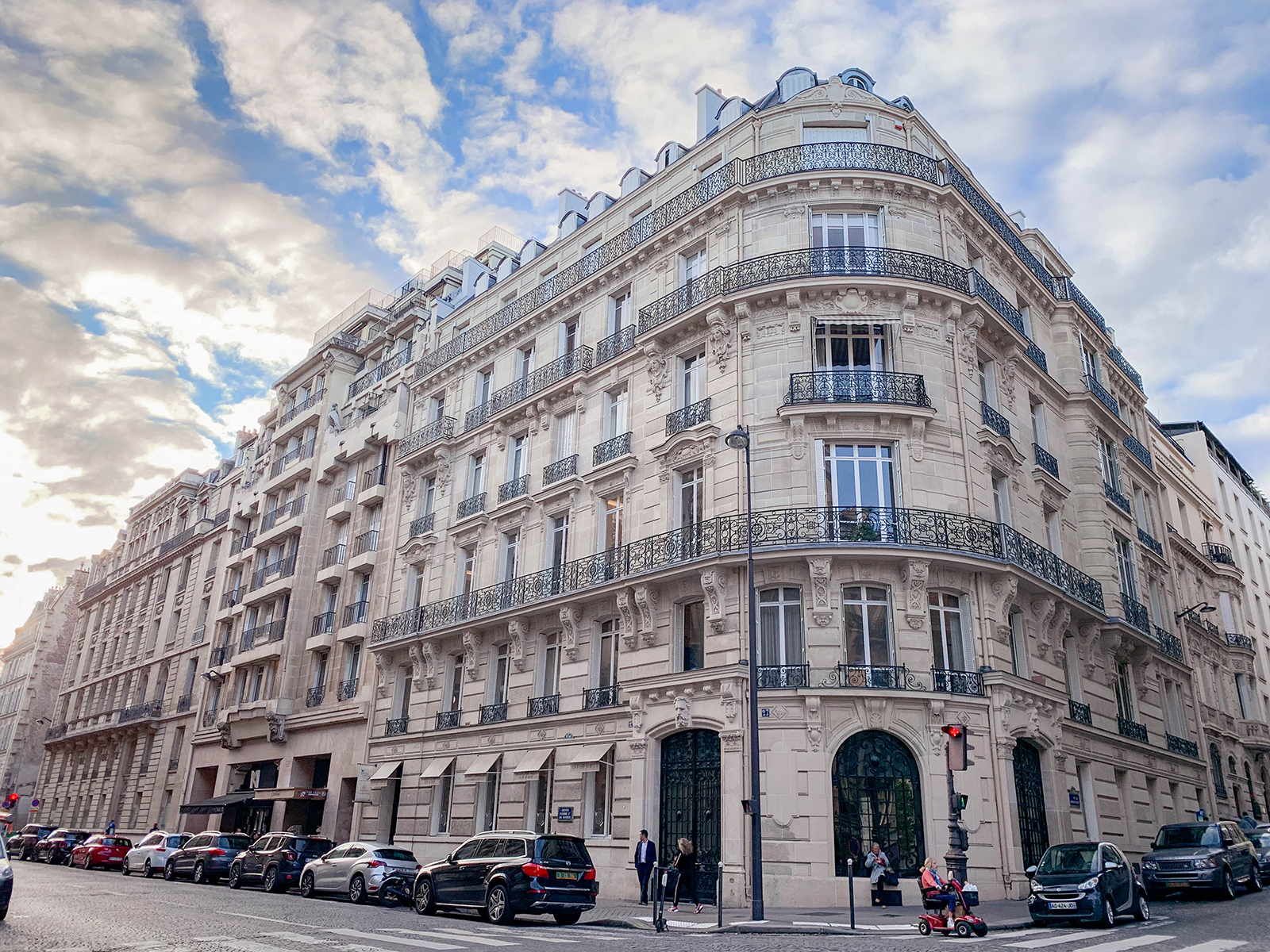 - Katie