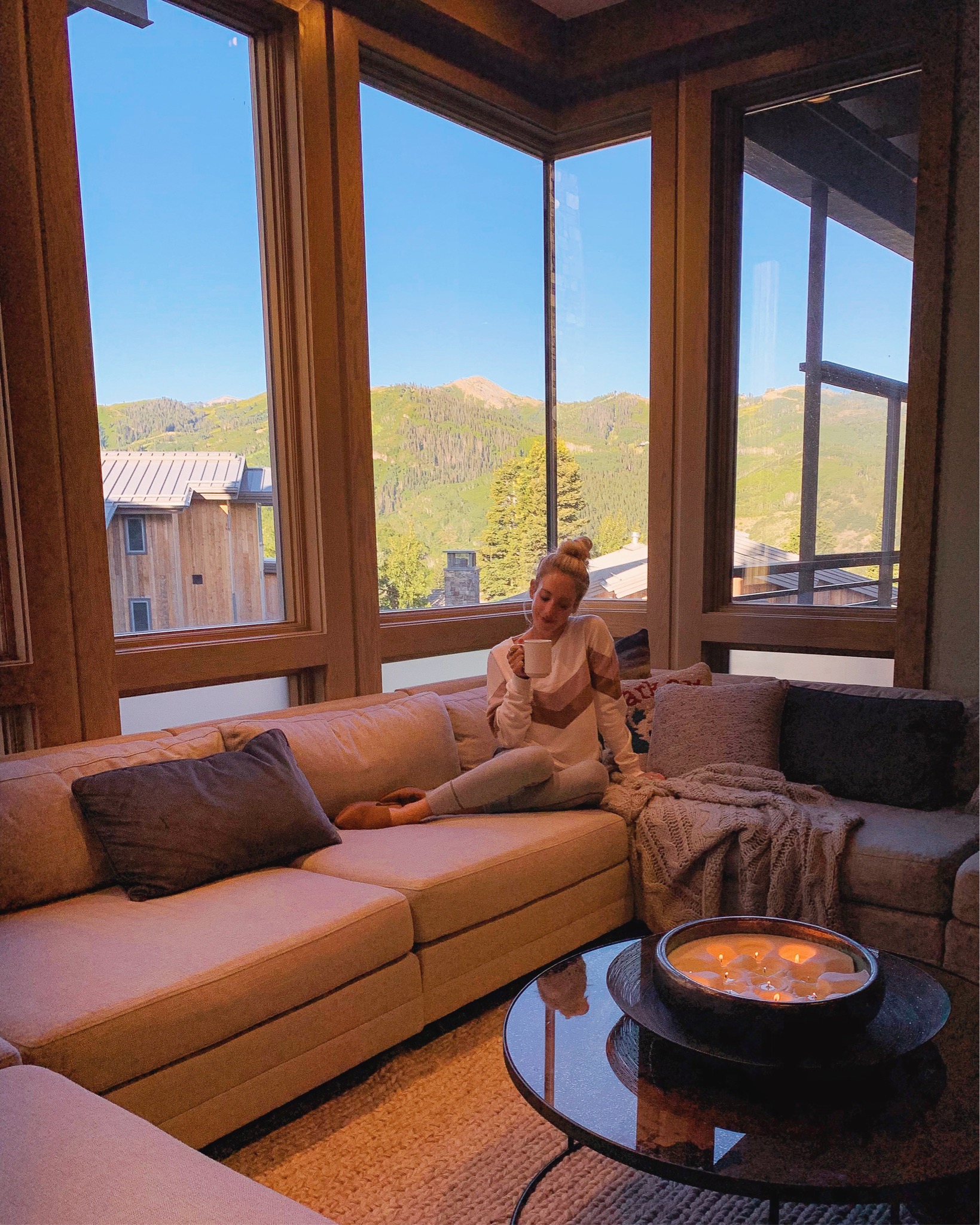 I can't believe I almost forgot to post my Park City Travel Guide! The last few weeks have been so busy that it feels like ages ago we were in Utah's most popular mountain resort town. We weren't there for long though… Our trip was short and sweet (just one night!) but oh so worth it.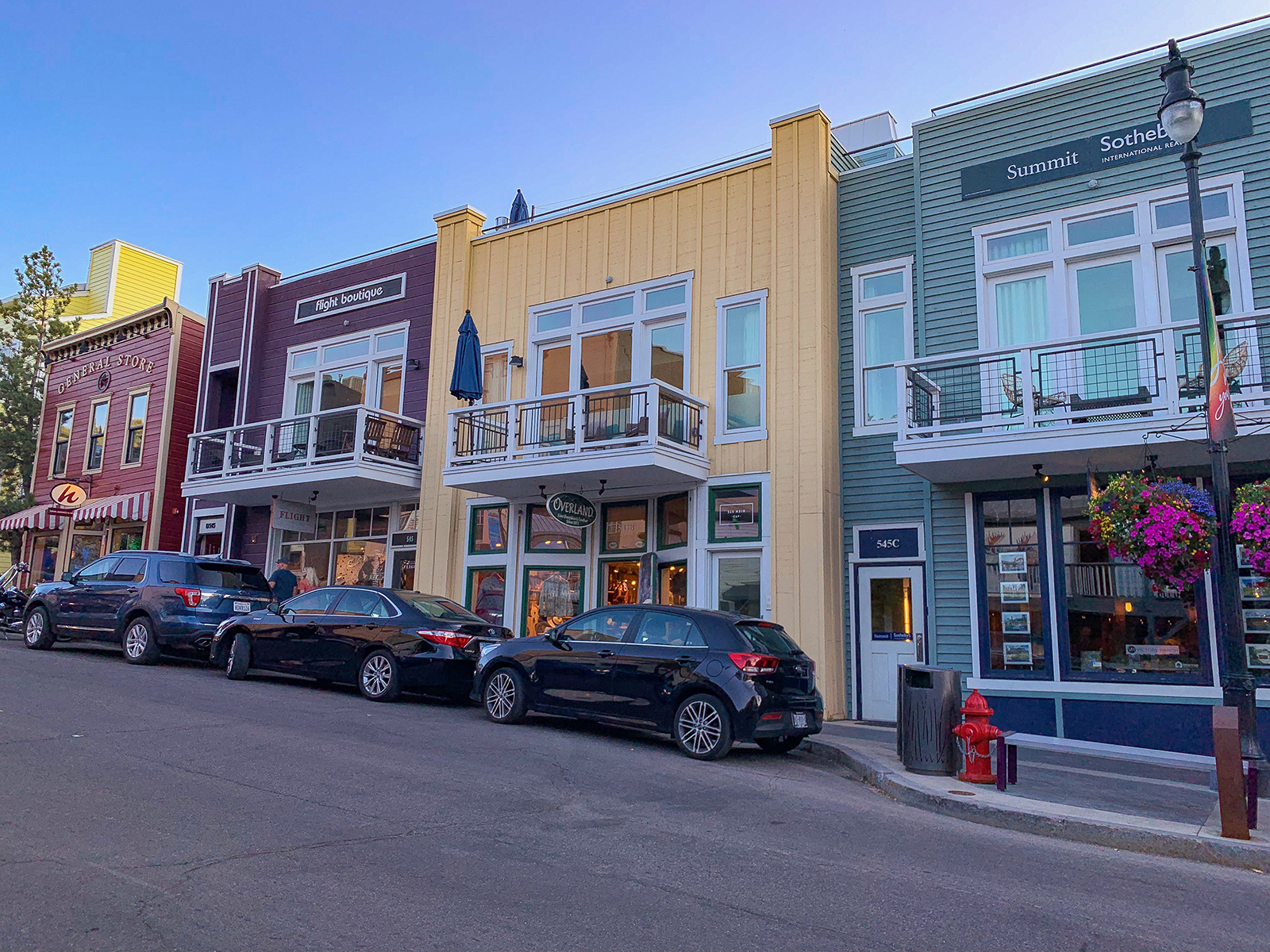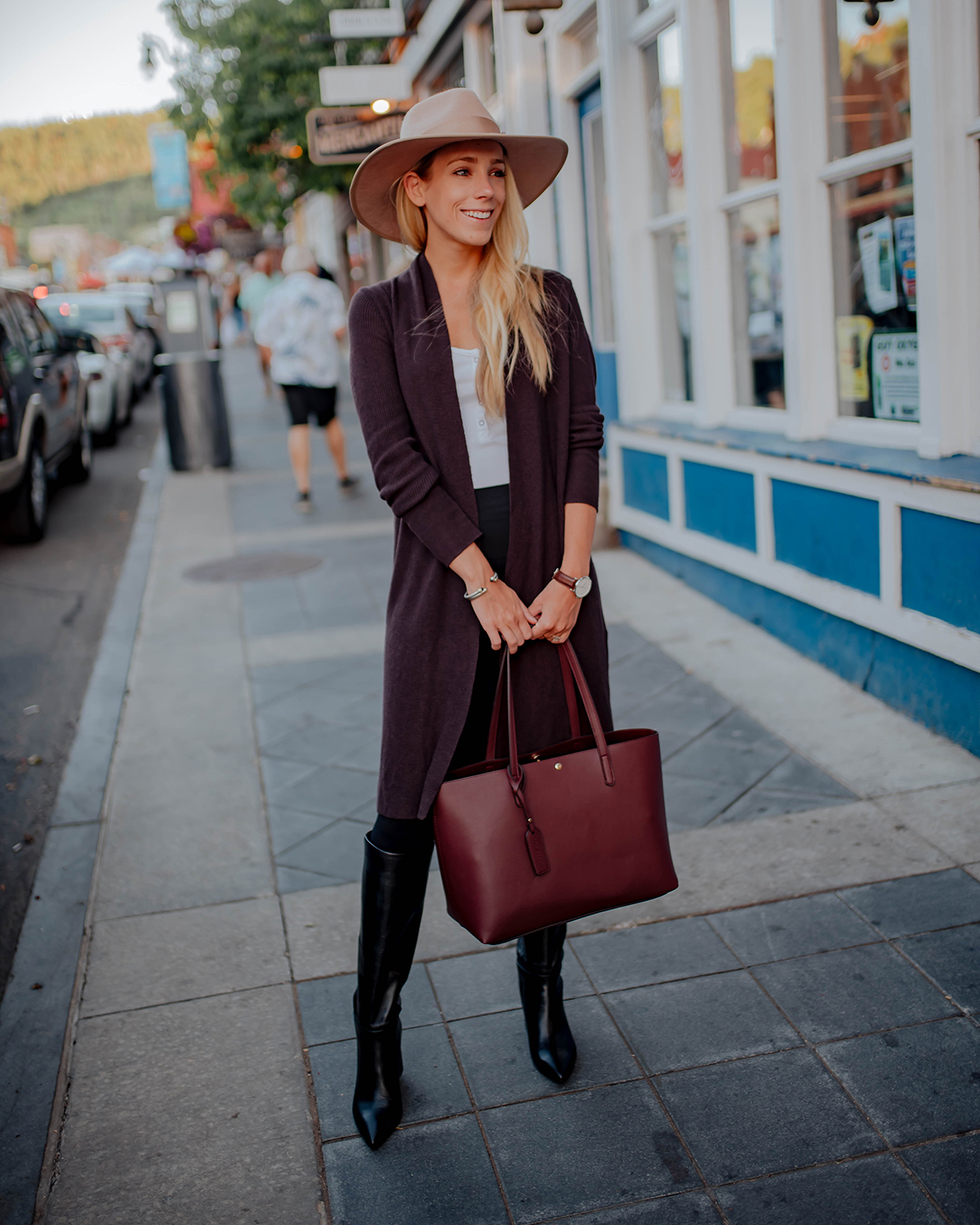 OUTFIT DETAILS // Long Purple Cardigan | Black Leggings | Black Knee High Boots | Hat | Leather Strap Watch | Maroon Tote
To get to Park City we rented a car and roadtripped from Sun Valley, Idaho. You may remember we spent a week there with my family celebrating my Pop Pop's 80th birthday– you can ready my travel guide from that trip here. To make the most of our time out west Nick and I decided to extend our adventure by a day so we could explore another area on our bucket list.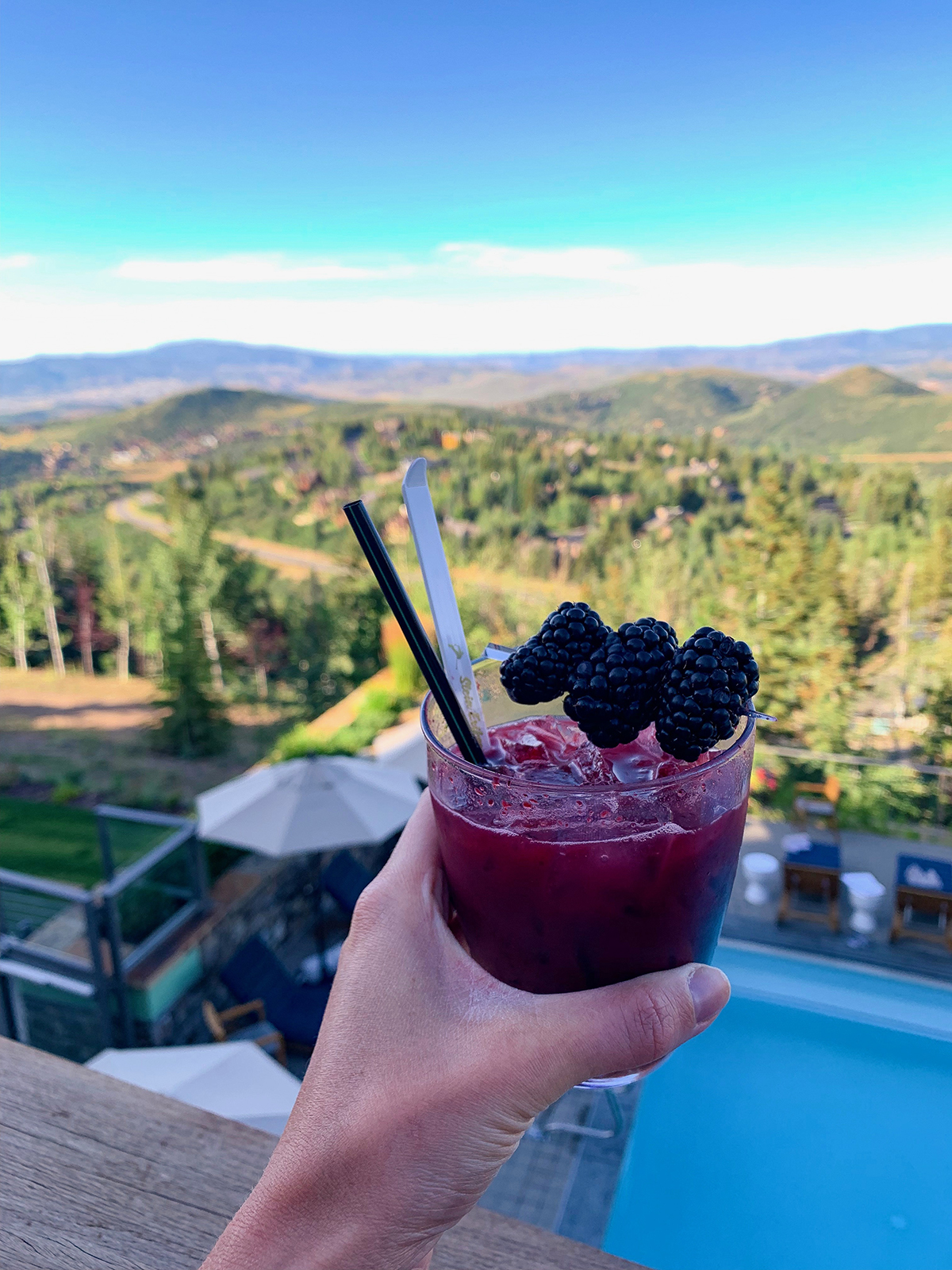 I had never been to Utah and have always had so many people rave to me about Park City. They weren't lying because even in just a span of 24 hours we became completely smitten with this charming mountain town. Here's everything we did!
How to spend one day in park city utah
WHERE TO STAY
The second Nick and I stepped into our suite at the Stein Eriksen Residences we knew we wanted to plan another trip back. Our jaws literally dropped to the floor! I mean, just look at this place?? I guess I shouldn't have been too surprised since every Small Luxury Hotels property we've ever stayed at has been incredible, but this was just on another level! We looked at each other and were like, "why didn't we book a full week???"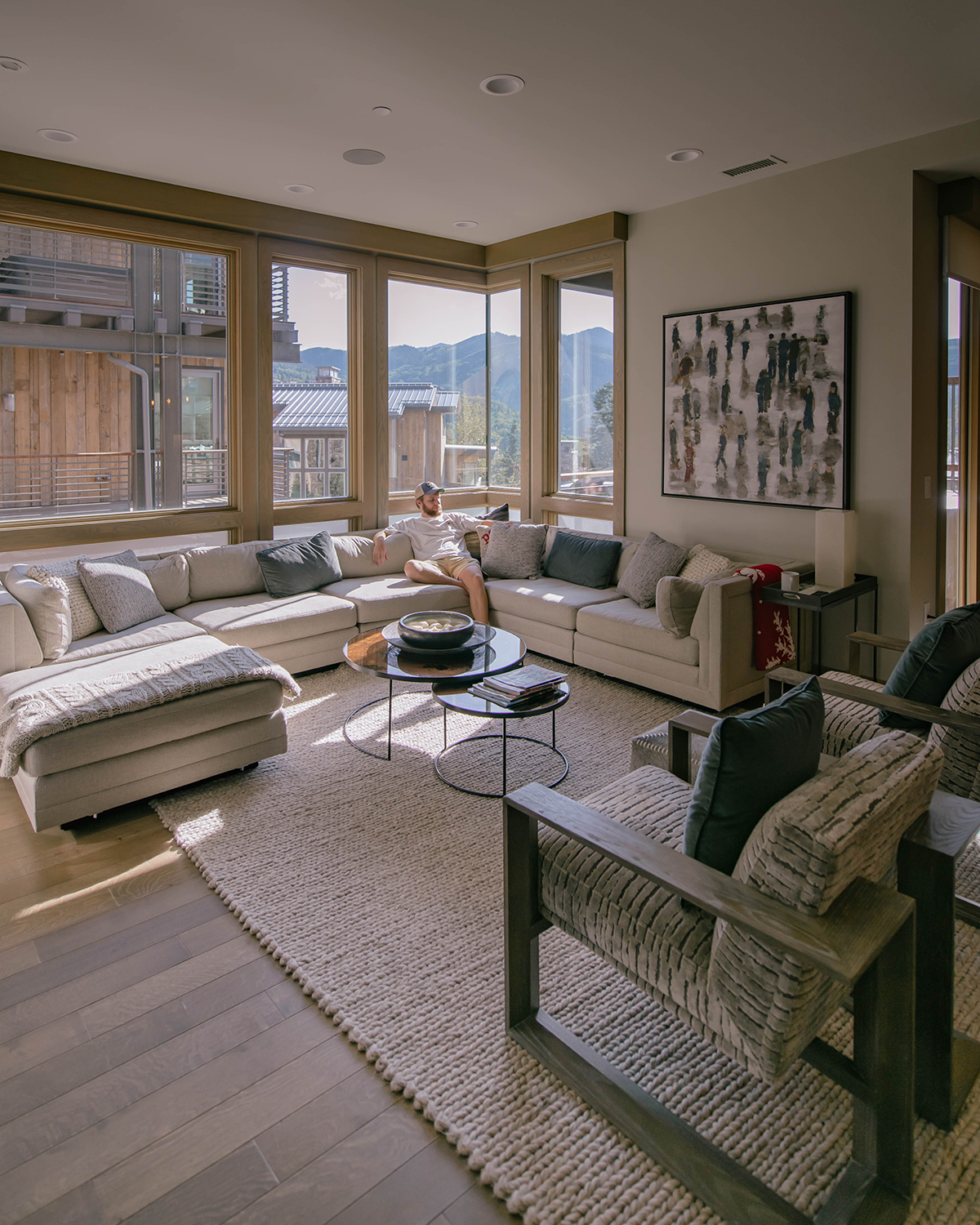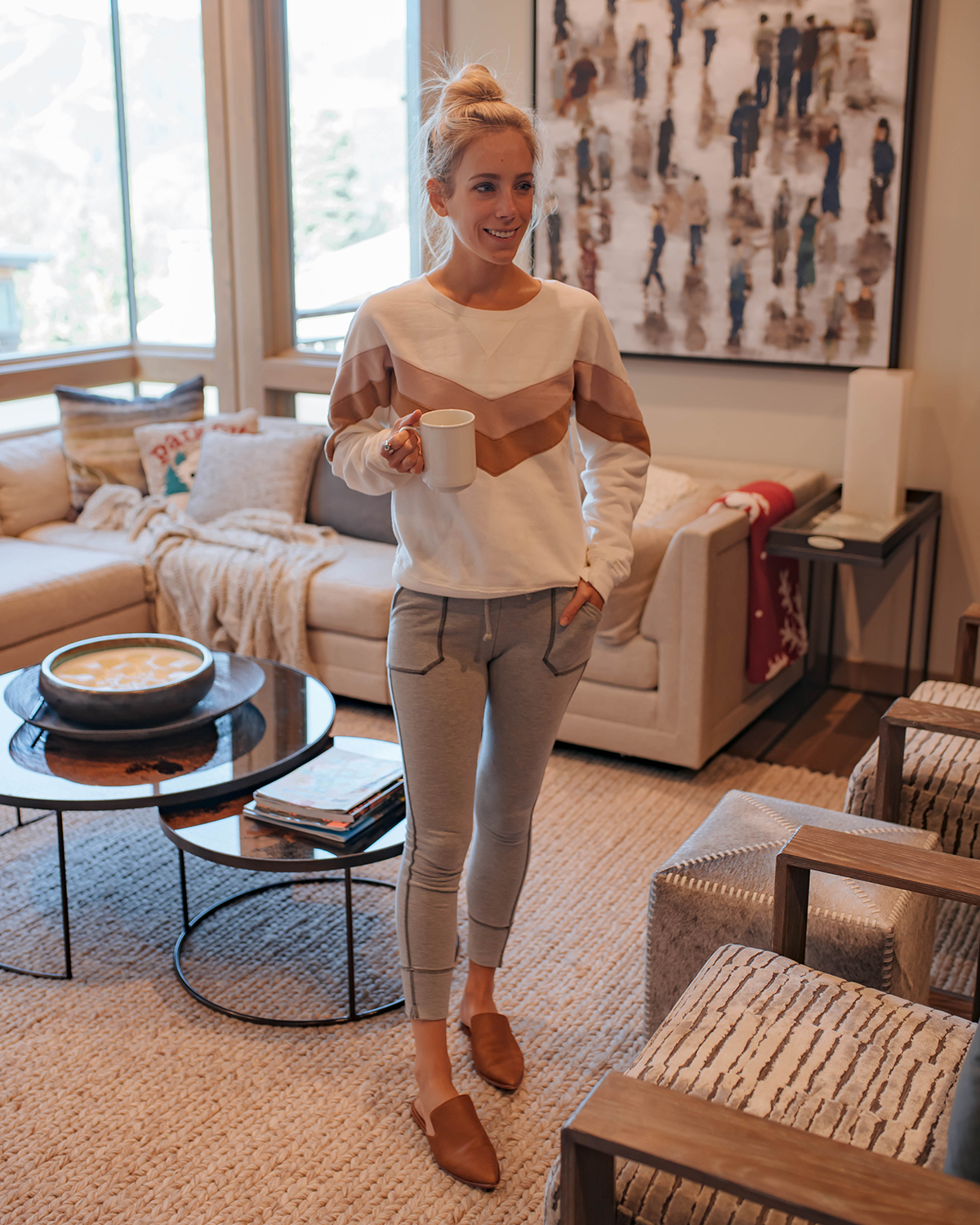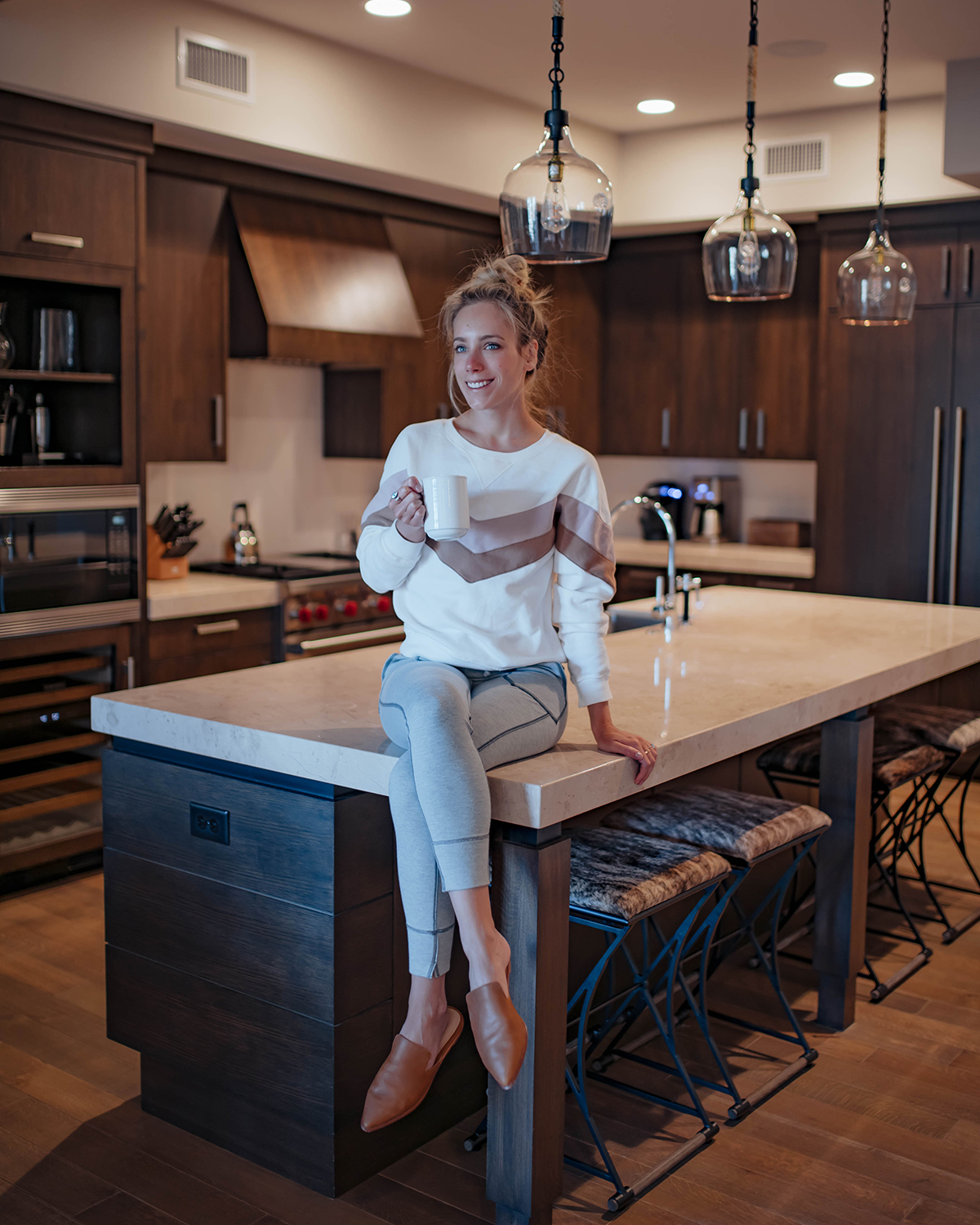 OUTFIT DETAILS // Sweatshirt | Fleece Leggings | Mules
Obviously we did not need a suite this big for just two people for one, but the concierge was kind enough to upgrade us to the two bedroom condo you see here. This place honestly had it all! A full chef's kitchen, two bathrooms, two fireplaces, walk in closets, a terrace with a HOT TUB. Am I dreaming?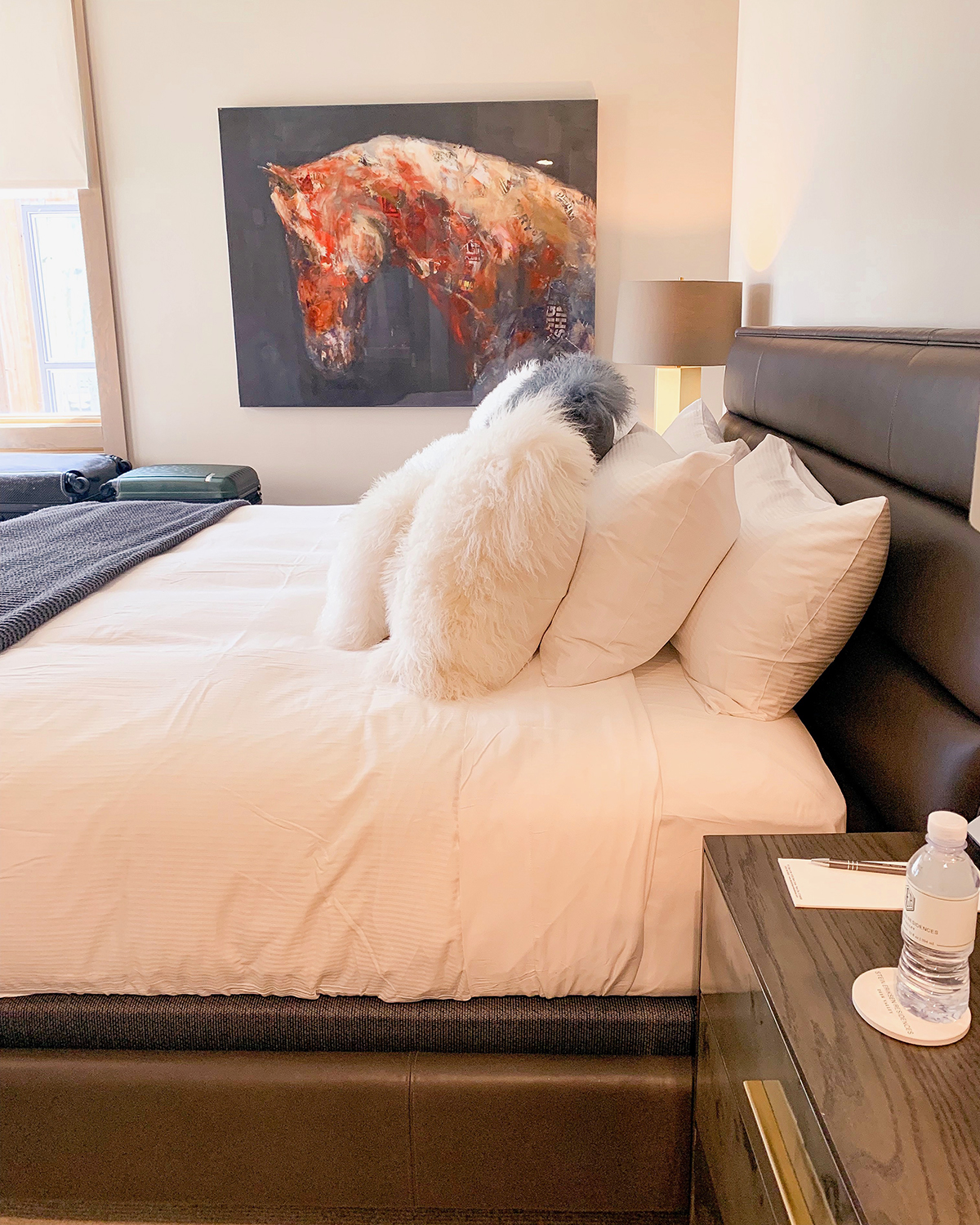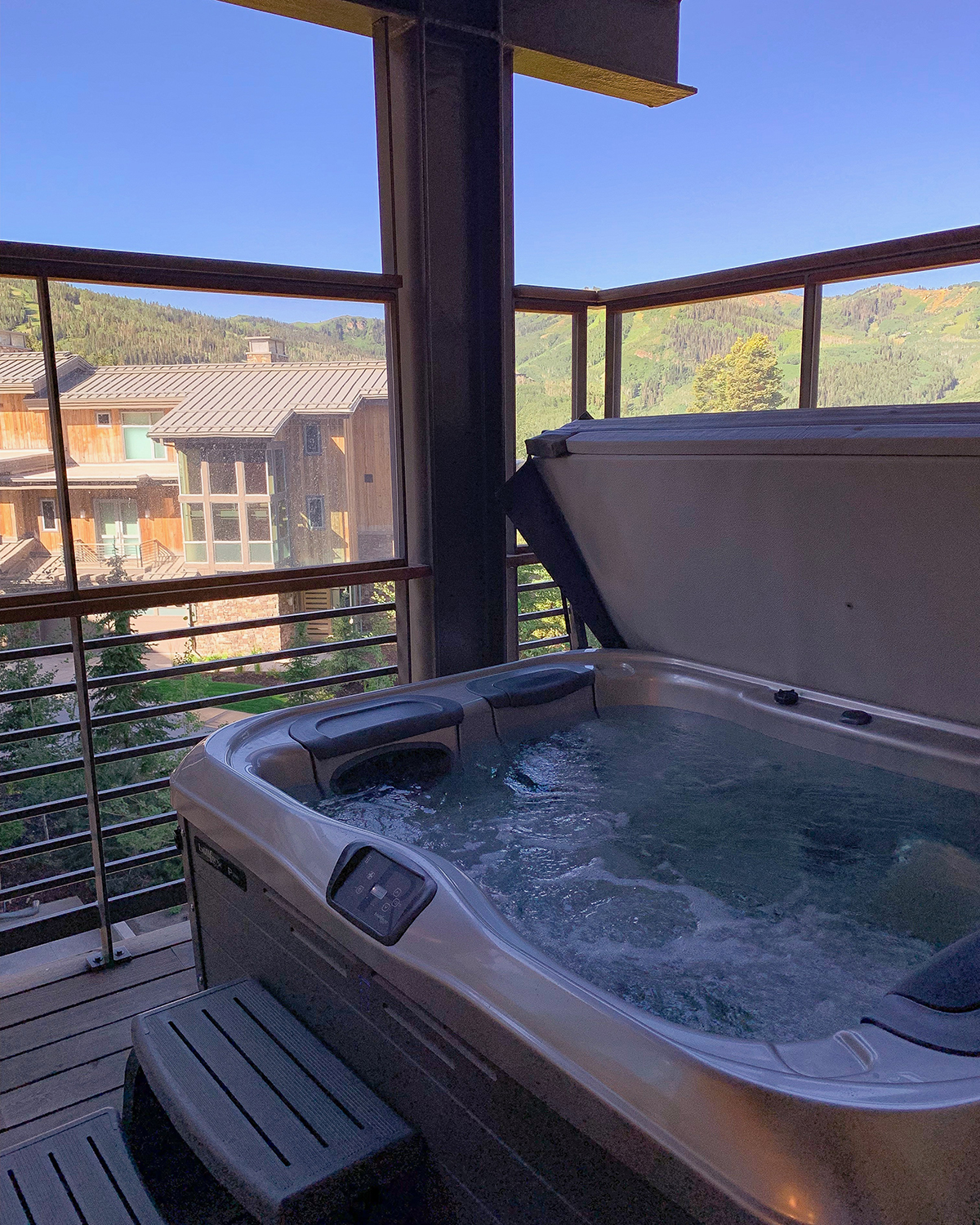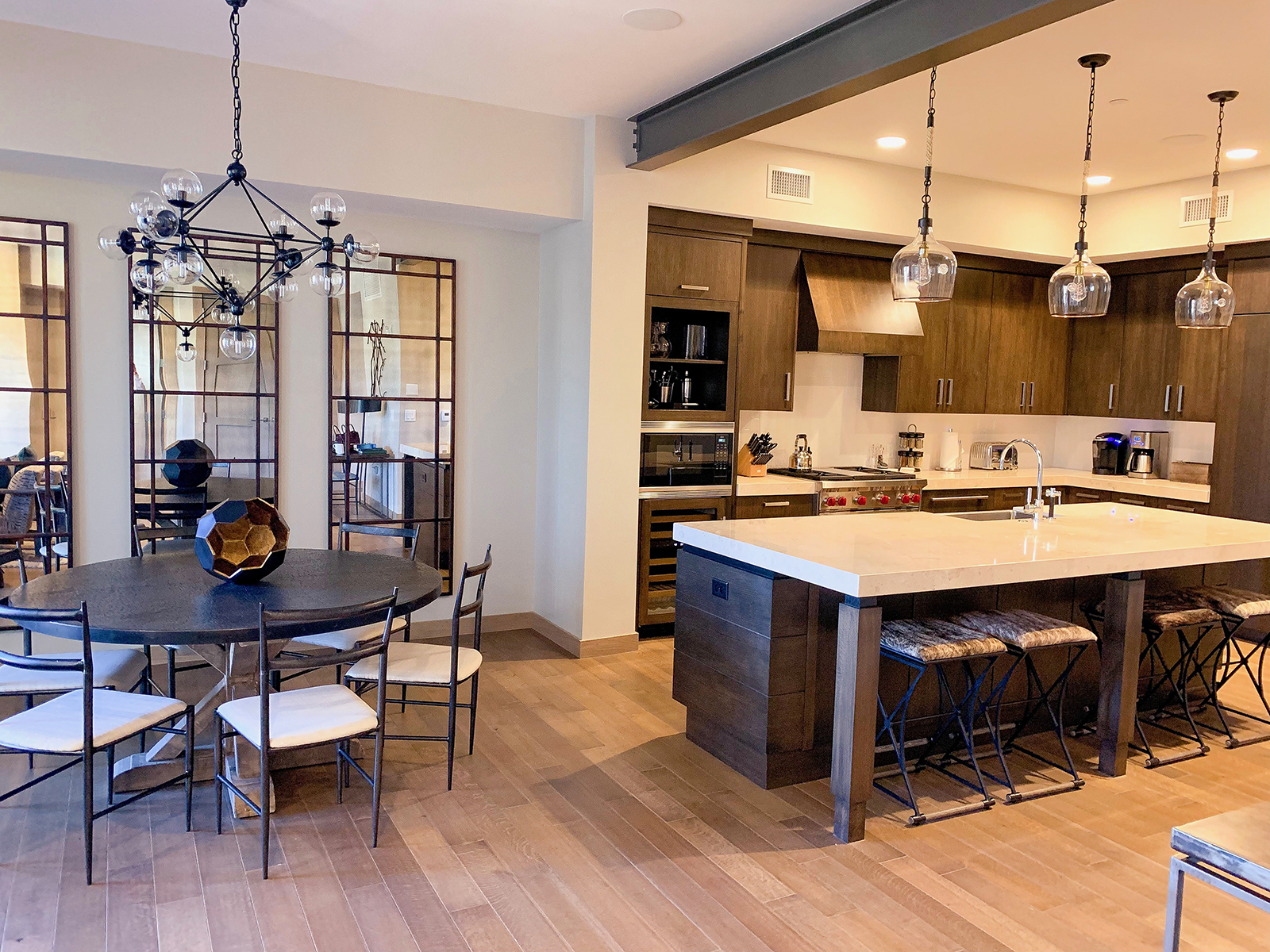 We also couldn't get enough of the tech features in our room! Everything from the curtains to the speaker system could be controlled via a single remote. Nick was geeking out!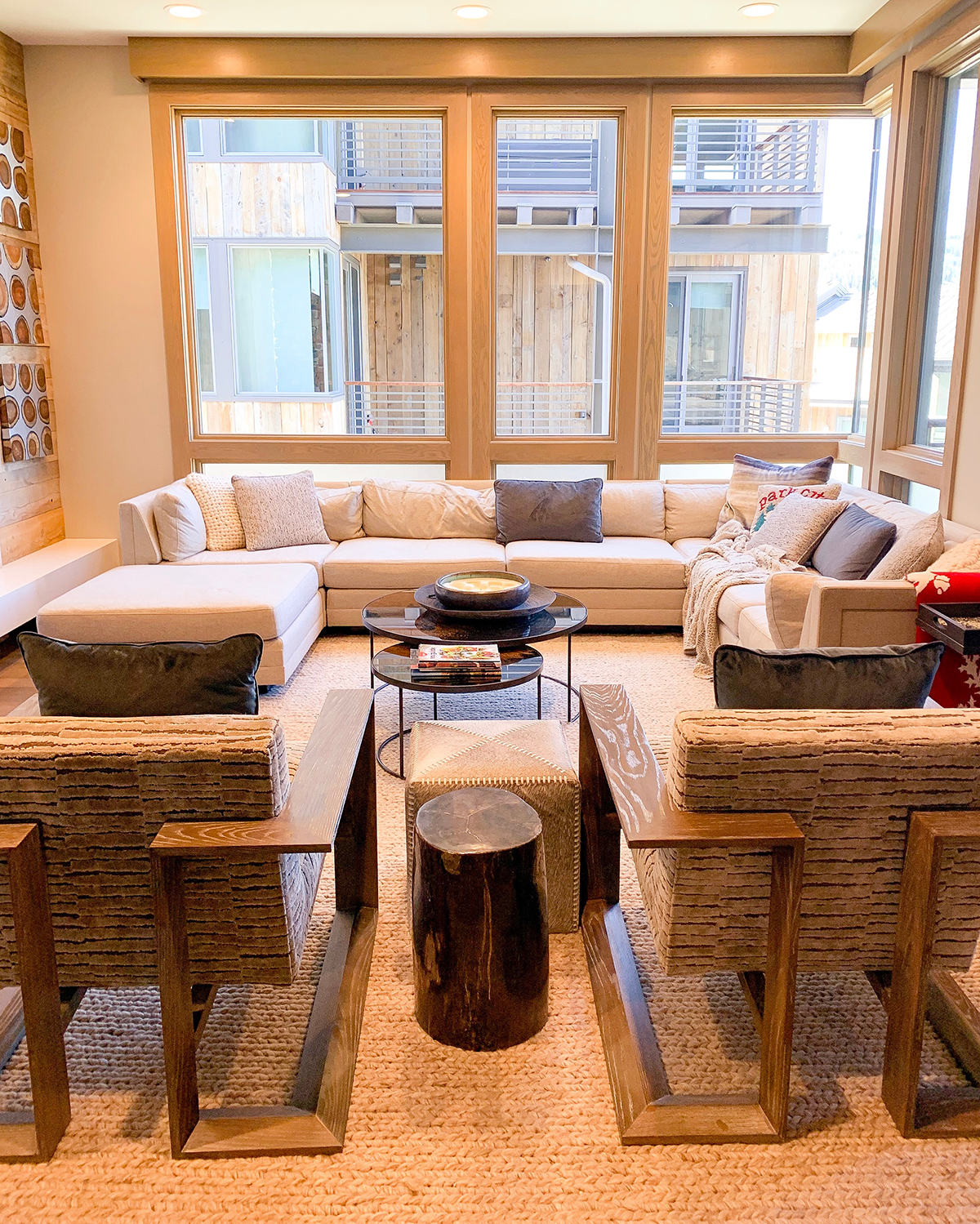 Stein Eriksen Residences is located just a 10 minute drive from downtown Park City in the mountain resort area of Deer Valley. Here is where you'll find most of Park City's top resorts and hotels. The views are spectacular and to hit the slopes in the winter or hike in the summer all you have to do is walk out your front door. It's an outdoor-lovers paradise!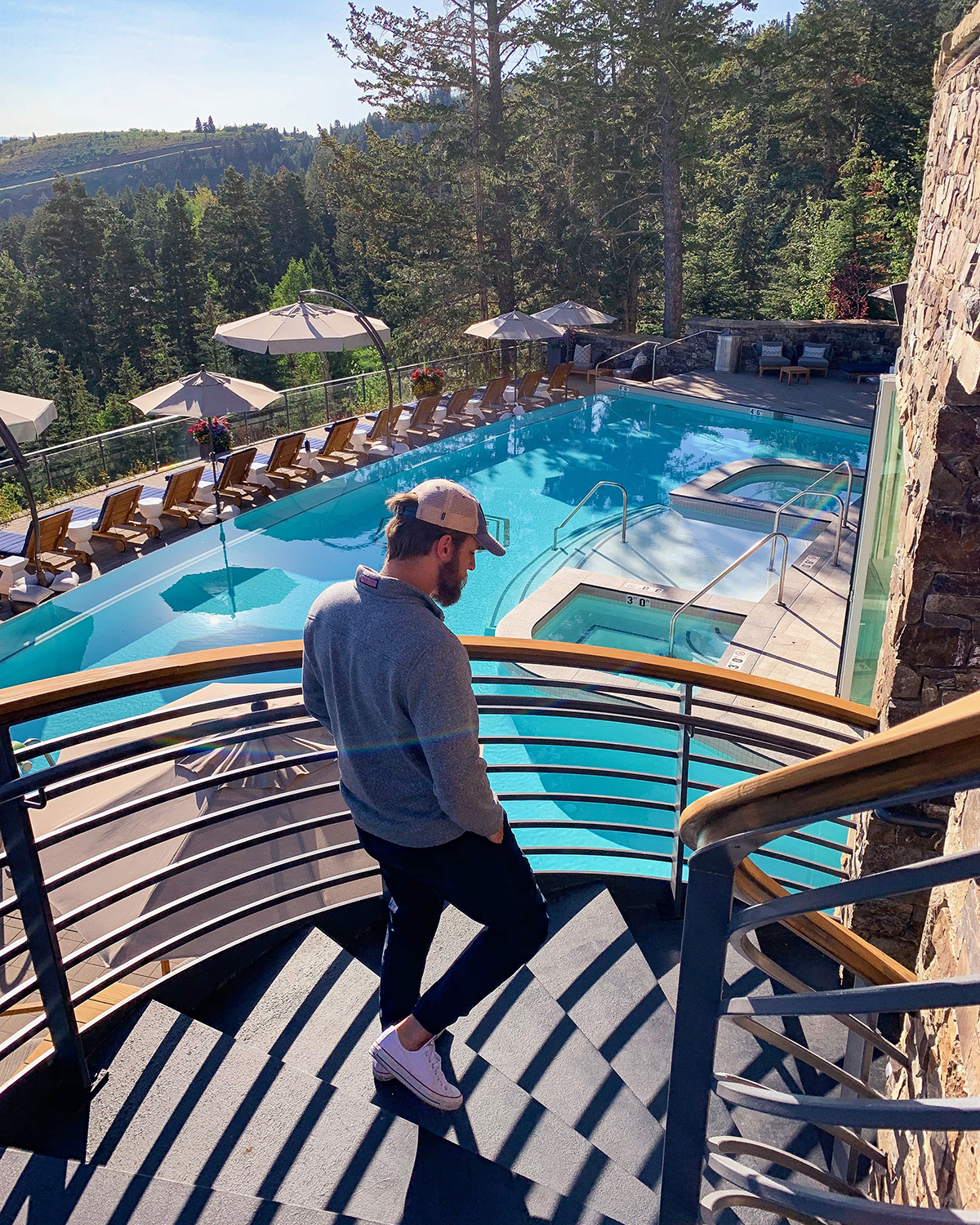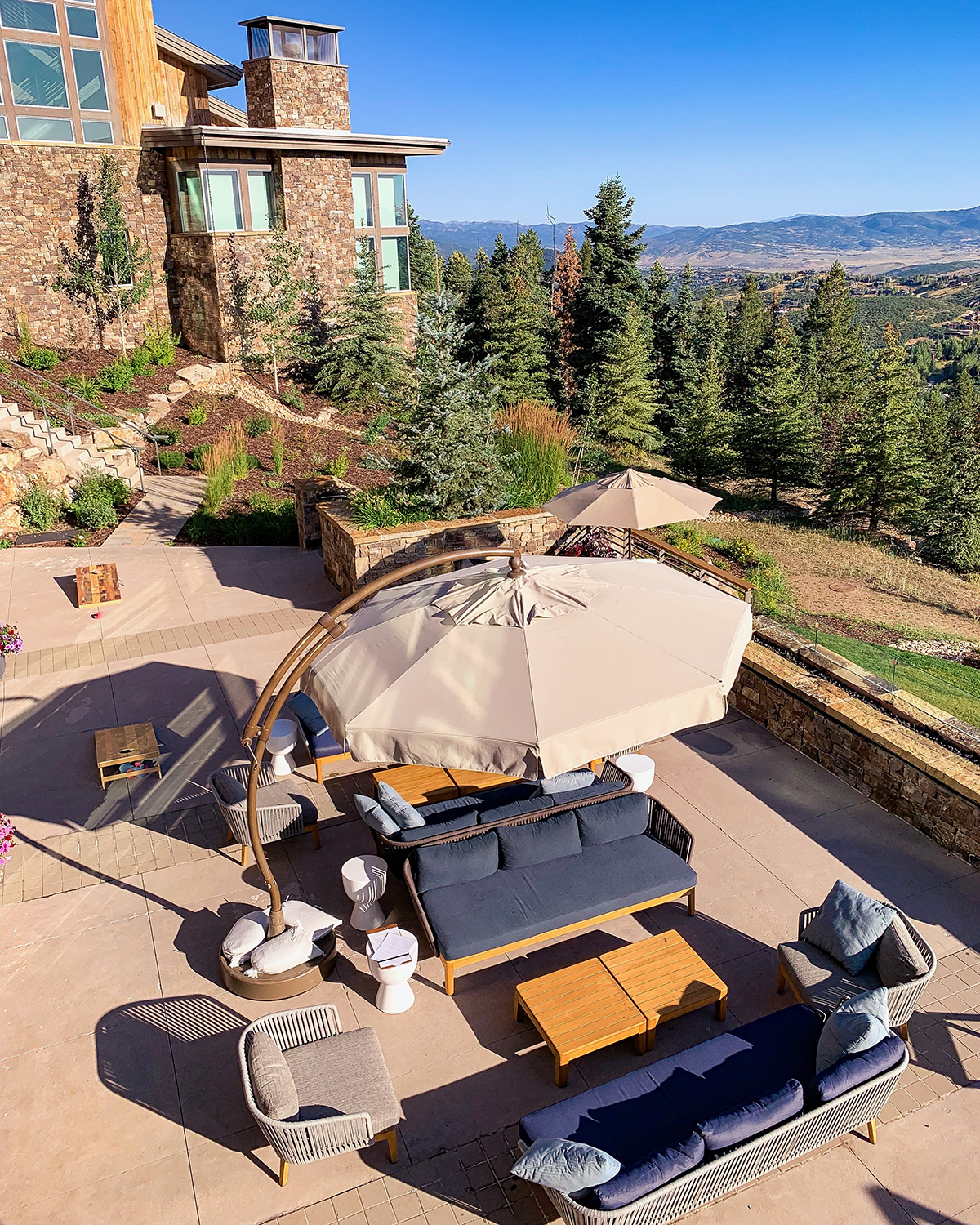 So there are two Stein Eriksen properties in Deer Valley: the residences where we stayed and a resort-style lodge. If you're traveling with a large group or planning an extended then I'd highly recommend the residences. Guests can take advantage of all the amenities you'd find at a luxury hotel, while staying in larger vacation home-esque accommodations.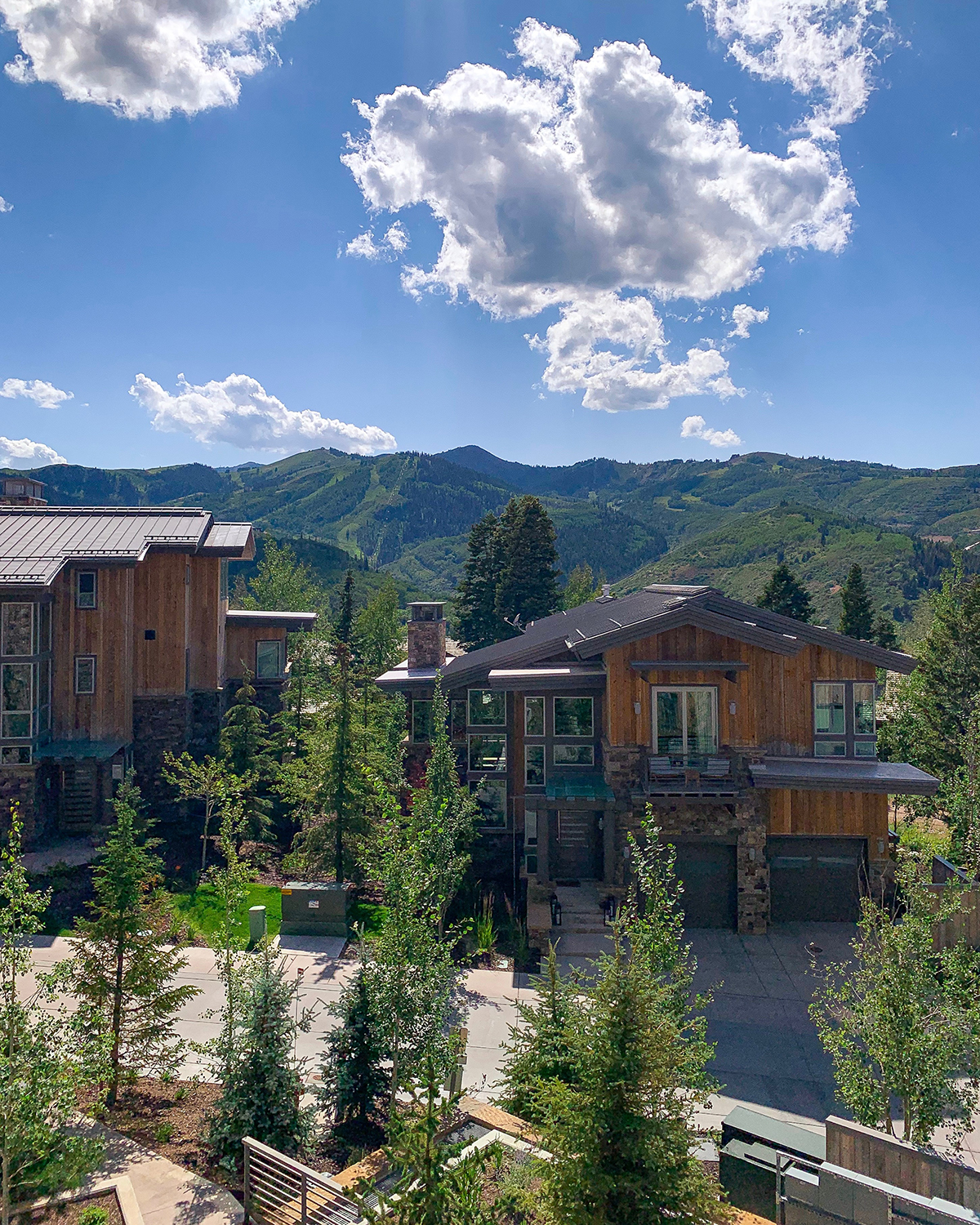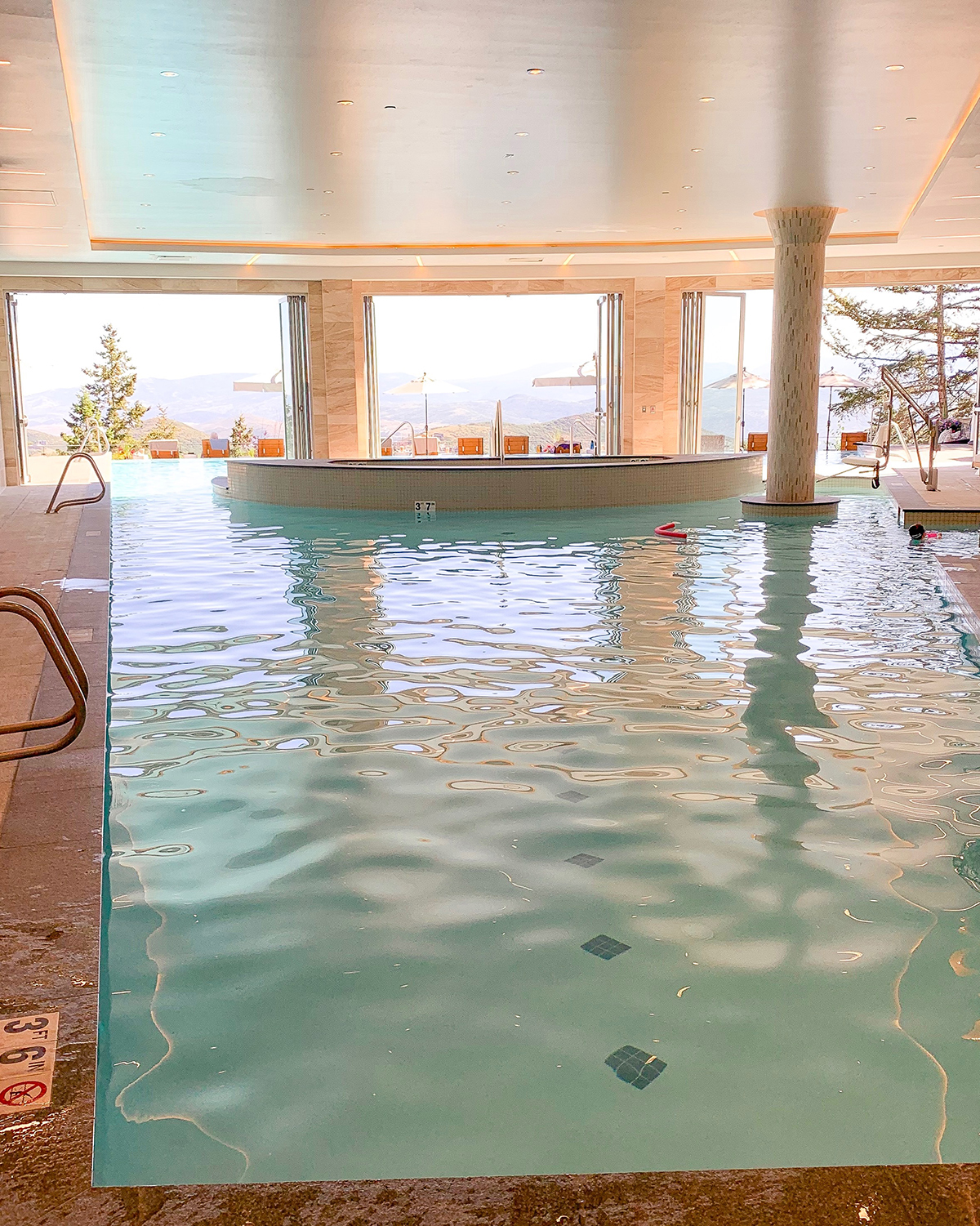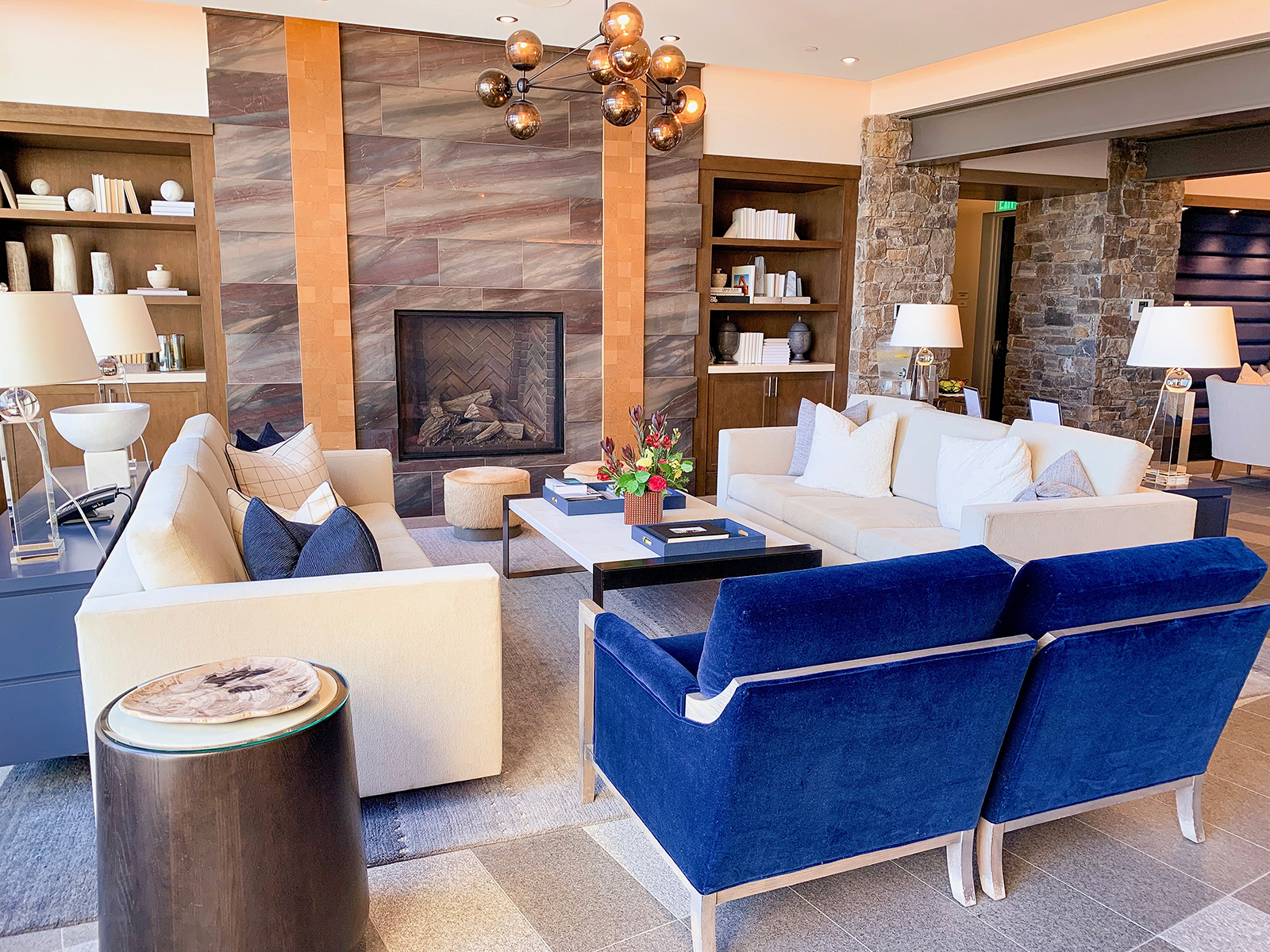 At Stein Eriksen there is a 24-hour concierge, a valet, an indoor and outdoor pool, plus a fully equipped gym. There's also a restaurant, lounge and outdoor dining terrace where breakfast is served buffet-style every morning. In the winter guests can literally ski in and out of the lodge!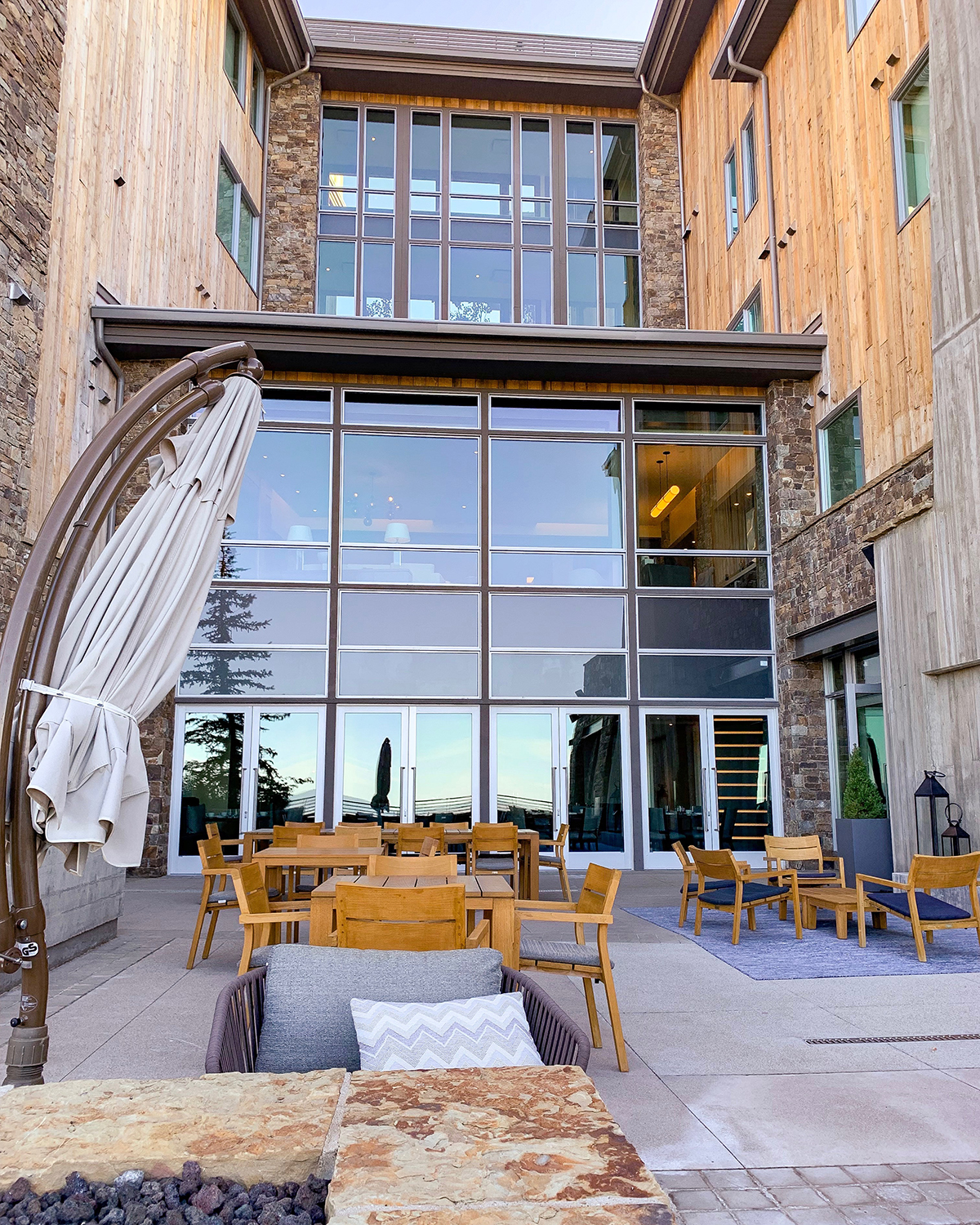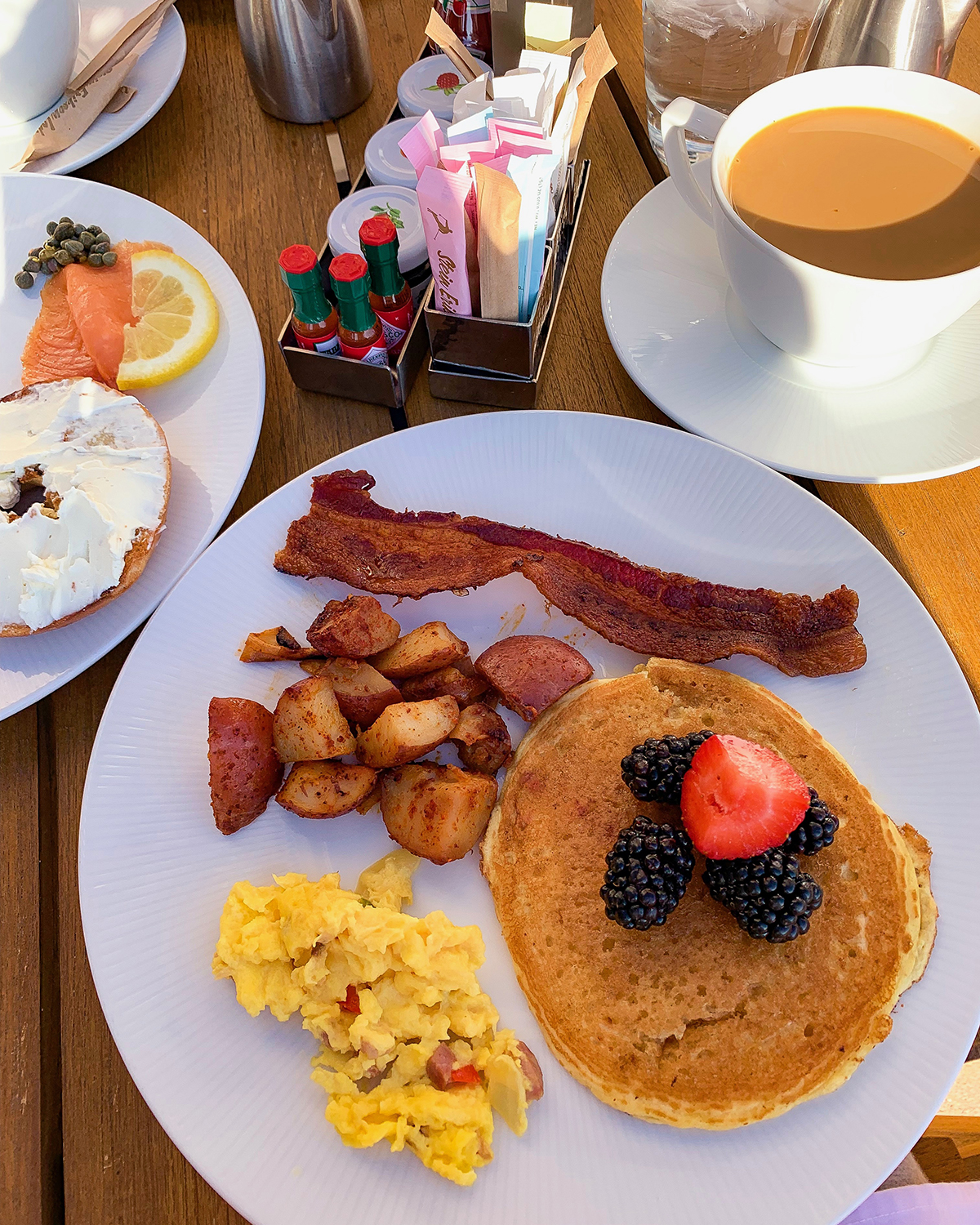 If you're looking for lodge with traditional hotel-style rooms then definitely check out the Stein Eriksen Lodge. It's right down the road from the residences and when we drove by it looked absolutely gorgeous!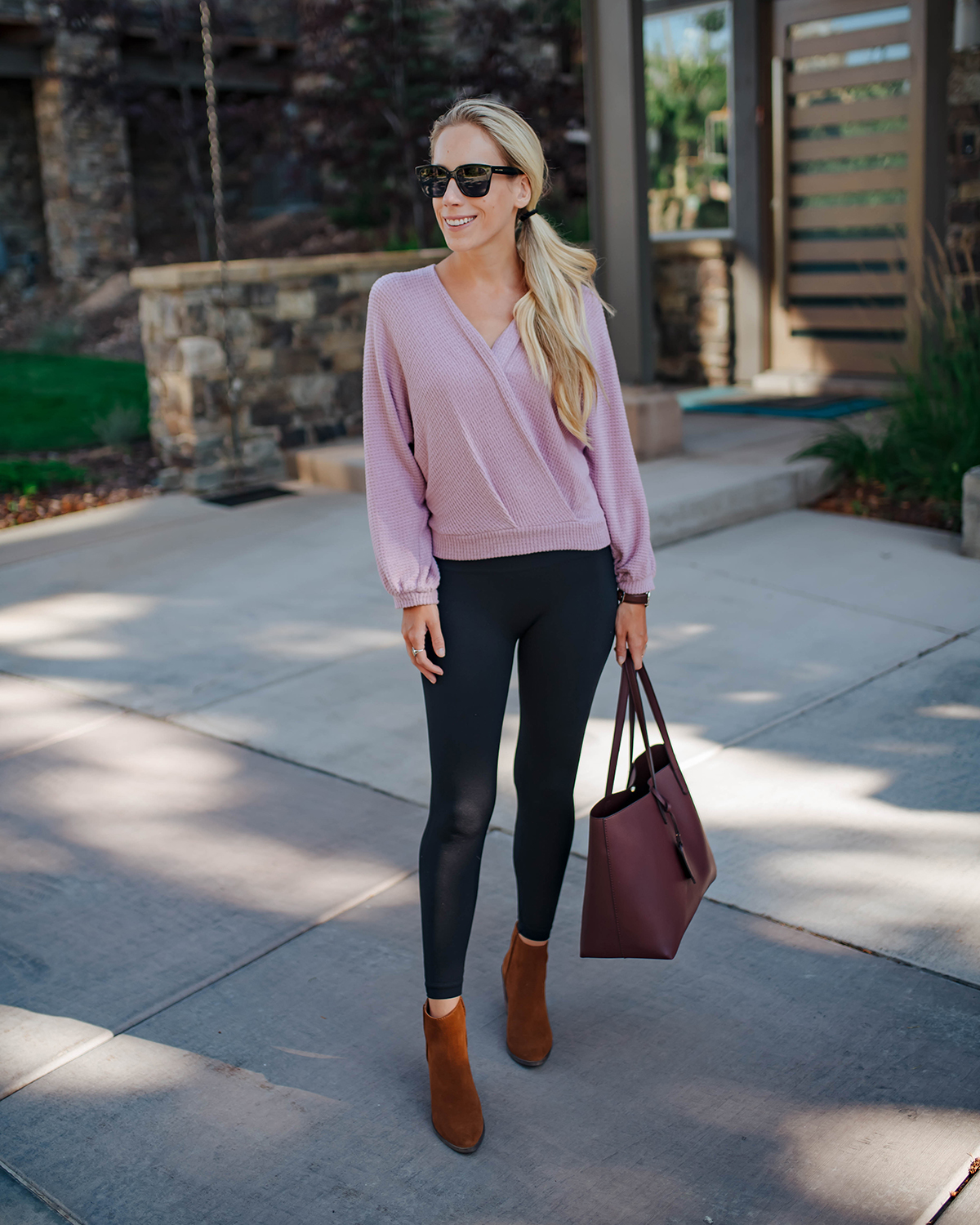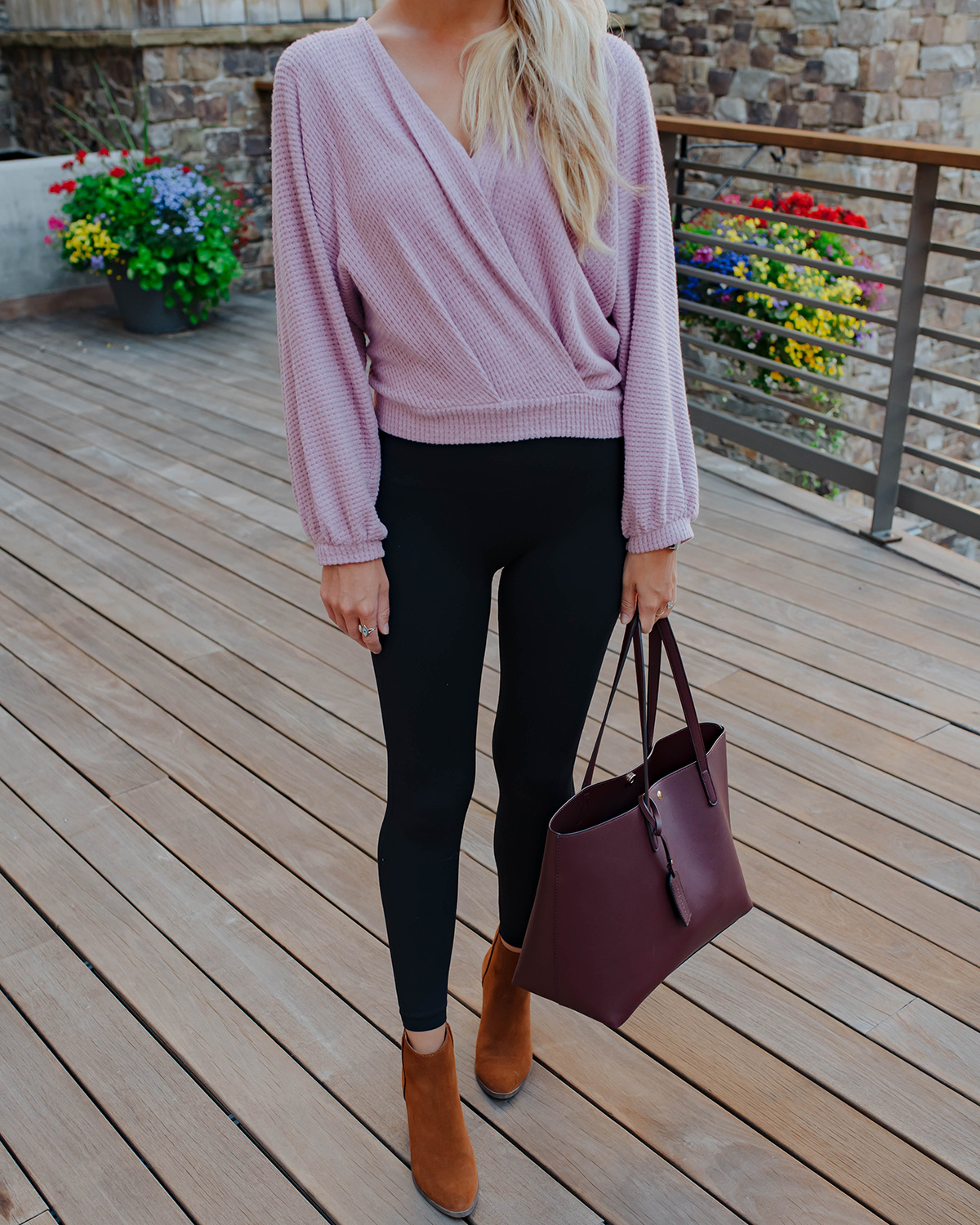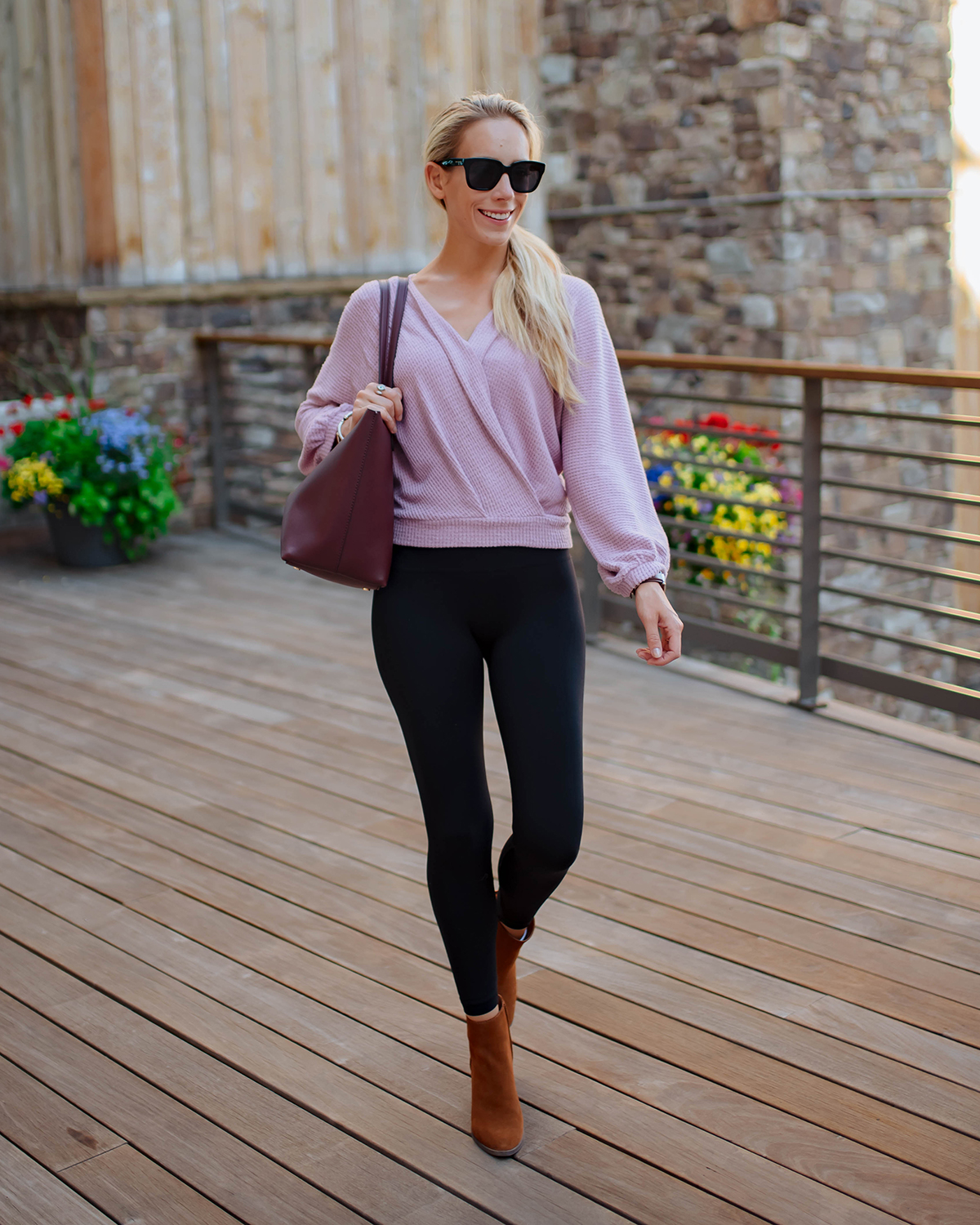 OUTFIT DETAILS // Purple Wrap Sweater | Black Leggings | Suede Booties | Sunglasses | Maroon Tote
Ok so you have 24 hours in Park City! Who do you do? Since we were coming Sun Valley, Idaho and had just spent the last week hiking, biking and horseback riding, we decided to spend our short time in Utah doing  two of our favorite things: eating and drinking. Park City has an adorable downtown. Just walking around is an activity in itself! We spent the afternoon and evening browsing the local shops and had every meal at a different restaurant. I can't imagine how cute it is here in the winter and when the streets are decorated for the holidays!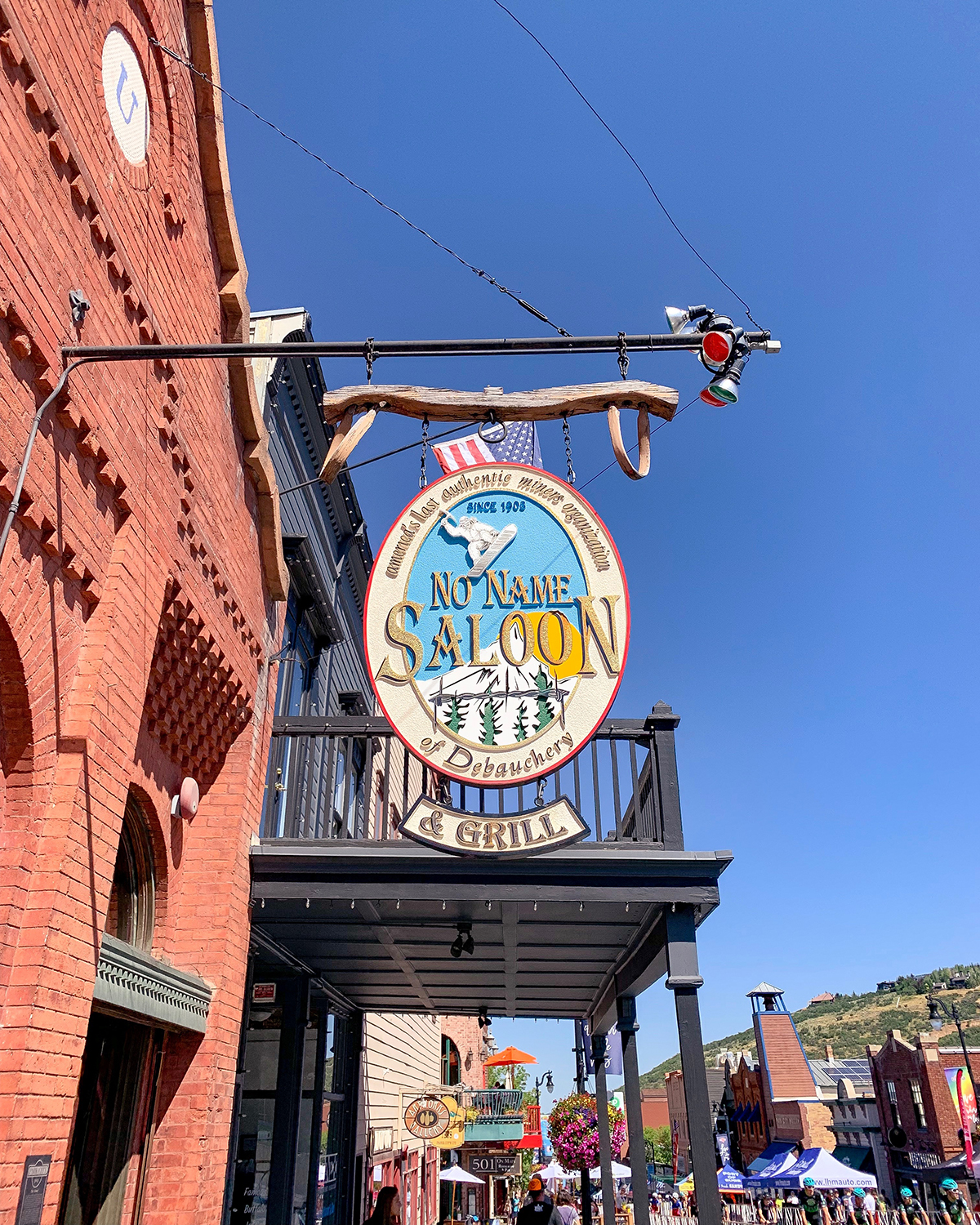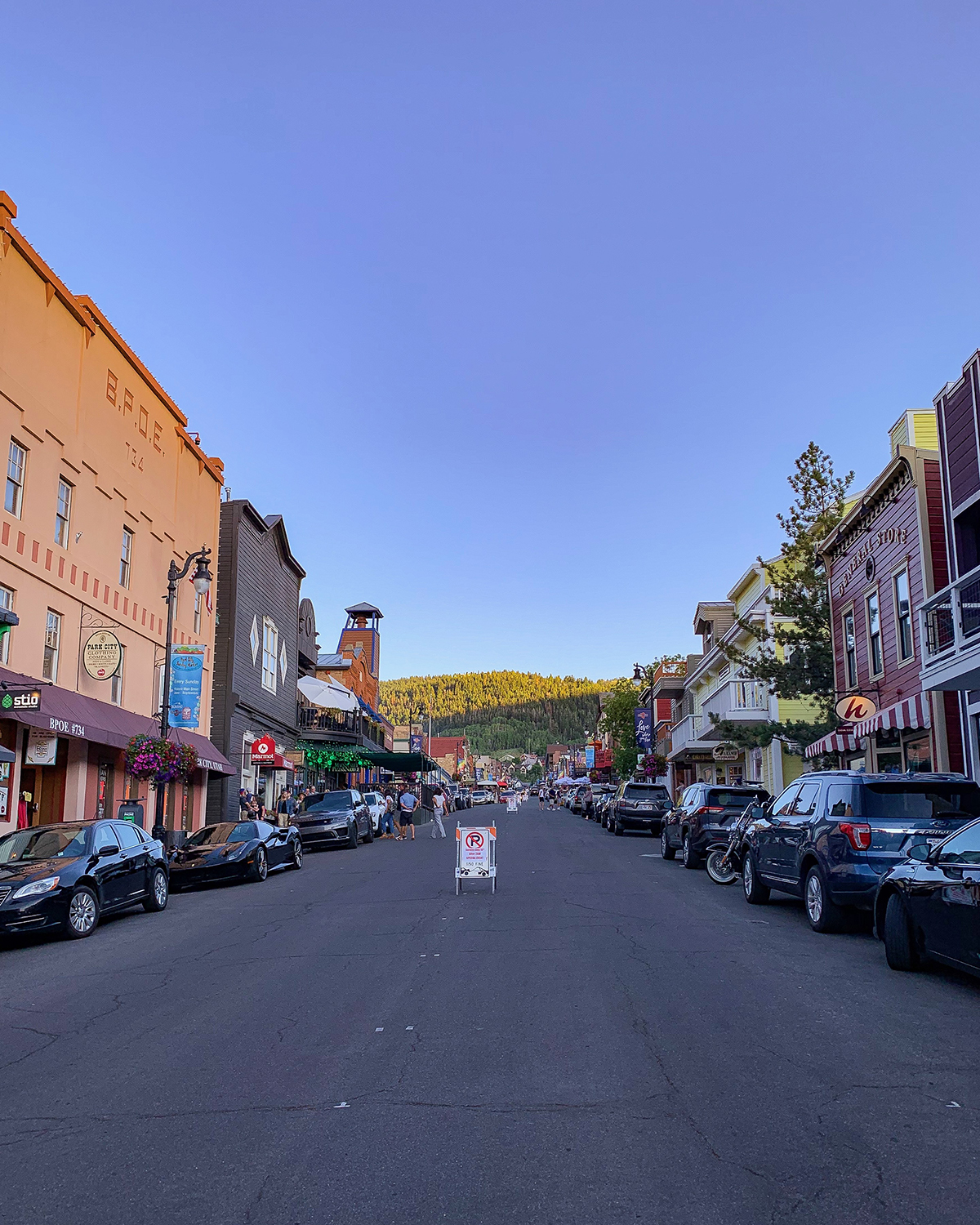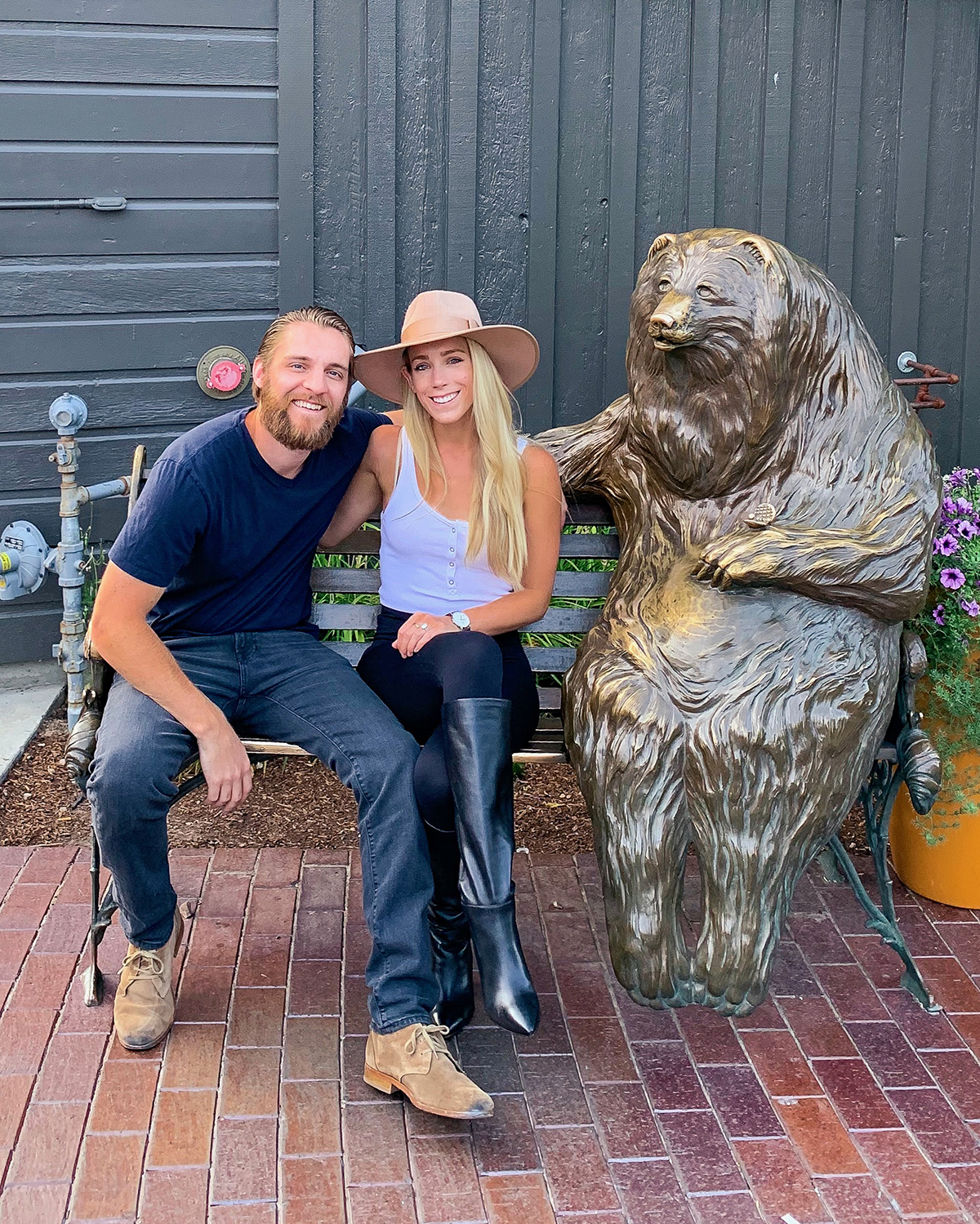 I listed out everything we did below, along with a few other activities we would've loved to do if we'd had more time! Guess I have a good excuse now to plan another trip…
WHAT TO DO
+ Have lunch at High West Distillery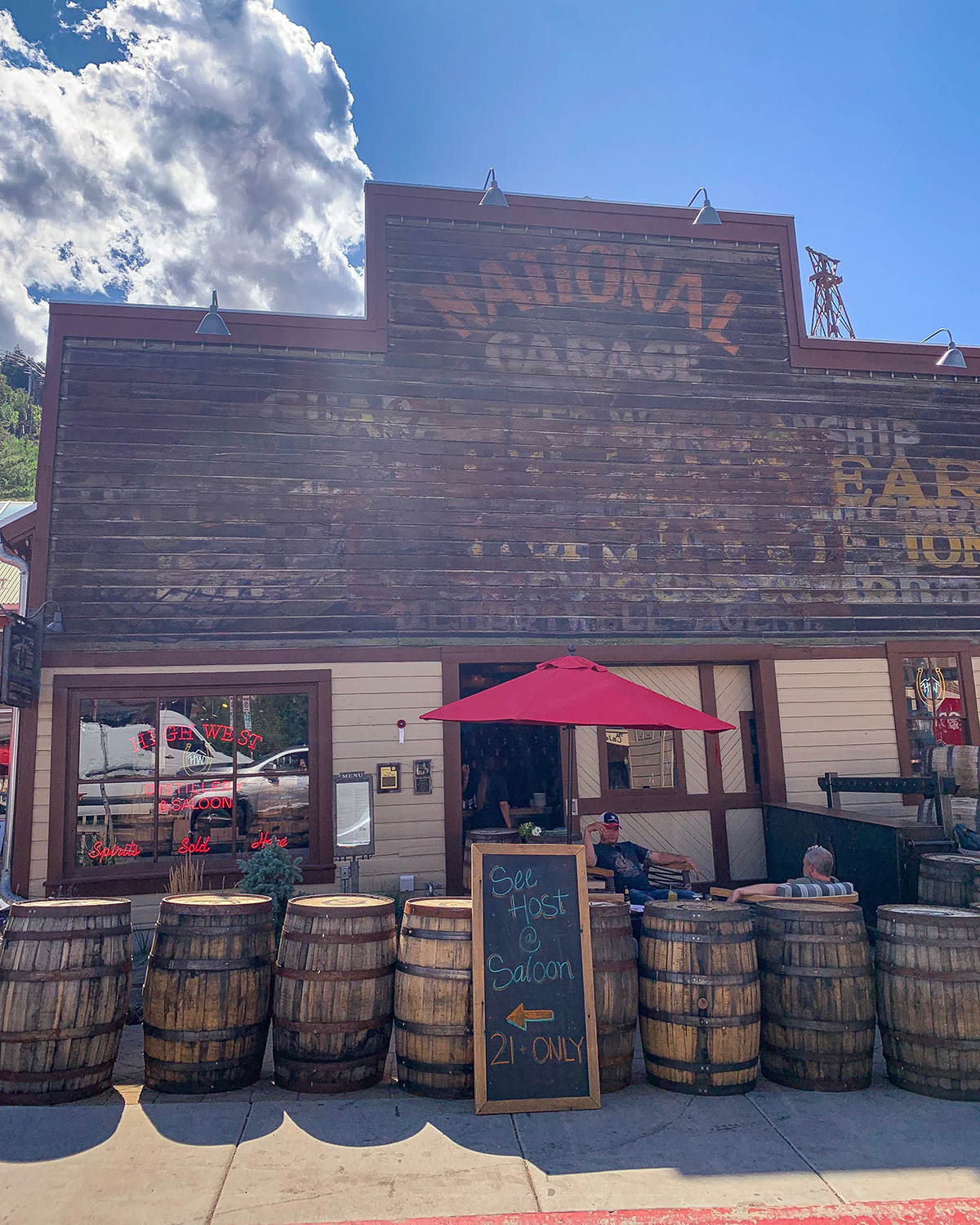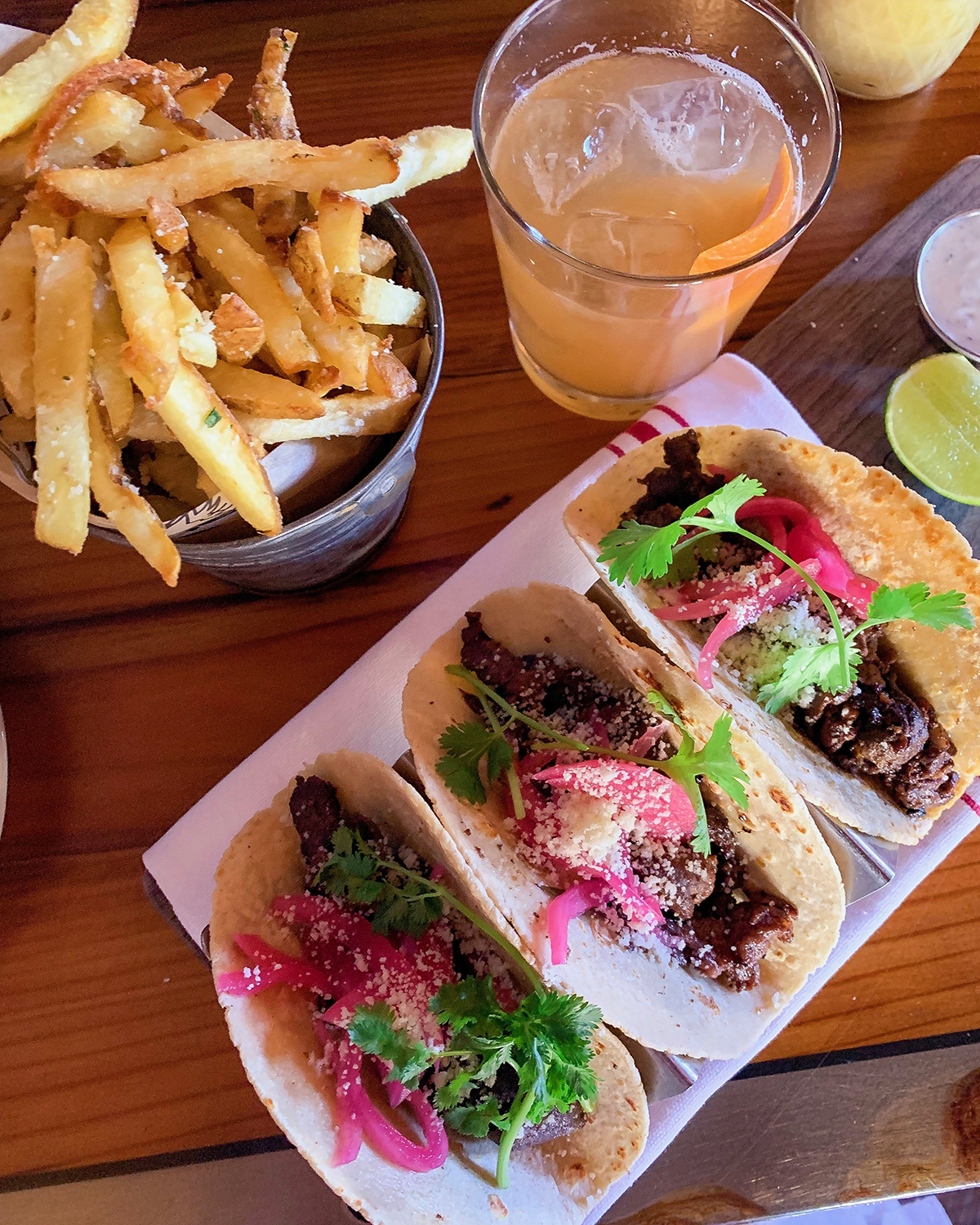 + Have dinner at Fletcher's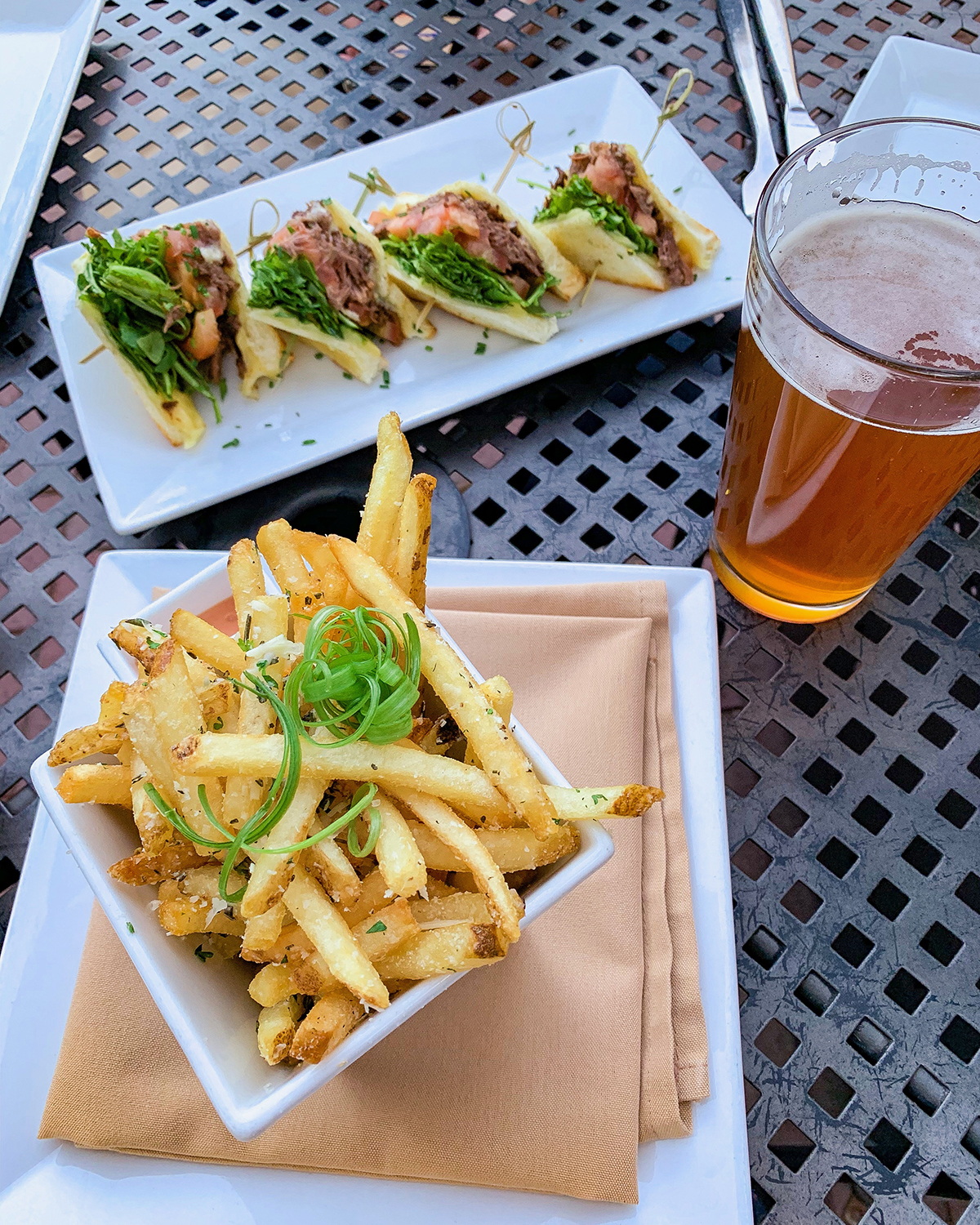 + Enjoy a drink at one of the many bars on Main Street
+ Explore downtown Park City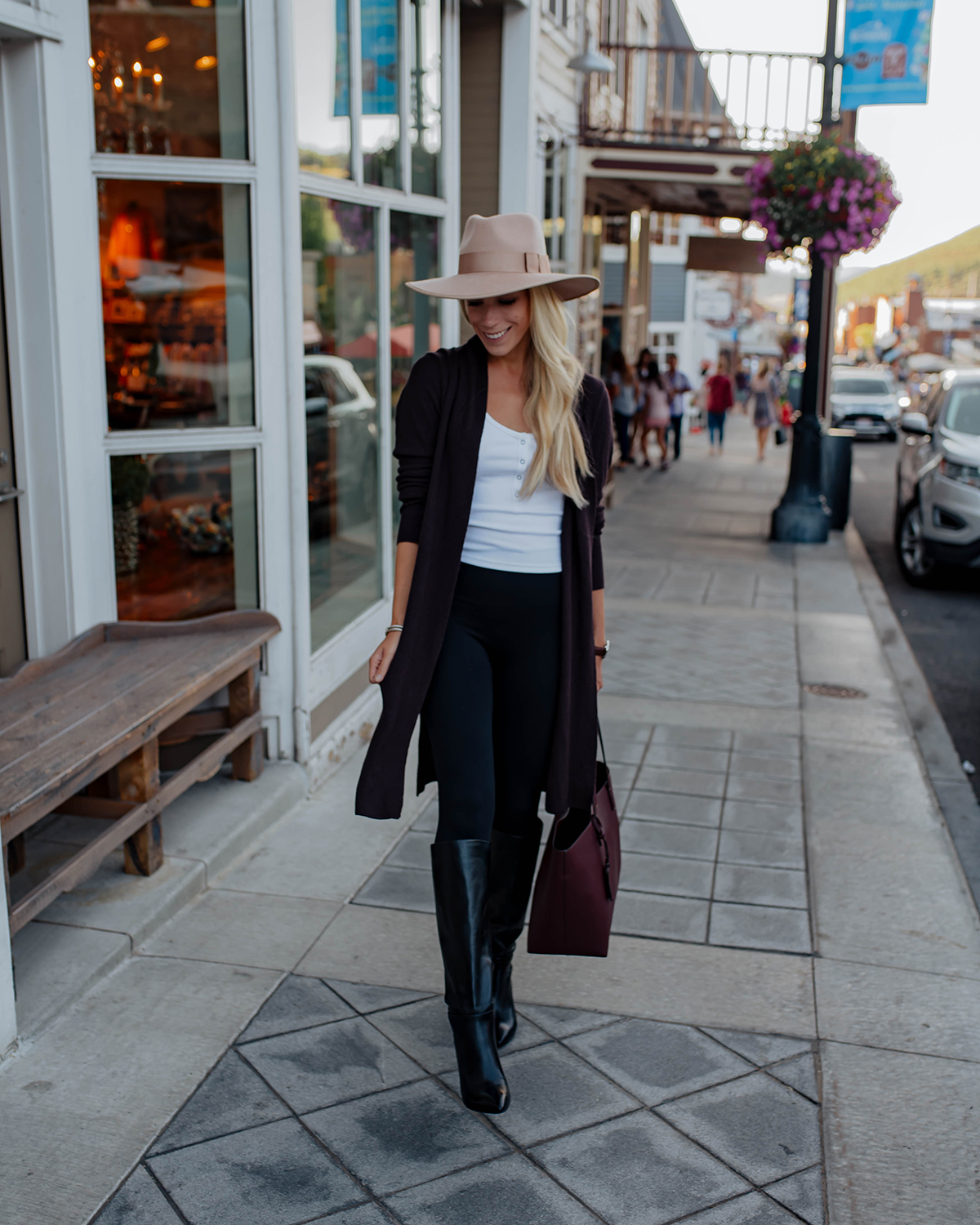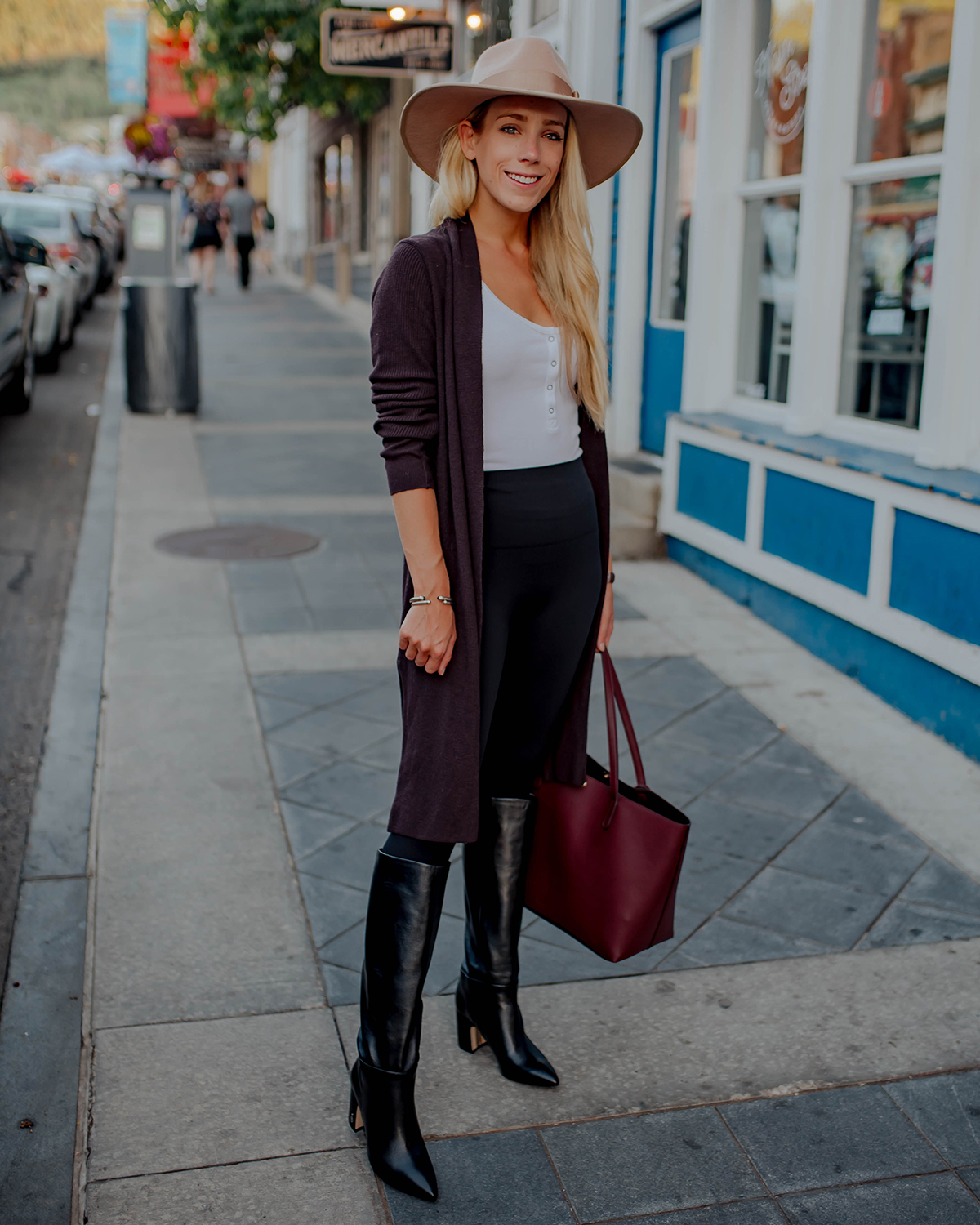 OUTFIT DETAILS // Long Purple Cardigan | Black Leggings | Black Knee High Boots | Hat | Leather Strap Watch | Maroon Tote
+ Grab brunch and coffee at Harvest
+ Grab a juice from Land Juicery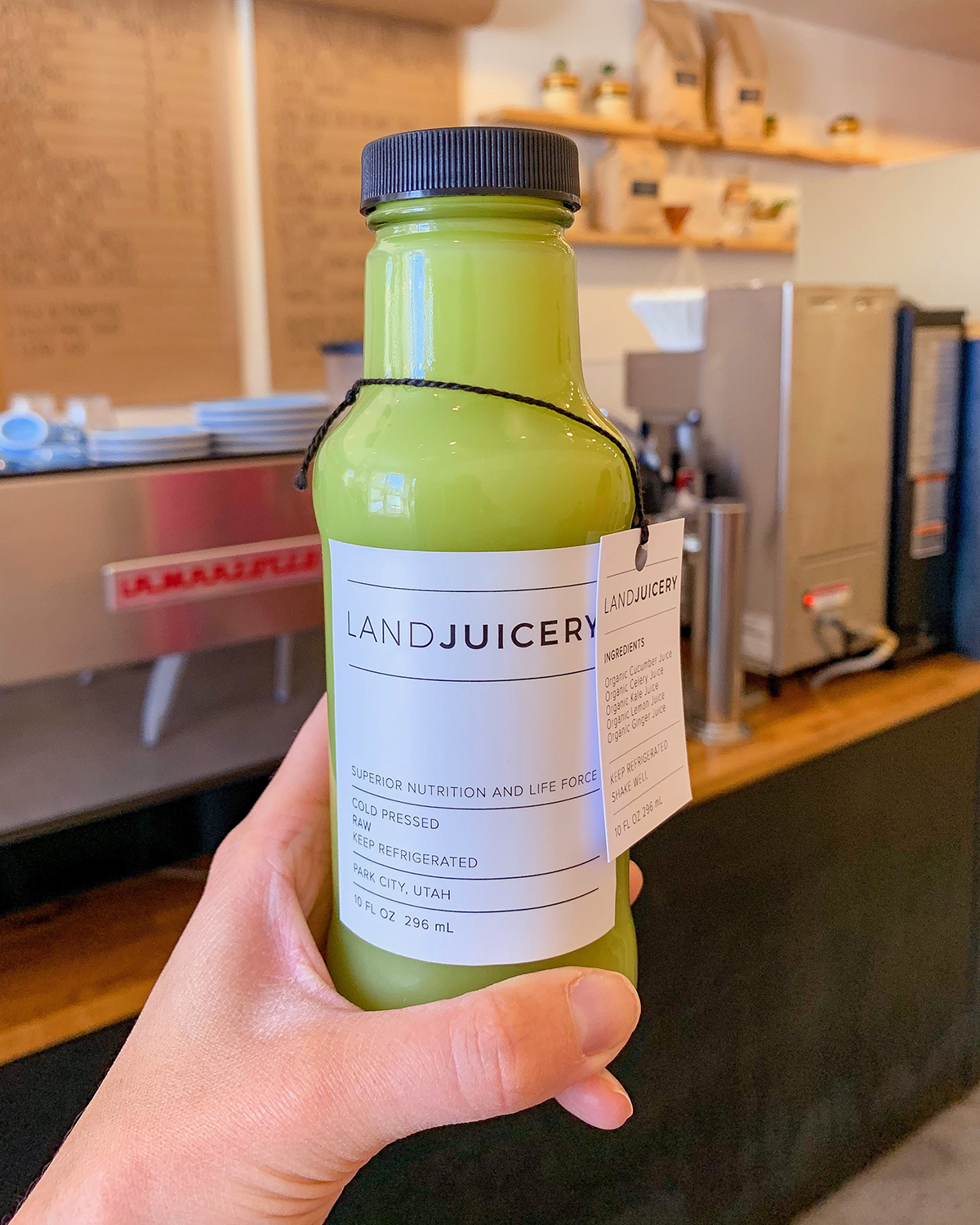 + Shop at Root'd or any of the many clothing, home & foodie stores on Main Street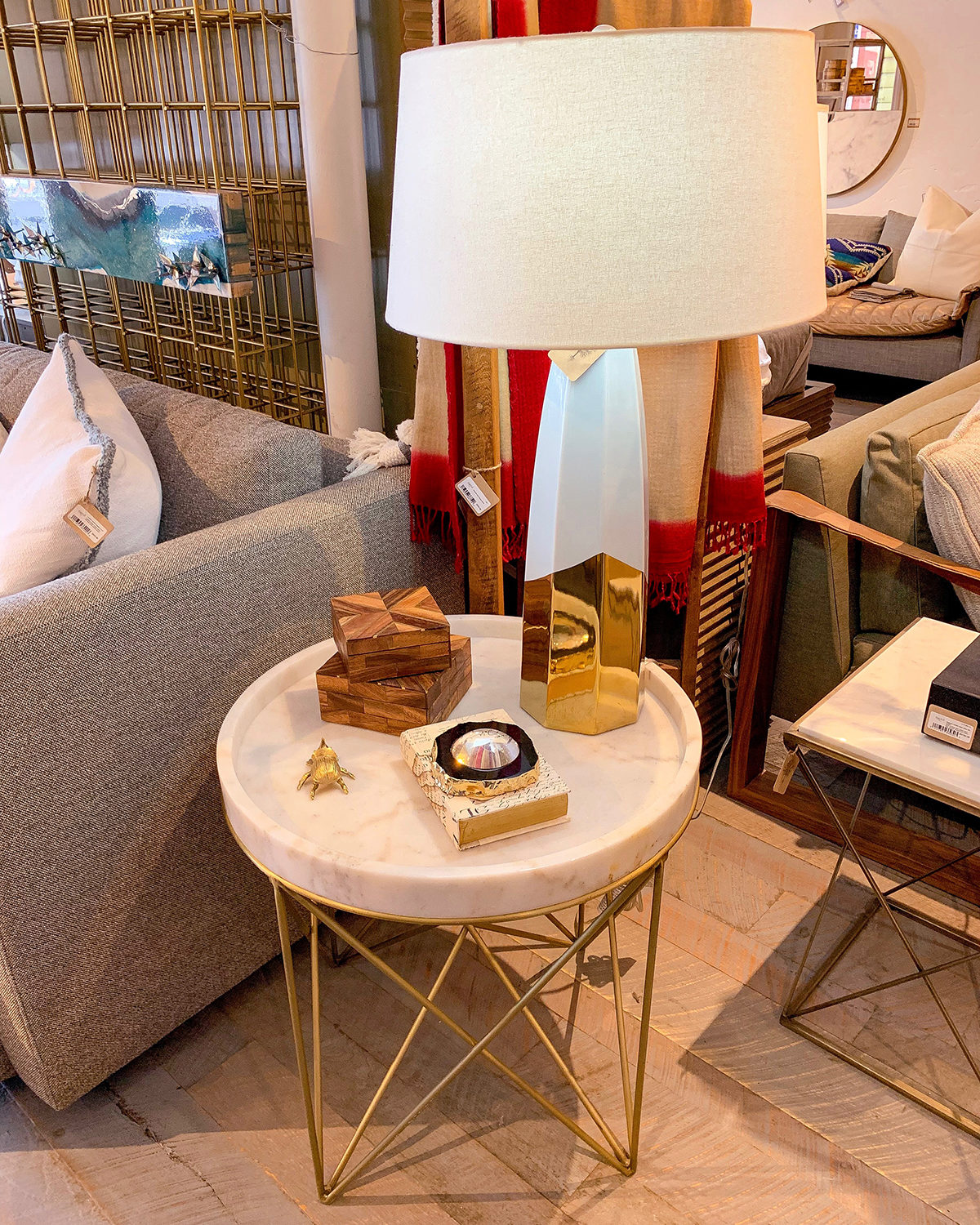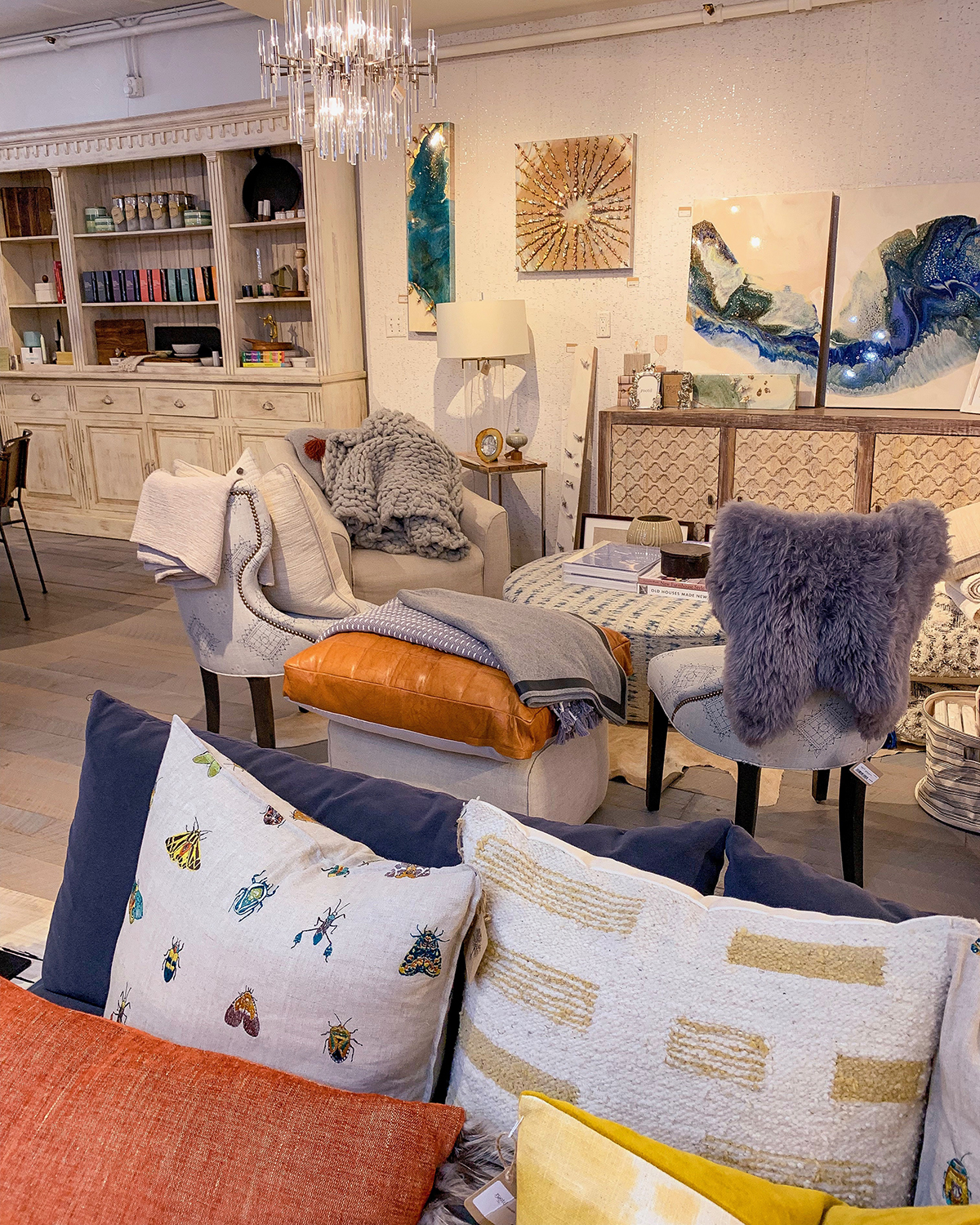 + Ride the Funicular up the mountain to the St. Regis Deer Valley Bar (I'm dying to do this our next trip!)
+ Do all the outdoor things! Hiking, mountain biking, skiing, snowboarding– the list goes on!
- Katie