Hellooooo, Paris! Nick and I kicked off our week-long December Euro trip first visiting France's most famous city. This post is a long one so let's just jump right on into it!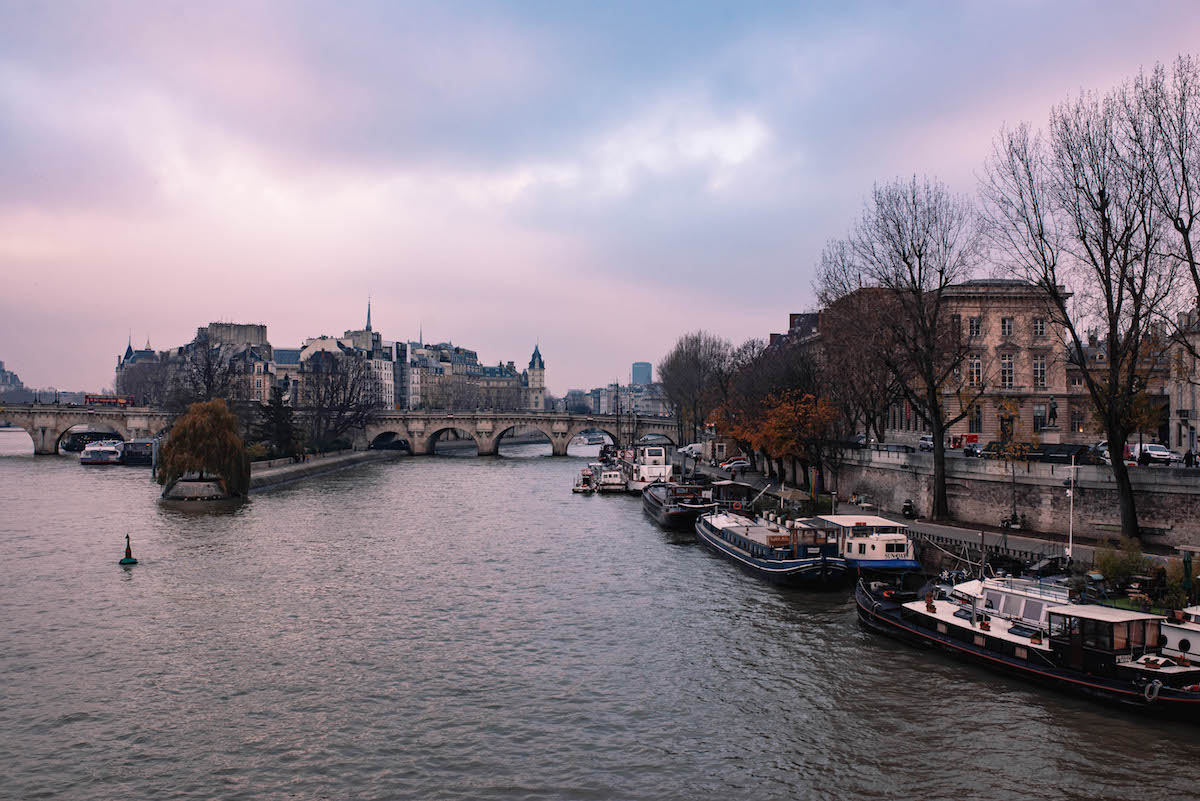 DAY 1 | SATURDAY
We flew direct to Paris from JFK leaving Friday evening on an overnight Norwegian Airways flight. I'm a very nervous flyer and neither Nick nor I can ever sleep on planes so we splurged a bit and paid for business class seats. This way Nick could fully stretch out his legs (he always gets cramps) and I'd be able to relax knowing we were boarding/de-boarding first. It was totally worth it because we had such a comfortable stress-free flight. Neither of us slept a wink (as we expected) but the dinner was surprisingly very good and we were able to snuggle up watching movies in our La-Z-Boy-esque seats.
Besides dinner reservations, I didn't make any concrete plans for our first day because I honestly wasn't sure how tired or hungry we'd be. Everyone I spoke with said it was best to hit the ground running power through the first day, so that's just what we did after checking into Le Roch Hotel & Spa. PS I used Le Cab to book our airport pickup– it was so easy and the taxi driver was waiting for us with a name sign at the door of our arrival terminal.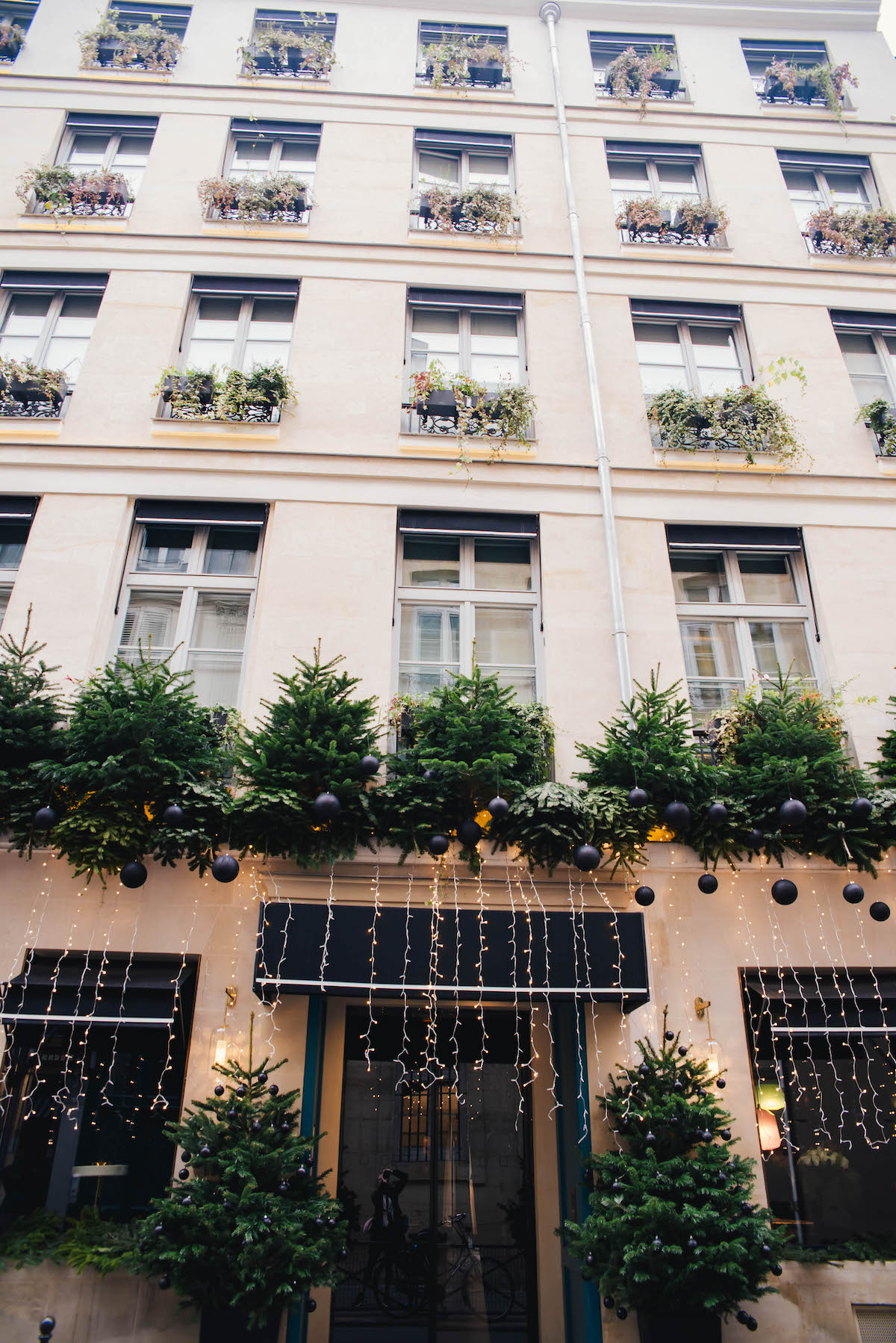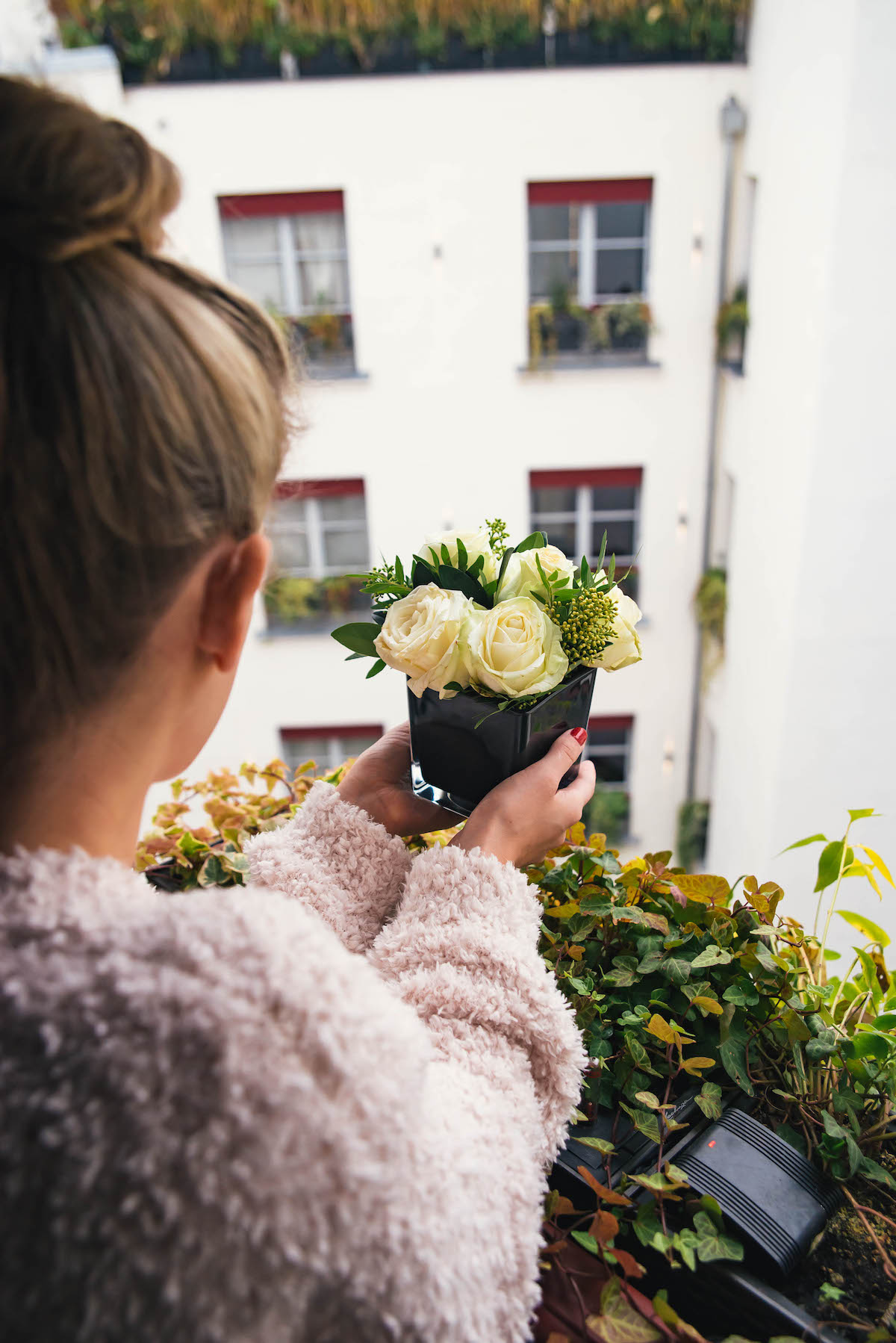 We headed out to explore around 4PM making our way through the Louvre courtyard walking along The Seine River and towards the Notre-Dame Cathedral. It was right around sunset so the sky was a pretty shade of pink and Christmas lights were just getting turned on.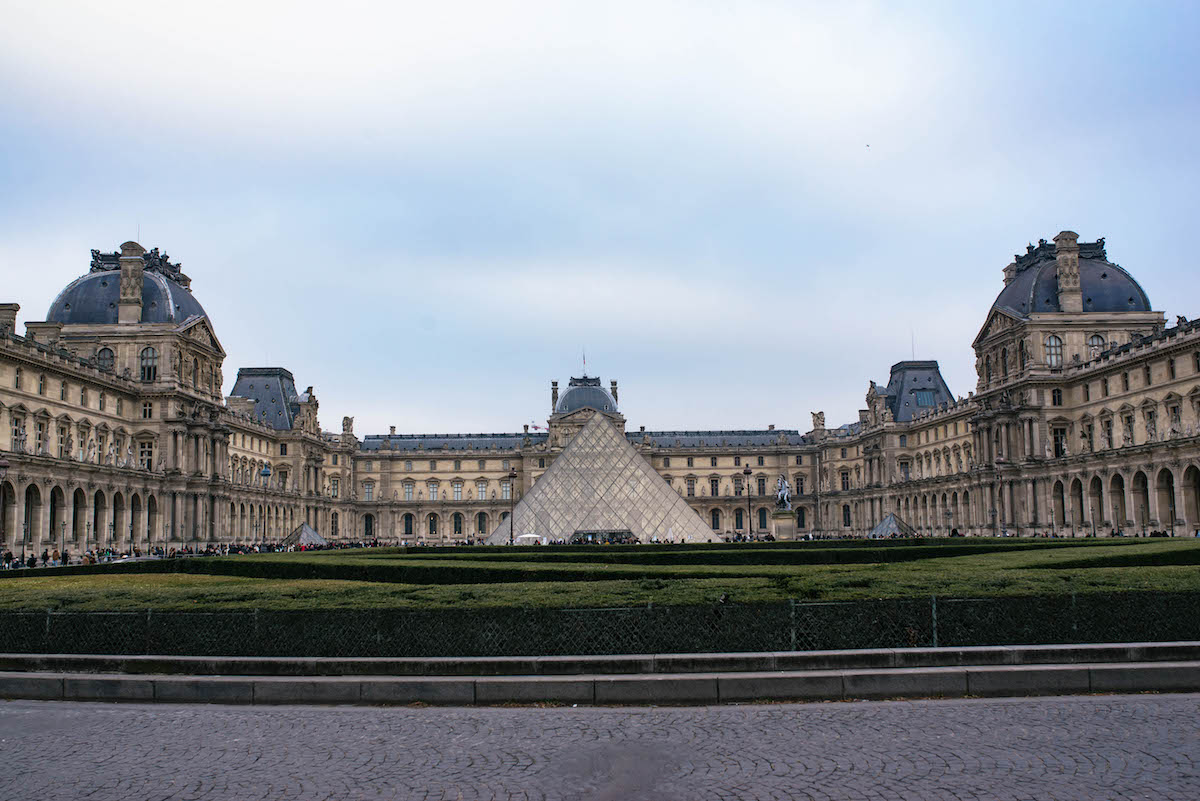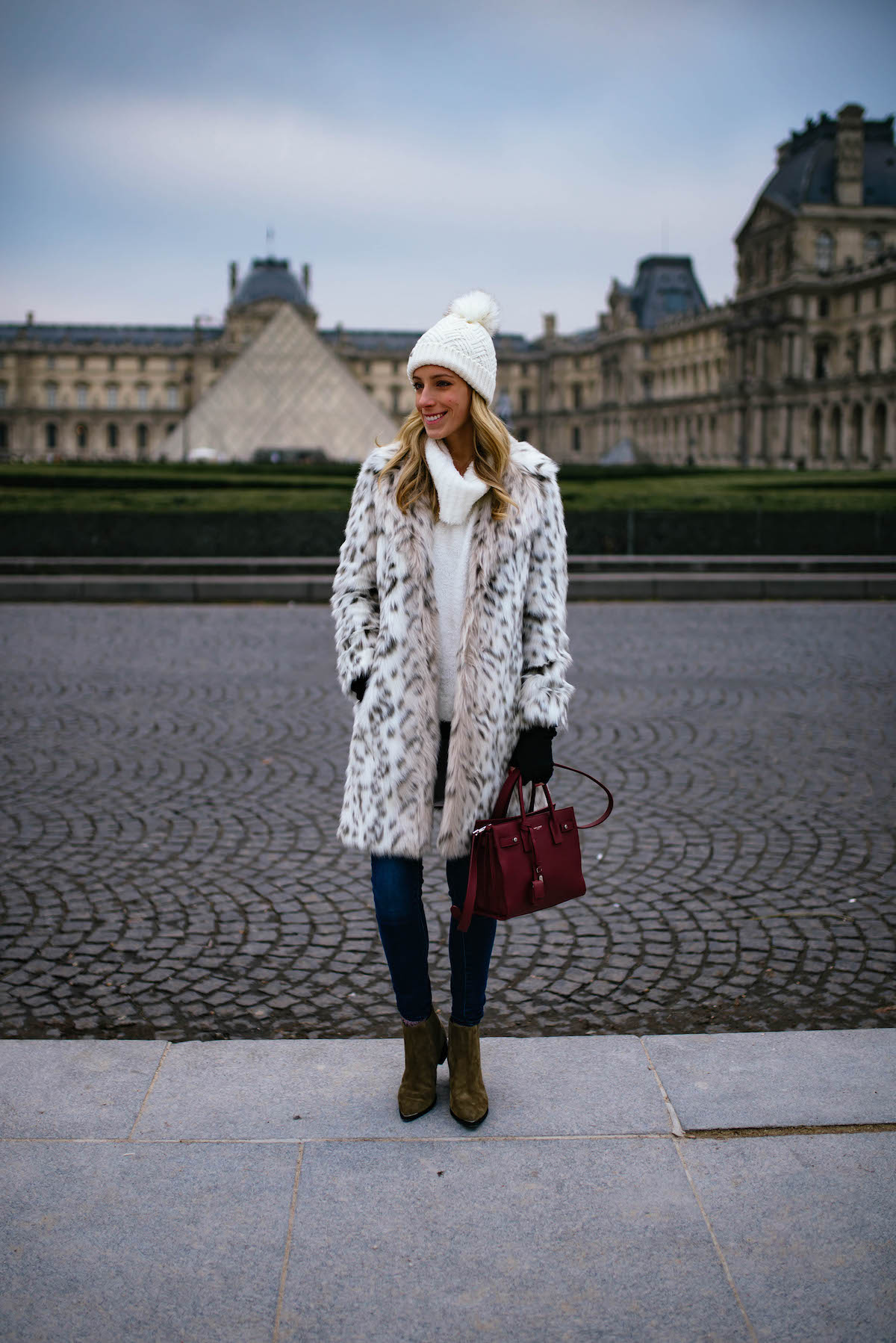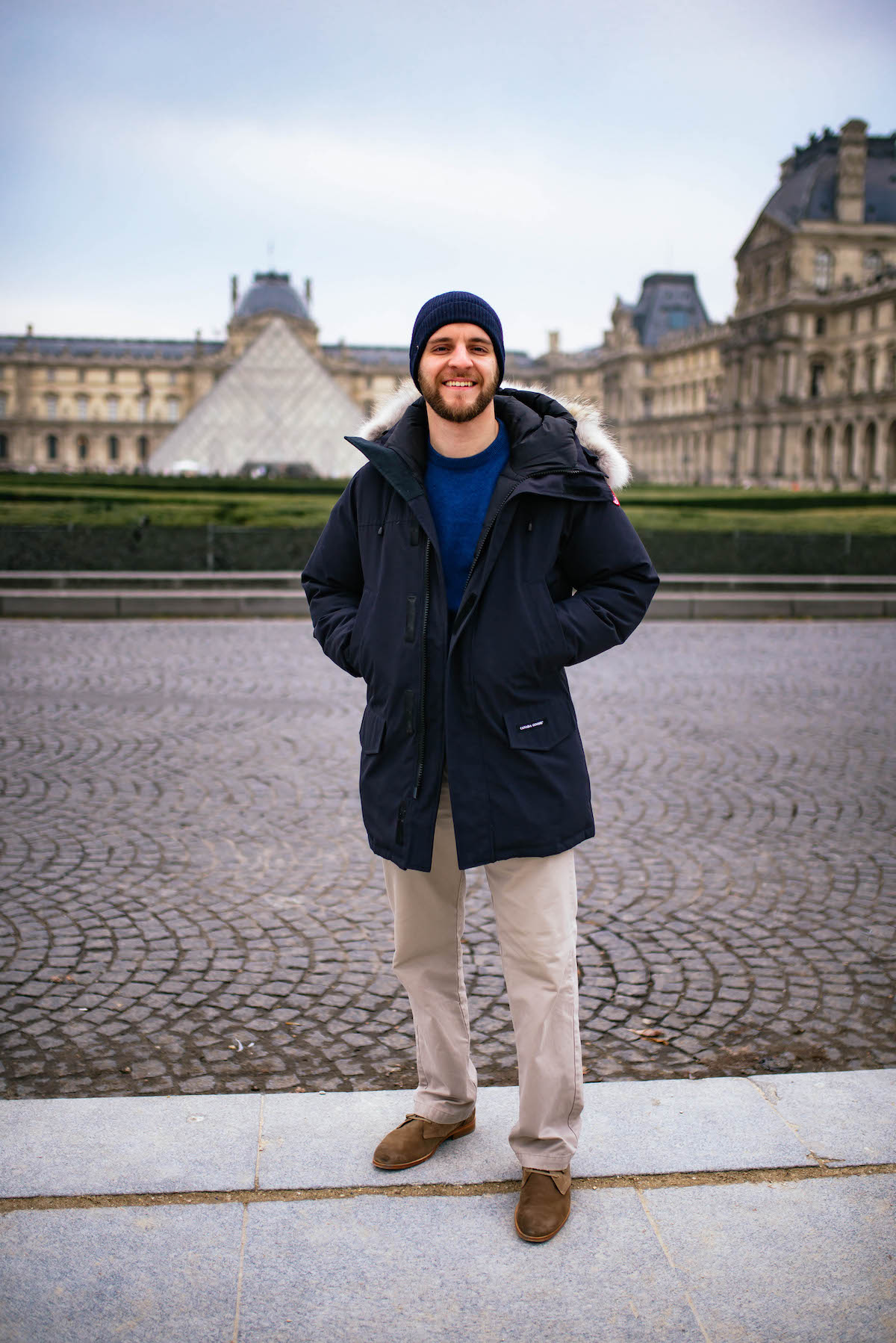 We were hoping to be able to go to roof of the cathedral because apparently it's one of the best spots to see the sunset over Paris, but we just missed the cutoff for entry (FYI it ends at 4:45PM). Also sidenote: the stairs to go up are actually located outside of the cathedral on the left side of the building. I should've done more research beforehand because we wasted 10 minutes walking around inside trying to find the stairs. Whoops. All the same, the cathedral was beautiful and incredibly mesmerizing in person.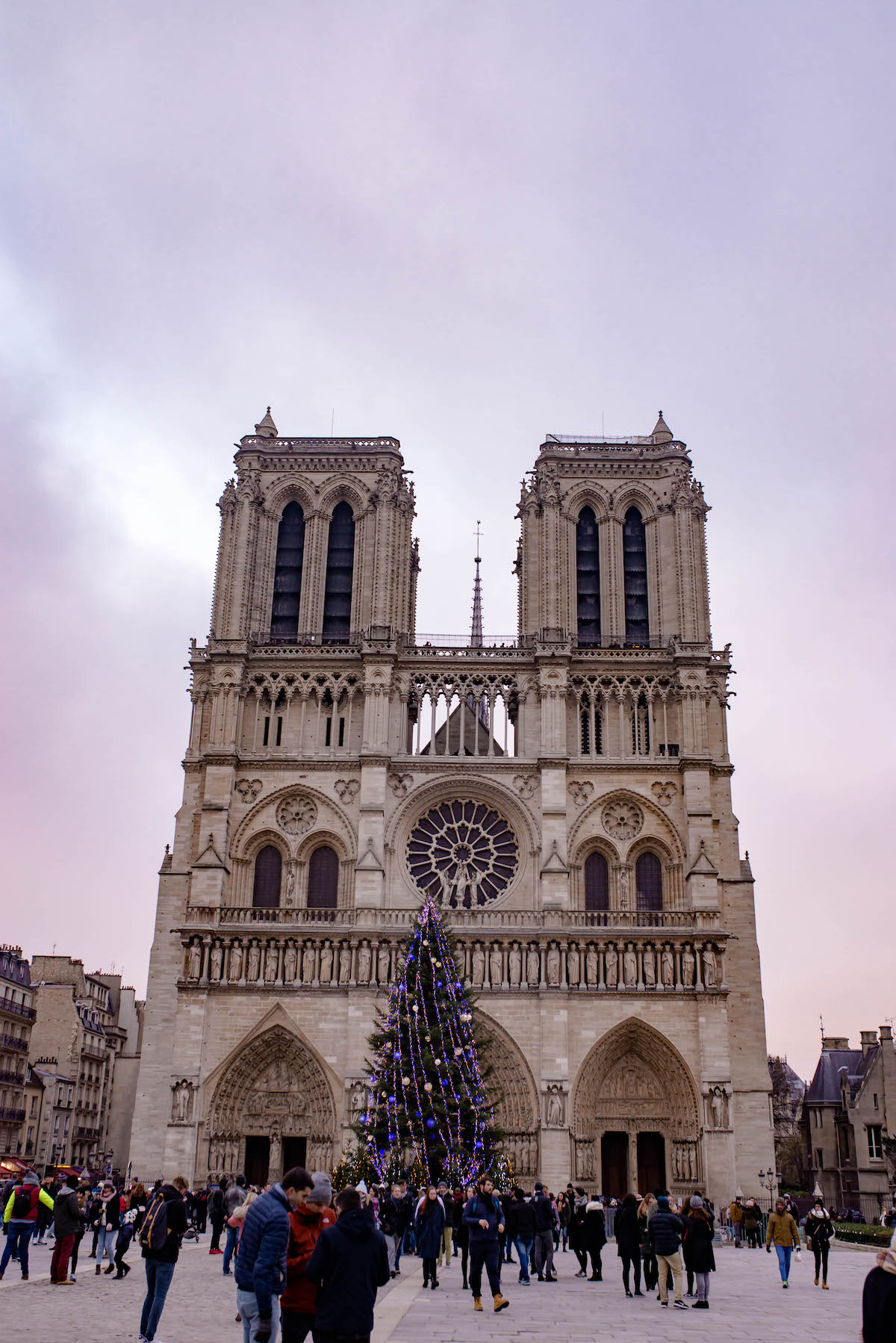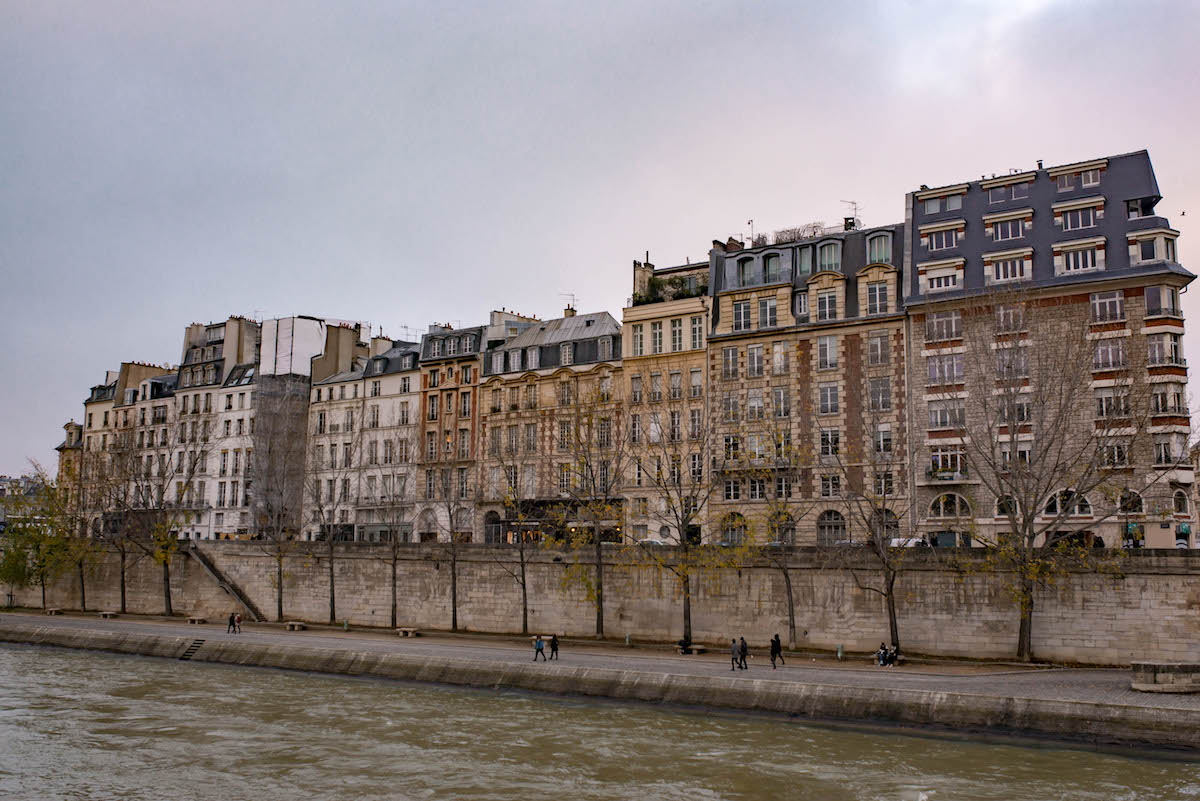 Next we continued walking exploring the streets of the Latin Quarter and St. Germain neighborhoods. This is where we found Odette where we stopped in for hot chocolate and a cream puff and this fantastic wooden door where I obviously needed to take a picture. By then we still had about an hour and a half before dinner and were getting a little chilly so we found a nearby bar where we took our time warming up over a cold beer.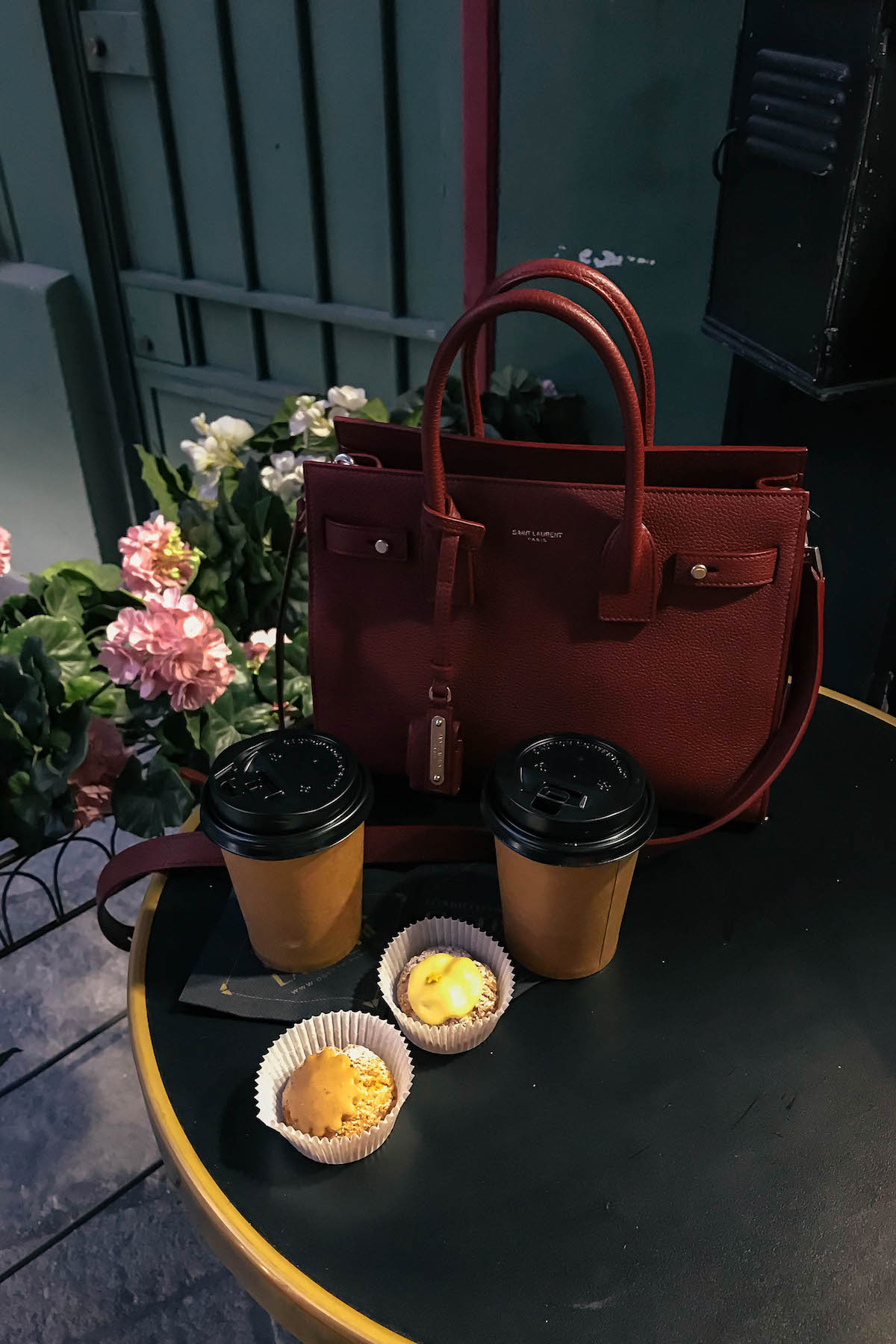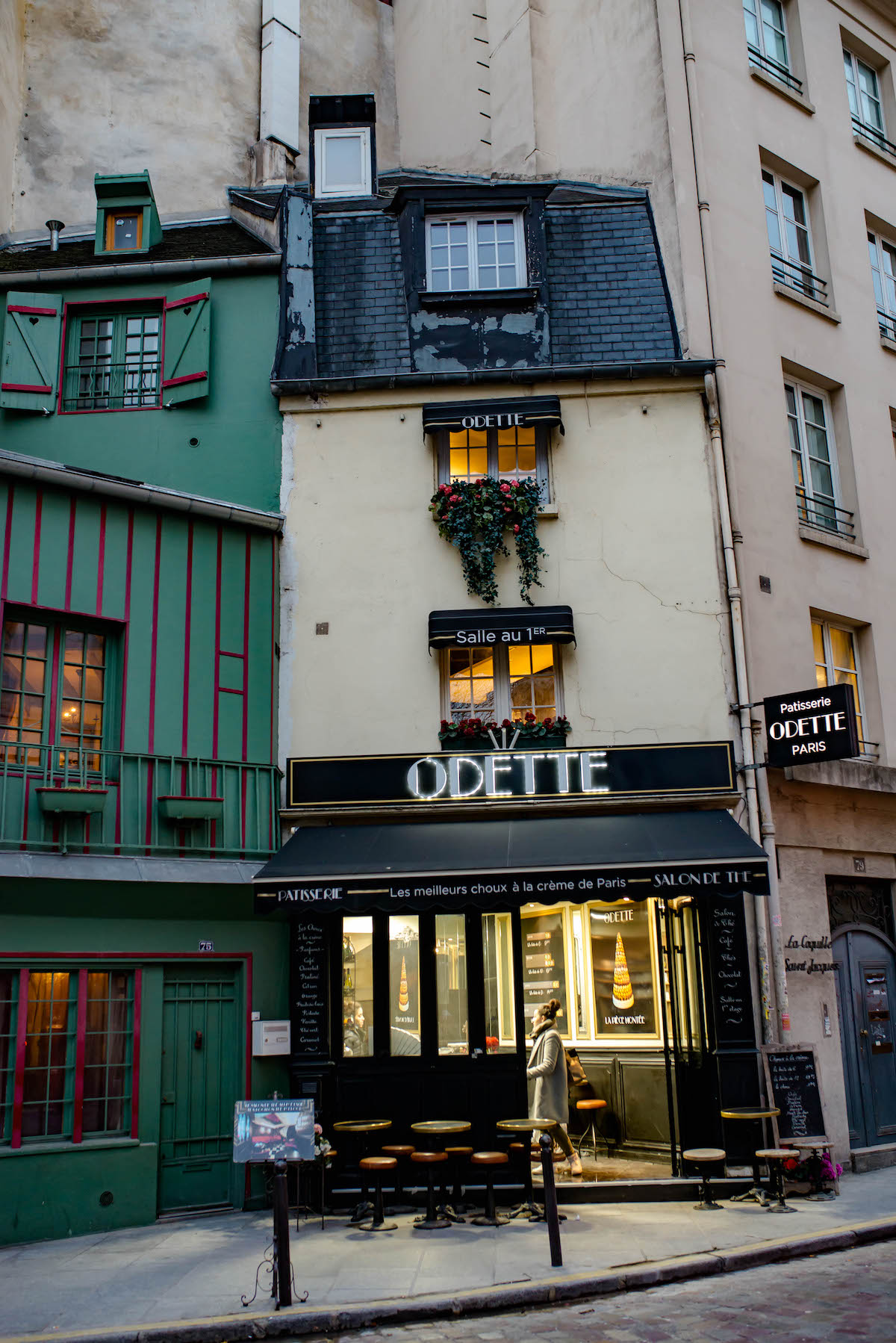 We were starving by the time we finished our drinks, but it was completely worth it to arrive with an empty stomach at Les Papilles in the Latin Quarter. Big big thank you to the reader who sent me the recommendation because this was the most delicious and memorable dinner we had in Paris.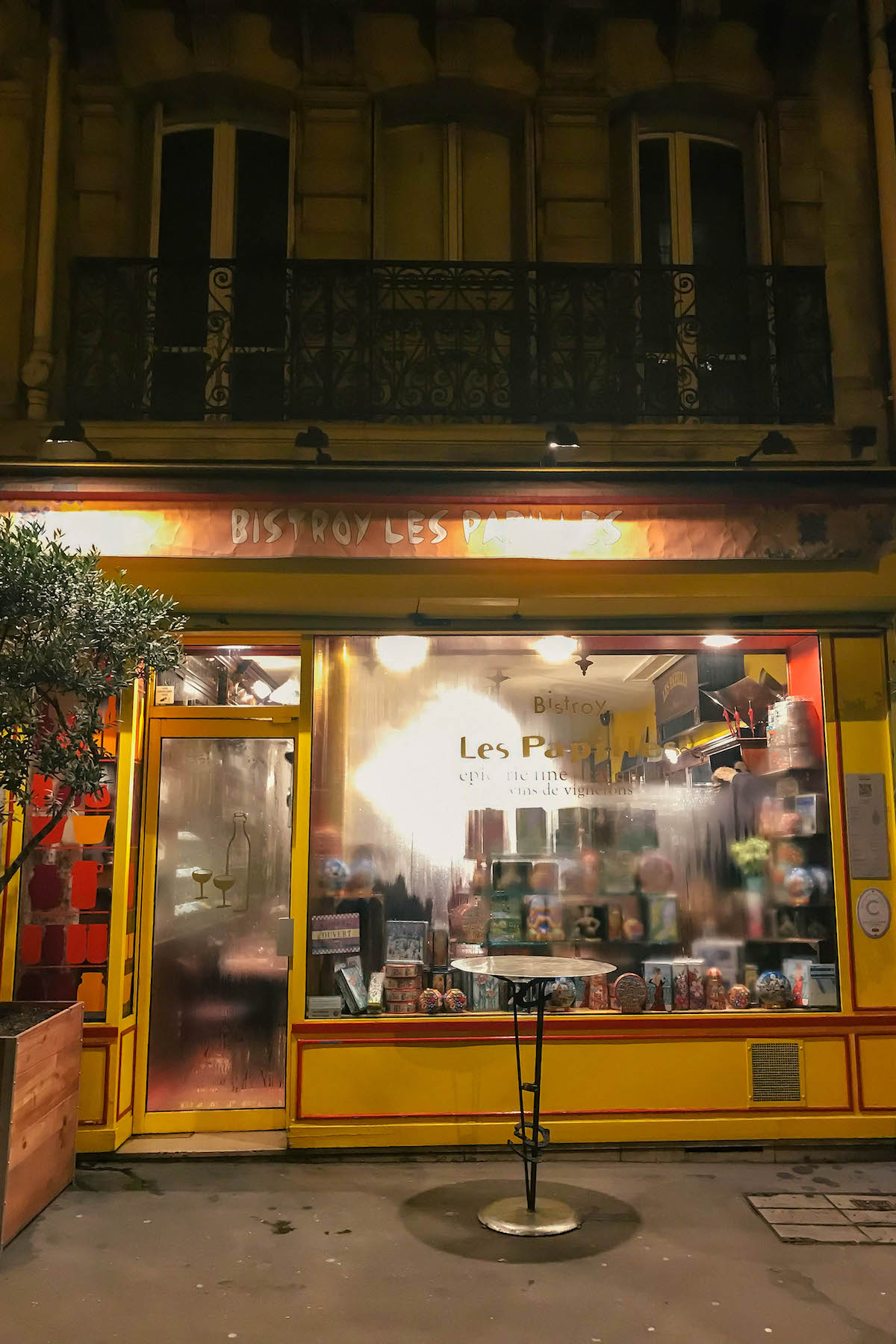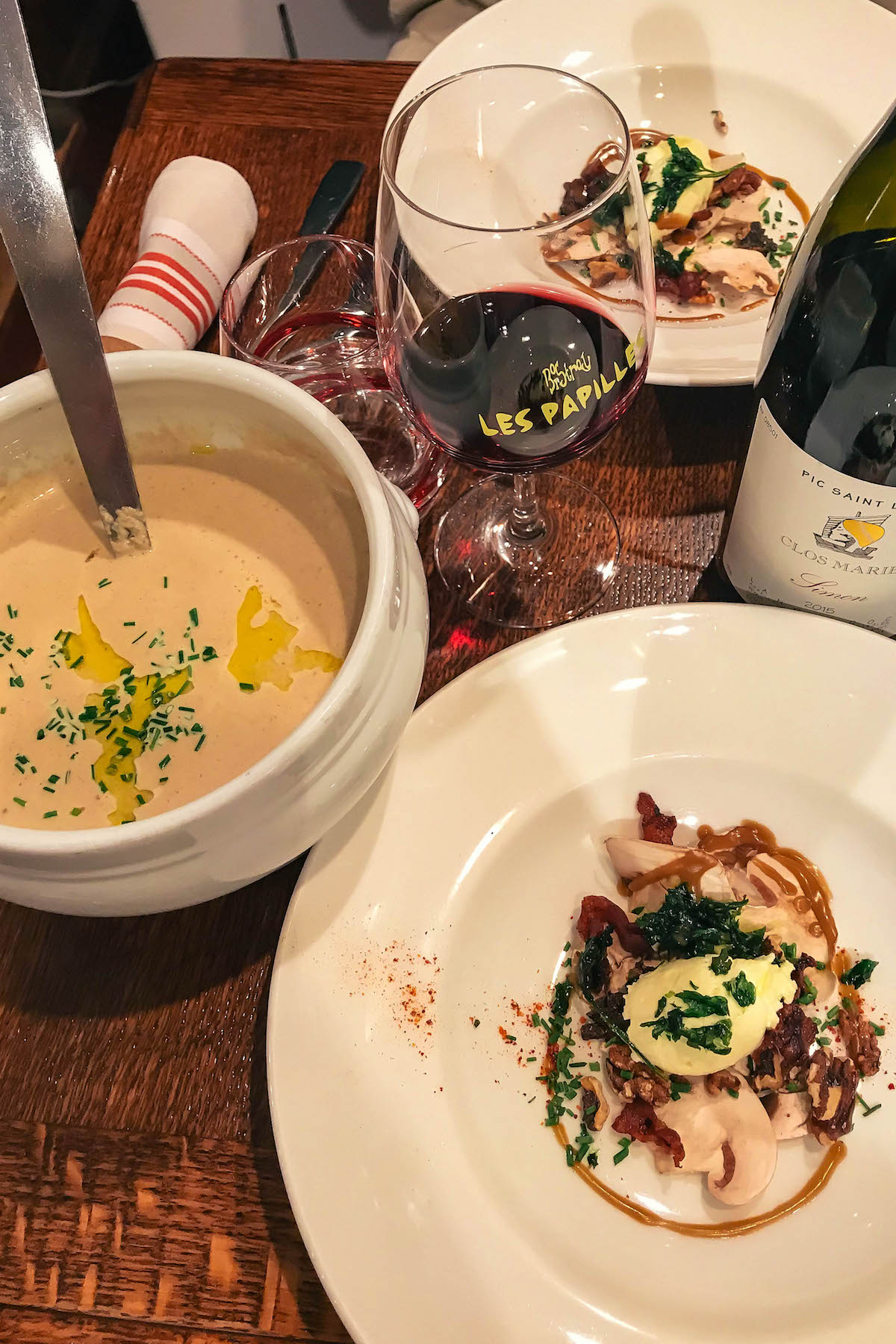 So get this– there's no menu. It changes everyday depending on what the chef is feeling and everyone is served the same four courses of an appetizer, main dish, cheese and dessert. Being picky eaters it was a little scary going into our first meal not knowing what we were going to eat, but we were pleasantly surprised to hear we'd be dining on creamy mushroom soup, a beef stew with vegetables (served family style in a copper pot), blue cheese with fig jam and a clementine tiramisu.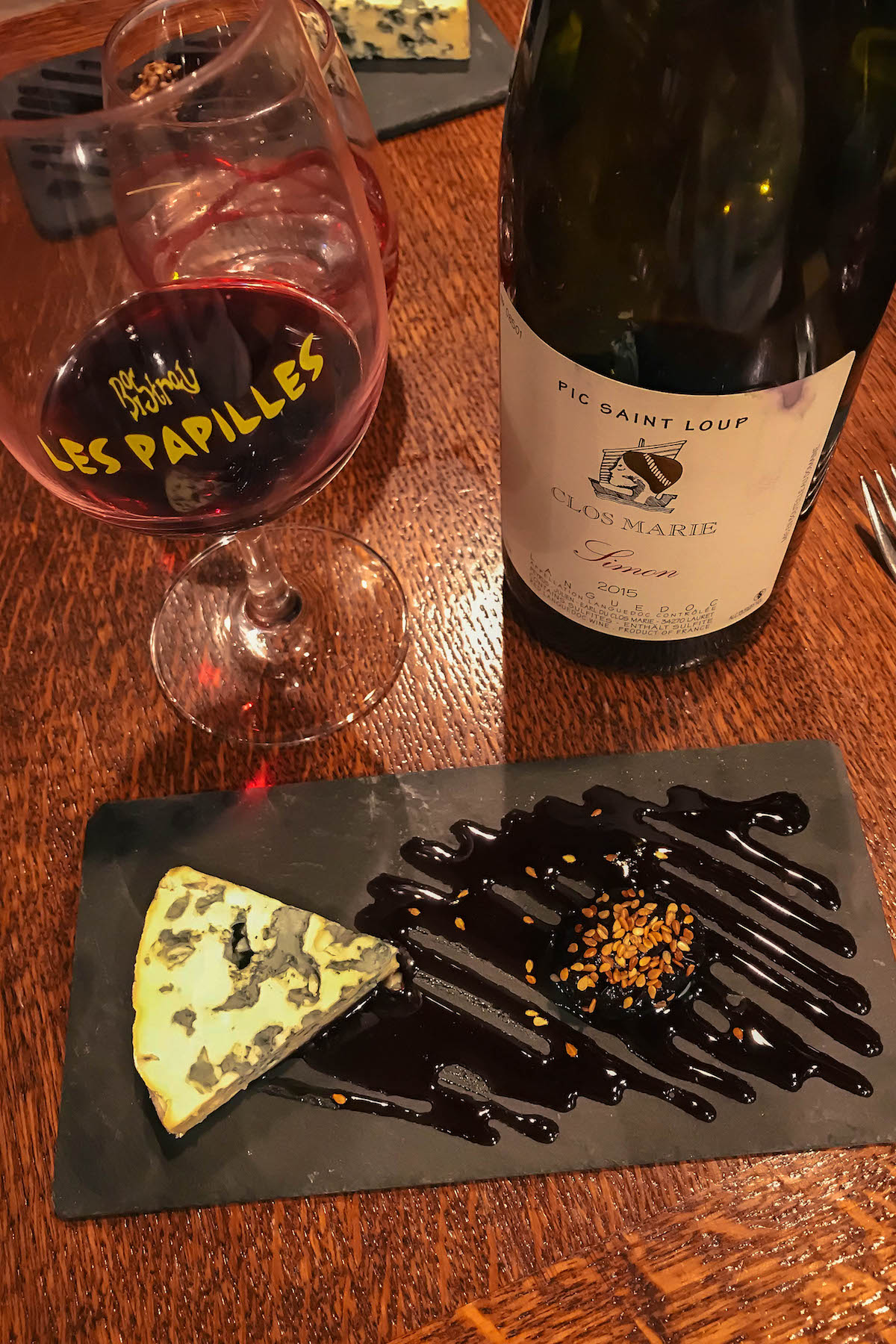 The reviews were true– our meal was absolutely delicious and so authentically French. It was exactly what I imagined and envisioned what eating in Paris would be like: a bottle of red wine sipped with a rich stew and soup, warm melt-in-your-mouth bread, creamy cheese and ornate desserts. The entire ambience of the restaurant combined with the food was just so special and we couldn't stop smiling.
Tip: Absolutely make a reservation! It is a small restaurant and very popular. I made ours via email three weeks in advance and they were very responsive.
DAY 2 | SUNDAY
Nick and I aren't big museum people, but we still wanted to spend at least a half-day doing some museum hopping.  There was no way we could do both the Louvre and Musee d'Orsay in one morning so we knew we had to choose one or the other. After asking a bunch of friends for their thoughts, we decided to skip the Louvre and go with the d'Orsay. I'm glad we did because we absolutely loved the museum where we spent about two hours exploring the various galleries and checking out the famous clocks. My favorite areas were the impressionist gallery, ballroom and the Van Gogh exhibit.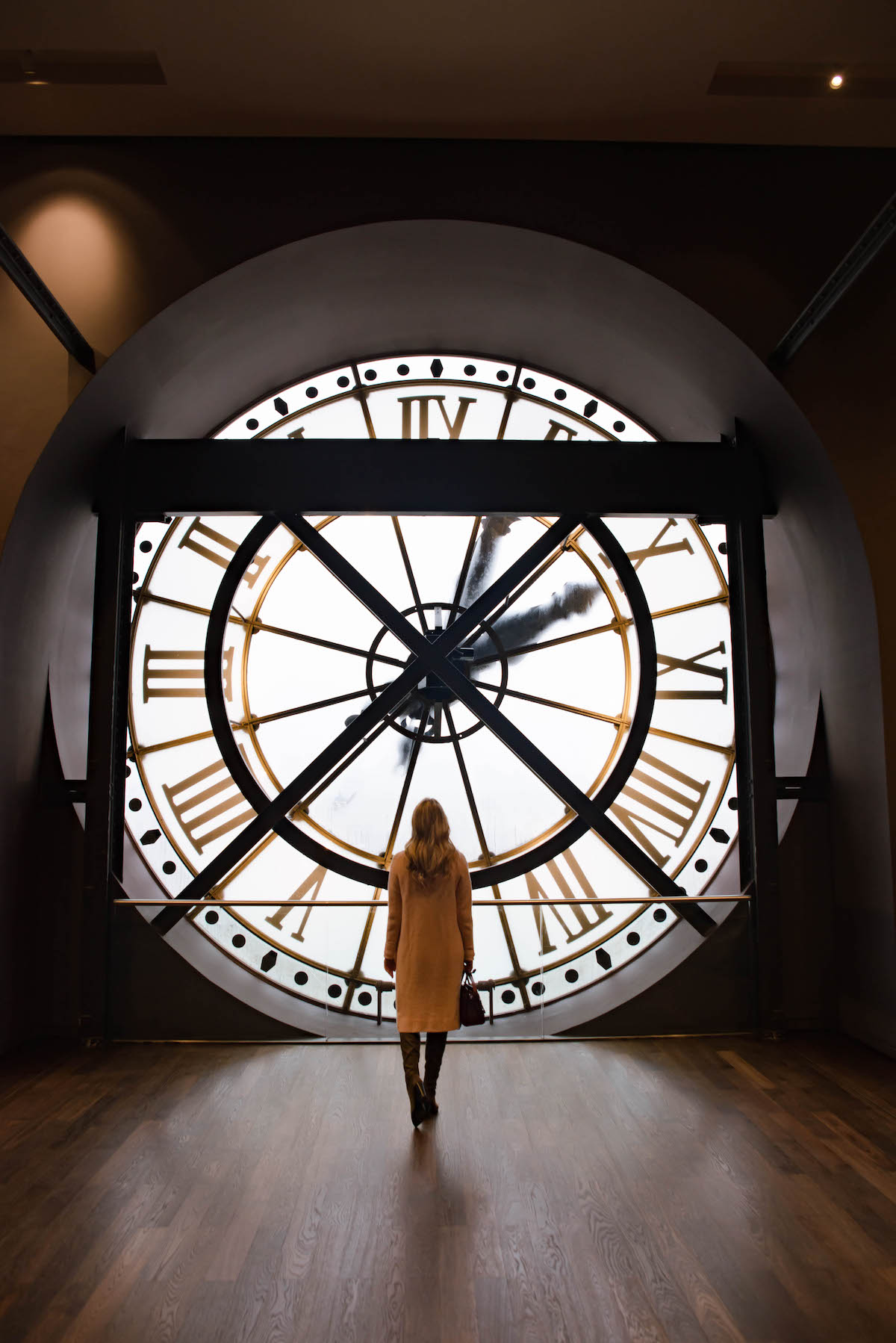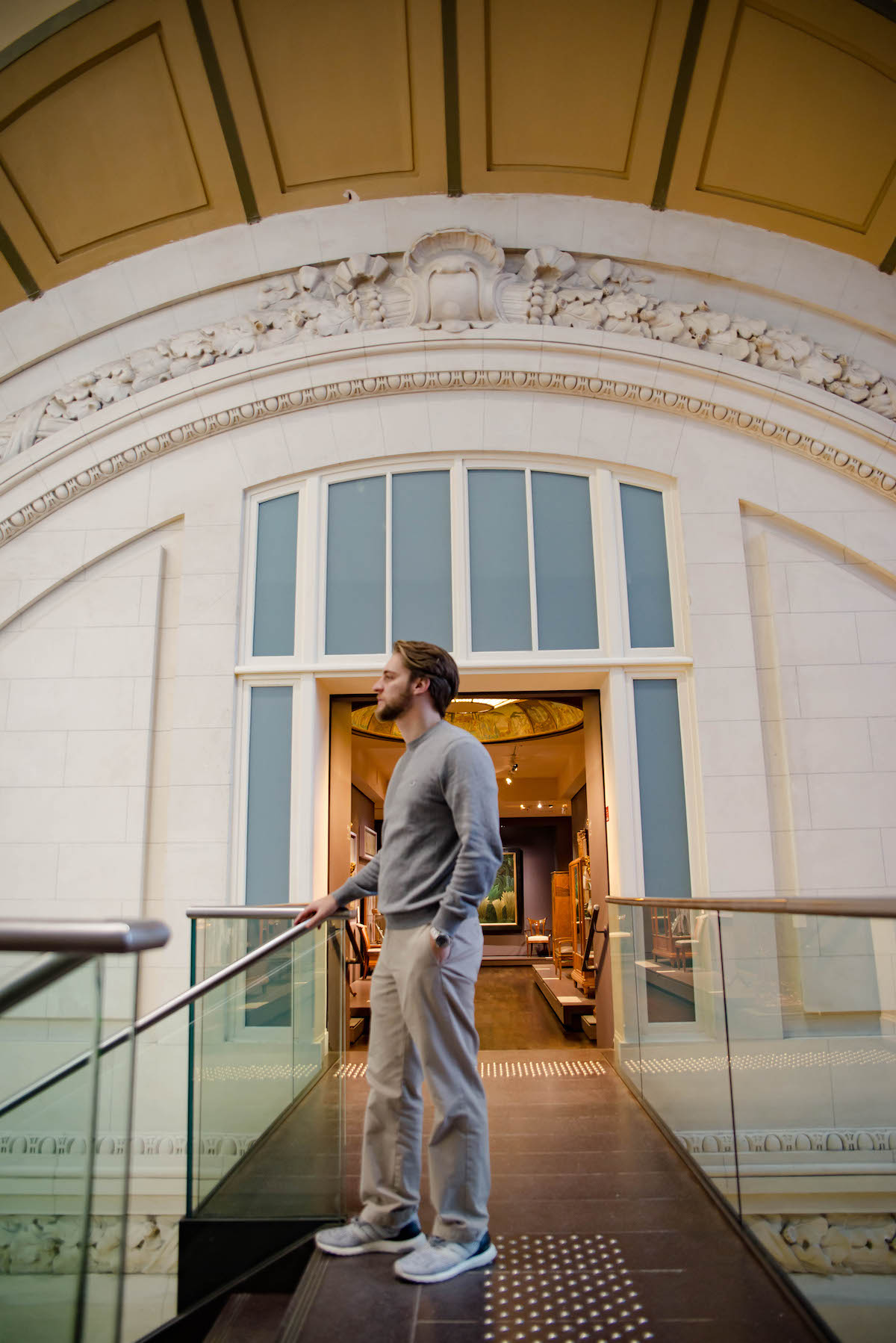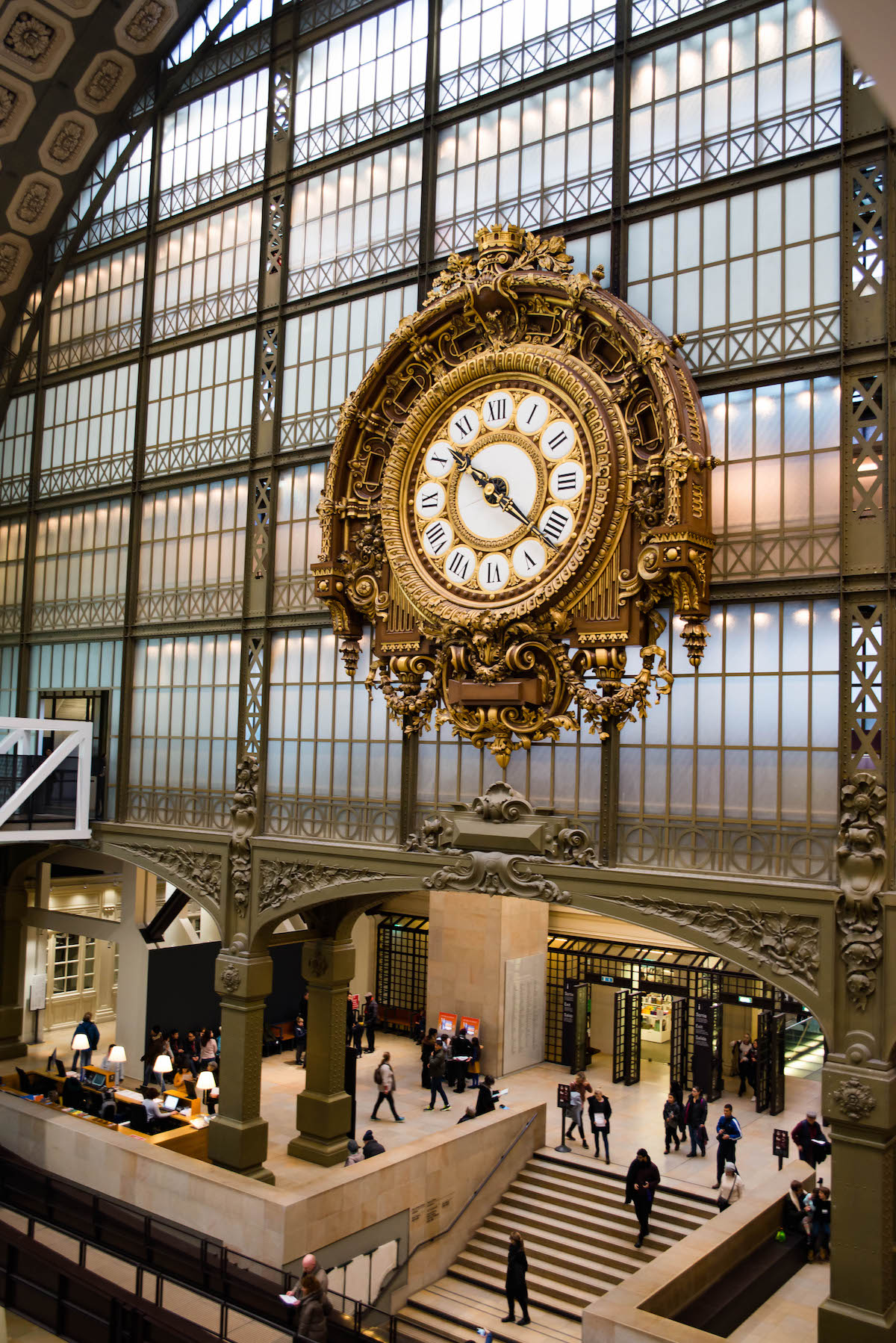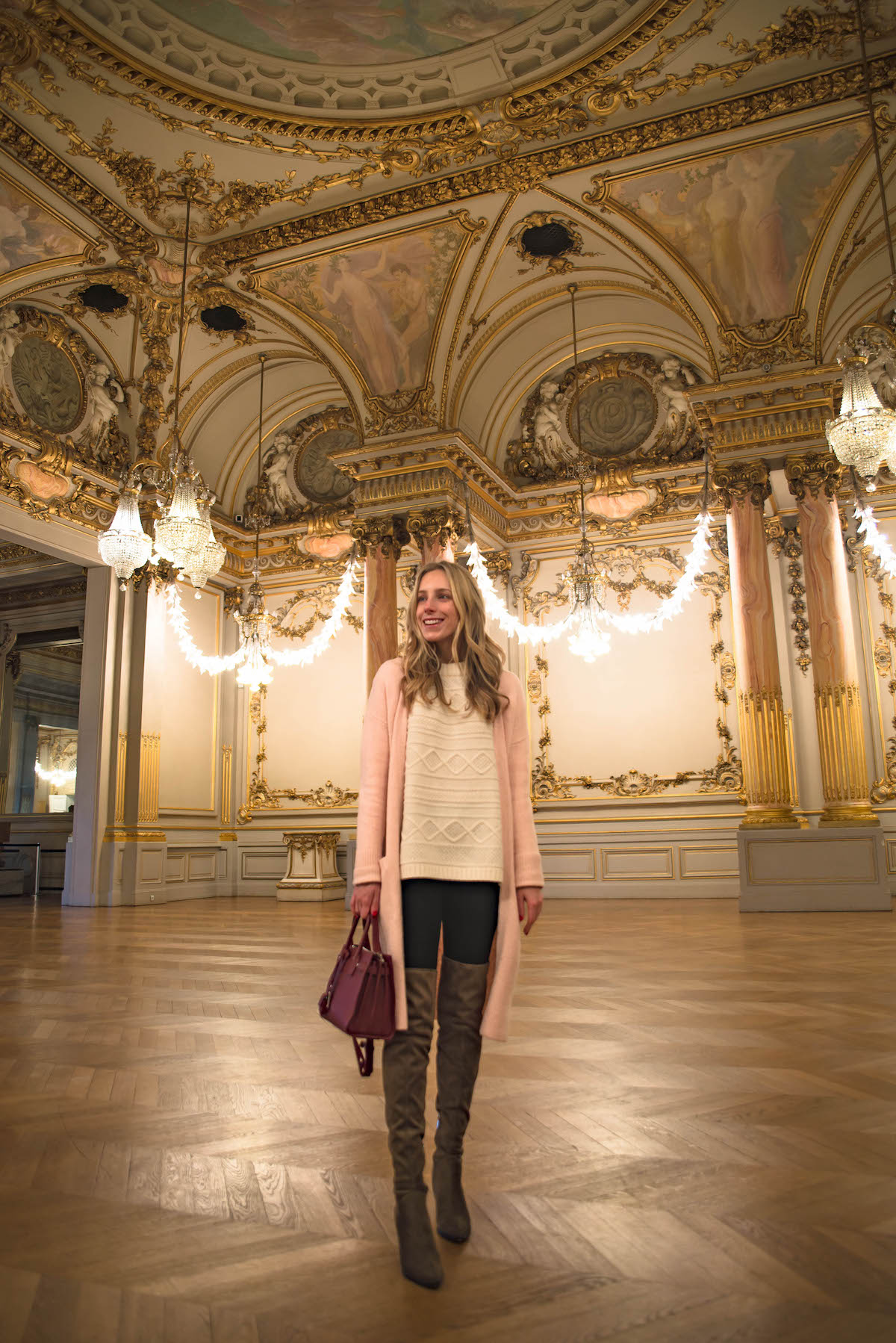 Tip: Get there early! We arrived at 9AM (museum opens 9:30AM) and there was already a line outside of about 30 people. This was totally unplanned, but all museums are free the first Sunday of every month so we didn't even have to pay admission. SCORE.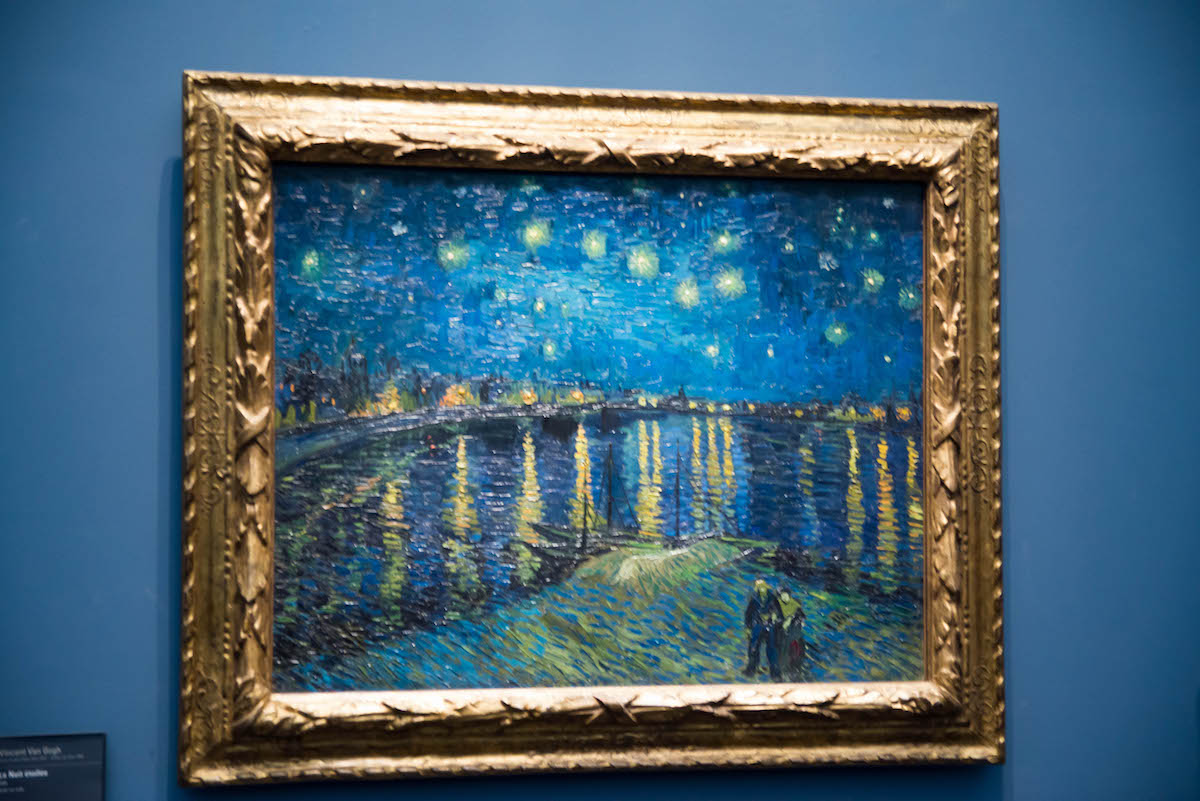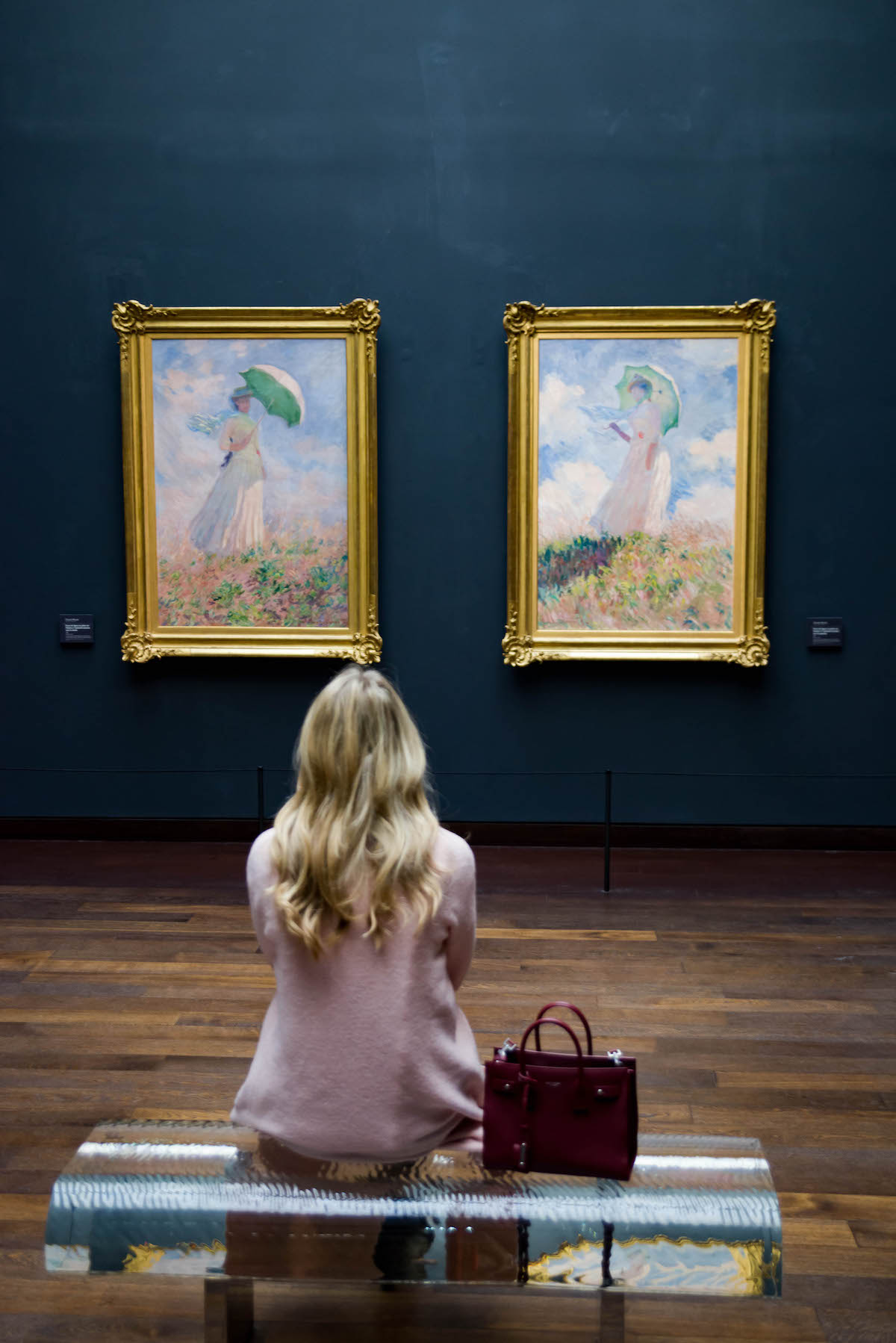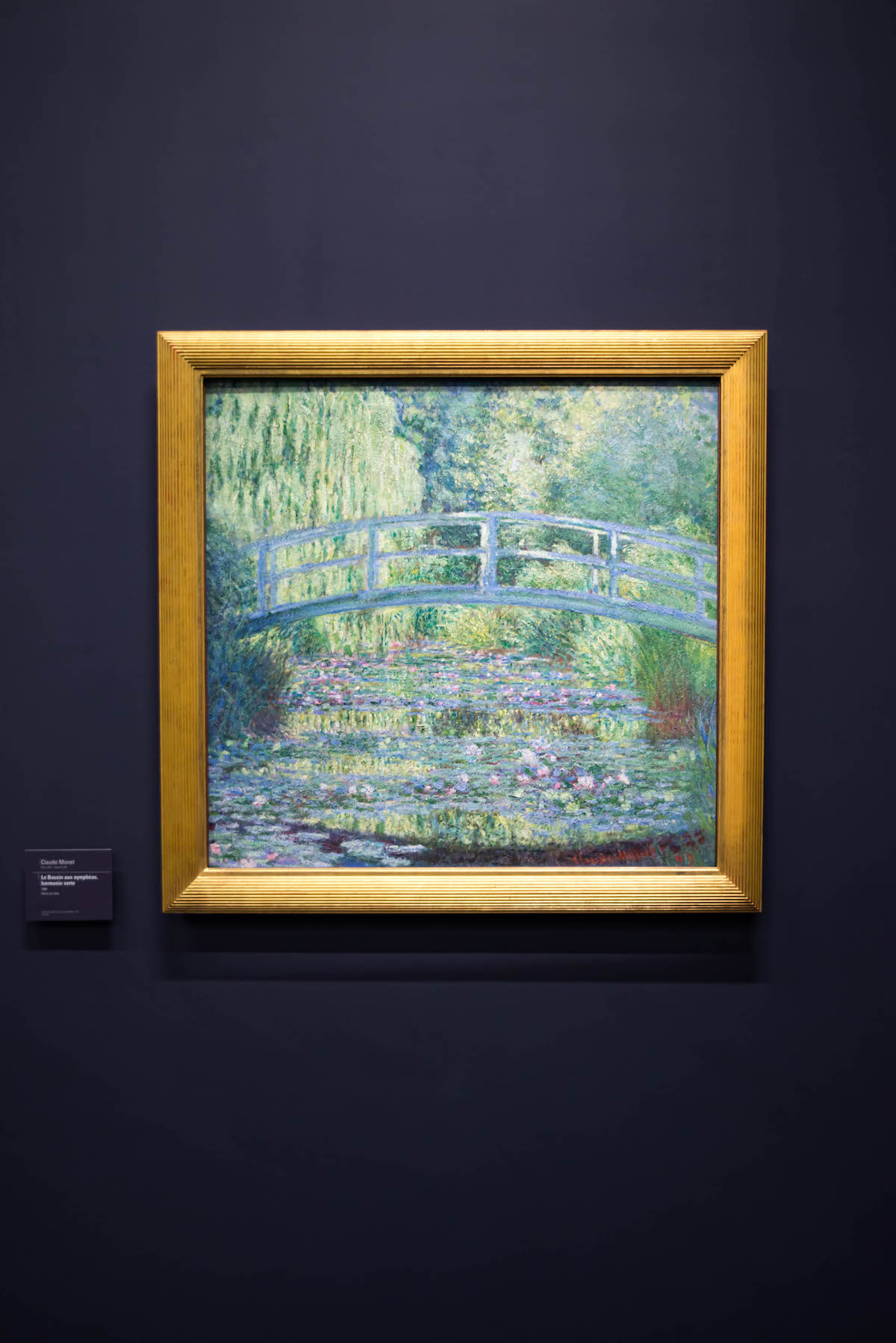 After leaving the d'Orsay we walked about 10 minutes crossing the famous lock bridge (most of the locks are now removed– boo!) over to the much smaller Musée de l'Orangerie located in the west corner of the Tuileries Gardens. I've loved Monet since childhood (I remember I had a few children's books inspired by his art and a diary covered in his famous water lilies) so I really wanted to see his exhibit there. It's an incredibly small museum and totally do-able to walk through in just 30 minutes depending on your attention span (ours are short :P) I only cared about seeing Monet so that was the only gallery we explored– so pretty in person!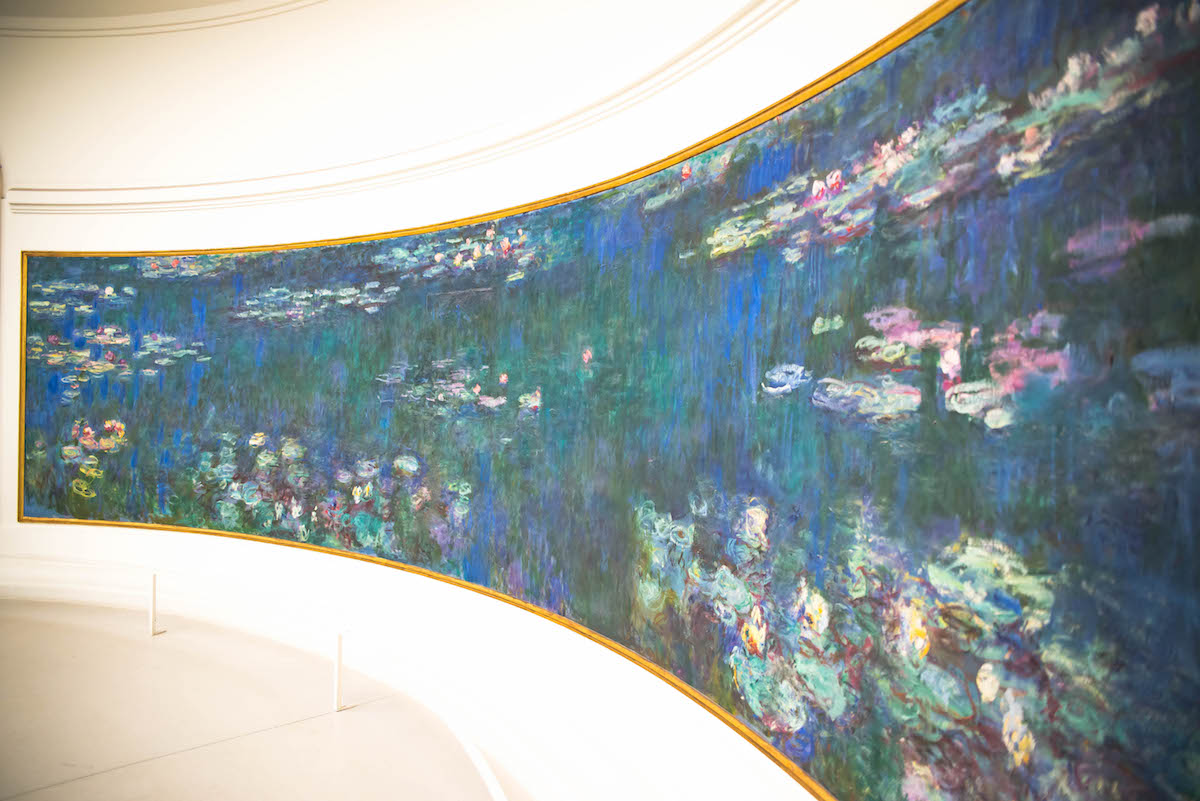 So I didn't realize this when planning our trip, but many restaurants in Paris are closed on Sundays and Mondays… Oops. If I could go back I would've mapped things out differently so we weren't in Paris on these days because it really limited our dining options.
That afternoon we took an Uber over to the Les Halles neighborhood where we tried to stop in for a late brunch at Maison Rouge— unfortunately there was a one and a half hour wait (fail on my part for not making a reservation) so we ended up eating burgers and fish and chips at another nearby restaurant. Nick didn't enjoy his burger so I'm not even going to try and remember where we ate because I wouldn't recommend it.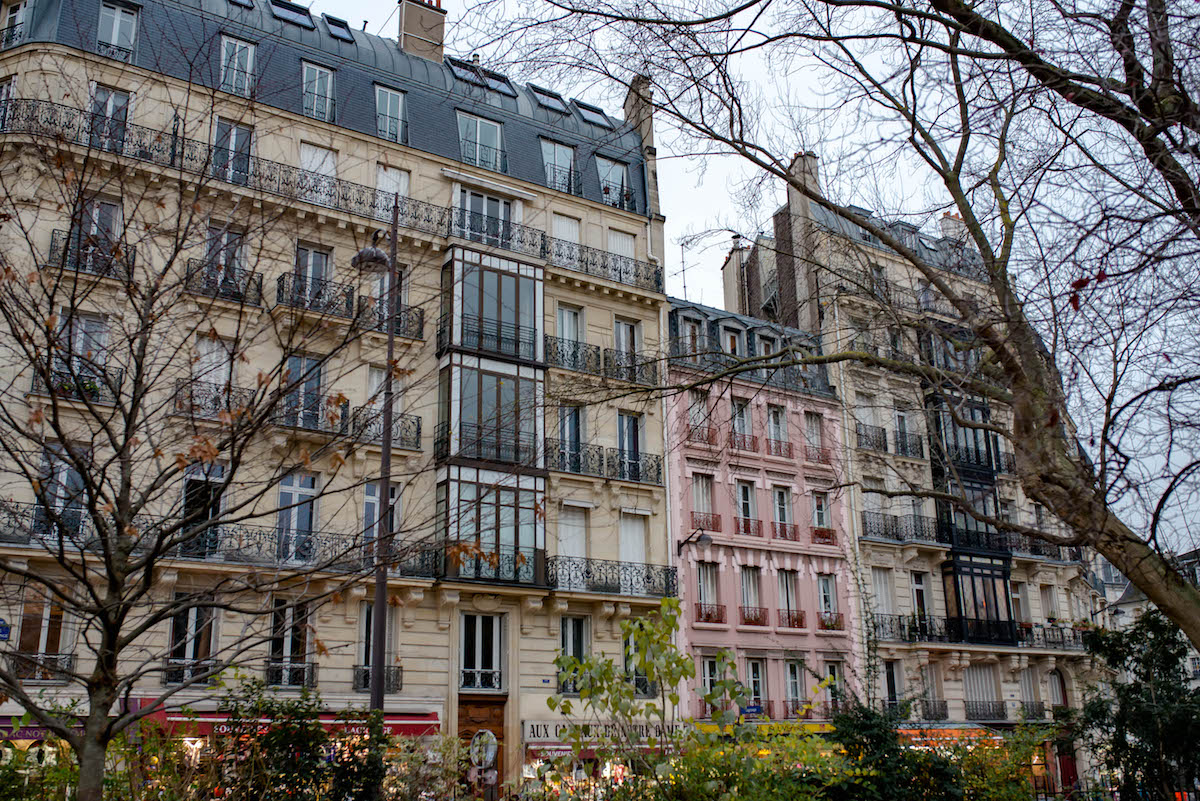 Next we walked around some more where we ran into the most adorable Christmas market. We popped into a few stalls, had some hot wine and snapped some photos before heading back to the hotel to rest and wash up before continuing with our exploring.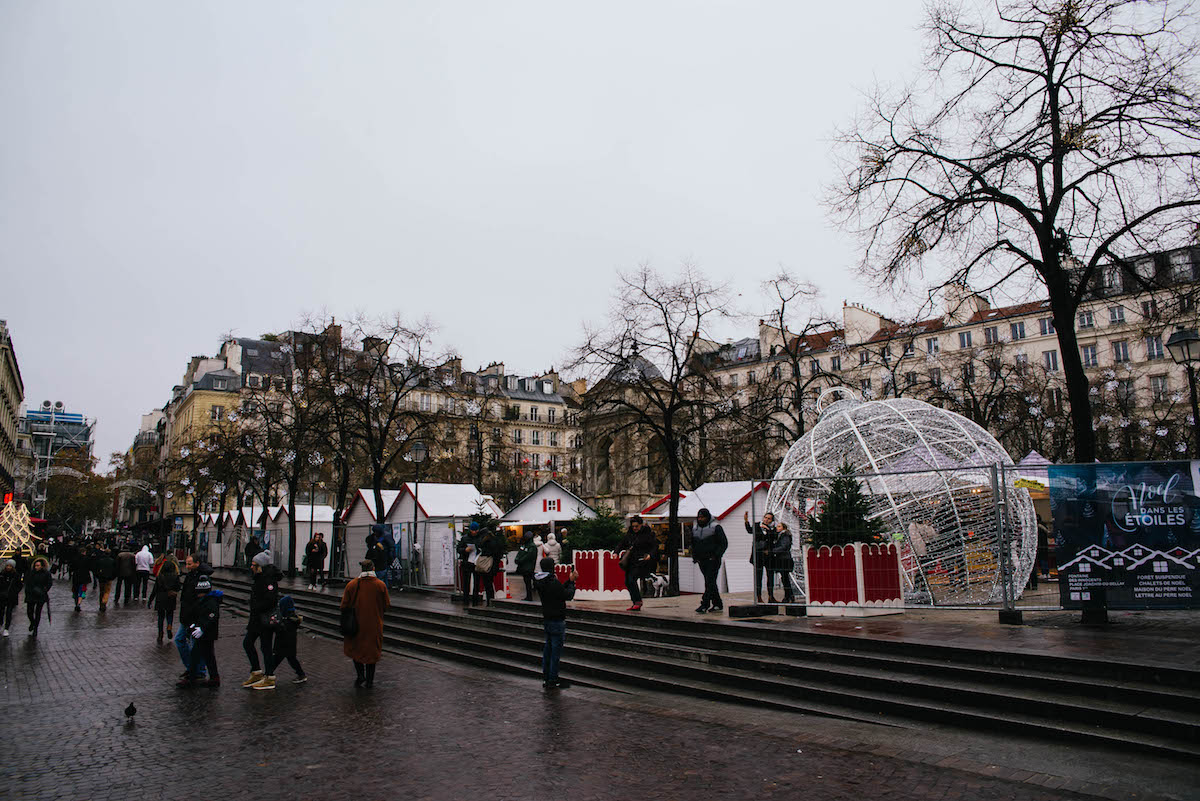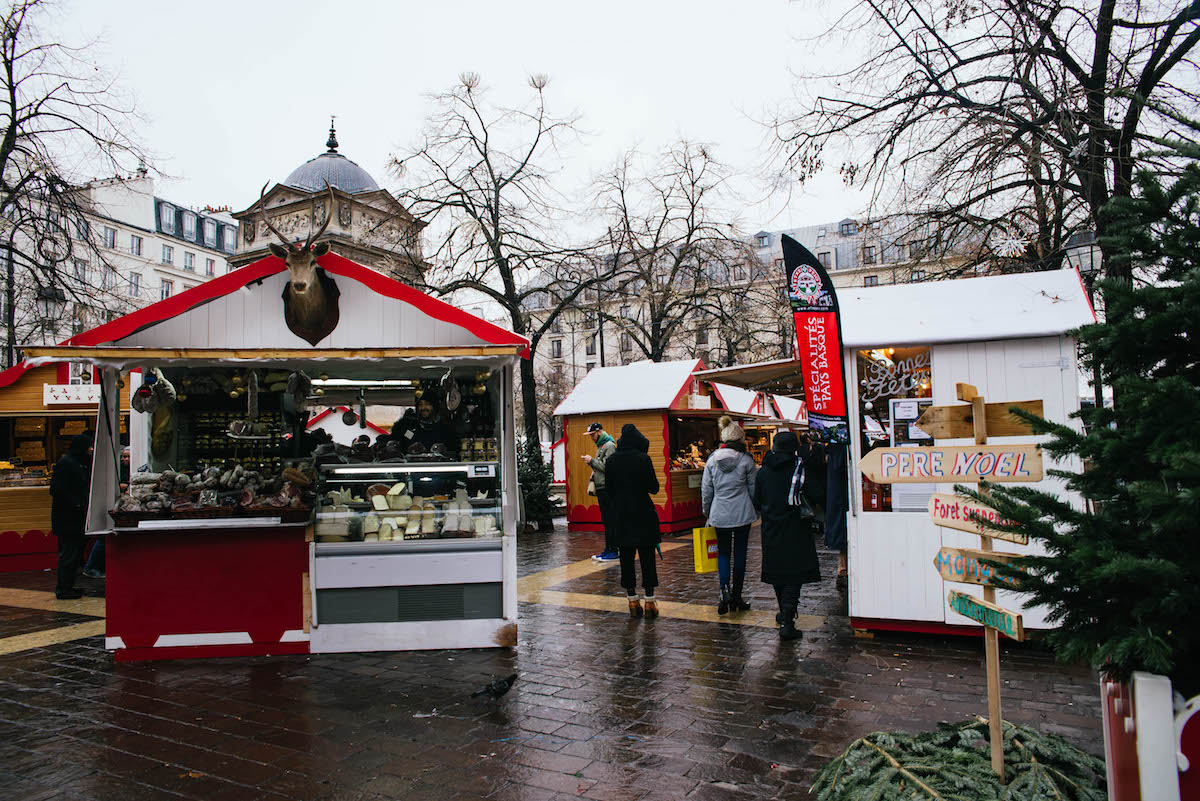 After taking some time to warm up and change, we headed out again walking to the famous Palais Royal. It's a photo hotspot (you probably recognize it from Instagram) but I really wanted to see it in person. It had started to drizzle so we lucked out because hardly anyone else was there when we arrived. Nick and I had a blast goofing off and taking pictures.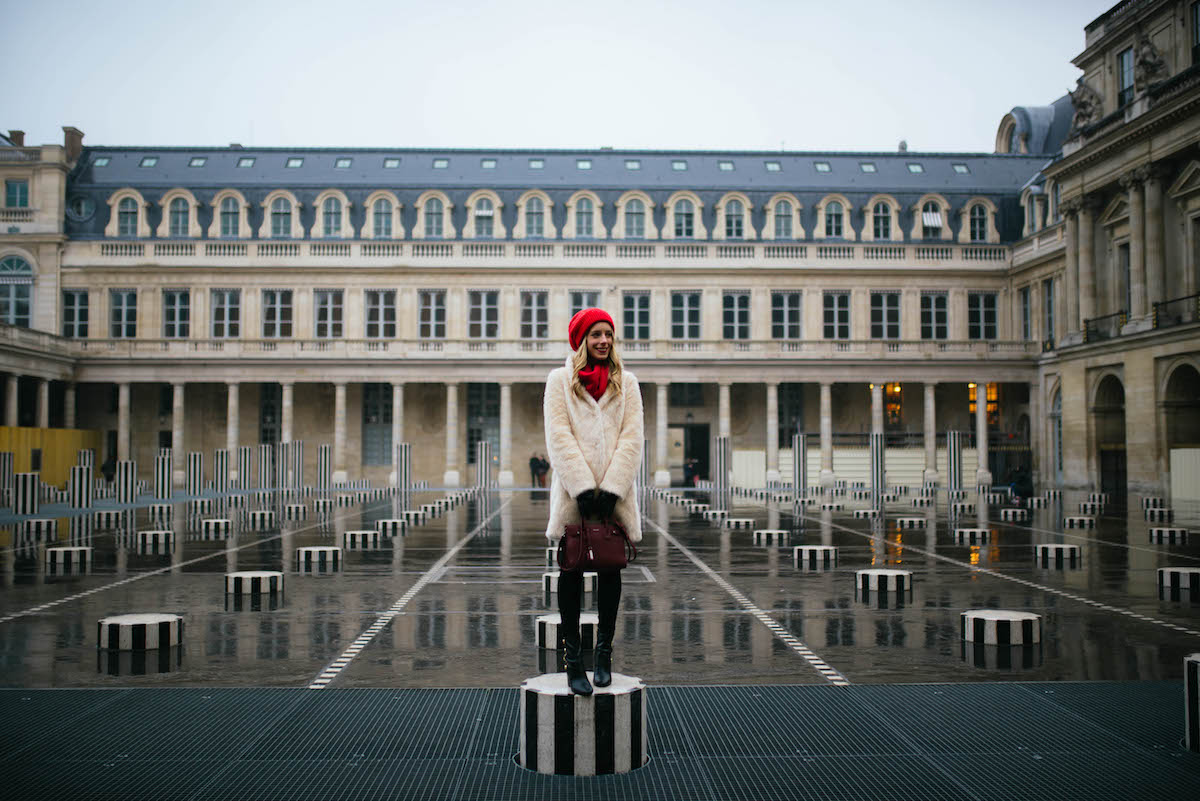 From there we walked over to Place Vendome aka a shopaholics paradise. Here you'll find every luxury designer store from Louis Vuitton to Dior, Rolex and Cartier. There were tons of beautiful Christmas decorations so we spent about an hour and a half walking around window shopping and checking out the lights.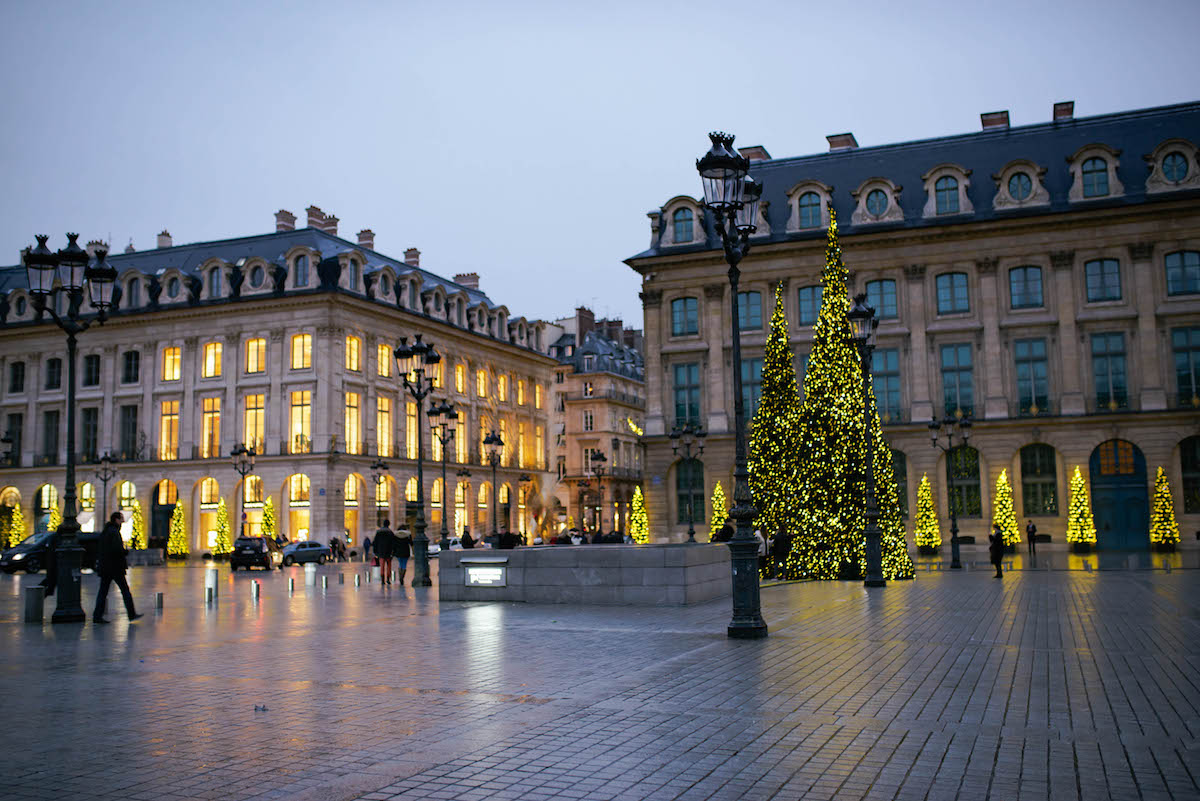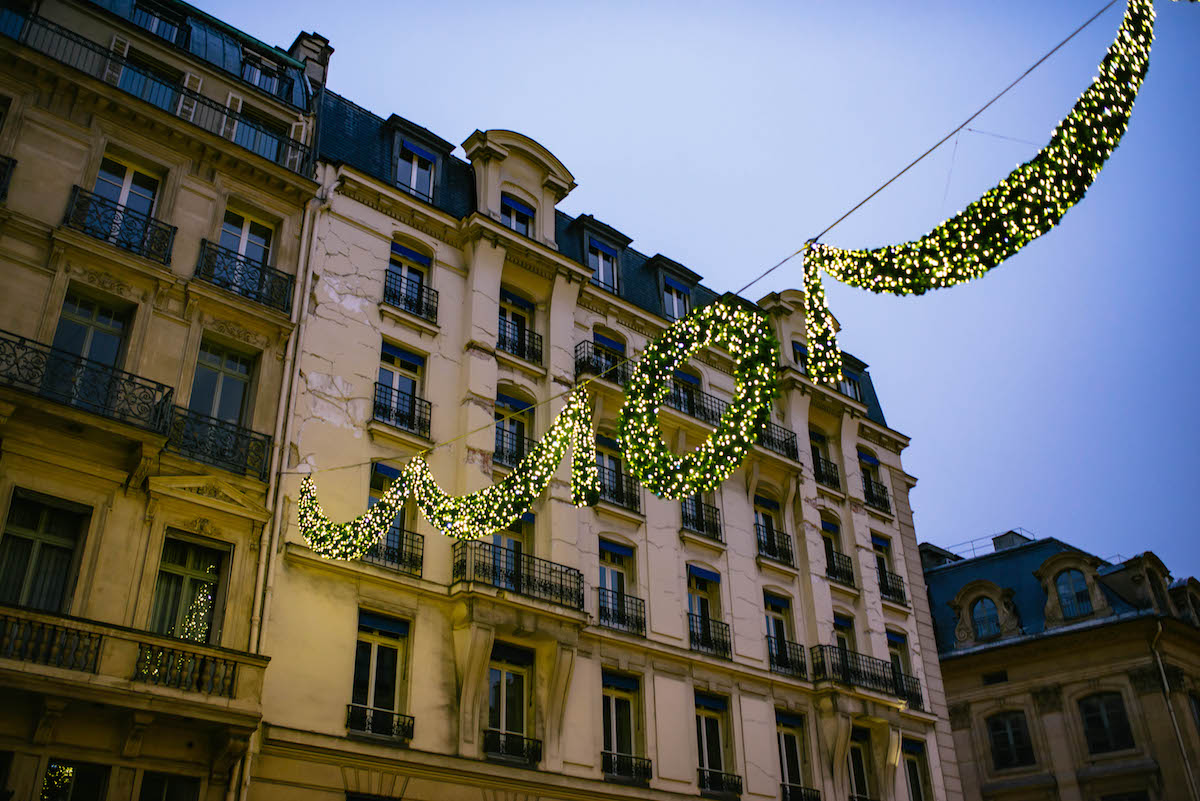 Once we got too chilly, we made our way into the Ritz Paris just as the famous Hemingway Bar was opening for this night. Another friend had recommended this to me as a special spot to grab cocktails and they were right. I mean, just walking through the Ritz was a treat (so over-the-top and luxurious) but the bar and drinks were very memorable too. Every cocktail is expertly crafted and has a story behind it. The room is also filled with decor and artwork inspired by Hemingway.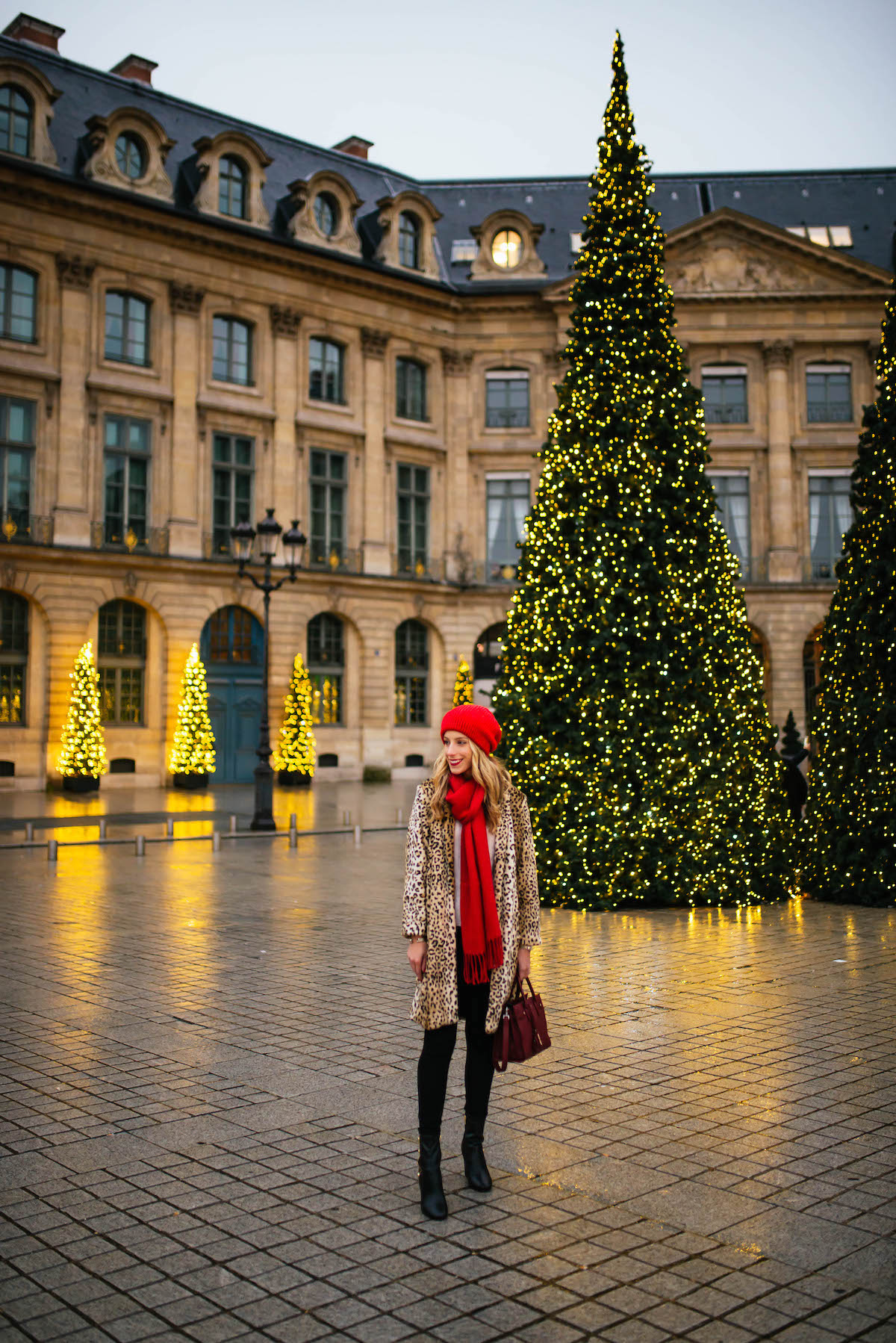 Tip: Get there at the opening (6PM) or make a reservation because it's a very small bar and most people will spend about two hours enjoying their drinks. The cocktails are also a pricey 30 euros each– if there's one thing we don't mind splurging on when we travel it's food and drinks so we budgeted ahead of time for this.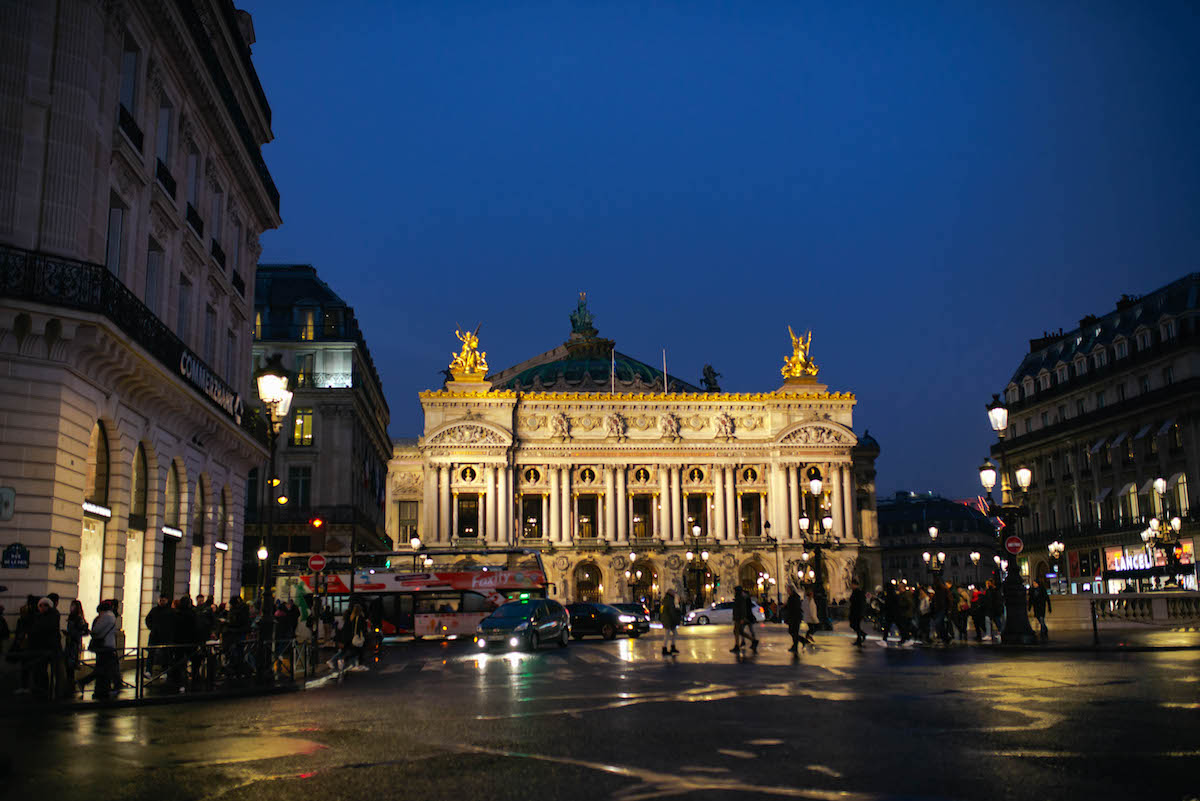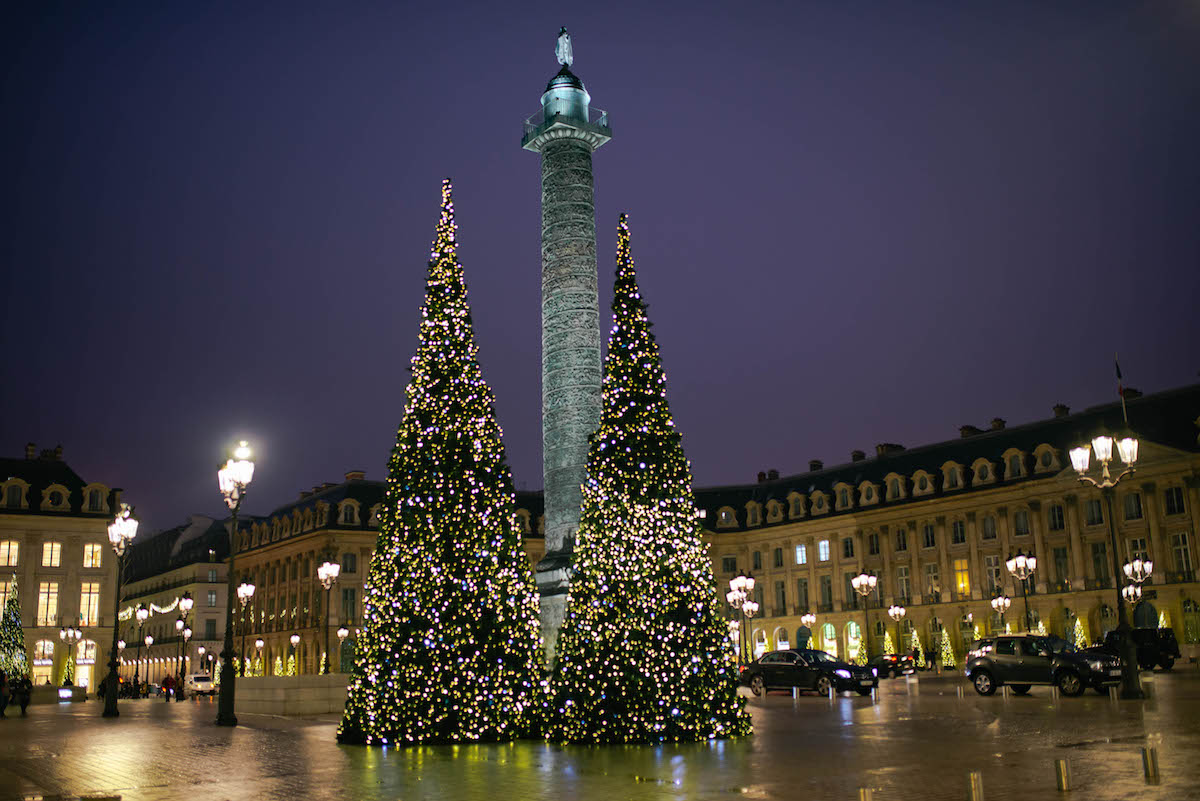 Next came dinner. Like I said, our options were limited but I was able to make a reservation at La Regalade. We arrived and discovered on Sundays that diners are treated to buffet-style appetizers and desserts, but choose their main course (beef, chicken or lamb). Nick and I both went with lamb, which we enjoyed along with overflowing plates of cheese, bread, salad and sweets on sweets.
DAY 3 | MONDAY
Exhaustion was starting to catch up to us at this point, so reluctantly I set our alarms a little bit later (and by later I mean 9AM :P) If you guys weren't aware I'm a morning person (like 6AM up moving and grooving) but I knew we couldn't push ourselves too hard since we still had two more cities to explore after Paris.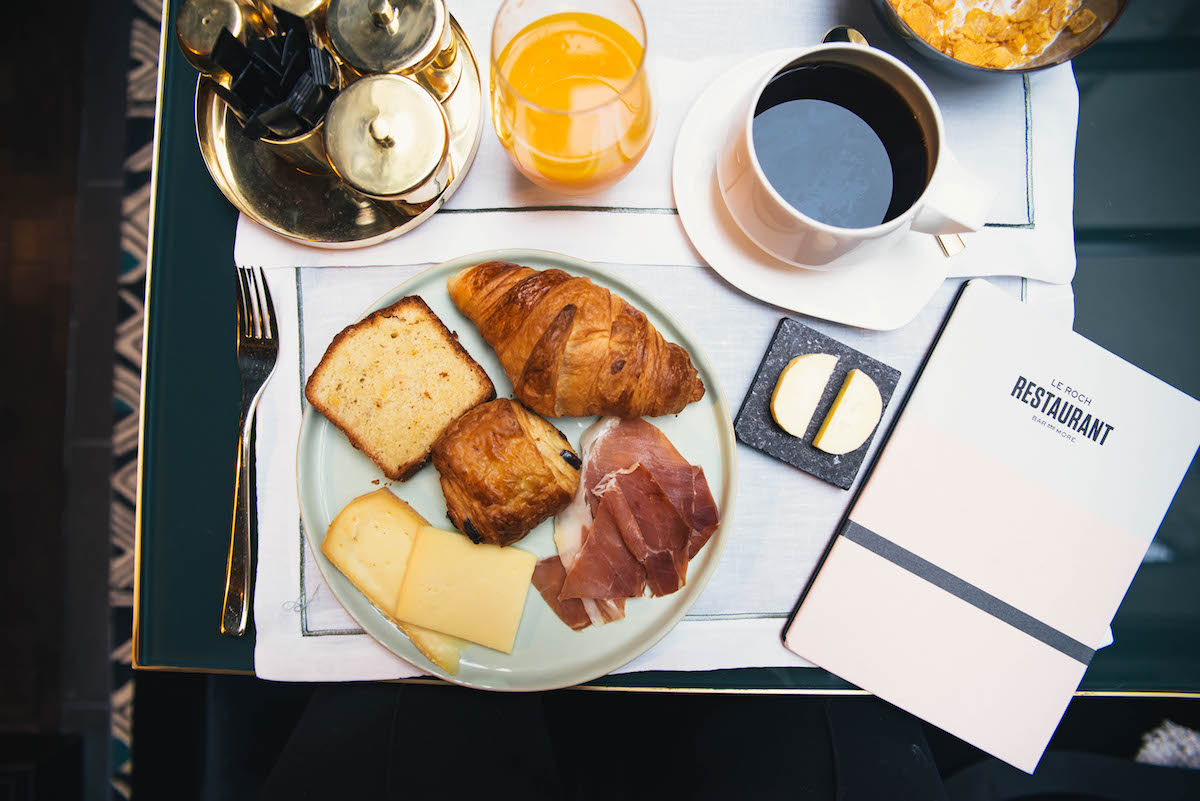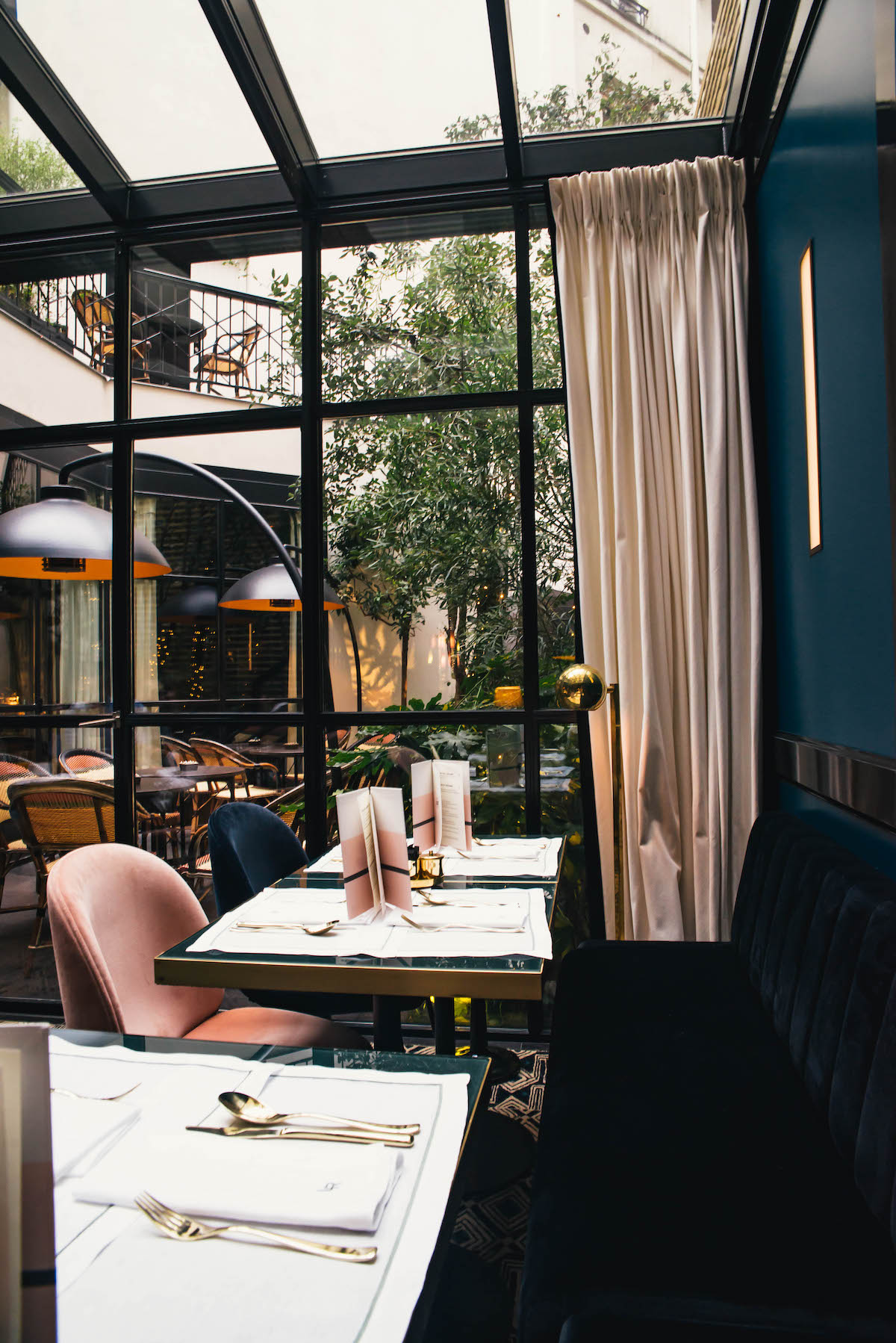 After enjoying the yummy complimentary breakfast at Le Roch, we called an Uber around 10:30AM to take us over to the Trocadero so we could see the Eiffel Tower and explore the surrounding neighborhood. I was a little worried it would be difficult to take pictures with so many tourists, but the area is huge. You can absolutely arrive any time of day and get a cute shot on the steps.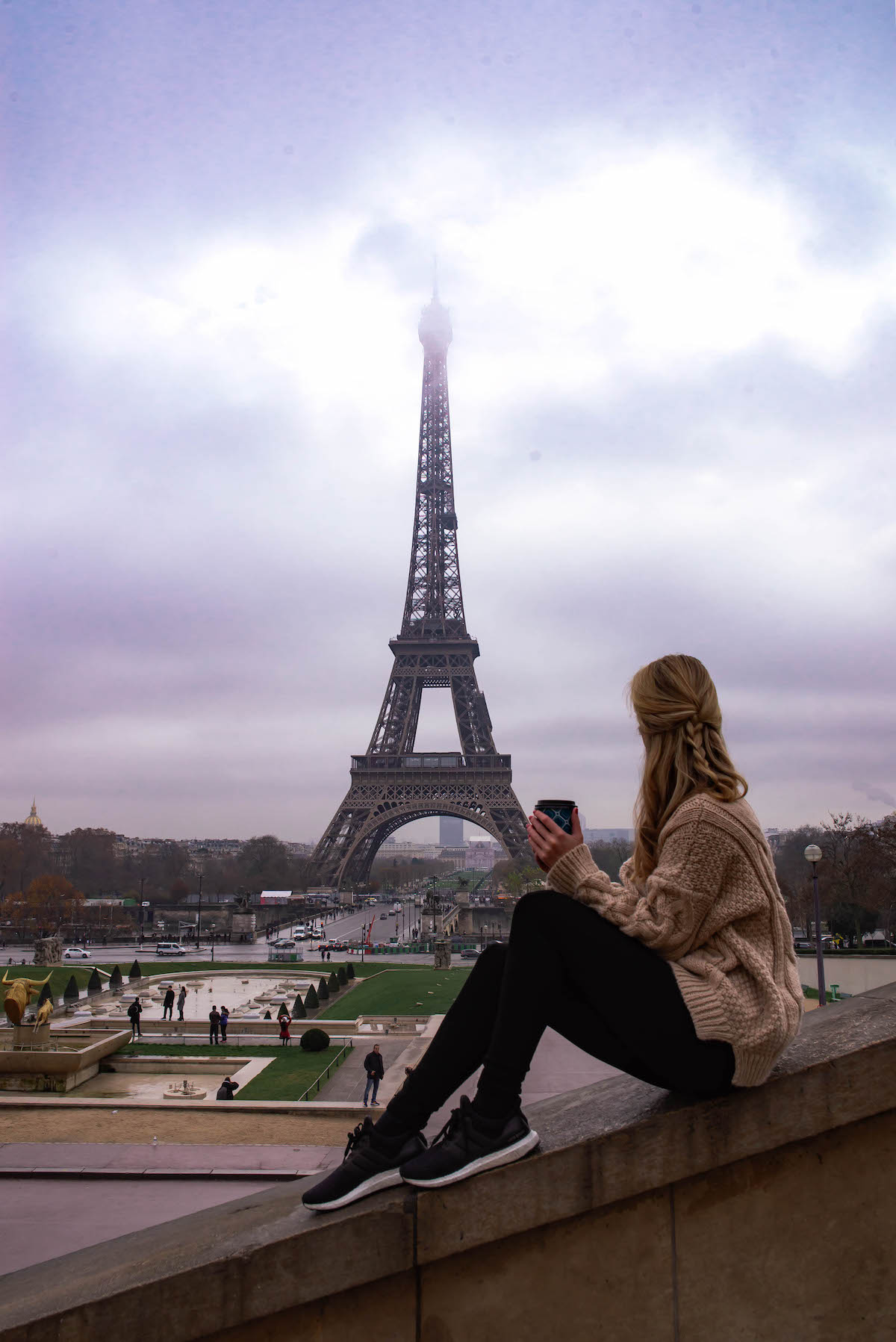 Next we set off to check out a few uncommon spots Nick had researched beforehand for viewing the Eiffel Tower. He found these all through photographer forums and blogs. If you're looking for not the standard Trocadero snap– then definitely add these places to your list.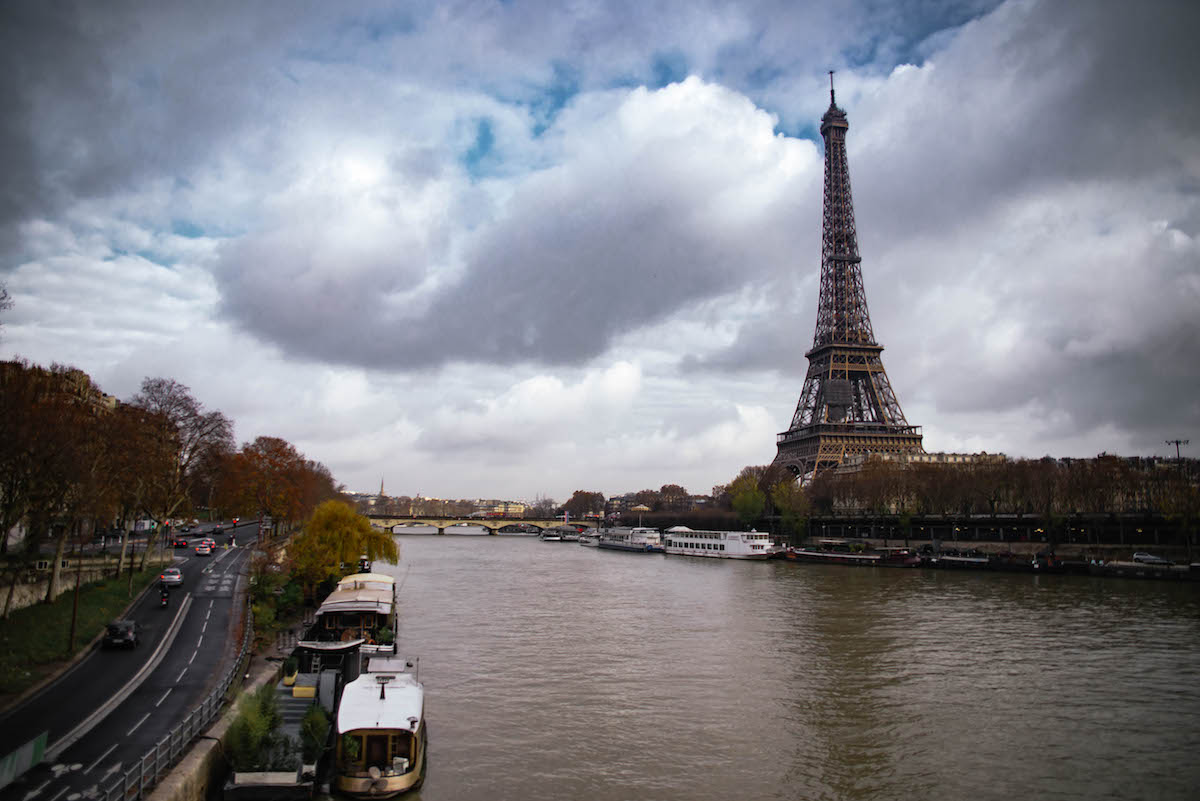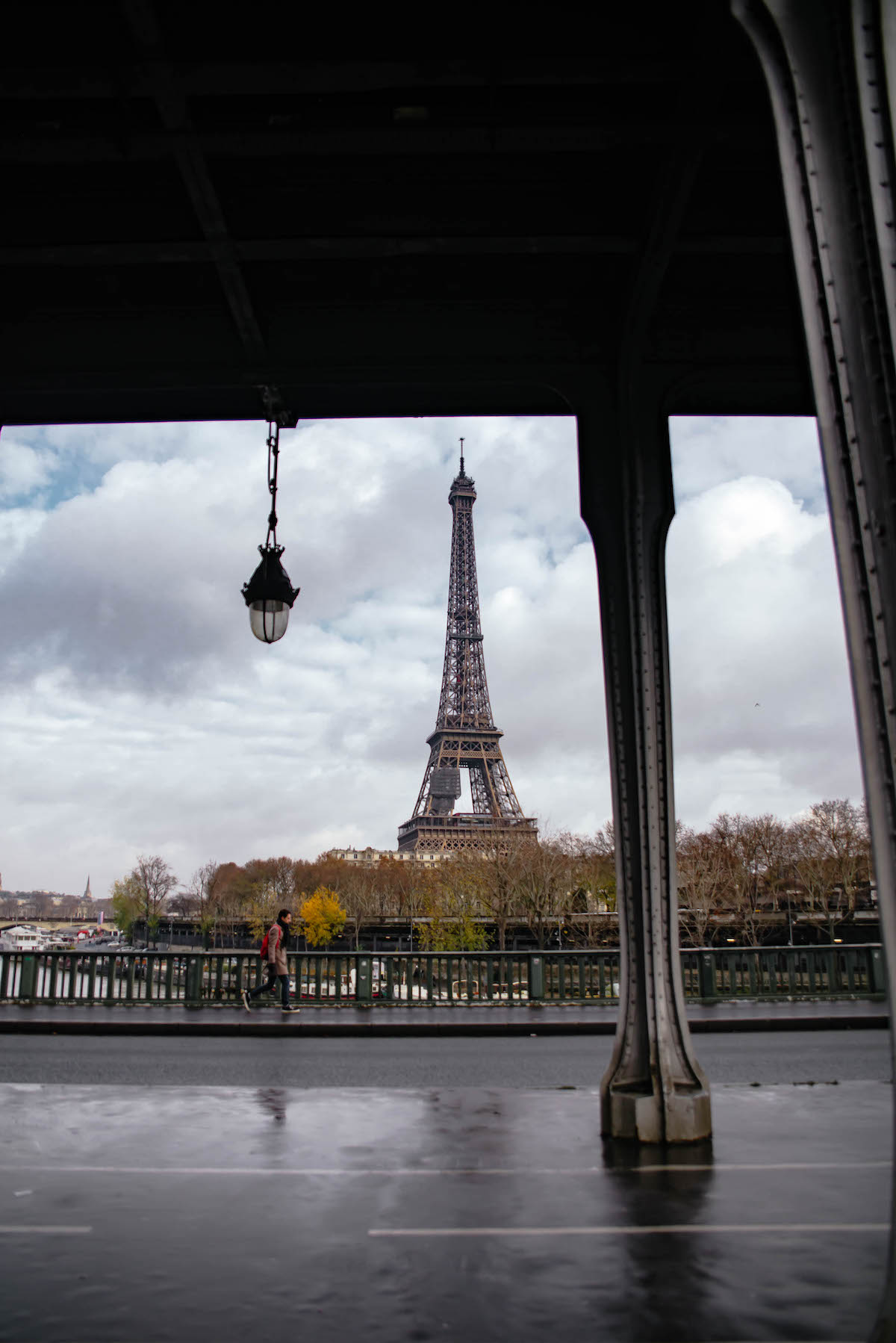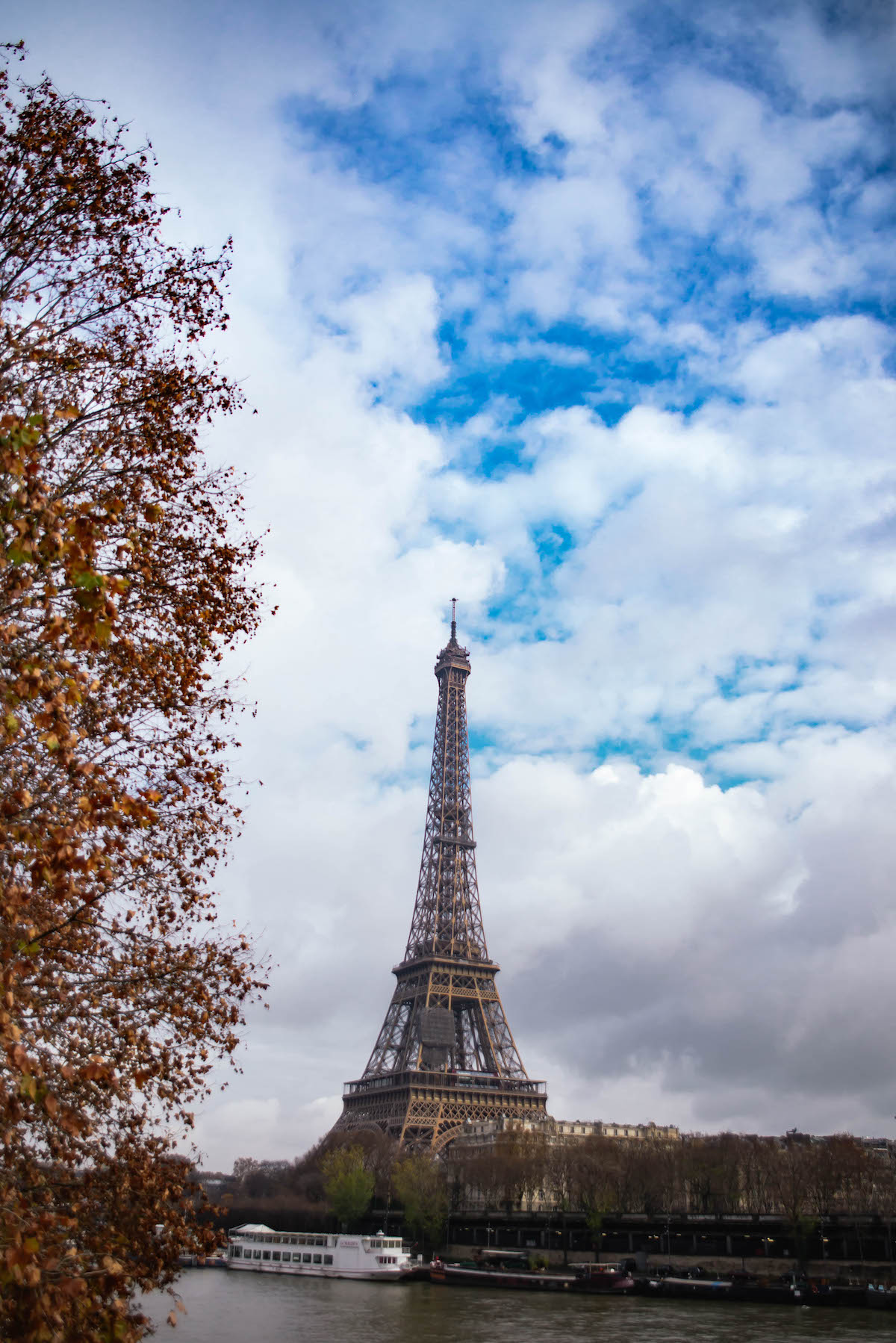 The view from Pont de Bir-Hakeim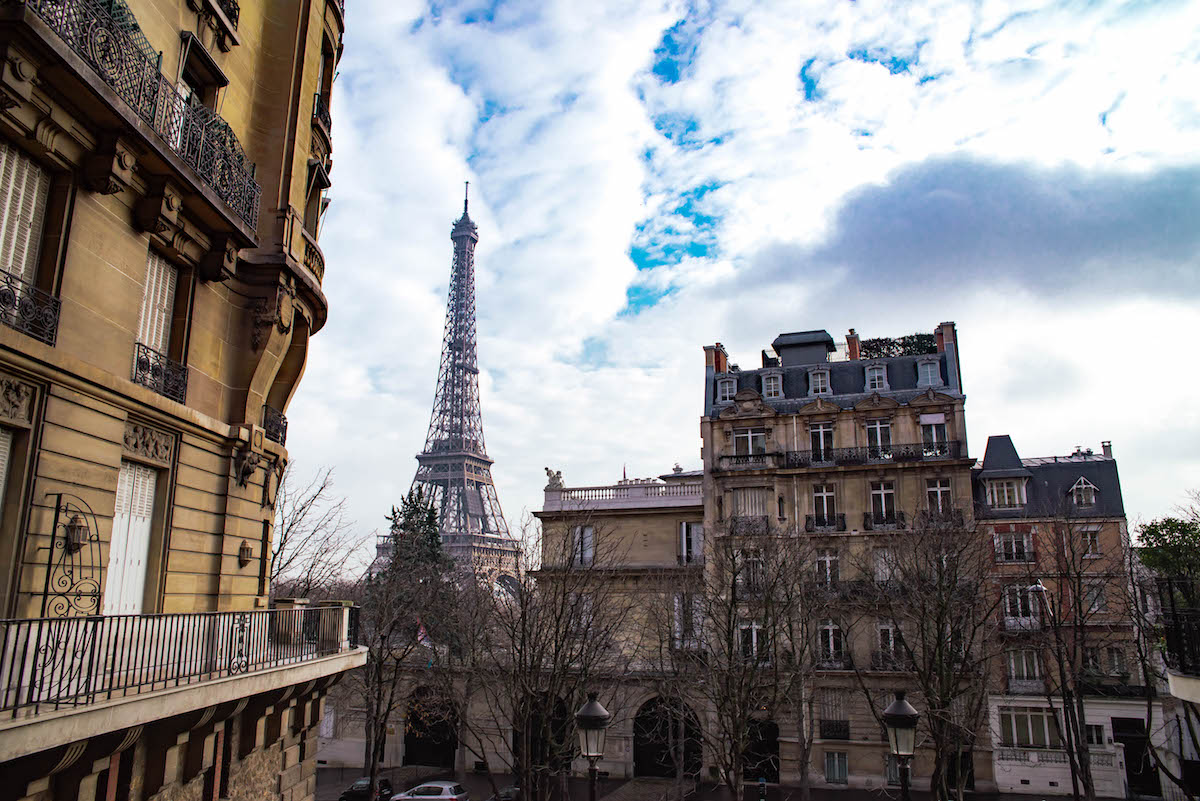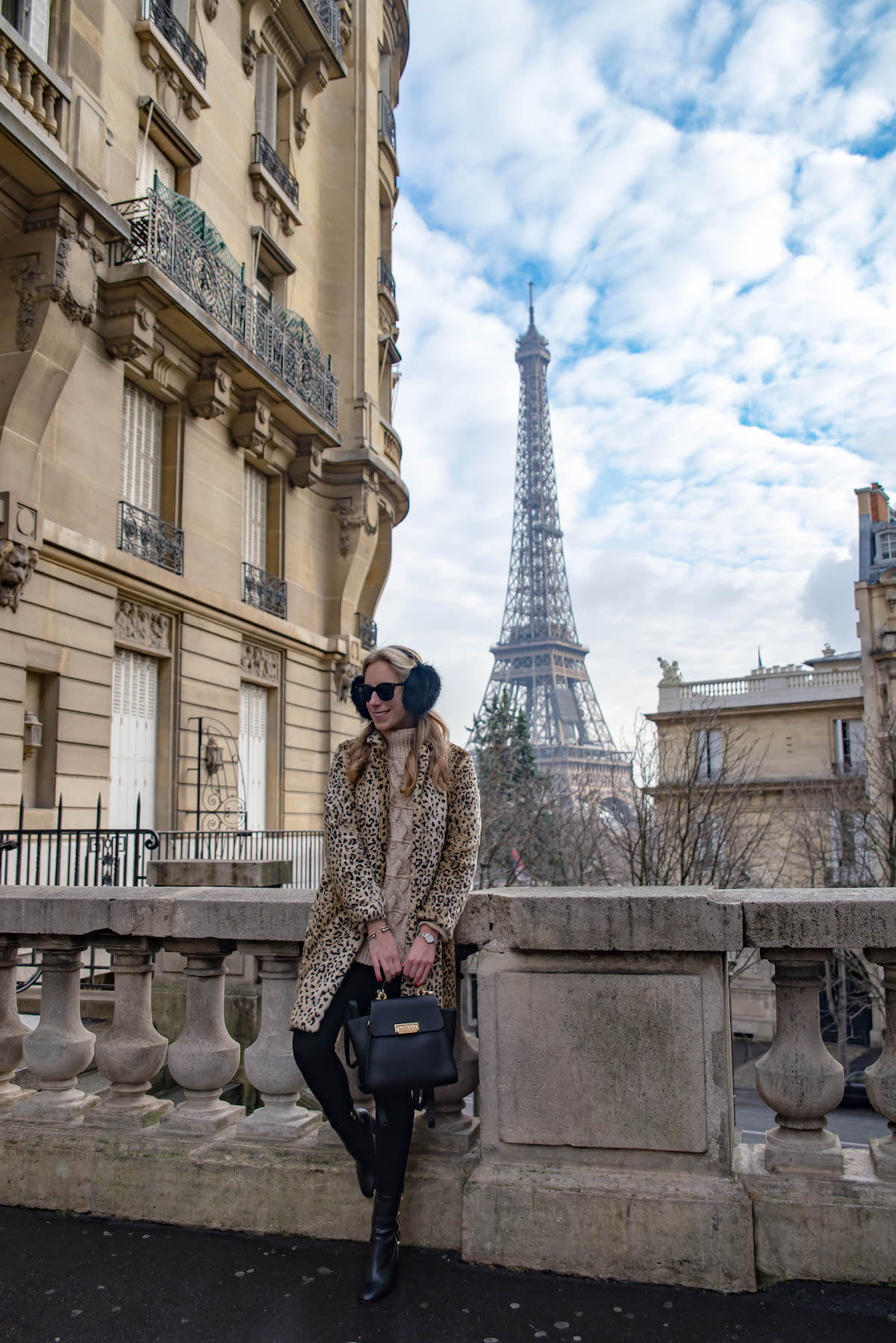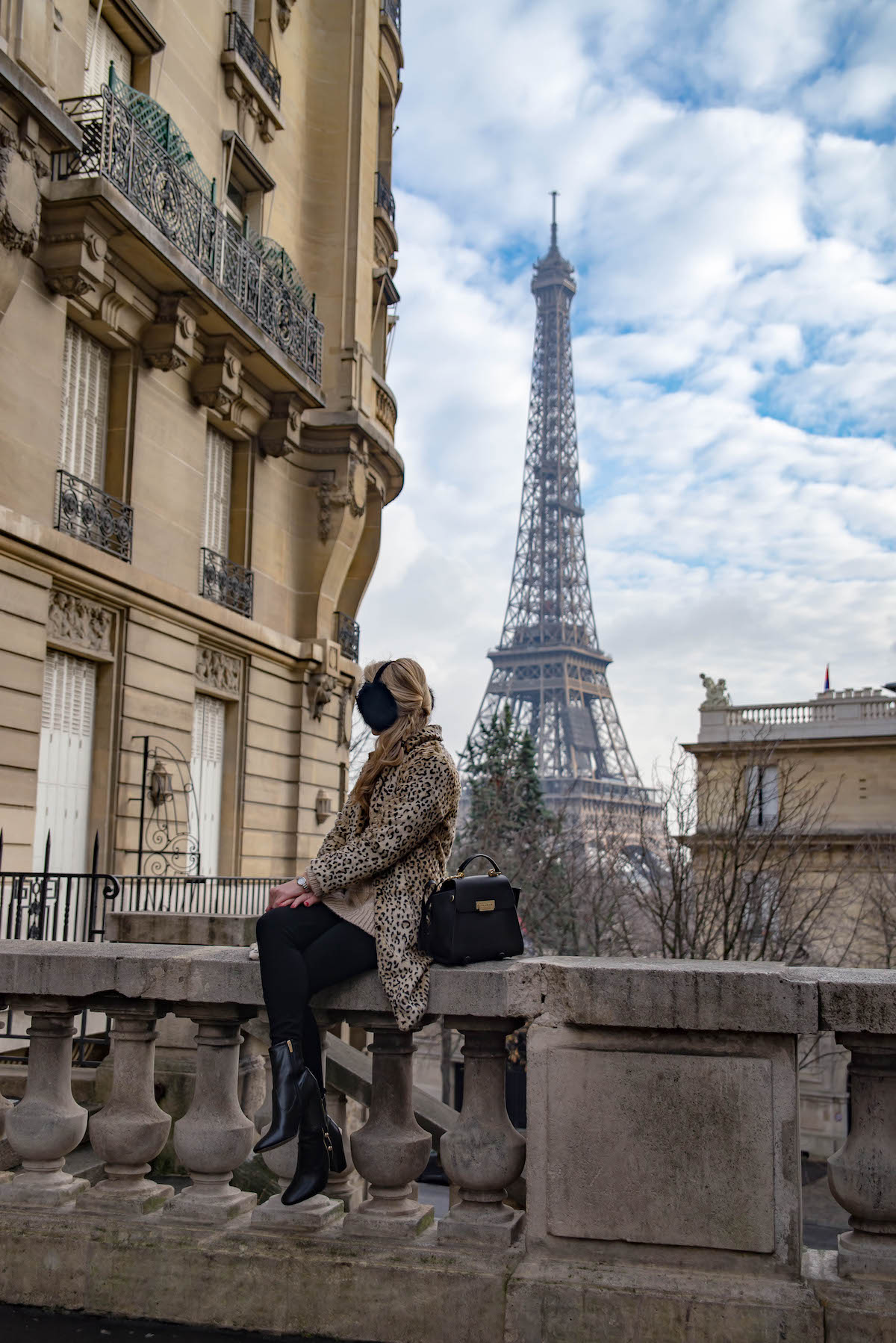 The view from rue Benjamin Franklin
Once we got our Eiffel Tower fill we headed back to the hotel for another little break and to change for the afternoon's activities. We had 4PM reservations for holiday tea at the Peninsula Paris (so good– check out my blog post on it here) but we had about an hour to kill beforehand so we used this time to climb to the top of the Arc de Triomphe (right down the street from The Peninsula.)
Tip: buy your tickets beforehand online so you don't have to get them in person when you arrive.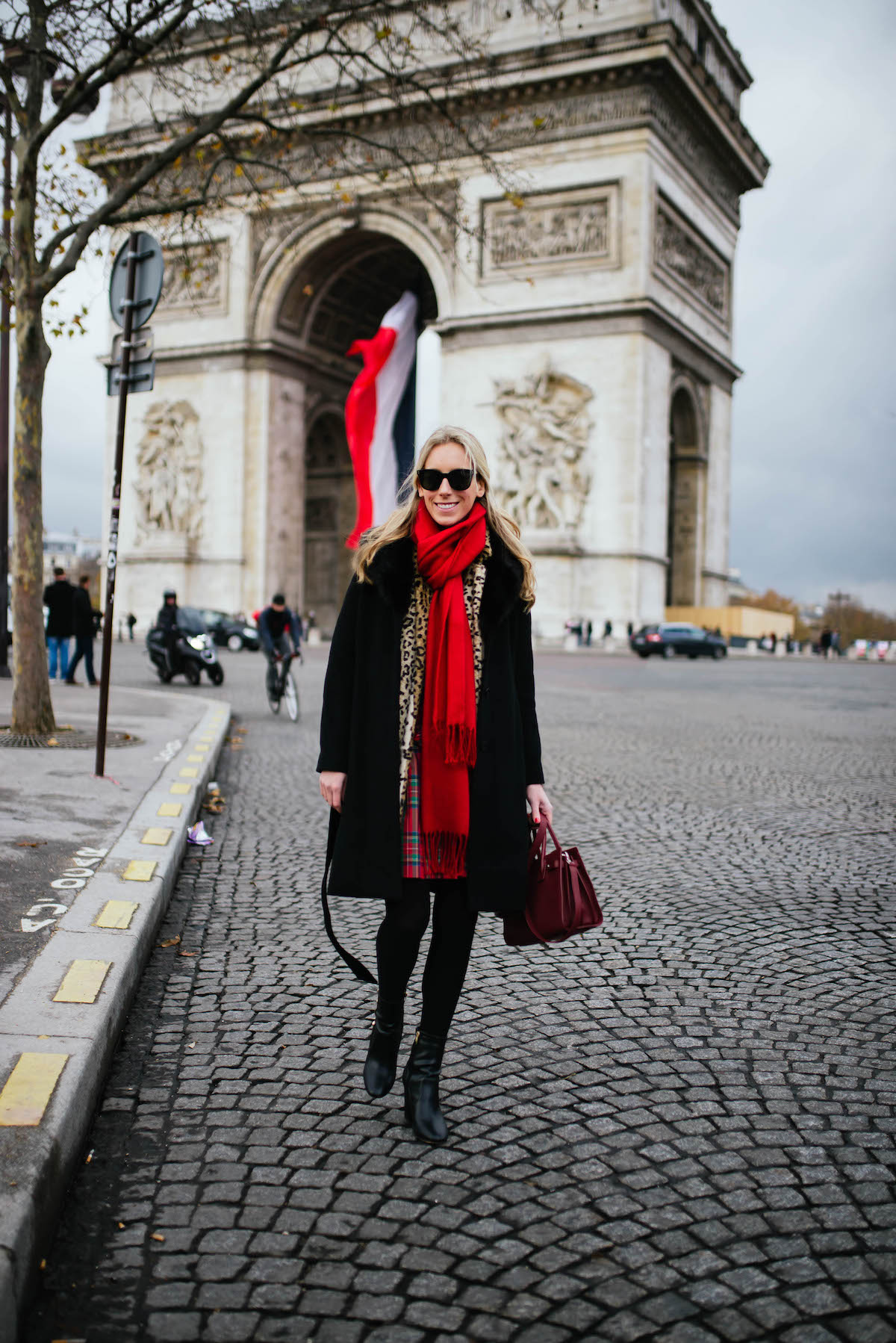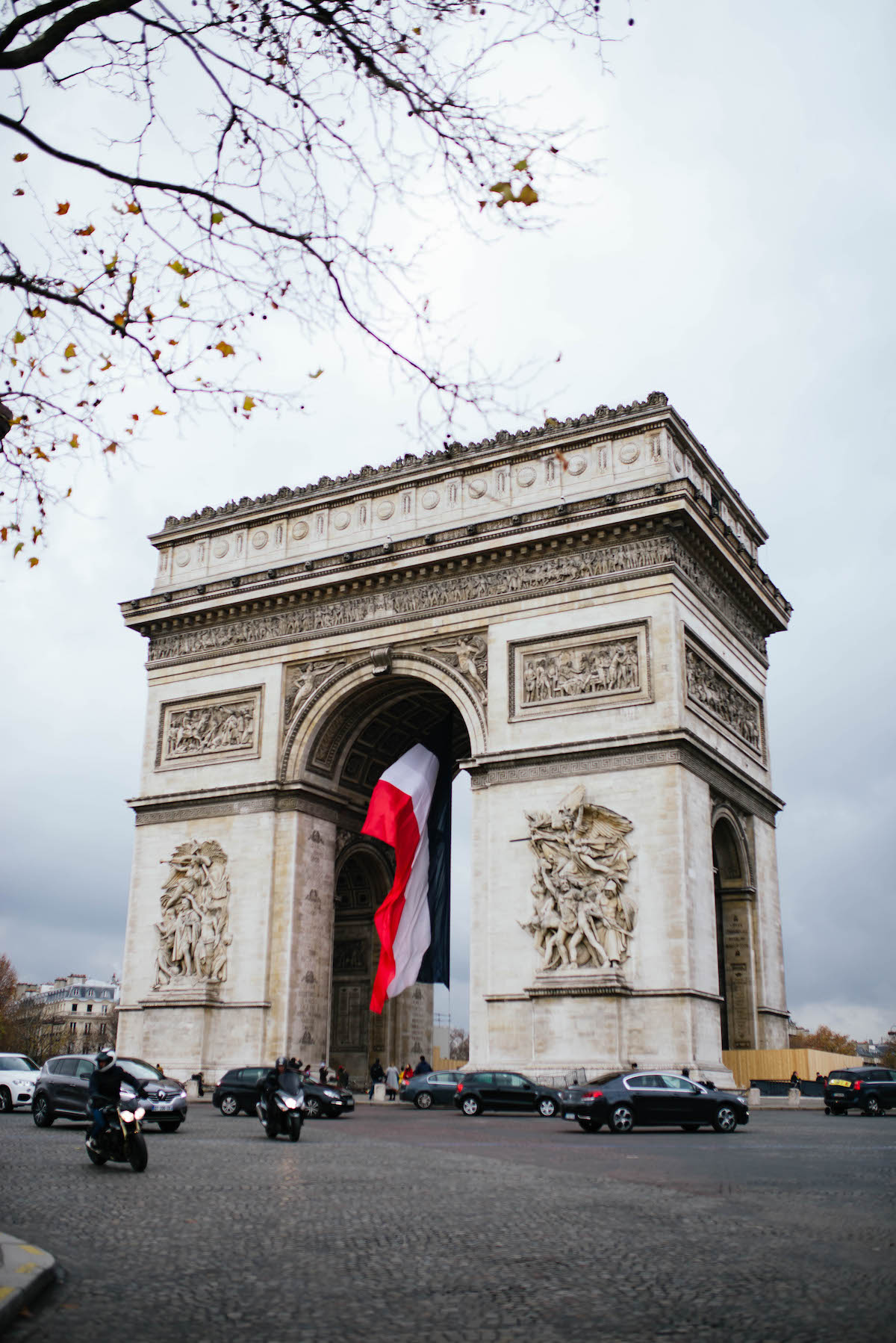 Okay, so the stairs were not that hard. Don't get me wrong, we were a little winded by the time we made it up (Nick more so than me– he needs to take leg day more seriously :P) but literally it took us less than ten minutes. At the top we of course found sweeping city views of Paris from every angle. The perfect photo opp!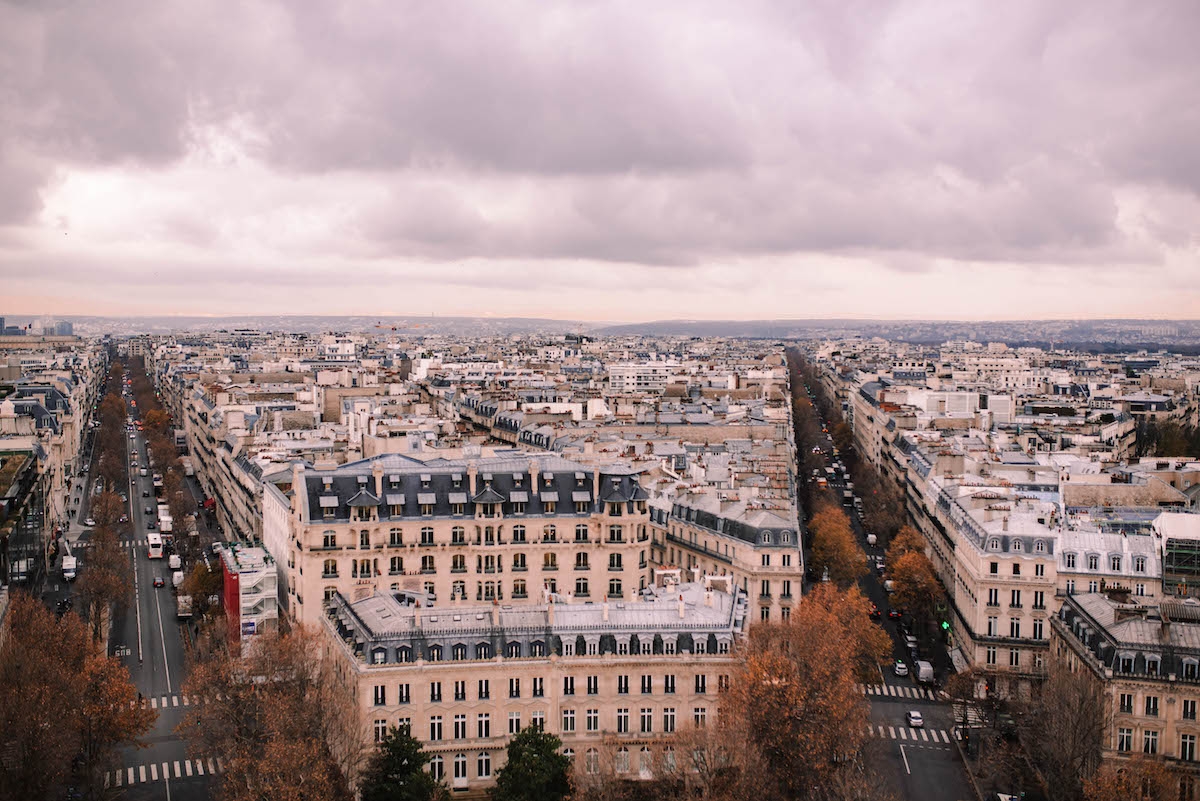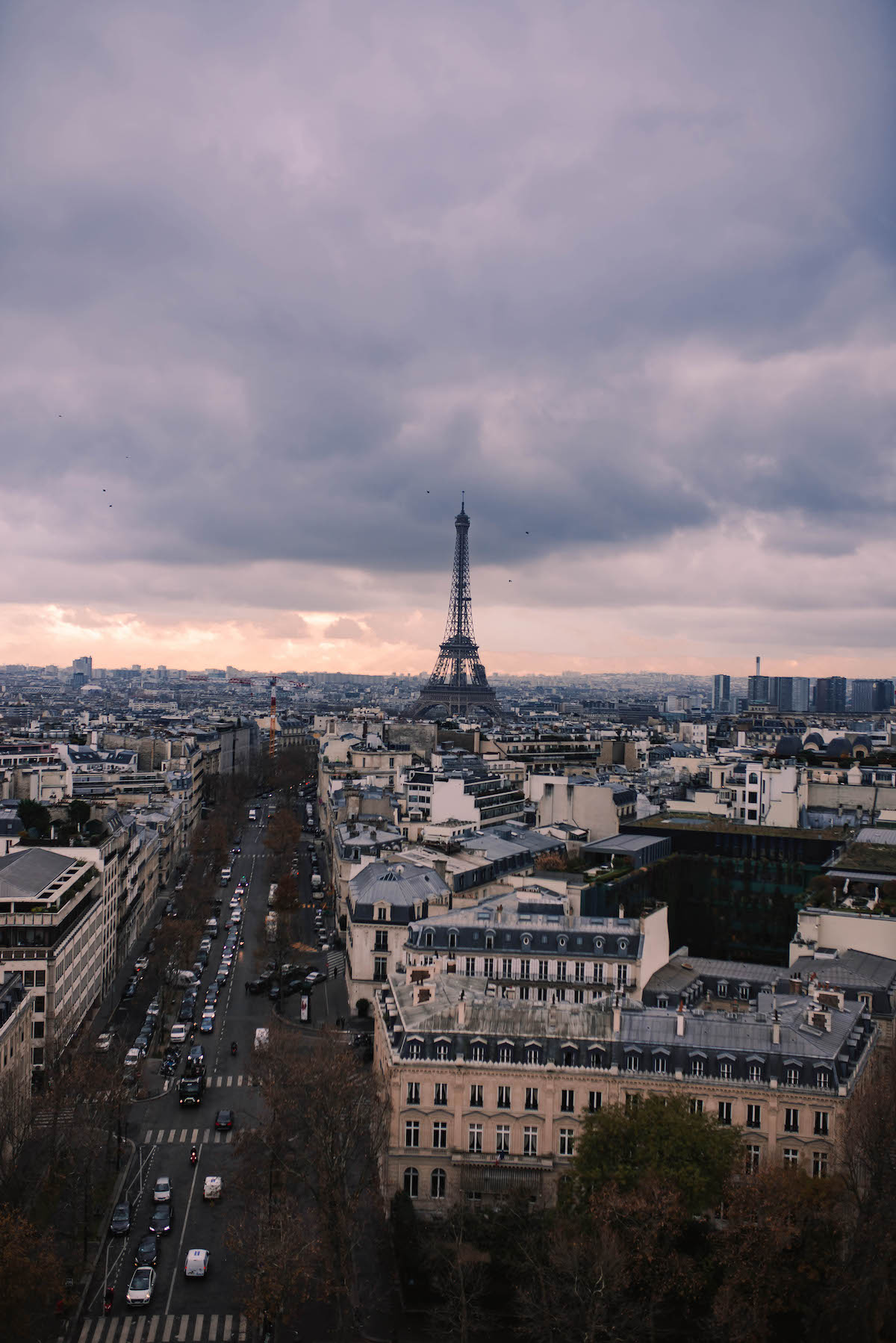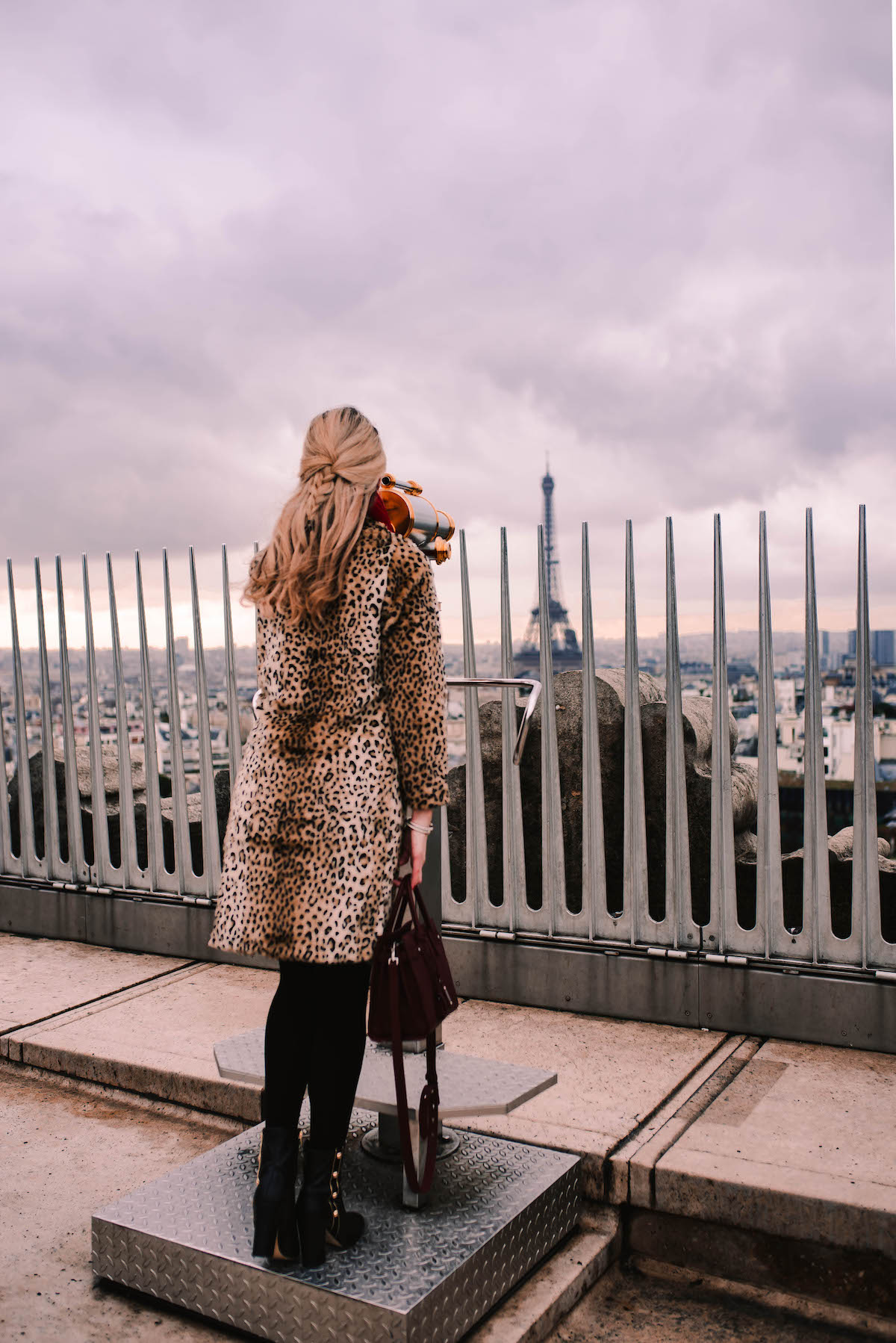 Our hotel concierge had mentioned that the Galeries Lafayette department store rooftop was a really great free viewing spot for seeing the Eiffel Tower at night, so after our tea that's where he headed. We spent a good hour walking around the store where Nick drooled over luxury watches and I acted like a child freaking out over Christmas decorations. We also watched the Eiffel Tower light show, which takes place every night on the hour lasting for five minutes. B E A U T I F U L.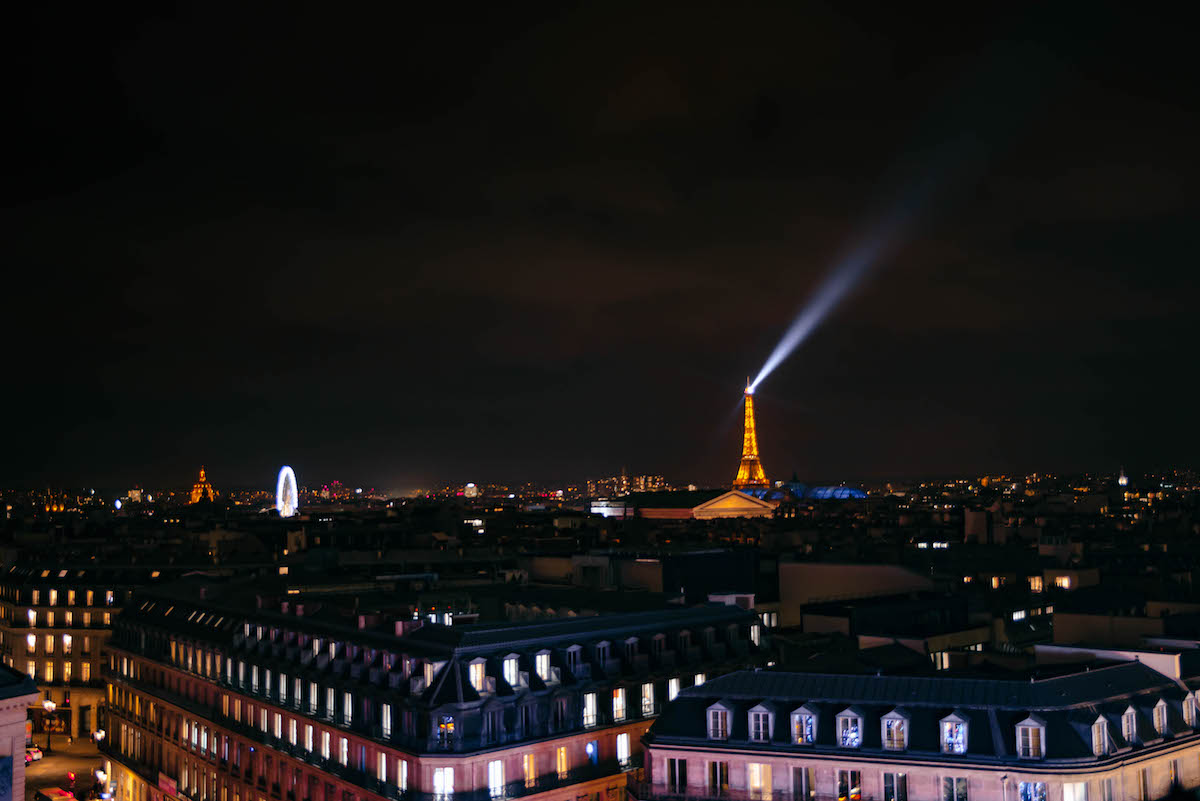 I gave up trying to find a dinner spot on my own because like I mentioned before, so many places are closed on Monday, but luckily the Le Roch concierge was beyond helpful and made reservations for us at Racines de Pres when I'd asked for help that morning. This was another one of our favorite meals of the trip. The food was delicious and we loved how all the other diners were clearly French locals– it made us feel like we were experiencing the "real" Paris and not in some tourist hotspot. Tip: Utilize your hotel concierge, especially if you can't speak French. They can give a head's up to restaurants ensuring you're paired with a waiter who can explain the menu to you. We were very grateful for this.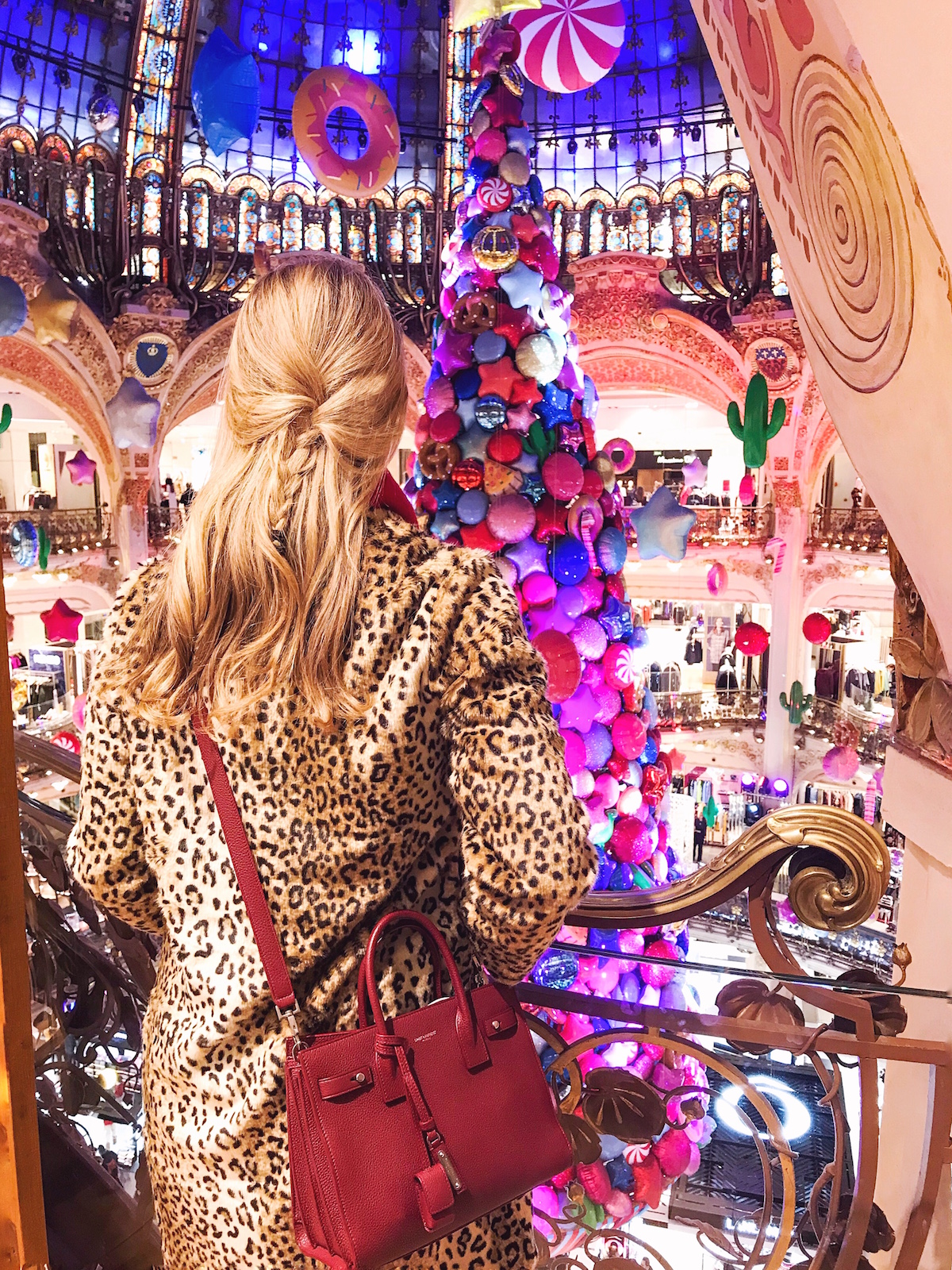 The Christmas decorations at Galeries Lafayette were beyond incredible
Seeing the light show put us on another Eiffel Tower high, so right after dinner we set off walking towards the iron lady once again hoping to capture some photos at night. We made our way through the St. Germain neighborhood over to two more spots Nick had marked for seeing the tower at night– Rue de l'Université and Quai Branly. Being the crazy people that we are, we planned ahead and brought our tripod with us in case there was an opportunity to set it up and get in a little self-timer action.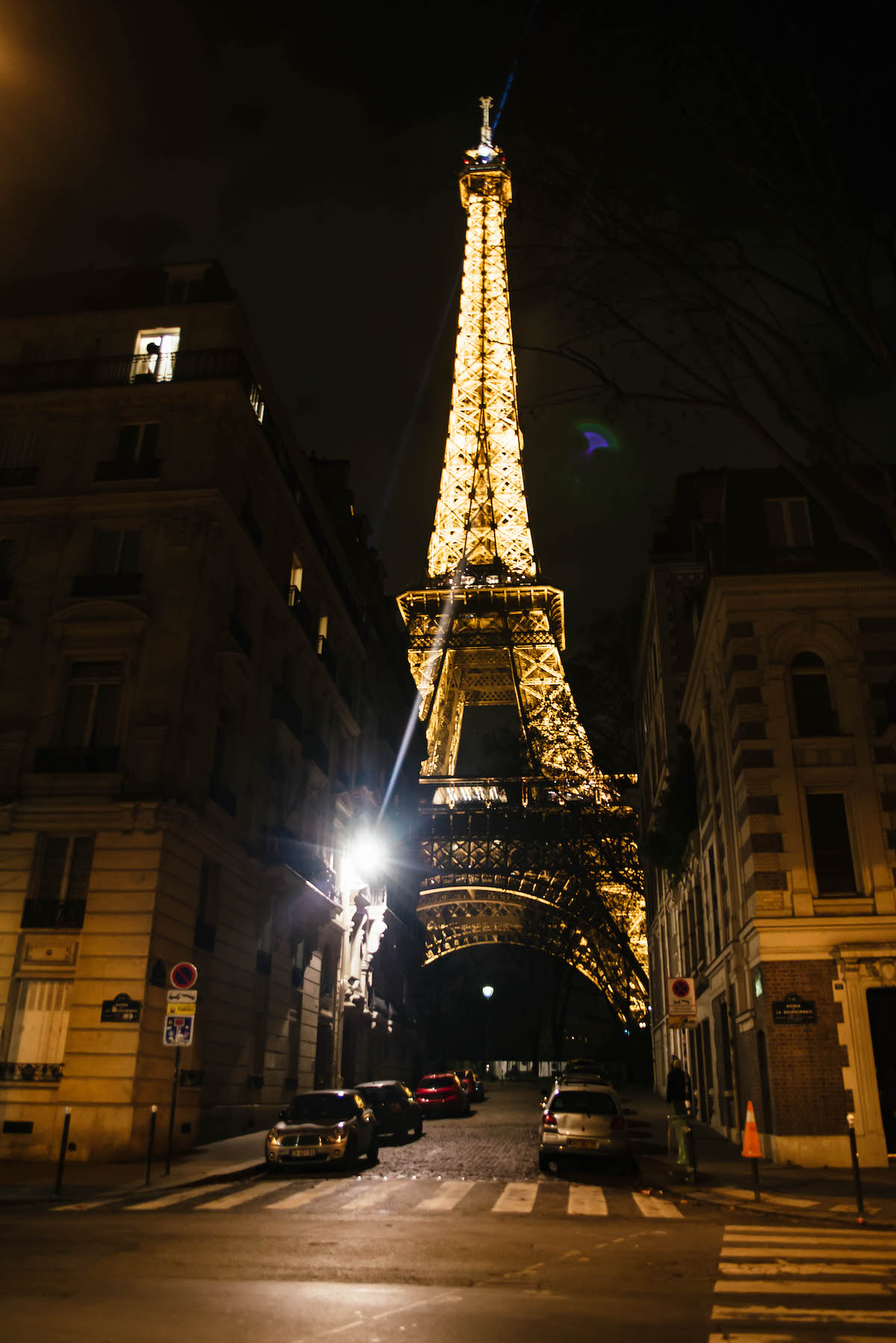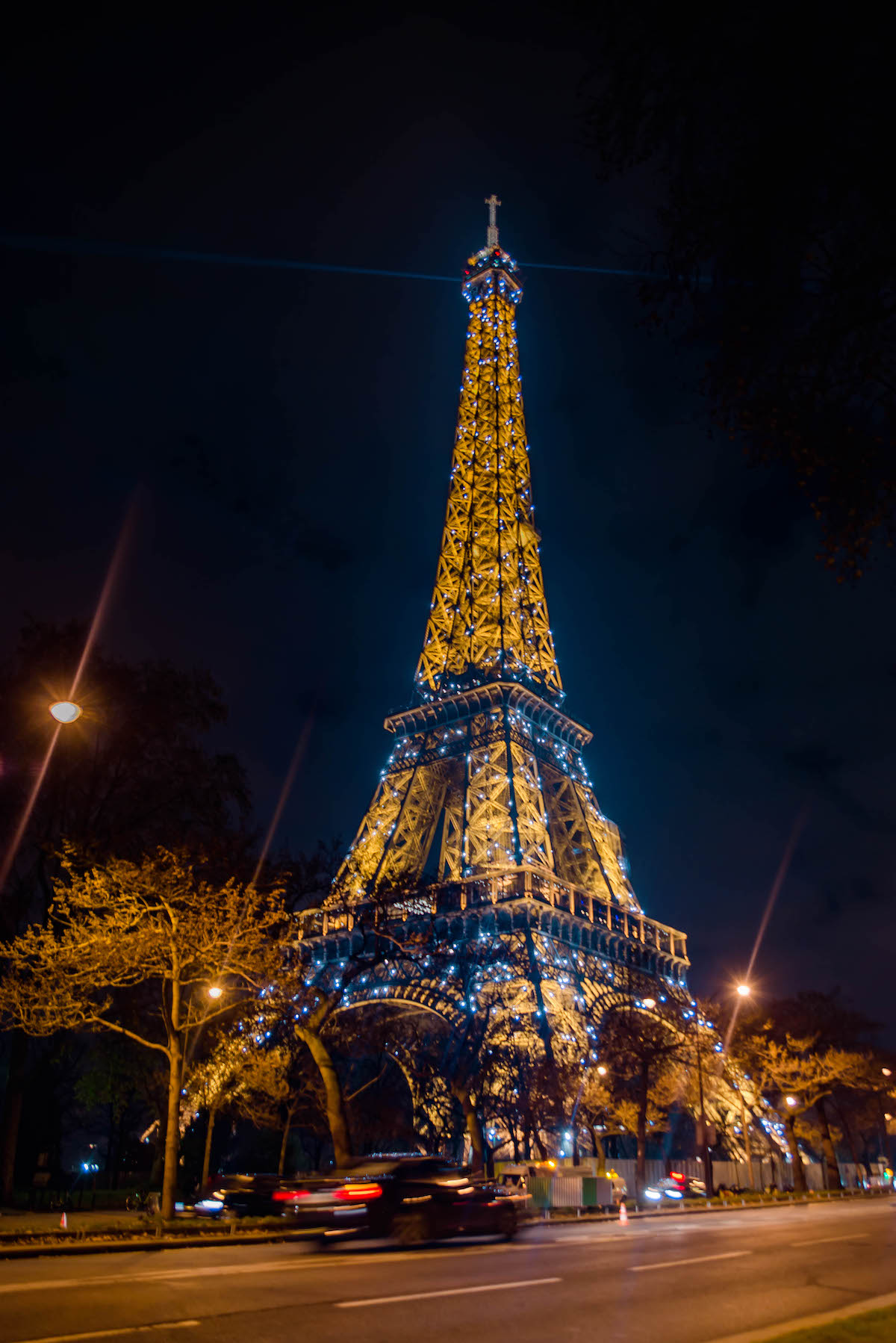 Views of the Eiffel Tower at night from Rue de l'Université and Quai Branly
We attempted to take pictures again during the light show here, but we took too long to figure out our settings and just missed the light show at midnight– boo. Well, at that point since we'd made all the effort we decided to try again in a new spot. We walked under the Eiffel Tower and ultimately all the way back to the Trocadero (FYI– it was teeny bit sketchy around the tower late at night. We passed a few groups of men and loud people drinking. I felt totally comfortable with Nick, but I know that I wouldn't have if I'd been alone or with a girlfriend.)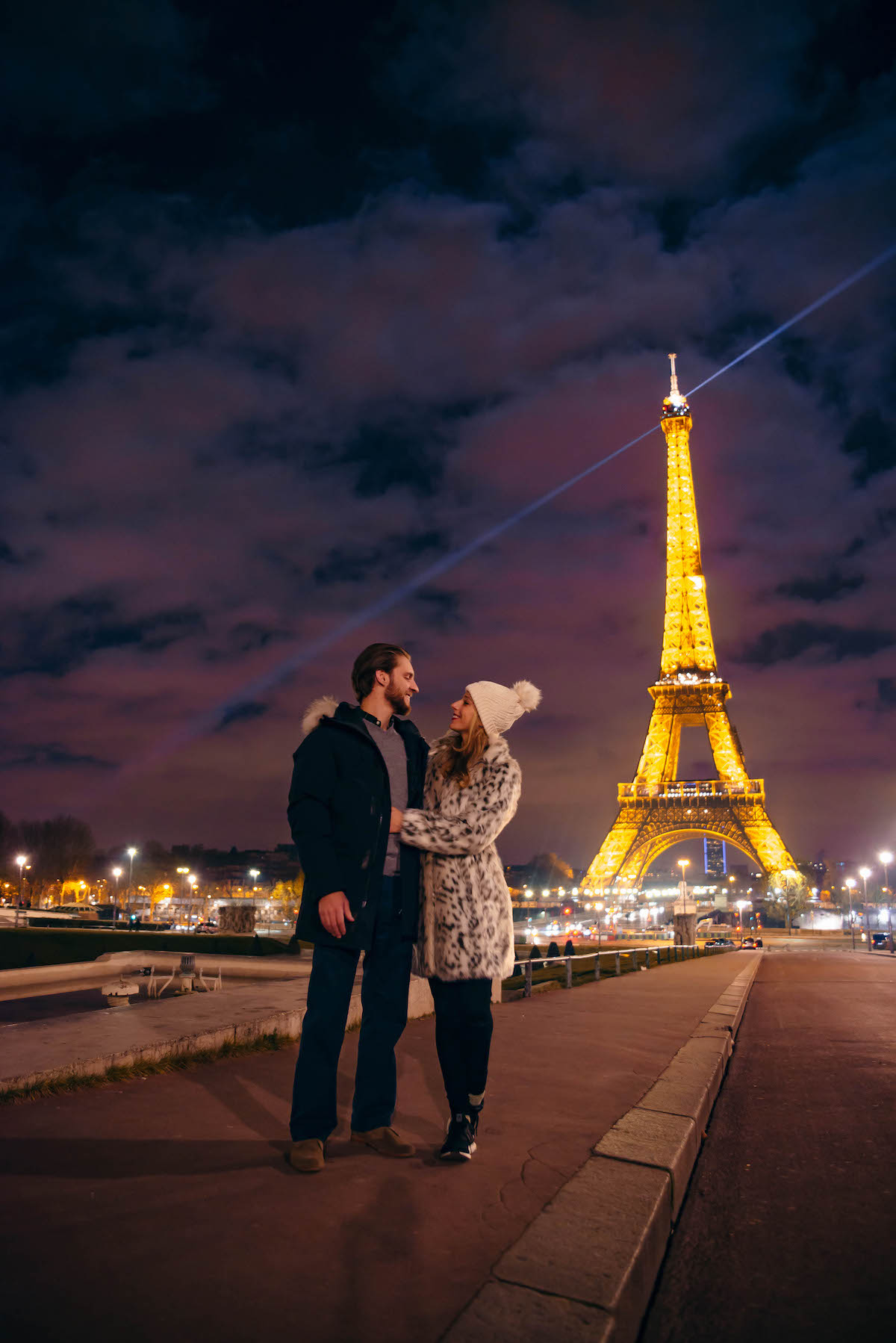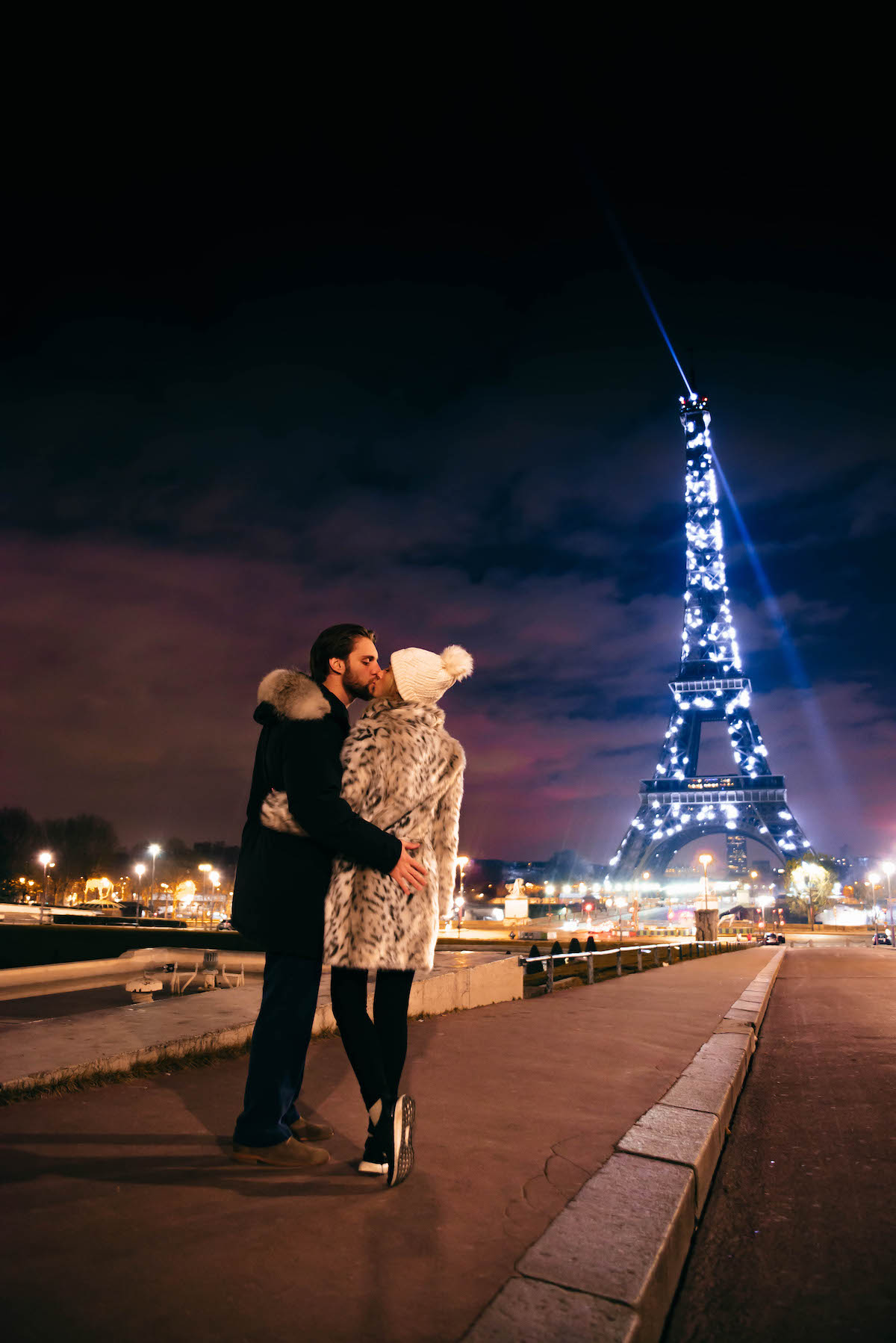 So all the walking and trial and error with our camera settings was worth it because we were able to capture the last light show of the night at 1AM. Doing all of this was so impulsive (we literally decided on it when we were at Galeries Lafayette) but it made for such a special memory. It may not be an activity for everyone but we had so much fun.  It will be a cute story to tell our kids one day how we spent almost three hours walking around the Eiffel Tower in the cold trying to figure out how to use our tripod, set manual settings on our camera and then posing in front of it while the self timer snapped away.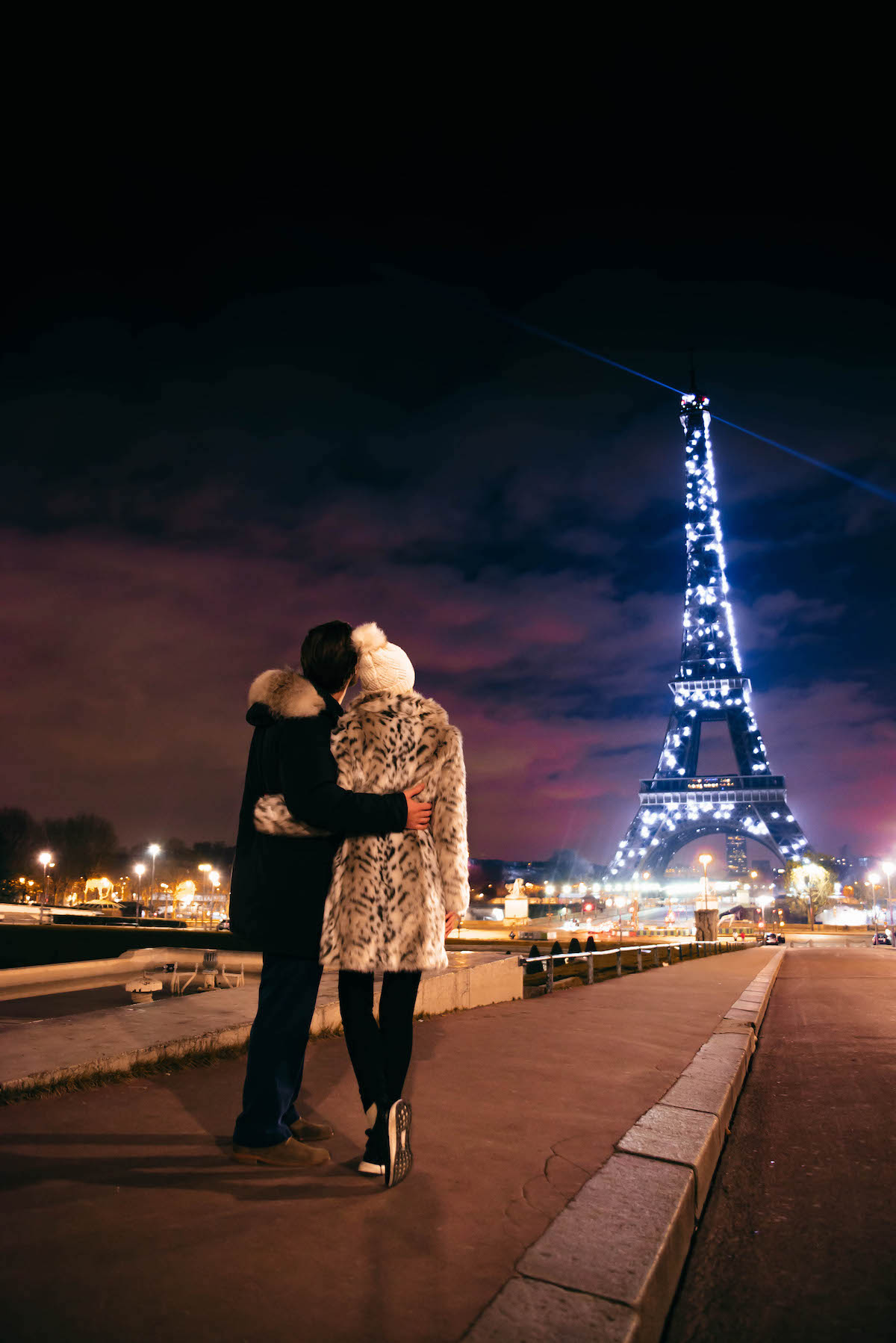 BTW– I had no idea that the last light show of the night at 1AM is different from the others. All the orange lights turn off leaving just the sparkly white ones. It was way more stunning and we felt absolutely justified saying up so late.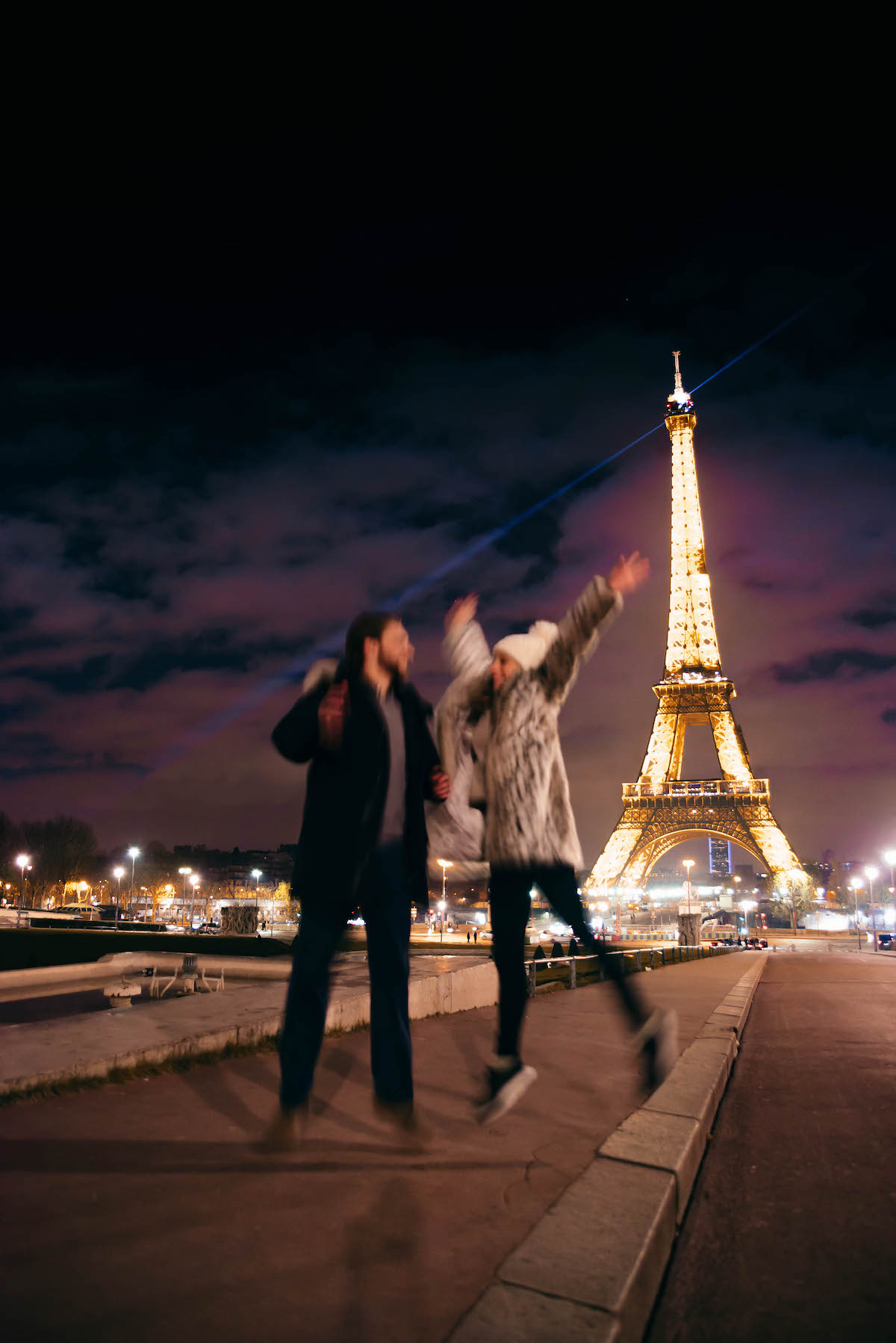 We totally failed at a jumping shot but I kinda like the blooper? 😛
DAY 4 | TUESDAY
Our last day 🙁 I purposely picked a train in the afternoon because I had a feeling we'd want to have the option of doing one morning activity. Nick had bookmarked a bunch of spots in the Montmartre neighborhood, so after a quick breakfast we grabbed an Uber and headed up there for some quick exploring. There we found the famous Sacre Cour, Moulin Rouge and lots of charming cobblestone streets.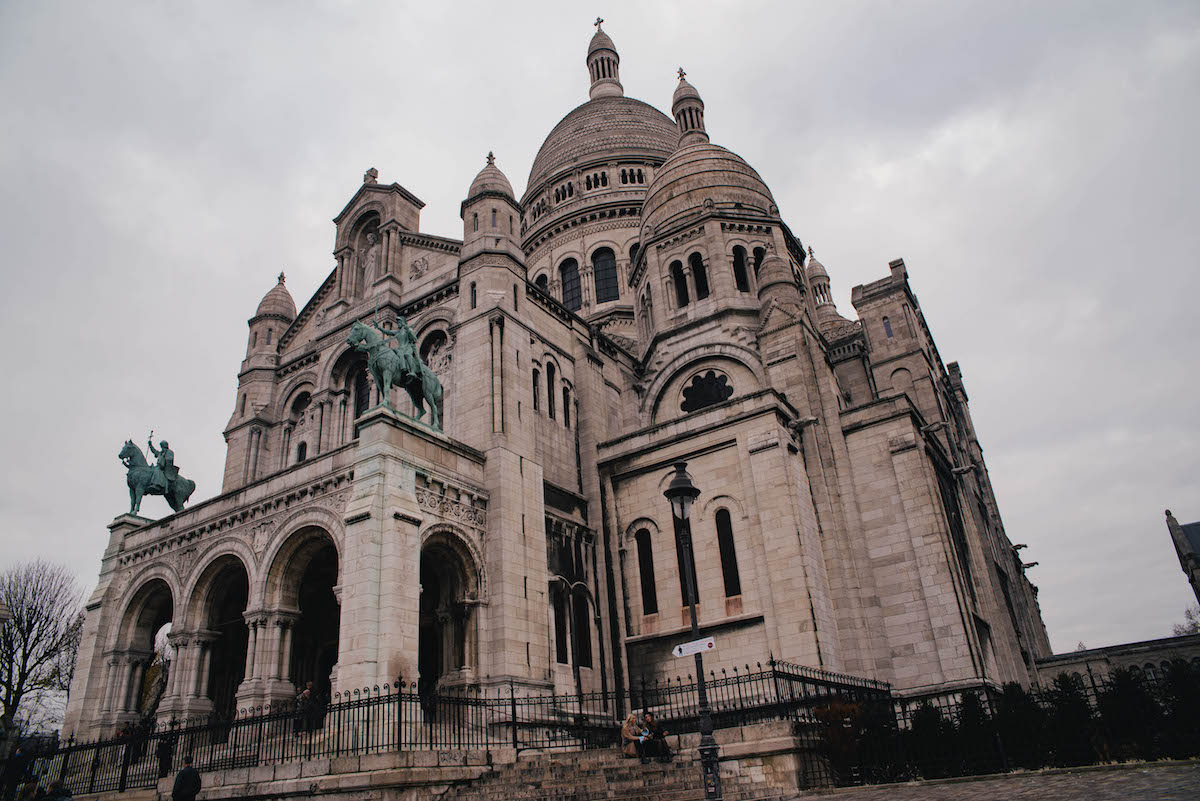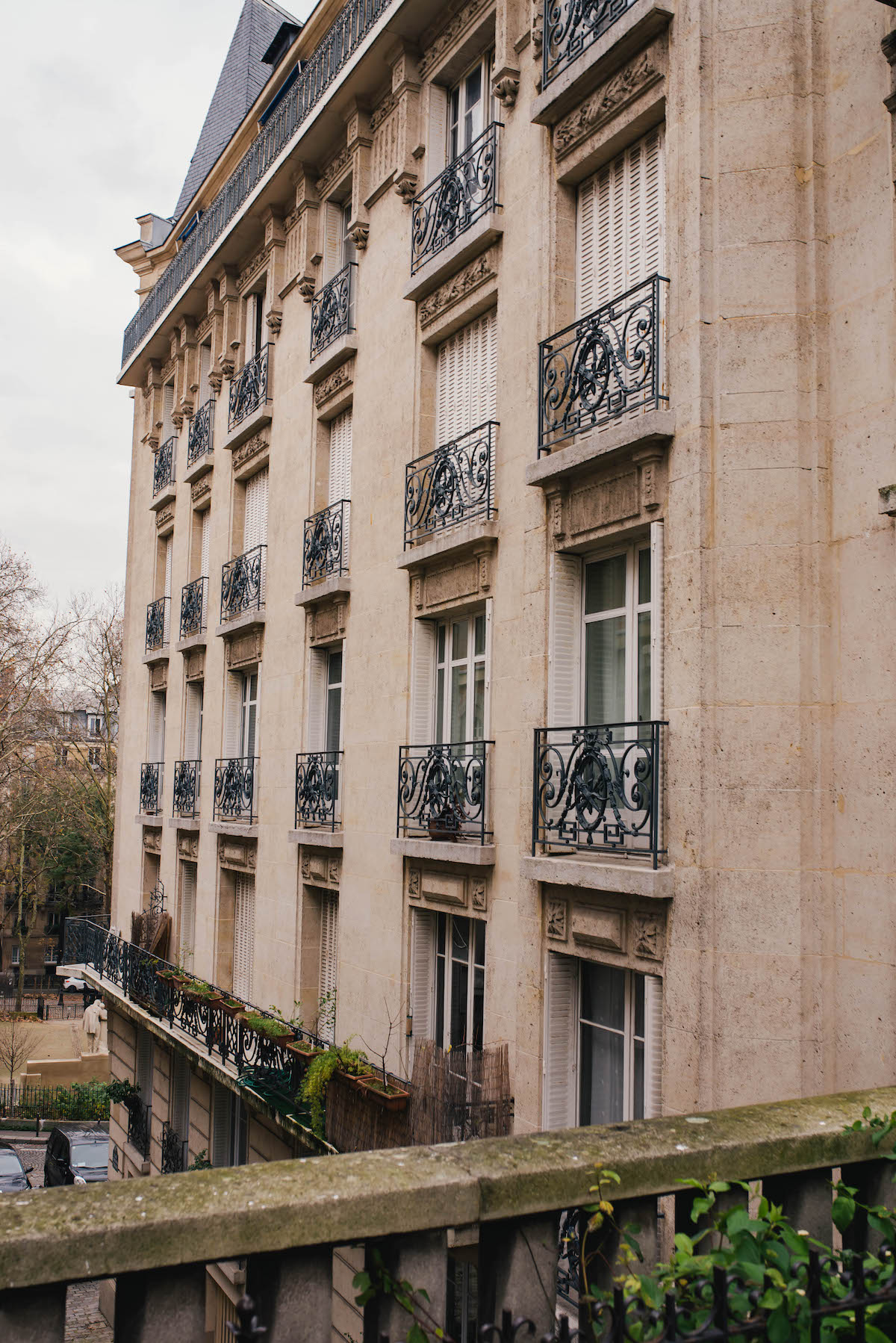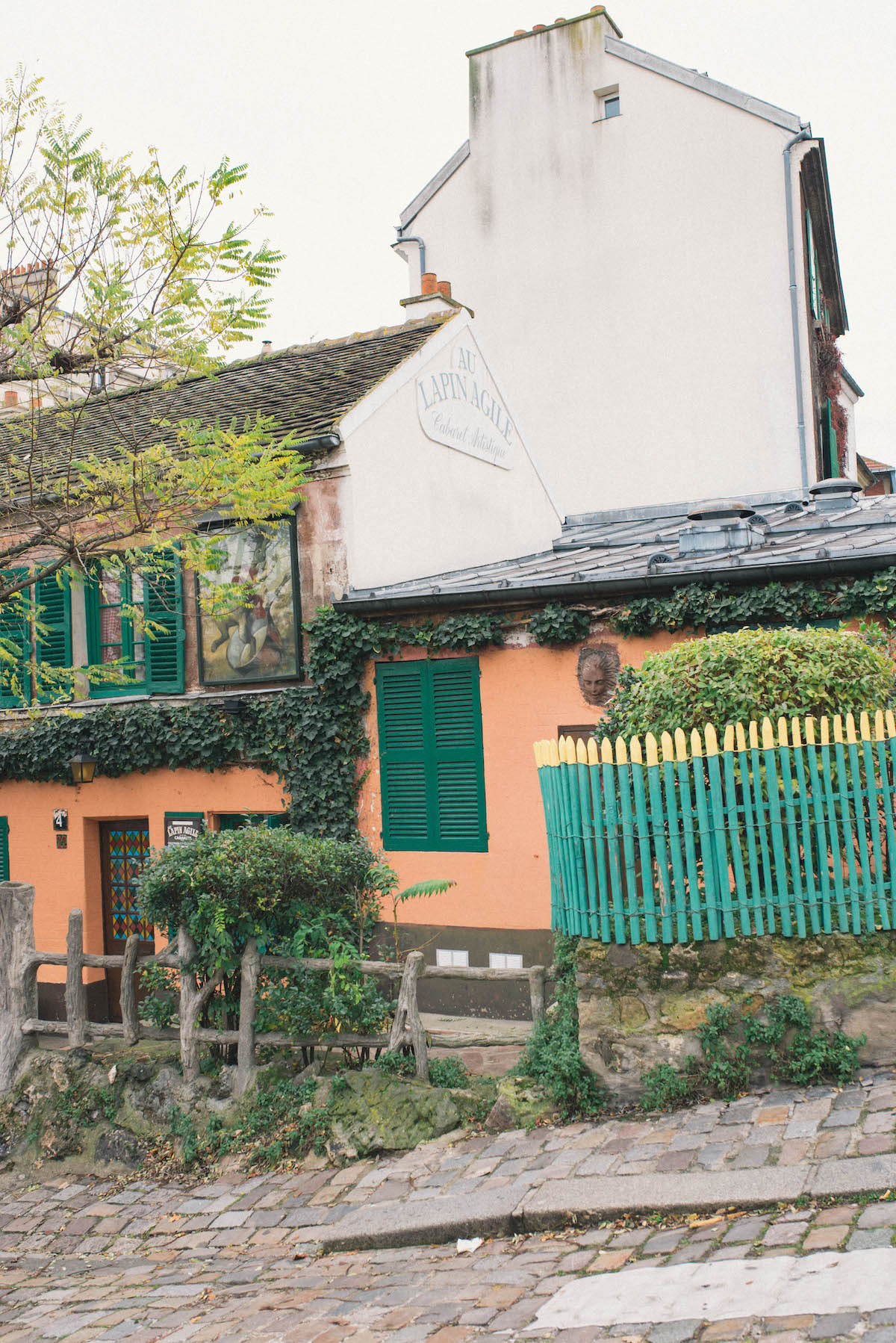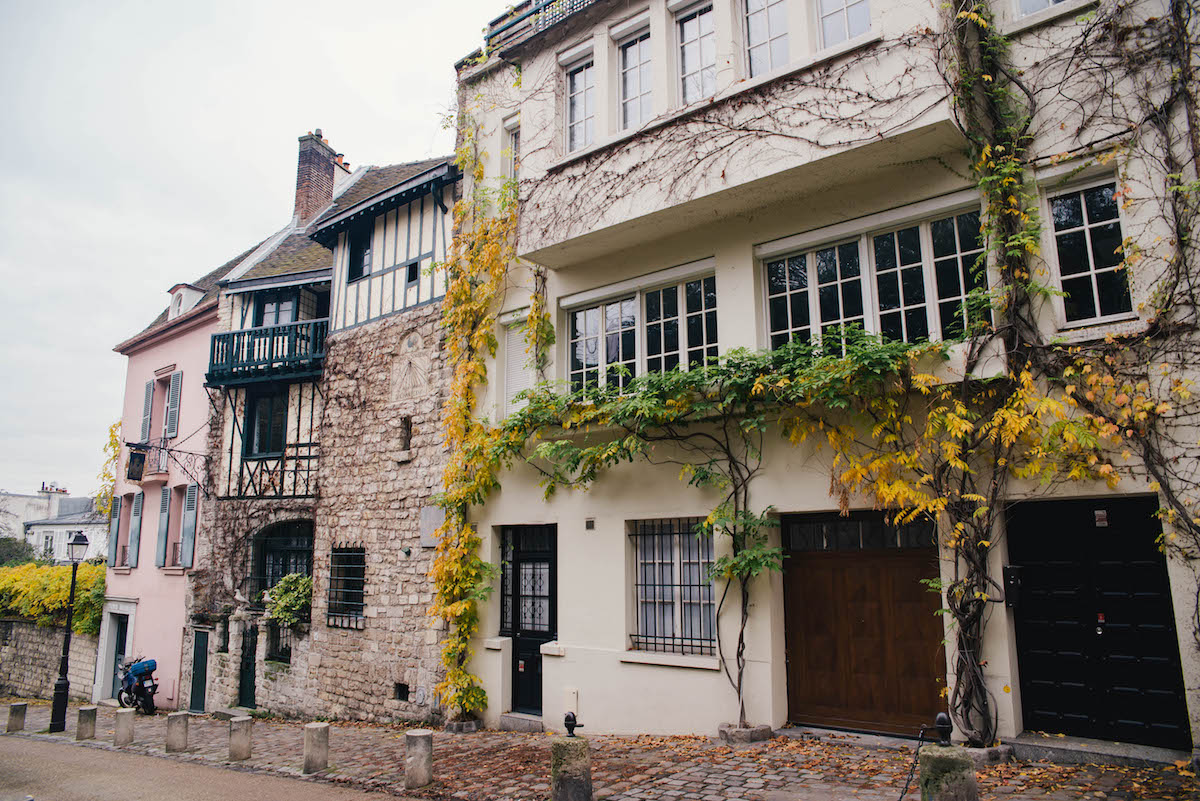 If you're looking for the best photo opp put "Place Dalida" into your maps app. That will take you the intersection of rue Girardon and rue Abreuvoir where we shot these photos down the street from the #InstaFamous La Maison Rose. We really only had an hour to walk around, but we enjoyed what we were able to see. I'd love to come back and check out more of the restaurants and shops– next time!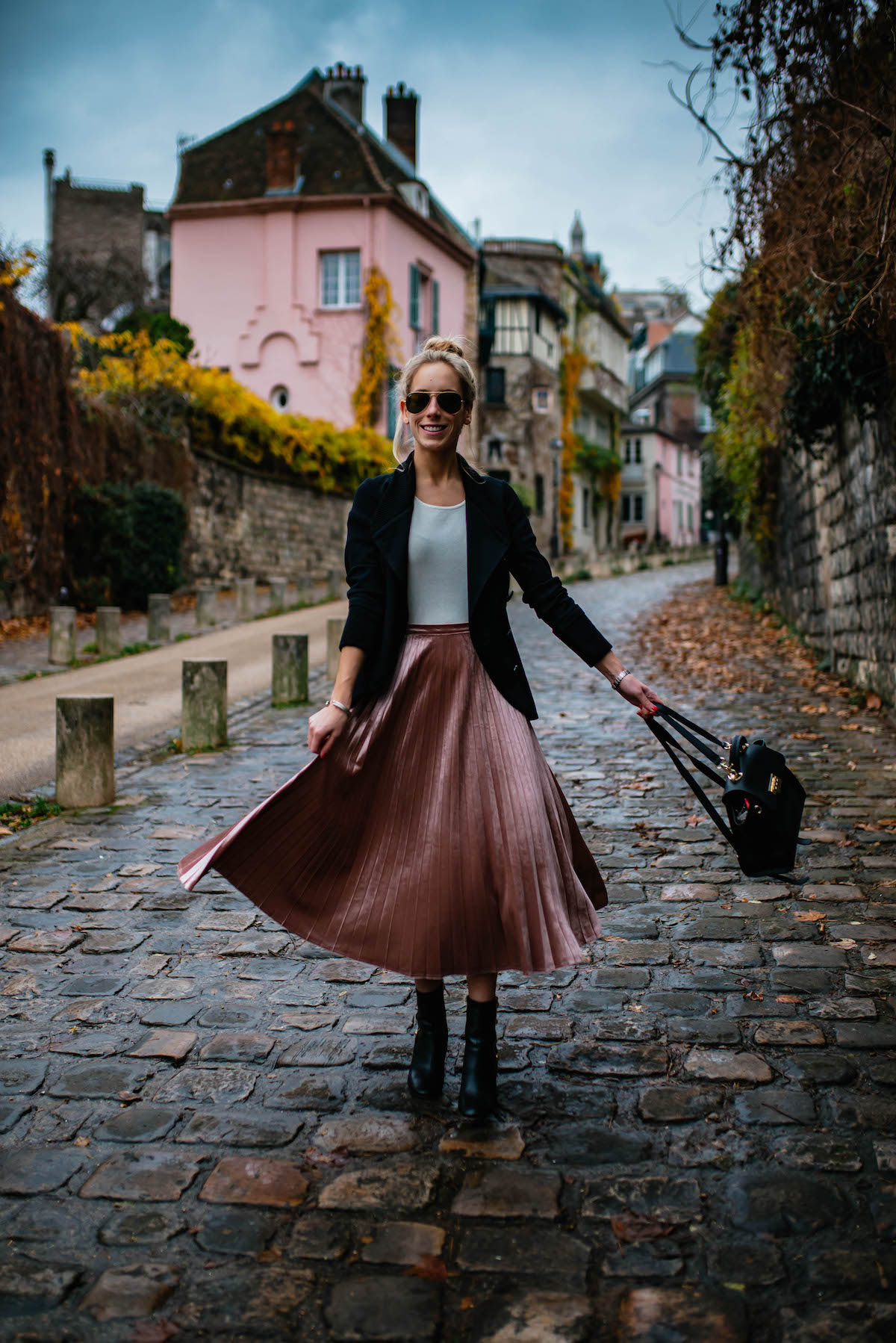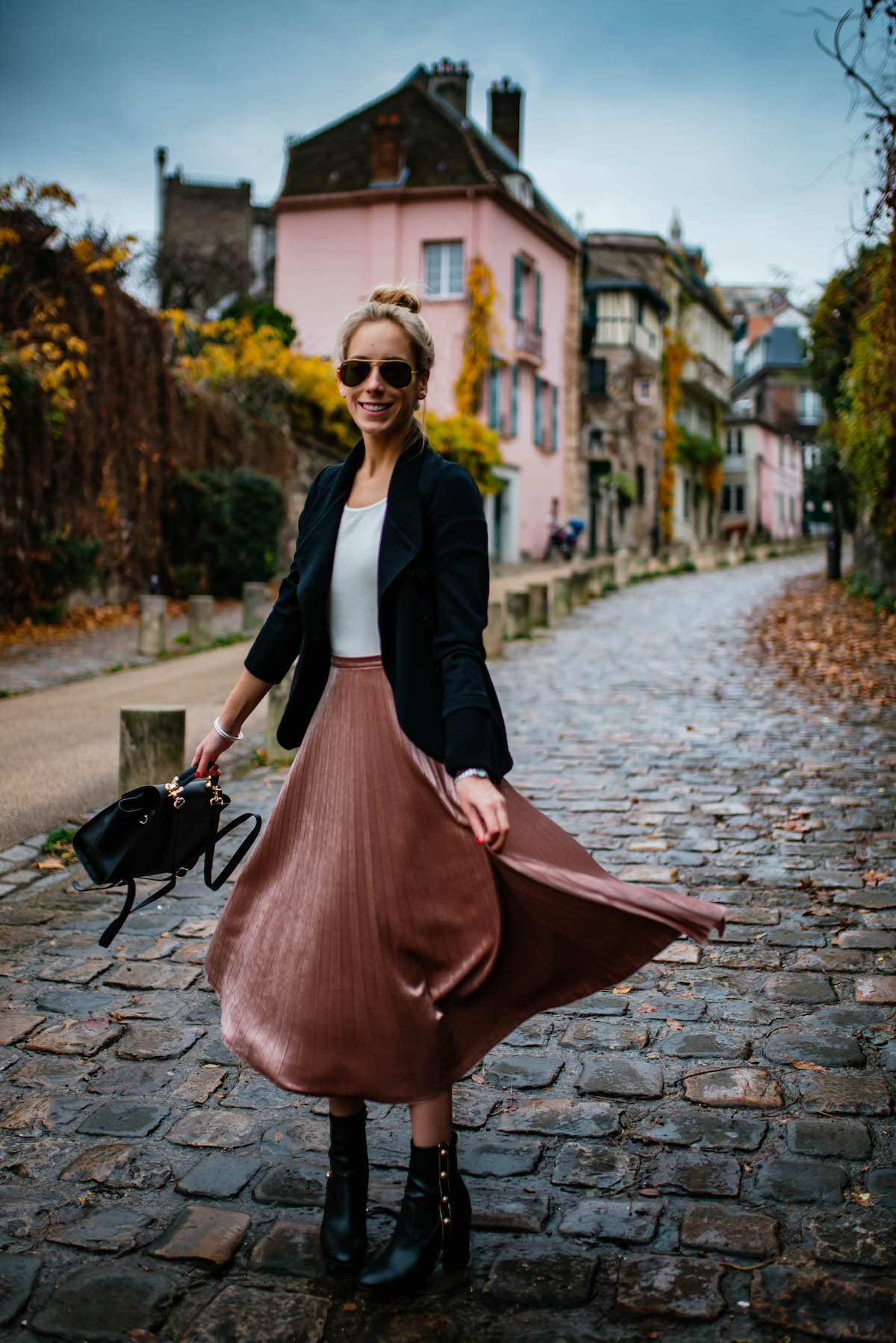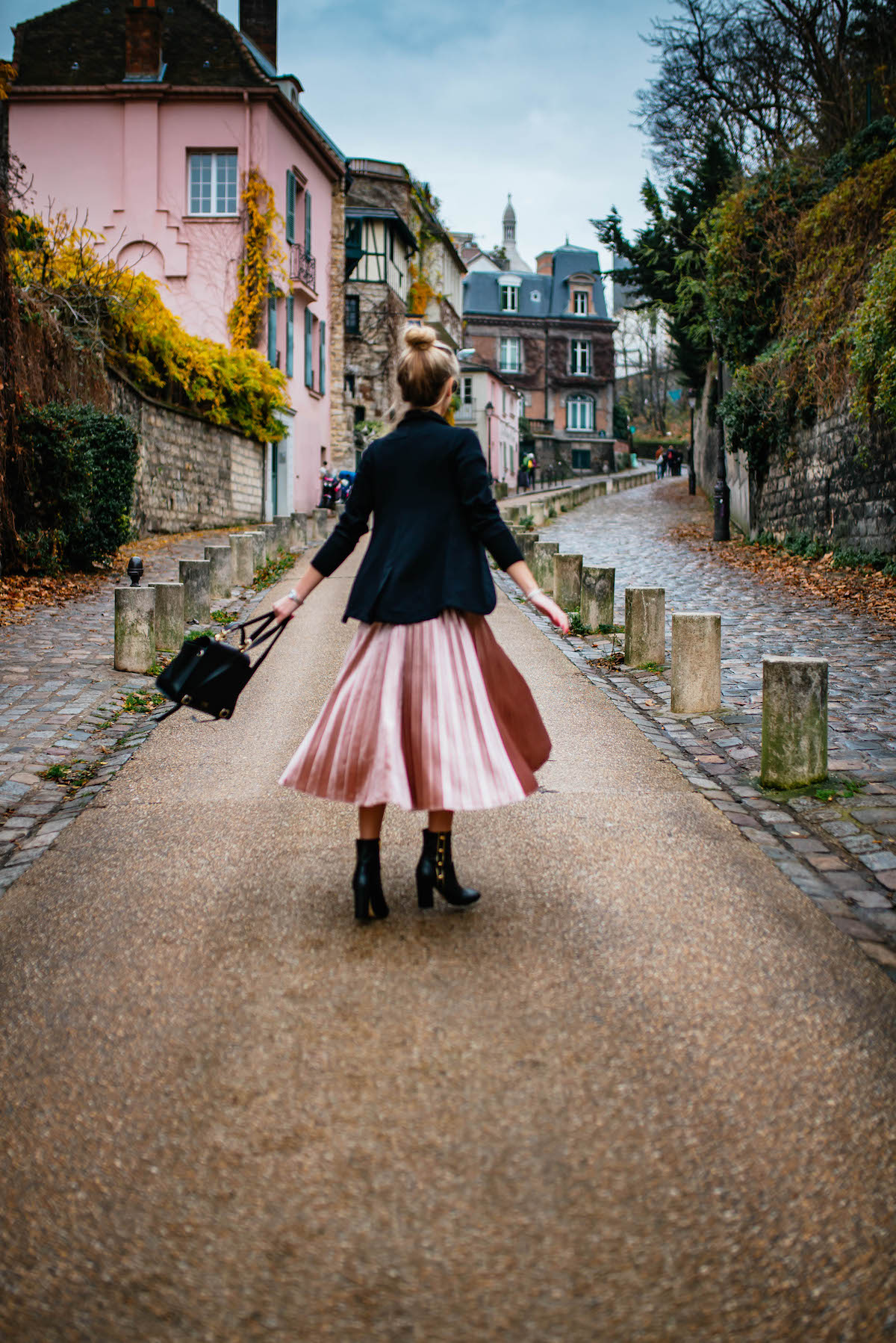 So where did we head next? The charming medieval Belgian town of Bruges! Get excited because this was our favorite stop on our trip– will be posting that itinerary soon!
LE ROCH HOTEL & SPA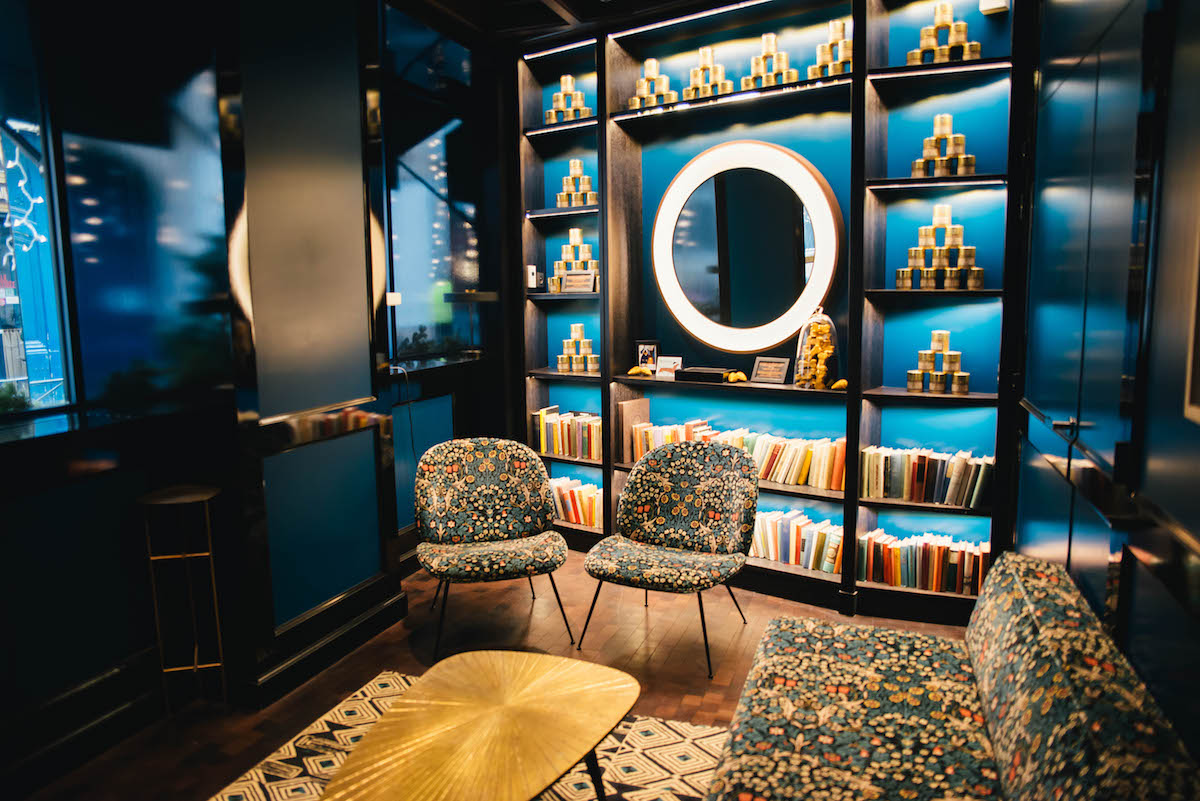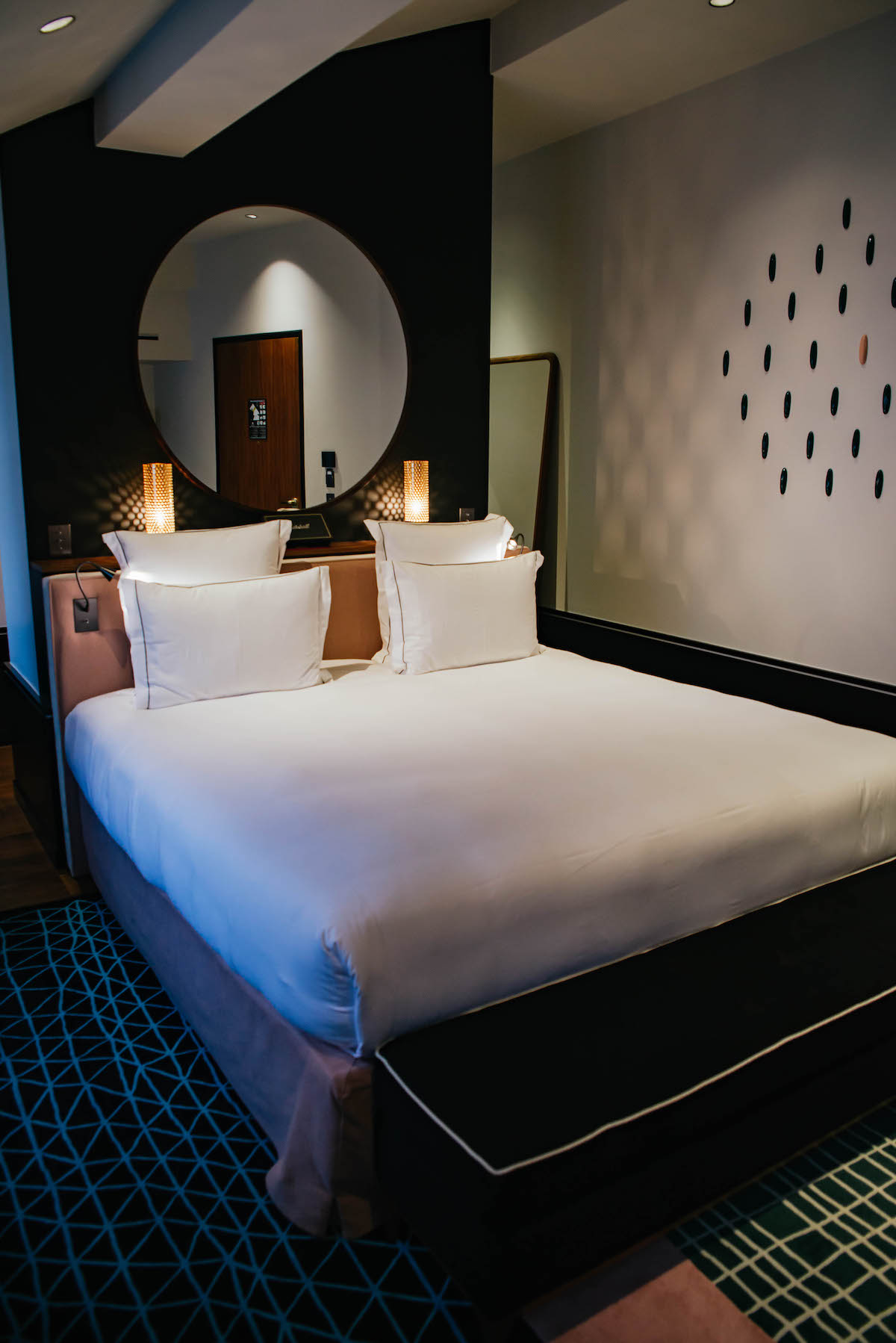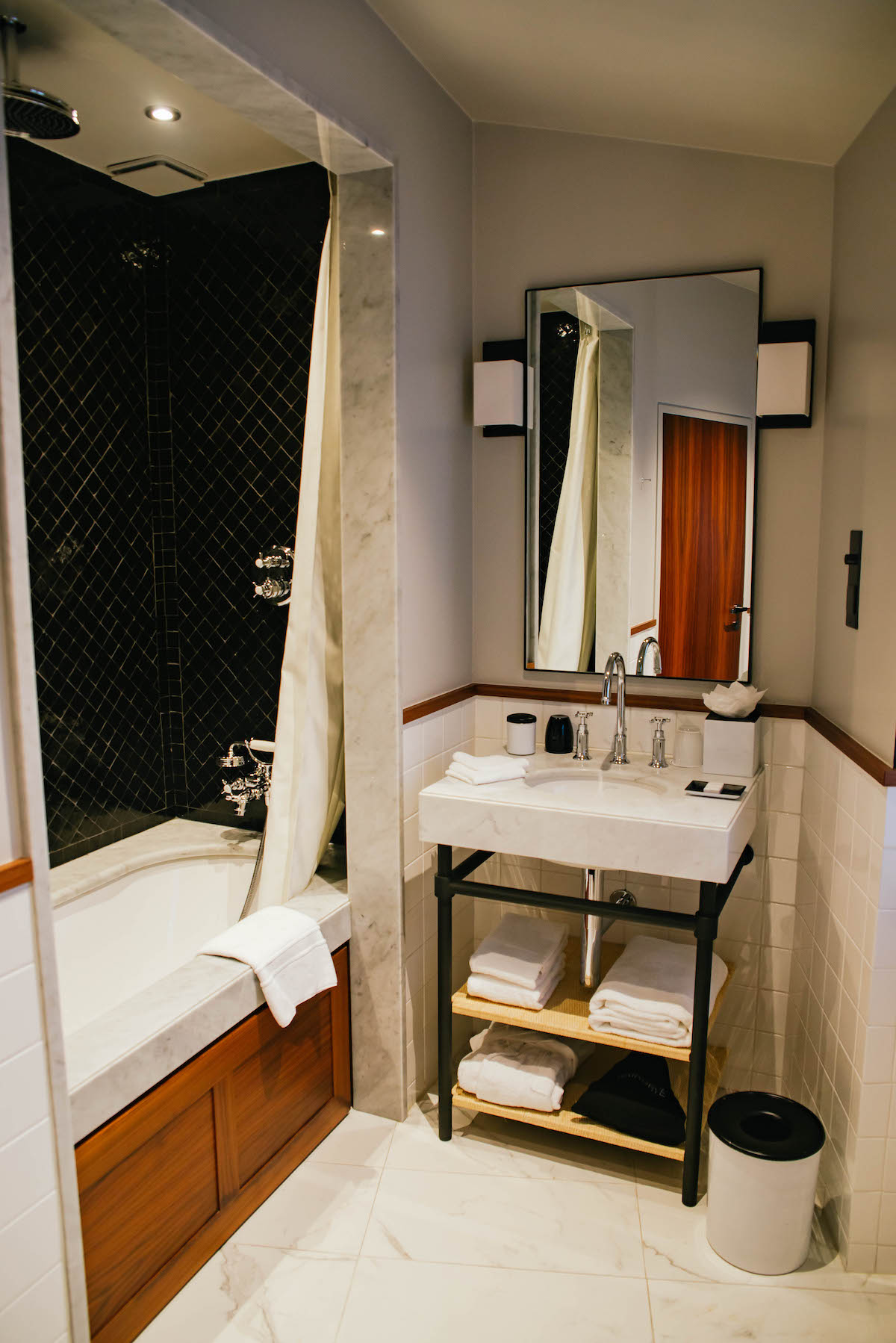 We absolutely loved our stay at Le Roch Hotel & Spa, a chic boutique hotel located in the 1st arrondissement of Paris. The staff was incredibly welcoming and helpful– so appreciated given us being total Paris newbies. We also adored our room overlooking the charming courtyard. After busy days running around Paris, we felt instantly relaxed and at home in Le Roch. I would absolutely stay there again.
WHAT TO KNOW IF YOU'RE VISITING FOR THE FIRST TIME
Many restaurants are closed on Sundays and Mondays. This was beyond annoying and if I'd known, I absolutely would not have planned our trip over these days.
The language barrier is real. Unlike Germany and other western European countries where almost everyone also speaks fluent English, there are many people in France who don't. We expected this and didn't have too much difficulty. If there was a waiter or Uber driver who didn't understand us, we were always able to somehow get our point across.
WHAT I WOULD DO IF I CAME BACK
Since we only had two full days we rushed around a lot trying to check off as many sightseeing hot spots as we could. We accomplished a lot, but there was still so much we weren't able to see like the Louvre and the neighborhood of Le Marais. There is just so much to do and places to visit in Paris, I can't imagine even a full week being enough time to see it all. Since we came at a cold time of year, we'd love to come back when it's warmer in the spring or summer.
- Katie