Cold Shoulder Top | Distressed Denim Shorts
Surprise, surprise. Nick and I stayed at a Ritz-Carlton resort on our recent tropical getaway. Last week we found ourselves at the beautiful Ritz-Carlton, Aruba resort located just steps away from the Caribbean sea on Aruba's famed Palm Beach. After traveling to Puerto Rico, Grand Cayman and most recently Cancun in February, we were really excited to explore another Caribbean destination– our furthest yet!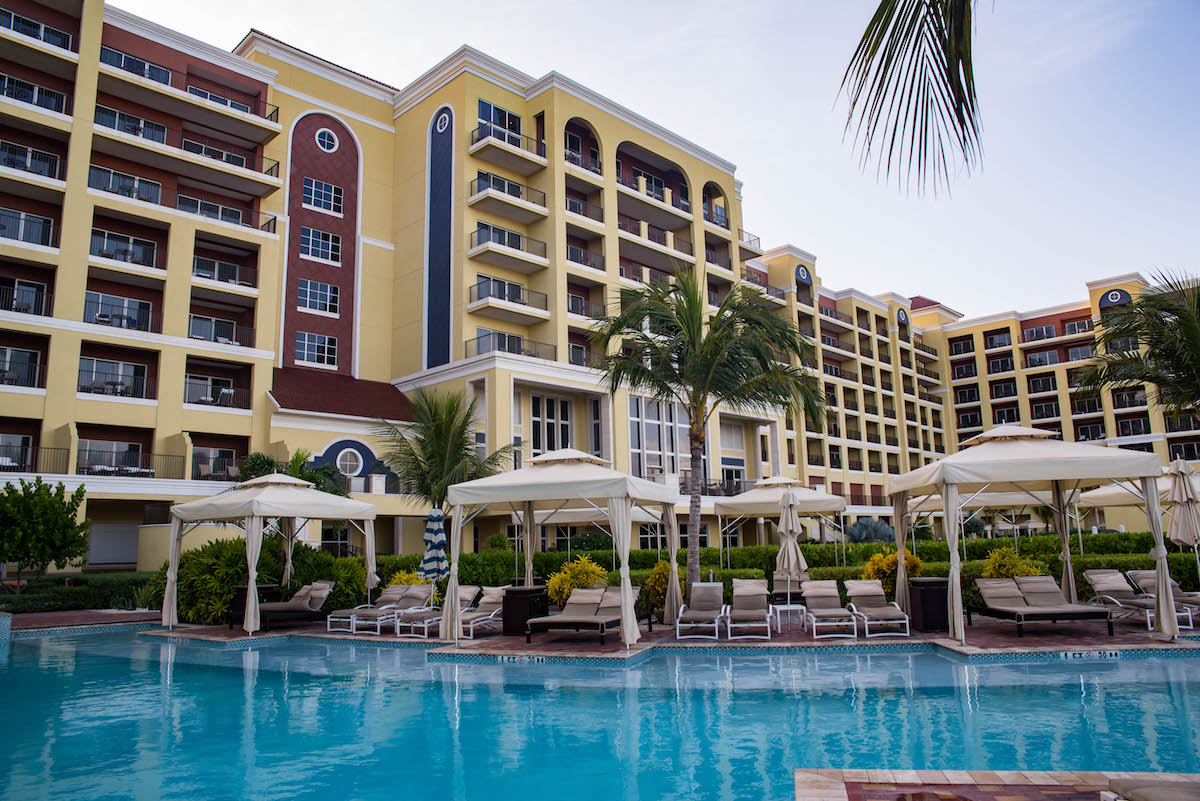 Living on the east coast I always think of the Caribbean islands as being relatively close. Aruba? It's actually located just off the coast of Venezuela. It's far south and pretty much as close to the equator as you can get without hitting South America. Bring on the sun!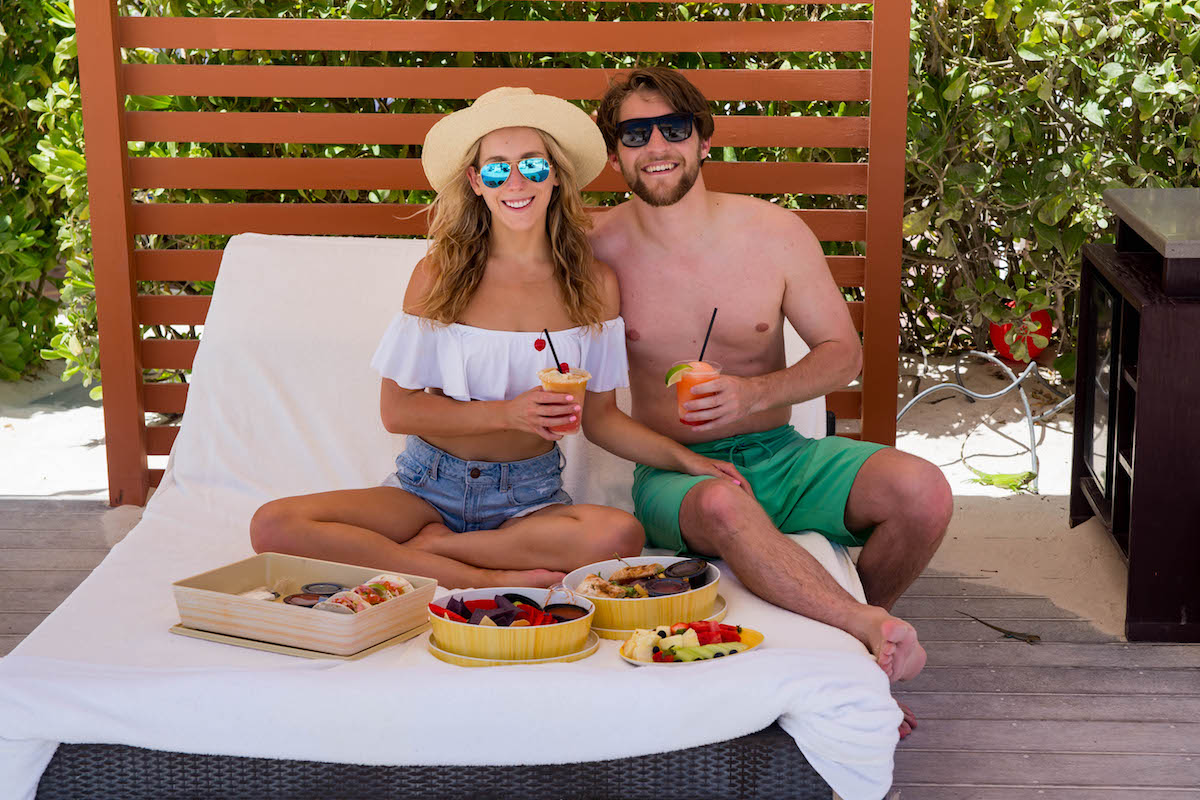 Lunch on the beach with my boo– can you spot our iguana friends? These funny little guys were everywhere & had no shame when it came to wanting snacks…
While the flight was a little longer than we're used to (about 4.5 hours), getting to the Ritz-Carlton, Aruba was a breeze. One of the benefits of visiting a small island is that it only takes minutes to get to your hotel after hopping off your flight. It was a short and sweet 20 minutes from Aruba's Oranjestad airport to the Ritz-Carlton resort. PS we always fly JetBlue. They have the best direct flights to the Caribbean!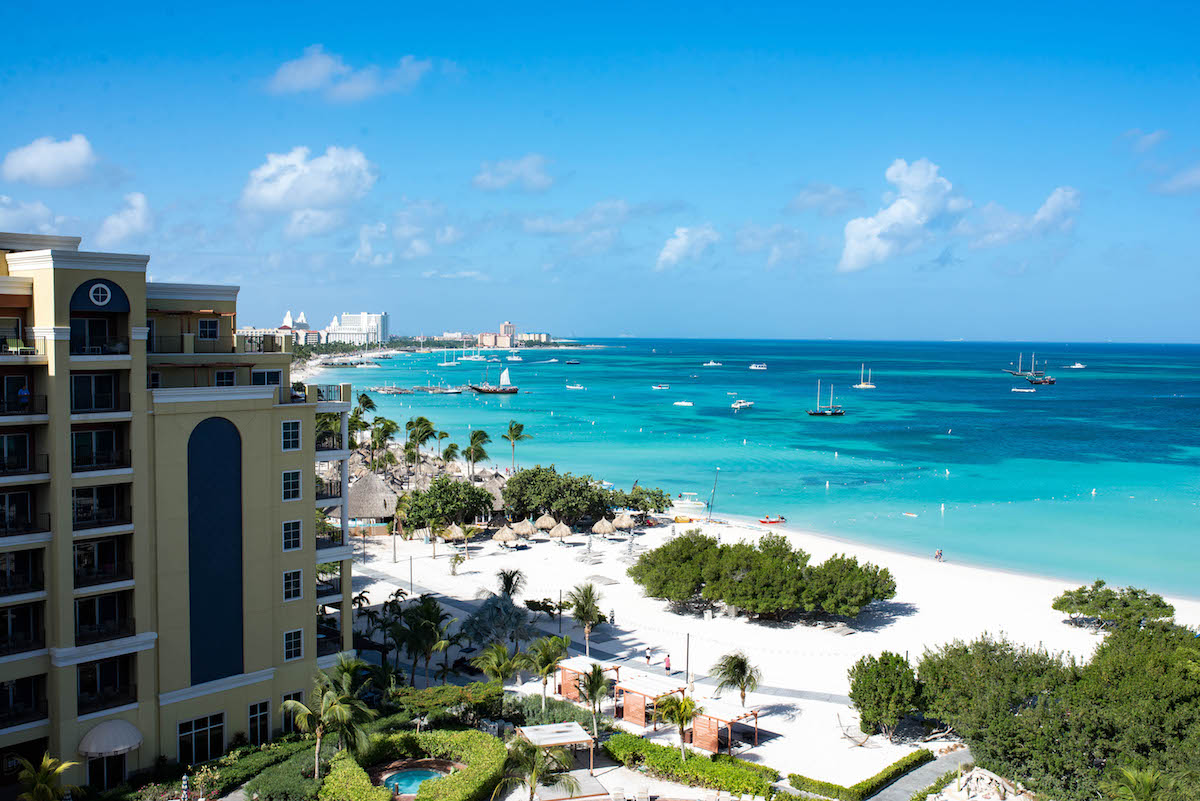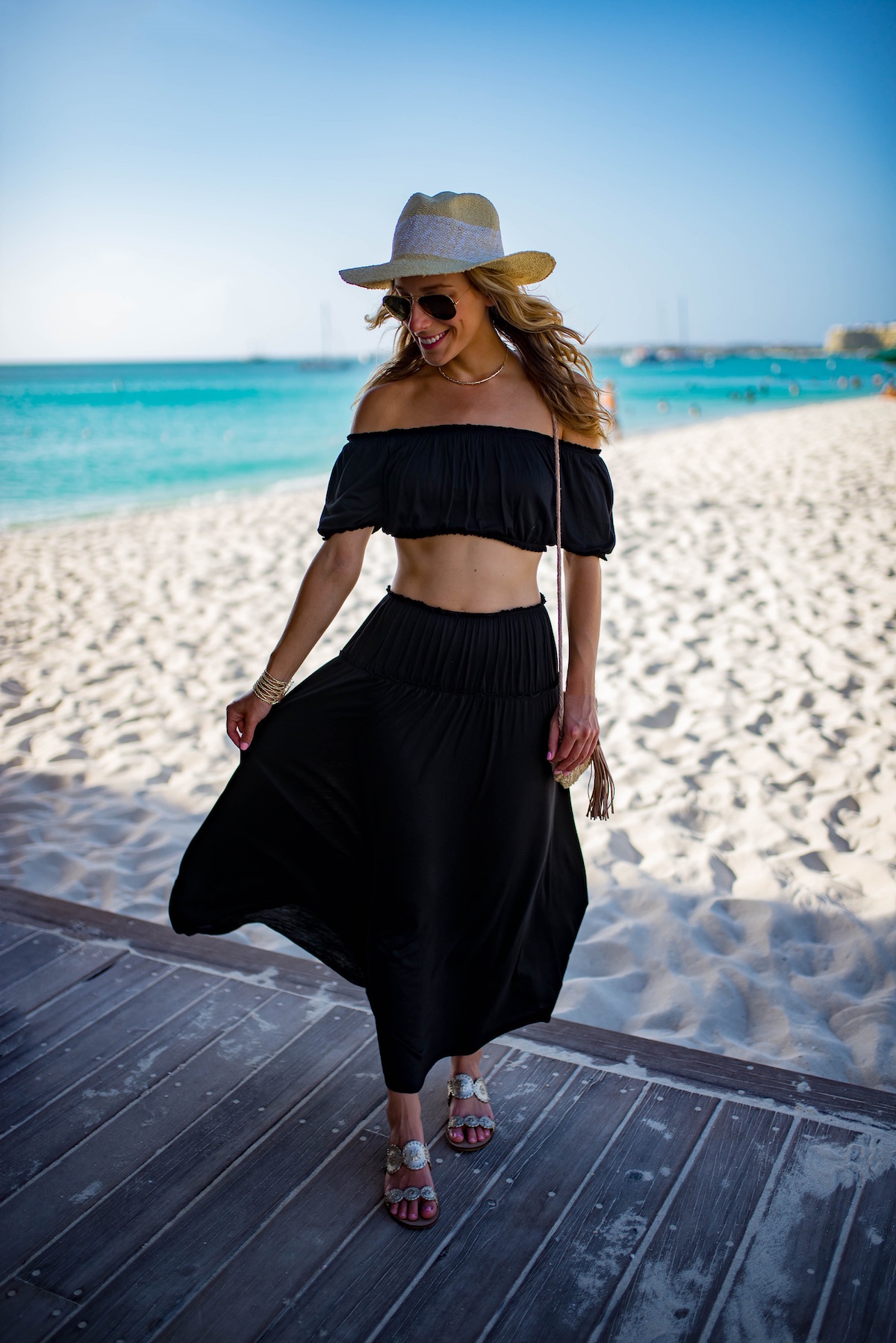 Crop Top & Skirt Set c/o | Panama Hat | Crossbody Bag | Jack Rogers Sandals | Kendra Scott Cuff & Necklace | Aviators
The Ritz-Carlton Aruba Resort Review
Hotel & Guest Room. Upon entering the grand lobby, we were greeted by bellmen who handed us flutes of champagne (love little touches like this!) and checked in to our cozy Club Ocean View Room. Similar to the Ritz-Carlton properties in Grand Cayman and Cancun, the resort is set up like a horseshoe encircling a lush pool area and facing the beach.  I learned that every guest rooms in this particular hotel offers a beautiful ocean view too. SCORE. You can check out my reviews from Cancun here and Grand Cayman here if you're interested.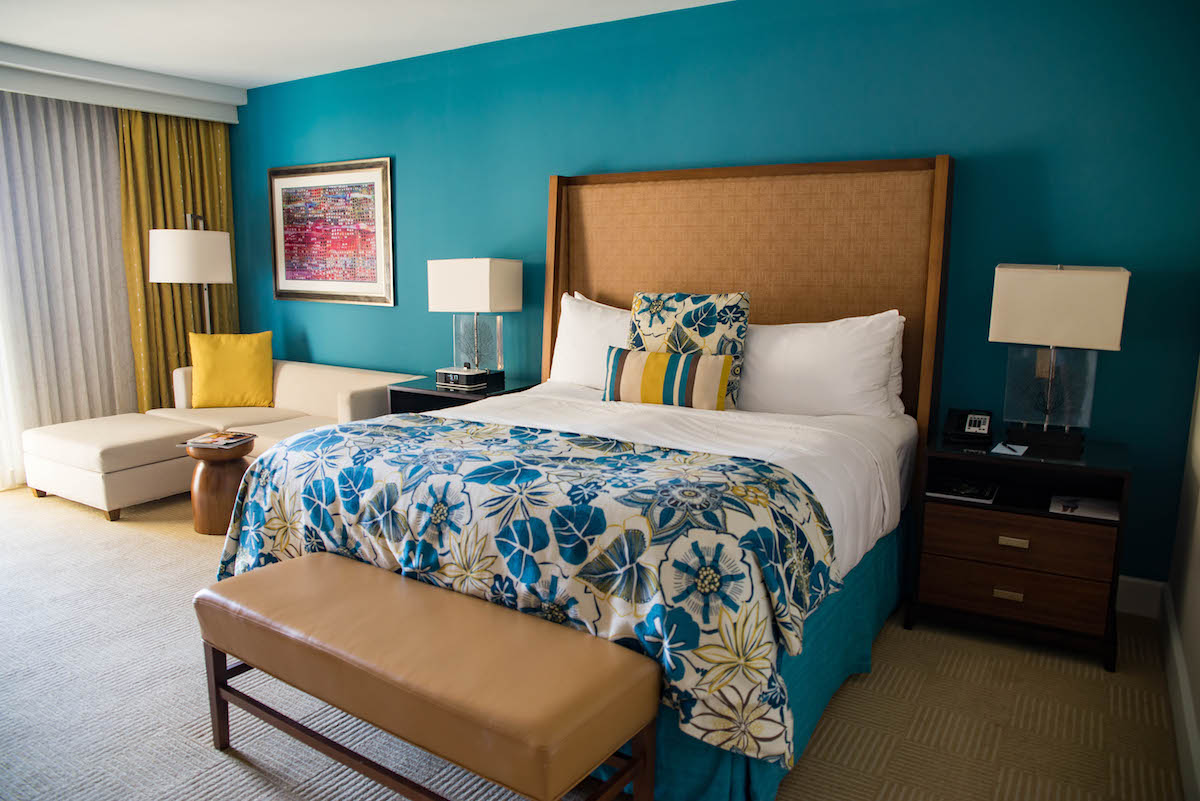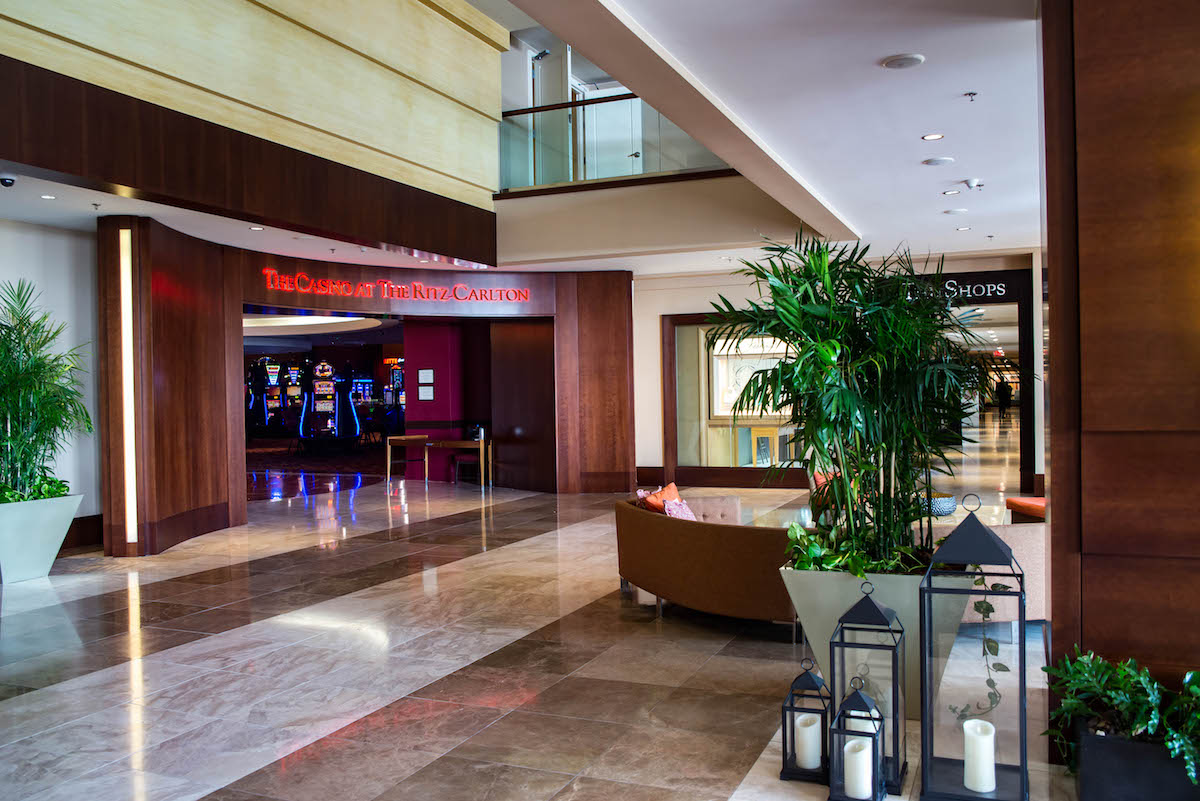 While we normally are down to get active and take excursions, we decided to keep it low-key on this trip since we were only visiting for three nights. The Ritz-Carlton Aruba planned the most relaxing itinerary for us which included the most luxurious couple's massage (Nick's favorite thing,) a 2-day private beach cabana rental and dinner reservations at the resort's world-class restaurants. So where should I start? Let's begin with the spa.
Spa Experience. At any Ritz-Carlton you can expect to find an indulgent dreamy spa with a drool-worthy menu. The spa at the Ritz-Carlton Aruba is a staggering 15,000 square feet and includes a sauna, whirlpool, relaxation room, fitness center and 13 rooms for treatments. It was so nice kicking off our trip with something as relaxing as a massage. Beforehand we both got to smell a few different aromatherapy oils and select our favorite to be applied during our massage. It was heavenly!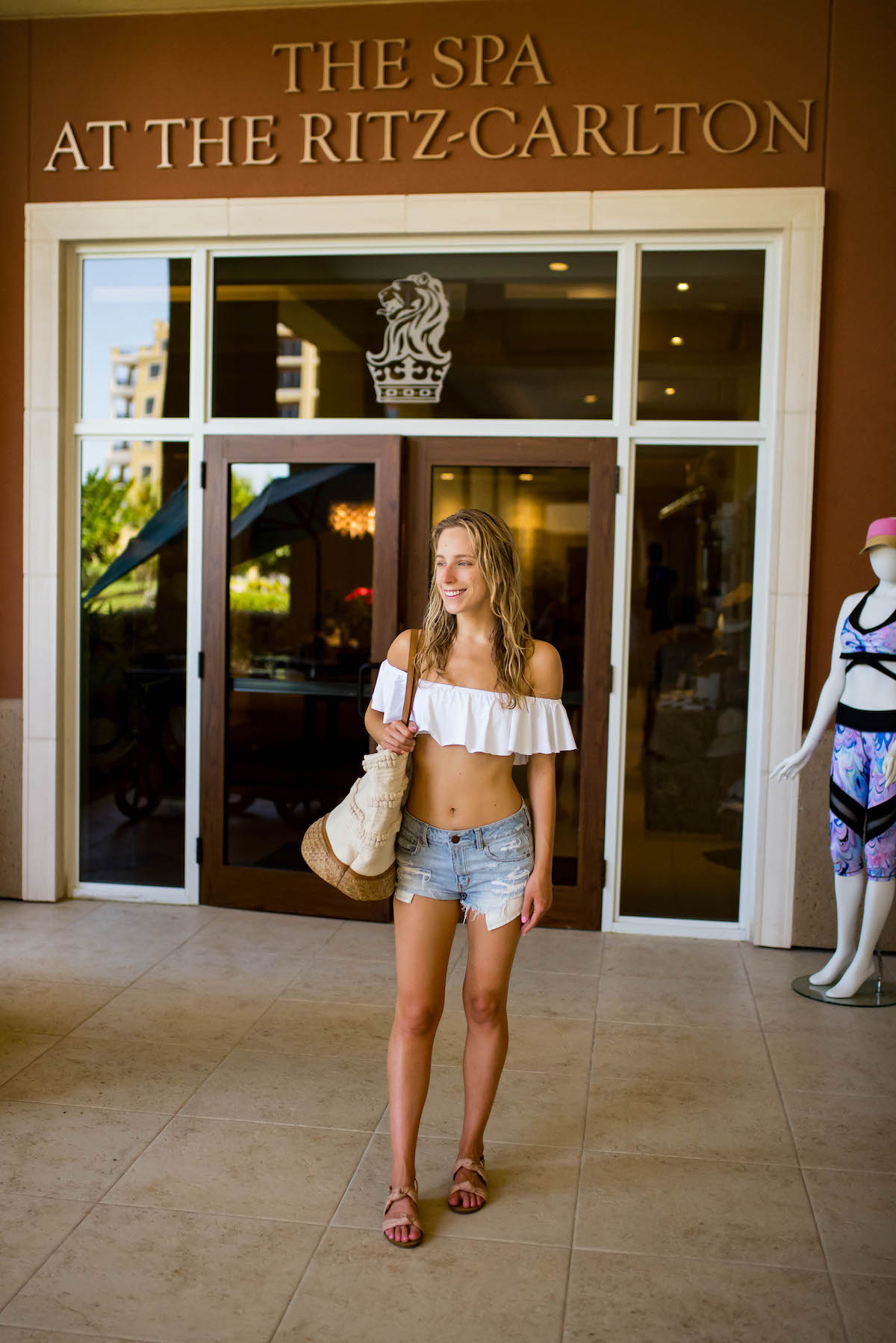 Off The Shoulder Bikini Top | Distressed Denim Shorts | Tote Bag | Sandals
The Beach & Pool. Now to my favorite aspect of the trip: THE BEACH. Oh my goodness guys, I wish the photos could it all justice! Just steps from the hotel you'll find the most beautiful white sand beach with banyan trees and clear, calm waters. The resort was kind enough to book us a beach cabana for both days of our trip and best believe we posted up. It was incredibly refreshing not having an agenda and just hanging out on the beach together for hours. Our days pretty much revolved around laying out, taking a dip in the ocean, re-apply sunscreen, getting served fish tacos and guacamole from Madero Latin Grill (the beach staff was so attentive with bringing us our food & drinks!), laying out some more, taking a dip in the pool and repeating everything again. It took a lot of restraint for me not to plan any excursions (I'm crazy and always feel like I need to be busy), but I'm so happy we took is easy. My only regret was that we didn't book a longer trip because this was so hard to leave!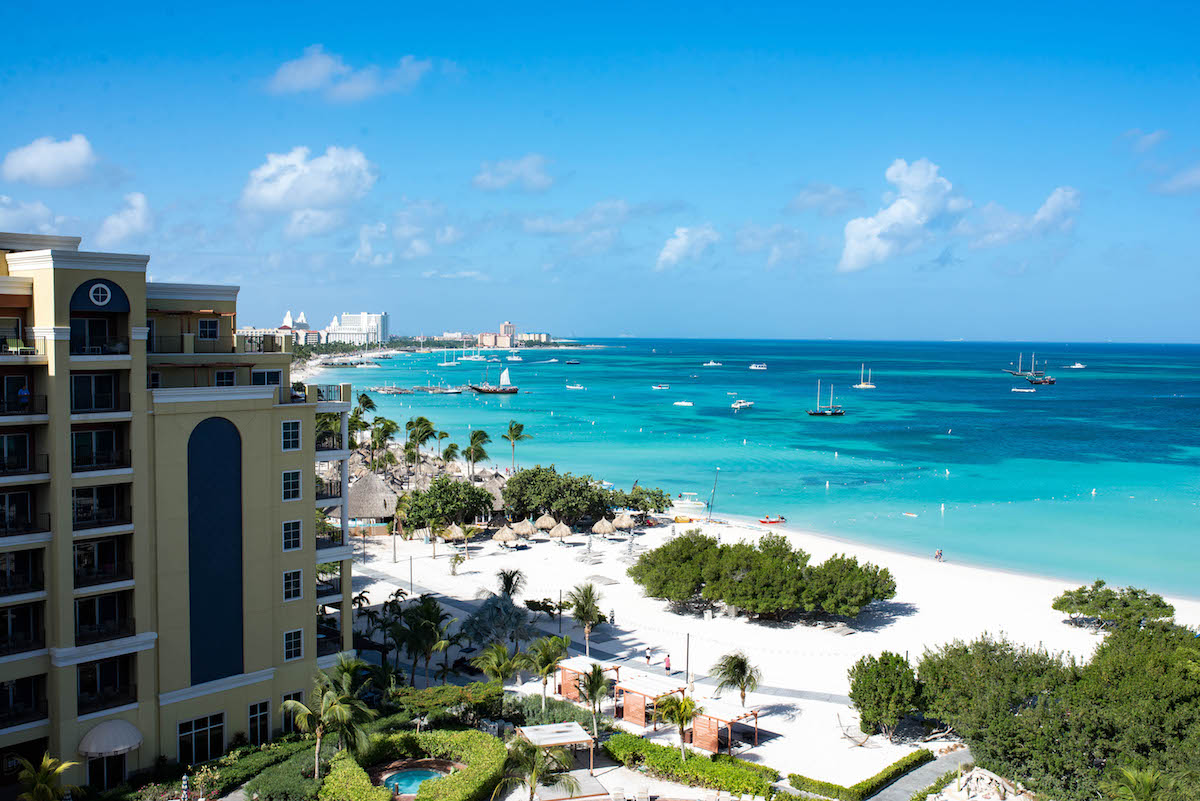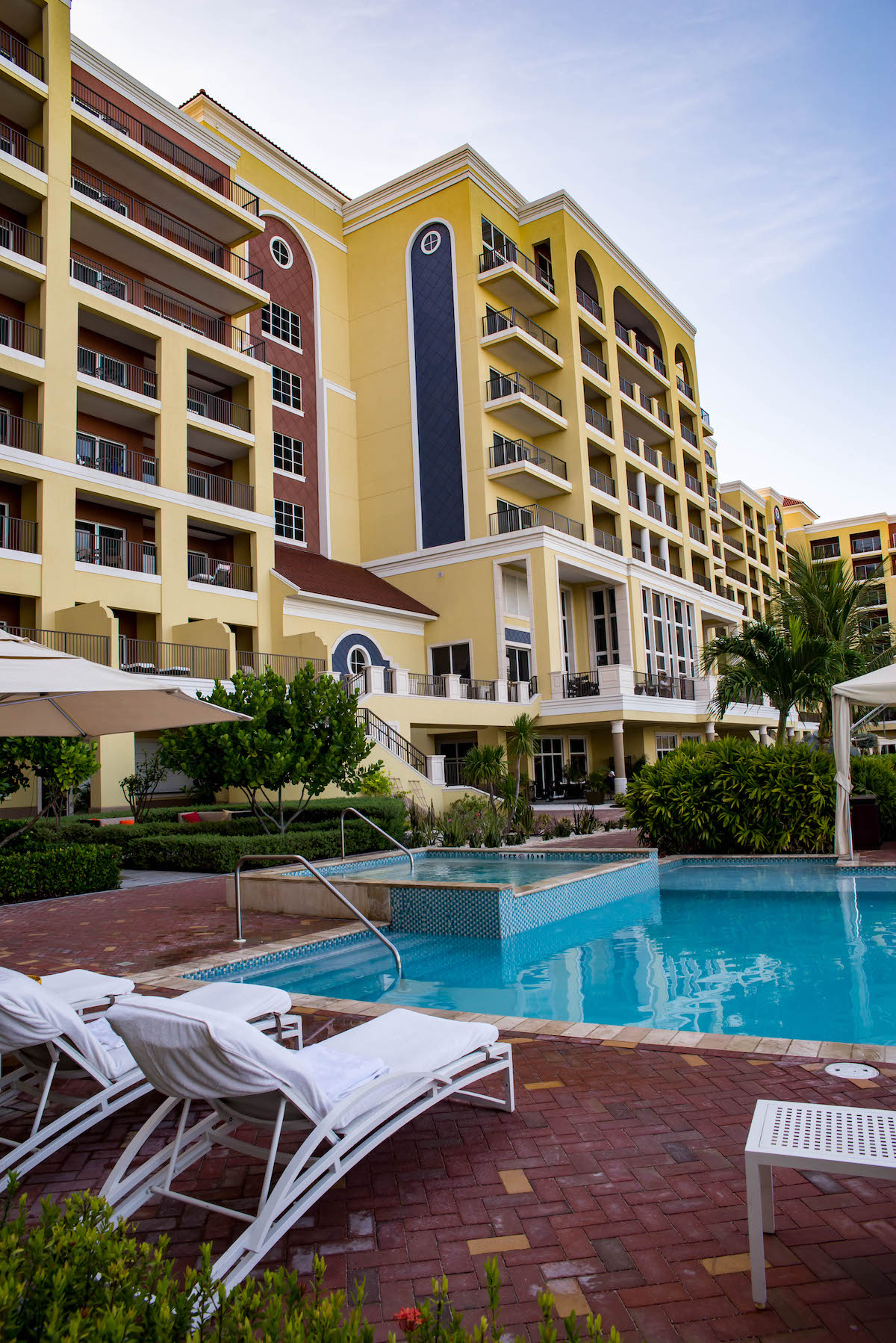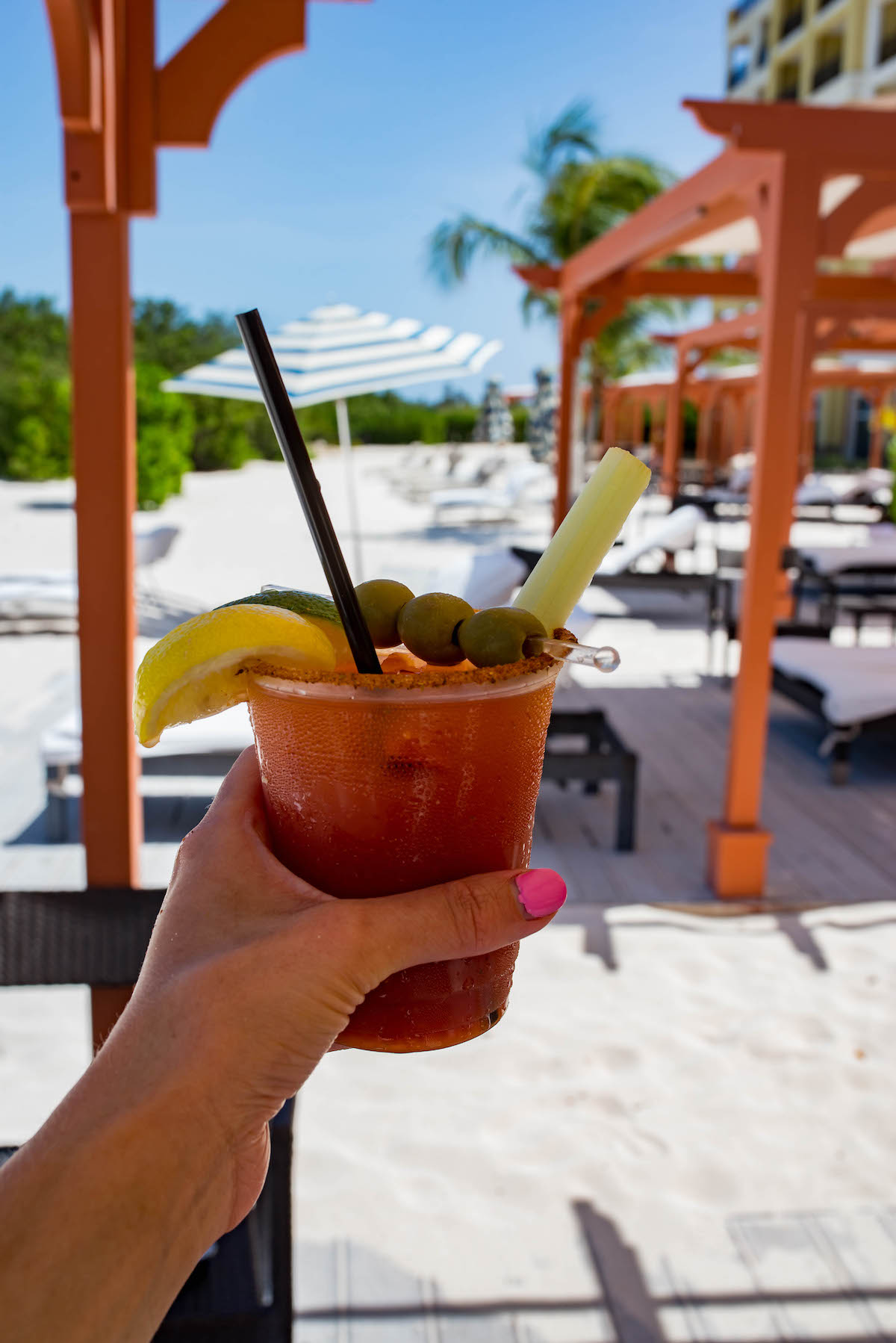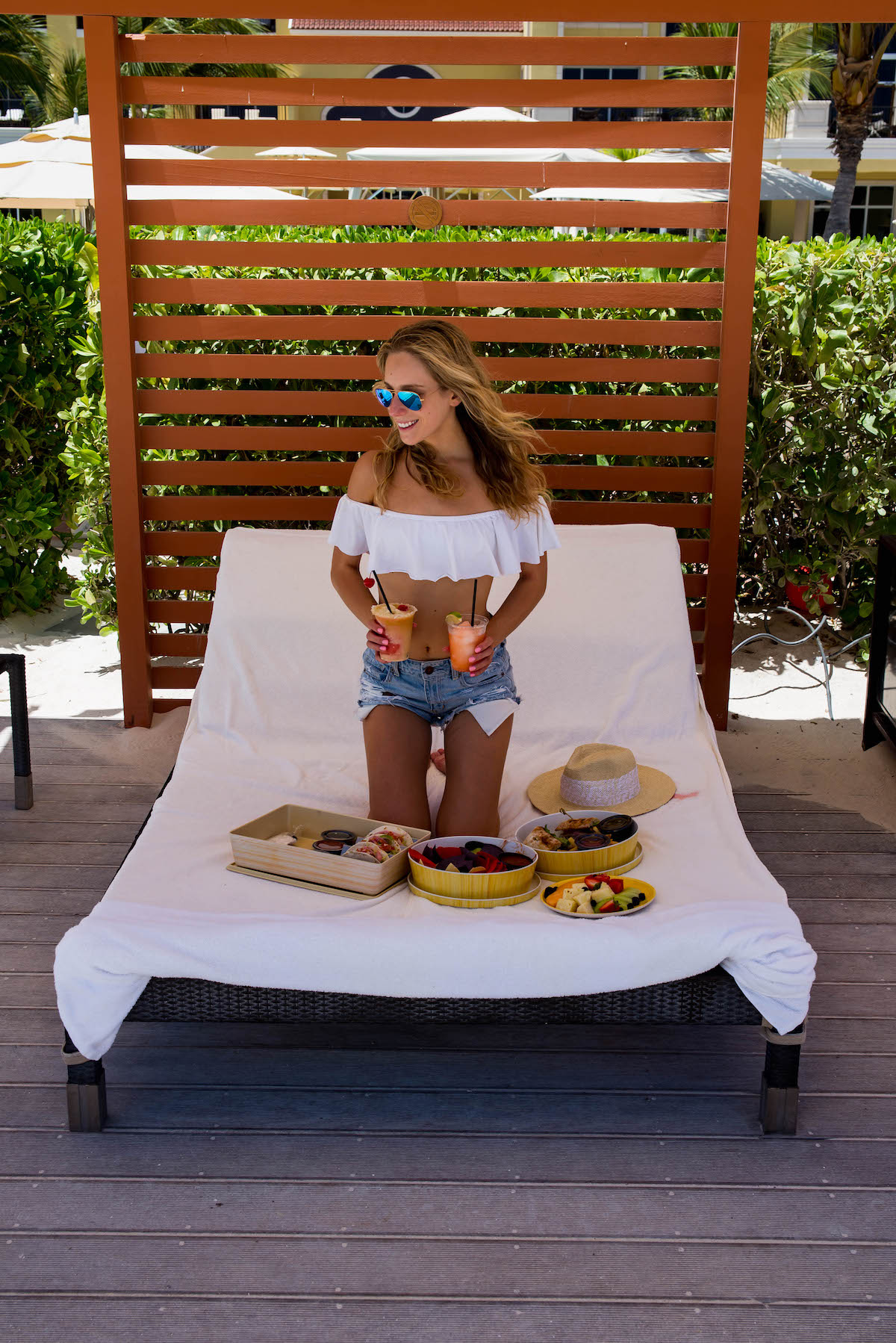 Off The Shoulder Bikini Top | Distressed Denim Shorts | Aviators
Dining. When it comes to dining on trips, we like to keep things casual for breakfast and lunch and then have dinner be our big meal where we splurge. The Ritz-Carlton makes this incredibly easy with the Club Level lounge. I 100% encourage paying a little extra for access to this amenity with your room reservation. In the end you truly do save so much because you can eat all your casual meals like breakfast and even lunch in the lounge, plus there's a full complimentary bar. Alcohol adds up and the last thing you want to have to worry about when you're in vacation mode is if you can afford that extra drink (or two… or three…)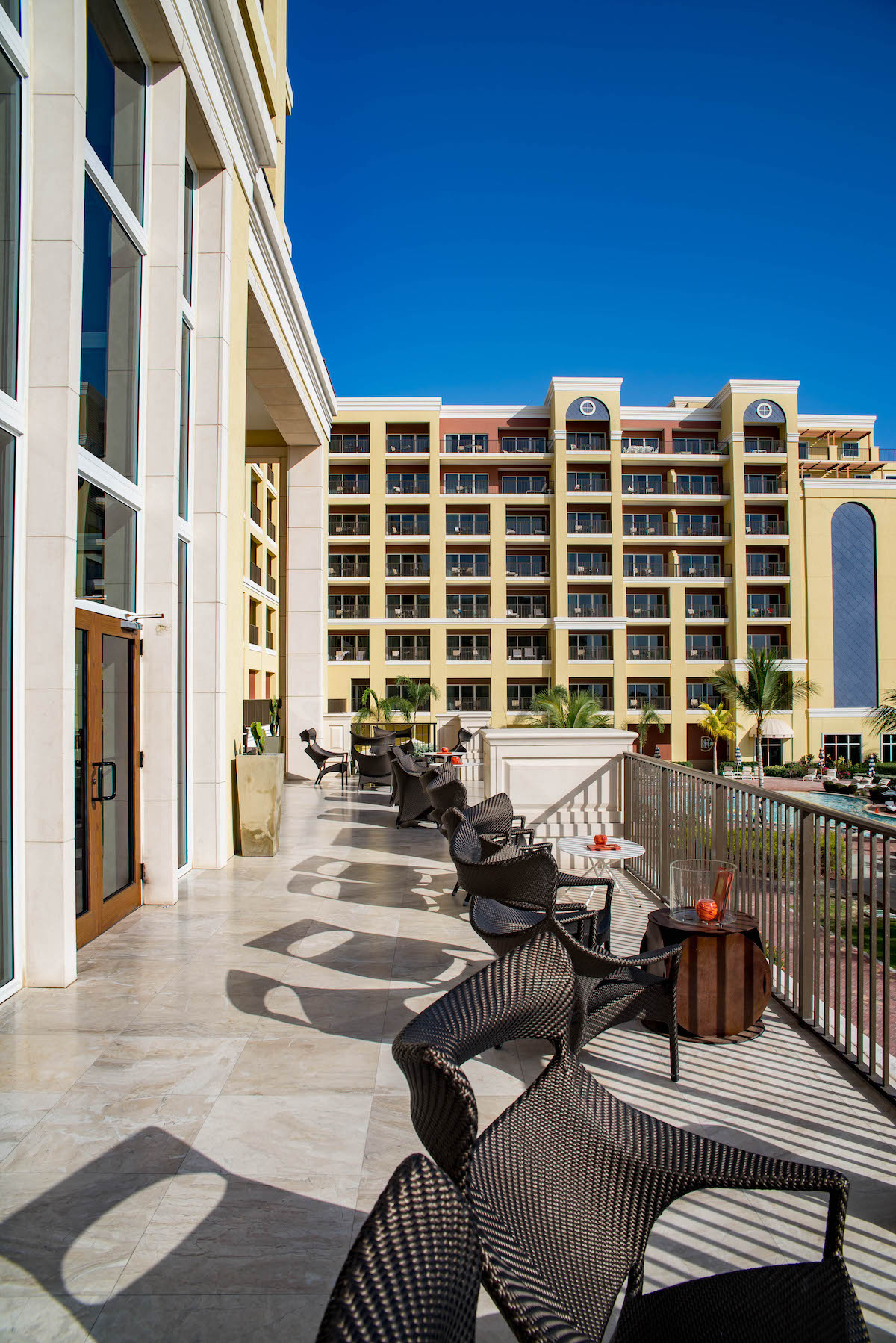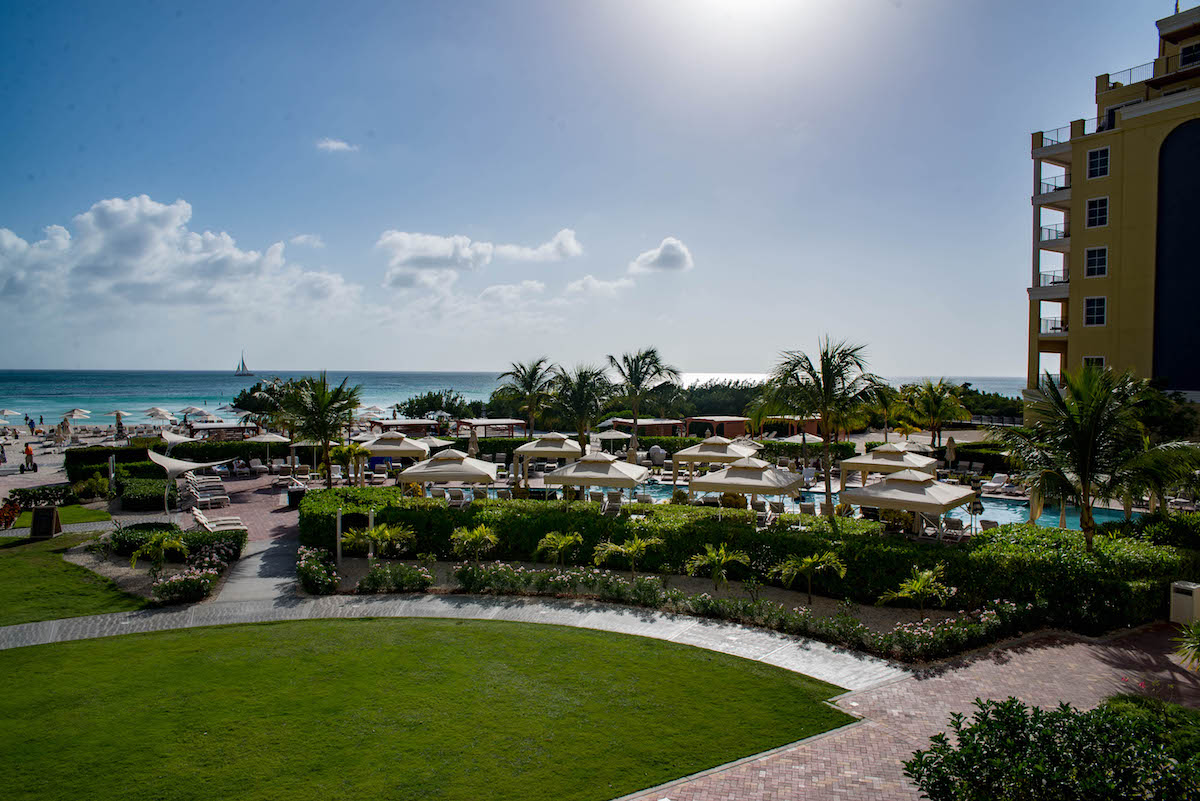 During our three days at the Ritz-Carlton Aruba, we had the chance to try all four of the resort's dining options including BLT Steak and Solanio for dinner, Madero Latin Grill for beachside lunch and Divi Bar & Lounge for cocktails. We weren't disappointed with any meal and loved how the every menu incorporated a few touches of the Aruban culture like line-caught fish and locally harvested aloe vera.
Things To Know Before Visiting. To be honest, not much surprised me in Aruba. The island is very used to hosting Americans so there weren't any language barriers, the U.S. dollar was accepted everywhere and getting transportation to and from the airport was painless.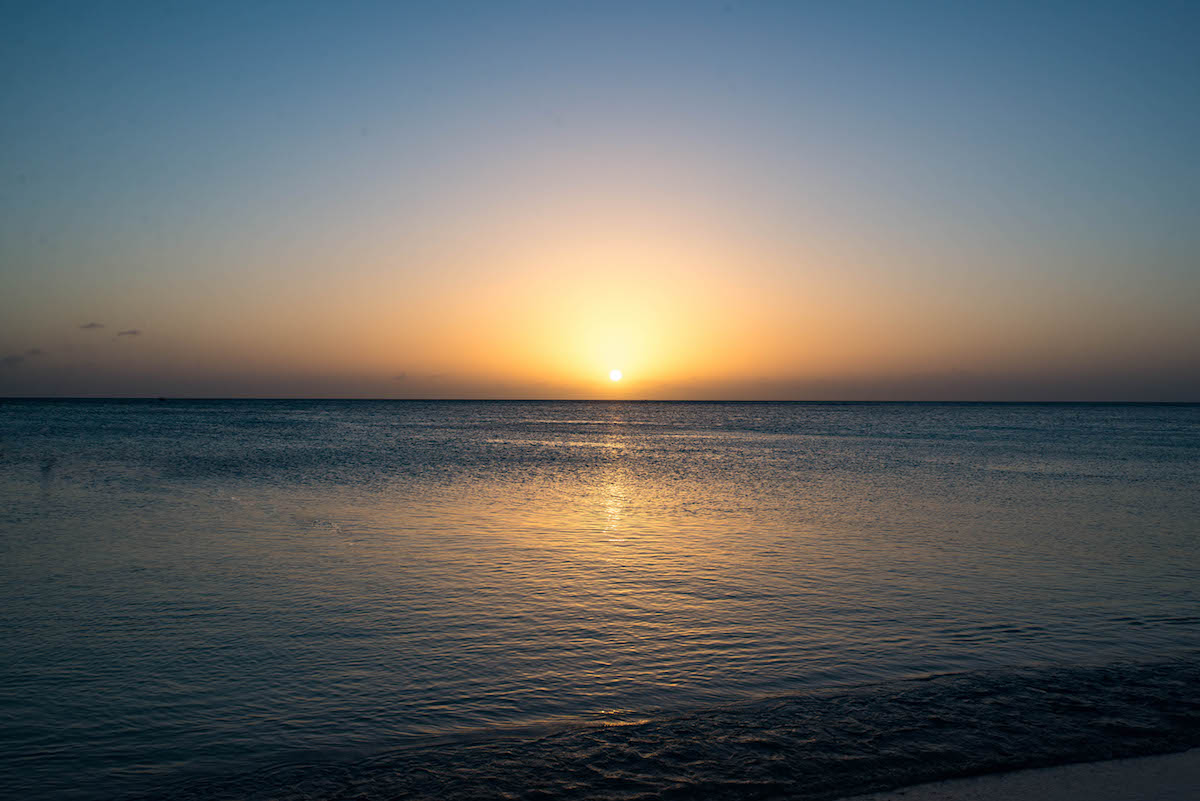 My only wish is that we'd extended our trip another day or two to explore more of the island, especially since it took a 4+ hour flight to get there. Don't get me wrong– we were more than content at the resort because the Ritz-Carlton Aruba truly has all you need for the perfect beach vacation. That said, Aruba has so many beautiful local wonders like the famed flamingo beach and a vibrant downtown with restaurants and shops. I guess I need to go back to Aruba?
More Ritz-Carlton Reviews
Cancun
Grand Cayman
Kapalua, Hawaii
Philadelphia
Girls' Trip to Georgia
San Juan, Puerto Rico
Dorado Beach, Puerto Rico
- Katie