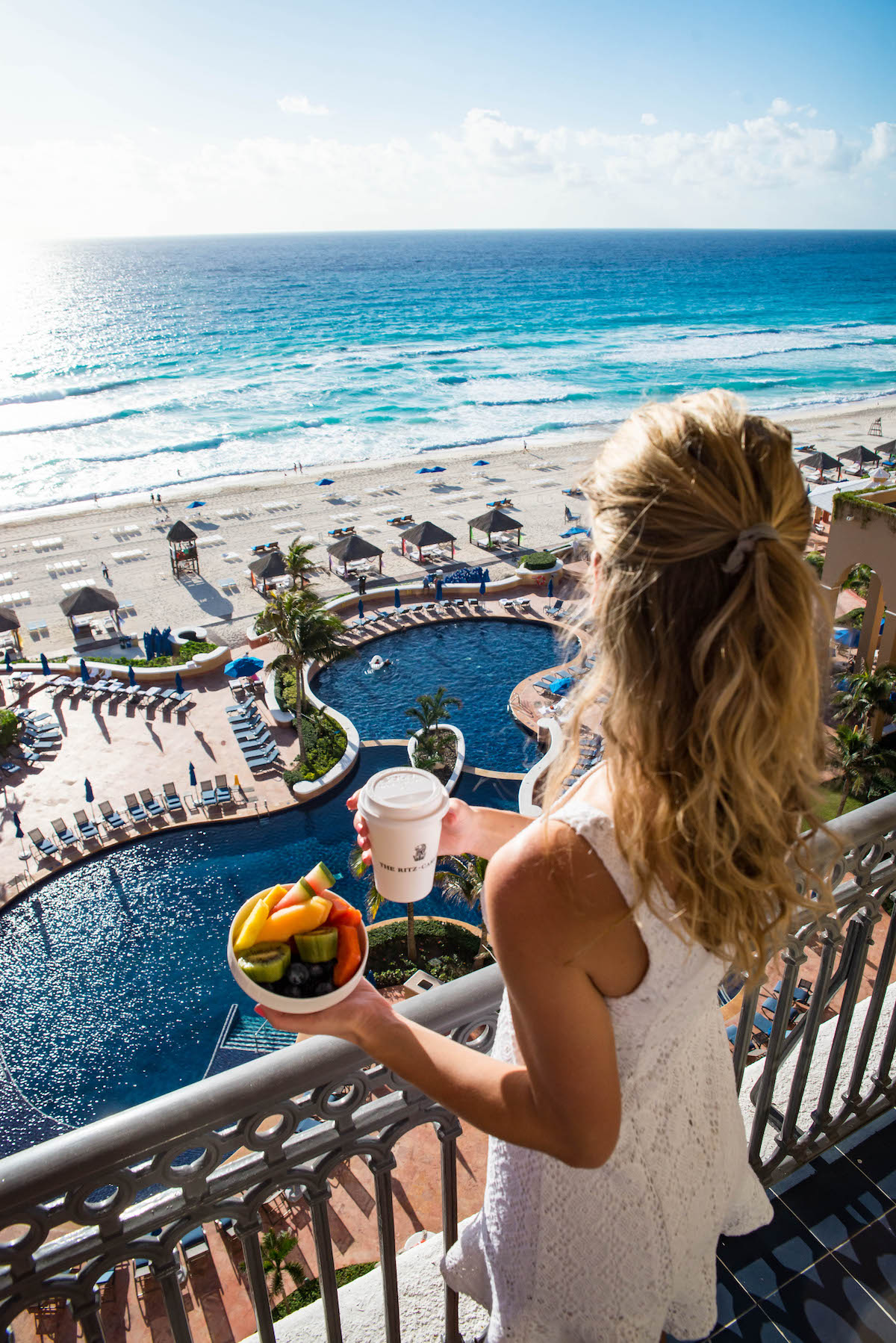 Nick and I have really gotten to know the Ritz-Carlton brand throughout our travels the past two years. From Grand Cayman, to Hawaii and Philadelphia, I can honestly say we've only ever had wonderful experiences. At this point we've fallen into a habit of always looking to see if there is a Ritz-Carlton hotel or resort at the destination where we are traveling. When you take a vacation, you're not only investing money, but your time. While I no longer work a full time desk job, I would've been absolutely devastated if I'd wasted my precious time on an unenjoyable vacation. The point is– when you find a hotel brand or airline that you love, you stick with them.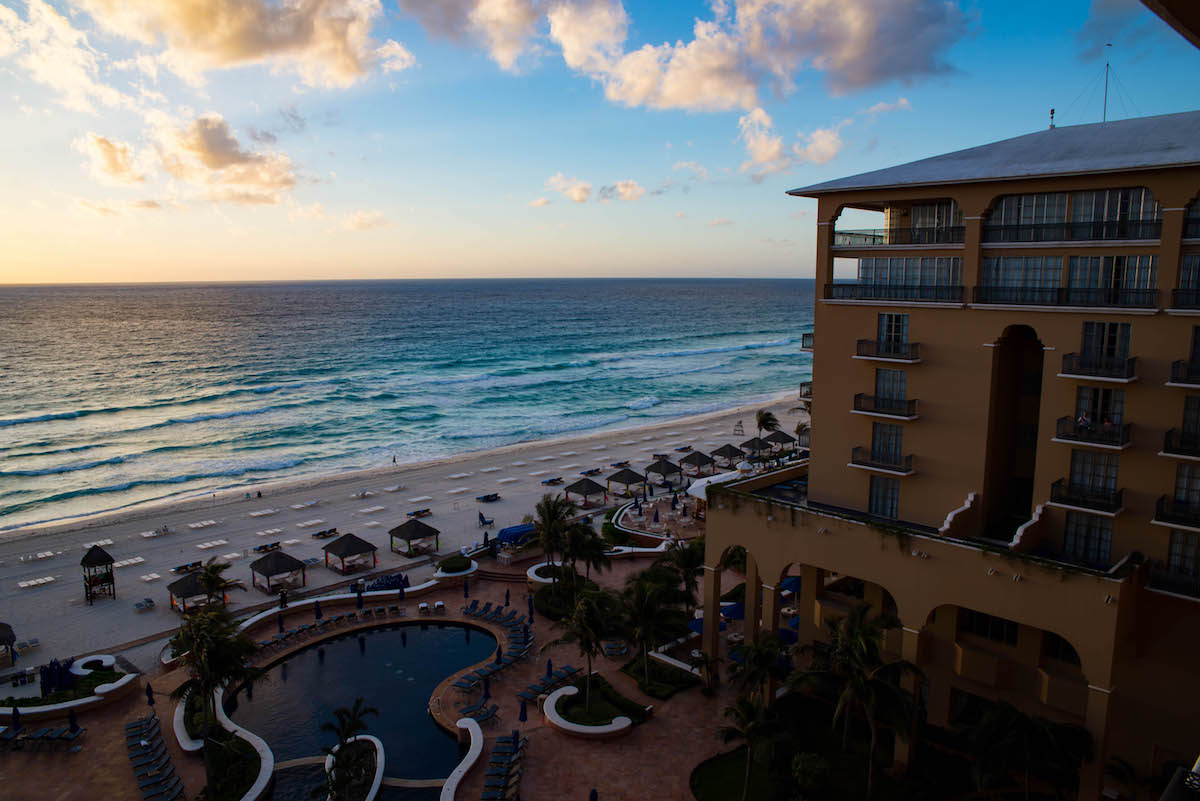 After reflecting back on all our Ritz-Carlton experiences, our time last weekend at The Ritz-Carlton, Cancún may be our new favorite. JetBlue has direct flights from New York to Cancún so accepting the resort's invite to have us for a 3-night stay was a no-brainer. The 3.5 hour flight was totally painless!
The resort and it's beachfront location reminded me a lot of Grand Cayman's Seven Mile Beach. There's a beautiful strip in Cancún where all the resorts can be found nestled side-by-side, just like in Grand Cayman. The hotel setup, pool and beach area was also almost identical and right away we had a feeling this trip would be a good one. FYI– We loved Grand Cayman too and you can read my review here!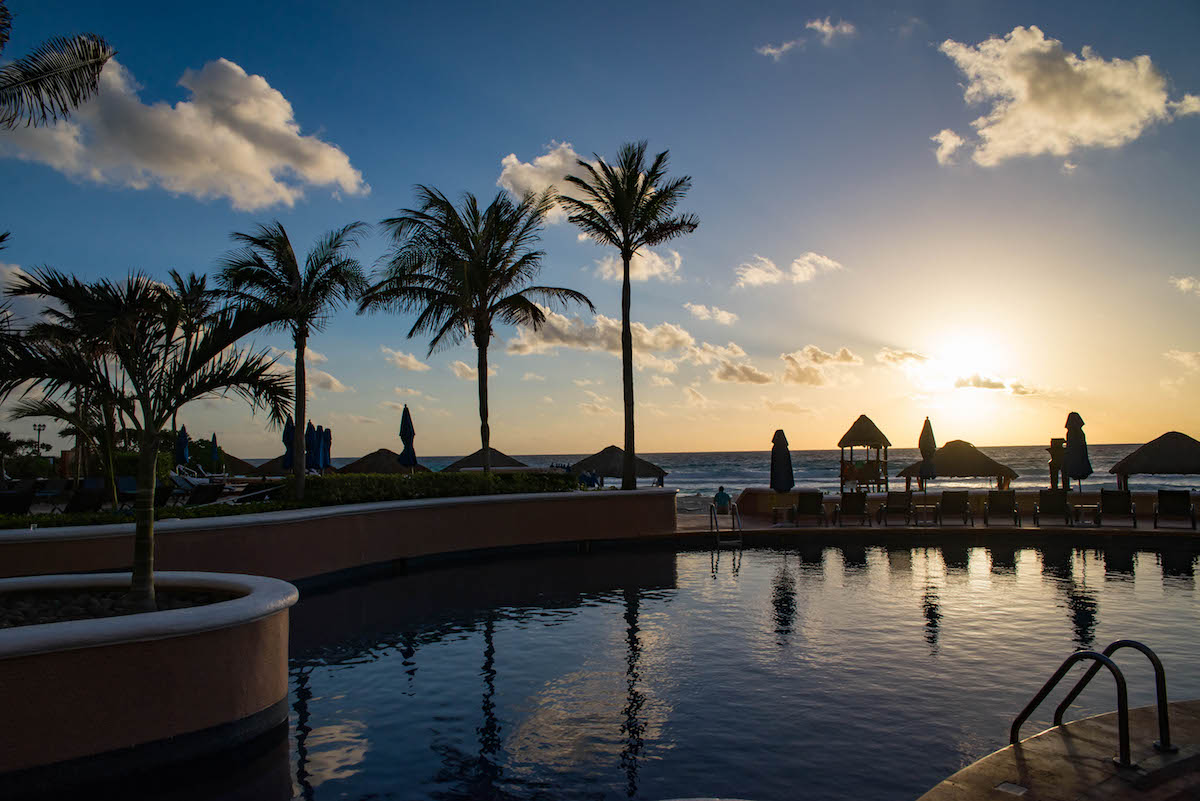 The service and itinerary was what really set this trip apart from the rest. The Ritz-Carlton team coordinated two jam-packed days for us that included a snorkeling excursion, Mezcal tasting, day trip to the Tulum Ruins, couples massage and a Mexican culinary experience. On Monday we left a few shades tanner, a couple pounds heavier and feeling like we really received a well-rounded view of what the resort offers its guests. Our only regret was that we didn't plan to stay for another night!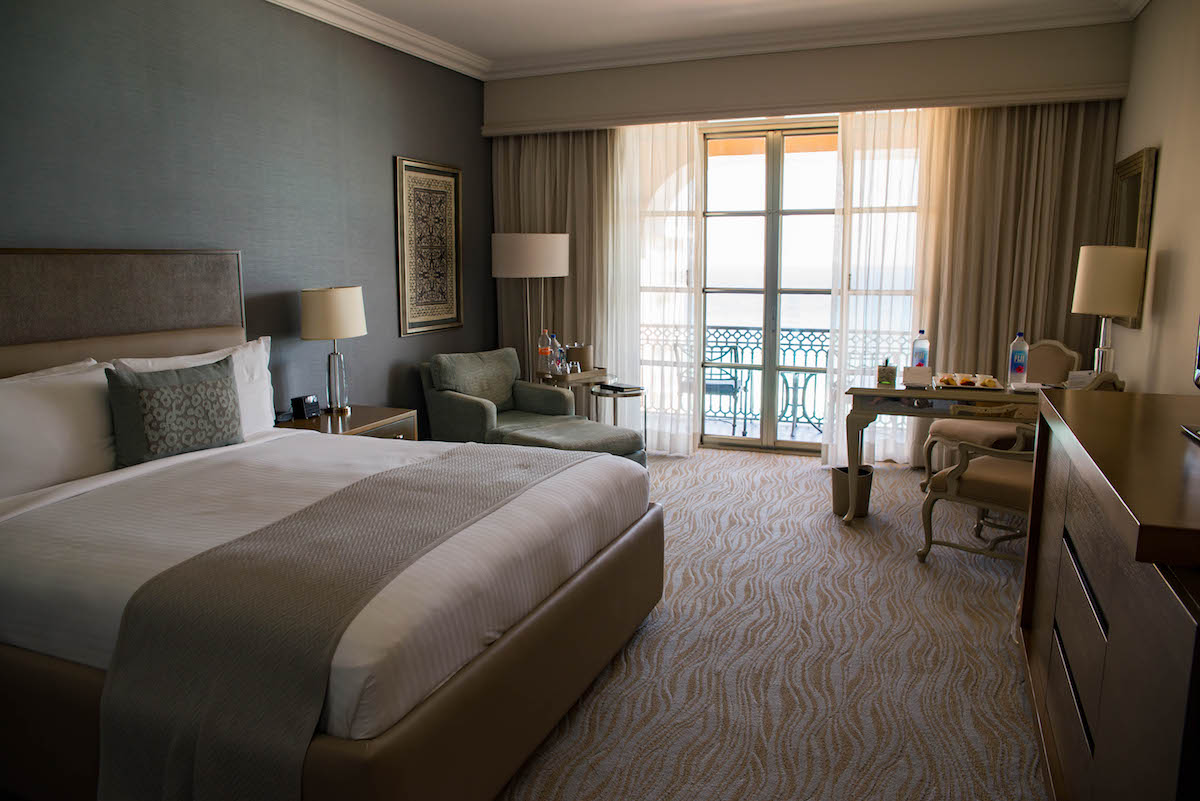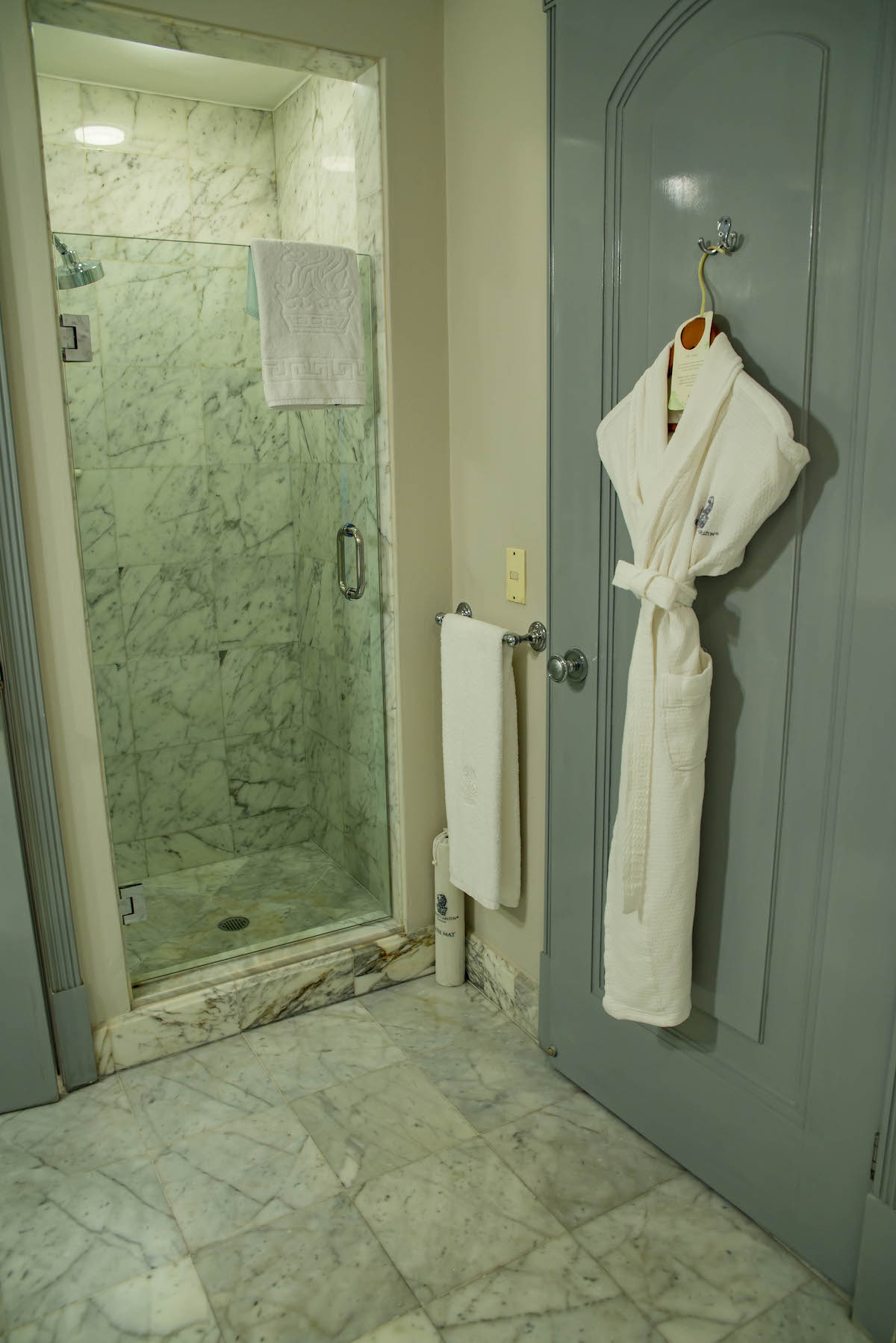 The Ritz-Carlton, Cancun Hotel Review
The Guest Room & Club Lounge. Our guest room was located on the top floor and had the most beautiful view of the pool and beach. We had a king size bed, spacious dresser and closet, double sink vanity (such a luxury for us) and separate bath and shower. Conveniently the location of our room was a short walk down the hall from the Club Lounge, which made getting breakfast each morning and cocktails in the evening such a breeze. From now on I'm definitely going to always request our room be on the same floor as the lounge to save time. You don't realize until you're at a resort how many minutes you can spend walking to and from the restaurants, the lobby, etc.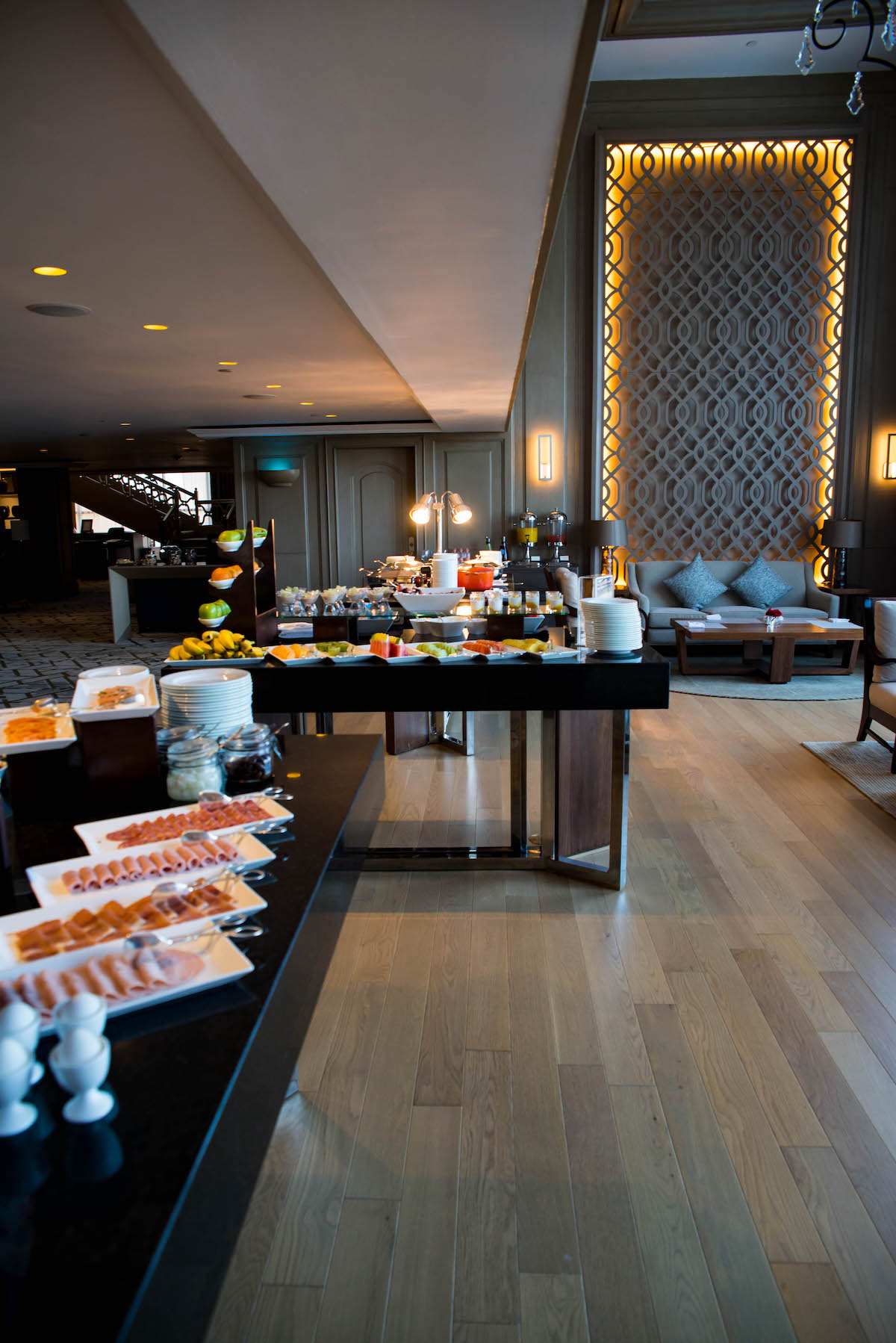 PS– I absolutely recommend getting a Club Level room to take advantage of the food and complimentary drinks. You save SO MUCH time and money not having to order breakfast and cocktails a la carte, plus the club concierge is so helpful with making reservations for dining and excursions. You can also check-in and out directly with them, skipping any potential lines in the lobby.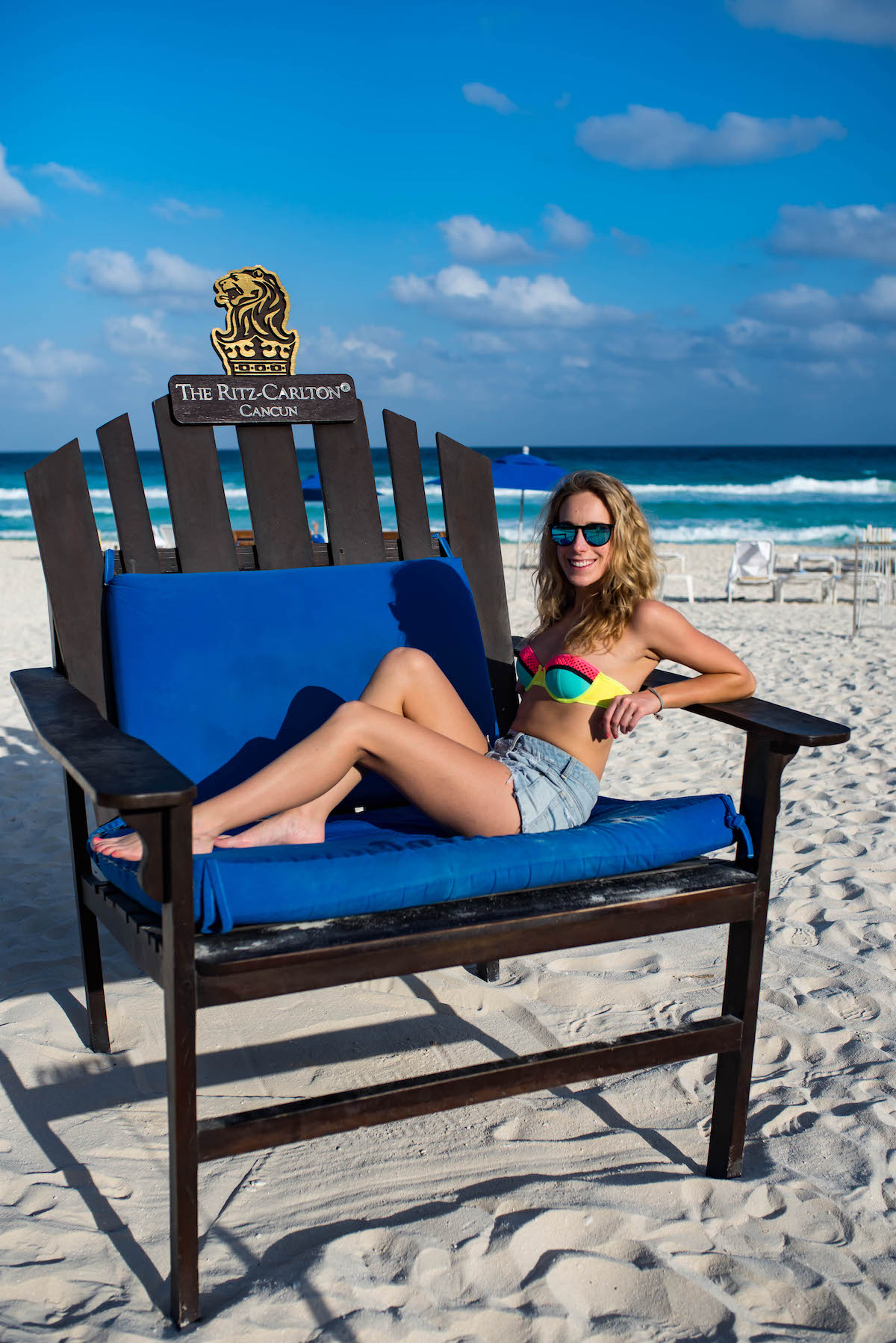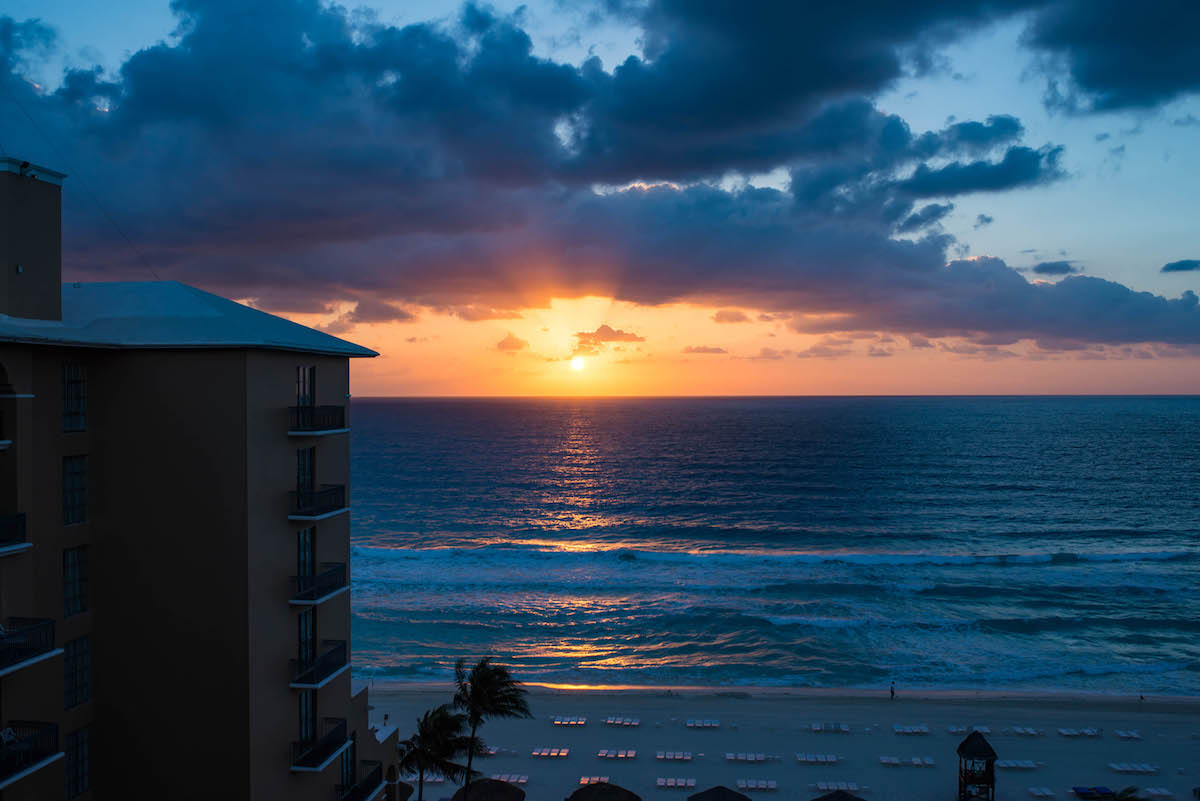 Excursions & Spa Experience. This trip had the perfect mix of excursions and relaxation. Saturday morning was spent snorkeling on a nearby reef and then in the afternoon we enjoyed the sun in a beach cabana. Bright and early on Sunday we headed to Tulum with a private tour guide, Francisco, who spent the day with us. He took us through the Mayan ruins and then to lunch at a local restaurant (full blog post to come!) The day ended with a heavenly couples massage on the beach. Nick said it was the best one he's had so far.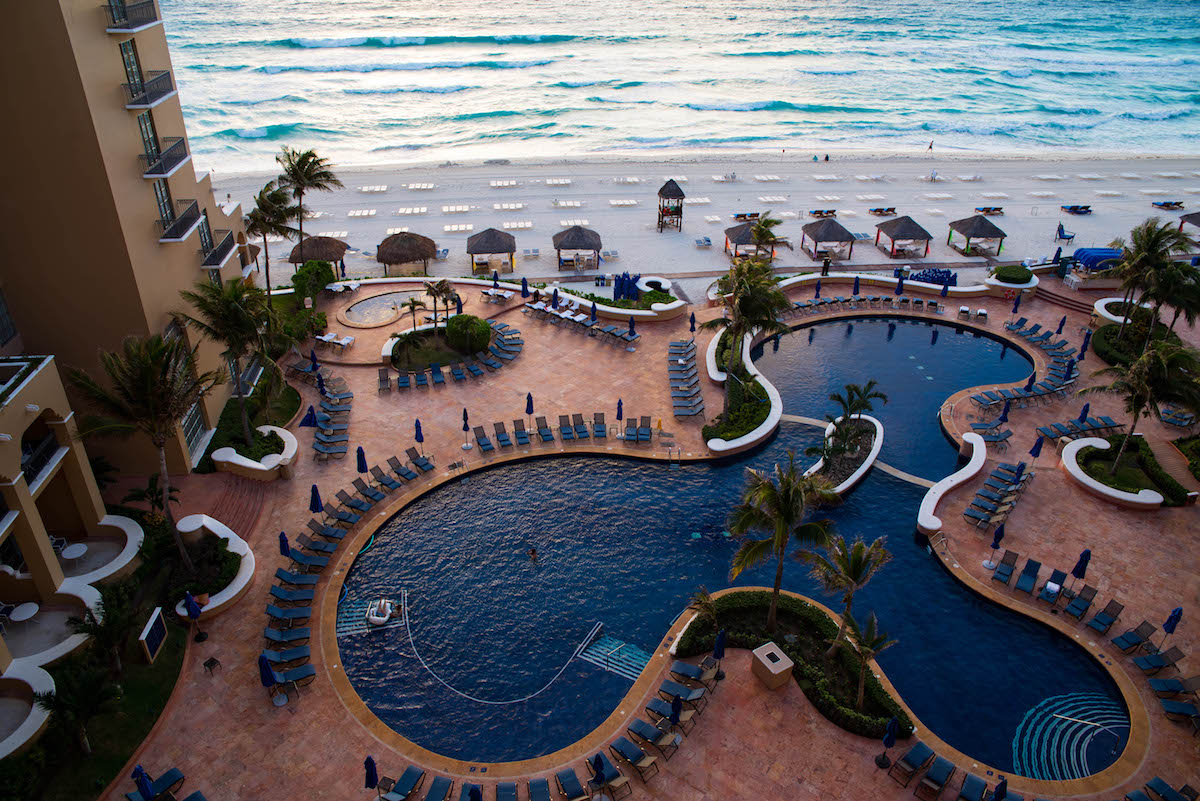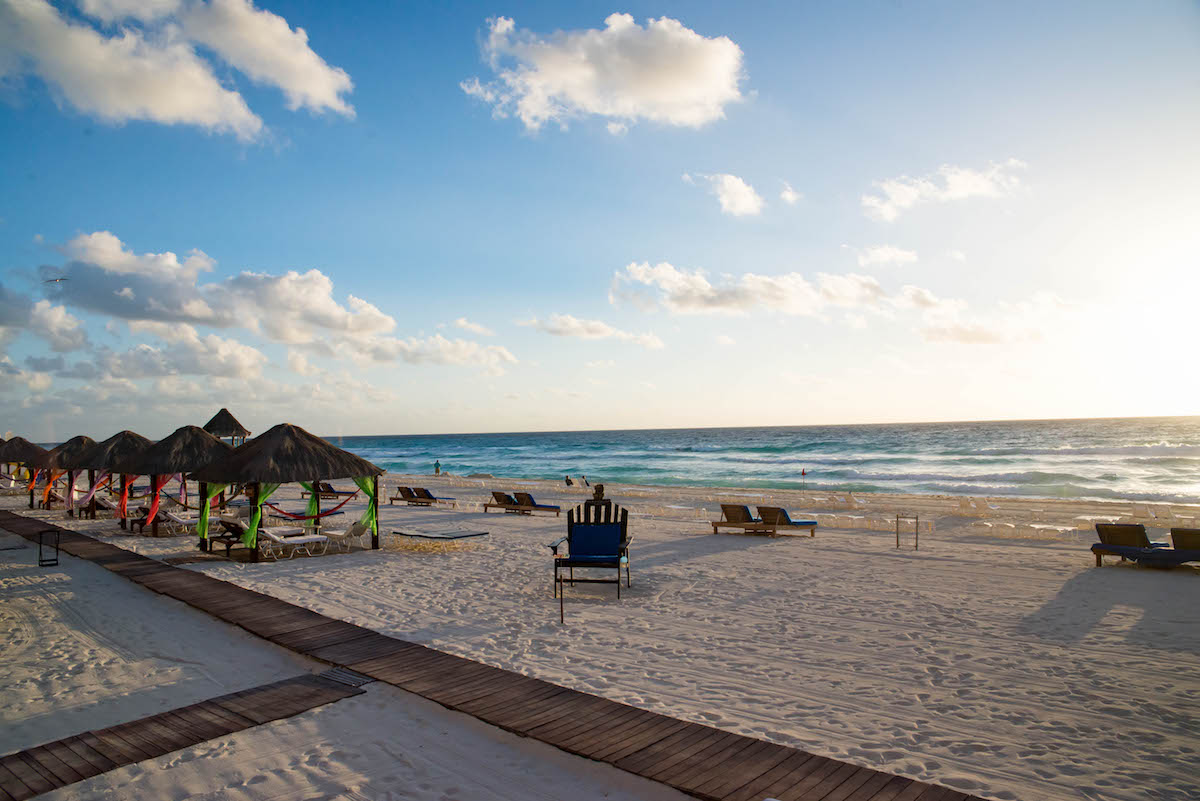 Pool & Beach. I think the photos really speak for themselves. The beachfront and pool area at this resort are both beautiful and spacious. We spent one afternoon in a cabana where we were able to order drinks and lunch. The staff was unbelievably attentive and and we felt they really took care of us. You can see more photos, plus get info on all the swimsuits I wore in this post.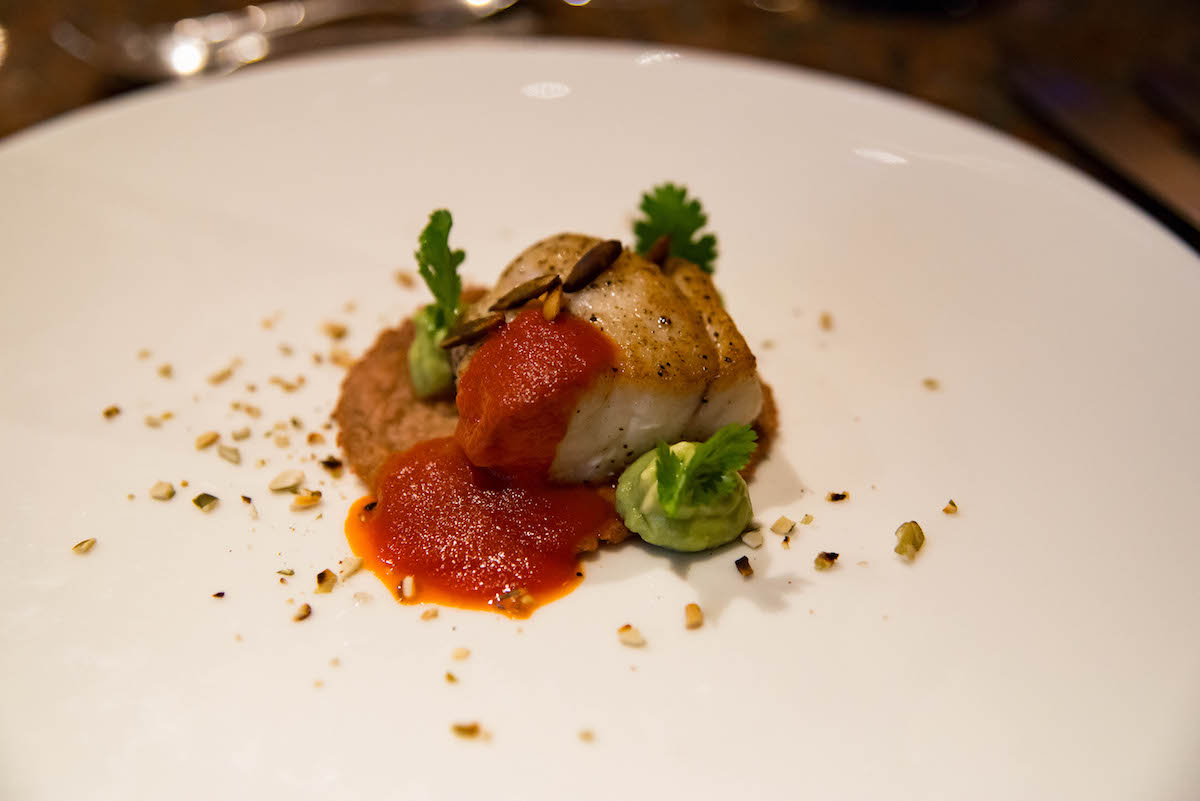 Dining. There are multiple restaurants and dining options at this resort. We always like to have breakfast and some lunches in the club lounge, then do dinners at a restaurant. Our first night we did a Mezcal tasting at the D-Lounge— super educational, but incredibly strong alcohol– even more than tequila! Needless to say I had to take baby sips. Afterwards, we enjoyed a very sophisticated and upscale dinner at The Club Grill. This restaurant is probably the fanciest at the resort and where you would go to be wined and dined. The service (and food) was incredible!
On Saturday we got to do something really special for dinner. There is only a few Ritz-Carlton hotels that have a culinary center where guests can take cooking lessons and dine on cuisine prepared right in front of them by a chef. We were treated to the latter and enjoyed a really beautiful authentic Mexican meal. The chef explained every course including his inspiration behind each dish while cooking it right in front of us– it was really an engaging experience that made us feel more connected to the food.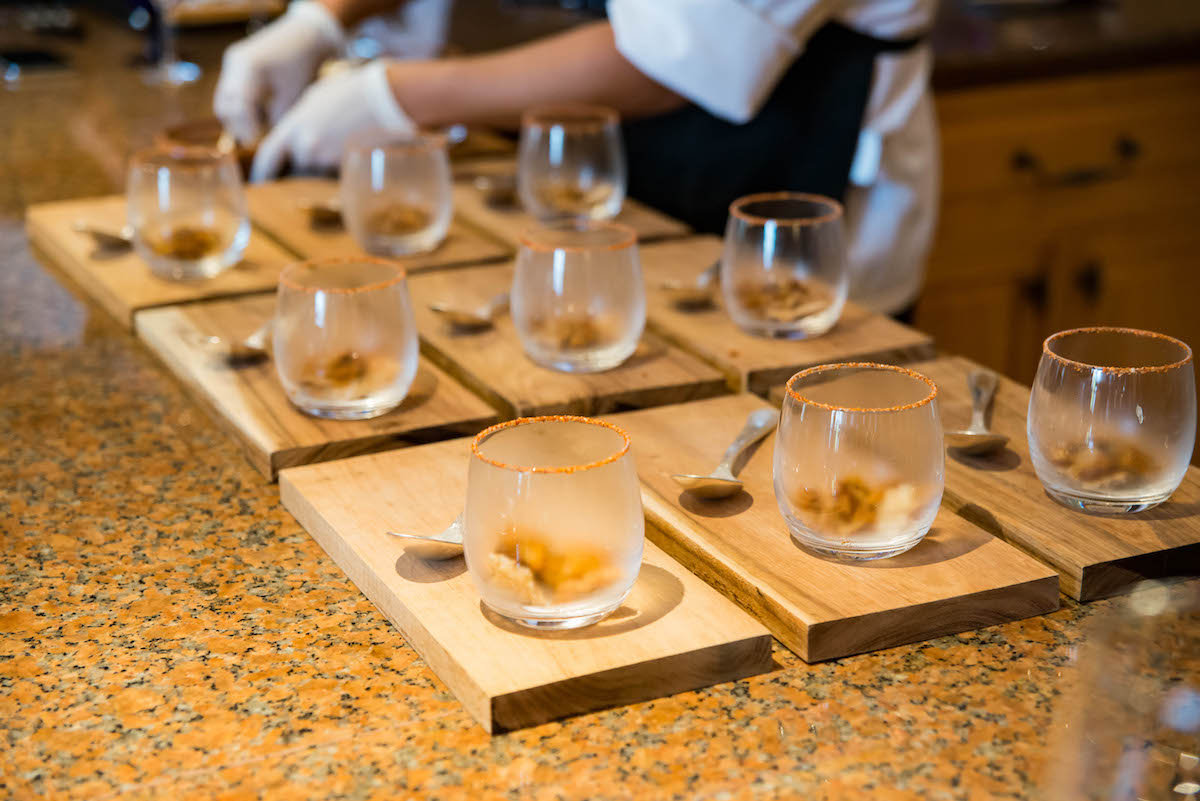 On Sunday, our last night we had dinner at Casitas in a private beach cabana. Yes, the same cabanas that guests can use on the beach get transformed at night into romantic little enclaves for those dining at the restaurant. I swear it really felt like we were on an episode of The Bachelor! The menu was mostly seafood and steak– I had the lobster pasta and Nick had scallops & shrimp. I was even able to order churros for dessert despite it not being offered on the menu, as they were able to go get them. Talk about going above and beyond for guests!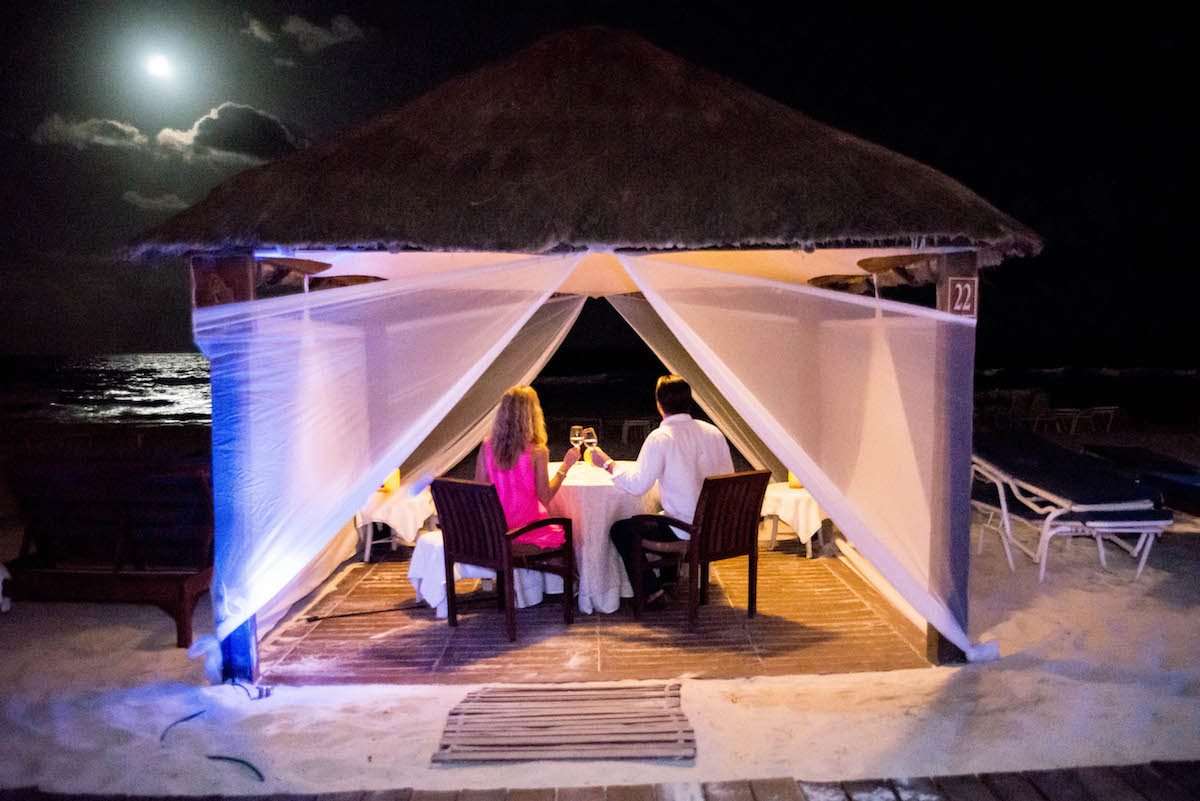 Things To Know Before Visiting. Like most Ritz-Carlton properties, this resort is totally appropriate for families and children. We didn't notice many little ones while we were there, but we also didn't feel there was an all-inclusive or nightlife vibe. That said, the clubs and restaurants of Cancún are a short drive away and the hotel can always coordinate a taxi service if you were looking to turn up off the property. Ritz-Carlton hotels tend to be traditional in terms of decor, furniture, etc. We love the classical upscale style, but I could understand someone who might prefer a modern style resort instead.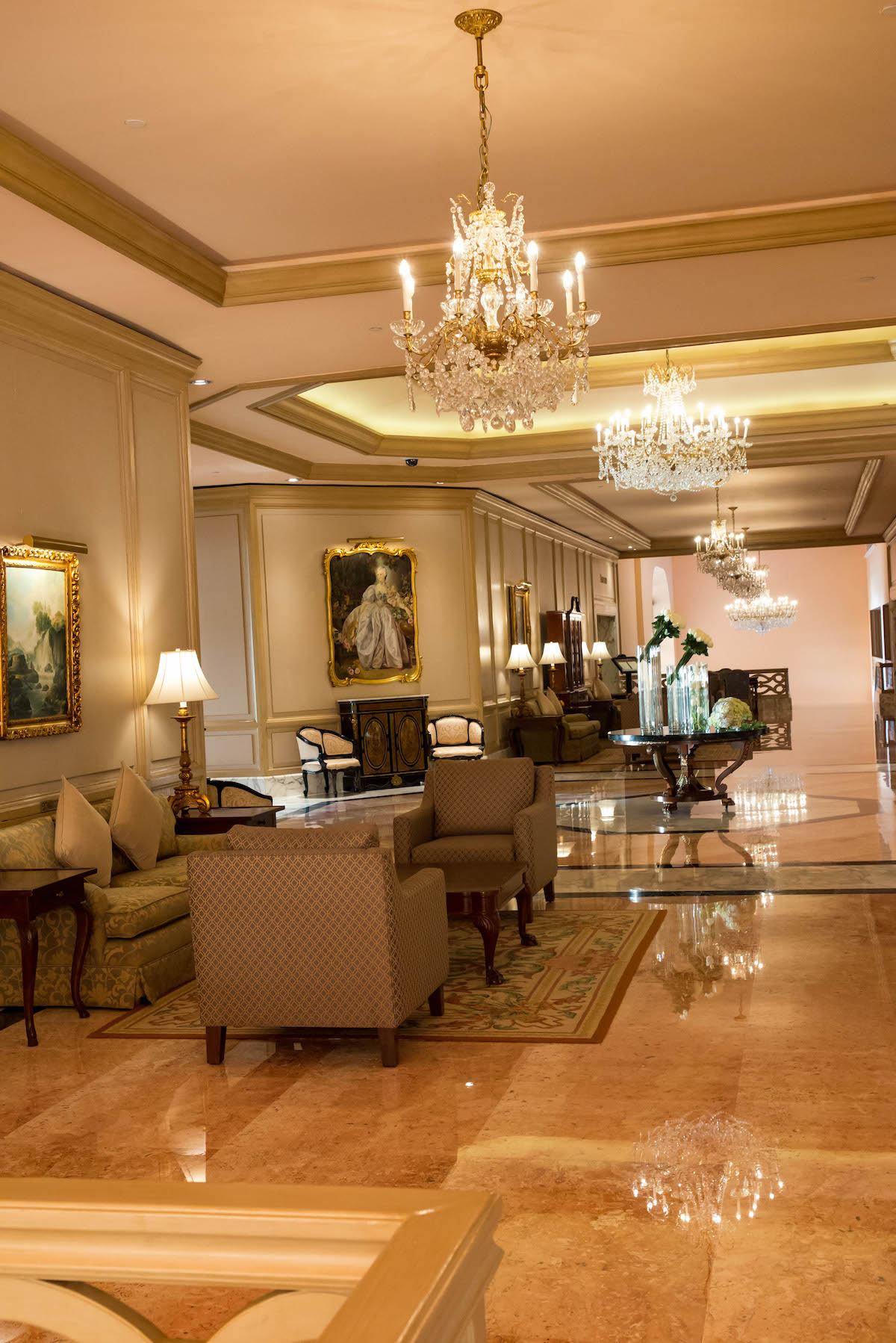 The resort itself certainly has enough to keep anyone preoccupied for a few days of rest and relaxation, however if you're the adventurous type and are looking to get off-site the next nearest tourist towns like Playa del Carmen and Tulum are only an hour drive away. The ruins of Chichen Itza (what I want to see next!) is also a 2.5 hour drive from Cancún. Just something to keep in mind!
More Ritz-Carlton Reviews
Grand Cayman
Kapalua, Hawaii
Philadelphia
Girls' Trip to Georgia
San Juan, Puerto Rico
Dorado Beach, Puerto Rico
- Katie