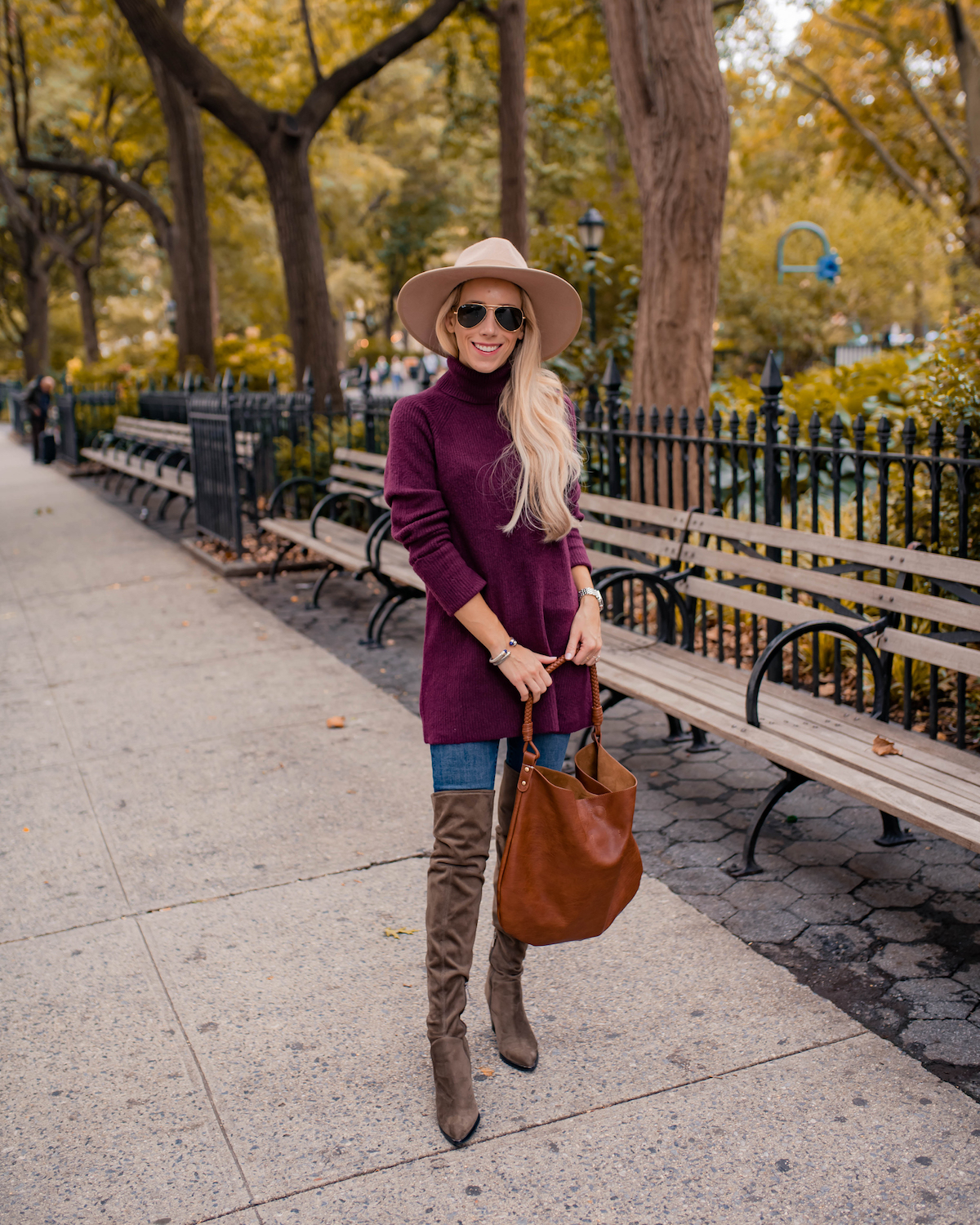 We made it to the finish line! I still can't believe I'm getting married on SATURDAY. The past week has been a whirlwind of nerves and excitement– all completely self-induced of course. For nearly three weeks we've had every logistical aspect of our wedding confirmed so it's really just been a matter of waiting. If you know me then you're fully aware that patience is a quality I have very little of so it's taken all of my willpower to stay busy and not get in my head.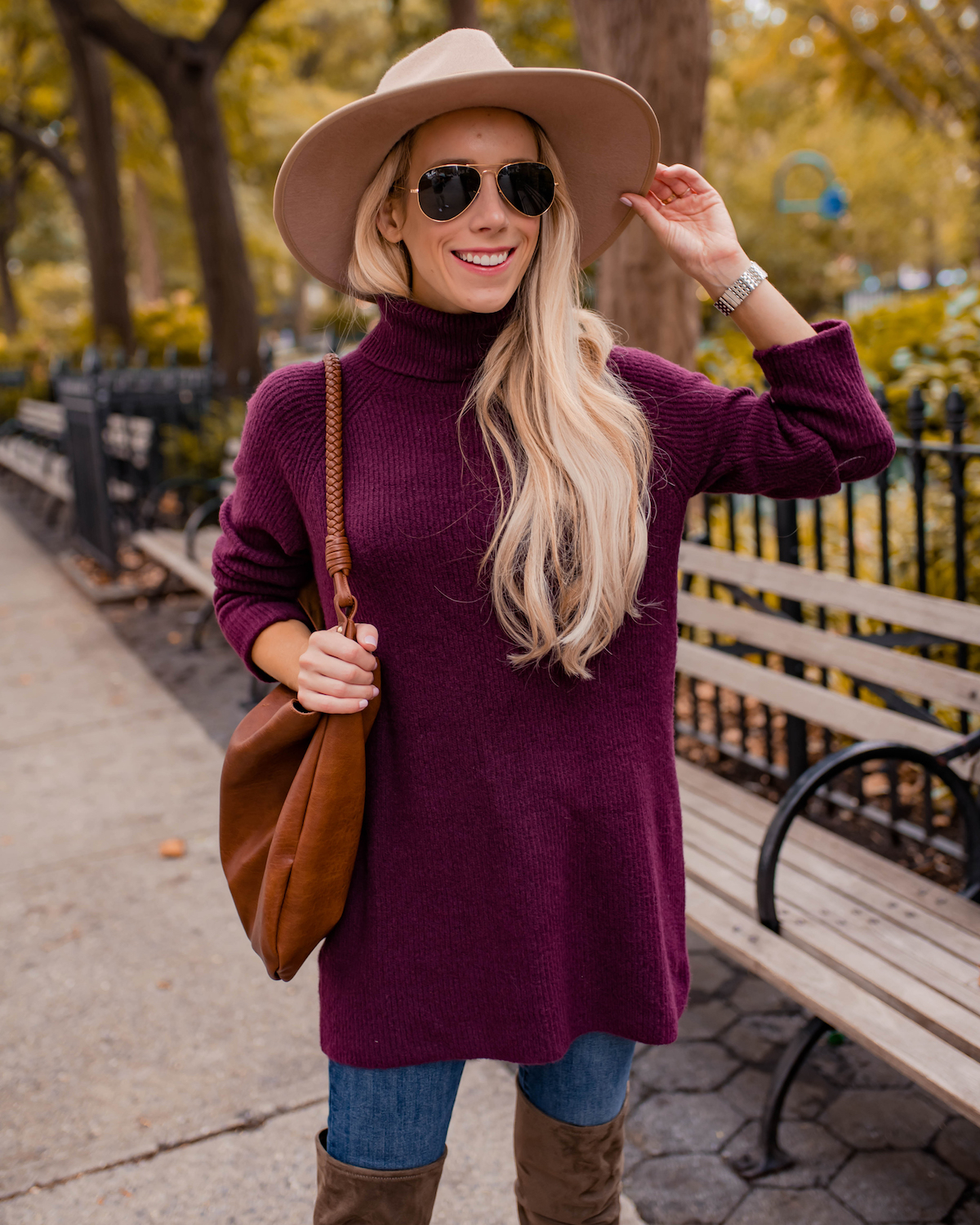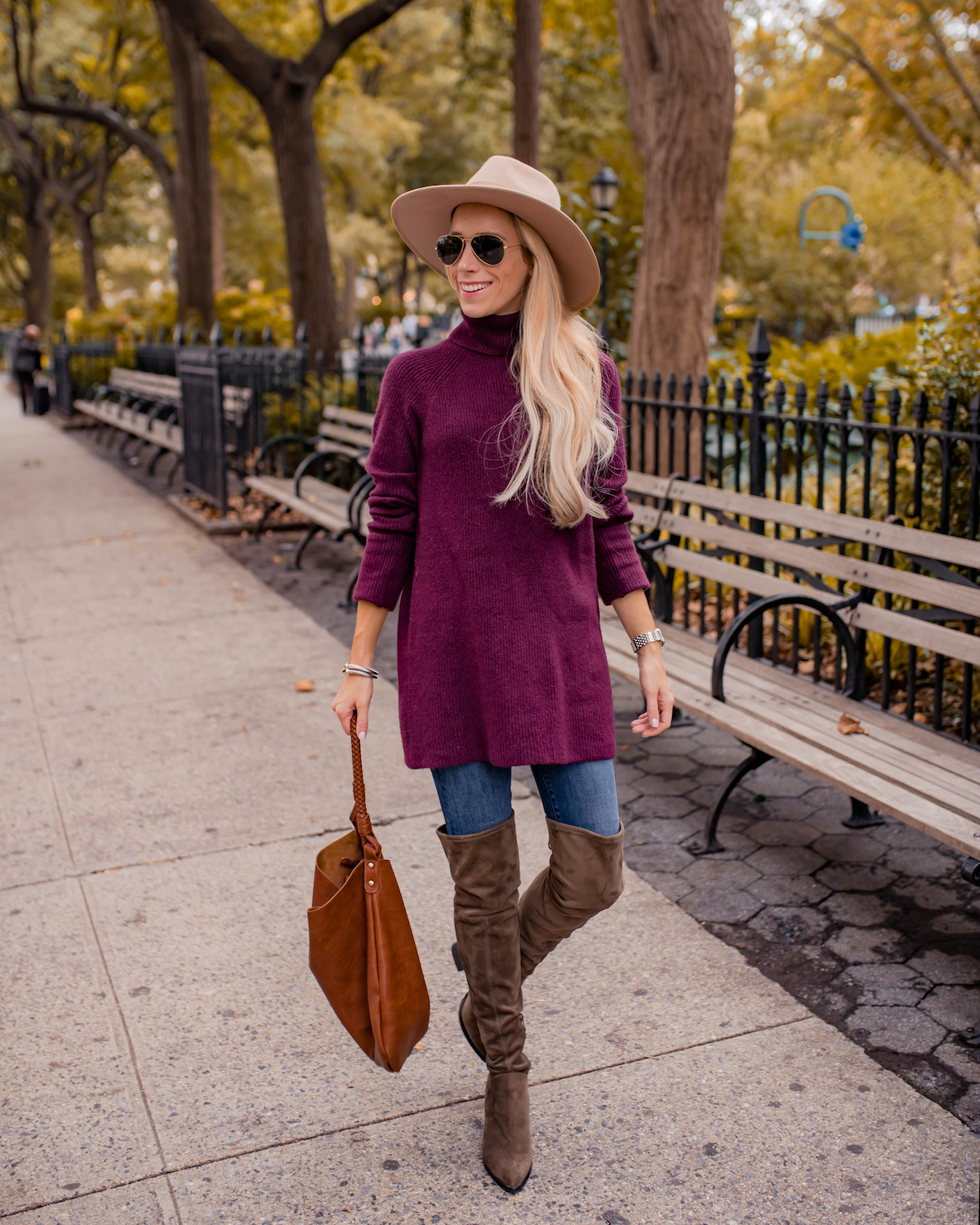 OUTFIT DETAILS // Purple Turtleneck Sweater | Skinny Jeans | Over The Knee Boots (these are my fave designer dupe pair!) | Tote Bag (it's under $100!) | Similar Hat | Sunglasses | David Yurman Bracelets | Michele Watch
Ok so updates! Honestly the list is so long at this point that I truly don't think there's a way I can include it all, but all the big things we accomplished in the last month are BOLDED below! So many people warned me that the bulk of the work would happen in the two months before the wedding and boyyyyyy were they right. It's once you send out the invitations and start getting RSVPs that sh*t gets really nitty gritty. All the little tasks you've always known that you're going to have to do (aka get a marriage license) and those random things you've known you'll have to buy (a guest book and cocktail napkins) can no longer be put on the back burner.
WEDDING PLANNING CHECKLIST
✓ Get GLAM! (book appts for hair, nails, brows, lashes, facial & spray tan)
✓ Finalize our minimoon itinerary
✓ Dance lessons
✓ Write vows
✓ Get marriage license
✓ Finish paying all of our vendors
✓ Get final RSVP count & submit to all our vendors
✓ Final gown fitting
✓ Finalize our wedding bands
✓ Finalize florals, decor & rentals
✓ Order all printed materials & random props (programs, menus, etc.)
✓ Create seating chart for reception
✓ Order any personalized items (welcome sign, etc.)
✓ Pick out jewelry/accessories for bridesmaids
✓ Design, order & send out wedding invitations
✓ Get wedding insurance
✓ Found our officiant
✓ Booked minimoon for after wedding (saving a long honeymoon for 2020)
✓ Did our cake tasting
✓ Had floral design meeting
✓ Booked day-of glam team + did my hair & makeup trial
✓ Had my bachelorette party in Isle of Palms + Charleston
✓ Began planning my bridal shower with my Aunt Jen
✓ Picked out our tabletop rentals + chairs for reception
✓ Found my dress
✓ Picked out & ordered bridesmaid's dresses + shoes
✓ Sent out save the dates (you see them here)
✓ Created our wedding registry (here are some of the items we registered for)
✓ Shot our engagement photos
✓ Asked all my favorite gals to be my bridesmaids 🙂 (see how I did it here!)
✓ Confirmed florist + met to go over initial ideas
✓ Met with our caterer for a Q&A + did a tasting
✓ Worked on our wedding moodboard with our planner
✓ Did a venue visit + walk through with planner to map out flow of the day
✓ Created our wedding website on WeddingWire
✓ Got over my fear of trying on wedding dresses
✓ Booked room blocks at local hotels
✓ Confirmed caterer
✓ Confirmed band
✓ Confirmed videographer
✓ Confirmed photographer
✓ Found our wedding planner
✓ Created a budget spreadsheet
✓ Confirmed the date (October 2019!!!)
✓ Decided on a venue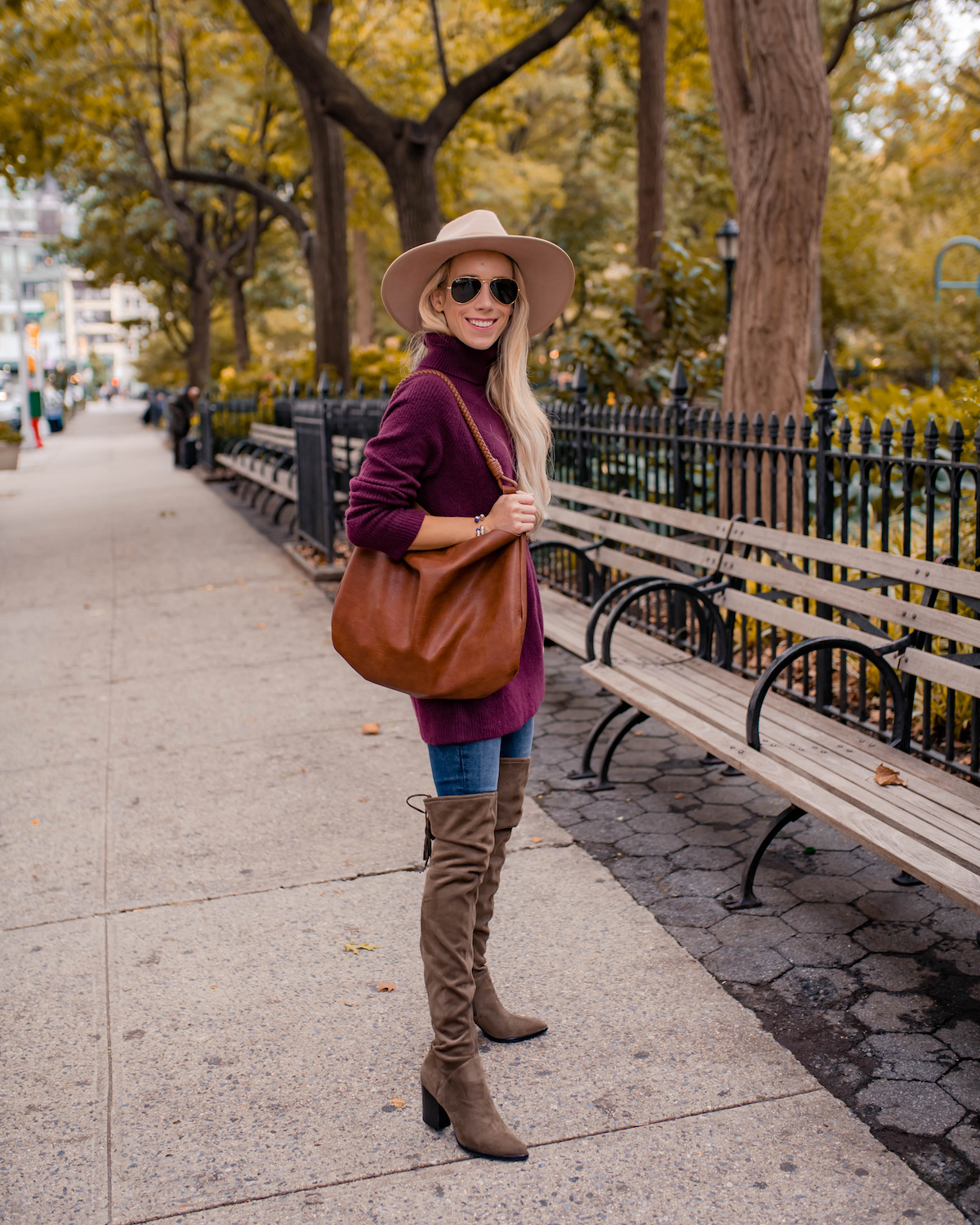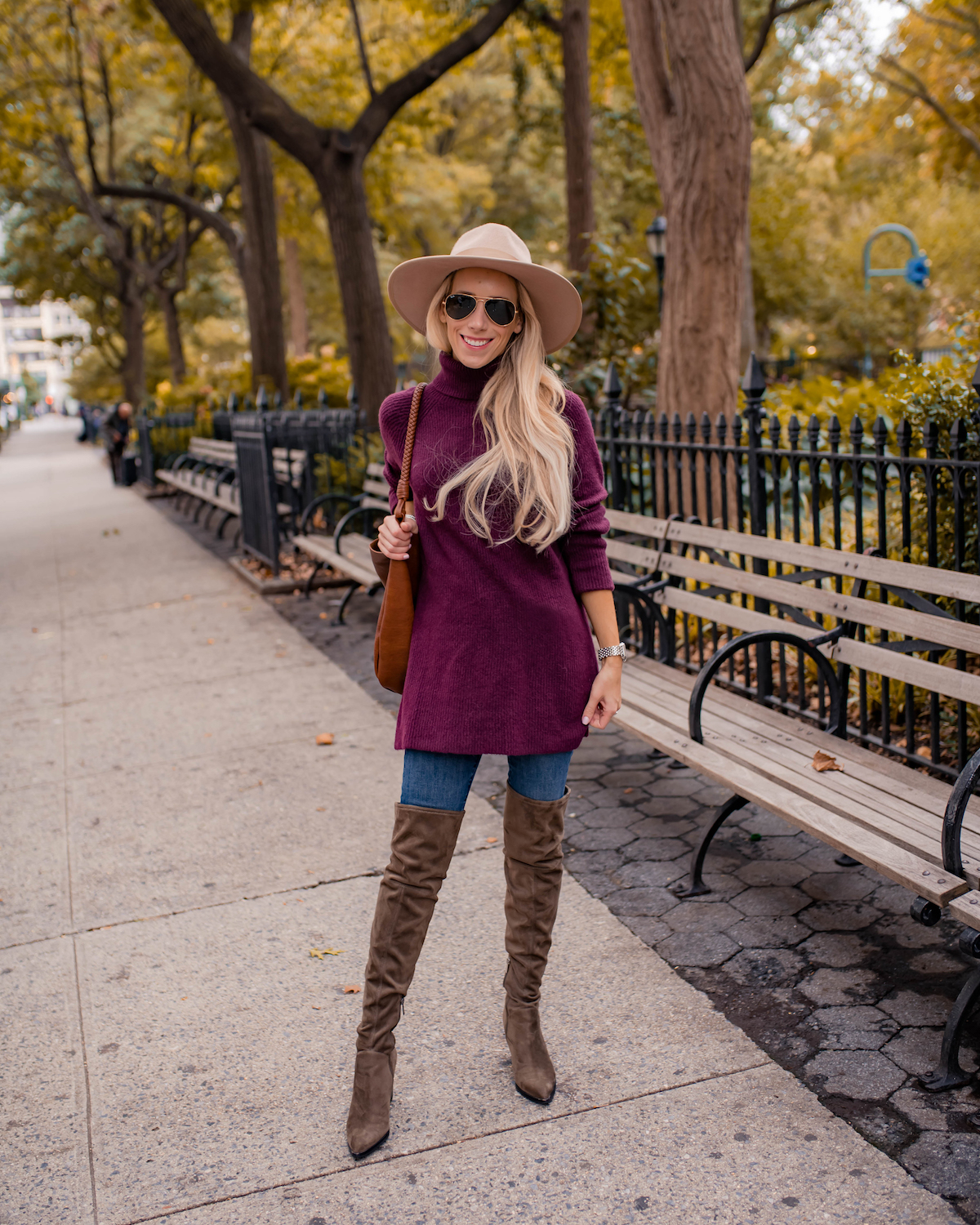 Last week I asked y'all on Instagram what you wanted to me to talk about in my last wedding update and these were the most requested topics!
PRE-WEDDING GLAM. I never thought there'd be a day where I'd find my hair, nail and lash appointments exhausting; but I guess weddings can do that to a gal. Talk about a privileged problem! Since this was the top request of my Instagram poll I decided to write a separate post all about my wedding beauty schedule here.
WEDDING DANCE LESSONS. Back in August we impulsively decided to book ourselves wedding dance lessons at Dance With Me studio and I'm so happy we did! Nick surprisingly took the lead on scheduling our weekly class with our instructor Tyler (he was great!) at the Soho location. At Dance With Me they offer private wedding dance lessons specifically for engaged couples. Once you book a block of lessons (we did 10) you're assigned a private instructor who can teach you everything from the basics to a full choreographed routine. Over the course of our 10 lessons, Tyler coached us on the fundamentals of dancing with a partner and taught us a fun and easy routine that we'll debut at our wedding reception. I'll be honest, I was very skeptical of doing dance lessons and was worried it would be a waste of time and money; but I'm now so grateful we decided to do it. Not only did we both learn a new skill, but it was really fun having a unique date night once a week in the weeks leading up to our wedding. I would highly recommend doing it if you're engaged!
SEATING CHART + FAMILY DYNAMICS. During an August Q&A on Instagram I was asked what has been the hardest aspect of planning thus far. At the time my answer was family drama. Ay yi yi. It really is true that weddings can bring out the worst negativity in some people– emotions get high and everyone has their opinion. I have to give credit to Nick for creating our reception seating chart. It wasn't easy y'all! Both our families have some tricky dynamics, but I think we found a way to make everyone happy. Having a couples shower over the summer with Nick's family and then my bridal shower in September definitely helped break the ice a bit and reunite some of our extended family members who haven't seen one another in a very long time. We're nowhere near as worried about potential drama now as we were when we first got engaged. Fingers crossed!
PRINTED MATERIALS. I am obsessed with the custom menus, programs, and cocktail + seating signs we ordered from Minted! I was so impressed with how fast the shipping was too. PS Minted does custom signage now from seating charts to reserved signs– they have it all!
PERSONALIZED DECOR & PROPS. We ended up purchasing most of our non-floral decor and props from a mix of vendors on Amazon Handmade and Etsy. I'm talking things like a custom welcome sign, card box, name cards, vintage baskets, fleece blankets (for guests at our ceremony,) frames and an easel for holding signage, lawn games (corn hole & jenga for rehearsal dinner.) Sure, we probably could've rented a lot of these items, but in the end it ended up being cheaper to just buy on our own. Hey our new apartment building has a rooftop lawn so we'll at least be able to make use of our new giant corn hole boards 😛
BUDGET. So did we go over it? Slightlyyyyy, but not to a degree where we're going to lose any sleep. Nick and I are both content with where the final numbers have rounded out.
EXPENSES WE DIDN'T ORIGINALLY ANTICIPATE. Unless you have prior experience planning weddings or large scale events, I don't see how anyone could go into this process fully aware of all the different types of vendors and random expenses that could be needed. Of course everyone's big day is going to be different and entail different types of costs.
I would say that our wedding probably skews on the more complicated end of the planning spectrum due to our venue. We're basically paying for use of the space from Friday through Sunday morning and that's it. They do have reception tables and ceremony benches so that's a plus, but other than that we have to rent and bring in everything. This includes catering, florals, glassware, dinnerware, linens, chairs, tall tables for cocktail hour– the list goes on. We knew this was going to be the case from the start and specifically chose the location because we wanted to work with vendors of our choice. And since we'd budgeted for a wedding planner, the idea of having such a long list of necessities that we'd need to find and source never felt too daunting. That said, there were a few things that caught us by surprise:
+ Dance Floor & Stage. When you think about renting items for a wedding, physical floors probably aren't the first thing to come to mind. It wasn't until we received an updated quote from our rental vendor last month that we remembered we'd need to rent a wood dance floor and raised stage for our band. If you're envisioning getting married at a venue that doesn't have a ballroom or large hardwood floor space– make sure you plan for this!
 + Heaters. Another not-so-fun pricey rental that we forgot we'd need. I guess that's what happens when you tour venues in June, but pick a date in mid-October LOL. We're anticipating temperatures to be in the low 60s on our wedding day (perfect!) however at night it will definitely get cool. As much as I don't want to pay for these, the last thing I want is for any of our guests to feel uncomfortable or chilly when they spent so much time and money traveling to celebrate with us.
+ Night-Of Tips. I remember reading an article when we first got engaged about which vendors you should tip and how much you should give, but only remembered it until recently. It's on our to-do list to hit up an ATM this week and sort all the cash tips for our band, bartenders, etc. into envelopes so our planner Stephanie can easily distribute after our reception ends.
+ Vendor Meals. In our planning process we learned that it's the norm to feed all of your vendors who will be working at your reception. It totally makes sense– I just honestly had no idea until my planner mentioned how we should be factoring in vendors to the catering headcount. For us this will include our planner, our photographer and videographer + their second shooters and our band. Make sure you talk to your caterer and find out how they price vendor meals and what staff they cover on their end.
+ Vendor Accommodations. If you decide to hire a vendor that's not based within reasonable driving distance of your venue, be prepared to provide them overnight accommodations. In some cases certain vendors may even require you pay for their flights, rental cars, all meals and incidentals, etc. Check those contracts! Our photographer and videographer are actually both based out of state so we're responsible for their lodging over the weekend. Hotel options are limited in the area where we're getting married so we decided it was most cost effective to reserve a big Airbnb nearby that we could have them stay at along with a few friends who procrastinated on booking a hotel 😛
+ Tent Draping & Custom Lighting. I'm going to take responsibility here and admit that I made the decision to add these extra elements to our budget. Our reception is tented and the tent itself is beautiful and has basic lighting, butttt I just felt like it needed a little bit more in terms of decor. When I explained what I wanted to our planner Stephanie, she briefed me that my idea would entail going to New York's garment district and purchasing rolls of fabric literally as if I was a contestant on Project Runway. Luckily I had her and our florist (who's doing all of our decor too) to help me. They came to the city one day over the summer and we found the perfect fabric that we're going to drape in our tent and use as table runners.
For lighting we're hiring a separate vendor who's going to be doing a custom installation in our tent. Necessary? Of course not. Is it going to be worth it? ABSOLUTELY.
+ Spark Fountains. Another completely frivolous extra that I decided to add over the summer. I'm blaming Pinterest! PS shoutout to all the helpful girls on Instagram who clued me in that I should be looking into renting 'cold spark fountains' from either a DJ or lighting vendor. I'm a ding dong and  totally thought people just used real fireworks!!! News to me that there are so many different types of pyrotechnics that you can rent and use safely without risk of fire.
So I think that's it!!! Wish me luck that I can make it to Friday without completely going crazy from nerves and excitement. I know everything is going to be wonderful and perfect and ahhhh I just can't wait to share more with y'all!
MORE WEDDING UPDATES
wedding update #7 | reception seating chart, goodbye breakfast dilemma
wedding update #6 | cake tasting, honeymoon, officiant & more
wedding update #5 | my hair & makeup trial + pre-wedding beauty treatments
wedding update #4 | how i said yes to the dress!
wedding update #3 | engagement photos + bridesmaid proposals
 wedding update #2 | playing dress up with david's bridal
wedding update #1 | summer tablescape + booking vendors
our proposal story
our engagement photos
our save the date card design
wedding planning q&a
our bed bath & beyond wedding registry
little white dress guide
how to save money on wedding reception rentals
- Katie