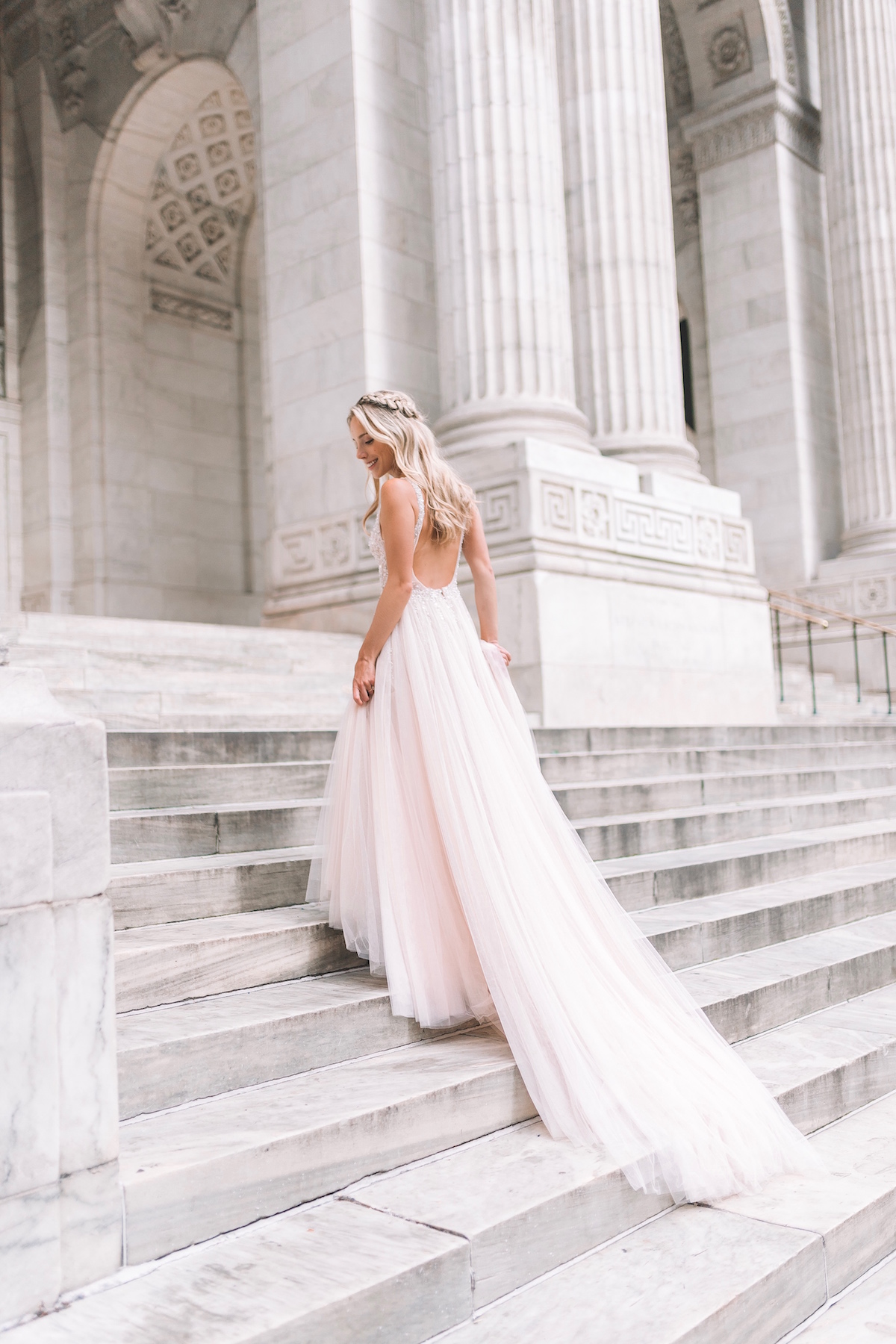 Can I just say how much I've been loving chatting about weddings with you guys on Instagram? Anytime I have a question or just want to vent you gals never fail to send me advice or make me laugh with a story of your own. I wish we could all just do a big group hug!
Now that we've secured all our major vendors for our big day we're in a research stage with our own planning. Over the last few months I've collected inspo images here and there. In general we have an idea of what we want for a theme, but a much deeper dive is needed. Translation: I'm going to be spending a lot of time on Pinterest and WeddingWire over the next few weeks.
We're meeting with our planner at our venue in early November so hopefully around that time I'll have some new big updates, but in the meantime I thought it would be fun to do a little Q&A and answer the questions you've all been most curious about! Let's begin shall we…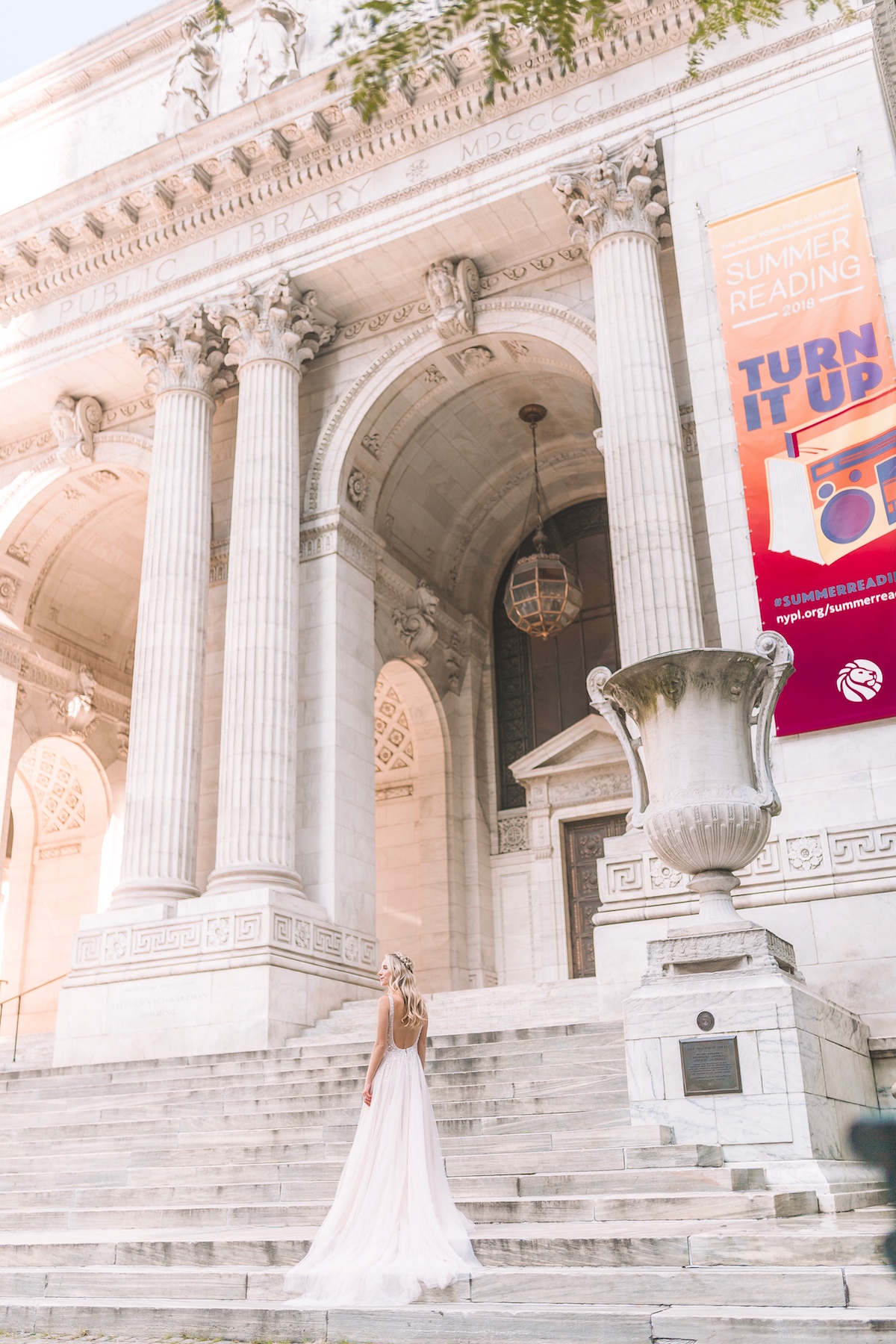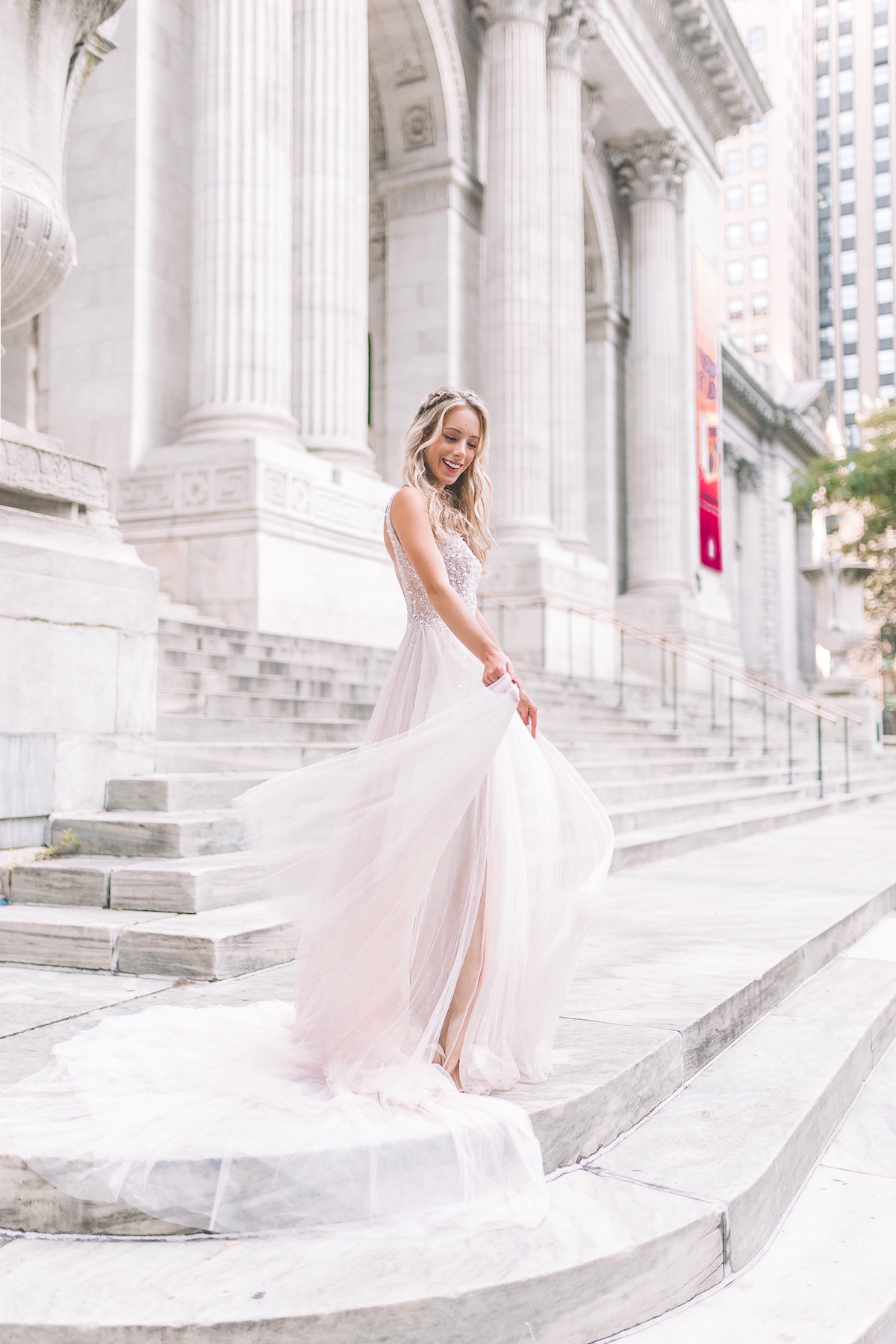 PS! These photos are from a dreamy collab I did with BHLDN over on Instagram! They let me borrow this gorgeous gown from the BHLDN The Label collection for a shoot at the New York Public Library 🙂
Wedding Planning Q&A
Q: where are you getting married and how did you find a venue?
This is the #1 question I've been asked the most since we got engaged. So we found our dream venue in Litchfield County, Connecticut. I don't want to reveal exactly where we're getting married yet, but it's a gorgeous farm/private estate. Basically it's my dream home. It was actually the very last place we looked at during our whirlwind weekend of nine venue appointments in the span of 36 hours. There were two other spots that we also really liked, but I knew the second we drove up to this one that it was it. Ahhhhh I'm soooo excited for you guys to see it next year!!!
It honestly took quite a bit of time and research to compile a list of possible venues. When we started the search we didn't have our planner yet (normally a wedding planner can help you find your venue) so we spent hours looking at options and then reaching out for pricing, appointment availability, etc. We've always wanted to get married in a rural setting in northern Connecticut or western Massachusetts so having a location and specific type of setting in mind helped narrow down our options significantly.
The first resource I utilized was WeddingWire. They have an incredible venue search engine where you can literally filter by state, region, aesthetic & vibe, price, guest capacity– there's so many different parameters you can use to find your dream wedding spot. But the info goes even deeper! Every venue listed on WeddingWire has a reviews section where you can read about other couple's experiences and even directly message the vendor with questions. Being able to see reviews and look at real photos of weddings at each location was incredibly helpful. It made us realize certain venues we'd originally had in mind maybe weren't the best fit and open up our eyes to ones we had never even heard of!
After compiling an initial list of options, I put on my detective cap and got scrappy on social media. I had a feeling that there were probably so many other great venues out there that maybe didn't have official websites or weren't necessarily known for hosting weddings so I really wanted to do my due diligence. I spent hours combing through hashtags like #CTbarnwedding #BerskhiresWedding #CTfarmwedding #NewEnglandfarmwedding #CTweddingplanner (you get the idea…) on Instagram and Pinterest to see what else was out there and was blown away by how many more venues I was able to find. If there was a venue that caught my eye, I'd go to the geotag and look through Instagram photos from previous weddings to get an idea of the vibe and setting. I even stalked the Instagram accounts of all the top wedding planners in the area to look at where they had done events to find options.
It also doesn't hurt to just do a good old keyword search on Google Images. Even after thinking I'd looked up every possible farm venue in Connecticut and Massachusetts, I STILL was able to find more just by Googling phrases like "Connecticut Rustic Wedding."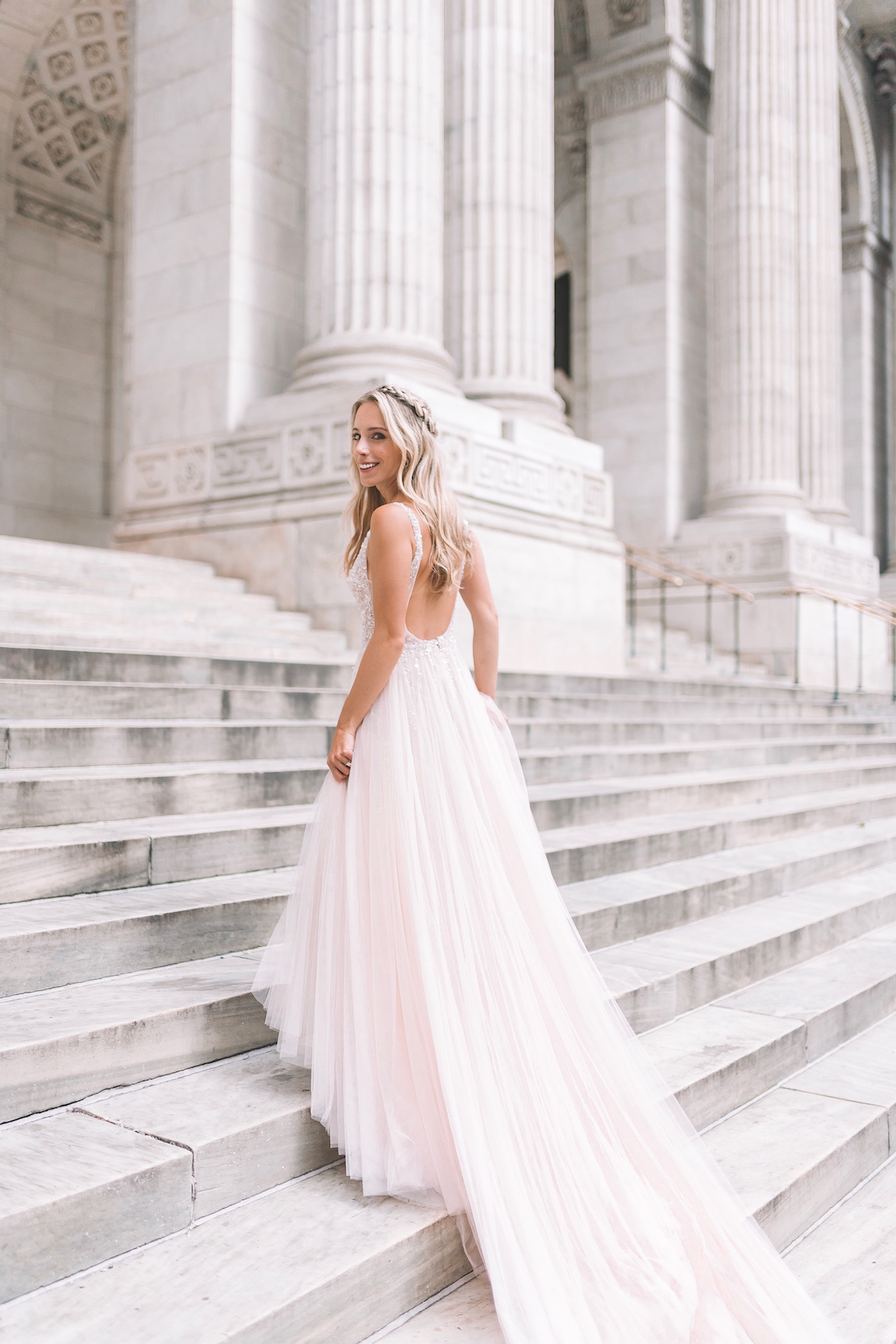 Q: how did you find your vendors? (photog/videographer/catering)
So far I've relied mostly on recommendations from my wedding planner (I mean, she's the expert after all!) and the methods I described above for securing our vendors. The process of researching and visiting venues really stressed me out, so it's been a huge relief working with our planner to find all the other folks that will be a part of our big day. That said, before putting down deposits on ANYONE you better believe I went into stalk mode and read every single review on each vendor I could find. Just like with venues WeddingWire also has a search engine for finding every wedding vendor under the sun complete with real reviews!
Q: any idea what you're going to wear for your engagement shoot?
We have a shoot planned with our photographers in early November so I certainly won't be wearing anything skimpy or super dressed up. Nick and I already have so many photos of ourselves together in a city setting that I want to do something different for our engagement pictures. I could easily see us in sweaters and Sperry boots just goofing off at a farm (LOL) but knowing me I'll most likely end up planning multiple looks so maybe we'll do one shoot that's really casual and another that's more bohemian where I'd throw on a flowy maxi dress and force Nick to run through an open field with me 😛 Clearly I don't have the specifics nailed down yet… I just know that I want to look like "us" if that makes sense? No overly done up makeup and hair or fancy outfits.
Q: when are you sending your save the dates & invites?
After asking for advice on my Insta Story a few of you gals gave me the brilliant idea of sending our save the dates in place of a holiday card. The timing makes perfect sense: this December will be 10 months before our October 2019 wedding. I know there's some risk with sending at that time of year because the cards could get lost in the holiday shuffle. We did consider this, but the reality is we're not having a huge wedding (hopefully 100 guests) and pretty much everyone knows they're invited. I kind of just want to send one as a courtesy so people have the official details and can begin booking their travel and accommodations. I haven't started thinking too much about invites yet, but we'll probably send those five-six months in advance! For the RSVPs we'll probably keep it simple and just have everyone do it through our WeddingWire website.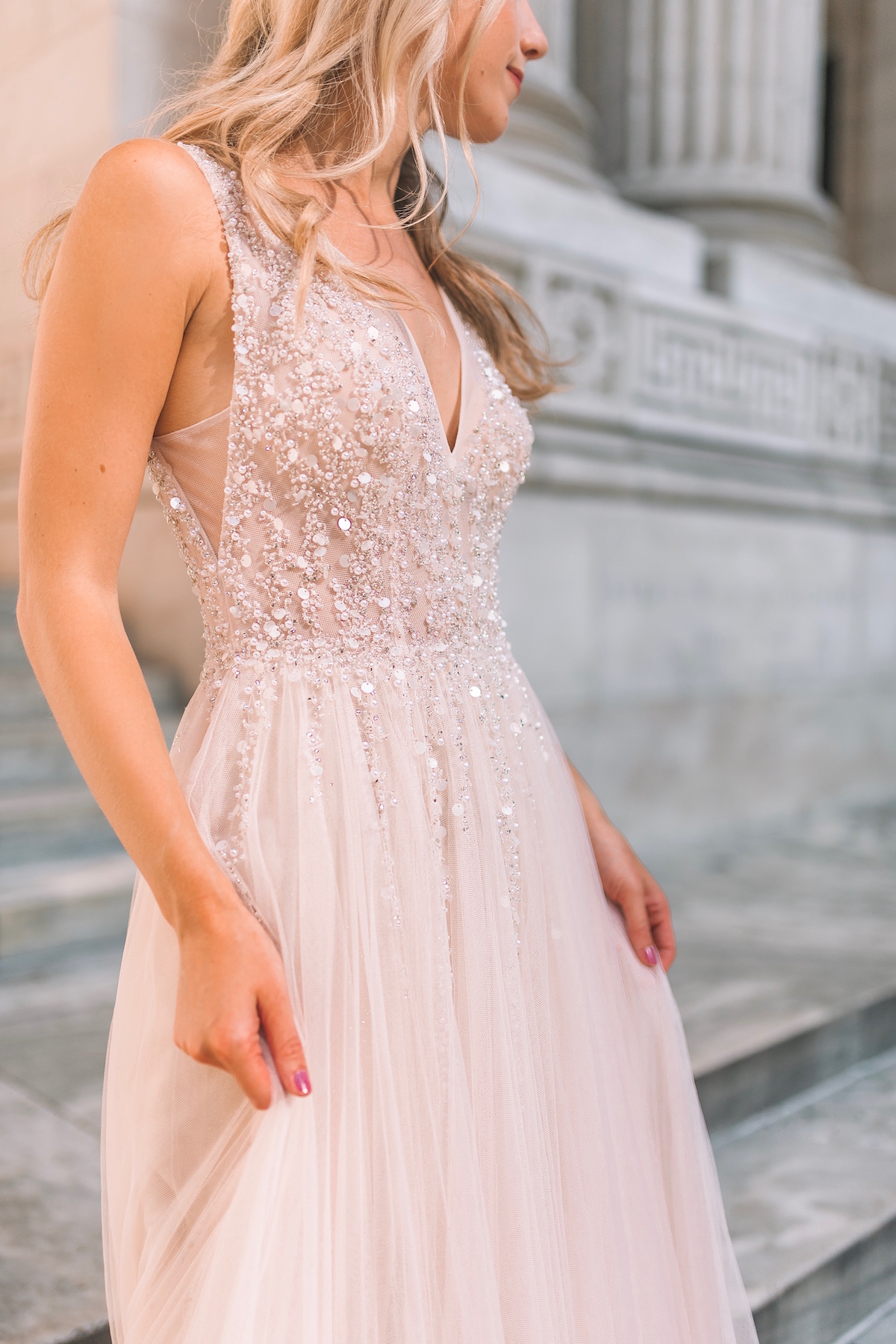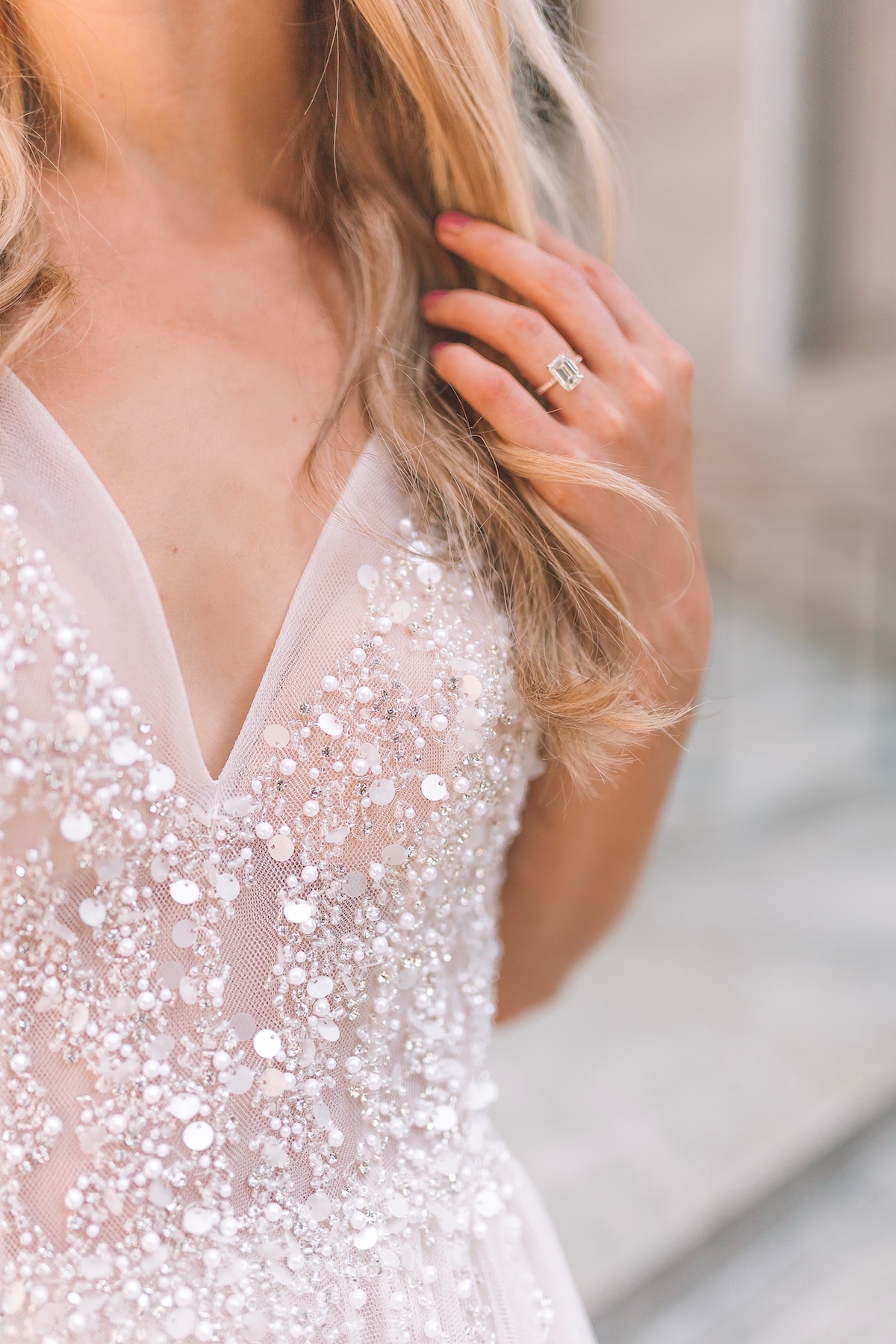 Q: Are you going to have a wedding website?
Yep definitely! I think creating a website is the best and easiest way to make sure our guests have all the information they need about our big day and where we're registered, etc. This is something on my to-do list for next month and I'll probably use one of the free templates on WeddingWire!
Q: how is the dress search going?
Growing up I never really fantasized about my wedding and how my future gown would look so it's not like I had all these ideas ready to go the second that Nick proposed. So far in the planning process I've been figuring out what I like along the way and the dress is the one thing I'm still struggling with a bit.
Aside from my anxiety about having to physically go to a store to buy my gown… I finally sat down to do some real research (WeddingWire has the dreamiest gown inspo!) and have been slowly compiling a list of designers that I like and the local bridal boutiques that carry them. I even made an appointment to attend a trunk show for one brand in late October!
I'm not worried about finding a dress, per se. I'm sure the second I step into showroom and start trying things on my anxiety will disappear only to be replaced with  indecision from having too many options that I like. It's more so the pressure of knowing that whatever dress I choose is THE DRESS and on top of that I'm only going to wear it ONCE. The fact that it's a one time thing supremely irritates me and makes me wonder if I should look into renting a dress or purchasing something secondhand. But then there's also the voice in the back of my head (along with literally every single one of my friends and family) that are like: IT'S YOUR WEDDING DAY and you shouldn't settle for anything less than your DREAM GOWN. I'm hoping once I pull the trigger on going to a store/attending a trunk show everything will just start falling into place.
Q: are you going to do a first look?
Yep I think so. Photography is super important to us and logistically I think it makes way more sense to get the picture hoopla out of the way before the ceremony and reception. I can already predict Nick and I will both be ugly crying at the altar (similar to when he proposed) so taking our official wedding photos right after our vows probablyyyyy isn't the best idea.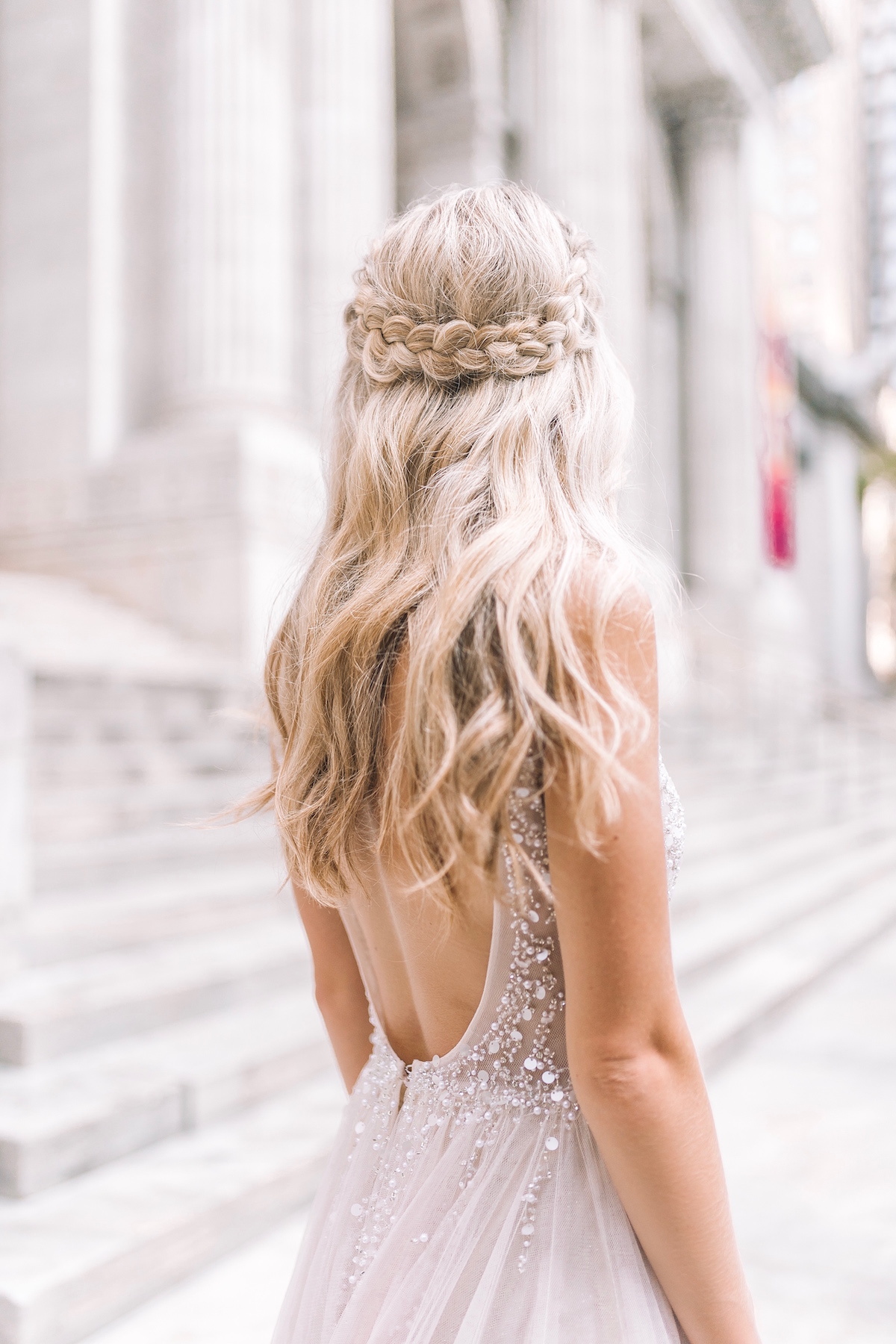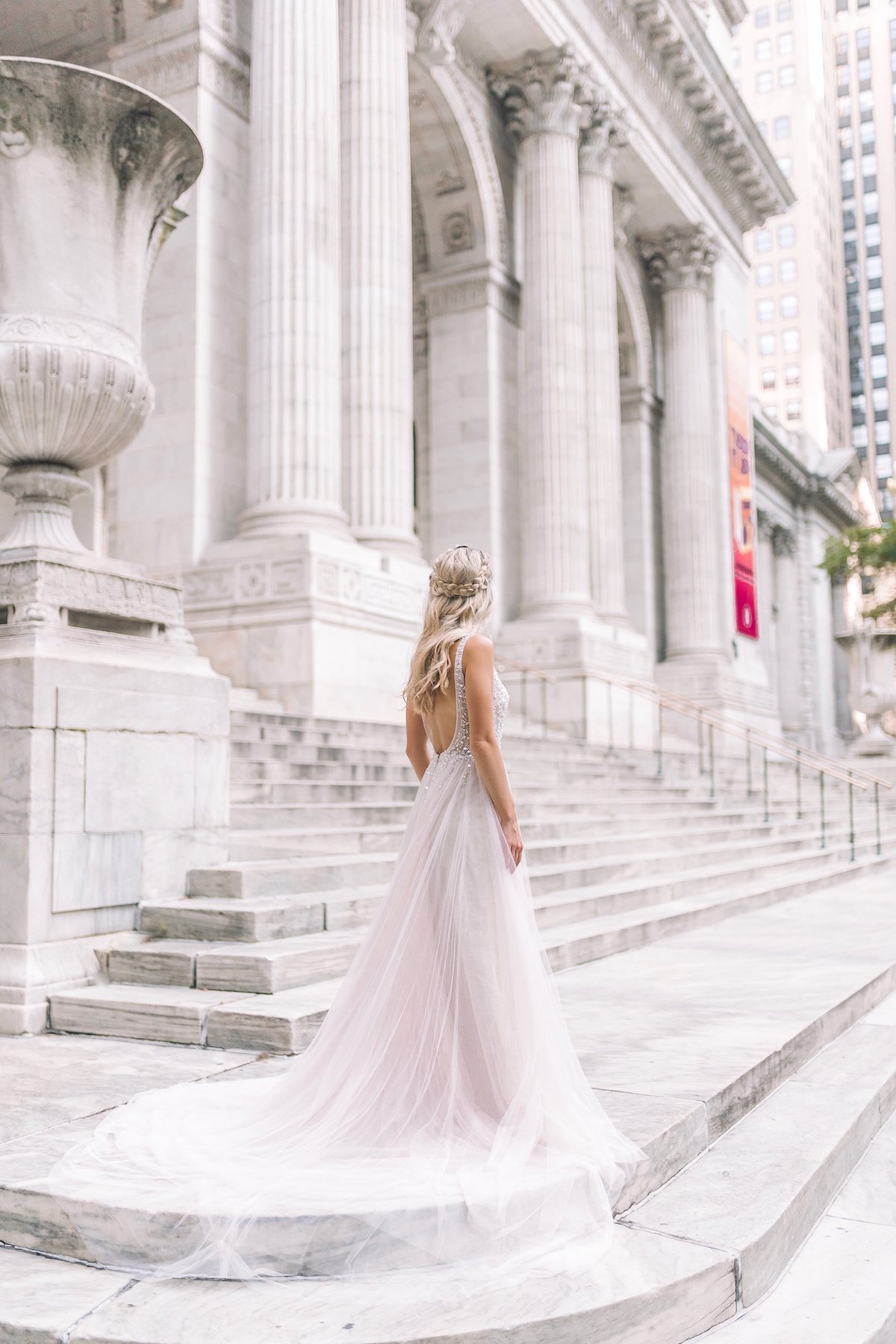 Q: have you decided on a theme and color scheme?
I can't wait to begin nailing down design elements later this fall when we start meetings with our vendors! Even though we are getting married at a farm we don't want a super country or folksy theme– like no mason jars or hay stacks or anything like that. I'm not sure how to describe exactly what we're thinking yet, but some of the words that comes to mind are "enchanting" "moody" and "romantic." I think you guys will be surprised with what we're envisioning. It's really different from the typical bright and preppy aesthetic I show here on my blog.
COLORS. So we definitely want fall hues that really highlight our venue so I'm envisioning rich jewel tones complemented by greenery. I really like burgundy, gold, aubergine, copper, burnt orange, navy and blush. Obviously we'll have to narrow these down a bit with our planner, but you get the idea.
Some initial thoughts on bridal party attire… I am leaning towards crimson or some type of really deep red for bridesmaid gowns. BHLDN has soooo many beautiful options so that will probably be the first place I go for dresses for my gals! Nick isn't the biggest fan of black so I bet he and the groomsmen will wear navy or grey. Don't quote me on this though!
Q: are you doing anything to minimize costs?
Well right off the bat we're aiming for a 100 person wedding. So less guests = cheaper wedding. Nick and I both want it to be really intimate with only the people who mean the most of us and we have no qualms at all about not including family members/friends that we aren't super close with or haven't talked to in years.
We also probably won't have an over-the-top rehearsal dinner. I think it will be really casual with shared bites and drinks– nothing formally seated. We also aren't going to rent a photo booth or do extravagant favors/welcome bags. I've been to so many events and parties where those things just get ignored or immediately thrown away–total waste of money in my opinion. I love florals, but I don't want that expense to be a big part of our budget either. More to come on this topic!
I think that's it for now! If there's anything you want me to go over in a future wedding planning post definitely let me know in the comments. If you didn't see my first two planning updates I linked them both below along with our proposal story 🙂
WEDDING PLANNING UPDATE #1 
WEDDING PLANNING UPDATE #2
OUR PROPOSAL STORY
Big thank you to WeddingWire for sponsoring this post!
- Katie