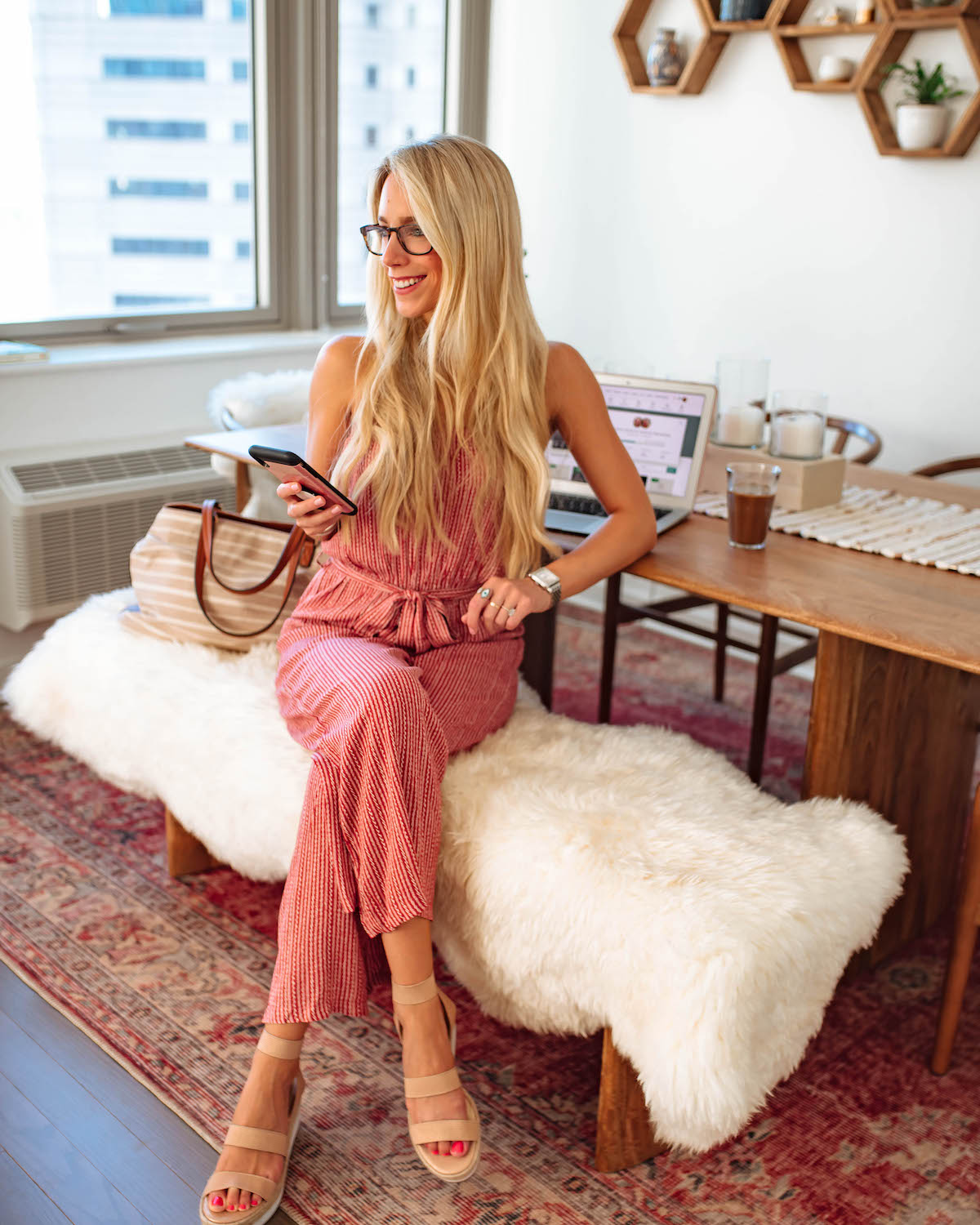 I'm honestly in total disbelief that our wedding is just under four months away. The time has flown by ever since we moved! For so long I kept saying to myself, "oh we have over six months to go," and now suddenly the date is getting SO close. Super exciting, but the pressure to keep checking things off our to-do list is starting to climb!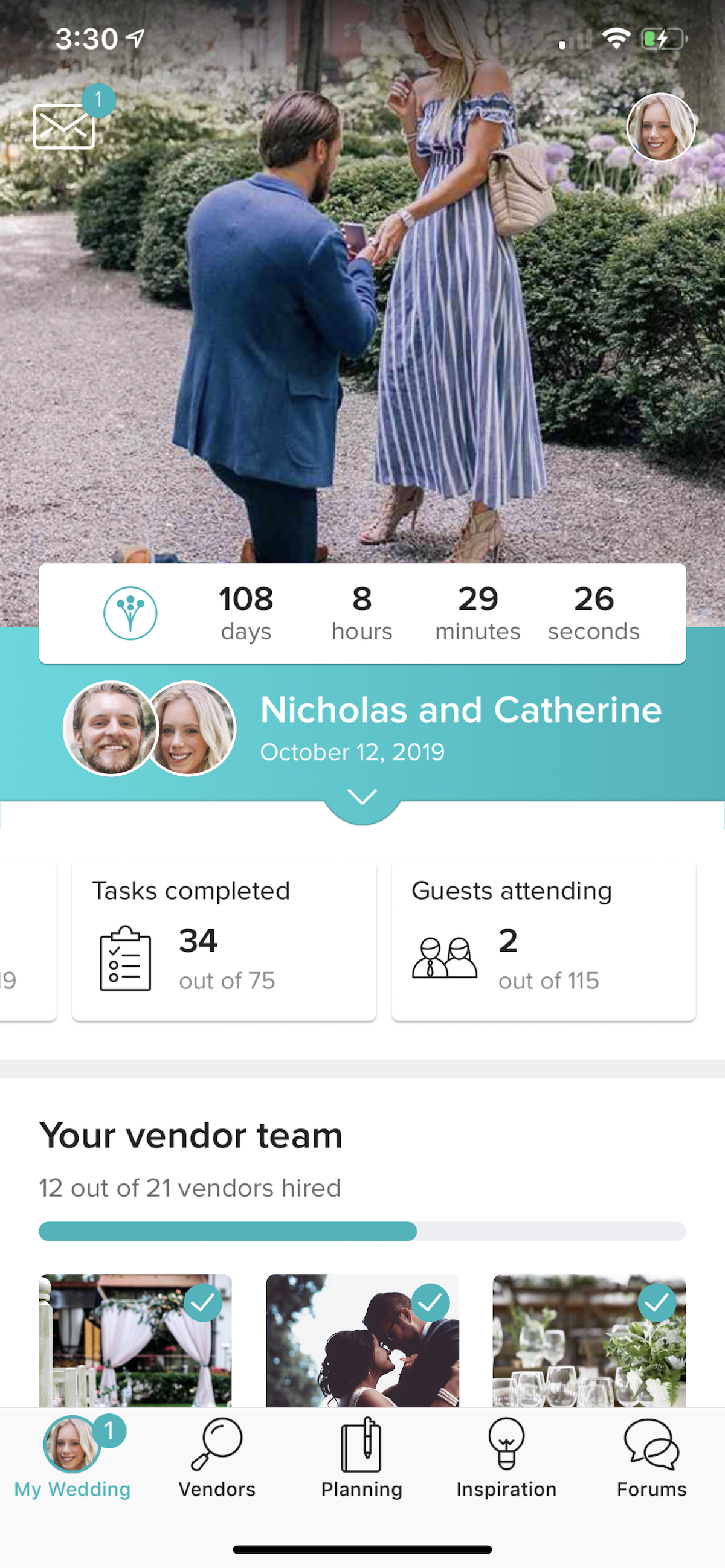 PLANNING MUST-HAVE // The WeddingWire app! This is what the homepage looks like on our planning dashboard. Here we keep track of our to-do list, hired vendors, budget and guest list.
Speaking of checklists… The WeddingWire app has become my saving grace! I live on my phone (as most of us do) and it's been incredibly helpful having a handy list of everything I need to accomplish, along with what I should prepare do in upcoming months, readily available in the palm of my hand. I've been using it as a guideline every time I chat with our wedding planner Stephanie (who's usually 5+ steps ahead of me) and I'd be lying if I said it didn't feel therapeutic each time I check a box next to a task. My fellow brides: if you haven't downloaded the this app you need to asap!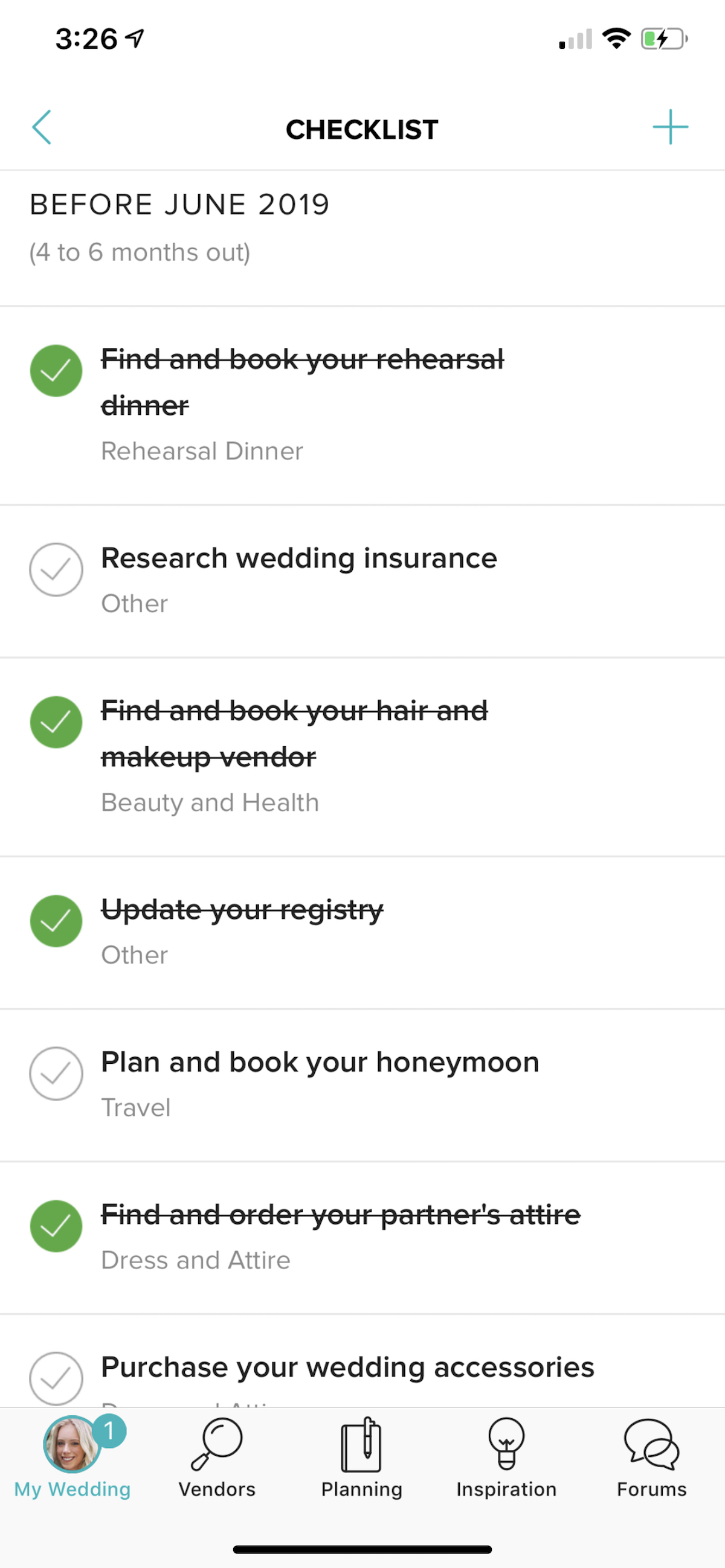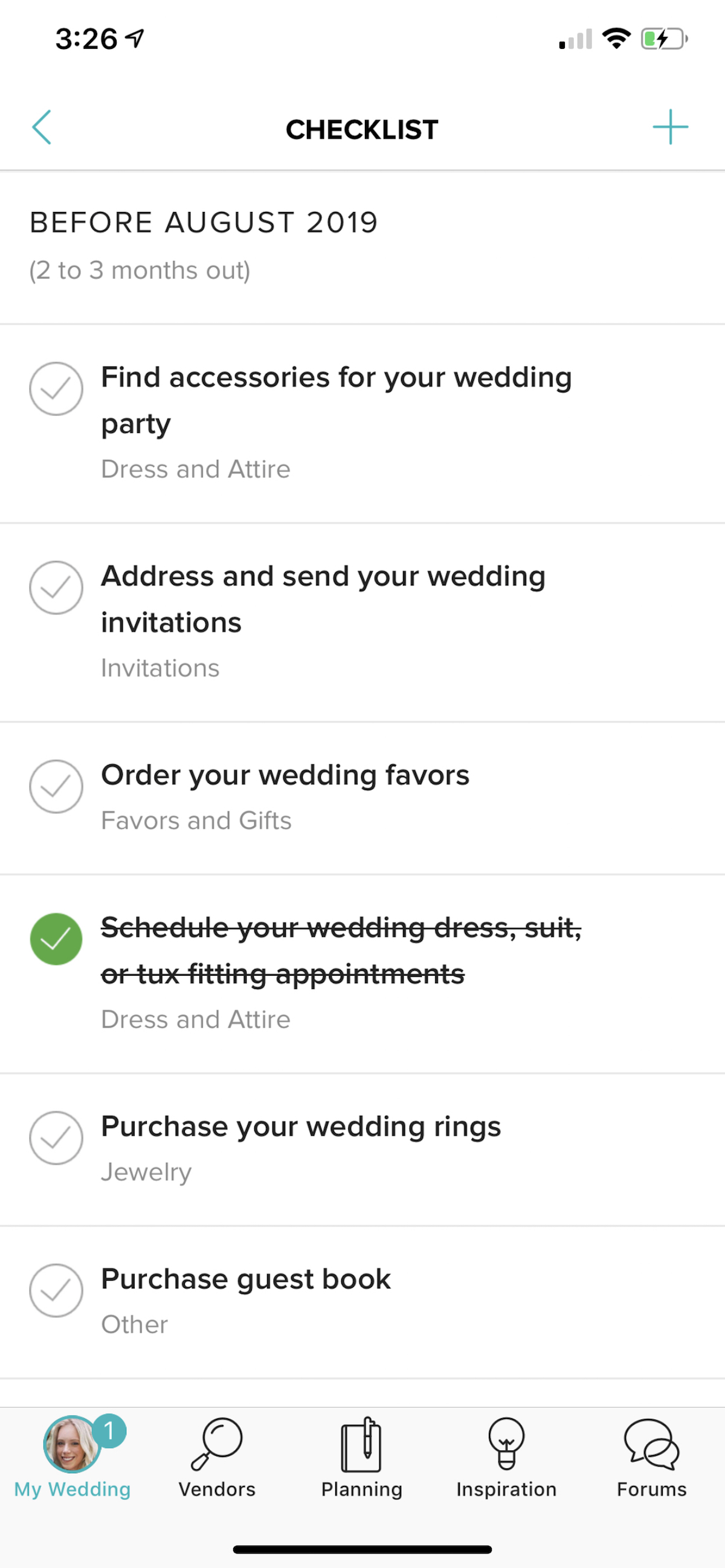 You can see my full checklist below… Everything we're working on this month and next is in BOLD.
WEDDING PLANNING CHECKLIST
✓ Design & order wedding invitations
✓ Get wedding insurance
✓ Pick out jewelry/accessories for bridesmaids
✓ Find an officiant (we've really been procrastinating on this one…)
✓ Start booking minimoon for after wedding (saving a long honeymoon for 2020)
✓ Schedule cake tasting (confirmed for August!)
✓ Schedule floral design meeting (confirmed for August!)
✓ Booked day-of glam team + did my hair & makeup trial
✓ Scheduled my bachelorette party (Isle of Palms + Charleston in July!)
✓ Began planning my bridal shower with my Aunt Jen
✓ Picked out our tabletop rentals + chairs for reception
✓ Found my dress
✓ Picked out & ordered bridesmaid's dresses + shoes
✓ Sent out save the dates (you see them here)
✓ Created our wedding registry (here are some of the items we registered for)
✓ Shot our engagement photos
✓ Asked all my favorite gals to be my bridesmaids 
 (see how I did it here!)
✓ Confirmed florist + met to go over initial ideas
✓ Met with our caterer for a Q&A + did a tasting
✓ Worked on our wedding moodboard with our planner
✓ Did a venue visit + walk through with planner to map out flow of the day
✓ Created our wedding website on WeddingWire
✓ Got over my fear of trying on wedding dresses
✓ Booked room blocks at local hotels
✓ Confirmed caterer
✓ Confirmed band
✓ Confirmed videographer
✓ Confirmed photographer
✓ Found our wedding planner
✓ Created a budget spreadsheet
✓ Confirmed the date (October 2019!!!)
✓ Decided on a venue
So as you can see from my checklist above, we have a few big things we need to take care of over the next few weeks…
Designing and ordering our invites. We're planning to use the same vendor for our invites that we used for our save the dates! I really want to complete this task as quickly and easily as possible. We'll probably just use a pre-made template to keep things simple and cost-efficient. I know some folks feel such a strong attachment to the design of their physical invite, but that's just not me! Would rather put that money towards our actual wedding events.
Finding an officiant. Nick and I are both Christian, but we don't particularly want religion to be a big focus in our ceremony. I dunno if that's weird or not! We've only ever been to a handful of weddings so our knowledge of ceremony formats is a bit limited– this is probably the reason we keep procrastinating on finding an officiant! Open to any of y'alls advice…
Wedding rings. Nick is in talks with the jeweler who designed my engagement ring about doing our bands too. We have an appointment with her in July so more to come on this!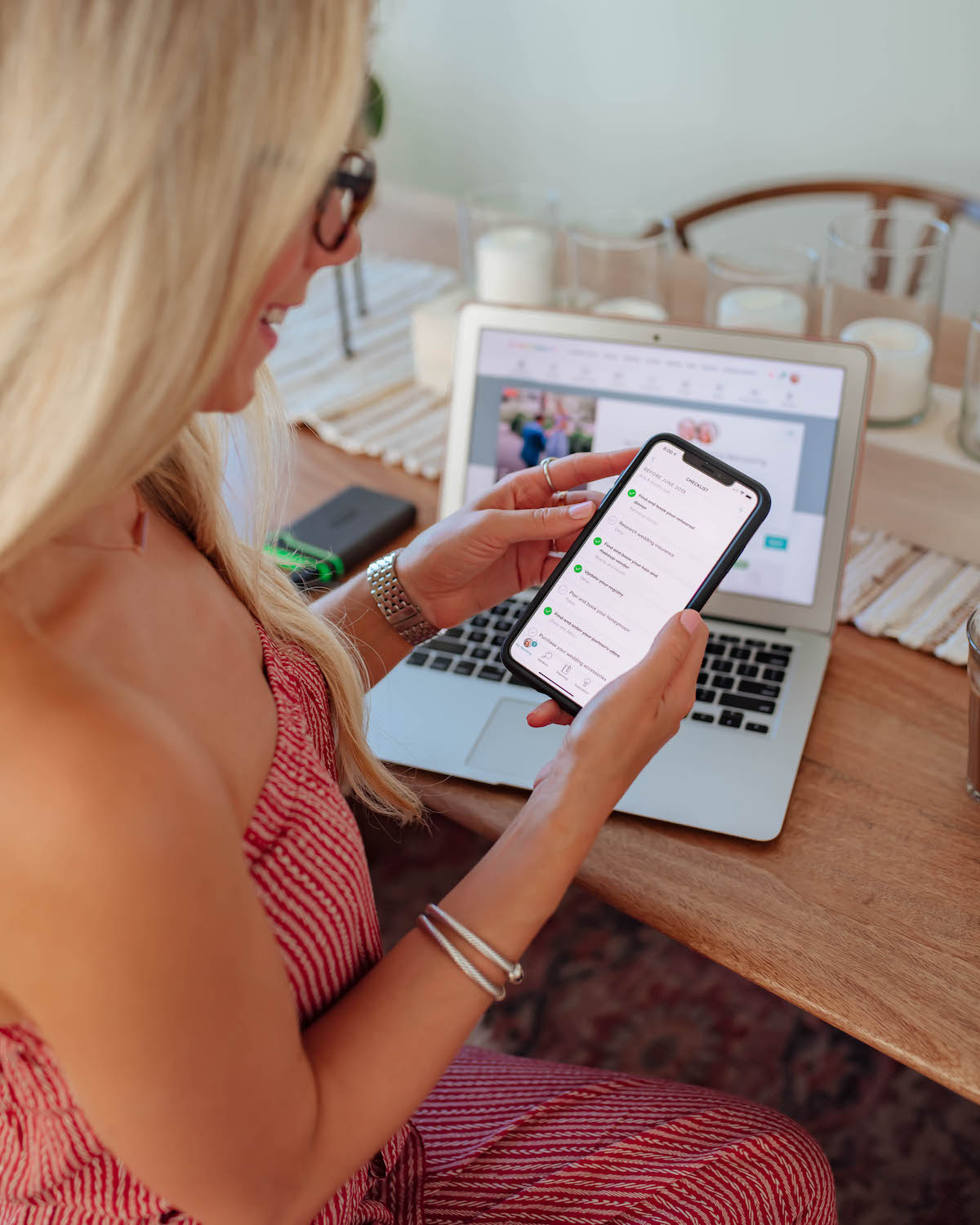 Wedding insurance. Shoutout to the WeddingWire app planning checklist for reminding me we have to get event insurance. I would've totally forgot if not! Our venue requires we take out a $1,000,000 event policy for our wedding weekend. I spoke with our planner and she told me this is typically done through you  rental insurance company or homeowner policy. Definitely gonna pass this task off to Nick to handle!
Booking a minimoon/honeymoon. So we've finally made some progress thinking through our honeymoon plans! I've mentioned on my Instagram Story (check my Q&A highlights) how we want to save a big honeymoon trip for after the holidays. Why? A few reasons. 1) Nick's vacation time resets in January and right now he doesn't have enough days to take off for as long as we'd prefer for a honeymoon. 2) I love the fall and would hate the take a warm weather beach trip during a time of year when I love being home. 3) We want something to look forward to after the holidays. You guys know how prone I am to the winter blues (legit wish I could fast forward through January/February every year) so we kinda wanna use our honeymoon as a reason to escape when the weather is miserable.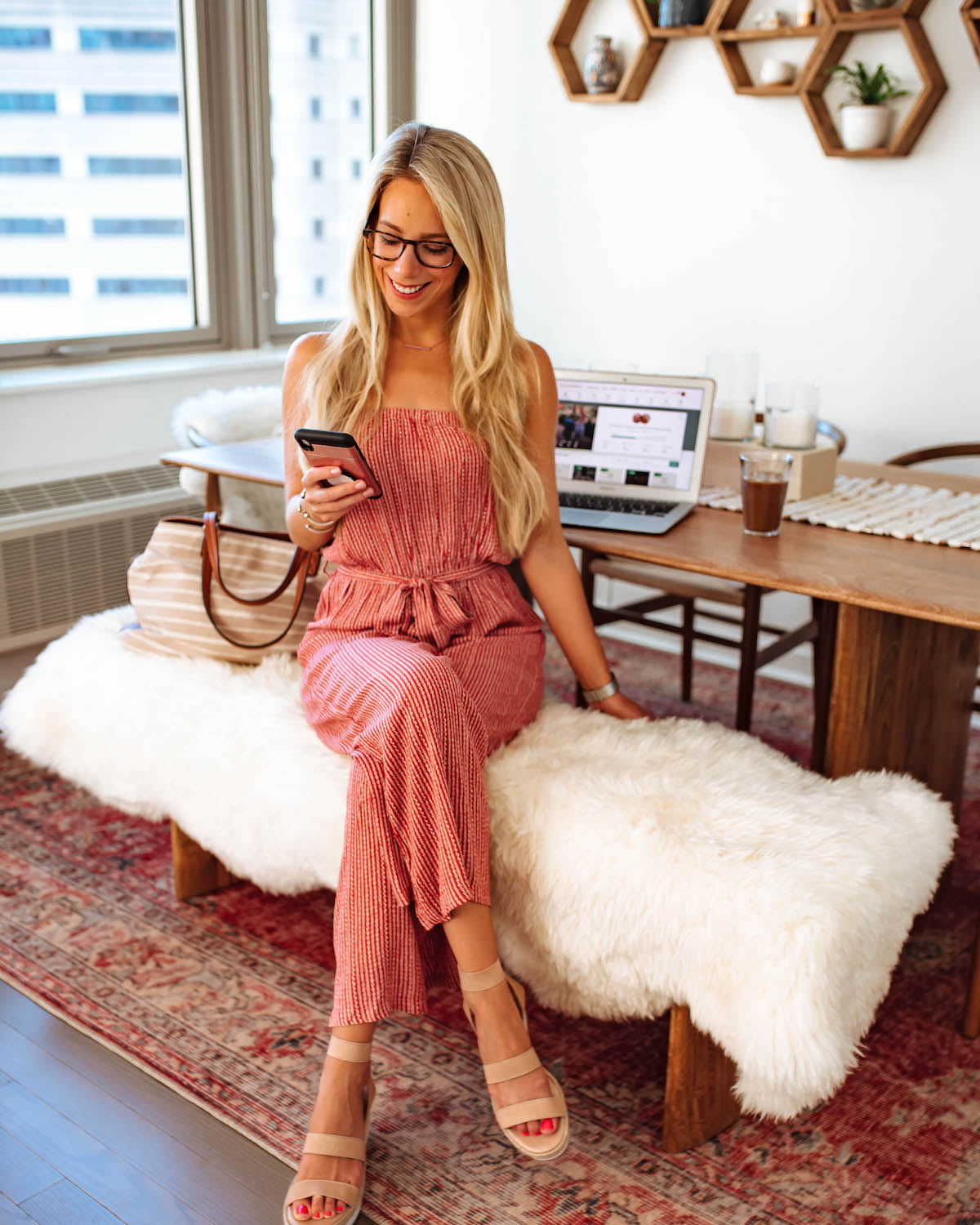 SHOP THIS PHOTO // Strapless Jumpsuit (just $18!) | Sandals | Eyeglasses | Stripe Canvas Bag | Dining Room Furniture + Decor | Wall Shelves
That said, we do want to take a trip right after our wedding. So many people told me that if we skipped doing some sort of post-wedding trip that we'd end up regretting it, so we're hoping to go somewhere for 5 days or so the week after we get married. Luckily our wedding weekend is over Columbus Day so Nick automatically has a vacation day and won't need to take a ton of time off. Maybe we're crazy, but we're strongly considering Scotland. We love fall weather, there are a ton of direct flights from NYC and the prices don't look too crazy expensive. We'll see!
Oye we have our work cut out for us! Hopefully next month I'll be able to share with y'all that we've completed all of these… Wish us luck!
MORE WEDDING UPDATES
wedding update #5 | my hair & makeup trial + pre-wedding beauty treatments
wedding update #4 | how i said yes to the dress!
wedding update #3 | engagement photos + bridesmaid proposals
 wedding update #2 | playing dress up with david's bridal
wedding update #1 | summer tablescape + booking vendors
our proposal story
our engagement photos
our save the date card design
wedding planning q&a
our bed bath & beyond wedding registry
little white dress guide
how to save money on wedding reception rentals
- Katie