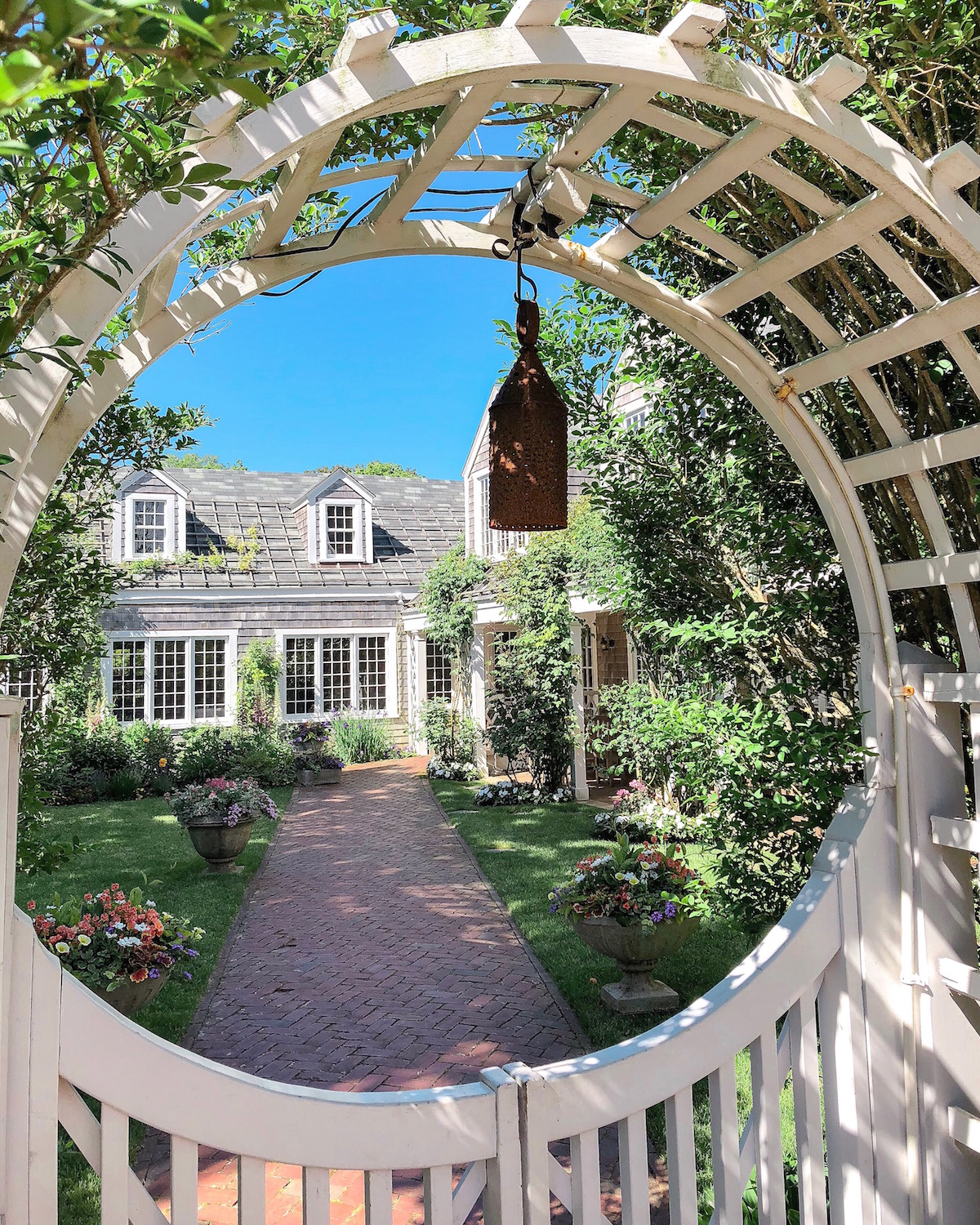 Visiting Nantucket again was one of my top travel goals for 2018 and I feel so lucky that I was able to make my way there not once, but TWICE this summer! You may remember seeing on my Instagram back in mid-June I did a girl's trip with Carly where we spent three days basically eating and drinking our way around the island. It was a BLAST.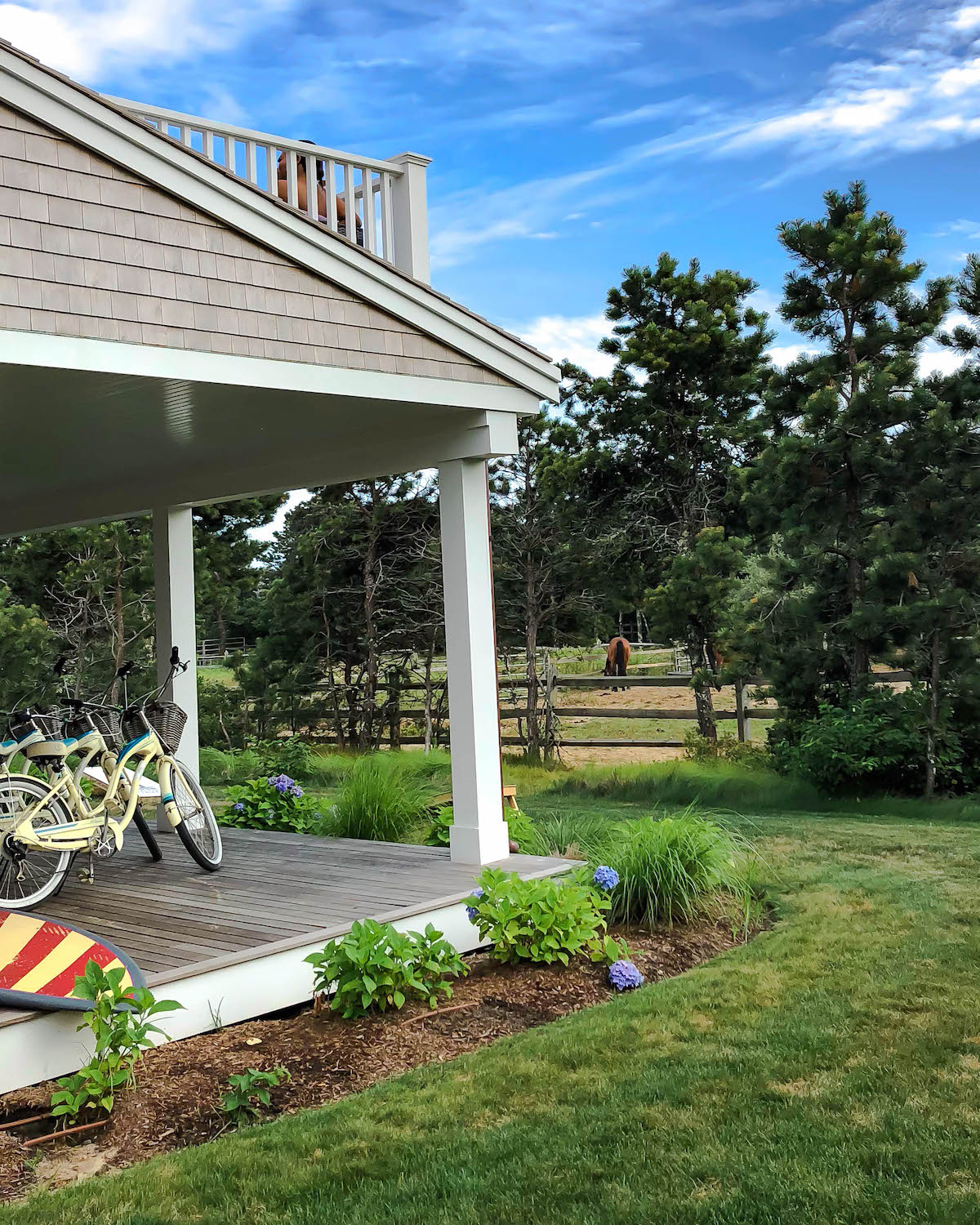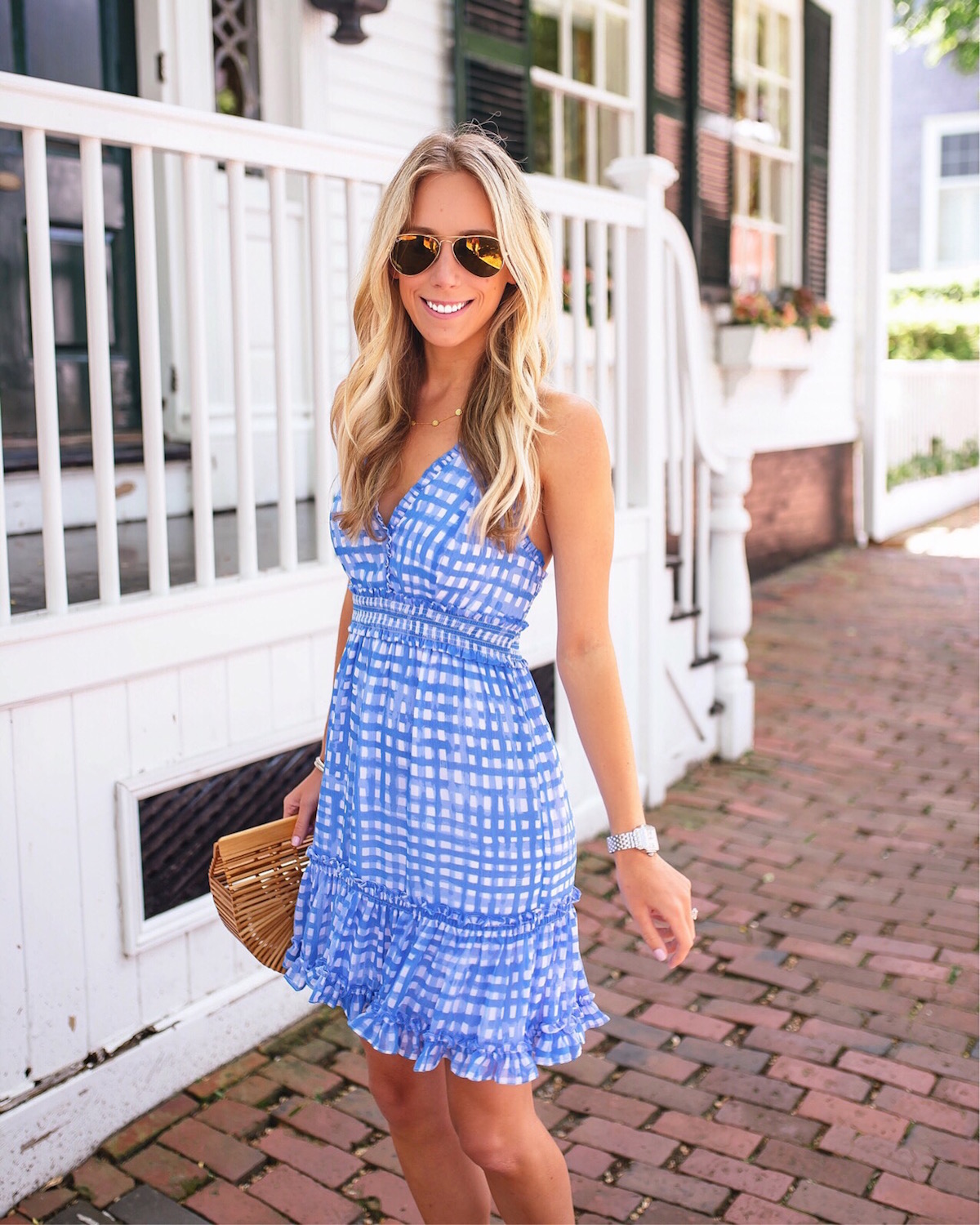 OUTFIT DETAILS // Lilly Pulitzer Gingham Halter Dress | Cult Gaia Handbag (borrowed from Carly) | Aviator Sunglasses | Julie Vos Necklace c/o | Michele Watch | David Yurman Bracelets
Then just last month I received a surprise invite from PopSugar for a group blogger trip. It was a short and sweet 2-night stay at a gorgeous rental home mostly spent doing work for the brands that were sponsoring the trip, but it was fun all the same and I was grateful for the opportunity to meet some new ladies and get to know the island a little better.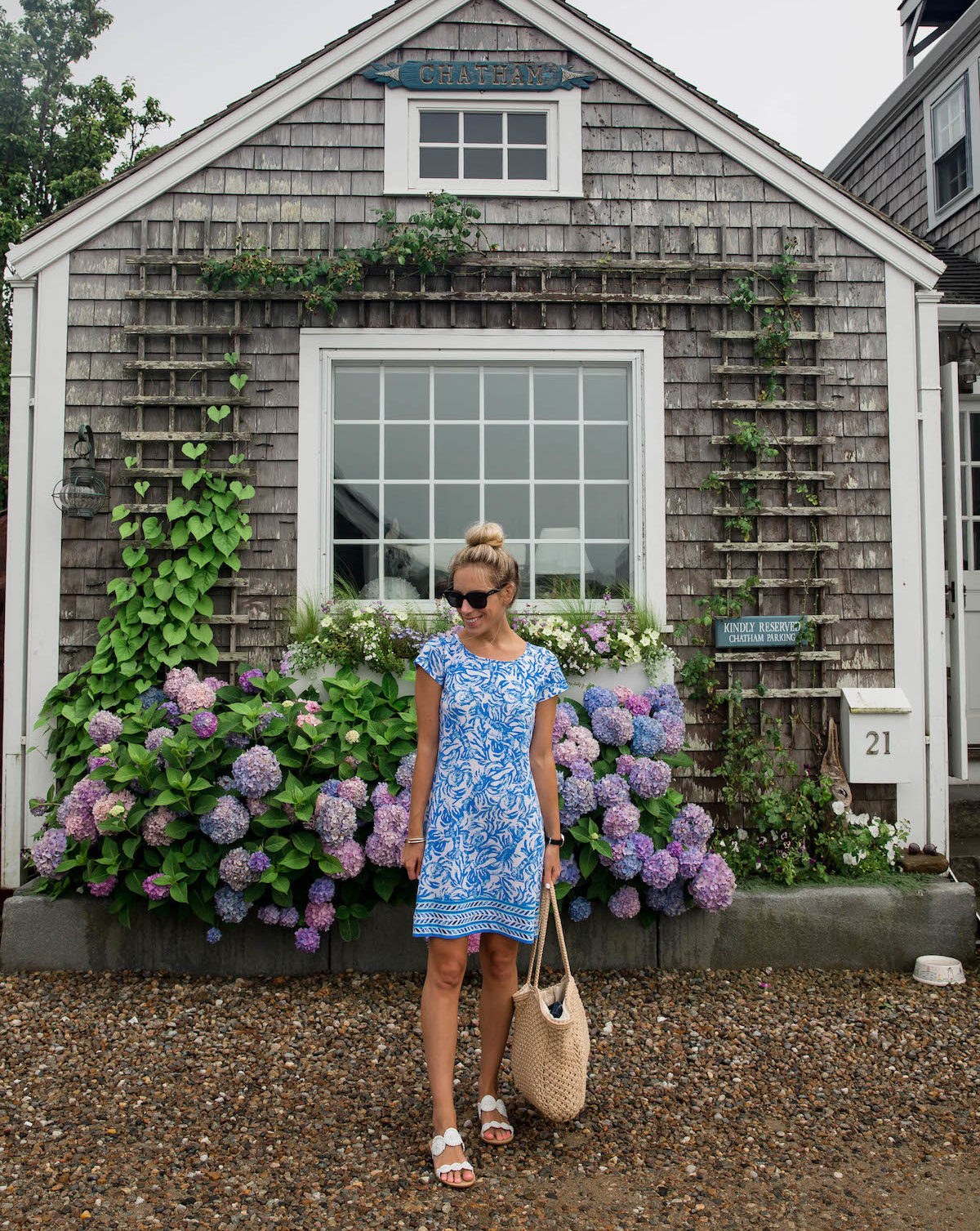 OUTFIT DETAILS // T-Shirt Dress | Sandals | Sunglasses | Similar Tote
So I guess to start let's rewind back to June because that's when I really was able to get my explore on. Carly and I have traveled together a few times– last year we went to Finland on a press trip and prior to that we did a girl's trip to Martha's Vineyard. She's always down for anything and loves being a foodie just like me. Since I was just in Italy the week before she actually went ahead and made all our dinner reservations and did a lot of the research for the places you'll see in this guide. I wish I could take the credit for finding all these spots, but I gotta give most of that to her 😛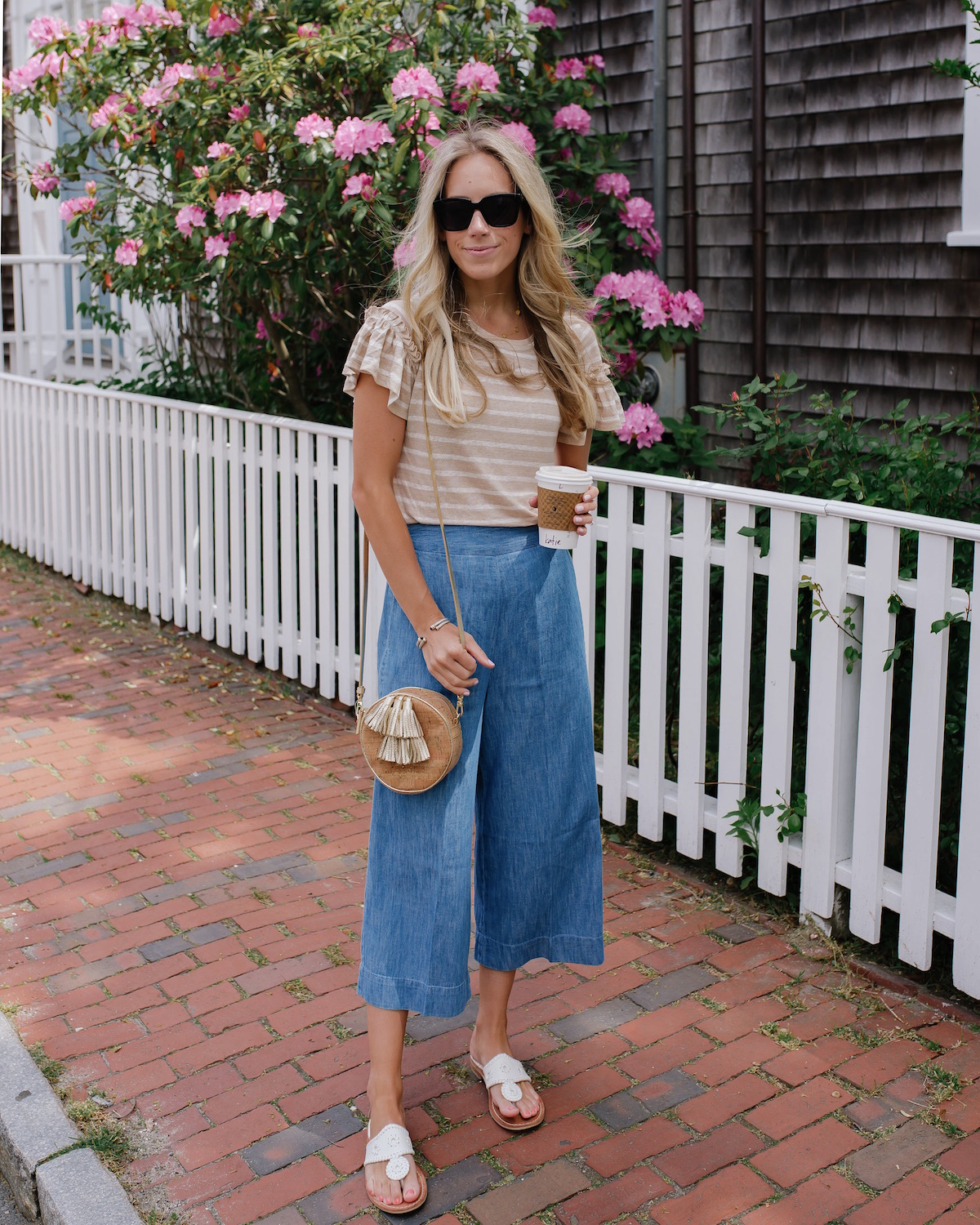 OUTFIT DETAILS // Chambray Pants | T-Shirt | Crossbody Bag | Sandals | Sunglasses | David Yurman Bracelets
NANTUCKET TRAVEL GUIDE
WHERE TO STAY IN NANTUCKET
The last time I visited Nantucket I had the pleasure of staying at Lark Hotel-owned 21 Broad (you can see my post about that trip here!) so you can imagine how excited I was to try its sister boutique hotel: 76 Main.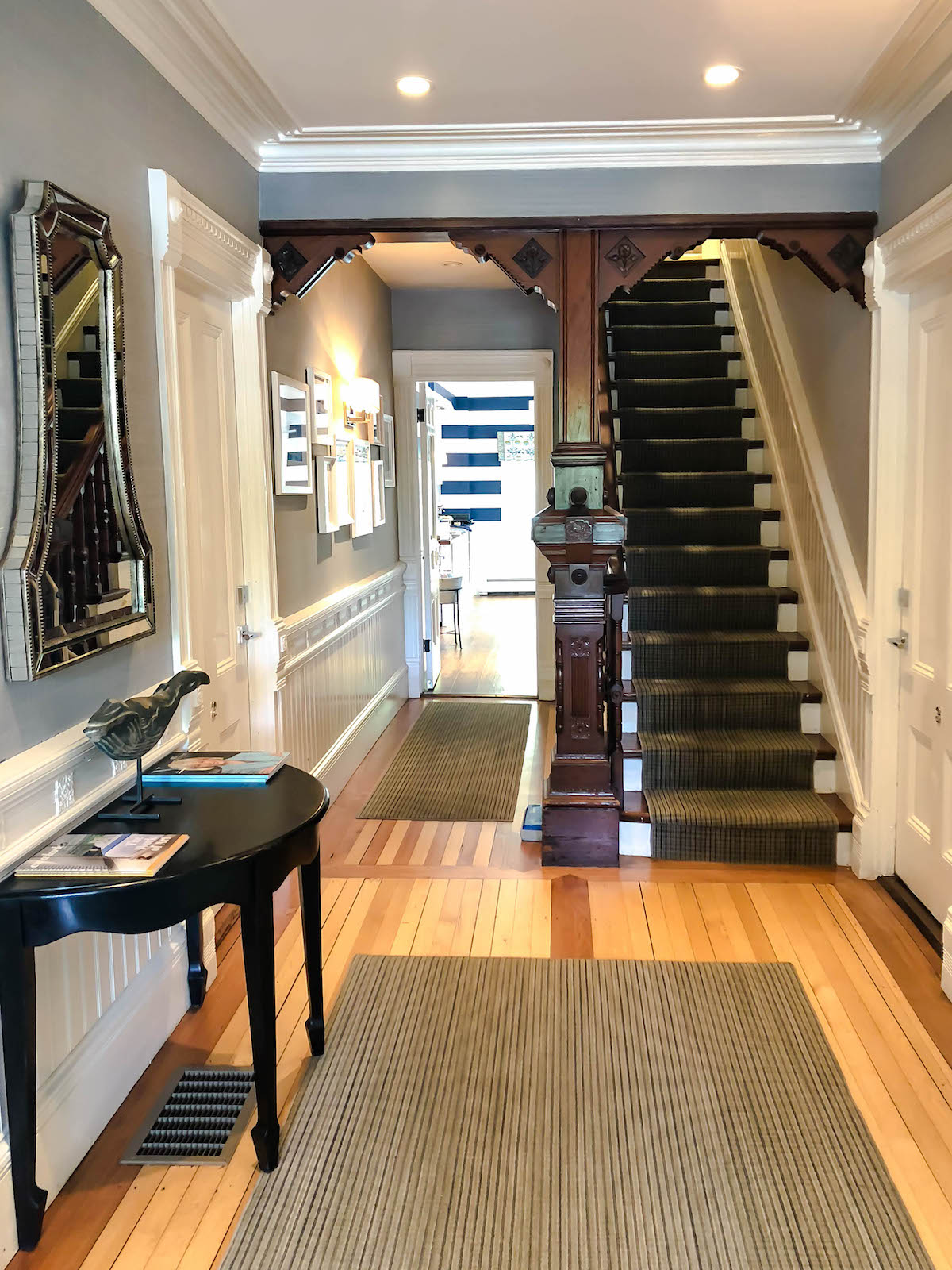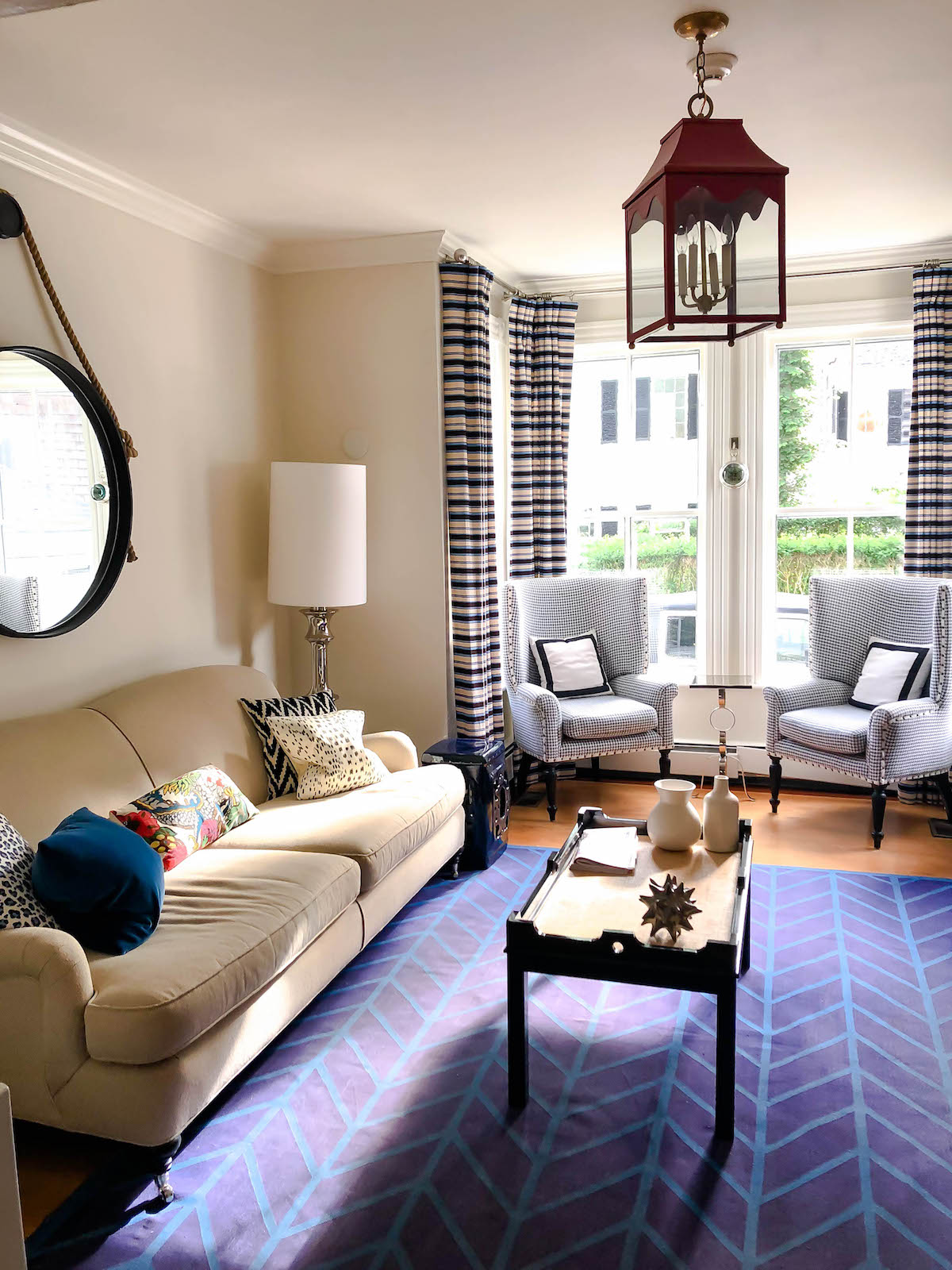 Located just steps from Nantucket's bustling downtown, 76 Main is the perfect home away from home if you're traveling to the island for the first time. It's location in the heart of town allowed us to walk almost everywhere– so convenient! The nautical decor was also total goals. Carly and I could not have been happier with our guest room (we shared one with a king size bed) and the complimentary continental breakfast served every morning.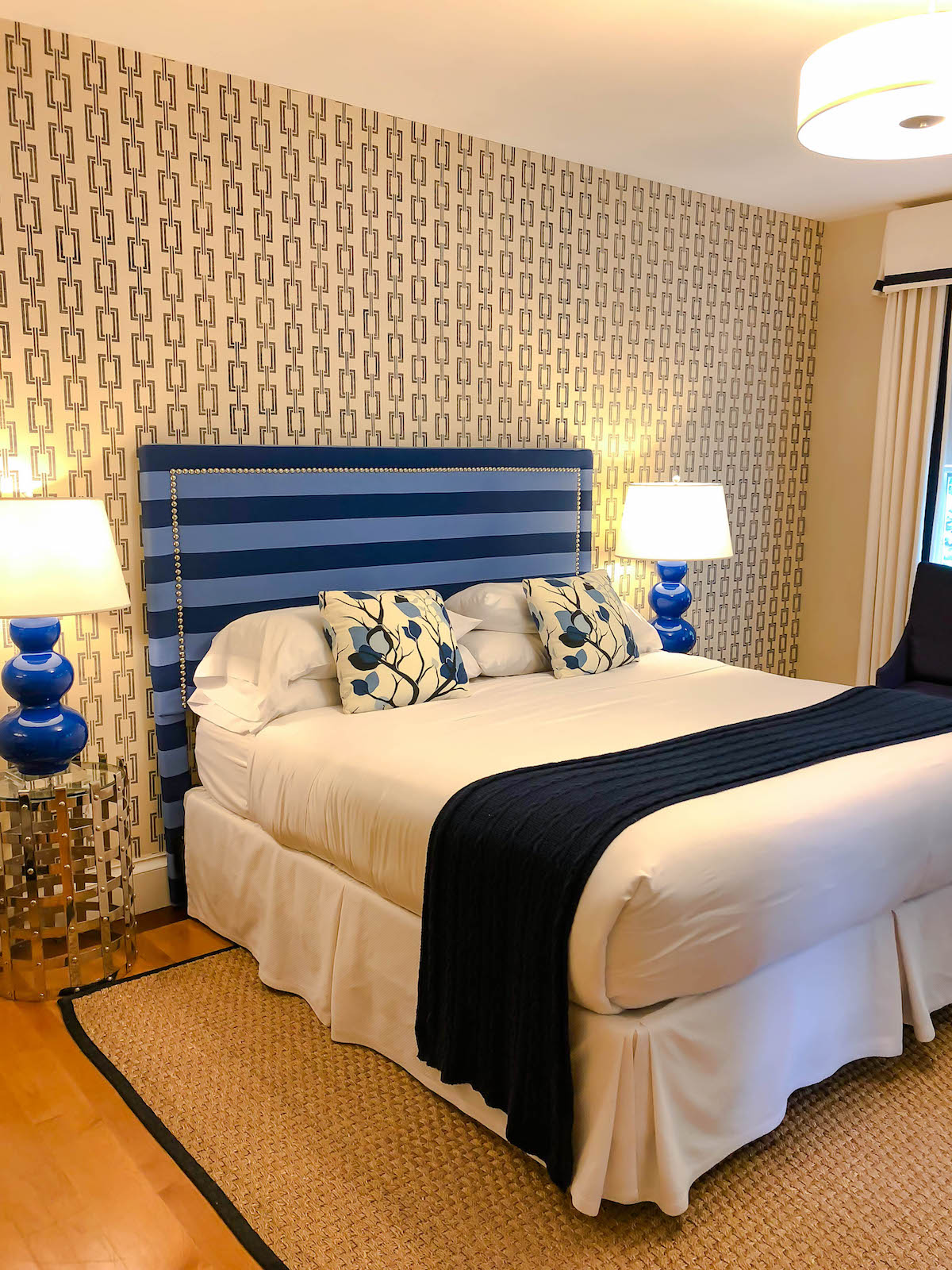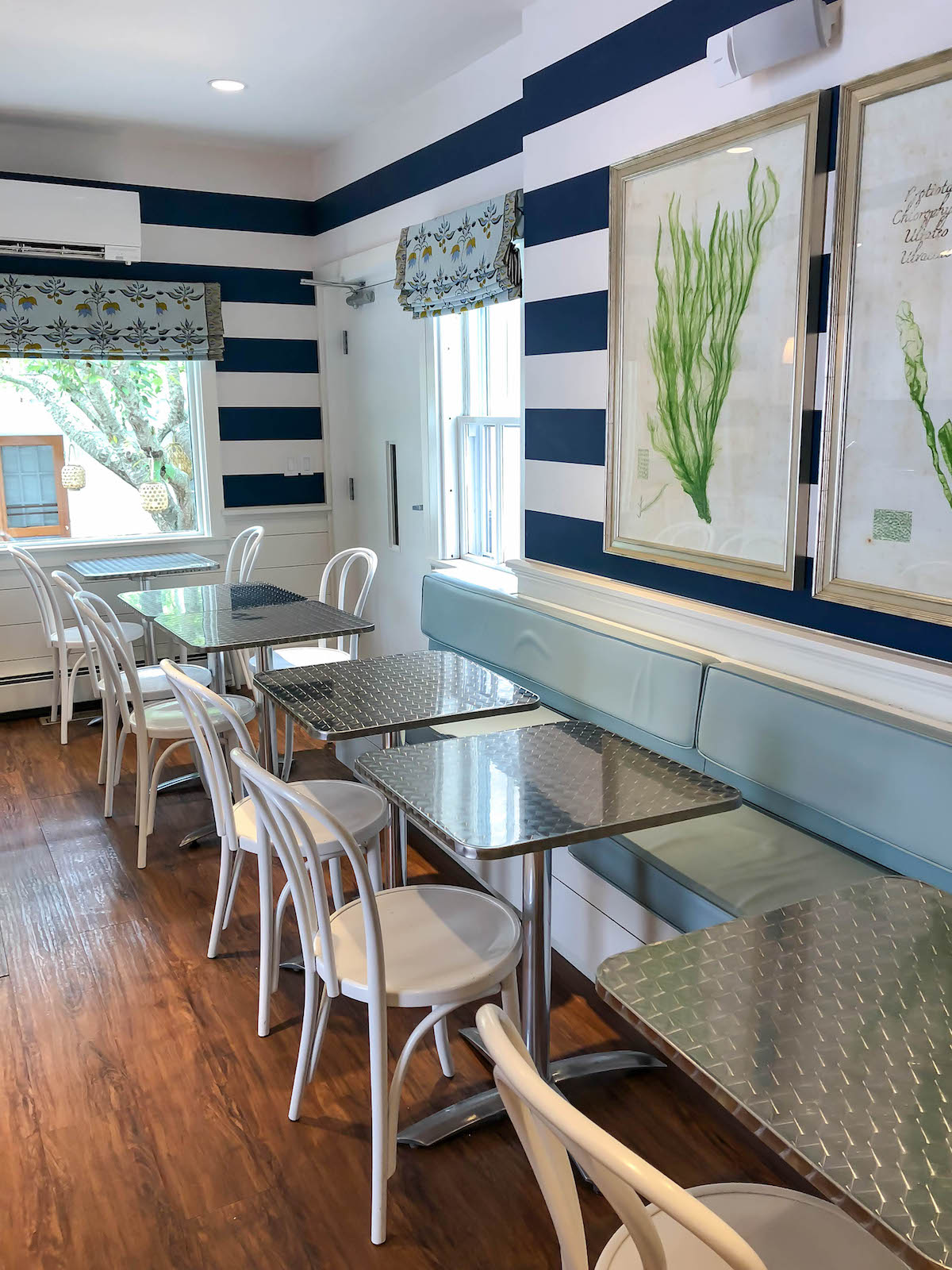 WHERE TO EAT IN NANTUCKET
Nantucket is foodie heaven, especially if you like seafood! I could honestly come to the island just to eat and drink! Here's everywhere we grabbed a bite 🙂
BRUNCH, LUNCH & QUICK BITES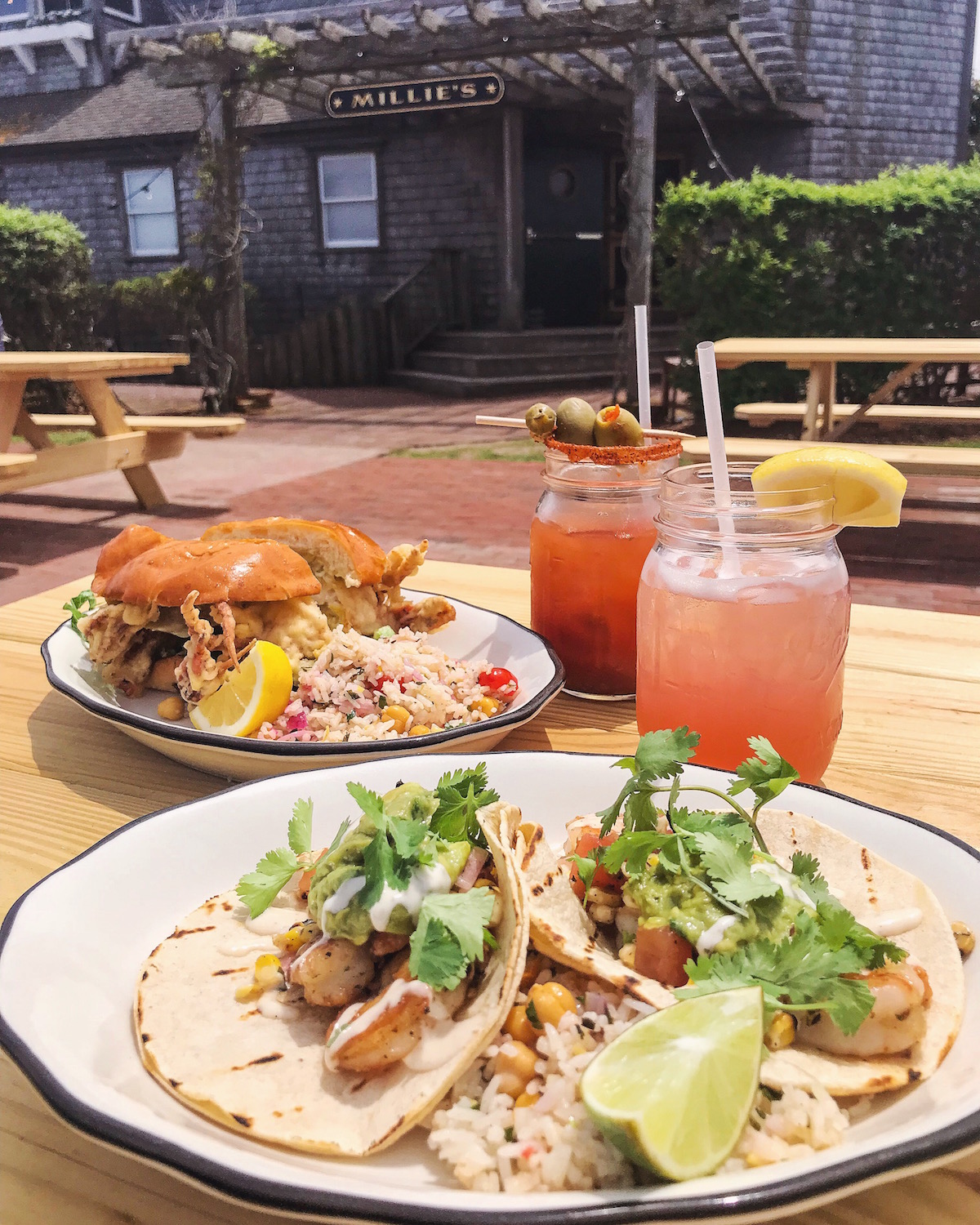 MILLIE'S // This was my favorite meal of the trip. Tacos. po-boys, lobster rolls, Mexican street corn, margaritas– say no more!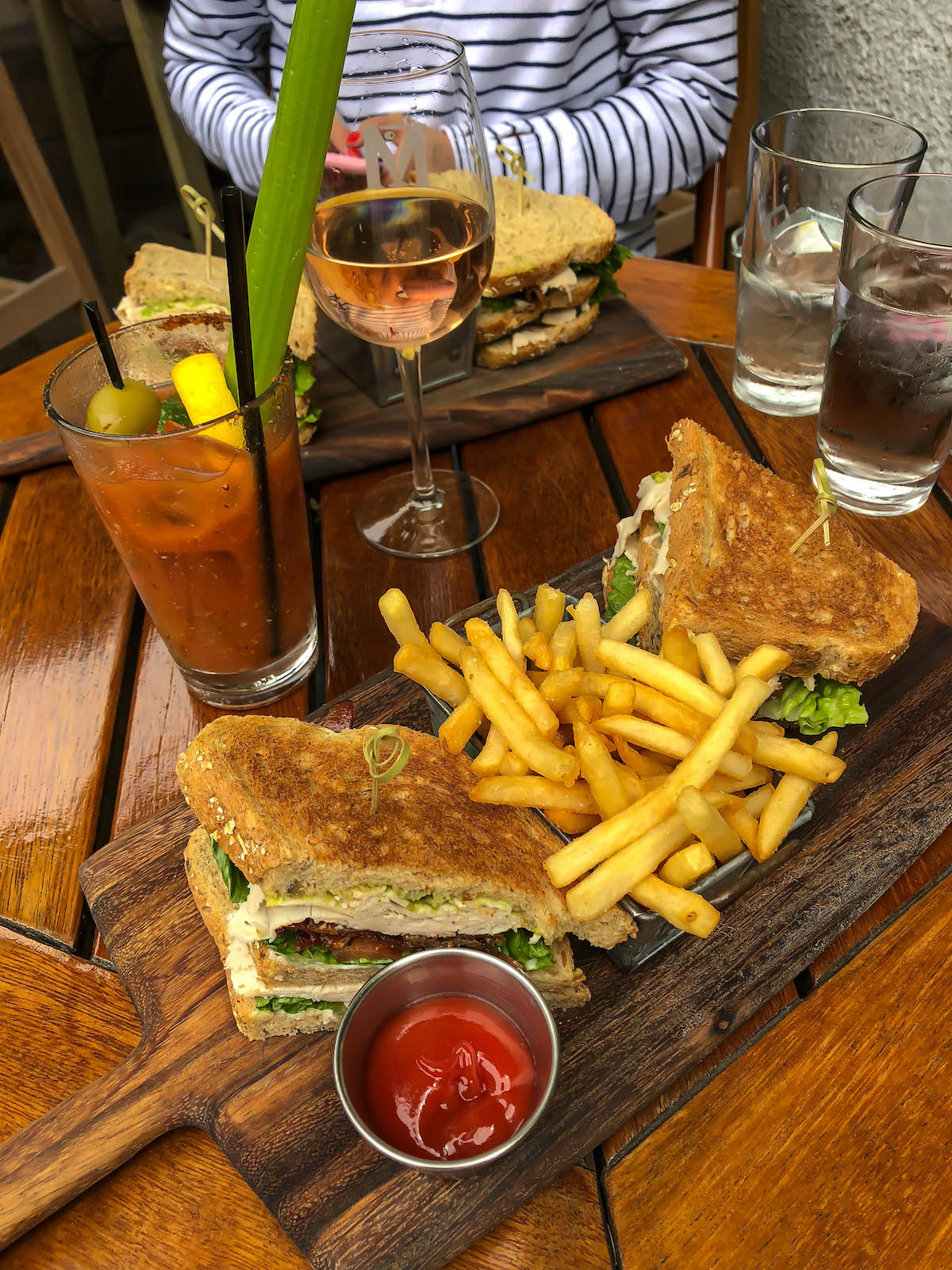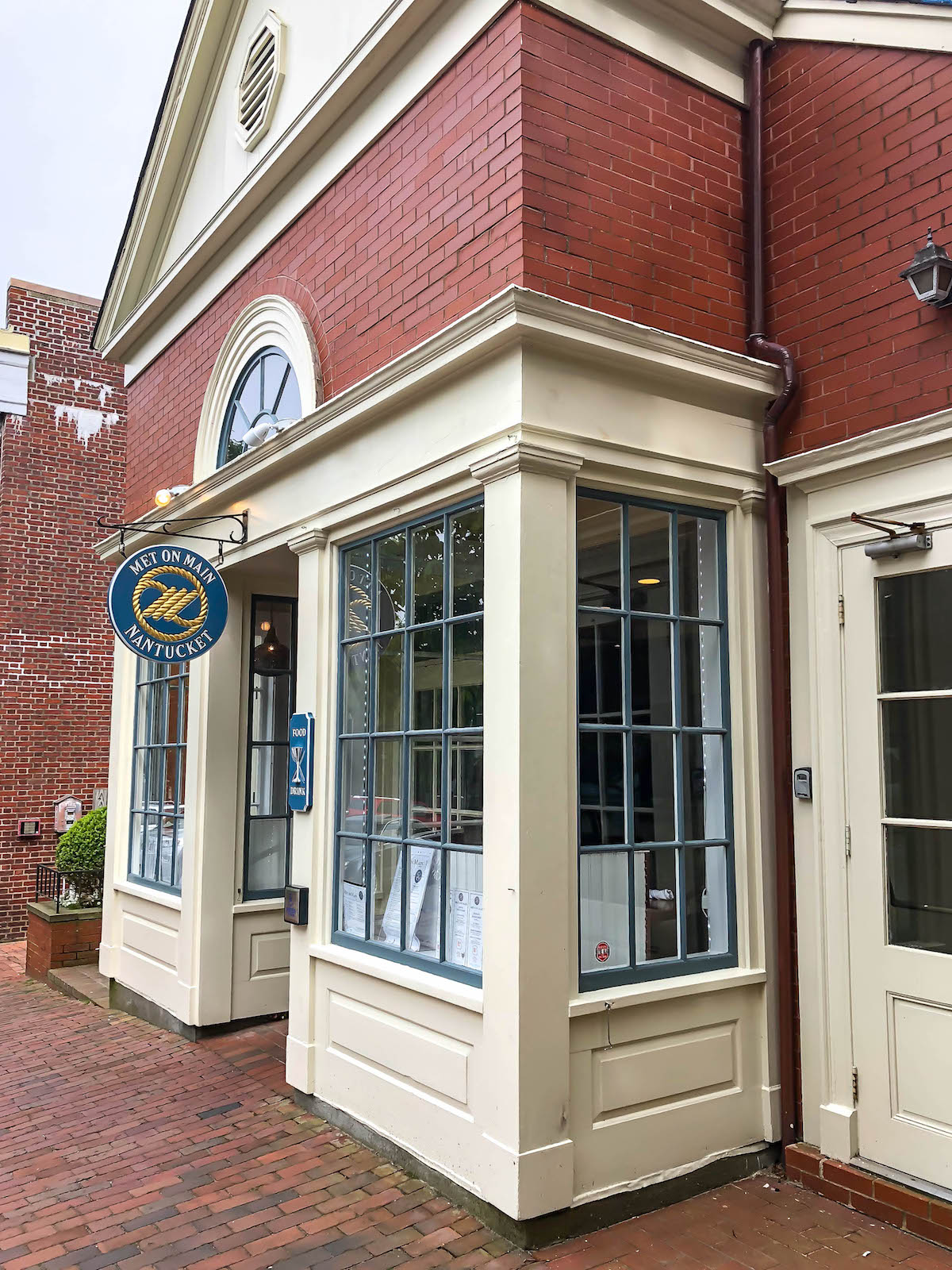 MET ON MAIN // Definitely head here if you're looking for a yummy brunch spot. Get the lobster roll or club sandwich and request a table on the patio!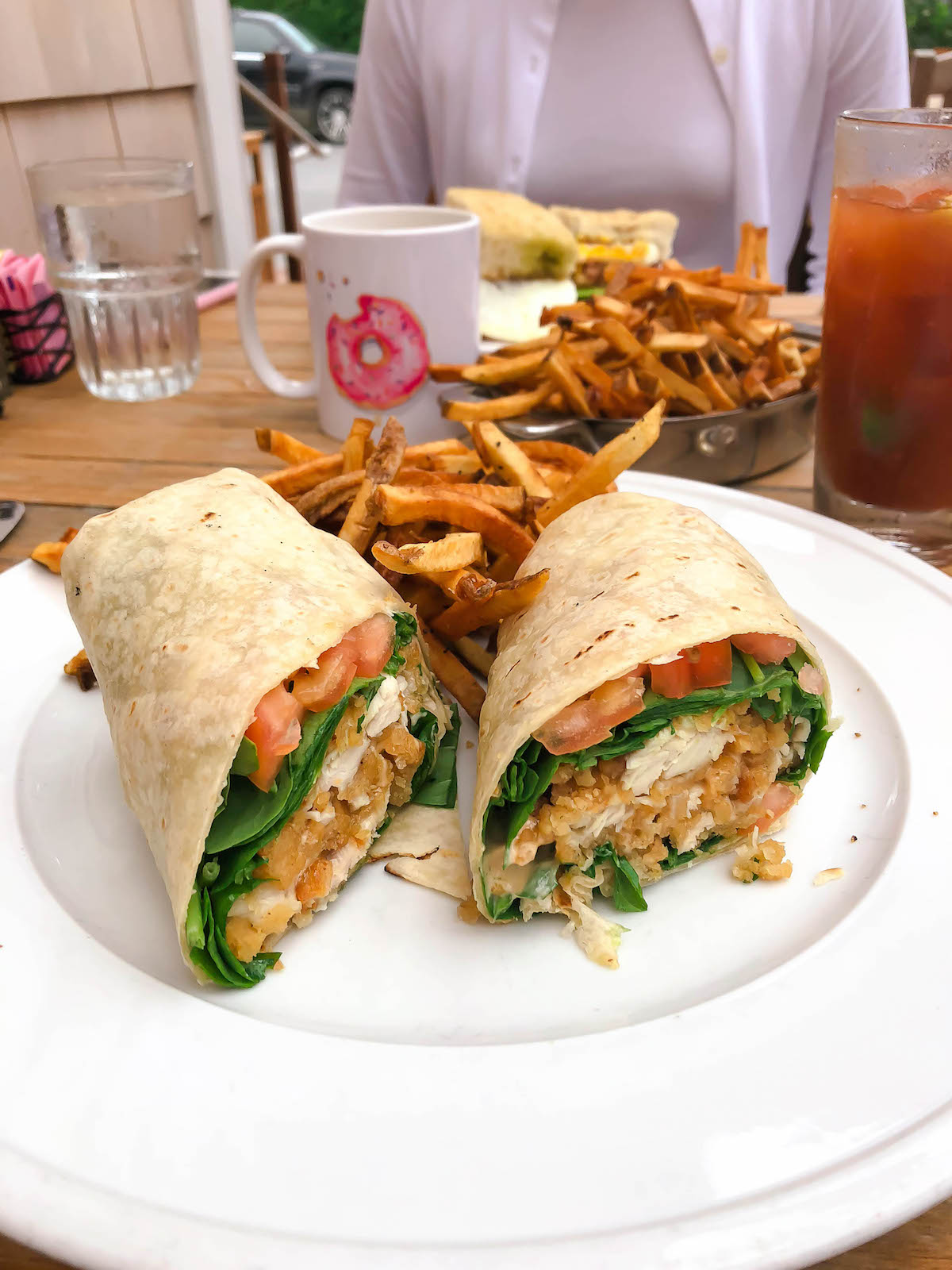 ISLAND KITCHEN // Hands down the best crispy chicken wrap of my LIFE. It's located a little ways out of town on the way to the airport– great place to stop and get lunch before your flight.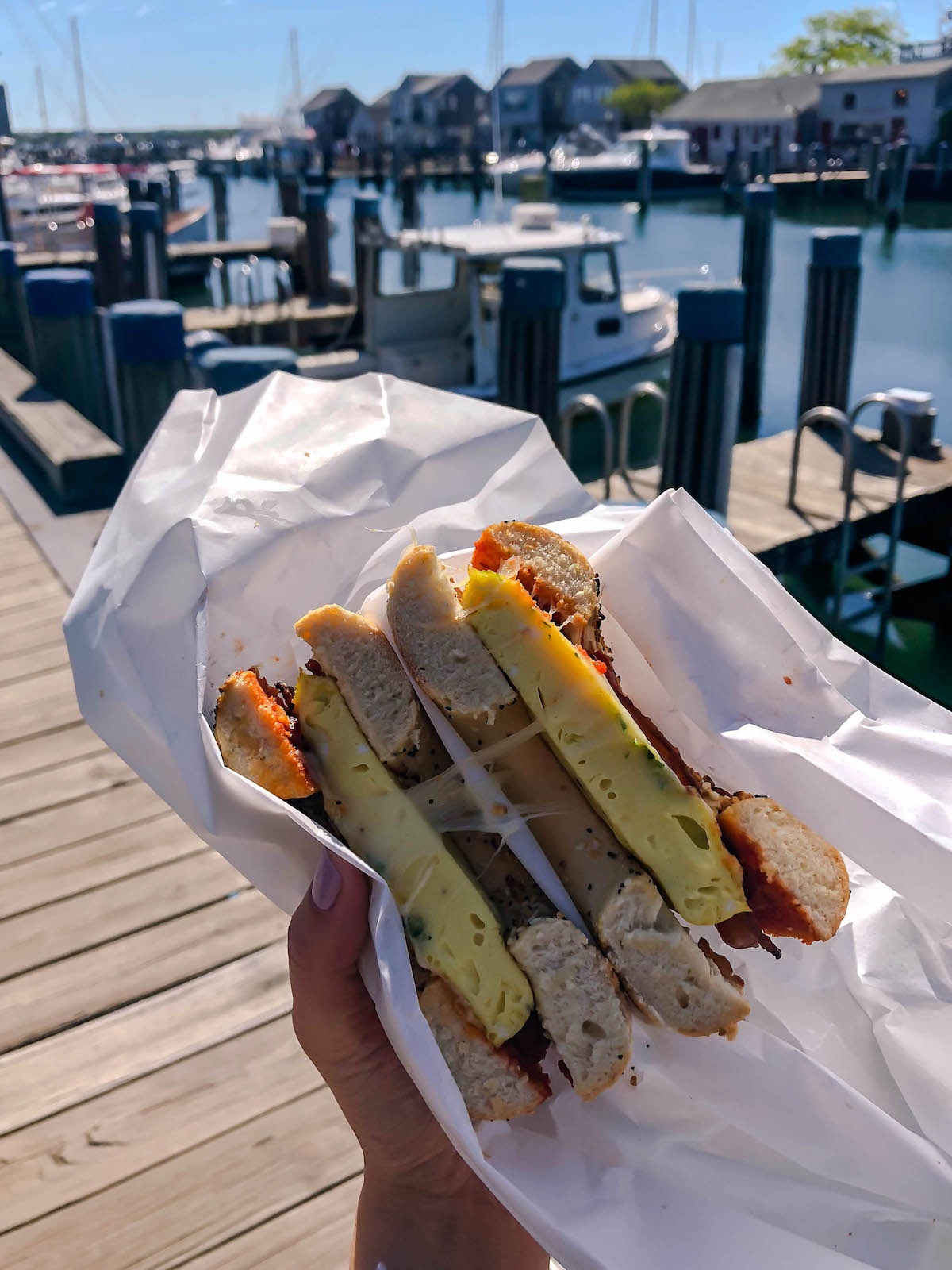 PROVISIONS // One of the most popular grab-and-go coffee and sandwich spots on the island. For breakfast one morning we picked up bacon, egg & cheese sandwiches and ate them sitting outside by the docks downtown.
DINNER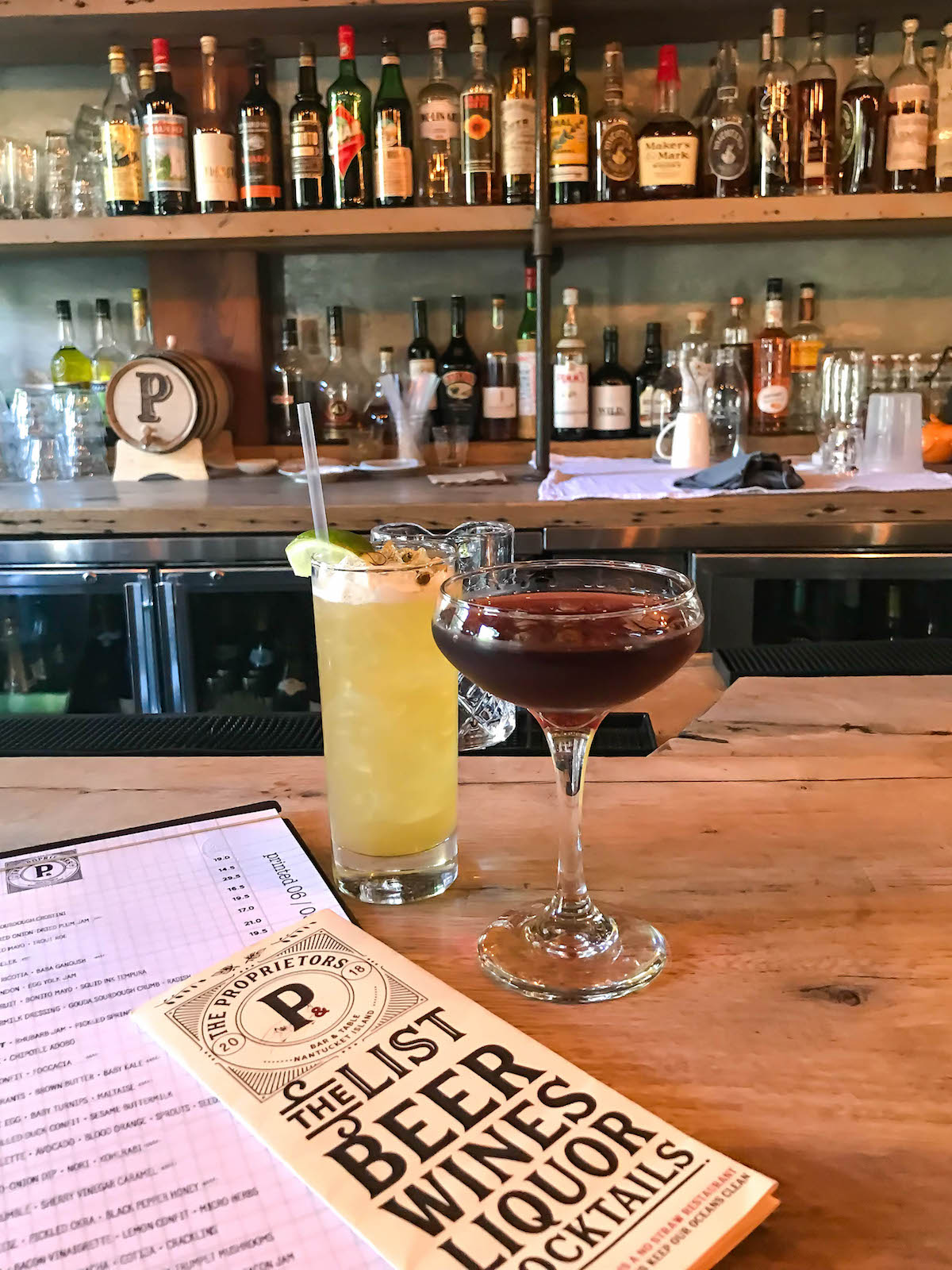 THE PROPRIETORS BAR & TABLE // This was actually my second time dining here! We had dinner reservations somewhere else, but we couldn't resist grabbing a pre-dinner cocktail and the burrata appetizer at the bar. The menu is all small plates so it's a grab place to go with a group and share a bunch of items.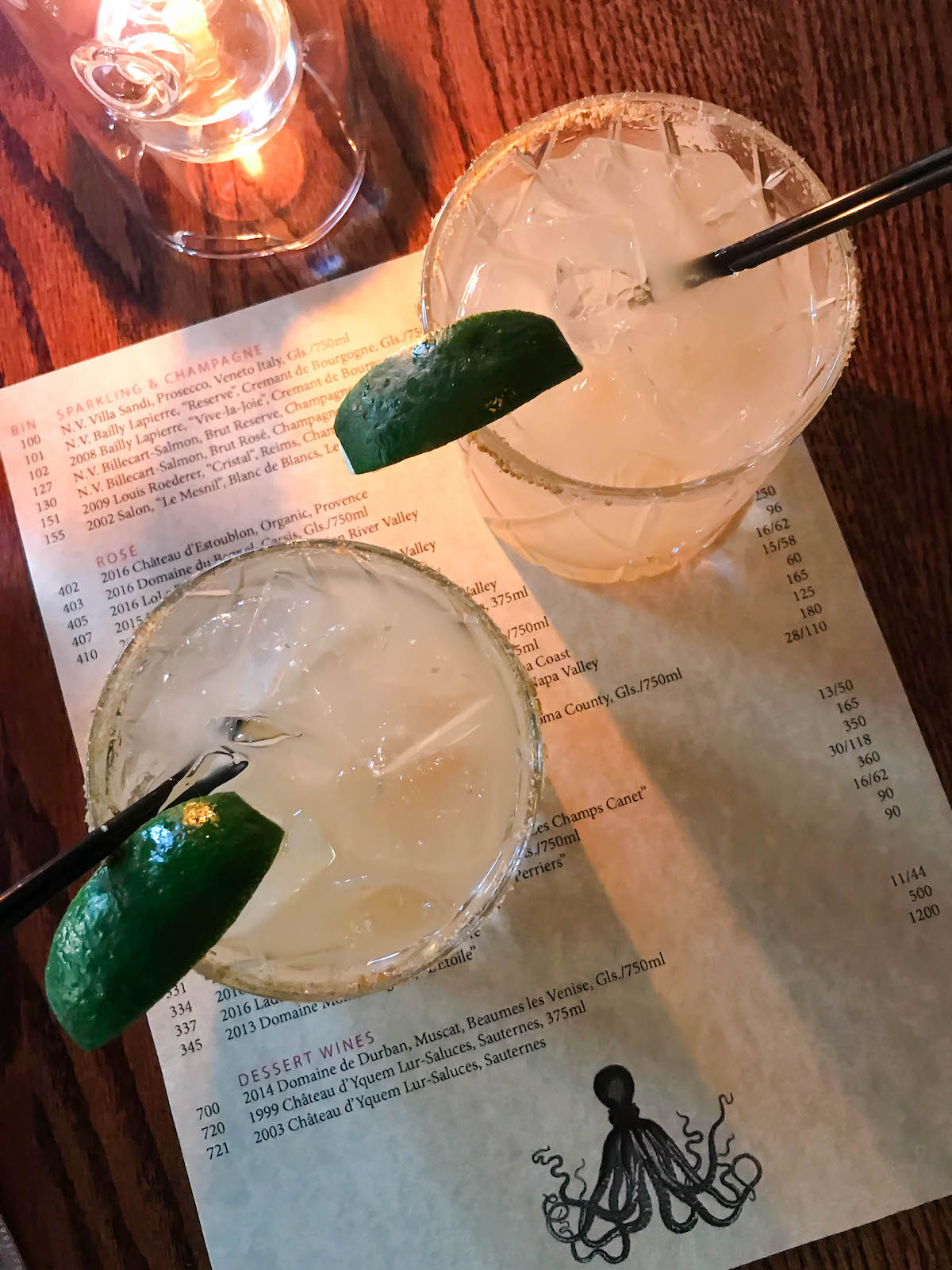 GREYDON HOUSE // I would come here if you're looking for a more upscale cozy dining experience. Carly are I ordered the crudo appetizer, pasta and spicy ginger margaritas 🙂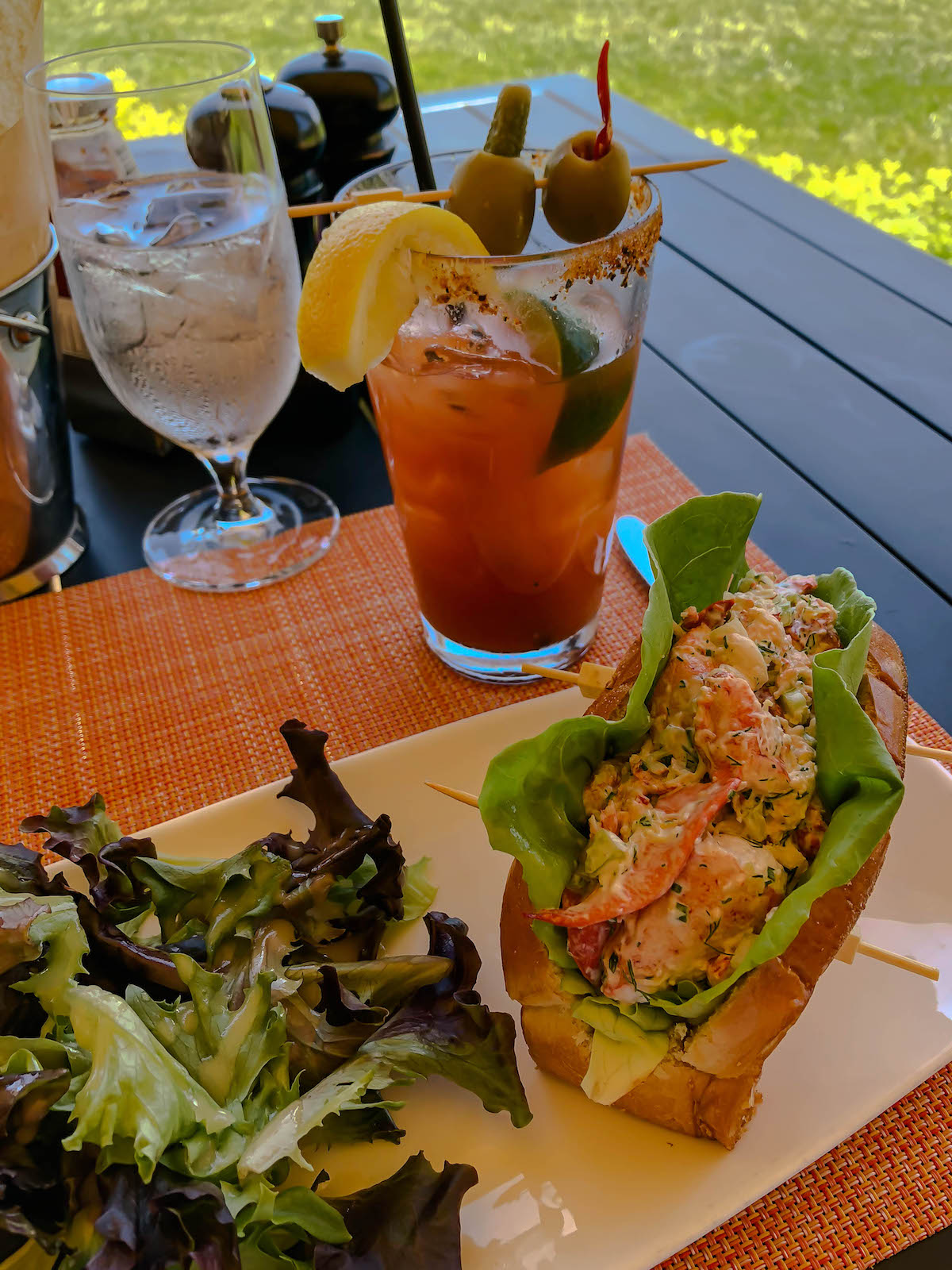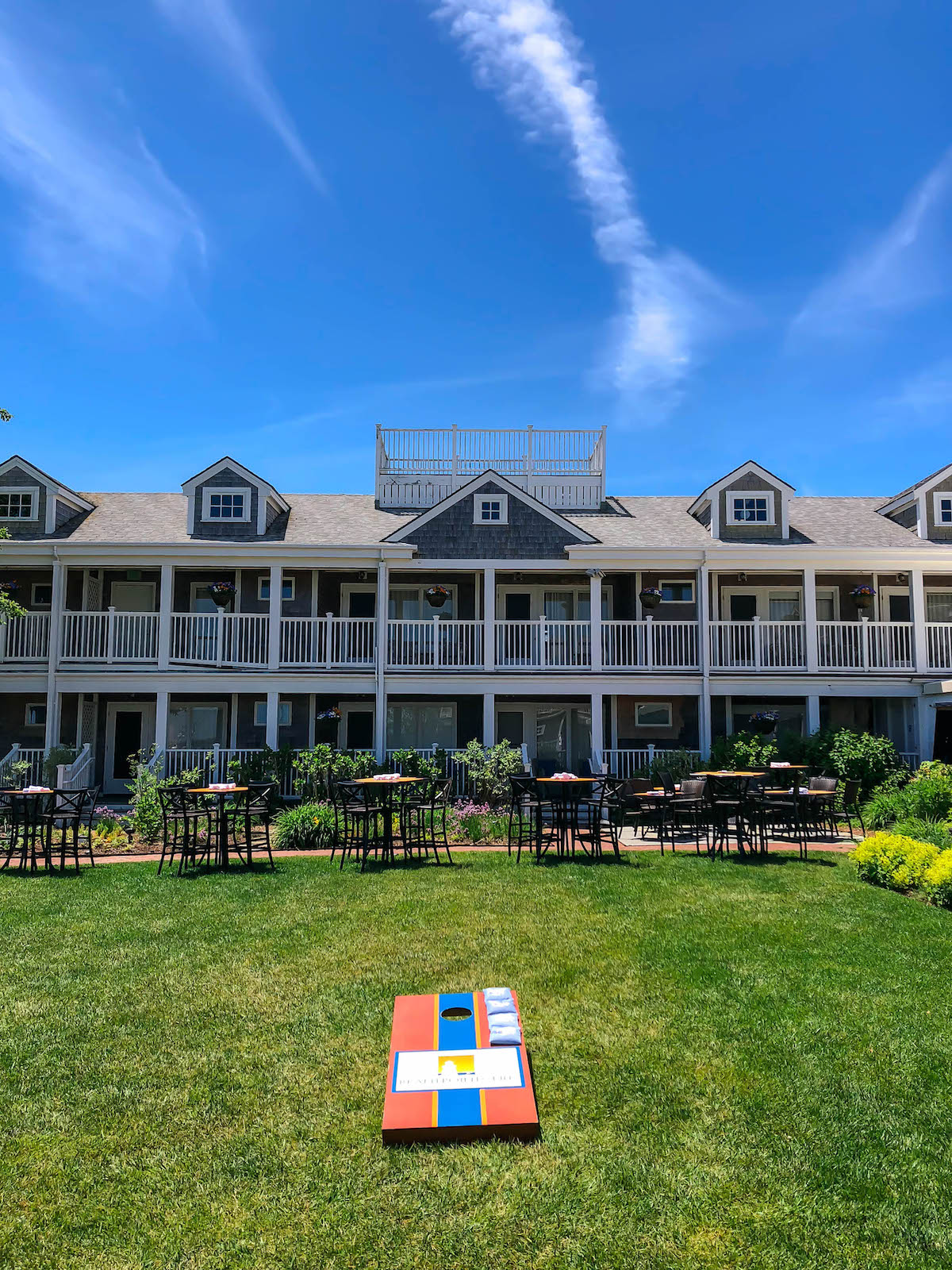 BRANT POINT GRILL // Located in Nantucket famed White Elephant hotel, Brant Point Grill is a great place to enjoy lunch or dinner especially on a nice day. There's a beautiful patio overlooking a large grassy lawn and the downtown docks. Per usual we ordered the same thing– lobster rolls and french fries!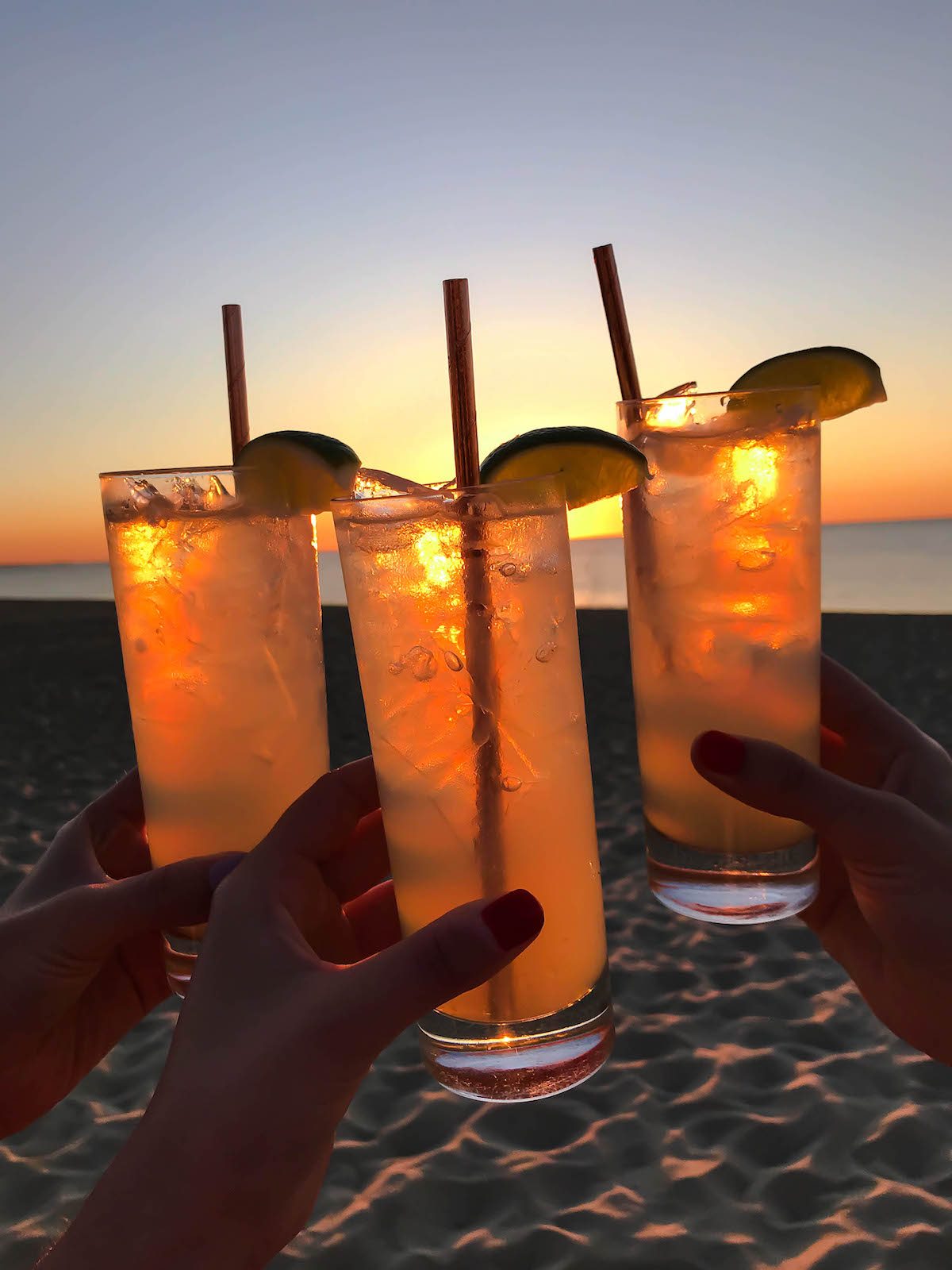 GALLEY BEACH // So expensive, but worth it for the beachside sunset drinks. I definitely suggest coming here for dinner– just expect to pay a pretty penny for upscale seafood and meticulously crafted cocktails.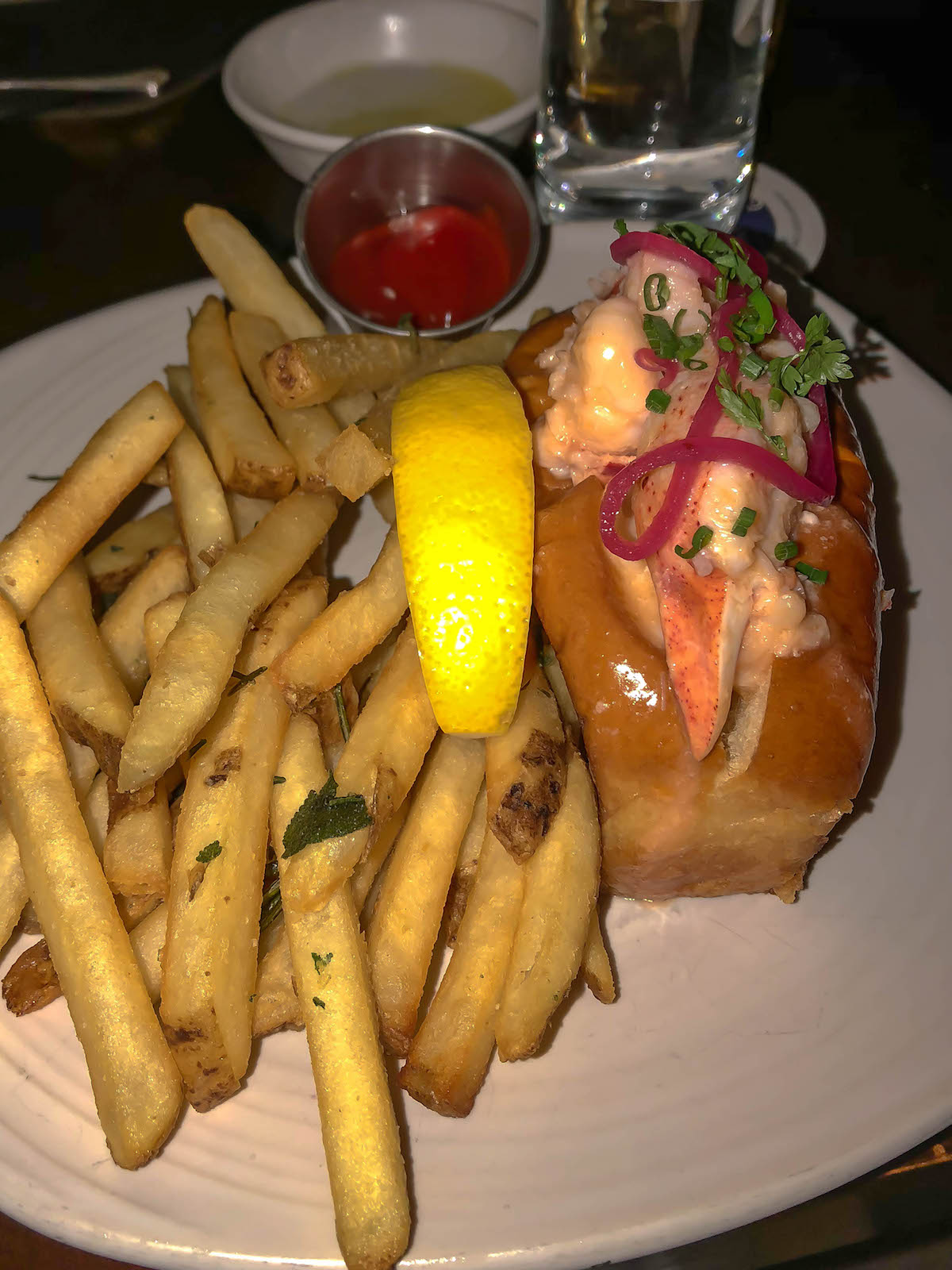 CRU // This was my second time dining at Cru and it was just as yummy as I remembered. Dockside dining at it's finest and a drool-worthy lobster roll to boot! You can sit indoors or outdoors + they have a poppin' bar!
COFFEE & DESSERT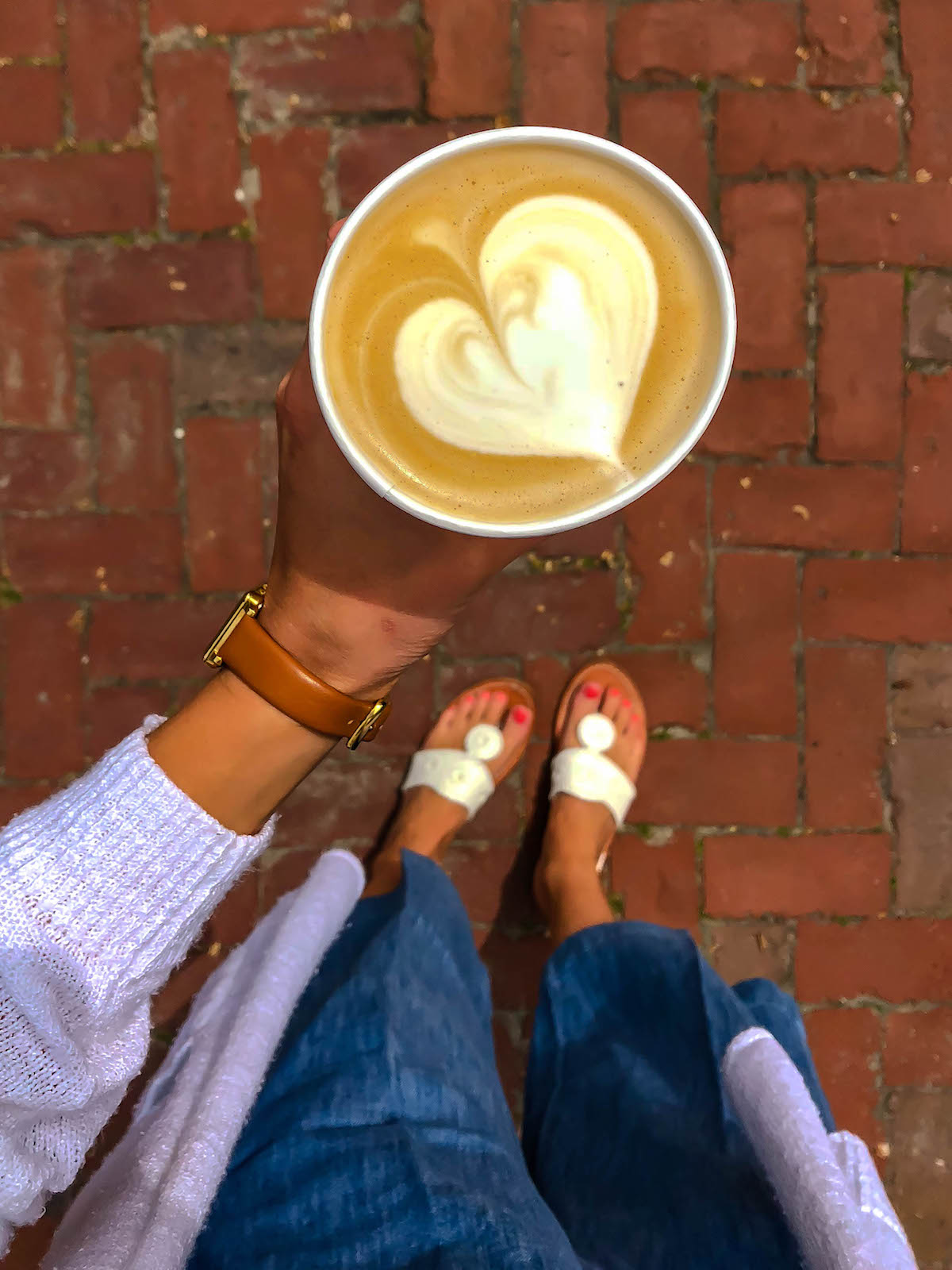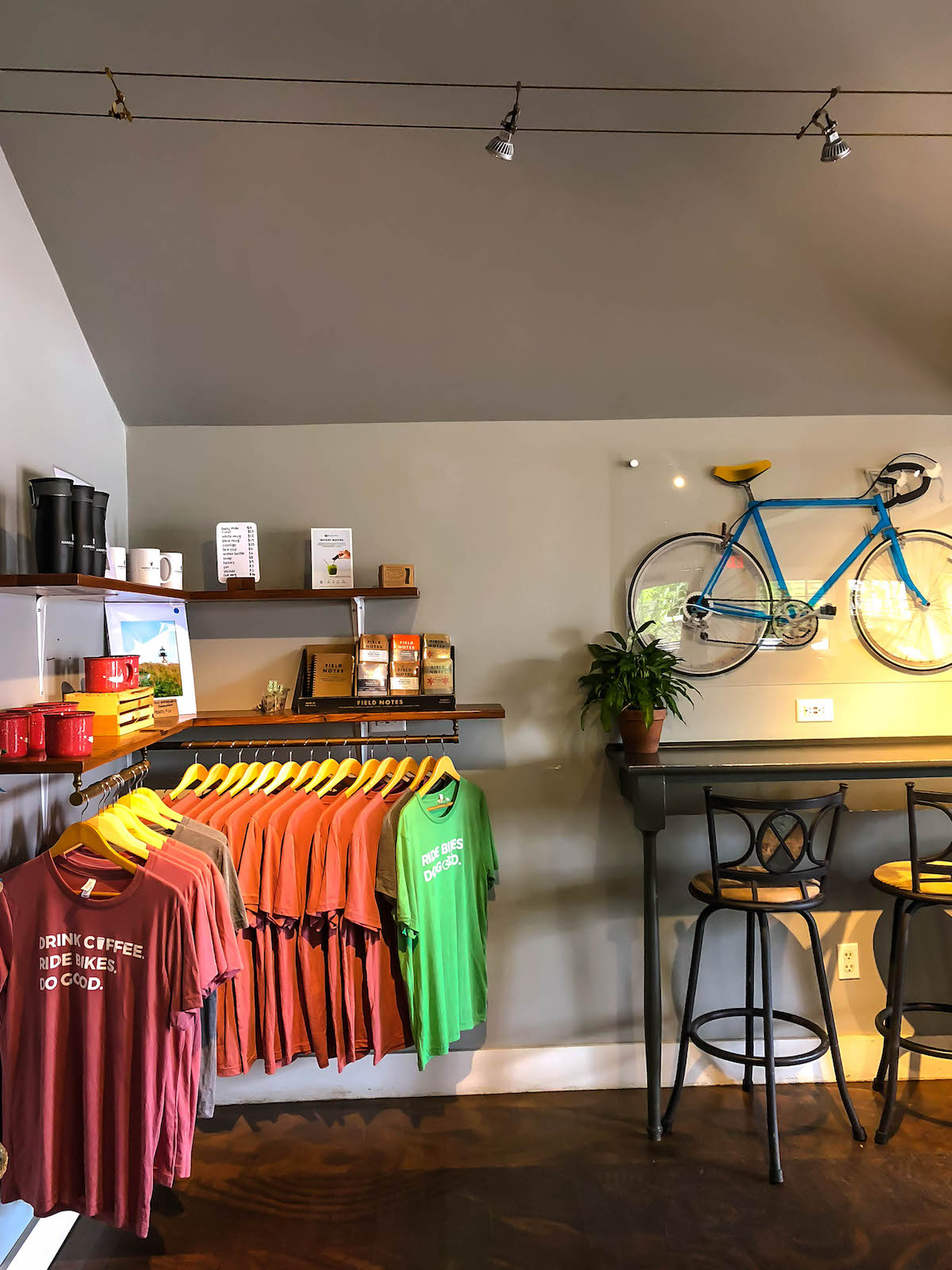 HANDLE BAR CAFE
Sweetest coffee shop just steps from downtown. You can take a brew to go or post up inside taking advantage of the free wifi 😛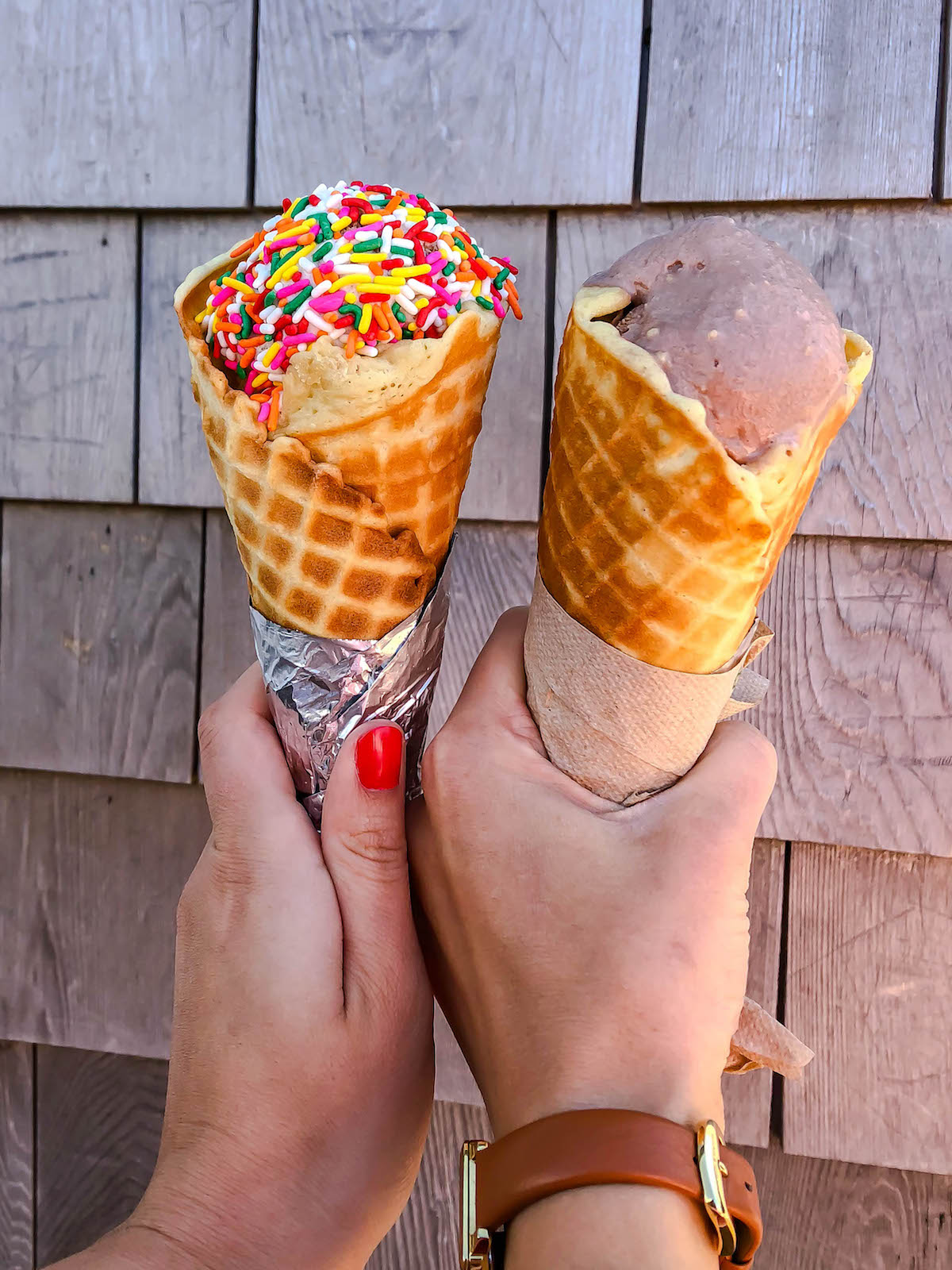 THE JUICE BAR
You can't come to Nantucket and not get an ice cream at The Juice Bar. It's an island staple! The line can get along so I'd suggest going during the morning or sometime between lunch and dinner when most folks are out at the beach,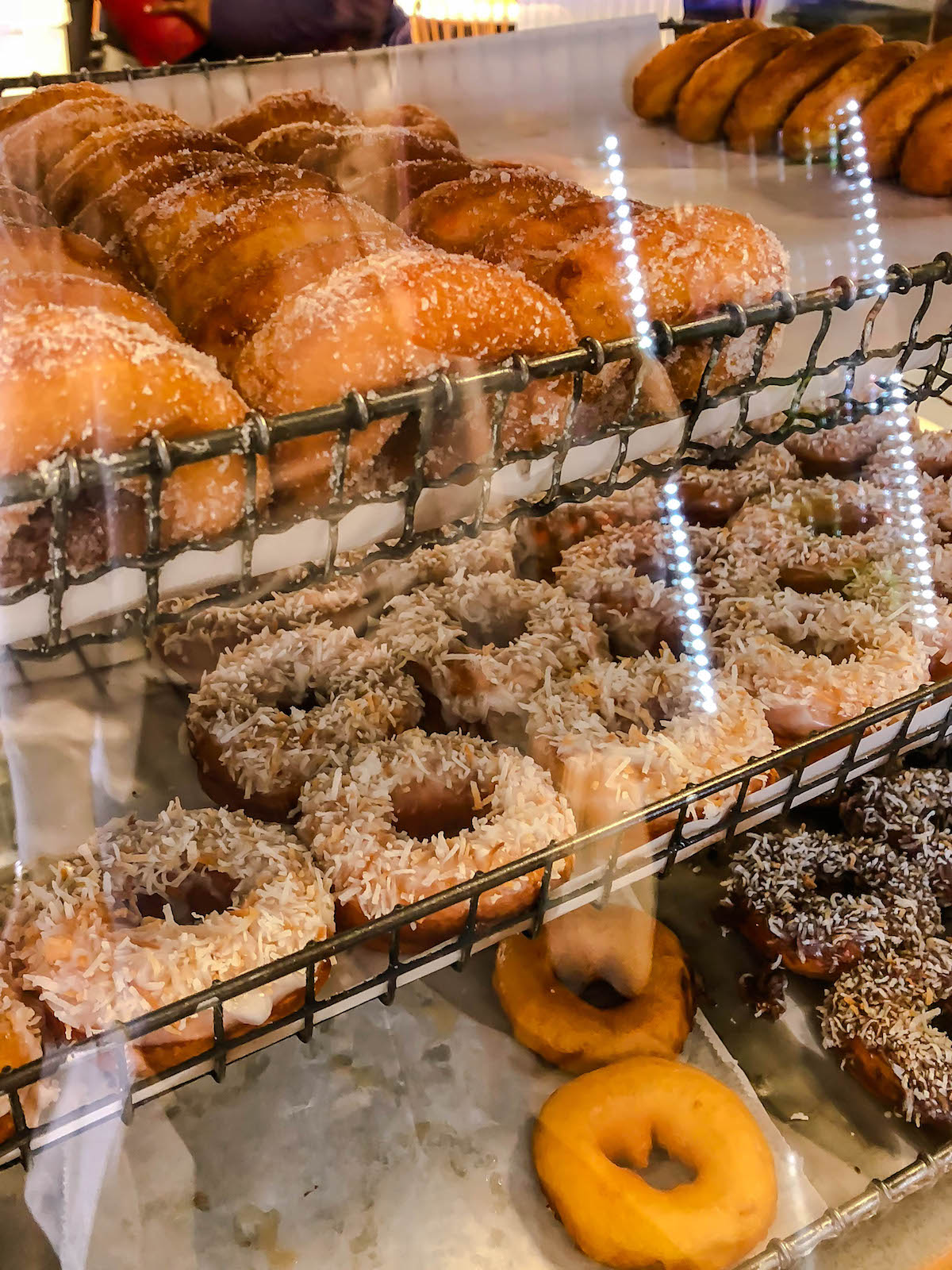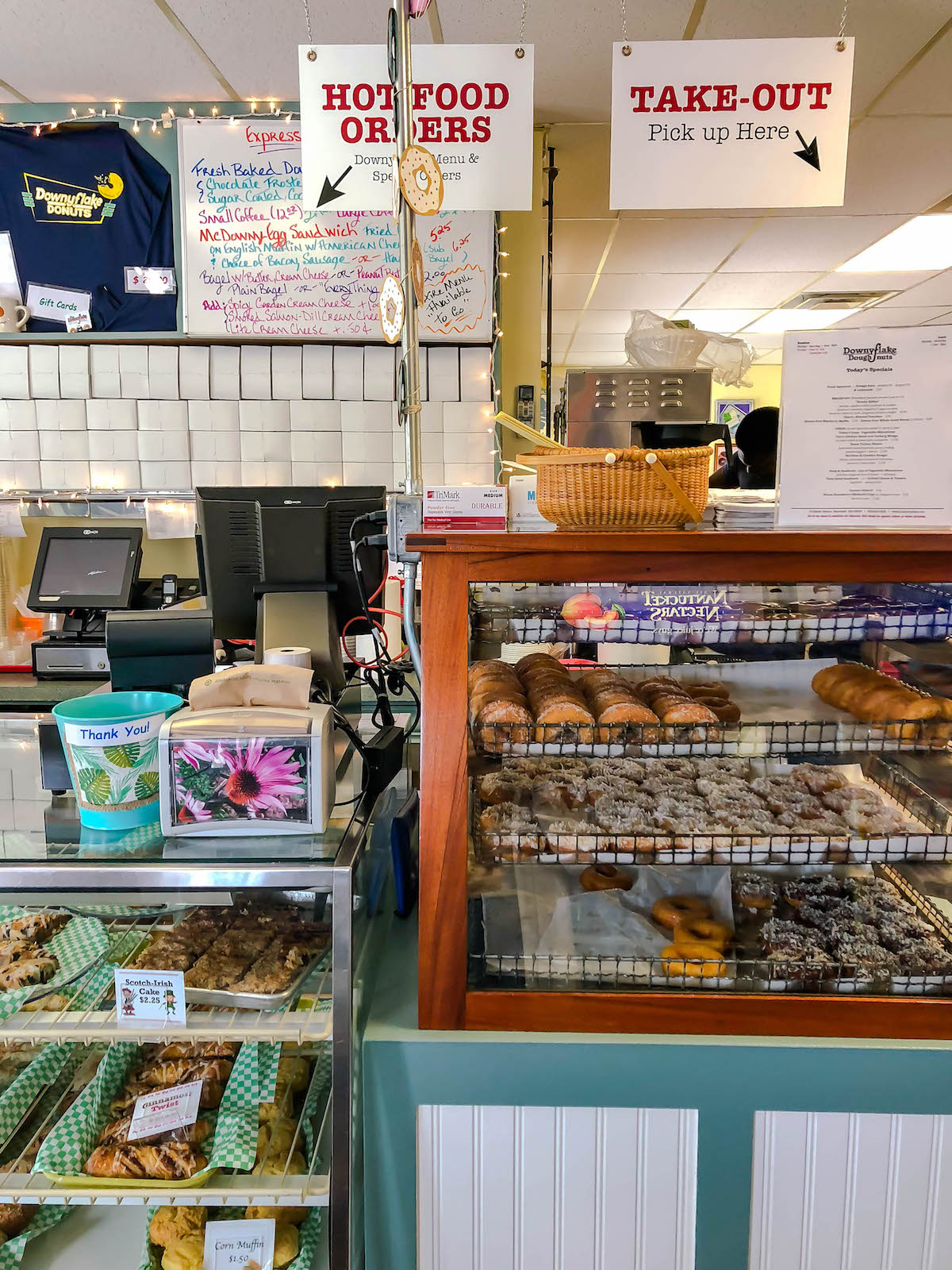 THE DOWNYFLAKE
DONUTS. Ugh, my absolute favorite dessert. Carly and I definitely did not need to split a bag of six donuts, but the calories were 100% worth it.
WHERE TO GET DRINKS IN NANTUCKET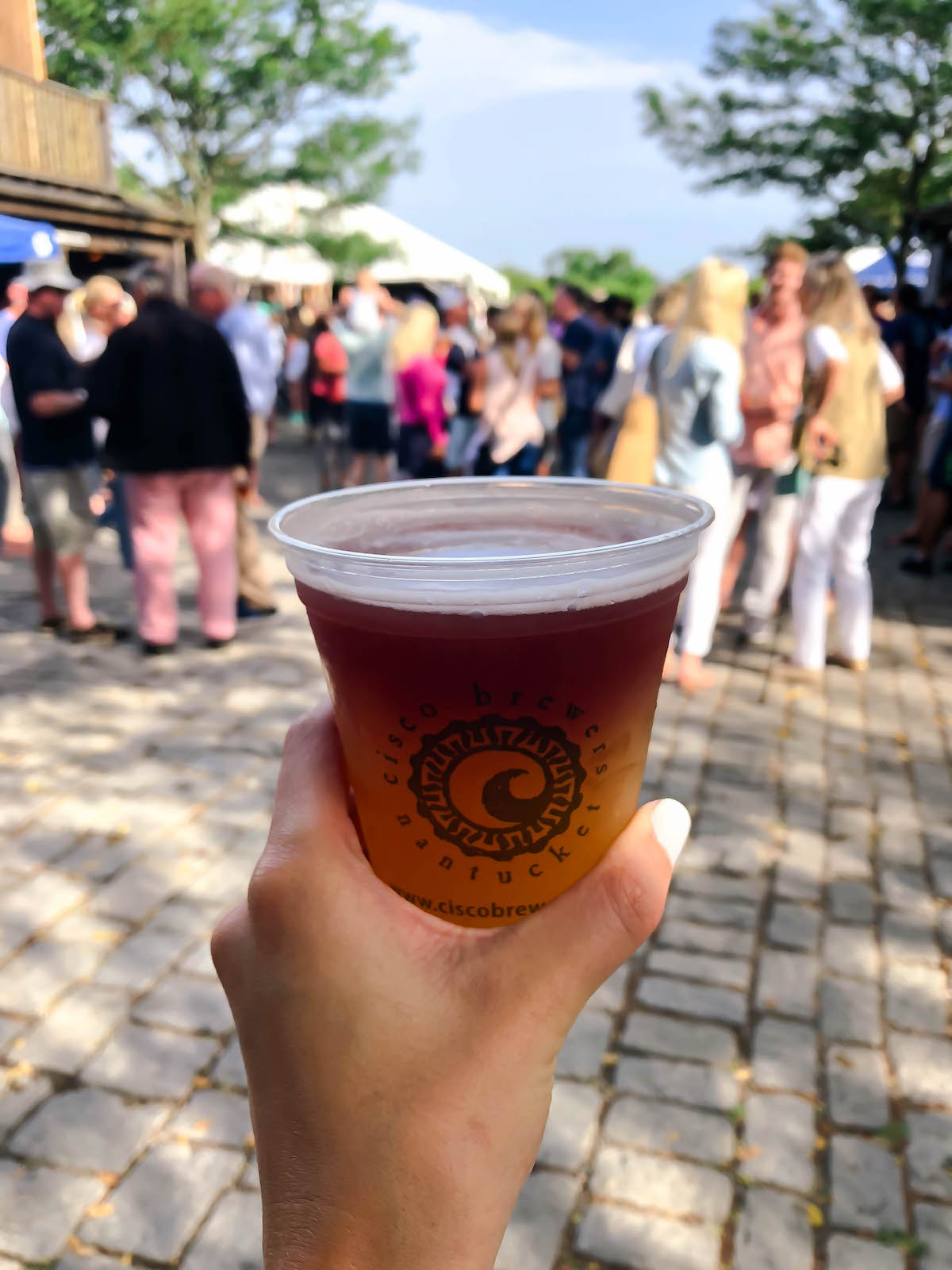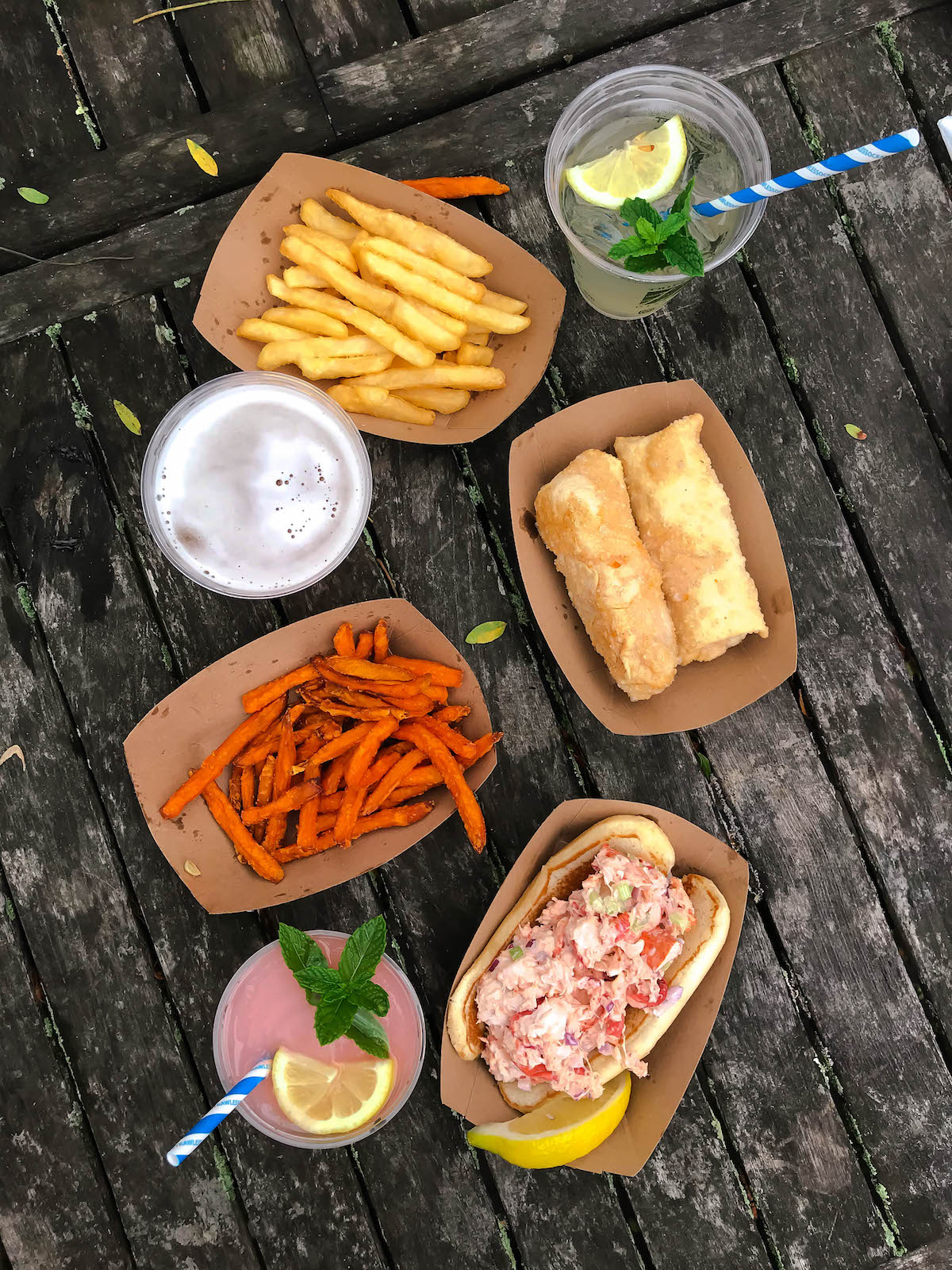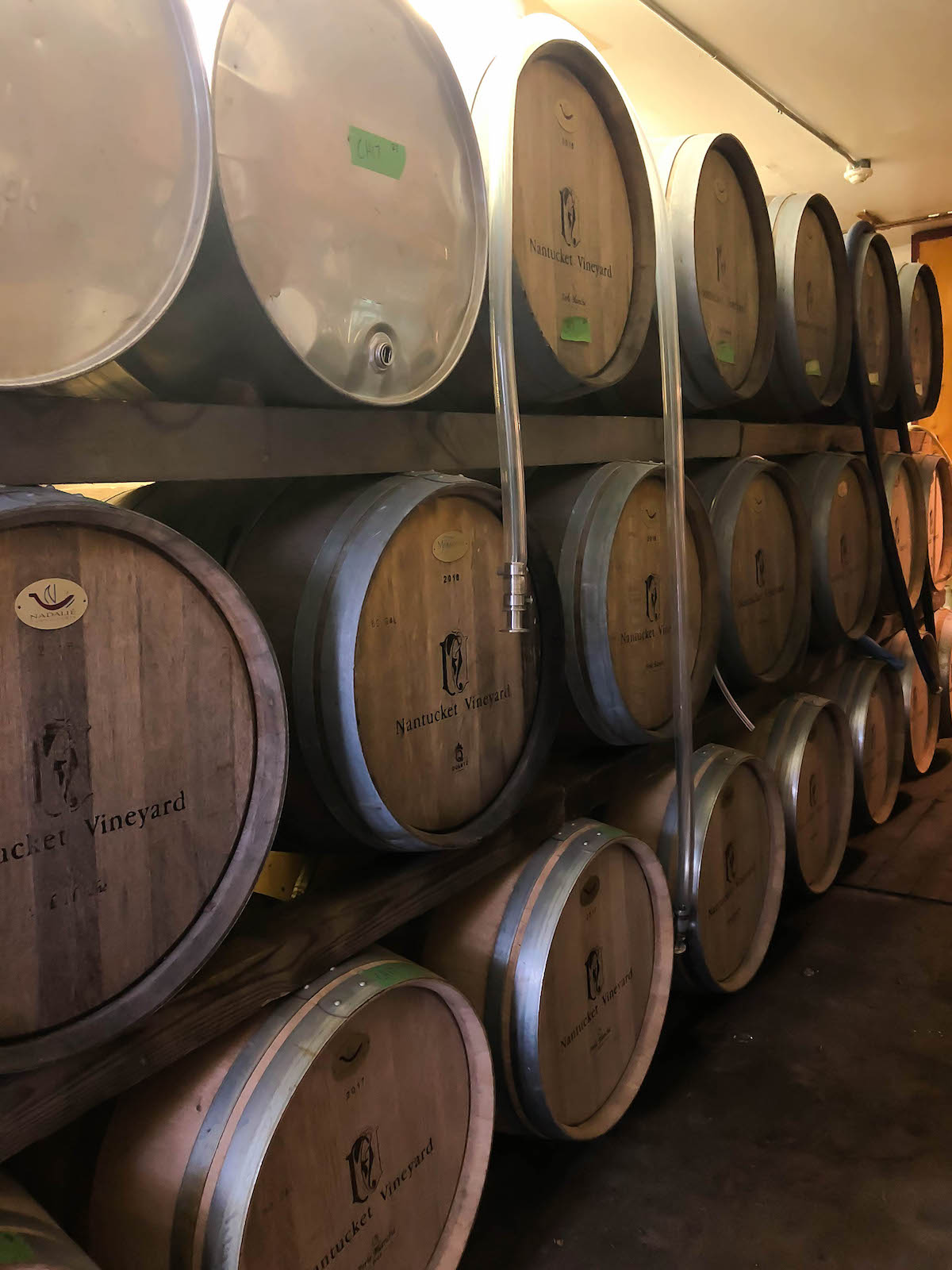 CISCO BREWERS
Cisco Brewers is another Nantucket staple and the perfect place to spend the afternoon. Beer, cocktails, food trucks, patio games, live music– what more could you ask for? It's super group-friends, plus children and dogs are allowed too!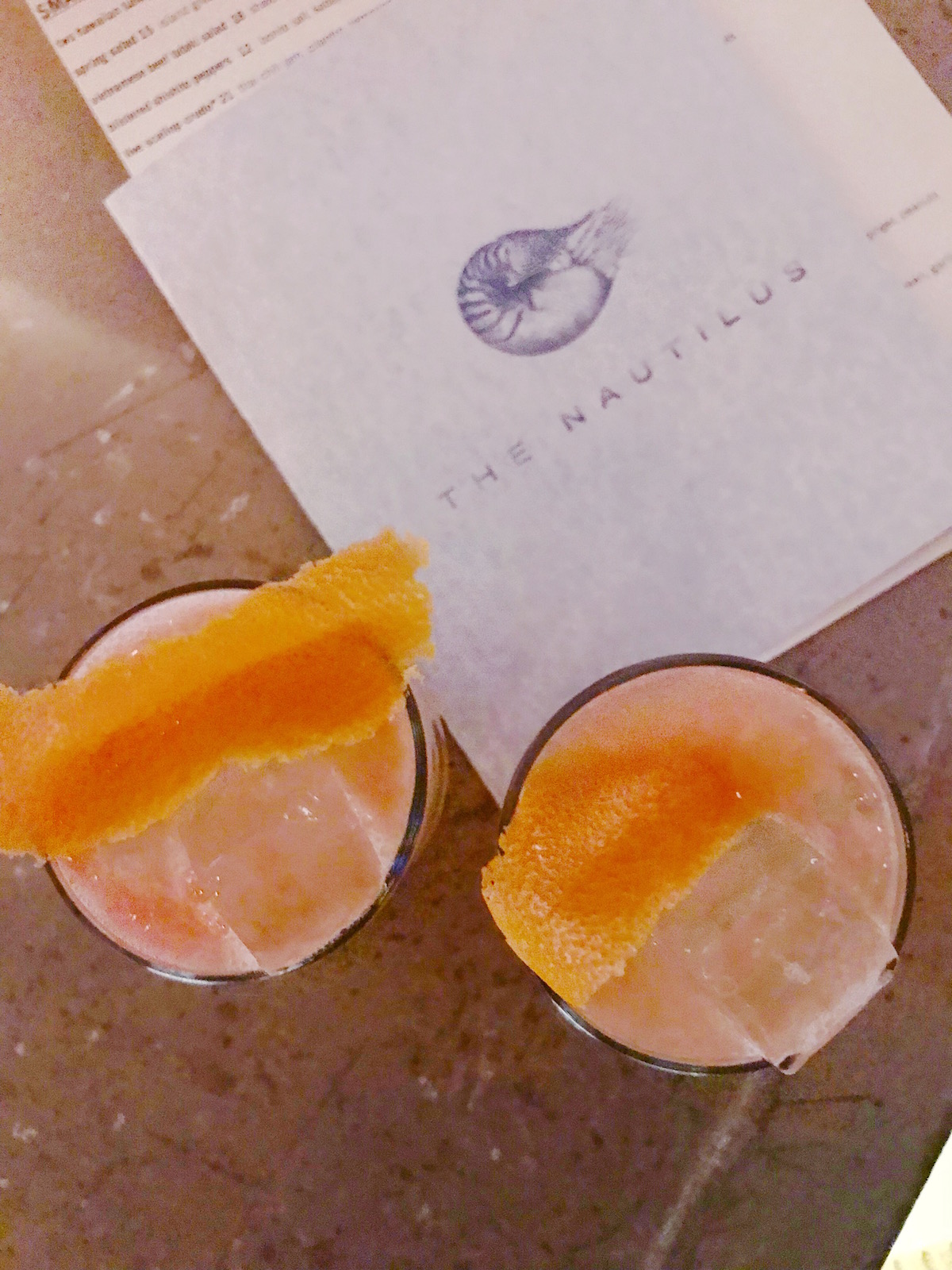 THE NAUTILUS
After stuffing our faces at dinner we totally did not need to go to The Nautilus for a nightcap, BUT I'M SO GLAD WE DID. Maybe I was just a little tipsy, but I'm still dreaming about that Mezcal cocktail and order of porkbuns. I'd love to go back for dinner so I could sample more of the asian fusion menu.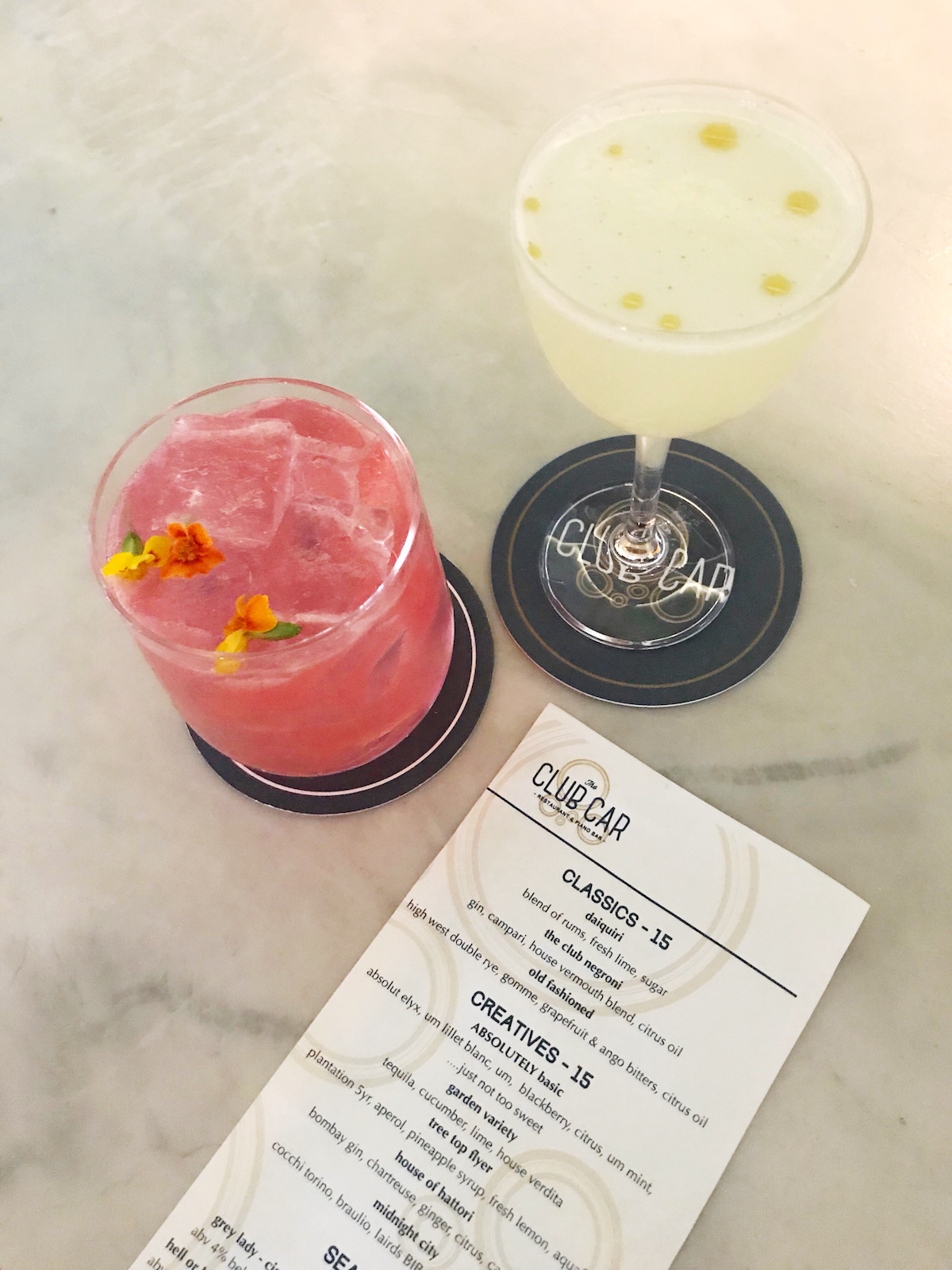 THE CLUB CAR
Really fun place to grab drinks or dinner. The bar itself is in an actual train car– you can't miss it downtown. I had the Absolutely Basic (haha #basic) which was a sweet yummy concoction of Absolut, lillet blanc, blackberry and citrus.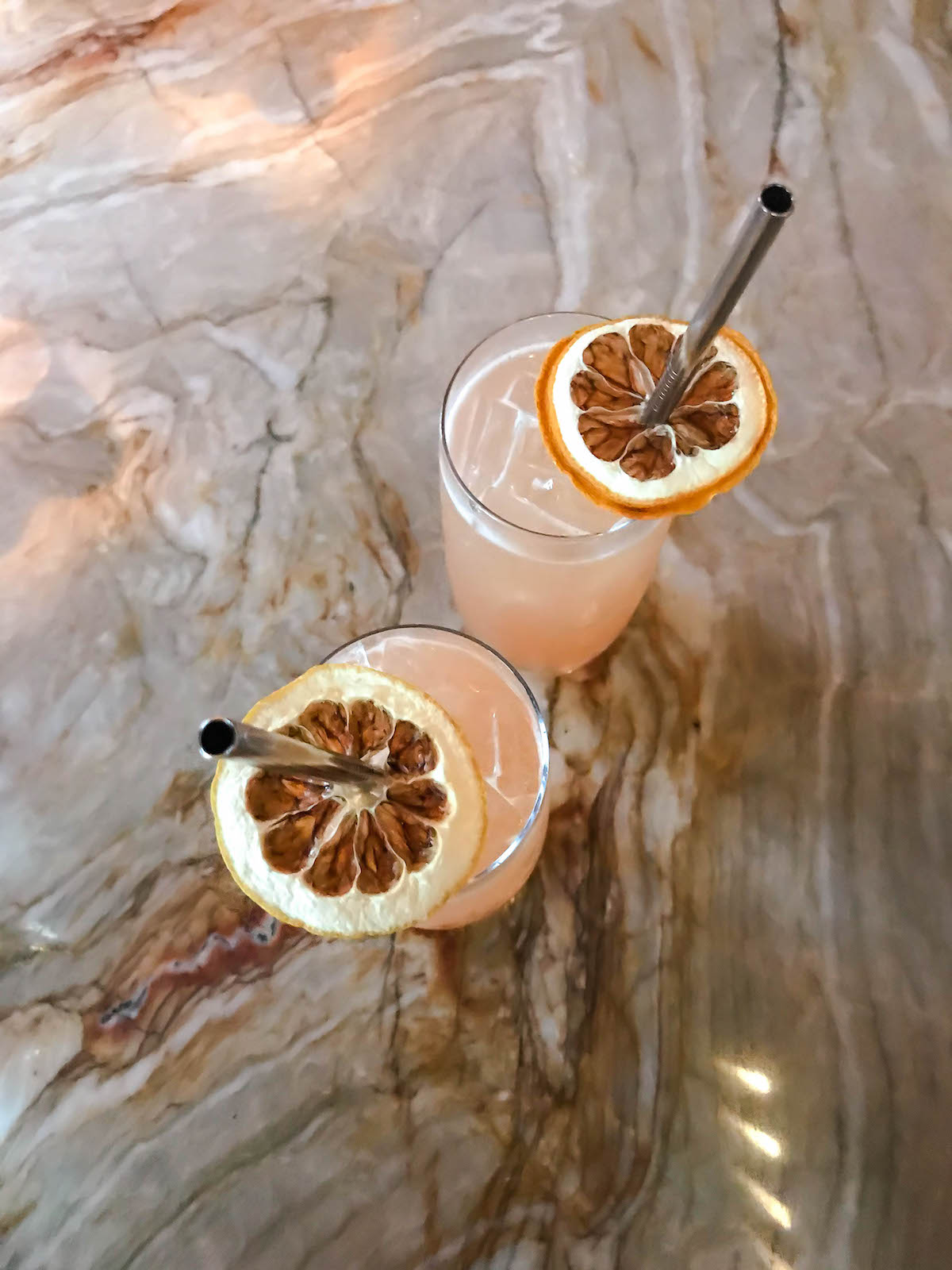 DUNE
On my last trip I had the best lunch here so I was really glad we were able to stop in for drinks. We sat at the bar and ordered Pink Slippers (jalapeño gin, pink guava and lime.)
WHAT TO SEE & DO IN NANTUCKET
There's so much more to see and do in Nantucket besides hitting the beach. From getting your shop on, to sightseeing– here are some of my suggestions!
SHOPPING DOWNTOWN
My trip with Carly was the first time I was able to really pop in all the boutiques and stores downtown. I don't normally like shopping when I travel (I'd rather eat :P) but Nantucket was seriously tempting. Think lots of pop-ups shops, preppy staples like Ralph Lauren and Vineyard Vines, vintage clothing, home goods, art galleries– you could spend the entire day during browsing downtown!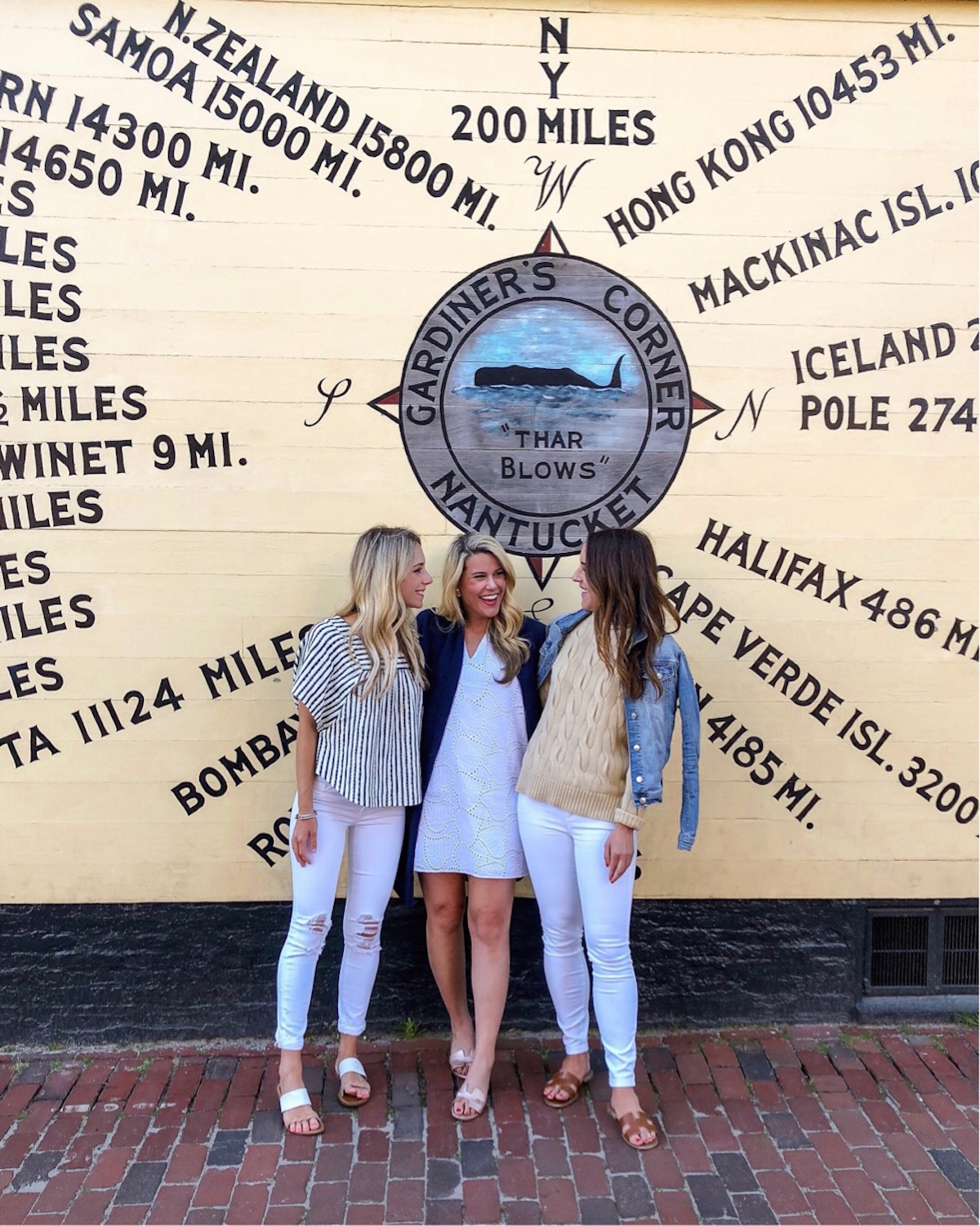 So happy we ran into Sydney on our trip! Best timing ever that she ended up visiting at the same time as us 🙂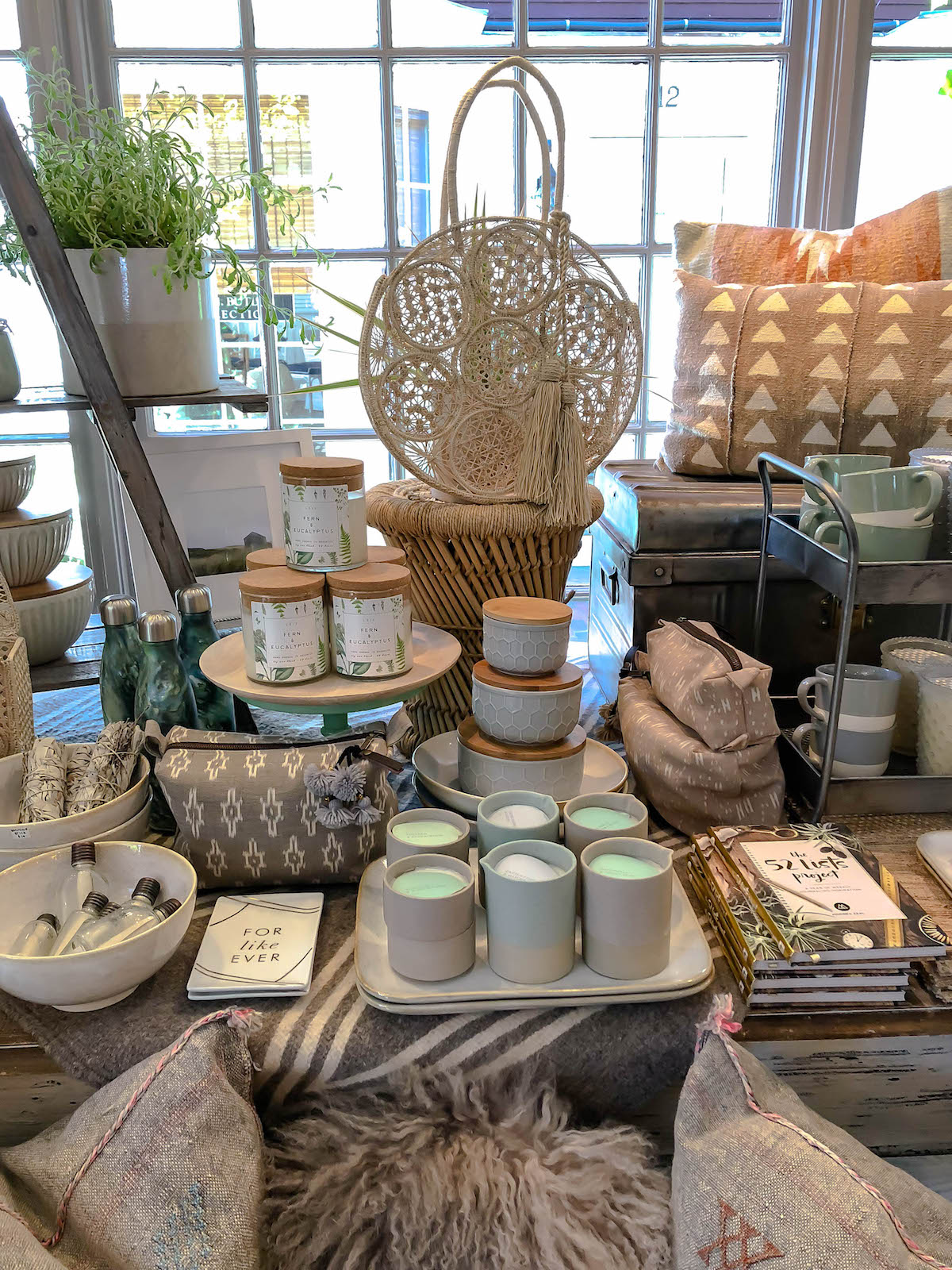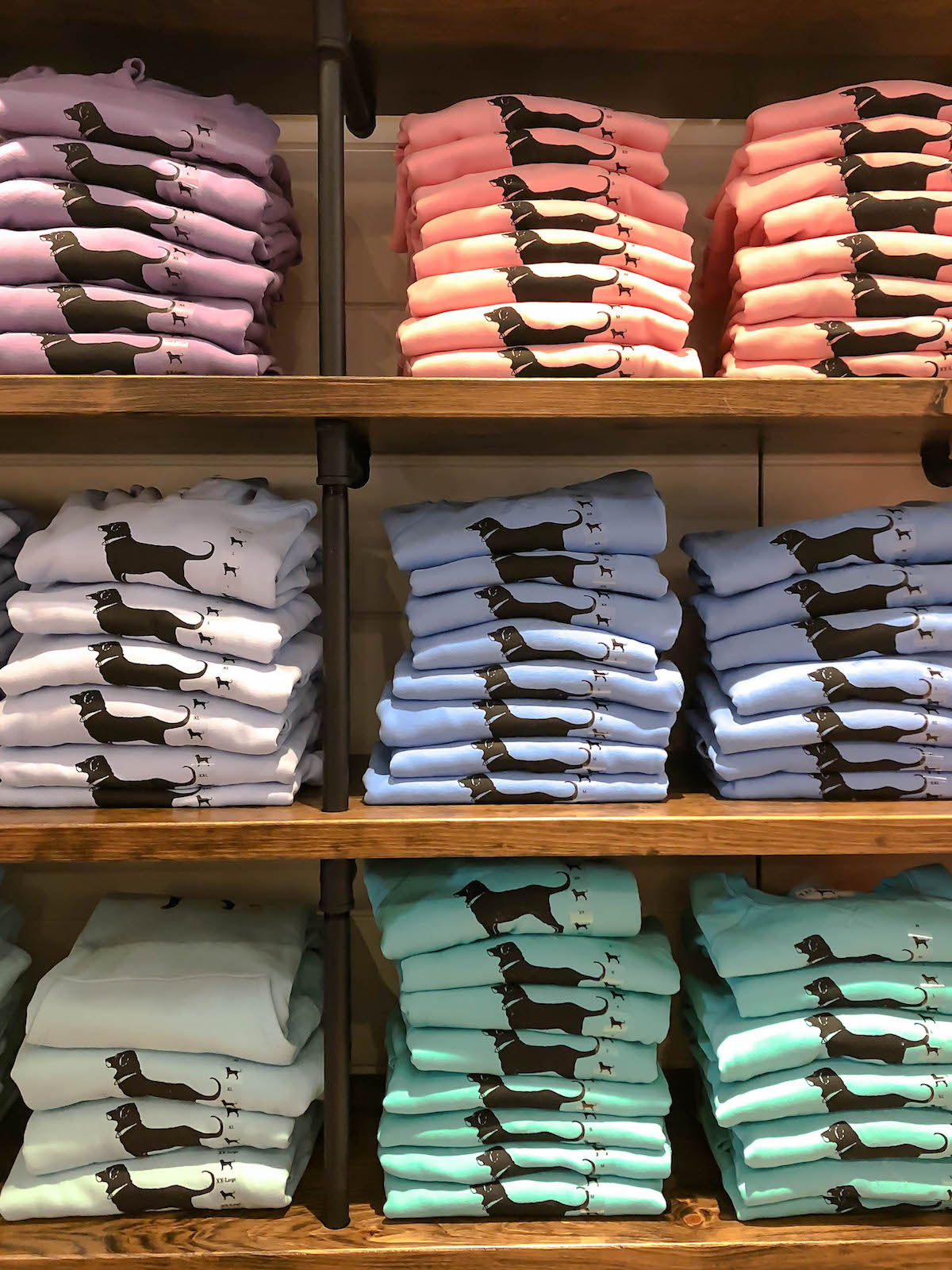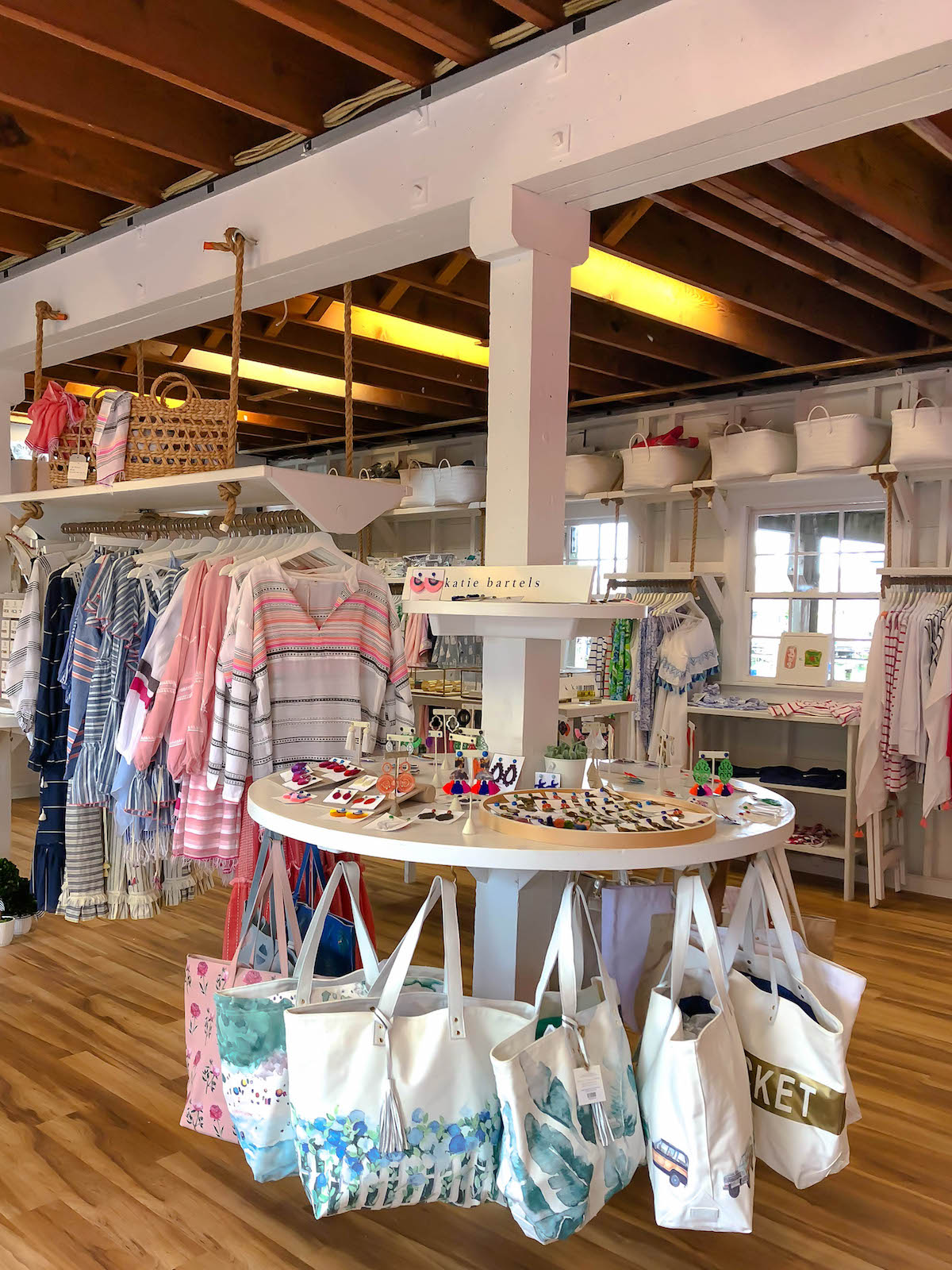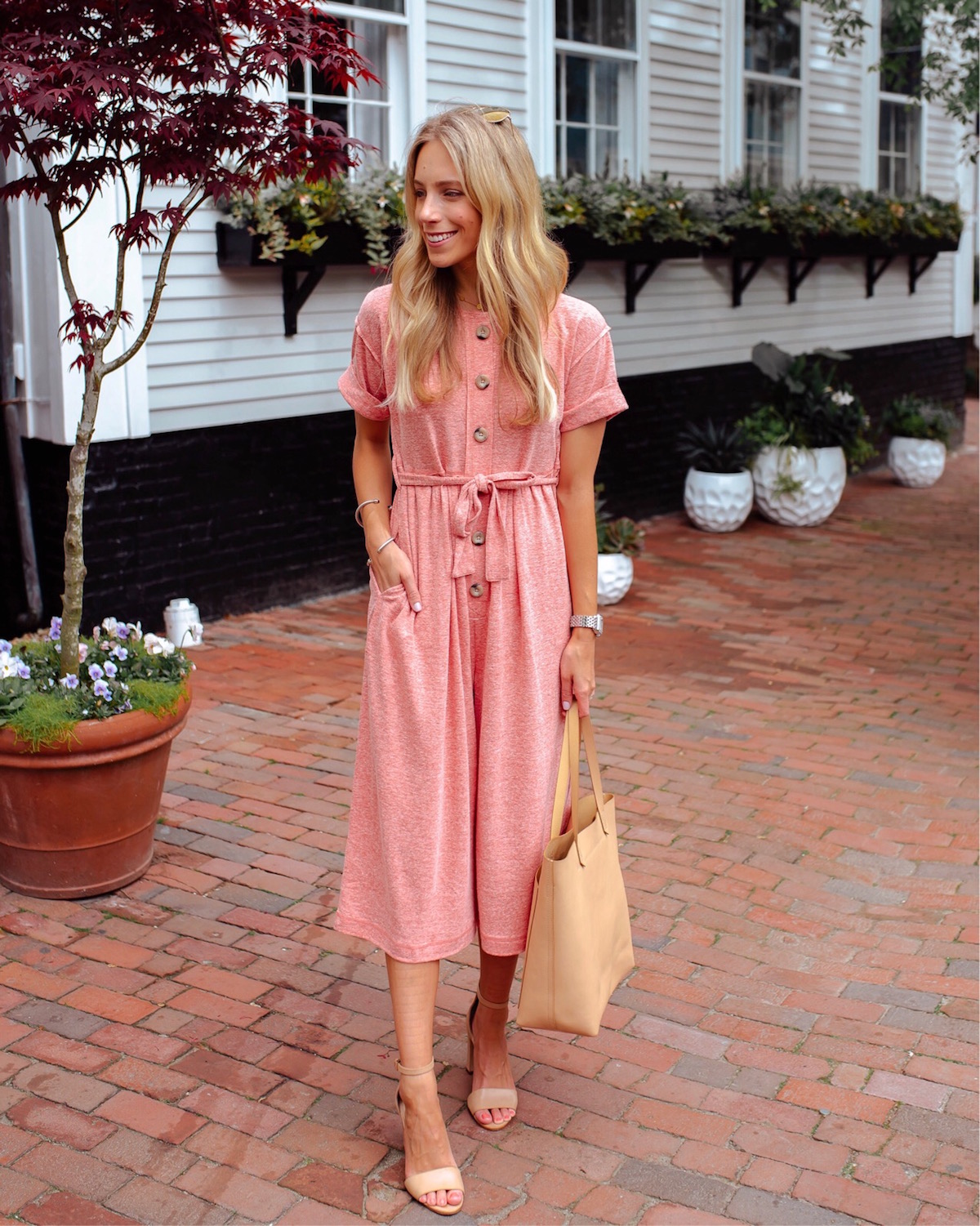 OUTFIT DETAILS // Jumpsuit | Sandals | Tote Bag
TAKE A FITNESS CLASS
Justifying our 3-day long food crawl was much easier thanks to forcing ourselves to an 8AM barre class at Studio Nantucket. The class was surprisingly grueling, but in the best way possible!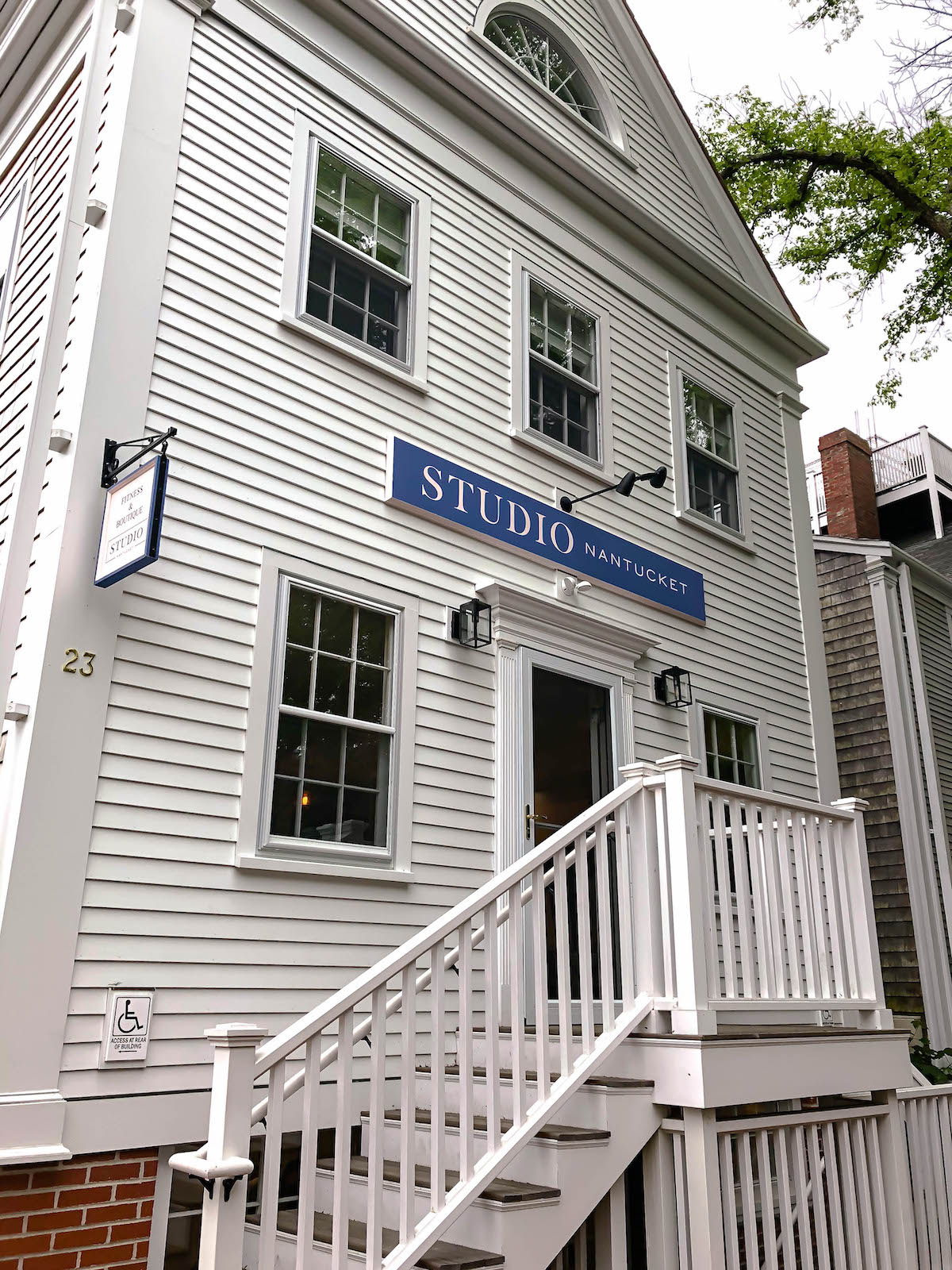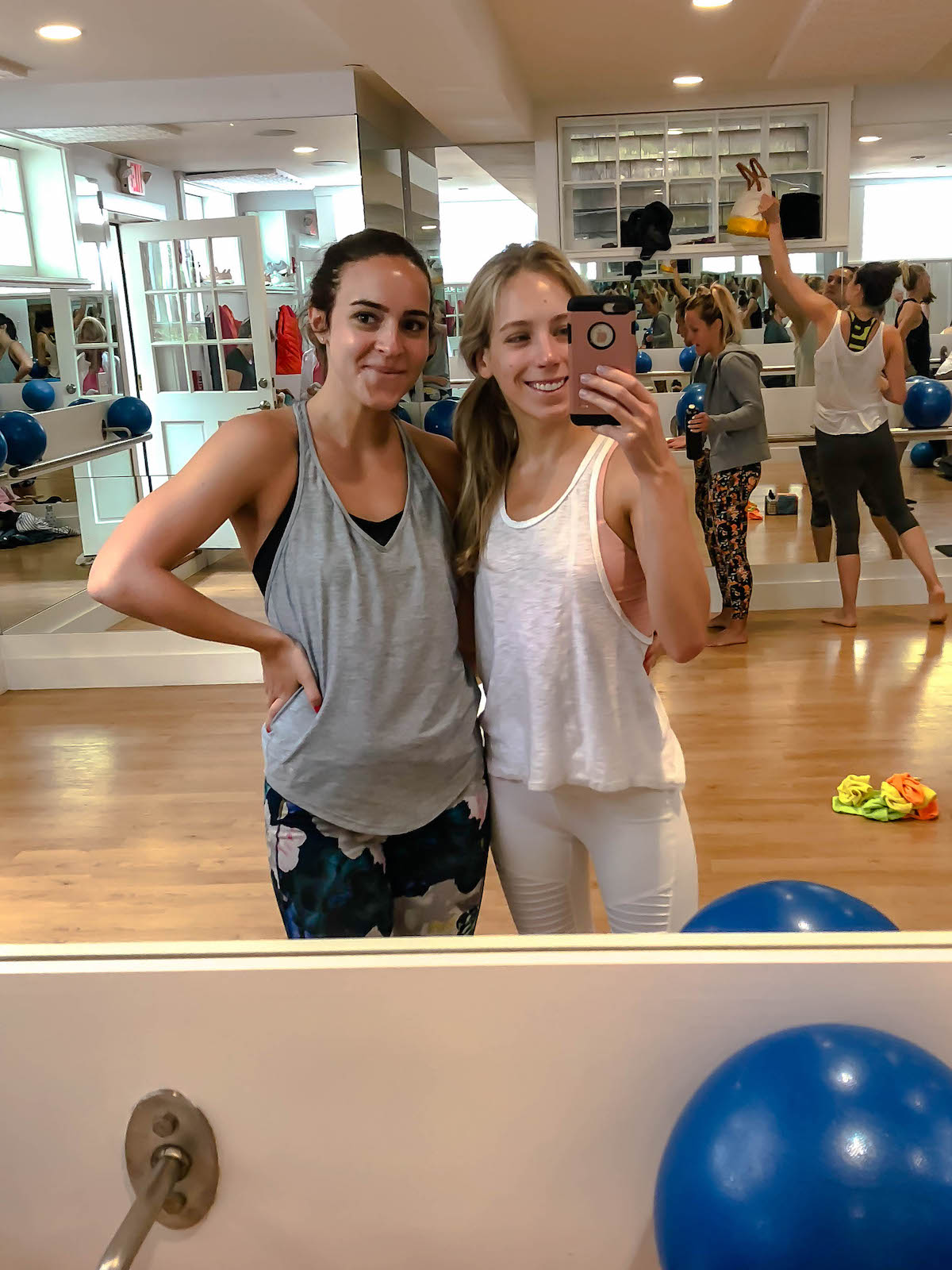 SIGHTSEE IN SCONSET
The pictures speak for themselves. Sconset is something out of storybook and home to Sankaty Head lighthouse. Note: it's on the other side of the island not walking distance from downtown. Biking is possible, however I'd recommend taking a taxi or renting a scooter/car.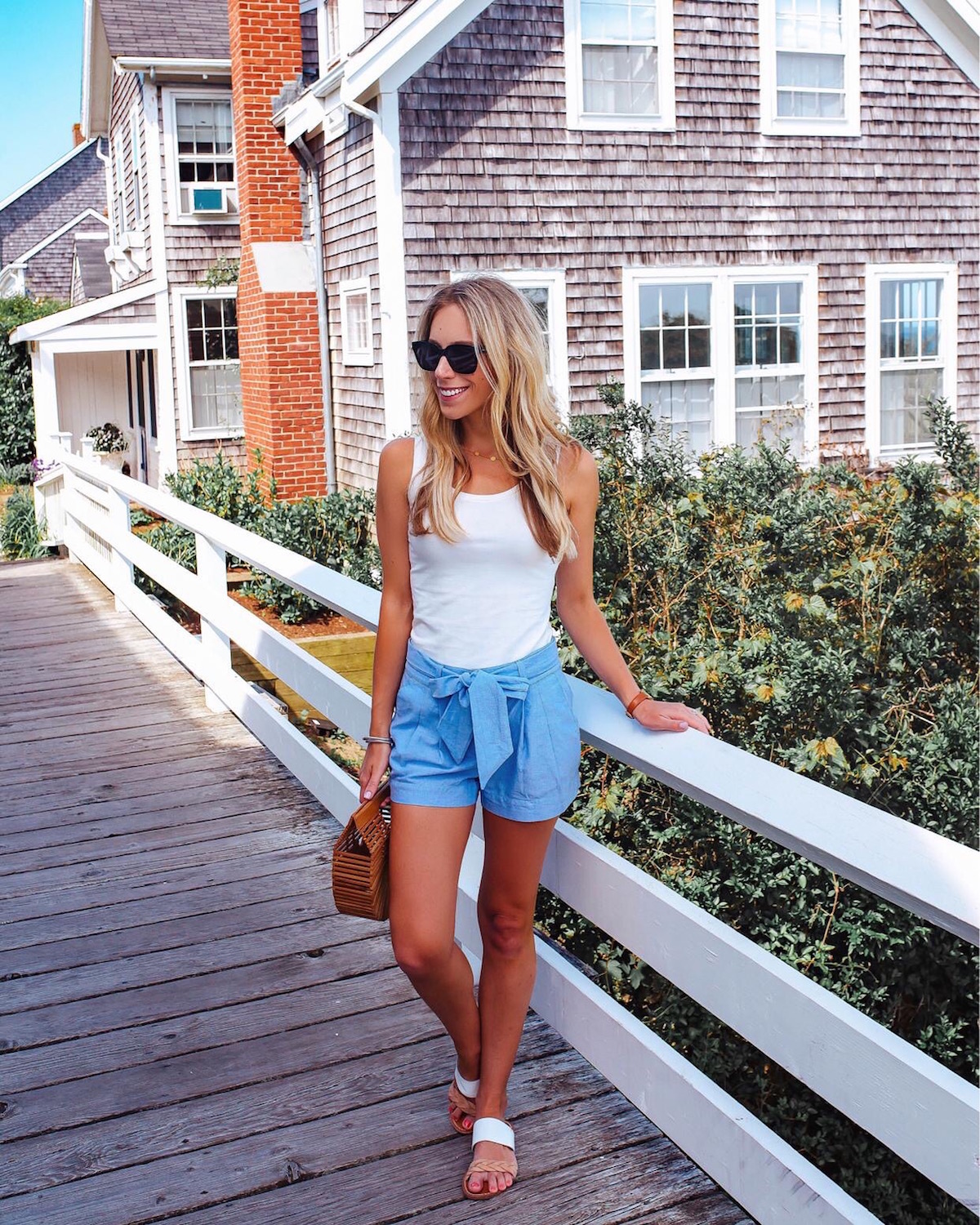 OUTFIT DETAILS // Bow Shorts |  Tank Top | Cult Gaia Handbag | Sandals | Sunglasses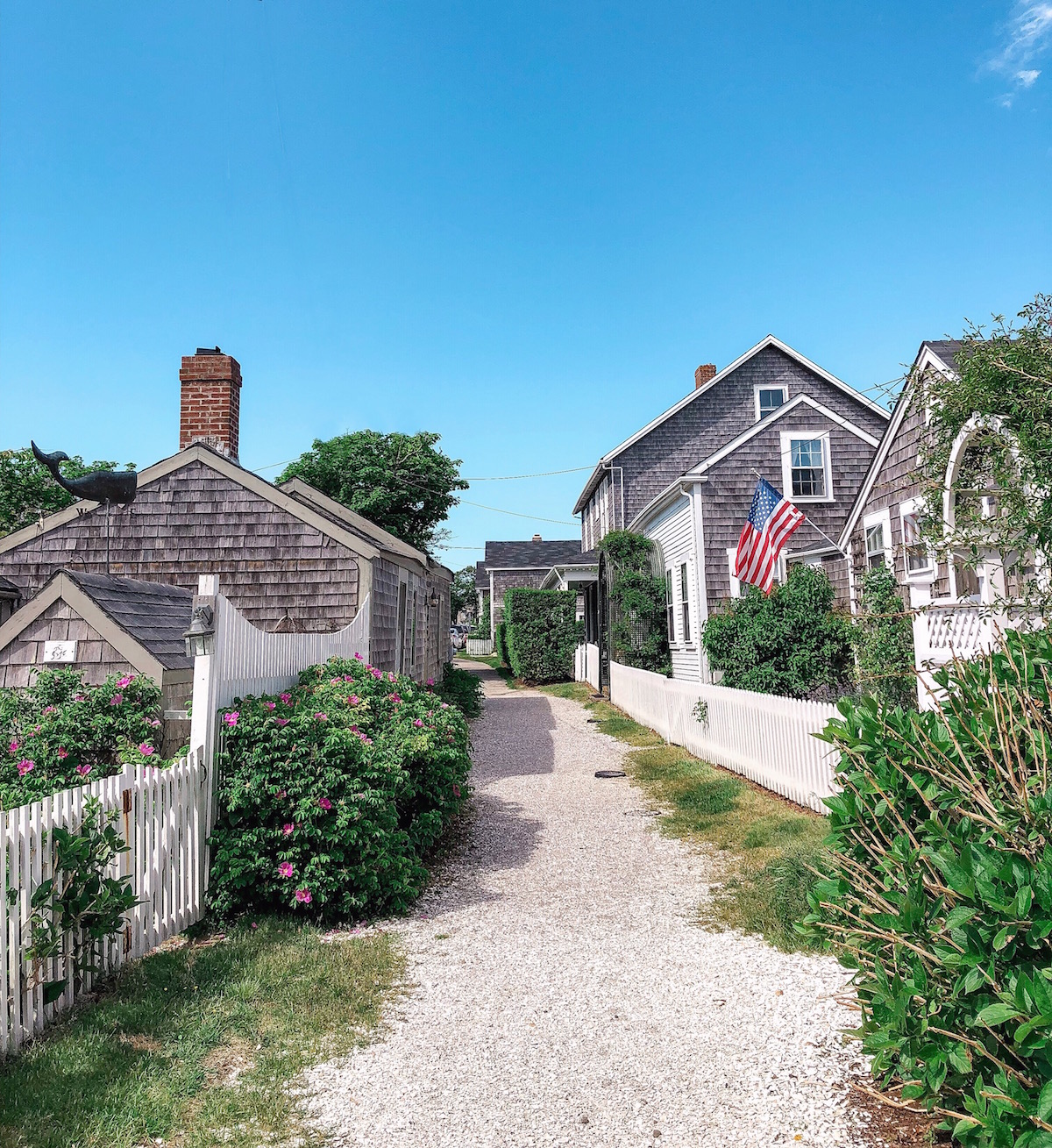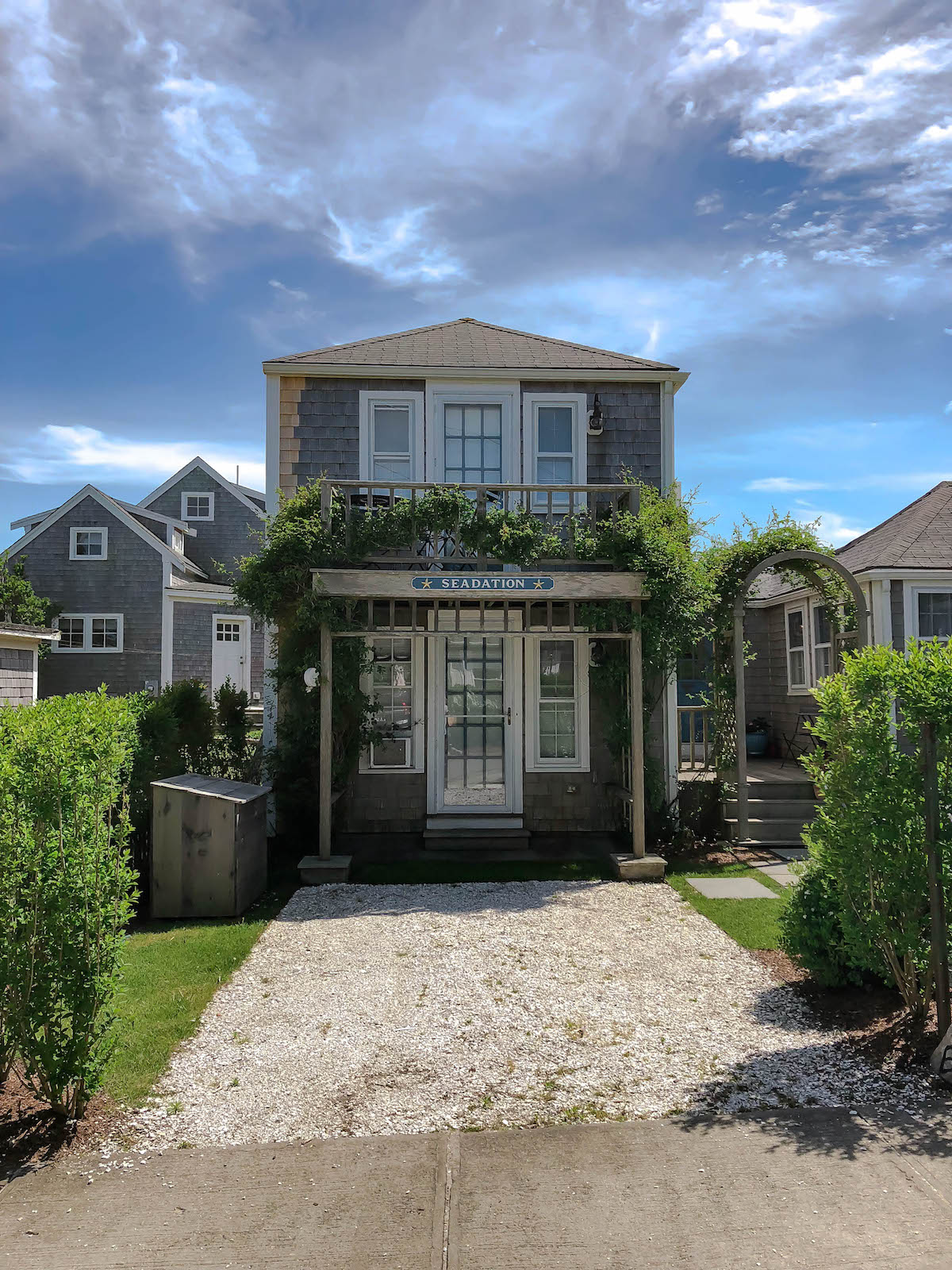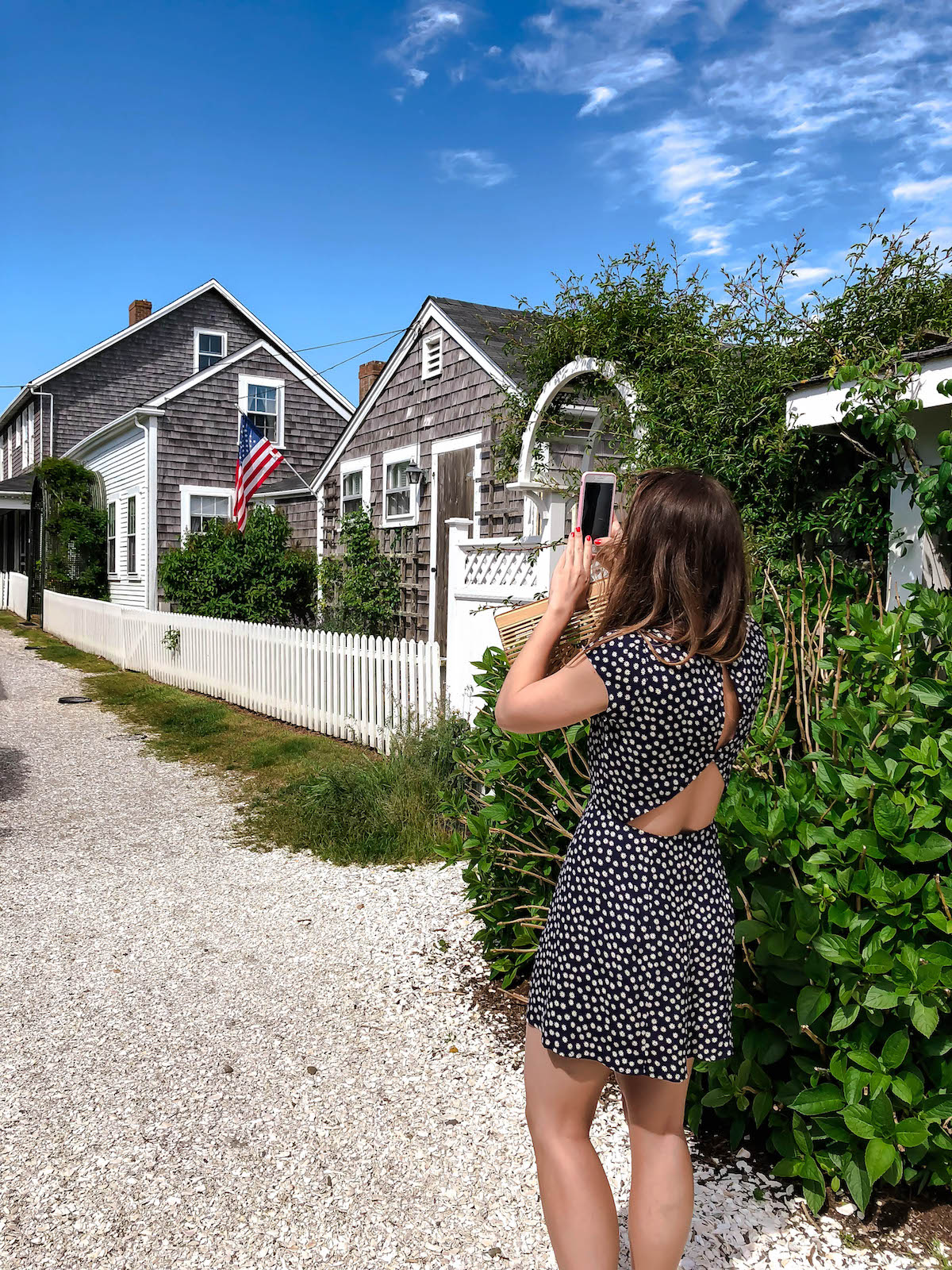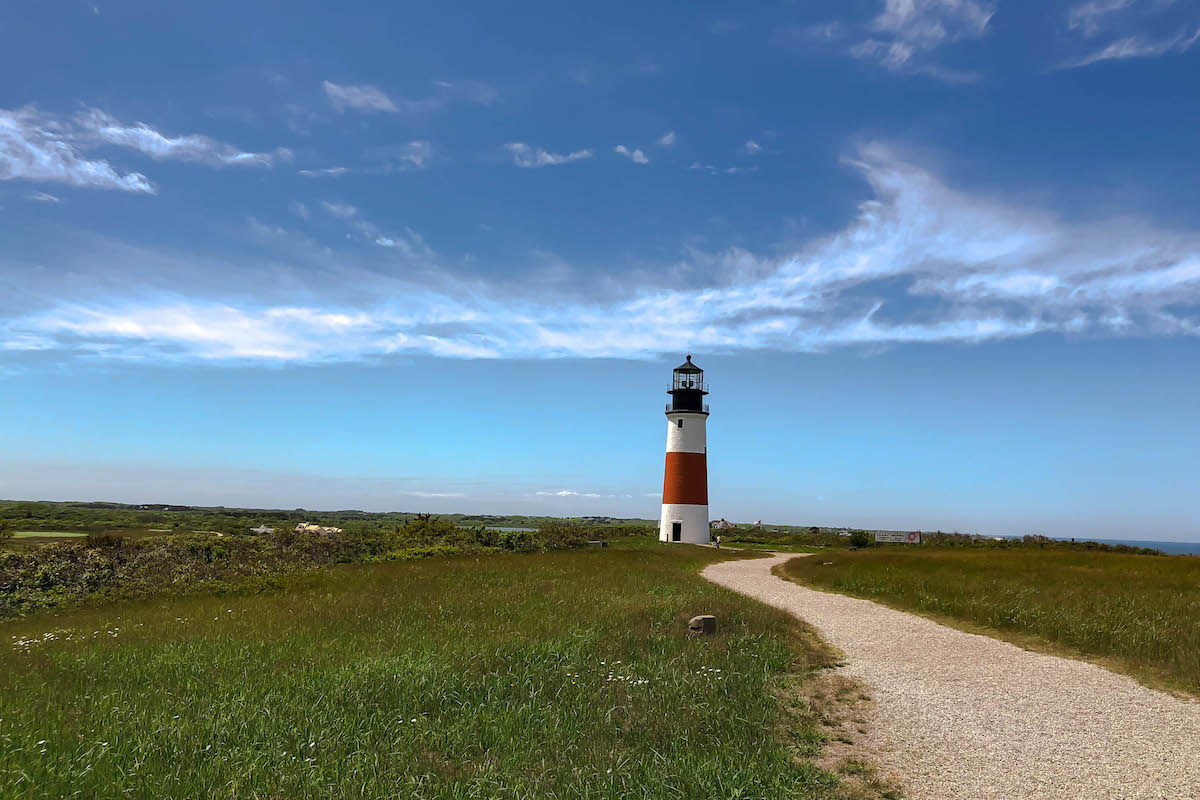 HIT THE BEACH
Nantucket beaches aren't your typical lay out in the sun and prance in a bikini beaches. Every time I've been to one I've had to wear a sweatshirt, but they are wonderful all the same. There are a number of beaches on Nantucket so I'm not going to pretend like I'm an expert on the best ones, though I did enjoy biking out to Cisco Beach when I was there in July. The dunes were something else and that fog– beautiful!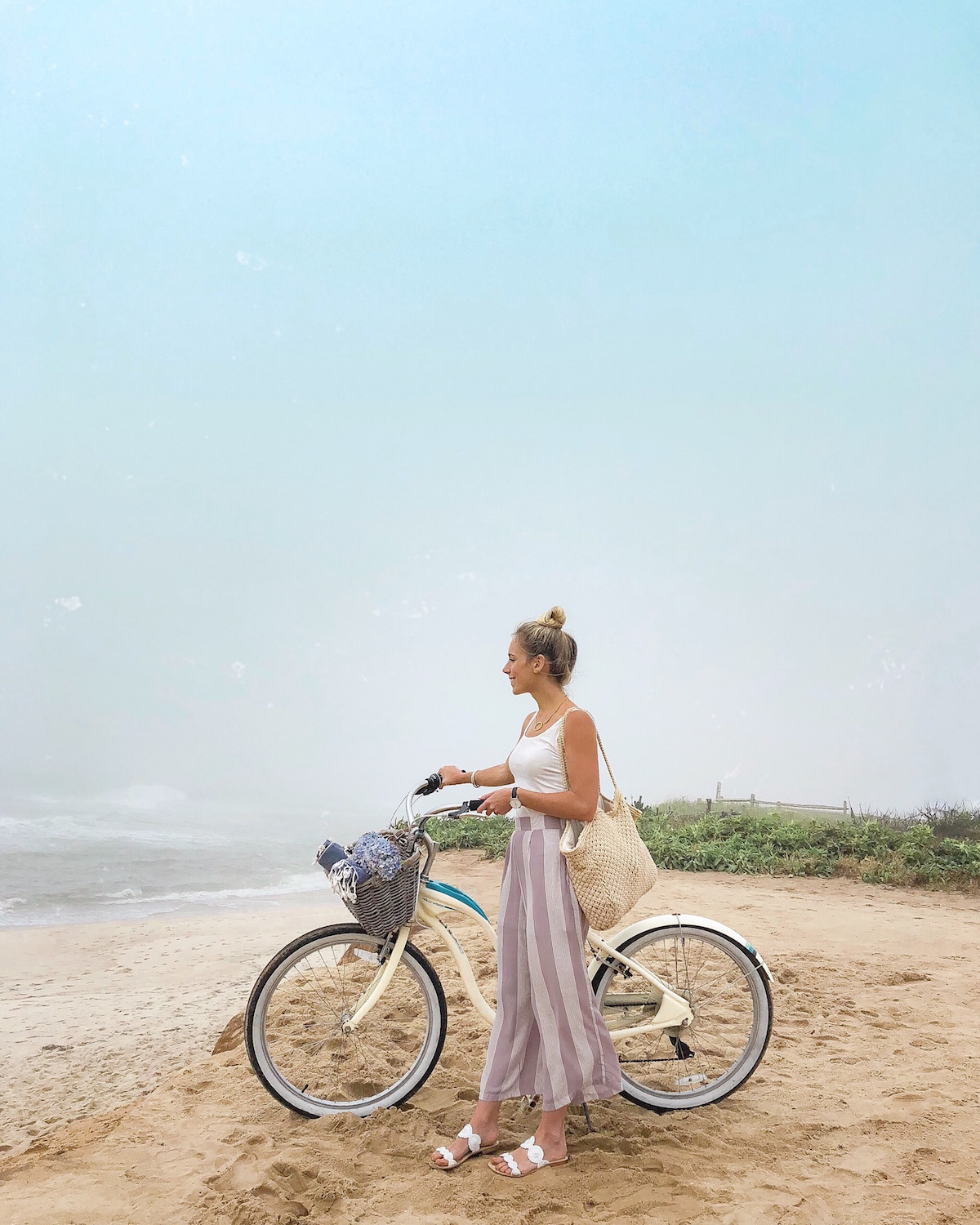 OUTFIT DETAILS // Stripe Pants | Tank Top | Sandals | Similar Tote
- Katie