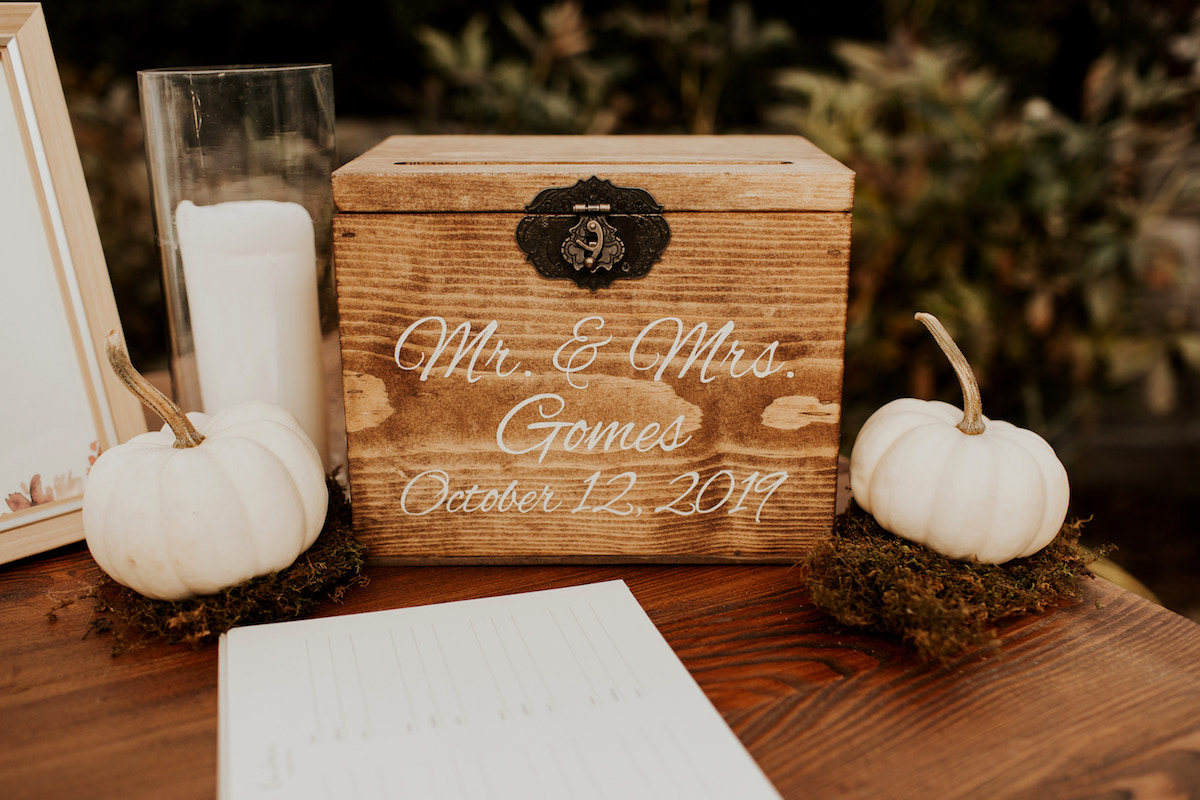 After spending nearly a year and half blogging about wedding planning, it feels so surreal to finally be able to share actual pictures from the big day! Our wedding photographer Sarah is a total gem and sent me a bunch of sneak peek photos yesterday from our rehearsal dinner and reception, I couldn't resist revealing a few of them here. Just seeing our card box with my new last name and the cornhole boards that were a huge hit with our guests brings back such a flood of wonderful memories.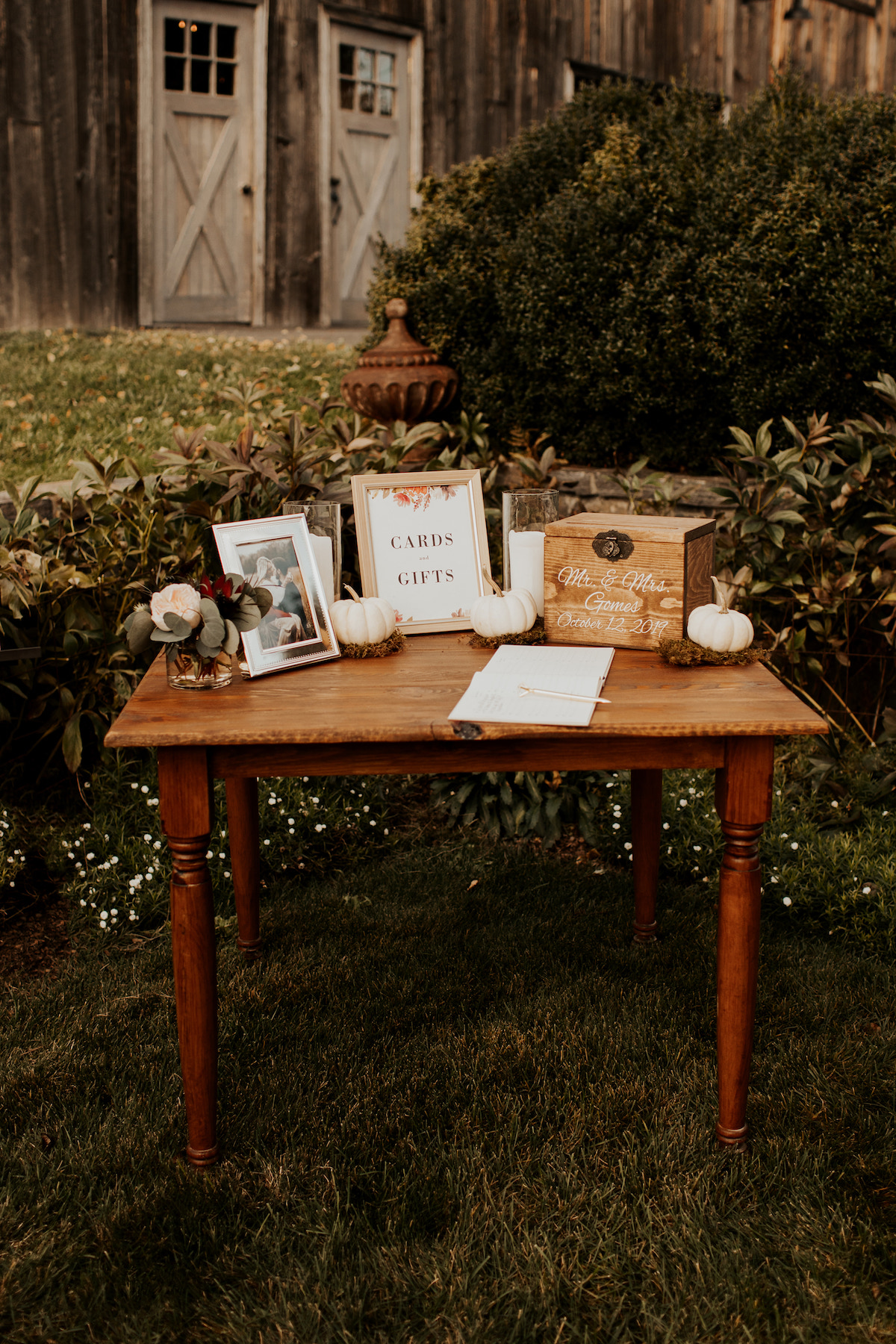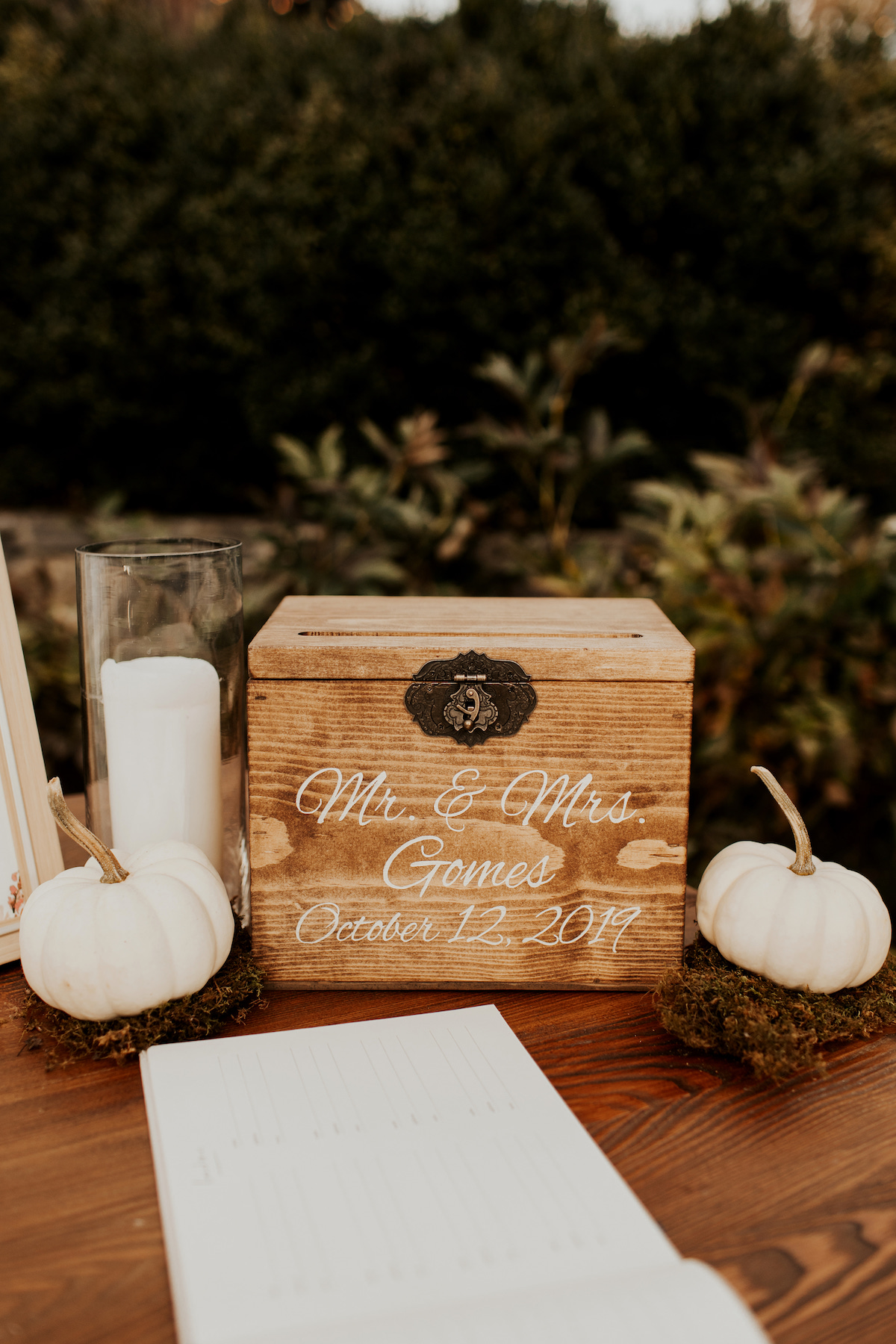 AMAZON HANDMADE FIND // Personalized Wedding Card Box
While I wait on our full photo gallery, I thought it would be fun to kickoff my wedding reveals with details on where we purchased some of our personalized decor and favors. As we neared the big day there were still a few little custom items that we needed: individual bags for the apple cider donuts we planned on giving as take home favors, cocktail napkins, rehearsal dinner games and reception table numbers. You know… the random things that you don't realize are necessary until the last second 😛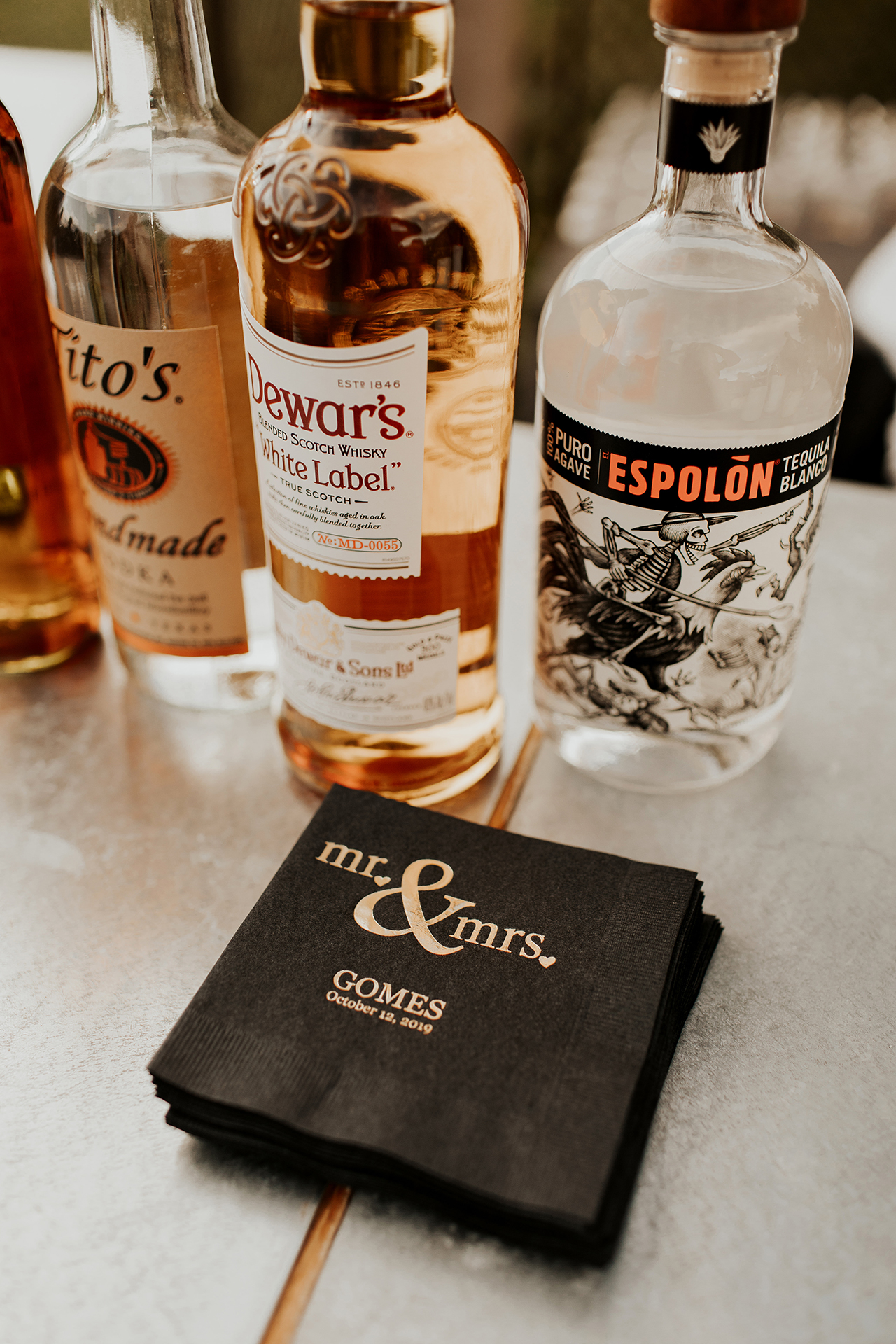 AMAZON HANDMADE FIND // Personalized Cocktail Napkins
How cute are these custom napkins? I purchased these in bulk for a very affordable price.
Y'all of course know all about Amazon.com, but have you ever heard of Amazon Handmade? It's a section on Amazon.com where you can shop for all kinds of unique products from local artisans to small business owners across the globe. I'm talking decor, custom signage, paper products, jewelry, artwork and candles. All of these items and more can be found on Amazon Handmade often at a price that's much more affordable than if you were renting or custom ordering from a name brand.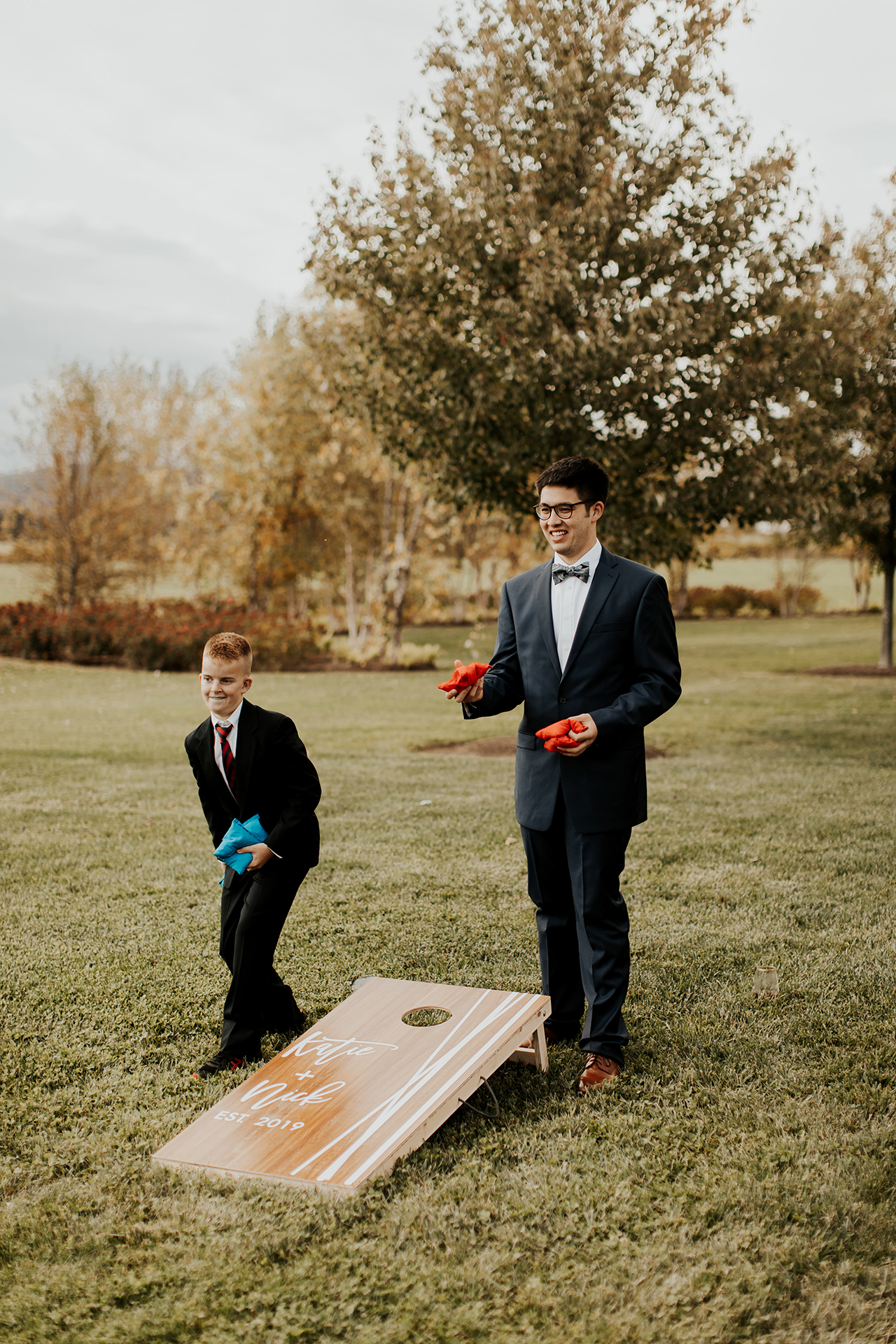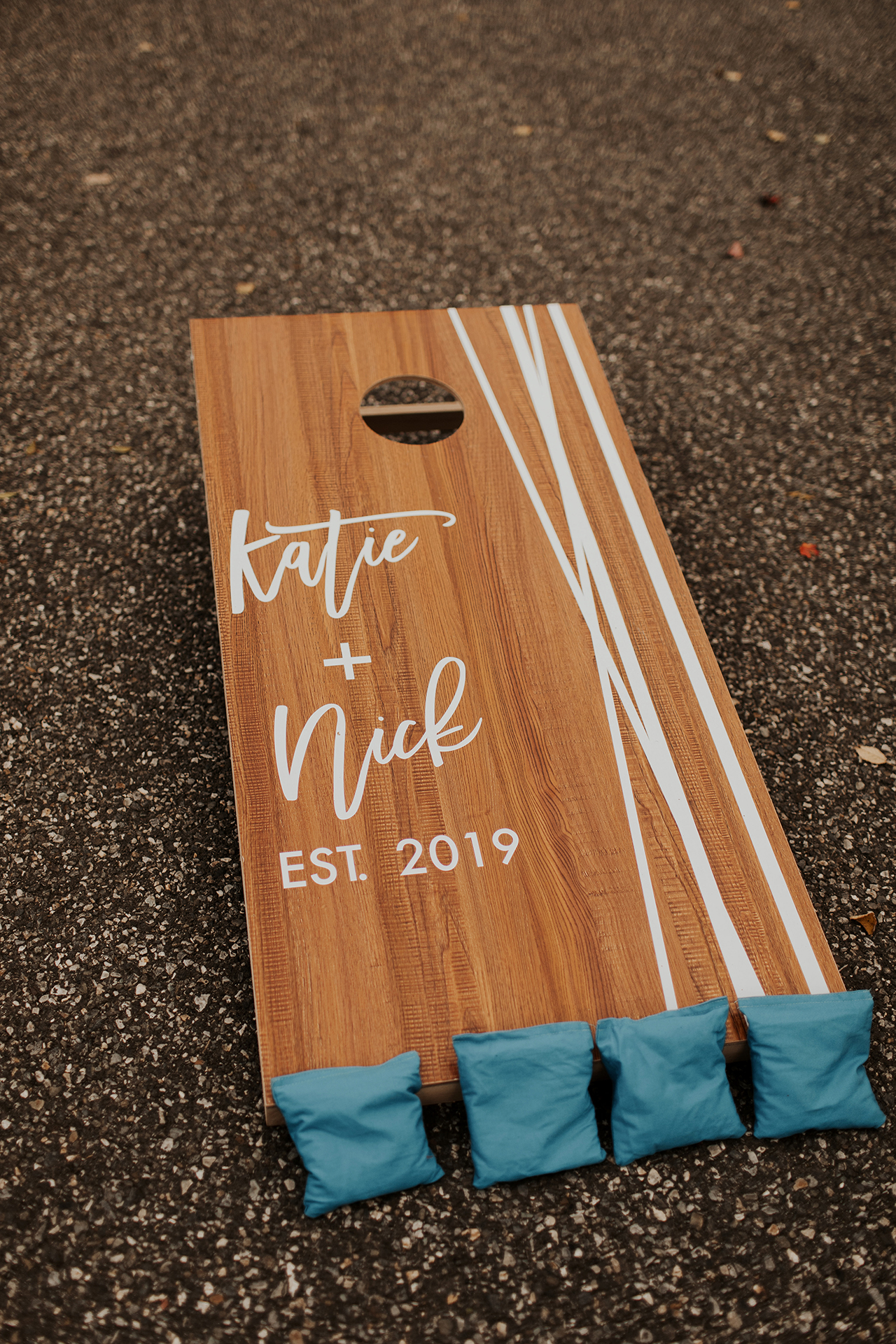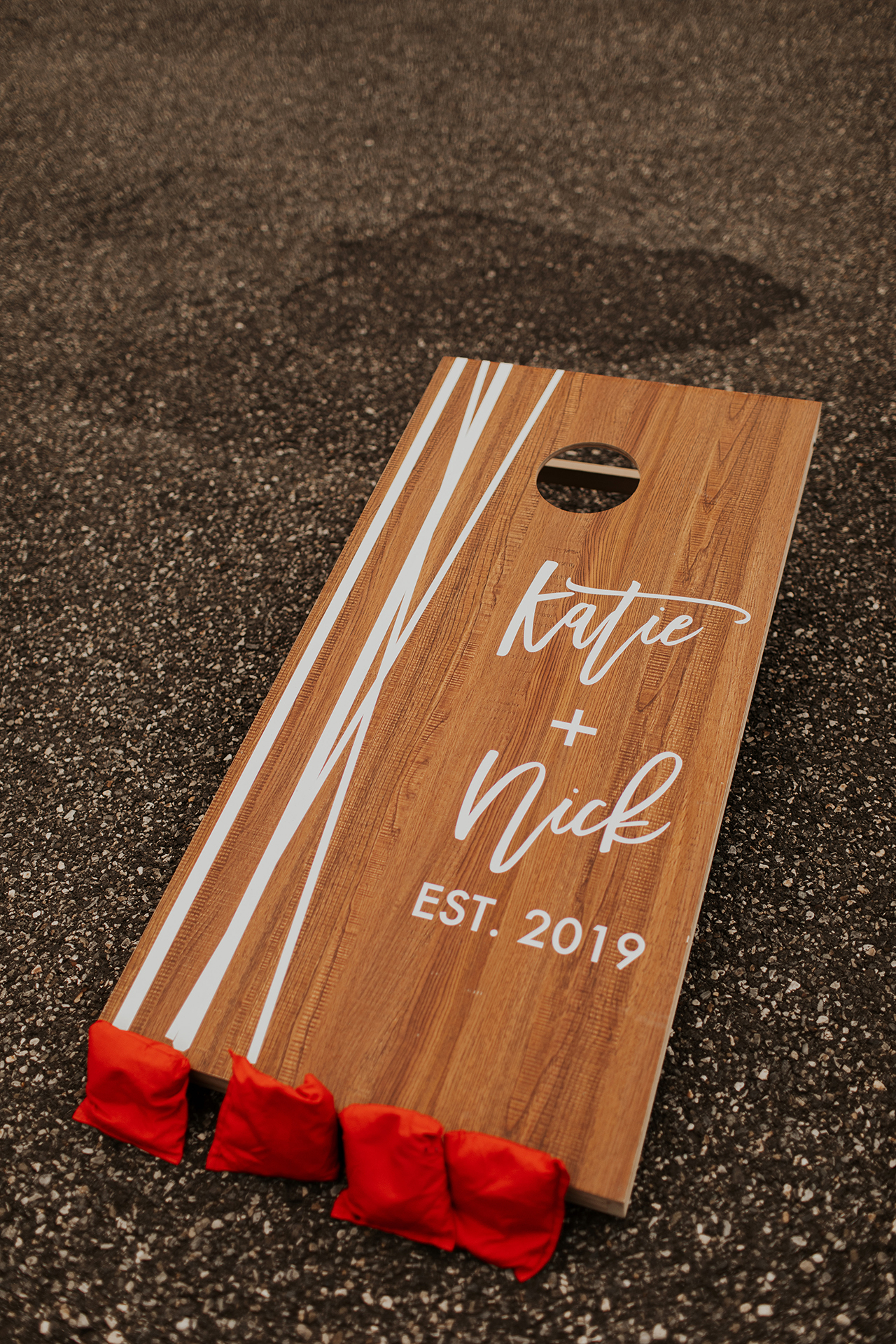 AMAZON HANDMADE FIND // Wood Cornhole Set + Custom Vinyl Decals
I searched far and wide for a custom cornhole set, but everything was either crazy expensive or would take too long to make. On Amazon Handmade I found the perfect solution: custom vinyl decals. These shipped so fast and easily adhere to any wood cornhole board! Our guests were obsessed!
Since these last few things were all quite small (in the grand scheme) I wanted to be wise with my spending, but at the same time I still hoped to have some element of personalization. Thanks to Amazon Handmade I was able to find exactly what I was looking for all in one place. I shop on Amazon.com nearly every week so the ordering process was a piece of cake. I also really liked knowing that I was purchasing products from a small business.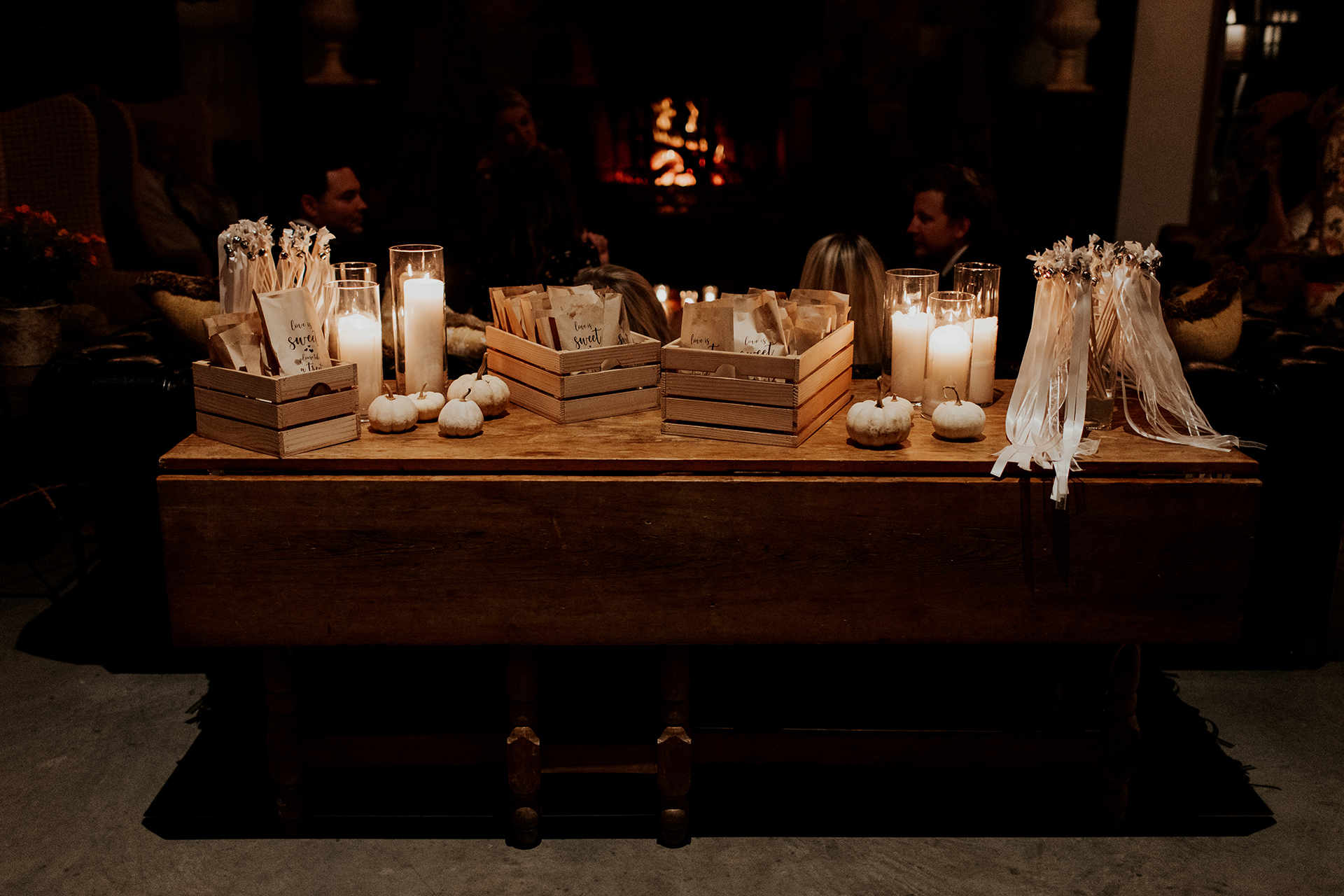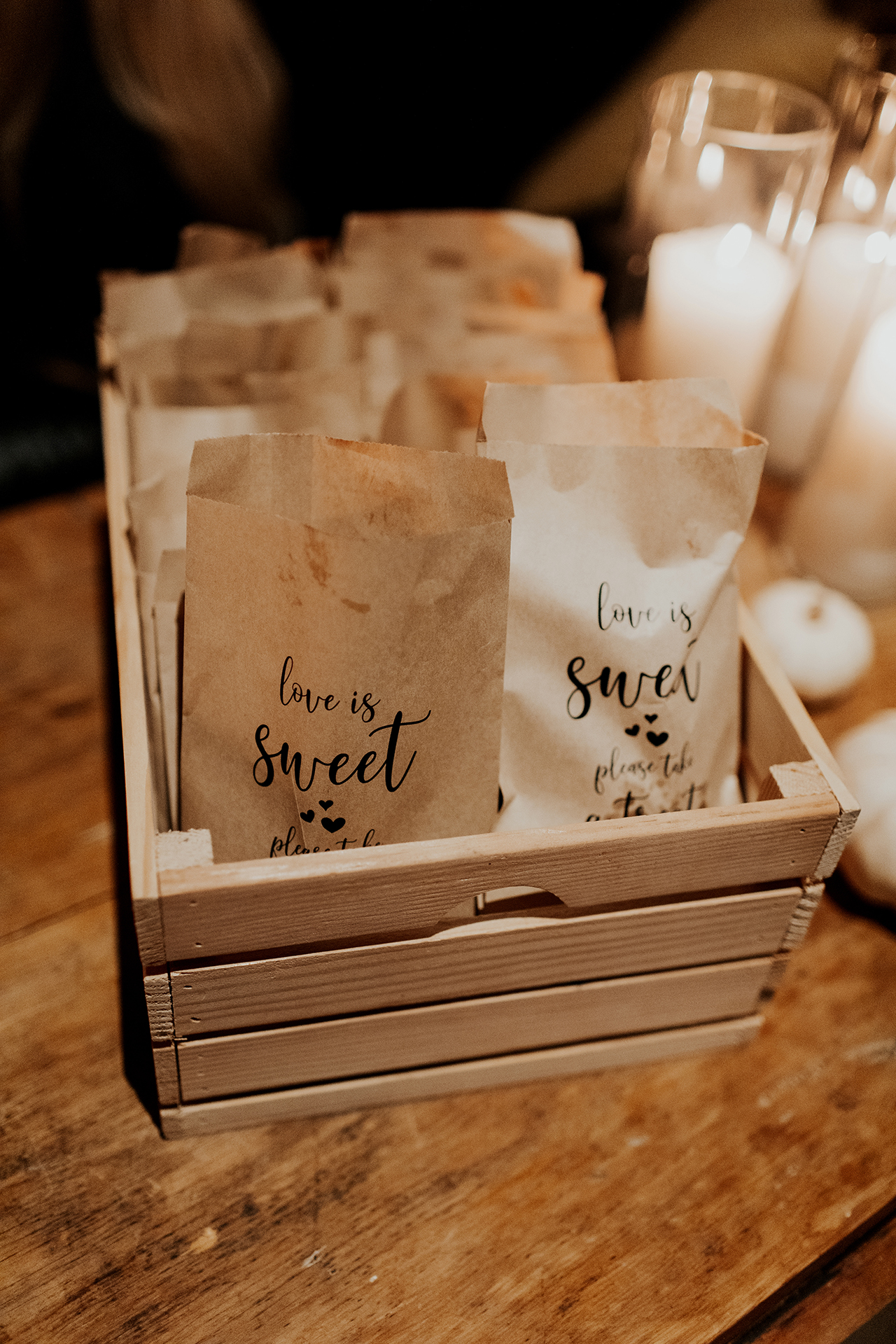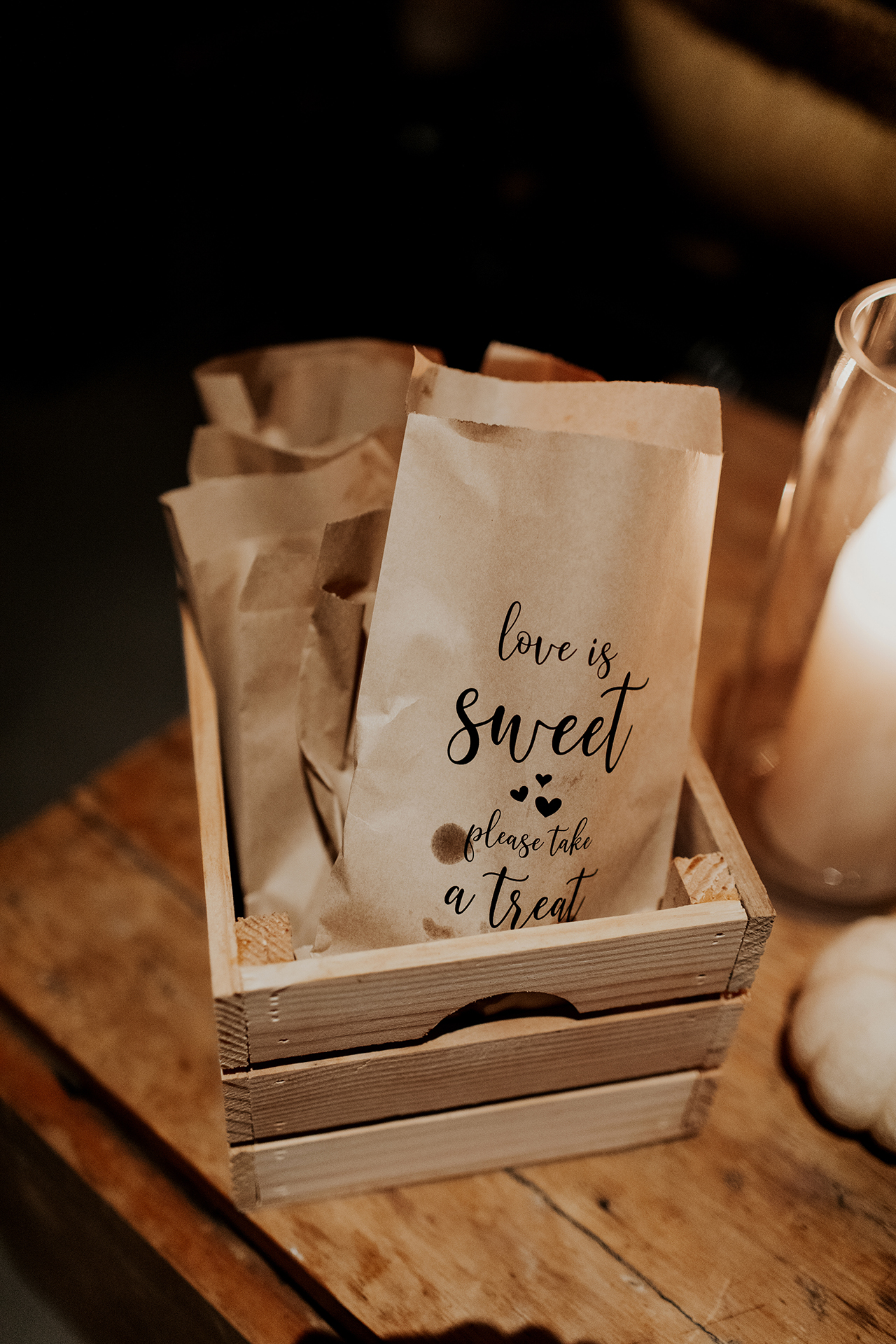 AMAZON HANDMADE FINDS // Rustic Wood Crates + Wedding Favor Treat Bag
I'm excited to repurpose these wood crates as home decor though I can't say the same for our donut bags– those were gone in a flash! 😛

The only thing I would point out is that most Amazon Handmade products are only eligible for standard shipping– not Prime. That said, nearly everything I ordered was at my door within one business week. As long as you don't wait until the last second you're golden! Totally worth it for something sweet and custom 🙂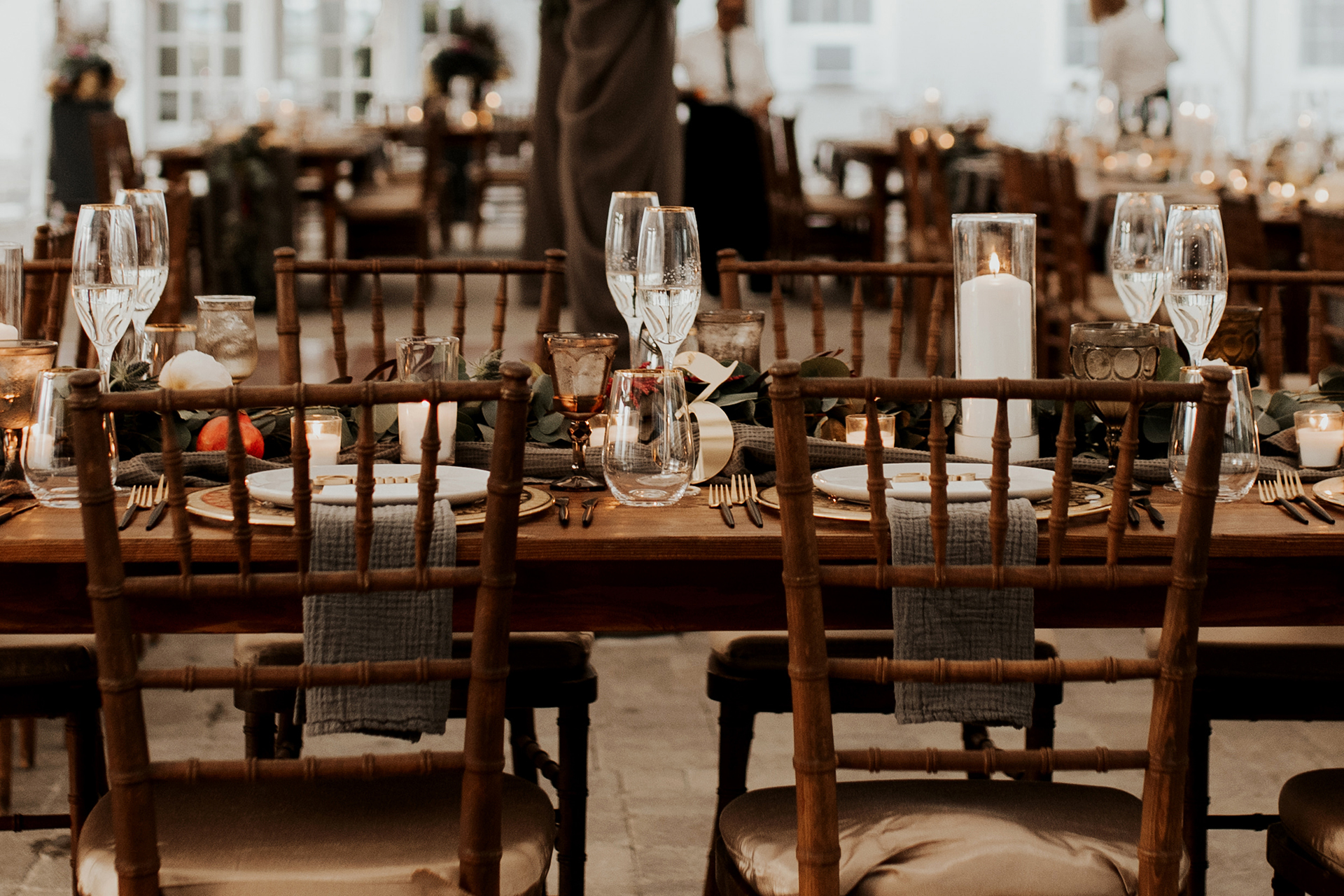 AMAZON HANDMADE FINDS // Gold Table Numbers
To make life easy we were originally just going to rent table numbers, but we quickly changed our minds when we saw what our vendor was charging. These acrylic numbers were a fraction of the cost of what we would've paid to rent! So crazy! 
This is only a glimpse of what I have planned to share from our wedding. Lots more to come!!!
MORE WEDDING POSTS
Fall Barn Rehearsal Dinner
Getting Ready Photos
My Wedding Gown + First Look Photos
Our Ceremony + Bridal Party Portraits
Cocktail Hour + Wedding Reception
Big thank you to Amazon Handmade for sponsoring this post!
- Katie