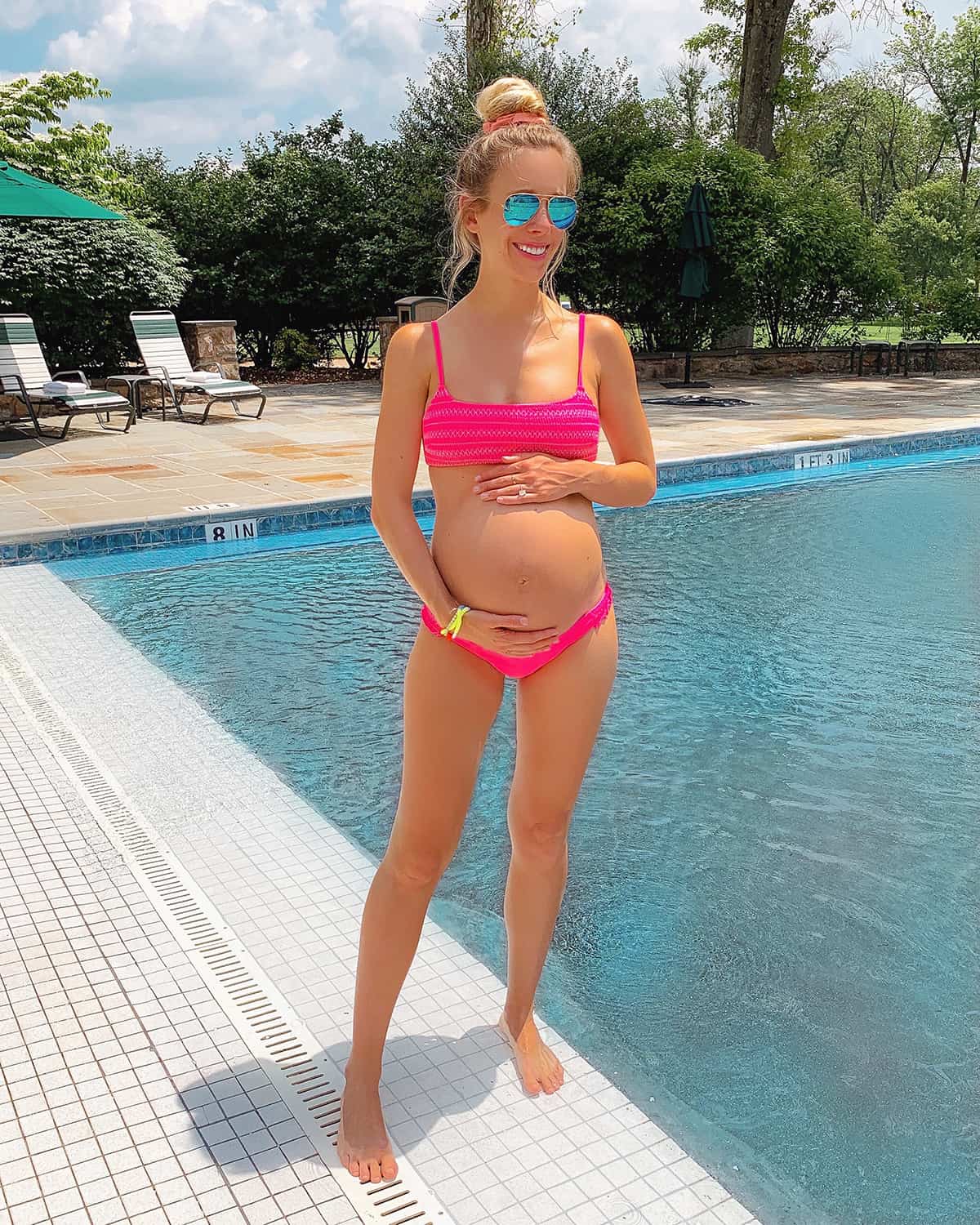 SWIM DETAILS // Bikini Top (20% off right now!) | Bikini Bottoms (on sale for $11!) | Sunglasses | Bracelets
Sun's out, bump's out! This is the motto I've been living by on weekends now that summer is here and baby boy's arrival is getting closer. At the start of my pregnancy journey, I was unsure how I was going to feel about having a big 'ole bump during the dog days of summer, but so far I've really been enjoying rocking swimwear with my belly. If I'm being honest… It's kinda nice just letting things "all hang out" and not having to look bikini-ready– a pressure I always trend to impose on myself during the warmer months. I've been posting a lot of my recent swimwear finds on Instagram, but thought I'd share here along with info on the stores where I've been shopping for bump-friendly affordable swimsuits.
ASOS
For years ASOS has been one of my go-to stores for reasonably-priced cocktail dresses and vacation wear, but now it's one of the first spots I turn for anything bump-friendly. I've been finding so many incredible steals here–particularly swimsuits! The selection can be a little overwhelming, but if you take the time to page through the options you can really find some gems.
In terms of sizing, I've been ordering my normal pre-pregnancy size small/US 4 in bottoms. For tops? Depending on the reviews and size chart, I'll either get my normal small or size up to medium/US 6. PS ASOS has a really cute maternity line too!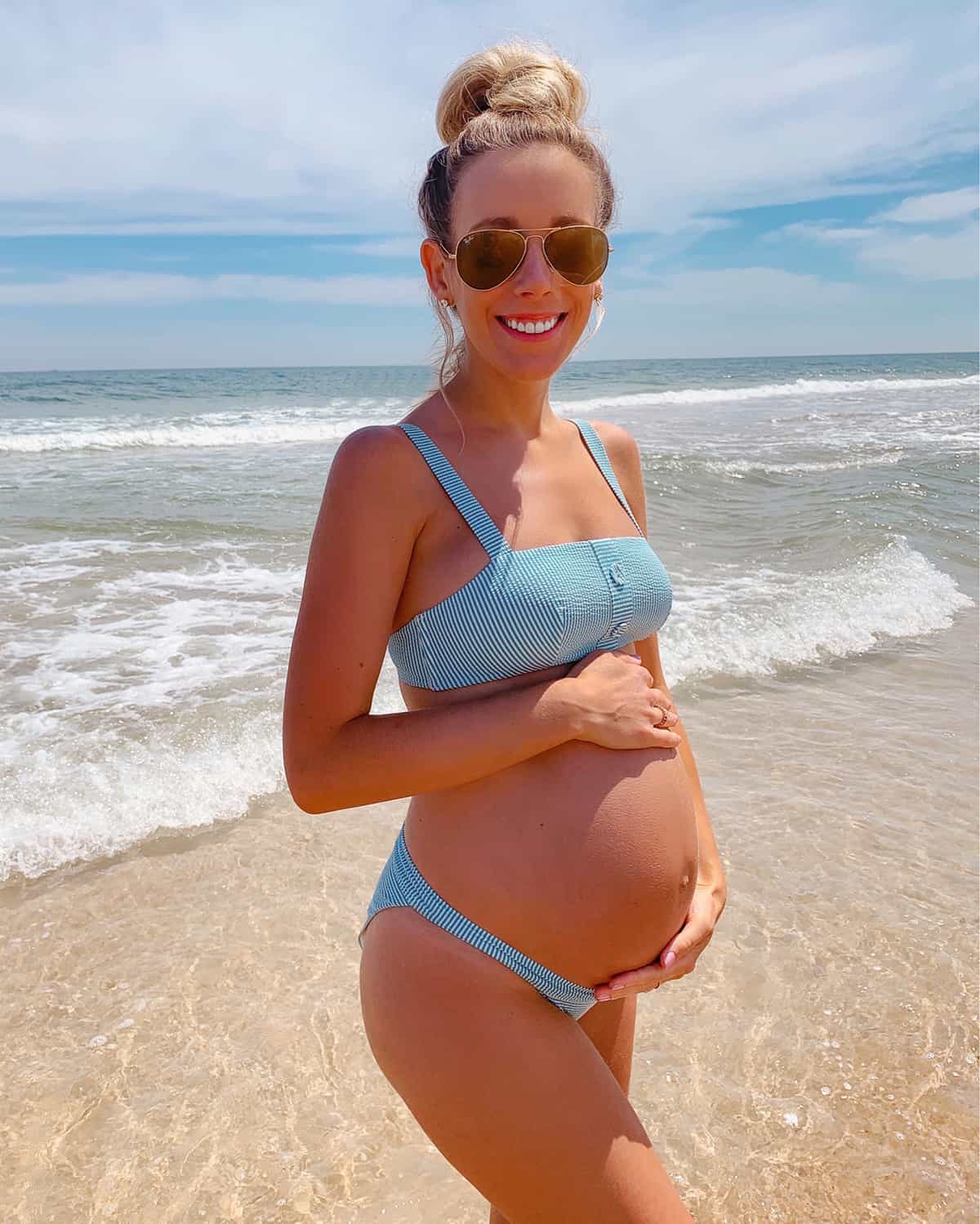 OUTFIT DETAILS // Stripe Bikini Top (45% off) | Stripe Bikini Bottoms (less than $15!) | Aviator Sunglasses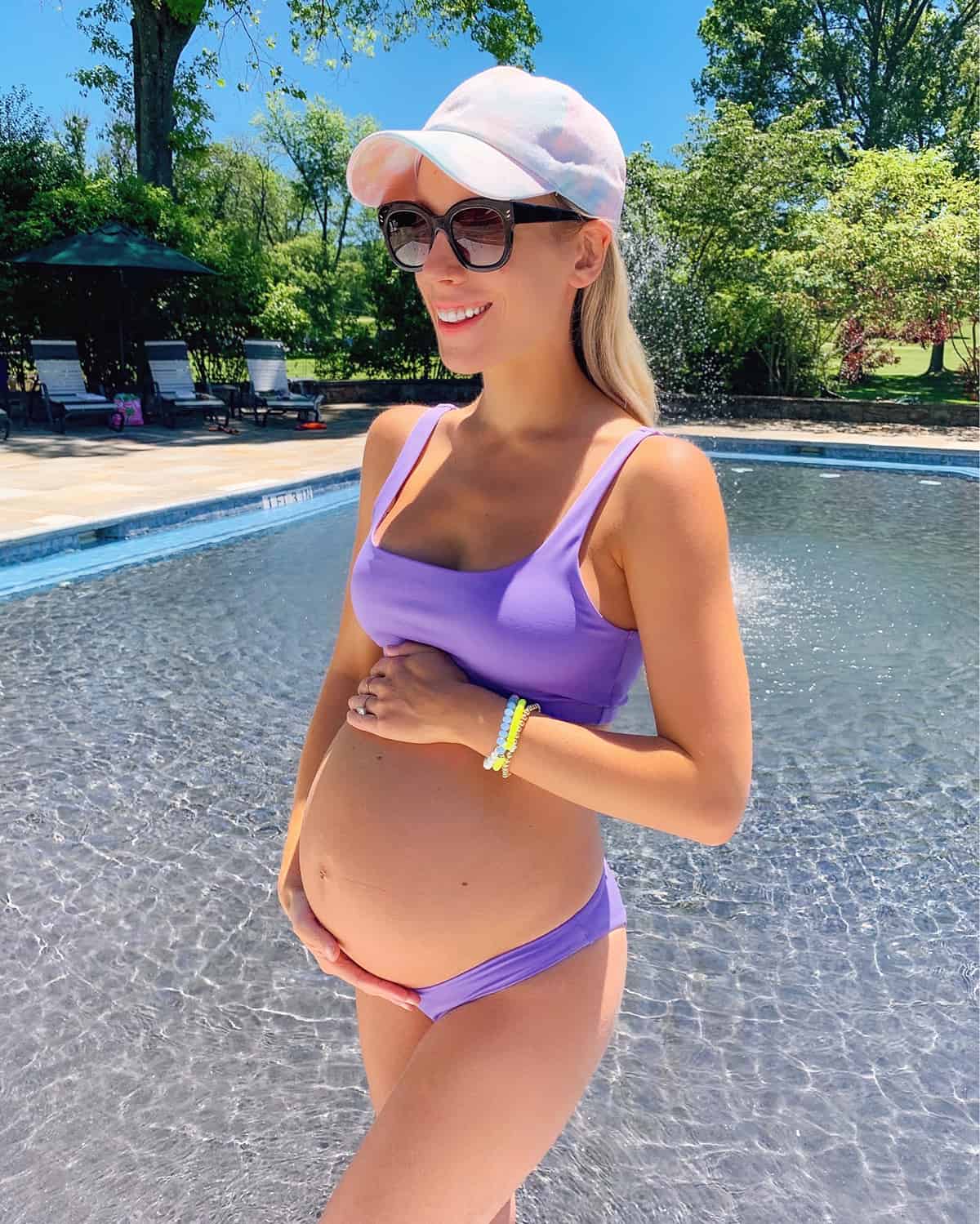 OUTFIT DETAILS // Scoop Neck Bikini Top (similar fully-stocked top) | Bikini Bottoms (only $13!) | Similar Sunglasses | Hat | Bracelets 

AMAZON
Amazon has some great inexpensive swimwear gems too. Especially one pieces! I ordered a bunch of non-maternity styles right before our honeymoon and was pleased to discover they all work with my bump! Whats great about the swimwear on Amazon is that each suit typically comes in a TON of colors.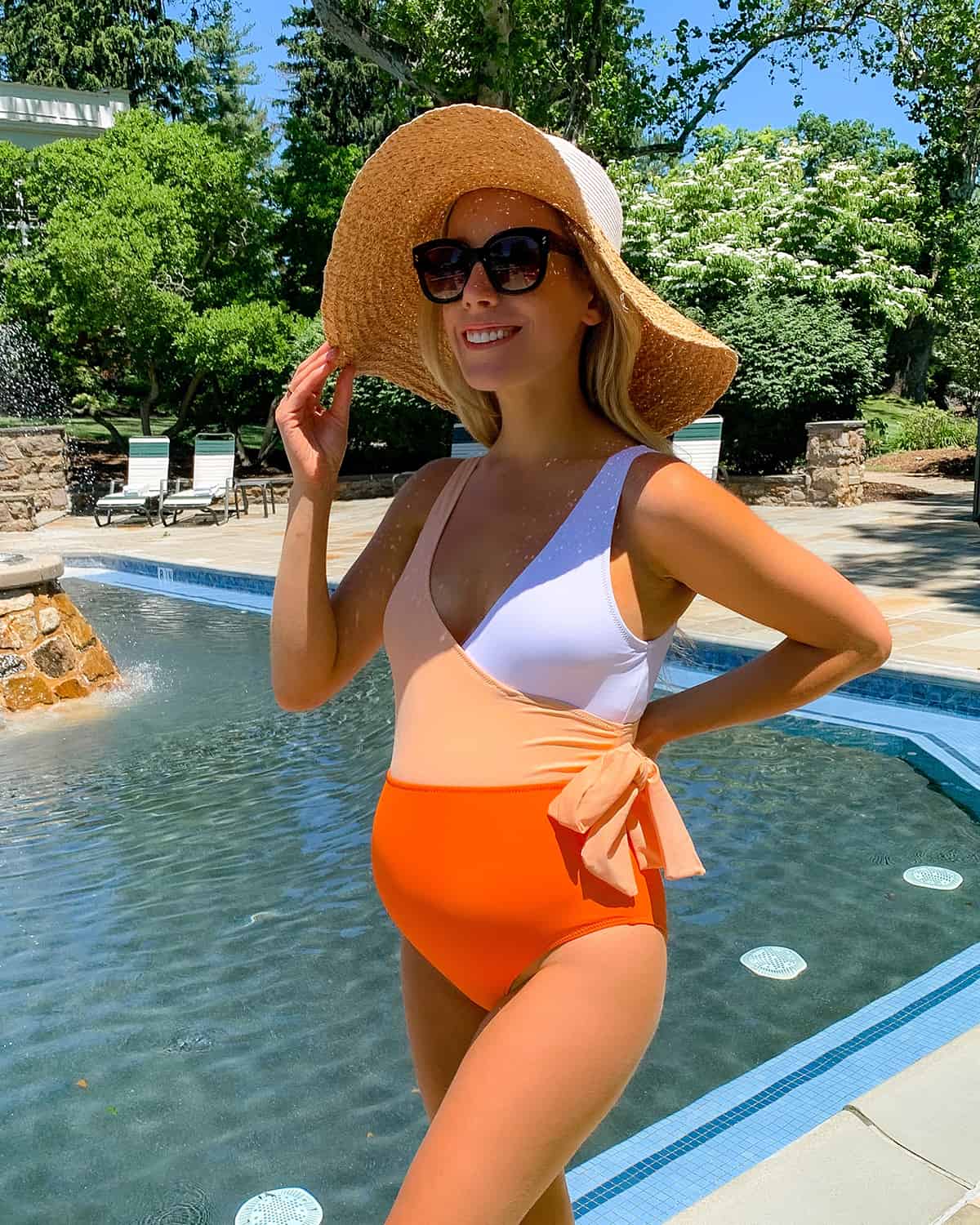 OUTFIT DETAILS // Colorblock One Piece (lots of colors!) | Similar Sunglasses | Similar Sun Hat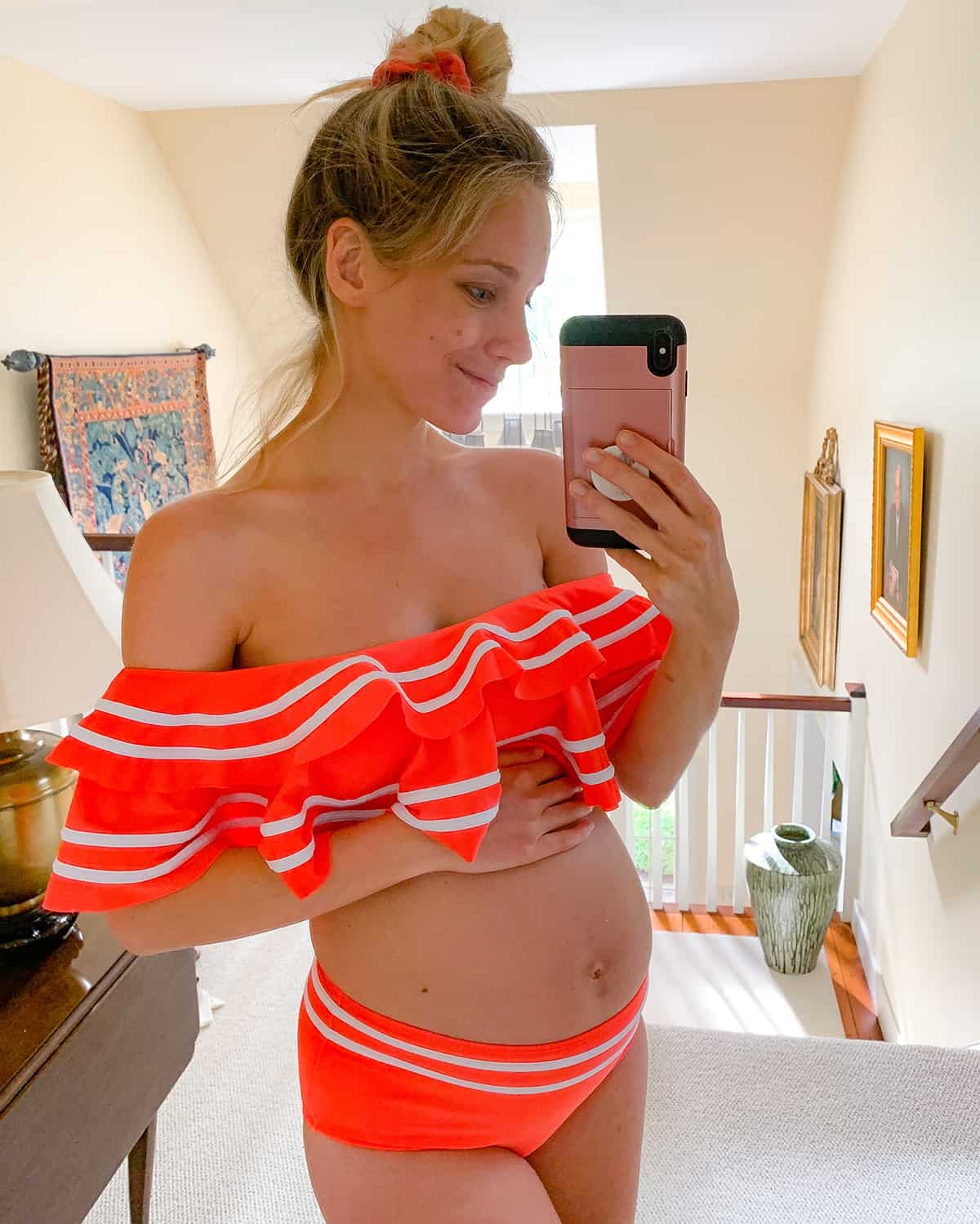 OUTFIT DETAILS // Ruffled Two Piece Bikini (lots of colors!)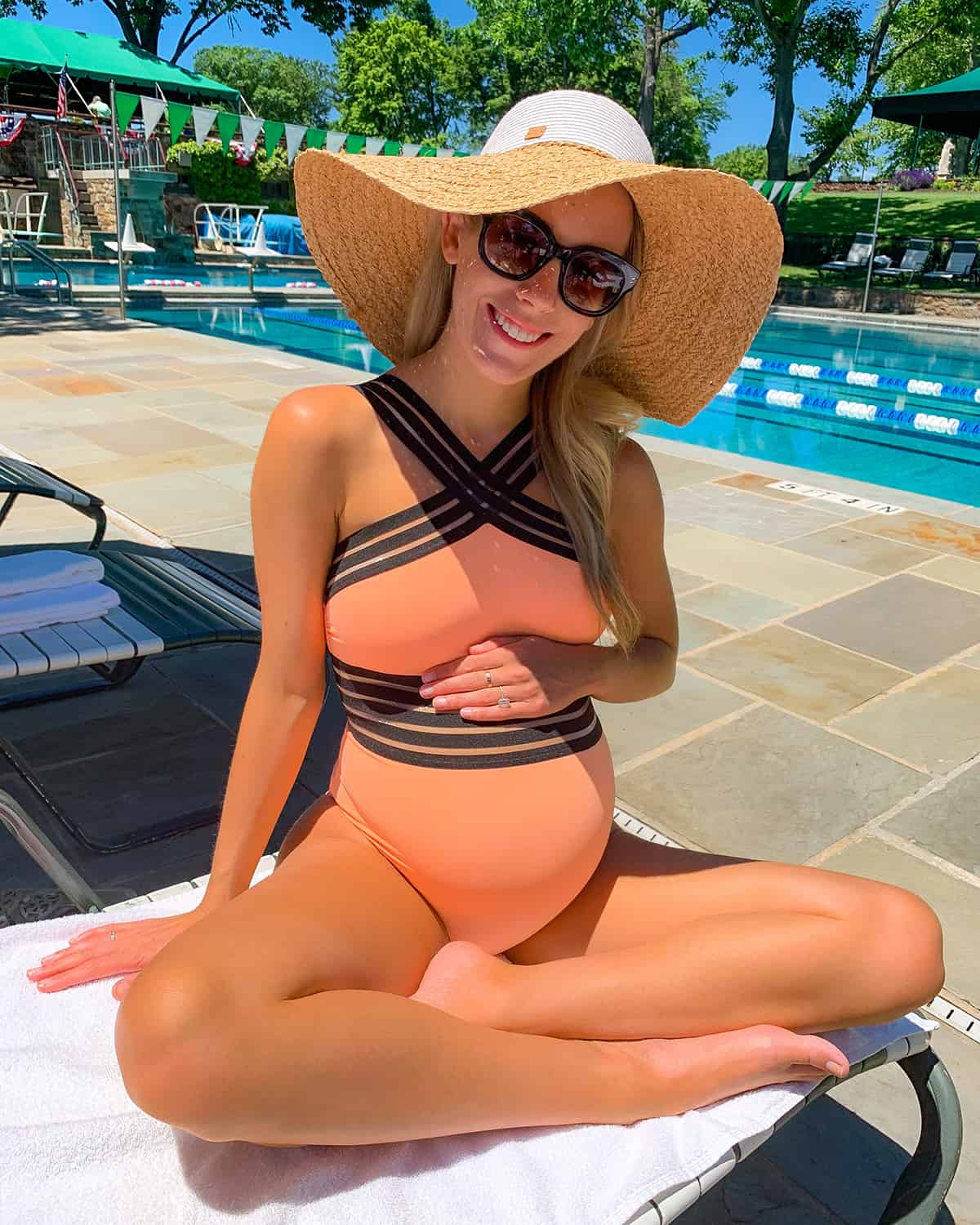 OUTFIT DETAILS // One Piece | Similar Sunglasses | Similar Sun Hat

EVERYTHING BUT WATER
Everything But Water has always been one of my favorite places to shop for swimwear because they have every brand under the sun. While some full-price styles skew on the pricey-end, it's definitely worth checking out the extensive sale section!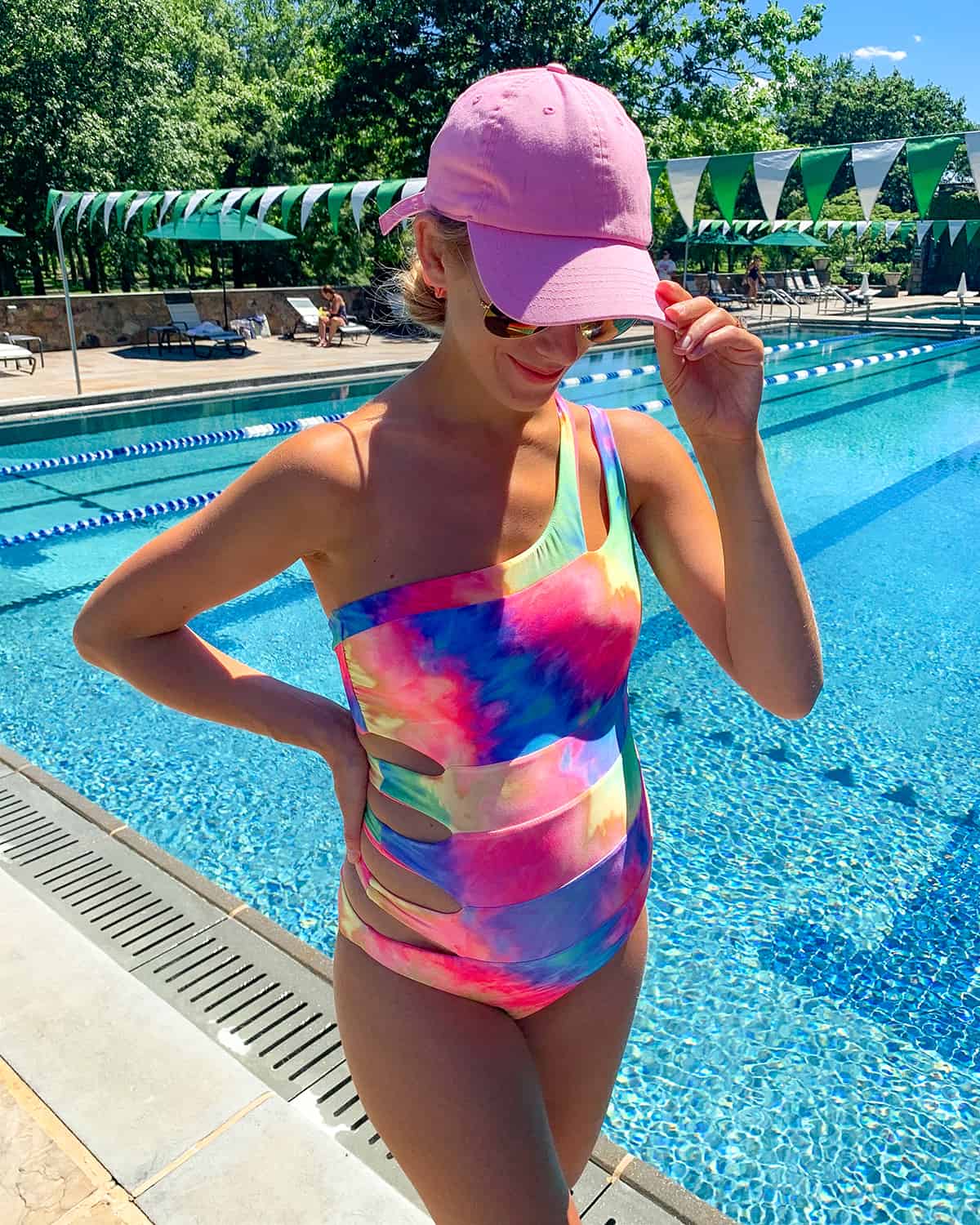 OUTFIT DETAILS // Reversible Tie-Dye One Shoulder Swimsuit | Baseball Hat (multiple colors!)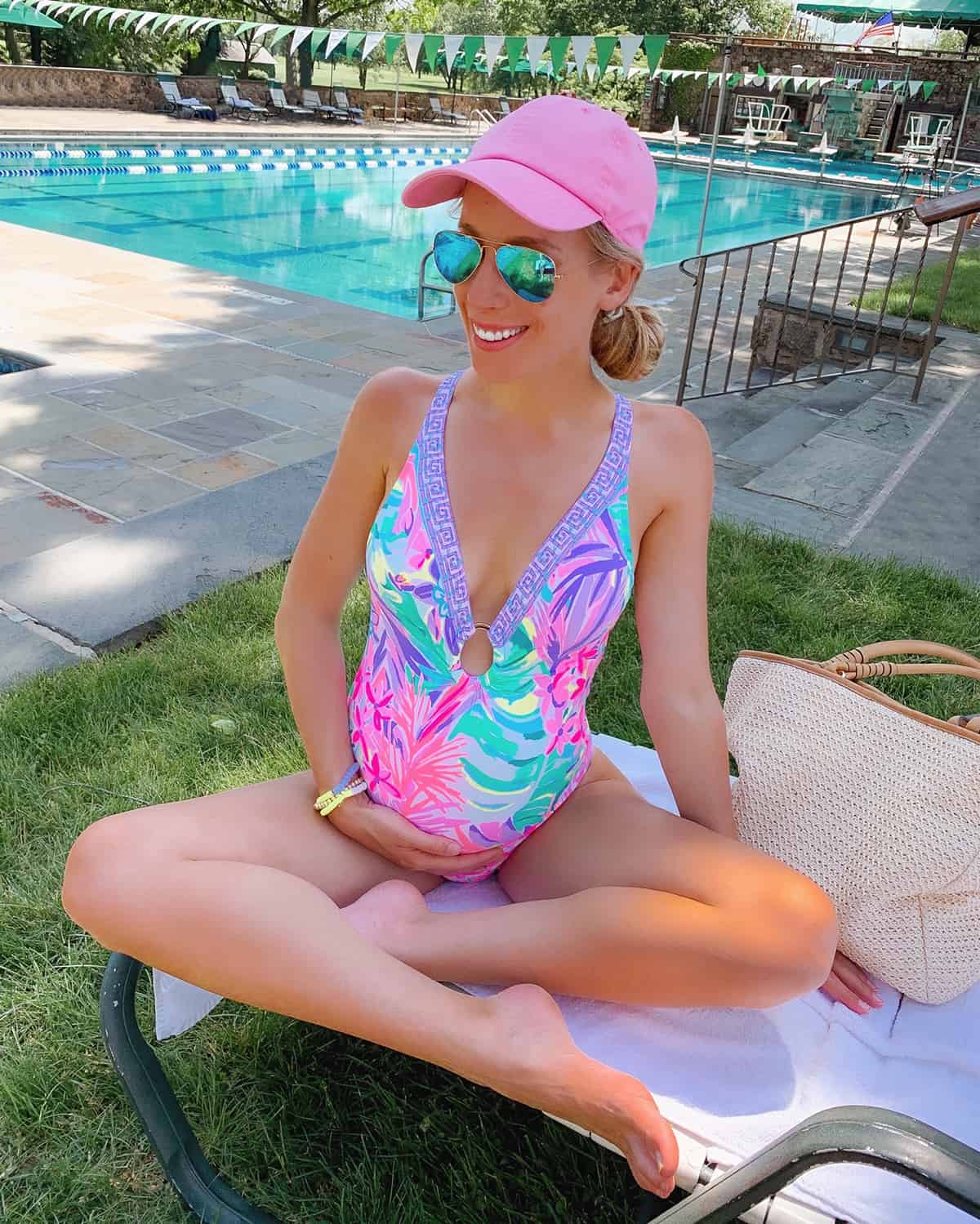 OUTFIT DETAILS // Lilly Pulitzer One Piece | Baseball Hat (multiple colors!) | Sunglasses | Bracelets
OK I know affordable is in the title of this post, but I couldn't resist including this Lilly Pulitzer one piece. I just love the print and how flattering the fit is on my bump! If you're willing to splurge on a swimsuit the quality of Lilly Pulitzer swimwear is incredible.

- Katie