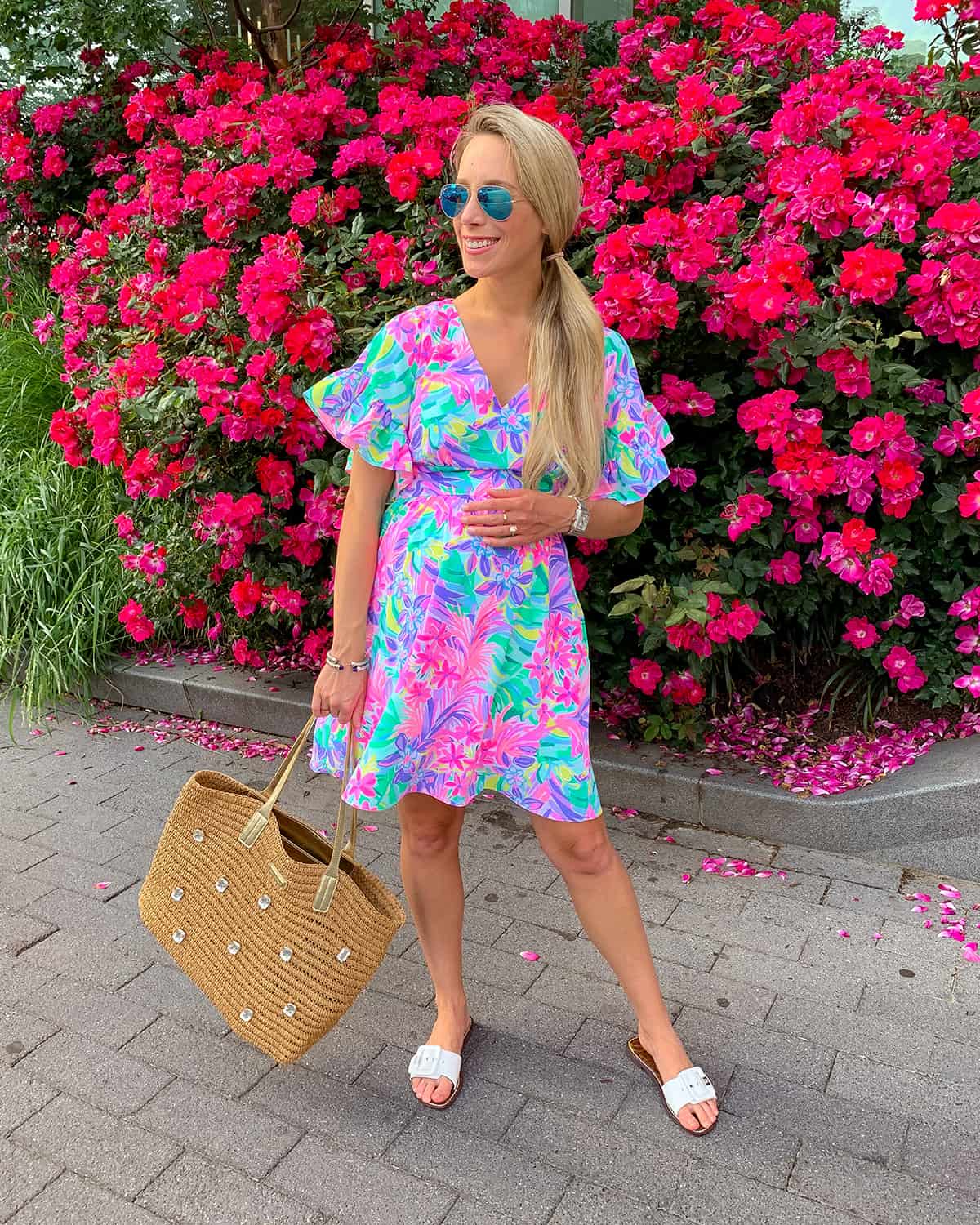 Lilly Pulitzer Blaire Fit and Flare Stretch Dress (Sale Price: $59, originally $218) | Lilly Pulitzer Tote Bag (Sale Price: $49, originally $148)
Lilly Pulitzer After Party Sale day is here and if you haven't already, I highly suggest clicking over to LillyPulitzer.com to get your spot in the virtual line to shop. Word from the Lilly team is that new styles will be added tomorrow morning so if you don't see something you wanted today– make sure to check back!
LILLY PULITZER AFTER PARTY SALE JANUARY 2021 DATES
MONDAY, JANUARY 4TH – TUESDAY JANUARY 5TH
SALE BEGINS 8AM ET & ENDS 11:59PM ET
Now for my top picks! I swear that even though I've been shopping the After Party Sale for years, the discounted prices are still SO shocking to me. Everything is at least 50% off! If you're heading on a warm trip in the coming months or know that you're likely going to want to add a few new dresses or colorful things to your closet for next spring/summer– it's really worth it to shop now. The savings are incredible!
LILLY PULITZER AFTER PARTY SALE SHOPPING GUIDE
SHOP LILLY PULITZER AFTER PARTY SALE DRESSES

SHOP LILLY PULITZER AFTER PARTY SALE TOPS

SHOP LILLY PULITZER AFTER PARTY SALE BOTTOMS

SHOP LILLY PULITZER AFTER PARTY SALE ACCESSORIES

SHOP LILLY PULITZER AFTER PARTY SALE ROMPERS & JUMPSUITS

SHOP LILLY PULITZER AFTER PARTY SALE SWIM

- Katie