I immediately cracked up when I read this post on my friend Krista's blog yesterday – it all stems from this article here unveiling the truth behind many of the beautful, almost artful, photos that crowd my Instagram feed on a daily basis. I'm definitely guilty of sharing only the most flattering parts of my life on Instagram. I mean, who really wants to see a photo of my seamless takeout order, a makeup-less selfie because I was rushing to get to work or my New York street on trash day (aka everyday). I'm embarrassed to admit it but I am guilty of staging an Instagram and Nick scolds almost every time we're out to eat for taking photos of our food before he can get a bite. Those poor blogger boyfriends right?
Alright so here it goes… the truth behind 6 of my latest Instagrams!
1. Bedroom Shot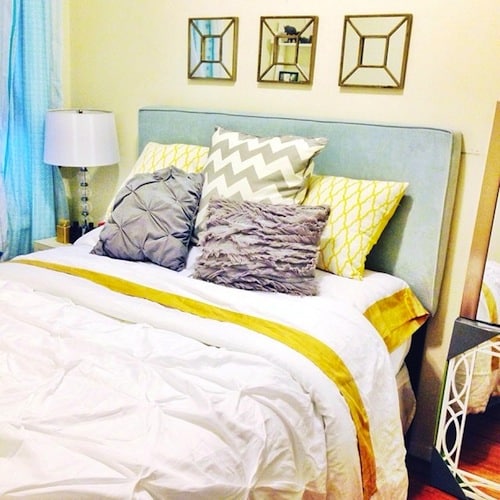 What I'm Trying to Portray
My perfectly decorated bedroom of course! Not only is my bed made but my throw pillows are expertly styled. Any day you walk in my apartment it looks like this!
What's Actually Going On
Let's be real, we never make our bed. Ain't nobody got time for that! You also can't see that the end of our bed touches the wall – gotta love New York City living! #FML #cantwaittomove
2. View From Above Shot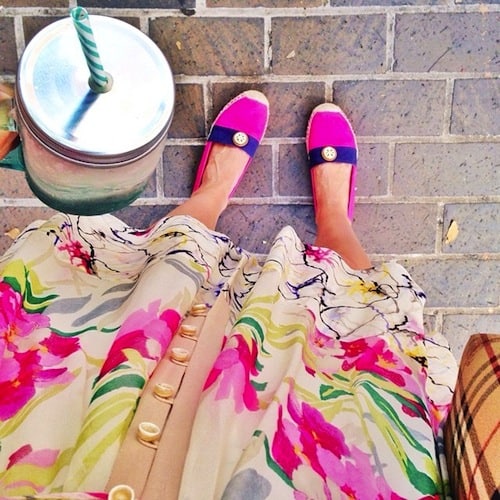 What I'm Trying to Portray
Not only is my outfit cute today, but this is how I look everyday on my walk to work! My comfy walking flats always match my outfit and my first meal of the day is a chia seed fruit smoothie that I drink out of a cute mason jar tumbler.
What's Actually Going On
It took me over 20 tries to get this picture to look right. Bend to the side, bend to the back – somehow I can NEVER get these photos to look normal. Also I typically will wear yucky flip flops to walk to work. The only reason I'm wearing these espadrilles is to cover my ratchet chipped pedicure. There was also a homeless guy sleeping underneath a sheet two feet away on the ground. Of course I didn't realize until after I'd been standing there snapping for two minutes.
3. Favorite Beauty Products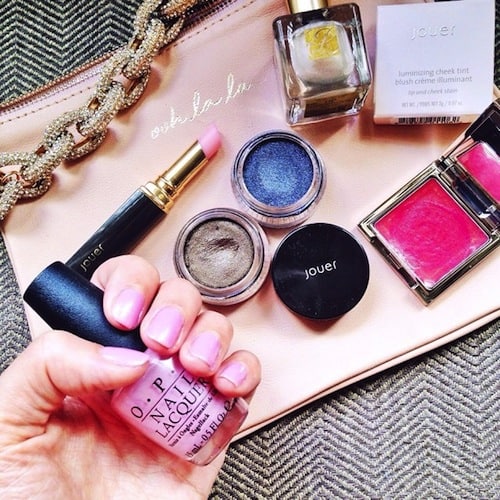 What I'm Trying to Portray
The cosmetics I've been using on a daily basis gorgeously sitting around my apartment.
What's Actually Going On
This was so staged. Who actually just leaves their makeup sitting out like this? No one. I styled this on our storage bench out in our living room and as soon as I was done I put all the makeup away. I wasn't lying though about the mani – as you can see my nails do not look ratchet and those Jouer shadows are really as long-lasting as they say!
4. Couples Selfie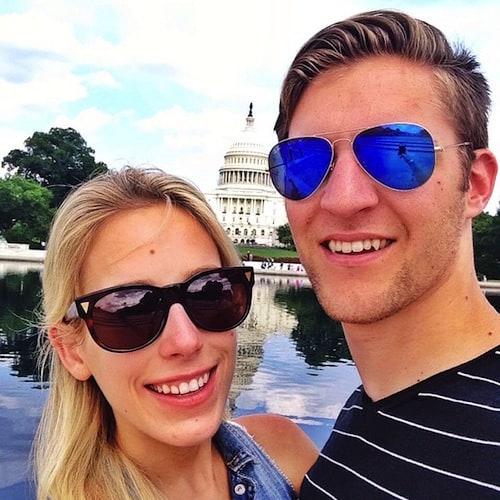 What I'm Trying to Portray
I just casually snapped this selfie with my sweet boyfriend during a day of touring Washington D.C. We are having the best time and he was as excited about taking this photo as me!
What's Actually Going On
Getting Nick to take a selfie is worse than pulling teeth. There's almost ALWAYS a struggle and after one photo the boy is done and will actually run away from me to avoid taking another. Ashamed to admit it, but a few of our arguments have stemmed from a selfie. Here we were sweaty, dying of heat and had missed our scheduled tour of the capitol. I tried to stop another tourist to take a cute picture of us but Nick was being so pissy and would only agree to this one selfie. I take what I can.
5. Junk Food Shot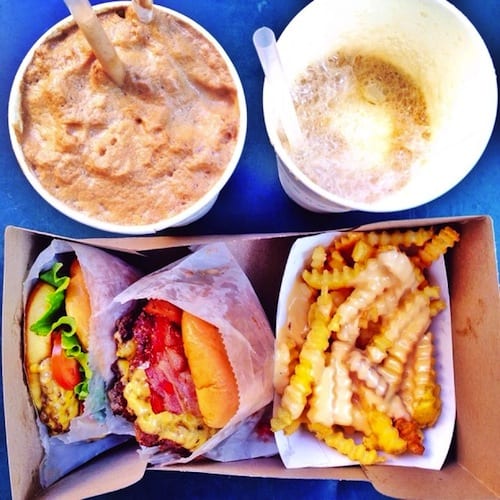 What I'm Trying to Portray
Delicious burgers, fries and shakes that my boyfriend and I ate on our Saturday night date! I was wearing skinny jeans of course.
What's Actually Going On
We did indeed eat the above Shake Shack but almost immediately after we finished eating I got THE WORST stomach ache. We had spent the afternoon Citi biking and were about a 15 minute ride from home. I knew I wasn't going to make it so I had to divert our date to the Eataly bathroom while Nick sat outside waiting for me. So embarrassing. I need to stop eating so much Shake Shack and carry Pepto Bismol with me at all times. #TMI
6. Bikini Shot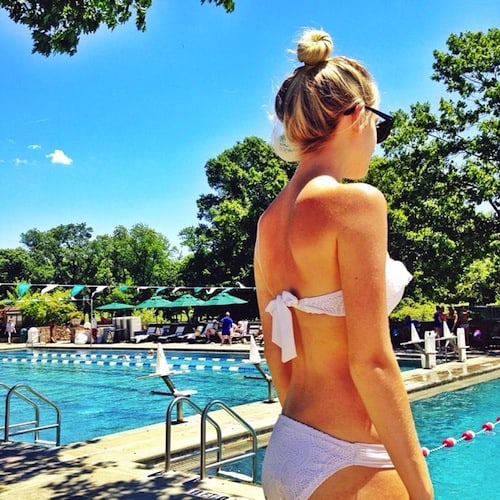 What I'm Trying to Portray
Look at my hottttt bod chilling at the pool.
What's Actually Going On
Again, this was one of those shots that took 50 tries to get right. Nick wanted to drown me in the pool when we were done. Of course the photo had to be cropped right below the booty to hide my vericose veins (thanks Mom) and my nonexistent thigh gap. I will give myself credit for the perfectly round bun though. Why can't it always look like that??
Haha so what did you guys think? Hope you don't think I'm too phony… we're all guilty right? I'm tagging Southern Curls & Pearls, Life with Emily, Corals & Cognacs, College Prepster, Bows & Sequins, Poor Little It Girl, Just Dandy, Skirt the Rules, The Right Shoes, Sequins & Things, Lauren Nelson, Caviar Taste and any of YOU who got an unnaturally gorgeous Instagram feed to spill your secrets – let me know below!
- Katie