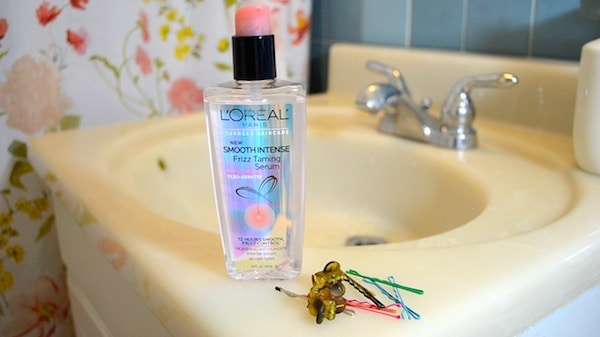 I think we all have a love/hate relationship with our hair. I know that I especially do during the colder months. My hair gets dull, dry and incredibly frizzy – and the weather does not help. Do not get me started on New York City's weather! Sheesh it can get rough here. Well, say hello to the style that saves me whenever I'm in doubt: the double french braided bun. It took me a few tries to really get the hang of french braiding, but as the years have gone by it now comes easily to me. You'll see how I do it in the video, but really all you need are some bobby pins and a smoothing serum or hairspray. My product of choice is L'Oreal Advanced Haircare Smooth Intense Frizz Taming Serum.
Whenever I don't have time to heat style my hair, if the weather is nasty or if I just don't want to deal with my hair down – this is what I wear. Since I get so many compliments on it, I've decided I'm going to try it out for a few holiday events this year. I normally wear my hair down for special occasions, but one of the perks of wearing your hair up is you really go bold with your makeup. For example: a dark smokey eye and a bold red lip 🙂
We ladies know that not all locks are created equal, and so does L'Oréal Paris. With the Advanced Haircare line, Glam girls have the power to pick their shampoo, conditioner and treatment based on their specific strand needs, taking their tresses to luxurious levels. Beautiful hair has never been more personal.
Disclosure: Compensation was provided by L'Oreal's Advanced Hair Care via Mode Media. The opinions expressed herein are those of the author and are not indicative of the opinions or positions of L'Oreal
- Katie