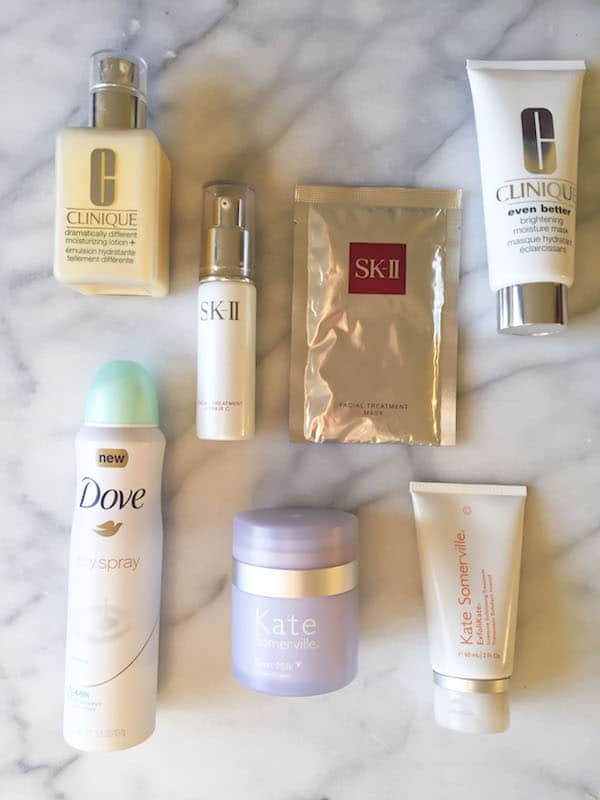 My beauty routine has changed a lot over the past few years. In college I was obsessed with buying and wearing new makeup — I rarely even thought about my skin. The only skincare product I used was a generic moisturizer!
When I graduated from school and started working, my budget got tighter (hello NYC rent), my skin started to act up (thanks stress) and my space got a lot smaller (teeny tiny apt). Obviously this affected my beauty habits and forced me into re-thinking what products I was using. Fast forward three years later, my makeup collection is half the size it once was and the amount of skincare products I own has tripled. I've totally switched gears: skincare is my main focus and makeup is often optional.
Today I wanted to share some of my tried-and-true favorite skincare products. All of the below I have regularly been using for at least six months. Keep a lookout for my favorite makeup products — will be sharing in a post next week! 
EVERYDAY SKINCARE PRODUCTS

Serum| SK-II Facial Treatment Repair Serum – I apply this morning and at night as the first step in my routine. Then I follow with my eye cream and moisturizer. I love this serum because it hydrates and refines my skin. After applying it my face just feels so smooth and clean — I'm hoping that it's warding off future wrinkles too!
Moisturizer | Clinique 'Dramatically Different' Moisturizing Lotion+ – I use the formula for dry skin. It's the perfect everyday moisturizer and I love that it has a pump! I wear this on top of my serum.
Eye Cream | SK-II Facial Treatment Essence-Eye – I apply this twice a day in the morning and before bed. All I do is pump it out and dot it underneath my eyes and on my brow bones. If you don't use eye cream, do yourself a favor and get one today! They are one of the best defenses against crow's feet and wrinkles. To treat bags and puffiness you can also try Genucel eye cream.
Exfoliator | Kate Somerville ExfoliKate – I keep this in my shower and use it twice a week to exfoliate my face. I like that the grains are small and fine — I don't feel like I'm tearing my skin, just giving it a little buffing!
Deodorant | Dove Dry Spray Antiperspirant – This is my favorite deodorant! Using a spray just feels so much more sanitary to me. It instantly drys as soon as I put it on so I never have to worry about residue rubbing on to my clothes.
Mask | Clinique 'Even Better' Brightening Moisture Mask – A great affordable mask if you have dry skin. I use it once a week a few minutes before showering!
Body Lotion | First Aid Beauty Ultra Repair Cream – This is a really thick and creamy body lotion. I tend to get eczema on my arms, neck and legs so I like that it's super hydrating and formulated for those with skin conditions.
Mask | SK-II Facial Treatment Mask – This is the perfect pick me up when my skin needs an extra dose of hydration. I actually will reuse the mask up to 3x since they are so indulgent. All I do is fold it up back in the pouch and re-soak it in the leftover essence.
Moisturizer | Kate Somerville Goat Milk Cream – Another one of my favorite daily moisturizers. It goes on super light but is intensely hydrating!
CURRENT FAVORITE FRAGRANCES

Dolce & Gabbana Pour Femme – I love to wear this during the day in the colder months. It's such a warm, cozy scent – I swear it smells like freshly baked cookies!
Yves Saint Laurent Black Opium – It's the perfect sexy night scent and smells like vanilla!
Stella by Stella McCartney – This is such a rosy feminine scent. It's bold, but still light enough to wear during the daytime.
What are your favorite skincare products and fragrances? Anything I need to try?
- Katie