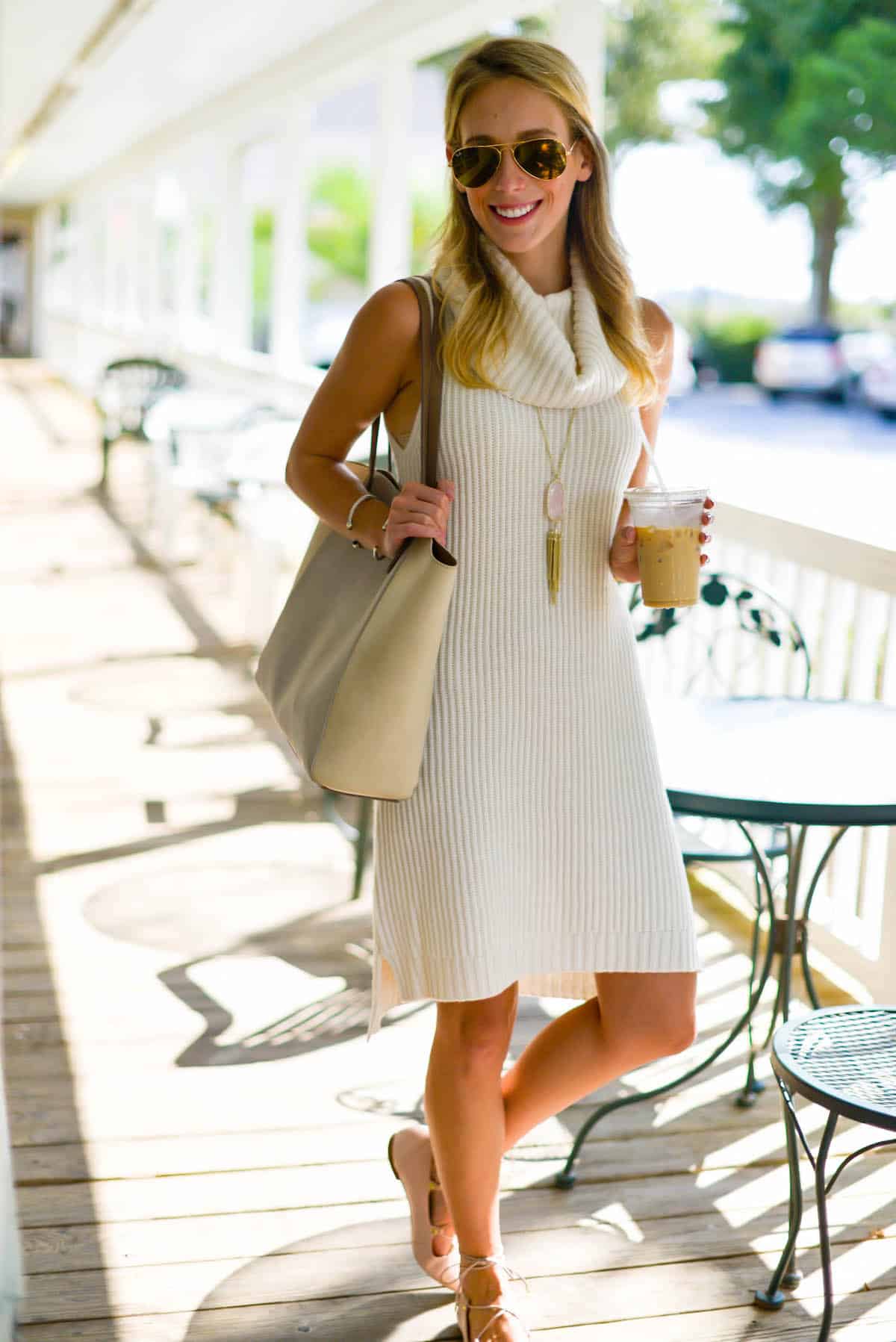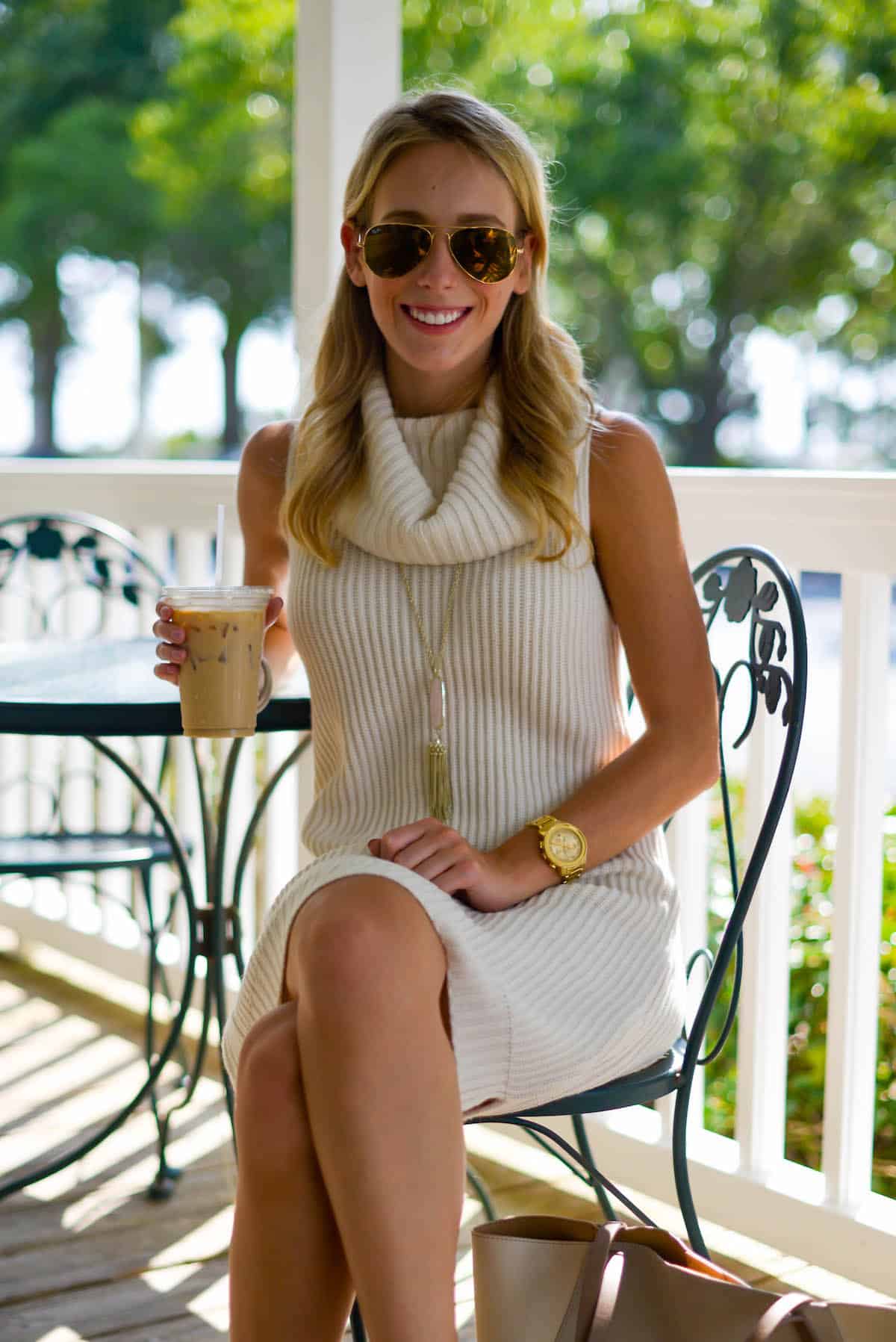 So you guys won't believe what happened to me over the weekend… I had my appendix removed!!! Oh I know, it caught me by surprise too. Surgery was the last thing I thought I'd be having done on a Saturday night.
I'll explain the full story after the jump, but in the meantime here's a look at an outfit worn when I still had my appendix. This cowl neck sweater dress (under $100) is such a gem and looks even better styled with a long, pendant necklace. I have a feeling I'm going to be living in loose, cozy dresses over the next few weeks…
Shop The Look!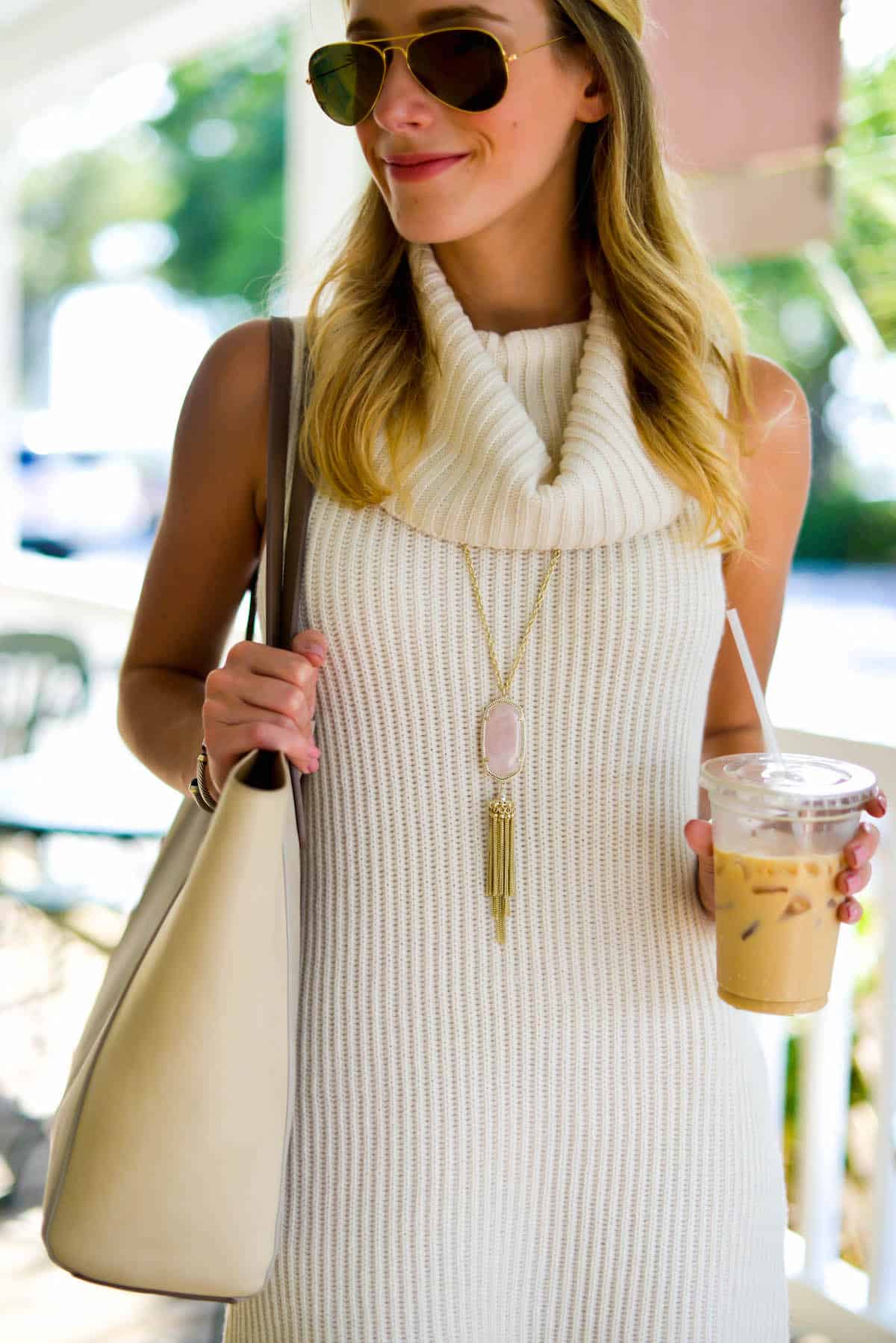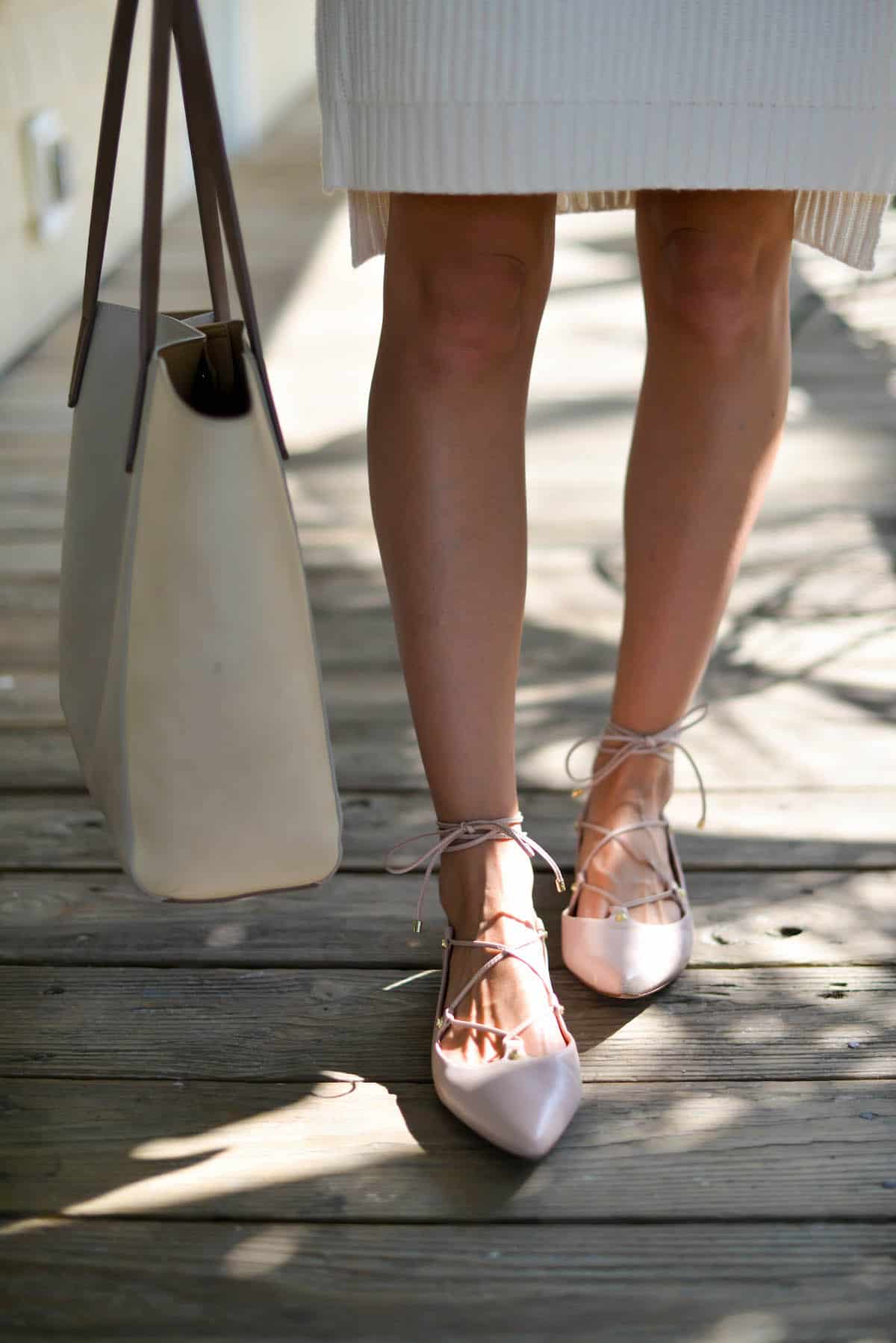 I Was Wearing…
Cowl Neck Sweater Dress (love this long-sleeve style and off the shoulder version too!) | Kendra Scott Tassel Necklace | Pink Lace-Up Flats (under $100) | Tote Bag (just $49!) | Gold Watch | Aviators | David Yurman Bracelets
Shop The Look!


So here's what happened… A few hours after I returned home from North Carolina on Thursday I started experiencing pain in my abdomen. Nothing unbearable, but the consistent aching was noticeable and uncomfortable. By Saturday morning it hadn't gone away and I knew something wasn't right. I've had cramps before, but those ebb and flow. This was something different. Lucky for me, my mom is a nurse practitioner and my Pop-Pop is a doctor so after explaining what was going on they both immediately told me to head to ER. So that's where Nick and I spent our Saturday.
Once I checked in as a patient it was a loooongggg process. Hours of waiting. Then they took my vitals. More waiting. Then a short physical and gynecological exam (all women of child-bearing years are required to get one.) More waiting. Then a quick Q&A with an ER doctor. From there it was becoming obvious the pain was pointing towards my appendix and I got scheduled for a CT scan. I waited a little more and then in I went. Almost immediately after heading out from the scan a nurse came and broke the news to me: I had an appendicitis and needed immediate surgery. Ugh, can't say it was the news I was hoping for, but part of me was relieved I had a clear diagnosis and it wasn't a problem with my ovaries or anything else reproductive.
So from there I had to meet with a few more doctors and hospital staff, sign a lot of forms and wait a few hours more. Around 10PM I was finally wheeled into the OR and 1.5 hours later I came out with one less organ. Going into the surgery I was okay. I had been waiting so many hours that I was just ready to get it done, but coming out of the surgery was a different story. Waking up from the anesthesia was awful — I became panicky and scared. The nausea was terrible too.
I'll save ya all the post-op details, but after some ice chips, anti-nausea medicine and an oxycontin, Nick and a nurse helped me get dressed and I was discharged. It was that easy I didn't even have to stay overnight. #Hallelujah. Now I'm just happy to be home and on the mend. This next week isn't going to be easy, but I just plan on taking it slow and steady. Any advice for recovering after an appendicitis (or any surgery) would be greatly appreciated! xo
Have You Seen These Posts?
Did You Watch Part 2 Of Our Hawaii Vlog?
Everyone Loves This Affordable Bell Sleeve Top
I Plan On Living In This Sweater
Who Else Remembers These Shoes?
Big thank you to Nordstrom for sponsoring this post!
[thefeedproducts style='four']
- Katie