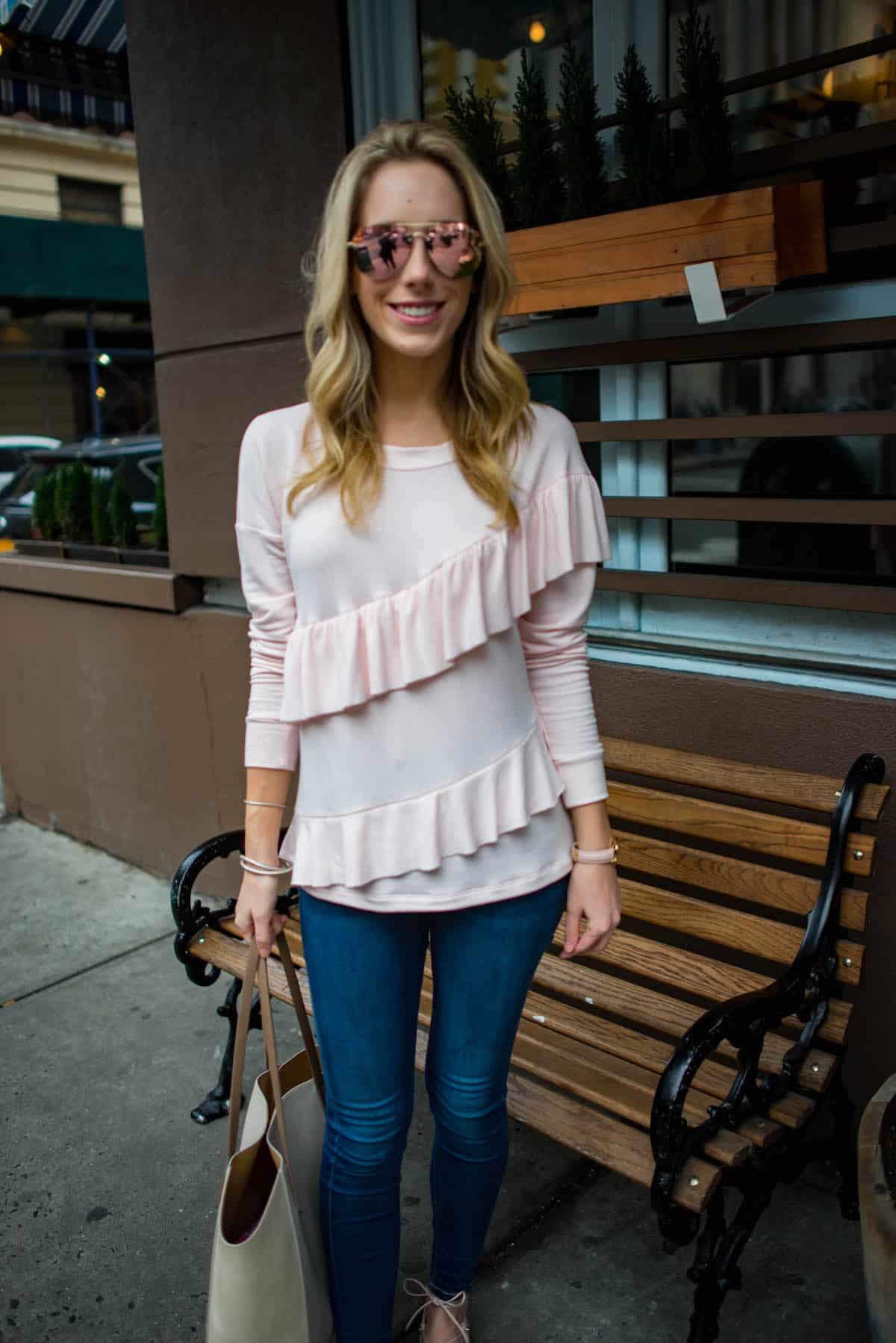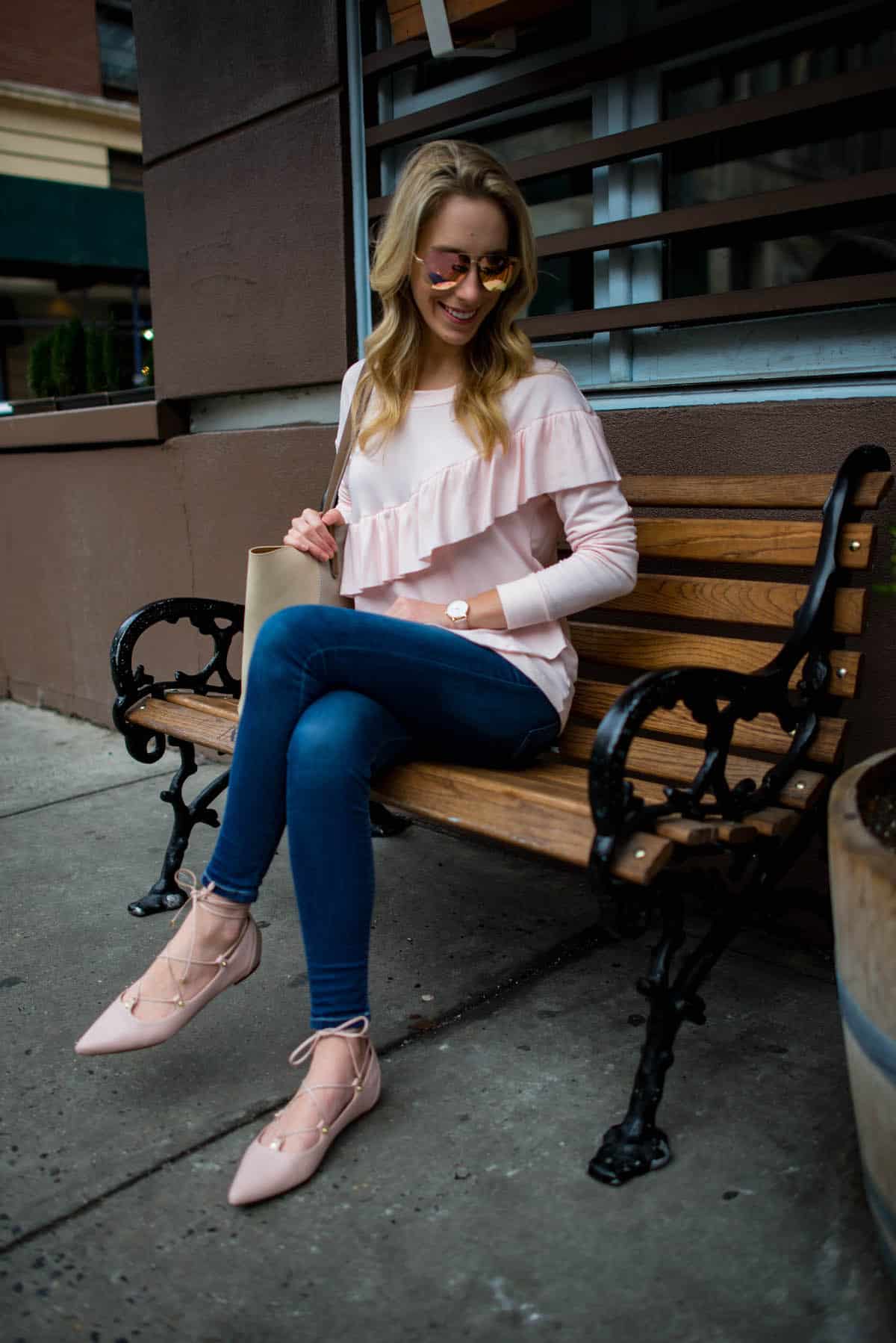 On Friday Nick and I were joined by my friend Mollie and her boyfriend for our second date night at a southern-inspired restaurant. If you didn't see, make sure you check out my post from last week here where I explain my new Date Night Series. Essentially the just is I plan on recapping and reviewing all the new restaurants that I Nick and I try this year. Keep on reading because I'm spilling the deets on where we went + little restaurant review!
Shop The Post!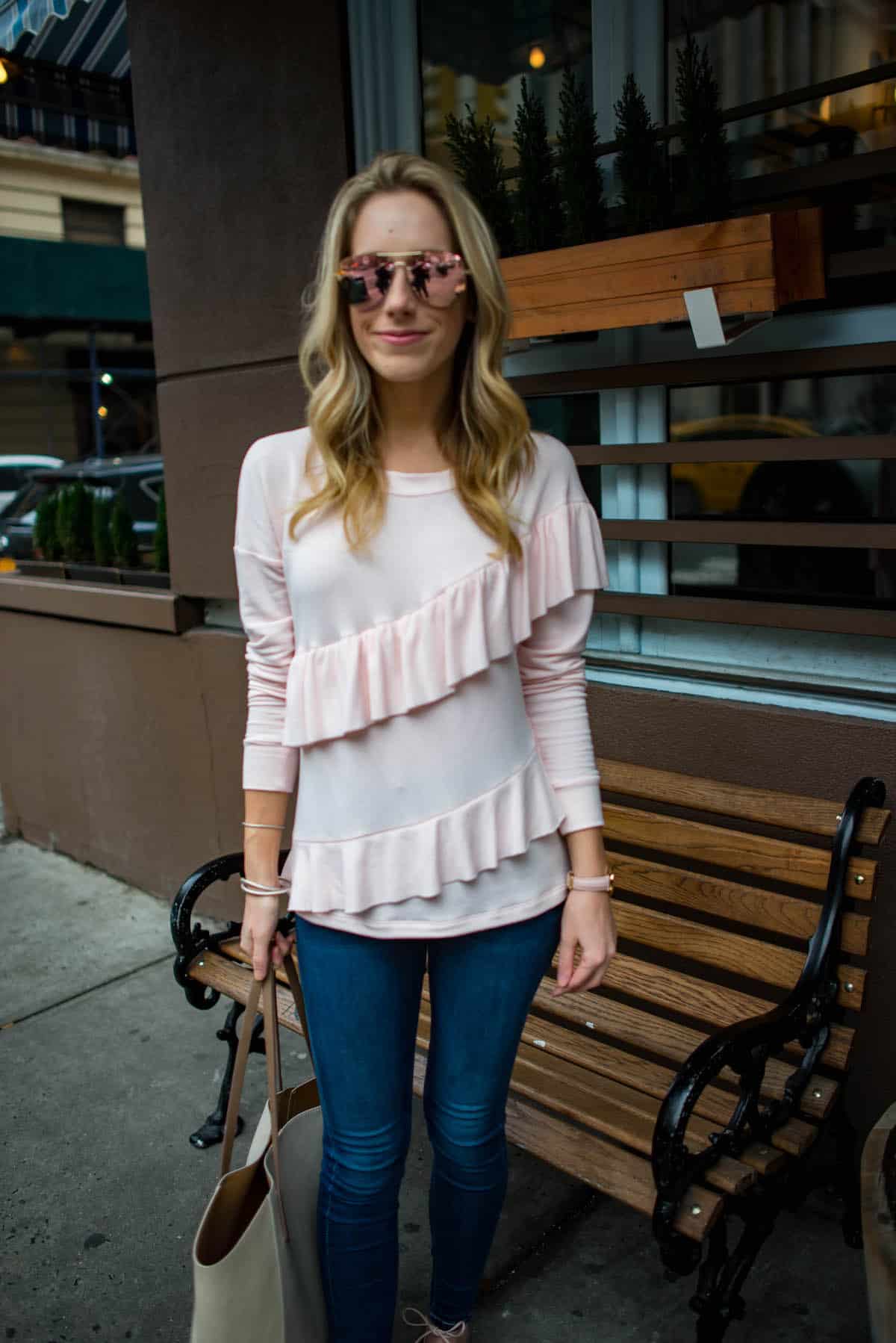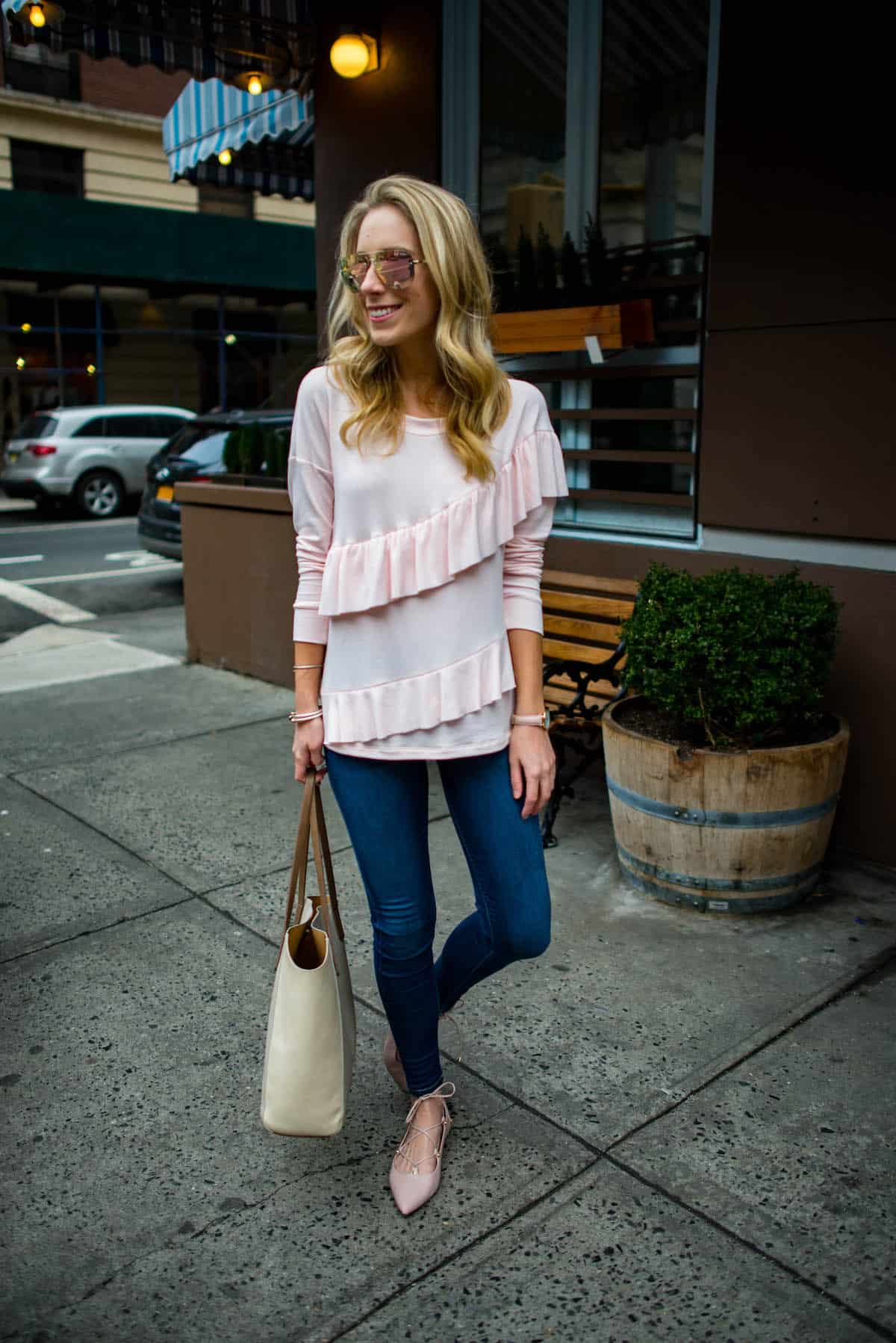 I Was Wearing…
Pink Ruffle Sweatshirt c/o | Skinny Jeans | Lace-Up Flats (under $70!) | Tote Bag (under $50!) | Rose Gold Aviators | Pink Watch c/o | David Yurman Bracelets
Shop The Post!


In other news… Where did this month go? I have to admit that I'm kind of grateful January has flown by. It's been a pretty lazy month for us, especially on weekends, thanks to the dreary weather. The lack of social obligations and travel plans has been really refreshing, but I'm starting to get the itch to leave town. Our schedule is going to pick up again in February so in the meantime I plan on enjoying this last easy week of the month to it's fullest extent.
DATE NIGHT #2
Image Source
Restaurant: Bo's Kitchen & Bar Room
Location: Flatiron
Price Range: $11-$30
Review: Our second date night took us to the Flatiron District, a short walk from our apartment and right around the corner from the stunning Flatiron Building. I stumbled on Bo's Kitchen & Bar Room browsing Yelp last week and was immediately drawn to the southern-inspired menu. After looking at a few photos and seeing the rave reviews, I decided it was worth trying for our second date night of the new year. My friend Mollie and her boyfriend ended up joining us for a double date and we had a blast. The atmosphere of the restaurant is very cool– perfect for groups or parties of two. I loved the  large LED "You Was Right" light and the velvet seating. There's an extensive cocktail list  which guests can order from while dining (we all had the Decatur Mule) or at the large bar located at the front of the restaurant. We all enjoyed our food too– from the alligator bites we shared as an appetizer to my delicious fried chicken with creamy kale. The only thing we wished we hadn't ordered was the fried cookie dough for dessert. We were really looking forward to it, but the dough was hard and sauce too sweet– sub par at best.
Things To Know: The cell reception inside the restaurant is terrible. While it wasn't a huge deal, it was still frustrating that we couldn't use our phones to check texts or post on social media.
Would we return? Yes.
Previous Date Night Reviews:
Date Night #1
My New York City Guide
[thefeedproducts style='four']
- Katie