Soooo it pretty much felt like Christmas morning on Saturday when my Nordstrom Anniversary Sale order arrived. I definitely got a lil side eye from my doormen because the box was HUGE– I couldn't believe everything fit in one package! Nick had to help me carry it up to our apartment it was so heavy 😛
Anyways, I got a lot of great feedback and questions from you guys when I posted a few "try-on" videos to my Instagram Story on Saturday, so I wanted to share a full recap for those who may have missed it. The sale is still going strong and open to those who have Nordstrom cards, but will be available to the public to shop this Thursday. Just a few more days!!! Still haven't shopped yet? Or debating whether or not to pull the trigger on something? Well, keep on reading for some outfit inspo, as well as details on the sizing and fit of everything I purchased.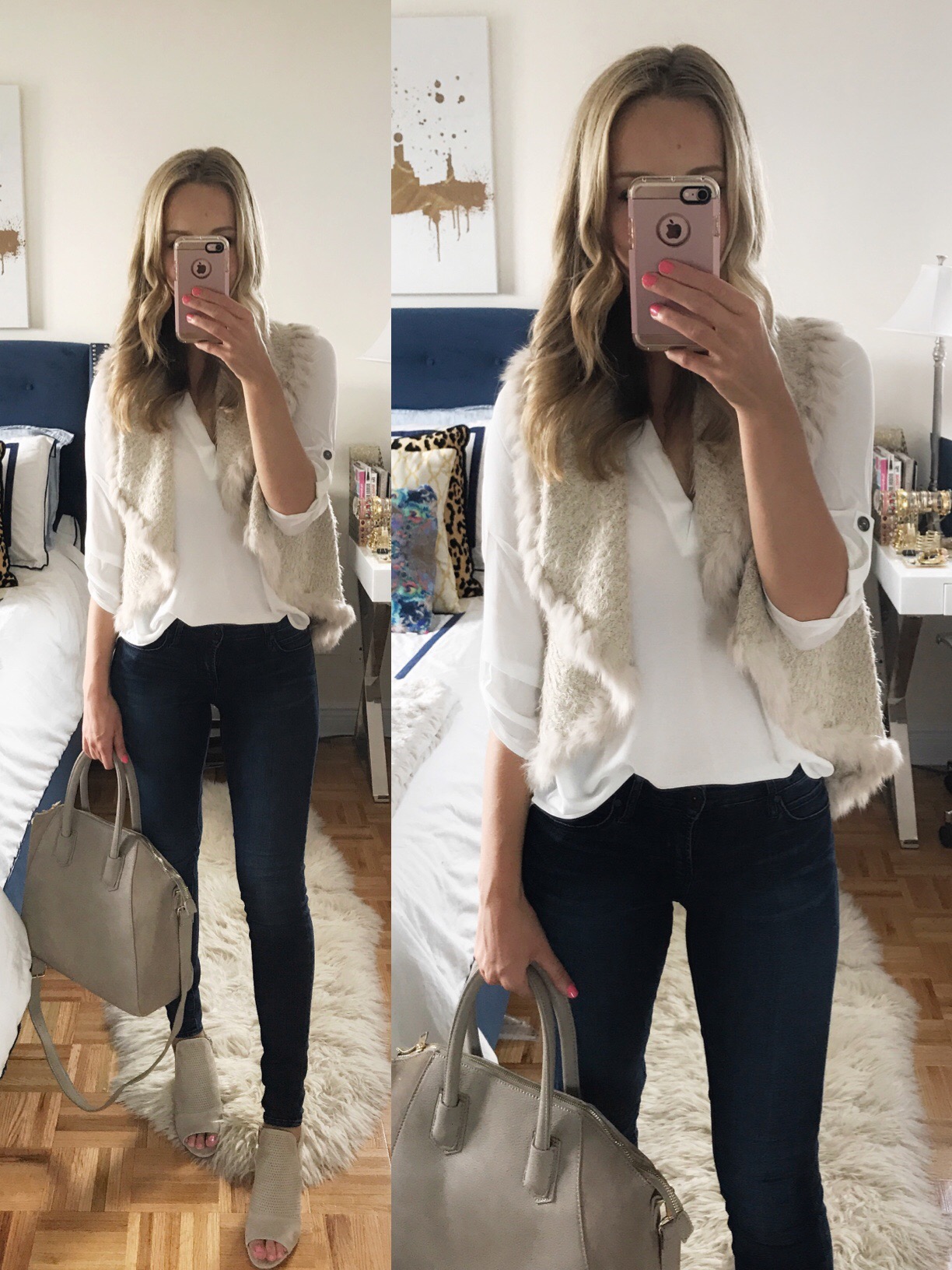 Lush Roll Sleeve Blouse ($27, size XS, comes in 7 colors!) | Love Token Knit Vest ($79, size XS) | Skinny Jeans (old style) | Sole Society Satchel ($52, also comes in black) | Via Spiga Block Heels Sandals ($129, true to size)
This sale look is probably my FAVORITE combo from everything I bought. After hearing so many gals rave about the Lush Roll Sleeve Blouse I finally had to pick one up for myself. I'm so glad that I did after seeing how many ways I was able to pair it just with a few other things in my closet. I actually purchased these Articles of Society jeans last year but it looks like there are a few similar pairs included in the sale. ALSO these slingback sandals are so comfortable. Really really impressed with the fit. And for only $52 this Sole Society satchel could be a great addition to your fall/winter wardrobe. Doesn't it look much more high-end? I think so.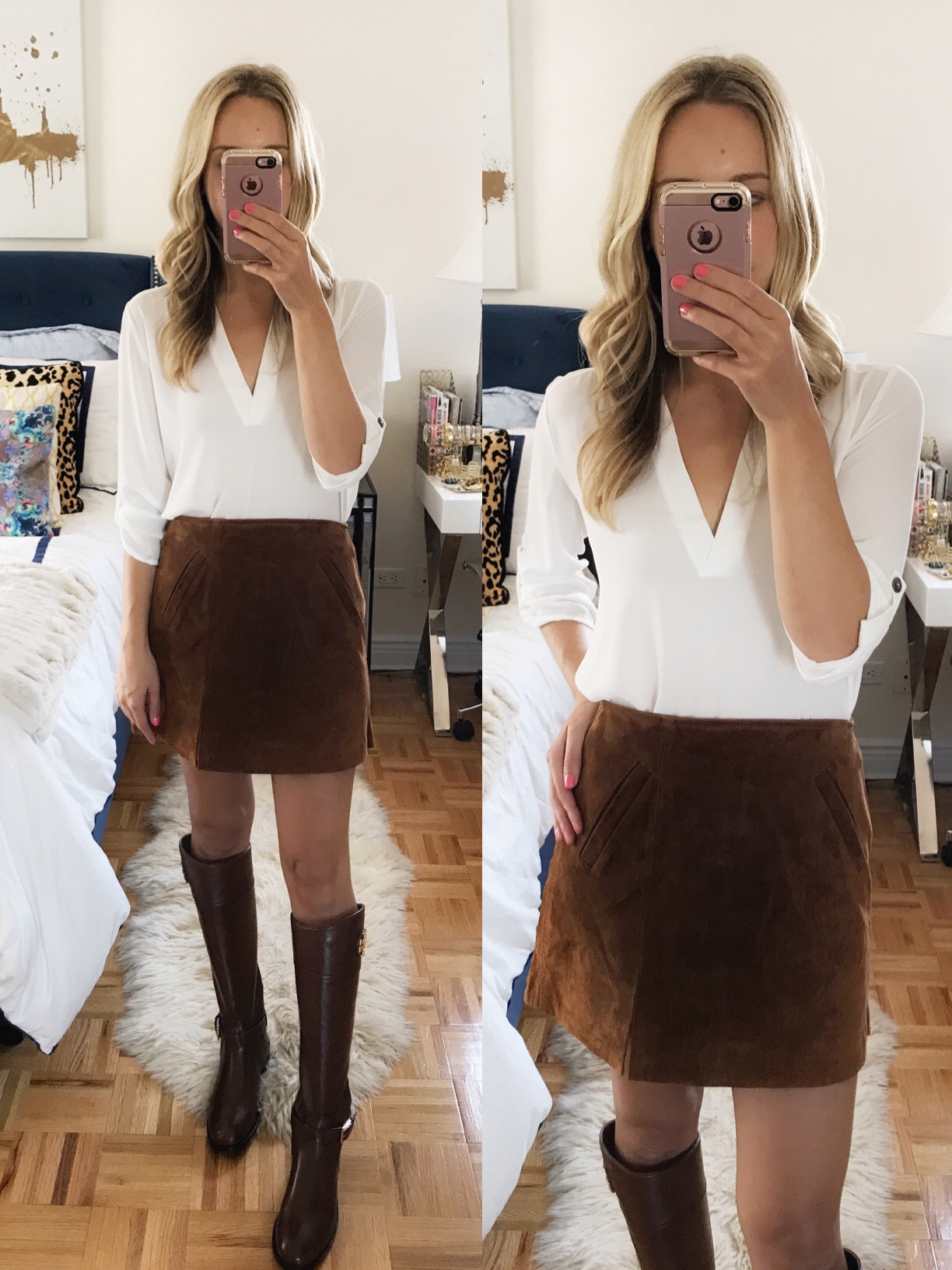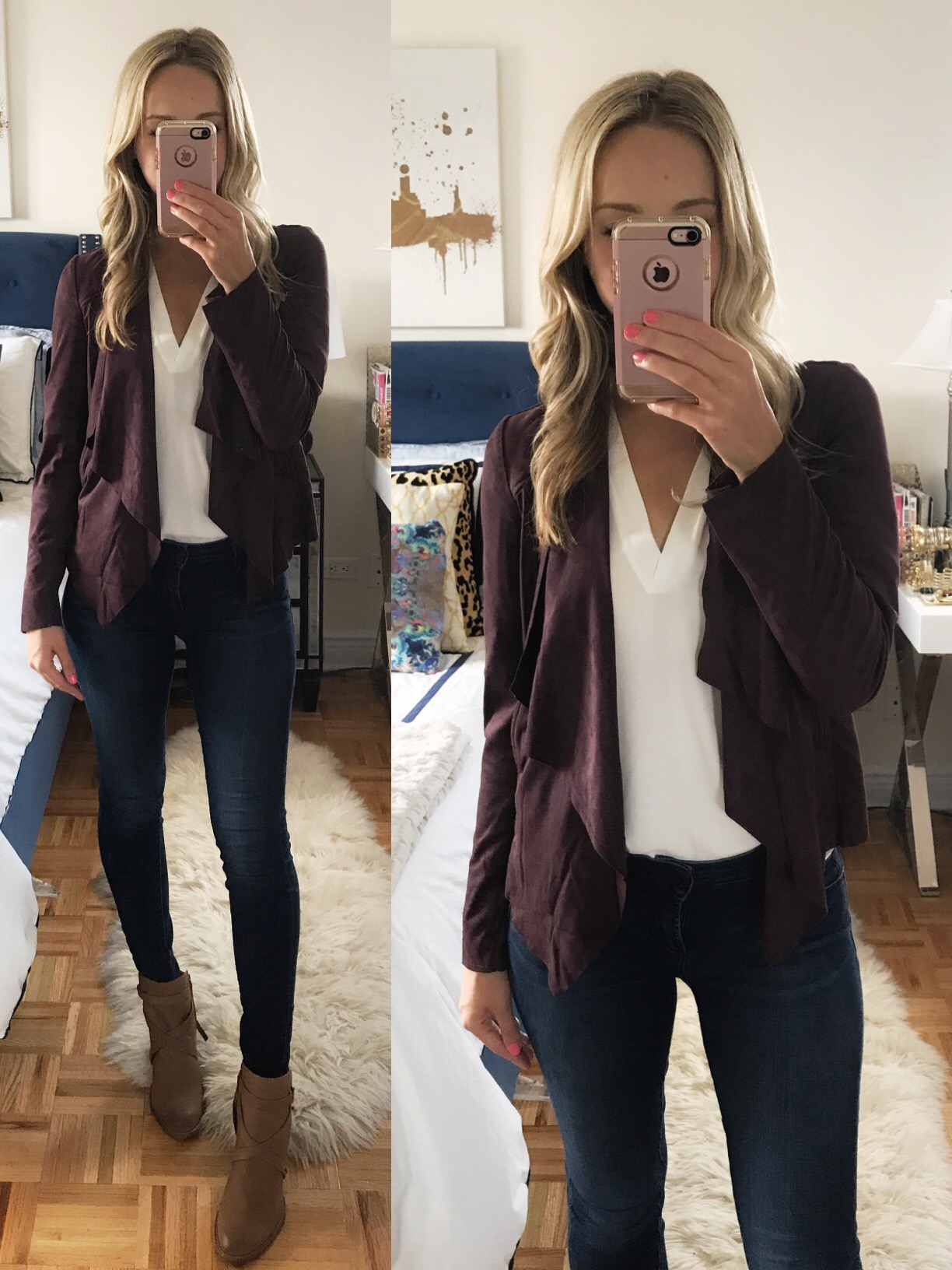 Suede Mini Skirt ($64, size 26) | Faux Suede Jacket ($58, size XS, also comes in grey!) | Lush Roll Sleeve Blouse | Tory Burch Riding Boots ($299 marked down from $498, true to size!) | Sam Edelman Booties (under $100!)
Told you guys this blouse was versatile… How great does it look paired with suede? This mini skirt is definitely going to be saved for a cooler day. The fabric is THICK. As for this faux suede jacket, it's much more lightweight in person. Definitely a good layering piece!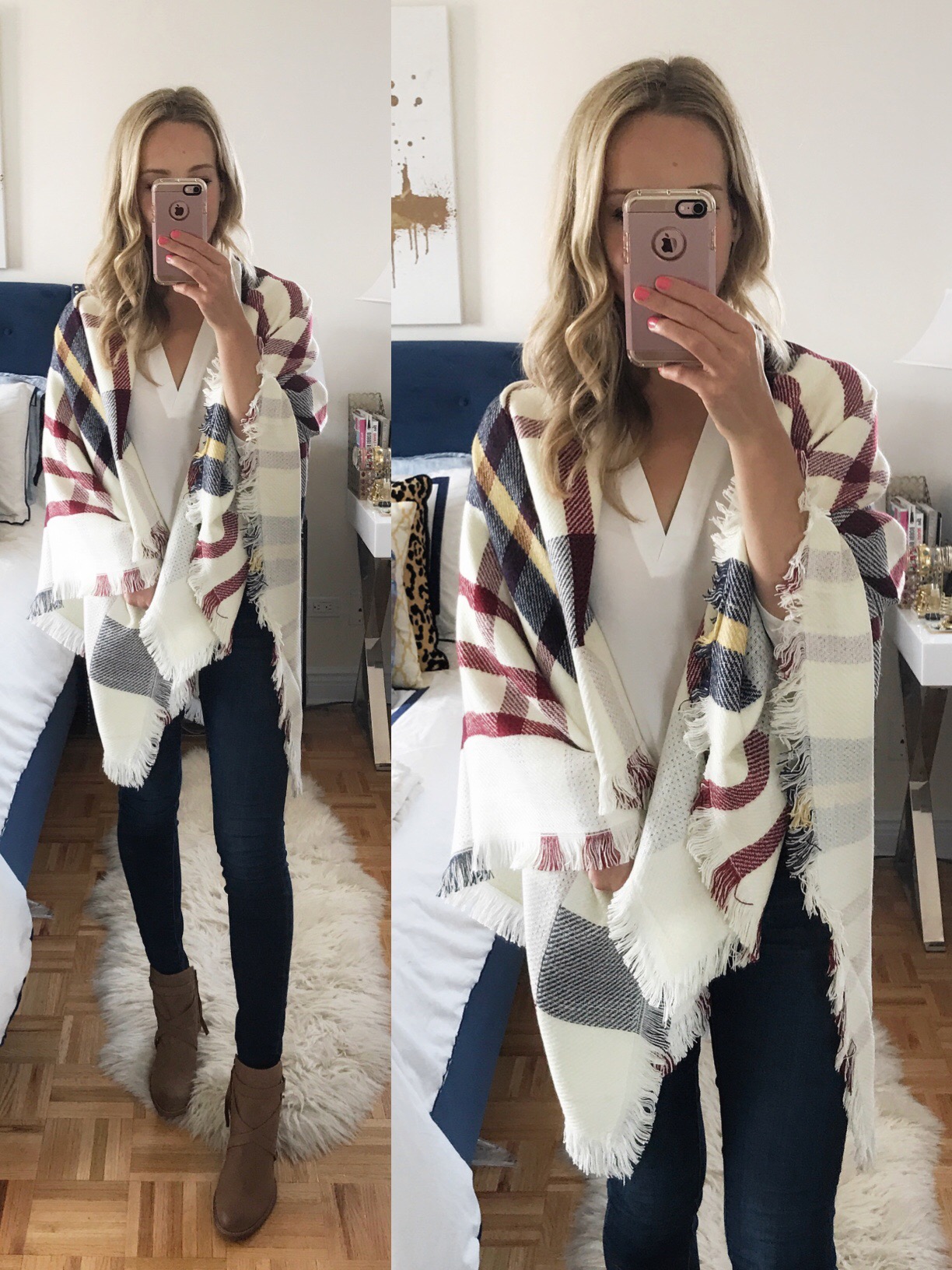 Plaid Blanket Scarf ($24, one size fits all) | Lush Roll Sleeve Blouse | Sam Edelman Booties (under $100!)
You know me. I love a good blanket scarf or wrap or poncho or cape. This one is a STEAL for just $24.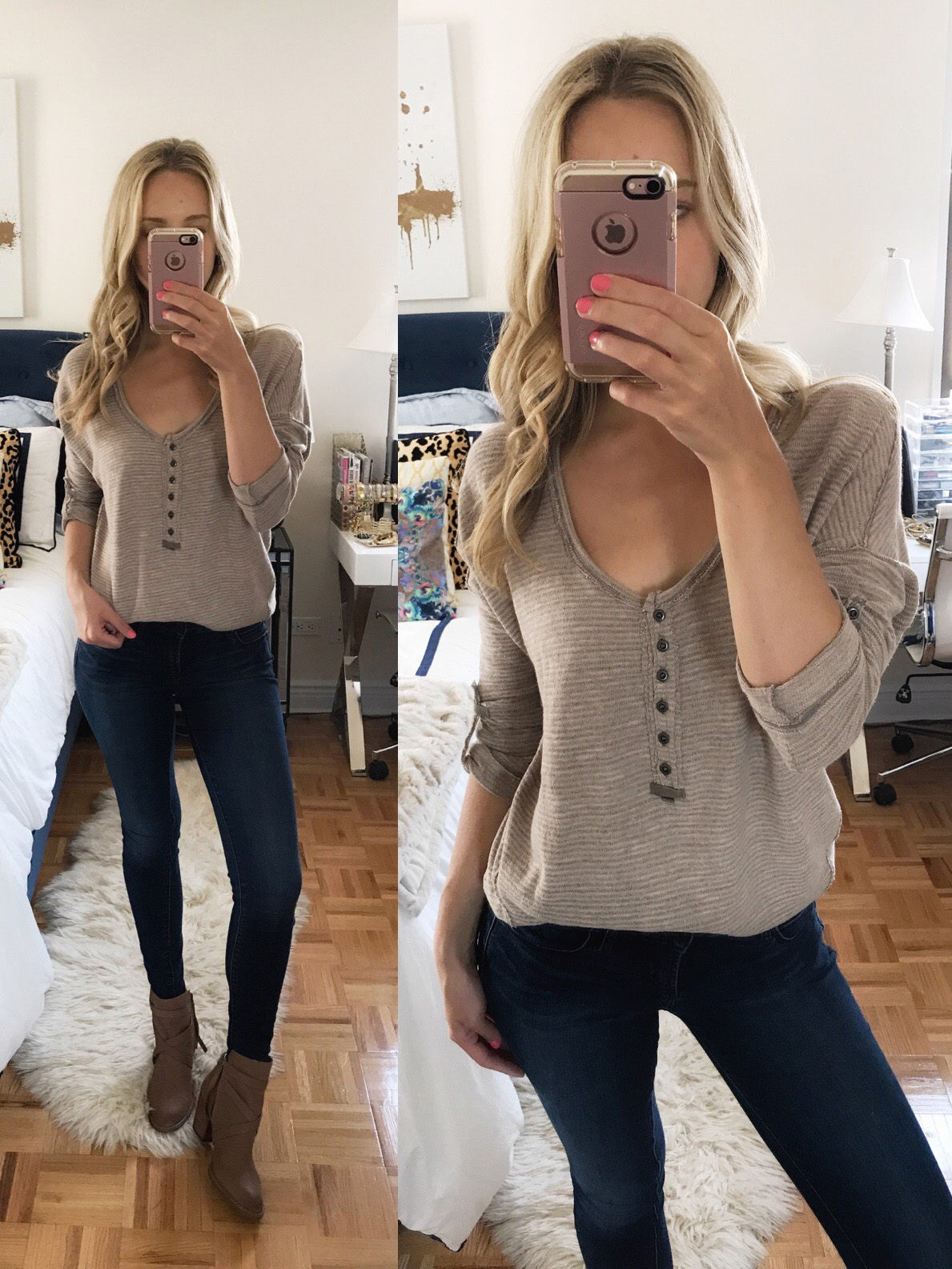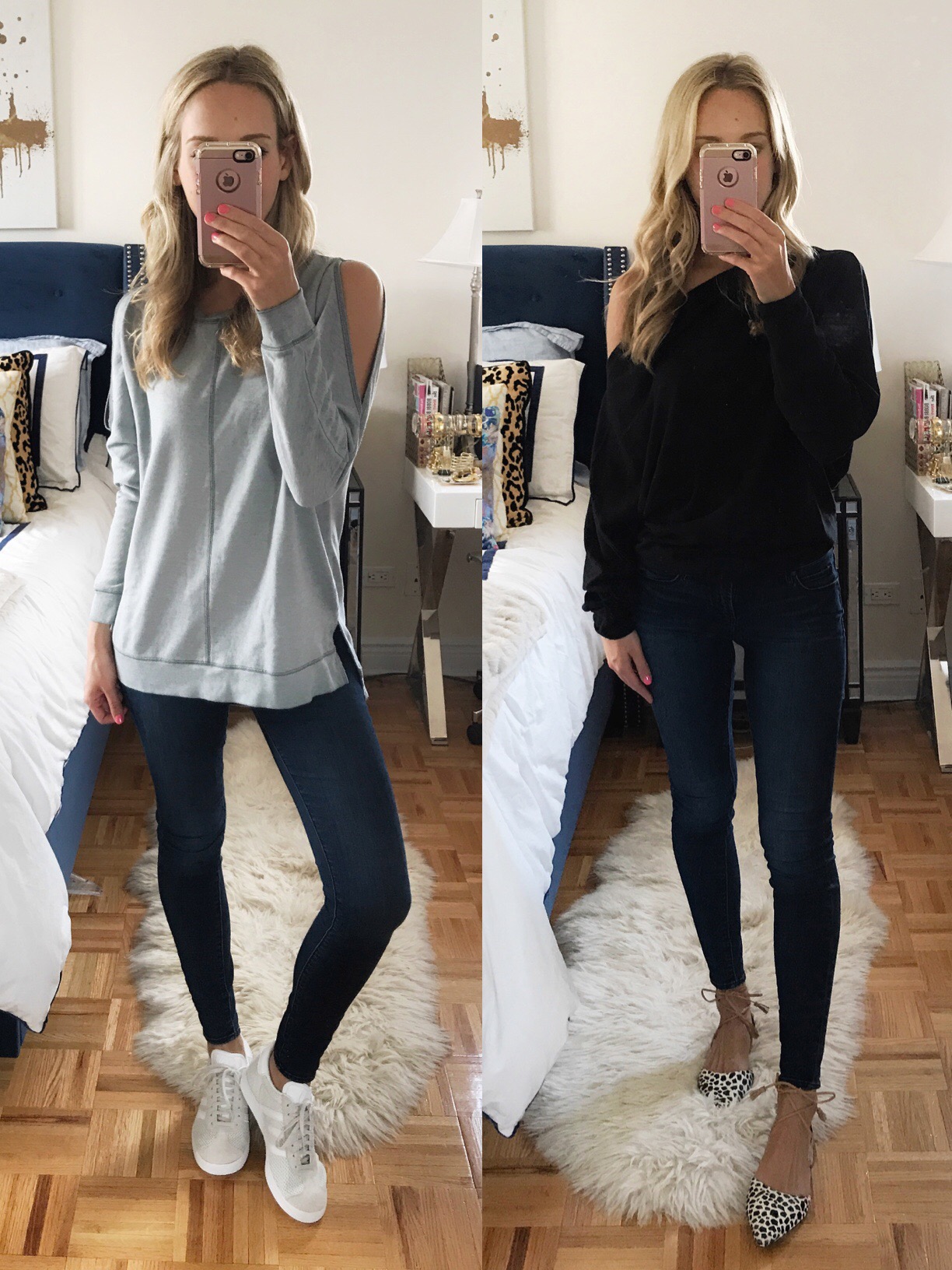 Free People Beach Haven Top ($44, size XS) | Cold Shoulder Sweatshirt ($39, size XS) | Free People Off Shoulder Pullover ($44, size M for oversized fit) | Adidas Sneakers ($59, size down) | Leopard Flats ($59, true to size)
Clearly I walked away with a handful of sweaters. If you're a Free People fan you're in luck because there a bunch of budget-friendly knits in the sale. My favorite is definitely the Beach Haven top— it fits more like an oversized lightweight sweater than a t-shirt like the name suggests. Heads up this cold shoulder sweatshirt is lined with fleece so this is one to save for fall temps (or if your bf likes to blast the ac…) I sized up to a M in this cowl neck pullover for a roomier fit so I can wear it off the shoulder or just on one.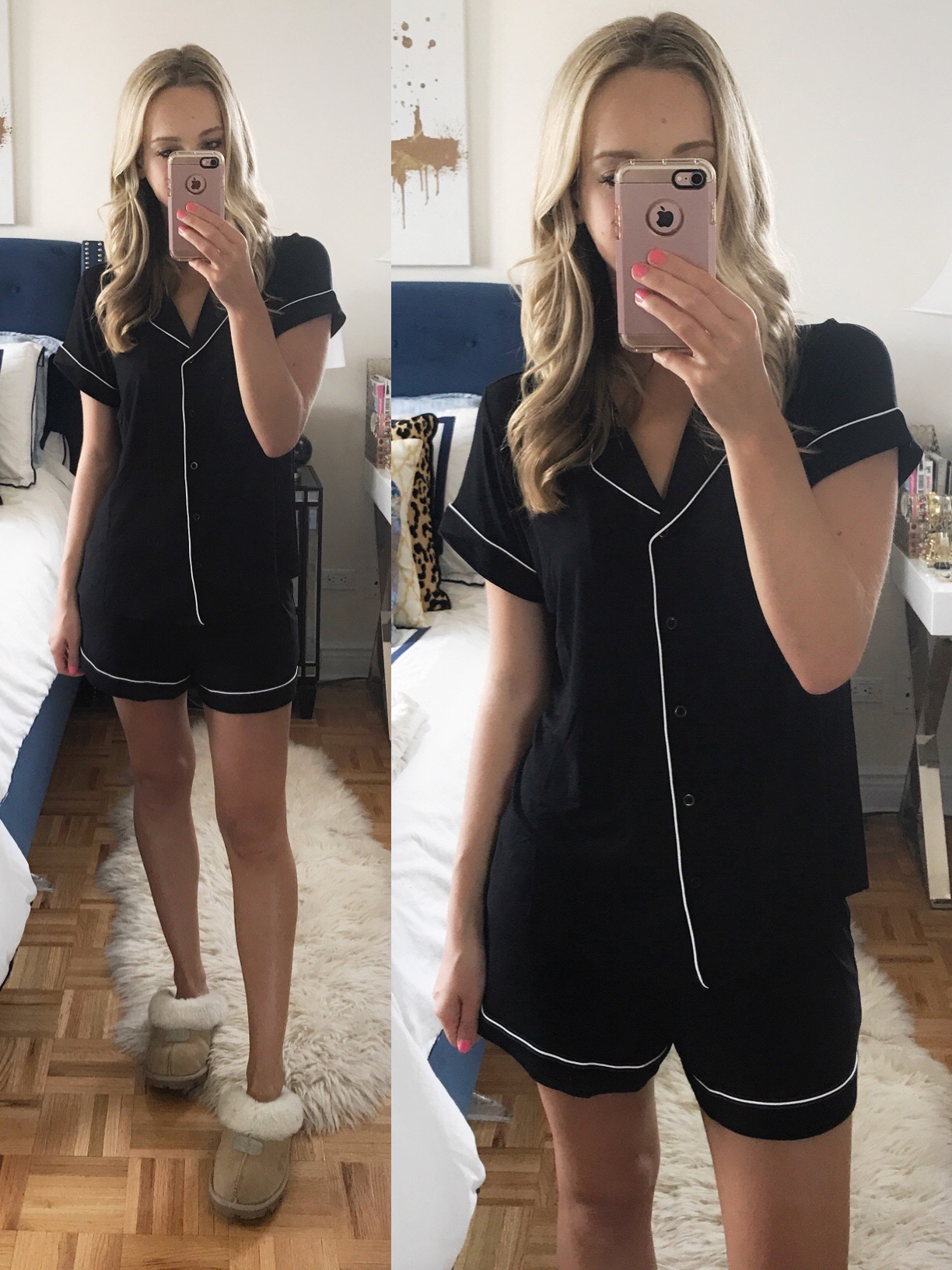 Nordstrom Lingerie PJ Set ($35, size XS) | UGG Slippers (linking another style bc mine are old)
Ok these pjs have been on my wishlist forever so I was really excited to see them marked down. I have two sets of the long sleeve version, but now that it's been so warm the short sleeve is just what I need for summer. There's also a really cute pair of knit UGGS discounted too!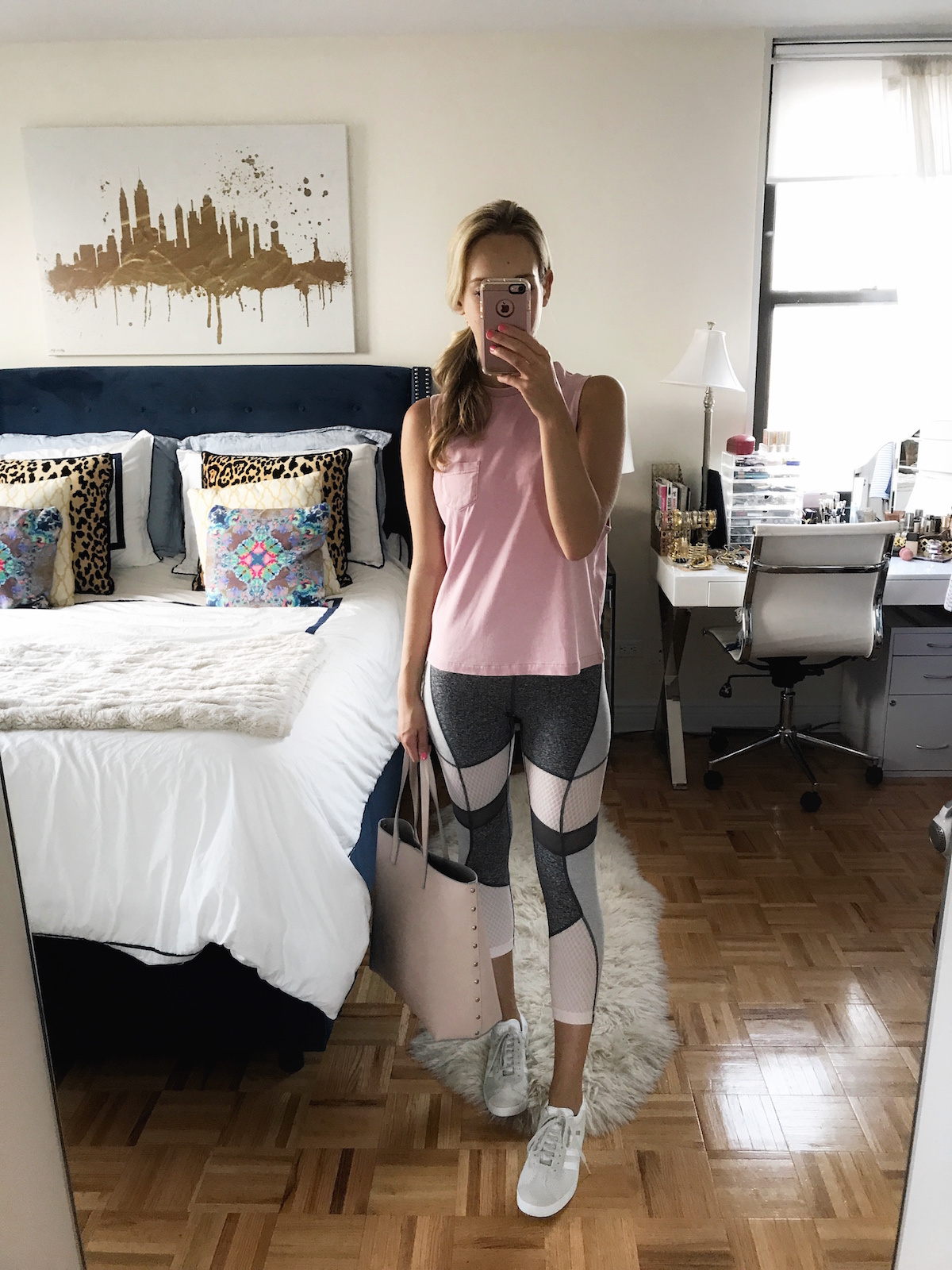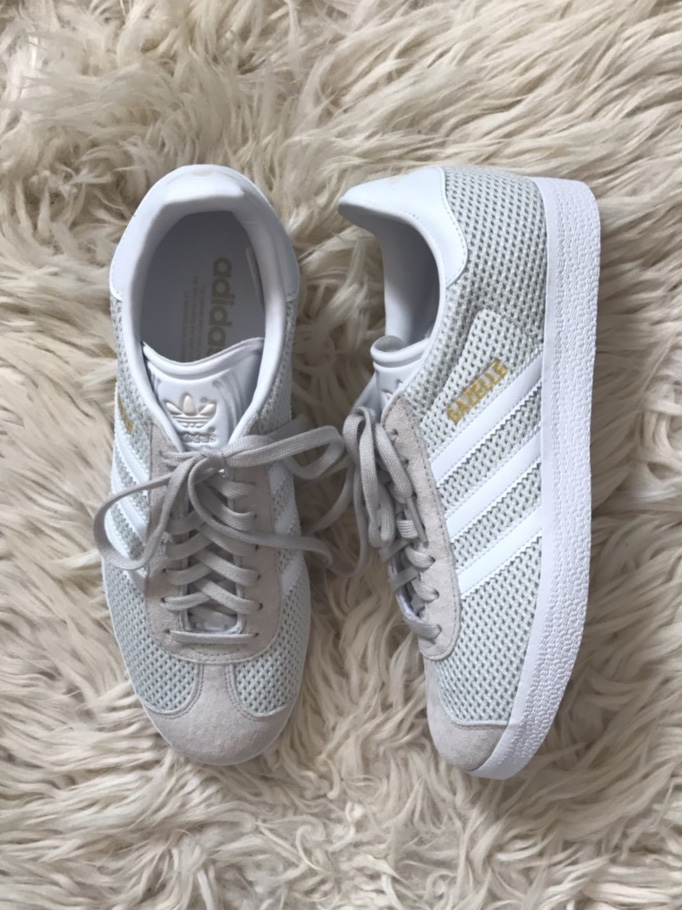 Leggings ($42, size XS) | Pink Sleeveless Shirt ($19, size XS) | Tote Bag ($44, comes in black too!) | Adidas Sneakers ($59, size down)
Now that I've been running and exercising on a regular basis, I'm always on the hunt for cute and affordable activewear. Keyword being affordable. It pains me just thinking about spending more than $50 on something I plan to get dirty and sweaty in… So check this: Zella activewear has a ton of items marked down, plus there are a bunch of sneakers discounted too. I don't plan to wear these sneakers for anything active– just as an everyday comfortable shoe for travel and traipsing around the city.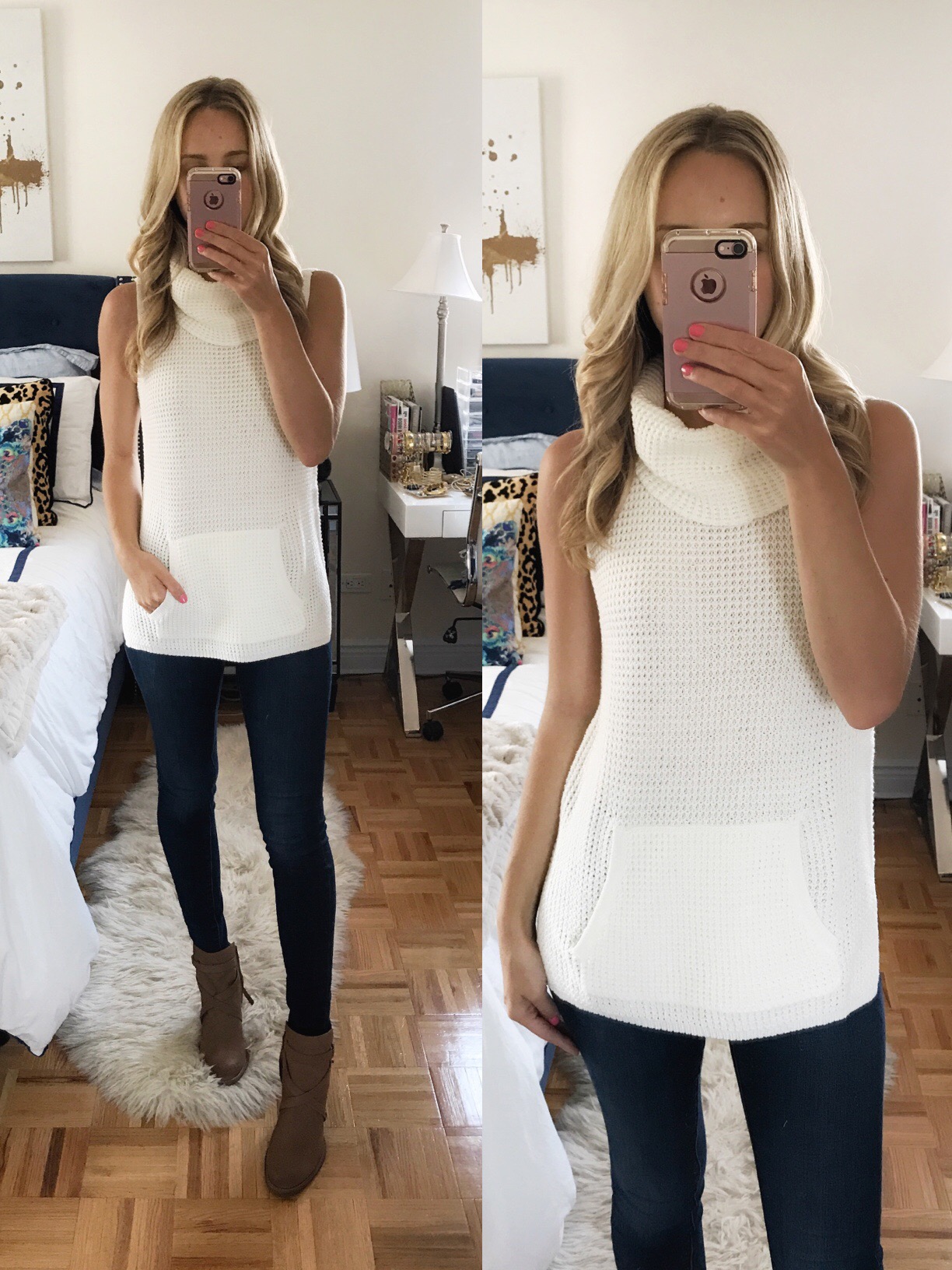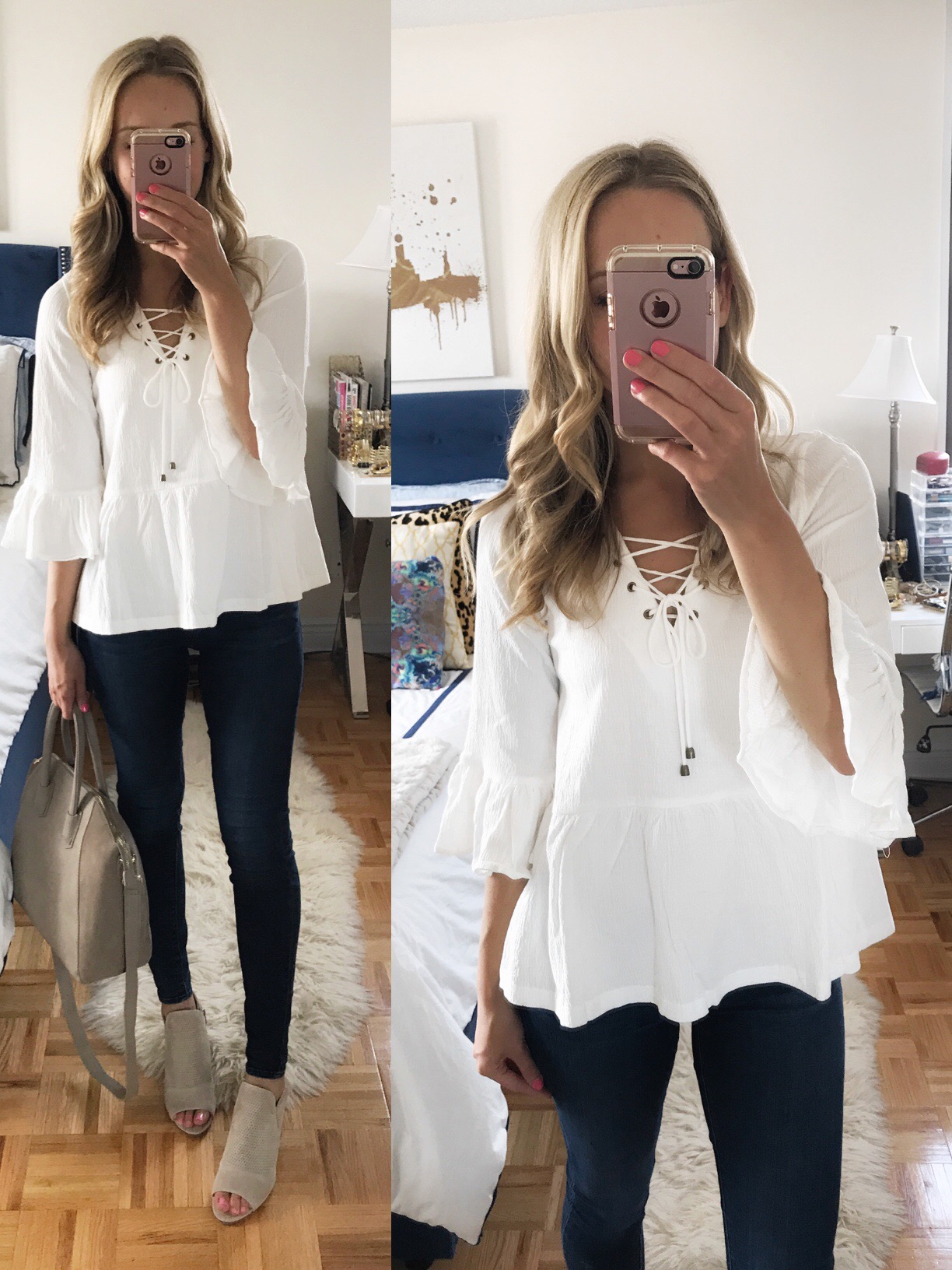 Waffle Stitch Sweater ($45, size XS– runs large size down) | Lace-Up Bell Sleeve Top ($45, size XS) | Sole Society Satchel ($52, also comes in black) | Sam Edelman Booties (under $100!) | Via Spiga Block Heels Sandals ($129, true to size) 
Here are two great buy now, wear now options. Eh well maybe not the sleeveless sweater depending on where you live, but without a doubt it's a good summer to fall transition piece. This bell sleeve top is super lightweight and the fabric is travel-friendly. I love the lace-up detailing and ruffled hem!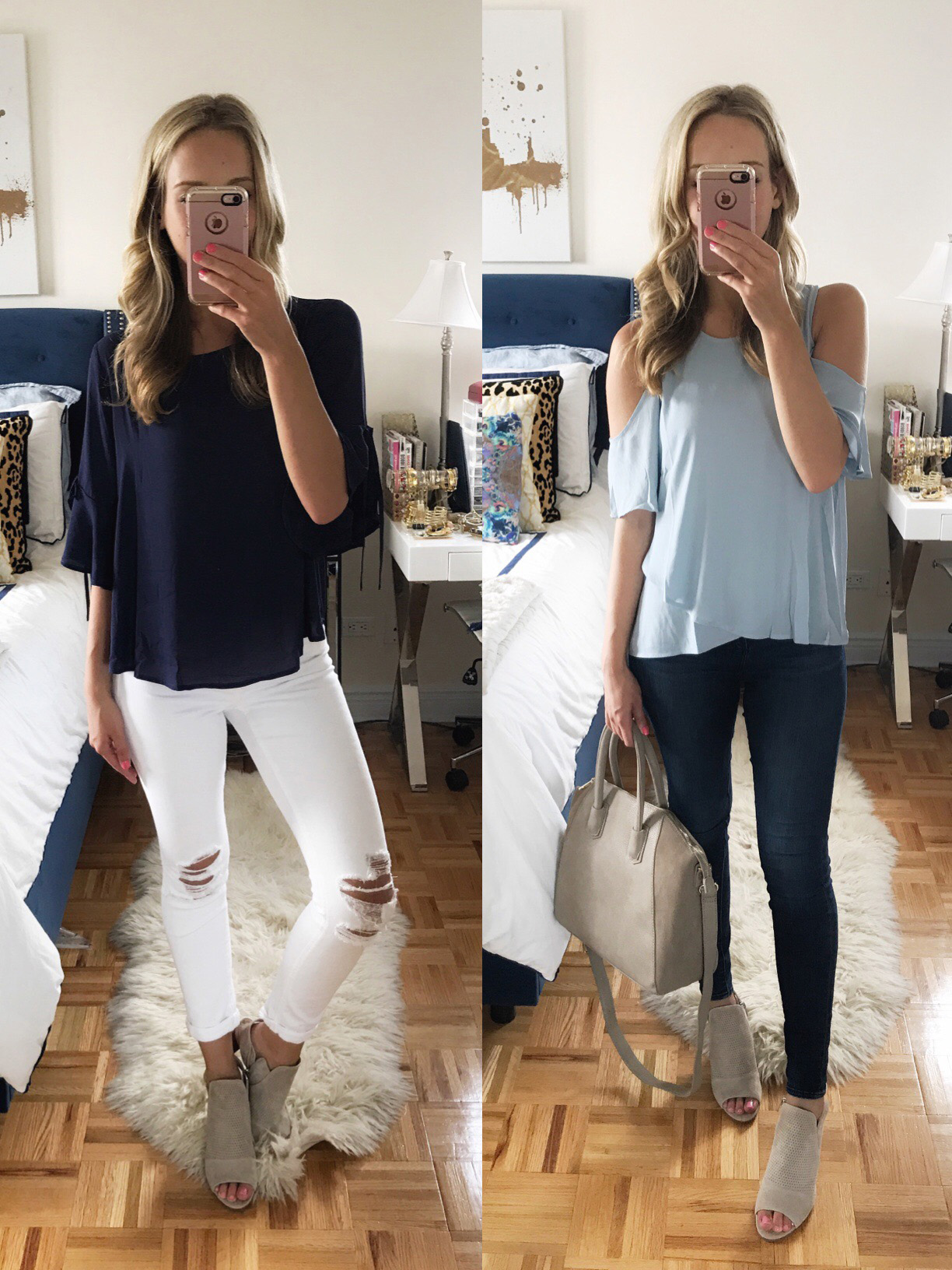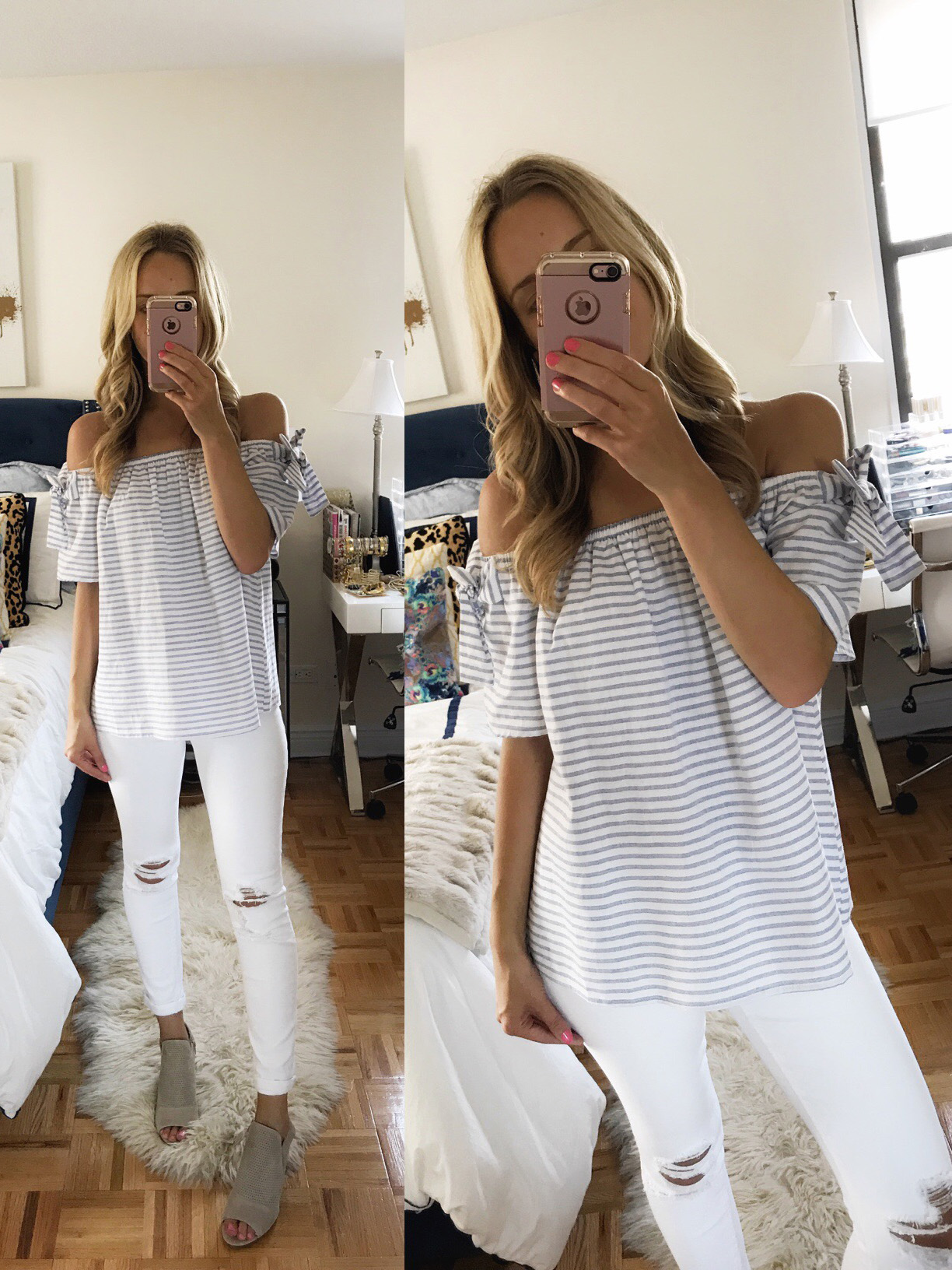 Bell Sleeve Top ($22, size XS) | Cold Shoulder Blouse ($29, size XS) | Stripe Off Shoulder Top ($22, size XS) | Via Spiga Block Heels Sandals ($129, true to size)
I guess you can say I like the color blue? I swear I don't even realize how much blue items I buy until the packages arrive at my doorstep. All of these tops caught my eye thanks to their wallet-friendly price tags. Again, these are all styles that you could wear now. Who wants to wait until fall anyway?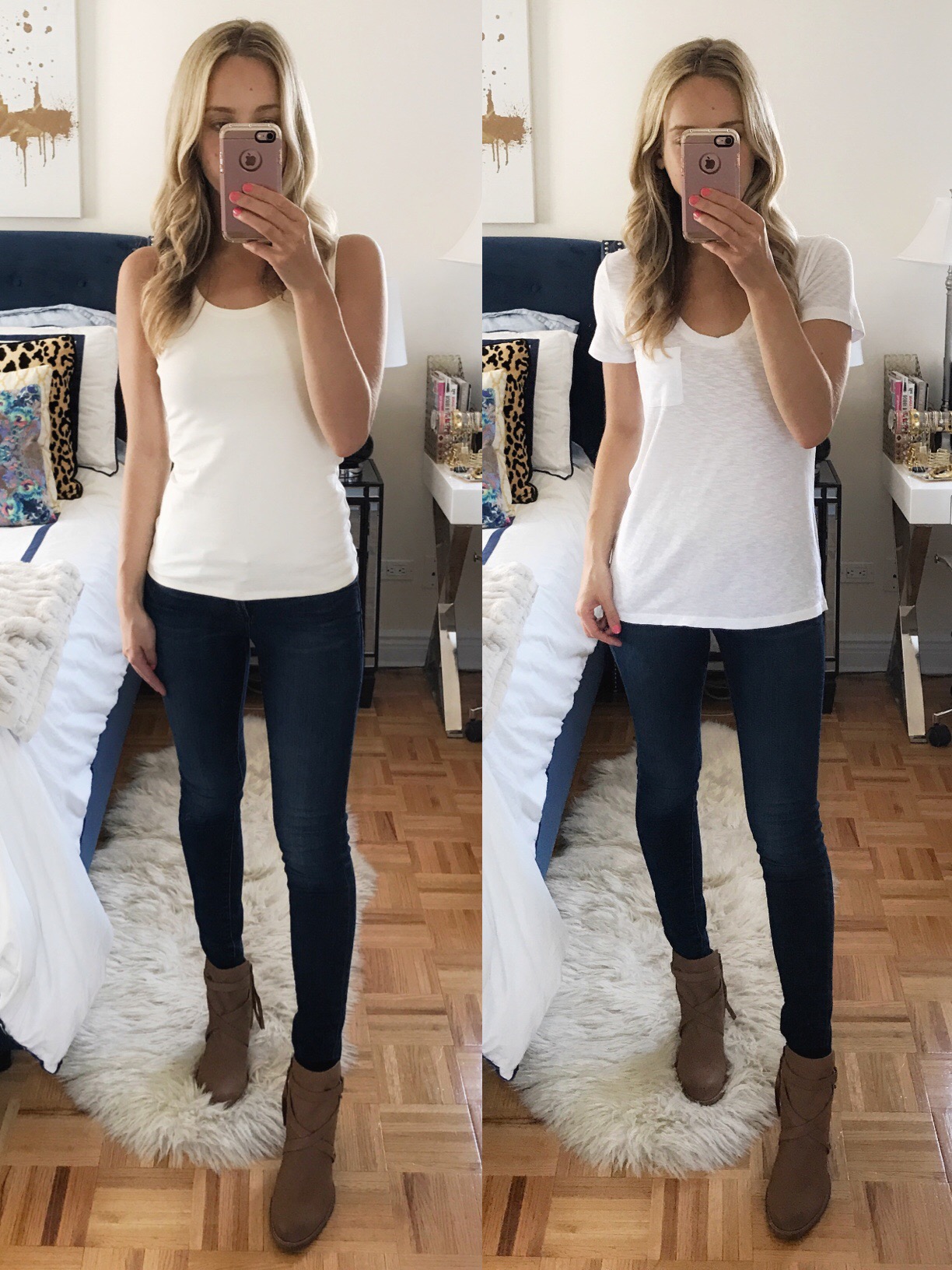 White Tank Top ($31, size XS) | White T-Shirt ($17, size down– I'm wearing XXS)
Not my most exciting looks, but sales like these are a great time to stock up on basics. Can you believe that I didn't own a neutral cotton tank top? I can't tell you how many times I've reminded myself and then completely forgotten to purchase one. I also was in need of a plain white t-shirt— this one comes in a TON of colors so lots of options to choose from. It's a little on the sheer side so I may order another style (there are a few other brands with tees in the sale) to compare what I like better.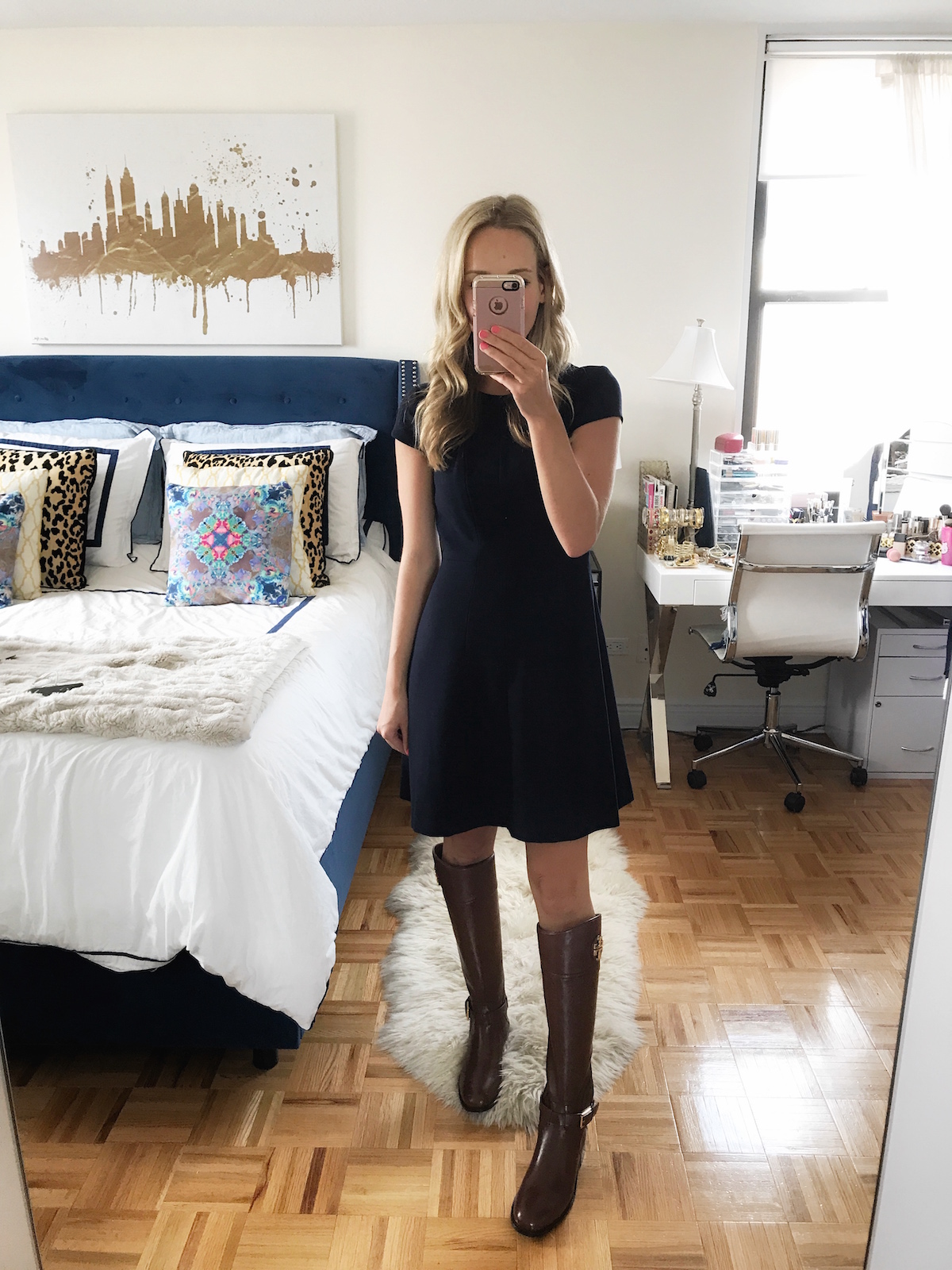 Navy Fit & Flare Dress (size 2, under $100) | Tory Burch Riding Boots ($299 marked down from $498, true to size!)
Drumroll please… I finally did it. I pulled the trigger and bought brown Tory Burch riding boots. For the last two years I kept debating it and now I'm so glad I did. I really love this style boot— it's very simple and I like how it's not plastered all over with Tory Burch logos or extra embellishments. They are true to size (I'm an 8) and fit perfectly around my skinny calves. They come in black and a wide version too!
Nordstrom Anniversary Sale Misses
These items are sadly getting returned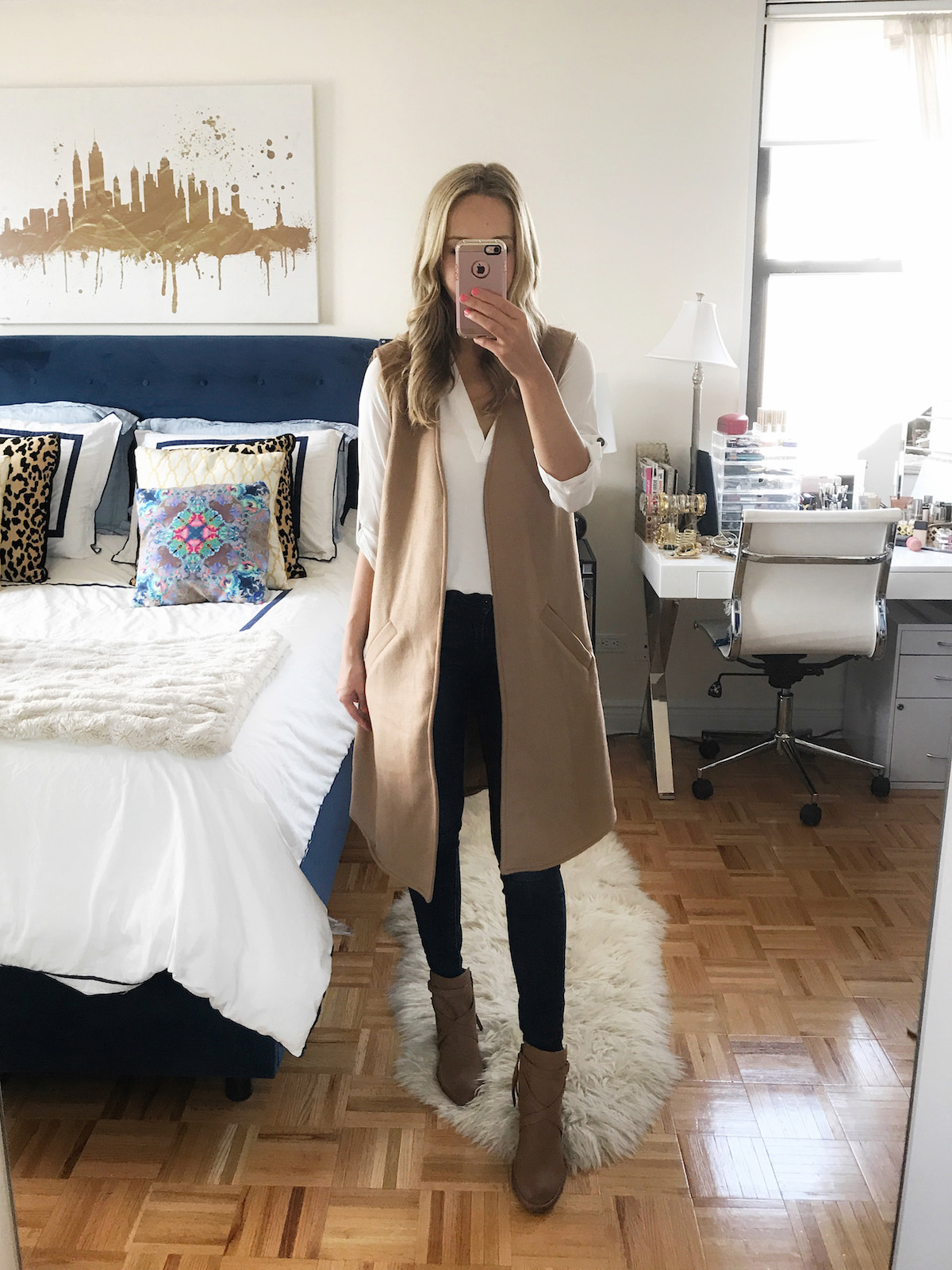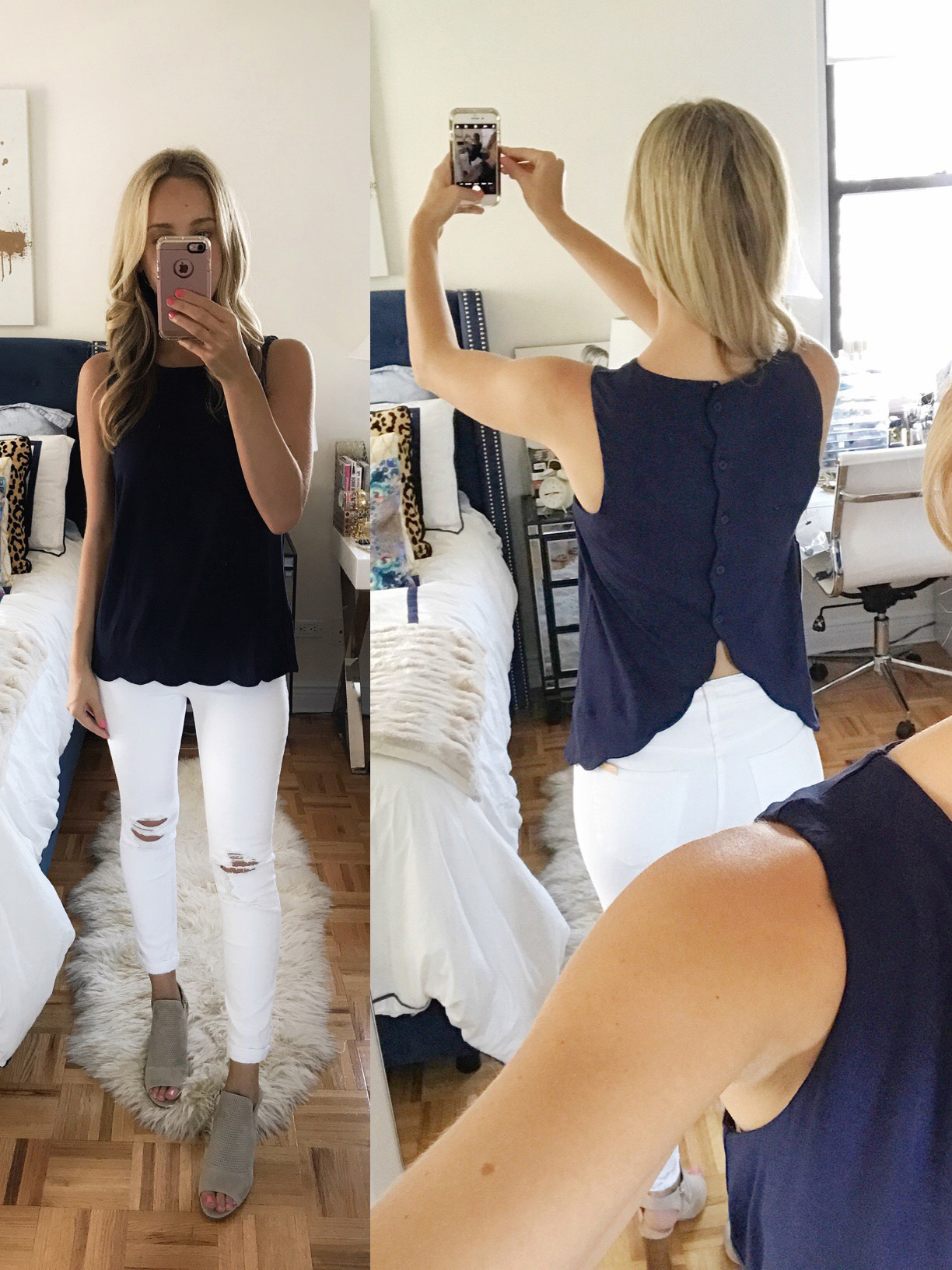 I really wanted to love this vest, but was sadly disappointed when I tried it on. It's definitely NOT one size fits all. I felt like I was drowning in it both width and length-wise. I'm not even that short– in booties like I'm wearing here I'm about 5'9″ so this vest is only going to look good on someone very tall.
So the only reason I'm returning this scallop tank is personal preference. The fit and quality is great, I just didn't notice the detailing on the back. It's really cute, but not my cup of tea.
What are your favorites from the sale? Have you guys shopped yet? Any questions definitely let me know in the comments and I'm happy to answer! 
- Katie