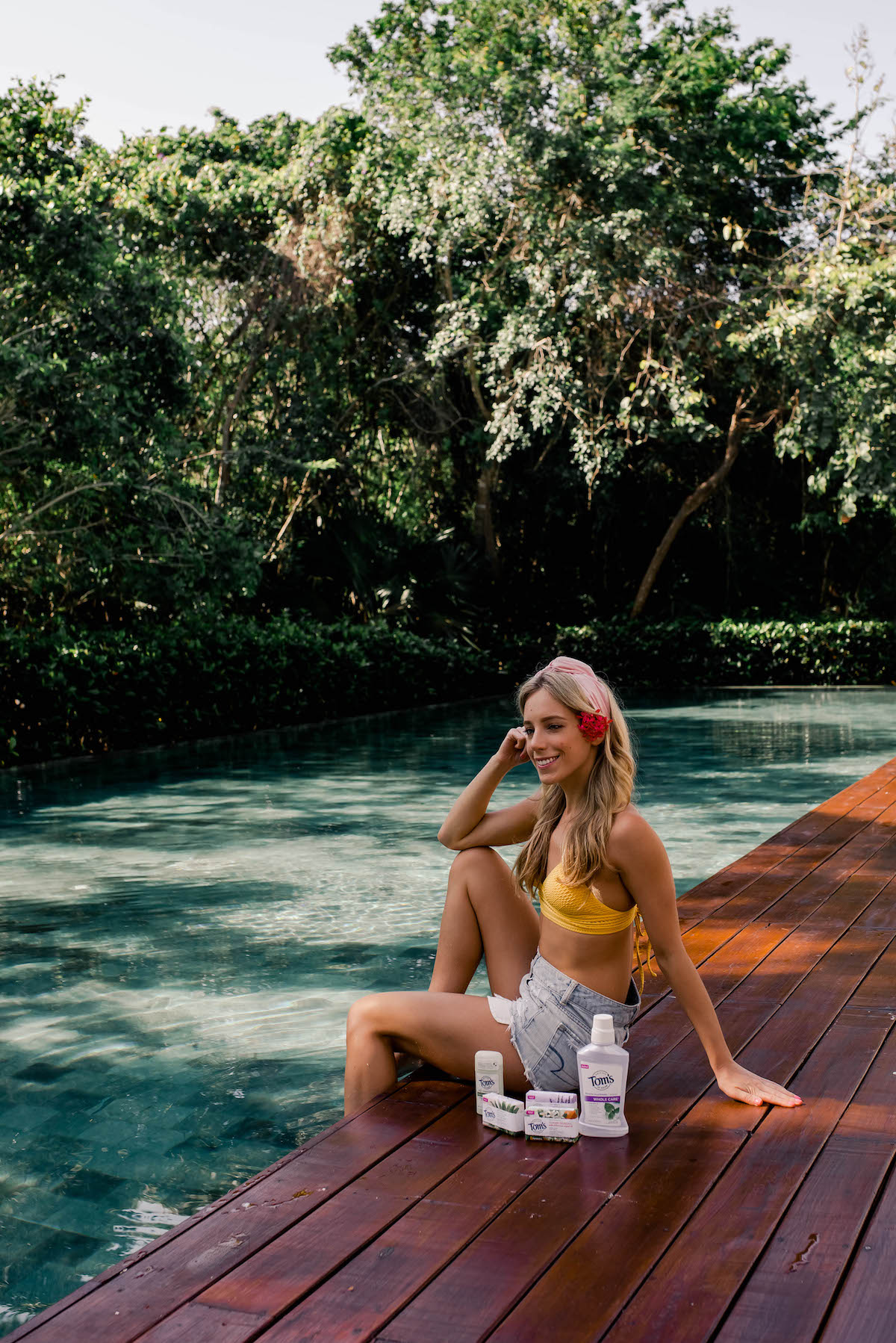 I know I'm a few days late, but Happy Earth Day (and month!) everyone!
Living in a (concrete) jungle, it's easy to forget about nature and the impact simple actions have on the environment. Visiting Mexico last week was a great reminder that there's a whole world out there that doesn't involve honking cars, dirty sidewalks and grassy areas larger than the Great Lawn in Central Park. It was about time I ditched my makeup in favor of natural products from Tom's of Maine and sun on my skin. Clearly I was soaking it all up!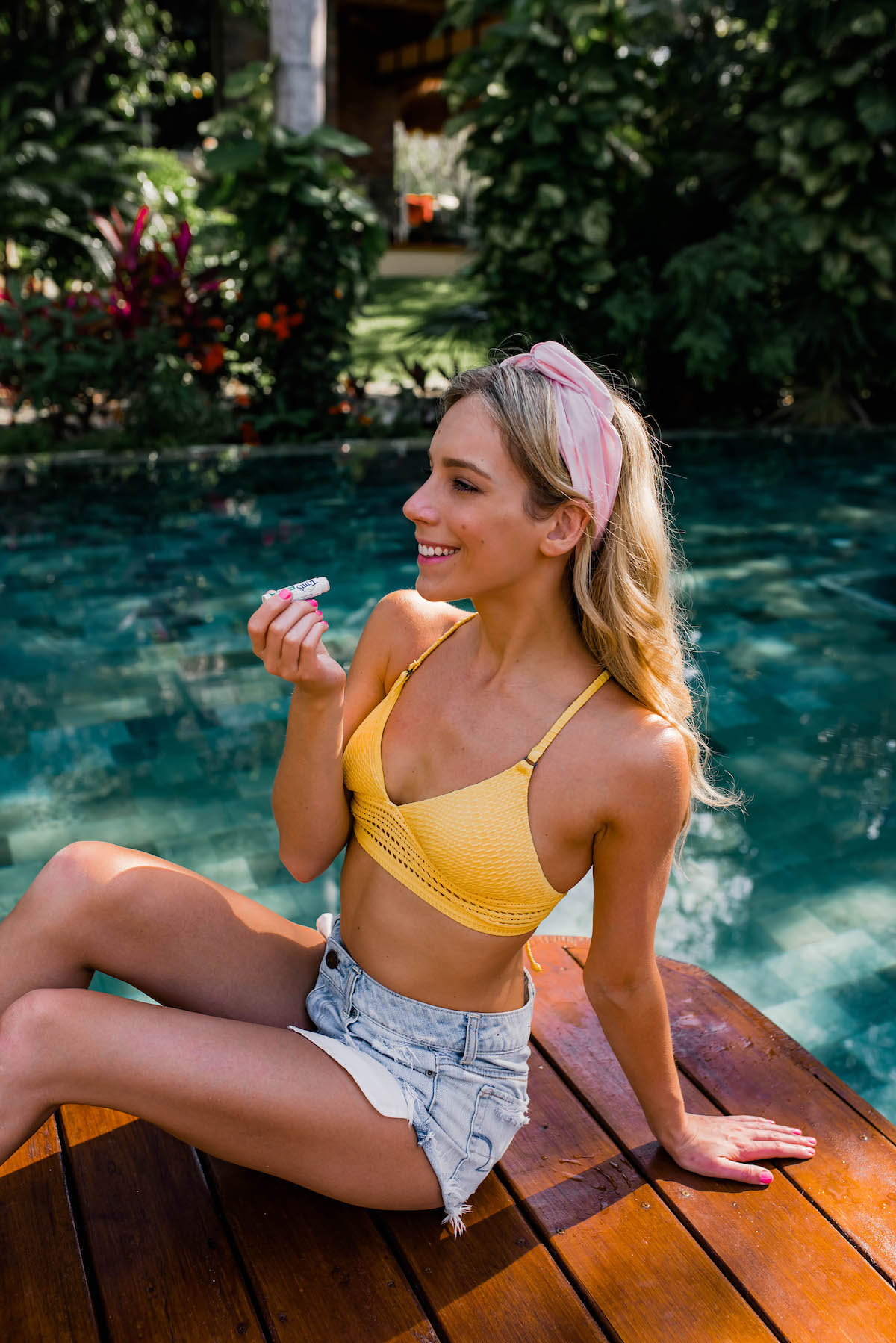 Speaking of everything green… Due to some very heavy encouragement from my mom, over the last year I've slowly been making small changes in my home and beauty routine to try and live a more naturally healthy life. My mom is all about gluten free, clean eating and will only use natural beauty and cleaning products. It's really impressive how she's completely changed her and my stepdad's everyday habits and I can see how much their overall quality of life and nutrition has improved. I'm still getting started, but some examples of what I've been doing are buying only organic produce and farm-raised meat, plus trying to incorporate body care products that use more naturally-derived ingredients into my routine. I wish I could get on my mom's level, but hey, baby steps!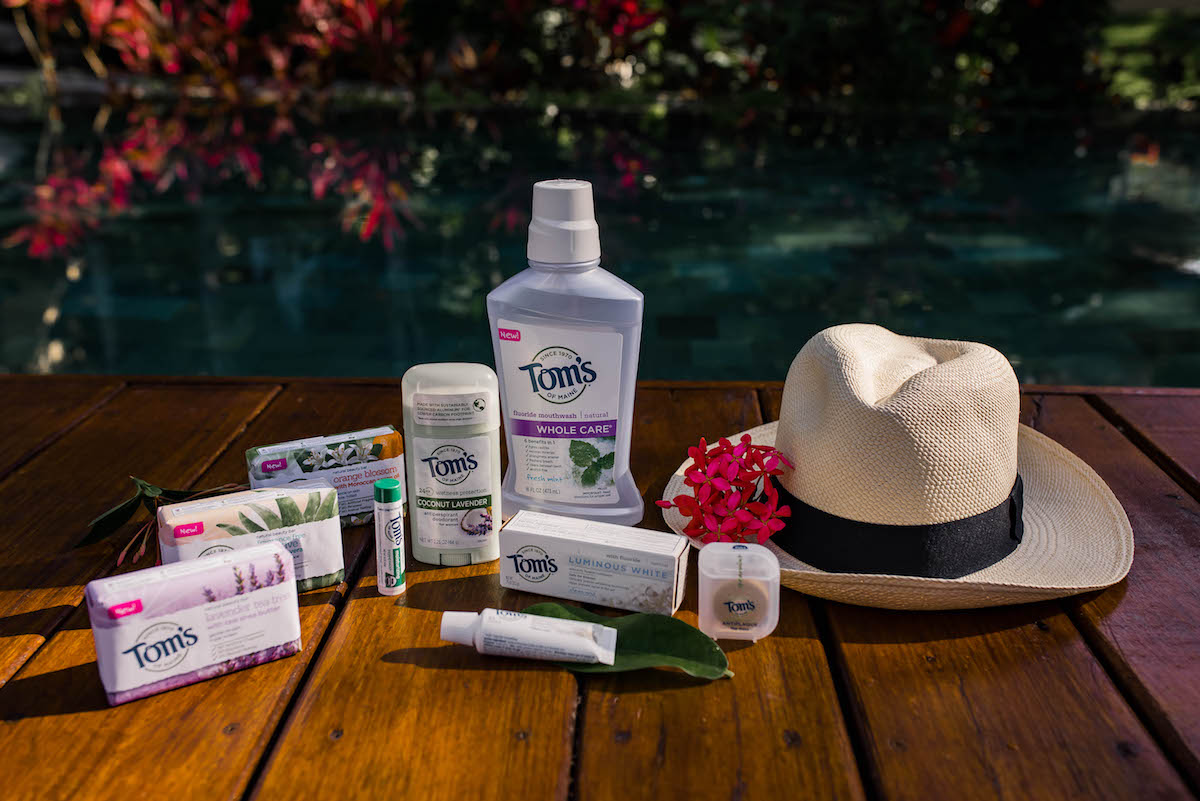 Back in January I was re-introduced to one of my favorite childhood personal care brands: Tom's of Maine. Anyone else remember using the toothpaste? The one in the white tube? Me me me! Anyways, of course I said yes when they invited me to attend a meditation class and preview their new spring product launches. I'm not sure mediation is my thing, BUT I had a blast playing around with the products and couldn't have been more thrilled when they gave me a goodie bag to take home.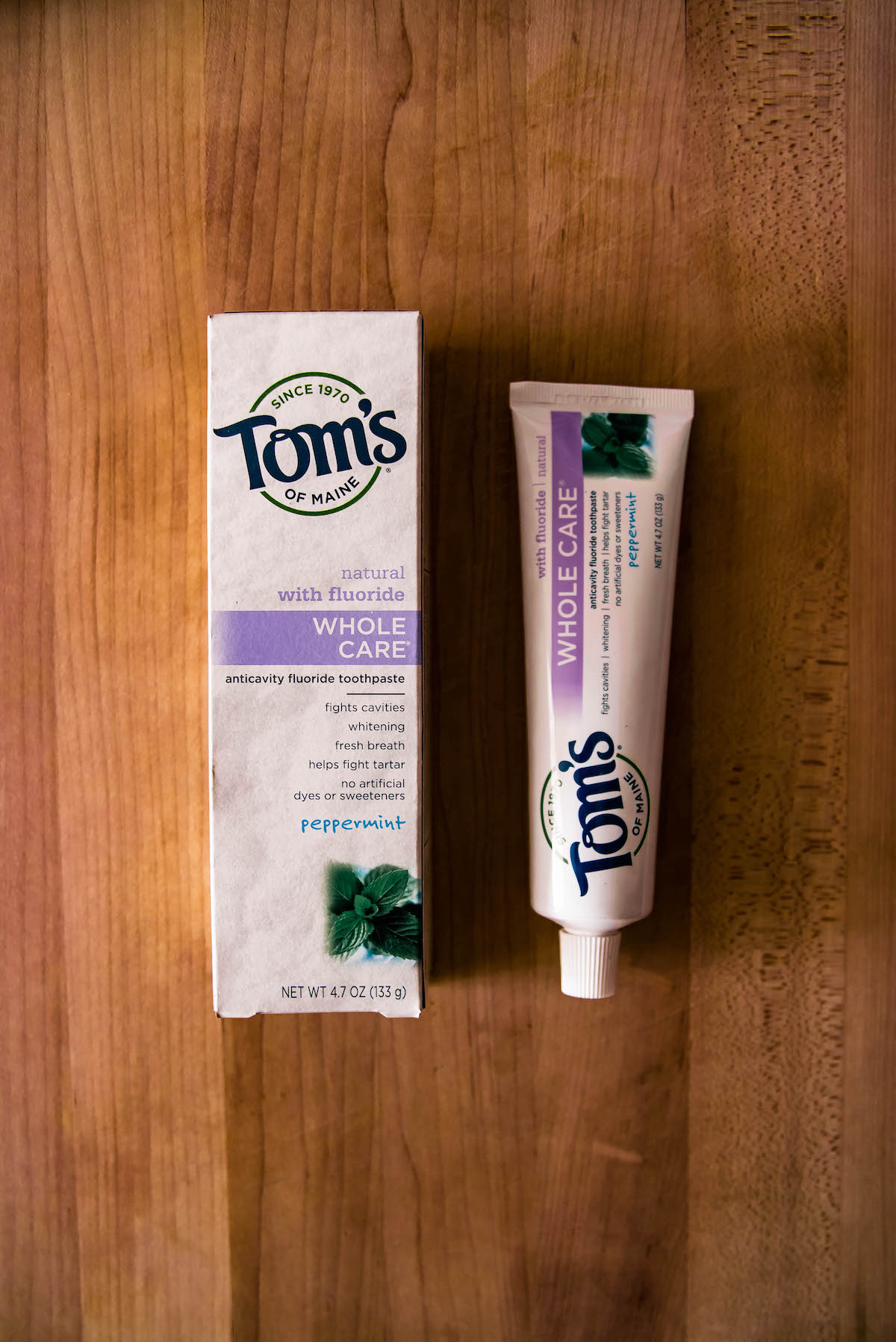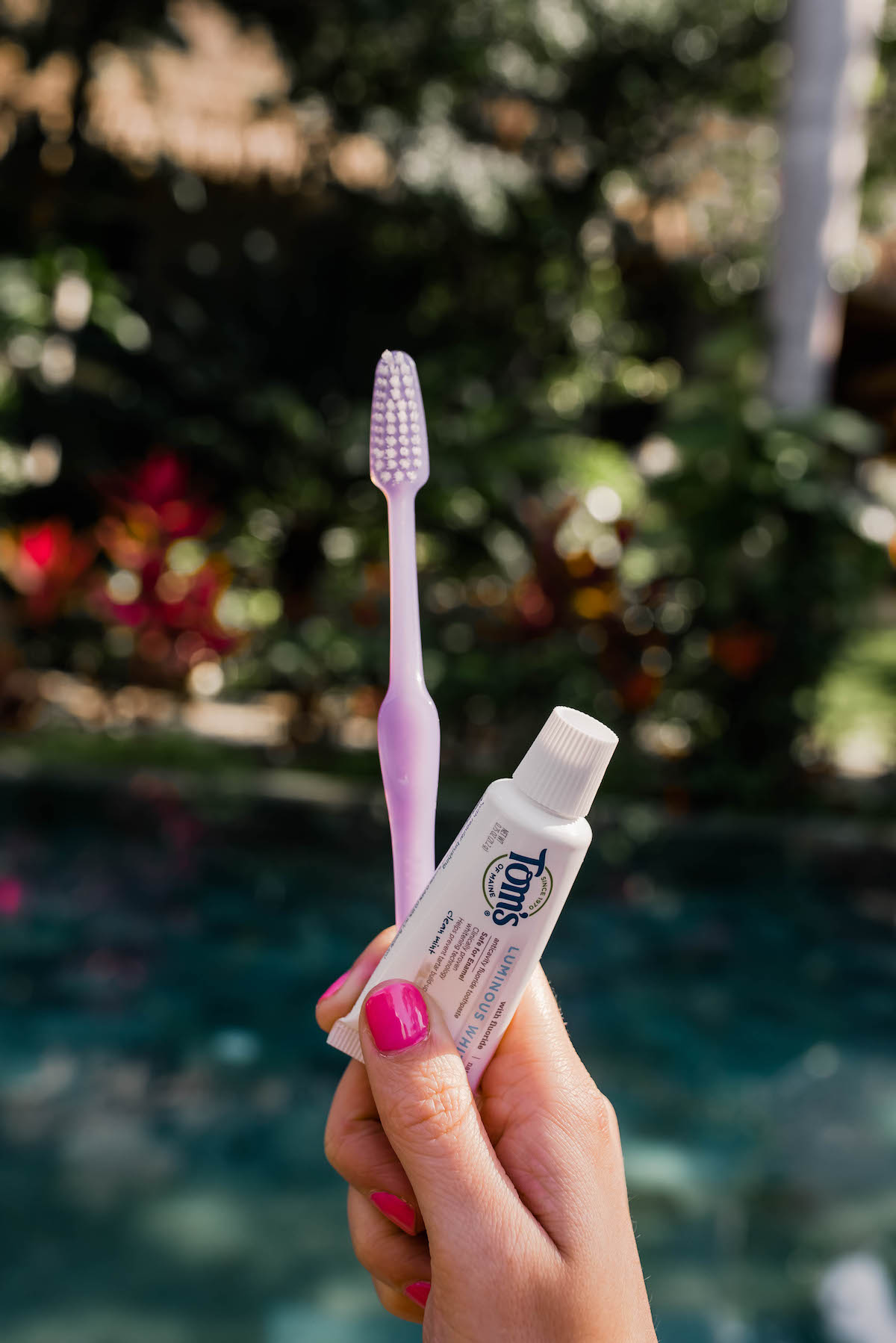 Toms of Maine Antiplaque and Whitening Natural Toothpaste & Luminous White Travel-Size Toothpaste
For the last few months I've tested and finished so many of the things I received in that January goodie bag including natural toothpaste, mouthwash, deodorant, lip balm and bar soap. Since I grew up using the toothpaste (I hated all other brands because the sharp mint formulas burned my gums,) I always thought of Tom's of Maine as just an oral care brand, but that's far from the truth. Tom's of Maine actually has a ton of different affordable body and lip care products, and even a whole line for babies. They also are committed to sustainable practices and give back 10% of profits to organizations that support nature and healthy families. This year they're even donating $1,000,000 to The Nature Conservancy to help towards better protecting and restoring U.S. waterways. Awesome right?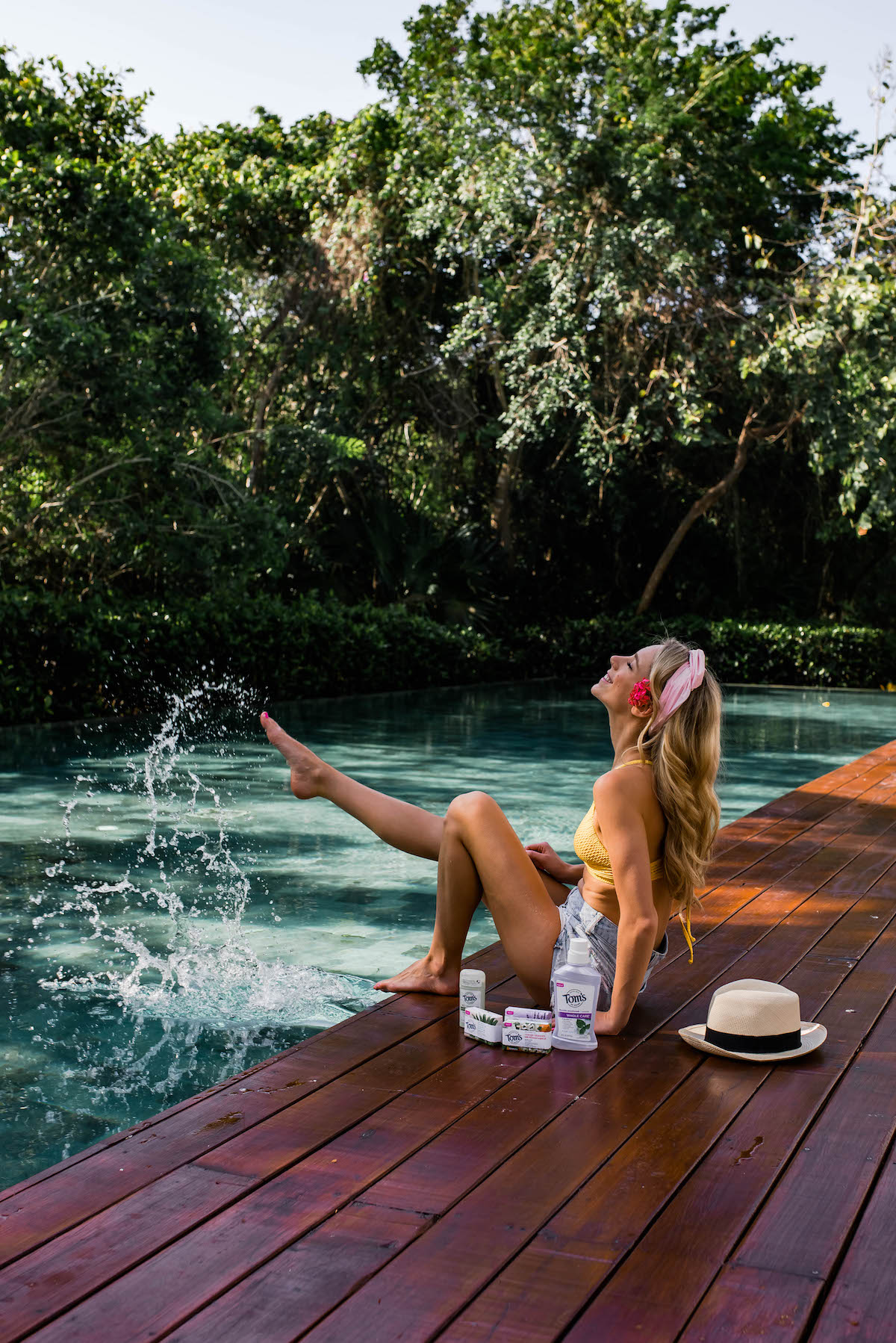 Here you can see some of my favorite products! I mean, isn't the setting perfect? Nick told me to embrace my inner "Jungle Goddess" as we were taking these pictures. LOL!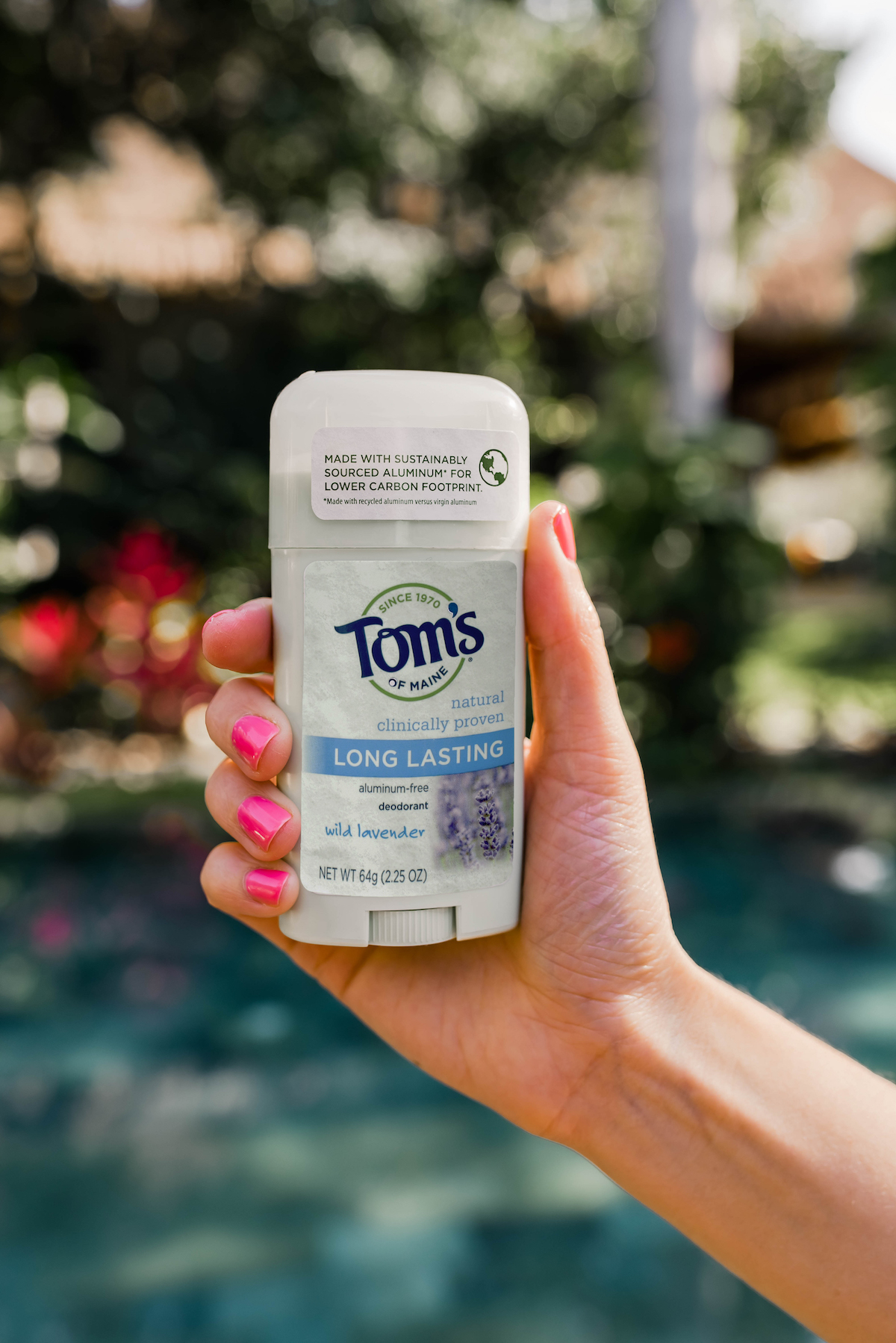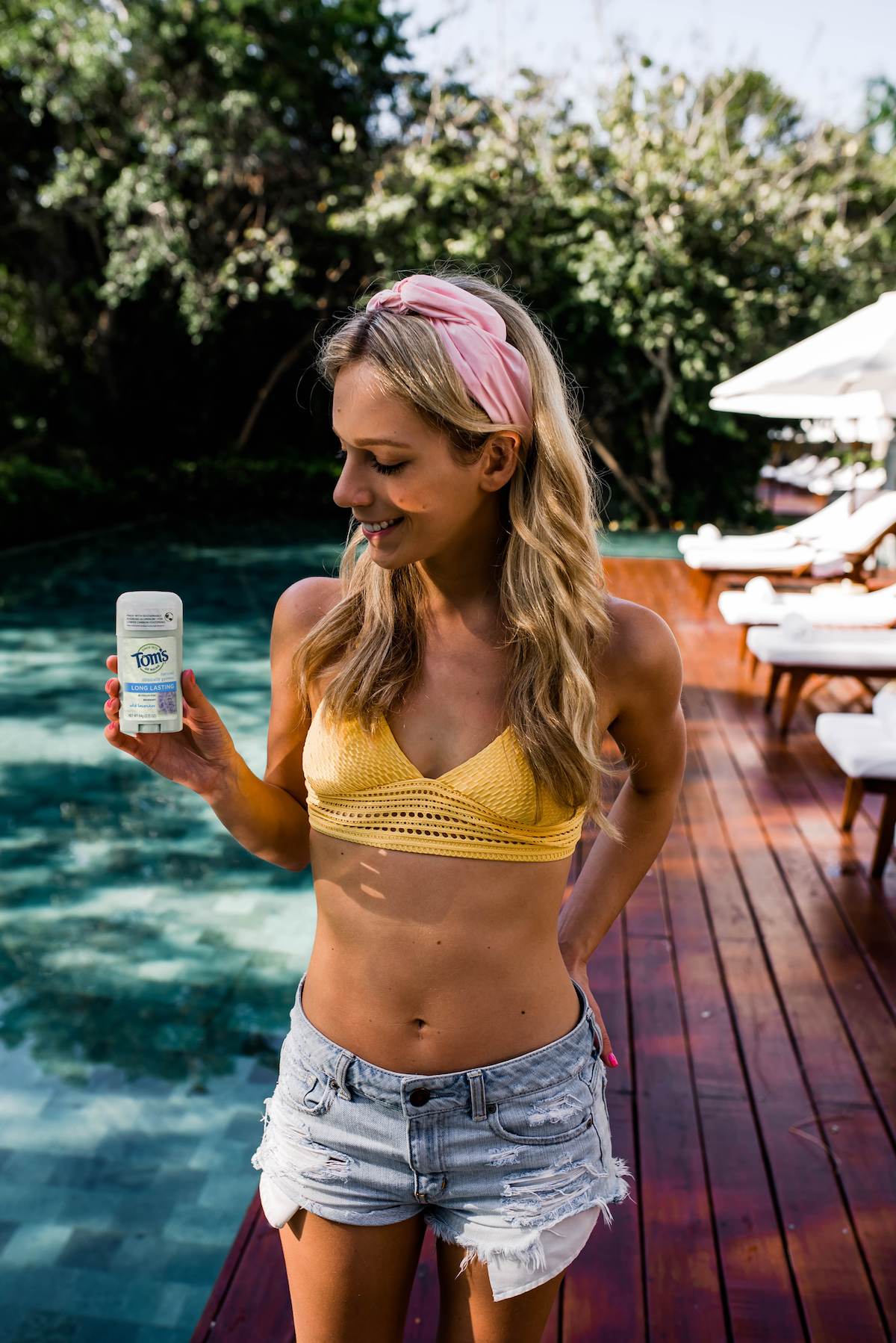 Tom's of Maine Deodorant Stick Long Lasting Lavender
I've tried both the Coconut Lavender antiperspirant and Long-Lasting Lavender deodorant and love both! I don't normally like when my deodorant is scented, but these are very subtle thanks to the 100% naturally-derived ingredients. The solid formulas glide on smooth and doesn't rub off on my clothes.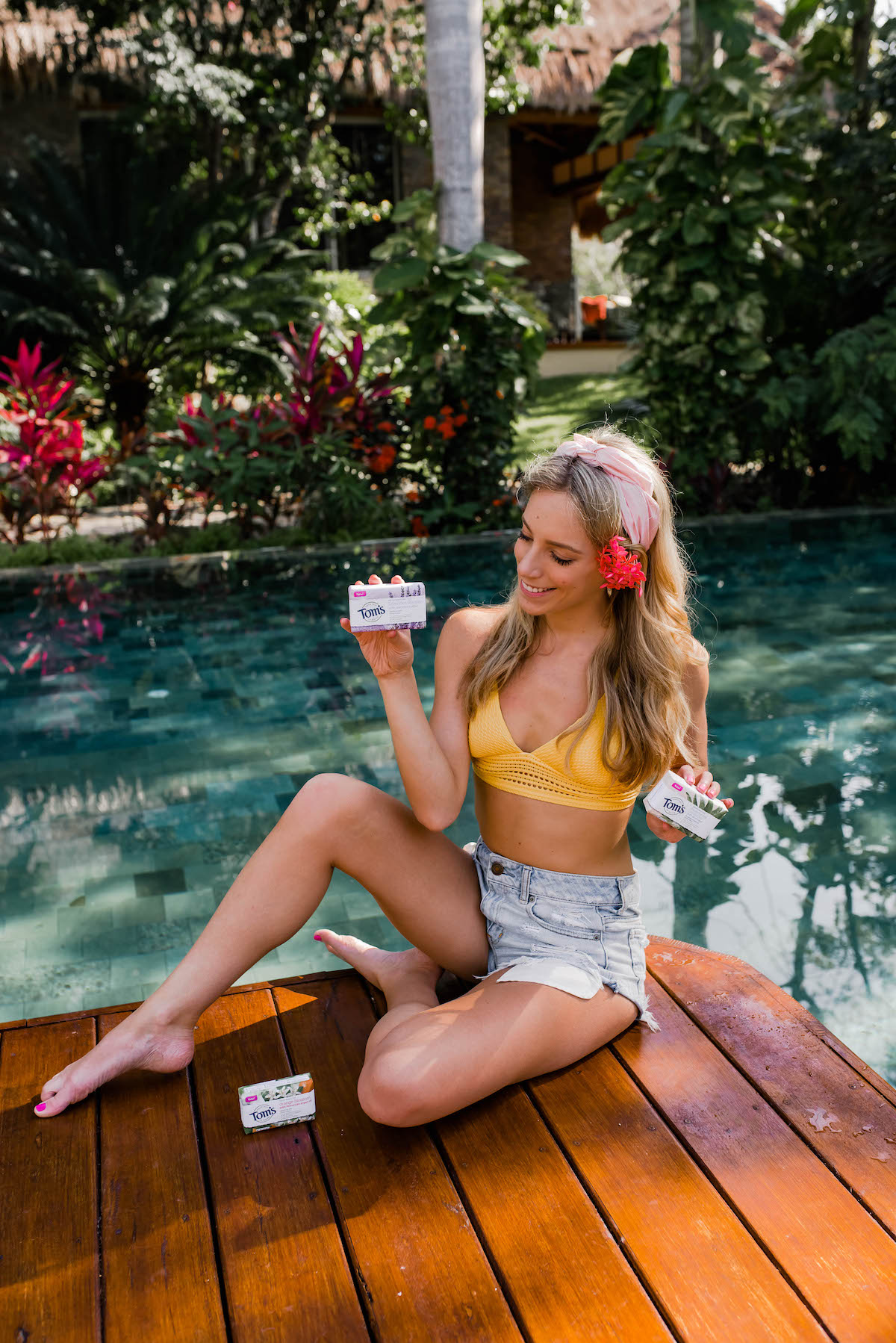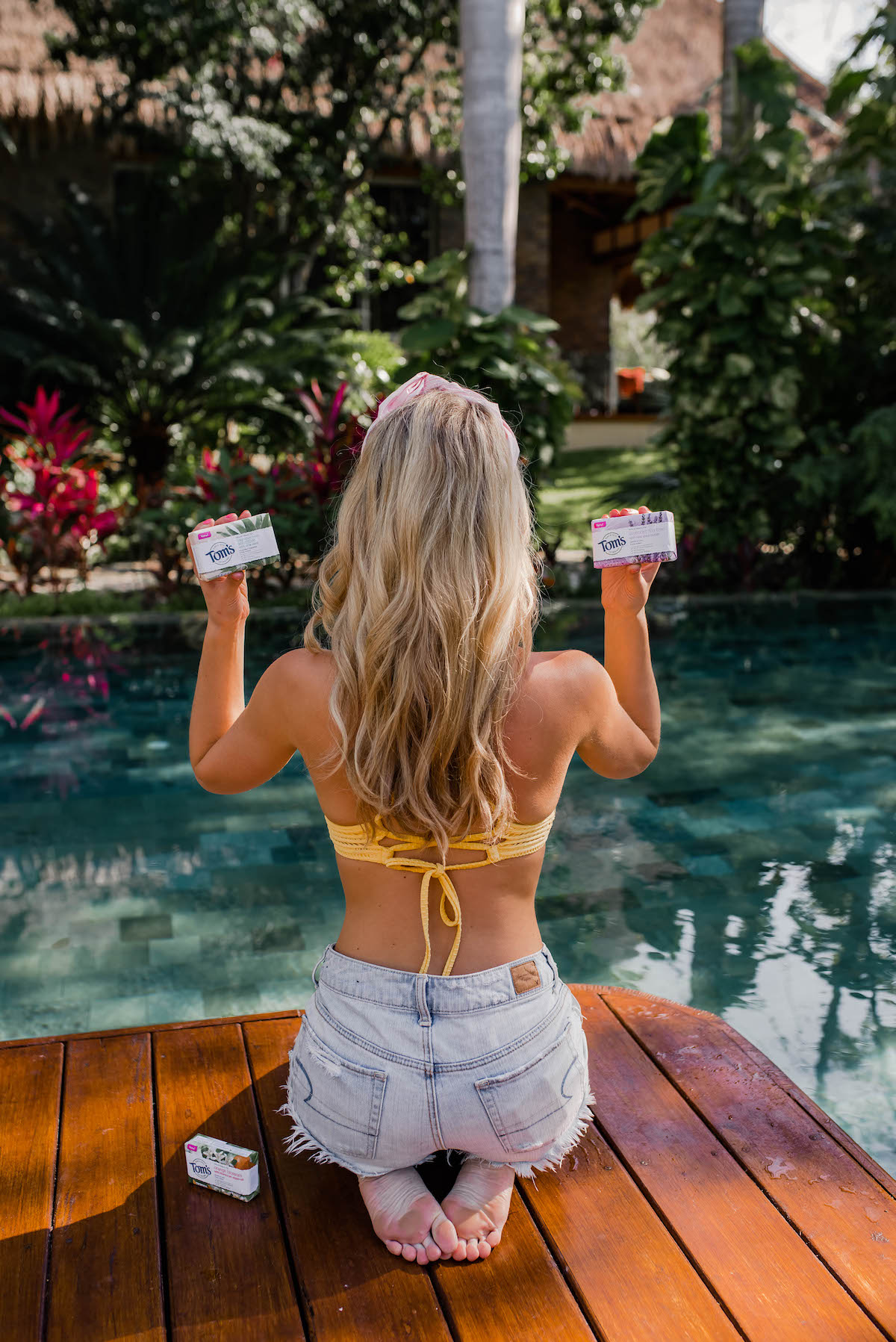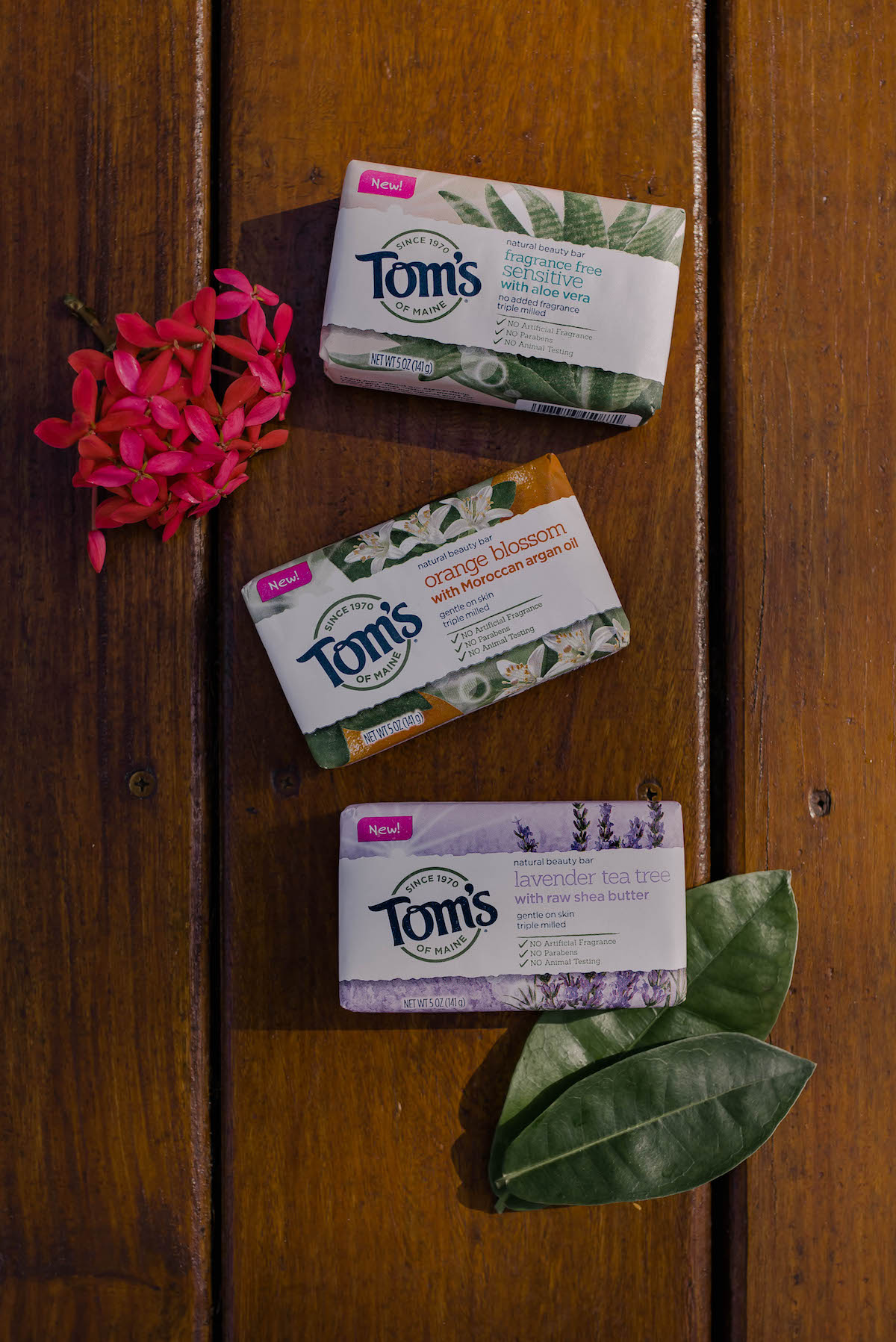 Tom's Of Maine Bar Soaps: Sensitive with Aloe Vera | Orange Blossom | Lavender Tea Tree
I finally threw away my shower loofa (apparently these get full of bacteria) and have only been using natural bar soaps over the last few months. I've already gone through a few from Tom's of Maine and love how these don't include any artificial fragrances or parabens. My favorite is the Orange Blossom because it's formulated with Moroccan Oil—super nourishing!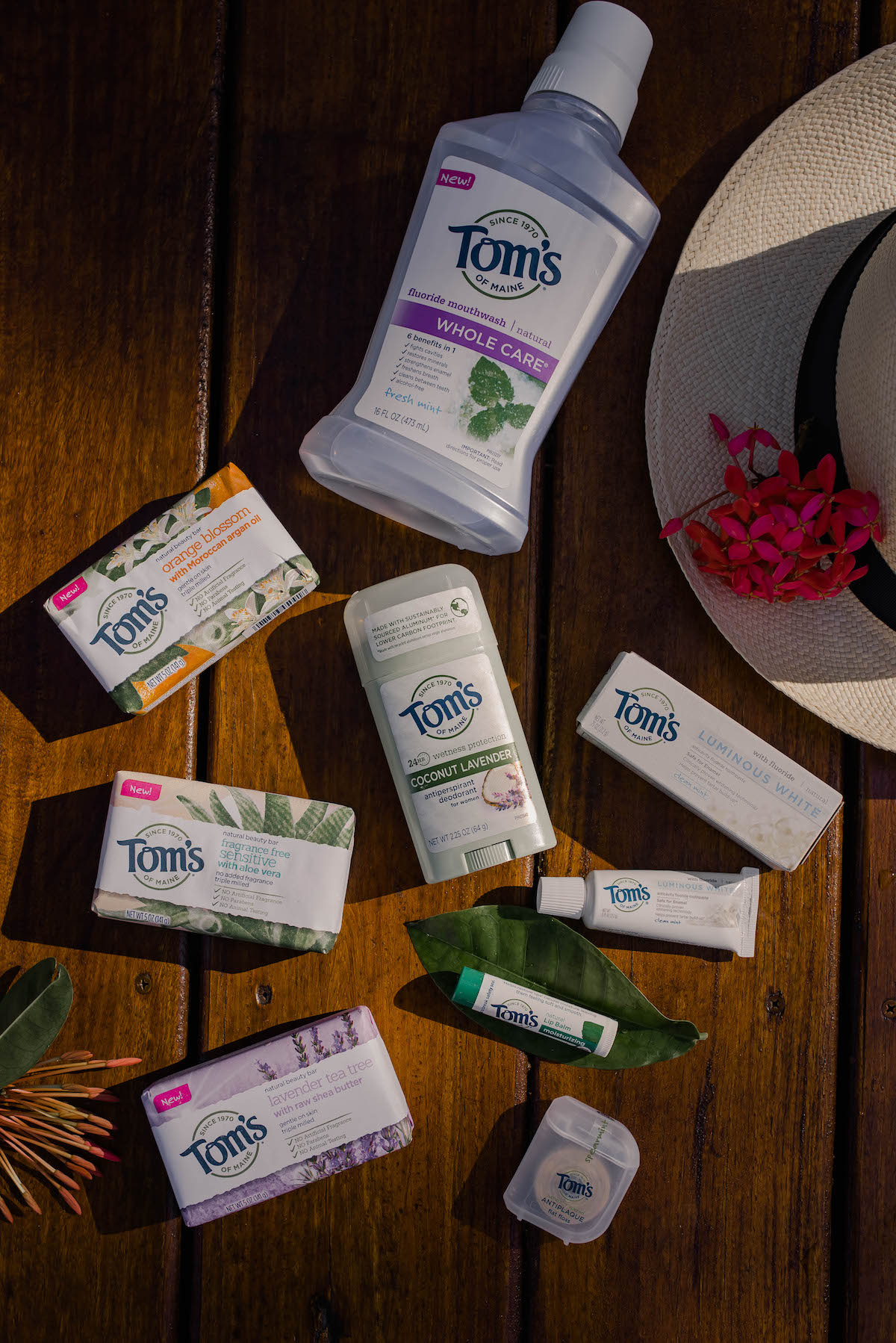 Some other products I recommend are the mouthwash, dental floss and lip balm. I've never regularly used a mouthwash because I hate the way they sting and burn. Tom's of Maine mouthwash is alcohol free so you don't get that feeling. It's amazing and does all the things a mouthwash should like fight cavities, freshen breath and strengthen enamel. I use it along with the dental floss and toothpaste as my daily oral care routine! I also like to keep a peppermint lip balm in my purse at all times. For something that you apply on your lips multiple times a day, I like knowing the one I'm using is completely natural and formulated with USDA certified organic sunflower seed oil, coconut oil and beeswax..
Have I convinced you need to add some Tom's of Maine products to your life? I hope so! You can't beat a combo of natural ingredients and affordable prices!
Have you ever tried Tom's of Maine? Are you into using natural beauty products? Would love to hear in the comments!
Big thank you to Tom's of Maine for sponsoring this post!
- Katie