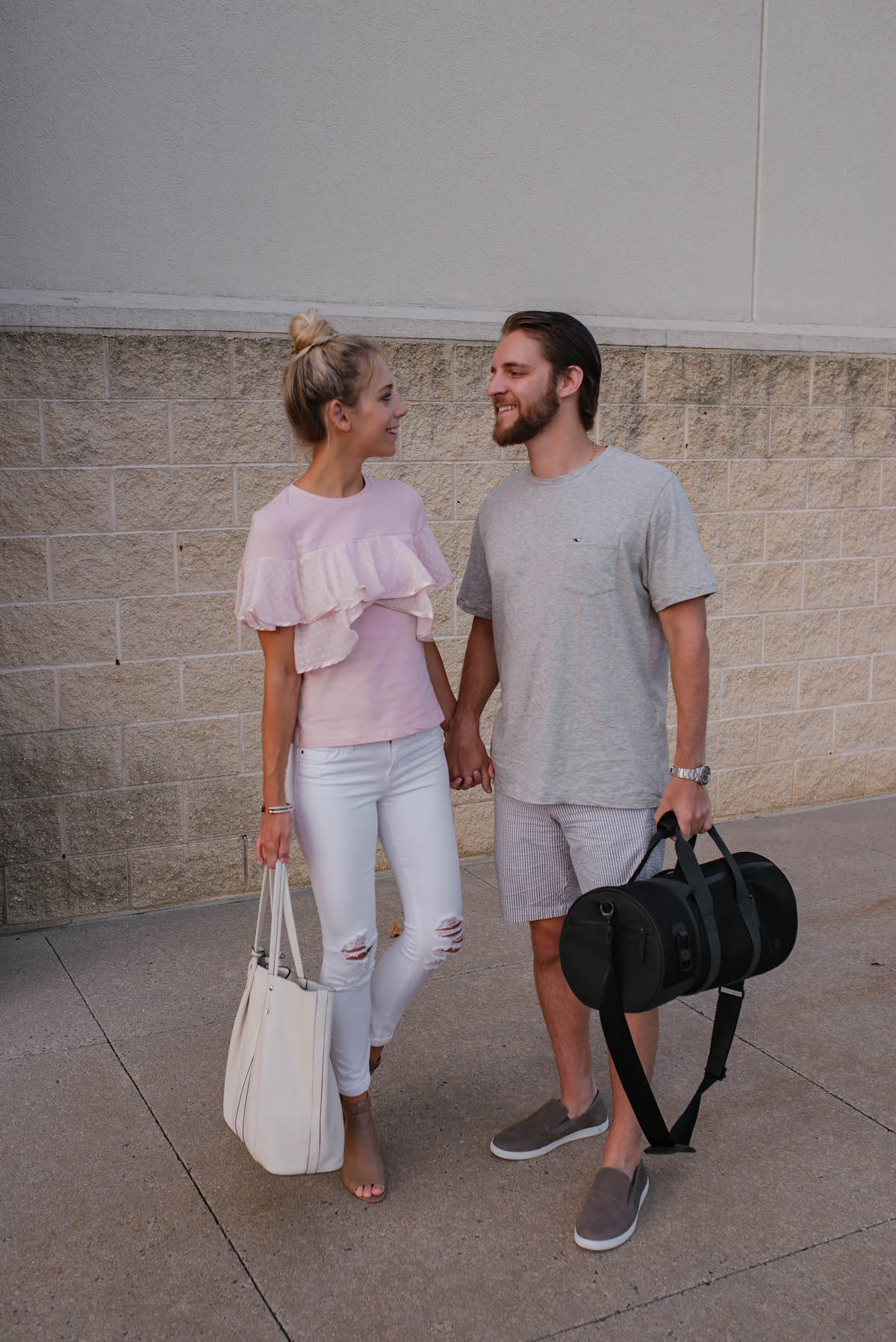 Look who I got to join me! Aside from when he proposed, I can't remember the last time Nick agreed to having his picture professionally taken, but it goes to show even the most stubborn camera-shy guy can't resist the tempting offer of new shoes. I honestly think men are just as bad as us girls when it comes to shopping and hoarding accessories. A few years ago Nick couldn't have cared less about his footwear or what bag he used to pack his things for a weekend getaway. Today? There are some weeks where he gets just as many packages in the mail as me! And that's saying A LOT. 😛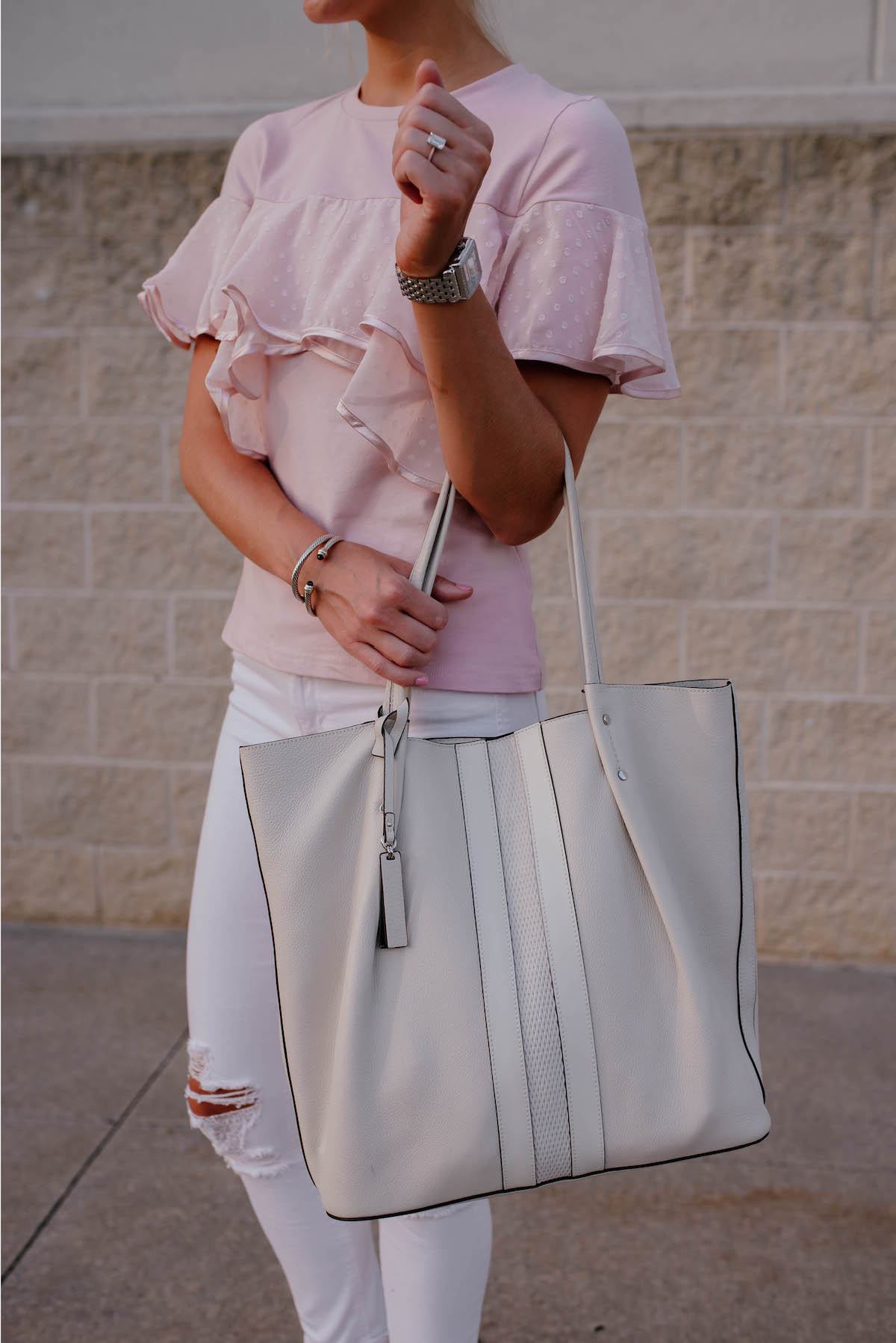 MUST-HAVE EVERYDAY HANDBAG \\ Vince Camuto Mio Tote (also avail in black & beige!)
Speaking of weekend getaways… Late last week we finally made our way to my grandparent's home in Pennsylvania for an extended post-July 4th celebration. We usually spend a few weekends every summer with them beginning in June, but the last month totally got away from us and sadly we weren't able to make it home until just now. It's all good though– we certainly made up for lost time! I got in some great r&r with my Gram at the pool and Nick hit the golf course with my Pop Pop.
I never pack a lot of extra accessories when I go home, but the one handbag I did bring is the Vince Camuto Mio tote you see here. It's deceptively spacious and constructed from the softest leather. It's the type of bag that can work for any occasion whether that's running errands, needing something chic yet functional for work, or even as a gym bag.
MORE VINCE CAMUTO HANDBAGS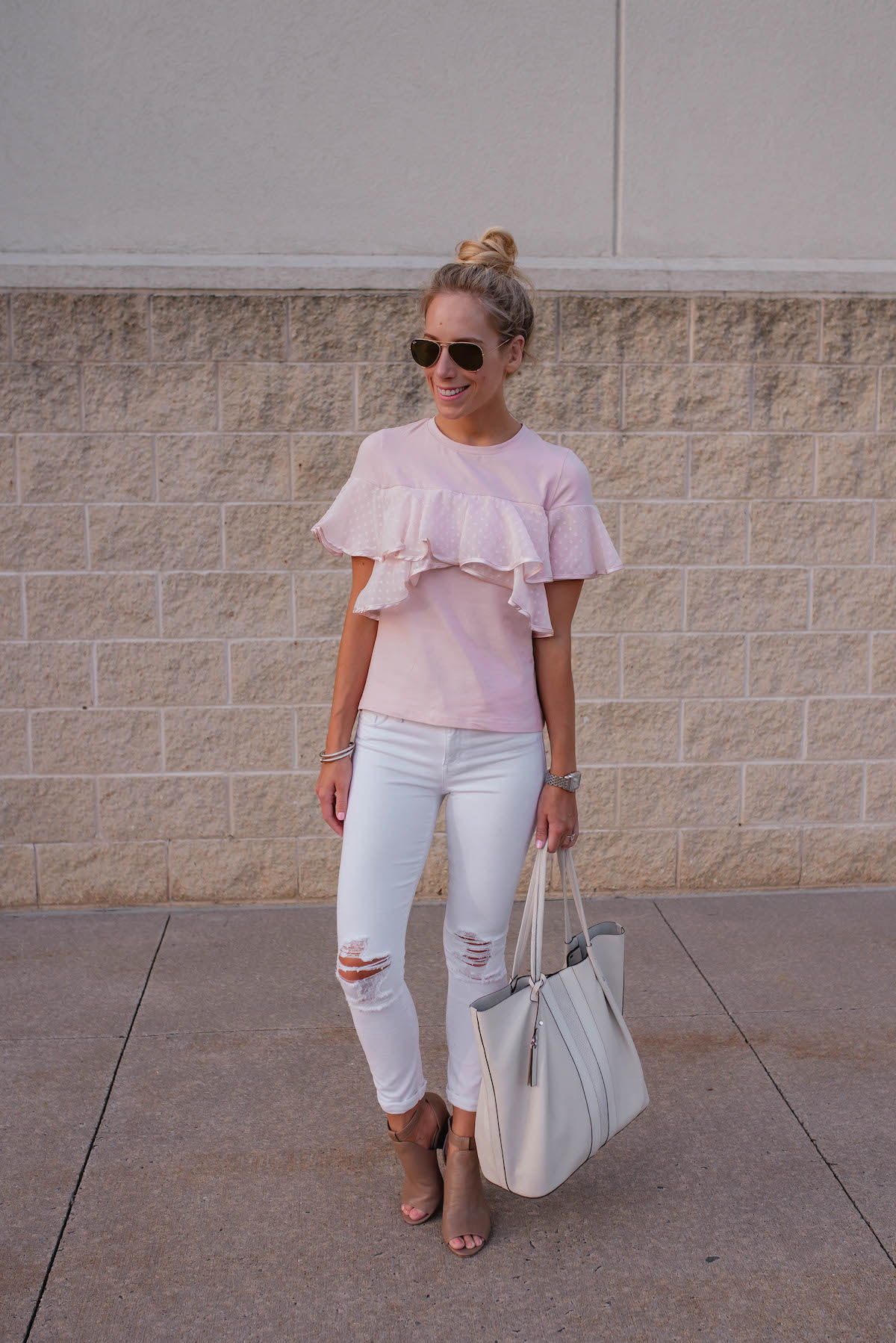 Vince Camuto Mio Tote | Vince Camuto Adaren Peep-Toe Sandals | Pink Ruffle Top | Similar Distressed White Jeans | Aviator Sunglasses | Watch | David Yurman Bracelets
When you live in a place where your legs are your primary mode of transportation, you'll quickly learn that not all heels are equal. I've come to really love wedge-style sandals, especially ones that hug the foot. The Vince Camuto Adaren sandals do just that and more. The heel is just high enough that you can dress up a look AND still walk comfortably.
MORE VINCE CAMUTO SHOES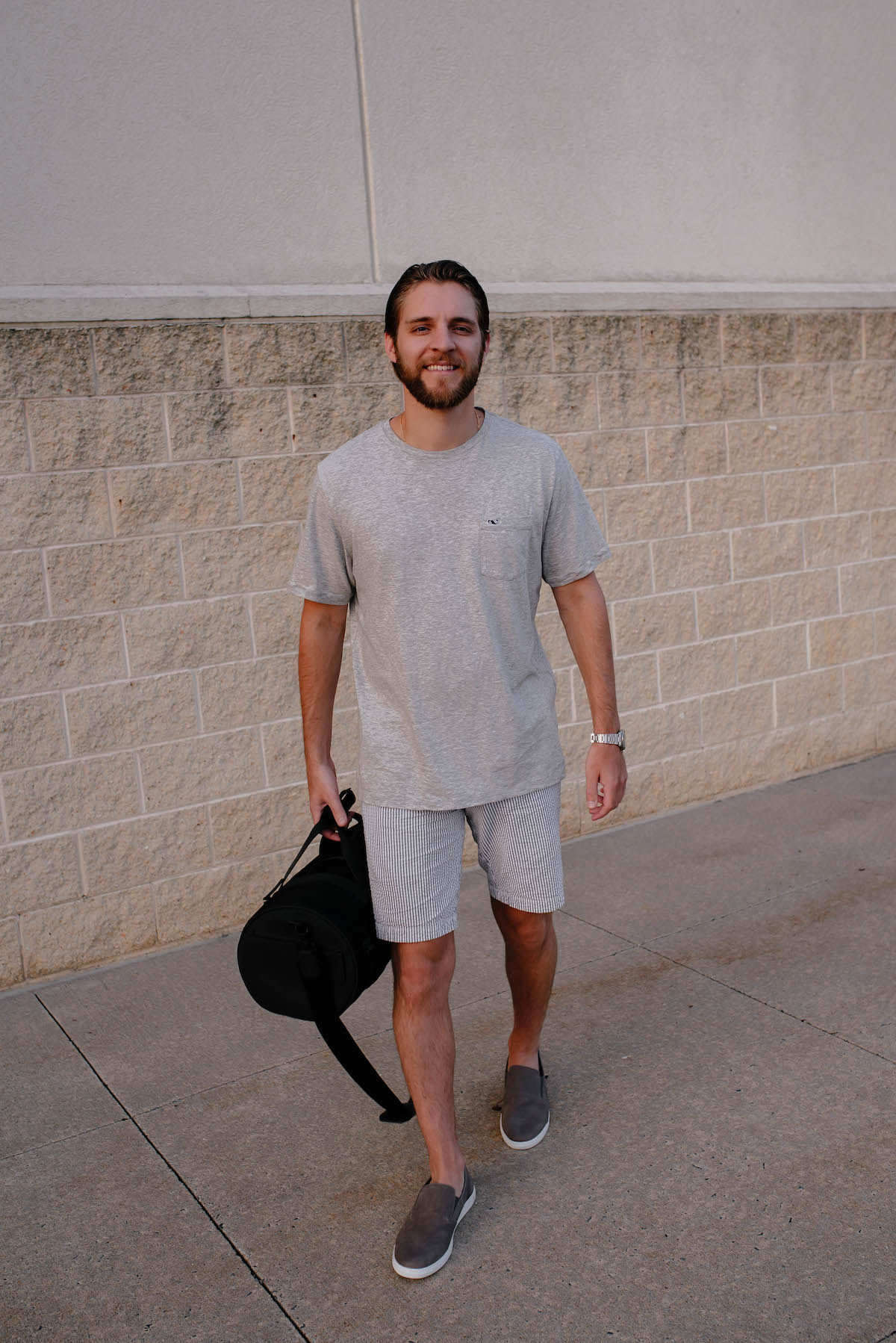 MUST-HAVE MEN'S ACCESSORIES // Vince Camuto Urban Mesh Duffel Bag | Vince Camuto Neff Slip-On Sneakers
Of course I can't leave you guys without mentioning this one's look! Nick was so pumped when I told him that the Vince Camuto team wanted him to pick out a new pair of shoes and a bag. We're one in the same when it comes to comfortable footwear so of course he went for slip-on sneakers.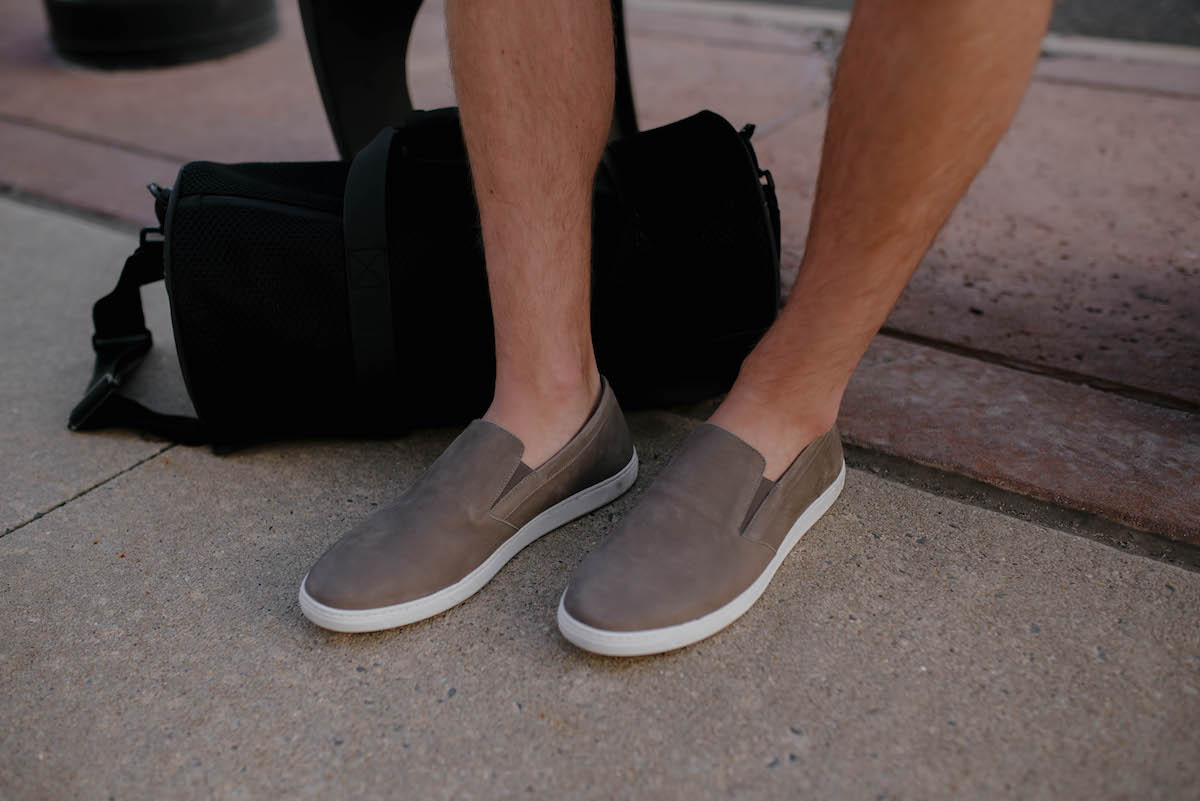 Ladies: Vince Camuto has a great selection of men's footwear (both casual and dressy!) If your guy needs a new pair of shoes definitely check out VinceCamuto,com because there are a ton of loafers, oxfords and booties on sale.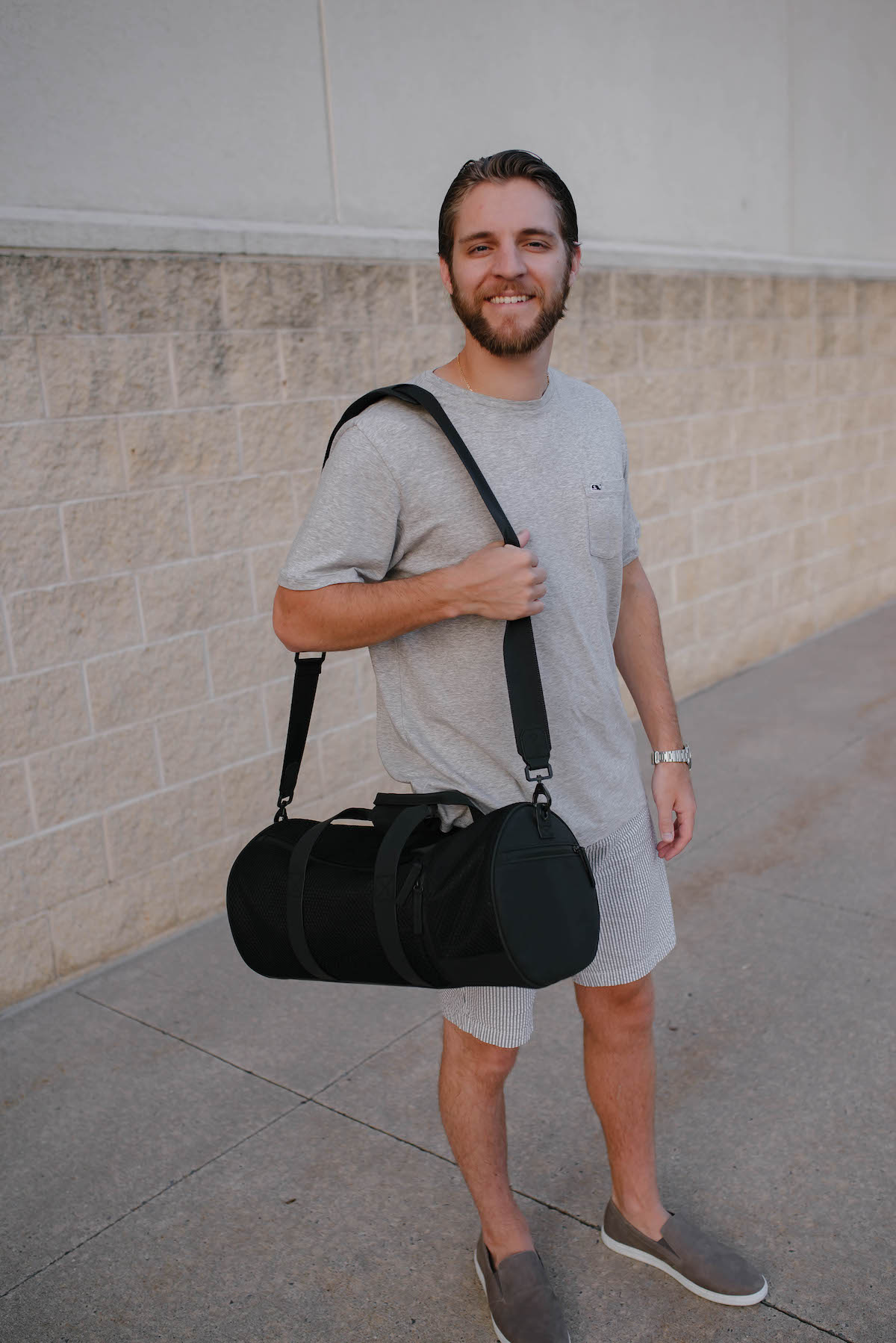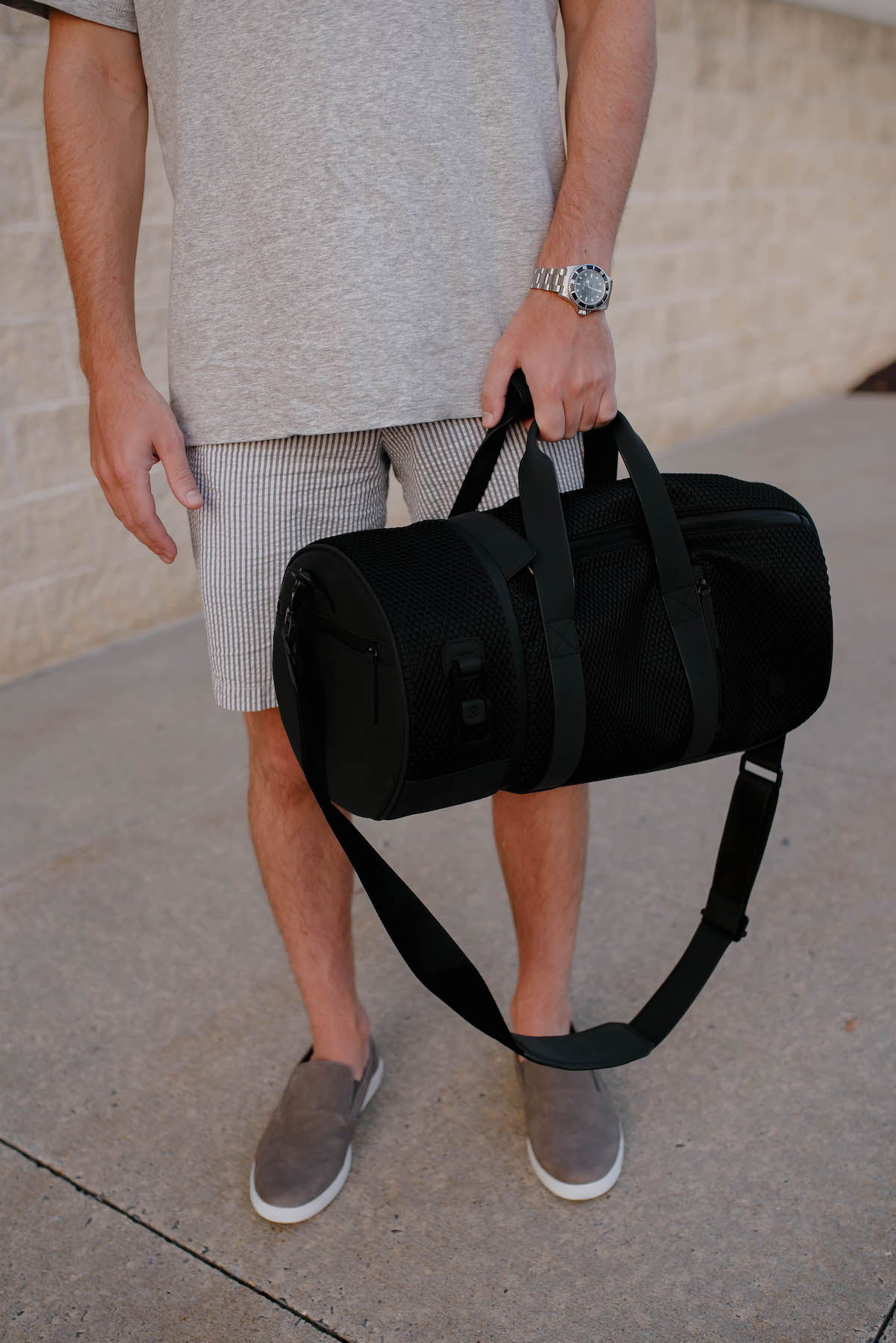 Look at him cheesin' for the camera!! I always get such a kick out of taking his picture. He makes it look so easy, while I'm over here looking awkward in 90% of every photo taken of me. But anyways! Here you can see the bag Nick chose from Vince Camuto. It's crazy how men can fit everything they need for a weekend in such a compact duffel. They have it so easy! This one is pretty cool because it has a separate compartment on the end for shoes or laundry. You can also sling it over your shoulder or hold it by the handles. If I ever can learn how to pack super light I might just have to borrow it for myself…
MORE VINCE CAMUTO MEN'S ACCESSORIES


Big thank you to Vince Camuto for sponsoring this post!
- Katie