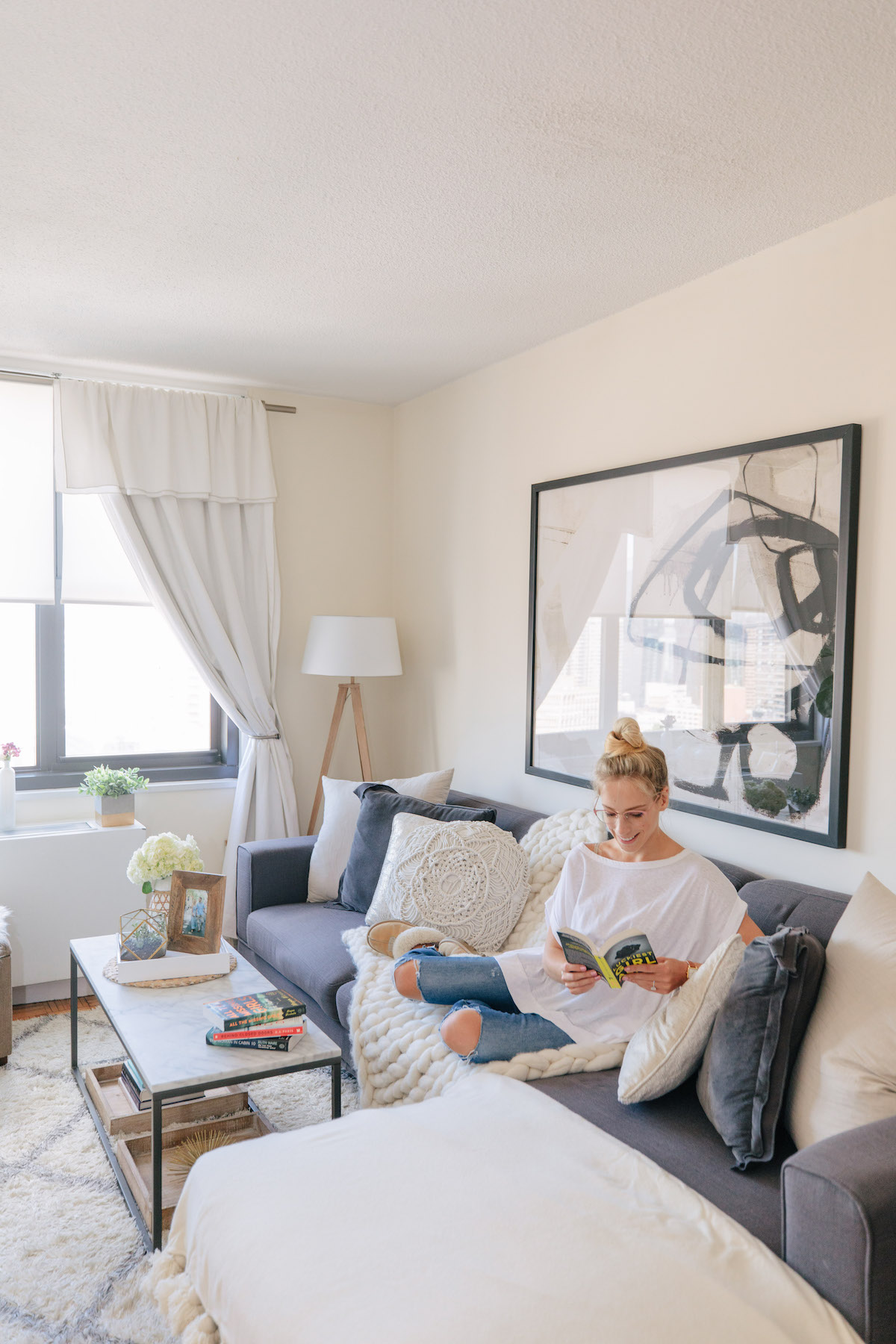 Back in May I asked you guys for book recommendations on my Instagram Story and was so overwhelmed with responses that I not only created this Summer Reading List, but I made a commitment to try and check off at least a handful of them this summer. That was about two months ago and in that time I've managed to read four of the books on my list: The Couple Next Door, The Woman in Cabin 10, Luckiest Girl Alive and All The Missing Girls.
I've included mini reviews of each book below, but first I wanna chat EYEWEAR. Peep my second sets of eyes? I think ya'll know I wear prescription glasses. I should wear them all the time, but usually the only time I'll put them on is when I'm reading, driving or working on my computer.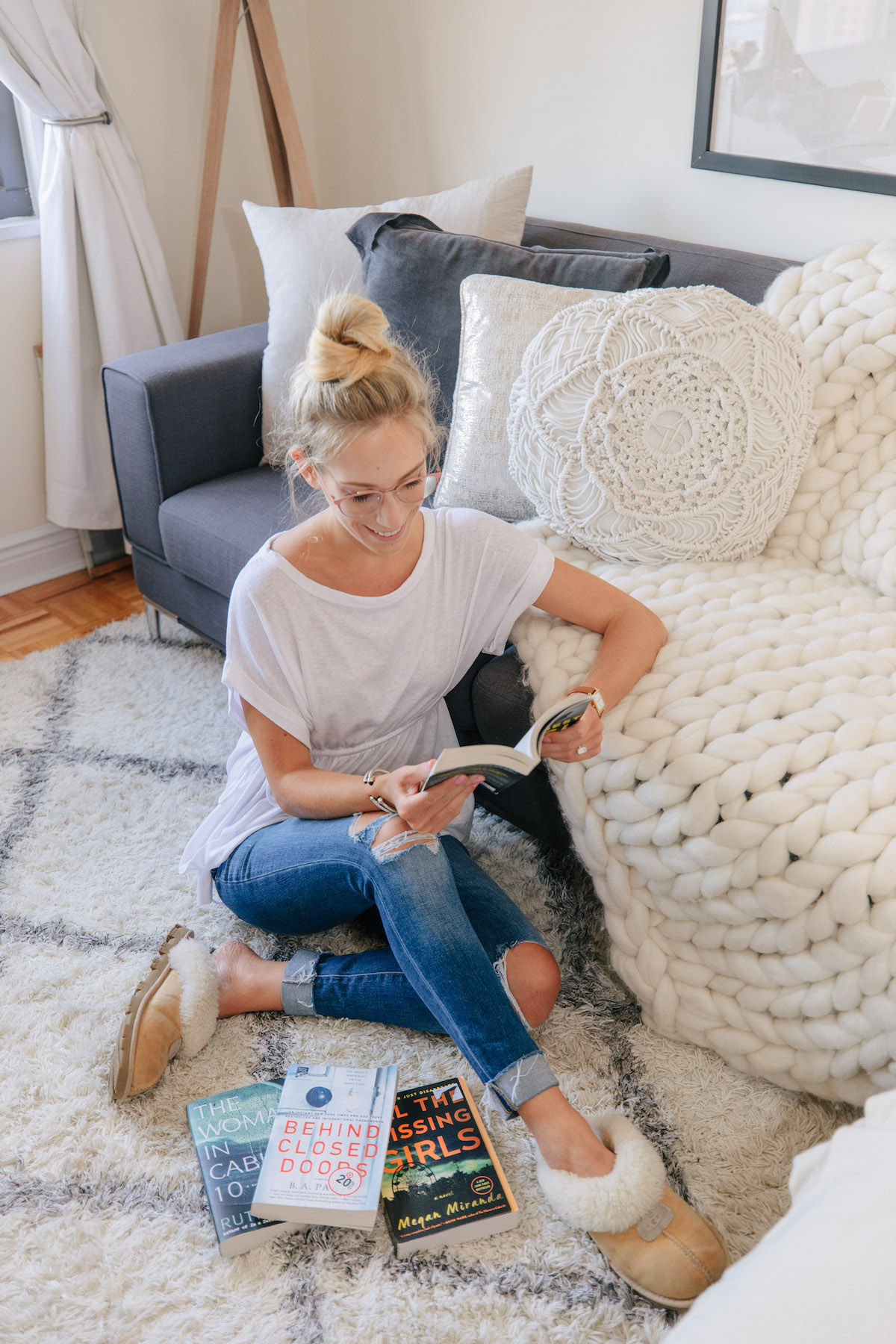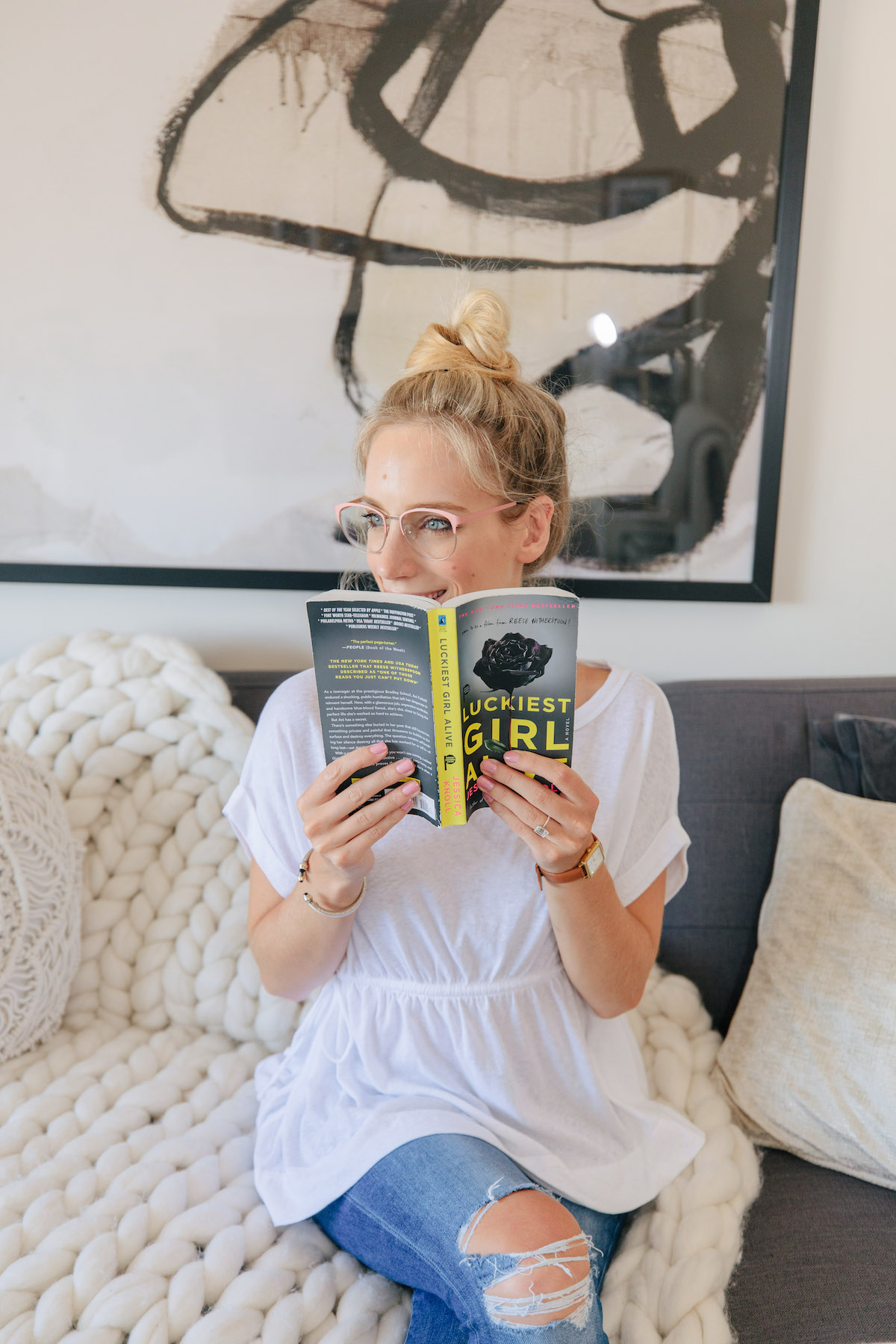 Outfit Details // Tie-Waist Peplum Top | Similar Distressed Jeans | Slippers | Similar Watch | David Yurman Bracelets
Have you heard of Zenni? I was recently introduced to this online-only optical brand and can't get enough of my new glasses! First of all it's a brand after my own heart– online-only. YES! was my first thought when I found out that going into a store to pick out my glasses would not be required. Secondly the prices are a steal with frames starting at just $6.95. I know, right?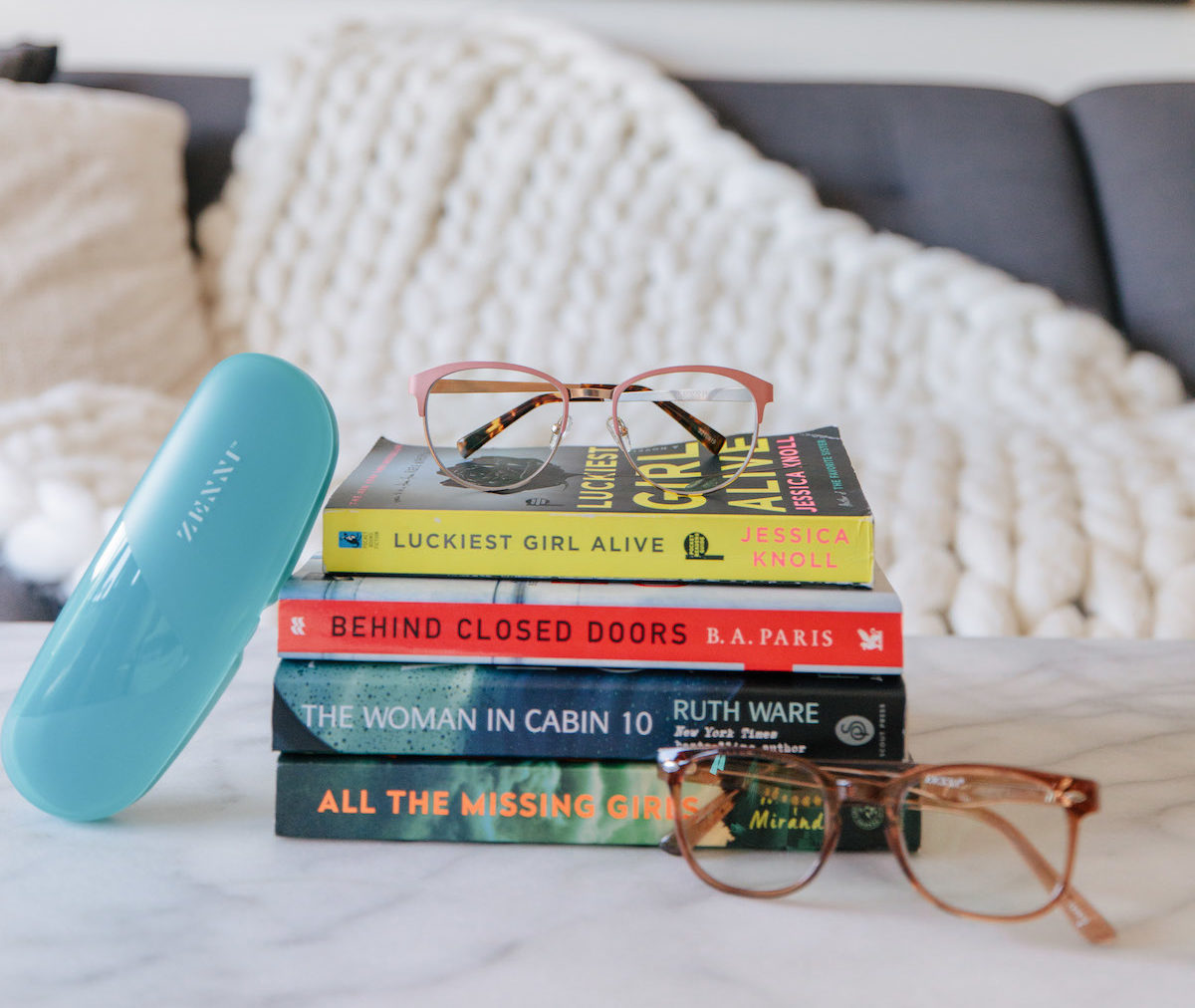 Zenni Round Glasses | Zenni Square Glasses
So you may be wondering how it's possible to confidently order new glasses without trying them on. I was skeptical too, but during the ordering process I was able to upload an image of myself where I could virtually "try on" any frame. I ended up picking out two different pairs: these pink retro-inspired round frames and then a traditional thick square tortoiseshell style.
Both are prescription too! When placing any order with Zenni you're able to add your prescription (I just called my optometrist to get my info) and for small additional fees select other special add-ons like UV-resistance, tinted lenses or even a sunglass clip-on. I've only ever owned one pair of reading glasses at a time so I'm pumped to now have more than one option!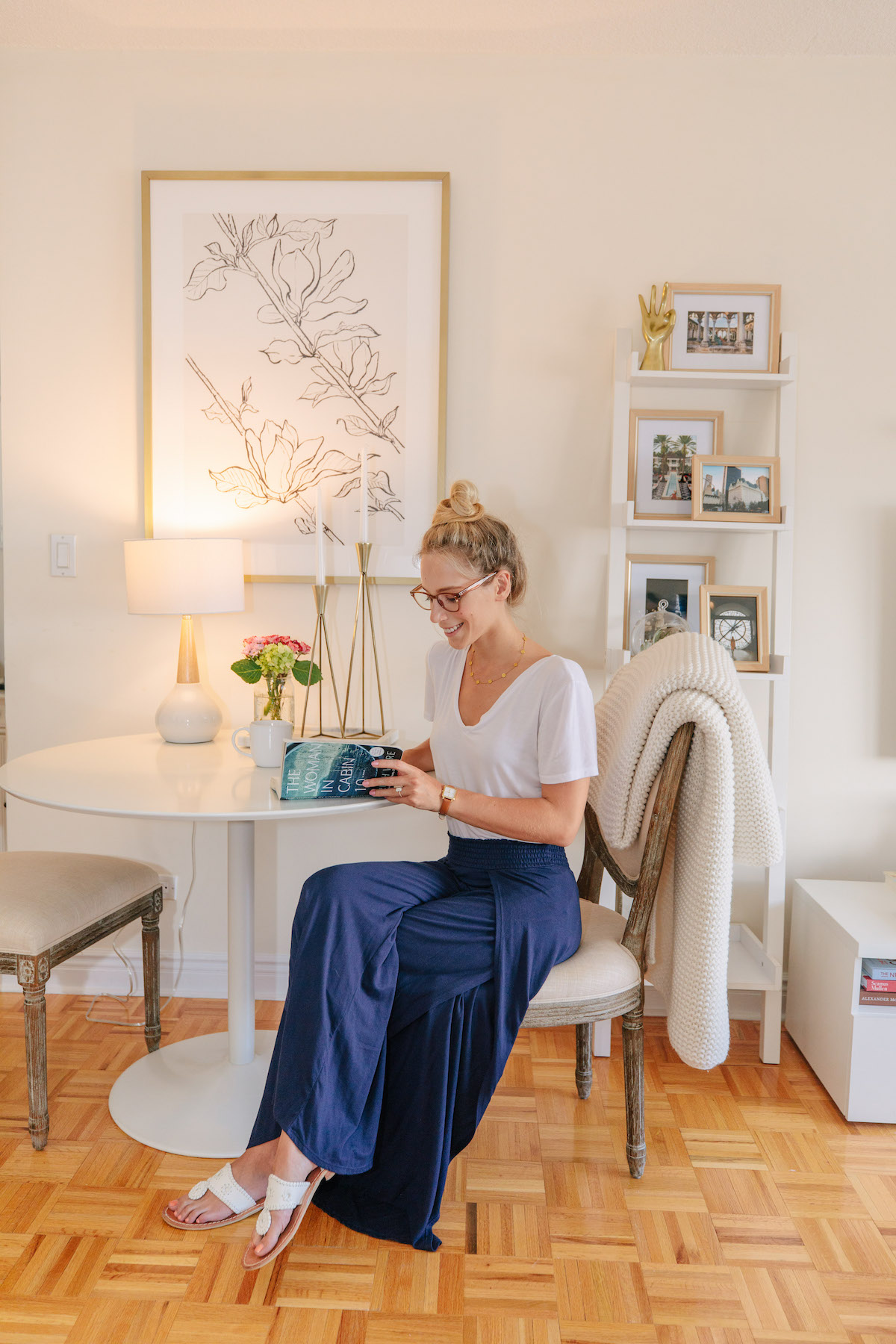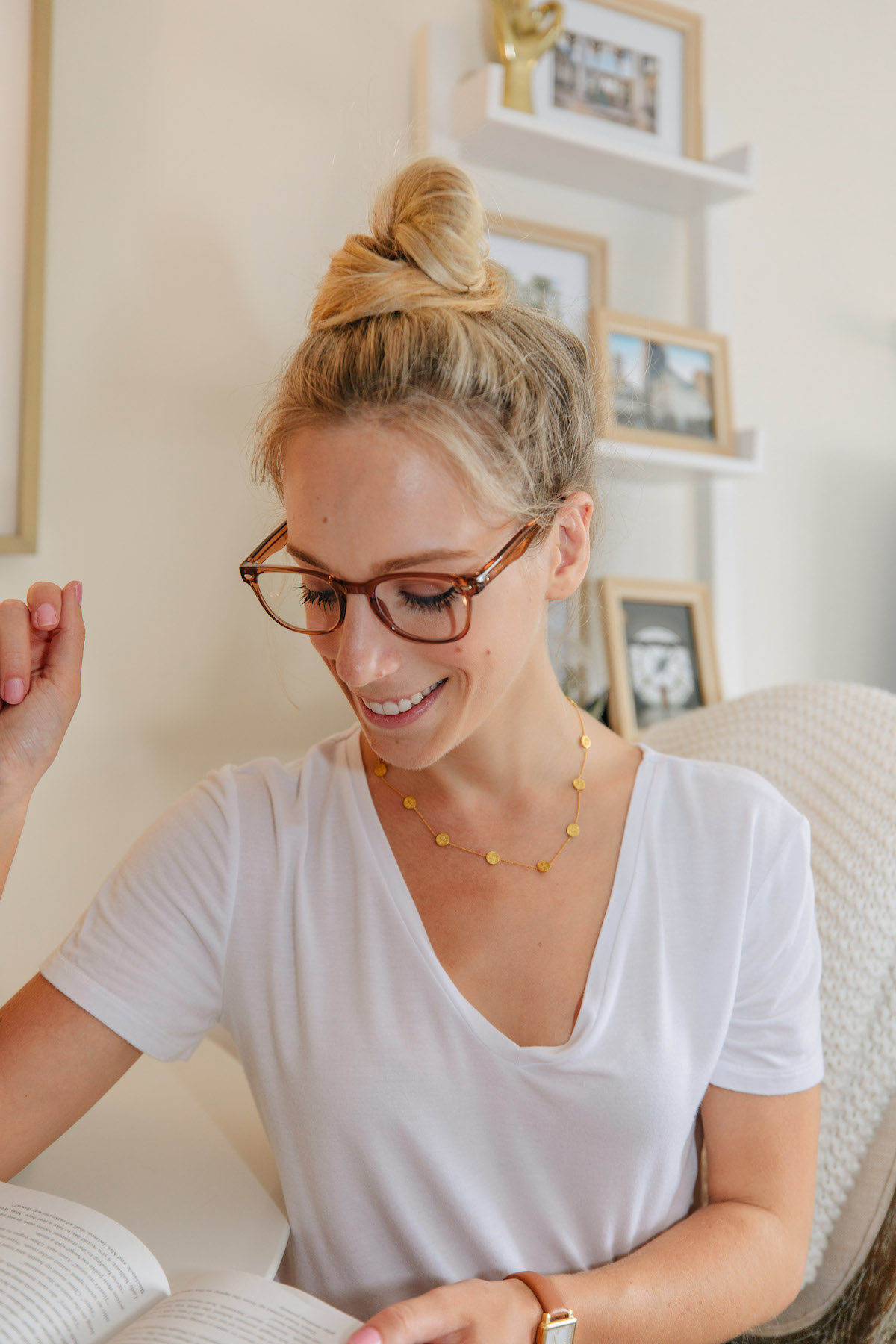 Outfit Details // White T-Shirt | Knit Pants | Jack Rogers Sandals | Similar Watch | Julie Vos Necklace | David Yurman Bracelets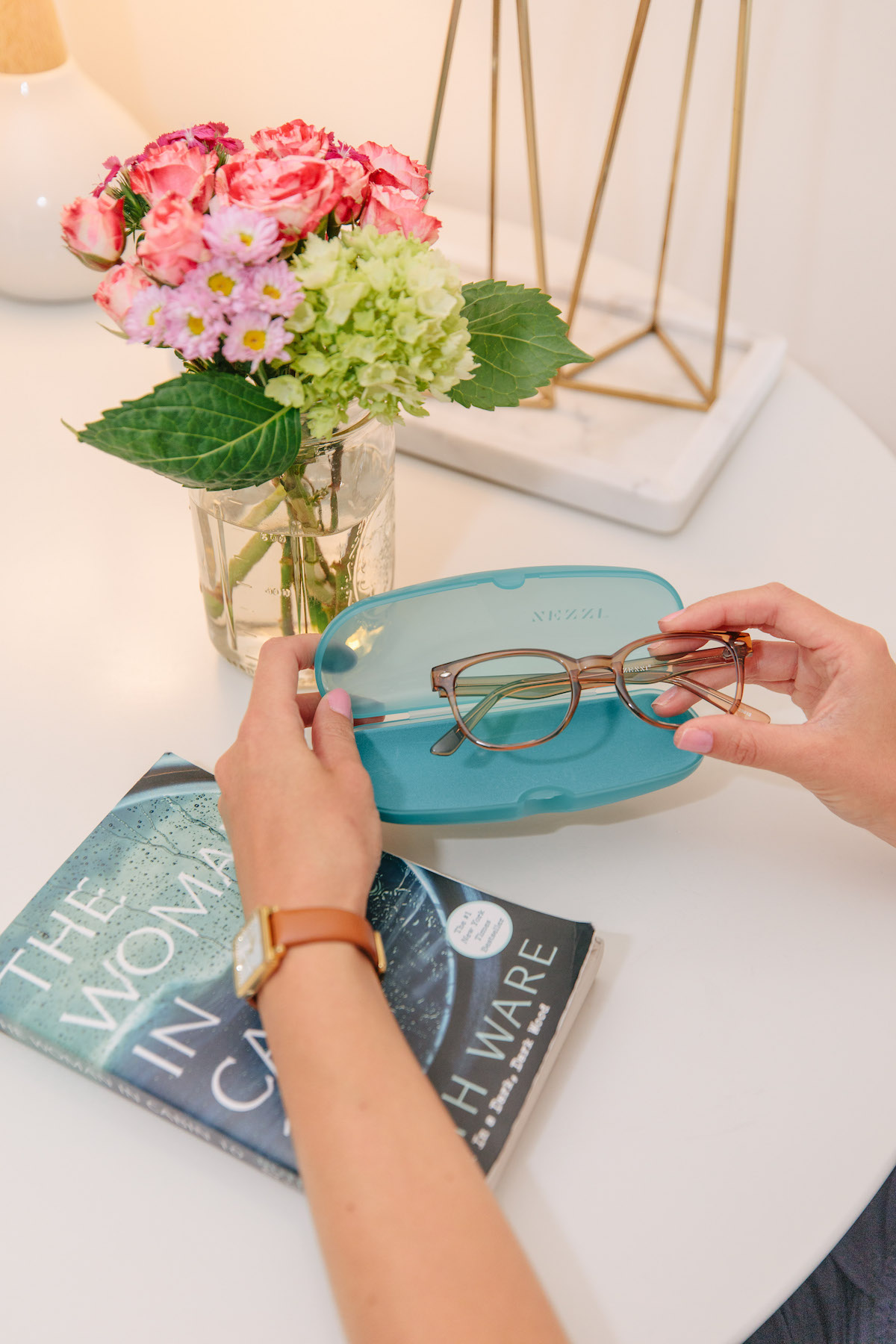 So at the start of the summer I told myself I'd be really happy if I could finish five books, so I'm pretty impressed with myself to have read four. Hopefully I can get check a few more off of my original summer reading list and share a few more mini reviews with you guys before Labor Day!
THE COUPLE NEXT DOOR, Shari Lapena
This was a really easy page-turning thriller that I read while we were in Italy. It's the perfect read for an afternoon by the pool or for bringing on a beach vacation. Without giving away too much of the plot, it's essentially about a young married couple who come home to find their infant daughter missing from her crib after having dinner at their next door neighbor's house. From there the story just unravels and until the very end you'll be guessing the truth about what actually happened. I couldn't put it down!
THE WOMAN IN CABIN 10, Ruth Ware
The Woman In Cabin 10 is probably my favorite out of all the books I've recently read. Similar to The Couple Next Door, this one is also a psychological thriller that will have your heart racing by the time you get to the end. An ambitious young female travel journalist gets invited on a press trip aboard a small luxury cruise where she witnesses (what she believes) is a murder her first night onboard. There were a lot of of dark chilling elements to the plot and the character development went much deeper beyond just surface details. It was so good.
ALL THE MISSING GIRLS, Megan Miranda
As you could probably guess, All The Missing Girls is another suspenseful read involving murder, kidnapping, family and relationship drama– you know, just all of my favorite elements in a book! I liked the storyline: two girls go missing in a small southern town a decade apart. The book follows the journey of Nicolette, who experiences the trauma of her best friend disappearing as a teenager and again as an adult when a childhood neighbor goes missing while she is back in town caring for her ailing father. It was a slower read for me because surprise surprise: it's written in reverse. I was so confused at first because the story starts in the present and then moves backwards in time with each chapter focusing on one day. I honestly found this aspect really annoying and wished it had been told chronologically. Despite the way it was written I still enjoyed it, just not as much as some of the other mysteries I've read.
LUCKIEST GIRL ALIVE, Jessica Knoll
I remember first hearing about Luckiest Girl Alive a few years ago. It's been around for a while and has gotten some new attention recently because apparently Reese Witherspoon's production company is turning it into a movie! Anyways, this one is more of a dramatic mystery as opposed to a haunting thriller. The story is narrated by Ani, a 28-year-old writer working at a chic Manhattan women's magazine, engaged to the picture perfect finance guy and in the middle of planning her wedding on Nantucket. On the surface she appears to be living a dream life, but thanks to a traumatic high school experience homegirl has major issues. The story and book itself was incredible (couldn't put it down) but I just found the main character infuriating. She was so self destructive and at times really unlikable. Maybe I just got so frustrated because I was able to draw so many parallels between her life and my own– there were moments I wished I could just in the book and shake her! LOL
What books are you reading this summer? Any news ones I should add to my list? 
Big thank you to Zenni for sponsoring this post! As always all opinions are my own. 
- Katie