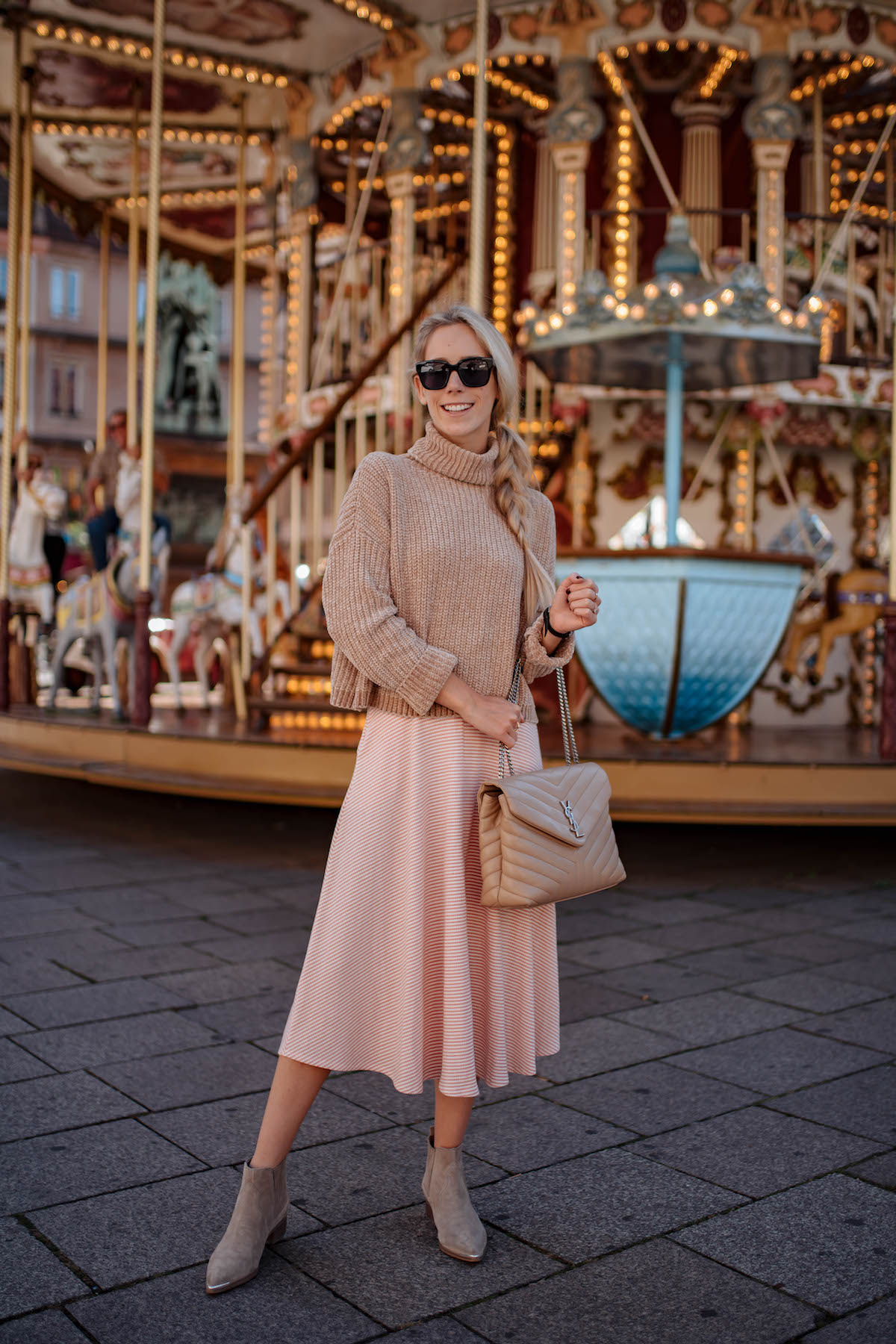 Happy Monday, everyone! I got sooooo many requests to share the details of this outfit I wore Friday afternoon exploring Strasbourg that I figured it deserved it's own post. A little back story! Before leaving for our trip, I searched far and wide with absolutely no luck for a long and flowy knit a-line-style skirt I could pair with all my chunky sweaters. I was about to give up, but as soon as I spotted this midi dress I had a feeling it could be a good solution.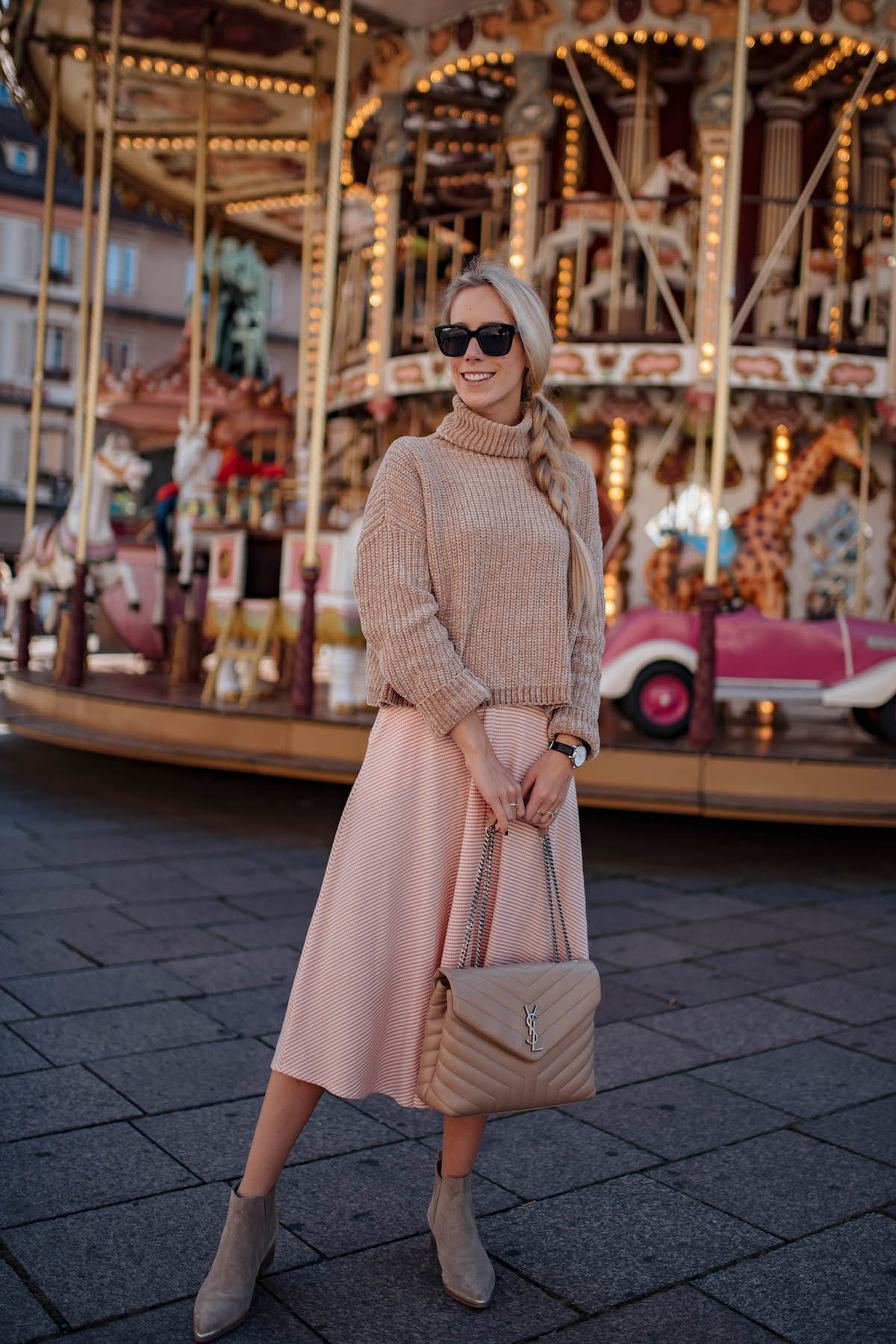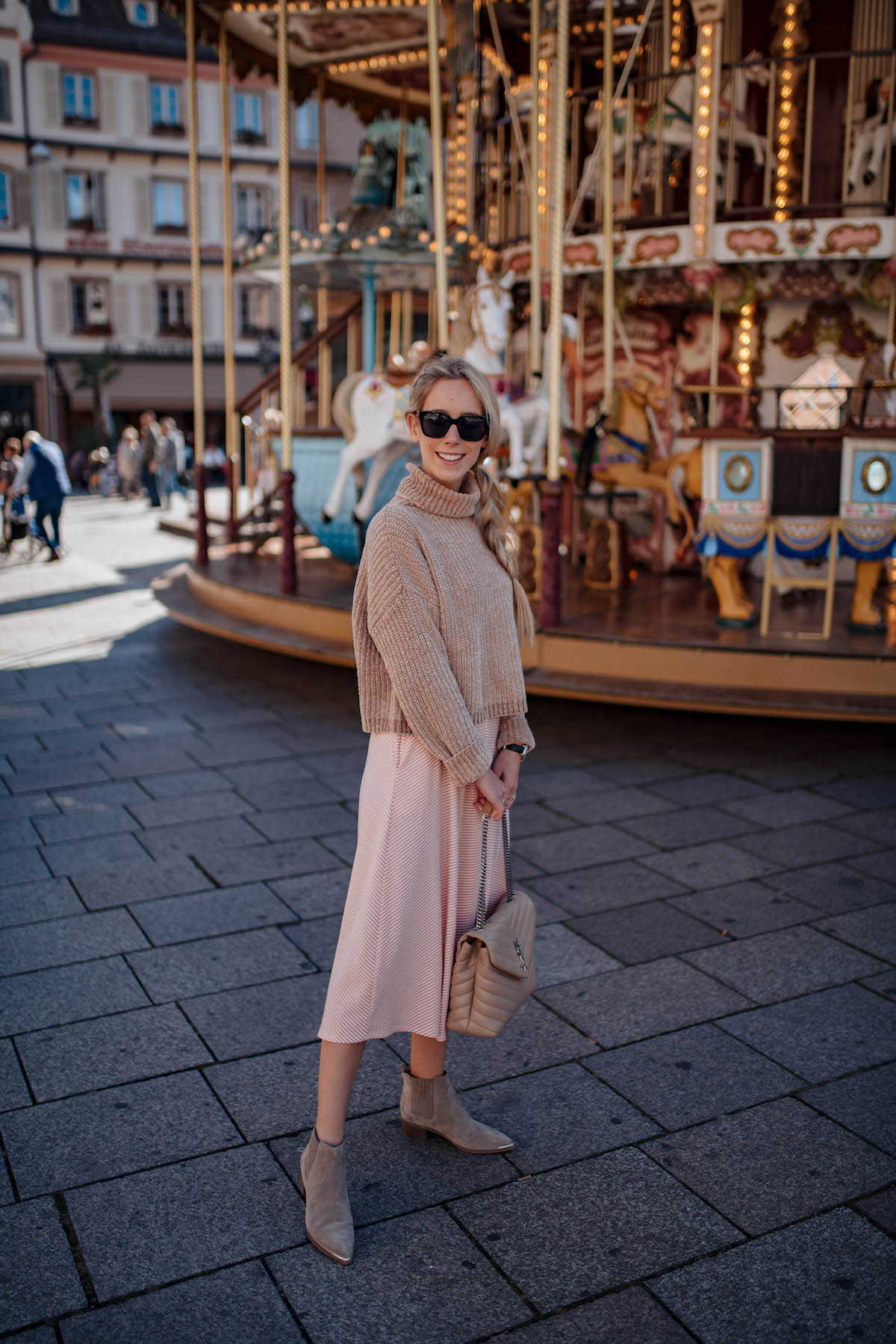 Luckily my intuition was right! The pale pink matched seamlessly with all the neutral sweaters I'd packed so I ended up being able to style this dress multiple ways while we were abroad. Did I mention it's also under $100, comes in black, is wrinkle-resistant and HAS POCKETS?! I mean, it doesn't get much better than that. 🙂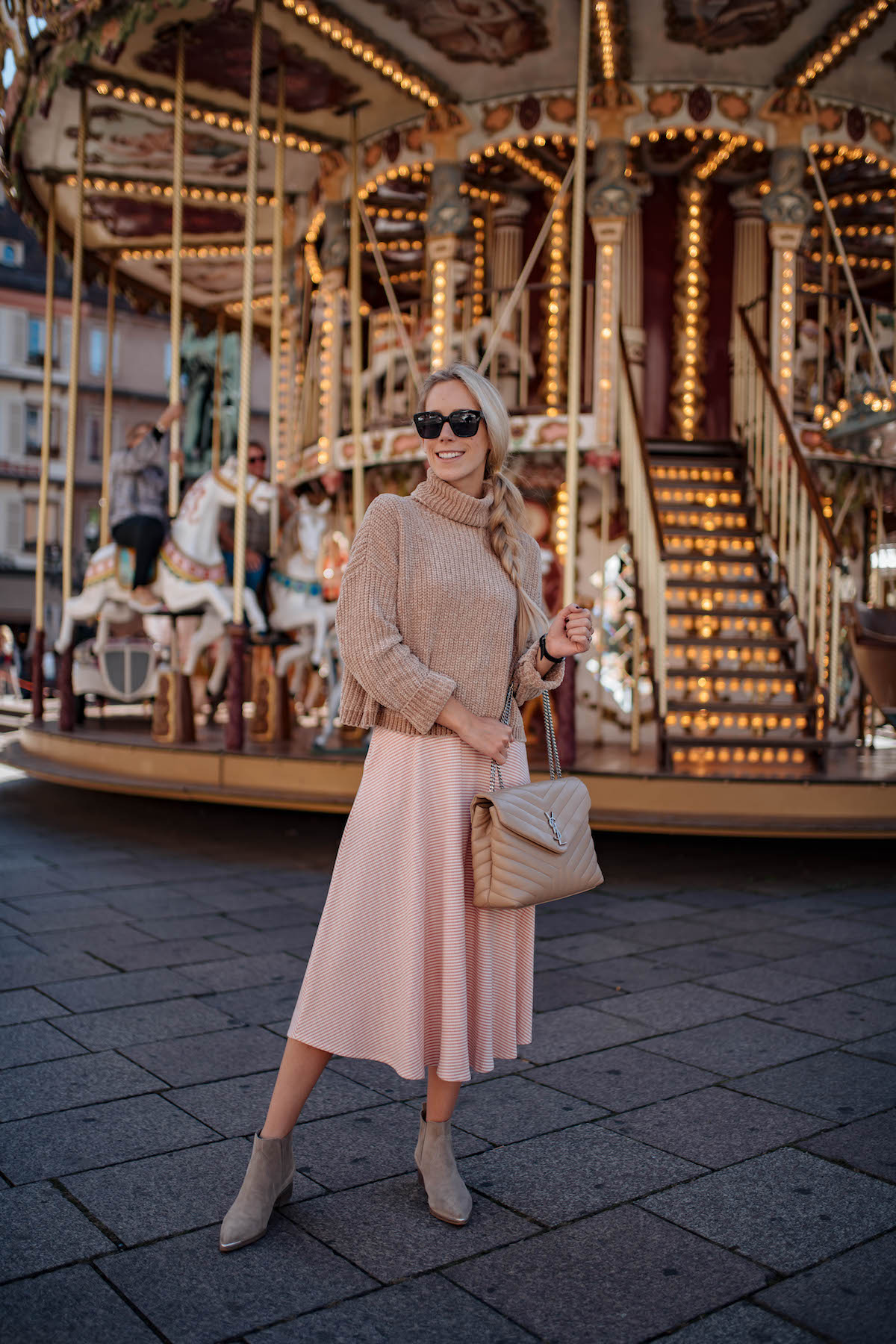 Knit Midi Dress (under $100 & also avail in black!) | Chenille Turtleneck Sweater (under $100!) | Grey Suede Booties | Saint Laurent LouLou Bag | Sunglasses | Similar Bag | David Yurman Bracelets |
This dress is the perfect length for wearing underneath a cropped sweater like I did here or just on it's own topped with a cardigan or cute jacket. I think I wore at least 3+ times so get ready to see much more of it, LOL!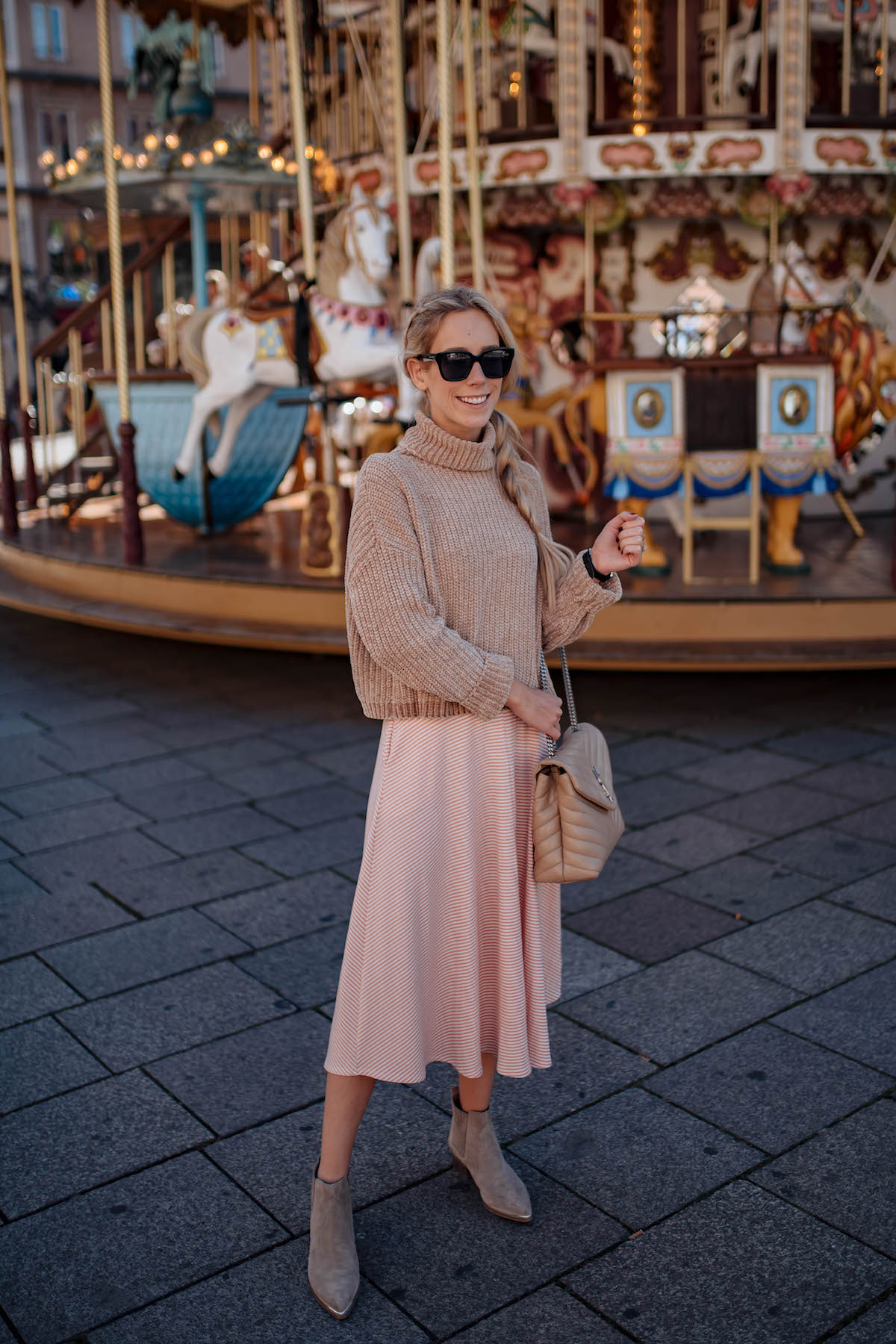 Like I mentioned in my post from London last week, I have sooooo much more to share with ya'll from our trip! Lots of you have been messaging me asking if I'll be sharing travel guides for London, Germany and France and the answer is: YES! Absolutely.
I'll probably format all my guides similar to how I did for our trip to the Amalfi Coast by first doing one big bulleted itinerary and then linked with additional posts with more details on each stop and location. It's going to take me a little bit of time to sort through the thousands of photos we shot and lay out all the details of our itinerary, so just bear with me. I promise it will be worth the wait! 🙂
- Katie