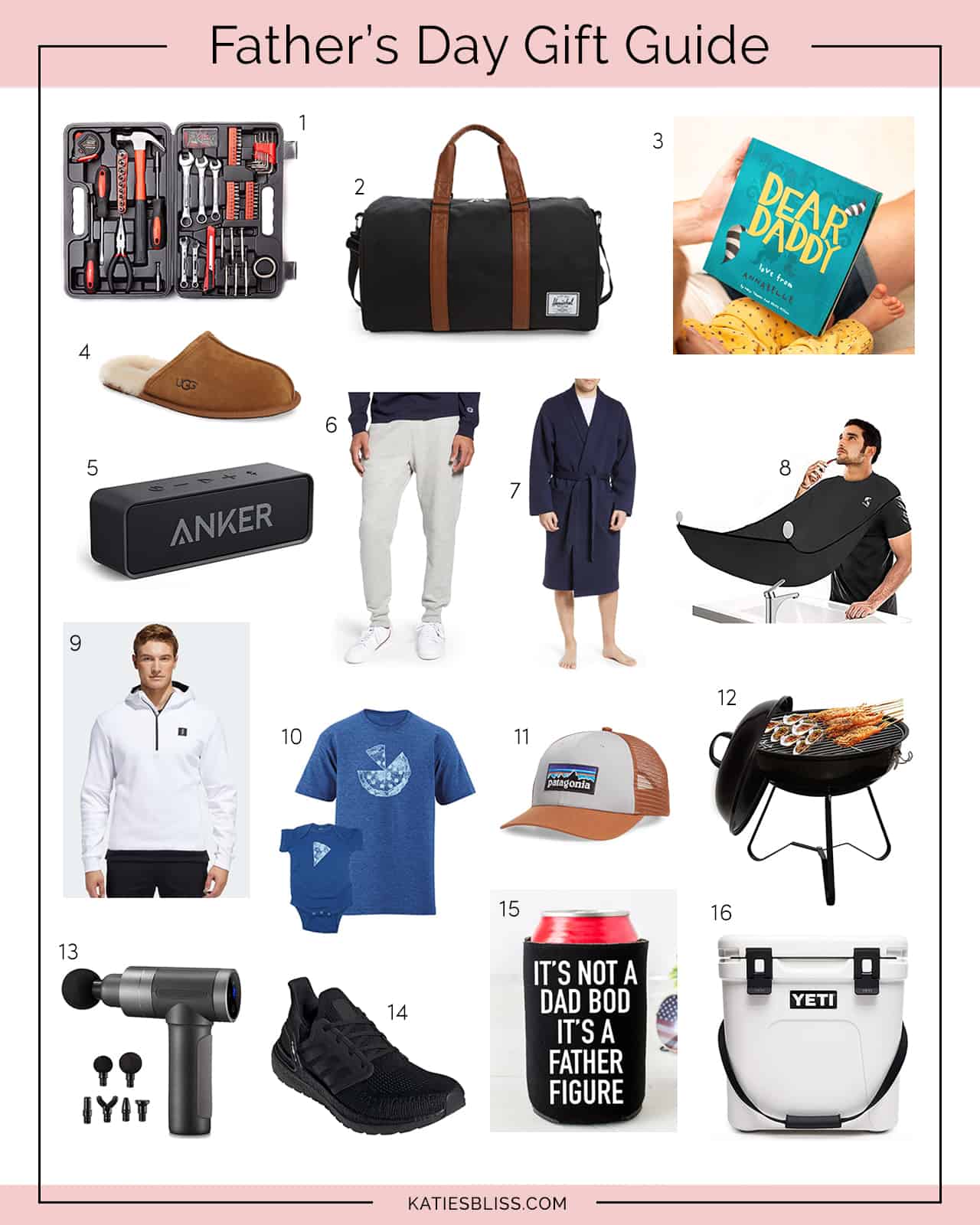 2020 Father's Day Gift Guide
 1. Tool Kit | 2. Duffle Bag | 3. Personalized Daddy Book | 4. UGG Slippers | 5. Bluetooth Speaker | 6. Joggers | 7. Bathrobe (60% off & just $31!) | 8. Beard Cape | 9. Golf Hoodie | 10. Matching T-Shirt Set | 11. Patagonia Hat | 12. Charcoal Grill | 13. Muscle Massager | 14. Adidas Ultra Boost Sneakers | 15. Dad Bod Coozie | 16. Yeti Cooler
Is June flying by for anyone else? I felt like April and May just dragged, but now that Pennsylvania (where we've been spending most of our time lately) and New Jersey are starting to open up again, the weeks go by a bit quicker! It could also be because I am officially in my third trimester, which reminds me that I owe y'all a second trimester recap #makesmentalnote… Can't believe our baby boy will be making his debut in just 2.5 months!
Father's Day is just a little over a week away on Sunday, June 21st so there's still time to shop! Usually I'm so bad at remembering the smaller holidays, but I surprisingly didn't wait until the last second to order gifts for Nick and my Pop Pop. I'm really excited to celebrate this year because even though our little one isn't technically here yet, we've definitely transitioned our mindsets to parent-mode. Nick also got me the sweetest Mother's Day gifts (I posted about them here) so the pressure was on to return the favor 🙂
I included a mix of cute sentimental gifts and every day guy favorites above! Many of these items are things that Nick own and loves like these sneakers (he has 2 pairs!) this robe (60% off) and this golf hoodie (now under $50.)  He's also obsessed with my massage gun and constantly stealing it! Another thing on his wishlist? This "beard cape" that attaches to his bathroom mirror to catch all the little trimmings when he shaves– such a creative idea and just $14!
- Katie