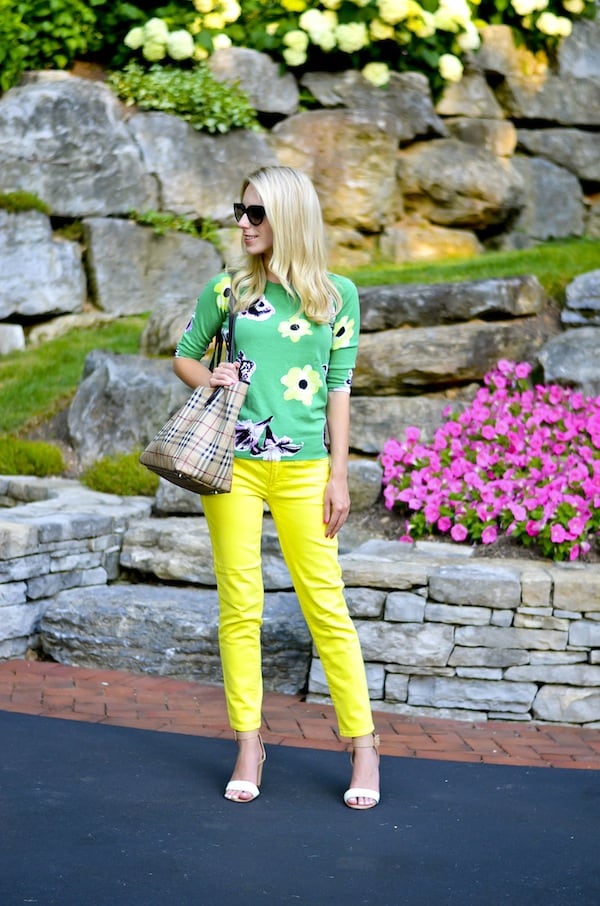 The color in this post makes me so happy! I purchased this J. Crew sweater in April and have worn it a few different ways – with this tulip skirt, this midi skirt and blue jeans. I have to say though, I think this look is my favorite way that I've worn it. These bright yellow jeans really make all the colors in the sweater just "pop." Now, if super bright buttercup yellow jeans aren't your cup of tea, then I'd suggest this pale lemon pair. Definitely more low-key. However I'm not low key so gimme all the brights!

Seriously though, how pretty is the landscaping at my grandparent's house? The blooming flowers made the perfect backdrop and I didn't even plan it! Hoping to take more photos this weekend while I'm home again for the 4th of July holiday! Just gotta get through this half day of work and then I'm outta here!

I was wearing…
J. Crew Factory retro floral sweater | J. Crew Factory jeans (old, similar here) | Burberry Haymarket tote | Prada cat eye sunglasses | Zara sandals (old, similar here)

I'm also guest posting over at my friend Krista's blog today! Make sure to check it out here!

- Katie